8 Ideas For Decorating Your Back Porch
By Goodness M March 6, 2022
---
The back porch is an often-overlooked space in our homes. However, this is an extra area where you can do social gatherings or relax while reading your favorite book. We have come with brilliant decorating ideas to revive your ailing back porch to life.
1. Create Comfort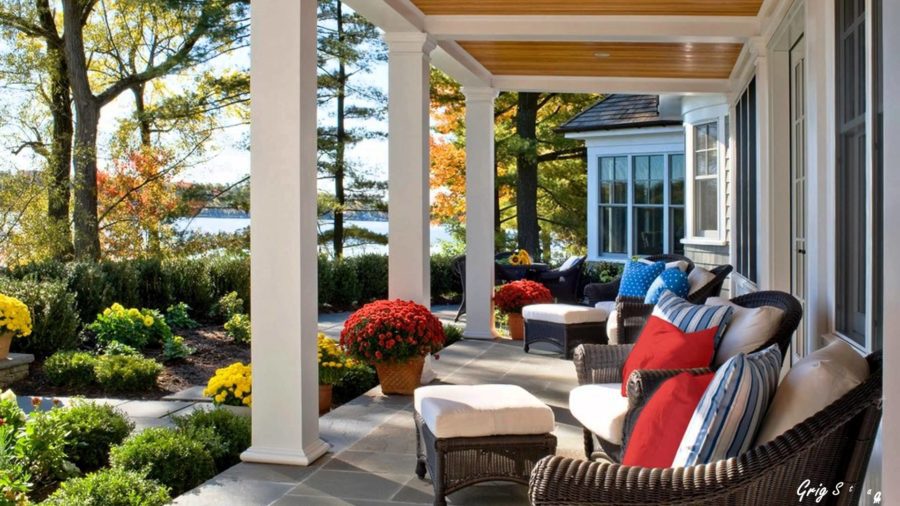 As an extension to your home, decorate the back porch like your second living room. Therefore, make it comfortable by putting pillows, a rug, and cushions. Round off by putting a coffee table and books to create an indoor atmosphere.
2. Rearrange Furniture
Strategically place chairs facing one another. This set-up promotes conversation and is meant for late-night talks with family.
3. Renovate The Floor
The neglected floor of your porch will need some touch-ups. Grab your paint and stencil to transform your floor. You can try a pattern that has black and white colors.
4. Finishing Touch
After taking action to make your porch functional, some decor touch-ups will elevate your design to a higher level. Put up a mirror and an outdoor fireplace to create a warm atmosphere. Go the extra mile and introduce pillows, lanterns, potted plants, and side tables to bring back your porch to life.
5. Make It An Outdoor TV Room
The porch is the perfect place for hosting your friends to watch a movie or sports. Ensure that your porch provides safety for electronics before binge-watching your favorite television shows.
6. Put a Pendant Lamp
Elevate the appearance of your porch by putting up pendant lamps. Use an overhead structure to brighten up your space and bring a spark to the space.
7. Table Settings
When inviting friends and family for dinner it is important to set up a table. Put fancy silverware and glasses on the table. In addition, fresh centerpieces are a great choice to make your table look fancy.
8. Create Private Space
Your porch may be visible to the neighbors due to the short walls surrounding it. Therefore, add wooden slats that will elongate your wall and give you the privacy that you deserve.