40 Ideas To Help Turn A Drab Balcony Into A Dreamy Dwelling
By Priyeshaa P October 20, 2021
---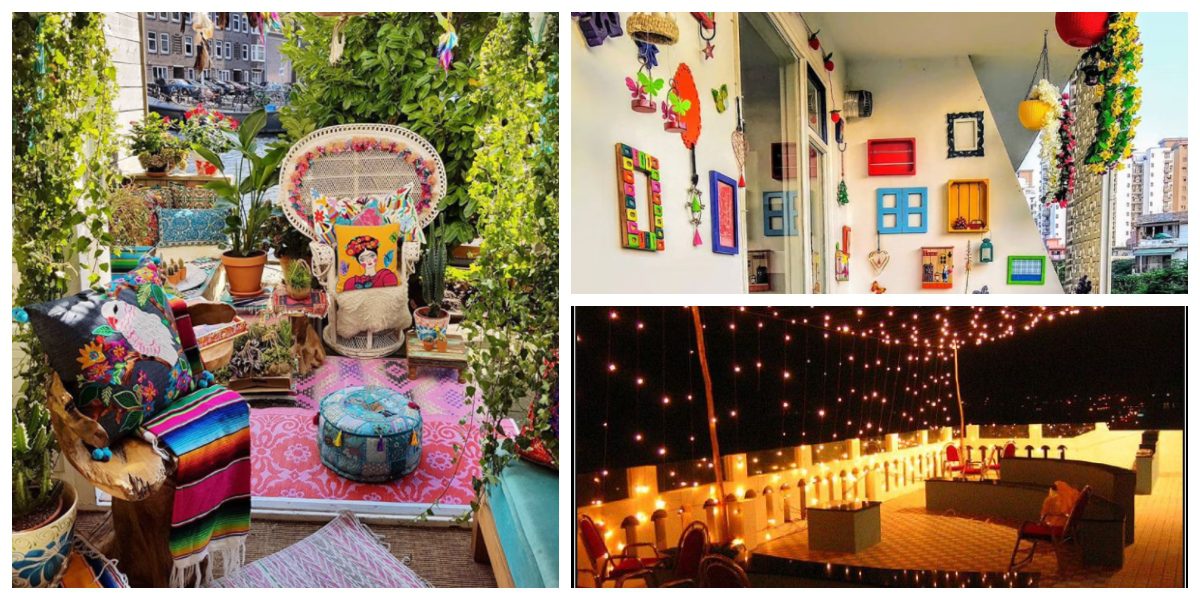 Every city has a flavor of its own. How most of them have the same thing in common such as the honking of horns, people everywhere, small apartments, and eyes full of dreams. With so much on everyone's plates, where do we city lovers escape? Where do we breathe a little, relax, and just be ourselves? This is when we open our apartment gates and look at that extended area that changes the look of the apartment – the balcony. It's a haven for those who love musing and an escape for those who are hustling to make ends meet. No matter how big or small, our balcony is a gateway to a mini outside world inside our little spaces. We have compiled a list of ideas and tips for you to recreate and redecorate your balcony so that you achieve your perfect hangout spot.
For the stargazers
We're humming the song, "City of stars, are you shining just for me" and we know you're singing along. After a long and tiring day, do you spend hours looking at the sky or the moon that make you daydream all day long?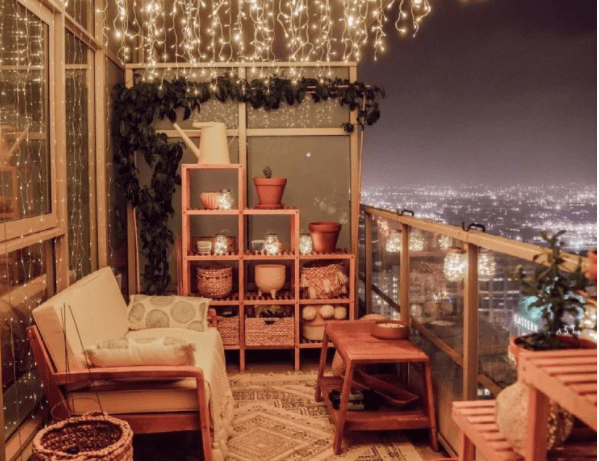 This look is perfect for those who can't resist the night sky. Cover your entire space with fairy lights and place a square table with a comfortable couch underneath. This well-lit space will help you uncover the magic in your once vacant corner.
Booklover's world
Who needs to see the world when you have books? We know what it's like to be nestled in your own thoughts to drown out the world around you where all you need is a corner and a stack of books. We know you've been dying to strike the off from your "to-read list."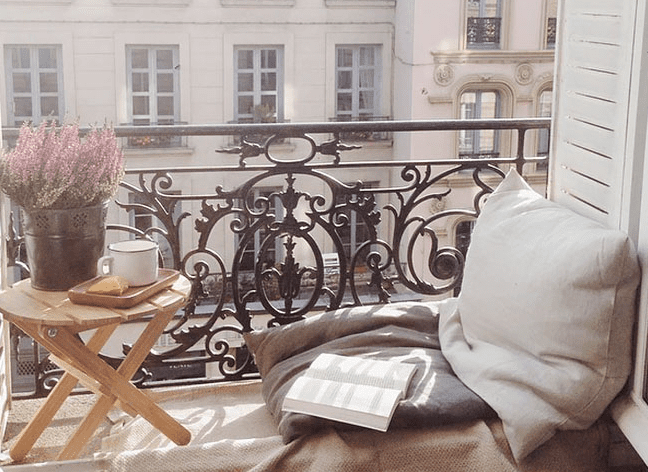 Reading in the office is too cold, right. Shift your study room to your balcony. To do this, organize a shelf, add a mini-study table, a cup of coffee, and that big cushion to spend hours reading without blinking. Don't forget to be the Alice in your wonderland.
An aethetic affair
Isn't it difficult to find that perfect aesthetic background for your Instagram feed? Worry no more. It's time to open your balcony gates, explore all the décor choices you have been drooling over, and get ready for a complete balcony makeover.
We came up with an idea for the influencers in us. Let your artistic side come to light (literally), hang those lanterns, place that mini side table you are fond of to the side, use that flower vase lying idle, and create your perfect insta-worthy space.
A space for the poets and writers
Can't complete that verse you left halfway, or are you unable to think outside the box? It all starts feeling like a task when you don't have the perfect space to sit and observe where your mind can wander freely.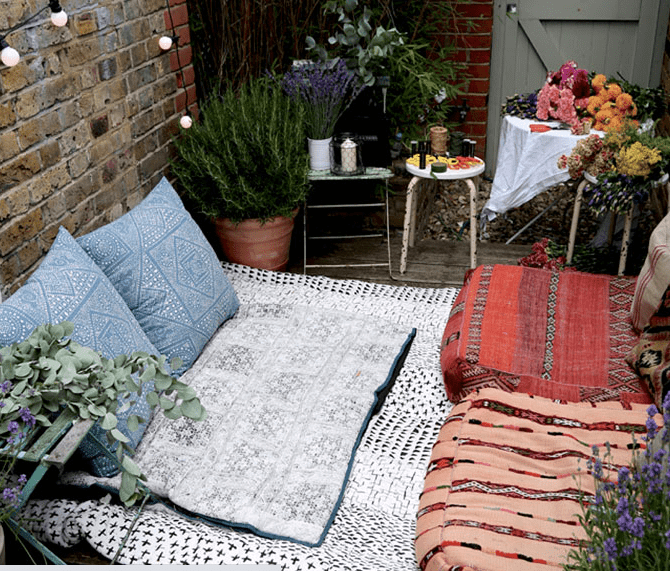 Turn your balcony into your thinker zone and let the cool breeze set your thoughts into working mode. Create a comfortable space with lights and contrasting colors of light shades of blue and red, and don't forget to fill that cup of coffee.
Balcony with a view
Do you live near the sea, mountain, or a captivating view that already has a part of your heart? Make it so you can enjoy this stunning view at all hours of the day. We believe that staying mesmerized is the only feeling you should experience when enjoying your balcony.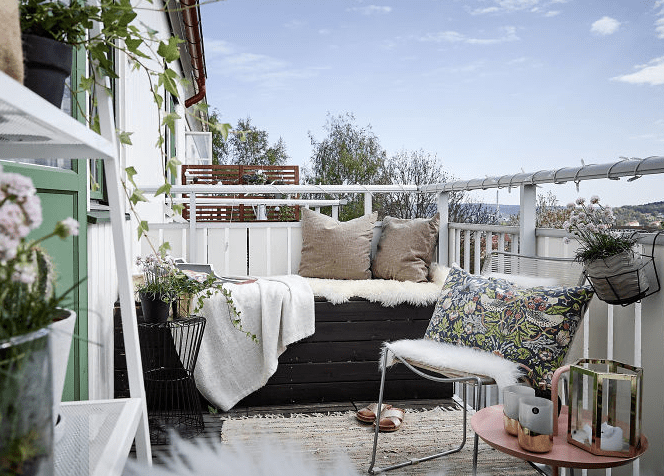 Use that small couch that sits in an unused corner of your home and add a small table of your choice. You can even keep your décor full of bright colors or pastel shades that accentuate the beauty. Make sure you use some nice scented candles to complete the look.
For the lazy ones
Love going out, but can't manage to get yourself out from your cozy room? We were just like you until we saw this brilliant idea on how to mix the best of both worlds. Get ready for some work, because it's time to live your dream.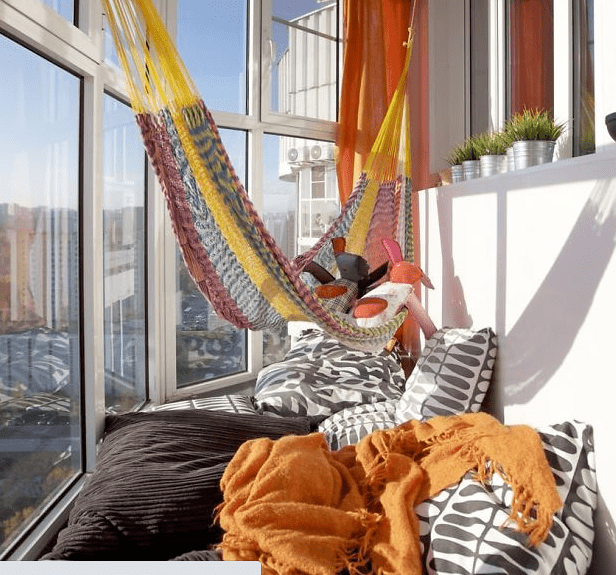 So, this one is for the lazy and the messy ones. Don't waste your balcony space even if it's covered. You can add some bedding or even a hammock, and use different colors of cushions and curtains to accentuate it. Make it colorful and worth your effort.
Dinner Date
Are you bored of going out for movies or the same restaurant every time for your date nights.? Put in a little bit of effort and make your loved one feel all the more special. Why wait when every day could feel like a night out to a fancy place?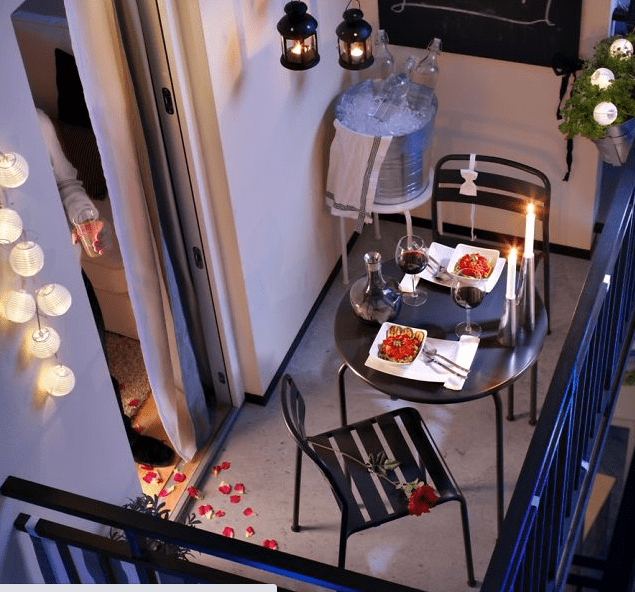 Transform your balcony into a perfect dinner date location. Use wooden tables and chairs, add that contrasting carpet, and use solid colors for a complete look. Install some hanging lanterns and lights to make it picturesque. Make sure you don't forget the candles.
Bask in the sun before winter comes
Why spend your day off from work, lying gloomily in your bed when you can tan and get the missing dose of Vitamin D that we all need? The sun is shining bright, the sky is blue, and it all looks beautiful, so you definitely don't want to miss the view.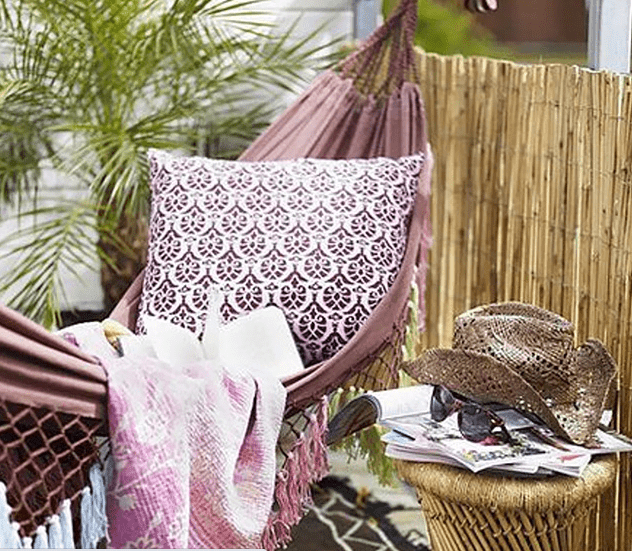 It's time to change your balcony by tying up the swing chair or hammock. Keep the look minimal by adding a couple of cushions for your comfort. Use bamboo tables to give it a more beachy vibe, and don't forget your sunglasses.
Love for nature
All the time you wanted to spend out in nature is not happening. No need to sulk. We believe early mornings in your mini garden balcony are what can lift your mood in seconds. What better place to spend time in all that greenery than your own house.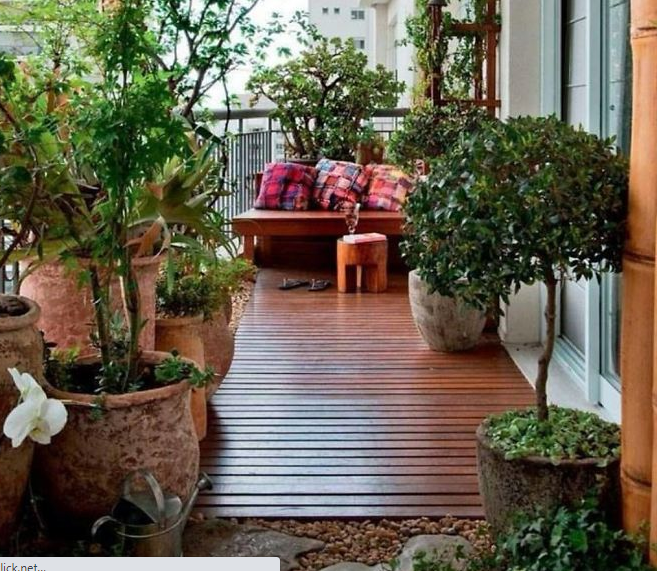 Gather all your pots and planters with plants. Get loads of pebbles and decorative stones to create this meditative space. Add a small bench for seating and have a blissful morning on your balcony surrounded by greenery. You will be dying to wake up early to enjoy it.
Winter lovers
We understand how much time one waits for the first snow of the season and how beautiful it is to gaze out into the distance when nature is painted that sparkly white. Don't shut the doors with the changing seasons. Instead, make the most of it.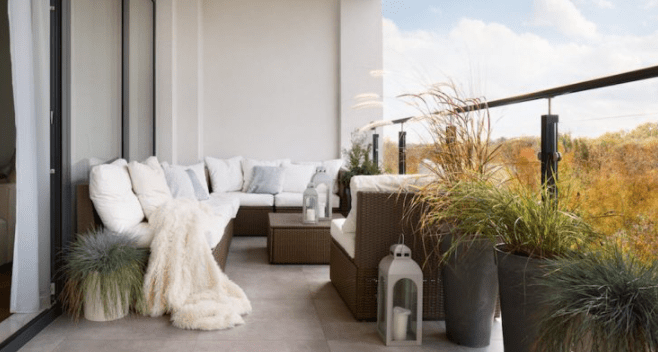 Install a comfy couch with a cozy furry quilt to keep you warm, and a windscreen to enjoy those chilly early winter mornings. Keep your portable heater at a hand's distance and get your hot chocolate ready because you should enjoy winter like every other season.
Vintage
We know that beautiful things are meant to be shown off. Are you a sucker for antique articles and feel you're living room isn't enough to show off the precision and the appreciation you have for the pieces others might overlook? A balcony might be the perfect place.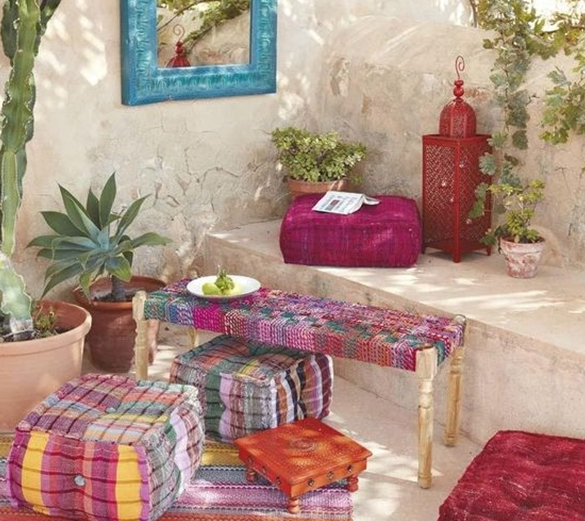 You can start with your unique mirror. Keep wooden products as your go-to and get those antique hanging lampshades out. Add a brass flower pot and candle stand to take you back in time. Music lovers can add a gramophone to go that extra mile.
Straight out of the movies
Did you watch one of your favorite movies and saw the perfect balcony that you can't seem to stop thinking about it? Ahh, we get that feeling. We'll help you recreate the look. And trust us, that's a change of plot you probably haven't thought to do.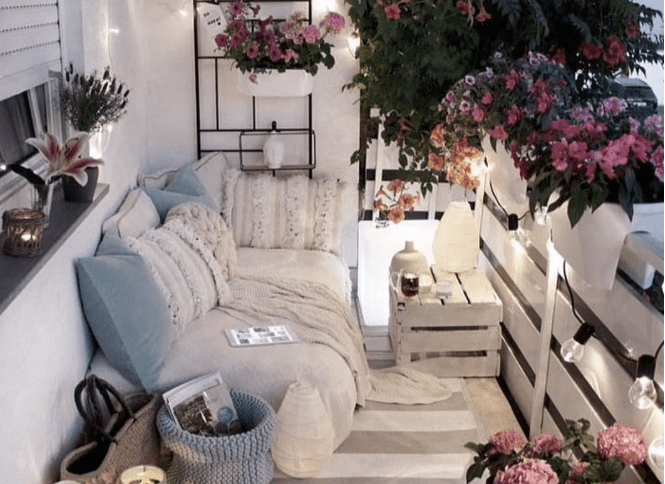 Use a foldable floor chair big enough for two people. Gather loads of pillows from your living space and get some furry blankets. Use flowers and the big bulb fairy lights for a brighter look. Don't forget a tiny table for added comfortability.
Luxurious big balcony
We consider the ones who own a huge balcony lucky. And we are here to remind you not to waste a square inch of it. Every day, you try to think of a theme, but can't zero down on that one look that may outshine the rest. Let us help you.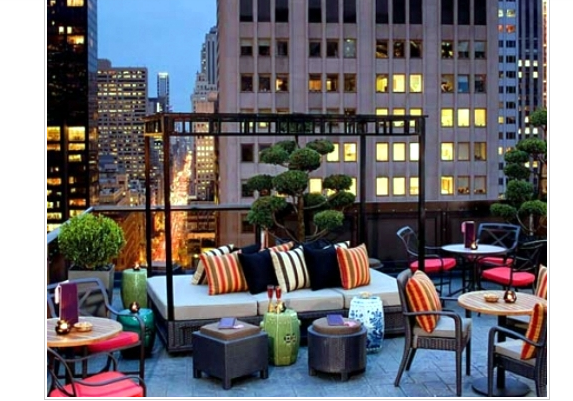 Make it a multi-seater space by adding a rectangular bell-shaped wooden duvet couch, and use comfy cushions for back support. Achieve the full effect from the floor lamp and studio glow lights. If you want to make it look clustered, add coffee tables with resin tops and chairs.
Cozy-in
We tend to compromise so much on an everyday basis living a fast and busy city life. But what cannot compromise with is the little world we feel most cozy in; a place where we can relax and have the energy to plan on what's coming next for us.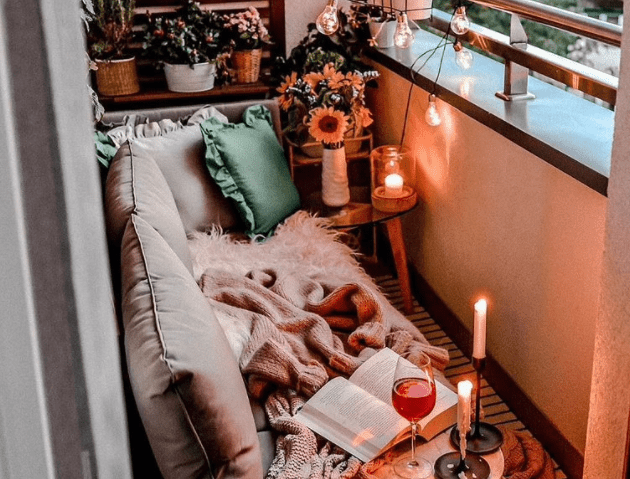 The only thing you really need to focus on is adding some memory foam cushions and a quilt on the floor of your balcony for added comfort. Don't forget to add a rack to put in some pots and a table at a hand's distance. Add some fairy lights to keep it subtle.
Little Things
It's not the expensive for flashy items that have the potential to change the look of your balcony. Most of the time, it's the small unique things like antique statues or pretty cushions that can truly makeover a balcony.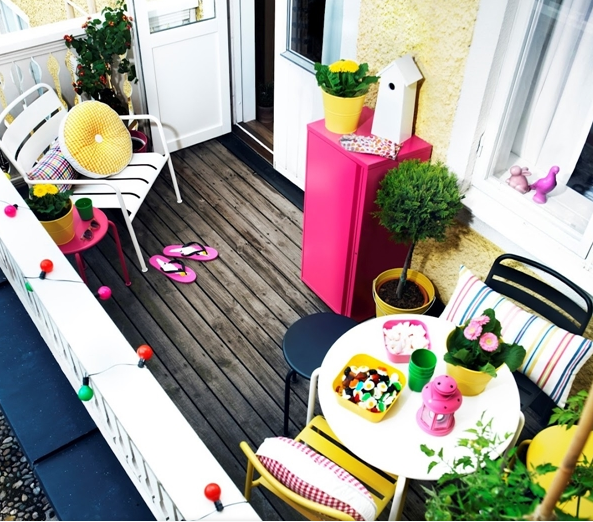 Apart from adding these small items, you can also place a high table and normal chairs as well that don't need to be extravagant. Gather small decorative articles like potted plants and LED lights for an added touch of beautiful lighting.
Kids zone
We understand the feeling of our kids dying to leave the house. But we also understand with the pandemic and the quarantine that it's always better to stay safe. We found a beautiful way to create a play zone that you and your little one can enjoy together.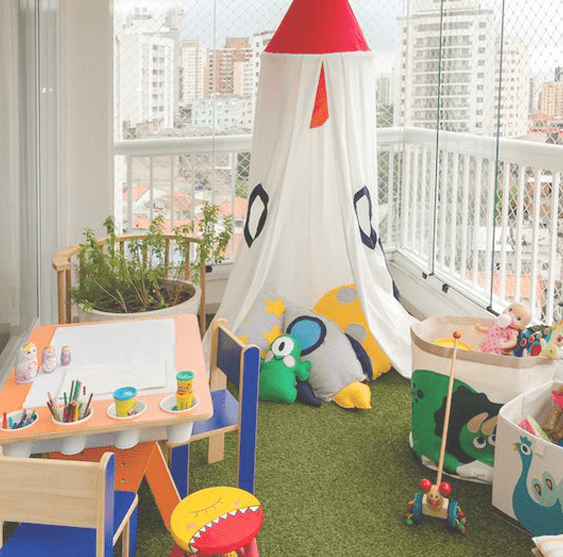 Spread a play mat on the entire balcony or a fake grass carpet. Hang a canopy to make a small tent-like structure. Order a small table that has holders to keep all of their art items. Gather some soft toys and an exclusive box to organize your kid's play items.
Furry Affair
"Hey human, do you even realize you're not the only one staying in this house? I need my own space too". Hmm, ever thought your pet might have the desire to say this to you. They also need a space they can feel relaxed, especially outdoors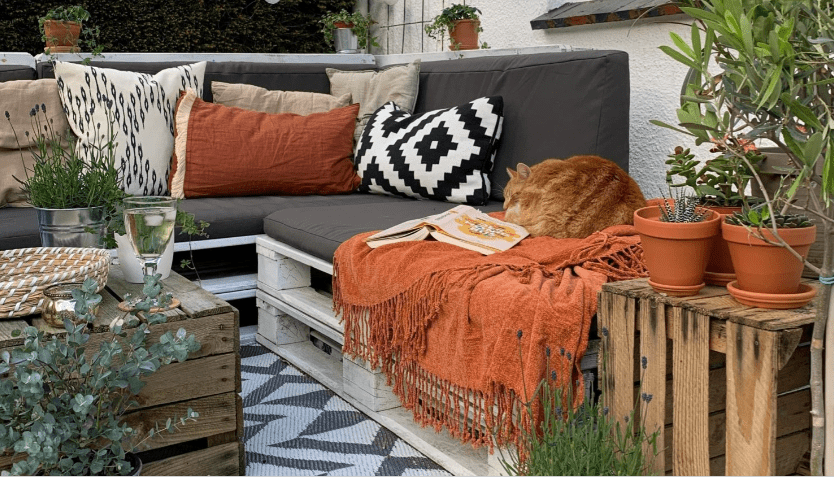 For this look, we focused mostly on comfort. You can use plywood blocks and place bench cushions on top to achieve that rustic feel. Place a small bed for your furry friend on a wooden box so they can also get the best out of your cozy balcony.
Block basic
Too many loud colors and wild patterns are not everyone's taste, and that's just fine. A part of us likes being basic like enjoying neutral shades of browns and grays to keep it simple. What makes your heart flutter is the best choice for you.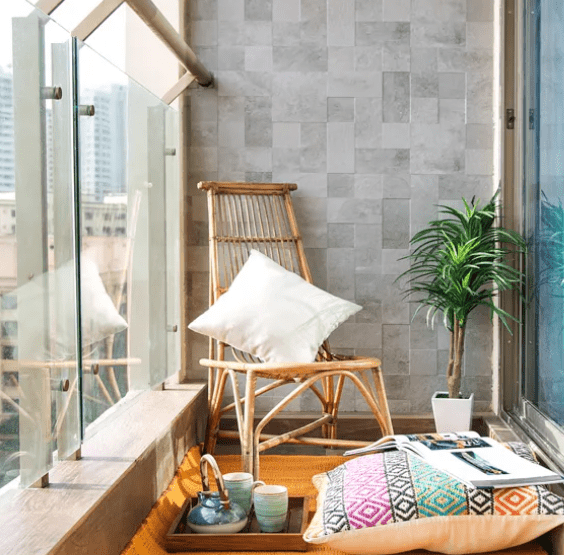 We present to you a space that is made for minimalists. Use the gray walls of your balcony as a backdrop to simple patterns and furniture. It will keep everything tied together. Add a single armchair, a large floor cushion, and a neutral carpet.
DIY
This next balcony is for those who love an exciting DIY project. Gather all the cups or planters that you may have sitting around your house that you refuse to get rid of for this next genius idea.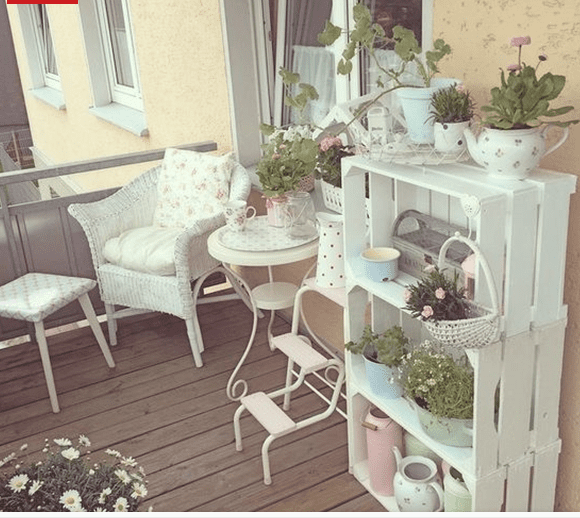 Use these broken teacups and dished to plant flowers. You can also use them as décor items by painting them in light colors and adding some polka dots. Use a small shelf to hold all of them. Use spear glass cups as candle holders and achieve your complete look.
Princess Diaries
We know how some of you during your childhood dreamt of becoming a Disney princess and wanted to live in a dwelling fit for royalty. Well, age is just a number. You're never too late to be a princess. Get ready! We're about to show you how.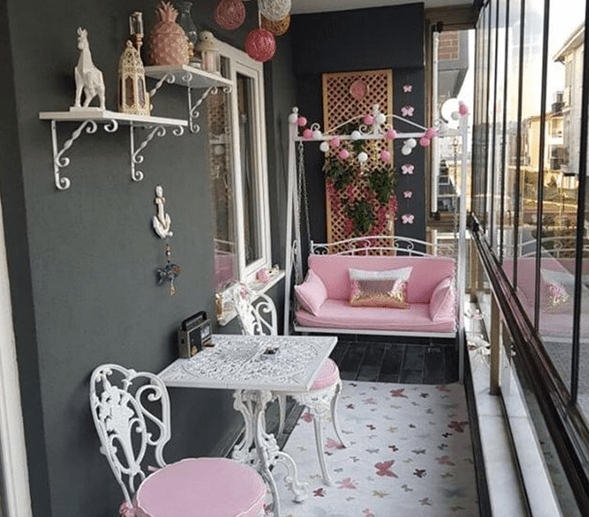 Pink is the color of choice for this princess balcony. Add a huge swing and shimmery pillows. Add a butterfly-themed carpet to compliment the cuteness. You can add a wing chair or a designed chair similar to your princess world.
Where's my brush
If you have a white balcony, then this may be the perfect opportunity to take out your brush and start painting. What better place to paint than in the open? The painter in us needs space to find their inspiration and what better place than the walls of your balcony?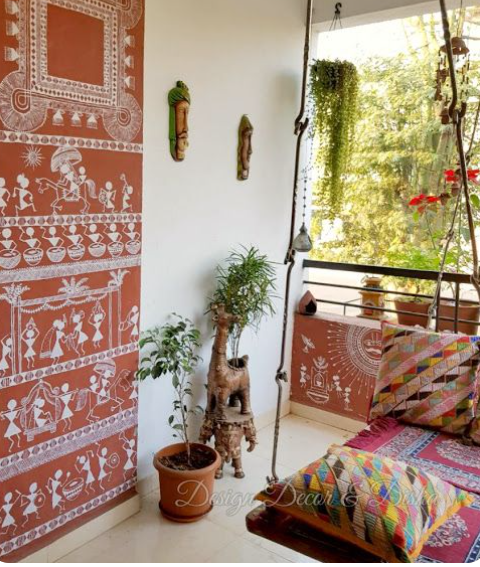 We'll start with painting the wall. You can either have your wall covered with mandala art or the monochrome design you're fond of. Cover as many walls as you want. Add a seating arrangement or a swing and colorful cushions. Get your canvas ready for the excitement to follow.
Single and loving it
Are you suffering from heartbreak and dying to move on? Well, the best way to do this is to change your settings and let the memories fade away slowly A newly decorated space starts the onset of a new life and goals and helps heal the old wounds.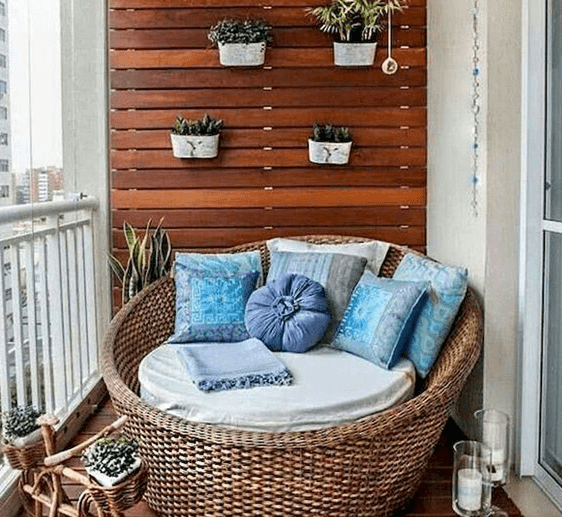 First and foremost, add some greenery to your balcony because it helps to soothe your mood. Also, do not miss the lavender candles for relaxation. Decorate your space with soothing lighting a big comfy chair so you can let go of your feeling and relax.
Music in the air
Don't let your guitar weep and wallow. Start tuning it to begin making tunes. Or, pull out that record player that's been collecting dust. Gather your speaker and mixer and start with your mic check. We'll do our bit and help you create a perfect stage for your balcony concert.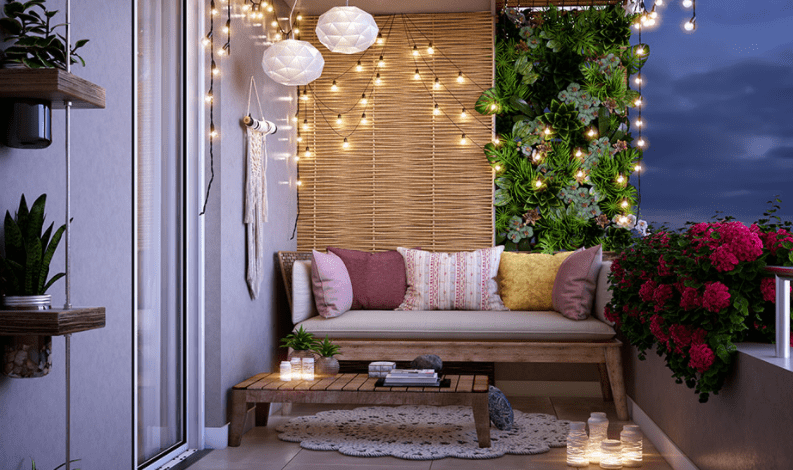 Add a proper sofa and a low-height table to keep your console. Make sure have enough hand space so you can properly play your instrument. Add a poster of a musician you admire. Try to get your hands on LED lighting, If not, fairy lights are always a great option.
Hippie Soul
Hippie souls, we are speaking to you. Tet your surrounding space speak loud about the warmth you hold and the colors you love to spread. Well, there is no written rule that intricate patterns don't go with striped or loud colors. Even if there is, you have little time to worry about this nonsense.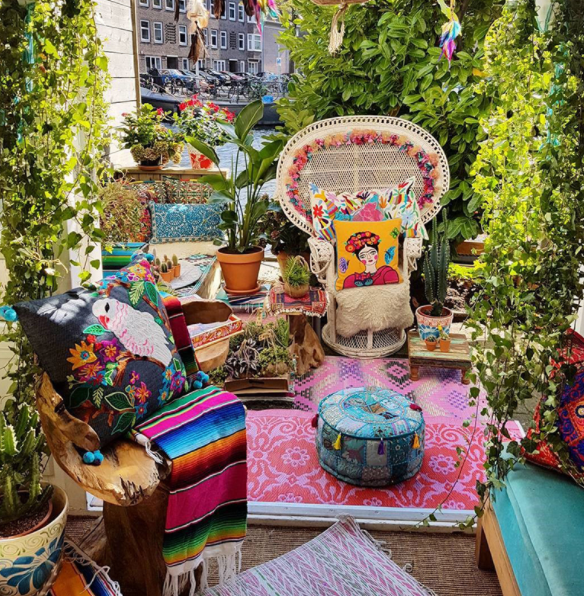 We'll start with the handcrafted lamp shades for a unique touch. Use bamboo chairs and multicolored jute woven carpets. For your cushions, you can use bright yellows and reds with a pattern of your choice. Put plants on your balcony to make it all look even.
Theme obsessed
Were you in a Marvel-themed place and the fan in you cannot keep calm? Are you continuously thinking about how you can recreate this dream zone? Time to use your balcony to create the superhero home of your dreams.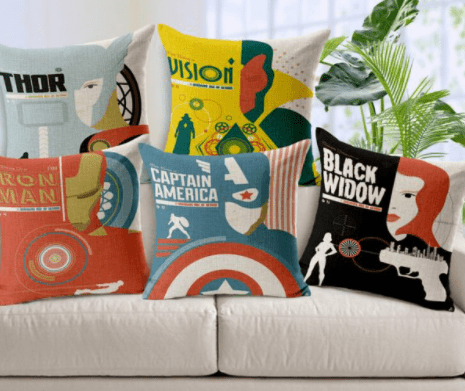 Choose what you want for a seating arrangement. Is it a couch or a long-armed chair? Make sure to add Marvel-themed pillows. You can also get a personalized cover made for you. Order a thor cup for your cup of coffee, and for a surreal effect, you can even add a glow-in-dark wallpaper.
Extravagant
Did you, in particular, choose the apartment you're living in just because it had a balcony that had a certain appeal to it? Was it love at first sight and you're willing to put in all your energy to create the most nurturing space?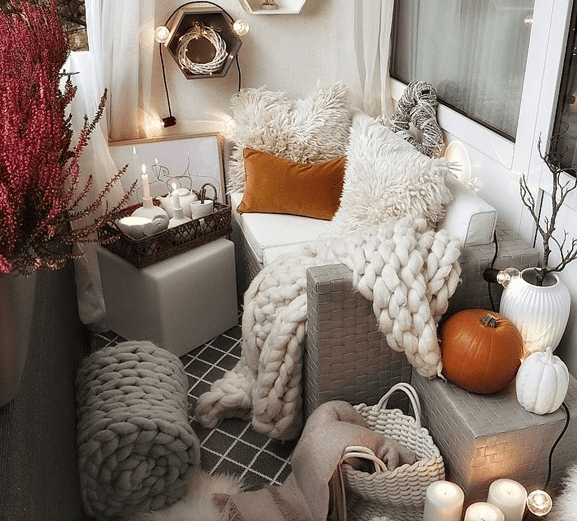 Rugs are a complete game-changer. Here, we are talking about woolen rugs. Use a bamboo cane sofa and side table as well. Add fluffy cushions and throw covers for the sofa to jazz it up. Metal-based planters and decorations will add to the richness of the look.
Light it up
Remember when BTS said, "Light it up like dynamite." We're totally with them on this when it comes to a shining balcony. A well-lighted space can lift up your spirit in a jiffy, bringing a breath of fresh air into your life and motivate you to shine on.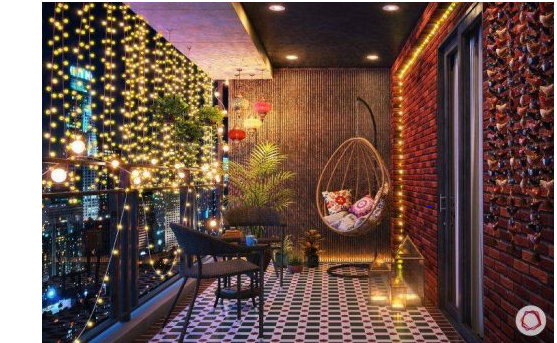 Well, fairy lights at times get boring, so use meshed lights instead. On the balcony door, add LED strip lights. After you have sorted your lighting arrangement, start planning your seating arrangement and carpet to enhance the look.
Private affair
Is your house on a busy street? Nosy neighbors and noisy surroundings are the worst things that can happen to your perfect balcony. Imagine taking time out for yourself, but end up frustrated because of someone's constant nudging. Want to break free of this hindrance? Here's how!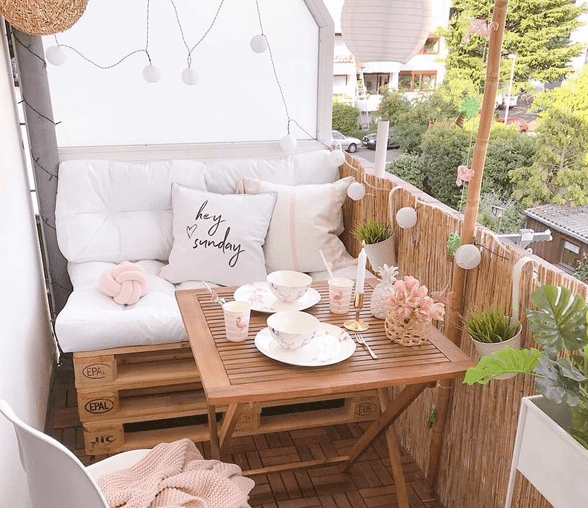 Use a mini natural bamboo decorative fence to stop on-lookers from invading your private space. For a more isolated setup, attach rolling hand-drawn blinds. You can get a dining bench and put some bedding and bench cushions on it for added comfort.
Workspace
Work from home got you all worn out? The same is the case with us. The pandemic had already stopped our lives, plus the challenging long working hours have just added on to the monotony. Get up from your bed, because we won't let you suffocate yourself any longer with this office balcony.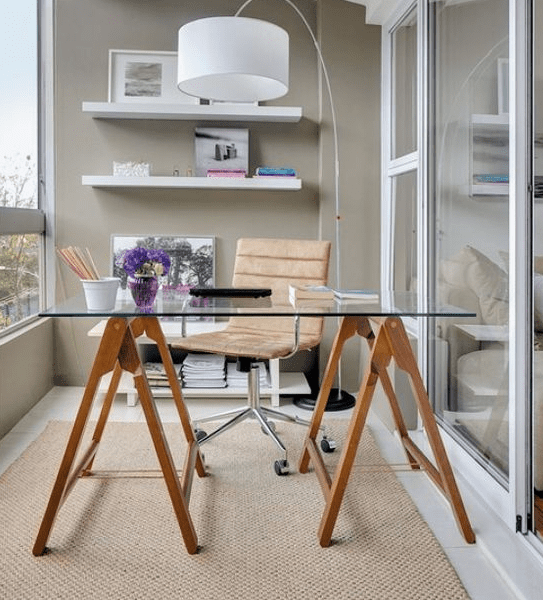 Make sure to obtain a work table that holds all of your necessary paperwork. Always be particular about your office chair and get back support for those who have long seating hours. As for the lighting, use yellow lights and an arc-leaning lamp.
"They were all yellow"
At times, there are certain colors that reflect our personalities, which helps us connect to the idea of that color. This one's for the impatient and the hopeful yellow souls, who are drawn towards it and tend to see the happiness it spreads like the warmth of the sun.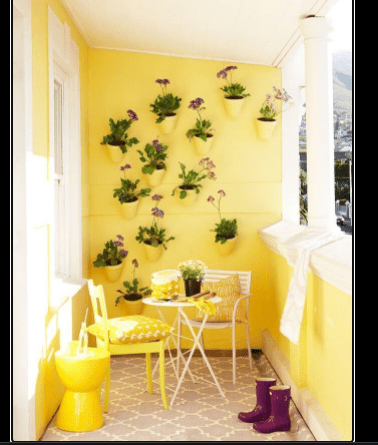 Paint the walls yellow and hang small yellow pots with green leaves. Make your seating arrangement the same color to make it look like a well-coordinated affair. Play the song "Yellow" from " Coldplay" while doing all the work to feel connected.
Breakfast first
Once you start having breakfast, there's no going back. We tell you what the fun is all about, maybe a little colorful space where you can enjoy your morning time and a different menu to keep you excited for the week.
Place a round table on your balcony, big enough to hold your four-course breakfast. Be particular about the type of mats you are using. Do you want a more rugged jute mat or the cloth mats? You can put it near a couch if there is enough space.
Yoga
This fast pace world is moving towards calmness and we're all slowly believing in the power of meditation and yoga. But, there's something that doubles the magic of yoga i.e yoga in open space. Be aware while you're inhaling and exhaling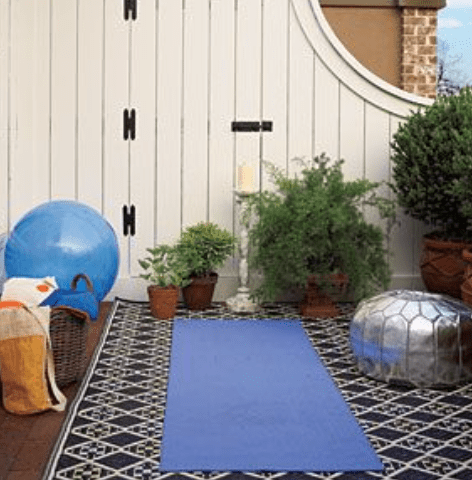 Place all your focus on the floor pattern. Use decking floor tiles for a better grip. Add a yoga mat that contrasts with the tiles. Invest in a spine line yoga mat for a better practice session. For the in-between breaks, keep your bean bag in the corner.
"Another brick in the wall"
Many balconies that consist of only brink walls are accompanied by a floor that dulls the entire look making it look utterly shabby. We too were fed up with our brick-walled balconies until we saw this idea, and we're sure you would love it too.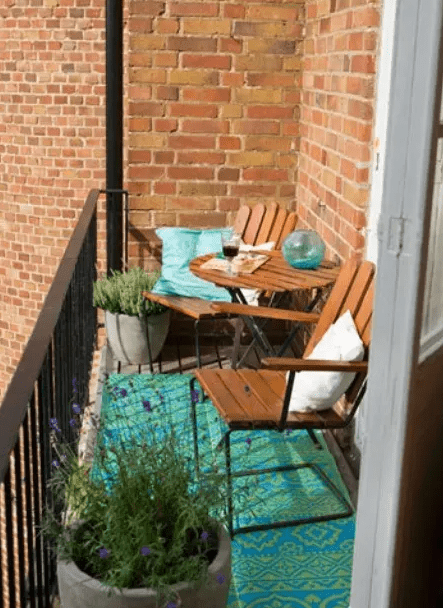 First vacuum the wall to remove all spores and dust particles. Use sandpaper sheets to lighten the dark brick look and achieve a lighter shade. Next, apply some brick vanish to get a shiny look. Use shades that blend in with the brick color and wooden seating.
Art attack
We understand how desperately you want to try out the different setups for your space and budget is always a deciding factor. We'll tell you some classy décor picks that won't burn a hole in your pocket and will satisfy your longing for something new.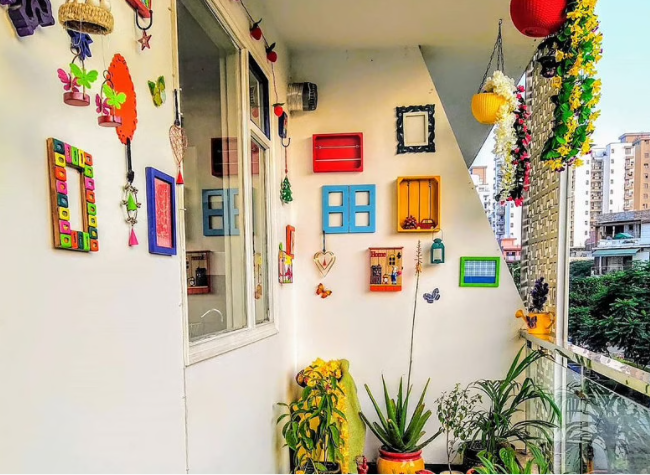 Have you ever made wall hangings from cardboard? Now is the time to start. Paste little mirrors on your cut-out cardboard squares, and use acrylic paint for finesse. Get ahold of some wooden circle cutouts and thread to make a handmade dream catcher. For seating arrangement add a couple of small fold-out chairs.
Well coordinated
Are you the particular one in the group? Your pillows need to be tilted to the right, photo frames should always be aligned, and the list goes on and on. When it comes to mixing two differently design tables, you might have a full-on anxiety attack.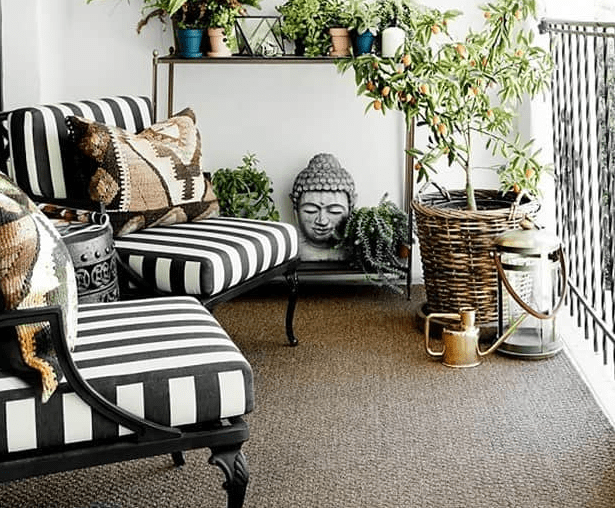 So for this look, we'll let you decide if mixing stripes with a metal table that has different engraving is suitable for your taste. As for us, we go love this all-black armed chair and stripes pattern to compliment the setup. Yellow lights and light décor by the side will add a nice flavor, too.
Party area
Hey you party animal, can't live without throwing a party every other night. This one's for you. Who needs a clubbing night with friends when your balcony could turn into the coolest club ever that anybody would love to hang out on.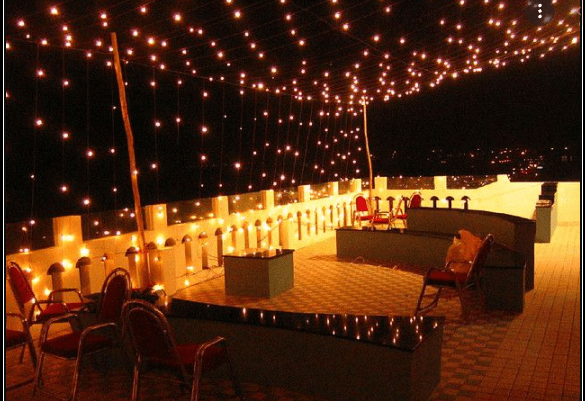 Hang the lights in a straight line attached from the wall for a well-lit space. You can attach a disco light in the middle of it or put some fairy lights in a colored mason jar for coll effects. Make space to keep your speaker. Put sound protection panels on the ceiling and the CLUB IS OPEN.
Heaven has a new address
Remember the saying, "If there is Paradise anywhere on Earth, it is here." Well, we think we've found the perfect balcony to remind you. This décor idea looks like an exquisite puzzle from heaven that needs no completion.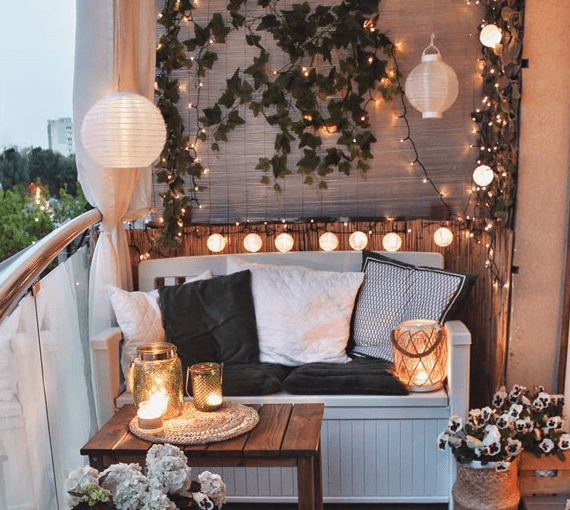 You can start with hanging cloud-shaped pendant lamps and decorative paper lamps to create a dreamy cluster. Use white drapes and silver lights. Add white flowers and green leaves for a soothing color palette and a white duvet cover to make it look serene.
Daydream
Every day is a hustle and we live on, but what keeps us going is how often we are able to wind down and think about our future plans. We thus have created a space for those who do not feel shy about dreaming.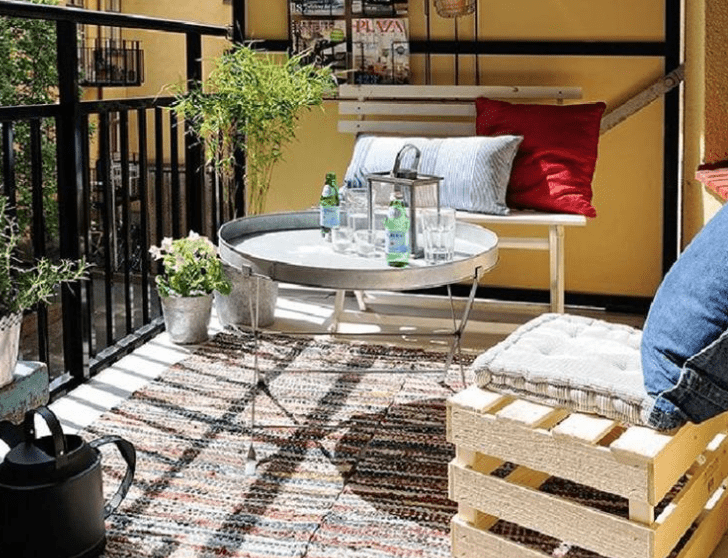 First of all, put up some shade canopies so you can spend long hours outside. Place chairs or a mini sofa and a table for you to place your foot on lazily. Keep your favorite magazine close by and a charging point so that you don't have to get up every now and then.
Shadewell
Don't want the rain to keep you inside. We got you the Eureka moment for you. A huge shade umbrella never goes out of fashion, so never think twice before hanging one. Call your friends or be ready for an amazing time alone.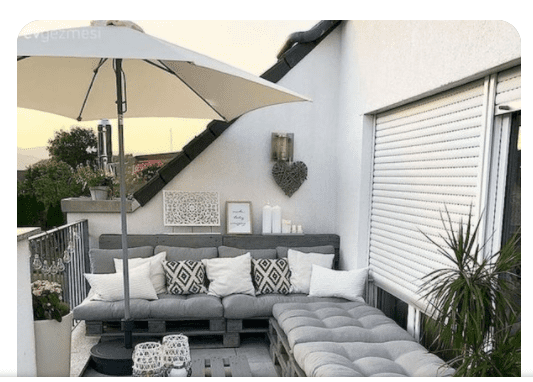 Get an adjustable and moveable umbrella that covers a huge portion of the balcony. You can go for an L-shaped design or vertical design pattern depending upon the space availability. Use dark solid shades of blues and grey for this outdoor look.
Hang in there
Most of us have small balconies and cant place enough eating arrangements there. Do you want to know a secret? We face the same issue, so rather than placing things on the floor, we hang them. This way, you can make your space look huge.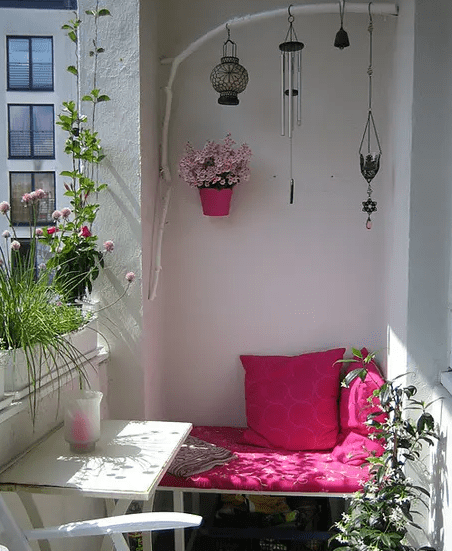 Hang the flower pots, lamps, and wind chimes to compliment your decor. Use the area to the max and shift your seating space to the side of the wall. Use brighter shades for the room to look bigger and foldable tables that never disappoint.