Bench Ideas For The Bedroom
By Martin B November 7, 2023
---
You've probably spotted these delightful indoor benches in fancy bedroom catalogs, trendy home magazines, or perhaps even while visiting your friend's newly spruced-up space. Indoor benches, they go by a bunch of names – bedroom bench, end-of-bed bench, storage bench, and even the occasional window bench. They come in all sorts of styles, from the sleek and modern to French countryside chic, and even a touch of vintage charm.
But why should you consider adding this nifty piece of furniture to your bedroom, you wonder? Well, picture this: you plunk it down at the foot of your bed, by the window, or snugly tucked in a corner, and voila! It instantly gives your room a cohesive look. Of course, it serves as extra seating, just like any bench would. But it's not stopping there; it's your new go-to spot for putting on your shoes, planning your next fabulous outfit, or simply curling up with a good book under a cozy throw pillow and blanket. So, let's dive into some of the most stylish, practical, and comfy bedroom bench ideas below!
Storage Savvy Bench: 
To maximize your bedroom's space and functionality, consider adding a storage bench. Perfect for smaller rooms, it also offers a handy spot to stash away blankets and pillows. Go for a tufted storage ottoman, like the one in that serene photo, and you'll add an extra touch of elegance to the mix. This idea really shines in modern and traditional bedrooms.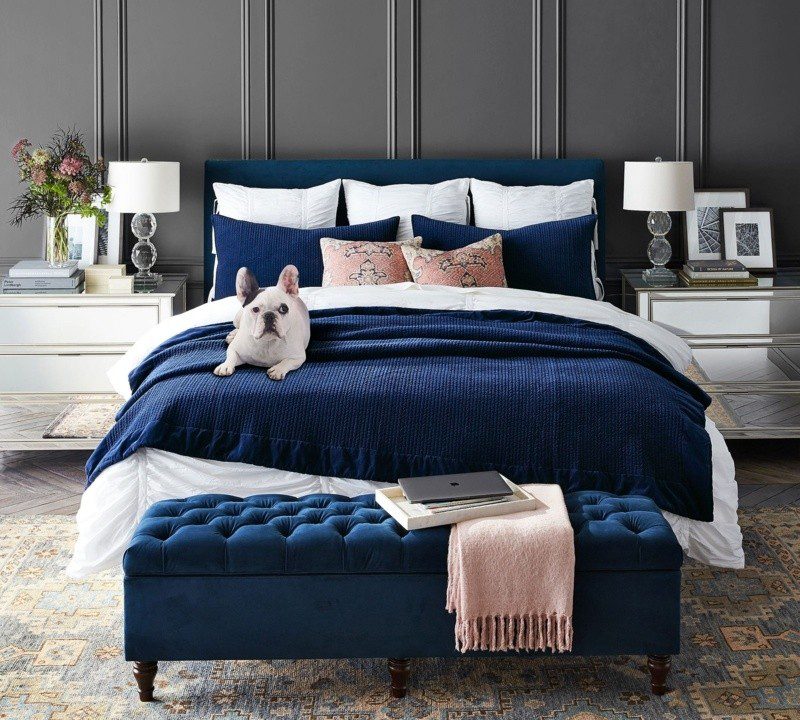 Upholstered Comfort Zone: 
Want a cozy and sophisticated seating area in your bedroom? Choose an upholstered bench, and pick a fabric that plays nice with your room's color palette. Like that beige cushion in the modern bedroom snap – it's a match made in heaven. Best for those with a minimalist and contemporary taste, pair it with a stylish bedside table and lamp for that effortlessly cohesive look.
Window Seat Wonder: 
Turn your bedroom window into a delightful reading nook with a window bench. Let that natural light flood in! Just look at that peaceful bedroom picture with the wooden bench and white cushion – it's like an invitation to relaxation. This idea suits all sorts of bedroom styles and themes.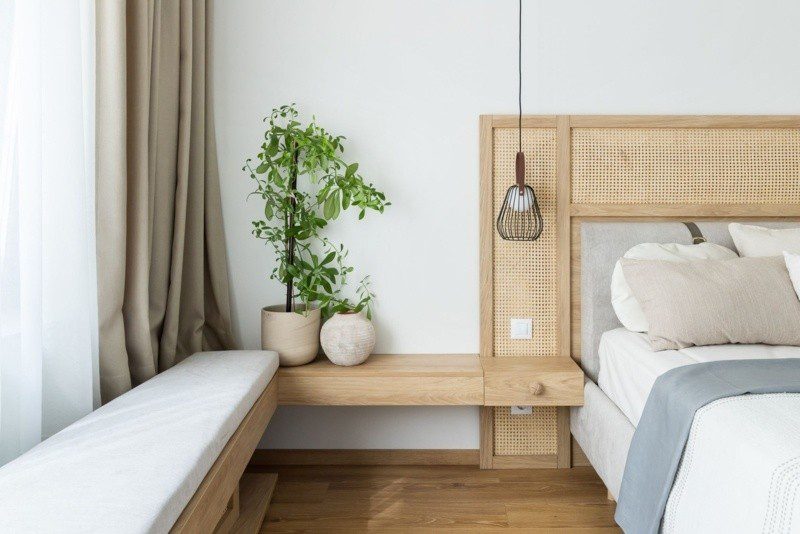 Bookworm's Bench: 
Put a bench right between two bookshelves and create a stylish and functional reading area in your bedroom. Inspired by that charming office-themed space, it's a dream for book lovers and a surefire way to set the calming mood. Works wonders with various decor styles and color schemes, especially with a unique touch, like a floral wallpaper ceiling.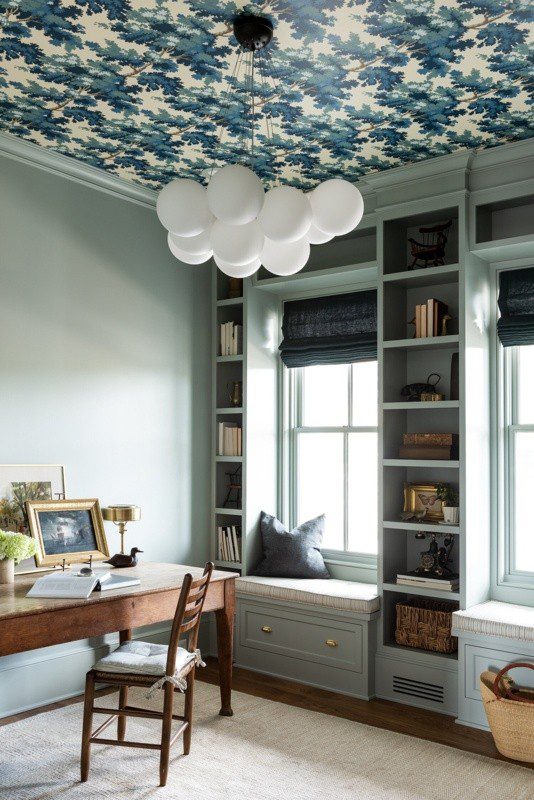 Less is More Minimalism: 
For those with a modern bedroom, add a sleek, minimalist bench. It's a functional addition that won't hog the spotlight. Check out that white upholstered bench in the tastefully decorated home photo – it's all about seamlessly blending in. Match it with your other room pieces for that super cohesive look.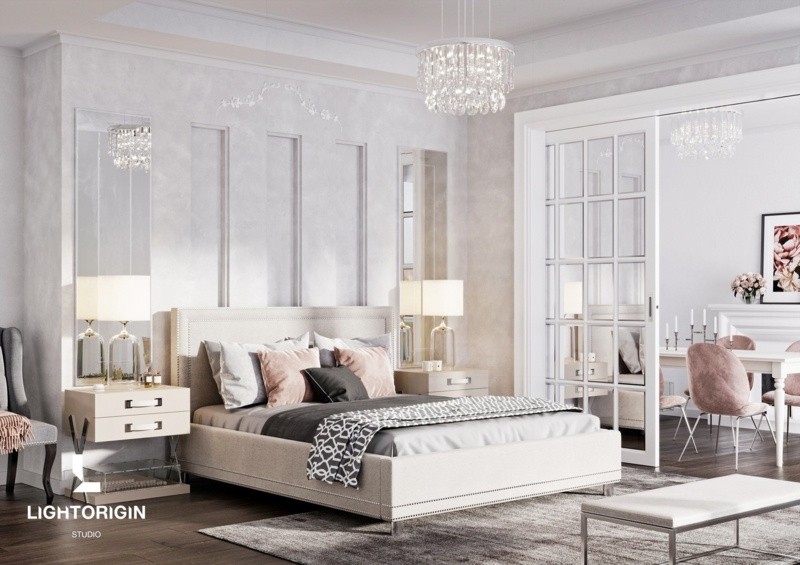 Foot-of-the-Bed Bench: 
Elevate your bedroom design game by placing a bench at the foot of your bed. Extra seating and a dash of elegance, all in one. Just like the cozy, well-lit bedroom snap, choose a bench that harmonizes with your bed's design and the other room elements. This one's a crowd-pleaser, working well with various bedroom styles and sizes.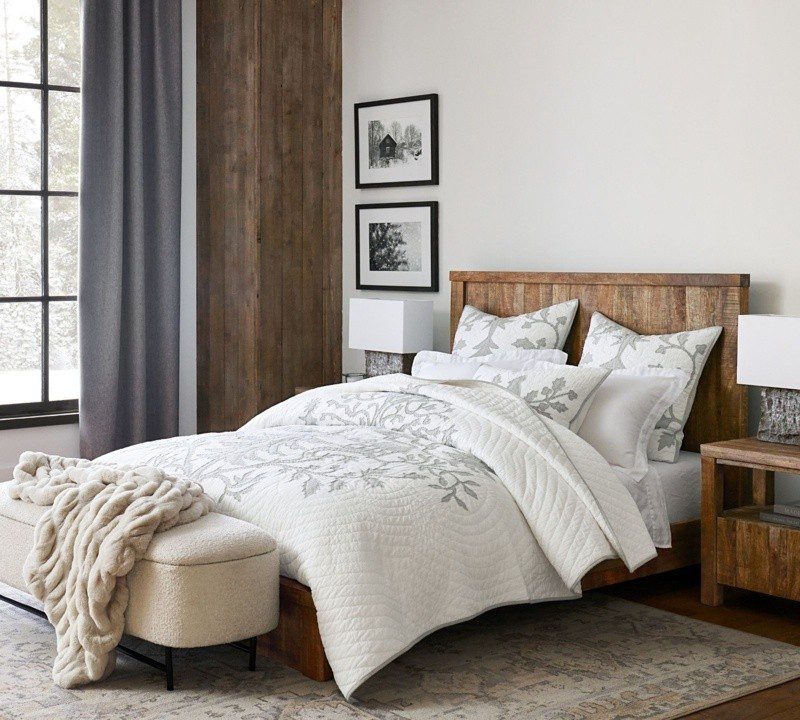 Rustic Charm Bench: 
If your bedroom leans towards the farmhouse or rustic vibe, consider a reclaimed wooden bench. It adds oodles of charm and character, like that cozy bedroom with the wooden bed frame. Place it in storage or seating areas to really amplify that cozy, warm atmosphere.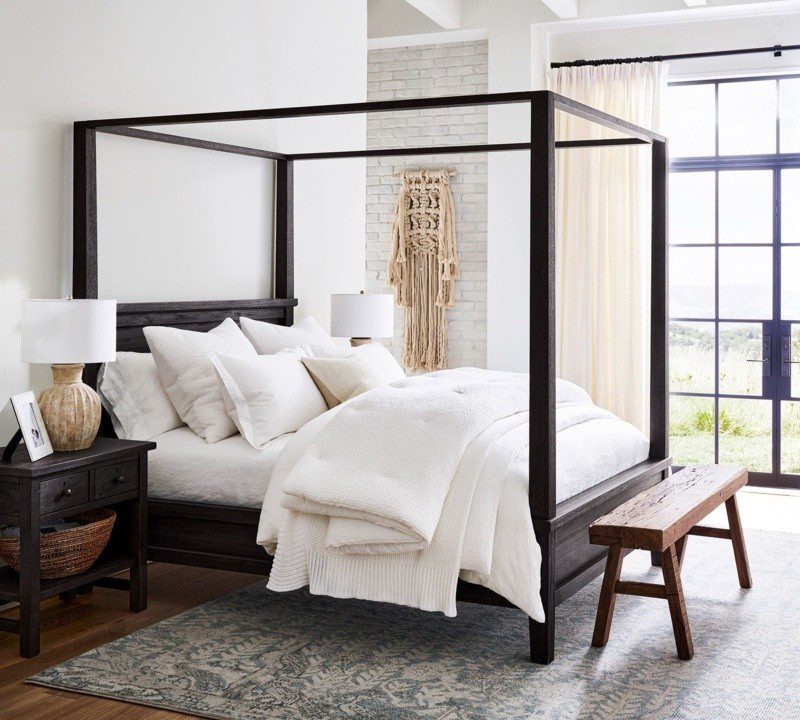 Elegant Curved Bench: 
Fancy a dash of elegance and sophistication in your bedroom? A curved bench is the way to go. Set it near a vanity or sitting area, and watch how it instantly adds a touch of refinement. This one's a winner for classic and contemporary bedrooms and can be adapted using various materials and styles.
Vintage Vibes Bench: 
Inject a bit of history and charm by bringing a vintage bench into your bedroom. You can hunt for unique options at antique shops or thrift stores. Inspired by that serene bedroom adorned with red and white paisley patterns, this idea oozes nostalgia and sophistication, making it perfect for traditional or eclectic spaces.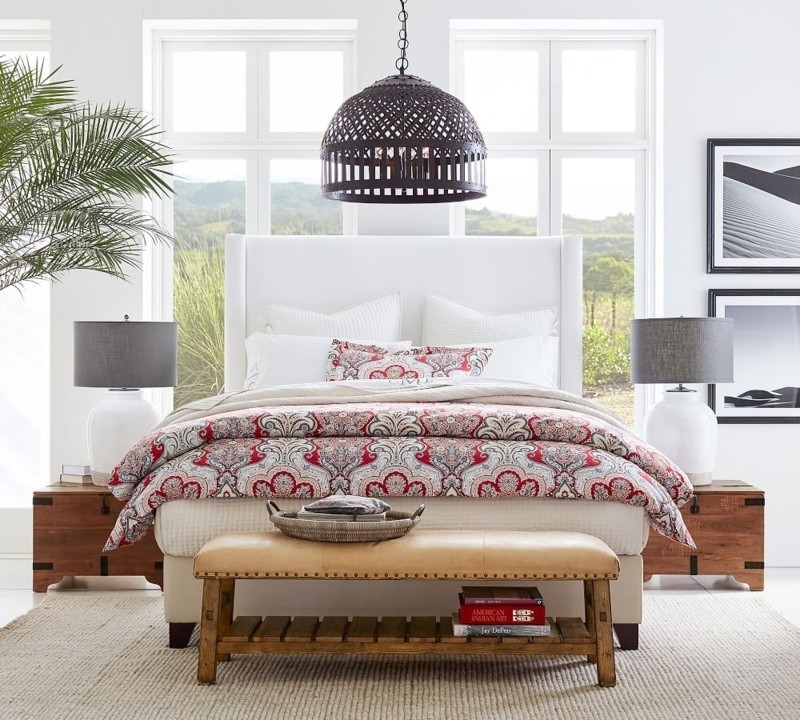 Foldable and Flexible Bench: 
If your bedroom is a bit short on space, opt for a foldable bench – use it when you need it and store it away easily when you don't. Just like the black and white bedroom photo, this idea is both practical and stylish, suitable for various bedroom designs. Pair it with matching striped or patterned decor to create some visual interest.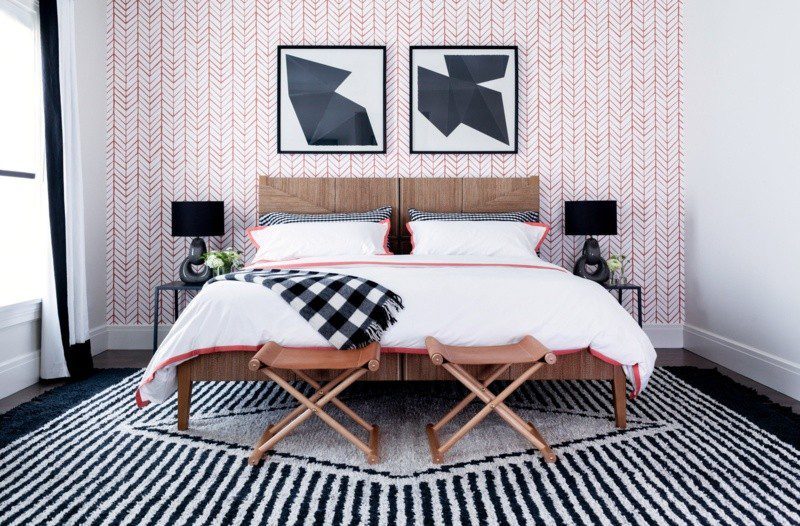 Bench-Ottoman Combo: 
For the ultimate versatility in your bedroom, go for a bench that doubles as an ottoman. It's great for seating or as a footrest, especially in modern and cozy spaces. Combine sleek leather or fabric benches with a plush rug and a low dresser for a look that's totally cohesive. Don't forget to add fun personal touches like books or plants!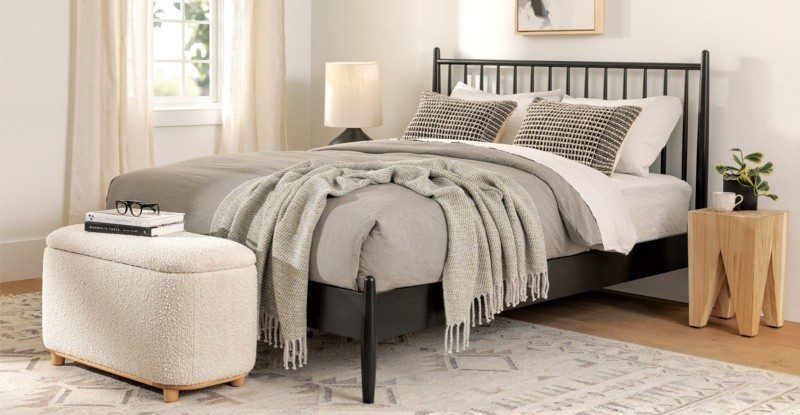 So, whether you're into sleek and modern or something more rustic and vintage, there's a bedroom bench idea here that's bound to tickle your fancy!