35+ Bohemian Décor Ideas To Create An Artistic Fun Vibe
By Ziyee N December 5, 2021
---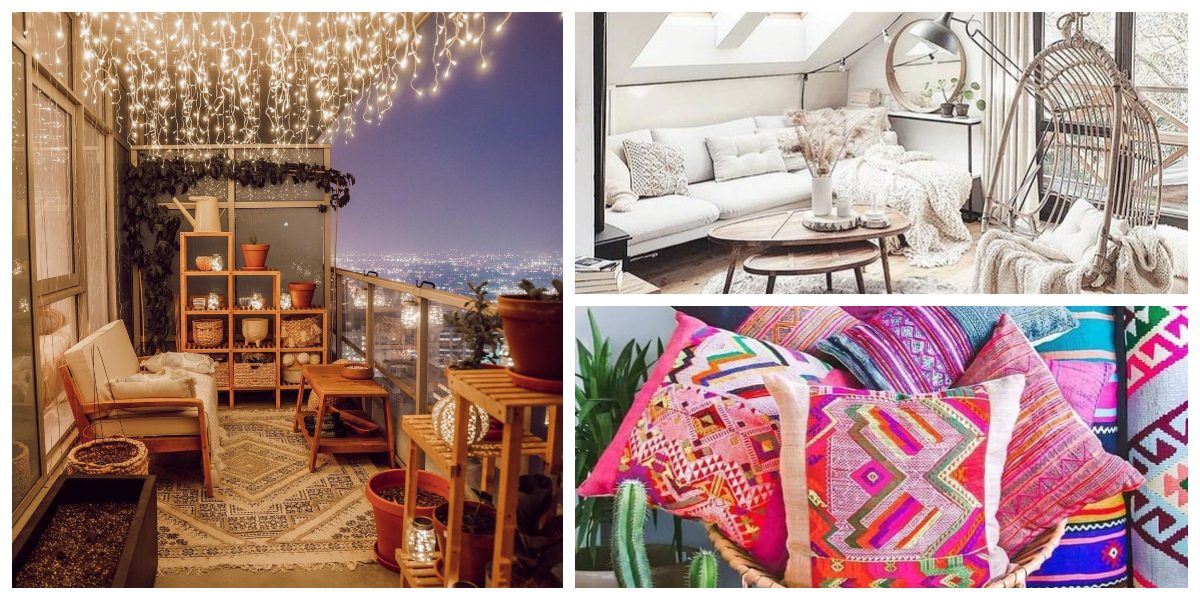 Whether it is adapted for fashion, interior design, or furniture, Bohemian style has taken over the hearts of many over the years. For those who are unfamiliar with the concept of bohemian style, it refers to objects or styles that are unconventional and artistic; to capture the core essence of bohemian style, one must incorporate elements that are uniquely personal to yourself while also releasing a laidback energy. Bohemian-styled homes are becoming more popular as it creates that warm and homey feel that homes are supposed to have because of the relaxed and personal elements that are incorporated. However, designing homes can be rather tricky if you're not a professional, not to mention the complexity of designing a bohemian home. Not to worry, though, because we've got 37 bohemian home decorations to inspire you.
True to Nature
A general tip for those looking to design a bohemian home is to stay as close to nature as possible when it comes to decorating because the bohemian style is close to nature, historically speaking. Therefore, include as many natural and environmentally friendly materials as you can.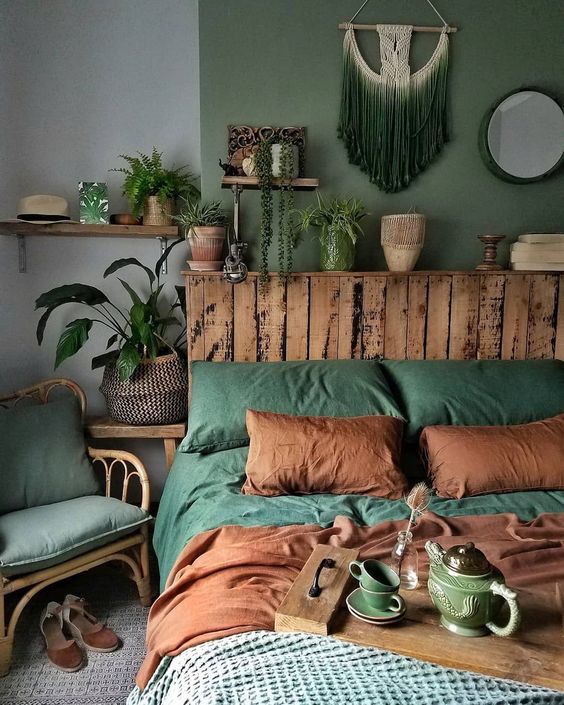 This means natural, earthy colors or unusual combinations of rich colors for color palettes, plants, and of course, textiles, patterns, textures, and handicrafts. These are sort of the basis of creating a bohemian home, so design your home around this idea, and you won't stray far from the perfect bohemian home.
Bohemian Difficulties
Although designing a bohemian home seems simple enough, it is actually the exact opposite. This is because it is easily overdone and may seem messy and unpleasing to the human eye. Therefore, this should be something that you take into consideration.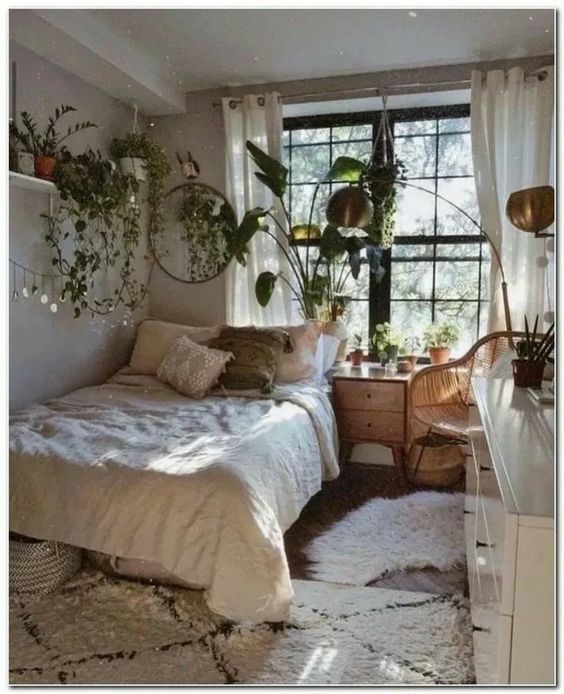 Before you purchase specific bohemian décor, make sure to look within yourself and determine if this particular item fits your aesthetic taste as well as the rest of the furniture; don't forget to determine whether this item reflects your personality.
Fringe Pillows
The most bohemian element to ever exist is fringe. Whether it is on decorations or fashion items, if you can spot fringe, then it is basically bohemian. Therefore, the simplest element to incorporate in your home decorations to make it bohemian style is fringe.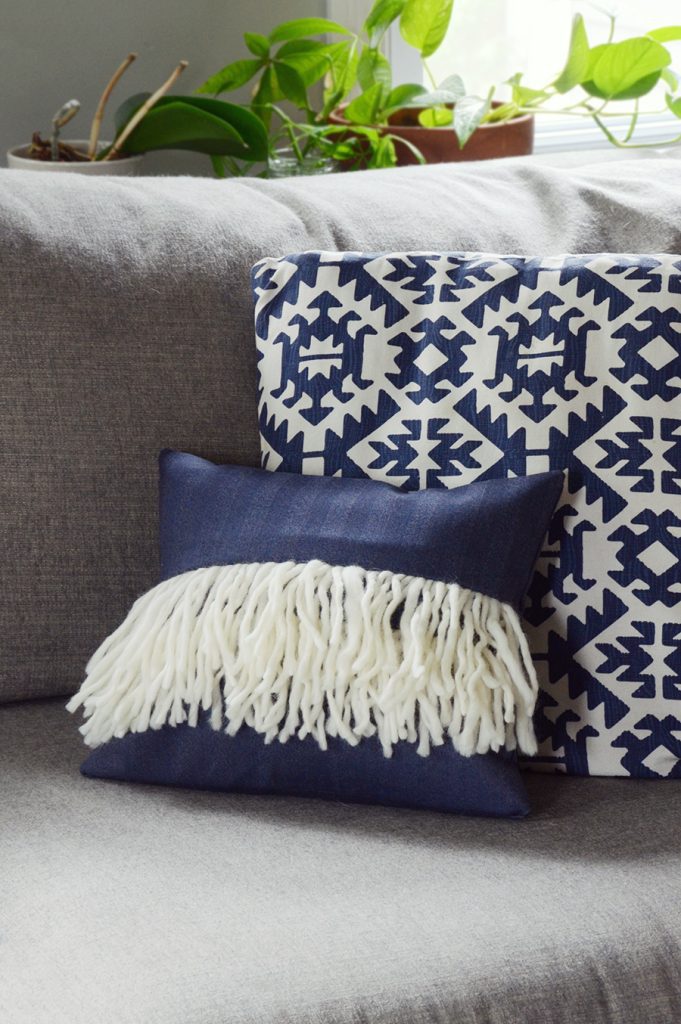 Here's how you can make a fringe pillow to bohemian-ize your couch. First, wrap some yarn around your hand over and over again until you have the desired amount of fringe you want. Then, cut them in one spot and sew the yarn to your pillow cover.
Pile on Pillows
Once you've created those pillows, you'd need to place them decoratively on your couch or bed. This task may seem easy, but it's quite complicated as it's all about grasping the knowledge and technique of color coordination and place settings.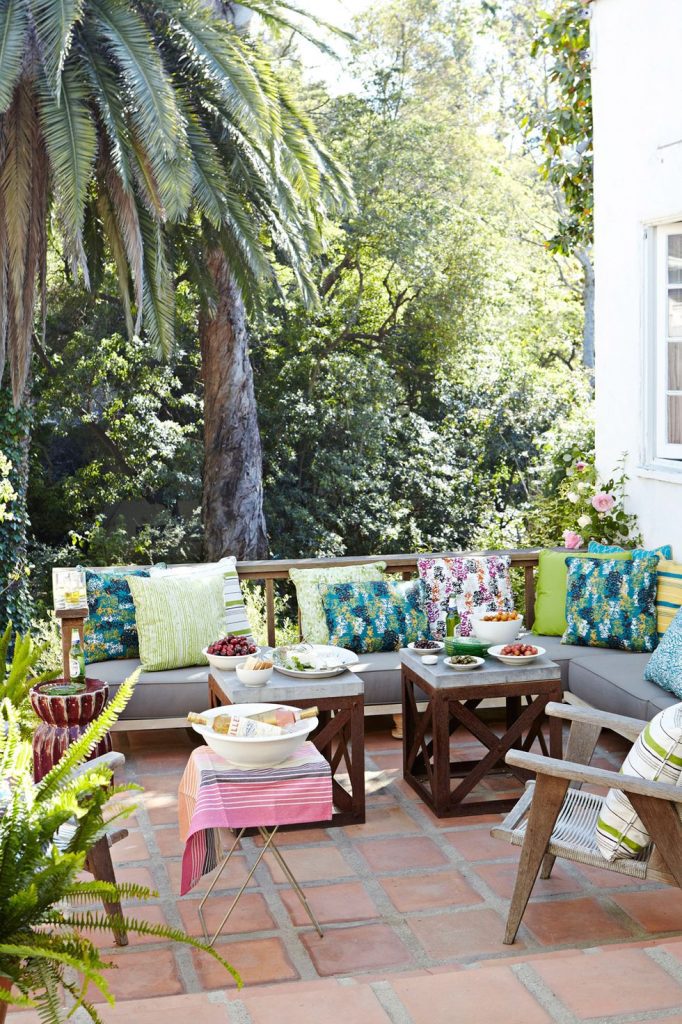 You should always refer to the wheel of color when you're trying to color coordinate. Bold contrasting colors work best for bohemian homes, so pair pillows of bold, contrasting colors together and throw in a few plain pillows among the patterned pillows.
Tassel Wall Décor
Other than fringe pillows, you can turn to another common bohemian element that can be easily DIY-ed, and that's tassels. They are ornaments consisting of loosely hanging threads that are knotted at one end. Use tassels to create an unconventional banner that will decorate your wall beautifully.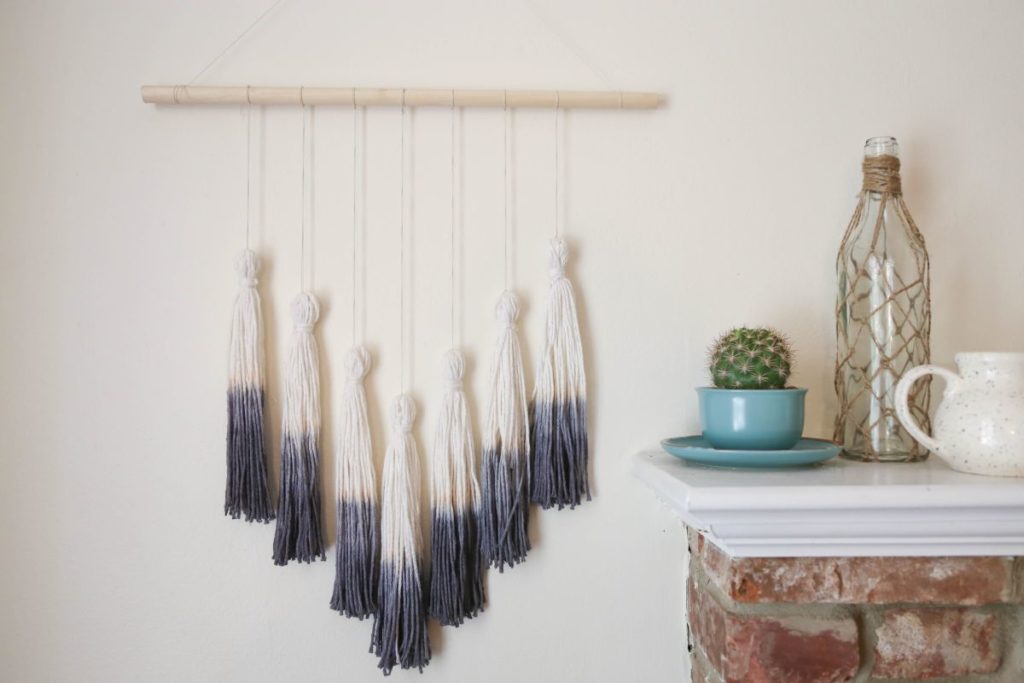 First, wrap some yarn around your hand, tie one end of the yarn and cut in one spot on the other end; you could dye the cut end for a pop of color. Then, repeat to create a few more tassels, tie them to a wooden stick and attach them to a wall.
Tassel Circle
Alternatively, use tassels to create this super chic circle that can be hung anywhere in your home as a bohemian element. This circle is super flexible, and you can make it exactly as the picture below or any other way you like.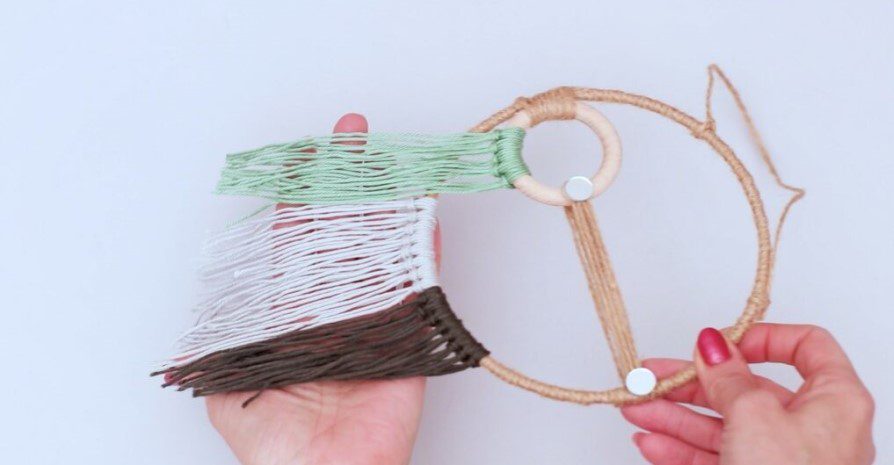 To create the basic shape, find a circle wire and wrap it with twine or yarn; attach a piece of twine to the top of the circle to hang it. Create mini tassels using the techniques mentioned above and attach all the tassels you've made to the circle.
Macrame Mason Jar
Macrame is a form of textile achieved using knotting techniques; macrame-wrapped items are special as the pattern isn't all the same. In addition, it can be customized to your preference by choosing knots that are better suited to your style.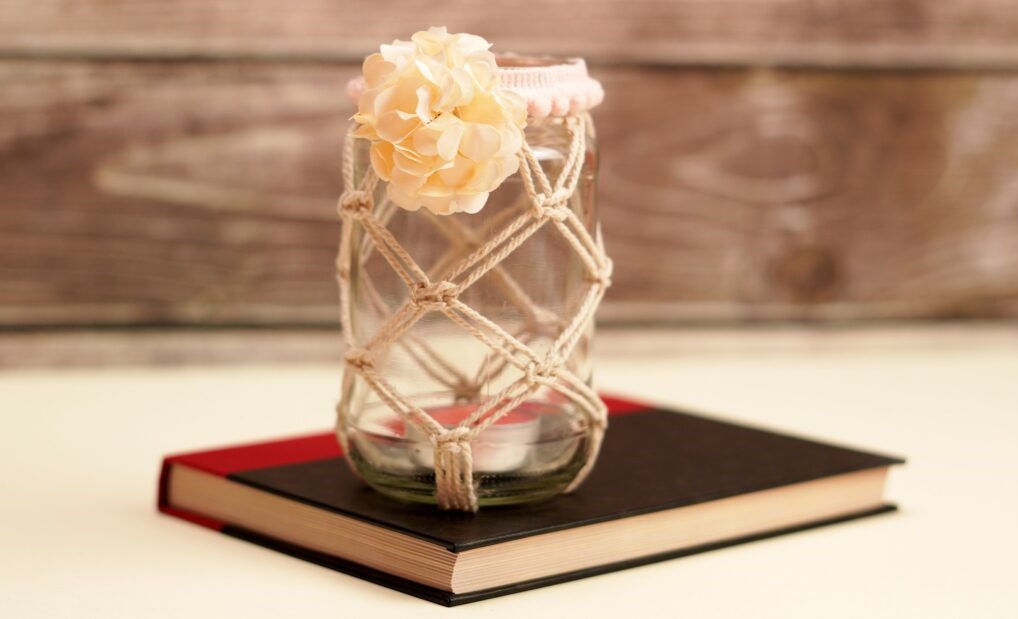 Macrame mason jars are easy to make and a quick bohemian element to add to your home to instantly elevate it. All you need is a mason jar, scissors, hot glue, pompon ribbons, macrame yarns, an artificial flower, and a video tutorial on how to create macrame knots.
All Things Floral
If you're not up for DIY-ing decorations, here's one element that is easy to incorporate into your home decors without having to get your hands dirty in a DIY project. Floral patterns are unique and distinct, which is the essence of the bohemian style.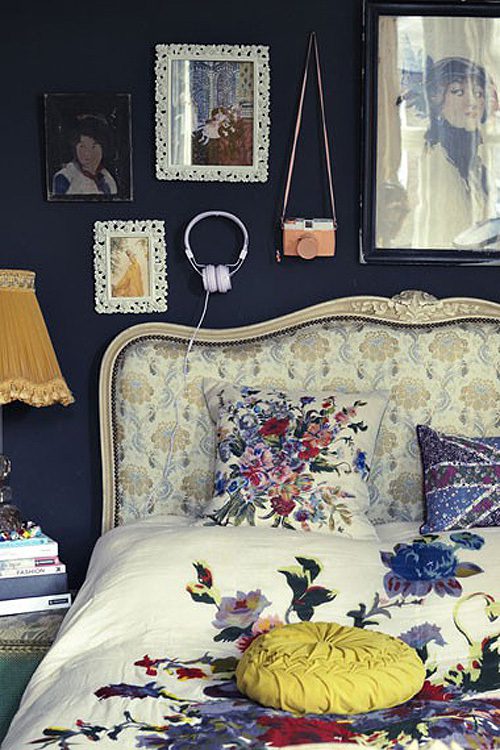 Add small items such as floral bedding, floral pillows, or blankets if you're not particularly fond of floral wallpaper; Floral wallpaper occasionally gives people headaches because the pattern is too much to take in, so be careful when choosing the floral design.
Large Art Pieces
Another piece of decoration that is unique, as well as shows your personality, is art pieces. These are great as home decorations, especially large-sized art pieces, as they can fill up empty spaces quickly. So, consider decorating your bohemian home with them.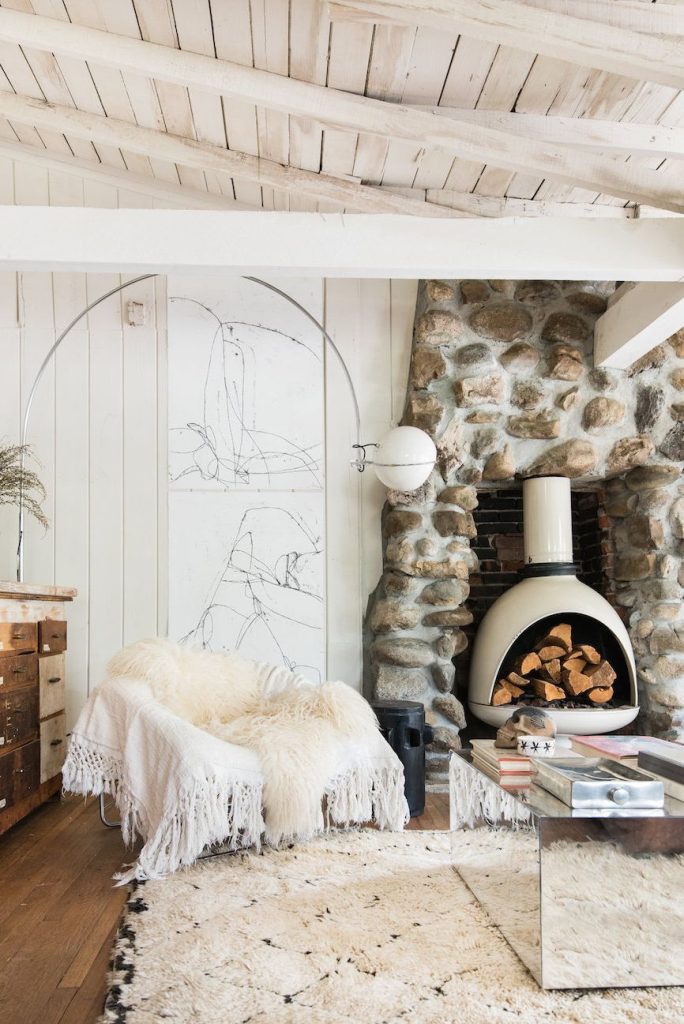 The picture above shows a large-scale line drawing that is simple, unconventional, and full of personality; it definitely showcases what a bohemian home is supposed to have! Paired with a neutral background and simple furniture, this piece of art stands out from a sea of white.
Tribal Patterns
Upon designing a bohemian home, do consider tribal patterns. The word "tribal" describes patterns that are inspired by the central and west African cultures, and their are many unique ones to choose from in different colors that will make any home stand out.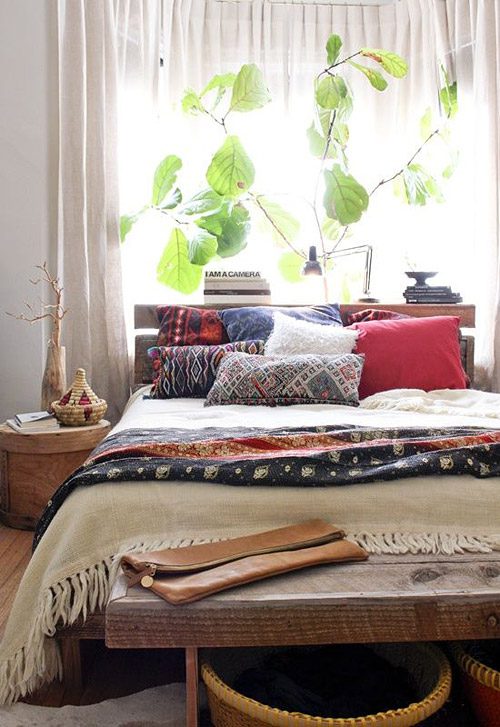 Tribal patterns are unconventional and are rather popular amongst those who are big fans of the bohemian style. So, adding tribal patterns to your room will easily bring it from an ordinary level to a bohemian level which is what we're aiming for.
Tribal Style Details
Since tribal patterns are so in style for bohemian lovers, why not go all out and decorate with tribal decorations as well? From wall art to prints to sculptures, there is a wide selection of tribal decorations you can choose to dress your home with.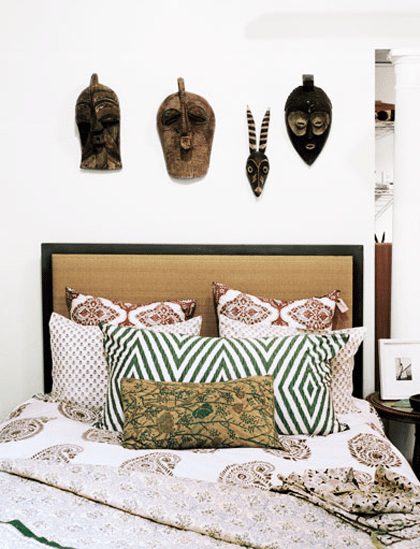 The most famous tribal decorations might just be these tribal masks that this homeowner hung on their wall. It is an unconventional decoration that suits the bohemian style and dresses up a blank wall perfectly. However, they might give you a scare when nighttime comes around.
Bohemian Attic
Bohemian-styled homes may not be for everyone; it would be such a waste to have finished decorating your bohemian home style and realize that it's actually not the theme for you. Therefore, you could start small and decorate a small area of your home, like your attic.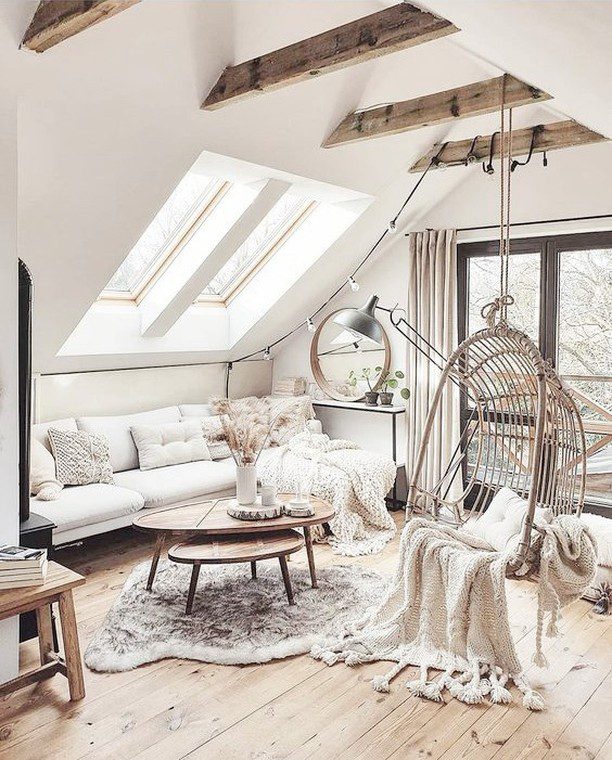 Some essential elements for creating a bohemian home are plants, macrame, blankets, throws, pillows, string lights, and definitely rugs. Therefore, fill your attic with these elements, and you'll have it looking bohemian in an instant; Pinterest is also a great source of inspiration.
Bohemian Balcony
Another small space you could experiment with bohemian styling is your balcony! It's a compact space that wouldn't require as much furnishing as the other rooms in your home, which means you don't have to spend much money on this "experiment."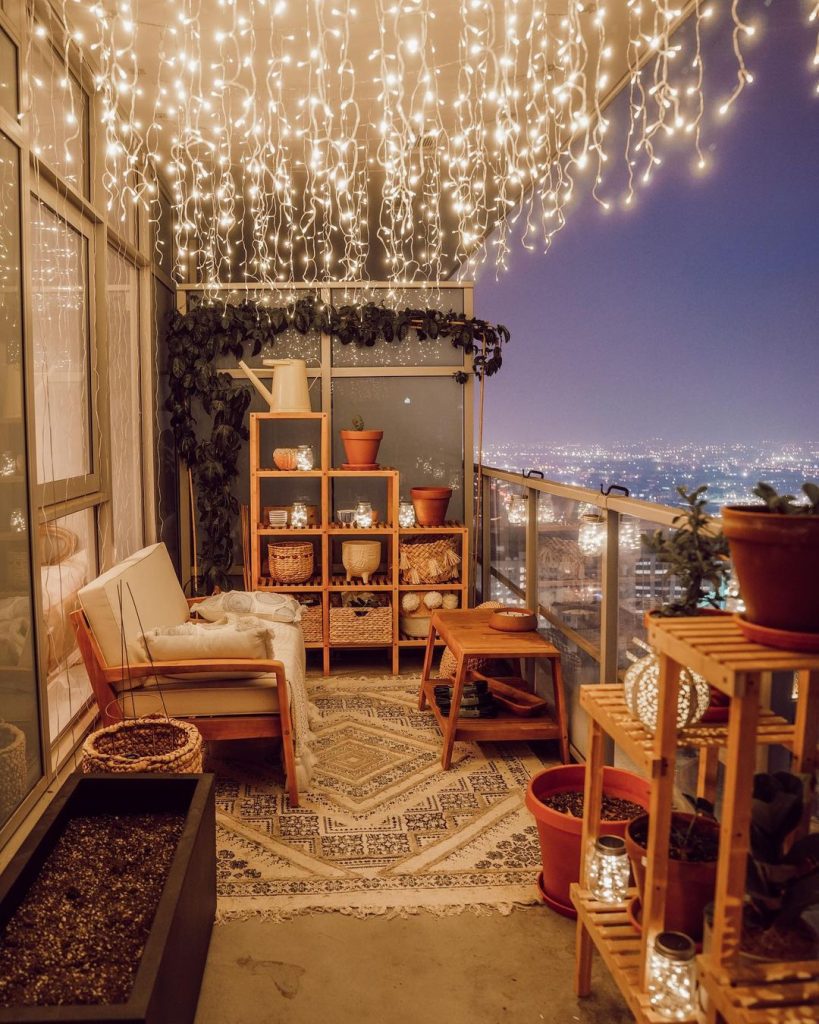 Hang fairy lights across your ceiling and use plenty of wooden furniture. If you're someone who loves to read, fill your balcony with a wooden bookshelf, sofa, coffee table, and throw in a patterned blanket in case it gets cold. For decorations, use plants.
Bohemian Minimalistic Bedroom
Alternatively, try decorating your bedroom in a bohemian style. As bohemian-themed rooms are typically filled with laidback elements, the room would give off a chill vibe that's perfect for a bedroom which is where many find themselves relaxing in.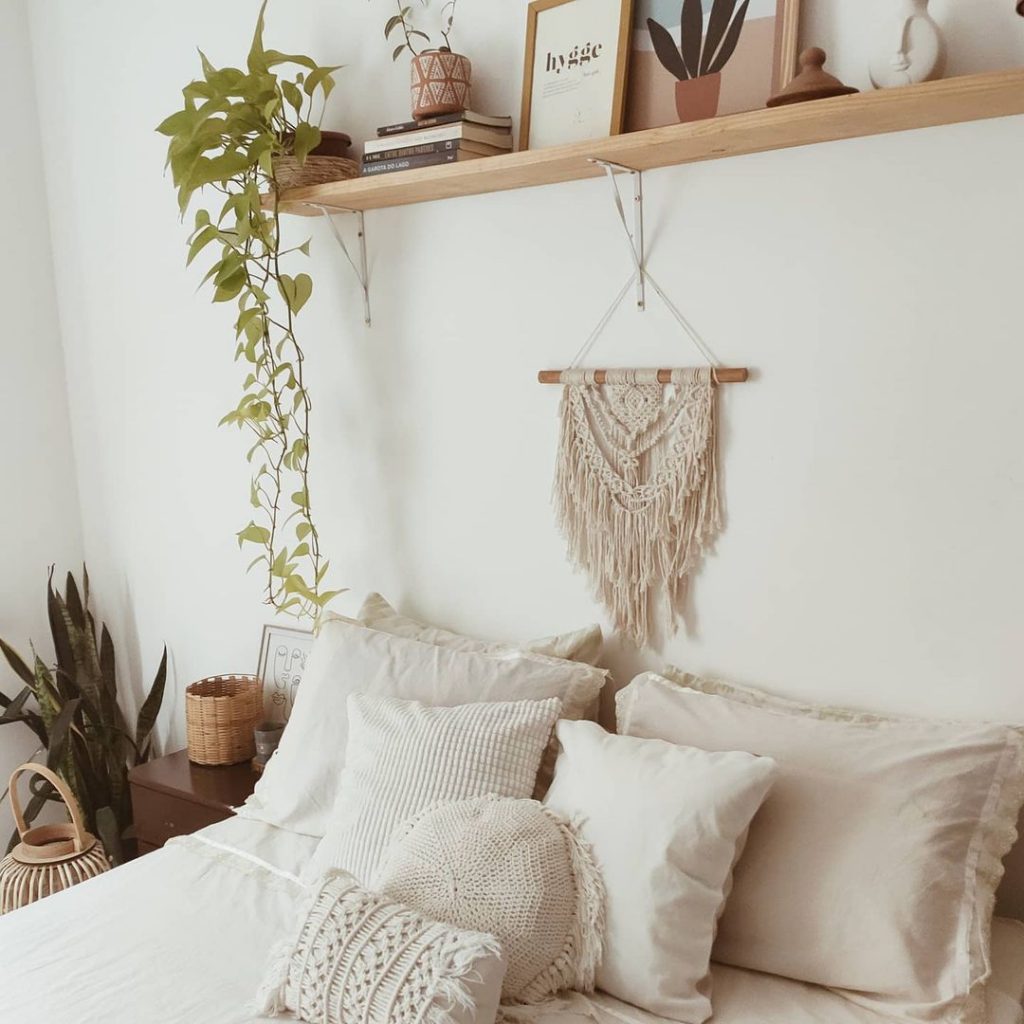 To make it minimalist yet bohemian, focus on decorating in basic colors like white and cream. You could use white yarn, twine, and wooden elements for bohemian decorations. If your room seems too monotoned, try adding plants to add a pop of color and bring it alive.
Muted Bohemian Bedrooms
If you're not too familiar with interior designing, you might not recognize the word muted rooms. Muted rooms are rooms that are colored with colors that have low saturation. This means muted colors are generally not that bright or have been subdued.
Muted bedrooms are another minimalistic room option; it, too, gives off a relaxing and satisfying feeling. The trick here is to design the room around various shades of browns or other colors with low saturation. And to make it bohemian, incorporate unique patterns in decorations.
B&W Bohemian Room
Conversely, try a classic color combination to build your bohemian home around, and that's black and white. This color combination is classic and works well with almost any other color there is; gold works best as it truly elevates the class it has.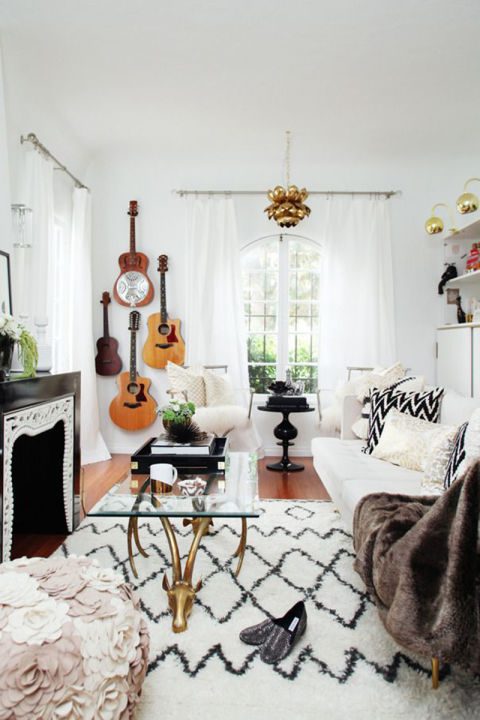 Just take a look at this black and white bohemian room; the room is paired with gold accents to make it even more classy, and it looks absolutely stunning. Additionally, the wooden guitars and plants add a subtle bohemian touch to the room.
Geometric Elements
Although a minimalistic room seems absolutely beautiful, relaxing, and welcoming, the room may be a tad too lifeless without interesting elements that very well pull everything together and make it lively. As mentioned above, plants can bring a room alive.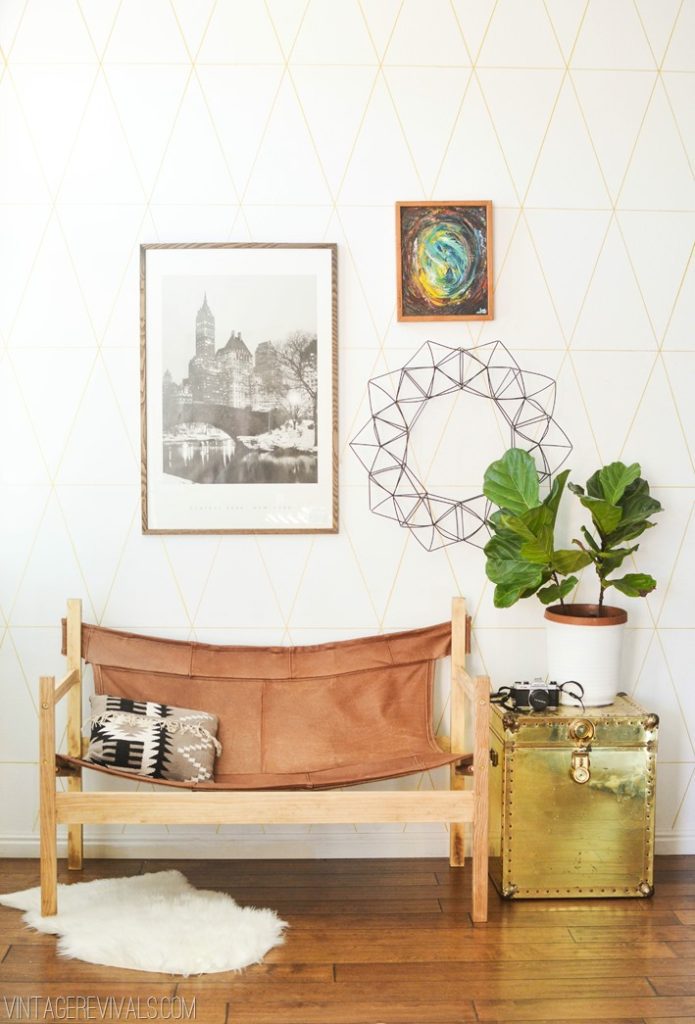 However, simply placing one plant in the room isn't going to be enough to breathe life into it. Therefore, one simple thing you could do is incorporate geometric elements into the room. Geometric elements are unconventional yet minimalistic; they are an interesting bohemian component.
Colorful Accents
Other than adding plants or geometric elements into a room of white in an attempt to bring it alive, you could fill the room with colorful decorations. Colorful accents stand out from a sea of white furniture and background which gives out a cheerful and inviting vibe.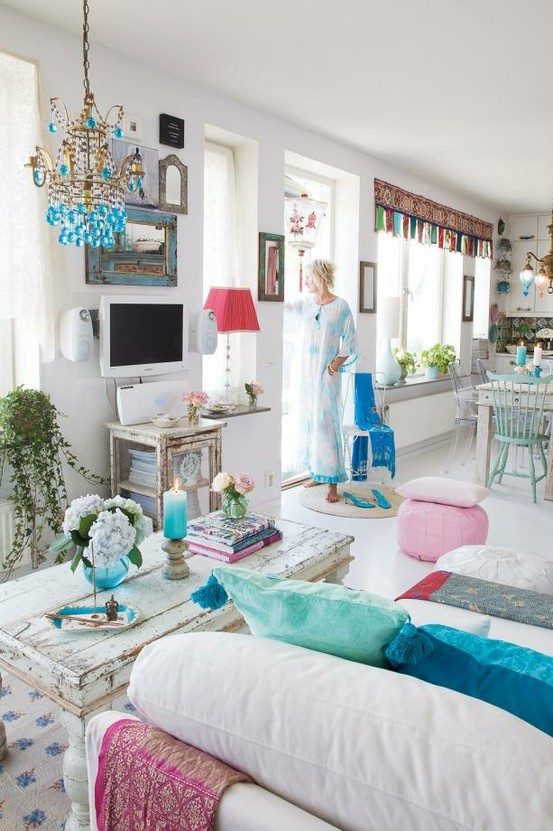 There are numerous ways you could add colorful accents to your room. For example, curtains, lampshades, cushions, lights, candles, and flowers are a few simple elements that you could add to a room of white for a pop of color.
Bohemian Pastel Bedroom
Instead of all the minimalistic bedrooms mentioned above, try incorporating some color while designing a bohemian bedroom. Pastel colors are perfect for this because they add a bit of color yet aren't too bright that it disrupts the calmness a bedroom should have.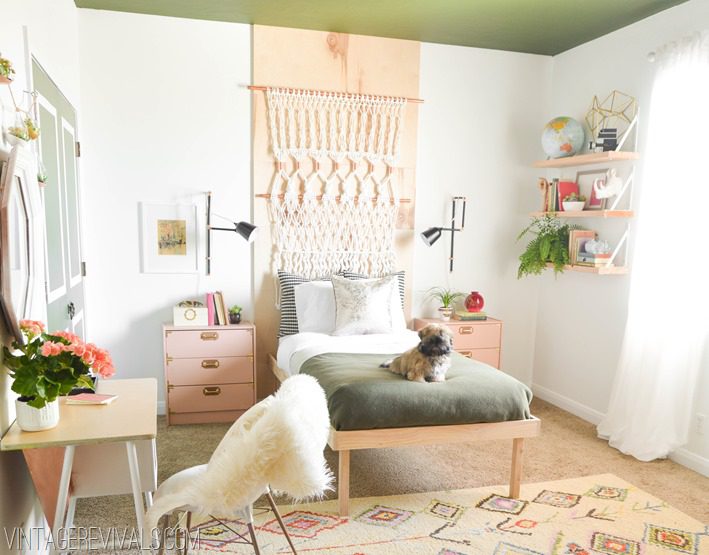 You could paint the bedroom in basic color themes and decorate with pastel decorations with unique patterns or switch it around and do it the other way. Either way, with the inclusion of pastel colors, the bedroom wouldn't be too monotonous.
Bohemian Pillows
Pillows are one of the most common objects bohemian homeowners add to their homes. Apart from the fact that pillows are generally comfortable, bohemian pillows are usually colorful and full of texture and patterns, which are what makes them so unconventional.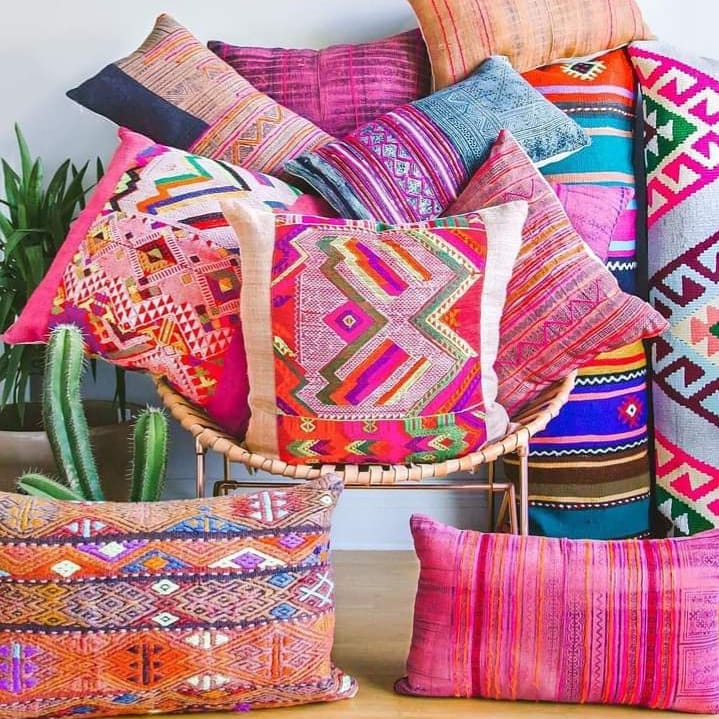 Additionally, something that most homeowners would be pleased about is that buying pillows won't dent your wallets because it is probably the cheapest "furniture" available. Take a look at these bohemian pillows from Intiriadesigns. They look so vibrant!
Colorful Bohemian Bedroom
Conversely, substitute subtle pastel colors with bold and vibrant colors. Play off the bright colors with patterns to get that stunning bohemian flair. Just take a look at the picture below that pairs patterned pillows, blankets, and decorative books with plain backgrounds.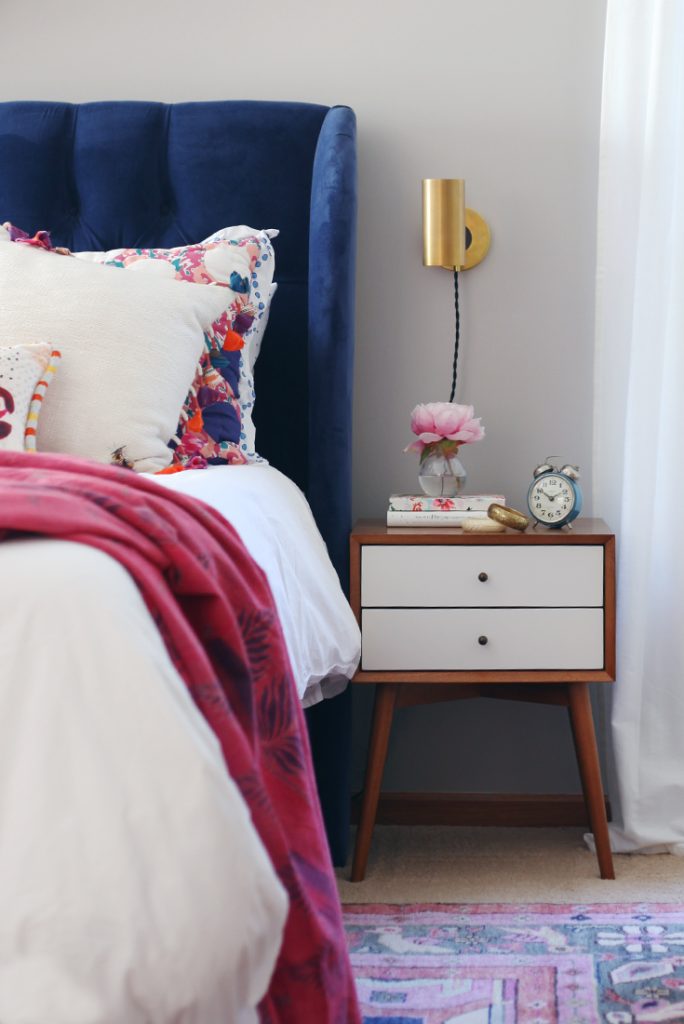 We'd suggest that you pair contrasting colors like the bedroom in the picture to maximize the bohemian theme the room has going on; pairing contrasting colors is an unconventional way of decorating your room. Furnish the room with wooden furniture to complete the look.
Metallic Accented Rooms
Metallic accents create a shimmery, iridescent finish that interacts with light to elevate the beauty of a particular color. Therefore, if you're painting your rooms in basic colors or any color in general, try adding metallic accents to spice it up.
There are a few options to add metallic accents to your room, and that's buying metallic decorations or adding a coat of metallic paint. Since bohemian-styled rooms often have beautiful lighting, this is a great way to make some very basic elements in the room shine.
Bohemian Chic Nursery
In addition to your own bedrooms, why not transform your conventional nursery room into a bohemian chic nursery room by using unconventional decorations? Again, bohemian elements create a relaxing environment that is soothing and perfect for babies to rest in.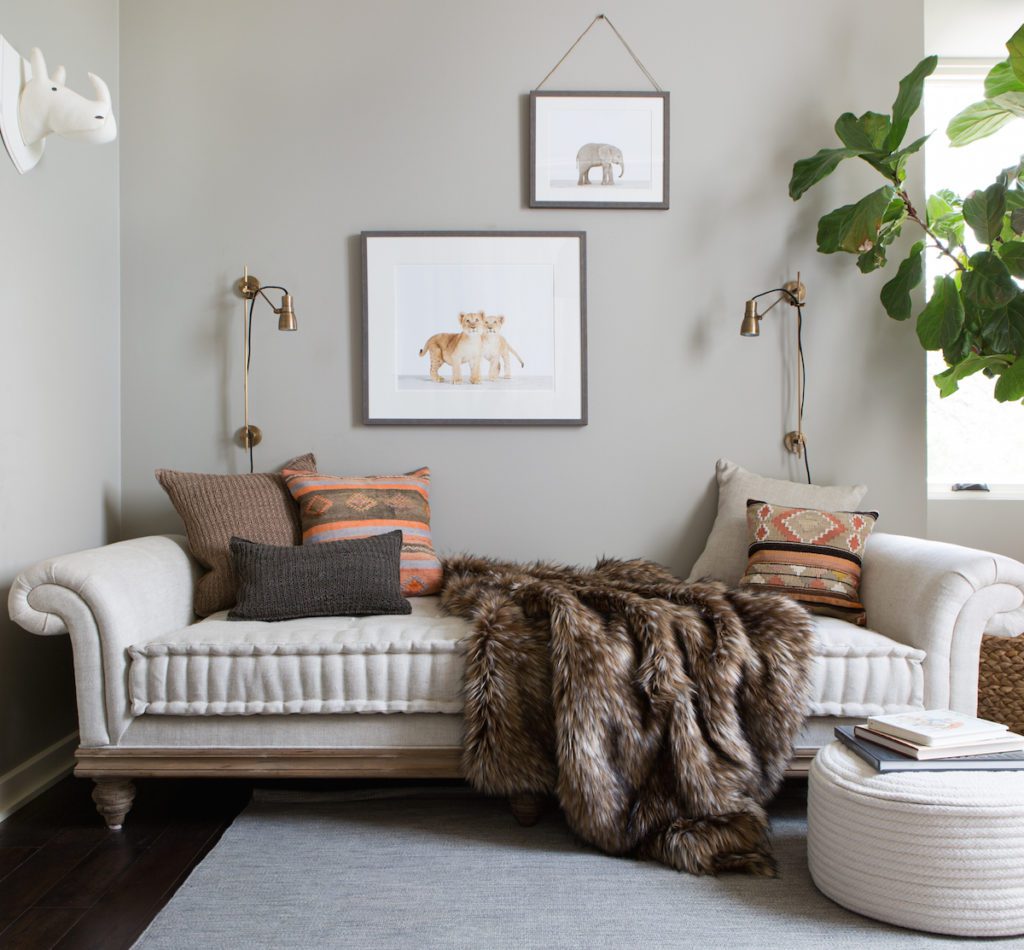 Use wooden furniture such as wooden crates and wooden shelves to fill the room. Don't forget to bring the room alive with some plants and throw in beautiful patterns such as bohemian pillows or blankets that are decorated with a bohemian element.
Bohemian Dorm Rooms – Part 1
Unfortunately for those living in dorm rooms, the space for decorating is extremely limited as you can't repaint the walls or change the original furniture. Fortunately, you found this article, and the tips we're going to provide you with will help level up your space.
The only way to make your plain dorm room into a bohemian dorm room is to throw up a lot of decorations. So, try adding a bohemian-style wall tapestry, pillows, throws, and blankets. Print out bohemian pictures, frame them, and hang them up to dress your walls up.
Bohemian Dorm Rooms – Part 2
As mentioned above, ordinary dorm rooms can be transformed into pretty bohemian dorm rooms through decorations. The trick here is to focus on bright and vibrant contrasting colors as well as patterns, patterns, patterns! This is the essence of capturing the perfect bohemian room.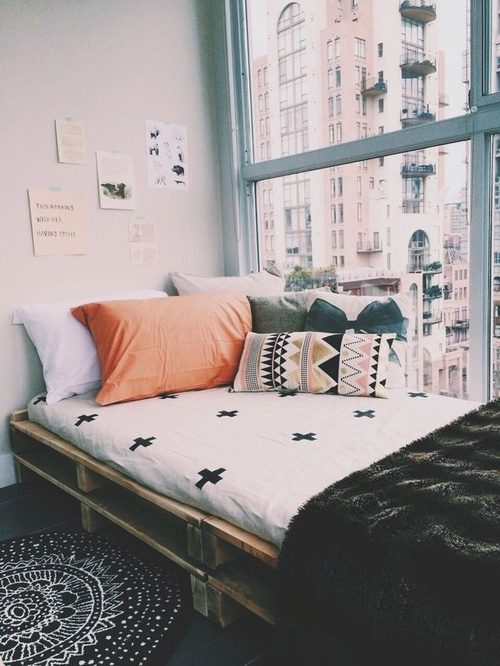 Play around with loud and bold colors for your bedding and pair it with uniquely textured and patterned blankets, pillows, and throws. Rugs, wall tapestries, and wall decorations are other places you can play around to find the bohemian style that suits you.
Suzanis
Another way you could add bohemian elements to your plain old dorm room is through removable headboards. Suzanis are a type of embroidered and decorative tribal textile; combine a removable headboard with suzanis, and you'll have yet another bohemian element.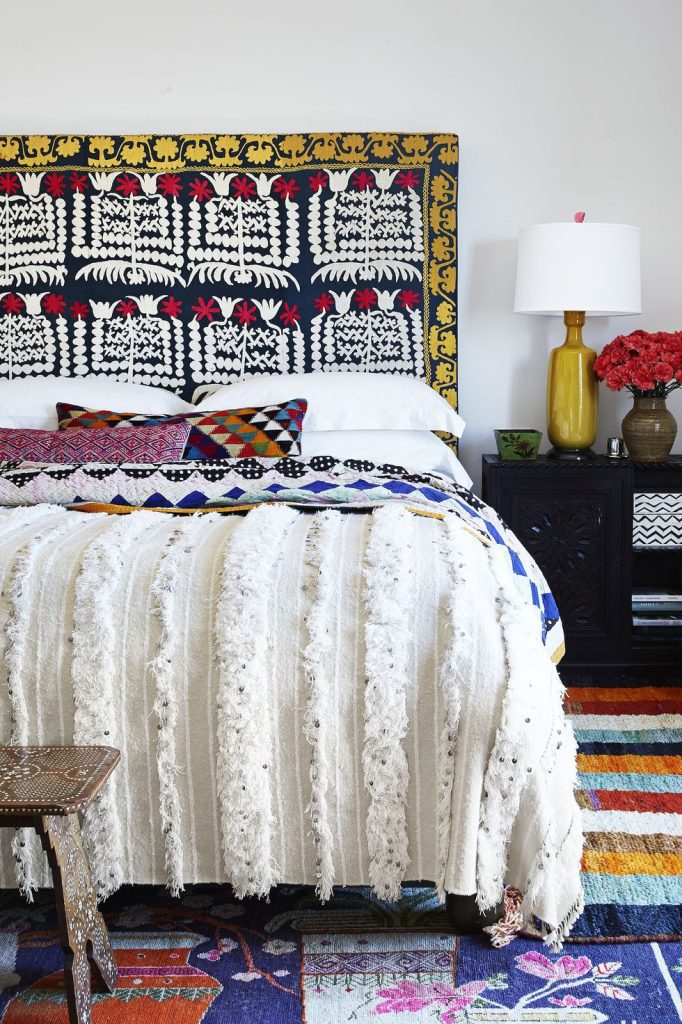 Just look at the vintage authentic bohemian vibes this room gives us with its suzani headboard along with a Moroccan rug. If you don't feel like investing in a removable headboard, feel free to substitute it for hanging a textile behind the bed.
Soft Materials
Here's a general tip for anyone who's looking to design a bohemian bedroom: stick to soft materials. Of all the pictures of bohemian bedrooms online, the one common factor they have is that it makes us want to jump through the screen and rest there.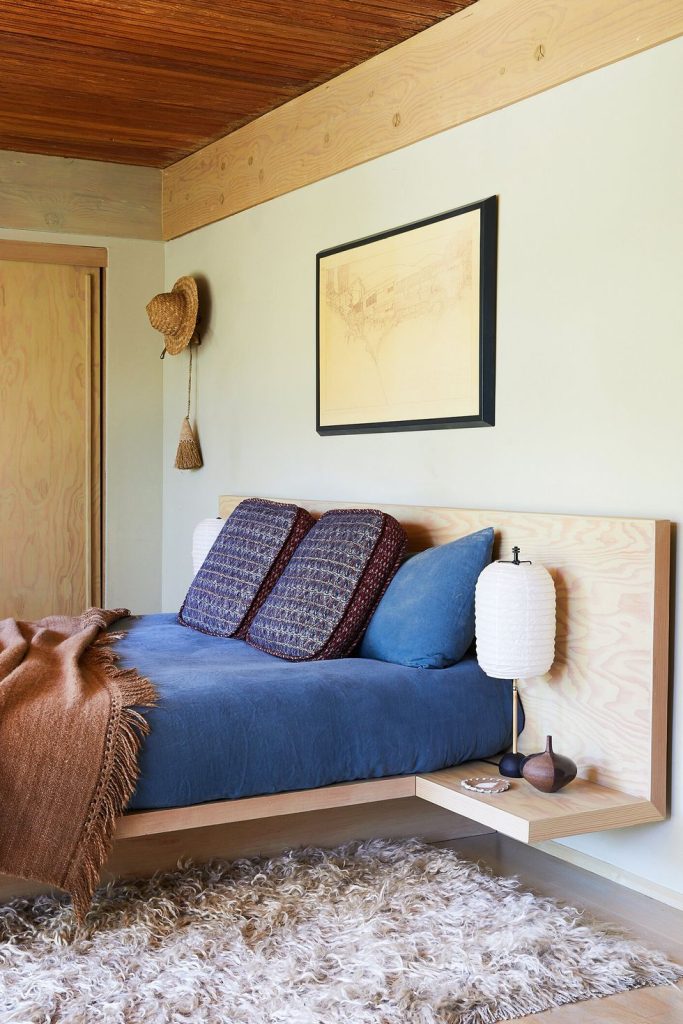 This is all due to the soft materials being used in decorating the room; soft materials include soothing neutral colors and soft, plush textures. Therefore, keep this in mind when you are designing your room if you want to achieve that relaxing bohemian vibe.
Bohemian Kitchen
On the other hand, bohemian-ize your kitchen just as pop singer Katy Perry did with hers! Cooking is supposed to be relaxing and not at all stressful; the colors, textures, and vibe that a bohemian kitchen brings are exactly what is needed to induce calmness in the kitchen.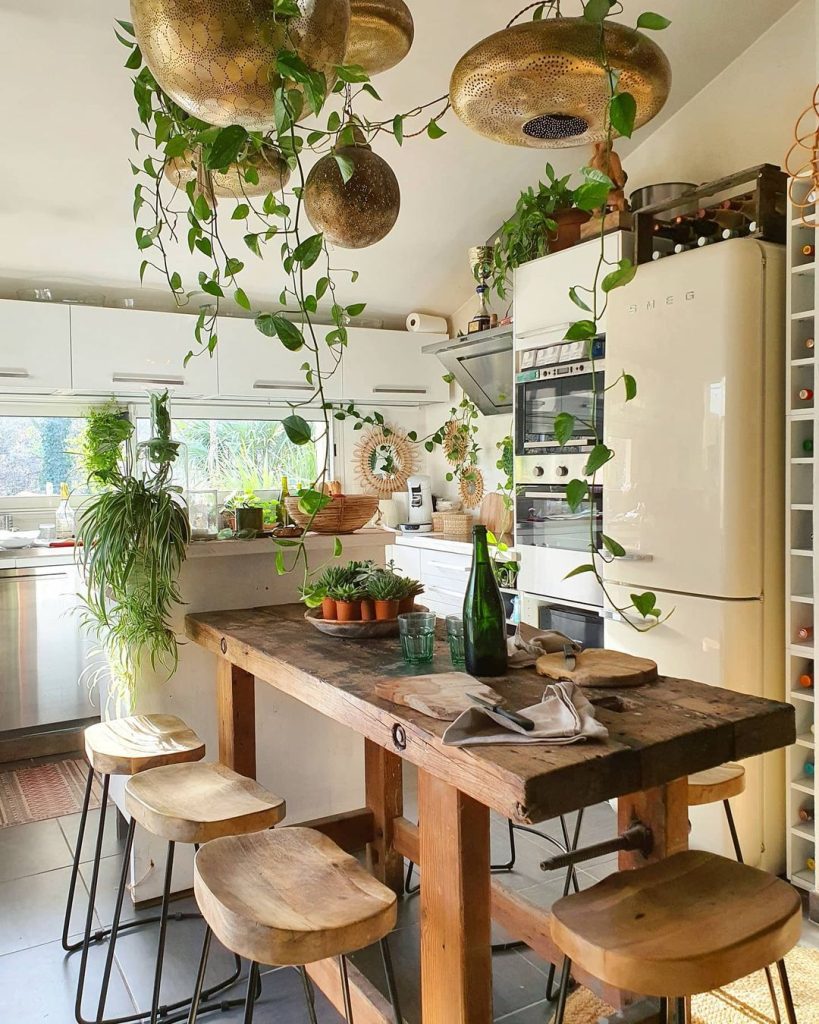 As mentioned before, wooden elements, basic color themes as well as plants all are important components of building a bohemian space of your own. But, the essence of bohemian style comes from unique patterns which you can instill with patterned tiles and rugs.
Personality Filled Dining Room
Dining rooms are generally rather easy to design; all you have to do is pick out your favorite dining table and chairs set, add some lighting and decorations, and you're basically done. Well, this isn't the case for bohemian dining rooms.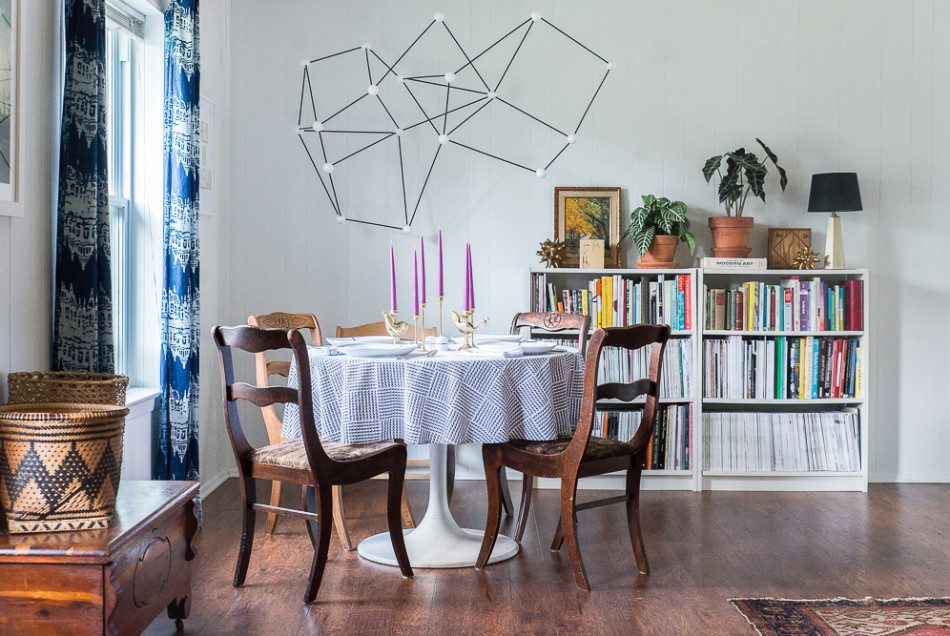 A bohemian dining room should be able to display your personality like all bohemian-styled homes should; vintage chairs and geometric patterned tablecloths are just a few places you can personalize things. Judging on the bookshelf, we can guess that this homeowner is someone who loves to read.
Bohemian Dining Room
While usual dining table sets are absolutely beautiful, mismatched ones suit the bohemian style the best because of how unconventional it is. Just take a look at how this dining room turned out with its mismatched dining tables and chairs.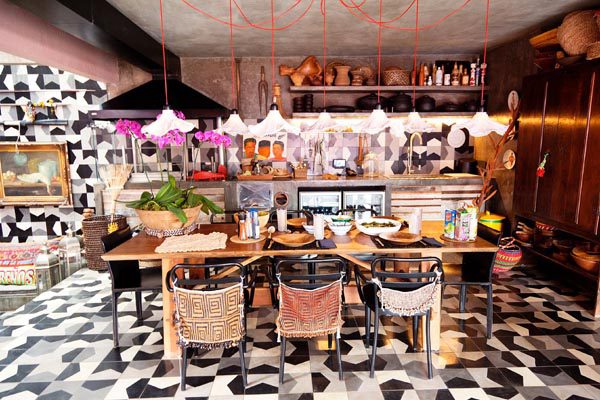 Pair those mismatched chairs with a staple bohemian element – wooden tables. Add colorfully patterned tiles or basic black and white ones just as the picture above did for that extra bohemian touch. Finish off by adding beautiful lighting to the room.
Layered Living Room
As mentioned before, colorful and textured patterns are the essence of capturing the bohemian style. But incorporating colorfully patterned items can be quite complicated as too many colors, and patterns dazzle the human eye, which is what we don't want to happen.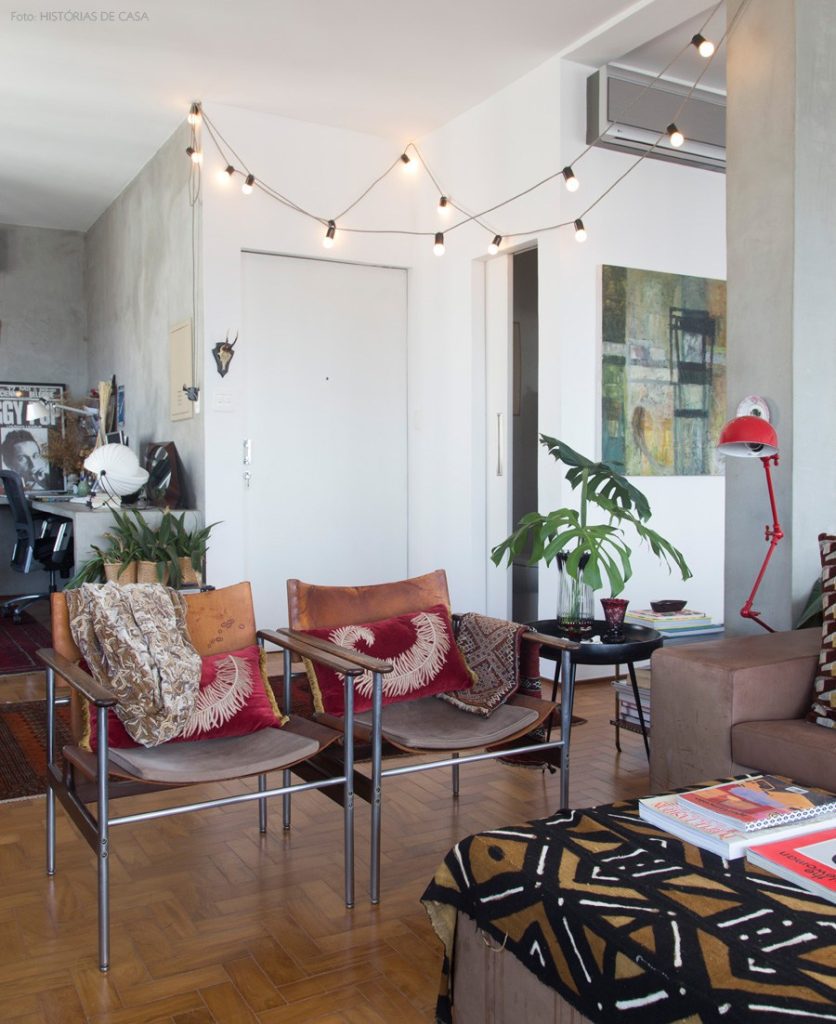 Take a look at the picture above, which shows patterned items paired with plain and basic items; this would reduce the complexity it would have if two patterned items were paired with one another. Look to Pinterest for bohemian homes styling inspiration if you're having trouble.
Bohemian Chic Living Room
To create a bohemian chic living room, you would have to combine modern art with functional furniture. Modern art would make the room look chic, while furniture makes it bohemian. You should always start by picking out the largest furniture in the room and working around it.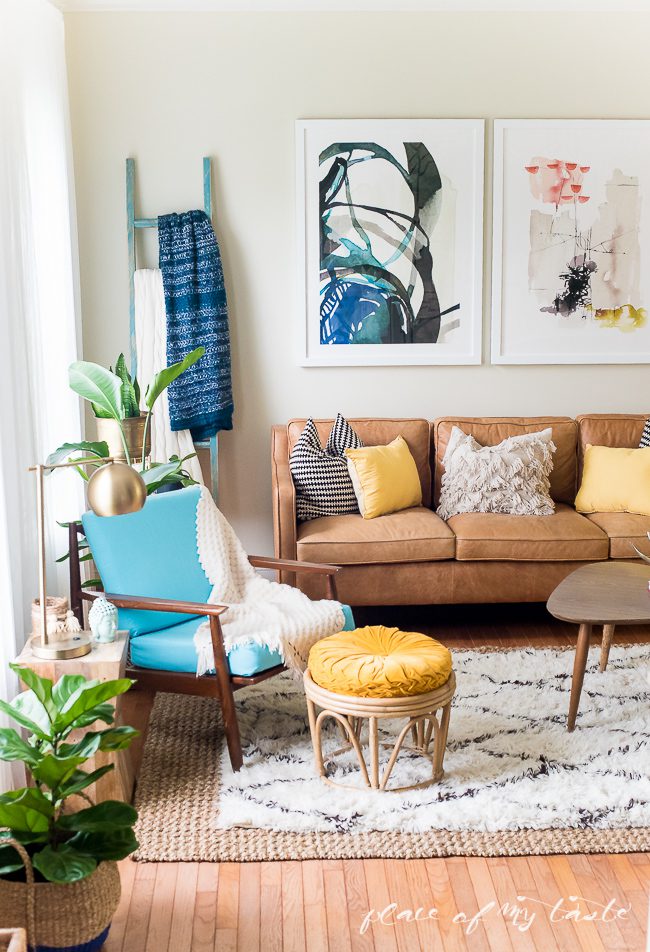 For example, in the picture above, the largest piece of furniture is the sofa. Therefore, after you've chosen it, work around the sofa and gradually add other items that complement it. Finally, add modern art, plants, and patterned rugs, throws, and pillows as decorations.
Tribal Prints
As mentioned above, bohemian chic is the combination of modern art with bohemian elements. Recall that one of the rather popular bohemian elements is tribal patterns; imagine if we adapted tribal patterns in creating artwork. Wouldn't it look amazing?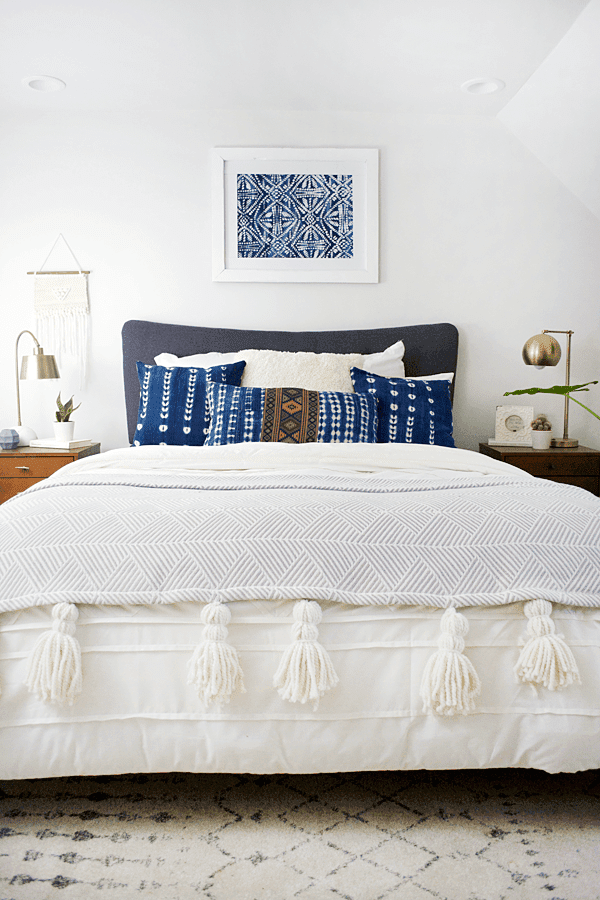 To answer the question asked, take a look at this piece of tribal print that is framed and hung on the wall as a decoration. We think it looks absolutely stunning. As a bonus, this decoration piece can be DIY-ed and hung anywhere!
MCM Living Room
Other than the living room styles we've mentioned above, mid-century modern living rooms, commonly known as MCM living rooms, are rather popular nowadays. This type of living room involves the use of simple yet functional wooden furniture from the mid-20th century.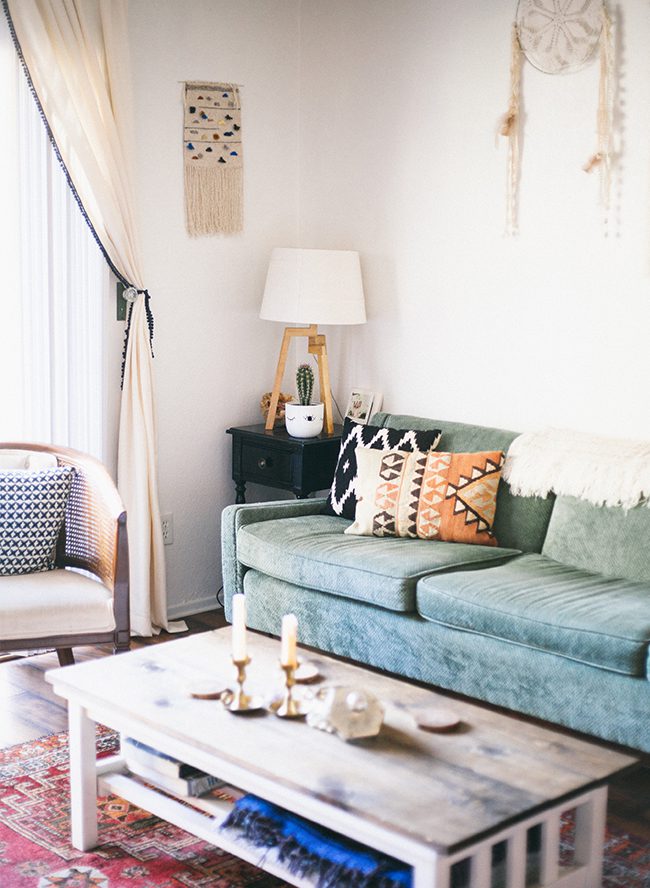 Since wooden furniture is considered a bohemian element, MCM living rooms would be perfect if you're building a bohemian home! Since an all-wooden furnished living room may seem too bland and boring, you could try adding bright colors and colorful patterns to make it more interesting.
Vintage Bohemian Living Room
Another style that is quite popular nowadays which you can adapt to creating a bohemian living room is vintage. Vintage refers to things that are relatively old and reflects the era they represent. So, put your old or outdated furniture to good use!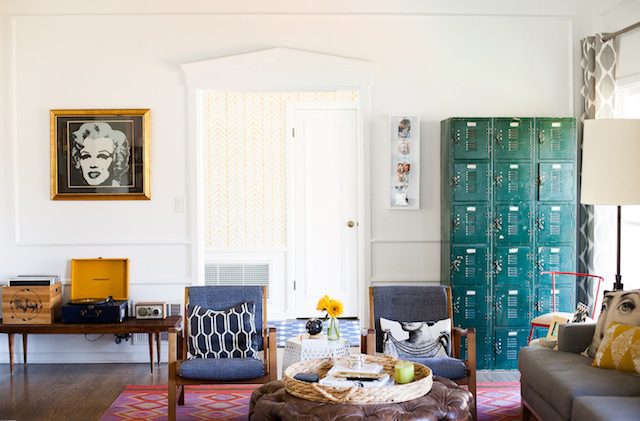 Take a look at how this old locker is put to use in the vintage bohemian living room in the picture above; what an environmentally friendly way to dress your home, not to mention the storage space the homeowner gained.
Natural Bohemian Style
The easiest way to create a bohemian room is to leave it as natural as it is; this means letting in lots of natural light and using organically shaped furniture. However, this might be a little bland and boring, so you can try to spice it up by adding a wide range of colors.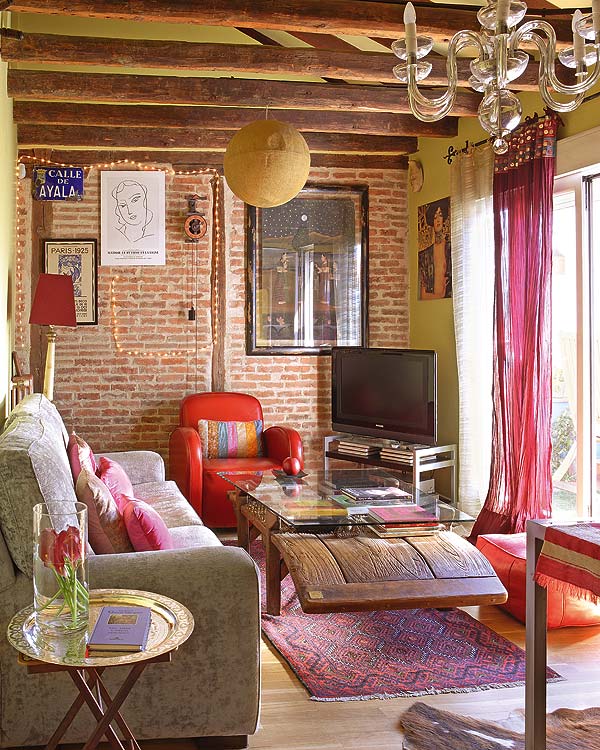 The color combinations that you choose could be in contrast to one another to give off a bolder outcome or complement one another for a more subtle outcome. If you opted for subtle colors, add colorfully patterned decorations for something interesting to look at.
Refined Bohemian
Another way you could go with designing a bohemian home is refined bohemian. Refined refers to elegance, and the way to create a refined bohemian home is by adding bits and pieces that are elegant and sophisticated such as art pieces.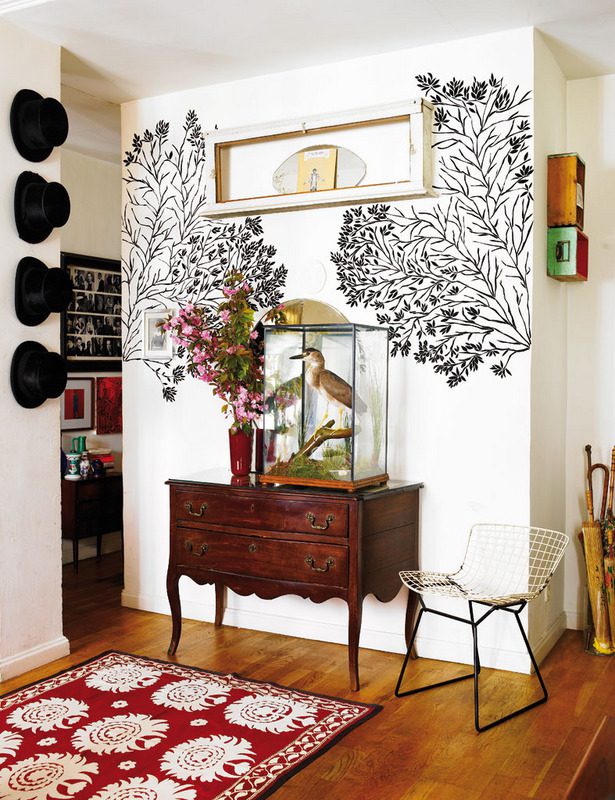 Take a look at this milliner's stunning home in Madrid; it's a combination of decorative art and functional furniture. The decorations serve the purpose of elegance and sophistication that creates the refined look that he has in his home.