Painting The Town Pink: Andrés Reisinger's Creations Turn Cities Into Enchanting Destinations
By Jhoana C March 22, 2023
---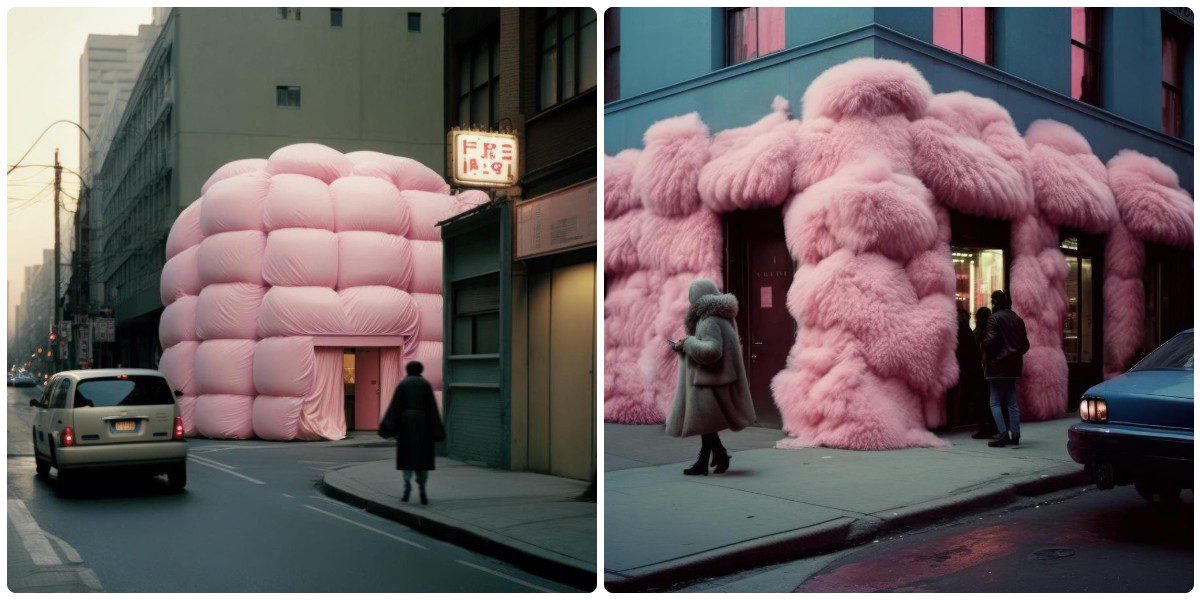 Digital art is an art piece that uses digital technology as part of the presentation or creative process. This includes images created on a computer or those hand-drawn, then scanned into a computer and finished with the use of a software program. The works of the Argentine artist named Andrés Reisinger fall into this category.
He has been recently making waves with his latest project, "Take Over," which crosses the boundaries between what is real and what's not, challenging the audience's perception in the process. His work sees some of the world's major cities, such as Tokyo, Paris, Milan, and London, invaded by massive fluffy creations and draped in cloth of varying textures. Have we got your attention yet? Scroll on to see his fantastic work.
#1 The City that Never Sleeps bathed in pink
This was in New York. Some people might be headed there wanting nothing more than to know the exact location of this art piece so that they may get to touch this fluffy, giant, pink cotton candy. Unfortunately, that's not possible as this is digital art.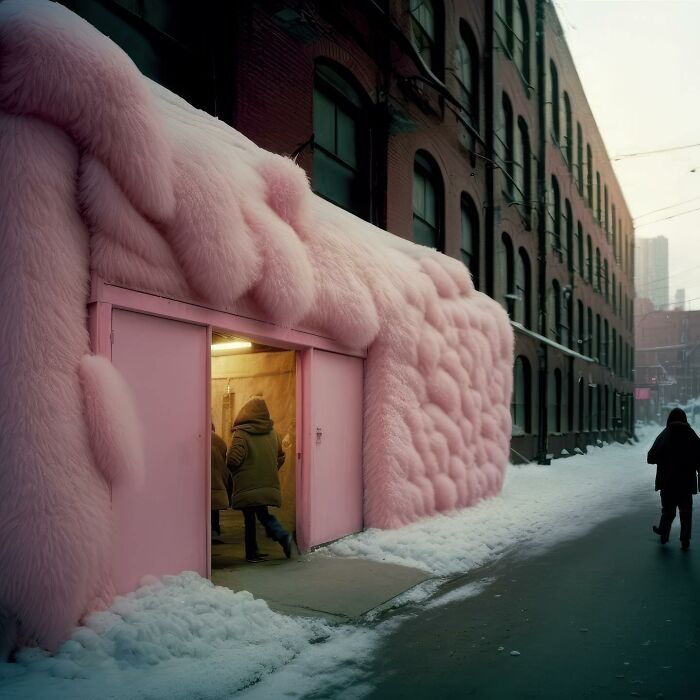 Although we're not exactly huge fans of pink, and we like darker colors more, this artist's creation of texture and delightful, breezy color makes us want to purchase a variety of things in pink so that we can recreate this beauty in our homes.
#2 The desert in pink
Located in a desert region, Dubai often has the hue of the sands as its background. It is also home to the world's tallest building, the Burj Khalifa. As futuristic as the city seems, it could do with a few splashes of color, and that's precisely what Reisinger did.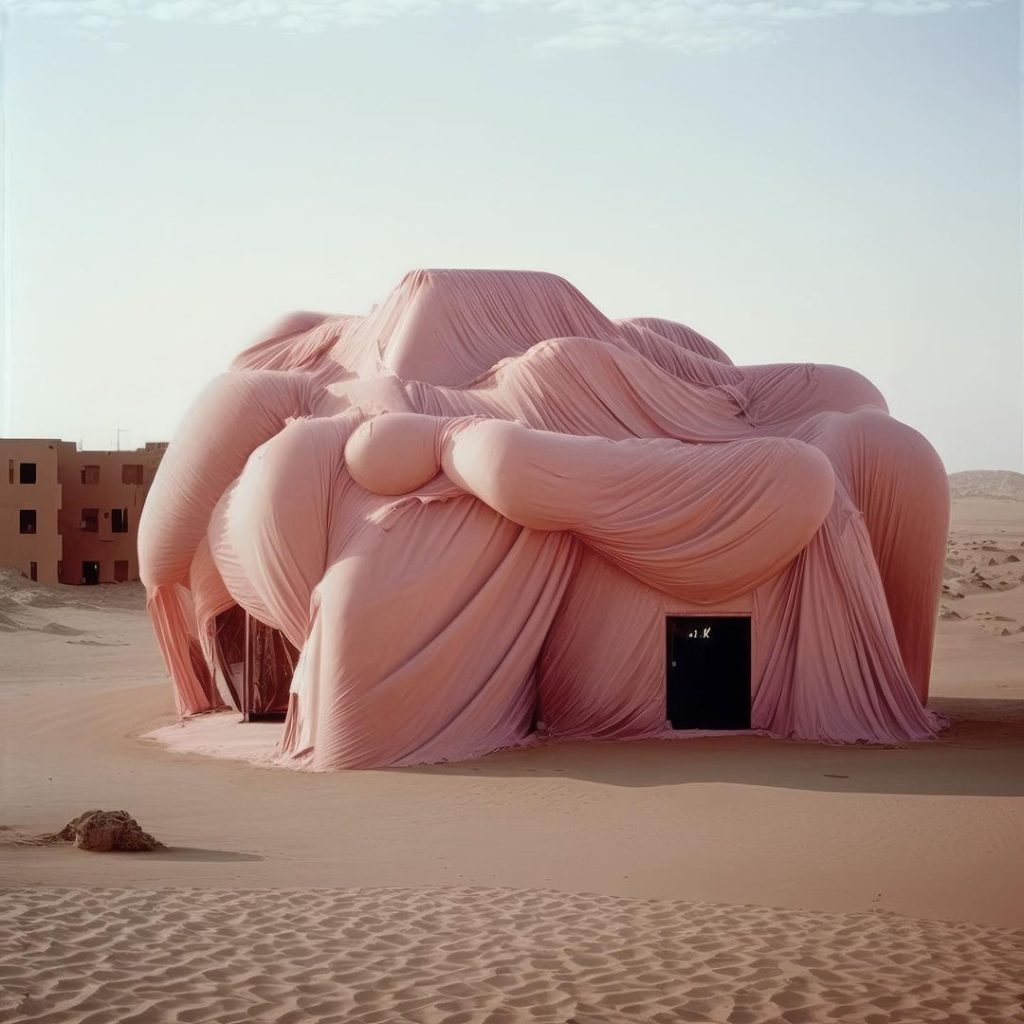 We love how the pink drapes are billowing in the wind with the desert sand in the background. It catches the eye right away. We know a lot of people who would love to live in such a house. It's like a house made for Barbie dolls!
#3 Roaming in Rome
Rome, a.k.a The Eternal City, is known for its ancient towers that are significant not only to the country's history but also to the world. So, reimagining it with pink drapes is a fresh take on an otherwise timeless city, and we can't help but think that it adds vibrancy.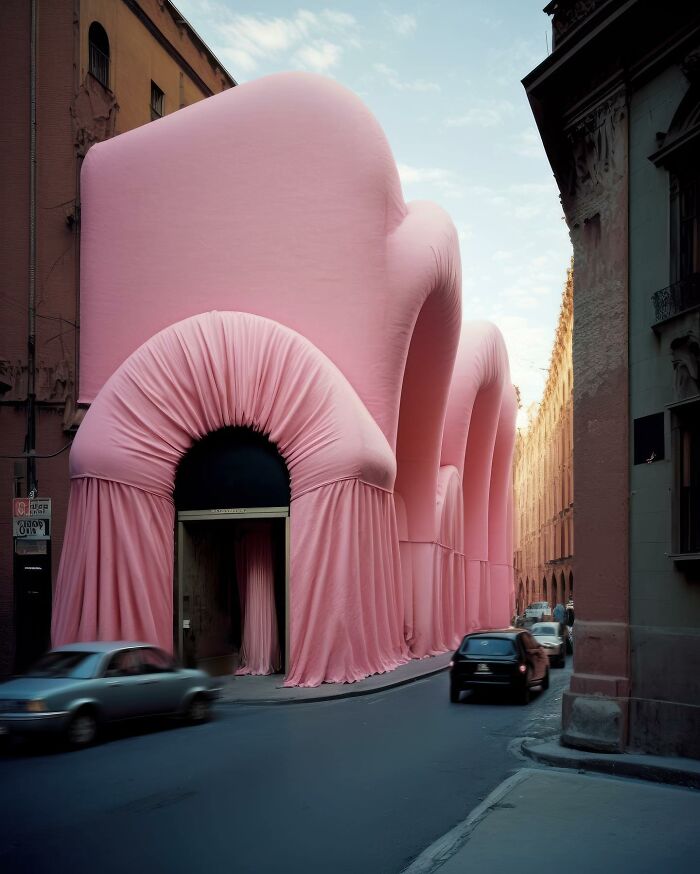 Again for everyone out there who may not have realized it yet, textured drapes were not placed on buildings. Instead, the artist used street images taken by himself or other photographers and blended them with technology to create a seamless piece of art.
#4 Paris in Pink
The fashionable city of Paris got even fancier with the addition of this huge pink marshmallow on one of its buildings. This building must have been feeling cold because the artist thought it would be a good idea to give it a cute pink coat.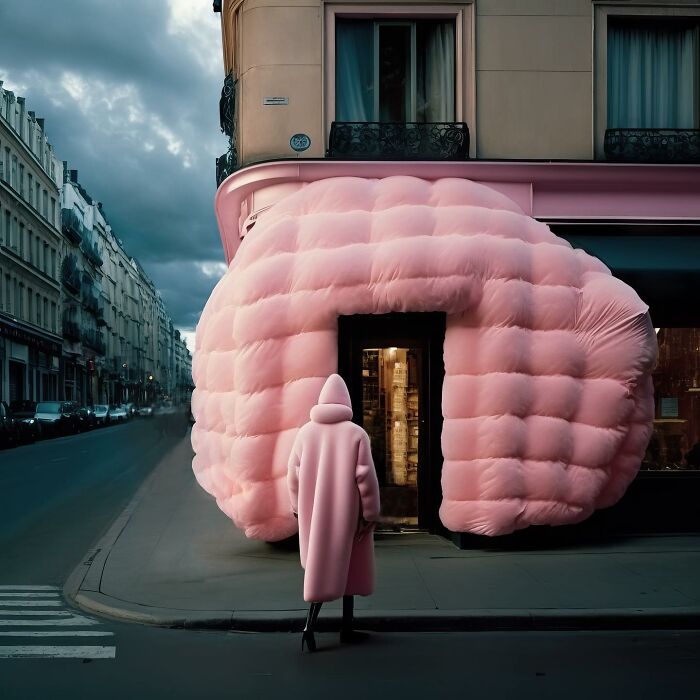 Reisinger's work has caused a lot of commotion, with some people arguing that he didn't disclose that these are all manipulated images. Still, we believe it boils down to people not reading and quickly assuming everything posted on social media is real.
#5 Amsterdam is shining pink
Amsterdam is known to be a city of lively nightlife, Dutch art, and a rich history that dates back centuries. It is also famed for its red light district, but that's not the reason this artist chose to work with the color pink.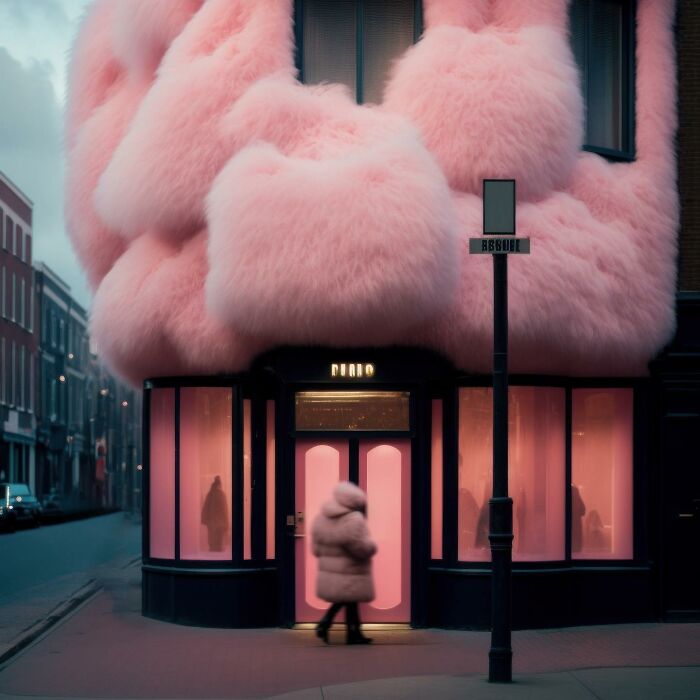 He simply loves pink, and the surrealist facades he uses to reimagine the world's most famous cities make people do a double take when they pop up on their social media feeds, and they start asking questions like, "did he really do that?"
#6 Fancy a snuggle in New York?
Would we be considered rude if we want to snuggle with this building? You may think that the draperies placed on major cities are random, but they're not. The artist explains that the design of each city is influenced by the attributes associated with it.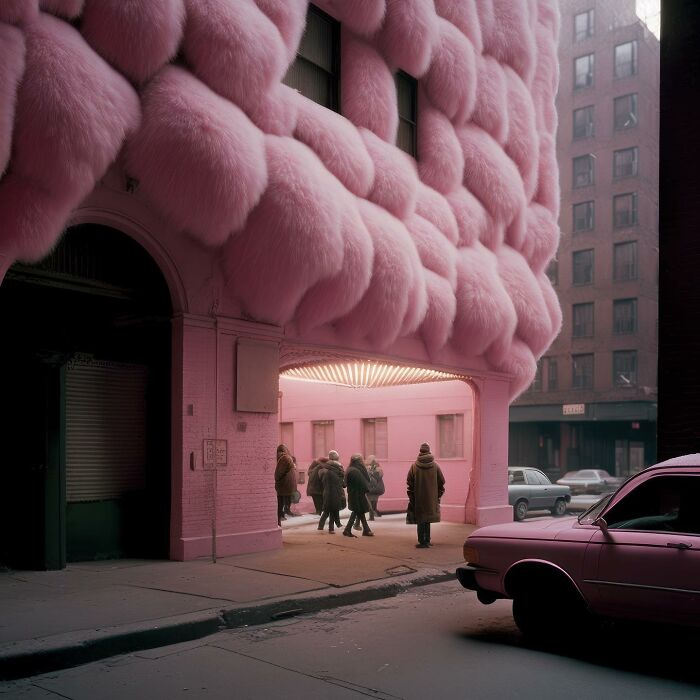 For example, Tokyo has clean and simple draperies, Rome is dressed in cloaks inspired by the glamour of old movies, and Paris has simple and sleek pink sheets. New York, as you see in the photo above, is dressed in oversized and fuzzy coverings for its over-the-top reputation.
#7 Is that a taffy factory in Rome?
The metropolitan city of Rome already has ivy-covered pink buildings, which tourists are often attracted to. After all, is there anything better than getting a photo with the city's famed pink buildings while savoring a gelato on a hot summer's day?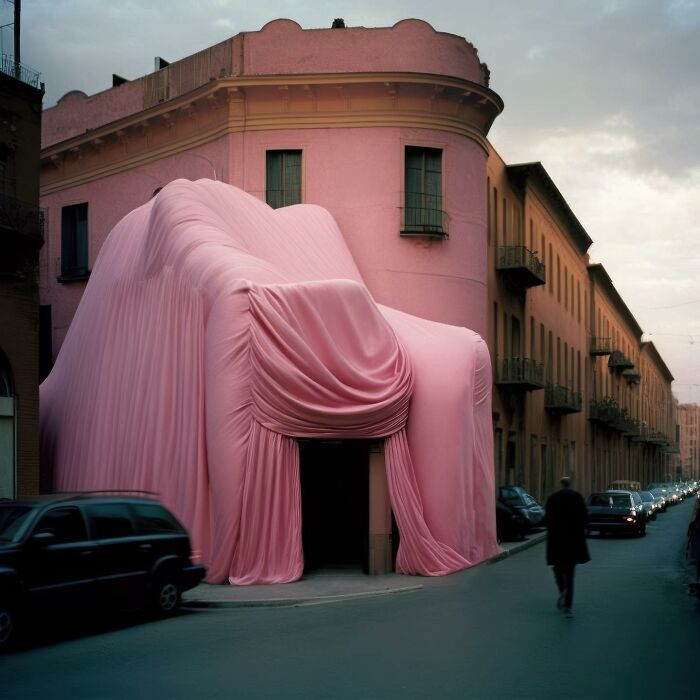 Rome's charming Trastevere neighborhood may be one of the most visited pink areas, but that didn't deter this artist from adding his own take on pink. This artist was sure not to leave Rome out when considering his artistic manipulations. It's just too significant of a city to be overlooked.
#8 Giant cotton candy of a building
This giant cotton candy of a building is another pink takeover of Amsterdam. Reisinger's work is all about encouraging people to question what reality is. Be honest with us, did you ask yourself any reflective questions when you saw the images?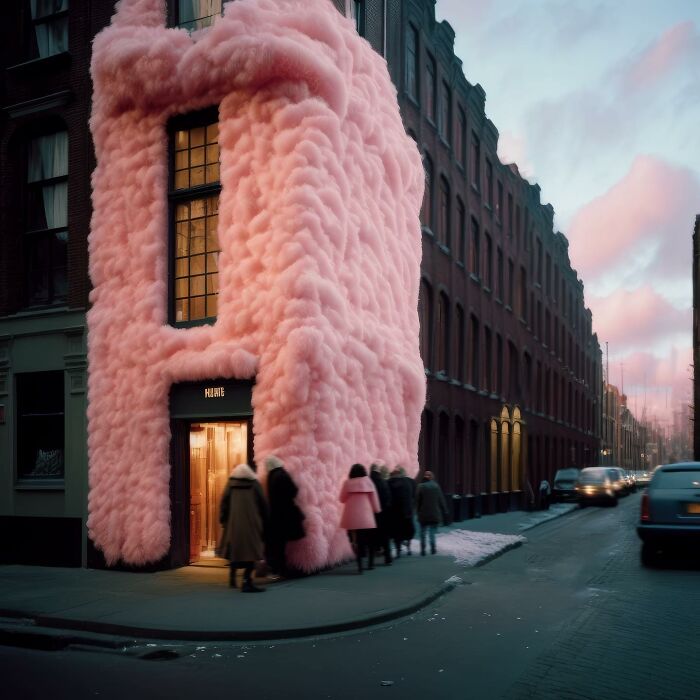 We bet our bottom dollar that you didn't, and the first thing that came to your mind was the location of the buildings. Like the rest of us, you also wanted to visit them and snap pictures for your Instagram and other social media accounts.
#9 The pink is strong in this
Would all the designers based in Rome have approved of this if this was real? We aren't so sure, but what's true is that people on the Internet can't get enough of these huge pink draperies that sometimes look like pasta or feathers.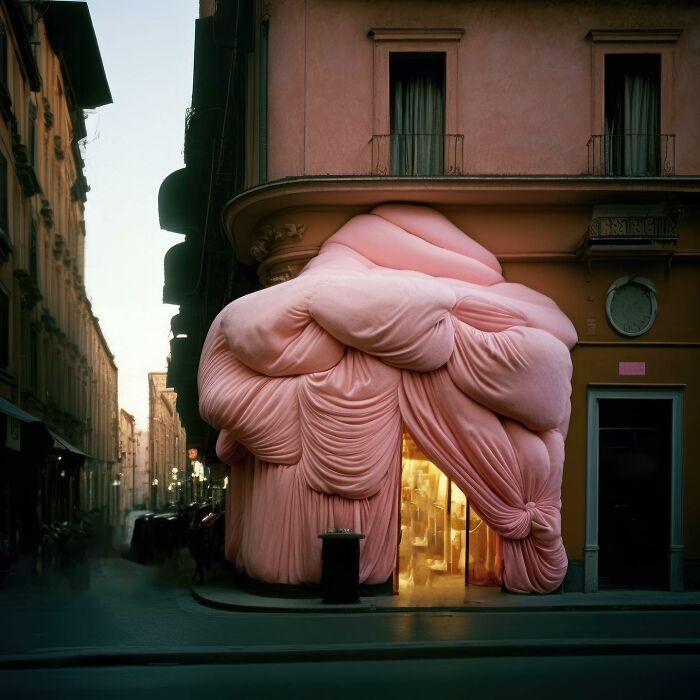 After seeing all these images created by the artist, people from other major cities around the world can't help but clamor for the artist to also take over their corner of the world. They all want to know what their cities would look like with the giant pink draperies.
#10 Fancy Fluff
This European city is iconic, and the ubiquitous bike rules the city, so we find it a little weird that there's only a single bike in this photo. However, bicycles are not our focus here, but that floss candy-looking pink building right there.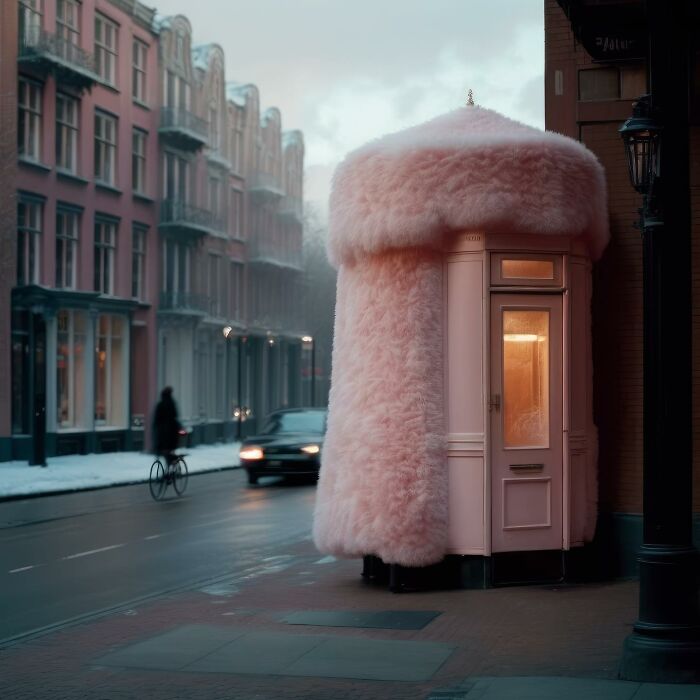 We could use a little of this cheer and fluffiness in one area of our home. Something like this would make the perfect reading nook. We'd be so engrossed in the fluffiness and reading that you won't see us out for a week at the very least.
#11 What's behind this pink door in Milan
Don't you get curious about the buildings used in these digital images? We do, and we want to know what's in the buildings. Are they stores? If so, what are they selling? Who took the original images, and although we're sure the artist asked for their permission to use them, were they given credit at all?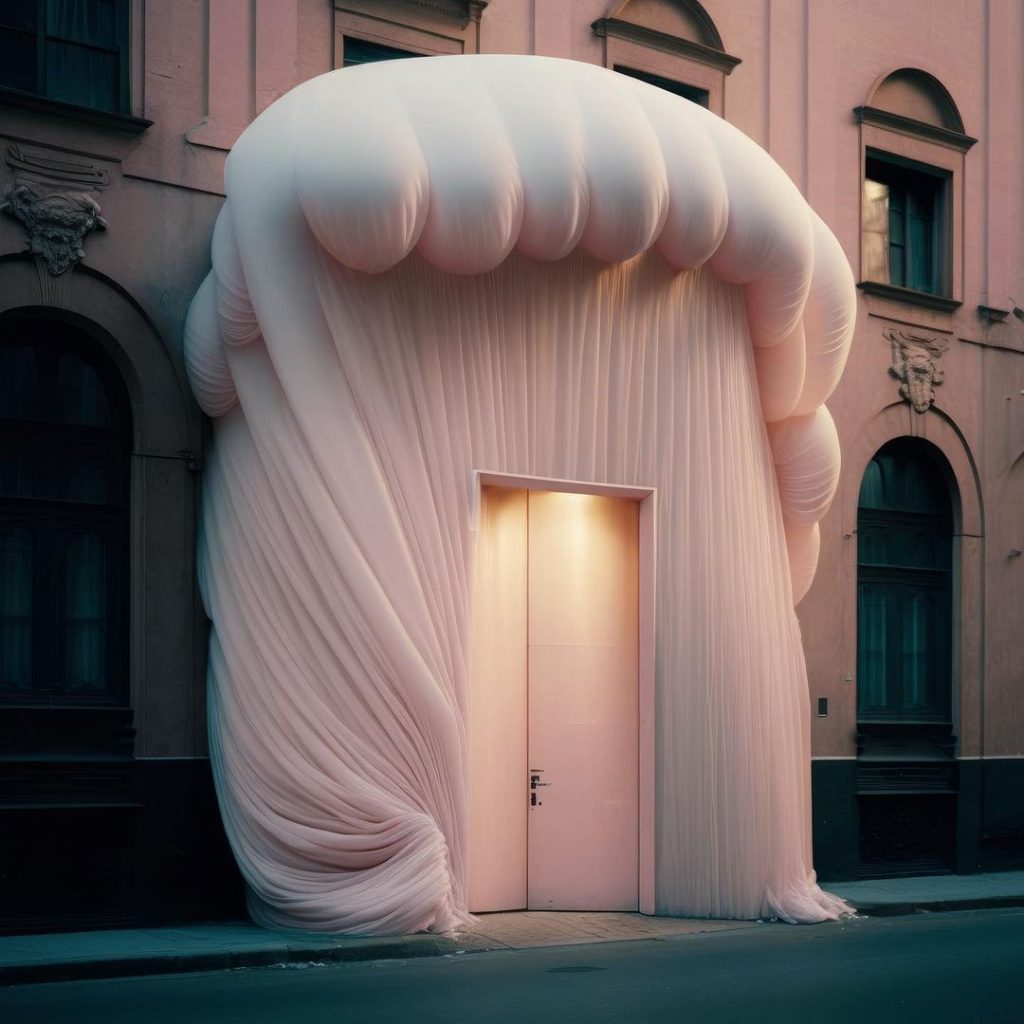 However, there isn't enough information about these buildings, and they are not the most prominent in their respective locations, so for now, we can only assume that the owners of these buildings also gave the green light for this project.
#12 Another take on the desert
We can't get enough of the juxtaposition of the desert's deep tone of beige with the vibrant color of pink and the many textures that artist Reisinger has created. Here is another image of Dubai being happily taken over by this master of pink.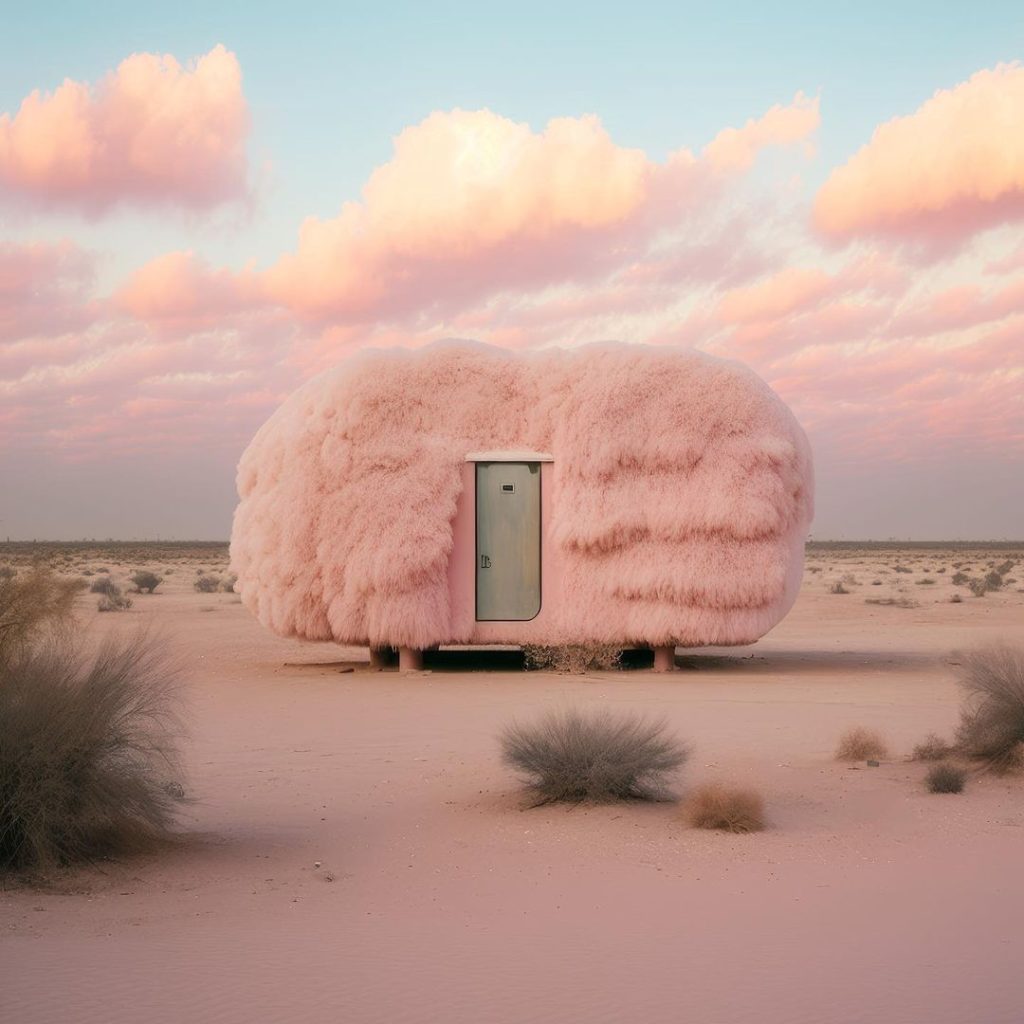 This is a collaboration with Aorist, and this was presented in Art Dubai, the Middle East's leading art fair, which takes place annually every March. We don't care if this trailer is small; we'd happily live in it. We'll pet it every day before leaving for work.
#13 Building with cute pink pom poms
Would you want to get in a building that looks like this if you had no idea what was inside? Yes, we would. The huge pink pom poms alone are like a siren song beckoning us to cross the threshold and discover the treasures it holds inside.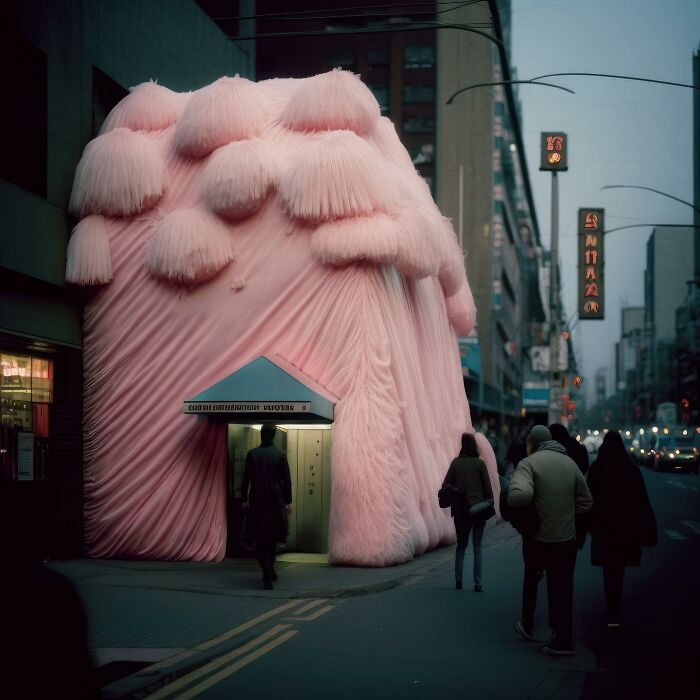 This is supposed to be in Tokyo, and whether it's real or not, it's fun to look at. As advanced a city as Tokyo is, they can easily erect a building that looks exactly like this or even better. We're holding out for that day.
#14 A member of the Michelin family has been left on the road in Paris
We can't help but be reminded of the Michelin man when we look at this creation. The official mascot of the Michelin tire company, Bibendum, is a humanoid figure consisting of stacked white tires, which were introduced in 1894 at an exhibition in Lyon, France.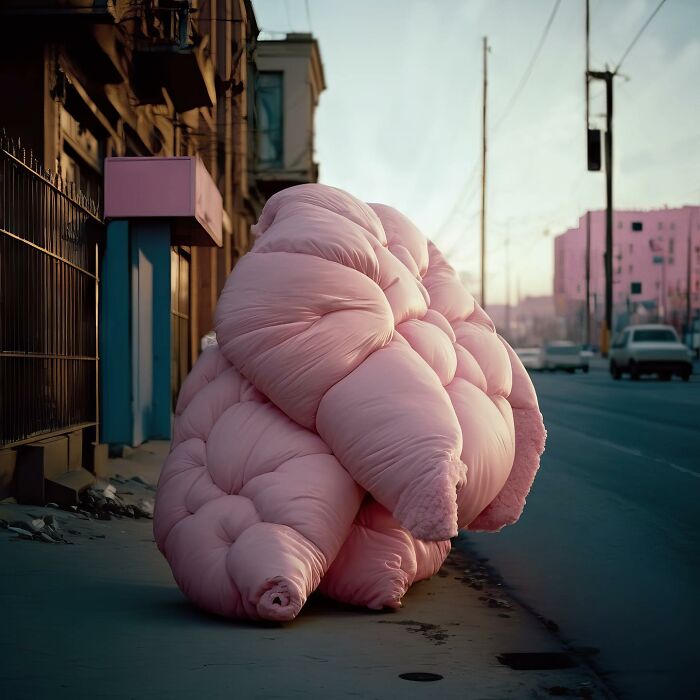 Every time we look at this, we feel like the pink Michelin is standing by the side of the road and trying to hitch a ride. Nowadays, there are plenty of ride-hailing apps, so there's no need to stand by the side of the road. Maybe Mr. Michelin doesn't have a phone.
#15 Florence looks good in pink
One of the most fabulous places in the world, Florence is the capital of Italy's Tuscany region. It is the home of famous masterpieces of art from the Renaissance period, and although artist Andrés Reisinger's works are not in the same breadth yet, he took on the daunting task of taking over Firenze.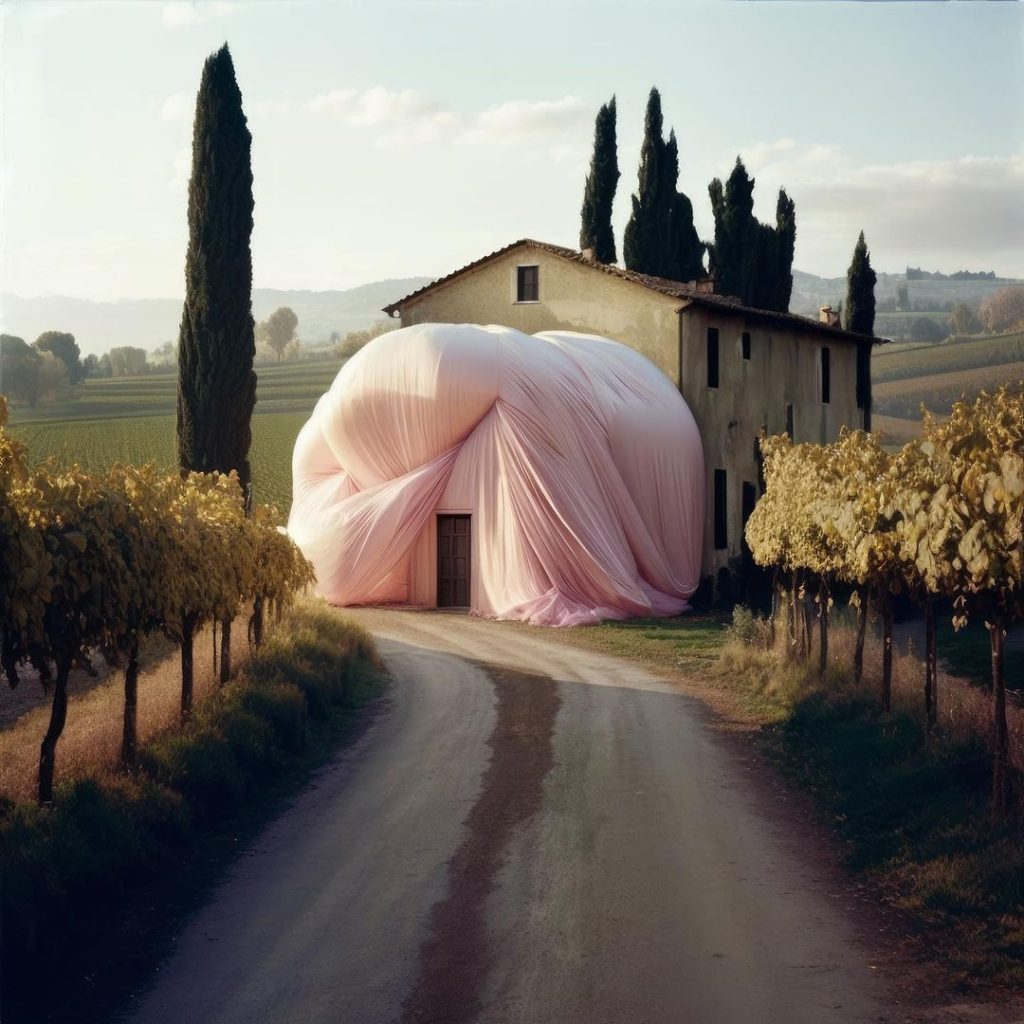 Here's an old building draped in a billowy pink fabric, and we think this is our favorite out of all his works. We love the countryside in the background and all the greens. Florence is magnificent and looks better with a bit of pink in it.
#16 What if it rains?
Most people look at pictures first before reading captions, so it was only natural for a lot of folks to worry about the drapes if it rains in London. After all, London is considered a wet city, and rain is pretty consistent throughout the year.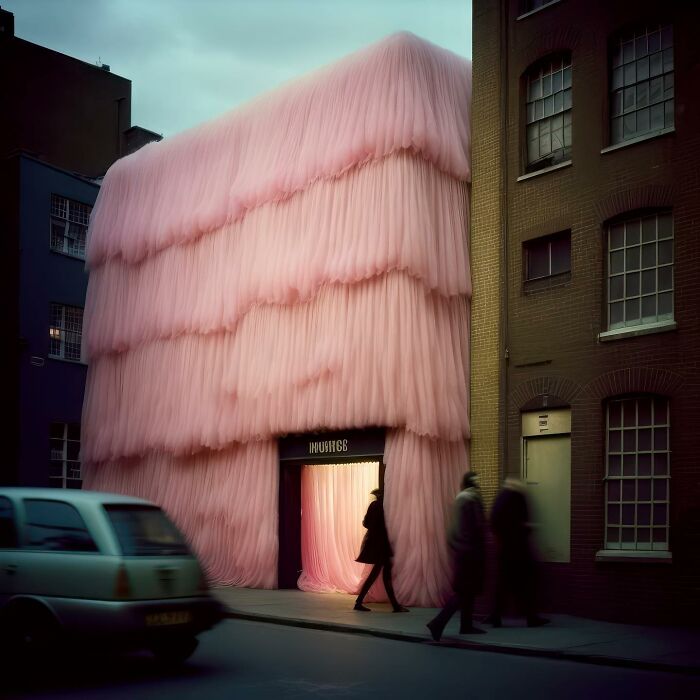 Luckily for people living in London and for those who are not but are still concerned about the welfare of these pink draperies, it's not real. It's a digitally created image, so the gloriousness of these drapes will forever remain untouched by rain.
#17 Bouncy castle for adults
Bouncy castles are favorites at children's parties. Some might argue about how safe they are, but who cares about safety precautions anyway, right? Okay, wrong, but that's not what we're concerned with here. We just want to say that the takeover in Tokyo in the photo below looks like a bouncy castle for adults.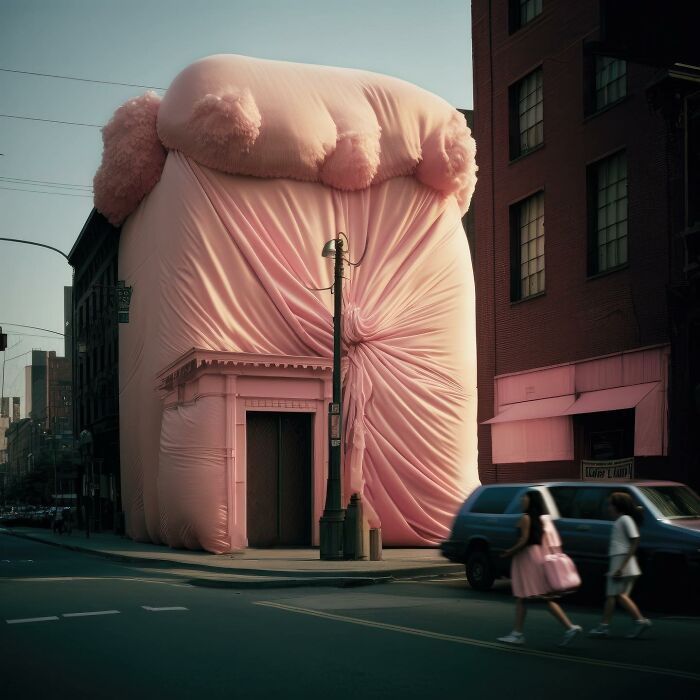 We're not even going to listen to people who'll tell us that we're too old to go on bouncy castles because we don't think there's ever an age limit. As long as you abide by certain restrictions, everything should be okay, so bounce away.
#18 What do they sell in that store?
If this was an actual store, what do you think they would be selling? We think that the most appropriate products would be wool and fluffy coats in pink and other clothes for women in the same color. Ever wondered why we think of women when we see pink?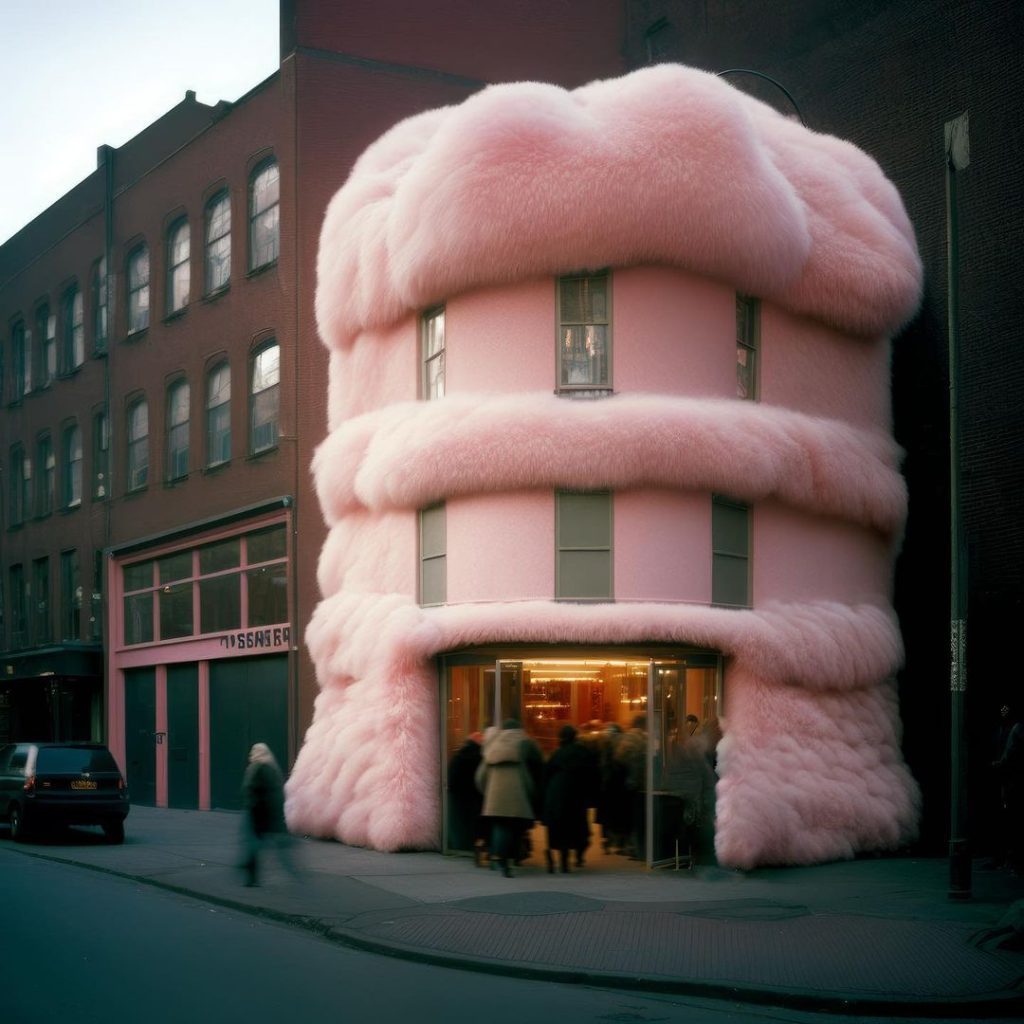 It might have something to do with the fact that during the first inauguration of Dwight Eisenhower, his wife wore a pink dress. Historians think that this is the turning point when pink became associated with women, but Lady Mamie just liked it because it set off her blue eyes and skin tone.
#19 This looks like a pink igloo in Tokyo
Igloos are supposed to be white, but if there ever was a pink designer igloo, this is how it would look like. We've never been inside an igloo before, but we figure it must be comfy and warm in there, and if this exterior is any indication, it's going to be super fluffy too.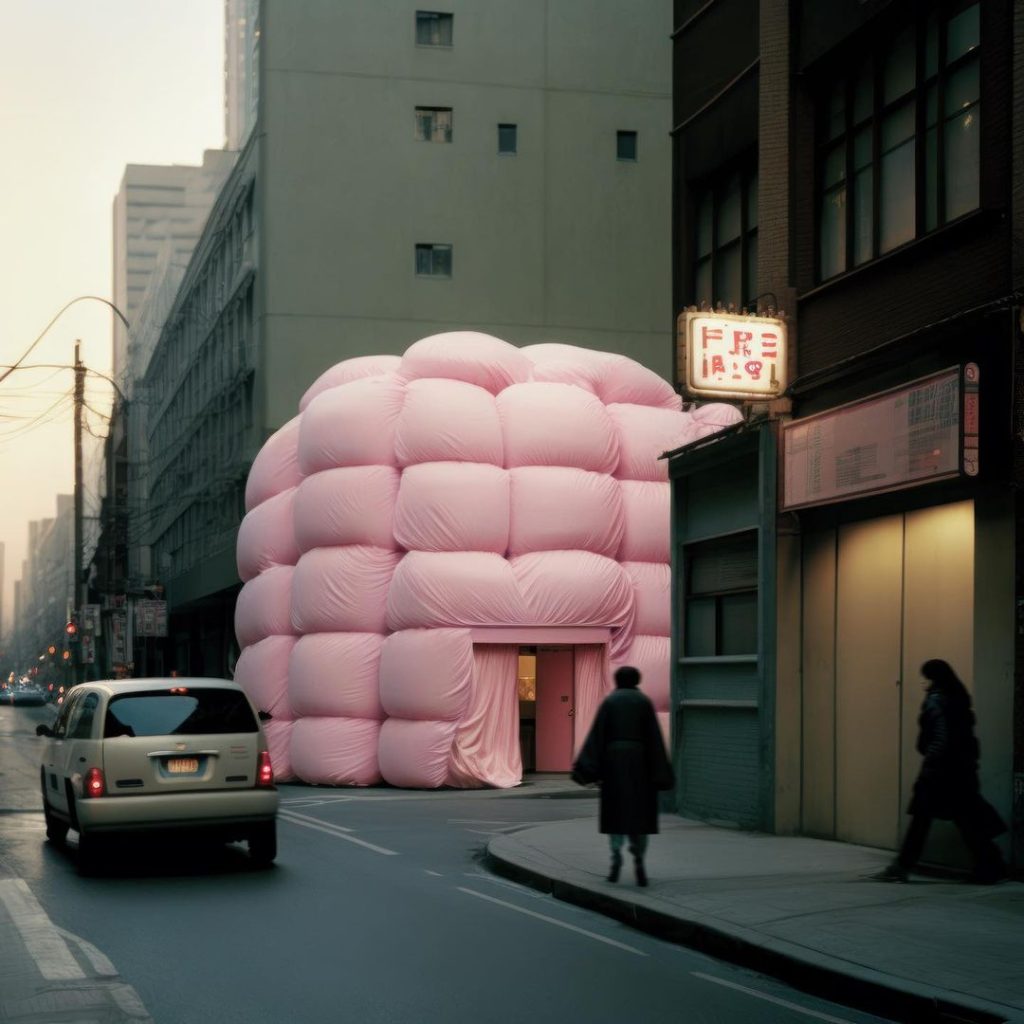 However, we do think that an igloo would be a little out of place in Tokyo as the city is not that cold. January and February are considered the coldest months, with temperatures as low as 2°C. Still warm compared to the Arctic.
#20 London with a touch of pink
The capital of England and the United Kingdom, London is also the country's smallest city, but it is packed with things to do, see and eat. A lot of tourists would have wanted to add this building to their itinerary, but sadly, it's not real.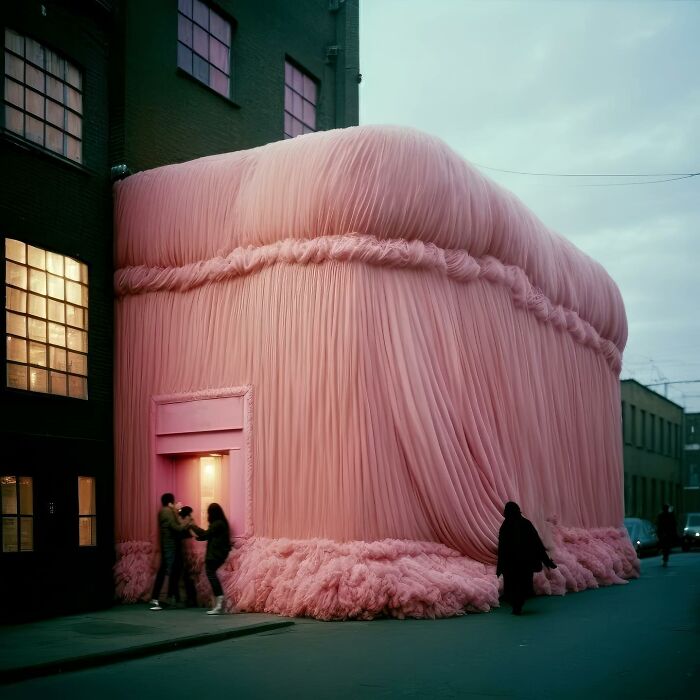 Artists often get a lot of flak for images such as this, but we say art is art, be it digital or not. Yes, in some sort of way, you are robbed of experiencing the art in person because you can't visit it or see it in person, but it's still art.
#21 A building in London dressed in a pink gown
So this is how buildings look like when they are dressed up for a special occasion. Many folks compare this artist's work with that of Christo, who, together with his wife, is known for dazzling audiences around the world with monumental but temporary installations.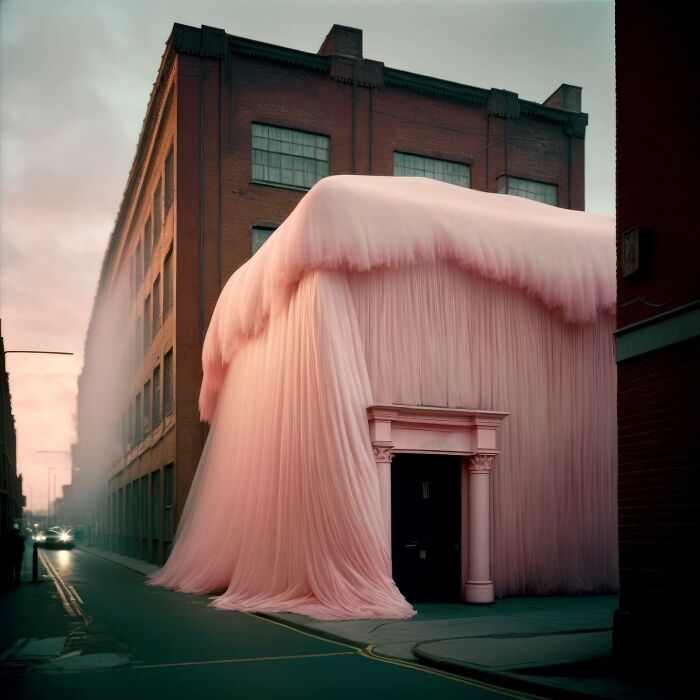 However, there is another group who says it's sacrilegious even to mention Reisinger in the same breath as Christo, as the latter's works are not digital but real. Why compare two artists? Art is subjective. Some people may appreciate digital art, while others don't care for it.
#22 This is how we envisioned our shop's grand opening
Although it's been over just a few weeks since this series debuted, it's doing so well and is still getting attention until now. This is a reimagining of one of the street corners of Rome, and this is also how we envisioned our shop opening if we were to have one.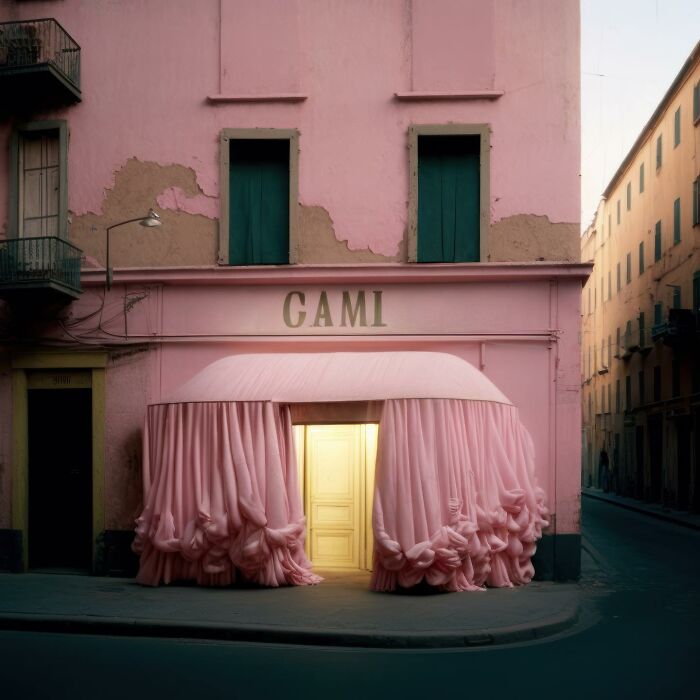 Needless to say, people on the Internet are divided when it comes to these "wraps" and "draperies." Some are totally falling in love with it and wishing for the artist to do something similar for their city, while another group is telling him to just put a stop to it.
#23 Bubble gummy
One of the things we love about these images is the dark mood juxtaposed with the color pink. In some way, the light and airy bubblegum pink lifts the ominous mood of the city buildings. It is something quite special.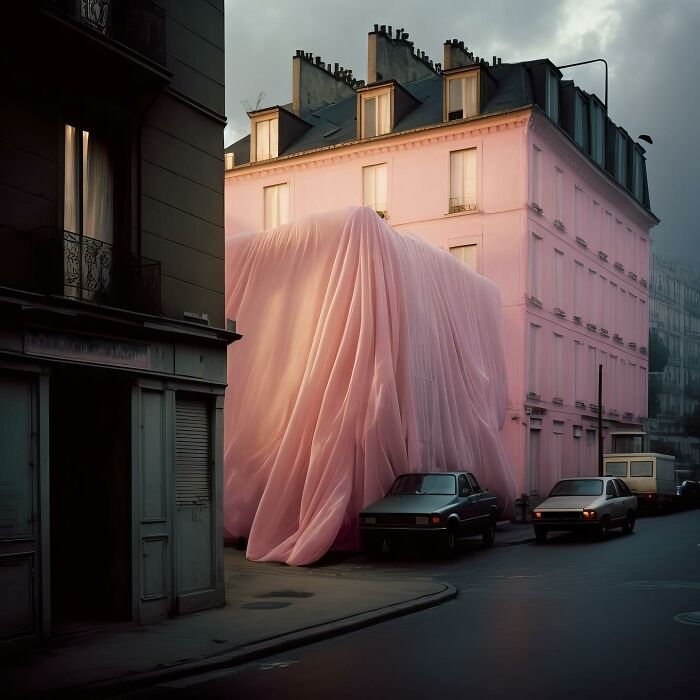 The artist likens his work to a lady in a pink fur coat and asks the people who have seen his digital images if they ever saw such a lady, would they be following her instead of questioning her? What would you do?
#24 This makes us want to mush our faces into the wall
This building looks like our candy dreams come true, and if it were real, we'd travel halfway around the world just to see it and mush our faces into the wall. Perhaps it was something like this that got Hansel and Gretel in danger in the forest.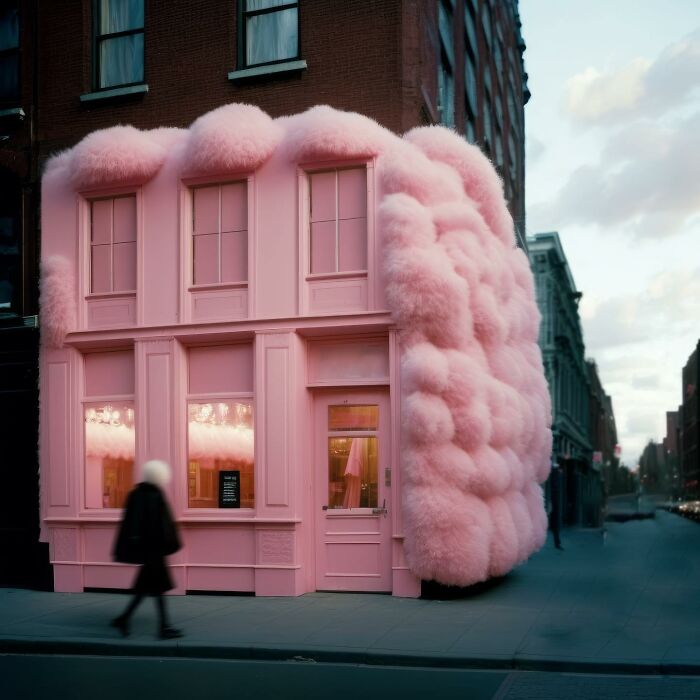 Who could resist a home covered in pink and sweet candy floss? And in a sea of greens, something like this would surely stand out and catch the attention of hungry little children. Hmmm, perhaps it's time to rewrite the story.
#25 What a huge cake this is!
This resembles the 3-tier wedding cake that we all dreamt about when we were children when thinking of our weddings. We had the whole day planned out; from the wedding dress to the venue to the cake, every detail was carefully thought of.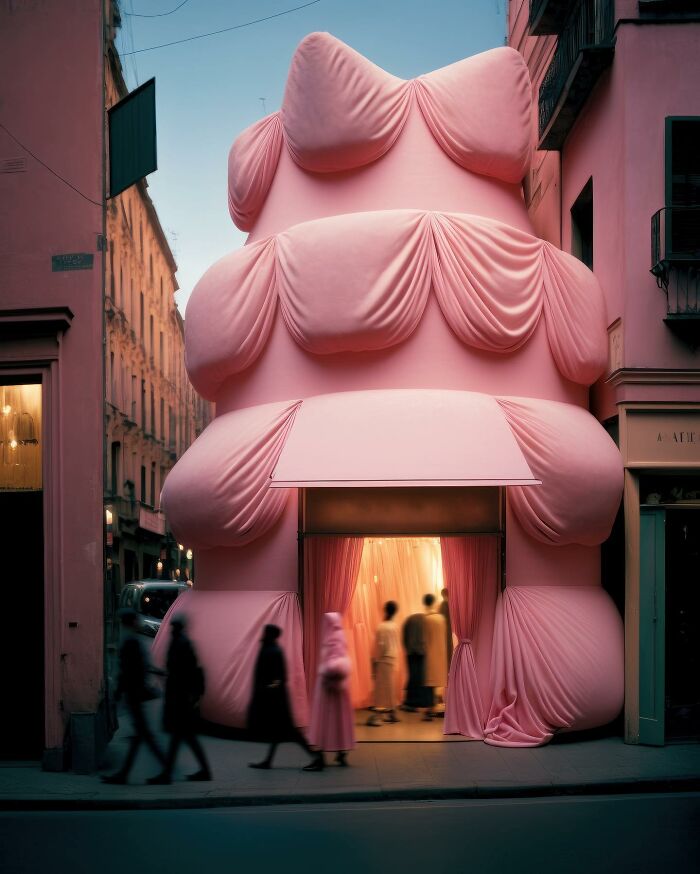 As children, we didn't even think how grooms would feel with a pink cake. It's the bride's day. What she says goes. If you're bent on making that childhood dream come true, here is a good inspiration for your baker.
#26 Taking over the fashion capital of Milan
Milan is considered by many to be the fashion capital of Italy. A design mecca and a financial hub, the city is where you will see contrasts of the old and the new, so it's only fitting that it, too, be taken over by Reisinger.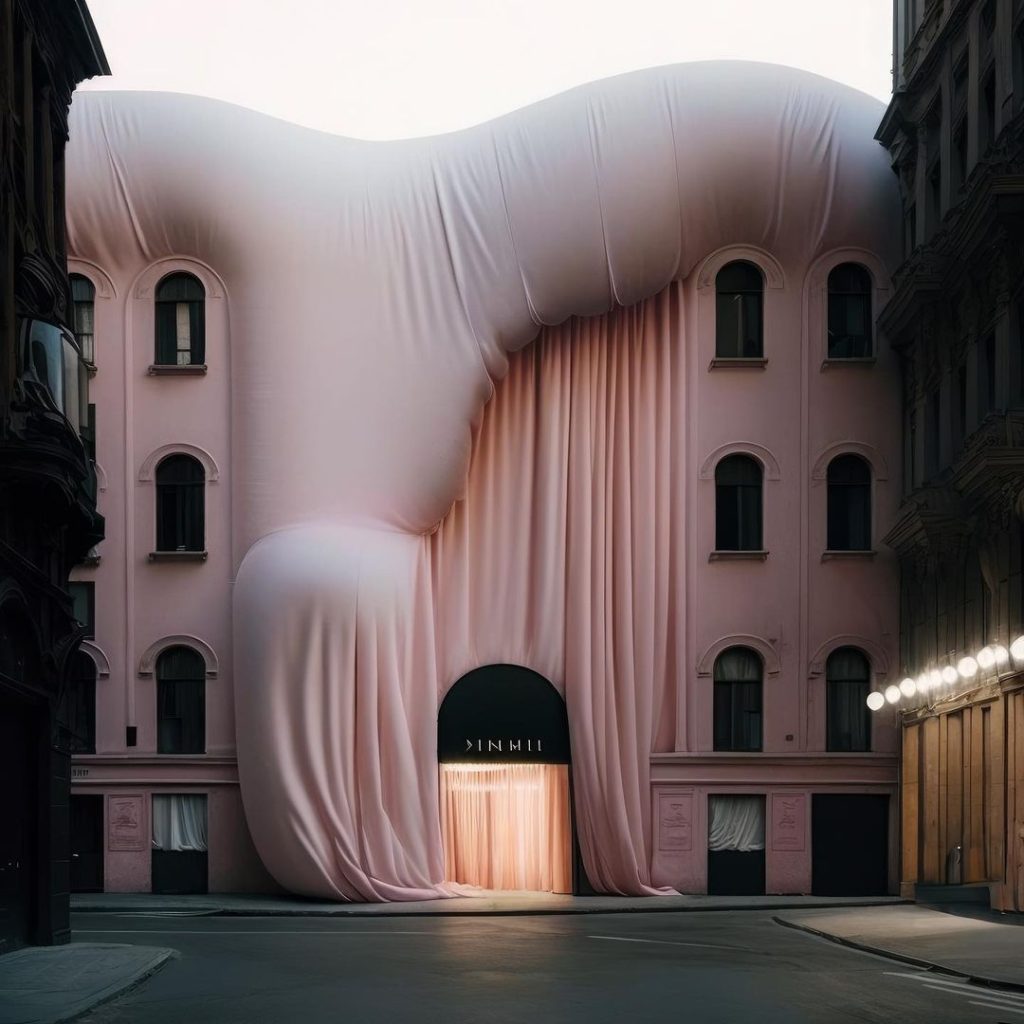 Milan's pink flamingos draw tourists from all over the world, and to add more pink to the city, here is the iconic pink drape covering one of the city's buildings. Unlike in other cities, this one isn't fuzzy or fluffy; it's more billowy. Still stunning, though.
#27 Pink giant bubble wrap
This reminds us of bubble wrap that's used as protective packaging for fragile products that need to be shipped, such as glassware and tech accessories, except that this is pink and huge. If we could, we would reach into our screens and start popping.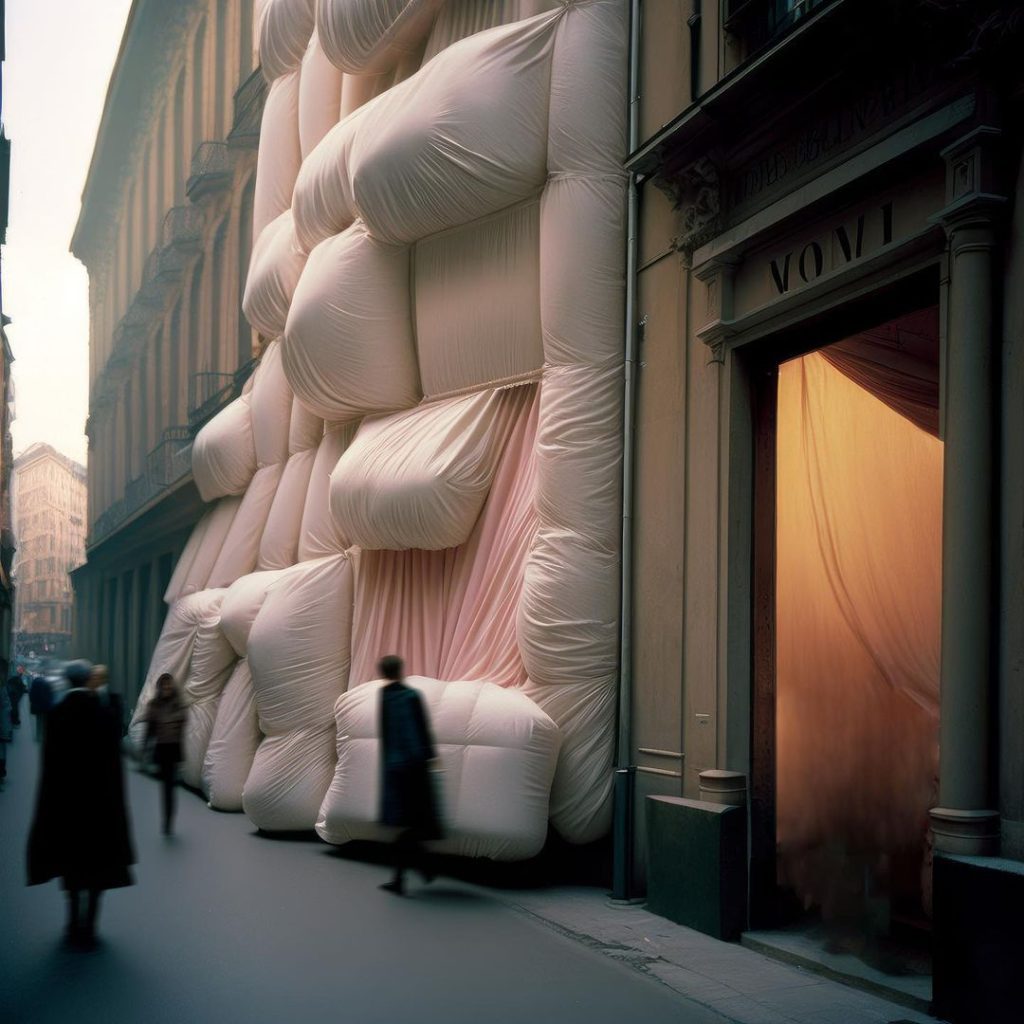 Pop, pop, pop! However, it seems that one giant hand has already beat us to it because one of the bubbles is already missing. Or did the artist forget to digitally put a few more in? See those empty spaces above the guy's head?
#28 Down the pink rabbit hole
If there was ever a pink rabbit hole, this is what it would look like. We'd be more than happy to go down that pink rabbit hole during nights when we can't fall asleep, no matter how many sheep we count in our heads.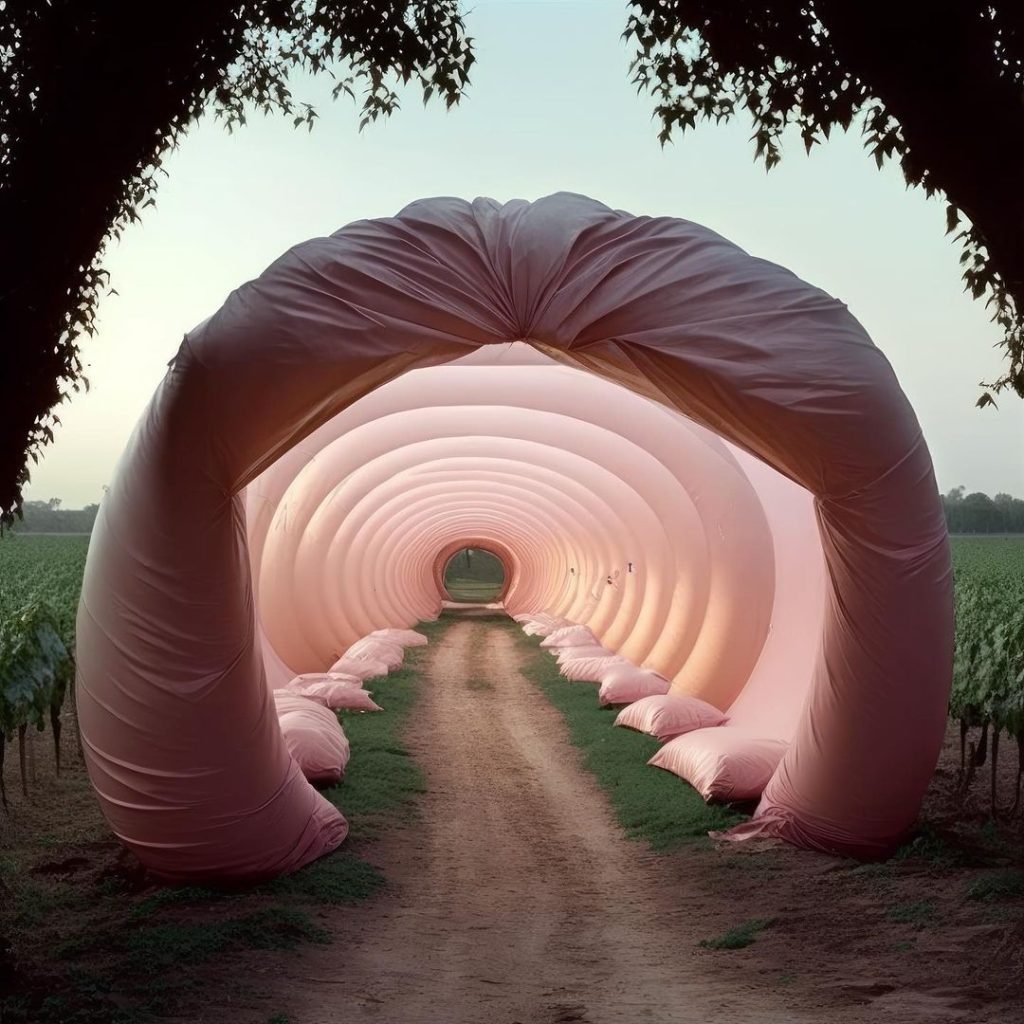 Some might also see this as the perfect aisle for that day when they finally say "I do" to their eager partners (if they can get their partner to agree to the pink color with the vineyards of Tuscany in the background). We reckon a few adjustments might need to be made.
#29 Is that a puppy in Munich?
Fortunately, or unfortunately for others, not all of Reisinger's digital creations are in pink. Here he is, taking over Munich and breaking the Internet with a creation that looks a bit like a giant puppy with two of its paws up.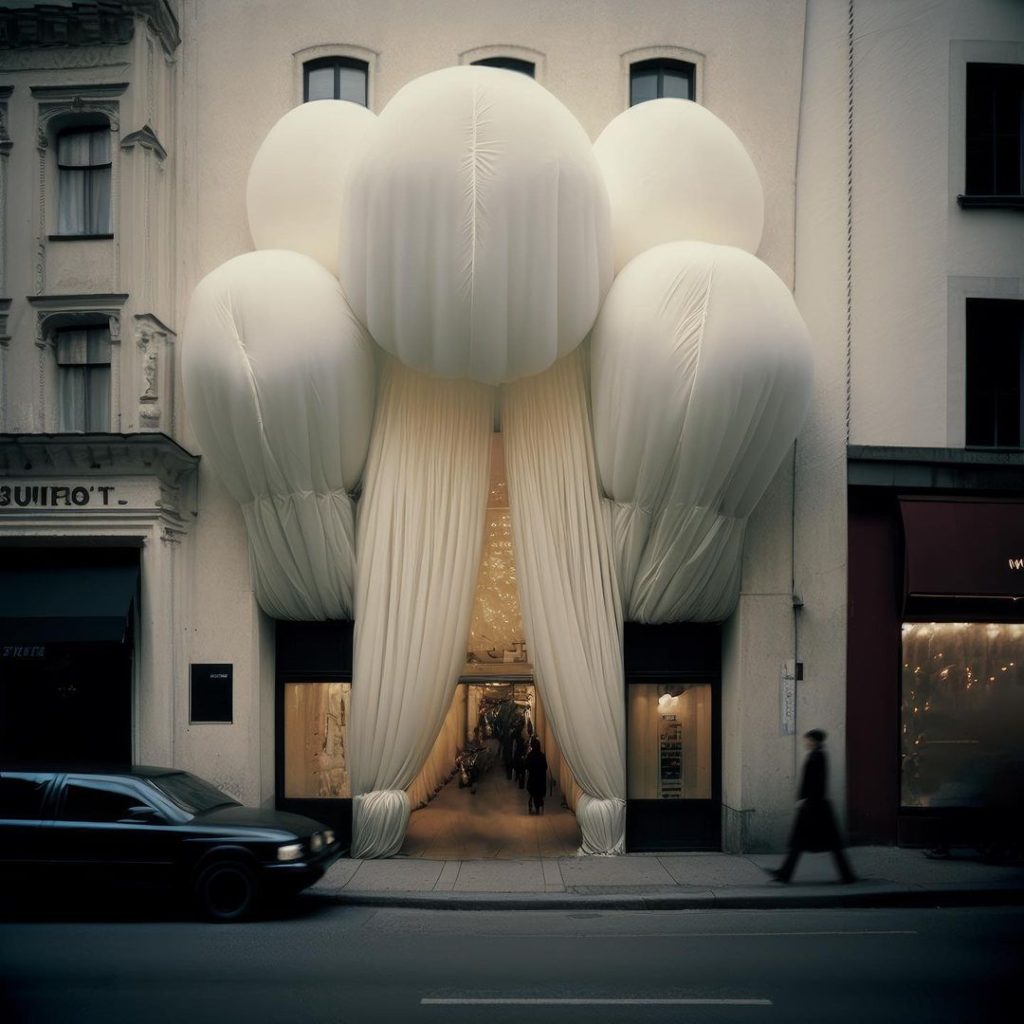 Is it saying hello, or is that an act of surrender? This digital "puppy" is off-white. Sorry to disappoint the countless fans of pink worldwide, but it's still impressive nonetheless. Which other cities would you like to see him take over?
#30 The fluffy pink lion somewhere in Tokyo
The fluffy pink installations have also found their way to Asia, particularly Japan, and we can't help but think that anyone who has seen this has loved it. Whose day wouldn't be made better if they saw that gigantic pink creation?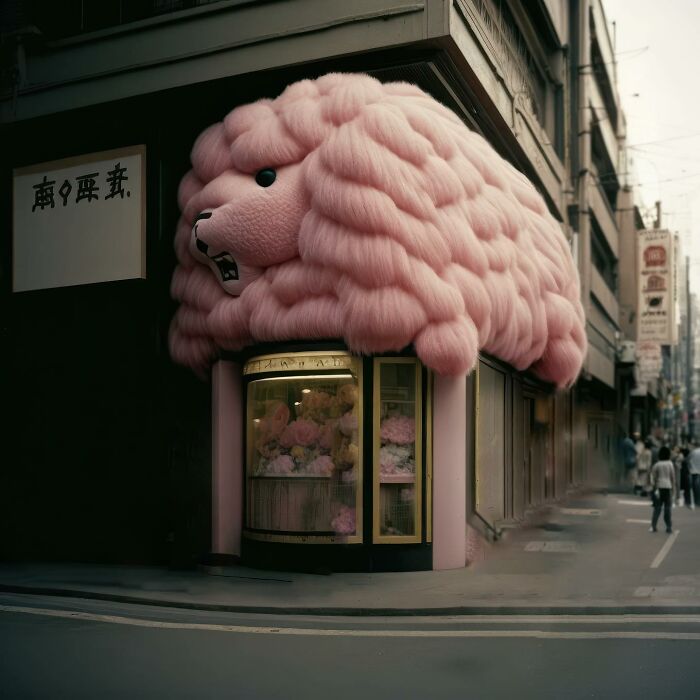 This one is in the shape of a lion, although some people on the net would like to think that it's a Pokemon. This has got to be the cutest, most adorable lion ever known to man. It doesn't look nearly as fierce as the lions in the African bush.
#31 This could pass for a snow-covered building
If we didn't know any better, we'd say that this is a building covered in too much ice and snow. The only giveaway that this isn't real is the rest of the buildings in the background that don't have a speck of snow on them.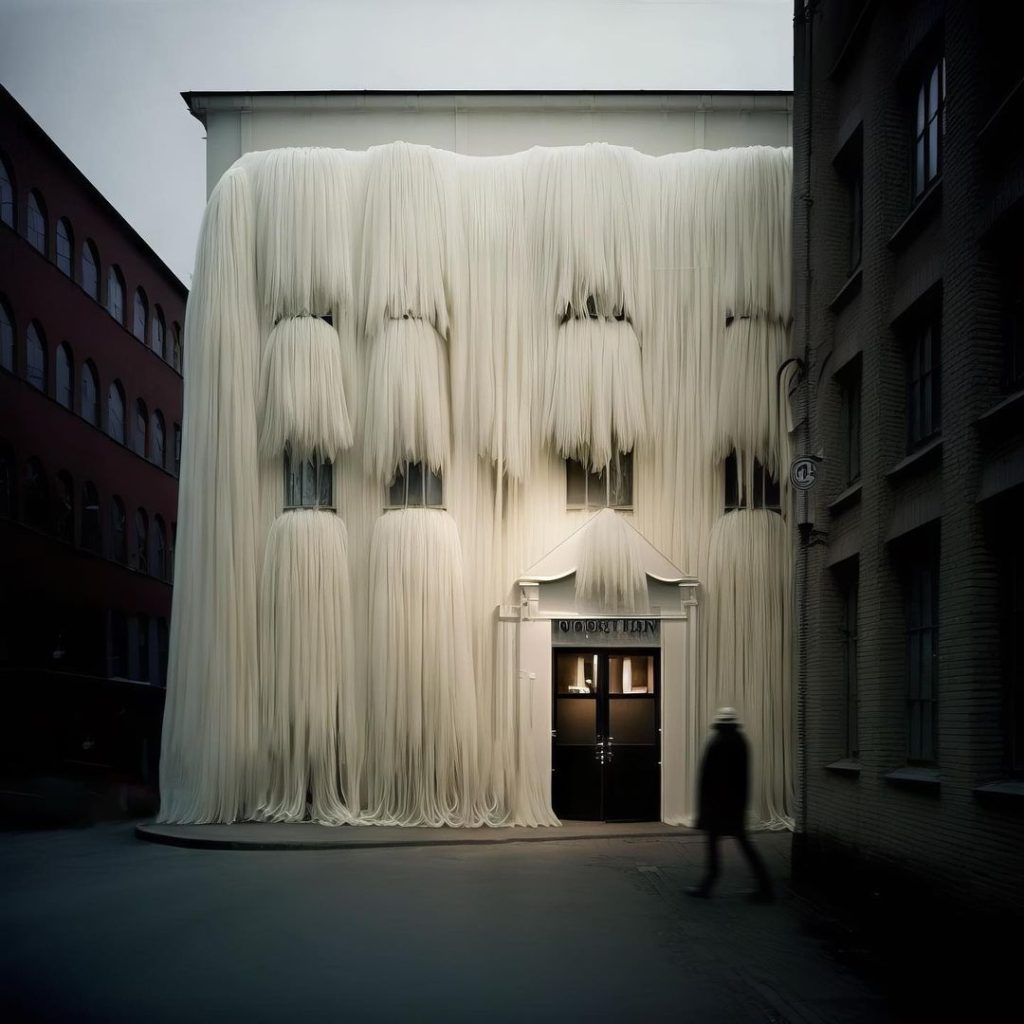 The building also looks like it's covered in some frilly fabric which we would love to run our hands on. It reminds us of the fringe flapper dresses women wore in the 1920s, which capture the exuberance of the era. So Great Gatsby-esque.
#32 Hard to say if that's a vegetable or an animal
This looks like moss which attaches itself to surfaces with excessive moisture. They can easily develop and spread over a large area, and before you know it, a whole abandoned building is covered with moss. If only moss were this fluffy and pink.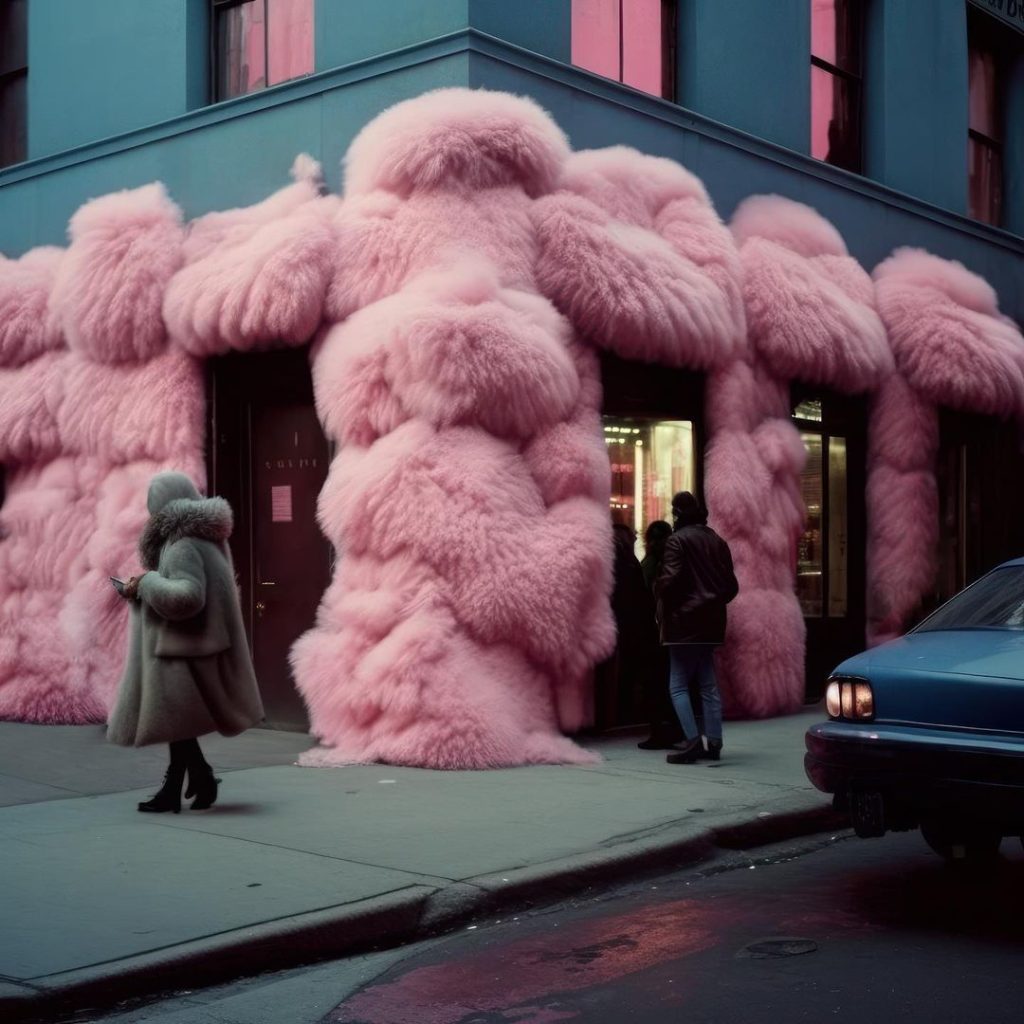 This series has created so much hype that people all over the world can't wait for these images to be given life so that they can take a picture of and with the creations and discover the fun of different textures.
#33 Why is that lady's head missing?
You'd be screaming your head off if you saw this on the street at nighttime and weren't aware that it's an art installation. Don't be alarmed, this lady's head is not missing, and that's not a live body right there.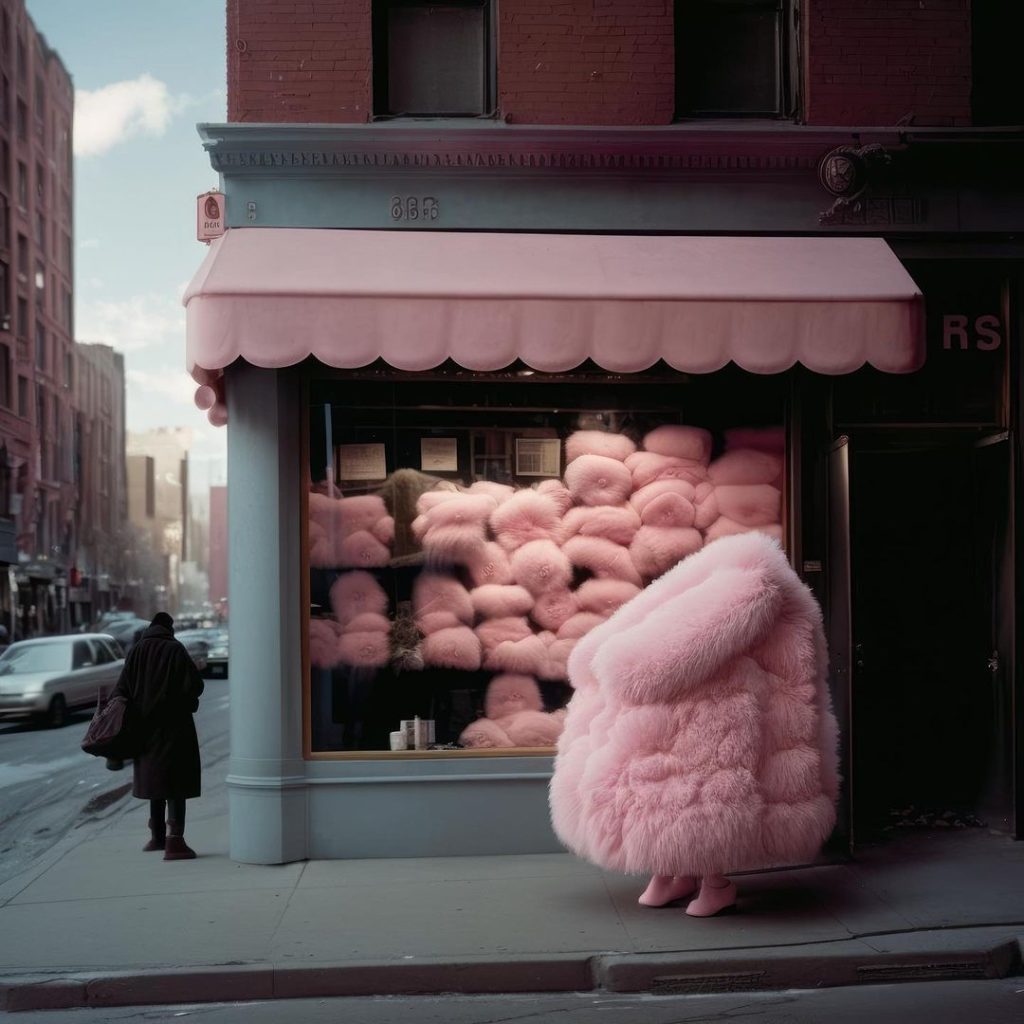 It's just one of Reisinger's creations, but people all over the world can't help but let it be known that they need an actual art installation. We'll be on the lookout for when that actually happens, as will thousands of people all over the world.
#34 Is that a mushroom?
This looks like one of those bizarre mushrooms that grow in the forest, except that it's the giant version of a Lion's Mane that could easily be taller than an average-sized person. Don't worry because the Lion's Mane fungus is not poisonous.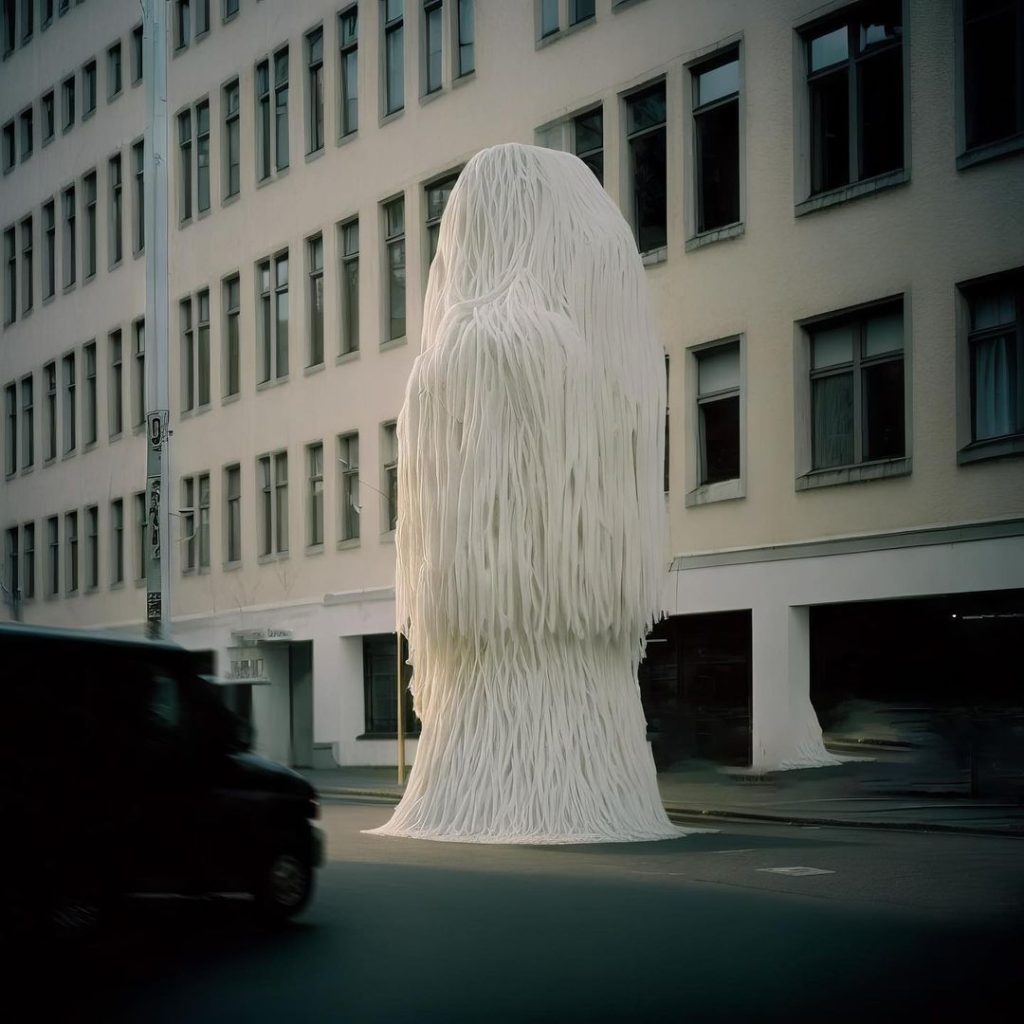 This is the artist's attempt at taking over Basel in Switzerland and one of the few digital images that are not in pink. Hopefully, prints of these images will be available soon so we can purchase some. This would look amazing hanging up on our walls.
#35 Pinkadilly in London
Pink pasta may not be a real thing, but at least our fantasies about it can come true when we're looking at Reisinger's works. This is one of the buildings in London dressed in what people like to call ham drapes or pasta.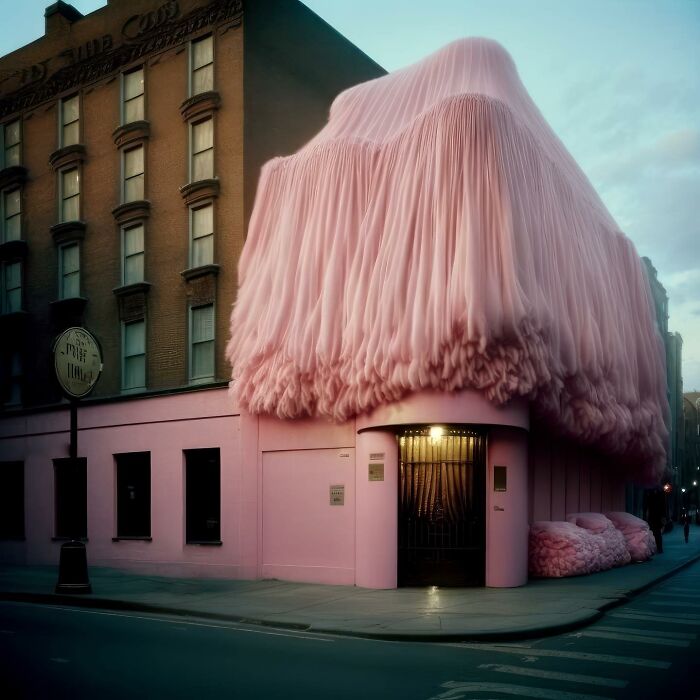 Looking at his many works, it's easy to tell that each city carries a different mood that the texture, folds, and volumes can distinguish. His works got a lot of attention on social media. We can only imagine how much more successful these art installations may have been if they were real.
#36 We love this entryway
Entryways are people's first impressions of your home, and it sets the tone for the experience guests will have when visiting you. If you want to increase your home's value, you should start with the entryway. So check yours to see if it's disorganized or outdated.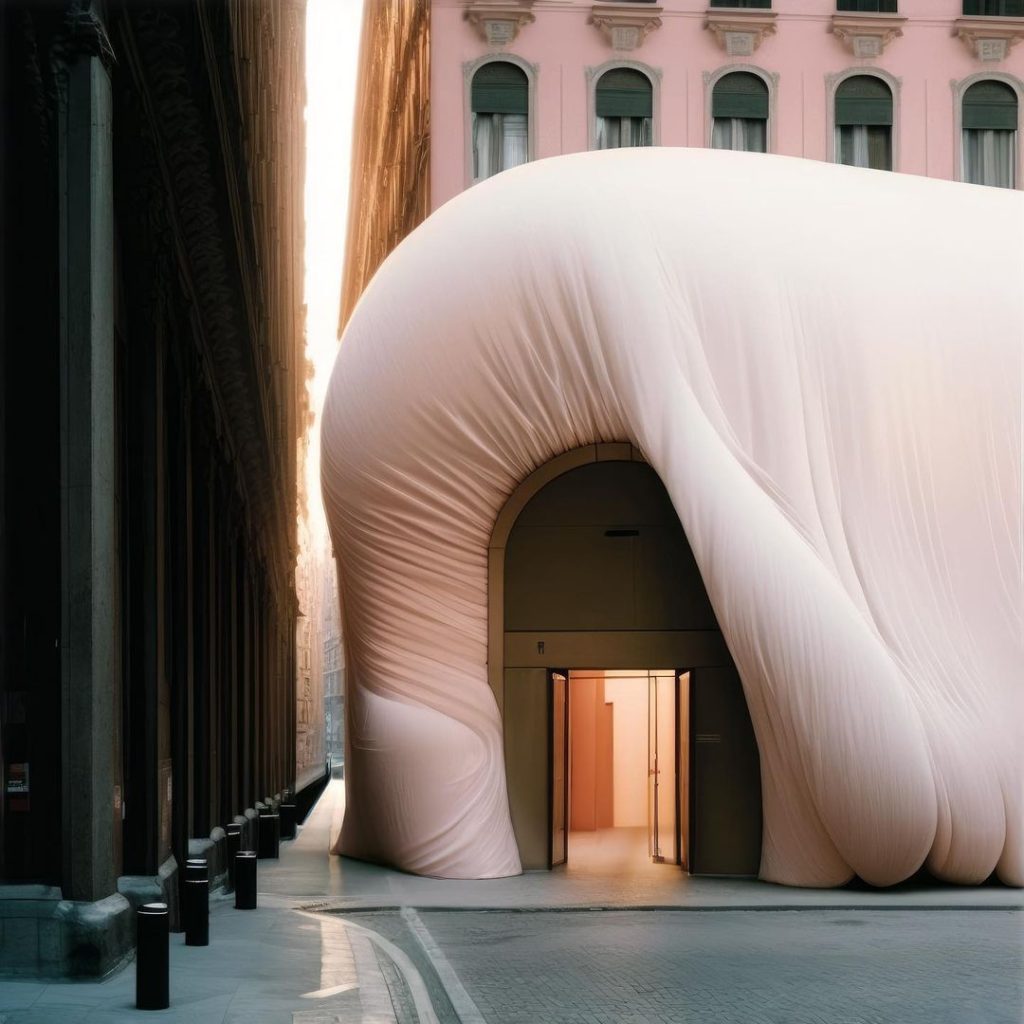 This kind of entryway gets people talking, but remember that it should also be connected to the décor of the rest of your home. When you see an entryway like this, the only thing you want to do is explore the remaining parts of the house.
#37 Is this how heaven is supposed to be?
We thought that the artist wouldn't be able to top the pink images, and we were proven wrong. The flow and elegance of these white drapes are so tangible. Is it weird to say that we would love to be draped in the same fabric? We probably aren't the only ones who feel that way.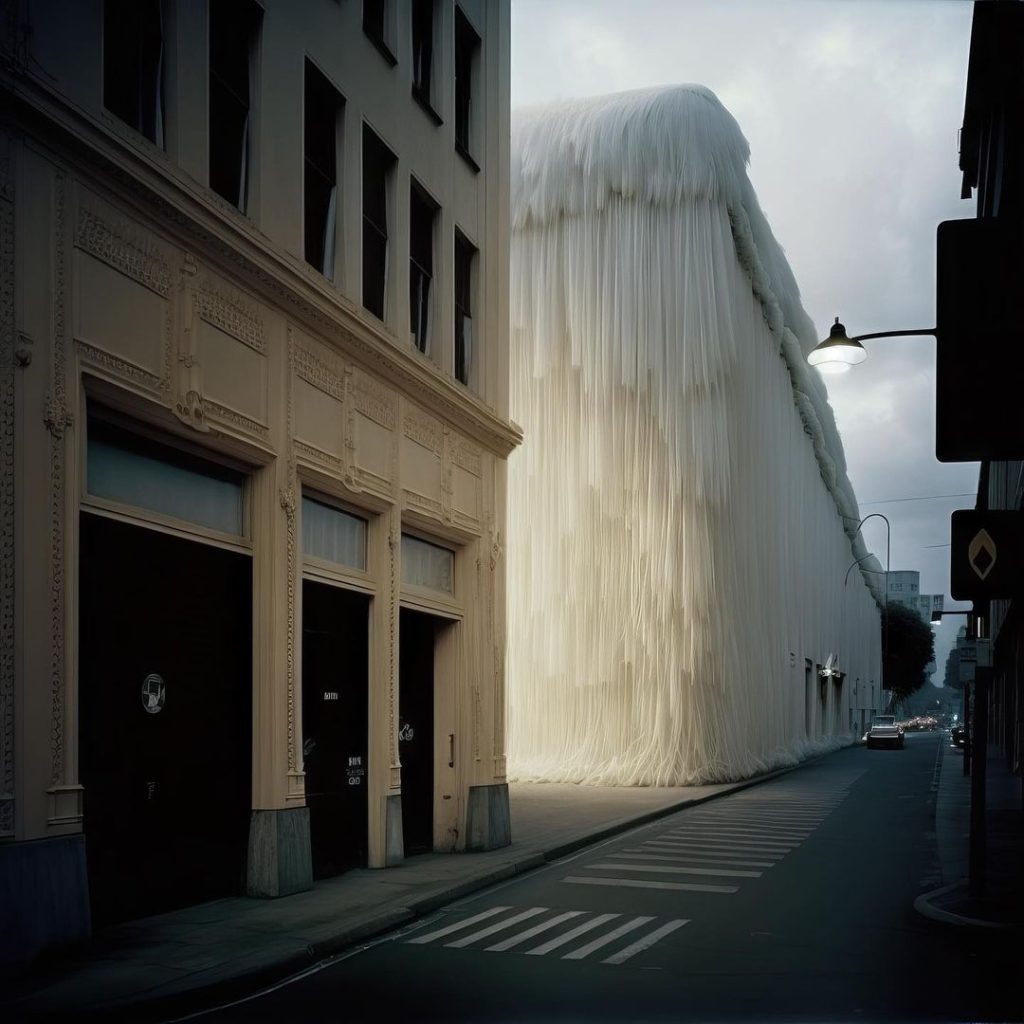 This takeover in Basel conjures images of how heaven, fluffy and fuzzy. This is where we imagine our pets playing, running around, and having the time of their lives after crossing the rainbow bridge. They would surely love to feel the texture of these creations.
#38 How much would it cost to do this to our house?
We like this one so much that we are wondering how much it would cost to do this to our home. The bigger question, though, is would the Homeowners Association allow us to do such a thing or call us out for having too much pink in our backyard.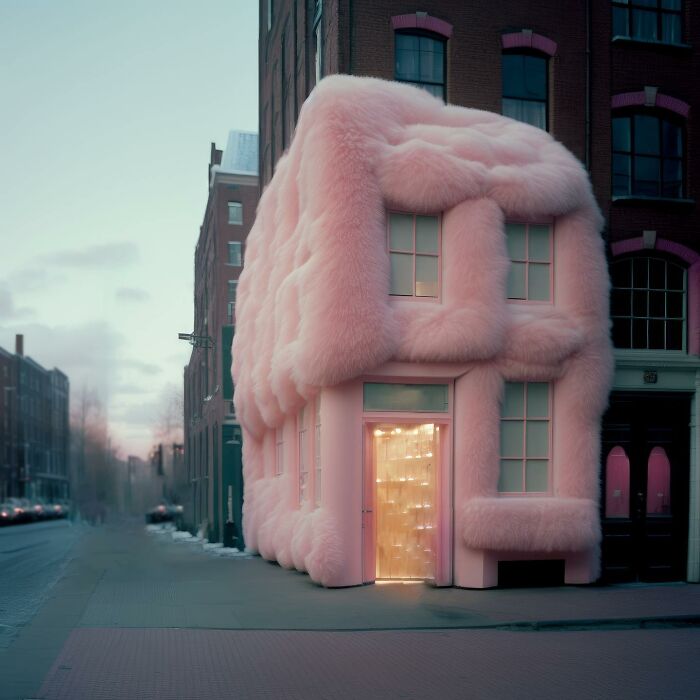 We've never had a house that stood out from the rest, and with this, we're sure to be the talk of the town, with people snapping up photos as they pass by. We might even land on the cover of a few decor magazines, too, if everything is done right.
#39 The giant eggs are spilling onto the streets
If we didn't know this was a digital image, we'd be a bit worried about the number of giant eggs that are spilling onto the street and possibly running pedestrians over. However, those giant eggs are not real, and the people in the photo are safe.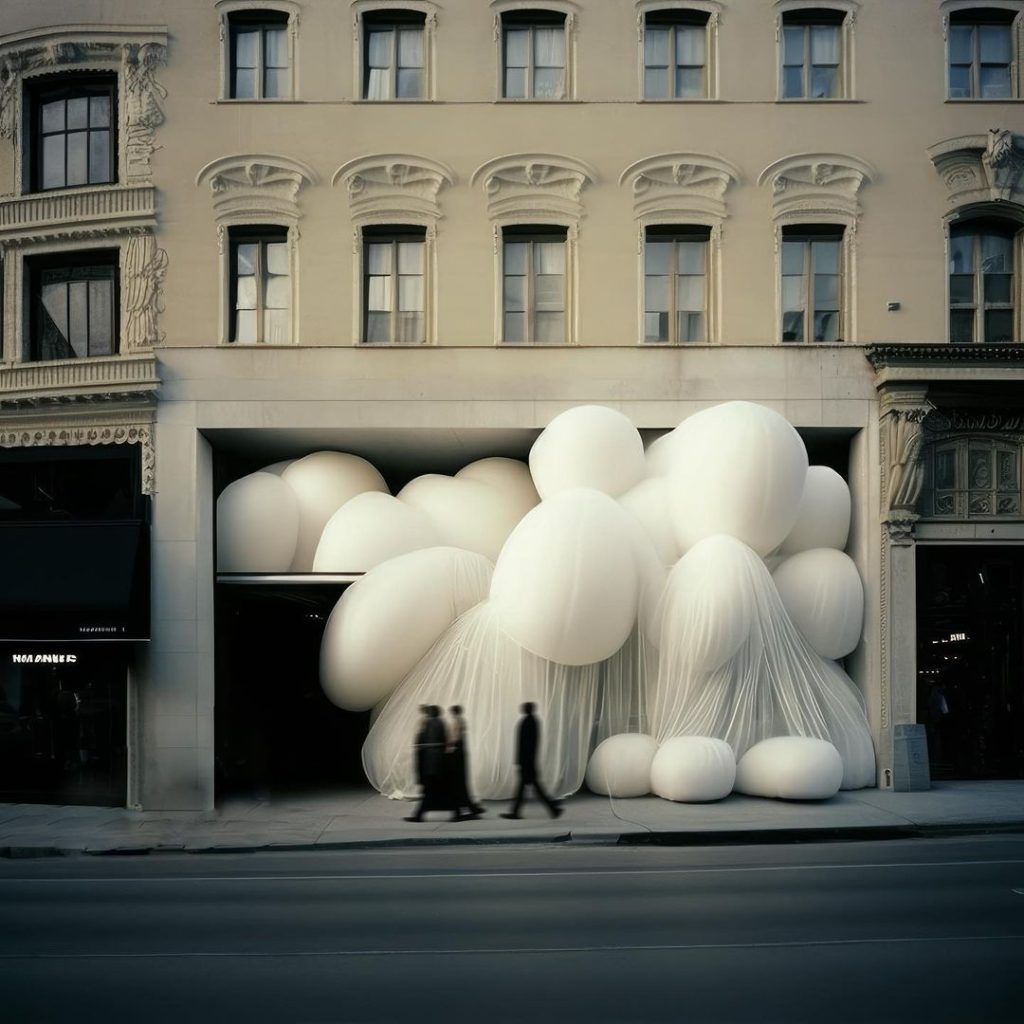 If we were to walk passed this, we would find it impossible to restrain ourselves from jumping on one of the giant eggs. They just look so big and bouncy! We are sure we wouldn't be the only ones trying to test the eggs out.
#40 Would you like to live in a modern pink castle?
This modern pink and fluffy castle is also in Amsterdam, as if the city couldn't get any more interesting. Pink is not only a nurturing color, but it is also considered playful, and perhaps that's why the artist chose it for his digital art pieces.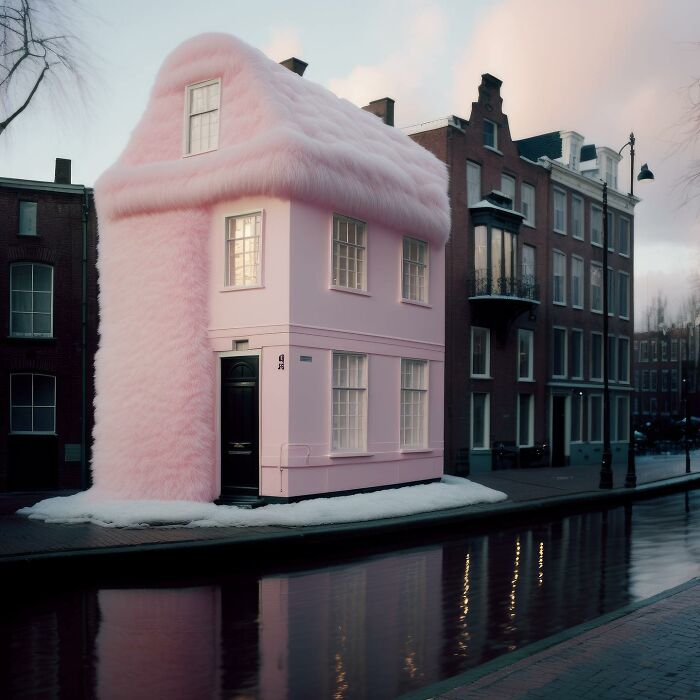 Would you fancy living in a place like this? Even if people raised their eyebrows because you're in your 30s and you're still living like Barbie? Would you care what others think? We'd think not, as long as you're happy.