Into The Woods: 45 Cabins To Visit For An Unplugged Vacation
By Ziyee N February 9, 2022
---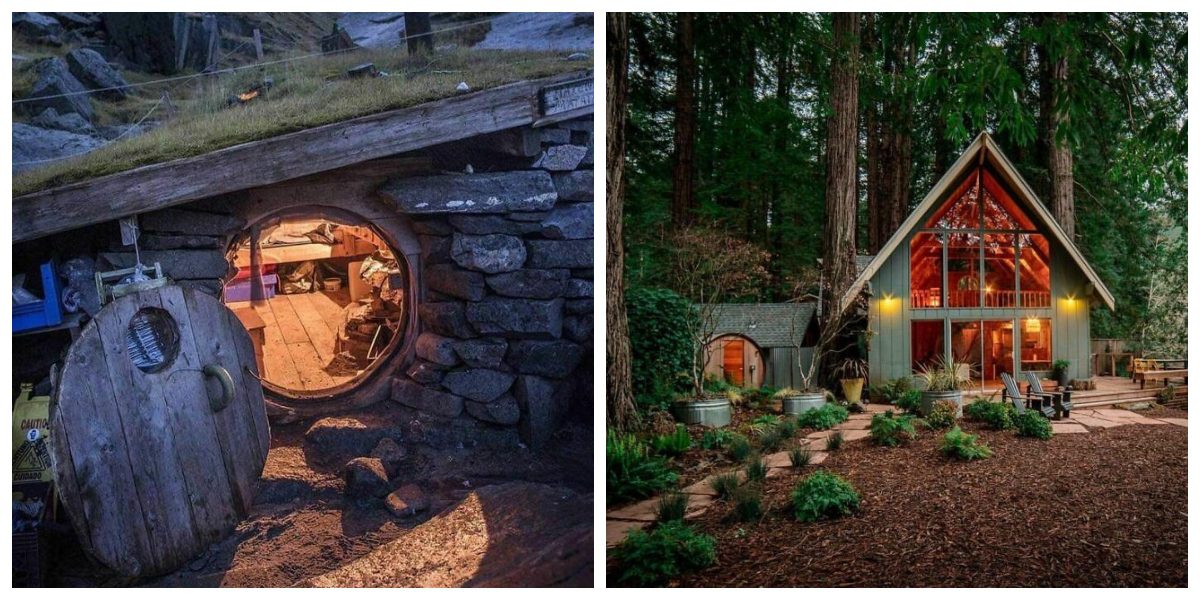 Today's society is filled with hardworking individuals who give it their all to do their best each and every day; be it a desk job, hard manual labor, or diligently studying, there is no shortage of individuals who are constantly under immense pressure. It is important to unwind and relax amidst a busy schedule to avoid burning out when working so hard. Taking time to disconnect from the daily pressures is key to maintaining a healthy life, both mentally and physically. Nature provides for the perfect environment for unwinding and relaxing, so it's not surprising why many individuals choose to submerge themselves in this peaceful yet engaging environment in order to get away from it all. Cabin getaways are a wonderful vacation idea that is perfect for hardworking individuals looking to kick back and relax in peaceful and quiet surroundings. If you need some inspiration for your next vacation destination, we've compiled a list of 44 of the most gorgeous cabins around the world.
Cabin with a Wooden Interior
Most cabins are made of wood because wood has insulation properties that have proved to be four times warmer than concrete blocks. Even though modern-day technologies can provide heat and insulation to any material, using wood's natural properties reduces the reliance on such technologies.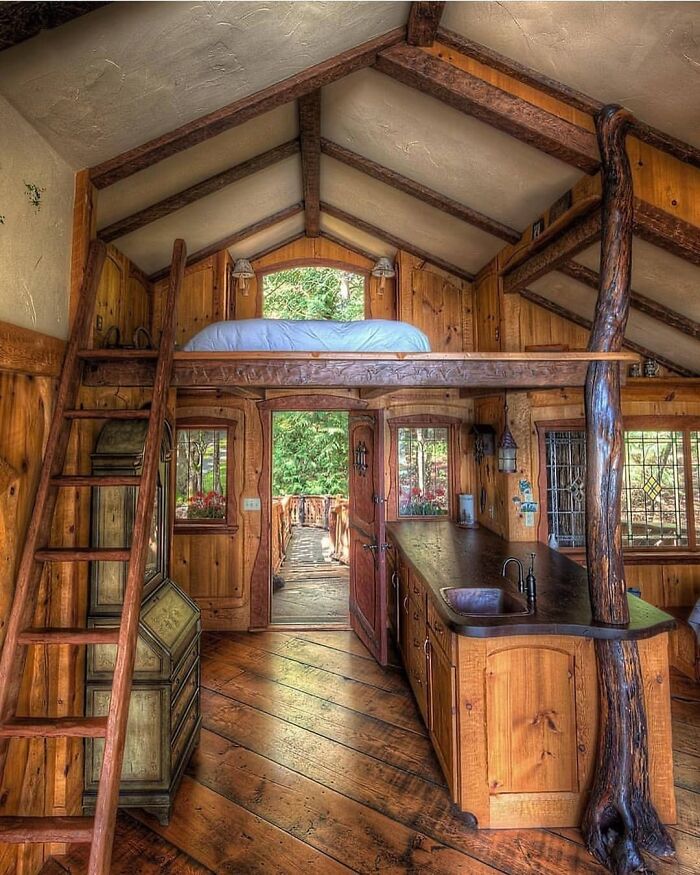 Apart from the outsides of the cabin, its interiors also include wooden elements; other than keeping the cold out of the cabin, wood is a sustainable product that has environmental, social, and economic benefits. The cabin in the picture above is a typical cabin interior design.
Log Cabin with Stone Chimney
Moving on, we have a cabin with classic wooden exteriors and a stone chimney. Fun fact: log cabins are a symbol of humble origins and have come to represent hard work; in America, it also represents patriotism towards the country.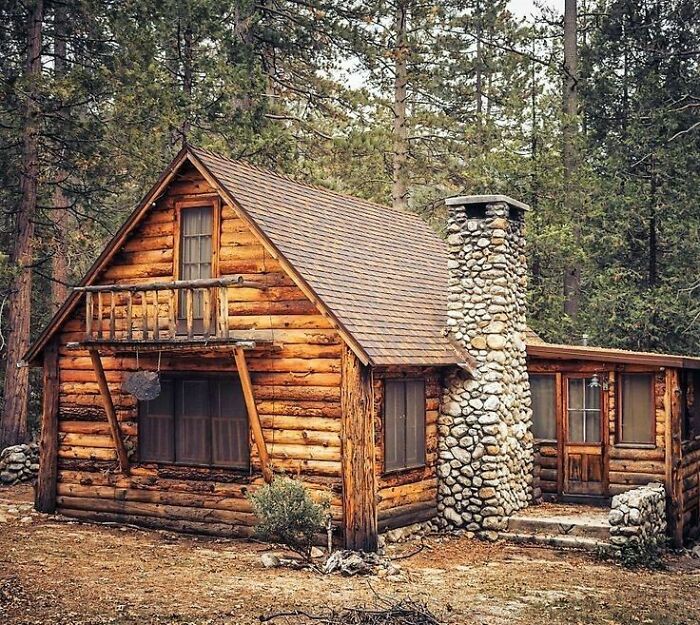 Although log or wooden cabins are effective in keeping out the cold and locking in the warmth, there are some disadvantages to log homes. Firstly, pest control would be a serious issue, not to mention the high insurance, upkeep, and maintenance cost.
Cabin in the Woods, Czech Republic
Cabins are primarily located outside of cities, often in forests or near lakes. The main goal of cabin getaways is to disconnect from technology, busy schedules, and stressful commitments, which is why it's so important for these getaways to be located in peaceful surroundings.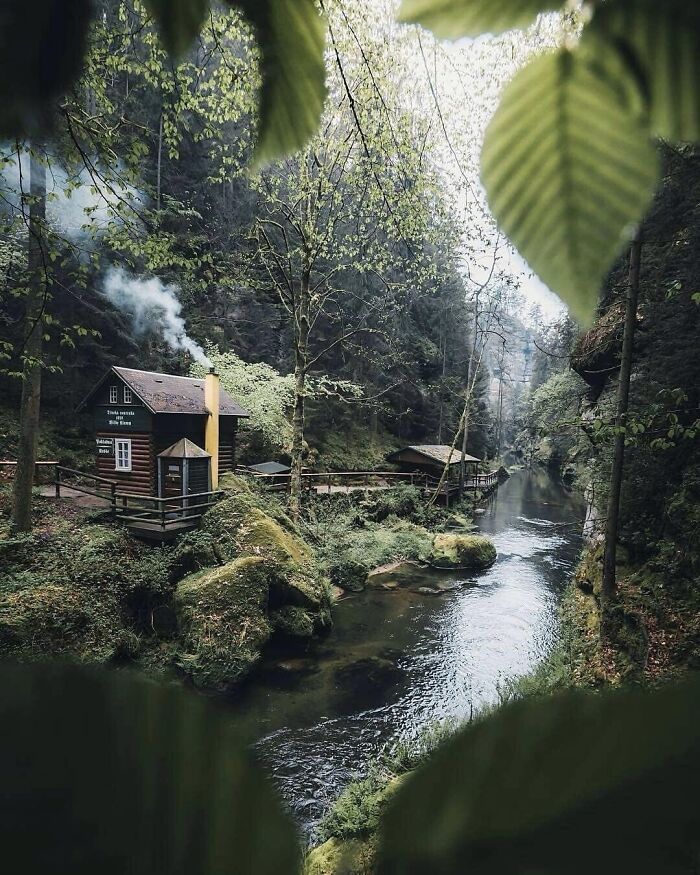 This cabin in the woods is perfectly isolated from technology and other distractions. It looks quiet and peaceful, which is perfect for those looking for an escape from overwhelming stress and packed schedules. Silence is certainly hard to come by in a city.
Isolated Cabin on Lake Winnipesaukee
As we said before, the ideal location for cabins is somewhere far away from the city where you can isolate yourself from technology, distractions, and occasionally, people. This cabin in New Hampshire literally separates you from everything as it's built on a lake!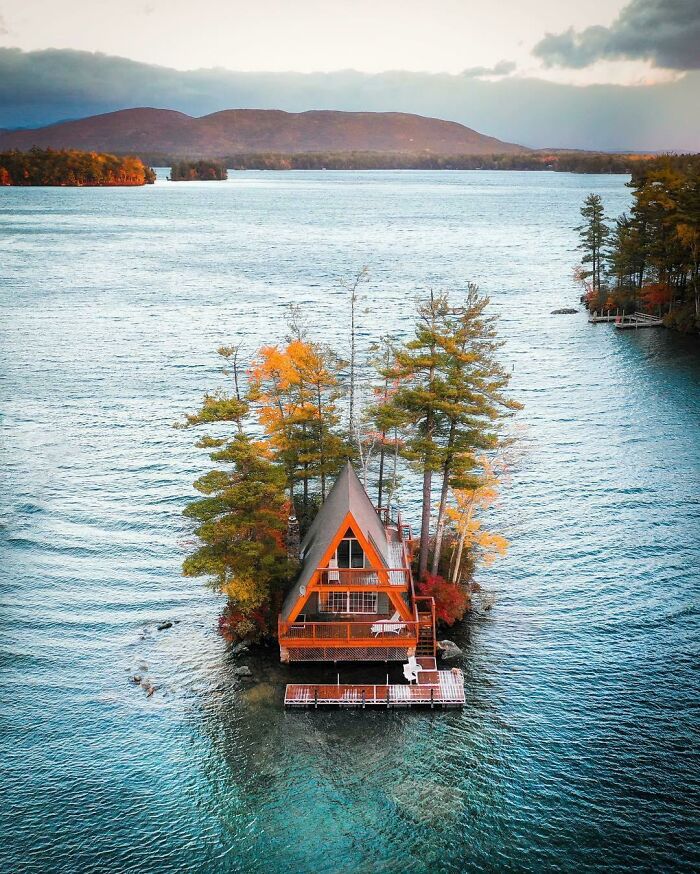 Surrounded by the waters of Lake Winnipesaukee, there is no way that unwanted guests or distractions can get to you — in other words, you'll be completely isolated from reality. Due to the location, this cabin provides the ultimate quiet surrounding ideal for getaways.
Fall Cabin on Mirror Lake
Here is another completely isolated cabin located in Anchorage, Alaska, on Mirror Lake. Outdoor activities such as canoeing, fishing, and picnics are permitted here, which is an excellent way for guests to pass the time while being disconnected from technology.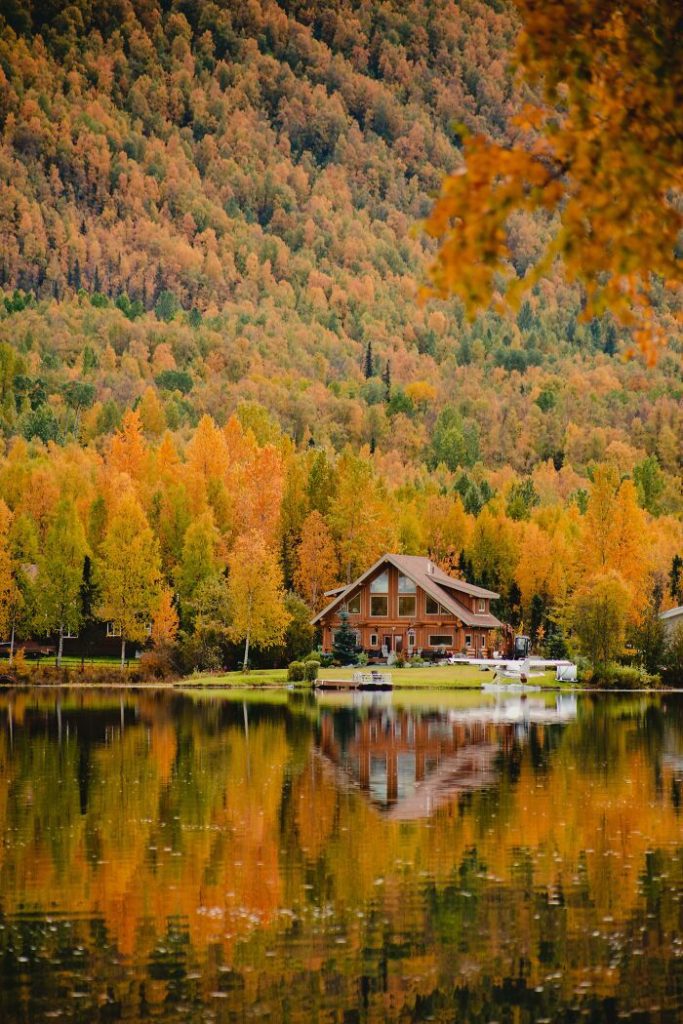 This Mirror Lake cabin provides the most gorgeous scenery you'll ever see, especially during fall; the vibrant colors of fall leaves are reflected on the lake, which helps paint a symmetric picture of the cabin as well as its surroundings.
Isolated Cabin in the Netherlands
Isolated cabins aren't only found in The United States. This cabin is in the Netherlands, and similar to the previous two cabins, it's situated in the middle of a lake, completely hidden and far away from the land. It's like having an island all to yourself!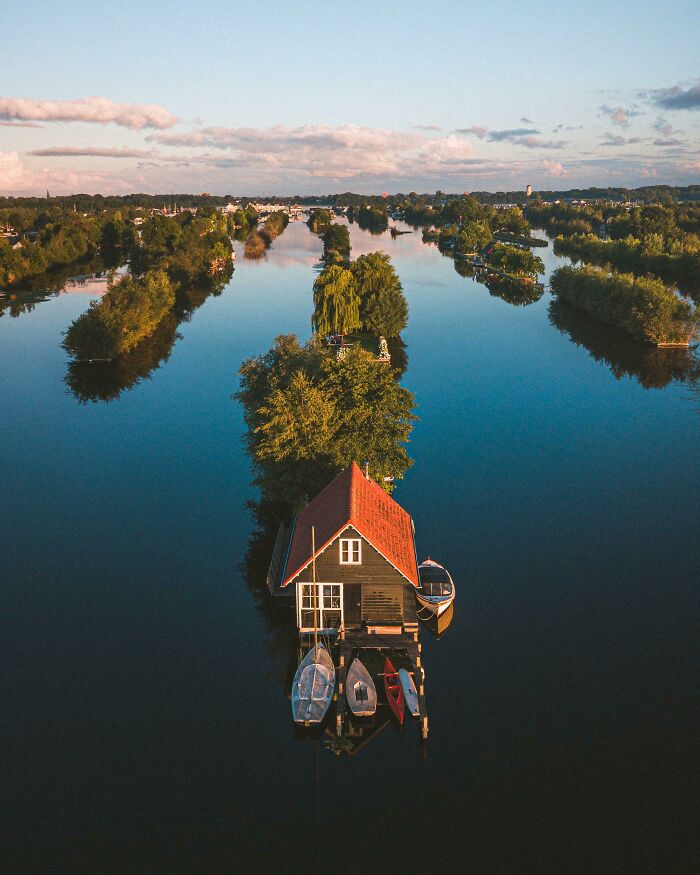 The Netherlands, a northwestern European country known for its magnificent landscapes of canals, tulip fields, windmills, and cycling routes, is the perfect getaway. Guests of this cabin would be able to enjoy scenic views while exploring the country during their trip.
Isolated Cabin in Ontario
Aside from being Canada's main economic hub, Ontario is known for attracting major nature lovers with its natural diversity. It includes vast forests, beautiful provincial parks, four of the five Great Lakes, and is home to the world-renowned Niagara Falls.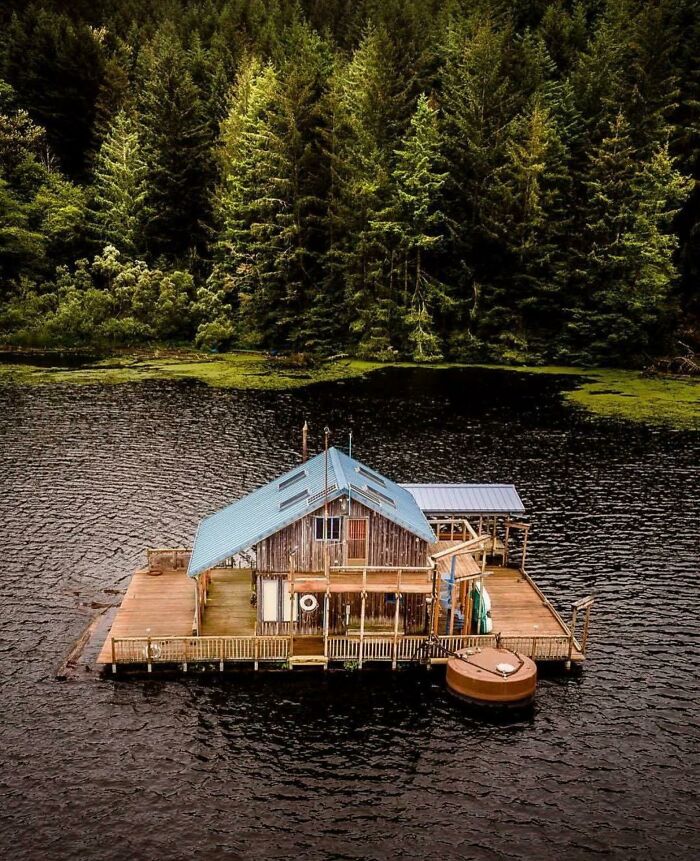 If you're planning a trip to Ontario, be sure to plan a stay at one of these Ontarian cabins. For example, this floating cabin in the middle of a lake looks like the perfect accommodation for a relaxing and disturbance-free getaway.
Wooden Cabin by the Lake
The main downside of having a cabin situated in the middle of the lake is that transportation to and from the cabin would be a bit more troublesome. So, this particular architect was rather wise to build a cabin by the side of the lake.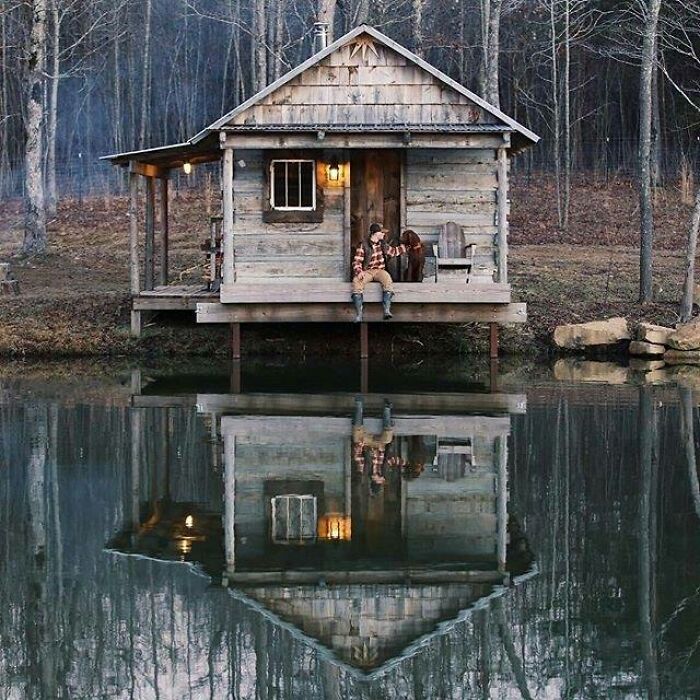 Although this cabin looks small, it surely is cozy and perfect for a getaway in the woods, alone or with a furry companion. This wooden cabin also comes with a beautiful lakeside view that is mesmerizing, satisfying, and somewhat soul-nurturing.
Cozy Cabin in Washington State
This cozy cabin is located in Washington State, United States, the home to 6 national forests and 215 state parks. This cabin is unique as its roof is camouflaged with leaves and other greenery, making it blend entirely with its surrounding.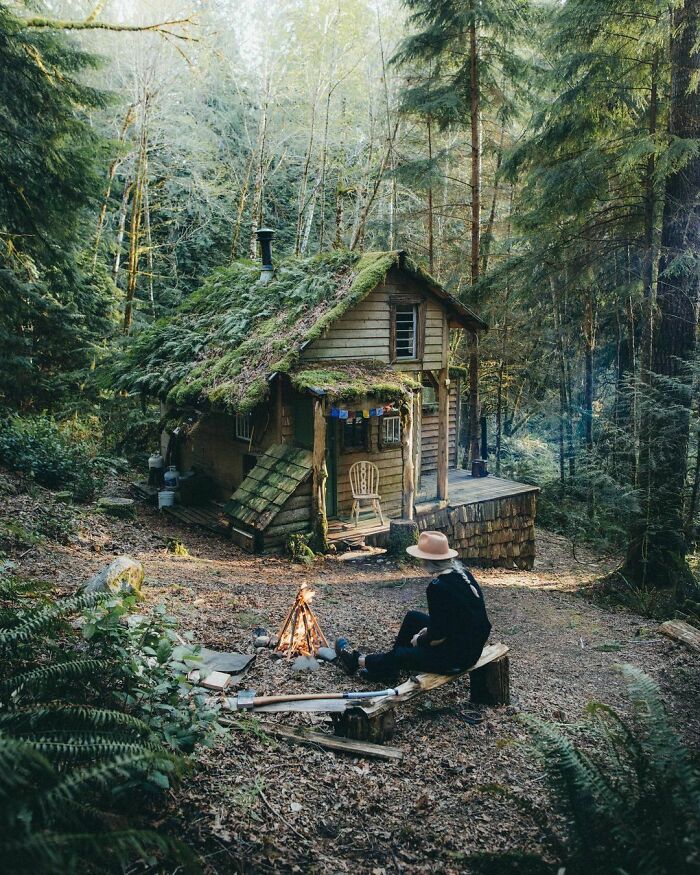 The cabin looks like the cottage in Snow White and the Seven Dwarfs; if this were your cabin getaway location, you'd be wholly submerged in a peaceful and quiet natural surrounding where you can disconnect from reality completely. However, we make no promises on singing dwarves.
Franklin Falls Trail Cabin in Washington State
The Franklin Falls Trail is the most popular hiking trail for families in Washington State because of the trail work done, making it safe to hike, even for young children. Along the hike, you'll be enshrouded in a thick canopy of trees.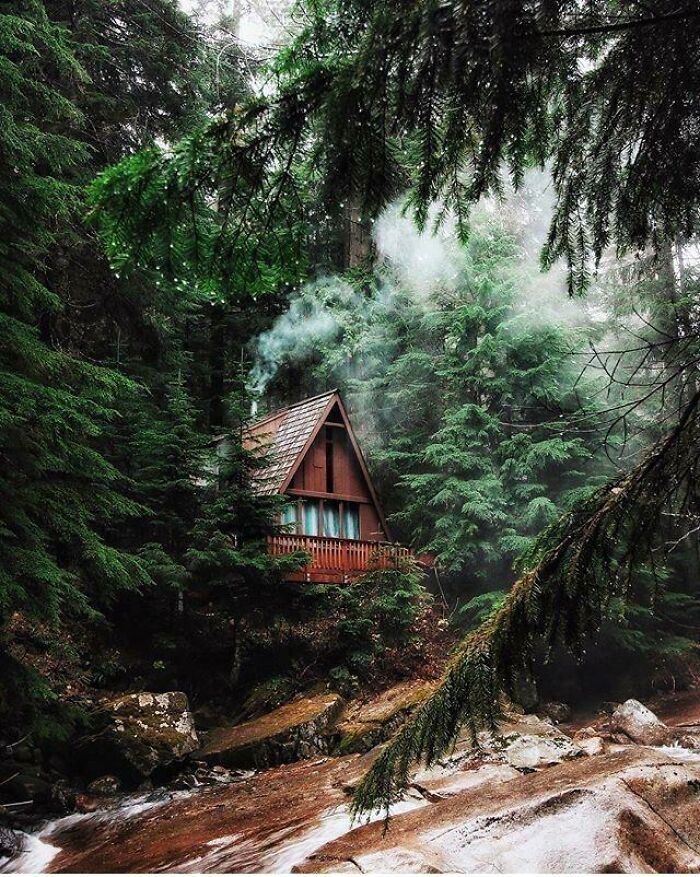 This cabin sits along the aforementioned Franklin Falls Trail. Because the trail is in the woods, it is the perfect location for a summer cabin getaway as the trees shield the cabin from the blazing sun, as well as the heat.
Hansel and Gretel Cabin in Washington State
Because half of the Washington state is covered with forests, it's nicknamed The Evergreen State. The northwest corner of Washington contains dense rain forests, while the southwest corner contains forested hills and beaches along the coastline. If the two previous cabins are anything to go by, Washington is the perfect place for a cabin getaway.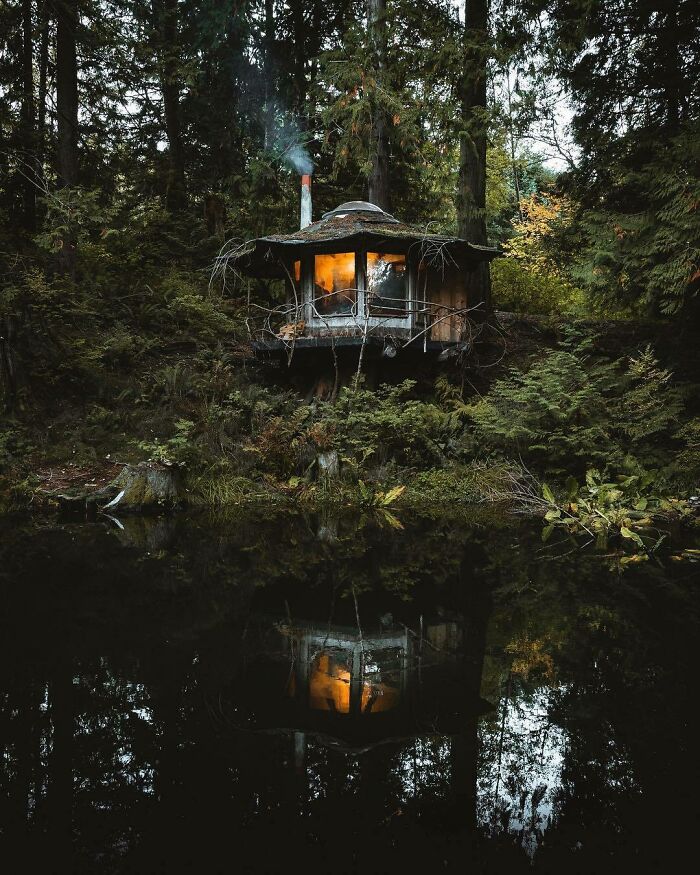 Due to the state's geography, the state of Washington is an ideal nature-based getaway destination. So, if you're planning a cabin getaway to the state of Washington, would you stay in a place like this cozy little Hansel and Gretel inspired cabin?
White Cabin in Asheville, North Carolina
Asheville, popular for its vibrant arts scene and historic architecture, is a mountain city situated in the Southeastern region of the United States; located in the western part of North Carolina, Asheville is the home to the famous Blue Ridge Mountains and Biltmore Estate.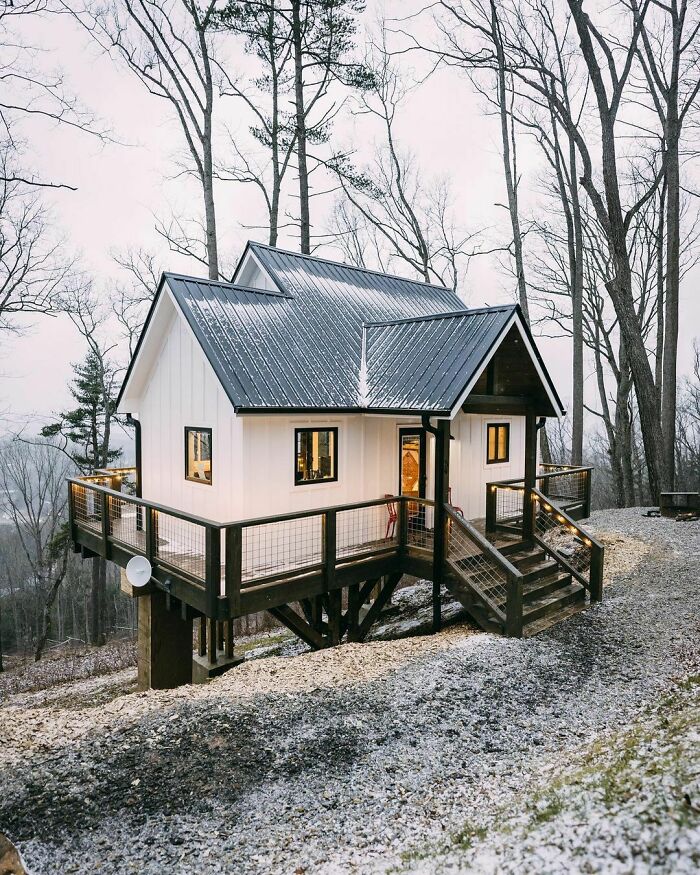 This black-and-white themed cabin in Asheville, North Carolina, has a minimalistic design that is aesthetically pleasing. During winter, the surroundings of the cabin are covered in snow, making the place look magical, as can be seen from the picture above.
Hagrid's Cabin in Finland
At first glance, this cabin in Finland looks much like Hagrid's cottage in Harry Potter. It's as though Hagrid, along with his little creatures, will answer our knock on the door; we might even get a chance to meet Harry, Ron, and Hermione, who are visiting.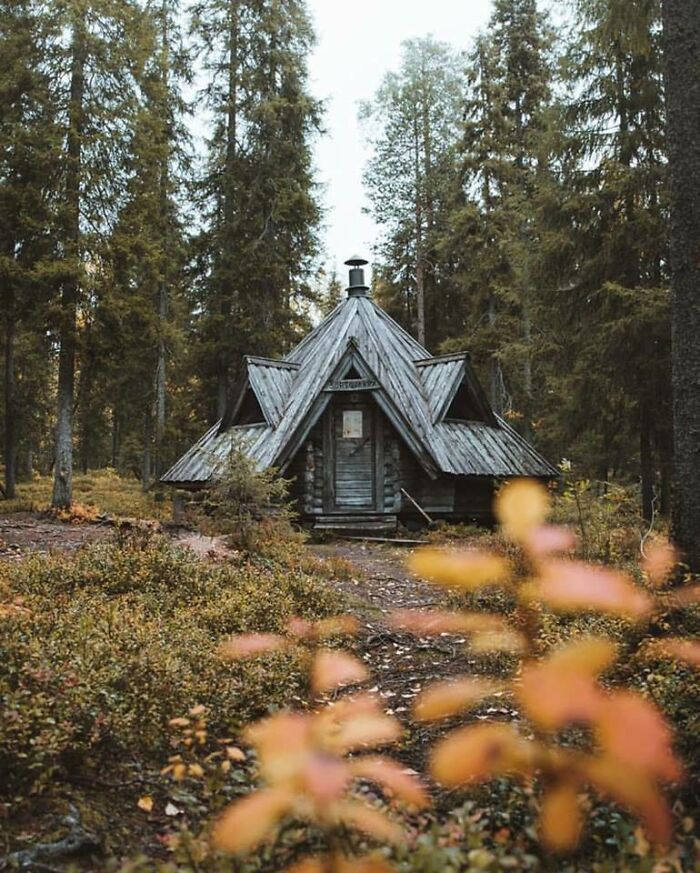 According to one online user, this particular cabin is located in the Arctic Circle Hiking Area in Finland; along the trail, hikers will be able to hear the roars of a waterfall, the ripples of the River Raudanjoki, the cheerful chirps of birds, and woodpeckers hammering.
Aurora's Cabin in the Enchanted Forest
This is another real-life cabin that resembles a residence in a famous movie; this one looks like the cottage Princess Aurora was raised in by the three fairies. The surroundings of this Sleeping Beauty-esque are much like the Enchanted Forest.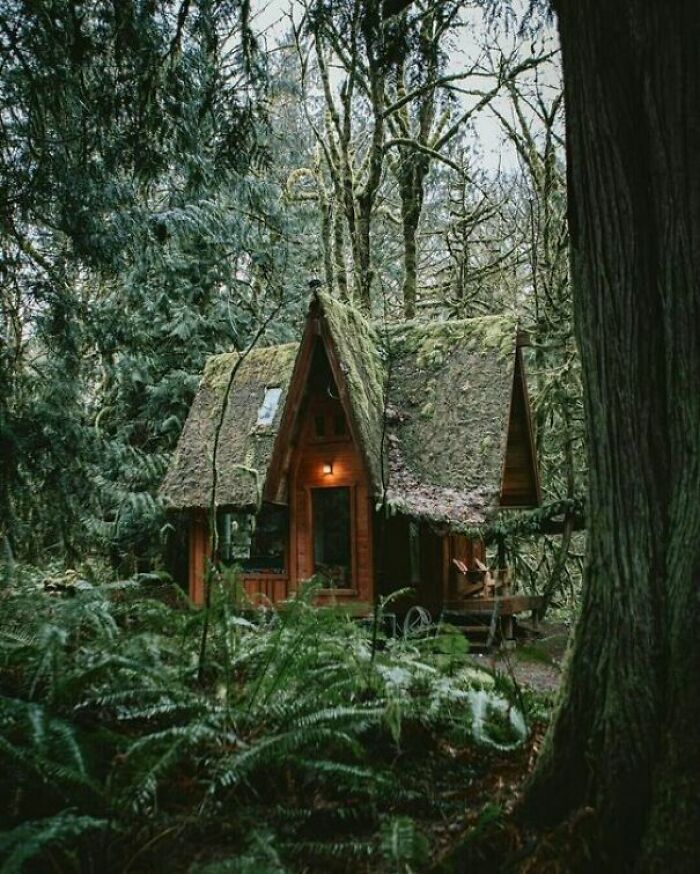 As fairytale-like as this cabin may look, it can be rather creepy during nighttime. Fun fact: according to some online users, this cabin made a guest appearance on the first episode of the American fantasy police procedural drama television series Grimm. The architect is on Instagram @jacobwitzling, if you're curious about more of his designs.
A-Frame Cabin in Lake Tahoe, California
When it comes to Californian tourist attractions, Lake Tahoe is probably the biggest and most famous one there is; Lake Tahoe is the home to various winter sports, summer recreational activities outdoors, and breathtaking sceneries that can be enjoyed all year round.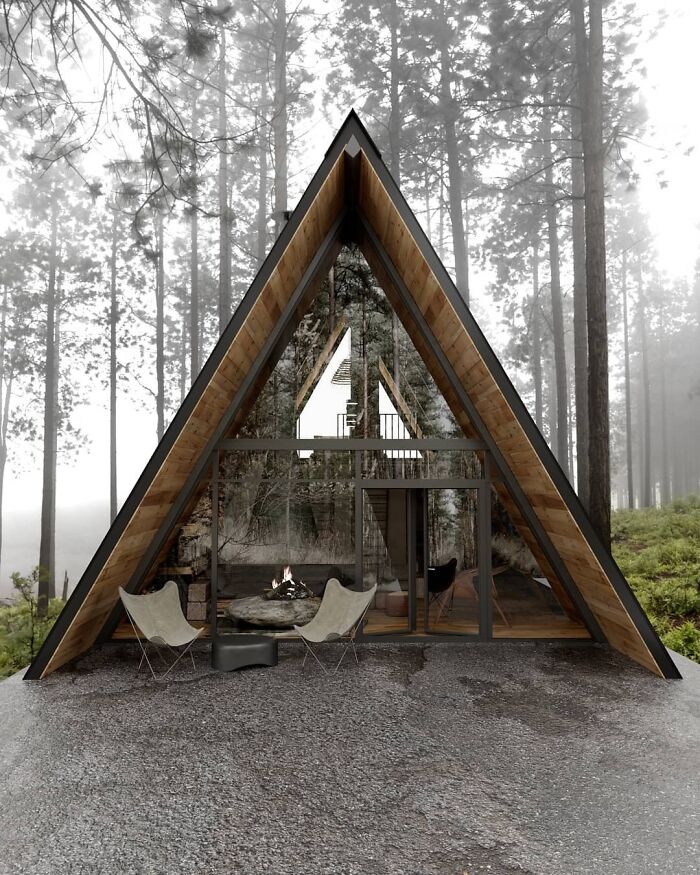 Naturally, Lake Tahoe attracts tourists who are outdoorsy, adventurous or are simply looking to be submerged in nature. What better way to appreciate the wonders of Lake Tahoe than going on a getaway in this beautiful Lake Tahoe A-frame cabin?
All-Black Cabin in Inverness, California
Inverness may be unfamiliar to many as it's an unincorporated community located in western Marin County of California, United States; as of the 2019 census, Inverness only has a population of 1,097. This small town offers residents a rural feel, perfect for retirees.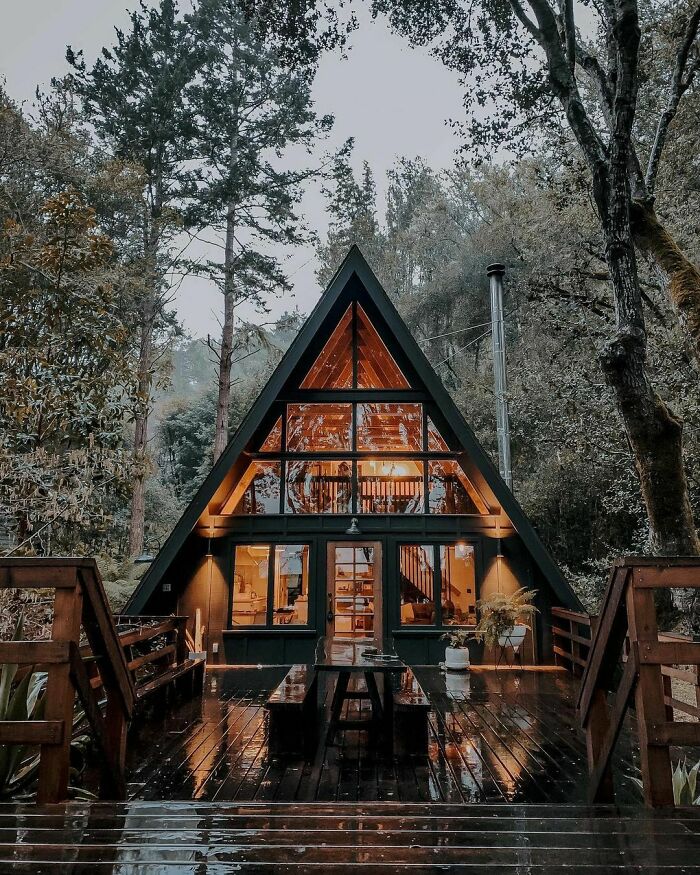 This all-black, glasshouse-inspired cabin in Inverness, California, is another peaceful location suitable for a getaway free of stress and technology and full of relaxation. As seen in the photo, there's an outdoor table that guests of the cabin can use for a nature-immersed dining experience.
Green Cabin in Cazadero, California
Similar to Inverness, Cazadero is another unincorporated community and census-designated place in the western Sonoma County of California. As of 2019, the town of Cazadero only has a population of 340 — roughly one-third of the poplulation of Inverness. Not that town size matters when you're trying to get away from it all.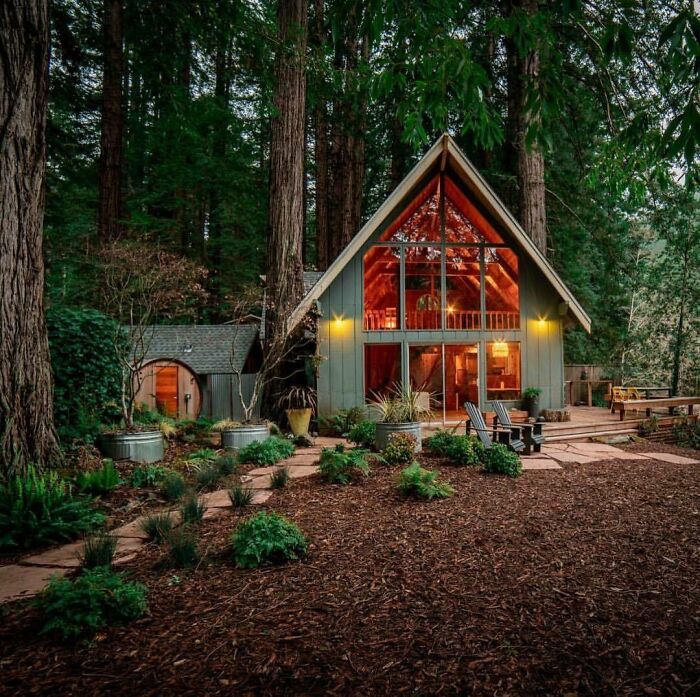 Going on a vacation in Cazadero, California, means having the opportunity of submerging yourself in nature with visits to natural getaways such as the Armstrong Redwoods State Natural Reserve, Sonoma Canopy Tours, Monte Rio Recreation & Park District, and many more.
Green Cabin in Iceland
Iceland, Europe's second-largest island, is famous for its many natural wonders that never cease to impress. Striking natural wonders in Iceland include spectacular glaciers, geysers, and, most importantly, magnificent Northern Lights; all of these combined make Iceland the perfect location to build cabins.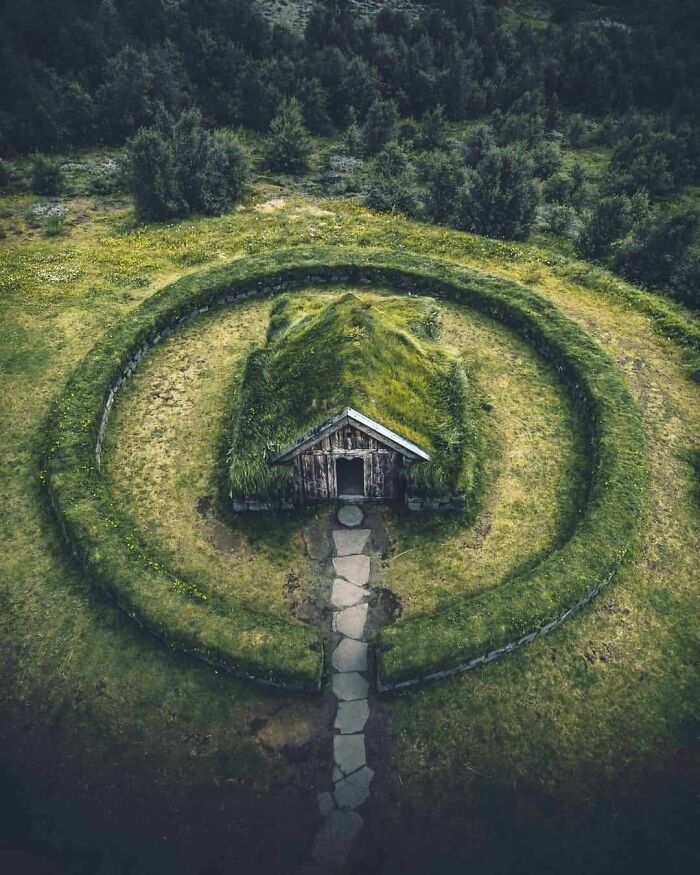 Surrounded by miles and miles of greenery, you'd be able to truly escape your problems in this green cabin in Iceland. It looks like it was left behind by ancient Vikings, much like something that might appear in the movie Outlander.
Witchy Treehouse in the Pacific Northwest
Due to the mystical vibes this cabin gives out, it looks more like a witch's secret hideout that the show Chilling Adventures of Sabrina might feature, rather than a relaxing getaway for stressed individuals. Nonetheless, it is still an ideal cabin for quiet and peaceful getaways.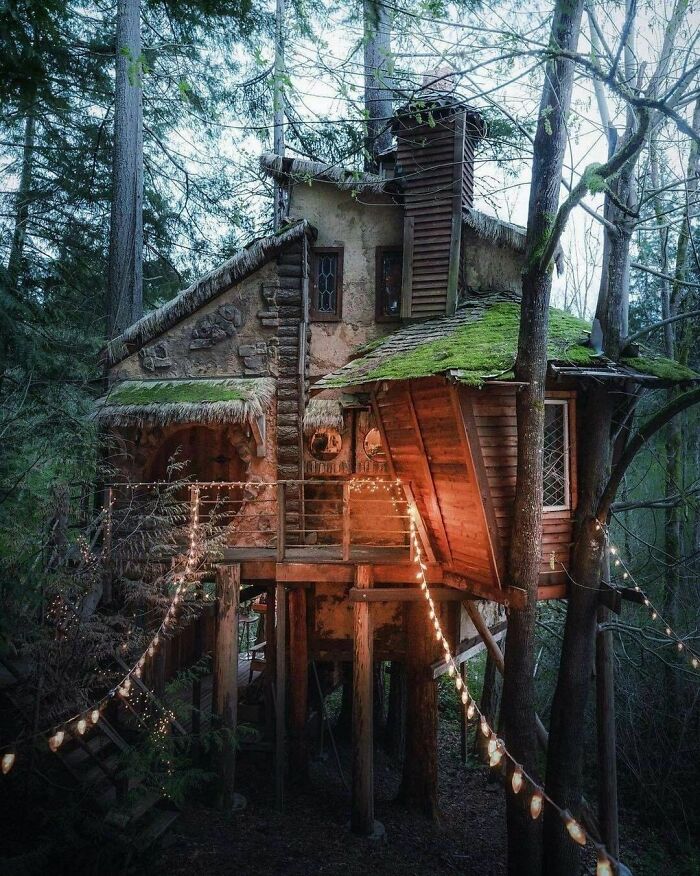 This witchy treehouse is located in the Pacific Northwest, home to some of the other cabins we saw above. The natural environment of the Pacific Northwest is beyond comparison, with its combination of mountains, old-growth forests, saltwater coastlines, islands, waterfalls, rivers, and freshwater lakes.
Camouflaged Cabin in the Pacific Northwest
Designed by Jacob Witzling (@jacobwitzling, as seen earlier) and Sara Underwood, this diamond cabin stands in the middle of a sea of trees in the Pacific Northwest; the exterior is even coated with greenery to help the cabin blend in with its surroundings.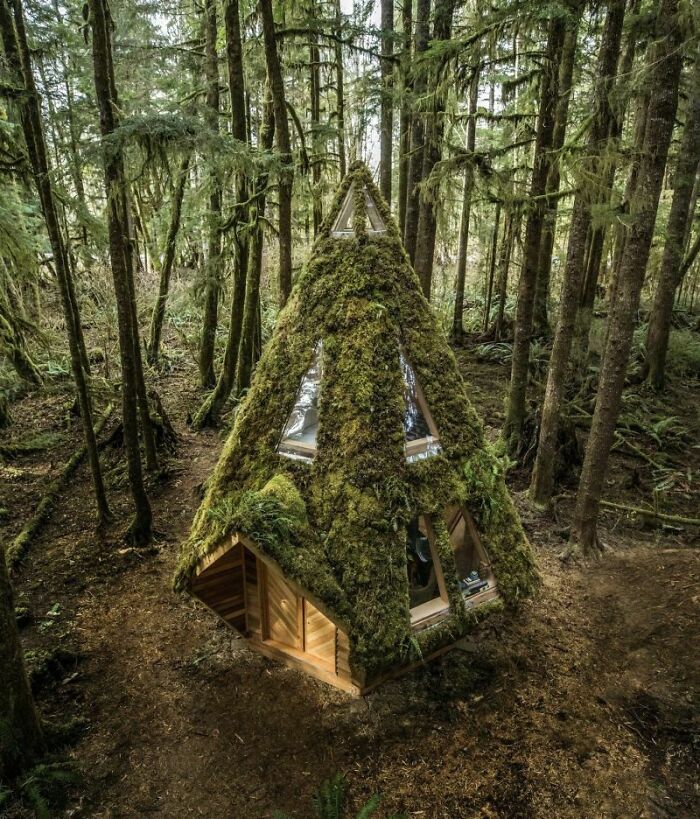 In our opinion, the cabin looks much more like a Christmas tree than a cabin due to its structure; the architectural design combined with the greenery covering it, it's so perfectly camouflaged that spotting it from afar would be difficult.
Modern Treehouse Cabin in Hangzhou
On the complete opposite witchy and eerie houses, this modern treehouse is elegant, sophisticated, and practically the mansion equivalent of cabins; due to the number of rooms available, this treehouse cabin may be a better option for those planning a family getaway.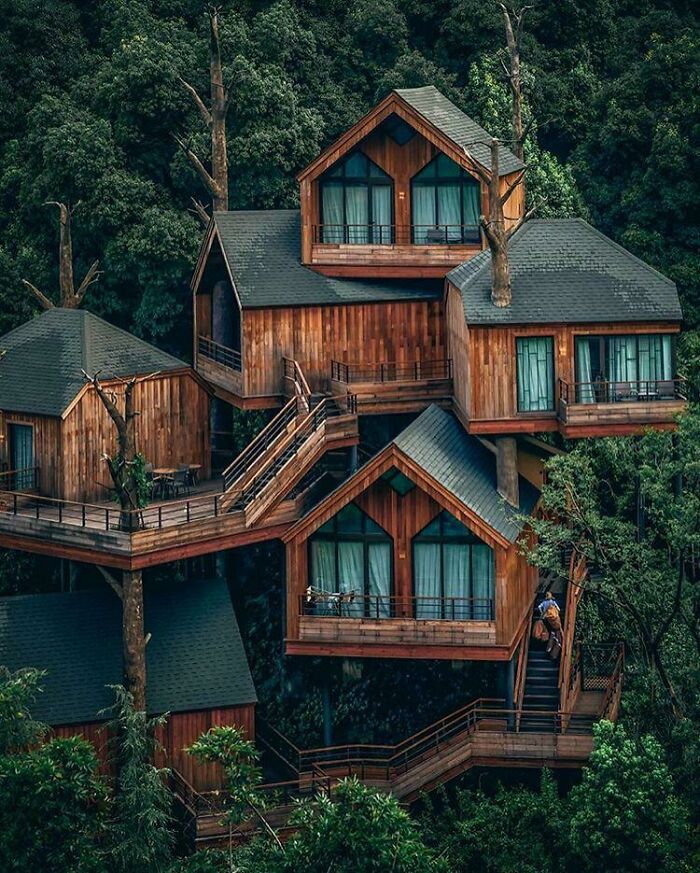 If you have kids, siblings, parents, or other family members who can't seem to pry themselves away from their phones during family gatherings, this is the perfect place to spend time together. It's far away from technology, making it an ideal place for family bonding.
Greenhouse Cabin in Poland
According to one user online, this particular greenhouse-inspired cabin is located in one of Poland's many mountains. Poland is famous for its scenic natural environment, which includes beautiful mountains, forests, and nature parks. It sounds like the ideal place for a nature-immersed cabin.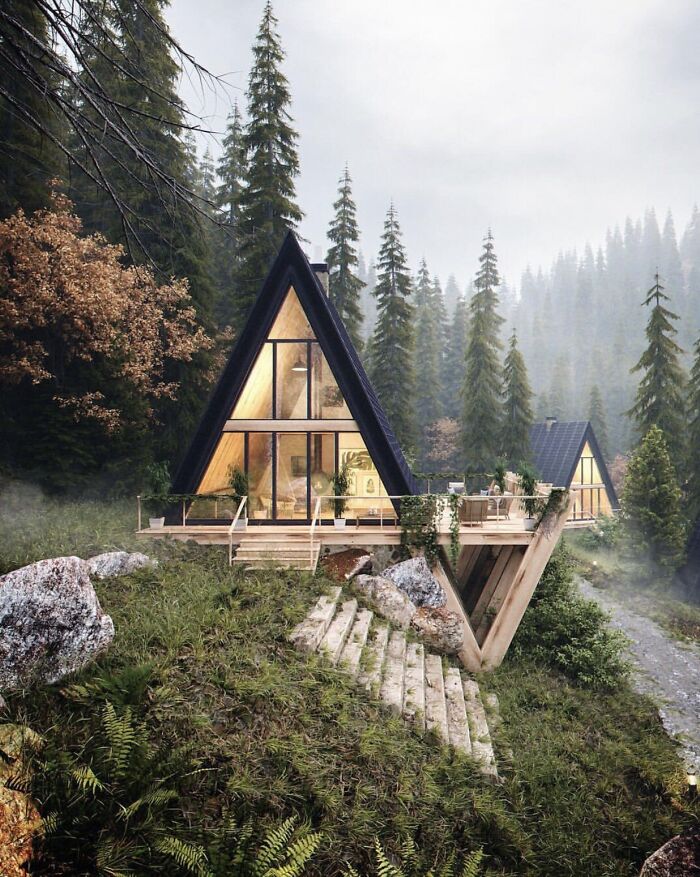 The main architectural structure for this greenhouse-inspired cabin is triangles; the architect who designed this aesthetically pleasing cabin also used lots of glass in the cabin design, which some people online have noted to be a bad idea, especially during the summer.
Beach Cabin in Northern Norway
Plan a cabin getaway to northern Norway to enjoy the golden hue of everlasting summer nights painted by the midnight sun, or watch as the auroras come alive and dance across the winter sky. Either way, the northern Nordic nature will definitely amaze you.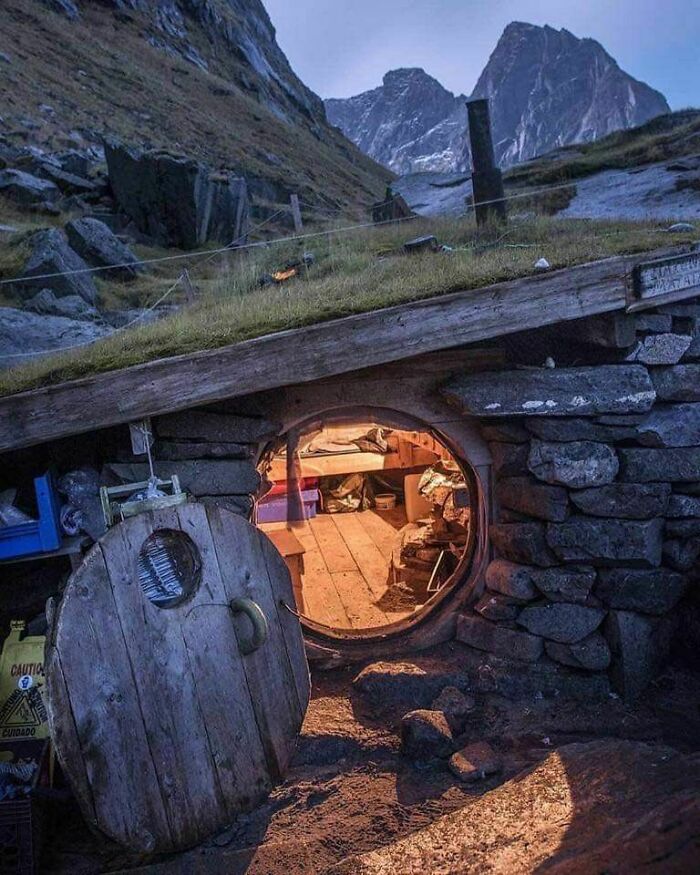 Northern Norway is popular for its vast landscapes and magnificent views, the ideal peaceful and quiet surroundings that are perfect for unwinding and relaxing. This northern Norway beach cabin looks like a Hobbit's hut, and we cannot get enough of it!
1800s Stone Cabin in Norway
Apparently, this cabin is a Norwegian stone cabin from the 1800s that was restored instead of being demolished. We agree with the online users who were pleased with the restoration of such an old building as the history it adds to the background rather than detracts from it.
Due to its features, the stone cabin blends in well with its surroundings; it looks like it's isolated enough for some peace and quiet, both essential for relaxation. In our opinion, this cabin gives out vibes of Hagrid's hut in Harry Potter.
Little Cabin in Alaska
Alaska is the northernmost and westernmost state in the United States; it's famous for its thrilling outdoor adventures, a slower, more self-sufficient way of life, and fresh, crisp air. Fresh air benefits both your physical and mental health. And isn't that the point of a tech-free vacation?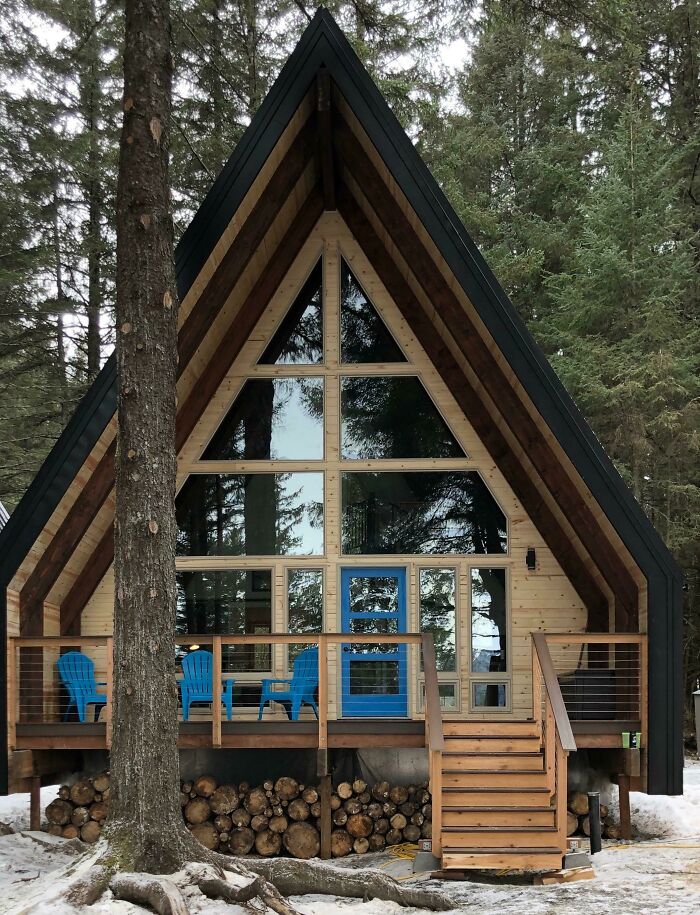 Fun fact: this little cabin in Alaska was only 2 days old when the picture was taken. Its builder was smart to include pops of blue in a sea of wooden elements; the blue door along with the matching blue chairs prevents the wooden cabin from looking too ordinary.
Wooden Cabin in Alaska
Summer in Alaska is mostly cool and cloudy, while winters are long, freezing, snowy, and partly cloudy. That's why most Alaskan cabins are built from wood, which, as we mentioned before, has insulation properties to keep the place and those inside warm.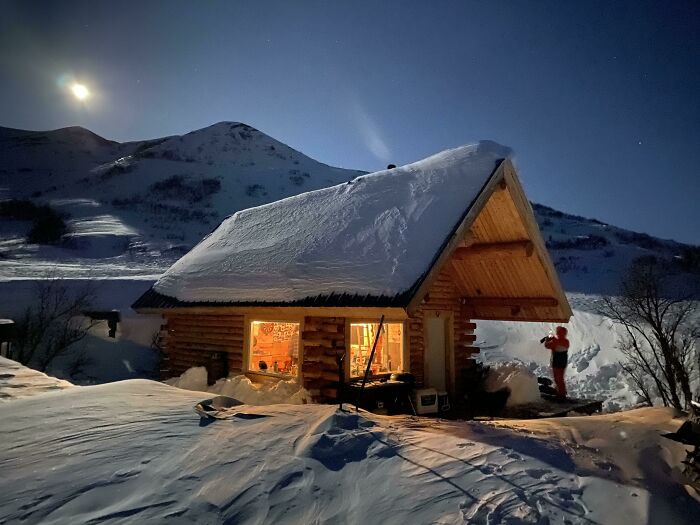 Therefore, cabins like the one in the picture above are commonly seen in Alaska. During winter, Alaskan cabins are covered in snow; the sky would most likely be cloudy, allowing only a dot of sunlight to shine through, creating a dim, monochromatic landscape.
Cabin in Saksun, Faroe Island
Next, we have a picturesque view of a small Scandinavian cabin in Saksun, Faroe Island, that looks unrealistically beautiful. With the mountain, lake, and flowers, this Scandinavian cabin is the definition of an ideal escape from the anxieties of daily life.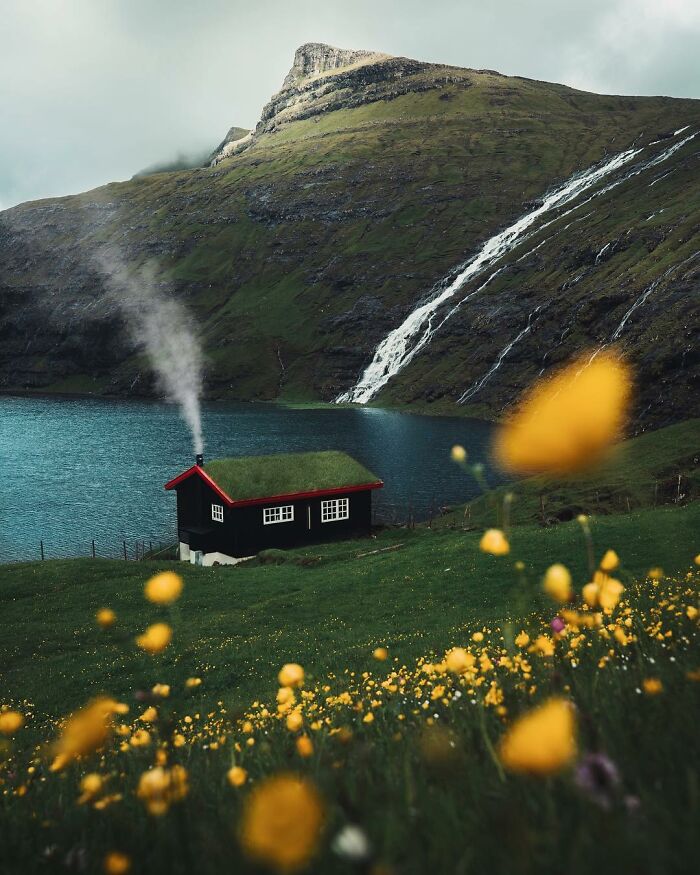 There's nothing more to ask from this little cabin; it's a paradise for those looking to unwind, kick back, and relax. This Scandinavian cabin provides silence, nature, and most importantly, isolation as there are no people around to disturb the peace. It's literally heaven on Earth!
All-Black Cabin in the Faroe Islands
Here's another idyllic getaway cabin in the Faroe Islands. The Faroe Islands is a self-governing archipelago that is part of the kingdom of Denmark; it has beautiful mountains, valleys, grassy heathlands, and steep coastal cliffs that attract hikers and birdwatchers everywhere.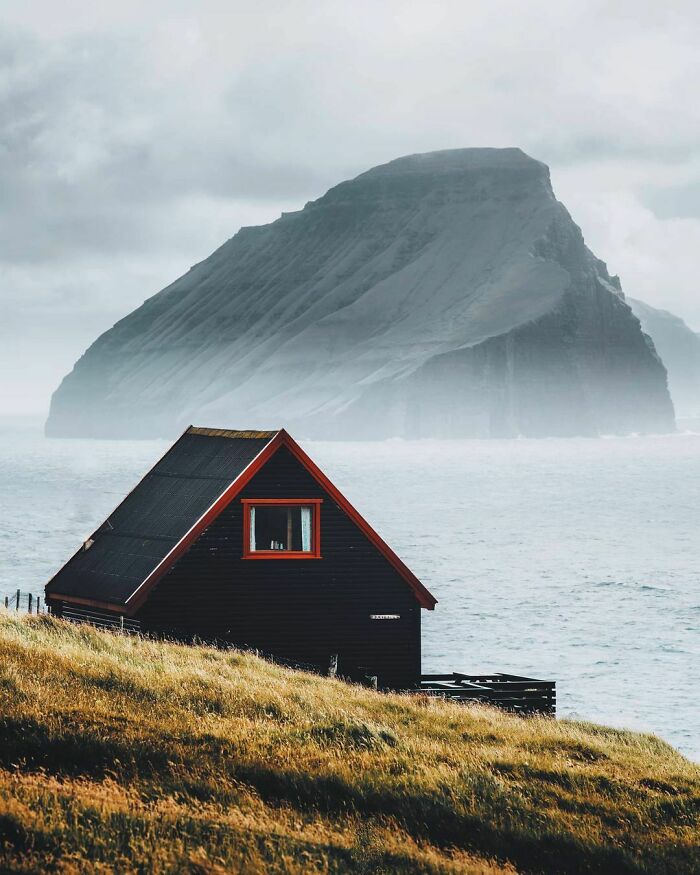 The view of this all-black cabin is magnificent; the island in the backdrop looks like a sea creature that is slowly wading through the waters, combined with the grassy heathland as well as the cabin itself paints a picture of the perfect cabin getaway.
Cabin with Thatched Roof in Belgium
Thatched roofs may be uncommon in many places, but in Belgium, a Western European country known for its medieval towns and Renaissance architecture, thatched roofs are rather popular. Why? Well, because well-thatched roofs can last up to 50 years or more!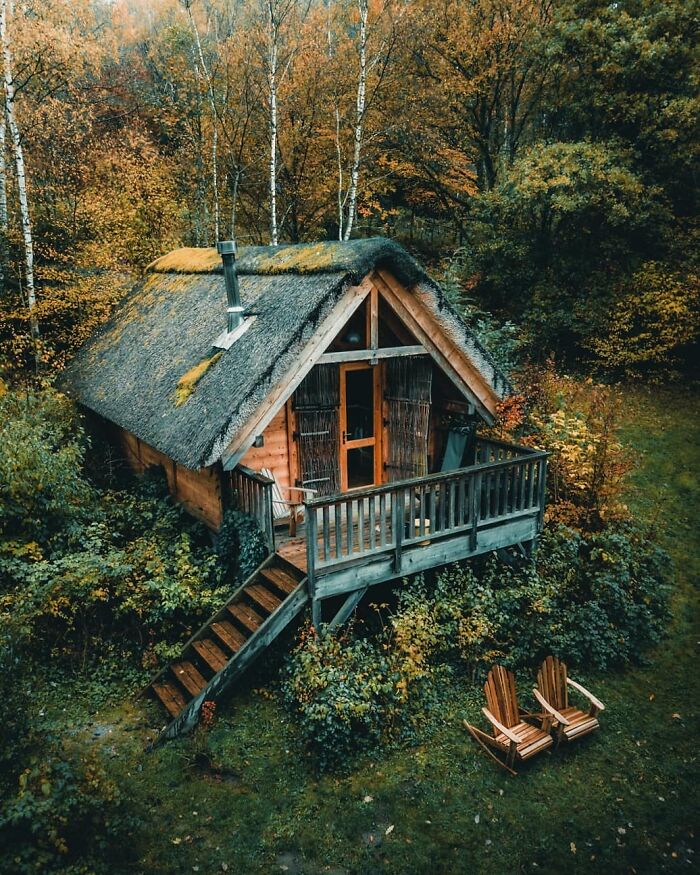 This is one of the few cabins with thatched roofs found in Belgium; the thatched roof is attractive and exotic, not to mention that it gives out a relaxed and tropical vibe that delights the senses and inspires dreams of adventure.
Train Cabin in Victoria, Australia
Victoria, a state in southeast Australia that contains mountains, national parks, wineries, and surfing beaches, is the ideal travel destination for a nature-based trip. This train-like cabin in Foster, Victoria, Australia, would be the perfect place to stay during such a trip.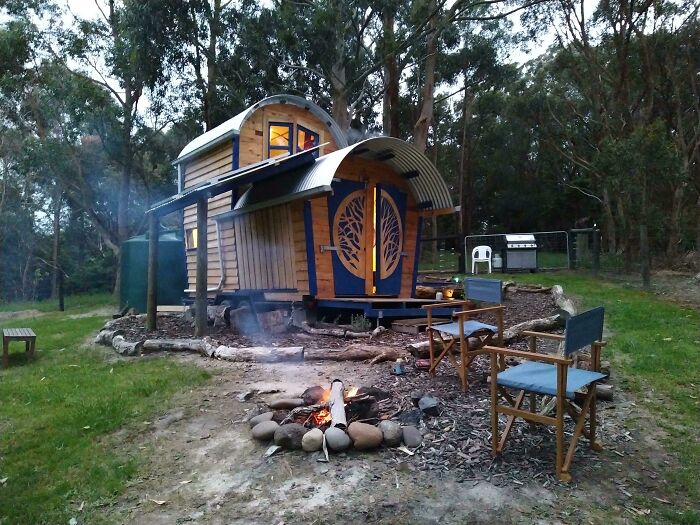 Nearby attractions include a park and Agnus Falls, which are a 5-minute and a 20-minute drive from the cabin, respectively. Aside from that, visitors can also check out Sandy Beach, Waratah Bay, and Cape Liptrap Lighthouse, which are all close to the cabin.
Canada is the second-largest country in the world; it is famous for its breathtaking sceneries, adorable herds of moose, and extreme politeness of Canadians. A hidden cabin in the woods of Canada would be the dream cabin getaway! If you need proof, check out this cabin: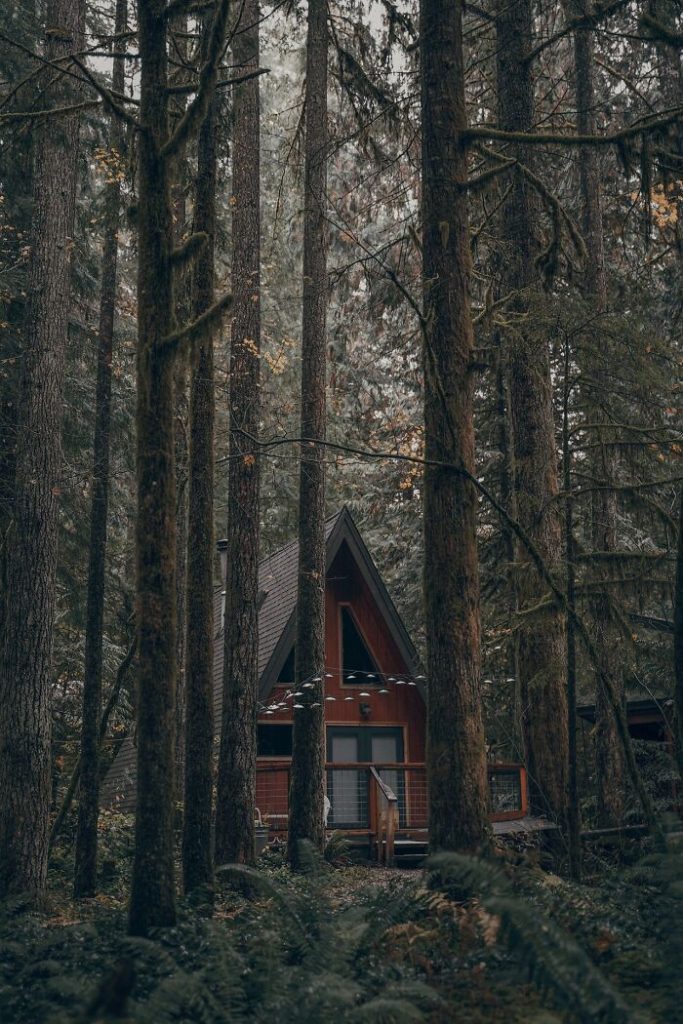 Staying in a place like this, one must respect and yield to nature, being so deep in the woods with the stunning sceneries and cute wildlife such as polar bears and moose that call it home. Be sure to roam the streets of Canada and submerge yourself in the famous hospitality of the people of Canada, too!
Red Cabin in Sweden
Sweden, the largest country in northern Europe, is famous for its abundant forests and lakes. Two-thirds of Sweden is made up of woods; there's even a law that allows anyone and everyone to hike, sleep for at least one night, forage and swim almost anywhere in the country.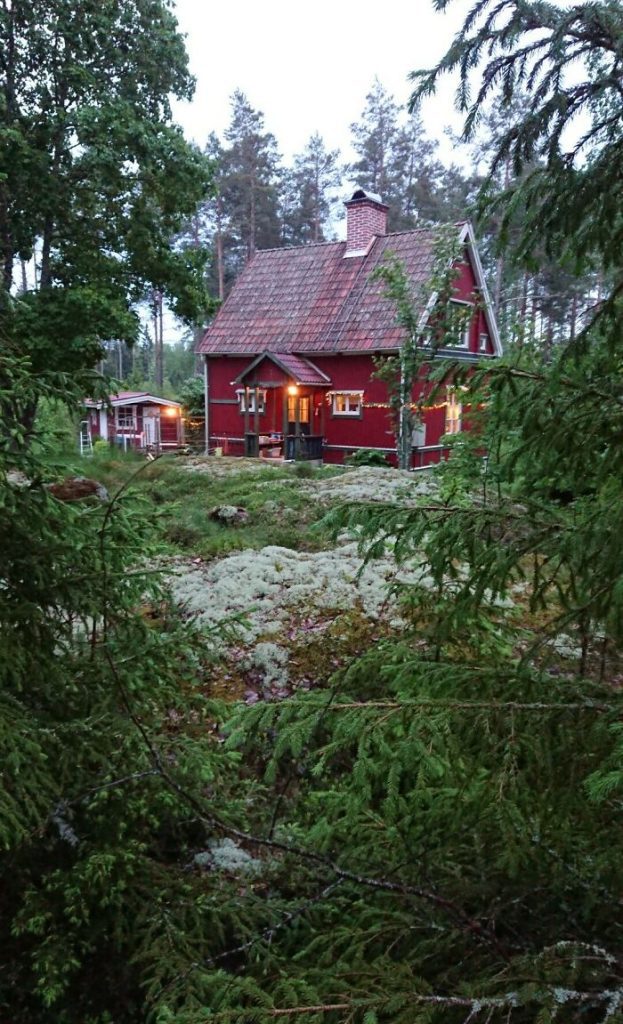 So, if you're a major nature lover who'd love to be submerged in peaceful and quiet natural surroundings, be sure to visit this Scandinavian nation and perhaps plan for a night at a place like this red cabin in the woods.
A-Frame Cabin in Wilmington, Vermont
One craftsman on Reddit took some time building an A-frame cabin in Wilmington, Vermont, United States, a town that has a stunning natural setting. Wilmington is a perfect vacation spot as it has both mountains and lakes close by for outdoor activities.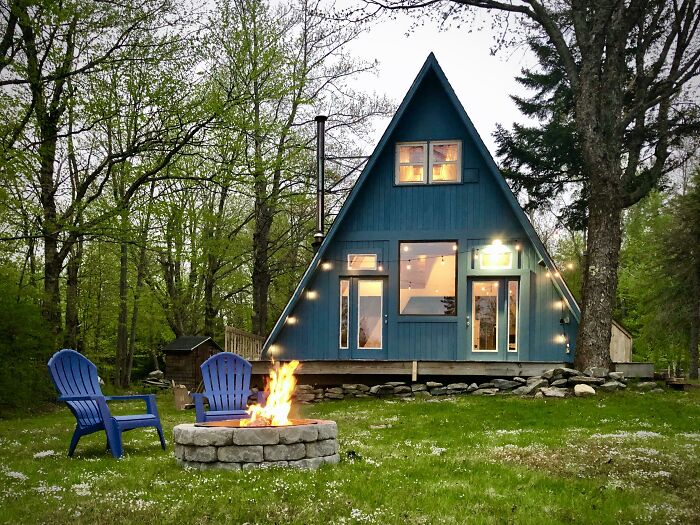 So, staying in a cabin in Wilmington not only means kicking back inside a cozy house, but it also includes recreational days on Lake Whitingham, fun hiking trips at Hogback Mountain, and of course, chilled days on the beach. We can't get enough of that bonfire completing the relaxing scene!
Self-Built Cabin in White
This builder, on the other hand, built their own little cabin in the woods for future reality escapes; although the cabin looks smaller compared to the others, it's cozy and allows its owner to be submerged in a peaceful environment that isolates them from their problems.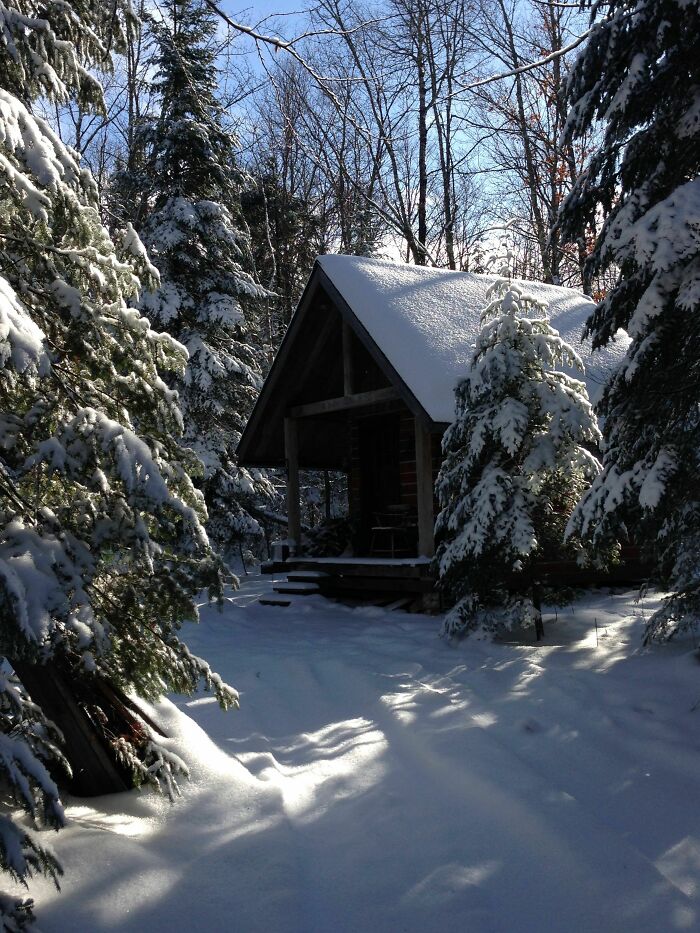 During winter, the surroundings of this little cabin are blanketed in snow; as shown in the picture above, the cabin looks absolutely dreamy and romantic, much like an unrealistically stunning painting. This self-built cabin in white is perfect for escaping reality.
Cozy Elvish Cabin
This elf-inspired cabin in the woods has a cute backstory; the architect designed this cozy elvish cabin because her son's name, Elvyn, sounds like "elf," hence the inspiration for this fairytale-esque wooded home. Keep an eye out for this Redditor because they have more to add to our list…
The outside of this cabin looks like a place Snow White and her Seven Dwarfs would live, whereas the interior looks cozy for a peaceful and stress-free getaway in the woods; we especially like the tree detail outside the house!
Reclaimed Cabin in the Woods
Here's another unique place to stay. This architect made use of some old wood and stones in building a reality-escaping destination all for themselves; this reclaimed wooden cabin is not only good for a relaxing day in the woods, but it's also good for the environment.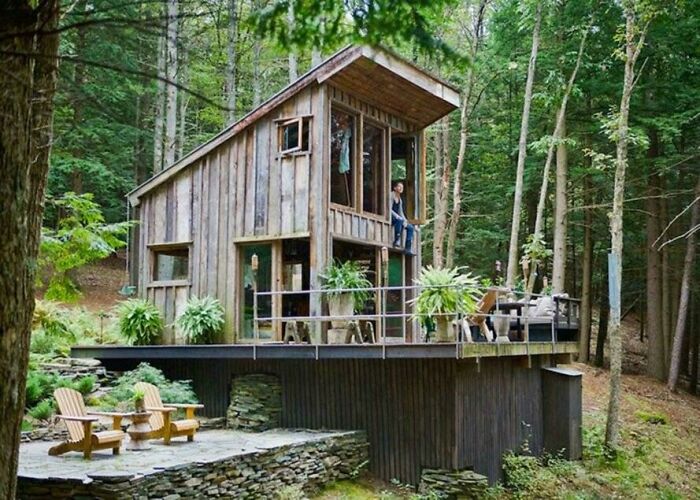 Although the cabin looks small, simple, and crude from the outside, it's actually rather cozy inside, and anything reclaimed earns extra points from us. Other than the cabin itself, the owner also built a patio upon which the owner and their guests could stargaze.
Rapunzel Inspired Cabin in the Woods
Disney's famous animated movie Tangled features Rapunzel, a young naïve girl who is locked away in a secret tower hidden in the woods; the tower is so hidden that even Rapunzel's birth parents couldn't find her for almost 18 years.
Similar to Rapunzel's tower, a cabin should have the ability to shield its guests from the monsters of their reality — their problems and stress. In that sense, it's rather smart of the architect to design a cabin that resembles Rapunzel's tower.
The Weasleys'-Inspired Cabin
Speaking of movies, we're back at another Harry Potter style cabin. This cabin resembles the Weasleys' family home — The Burrow. The Weasley family has always been kind and welcoming towards Harry, to the point where The Burrow eventually became Harry's second home.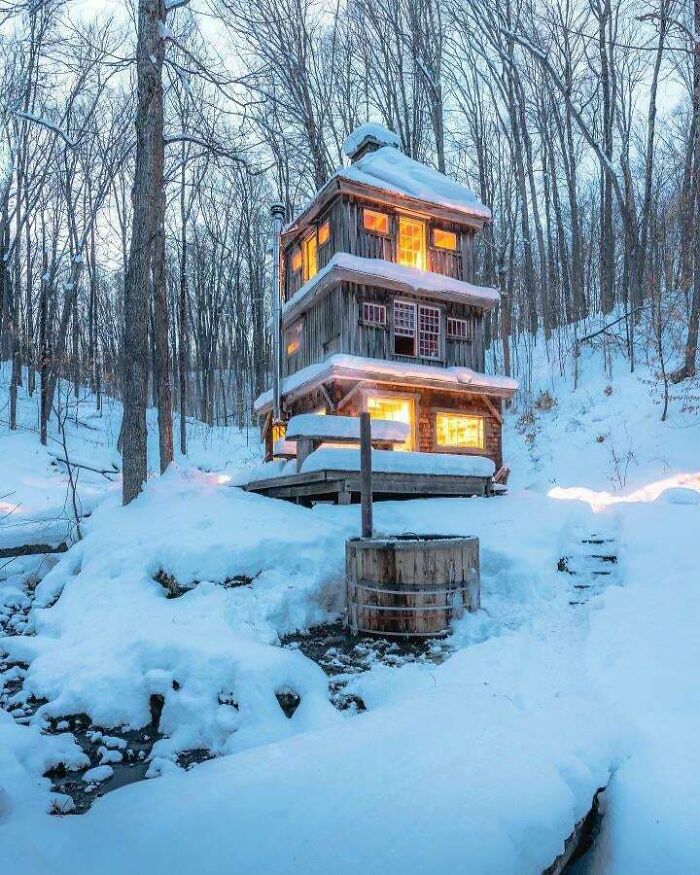 Just like the Weasley family, this real-life replica of The Burrow gives out the exact same cozy and welcoming vibes to its guests; those who come to visit will surely have a good time relaxing and kicking back, as though this were their own home.
Next, we have a hidden cabin in the autumn woods; in daylight, the setting, as seen in the picture, looks absolutely romantic and cozy, perfect for a lazy and relaxing day filled with hot chocolate, books, and the smell of fresh autumn air.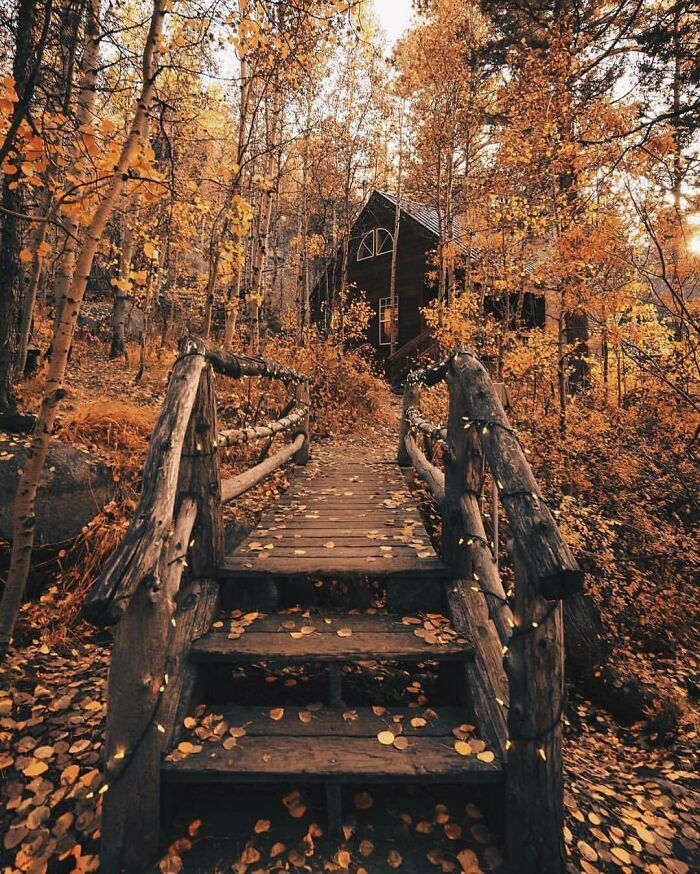 Of course, when nighttime comes, being all alone in the woods during the Halloween season is a bit creepy and eerie, much like one of the settings in a scary Halloween movie. So, perhaps nights alone in this cabin during the Halloween season is more for daredevils.
Black A-Frame Cabin
The definition of an A-frame building means that it was built with a support structure in the shape of the letter "A;" typically, A-frame buildings would have triangular front and rear walls with a roof reaching or nearly to the ground.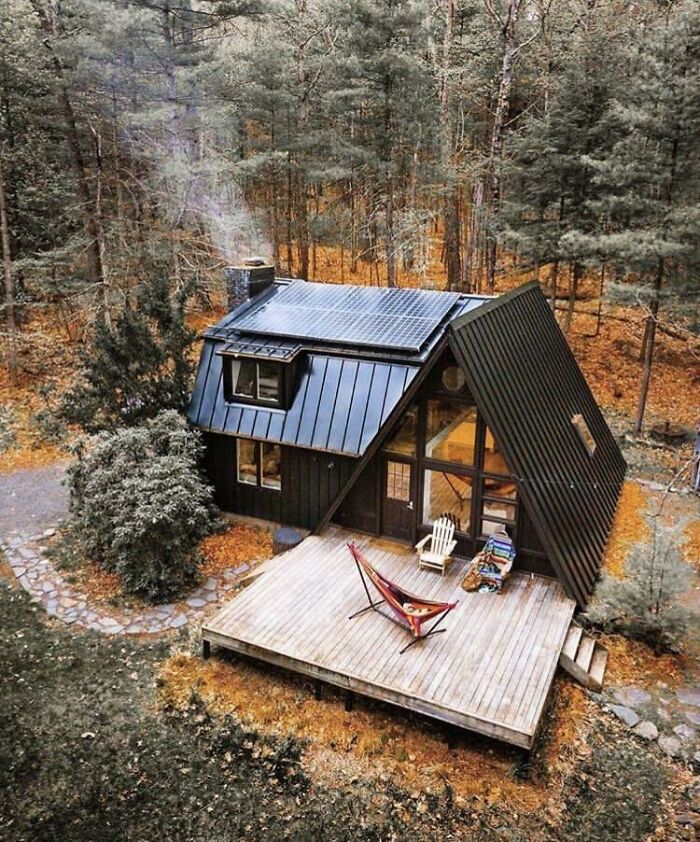 For example, here's an A-frame black cabin; the right portion of the cabin has a support structure that resembles the letter "A." A-frames are the ideal structure for all types of weather, but their main downside is that they have limited space.
Modern A-Frame Cabin
Sticking with the theme of A-frames, here we have a much more modern A-frame cabin that includes space to park a car; this cabin is much more sophisticated and elegant than the others that we've seen; in fact, it's less remote than most of them, too.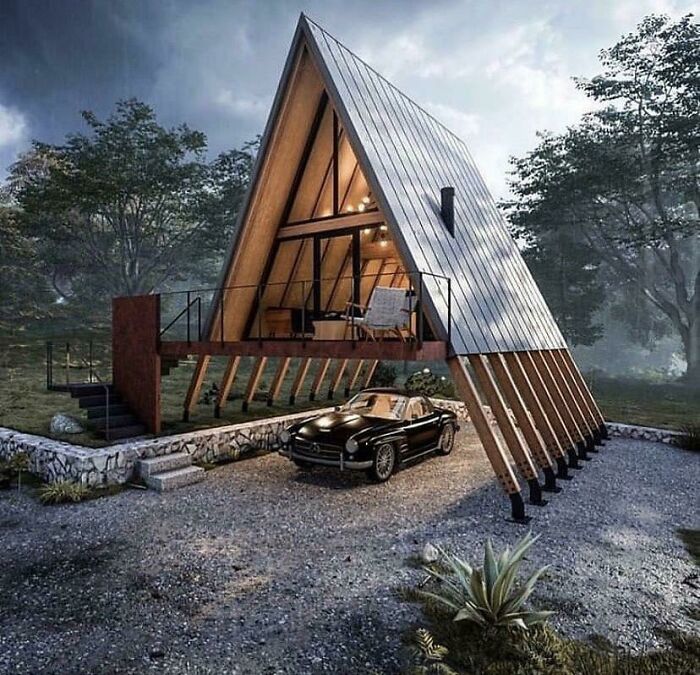 Looking closer at the picture, we can see one big privacy flaw in the design: no curtains. In online discussions about this cabin, some users argued that they wouldn't be able to live without curtains, while others argued that the forest gets so dark during the night that curtains are unnecessary.
Elevated A-Frame Cabin
This next one takes A-frame cabins to a whole new level, and we mean this literally; the designer elevated the A-frame cabin so that it looks like it's floating mid-air; so much more unique and modernized than the ones above.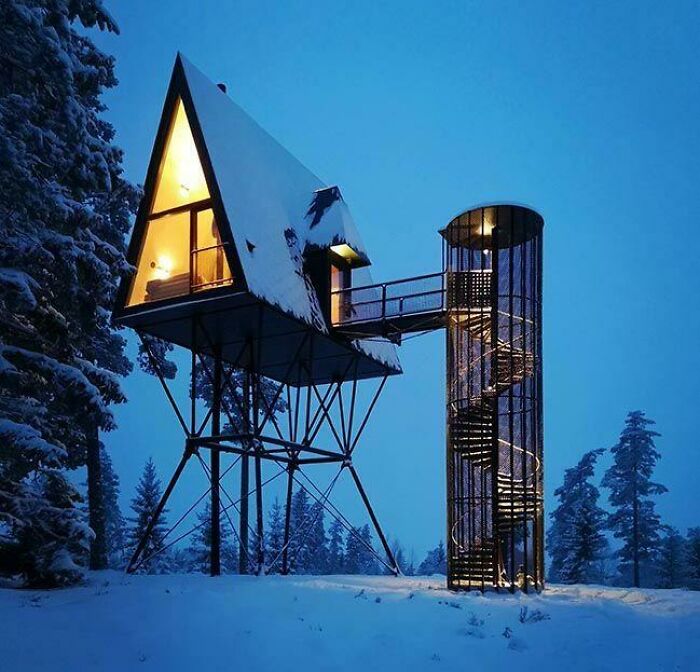 Other than providing for magnificent views, elevated homes have the benefits of increased stability for homes that were built on unstable grounds, which in this case are steeply sloped snowy mountains. Plus, elevated homes have increased ventilation, which is a bonus, especially in warm and humid climates.
Fire Watch Cabin
A fire lookout tower provides housing and protection for fire lookouts, people whose duty is to search for wildfires in the wilderness. Over the years, fire watchtowers have been decommissioned while others have been repurposed, such as the one pictured here.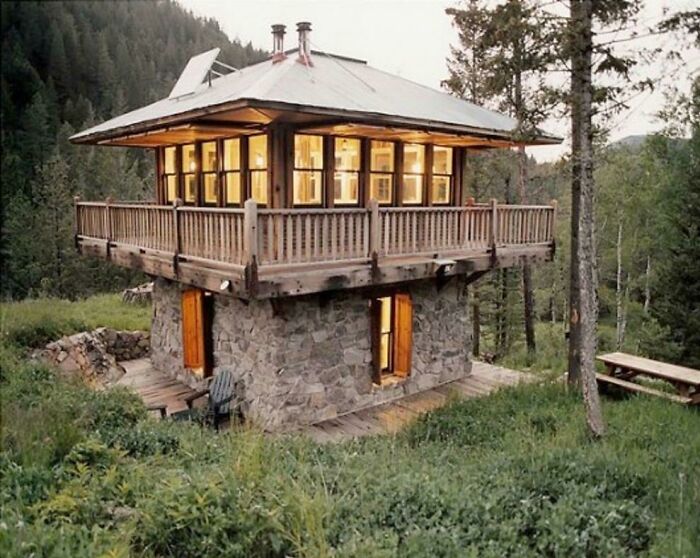 Repurposing old buildings benefits the environment; by salvaging old buildings, materials aren't wasted or left to pollute the woods. And in cases such as this, it gives new life to something that would have simply been left to the elements.
View from a 1922 Cabin
Finally, if you're wondering what you'll see when you wake up in the cabin you decided to stay in, here's something someone shared online; taken at 6 in the morning from the user's 1922 cabin, we see a herd of moose outside.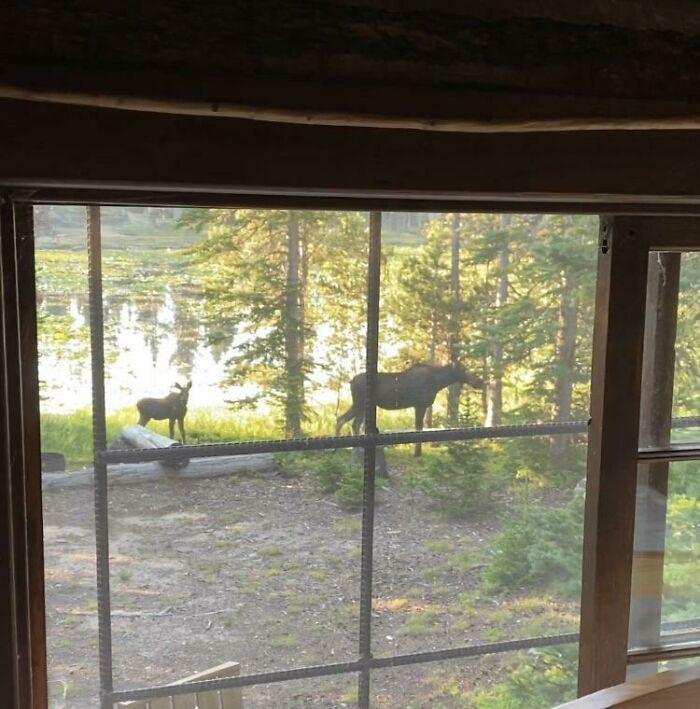 Staying in cabins in the woods gives you the opportunity to be close to nature and wildlife, which is a rather memorable and magical experience. Of course, when encountering wildlife, it's important to keep your distance. After all, it was their home, first.