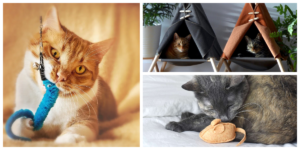 40+ Frugal and Fun Cat Toy Ideas To Make at Home
By Harpreet K
---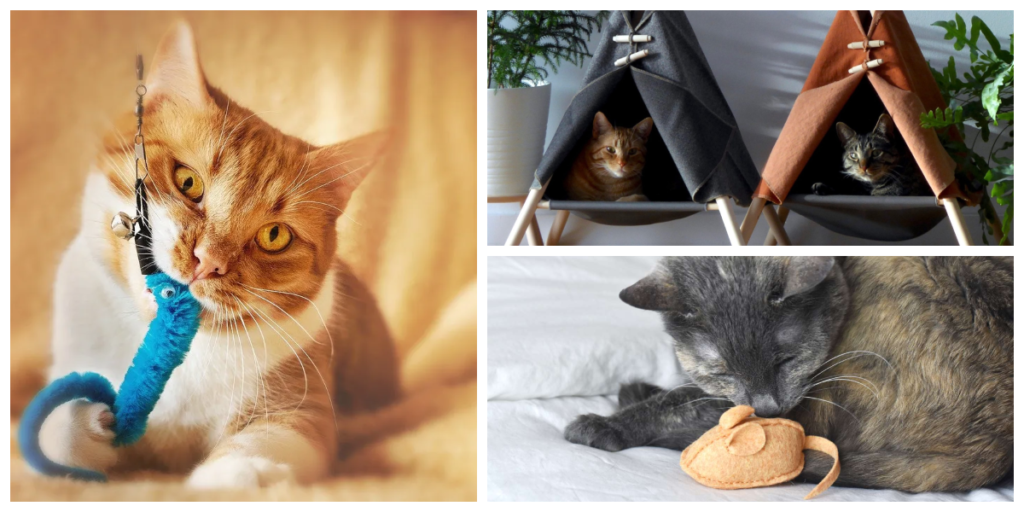 If you are a devoted cat owner, you want to provide your furry friend with only the best. Whether that's the latest and greatest cat tower or a vet-recommended diet, your kitty deserves it all. But what about having fun? Cats don't necessarily need expensive toys or gadgets to have a good time; they need something to keep them active and entertained. 
That's where DIY cat toys come in! Here, we will discuss the most brilliant and easy homemade DIY cat toys that will keep your feline happy and entertained for hours. These fun and engaging playthings are super cool, and, best of all, most of the stuff used in these DIY ideas is things you can find in the house. Let's start.
1. DIY cat condo using wine crates
Building a cat condo out of wine crates is a great way to recycle and upcycle while giving your kitty a fun place to play. This cando is eco-friendly and also relatively inexpensive. Plus, your cat will love having their little hideaway.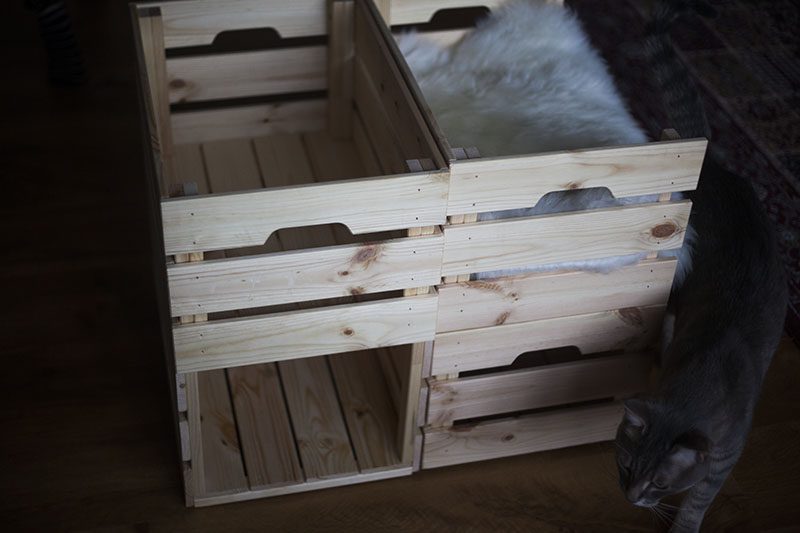 To build a cat condo using wine crates, stack them on top of each other and secure them with screws or nails. Then, add some cushioning to the inside for the little guy or gal to lounge on. You can add some shelves or perches for your cat to nap on.
2. A cat palace using wooden shelves
A cat palace made out of wooden shelves is the perfect way to give your feline friend a stylish and comfortable place to lounge. Not only will your cat look great in their new home, but they'll also enjoy all the extra space to climb and play.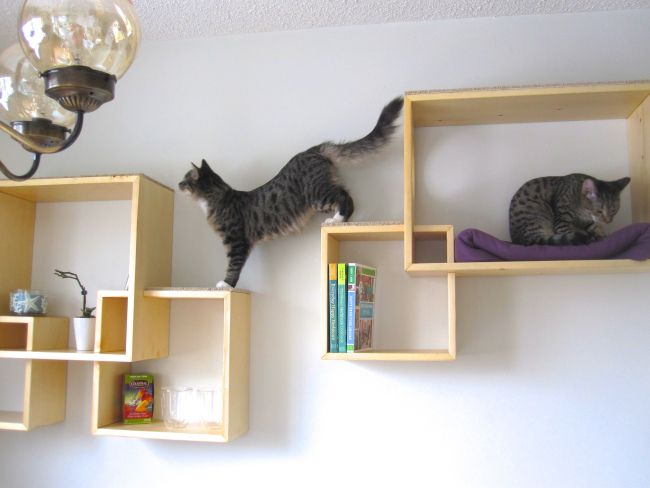 Your cat will love having their little space to call home, and you'll love how stylish it looks. Moreover, it's super easy to make. Stack some wooden shelves together and add some fluffy bedding or blankets. Then let your kitty enjoy their new kingdom.
3. Double-story coral hanging bed for cats
If you're looking for a unique way to keep your cat stimulated and out of trouble, then why not make them a double-story coral hanging bed? This bed will keep your cats occupied for hours as they explore the different levels and play with the coral.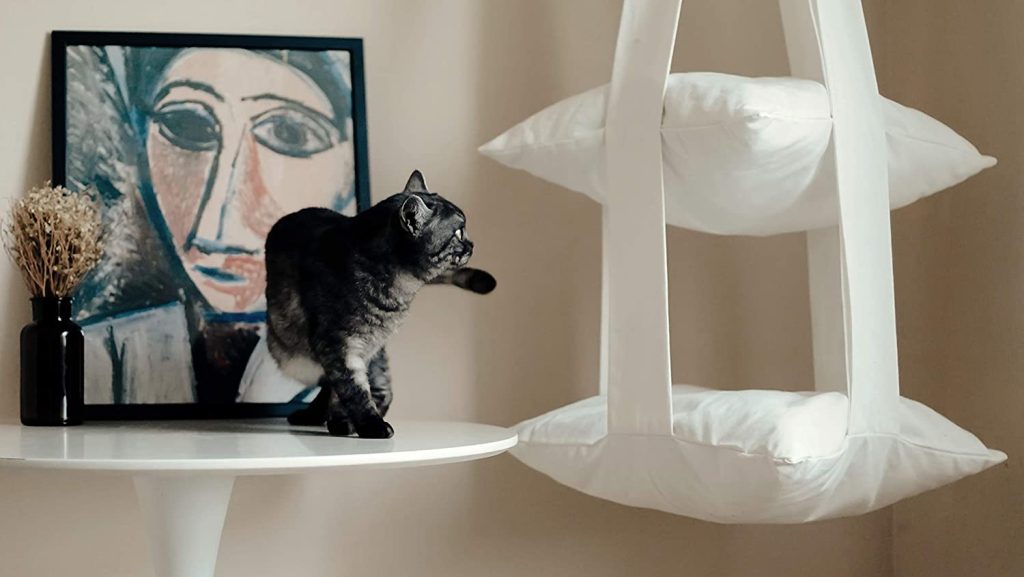 To make it, cut two circular pieces of fabric for the base of the bed and two smaller circles for the top level. Sew these together, leaving a hole for stuffing, then stuff them with cotton. Suspend from the ceiling using dowelling or string, and your double-story coral hanging bed is complete.
4. Wooden playground for a furry friend
Wooden playgrounds are perfect for your furry friend to explore and play. They're made from natural materials, so they're safe for your pet and good for the environment. Apart from serving as a playground, they enhance the look of your backyard.
Your precious kitty will have the time of their lives traversing all the nooks and crannies of a wooden playground. They can run and jump to their heart's content, and you'll have peace of mind knowing they're safe and happy.
5. Help your cat scratch with a DIY hack
If you're like most cat parents, you're always on the lookout for new and better ways to keep your feline friend healthy and happy. One recent innovation that's caught our eye is the cat brush scratching installment. You can DIY this installment at home. 

The cat brush scratching installment is a simple but genius idea: a small plastic panel attaches to your wall and has a built-in brush. The brush is designed to gently remove loose hair from your cat's coat as they scratch, making it a great way to keep them clean and healthy. 
6. Customize cat tree kingdom
Using branches from your backyard, you can create a one-of-a-kind climbing paradise for your feline friend that they'll love. Also, it's a fantastic way to encourage them to be active and healthy. To get started, gather some branches of various sizes and lengths.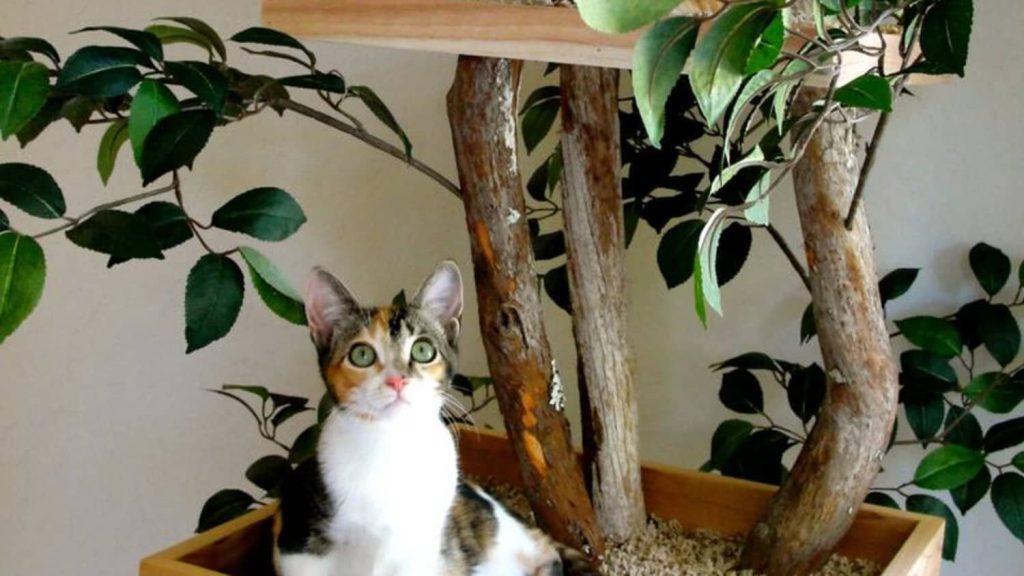 You can use any design you like, but we suggest creating levels for your cat to climb up and down. This will give them unlimited options for play and exploration. However, secure the branches firmly in place, so they don't collapse under your kitty's weight.
7. Make use of a wooden box for the bed
A wooden box cat bed is a wonderful way to gift your furbaby with a comfy place to nap. These beds are usually made from sturdy materials like pine or cedar and can last for years with proper care. Plus, they have heaps of other benefits that trump other beds.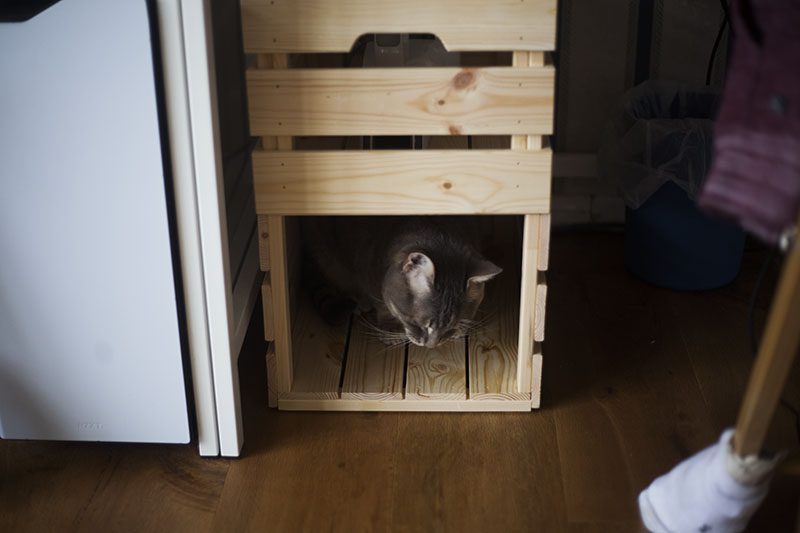 To start, you will need to gather some supplies. You will need a wooden box, fabric, pillow stuffing, and tools like a saw and screwdriver. Making a wooden bed for your pet cat will take only take a few hours and minimal effort. You may watch YouTube tutorials for help.
8. Treehouse for your pet with leaves
For a cat tree that is a bit different, DIY one with real leaves! This DIY is easy and fun, and your cat will love the natural look and feel of the leaves. Plus, it's a great way to recycle leaves that would otherwise create a mess in the yard.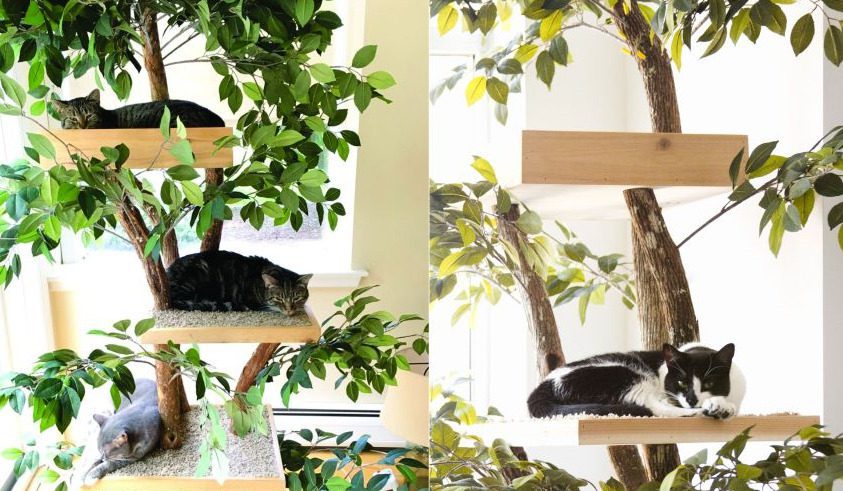 First, gather some fallen leaves from your yard. Next, start attaching the leaves to the branch using string or twine. Encircle the string around each leaf over and over, then make a secure knot. Continue until the entire branch is covered in leaves.
9. Use old drawers as cat bed
There is a way to make your cat feel at home and comfortable without sacrificing your sleeping space — by using old drawers as a cat bed. Using old drawers as beds will help you hold on to some much-needed cash.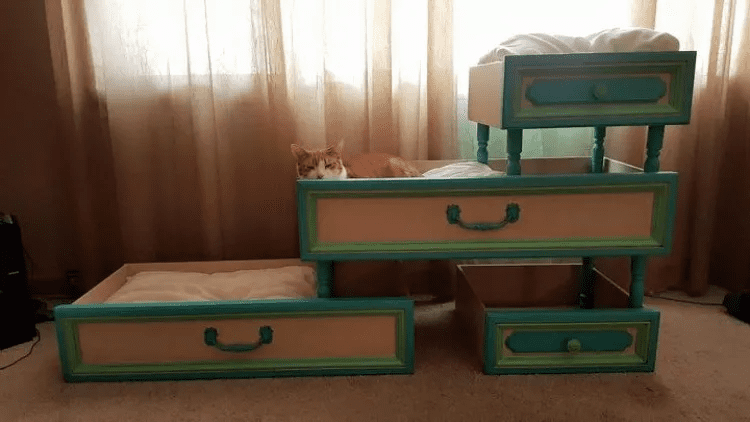 This may look a bit kooky at first, but it works! Drawers provide a cozy, enclosed space for your cat to snuggle into, and they're easy to place in any room of your house. So, start working on your old drawers. 
10. Make a door climber
Cats love to climb and explore, and a door climber is a perfect way to let them do just that. With a door climber, your cat can explore all sorts of new heights without leaving your home's safety. So, you need to make one for them.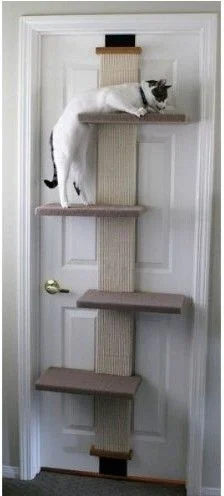 Door climbers are easy to make and can be tailored to fit any door in your home. You need some sturdy fabric, velcro, and some wire or rope. Attach the fabric to the door with the velcro, and then use the wire or rope to create a ladder-like structure for your cat to climb.
11. DIY cat scratching post
Any cat parent will tell you how important it is to keep your furbaby healthy and content. Among so many things, one major part is providing them with a place to scratch since they need to scratch to keep their claws healthy.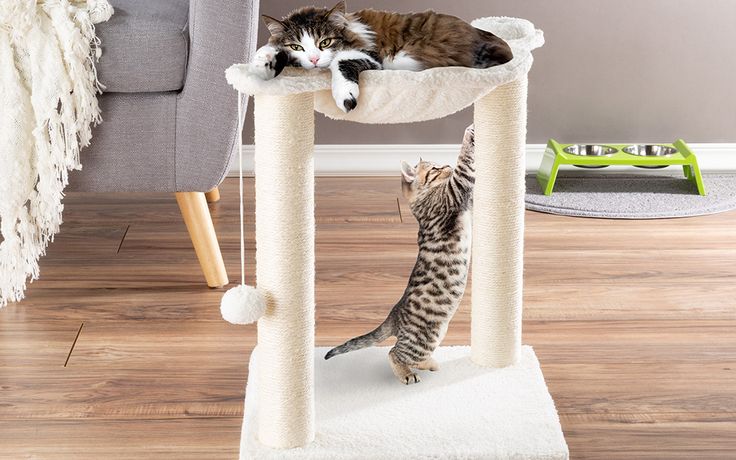 So, instead of buying an expensive scratching post, you can save money and put your creativity to use by making one yourself. You could make an elaborate scratching post by wrapping rope or sisal around a wooden post or keep it simple.
12. DIY mouse toys for cats
Cats love to chase mice, and mouse toys are the perfect way to keep them entertained. To make a mouse toy, you'll need basic materials like felt, stuffing, and a needle and thread. You can also use some embroidery floss or ribbon for the tail.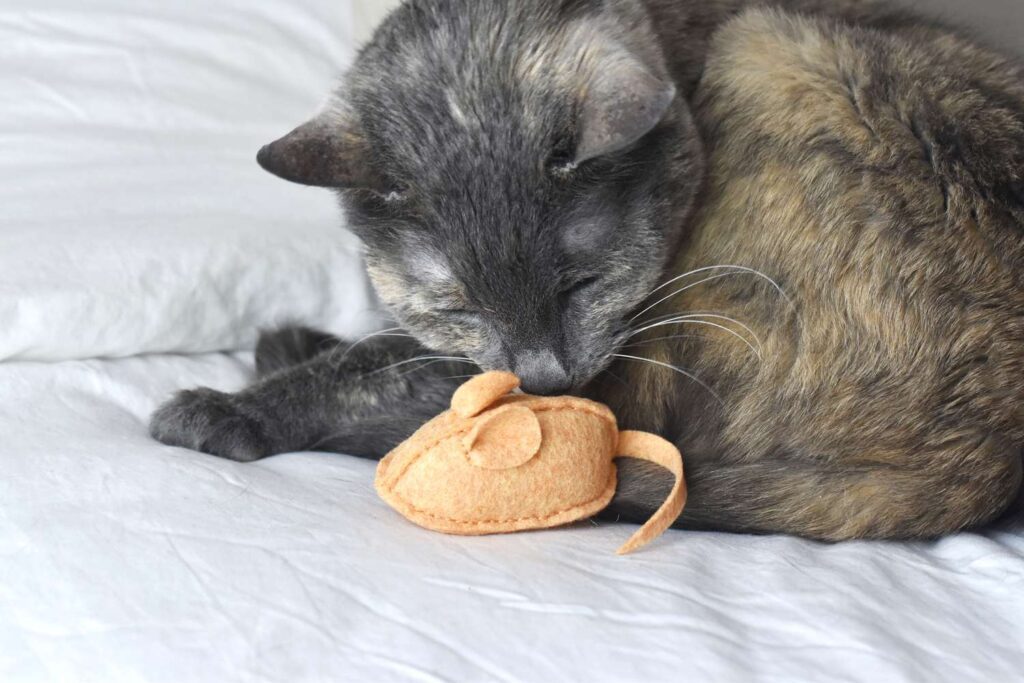 Once you have your materials together, cut out a mouse-shaped template from the felt, stitch it up, stuff it with the stuffing, and add on the tail. Your cat will go wild chasing after their new plaything, and you'll have fun seeing them enjoy themselves.
13. Yarn-wrapped PVC pipe for the cat toy
PVC pipe is durable and long-lasting, meaning your kitty can enjoy their new toy for an extended period. The material is also not too heavy, so your kitty can easily move it around and play with it. Plus, cats love the way yarn feels.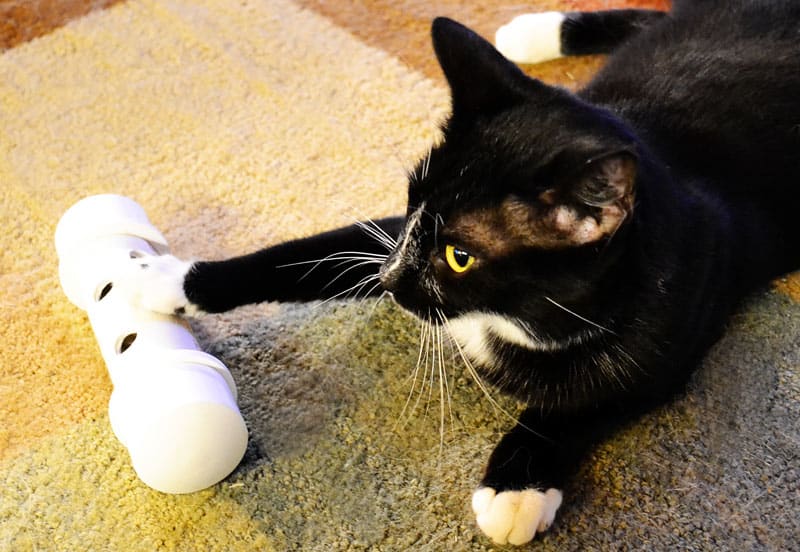 You can make it as tightly or loosely wrapped as you want and use any yarn you like. However, make sure that the yarn isn't too loose, or your kitty might be able to pull it off and choke on it. 
14. Salvaged mouse toy for cat
Who doesn't love an excellent old-fashioned cat toy? Especially when it's been salvaged from the trash. This little mouse toy is the perfect size for your kitty to bat around, and it's sure to provide hours of entertainment. Best of all, it requires almost no cash to make.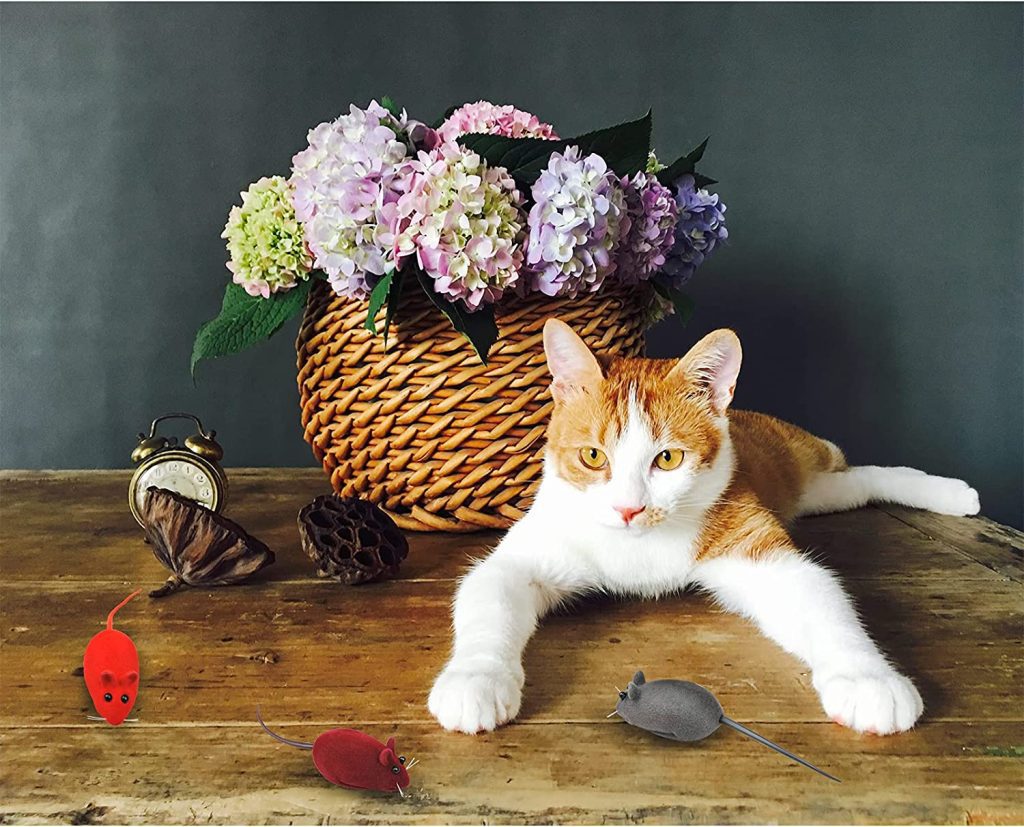 First, you will need to find an appropriate mouse-shaped object. An empty soda can works well. Use materials like wool, cotton, etc., to make its features and tail. You can use buttons, and beads, to make eyes and noses. Easy, right?
15. Cat bed inspired by wrecking ball
A new cat bed inspired by the wrecking ball has been announced, and it is sure to be a big hit with cat lovers. The bed is designed to look like an absolute wrecking ball, complete with a chain and balls.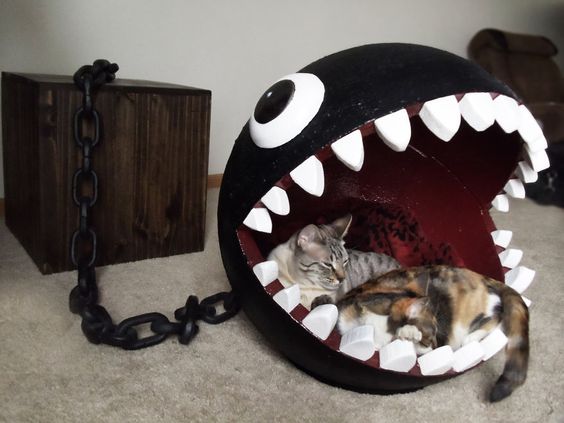 It is also made from comfortable memory foam, so your cat can relax in style. And the best part is that it's completely safe and non-toxic, so you can rest assured knowing your cat is snuggled up in a cozy and healthy environment.
16. DIY rope scratching post for a cat
To start, choose a sturdy base for your post. A wooden box or crate works well, or you could repurpose an old stool or table. Then, measure and cut your ropes to the desired length. Next, attach the ropes to the base using strong glue or nails.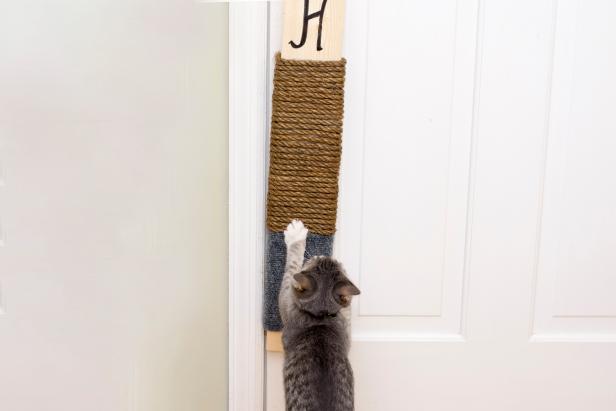 Please make sure the ropes are spaced evenly apart so your cat can easily scratch them. Your cat will love spending hours clawing at their new rope scratching post, and you'll love knowing that you made it yourself without spending extra bucks.
17. Self-petting brushes for the furry friend
As a pet owner, you want the best for your furry friend. You want your precious pet to be content, in good health, and well-groomed. A self-petting brush can help with all of those things. Self-petting brushes are designed to massage and groom your pet all at the same time.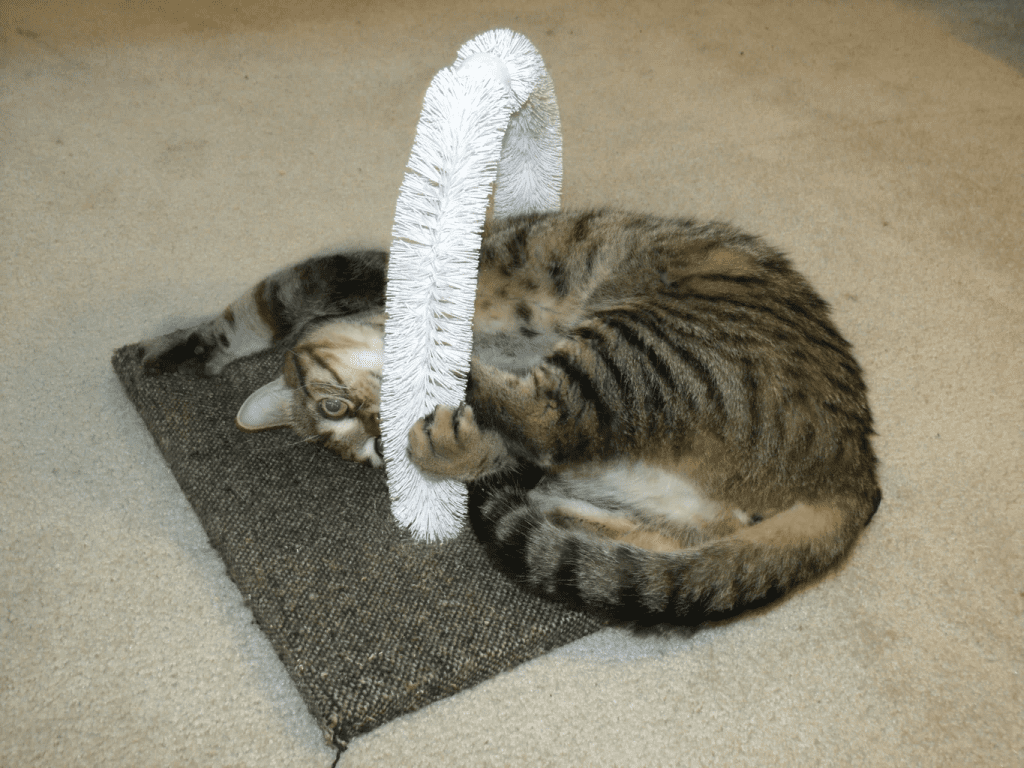 They can help reduce shedding, promote healthy skin and fur, and even make your pet smell good! Plus, they're just a hoot for your pet. You can DIY one with a built-in handle so you can easily hold it while your pet enjoys a relaxing brush down. 
18. Wood & yarn scratching post
If you're a cat parent then you have probably have pieces of furniture with claw marks on them. There's a way to keep your cat happy and your furniture intact: get them a wood & yarn scratching post or make one for them.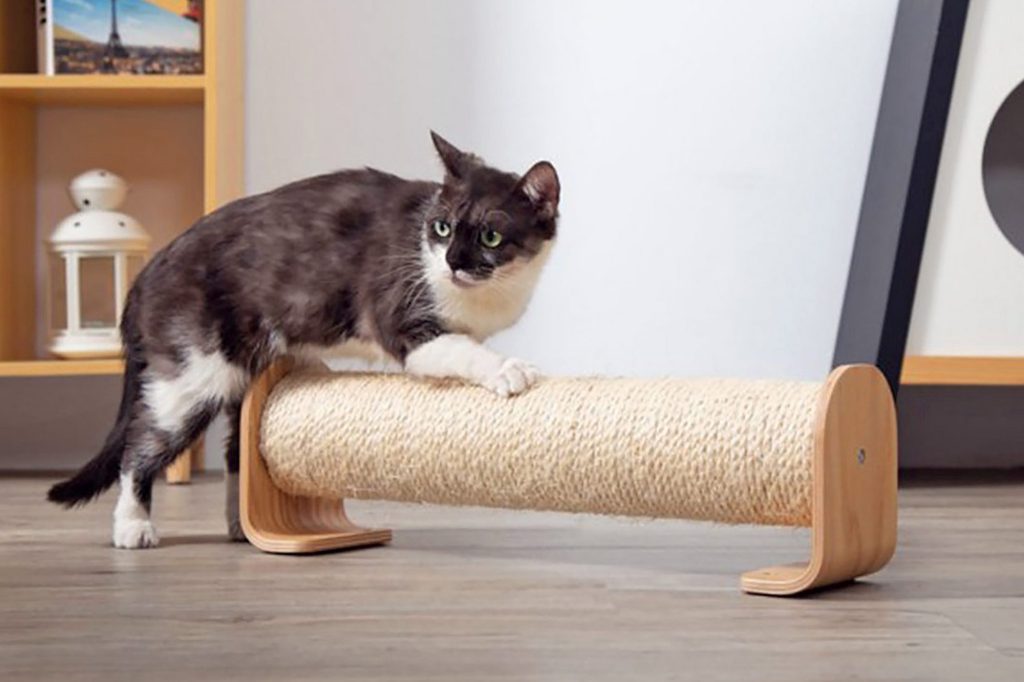 Your cat will love the feel of the natural wood and the soft yarn, and it's the perfect size for them to scratch to their heart's content. Plus, it's way better for your furniture than having your cat sharpen their claws on it. 
19. A cat bed over the scratching post
A great way to create a space for your pet that is both functional and stylish is to make a cat bed over a scratching post. This way, your cat can scratch to their heart's content while also having a cozy place to nap. And this will take only a little time and resources to complete.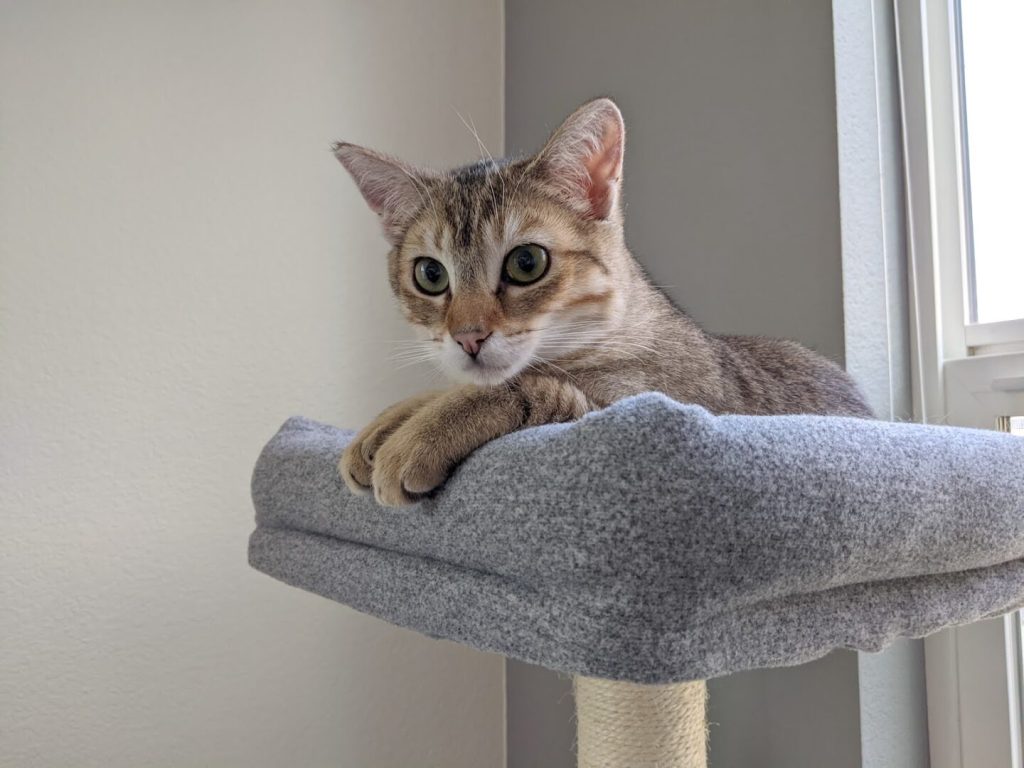 Select a cute fabric or blanket to cover the post and create the bed portion. Now, wrap the fabric around the post and use some velcro or tape to hold it in place. Your kitty's cat bed over the scratching post is ready, and she will love her new bed-scratching combo.
20. Yarn ball as a toy
Try a yarn ball if you're looking for a fun and easy toy to entertain your cat. It's super easy to make. Wind some yarn around a small ball and tie it off. You can even use leftover scraps of yarn from other projects.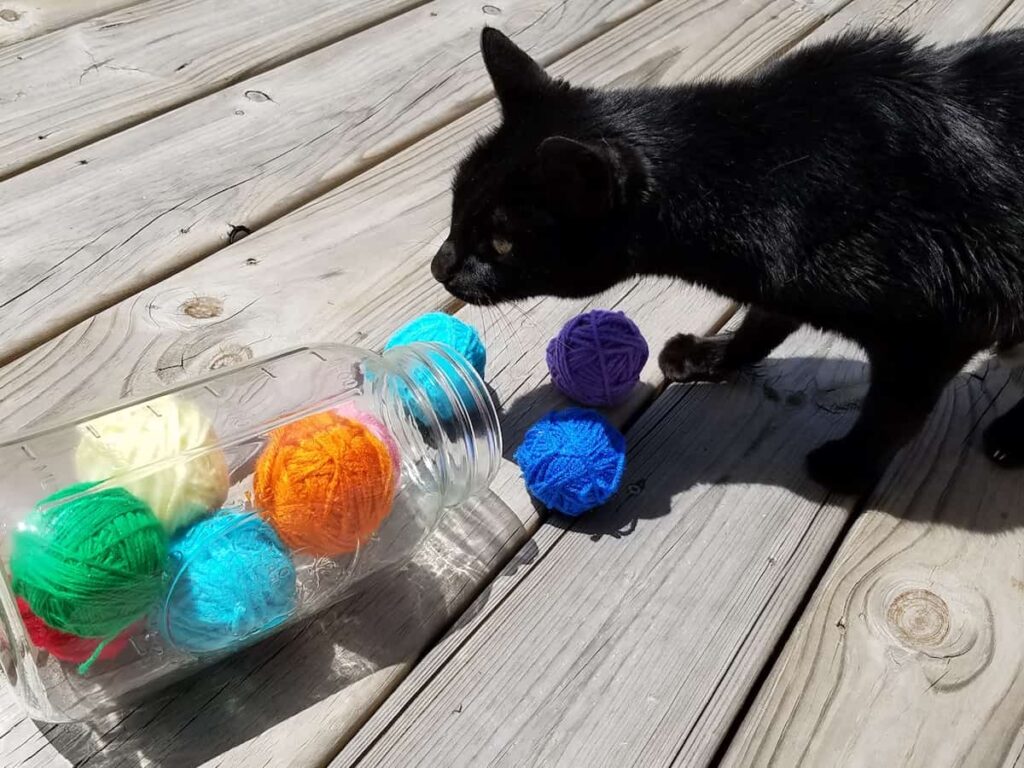 Your cat will love wrestling around with the yarn, batting it, and chasing it. Plus, it's a great way to use up those pesky pieces of yarn that are too small to do anything with. This colorful yarn ball is everything your cat needs.
21. Newspaper bed for cat
You can recycle newspapers to make a perfect bed for your furry friend. It's a great way to upcycle something that would otherwise be thrown away, and your cat will love lounging on a cozy bed made especially for them.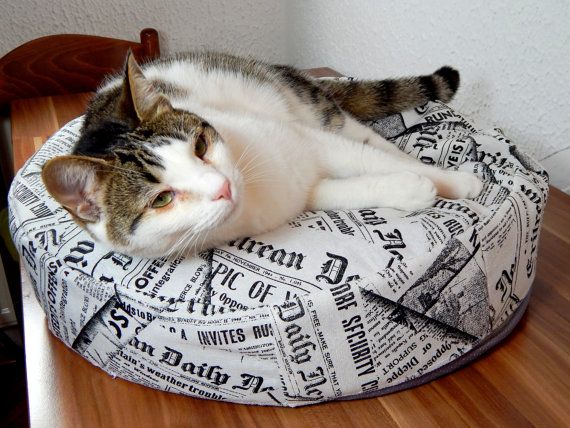 First, tear newspaper into strips or cut them into small squares. Next, gather the strips or squares of paper together and start padding them out. Keep adding more paper until the bed is as thick as you want it to be.
22. Transform the IKEA stepper into a catsuit
If you're looking for a fun and unique way to keep your cat entertained, try using an IKEA stepper as a small kitty haven. This inexpensive item can be easily transformed into a feline-friendly playspace that will provide your kitty with hours of enjoyment.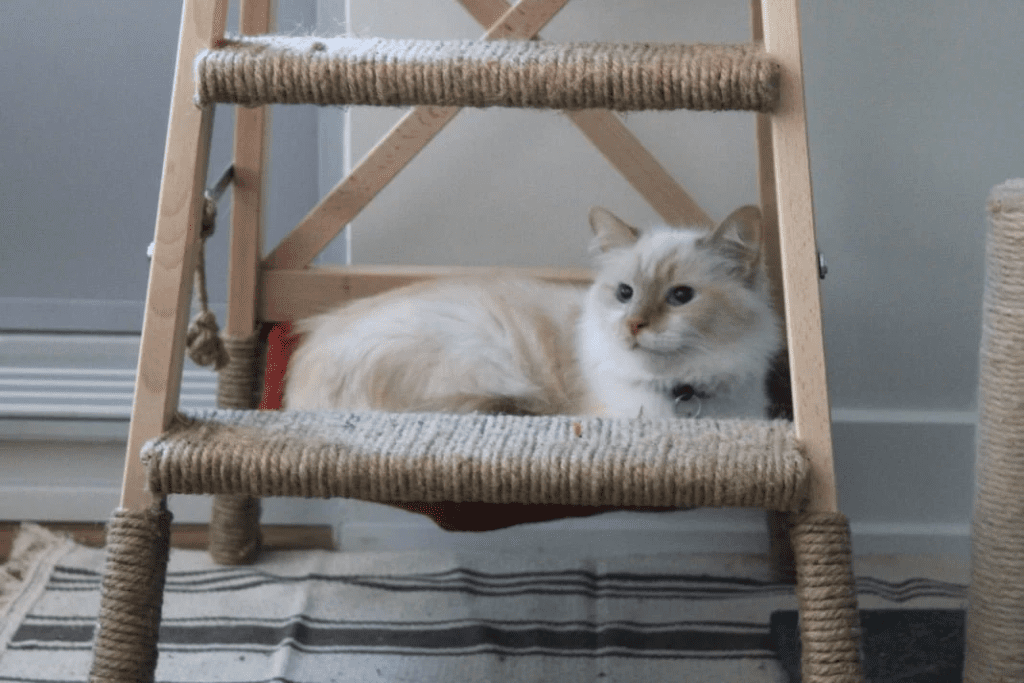 To transform an IKEA stepper into a play area, place the stepper in an area that your cat has access to. As they climb and explore, they'll get much-needed exercise and stimulation. This stepper will stand out from the rest available online or at stores. 
23. DIY a small wooden apartment
Building a small wooden apartment for your cat is a great way to give them space. You'll need some wood, screws, nails, and other hardware. You'll also need a drill and saw. Next, you'll need to measure and cut the wood to size.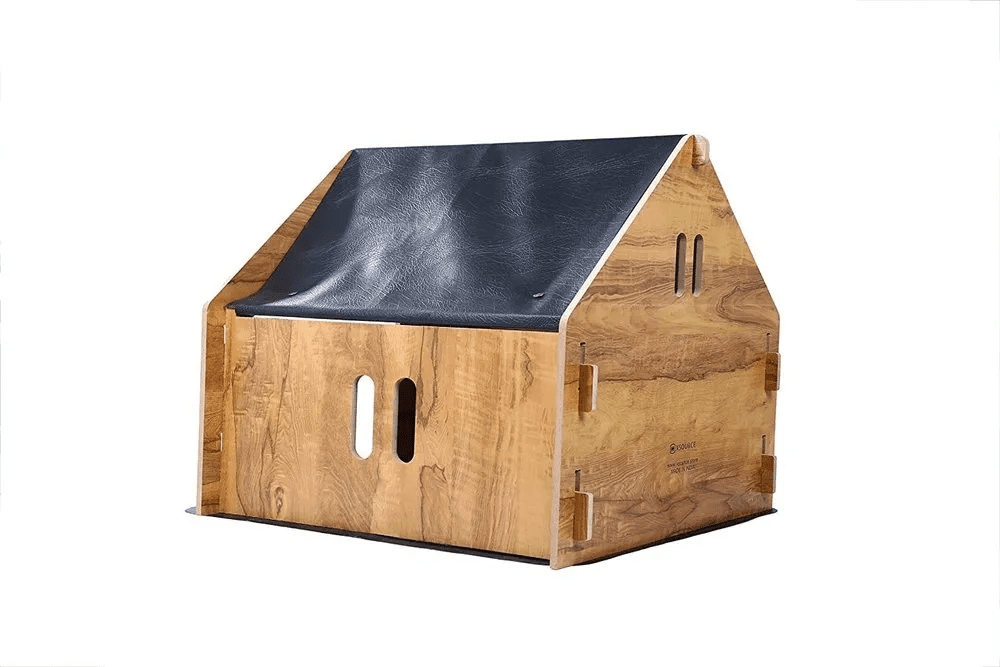 Be sure to make the walls tall enough so your cat can't jump over them. When the components are measured and cut, you can start assembling the apartment. Start by screwing on the walls. Then, add a roof and door, and you are good to go.
24. DIY wall-mounted scratcher for your cat
To make your wall-mounted scratcher, you'll need some cardboard, a sharp knife, and clear tape. Once done, cut a piece of cardboard into a rectangle about twice as wide as your cat's paw. Then, score the top of the carboard with a knife.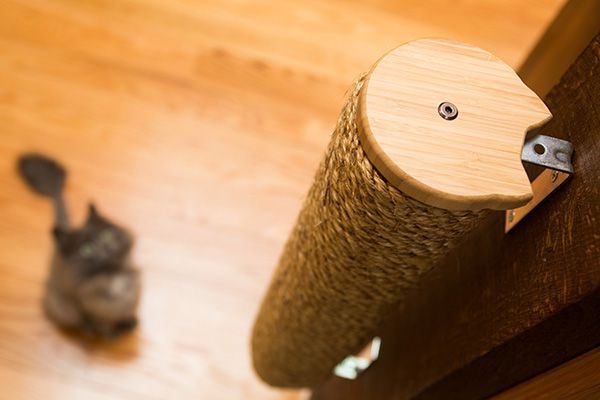 You must fold the rectangle half lengthwise and tape the edges together. Next, use two pieces of tape to attach the scratcher to the wall at a comfortable height for your cat. Make sure that the scratcher is firmly attached so that it doesn't fall when your cat is using it. And that's it.
25. How about a PVC pipe bed?
To make this bed, you will need PVC pipe, fabric, and stuffing. You have to start by cutting the PVC pipe to the desired size for your cat bed, then cut a piece of fabric that will wrap around the pipe quickly.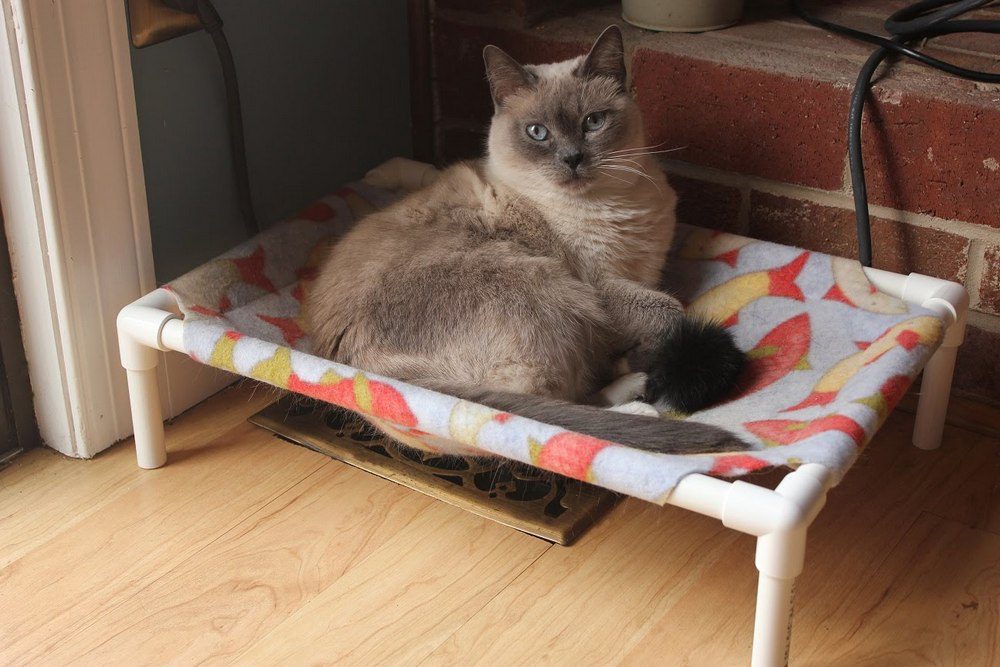 Sew the fabric around the pipe, leaving one end open. Stuff the piping with stuffing, then sew the remaining end of the fabric closed. That's it! Your cat bed is now ready for your cat to use. The best part about the bed is it will not cost you much.
26. A tree as a scratch post
A small DIY cat tree can be a great way to give your cat a place to scratch and climb. You can find plans for these online or in pet stores. First, gather some cardboard, some fabric, and a piece of wood.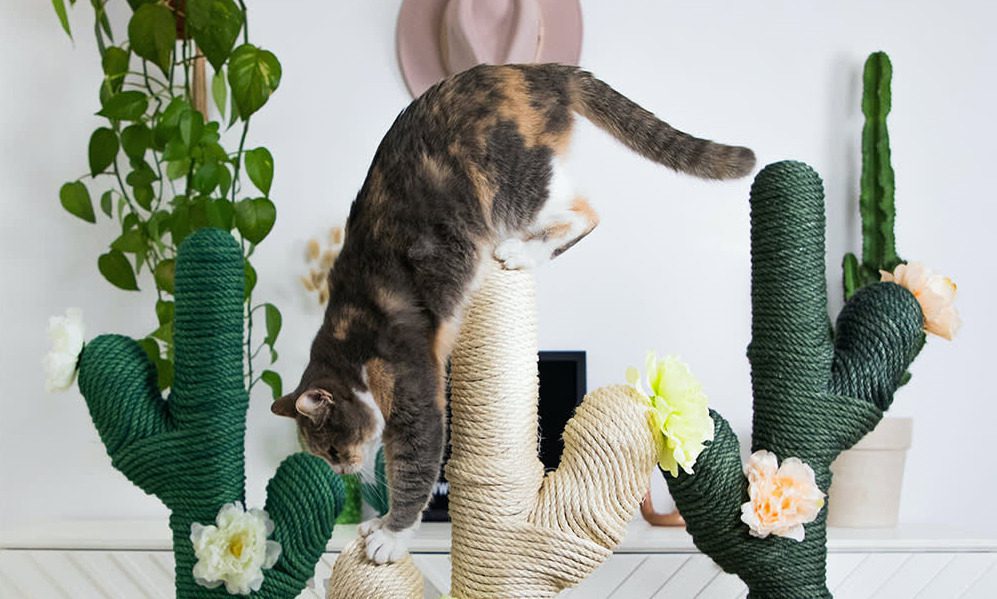 Snip the cardboard into rectangles to create a tree base. Next, cut the wood into four pieces. These will be the posts of the tree. Lastly, cover the posts with fabric. Secure the fabric using staples or a hot glue gun.
27. Use old shelves as cat climbers
If you have some old shelves you're looking to get rid of, don't throw them out just yet; you can repurpose them into something your feline friend will love. You can turn those shelves into a cat climber with some creativity and elbow grease.
It's a great way to save money you would spend on buying a cat climber. So, there's no need to buy a brand new cat climbing structure when you can make one yourself. Moreover, you can even paint the climber as per your preferences and make it as large or small as you want. 
28. Pom poms for cats
Pom poms for cats are a great way to entertain your feline friend. Cats love to play with them, and they are easy to make at home. All you need is some yarn and a little bit of time, and you can make a great toy for your cat.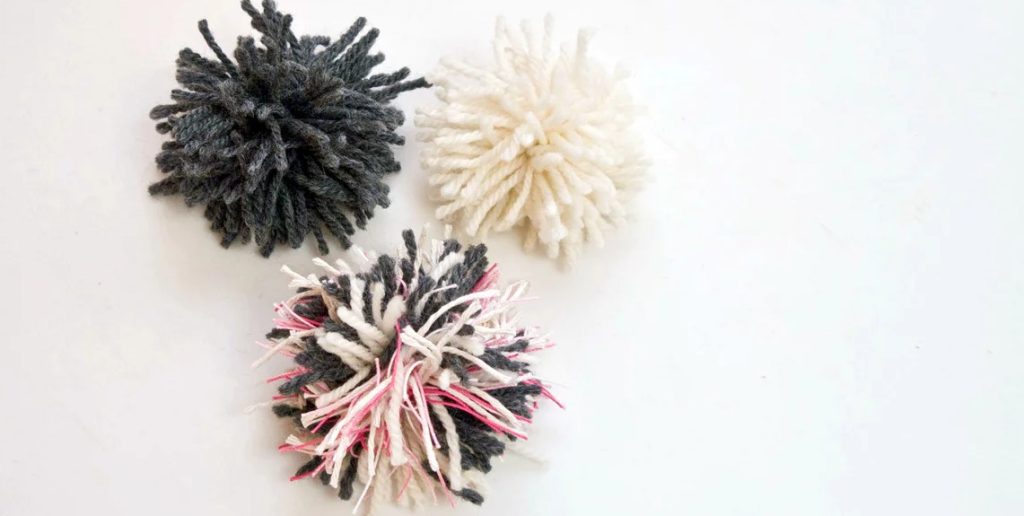 To make pom poms for cats, start wrapping the yarn around your fingers about 40 times. Then, make a knot in the middle of the wrapped yarn and cut the loops at the end. Fluff out the pom pom and trim any uneven pieces.
29. Toilet paper roll toy for cat
You can make a fun and simple toy for your cat using an empty toilet paper roll! Just cut a small hole near one end of the roll, and then insert a piece of string or yarn. Tie the string in a knot, and then let your cat play.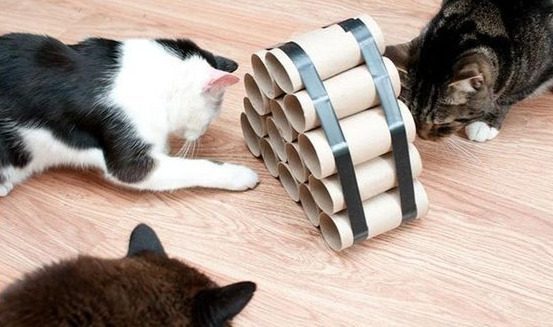 The toilet paper roll will provide hours of entertainment and exercise for your feline friend, and you can feel good about recycling rather than throwing away the roll. You can paint or draw something on it to make it look attractive.
30. Puzzle for cat
You can create a simple puzzle for your cat by using just a few household items. Find a shallow box or tray your cat can comfortably fit into. Then, cut some small holes in the top of the box or tray.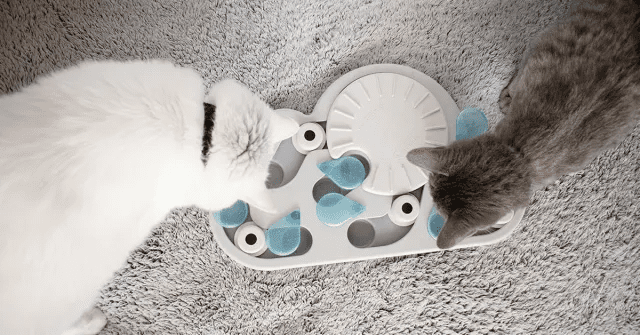 Once done, cut out some treats or toys into the holes. Your cat will have to use its paws and nose to get the goodies out of the holes. This is a great way to keep your cat entertained and engaged.
31. Make a tent for your cat
Making a tent for your cat is an exciting way to keep them entertained while giving them a cozy place to hide away. To start, you'll need to assemble three equidistant poles into a teepee shape. Make the base wide enough to fit your cat.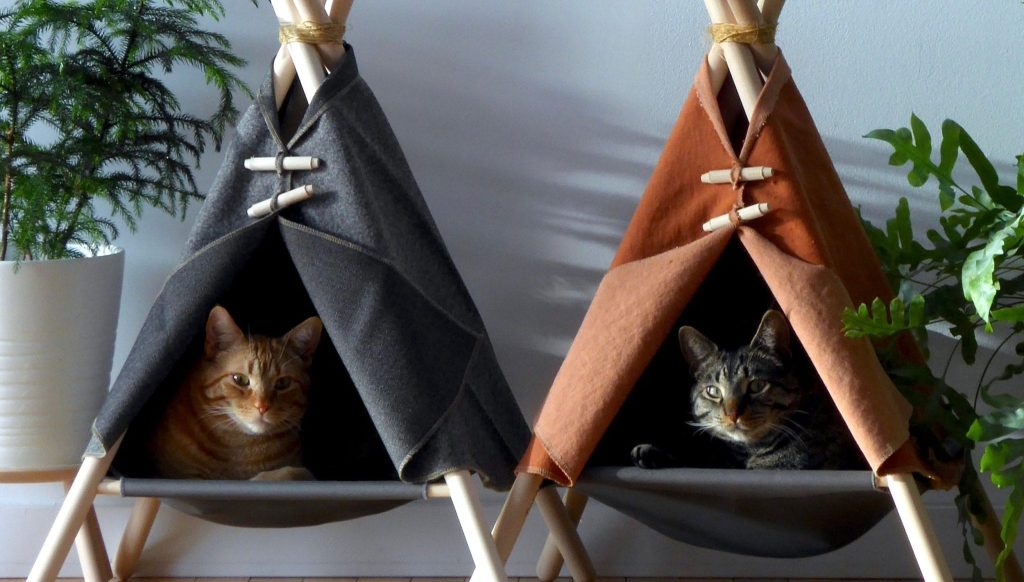 Then, measure out the fabric. You'll need a piece that is long enough to wrap around the poles. You can then wrap the fabric and secure the top with clothes hooks or by sewing it shut. Lastly, create a base for your cat to sit on. Job done!
32. Peek-a-boo cat puzzle
If you've ever wished you could play peek-a-boo with your cat, now you can with this fun puzzle toy. The Peek-a-Boo Cat Puzzle toy is designed to engage your feline friend's natural hunting instincts. Your cat will be engaged as it figures out how to get the hidden treat.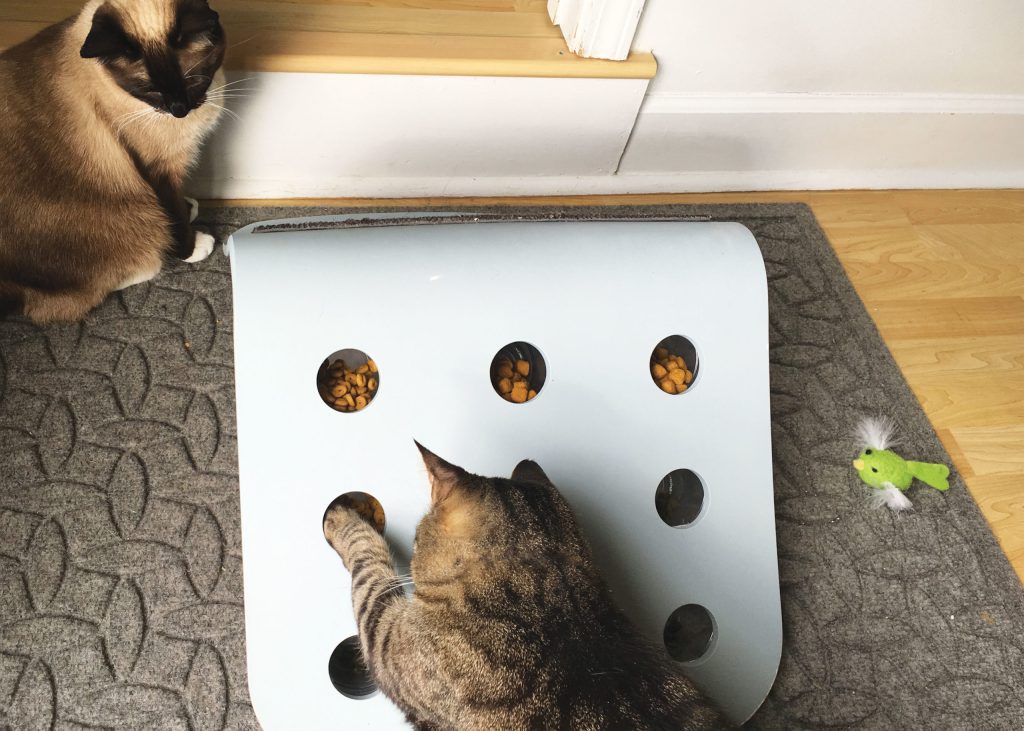 They will be rewarded with a tasty treat as they swat and bat at the toy. This interactive toy is excellent for helping your cat stay active and sharp. So, how about challenging your kitty with the peek-a-boo cat puzzle?
33. DIY a cat wand
Making a wand for your cat is an exciting and simple activity you can do at home with just a few supplies. You'll need a dowel or other thin wooden pole, some string or ribbon, some feathers, and some bells or other noise-makers.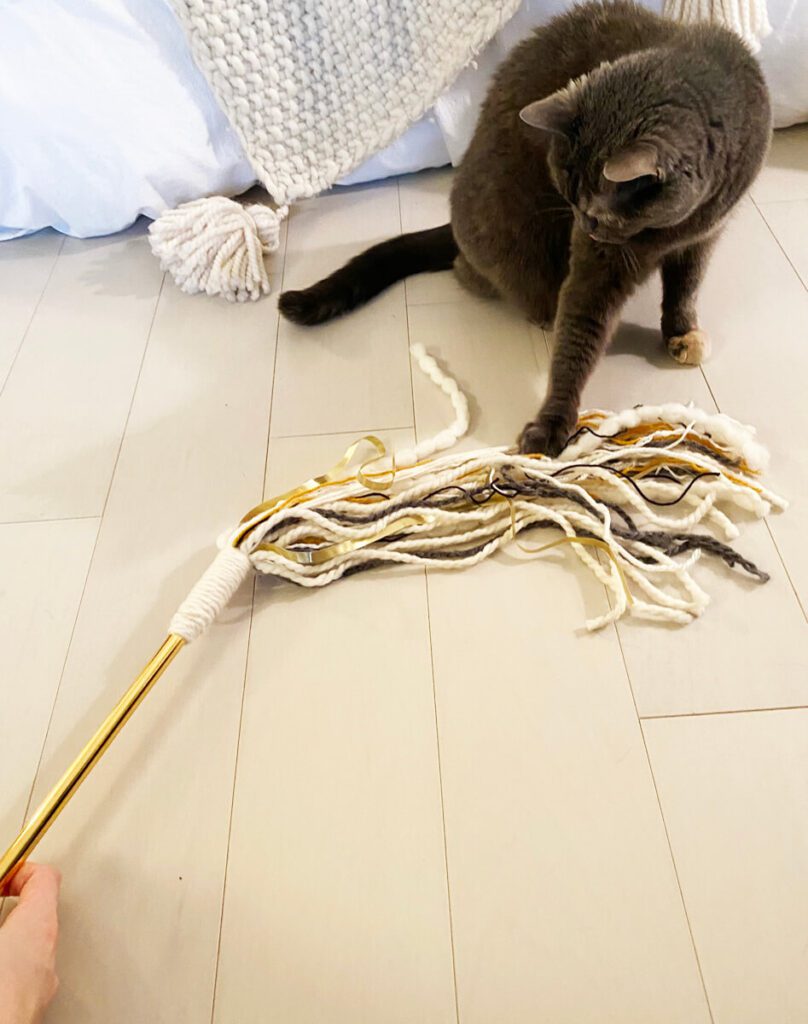 All you need to do is tie the feathers and bells to the string and attach it to the dowel, and your cat toy is ready. Your cat will love chasing the wand around, and you'll have a great time watching them have fun.
34. Make a catnip toy
To make a simple catnip toy, start by getting a small piece of felt in your cat's favorite color. Cut the felt into a small strip about an inch wide. Then, take some fresh catnip and tie it up in the middle of the strip.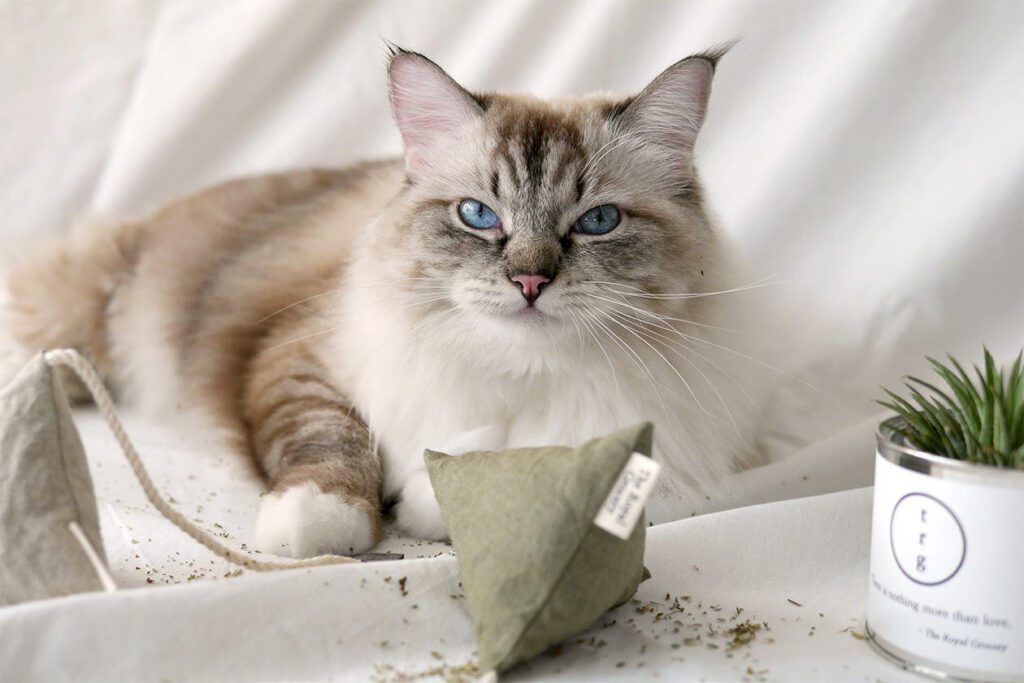 Make sure the knot is tight so the catnip doesn't fall out. Now, twist the ends of the strip around each other to create a rope. Once you've got a good rope, tie it in a knot and trim any excess fabric. Your new catnip toy is now ready.
35. Tube playhouse for cat
If you have a furry friend, you know how important it is to provide them with plenty of stimulating toys and activities. A tube playhouse is a perfect way to do this. It is a series of interconnected tubes that your cat can explore.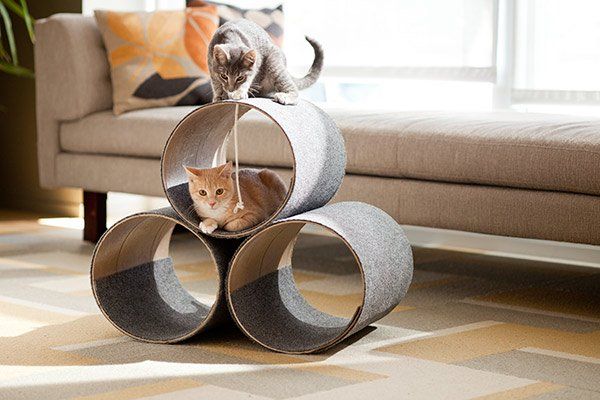 They're usually made of sturdy cardboard or plastic and can be configured in various ways. Some tube playhouses even come with additional features like platforms, ladders, and tunnels. So, when you make a playhouse for your cat, you can choose how you want it to be.
36. Cardboard box maze for cat
Assuming you have a cat or multiple cats, you might be wondering how to keep them amused. A great way to do this is to create a cardboard box maze for them. To start, gather up some cardboard boxes of various sizes.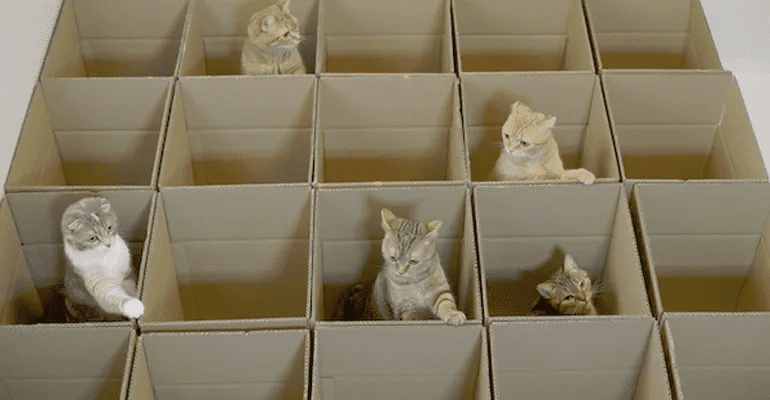 Then choose one box to be the entrance/exit of the maze. Then, place other boxes around it in a way that creates paths and tunnels for the cat to explore. Make sure there are plenty of opportunities for your cat to hide and climb.
37. What about a socktopus?
Do you have an old sock you don't know what to do with? Well, never fear! You can upcycle that sock into a cute and cuddly socktopus for your cat. All you need is the sock, some stuffing, and a hot glue gun.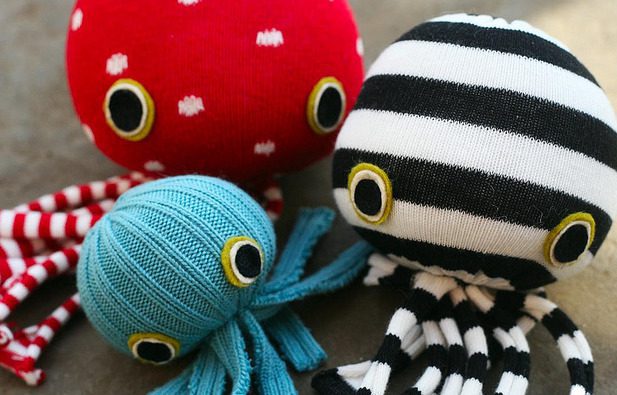 First, cut the toe off of the sock. This will be the head of your socktopus. Next, stuff the sock with stuffing until it is nice and plump. Once the sock is stuffed, take your hot glue gun and glue some googly eyes on it.
38. T-shirt cat toy
A T-shirt cat toy is perfect for someone looking for an exciting way to keep their cat entertained! This cute little toy is easy to make at home and will provide your cat with hours of fun. All you need is an old T-shirt.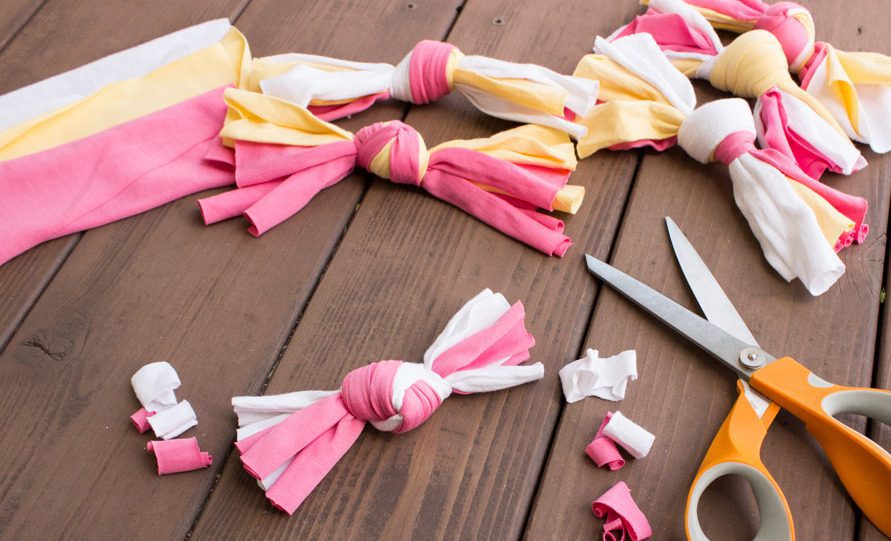 First, cut the T-shirt into strips of different lengths. Then, tie the strips together in knots to create a "ladder" effect. You can also add some bells or other noise-makers to the end of the strips for extra interest. Your cat will love playing with this new toy.
39. Your cat will love feather toy
Making a feather cat toy is easy and only requires a few materials. You'll need some feathers, some string, and a little bit of stuffing. Start by tying the string around the center of the feather. Then, tie another piece of string around the base of the quill to create a "loop."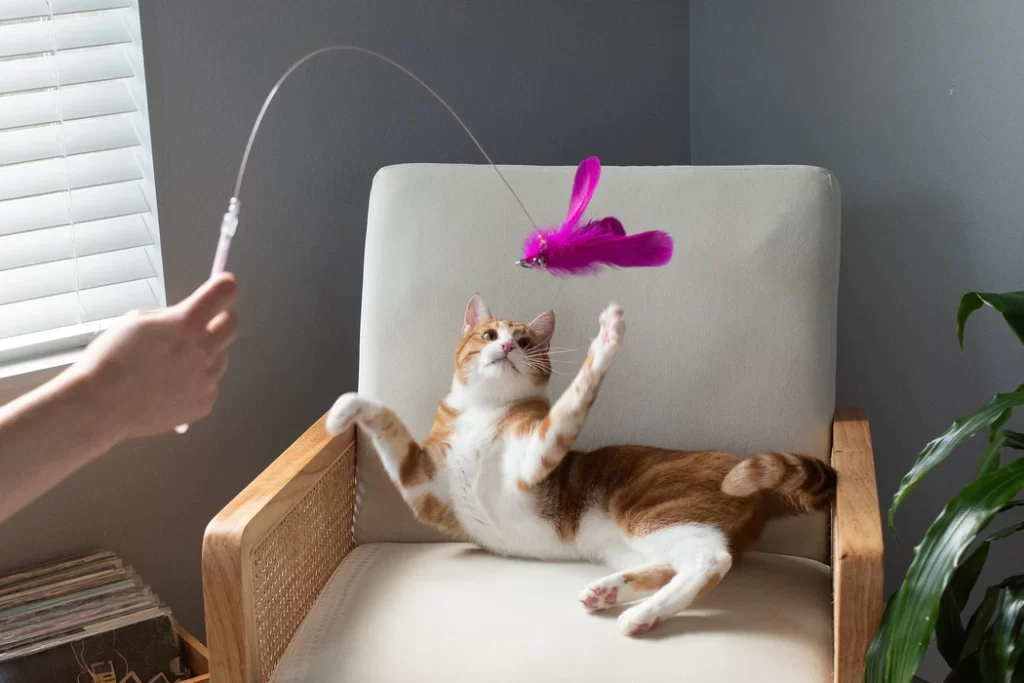 This will be where you attach the feather to the wand. Next, take the two loose ends of the string and tie them together to create a "wand." You can make your wand as long or short as you like. However, you must make sure it's comfortable to hold.
40. Paper mache toy for cat
To make a unique and long-lasting toy for your furry friend, try making a paper mache toy. It's also a great way to use up those old newspapers before recycling them. To make your paper mache toy, you'll need some newspapers, glue, water, and a bowl.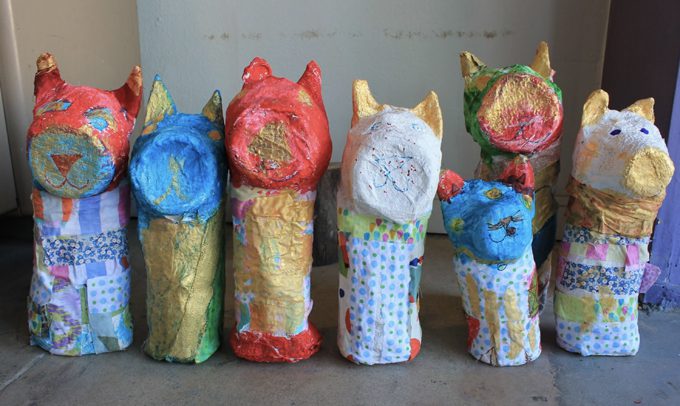 First, rip the newspapers into strips and then soak them in the water/glue mixture. Then, start papering them onto the bowl, molding them into whatever shape you want. Once dried, you can decorate your paper mache toy however you like.
41. Pom pom wand
If you love cats and enjoy playing with them, you should get a pom-pom cat wand or make one at home. This type of wand is designed with a fluffy pom at the end, which your cat will love to swat and chase.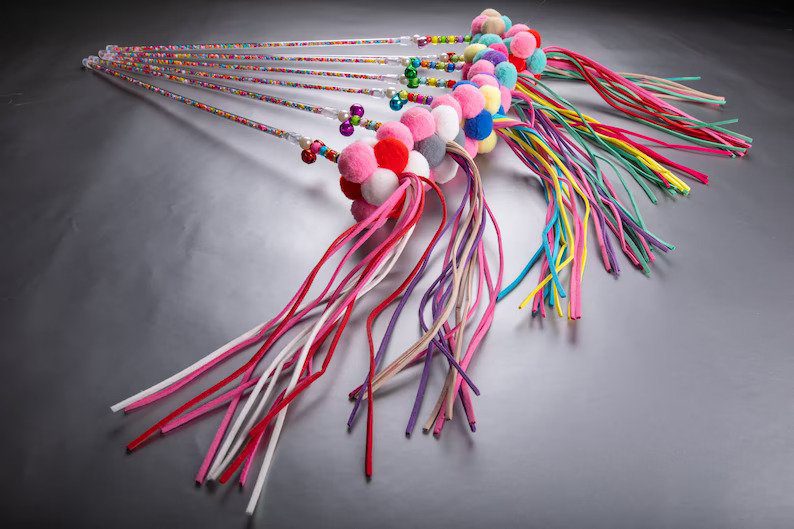 The wand is usually made of sturdy materials like bamboo or plastic so that it can withstand lots of play. And since the pom poms are usually brightly colored, they'll provide plenty of visual stimulation for your kitty. So, go and make a pom pom wand right away.
42. Fortune cookie toy
Fortune cookies are always fun, so you should make a fortune cookie toy for your furry friend. These cute little toys are sure to be a hit with your feline friend, and they're so easy to make. All you need is some paper, scissors, and some tape.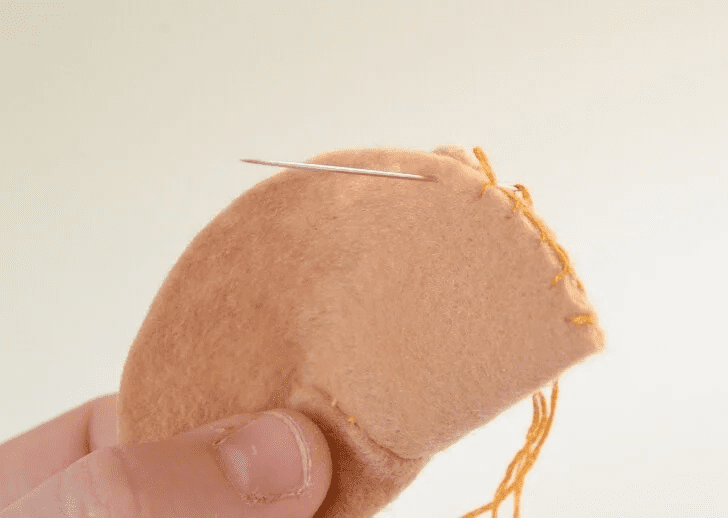 First, cut out two fortune cookie shapes from the construction paper. Next, staple the two shapes together at the top, leaving a small opening. Now, stuff the toy with batting or other stuffing material. Finally, staple the opening shut, and voila.
43. Make a fish toy
It's extremely simple to make a fish toy for your cat. To get started, all you need is some felt stuffing, a needle and thread, and some Catnip. Cut out two fish shapes from the felt and stitch them together, leaving a small opening.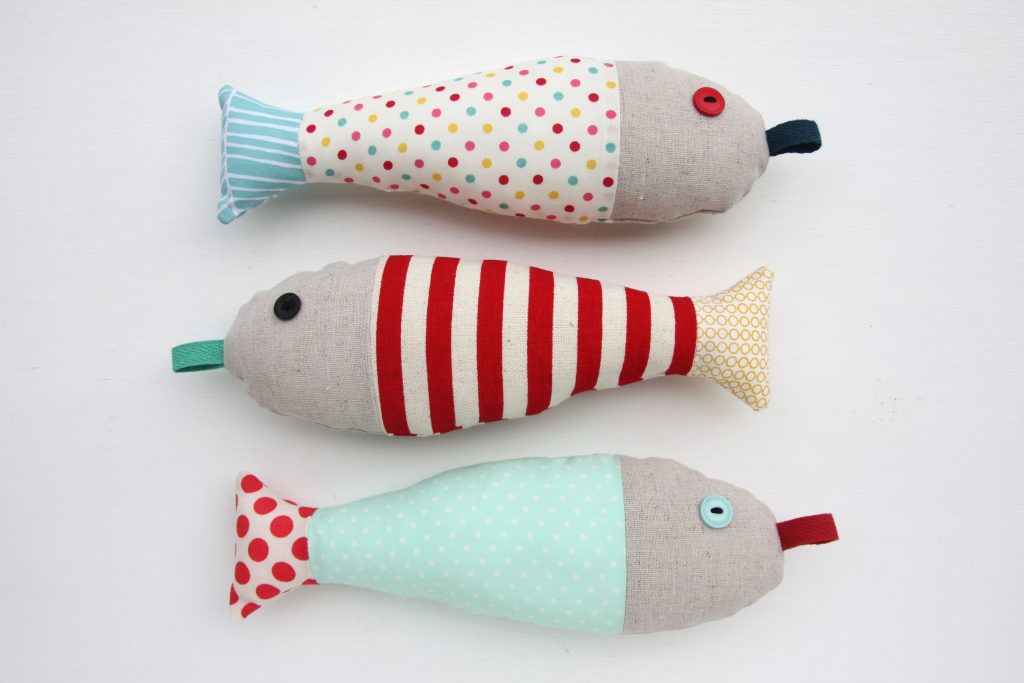 Stuff the fish with stuffing, and then add a sprinkling of catnip before stitching up the opening. Your cat will go crazy for this new toy. They'll love batting it around, chasing it across the floor, and nuzzling it when they're feeling affectionate. 
44. DIY a no-sew goldfish
You will fall in love with a simple no-sew goldfish for your cat. All you need is felt stuffing and a hot glue gun. First, cut out two fish shapes from the felt. Please make sure they are mirror images of each other.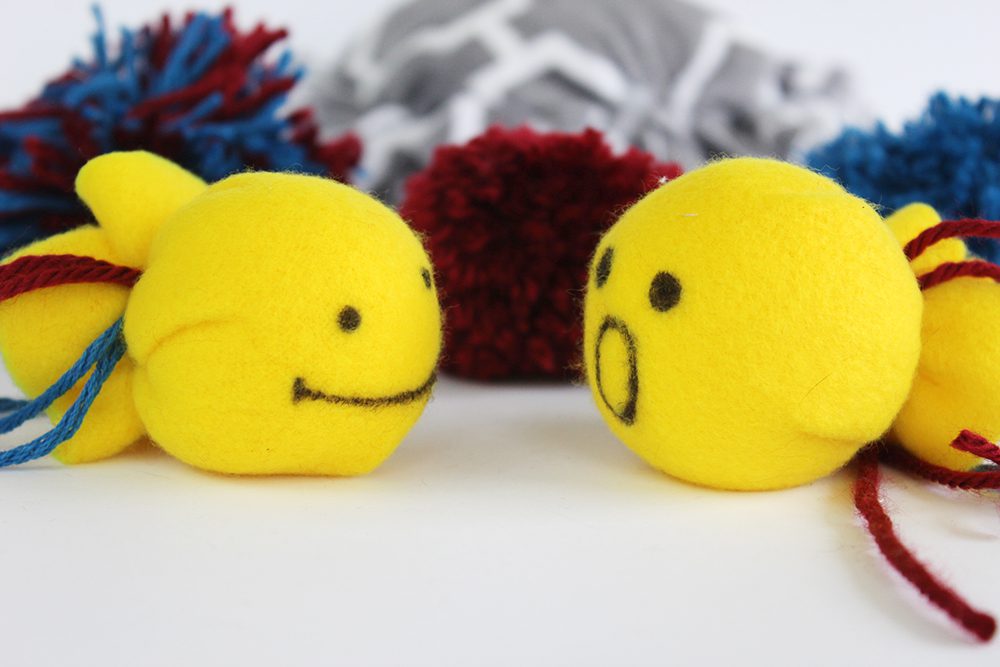 Next, stuff the fish with the stuffing, careful not to overfill them. Once they are stuffed, use the hot glue gun to seal the fish shut. Now you have fun and colorful, no, sew goldfish for your cat to play with.
45. Crochet your cat's toy
Do you love your cat but feel its toys always fall apart? If so, then you should crochet your cat's toy. Not only will it be sturdier and last longer, but you can also personalize it to suit your feline friend's personality.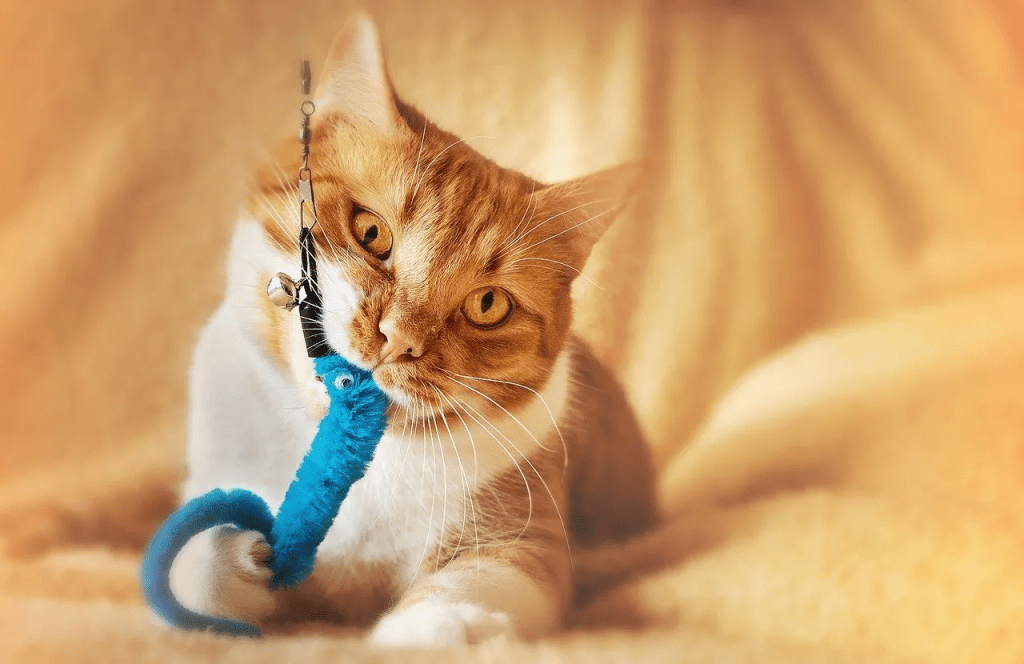 There are many patterns available online or in crochet books specifically for cat toys. Find one that you think your cat will love and get to work. If you need help deciding what pattern to choose, look for something simple like a ball or a stuffed animal.