Buildings That Started With One Purpose And Were Eventually Repurposed In Time
By Arvyn B November 17, 2021
---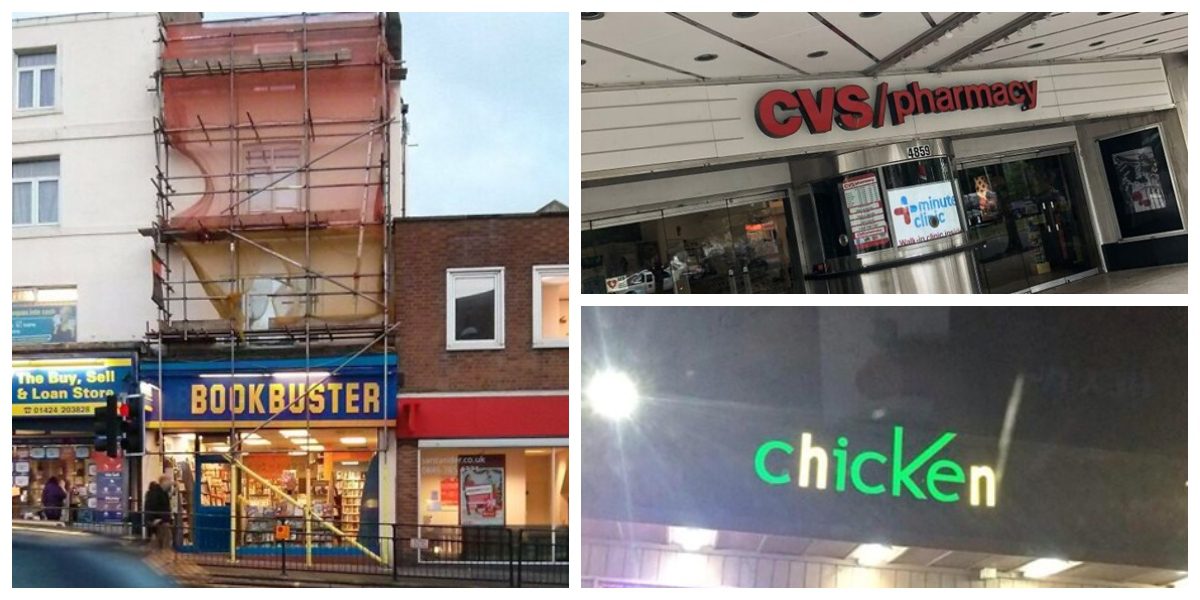 The buildings around us get repurposed all of the time, and for a good reason. Changing the purpose of a building instead of building a new one is a cheap way to reuse the space. It is also much better for the environment, as it very often requires little maintenance work. So, we completely support companies when they choose to do this! Unfortunately, not every company is as subtle as their competition. Sometimes, they struggle to hide the original purpose of the building for whatever reason. The results can be pretty hilarious – like a church that became a grocery store! The internet is never one to miss anything, so Reddit created a group called NotFoolingAnybody. In this group, people post buildings that were repurposed for other intentions. We have selected the funniest ones for you to see. Check it out!
College to Walmart
Walmart stores are known for being pretty huge. They have a lot of space to put any item you will ever need, and what's equally impressive is their parking lot. So, it comes as no surprise that one store was converted to a college.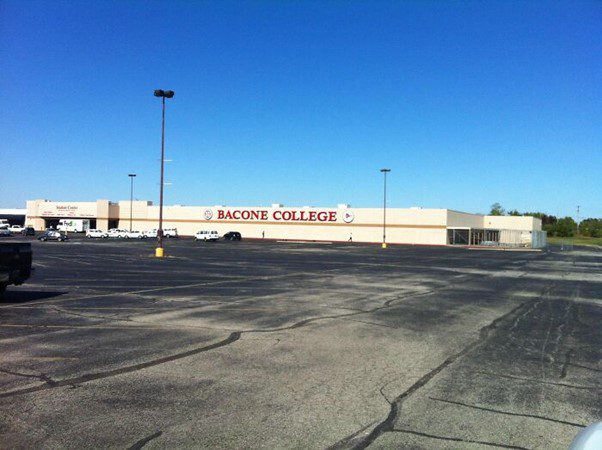 It is not hard to tell that this used to be some kind of a store. Why on Earth would this college need so many parking spots?! It's a good idea since it gives the college has plenty of extra space to build on.
Video Store to Furniture Store
Hollywood Video Store was a pretty famous entertainment hub for a while. Unfortunately, the chain closed all of its stores in America by 2010 due to the financial crisis. That left a lot of empty spaces to work with. Enter Hollywood Furniture!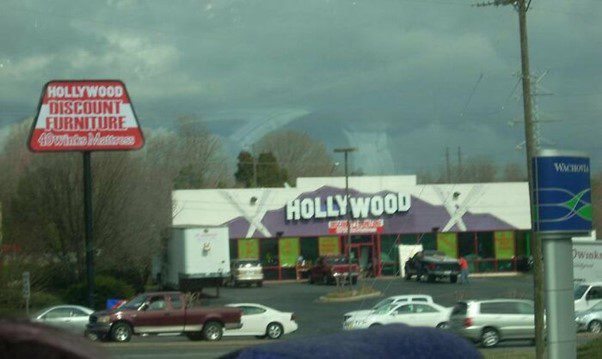 They converted this video store into a discount furniture store. It looks like they didn't try and do a lot with branding, as they even kept the original store's name! This is a cheap and effective way to use the space.
Church to Dollar Tree
Shopping at Dollar Tree is certainly an experience. You can get a lot of necessary items for a fraction of the price you would pay elsewhere. It seems the owners of the store like to be pretty cheap, too!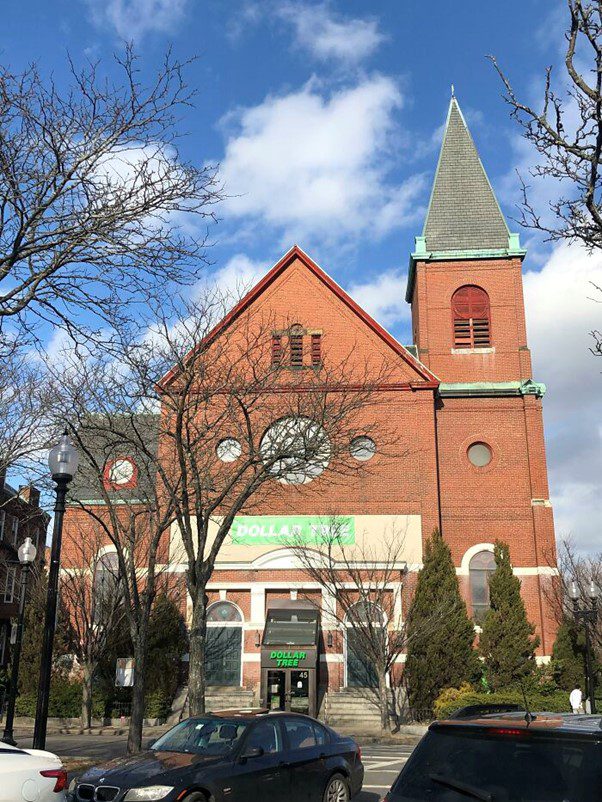 No prizes for guessing what this store used to be. It was obviously a church! It does seem a little wrong to convert a place of religious worship into a shop for bargain goods, but we are certainly not complaining.
Wendy's to Taco John's
Wendy's fast food is iconic across America, especially for their store structure. Almost everyone can recognize the beige-colored roof, glass windows that point out, and the rectangular shape of the restaurant. So, this Taco John's is not fooling anyone!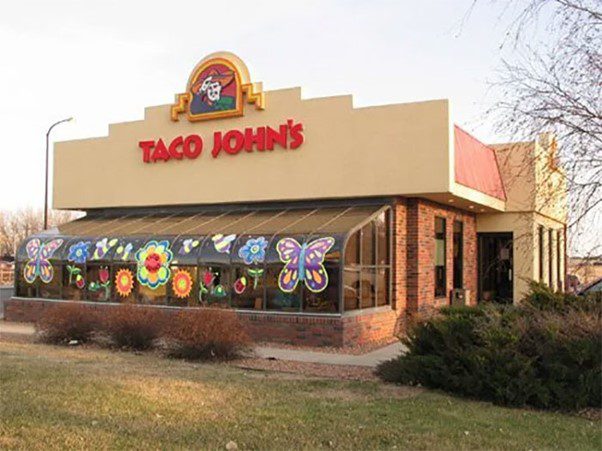 We all know it used to be a Wendy's just by looking at it! Still, it is pretty smart for a fast-food restaurant to use the same building as another. It would certainly cut down on the cost of new equipment, for starters.
Pizza Hut to Five Guys
Another fast-food place with famous architecture is Pizza Hut. The red, pointed roofs on their buildings are just so iconic! So, when Five Guys decided to buy out a Pizza Hut store in Westminster, there was no disguising it.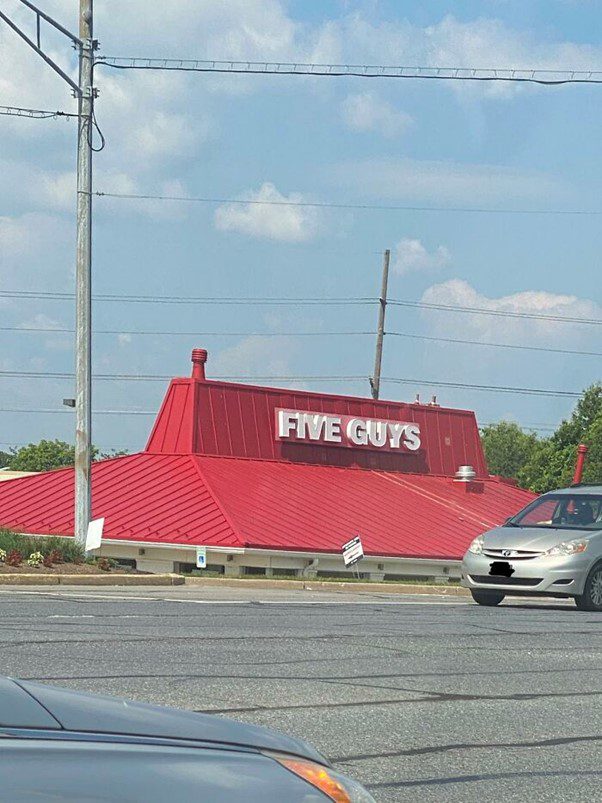 Perhaps it was a relatively recent purchase, which could be why the owners have not yet changed the roof to something less obvious. Or maybe it is a good way to attract people to the store. It's not fooling anyone!
Mall to Classrooms
This one is pretty interesting! This mall was completely out of business when a college decided to buy it out. Instead of needing to build an entirely new campus, they just changed each of the stores into bigger classrooms.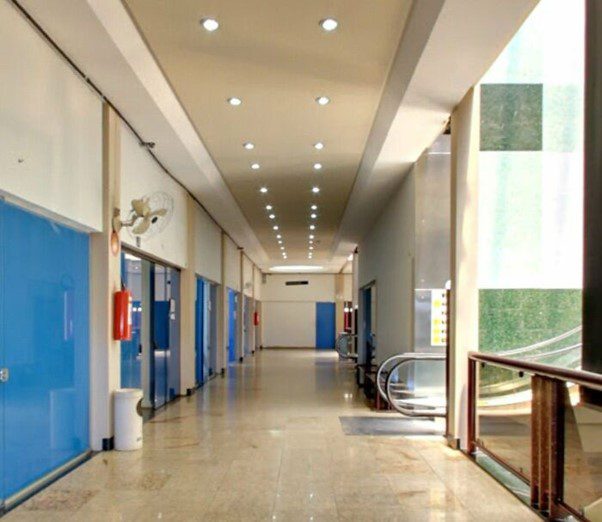 What a clever idea! We are sure that each of these shops would have more than enough space for the students. You can even spot an escalator in this picture, making the site perfect for students to get around easily.
Church to Gym
For some people, visiting the gym can be almost like a religious experience. For anyone visiting this gym, it really is one! This old church was converted into a site for working out your physical body instead of your soul.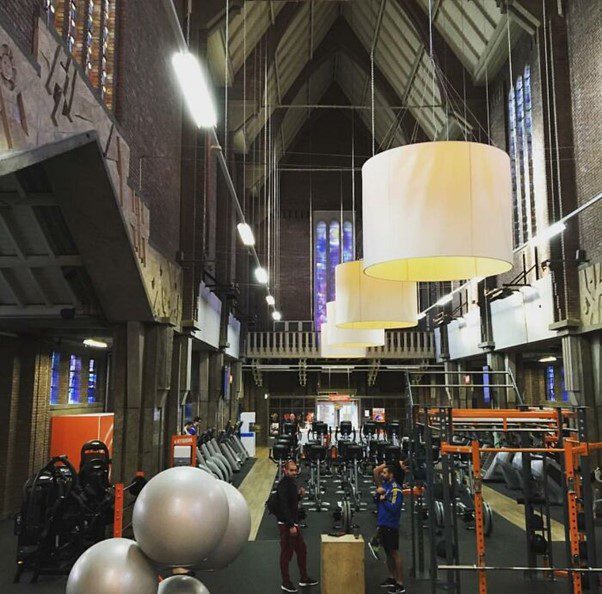 We imagine that it feels pretty cool to be running on a treadmill or lifting weights in a place like this. However, the acoustics must be dreadful. We reckon every grunt and sound probably echoes around the whole place!
House to Burger King
This one seems like it should be the opposite way round, but it is not. A large house in Columbus, Georgia, went up for sale. The sellers were expecting it to be bought by another homeowner. But, this definitely wasn't the case.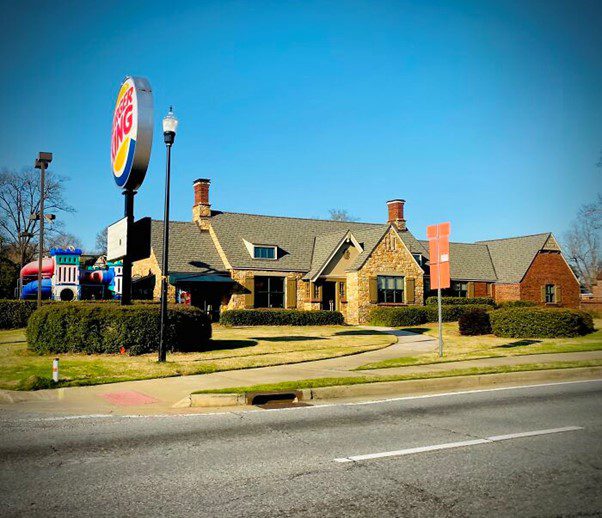 We can only imagine their surprise when the fast-food chain, Burger King, chose to buy it instead. It is a pretty cool idea! Although they could have at least redecorated the outside to make it look more like a restaurant.
Blockbuster to Orthodontist
When Blockbuster closed its doors in 2014, many people around the world were devastated. The video store franchise had become so famous, and its logo was instantly recognizable. So, it came as no surprise that many stores were bought out.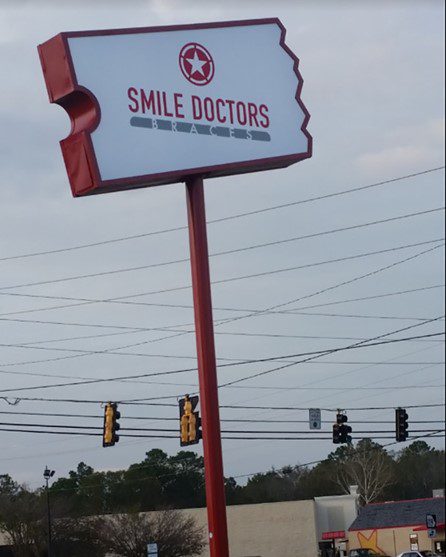 Including this Blockbuster store in Hinesville, Georgia, which was clearly transformed into an orthodontist's office. Just what is it with store conversions in Georgia?! We hope that these orthodontists can straighten teeth better than they can straighten their signs!
KFC to Thai Restaurant
There seems to be a recurring theme with a lot of these food sites that were chains – they get bought out by other restaurants! Continuing the theme is a KFC store that was recently changed to a Thai restaurant. They kept the look!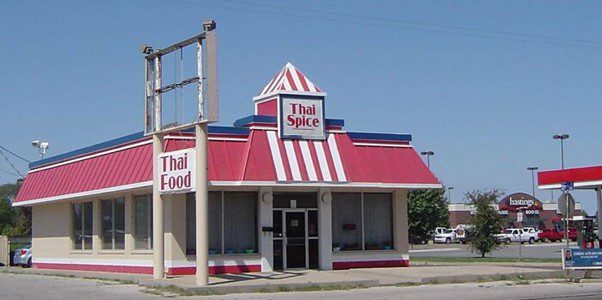 This one is a pretty clever change, as the "Thai Spice" logo is almost exactly the same as the colors used for KFC. That definitely makes things easier. Hopefully, they do not have too many pictures of Colonel Sanders dotted around the place!
Victoria's Secret to Mall Church
This is a pretty strange idea to say the least. We are not too sure who thought of putting a church inside of a mall, especially not on an old Victoria's Secret store site! At least you can pray while you pay.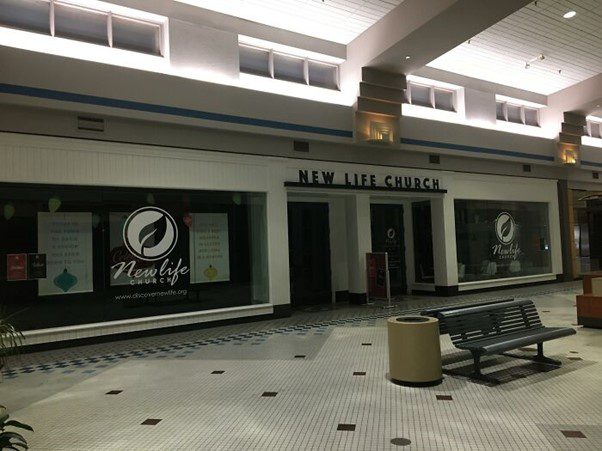 We wonder if the church is popular or not. The name is pretty clever – 'New Life Church.' In a way, the church moving to the mall would have breathed 'new life' into the whole place. What a great idea!
KFC to Mexican Restaurant
Here is another KFC that saw better days before the franchise sold it. This time, to a Mexican restaurant. But instead of removing the pictures of Colonel Sanders around the place, they just changed them slightly. Can you see how?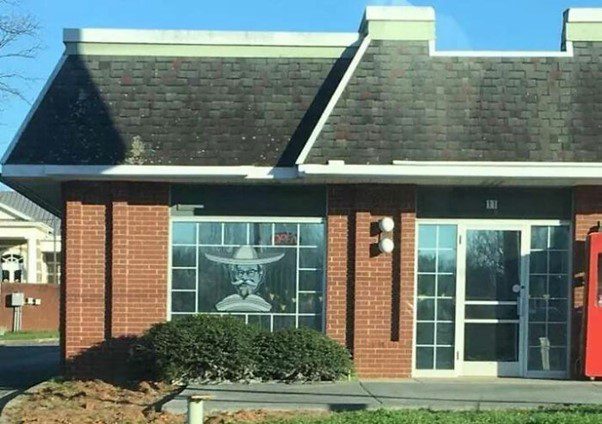 Yep, that is right – they stuck a sombrero and poncho on him instead! We guess that he is called "Colonel Sanchez" now instead. Although we cannot imagine that the owners of KFC were so happy about it breaking their copyright law…
Bank to McDonald's
Hands down, this is probably the classiest McDonald's that we have ever seen. Check out those beautiful arches and tall pillars! It is not too hard to guess what this place was before – it was actually a bank.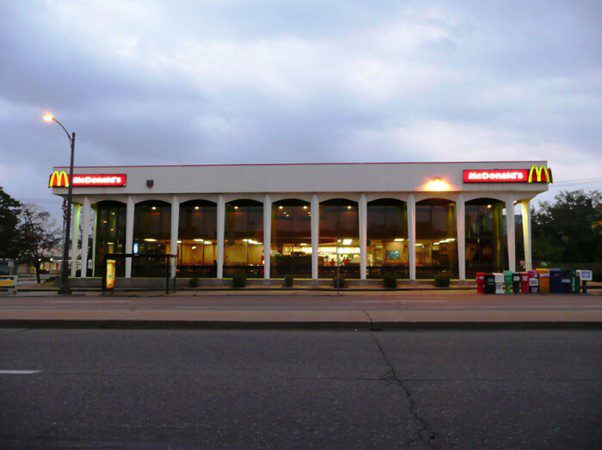 It is probably a very nice experience being inside, with the glass floors and nice lighting. Though, we do not imagine that the food tastes as classy as it looks! At least they are both places that take people's money.
Church to Tattoo Parlor
Another common feature on this list is churches that are converted, for whatever reason. The site was bought by "Skin & Bones Tattoo," as you can see in this picture, and they made it into a tattoo parlor. Yes, you read that right!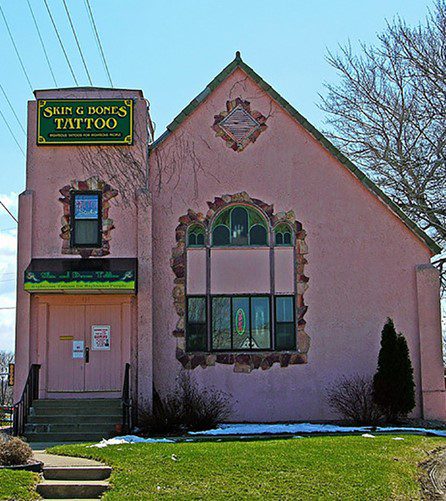 We can imagine that they do a number of different tattoos at this place. For them to have the audacity to put it in an old church says a lot! It is not clear what the parlor looks like on the inside – maybe it is very gothic, which would be kind of fitting.
Bank to Wendy's
It seems that McDonald's is not the only fast-food chain that is converting banks to restaurants – Wendy's has done the same! Choosing the site of a former bank really helps to make it seem so much more classy and posh.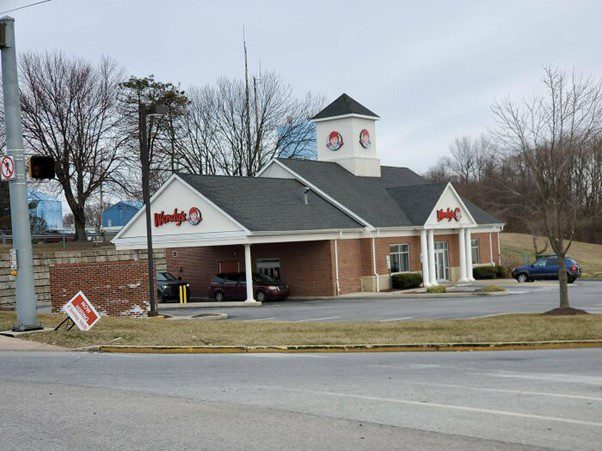 This Wendy's does look a little strange without the iconic beige roof and rectangular shape. If anything, it looks a bit more like a funeral home than a restaurant! Still, we expect the food to taste just as good.
Target to Walmart
This one is pretty strange. Walmart and Target are rivals in the shopping world. So, it makes it quite odd that Walmart decided to open a store on the site of their former competitors. But, somehow, it looks like it works!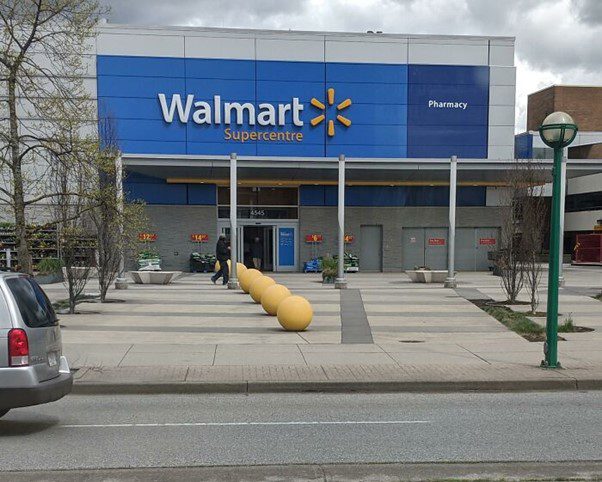 Clearly, they did not put a lot of effort into changing the store. For example, they painted it blue and stuck the logo on the front. They did not even remove the iconic Target red balls. They painted them yellow!
Woolworths to Walgreens
So far, we have seen some pretty funny examples of store conversions, and this one just fits perfectly! Walgreens bought out the site of a former Woolworths after it closed down. Luckily, both stores share the same starting letter.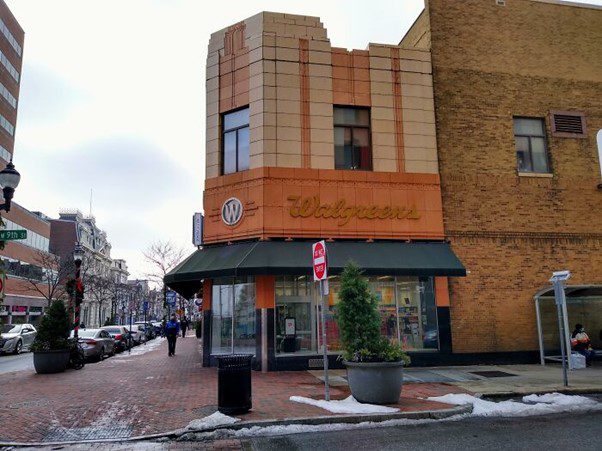 This meant that Walgreens could keep the 'W' at the front, and it still works – what a fortunate accident! You can hardly tell that it used to be a different store, as the location for Walgreens works so well.
Burger King to Townhouse
We have already seen a house that was turned into a Burger King. Now, it is time for the opposite story. Yes, really – a Burger King that was converted into a Townhouse! We're not sure where or when this happened…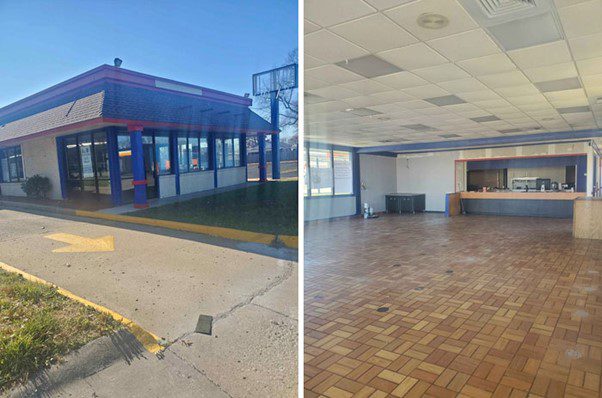 And we also have no idea why it happened either – but it is safe to say that it looks pretty cool! We would love to visit this place and check it out. At least there's plenty of space for parking!
Blockbuster into a Book Store
Our next entry is just plain clever. As we have already mentioned, Blockbuster's closing meant that all its stores went up for sale. One smart individual bought a location and turned it into a bookstore with such a great name!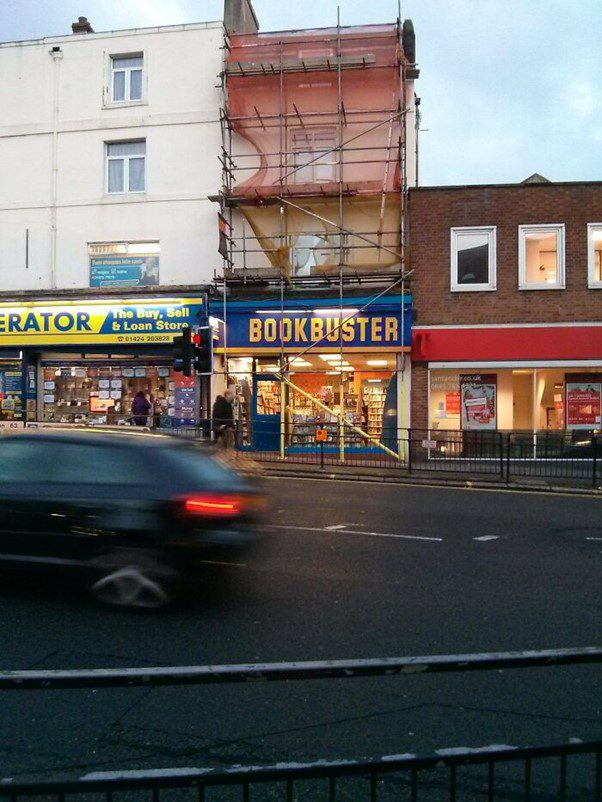 They just changed a few letters on the title to make it "Bookbusters" instead! We are so impressed with this clever thinking. They did not even change the color of the logo, or the store's outside, making it perfect!
Gas Station to Subway
This gas station was converted into a Subway restaurant, complete with outdoor seating in the gas pumps area. If you have the weather for it, why not? It is a great way to use the space and save some cash!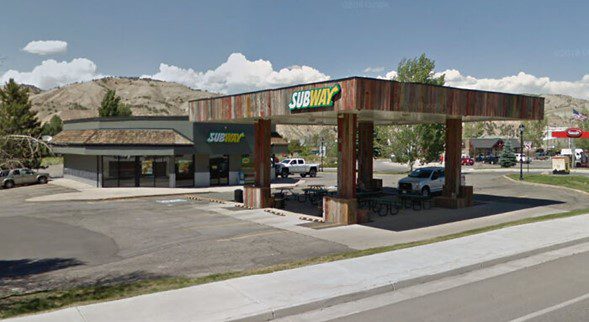 Honestly, it is not even that recognizable as a gas station, and you can only tell from the gas pumps area. If you fancy taking a visit to this unique restaurant to grab a footlong, you can visit it in Gypsum, Colorado.
Hot Topic to Veterans Museum
This strange conversion can be found in the city of Denton in Texas. What was once a Hot Topic has now been converted into a museum for veterans. You might think this is a strange idea, but it is pretty clever.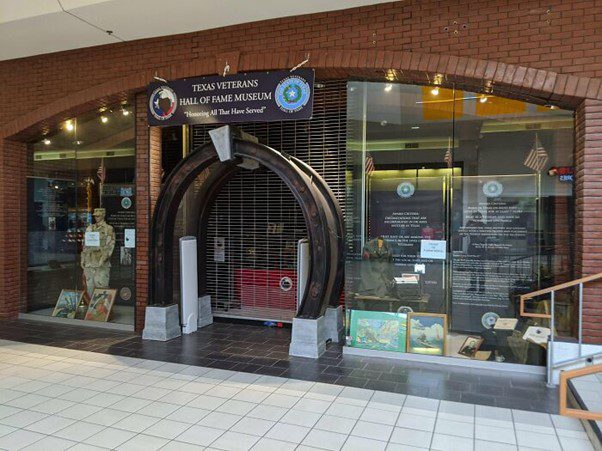 Having the museum inside a mall means that they will get many more visitors, which will massively help their cause. It also brings some extra spark to the mall than there was before, so we strongly encourage people to visit this place!
Three is a lucky number!
This place has undergone quite a few different changes over the years. Can you guess any of them? It was first a Phillip's 66 Gas Station, then became a garage. Its most recent version is a Domino's pizza joint!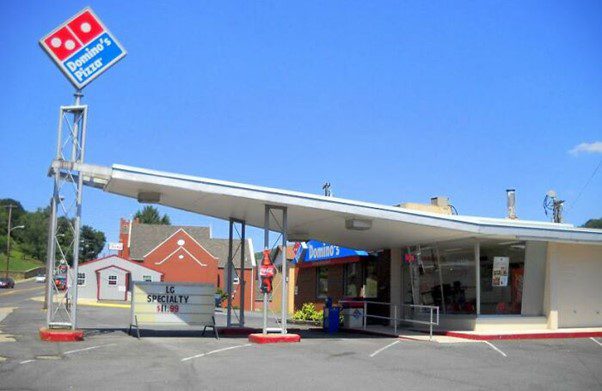 Hopefully, the food is way better quality than the cars that went through here! If it were not for the bright logo at the top, it would be hard to know this is now a food place rather than a gas station.
Circuit City to Goodwill
Circuit City is another store that used to be very popular across America, but we say that Goodwill takes the reigns. So, it only makes sense that Goodwill took the place of Circuit City at this location in Savannah, Georgia. It works so well!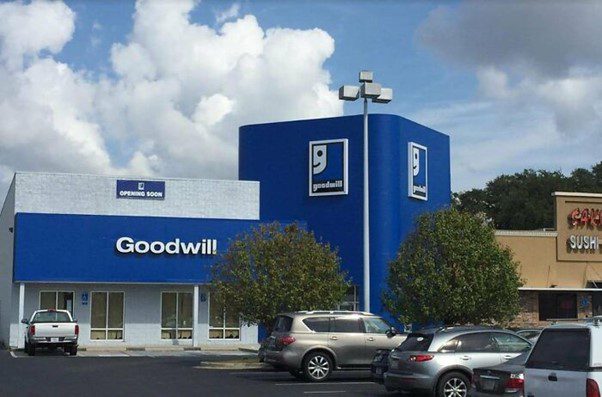 You can barely even tell that it used to be another store, as the blue shade of Goodwill looks so good on this building. Even the taller structure next to it is barely recognizable as a classic Circuit City tower.
CVS to Dollar Tree
Judging from this list, Dollar Tree seems to have a great idea for choosing clever locations for its stores. This time, instead of a church, they have chosen a former CVS store in Toledo, Ohio. It looks so fancy!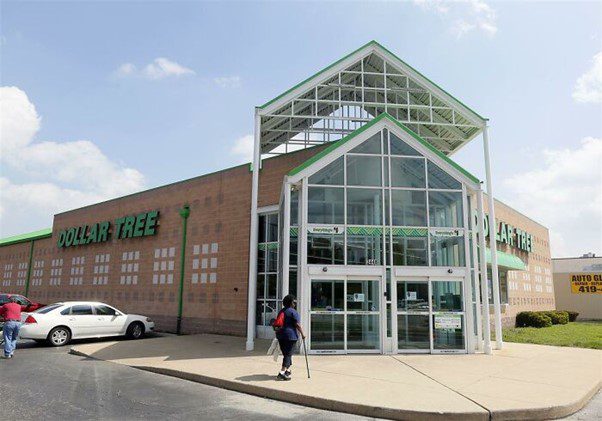 What is even more surprising is that this is probably not even the biggest Dollar Tree around. They have stores even larger than this in New Zealand! However, we reckon they do not look as cool as this one.
Exxon to BP
Both Exxon and BP are well-known gas stations across America. So, when this Exxon decided to close its doors, BP made a lot of sense to buy the location to use instead. But it left a few things behind…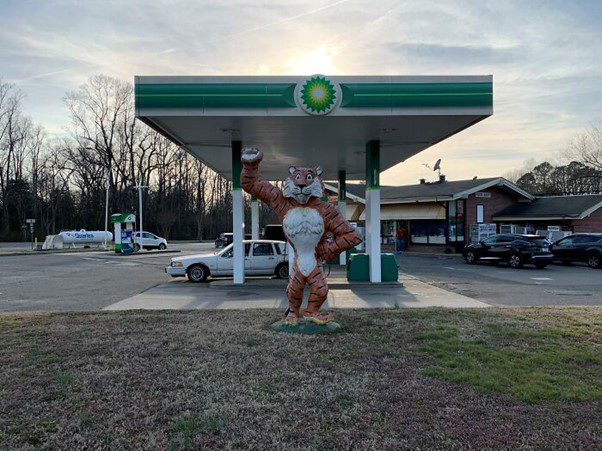 …such as the giant Exxon tiger statue! We are not sure if the BP owners were just lazy or haven't gotten around to removing it yet. Perhaps they are keeping it as a memory. Either way, it's pretty funny!
Car Wash to Starbucks
One of the greatest things about twenty-first-century society is being able to pick up a coffee wherever you want. Wherever you go, there is a Starbucks store to fulfill your desires. And that includes one that used to be an old car wash!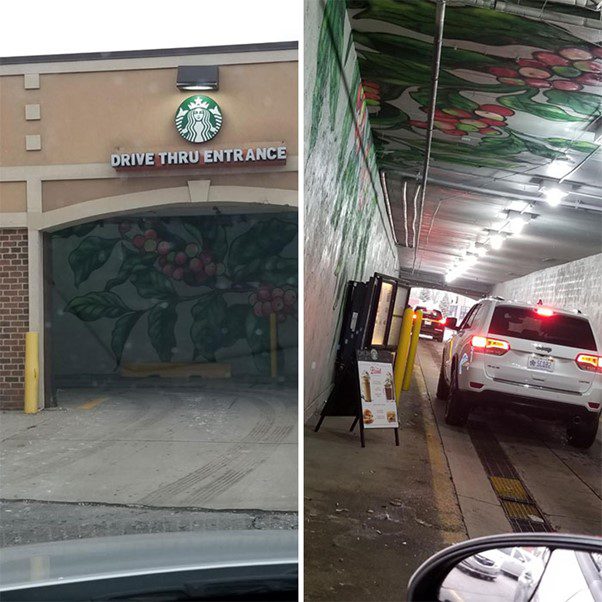 This is a really good way to use the space, as you can probably get quite a few cars through this section very quickly. There is a large gap on the sides, so you will not feel claustrophobic here, either.
Taco Bell to Law Office
There are also conversions that aren't so subtle, as well, like this law office. Can you guess what it used to be? That's right; it was a Taco Bell! What gave it away? The iconic arch or the recognizable rooftop?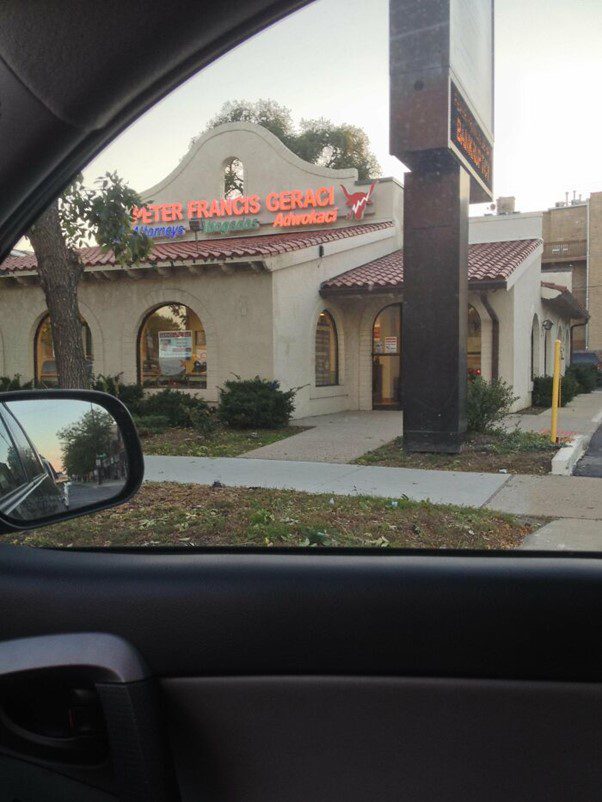 They did not try to disguise the former owners! We imagine that this law office probably still gets many people turning up and thinking that it's a Taco Bell. Unfortunately not, unless you want a side of justice!
Church to Tesco
Time to hop over the pond to England, where church conversions have become popular as well. This time, it is a case of a grocery store that took over a religious space instead. It looks pretty funny from the outside with the huge spires!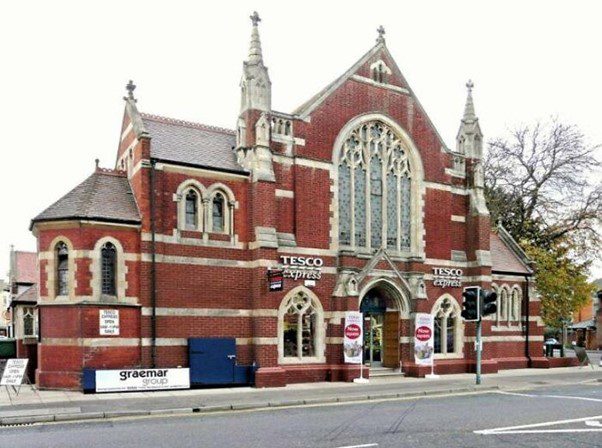 We wonder if they have any church-related discounts or offers available. Perhaps they sell holy water, or they have some religious discounts around the holidays. Either way, we think it is a clever use of space, and we love it!
Paint Store to DVD Store
It is time for another lazy entry to the list. For this picture, a former paint store was converted into a DVD store. However, they had some challenges changing the outside – namely, the paint cans on the roof!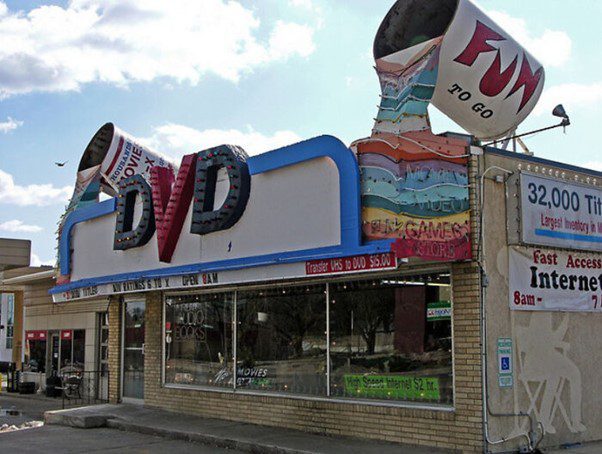 Instead of trying to change it, the owners decided to leave them as they are and just change their writing to reflect the new store. Honestly, we do not know what else they could have done. The cans are big!
Movie Theater to CVS
With many movie theaters closing down due to the covid pandemic, it makes sense that plenty of other stores swooped in to take their place. Apparently, that includes CVS pharmacy, which took control of this old theater, as you can so blatantly tell.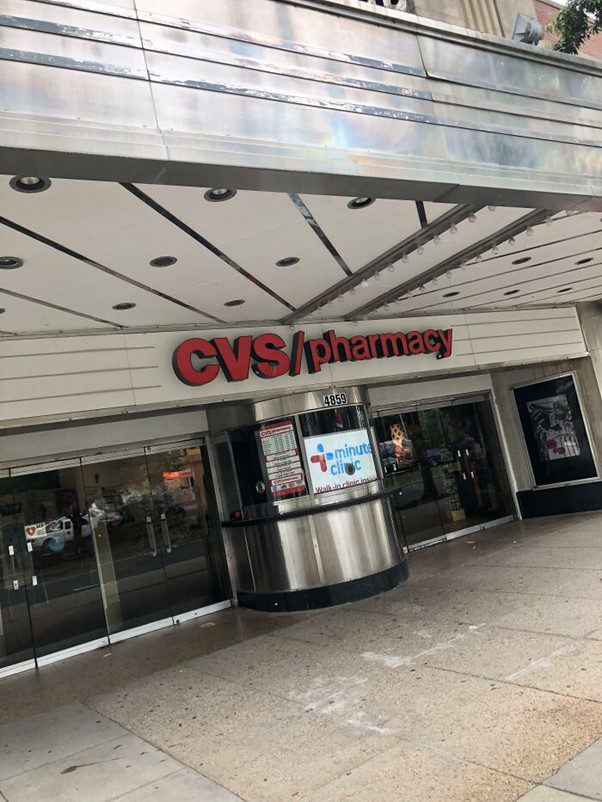 The way that this CVS is styled makes it look much more fun and interesting than it really is. If only picking up a prescription was really this enjoyable! A lot of commenters were not happy about this, however.
Chinese restaurant to funeral home
Yes, you read that right. This old Asian restaurant was changed into Lakeview Funeral Home. Honestly, this feels pretty insensitive, but it is really just a good way to save space and help the environment. They should have redecorated!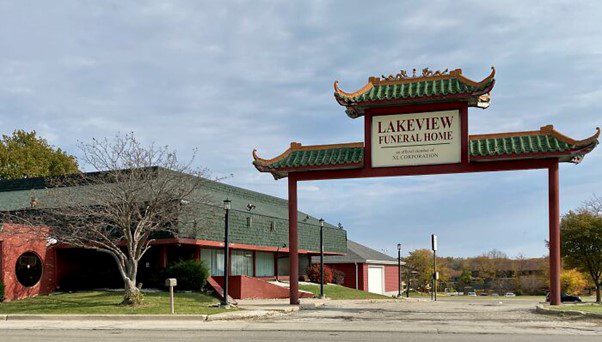 When we look at it more, the old Asian-styled roof looks rather inappropriate for such a serious situation. We hope that nobody was too offended by it. But pagodas like this are traditionally a sign of good luck, so it is not all bad!
Car Wash to Dunkin' Donuts
As we have seen already, car washes like this are perfect venues for any drive-thru company looking for new beginnings and opportunities. Starbucks already had their turn; now it is time for Dunkin' Donuts. It is a really smart idea!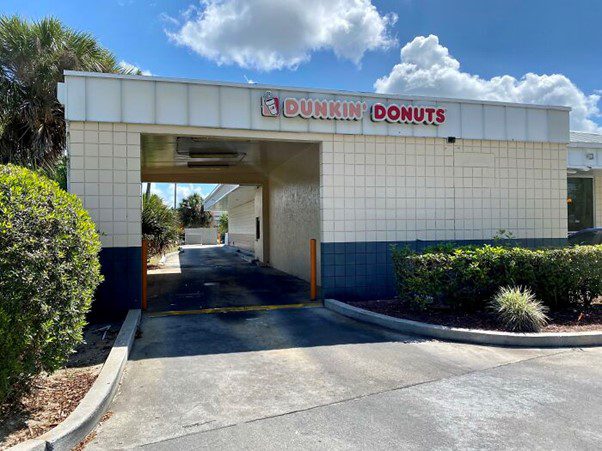 Though, we have to admit that the entrance does look a little bit too narrow. Maybe they could try making it a little wider. After all, if you go too quickly through there, you might end up doing donuts yourself!
Cricket Wireless to Chicken Restaurant
Anyone who decides to open a new store has to try and save as much as they can since it is a very expensive process. Saving money on the logo is one place to start like this chicken restaurant did.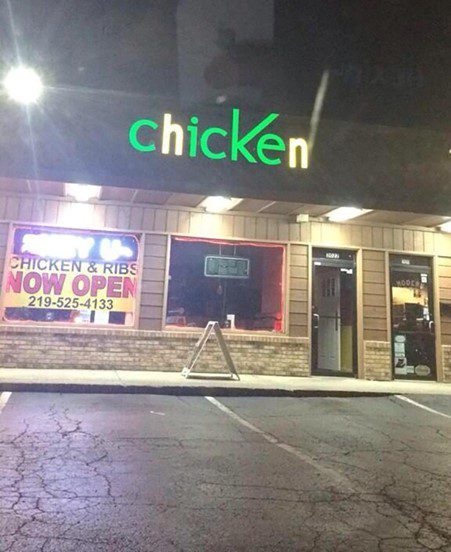 Their store used to be a Cricket Wireless – not that you needed us to tell you! All they did was change a few of the letters to make it work. This is a cost-effective way of opening a new store.
Bank to CVS
It is back to the banks now with this old converted bank that became another CVS. Looking at the inside, we can imagine that this is a pretty fun experience. It looks fancy! Although we reckon it gets quite cold.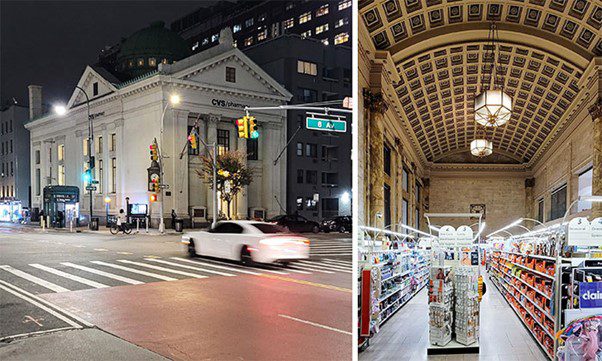 You can hardly tell that it is a CVS from the outside as the logo is tucked away right at the top. Hopefully, nobody made the mistake of walking in there to deposit some money. You'll only find medicine here!
Quiznos to Suzi Q Sub
Quiznos is another food store in America that has plenty of franchises. The owners of this particular store decided to end their partnership with Quiznos. But instead of closing down completely, they just rebranded it to a 'different' sandwich shop instead.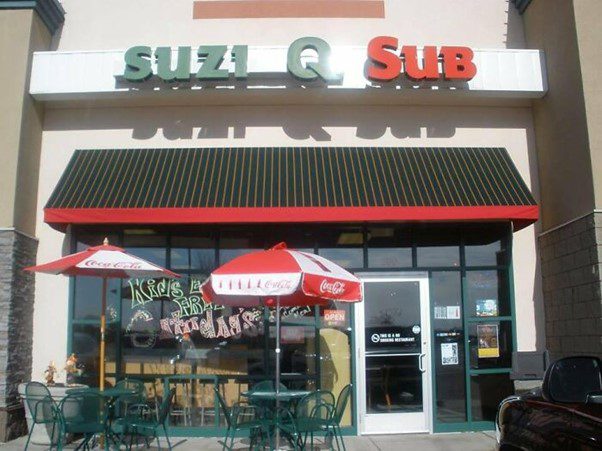 They became "Suzi Q Sub" instead! All it took was some rearranging and disposal of letters and voila – a totally 'new' store! It takes a real commitment to sell sandwiches to pull this switcheroo. We hope they didn't get into trouble!
Movie Theatre to a Library
We have seen quite a few funny entries on this list. Now, it is time for another pretty successful conversion. The city council bought an old movie theatre instead, and they happily transformed the site into a public library.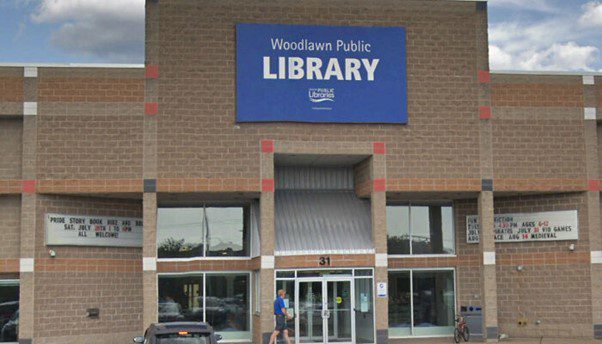 Just like the Woolworth/Walgreen entry earlier on the list, this library looks absolutely perfect in the movie theater's place! You can hardly even tell what it used to be. More libraries are always a plus, so we love this one!
Hollister to bookstore
This entry, however, is not as perfect as the one above. It is pretty easy to see that this bookstore was once a Hollister – that rooftop and those arches are instantly recognizable anywhere. However, a new bookstore is a great idea anywhere.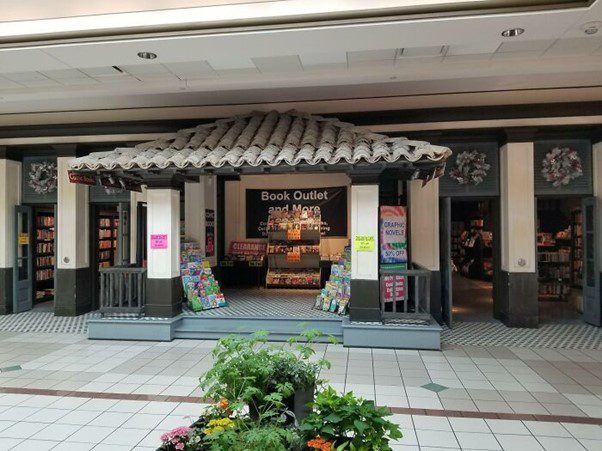 However, we really don't think this was the best location for it. After all, the lighting inside must be awful for anyone who wants to read! Hopefully, they changed the lighting system to make it better for anyone visiting.
Hollywood Video to Hollywood Flooring
Here is another entry for the Hollywood Video store conversions. These owners decided to open their carpet store in the place of this once-iconic video store. All they did was add a new title under "Hollywood" to make it new.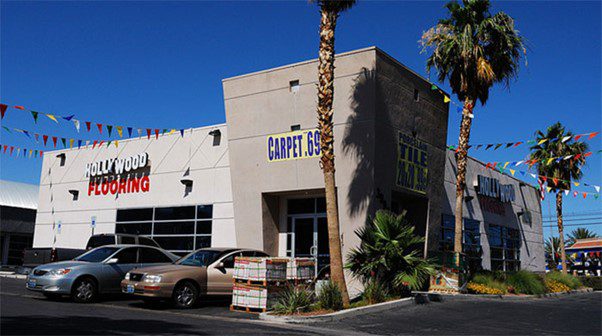 There are so many of these Hollywood store conversions that make it seem like they are part of a franchise. But they are not! They're just some owners that are looking to open a new store while saving dollars.
Gas Station to Boost Mobile
Either this store is getting ready for the electric vehicle takeover, or they have converted an old gas station. We think it is probably the latter answer – you can easily tell that this used to be a gas station.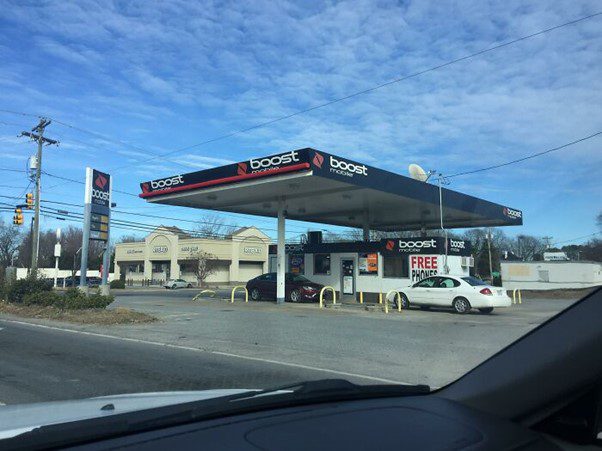 Sadly, this store in Kings Mountain, North Carolina, closed down soon after. This is not all that surprising since opening a mobile store in this location is quite a bizarre choice. We wonder if anything as innovative as this took its place after!
Rite Aid to Powerhouse Gym
This store's old purpose fits quite well. Powerhouse Gym used to be a Rite Aid, but they have done the colors so perfectly that you could not tell. The way the logo is faded, you'd think it's been there forever!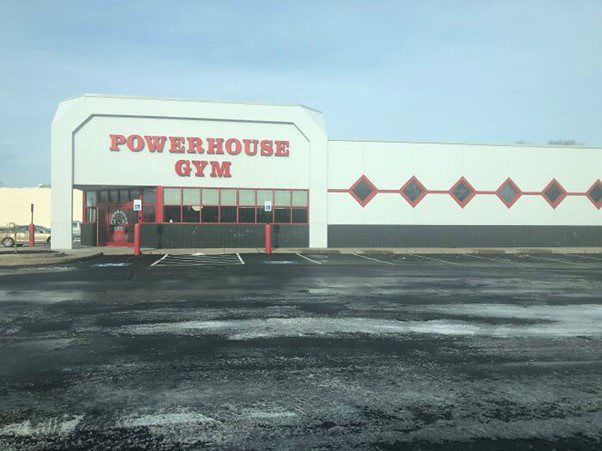 However, it just takes one look at the windows to see what it used to be – a Rite Aid pharmacy instead. At least they kept the health theme going after, as you can always try a workout to feel better.
Hollywood Diner
Here is another store that became part of the Hollywood' chain' of new stores following the closure of Hollywood Video. This one kept the Hollywood Video sign and rebranded to become an American diner instead. It would be pretty cool…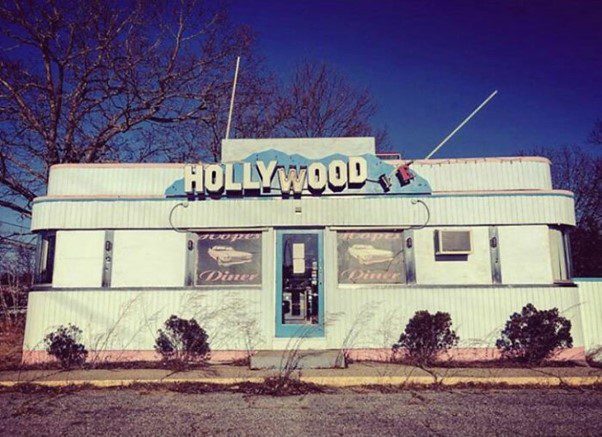 …if it had not been abandoned too! There must be a curse or something mysterious on this particular name that makes stores close down. Either that or choosing the exact location as Hollywood Video stores is a bad move.
Burger King to Egg Roll King
It seems that the owners of this store struggled to think of a new name for their Chinese restaurant, so they just adapted the original. After all – if it isn't broke, don't fix it! Here we present, Egg Roll King!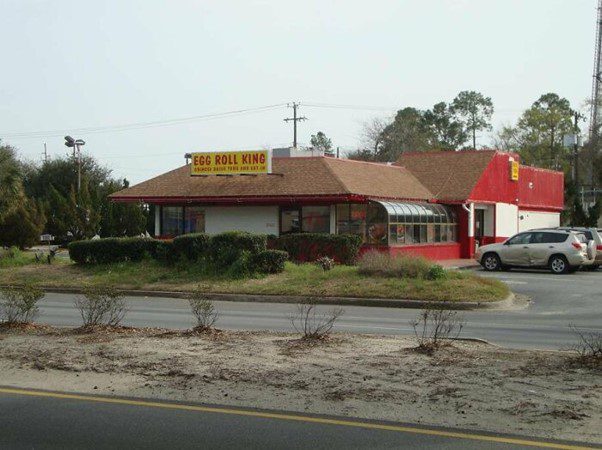 Okay, so the name is not as catchy as Burger King – yet! This might be the first store at the moment, but maybe Egg Roll King will soon grow into a big franchise, rivaling the fast-food joints we know today.
Taco-ception
This one is just plain strange. The site used to be a Taco Bell, but another company bought it out and converted it into something else. They kept the structure of the store the same and later sold the site…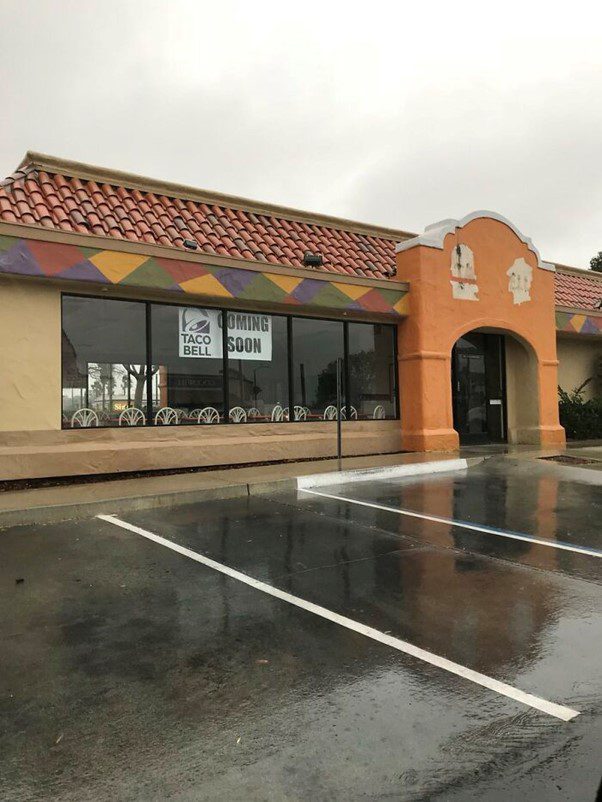 …back to Taco Bell! In a way, Taco Bell never really left. We can imagine that the residents living nearby must be very happy. After all, who does not love to go to Taco Bell? The food is so delicious!
Nickelodeon Studios
Any kid who grew up in the 90s or early 00s will certainly recognize these famous arches. It is the home of a famous kids' channel, Nickelodeon Studios! But, it looks like they went through some rebranding and new painting.
The site is not a million miles away from how it used to look. But without the bright iconic colors, it takes some work to realize what this used to be. The palm trees are certainly an improvement to it.
Servco to KG
Our final entry to this list is another example of sheer laziness. Whoever owned this store could not even be bothered to take down the former company's sign, let alone think of their own name for their own store!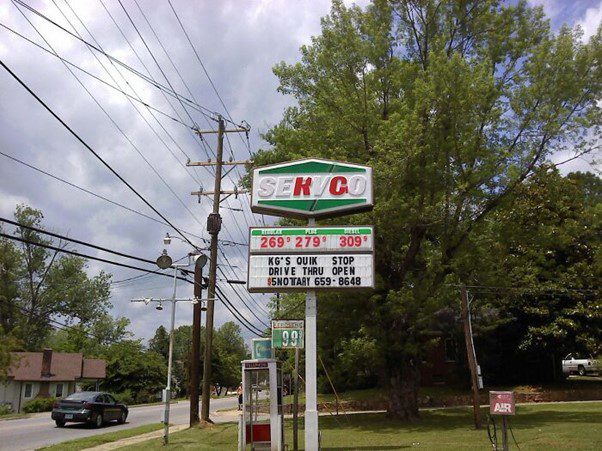 Instead, they put white paint over the "S," "E," "V," and "O" of the name "Servco." They also added in some red paint to transform it into "KG." Instead of being a gas station, it is now a drive-thru store!