Trash To Treasure: 37 Stylish DIY Upcycled Home Decor Ideas To Try Today
By Ziyee N April 5, 2022
---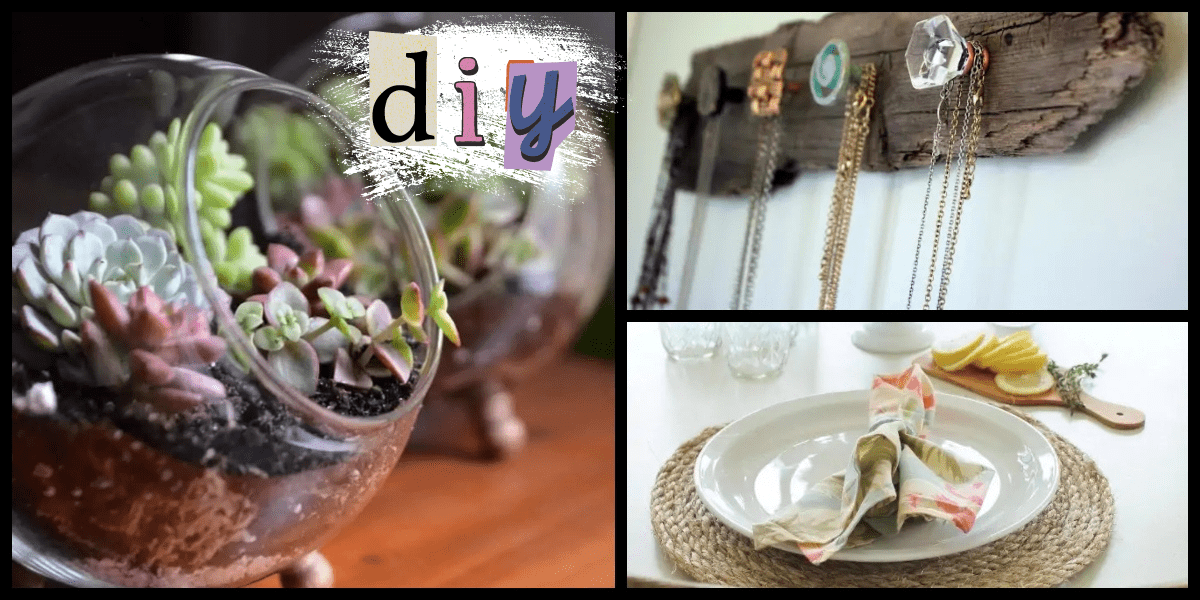 Every great designer will probably tell you this: no home is complete without decor. Decorations are like ornaments on a Christmas tree; picking out a beautiful tree is one thing but adding embellishments to the tree completes the look. Adding style to your home can often be expensive, so some homeowners skip them altogether. Well, what if we told you that you could have gorgeous decorations at an affordable price by mostly upcycling products and old items around your home? We have creative ideas for adding more plants into your home, for taking advantage of opened space in the bathroom and crafts using a variety of materials. This article brings to you 45 manageable, eco-friendly, and inexpensive home decorations that homeowners can DIY.
Flowerpots
There are many ways in which you can incorporate decorations into your home. Homeowners should always include decorations that fit their home designs, style, and lifestyle. One decoration that you can easily incorporate into any home design is greeneries.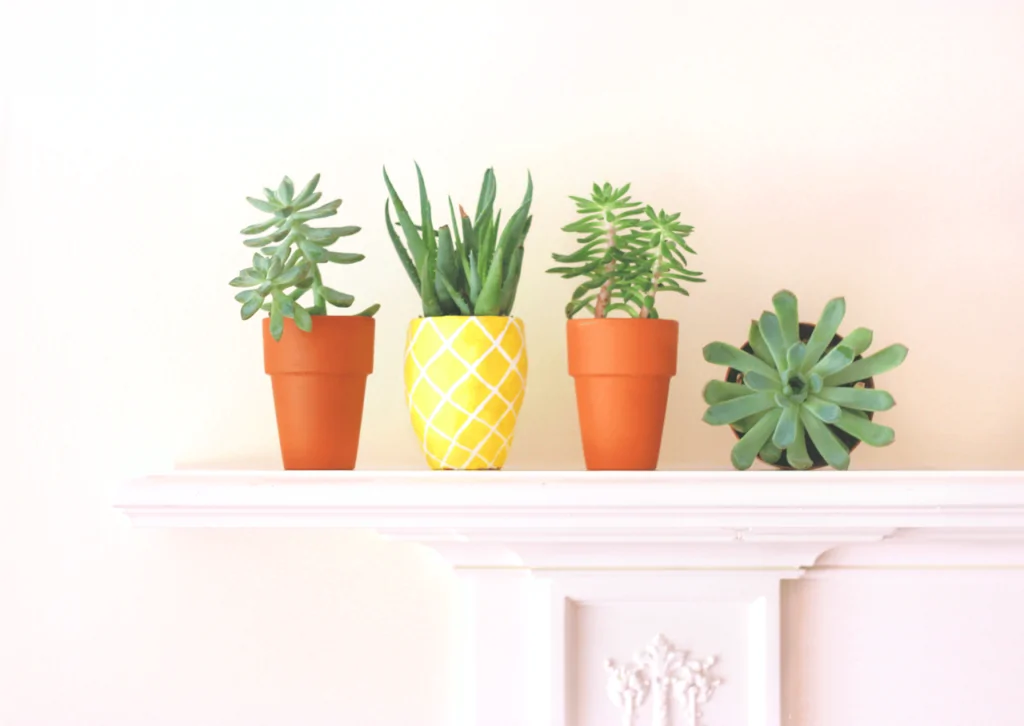 You can incorporate them into any home design because their pots are highly customizable. You can paint the pots in different patterns that best suit your home. To create this pineapple pot, Rachel used air-dry clay on top of a jar at home to make her desired shape and then painted the pot to look like the base of a pineapple!
Upcycled Lampshade Vases
Moreover, some creative homeowners found a way to upcycle glass vintage lampshades into beautiful vases to hold fresh flowers that adds some life to their homes. Vintage lampshades can be found around the house or bought at thrift stores for a relatively low price.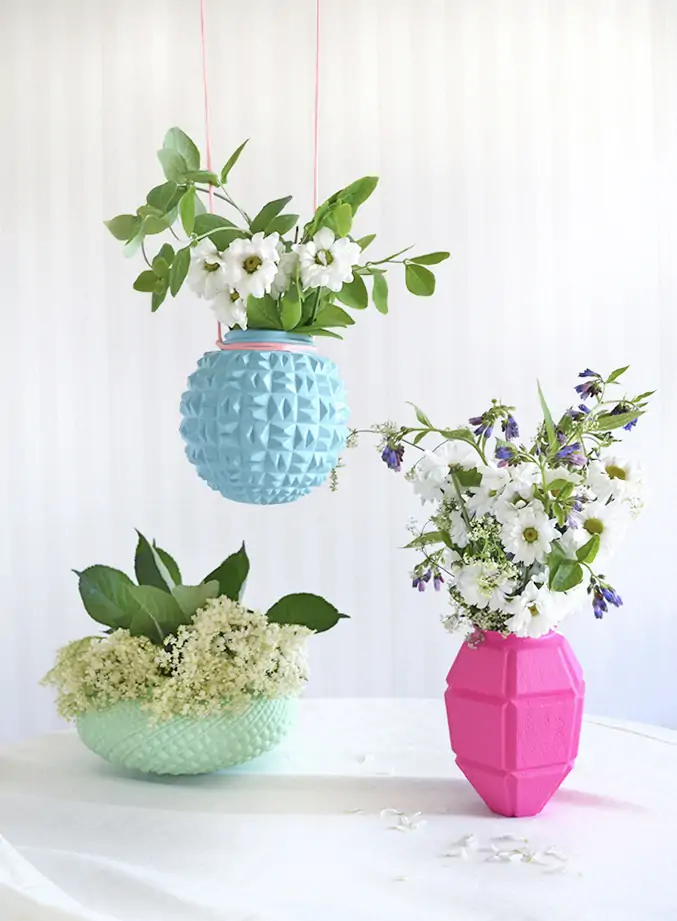 Start by cleaning the glass thoroughly. Then, turn them upside down and paint them in bright neon colors. Once this layer's done, wait for it to dry before finishing with a topcoat. When it's thoroughly dried, you can fill your vases with flowers.
Succulent and Supply Holder Bookends
Another way to work succulents into home decorations is by creating a pair of succulent and supply holder bookends. This invention works as three things: a succulent planter, pencil or supplies holder, and a bookend and is made with only toothbrush holders, cork drink coasters, and strong glue.
Glue the corkboard to the front of the toothbrush holders and let it dry. Plant a succulent in one side of the toothbrush holder. You can use some potting soil and top it off with small white rocks to keep it clean and organized. The stones will also give it more weight to hold up your books.
Pompom Flowers
For those who aren't fans of fresh flowers, try making these artificial flowers out of yarn; these are great because, unlike fresh flowers, these last a long time and require absolutely no upkeep. To make them, you'll need some yarn and florist wire.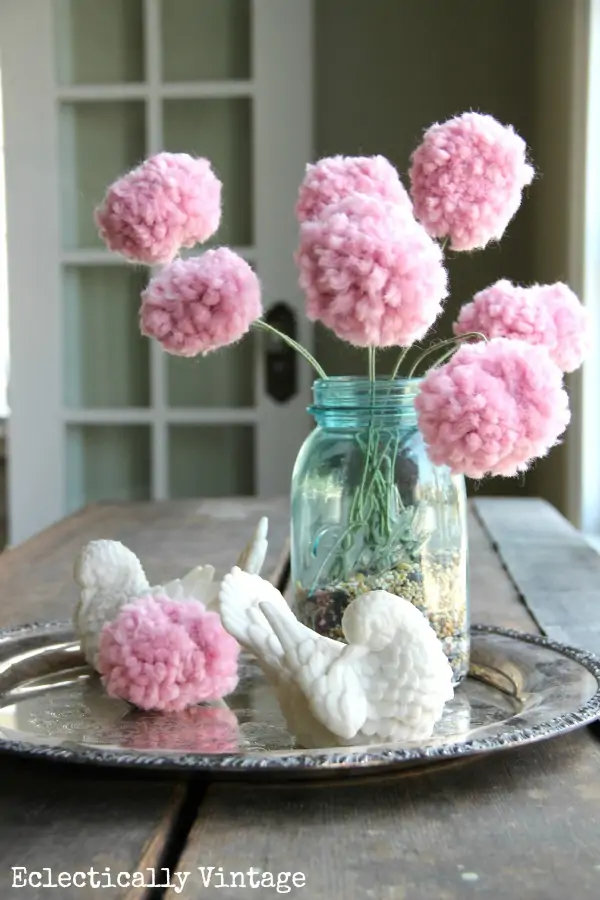 Simply wrap the yarn around a fork a few times, then use a piece of yarn to tie down the middle of the yarn wrapped on the fork. Then, use a pair of scissors to cut the sides of the wrapped yarn. Finally, attach the pompom flower to a florist wire.
Paper Flowers
Instead of using yarn to create pompom flowers, homeowners can use book pages to create artificial flowers to fill pretty vases and flowerpots. This is a great way to put old books to good use. Firstly, cut the pages into a large circle.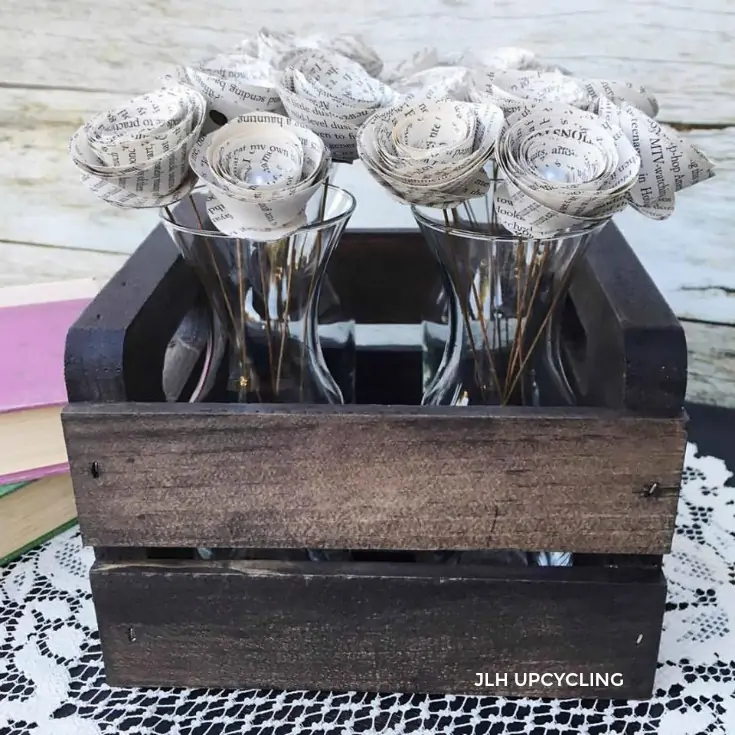 Then, cut the pages into a spiral shape. After that, roll the center of the spiral outwards; when you reached the end of the spiral, glue the ends together. After you glue it, you can also cut the paper into a better shape if necessary.
Animal Canvas Art
Walls are another part of your home where you can get creative with the decorations; because they are often empty, they are like a blank canvas. Speaking of a blank canvas, the best way to fill a "blank canvas" is with art.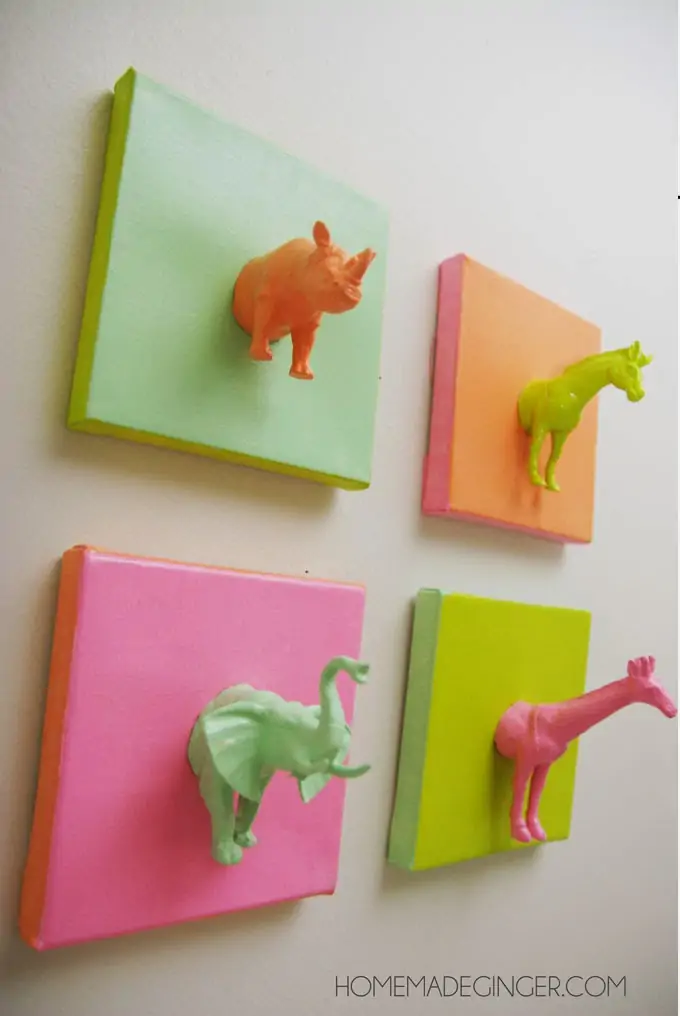 Here, they used some animal toys they had lying around the home, cut them in half, and painted them a solid color. Then they painted the canvas a contrasting solid color and glued the animal to the canvas. It is a fun decor for a kids' room after they have outgrown these toys.
Leaf Wall Art
Alternatively, if you're a greenery lover, paint some leaves, frame your artwork, and hang them up on your wall; you don't need to be a professional painter to paint leaves because they are one of the easiest things to paint.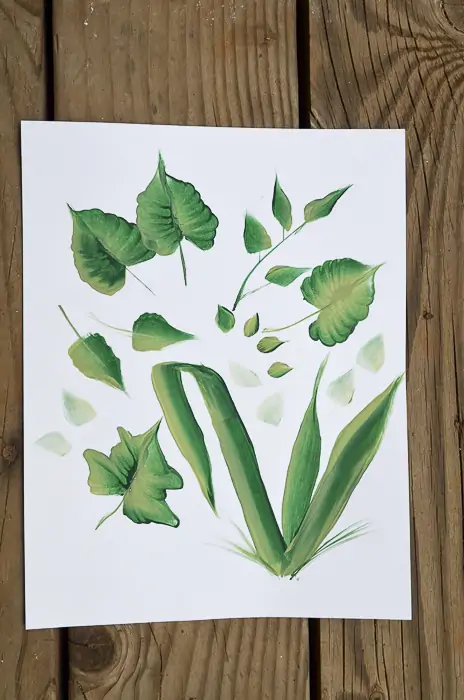 Instead of painting the leaves, homeowners can even pick some leaves from their backyards and stick them onto a blank canvas with mod podge; this way, no painting skills will be required to create beautiful artwork for your wall. Talk about bringing the outdoors in.
Magazine Basket
Magazines and newspapers often pile up and end up creating a huge mess. Naturally, we'd need a way to organize them and store them neatly; this cute basket is a great and naturally looking object to add to your space.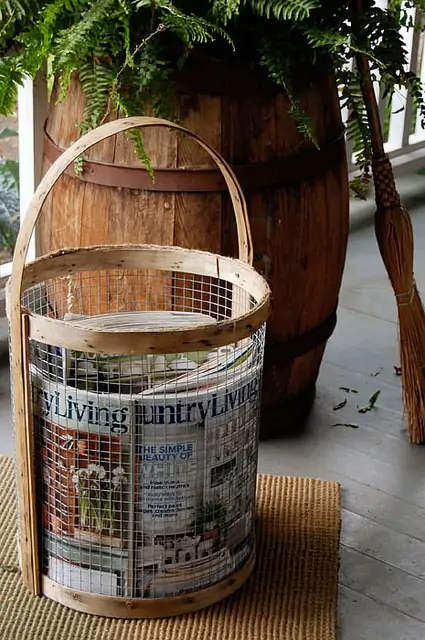 We used a peach basket from a farmer's market; the sides of the basket were carefully removed and replaced with sheets of chicken wire and stapled together. Once that's done, simply drop your newspapers and magazines inside and place the basket next to your reading chair.
Tree Branch Wall Art
If you're not a fan of leaf wall art, you can substitute that with branch wall art. Similarly, you can find tree branches in your backyard, collect them and create a shape with them that suits your style. Here the artist cut the branches to form a heart.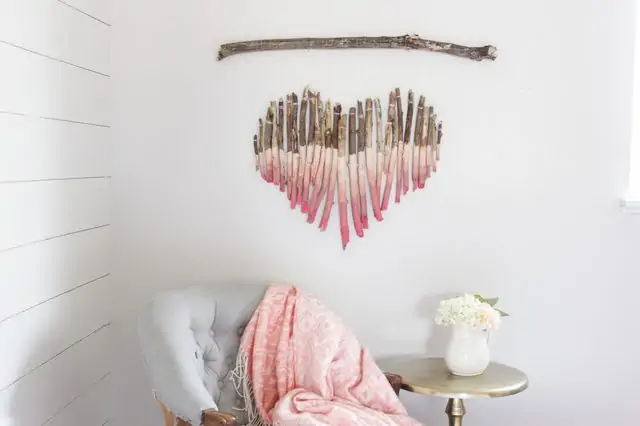 Then she painted half of the branches in a pink ombre fashion. After that, she attached each of the painted branches with a string to a larger branch horizontally and hung the artwork on their wall. The possibilities with branch work are endless.
Hanging Flowerpots
Alternatively, make these macrame hanging flower pots out of old t-shirts or jerseys; this is an environmentally friendly home decoration. It puts old clothing to good use while allowing homeowners to start planting as a hobby fashionably. To make macrame hanging flowerpots, you'll need old clothing in hues that match your vibe and a pair of scissors.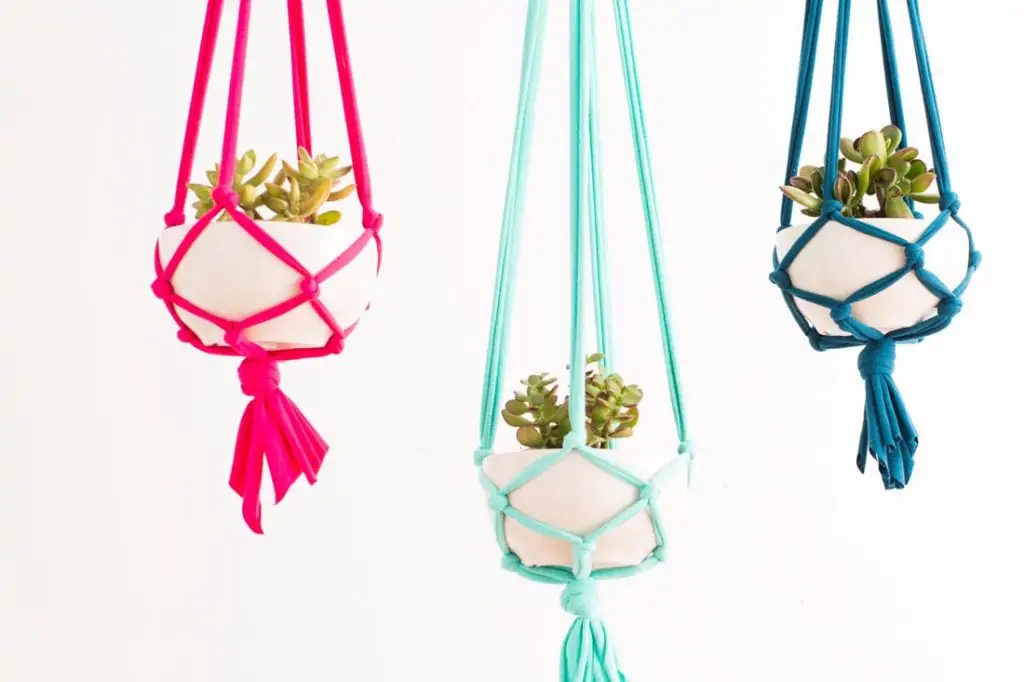 With the scissors, cut the fabric into eight strips long and tie all the pieces together. Put the strings together in 4 groups of 2 and tie a knot in each group. Separate each group into two new groups, and follow the same process. Repeat this a third time, and then your holder is ready for you to drop the flowerpot in the middle of all the fabric and begin planting!
Wooden Slab Key Holder
Whether it is car keys or home keys, keys are one of the many things in our households that get lost relatively easily, so to avoid losing our keys, we'll need a key holder to hold them in one place. This wooden slab key holder would be perfect for hanging near doors and keeping the keys organized.
To make this, Rachel from The Crafted Life first prepared a wooden slab and added the vinyl stickers letters on it. She used the words "keys please." Then with the help of a drill, she made small holes to stick hooks into.
Throw Pillows
As we walk through the doorway and into the living room, the first thing we'll notice is the sofa; if it's big and empty, we feel the need to fill it with throw pillows to decorate it. However, store-bought ones can be rather pricey.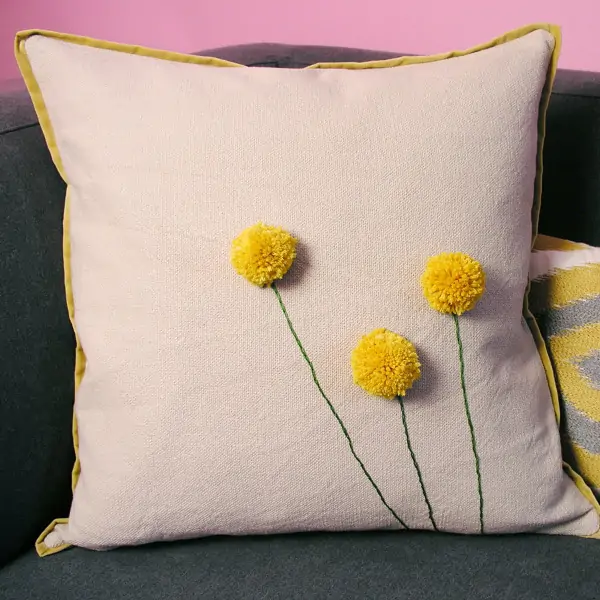 Fortunately, throw pillows are easy to DIY. For example, Brett from West Elm used a cotton velvet pillow cover as a base and made the same type of pompom flowers as mentioned above. He sewed that and a green stem with a thin string to finish the look.
Pallet Coffee Table
Pallets are often used to pile up and move things around which is why they're frequently used during move-ins as well as move-outs. So, if you're moving into a new place, you'll definitely have lots of pallets left around.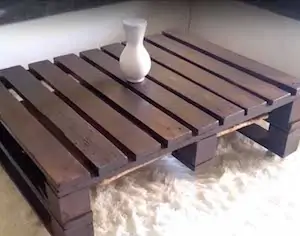 Well, an easy way to put pallets to good use is to repurpose them into coffee tables; you'll need two pallets for this project. First, remove the slats from one of the pallets and reattach them to the other to make a tabletop closer together. Attach both pallets and then repaint them. Easy!
Transparent Flowersphere
Instead of painted flowerpots, homeowners can use transparent sphere flowerpots to display their pretty succulents; these pots are known as terrariums. Ordinary flowerpots may not be able to showcase a particular greenery's beauty fully, but terrariums can. You can use any transparent dry container to build your ecosystem inside.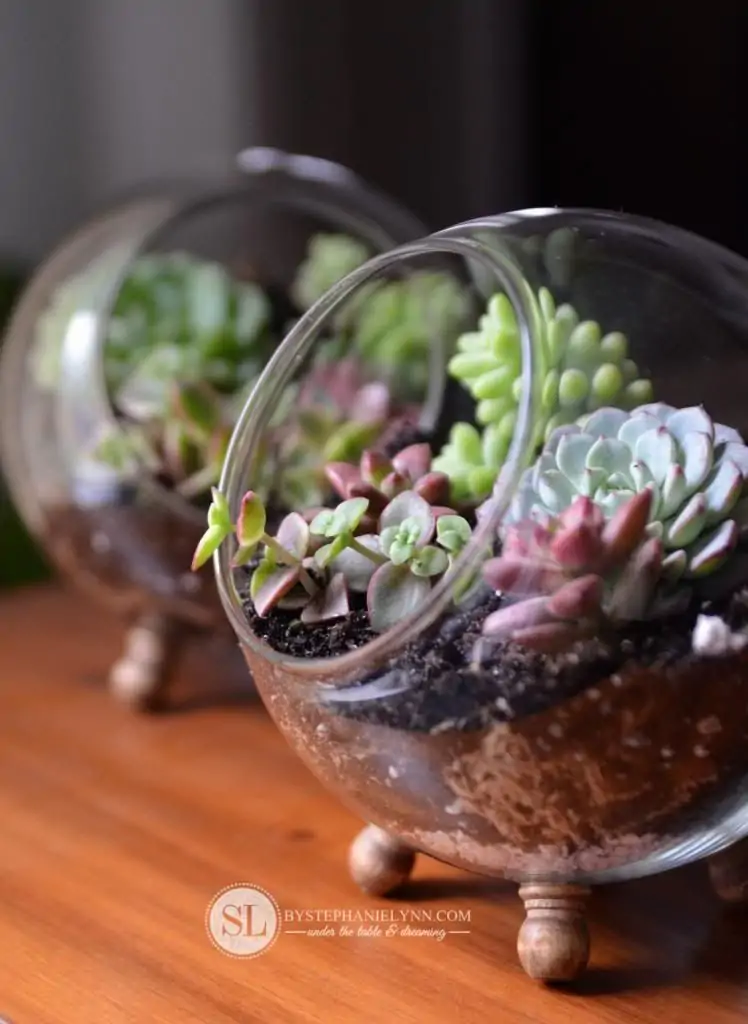 If you like the look of the terrarium open to showcase what's growing inside, you can stand your container on its side and stick on some wooden legs to keep it in place. Things to add to your terrarium include potting soil, charcoal, cacti, succulents, and some decor pieces if you desire. If you want to grow moss, tropical plants, or air plants, they grow best in humid conditions and would do better in a glass jar that had a lid like an old jam jar.
Neon Coffee Table
Instead of assembling a coffee table out of pallets, homeowners can try decorating their coffee tables by painting the feet of their coffee tables in neon colors; this gives plain and ordinary coffee tables an exciting pop of color.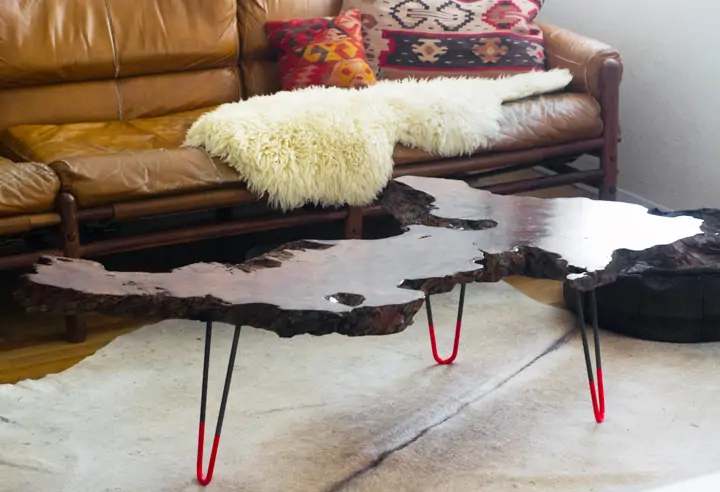 Of course, you can do this to spice up almost any bland and ordinary furniture in your home, not only coffee tables; simply tape off the furniture feet and paint them in bright colors to fit your design. Wait for the paint to dry before removing the tape.
Stump End Tables
Homeowners can use wood stumps to create an unconventional nature-based end table for their homes. You can head to a lumber shop to find a cheap piece of wood or find one in the woods on your next hike. Unwanted scraps of wood are often cheap or free.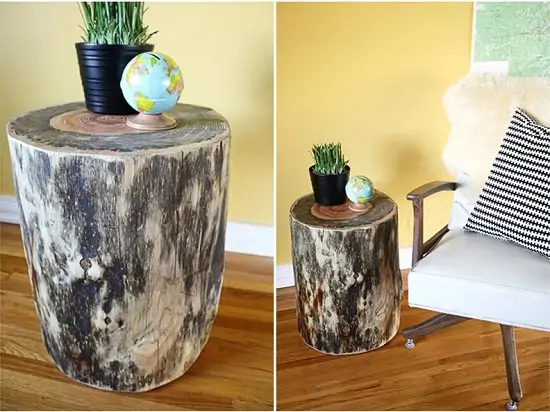 Smooth down the outsides of the wood slump by sanding it. After that, stain the wooden stump and wait for it to dry very well before placing it in your home. Side tables like these can go for nearly $700 in stores!
Rolling Crates
If you're not feeling end tables, you can actually substitute them for rolling crates; rolling crates serve both functional and decorative purposes because you can decorate by putting decorations such as pumpkins in them or organize the room by putting blankets and other things in them.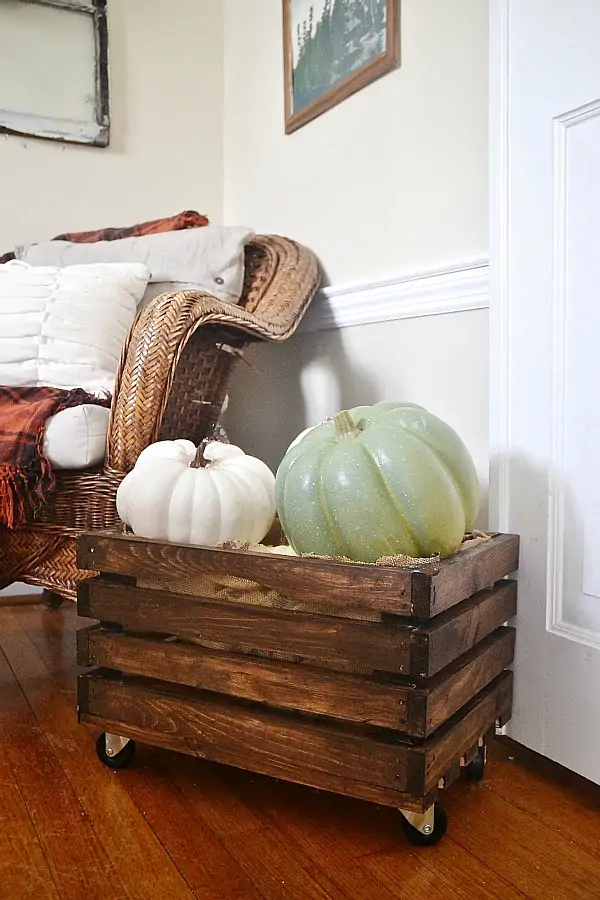 Rolling crates like these are relatively easy to DIY; all you have to do is take a crate, stain it, and attach wheels to the bottom. You can even line the insides of the crate with fabric to protect the items stored in the container.
Metallic Mirror Frame
Big mirrors have the effect of enlarging a room, so if you have a cramped living room, try placing a large mirror in the room, you'll notice that the room seems larger than it previously was. Mirrors with metallic edges look extravagant but are often expensive.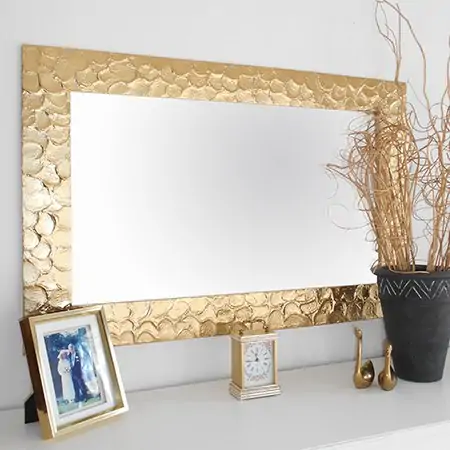 So, here's how to make a metallic frame for your large mirror. Apply a cement-like paste from crack filler and water to the edge, and use a spoon to create some dents in the paste. Once that's dry, spray paint it in a metallic color.
Wooden Frame Mirror
Besides majestic-looking metallic mirror frames, homeowners can create wooden framed mirrors for a much more subtle farmhouse vibe; wood framed mirrors suit almost any home design there is, so you can't go wrong with a wood-framed mirror. This is an easy DIY to add to any simple behind-the-door long mirror.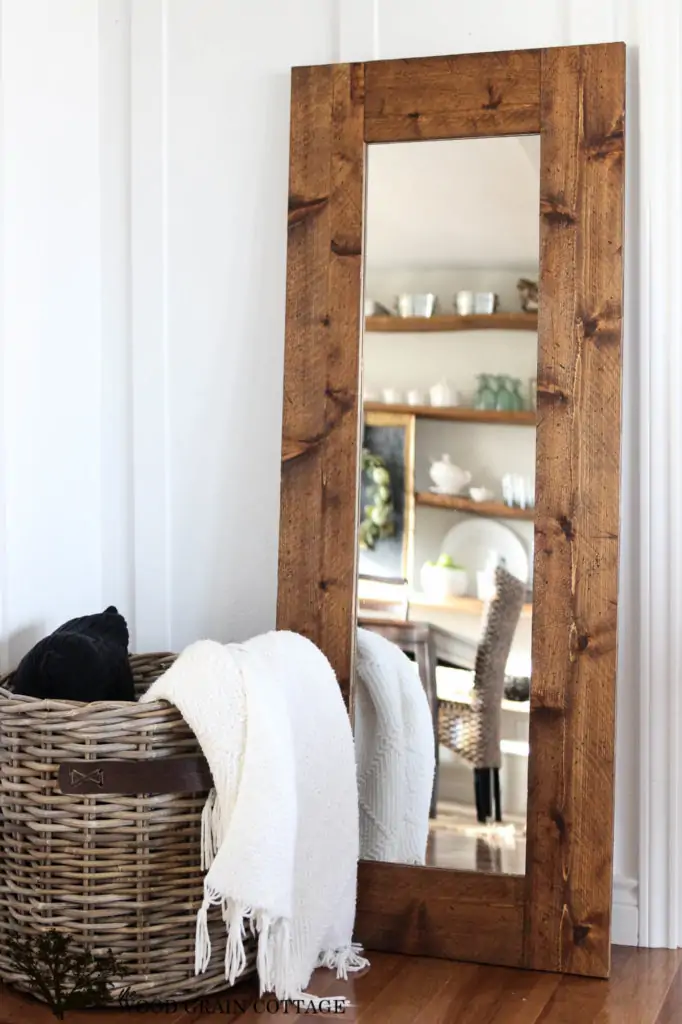 Fence pickets make rather beautiful wooden frames. That's what was used to create this mirror's wooden frame. Staining them brings out the grains in the wood. Not only are they beautiful, but they are also the cheapest cuts of wood that you can often find lying around.
Fringe Chandelier
Chandeliers are often very grand; not only do they look extravagant, but they cost a ton too. So, if you're thinking of getting a chandelier for your home, give this unconventional chandelier a try; it looks stunning and is cheap to DIY too!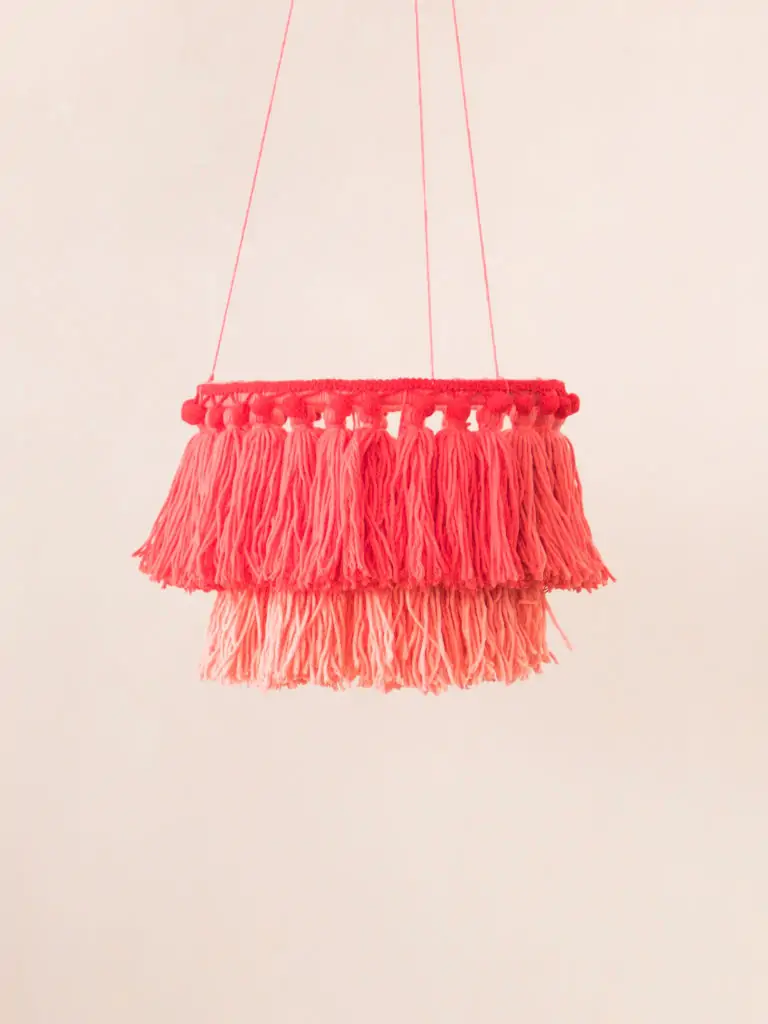 This chandelier is made from yarn and pompom ribbons wrapped around wooden hoops. However, this example is merely a decoration, it doesn't provide any lighting. It is still absolutely beautiful and easily adds a pop of color to your home. You can attach fairy lights around it to add lighting if you desire.
Coffee Crate Lid Sign
Next up, we have a coffee crate lid sign that serves as a kitchen decoration and a cup organizer; this decoration is made entirely of recycled items. Firstly, you'll need three wooden planks, which you're going to attach to resemble the lid of a crate.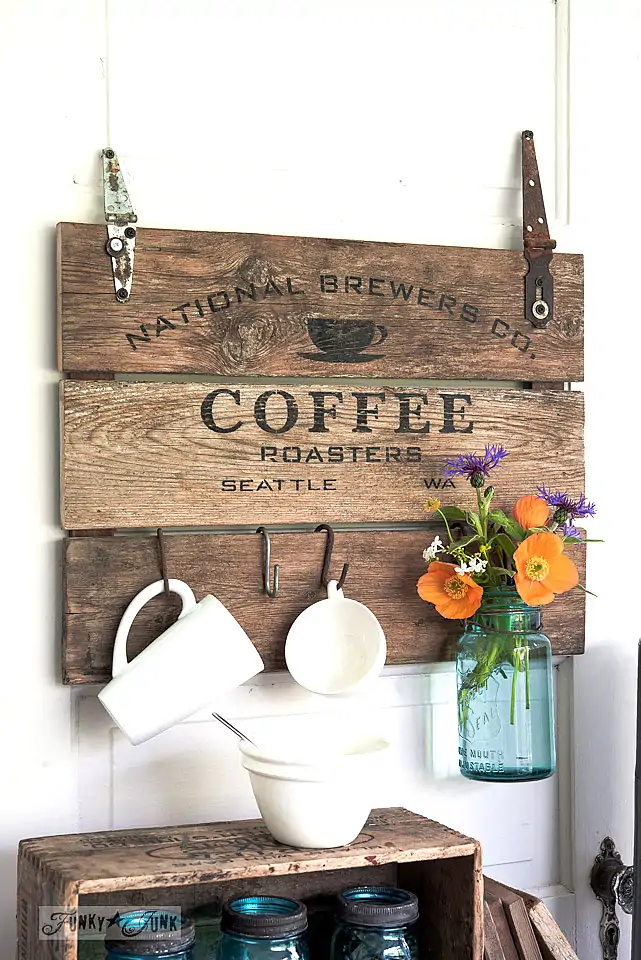 Then, use a stencil to draw on a coffee company logo or any other design of your preference; you could even add rusty hinges for that vintage look. Finally, drill in some strong hooks to hang your cups on the sign.
Pantry Organizers
Pantries are often filled with all sorts of cooking materials that look somewhat similar; for example, salt and sugar look alike. Without labeling and proper organizing, we could easily get the two mixed up, and the meal they're cooking would not taste good with the wrong ingredients.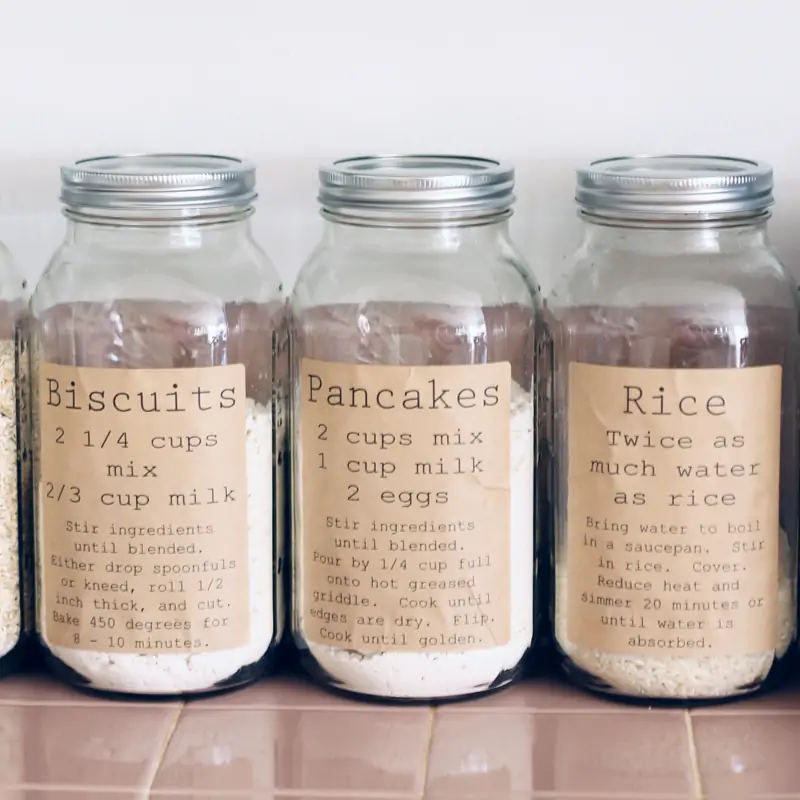 Homeowners can easily organize cooking materials with mason jars and labels; we transferred things like salt, pancake mix, rice, and flour from their original packaging to mason jars and labeled them accordingly. It keeps the products fresh for longer and looks very cute.
Chalkboard Spice Jars
Similarly, homeowners can use the same technique to store and organize cooking spices. You could use old jam or salsa jars to keep the spices and chalkboard label to identify the jars so that the similar-looking spices wouldn't get mixed up easily.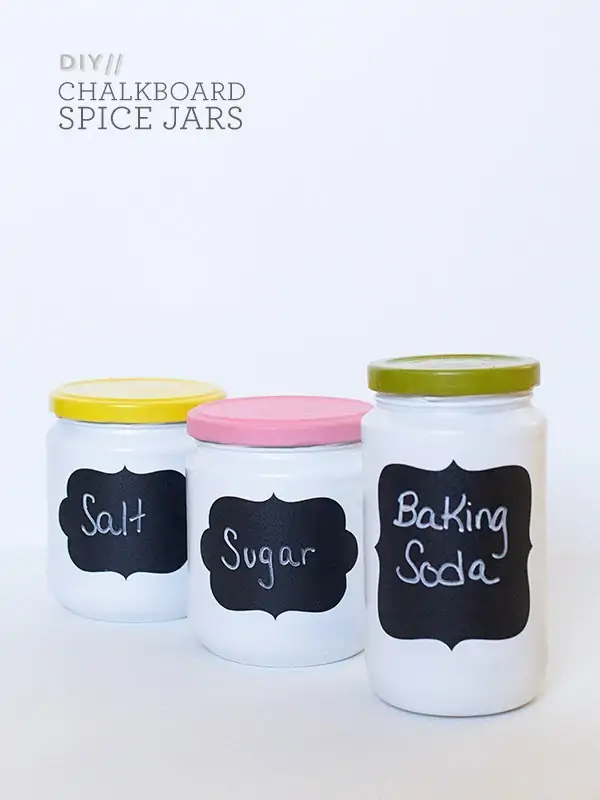 To make these chalkboard spice jars, paint the caps of the jars in any color you like. This designer also painted the jars white on the outside to keep them unified. While the mason jars are drying, write on the chalkboard labels.
Round Placemats
Dining tables can also be decorated, often with a beautiful centerpiece, stunning eating utensils, pretty napkins, as well as, gorgeous placemats. Here, we have a round placemat that can be easily DIY-ed with some jute ropes, perfect for homes with a farmhouse design.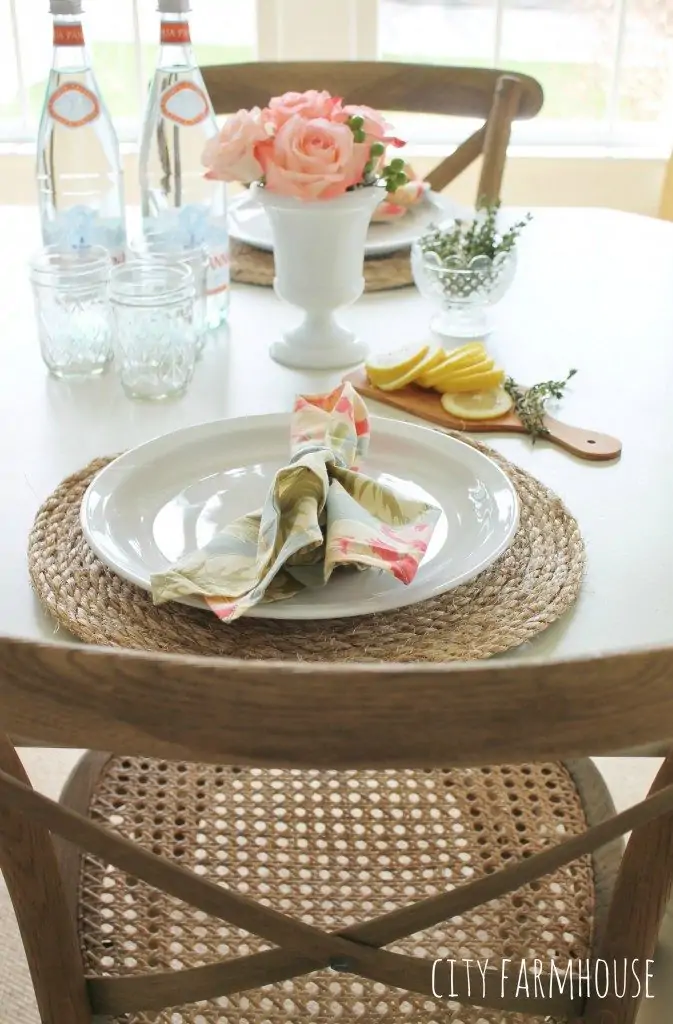 Using the jute rope, City Farmhouse applied some glue to a small section of the jute rope and wrapped it around. Then, they moved on to the next section and used more glue before continuing to wrap it. The process was repeated until all the rope was bound to the desired size.
Branch Coasters
Aside from placemats, coasters are also pretty easy to DIY; not only are they easy to DIY, but there are also tons of designs you could recreate. Apart from looking beautiful, coasters are great for preventing water rings from forming.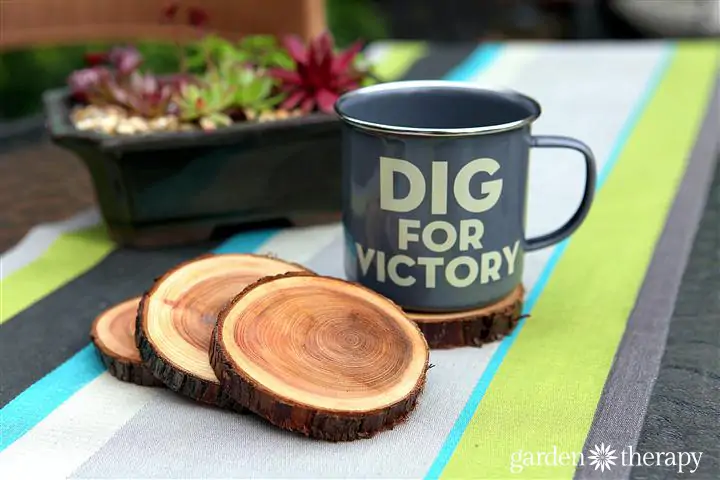 Here, Stephanie from Garden Therapy used some natural tree branches to create these coasters. She simply sliced the branches into a few cuts, sanded them down, and coated each slice with varnish. This way, the tree rings were still left intact.
Rope Serving Trays
Homeowners who are baking enthusiasts often need a place to display their baked goods; this is commonly done with trays. For the homeowners who don't want to purchase pretty trays to display their baked goods, simply DIY one yourself.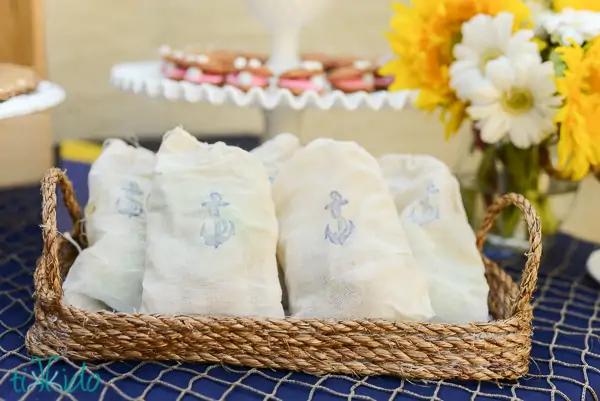 Here, Nicole glued some rope to a piece of foam board to create this rustic rope serving tray. Other than displaying baked goods, you can also use this tray to store jewelry or perfume, or other little items around your home.
Bath Caddy
Moving on, we have a bathroom piece that will turn your next bath into an at-home spa experience, perfect for taking all your tiredness and stress away at the end of a hard day. It's a bath caddy to hold all your relaxing and spa necessities.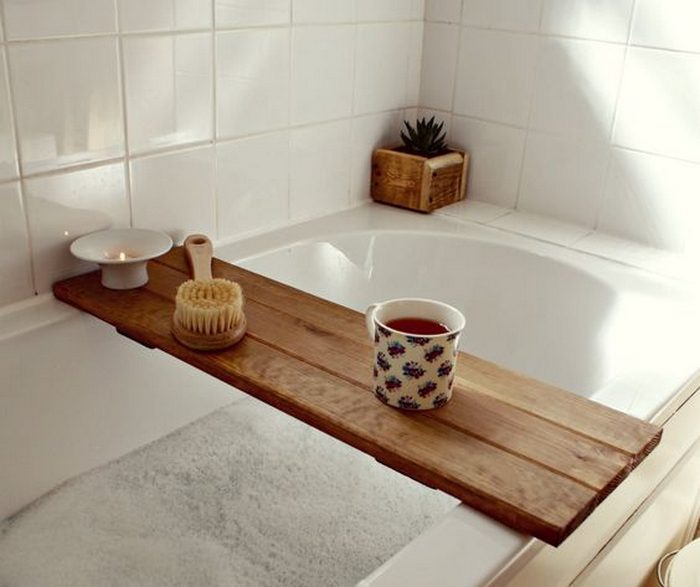 Spas are great for relaxing the mind and body after a long stressful, and tiring day, but they are often too expensive, so why not pamper yourself with a long and relaxing bath in the tub with a good book or movie and some nice scented candles.
Floating Shelves
The space above the bathtub is often left empty, most homeowners don't realize this, but it's actually an excellent spot for bathroom embellishments. However, other than hanging pictures and paintings, you'll need to create some floating shelves to place the decorations on.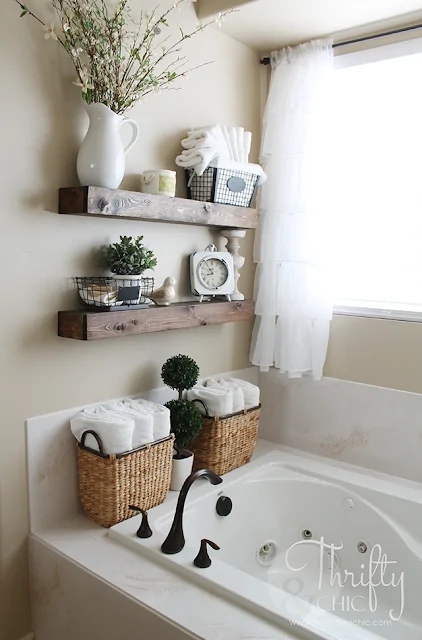 Here, Thrifty And Chic mounted two wooden shelves onto one of their bathroom walls. Then, they placed decorations that fit the bathroom's aesthetic onto the shelves. They added fresh flowers to match the wooden frames. They chose white ones to match their bathroom color.
Shadow Box Shelves
Instead of floating shelves like the one mentioned above, homeowners can use junk barn boards to build beautiful shadow boxes that take up less space than floating shelves; they can be used to store bathroom necessities or even bathroom decorations.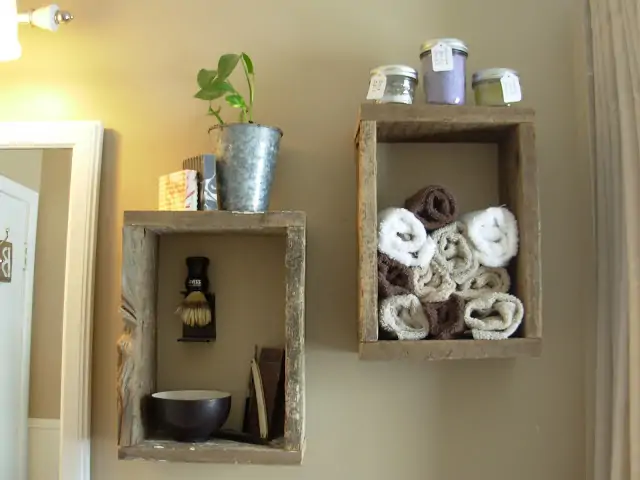 Donna from Funky Junk connected four barn boards to form a frame to assemble the shadow box. Then, she mounted the shadow box to her bathroom wall; she purposely left her unfinished to get the authentic and rustic feel actual shadow boxes have.
Mason Jar Organizer
The bathroom basin is like a battlefield; whether it is doing their hair or makeup, this is where ladies get ready for their day. Often, the tools they use are scattered all across the countertop basin, making the area look extra messy.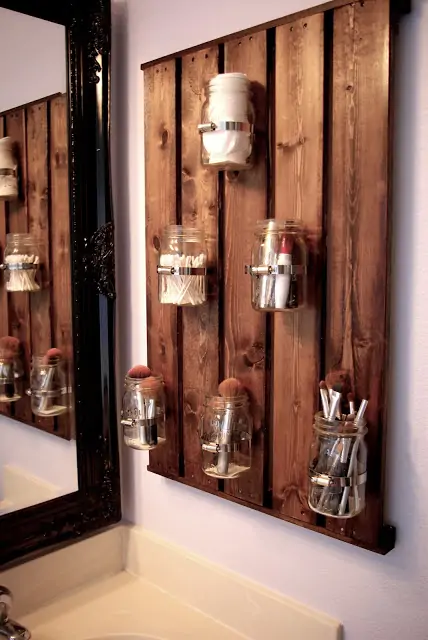 So, to ensure a neat and clean countertop basin, build this mason jar pallet organizer. First, get yourself a pallet from either Ikea for a few bucks or construction sites for free. Then, paint the pallets and attach a few mason jars with pipe fittings.
Necklace Holder
Besides makeup, ladies often struggle to store and organize necklaces neatly; jewelry organizers are often pricey, so many decide to DIY an organizer themselves to save some bucks on this. Well, Visibly Moved came up with a cute driftwood necklace holder that you can easily DIY to organize your necklaces.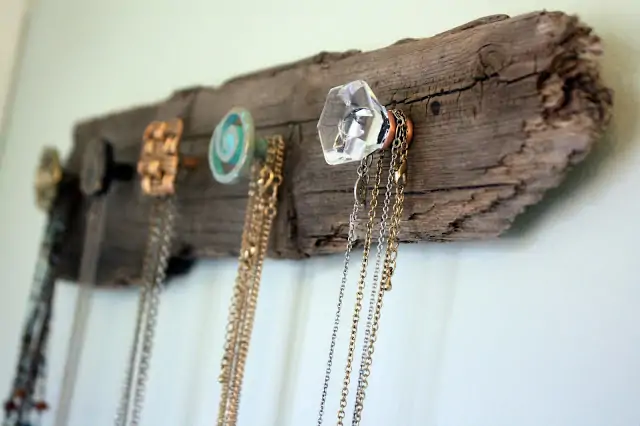 We used a piece of washed-up driftwood for this, and we can't believe how amazing it turned out! We attached a couple of assorted knobs onto the board with glue, but before that we sanded and stained the board.
Bathroom Flush Sign
Apart from organizers to keep your bathroom clean and neat, homeowners will also want to decorate their bathrooms with cute bathroom-appropriate decorations. For example, you can easily make this flush sign that is perfect and easy for decorating your bathrooms.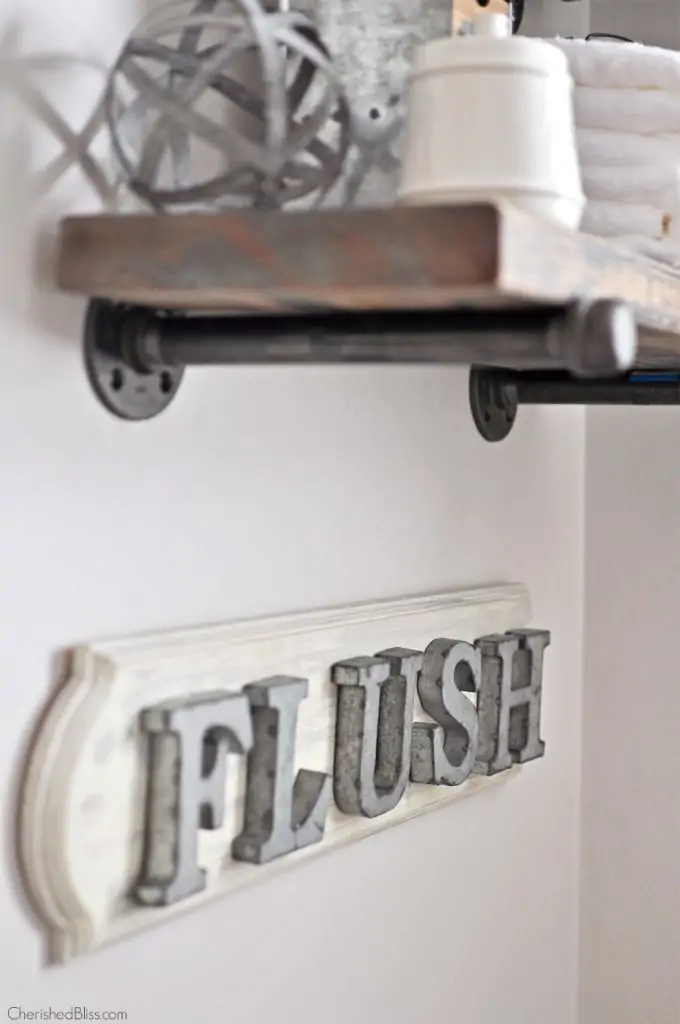 You'll need a wooden plaque, metal letters that spell "flush" or another appropriate word, and some paint. First, paint the plaque in white to create this sign. When the paint has dried, attach the letters to the plaque and hang the plaque on your bathroom wall.
Burlap Storage Box
If you're someone who has just moved into a new place, you'll definitely have lots of cardboard boxes lying around. Don't scratch your head thinking of ways to dispose of them because you can easily upcycle them into cute storage boxes.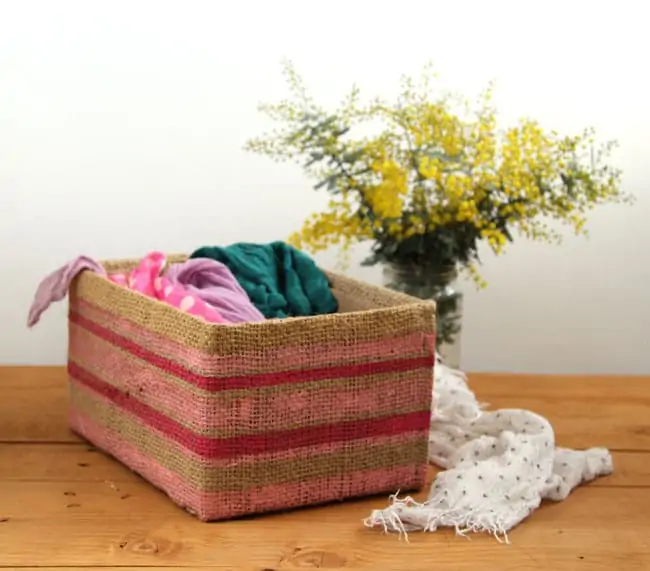 For this, you'll need some burlap; you could paint them either in one solid color or in unique patterns and designs. Wait until the paint has dried before wrapping the cardboard box with the painted burlap. Once dry, use a glue gun to secure the burlap in place.
Crate Bookshelves
Book lovers indeed have tons of books in their homes, and they'll definitely need a bookshelf to organize them. Well, you can easily build a sturdy bookshelf yourself with wooden crates; alternate between placing books and decorations on the shelves for a better aesthetic.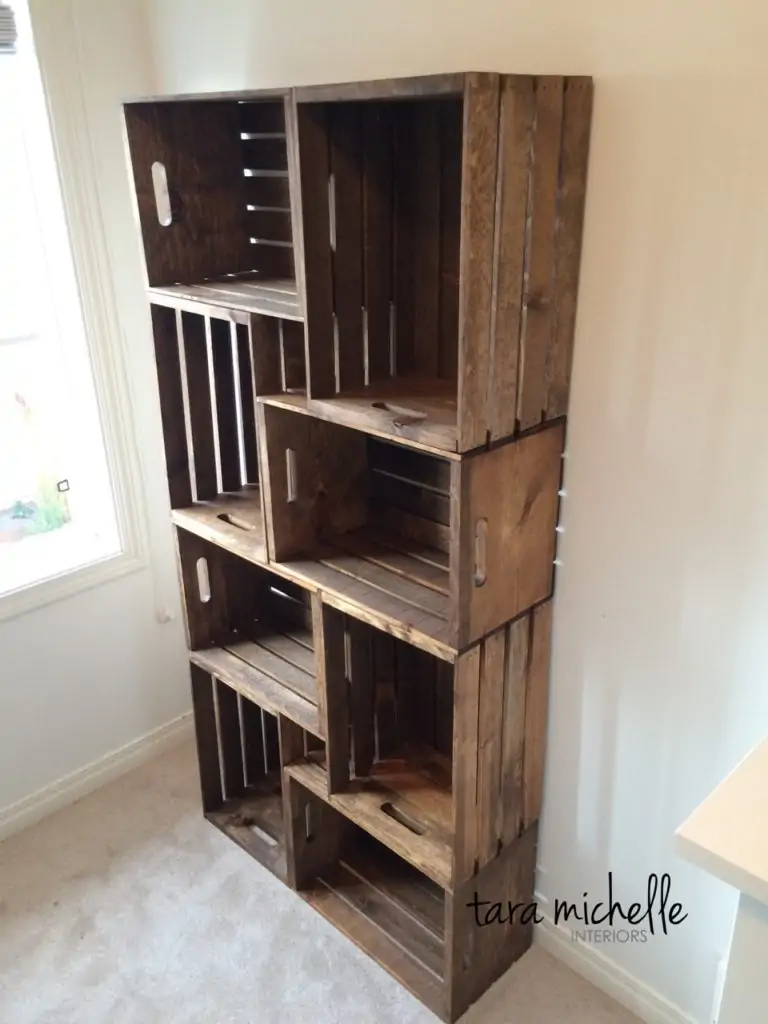 To build this, you'll need to find some wooden crates. Then, you'll need to sand down the outsides of the crates and stain them. When that's done, it'll be like putting together the pieces of a puzzle; simply fit the crates together to create your desired bookshelf and nail them down.
43. Produce Stands
Everyone needs a produce stand in their homes so that they can have a place to store the produce they bought; in addition to that, homeowners would be able to organize the produce they bought with produce stands like this one.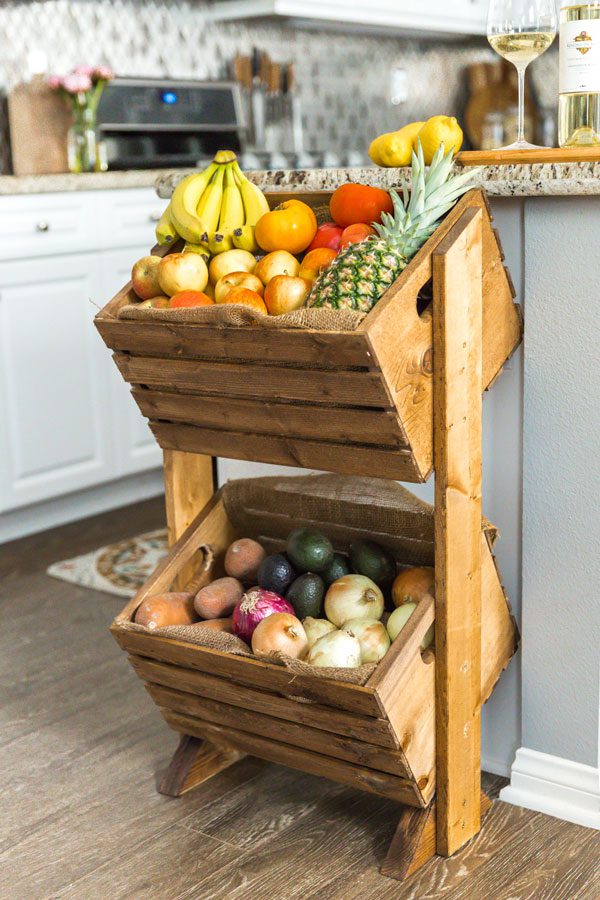 This produce stand can be easily DIY-ed with a few pieces of wooden boards and some wood crates or boxes. After assembling this piece, stain it and add a piece of burlap inside. The burlap inside is a nice aesthetic but will also keep your container more sanitary. If a fruit goes bad its easier to clean and change the burlap than it is to clean the actual piece of furniture.m
Wire Basket Produce Stand
Alternatively, homeowners can substitute a regular produce stand with a wire basket produce stands. Produce stands like the one mentioned above take up a lot of space, whereas a wire basket produce stands like this doesn't take up much space at all.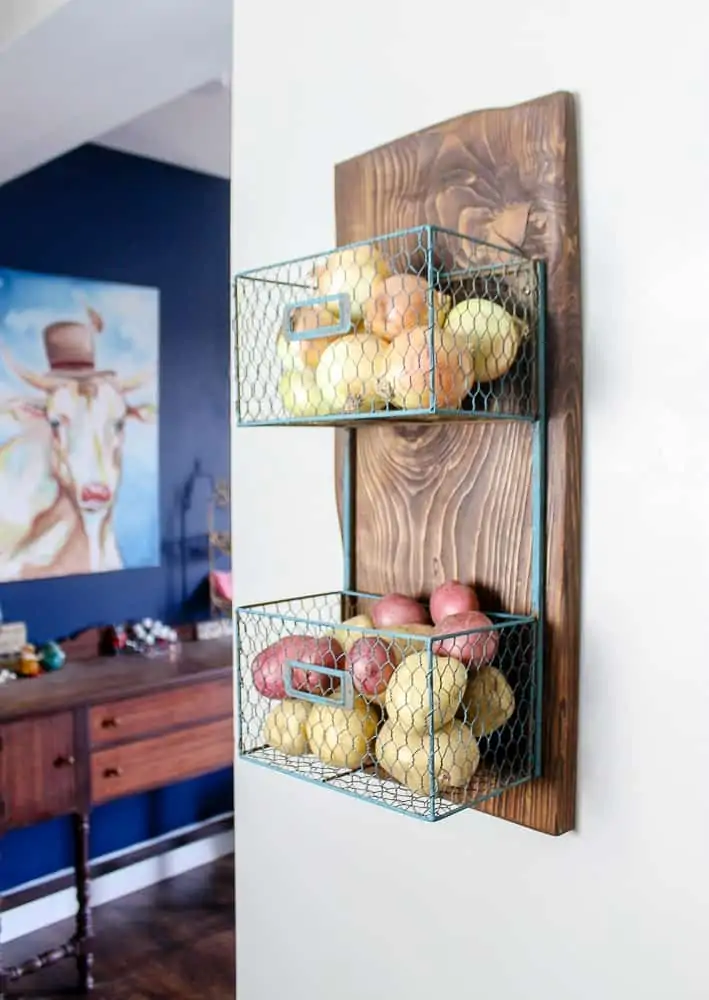 First, find yourself some wire baskets from a dollar store if you don't have any lying around the home to create a wire basket produce stand. Then, attach the wire baskets to a stained wood board; be sure to sand and stain the wooden board beforehand. Finally, mount the produce stand onto your kitchen wall.
Bike Racks
If you have many bicycles in your home, you probably have had headaches about how to store them neatly in your garage. Usually, you can do this by purchasing bicycle racks. However, they're quite pricey. Fortunately, we have a bicycle rack DIY that is more affordable.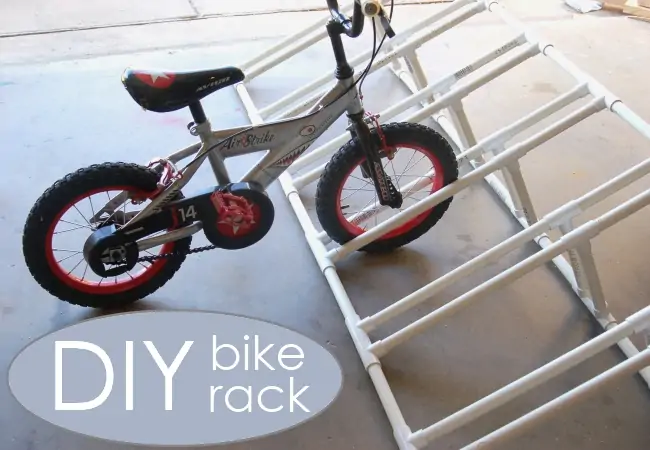 To build your own bike rack, all you need to do is get yourself some one-inch PVC pipes, cut them into the correct sizes, and connect the pieces with connectors. Once that's done, you'll have a simple PVC bicycle rack to organize your bikes.