Beachy Bliss At Home: 40 DIY Décor Ideas That Give Us Seaside Vibes
By Ishita P July 21, 2022
---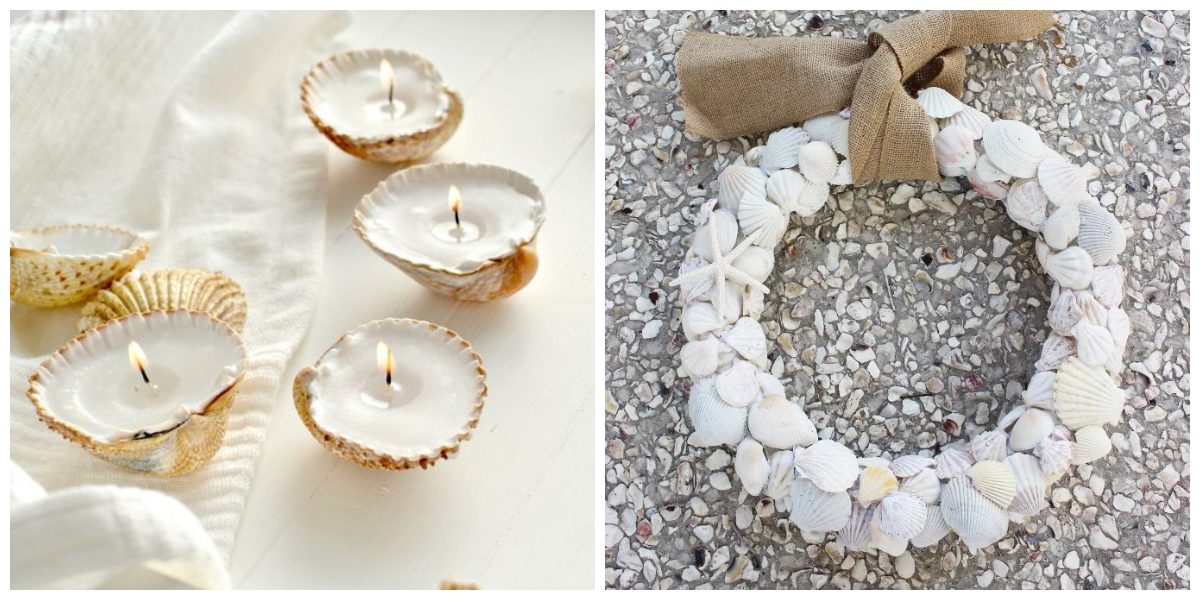 If you're one of those people who spend every waking moment on the beach while on vacation, you're undoubtedly an ocean lover. The beach is probably your second home, so the thought of leaving the water behind and returning to the city fills you with dread.
While it is impossible to replicate the authentic beach experience with the breezy air, warm sunlight, and splashing waves, you can try the next best thing at home, i.e., the coastal décor. With the proper selection of pieces, your place can be easily transformed into coastal heaven so that you can feel the beach vibes all year long. So, here, we've compiled some of the best coastal home décor ideas for your convenience; have a look!
Bottle and Net Centerpiece
Sometimes the prettiest things are the easiest to make. And this particular piece is a classic example of it. You only need an empty wine bottle, some fishing net, and a bit of rope to tie around the bottleneck. The fishing net perfectly transforms this simple glass bottle into an attractive table centerpiece.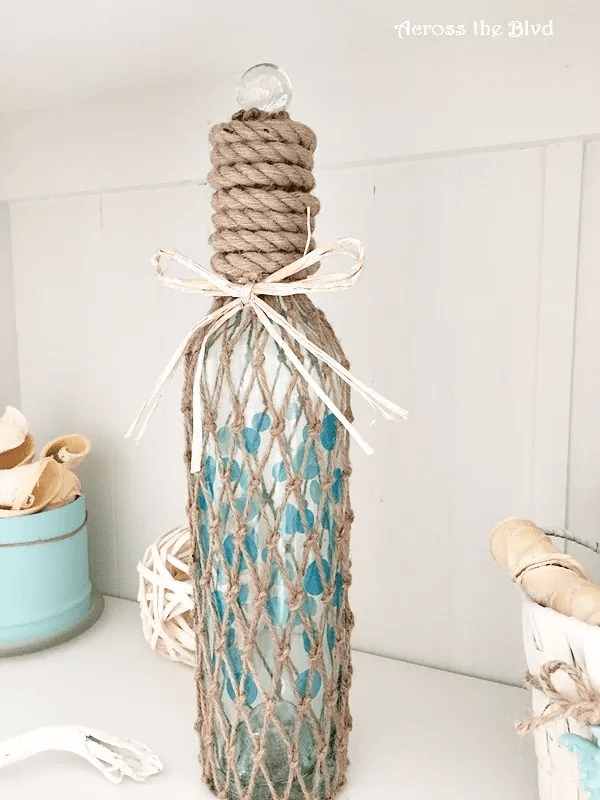 If you want to be a bit more creative, you can paint the outside of the bottle with some nautical symbols and let them dry before wrapping the net around it. You're sure to get compliments on your art skills when you display the item on the table at the next family dinner.
Glass Sand Vases
Glass bottles are a DIY favorite of crafters everywhere. They're easy to obtain and one can use them for various purposes. So, to make a beach-themed vase, the major task you have to undertake is coating it with sand using glue.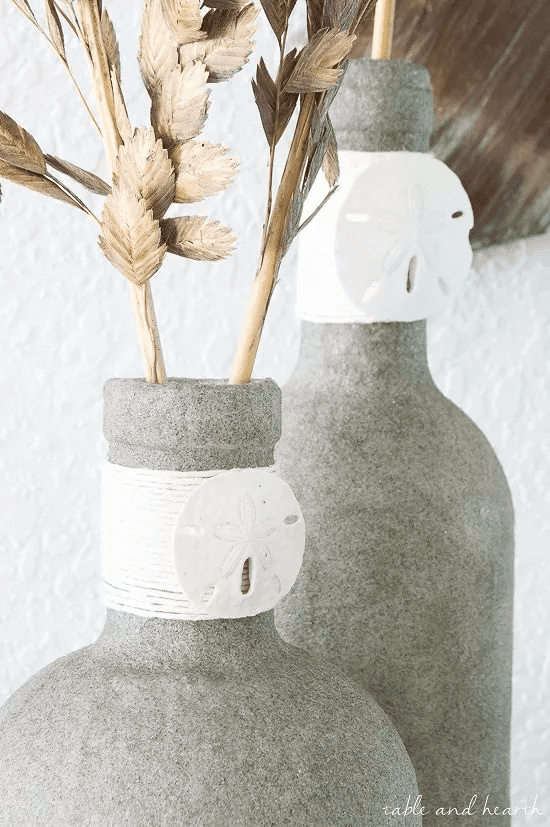 But while doing so, you must remember that sand vases lose their glassy look and take on a rockier one. It is best to keep them out of reach of kids, pets, and clumsy adults who might mistake them for being unbreakable.
Messy Driftwood and Shell Wreath
Whether it's Christmas or Thanksgiving, wreaths are always a welcoming addition to the front door. A driftwood-themed wreath will give off a messy and oceanic vibe while imparting a beach house feel. You can also add some shells and wood shavings to enhance the look.
If you have an old broken mirror lying around, you can affix it in the middle of the wreath, making an already good wall hanging decoration look even better. Wood, glass, and calcium carbonate are a trio you can't go wrong with.
Beach Theme Painted Key Holder
Key holders are important to every household, particularly for members who often misplace their things. So, with this uniquely painted key holder, you can now keep your house and vehicle keys safe while including the cozy beach theme in even this subtle part of your home.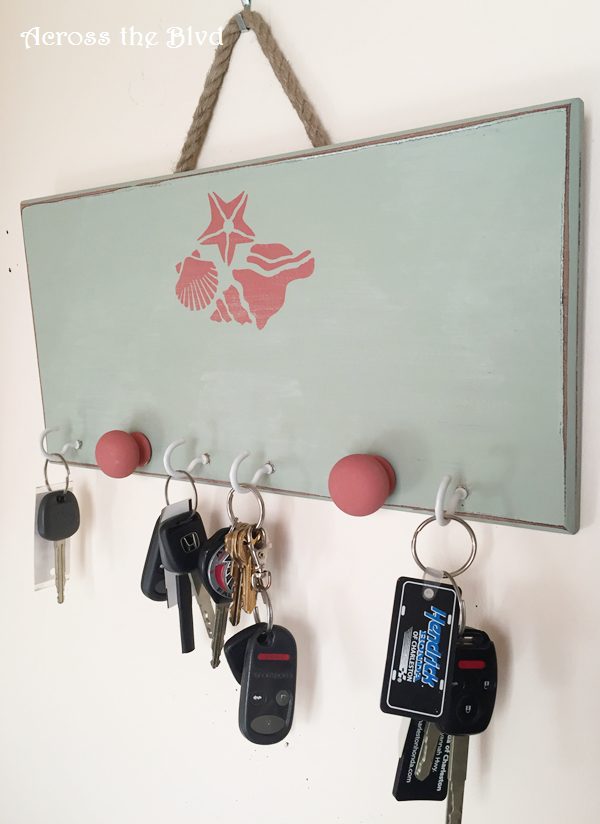 Simply color a placard with salmon coral chalk paint, draw some shells or other seaside elements on it, and hang it on the wall using a small piece of rope. Then, affix a few hooks or painted knobs at the bottom, and your DIY coastal-themed key holder is ready!
Coastal-Themed Table Arrangements
Family gatherings are usually a huge affair, especially when everyone hasn't seen each other for a long time. So, if it is your turn to host the dinner, take it up a notch with some elegant coastal décor items that will undoubtedly steal the spotlight.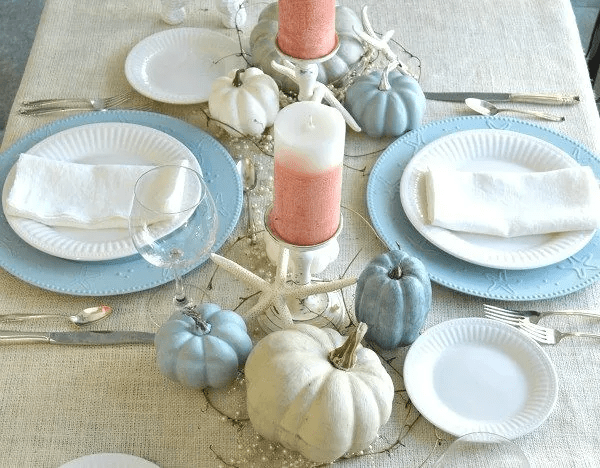 Firstly, follow a light color palette on the table to create a soft and warm ambiance. Next, add some small pastel-shaded pumpkins to give off holiday vibes. Then, place a few rust-colored candles in the middle of the table with bleached starfish scattered haphazardly, completing the entire look.
Wooden Boat Paddle
One of the best ways to explore the ocean without getting wet is via a boat. The idea of sitting on a wooden boat, occasionally paddling across the water, is appealing, isn't it? Then, why not include a paddle in your coastal home décor?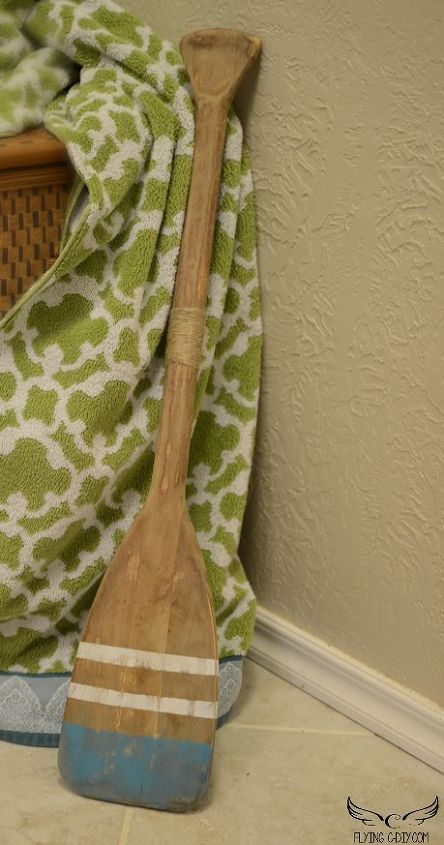 While it may be challenging to get an authentic one, you can sand down a store-bought paddle to get a similar appearance. You can proudly display it anywhere in your home and easily shift it around if you change your mind.
Clay Pot-Stacked Lighthouse
Lighthouses are a staple part of every sea horror story. Although the original ones are dark, stony, and rugged, this brightly colored one will light up its surroundings beautifully. It will look great on your doorstep…or anywhere else you place it, really.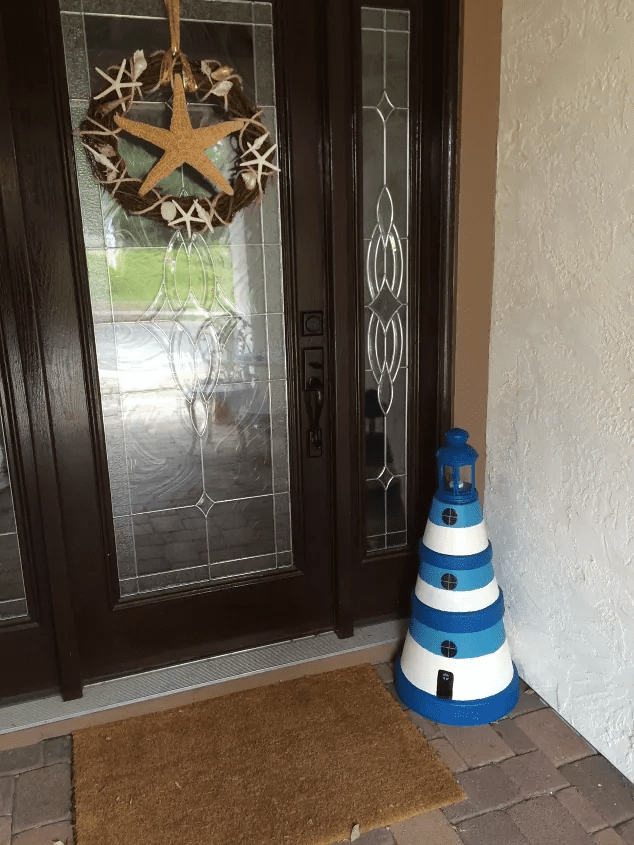 All you need to do is gather some old pots, paint them, and stack them on each other to form the structure of the lighthouse. Then, place a small lantern at the top to complete the tower. Painting tiny windows and a door will enhance its look and make it more authentic.
Coastal-Themed Blue Mirror
What's better than a mirror on the wall? Well, it's a coastal-themed mirror. You can effortlessly create such a beautiful-themed mirror with a simple mirror and some paint. Apply the blue color to invoke a calm and relaxing feeling associated with the ocean.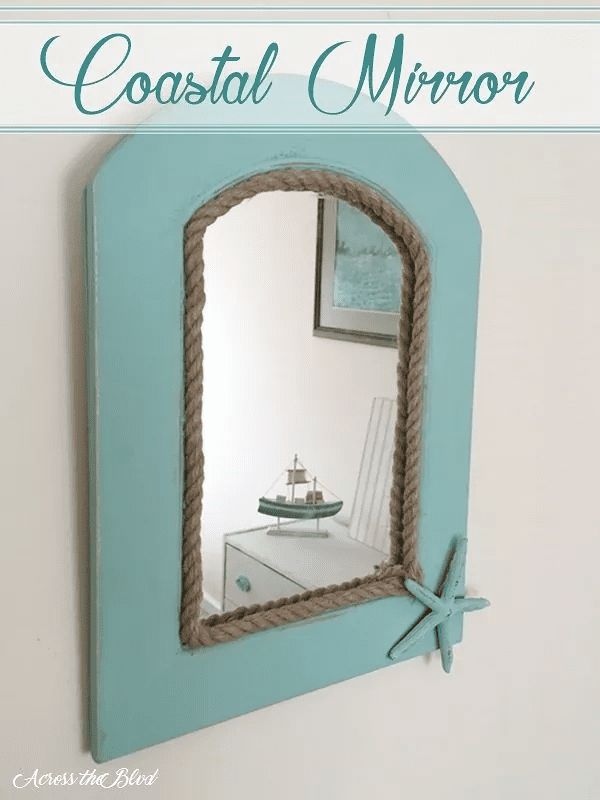 Also, you can line the mirror's edge with a long rope and paste a few beach-based ornaments at the corner for a personalized touch. This pretty appearance of the mirror will surely make you fall in love with it as well as your reflection on it.
Outdoor Seashell Table
You can easily create a seashell table with everyday materials, making it an excellent addition to your coastal décor collection. Also, you can use it to display your favorite and unique shells you discovered on the shore while taking a walk.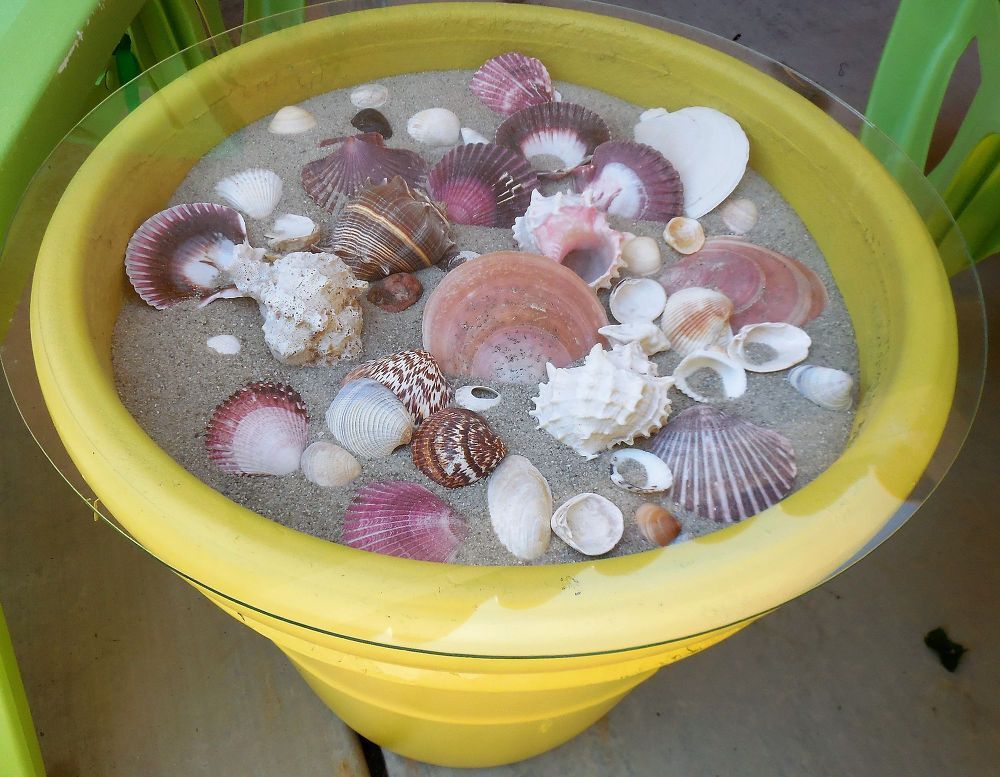 So, to make the item, first, take a pot and fill it with sand. If you don't have enough sand, you can use styrofoam as the filling and sprinkle some sand on top. Then, place a glass covering to prevent the loose sand from flying around or your pets from digging inside the pot.
Multi-Colored Planked Wall
You know coastal décor has taken over your heart and home when you stop purchasing ornaments and start looking for endless options to design your home. One of these ways is wall painting. It is not entirely irreversible but is relatively more permanent.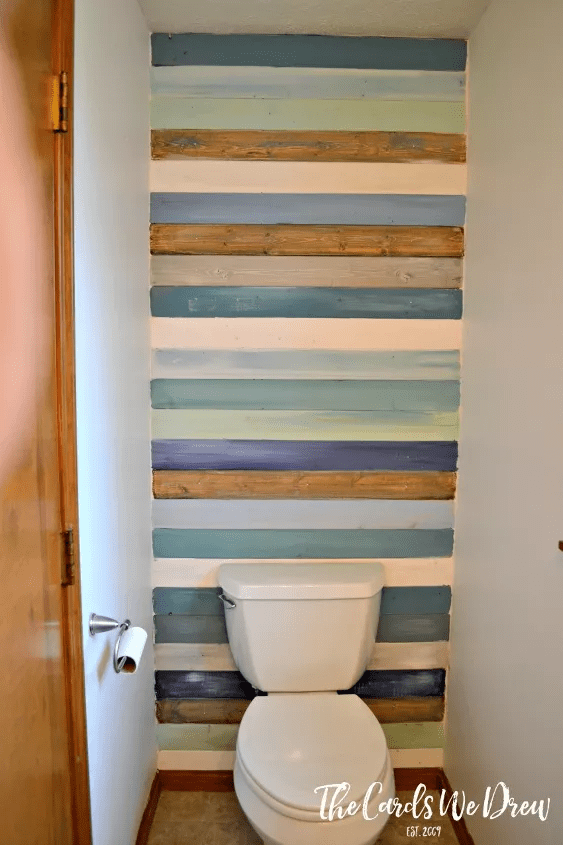 So, a coastal-themed plank wall would be a great choice if you decide to take the plunge. It is beginner-friendly, easy to create, and can add a whole lot of color to your plain, drab walls, transforming your home beautifully.
Multi-Colored Sand Vases
Expired food coloring can no longer be consumed, but do you know what it can be used for? Making colorful sand vases. The method is simple enough. Just add a bit of food coloring to the sand and put it in a transparent vase.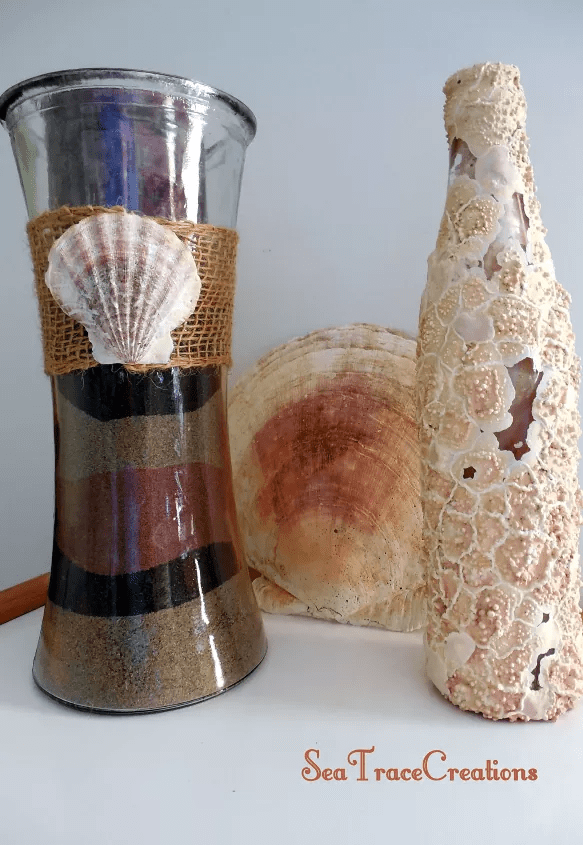 If you don't have enough sand, you can always add another firmer filling in the vase and let the sand fill in the sides so the color is visible. These vases can hold flowers and candles, depending on the object used as the filling.
Cardboard Coastal-Themed Napkin Rings with Hemp
For a beach-themed lunch, there is no better table décor than coastal napkin rings. They're light, pretty, and easy to make. Cardboard toilet paper rolls, found in almost every household, are the main piece used to keep these rings firm. Wrap hemp rope neatly around them to disguise the everyday material.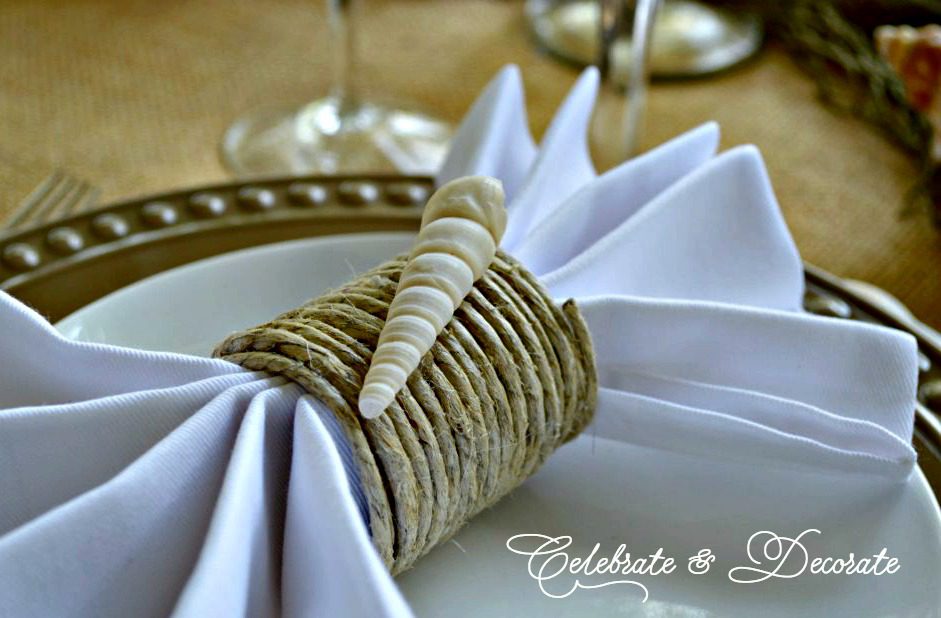 If you're looking to add something extra, you can always glue some tiny shells to the rings to make them look more colorful and attractive. Since this craft only uses recyclable and upcycled materials, these napkin rings are one of the most environment-friendly home decorations.
Sea Urchin Vase Filler
While long vases holding flowers are pleasant additions to a room, sometimes what you need is a sea urchin vase filler with a live plant in it. Fortunately, these items are readily available in certain stores, and you can easily purchase one.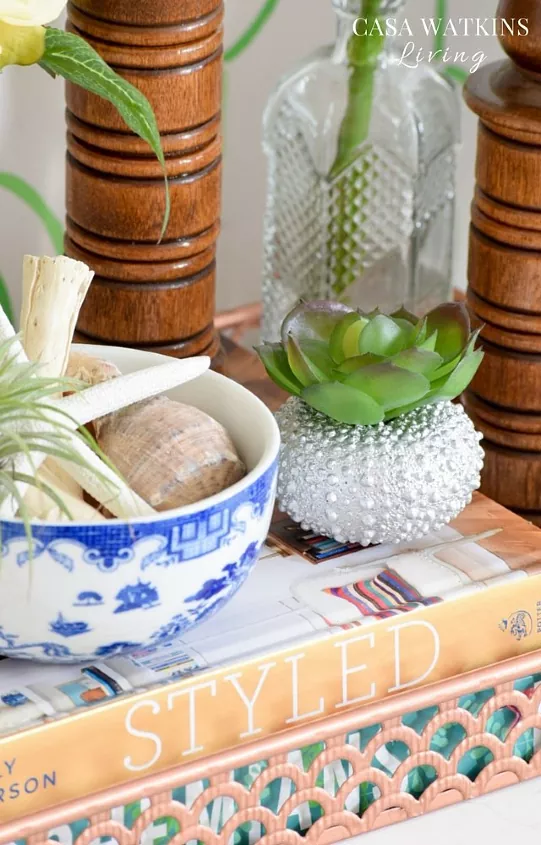 You can customize it by spray painting it with a color of your choice and letting it dry before inserting the plant into it. Then, place it in a prominent spot in your home to keep your unique vase on full display.
Colored Scarf Wreath
Wreaths are versatile and come in different shapes and sizes. One of the most uncommon circlets, which also happens to be the simplest to make, is a scarf-wrapped wreath. Beachy scarves are easy to find and can be picked from any clothing store.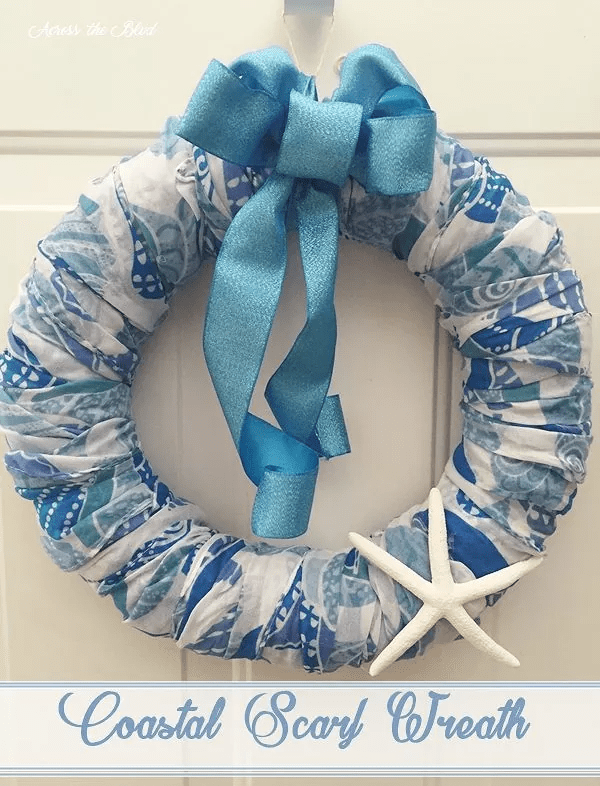 Instead of spending hours decorating a wreath with fine detail, all you need to do is wrap the scarf around it and secure it with pins. So, there you have a beautiful ornament ready with minimal effort. You can also add a ribbon bow at the end of the circlet to make it look cuter.
Spray-Painted Mason Jars
Empty glass jars are found in almost every household, kept aside for some future uses. However, if you're tired of hoarding these jars, you can now use them to create beautiful ocean-themed containers that can be placed anywhere in your home to exude a beach house vibe.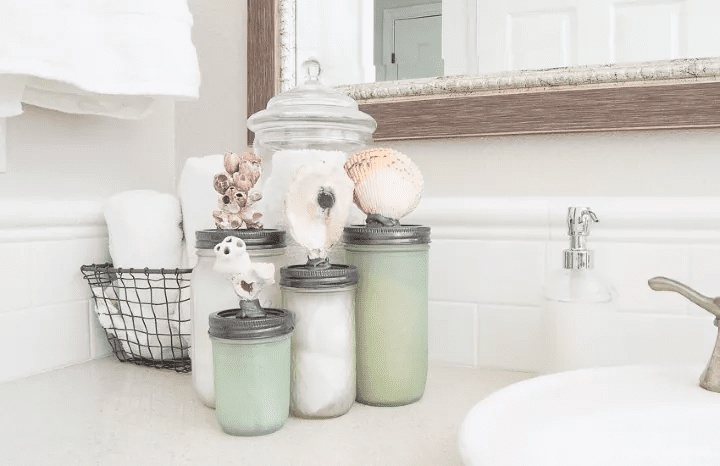 All you need are a can of sea glass spray paint to cover the jars, a hot glue gun, and some shells or beach ornaments to stick onto the lids for an added effect. The finished home decor item will look not only exquisite but also worthy of your time and effort.
Sea Animal Carvings on Your Headboard
Marine life is truly the most appealing part of the ocean, and coastal décor is incomplete without it. Well, the good news is that there are many ways to incorporate this alluring sea life into your interior designs. The simplest technique is through drawings and carvings.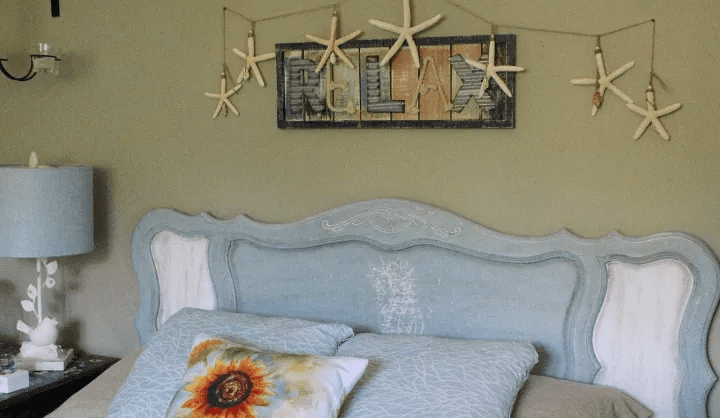 Whether it's a seahorse or starfish, numerous stencils are available in the market to help you recreate the respective image on your walls or headboards. Once they're done, you just have to darken the pictures with permanent markers and carving tools. Now you're ready to display the hand-drawn cute beachy elements to your guests!
Unicorn SpiT Table
You can't teach an old dog new tricks, but you can refresh an old weather-beaten table with Unicorn SpiT. If you're struggling in deciding on a table that doesn't fit your current beach mood, this is the best DIY solution to your problem.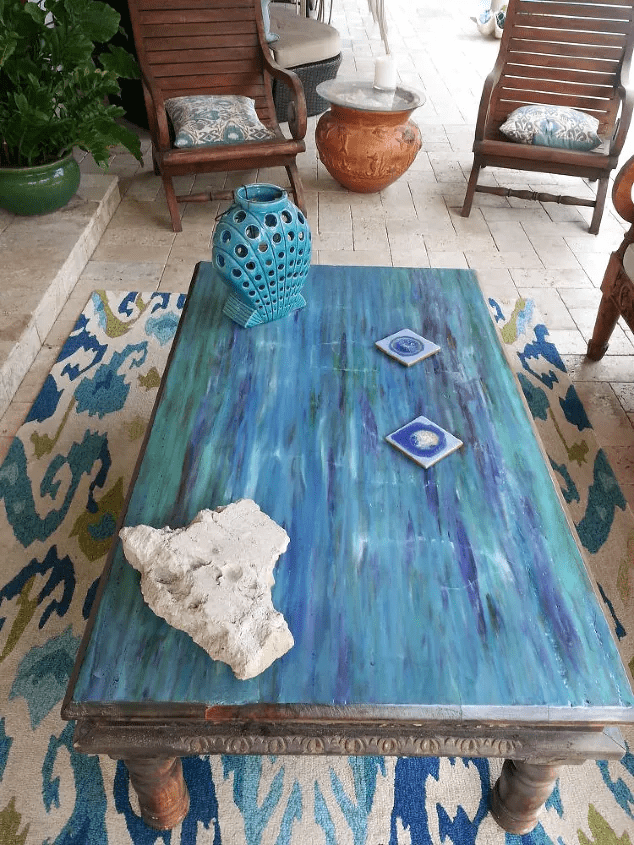 You can experiment with different cool shades using Unicorn SpiT colors and pick the one that complements the rest of your furniture pieces. After the paint is applied to the table, you can brighten it with tung oil and place some coastal decor items.
Coastal Memory Jar
Have you ever reminisced about the holidays spent at the beach, reliving all those evenings in your head again and again? If the answer is yes, creating a memory jar might help you channel those fond memories into a keepsake, which you can easily display in your home for years to come.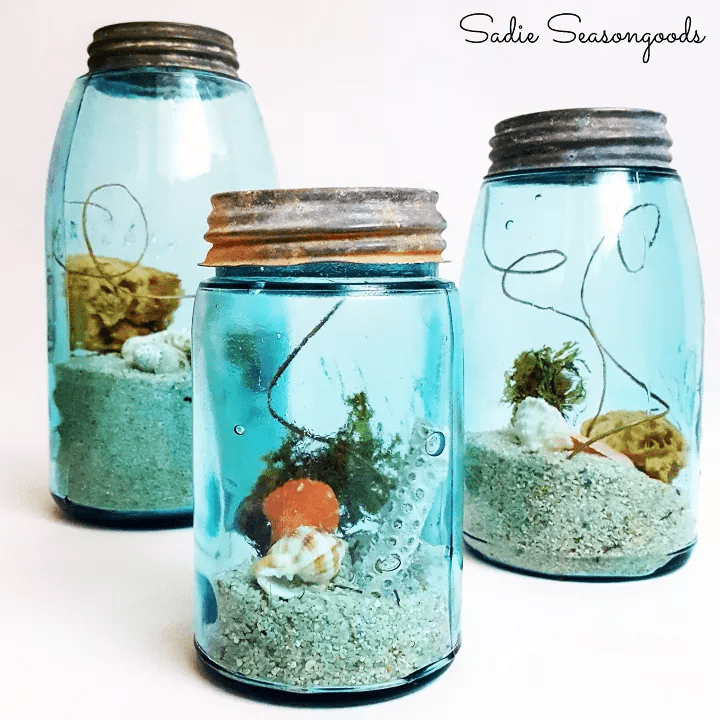 The process is pretty straightforward. Just arrange your favorite things from the beach in aqua-colored jars. Whether it is tiny shells, pieces of seaweed, or a little sand, all coastal elements will find a place in your memory jar and your heart.
Starfish Anchor
Nothing screams "ocean" like marine life. It is one of the primary reasons why coastal décor focuses so much on sea animals. Therefore, an anchor made of tiny starfishes lies at the top of the list of things that can take your décor up a notch.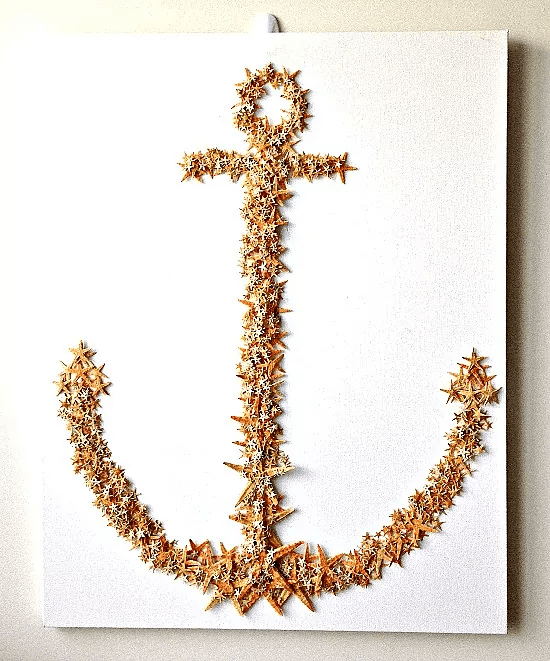 The anchor is unusually colorful due to the presence of the starfishes, and when all of them are glued together neatly, it seems more elegant. However, ensure that the sizes of the starfishes vary to give the anchor an overall natural look.
Saltwash Furniture
If you're bored with the plain and regular wooden furniture at home, mix it with saltwash and paint to create an older beachy look. The saltwash method works wonders, particularly on old closets and cabinets resembling a sunken ship's treasure chest.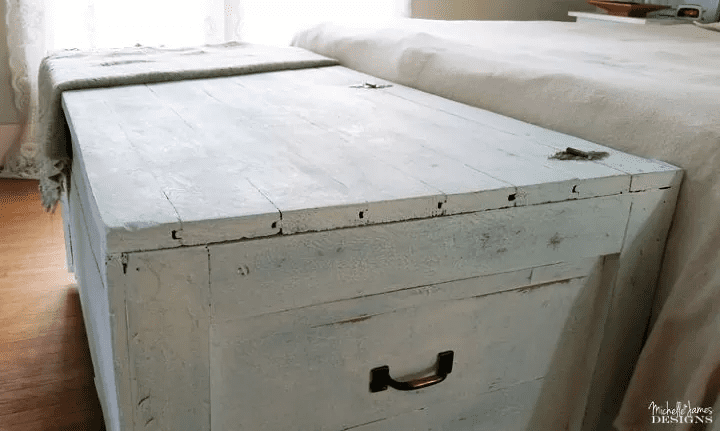 You can pick the color of your choice, ranging from the original furniture palette to something way more colorful. However, whatever you choose, ensure that your salt-washed and painted furniture blend in perfectly with the rest of your home décor and render a bright beach theme.
Seashell Wreath
A seashell wreath is an idea that seems too good to be true, yet it is. It is a great coastal décor item that can not only brighten up your front door but also make your home more welcoming to all who enter.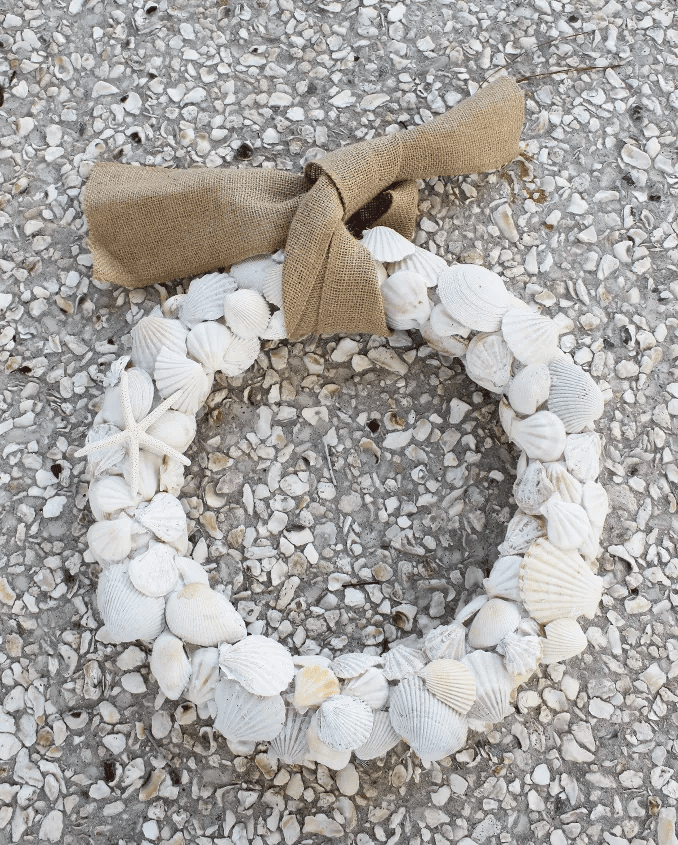 You just need to use a foam wreath as the firm base and glue some seashells onto it; make sure that they snug fit together or are messy enough to give off a beautifully unfinished vibe. Then, attach a little bit of rope behind to hang the wreath, and you're good to go!
Seashell Centerpiece
The beach is a haven of seashells — big and small or round and cone-shaped, you will find different types of seashells lying on the sand. And as beautiful as they look half-buried in sea sand, some of them would look even better on your dining table.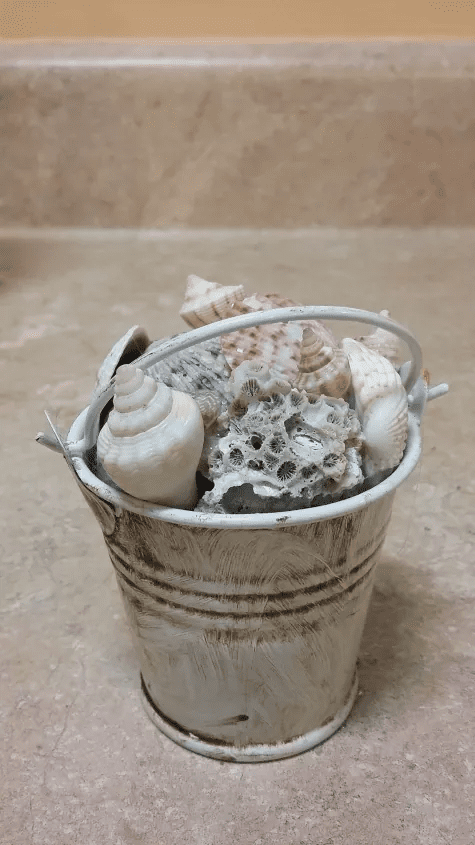 This table centerpiece is an easy one to make. A 2-inch bucket filled with seashells is enough to create the ocean-themed look you're craving for. You can add some driftwood and seaweed for increased variety and color for a better experience.
Shell Jars
Empty pickle jars are always a dissapointment, but now, you can find a better use for it by turning it into a seashell jar. Well, the name itself is self-explanatory; all you have to do is add some of your favorite seashells to the pot and put it on display.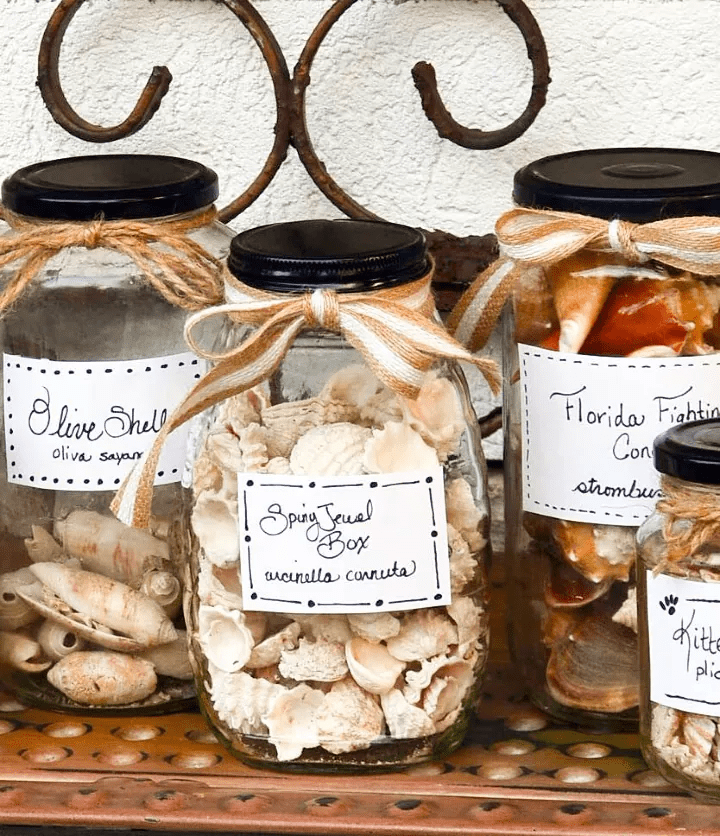 Clean the jars of any leftover vinegar. And ensure the shells are thoroughly washed and dried before adding them into the jar to avoid any moisture accumulation. You can even paint the lids a dark color to complete the beach décor look you're going for.
Flip-Flop Wreath
By now, you must have come across many creative and out-of-the-box ways to make a wreath. So, it shouldn't surprise you that flip-flop wreaths exist. These simple yet colorful pieces can be quite an attractive addition to your coastal home décor.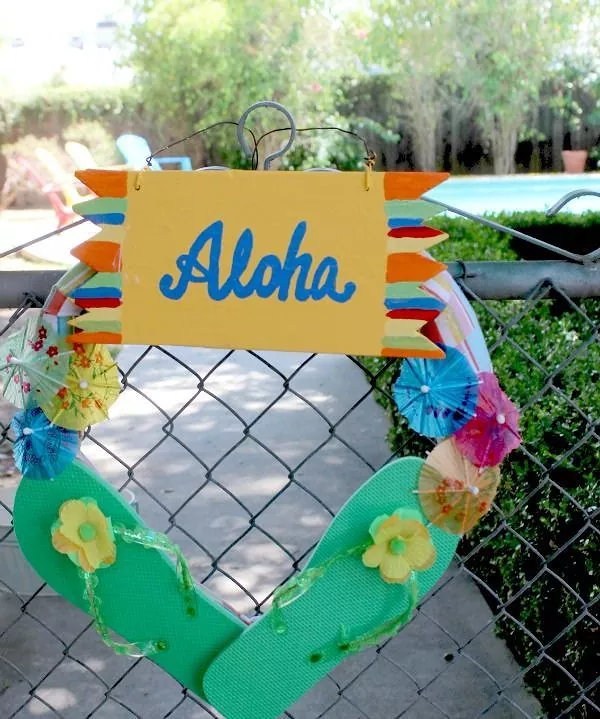 You can use a pool noodle for the base as it is relatively firm. Then, hot glue 2 flip-flops at the bottom of the wreath with the ends overlapping. You can be as creative as you want — glue other items such as little umbrellas to the rest of the pool noodle, making it more personalized.
Crab-Imprinted Footstool
If you have an old footstool just lying around and collecting dust, here we have the perfect use for it. Simply convert it into an ocean-themed seat to add to your porch table. To do so, grab a crab stencil and trace its image on the burlap you want to use for the seat.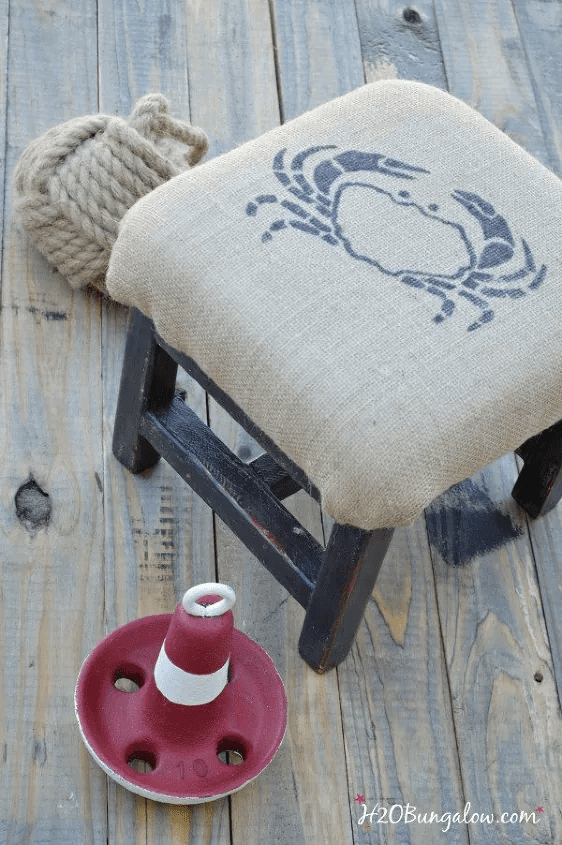 After that, cover the seat with a layer of muslin and attach the burlap to it using a staple gun while covering the edges with the glue, so they don't peek out. If you want to, you can also paint it and add a coat of clear wax for a colorful glossy texture.
Bottled Coastal Torches
Wine bottles are easy to come across and make for fantastic torches you can use during an outdoor barbeque or get-together. While the wicks are standard, you can have some fun with the bottles and design them according to your choice.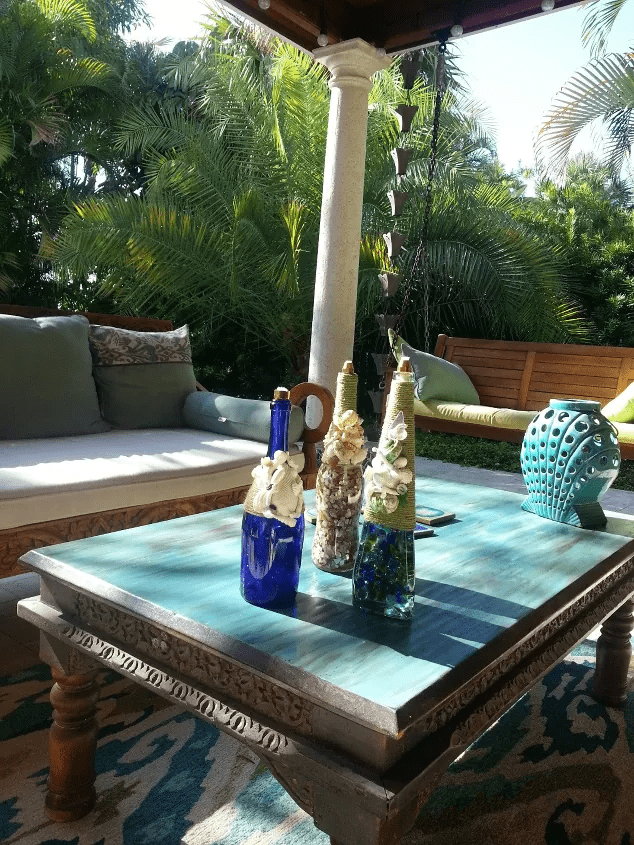 For a coastal-themed torch, put some smaller shells inside the bottle, covering it halfway, and then slide in the wick using plumbing nuts to secure it well. Also, you can stick bigger shells outside the bottle and wrap jute rope around the neck to give it a rustic look.
Shell Lamp
Lamps are elegant and always serve to be an integral part of home décor. Thus, if your home boasts a coastal theme, it is necessary to have a themed lamp, too. Luckily for you, they are not very hard to make and can usually be done in an hour or two.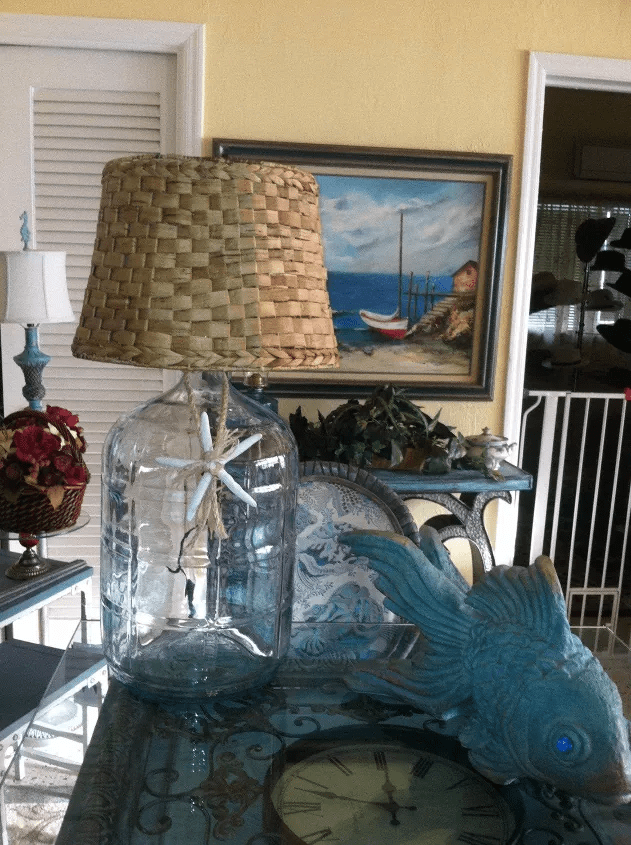 One of the easiest ways involves using a glass jug, a lamp head, a bulb adapter, and a coastal ornament such as a starfish or plastic seahorse. Simply attach the bulb adapter to the pitcher, let the ornament dangle down, and enjoy a subtle lighting experience like on a beach.
Triple Glass Bottle Vase
Although glass bottles make for great vases all on their own, adding a little bit of creative effort can turn them into exquisite pieces. This one is by far the easiest. All you have to do is wrap colored twine around the top and bottom of 3 glass bottles and then join them together.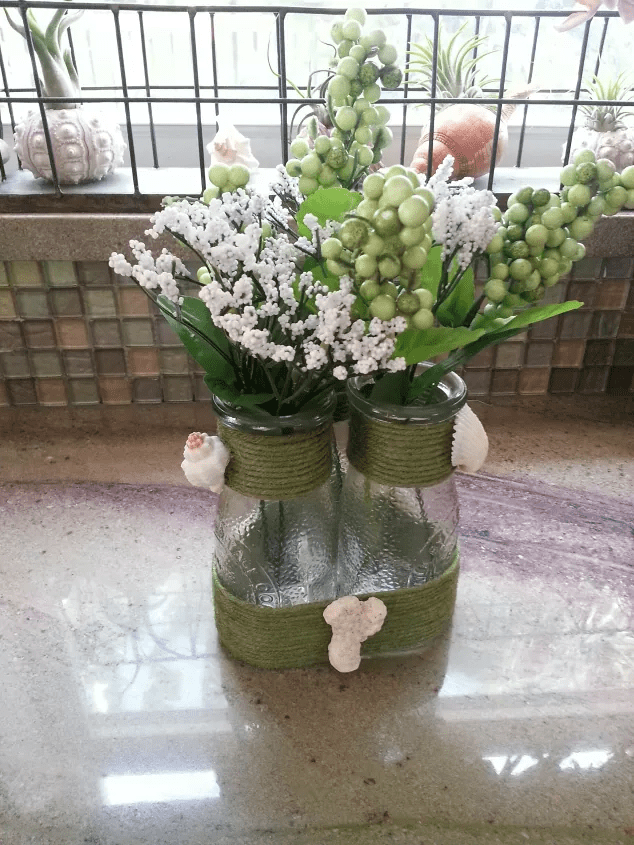 You can glue some pretty seashells and plastic coral pieces to enhance the look further. Then, place your unique triple bottled vase in a prominent spot, drop in some fresh or fake flowers, and see the buzz it creates amongst your guests.
Sand-Filled Candle Holder
It is always recommended to keep candle holders at home as they can be very handy during blackouts. While store-bought candle holders do the job just fine, a coastal-themed candle holder will also add to the ambiance of your home.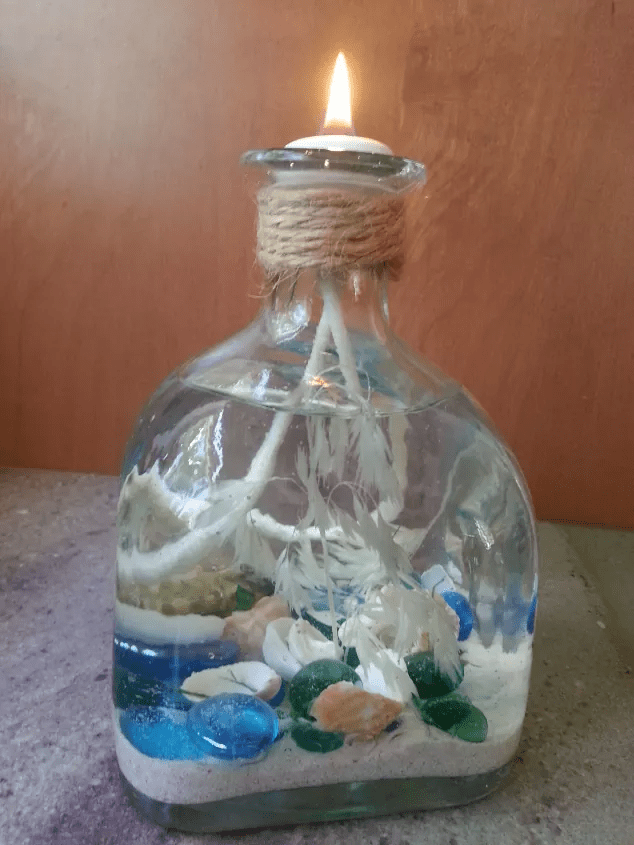 You can begin by pouring some sand into a transparent glass bottle with a wide bottom. Next, add some beachy odds and ends like shells and little gems. Finally, pour in some lighter fluid and place your candle on top. You can always wrap some twine around the bottleneck for a little something extra.
Coastal Desk Quotes
Words are a form of art. Your favorite quotes, song lyrics, and poems look great imprinted on your study desk. You only require a stencil, a permanent marker, and fairly good handwriting. You can even add some simple beach drawings to increase the appeal.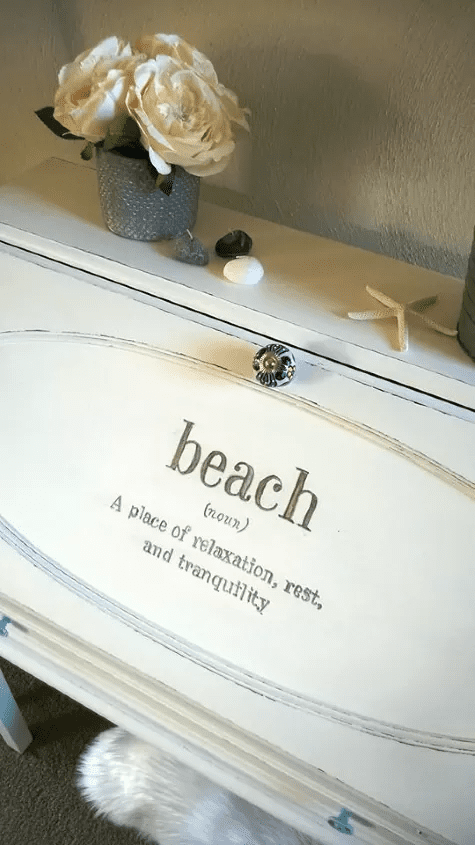 Your worded desk will give the room an aesthetic feel, and you can also add to the effect by painting the furniture in a calm coastal color. Moreover, your new-themed desk will brighten up the entire space and might even inspire you to start working on the novel you always wanted to write.
Surfboard-Shaped Towel Rack
Surfboards always relate to the beach because it is the only place you'll see someone using one. Well, there's one more place you might find it — if coastal décor has taken over your life, you'll want to make a surfboard-shaped towel rack for your home.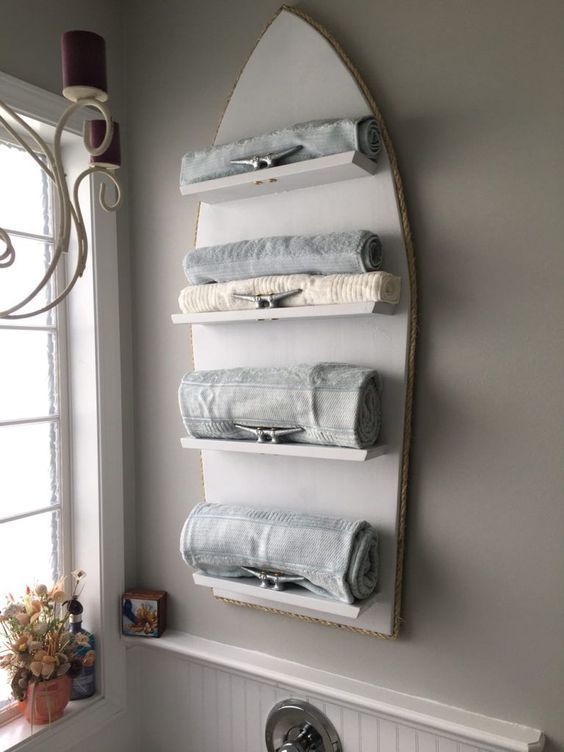 This towel rack looks fancy and has a practical use aside from being a great addition to your décor. Ensure that the surfboard's shape remains intact while cutting and the shelves stay firmly attached to the main body. Otherwise, you just have a regular shelf.
Coastal-Themed Pebbles
Pebbles are easy to find and an underrated decorative item. They are incredibly versatile, and you can easily fit them into almost any kind of décor, including beachy themes. All you need is some colorful paint and better-than-average drawing skills.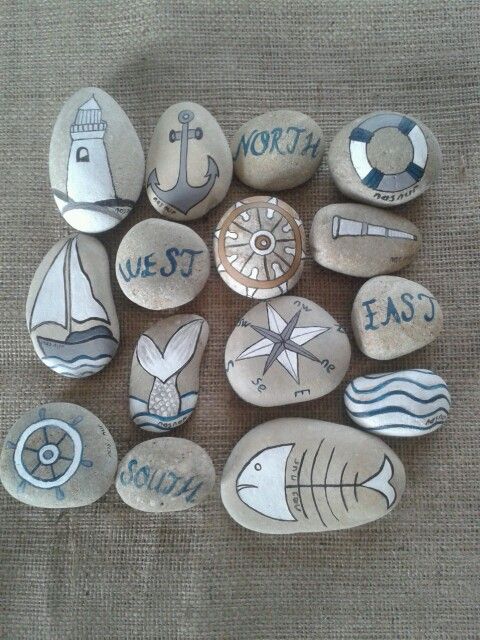 You can paint a variety of coastal and nautical symbols, such as anchors, fish, boats, life preservers, and lighthouses on the collected pebbles. Then, after they have dried, you can place them anywhere in your home to accentuate the surroundings.
Shell Candles
Shells come in different sizes. Crafters usually go for the tiny ones for art projects as they can fit in small spaces easily and are great for filling in gaps in any project. But the big ones have their uses, too.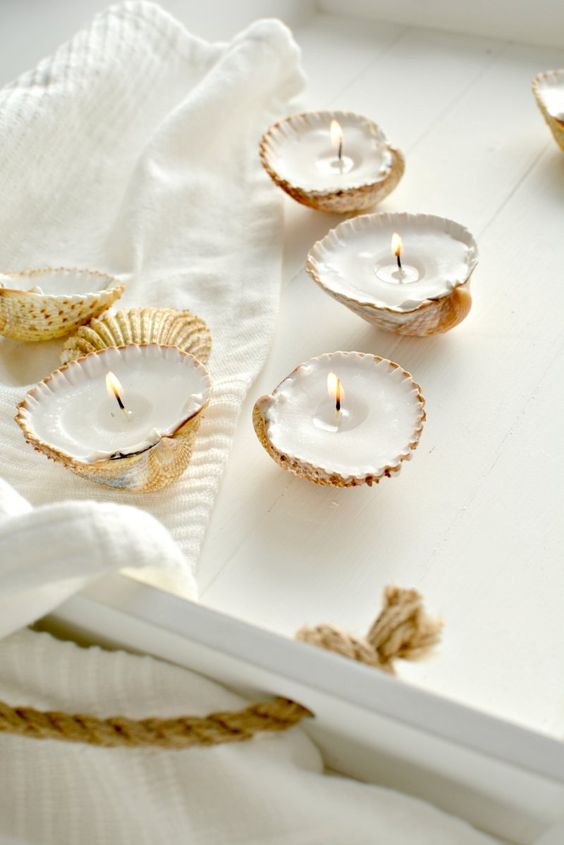 You can use the bigger shells to hold tiny candles, which play into a great coastal theme. Simply put a small candle into a shell and ensure it stays firmly inside using hot wax. These unique holders look not only elegant but also render soothing beach vibes.
Wooden Boat with Sails
Boats are an integral part of the coastal theme, yet they are often overlooked in DIY projects because of how complicated they seem. But this wooden boat will surely bust all these myths. It is a simple piece of décor that would look great when placed on an elevated surface.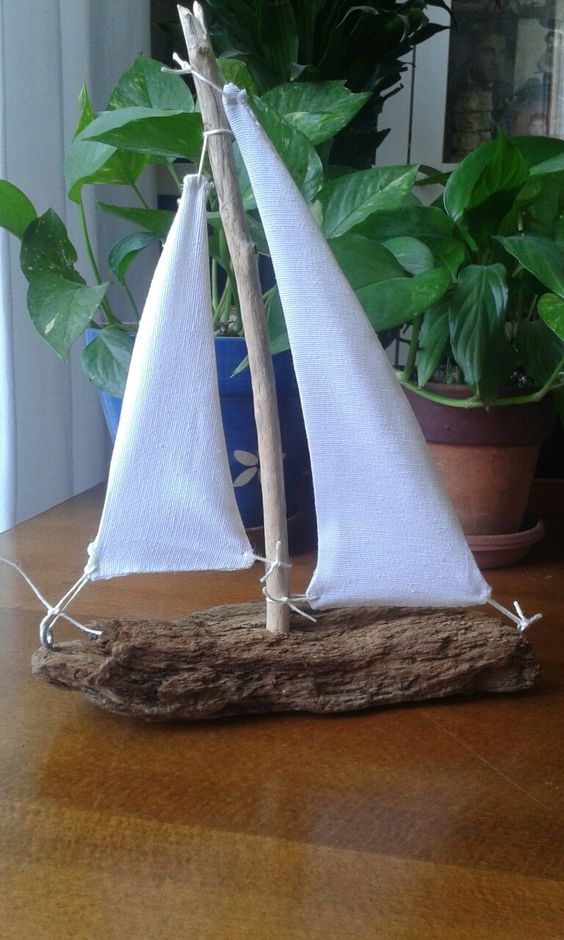 All you need to do is find a piece of wood that vaguely resembles the shape of a boat and drive a stick into it. Then, add the sails by tying them to the twig and the wood. The process will become easier if you attach tiny rings to the wood before tying the sails.
Painted Anchor Jars
Making these painted anchor jars involve using these containers to create a beautiful, creative, and coastal-themed decor item. The best part is the materials you require are just a few jugs, beach-themed paint, and a bit of rope — if you have some lying around.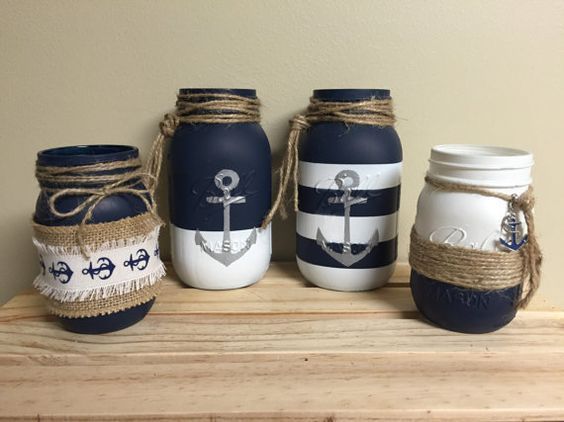 So, first, paint the jars navy blue and white to adhere to the theme. Once they're dry, you can stencil out different sizes of anchors and paint them with a contrasting color for better visibility. Finally, add finishing touches with some rope wrapped around the jars.
Beach-Themed Bedside Table
Look no further if you've got an old bedside table and want to reinvent it. Coastal-themed paint color is all you need to transform it. Simply paint the entire desk and leave it to dry completely before starting to work on the handles.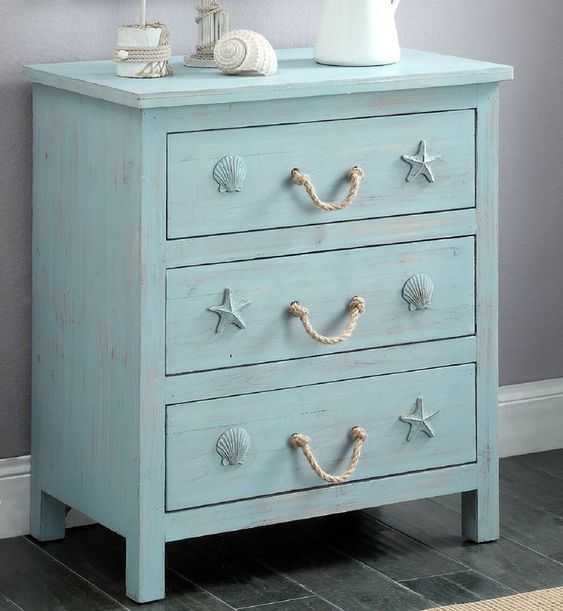 For the handles, use a bit of rope instead of the usual firmer knobs and stick some painted shells and starfish for a charming design. The table will thus add to the color of your bedroom and project awesome beachy vibes.
Lighthouse Painting Canvas
Lighthouses are considered a guiding light to seafarers that can add a beautiful rustic vibe to your coastal home décor. Even if you can't get an actual lighthouse model, a well-crafted wooden painting will do just fine, if not better.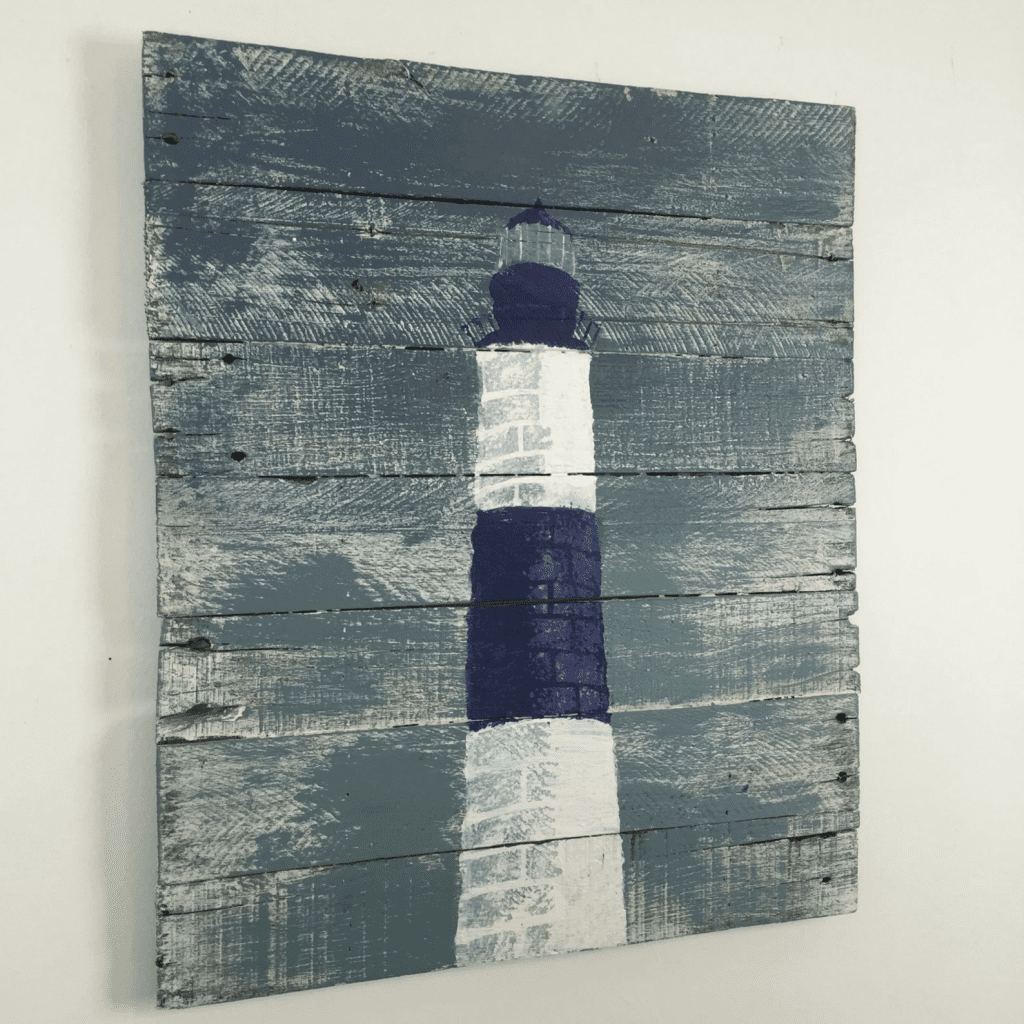 The painting will look its best if created on a slightly distressed wooden piece with bright coastal colors reflected in it. You can easily paint the lighthouse with the colors of your choice as long as they blend in well with the background.
Surfboard-Shaped Table
Surfboards are synonymous with beach waves, which, in turn, serve as a beautiful part of the coastal décor. A surfboard-shaped table will not only carry out a table's normal functionalities but also stand out as a stunning addition to your home's interior.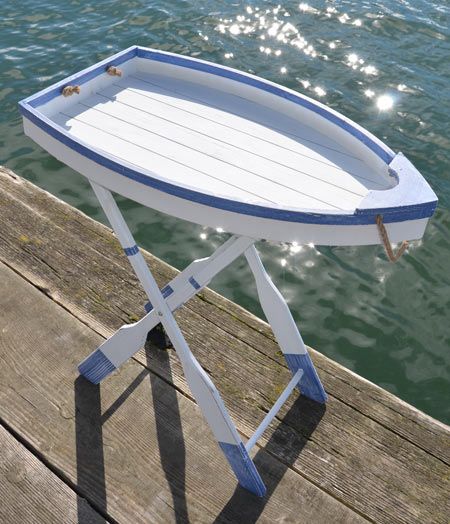 This attractive piece should be made of wood to retain its firmness and hold a certain weight. The combination of blue and white goes perfectly with the theme and is highly recommended, although, you can always choose any other color combinations.
Coastal Boxes
These boxes are pretty, light, and relatively easy to create, which makes them invaluable to your home décor collection. The raw materials can be readily bought from a store, and the boxes are completed in only 3 easy steps, making them perfect for a DIY project.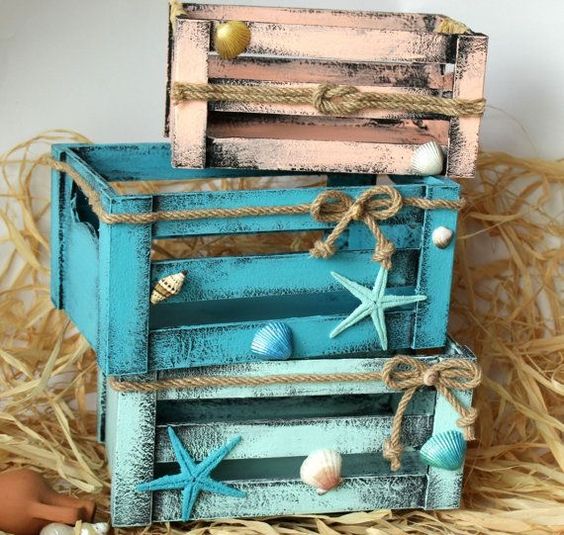 All you need are some farm crates, coastal paint, and a bunch of beach-themed trinkets to stick onto the painted product and complete the look. You can place the boxes anywhere in your home and use them as decorative items and makeshift containers to hold various items.
Wooden Fish Wall Hanging
Marine life, especially fish, has proven to be a great addition to coastal décor. With fish being too simple to make, much creativity can be exercised while incorporating it into your home decor. Rest assured, you can never go wrong with a wooden fish wall hanging.
This particular wall hanging is created by cutting out pieces of wood in the shape of fishes and then decorating them with craft papers or bright colors. Tiny buttons can also be used to make their eyes, and finally, a bit of rope is used to tie all the fishes together and complete the wall hanging.