Cute And Corky: 45 Smart DIY Ideas To Repurpose Cork
By Jhoana C November 21, 2021
---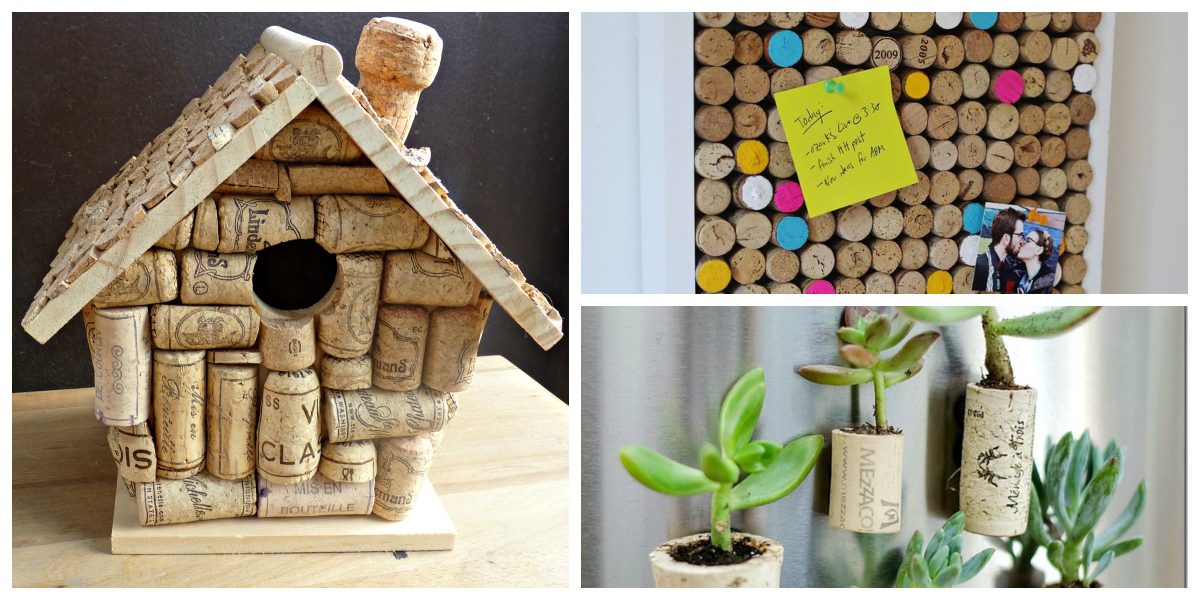 DIYers rejoice! On this list, we have a few projects that will fill your heart with so much love that you'd want to hug us and treat us to a nice dinner out somewhere. We all know that nowadays, it is equally important to have a stylish home and to upcycle at the same time. We each have to do our part in helping Mother Earth while planning our home décor simultaneously. Cork is a material you probably don't think of repurposing that often. So, you'll be happy to know that it can be easily upcycled and is an excellent material for various types of home décor. There are plenty of cork DIY projects online that are beautiful, easy to do, and don't cost a lot of money, and we have rounded up some of the very best for you. We're sure you'd be happy to make these creations for your home.
Make working from home easier with a cork mousepad
Most of us have been working from home for most of last year, and many people have updated their work-from-home setups since then. After all, if you are to work well, you need an environment that is conducive to getting things done.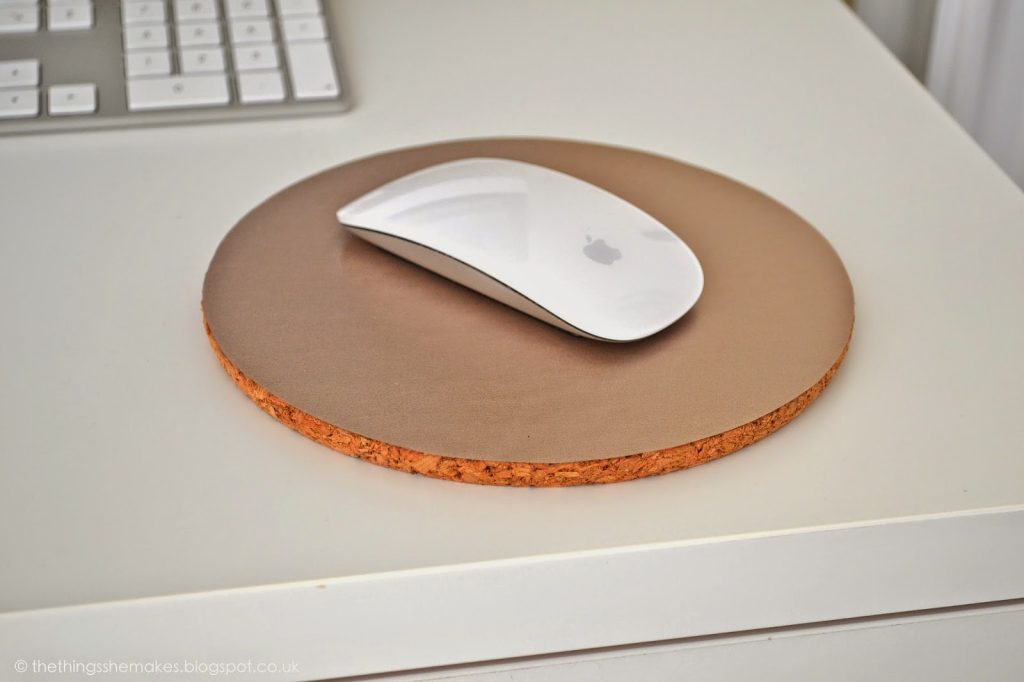 One of the essentials when working on your laptop or computer from home is the mousepad, but you shouldn't settle for any mousepad. While you're at it, you should opt for something cute and stylish. All you need is a piece of cork. You can easily get one from Ikea and a sticky vinyl in a color or pattern of your choice. Just trace the cork from the vinyl, and affix the vinyl onto the cork. Easy and quick!
A place for your earrings so they never get lost
Don't you just hate it when you can't find a pair of your favorite earrings? This has happened to people countless times, and we'll be the first to tell you that it's irritating. Why not make a place for all your earrings so you can find them whenever you need them!
You don't have to do much. Just get yourself a corkboard that has enough space for all your earrings and hang your earrings on the corkboard. Now, you won't have to spend an hour searching for your earrings before going out.
Make sure your iPad is fully protected
The iPad is not cheap, so it's only fitting that you take good care of it. Otherwise, you'd be wasting thousands of dollars, and that's something you don't want to do. You don't always need to buy the commercial iPad sleeves out in the market. You can easily make your own!
You just need a few materials, including cork, some elbow grease, and a little time, and you'll have made a unique case for your device. You don't have to be an expert DIYer. Even if you're a beginner, you can easily make your own iPad sleeve.
A gift fit for Valentine's Day
If you're a lover of wine and have a vast collection of wine corks, you'll be happy to know that you don't need to throw them away. You can make a work of art fit for Valentine's Day in which your other half will appreciate and cherish.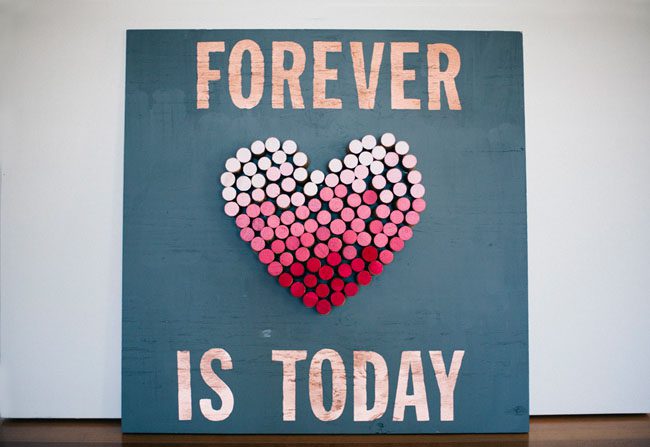 All you need is spray paint, foam brushes, vinyl decals, a wood board, acrylic paint, a glue gun, and of course, corks. You'll need about 100 corks for this. Divide the number of corks evenly into as many groups as the colors of paint you'll be using, paint them in various shades of red and pink, then use the glue gun to affix them on the wooden board.
A chandelier made of wine corks
One look at this chandelier makes us want to start drinking plenty of wine so we can create something similar. This will look so good in our kitchen or dining area. You don't always see something so unique nowadays.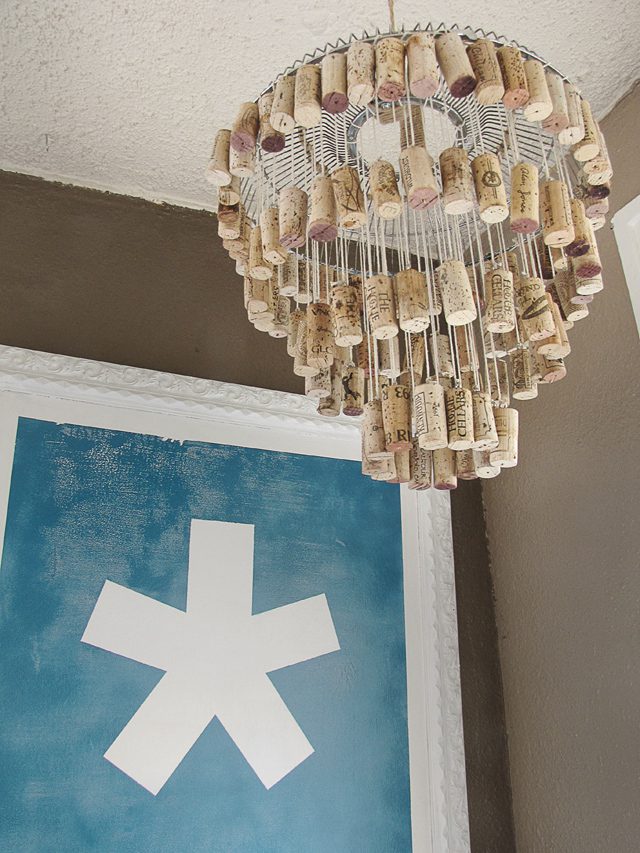 This is a good way of recycling your wine corks, too. All you need for this are some screw eye hooks, some string and rope, pipe fastener, fan grate, and picture hanging wire. You can also google some DIY wine cork chandeliers for more instructions if you need them.
So, you'll never have to forget what you are supposed to do
Sometimes, we are so busy that we forget that we have other things to do. This won't happen again if you have a to-do list. This to-do board made of cork is going to help you achieve what you need to in your day, week, or month.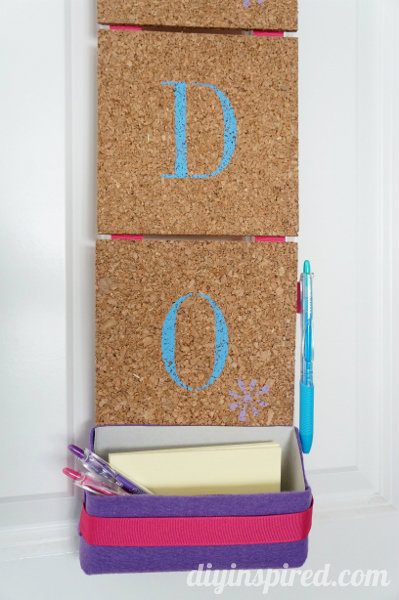 Organization is key. All you need is some paint, ribbon, a corkboard, and a small container for your sticky notes. Stencil the letters TO-DO on the corkboard and paint it with your desired color. Connect the corks and glue the little container on the bottom of your organization board, and voila!
Cardholders
Do you have any friend or family member who's about to say goodbye to their single life and walk down the aisle soon? Do you have any upcoming events? This idea is perfect for events and for recycling wine corks.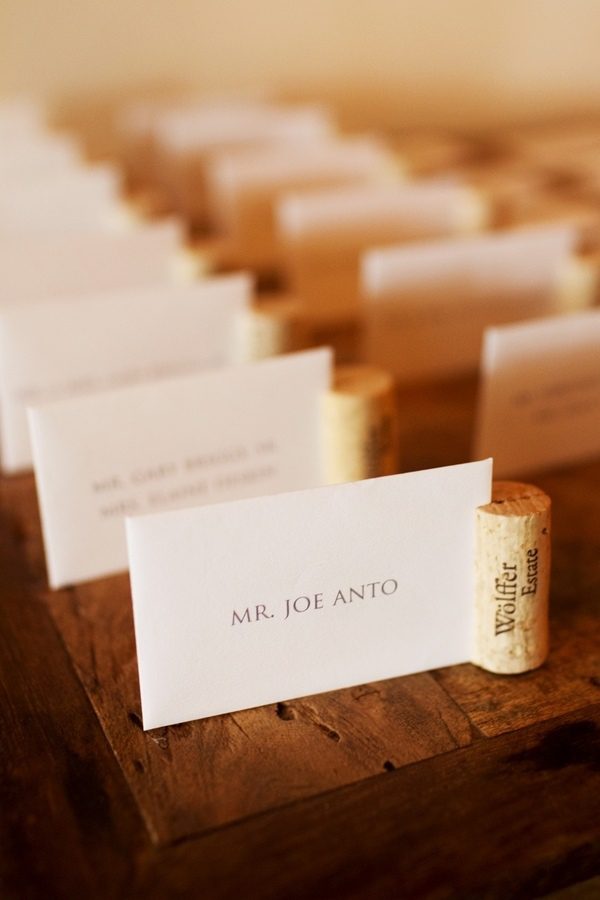 These cork card holders are the perfect way to show guests where they should sit, and it doesn't cost a lot of money. It's something unique that you can create and memorable so that your guest will probably want to try for their next special event.
Say no to boring corks
Corks don't have to be boring, regardless of whether you're talking about wine corks or corks for the kitchen. Remember those cork trivets sold at Ikea? They don't get people's attention because they're very basic, but you can always spruce them up.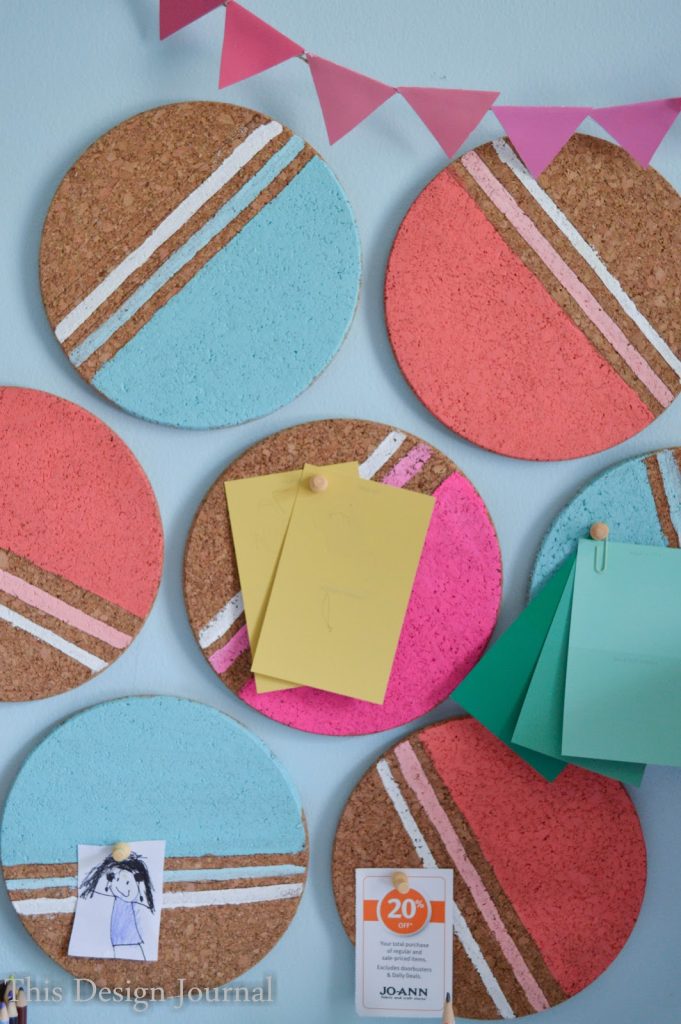 They don't always have to be boring, and you can make them stand out by decorating them and giving them some life. Don't be afraid to paint them and create a few patterns that you like. Check out the Internet for some inspiration!
Pincushions with personality
We love these pincushions because they have so much personality, and they will surely make your day brighter. You don't always have to copy what you see in the photo; you can come up with designs of your own!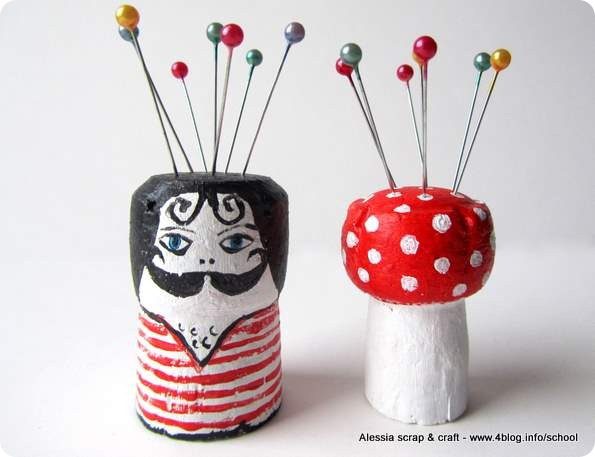 Let your personality and creativity shine through. You only need a few materials such as some paint, paintbrushes, and of course wine corks! Check the Internet for some inspiration on what to paint them because there's plenty there. With this type of pincushion, you'll be inspired to do more needlework.
Make a forest out of corks
This is a DIY project that's great for the holiday season. This will be a cute decoration for a corner of your home that needs a little life and some 'sprucing' up. All you need are a few wine corks and artificial evergreen branches.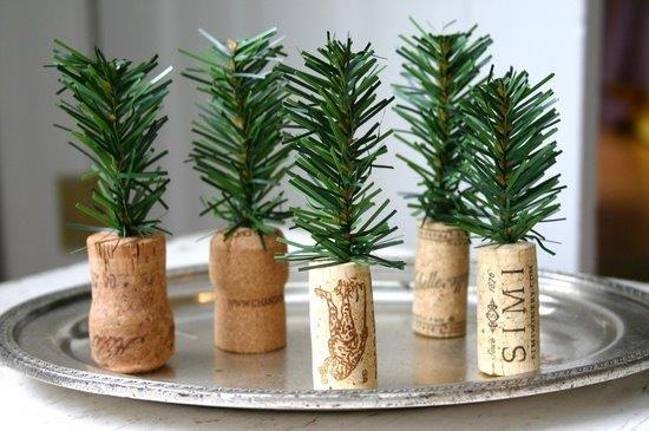 Just stick or glue the small evergreen branches onto the cork, and there you have it. Do take note that they are quite small, so you'd have to put them in a group or else they won't be noticeable. Put them on a decorative plate to make them look even better.
How would you like to sit on this stool?
We know we'd like to sit on this stool because it looks so inviting, like a comfy spot where you can relax. You don't need to spend much on these stools, be it time or money. You can get inexpensive stools from Ikea and corkboards from your arts and crafts supply store.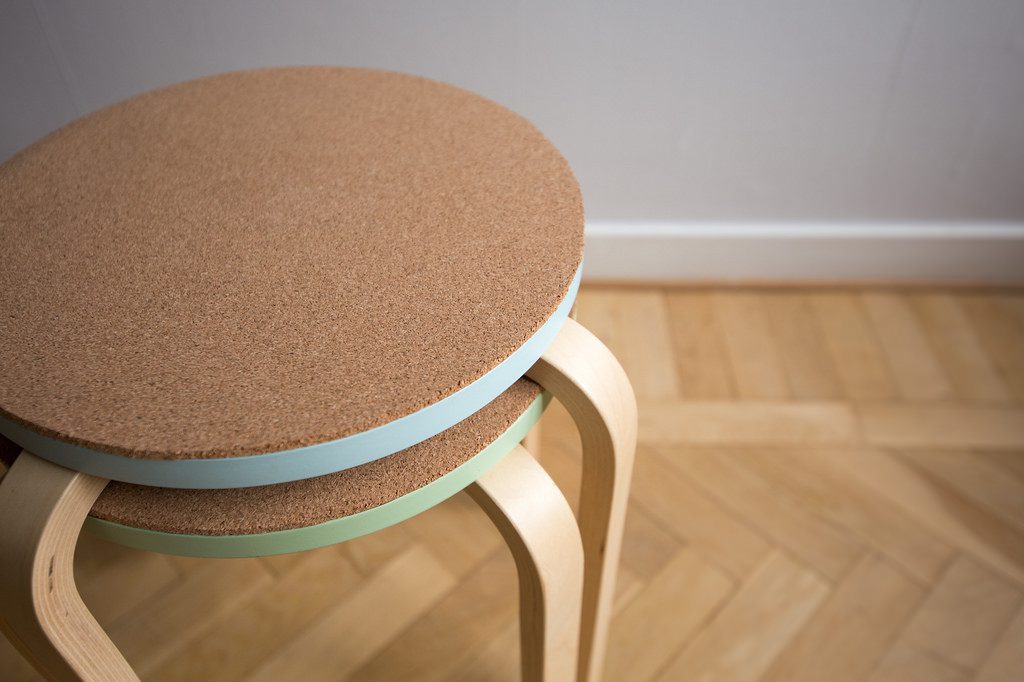 Just trace the shape of the seat on the corkboard, cut it, and attach the cork onto the seat using heavy-duty adhesive, and there you have it – comfortable cork stools. This would make a great weekend DIY project.
Make some cork trivets with wine corks
One of the most important things you could ever have in your kitchen is the trivet. It's placed between a hot serving dish and the dining table because we all know what heat can do on surfaces, especially wooden and glass surfaces.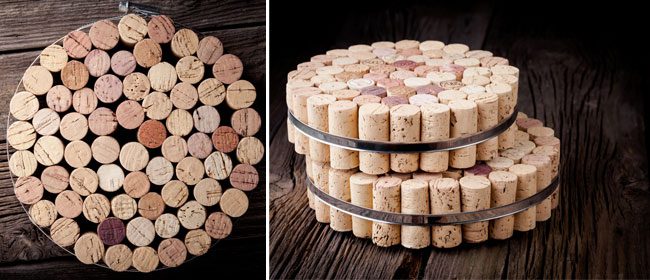 If you have plenty of wine corks at home but no trivet, now is the best time to make one out of those wine corks. Not only will you protect your table, but you'll also be able to make good use of your wine corks by upcycling them.
Another DIY project for wine corks
If you haven't noticed yet, wine corks are the easiest things to upcycle because they can be used for virtually anything. You'll see just how many wine cork projects there are on this list, and perhaps you'll be inspired to make one of your own.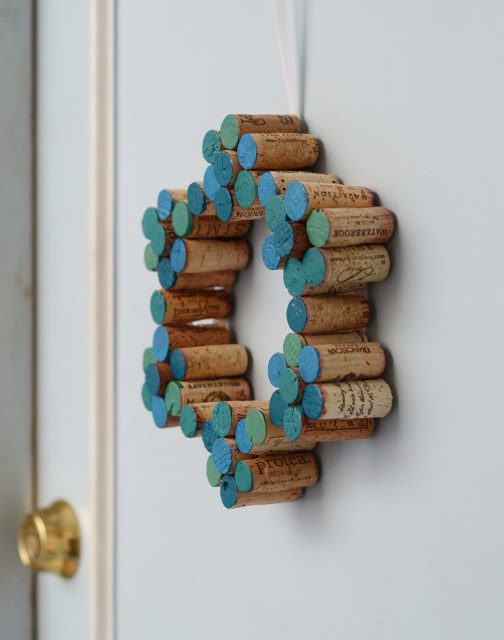 This wine cork wreath is fit for any occasion and can be displayed all year long. Plus, with this project, you can let your creativity and inner artist shine through. Take a quick look on the Internet for design inspiration. We know there's a lot out there.
Cork portrait art
This project seems a bit daunting, and we think it is for people who have some serious skills when it comes to art. We are not that creative so, we don't see ourselves making this but perhaps this is a good fit for you. Nevertheless, it's quite an amazing project.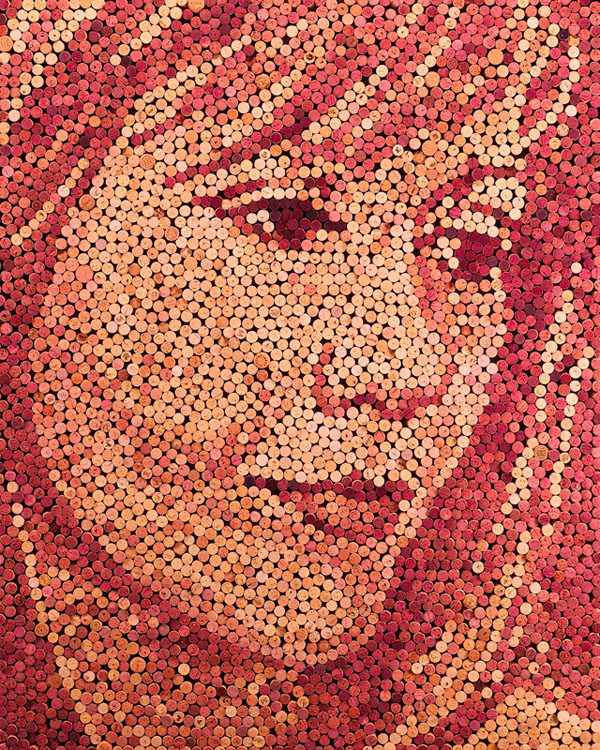 This would make a great gift for your wife, husband, boyfriend, girlfriend, or a beloved friend and family member. They will surely appreciate the time and effort you put into this because this is something that takes serious patience.
Keyrings made from wine corks
Are you the type of person who always seems to lose your keys? One minute they are in your pocket, but then you can't find them the next minute? Well, it's time you get yourself keyrings. But, don't just buy the commercial versions. Make your own!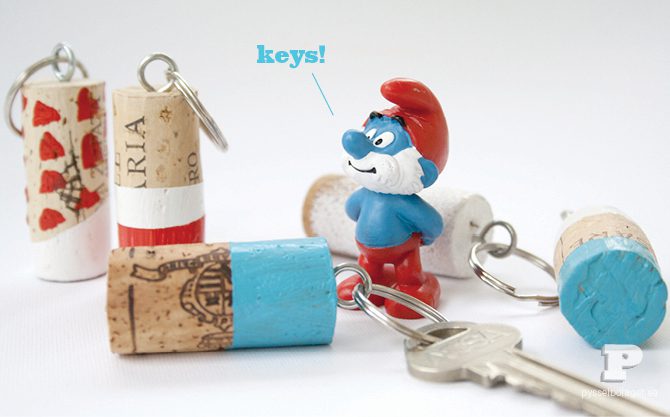 All you need for this project are some wine corks, paint, and metal hooks, of course. Just paint any of your preferred designs on the wine corks. You can use masking tape to get a nice straight edge. Attach the metal hooks, and there you go!
Cork pen and pencil holder
Got some extra cork trivets in the kitchen which are not used? Don't throw them away because they can be easily upcycled to make pen and pencil holders. This DIY project would make a great gift for people who love to journal and scribble.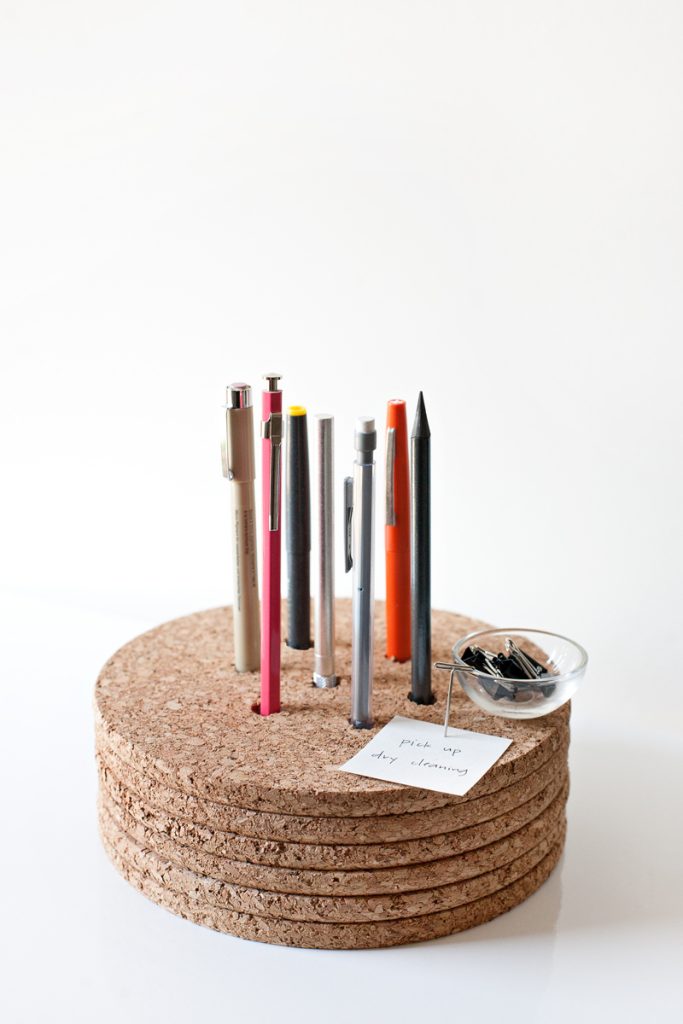 All you need to do for this project is to stack and use glue to attach at least four cork trivets on top of each other. Drill a few holes where the pens and pencils can go depending on how many you have. The great thing about this is it can also double as a memo board.
Cork flags for your cupcakes
They say we eat with our eyes, and the way we present food affects how people feel about it. Have you ever felt that when food is put in front of you? Does the presentation make the food seem more delicious than it is? There's a basis to that.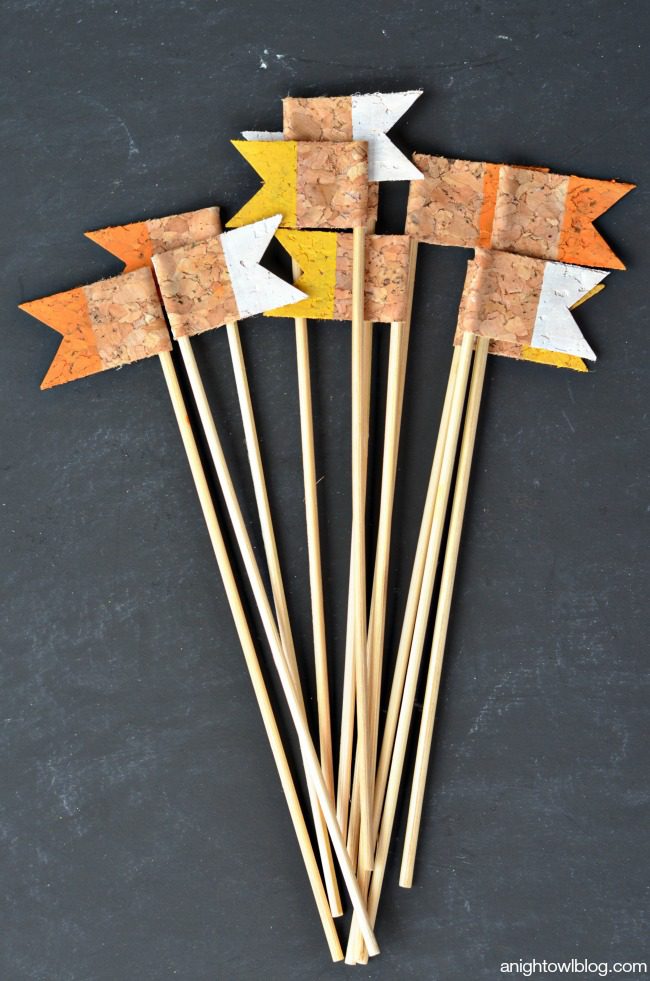 A nice way to make your baked goods, particularly your cupcakes, look more delicious than they are is to make cork flags. This fun and easy-to-make cork flags is versatile and can be used regardless of the theme's event.
A good addition to any bathroom
This bathmat made of wine cork is going to make a lovely addition to any bathroom and you don't need much to make this, too. All you need are wine corks, shelf liner, some glue, and your ever-reliable glue gun.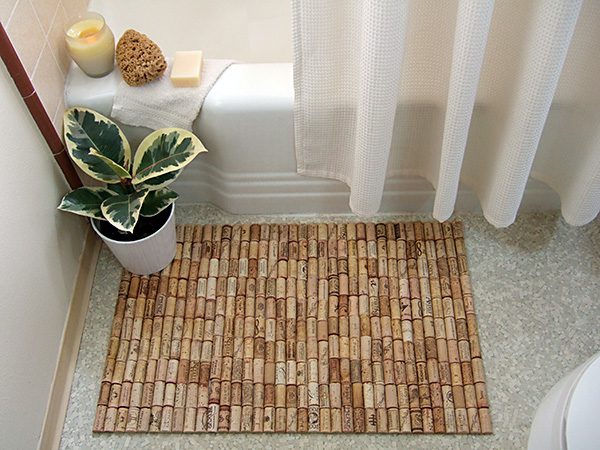 This project inspires us to collect wine corks, and we are definitely going to start collecting them as soon as possible. Cork feels good on bare feet. Make sure you use a non-adhesive shelf liner that has a grip bottom so it stays in place.
Napkin rings made of cork
These days it's so easy to get anything and everything from the store. People don't realize, though, that in the process, their households are losing their personality because they can easily buy anything and everything they want from the mall.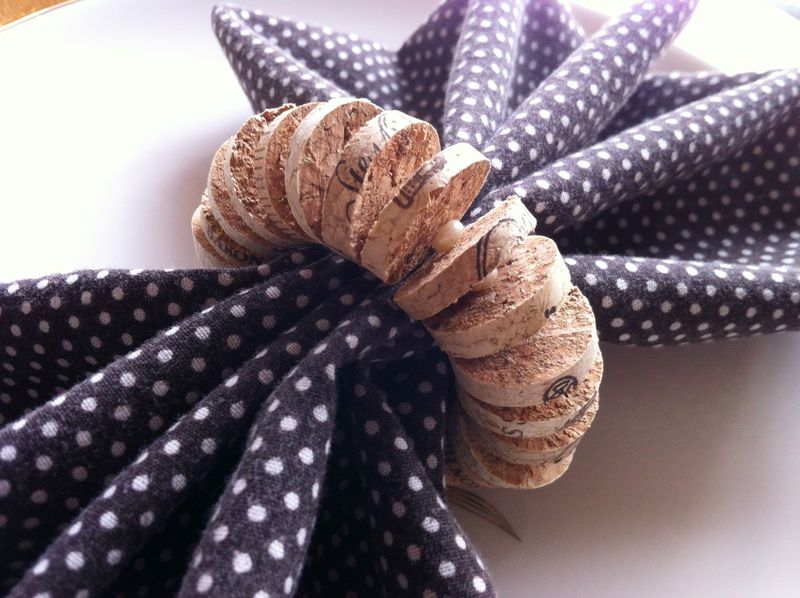 Why don't you inject a little personality in your home by having at least a single item that is DIY so that you can be sure that you won't see anything similar? Why not start with this small DIY project of napkin rings made of cork?
Letters made of cork
If you want to make any event extra special, you can easily do so by labeling different areas with the use of cork letters because that's not something you usually see every day. It gives guests a unique experience in which they will remember.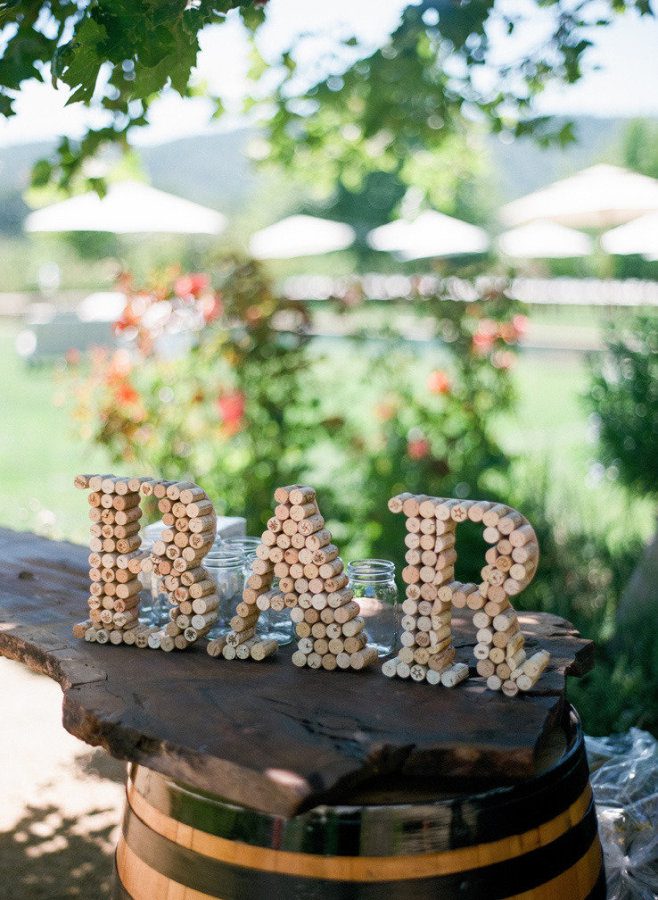 You could also use corks to spell out names as well as make monograms. For this project, you'll need lots of cork, so you might want to ask some friends if they have some. You'll also need glue and a template for different letters in which you can easily print out from an online source.
Remind yourself with cork memo boards
If you need reminders of what you're supposed to do in a day or a week so you won't end up forgetting things, you'll need a memo board. Memo boards are also excellent places where you can put up some pictures to remind you of the good times you've had.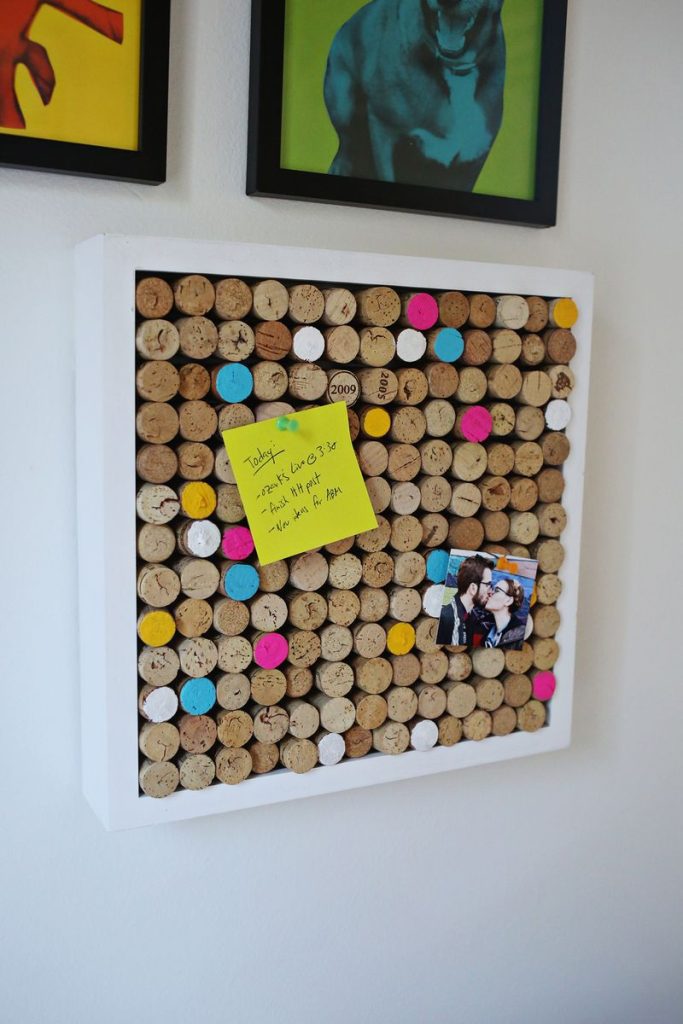 This is another take on the cork pinboard with pops of color throughout, and we have to admit that we like this one a lot, so don't be surprised when you come to visit us and see this DIY project on one of our office walls.
Cover your vases with cork
Have you ever thought of covering your flower vases at home? The idea has never occurred to us, but after seeing this beautiful cork vase DIY project, it's the only thing we can think about. This would make our homes look a lot more unique.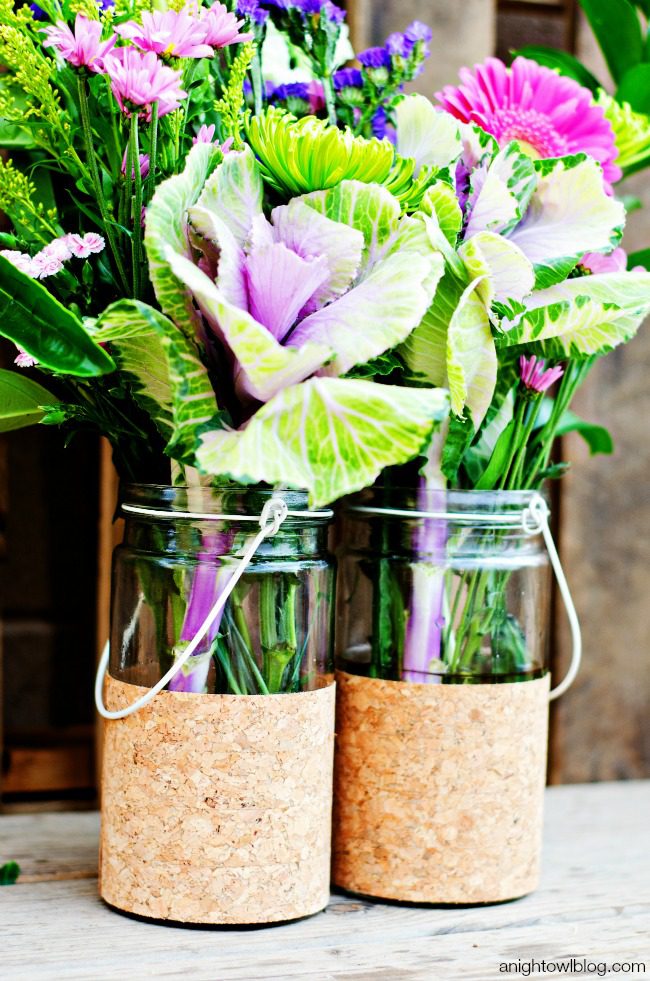 The different textures and colors of the glass and the cork give the vases a modern and interesting vibe. There's the organic and wooden look of the cork, and then there's the contemporary and industrial feel of the glass. It's quite an interesting mix if you ask us.
Could we interest you in a game of darts?
If you love playing darts and have it in your home, this project might be a good fit for you. This backboard made of cork will not only help protect your wall but will also entice you to play darts more.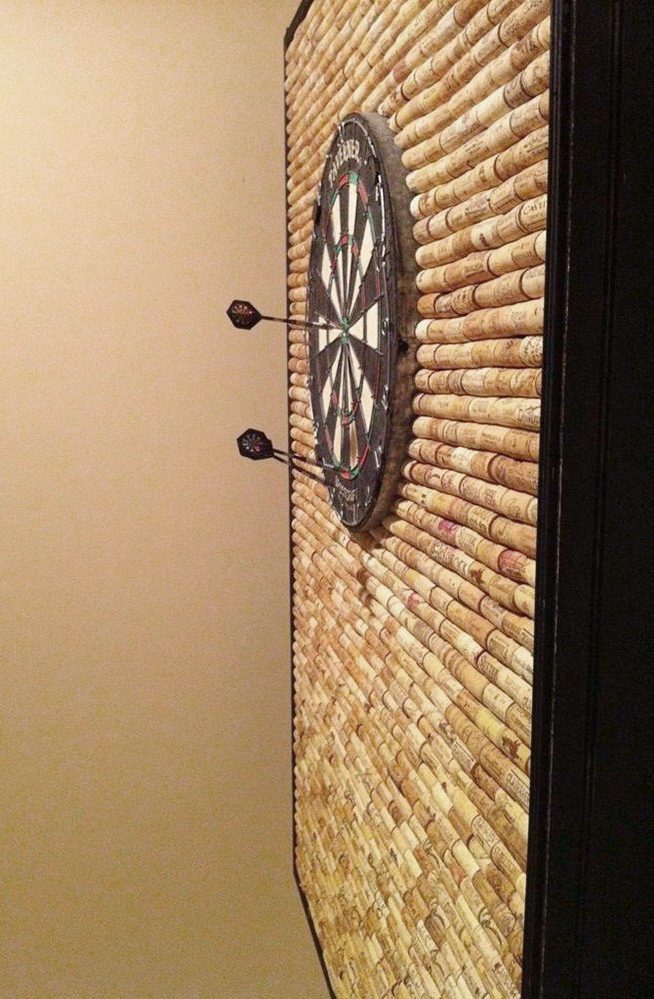 All you need is a frame and a piece of wood where you can glue the wine corks. This might require more than a weekend as it takes time to glue all the wine corks, but we guarantee you that you will love the finished product.
Brighten up your garden with cork markers
If you have several plants or herbs in the garden, distinguishing what plants go where can be quite difficult. After all, some have identical leaves. You can say goodbye to confusion by labeling the different areas with garden markers.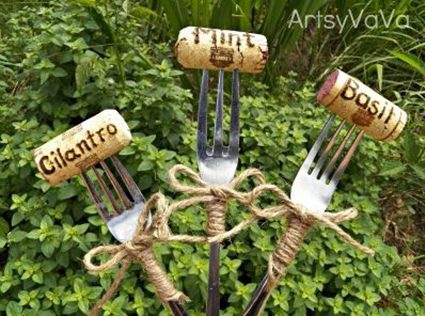 Now, you will be able to easily tell where the basil, cilantro, and mint are. These whimsical garden markers only require wine corks, some rope, forks, and a pen which you can use to write the names of the plants on the wine corks.
A gorgeous cork trivet
Why settle for the simple and basic cork trivets that you can easily buy at the mall when you can come up with something special? Stand out from the crowd whenever you can, we always say, and don't be afraid to experiment.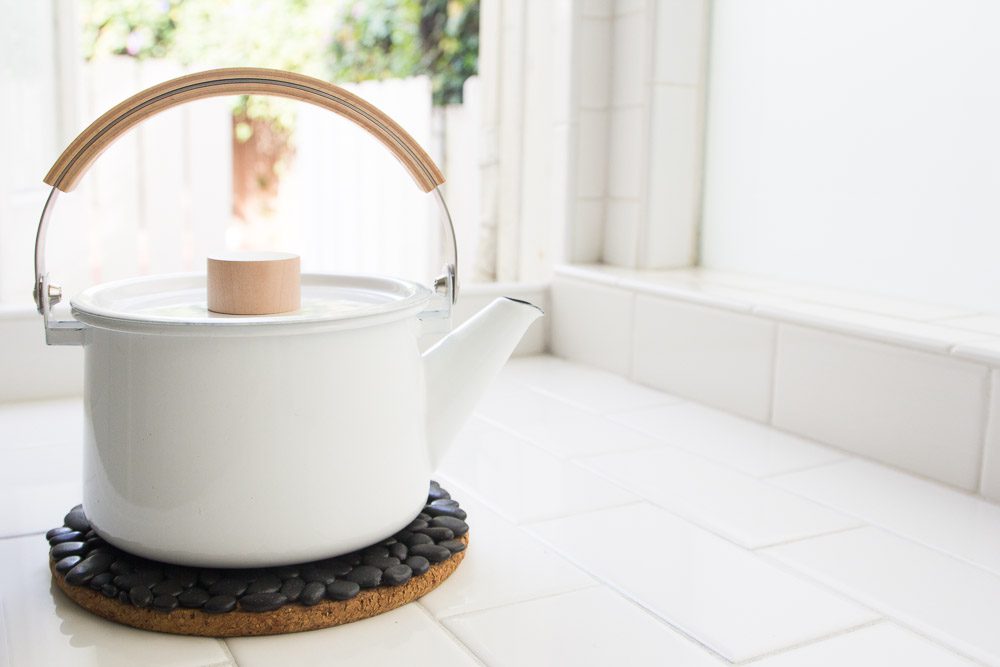 If you have some shiny pebbles or aquarium stones hanging around the house, you can always use them to decorate your cork trivet like this person did. Don't you think the trivets look better this way? We sure do!
Need a pinboard in your work area?
Have you always worked from home, or have you been working from home since Covid started and don't see yourself returning to the office anytime soon? Welcome to the club because you're not alone. What you need to do is make yourself as comfortable as can be while working from home.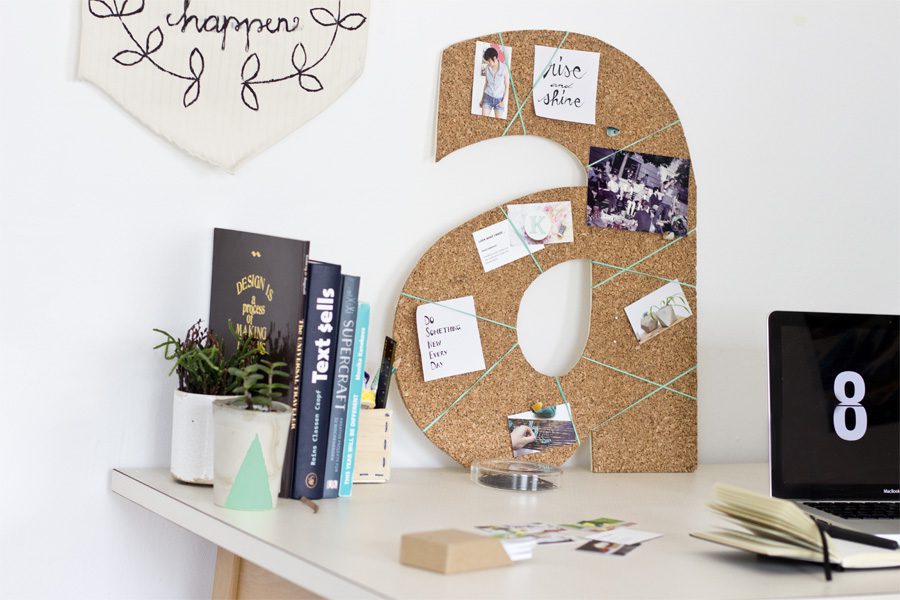 If you find yourself needing a pinboard, there are plenty of DIY ideas on the Internet, but we love this specific one! This cork pinboard in the shape of a letter is the perfect addition to any desk. Although this is in the shape of a letter, you have the option to cut the cork sheet in other shapes.
Colorful coasters with geometric patterns
One of the things which are a must-have in any household are coasters. They help prevent the condensation from your drinks from leaving watermarks on surfaces. You'd want to keep your countertops and tables presentable, and watermarks are not nice to look at.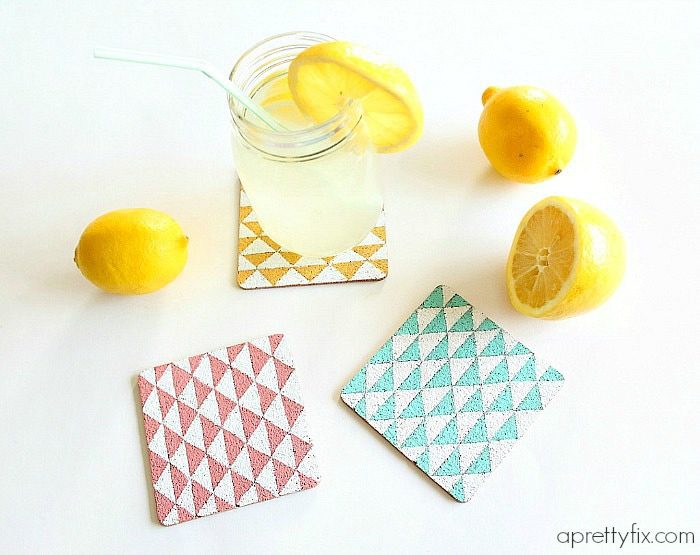 If you have recently bought basic coasters made of cork, we recommend giving them some life by painting geometric patterns on them. It's something simple in which you can easily do when you're off from work. Just look at those beauties in the photo.
Display boards for your air plants
First, to avoid confusion, let's define what an air plant is. Air plants are tropical plants that grow on trees, and a good example is an epiphyte. It absorbs nutrients and water from the atmosphere. They are popular nowadays as houseplants because they don't need much light.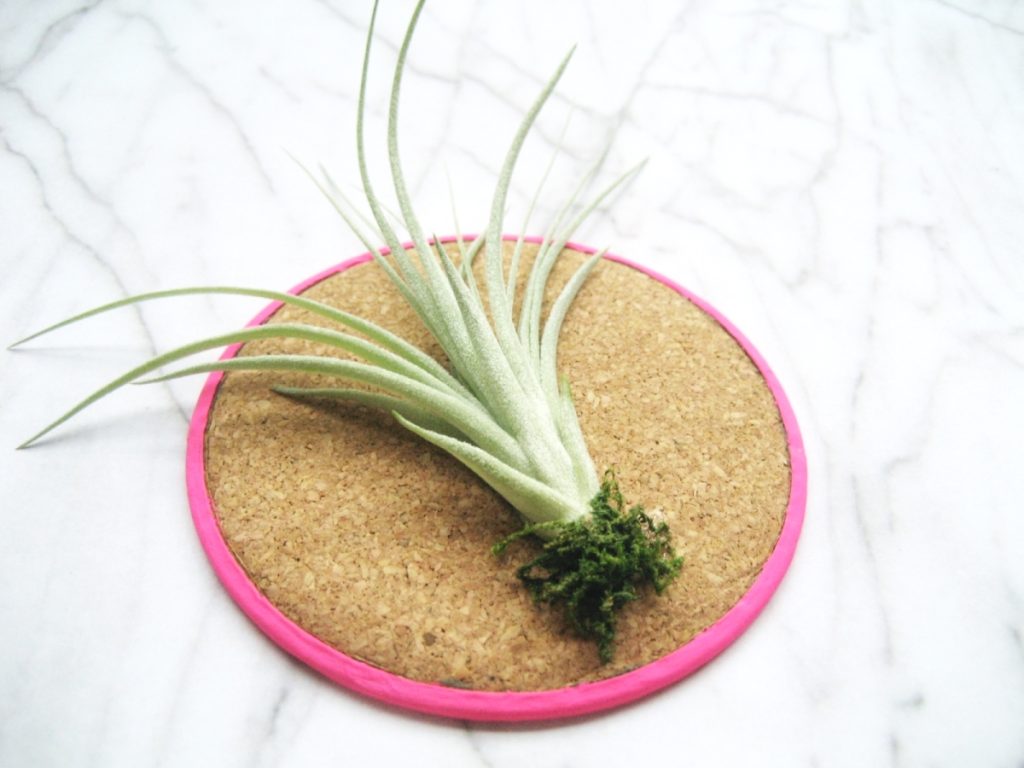 A good way to showcase and care for your air plants is to put them on display boards made of cork, such as the one you see in the photo. All you need for this is a round-shaped cork, such as the one used for trivets or even a cork coaster.
Stylish cork pen cups
Who wants to work on a boring desk? We know we don't. So why not put some life into your desk with some functional décor that will inspire you to complete your tasks and do your absolute best, such as these stylish cork pen cups?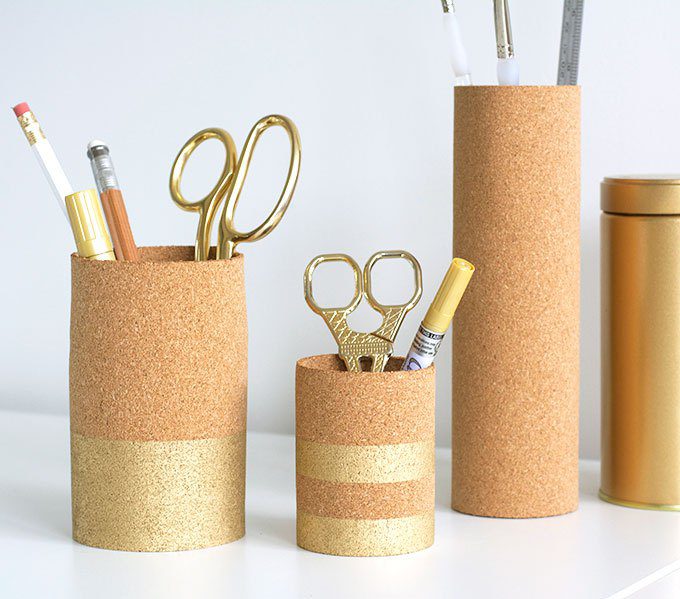 We know there are a lot of plastic pen cups you can readily buy at the stationery store, but why settle for them when you can come up with something better? Use a little gold paint, some cork, and elbow grease, and you'll have unique pen cups.
Cork bottle stoppers for those who like to drink
Most people rarely finish a bottle of wine unless they are having company over. You need to make sure that you keep your wines fresh until the next time you have something to celebrate, and that can be done easily with these unique cork bottle stoppers.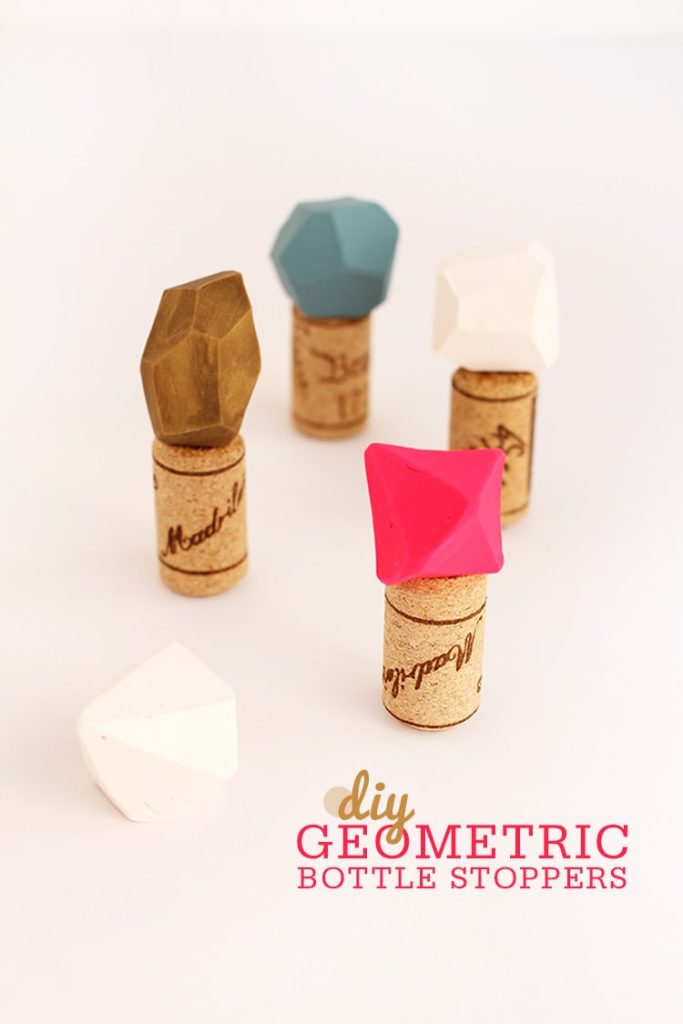 For this project, you'll need glue, an X-Acto knife, clay in different colors, corks, and a work surface where you can safely cut shapes. You can shape the clay according to your preference and create 3D surfaces by cutting away flat surfaces. Bake the clay in the oven, glue them to the top of the cork, and you're done.
Perfect for gifting season
Cork is so versatile that it can be used in many things, and your imagination is the only limit. We're inclined to believe this after seeing all the pretty DIY cork projects, especially this cork gift tag. We'd be impressed if we received a gift with a cork gift tag like this.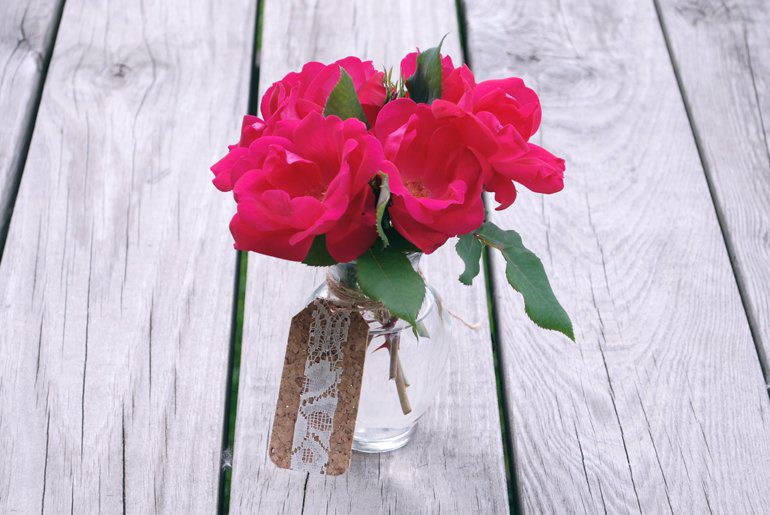 Most people can't be bothered to put effort into a gift tag and would just buy whatever is available in the stationery store. A gift tag like this will give the receiver the impression that you care for them because you made the gift tags yourself.
Cheese spreaders with wine corks
Check social media nowadays, and you'll see people posting about their beautiful and fancy charcuterie boards. They are so in fashion nowadays. If you friends and family, they will probably tell you that they bought charcuterie boards for serving guests, too.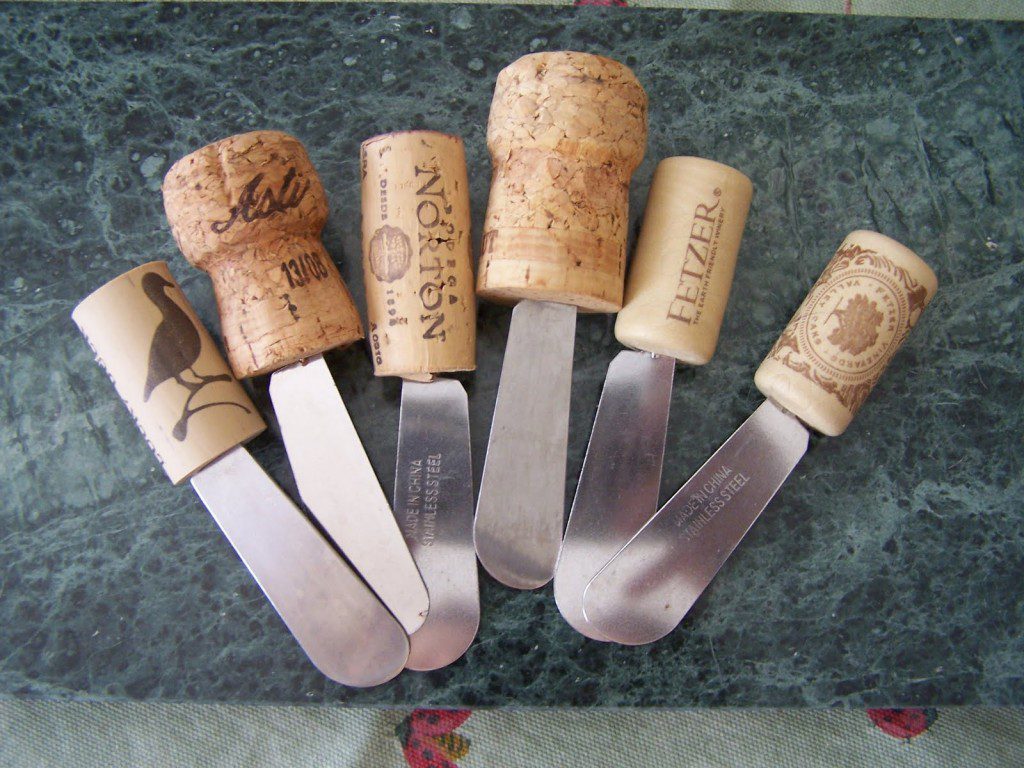 If you haven't jumped on the bandwagon yet, now is the best time to do so, and you can make your own cheese spreaders unique by adorning them with cute handles made from cork. Just cut slits on the cork and insert the cheese knife handles in. Easy and quick!
Kitchen backsplash made entirely from cork
Although your kitchen backsplash is functional, it can also be made decorative, and this all depends on what materials, patterns, and colors you use. Here in this photo, you see a kitchen backsplash entirely made of corks glued together.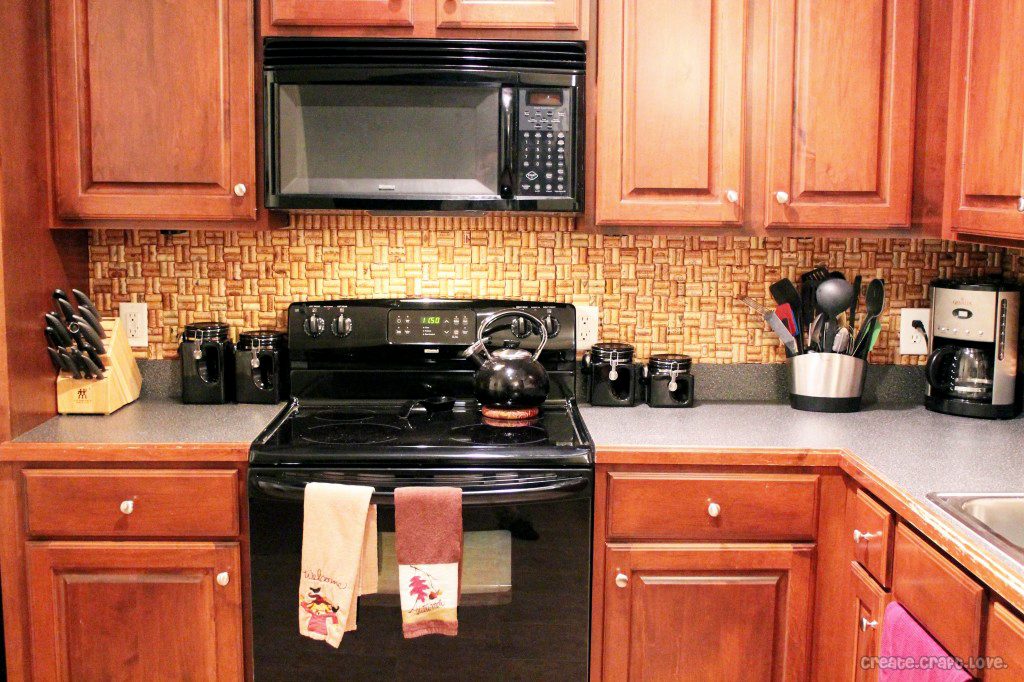 The backsplash protects your drywall, prevents drips (we all know and hate oil drips), and makes cleaning easier. If you don't have a kitchen backsplash yet, you should add one ASAP. There are plenty of materials to choose from, but we're partial to this one.
State coasters for drinks
Here we have another take on cork coasters that can protect your tables and surfaces from watermarks. We love this one because this isn't something you see every day, and it's in each one is in the shape of a specific state from the United States of America.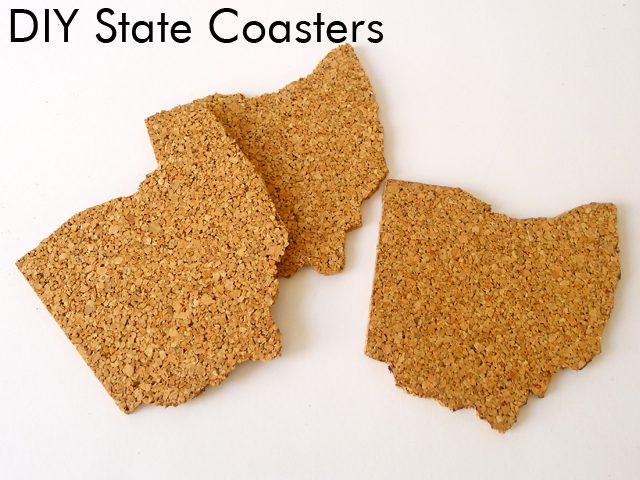 Of course, if you live somewhere else, you can always cut out shapes that are more suitable for your location, like, say, Europe or Australia. We guarantee that this will be so much fun to make, and you can even enlist the help of family members.
Something for the kiddos
Who says that cork is serious and that it's only something to be used for serious, household DIY projects? You can also make something fun out of corks that children will appreciate, such as this cute cork sailboat toy.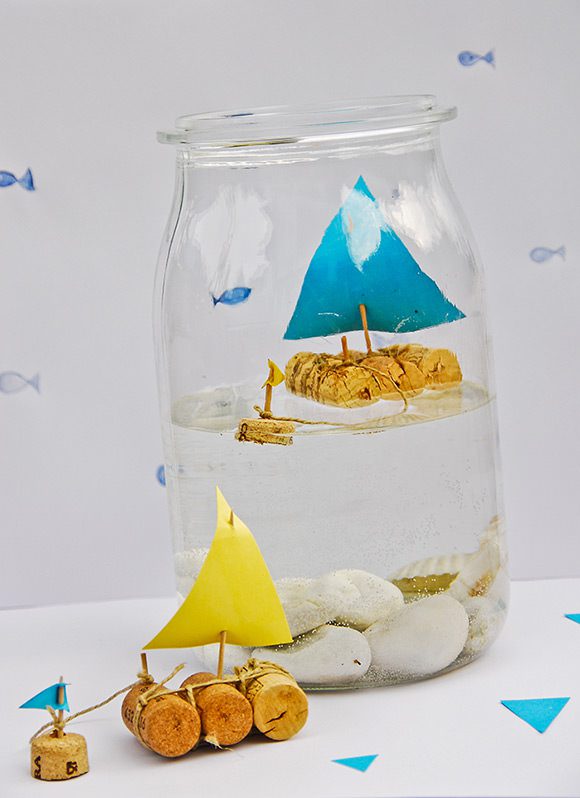 For this arts and crafts project, you'll need materials that you probably already have around the house. We love that this mini sailboat even comes with its own dinghy! Talk about having all your bases covered! Check the Internet for more inspiration.
Tiny planters for succulents
If you have suddenly developed a green thumb and want to showcase your succulents, these might just be the most fun tiny planters you will ever make in your life, and they don't cost a lot of money. All you need are magnets, some potting soil, a steak knife, and wine corks.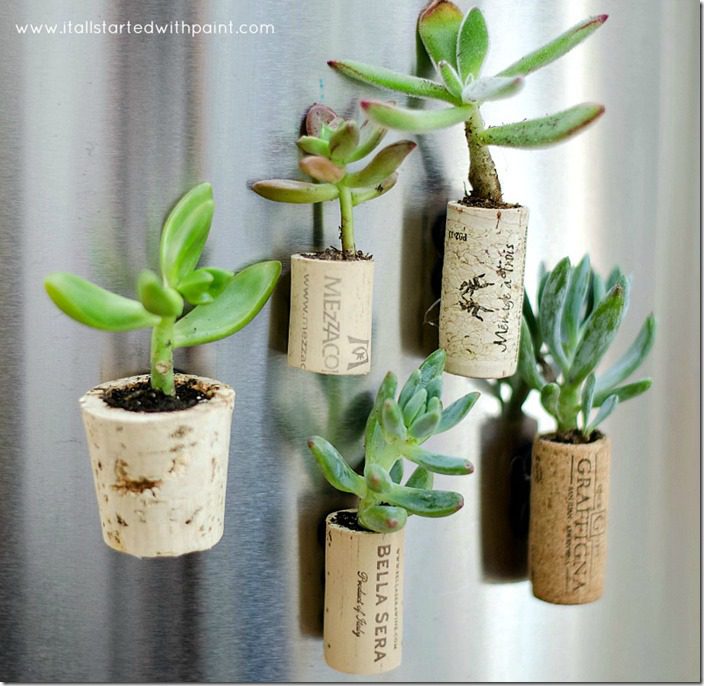 Core out the center of the cork using the steak knife, glue the magnets to the cork, put some potting soil inside, and transfer your tiny succulents to the cork. Just make sure they are the hardy succulents that will survive almost anything. Stick the cork to a metal surface, and there you have it!
Cork snowflakes for the holiday season
Now that the holiday season is just around the corner, you are probably already considering the holiday décor for your home or office. This DIY project comes just in time. It's something that you, your family, or officemates can easily do, and it won't burn a hole in your pocket.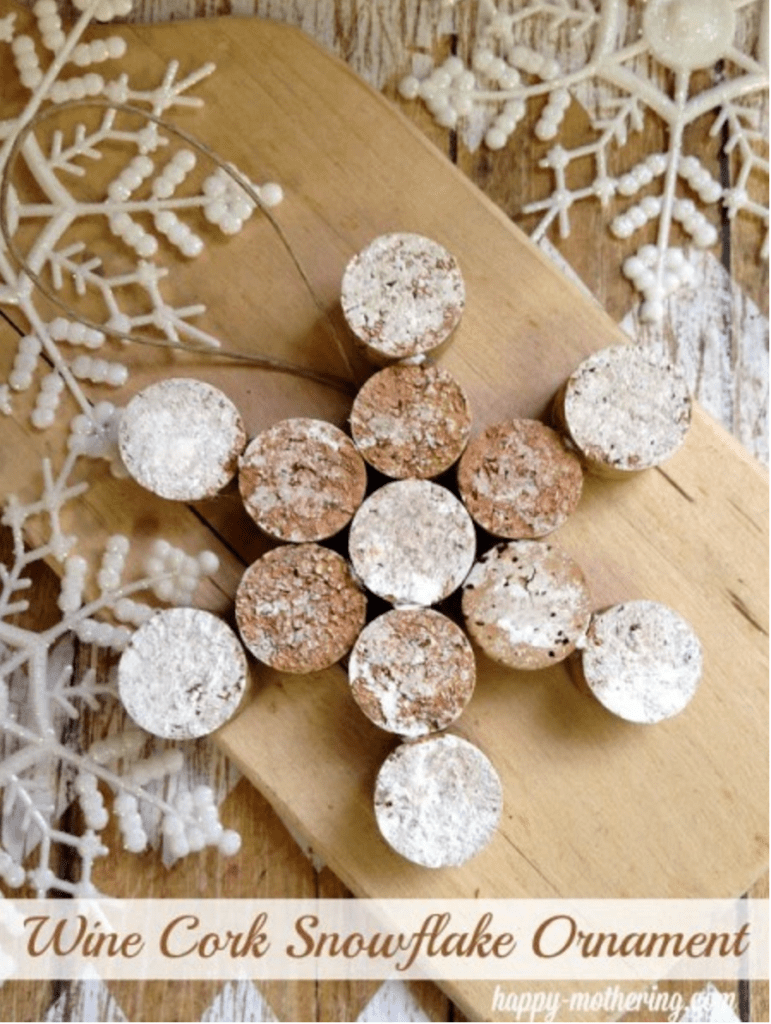 This lovely cork snowflake will instantly give your home or office a wintery and holiday feel. All you need are some wine corks, white craft paint for that snowy look, and a ribbon for hanging. Just cut the wine cork into fourths using a serrated knife, assemble them into the shape of a snowflake, glue them, and add a little white paint.
Gift the people you love with diamond cork necklaces
If you'd like to make a fashion statement, you can easily do so with the right accessories, and we guarantee you that this diamond cork necklace is going to get people's attention. They are going to ask where you got it.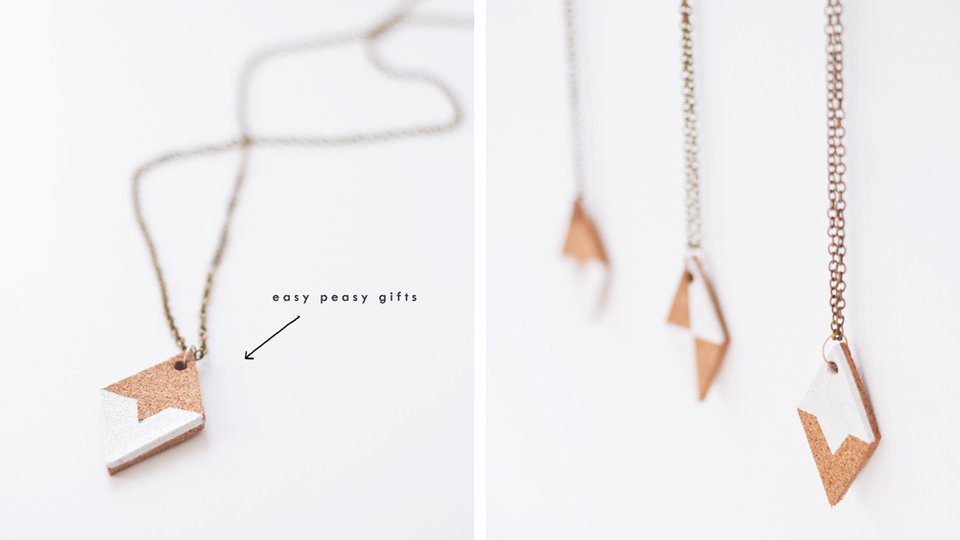 This diamond cork necklace can be easily customized with paint of your choice, and if you're sort of an artist, it's the perfect opportunity to unleash your creativity. This doesn't cost much in terms of money, time, and effort too.
Cork real estate for the birds
If you have a pet bird or have a backyard that is often frequented by avian life, it makes good sense to create an abode for them where they can be comfortable, safe, and free. No, you don't have to buy one of those expensive birdhouses.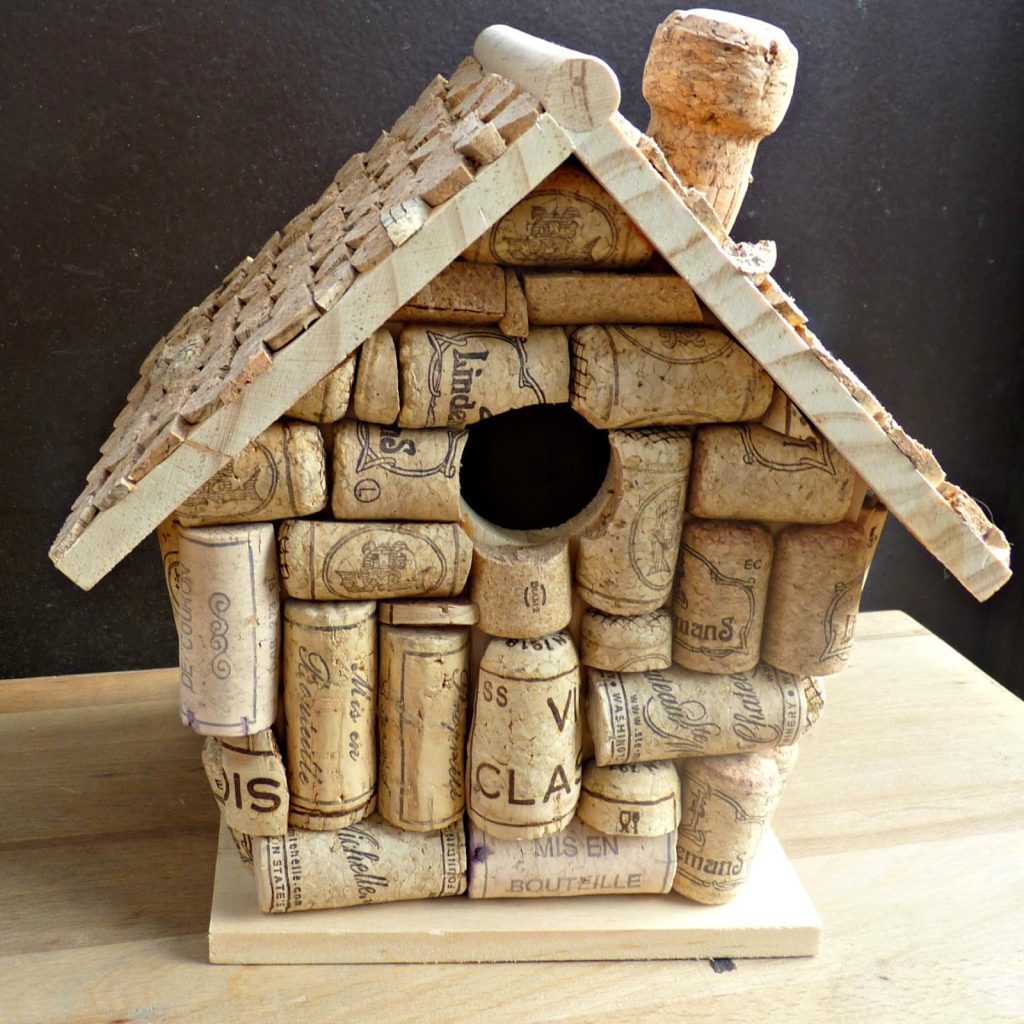 You can easily make one from wine corks which we are certain the feathery creatures will love. All you need is a piece of wood for the base and fashion the rest of the structure from wine corks. Not only does it look good, but it will also offer your avian friends insulation, too.
Wine cork decors
By now, you would have already noticed that cork can be easily fashioned into various shapes, and that makes them ideal for home décor. What you see in the photo are star and arrow decors made from wine corks that have been cut in half.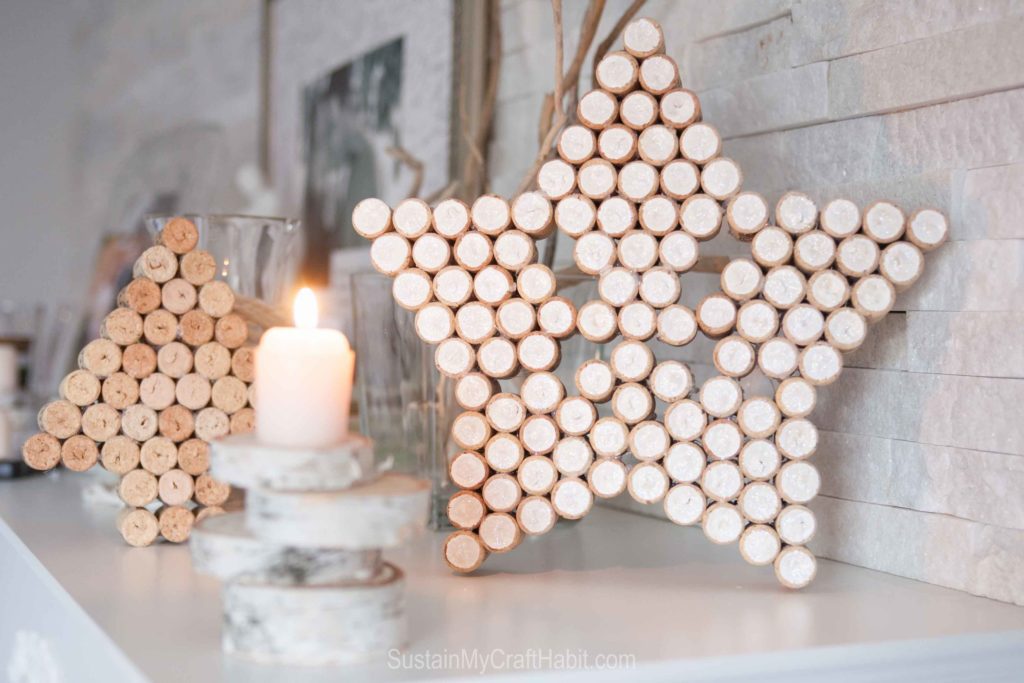 You don't always have to follow what you see in the photo. You can easily make your own cork décor depending on what shape and size you like. This is just an inspiration. It's also up to you if you would like to paint your cork décor or not.
DIY cork stamp
We know that not a lot of people write notes or send cards today, but that's precisely what makes them very special in the digital age. They are more intimate, and they make the recipient want to preserve them for years to come.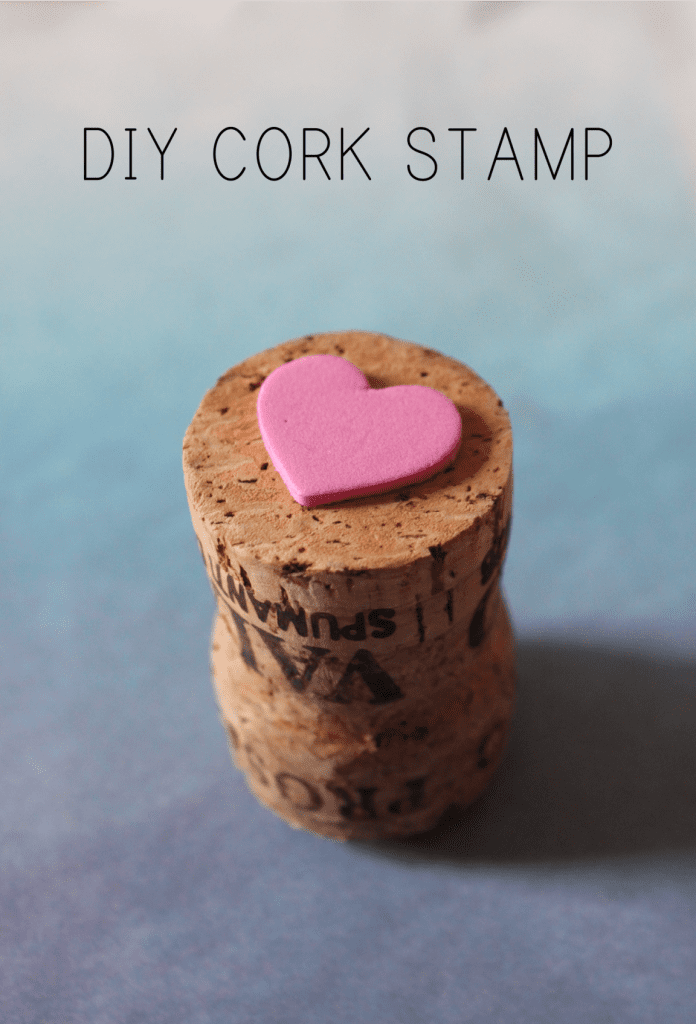 Make your handwritten notes and cards more personal by adding your personal touch through a stamp. You don't need to buy expensive ones; you can make one with the help of wine corks. Just cut out any shape you like from foam and glue it to the bottom of a cork.
A table runner that's going to be a conversation piece
Create something that will get houseguests, friends, and family talking. A unique table runner is just the right thing to do this and something that's entirely your own. This project definitely can't be found or bought in just any store.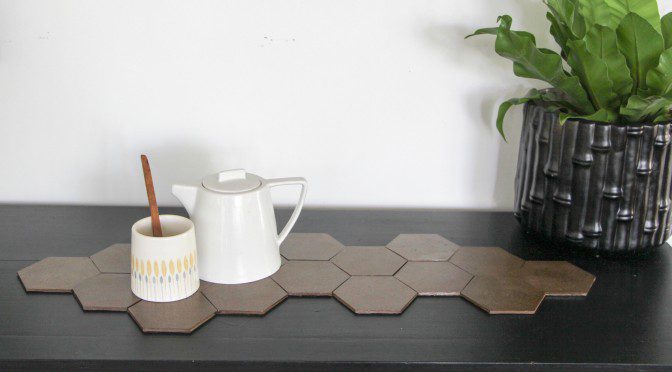 This hexagonal table runner is going to be the star of the show the next time you get together with friends and family. It might be unbelievable, but it's made entirely out of cork that has been cut to shape and coated with a clear sealant. Clever right?
Something for travelers
We aim to please everyone no matter what category you belong to, so we also have to come up with something for people who love and live to travel. You can easily let people know how far you've traveled by displaying your travel history.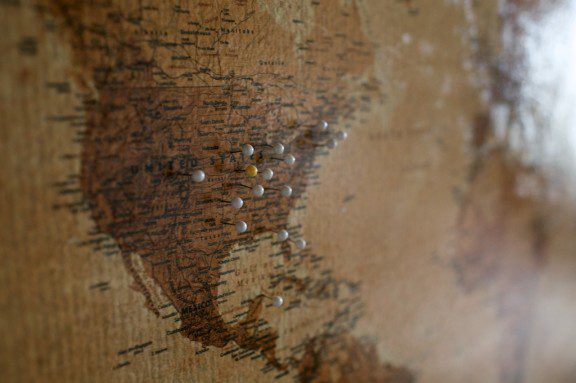 What better way to do that than by mounting a map on a corkboard? Pin the countries and cities you have been to. You can also pin the pictures you've taken on the locations. They will serve as a reminder of the good times you had while traveling.
Another take on air plants
This is another take on the air plants we mentioned earlier on this list. These maintenance-free plants are a favorite because, well, they don't need a lot of attention and care and are just right for busy people who want to put more greenery around the house.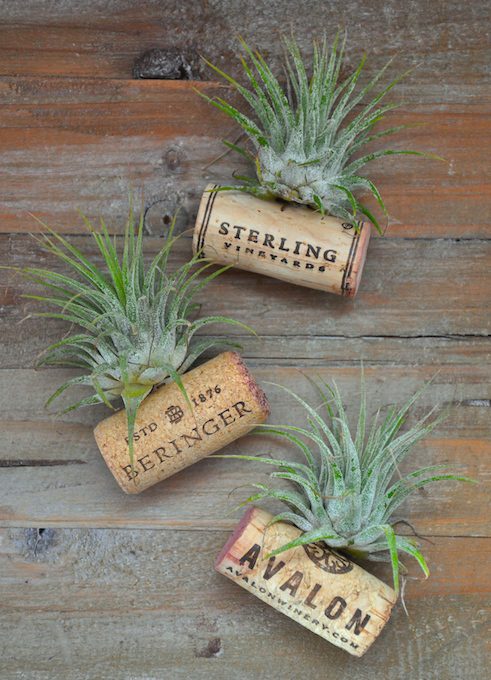 Just grab a few wine corks, core out the center, put some potting soil inside, and transfer the tiny air plants on the corks. Arrange them nicely on a plate, and they can be displayed readily in the kitchen, living room, or even your work area.
Decorative balls made of cork
We can't exactly say that we've saved the best for last, but we bet you that this decorative ball made of wine cork deserves to be on this list. It's an excellent way to upcycle and make your home stand out.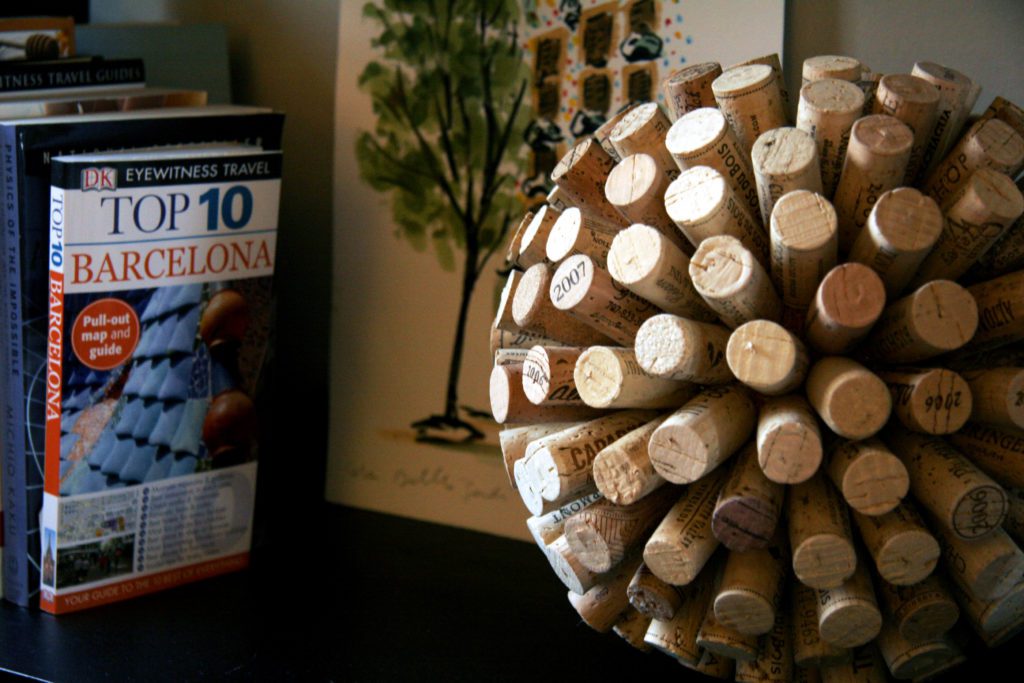 Just grab a styrofoam ball. We'll leave the size to you as you'll have to consider your free space. The styrofoam will become the base of the ball, and it is where you'll glue all the wine corks. This is going to take some time, so be patient.