Make Time To Be Creative: 35 Amazing Wood Crate DIY Projects To Craft In One Day
By Israel O April 10, 2022
---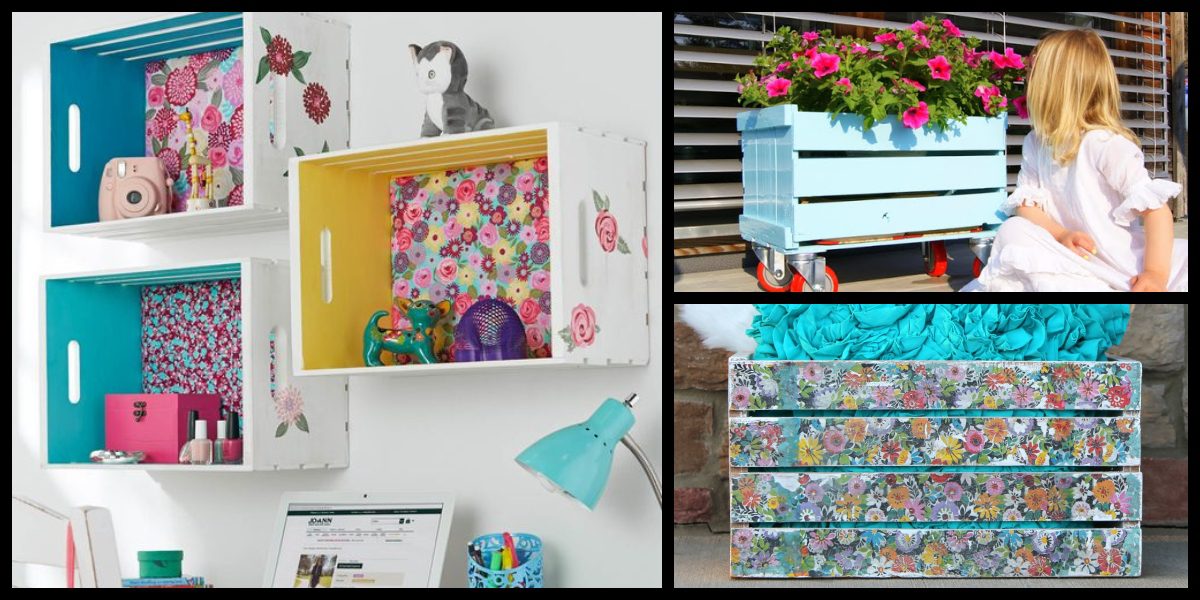 There is no better feeling than building something you can call your own. While most people will encourage you to call in the experts, we highly recommend trying new hobbies. You can do many DIY projects with tools you already have around the house and don't require an expert to get to the finished piece. One great place to start is crafting with wooden crates. These projects may look like a piece of work, but little do you know that you can even build one in a few hours with a bit of guidance. Follow our step-by-step guide, and in no time, you will have a new decor piece ready to show off to your family and friends. Read on, get to know the intricacies involved, and be inspired to start creating today.
1- Wooden Crate Dog Feeder
You can design a raised dog feeder yourself with a wood crate. With this DIY, you do not need to spend a lot of money buying a high-end feeder for your little pet. All you have to do is get a wood crate and two dog food bowls.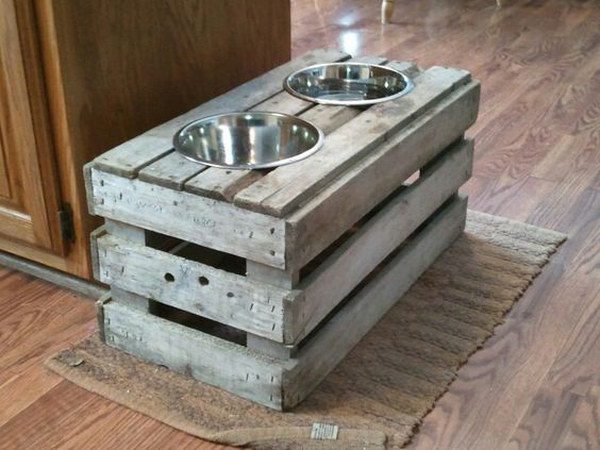 Put the crate upside down and use a compass or circle cutter to draw a circle large enough for the bowls to fit in but not too large that they slip through. Use a jigsaw blade to cut out the holes and sand down the unfinished surface. Insert two stainless dog food bowls, and you're ready to go!
2- Unfinished Wooden Crate with Cabinet Pull
Another way you can redefine your interior decoration is to utilize unfinished wooden crates. These crates require little to no extra work to fit right into your living room or workspace. You can also install a cabinet pull for east accessibility.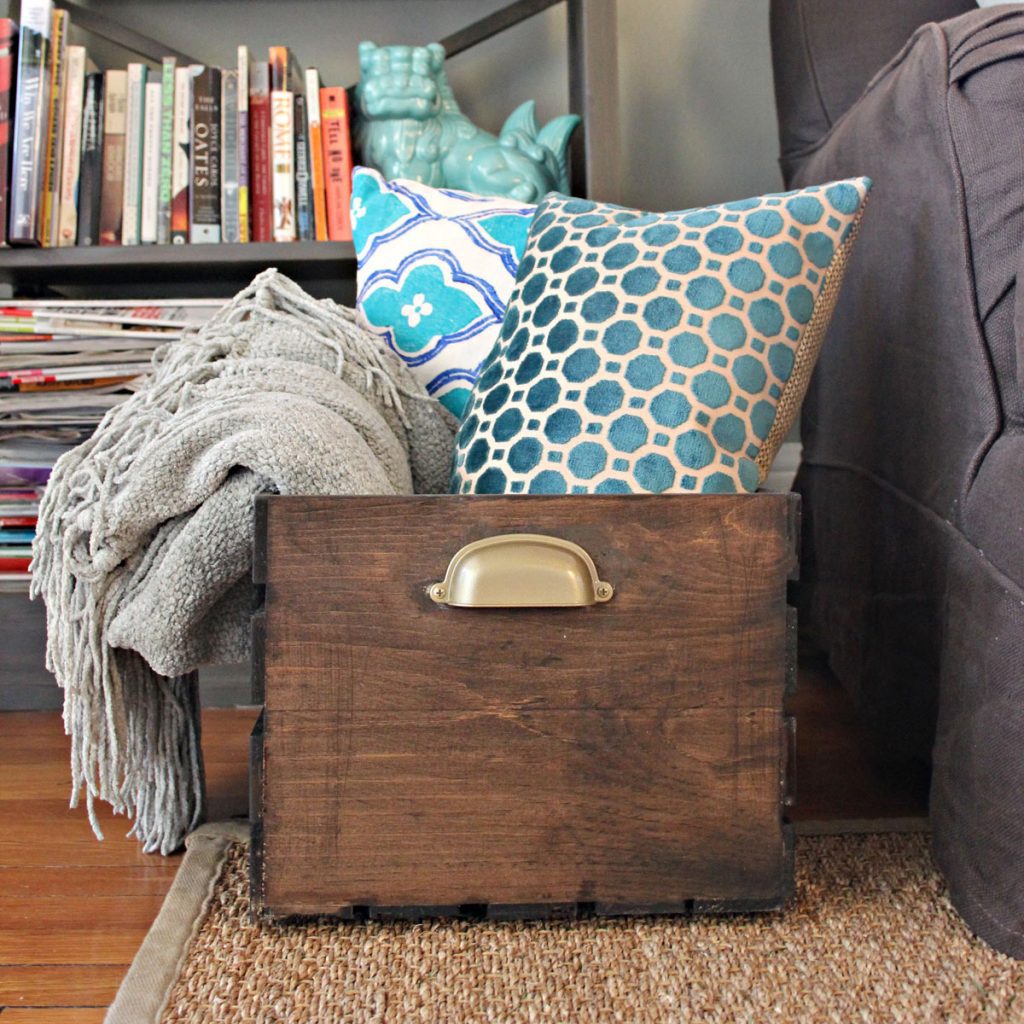 You'll need paint or a slash of stain to make the cabinet's color match your home. The cabinet pull can be stainless steel or wood, depending on your preference. You can easily affix it with a drill or screwdriver. This little DIY project can give you extra storage space in your home.
3- Wooden Crate Bench with a Shoe Rack
Before now, we never even thought about such a creation. The unusual combination of a bench and a shoe rack using wood is one of the finest creations you'll find out there. What's more? It's handmade. With some direction, anyone can pull it off.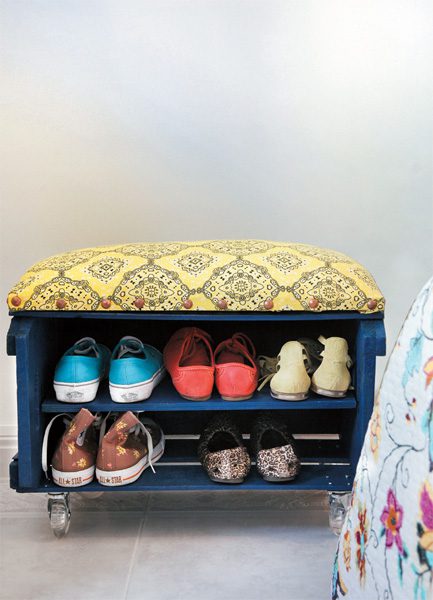 This multipurpose bench will be a good fit for a home filled with kids. You can count on them to keep the house clean by carefully placing their shoes after school. It's also an excellent place to sit and tie shoelaces. Adding wheels to the bottom of the crate is an excellent idea.
4- Wooden Vertical Storage Space
If you can get some lavish-looking brackets and two wooden crates, you can design an economic yet elegant vertical storage shelf yourself. With this simple DIY project, you can do away with expensive shelves for your office and home items.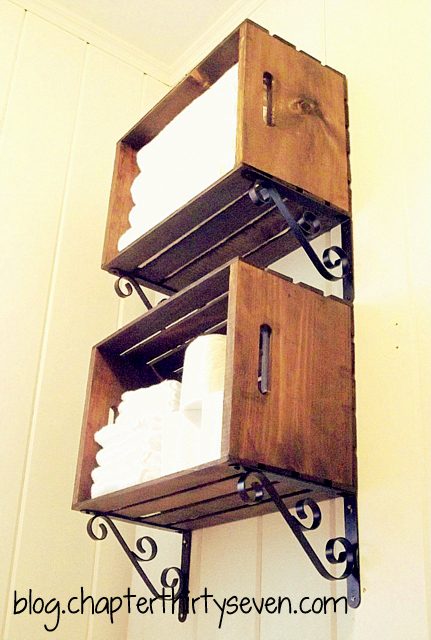 The advantages of this shelf design are numerous. It is not space-consuming due to its vertical orientation. As such, you can arrange more than one shelf in your office or home using this simple design. Also, It is easily customizable.
5- DIY Wooden Garage
The thing about wood is it has so much versatility, especially when it's about storing things. With just some hot glue, a crate, and a bunch of toilet paper rolls, you can create the best garage ever seen for your kid.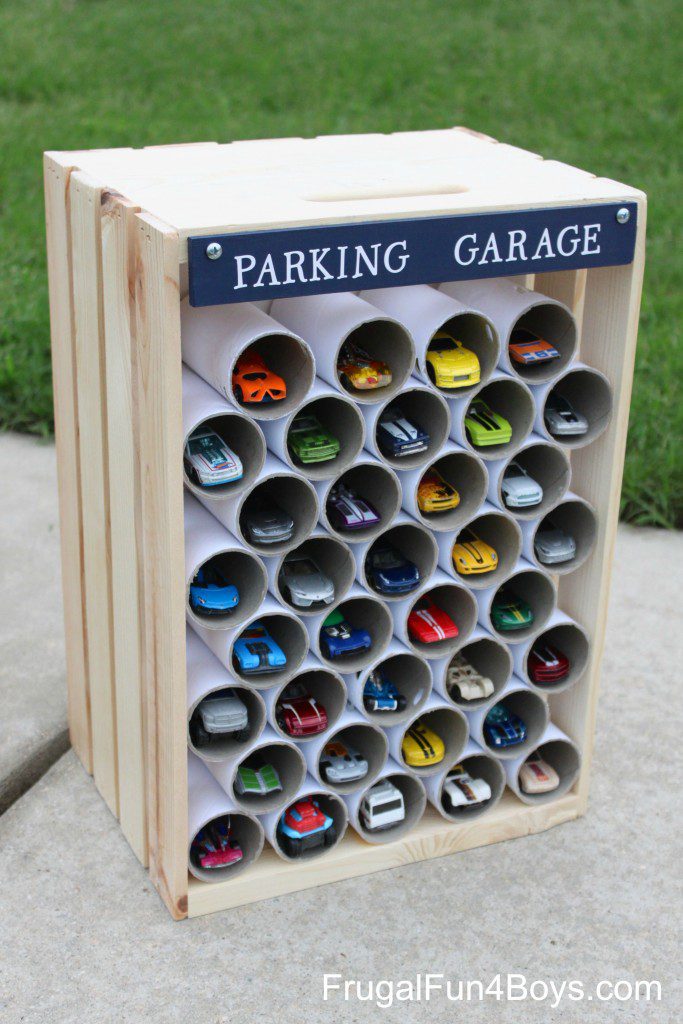 There are no more toy cars flying around the house and no more crying because one's missing. You and your kids can park all of your toy cars in the wooden garage once he's done driving them. Compared to a drawer, this is much cooler.
6- Large Wooden Crate Bookshelf
If you or your kids are book lovers, you can consider using wooden crates to design a large bookshelf. The materials needed are eight large unfinished crates. You'll need to sand the interior to make it less rough to avoid splinters.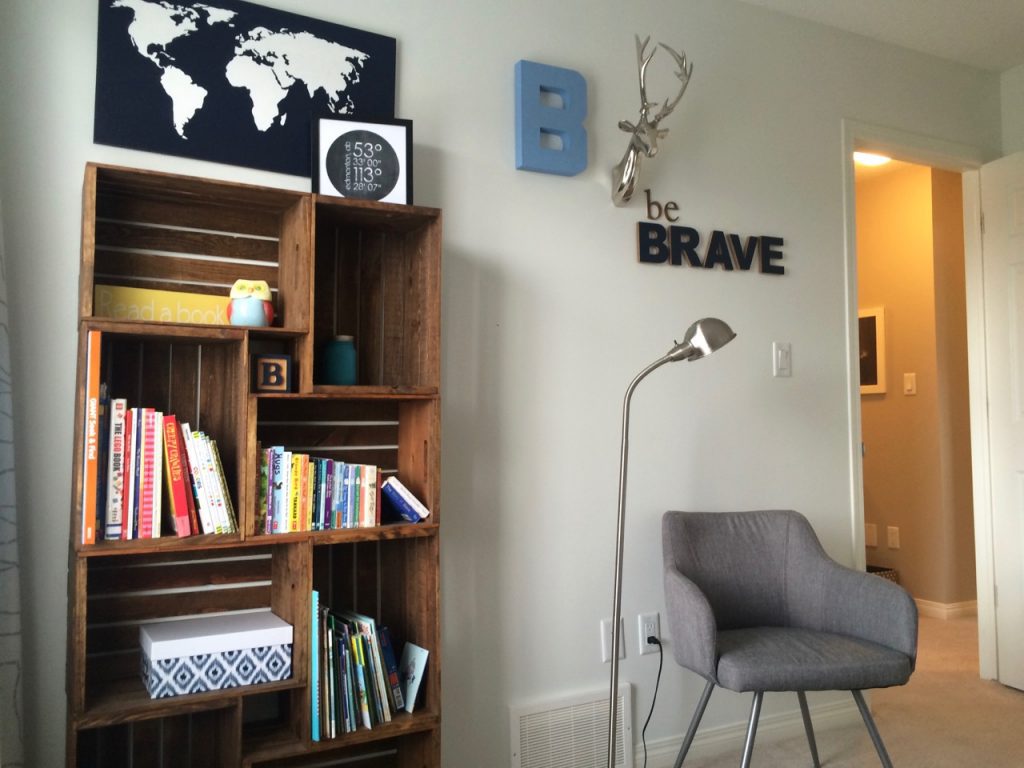 After that, apply any stain you like and wipe any residue with a rag. The next step is to drill screws into the crates to hold them together. You'll also need brackets to hold some of the crates to the wall.
7- DIY Bedside Table
If your little girl likes to read at night, then an adorable wooden bedside table would certainly help her cause. You don't have to call in the experts, you can just find a fine afternoon and put in the work.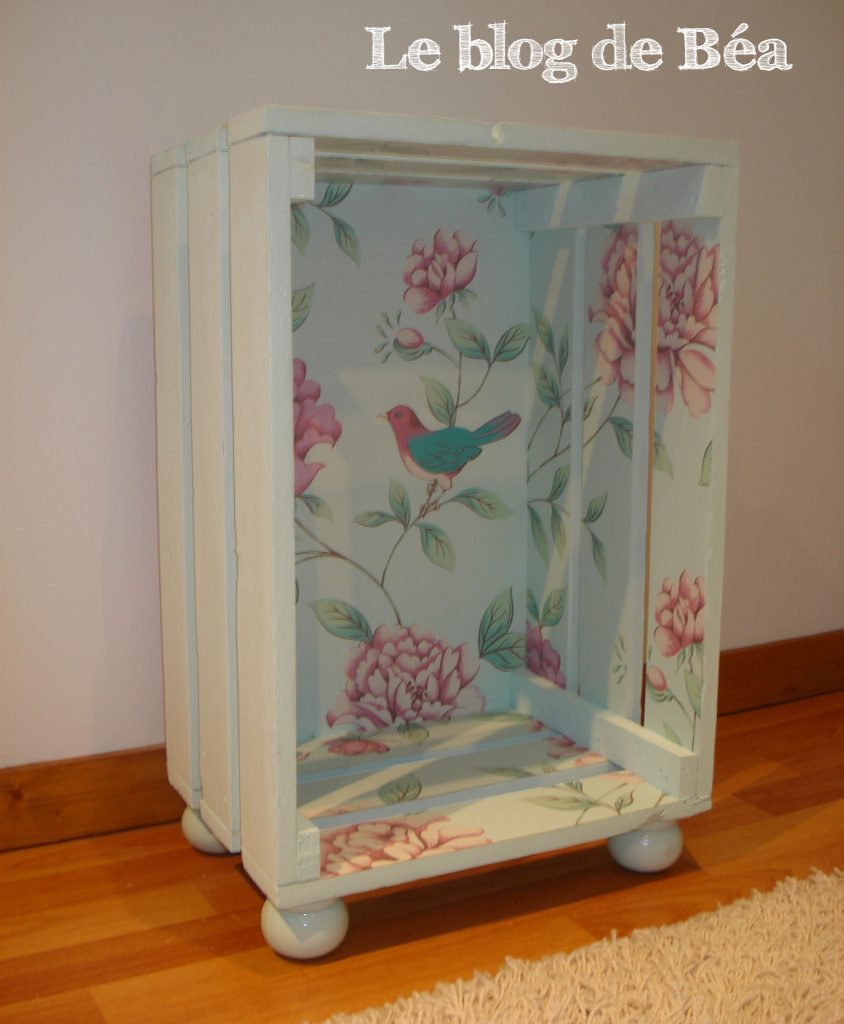 This exact bedside table was made from pallet wooden pieces and was decorated with vintage fancy floral wallpaper, the kind every kid will like. You might not be able to help your kids study, but you can make studying easier for them.
8- DIY Nightstand with Wooden Crates
This rustic nightstand will cost you nothing more than fifteen dollars. This means that you do not need to buy high-end furniture to make your bedroom look stunning. All you need is two milk crates and some slight staining or paint.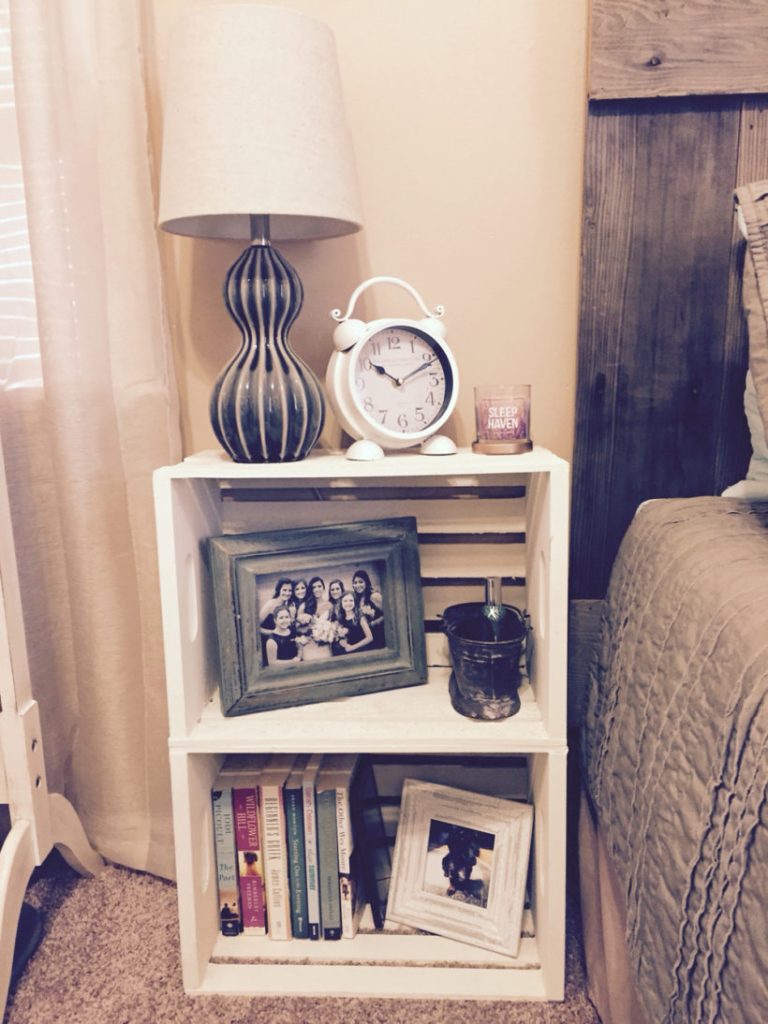 You also need to buy strong glue or nails and a hammer. All in all, you need not more than thirty minutes to whip up something like this. You can increase the number of crates depending on the height of your bed.
9- The Wooden Night Stand
Not everyone appreciates owning a nightstand, but if you do, then you should know it's cheaper if you make your own. You'll need a wooden crate for the storage section and a few rods to raise it in the air.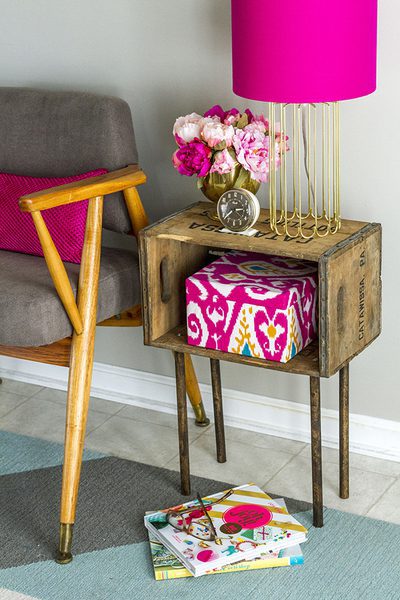 This crafter found a crate with a company printed on the side and decided to leave it for authenticity. You can spray your piece or add a wood stain if you want it to match the charm of your bedroom, whatever suits your palate. And just like that, you have yourself a classic DIY nightstand. It's that easy.
10- Wooden Stylish Bookshelf
If you ever need a stylish bookshelf in your reading room or workspace, you should consider creating one like this yourself. All you need to start is five wooden crates which you can buy online or get from your local furniture store.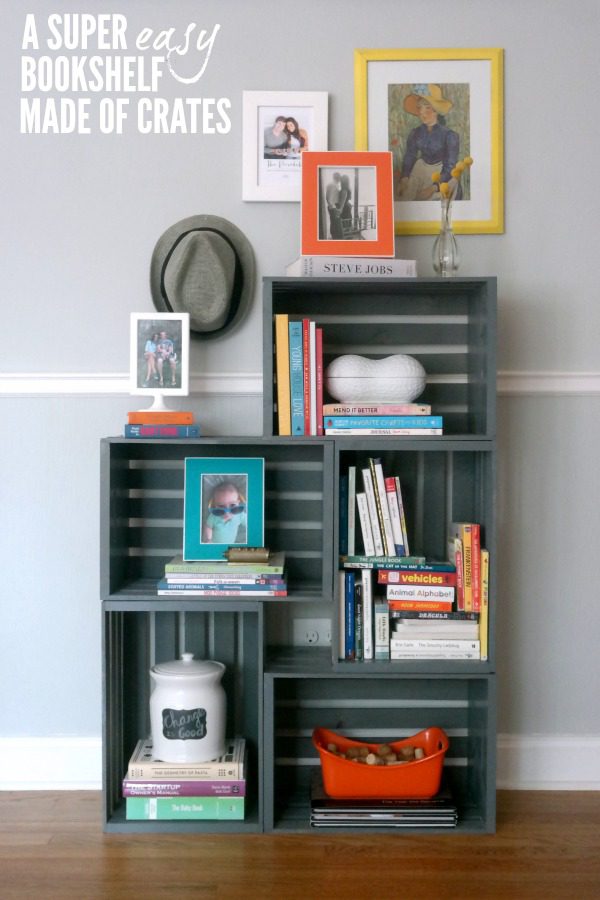 If you have kids, you also need to get screws that you can use to hold the crates together. Otherwise, stacking them on top of the other would be enough and give you the advantage of styling the shelf as you wish and changing it up when the food strikes.
11- Decoupage Crates with Napkins
These crates are a really fun projects with items you have in your home. The crafter first painted the crate white. Then she opened the paper napkins and removed the white back layers. Then she cut the napkin into the size to fit the crate.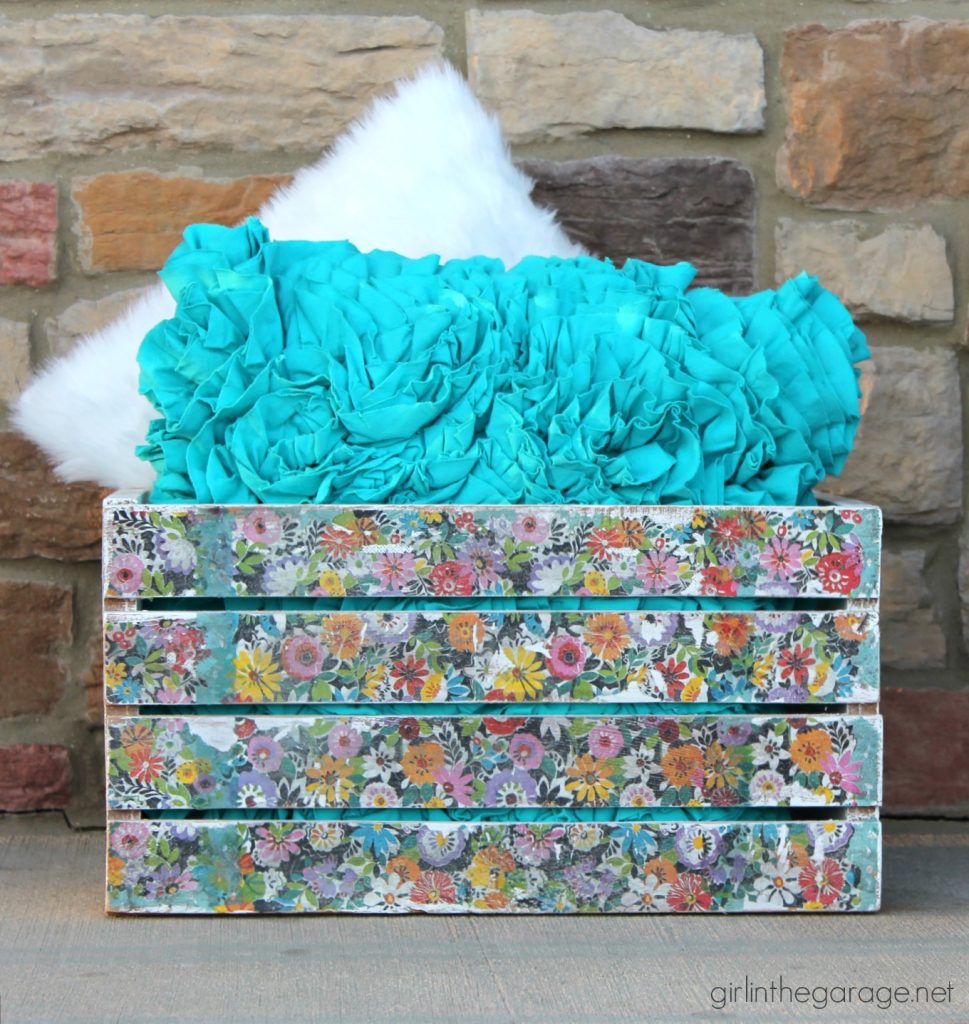 With Mod Podge, a foam brush, and a piece of sandpaper she was able to come out with this gorgeous design. She suggests washing your hands periodically during the process because the napkins will stain your fingers and can ruin the design on your crate.
12- Stylish Book Storage
If you aren't in the mood to make a shelf out of a wooden crate, here's another exciting project you can embark on to make your kid's life easier. Transforming a crate into a fancy playroom book storage isn't as hard as you think.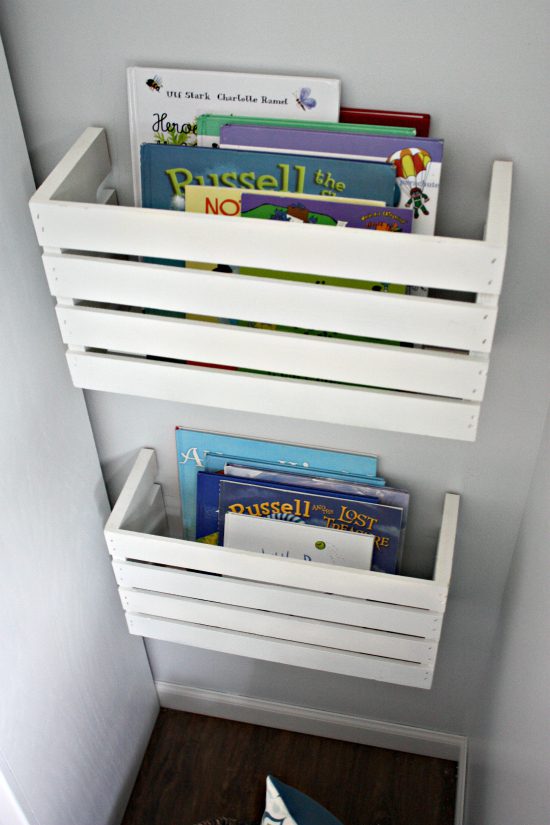 The materials you need to pull this off are a crate, some paints, and an anchor. The first step is to cut the crate into two halves. Smoothen the edges and get white paint. Get some anchors to hang it on the wall.
13- Wooden Coffee Table
You can convert a couple of wooden crates into a coffee table as you can see in the picture. All you need is to oppose four wooden crates and arrange them to form a square. You can join them together with nails.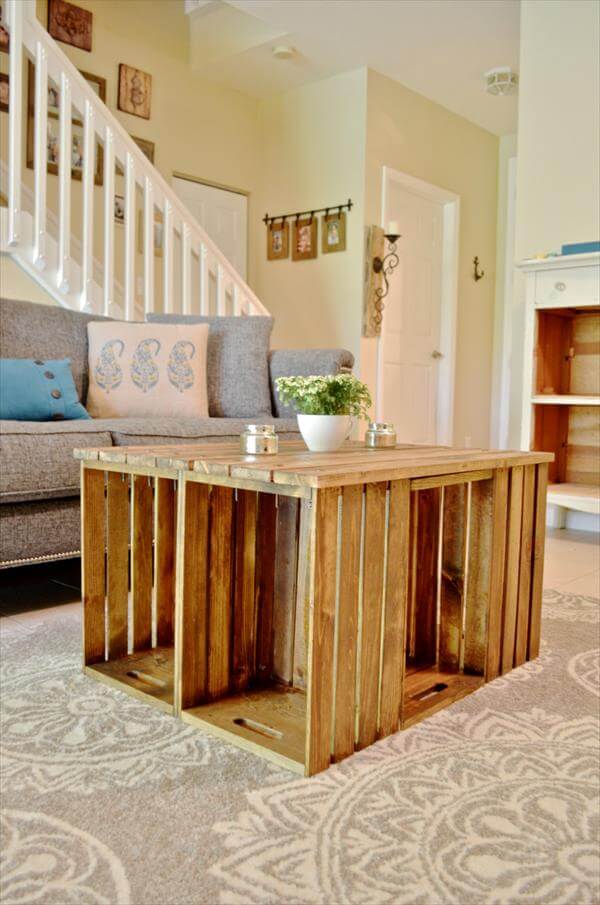 Making this coffee table will also give you the benefit of having extra storage space on the sides. You can place a vase, flowerpot, toys, or other objects in the crates while you use the top as a table. Two for one!
14- The Pet Bed
Your pet sleeping with you on the bed is cute, but letting them have their bed is the smart move. How do you go about it? You're all set with just a few wooden crates, a hammer, and some nails.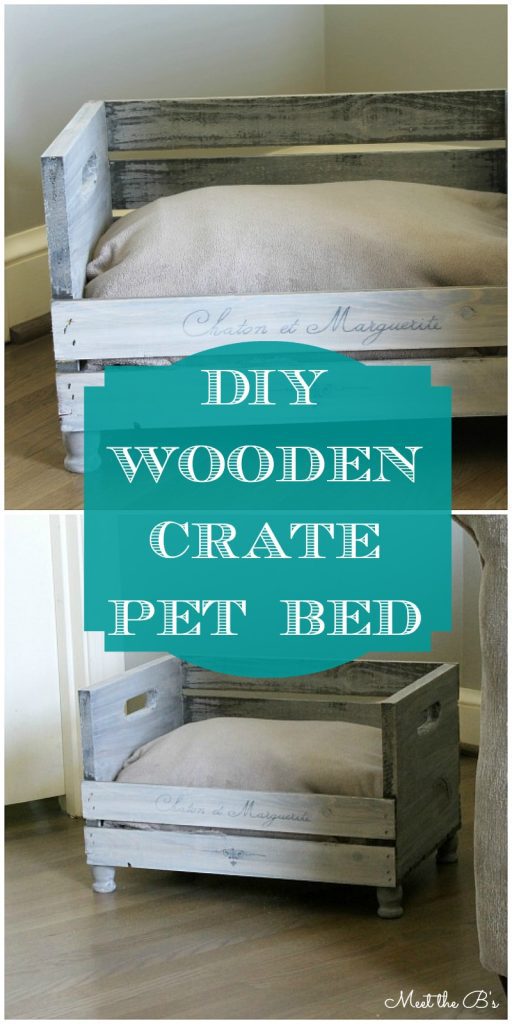 Removing two wood panels will allow for a more accessible entrance to the bed for your doggo. Painting the wooden crate will take this bed to the next level. Plus, it will let the color of your DIY bed match the style of your house. Add soft materials like a pillow or blanket inside, and your pet bed project is complete.
15- Wooden DIY Multi-Colored Bookshelf
This multi-colored bookshelf is evidence of the versatility of wooden crates. The simple structure makes it compact and the arrangements help you save space wherever you place the shelf. All you need to pull this off are wooden crates, screws, and paint.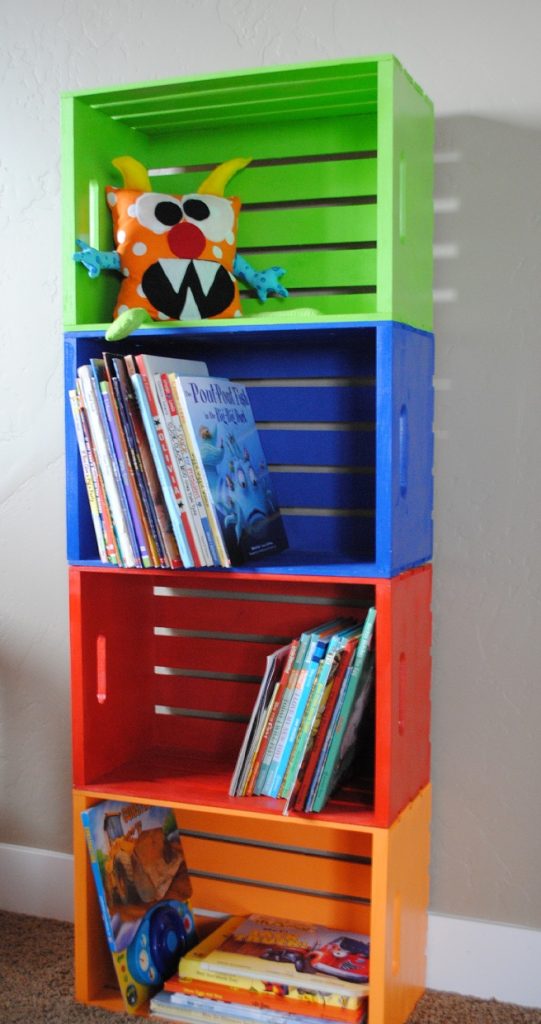 The first thing you need here is four appropriately sized wooden crates. You can get the size that fits your needs. After that, get paints of different colors as you desire. The last thing is to hold them all together with small screws.
16- The Wooden Wall for Keys
If you ever struggle with looking for your car keys in the morning, this project is highly recommended. Instead of dropping your keys in random places in the house, a single location for all keys is an efficient and easy solution.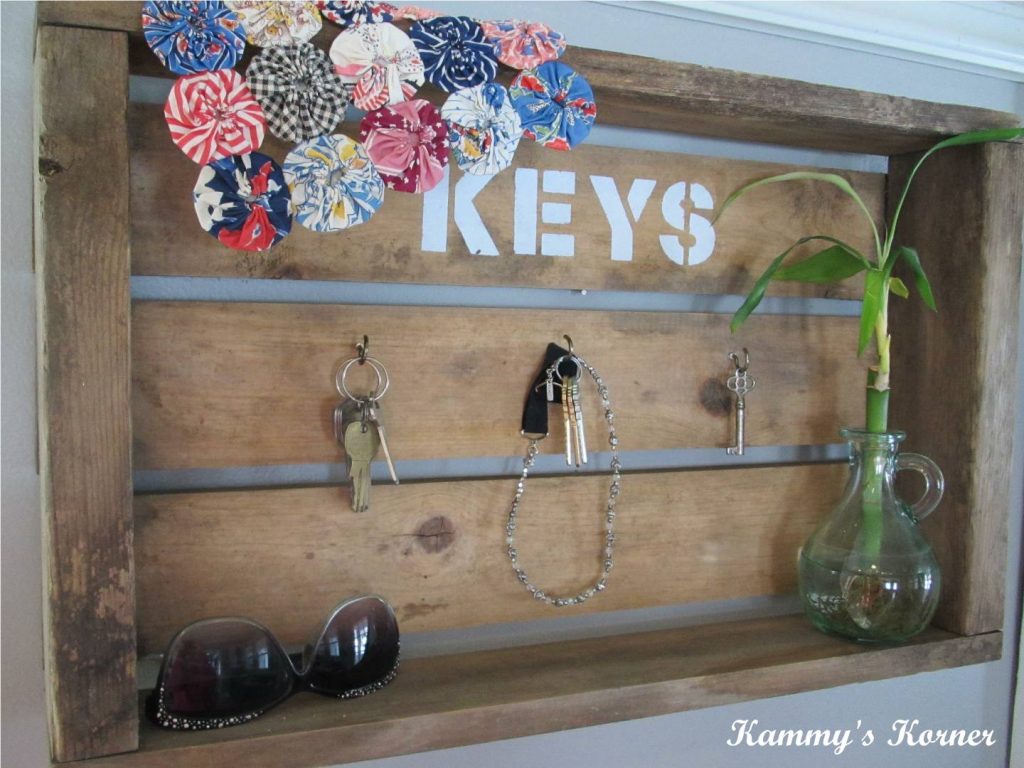 Creating a wooden wall for keys will cost you little to nothing, except of course the manpower of nailing it to the wall. Just be good with a hammer and you'll be fine. For beauty points, you can add a vase with a plant.
17- Making a Bench with Wood Crates
There's no limit to the creativity you can achieve with wooden crates. Here, you can repurpose them to make a bench that can also double up as a storage spot. As you sit on it, you can keep some items underneath.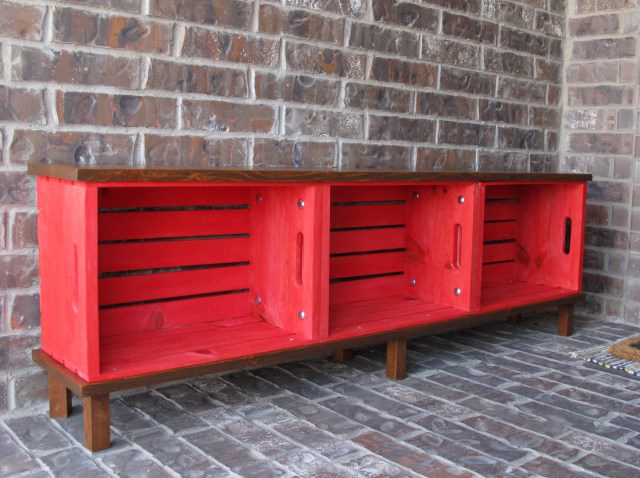 You can customize the paint color as you wish. This project is a product of three wood crates and a long wood that is the same length as the three crates. Ensure that the long piece of wood is well attached to the crates.
18- DIY Wooden Crate Cabinet with Drawers
You won't find a DIY project more fulfilling than this one right here. With your storage space loaded with things, this DIY cabinet will help you keep a handful of old documents, files, and a bunch of other stuff you don't want out in the open.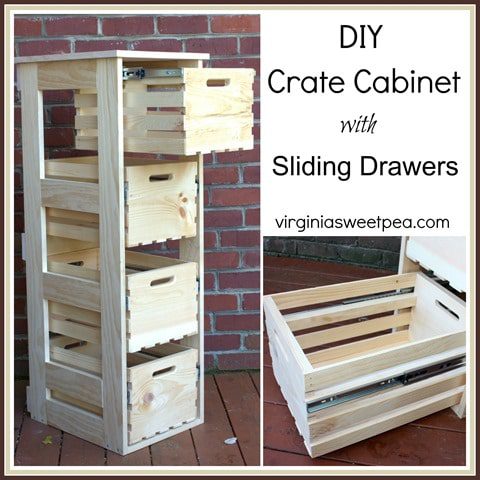 This cabinet has four sliding drawers, but yours can be five or six. You just need to create your wooden crates and a passage on the cabinet for each of the drawers so they can slide in and out seamlessly.
19- DIY Wooden Crate Ottoman
Here, you'll see how you can turn a vintage milk crate into an ottoman. The first thing you need to do is get plywood, a layer of foam, and fabric. Cut the plywood to fit the top of the milk crate.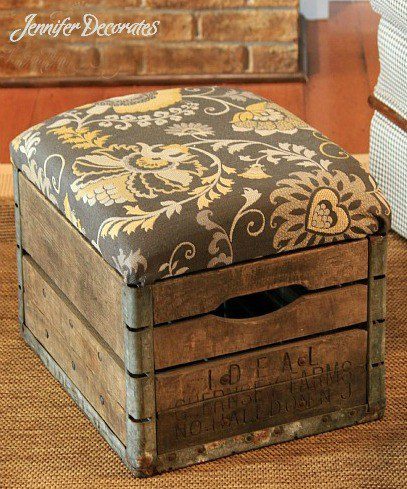 Then, trim the base of the crate if it's not sitting flat on the ground. When it's flat, cut a two-inch foam to fit the top of the plywood. Lastly, add the fabric to the top. You can get all these materials at a homeware shop.
20- The Wooden Toy Box
Gone are the days of storing toys in brown cartons, those things don't last due to wear and tear. Wood on the other hand will keep your kid's toys intact long enough for them to grow up and pass them on to the next sibling.
This particular toy box was handmade and with any luck, you can make yours too. The maker simply nailed added four wheels for mobility, and two handles on the side so it can be easily carried. The stenciled stars are also a nice touch that anyone kid will love.
21- Thomas the Train Storage
Your kids will love this one. They might even volunteer to help you work on it if you tell them what you're building. It looks like a train but in reality, it's just a few wooden crates that have been spray painted.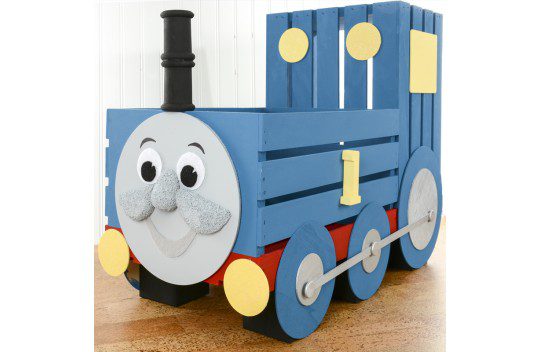 Don't be surprised if your kids start ditching their beds to take a nap in the Thomas the Train cabinet. It is indeed a brilliant idea to create wooden storage for your kids using a character from one of their favorite tv shows.
22- Fabric Painted Shelf
When art meets woodwork, this masterpiece is the result. An incredible bookshelf with well-chosen fabric designs to match. You can easily give your room the spark it's been lacking by setting up a shelf like this in your room. Gorgeous!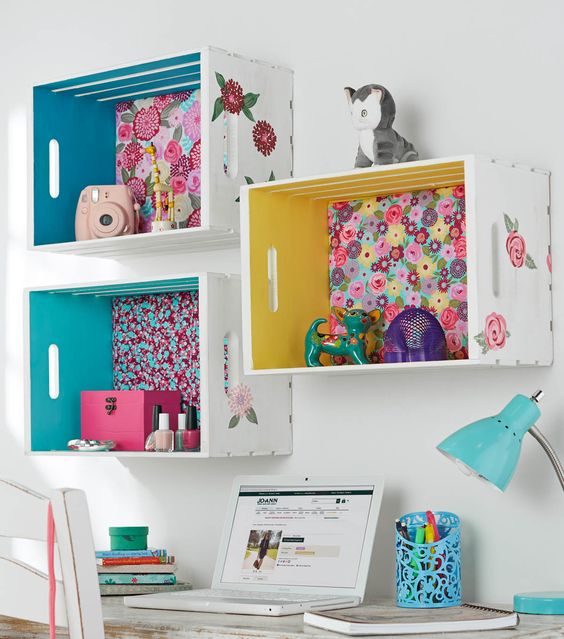 You'll need materials like foam core board, acrylic paint, fabric, and a straight pin to pull this off. We know it looks hard now, but by finding instructions online that detail the steps, even you can create one of these.
23- Wooden Crate Storage with Rope Handles
We're not sure if this is really for storage or for driving a 2-year old around the house, the bottom line is this wooden crate storage box will serve you well. Once you can get past the painting, the rest is easy.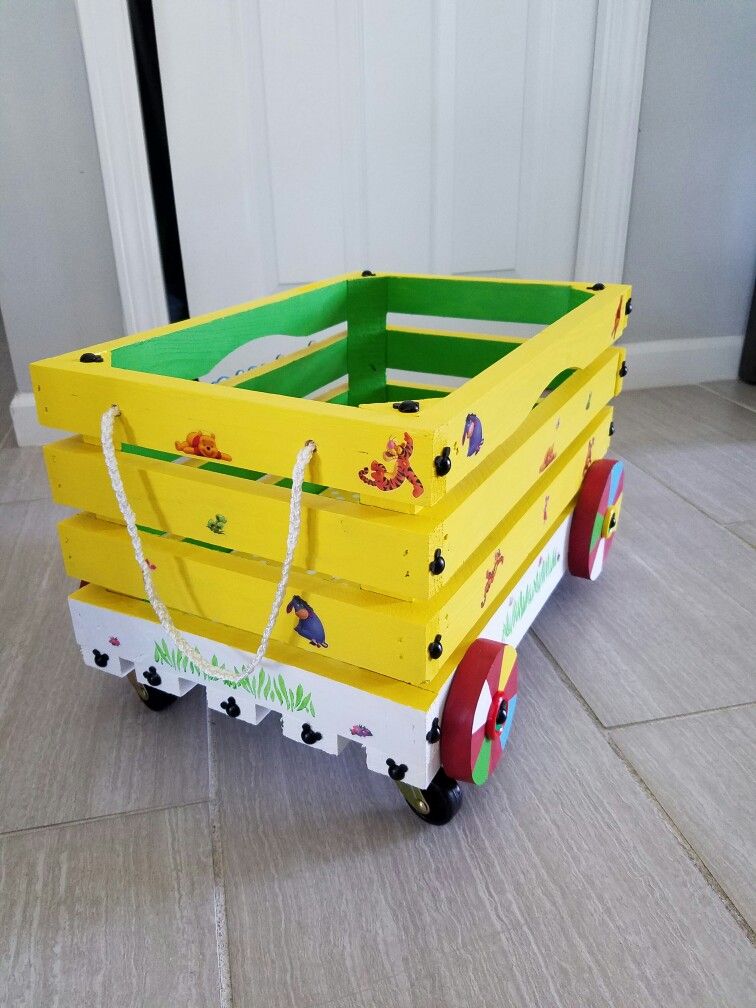 To make your own you will need a wooden crate, four flat wooden tires, four small metal tires, screws, a drill, and a rope to put on the side for easy pulling. With these materials, you'll have your storage in no time.
24- Wooden Crates for the Bathroom
If every room in your house has its own storage space, it becomes very easy to find things. Rather than having your toothbrush and bathing soap in your bedroom, you can have them in this comfortable DIY bathroom wooden storage crate.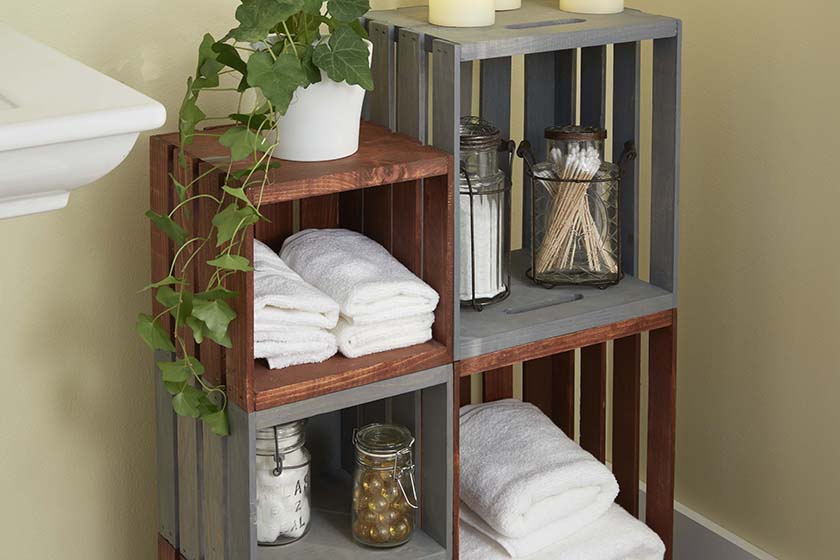 Tools you'll need to have a successful DIY crack at it include; a hammer, nails, drill, screws, and wood stain. It's a much rather simple setup, it's beauty is in the uneven crate set up at the top and the different colors of the crates.
25- Wooden Handmade Flower Box
Compared to having multiple flower pots that eat away at your space, having all of your flowers in a box is more efficient. Plus most of the tools needed to make this box might already be in your workshop lying around.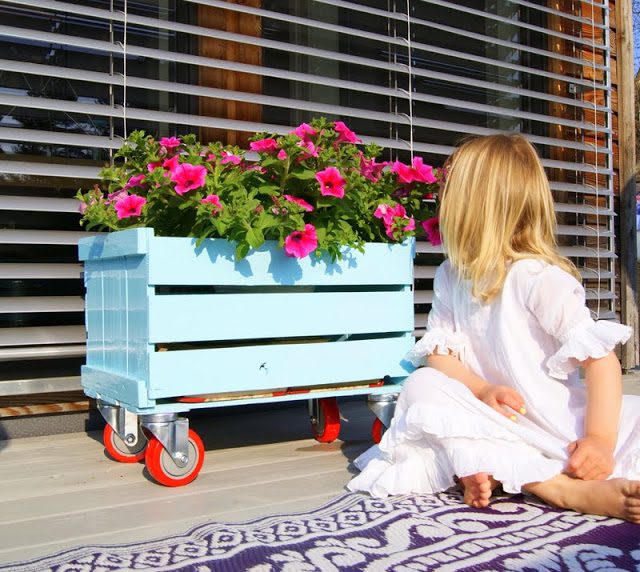 The creator of this flower box made sure that if anyone ever saw it as an inconvenience, they can easily move it around by giving it movable tires. That being said, the beauty of this box is in the flowers.
26- The Storage Ottoman
Comfort, style, and appeal, this wooden storage ottoman is the total package. This ottoman reeks of style and function, from the well-placed creative cushioned fabric to the half-opened storage space. Two of these are enough to change the look of any home.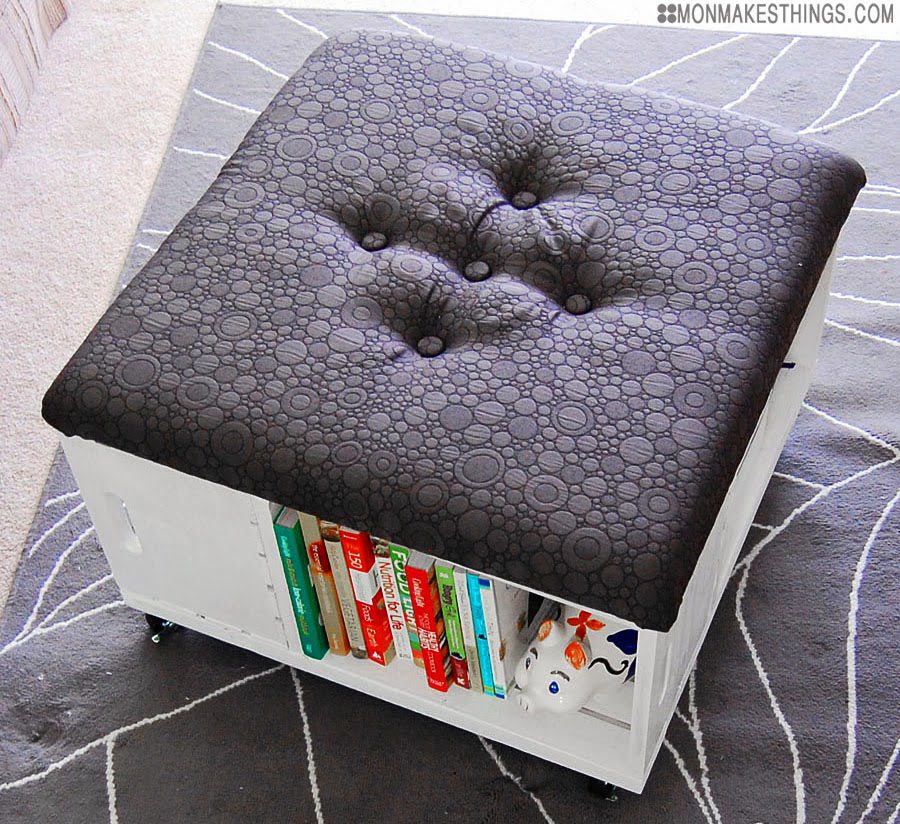 If you're purchasing this from a store, you'll have to dig deep into your pockets. The cheaper option is to make it yourself, and with wooden crates, wood screws, a drill, and a quality fabric, you'll have your ottoman in no time.
27- DIY Wooden Train
If your boys have been giving you a hard time lately, this wooden toy train will surely keep them busy. Not only can it be used to store items, but it can actually pass for a real train because you can put wheels on it that will make it move.
Most kids love to help you work on a project, so no doubt they'll love this one too. Depending on the size of your kid, a ride on the train could be on the cards, or you could, of course, just store flowers in them.
28- DIY Shoe Shelves
This is a well-organized shoe shelf with different sizes and colors. It's one thing to store your shoes; it's another to keep them in style. This shelf is the definition of style and what makes it so interesting is that it was handmade.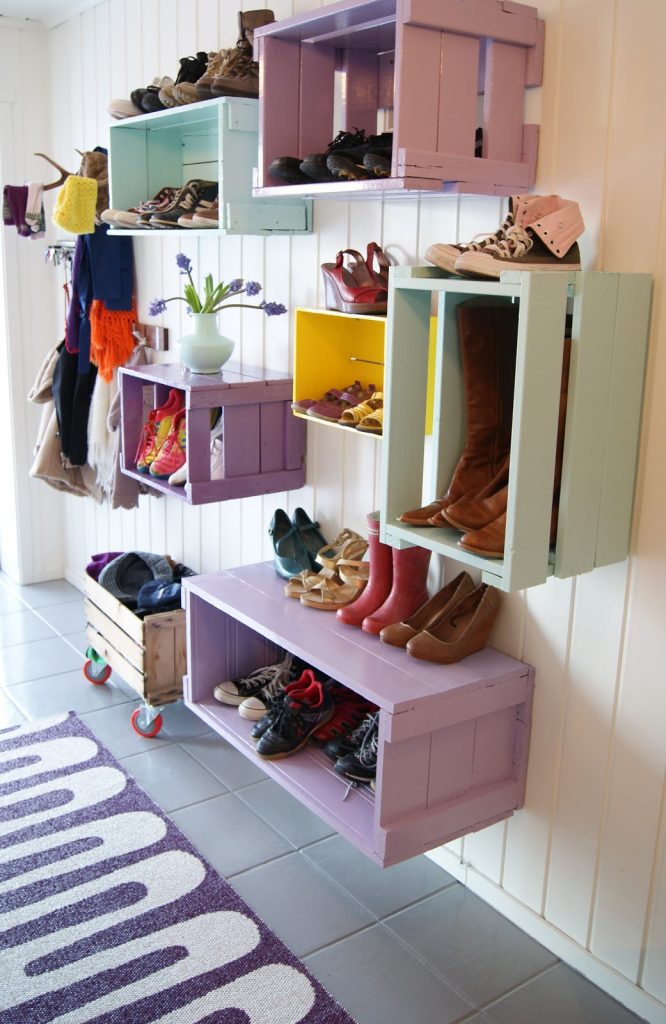 With a few wooden crates, screws, a drill, hammer, and colored paints, you can recreate this design in your home. Indeed it will require grit, but by checking out the step-by-step guide from the maker, it'll be like a walk in the park.
29- The Nautical Wooden Crate
This wooden crate offers a relatively simple but artistic design. It has a large storage compartment with a fine wood stain combination of white and brown cords. Perhaps what stands out is the subtle yet visible anchor design on the side.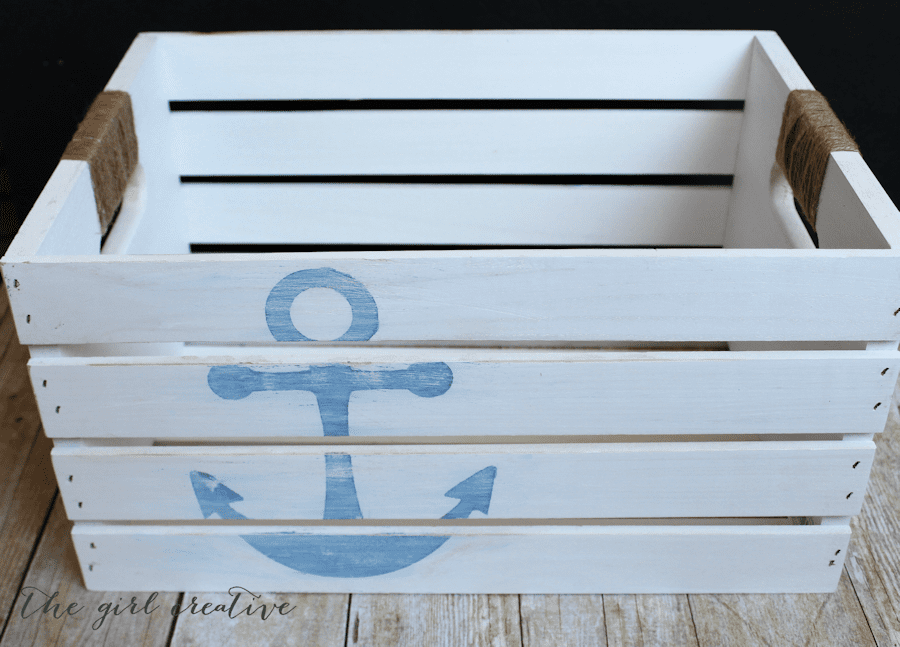 Image courtesy of thegirlcreative.com
You'll need a few old crates, craft paints, screws, twine, a glue gun, and an anchor stencil for this project. You'll also need to do it by the book to get a satisfactory result or something closer to it. Too cute!
30- DIY Wooden Industrial Pipe Table
Whoever executed this project took his time and made a masterpiece. We're not even sure if it's right to call it wooden because it's practically standing on pipes made from copper. The durability of this storage is off the charts.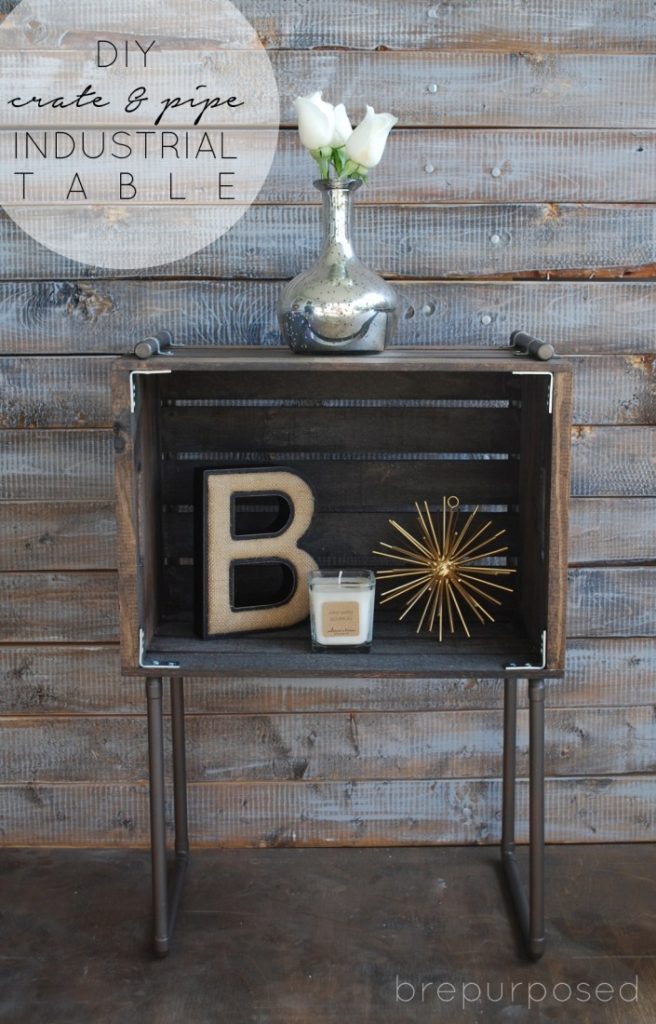 If you embark on this project, you'll need materials like copper piping, a pipe cutter, liquid nails, spray paint, and some straps to hold the pipe on top of the table. Follow the DIY instructions on brepurpopsed meticulously to avoid mistakes.
31- Wooden DIY Wine Rack
There are no limits to how wood can be used, and this is another project that adds credibility to that notion. Here we have a handmade wooden wine rack. All that was used to construct it was a wooden crate and a board to create storage space.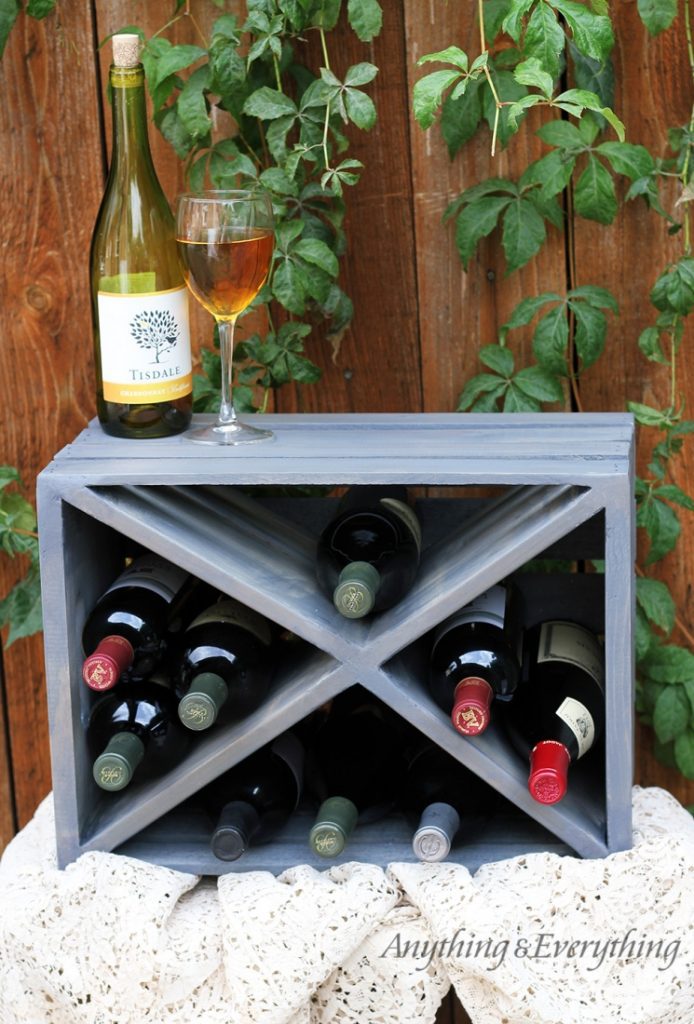 The choice of a grey-colored wood stain was indeed the perfect one. It looks like a wine rack, but it also can be used as a table you can drop your drink on after having a good sip with friends.
32- Wooden Crate Storage for Children's Books
If you have kids, one thing your house will become filled with overtime is books. There will be lots of them as your children keep getting older. So if you like order in your home, making them a storage place is your best move.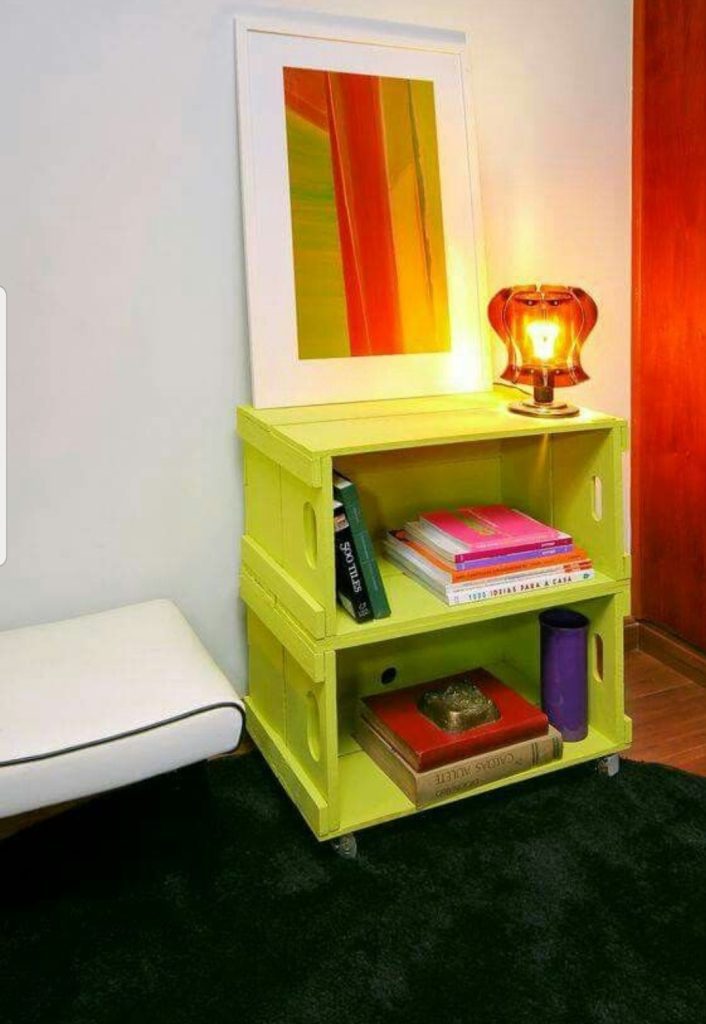 This is one of the most straightforward DIY wooden crate storage ideas you'll ever make. To pull this off, you just need to paint the wooden crates in a color of your choice and arrange all of the crates in on top of one another.
33- Wooden Coffee Table and Stools
Enjoy the warmth of hot coffee while sitting around the table with your friends and family. There's enough stool to go around for everyone and enough wooden crates to store items. This wooden coffee table is ideal for spending quality family time.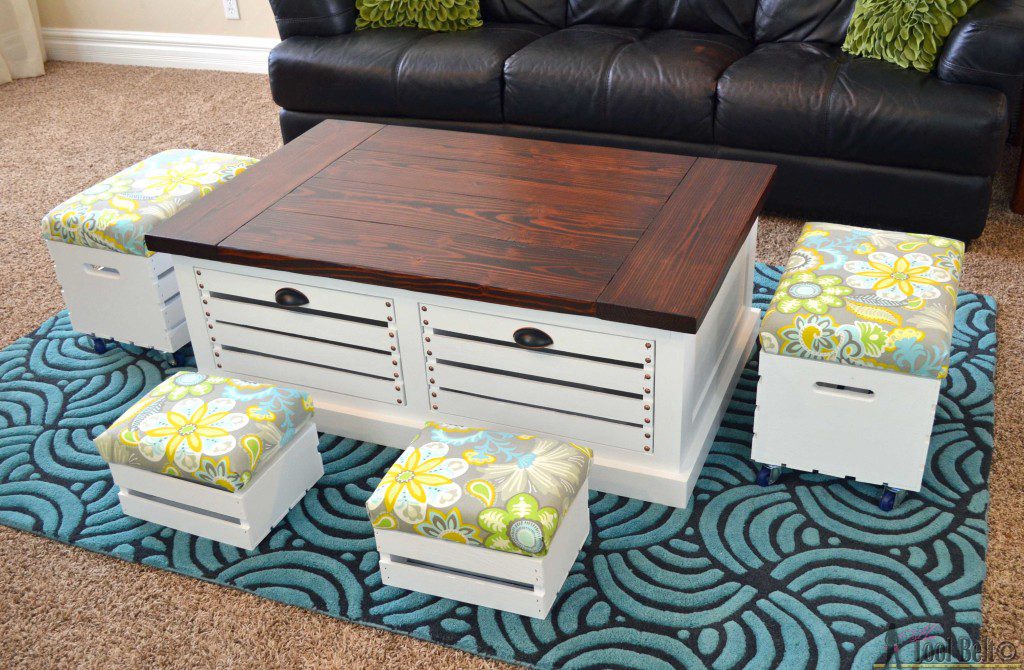 This DIY wooden coffee table was handmade, and the maker only needed wooden crates, wood stain, cushion foam, and beautiful fabric. Plus, the designer made it so the cushioned seats could flip up to give you more storage space to store more items.
34- Simple Plain DIY Wooden Crate
On the outside, it looks like a bunch of beer crates arranged on the wall after a house party, but if you look at it closely, you'll see they're actually a bunch of empty wooden containers customized for item storage.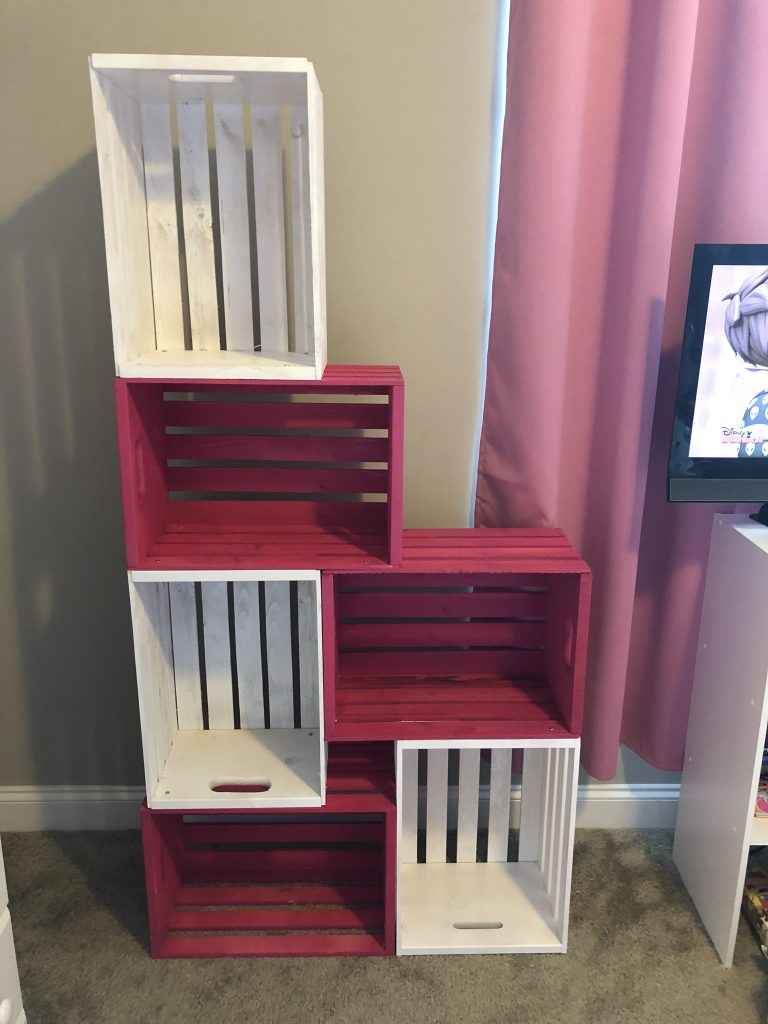 Sometimes you don't need to complicate things, just a few wooden crates, screws, drills, a hammer, and spray paint are all you need to make wooden crate storage. Adding artistic designs is cool, but simple designs are also just as good.
35- DIY Wooden Storage Crates with LED Lights
Who says you can't spice things up a little by adding lights to your DIY wooden crate storage. This is actually plain wooden crates used for storage, but the appeal is due to the placement of the boxes and the LED lights.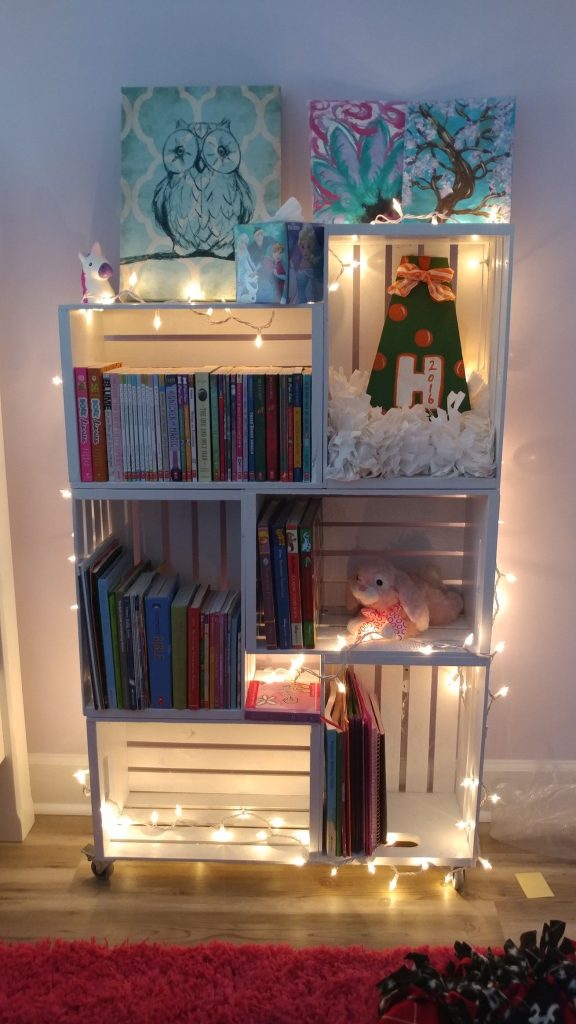 The hardest part here might be setting up the LED lights because making plain wooden crate storage should pose no problems for you with a step-by-step guide. You simply need the crates, screws, drills, spray paints, and LED lights.