Homebrew Haven: 35+ DIY Coffee Nooks To Fall In Love With
By Joyce S May 26, 2023
---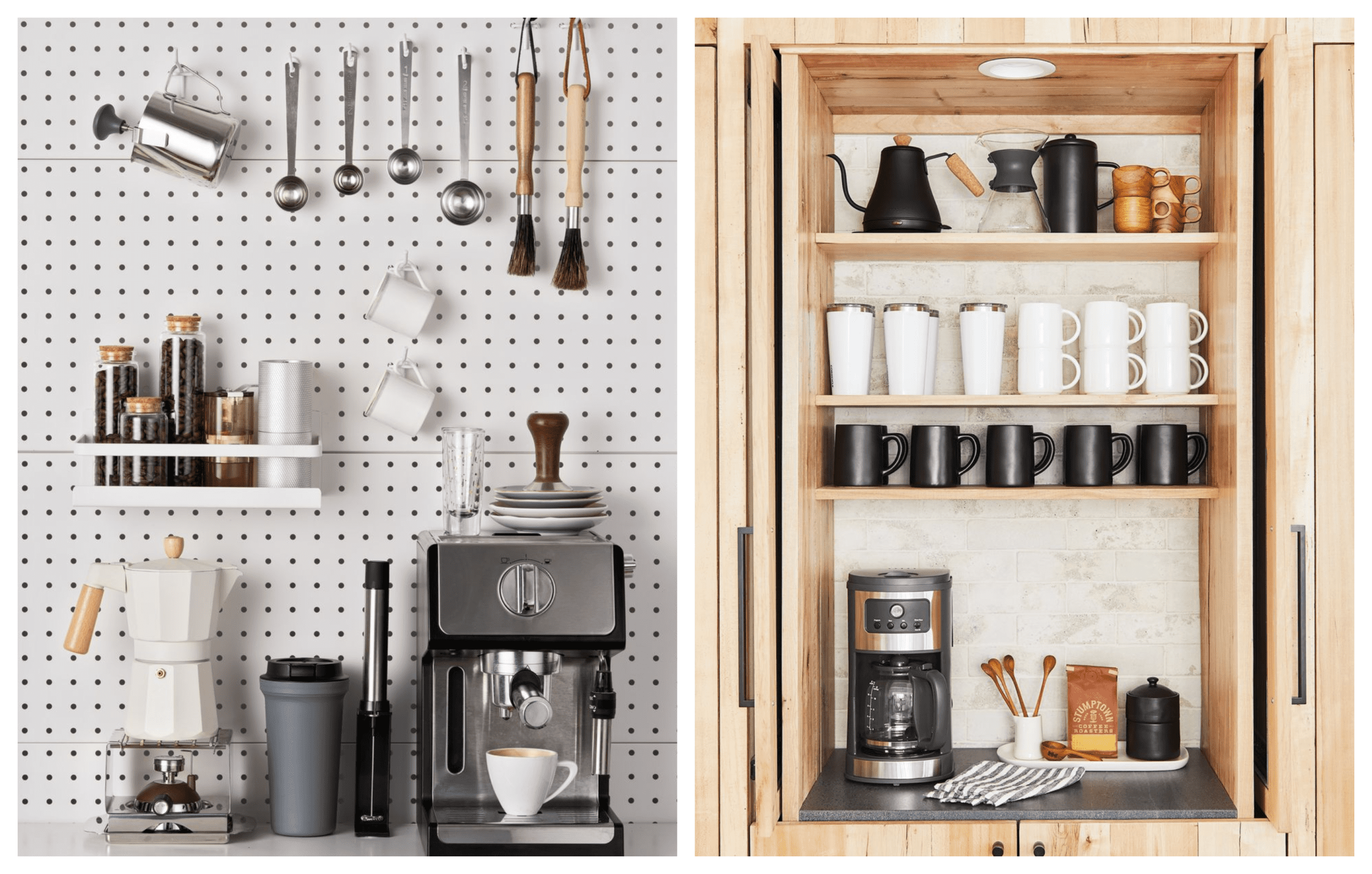 Chances are, you have a few rooms in your house dedicated to specific purposes, but do you have a space exclusively for "me time"? A place to unwind with a refreshing beverage and some delicious snacks before tackling the day ahead. We are happy to share some positive news: setting up a DIY coffee bar is exactly what you need.
The best part is that you can make your own coffee spot at home without spending a fortune on fancy equipment. t can be conveniently stored in a cabinet, displayed on a tiered tray, or even positioned directly on top of a set of floating shelves in your kitchen. If you prefer to go all out, you can opt for built-in options or furniture storage pieces to transform your bar into the room's centerpiece.
A Bucolic Coffee Bar Design
Wood is the optimal material for do-it-yourself projects due to its ease of manipulation, accessibility, and ability to enhance any environment aesthetically. Consider applying a matte finish to an old countertop to quickly transform discarded items, enhancing its rustic charm.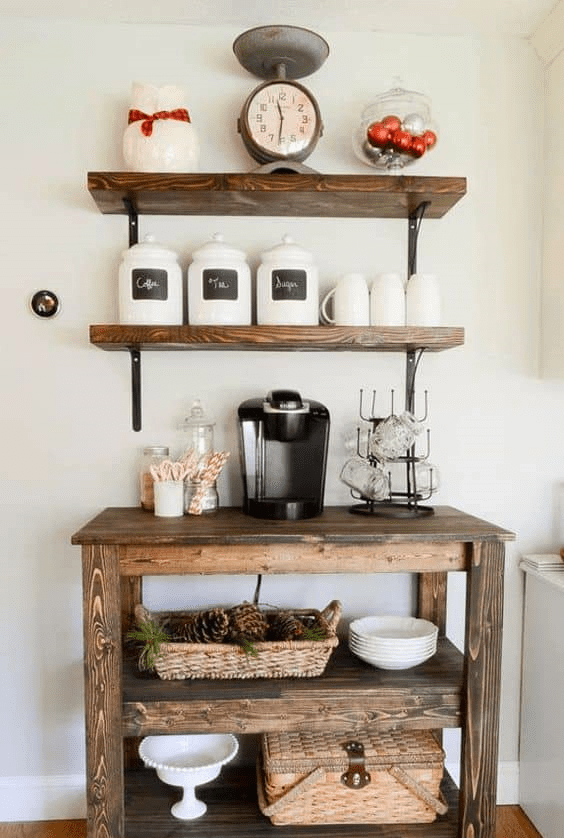 Enhance any imperfections by using boxes, jars, and an assortment of mugs in a harmonious color palette. Finally, consider incorporating shelves, a popular feature in coffee bar designs, and utilizing vertical space as a practical solution when faced with limited room.
A Shabby Chic Spot
A faux island can make a significant difference if your kitchen lacks table space but has one or two open walls. Utilizing a charming green cabinet as a coffee station and adding ceramic jugs and mugs enhances the elegance of this retro-style furniture piece.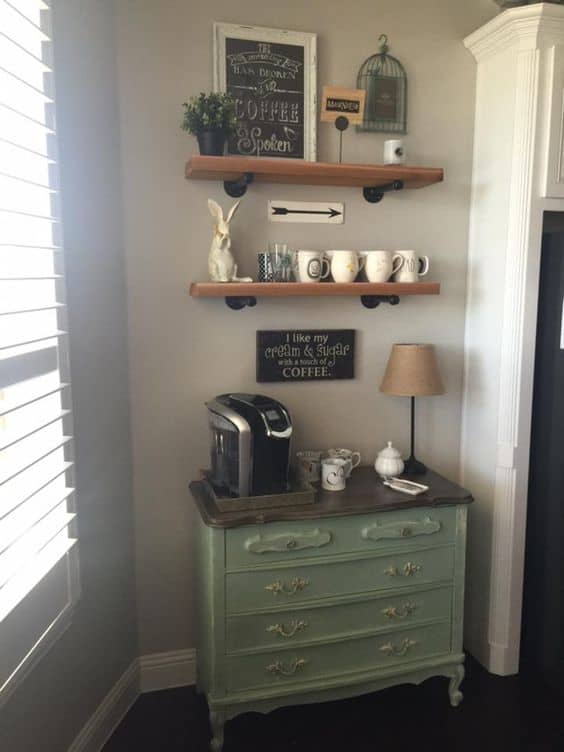 This approach demonstrates how to maximize our limited space through clever storage solutions while still preserving the shabby chic aesthetic. Opt for a compact stand to neatly organize an assortment of syrups and coffee filters without occupying too much room.
Spectacular Scandinavian Influence
Creating a minimalist and sleek atmosphere inspired by Scandinavian design can enhance the visual appeal of your space. Having coffee in a beautiful area adds a touch of pride. Additionally, selecting an attractive and functional rack allows your collection of mugs to serve as decorative elements within your overall aesthetic.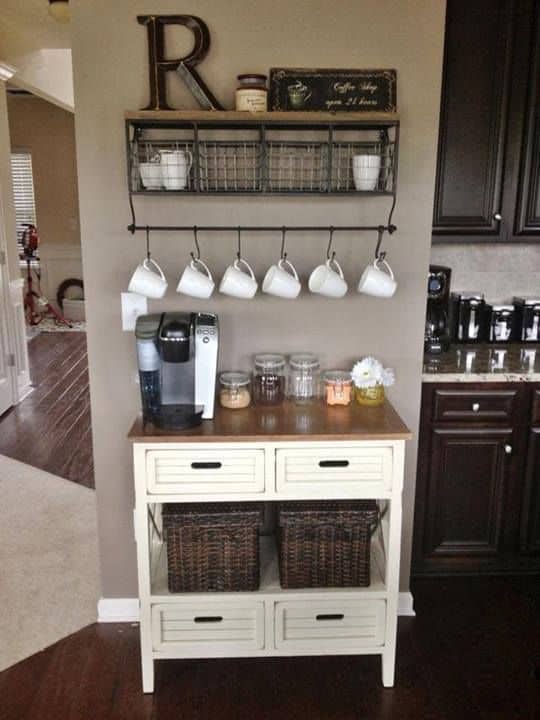 Be bold and showcase an array of mugs in various colors. In this context, the white mugs contribute to a clean and minimalist aesthetic. If you prefer not to have your coffee-making tools on display all the time, opt for a side table with cabinets and utilize its shelves for concealed storage.
Modern Black and White Coffee Bar
Select accents in warm, woody tones for the coffee station to evoke a sense of warmth and sophistication while embracing an ultra-contemporary design. Ensure that your coffee maker and favorite cup are easily accessible to kickstart your mornings while utilizing drawers or cabinets to store the rest of your belongings.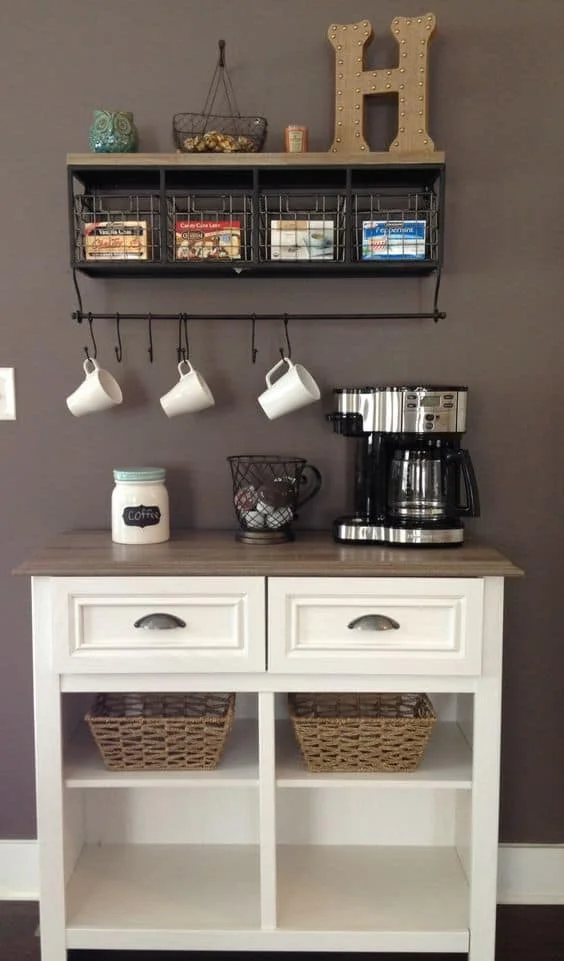 Displaying the mugs by suspending them from metal hooks is an excellent suggestion that can effectively save valuable counter space. You can hang numerous coffee cups with metal hooks, and there is even room for a few more on top!
You Can Go Vintage, Too
This stunning red repurposed dresser evokes an old-world charm with its antique aesthetics—making it an ideal storage solution for all your essentials, including a high-quality coffee maker that brings a touch of sophistication while being practical and convenient. This rustic coffee area boasts visual appeal and provides functionality in equal measure.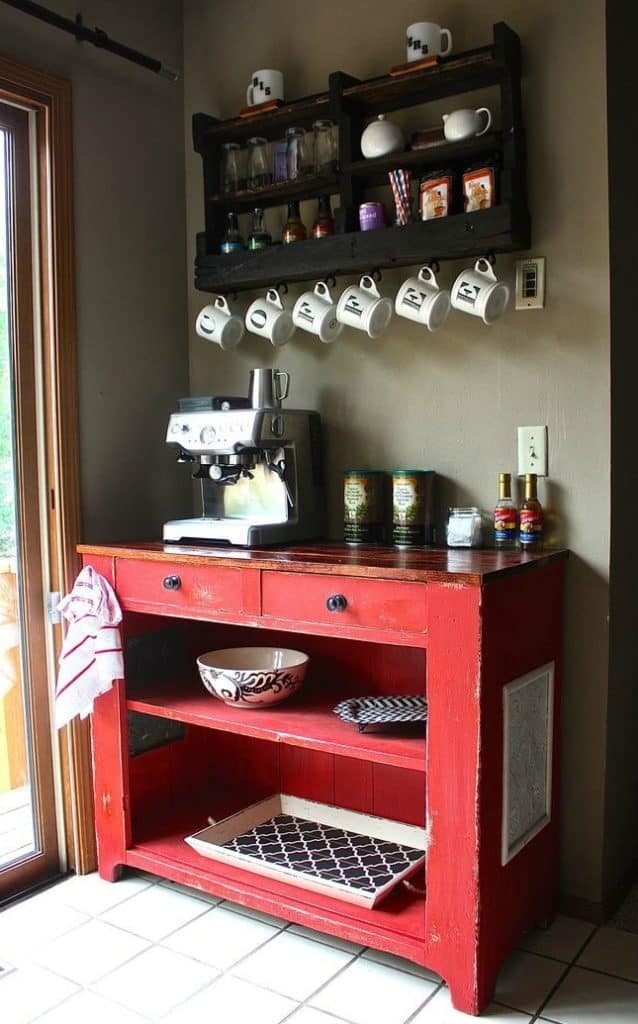 The abundance of natural textures and unfinished wooden boards is the key to the immense charm of this setting. If you are fond of vintage items, consider seeking out legendary tea cup sets and vintage coffee cups, then proudly showcase them in plain view for everyone to admire.
A Cute Corner
Roll up your sleeves, and let's get down to work! Begin by clearing out an old cupboard and filling it with an assortment of tea and coffee beans neatly arranged in baskets and labeled organizers. This thoughtful setup will ensure that guests who stop by for a cup of hot tea are thoroughly satisfied.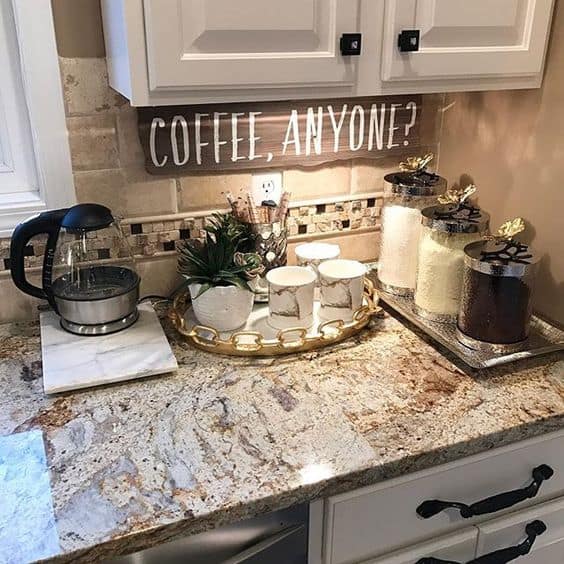 You can enhance the aesthetic appeal of the countertop by incorporating trays to organize all your coffeehouse essentials simultaneously. Select your favorite pieces of glassware to hold various items, such as sugar cubes and different types of coffee. To add a touch of personalization, consider including a charming wooden sign with a playful message.
Neutral Hues and Wood Elements
Imagine the joy of having a coffee station installed at one end of a kitchen decorated with neutral tones. While the color palette may be simple, adding your unique flair will make it stand out with distinction. Take advantage of that extra counter space and transform it into a delightful coffee bar.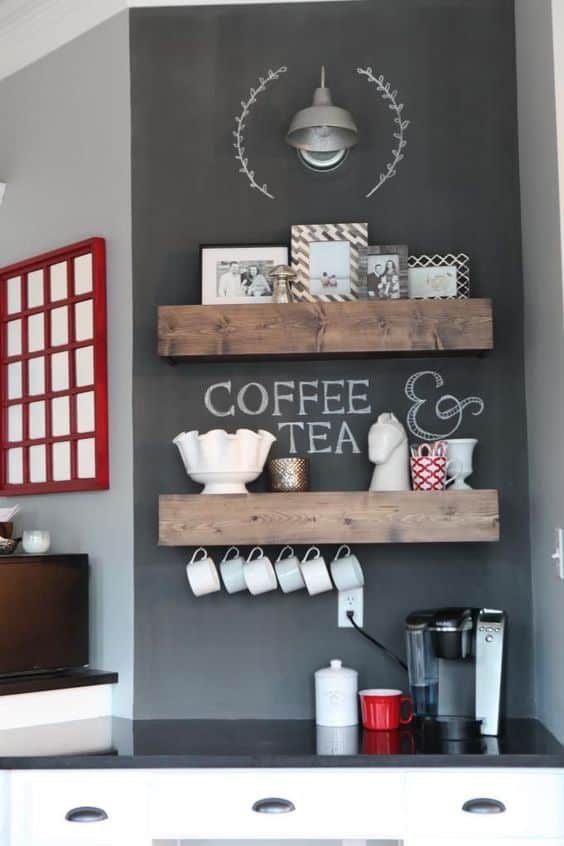 By installing small floating shelves, you make sure that coffee mugs become the focal point as decorative elements, and by installing a sideboard with storage, you can ensure that all of the essential supplies and ingredients are within easy reach.
An Eco-Friendly Pick
There is always a way to breathe new life into old furniture! Even kitchen-related items like wooden or metal objects can be repurposed into something functional and visually appealing, such as a coffee bar. Consider transforming an old cabinet into a stylish storage area for your tea and coffee essentials.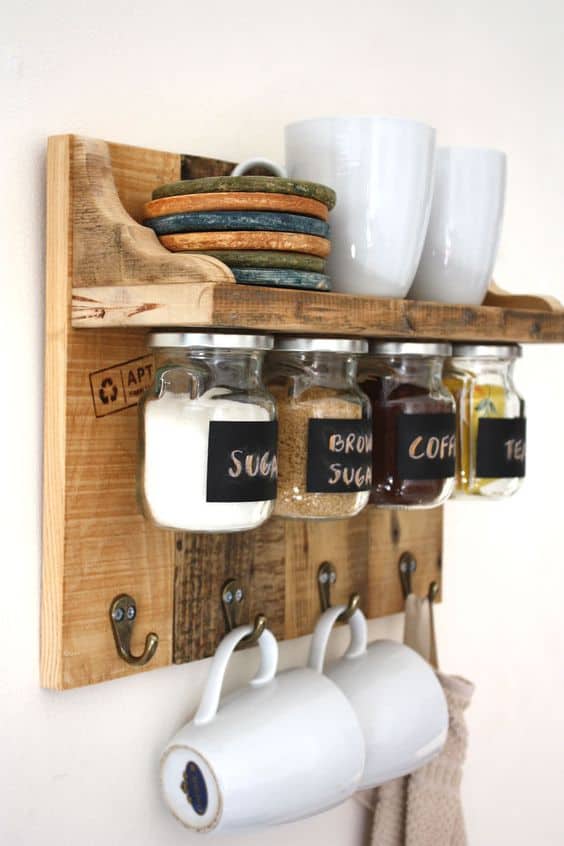 Paint it using color schemes that complement your home decor, and install hooks on the wall for hanging mugs. If you're feeling especially creative, you can construct a unique coffee cart entirely from reclaimed wood. Thankfully, the Internet provides valuable tips to assist you in this endeavor.
Lovely Farmhouse Decor Meets Dashing Industrial Design
Incorporating industrial design elements into a coffee bar with a farmhouse ambiance may seem complex or expensive, but it can actually be simple and cost-effective. You can effortlessly achieve this distinctive style by introducing metal elements such as pipes and hooks, along with wood accents and a repurposed concrete surface.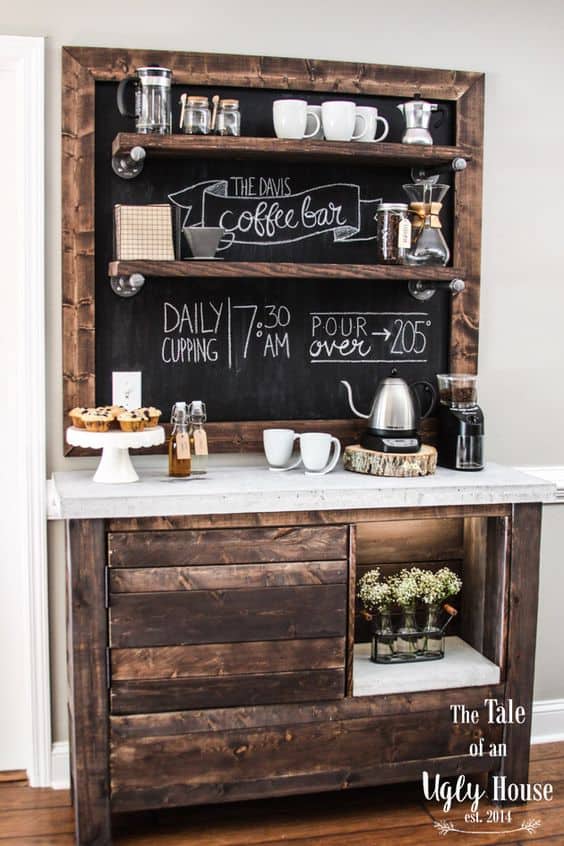 In addition to allowing you to see when coffee-making supplies are running short, glass containers make it simple for visitors to find their way around your dashing coffee station. Sweet treats, like muffins, placed next to the brew essentials also create an excellent café atmosphere.
Don't Be Afraid To Play With Colors
Maximalism lovers, don't hold back when it comes to decorating your coffee station. Embrace those vibrant mugs that have been tucked away behind cupboard doors and let them steal the spotlight. Why not consider organizing your coffee bar based on a color scheme?
For instance, play with pastel tones or vibrant yellow and orange to give the coffee spot a springtime vibe. For a wintery ambiance, opt for cooler color schemes such as shades of blue and gray. There are plenty of ways to add bliss to your coffee station all year round.
A Minimalist Touch Is Also Welcome
The open shelf in this kitchen nook serves as the perfect space to display a selection of decorative objects, including charming coffee cups and a coffee grinder. With minimal time and expense, you can create the illusion of having a small coffee bar in your home.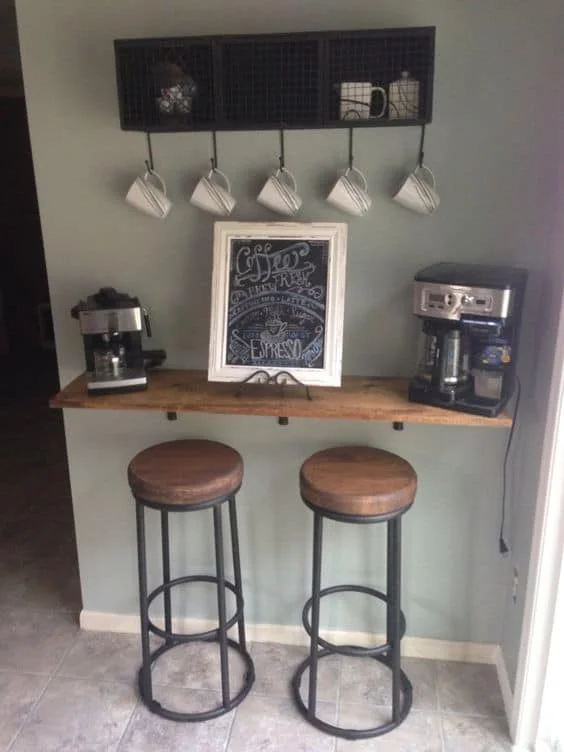 If you use a small counter to keep your favorite coffee supplies and keep things in the same color palette for a more cohesive appearance, the café vibe will flood your home. Then add a frame-mounted blackboard to spruce up the coffee station.
Time For a Coffee-Bar Expansion
Consider dedicating an entire wall to your coffee bar setup if you have ample space. In this maximalist arrangement, every detail is carefully considered, including the striking green table that catches the eye. Just look at its beauty! Remember—typography can never be excessively utilized, and this sleek design proves that.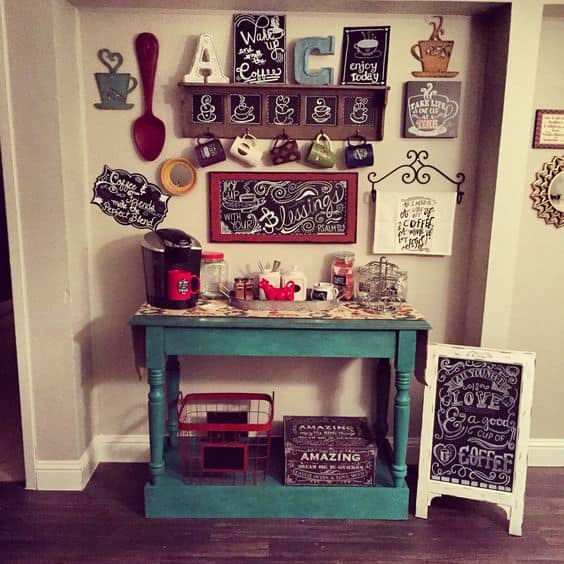 The design is simple, but the variety of unique fonts and phrases makes it stand out. Introduce a carousel of themed and playful mugs and vibrant paper straws to your coffee bar, infusing the room with colors and maintaining an energetic atmosphere.
Comfy Wooden Coffee Bar
An old wood interior is comforting; it creates a subtle atmosphere that grounds the individual in well-being and evokes a powerful sense of comfort in the place. Visit the local thrift store for hidden treasures to refinish and use as the basis for your custom coffee bar!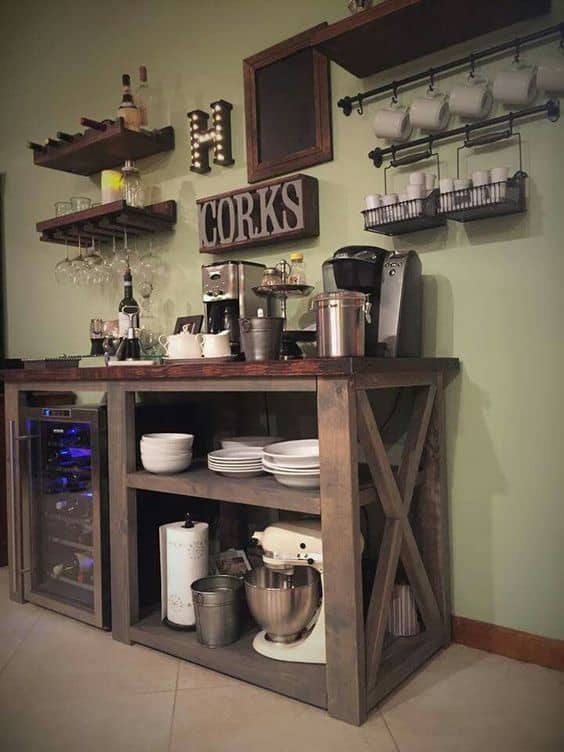 By mixing in yummy goodies, bundles of tea, and hot chocolate, you can easily personalize a coffee station to suit your family's preferences while you gather ideas. If you enjoy delving into the history of your home or family, don't hesitate to incorporate nostalgic elements into the decor, adding a personal touch.
Show Off Your Travel Memories
Whatever your home's aesthetic—contemporary, minimalist, or even farm-chic—you can find a coffee bar concept that will stand out and show off some treasure from your last vacation. Utilize items with deep personal meaning to infuse the space with a cozy yet lively energy, adding a touch of warmth and enjoyment.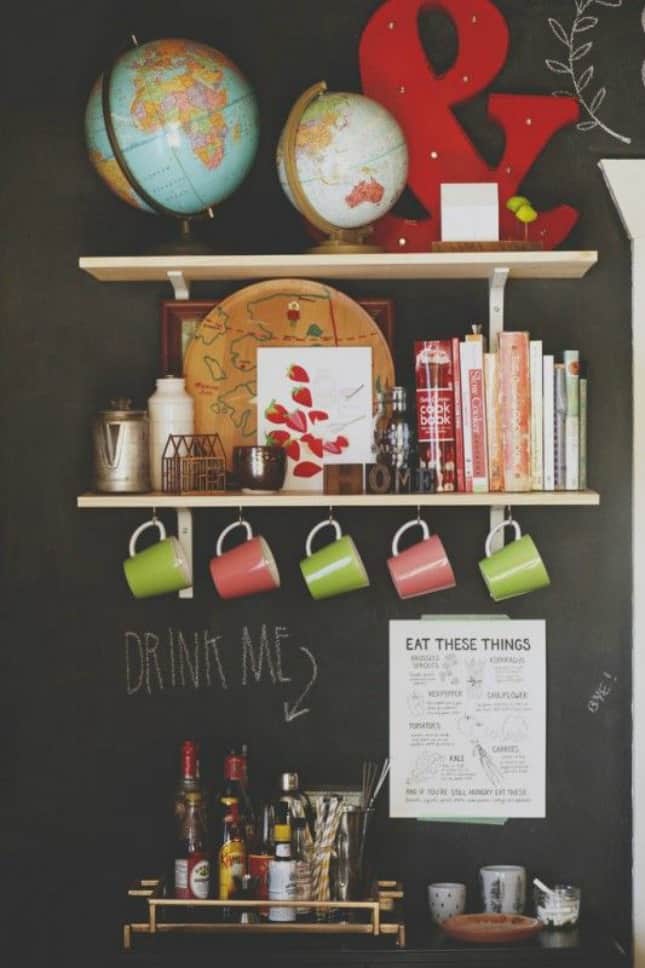 Create an intriguing space inspired by your travels and adventures worldwide—just like this example. Many tourists enjoy collecting mementos from their trips, and you can proudly display some of the most iconic ones, such as mugs and shot glasses, within your coffee nook.
Details Make All The Difference
This impressive and spacious coffee station is perfect for hosting parties. With its open and well-lit ambiance, it exudes an ethereal charm. However, if a luxurious coffee bar like this is not your cup to tea, there are other options available to suit your taste!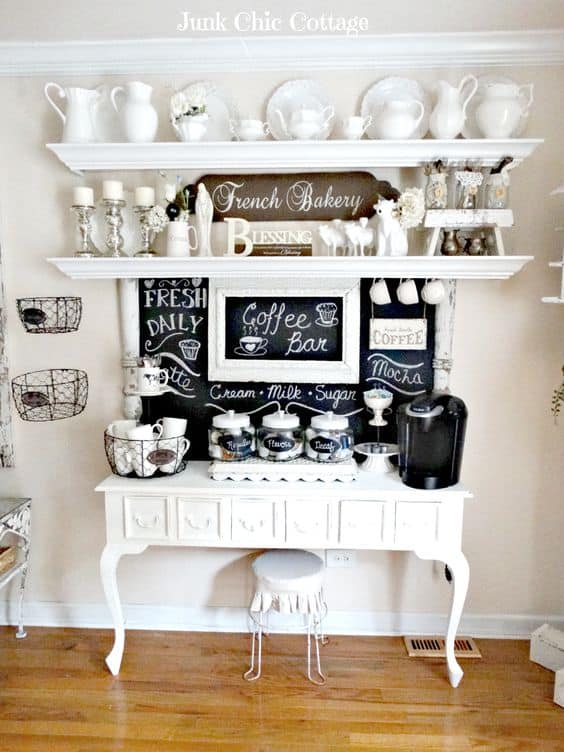 This design offers an additional benefit: a white, French-inspired theme that won't overwhelm your space. Maximize the use of any floating shelves in your coffee area. Incorporate charming plates, cups, and teapots that complement each other, and consider adding indoor plants for a vibrant touch of color.
Turning Kitchen Cabinets Into Coffee Stations
Even in a minimalist kitchen, you can carve out space for a coffee station by repurposing an empty cupboard. You'll need to make sure that your coffee machine can be easily plugged in, and for that, we have a simple solution.
To accomplish this, you may need to drill a hole in the back of the cupboard or incorporate it during your remodeling process. Additionally, you can utilize the space on your kitchen's narrow shelves to store K-Cups, tea bags, and coffee beans in glass jars.
Coffee and Art Are A Match Made In Heaven
Don't settle for the look of a coffee shop. Instead, create a beautiful gallery wall that celebrates your favorite beans and personal style, and remember to give some attention to the wall behind the counter as well. Consider adding some greenery for a subtle yet striking contrast.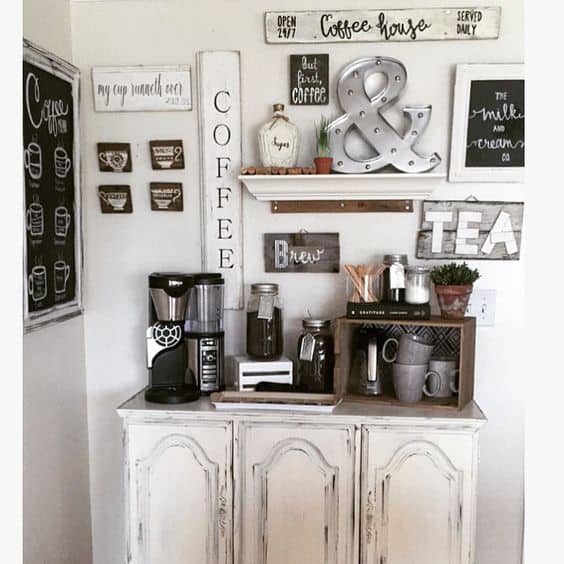 For showcasing your brew options, a small blackboard sign detailing your selections will do the trick. Incorporating a contrast of black and white with wood accents simplifies and economizes the decoration process. Additionally, remember to repurpose and reuse certain items for your coffee bar.
A Crisp Pallet Mug Rack
You can showcase your mug collection on a pallet, which adds warmth and coziness to the space and enhances the aesthetic with its wooden texture. Instead of simply placing your mugs on the tabletop, utilizing this wooden DIY project will elevate their appearance and help keep them organized and tidy.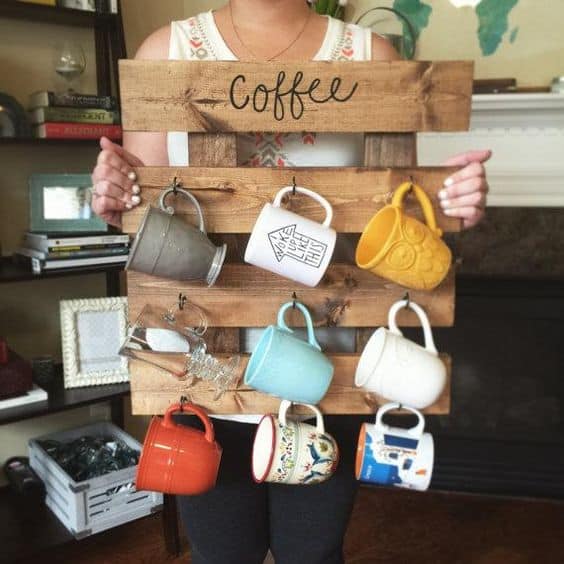 Building an accent wall to showcase your distinctive collection of mugs and K-cups is an excellent way to make your coffee station distinct from the rest of the kitchen or dining room design. This eye-catching feature will draw people's attention and provide a captivating backdrop for your coffee station.
Everything In Teal Looks Good
There isn't always enough space in the pantry or cabinets. Look for a coffee bar with shelving, drawers, a cubby, and a tabletop to get the most room out of it. This low-height teal and wire piece is both useful and beautiful.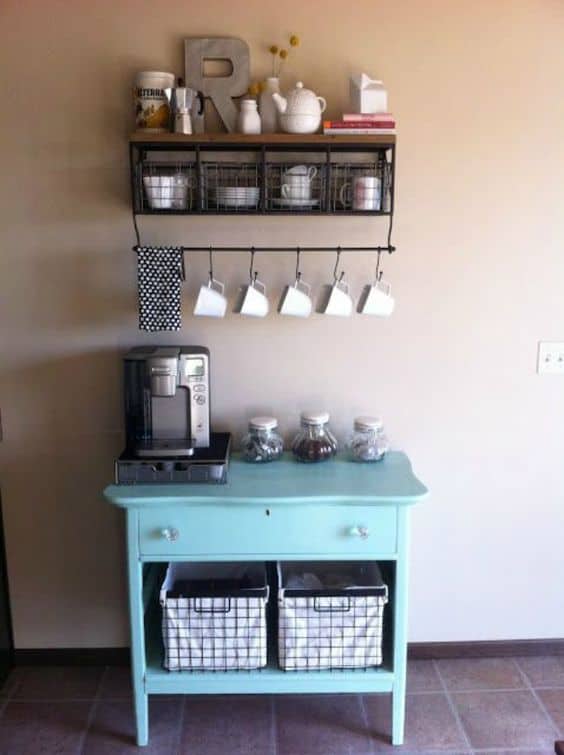 An alternative option for a coffee bar is to repurpose an old kitchen. You can find one at a garage sale or antique shop and transform it completely by painting it in this captivating color. This will breathe new life into the piece, making it the perfect centerpiece for your coffee station.
Cozy and Simple Coffee Corner
If you're a coffee enthusiast who enjoys indulging in a cup throughout the day, creating a coffee station in your living room or home office might be a great idea. By setting up a compact coffee station on a small section of your counter, you can ensure everything has its place and prevent unnecessary mess.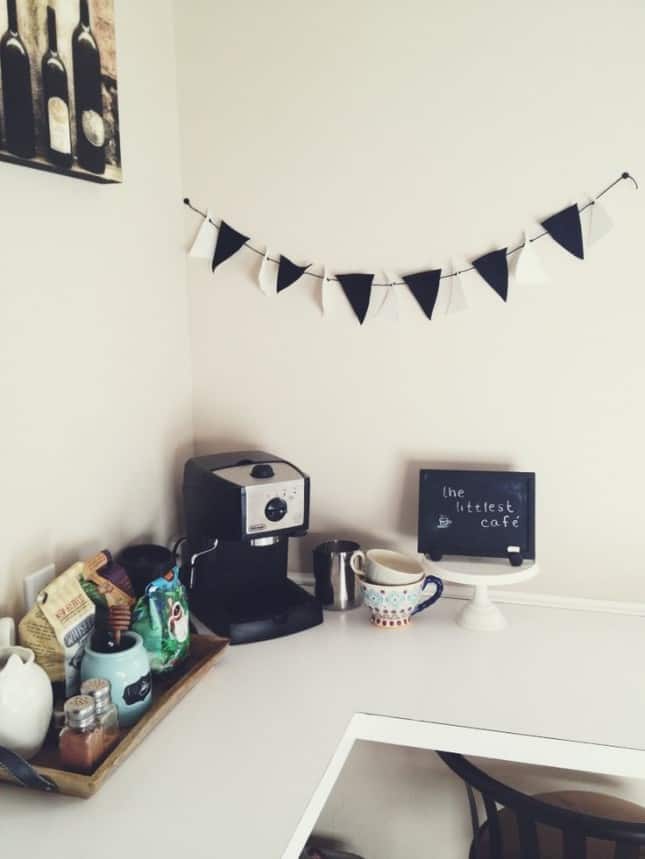 Regardless of your preferred style, the key is to maintain a well-stocked coffee station. Ensure you have two or three brew options and sweeteners available, allowing you and your friends to choose your preferred combination and enjoy a delicious cup of coffee. And, of course, let's remember the snacks to complement the coffee experience.
The Perfect Coffee Bar Hideaway
You have to agree that this kitchen's coffee area is very classy. The cabinet doors on each side of the inner cubby gracefully open up and slide back, adding a touch of sophistication. This country-chic kitchen beautifully demonstrates how high-tech tools can seamlessly blend into a more relaxed, casual room ambiance.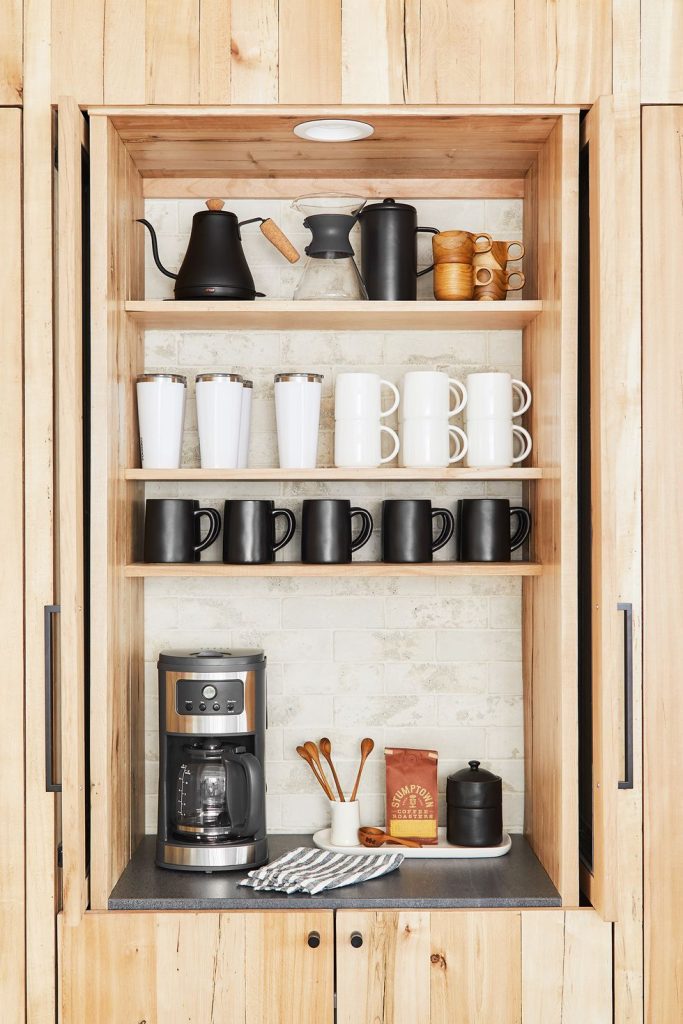 If your cabinets do not have sliding doors, you can easily modify them to make them more functional. If the cabinet shelf is an extension of the table, there is no need to move the espresso machine constantly. You can place a cover over it when necessary.
Pegboards
Transform your home office or study area into a vibrant and inspiring space with this coffee bar concept! Incorporating an eye-catching pegboard with hanging coffee mugs and shelves is a brilliant idea. Pegboards offer exceptional versatility for organizing various household items and work wonders for coffee stations.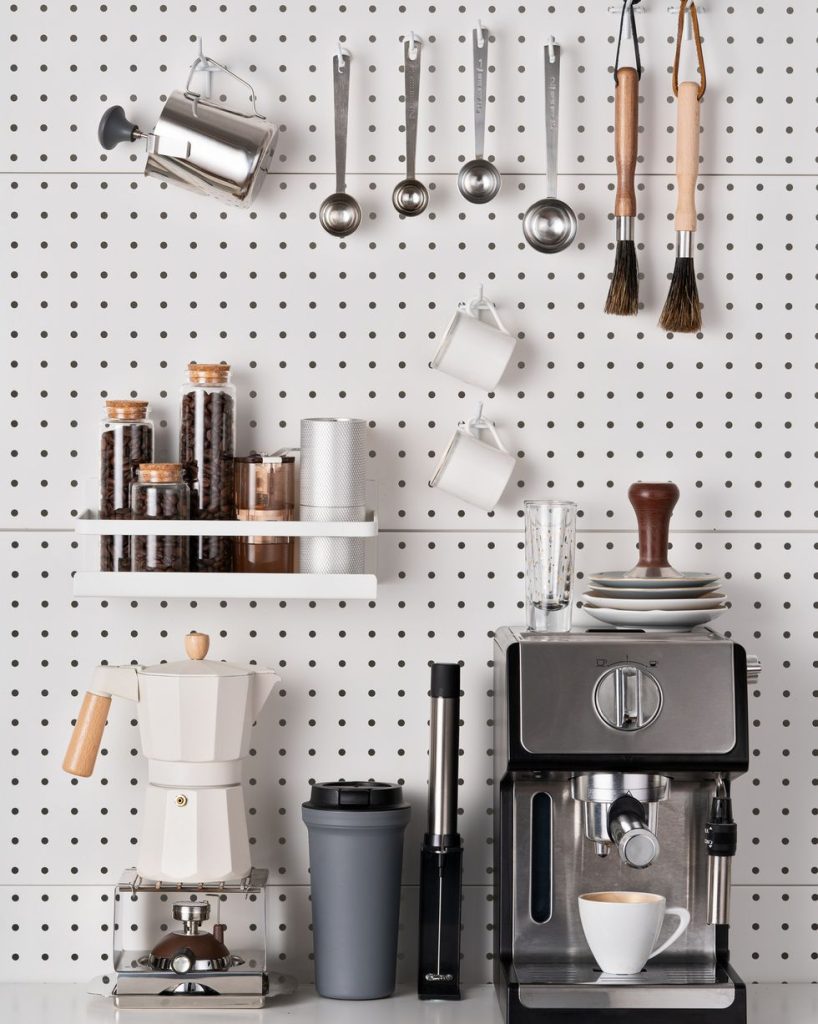 Install shelves and hooks on a pegboard behind your bar to create an organized space for your measuring spoons, cups, and anything else you may need in the future. They blend in easily and can be less expensive than putting up an accent wall with panels or wallpapers.
A Blast From The Past
Elevate your morning coffee ritual with a dedicated and cherished space. Whether you prefer an espresso machine or a family-sized pot, your beloved morning routine deserves a special place in your home. This setup is ideal for vintage enthusiasts who appreciate a charming and nostalgic ambiance.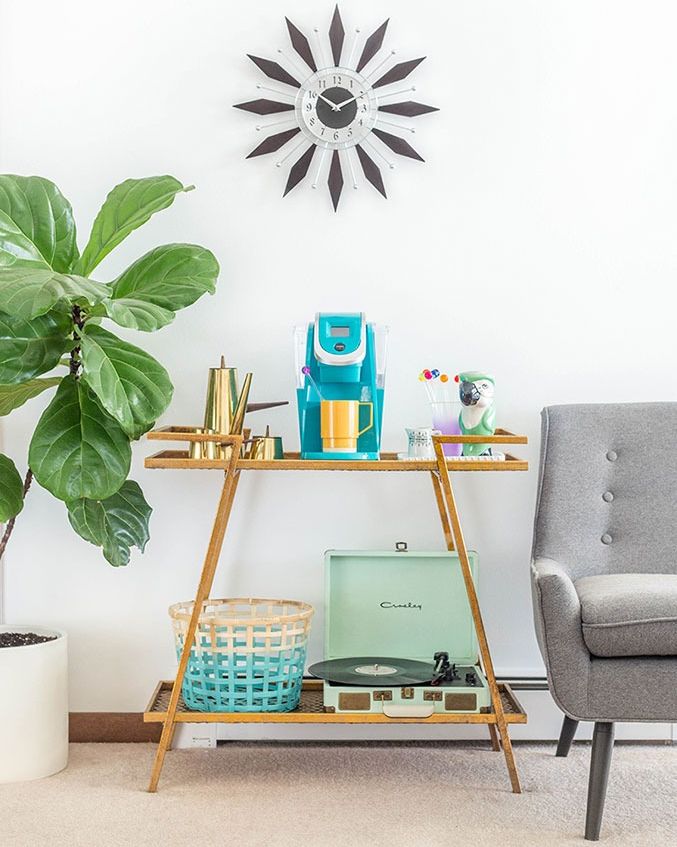 Infuse your coffee station with a touch of midcentury flair reminiscent of sweet tributes to bygone eras. All it takes is a vintage bar station, a vibrant-colored coffee machine, antique serve ware, and a record player to complete the nostalgic ambiance.
Chalkboard Is A Classic
Create a striking rustic design statement in your coffee area with a long countertop and a chalkboard backsplash. Even if you're not running a coffee shop, you can still incorporate authentic coffee shop elements, such as a drink menu written on the wall, to add charm and character to your space.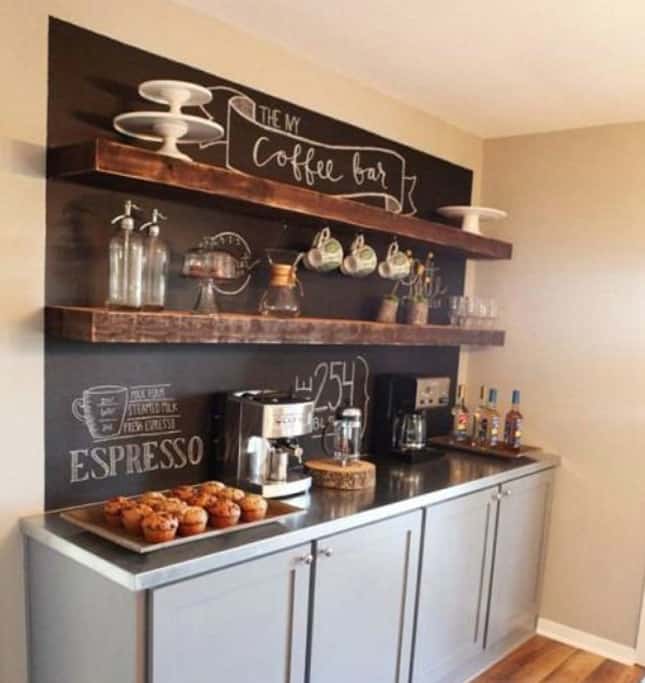 With the help of a chalkboard wall, you bring versatility and cheerful energy to the relaxing area. Add a cake stand filled with delicious cupcakes to add flavor. A little sink makes preparing coffee much simpler if you have the room, but it's not mandatory, and the floating shelves are stunning and fashionable.
A Darker Approach
It's well-known that incorporating black furniture into a room instantly enhances its sophistication and elegance without creating a sense of severity. Consider adding a table mat and light-colored trays to the coffee table to complement this visual focal point—this helps balance the overall aesthetic and draw attention to the desired elements within the space.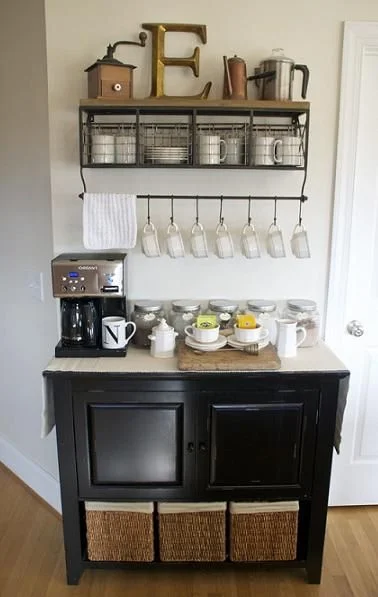 Placing a mat down at your home's coffee bar, which is one of those areas that is very prone to spills, is a good idea. This coffee station also has visual merit because of its adorable burlap accents and storage space following the same color scheme.
Collectible Containers and Canisters
Glass canisters have unique appeal and bring clarity and lightness to the room, especially when combined with neutral colors. They are an excellent choice for minimalist homes. However, there are times when we desire to incorporate more vibrant colors and textures into the kitchen or coffee station.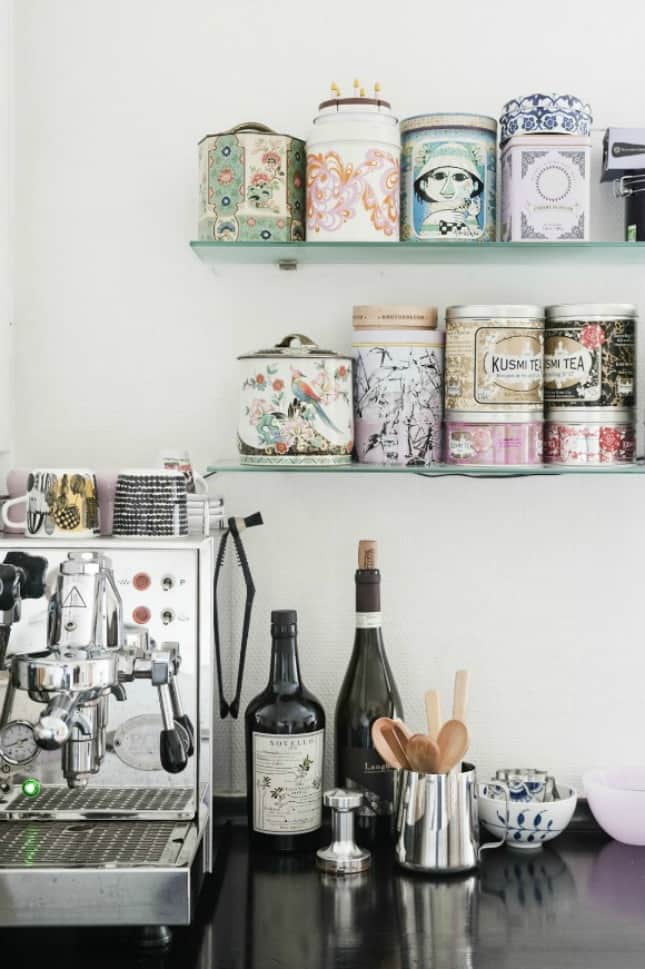 Countries like England and Morocco have a strong connection to the art of making and drinking tea—making them popular destinations for tea lovers. It is only natural that visitors to these countries bring back bags packed with souvenirs and collectibles. This collection of metal canisters looks fantastic and sweetly adds color and texture.
Special Mug Gallery
The art of collecting things can be messy sometimes, but it can also spruce the decor up a lot. Your collection of mugs, teapots, and tea cups can bring great versatility, allowing you to rearrange them whenever you want. It brings joy with its vibrant colors and unique shapes.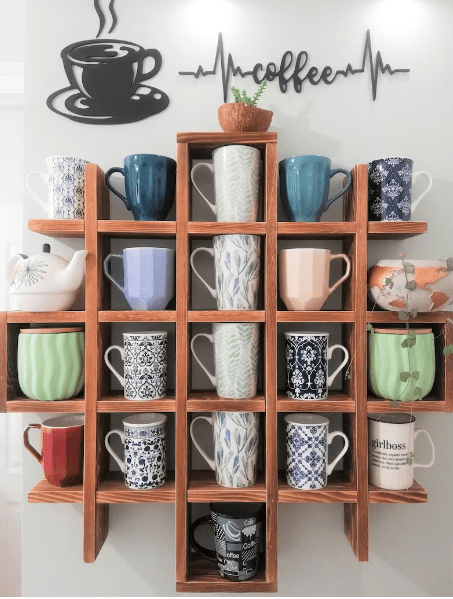 You can opt for monochromatic pieces or have fun with colors and patterns. There are countless options of coffee sets and tea sets available to suit every style. For example, the tea and coffee wares can also become the focal point on an accent wall.
Give Old Furniture A New Meaning
With the right color, an outdated piece of furniture can be transformed, and in this case, it serves the delightful purpose of serving hot drinks to friends and family members. A coffee bar is the perfect spot for a vintage dresser or any retro piece of furniture – a credenza or sideboard would work beautifully.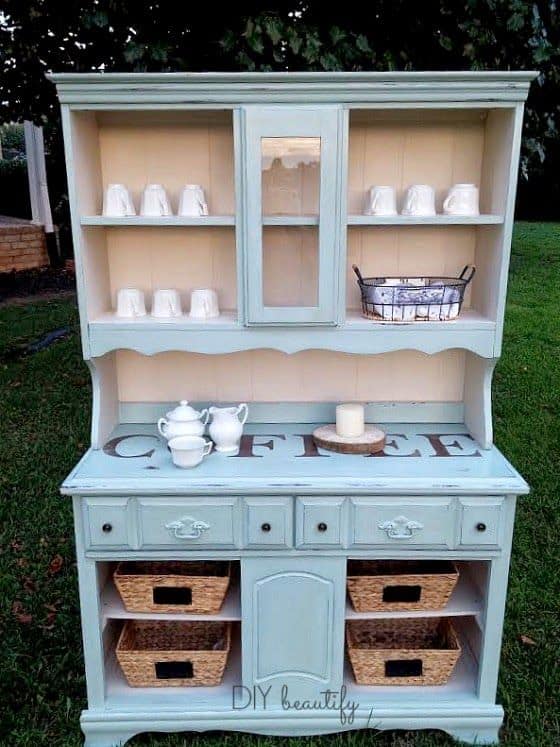 If you don't have an old cabinet or dresser to refurbish, there's no need to worry. Plenty of garage sales and flea markets offer furniture like those at a fair price. You can also create the perfect DIY coffee bar by adding new lighting to an existing piece of furniture.
At-Home Coffee Bar: Maximizing Tiny Spaces
This coffee bar may be small, but it's also stunning. The dark color scheme adds a special and unique touch to this coffee station. Rest assured that everyone will ask you where you bought it, and they'll be amazed when you tell them that you made it!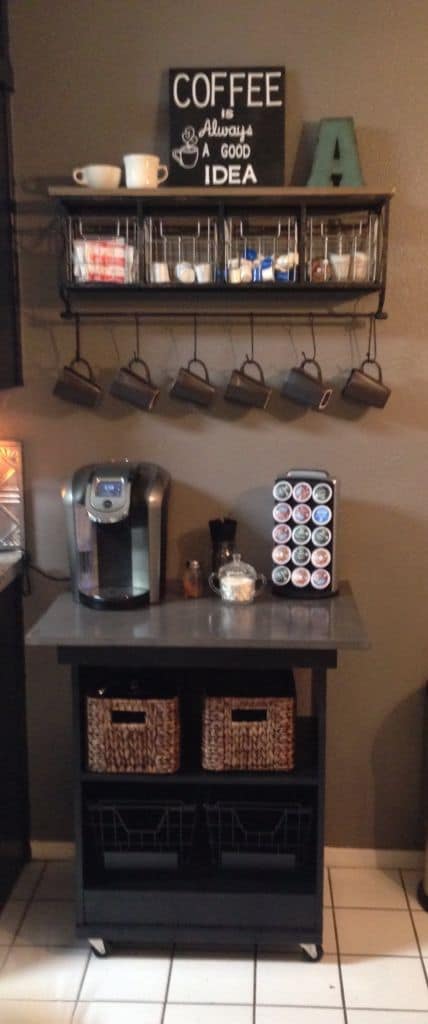 maximize the surface area and accommodate all the necessary supplies, such as K-cups and the coffee machine, you can add a marble or hardwood countertop to the top of a small bar cart. It's important to choose a durable material that can withstand daily use.
Perfect Coffee Station For Small Homes
A coffee bar doesn't have to be considered a luxury item exclusively reserved for successful cafés or hotel suites. If it is created with functionality in mind, a coffee station can fit in any room, no matter how small it may be.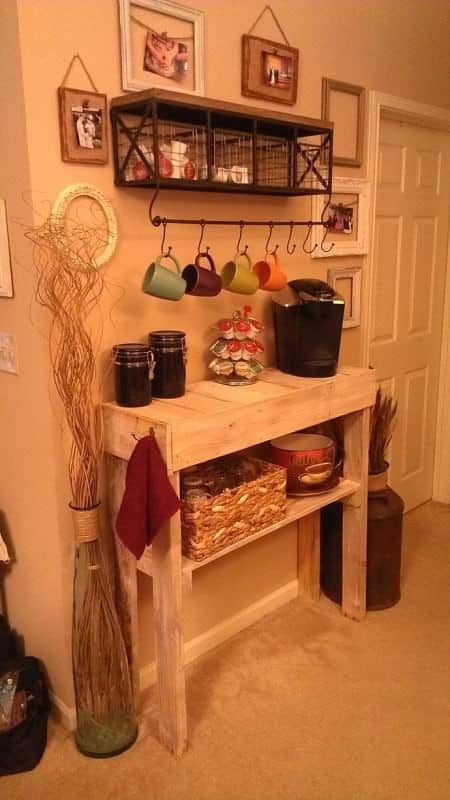 Reclaimed wood can be utilized as the tabletop for any side table, beautifully showcasing its distinctive grain pattern. This wooden piece adds a touch of softness and warmth to the room, especially when paired with the black metal shelf above it. Remember to ensure that the decoration around the coffee station complements its overall aesthetic.
Design Your Coffee Bar From Scratch
So, you went furniture-hunting but couldn't find that perfect vintage cabinet or dresser, and buying a brand new one is not an option—don't give up on having your special coffee nook at home, complete with delicious coffee and treats. The good news is that you can create your own coffee bar from scratch.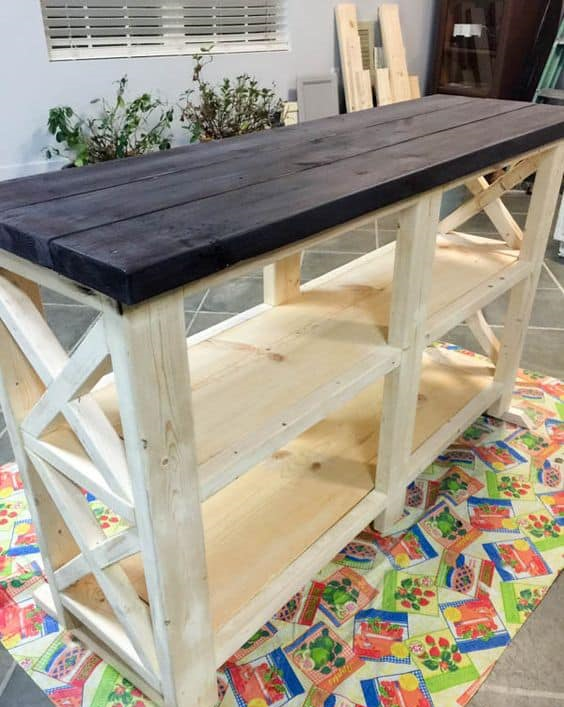 When planning to create your own coffee bar from scratch, it's important to consider the space it will occupy in your home and the size of the countertop. To get started, find a reliable source where you can purchase pallets and find a good tutorial online on how to assemble your new favorite spot at home.
You Can Ner Go Wrong With Black And White
This coffee bar is sure to captivate minimalist enthusiasts. It's time to dust off that old metal or wood cart you have stored in the garage and transform it into a sleek coffee station. You won't need much to bring this idea to life.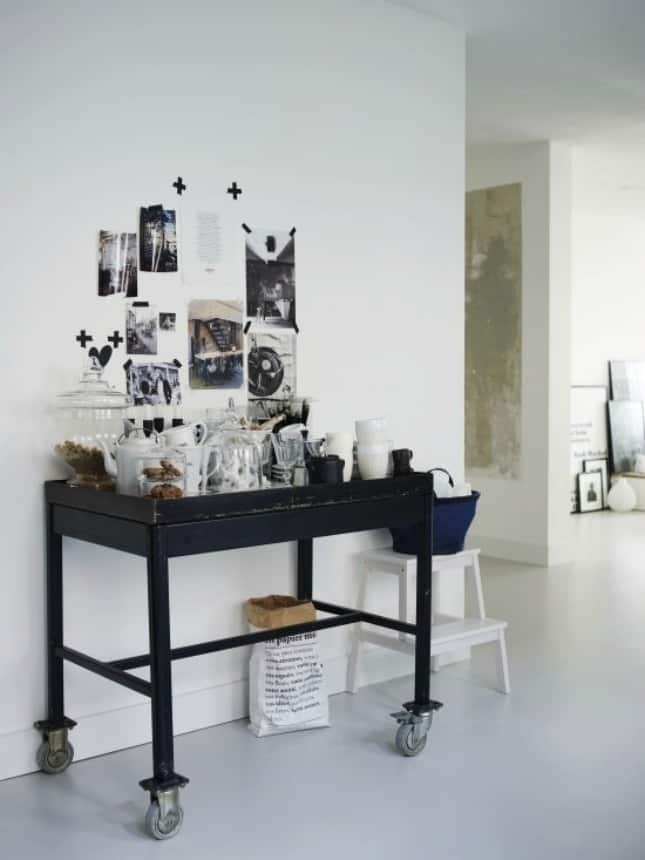 Utilizing a cake stand to display food and essential coffee and tea items can elevate any coffee nook. Adding personalization with photos on the wall is a great touch, but if you prefer not to attach photos directly, consider using framed prints.
Keep Your Memories Close And Your Coffee Closer
The little things in life give life a new depth. Here, the word "faith" and the smiling happy couple are symbols of things they relate with; this unique area, which could be just a coffee station brings a sense of serenity and tranquility we all look for whenever we arrive home from a busy day.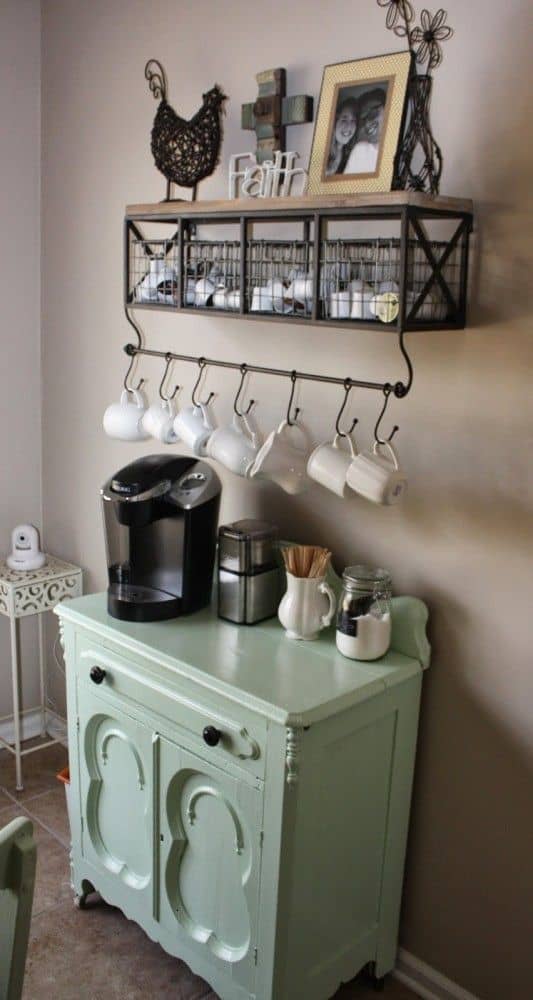 The stunning little dresser has been decorated with a couple of coats of pastel green, creating a beautiful match with the overall setup. The combination of wood and wire also adds a delightful touch. To enhance the coffee station, you can incorporate some greenery and trinkets that reflect your personality and home.
Upgrade That Old Pantry
This isn't exactly a DIY tip, but it's a way of reimagining ordinary spaces you might have at home. A stylish coffee machine stands next to the mugs in this casual-chic coffee station for easy access. Its proximity to the kitchen and living spaces makes it perfect for mornings when your life feels like a rollercoaster.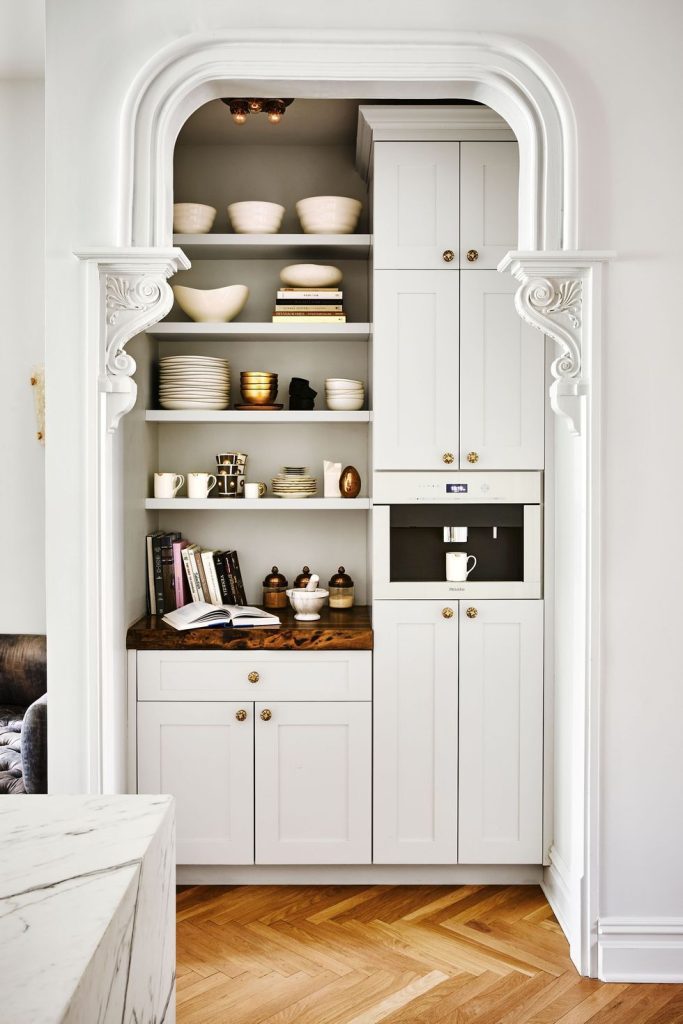 Remove the door frame to change your old pantry into a separate coffee area with extra storage to obtain this amazing effect. The handcrafted molding archway adds a distinctive character to the angular area, but it is totally up to you whether or not to include something similar.
Upcycling And Old Door
This is where you truly express yourself! Choose your favorite café aesthetic: rustic and cozy. Sleek and Scandi? Decorate your station with your favorite café design. Part door, part kitchen table, all caffeine-friendly. This petite coffee station may be placed anywhere you need it.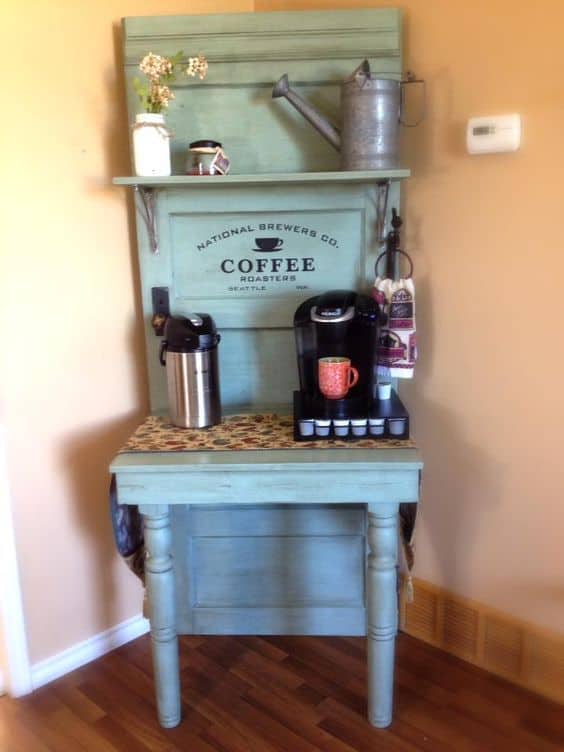 Some strategic planning is required to put this coffee station to use effectively. Position the station near a power source if you intend to plug in a coffee maker. Alternatively, you can cut a hole in the rear panel to thread a plug through, concealing the wires required for your hot drink.
Pull-Out Coffee Cabinet
Your coffee machine does not have to spend the night on the counter. Install a slide-out platter in a counter-level cupboard to create a coffee area that can be concealed away once everyone has had their fill. This home coffee station mixes well with everything else in the kitchen.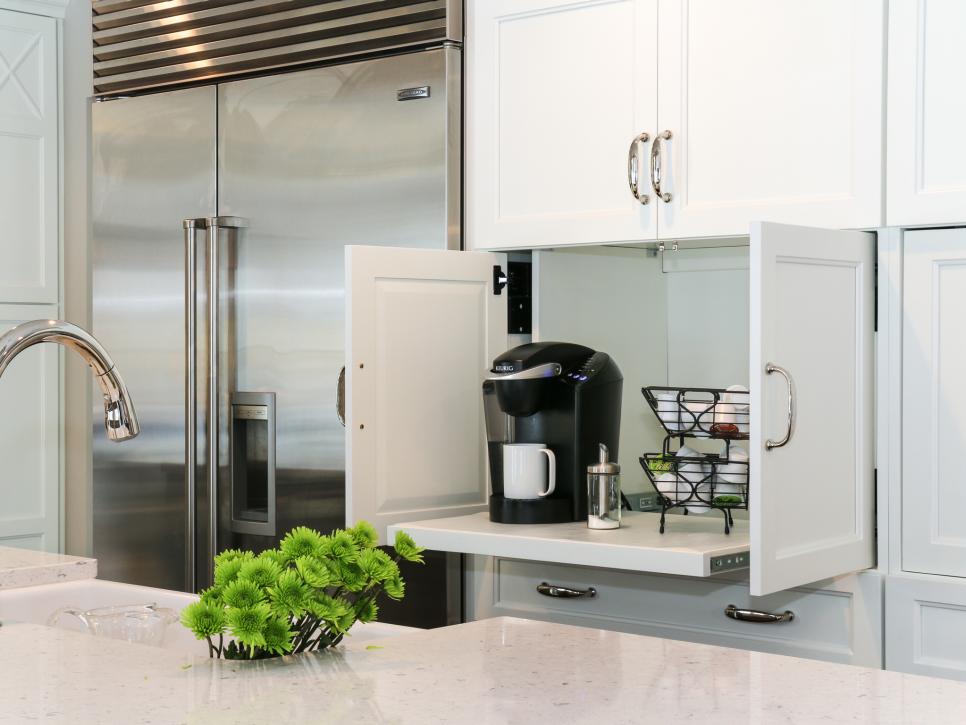 With additional breakfast ingredients on hand. Not every coffee station needs to be grand. Sometimes it's best to keep things simple. Any coffee nook may be dressed up with a tiny tiered stand for snacks or coffee and tea goods.
Built-Ins Are Also Welcome
If you want to create a spacious coffee bar in your home, consider transforming a built-in TV lounge into your personalized coffee haven. The coffee bar you see in the picture was ingeniously crafted from a repurposed built-in TV lounge, showcasing the versatility and creativity of the space.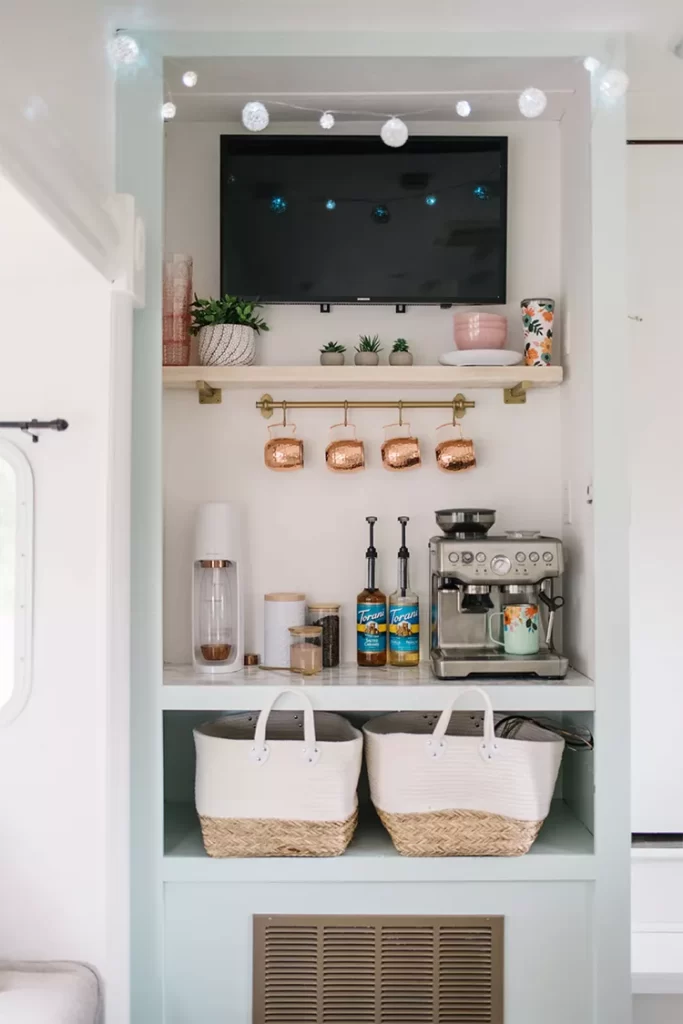 Install a rod beneath a floating shelf to hang your cups and other accessories for the coffee station. Adding more task lighting to the space is also a good idea. Everything should be visible and accessible to ensure a busy kitchen runs effortlessly.
Sleek Industrial Design
Your coffee bar can serve multiple purposes beyond just coffee and tea. It can also accommodate items such as cereal, a Chemex coffee maker, a microwave oven, and a toaster. You have the flexibility to create a coffee bar with an industrial design that looks stylish and fulfills your functional needs.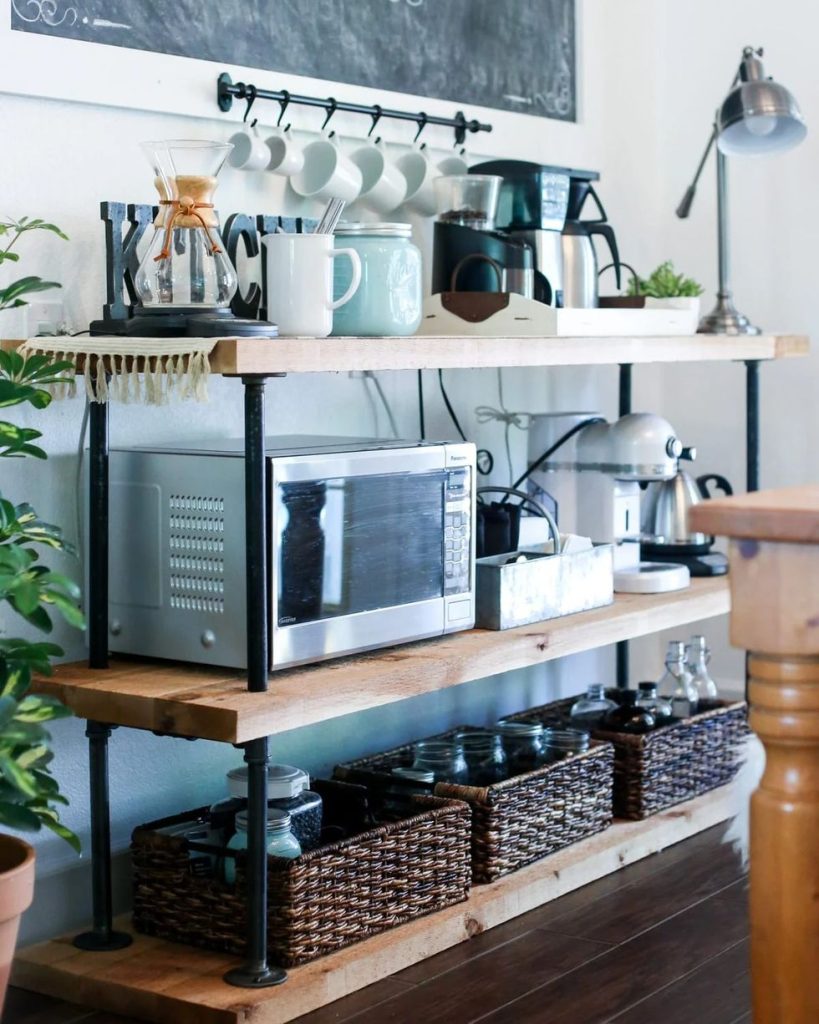 Utilize your DIY skills to gather pipes and wood, assembling them to create a stylish shelf that exudes an industrial aesthetic—combining industrial pipes with plywood results in a captivating piece that can be repurposed as a charming rustic coffee bar. The surface of this shelf is particularly well-suited for that purpose.
Overlooked Corners
This delightful coffee bar allows you to stock your own personal coffee station, catering to your morning, afternoon, and evening coffee needs. Positioned conveniently underneath a staircase, the designers cleverly utilized the sloped ceilings by installing customized shelving to accommodate glasses, mugs, and all the coffee and tea supplies you desire to store.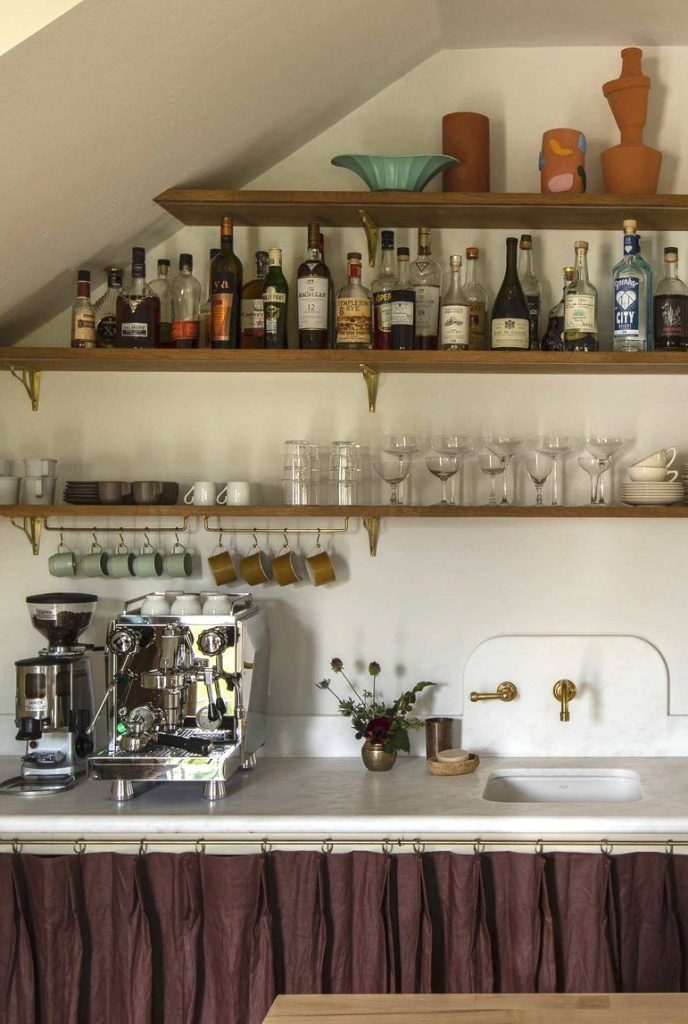 You can neatly arrange everything beneath the countertop by installing curtains to conceal the area below the sink, allowing you to maintain an uncluttered appearance without compromising storage space. This often-overlooked area transforms into a cozy nook, perfect for preparing a comforting cup of hot chocolate.
That Old Window Will Make A Difference
A coffee trolley or coffee station resembles a cozy reading nook, adding a personal touch to your home. Therefore, seeking strategies to make it uniquely yours and infuse it with your unique style is crucial. Select a design that resonates with you and suits your preferences.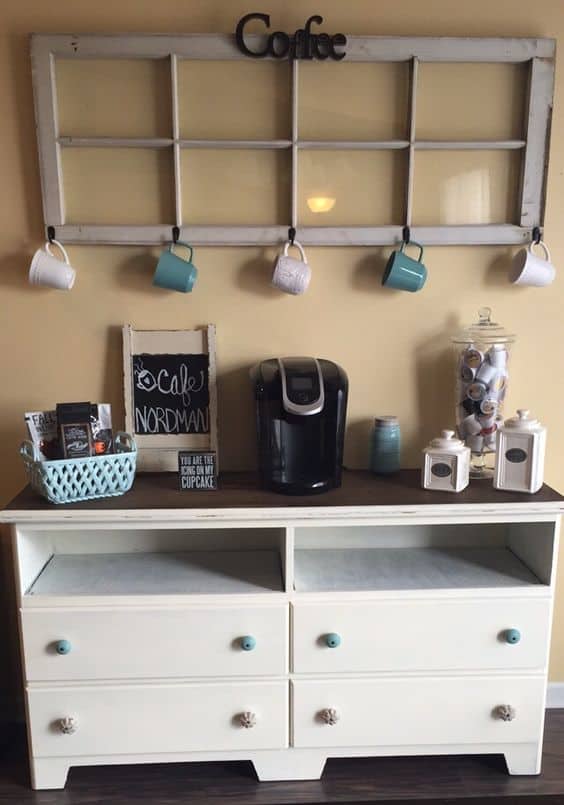 Teacups and mugs often occupy valuable space in kitchen cabinets, leading to clutter. Solve this issue by creating a clever rack using a repurposed window, freeing up space. Attach hooks to the window and hang it above a table or cabinet, and voila! You have a coffee bar without any additional clutter.
Keeping Things Light And Heavenly
Create an exclusive coffee nook by embracing a monochromatic theme, where the entire space is adorned with colors from the same family or hue. For example, these kitchen storage bins in white, and brown create a stunning visual in a cozy corner. To complete the coffee station, add some complementary mugs.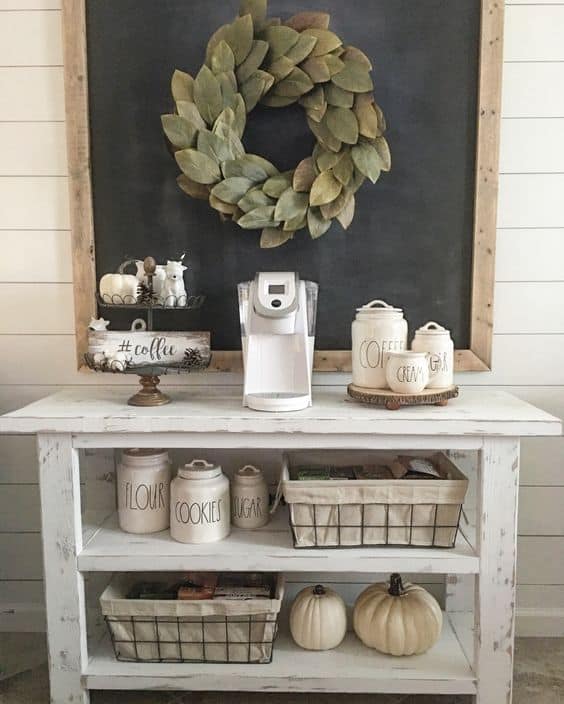 Although this idea leans more towards home decor rather than a DIY project, it remains highly captivating. Visit your local secondhand store and choose a set of matching canisters that can serve as sugar or coffee beans containers. Effortlessly, they will infuse the station with style and individuality.
Tiered Shelving
This stacked shelf is exceptionally convenient as it serves as a tea and coffee stand, with everything you need for a weekend snack or a post-dinner dessert. Place your mugs on a two-level tray to save counter space. Remember that all glasses, cups, and mugs don't need to match.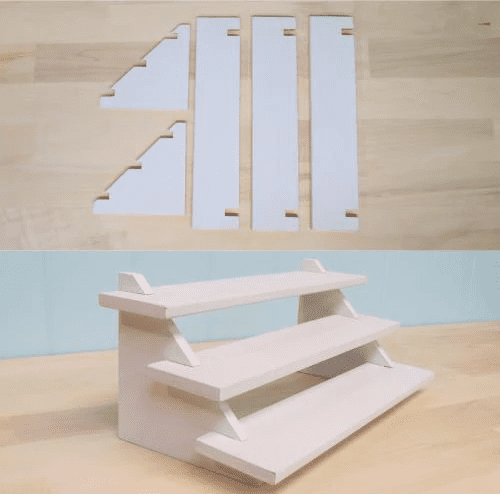 The set will appear stylish and well-organized if all the items are within the same color palette. While placing a coffee maker on your kitchen table alongside your other utensils may suffice, you can enhance the aesthetics of your space by considering some ideas to create a more appealing cappuccino spot.
Fond Memories And Coffee Time
A bar cart serves as an excellent setup for a coffee bar. Its convenient size and portability make it effortless to move from one room to another or even to the backyard when entertaining guests. Consider refurbishing an old, damaged cart found in your yard to give it a new lease on life.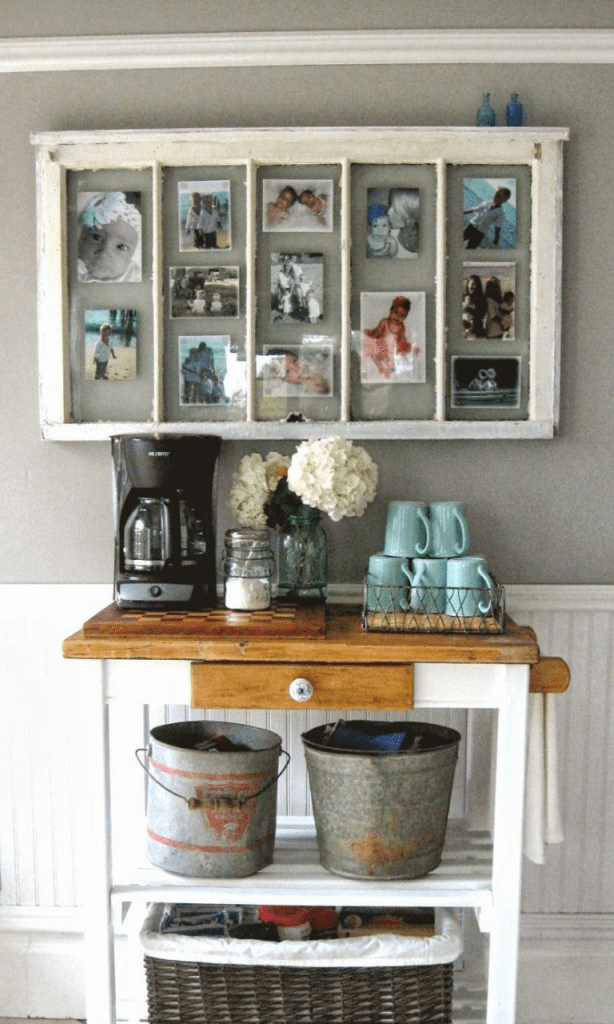 You might discover an old glass window at estate sales or flea markets. Restoration projects like the one presented here can be incredibly captivating and inspiring. To create a stunning picture gallery using such a window, you will, of course, need to select your finest photos carefully.
A Bookcase Makeover
Believe it or not, you can transform an old shelf into a stunning coffee station. Our DIY coffee stations range from simple modifications that only require a little time to larger projects that can be completed over a weekend. Regardless of your option, all of them are perfect for beginners.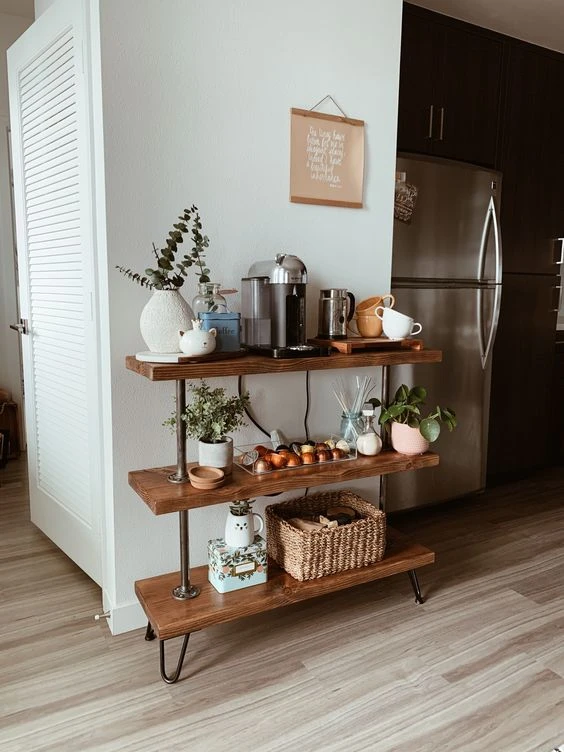 A straightforward two- or three-shelf bookcase can be repurposed to create a delightful coffee bar in the corner of any room. The top shelf is at the ideal height for serving a cup of coffee, while the shelves below provide convenient storage for your cherished coffee mugs and dishes.
Coffee Station Mug Tree
We're no strangers to upcycling, which involves creating new items from old materials. Therefore, it's only fitting to share this incredible idea: transforming an old cable coil into a charming coffee station. You'll only require hooks and wooden accents to achieve a similar aesthetic.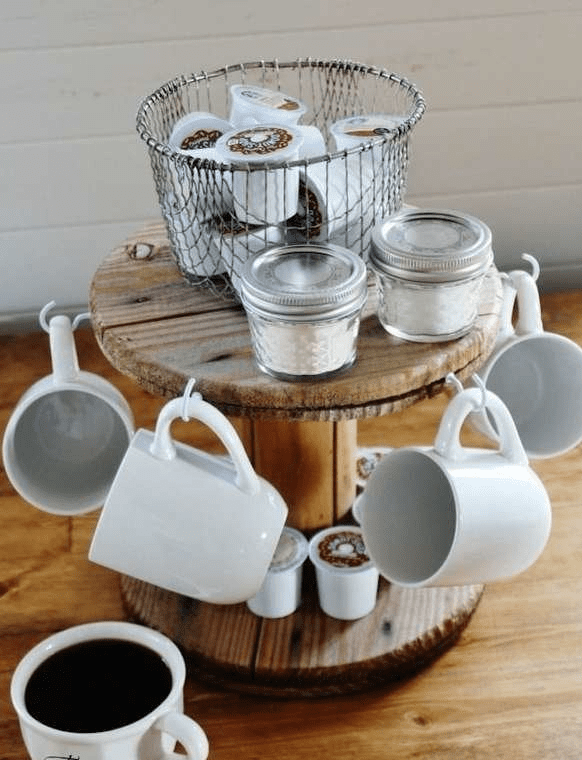 With this easy coffee mug tree, you can show off your mugs and keep them out of the way. It's not too big or bulky, so it's lovely for the kitchen table, even the dining area sideboard, or wherever you want to set up your coffee bar.