40 Clever Crafters Who Mastered The Art Of DIY
By Aakash M May 30, 2022
---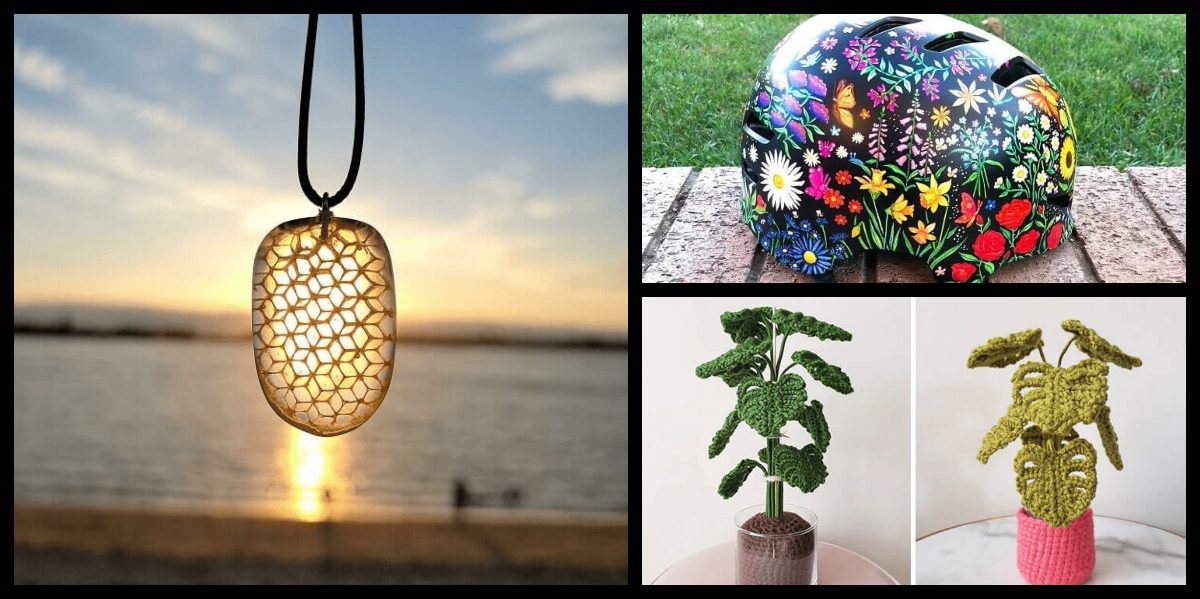 Some people have done wonders with their DIY inventions. With the rise of upcycling and saving our environment, more and more people are partaking in at-home projects. There is some delight in finding an old dresser in the street, painting it a bright shade, and giving it a new life. These crafty people inspire us to make a pair of earrings from plastic found on the beach or to play around with resin and make a brand new board game. How do people come up with these amazing ideas and execute them so well? Most of our products end up on the Pinterest fail communities. We never give up though, and we look forward to getting more inspiration from these incredible crafters from household items.
DIY hi-tech wooden desk
We haven't ever come across such an extraordinary desk. What about you? The person who posted this image created it with the help of LED lights and scrap cuts of wood. How amazing is that! We, for one, are impressed.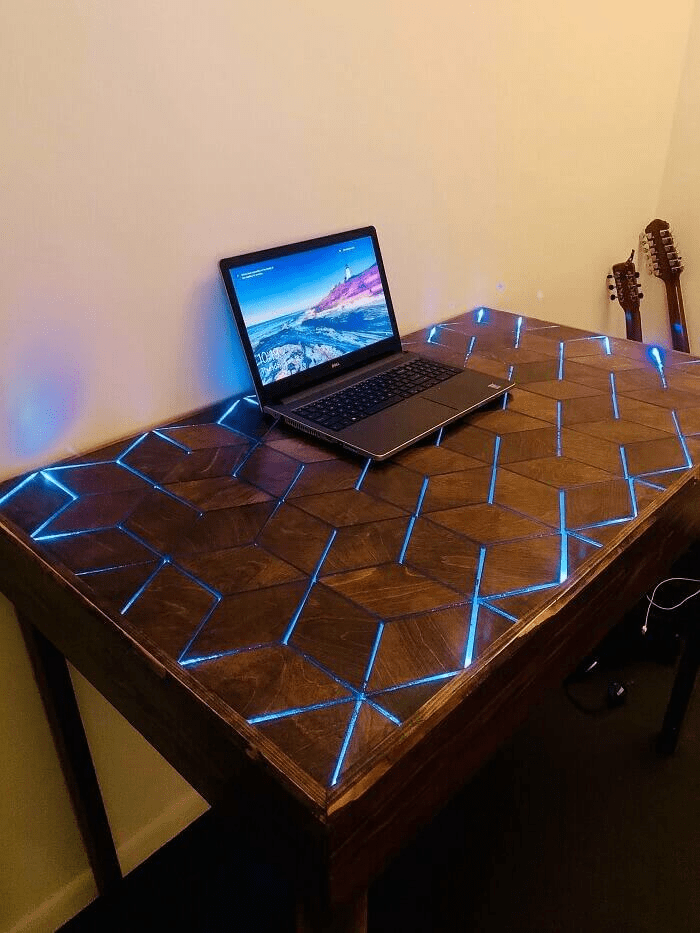 We are huge fans of people who can make the best out of waste! This time, not only is it just the best out of trash, but it's also an efficient invention, which makes it a win-win situation! After looking at this image, we'd think many people would want one of those for themselves.
Light-emitting jewelry
Take a look at this light-emitting turquoise necklace. Isn't it a piece of art? This necklace was made using resin, glow pigment, and a few precious metals. Can you imagine how beautiful this piece of jewelry would look during the night?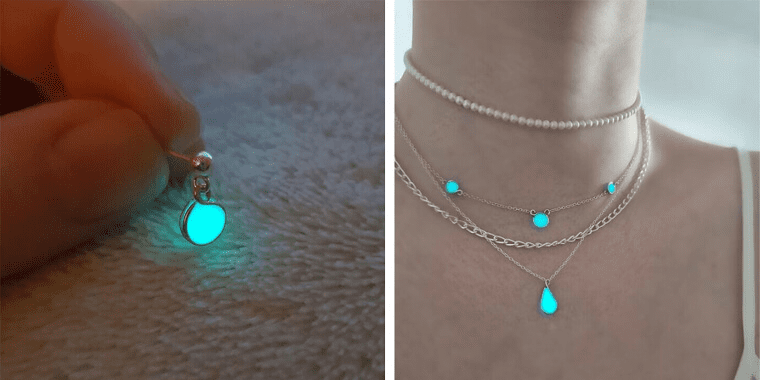 The glow pigment absorbs light to emit it. Also, we think that it's a great accessory to wear during a blind date. Don't you think so as well? If you run out of topics to talk about during the date, you could always talk about the necklace!
The best bumper stickers ever
Take a look at this artist who creates special bumper stickers. What's unique about these stickers is that they take a dig at the stereotypes against women, which you can tell by looking at this picture. Great job there!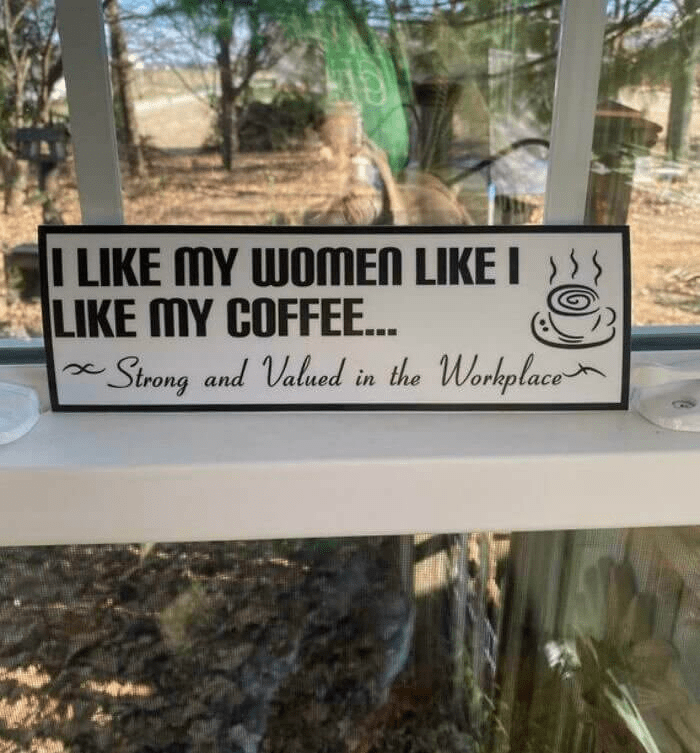 This creator is also a social worker who enjoys doing these things to relieve himself of the daily stress induced by work. This guy also sells these stickers at music festivals, and then he purchases tickets to the shows with that money. Smart, right?
Twisted floating shelves
The person who uploaded this image claims to know the secret most artists try to keep hidden. He says that the final creations aren't usually according to what they initially planned. Well, we say that it's a part of the fun!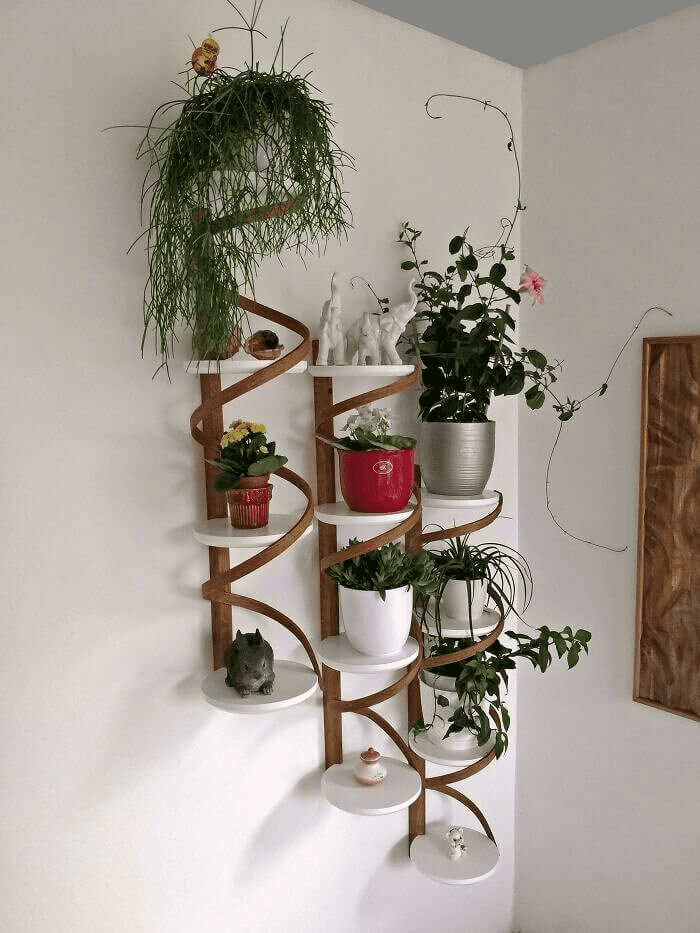 Not knowing everything about the future outcome is equally impressive. Sometimes, creating art is simply a process that we follow, and it's more about the journey than the destination! The wood was created with a circular saw and router, and it's made from oak.
A cool t-shirt
This dyed tee is one of the most unusual clothing items we have ever come across. Just look at the detailing on that pattern, and just look at the way the colors have been blended! It is simply jaw-dropping! We wouldn't even know how someone could do something like that.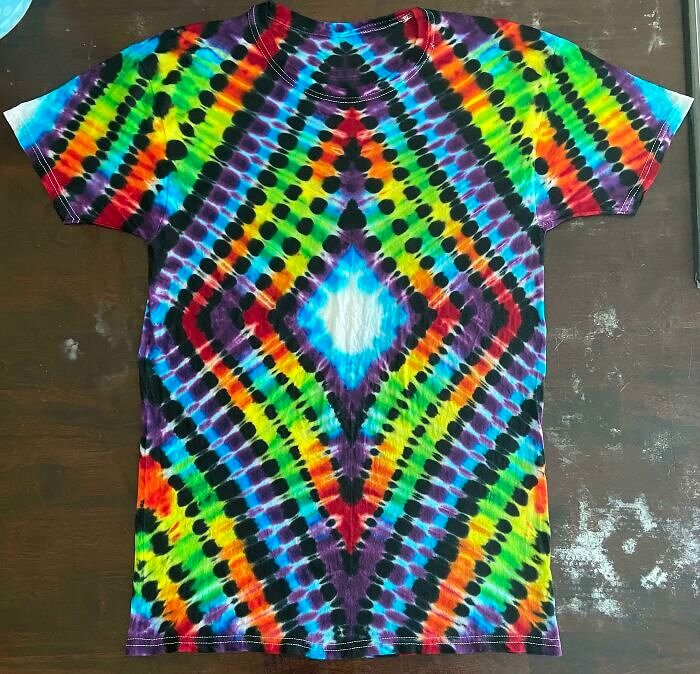 We're sure it must have been difficult to achieve perfection on the pattern and the ideal blend of colors, so the creator has done an amazing job here. We really have spent a lot of time thinking about how long the person might have been in this industry to be so skilled!
Talent and hard work
This bear obviously looks like the work of a professional, right? How would you react if we told you that this bear resulted from a person's first-ever metal welding project? Yes, that's true. He's a first-timer. We'll let that sink in.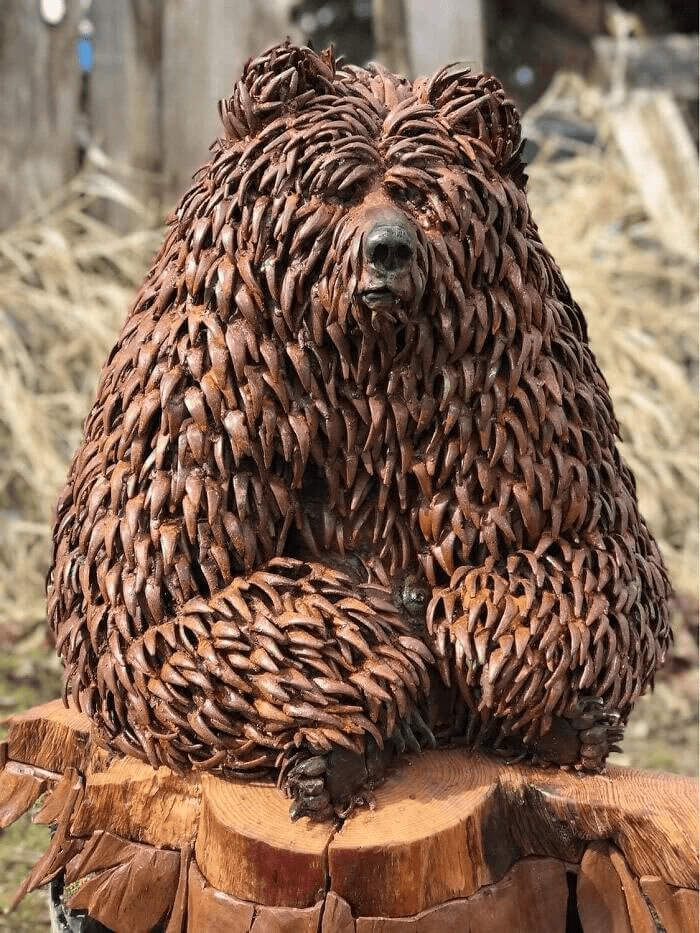 That's what you call natural talent and, of course, hard work. If that's his first project, we can only imagine the kind of stuff he'll be creating once he becomes a pro at all this. We're waiting to see that day!
Carving an eagle
This is one talented man. He single-handedly carved this enormous, detailed, and beautiful-looking eagle just from a white oak tree stump. Although it's too big to be placed in a home, it certainly looks great out in nature. It is not hard to imagine how big the statue is when the man is measured up against it.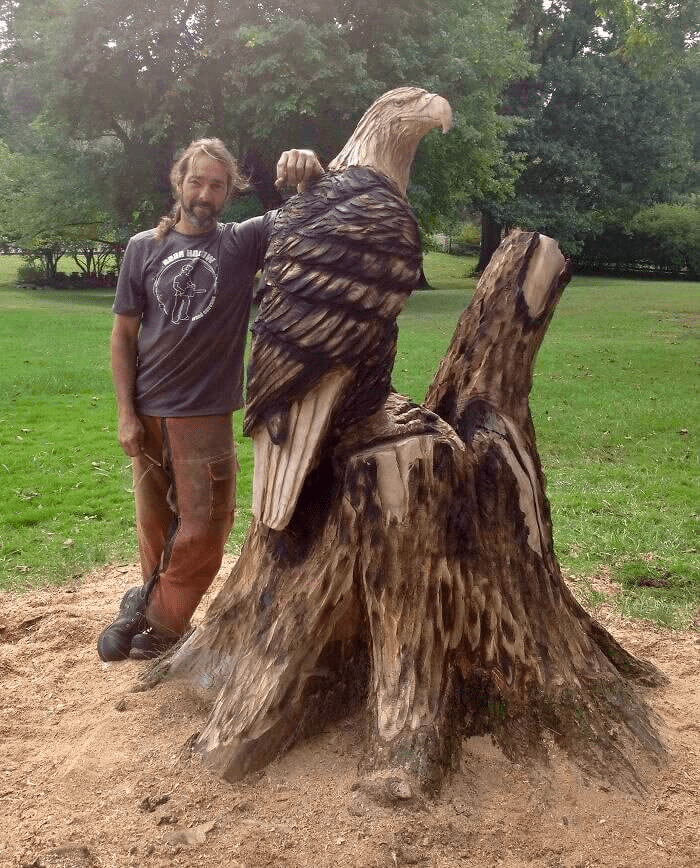 Also, it's better outdoors because that's also the natural habitat of an eagle! The feathers and wings are dark brown, while the face and wings are in a beige shade. Phew, that must have taken many hours and a lot of effort.
Nostalgia
Some moms and dads are also very crafty. When it comes to decorating their children's rooms, they really take it to the next level. This mom, in particular, did a fabulous job enhancing this little guy's room. By painting a life-size mural on the wall, she brought the room to life.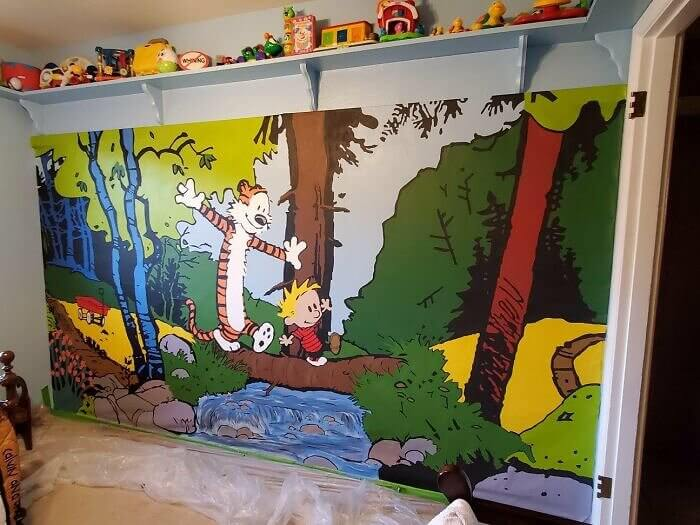 She decided to use her free time in lockdown to work on her child's nursery design. This design is a hand-painted scenery of the mom's beloved childhood comic, Calvin and Hobbes. We must say that it looks gorgeous. We also love the bright colors.
Into the space
This cute model posing in the picture is the artist's son. Apart from that, he's also a massive fan of Neil Degrasse Tyson, the Cosmos, and, of course, knitwear. That's why his parent made a hat out of yarn that lights up and looks like space!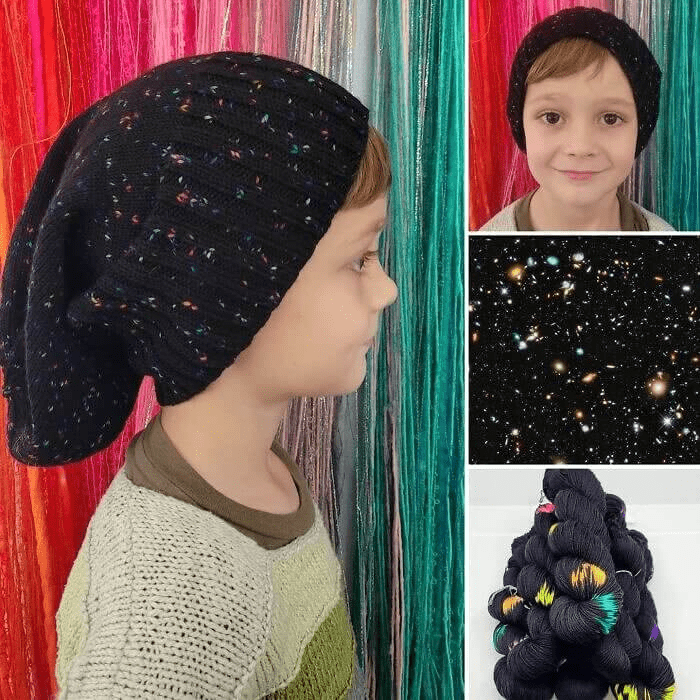 His parent also used their unique dye to get the yarn the perfect colors. Just when you thought it couldn't get better! The hat is a sockhead hat. The hat is black since it represents the sky in space. The bursts of colors surrounding it are planets and stars.
Acrylic pour magic
We can't describe the talent in these two paintings. No words can suffice the greatness over here. The first painting is Medusa's portrait. Medusa, from Greek mythology, was punished by Athena, a Greek goddess. Because of the punishment, she turned into an ugly monster with snakes in place of her hair.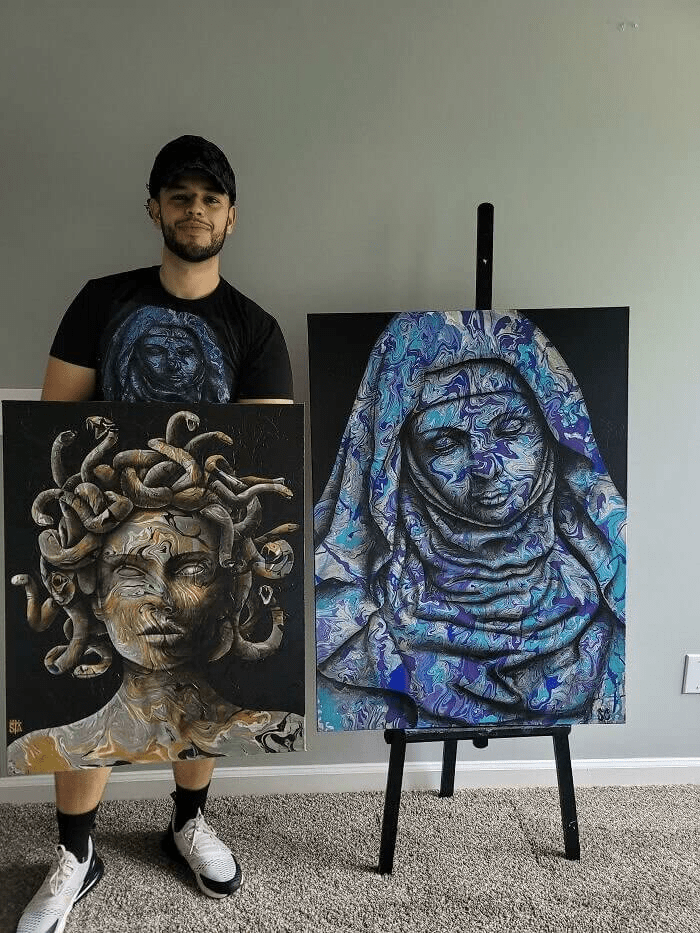 The other image is a portrait of a nun who is wearing a veil. Both pictures have been made with an acrylic pour. After the marble effect dried, he painted the black outline creating what we see now. The detail in these paintings is very intricate.
DIY birdhouse
We don't need to point out how talented this creator is. He calculated, cut, and drilled everything to precision. Talk about killing two birds with one stone, pun intended. This bird feeder is meant to also look like a surveillance camera.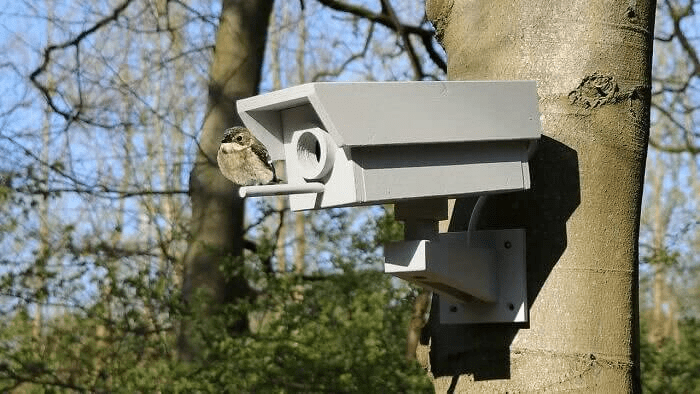 This whole thing was made with plywood, a rod, a jigsaw, glue, nails, and a few other things. He finished things up with grey paint and a fake electric cord. It is a very cute and affordable way to ensure the safety of your home.
Pretty gown
Here's something that would definitely take a lot of time, but it is worth the effort because it looks so beautiful! That's a gorgeous handmade gown with three vibrant colors that make it look like a painting rather than a dress.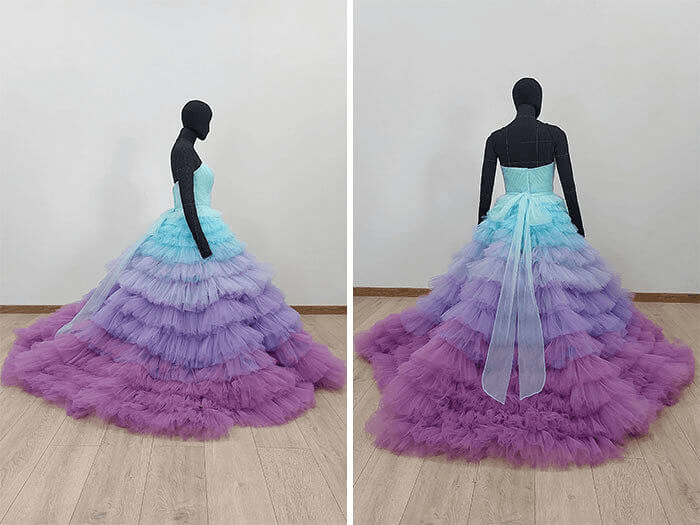 The color combination is fantastic. This artist perfectly executed the ombre effect from light blue to a bright purple. Each layer of the dress must have taken hours of handwork. Whoever got to wear this dress is very lucky!
What a combination!
This intelligent person created a natural backgammon set with some beech wood, leaves, and a bio-resin! The inlay was made from lilacs and ferns. The leaves will always remain preserved in tact and never change colors. As for the game pieces, they may need to varnish them after many uses.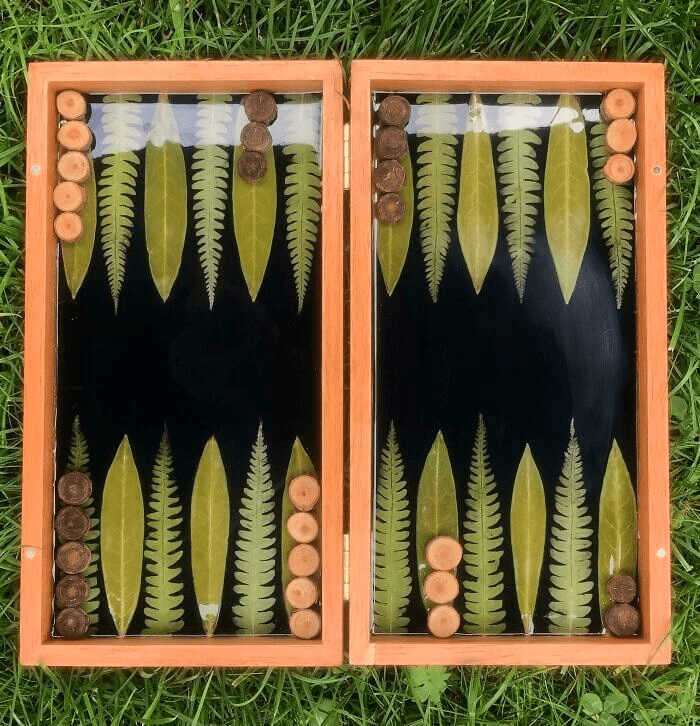 This board is a vintage piece from the 80s that they restored. If you look closely, you will see some signs of aging on it, which makes the board look all the more beautiful. We love and appreciate this piece.
Van Gogh 2.0
This image is a painting of a colossal stormy wave. The painter behind this art, as you can see, is pretty talented. Painters can tell that this painting style is similar to Van Gogh's Starry Night. Also, the colors remind us of Picasso's Blue Period!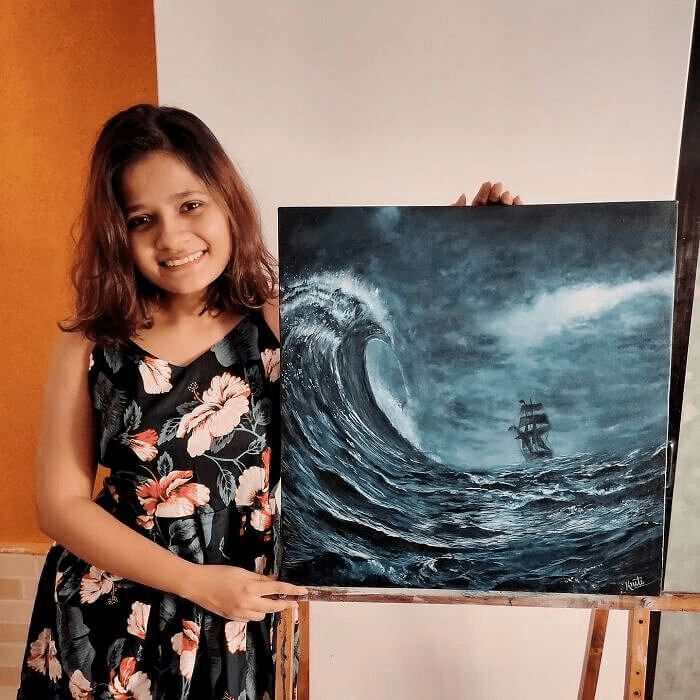 The artist's age was not listed with the photo, but we can't imagine that she is older than 12. Therefore, to see such beautiful art painted by such a young artist is inspiring. We look forward to seeing her artwork in museums soon.
Perfection
This necklace is undoubtedly one of the most beautiful pieces of jewelry we've come across. This is what you call art. This guy has preserved honeycomb pieces from an abandoned bee hive with resin. It's not an easy thing to do.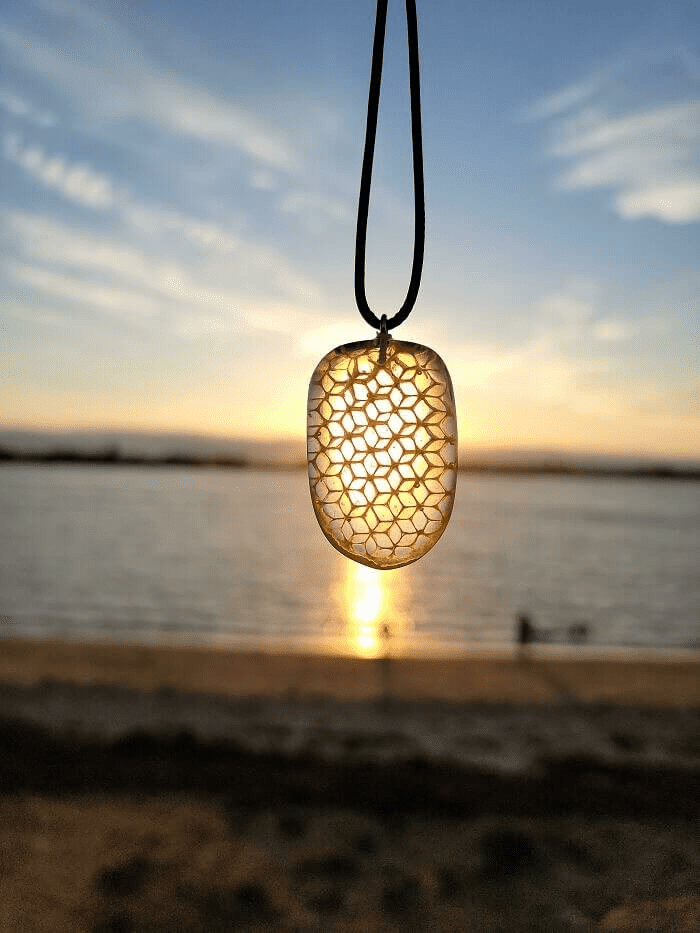 On top of that, he has managed to keep the pieces looking squeaky clean, which, again, is not an easy thing to do. We can only imagine how delicately this beekeeper would have dried and rinsed the hive to achieve that result.
This to that
It is time to get those tissues ready. Although it looks like a pillow now, it was initially a wedding purse. But, after the bride stored it for 27 years, it somehow got ruined by mold. Then, this artist thought of saving the bag and transforming it into a pillow.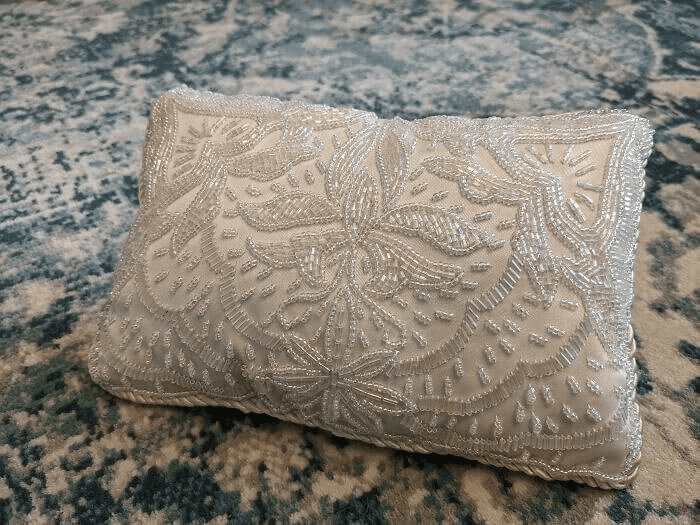 The artist then thought of gifting that to her mother for her 27th wedding anniversary! By looking at the picture, we can say that the purse has been given a new life, and they can now use it once more.
A beautiful pitbull
Do we have any dog lovers here? We bet we do. Here's a picture for all the dog lovers which will help you forget about all the stress for a few moments. Look at this beautiful pit sitting in a flower bed, enjoying its life.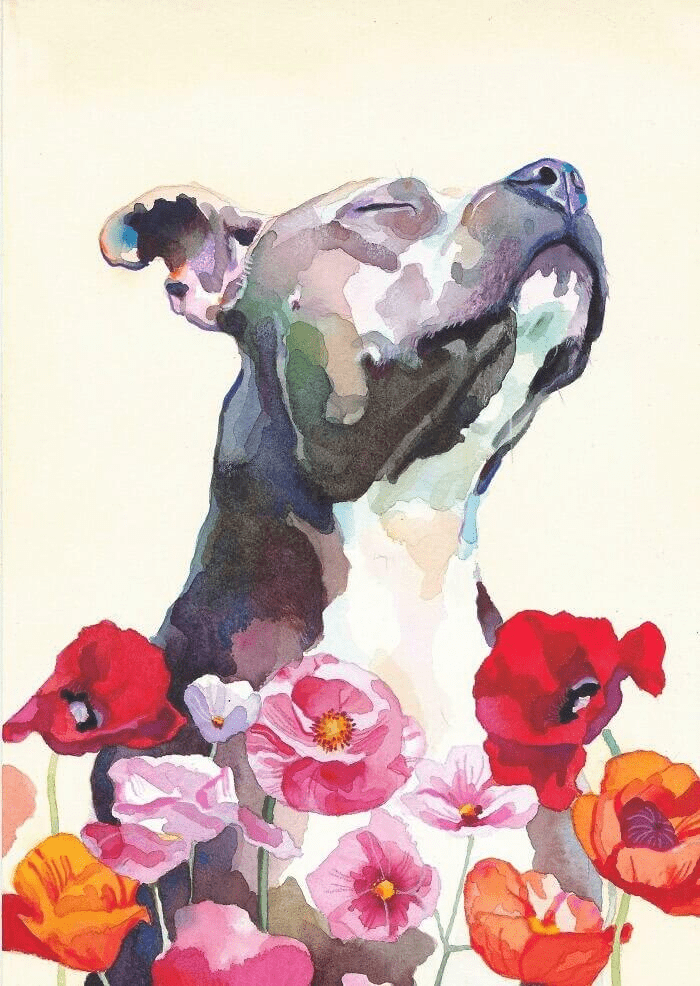 That's a fantastic watercolor portrait, and the dog indeed complements the flowers, while the yellow background reminds us of the sun. We applaud the effort that was put into this painting and also the creativity! It just keeps getting better!
Making your own wedding dress
After looking at this fantastic full-length wedding gown, we can only say that the person who made this gown must be patient, considering the amount of detail. Just look at that lace panel running down the front of the dress!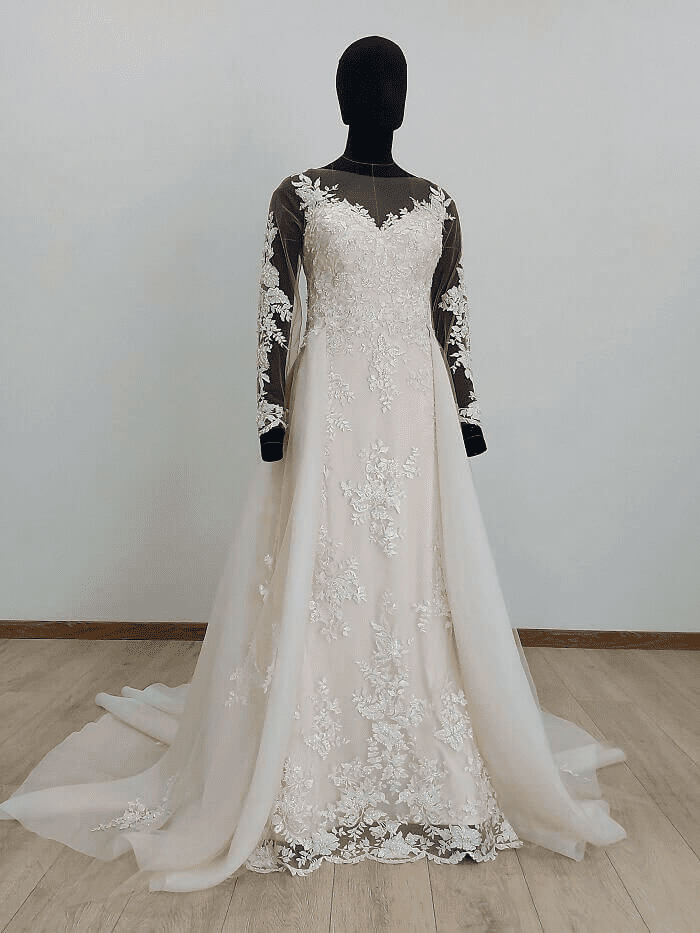 It's running from the shoulders right to the floor! We also can't get over those sheer lace sleeves that are matching. The bride wearing this gown must be one lucky woman who felt like the most beautiful person on the planet on her wedding day.
House plants: Real or fake?
If you thought that these plants were real, it's not a big deal because you aren't the only one who fell for it! These crocheted house plants aren't natural, and it took us more than just a glance to realize that!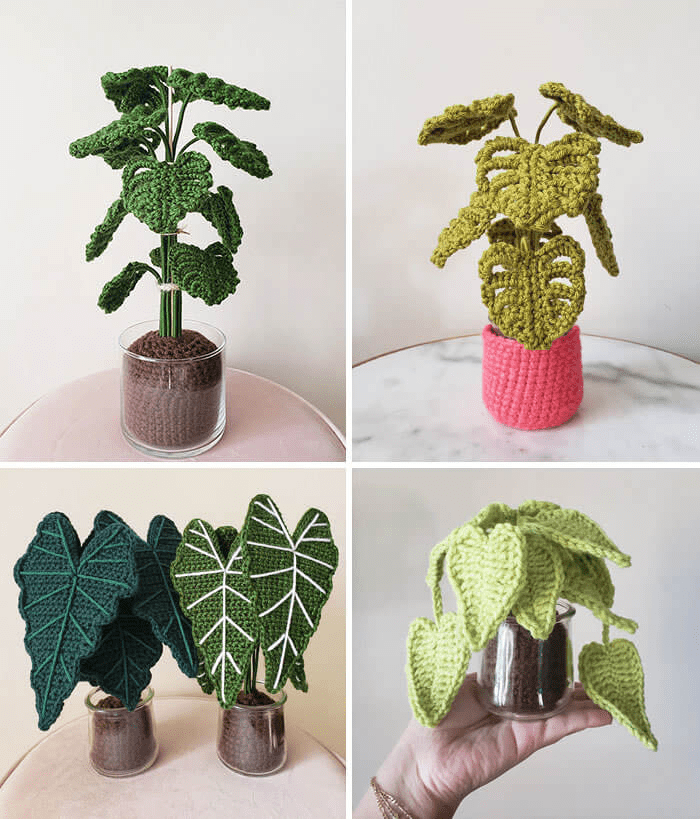 This is the ideal solution for anyone who loves house plants but is not much of a green thumb. The leaves will always stay bright green, and it won't matter if you forget to water it for a week, or two, or even a year!
Key hooks
We are in love with these mechanical owl key hooks, and their complex designs have a lot to do with that! The person who posted this image is also the one who has designed and printed these things. We salute your hard work!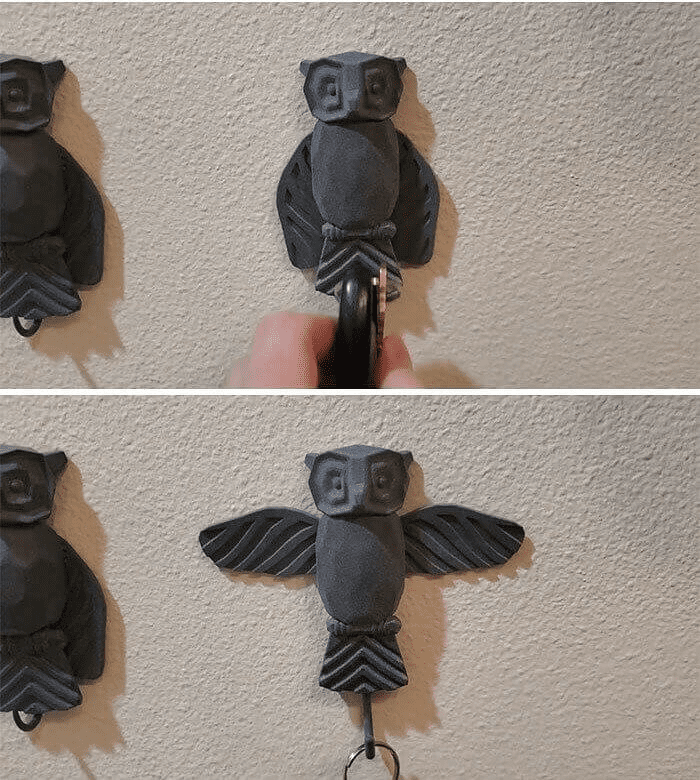 Before coming across this image, we never even knew that mechanical key hooks existed. You have to place your keys on the hook, which is attached to the owl's wings. The weight of the key pulls the clip, thus, making the wings go up.
BFFs
This image made us LOL! You are now looking at an adult friendship bracelet (We didn't know these things existed, we thought these were only for kids) made by a person who was upset because his buddy was going away.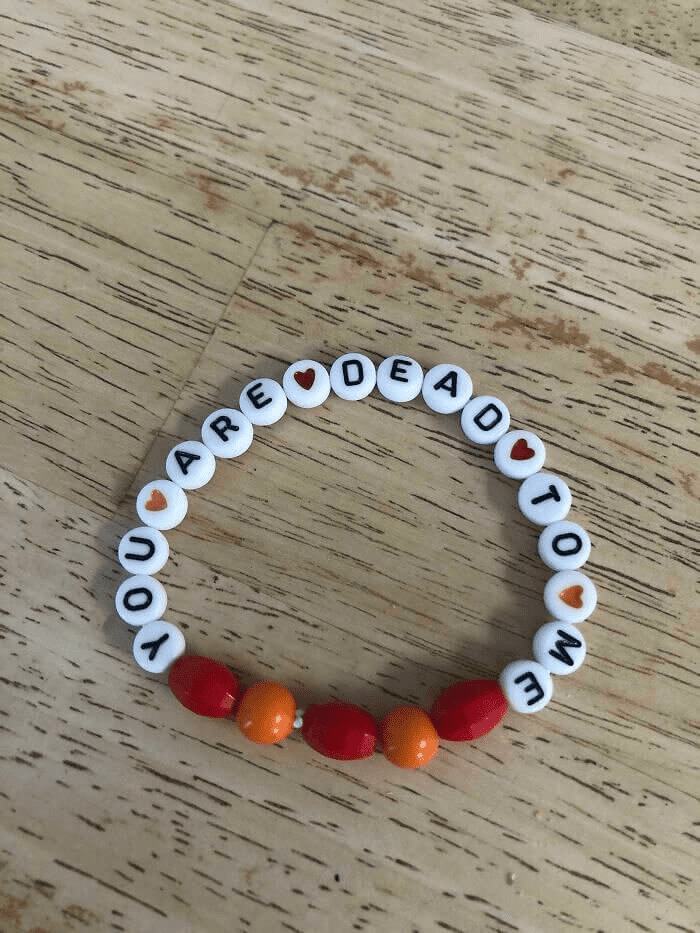 These guys had quite the fun-loving bond, full of jokes and banter. If not, we don't know if this bracelet would've gone with the buddy moving away. You guys can sense the sarcasm and the love in the bracelet by reading what it says!
Happy birthday to you!
When we first took a look at this image, we thought that it was some fine needlework. Then when we took a close look at it, we noticed that it was a beautiful birthday cake! A dad baked and decorated this cake for his daughter's 11th birthday!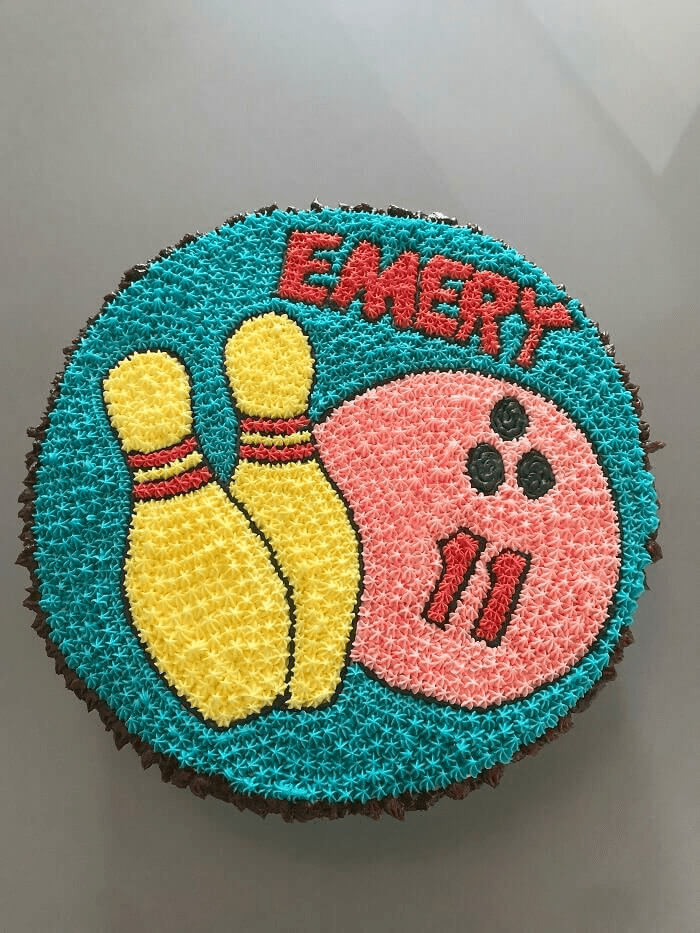 The cake measures around 12 inches in diameter, and it's almost 10 inches tall! Also, the dad made an effort to prepare all the frosting and filling from scratch! Furthermore, we can see how complex the piping looks, so it must have taken him a lot of time!
Meet Grumples
This picture is that of a handmade mug named 'Grumples.' The owner of this mug was the one who came up with this name, and the original poster also said jokingly that Grumples is the first one of the species. Hilarious!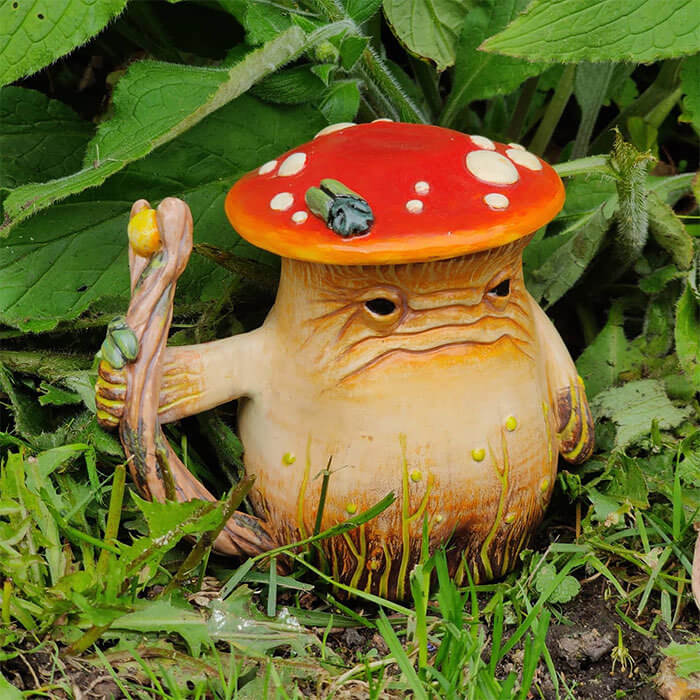 For those who're thinking about how the mug works, well, the mushroom cap comes off. We like how the mug's face looks so grumpy, hence, the name. The detailing on the lid, body, and handle is amazing! He would make an excellent gnome.
Best out of waste
It won't be that big of an offense if anybody mistakes this gemstone for an expensive topaz because that's how amazing it looks! The talented artist behind this piece of art made it just with a glass shard from a beer bottle!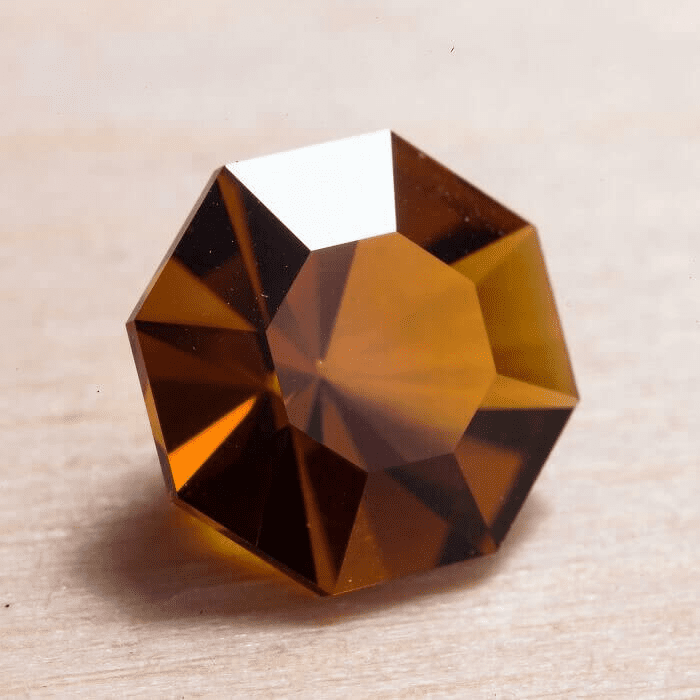 That, ladies and gentlemen, is one of the finest examples of recycling at its best, and of course, it's also one of the most brilliant ideas for a DIY creation ever. The shape of this gem, the way it catches the light, and its look all resemble that of a precious stone! 
Dr. Who reference
This is the dream of every Dr. Who fan. The real-life Tardis. It's a DIY creation that a father made for his son who always wanted a secret room. So, the father built the little guy a Dr. Who tardis for that very purpose!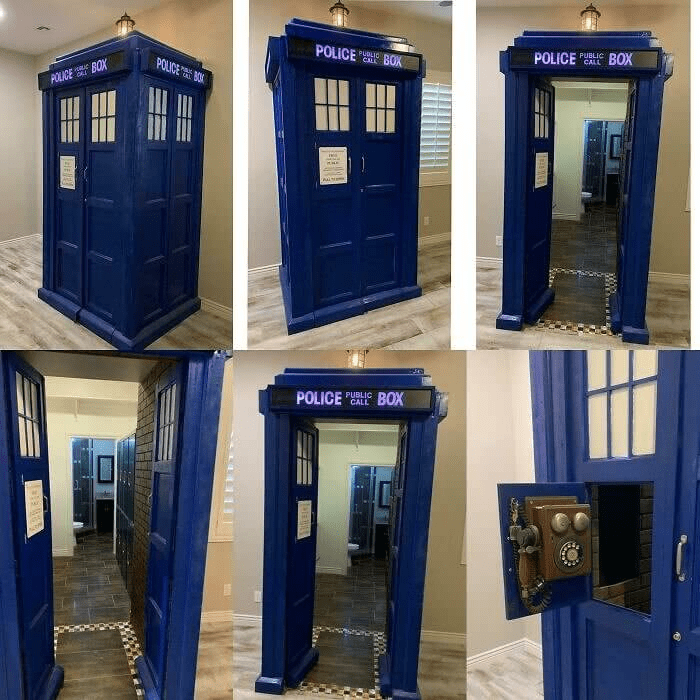 You can also see that when you open the door of this Tardis, it looks pretty big as compared to what it looks like from the outside. We think that's a pretty neat thing. What do you think about this one?
Dinosaurs
By looking at this image, we can clearly say that this crafter is a huge fan of dinosaurs. To be more particular, he seems like a massive fan of the Triceratops herbivores. These guys walked the surface of our planet around 68 million years ago.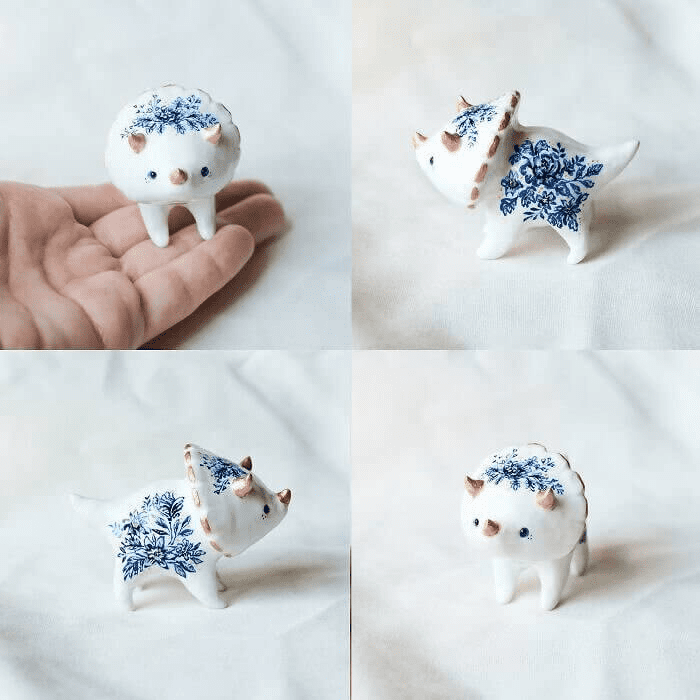 It looks like they've been hand-crafted and then hand-painted! The detailing here has been done exceptionally. Also, the ornaments would be the ideal gifts for other dinosaur fans or even those looking to get a few trinkets for their house.
Portrait or not?
We don't think that we need to see the dog in this painting because it pretty much looks as if it's a real dog and not an image! This one is by far one of the best pet portraits we have ever seen.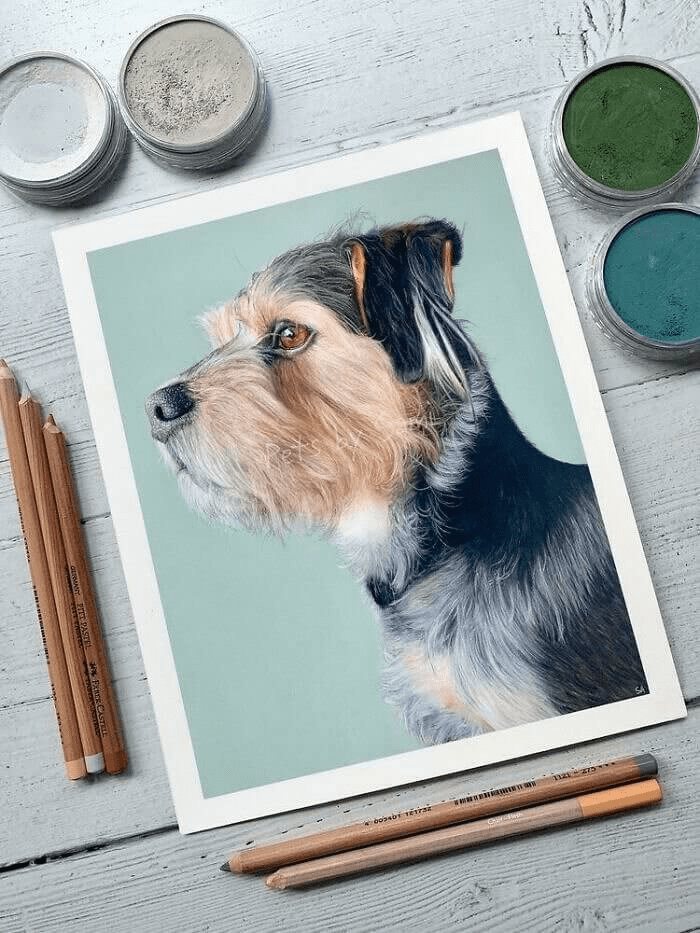 The artist has used pastels to create this portrait of the unbelievably cute pooch. Also, we don't think we need to point out that a lot of time has been put in to make it happen here. It is as if you can pet the picture and feel the dog's fur.
Deer antlers hack
As per the actual poster, "we can carve various items from deer antlers without even having to hurt a deer!" Well, that's delightful news. We even cross-checked that, and guess what, it's true. It's possible because deers shed their antlers from fall to winter.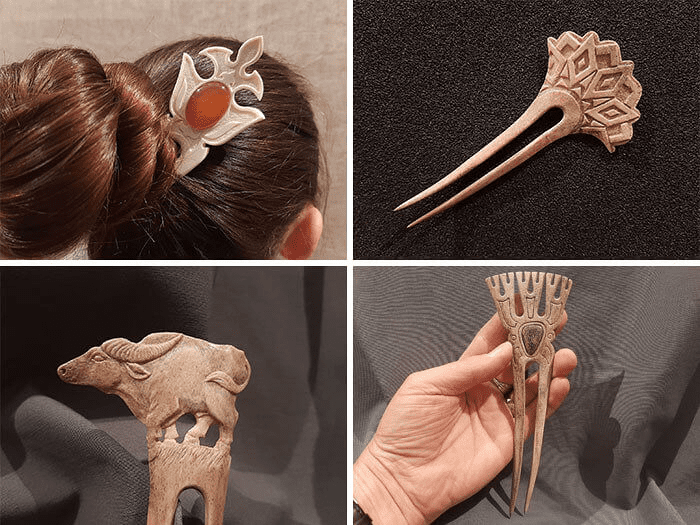 It's a natural thing, and it doesn't even cause any pain to the deer. So, this person has used the shed antlers for creating these hairpins with extra detailing. We applaud the effort! The carving on the top left includes an amber stone in the middle.
Beautiful leather boots
Here's a fun fact. These boots were made for walking, so we can say that a talented shoemaker is behind the creation of the original poster. The guy must have incredible skills to make this pair of leather ankle boots!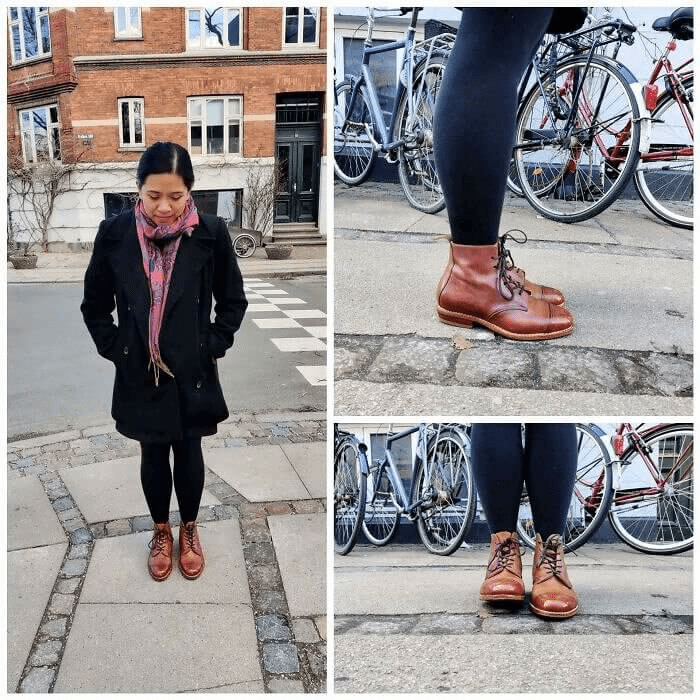 Once again, the amount of detailing that has gone into this to make it look better is just tremendous. The lace-up design, the stitching; it's all amazing because these are a pair of boots that you wouldn't want to give up anytime soon!
Haters gonna hate
The artist behind this piece of art thought of posting these pendants after he received a few negative comments about them (strange). Apparently, some person had told him that those pendants look ugly, and we strongly disagree with that opinion.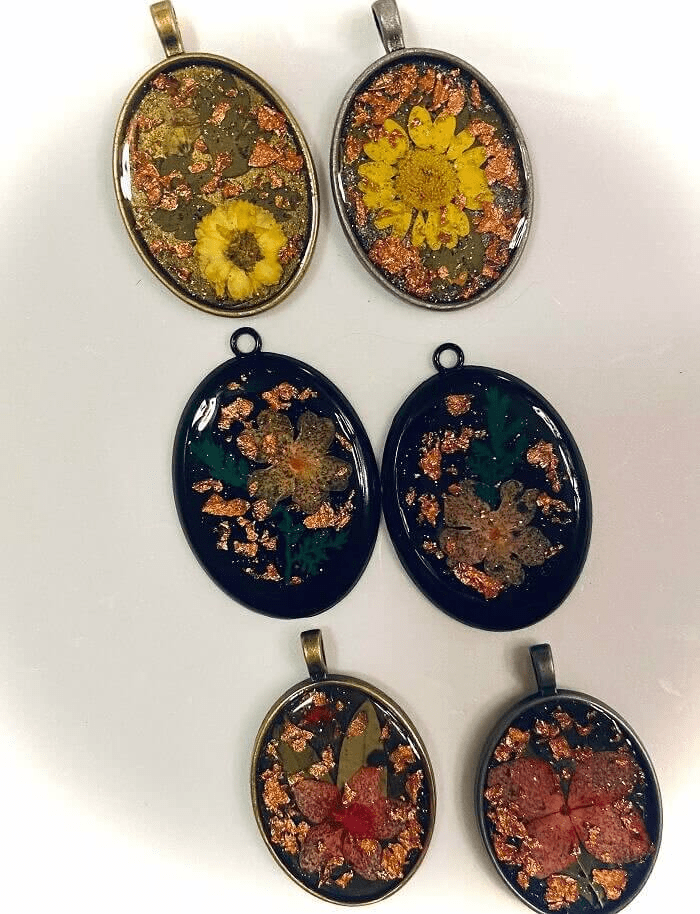 These pendants are nowhere near ugly. Instead, they are as eye-catching as they can ever get. From the looks of it, we think that they've been made with resin, leaves, and wildflowers. These pendants have a Victorian-era feel to them.
Paying homage
Here. Take a look at the amazing handwork and the detailing that has gone into the making of these leather pieces. If you didn't know already, this briefcase and the book cover beside it are a homage to Lord of the Rings.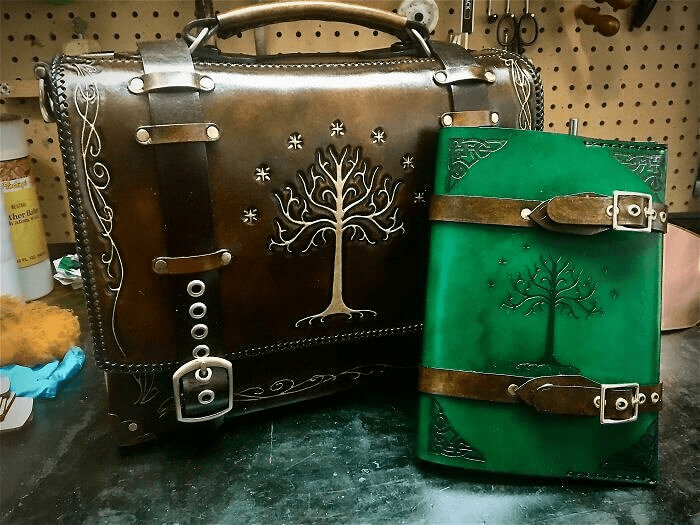 The person behind this piece of art has paid a lot of attention to the detailing part, and that's why it looks so beautiful! The buckles, the notches, and even the grab handle on the bag look pretty tight, and all in all, just wonderful!
DIY helmet modification
The person who posted this image is also the person who has painted this helmet with his own hands, and the results are right in front of you. Doesn't it look outstanding? It's undoubtedly an amazing piece of art that helps promote safety!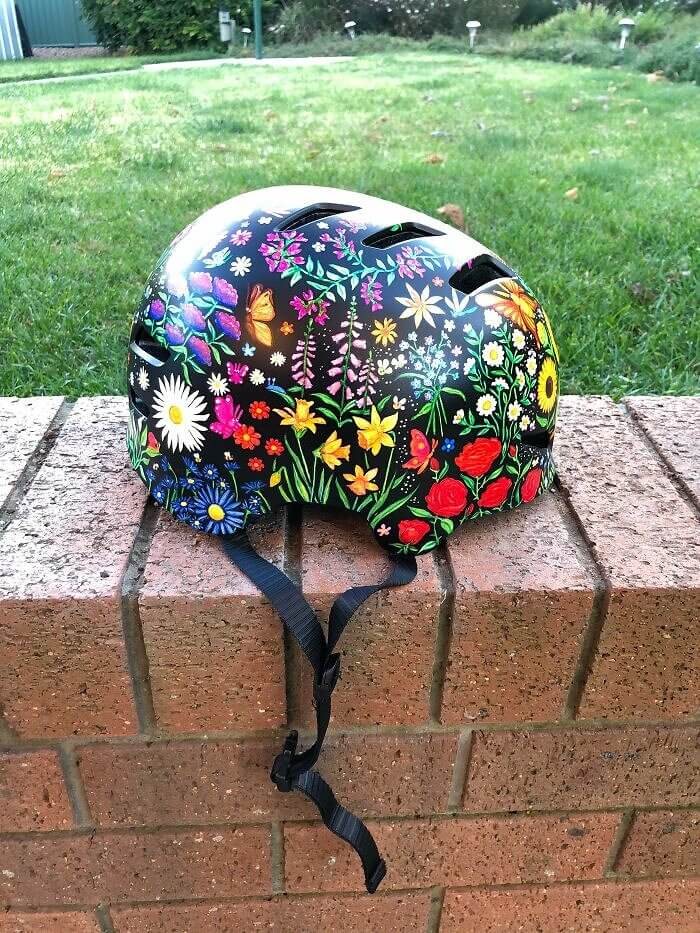 We, for one, love the spring and summer flowers. Although we're no experts and we can't identify each flower, we do some beautiful daffodils, daisies, and foxgloves in there. That thing is going to attract a lot of attention and hopefully not any bees!
Best cake ever
This gorgeous cake is a beautiful sight. You can tell that the theme of the cake is that of Disney's Up because the house in the cake is the same one from the movie! We like how it's painted on the fondant so perfectly!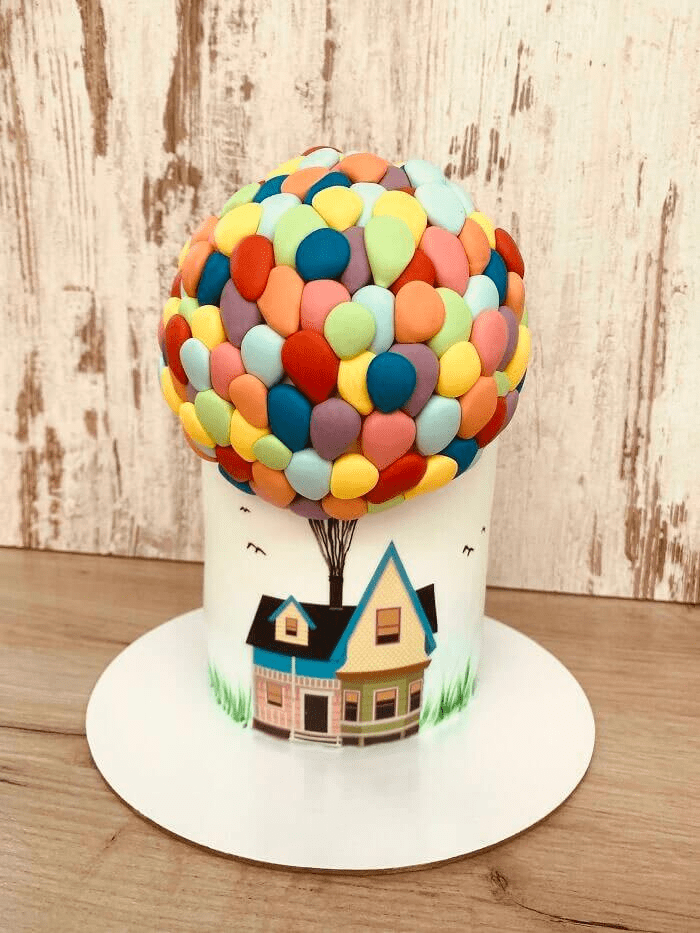 But, the balloons on the top of the house that have been shaped with fondant icing are the takeaway here. Those balloons steal the show! We bet the birthday girl must have been really happy upon seeing this cake and made wonderful wishes!
Detailing on point
Can you take a quick guess at what's happening in these two images? Well, these two pics show thousands of fabric hearts that were all sewn individually! The person behind all of it spent three months using various fabrics to create it!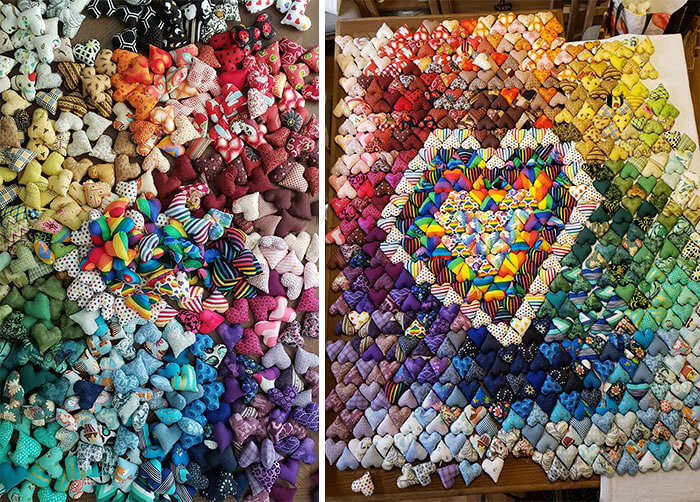 All these hearts were then stuffed and sewn, and as you can see, the result is a beautiful quilt! We love the fact that the quilt has been sewn so that there's also a heart right in the center if you look closely!
An enormous structure
After looking at this picture, we only had one word, which was 'Wow!' Apart from that, we were pretty much speechless because the person who posted this image had built this piece of art out of native river rock by himself!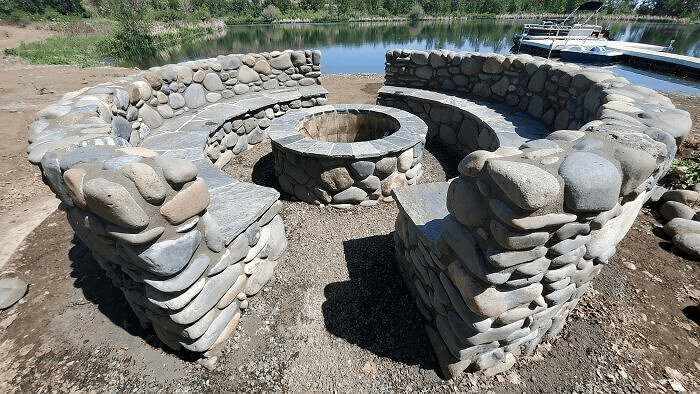 Here's another thing. This stone structure is also the largest freestanding structure this guy has ever made, and on that note, we'd like to applaud his effort! It must have taken a lot of hard work to build something unique like that!
Graceful portrait
If anybody has tried to paint, they know the most challenging part of a sketch is trying to paint the person's face and to get an expression across. Considering that, we think that this artist has done a splendid job at capturing this lady's face.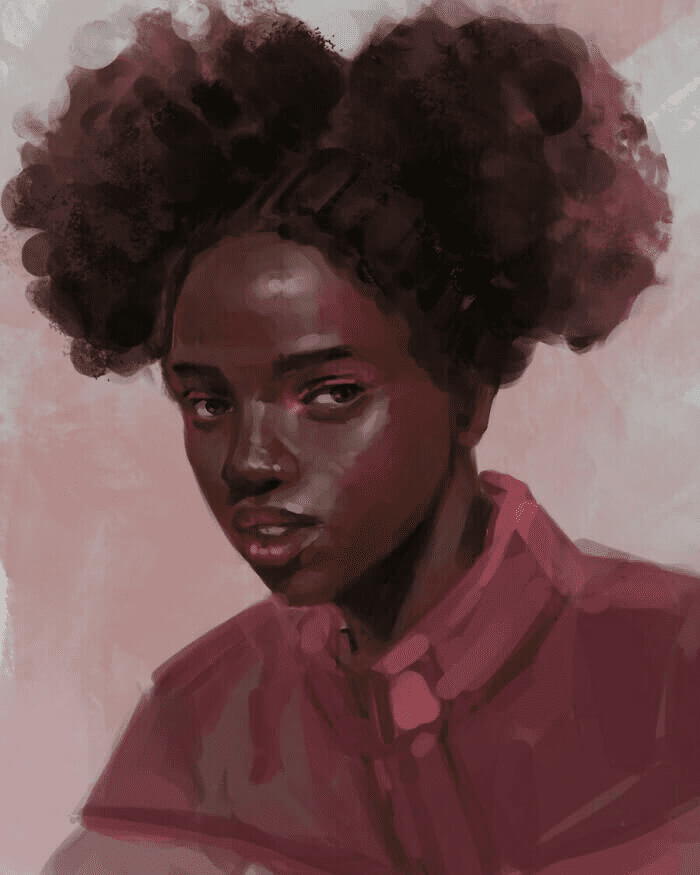 He has portrayed the lady in this picture pretty well. We can still see the brush strokes, and it does draw your attention magnetically! If you take a close look, you'll notice small pops of pink eyeshadow that suit the color of the lady's shirt.
Pirate bed
We know many people would have a tough time believing what we're about to say, but you need to know that this bed earlier had a race car theme. So, yes. The transformation from that theme to this one is just unbelievable.
The detailing really grabs the attention of the viewer. From the flag above the bed to the canon holes on the side to the ladder, a lot of thought has gone into creating this bed, and the original frame is unnoticeable!
It's not just a bouquet
Have you ever come across such a bouquet? We have never come across such an amazing-looking floral bouquet if you ask us. It is massive, and even the colors are so pretty. This woman knows exactly what she is doing.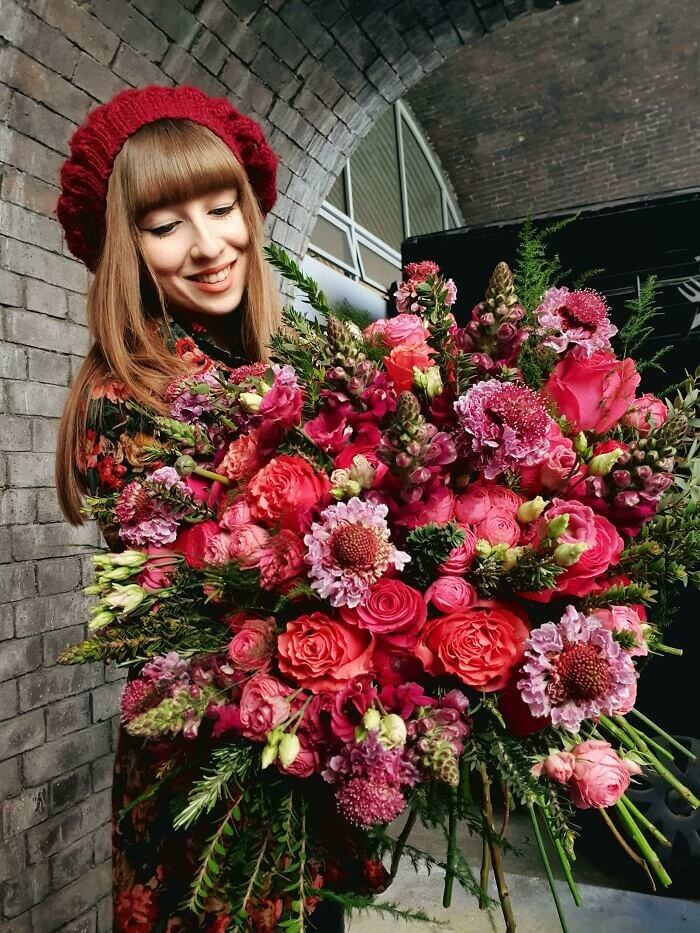 The way the reds and the pinks have been blended is just outstanding. Also, that's a combination that's not so common, but it seems to have worked perfectly in this project! The person who receives this token of love is lucky.
DIY safety pin lamp
Nobody would think of a safety pin being transformed into a lamp. But we're in 2022. We're in a world where almost everything seems possible. You'd need a creative mind like this person to develop this idea and build something like that.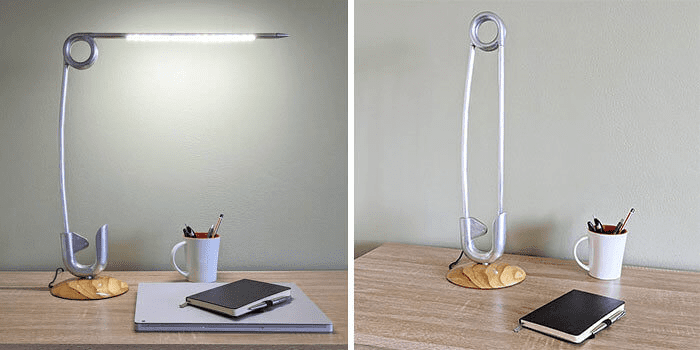 This lamp has been built using some 3D printed parts, aluminum. The lights turn off when this pin closes, and the light turns on when this pin opens. How amazing is that! It definitely fits the vibe of any office.
Ghost lady
We know this piece of art won't be everybody's favorite, but that's alright. But, irrespective of that, we all can agree on one fact, which is that this handmade ghost lady looks immaculate. It looks as if she was created from wire.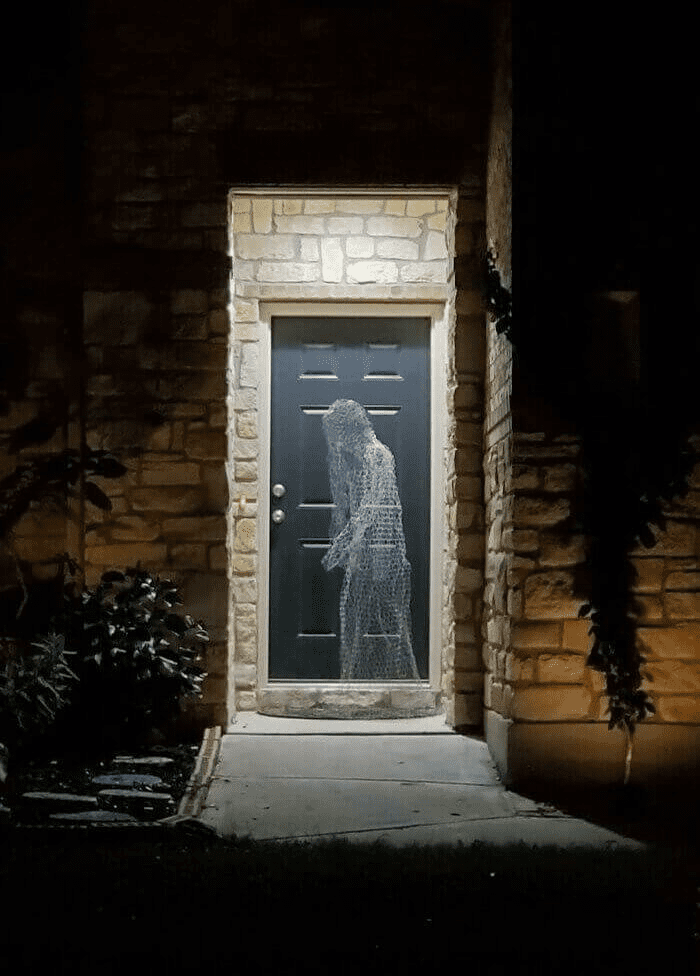 And yes, we do think that although the place where it's positioned makes up for a pretty fantastic photo, it's not the best place to keep it. It's a bit awkward and tricky for the residents to step in and out of the house.