40 Dog Homes That Make Being In The "Doghouse" A Good Thing
By Jhoana C June 1, 2022
---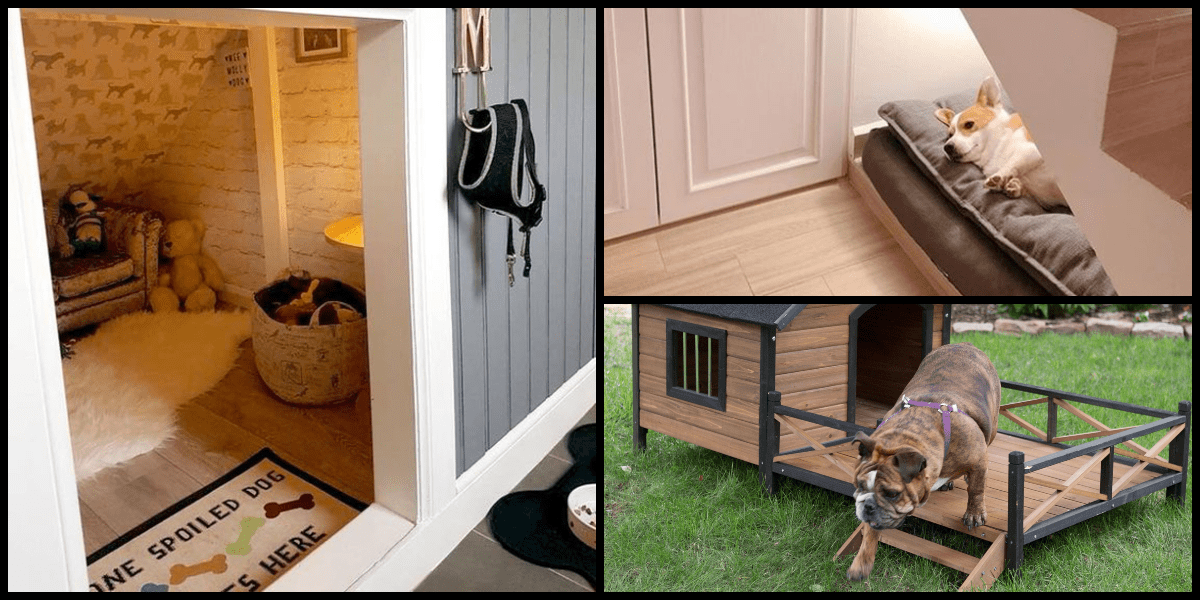 Are you searching for ideas or need inspiration for building a new home for your furry best friend? Look no further because we've got you covered. Our pet dogs are more than just animals that live in our house; they are members of our families. They are there for us when we need a shoulder to cry on, and when we need someone to listen to our concerns, they'll sit with us and hear us out. It is only right that we give them all the love and care they need, and we do everything in our power to ensure they live a healthy and comfortable life. So here are 40 doghouses to glean inspiration from, and we hope you build a dog home your pooch will be delighted to live in.
A lovely shed for your doggo to take shelter in
For the DIYer who has a lot of time on their hands, this dog house is an excellent option. It gives you the opportunity to flex your DIY skills and, at the same time, allows you to build a lovely home that your beloved furry friend will cherish.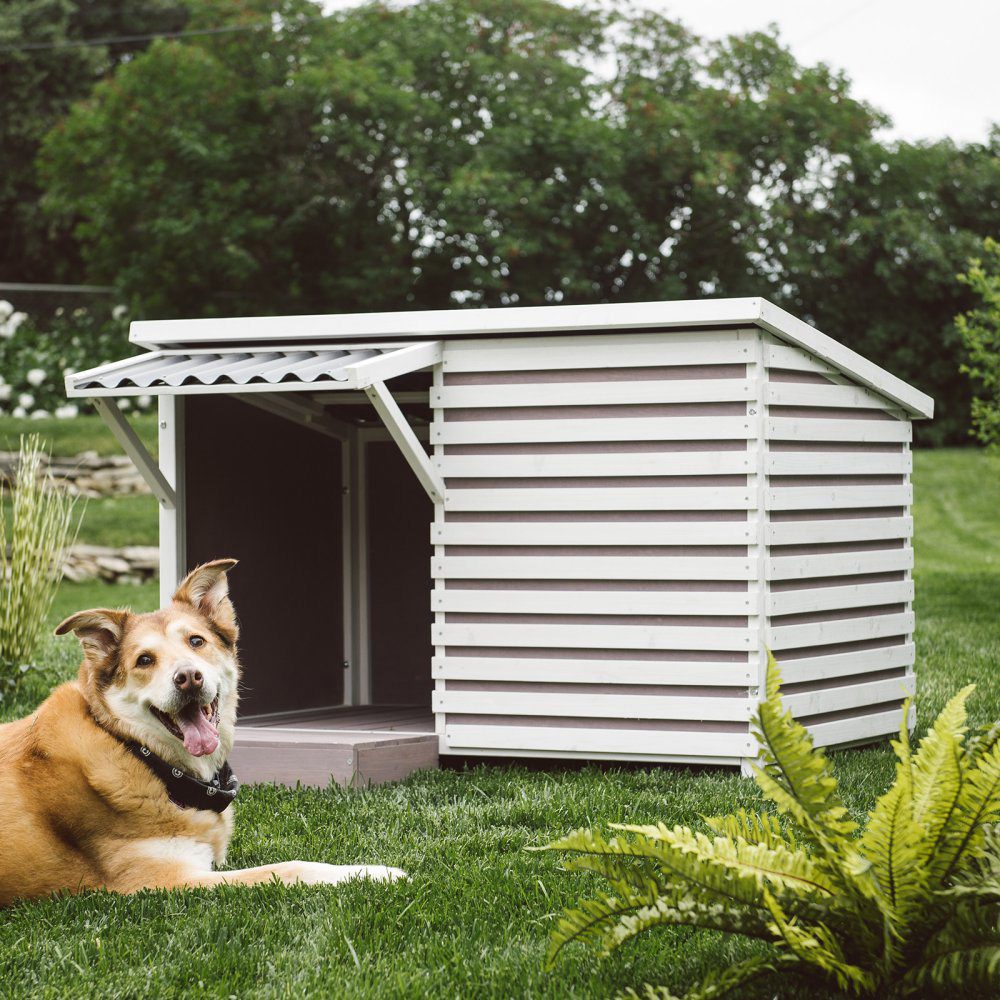 There are plenty of varieties of this outdoor dog home, and they come with clear instructions on how to assemble them. You can put your skills and years of DIY experience to good use with this project, and you'll get a whole lot of loving after.
Garden dog house
What can be better than having a dog house? A garden dog house! Not only will it give your pooch much-needed protection from the weather, but it'll also beautify your yard at the same time. You can let your imagination run wild with this one.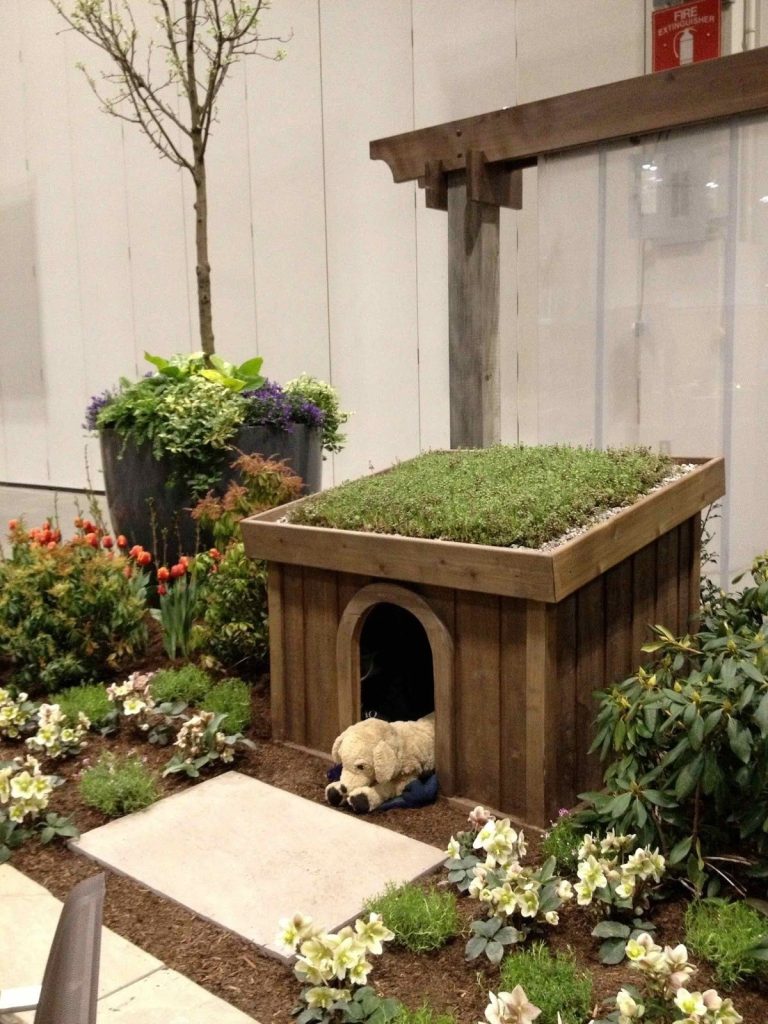 Get the flowers and plants you like and put them on and around the garden dog house; just make sure they are the variety that your pooch isn't allergic to. The last thing you want is a gorgeous home that causes endless problems.
Lifeguard dog on duty
Do you fancy your dog as a lifeguard on duty guarding the shores of your favorite beach and making sure everyone is safe? This is the doghouse made exactly for your beloved doggo. It's the miniature version of the iconic lifeguard tower.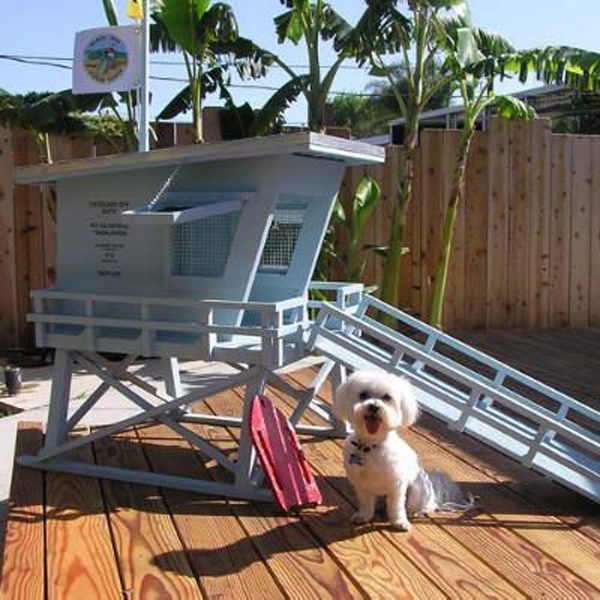 It comes with wide eaves, windows, and stilts to give your doggo a better vantage point. Just look at the happy pooch in the picture, and you can tell that he loves his lifeguard tower and can't wait to sleep in it.
This dog house even comes with a mailbox
This is the miniature version of a real house, and the best thing about it is that it even comes with its own mailbox. Jersey's doggy pal might just write her a letter, so she should have her own mail slot.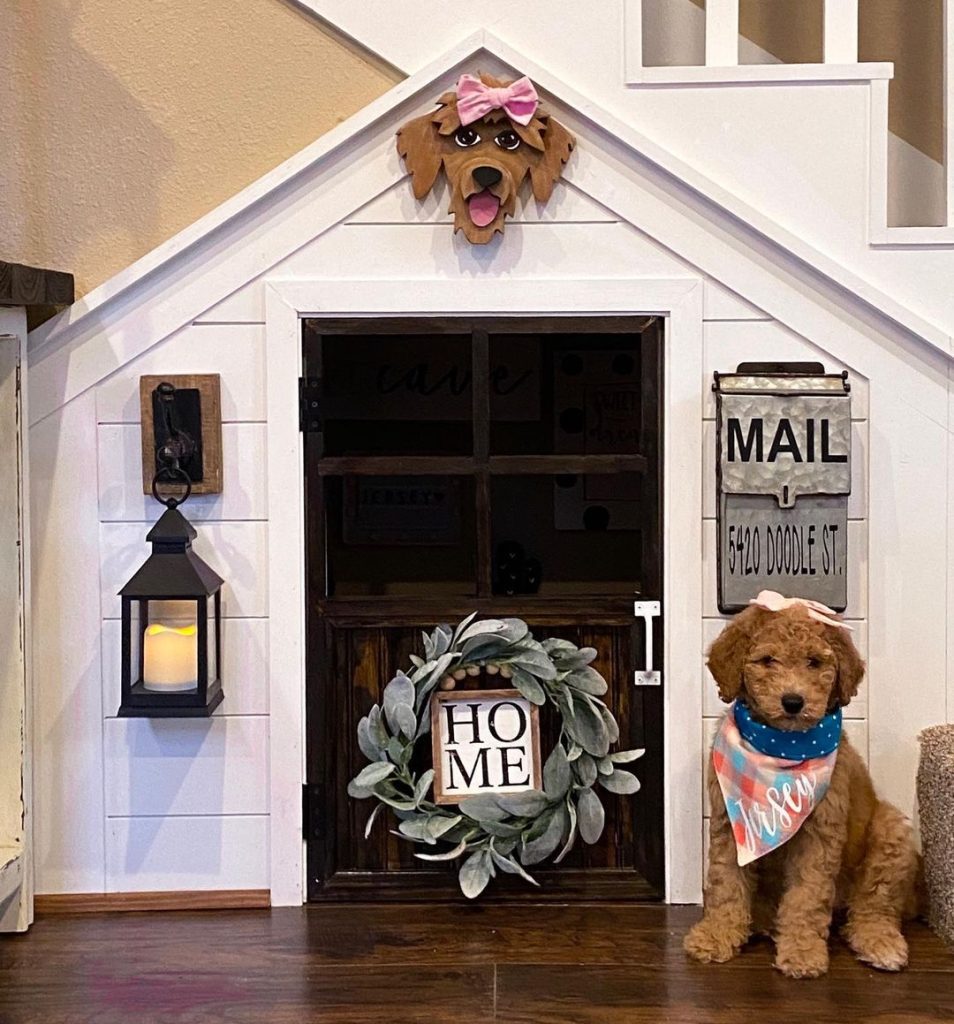 Something like this can be placed inside the home. If you have the time, you can do this yourself. Or, you can have a professional do it. Heck, there might even be one that's ready-made that you can buy online and have delivered to your home.
Sliding doors come in handy too
Who would have thought that sliding doors would come in handy when building a doghouse? This photo just proves that it adds to the doghouse's level of aesthetics. It doesn't need to be functional, as this house is supposed to be placed inside your home.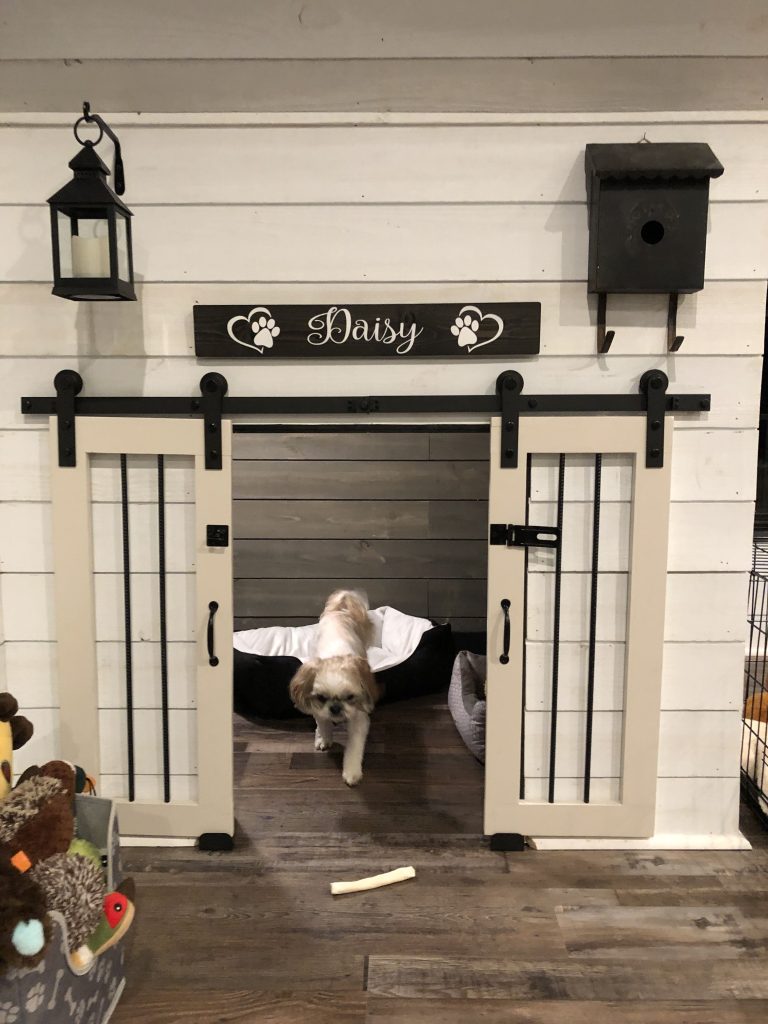 Aside from the sliding doors, the house also has a birdhouse and a lamp adorning the doorframe. Although our beloved canines won't be able to appreciate the aesthetics, we're sure that they will be delighted to have such a comfortable home.
Doghouse cum reading table
Do you have a home that is not that spacious? Worry no more; we have the perfect design for you. You get to have a quiet corner where you can peruse the pages of your favorite book but be near to your beloved canine at the same time.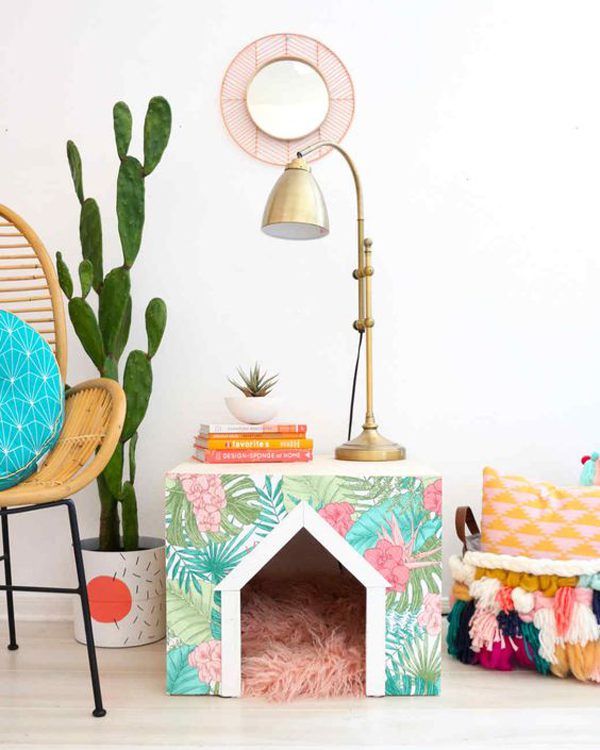 This has got to be one of our favorites because it's an excellent space saver. Not only is it a comfortable place for your dog to crawl into when it's time to get some precious zzzs, but it's also a lovely compliment to your reading space, too.
Two-story doghouse
Doghouses don't need to have one "floor." If you have the space, the money, and the time (if you're making the house yourself), you can always build a two-story home for your beloved doggo. They will enjoy it as much as we enjoy our two-story homes.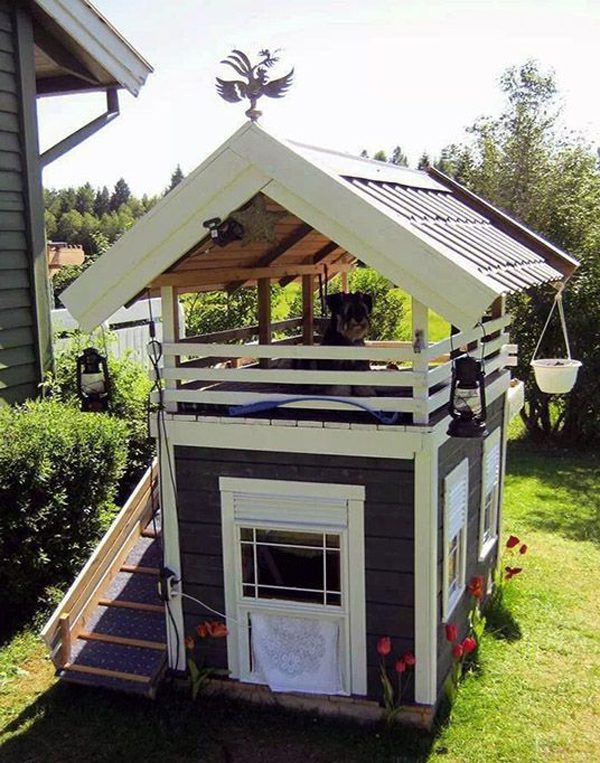 Build a durable ramp access to ensure safety and make sure that the top patio has enough sun protection, too. You don't have to copy the exact doghouse in the photo, but it can serve as an inspiration for you.
Doghouse and planter box in one
This is another dual-purpose doghouse that both pet and pet parent will love, especially if said pet parent has a green thumb. This doghouse will let you provide a home for your beloved canine and display one of your prized plants at the same time.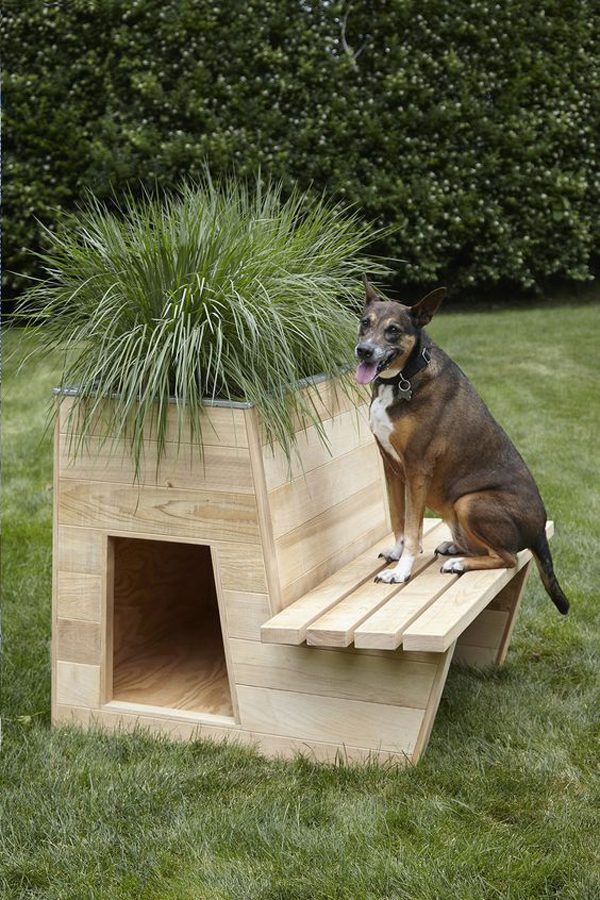 When it rains, your plant can get much-needed moisture while Fido takes shelter inside the doghouse and when the sun is shining, Fido can take refuge in his planter box home too. We say this is a clever idea that's a win-win.
The doghouse under the stairs
At this point, we've all seen or read Harry Potter, or at least know about the infamous cupboard room in the Dursley's home. Although it was bleak in the movie/book, you can keep that idea and make it a fun, comfortable space your dog will love.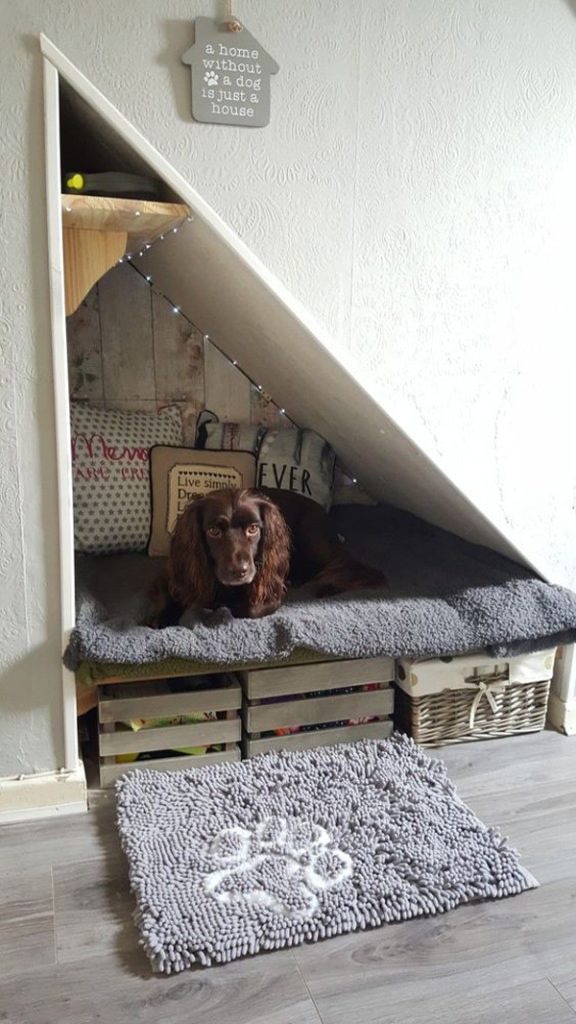 The space under the stairs has always been underutilized, but now it will become a cozy abode for your pet. This won't even cost you too much if the space is already there. A few crates and a blanket will transform it into a comfy doggy bed.
A gazebo for dogs
Typically used in outdoor areas, most gazebos are made of wood and metal and have some seating areas. This one, however, does not have any seating area. Why? Because it's for your four-legged best friend, and it may or may not serve as the focal point in your garden.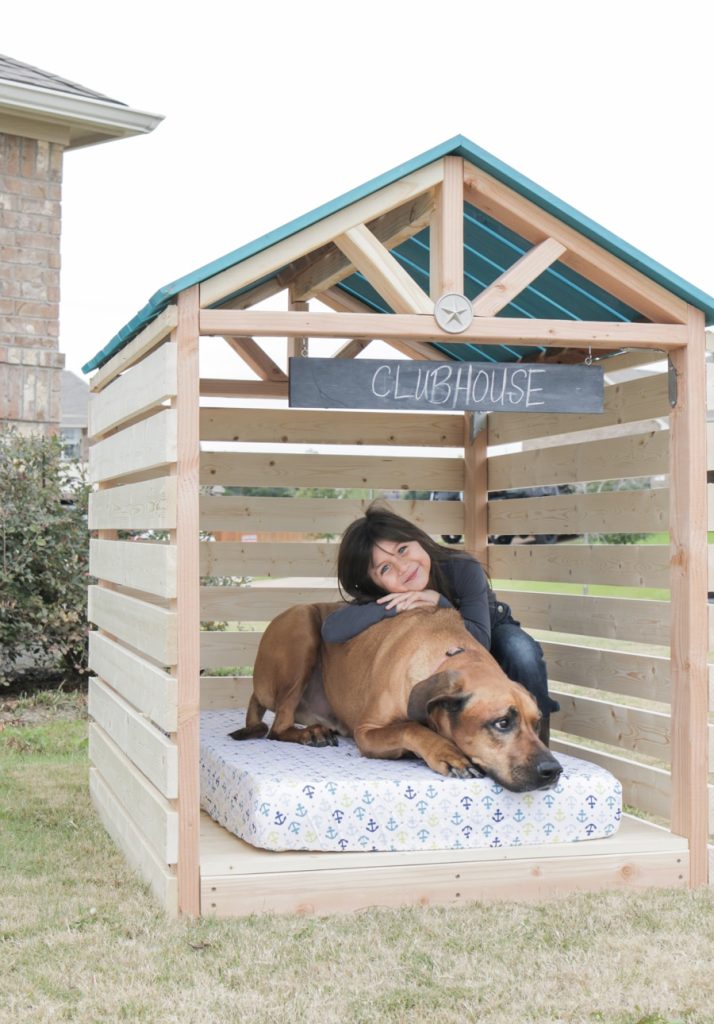 If you have little ones at home, you should ensure that your doggo gazebo is also large enough for them so that they can take shelter in it, too. Don't forget to add some cushions and pillows to make it more comfortable and welcoming for everyone.
His very own tropical island home
This doghouse is an excellent idea for those who live on the islands or in the tropics. Made of bamboo and decorated with artificial grass and some plants, it would make a good addition to any tropical garden or yard.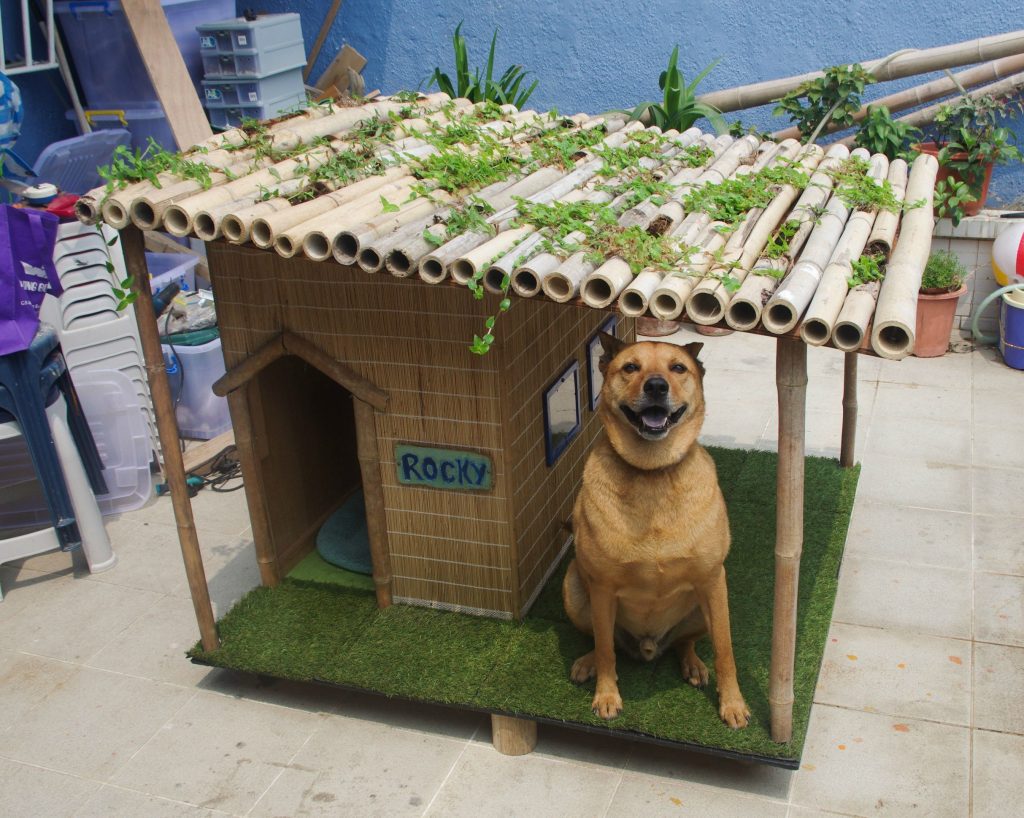 Made with materials that are affordable and easy to find, this project won't break the bank. Let your imagination run wild with the design, but if you'd like something to refer to, there are plenty of pictures on the Internet. Look at how happy Rocky is with this doghouse.
This doghouse belongs in the kitchen
If you would rather not have Fido roaming around the living area and making his permanent address there, you might want to consider the kitchen. Yes, your kitchen can just be as comfortable a place for your furry best friend.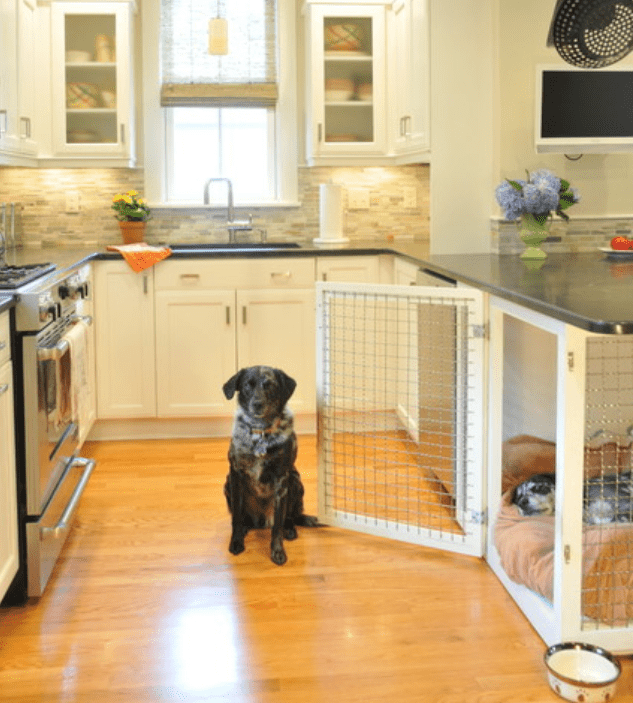 If you're searching for ideas, you can check the photo above. Transform the island counter into a comfortable space your dog can occupy. If you already have cupboard space for the essentials like pots and pans, why not give your dog a permanent kitchen space, too.
Another double purpose doghouse
Doghouses today are no longer just basic and boring tiny homes for four-legged creatures. Nowadays, they also serve both decorative and functional purposes. Indeed, we have come a long way from the doghouses of decades ago. Take this one, for example; it's perfect for both humans and dogs…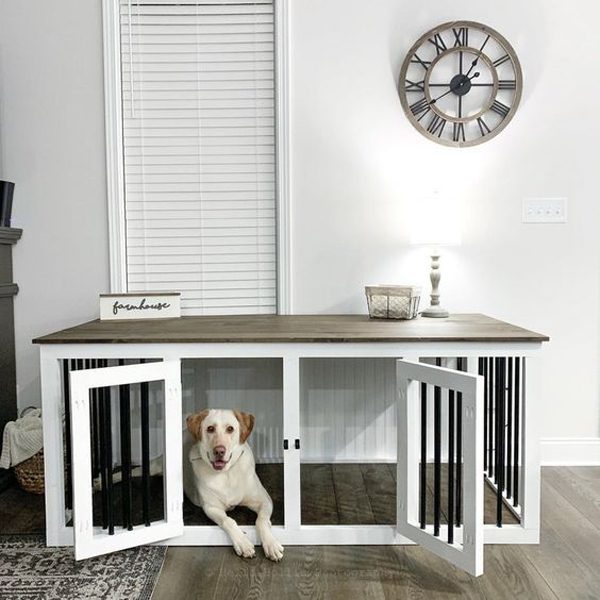 Here is another excellent inspiration for those looking to make a dual-purpose doghouse for their best friend. We love how this gives your pooch a good view of all the things happening around him while he is comfortably lying on his bed.
Simple tiny doghouse
This doghouse may be tiny, but it has more than enough space for the little fellow who will occupy it. It doesn't come with many embellishments, but we love it just the same. There are times when less is more, and this is concrete proof of that.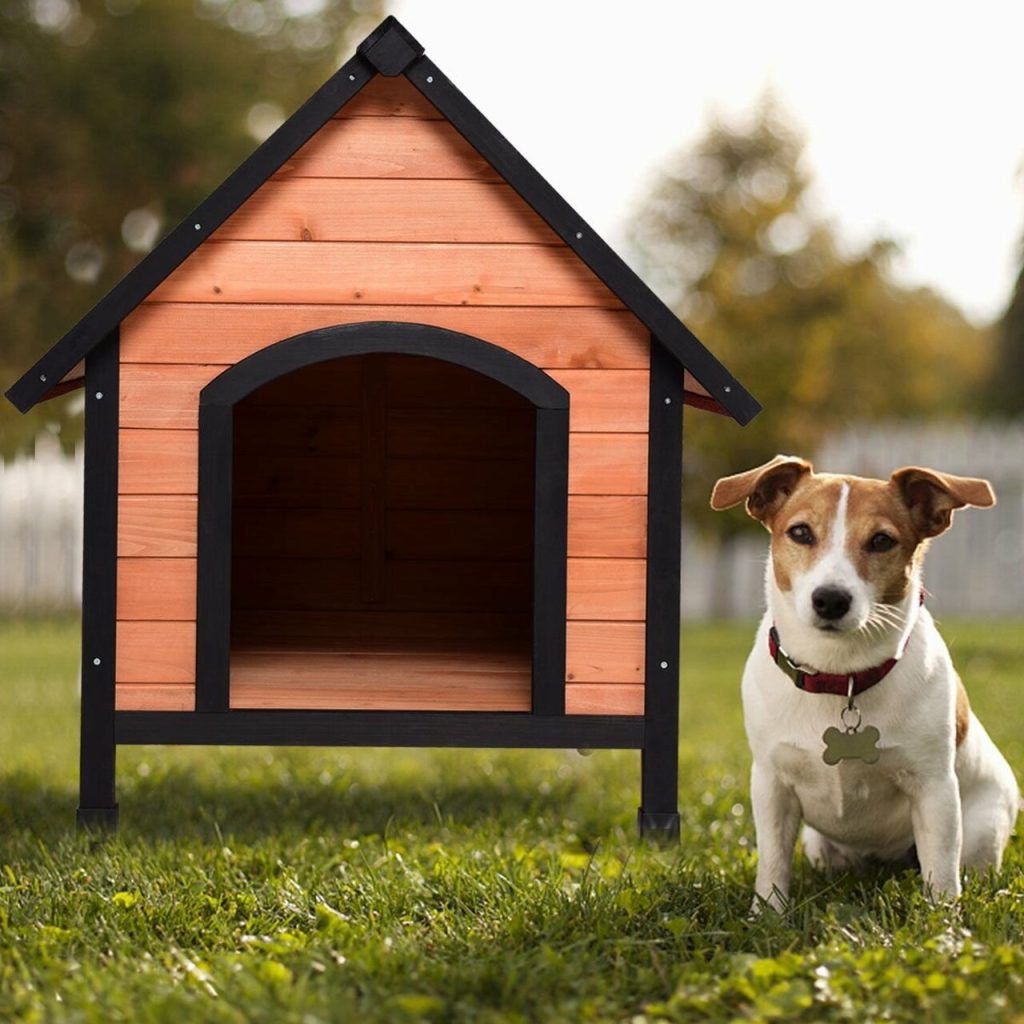 We have seen plenty of tiny and simple doghouses such as this one readily available online, as well as in pet stores everywhere. Suitable for use outside, this provides your pooch ample protection from the weather and gives him a comfortable space to relax in.
Home fit for a bulldog
Though we may say that this is fit for a bulldog, this doghouse is not only for them. It can be transformed into a lovely home for all sorts of dog breeds and can be customized to fit even larger breeds such as German Shepherds.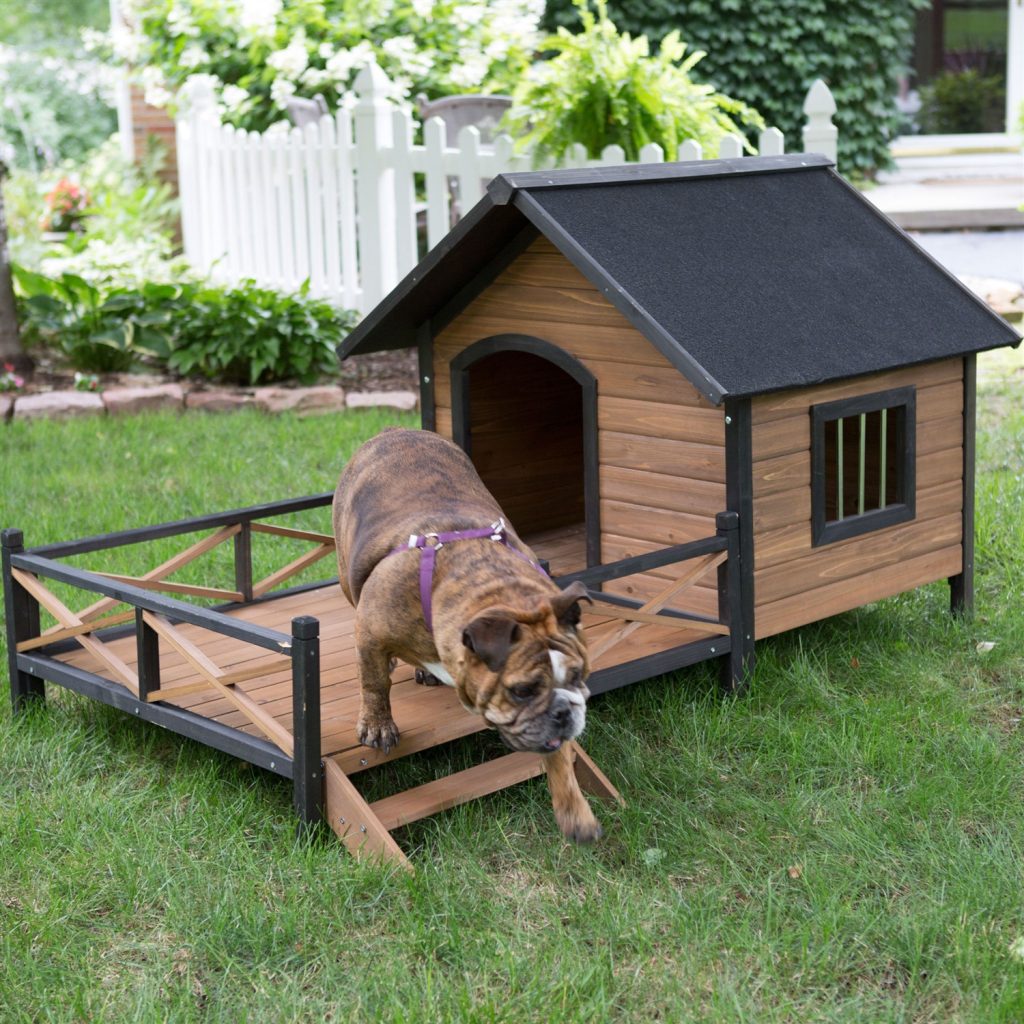 If you want to build a doghouse such as this one, you'll need quality wood. Wood is inexpensive and easy to work with, even for beginners. Just make sure you follow the instructions and know how to use whatever type of wood you choose.
Corner doghouse
Corners in the home are often dead spaces, but they can be transformed by adding a light fixture, extra seating, or by creating a small storage area. And, if you have a dog at home, it can become a new cozy space for them.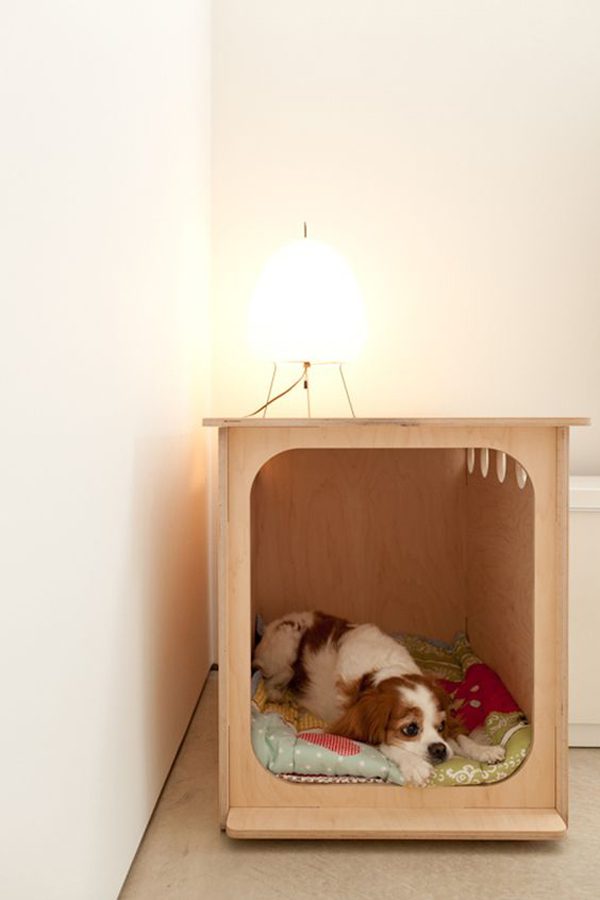 This little doghouse is an excellent demonstration of how to maximize that unused corner in your home. The cozy space is perfect for relaxing after a long day spent chasing after other animals in the park or playing Frisbee with his beloved human.
Half-open doghouse
With just a few tools, it's possible to make a DIY doghouse such as this one. Even if you have only basic building skills, you can easily complete this simple and budget-friendly project for under $200. But before anything else, make sure that the house is the right fit for your dog.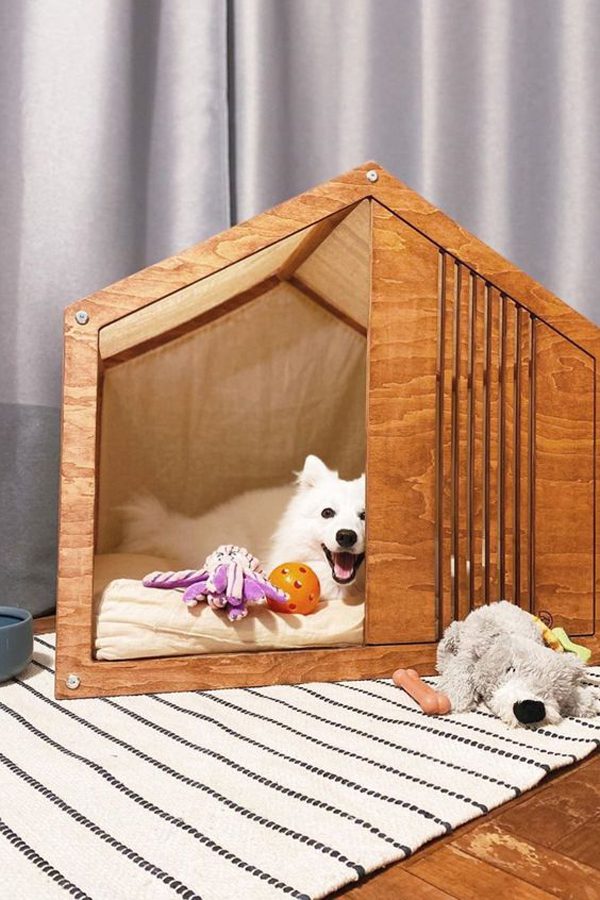 The last thing you want is to spend hours, money, and effort building something that your little doggo won't be able to use because it's too small. If you're a beginner, steer clear of overly complicated designs as they might put you off building doghouses forever.
A doghouse that's built for the garden
At first glance, we didn't even notice the doghouse because our eyes were focused on the flowers and the plants. If there was ever a doghouse built for the garden, this is it! It blends right in that you'll miss it if you don't pay attention.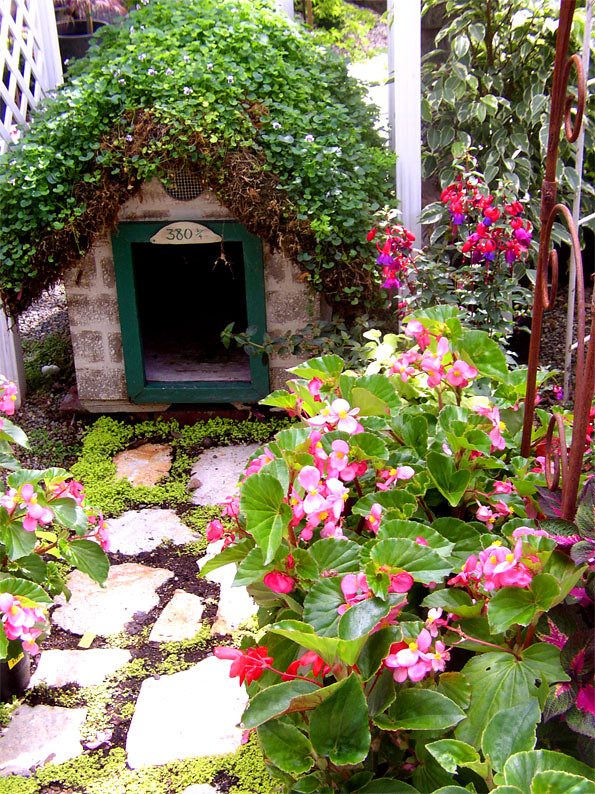 We especially love the house number and the pathway built for the dog so he can safely reach his home without trampling on the flowers and plants because we all know how humans will lose their heads if their plants were to die.
Open concept doghouse
This open concept doghouse is all sorts of stylish and creative and will fit in well in an equally elegant house. We're just confused why that little pooch has an upset look on his face. It seems like he disapproves of his indoor doghouse.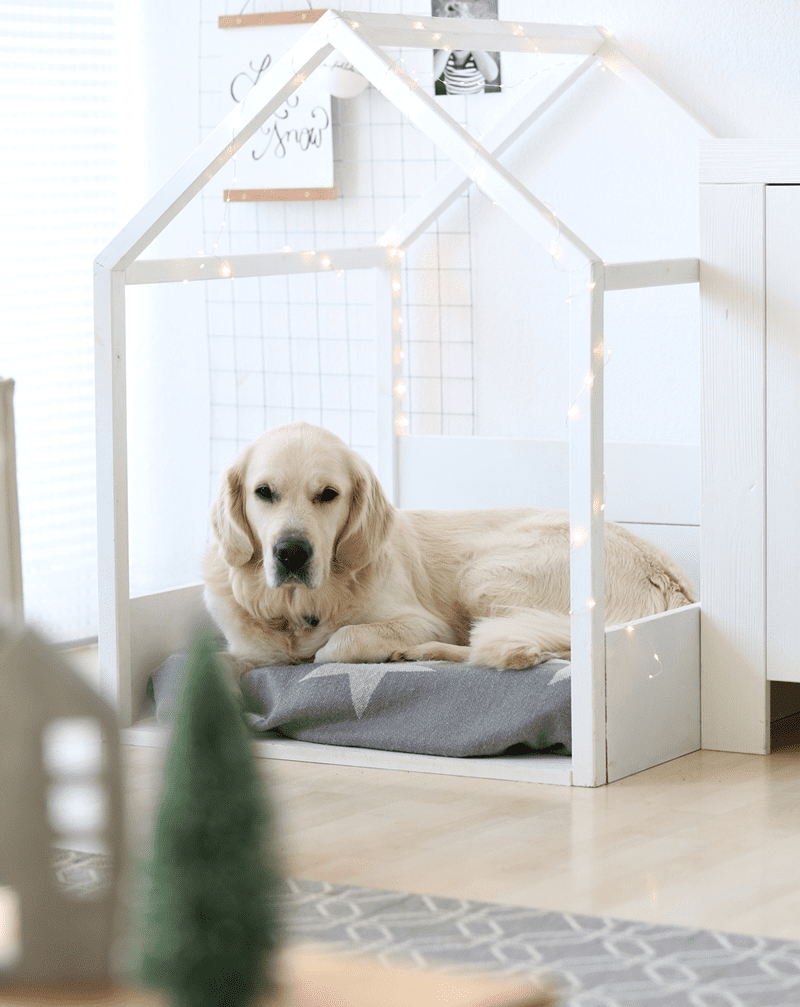 This type of doghouse is simple, even for beginners, and it won't take much time to complete. Given a weekend with a complete set of tools and materials, this one can be easily accomplished. Plus, if your doggo helps, it might only take half a day.
Doghouse with a deck
This doghouse comes with a toy box, a deck, and a place for food and water; it's the complete package. Isn't it great if everything had a place and if there was a place for everything? You need not worry about your dog's toys being strewn everywhere.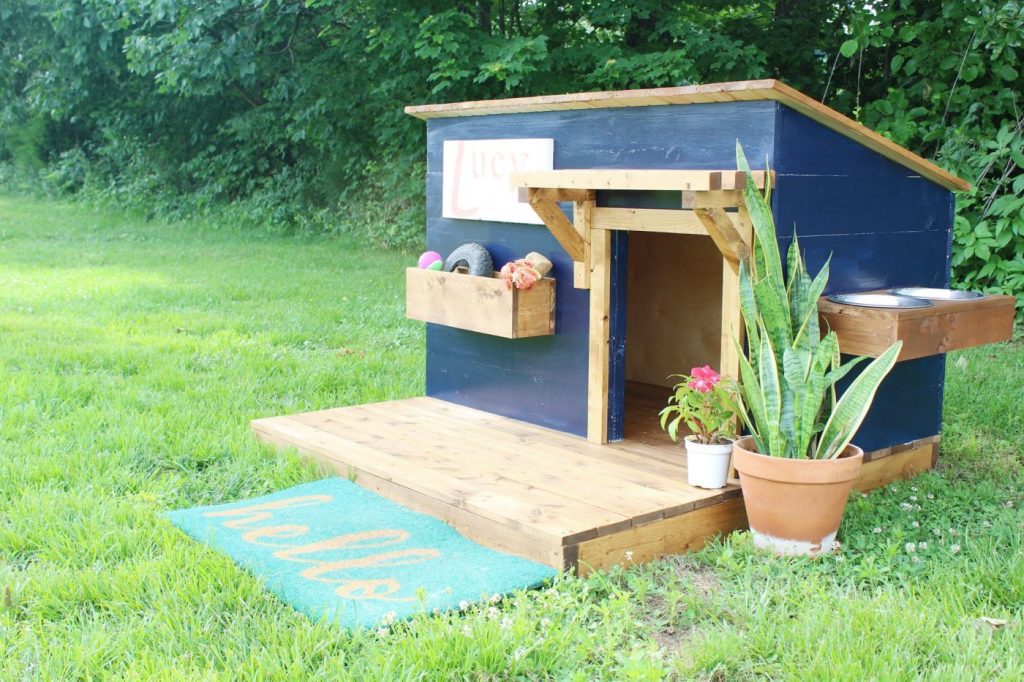 This design checks a lot of our boxes. It is organization friendly, doesn't cost too much, it's easy to maintain, and it's simple. We love the fact that the pet parents also tried decorating the surroundings with a few plants.
Another variation of the doghouse under the stairs
You saw quite the luxurious doghouse under the stairs earlier, and here we see a simpler one. But we're sure it's just as comfortable because look at the little doggo's satisfied face while lying on his bed. Life has never been better.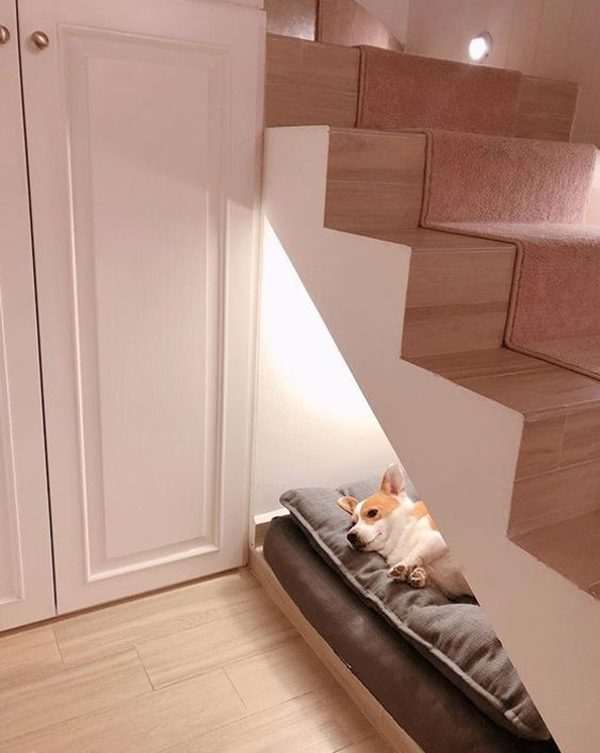 These lovely creatures don't care if their home is stylish. All they want is a quiet and comfortable place to spend their nights in so they can dream about more dog food and spending their time at the dog park.
Super cute doggie home
This super cute doghouse must belong to an equally cute pup; it's just a pity that the dog wasn't lying on his bed when this photo was taken. Because of its size, we don't see any problem making this little home a permanent addition to the home interiors.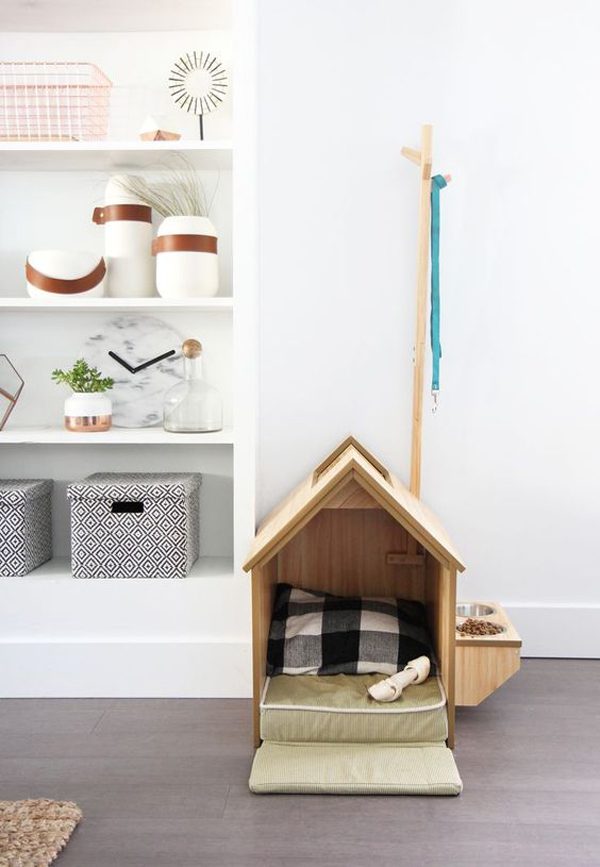 This can easily fit any corner or unused space in the home. It can be embellished with a variety of décor that won't cost much such as a few lights or artificial plants. Don't forget to add a few doggie treats too.
A doghouse with glass?
How about a doghouse made of glass? If some of the doghouses we've shown you are modern, this one is ultra-modern. Aesthetics-wise it's unusual and quite a sight to see, and, honestly, we have second thoughts about how safe it is.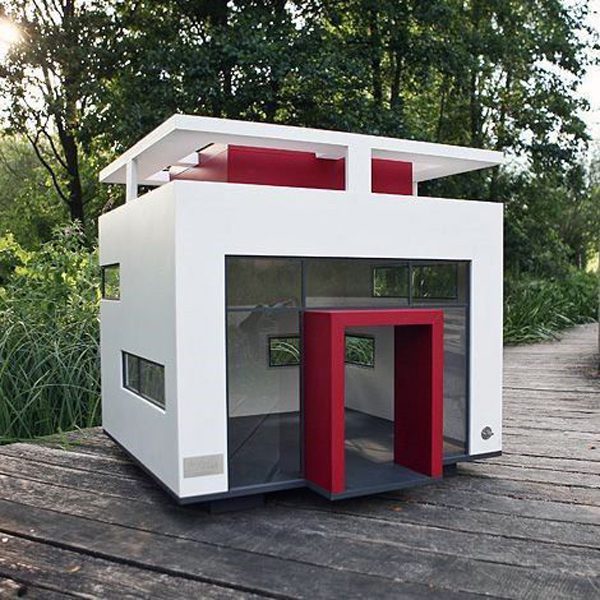 We all know that glass can break, and a super energetic and rowdy dog might accidentally shatter glass when they run into it. But we trust the designers. They would have already thought of this and come up with a safe solution.
Doggie house with staircase
Here is another doghouse with a staircase and a deck, and we must admit that this is a design we don't usually encounter. Most doghouses are only a single level, but this one comes with a staircase, a roof bed, and even some cut dog-themed cutouts.
If your doggo is bored lying on his bed, he can always head to the deck, lounge there, and observe the world from atop his kingdom. The deck is very comfortable with its very own mattress too. Sometimes it's great to be a dog.
Indoor dog kennel
Indoor dog kennels are becoming popular nowadays, but before you buy or create one that's similar to the photo below, you need to crate train your pet first. This is because sleeping in a crate at night teaches pets to control their bowel and bladder.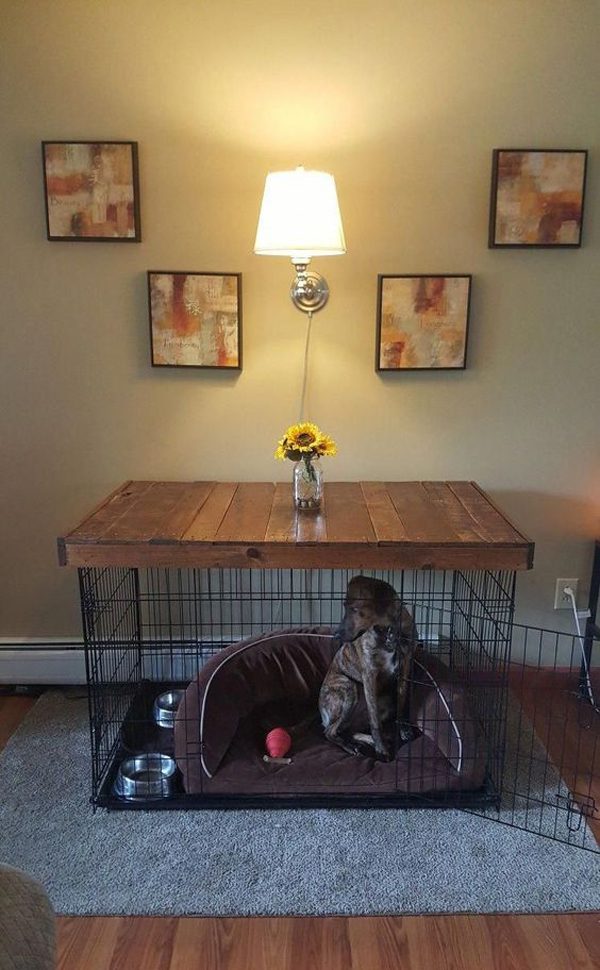 Ideally, the kennel should be at least 2 inches larger than the height of smaller dogs and 4 inches larger than the dimensions of bigger dog breeds. Remember that your dog needs enough room to stand up, lie down and turn around.
Rusty's little room
Here's another variation to the doghouse under the stairs, but this one is more like a real room with its own door, mailbox, light, and even a 'window.' Any kind of doggy will love this, and if we were one, we'd be delighted with this house too.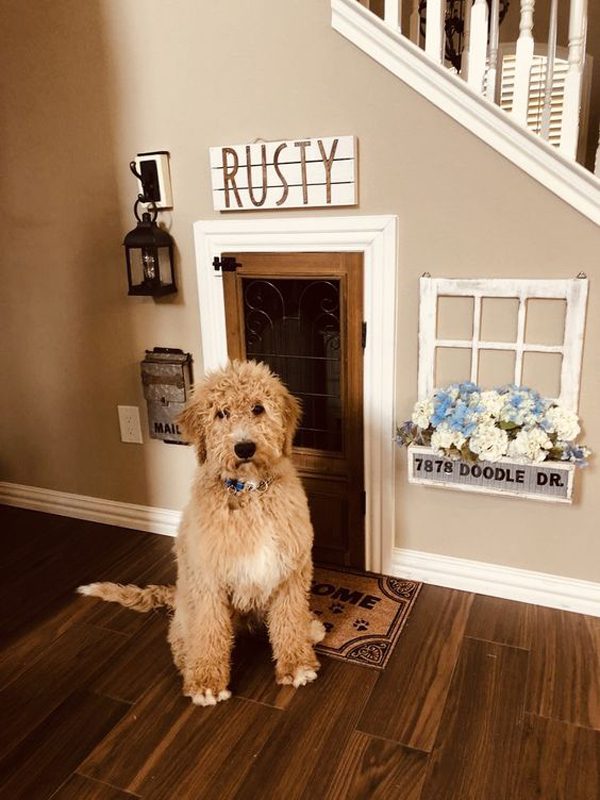 Look at Rusty posing proudly in front of his home. Before you make any doghouse, we have a helpful reminder for you: always have a plan for the house and have all materials ready. Decay-resistant woods is essential for outdoor designs.
Log cabin for dogs
This log cabin for dogs is the cutest miniature log cabin we dreamed of living in. For those who live in places where the climate gets cold, it's essential for your doghouse to retain heat to keep your dogs warm when the temperature drops.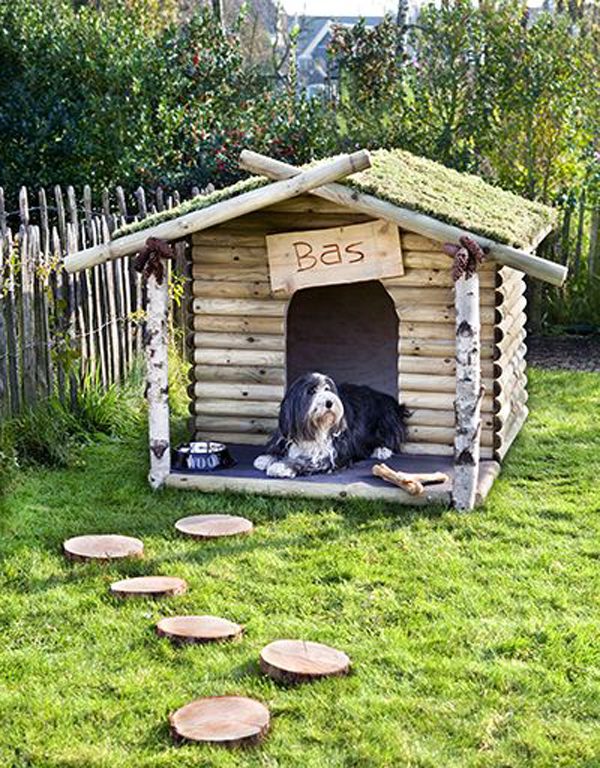 Some log cabins are designed to beat the heat and bear the cold weather. Check online for a variety of plans from which you can get ideas or inspirations if you're in the process of building your doggo's very own log cabin.
A complete mini home
It's natural for pet parents to spoil their furry friends, and we have to say that Molly is one spoiled dog. Her pet parent transformed the stairwell nook into a private room for her because you know, priorities. We're so jealous of this dog!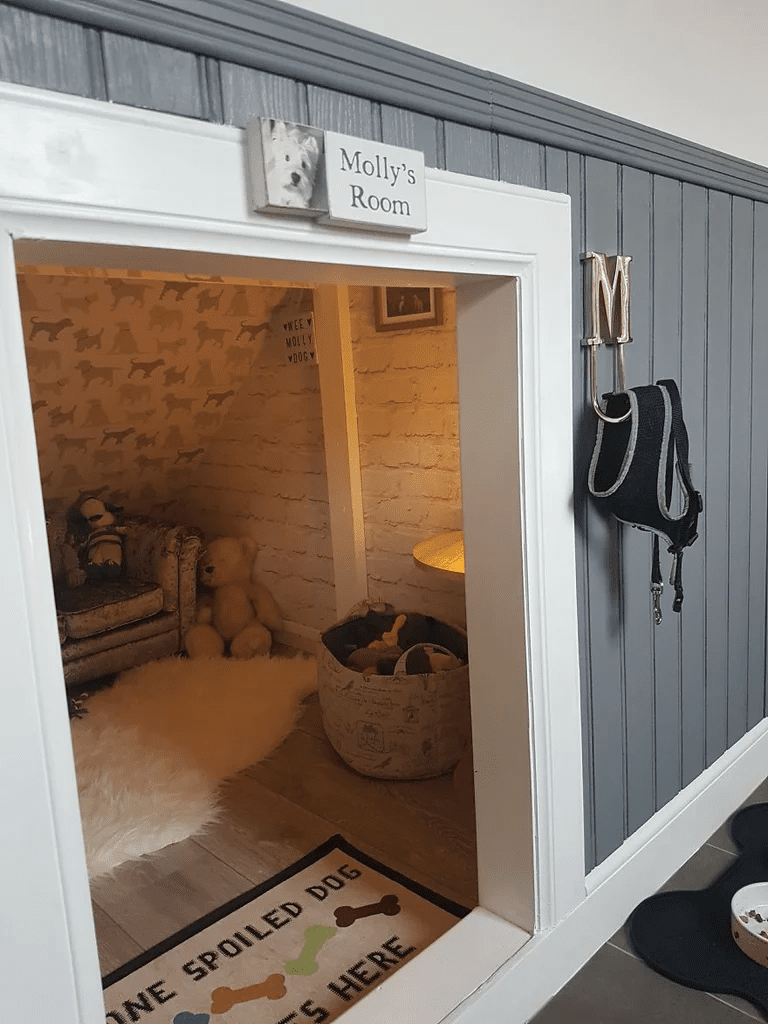 You might be wondering why the doghouse is so big when Molly is a little dog, but she needs a lot of space to run around and be comfortable in her home. She has a sofa, a mattress to sleep on, and even a few wall decorations.
Mini-ranch house
Another adorable doghouse that will up the charm of any property. It might seem like a normal doghouse, but it has one standout feature which you won't find with other doghouses, and that is your dog can have a pergola in front of his home.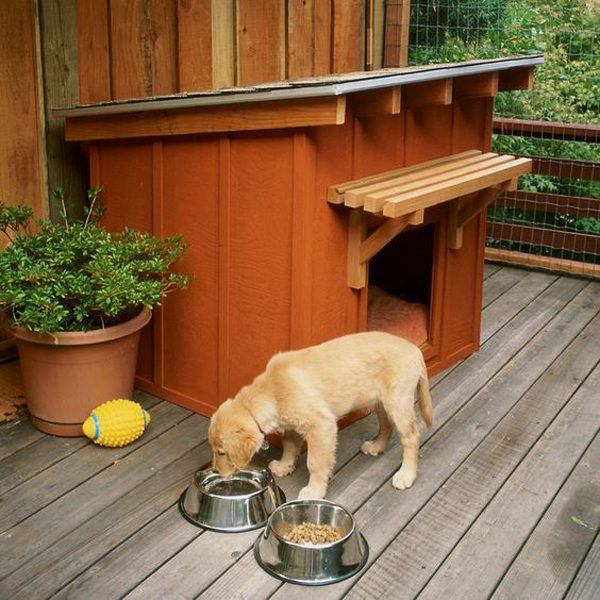 The pergola provides much-needed protection from the sun and gives the home added visual appeal too. Steer clear of boring doghouses and opt for something as unique as your pet. And don't forget to have an easy access water bowl for them!
Country doghouse with a porch
This is a good option for pet parents who live in the countryside. It will instantly fit in with the rest of the décor, and it lets Fido stay out of the elements. Doggo can go inside the house to keep warm if it gets too chilly outside.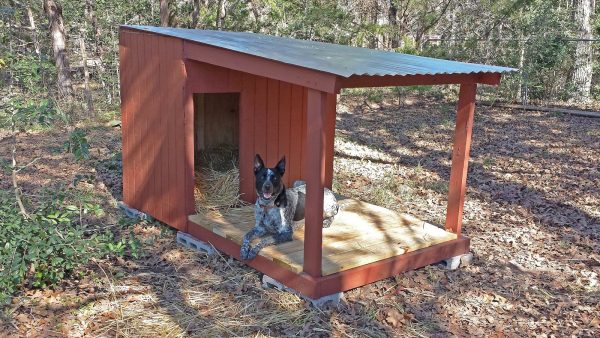 When the weather is warm, your doggo can enjoy the fine weather by sprawling on the porch while enjoying the scenery. Who knows, Fido might even see a few squirrels running around that he can chase to his heart's content.
Mobile doghouse
Want a doghouse that moves as and when you do? Here's the answer. This mobile doghouse is not only portable; it also comes with a modern design. You don't even have to change your address or be a traveler to want this doghouse.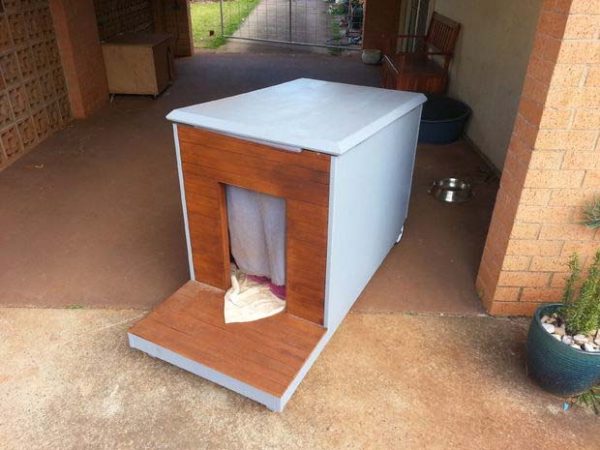 If your dog doesn't like staying in one place and you want to be able to move your dog around the home, this is the perfect solution. Now your dog can have a tour of your grand home and sleep in all corners.
For your camper puppy
If you think RV campers are only suitable for humans, you're badly mistaken. Here's solid proof that they can also be converted into doghouses, and we daresay they are just as stylish and as nice. If you have a penchant for RVs, without a doubt this is for you.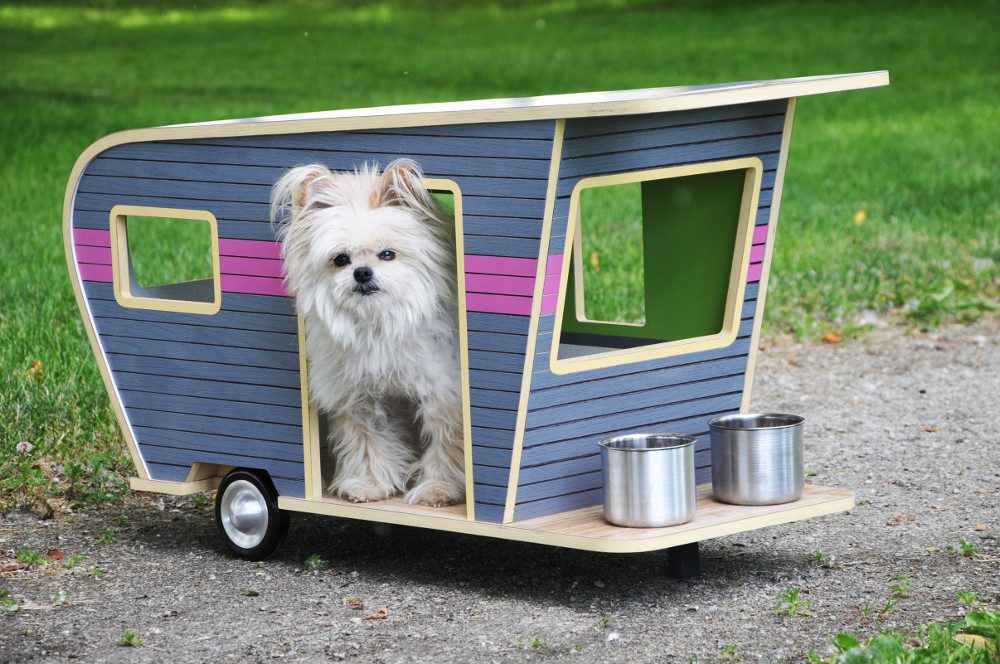 The only downside to this is it seems to only fit smaller breeds, so if you have a big dog, this won't work. Don't worry, though, as there are countless designs to choose from. Surely, there's one suitable for you.
The classic cedar doghouse
A classic house needs a classic doghouse. If you wish to keep things simple and do away with all the frills, this cedar doghouse is the answer. You don't even have to worry about this build succumbing to the elements.
It's made of solid material which won't crumble away. It has a slightly elevated floor to prevent your dog from sitting in water and has a door that's slightly offset to protect from rain and wind. This is a masterpiece that your dog will love living in.
The dog mansion
Ideal for large breeds such as the one shown in the photo, this doghouse has a knock-down design that allows for hassle-free transportation if you need to move from one address to another or even just to a different area in your backyard.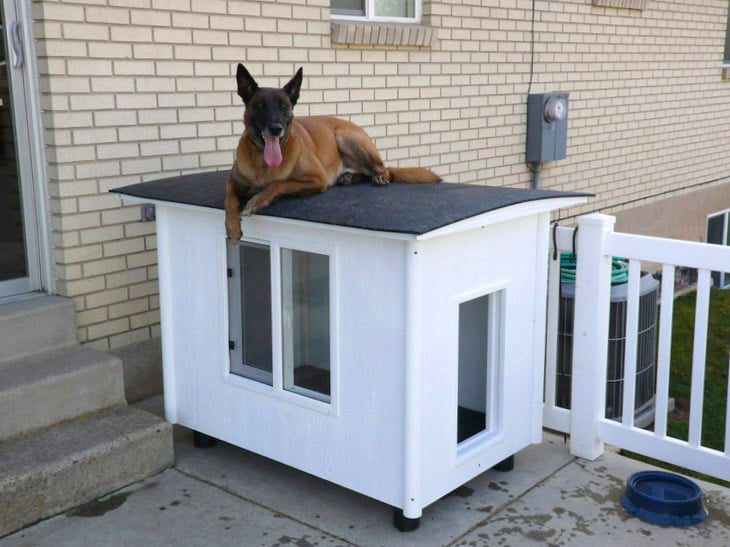 It's insulated, too, and it's elevated so it can be used outdoors without the fear of water getting in and wreaking havoc on the doghouse. We bet your German Shepherd will enjoy having his very own dog mansion just like this.
Doghouse for royalty
Do you have a pet dog that's descended from royalty? They deserve royal treatment just like their ancestors and therefore have the right to live in this opulent doghouse that's the epitome of luxury. Jokes aside, as long as you can afford it, you can get this for your beloved pooch.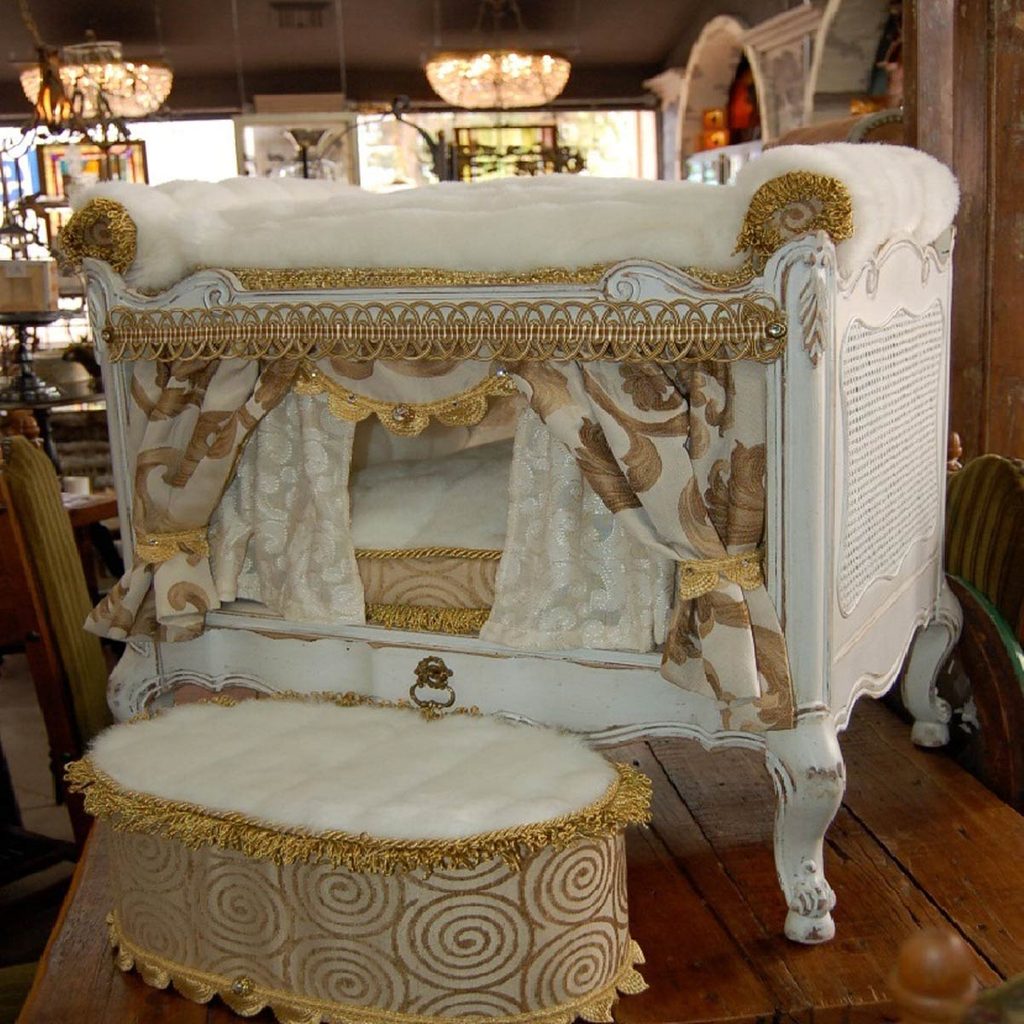 This lavish, Baroque-style doghouse has ornamentation that will make your neighbor green with envy. It makes a huge impact that's undeniable and gives people the idea of just how much you love your furry friend. Of course, you need to ensure your doggo is housebroken before you even buy this.
Pallet doghouse
After a lavish doghouse, we have one here that's of a very humble design and material. Built from upcycled shipping pallets and corrugated metal, this is an excellent choice for those who don't are on a strict budget for their dog's house.
Recycled pallets have gained a lot of popularity during the last few years because of their versatility, availability, and affordability. They are great for anything and everything, including doghouses. But don't let the cheap material fool you because it can be just as comfortable as other designs.
A warm home for winter
One crucial step in making sure your dog is warm during winter is to build a warm house, and that means more than just putting your dog in a large space. But instead of buying a house for your pet, why not do it yourself?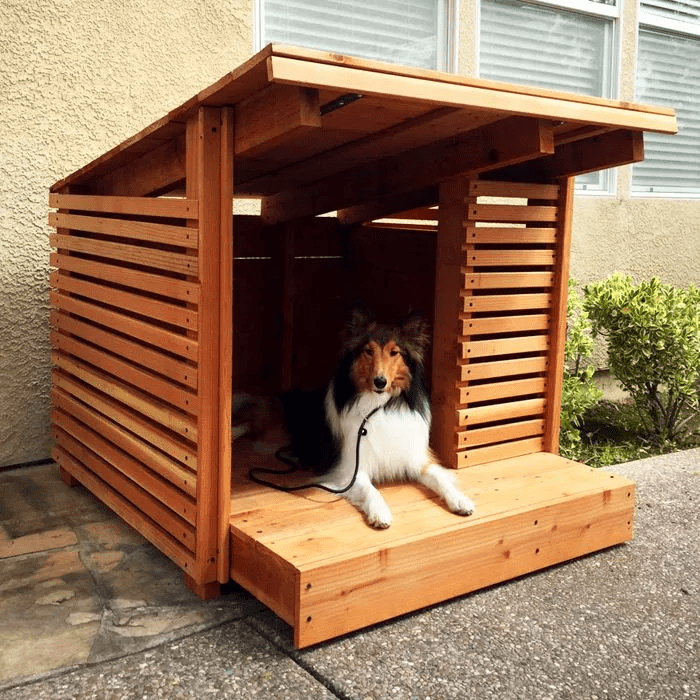 Not only will it help you save money, but you can also have a fun time as well. Countless prints and plans are available online, but if you think you can design the doghouse yourself, go ahead and have a go at it.
Easy to clean outdoor doghouse
Cleaning up after their pets is the least favorite activity of any pet parent, but it has to be done unless you want your home to smell like pee and poop. Imagine what the guests would say if you invited people to come over for dinner without cleaning up.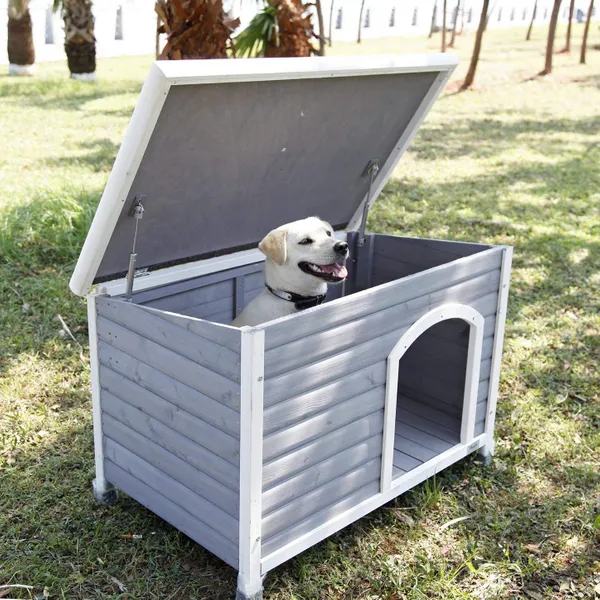 This easy-to-clean doghouse is the perfect solution. It opens from the roof so you can quickly scoop and clean whatever it is that needs to be cleaned. The lifting lid is much appreciated by pet parents everywhere because it makes cleaning smooth.
Outdoor double doghouse
Do you have double the number of furry friends in the house? This doghouse is perfect for your beloved pooches. This one uses solid materials to ensure that it is weather-proof and sturdy since it has to be placed outside.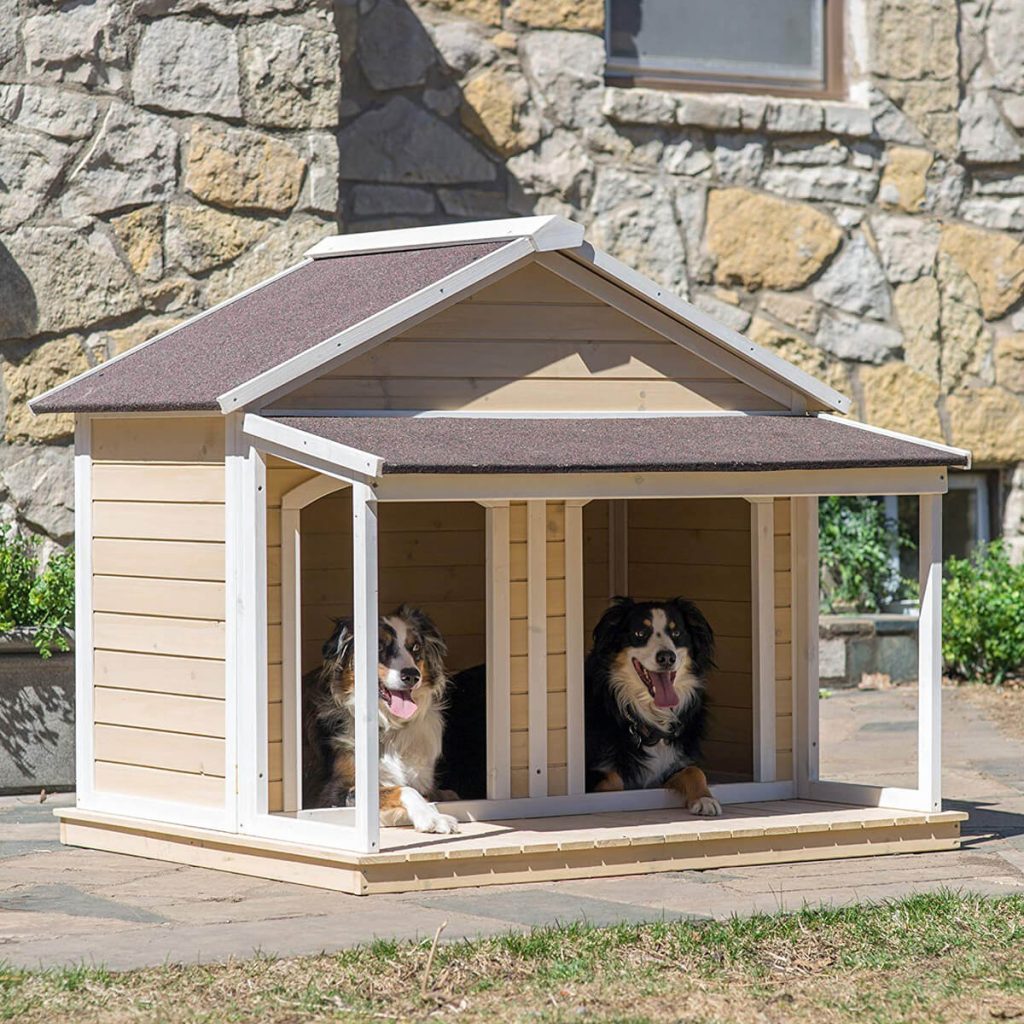 This house will let both pooches enjoy their own space, but they are never too far away from their best bud because they are literally right beside each other. It even comes with a little porch where they can spend time with one another.
Wine barrel doghouse
We have saved the best for last, and this one is a nod to all wine connoisseur pet parents. Just one look at it, and you'll know that the dog's human is a lover of fine spirits. How else can you deny that fact with a wine barrel doghouse?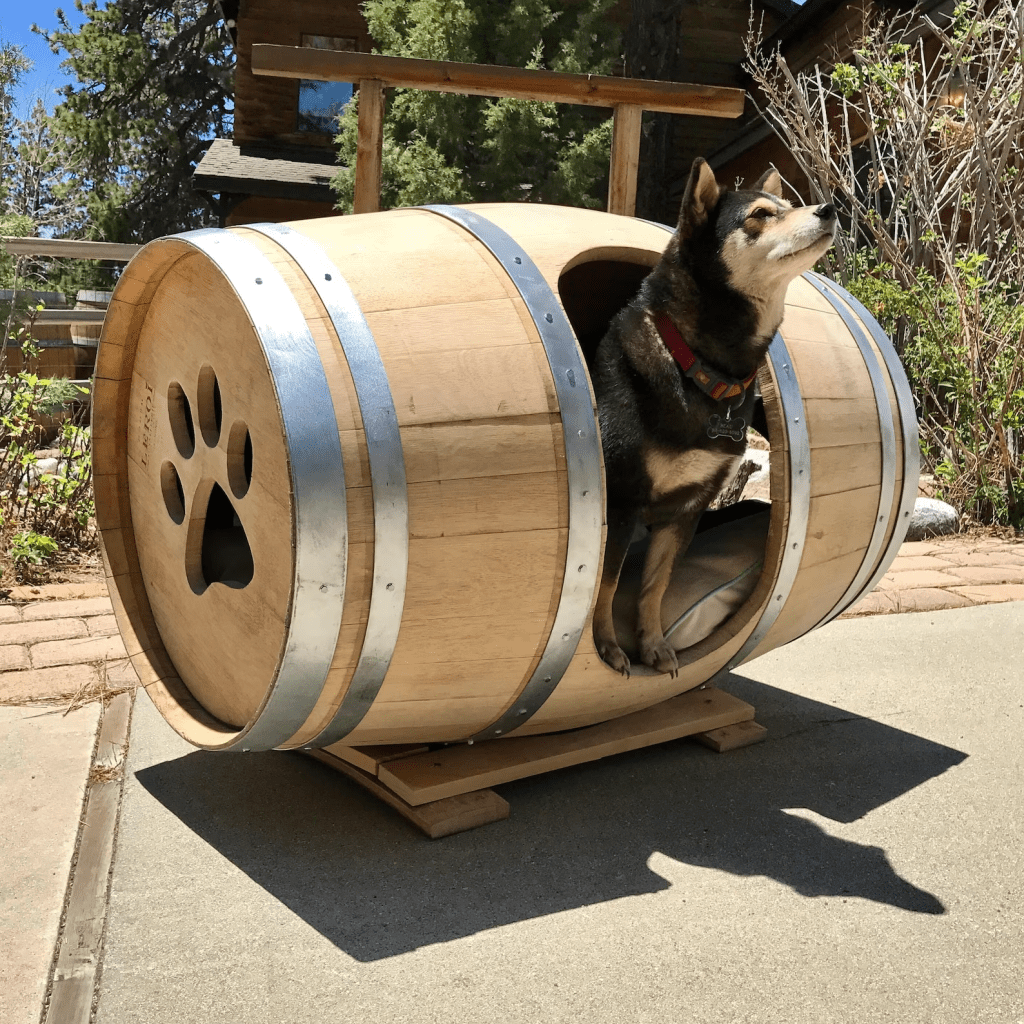 With a little elbow grease, you can easily convert a retired wine barrel into a fun doghouse unlike any other. Before you get started, make sure it's thoroughly cleaned out. You don't want Fido to get all drunk sniffing all the spirits in there.