35 DIY Dog Toys That Will Help Keep Any Dog Happy And Away From The Slippers
By Ridwan S December 12, 2021
---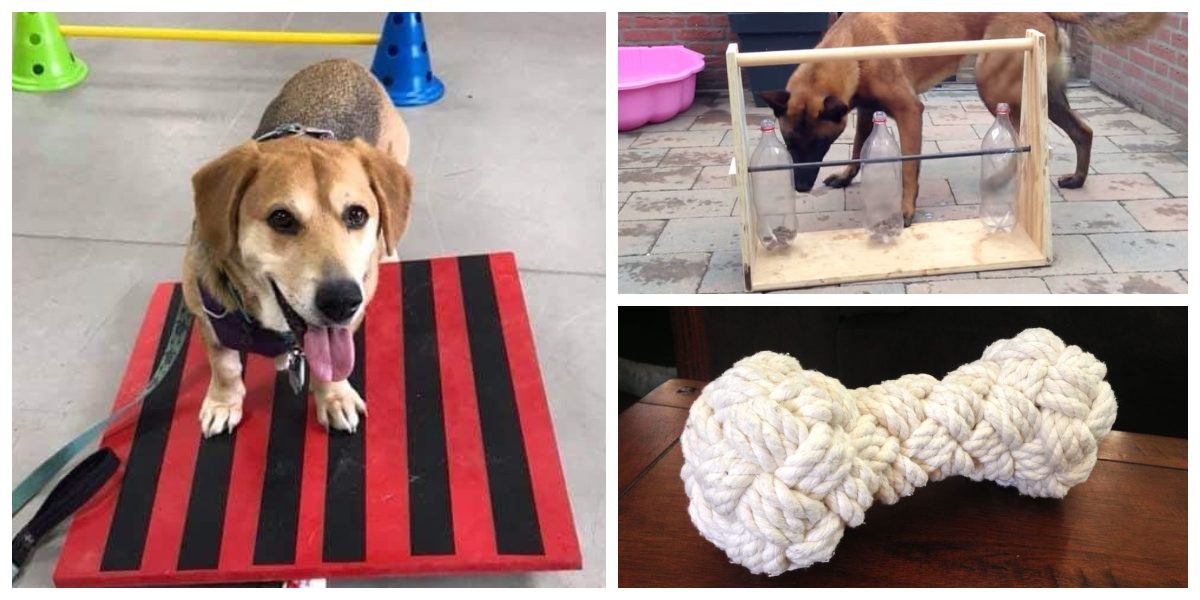 For many years, dogs have been loyal to man. Sometimes, they could be a man's best friend, especially in moments of distress. They can brighten our day with their flickering tails better than a plate of our favorite meal would do.
Despite their infectious nature, a bored dog can become destructive or even land itself in trouble. Since we don't want such situations to happen, it becomes imperative to keep them entertained. Moreover, spending time with our pets or engaging them helps strengthen the inevitable bond. One of the ways to keep your dog entertained is with toys. With little to no cost, you can make DIY toys for your dogs that are just as special as what you can find in a pet store. We have compiled 35 DIY unique dog toys that will make your furry best friend wag its tail.
Soft Chew Toy
A soft chew toy is something for your dog to chew on. It usually comes in the form of a small pillow. To make this, you will need some highly resistant materials to ensure that the toy lasts longer than a few days.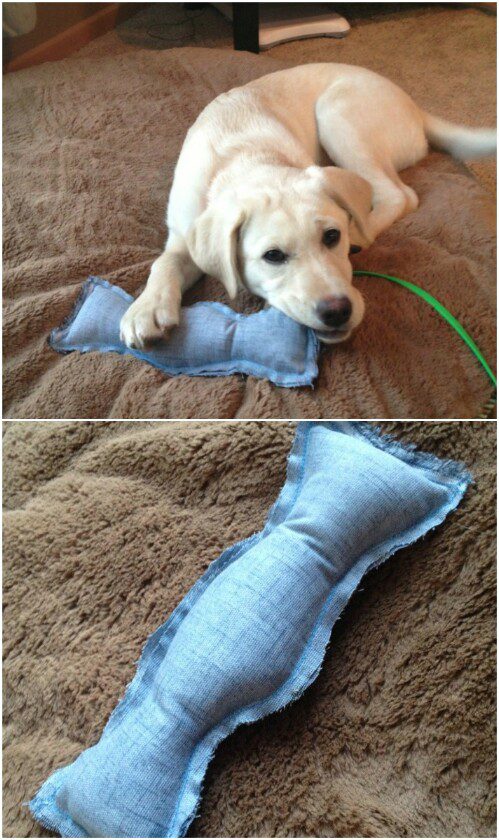 The shape of this toy is not rigid. You can design the toy to take any form of your choice. But, ensure that the stuffing will stay put in whichever shape you choose. Also, consider getting a material that will be easy to clean.
Tennis Ball Braid
This toy helps you repurpose your old tennis ball after it loses its bounce. To make this, you will need fabric strips and old tennis balls. A tennis ball braid is also a toy your dogs can chew on.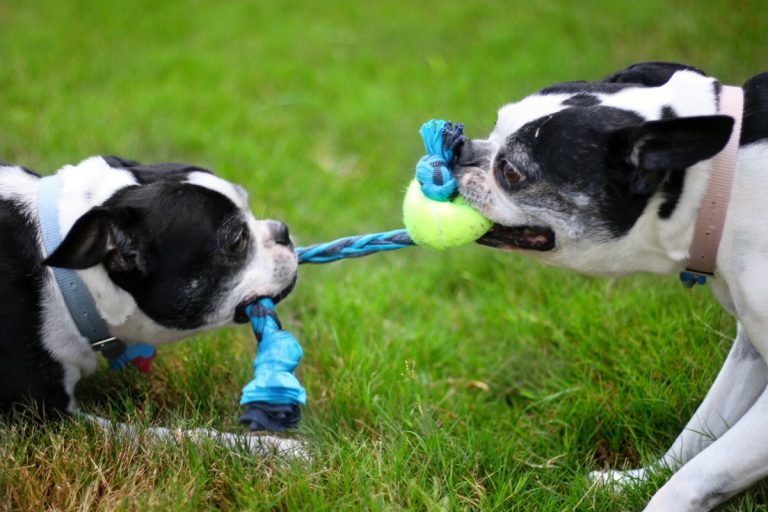 Braid the fabric strip and make a hole in the middle of the tennis ball to pass the fabric braid through. Secure the fabric braid with a knot at both ends to make the braids stay in place and won't get pulled out of the ball.
Octopus
The octopus toy is crafted from an old ball, preferably tennis balls, fabric, and ribbons. Cut the fabric into strips that can cover up the ball; you need two strips. Fold the strip in half and wrap it around the ball, placing the ball in the middle of the fold.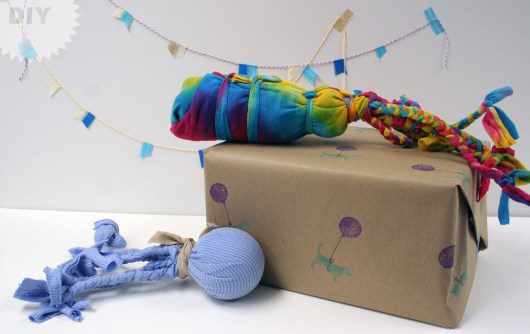 Now, tie the ribbon around the base of the ball and fabrics, make it as tight as possible. For more fun, cut the tip into tiny strips and braid them tightly to make it hard for the dog to rip it apart easily.
Puzzle Treat
A puzzle treat is an interactive toy for your dog. Create a puzzle with old items such as your old muffin tin you no longer use at home and stimulate your dog mentally by hiding yummy treats beneath the toys.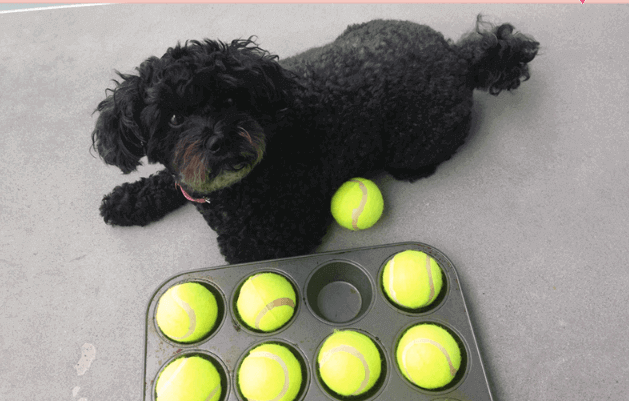 Puzzle treats are a way to help your dog deal with boredom and use its mental energy in a constructive way rather than a destructive manner. It rewards your dog for his efforts with a treat when he solves the puzzle and finds a way to access the treat.
Prey Stick
This toy gives you the chance to bond with your dog. To make this prey stick, you will need a rope, a twig, and an enticing object. Tie the rope to the twig and attach the loose end to the toy.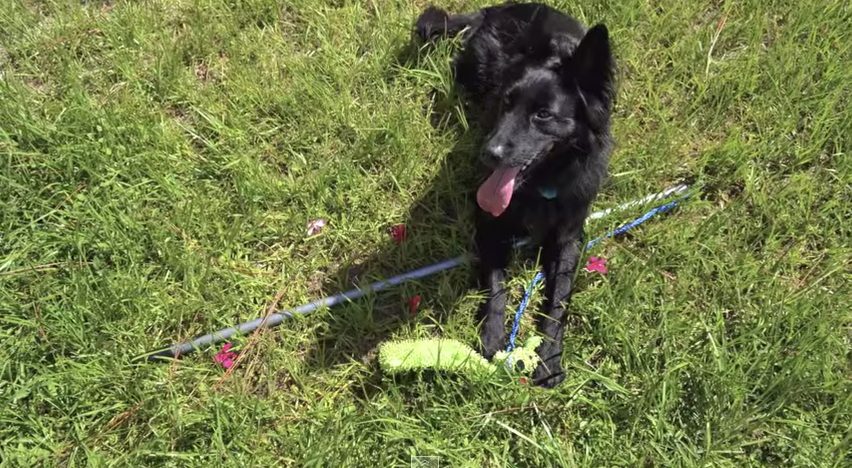 Once you have assembled the prey stick, dangle it in front of your dog, and you will be surprised how entertained they will be while running after you holding the stick. You can also add food around the rope to make it more enticing.
Tennis ball with treats
Hide some treats in an old tennis ball, and let your dog find them as he plays with the toy. Cut the tennis ball open around the "S" shape and put the yummy treat inside. Ensure the hole you create dispenses the treats easily.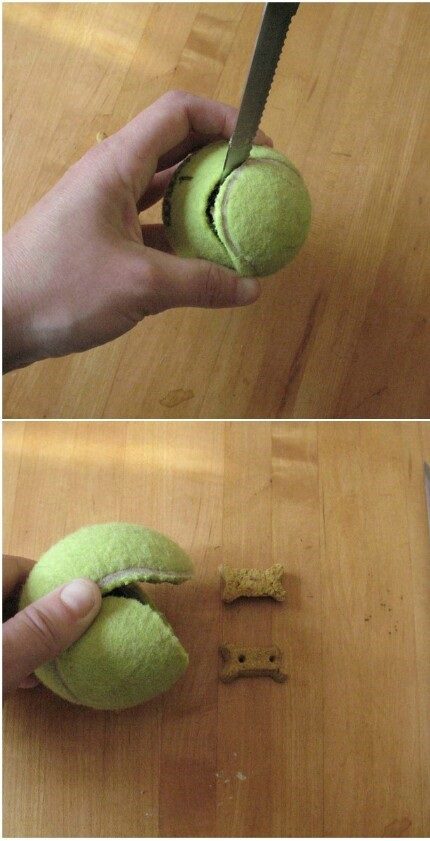 The toy is an inexpensive dog toy, and it is also easy to make. The materials needed are also easy to come by. You simply need to get an old tennis ball, a knife or scissors, and some treats. Making this should only take you about ten minutes.
Denim no-sew toys
If you need a toy made from resistant material, your old denim is a good idea. This toy does not require any sewing; the materials required are old denim fabric, pins, needle-nose pliers, sharp scissors, and an elastic or hair tie.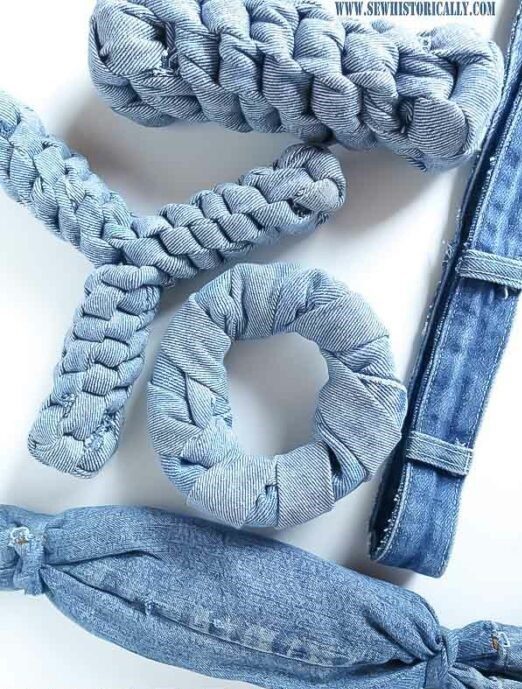 You can use old denim for different forms of toys, such as the waistband toy made from cutting out the jeans waistband. Also, you can make the crown knot denim toy from four denim strips used to create a round dog toy and the Y-shaped toy from six strips of denim.
Foxtail
Foxtail is a simple toy to make. However, it requires basic sewing techniques. You will need a sewing machine, lightweight fabric, dental floss, tennis ball, sewing needle, and needle-nose pliers to make the foxtail. You can use different colors of fabric to create sections in the tail.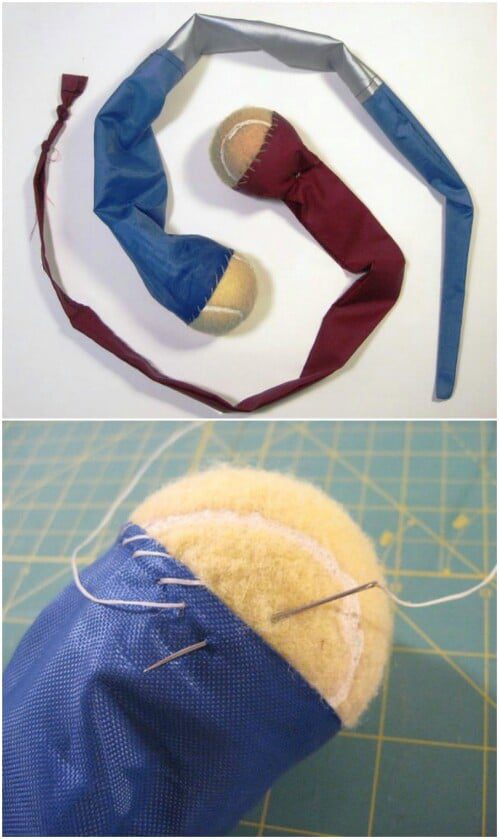 The foxtail is a suitable toy to play games such as 500 and flyer up with your dog. Creating different sections with different colors in the tail ensures easy grading in games like 500. Your dog will also enjoy aiming to grab the colors.
Treats Popsicles
Treat popsicles are more of a treat than they are toys. It is a way to add fun to feeding time for your furry friend. The making requires an ice cube tray, their favorite treat, and broth. You can also use ordinary cooking water or water from cooking your potato or vegetables.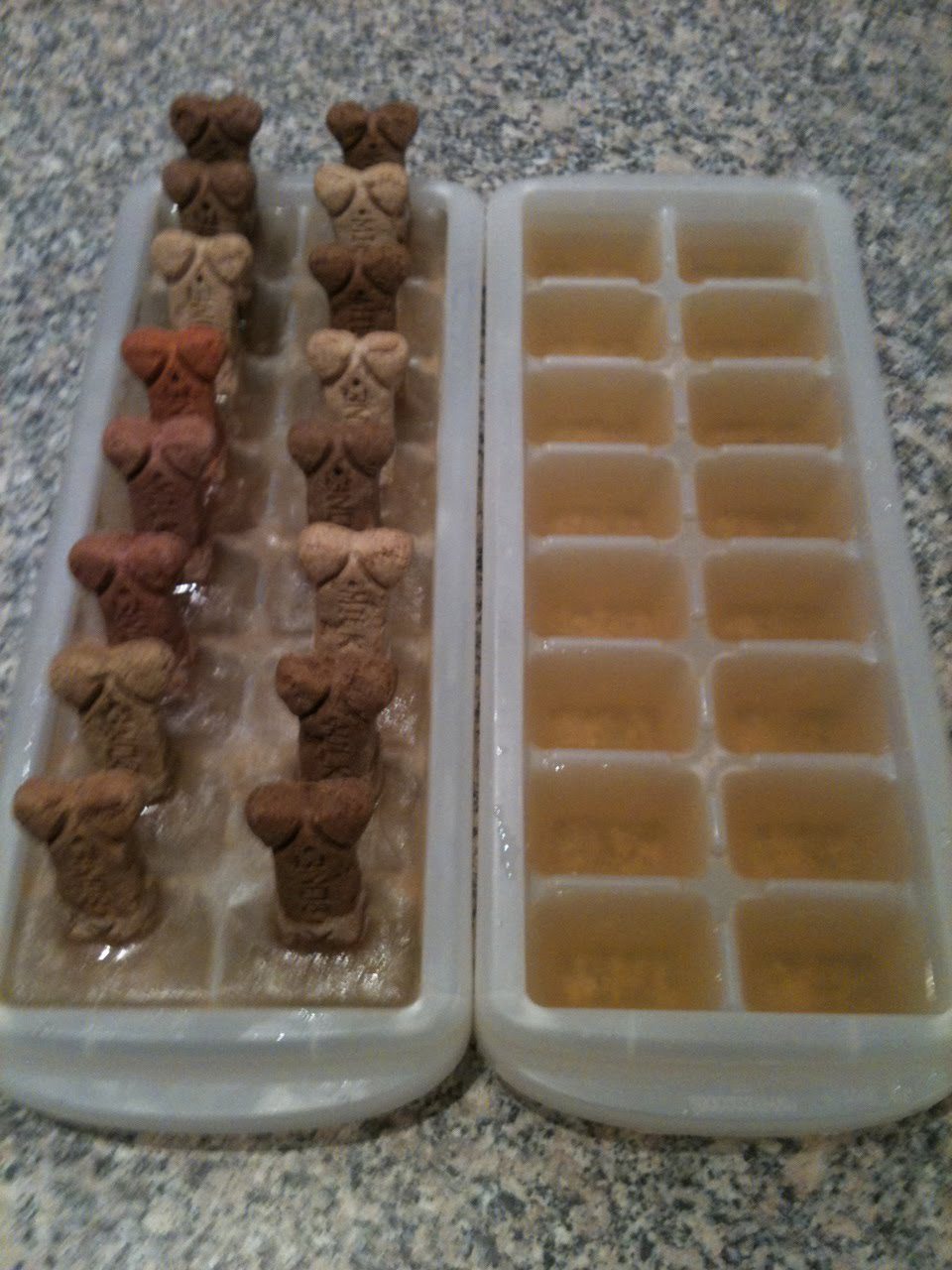 Pour the broth into the tray, insert the treat and leave to freeze. You can make the popsicle single-ended or double-ended. The single-ended popsicle gives you a chance to have fun with your dog by holding the treat while your dog licks the popsicle.
Treat mats
If your dog is a fast eater, then a treat mat is the best solution to make him spend more time chowing his food and enriching your dog mentally. This project requires only a few materials; a rubber mat, polar fleece, tape measure, scissors, and of course, yummy treats.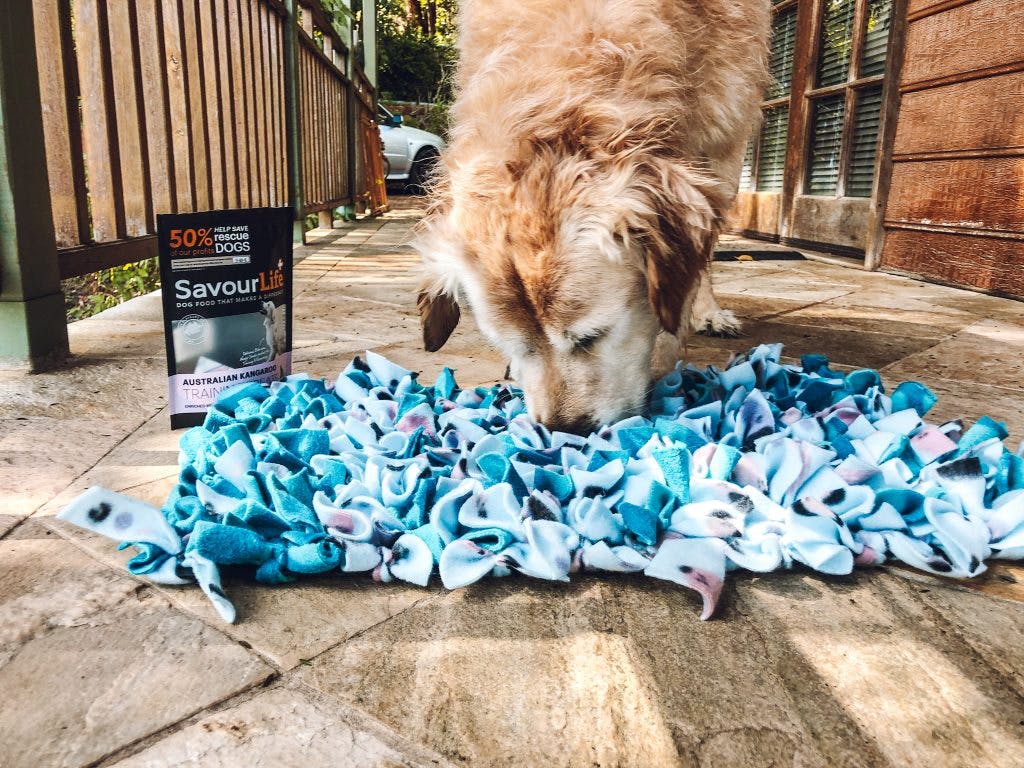 A treat mat will help spice up feeding time. The design of this mat is such that it promotes your dog to use his sniffing instincts, and adding a few treats in between the folded fleece will promote a fun puzzle for them, something that will excite your dog.
Slingshot ball
You can level up your bonding time with your dog with this slingshot ball. All you have to do is launch it and watch your dog run after it with so much joy. You can also use this toy while exercising with your dog.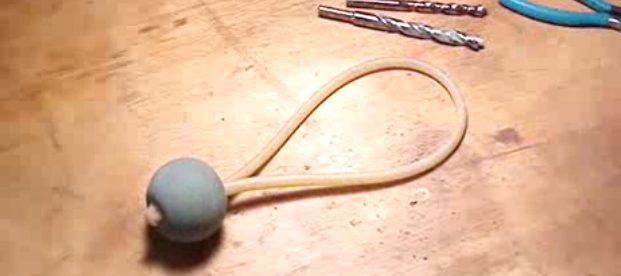 Get a rubber ball, surgical tubing, a coathanger or wire, and a drill to make this ball. Drill hole the same size as the tubing into the ball, then fold a piece of tubing and pull it through the ball with the coathanger. Do the same for the other end.
Cereal box with treats
If you have an empty box of cereal lying around, then it's time to repurpose it into something else. All you need to create this toy is a vacant cereal box with treats hidden inside them. We should warn you that they might mess up the place with ripped-up bits of cereal box.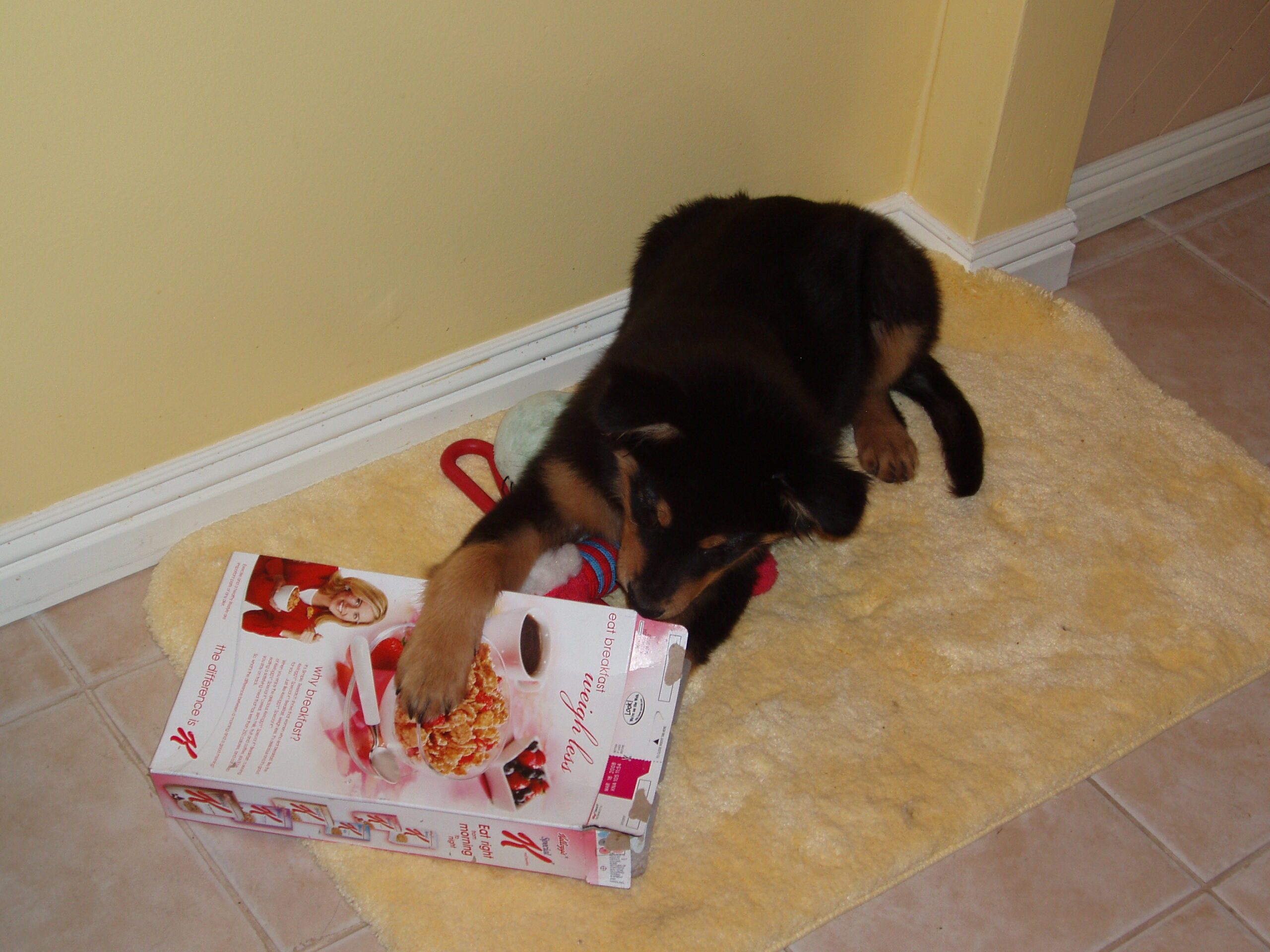 The cereal box is one of the easiest and cheapest toys to make. Hide your dog's favorite treats in the box to ensure they have fun pulling the treats out of the hole. The challenge can stimulate your dog and make it look forward to feeding time.
No-sew dog toy
If your dogs enjoy chewing on things, then you should make this toy. All you need for it is your braiding skills and fabric fleece. Cut the fabric fleece into strips, make a knot at one end before you start braiding to secure your braids.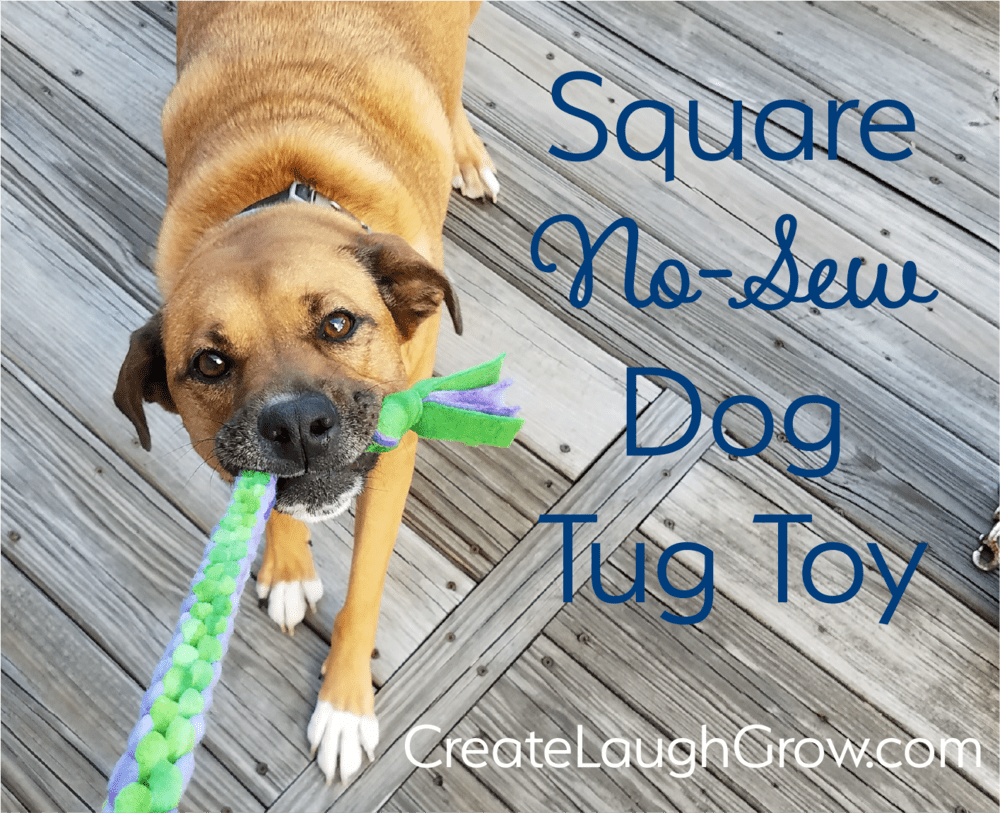 You can tie the strands into different shapes that can be square or round. The good thing is whichever shape you end up with, be sure your dog will love it anyways. Just make the knots very tight so they can last long enough.
Fleece loop
Tug toys help develop your dog's agility, drive and create or intensify the bond between the dog and the owner. They encourage eye-mouth coordination and increase strength. The tug toy is an essential and multi-functional toy for your dog. If you want a good tug toy, then make a fleece loop.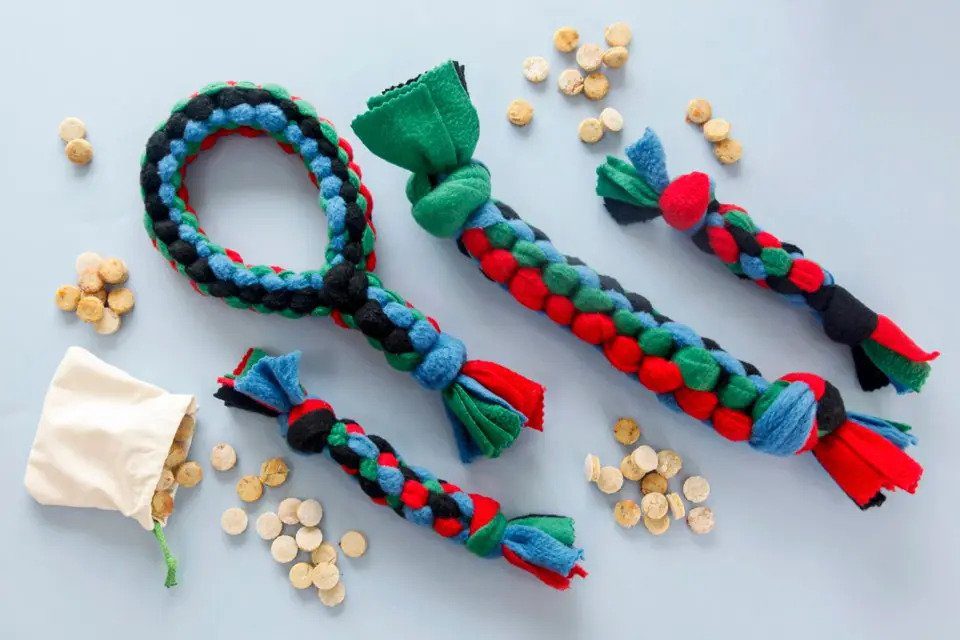 Tug of war is an enjoyable classic game to play with your dog, and the fleece loop is a perfect toy for this game. Tug toys keep things interesting for dogs by mixing up their physical and bonding activity.
Squeaky dog toy
Here is a budget-friendly way to keep your dog busy if you don't mind some squeaking in the house. You don't need to sew anything to make a squeaky toy for your dog. All you need is fabric, fabric filler, squeakers, and scissors.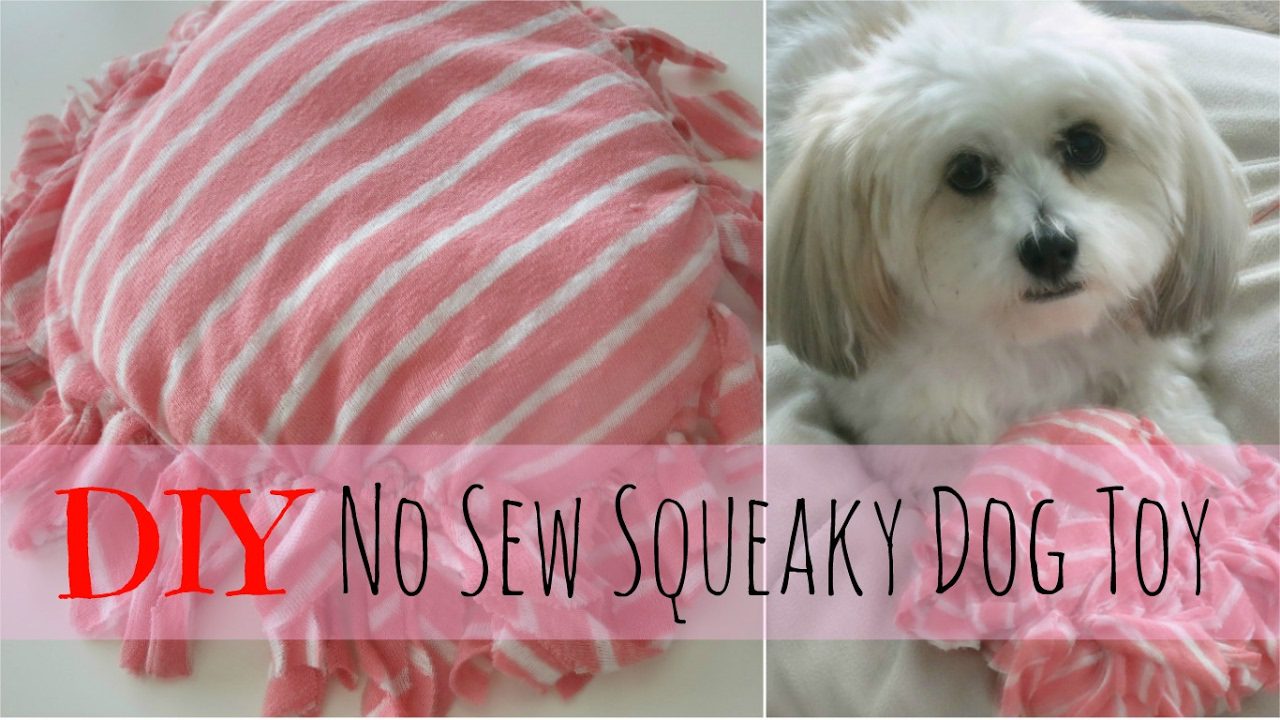 Fold the fabric into two and cut it into a shape of your choice, making strips from the edges without cutting it out. Tie the two strips together, leaving some strips to stuff the fabric with other materials. The noise from this will keep your furry friend busy.
Tilt board
What does your dog do when you are on the treadmill? If your answer is, "it does nothing but sit," then you should consider getting the tilt board that helps your dog build core strength and improve its agility.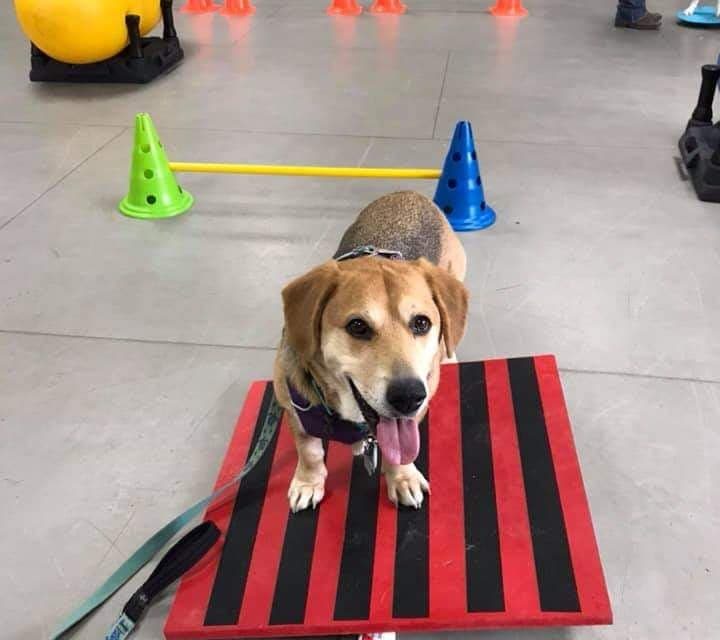 The tilting board is a suitable toy for dogs if they're in need of some exercise. It moves from side to side and has a large surface to accommodate big dogs. It helps the dog with body awareness and building confidence with its balance.
Tennis ball tug
If your furry friend is a heavy chewer that destroys his toys with its teeth in a few hours, then you should try out these ball tugs. The materials required for this project are strips of sturdy cloth, scissors, and a tennis ball.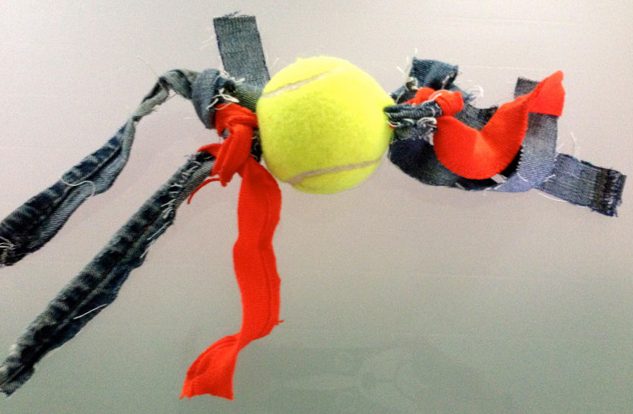 The fabric should be long enough to make tassels at both ends. Make a hole in both ends of the tennis ball and pass the strips through the holes. Secure the tip of the strips with a strong knot to ensure your tassels stay in place.
Ball pit
Dogs get excited chasing things, and the ball is easy for them to run after because they can spot it easily. More so, it can fit in their mouth easily. The ball pit will give them a chance to do this while also making sounds that keep them busy and entertained.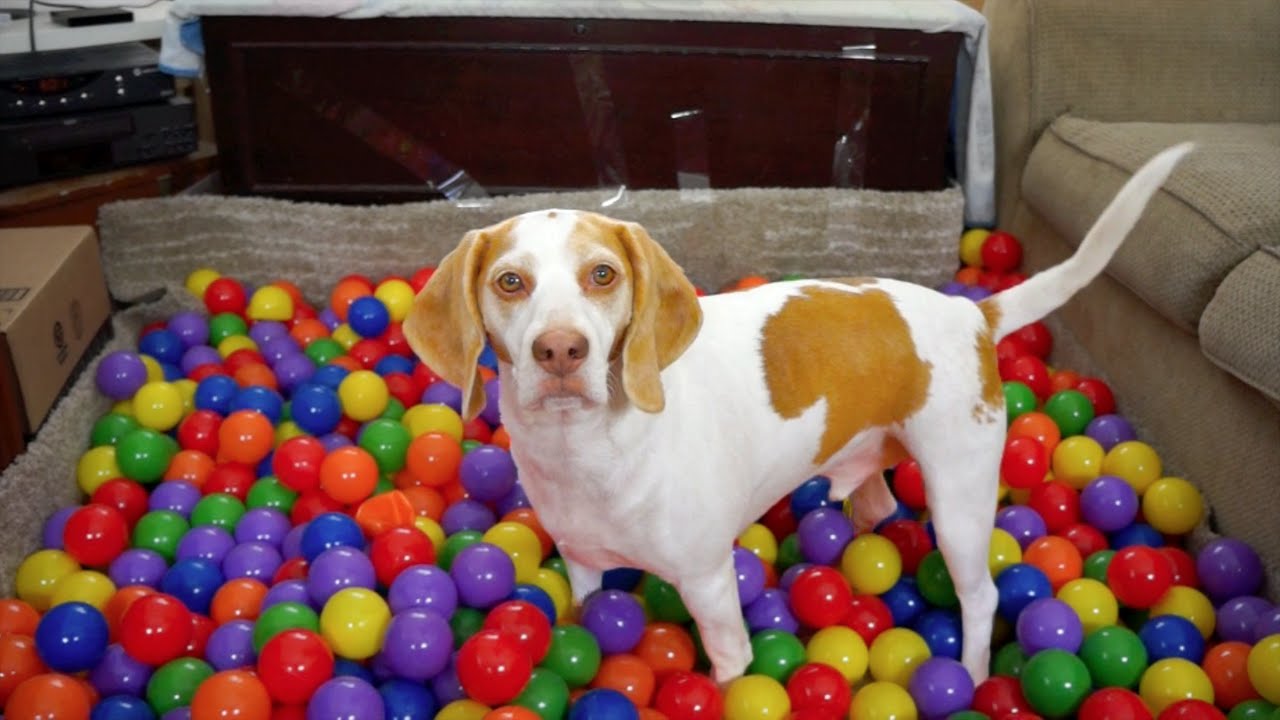 The ball pit provides an endless amount of balls to tear apart. It will be easy to set this up on a small scale rather than a large scale. On a small scale, you can use tires or your sofa supported with rugs depending on the size of your dog.
Feeder toy
A feeder toy is an interactive toy that you can use to ensure your dog eats their food slower than they usually do. It is perfect for dogs on a diet. You will load the toy with food, which then is released gradually as the dog plays with it.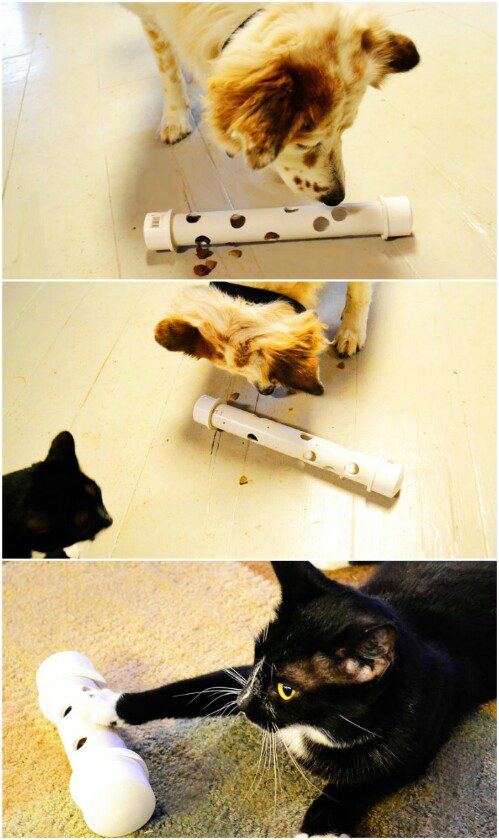 If your dog suffers from separation anxiety, you can use the toy to occupy your dog whenever you want to leave. You will need tutorials to make this toy, and you must use materials that are easy to clean for constructing your feeder toy.
Water Bottle in a T-Shirt
If what you are looking for is an easy to assemble toy that won't take much of your time, then this is the best toy for you. The materials needed are things you have at home, such as a water bottle and a T-Shirt.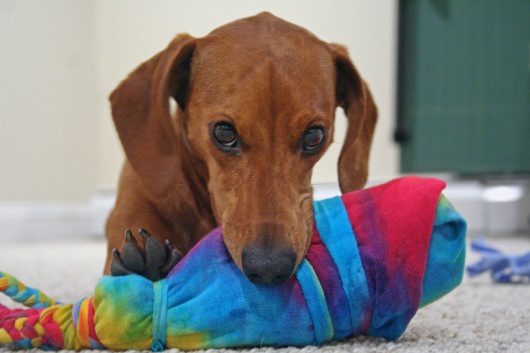 All you have to do is wrap the water bottle in an old T-shirt of yours. Tie a strip of the fabric around the T-shirt and water bottle to make sure the bottle doesn't fall out of place. This toy will entice your dog with the sounds from the plastic bottle.
Braided T-Shirt
The best toy you can get for your furry friend is a toy that smells like you; this is perfect for dogs that like sniffing you. This toy can serve two functions: strengthening your pet-owner relationship and entertaining your dog.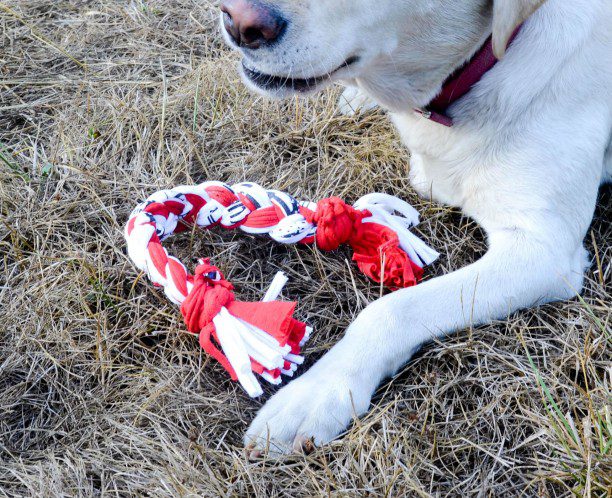 The most important material needed for the toy is an old T-Shirt with your smell on it. Cut this T-Shirt into strips and tie them together with a knot at the base before you start braiding it. To make it more enticing, you can get two shirts of different colors.
Rope and Sweet Potato Chew Toy
Here is a suitable idea for a dog that rips its toys easily. This toy is made with hemp, jute rope, and oven-baked potatoes. Cut the potatoes into round shapes using your cookie cutter and bake them until dried in an oven.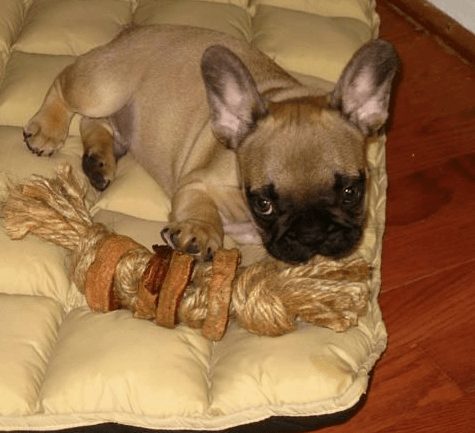 The hemp and jute rope is durable, strong, and less likely to cause issues if ingested by the dog. Hence, they are suitable for this purpose. The sweet potatoes will also provide nutrients to the dogs, so you can be sure that your dog is safe.
Spider rope
A rope is a plaything for you and your dog to bond when you are playing together, but you shouldn't leave it with your dogs unobserved. Strands from the chewed rope can cause fatal digestive obstructions, so if you must get a rope toy for a dog, don't leave it with them unsupervised.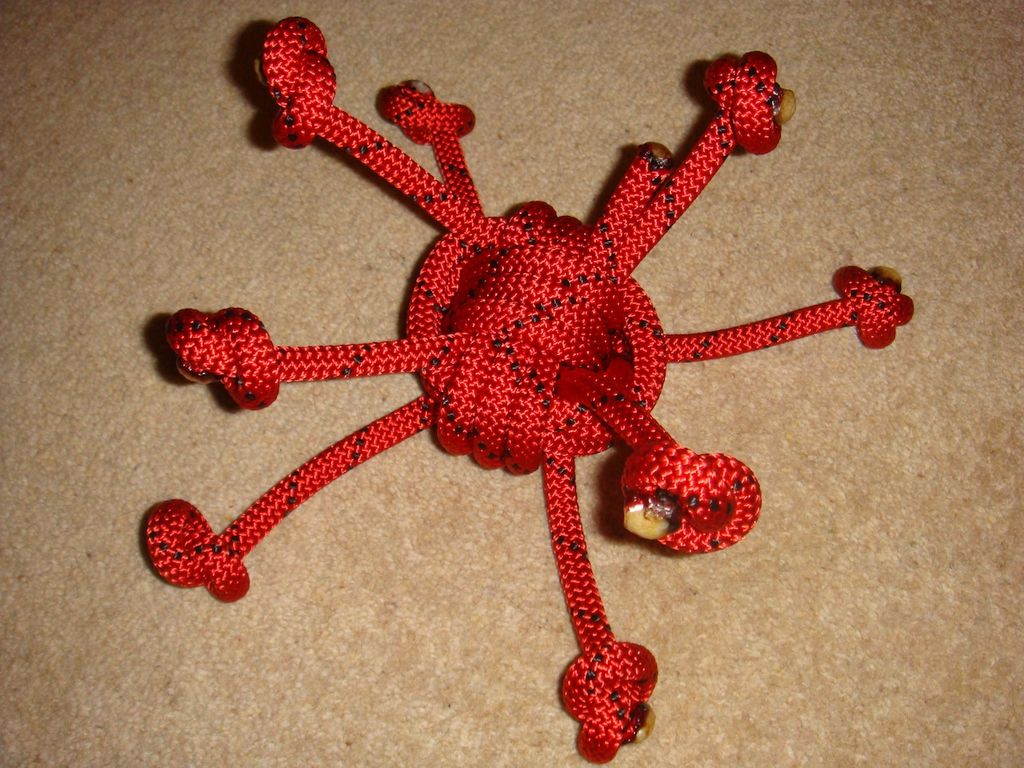 With a climbing rope, you can make a spider rope that you and your dog can play with by pulling each end. To build your spider from climbing ropes, cut it into five pieces and create a spider rope with more points to pull.
Knotted toys
Knotted toys are easy to make, but you might need to check out a detailed tutorial on how to do so. You can make a knotted toy for your dog irrespective of its size. All you need is some imagination and some ropes.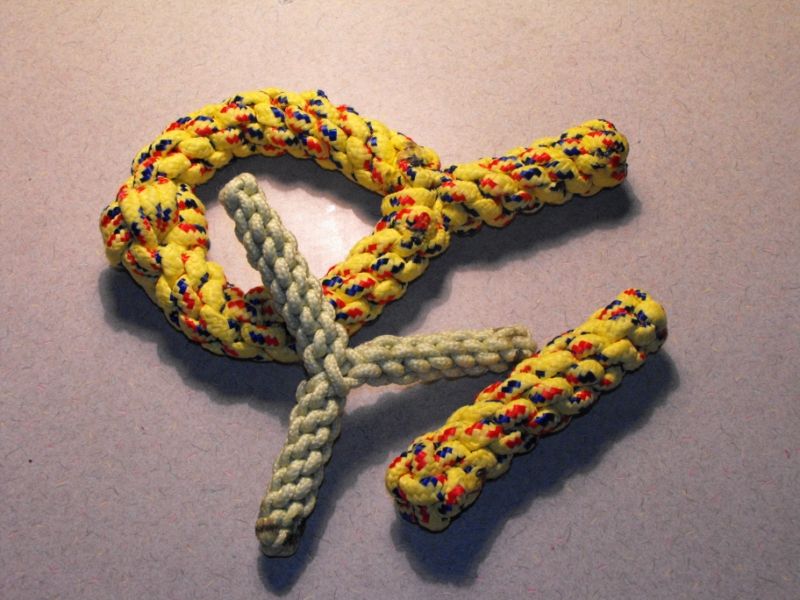 The only consideration you need when making a knotted toy with rope is the size of your dog. Bigger dogs will need rope with a bigger diameter to chew on, while small dogs need rope with a smaller diameter that can fit into their mouth.
Indestructible ring
From the subtitle, you might have already assumed that this next one is for your furry friend that tears apart its toys within days or maybe even minutes. This toy will require your time and ingenuity. You should also check out instructions on how to make a good toy.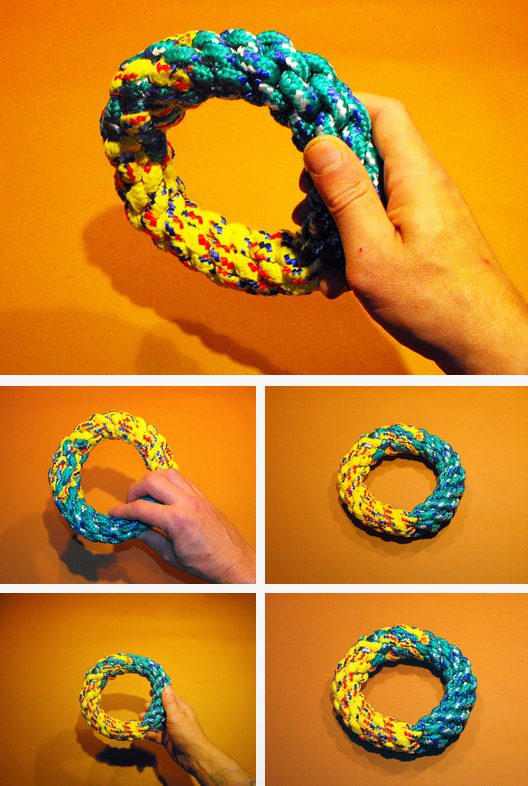 The indestructible ring will only serve its function if it's created from quality and durable materials, so you should consider the strength of the material you intend to use. Remember to keep an eye on your dog when they're playing with the toy.
Pull toy
The pull toy is an interactive toy that helps dogs handle boredom. We know that bored dogs can cause a nuisance and develop destructive tendencies. To avoid your dog becoming destructive due to boredom, you should consider interactive toys.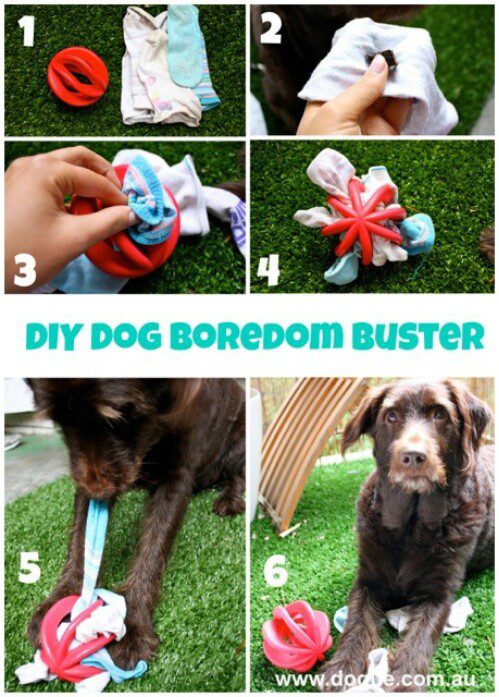 If you don't keep your dog busy, they will get busy doing things that might stress you out, like excessive digging, barking, and chewing. To keep your dog occupied, you should stimulate them mentally. The pull toy gives your dog something to do for a while.
Denim knot
Put your old denim to use by making a toy with it for your dog. This denim knot is super easy to make; all you need is to cut out a piece from your denim and turn it into a knot.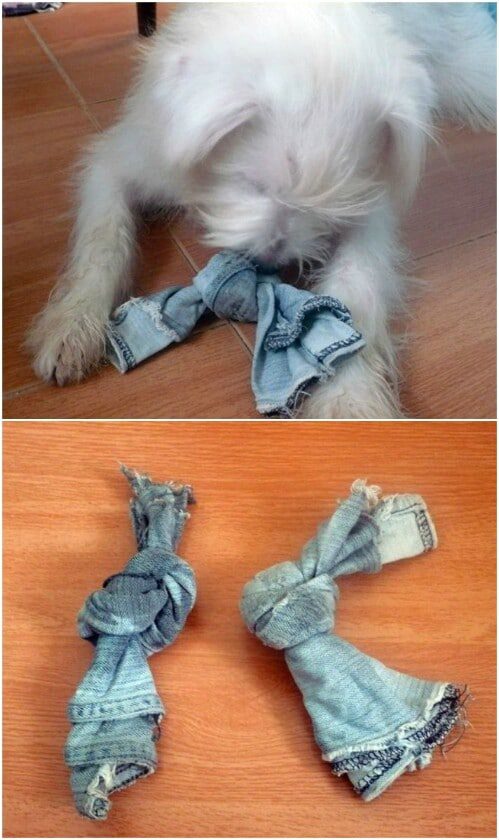 The good thing about this knot is that you can always tie it up again if it gets pulled apart. Your dog would also enjoy sniffing the toy because it has your smell on it. The denim material is durable, so you shouldn't worry about your dog chewing it to pieces.
Rope bone
Dogs love chewing bones. It is pleasurable and alleviates their boredom. To satisfy your dog's innate desire to chew, make them a toy that looks just like a bone. Chewing also stimulates the release of endorphins, which are hormones associated with happiness.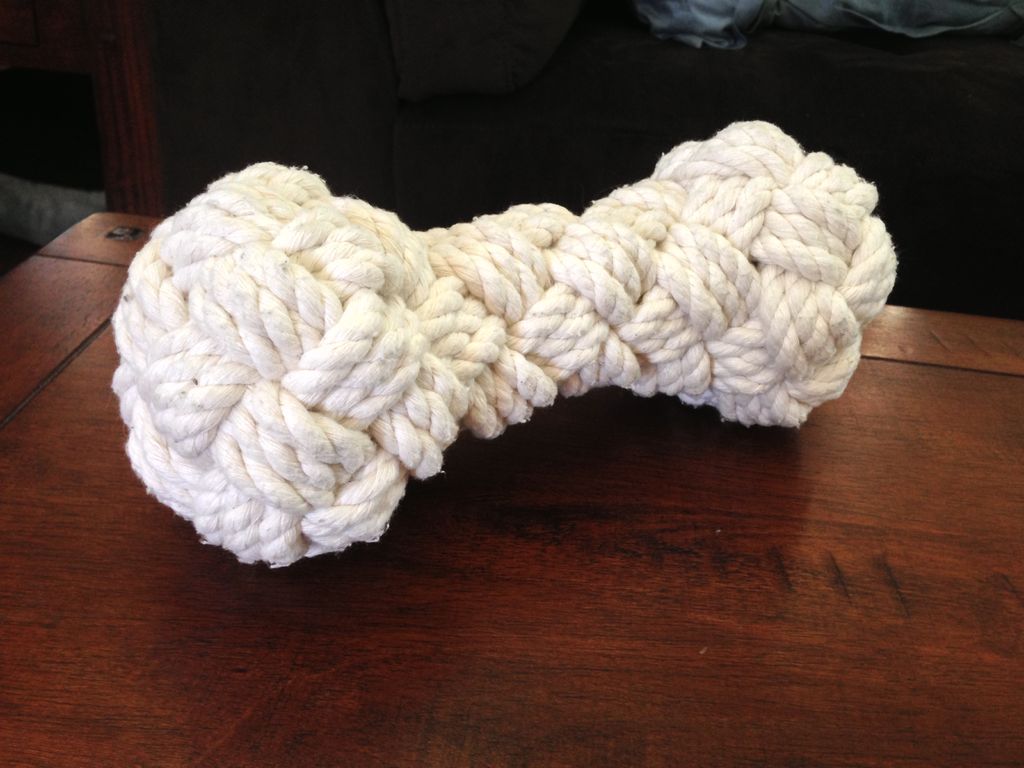 The toy is made from rope and crafted into the shape of a bone, but make sure you get a quality rope to make this toy. Sturdy rope toys wounded tightly are not likely to be disbanded when chewed on by your dog; this ensures the toy is safe for your dog.
Frozen Chew Toy
If you are looking for the best summer toys for your dogs, then this easy-to-make frozen chew toy is a good option you should consider. All you need to put this together is already lying in your wardrobe – just a pair of socks.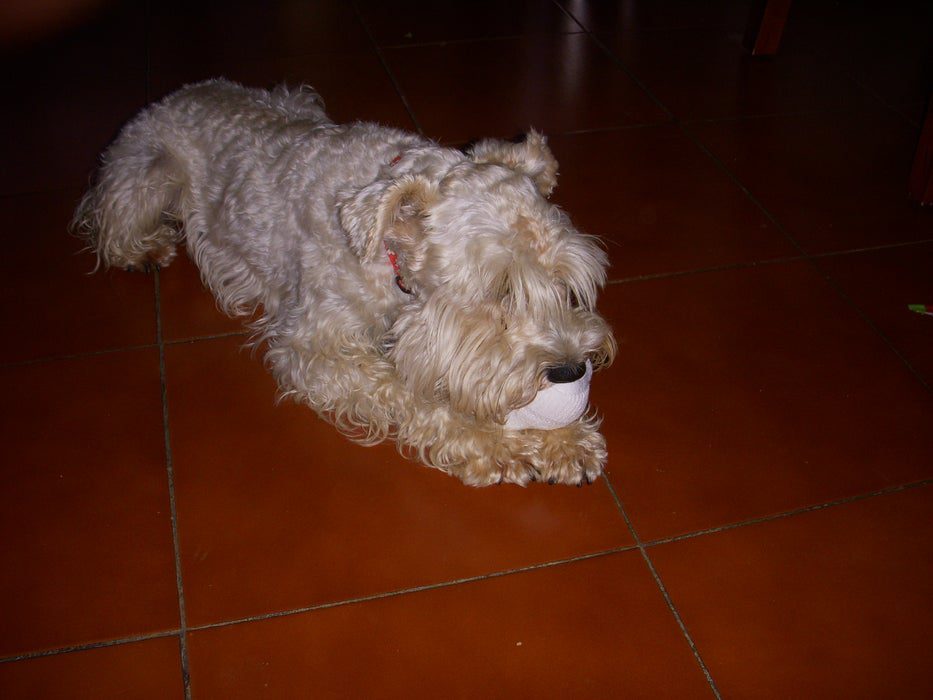 Get a pair of long socks, tie one of the socks into a knot and make it into a ball, then put the ball into the other socks and wrap it all up into a ball. Soak this ball in water and put this into the refrigerator until frozen.
T-shirt Frisbee
This rug-like toy might take time to make, but it will absolutely wow you and entertain your furry friend. If you have about five to ten old T-shirts and time at your disposal, then you should consider making a T-shirt Frisbee for your dog.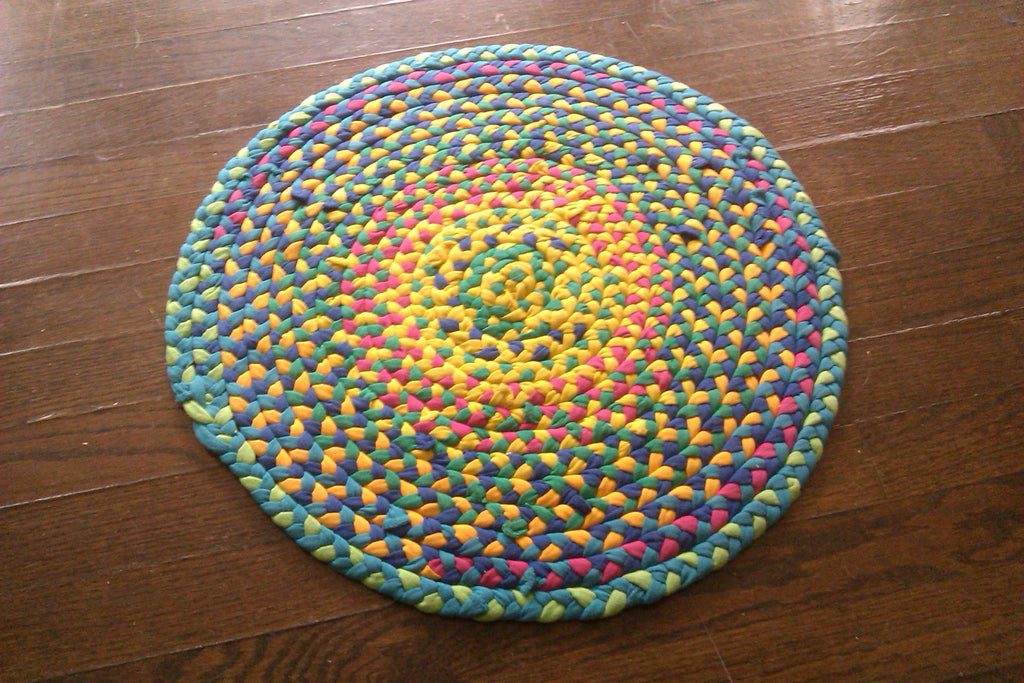 Cut the T-shirts, turn them into yarn, and then braid and coil them into a bowl. Now, join them with needles and thread to ensure they stay in shape. If you decide to make this, you should look up some tutorials for more details.
Fishing pole
The fishing pole gives you the chance to interact with your dog. With this toy, you can play different games with your dog by changing the toy attached to the pole. Watch your dog get excited at the sight of a dangling toy in front of it.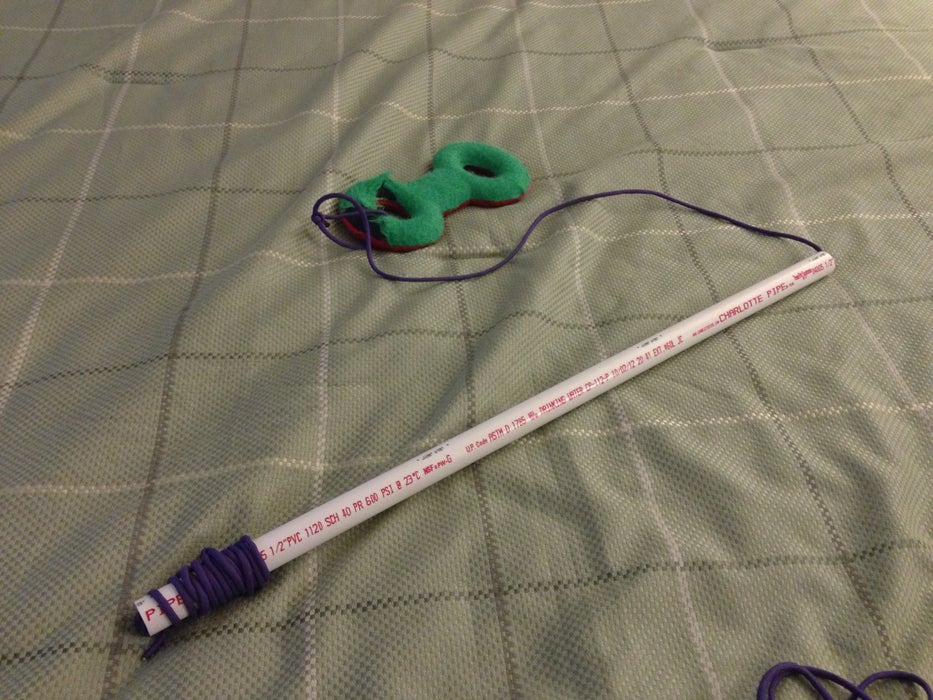 To make this toy, you will need a pipe or rod, an elastic band, and a toy. Drill a hole at the tip of the rod, insert the elastic band, and tie one end to the pipe and the other end to the toy – Easy.
Treat puzzle
Treat puzzles are a way for your dog to exercise its brain. They make your dog think about what it is doing as it must understand how the puzzle works before finding a way to get its food and ensure it spends more time finding the food than eating it.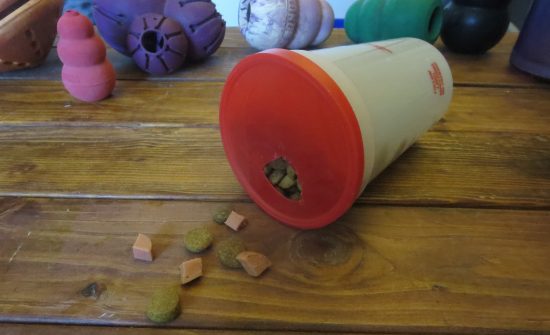 These toys are made of materials resistant to destruction, no matter how hard the dogs chew on them. There are different variants of treat puzzles such as the classics, pushovers, and board games. The board game puzzle shouldn't be with dogs unsupervised.
Knotted towel
Dogs are so easy to entertain. This is why any random thing will get your dog happy and occupied. Toys that have your smell on them will top the list because they feel like you are around when they sniff it. Now bring out your towel to make a toy.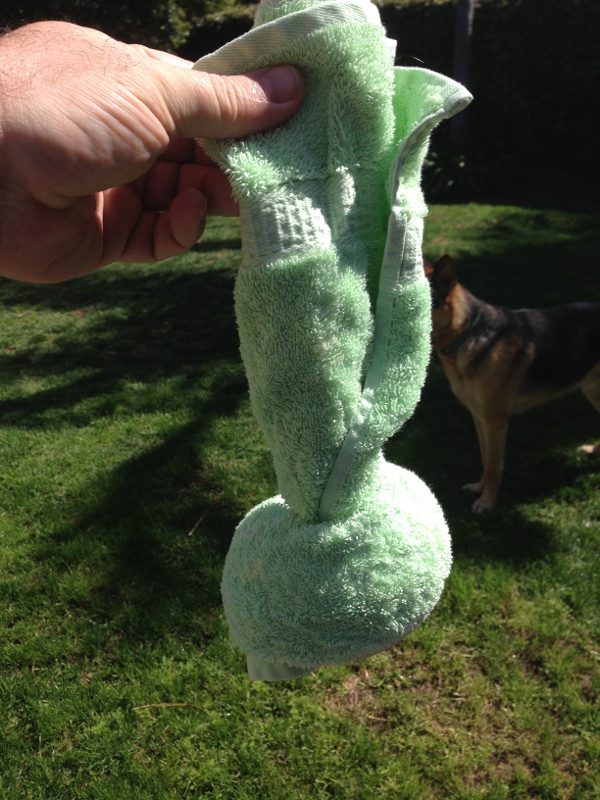 We love this knotted towel toy because it takes just a few seconds to make. All you need to do is tie one end of the towel into a knot, and you are good to go. You can also use this toy to play tug of war with your dog.
Rope balls
The rope knot toy is such a nice treat for your dog; you should consider adding it to your toy collection. When making your rope balls, ensure it's bigger than what your dog can swallow at once – use the size to prevent possible digestive problems.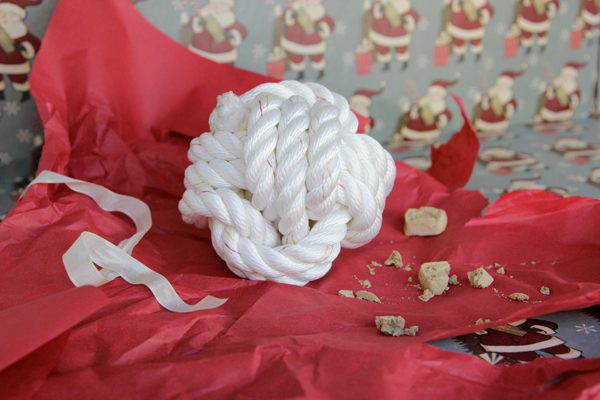 A nice feature about this rope ball is that you can add a little twist to the knot by hiding treats in them. The dog has to decide how to get the yummy treats out before eating, making it a challenge that will excite your dog and keep them occupied.
Bottle Spinner
You will be surprised at how entertained your dog will get with this bottle spinner. This toy stimulates your dog's brain and puts its reasoning ability to the ultimate test. To create a spinner, you need three empty bottles.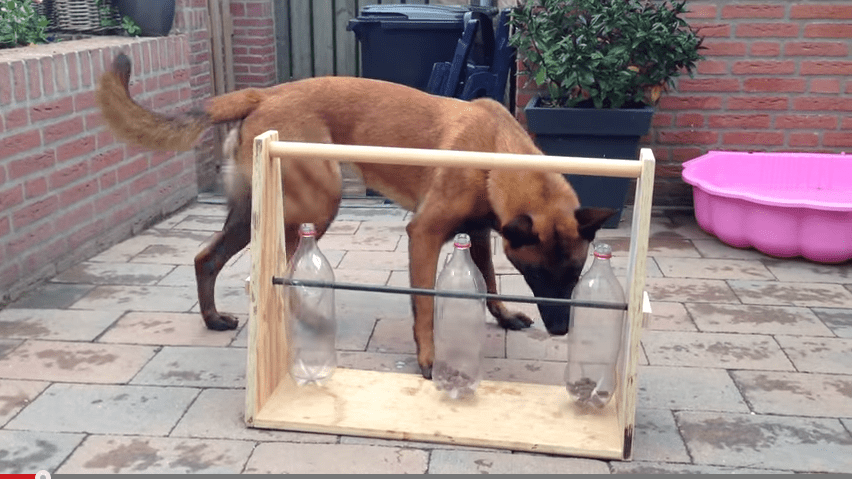 Choose bottles with narrow bottle openings if you want the treats to fall out slowly. The dog has to find a way to dispense its food from the bottle. The spinner will keep your dogs occupied and reward them for cracking the puzzle.