Not Only Used To Close Things: 45 Inventive Ways To Open Creativity With Old Doors
By Iulia P December 7, 2021
---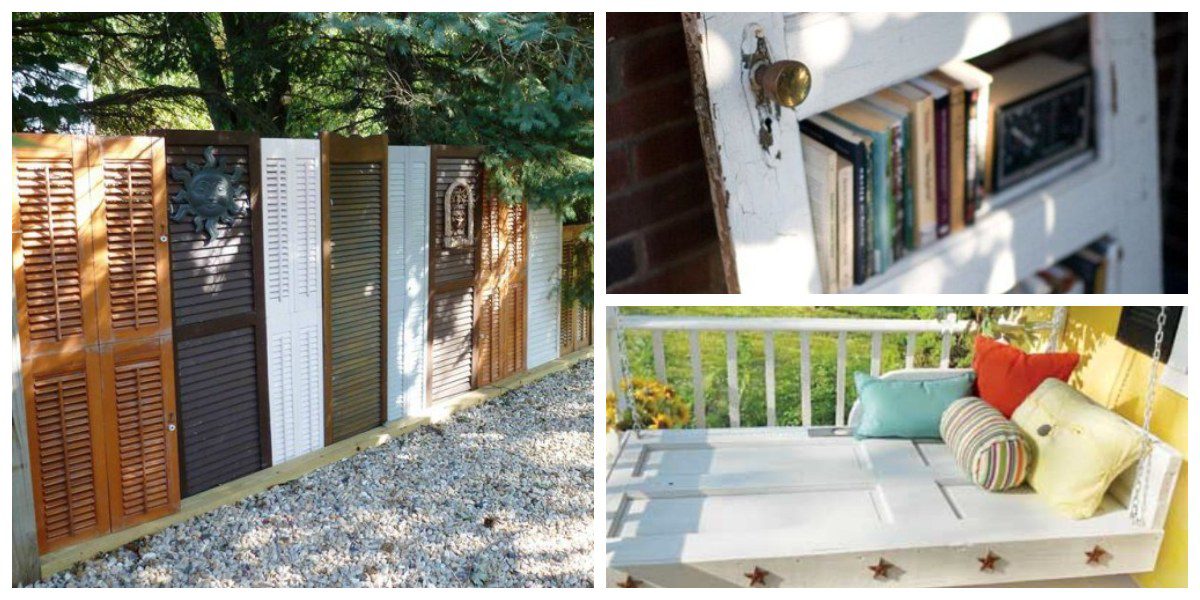 If you recently have changed the doors in your house and you want to throw them away, you might want to reconsider that. It turns out that there are heaps of ways that you can transform those old pieces of wood. From coffee to dining room tables, and from garden decor to even a very unique garden fence, old doors can be a staple element in your home decor. Not only will you do your house a favor by adding upcycled and refurbished wood to its deco, but you will help the environment too. Now that you have changed your mind about tossing your old doors, here are some cool ideas on how to transform them into cool decoration pieces.
A headboard
Your bed's headboard is pretty old, and you've already looked online to buy a new one. Why don't you try to upcycle that old door that you've been keeping for ages in the back of your garage? You might be surprised by the result.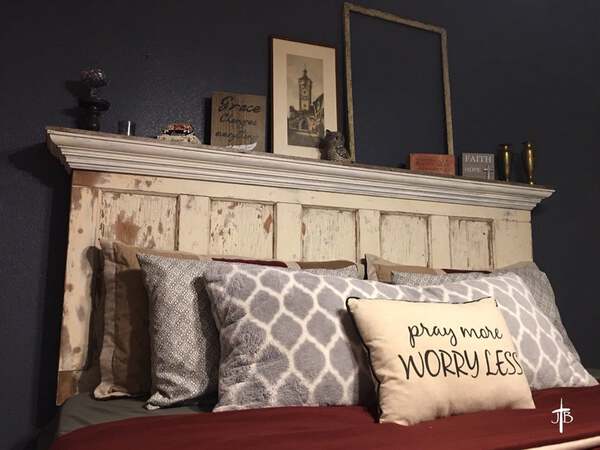 All you need is an electrical saw, some paint in your desired color, and a little time for your DIY project. Chalk paint will give your headboard a vintage vibe. But if that is not what you're looking for, then ordinary paint will work just as well.
A swing
Another door that needs to be replaced? Here is another excellent idea on how to reuse it: a swing. You, your family, and even your guests will thank you for this because summer nights on the porch will never be boring.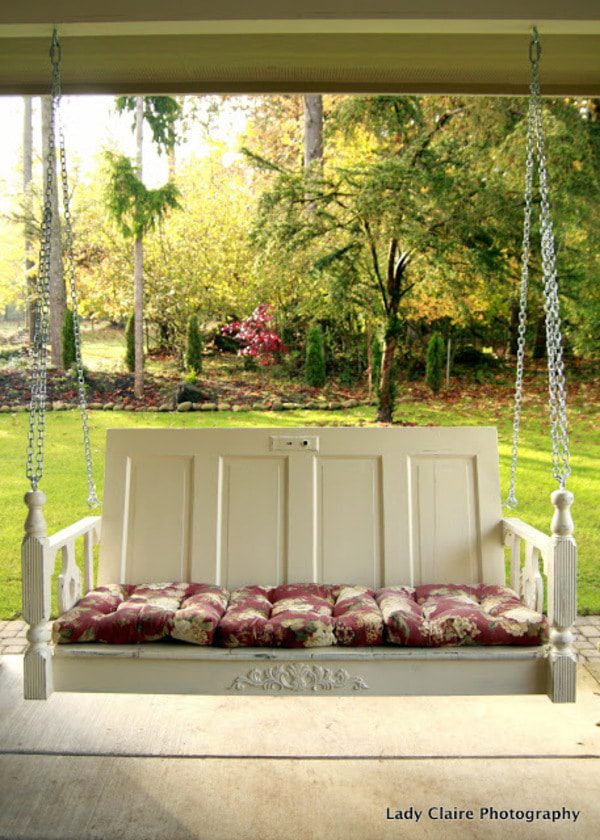 In order to do this project, you will need an old door for the back, hooks, a chain strong enough to support at least two people, and for the bottom, you can use either another door or, like in the picture, an old door chair.
A paravan
The Chinese paravan was an item back in the '70s, and it turns out that they made a significant comeback. Sure, it returned in a new, fabulous form, with a touch of modernity that combines both vintage and industrial styles.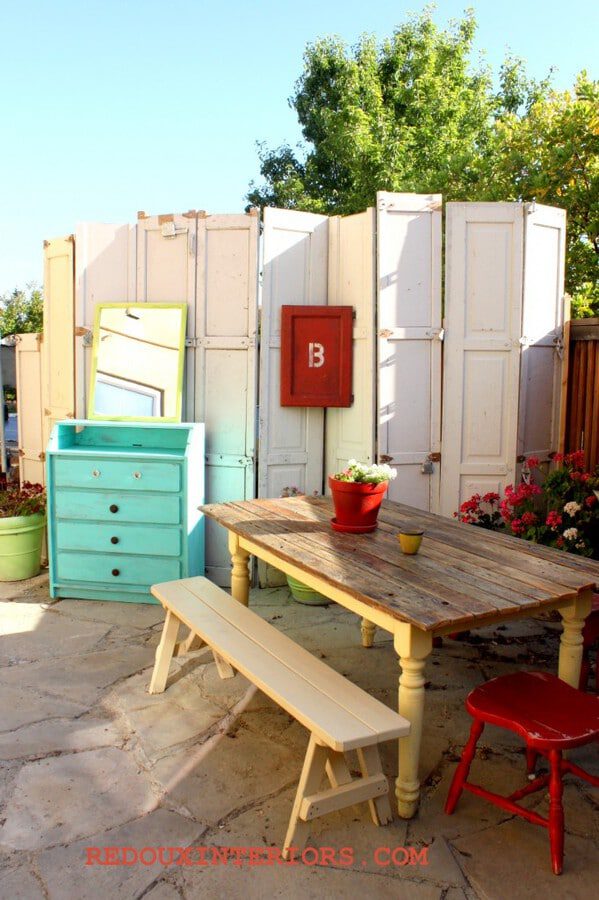 In order to turn a door into a paravan, you will need at least three doors, hinges, an electrical saw, and a good ol' box of handy tools. For a fresher look, you might want to get a can of paint too.
Beverage station
A fantastic idea will make any outside garden kitchen more practical and cute: a beverage station. The main element in this "do it yourself" project is definitely the white door you see below. Of course, it doesn't have to be white.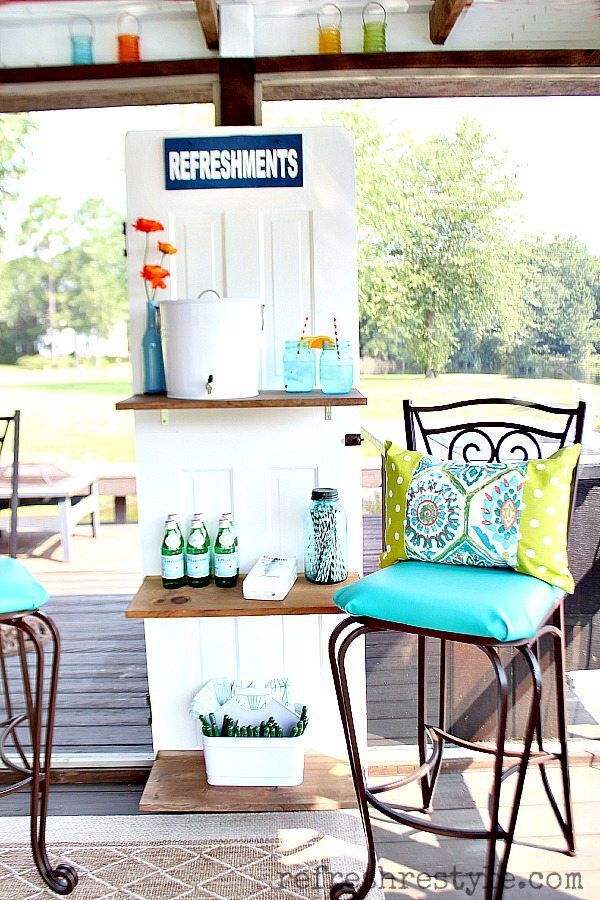 For this cool task, you will need a door, shelf anchors, a few pieces of wood for shelves, and some paint in the desired color. The whole project will take you up to an hour if you have the needed tools. How cool is that?
Herb planter
For a more boho garden, you might want to transform your old screen door into a herb planter. Practical and very trendy, your flowers or herbs will love it there, especially if you place the door where there is ample sun.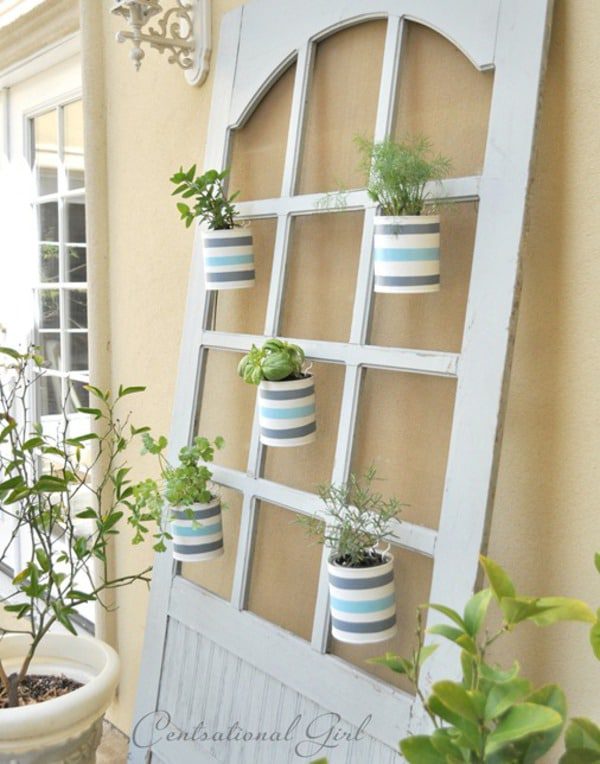 To make this, you will need to take an old door, remove the glass (and reuse it for another project!), and hang the herbs pots on it. To protect your wooden door from the water, you might add a layer of hemp seed oil or transparent varnish.
Autumn decoration
If your wedding takes place in autumn, here is an excellent idea of how to decorate the entrance of the venue where your wedding will take place: a potholder surrounded by pumpkins and hay with the initials of the couple.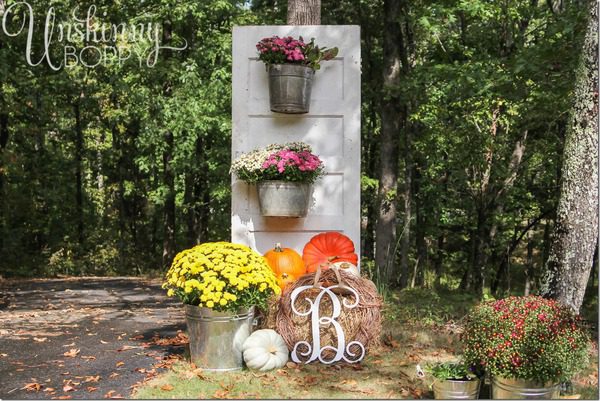 There aren't many elements needed to make this decoration: a door, some plants, buckets to add more plants, some pumpkins, hay, and last but not least, the autumn leaves. Not only will this decoration look good, but it can serve as a photo backdrop too.
A pergola
Pergolas are a great element to place in your garden. Not only will it make your yard look like something out of a fairytale, but it will allow your favorite plants, such as ivy or crossvine, to grow upwards and blossom.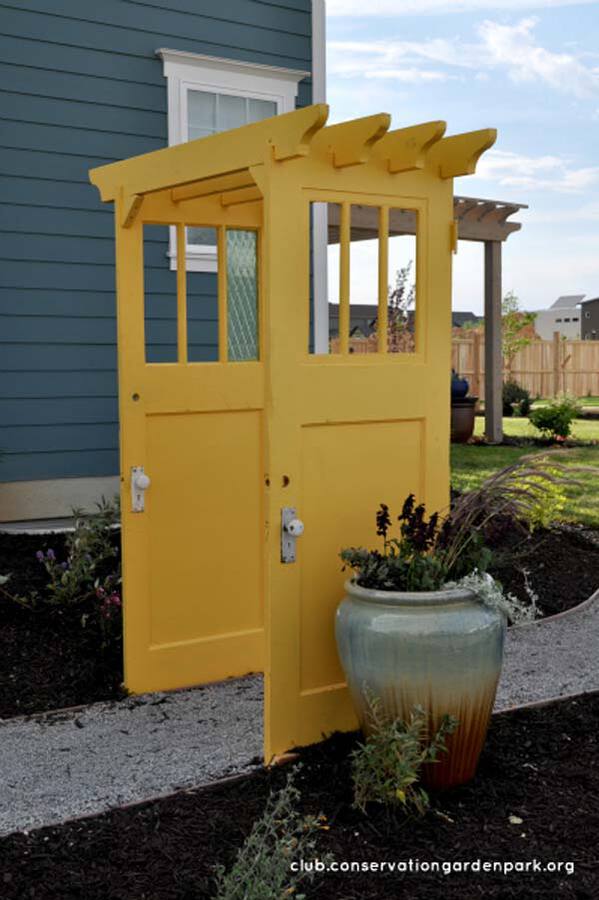 To make a pergola, like the one in the picture above, there aren't many things you will need: two doors, some extra wood for the top, nails and a can of paint. A cheap project that is very easy to make.
Chair and message board
Whoever came up with transforming their old door into a chalkboard was a genius. This one piece of furniture serves so many purposes. The door pictured below was transformed into a chair, a place for hats, scarves, keys, and sunglasses.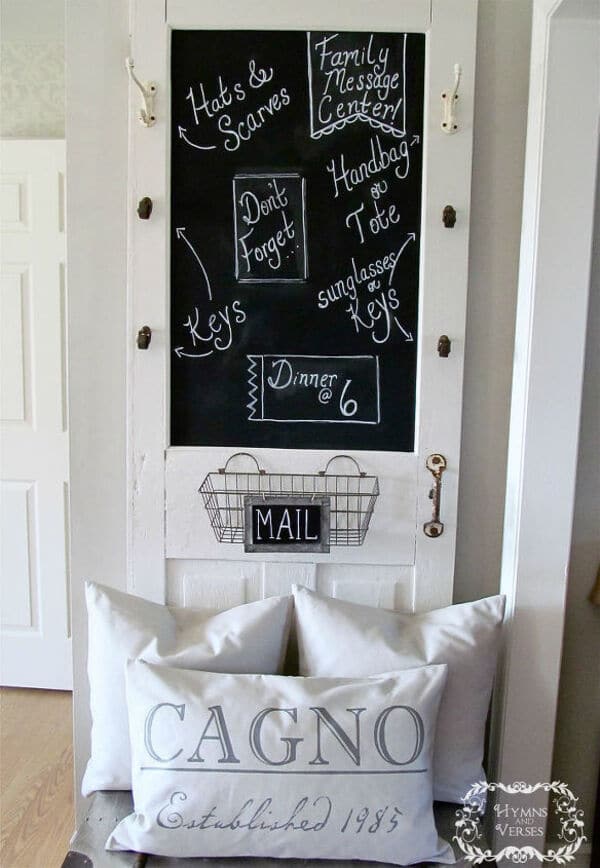 As if it was not already convenient, this thing also has a basket for mail and a place where all the important messages are written for all the family members to see when they come home. This is an awesome furniture piece to have in your entryway.
A garden shelf
How cool is this shelving unit that was made out of a door and its inlays? The inlays were turned down and transformed into shelves. This is an awesome idea n particular because it can be used inside or outside.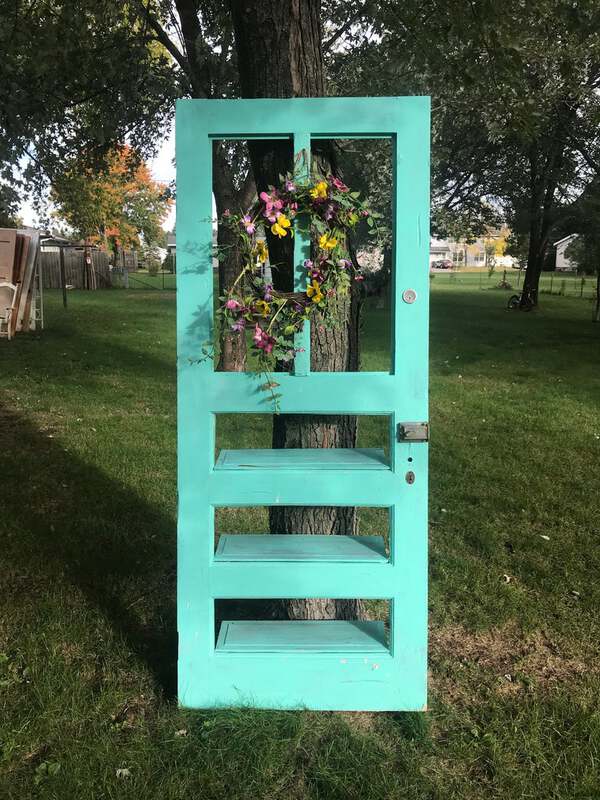 Not many things are needed in order to complete a project like this: some shelve supports and a can of paint, in case you want to change the color. Another cheap, fast, and easy project to make in your free time.
Hanging plant stand
If you have an old dresser or armoire that you'd like to get rid of, we advise you to keep the doors because you can get some incredible decoration pieces out of that. Like the piece pictured below: a hanging plant stand.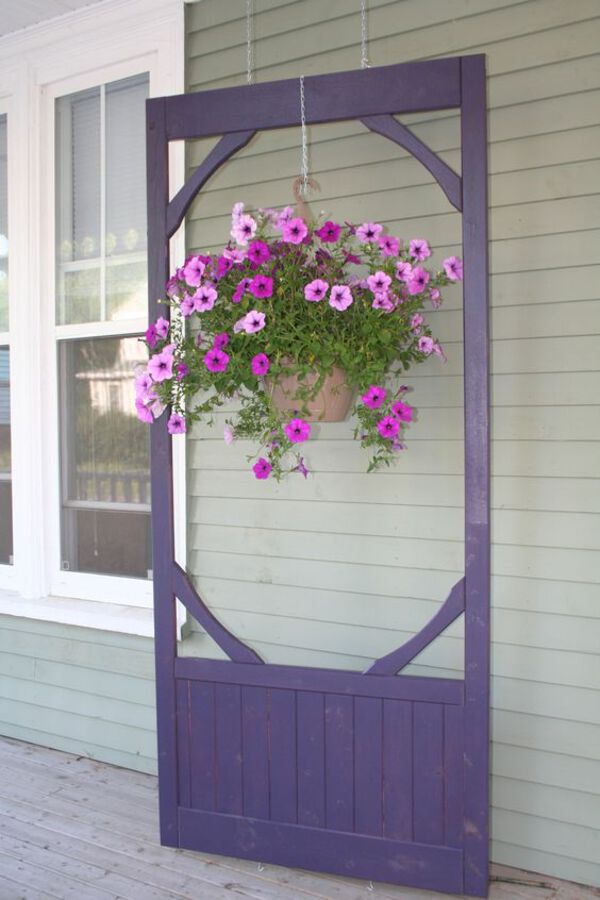 For a project like this, all you need is some good, strong chains, hooks, and some paint if you want to change the color of your piece. And voila! You now have a cool plant hanger that will most likely get your neighbors to ask you where you got it from.
A floating bed
Has your teenager been asking for a floating bed lately? If yes, this one is for you. Go to the garage, get your toolbox and that old door you have been keeping for so long because it's time to transform it.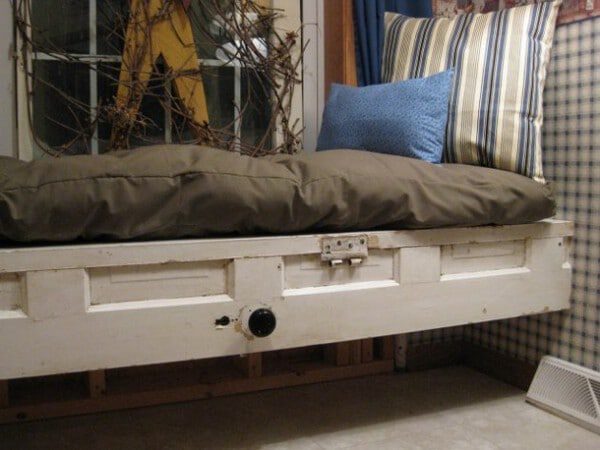 This project will need some nails, glue, and, if you desire, some paint to make the new window bed look good as new. And last but not least some patience and some free time. Your teenager will be happy with the result.
The pot holder
Here is another idea on transforming your door into a planter. If your door happens to be as small as the one pictured below, worry less because there are more ways to use it as a decoration piece than there are for a big one.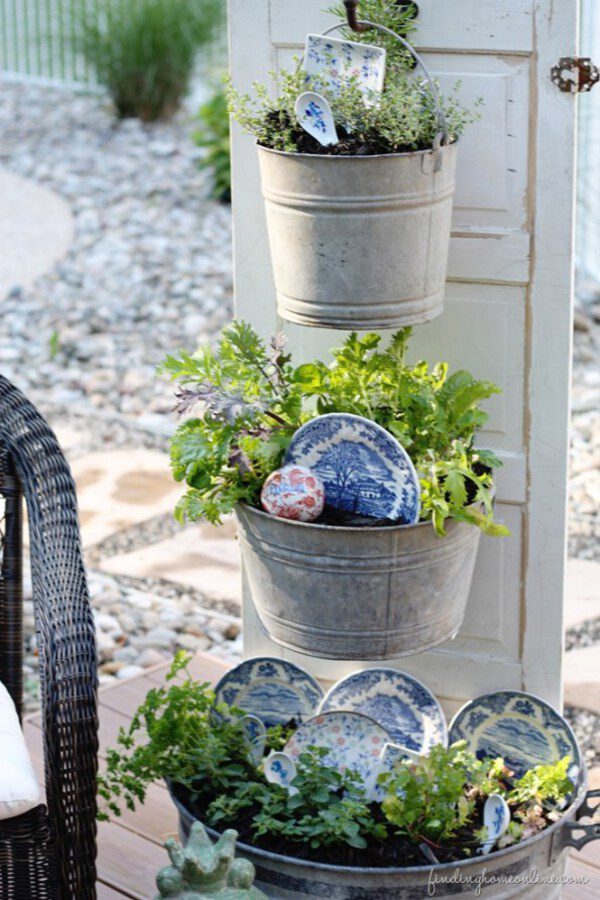 As you can see, to recreate this design, you will need a big pot, a small cabinet door, and hooks on which you can hang the pots. You can put this on your porch, your kitchen, and even in your living room.
Accent wall
Your hallway has an empty wall, and you do not know what to do to make it look better. What about transforming it into an accent wall? This only requires some imagination and a complementary paint color. Well, maybe a few other tools too.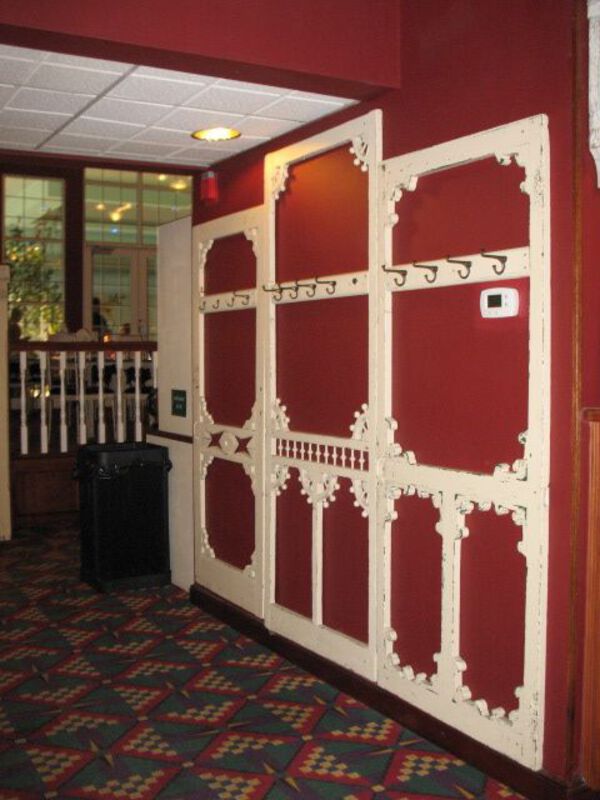 Once you pick the wall color, you can then decide what shade to choose for the door. You can remove the inlays or create intricate designs. Mount that bad boy and your accent wall (and a place to hang your jackets as well) is ready.
Ivy stand
Some do not like ivy, but some do. If you are a fan, you probably know that that plant needs different levels to grow upwards. What better object than an old door to transform to help your green baby thrive?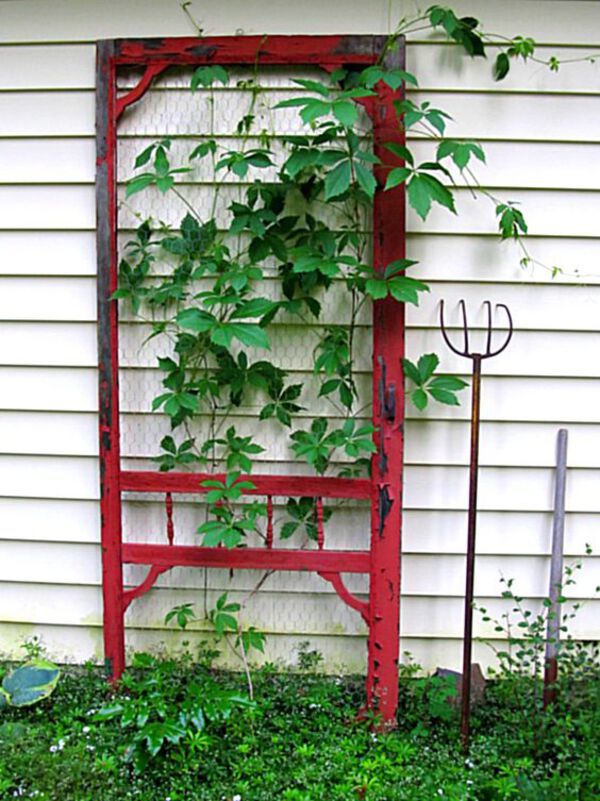 A project like this needs mesh, nails, and no more than half an hour. In the picture above, the person who made this put some chicken wire on top of the door frame. As you can see, the ivy could not be happier with its home.
A coat hanger
When the industrial and vintage styles collide, this is what you get: a coat hanger supported by iron poles. Usually, when you mix two aesthetics, the result is not that "wow," but we have to admit that this one looks fabulous.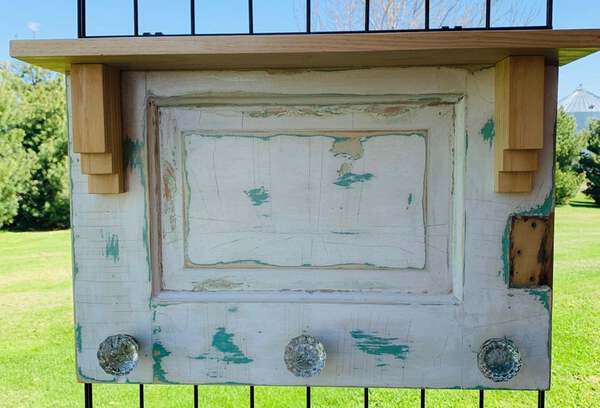 To make this, grab an old door, decorative doorknobs, extra wood for the shelf, and some iron. You will also need glue and nails, as with most of these projects. It's awesome how you can have a very stylish coat hanger for under $20.
A mini bookcase
We showed you earlier how you can repurpose a door into a shelving unit, and here is how you can use it. Here is a mini outdoor bookcase for you to enjoy your favorite books while being outside on the porch or in the garden.
The transformed door gives us a cottage/country-style feeling, and it can be placed inside as well. And why not? This would work perfectly in a corner of the room, right next to a lamp and a very comfortable armchair.
A photo frame
There is no such thing as a picture frame that is "too large." Especially when inside, there are pictures of our loved ones. So what do we think about this person who transformed their door into a gigantic frame? The idea is fantastic!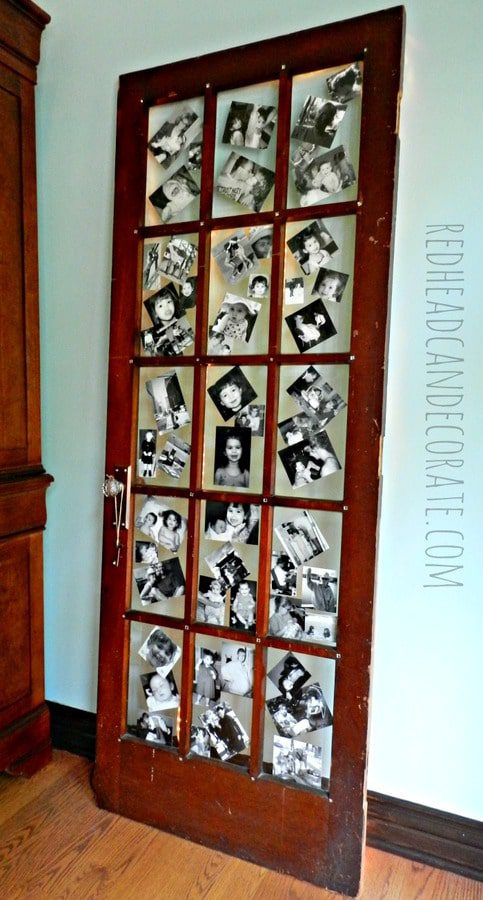 There is little to no DIY-ing (in case you don't want to repaint the door), and if placed in the proper spot, it can be the piece de resistance of the specific room. Have we mentioned that you can hang it horizontally on a wall too?
A garden pergola
Too many old doors but not enough ideas for how to use them? Here's one: a very country garden pergola, big enough to cover a sofa or two chairs and a table. Hot sun or heavy rain, you will be able to sit outside and enjoy your tea and your book.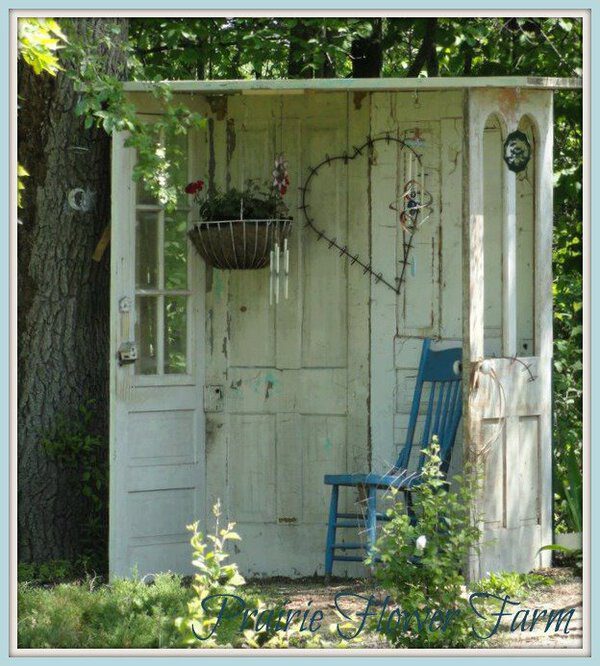 This project is a bit more complex than the other ones. It requires hinges, special glue for wooden surfaces, waterproof wood polish, nails, and, optionally, a can of paint if you want to paint the whole pergola in the same color.
An indoor paravan
You have seen how good it looks to decorate your garden with a paravan made out of old doors. But if you do not have a garden, here is what you can do: make an indoor version that will cover some of the empty wall space behind your dining table.
This is made almost the same way as the first version we showed you, with one difference. The indoor paravan will have to have smaller doors to fit inside the room. Aside from that, go crazy with paint colors and details.
A coffe table
You can turn an old door into so many incredible things. A window bed, a paravan, a planter hanger, and even a bookcase. But what if we told you that you could transform that old door into a coffee table too?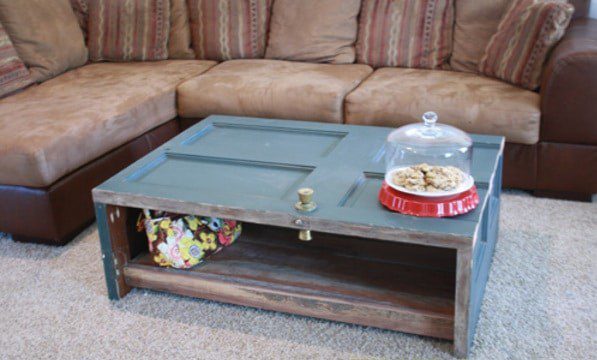 With an electric saw, sandpaper or sanding machine, paint, hooks and nails, and maybe some glue for extra grip, you can create your dream coffee table. If you want to start this project, you will need a few good hours to finish it.
Another coffe table
If the coffee table from above is not your type, here is a more complex DIY project that is surprisingly more simple than the last one that you will probably want to try: a large table (as opposed to a small coffee table).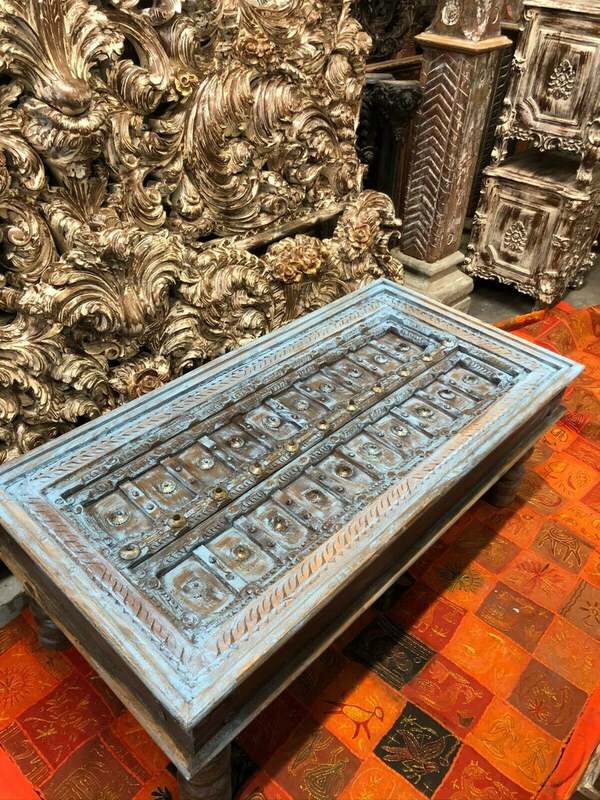 Not many tools and pieces are needed for this project. Four legs for the table and maybe a can of chalk paint and some sandpaper in order to distress it after it is painted. You know, for a more vintage look.
A dining table
Even though we've shown that you can transform an old door into practically anything, we were pretty shocked at how good it looks when you make it into a dining table. There is a creative and talented carpenter in this house.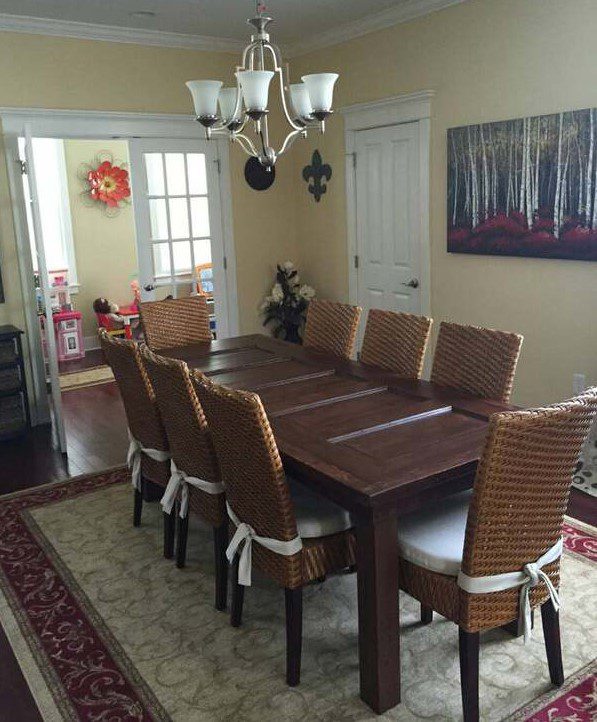 The table came out looking spectacular. The only con about this project is that the uneven surface is not practical, but the good thing is that the table can be covered with a thick sheet of glass to create an even surface.
A corner shelf
Here is a cool idea that will help you cover that empty corner in your hallway, your kitchen, or why not even your bathroom: a corner shelf made out of that old door we keep discussing. What is needed? A saw and glue.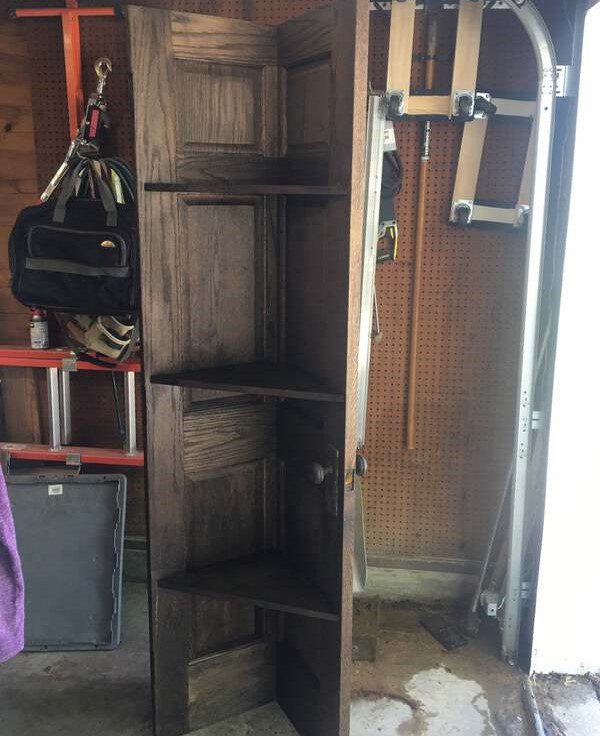 And let's not forget that you will also need some shelves that you will install. Put as many as you want and make sure to nicely decorate it because, trust us, this will become the accent piece of the room.
A fence door
Who said that an old door can't still be used as a door? As long as it is properly repainted and installed, everything is good. That hunk of wood can replace another entrance to the house or even, say, as a gate to your garden.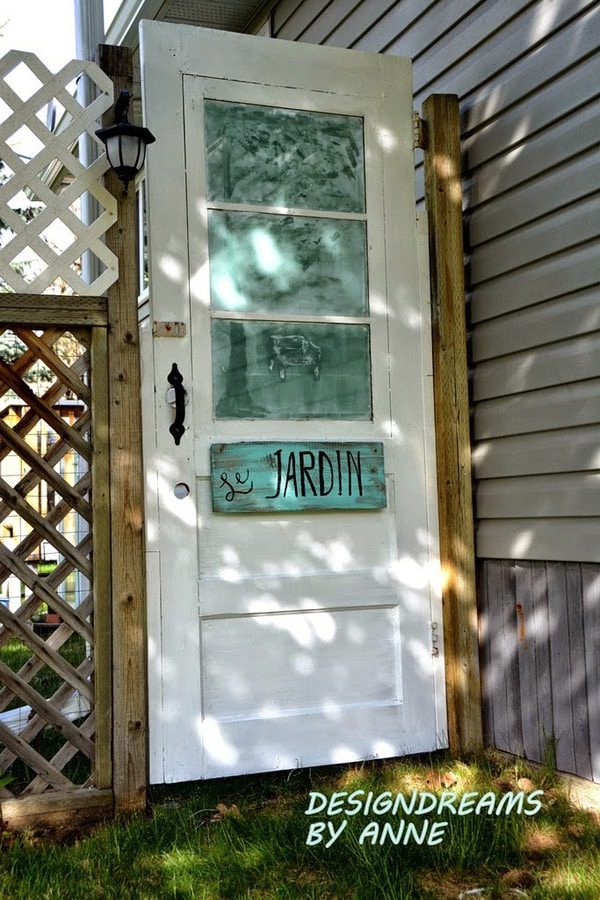 The person who thought of this had a pretty brilliant idea because not only did they reuse and recycle an old item, but they made it work perfectly from every point of view with the fence that they already had.
Headboard no. 2
If the vintage headboard was not your thing, here is another way you can transform your bed: wrap some thick cotton cloth around your upcycled door and add brass button details. The result will be nothing but a delight to look at.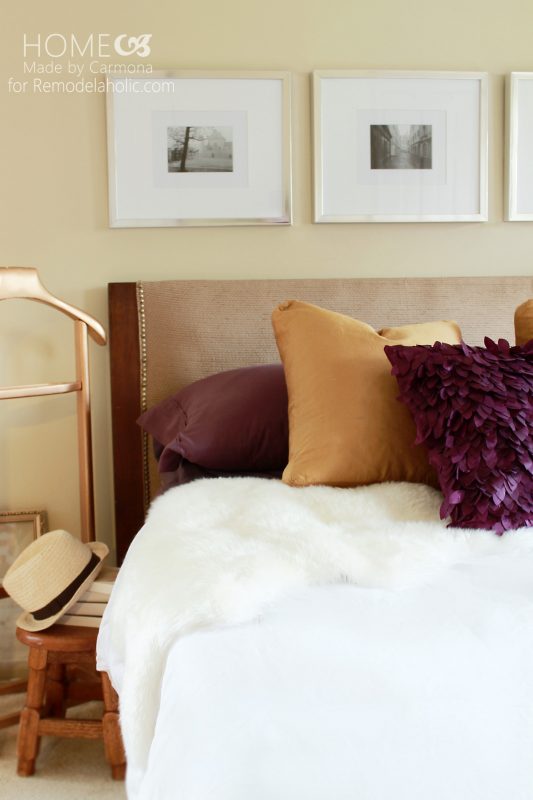 Depending on what fabric you will use, you can create different styles. From industrial to cottage and even country, no matter the aesthetic, this technique will definitely save you a lot of time and a lot of money as well.
And another one
If the horizontal door as a headboard does not work for you, you can also try putting the door (or doors) vertically, like in the picture below. You can leave them the way they are or cut them in half.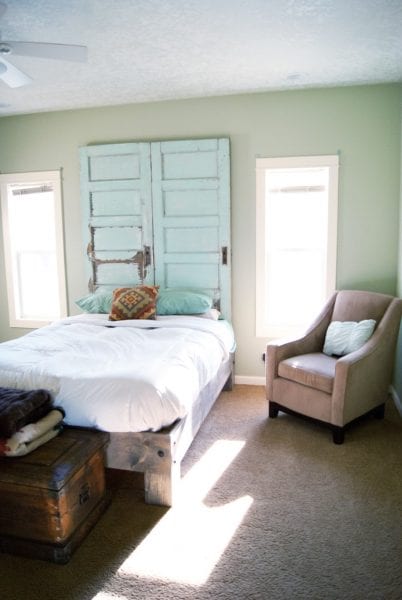 No matter what you choose, the result will be amazing. You will need the old doors, a sander, an electric saw, and some chalk paint for a project like this. We recommend using two average-sized doors since they likely fit the bed.
A bunk bed
Who knew that you could build a bunk bed out of a couple of old doors? We did not, but we are impressed. This is the type of DIY project that one needs to do because the result is awesome.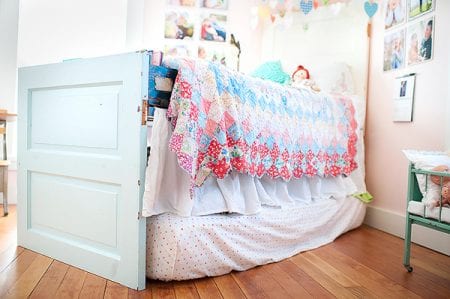 And not only is it awesome, but the price paid for all the things needed to build this bed does not compare to the cost of a new bunk bed or even a second-hand one. If you need a sign to start this project, well, this is it!
A modern headboard
If you are looking to create a modern vibe in your bedroom, you might want to get some inspiration from the photo below. This one is made out of old, refurbished kitchen cabinet doors. The creativity behind this is really impressive.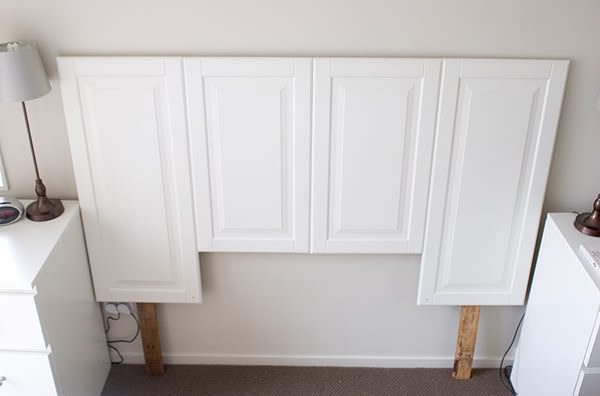 And it is fair to say that this will probably become a trend. At the end of the day, not many would think to reuse the doors of the old kitchen cabinets, and most of them end up in the trash.
A couch
With an old door, an upcycled chair, a set of cushions, and some throw pillows, you can create one excellent living room sofa. Yes, you heard that right, a very fashionable and cozy couch for under $30. We did not believe it either!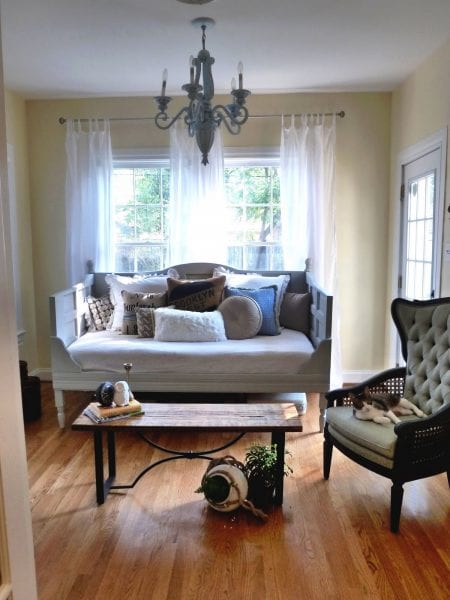 But looking at the picture above, we were beyond impressed. The person behind this idea saw something in that old chair and door that we wouldn't have. What a good way to transform old furniture and objects into new pieces. We love it!
A wall bed
Wall beds are terrific furniture pieces, especially if you don't really have much space in your home. And if you wonder how you can use your old doors for this project, we are here to show you what we found.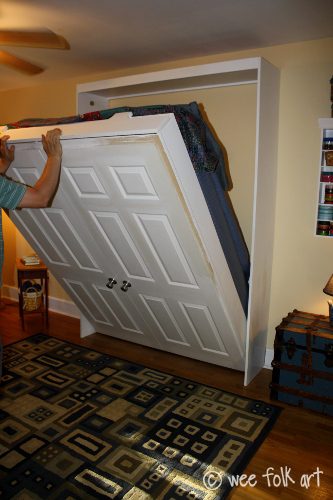 If your doors are tall enough, then you can nail them to the bottom of your bed. This way, every time you will make your bed and put it up, your old doors will be on display, giving the illusion of more rooms.
Wedding decorations
If you dream of a wedding venue that is close to the wheat fields, vineyards, hills, and forests, here is a decoration piece you can use to create both a photo corner and a beautiful entryway for guests to be awed by.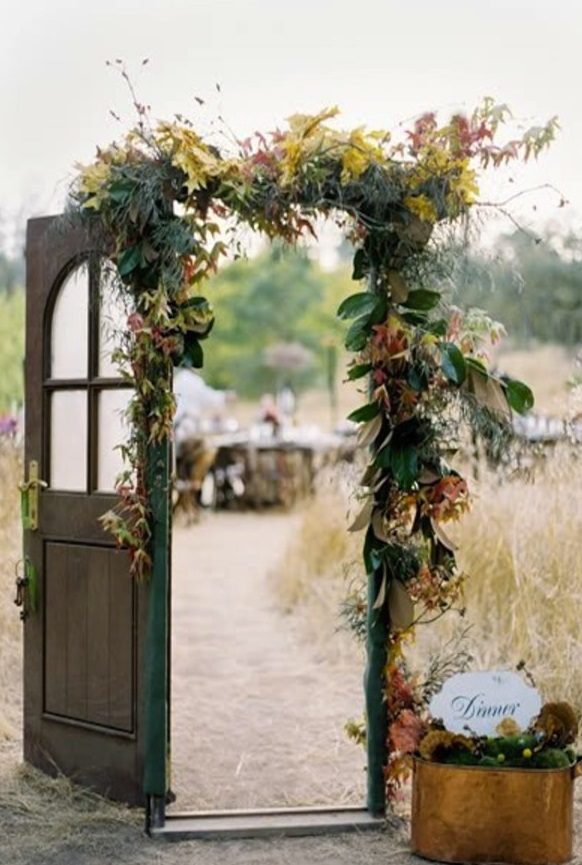 If you are not really into crafting yourself, you might want to hire someone. But if you're going to make it yourself, spend some time doing some research on Pinterest or YouTube, or both. No matter what, the effect is guaranteed.
More wedding fun
And since we are now talking about wedding decorations, we have another pretty cool idea: a big photo frame hanging at the entrance of the wedding venue. An awesome idea that will replace the big, cliche wedding banners.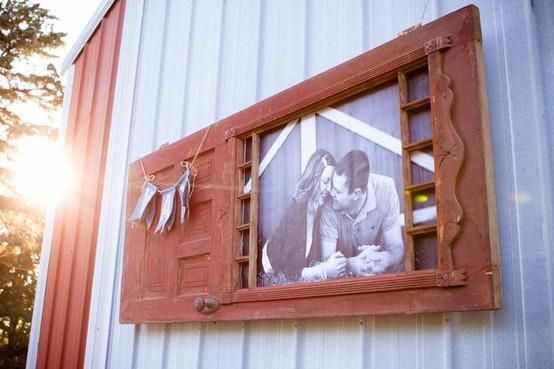 What would you need for this? Well, not that many things: a huge photo, some paint, and good, strong nails to hang it up. This DIY project does not require too much of your time, nor too much money from your wedding budget.
A throne
Oh, well, if you want an accent item that will bring an eccentric touch to your garden, then look no more because we definitely have it: a. A very posh-looking throne that will make whoever sits in it feel like royalty.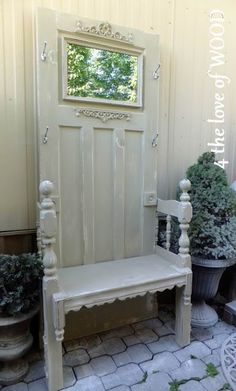 Little will anyone know that this throne is made out of a door and a very old chair, both of them refurbished and repainted. This is a cool idea on what to do with your door and chair and we feel like the costs of this project were not high at all.
Christmassy furniture
There are people who love Christmas and go all the way to make their house look like it belongs to Santa. They would spend a lot on decorations and even more on special furniture. We admire these people a lot.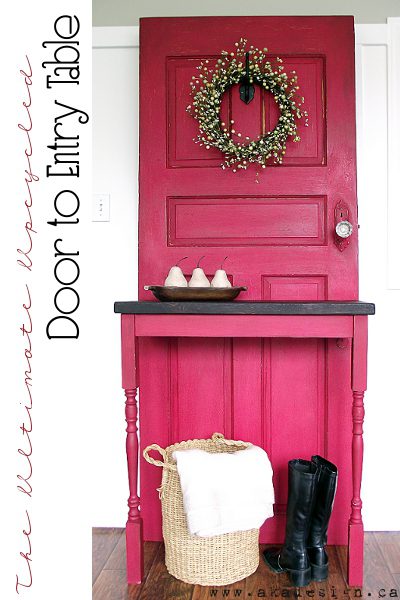 If you are like this too, but your pocket does not support you, bestie, do we have a solution! Doors, red paint, and a bit of creativity, and there you have your Christmas furniture that will have your house feel like a wonderland.
A tray
A tray made out of a door? That is definitely a crazy idea but someone out there made it look so good that we are thinking about doing this project. The end result looks so good you'd think that it was brought from a shop.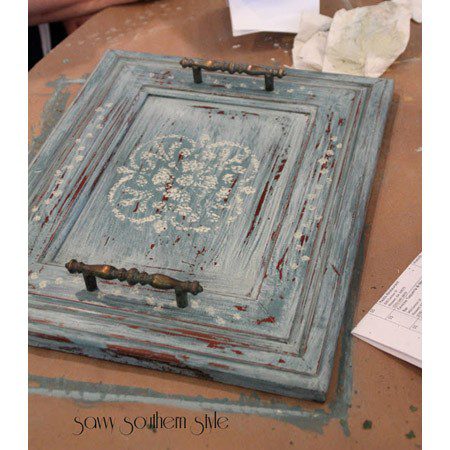 And it was inexpensive too. This is the piece that will make your coffee time look very posh. For a project like this, you need paint, sandpaper and two handles. Quick, easy, cheap and very posh – the type of DIY we all like the most.
A wall
You can build a wall made out entirely by doors? Well, you can make one that looks like that. We are so here for this awesome idea and we are curious who the brilliant mind behind this architectural/ interior design is.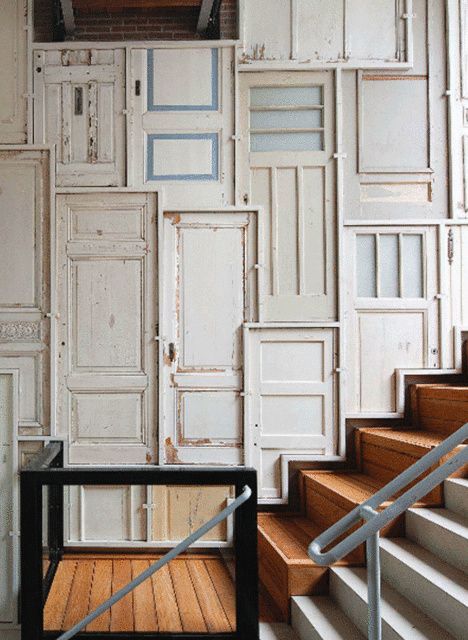 It is fair to say that this wall looks like an accent wall that catches the eye. This is an awesome idea to do for your staircase. We love the artsy vibe this gives off, and the fact that they are arranged so abstractly.
A corner decoration piece
Here is another idea of what to do in order to cover that empty corner of your room. Take some paint, a thin brush, and a couple of hours from your precious time. You will have to let your imagination and creativity flow.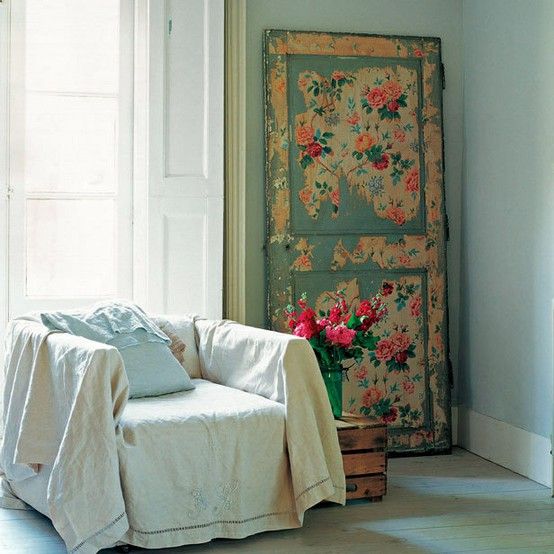 This person decided to paint flowers on the old door. It's lovely, but don't feel limited by their ideas! All you need is a bit of time and a lot of patience to make your vision – whatever it is – come alive.
Another swing
If the swing we showed you earlier was not really your type, here is another one that might suit your tastes. This one does not require as many materials or that much time. All in all this can be considered an easy project.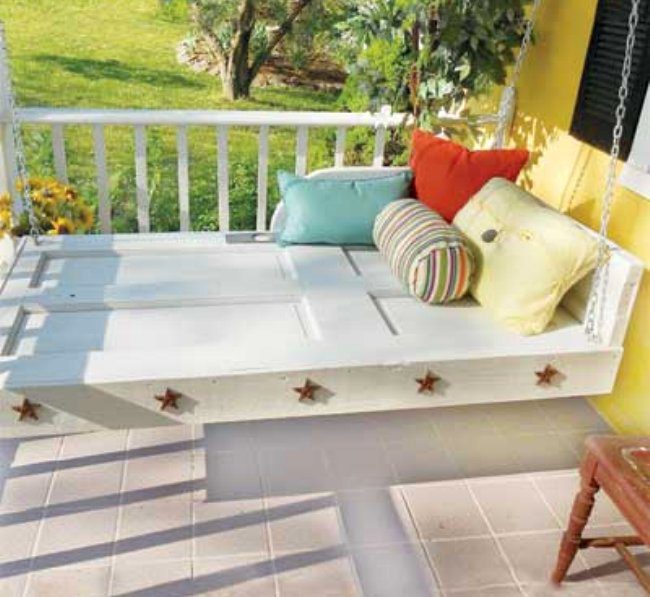 And also cheap because everything you will need is some good hooks, a chain, and a door. Voila! Now you have your corner on the porch where you can enjoy your morning coffee and your "me" time when you feel like it.
A fence
The fact that the owner of this house decided to recycle doors and not to spend money on a new fence is really cool to us. The result looks fab, and with a simple idea, they manage to do good for the environment.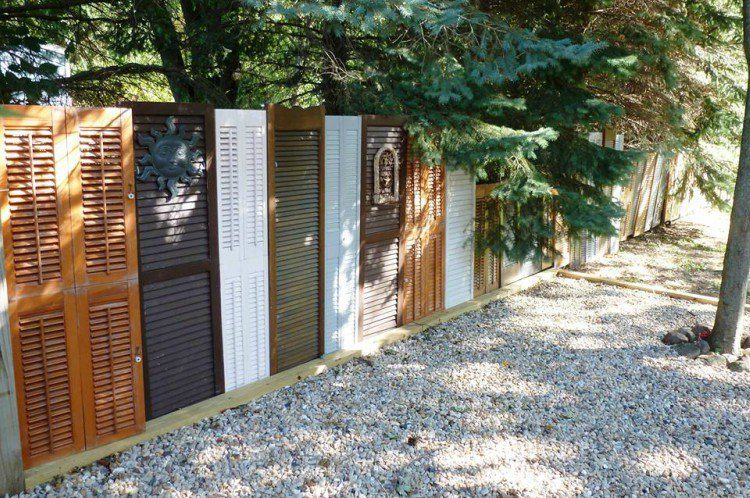 No more trees cut in order to make a fence. So we applaud this person for doing what is best for himself and the earth. Aside from being a good citizen, he really nailed this fence (haha). It's certainly one-of-a-kind.
Sliding doors
There is this trend that has been around for a few years now: using sliding doors instead of doors on hinges. It fits in with the minimalist style, and it was made in order to save some space within the room.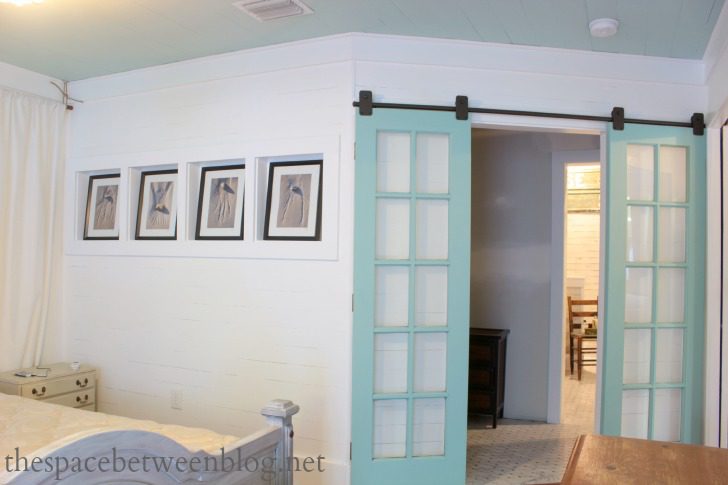 The regular doors take some space when they open or close compared to a sliding door that is more practical. The project is more complex and for a better result you might want to get the help of a carpenter.
Another coffee table
Here is another cool idea for your coffee table. Or why not, if you have a couple of doors in your garage, a big dinner table. Compared to the other tables this one will require extra attention and more time.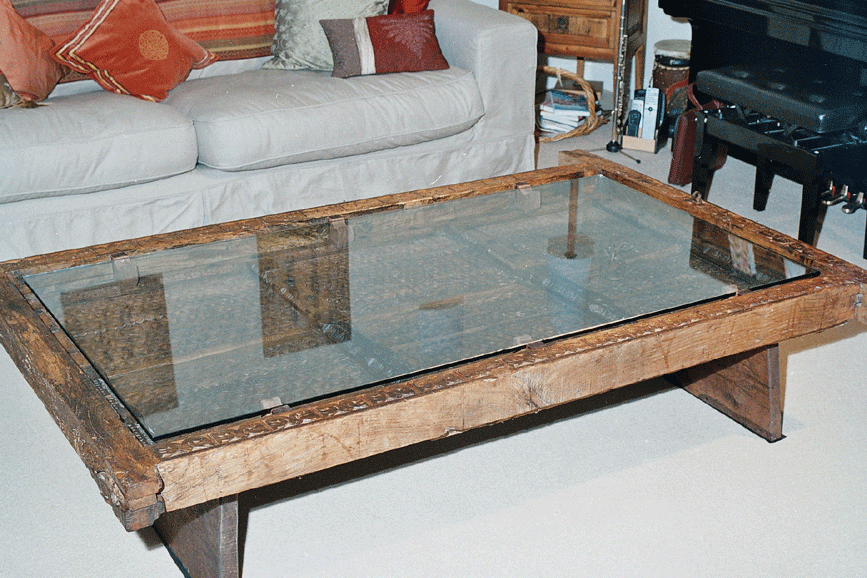 And it is needless to say it will cost you more. But we all know that quality costs more and that is okay because an object that is high quality will last longer. A project like this is thought to take up to seven hours.
A bedroom shelf
There is too much space that needs to be covered in your room and you don't know what to do. Here is a cool idea to help you upcycle that old door and fill that empty corner next to your bed.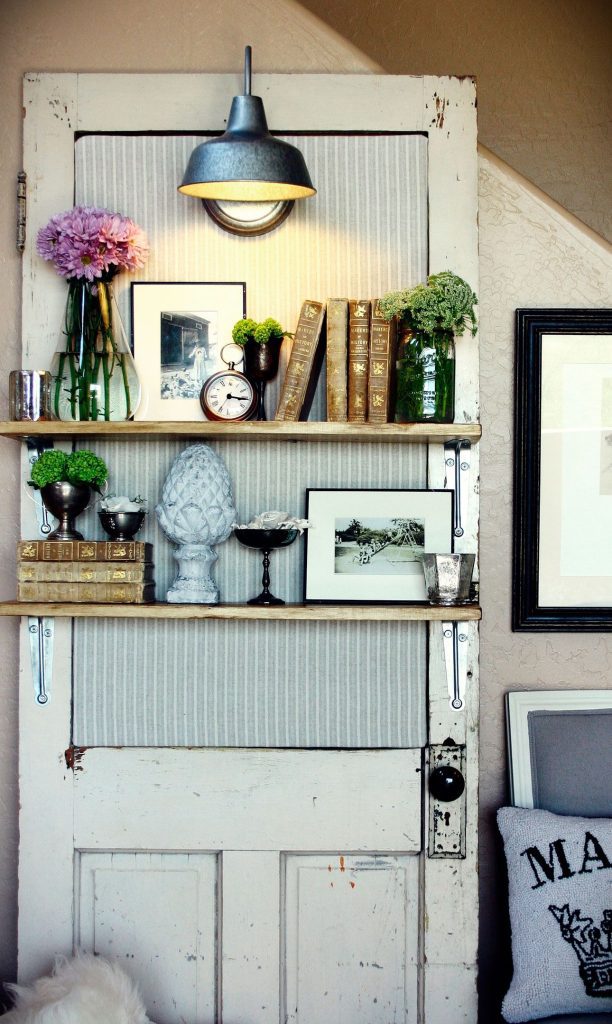 Shelves, shelf supports, and maybe some thick fabric to cover the places where the inlays were ae all you need. Windows would do too; why not?! And there you go, a nice set of funky, unique shelves that fit anyone's aesthetic.
A bench
Here is what we should do with the old doors that people tend to throw away: create benches to put on the streets and in our parks. Not only they look pretty cool, but this way we will reduce waste.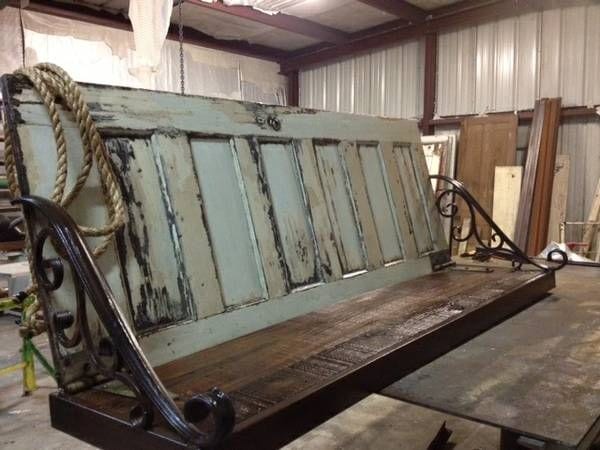 And guess what? Not only can you make a bench, but with a good chain or a very thick rope, this can become a swing too. This has the wow factor. The amount of ways you can upcycle everything from old doors to tires is wild.
Another wedding decoration piece
And we are back to wedding decoration ideas and it is fair to say that this one pictured below is as pretty as it is simple. A refurbished door with knobs all over it to hang framed photos of the love birds.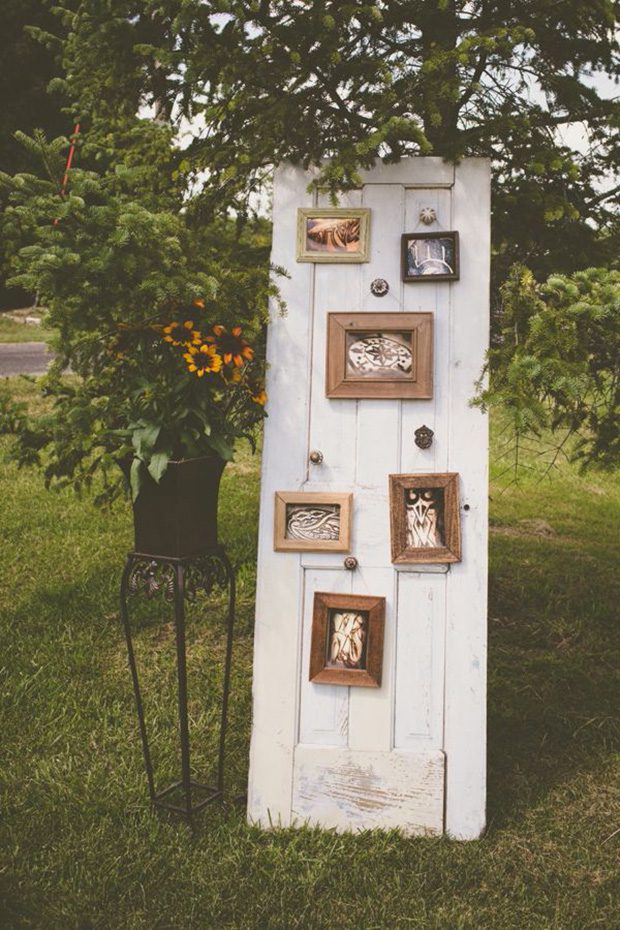 This decoration looks very country/boho, and we can see it at the entrance of a venue adorned with hay and lavender flowers. A piece like this can also go inside and be placed next to the photo booth! We also think it could fit in the new marital home.
A mirrow frame
Another way to use an old door it is to put a mirror inside the frame. Even if this is a pretty obvious way to use the door, somehow we did not think about it, but now we are determined to make this ourselves.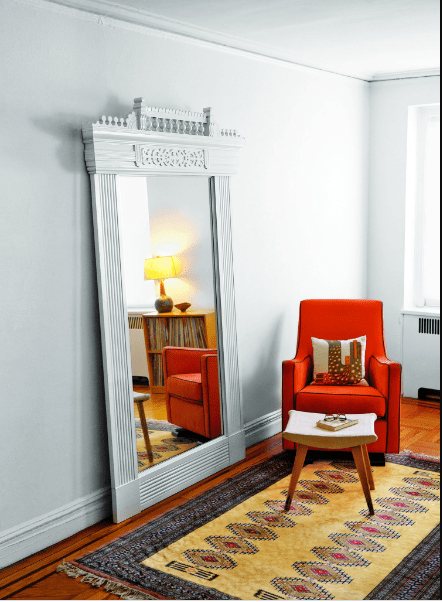 A huge mirror framed by an upcycled door that has some pretty cool molding around it, painted white and placed next to some colorful furniture pieces… the way the colors compliment each other and this corner is decorated is really beautiful.