40+ Garden Ideas To Elevate Any Yard, No Matter The Size
By Yeshwanth K February 21, 2022
---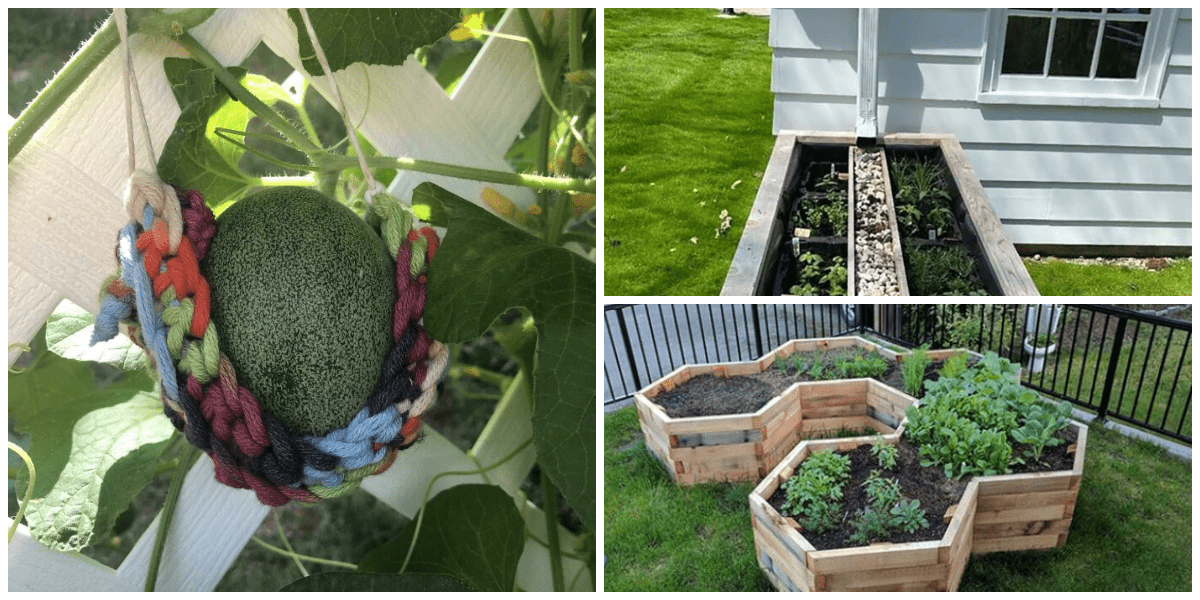 We don't know of anybody who doesn't love to spend leisure time in a beautiful garden. One of the most satisfying feelings is starting a garden with a few small seeds and watching it flourish into a beautiful oasis over time. Those who are blessed with a green thumb know exactly what we are talking about. However, if you need a little bit of help starting the process or need some tips to help take your garden to the next level, we are here to help!
We believe that gardening is therapy, and it is an accessible hobby that is both rewarding and gratifying. Also, you don't need to have a massive garden area to make this dream come true. Actually, we suggest starting small! Keep scrolling to discover gardening hacks and ideas to help you feel inspired to start gardening right away!
Not enough sunlight? No problem!
Most people put their plants in a place that has direct access to sunlight. But sometimes, it's not enough. That is why this Reddit user came up with a very brilliant idea that allows all of her plants to receive enough sunlight.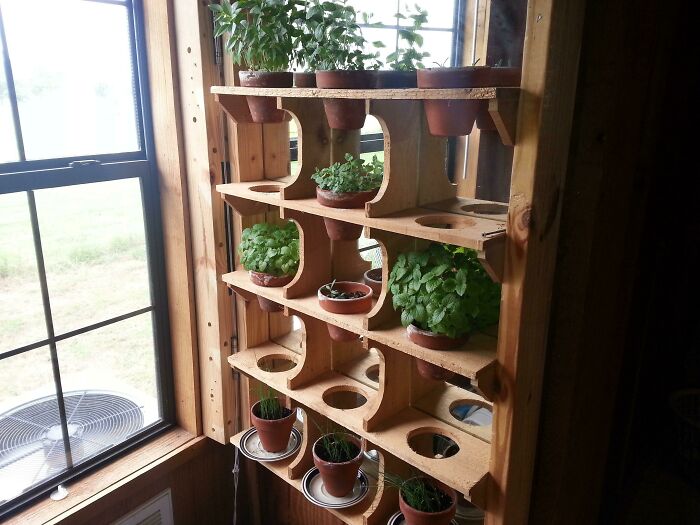 If you look closely, you will observe that she placed her plants on a rack attached to a mirror that has direct access to sunlight. This way, the plants can receive the sunlight that is reflected off the mirror as well!
Wall of plants
You are already aware of our love for gardens, but what can you do when you don't have sufficient space for all your plants? Here is an innovative idea for a vertical garden that allows you to grow all your plants in a concentrated area.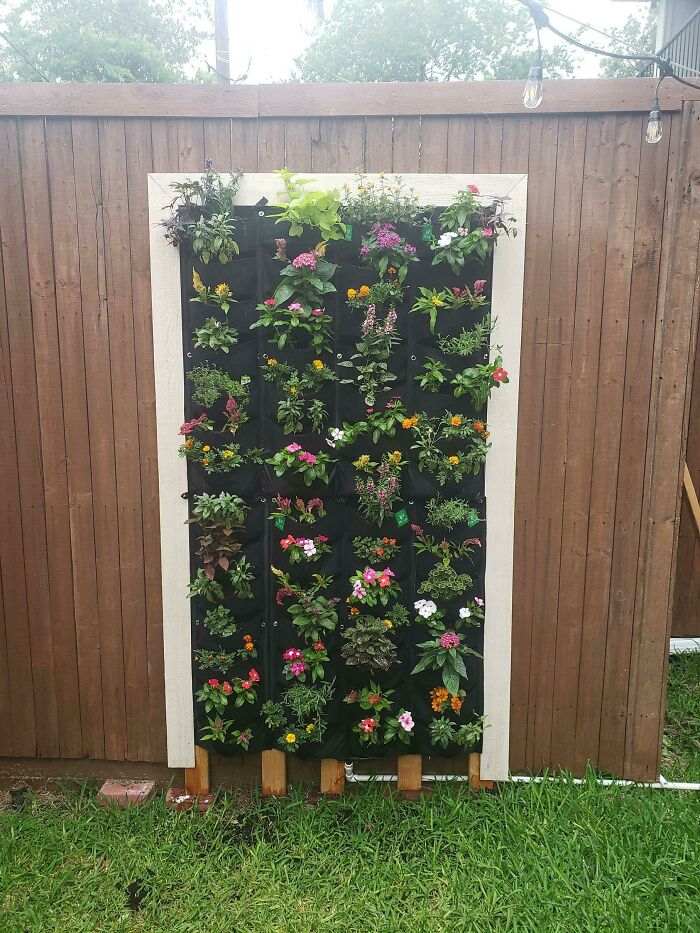 This is not just a good idea for the people who don't have sufficient space, but it's also perfect for the people who want to make their garden stand out. Moreover, caring for this type of garden requires less time and effort compared to a standard one.
Beneficial Gardening
Have you ever tried growing your own fruits and vegetables? Once you start to eat the food you've grown yourself, you will be addicted. The amount of satisfaction that you would get when your plants bear fruits or vegetables can't be described in words.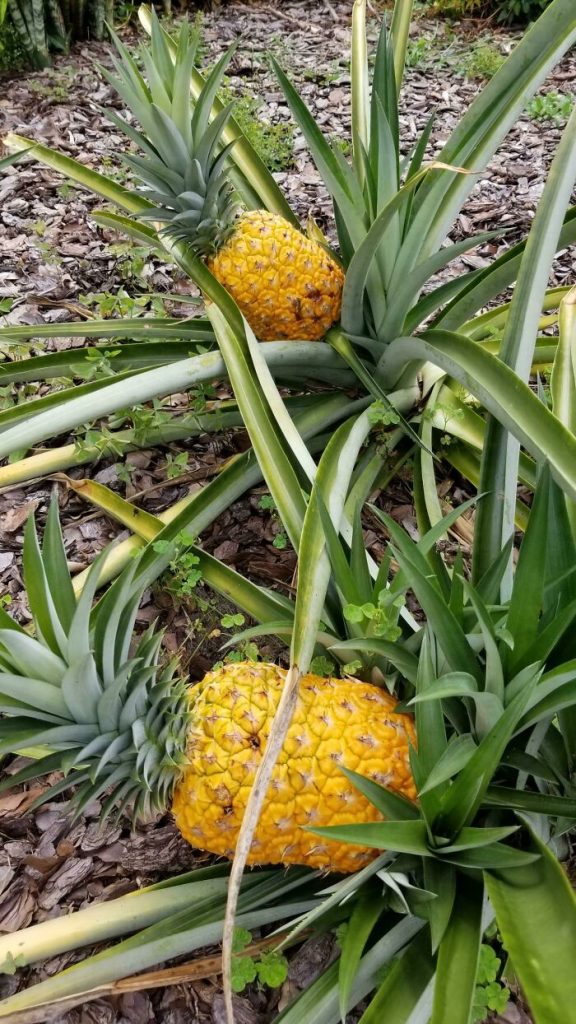 They are entirely different from those available in the grocery store. Therefore, we suggest you think twice before throwing away seeds or plant stems away before knowing whether or not you can utilize them. The person who came up with this idea of planting the usable stems really did think twice.
Advantageous Lawns
When it comes to lawns, we used to love the idea of a vast, clean lawn that we could run around in. However, if you have a lawn like the one in the second picture below, you're able to benefit from all the fruits and vegetables, which we think is more satisfying.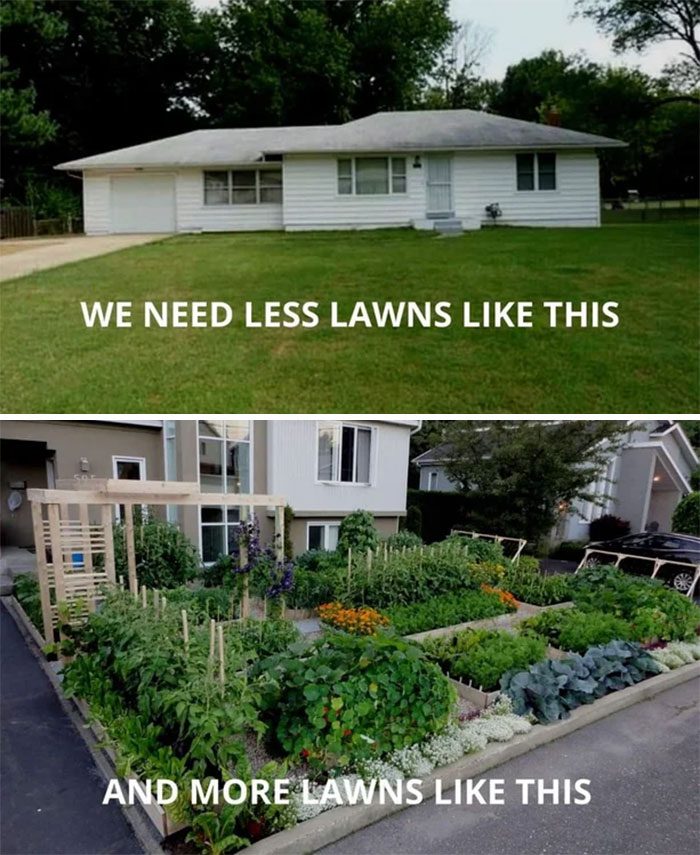 Not only does it provide you with fruits and veggies, but you can also see how beautiful it is to the eye in comparison to the plain lawn. Moreover, whoever owns this lawn utilized each and every inch available in their yard.
Don't let things go to waste
Are your vegetables spoiled? Or perhaps you don't know what to do with the stems of your veggies? You can plant these veggies outside your house, which is eco-friendly, and the ground absorbs all the necessary nutrients, helping it become.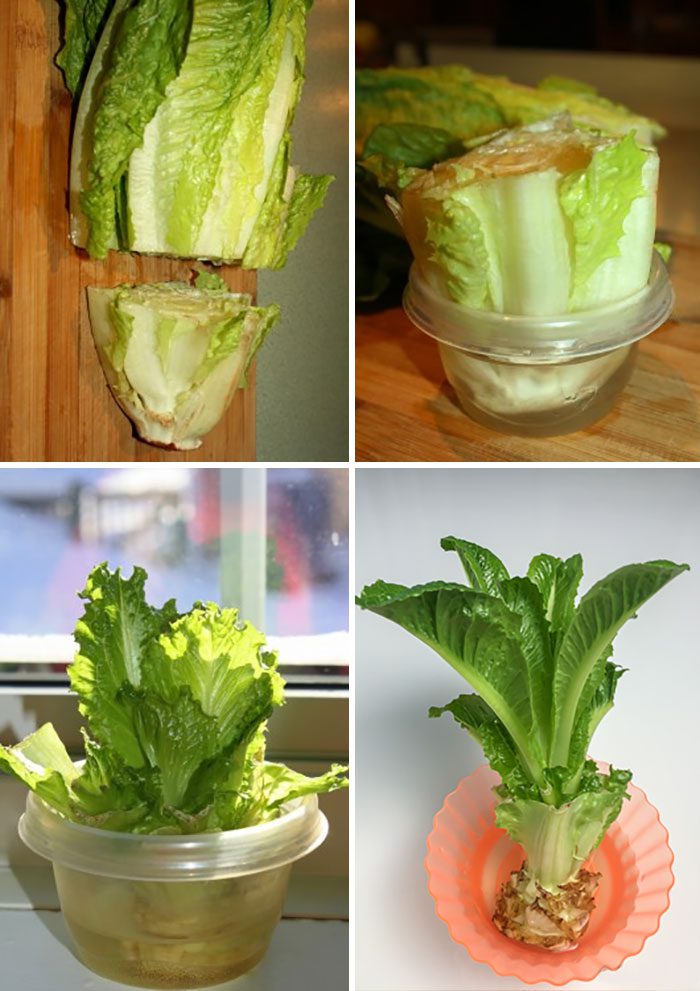 However, lettuce works a bit differently. All you need is the stalk, a small bowl, and some water. Throw the stem into the bowl, add water to it, and keep it in a place with access to sunlight. Voila! You will have new lettuce within a span of two weeks.
Small… yet, beautiful!
Have you not been paying attention to your garden because it is small? Well, it is time to change your habits because you can always make your garden look beautiful regardless of its size. Just check out what this person accomplished!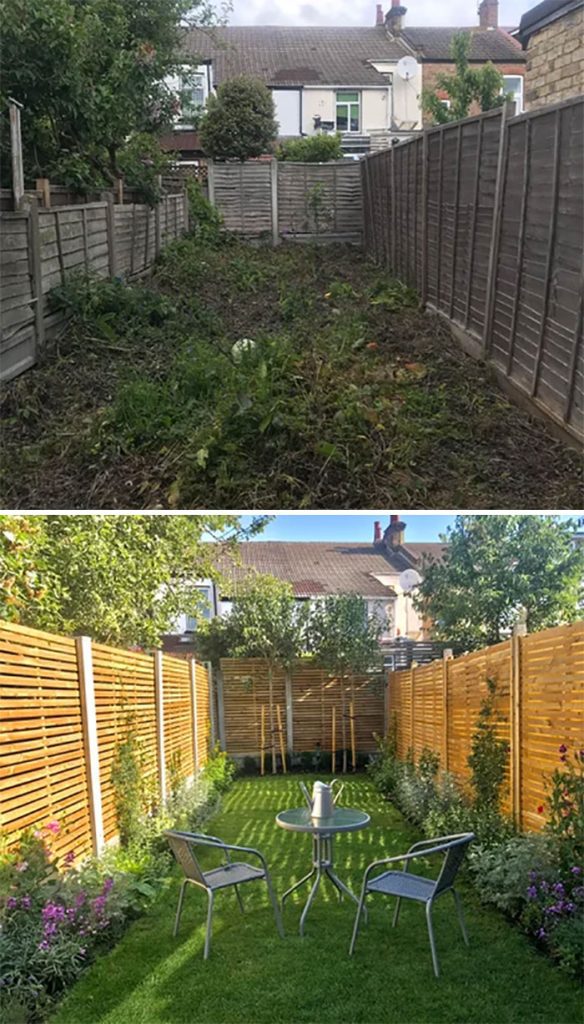 Although the person who came up with this concept worked on it for a while, it was worth all the effort. If you have a yard similar to the one in the first picture, then all you need to do is clean it up, plant some grass and a few plants, tend to it, and give it some time to flourish! Your little backyard will turn into a stunning garden.
Unstoppable
We think growing a garden in a city was quite impressive! It's not an easy feat to start a green oasis in an urban jungle. Even though he lives in an apartment, this guy was able to create the dream garden he always wanted.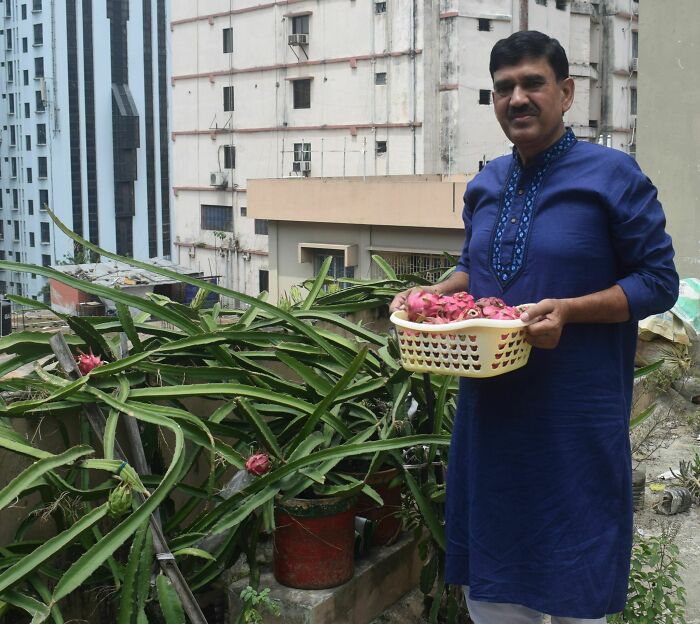 Since he didn't have a backyard or a lawn, he decided to grow fruits, herbs, and veggies on the rooftop. This concept makes it clear to us that nothing can stop you when you want to have a garden. All you need is sun, soil, and water (and, of course, some seeds).
Where there is a will, there is a way
If you are thinking that growing a garden while you are living in a city is still impossible, then you are mistaken. The guy in this picture who is sporting a big smile is Alessandro, who lives in an urban area in London.
Regardless of his circumstances, he went on to create this beautiful green paradise in his small backyard. This guy is a great example to show people that nothing can stop you if you are really into something, especially gardening.
Going on vacation?
If you are planning to go on a vacation, the first thing that might pop up in your mind is how in the world you will take care of your dear house plants. This is not an issue because the tip we've provided below will ease your mind.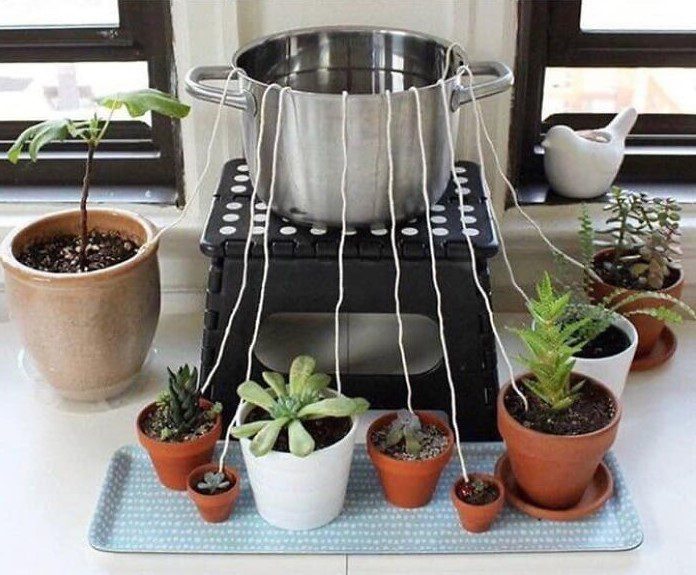 Get your hands on a stool, a large pot, and some string (yarn would be preferable). Add fresh water to the pot and place it on top of the stool. Cut a few pieces of yarn long enough to reach your plants surrounding the pot. The water will absorb into the string, providing a constant, slow-released stream of water to your plants!
Halloween décor
If you love Halloween, then why not add a few festive touches to your garden along with your house? However, you will need some pumpkin plants for that. The picture below will give you an exact idea of what you have to do to make your Halloween more special than usual.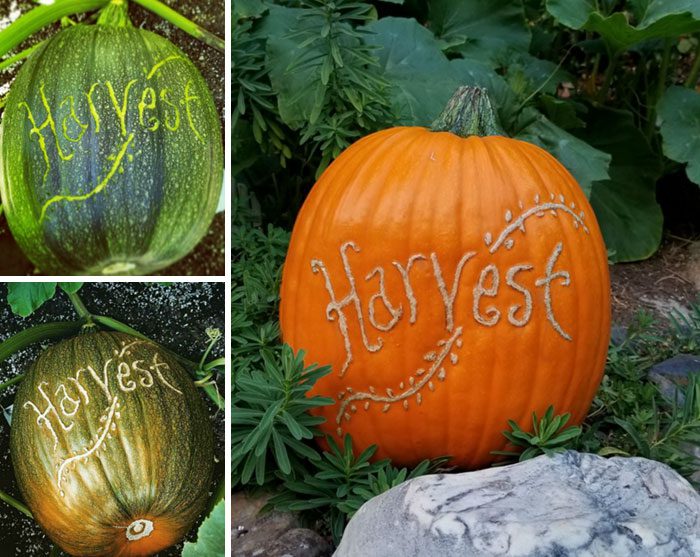 You must start a few weeks before Halloween in order to make this happen, but it is worth the wait. As pumpkins have always been a symbol of Halloween, this unique decoration will be so attractive during that spooky time of the year.
Ecofriendly Teepee
Thanks to modern-day technology, it has been a few years (if not decades) since kids played in teepees. When there were no smartphones and gaming consoles, teepees were considered as a playtime favorite for kids. Now, we are bringing the back in plant form!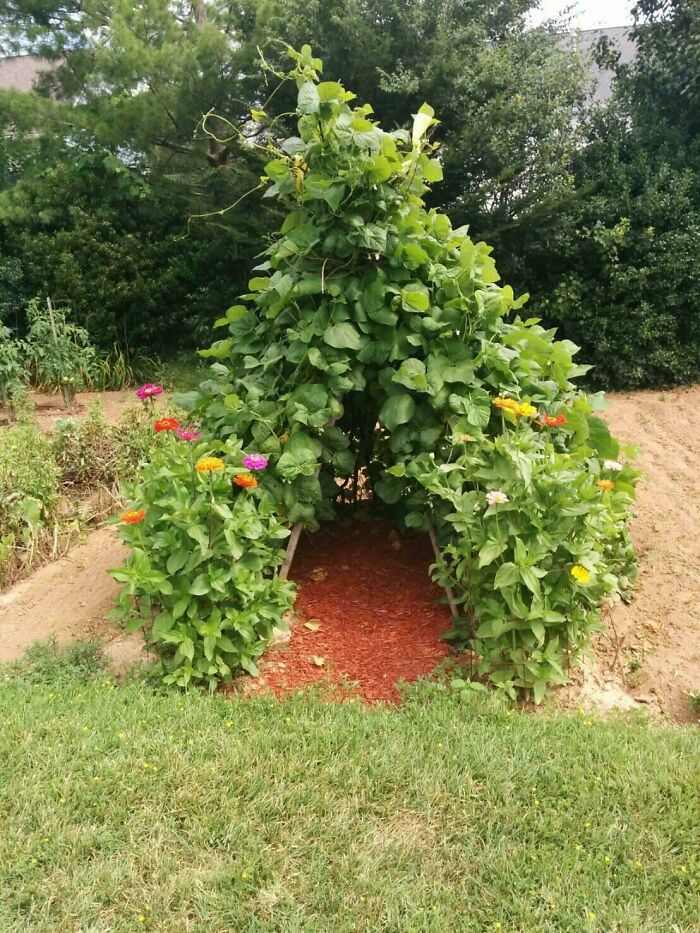 If you are a big fan of teepees and you used to play with them, then you would like this idea. Instead of an indoor teepee, the person made an outdoor teepee made of vines. The base of this teepee acts as a protective base for the flourishing bean plant. They even covered it with some wildflowers.
Green sanctuary
Imagine being surrounded by tall plants that protect you from the sun. This next gardening idea is for those who wish to spend their leisure time outdoors when the sun is blazing hot. If you love sunflowers, you will love this hack.
These tall sunflower plants offer protection from the sun while providing you with a very peaceful sanctuary. Your kids can play or study there, and there is no denying the fact that even adults would love to spend some time here, too.
Consistency pays off
Nothing beats hard work and consistency, and this is ample proof of that. The owner of this garden worked for a few hours every day for four years continuously, and the result is simply astonishing. Additionally, the garden looks like it's straight out of a movie.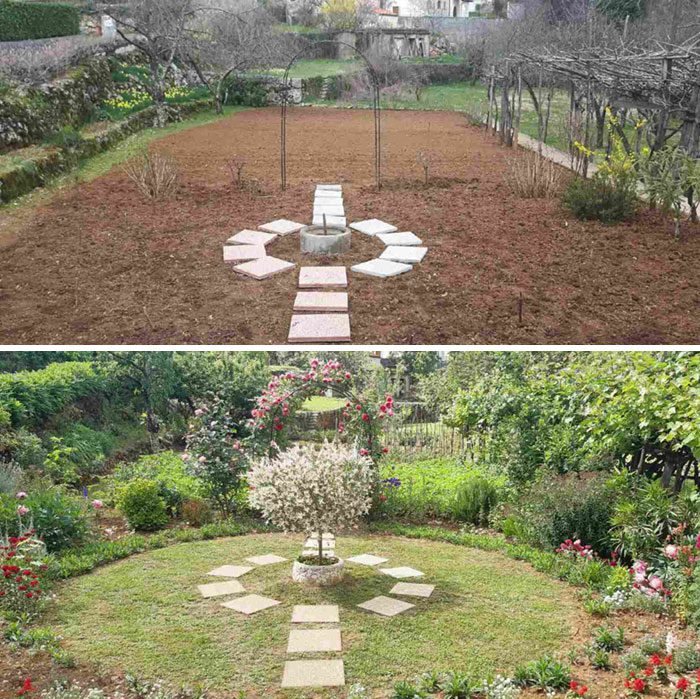 With all the colorful flowers that provide the most refreshing smell, anyone would love to spend some time in this garden. It would be quite peaceful to sit here and relax on a warm sunny day when the flowers are in full bloom.
Flower cascade
Many of us might have come across flower beds that look like flower cascades. Only some people know how to succeed in this project, and there are a few ways to go about doing it. We have an easy way to help you get started!

As you can see in the images, the big flower box should contain holes, and all the plants need to be situated vertically. Like the ones you see above, using flowers like Petunias will allow you to have your own cascade of flowers.
Honeycomb garden
No, we are not talking about bees here. There is nothing too peculiar about this gardening bed as it is just like any other traditional one. Only the design looks cool, and therefore, it deserves a spot on our list of garden design ideas.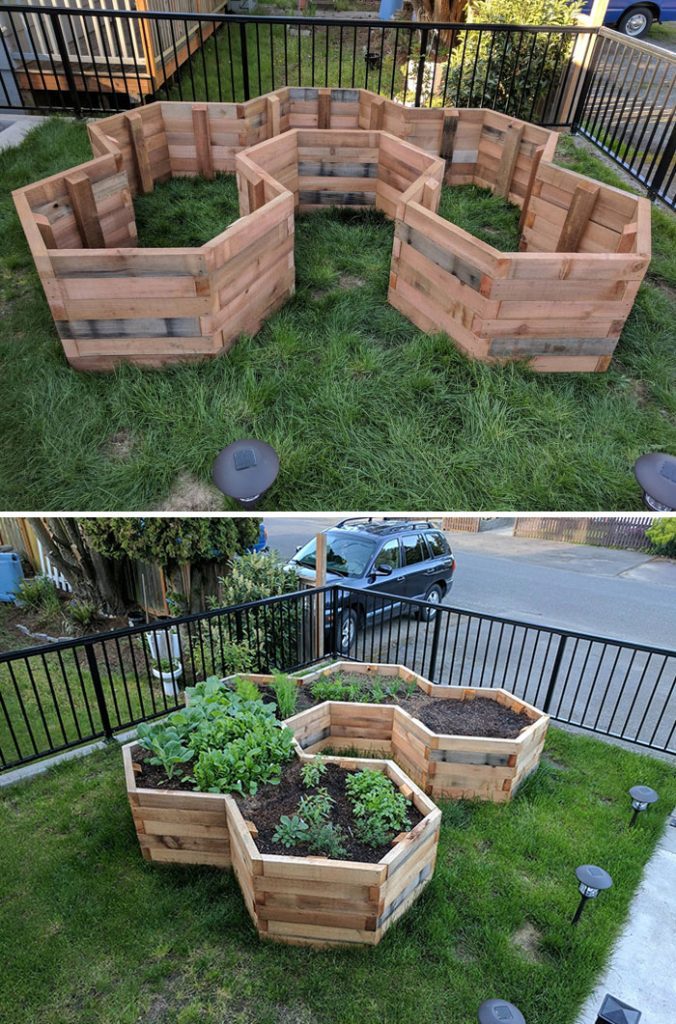 This DIY project is way cheaper than many other design concepts on our list. What's more, is that you can execute this in any shape of your choice and paint it whatever color that will make you happy and motivated to keep going!
Plant Ladder
Do you have a few pieces of spare wood lying around in your garage? Are you trying to figure out what to do with them? Here is a fantastic idea! Turn those useless pieces of wood into something adorable, i.e., your very own plant ladder.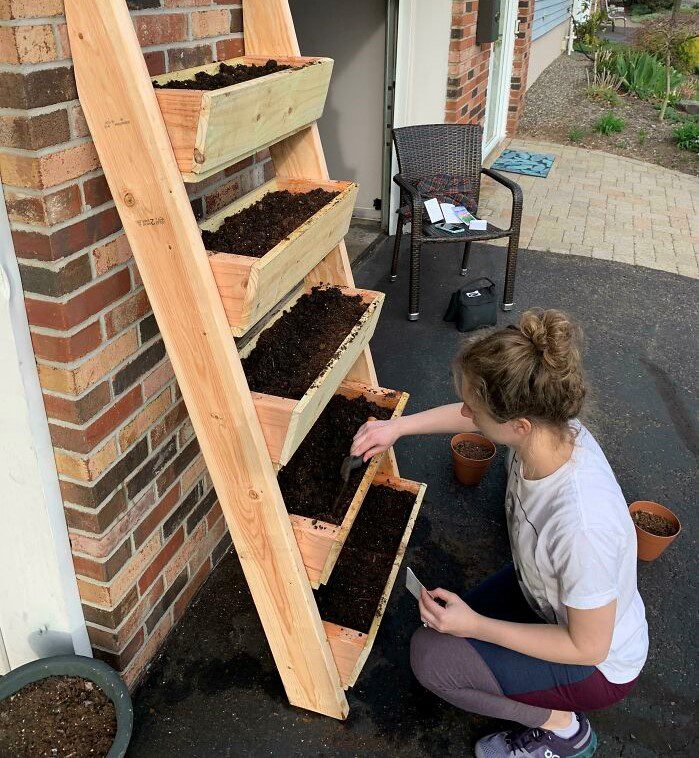 All you need is some wood, a few nails, and soil to get started. This ladder-plant-container is not only meant for your garden or backyard, but you can also keep it in your kitchen or living room too if you want to use it for herbs, for example!
Are those concrete blocks or flowerpots?
Do you have cinder blocks lying around your yard? This person came up with the unique idea of converting them into flowerpots. Instead of just throwing away the concrete blocks that you don't use anymore, try this idea instead.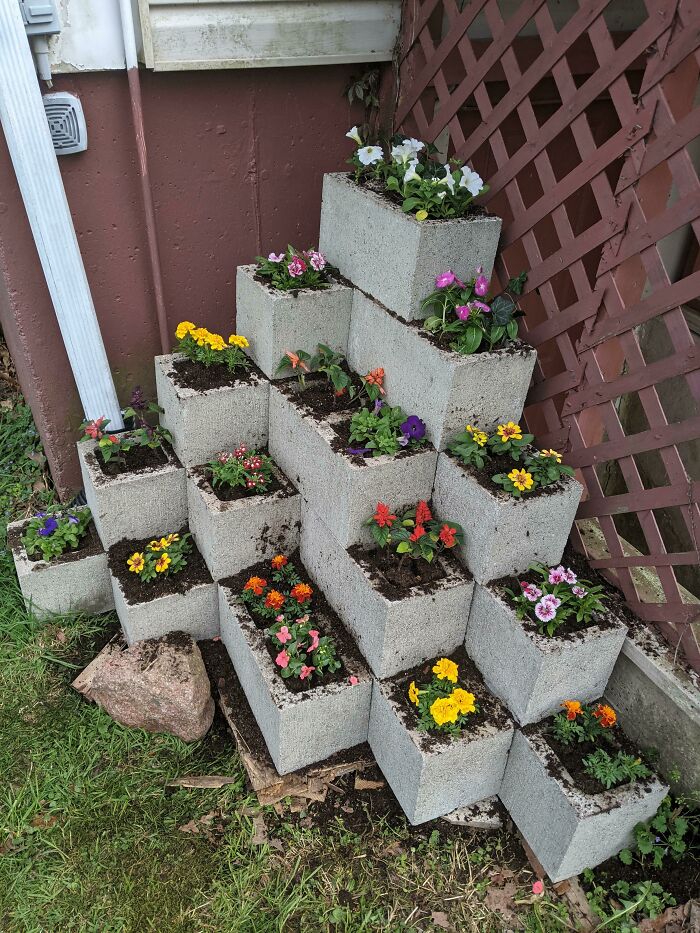 The idea is super creative and looks charming because of all the colorful flowers that have bloomed. He also arranged them in a unique way. There is no denying that this is a highly innovative way of recycling old concrete blocks.
Dining table? Nah! A garden table
Are you confused about whether the table in the picture below is for a garden or dining room? It's actually a garden table, and this family uses it for big dinners with friends and family. This idea may not occur to everyone, and if you have an old table lying around, you should give it a try!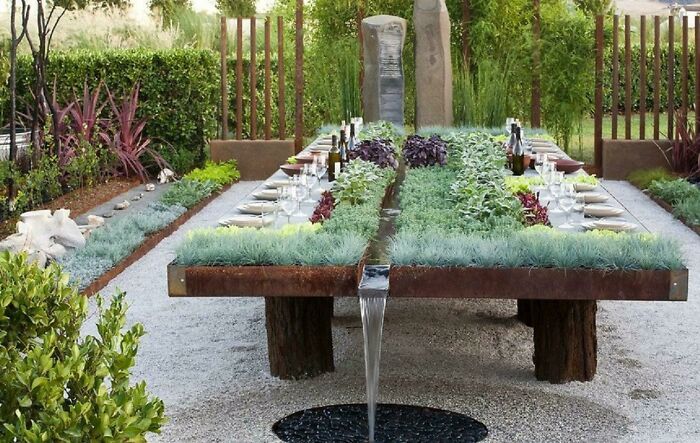 How can anyone not admire or be fascinated by all the greenery and the stream that is flowing down the center? We applaud the creator. We're not sure what you're thinking, but we would love to have a nice dinner here on a summer night.
Don't get rid of old fences
People usually throw away their old fences when they are planning to replace them. But we are here to tell you not to! You can use the old wood for gardening purposes, such as building your own planters!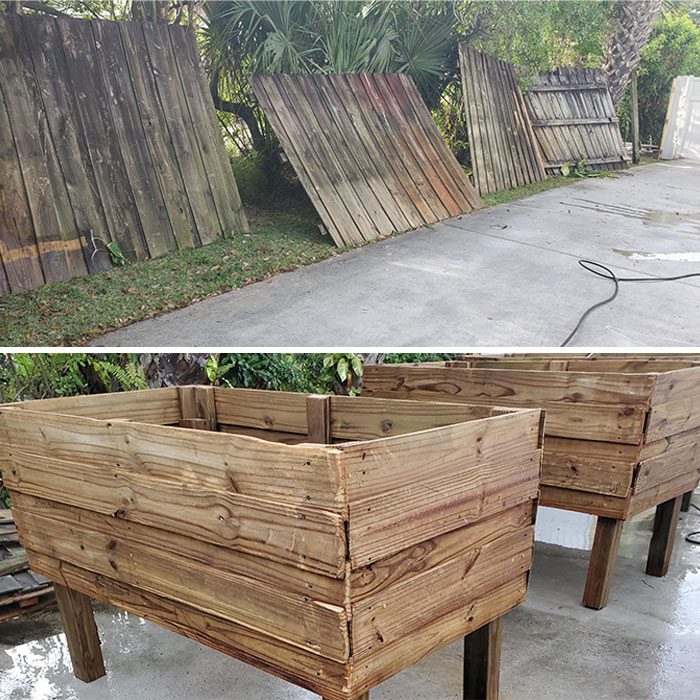 By using your old wooden fences, you can construct large gardening beds that are perfect for big plants or many small plants. However, you must make sure that the wooden fences are treated so they won't affect the growth of your plants.
A great way to recycle plastic!
Are you actively trying not to add more plastic to the environment? Well, you can recycle some of these plastic items by using them in a way that will actually help the environment (yes, we are talking about growing plants). This happens to be the best way to recycle as much plastic as you possibly can.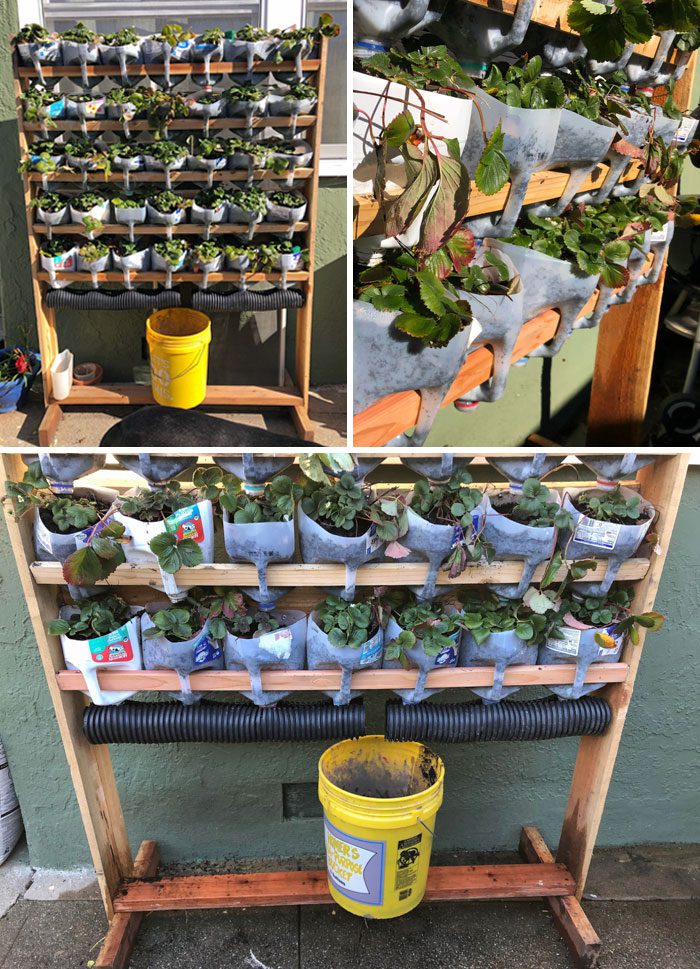 As you see in the pictures above, you can use plastic milk bottles to grow plants. It's a great way to recycle plastic and contribute to the environment. If you have many plastic milk jugs, then you can use a wooden rack to keep them in order!
Unnecessary pool? Don't worry
Do you have a pool that you don't want to use any more? Or, are you tired of having a pool, in general? If this is the case, this idea is for you because the couple who bought this house had the same problems, so they decided to turn it into a garden space!

The couple who came up with this idea renovated their pool so that the rainwater would collect, making it beneficial for the gardening beds that they constructed. You may need some professional assistance with a project like this, but it's definitely worth it!
Colorful greenhouse
Many times, we have said that people feel a sense of satisfaction when they watch their plants flourish. Many people even construct a greenhouse to do it all year round! However, imagine stepping outside in your backyard every day to see a greenhouse like this!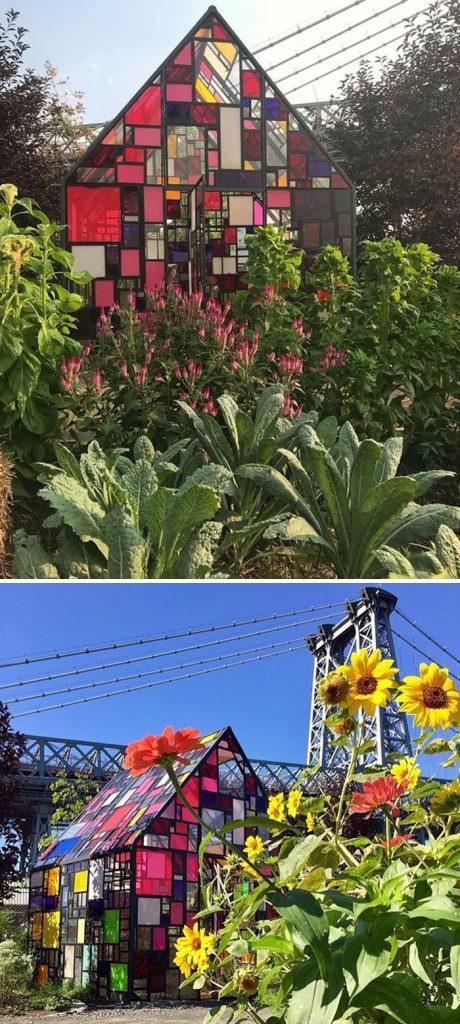 This colorful greenhouse, among all the other green plants, is a dream come true for plant lovers. However, if you plan on constructing one like this, you need to do some research on what plants will be able to thrive in there. Studies suggest that plants tend to grow best in clear sunlight or yellow light.
Confused?
How the heck did those plants get over there? Someone who is highly innovative decided to mess with the pipe situation and ended up with this impressive spectacle. If this is a project you are able to take on, we know you would make many passersby happy!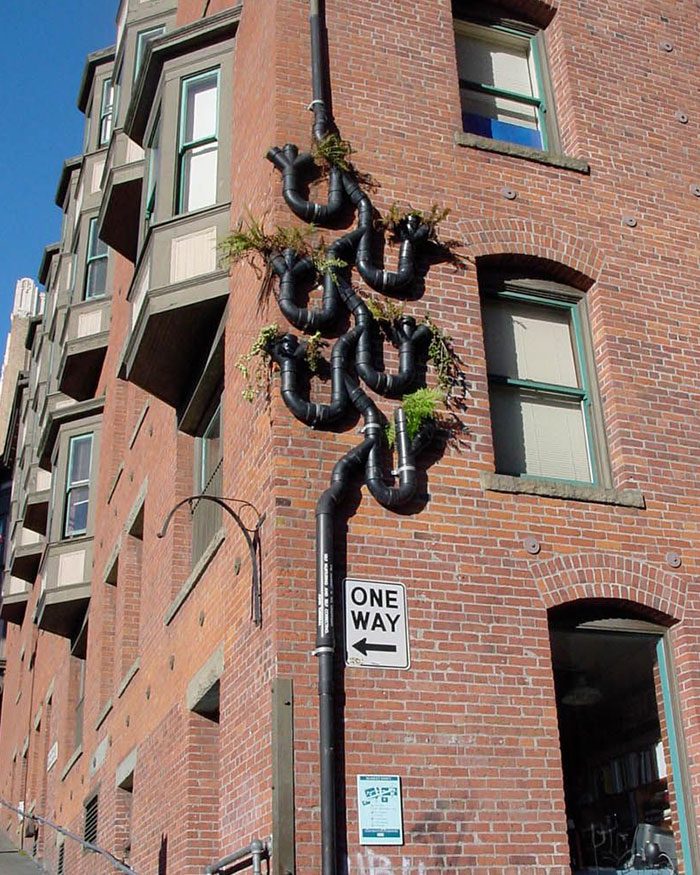 It's a creative way of growing plants, yet one has to plan accordingly to take on a project like this. You must think about how the water from those pipes will reach the plants and what plants to even place in them. Someone give this man a medal!
A perfect solution for an boring wall
This garden design is a sight for sore eyes. This couple was fed up with looking at a bare wall and backyard, so they decided to take matters into their own hands. With a lot of effort and patience, they created a beautiful garden that anyone would be jealous of.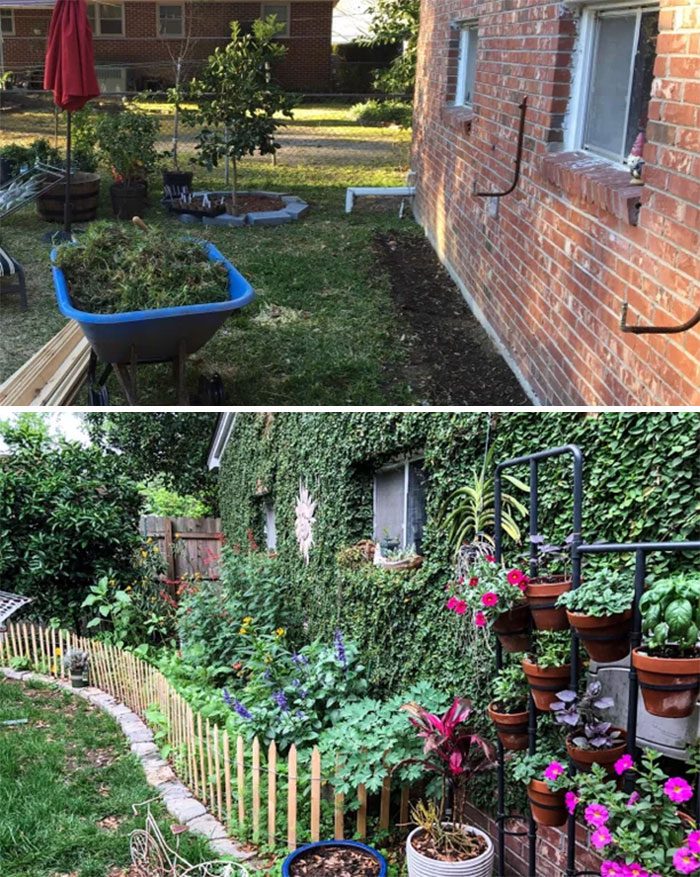 The couple bought the house in 2016, and they started this project almost immediately after. After five years, it flourished into what you see in the second picture. We can only imagine all the time and effort they put into it. Now, it's thriving!
Therapy at its best
As we said before, watching plants grow happens to be one of the best forms of therapy. It creates a sense of hope among people, and the picture below is a perfect example of that. When the owner of this garden was feeling down, she decided to plant some tulips.
She started planting the tulip seeds in winter even when the odds were against her. She thought to herself that if they are meant to bloom, they will. And sure enough, her instincts were right because they flourished right before her eyes!
Reusing Pineapple Tops
Instead of throwing away your pineapple tops, try planting it in your garden or a pot and watch it bloom over the course of a year or two. The couple who owns this tree below did the same, and in these pictures, you can see how it started and ended for them.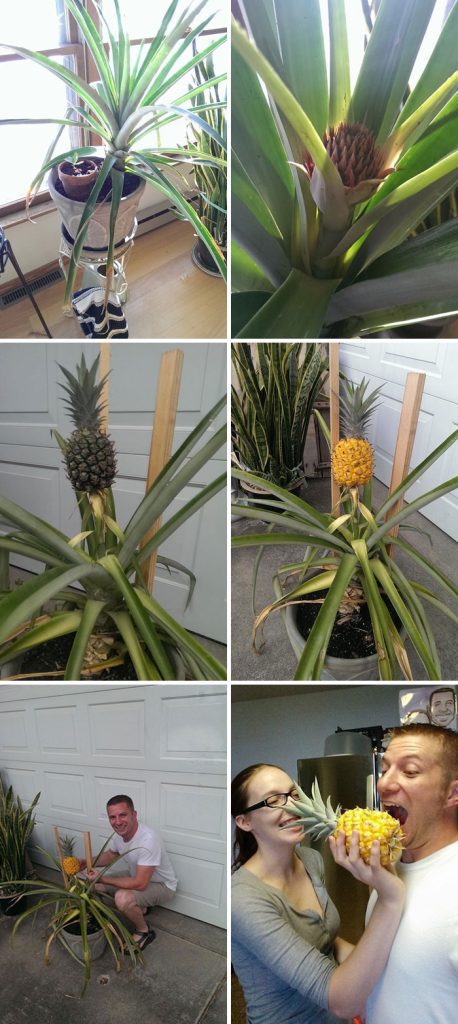 We can't imagine how much joy they felt once they saw the fruits of their labor. You can try using a bunch of pineapple tops to get more than one fruit. The process of growing pineapples is also very simple and requires little effort.
Project "Quarantine"
We have to agree with the fact that DIY projects in the backyard are best when it comes to elevating your garden space. The guy took the DIY project to the next level as a gift for his wife. If we were her, we would be so happy!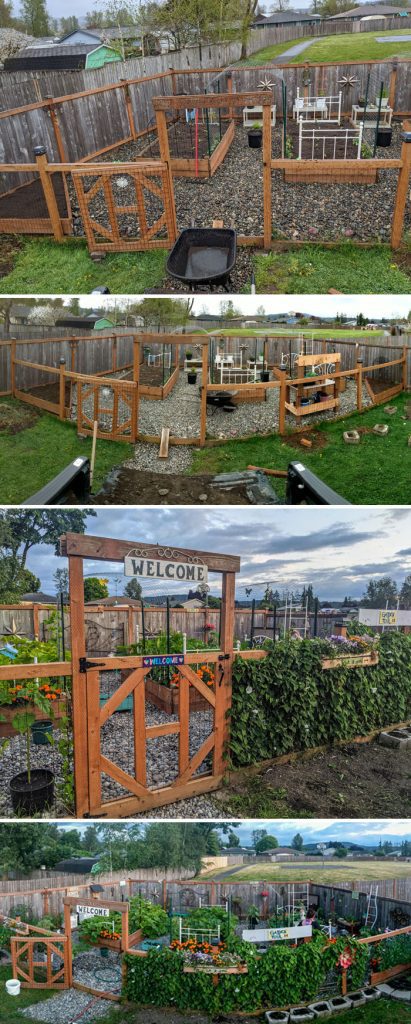 Honestly, we're not sure whether she was impressed or not, but it sure does look charming to us. Moreover, not all the credit goes to the husband because the wife played her part by planting the amazing and attractive plants.
Life after lockdown
Apart from most of the negative effects that resulted from the recent lockdowns all over the world, people witnessed some advantages too. One of them was all the leisure time they had at their fingertips, and many of them used it to garden!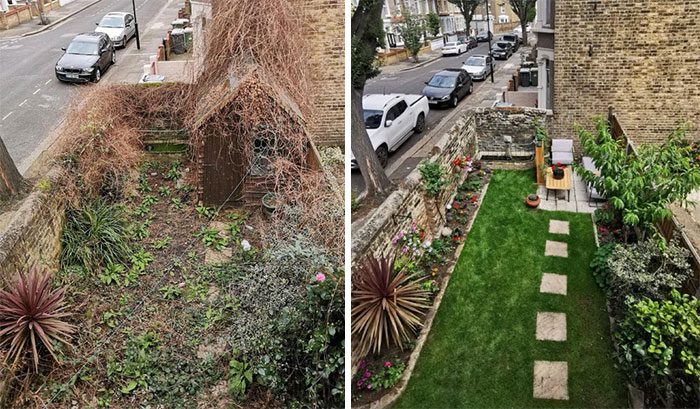 In the meantime, some people such as this person created a beautiful garden like the one you see above. If you look at both the pictures, you will understand the amount of time and effort it took and how determined the person was.
Feeling bored?
Usually, when we get bored, most of us watch our favorite Netflix series or the latest movie that was released. Instead of doing that, if you put some effort into the changes you want in your life, you will achieve them.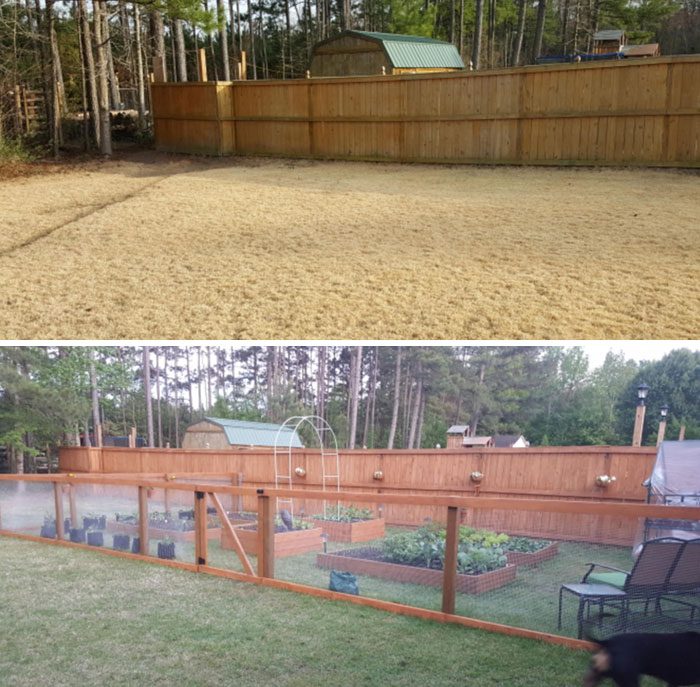 The images above are an example of how people can achieve their goals by putting in a bit of time and effort every day. A lady built all this when she was feeling bored, and she had no experience. She studied every day. We are so impressed with what she was able to accomplish!
Size doesn't matter
Are you feeling sad that you don't have a backyard that is big enough for your needs? Regardless of the size of your backyard, you can still grow a beautiful garden that you will want to tend to every day. All you need is some motivation.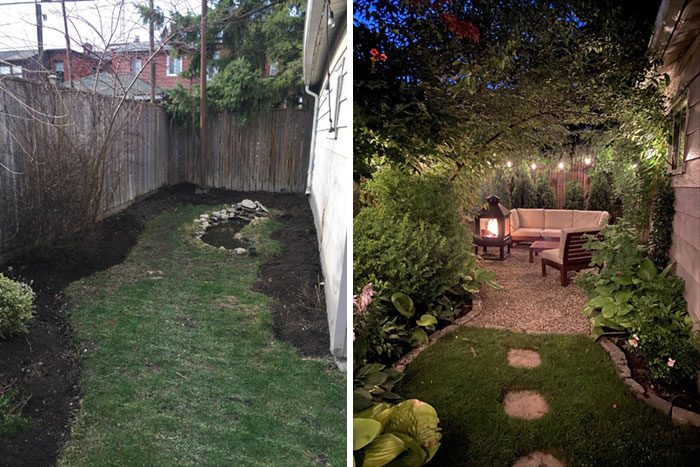 This cute little garden project shows us how splendid a garden can be, regardless of how small it is. Even though the options are limited, there is still an opportunity for you to create something as spellbinding as this.
A beautirufl pathway for rainwater
Is your lawn getting soaked from all that rainwater coming from the gutter? If so, then this next project is specifically for you. This person created this beautiful rocky pathway that channels all the extra rainwater to the drainage system in their driveway.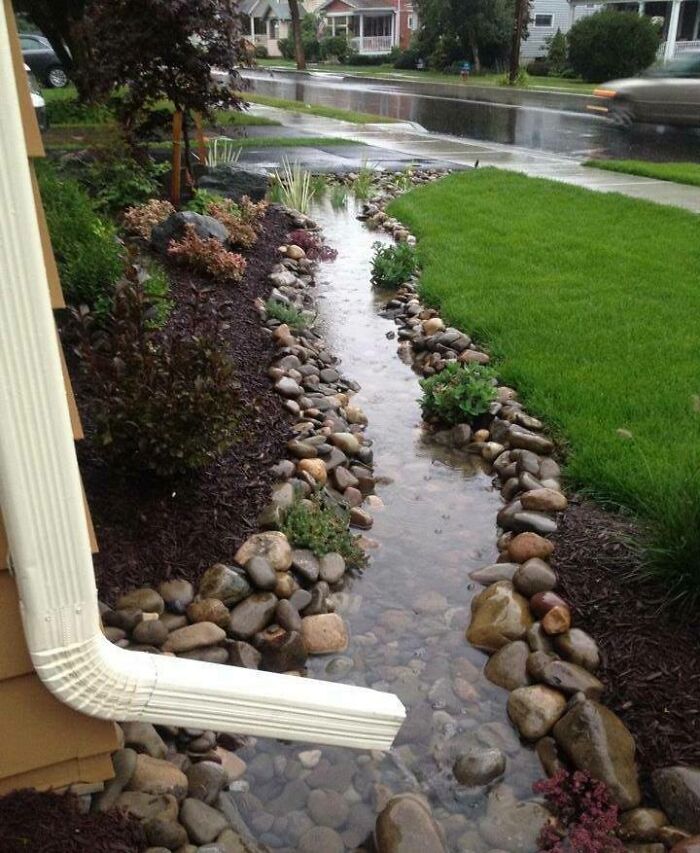 The same idea is also helpful for the people who don't want to have stagnant water sitting on their lawn. This sure does look like a babbling brook you might stumble upon in a forest. It's something we never thought of before!
Purified Rainwater
You don't have to have a green thumb to know how beneficial pure rainwater is, whether it's for drinking or helping your plants grow. However, regardless of the purpose you intend to use the rainwater for, .you should purify it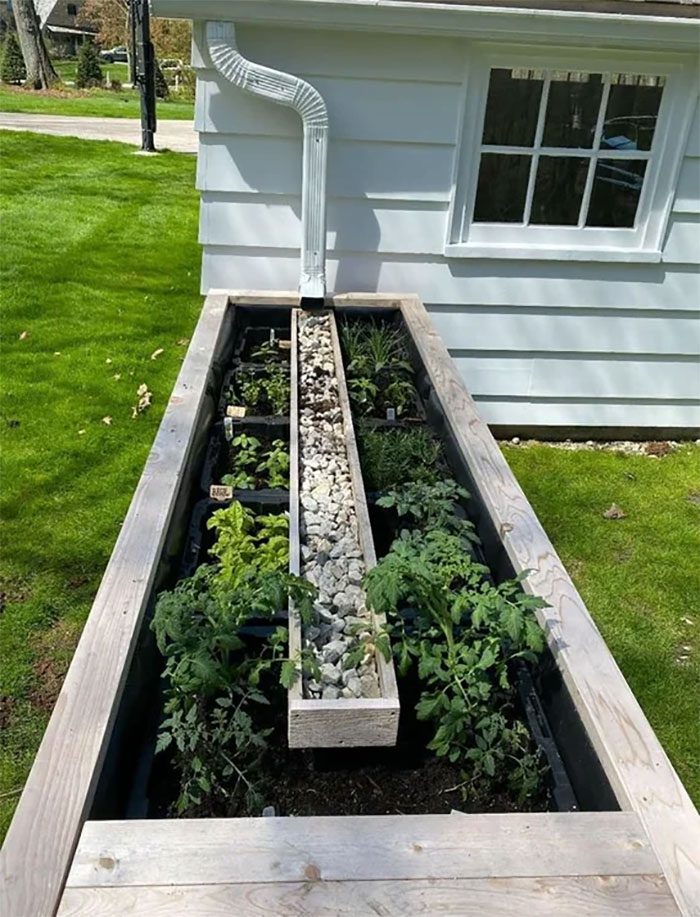 This is an amazing hack to help you start purifying rainwater that will prove to be advantageous for your dearest plants. The rocks you see in the picture above allow you to filter the water through the rocks and then drain it onto the plants!
Too heavy for the stem? We've got you covered
Are you a big fan of crochet? If so, this particular idea will come in handy for you. With the help of your crocheting skills, you can create something that would be very helpful for holding heavy fruits that stems aren't able to bear.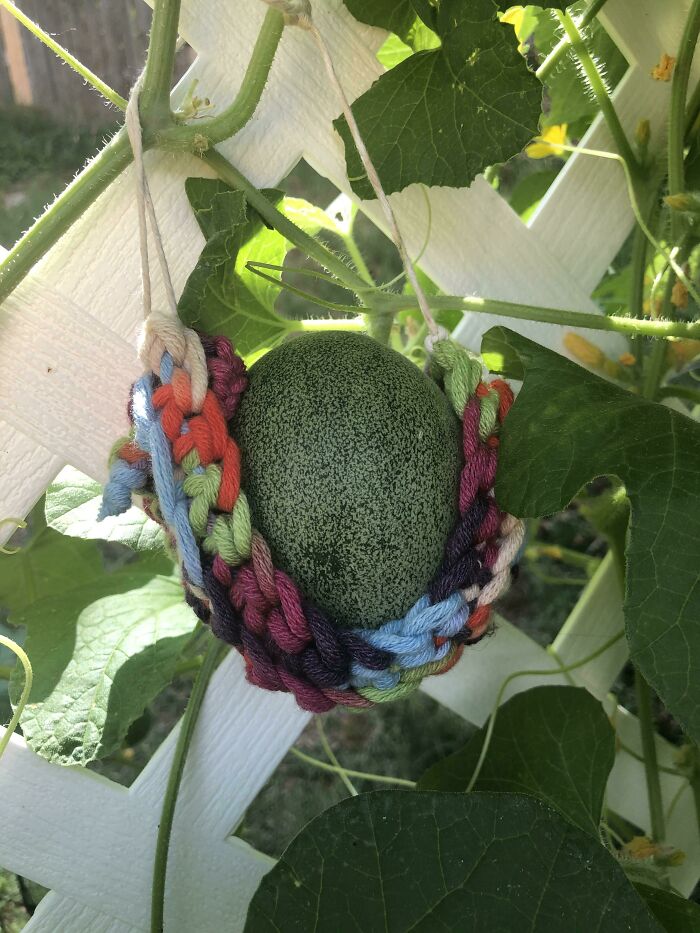 You can see in the image above that the owner utilized her crocheting skills to help her cantaloupe stems hold the heavy cantaloupe. Usually, the stems bend over as the cantaloupe grows in size, but this idea will offer some support.
The best kind of support
There are many people out there who try to think of how to support watermelons when the stems can't hold their weight. However, this woman thought otherwise and took her watermelon plants to the next level. Take a look at what she came up with.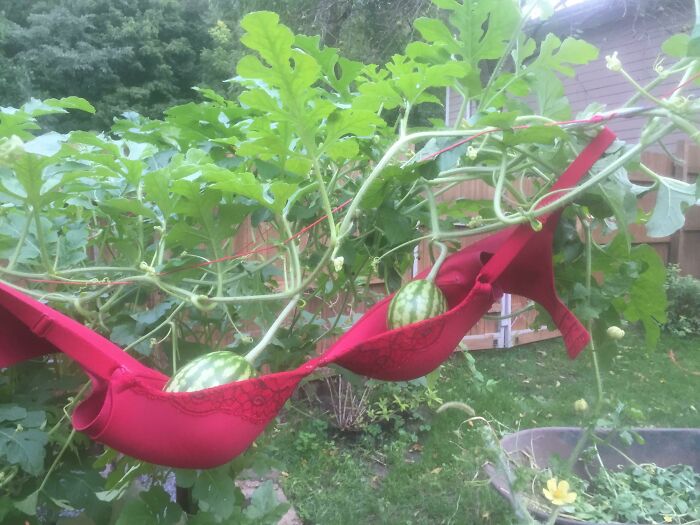 We have to admit that using undergarments, such as a bra, to provide support for her watermelons (real ones) is an idea that is totally out of the box. Who else would have thought that you can use bras for other purposes? Kudos to this woman's creativity.
Stick support
Well, we have seen the woman who used her bra to support her watermelons that are too heavy for the vines to carry. And now we have someone who built their own support structure for their oranges. Even though it's simple, they executed it efficiently.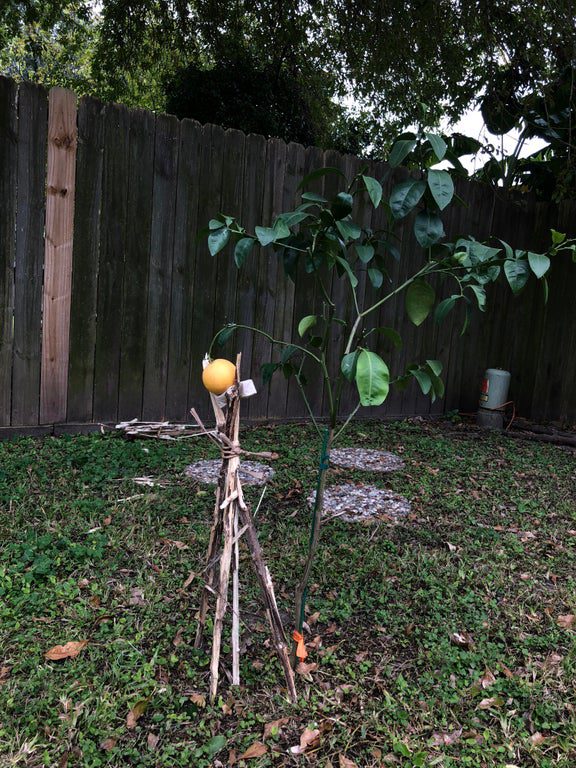 All you need is some sticks and rope and voila! This creates extra support for the fruits that stems can't hold. By the way, this dad came up with this because he want to support the only orange that his child grew. So wholesome!
Saving bees
Over the past few years, the bee population all around the world has been decreasing rapidly. You may not know this, but bees happen to be major pollinators for our fruits and veggies and are responsible for a vast number of plants.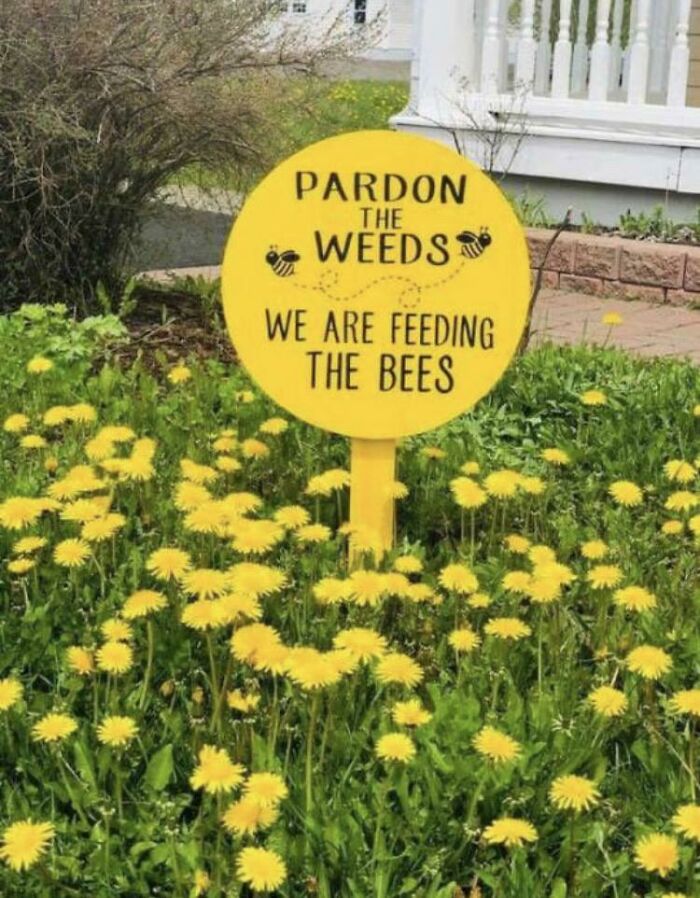 Well, the person is determined about doing something for the bees and came up with this genius concept. With the help of people like this, many others from all around the world are inspired to do their part to help increase the bee population.
'Bee'autiful arrangement
One big reason for the reduction of bees is the lack of enough plants and trees, whereas another major reason is the pesticides and other chemicals used for crops. As a starting step, some farmers in Europe decided to grow some plants in their fields for the sake of bees.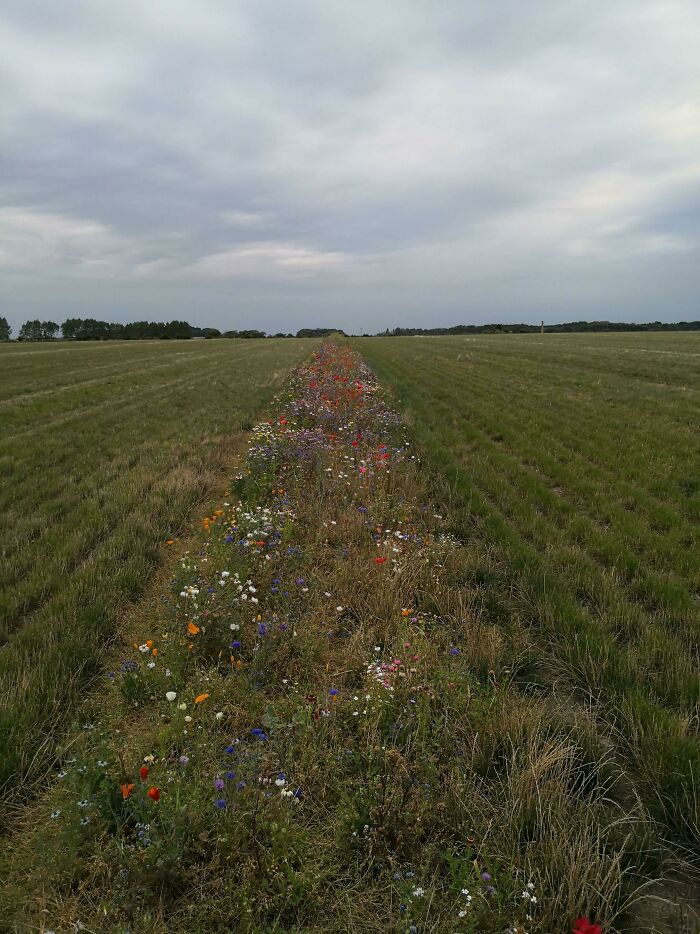 Bees will love this! The European Union even provides these farmers with a bonus for doing this to save bees. We give a big applause to the EU for taking on this responsibility. We think other countries should join in as well to truly save the bee population!
Seed collection
Most of us have heard about mini-libraries where people can take a book and replace it with one of their own. Even though it started in a few small towns and cities, the idea is now a popular pastime that has spread all over the world.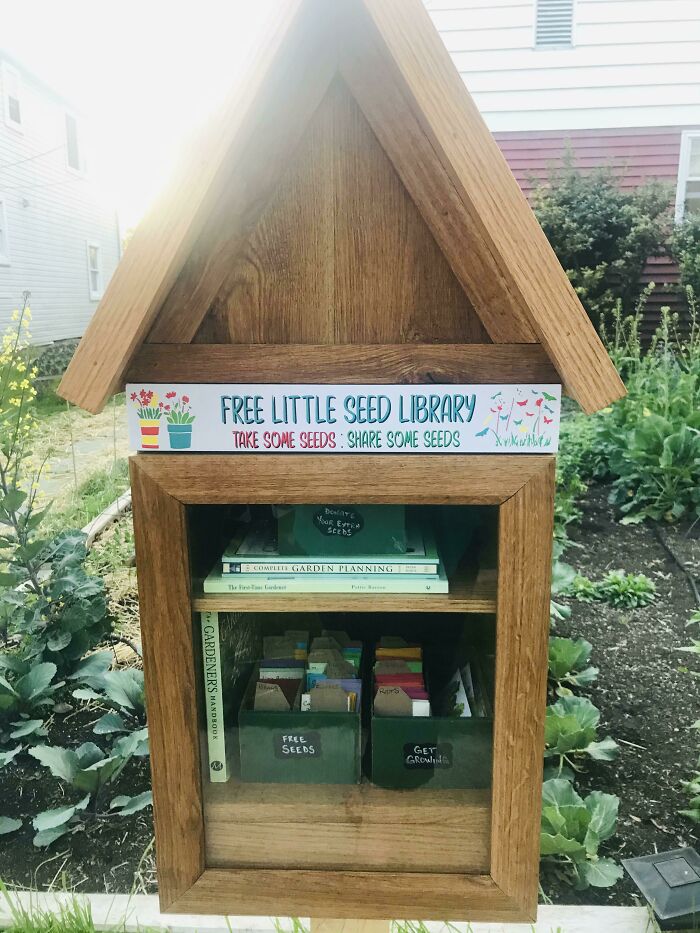 This person loved the idea of mini-libraries, and decided to make their own with a twist: she created a seed library! The main objective of this seed library is to motivate people to share their plant seeds. How thoughtful!
Succulent obsession
This sure does get a lot of admiration from the people who adore succulent plants. All the plants in this picture are succulents (with thick and fleshy leaves). They are easy to take care of since they don't require too much water.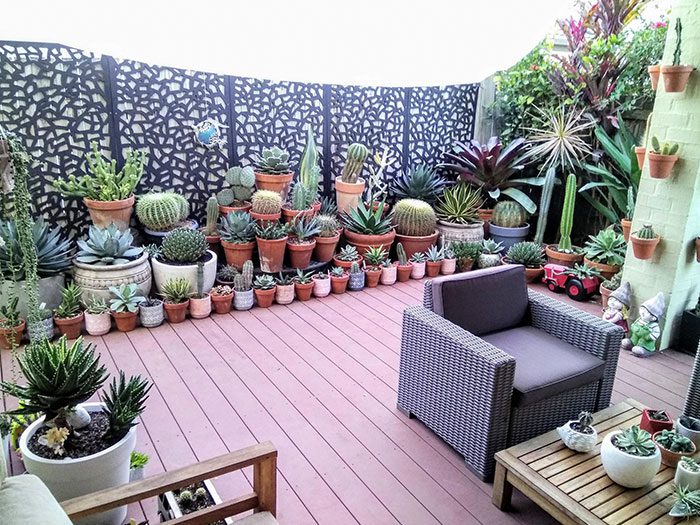 Regardless, this sure looks extremely attractive and will definitely inspire people who are fond of succulent plants. One can for sure say that the person who is responsible for caring for these plants is a master in the succulent field!
Surrounded by more succulent plants
Sitting on a bench in a park or somewhere surrounded by trees is one thing, but sitting on one surrounded by your own succulent garden is another! This person created this unique bench with the love of succulents in mind.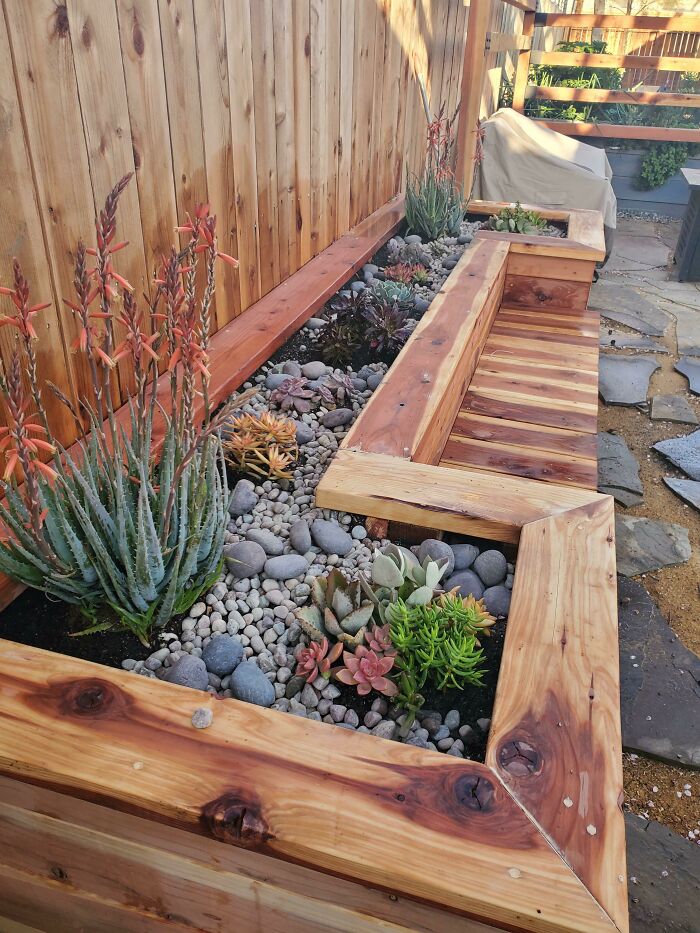 It even looks cost-efficient and doesn't require much time and effort if you want to build one of your own Also, you don't have to use succulents exclusively either. You can plant your favorite flowers or herbs as well!
Drought proof
It seems like a dream to have a bunch of flowering plants in the front yard that are colorful. However, not all flowering plants might be able to sustain the excessive heat during summer. What you are about to see below are plants that can sustain a little too much heat.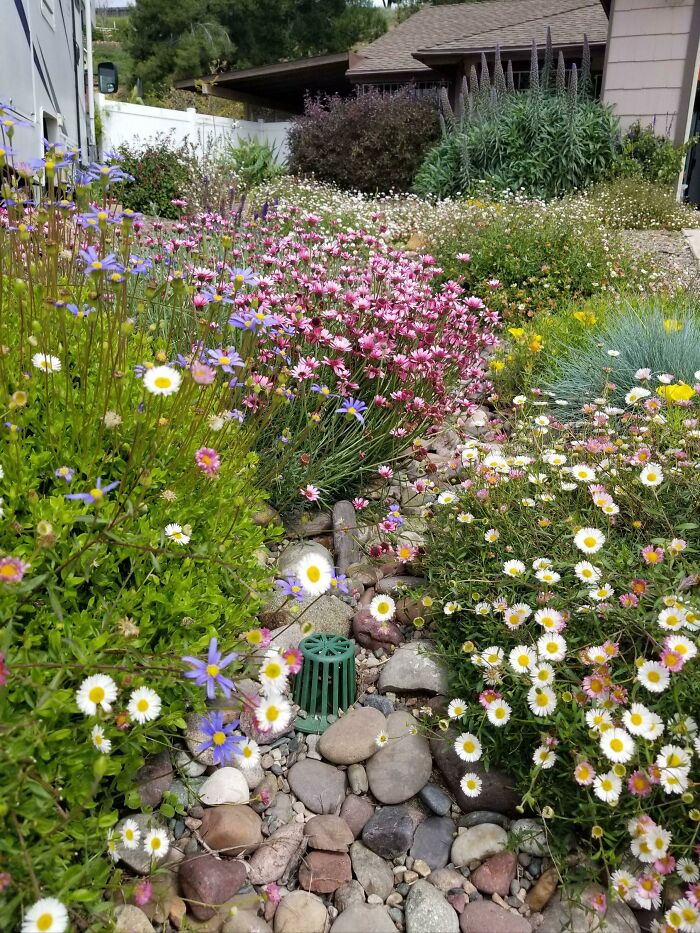 These flowers are known as wildflowers. They can survive harsh heart and other conditions. The quote "Survival of the fittest" is definitely accurate when you compare them to other flowers. They can survive rain, wind, and even extreme heat, and are a great option for flower lovers.
Heavenly!
Whoever owns this Japanese-style garden doesn't think of it as a hobby, but instead, it looks like a lifestyle. It seriously looks like a piece of heaven on earth with plants and a pond with beautiful Koi fish. If there was ever an award for the most amazing garden on earth, it would definitely go to the owner of this one!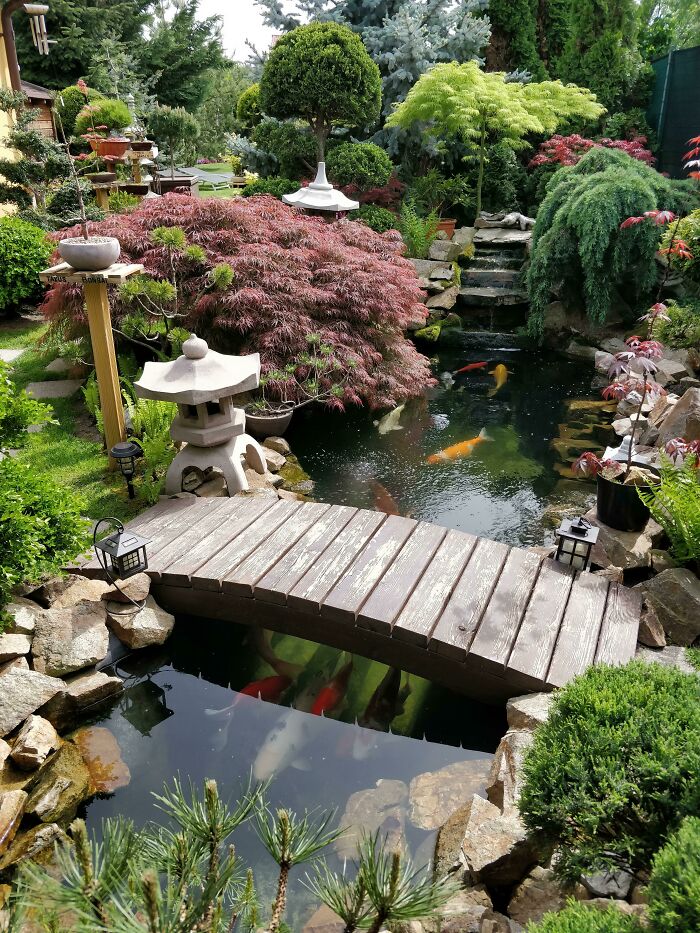 There is no need to say this specifically this requires years of gardening and a tremendous amount of creativity and knowledge about plants. Only then one can be able to create a place that looks this peaceful and fascinating.
Motivation for making it cool
Are you out of inspiration and motivation for garden design ideas and are actively looking for something unique. Then, we think this next idea is perfect for you. If you execute it, neighbors, relatives, and those who visit your house (especially during the night) will be astonished.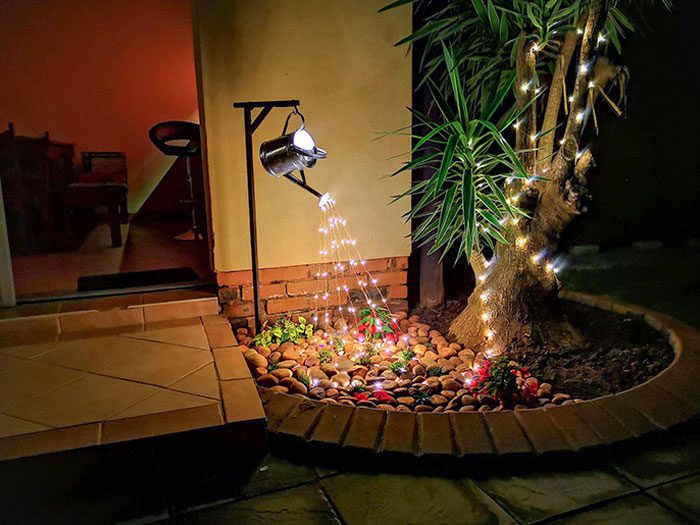 You don't need many tools to make this happen. You need some sticks, a hook, a plant watering can, and some fairy lights. You don't necessarily have to follow the same style as you see above. You can come up with your very own bright idea (pun intended).
With age comes wisdom
We young people can be creative, but nothing comes before experience. This elderly couple didn't want to waste their time doing nothing during their retirement, so they took up gardening as a hobby. Sure, the grandma and grandpa put a tremendous amount of effort into making this garden look lovely.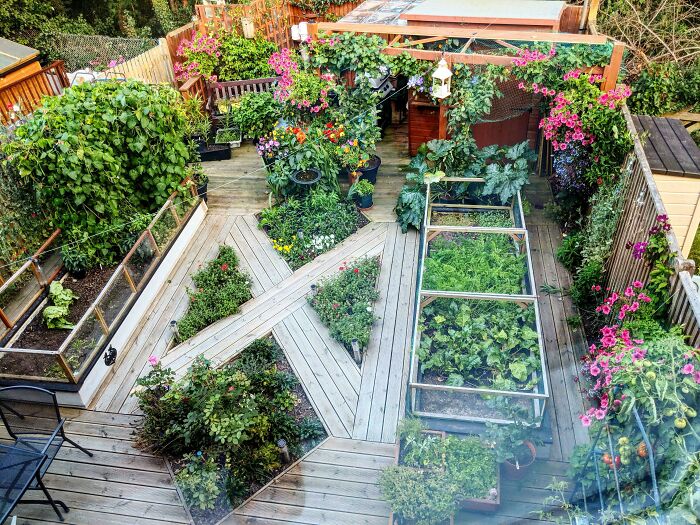 However, people might be wondering how they managed to create enough space to grow many flowering plants, fruits, and veggies. Even though there are spaces in between for walking freely, they used every corner of the area efficiently, and we are super impressed.
Safety first
Just like some people take good care of pets, some people choose to take care of their plants the same way. This lady visited her nearest pet shop and bought a few pet cages. This is a creative way to protect your darling plants from birds or animals that might destroy them.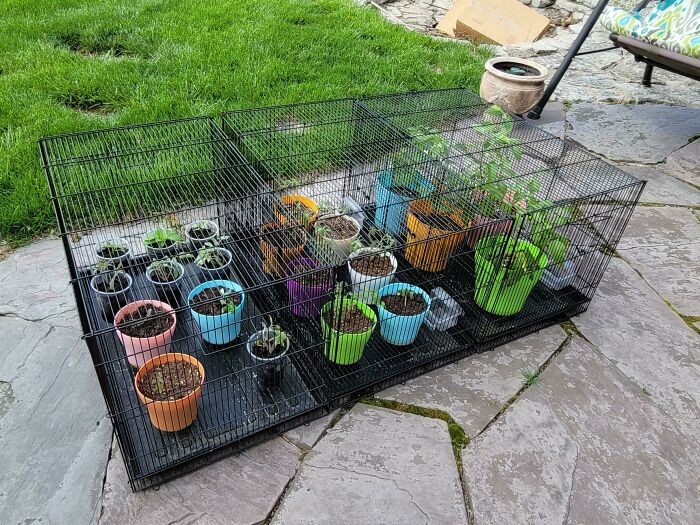 Apart from stopping some cute little buggers from interfering, you can cover the cages with a cloth to offer protection during colder days and nights. This is the best way to provide safety for plants that are in their early stages of growth.
Mushroom Ornaments
You can never go wrong with bright colors, and that also applies to your garden. One sure way to elevate a yard that looks a bit bare is to install mushroom ornament. Most people prefer to buy them, but you can make some for yourself right at home.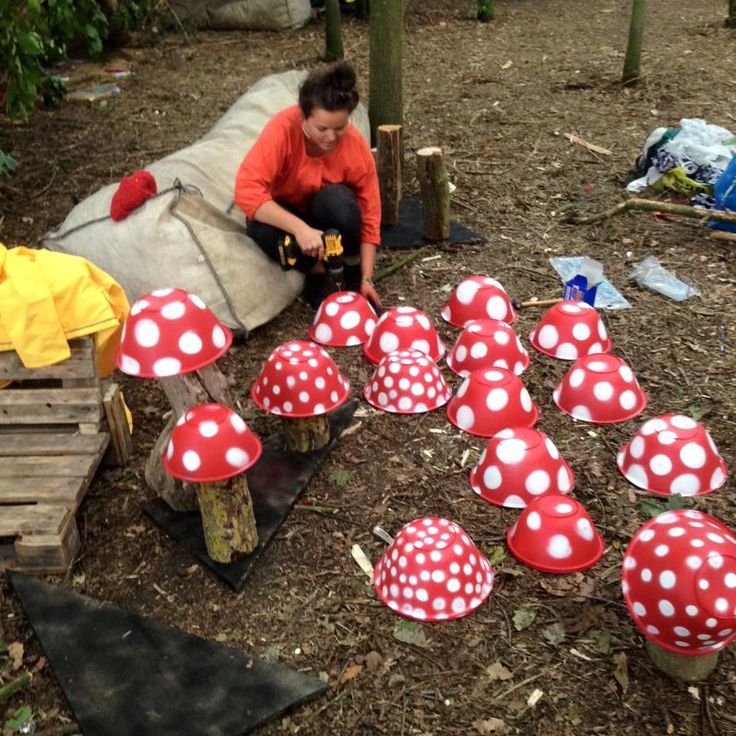 As shown in the photo below, you just need a couple of bowls, spray paint, a nail gun/glue, and some small stumps. Start by painting the basins in patterns of your choice before attaching them to the stumps on the ground. It's very inexpensive and will leave your yard looking whimsical!