40 DIY Greenhouses For Budding Plant Moms
By Ishita P January 31, 2023
---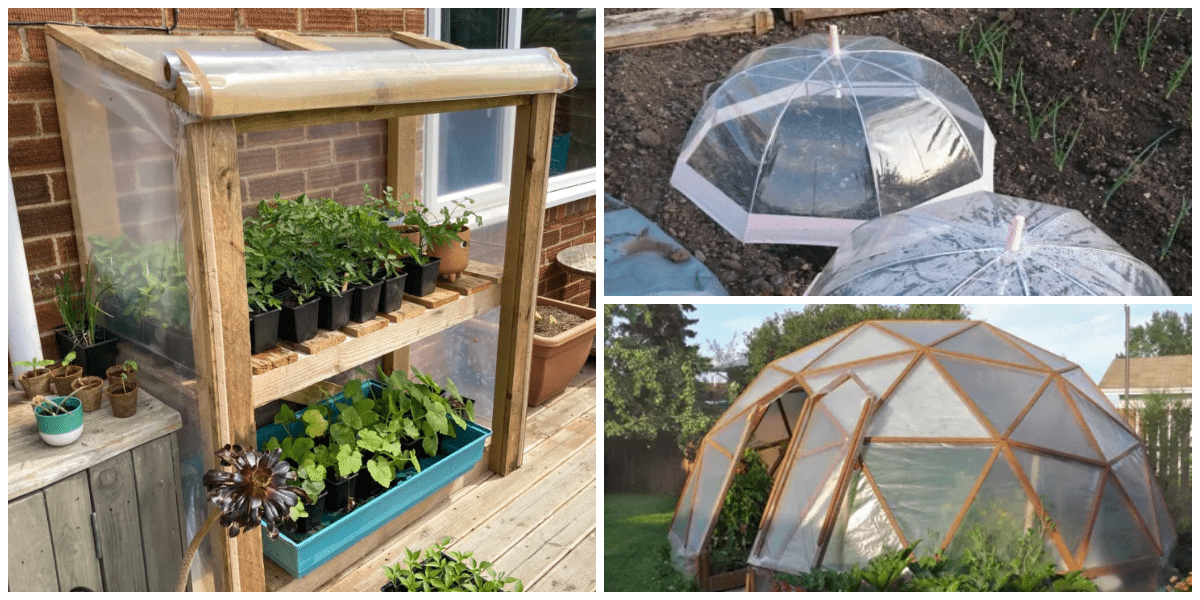 Greenhouses are typically a gardener's best friend because of how effectively they protect plants and encourage healthy growth. They are mainly used to house delicate or seasonal plants that won't otherwise survive in the natural climate of a region. Depending on where you live or what type of plants you want to grow, a greenhouse could include an artificial set-up for lighting, warmth, and humidity that help plants thrive well.
Since greenhouses are expensive, many prefer to build their own. With a bit of time and creativity, anyone with a green thumb can have their own, expensive greenhouse. If you want to expand your plant family, then you're in luck. We've compiled a list of 40 DIY greenhouses to keep your plants happy and healthy all year round.
White Faded Greenhouse
Greenhouses don't have to be big to be beautiful. Case in point: this old display cabinet. Although it won't be able to hold a lot, if you have a few pretty-looking potted plants you want to display, this glass greenhouse is a perfect option.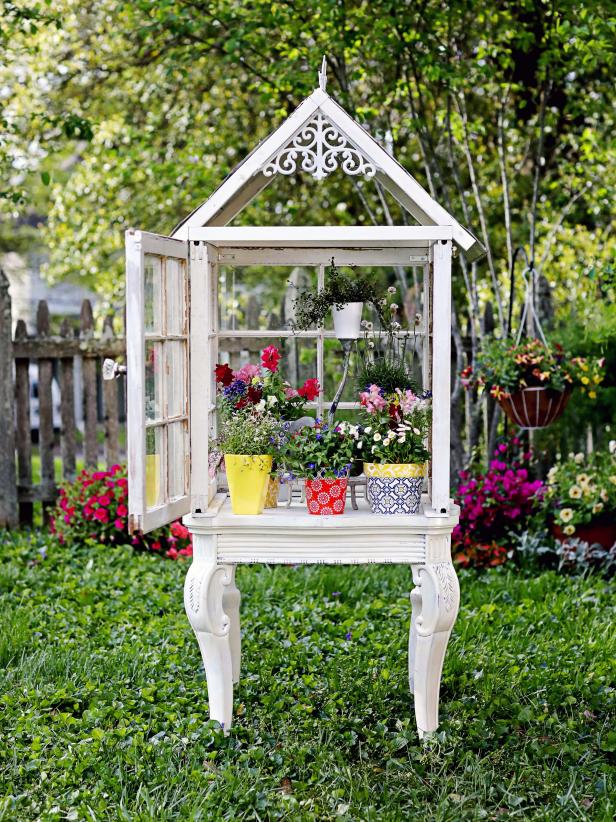 It will not only provide the right climatic conditions required for your plants to survive but also beautify the area it is placed in. You can also paint the frame in a bright or elegant color to really make it pop.
Mini Indoor Garden
When we imagine greenhouses, we tend to think of big structures we can walk around in. But the truth is that small and simple ones will do the job just as well — if properly constructed. Smaller greenhouses are great for propagating tropical plants, and upcycled plastic cups are the perfect size.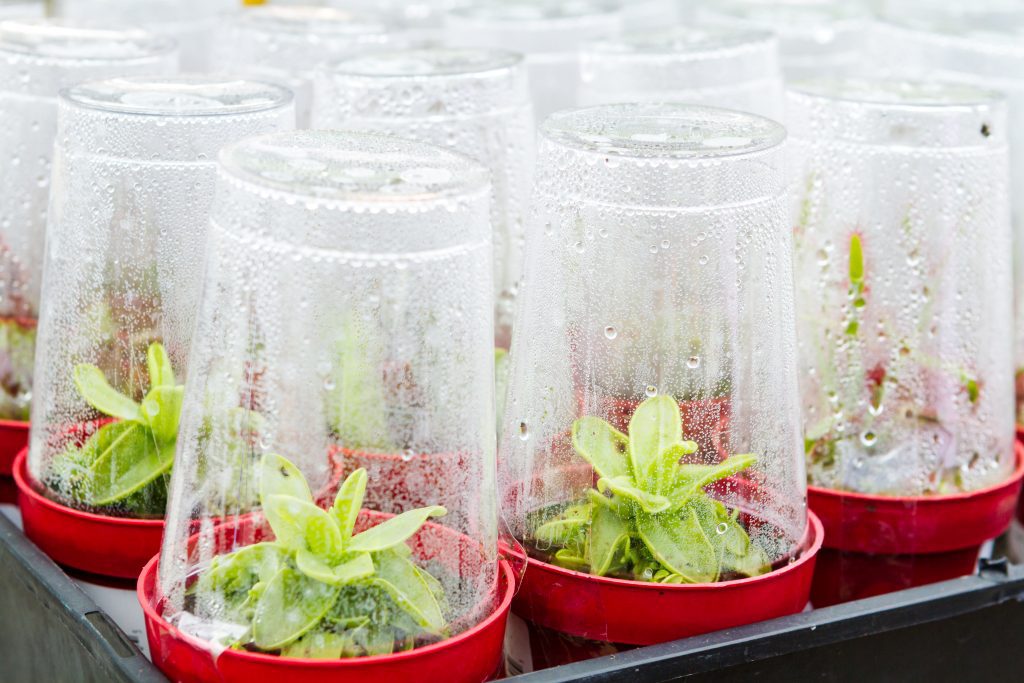 These mini greenhouses will work wonders for your seedlings and require minimum effort. Their tiny size and lightweight also make them easy to transport from one place to another, enabling you to control the amount of sunlight needed for your plants. You can also poke holes in them for better aeration.
Cardboard Frame
Cardboard may seem unstable, but it works well when constructing a greenhouse. The so-called flimsiness of the material is the same property that makes it easier to handle and mold. Thus, cutting a piece of cardboard into the desired shape is easy.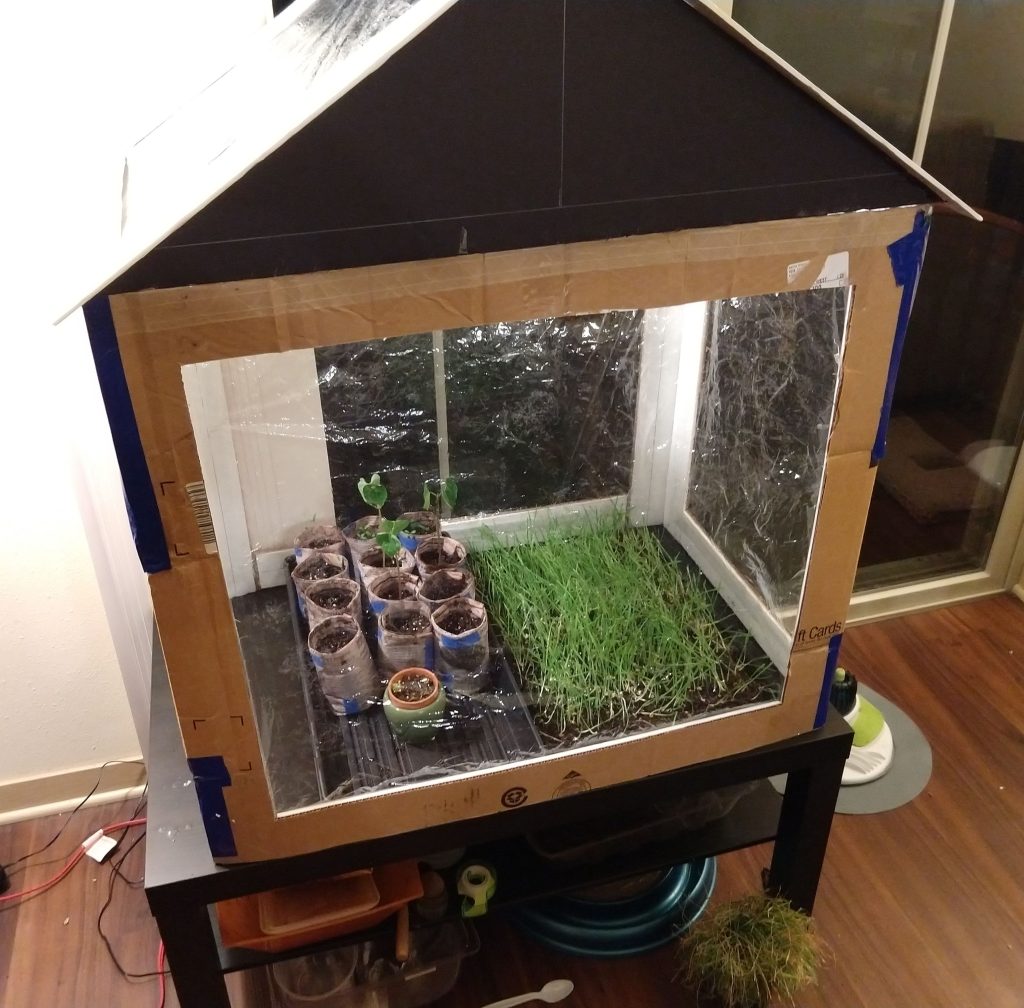 You can opt for plastic wrap to line the windows of this greenhouse to keep in the plant-friendly environmental conditions. Depending on the size, you can keep several plants inside this cardboard-made cold frame and mount it anywhere you like. Not only is this greenhouse easy to build but also cost-effective.
Convertible Hood
If you live in a relatively less harsh environment, you can try this easy DIY greenhouse. Place all your foliage against one wall of your home and create a folding metal apparatus to cover the plants. Make sure to measure the plant bed and cover before piecing it together.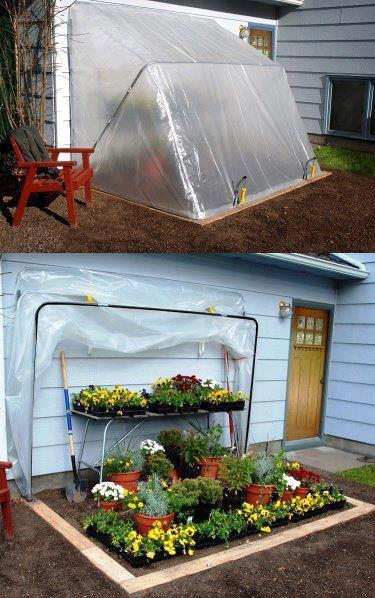 Use thick plastic to cover your "convertible hood." Sturdy plastic can handle the movement of the frame and can be easily repaired if there's an accidental tear. In addition, you can use transparent plastic for easy viewing if you want to frequently inspect your plants.
Plexiglass Greenhouse
A plexiglass greenhouse is a viable option if you are looking for a fancy glasshouse in your garden for tropical plants. Not only does it look exquisite, but plexiglass also does a great job of producing the desired greenhouse effect.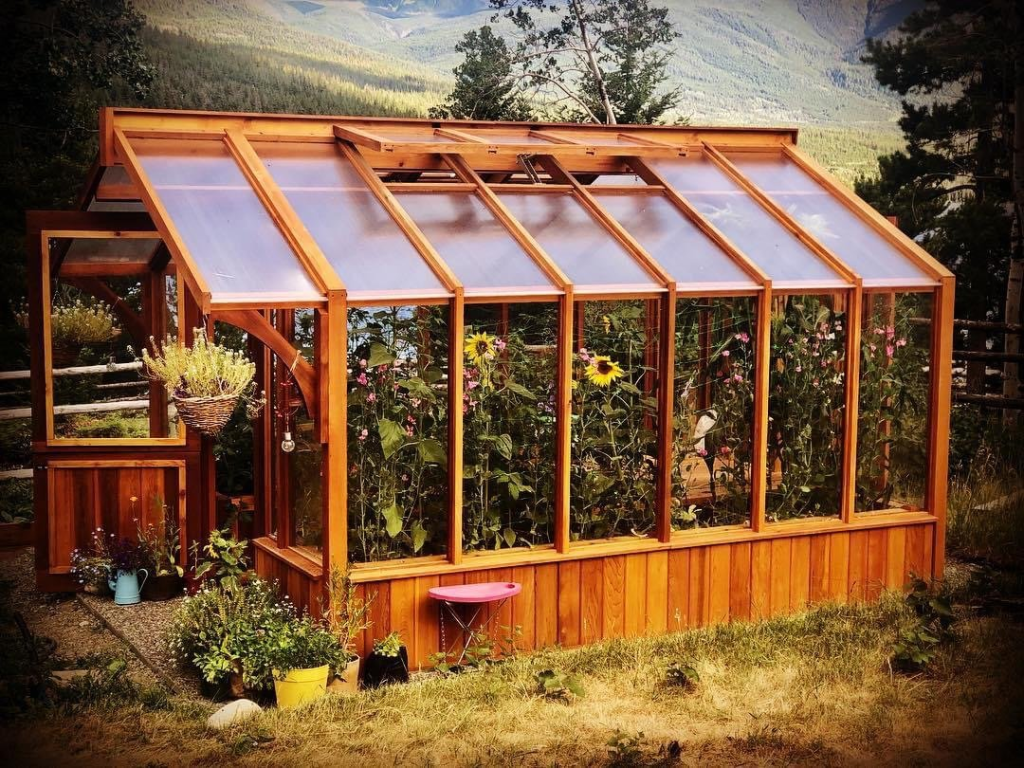 The frame can be made of wood or metal, but the latter is usually preferred. Although they are costly, metal frames are highly durable. Once the frame is ready, you can attach the plexiglass and run the heating and ventilation system to create a suitable thriving environment for your plants.
Cabin in the Woods
Greenhouses are associated with nature, so why not go with a rustic greenhouse? This cabin-in-the-woods style structure might look complicated, but it's no more difficult than any "ordinary" greenhouse. If you like the aesthetic, then it'll certainly be worth your time.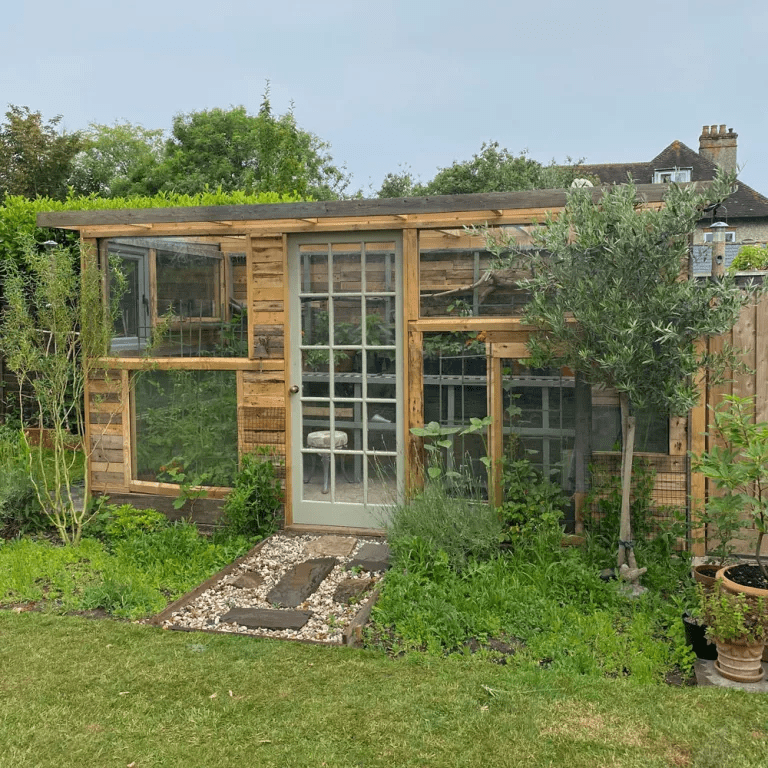 You can use reclaimed wood to build your greenhouse. If you get scrap wood from different sources, you can stain them to match the same color or leave them to create a truly unique look. Just make sure that you have all of the measurements right before you settle your plants inside.
Portable Tabletop Garden
If you want a small greenhouse where you can watch your plants grow and blossom, but don't want a simple plastic cup, this greenhouse should be your first pick. For starters, it's lightweight and easy to move around as needed.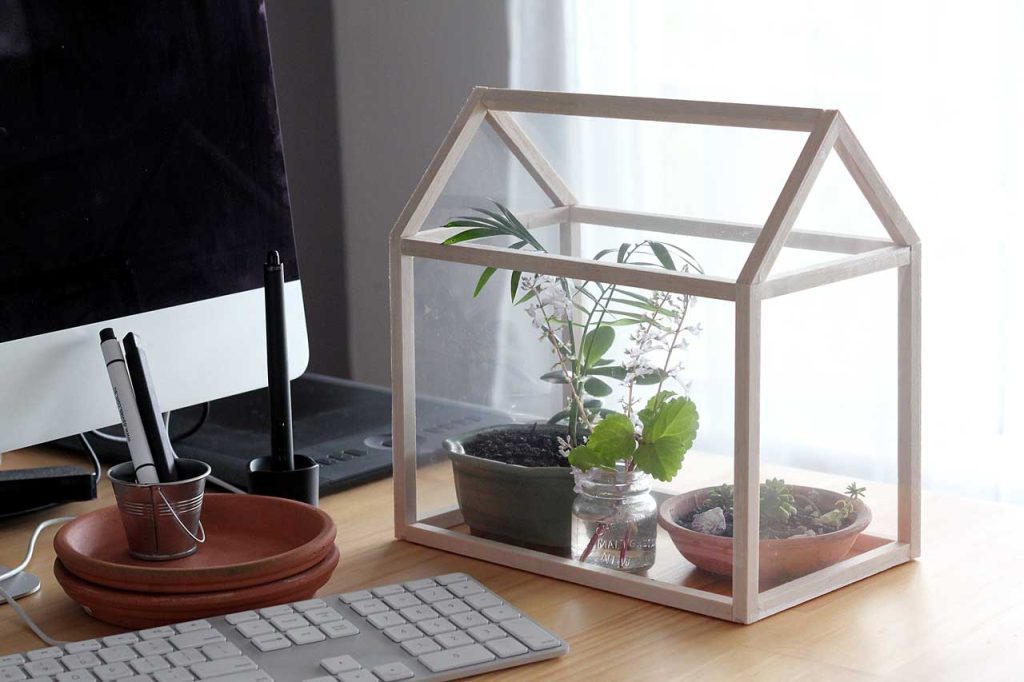 The frame should be made of wood, cut, and shaped according to precise measurements to fit appropriately. For the outer covering, you can use vinyl, which is a good greenhouse material. However, the sole drawback of this cold frame is that you can only fit one or two plants at a time.
Octagonal Greenhouse
This octagon-shaped greenhouse is an excellent addition to your garden in terms of aesthetics and functionality. With numerous angles to catch the sun's rays, this structure maximizes the entry of sunlight, enabling plants to grow evenly, irrespective of their placement.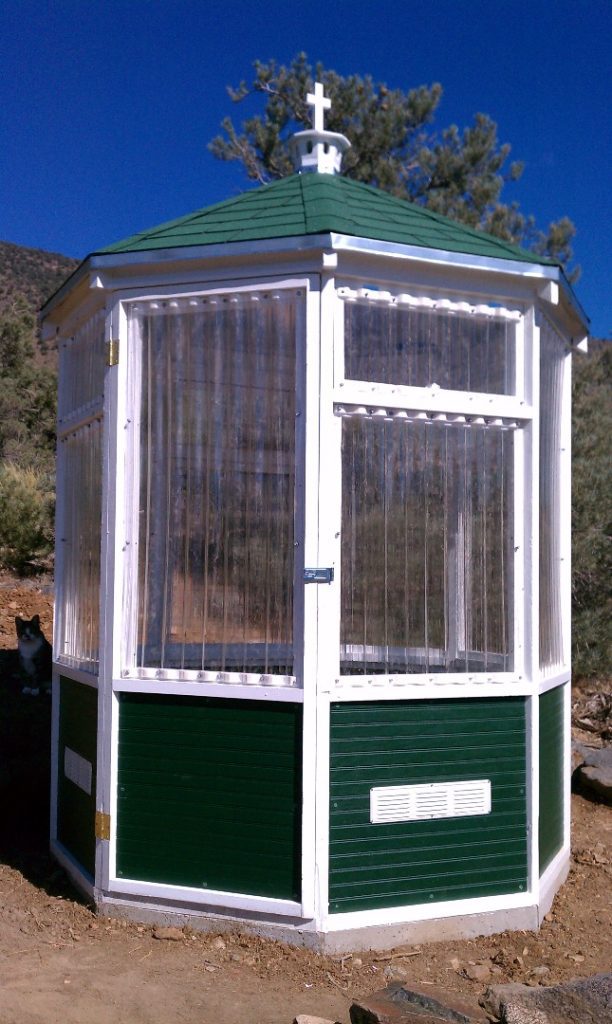 However, due to the substantial shape and size of the greenhouse, it is essential to dig up the soil a little and ensure that the base is fixed into the ground effectively. After making the base firm, you can start working on the rest of the structure and fit in the windows.
Barn-Style Greenhouse
This barn-styled greenhouse is ideal if you want to recreate a farm aesthetic for your cold frame. You don't need to paint the walls a cliche red with a big swinging door; the shape is enough to give it a barn house feel.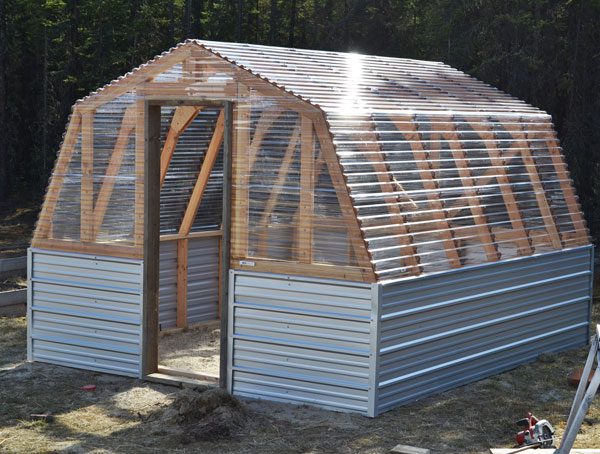 However, the only thing that makes constructing this greenhouse a bit more tedious is its use of corrugated metal for the side walls and corners instead of wood. The covering also comprises firmer greenhouse plastic panels rather than malleable plastic sheets. This, in turn, makes the structure more durable, effectively protecting the plants against harsh weather.
Deck-Friendly Greenhouse
Mini greenhouses are all the rage now because they are easy to style and move around. This particular one will look amazing on your deck or patio and act as a showcase for all the tropical plants you are very proud of.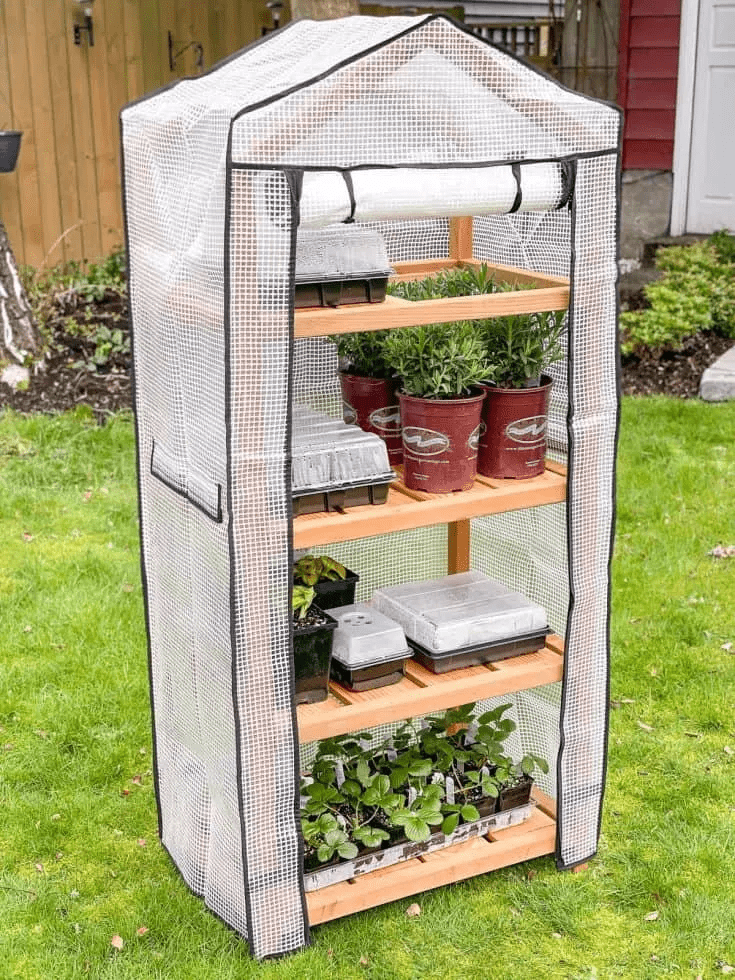 As with all greenhouses, the frame is the most important element and should be worked on first. Once the wooden frame is complete, add the greenhouse covering and place some plants inside. After that, it can go to its rightful place on the deck, accentuating the entire space.
PET Bottles
With all the talk about plastic pollution and the limited ability to recycle plastic, people are looking for ways to upcycle their PET bottles. So, in the theme of "going green," you can save those bottles from the landfill by building a greenhouse!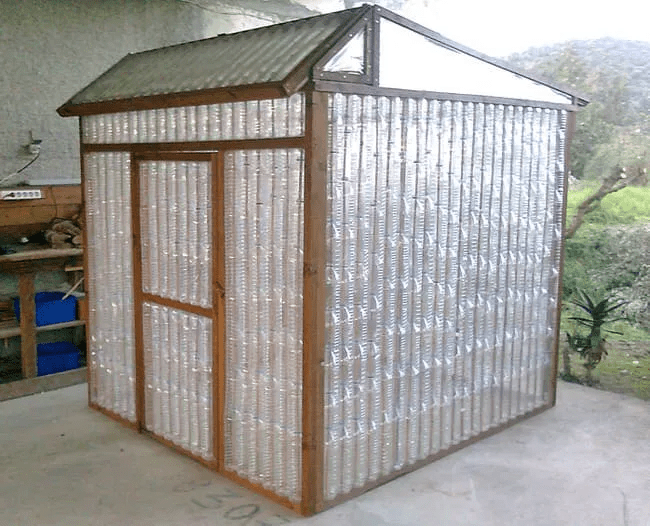 For this, you'll need long wooden dowels and plenty of plastic bottles. Make sure to thorougly wash the bottles before using them, and remove any labels if possible. Once they're dry, carefully poke holes in the bottom of the bottles and thread wooden dowels through to make the walls.
Bottles Version 2
Another take on the plastic bottle greenhouse is using corbelled/barrel vault walls. This is ideal if you don't have enough bottles to construct every side of the greenhouse. To keep with the upcycling theme, you can find some scraps of plastic sheeting to construct the other walls.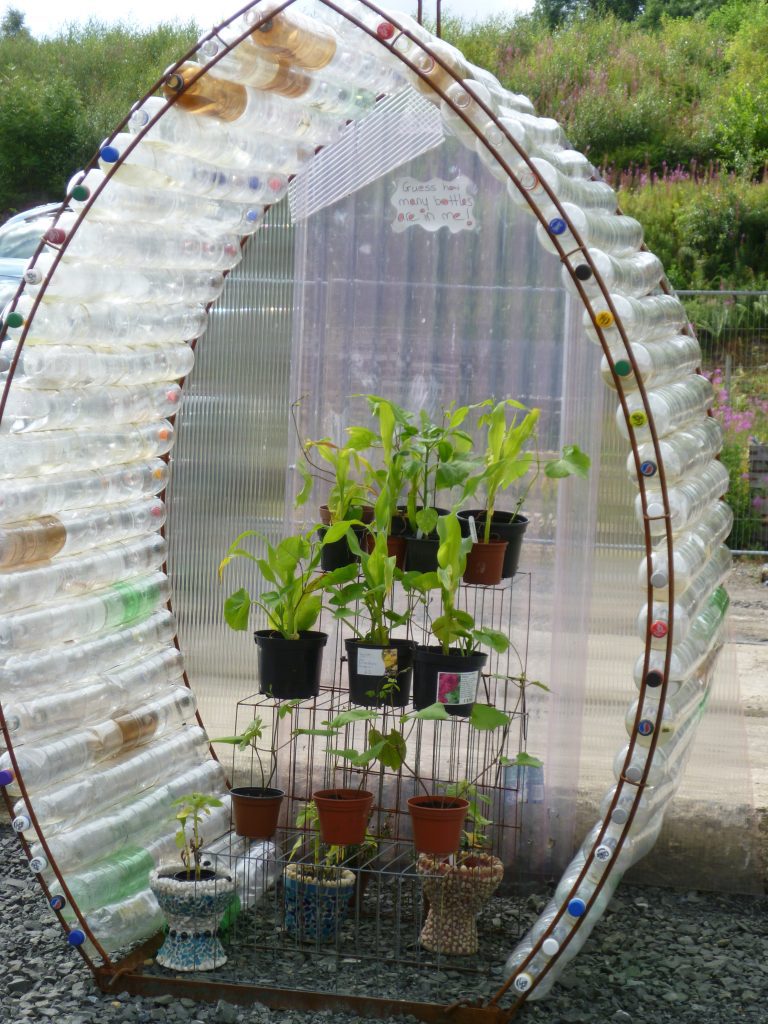 With some good weather-proof tape, you can patch any holes in your patchwork sheets. And, if you do use plastic bottles for your greenhouse, no matter what shape you choose, you can pack the bottles with (clean, upcycled) plastic bags for added insulation.
Dome-Shaped Geodesic Greenhouse
Most walk-in greenhouses are rectangular, so if you want a truly unique structure, consider building a geodome greenhouse. Not only is it unique and eye-catching, but the shape also ensures that the plants kept inside get optimum sunlight and growing space to thrive well.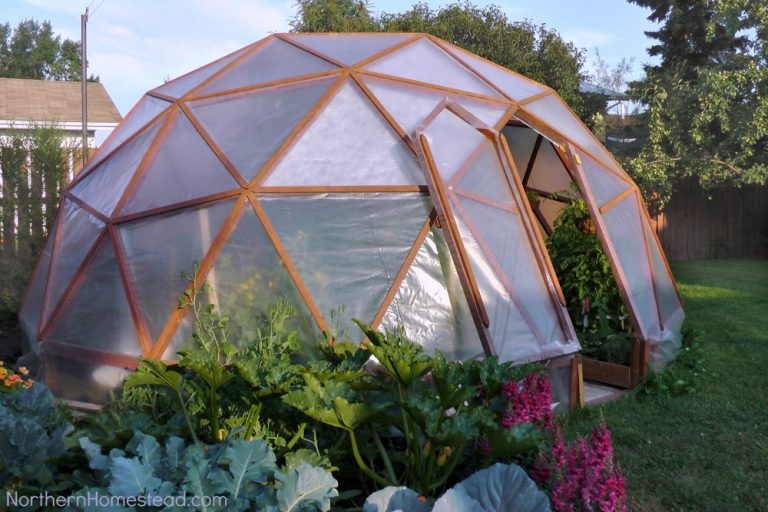 However, it's crucial to get the measurements right to build a dome-shaped geodesic greenhouse. So, first, get some good-quality wood, cut out struts, and assemble them to form the dome. Next, cut greenhouse plastic as per the needed sizes and shapes and cover your geodome with it. And, of course, don't forget to include a door!
Pyramids
If you like the unique look of the geodesic dome but aren't sure about your carpentry skills, you don't need to settle for a simple box shape. Pyramid-shaped greenhouses are just as funky and appealing, but are less complicated to construct.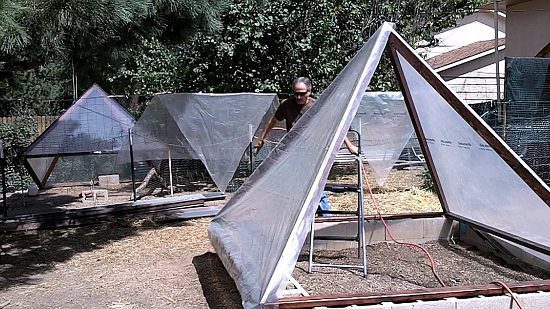 First, construct your base. Map out where you want the garden bed and build the base accordingly. Make sure to measure your wood carefully so the top corner won't collapse. Finally, securely tack three sides with tarp, but leave one loosely tied so you can have easy access to your garden.
Old Windows
Old windows are great for building a greenhouse. They're already designed to protect your home from harsh weather conditions, so they'll do the same for your plants. If you're doing some housework and have some worn-out windows destined for the garbage, put them to good use.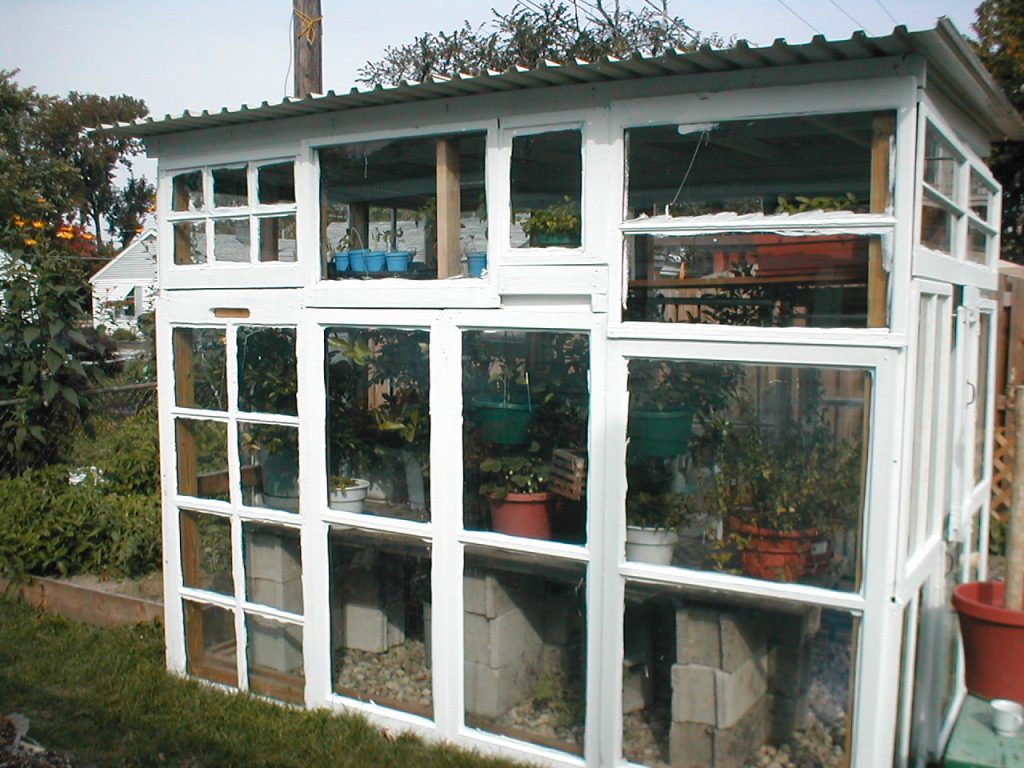 The wooden frame must be put together, keeping in mind the measurements of the windows as they need to fit into it securely. You can fill in gaps in the wall with some wooden planks or plexiglass. Use stones for the floor, as it helps in heat retention and water drainage.
Fully Upcycled
For many people, the primary reason they use a greenhouse is to reduce waste by growing their own plants — rather than relying on store-bought produce. This one, made entirely of recycled materials, is a great example of an eco-friendly greenhouse.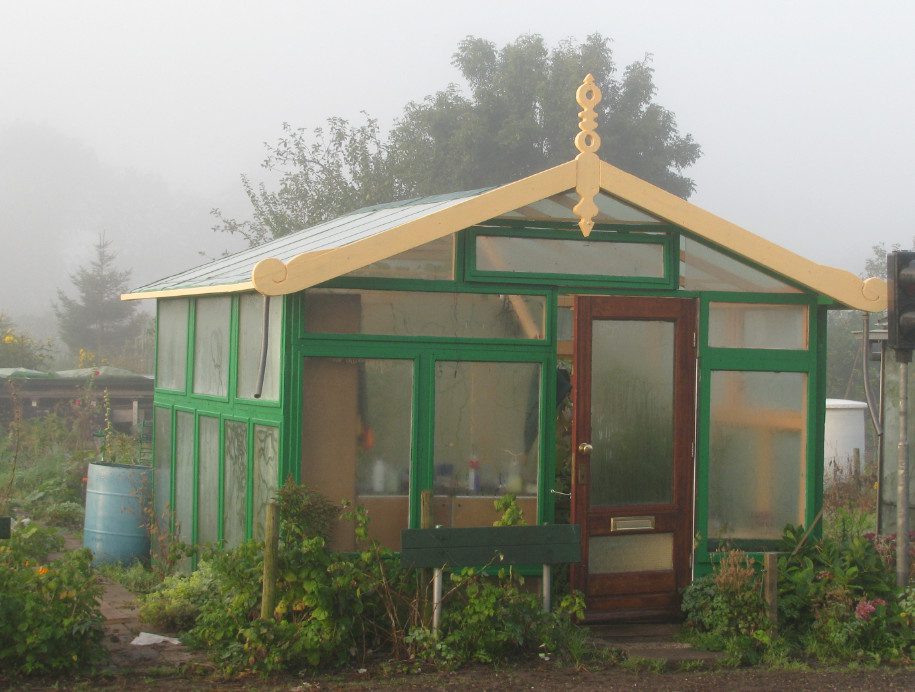 Trashed windows and recycled wooden frames form the external structure. To fasten the plastic sheeting on the roof, the builder used strips of food-grade conveyor belts. Lastly, disposed vacuum cleaner hoses and washing machine drains are used for effective water drainage.
Carport Turned Greenhouse
Carports are pretty useful structures if you own a four-wheeler. For example, it protects your car from getting overheated in the sun. However, if you no longer use it to park your vehicle, you can always turn it into a fancy and functional greenhouse.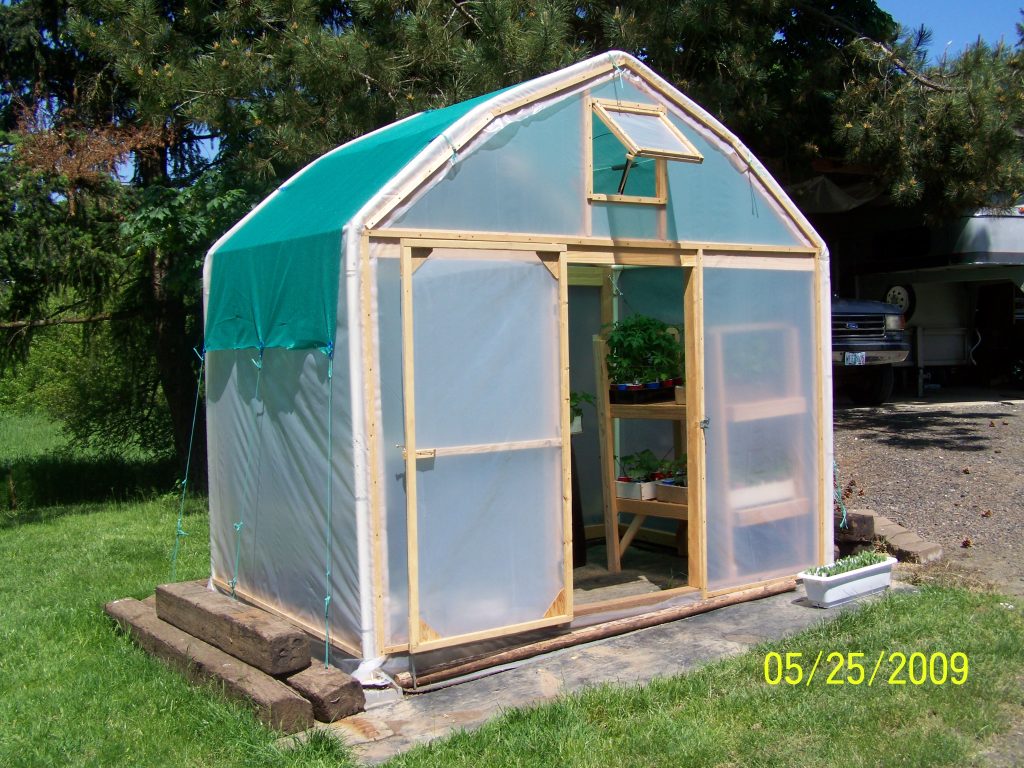 Transforming it into a greenhouse is relatively easy because you already have the metal framework. All you need to do is nail some wood wherever necessary to strengthen the structure and cover it with transparent plastic to complete the look.
Spacious Home-Like Glasshouse
A greenhouse can be simple or complex, depending on how much effort you're willing to put into it. This flamboyant glasshouse is undoubtedly more challenging to build than many of its counterparts, but it is one of the most attractive greenhouses you will ever come across.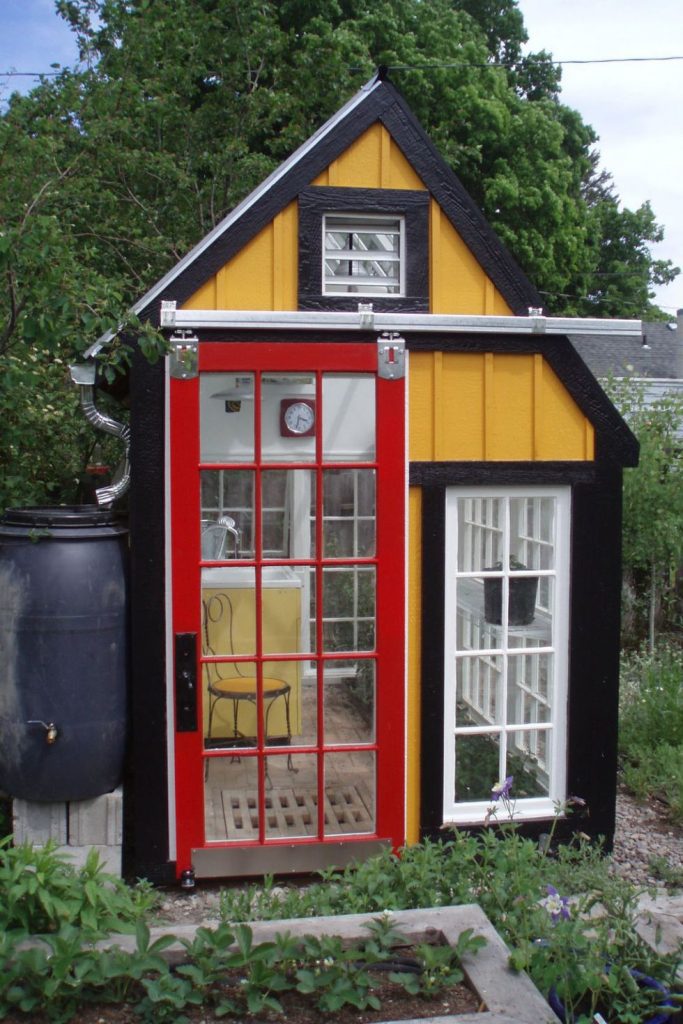 Not only does it have the basic amenities a greenhouse must possess, but it is also big and airy enough to have a chair for one to sit and enjoy the view. There are also sinks, faucets, wire shelves, pendant lights, and clocks to make it seem like a cute tiny home.
Angled Greenhouse
If you have a shed, this greenhouse could be the perfect choice. It is always created adjacent to a sturdier building, and a wooden shed provies the perfect back wall for your DIY greenhouse. Once constructed, you won't even know that they're not one big structure.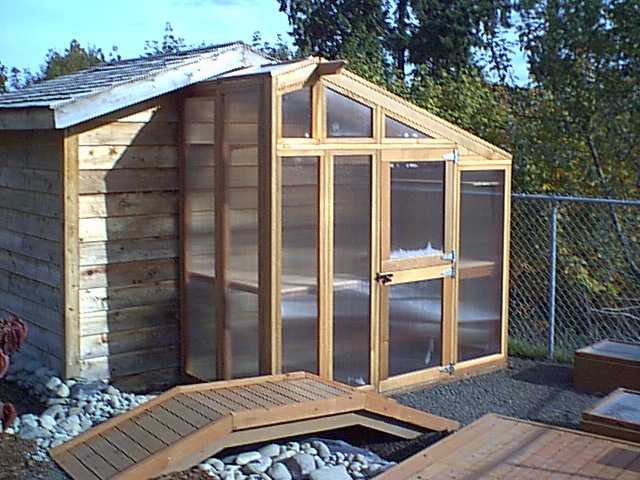 This greenhouse is built like the usual ones. It has a wooden frame held together by nails and screws, a dutch door with hinges, and glass panels snugly fit onto the walls and roofs to protect your plants and preserve the internal environmental conditions.
Mini Greenhouse with Shelves
Greenhouses are meant to store tender plants safely and securely against harsh external weather conditions. Thus, many prefer making it simple and easy to construct, like this shelved cold frame. It is made of a wooden pallet with shelves to store and protect growing vegetable seedlings.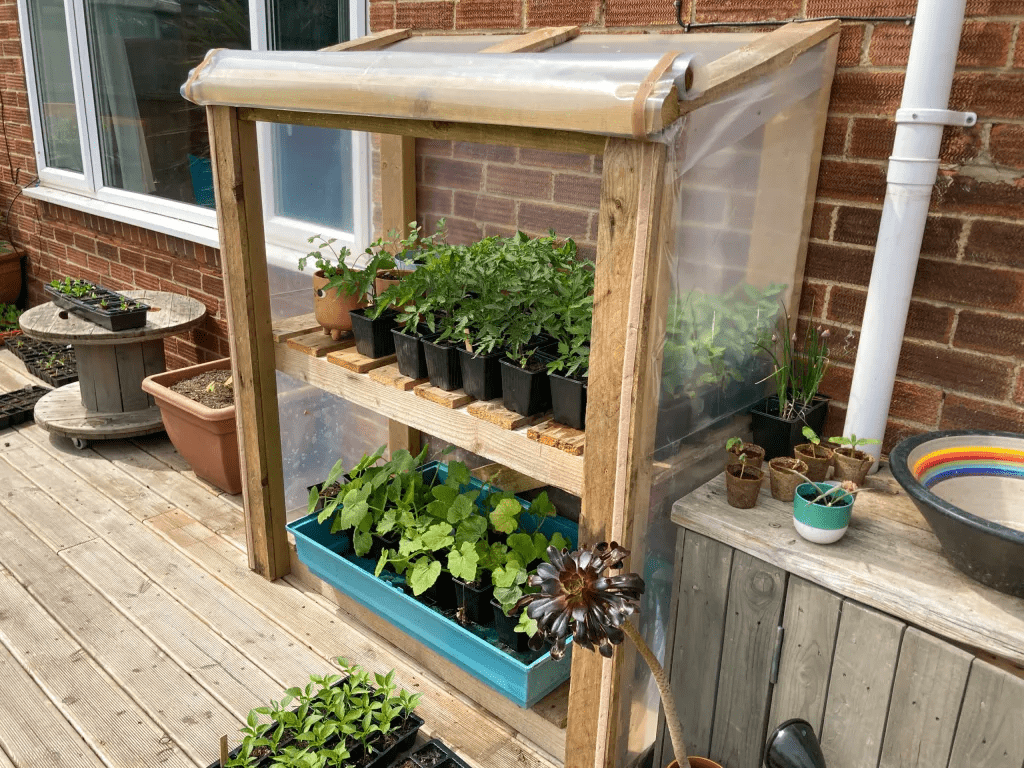 Once the framework has been built and secured, all that is left to do is put a plastic covering over it. The roll-down plastic sheeting is ideal for this style as it allows for easy access to your plants without being too cumbersome.
Electronic Greenhouse
With the way technology has advanced, it is not surprising that automated greenhouses exist. Several students have already tried to create electronic glasshouses for their science projects in high school, and many have succeeded. Thus, there is no reason for you not to consider making one, too.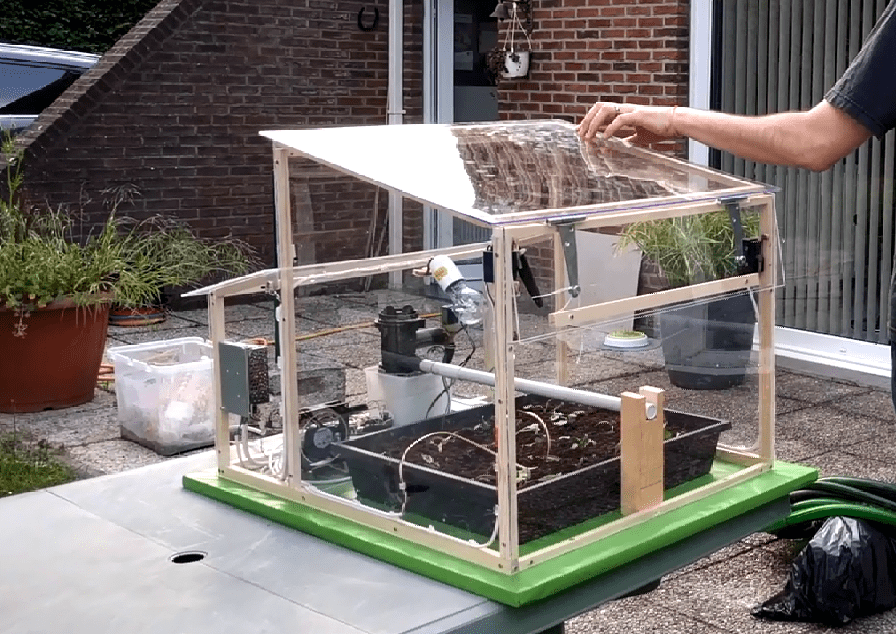 The good thing about an automated electronic greenhouse is its low maintenance needs. The water content, air quality, temperature, and lighting are all controlled automatically through sensors and/or web applications. Thus, this type of greenhouse does not require human intervention; instead, it runs itself after activation.
Easy-to-Assemble Aluminum Greenhouse
If you lack time to fabricate raw materials and build a greenhouse from scratch, here's a solution to overcome the issue. You can buy a pre-packaged aluminum greenhouse kit and use it to assemble your cold frame quickly so that there is minimal work for you to do.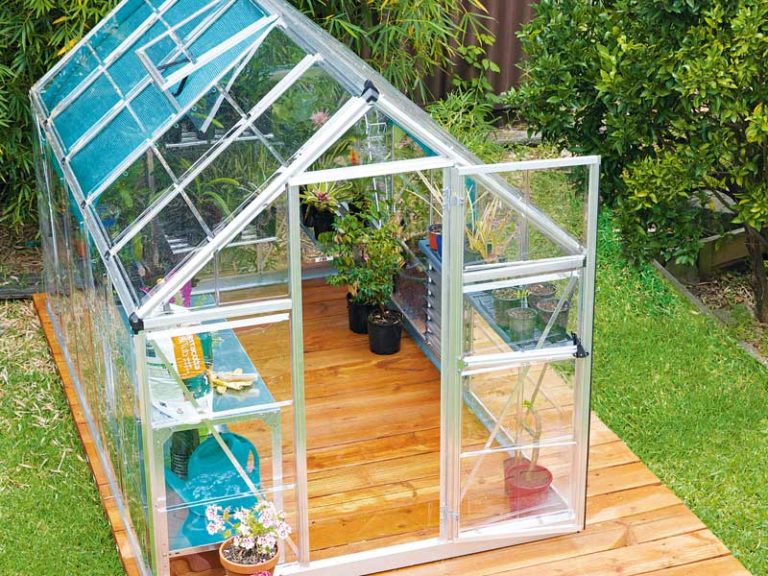 Since the frames are ready to install, all you'll have to do is put them together in a stylistic yet firm way so they can stand on their own. Then, you can attach polycarbonate panels to the framework for better thermal insulation and light transmission, and you'll be done.
A Greenhouse You Can Sleep in
Greenhouses can double as guest houses if you are ambitious enough and willing to do extra work. Many people find sleeping in a greenhouse appealing. Since greenhouses always allow for proper heating and ventilation, both humans and plants find them cozy.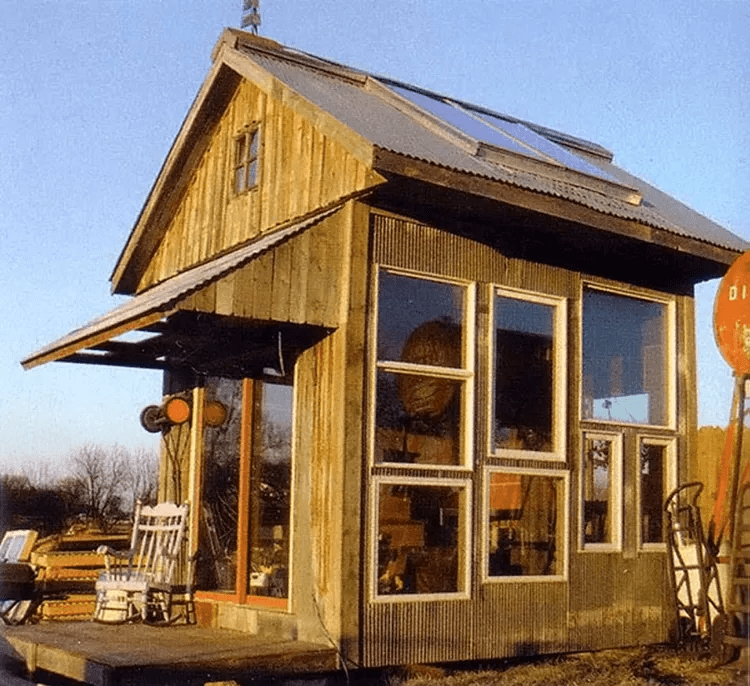 Add a soffit design to the structure to keep the loft airy enough for comfort in the summer. As for the winter, install solar panels and fiberglass appropriately to render optimum heating and lighting conditions for you and your plants. Though this project will be time-consuming, the finished product will be worth it.
Bamboo-Based
Fun fact: bamboo is a grass! It grows fast and can serve a number of purposes, making it a highly sustainable material. With thick bamboo stalks, you can easily construct your greenhouse. However, the actual building steps are a bit different from regular wooden planks.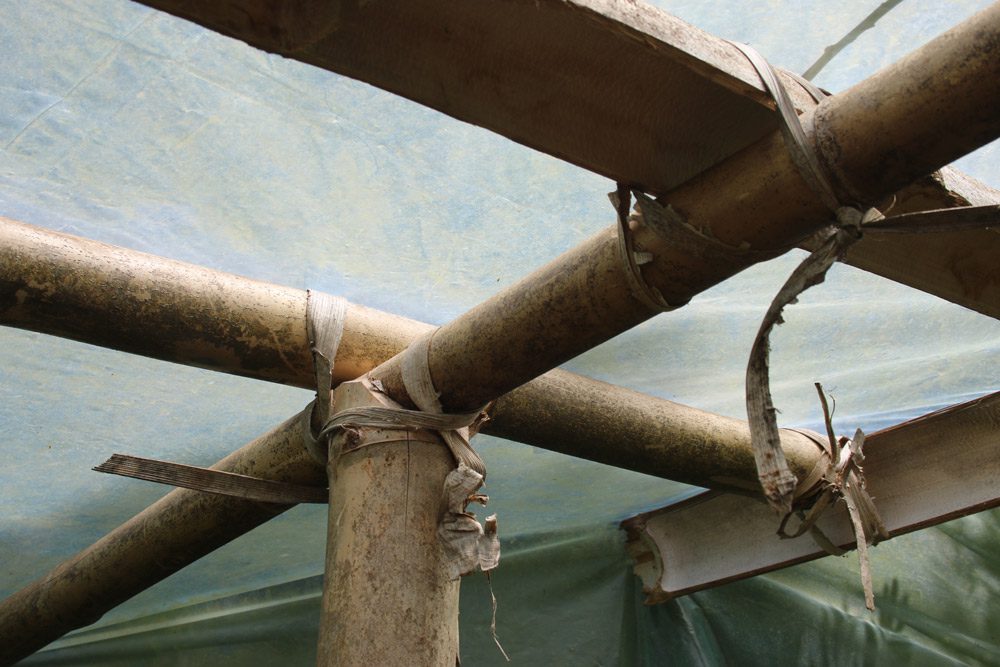 Bamboo can easily break and splinter if you drill into it, so it's best to use rope or twine to create a lattice. To start, carefully cut your bamboo into the desired length, and sand down any sharp edges. Feel free to carve out little notches if needed to snuggly fit the cross-beams.
Bamboo Version 2
If you don't have access to enough thick bamboo stalks, you can build a smaller greenhouse using the grass. Thinner shoots are more flexible, they're perfect constructing a mini polytunnel. Though they're less easy to break, you should be careful when bending your bamboo.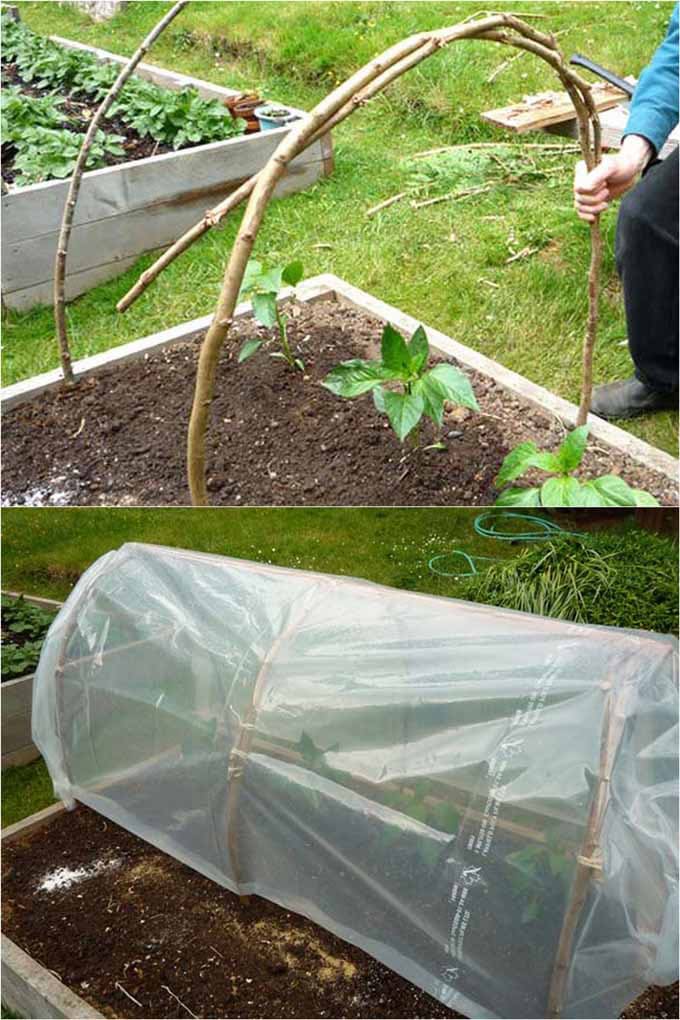 For an easier time building this style, use fresh shoots as they're more pliable. However, if you need to attach multiple stalks to make the arch, you should still use twine. Even when covered in a tarp, this structure is light and can easily be lifted and moved around.
Boxed Tall Window Greenhouse
This simple DIY greenhouse uses only four window pieces to form its structure. First, three window frames must be screwed together in vertical 90-degree positions to form a U shape. Ensure that the windows are of the same size so that the greenhouse is uniform on all sides.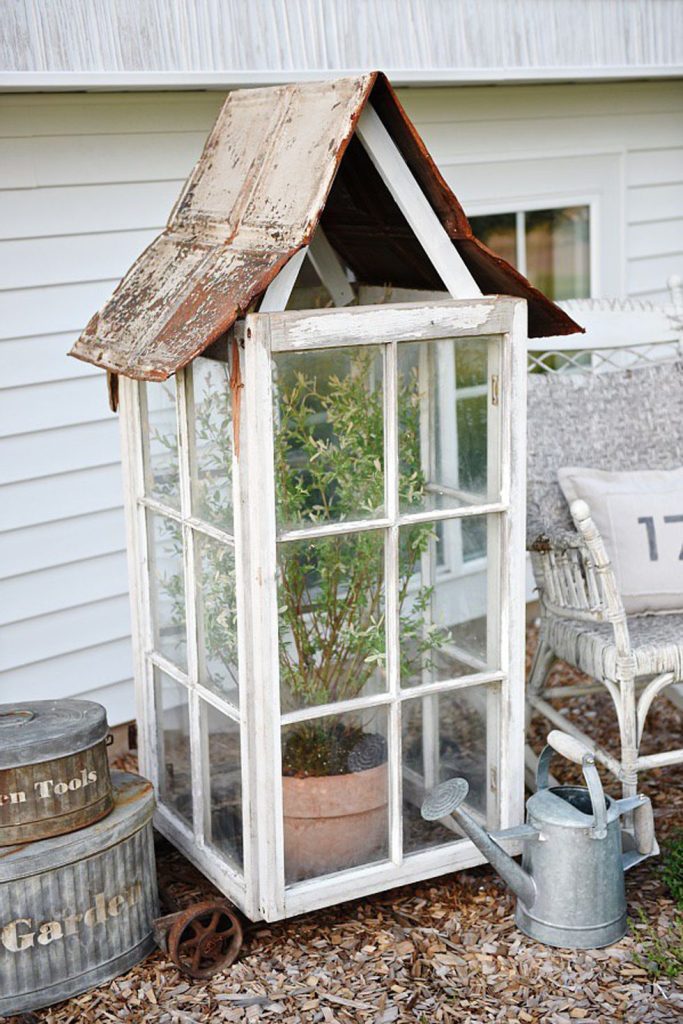 Next, install hinges on any open-sided window frame and attach the fourth window to form the greenhouse door. Since the top of the structure remains open, cover it with with metal sheets to enclose the greenhouse, protecting your plants from external weather hazards.
Upcycled Trampoline
Trampolines are fun for all ages, but just like everything in your yard, it will wear down over time. Broken trampolines are dangerous to play on, but that doesn't mean that they're useless. You can make the best use of your aging trampolines by converting them into a DIY greenhouse.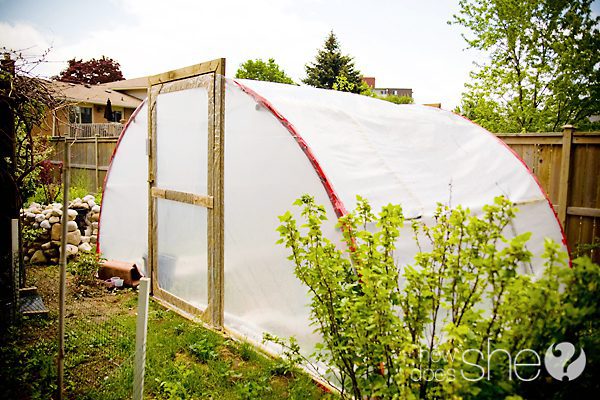 All you need to do is pull apart the old trampoline frame and get two halves, forming the two ends of your greenhouse. Then, screw those halved frames with PVC pipes to establish a sturdy structure. Once done, it is only a matter of arranging the plastic on the framework to complete the greenhouse.
Plastic Bottle Seedling Starters
Here's another take on the PET bottle greenhouse; this time on a smaller scale. Although PET bottles are notoriously not environmentally friendly, this seedling starter is the one exception to that rule. As always, when upcycling plastic bottles, make sure to thoroughly clean them.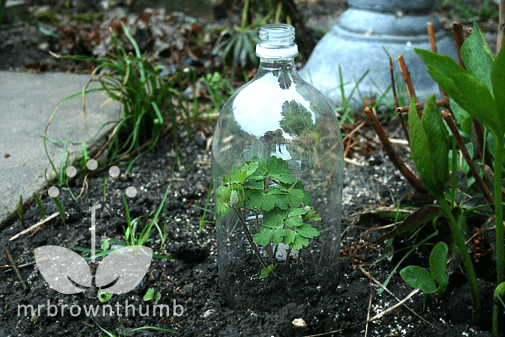 Unscrew the caps and cut out the bottom portion of the plastic bottles. Then, encase them around your young plants embedded in the soil for adequate ventilation and water circulation. Thus, by maintaining optimum conditions, these PET bottle-styled greenhouses give a great kickstart to developing delicate warm-season vegetable plants.
A Single Window Turned Into a Cold Frame
You don't need three (or more) windows to make a greenhouse. With some wooden planks, just one old window will do just fine. However, this one is slightly different because it opens from the top, where the window glass is placed.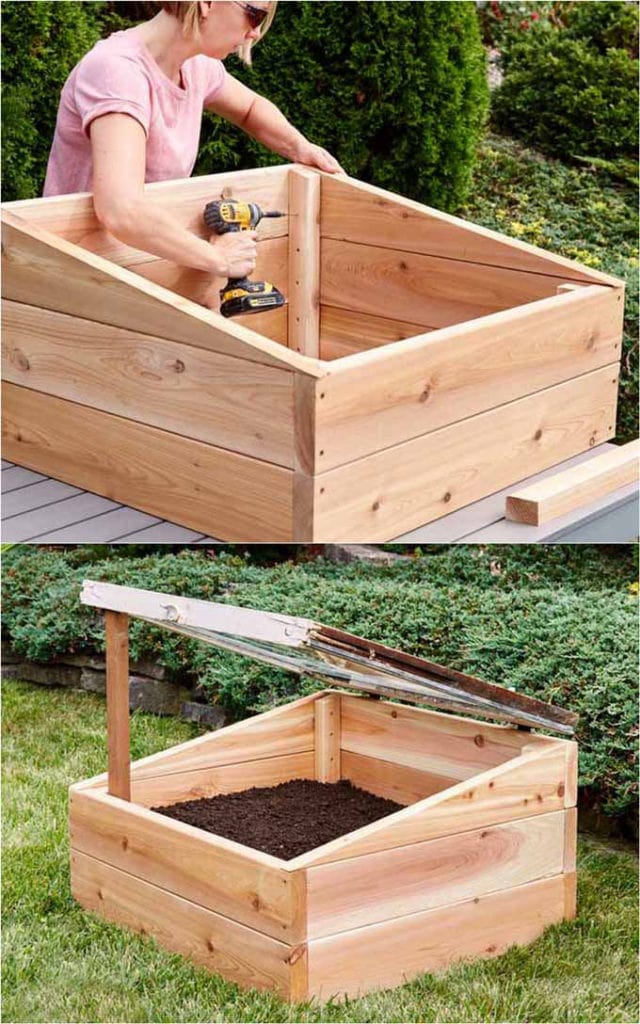 It is always best to create and shape the greenhouse's framework first. Here, wooden boards are used to form the side walls of the cold frame. After it's done, you can attach the old window using hinges. It acts as the roof as well as the door of the greenhouse.
A-Shaped Roof
A-frames are easy to form and are thus used in making many DIY greenhouses. Some common materials utilized for constructing them are old windows, straw bales, and poly sheeting. Straw bales might be a little harder to work with, but they provide a good cover around the greenhouse, retaining heat for a longer time.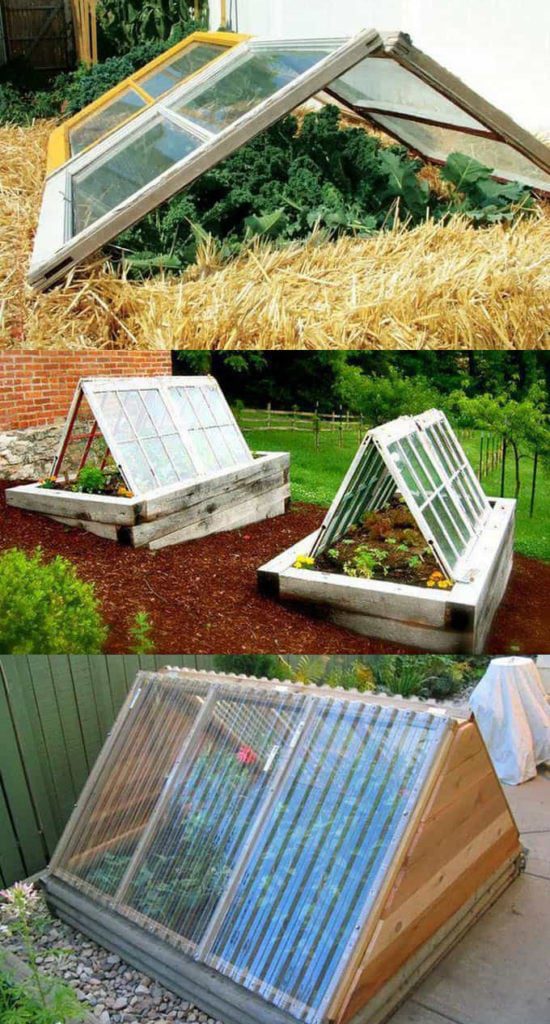 Old windows are always a favorite for greenhouses due to their versatility and functionality. Last but not least, poly sheeting is a trusted and affordable greenhouse material that provides optimum light exposure to plants, boosting their growth. So, based on your requirement, you can use any of these materials to construct your A-shaped DIY greenhouse.
PVC Pipes
If you want a greenhouse for only part of the year but don't have a place to store it, this PVC greenhouse is the perfect solution. The parts are all easy to find at your local hardware store, and they snuggly fit together wtihout the need for nails or adhesive, making them just as easy to disassemble.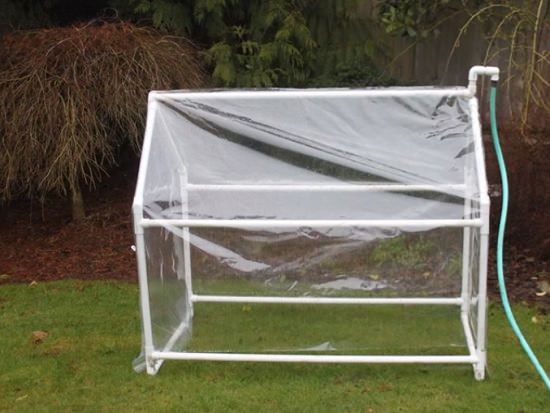 PVC is light but durable, so screwing in the plastic sheeting used for the sides doesn't require a lot of effort. Furthermore, you can create the size and shape that suits your needs. The corner pieces come in all shapes and angles, so you can fully customize your structure.
Top-Covered Hinged Greenhouse
A cold frame with a hinged top cover is quite creative and unique as far as greenhouses are concerned. This particular one requires effort to build but is effective in protecting your tender plants. Also, this greenhouse serves as an attractive addition to your garden, enhancing the beauty of the space.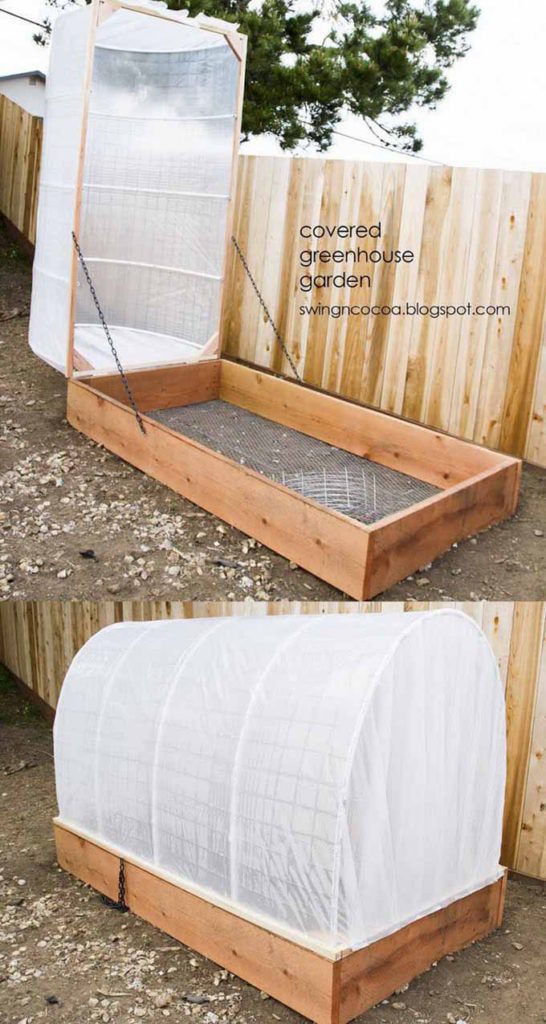 So, if you want to construct this greenhouse, build a wooden frame with chicken wire lined at the bottom. Next, use PVC pipes to form hoops and attach them to the base with screws and clamps. Finally, attach a breathable garden fabric to the hoops, forming the top covering of the greenhouse.
Mobile [Plant] Home
Many people have tried their hands at living in a mobile home. While some have adjusted exceedingly well to the lifestyle, others have realized that this life is not meant for them. No matter which category you personally belong to, your plants are sure to thrive in a mobile home.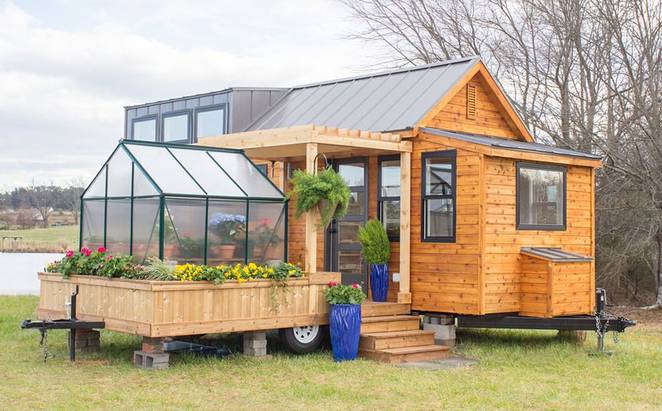 With ample, airy space and lots of windows, half your work is already done. All you have left to do is transform it into a haven for your plants from the inside. The fact that it is mobile is another point in its favor; you can move it around your property as if the need should arise.
Umbrellas
This greenhouse is the best example of DIY because there is not much to do in the first place. You only need two materials, both of which are easy to procure — a clear umbrella and some string. Using them, you can easily form a shade over your plantlets in a pot or garden bed.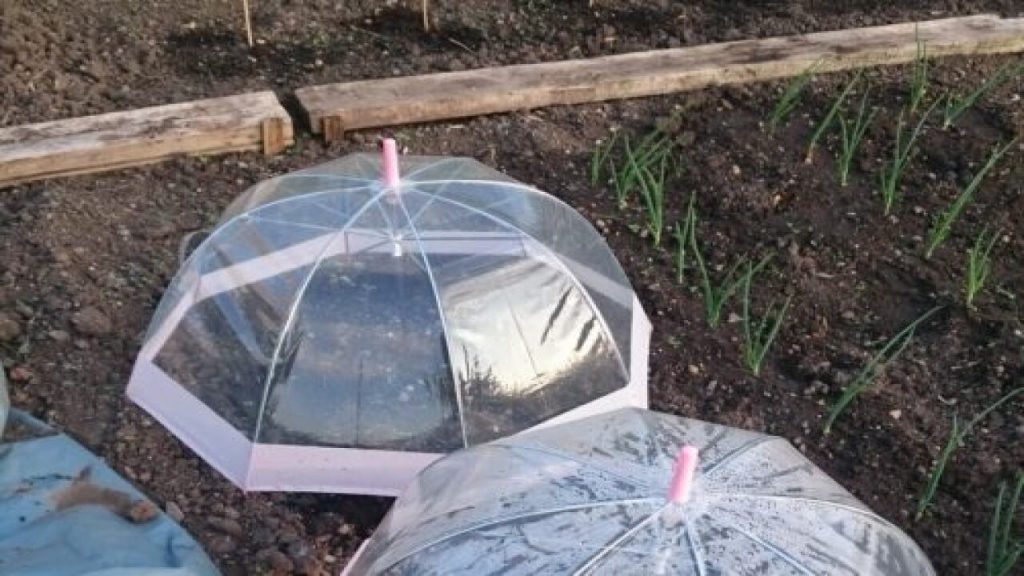 The umbrella will provide a greenhouse effect, protecting the plants under it from extreme weather elements, and the twine will ensure that the canopy is sturdy against strong winds. This greenhouse set-up is cost-effective and easy to install, making it a good choice for those running short of time and money.
Simple Greenhouse
If you have a small backyard where you want to install a greenhouse, this tiny traditional one can be your ideal pick. You can easily build it using wood, with polycarbonate sheets draped over it. Also, you can add a wooden door using hinges to facilitate natural ventilation.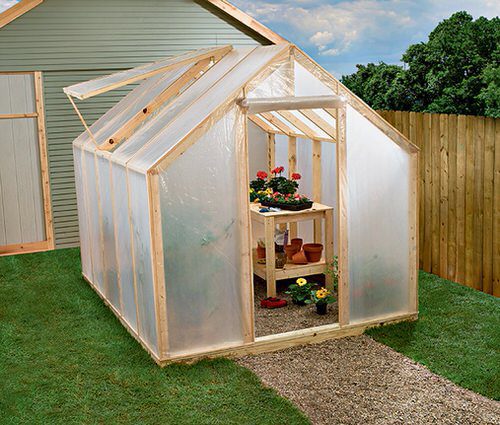 However, always use high-quality wood that can endure unpredictable and harsh weather conditions, helping your plantlets survive. While this may cost you bucks now, you'll reap the benefits when your greenhouse looks as good as ever, even after a couple of years.
Mini Window DIY Greenhouse
While wood seems to be the material of choice when making greenhouses, it is not the only optiona available to you. You can be creative and make a smaller-sized structure using just a few old window frames that might have been lying around with no use in sight.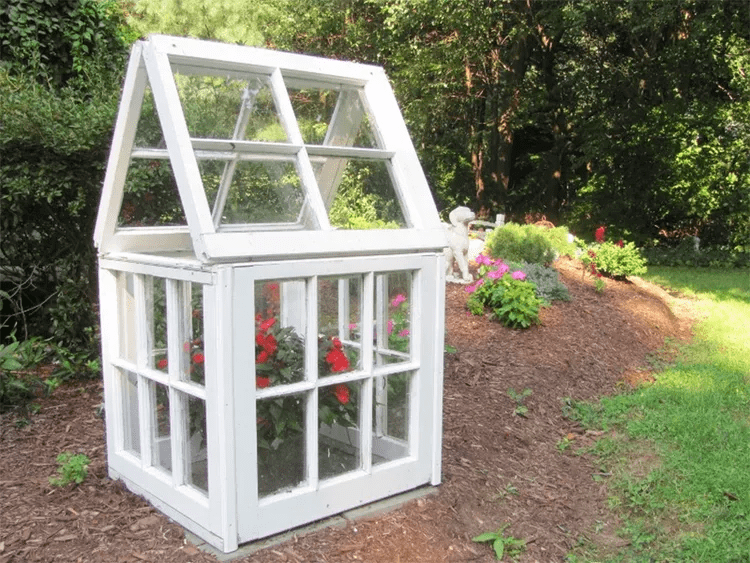 At the very least, you will need six windows to build this mini DIY greenhouse. Four must be cobbled to form the bottom box where you'll place the plant. The other two window frames will be used to construct the greenhouse's roof to protect it against the extreme weather outside.
Mini-Hangar Hoop Greenhouse
This greenhouse is ideal for those with a large yard. Taking up a whopping 300 square feet, this polytunnel greenhouse can house enough plants to grow fresh veggies all year round. And, according to the builder, it cost less than $500.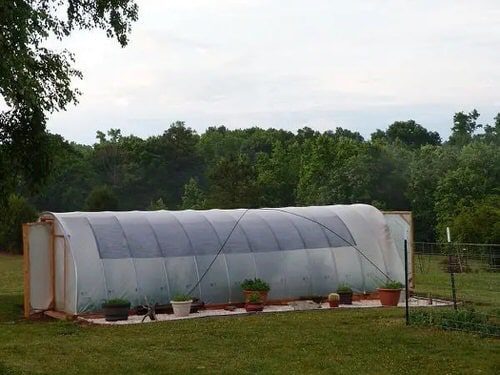 It may look daunting, but the actual construction of this large greenhouse follows the same principles as the smaller hoop ones. The main difference is the need to properly secure the base and hoops in the ground so that it can withstand strong winds.
Kitchen Cabinets
Greenhouses replicating kitchen cabinets are one of the cutest things you can have in your garden. Fortunately, they are easy to make if you do not want to buy them readymade. However, to get the perfect kitchen vibes, you must ensure that two doors are appropriately installed in the greenhouse, opening outwards.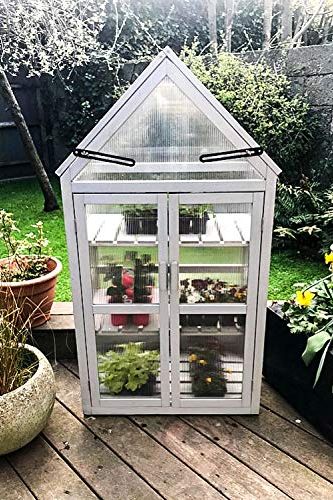 You can also build it in a way so that the roof panels open up, making it easier to access the plants you have kept inside and check them at regular intervals. With a little bit of paint, this greenhouse will truly become the highlight of your garden.
Raised Greenhouse
Greenhouses that are tiny enough to be kept on elevated surfaces are not only practical but also artistic and beautiful to look at. While you can show some creativity when constructing big, towering greenhouses, there are limits to what you can do in the case of small-scale versions, given time and budget restraints.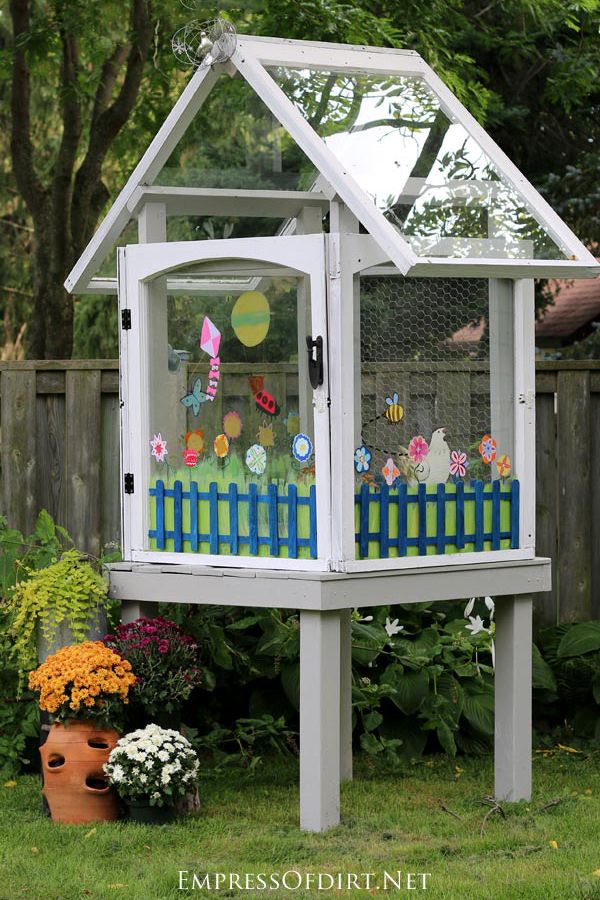 But this greenhouse made of glass windows stands against all odds. The creator decorated the structure in colorful ways to make it look more visually attractive. Likewise, you can also use glass paint, fancy stickers, and intricate wall hangings to decorate your mini DIY greenhouse.
Old CD Cases
If you had a computer in the early 2000s, there is a big chance that you used CDs. So, if you still have clear plastic CD cases in your basement or loft, building a greenhouse out of them can be an effective way to reuse them.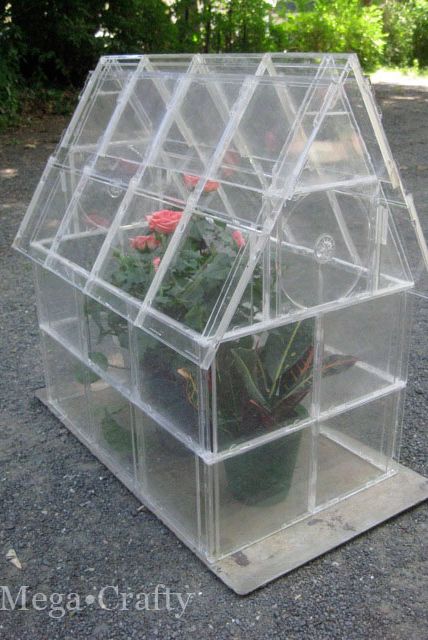 So, you should first measure your plastic CD cases and cut them accurately. Then, orient them in the correct pattern and glue them one after another to create the greenhouse walls. Once done, you can work similarly on the roof to form a lightweight, upcycled DIY greenhouse.