Egg-citing Upcycling: 40 Ways To Transform Egg Cartons Into Useful Household Items
By Navkiran K May 10, 2023
---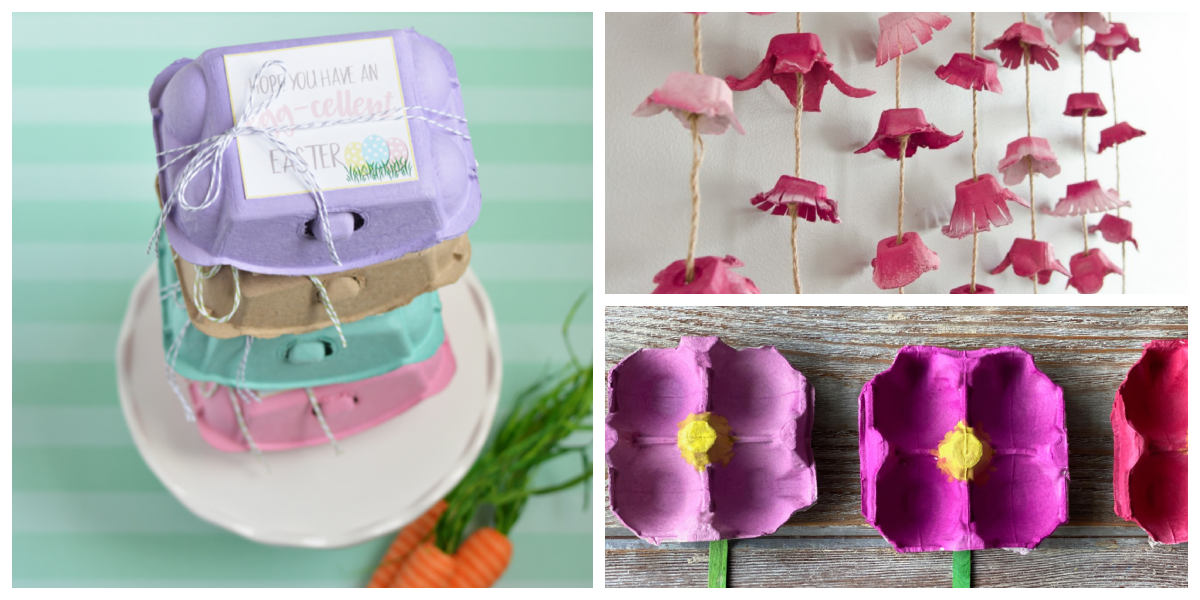 Eggs are nutritious and delicious and are a key ingredient in various dishes such as omelets, cakes, and salads. They are staples in homes, so it's no surprise that daily bundles of egg cartons are thrown into the trash. But did you know that egg cartons can be recycled? There are countless creative ways to repurpose egg cartons and give them a new lease on life.From practical storage solutions to fun craft projects, old egg cartons can be transformed into valuable and beautiful items for your home. Not only will you be reducing waste and helping the environment, but you'll also be unleashing your creativity and saving money. So let's crack open the possibilities and explore some exciting uses for repurposing old egg cartons.
Reduce Waste and Grow Your Garden
An egg carton can be an excellent tool for starting your seedlings. Its individual compartments can hold soil and seeds, providing a protected environment for germination. You can easily transfer the seedlings to a larger pot or garden bed without disturbing their roots.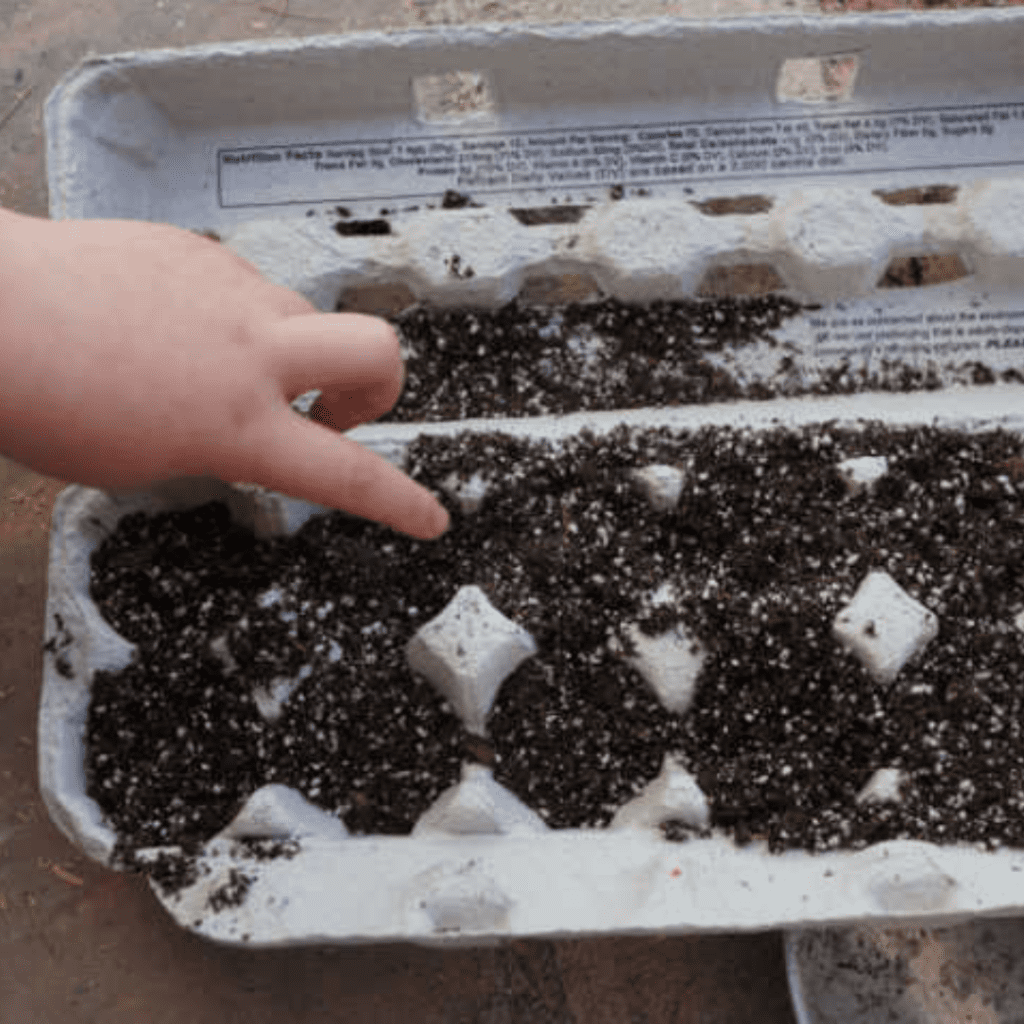 Using egg cartons as seed starters is an excellent way to reduce waste while enjoying the benefits of gardening. Not only are egg cartons readily available and cost-effective, but they're also biodegradable, but you can plant them directly in your garden bed or compost them when the seedlings are ready for transplanting.
Sweet And Sustainable Ice Cream Cones
Egg cartons can be transformed into adorable ice cream cones for kids to play with. Cut out the cups from the carton, paint them in various pastel shades, and let them dry. Next, fill the cones with colorful pom poms or cotton balls to represent different ice cream flavors.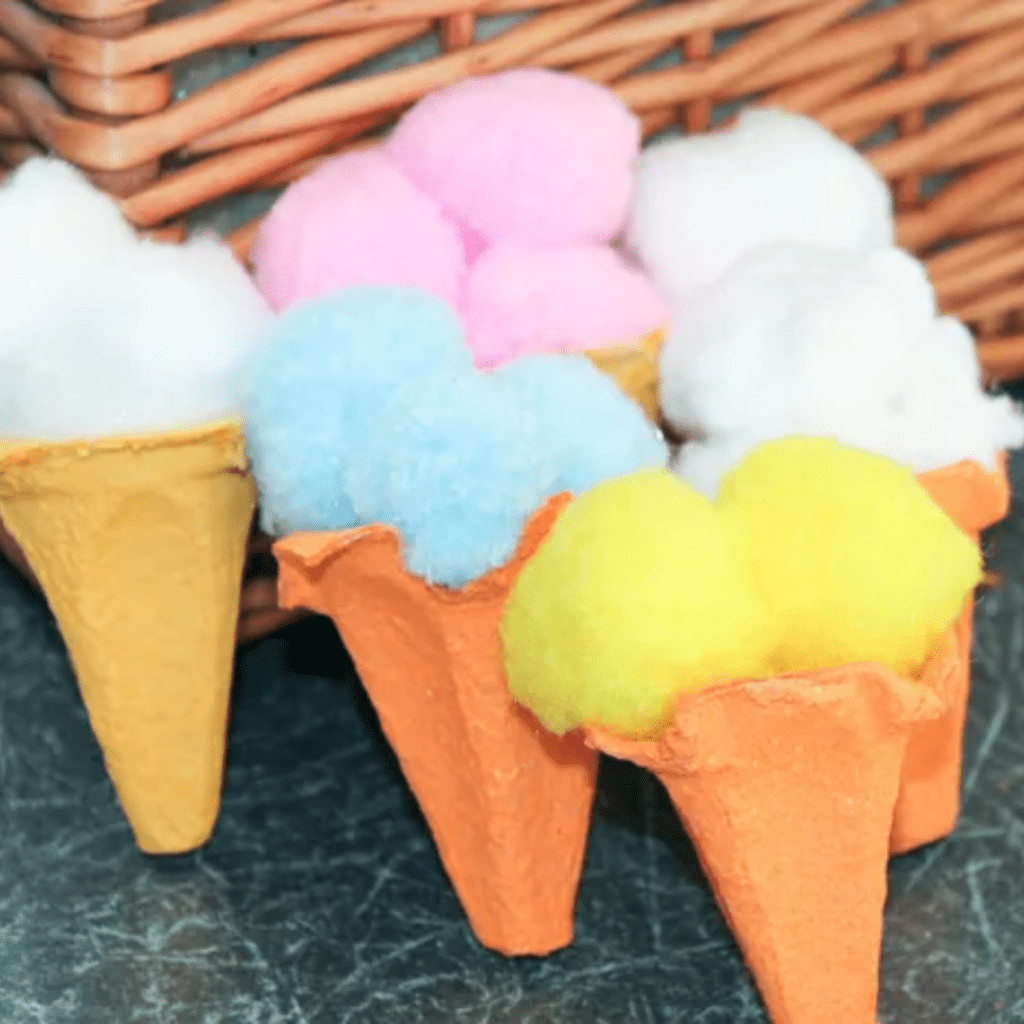 These egg carton ice cream cones are perfect for imaginative playtime and can be used for a range of activities, such as sorting and counting games. Additionally, they make for a great decoration for kids' rooms or can be used as party favors at an ice cream-themed birthday party.
Snack Time With Egg Cartons
An egg carton can make a unique and creative snack tray. Its individual compartments can hold various goodies, such as pretzels, raisins, or nuts, keeping them separate and easy to access. It's also a fun way to serve finger food at a party or playdate.
Kids will especially love egg carton snack trays because they are small and easy to handle, and can be effortlessly carried around without spilling the snacks. Better yet, let the little ones have a go at decorating the egg cartons with stickers or paint.
DIY Carton Lamp
Create an elegant and unique lamp with an egg carton. First, cut the egg carton into individual cups and glue them together to create a cylindrical shape. You can then cover the entire structure with paint or decoupage paper to match your home decor. Next, add a lamp cord and bulb.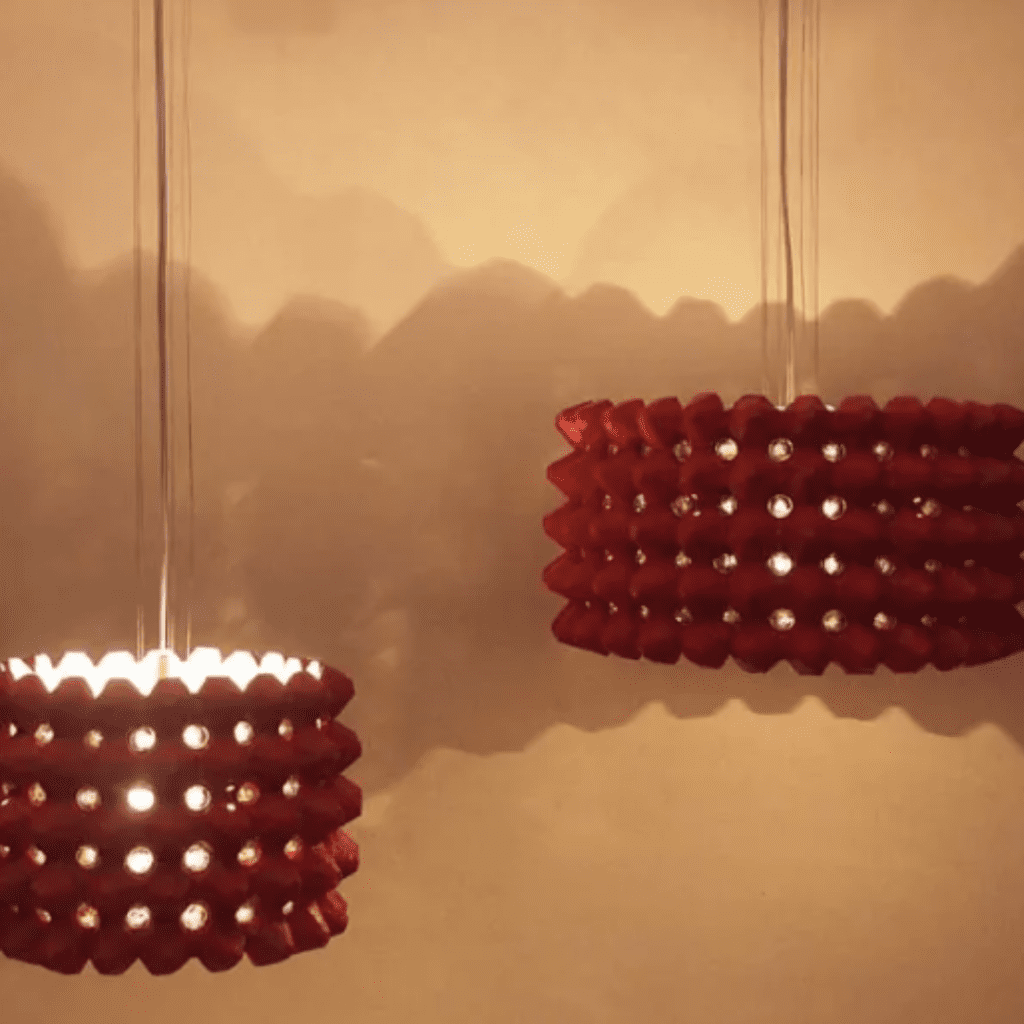 To add an extra touch of creativity to your stunning DIY lamp, you can even cut out designs or patterns in the egg carton cups before gluing them together, creating a beautiful light pattern when the lamp is turned on.
Ribbon Storage Made Simple
If you're a crafty person with a collection of ribbons, an egg carton can be a simple and effective way to keep them organized. With each ribbon spool separated in its own compartment, it's easy to see what you have and avoid tangled messes.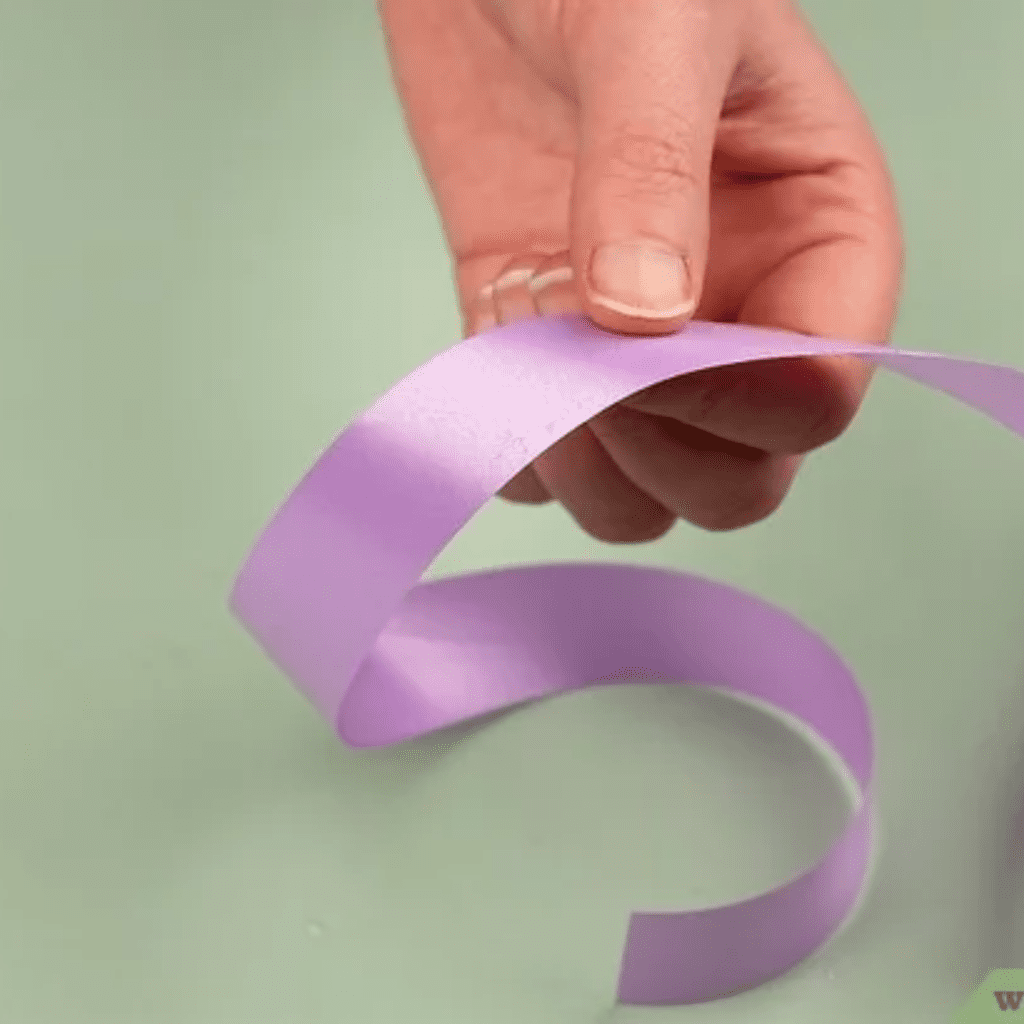 You can even embellish them with paint, markers, or stickers to match your decor or personal style. Whether you're a professional crafter or just enjoy DIY projects, an egg carton can be a creative and useful tool for organizing your ribbons.
Colorful Spring Wreath
Bring the beauty of spring to your front door with a DIY egg carton wreath. Just follow a few steps: cut out the individual cups and shape them into petals, then paint them in vibrant pastels and attach them to a wreath form.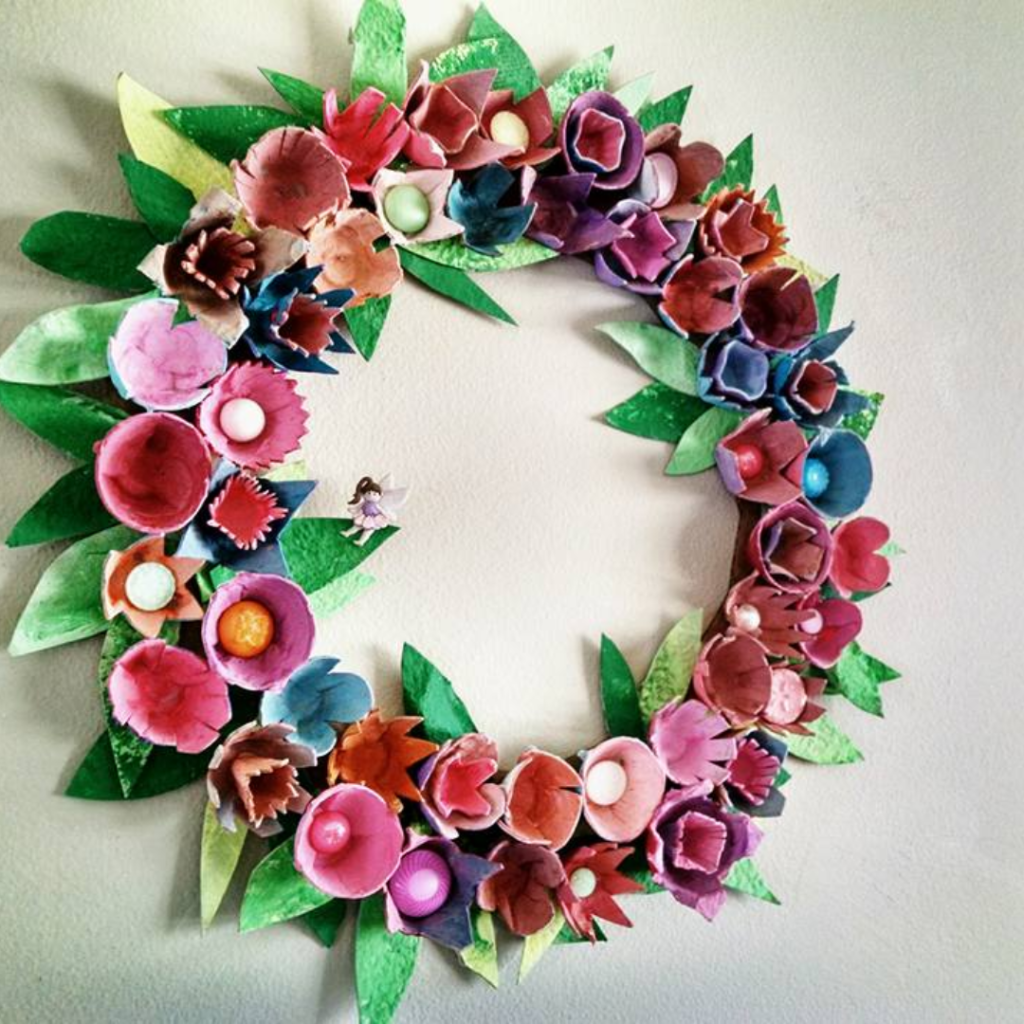 To make it even more unique, add embellishments like paper butterflies or bees, or incorporate small touches of moss or twine for a rustic feel. Not only will your wreath be a colorful statement piece, but it will also show off your creativity and eco-consciousness to everyone.
Fun DIY Game For All Ages
An egg carton can be made into a fun game of Mancala, perfect for kids and adults. Cut off the lid of the egg carton and decorate it with paint or markers, then add designs or patterns to each of the egg cups to make it more visually appealing.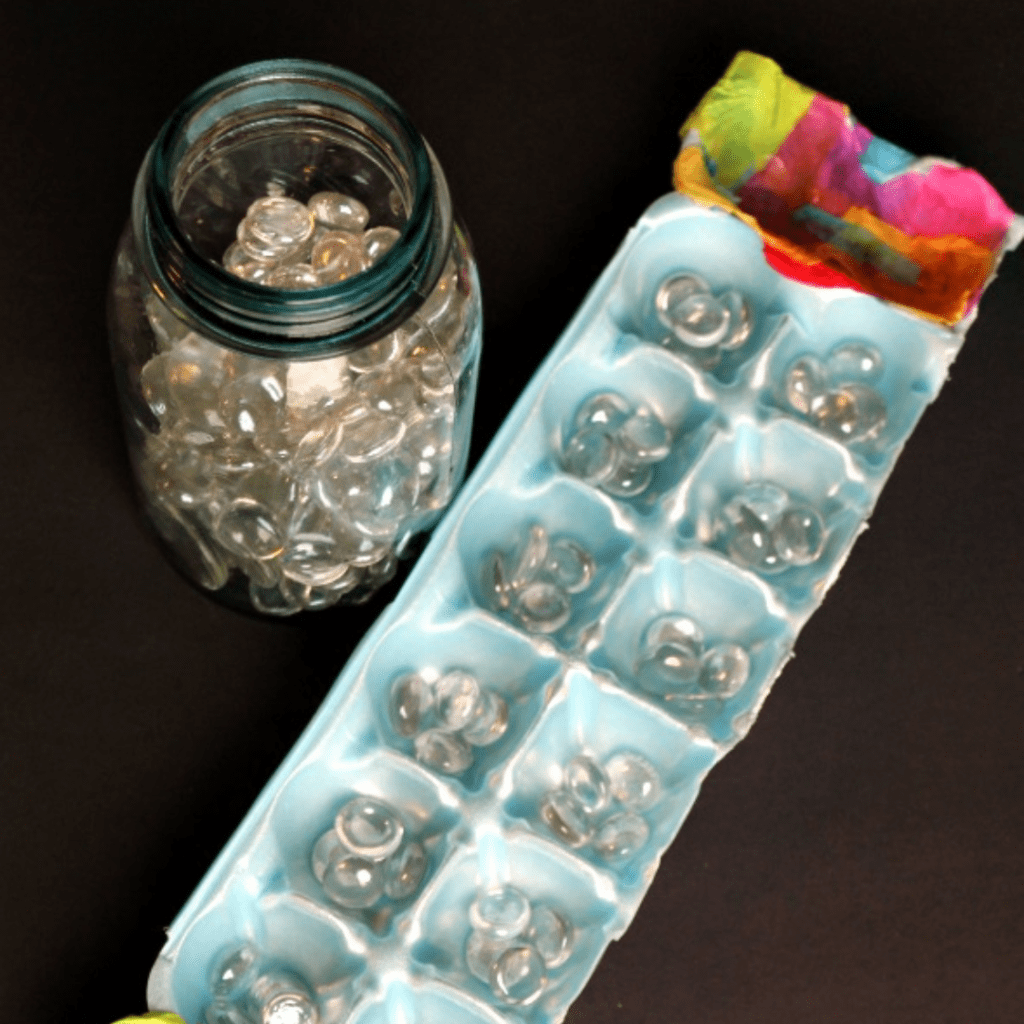 To play, fill each of the egg cups with small beads or stones and have two players take turns picking up and redistributing the pieces along the board. The purpose of the game is to acquire the greatest number of pieces by the end of the game.
From Trash To A Table
Egg cartons can be repurposed into a unique and eco-friendly table by cutting off the lids of several cartons and gluing them together. Cover the egg carton table with a layer of glue and tissue paper to give it a smooth surface, or paint it in your preferred color.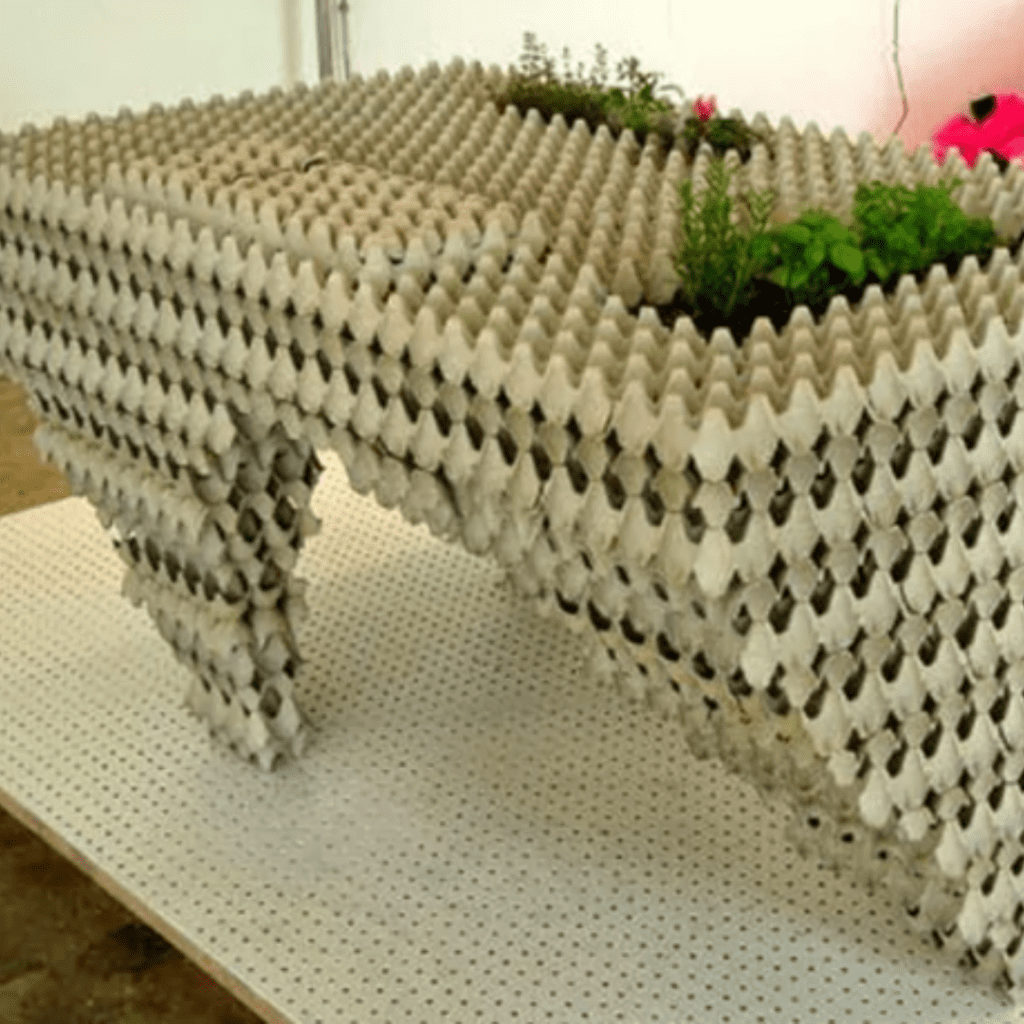 The egg carton table is versatile enough to be used as a side table, coffee table, or even a plant stand. Its unique texture and quirky design make it a conversation starter, and you'll have the satisfaction of knowing that you've upcycled something that might have ended up in waste.
Budget-Friendly Flower Garland
Egg cartons can be transformed into flower garlands that will introduce a splash of color and texture to any space. For that, simply cut the egg carton cups into a flower shape, paint them in your favorite color, and then thread them up together with a ribbon or twine.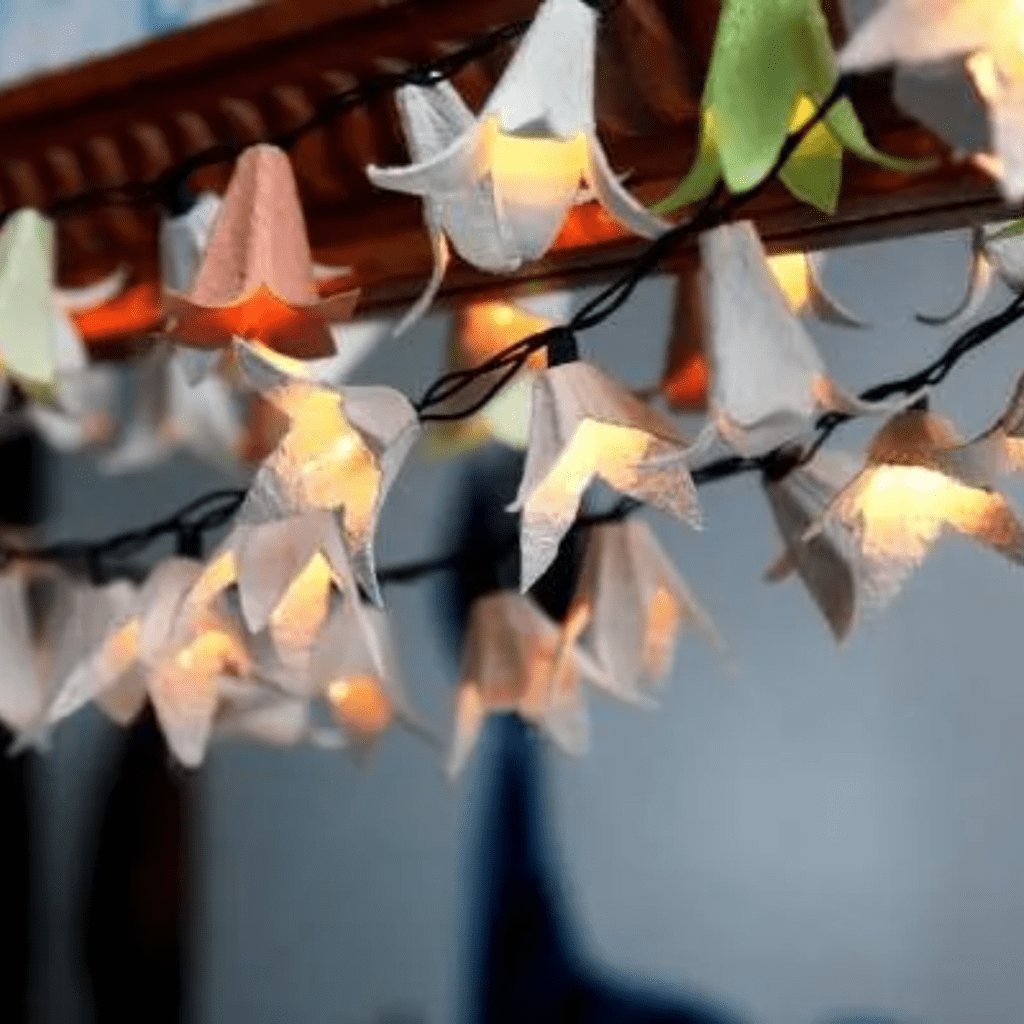 Now hang your DIY flower garland along a wall, window, or mantle for a cheerful and whimsical touch. The best part about this flower garland is that it can be customized according to your preference, from its color to its shape, size, and texture.
Crafting Creativity With Egg Cartons
Dive into a world of imagination with an ocean crab crafted from egg cartons. With the power of creativity and a handful of simple materials, you can bring this unique crustacean to life with a burst of color and fun.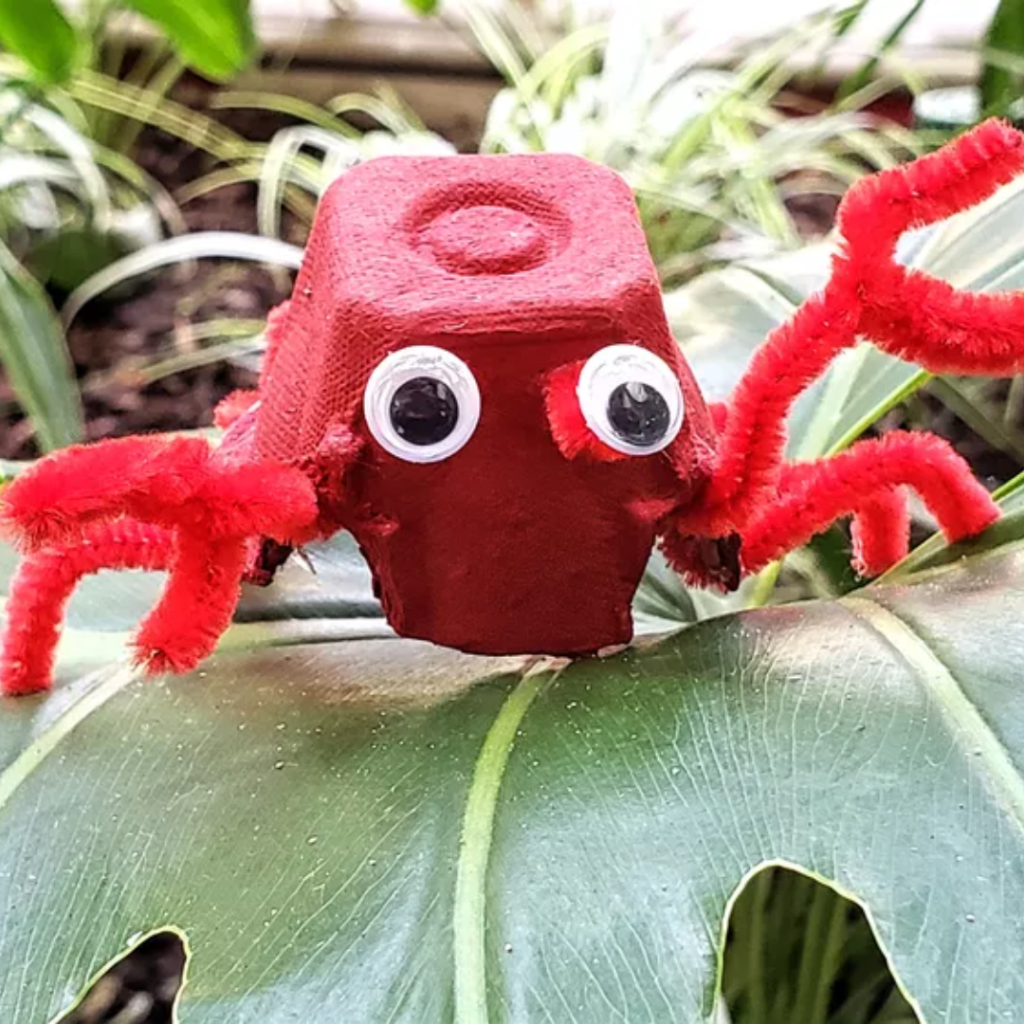 Delight in the joy of painting each carton cup with bright hues and adding details like pipe cleaner legs and googly eyes. The finished product will make a perfect addition to any ocean-themed decor or imaginative playtime. So why not take a dip into your creative side and make an egg cartoon crab today?
Egg Cartons Into Festive Baskets
Transform an egg carton into a cute and eco-friendly Easter basket by cutting off the lid, decorating with paint, glitter, or stickers, and adding a handle made of a ribbon or pipe cleaner. Perfect for collecting eggs or filling with goodies, this personalized basket is easy to make and customize.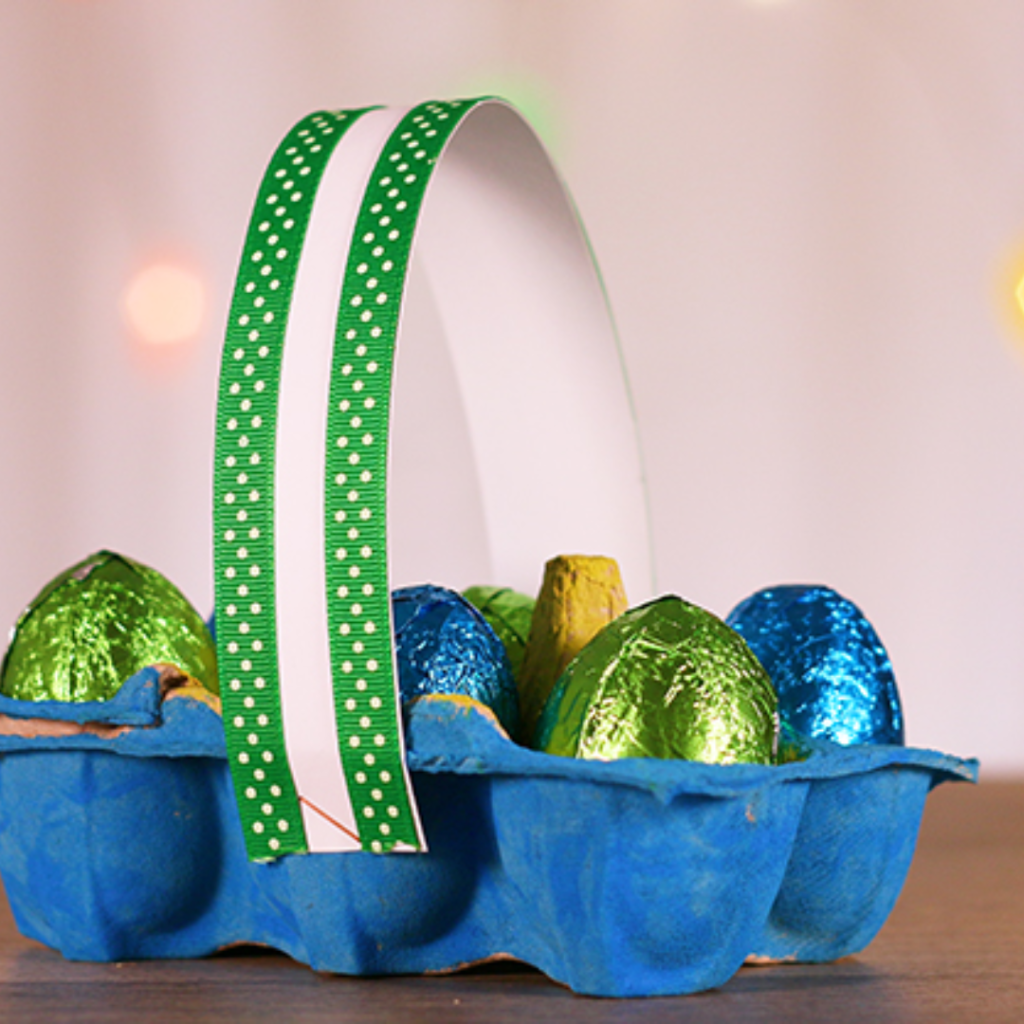 With some ingenuity and resourcefulness, you can repurpose an egg carton into a festive Easter basket suitable for kids or adults. Add your personal touch with colors, patterns, and decorations, and you'll have a unique and impressive craft project that's budget-friendly too.
Maths Fun With Egg Carton
Egg cartons can be an effective tool for teaching basic math skills to kindergarteners. Start by labeling the bottom of each egg cup with a number, then fill the cups with small items such as beads or buttons to represent that number.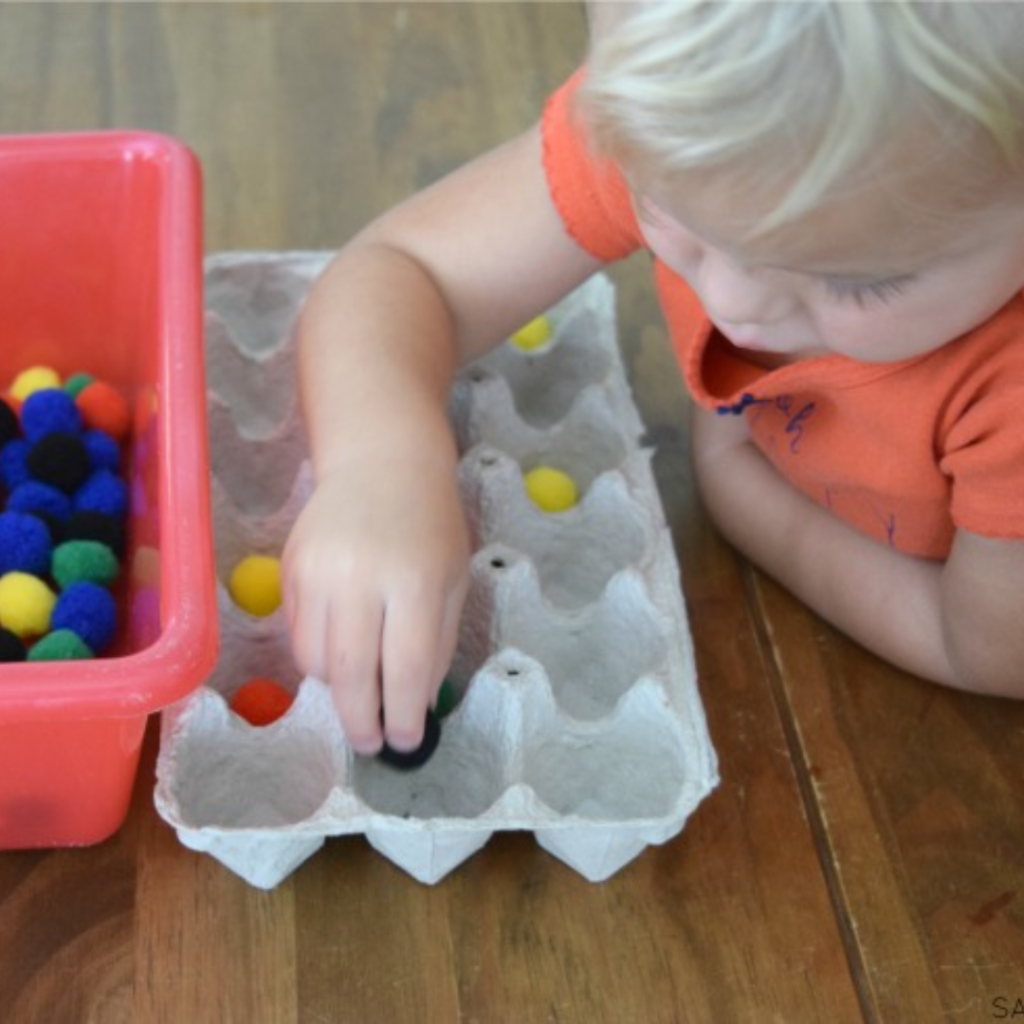 Kids can practice counting, sorting, and matching while also developing their fine motor skills. To make them more interested you can even decorate the egg cartons. This fun and interactive math game can help young children build a strong foundation in math.
DIY Ring holder From Egg Carton
Easily transform an egg carton into a charming ring holder by simply cutting off the lid, flipping it over, and using a pair of scissors to create small slits in each egg compartment. This creates the perfect storage space for your rings, preventing them from getting lost or tangled with other jewelry.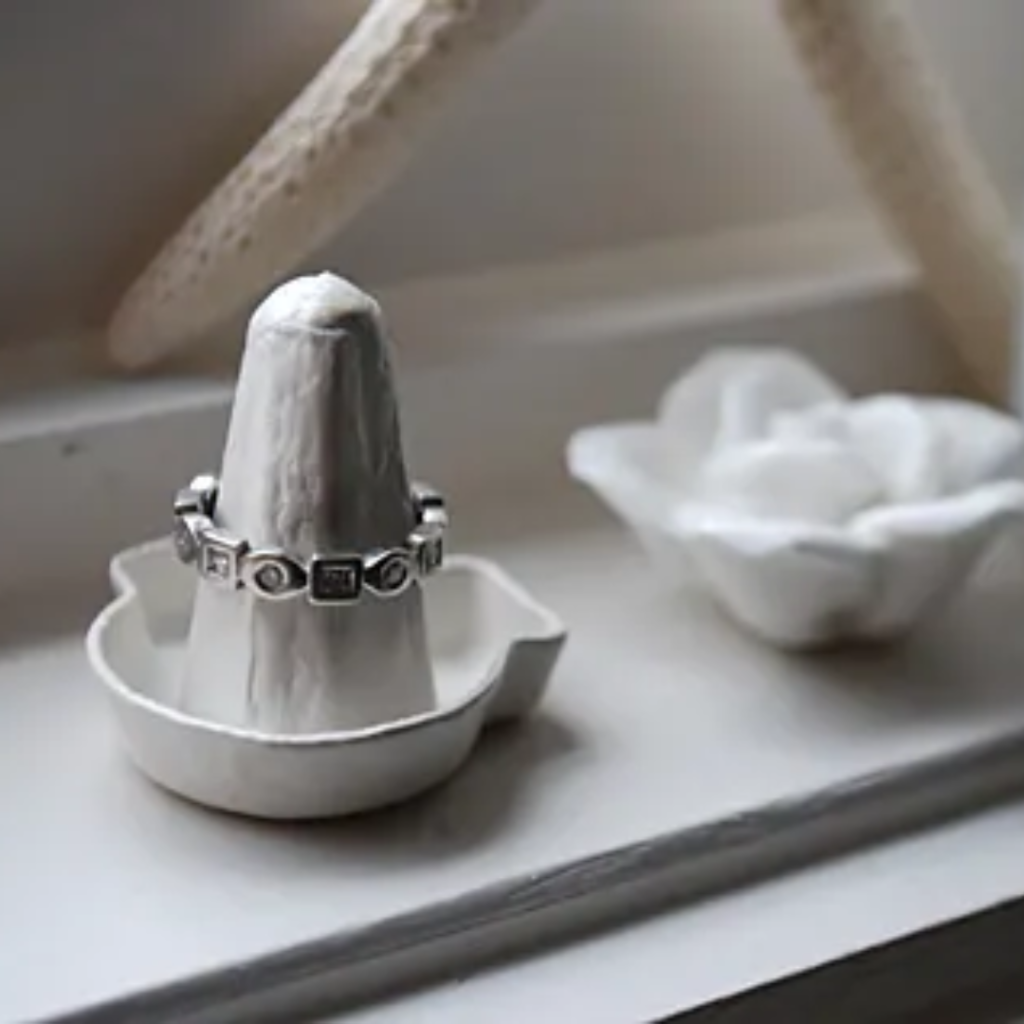 To add a touch of personal flair, you can decorate the outside of the egg carton with paint, stickers, or even decoupage paper. Not only is this an eco-friendly and budget-friendly solution, but it also adds a whimsical and playful touch to your jewelry organization.
Crack the Code to Hardware Organization
Are you constantly struggling to find your tools or hardware in your garage? If you have a few empty egg cartons, you have a simple solution to your organization woes. Each compartment serves as a holder for screws, nuts, and other small items.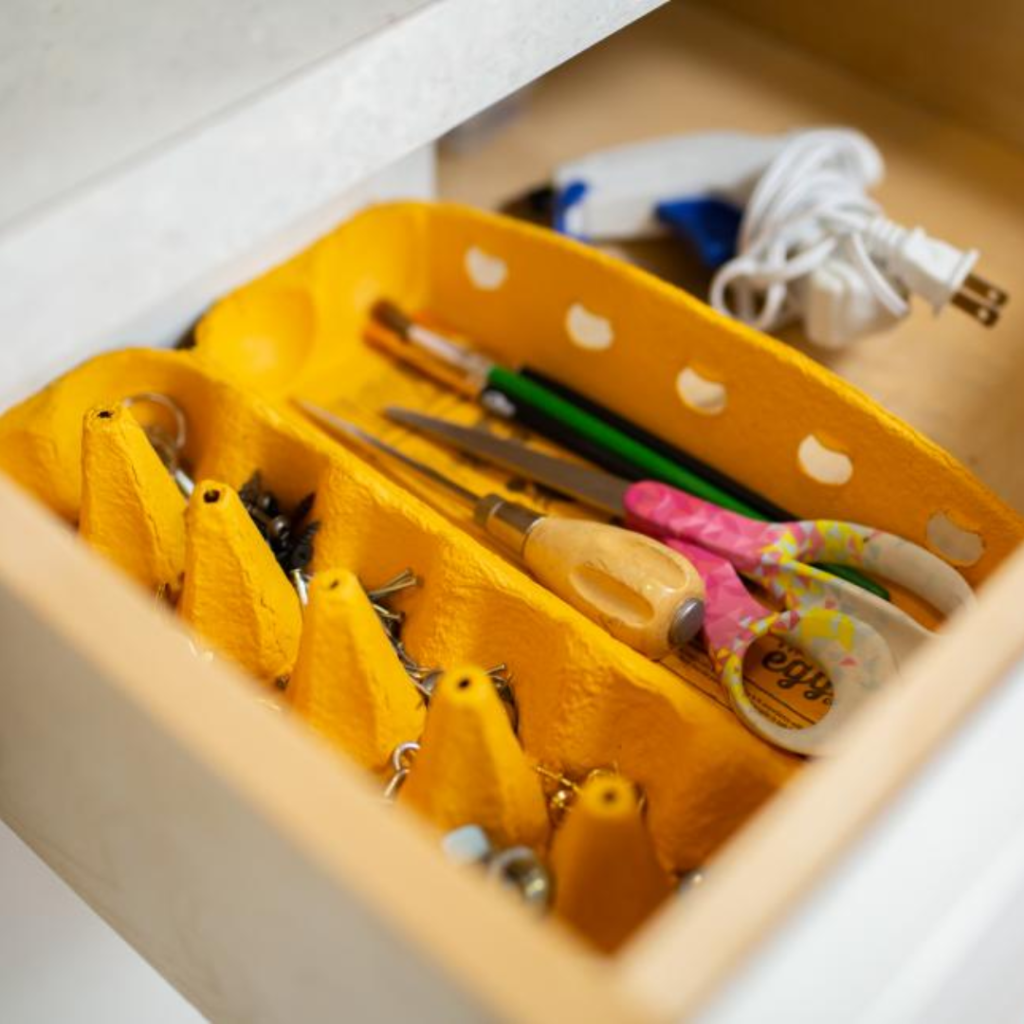 An egg carton as a hardware organizer isn't just a practical solution; it's also a fun and creative one. You can decorate it with paint, stickers, or labels to make it your own. It's a great way to bring a bit of personality and flair to your workspace while also staying organized.
From Egg Carton to Sewing Kit
An egg carton can also serve as a creative storage solution for your sewing kit. With its small compartments, it's perfect for keeping needles, thread, and buttons organized. You can also label each section with the corresponding item for easy access and convenience.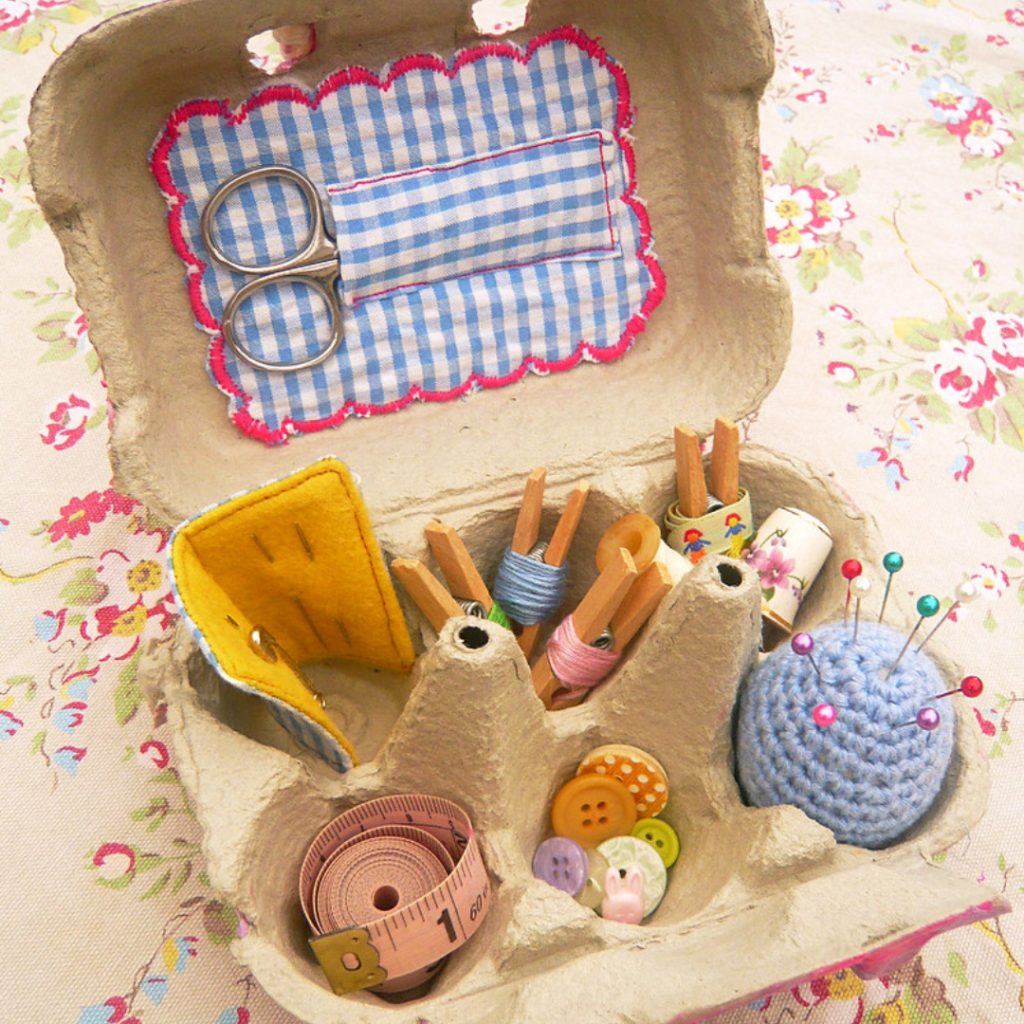 Additionally, an egg carton sewing kit is a great option for traveling or on-the-go sewing needs. It's easy to pack in a bag or suitcase because of its compact size, and you can rest assured that your sewing supplies will stay organized and secure.
Home Decor From Egg Carton
Create a gorgeous flower wreath using egg cartons with minimal effort. Cut the cups into individual petals and mold them into flower shapes. Paint with your preferred colors and attach them to a wreath frame made from wire or cardboard. Incorporate some foliage for a more realistic look, and finish with a ribbon or bow.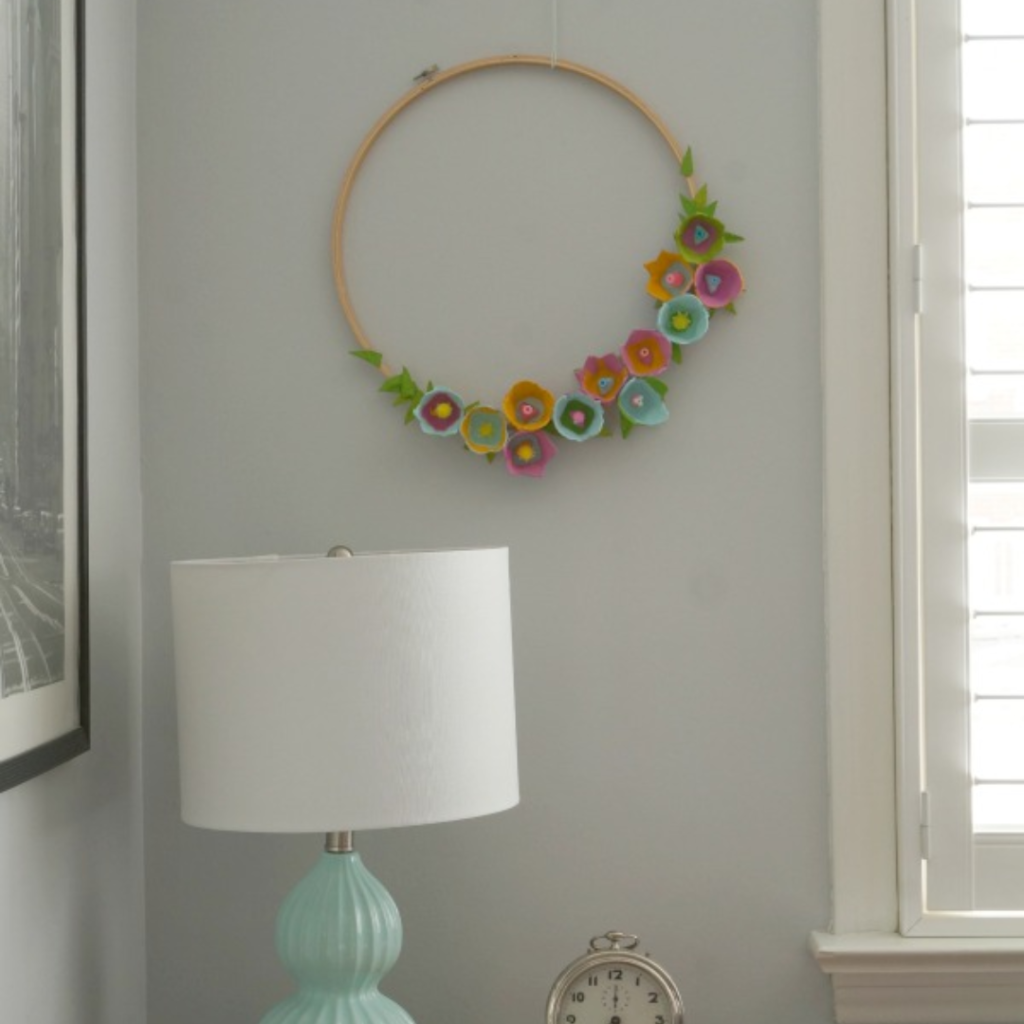 This eco-friendly and budget-friendly DIY project is simple enough for anyone to do, but the end result is a stunning wreath that looks professionally made. With its vibrant and realistic flowers, this egg carton wreath is sure to impress and make a statement in your home's decor.
A Sustainable Ipad Stand
Are you tired of constantly holding your iPad or propping it up against a stack of books? Repurpose an egg carton into a creative and functional iPad stand by cutting out the top of the carton and folding it in half, creating a stable base for your iPad.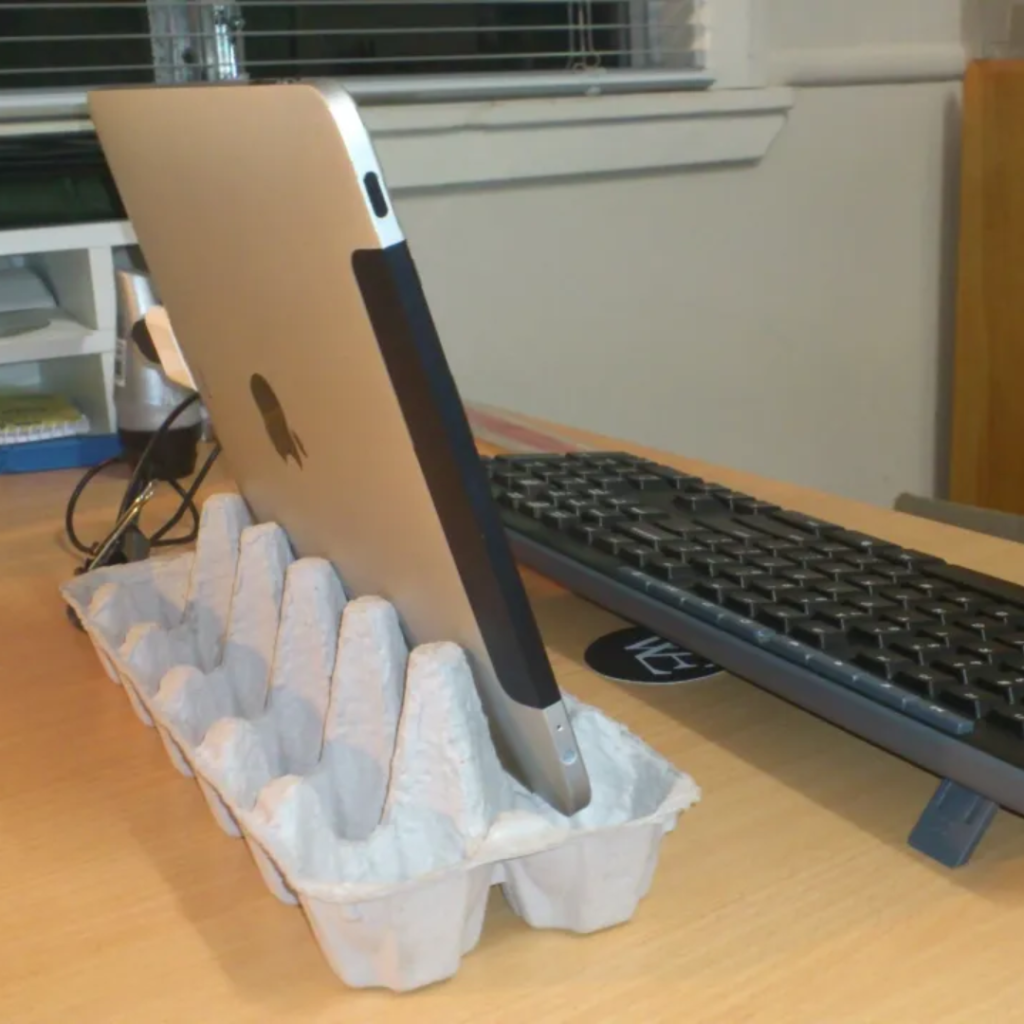 You can also further customize it with your favorite colors or patterns and add some decorations to make it truly unique. Not only will this DIY project add some personality to your tech accessories, but it will also save your arms from unnecessary strain.
Upcycling Egg Cartons Into Beautiful Home Decor
Transforming an egg carton into a boho-inspired flower wall hanging is a fantastic way to add a unique touch to your home decor. With a bit of imagination, you can turn this everyday item into a beautiful and impressive work of art, a statement on your walls.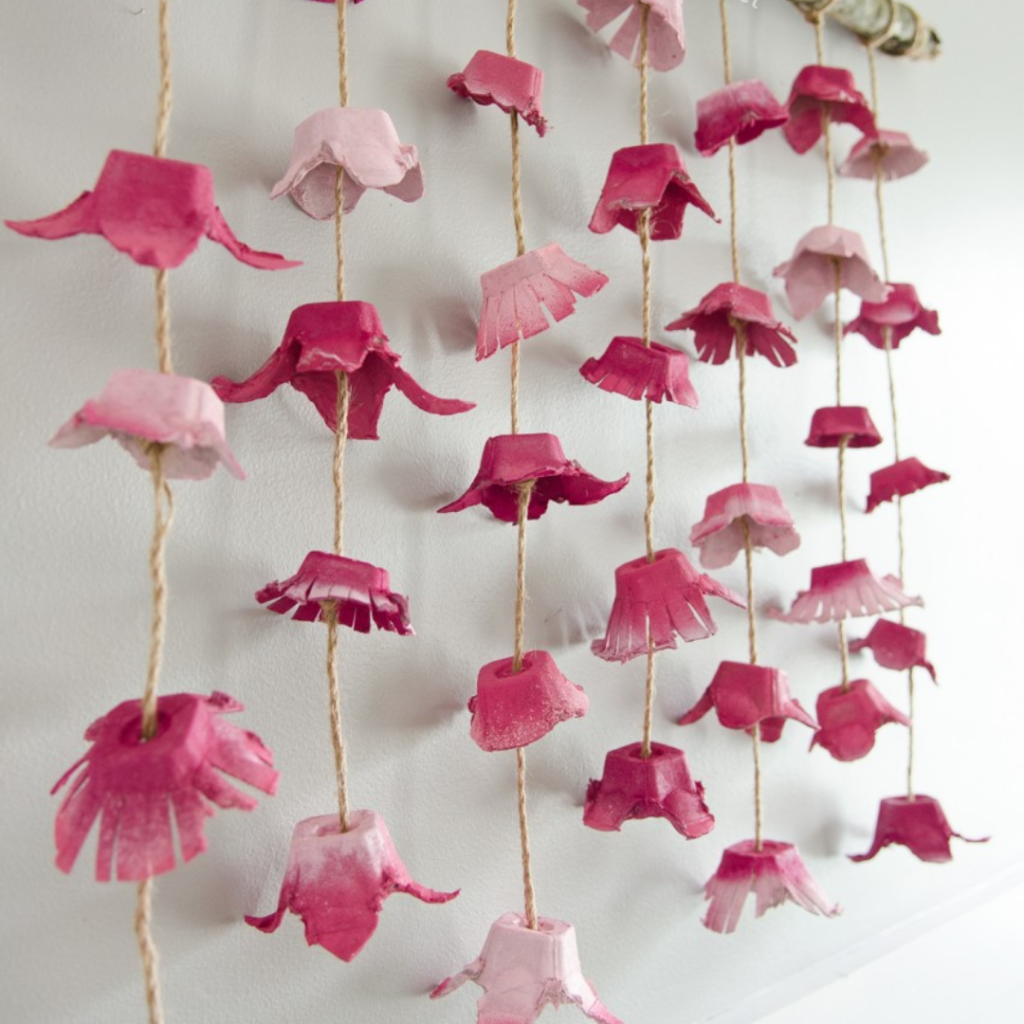 Create a boho-inspired flower hanging by cutting and shaping egg carton compartments into floral shapes, painting them in a variety of hues, and attaching them to twine or ribbon with hot glue. This eco-friendly and innovative DIY project adds a unique charm to any room.
From Breakfast to Office
Egg cartons make the perfect office supplies organizer with compartments that can hold a variety of small items like paper clips, rubber bands, and thumbtacks. Stay organized and productive at work by labeling each section for easy identification and access.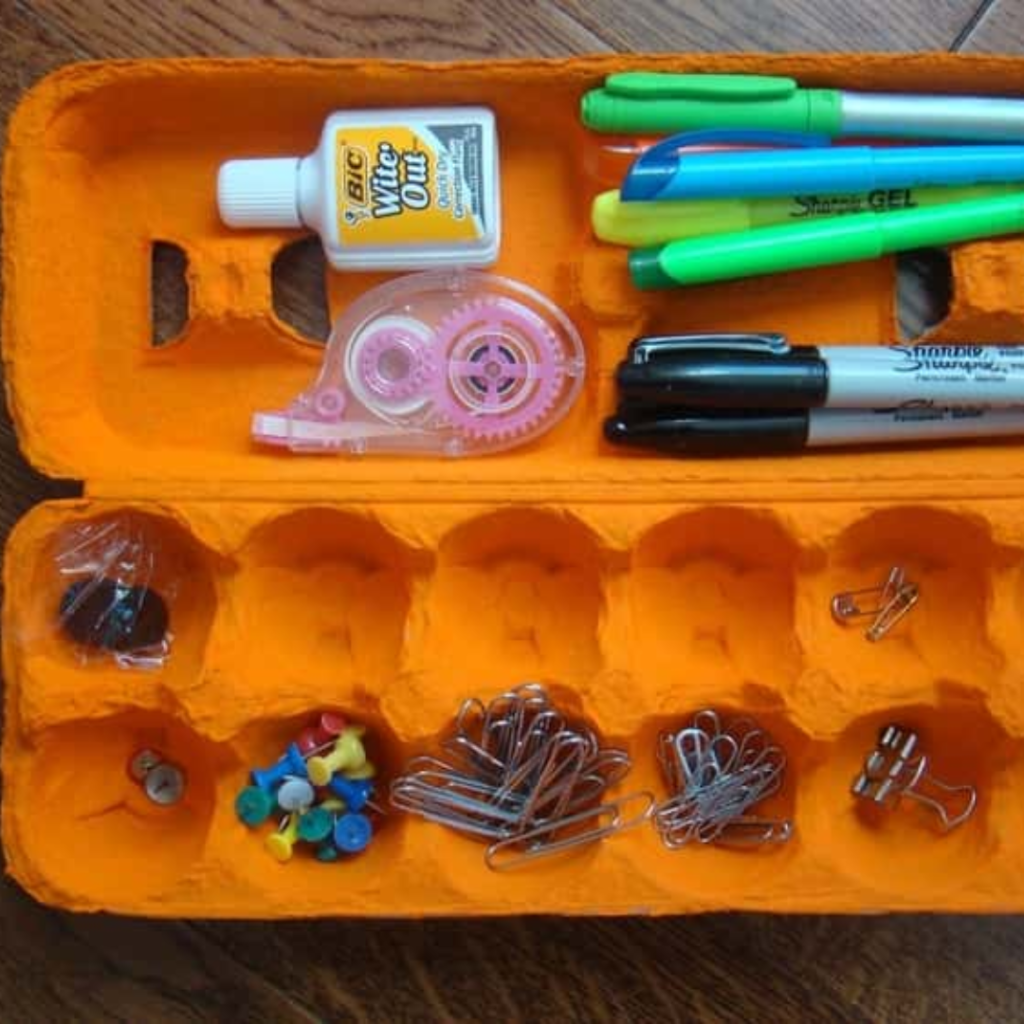 Using an egg carton as an office organizer is not only functional but also eco-friendly. Instead of buying expensive storage containers, you can reuse everyday items and reduce waste. Plus, it's easy to move around and transport, making it a versatile and convenient organizational tool.
Eggcellent Jewelry Storage
Are you tired of untangling necklaces or losing an earring because it's not in its place? Egg cartons are the perfect solution; the small compartments can each hold a piece of jewelry individually. You can decorate and customize the egg carton to make it unique and personalized.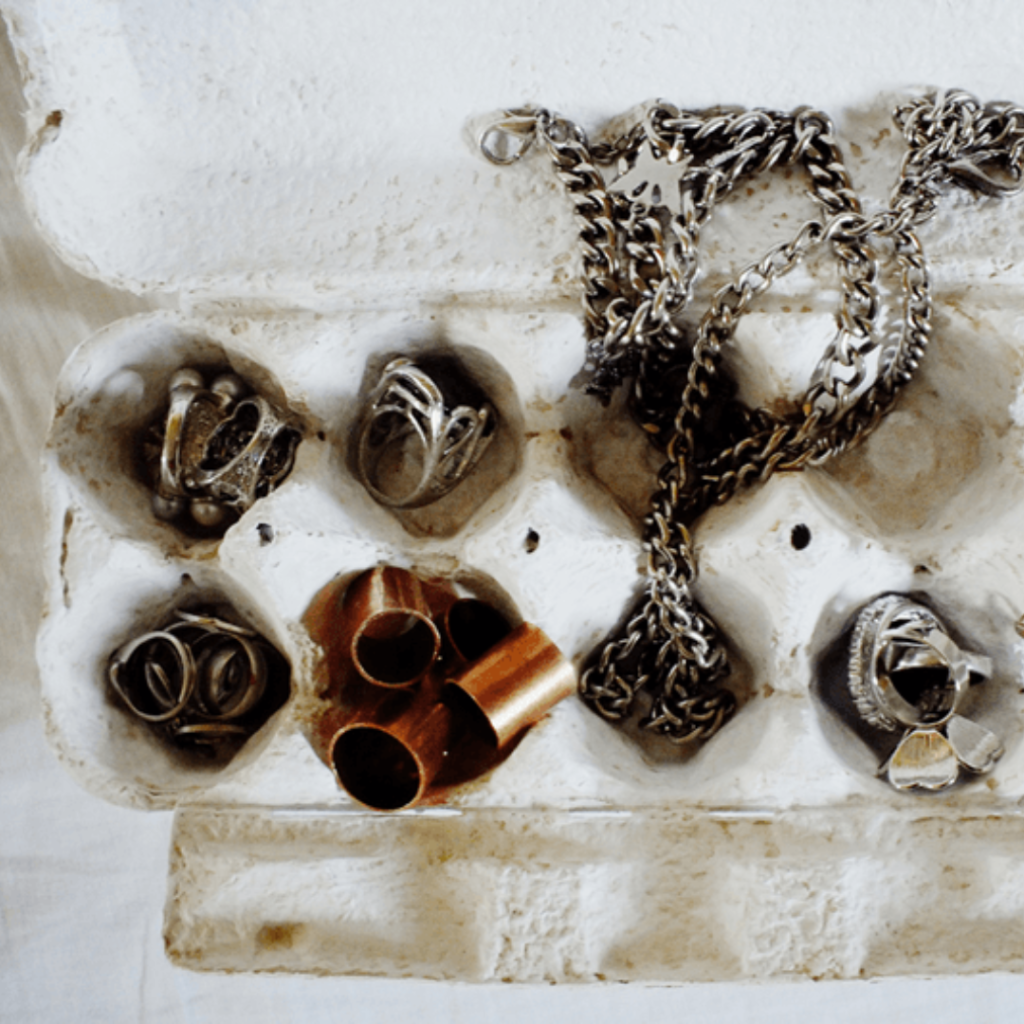 Instead of throwing away egg cartons, repurpose them for a sustainable and budget-friendly option. With an egg carton jewelry organizer, you won't have to fret about misplacing your earring or scramble to find the necklace that goes perfectly for your outfit.
Creative Solution For Baby Sock
Have you ever thought of repurposing an egg carton as a baby sock sorter? This is not only an innovative idea, but it's also an excellent way to keep those tiny socks organized and prevent them from getting lost in the laundry.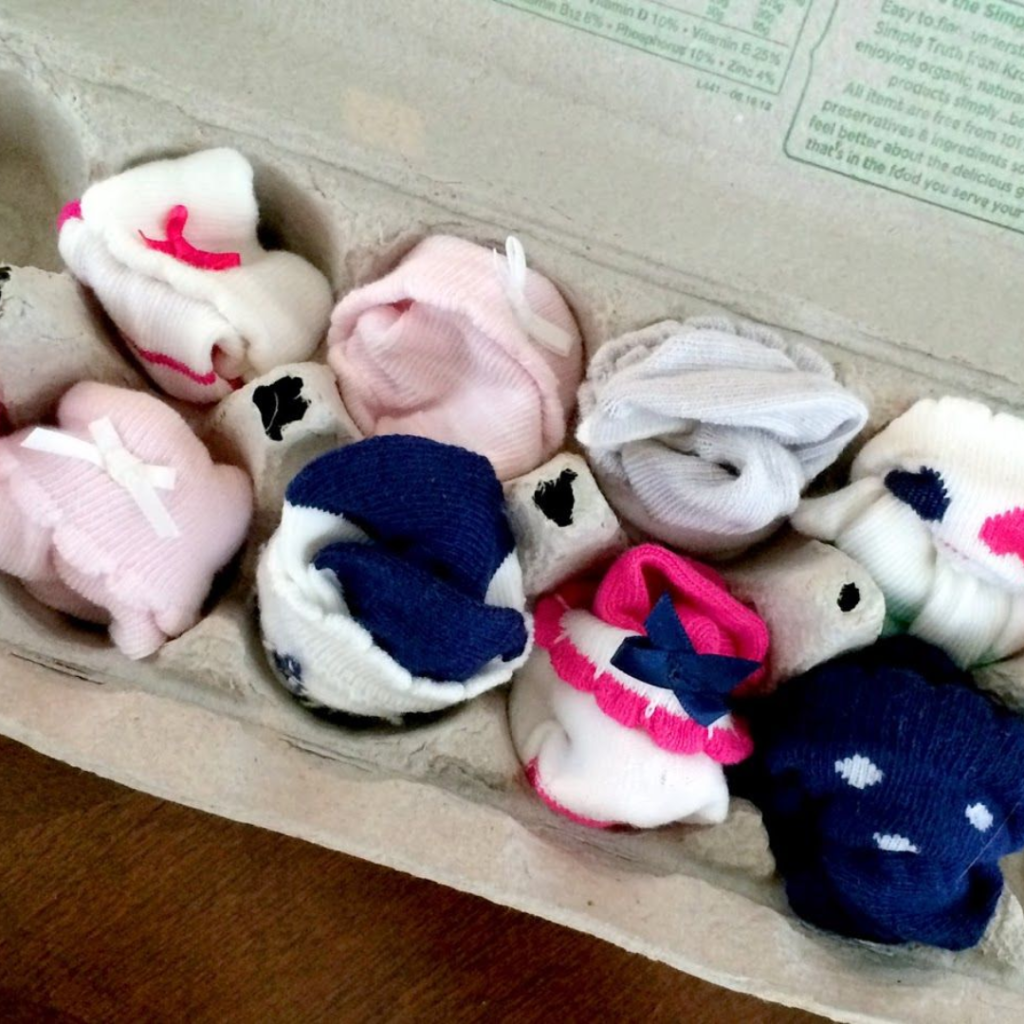 By using an egg carton as a sock sorter, you're not only being creative and resourceful, but you can also help in reducing waste and promoting sustainability. This simple and eco-friendly solution is perfect for busy parents who want to keep their baby's socks tidy and easily accessible.
Keep Your Ribbon Tangle-Free
Egg cartons can be repurposed as a convenient and budget-friendly way to organize your ribbons. Simply cut the lid off the carton and place your ribbon spools inside the cups. You can even sort them by color or pattern for easy access.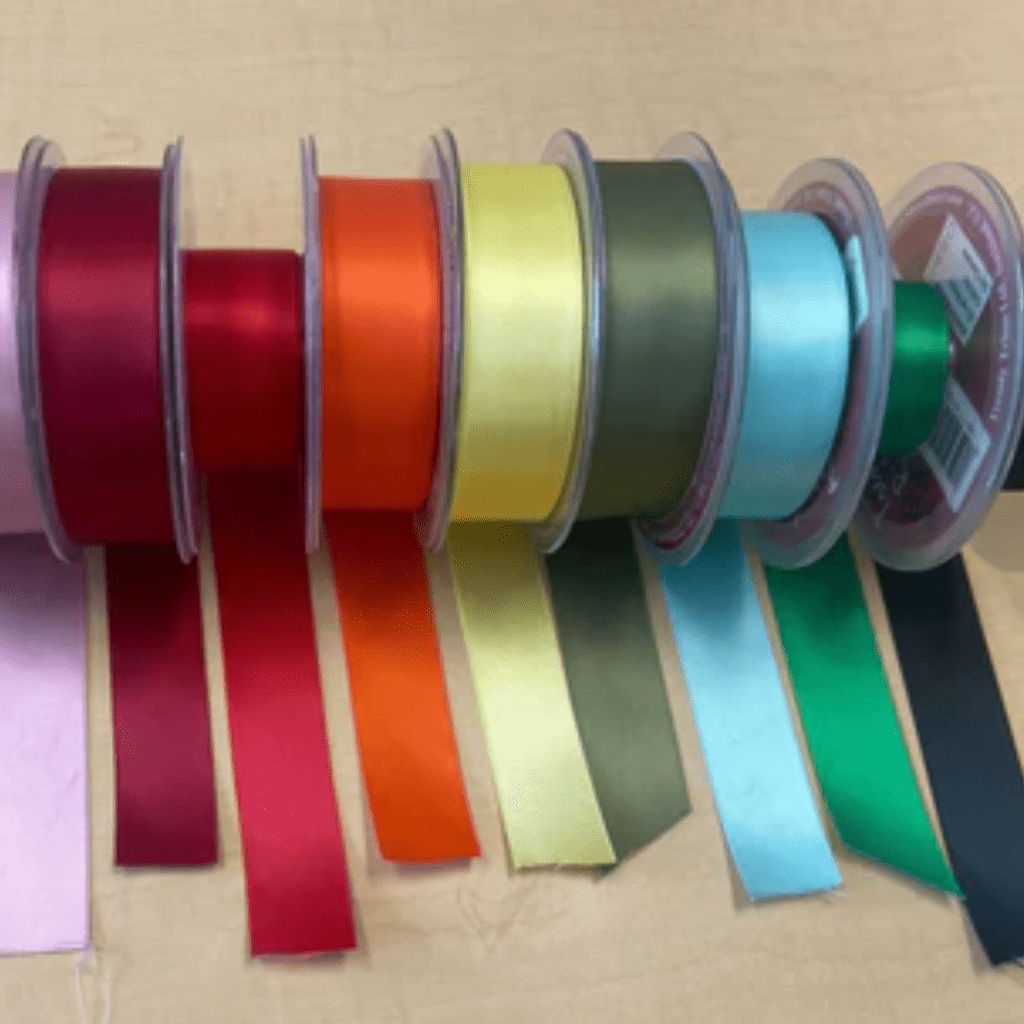 Not only does this egg carton ribbon organizer provide an eco-friendly alternative to plastic storage containers, but it also makes for a cute and colorful addition to your crafting station. With a little creativity and some paint or decorative paper, you can personalize your ribbon organizer to match your style.
Get Creative With Egg Carton Paint Palettes
Egg cartons make an excellent paint palette for art projects or crafts. The individual compartments can hold a different color of paint, preventing them from getting mixed up. This makes it an ideal tool for children's activities as it minimizes the mess and simplifies the cleanup process.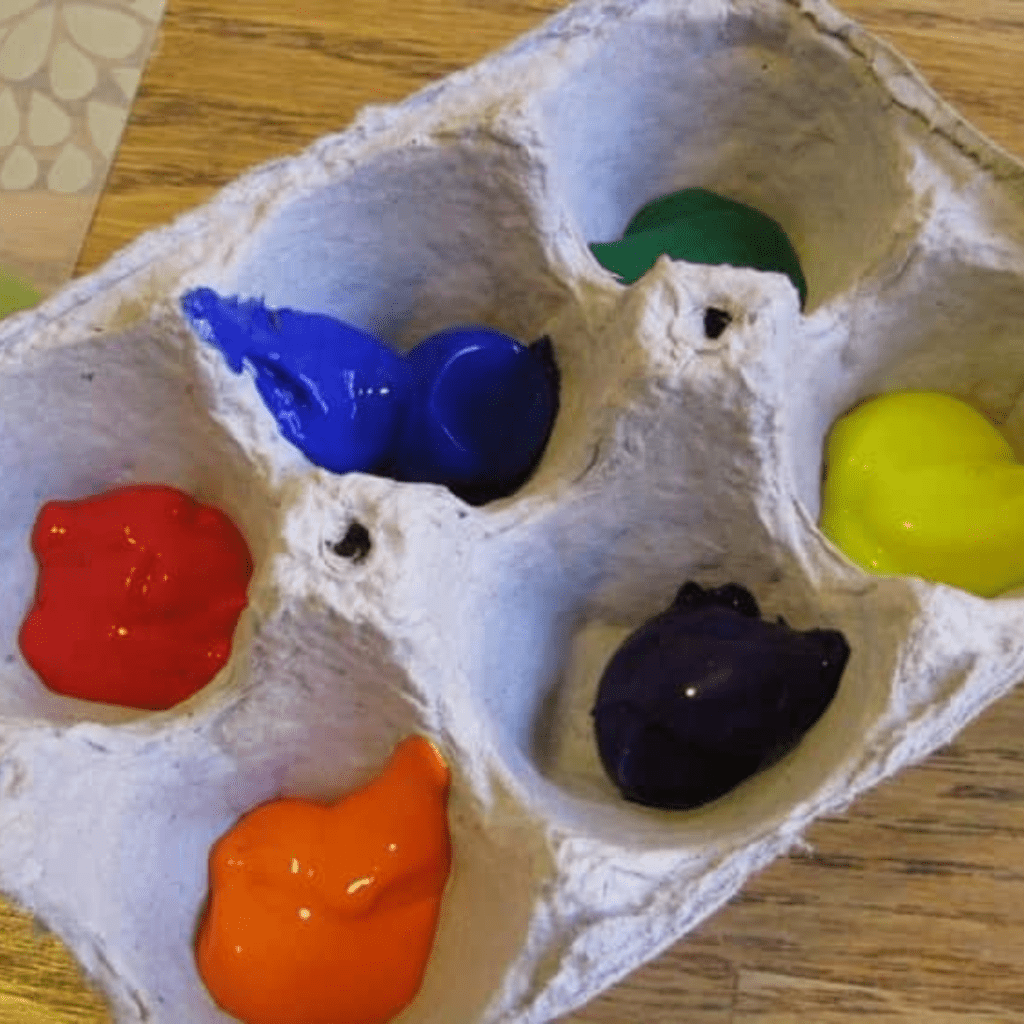 Not only does using an egg carton as a paint tray save you money, but it's also an eco-friendly alternative to disposable plastic palettes. Plus, if you let the paint dry, you can reuse the same egg carton as a paint tray in future projects.
Unique Gift Box
Did you know that the humble egg carton can be transformed into a unique and eco-friendly gift box? All you need to do is paint the carton or decorate the individual cups with paints, stickers, or ribbons to add a personalized touch.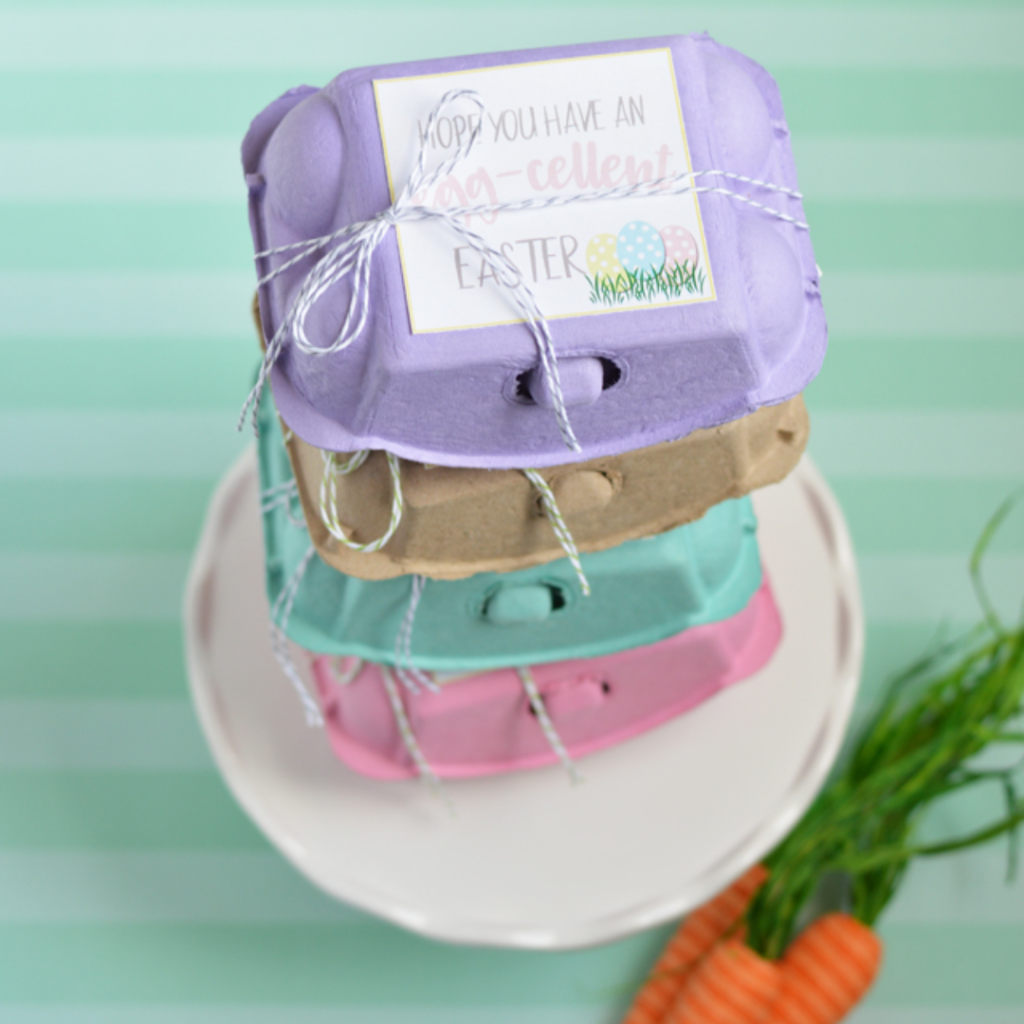 You can further fill each cup with small treasures, such as candy, jewelry, or other trinkets, and close the lid to create a beautiful gift box filled with love that's perfect for any occasion. Not only is this a thoughtful present, but it also reduces waste by repurposing materials that would otherwise be discarded.
Upcycling With Fire
Egg cartons can be repurposed into handy fire starters for your next camping trip or bonfire by filling each egg cup with sawdust or dryer lint, and pouring melted wax over the top until the cup is full. Let the wax cool and use it whenever you need to start a fire.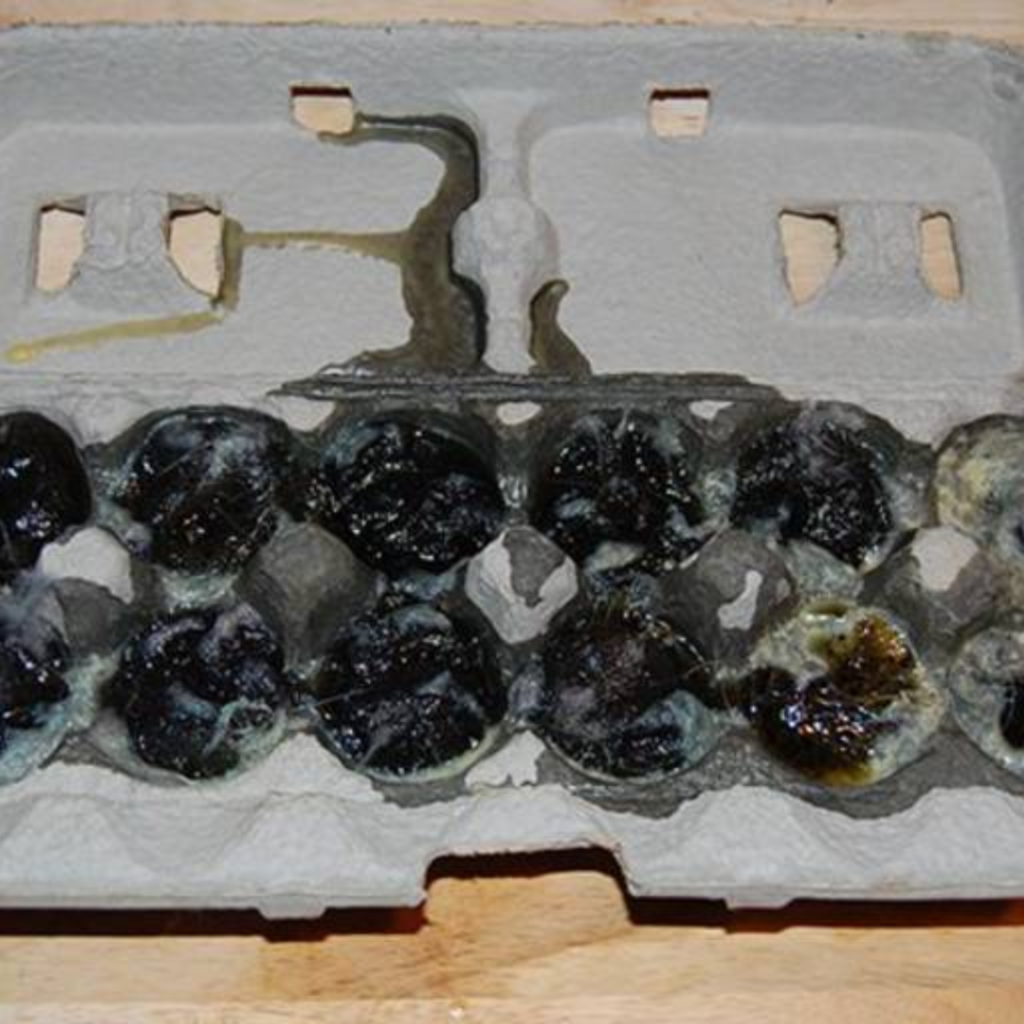 Not only are egg carton fire starters practical for outdoor adventures, but they can also be a fun DIY project for kids and adults. Get creative with the color of the wax, and add some dried herbs or essential oils for a scented effect.
Carton Goggles
Egg cartons can be easily transformed into DIY swimming goggles for kids by cutting the cups of the carton and trimming them to fit your child's eyes. Punch holes on each side and tie a rubber band through each one to secure the goggles to your child's head.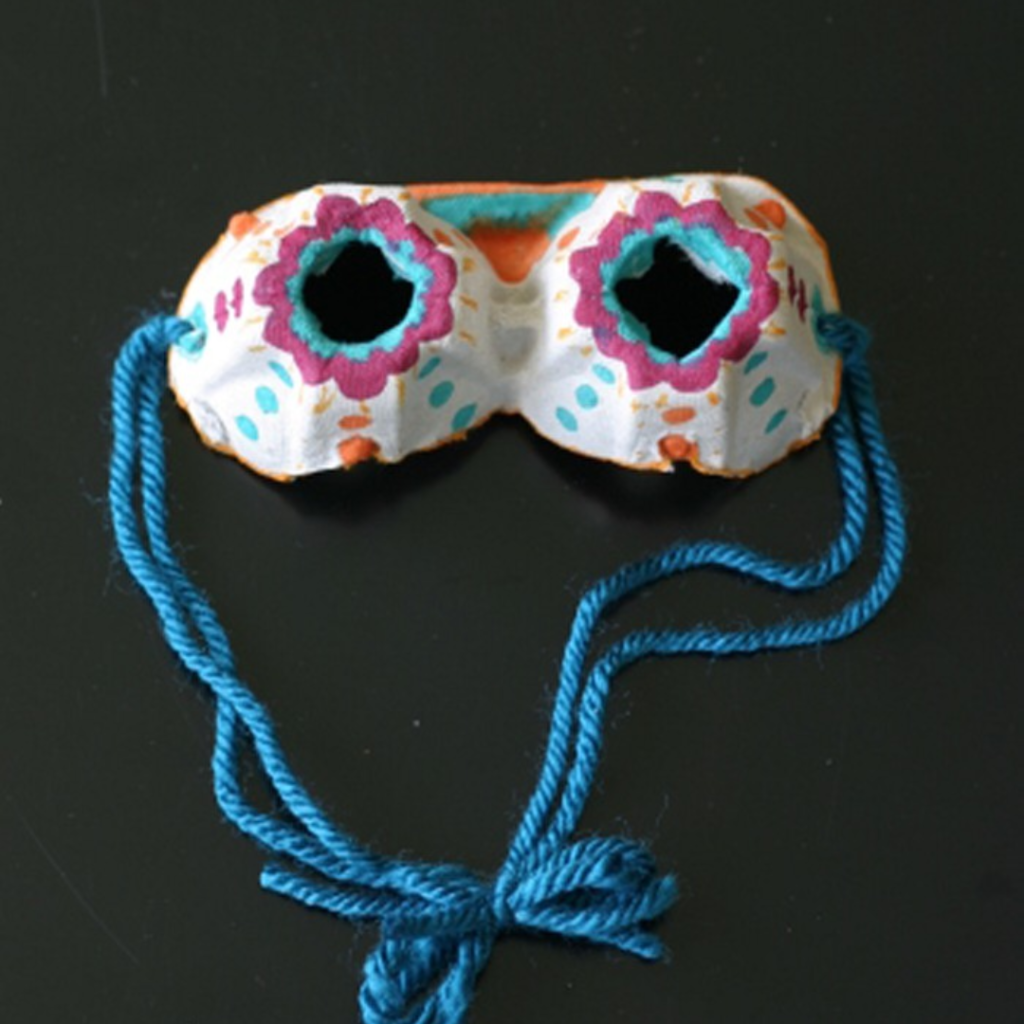 Not only are these homemade goggles a fun craft project, but they can also be a useful tool for kids when swimming or playing in the water. They can be customized to fit any child's face and are an inexpensive alternative to store-bought goggles.
Personalized Laptop Stand
Straining your neck and hunching over your laptop for hours on end? Believe it or not, an egg carton can also work as a laptop stand. Its firm texture and sturdy shape make it the perfect solution for elevating your laptop to eye level and improving your posture.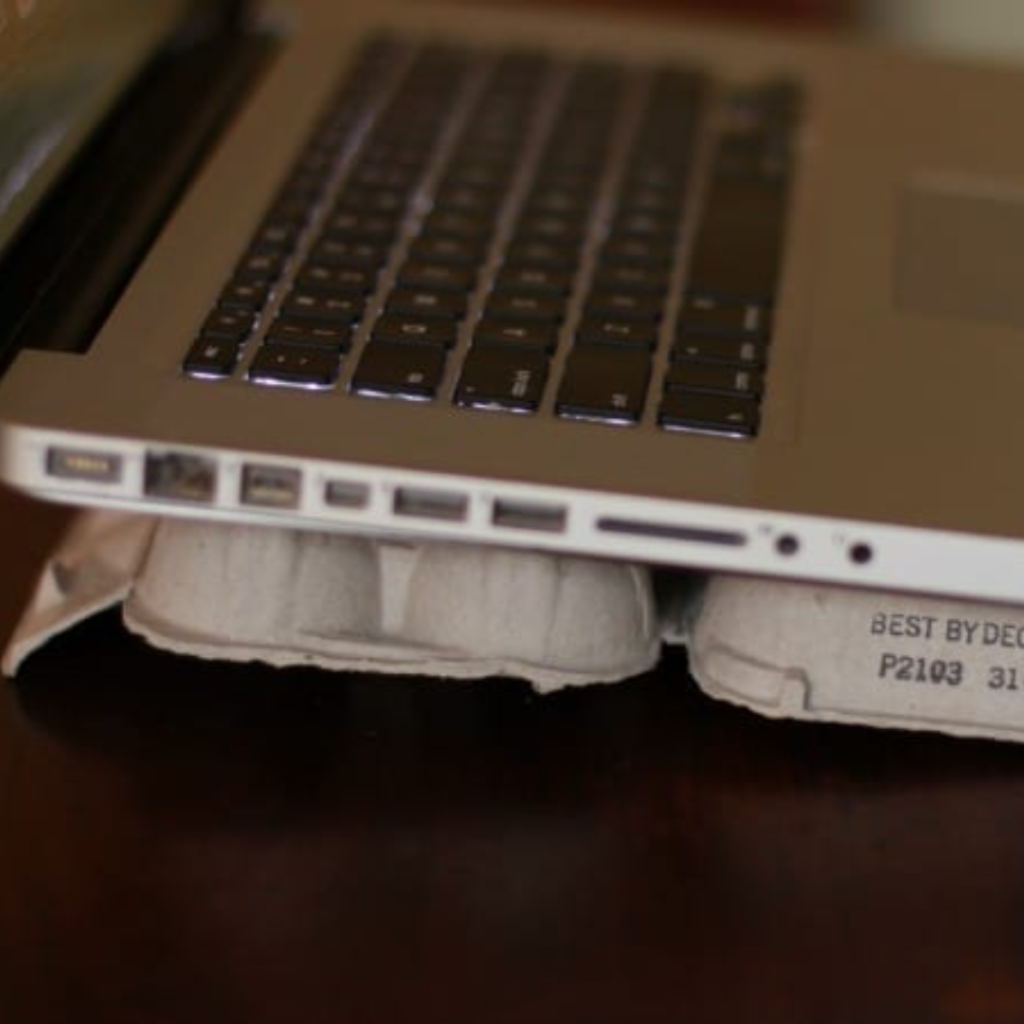 Using an egg carton as a laptop stand is a great way to transform an item that would typically be thrown away into a functional and stylish accessory. Moreover, the DIY laptop stands can be easily customized by cutting and shaping the carton to fit your specific laptop size and shape.
Creative Gift Wrapping
Egg cartons make unique and creative gift packaging. Cut off the lid and the front of the carton, leaving only the bottom and the sides intact. Then, decorate the carton with paint, markers, or decoupage paper to create a customized design. You can also add ribbons, bows, or other embellishments to it.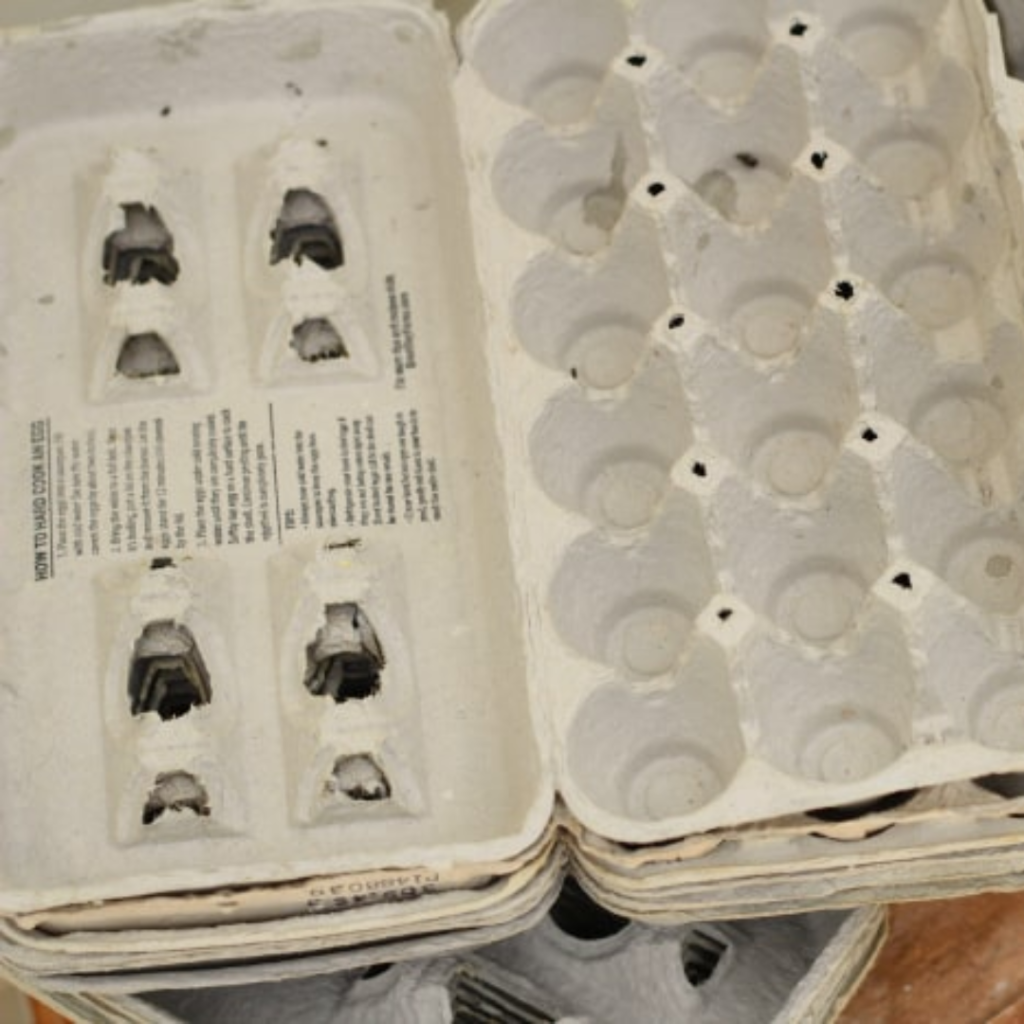 Once the carton is decorated, fill each compartment with small gifts, such as chocolates, jewelry, or trinkets. You can also add tissue paper or shredded paper to fill in any gaps and make it look more festive. This DIY gift box is not only eco-friendly, but it also helps make gift-giving more personal.
Maximizing Space With Egg Carton
An egg carton can be a handy storage solution for small Christmas tree ornaments. With its individual compartments, you can keep each ornament separate and avoid tangling. Plus, you can label each section for easy identification and access, making decorating your tree more efficient.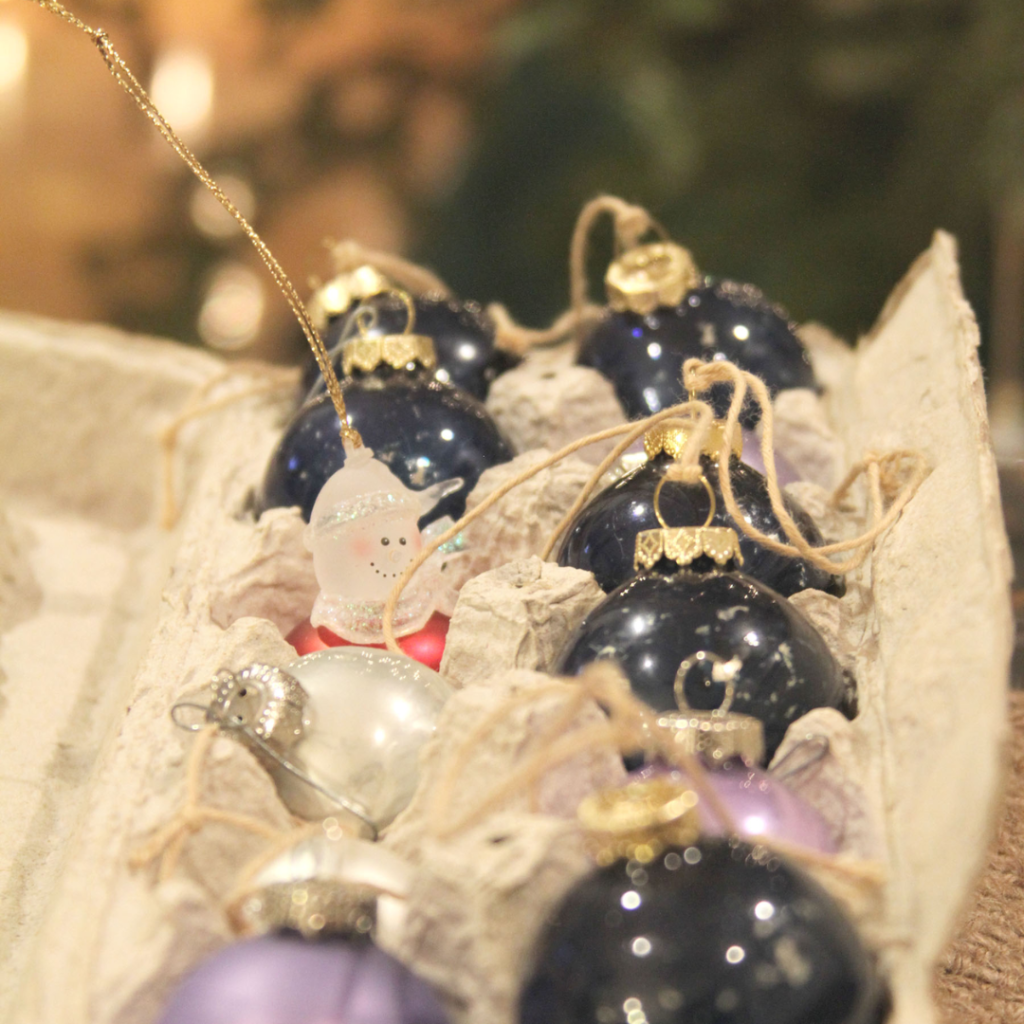 Not only is the egg carton an efficient storage solution, but it is also a cost-effective alternative to expensive ornament storage boxes. It's lightweight and easy to transport, making it a good option for storing and protecting your ornaments when not in use.
Eye-Catching Home Decor From Egg Carton
Transforming an egg carton into a stunning flower mirror is an excellent way to elevate your home decor without breaking the bank. Not only is this a budget-friendly DIY project, but it's also an opportunity to add a touch of your own personality and creativity to your living space.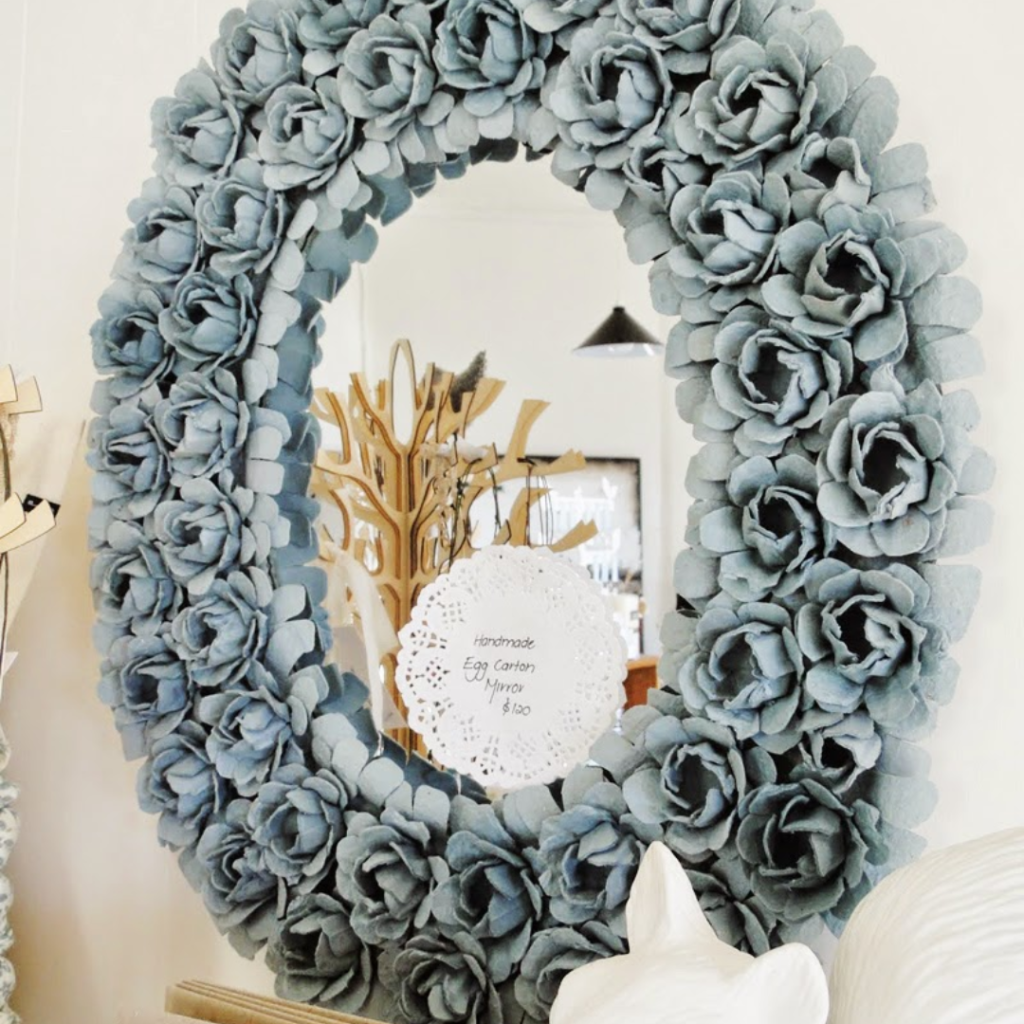 Create a one-of-a-kind flower mirror by cutting egg carton cups into petal shapes, painting them to match your style, and attaching them to a circular mirror frame. Customize the design by playing with color, shape, and size, and the end result will amaze you.
Innovative Wall Insulation Solution
Egg cartons can be an effective and eco-friendly solution for wall insulation. By cutting and flattening the cartons, they can be inserted between wall studs to create a barrier that helps retain heat and reduce noise. The unique shape of the cartons can even help with air circulation, further improving insulation properties.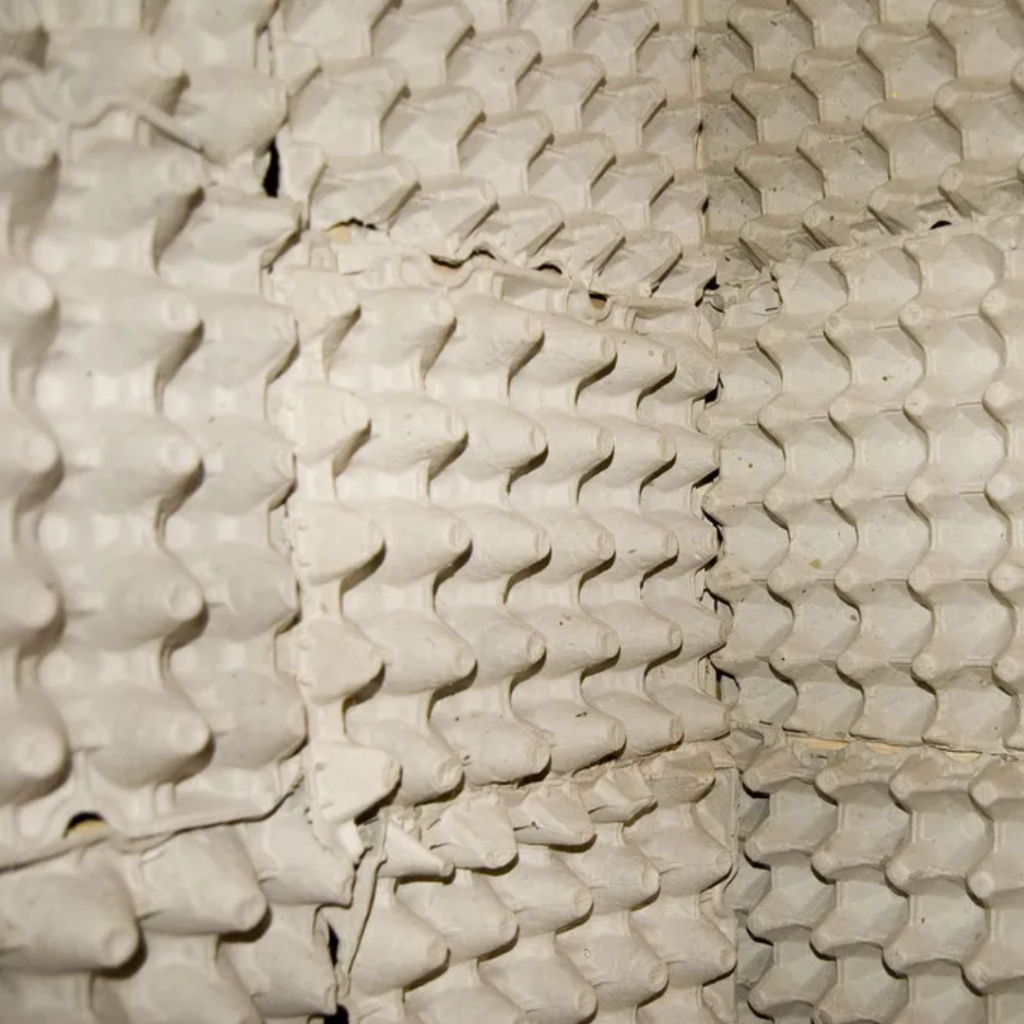 This method not only saves money on energy bills but it also repurposes waste that would otherwise end up in landfills. Before using egg cartons as insulation, it is important to ensure they are clean and free from any leftover food debris.
DIY Mini Plant Pots
Egg cartons can be upcycled into adorable mini plant pots that are perfect for starting your own herb or flower garden. Simply cut the carton cups apart, fill them with soil, and plant your seeds or seedlings, and voila, you have eco-friendly and cute pots for your plants.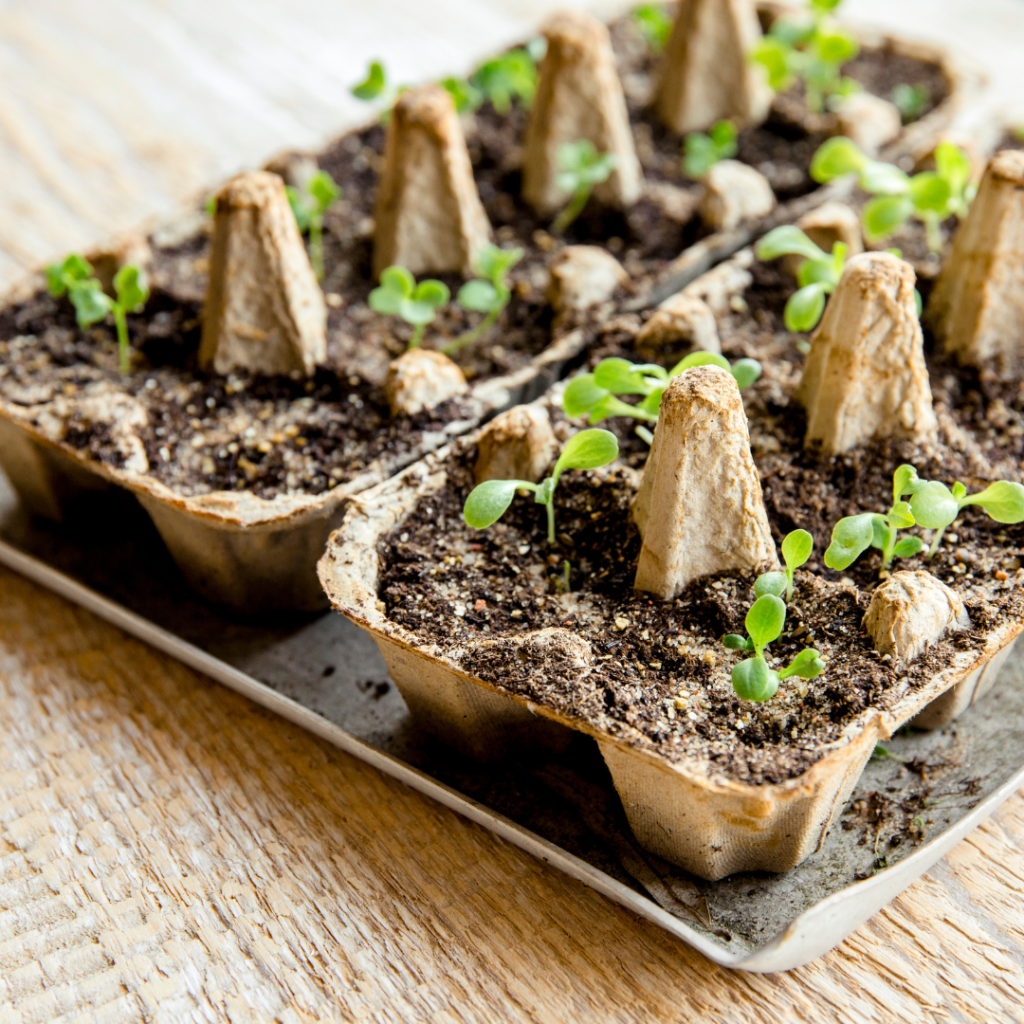 Aside from being easy to make, the egg carton plant pots can be further personalized by painting or decorating them. Once your plants have outgrown the mini pots, you can simply transfer them to a large container or garden bed.
Keep Your Cards In Order
Egg cartons can be repurposed into practical and functional playing card holders. Simply cut the egg carton in half and trim the edges to create a smooth surface. Then, cut small slits along the top of each egg compartment to hold the playing cards in place.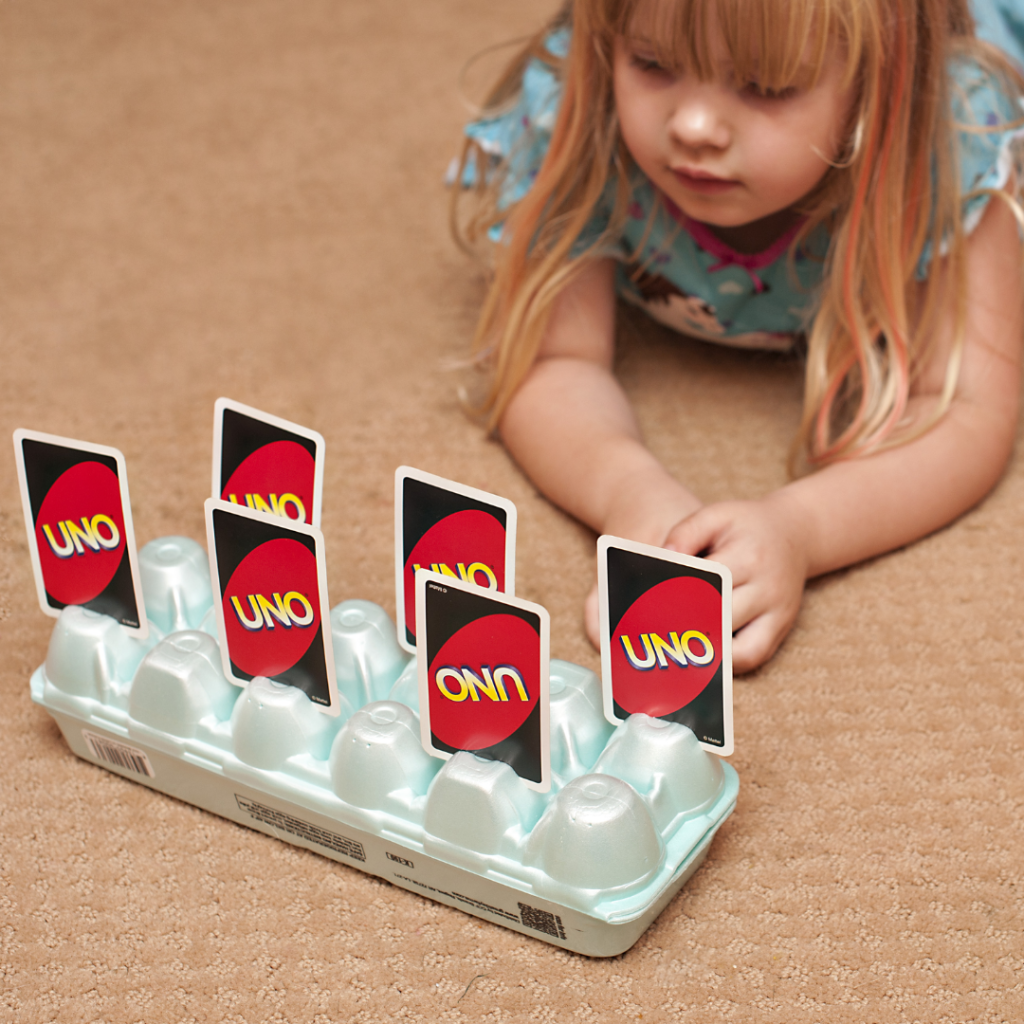 Let your inner artist shine through by decorating and personalizing the holders with paint or markers. With this simple DIY project, you can now enjoy playing card games without the frustration of dropping cards or the struggle of holding them.
DIY Nail Polish Storage Solution
Egg cartons are of great help when it comes to organizing your nail polish collection. Each compartment can be used to hold different nail polish bottles and prevent them from rolling around or getting lost. Plus, since egg cartons come in different sizes, you can select one that best fits your collection.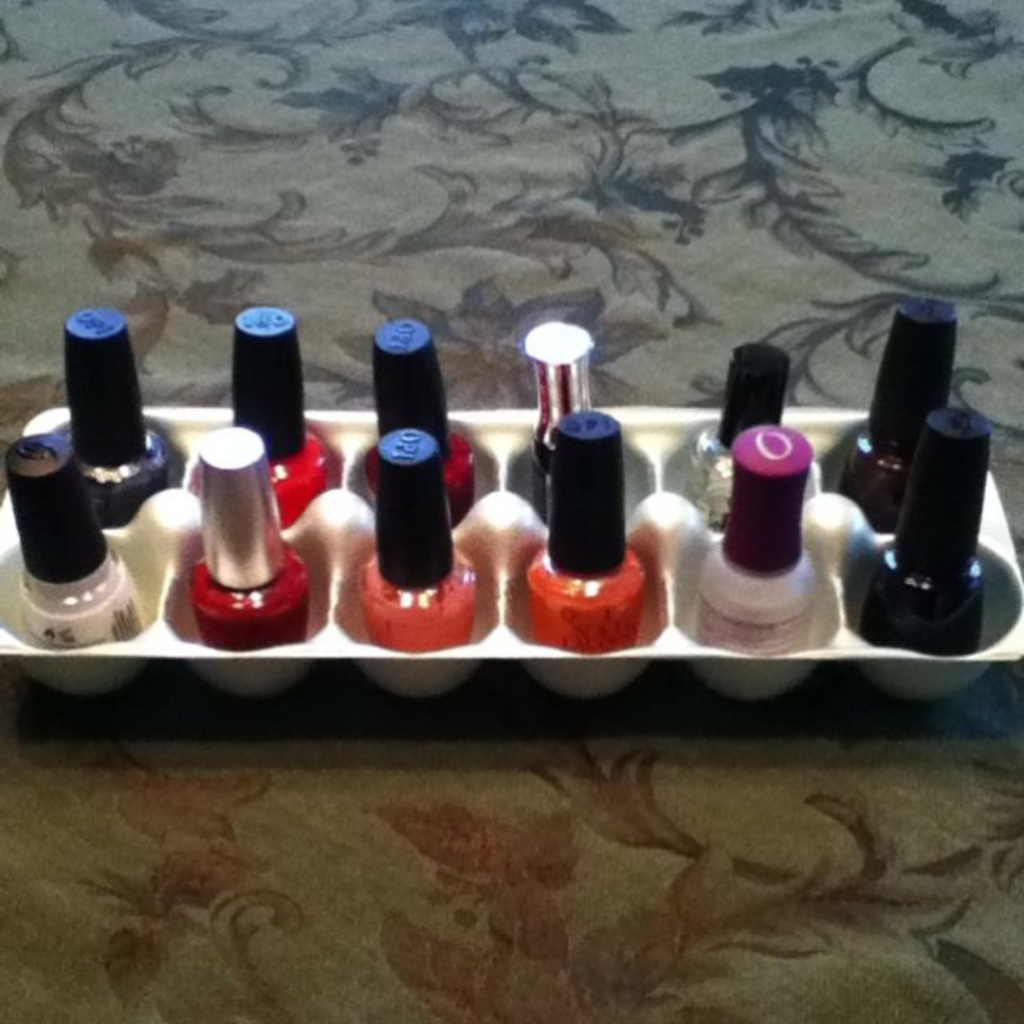 By using an egg carton to organize your nail polish collection, you not only save your money but also get the chance to be as creative as possible. Take it a step further by labeling each section for easy identification and access.
Art From Egg Carton
Want to showcase your artistic skills? Worry not; egg cartons can be used as a canvas. Cut out the individual cups and glue them onto a backing board or frame to create an interesting textured surface. The cups can be arranged in any pattern or design to suit your artistic vision.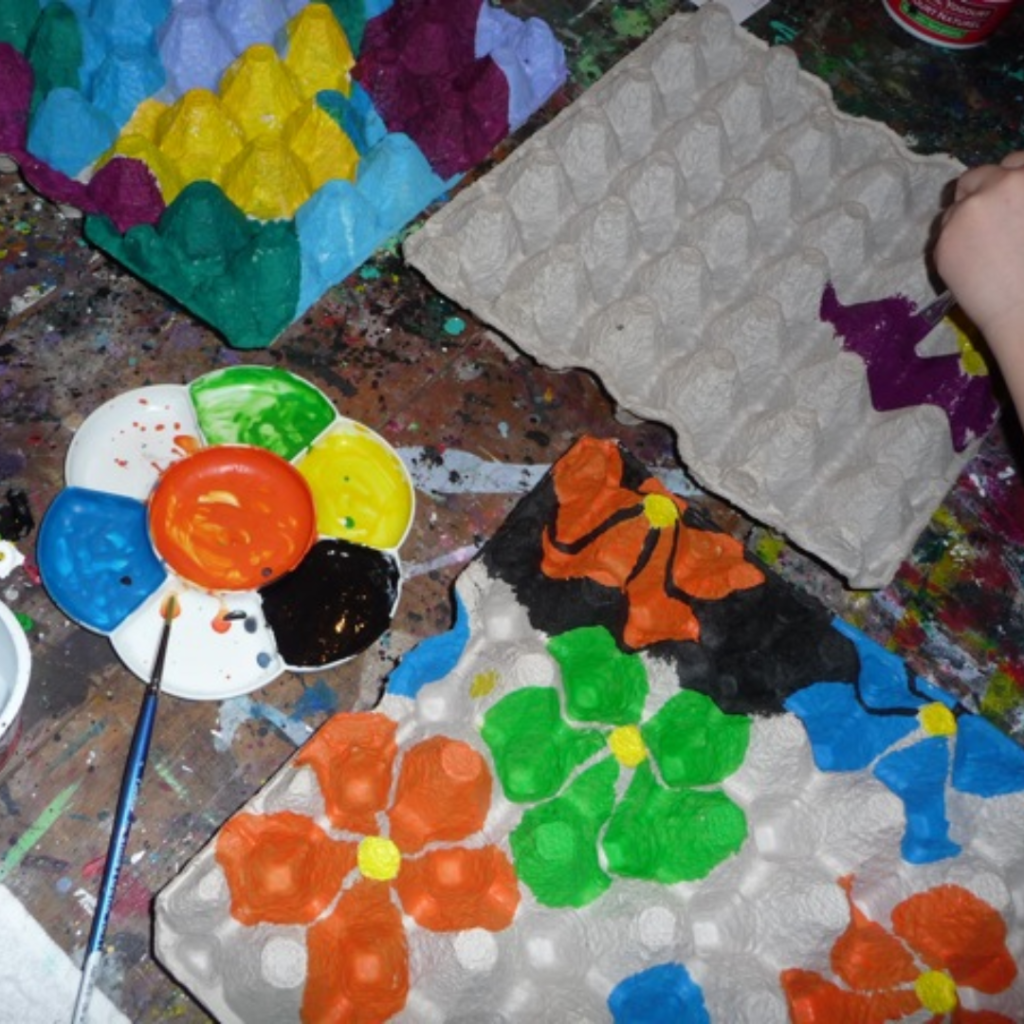 You can then paint or draw on the egg carton canvas using a variety of mediums, such as acrylic paint, watercolor, or markers. The texture of the egg carton provides a visually interesting element to your artwork and makes it stand out from traditional canvases.
Get Creative With Your Fridge Organization
Using an egg carton as a fridge organization tool is a simple yet effective way to keep your refrigerator neat and tidy. With its compact size and individual compartments, an egg carton can be used to store small items such as condiments, sauces, and of course, eggs.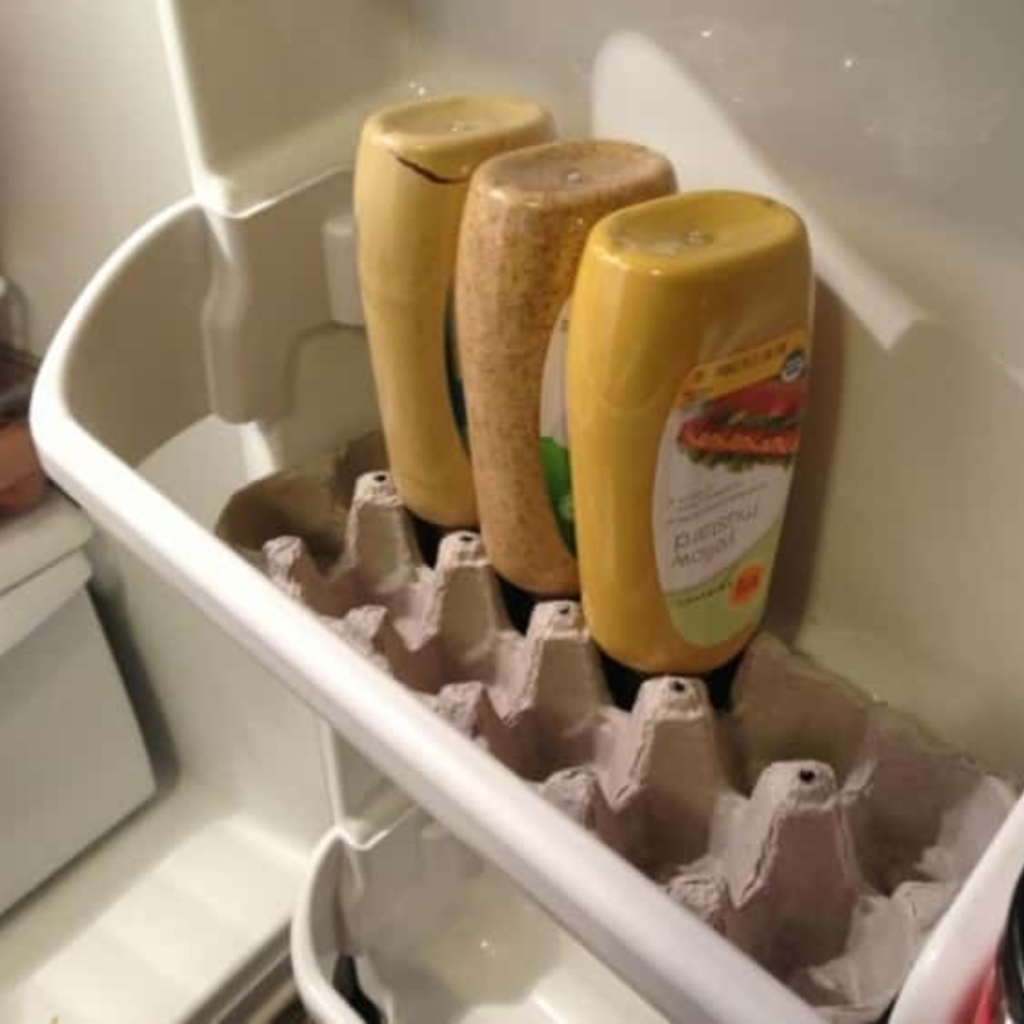 By repurposing an egg carton as a fridge organizer, you can save space and avoid clutter. Not only does it help keep items in their designated spot, but it also makes it easy to find what you need quickly without having to dig through a messy fridge.
DIY Egg Carton Bird Feeders
With an egg carton and a little imagination, you can create a bird feeder that will have your feathered friends flocking to your backyard. Cut the carton cups into half, fill them with birdseed, and attach colorful ribbons or strings to create a whimsical and eco-friendly feeding station.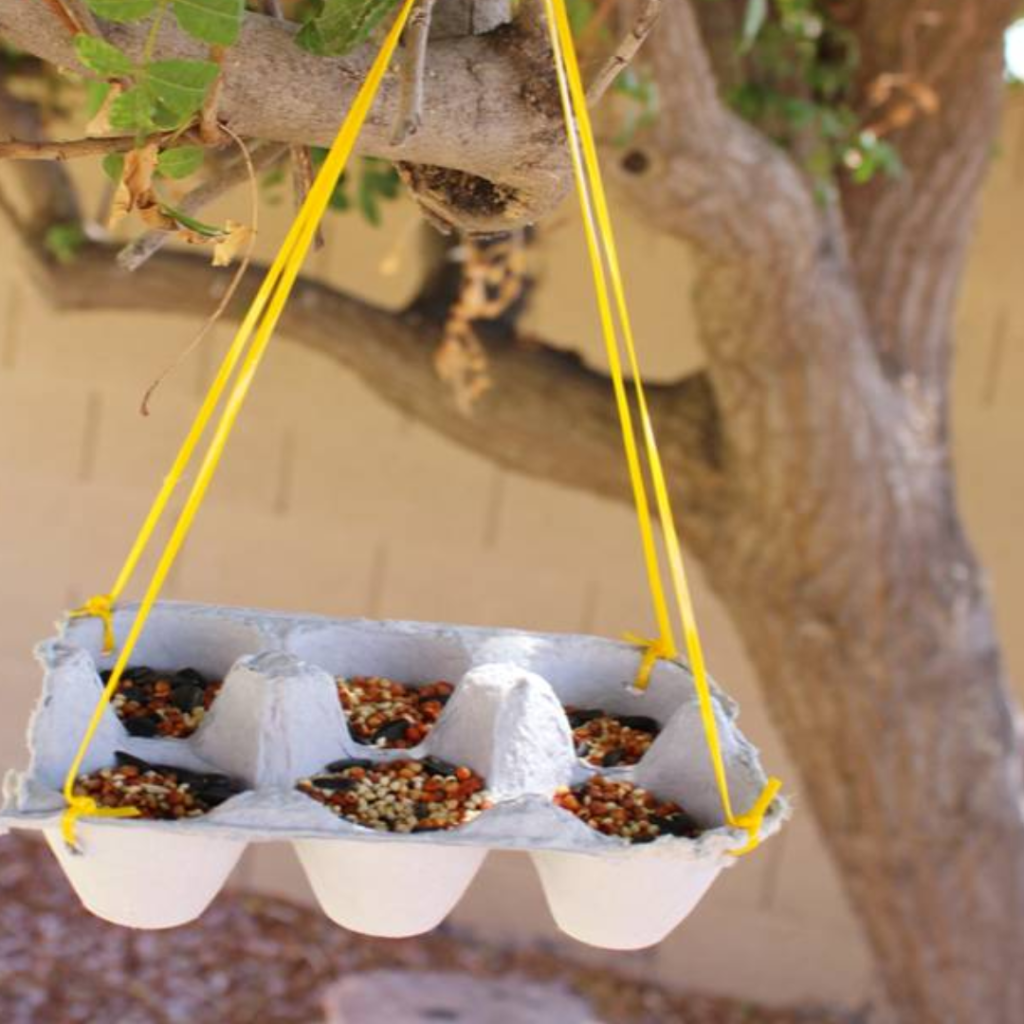 With a few basic supplies and your creativity, you can turn an everyday object into a colorful and functional addition to your garden or backyard. You can also encourage children to observe and learn about different bird species as they enjoy watching them visit their handsome feeder.
A Bead Organizer for Crafters
An egg carton can be repurposed into a handy bead organizer for crafters by cutting the lid off the carton and filling each compartment with different colors and sizes of beads. You can label the compartments with a marker or add a layer of clear tape to keep items from falling out.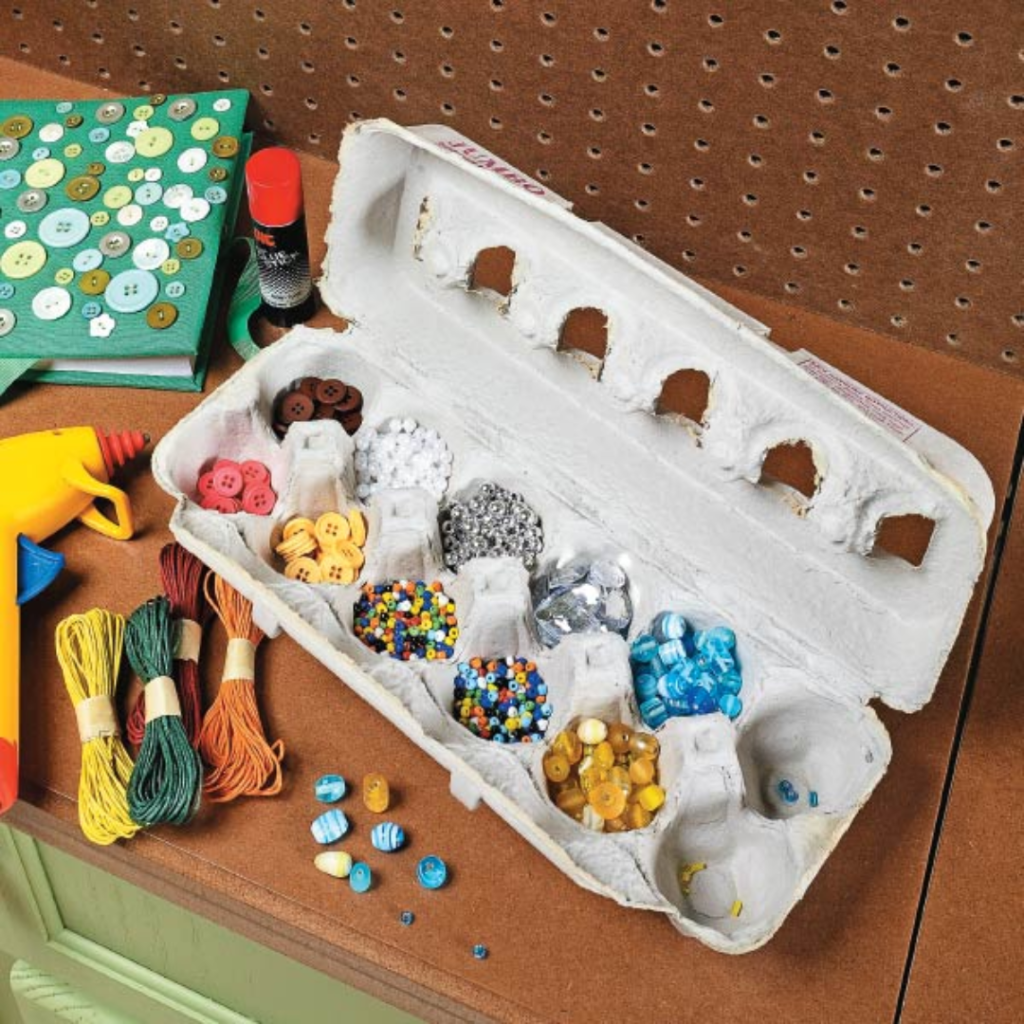 You can decorate the outside of the egg carton with paint or decoupage paper to make it look even more attractive. This bead organizer can be stored in a drawer or on a shelf, taking up minimal space and ensuring that your beads remain in order.
Revamping Home Decor With Egg Cartons
Do you love flowers but struggle to keep them alive? Don't worry; you can create a beautiful collection of florals right in the comfort of your home with just an egg carton. The best thing about them is that they don't need watering and will last for years.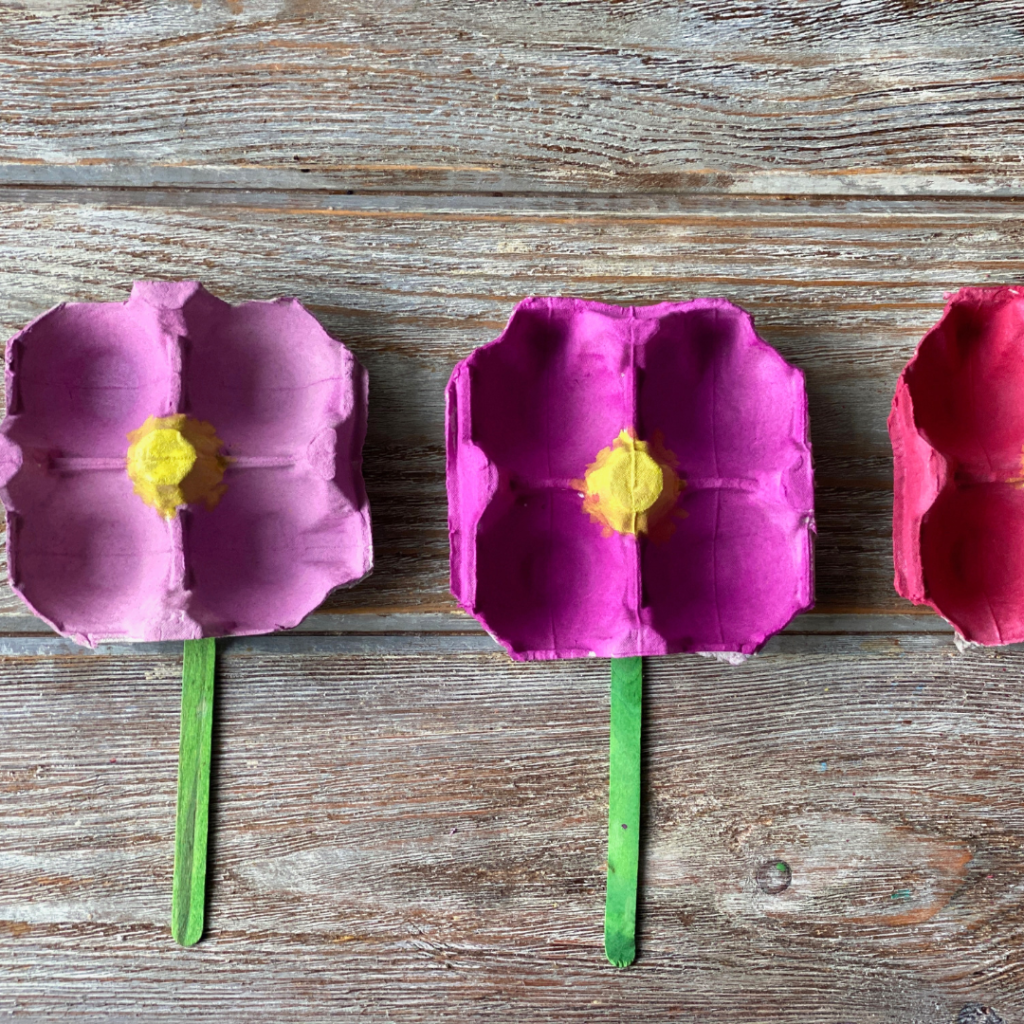 To transform egg cartons into butterfly flowers, cut the compartments, trim to form butterfly wings, paint with bright colors or tissue paper, attach to wooden skewers or wire stems with hot glue, and add details such as antennas or stems using tiny beads or pipe cleaners. Enjoy your adorable butterfly flower.
Reduce Waste And Support Local
Many farmers rely on recycled egg cartons for packaging, so returning your empty cartons is a great contribution towards supporting local agriculture and reducing your carbon footprint. By simply returning your egg cartons, you can hit two birds with one stone.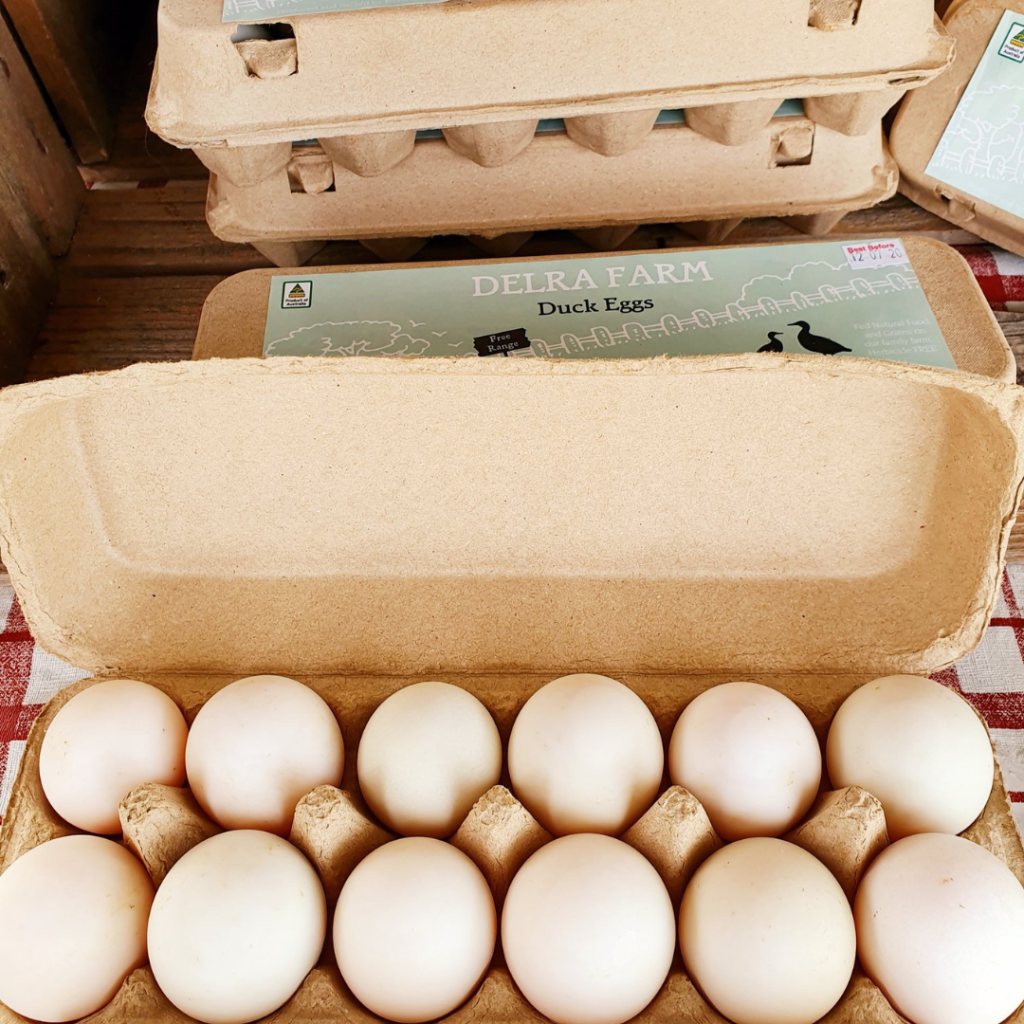 Check with your local farmer's market or reach out to individual farmers to see if you can return your used egg cartons. By making this small effort, you can play a part in creating a more sustainable and eco-friendly future for all and even get incentives and discounts.