Sew It, Don't Throw It: 35+ DIY Ideas For Upcycling Fabric Scraps
By Bruna L June 20, 2023
---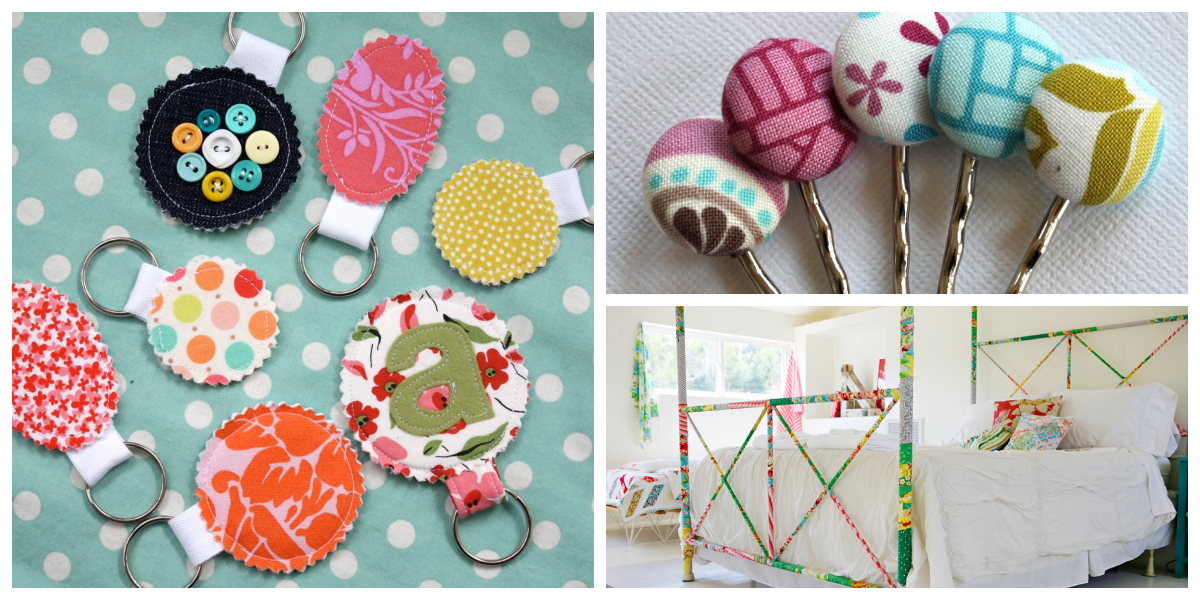 In the world of sewing and crafting, it's easy to accumulate bags upon bags of nothing but fabric scraps. Most of the time, they are too small for anything relevant, but with a little bit of creativity and inspiration, the sky is the limit for what you can make with these pieces. And inspiration is what we bring today!
From cuddly toys to clothing items and even house décor, you will find the best projects to ignite your creativity and transform your leftover fabric pieces into lifelong treasures! So, what are you waiting for? Go shake off the dust from those bags of scrap fabric in your closet and get ready to discover their endless potential. Here are 45 projects to use your fabric scraps on. Enjoy!
Custom pillows
Pillows are a great way to elevate the decoration of living areas in your house. From your bedroom to your living room, they can change the whole vibe depending on their colors and patterns. Cozy, energetic, funny, formal, the sky is the limit!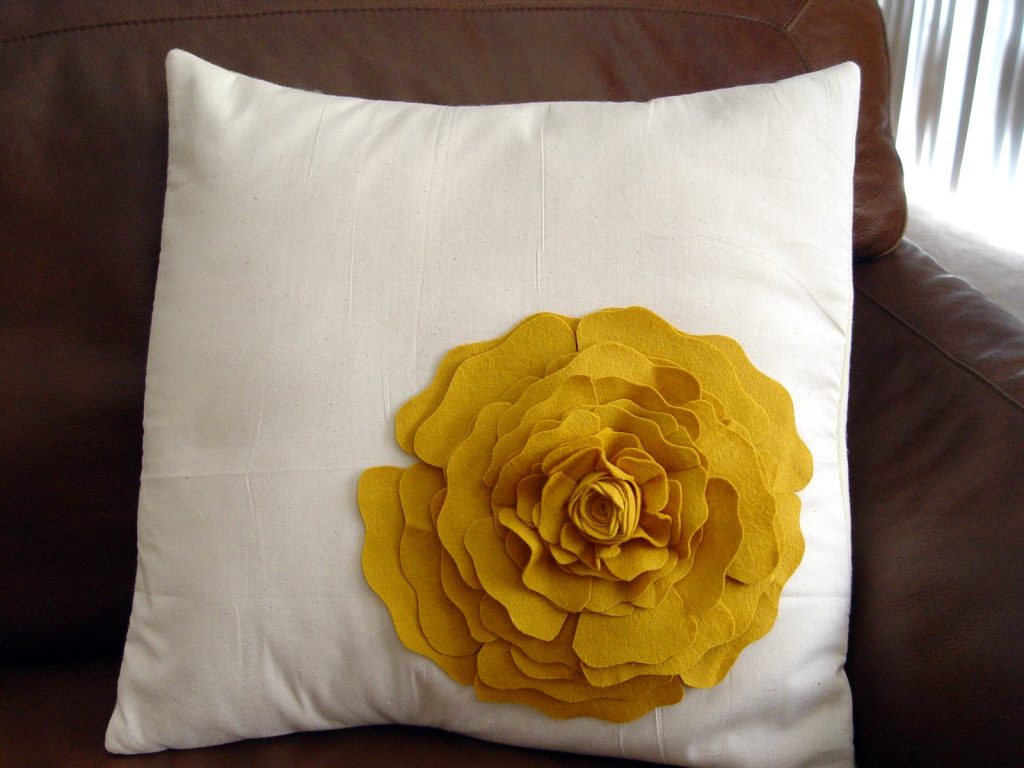 So why not use your fabric scraps to create unique pillows and pillowcases for your house? Not only will you be able to customize them however you see fit, but you would also save a lot of money on décor!
Layered skirt
Taking care of kids is like taking care of puppies – if you give them enough love, care, and attention, they'll be okay. The difference, of course, is that they'll grow into full-blown humans at some point! So, why not shower them with gifts while they're still small?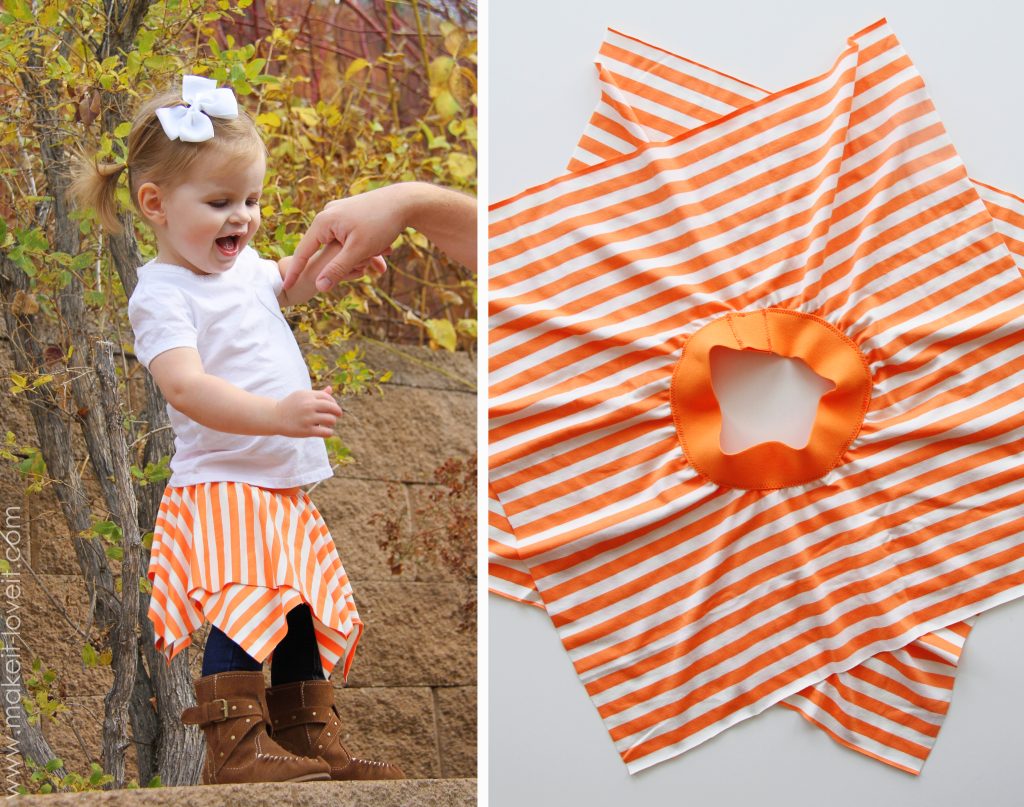 If you have enough scraps to sew into two big squares, you can easily make a cute, layered skirt for your little one. Just place one piece on top of the other at an angle, make a hole in the middle for the waist, and tidy up the edges. Done!
Fun belts for kids
We may not think about them very often, but belts are great accessories, no matter if you're wearing them for a formal occasion or not. They add a touch of flair and style no matter the outfit, and kids' belts aren't that different.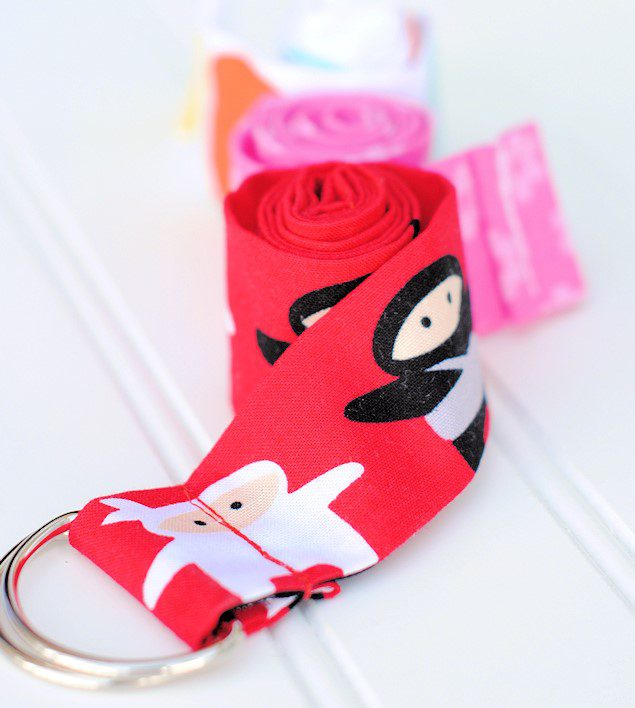 The best part about kids' belts? You can make them yourself! You just need fabric, a metal ring, and sewing supplies. And since it's for a child, it's okay if the patterns and colors don't match. It only makes it more exciting and fun!
Scrap bookmarkers
It doesn't matter if you're a veteran reader or not; we can all recognize how amazing books are! That said, if you are an avid reader but can never find your bookmarks when you need them, we have the solution for you.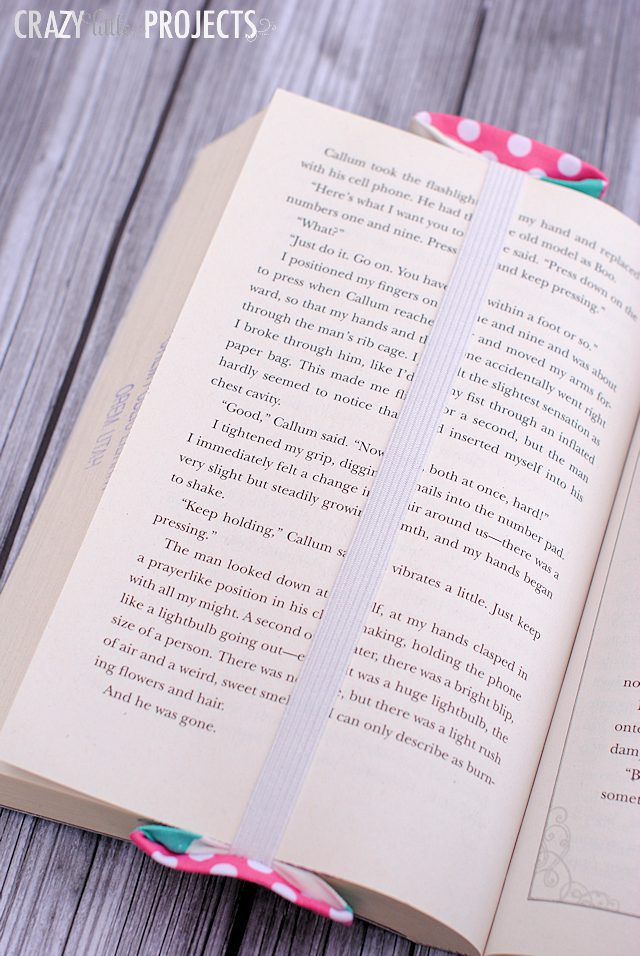 Fabric bookmarkers! They're super easy to make, and all you need is some fabric scraps, a piece of elastic and sewing tools! Just sew two strips of fabric together with the elastic in the middle, turn it inside out, and it's done!
Quilted bed cover
When it comes to fabric scraps and the uses you can give them, people always think about small projects that will take little time or resources to finish. But that doesn't always happen, especially if you have lots and lots of scraps around!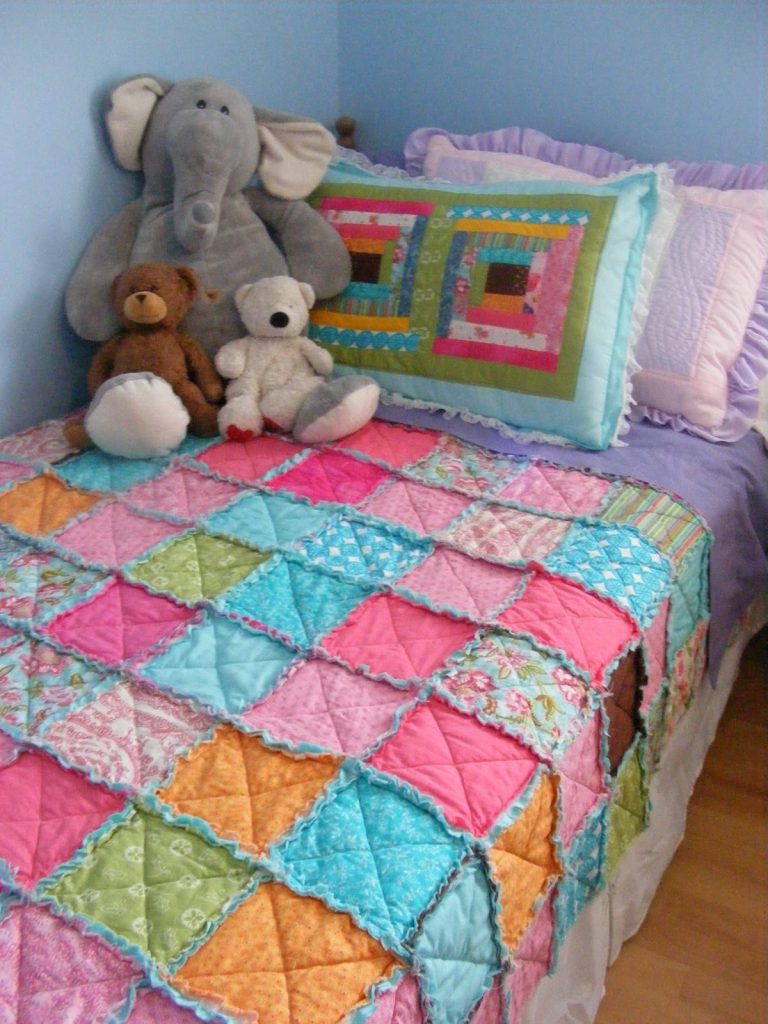 Look at the bed above, for example. Its cover is made entirely of fabric scraps quilted together. How cool is that? You could create something like this if you have the time. Ultimately, your "little project" could even become a family heirloom!
Handmade pencil case
If you go to school or have a child at home that does, you know just how practical pencil cases are. Not only are they perfect for storing all your pencils and other stationery items, but they can also reflect your personality with their design!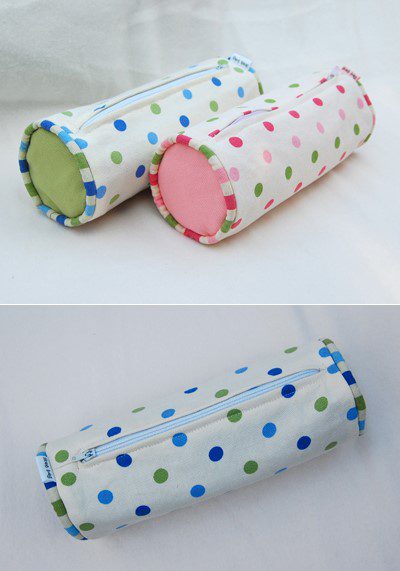 So why don't you save up some money and make one yourself? You don't need much, just some fabric scraps, a sewing kit, and talent. We guarantee you will be the coolest person in school with your handmade pencil case!
Fabric wallet
If you think about it, wallets have been around forever. Men carry them all the time, and women are catching up to their wonders as well! While everyone loves a good leather wallet, there are other alternatives if you prefer something different.
One made out of fabric, for example! You don't even need to use expensive materials and tools to make them. Simple scraps and a basic sewing kit will do. Alternatively, you could use hot glue, which works just as well!
Handmade letter balloon
Everybody loves a good letter balloon when celebrating birthdays or things like Valentine's Day, and we totally get it. What's there not to like? They are big, colorful, and usually carefully chosen by our loved ones. Luckily, you can also make some yourself.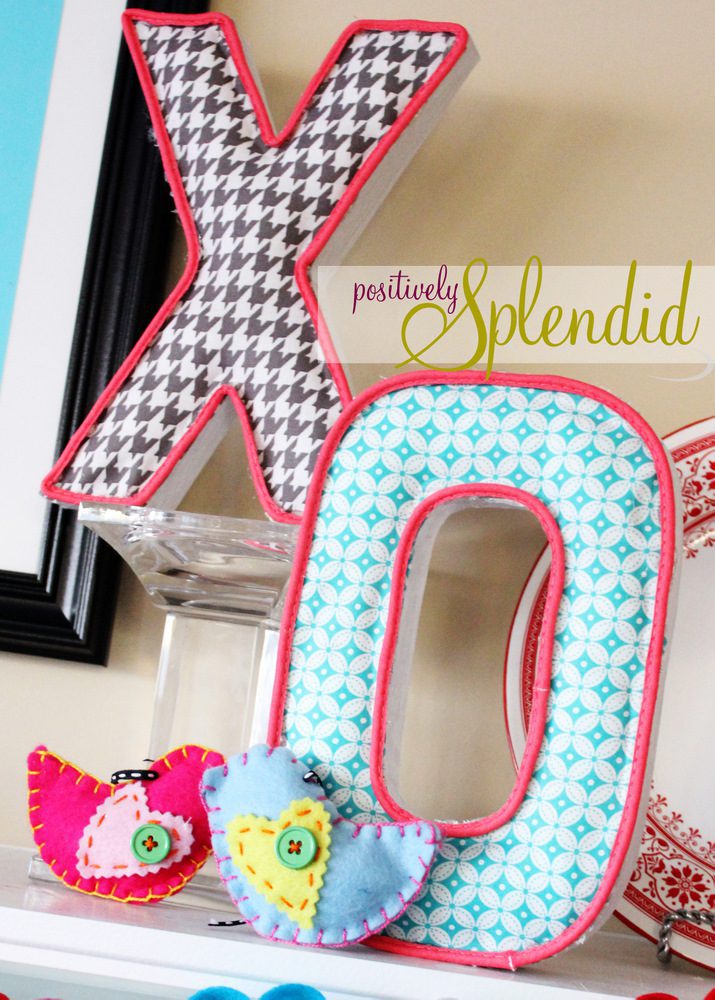 You don't even need fancy tools and materials to make them. You only have to get some cardboard or thin MPF boards, fabric scraps, and hot glue. Now you can have a "balloon" that looks amazing and lasts forever around your house!
Tissue pouch
As the years go by and more and more people become aware of the environmental crisis, many are trying to change their habits in order to save the planet, like reducing the use of plastic and investing in reusable items.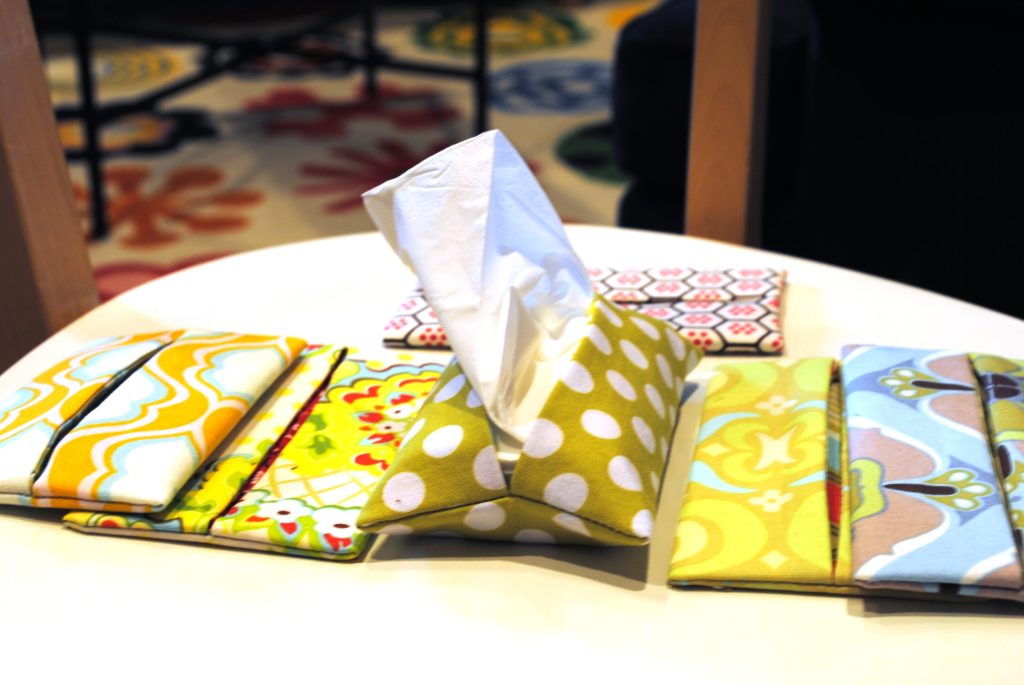 For example, tissue boxes are usually made out of cardboard, which can be recycled most of the time. But why throw even more trash in landfills if you can avoid it? Simply make a reusable fabric pouch for your tissues like the ones above.
Embroidery for days
When it comes to art and crafts, nothing is quite as beautiful or satisfying to make than embroidery pieces. With materials as simple as embroidery floss, scrap fabric, and a needle, the sky is the limit for what you can create!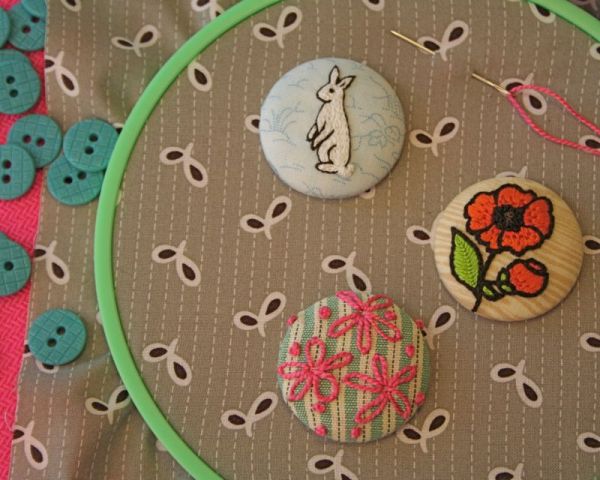 If you are an experienced embroiderer looking for a new challenge or just something fun to make during your downtime, why not turn your average buttons into embroidered pieces of art? Once you master the learning curve, there is no stopping you!
Bracelets made at home
Bracelets are one of those pieces of jewelry that have been around forever if you think about it. No matter when or where in the world you are, bracelets are worn everywhere, every day, by all sorts of people. So why not make one yourself?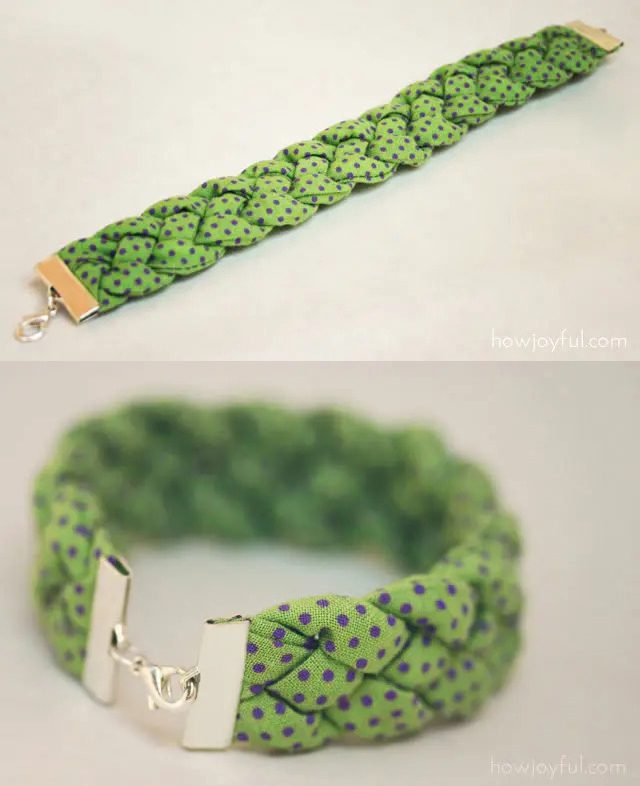 They can be made out of a multitude of materials, but if you want something cheap that will enable you to exercise your DIY muscles, you can simply make them out of scrap fabric. It's easy and super relaxing to make them, so why don't you try it?
Fabric keychain
Keychains may be small, but they are essential to our day-to-day life. They keep our keys organized and can also represent who we are to the world. But with so many designs to pick from, it can be a bit difficult to select just one!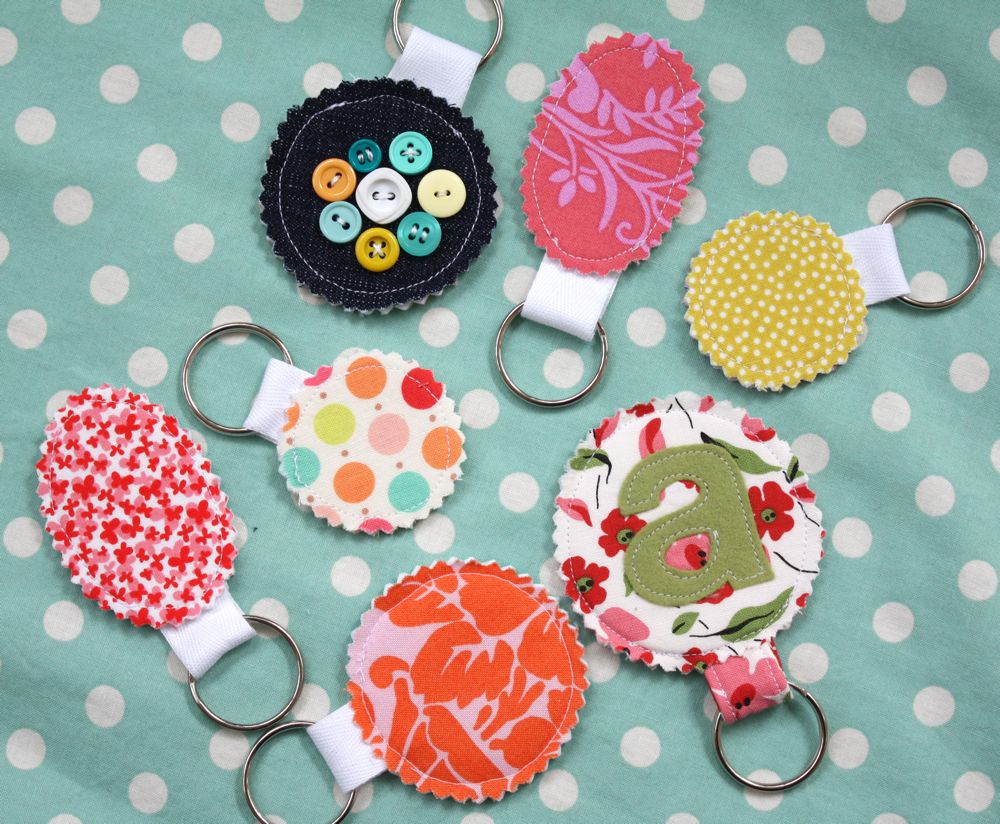 So why not make your keychains yourself? This way, you'll guarantee that the one you use for your keys is the perfect match for your personality and save some bucks. You just need some fabric and some creativity, and you're all set!
DIY advent calendar
If you love everything about Christmas, you probably adore advent calendars as well. There is nothing more thrilling than to wake up every morning in the weeks leading to Christmas and discover what's inside that day's tiny drawer, after all!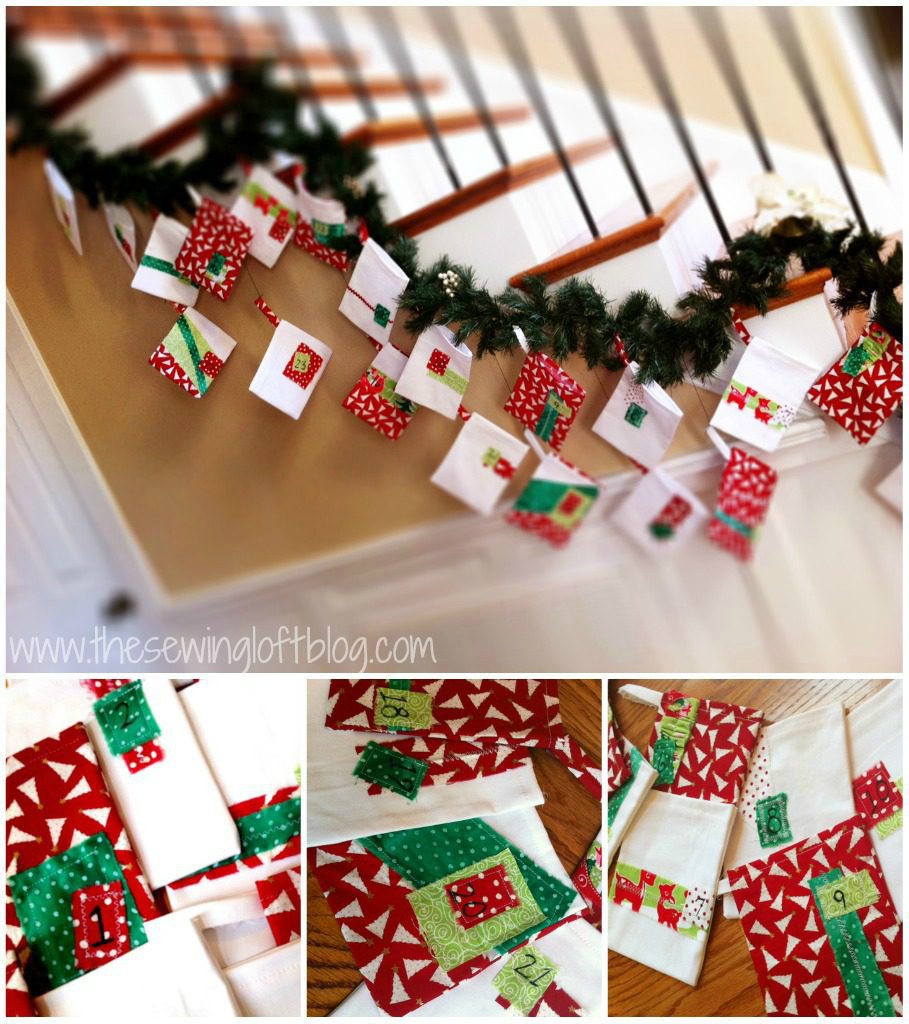 But did you know that you don't have to spend tons of money buying an advent calendar? You can easily make one yourself. It doesn't even have to be a super complicated one. Something like the calendar in the image above works just as well!
Handmade postcards
If you travel a lot, be it for work or for leisure, you probably get lots of keepsakes for both your family and yourself. Postcards are usually the most common ones, but you don't have to limit yourself to the collection at the airport!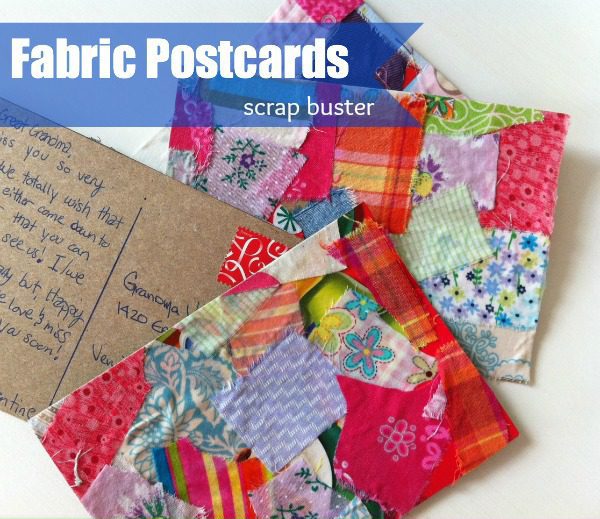 Using some scrap fabric and a couple of decoupage techniques, you can easily make your own postcards! Now, the messages you send to your family and friends will have that little something that only you can bring. Definitely something to keep around forever!
Fabric phone case
Fabric phone cases were all the rage back when smartphones were brand-new in the market. Nowadays, though, they're mostly made out of plastic which is terrible for the environment. So, why not bring sustainable fabric cases back? They're pretty easy to make!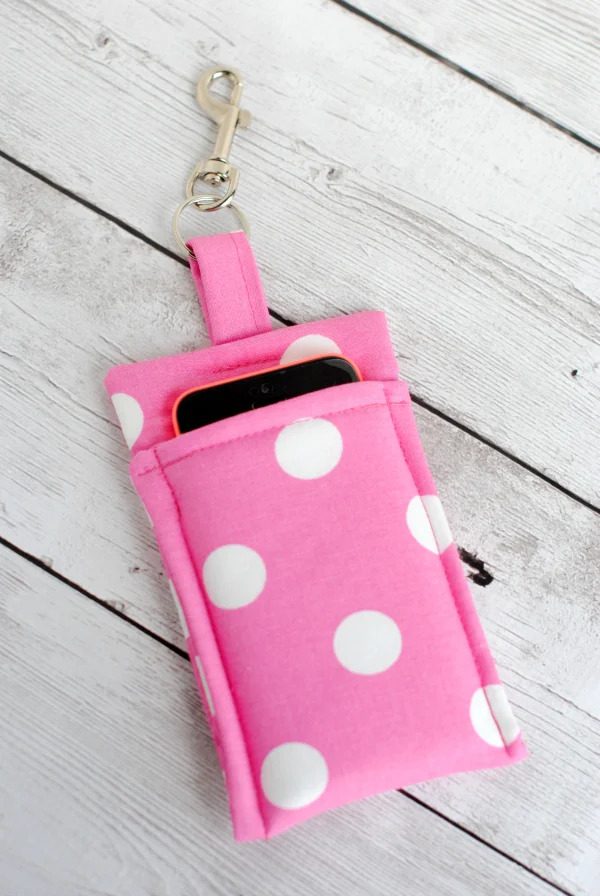 You just need some fabric scraps! Measure your phone and select a scrap that's twice as wide. Sew the sides and the bottom, turn it inside out, and that's it. You can keep refining the edges and adding other details, but that's basically it!
Customized bobby pins
It doesn't matter how long or thick your hair is. If you have a knack for styling it, bobby pins are your friends. They are incredibly versatile accessories, and if you need to hold your hair up with precision and elegance, they're always there for you!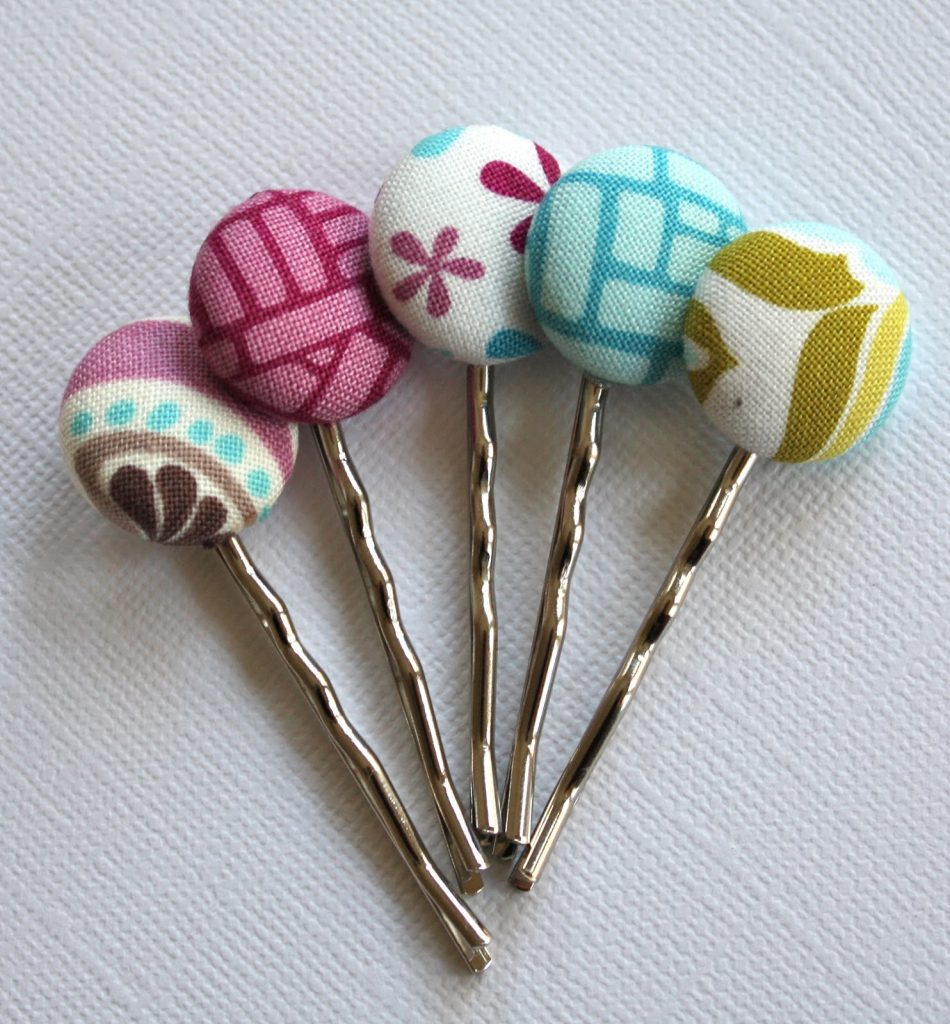 Some people love them because they are discreet, but if you prefer something 'louder' and more stylish with a bit of personality, you can customize your bobby pins yourself. To make this, gather some fabric, hot glue, and buttons. Bye-bye, bad hair days!
Dishtowel belt
If you think about it, cooking is one of the most relaxing chores you can do around the house. There is just something magical about choosing the right ingredients, following a recipe, and making a scrumptious meal for yourself and those you love the most!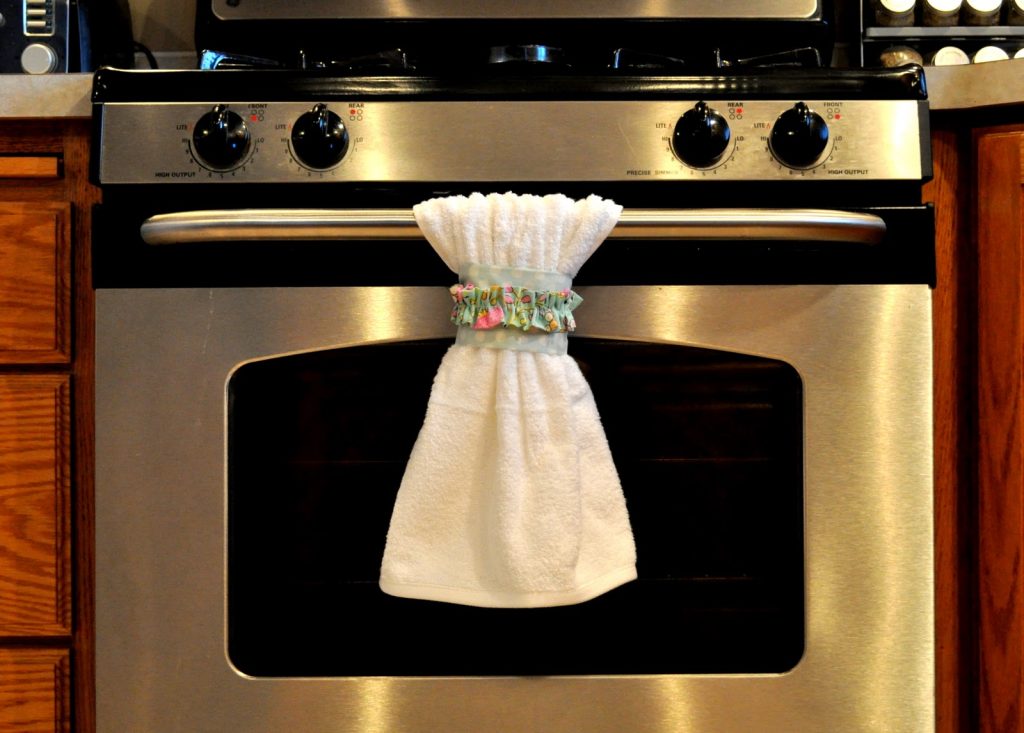 If you're an experienced cook, you're probably well aware of how annoying it is when your dish towel keeps falling down. But don't worry – if you have some scrap fabric around, you can easily make a cute little belt to hold it in place!
Quilted pillows
If you're a really dedicated seamstress, you probably have bags upon bags of fabric scraps around. You don't have to throw them away if you want to open up some space around the house, though. Just use them to make some pillows!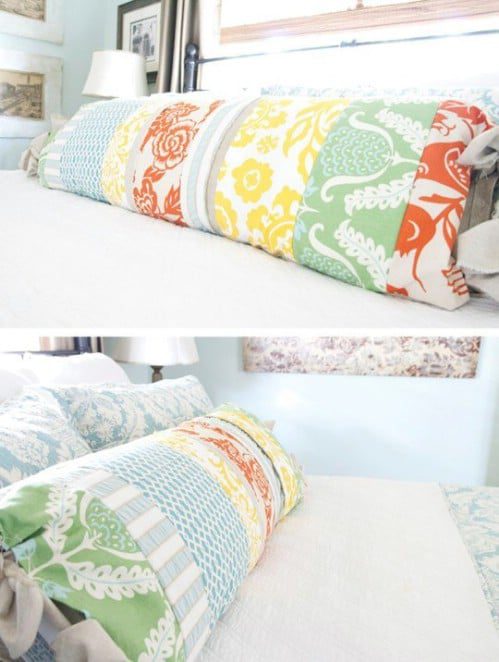 The bigger pieces can be used to create the body of the pillows, while the smaller scraps can be used to fill them up. There are many techniques to make pillows like that, but you can simply quilt them, and they will look amazing!
Colorful strap covers
It doesn't matter if you're a professional photographer or just a hobbyist enjoying a day out; carrying a heavy camera and all its accessories around for any period of time can be exhausting. That's why strap covers are so important!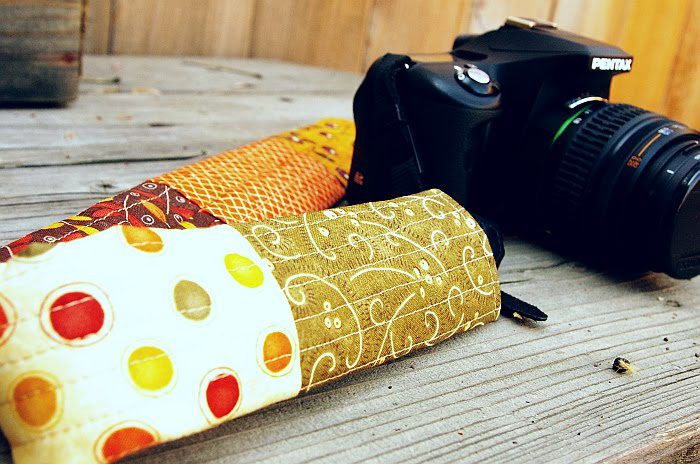 They're usually padded and super comfortable, but the best thing about them is that you can make them yourself and customize them however you want. You can even use fabric scraps to make a pretty colorful and unique one if you want!
Handmade napkin rings
If you enjoy having guests over for dinner or going out for picnics with your family and friends, you know how important it is to keep everything clean and tidy. No one likes to eat at a messy place, after all!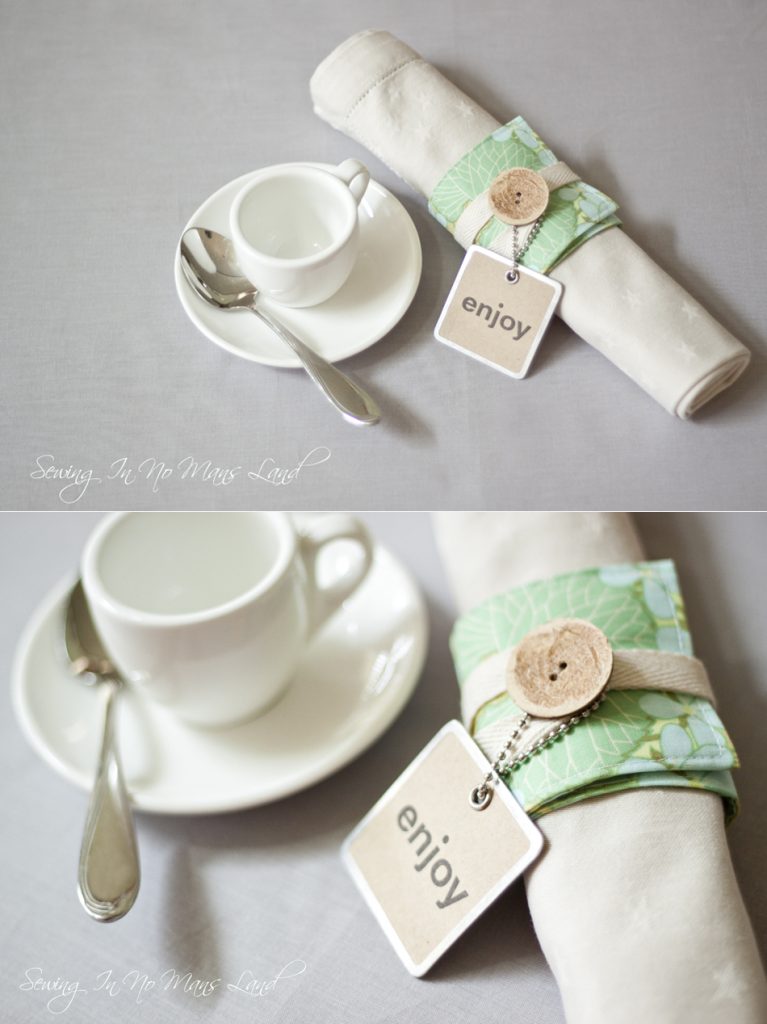 One thing that can really help with that is using napkin rings. Not only do they look amazing at the table, but they also help keep things organized. If you love sewing and hosting, we have a feeling this would make a wonderful project that could even bring you some money!
A fabric case for your sunglasses
If you know anything about fashion, you know how important sunglasses have always been in this industry. Some models are so iconic that we can tell exactly which decade they're from just by their unique designs! How fantastic is that?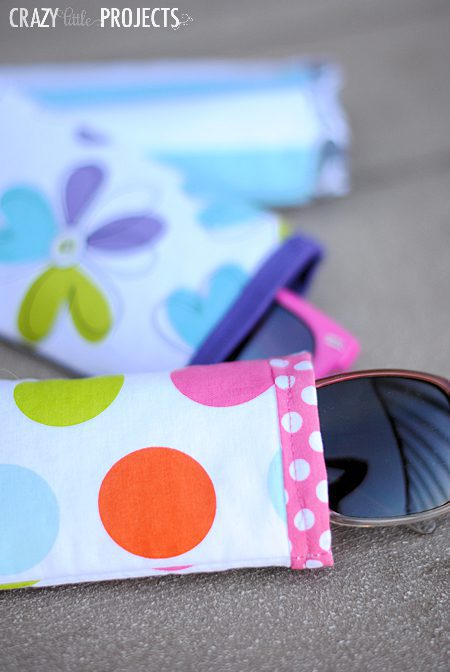 If you have a pair of sunglasses you really, really love and don't want to damage, why don't you make a cool fabric case for them? It's pretty easy! As we've repeatedly mentioned in this article, a little fabric and a sewing kit will take you far.
Fabric toy owl
If you think about it, owls are super cool. They have incredible eyesight, are super stealthy, and their talons are ridiculously sharp and powerful, which makes them amazing hunters! Thus, it is not shocking that some kids simply love them!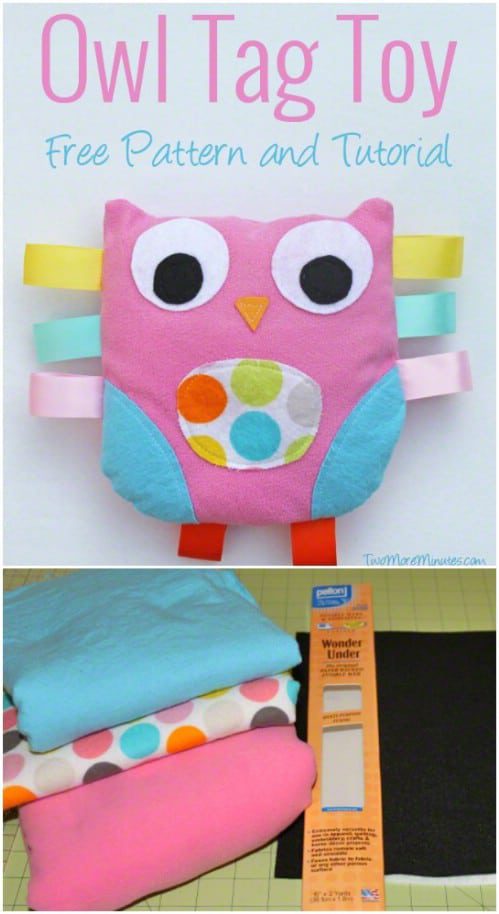 If you have one of those kids at home, the best gift you could ever give them is a handmade toy owl. A couple of colorful fabric scraps are all you need for this project. In the end, we are sure you'll be the most popular parent around!
Gorgeous roses
Roses are one of the uncontested stars of the flower world. They represent love, and not only are they beautiful and smell amazing, but they're also quite resilient. They are a great example that you don't have to be completely harmless to be considered delicate.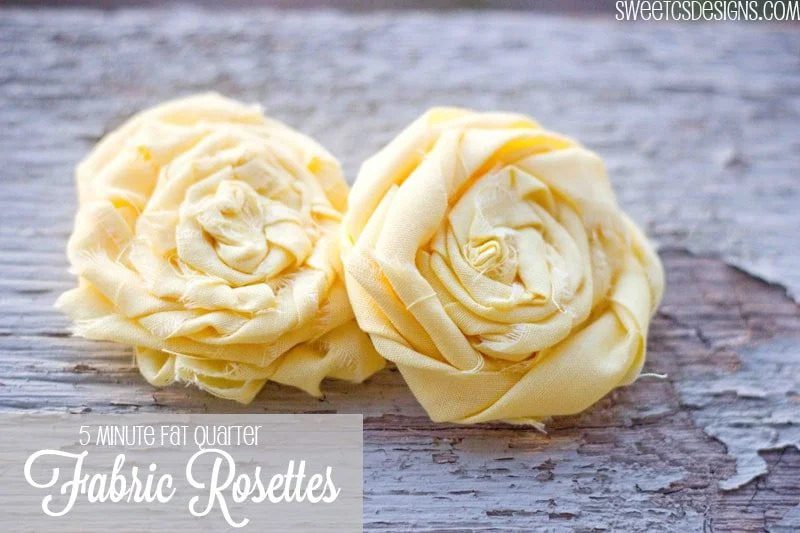 That said, not everyone has the green thumb required to grow them. They can also be expensive, especially around big holidays. So, if you want to gift a loved one some roses, why not choose to be unique and make them out of fabric like the ones above?
Wall art
People say art can be anything, and we are inclined to agree. A painting, a song, or even something as trivial as a video game can touch people in inexplicable ways. Even sewing is an art, and we're not exactly talking about clothes here!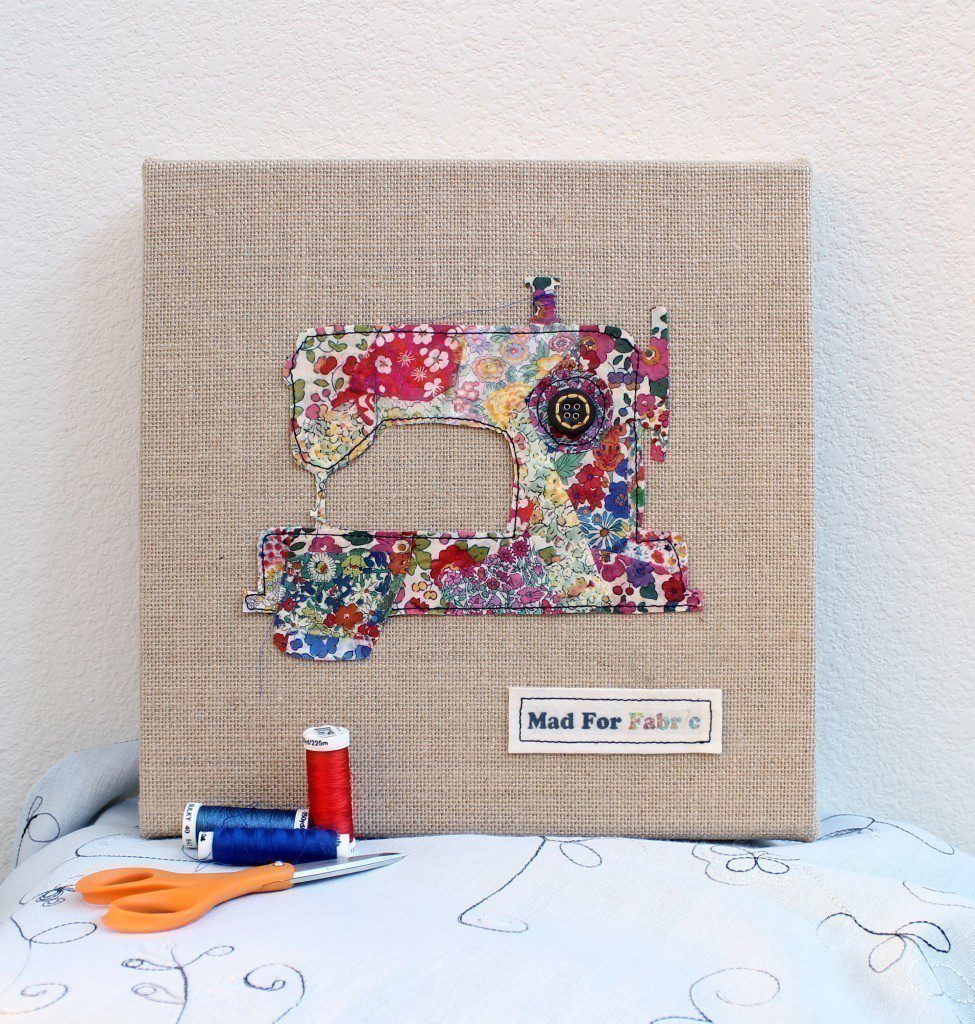 Check out the fabric collage above, for example. It was done using nothing but fabric scraps and is the perfect wall décor for a sewing room or any other room around your house, really. And the best part is you, too, can create something like that!
Homemade headband
A headband is one of the most essential accessories. It doesn't matter if you're on your way to an important meeting or about to hit the court for a basketball game. They will always keep your hair neat and away from your face!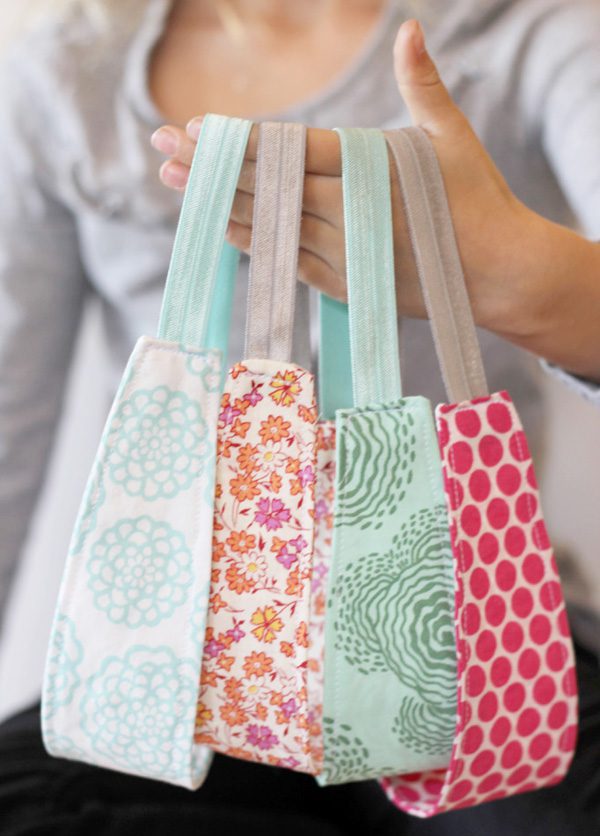 While you can easily find them at clothing shops around your city, making your headbands yourself can be a pretty relaxing and even empowering experience. All you need is fabric scraps and some leftover elastic. The perfect afternoon project if you think about it!
Best of two worlds
With how easy it is to pay for pretty much anything online nowadays, it's pretty rare to find someone still carrying coins around. If you are one of these people, though, this mini-coin purse that doubles as a keychain is perfect for you!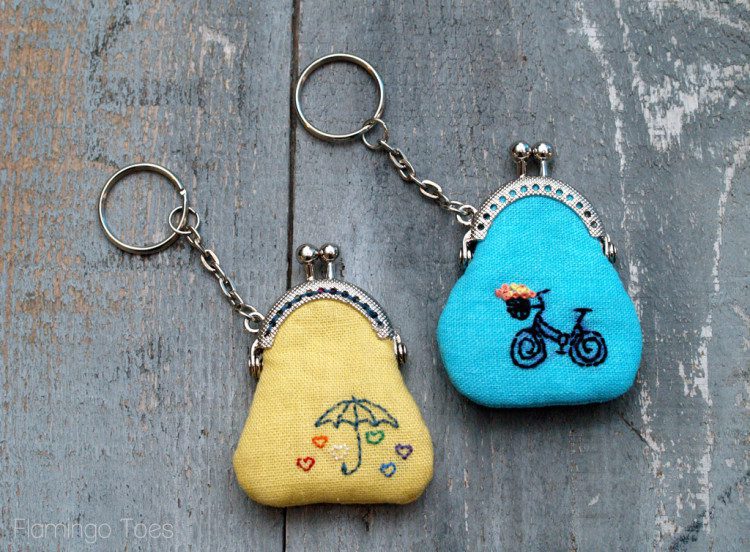 You heard it right. This cute little accessory is not a simple coin purse or your regular keychain; it's both those things in one! If you make them at home, you can also customize them however you want! Who comes up with these ideas?!
Handmade memory game
With so many screens around us all the time, it's gotten harder to entertain our children in a way that's wholesome and beneficial to their growth without getting them addicted to phones or computers. How to entertain them, then? It's easy. How about a handmade memory game?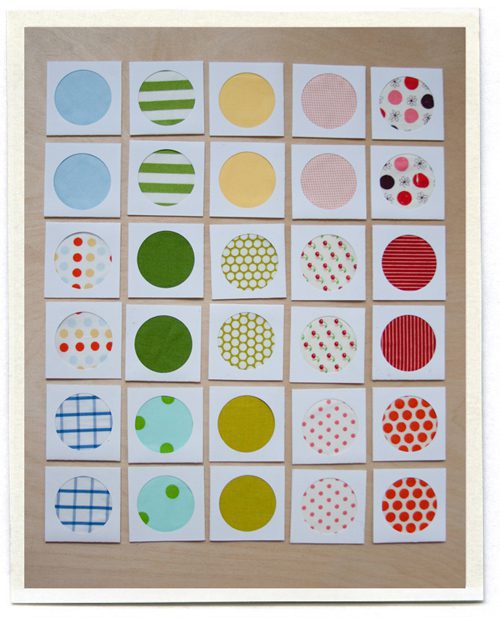 Sure, children may not care much about these sorts of games after a certain age, but your curious toddler will surely love it! That's also the perfect project to throw some of your leftover fabric at! Win-win all around, if you ask us!
Fabric-wrapped picture frames
Despite how easy it is to keep pictures both on your phone and online nowadays, people still love to print their favorite moments and hang them around the house. It's one way to keep your best memories alive even when you don't have internet available.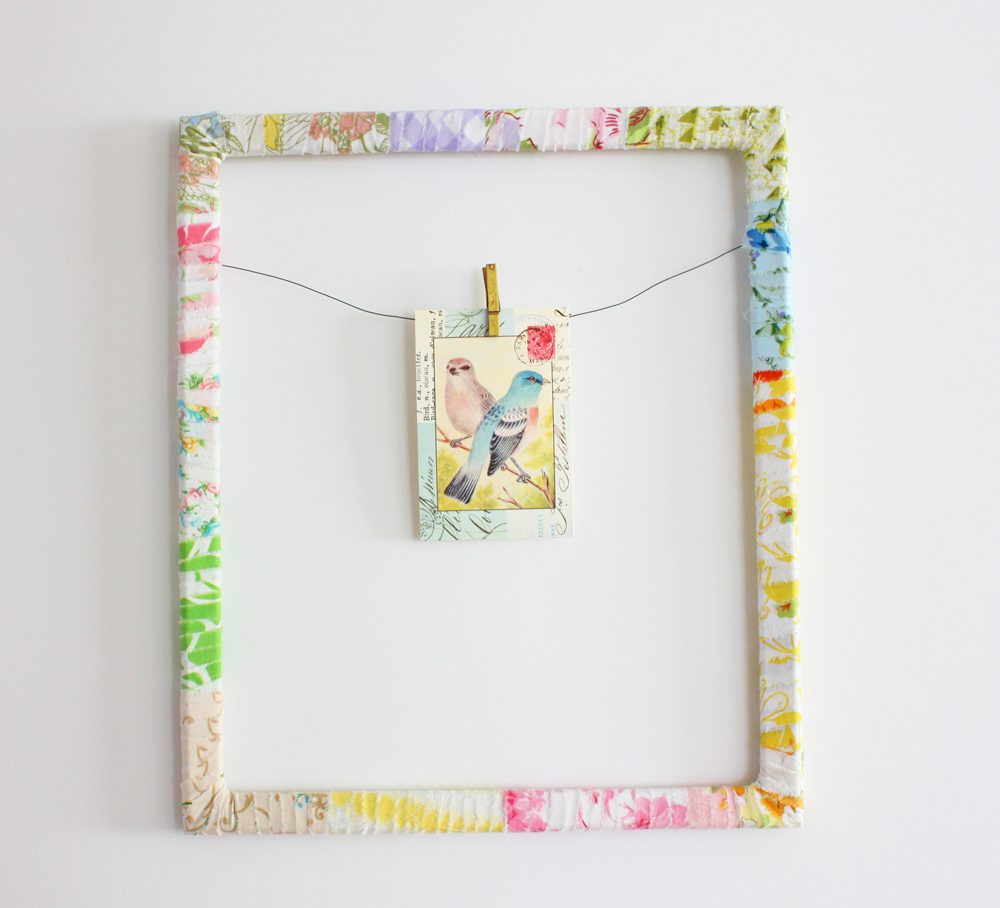 You don't have to limit yourself to the boring picture frames out there, though. With some glue, fabric scraps, and a whole lot of creativity, you can easily customize your frames yourself and add a touch of personality to your house décor.
Easter decoration
Not everyone celebrates Easter, but those who do usually love this holiday. Chocolate eggs, fish, and the cutest bunnies around, what's there not to like? The only thing that could make this holiday better is if you made your decorations yourself!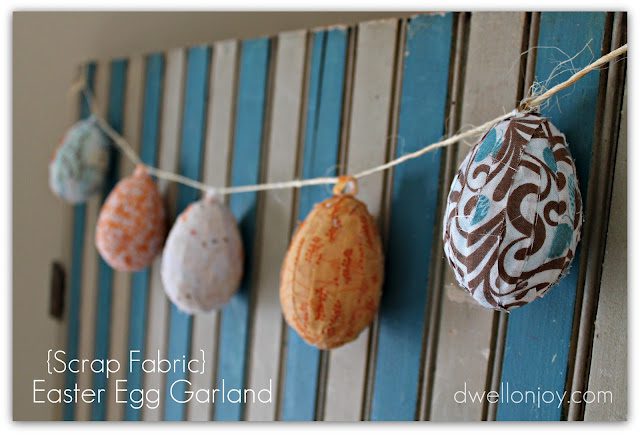 Something as simple as a bunch of eggs made out of fabric is enough to bring a smile to any child's face. And the best part is, if you have lots of scrap around, you can customize your décor however you want!
Decoupage décor
There are so many different art and crafts techniques out there, and sometimes it's hard to keep up with everything. Decoupage, for example, is super popular within its niche, but when it comes to a broader audience, not everyone is familiar with it!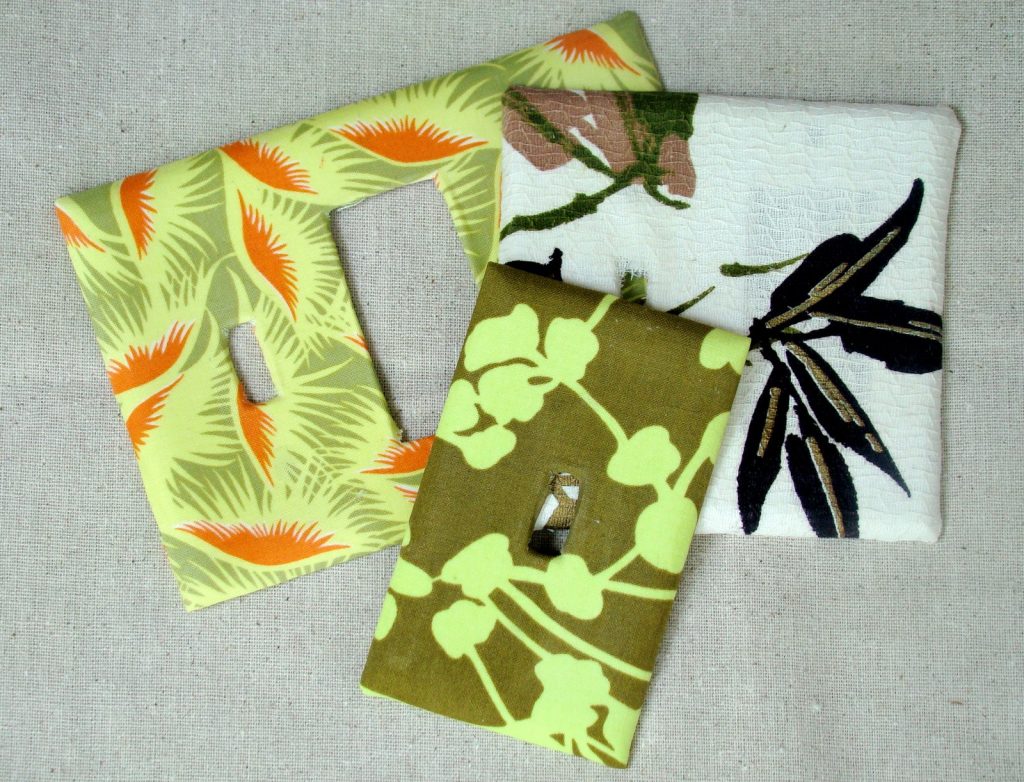 Which is a shame because there are so many cool ways to do decoupage. We wish more people were into it! Check out the light switch covers above, for example. They were customized using fabric scraps and decoupage techniques, and the results speak for themselves!
Custom zipper pouch
If you work as a seamstress, it's easy to end up with a bunch of trim scraps that are simply too small to do anything with. But did you know you can combine all their patterns and textures into a super cute multipurpose pouch?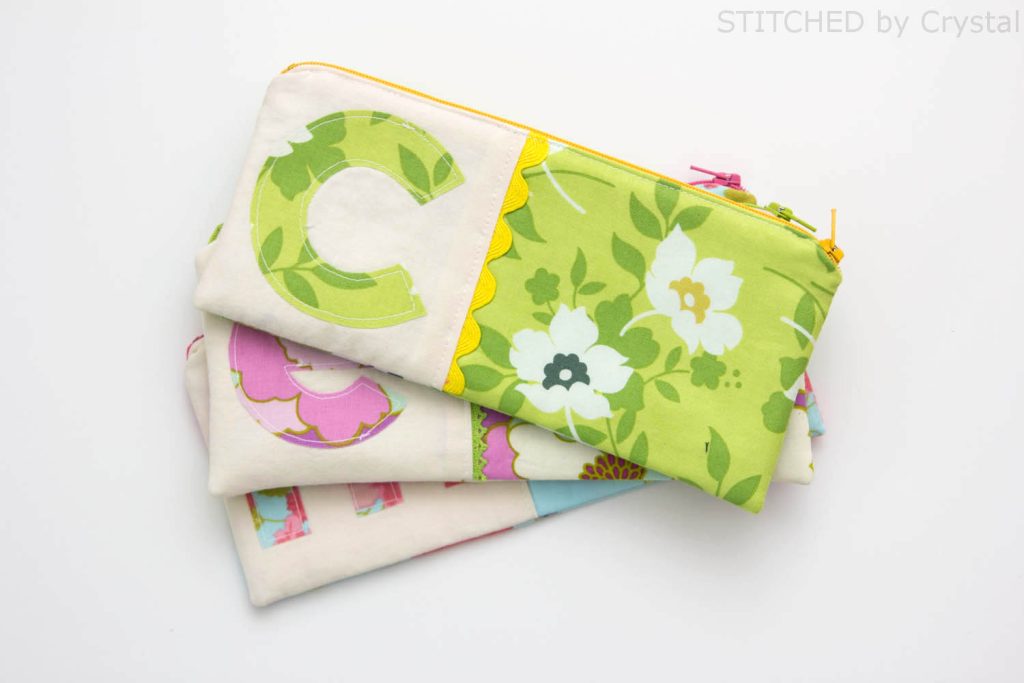 That's true! The ones above, for example. They're completely made out of scraps, and not only do they have a flowery accent on one half, but they also come with a custom letter sewn on the other. They're perfect for gifting or storing school supplies!
Fun fabric necklace
This one is a great tip for those who love jewelry but can't wear anything made out of metal for allergy reasons. Did you know you can make super cool necklaces out of nothing but fabric scraps and marbles or beads?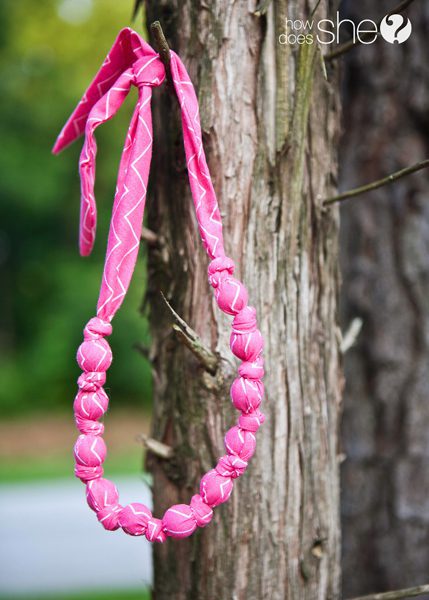 They're easy to make and can be great gifts for everyone, but especially for kids. Since the beads or marbles are protected by the fabric, there's no risk of choking! Just alternate between knots and marbles and then sew the fabric shut. That's it!
Mason jar covers
Due to their rustic aesthetics, mason jars are super popular right now! As such, it's easy to find all sorts of tips and tricks for these beloved containers, from all the different uses they have to how to use them as decoration for your house!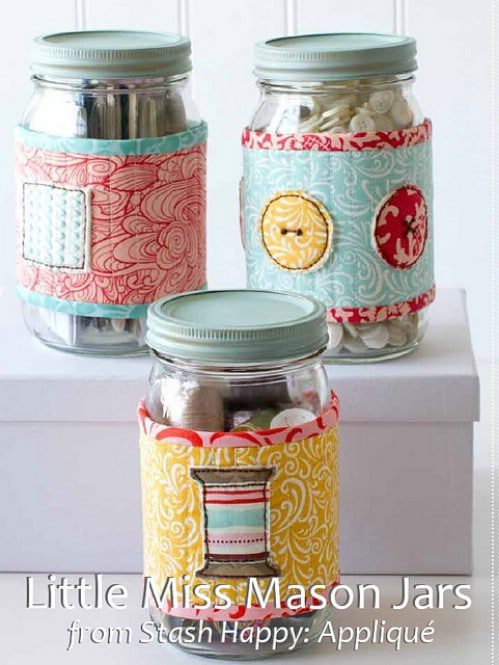 But you don't have to choose one thing or another. You can use them both as décor and functional items! If you have fabric scraps around, for example, you can easily make a cute little cover for your kitchen jars, just like the ones above!
Fabric ornaments
Growing up, we all had favorite holidays. Some loved Christmas, while others loved Halloween or even Easter. Either way, one of the best things about any holiday is definitely decorating the house. If you're short on money, though, you needn't worry!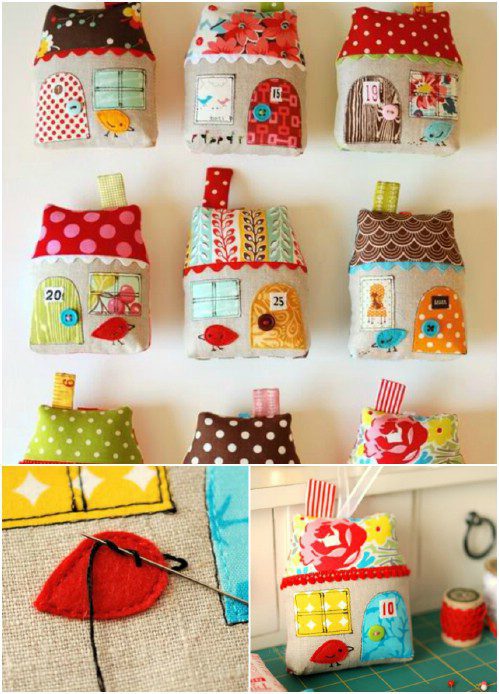 You don't have to spend tons of money to have cool decorations. If you have some fabric scraps around, you can easily save a couple of bucks and still put up something nice for the kids, like the little ornament houses above, for example!
A hair bow for every occasion
There are many different ways to style your hair if you want to change things around a little. A quick search online will give you more options than you could ever have time to try out. That said, why not give hair bows a chance?
Sure, they are better suited for a more informal situation, but that doesn't mean they can't look good, especially if you make them yourself! With some pieces of fabric scraps and a bit of creativity, you'll have a lifetime supply of bows to try out!
Cute baby ties
We all know babies are adorable, but only those with a baby currently in their lives know exactly how much! After all, no matter how loud or messy your child is, everything they wear is cut. Mostly because they're all oh, so tiny!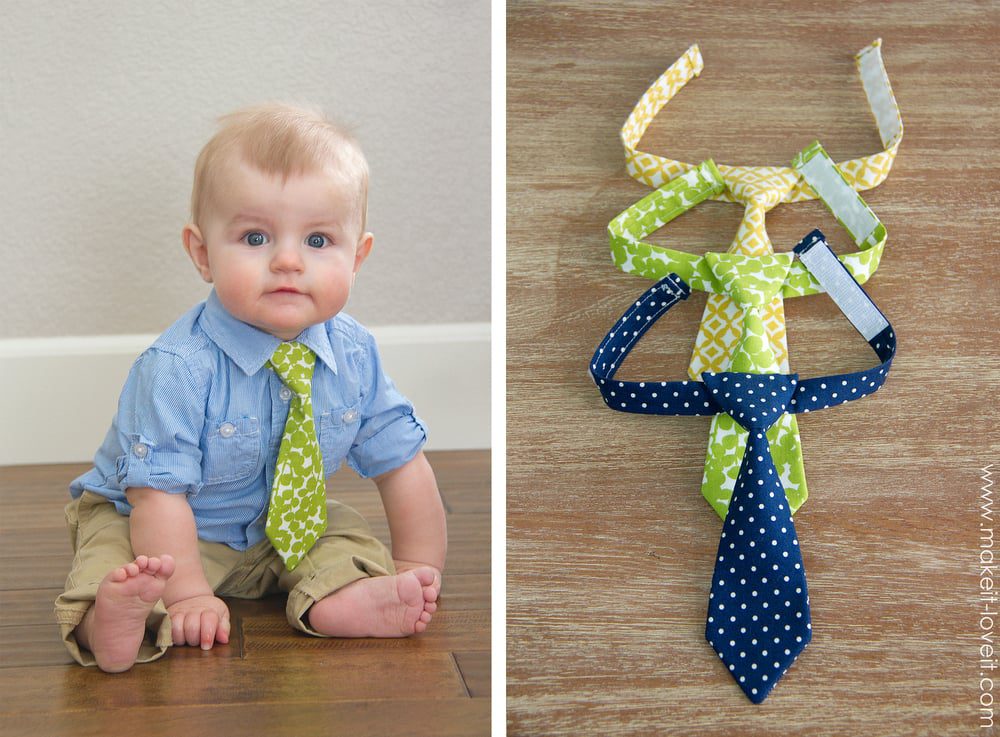 And there is nothing cuter than a grown-up accessory resized for babies. Like a tie, for example! Just take a look at the picture above. Look at that style – so charming! And the best part about baby ties? You can make them yourself!
Custom bed frame
Unless you come from a culture where people are used to sleeping in hammocks, we're pretty sure you absolutely love your bed. What's there not to like? A place where we can stretch our backs, sleep all night long, or simply rest after a long day at work? Yes, please!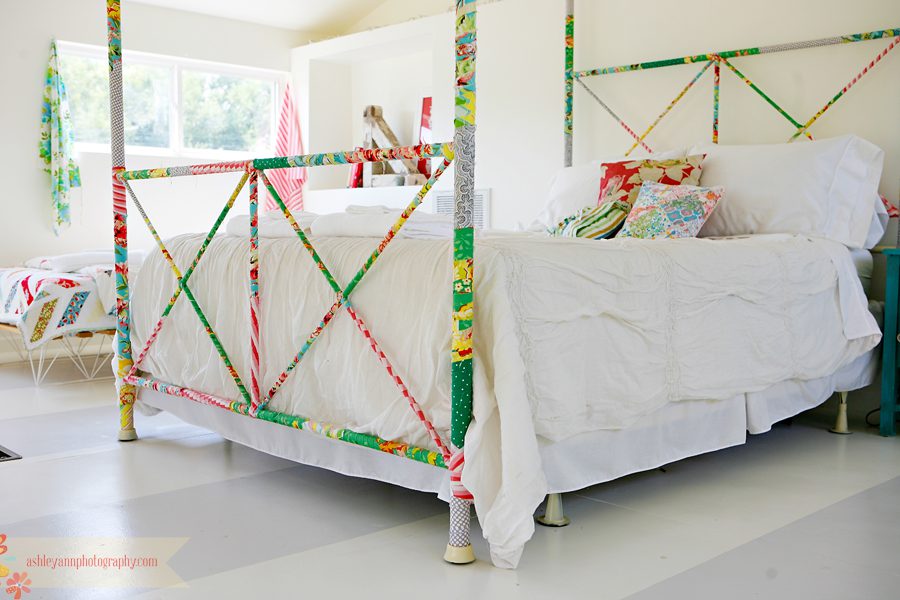 Beds are not just about comfort, though. They also have to look good and fit in with both your bedroom décor and personality. So why not customize its frame with fabric scraps? A hot glue gun is all you need for this project!
Fabric Christmas ornaments
When it comes to the holiday season, nothing is quite as entertaining as putting up decorations around the house with your family. Sure, the dinner is the star of the show, but there is something charming about decorating a Christmas tree together, for example.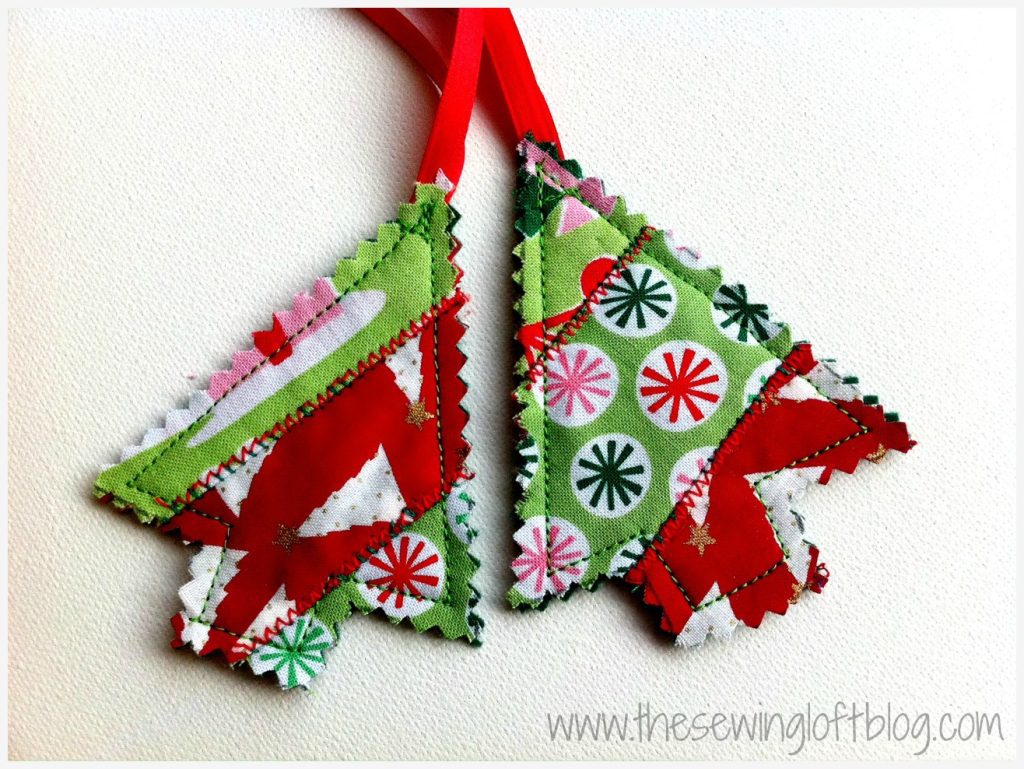 If you're tired of store-bought ornaments, though, and want to get your family involved in more than just putting the decorations up, you can easily gather the kids and make the ornaments yourselves. Fabric and some hot glue if you can't sew, and it's done!
Cable organizers
No one enjoys having to untangle cords and cables around the house. That's why cable organizers are the unsung heroes of the technological era! You can find them in a range of different shapes and sizes, but did you know you can make them yourself?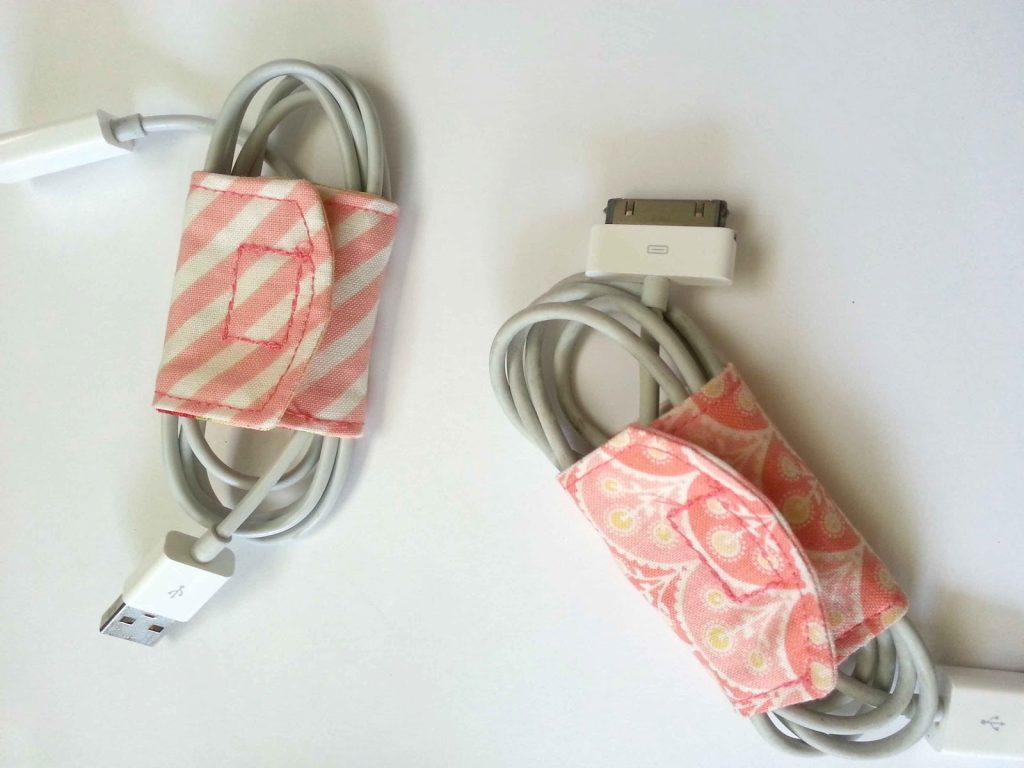 That's right! If you have a knack for sewing, this project is right up your alley. With some fabric scraps and velcro, you can create something as cute and useful as the cable organizers above. You don't even have to be a pro to make them!
Stylish sewing kit
If you are a serial seamstress, that is, if you can't go anywhere without bringing your sewing supplies with you, you're going to love this cute little project! This is a mini-sewing kit you can make using just a few scraps of fabric!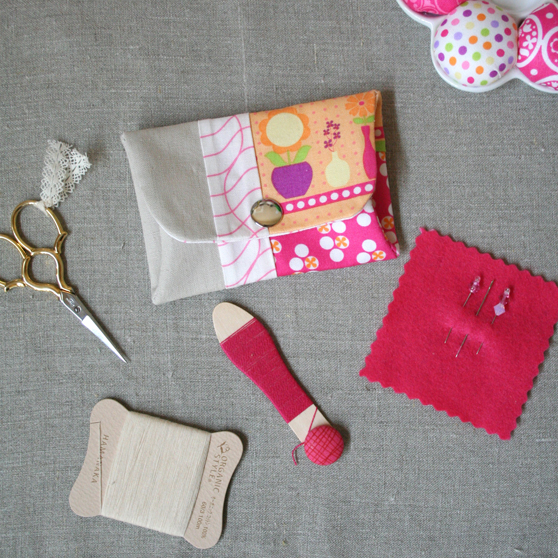 They are the perfect size to store a small scissor, pins and needles, and some thread, so you can bring them with you even if you don't have much storage space in your bag. They also make great coin purses if you don't sew!
Easy wrist rest
If you spend hours in front of a computer typing the day away, you may have noticed that your wrists end up becoming sore after a while. If you're familiar with this sort of pain, a wrist rest may be exactly what you need!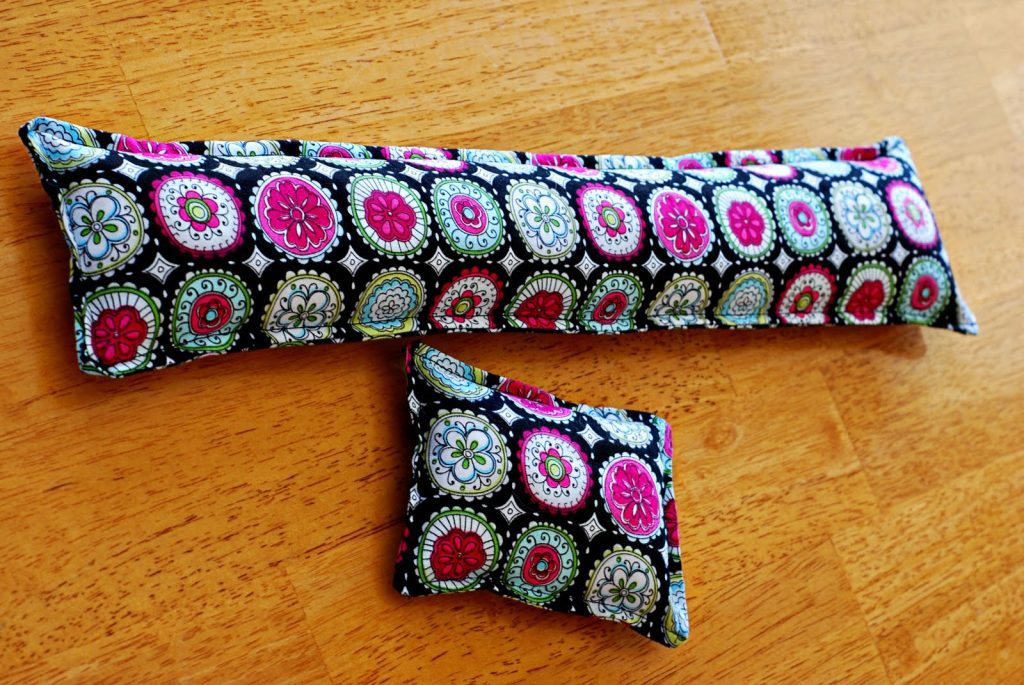 This padded accessory is essential if you spend hours typing, and the best part about it is that you can easily make it at home. Just sew two pieces of fabric together, fill it up with rice, and then sew the open end shut.
DIY pendant
When you are into the DIY culture, it's easy to get carried away and end up making pretty much anything in your life using arts and crafts material. There is nothing wrong with that, of course, especially if you love what you're doing!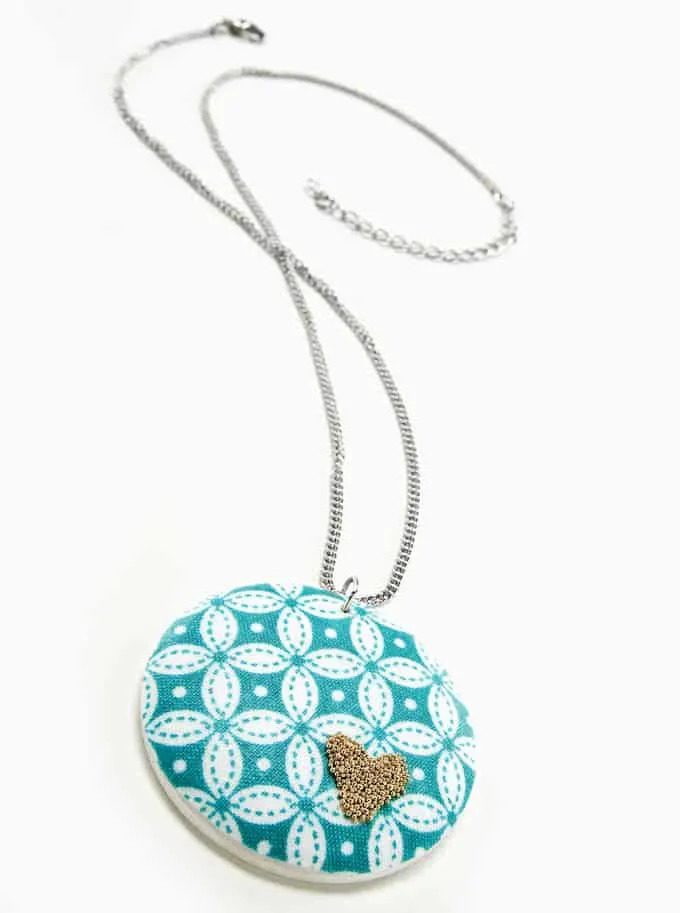 Even complicated things like jewelry become easy, and suddenly you are wearing bracelets and pendants you made yourself, like the beautiful fabric pendant above. This is exactly the kind of thing people don't realize is DIY until you tell them!
Reuse, recycle
If you think about it, the whole problem behind fast fashion is how quickly things turn disposable. Nowadays, our landfills are filled not only with trash and broken furniture but also perfectly good clothes that went out of fashion before they were even worn!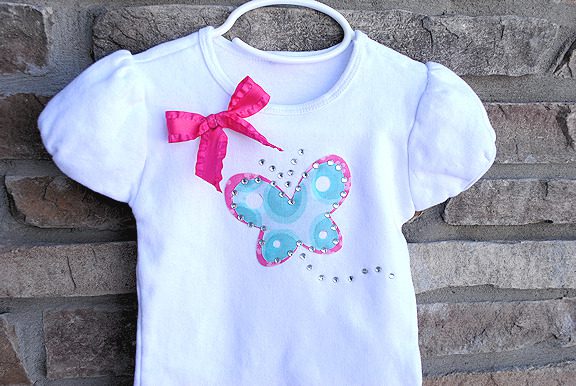 One way to fight back against that is to simply not throw your clothes away. No matter how old they are, if they are not falling apart, they can always be customized and improved upon, just like the shirt above.
Fabric-wrapped baby mobile
It doesn't matter if you've ever set foot inside a baby's bedroom or not. We all know some pieces of furniture are basically obligatory for this particular space. A changing station, a crib, a dresser, and, of course, a baby mobile!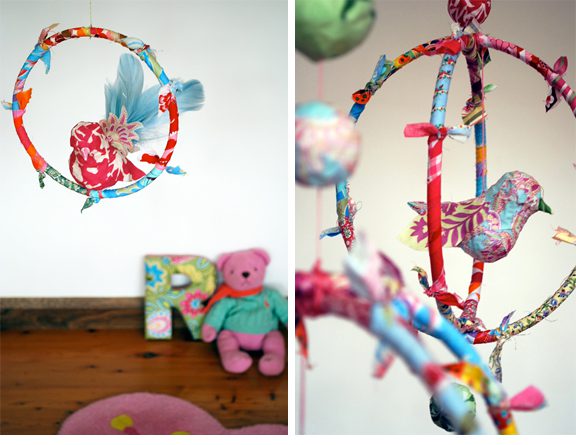 While you can easily buy them at any baby store, if you or your partner have any arts and crafts abilities, you can also make one just as easily! The one above, for example, was made using fabric scraps, and we know you can all agree that it's adorable!
Reversible fabric bowl
If you're into quilting, you have probably made a couple of pretty unique pieces, but we guarantee nothing is as unique as the bowl below! At first glance, it may not look like it, but this bowl is made out of nothing but scrap fabric!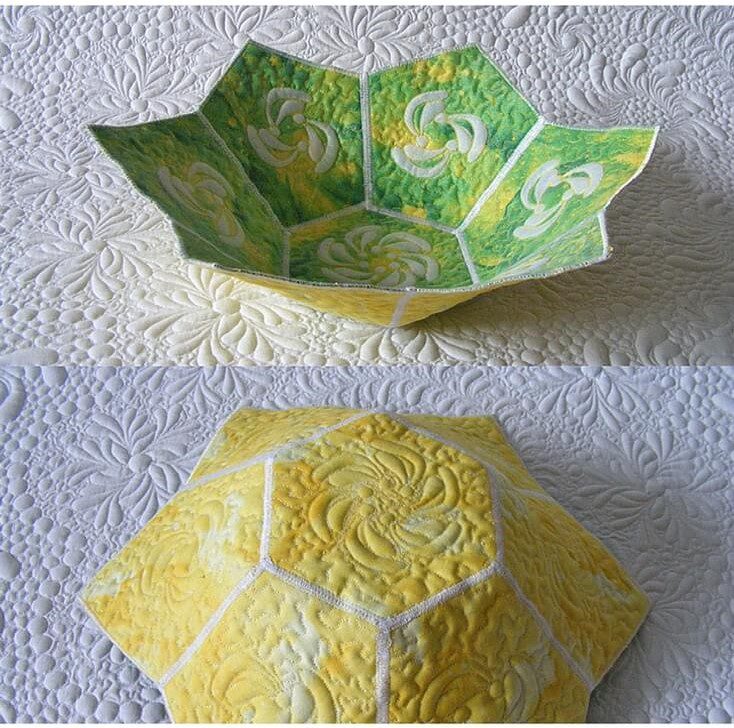 The scrap pieces were cut into angled pentagons and sewn together with a hexagon in the middle using a zig-zag stitch. The best part about it, though? It is reversible! So, if you ever get bored of it, just turn it upside down!