45 Autumn-Themed DIY Décor To Fall In Love With
By Navkiran K August 18, 2022
---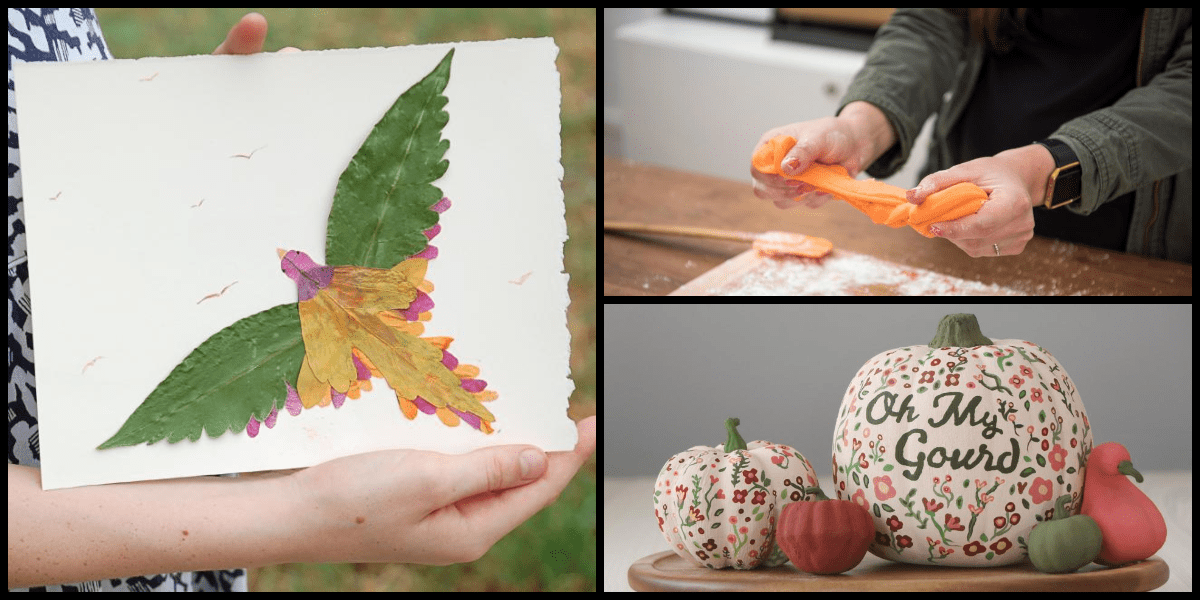 Are you looking for some fun fall projects to decorate your home with? Fall is a time of change, and what better way to celebrate that change than by adding beautiful new décor to your home? No matter where in your home you're looking to add a festive touch or a warm atmosphere, these brilliant fall décor DIYs are sure to please.
These projects can turn out to be fun for the whole family. Kids will love helping out with the pumpkin carving, and adults will appreciate the opportunity to get creative. Moreover, they are also a great way to bring the outdoors inside during the colder months. So if you're looking for warm and festive décor, keep reading to find inspiration.
1. Make a lettered tray
This is an easy and enjoyable project that'll add textural interest to your autumn décor! All you need is a wooden tray, some paint, and a couple of hours. Start by painting the tray in whatever colors you like. Once the paint has dried, use a white paint pen for lettering.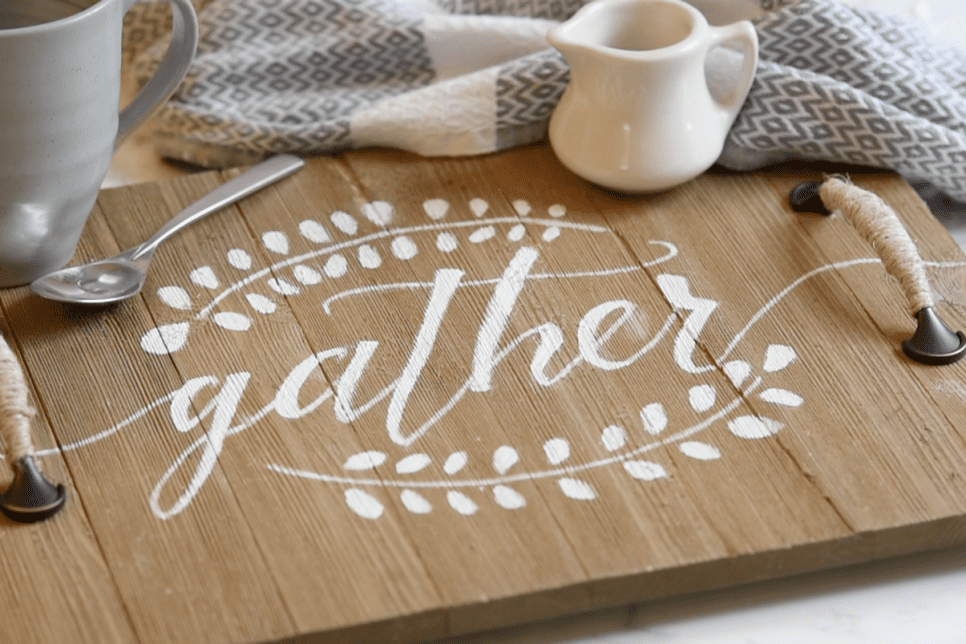 You could do your name, a quote, or just about anything! Better yet, you may make a pair of trays with words like "hello," "welcome," or "autumn" for a seasonal touch. Add a paint sealer, so your hard work does not fade away while using the tray.
2. It's raining dry leaves
If you're trying to find some warm and inviting fall décor options, consider hanging faux dry leaves from your ceiling. This'll create a cozy and comfortable atmosphere in your home that is perfect for simply relaxing after a long day.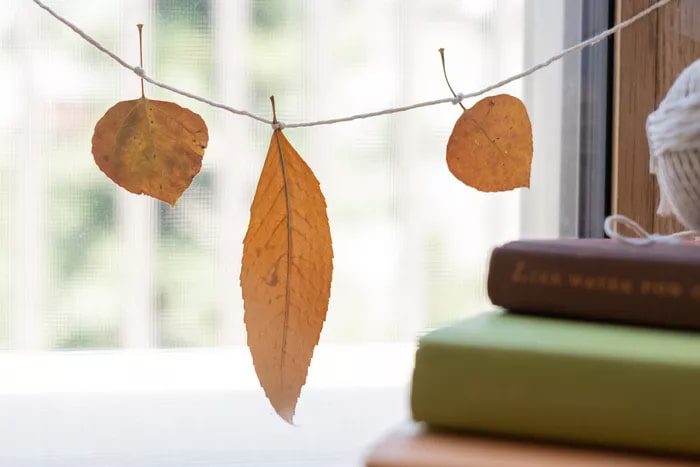 First, gather all the supplies you'll need: fake leaves, clear fishing lines, tape, and scissors. Once you have your supplies, start by attaching the fishing line to the back of each leaf using a piece of clear tape. Once all your leaves are in place, simply suspend them from the ceiling.
3. Cinnamon potpourri
Fall is arriving, meaning it's time to give your home a cozy feel. One way to do that is by filling your living room with the scent of cinnamon. Here's how to make a potpourri that'll give your home a pleasant, fall scent. You'll need some dried cranberries and apples.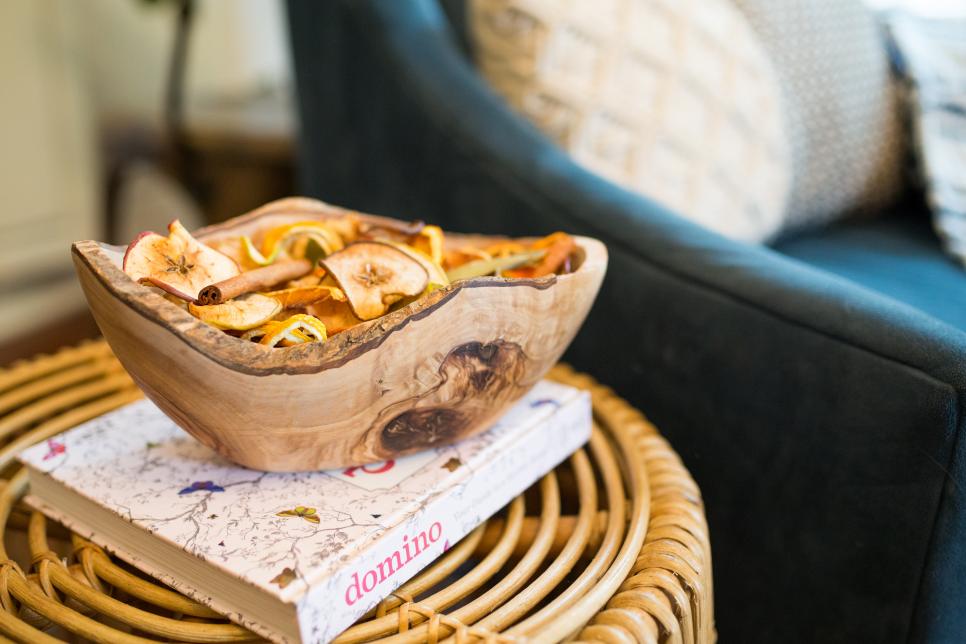 In addition, you'll need a teaspoon of nutmeg and cloves and some cinnamon sticks. Preheat your oven to 200 degrees Fahrenheit. Spread the cloves, cranberries, and cinnamon stick pieces out on a baking sheet. Bake for about 45-50 minutes while stirring every 15 minutes or so. Cool it down before transferring it to a bowl.
4. Fresh fall wreath
Fresh eucalyptus and cotton stem wreaths make great fall décor — they're beautiful and add a touch of nature to your home. Plus, they smell amazing! Eucalyptus is known for its refreshing, clean scent, while cotton stems have a soft, earthy fragrance. Combined, they create a wonderfully autumnal ambiance.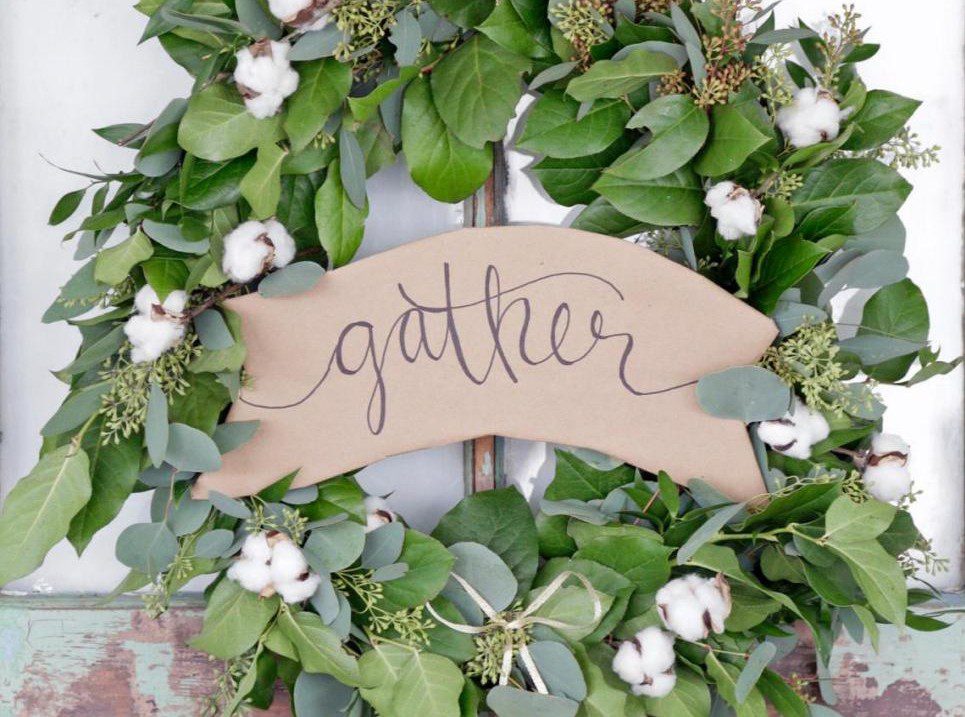 A fresh eucalyptus and cotton stem wreath for fall is a great way to take advantage of the seasonal bounty. The eucalyptus will fill your home with a cozy scent, while the cotton stems add a rustic touch. This DIY wreath only takes minutes and looks stunning hung on a door or mantle.
5. Succulent pumpkin planter
This is a fun craft that's perfect for autumn! For this, you'll need a small pumpkin, succulents, and a bit of soil. Cut the top of the pumpkin, so you have a flat surface. Hollow out the whole pumpkin using a spoon or knife.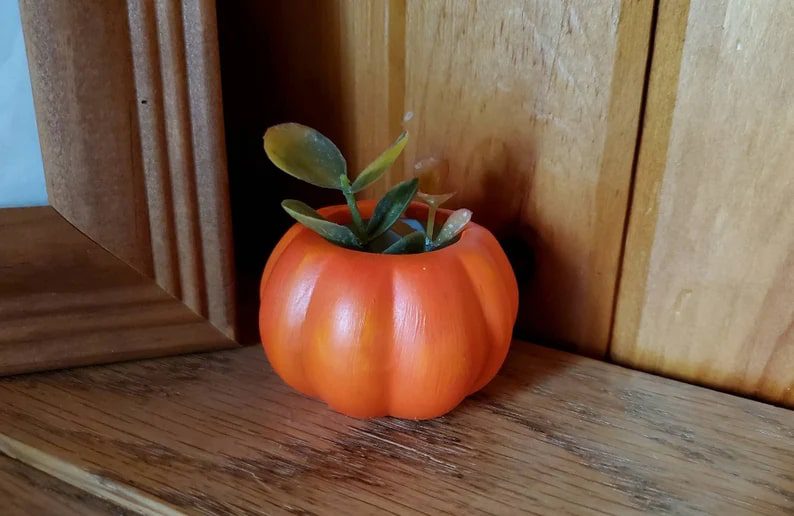 Be careful not to cut the flesh of the pumpkin. Fill in the bottom with some soil. Insert your succulents into the soil and replace the top of the pumpkin. Set the planter in a sunny spot and water regularly.
6. Rustic pumpkin centerpiece
Pumpkins are the perfect fall decoration, and a rustic pumpkin centerpiece is fantastic for adding seasonal flair to your home. And what could be more rustic than a pumpkin centerpiece made with a rope? Tying rope into the shape of a pumpkin is quite simple.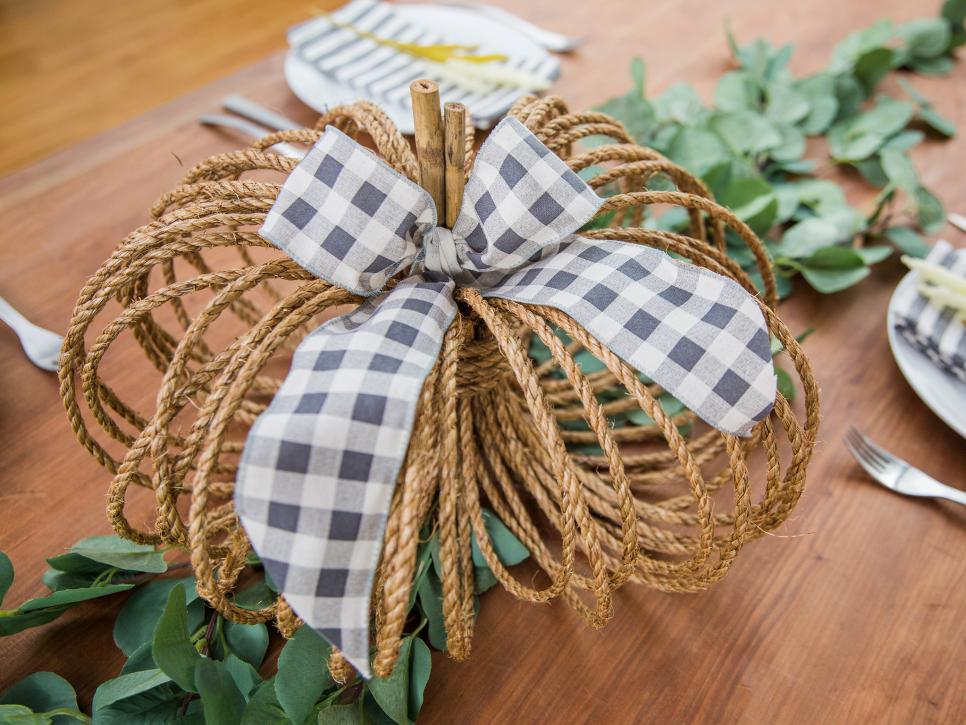 Just start by wrapping the rope around the base of a circular object to form four parts of the pumpkin. Join these four parts to a few small sticks to work in the middle of the pumpkin decoration. Your rustic pumpkin centerpiece is now ready to enjoy! You may decorate it with leaves or ribbons.
7. Leafy print napkins
With fall just around the corner, it's the perfect time to start thinking about how to decorate your home for the season. One simple way to add a touch of autumnal flair is by painting leaves onto plain white napkins. To get started, you'll need some plain white napkins and assorted paints in fall colors.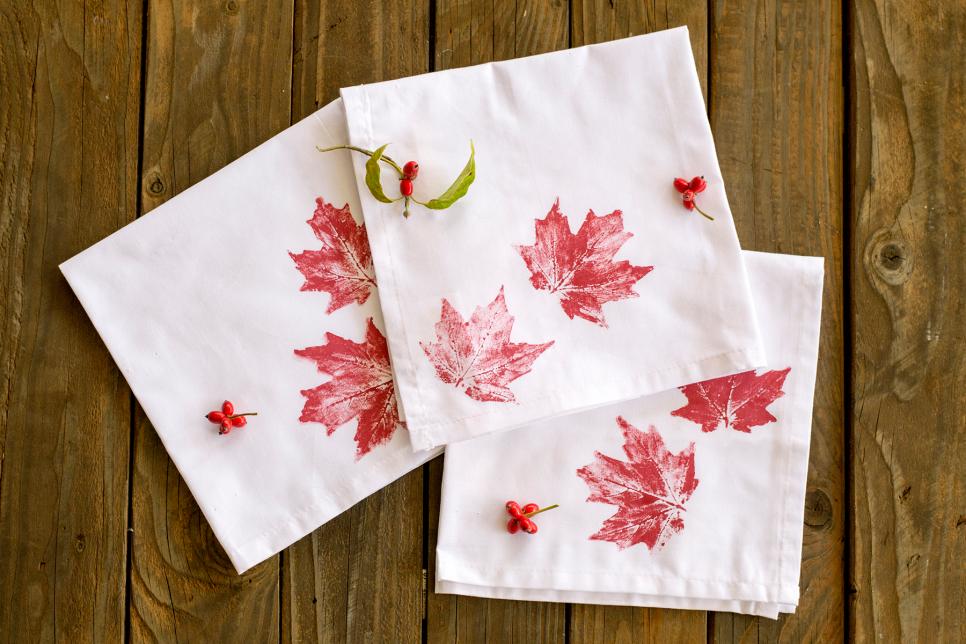 You may use red, green, orange, and brown. Sketch out leaf designs before painting and start with small detailing brushes to outline the leaves. Not only is this a fun project that the whole family can enjoy, but it's also a great way to recycle old napkins and give them a new lease on life.
8. Apple chair decoration
What a fun and festive fall-themed party you must be planning! Adding a touch of swag to your décor is a great way to add some extra visual interest, and using apples and ribbons is a creative way to do it. Gather your supplies. You will need some apples, a thin ribbon, and scissors.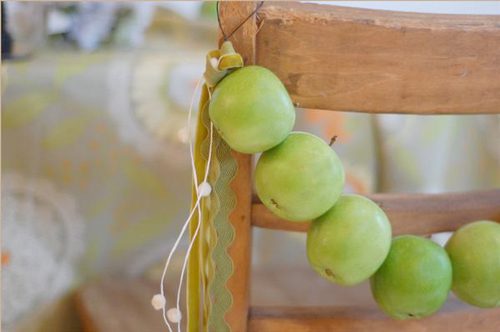 Use an upholstery needle to thread the apples into a strip of twine. Leave some twine at the end to tie these to the chair. Now add ribbons or some artificial dried leaves for some more fall magic. Your guest will not stop talking about how you've managed to include such rustic décor into your party.
9. Flowery pumpkins for the table
Red and orange mums are perfect for fall, and by arranging them in the shape of a pumpkin, you'll create an eye-catching centerpiece for your table or windowsill. Cut the stems of the mums using wire cutters. You'll need them to be about 6-8 inches long. The length will vary to form a circular shape.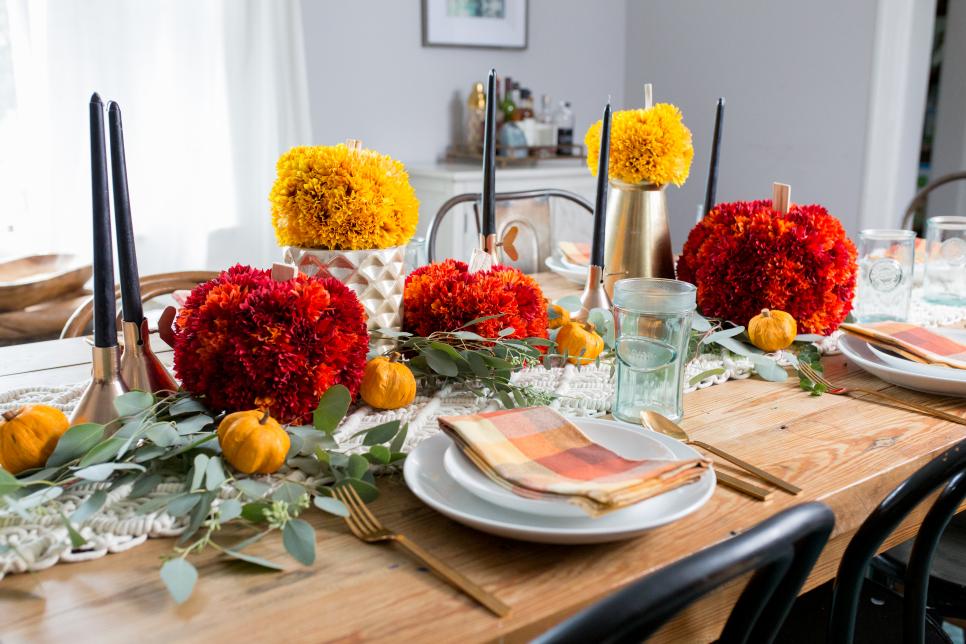 You may trim them more later. Take a floral foam for each pumpkin and arrange the flowers in the shape of a pumpkin. You may use red in one arrangement and orange in the other one. Put a stick in the center to give it a realistic pumpkin look.
10. Adorable crochet pumpkins
It's really easy to make your crochet pumpkin. You'll need some orange yarn, a small amount of green yarn, a crochet hook, and a needle. Begin by crocheting a chain of 12-15 stitches. Then, work in rounds without joining rounds until the piece is about 5 inches tall.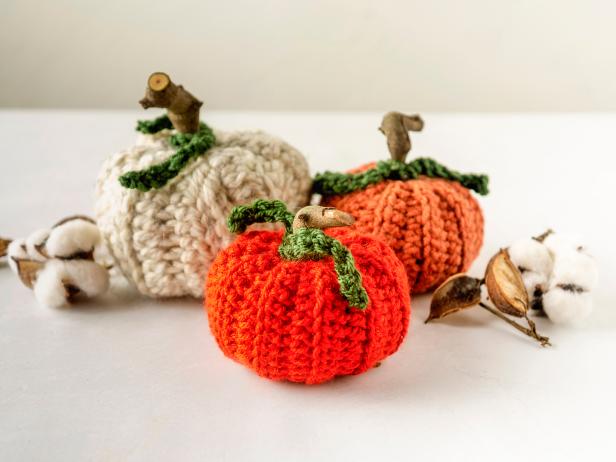 Use decreasing stitches to form a pumpkin shape. Fill these with cotton or old fabrics to form into the shape and stitch them. Place twigs on the top to complete the pumpkins. You may keep these on tables, windowsills, or kitchen countertops. These may also be reused the next fall.
11. Pumpkin topiary for home
Gather some supplies to make a faux pumpkin topiary for the front door. You can add your house number to make it look more quirky. For this project, you'll need faux pumpkins in various sizes, floral wire, a hot glue gun with glue sticks, and ribbon or twine. Start by creating the base of your topiary.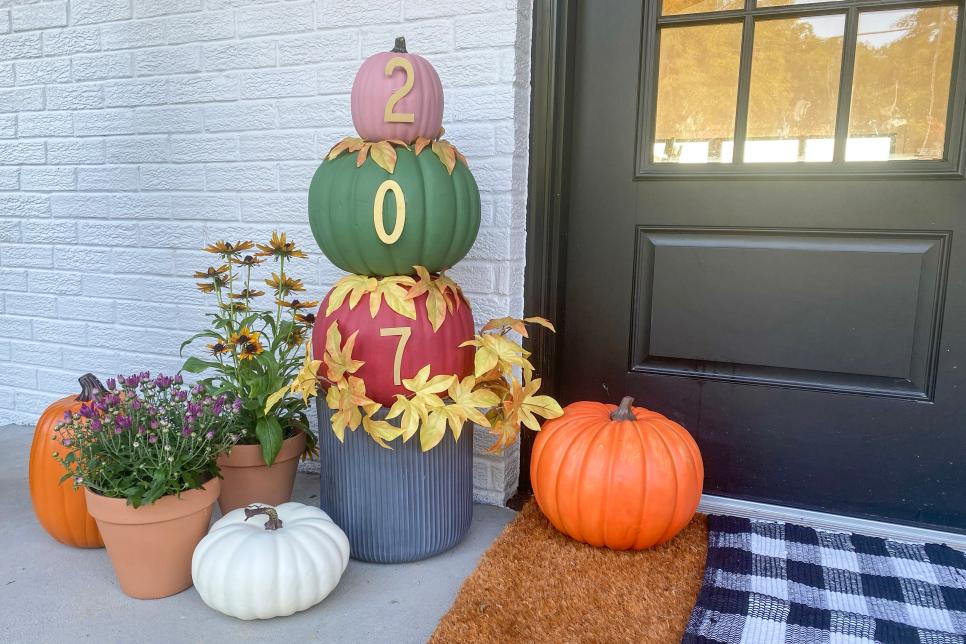 Cut a piece of floral wire, bend it into a loop, and twist the ends together to form a stem. Now, get the pumpkins. Glue the largest pumpkin to the stem's top and secure it with floral wire. Add your home's number to each pumpkin in order.
12. Welcome fall at the door
If you're trying to score a fun and easy way to decorate your front door for fall, why not try making a happy fall sign out of butcher paper and faux leaves? Simply cut a piece of butcher paper large enough to cover the whole door. Write a fun message on the paper using a bold marker.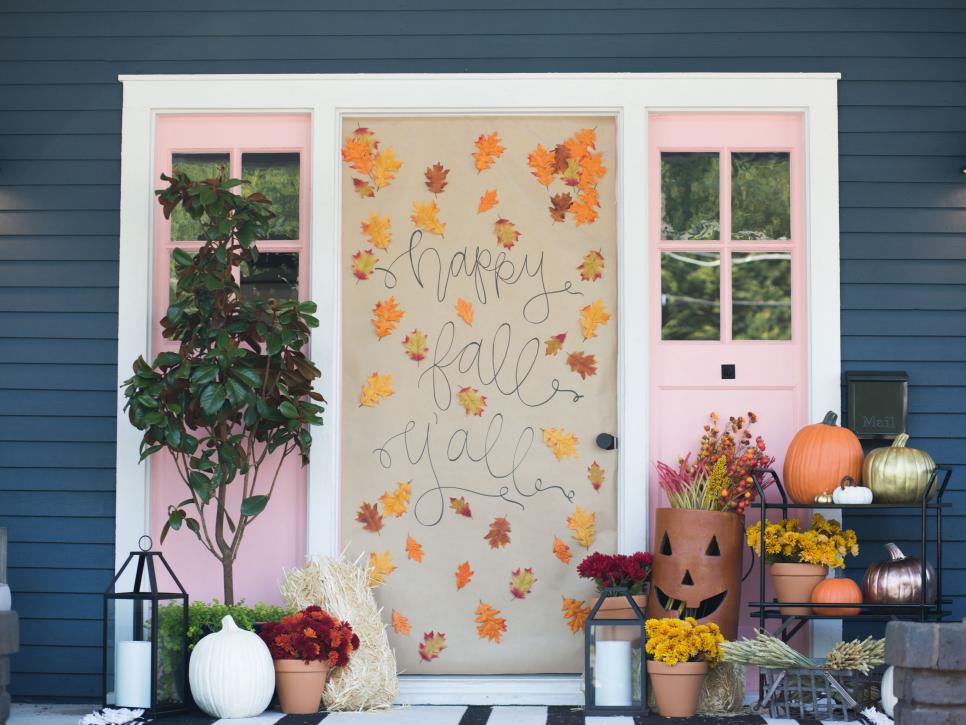 Hot glue on some faux leaves in different colors. For additional decorations, you may hang some cinnamon sticks and apple garlands over the door. Either way, it'll add some extra autumnal cheer to your home. Don't forget to add pumpkins by the sides of the door, along with other spooky items.
13. Cute emoji pumpkin
Making your own emojis is all the rage this year! So why not get in on the fun by using craft paper to create adorable little emoji pumpkins? It's an awesome project for kids and adults alike, and the results are simply too cute for words. Cut out some basic emoji shapes from craft paper.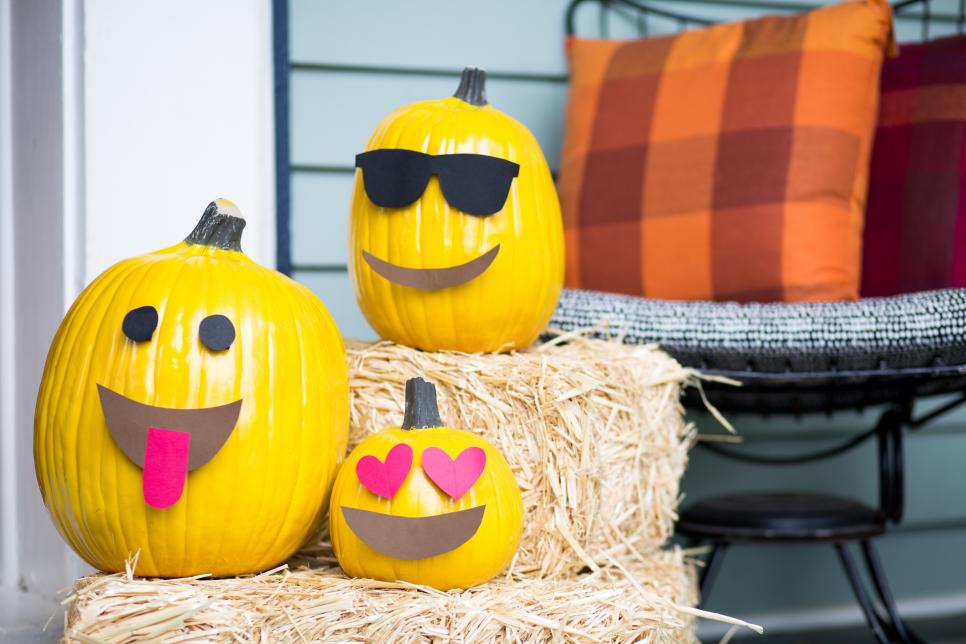 You may find free printables online or simply draw them yourself. Glue or tape each emoji onto a real pumpkin, or a fake one, placing them in the correct positions. Use markers to add some details, like pupils on the eyes.
14. Paint mason jars
Plaid-painted mason jars are perfect for fall décor. First, you will need supplies such as mason jars, acrylic paint, painter's tape, and a small brush. Make sure to select colors that complement each other and fit your fall decorating scheme.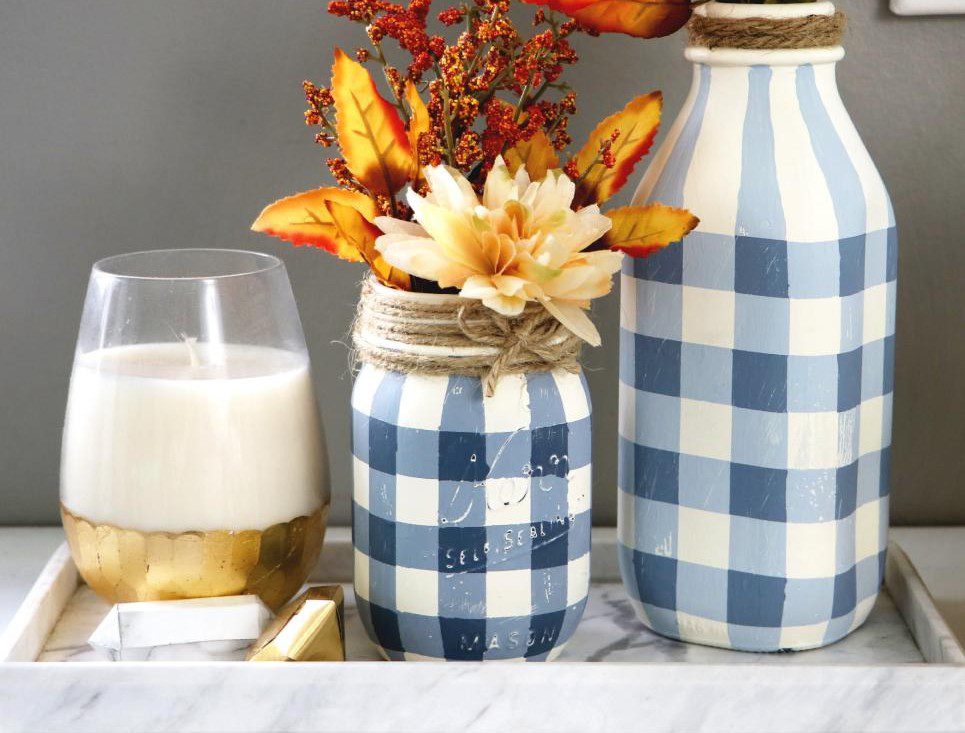 Next, use the painter's tape to create a plaid design on the mason jars. Ensure that the tape is pressed firmly and no paint will bleed underneath it. Begin by painting the background color first. Once that is dry, add in the secondary color using vertical strokes.
15. Farmhouse-style pumpkins
Here's a simple way to give your home décor an autumnal flair on the cheap! All you need are some inexpensive pumpkins, some acrylic paint in your favorite colors, and a few basic painting supplies. First, choose your pumpkin colors. You can go with traditional fall colors like oranges, yellows, and greens.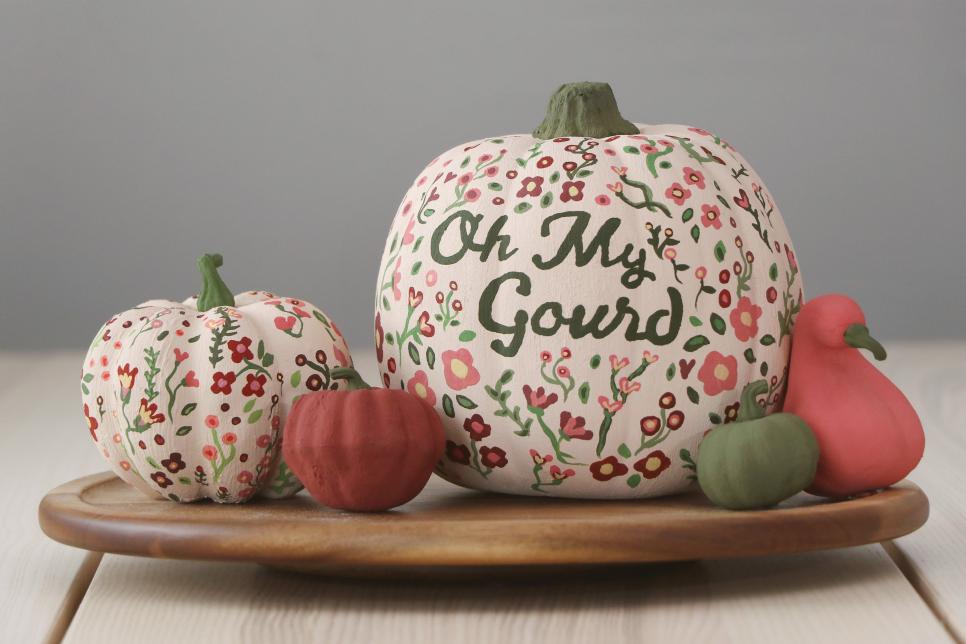 Paint your pumpkins using either a sponge brush or a detail brush. Use a pen to sketch out your design on the pumpkin. Pick whatever design you like — a simple stripe pattern, polka dots, or even a word or phrase. Ensure you let them dry thoroughly before placing them in your home.
16. Classy velvet pumpkins
Making velvet pumpkins is creative to add some class and style to your fall décor. They are easy to DIY and may be used anywhere in your home. To make your velvet pumpkins, start by cutting some velvet fabrics into a pumpkin shape.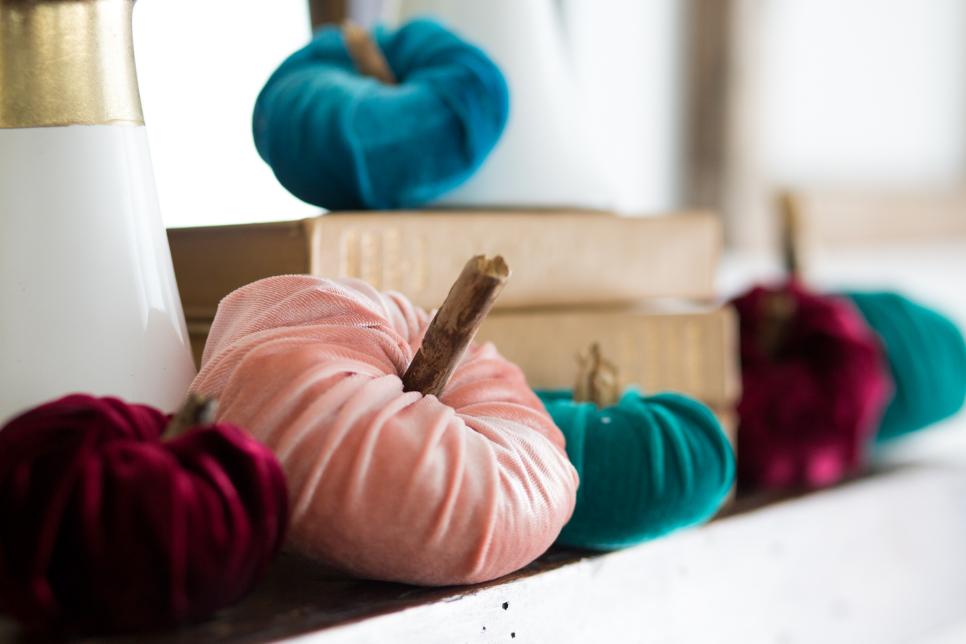 You may make your pumpkin any size you want, but we recommend using about 1/4 yard of fabric per pumpkin. Next, make a spot for the stem by adding a hole in the center. Then, cut a long strip of fabric for the stem. Roll the stem strip up and insert it inside.
17. DIY apple bag
This is a fun and unique way to create a custom canvas art piece. All you need is a white canvas tote bag, some paint, and some apples! Simply start by painting the apples in various colors. Once they're dry, you can add details like stems and leaves.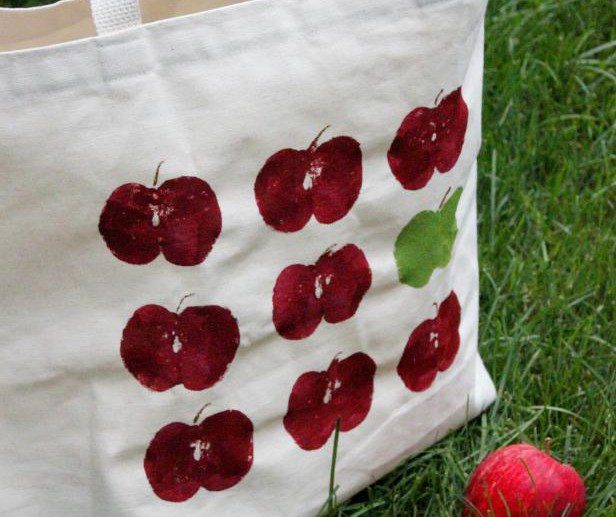 When everything is dry, your tote bag is ready to use! It's the right way to show your love for apples or add a little bit of fun and color to your daily life. You may use this tote bag for shopping or apple picking this season.
18. Pumpkin arch for entrance
Why not just go all out and create a pumpkin door arch for your entrance this Halloween? First, you'll need some pumpkins. Choose a mix of sizes and colors for the best effect. Cut off the tops of the pumpkins and hollow them out.
Place two large pumpkins in the center of your desired location to make the door arch. Then, place smaller pumpkins on either side of the larger pumpkins. Finally, use the pumpkin leaves to decorate around the door arch. You can also add flowers for an extra touch of beauty.
19. Corn husks wreath
With fall comes an abundance of corn husks and mini pumpkins, making this the perfect time to create a corn husk wreath! Take plenty of corn husks, mini pumpkins, wire, and scissors. Cut the cornhusks into strips about half an inch wide. Wrap the strips around a wire frame, overlapping as you go.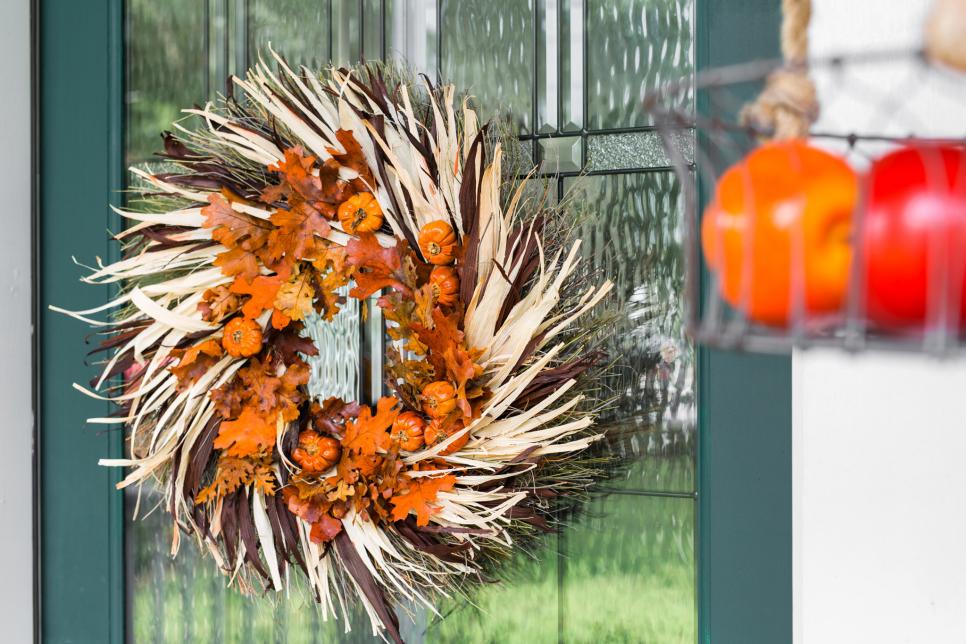 Secure the end of each strip with a small piece of wire. Once the frame is covered, add mini pumpkins to it, pushing them into the cornhusk wreath until they are secure. Also, add husks around the pumpkins. Hang your beautiful creation on your door or in your home and enjoy
20. Leafy gift tags
Leafy tags are perfect for adding a touch of autumnal flair to your gifts! They're easy and fun to make and add a beautiful natural touch. To make them, you'll need construction paper, autumn leaves (real or artificial), a hole punch, string or ribbon, and scissors.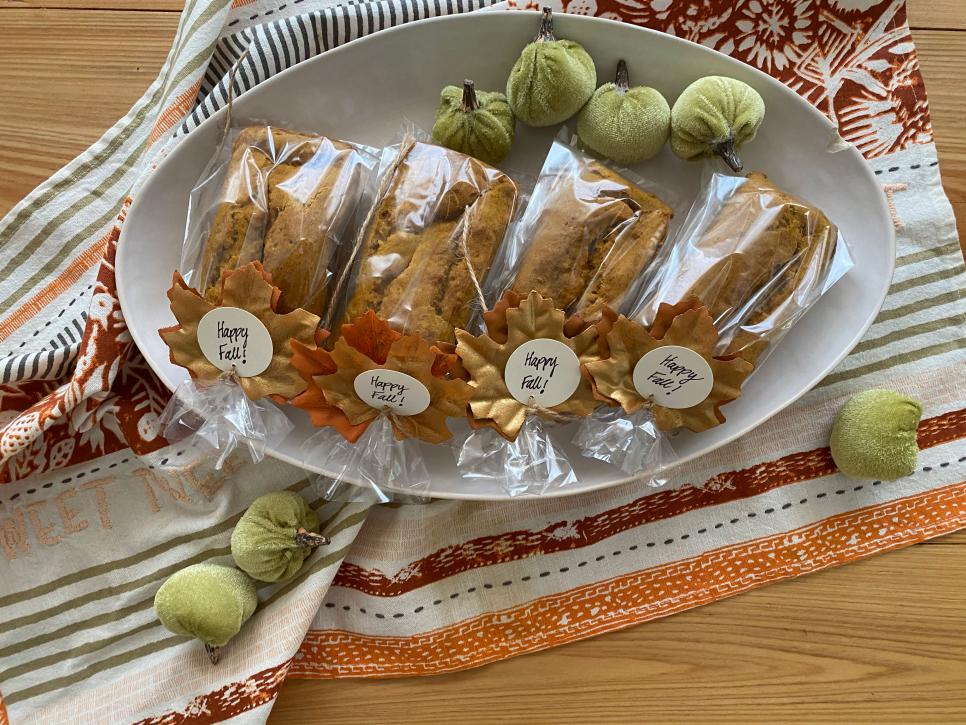 Cut out small leaves from the green card stock or construction paper. If using real leaves, pick ones that are dry and papery. If using artificial leaves, any color will do. Make a hole in the top corner of each leaf. Using string or ribbon, tie each leaf around the present.
21. Dramatic centerpiece
You can create a dramatic centerpiece using a large pumpkin and succulents. Start by hollowing out the pumpkin using a serrated spoon or a carving knife. Next, arrange the succulents inside the pumpkin. Make sure to arrange different heights and colors for maximum impact.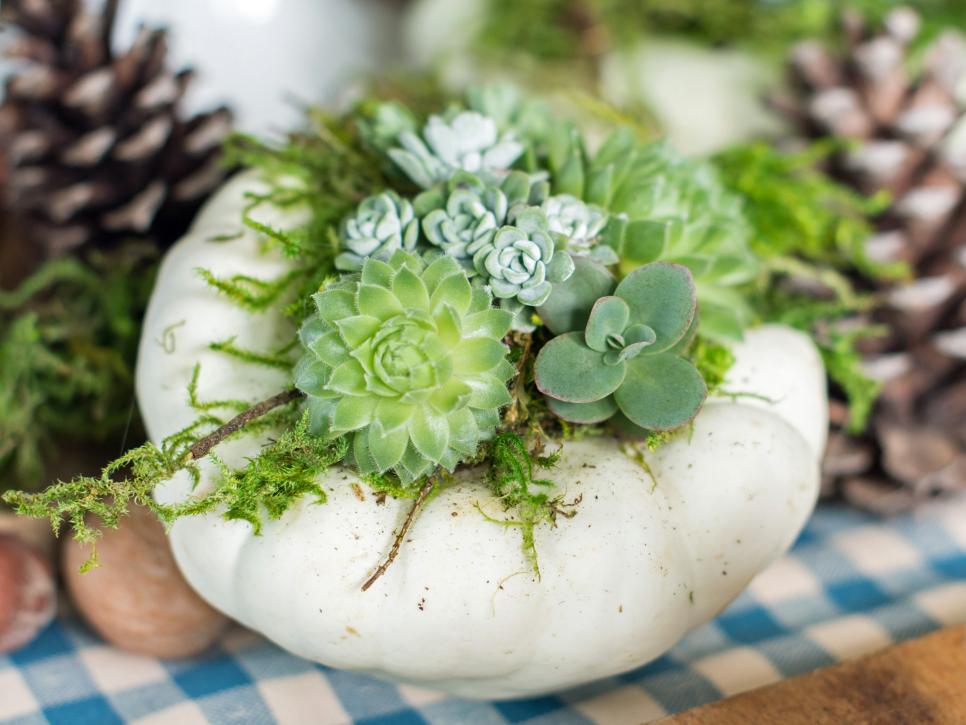 Finally, add some water to the pumpkin soil mix so that the plants stay healthy. For an extra touch, you can paint or decorate the outside of the pumpkin as well! And that's it! Now you have a stunning fall centerpiece for your home.
22. Glass pumpkin for décor
With just a few simple supplies, you can turn a plain glass pumpkin-shaped cookie jar into a chic silver décor piece for your home. Begin by painting the whole outside of the cookie holder with silver paint. Make sure you cover all the nooks and crannies, so it's fully covered.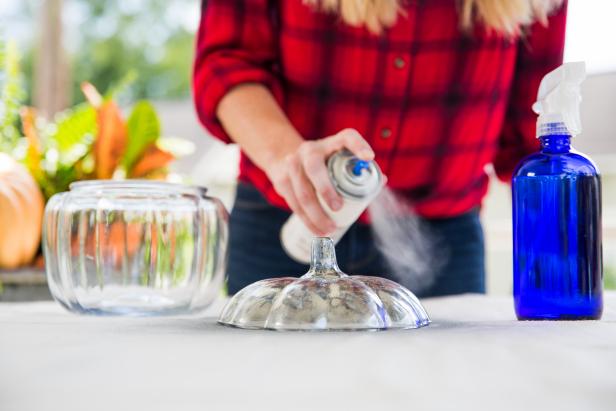 The second step is optional. Once the paint is dry, you may use a black Sharpie to draw on desired details, such as lines or polka dots. Finally, layer a coat of clear sealant to protect the paint and seal in the design. Allow it to dry completely before using.
23. Fall doormat
Do you want to add a little fall flair to your home without going too overboard? A simple and easy way to do that is by adding a fall-themed doormat to your front porch or entryway. Don't go with a simple store-bought when you could DIY a doormat.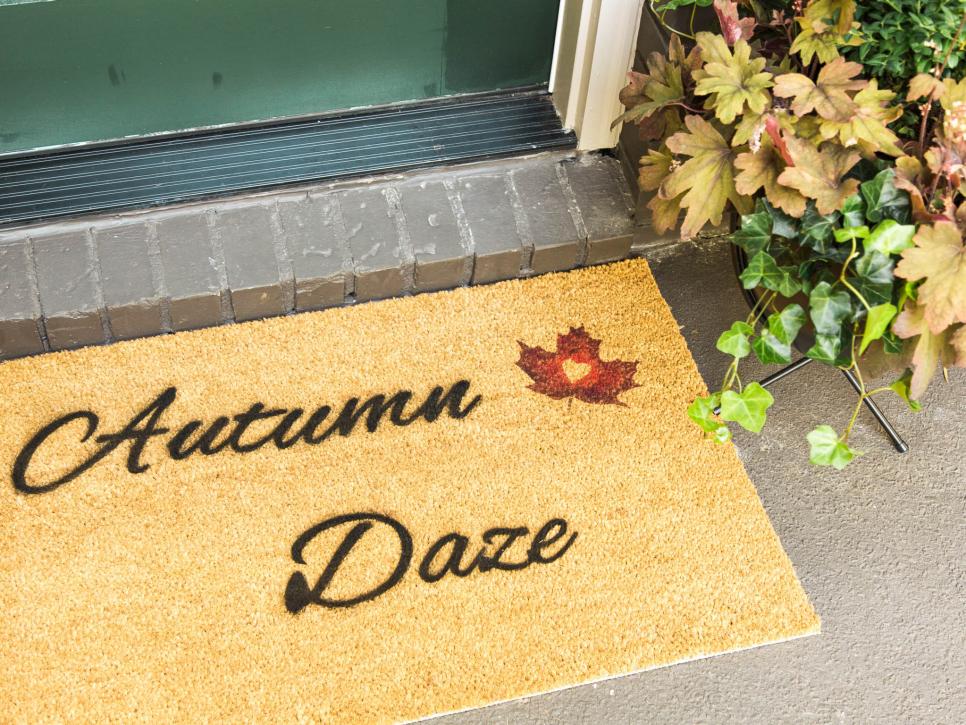 Get a plain, fall-colored doormat. You may usually find these at stores like Target or Home Depot. Buy some craft paint in coordinating colors (think: dark red, orange, yellow, tan, brown). Paint a welcome sign or an autumn quote along with fall-themed dry leaves. Your visitors will be truly impressed.
24. Use candy corn for vases
Who knew one of America's favorite Halloween treats could also double as a festive decoration? Add some candy corn to your next seasonal display for a touch of whimsy. Not only will it appear cute, but it'll also make your guests smile.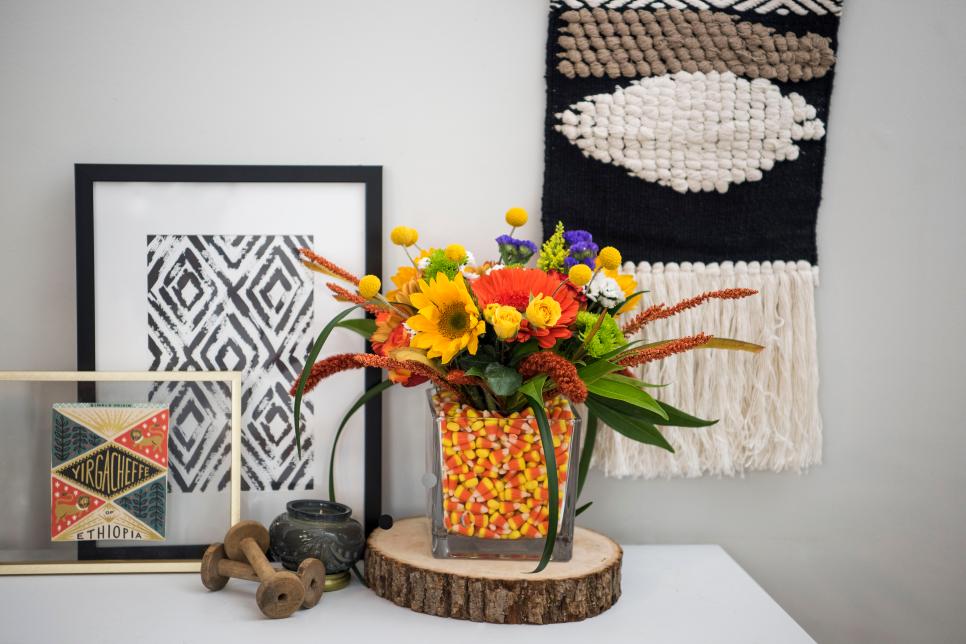 Plus, it's an awesome way to use any leftover candy corn from last year. For added effect, you can even mix in some other fall decorations, like leaves or berries. So go ahead and be extra creative with your holiday décor this year — candy corn is the ideal way to include a little fun!
25. Fall box letters
You can try your craft skills at this DIY fall sign made from scrap wood and painted letters. This easy project is perfect for those who want to add a little something extra to their home décor for the autumn season. The best part is that it doesn't take long to put together.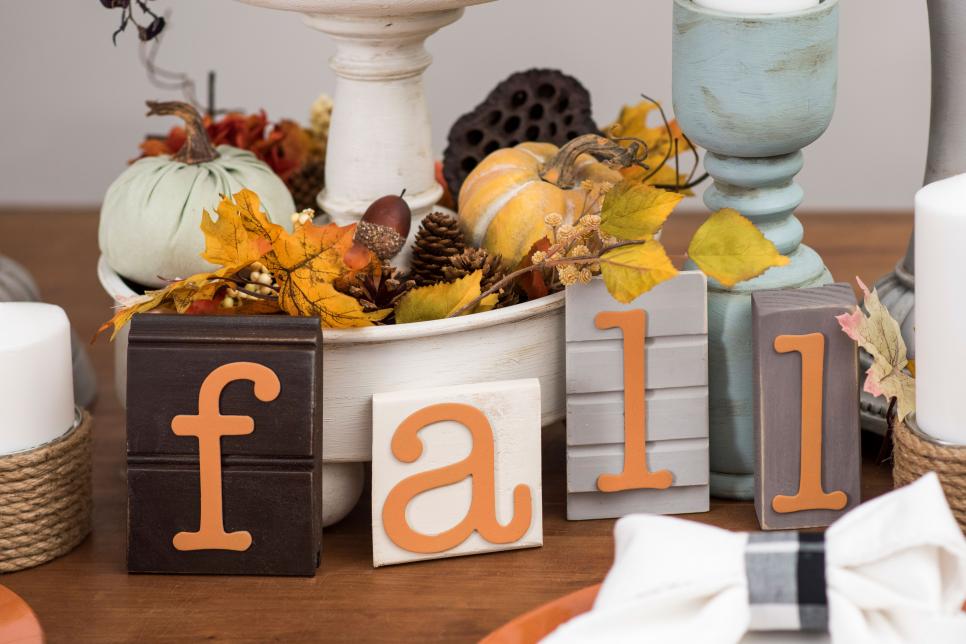 You can easily have this sign finished in a single afternoon. To start, gather up some scrap wood pieces in various sizes. Once you have your wood, sand down any rough edges and then paint or stain the pieces however you like. Attach fall letters to the wood and place them indoors or outdoor when dry.
26. Galvanized pumpkin bucket
Galvanized buckets are perfect for fall décor! Add some pumpkins on top, and you've got a festive, stylish display that will wow your guests. Plus, it's super easy to do — just grab a few buckets from your local hardware store and get creative with your carving. You can use vinegar to galvanize them.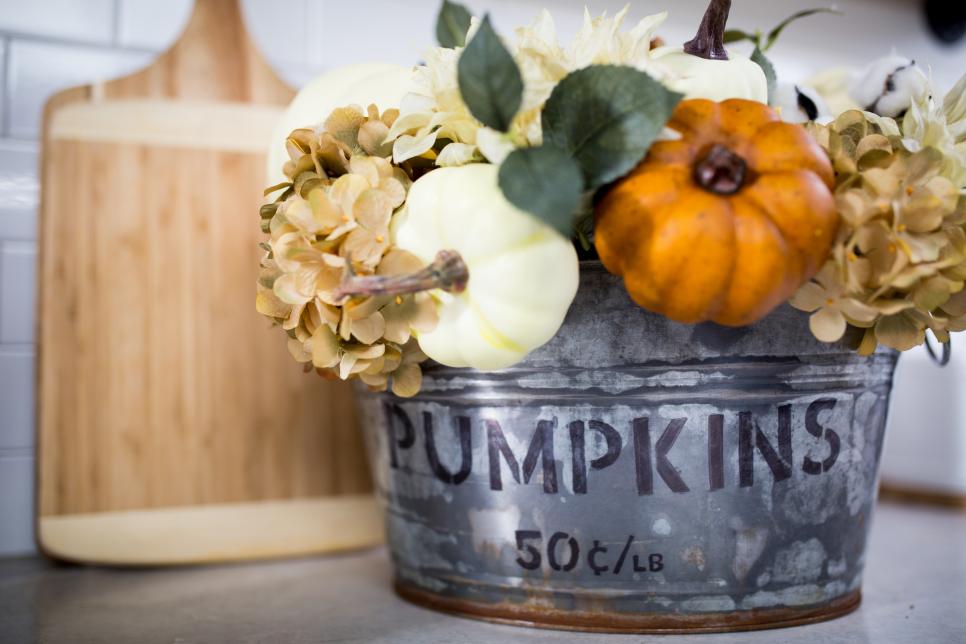 You'll have a vintage-looking container for your décor when you're done galvanizing these buckets. Add hollowed pumpkins over these buckets for decoration. Use different size pumpkins in different shades for some more dimension in your outdoor décor. You may reuse these buckets next fall as well.
27. Fun pumpkin pets
If you're looking for a fun and easy way to add seasonal flair to your home, why not try making your pet pumpkins? All you need is some faux pumpkin and craft paper, and you can let your creativity run wild! To get started, cut out a few different shapes for your pumpkins.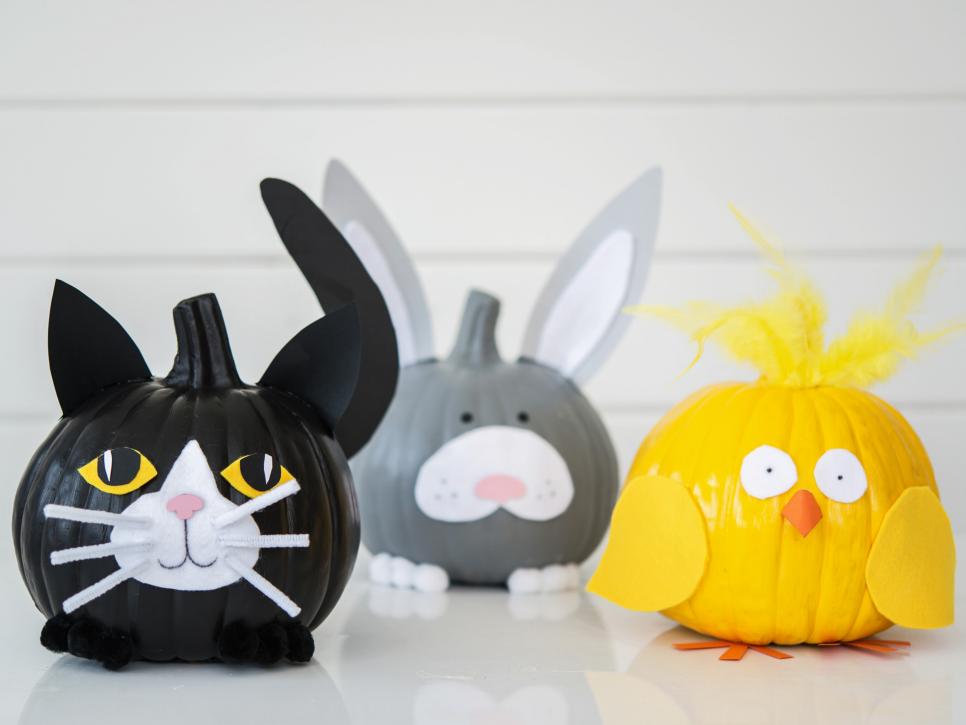 You may go for the traditional Jack O'Lantern look, or get a little more creative — it's up to you! One idea is to use cats, rabbits, owls, and dogs for pet pumpkin inspiration. Once your facial features are cut out, simply glue them onto your pumpkin. Add ears, add hats and scarves for more flair.
28. Lighted fall sign
Looking for a festive decoration idea this fall? These marquee-style letters are perfect! They add a slight vintage charm and are sure to get everyone in the autumn mood. Plus, they're easy to make. Cut out your letter shapes from plywood or MDF board. Paint them in your choice of colors.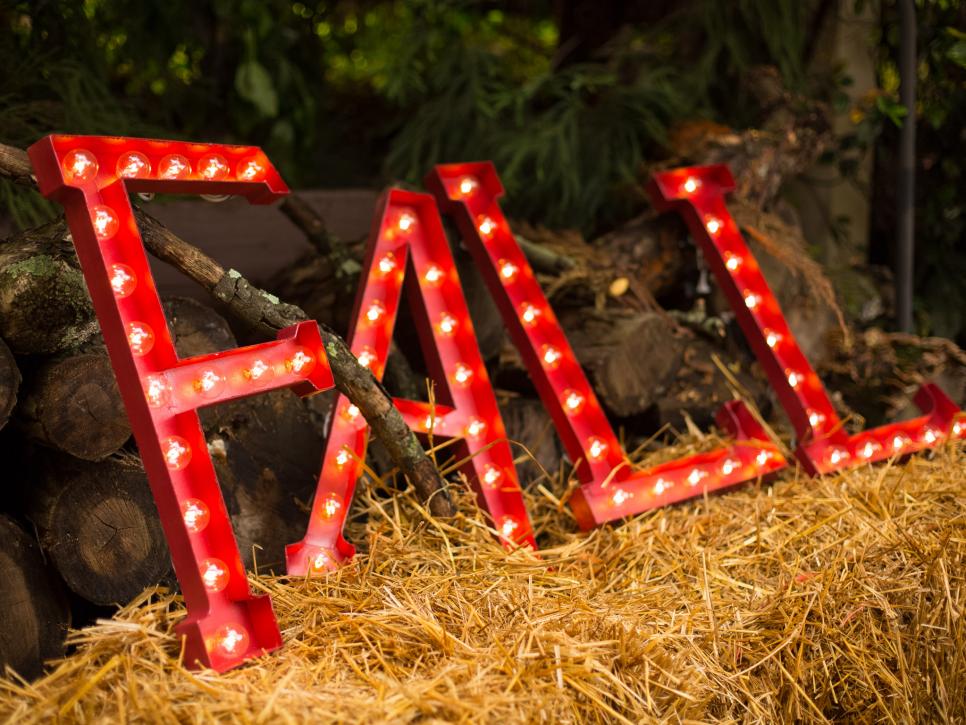 We recommend using a red, dark brown, or black for a traditional look or going with fun fall shades like orange, yellow, and green. Once the paint is dry, attach an LED light strip inside each letter. This will create a beautiful warm glow when turned on at night and offer a vintage feel.
29. Pumpkin door planters
Adding pumpkins over pots to create planters is a great way to keep them by your door. This will allow you to change the look of your porch or patio instantly and inexpensively. Seasonally, these can be swapped out with different shaped gourds or left as is.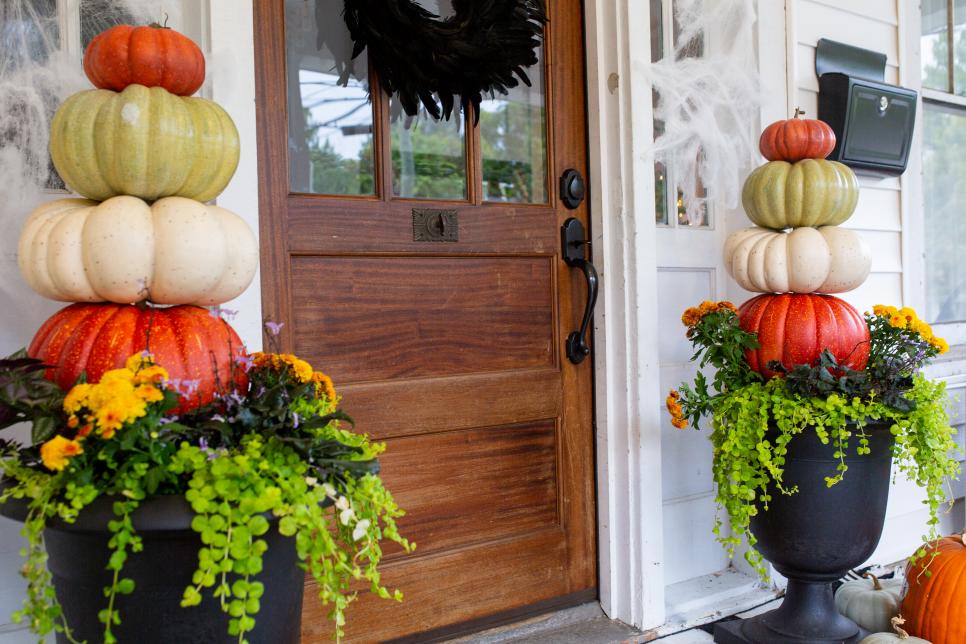 Depending on the pumpkin's size and shape, you may need to adjust the height of the topiary in the pot. You may add different-sized pumpkins in descending order. By following these simple tips, you'll have success creating charming pumpkin planters that will last long beyond Halloween!
30. Warm apple tealight
Who wouldn't love tea light candles tucked inside apples? Use soy candles — these little guys give off a warm and inviting glow. Plus, they're environmentally friendly and long-lasting. Simply take some apples and poke holes in the top. Then insert tea light candles into the holes.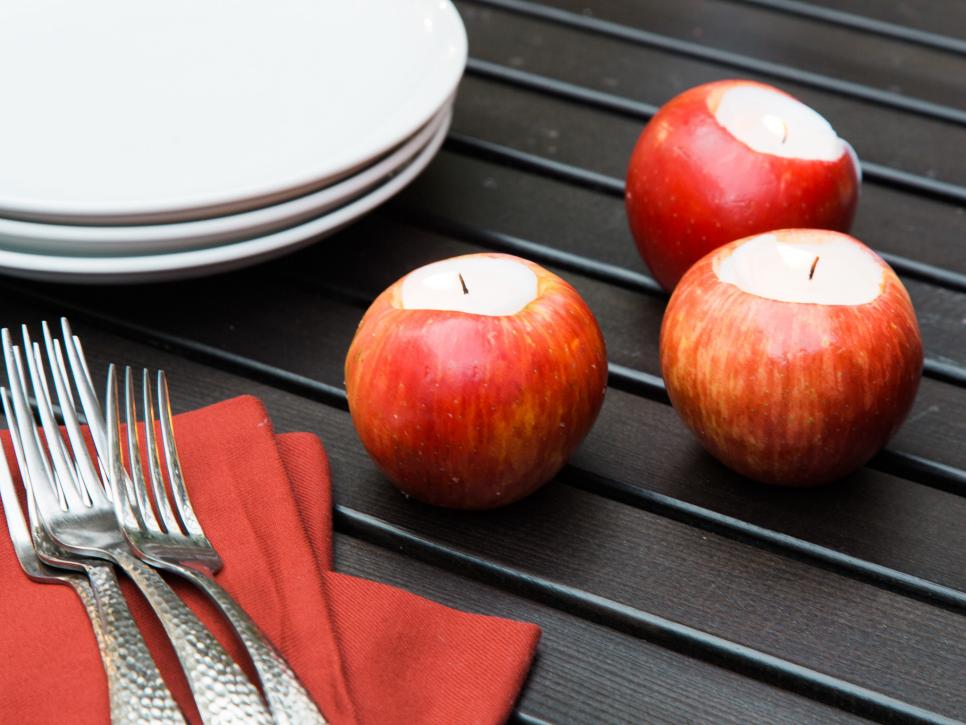 Display them on your mantel or coffee table for all to enjoy. Add some leaves and pumpkins for a truly festive look. You've got a lovely display that'll make your space feel extra cozy on chilly autumn nights. Fall is the best time of year, so make the most of it with some beautiful décor!
31. DIY candy corn banner
Here's a fun and easy DIY project for your next fall indoor decoration — a candy corn banner! All you'll need are some thick colored paper, scissors, and some string or ribbon. Simply cut out triangular shapes in the three colors of candy corn — yellow, orange, and white.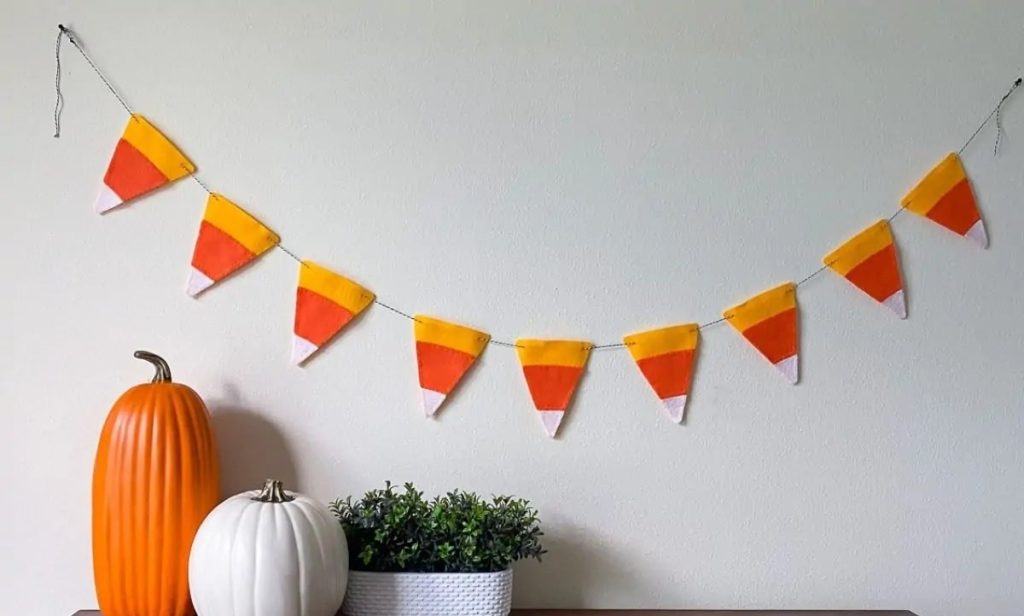 String them up using your chosen hanging material. You may use a white or transparent thread to hang the shapes. These colorful banners are sure to add a festive touch to any indoor space this autumn! This may also work as a family photo background for you.
32. Harvest table centerpiece
Try making a fall centerpiece in a wooden box! Just add some foliage and apples, and you're all set. Start by finding a wooden box that is big enough to serve as your centerpiece. These are available online or at craft stores.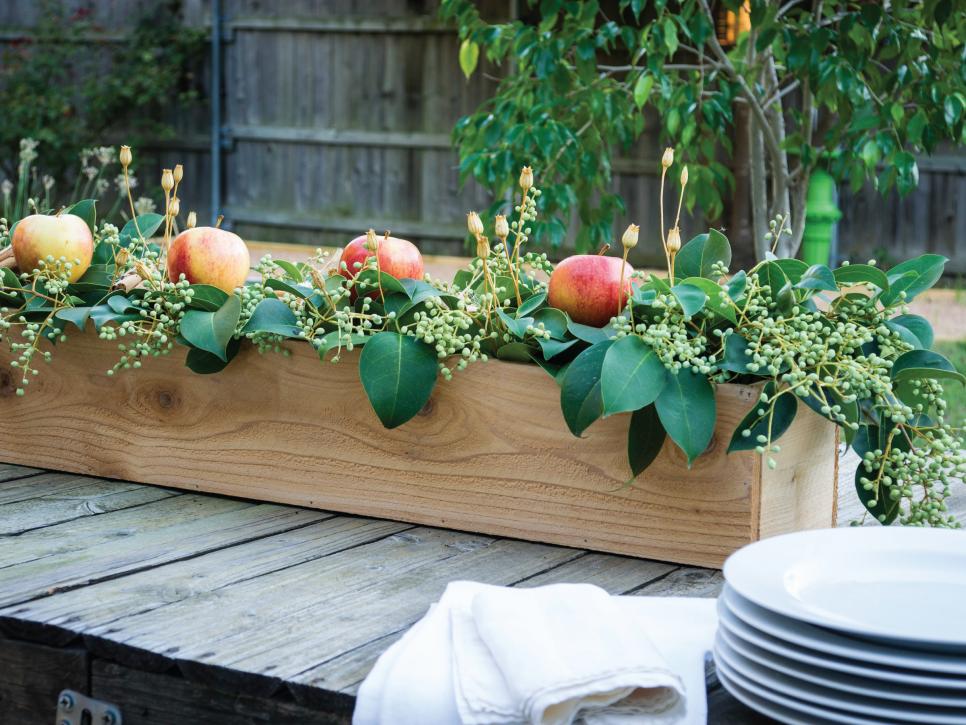 Next, add some greenery to the bottom of the box. This could be fake leaves or real foliage from your garden. Arrange some apples around the leaves. You can use red apples for a festive touch or green apples if you want to keep things more neutral.
33. Flower crown for Oktoberfest
Add a little more festivity to your Oktoberfest this year. Make your flower crown using blue and white flowers! For the crown itself, you'll need some wire or floral tape and scissors. You may use fresh or artificial flowers for the flowers — it's up to you!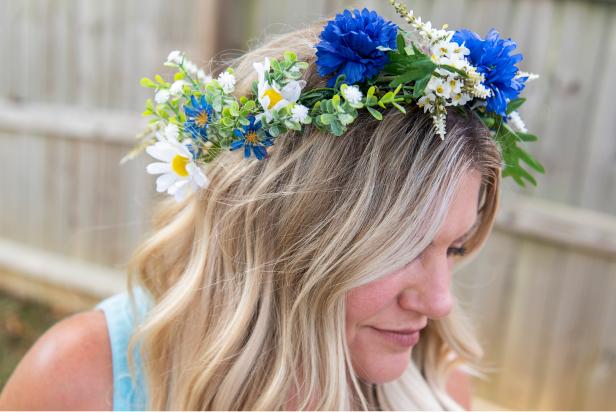 Just make sure to choose blooms that will complement the colors of your Oktoberfest outfit. Start by measuring a length of wire or floral tape and form it into a circle. That'll be the base of your crown. Then, start adding in the flowers and leaves.
34. Play dough for kids
Fall is a time to get in the kitchen and make fun Halloween treats! This easy play dough recipe is perfect for little ones and only takes a few minutes to prepare. All you need are some white, yellow, and orange candy corn and a few other basic ingredients.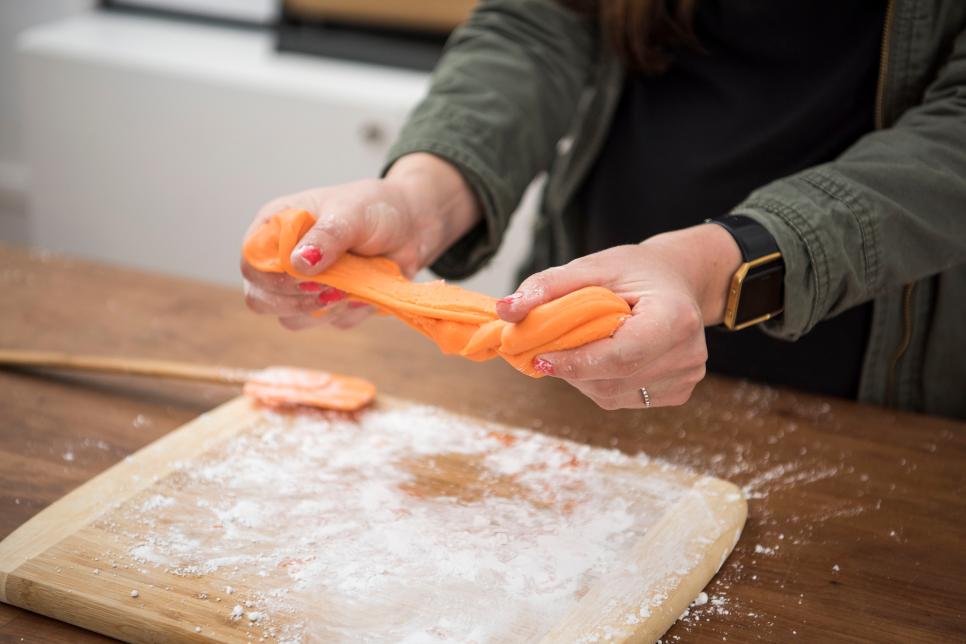 Mix 3-4 spoons of vegetable oil, powdered sugar, and water with candy corn. Microwave the mix for 30 seconds. Repeat this at a few intervals to melt the ingredients completely. Knead the dough once they have a thin, runny consistency. Make sure it's not sticky by the end.
35. Glittery pumpkins
Making pumpkin decorations with glitter leaves is a fun and easy way to add some flair to your Halloween décor. Cut outlines of leaves out of glitter paper, which you can find at craft stores. Tape the leaves onto the pumpkin, making sure to cover the edges of the pumpkin in a design.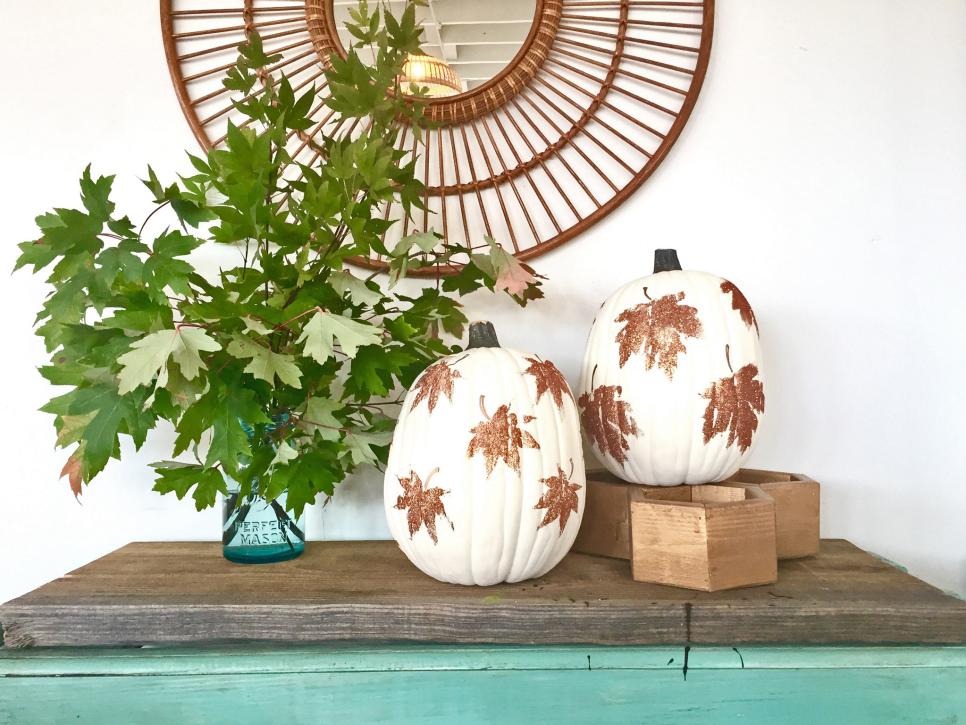 Once you're satisfied with the leaf placement, outline the edges of the leaves with a black Sharpie or other permanent markers. Finish off by adding details you like, such as stem lines or powdering the pumpkin with glitter for extra sparkle.
36. Leaf collage for walls
It's autumn, so it's time to break out the leaves! Why not use different colors of dry leaves to make a beautiful leaf collage for your fall wall decorations? Collect some colorful leaves from outside and then place them on white paper. Be sure to press them down firmly.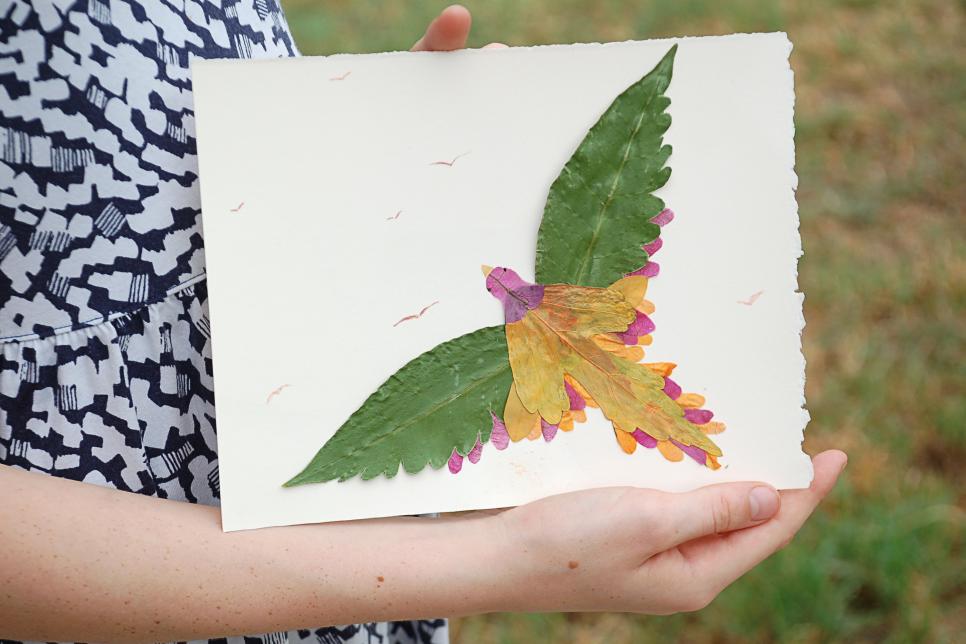 Once you have enough leaves, start arranging them in any pattern you like. You can create a simple design or go all out with a complicated one. When you're finished, simply glue the leaves in place and let them dry. Now you'll have an eye-catching piece of art to help celebrate the arrival of fall!
37. Cute buffalo check pumpkins
If you're hunting for a unique and fun way to decorate your home for fall, why not try painting buffalo check pumpkins? It's a surprisingly easy project that anyone can do, and it's sure to add a touch of whimsy to your décor. Start with a white pumpkin or paint any color pumpkin that you like.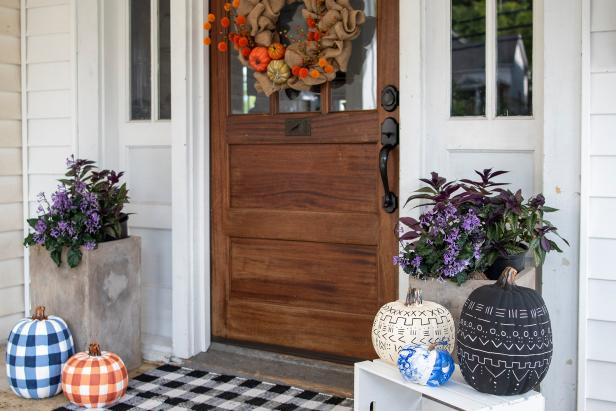 If you want your design to be truly authentic, use a real pumpkin; if you're not as concerned about authenticity, any artificial pumpkin will do. As for the colors, go with whatever calls to you. The traditional colors are black and red, but feel free to experiment with blue or orange. 
38. Acorn decorated pillow
Consider upgrading your old pillow cover with a felt acorn design. This project is simple and can take less than an hour to complete. You'll need a piece of felt, scissors, needle and thread, and some hot glue (optional). First, cut out a few acorns from the felt.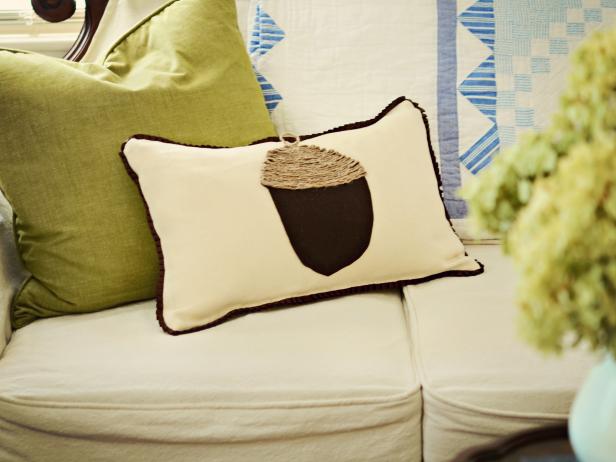 Then, sew or hot glue them onto the pillow cover. You may also use jute twine to add more dimension to the pillow cover. And that's it — you're done! If you're upgrading more pillow covers, you may change the size of the acorns for each one. 
39. Faux fur drink sleeve
DIY a faux fur drink sleeve to keep your drinks fresh and festive during fall parties. Start by cutting a piece of faux fur fabric into a rectangular shape slightly larger than your drink's circumference. Sew two short seams on opposite ends of the fabric rectangle to create a sleeve-like shape.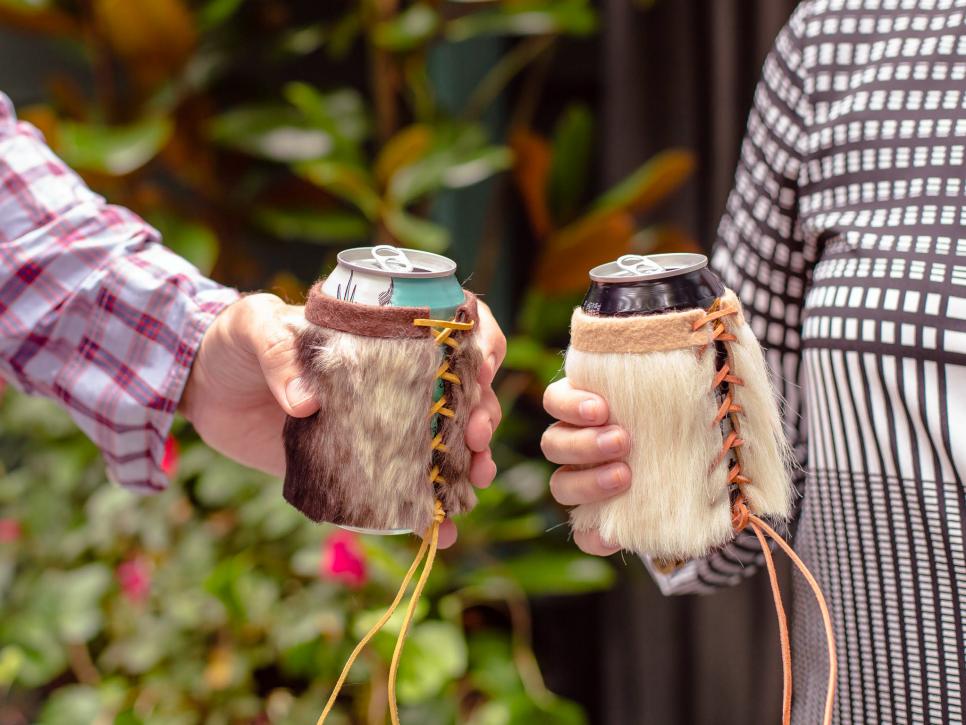 Turn the drink sleeve right side out, and insert your drink into the opening. Tuck in the raw edges of the fabric around the opening so they are concealed, and sew a few small stitches across the opening to secure them. Enjoy your party with an adorable furry companion.
40. Dried corn wreath
Wreath-making is a fun and easy way to add a touch of fall décor to your home. Channel a little creativity and grab some basic supplies. For this project, you'll need dried corn, twigs, hot glue, yarn, and scissors. Take the corn stalks that will fit nicely around the circumference of the wreath form.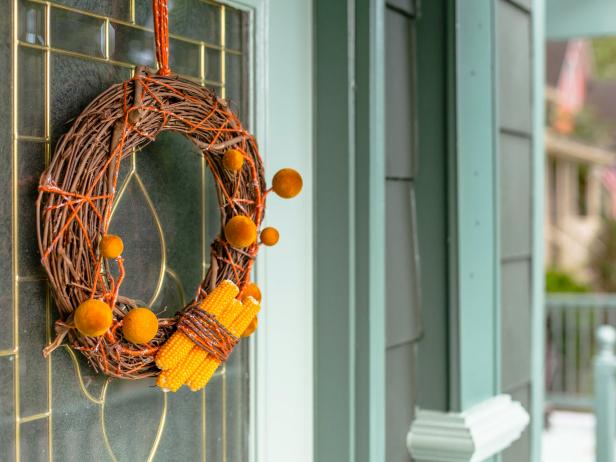 You may also need to trim some of the twigs, depending on their size and thickness. Next, it's time to hot glue those suckers into place! Cross two pieces of corn over the wreath form at a time, and apply glue to both ends. Add orange yarn to the wreath for a final touch.
41. Upgrade an old lamp
Why not upgrade an old lamp with some leaf patterns for Halloween and fall décor? It's a great way to add a festive flair to your home without spending much money. Pick an old lamp that you don't mind painting. An easy way to give it new life is by adding some leaves.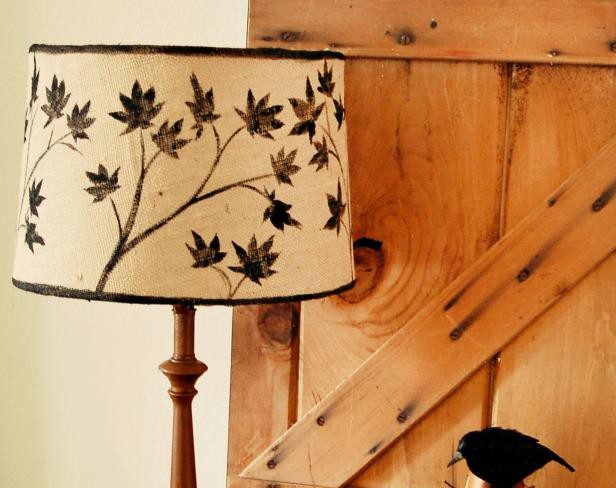 You may use real leaves or faux ones. If you're using real leaves, make sure they're dry before you start painting them on the lamp. Next, brush on a layer of paint in whatever color you want the leaves to be. Add stems for connecting the leaves.
42. Felt leaf garland
A felt leaf garland for autumn theme décor is an easy DIY. Cut out leaves from a piece of felt in different colors. You may use any leaf shapes you like. Use colors such as orange, brown, red, and yellow. Using a needle and thread, sew each leaf onto a length of thread or ribbon.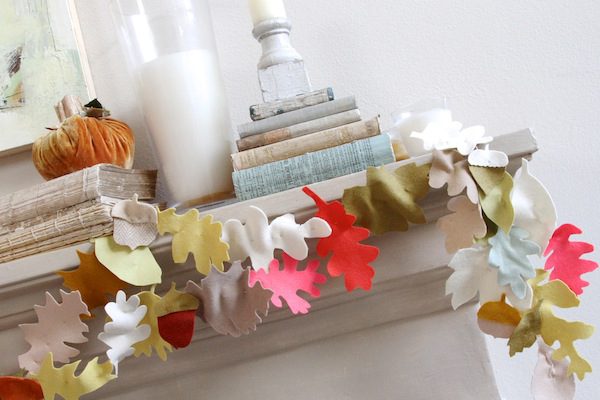 Ensure to leave enough space between each leaf so that the garland looks full and lush without being too cluttered. Also, add tassels at the end of the garland. Hang your festive garland up on a wall, door, mantelpiece, or anywhere you like, and enjoy the warm autumn vibes!
43. Fabric-covered pumpkins
Cover some faux pumpkins with old fabric pieces! It's an awesome way to add bright color and flair to your décor, and it's also fantastic to recycle some old fabrics that you might otherwise toss. Gather up your supplies. You'll need some faux pumpkins, fall-colored fabric scraps, hot glue, and scissors.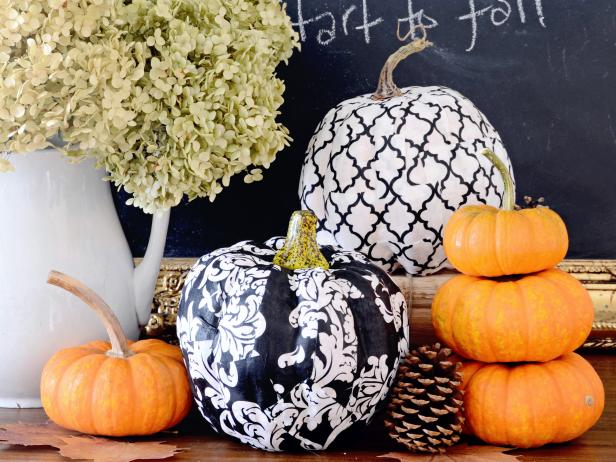 You may find these at any craft or home store. Then, cut your fabric into strips and hot glue them around the pumpkin, working in a spiral from the top down. Keep going until the whole pumpkin is covered, then stand back and admire your artwork.
44. Burlap table cloth
Adding burlap trims to a white tablecloth is a great way to give your table a festive fall look. It's easy to complete and requires no special skills or materials. And, you can easily tweak it to fit any décor style or color scheme. Start by measuring and cutting the burlap trim to the desired lengths.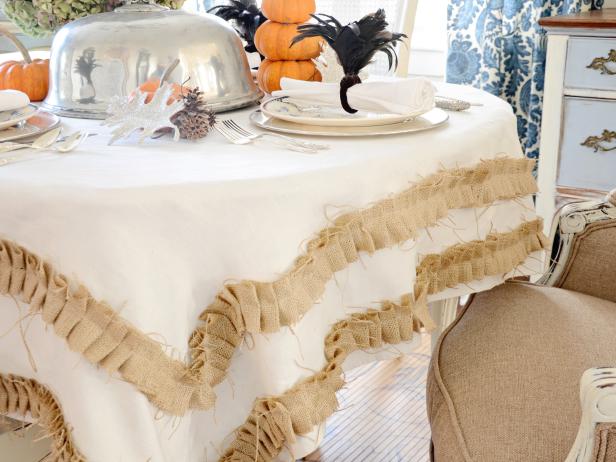 You'll need a few pieces for each end of the tablecloth, plus enough extra trim to cover the entire perimeter of the tablecloth. Stitch the burlap trims to the cloth in a horizontal pattern. For a quick fix, you can use a hot glue gun.
45. Faux ribbon rose wreath
Try this fall DIY project that can be done in under an hour. All you should need are a spool of faux moss, ribbon, some wire, and a hot glue gun. Cut some wire pieces and twist them into a loop at one end. That'll be the hanger for your wreath.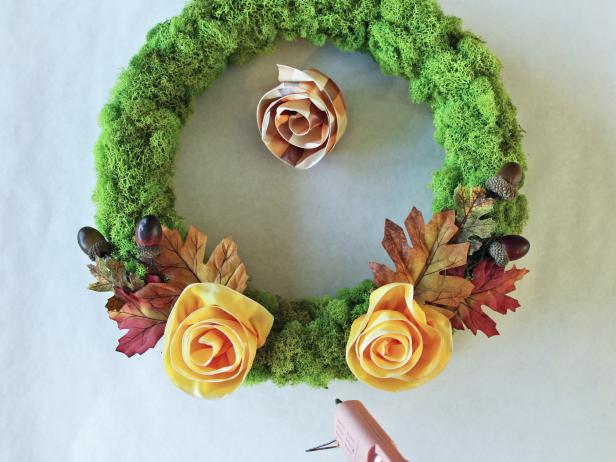 Take one end of the ribbon and tie it around the loop on the wire hanger. Make sure to knot it tightly, so it doesn't come undone. Create a spiral effect as you wrap the ribbon to make roses. Attach faux moss and then glue the roses.