30+ Affordable Modern Farmhouse Décor Ideas Suitable For Any Home
By Harpreet K July 26, 2022
---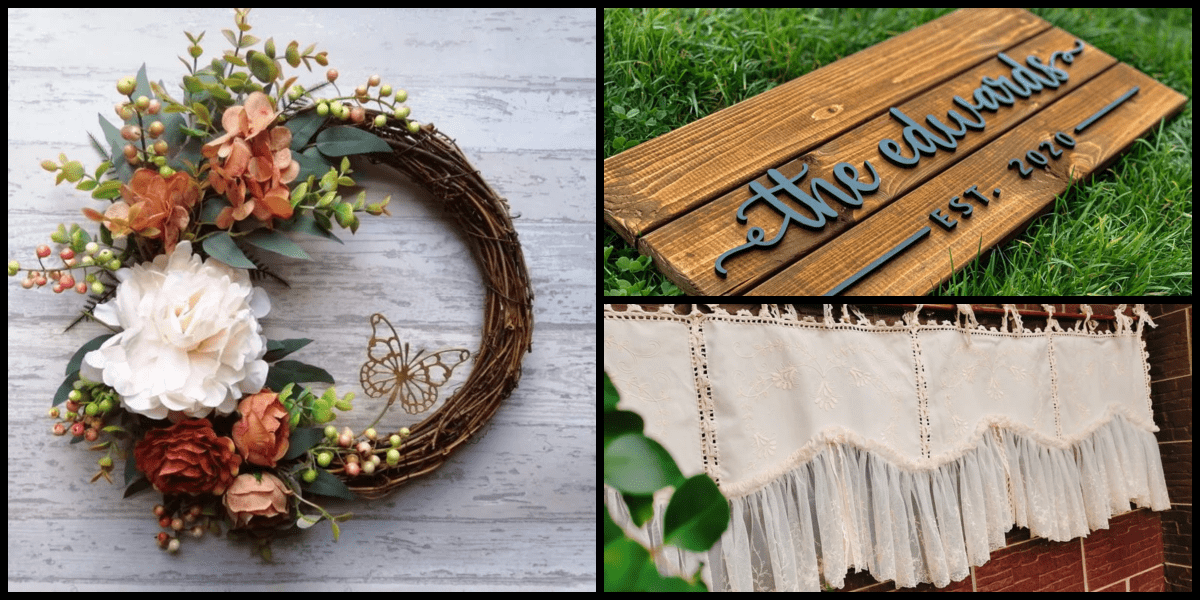 If you're looking for a chic yet comfortable twist on traditional farmhouse style, look no further than modern farmhouse decor. This aesthetic is all about blending old-fashioned charm with contemporary details, and it's the perfect way to inject personality into your space. There are a few factors that make up the modern farmhouse style. First, you'll want to incorporate lots of natural materials, like wood, stone, and straw. Second, consider using muted or earthy colors throughout your space. Add in some vintage-inspired touches, like antique furniture or mason jars filled with flowers for an instant transformation. There are infinite possibilities when putting together a modern farmhouse-style room. Here are some ideas for inspiration to help you get started when upgrading your living space.
1. Wooden topiary
Topiaries are a beautiful way to add some greenery and life to your home. And as a bonus, they're easy to make! All you need are a terracotta pot, some olive branches, and a little creativity. Start by cutting your olive branches into the desired shape.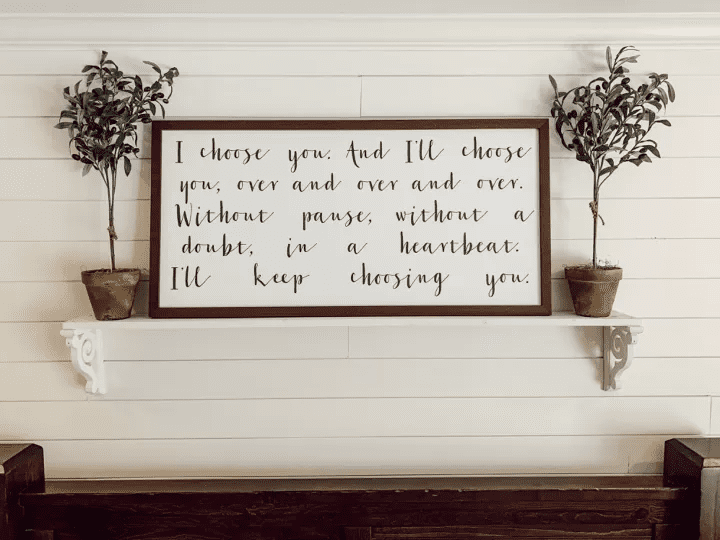 You may be as simple or complex as you want with this. Then use a wire brush to sweep away leftover debris from the branches. Next, stick the branches into the terracotta pot in whatever arrangement you like. Finally, water well and enjoy your new topiary.
2. Faux vintage barn quilts
Apparently, vintage barn quilts are all the rage these days. Who knew? And, of course, you don't want to be left out of the latest trend, so you're probably wondering how you can make your own faux vintage barn quilts wall hangers. First, gather your supplies.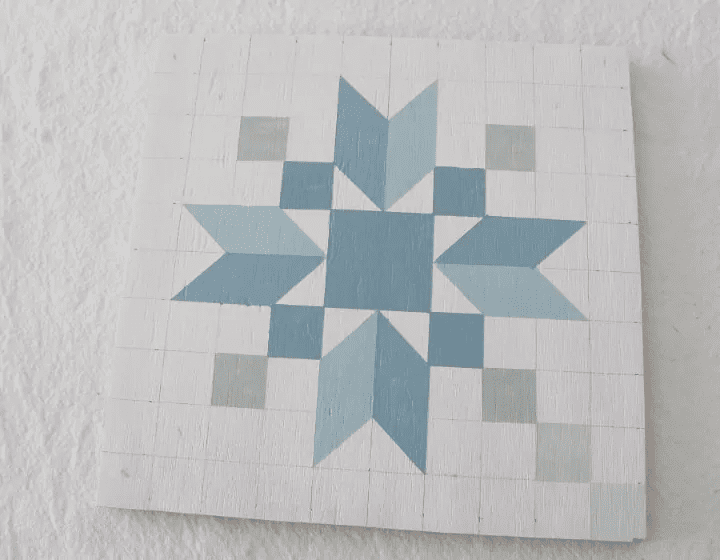 You'll need a piece of wood, some paint, and a stencil. Begin by painting your piece of wood in a solid color. Once it's dry, you can begin adding your quilt squares. To create a vintage look, use a flower rubber stamp set to add some floral motifs around the borders of each square.
3. Pumpkin shape wall wreath
Many people are wondering how to decorate their homes around Halloween and Thanksgiving. People usually associate wreaths with Christmas, but they work great for other occasions. There are a few different ways you can go about making such a wreath.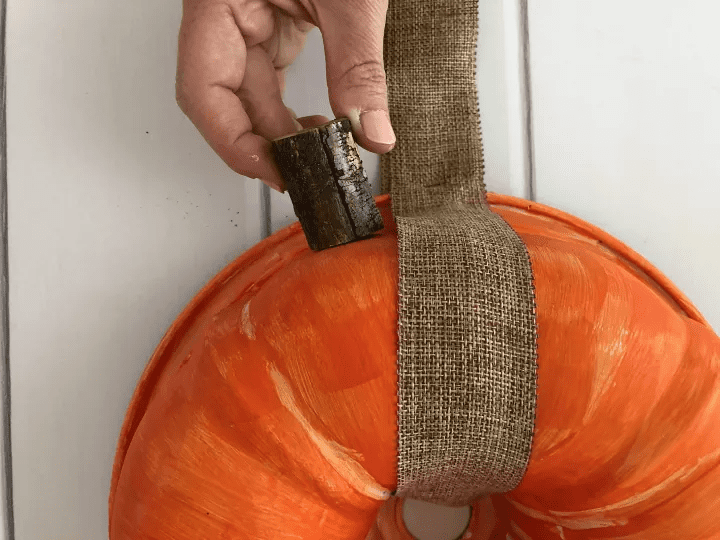 One option is to use real pumpkins, which you can carve into a wreath form. Another option is to use a vintage bundt pan to look like a pumpkin top. Paint the pan with orange paint and tie a burlap ribbon to hang it. This will last longer, and you may use it every year.
4. Table runner drop cloth
Table runners look good over a tablecloth or may be used alone for some farmhouse decor. To make a table runner drop cloth, you'll need some old fabric and lace. Before you get started, take measurements of your table. Then, cut the fabric to size, leaving about an inch extra on each side.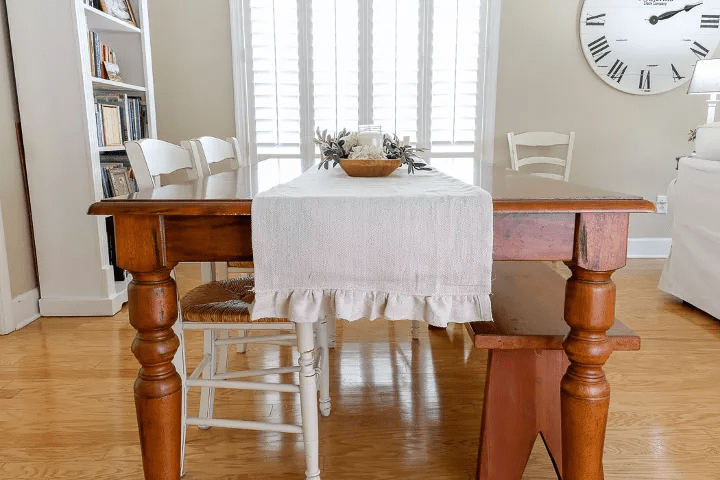 Next, fold over the edges of the fabric and iron them down. Then, tack down the corners to keep the fabric in place. Finally, add a length of lace around the edge of the cloth for a finishing touch. Stick to color pallets of farmhouse decor while choosing fabric decor.
5. DIY cake stand
Using a wood pillar candle holder and a wooden plate, you can easily make a cake stand. First, find a wood pillar candle holder that is the right size for your cake holder. You may find these at most home goods stores or online. Next, sand down the edges of the pillar candle holder.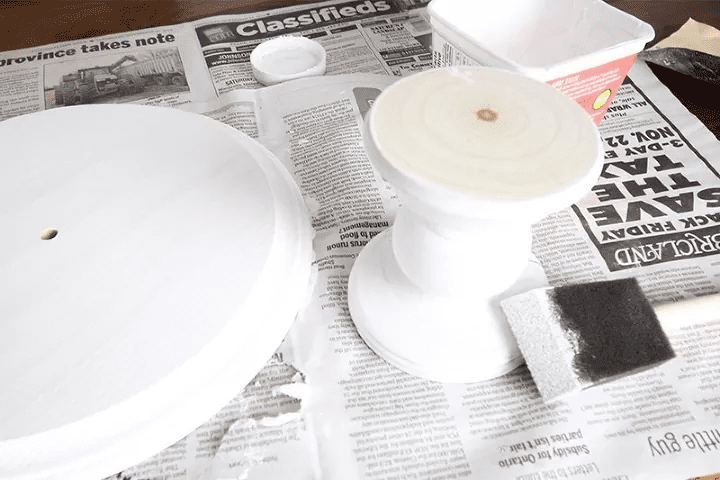 Stain or paint the wood pillar candle holder to match your decor. Finally, screw in a wooden plate on top of the wood pillar candle holder to create a sturdy cake stand. You may also use these stands to keep small planters on the table or kitchen countertops.
6. Book page candles
There's nothing quite like the cozy, romantic feeling of reading a book by candlelight. But what if you could use your old book pages for some decor. You can buy electric candles that look like real flames and then cover them with old book pages to give the room a cozy, intimate feel.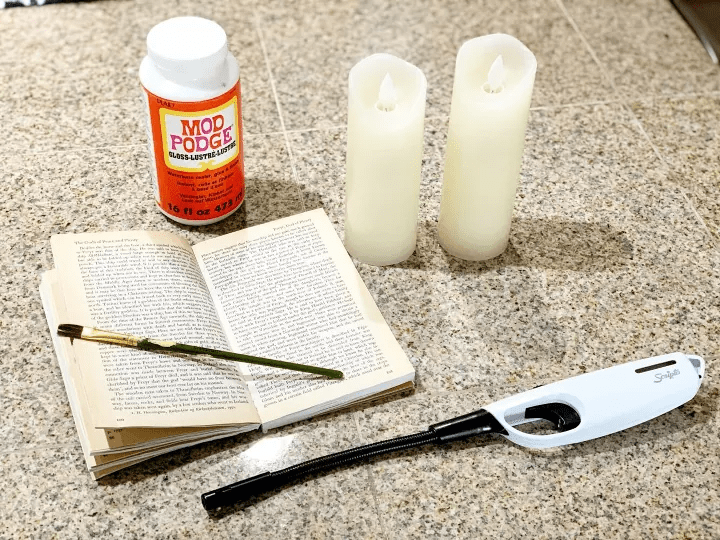 Use glue to stick the pages on the candles and let them dry well. Using these electric candles is safe while still allowing you to enjoy the warm yellow light in your room. Plus, it's a great way to recycle old books that you no longer need.
7. Wooden framed flower vase centerpiece
A rustic flower vase centerpiece is perfect for any occasion! It's easy to make and doesn't require any special tools or materials. All you need is a small wood frame, small glass vases, floral foam, and some fresh flowers. You'll also need some wood for the frame and paint.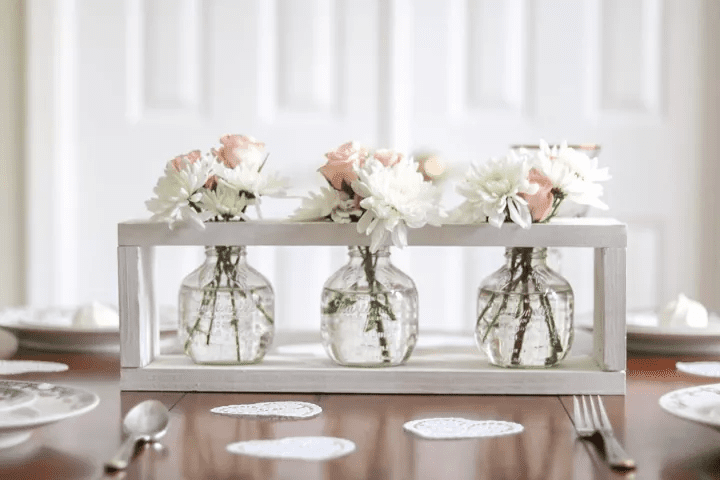 With some beginner carpentry skills, join the wood to form a rectangular frame. Carve small circles that will fit the vases on the top of the frame. Paint the frame and wait for it to dry before placing the vases. Add the vases with fresh flowers and decorate your table with this centerpiece.
8. An earthy centerpiece
Terracotta pots are inexpensive and add a nice touch of color to your table. You can buy small terracotta pots at any gardening store or even at some dollar stores. To dress them up even more, you could paint the pots with chalkboard paint and then write the guests' names on them.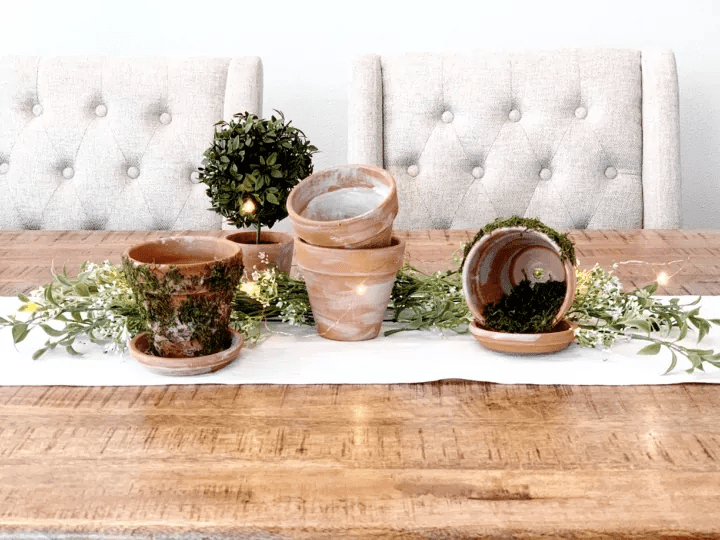 If you're feeling creative, you could make your terracotta pots out of air-dry clay. As for the decorative leaves, any type of leaf will do. You can keep it simple by using broad, green leaves. Or, you can add autumnal hues and flowers for a pop of color.
9. Scrap wood balcony lanterns
You can make these lanterns using only scraps of wood and a few other materials. With a bit of effort and time, you'll have yourself some beautiful lanterns that will light up your balcony or patio. First, gather all of your materials.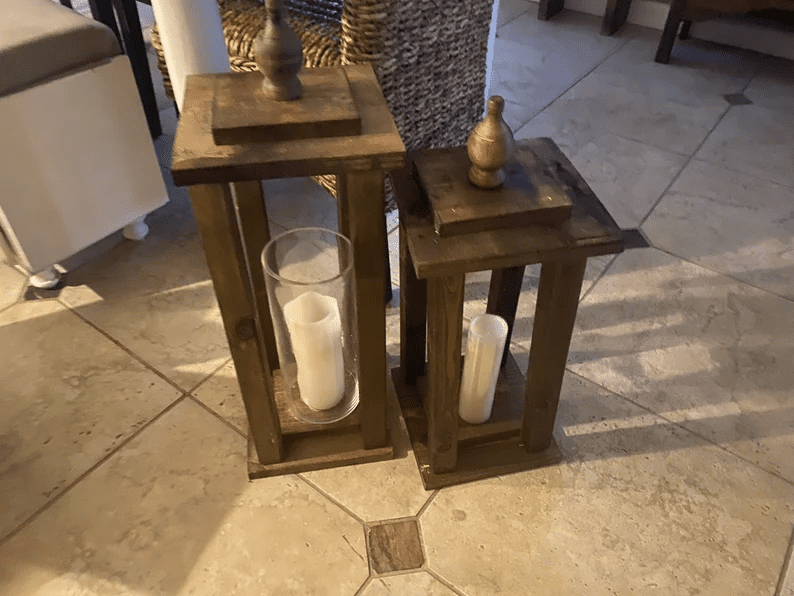 You'll need some scraps of wood, wire mesh, candleholders, hot glue, paint or stain (optional), and candles. Once you have all of the materials, cut your pieces of scrap wood into long thin strips. There's no size restrictions with this decoration.
10. Basket pendant lighting
This is a great project for anyone who wants to add some farmhouse charm to their home. All you need are an old basket, some chains, and a light fixture. Cut the wire to the desired length for the wall. Bend one end of the wire into a loop and twist it closed.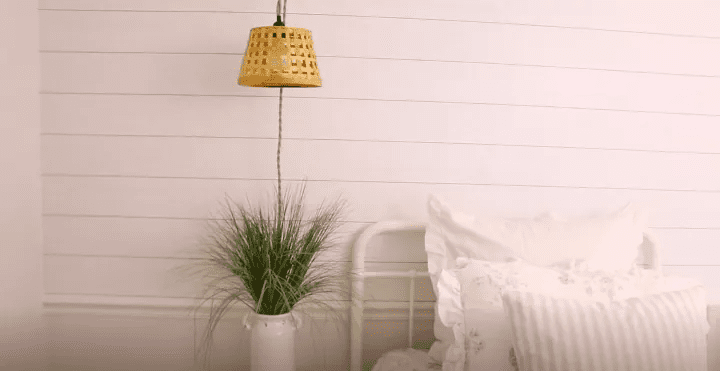 This will be used to hang the light from the ceiling. Make a hole in the bottom of the basket and add a fixture for the light bulb. Secure the fixture using duct tape. Add the lighting to the basket and hang it over the wall comfortably from the couch or bed.
11. Leaf art wall frames
If you're looking for a way to add some farmhouse flair to your home decor, then why not DIY a frame using old wood and add a leaf pattern inside it? This is a simple at-home project that anyone can do, and it'll make a great addition to any room in your house.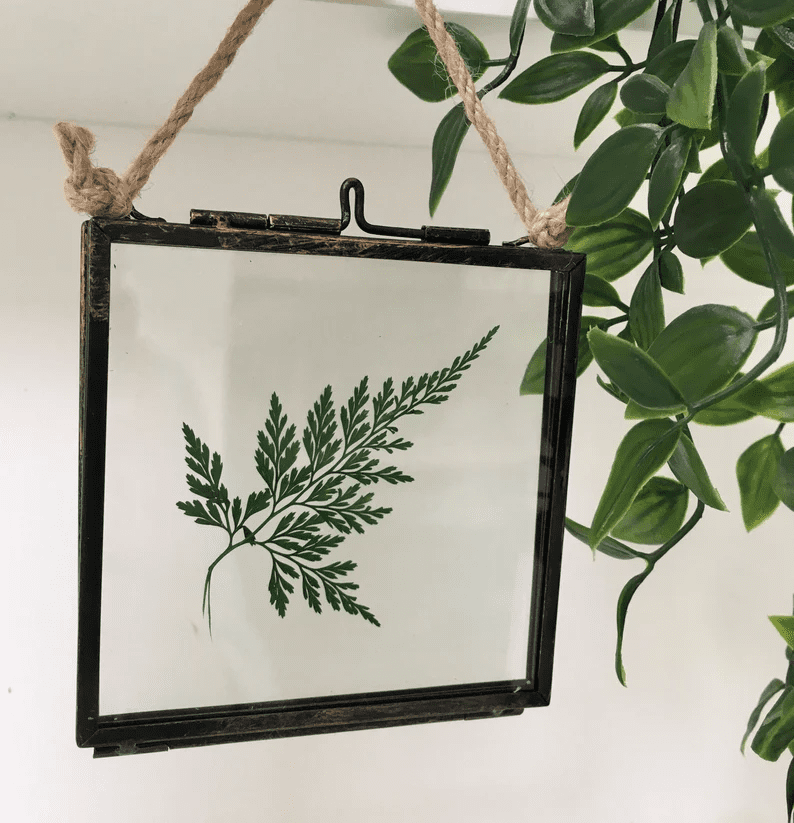 First, collect all the supplies you'll need. For the frame, you'll need some old wood that you can either find lying around or recycle from an old piece of furniture. If you're going to paint the frame, gather some paint and brushes. For the leaf pattern, use fabric or paper leaves.
12. Dried flower hanging
This dried flower arrangement is perfect for adding a touch of nature to any room. The blossoms are gently dried and preserved so that they will last for months with proper care. Hang the piece on a wall in your home and enjoy the beauty of fresh flowers all year round.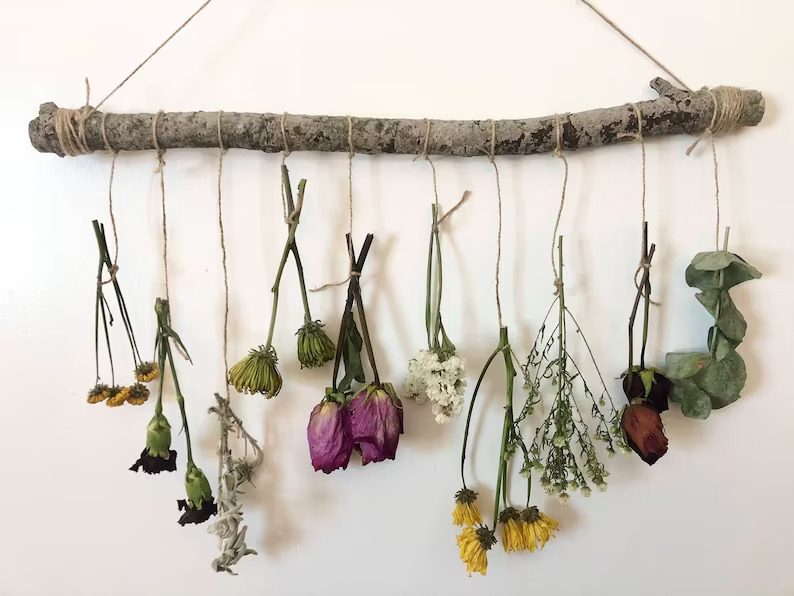 Gather flowers in various stages of bloom — some buds, some partially open, and some fully bloomed. Cut the stems of the flowers short, leaving about 1-2 inches of stem on each flower. Discard any leaves that will fall below the board once the flowers are hung.
13. Milk-jug wall hanging decor
This is a fun, easy, and cheap way to decorate your walls. You don't need many supplies and it's a great project for beginners. To make this wall hanger, you'll need old milk bottles, wood screws, a saw, and a wooden frame.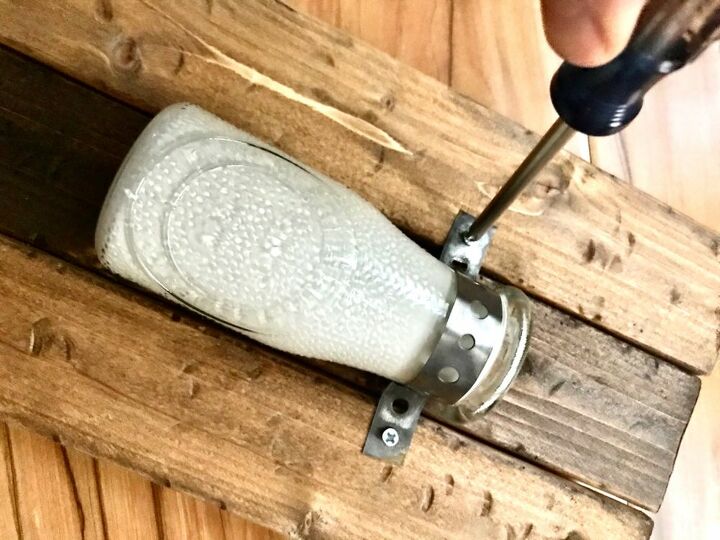 The first step is to remove the top of the milk bottle and paint it white to look like it has milk inside. Use the screws to attach the milk bottle to the wooden frame. Hang your new decoration with a few fern leaves and enjoy the rustic charm in your space.
14. DIY blanket ladder
A blanket ladder is what it sounds like — a decorative ladder that is used to hang blankets or towels. They're usually made of wood or metal, and come in a variety of different styles. Some use this as a purely decorative piece while others like them for their functionality.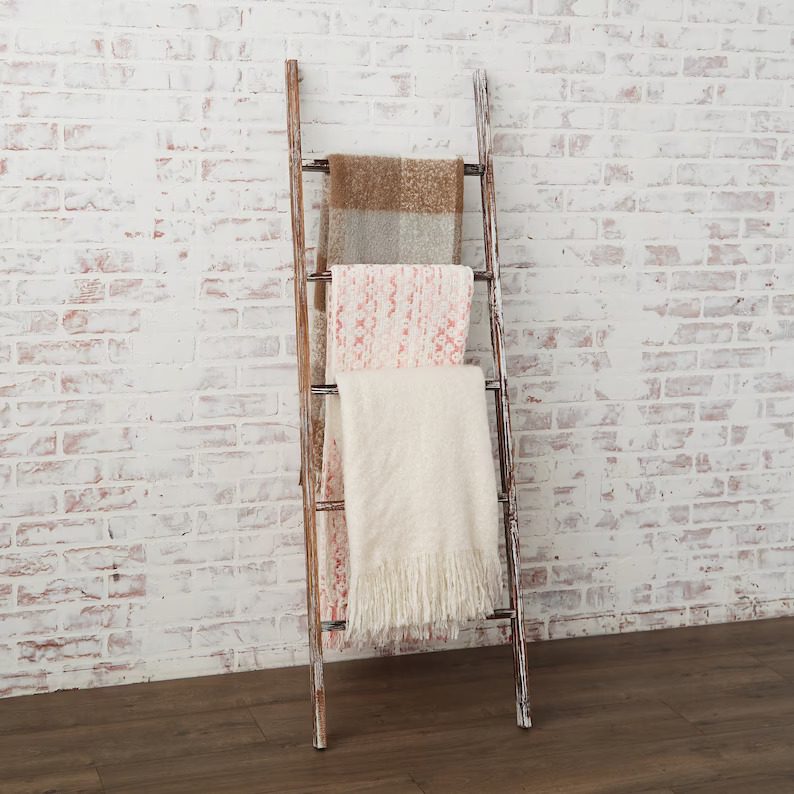 You can DIY a blanket ladder using a few pieces of wood. Cut the wood to make the rungs and vertical sections of the ladder. Drill the pieces together at equal intervals. Paint or stain the wood and let it dry. Keep the ladder in a corner, along with blankets.
15. Hanging scale
You could use an empty flower pot, chain, and vintage weighing scale print to make a hanging scale. To do this, you may have to find a flower pot that is big enough to fit the chain. Drill a hole in the bottom of the pot for the chain to go through.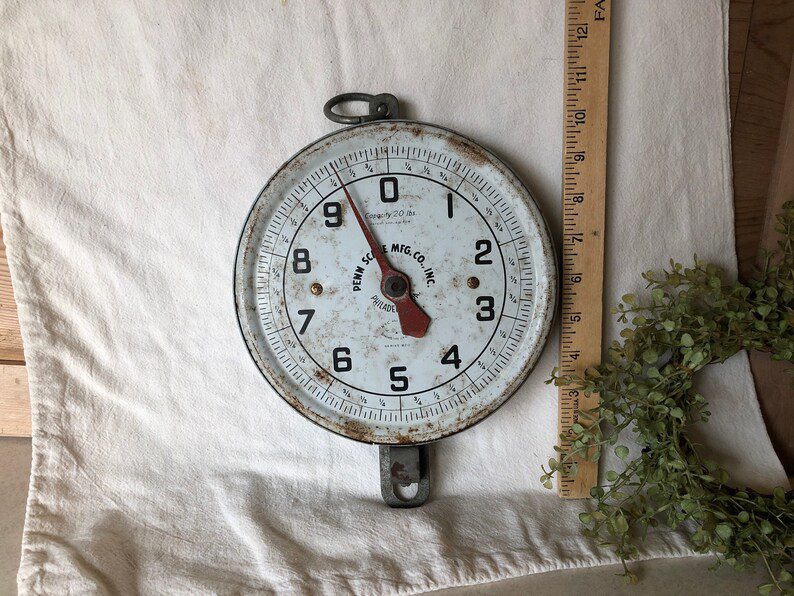 After that, you would need to paint or decorate the pot however you want. Lastly, you would need to tape or glue the print onto the front of the plate. Connect the plate and the pot using three chains to form a hanging decorative yet functional piece.
16. Farmhouse white curtains
The white farmhouse curtains are the perfect way to add a touch of warmth to your home. Farmhouse curtains add a touch of rustic charm to any space. They're perfect for kitchens, living rooms, and bedrooms and come in various styles and colors to match any decor.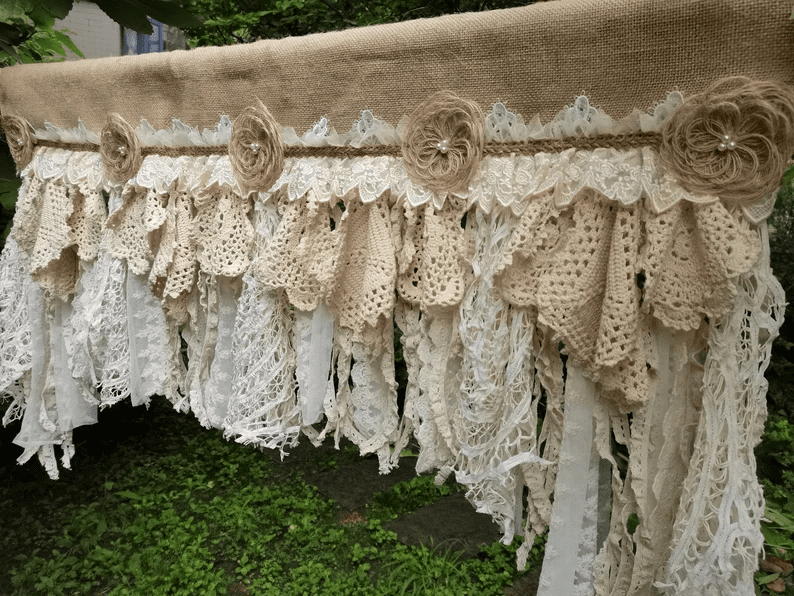 They provide privacy while letting in natural light and are washable and durable. Moreover, they typically have a lot of texture, which can be a great way to add interest. You may make these from natural materials like cotton or linen. Ensure that you use simple designs with sturdy stitching.
17. Rustic window treatment
If you're looking for a rustic, farmhouse-style window treatment, look no further than this DIY tutorial. All you need are wood and hooks; you can transform your windows into something straight out of a country cottage. Start by sanding down your wood. Ensure it's smooth so that it doesn't snag the curtains.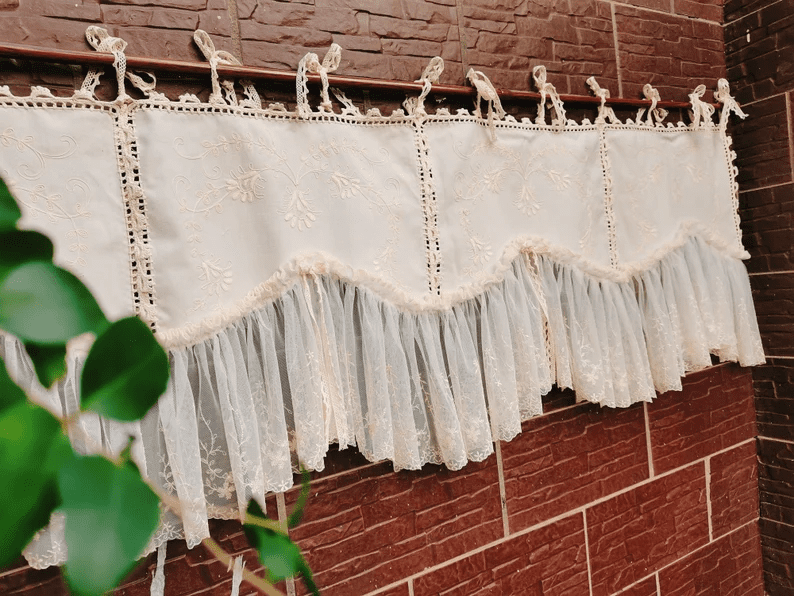 Once it's sanded, put two coats of paint or stain on the wood. Choose whatever color you like. Use the hooks to secure the wood at the top of the window. Make sure the hooks are screwed in securely so they can hold the weight of the curtains.
18. Window greenhouse
Not only is this greenhouse charming and easy to make, but it's also a great way to recycle old windows. To build the greenhouse, measure the window panes and cut a piece of plywood or lumber to fit each one. These will work as the bottom of the greenhouse.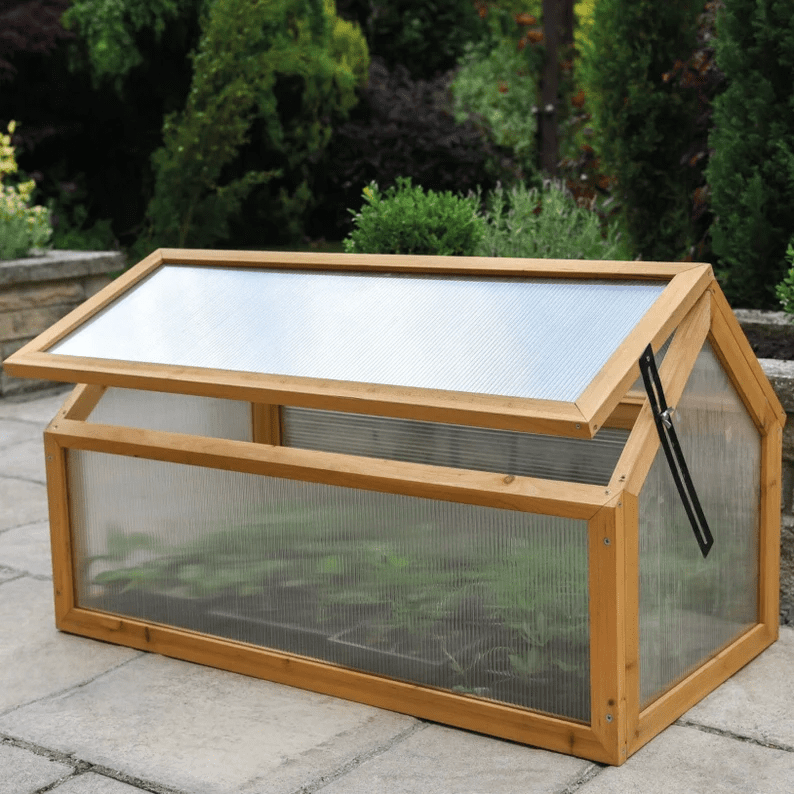 The last step is to cover the frames with plastic sheeting for greenhouse film and hold them in place with clips or tape. Add small plants or start your seedlings in this greenhouse and keep a closer eye on how they are thriving.
19. Fruits and vegetable holder
You'll be more tempted to eat fruits if you see them in front of you. A display basket wall hanging will be great for storing fresh fruits and vegetables instead of keeping them in bags. This is a simple way to add extra fruits and veggies to your diet.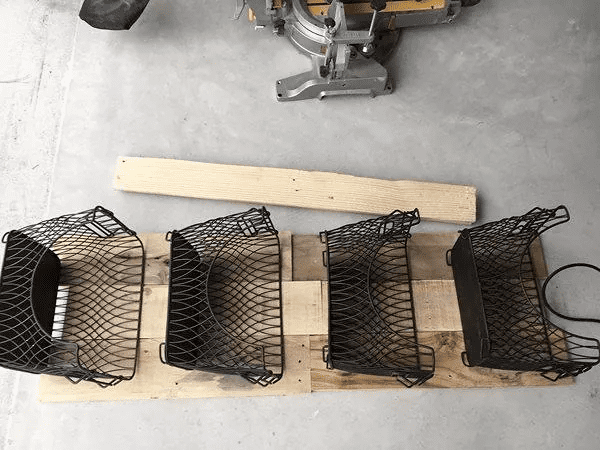 Grab some old wood that is strong and sturdy enough to handle the weight of wire baskets and groceries. It's ideal to use wire baskets because they provide a lot of ventilation and keep the fruit and veggies from getting too sweaty. Screw the baskets on the wood and hang them on the kitchen wall.
20. Scale for the kitchen
It's possible to create a vintage-inspired kitchen scale using dollar store materials. This way, you don't need to pay a hefty amount to add that vintage charm to your kitchen. All you need is a little creativity and some basic crafting skills.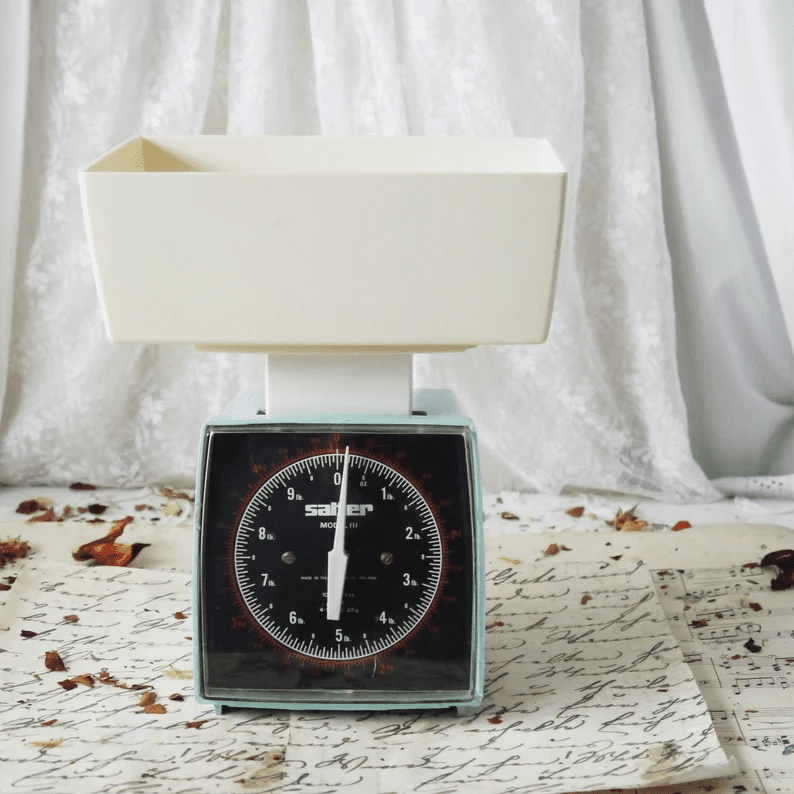 You'll need a small plastic pot, spray paint, and a vintage weighing scale print. Spray paint the pot and stick a silver doll table on top for the base of the plate. Stick the print on the front of the pot and place a plate to store fruits and vegetables on the faux vintage scale.
21. Coat rack shelf
Making a wall coat rack with a shelf is a great way to add extra storage and organization to your home. Start by measuring the space where you wish to put the coat rack. You'll need this to determine the size of the shelf and the number of hooks you'll need.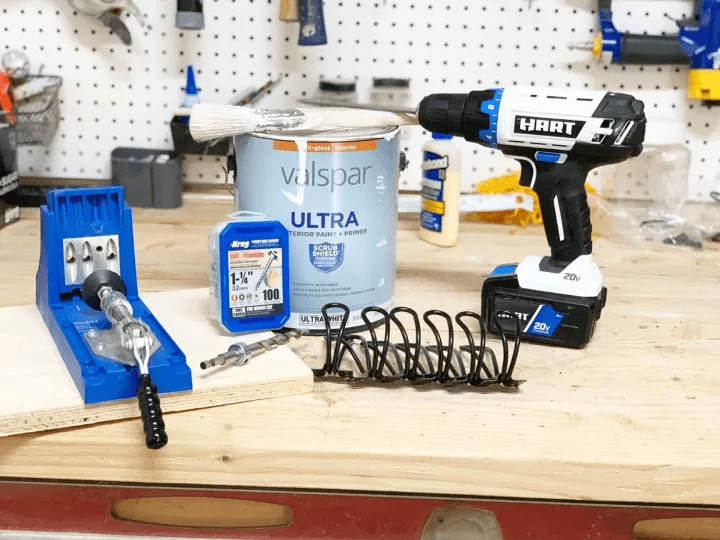 Cut wood pieces to size using a saw. If you're not confident in your sawing skills, you can always ask someone at your local hardware store to cut the wood for you. Drill holes for the hooks in the top piece of wood. Hang the rack shelf and place plants or frames on top.
22. House terrariums
Who knew pipe cleaners could be so versatile? With a little imagination, you can use them to create all sorts of miniature houses, from gingerbread cottages to Tudor mansions. And what better way to show your handy work than by turning them into terrariums?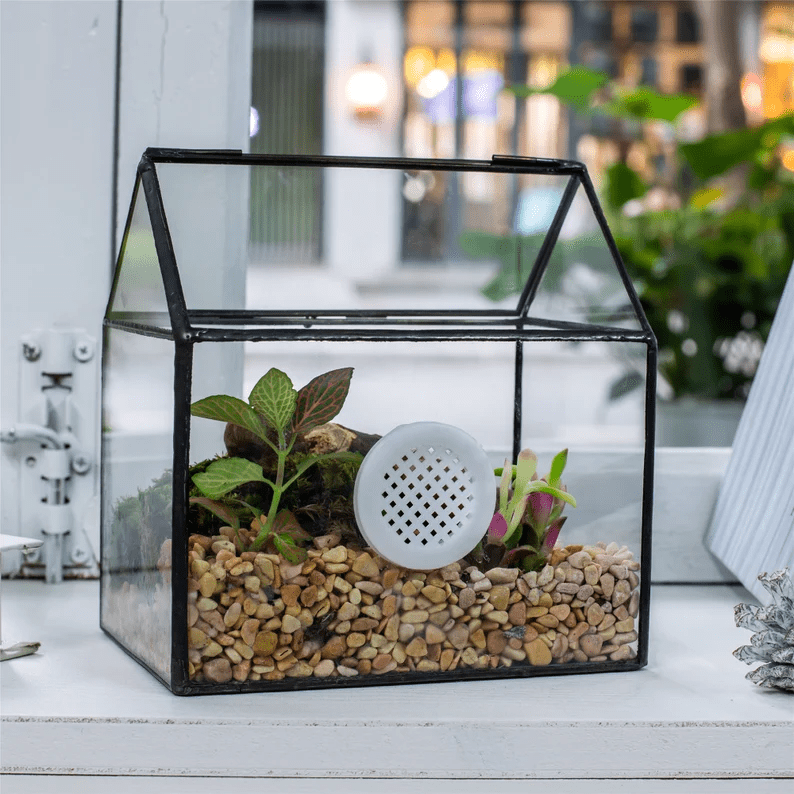 Start by bending two pipe cleaners to right angles so that they form the sides of your house. Criss-cross another pipe cleaner across the top of the house to create the roof supports. If you want a peaked roof, simply thread one end of the roof. Add planters inside the hollow house terrariums.
23. Old window wall art
If you are on the lookout for a fun way to add some personality to your home, consider upcycling an old window into wall art. This simple project can have a big impact, and it's an easy DIY project. To get started, first choose the window you want to use.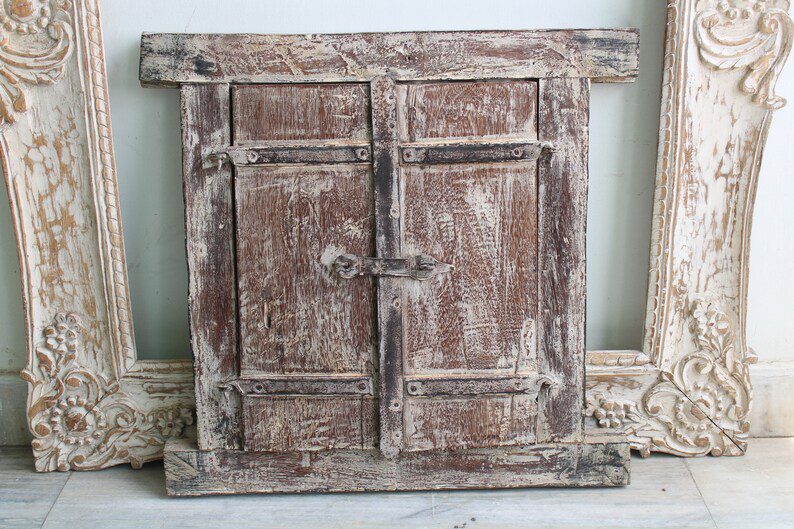 You can repurpose an old one from your home or scour antique stores and flea markets for something unique. Once you have your window, give it a good cleaning before starting on the project. If you wish to include lettering or other design elements in your project, you'll also need stencils and craft glue.
24. Wooden farmhouse riser
Why bother with conventional furniture when you can make rustic, DIY wooden farmhouse risers? Risers are an amazing way to add height and dimension to any room, and they're perfect for displaying everything from plants to photo frames. Plus, they give you an excuse to get out of the saw and practice your woodworking skills.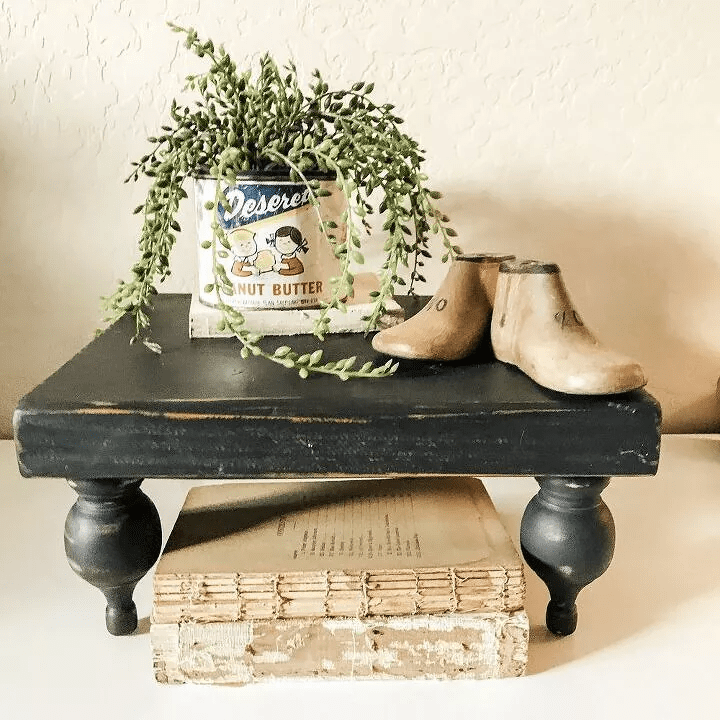 You can use pallets, fence boards, or anything else you have lying around. Just ensure the wood is sturdy enough to support whatever you'll be putting on top of it. Then, stain the wood or paint it rustic. You may keep these in the kitchen or entryway.
25. Painted herb planters
Try chalk painting your herb planters for an easy and affordable way to add a little greenery to your home. You may use any type of planter, but pick something with a smooth surface so the paint will adhere well. Clean and dry your planters thoroughly.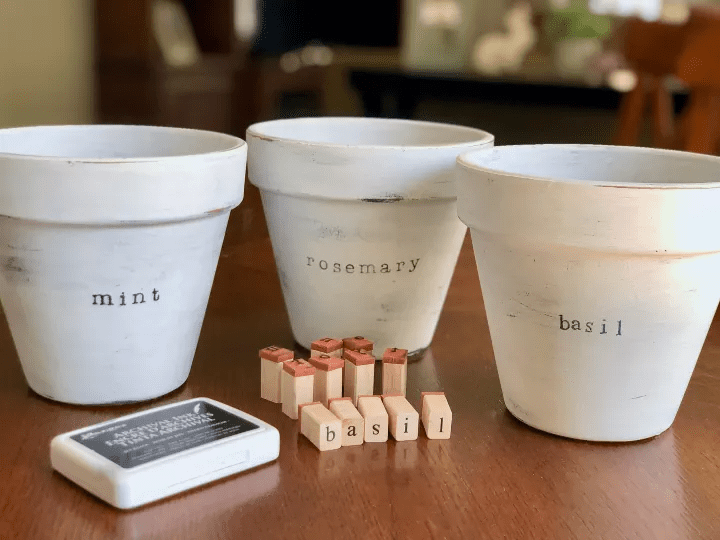 Don't skip this step; debris left on the pot will prevent the paint from sticking. Apply a coat of primer to your planters, and allow them to dry thoroughly before moving on to the next step. Paint your desired color onto your planters, using multiple coats if needed for complete coverage before adding plants.
26. Magnetic decor
Making Dollar Tree magnetic farmhouse decor is a great way to add a little country charm to your home on a budget! You just need a few simple supplies and some basic crafting skills. Besides those, you'll also need some decor items, magnets, a glue gun, scissors, and fabric with a farmhouse theme.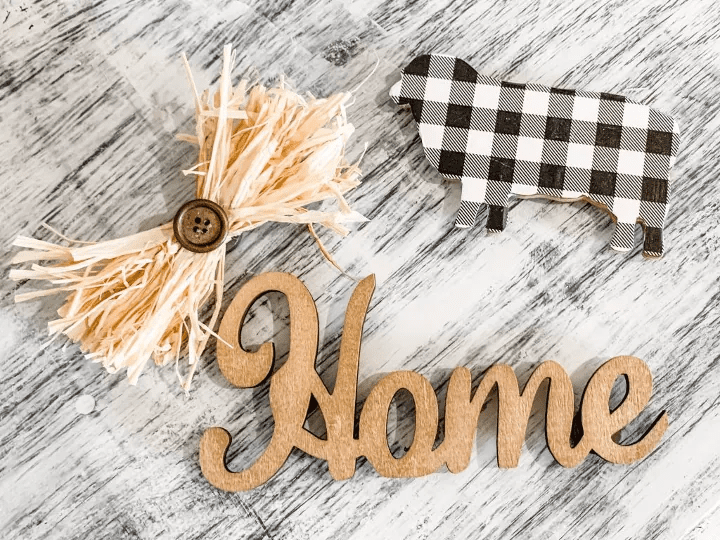 You may use some signs or animal cutouts for the decor. Stick the magnets on the back of these items. To customize these, you may also paint them or stick check fabric for a warm appearance. DIY a frame with a metallic sheet to place the signs and hang them on the wall.
27. Easy cereal box birdhouse DIY
You can make a cute birdhouse using an old cereal box. Cut the top off of a cereal box in a triangular shape to mimic a birdhouse. Stick paper on the box and make three circles and a rectangle at the bottom to look like a door.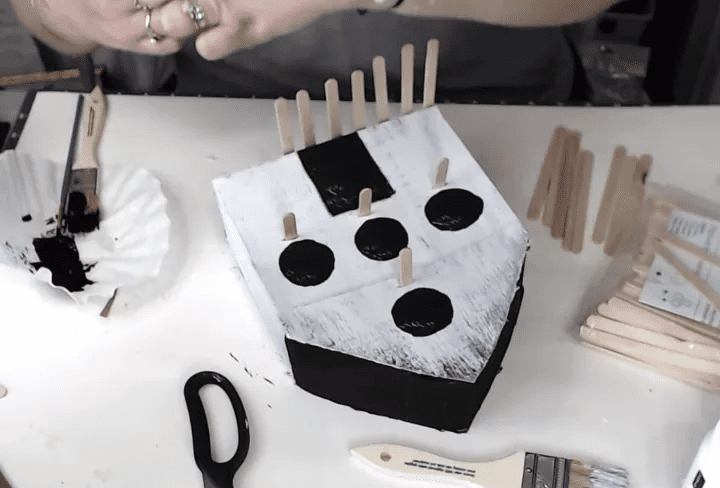 Now paint the birdhouse with natural colors such as brown, white, cream, and black. Stick some popsicle sticks and fake dry grass in the front so that it appears more authentic. You may use twigs to make the roof of the box birdhouse and place it over the triangular cutout.
28. Window wall decor
There are a lot of great ways to upcycle old window wood and turn it into beautiful wall art. One option is to use it as a frame and write phrases on it. This can add some personality and character to your home décor, and it's a great way to show off your creative side.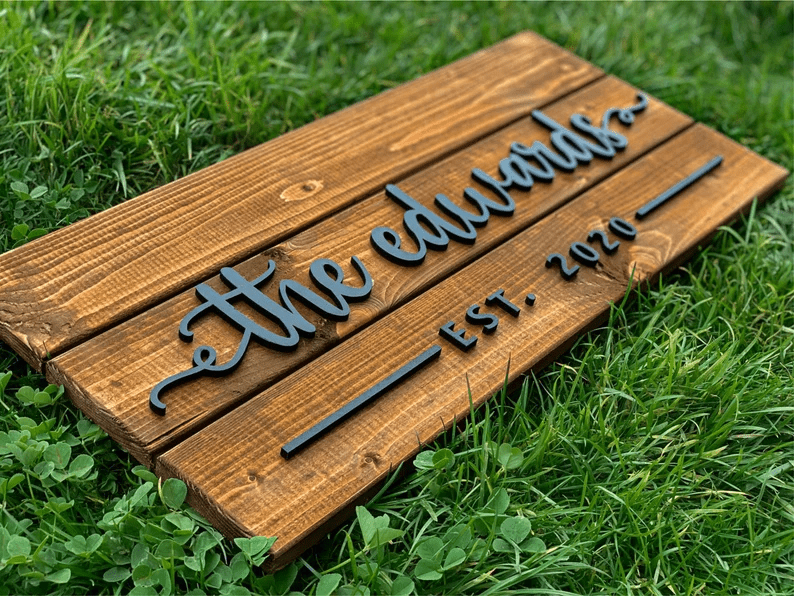 What a wonderful way to recycle old materials and save them from being thrown away. Another idea is to paint the wood in different colors or designs. You can create a unique look by mixing and matching different colors and textures.
29. Inspirational cups
When it comes to sprucing up your kitchen, there are plenty of ways to do it. One popular way is to add farmhouse quotes to the cups to make them inspirational kitchen decor. Find funny or motivational quotes about cooking or baking and print them out on adhesive labels.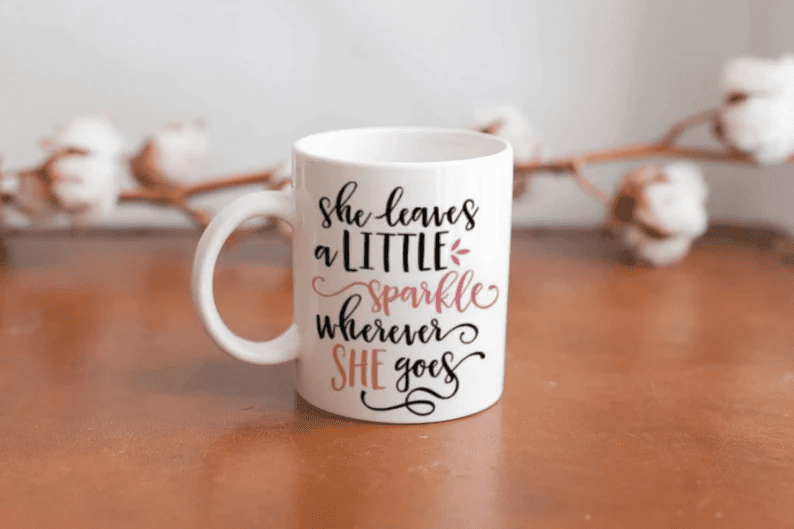 Stick them onto your cups and put them on display so that you'll see them every time you reach for them. You may also do the same to serving plates. These can be great conversation starters at dinner parties, plus they'll add a touch of sophistication to your kitchen.
30. Milk bottle vases
You may use old glass milk bottles as flower vases. They're charming and add a bit of vintage flair. They're also sturdy and can hold up well even if you have multiple blooms in them at the same time. Plus, they make recycling your old glass milk bottles into something useful super easy.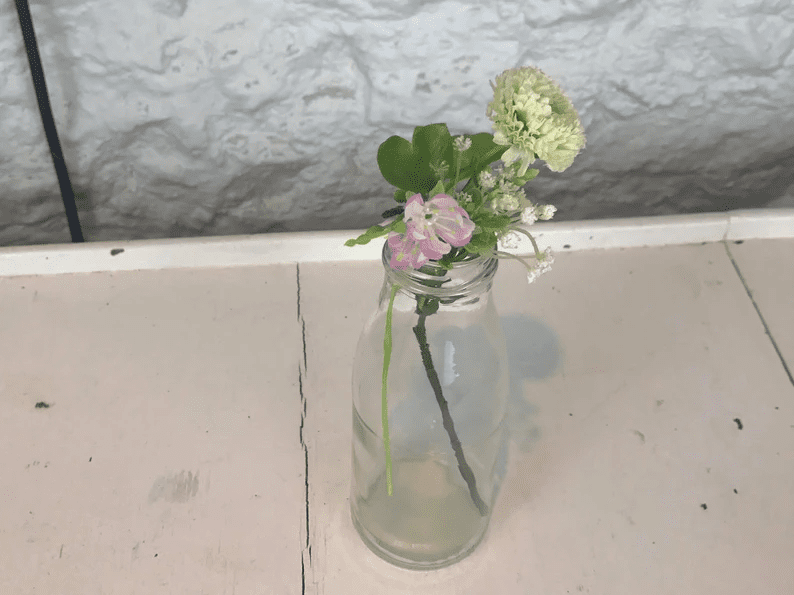 Before you start, ensure that they're thoroughly washed and all lingering milk residue is removed. You can also decorate the bottles with colorful ribbons or bows or by adding a small floral arrangement to the top. This gives your table a touch of rustic charm while also adding a splash of color.
31. Tea towels
If you wish for a way to add a little extra charm to your kitchen, why not try making some DIY farmhouse-theme tea towels? Tea towels are inherently charming, and adding a rustic farmhouse twist will make them even more so. It's a relatively simple DIY project that won't take up too much time.
For this project, you'll need some plain tea towels and iron-on transfer paper. You may find both of these items at most craft stores. Once you have your supplies, simply choose the design or saying that you want to put on your tea towels and print it out onto the transfer paper.
32. Rustic front door wreath
A rustic front door wreath in a farmhouse theme is the perfect way to welcome guests into your home. It also adds a touch of character and style to your doorstep. You can make wreaths from all sorts of materials, such as pine leaves, straw, wood, metal, or fabric.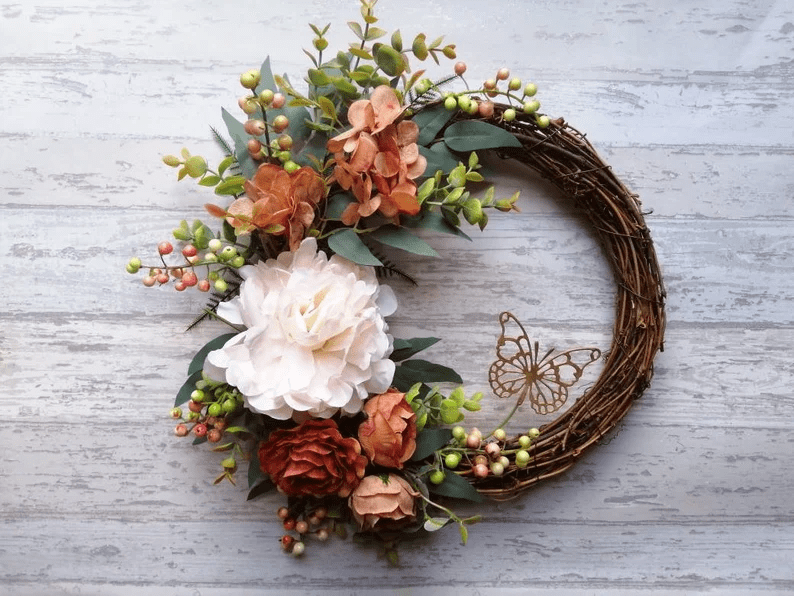 Use grapevine as the base and wrap leaves around the wreath. Leave some spaces in between to add a rustic look. This will help create a cohesive look with the rest of your home's decor. You may also want to consider adding some seasonal berries and flowers.