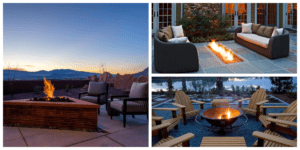 45 Beautiful Fire Pit Ideas That Will Turn Any Backyard Into An Enchanting Getaway
By Navkiran K
---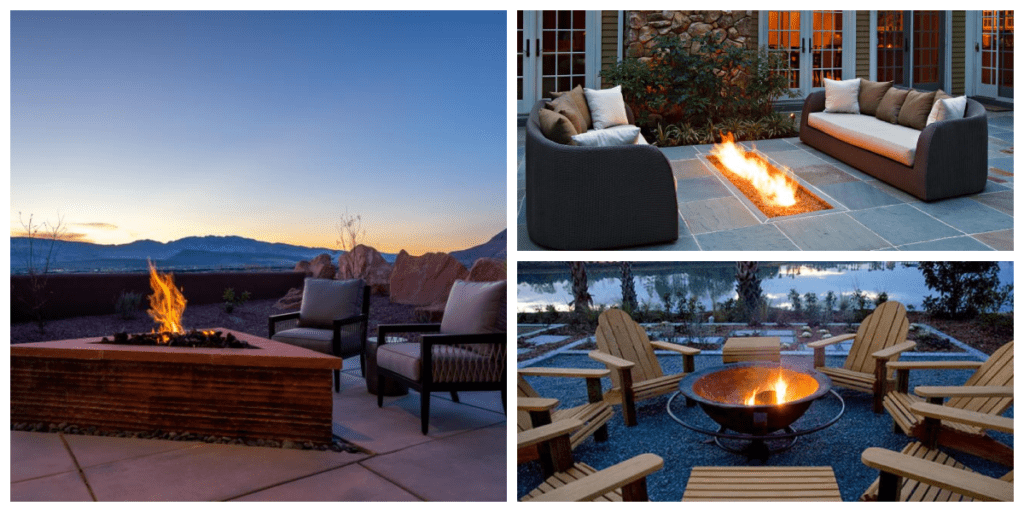 Are you looking to add a convenient source of warmth and ambiance to your backyard? If so, a fire pit might be just the thing you need. They are incredibly practical and stylish, and gathering around a warm fire pit on a chilly evening is an excellent way to relax. Moreover, a great fire pit can be a focal point for your backyard decor, especially when you add some furniture.
Whether you're looking for ideas for your next DIY project or just searching for breathtaking backyard setups, check out these fantastic fire pit ideas. From sleek and modern designs to rustic and charming arrangements, there's sure to be something here that will fit your style. So grab your tools, and let's get cracking!
Fire Pit Among The Greens
A camping getaway right in the backyard? Sign us up! It's certainly possible to have a firepit in the canopy of evergreen trees in your backyard. With a bit of caution and attention to the surroundings, you can enjoy your fire pit safely beneath the shade of foliage.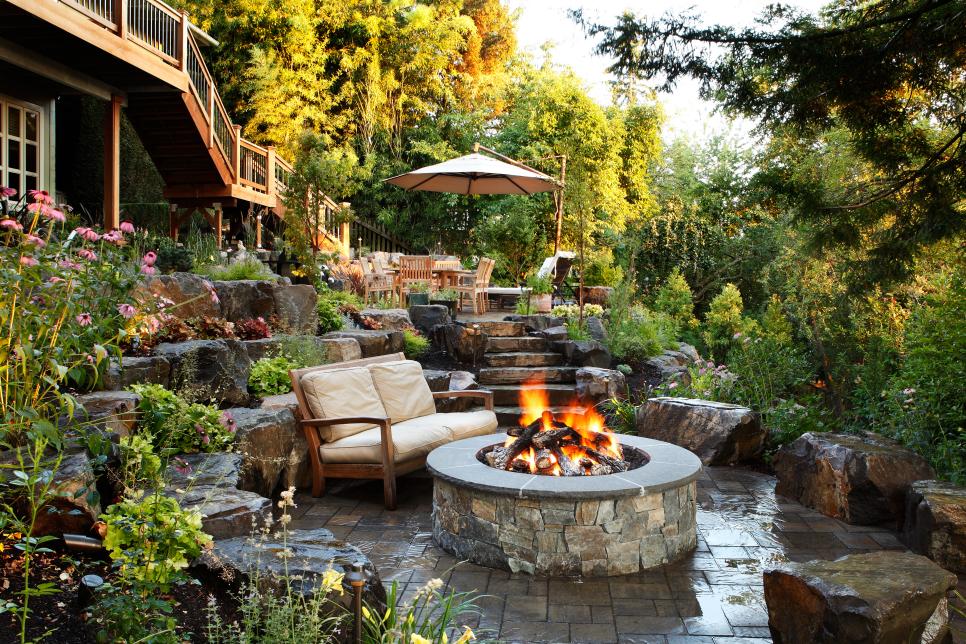 To add a rustic touch, you can surround the fire pit with large boulders. This will make the area more cohesive with the lush evergreen trees. Add a few comfortable lounge chairs that are water and weatherproof, as well as a parasol to shade yourself, and you're done.
Concrete Bowl Pit
There's something beautiful and intriguing about a fire pit made of concrete. That's probably the reason they are a bit popular with homeowners. And when they are designed in a circular or curved shape, they take on an even more ethereal quality.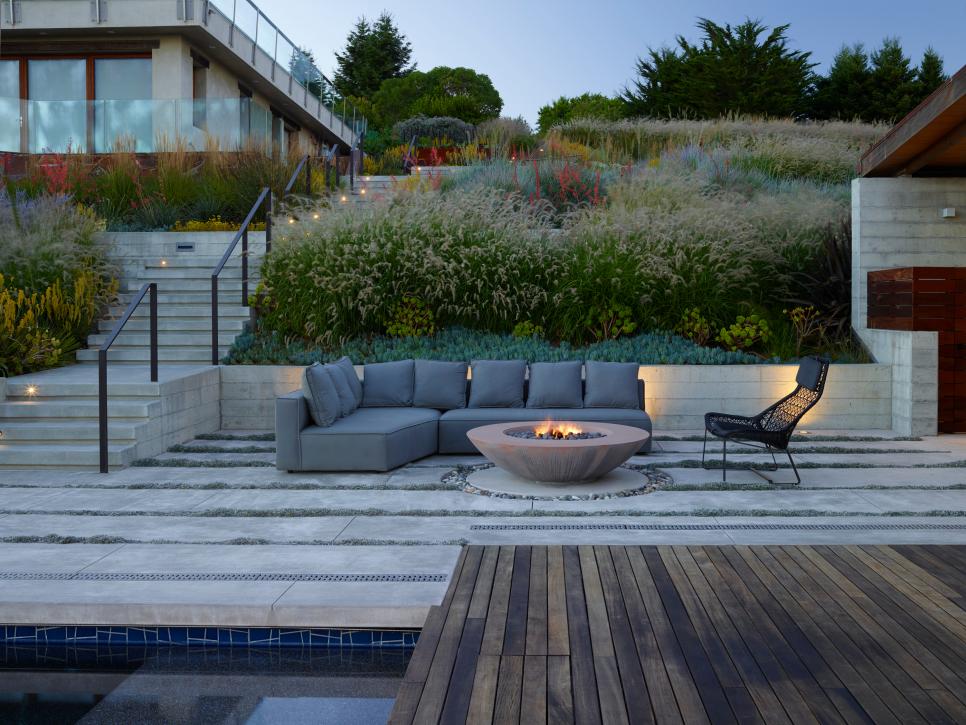 These fire pits are also more convenient than most because they are made of concrete which is extremely durable. You and your family will enjoy numerous nights by the fire before you have to start worrying about the pit crumbling.
A Fire Pit Nestled In A Lush Backyard
A fire pit in a secluded part of the backyard is a great way to enjoy a view. Imagine having such stunning scenery to look out to as you warm yourself by the fire. Such pits are constructed from metal or stone and have a grate in the middle for holding the wood.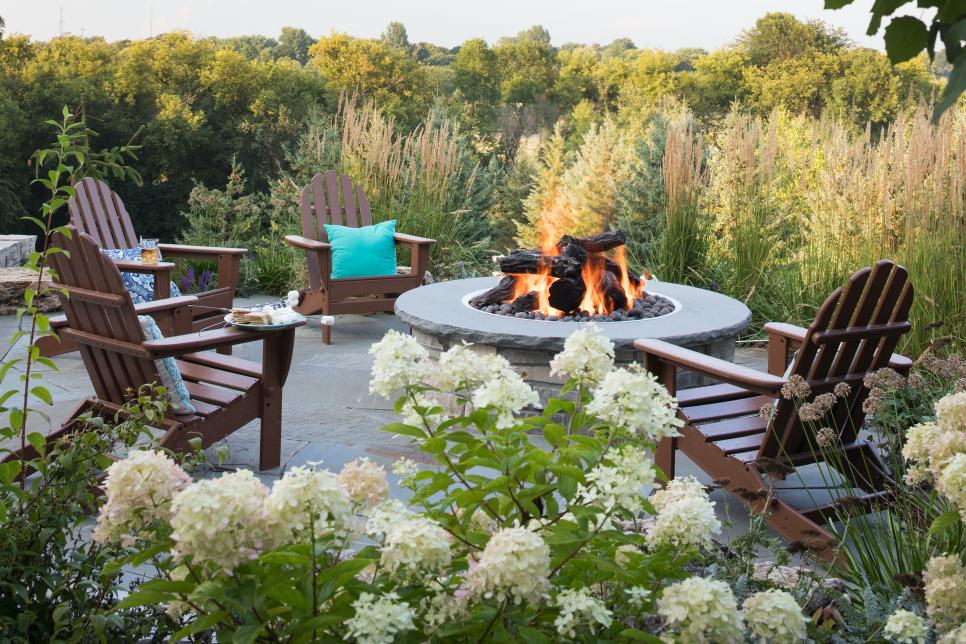 First, find a spot in your yard that is away from any buildings or trees. After that, install the pit on a flat surface. If you are using a metal pit, place it on top of bricks or rocks to keep it from getting too hot.
Fire Pit On The Deck
A fancy deck with an elevated fire pit would be the perfect place to relax. You could lounge on the comfortable furniture while enjoying the warm glow of the fire and the view of your beautiful garden or backyard. It would also be a great place to spend an evening with friends or family.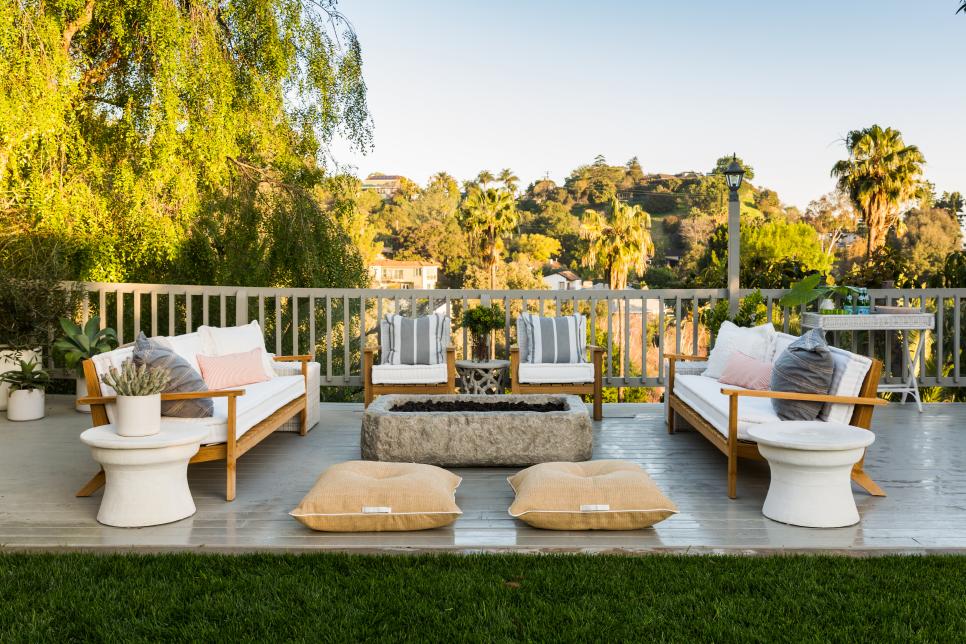 The sleek lines and elevated fire pit make it perfect for any home and offer a space for a quiet evening under the stars. For the pit, going with solid concrete, as seen in the picture above, is always a good idea.
Modern Square Concrete Pit
Add a touch of sophistication to your home by making your wood-burning fire feature with concrete. As you can see, it can also double up as a table to place your hot cocoa as you enjoy the heat! Plus, it's a great way to stay warm during those cold winter nights.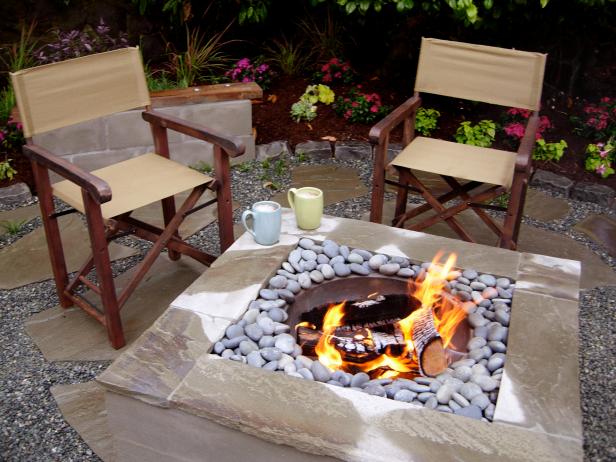 Before you start building, ensure that the surface is level and stable. You will also need to use a high-quality concrete mix and make sure the thickness is consistent throughout. After that, place some logs in the pit, and you're done.
Tabletop Pits
Tabletop fire pits are a convenient way to enjoy the outdoors when it's chilly. Gel fuel is an excellent choice because it is easy to use and clean up. With a few lava rocks and glass planters, your tabletop fire pit will be the perfect centerpiece when you're entertaining.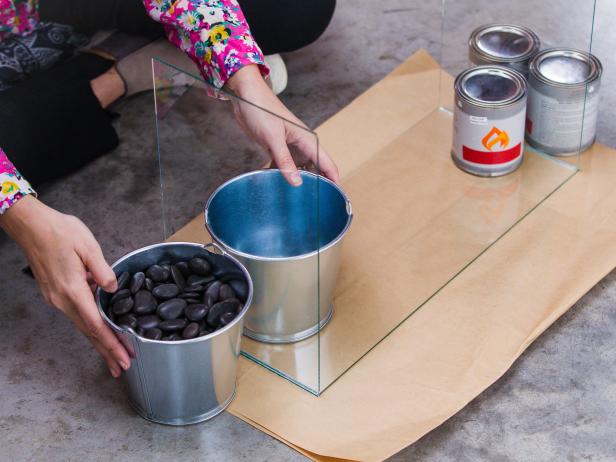 The best part is that tabletop fire pits using gel fuel release very little smoke, so you don't have to worry about yourself or your loved ones choking on smoke. Once the pit is in place, pour some gel on it, light it with a match, and marvel at the sight.
Fire Pit On The Patio
Nothing beats the feeling of relaxation that comes from cozying up around a fire on a chilly night. It's simply sublime. If you want to create such an experience in your backyard, consider building a semi-circular fire pit on your patio.
Determine the size and placement of your fire pit. Once you've figured that out, lay out your stones in your desired pattern. As you are building the pit, take into account the fact that people will need to move about around it, so make the area spacious.
Natural Stone Pit
If you're looking for a cozy and intimate spot to enjoy a bonfire with your closest friends, this sunken pit with stone benches is worth checking out. Not only does it boast stunning views, but it's also incredibly private and secluded, making it the perfect place to relax and unwind.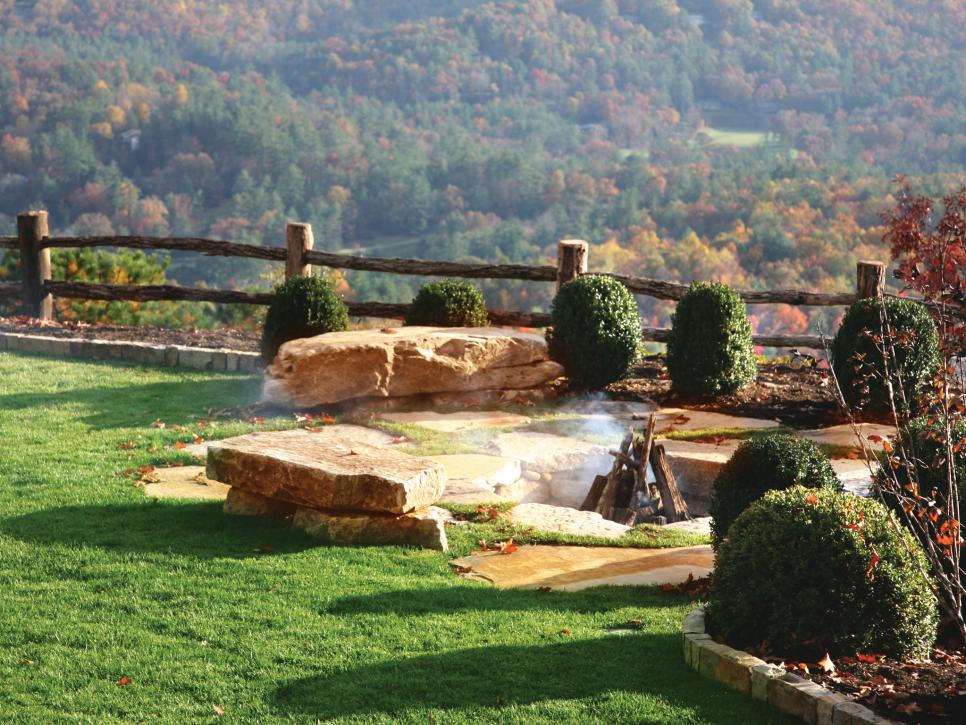 Amongst the most amazing things about this spot is that it's large enough to accommodate a big group but small enough that everyone feels close and connected. And, of course, the benches are perfect for kicking back and roasting marshmallows or simply chatting long into the night.
Cozy Fire Pit With A View
To get a breathtaking scene like the one below, you should first build a cozy fire pit. Use a large square raised pit as the centerpiece and lay some beautiful rugs and soft blankets around it. You could even add some Adirondack chairs for extra comfort.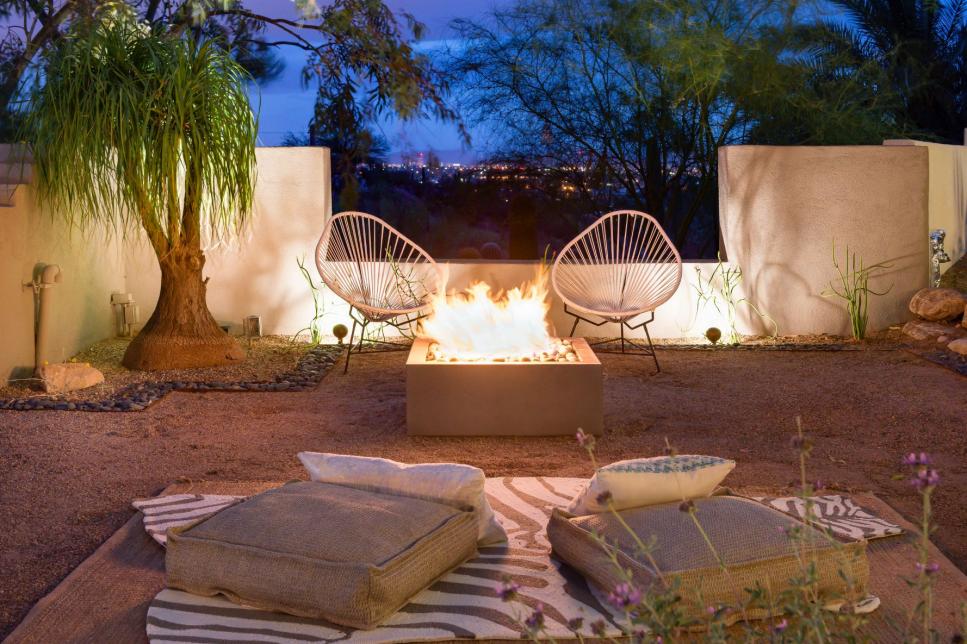 You can also go with a Mexican-inspired vibe. Think bright colors if you choose to go that way. Just imagine how festive the whole place will look! Once it's all done, we bet it will be your favorite spot in the entire compound.
Black Propane Pit
Black has become increasingly popular in interior design, so a black propane fire pit just makes sense. It would give your backyard a cozy and inviting feel, perfect for relaxing in the fall and winter. Since propane is readily available and easy to use, it's the ideal fuel source.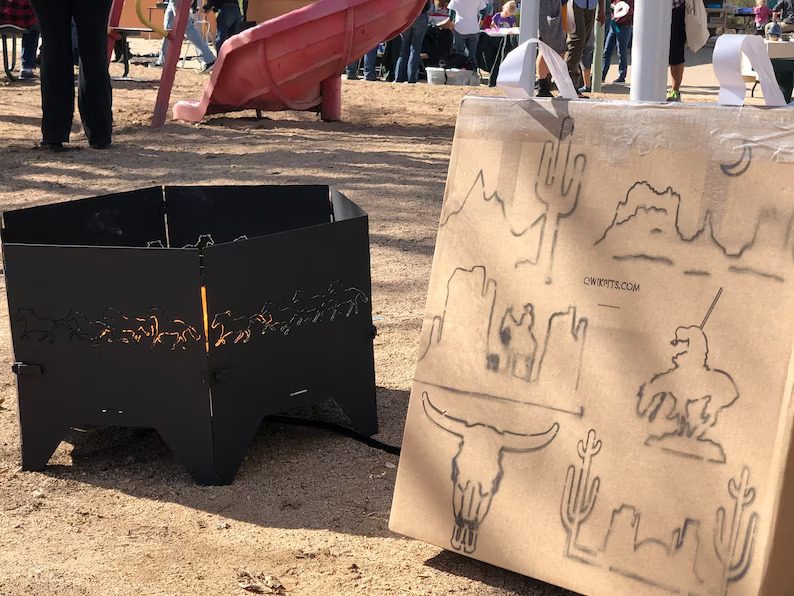 If you're considering installing a fire pit that uses propane in your backyard, consult a professional first. They will be able to tell you what type of fire pit is best suited for your home and can help you choose the right propane system for your needs.
Small Concrete Fire Bowl
If you're limited on space, a small concrete bowl fire pit is a great option. They are easy to make and very functional, providing both warmth and light. To make one, find a large bowl and a small one. Mix a quick setting of concrete and pour it inside the large bowl.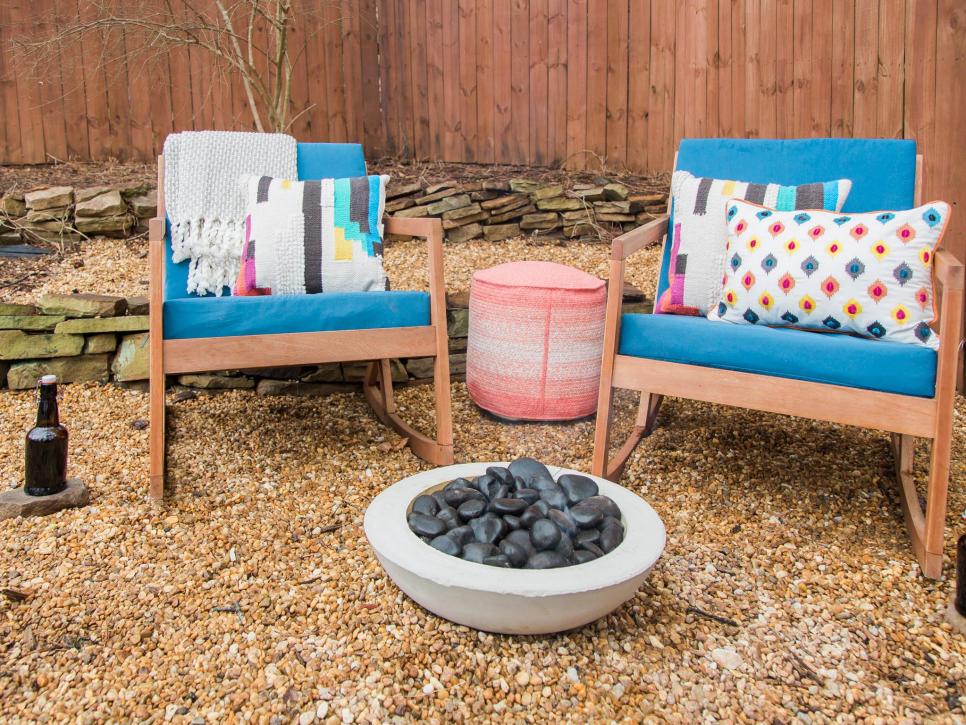 Now, press the smaller bowl onto the wet concrete and wait for it to set. Remove the bowls and take out the concrete mold to be used as a fire pit bowl. Add river rocks and some gel fuel, and enjoy a fire that doesn't take up too much space.
Sedimentary Stone Fire Pit
If you're looking for a beautiful and rustic way to add warmth and ambiance to your outdoor space, consider installing a stone fire pit next to your rose garden. The flames provide light and heat on chilly evenings, and the smoke will also help keep mosquitoes at bay.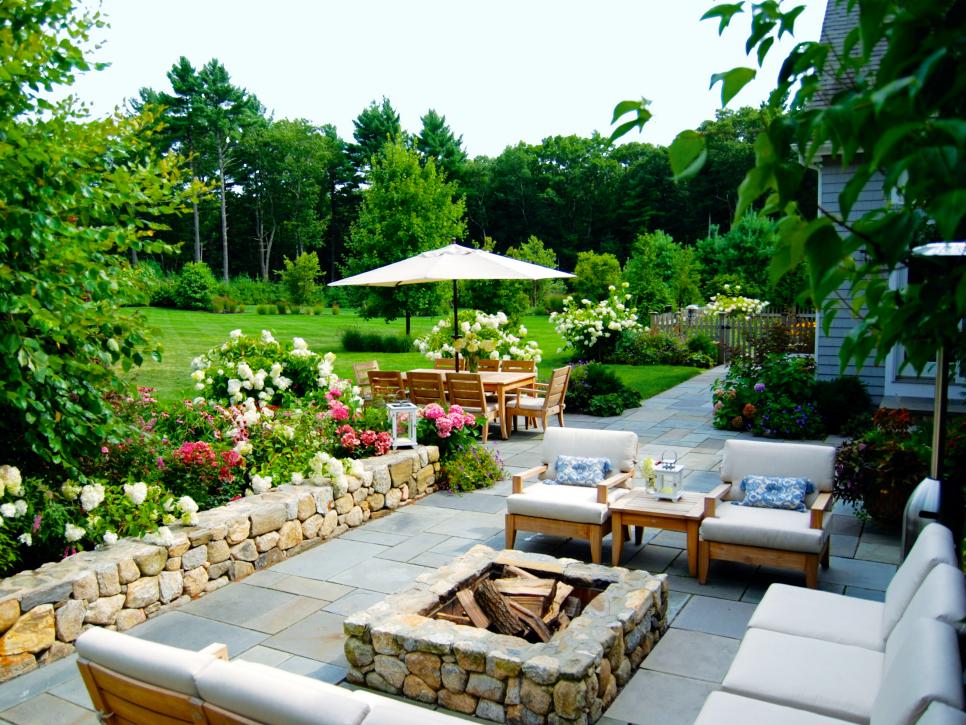 If you choose a sedimentary stone like limestone or sandstone, your fire pit will also become a gorgeous focal point in your garden. Consider pairing your stone fire pit with some well-placed wooden furniture to give you a place to relax.
Artistic Fire Pit
Adding an artistic fire pit to your pool and patio area is a great way to create an inviting outdoor space. A well-placed fire pit can also provide a centerpiece for your outdoor entertainment area and can be enjoyed by family and friends.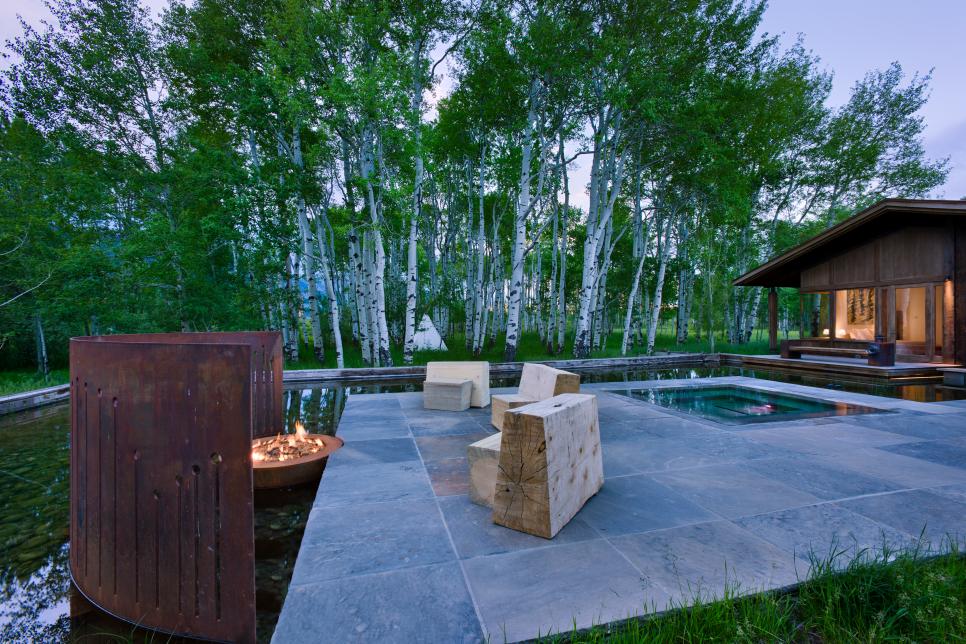 When choosing a fire pit, consider the size and style that will best complement your existing décor. You'll also want to ensure that the pit is made of materials that can withstand the heat of burning embers, such as steel or stone.
Contrasting Outdoor Decor
It can be tough to know what goes well together in home decor. Some may have a natural talent for it, but it takes a bit of experimentation for the rest of us. So, why not start with something classic, like neutral colors?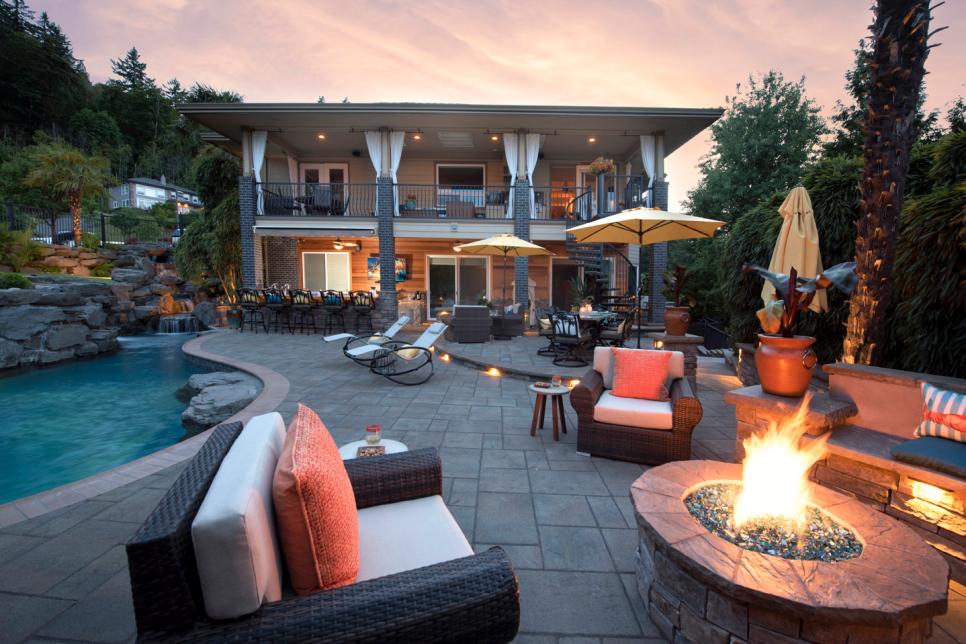 Contrasting outdoor decor with grey furniture and a peach-insulated fireplace can create a timeless look. It'll add some warmth to your space while also keeping things interesting. The great thing about peach is that it's a very versatile color; it'll pair well with both neutrals and bolder colors.
Waterfront Fire Area
This sleek square fire pit will be ideal for you if you live somewhere with an awesome lake or ocean view. The design and wide open space make it ideal for entertaining guests while enjoying a cozy evening by the water. Its modern style will also elevate your outdoor space.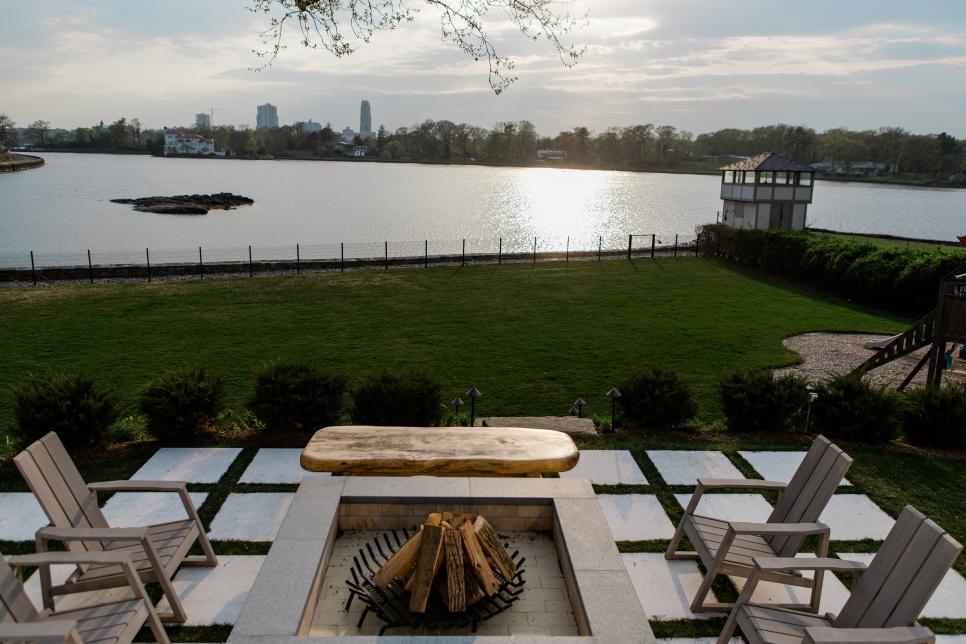 Moreover, the practical design ensures you can enjoy fireside chats for years. Plus, the contemporary grey finish and the modern-yet-old-school Adirondack chairs are sure to add some elegance. You can also install a grill or a complete outdoor kitchen to enjoy more time outdoors.
Painted Triangular Fire Pit
Here's an aesthetically pleasing option: a painted triangular fire pit. You can either purchase one online or search in home improvement stores. It will add a touch of stylish flair to your space and is relatively easy to install. Another option would be to build the fire pit from scratch and paint it.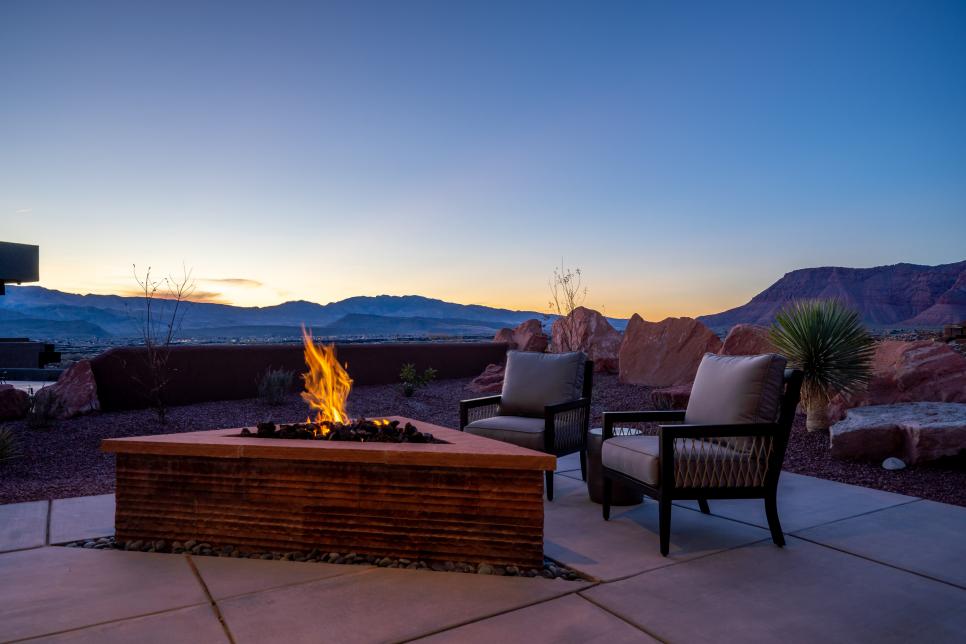 Choose your paint colors based on the overall look you're going for; perhaps something festive. Clean your fire pit so that the paint will adhere properly. Once it's clean and dry, start painting. When done, you can enjoy roasting marshmallows over the open flame.
A Warm Fire By The Sea
Stacked-block fire pits are a fantastic way to enjoy beachfront living. Chilling in front of a fire always feels amazing but doing it in front of a sea somewhere makes it even more memorable. That's why this whole scene fills us with intense wanderlust!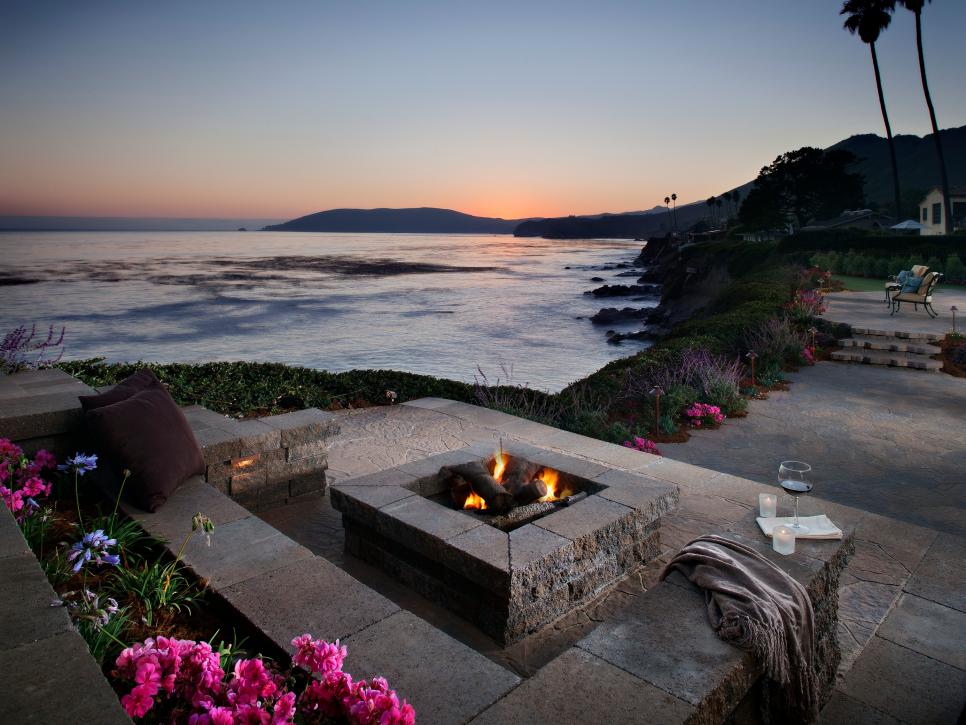 Block pit patios are easy to design and build. You would be lucky to have a fire pit with a sea view because it's such a treat! Something about the soothing sound of waves crashing and the smell of salt in the air makes an evening by the fire even more special.
Backyard Spa Pit
Whether you're looking to include a touch of luxury in your backyard retreat or simply want a fun and relaxing way to enjoy the outdoors, a backyard spa is a perfect choice. Luckily, there are endless choices to choose from when it comes to decor.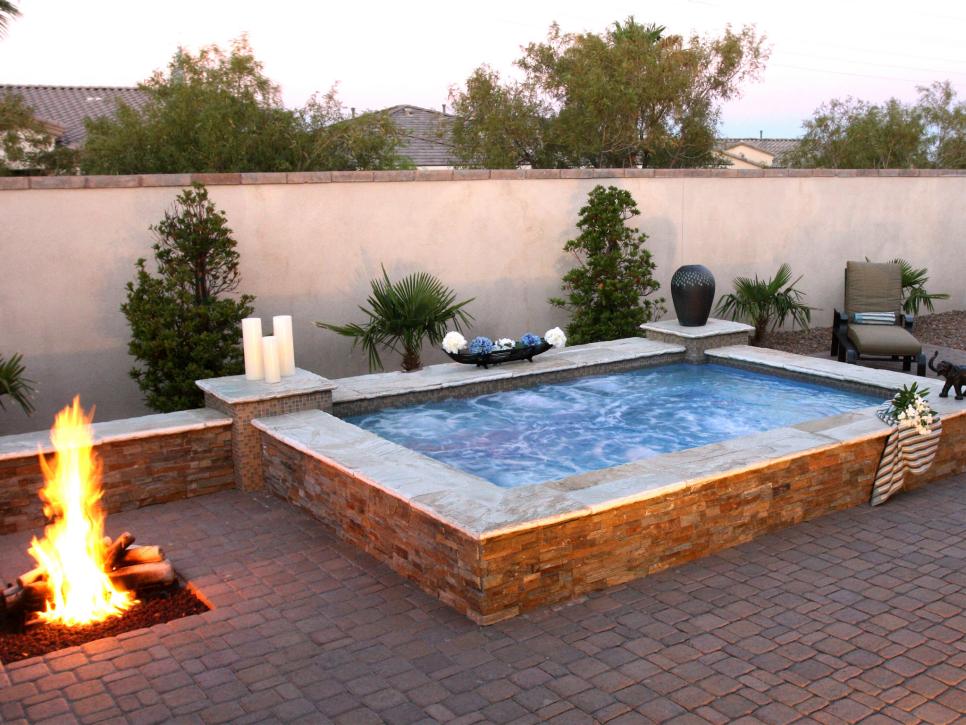 One popular option is having a spa next to a comforting fire pit. This provides a great source of heat if you're using your spa in cooler weather and simultaneously creates a cozy and romantic ambiance. Another popular choice is a heated pool, which is the perfect way to keep warm during chilly nights.
Magical Stone And Fire
Combining natural building materials with more modern lighting is a fantastic choice for a backyard landscape. You can design a fire pit with natural grey stones, for example. The fire pit will add a touch of nature to your outdoor space as the hue of the fire changes.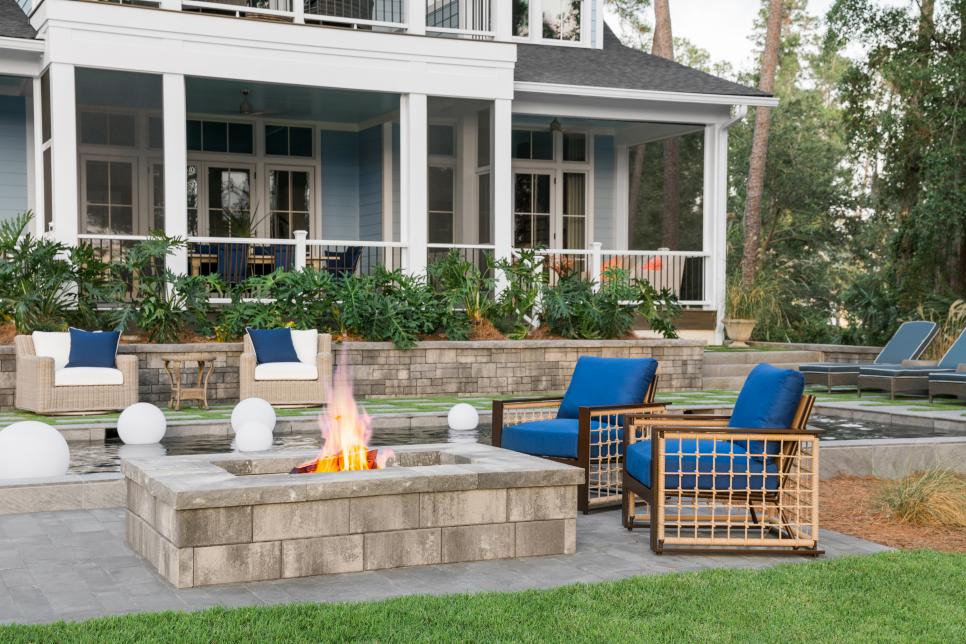 For furniture, choose something bright and bold. Navy blue chairs will provide a pop of color. Also, the stone fire pit requires no upkeep, and as long they are waterproof, the navy blue chairs can be left out without fear of damage.
Fire Pit In A Gravel-covered Backyard
If you want to add an earthy and cozy feel to your home, a gravel-covered backyard with a fire pit in the middle is definitely the way to go. It'll make for a great gathering space and offers any home a touch of laid-back elegance. Plus, who doesn't love roasting marshmallows over an open fire?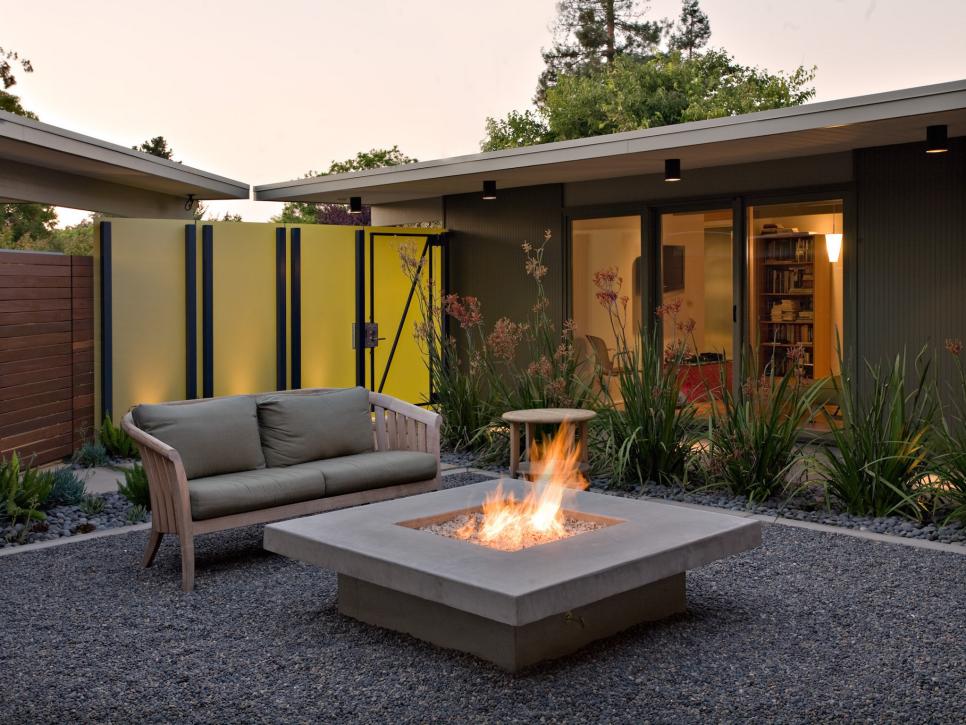 A backyard like this would make you the envy of all your friends. The fire pit in the middle adds a touch of ambiance and would be the main attraction whenever you play host. Don't forget to add a lounge chair so you can relax and enjoy your home's outdoor space.
Garden Fire Pit
A brick fire pit is a great way to upgrade your property's garden. The bricks give the fire pit a rustic feel. It's also great that the pit is circular because it makes sitting around the fire more comfortable and communal.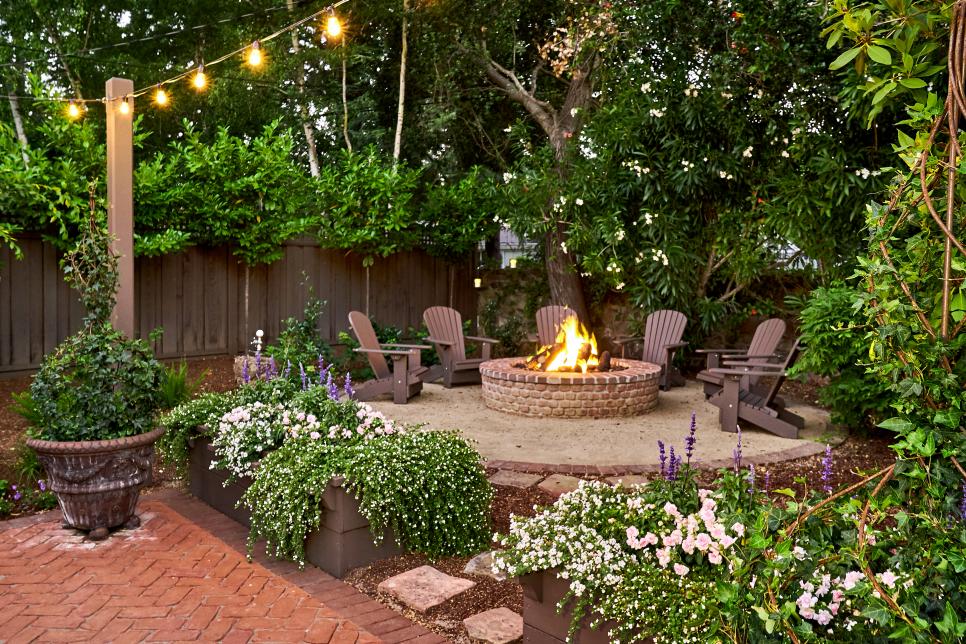 To build this, find a place in your garden devoid of plant life so that the fire doesn't cause damage. Make sure to also clear away any debris and rocks. Then, begin laying your bricks in a circular pattern, making sure to leave enough space in the center for the fire.
Modern Deck
This beautiful and functional fire pit idea is perfect for those who appreciate industrial style and want a communal gathering space. The sleek concrete-and-wood construction is both stylish and sturdy, and the minimalist design ensures that it will complement any decor.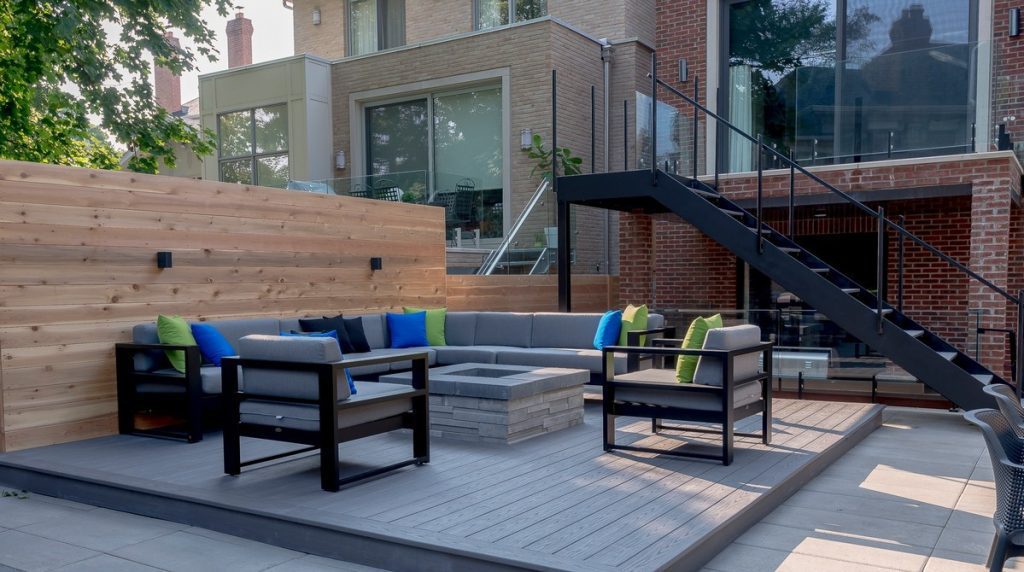 The deck also offers an elevated space for more visual intrigue. The privacy wall provides a measure of safety and security while you're enjoying the warmth of the flames. You can add vibrant jewel-toned pillows and a cozy pouf around the pit to liven up the gray and concrete elements.
Shallow Fire Bowl
A shallow iron fire bowl is a wonderful way for you to enjoy an outdoor fireplace if you're not keen on a big project. It would provide a lovely focal point to your space, and a few semi-circular benches would create cozy seating. Toss in some bright pillows on the benches for comfort.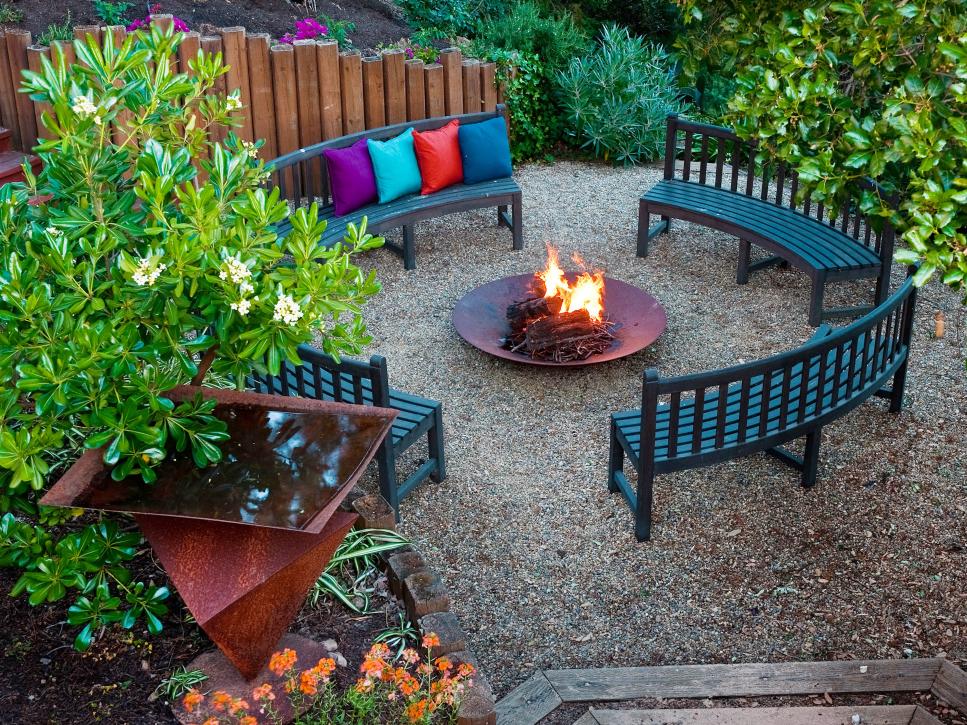 Minimal decor for the backyard will be easy to keep tidy by simply sweeping up any ashes or embers that may have fallen. Therefore, this would be fantastic for busy people who wish to have a calm relaxing area as part of their home.
Tropical Fireplace
Designing a tropical fireplace is all about creating a relaxing atmosphere that reminds you of being on vacation. You want to choose materials and colors, such as sandy tones and bold pops of blue or green, that evoke the tropics. Use an archway or something more like a stone formation for a fireplace.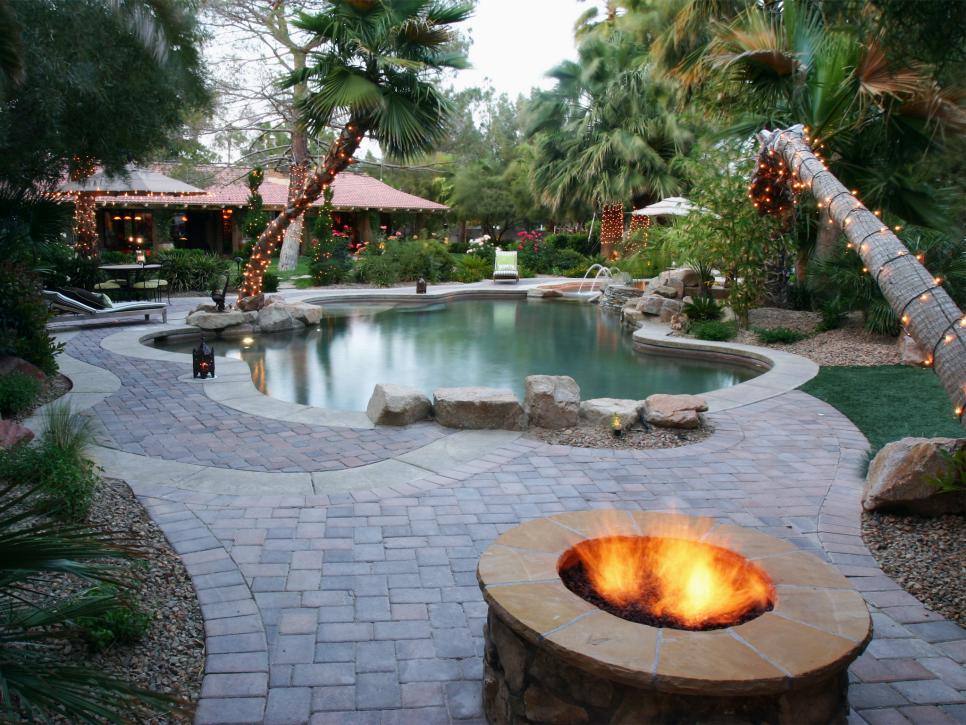 Regarding landscaping, palm trees are an obvious choice to incorporate into your design. But don't forget about other lush greenery like ferns, banana trees, and bromeliads. And, of course, no tropical setting would be complete without string lights. Maybe add a few torches in for good measure.
Low Gas Fire Pit
If you live somewhere with a scenic view, you can install a fire pit by your balcony and enjoy it while you relax by the fire. It would be a great spot to spend time with friends or family, especially during fall when the leaves change color. Barbecues there would also be fun.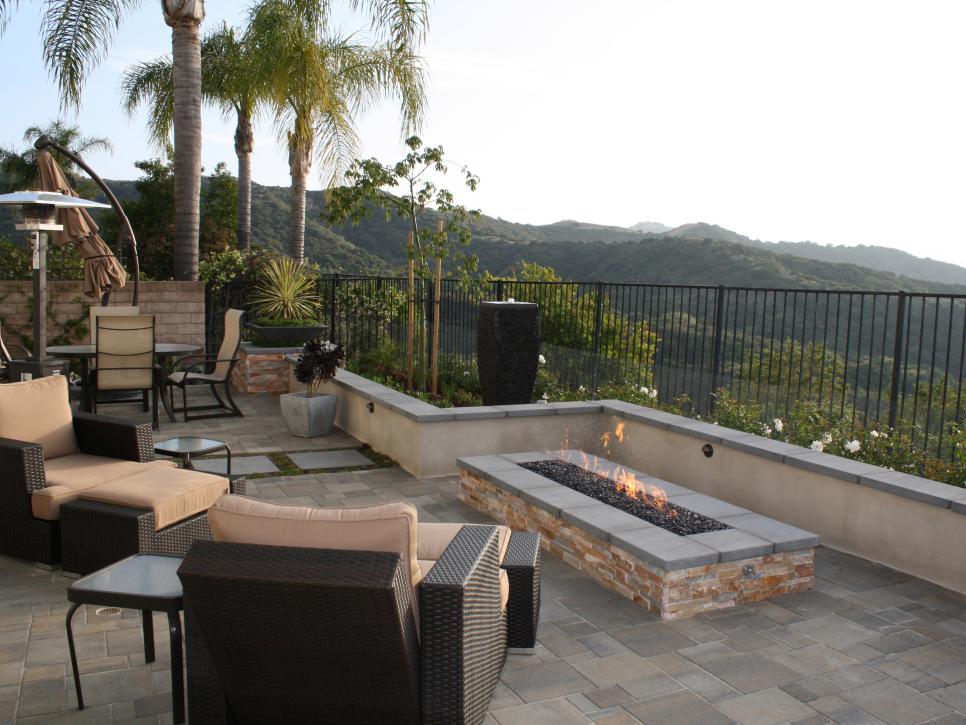 Ensure your balcony is sufficiently protected from the heat of the fire. After all, fire pits and wood don't always get along very well. Make sure to position your fire pit so that you can comfortably sit around it and enjoy the flames.
Chic Modern Pit By The Pool
A fire pit by the pool can be a chic and modern way to add a lot of functionality and ambiance to your backyard area. Ensure that the fire pit is made from materials that are safe to use near water. You don't want any dangerous chemicals leaking into your pool.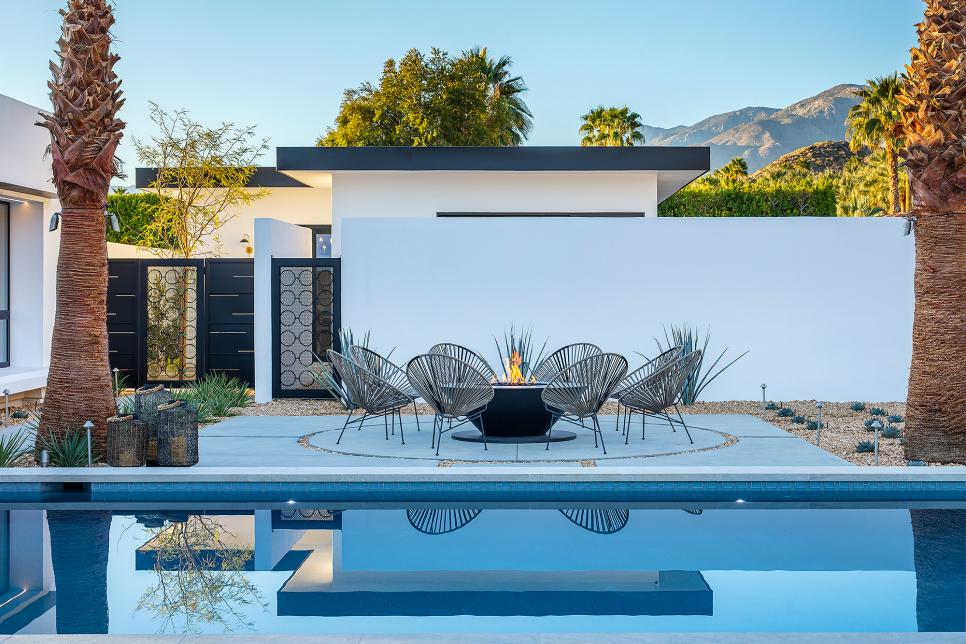 Consider the style of your home and backyard before settling on a fire pit. Also, ensure that the area around the pit is large enough to accommodate everyone. You don't want to have to cram people around a small fire pit.
Minimalistic, Modern, And Primitive Design
There's something incredibly appealing about a minimalistic, modern, primitive design. It's stark yet homey, modern yet ancient. It's the perfect blend of natural elements. This style is unique because you can adapt it to any space, like building a modern fire pit ideal for unwinding after a long day.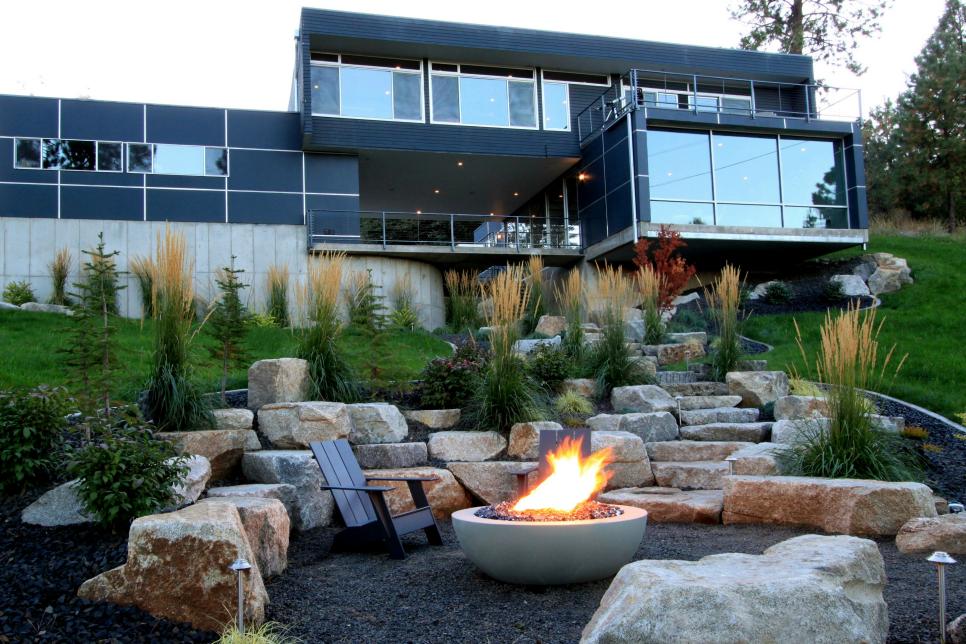 From a large backyard with plenty of room for a firepit to a small balcony where you can place some large stones and call it a day, there are endless possibilities. And what could be more relaxing than sitting around a fire pit surrounded by dark gravel and large stones?
A Custom Cut
This is a beautiful and well-thought-out backyard design! A custom fire pit and sitting area at the edge of a pergola-topped outdoor space is a great idea because it adds a stylish flair to a cozy and intimate outdoor space.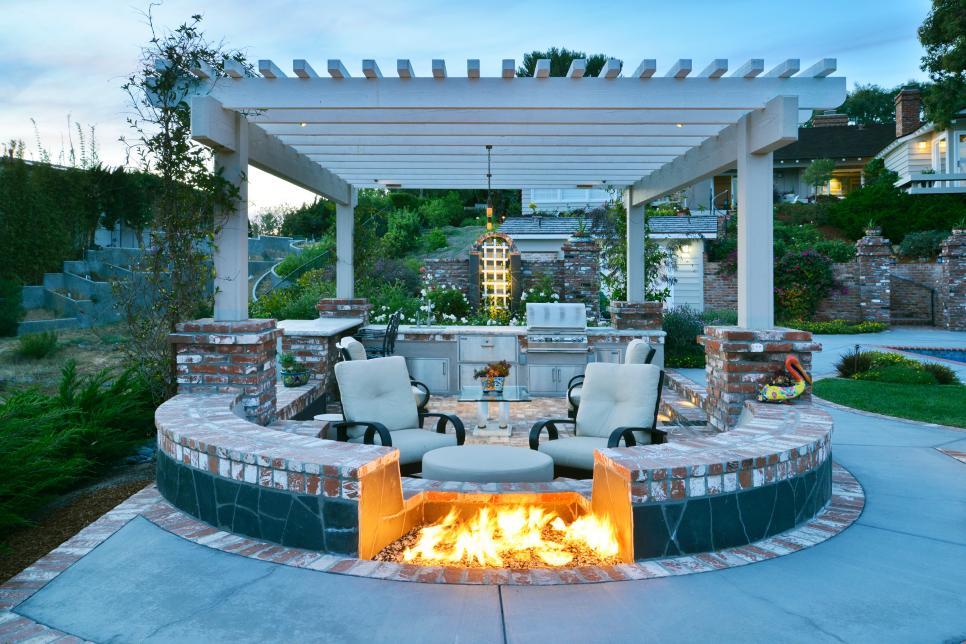 We can imagine spending many evenings here enjoying the warm glow of the firepit while chatting with friends or family. Installing an outdoor kitchen close to the pit is functional and adds to the aesthetics. The various uses of this space are worth the investment.
Low-lying Fireplace
A low-lying outdoor fireplace would be the perfect addition to your patio! It provides a cozy place to gather around and relax, and it can also help keep you warm on those cooler evenings. You'll have a beautiful fire pit right at your fingertips.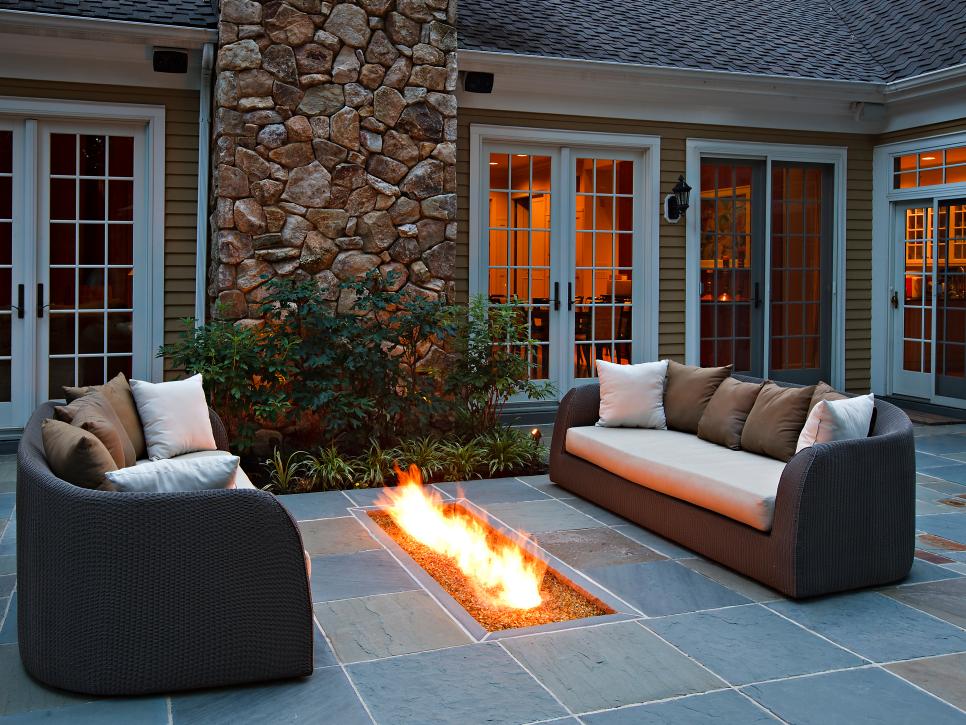 If you have a more traditional patio, go with a classic design out of brick or stone. If your space is more modern, consider something sleeker, like stainless steel. Wicker furniture would be a great addition to this kind of setting.
Fire In The Corner
A fire pit in one corner close to the wall is the perfect way to create an intimate gathering spot for your friends and family. Plus, it doubles up as a source of heat on cold nights. Keeping the pit in the corner will free up space and also amplifies the warming potential.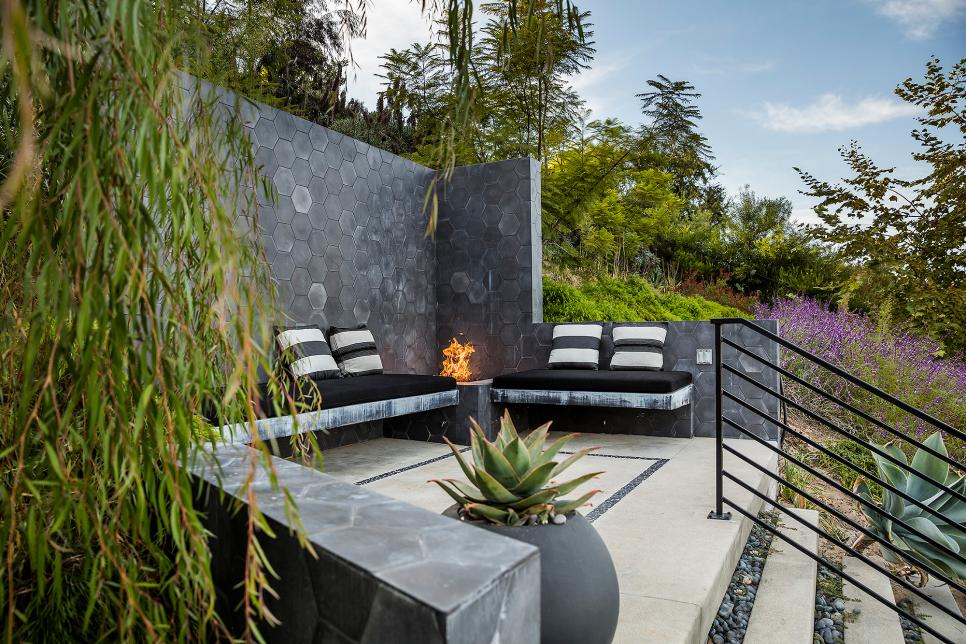 If you choose a model with built-in benches, you'll have a handy place to sit and relax while you enjoy the flames. You can also add some plants and lounge chairs around the pit to make the backyard more accommodating.
Battery-Operated Fire Pit
There are a lot of benefits to using battery-operated fire pits. For one, they're better for the environment than traditional gas-powered fire pits. They also don't produce harmful emissions, so they are great to use in outdoor areas where you want to keep the air clean.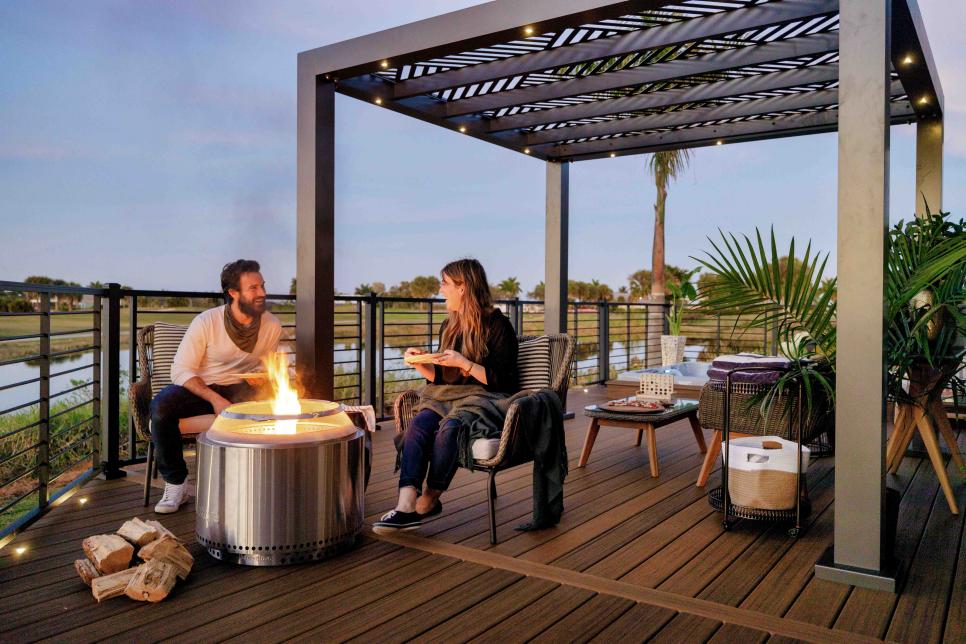 Battery-operated fire pits are also easy to set up and use. You just need to add a few batteries, and you're good to go. If you go camping, you can take the fireplace with you and relax outdoors. They are the future of fireplaces with maximum efficiency.
Oversized White Fire Pit
A brilliant large fire pit is an ideal addition to any summer home. Whether you're looking to add a touch of class to your backyard or just want a beautiful place to enjoy the warm months, this fire pit is a decorative and functional choice.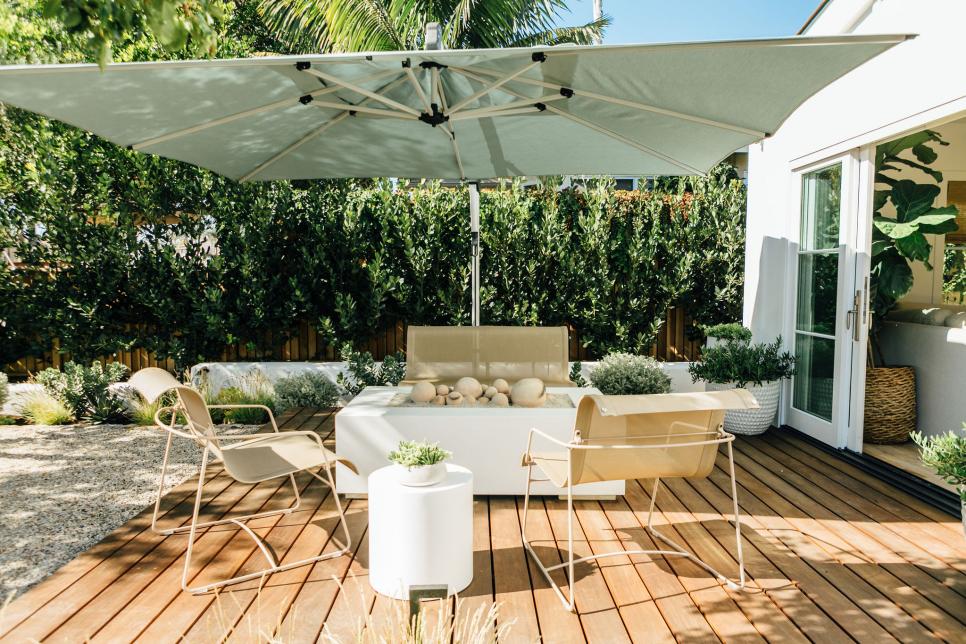 While they can be a bit more expensive than traditional fire pits, they are worth the investment. Additionally, you may coordinate your furniture in the same shades for a modern appeal. Add some plants for greenery and enjoy the ambiance.
Iron Fire Bowl
If you're not ready for the time-consuming task of digging and constructing a fire pit in your backyard, we have a solution for you. A giant fire bowl. These look great anywhere, especially on gravel surfaces, and they add an eclectic elegance without too many tweaks.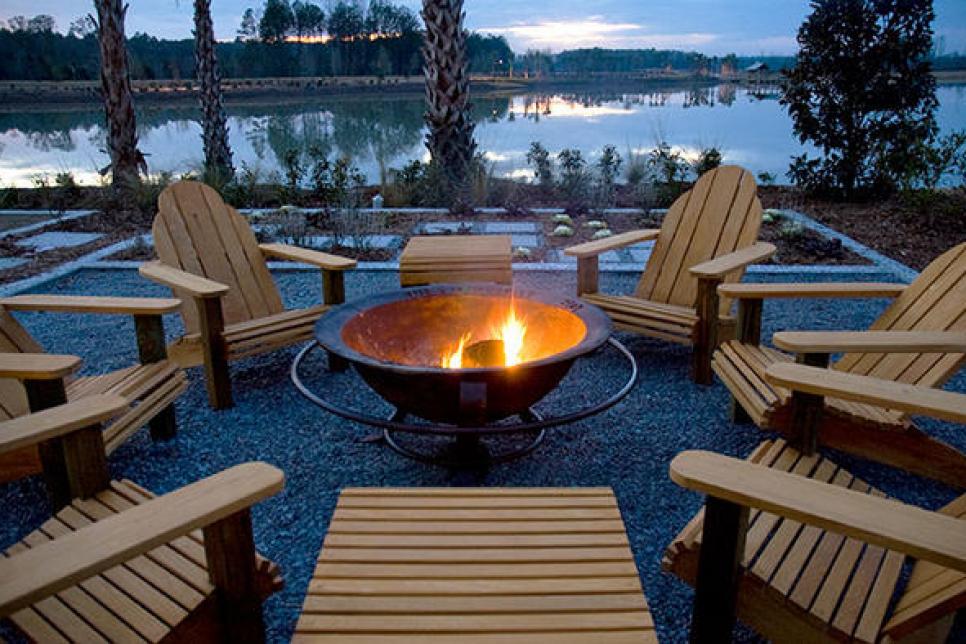 You can select from various designs, like this circular one with a ring around it. Add some wooden chairs around the fire pit in a circular shape for maximum aesthetic appeal. After you're done, you may put your feet up and warm them in the comfort of fire.
Enduring Steel Pit
This is a nice way to add a bit of personality and functionality to your flagstone patio. The raised Corten steel fire bowl would be perfect for roasting marshmallows or hot dogs or simply for providing warmth on a cool evening.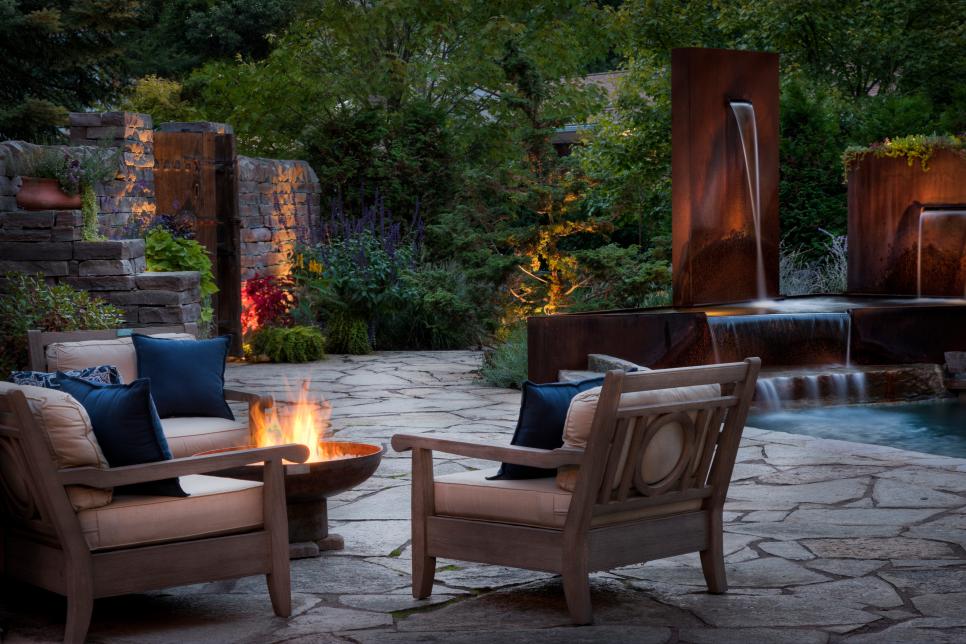 The natural finish of the Corten steel will nicely complement the color of your flagstone. These steel fire bowls are also perfect for a touch of elegance in any outdoor space. You'll need to raise the bowl off of the ground, so choose a spot where you can firmly secure it.
Luminous Graphic Dreamscape
You may like graphic looks and minimal designs for landscaping. However, that doesn't mean you should discount dramatic elements hidden under the shadows. While enjoying the illumination and warmth from the fire, add some soft lighting around the fire pit to add oh-so-much class.
This crisp rectangular fire pit has lights under it to emphasize its angles and add graphic interest. The dark border around the pit helps to define the shape and casts a subtle shadow on the ground. This creates a lovely effect when the pit is ignited.
Centerpiece Fire Pit
Centerpiece fire pits are great in that they are compact enough to fit in any space. They produce a beautiful, flickering flame that will make your guests feel right at home. Plus, they can be a great medium for self-expression.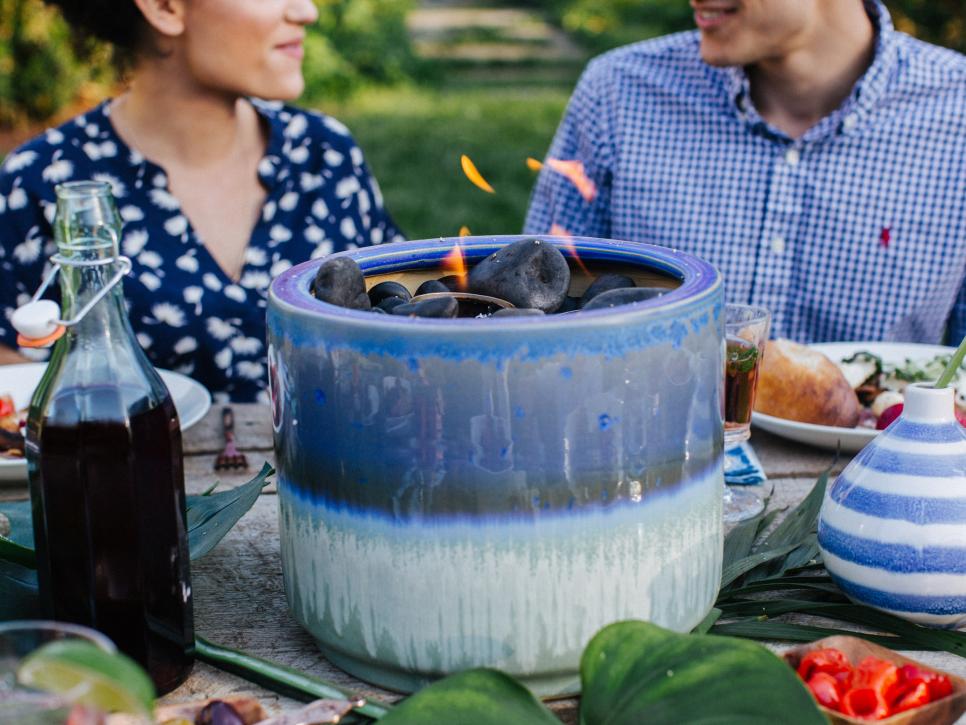 You can never go wrong with these pits. Some, like the one pictured here, are also portable, making them extremely convenient. Whether you opt for a stone design or a sleek steel model, you can be sure that your guests will appreciate its presence.
Drum Fire Pit
If you're not scared of getting your hands dirty with a DIY project, you can make a fire pit out of an old washer drum. You'll need a drill, metal cutters, and elbow grease. First, drill a few holes in the bottom of the washer drum. This will help with drainage and airflow.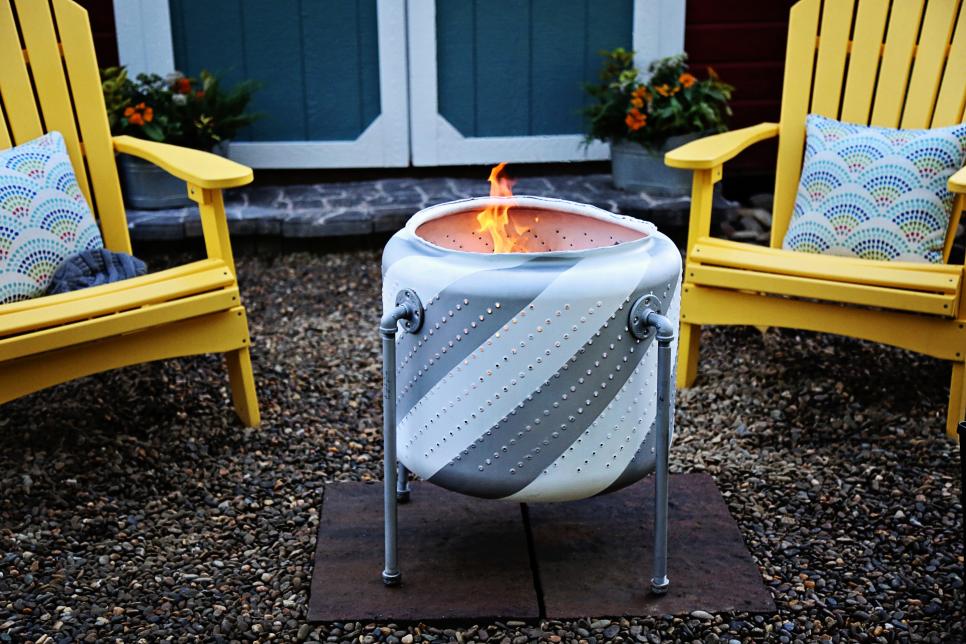 Use metal cutters to cut a big circular opening at the top of the drum. Finally, use a hammer and nails to create a sturdy stand for your fire pit. You may use two stakes or attach legs to the bottom of the washer drum.
Semi-Circular Pit
Playing with different shapes while creating a fire pit will deliver a result that looks magnificent. A semi-circular pit, for example, offers a resort-like vibe ideal for pleasant scenery and comfort while at home. Make sure to arrange your seating furniture around the fire pit.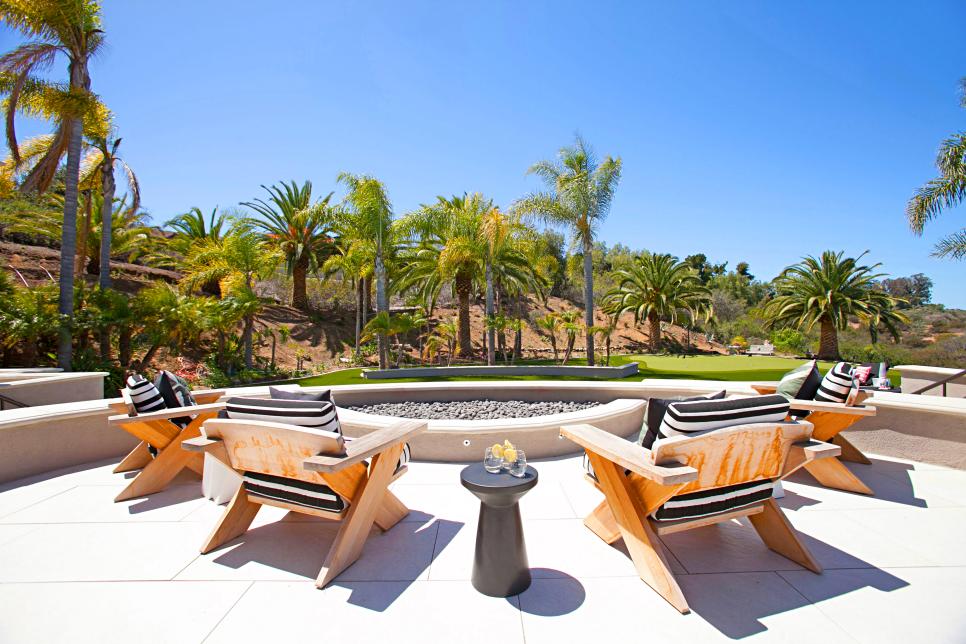 This will give everyone access to the heat and allow for gazing at the spectacular sky as it changes colors during sunset. You may also add a quirky table that will complement the semi-circular fire pit. It's about balancing the dramatic shapes while following a singular theme.
Simple Brick Fire Pit
If you wish to include a touch of rustic flair in your home, there's nothing quite like a fire pit made of concrete blocks and river rocks. It both looks great and is a cinch to make. You'll need concrete blocks as well as river rocks of various sizes.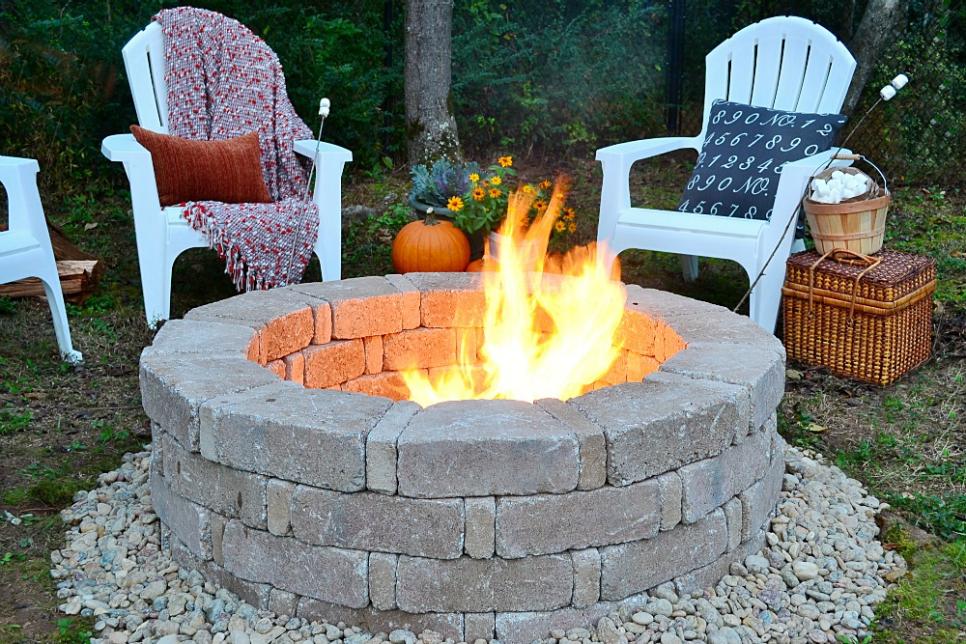 If you want, you may add smaller stones or pebbles for added texture. Once you have all your materials, start assembling the fire pit. Begin by layering concrete blocks, and top them with a layer of river rocks. Use larger rocks around the edge to hold the smaller rocks in place.
Spectacular Western Warmth
Nothing says summer like a flagstone-encircled wood-burning fire pit. After enjoying a fun-filled outing, this would be the perfect way to end the day. Of course, building a fire pit can be a bit of work, but it's worth it for those long, lazy summer evenings spent outdoors.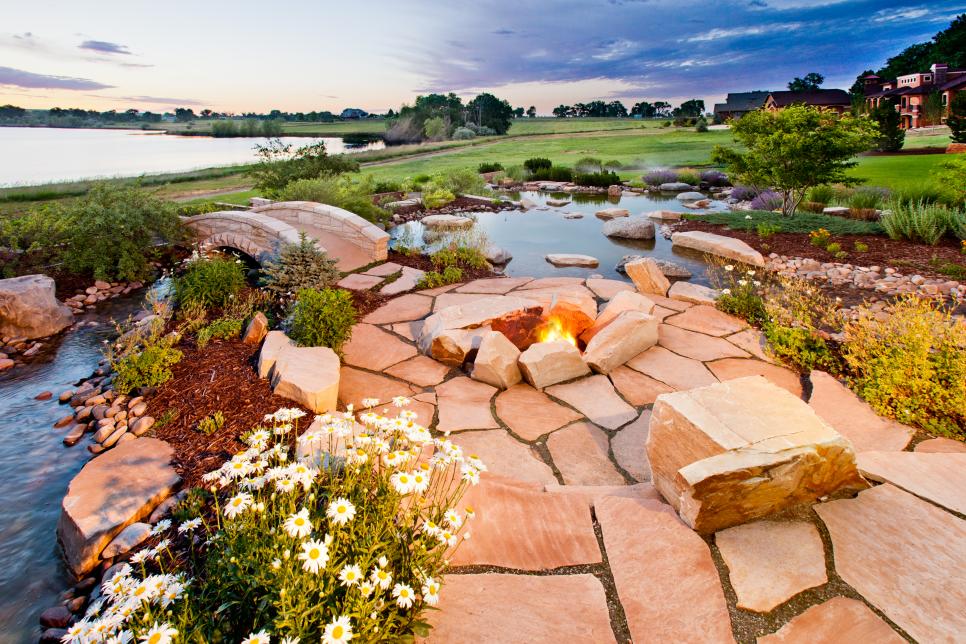 First, you'll need to find a spot in your backyard that's flat and well-drained. If your yard is sloped, you'll want to build up the area around the fire pit so it's level. Next, decide how big you want your fire pit to be, find some logs and surround the fire with boulders.
Fire Pit In A Scenic Hideaway Spot
If you own a luxurious hill country hideaway spot, an equally classic fire pit would be a great statement for your property. This type of fire pit looks amazing, nestled in native vegetation. You can add features of oxidized steel, dark gravel, and a custom sectional design.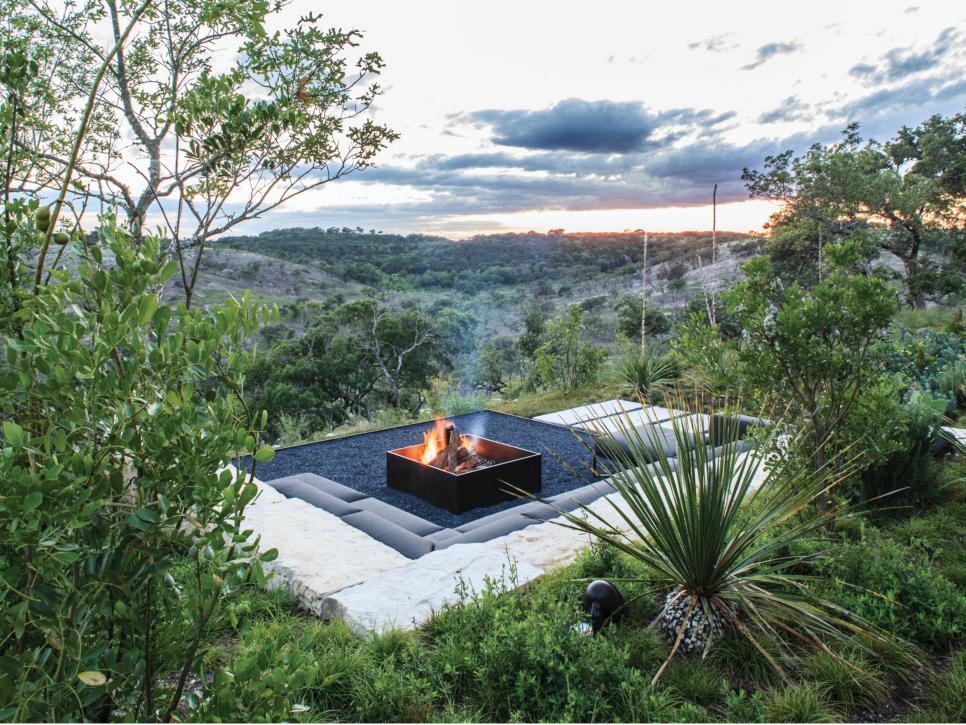 Aside from the picturesque view, this fire pit will certainly add to the appeal of your home. Surrounded by beautiful natural greenery, this is the perfect place to relax with your loved ones and take in all that nature has to offer.
Rectangular Fireplace
If you're looking for a modern, sleek source of warmth, then you might want to consider a rectangular fire pit. Not only are they popular, but they also make great statement pieces. For a more natural look, you might want to choose a material blended with concrete.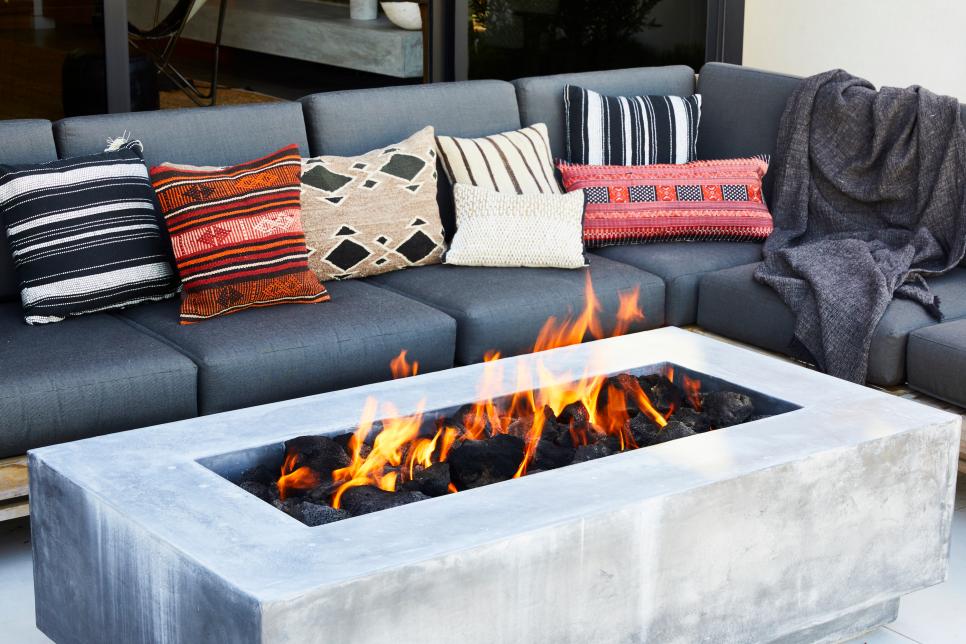 Concrete doesn't absorb heat as quickly as other materials, so it's perfect for a fire pit. The pale color will also complement any landscaping and won't show smudges or fingerprints as easily as other colors. You may add furniture in similar shades for a modern monotone look.
Hexagonal Tiled Fire Pit
Hexagonal tiled gas fire pits are the way to go if you're all about being trendy! They provide a cozy and inviting sitting area that can be enjoyed year-round. And who doesn't love good hexagonal shapes instead of boring rectangular ones? As an added bonus, they're easy to clean and maintain.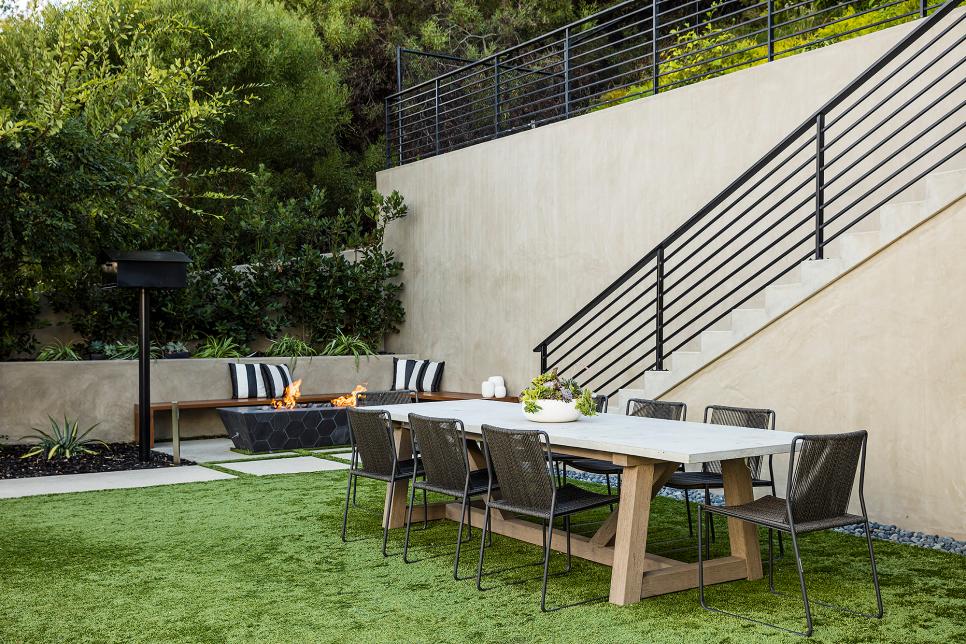 Add some insulation for heat retention, so you'll be able to enjoy your fire pit for longer periods without having to constantly stoke the flames. Relaxation is the goal, and this pit clearly got that memo. Also, consider including a dining area to enjoy meals outside.
Brick And Bluestone Pit
For those looking to add a bit of contemporary flair to their outdoor space, why not consider a brick and bluestone fire pit? With its clean lines and sharp angles, a brick and bluestone fire pit is the perfect centerpiece for any patio or backyard.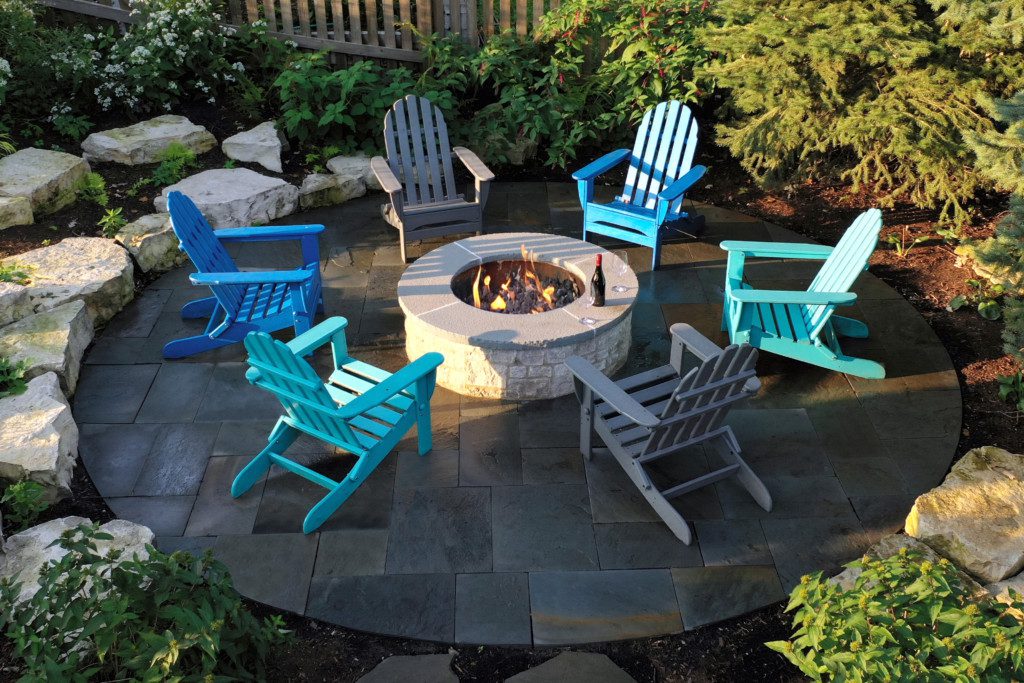 A brick and bluestone fire pit is an eye-catching addition to a backyard. When used in a fire pit, bluestone provides a designer look without adding too much drama to the space. The interlocking bricks give it a clean, sharp impression, while the blue stone adds a touch of luxury.
Firey Escape On The Lawn
A vintage fire pit is a great way to add character and functionality to your lawn. There are several different options for styling a metal fire pit, but one of the most popular ones is the cylindrical design. This type of fire pit will remind you of old-fashioned barrels or drums.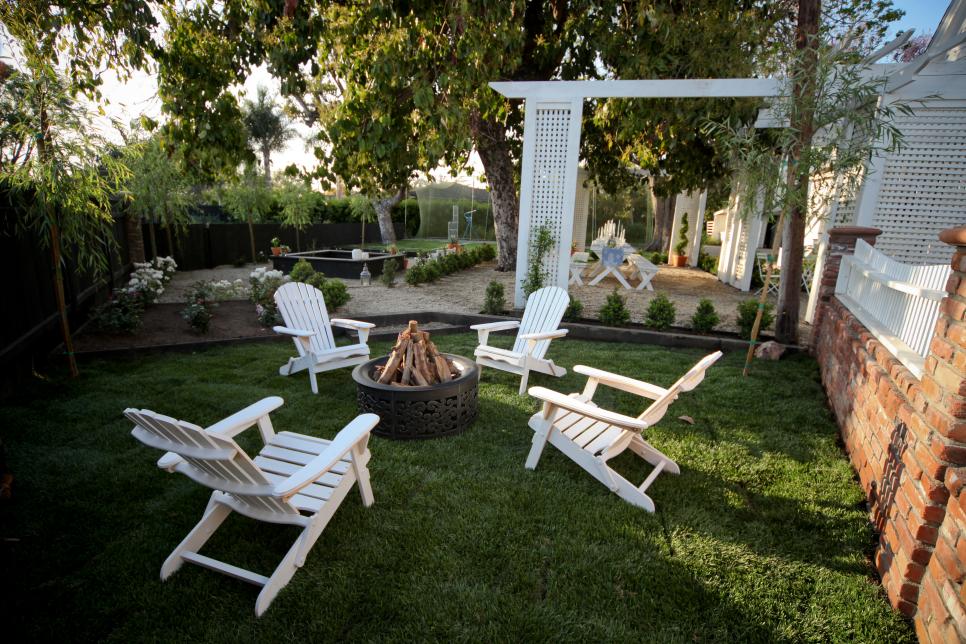 By choosing a cylindrical metal fire pit with a vintage feel, you'll be able to add some extra warmth and ambiance to your backyard. Ensure to place it in an area that's easily accessible and well-protected from the wind. This will keep the lawn grass lush and unsinged.