Dutch Artist Decorates Public Spaces With His Playful Masterpieces
By Jana April 20, 2023
---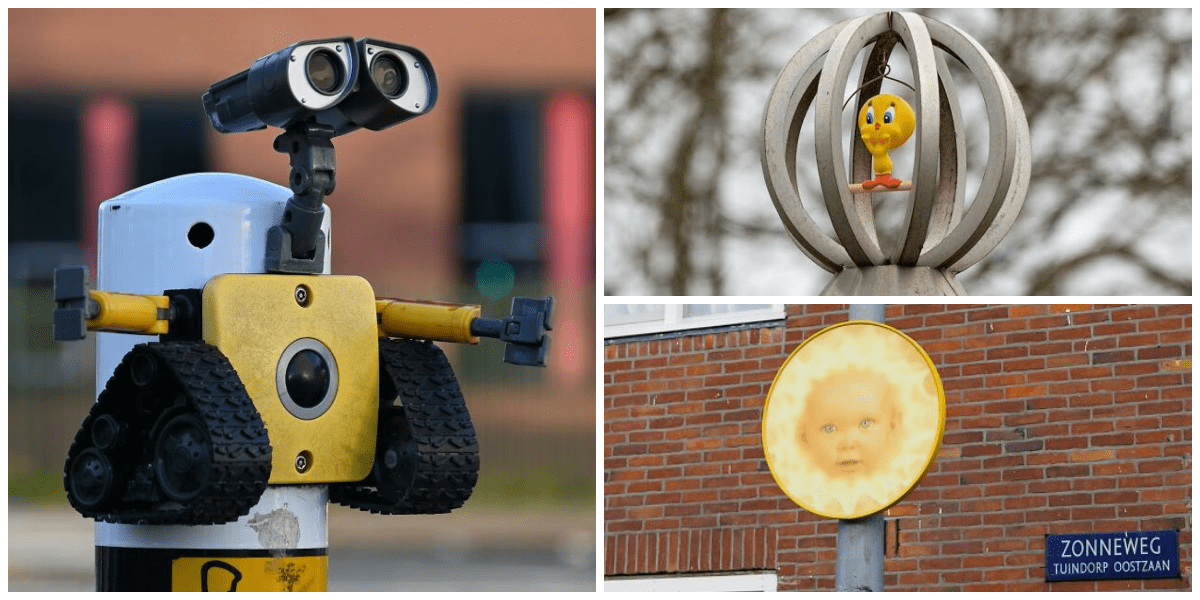 Every day, people come across tiny, miniature masterpieces that they brush off and quickly forget about. What they should be doing more is trying to be present, to be in the moment, and appreciate all those not-so-mundane things. If you do just that, you might spot art in the most unusual places.
Today, we are discussing Frank de Ruwe, better known as Frankey, an Amsterdam-based artist that creates street art using ordinary items in public spaces in his hometown. What he is best known for is his witty take on life, which he encapsulates and represents through takes on public places that know no limits. With his verified account on Instagram, he makes the day brighter for almost 70k people! If you want to be one of them, keep on reading!
All images in this article are courtesy of streetartfrankey on Instagram.
Arc De Croissant
To start off this list, we picked something as light as the image it invokes: a croissant! In case there was any doubt about Frankey's vision, he included a little sign saying"arc de croissant" next to said arc. It is both super adorable and incredibly witty.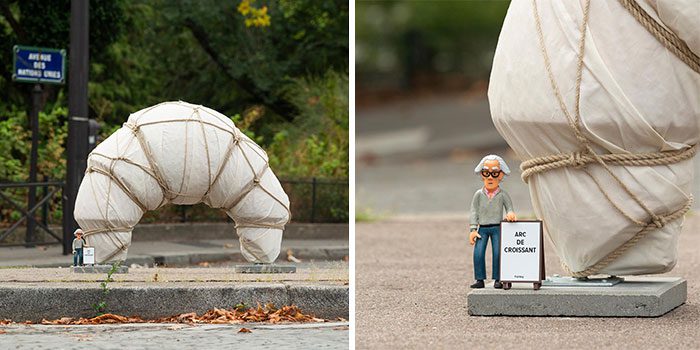 Good eye, Frankey! He saw something utterly ordinary and found a way to make it eye-catching and Instagram-worthy. Those small details are all it takes to put a smile on someone's face. A great nod to the Arc de Triomphe.
Ho Ho Ho!
What once was a boring pipe coming out of the ground easily became an interesting prop in one of Frankey's masterpieces. Now, tourists and locals alike take time to swing by this innocuous corner in Amsterdam. Take a look at what has everybody talking: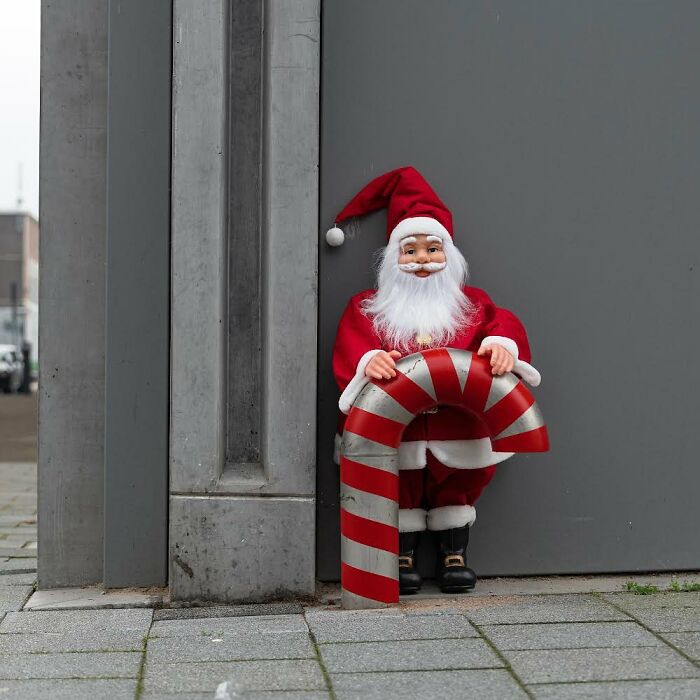 Why let a pipe boring and gray when you can decorate it in an eye-catching way and make the holidays a bit more jolly?! Kids are certainly loving it, and, who knows? Perhaps it made some adults believe in miracles once again.
Giraffe Sees Everything
Giraffes are majestic animals. Though their massive necks allow them to overshadow every animal they meet, they're actually quite harmless. Have you ever seen a lanky giraffe drinking water from a puddle on the ground? It's the funniest, most Bambi-like thing ever.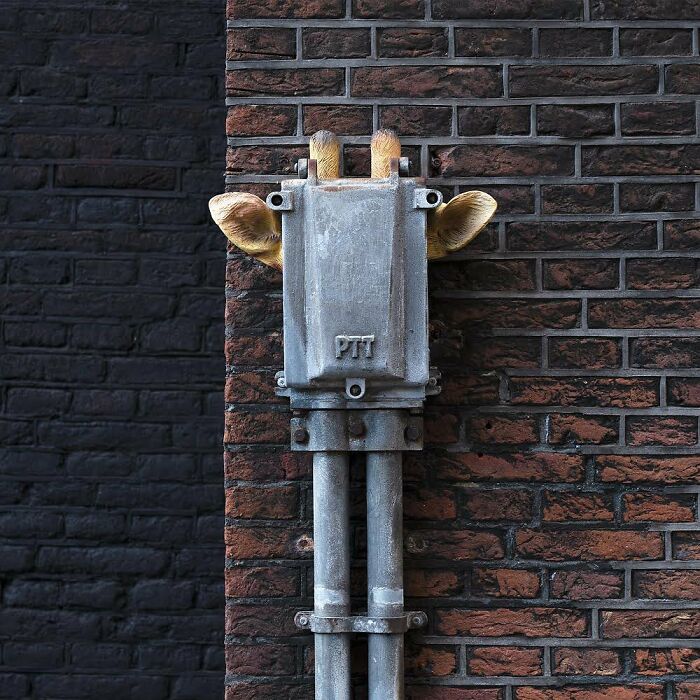 The only thing is its eyes… We can't get over how derpy they look. Giraffes have gorgeous, cow-like eyes and eyelashes. They are big, glossy, and pretty. These spaced-out eyes, however, resemble Sid from Ice Age, which isn't particularly flattering.
When Pigs Fly
Most of the time, when someone says "when pigs fly," it means something will never happen or it's an impossible goal. However, Frankey is there to prove everyone wrong. Pigs can fly. Haven't you heard? They do so in the Netherlands!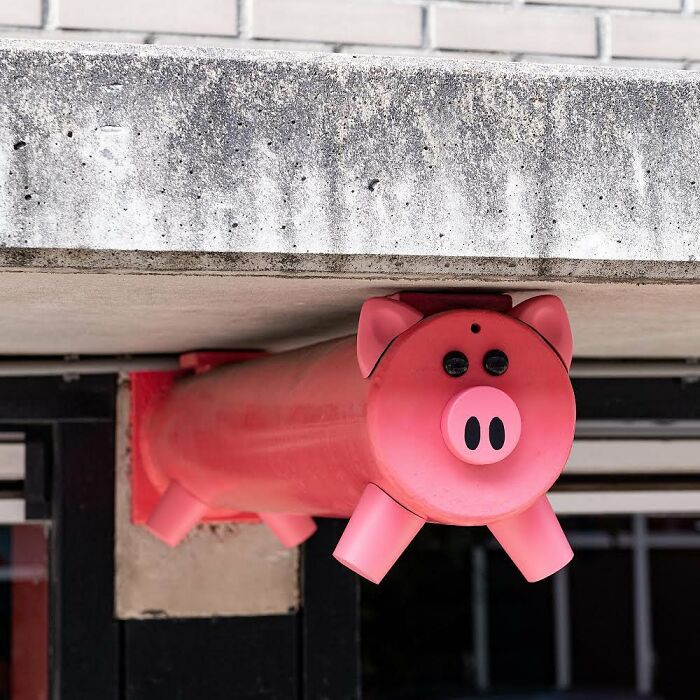 This is one of those small details everyone is going on and on about. And this art makes a big difference. Being a world-famous city is not enough to steal the hearts of all. Sometimes, it takes a bit of silliness and goof.
Mary Poppins is Poppin'
Mary Poppins was a big part of many childhoods, and she taught children a lot about having fun and being responsible at the same time. The beloved tale even got a reboot in recent years, and we're here for it.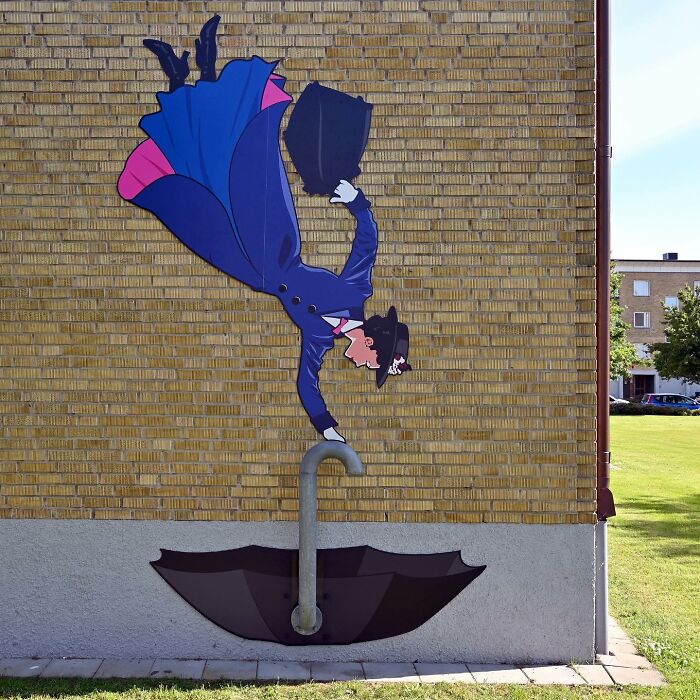 Frankey is back at it again with an eye for detail. This is no longer a boring pipe; it's an umbrella handle that the governess can hold onto as she totes her magic bag in the other hand. These small pieces of culture are what make this world go round.
The Rock
This is a great piece of popular culture art—if it is art to begin with. However, who can truly decide what art is and what isn't, at the end of the day? It is always up for debate, and essentially, there are no wrong or right answers here.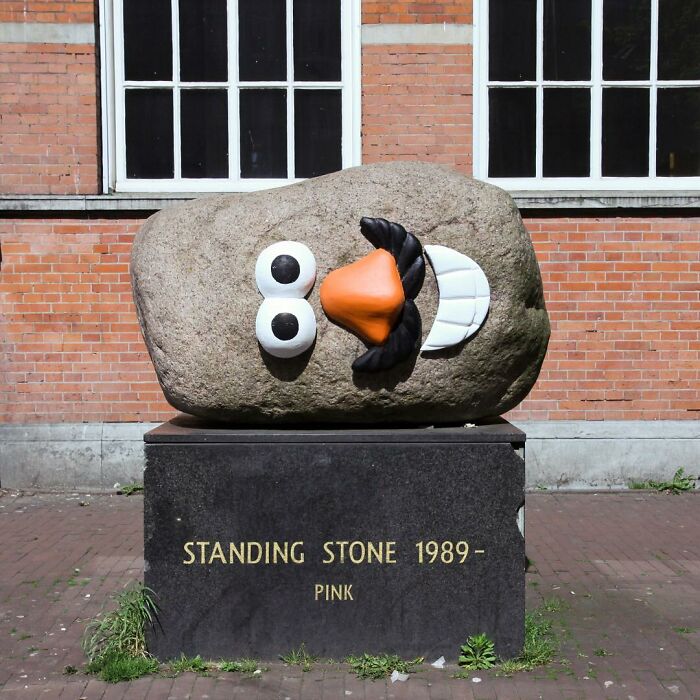 The presence of the stone is confusing, and Frankey's artistic vision makes us scratch our heads. Mr. Potato seems to have fallen over. Now we have a hard time seeing this as a standing stone. To us, it looks like it fell over.
It's an Elephant!
Imagine walking around the Netherlands, just lazily roaming the streets, and getting this wonderful idea! It's the good old "using the street pipes to make them more interesting and blend them into an artistic expression" thing Frankey is so good at.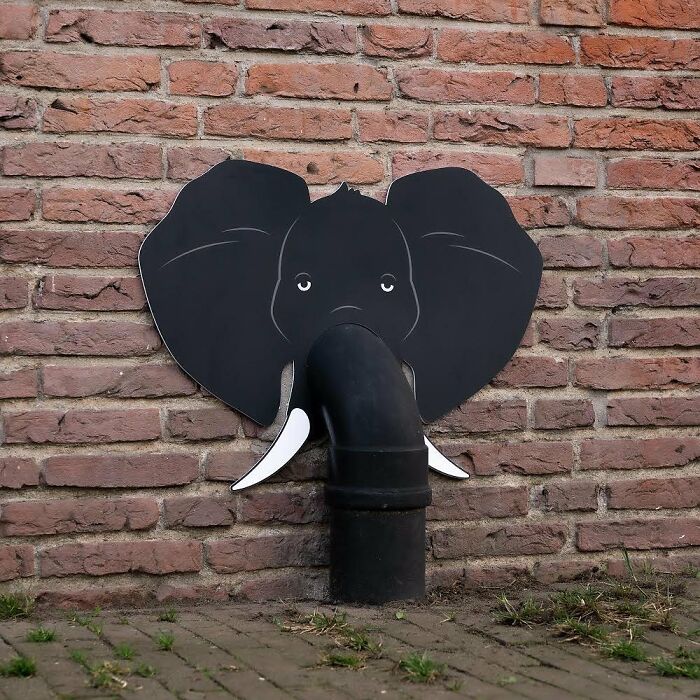 Hi, little elephant; how do you do today? This is not drawn on, which can come as a bit of a disappointment to some. Regardless, it's actually pretty smart. If it were painted, it would get worn off quickly on a not-infrequent rainy day.
Don't Litter!
Sometimes, it's hard getting through to people and making them quit their appalling actions. One of those things is littering. There is nothing worse than seeing trash in a wonderful forest, park, or river. It's a disgrace. Thankfully, Frankey had an amazing idea:
We can almost hear his inner dialogue, "Oh, you are probably not aware how what street trash cans look like, one second, lemme just turn them into trash cans you see at home so you can recognize them more easily. Now, if you continue to litter, it will be even more embarrassing."
This Fox is Fly AF
Animals sometimes have more style and drip than humans do. Art is a great way to express that and show the world how much swag they can hold. And since art is a universal language, even people who don't speak Dutch can understand Frankey's message.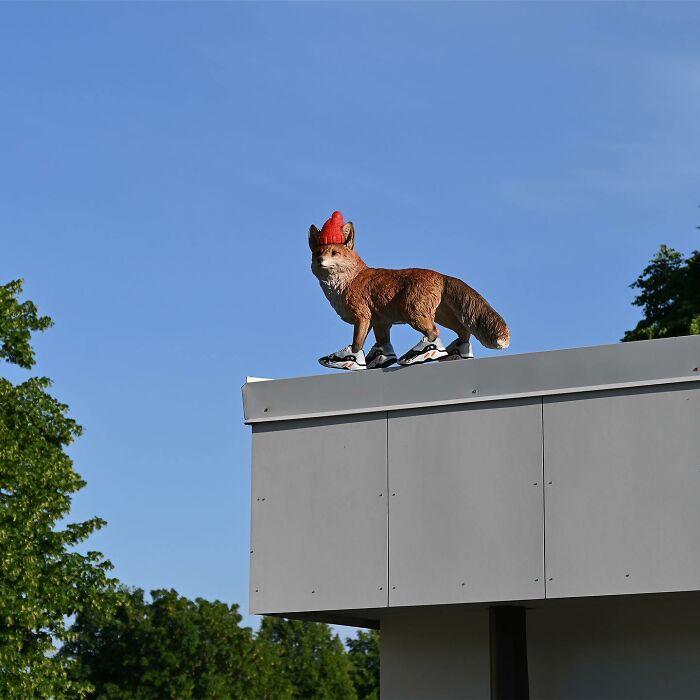 This fox is ready for winter. It's good, ready to go with its hat on and two pairs of some drippy shoes. This sight can easily escape people since it's at the top of a building. How cool would it be if they sold sneakers there?!
Issa Me, Mole!
Do you know what can make a pile of dirt on a pristine lawn look good? Just add a mole at the top of that dune. If you don't beleive us, one simple photo from Frankey's Instagram page can change your mind.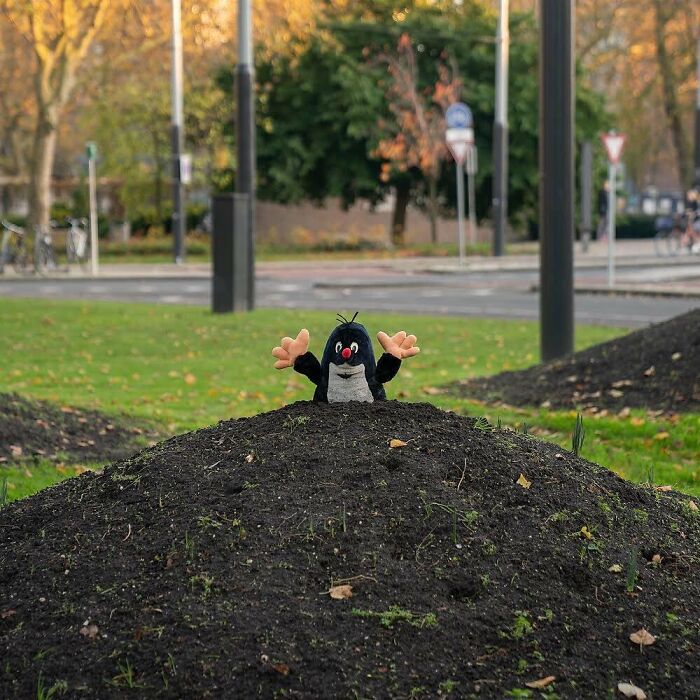 It's not real, of course, but there is no harm in pretending the moles dug up the little hill. It will definitely make a walk through such an area much more interesting and thoughtful. The kids will be amused as well. What a little gem.
At the Dentist
This dinosaur and a tiny man remind us of going to the dentist and them insisting we open our mouths. We can almost feel the prying fingers that we'd rather bite and run away as far as we can. Alas, that's not possible.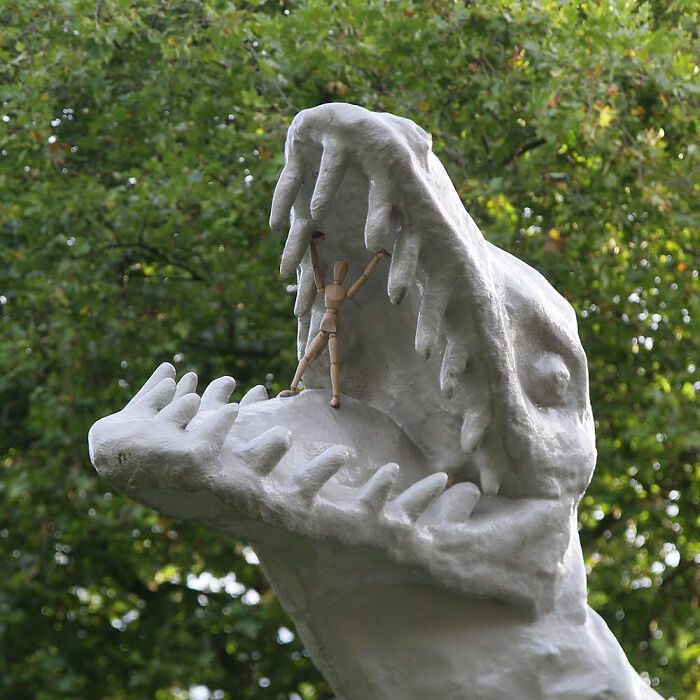 That tiny man is a dentist yelling at you: OPEN YOUR MOUTH! The dinosaur is us trying to reply and simultaneously resist, shouting back: I CAN'T OPEN THEM NO MORE! MY JAW HURTS! At least now, we have more appreciation for vets when they need to do dental work.
Chip and Dale
They're no Mickey Mouse, but those adorable little chipmunks, Chip and Dale, are two of the cutest little rodents to grace our screens. Those cartoons were the jam! We loved watching them and their antics. And it seems Frankey did, too.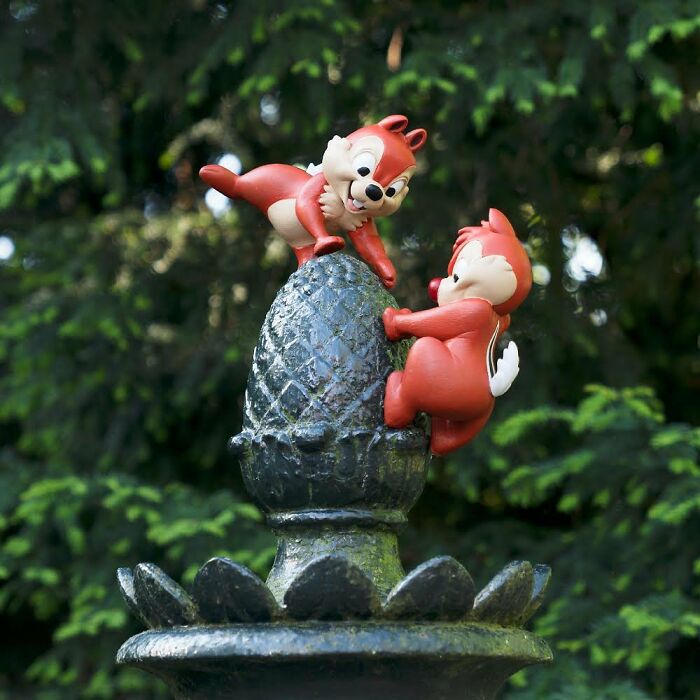 Chip, the one with the black nose, is a bit smarter and wittier, whereas Dale, with the Rudolph-esque nose, is the goofy, silly brother. Sadly, that also meant he was the scapegoat most of the time. Hopefully Dale doesn't get in trouble for vandalizing this fence.
Lunchin' and Munchin'
The famous photo Lunch atop a Skyscraper is one of the most memorable and culturally significant images that capture the formative years of New York City. And it seems like the Rockefeller Center has a sister building somewhere in the Netherlands.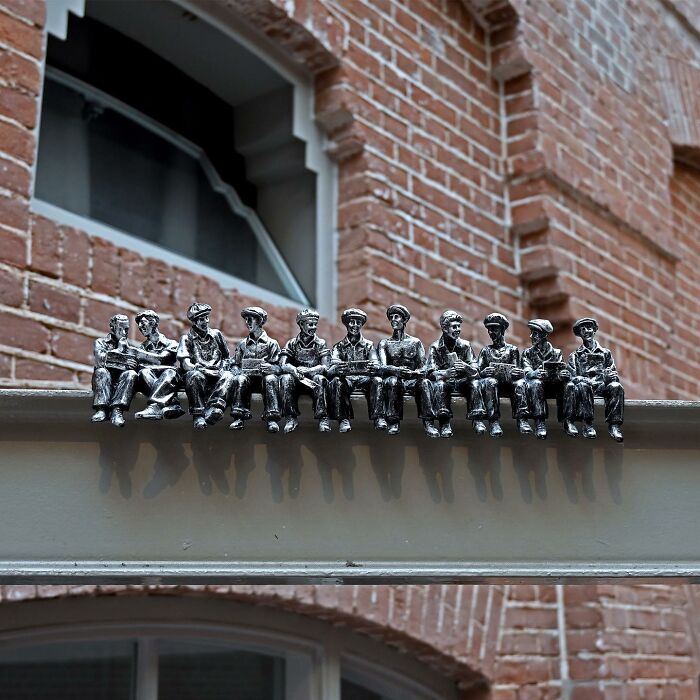 The famous picture is not of kings, politicians, or empires but of the regular working man. It is a beautiful and nostalgic moment that Frankey captured perfectly in his mini re-creation of the eleven workers sitting above Manhattan in 1932.
Tweety!
It's been a while since the last time we saw Tweety! That little birdie was a huge part of our childhoods. Everyone had Tweety-themed bedding, and there was no exception whatsoever. He's a cute chick, and he's cheeky; what is there not to love?!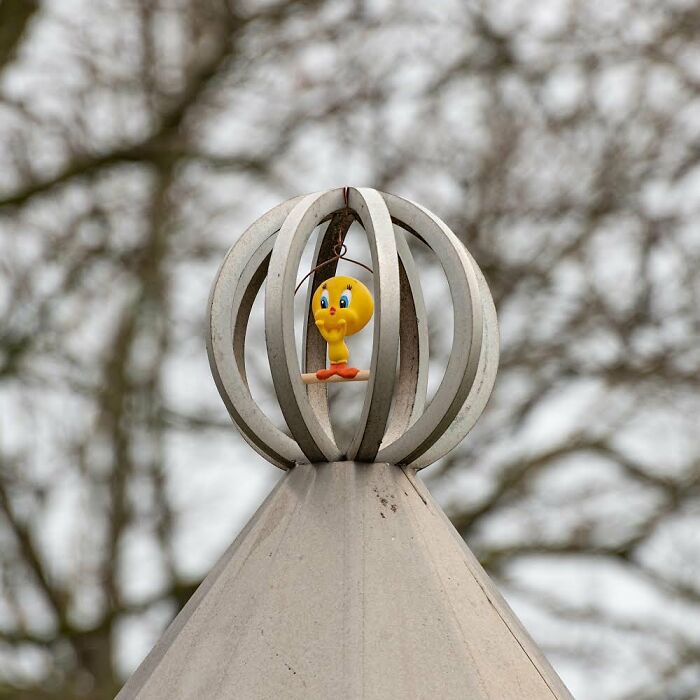 Oh no! Tweety's been captured! Or is he there on purpose? We presume this is at the top of some kind of a dome or a fence. It looks adorable. Now, all this Tweet Tweet needs is Sylvester for him to mess with.
Is Doge
We bet you've all seen a fair share of animals featured in street masterpieces. If you've been enjoying the ride so far, it's only going to get better since Frankey has plenty of art to share with his audience. Worry not, friend; he's got you!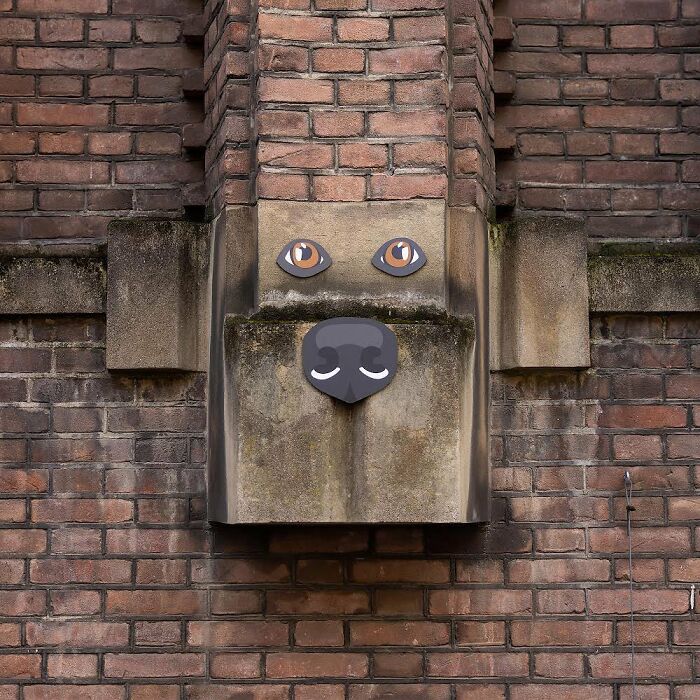 Dog people are the most spread type of people on the planet! Needless to say, a lot of tourists and locals were happy to see this little doge surface on one of the walls of their beloved city. What a nice, happy, tail-wagging surprise!
Na-Na-Na-Na-Na-Na-Na-Na BATMAN!
One of the most popular superheroes (sometimes anti-hero) in the world is Batman. He is usually a favorite among the young adult audience. Spider-Man is a goofy teen, Superman is an oversimplified, buff guy, and Batman is a hero from the shadows. He's mysterious and powerful.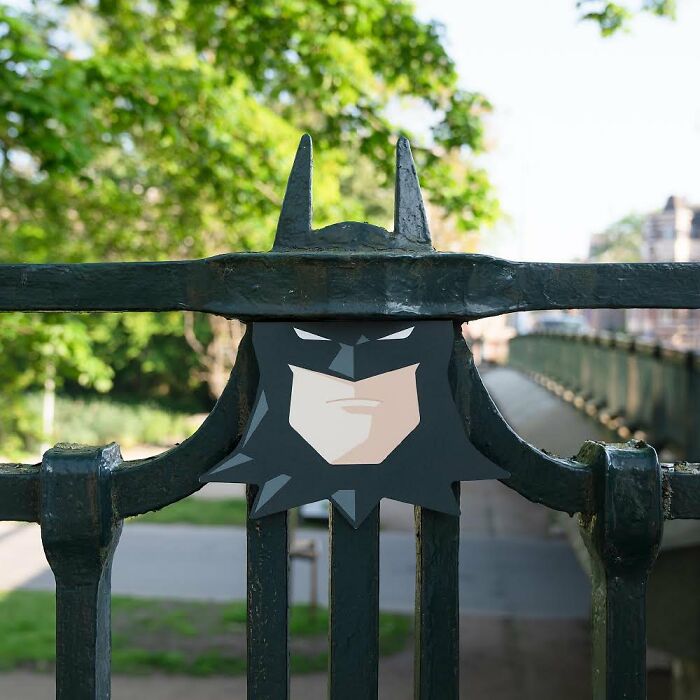 He has a certain darkness about him; a gloomy aura that young adults can relate to. It is impressive how his head fits right into that part of the fence. It's such a little gem, and you can easily miss it. Luckily, Frankey has a keen eye.
Gotcha!
Watch out! The mimic is lying in wait for foolish adventurers to walk into its trap. We thought we were safe from the monsters in Dungeons & Dragons, but Frankey is here to remind us that there's magic in the world.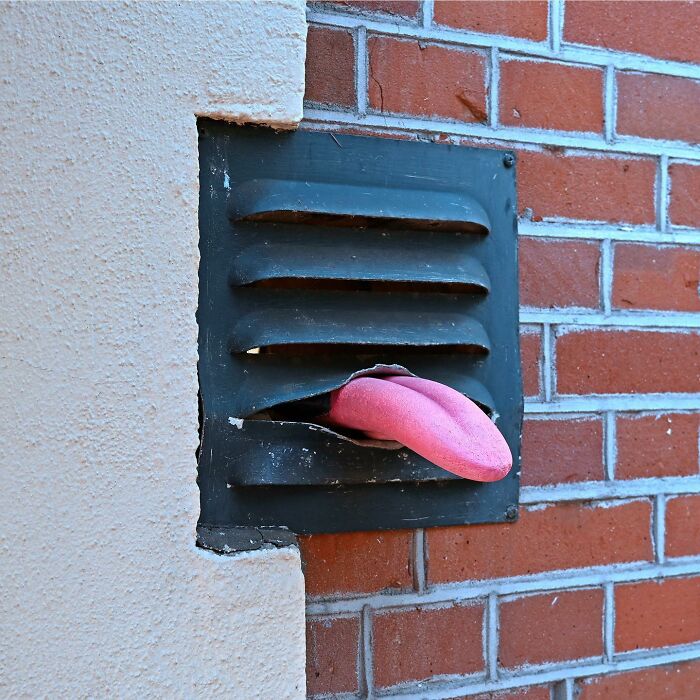 We can't help but wonder if Frankey bent the metal or if he is just an opportunistic artist with an eye for detail. Not that it matters, though. It probably doesn't affect the vent, and we're sure this little gem makes passersby delighted.
Chefin' It Up!
This one is simply cute and wholesome, so we had to make sure it made it onto our list today. Why have a boring ventilation pipe come out of your restaurant when you can have Chef standing guard while you're busy in the kitchen?!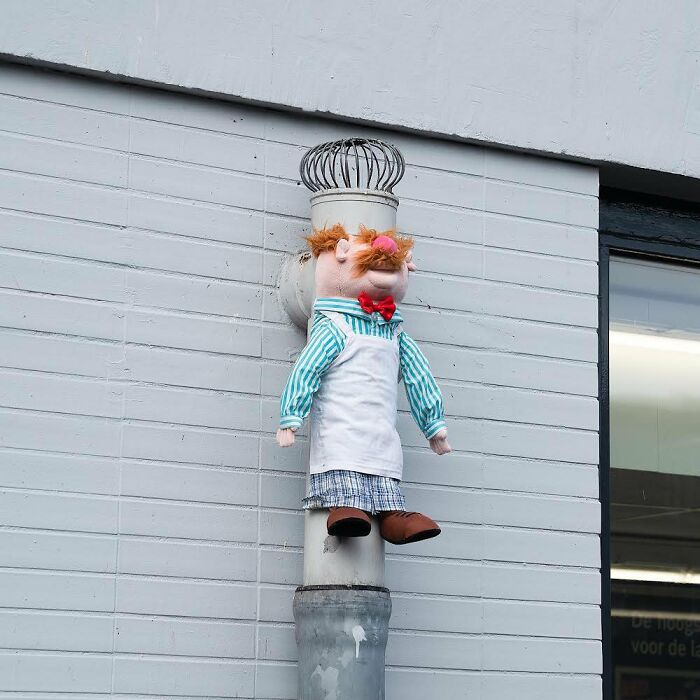 Though he's stuck, Swedish Chef seems happy to chill up there. After all, he's graced with the sweet and savory scents coming out of the kitchen. Plus, he looks rather dapper in that shirt with a bowtie. We love it!
Pigeon With a Hat
Although we are not huge fans of pigeons, aka rats with wings, we can still acknowledge that his pigeon has more drip and fashion sense than 90% of people on this freaking planet! It knows how to accessorize and make those feathers really pop.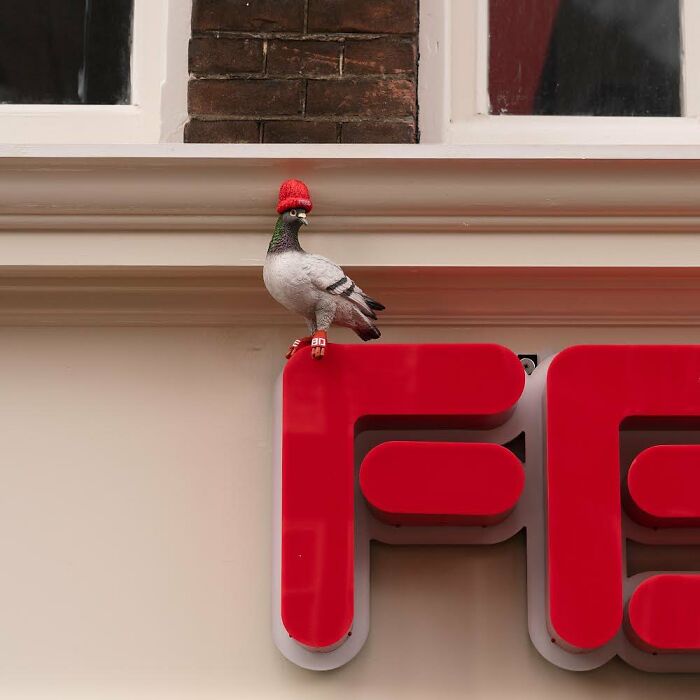 It has the best-looking cap anyone has ever seen! And if we're not mistaken, it's rocking some awesome legwarmers. God darn it, It's adorable! We have to admit that, although our hatred towards them is never ending, the cuteness of this statue is overwhelming.
Despicable Mi(nion)
Despicable Me is not only for kids—change our minds! It's a good animated movie with some cute moments and some despicable moments. The delightfully devilish Gru has a character arc that's beautiful and wholesome. What's there not to love about it?!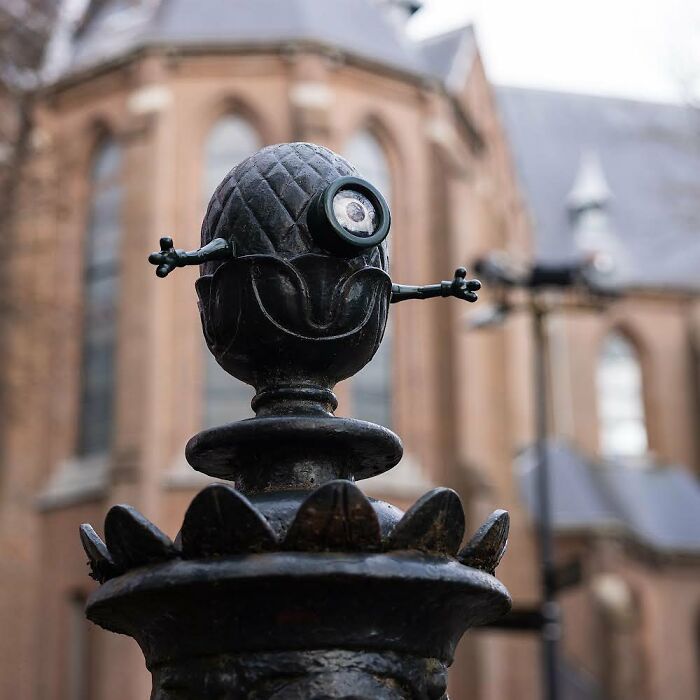 Look at this little, cheeky Minion completely glued on the iron fence. Frankey is a pro at turning ordinary objects into iconic cartoon characters. With just an eye and two stick arms, the decorative pole became a silly Minion ready to greet the world.
Teletubby Sun
This must be one of the more mysterious and questionable parts of any TV show there ever was. Although Teletubbies were at first intended for kids with some psychological and mental health issues, other kids loved them, too, and it became a childhood classic.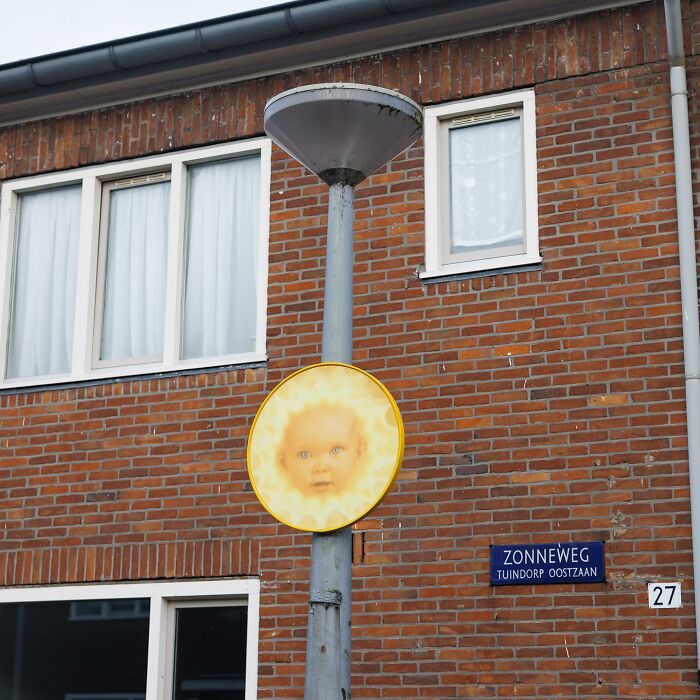 What's funny about this is that the street is literally named Sun/Solar Way/Street. Frankey decided to use this iconic baby face to depict that. We just hope everyone in that street understands the reference, or it's gonna get even weirder.
Ice Cream Drop
Those disgusting cement round balls along the sidewalk are sometimes necessary, yeah. They prevent cars from going on the pavement or big from vehicles trespassing, but, come on, they look awful. If you do something creative with it, though, it's a whole other story.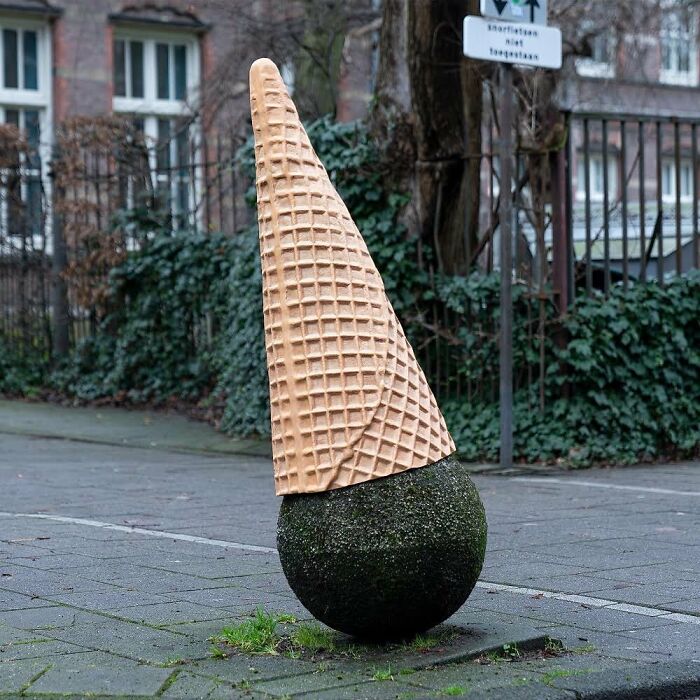 Now this, this is art! It's such a simple thing to do, yet it brings a completely different dimension to the dull object! Adding an ice cream cone to that spherical stone is such an intelligent idea; we are bewildered! Great catch!
It's a Pier Guy
Amsterdam is famous for many things, including the maze of canals, so it's only fitting that we include a few water-themed works of art. The first one is a little guy standing on the pier. He is almost unnoticeable, yet irresistibly cute.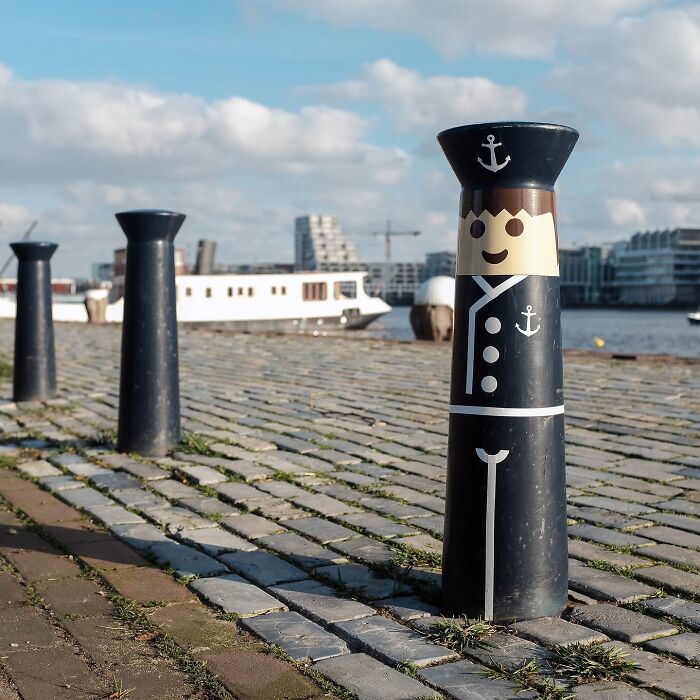 We imagine his name is Piere—get it? Cause he is on a pier. Hey, we're not ashamed of our silly puns. He resembles LEGO blocks, or rather, the art style and design resemble LEGO, but without the whole blocky image. This is more (well) rounded.
Make it Make More Sense
Home repairs are the worst. It's visually unappealing, but you need to have money, time, and reliable workers to fix it. If you don't have any of that, you can take a page from Frankey's book and turn your crumbling wall into a work of art. Take a look: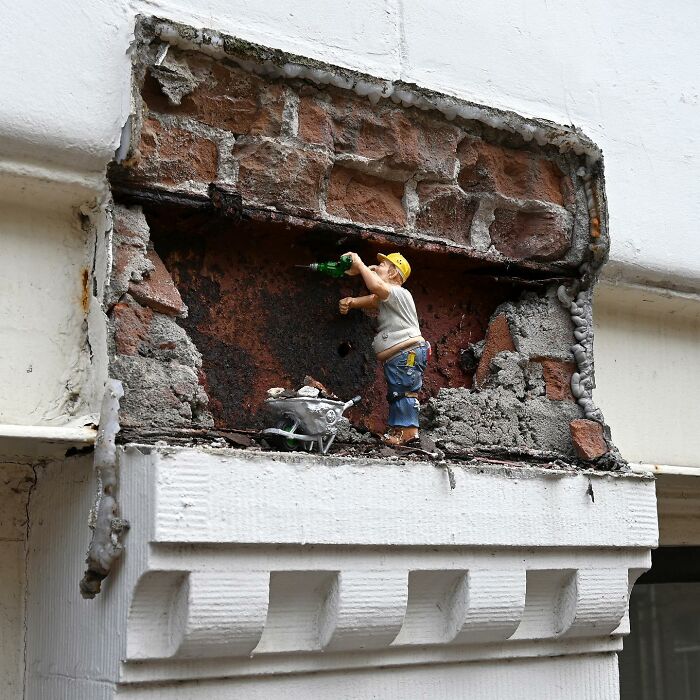 Strong hail destroyed your decorative wall? No problem! Put a tiny man with a well-stocked toolbox and a pile of pebbles and you've got a stunning decoration that will make everyone stop, stare, and laugh. It's so cartoony; we adore it!
(P)izza Crane
We will never stop with these title puns; they are too much fun. Although our readers may get sick of us, we can't help it. Sometimes, puns get out of hand, and we can't do anything about it. It's just too strong of an urge.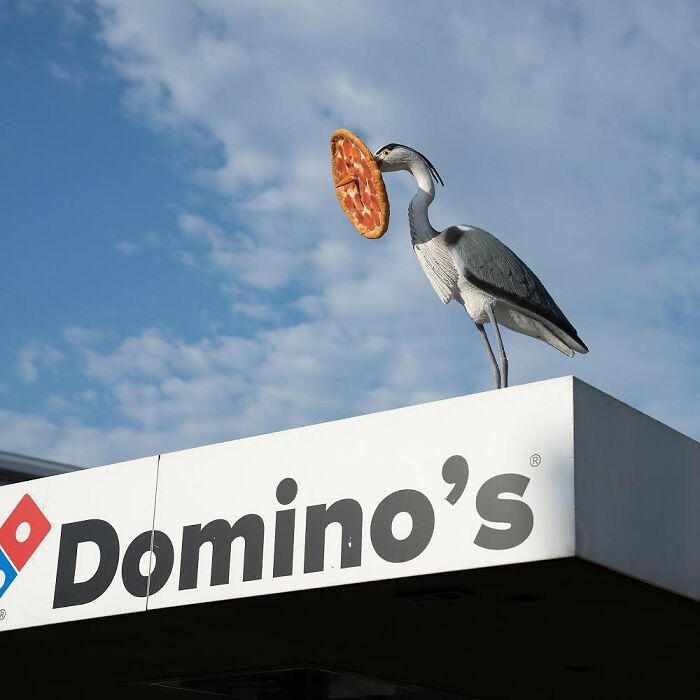 (P)izza Crane! Get it?! Like, it's a crane, pizza crane, because it has pizza on its beak? Okay, we are overdoing it a little bit. This Domino's restaurant has an iconic sculpture on it. It is sure to turn some heads.
Darth Vader Fishing
Well, the title says it all. There's no hidden, life-changing meaning hidden in this piece. It's just Darth Vader fishing underneath a bridge in a canal in the Netherlands. Not only that, but he's using his trusty lightsaber as a fishing rod!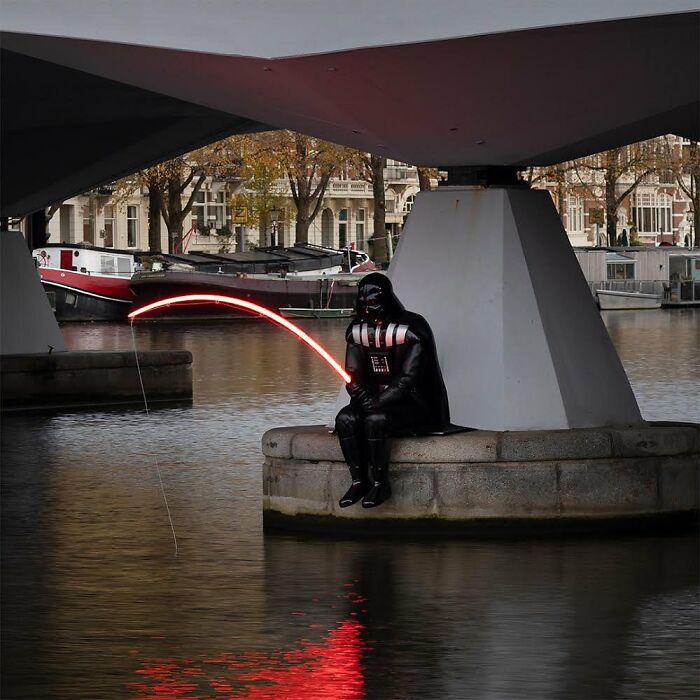 What's kind of sad about this is that this should have been the perfect father-son bonding moment, but no, Vader will never win Father of the Year. Instead, he has to fish alone and hope the lightsaber doesn't melt the fishing wire. Poor Vader; look at his feet dangling.
Put Trash Here!
If that other street trash can didn't catch as many eyes as it should've, this one would definitely do it! It will, at least, attract more children, that is for certain. And who does the Earth's future depend on if not the children?!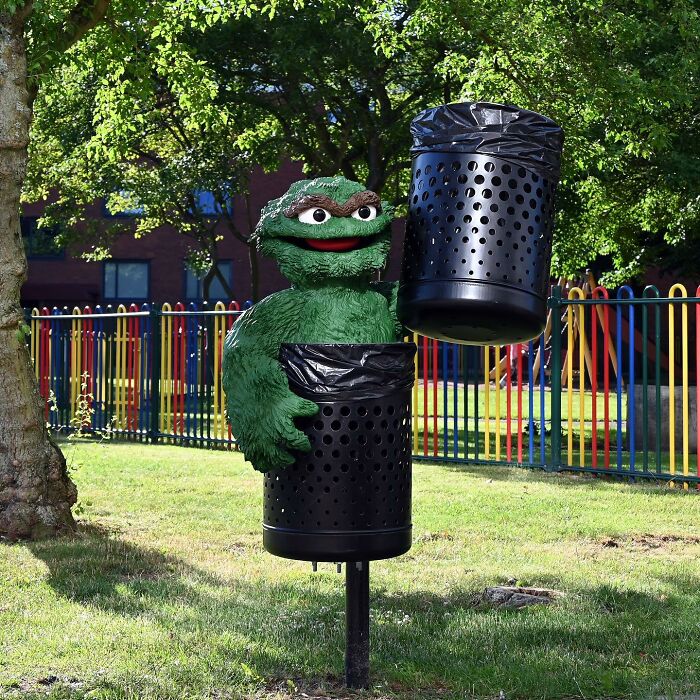 Oscar is there to remind the kids where the trash goes: in a can! They can even make it a challenge for themselves and try to reach that other can he's lifting up higher. Since there's no litter in the picture, we'll happily assume that Frankey's art is a success.
Goofy Being Aloofy
When you see that a street's name is Circus Square, you are expecting some circus madness, burlesque chaos, and various colorful references all around, and you won't be disappointed! Frankey spotted the perfect opportunity to let Goofy be a little aloof-y.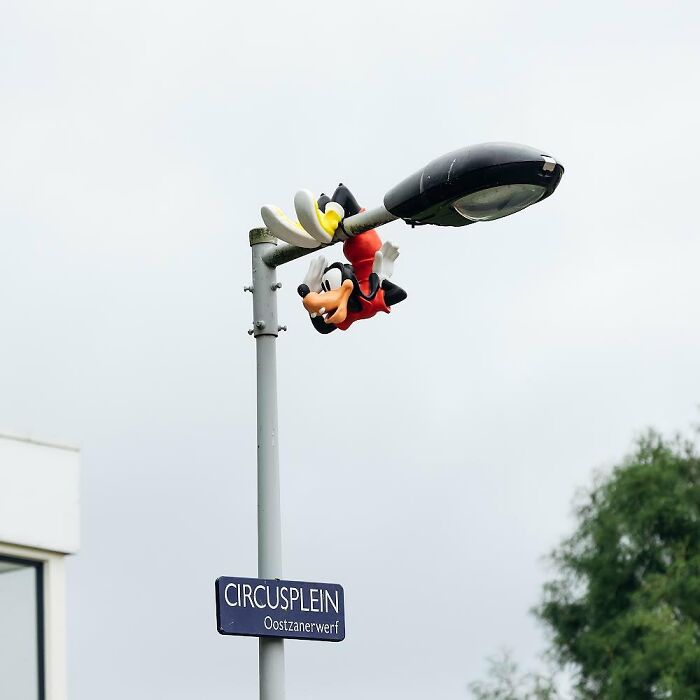 Looking at these pics, who wouldn't want to visit this Dutch city and explore all the areas Frankey worked his magic?! It seems like all he makes are smart, witty, popular pop culture references that anyone can understand and be interested in and surprised by.
Whoop, Whoop, Lady!
We are back on the water! Well, not on, necessarily, but near, you know. This time, there is a nice-looking lady sunbathing and chilling underneath her lovely red and white sun umbrella! Before you get your hopes up, she's just a LEGO gal.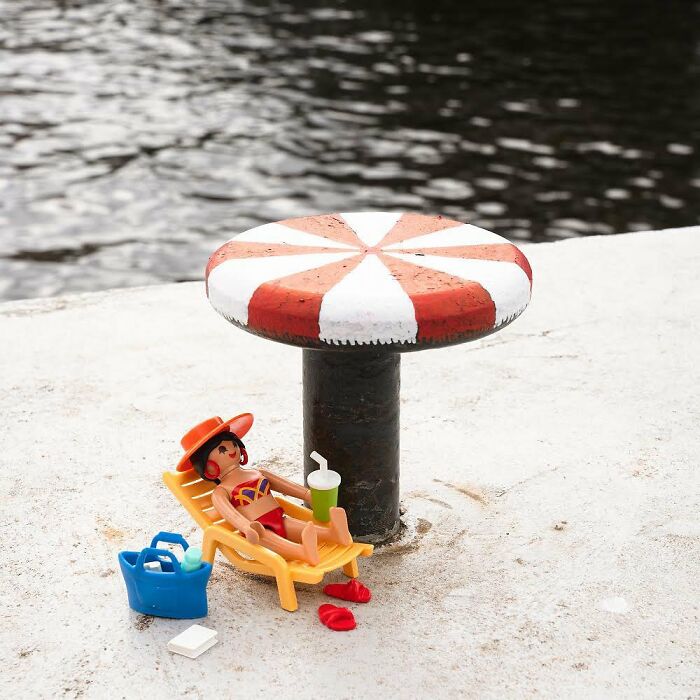 She seems to agree with Barbie that life in plastic is fantastic. She gets to lie around all day, serving some serious looks to anyone who walks by. What worries us most is that someone can just swoop in and kick it all into the water. We hope that doesn't happen!
An Elegant Gorilla
We couldn't help but include this silly gorilla on our list. Unlike the composed elephant and sneaky giraffe, this guy is dancing like nobody's watching. We bet this piece is truly a sight to behold when it's raining—Flash Dance, anyone?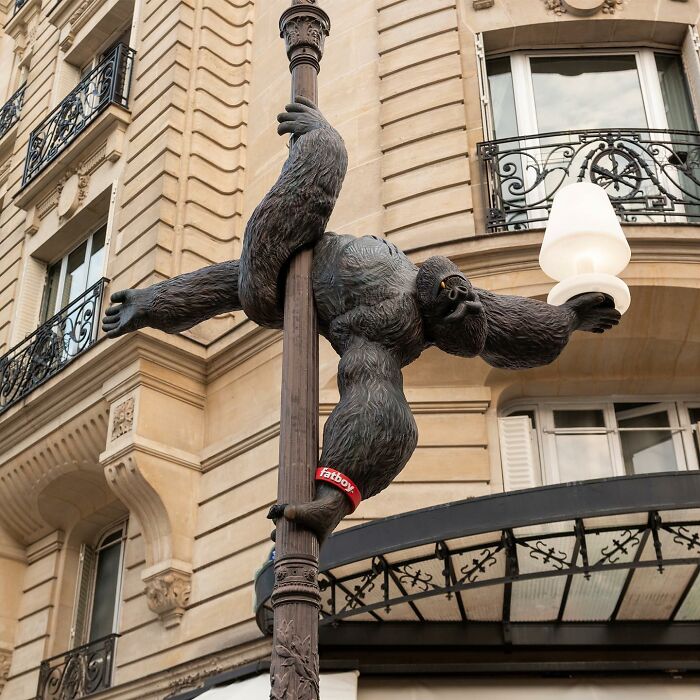 It feels like wherever you go in the Netherlands, you might stumble upon something as amazing as this. If the sweatband caught your eye, don't worry, Frankey is not fat-shaming. This piece was a collaboration with an artist by the name Fatboy.
Jean-Claude Van Damme
As if the actor's name wasn't already intriguing, Jean-Claude Van Damme left us in awe every time he graced the screen with his skills. And we knew the fights would be good if his name was listed as a choreographer.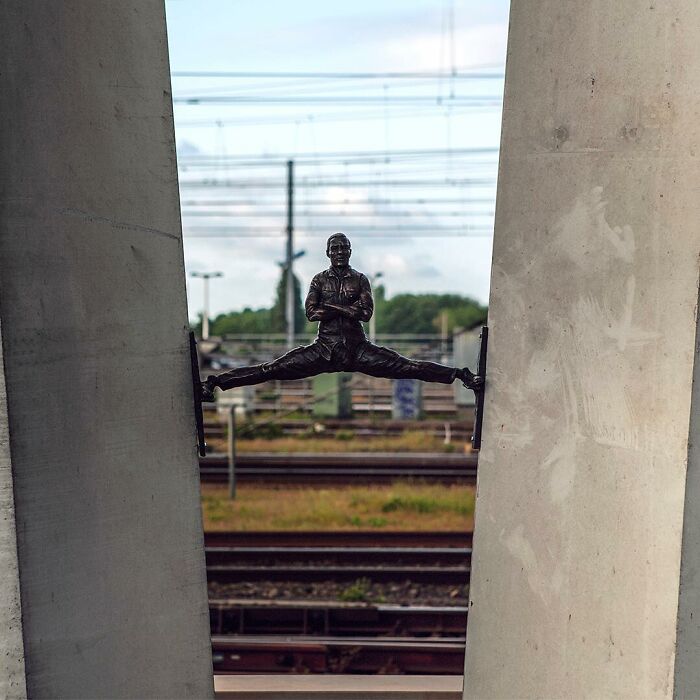 No one ever doubted his talent, but that 2013 Volvo ad, featuring the famous truck stunt, got the whole world's attention. To commemorate the flexibility and daring nature of the actor, Frankey included a figurine of the actor seemingly near a train station. It's the perfect spot!
It's the Land of the Vikings
These Scandinavian seafaring warriors are a symbol of bravery, fearlessness, and perseverance. Today, though, the film industry has brought them to a more mainstream level. Who doesn't love How To Train Your Dragon or Vikings? Frankey joined in with this clever lamp revamp.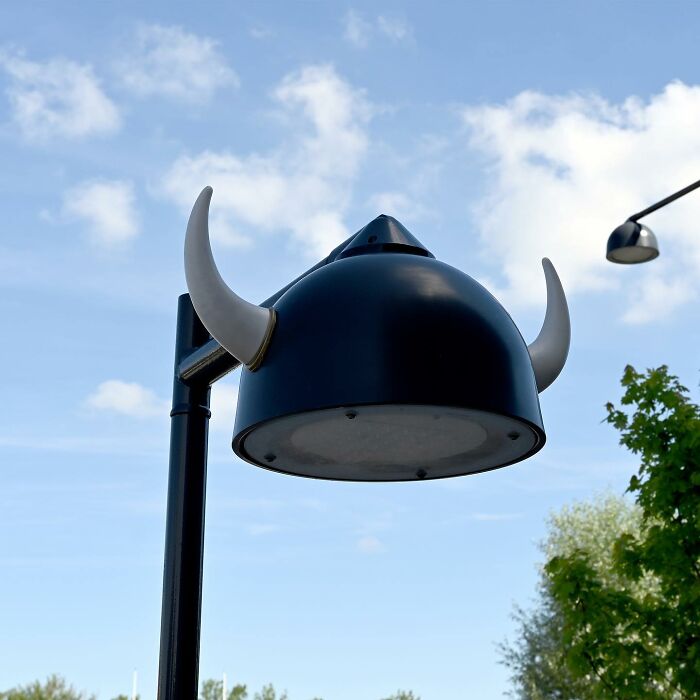 That is such a legendary move. What's even better is they only did that for one lamp post it seems. The other one in the distance, in the upper right corner, doesn't have the same design. It makes this one a little more mysterious and unique.
Napoleon, That You?!
Napoleon is, similar to the Vikings, a symbol of sorts. His name makes us think of feelings of striving for power, conquering the land, France, islands in France, etc. Not that any of those are related to this sign—which is one of the things we love about Frankey's art.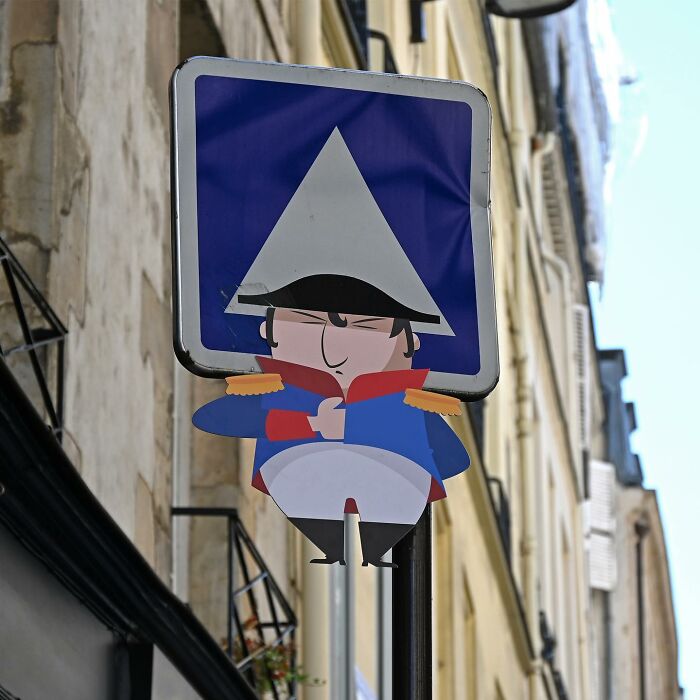 It is interesting how someone was witty enough to think of this. That traffic symbol does resemble an 18/19th-century French hat. The hand placement is impeccable as well. It mimics his pose from the infamous painting by Jacques-Louis David of Napoleon in his study. A lot of tiny references, and it passes the vibe check.
Where is Asterix?
If you were a kid in the '80s and '90s, you will remember a little, yellow mustache man Asterix, and his tubby friend Obelix, and their dog! These two Gallic men are, unfortunately, completely fictional. Still, wouldn't it be cool if their immense strength magic potion existed?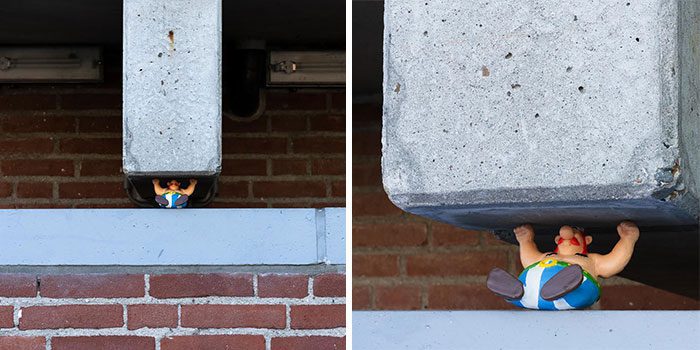 Who's better at lifting this giant cement block and holding it for an eternity than Obelix?! One could say, Obelix is used to it, doing Asterix's dirty business, as usual. This is, again, something that can get lost in daily mundane life, but it's an amazing little touch.
Ring Toss!
This was the Game with a capital G back in the day! If you didn't have a computer or an Android/iOS phone, and most of the kids 20 years ago didn't, you might have had this at home. Of course, kids can still enjoy this today at carnivals.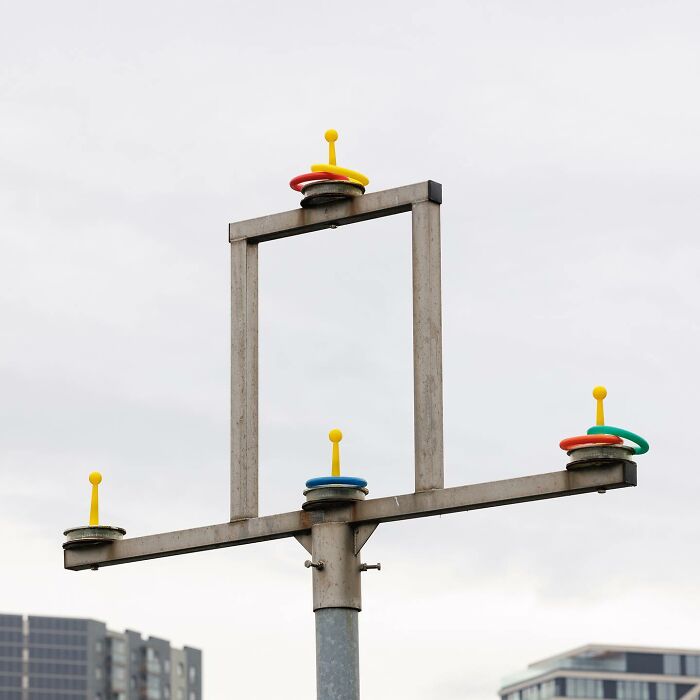 Those glass bottle setups are annoying; the plastic rings are much more fun. We can't tell how high this pole is, but we can only hope that there's a stack of plastic rings waiting at the bottom for people to try their hand at this amazing ring toss.
Mondrian-Inspired Traffic Sign
Although Mondrian also created realistic paintings, he is most recognizable for his simple, primary color creations. Among his best-known works are his abstract paintings made from squares and rectangles. You might not know him by name, but chances are you've seen his art…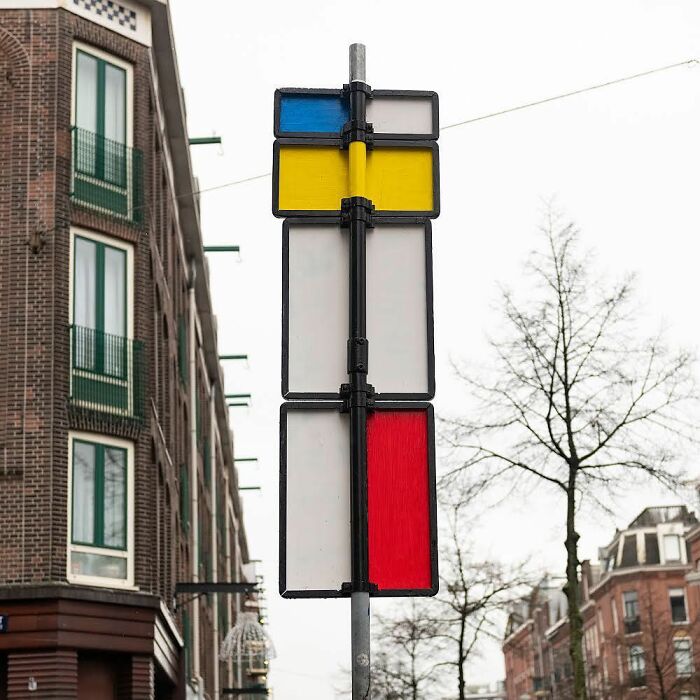 Mondrian believed that art reflected the underlying spirituality of nature. That's why he strived to simplify the subjects of his paintings down to the most basic elements. This way, this spirituality can be shown from simplicity. What a lovely artist—we mean both Mondrian and Frankey.
Foot Guards and Their Hats
Foot guards, or as you may know them, the London guard, is best known for their ridiculously long and exaggerated black, fluffy hats. Foot guard is a big symbol of royal countries and their protectors. Look at this creation inspired by the Foot guard: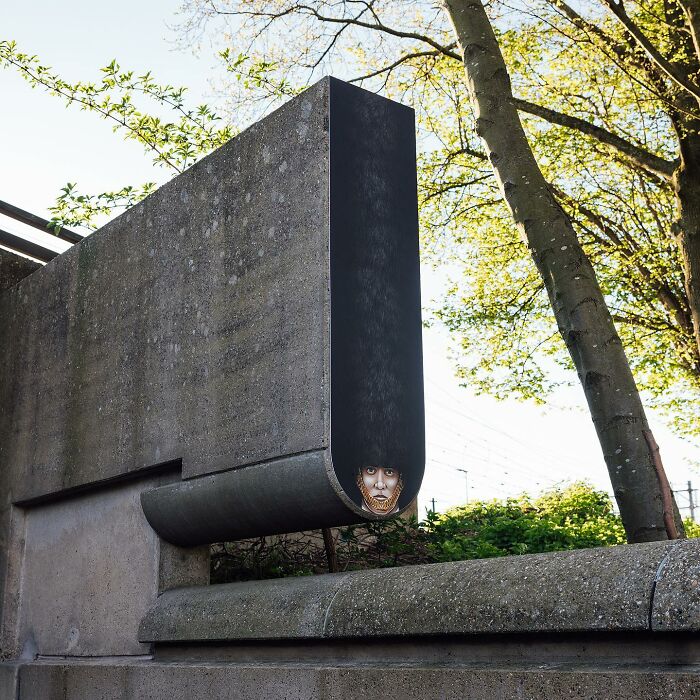 These soldiers are all the funnier due to their impassive faces and the unflappable way they follow orders. They will not move or flinch no matter what you are doing. It's impressive how obedient and seemingly placid they are that people love to try to engage them. Kudos for sticking to their principles, we guess…
A Magician in the Netherlands
This is such a cool scene! The enigmatic magician is poised and ready to strike. It's unclear if his intentions are pure or wicked, but that's what makes this all the more intriguing. Is that a crystal ball or an orb ready to destroy unsuspecting civilians?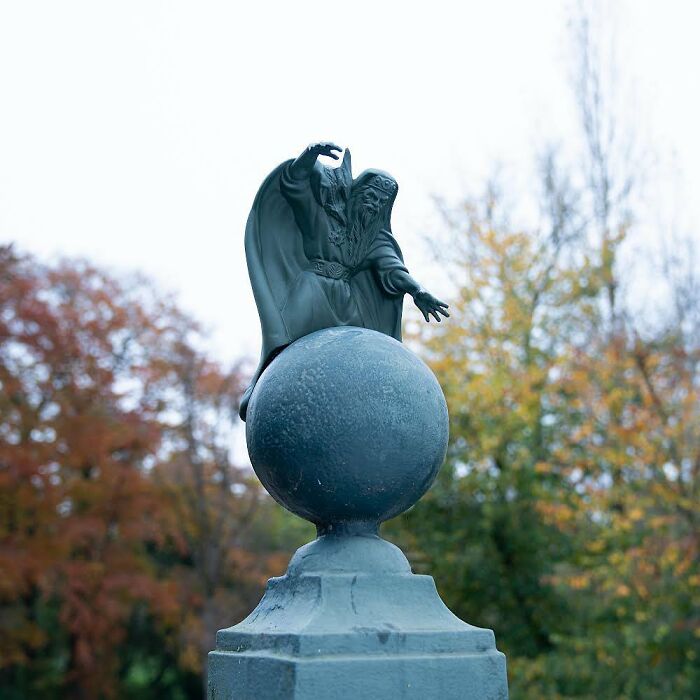 While we love the iconic characters, from Minions, chipmunks, Batman, and Tweety, a good old magician is the perfect addition to Frankey's crew. Perhaps it's supposed to represent the creator's ability to manipulate statues, or maybe some sort of God; who knows!
Take A Hint
Some countries are known for their terrible driving, but we've never heard of reckless Dutch drivers. Maybe that's a secret only the locals know, and Frankey sought to capture the danger of driving in this in-your-face work. Well, message received.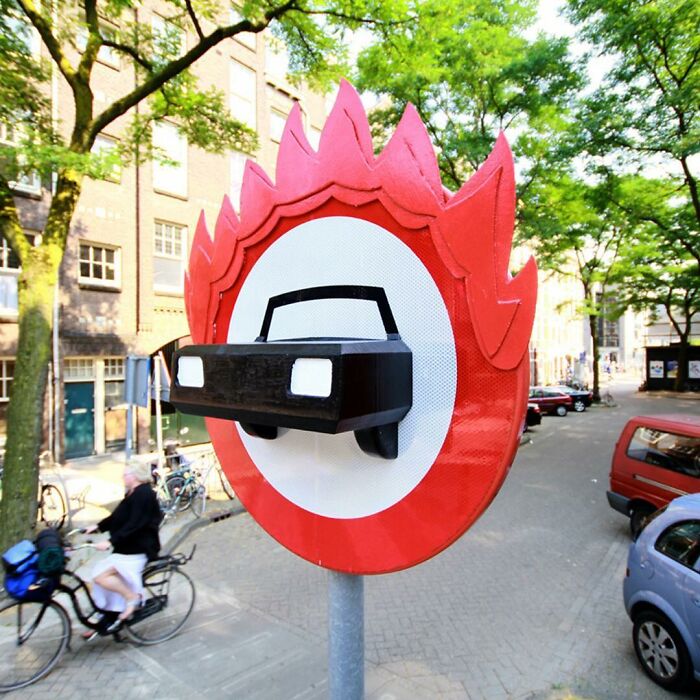 Ironically, the sign is for a parking area, which is not normally where car accidents occur. We hope the city didn't take it down since this is a great reminder to drive carefully and be respectful of your fellow motorists.
Thief On The Loose!
We're glad we're not the only ones who see barred windows as little prisons. Good thing Frankey has a good sense of humor. He didn't just lock up any old character; he put the Hamburglar behind bars. Do you think he likes McDonald's?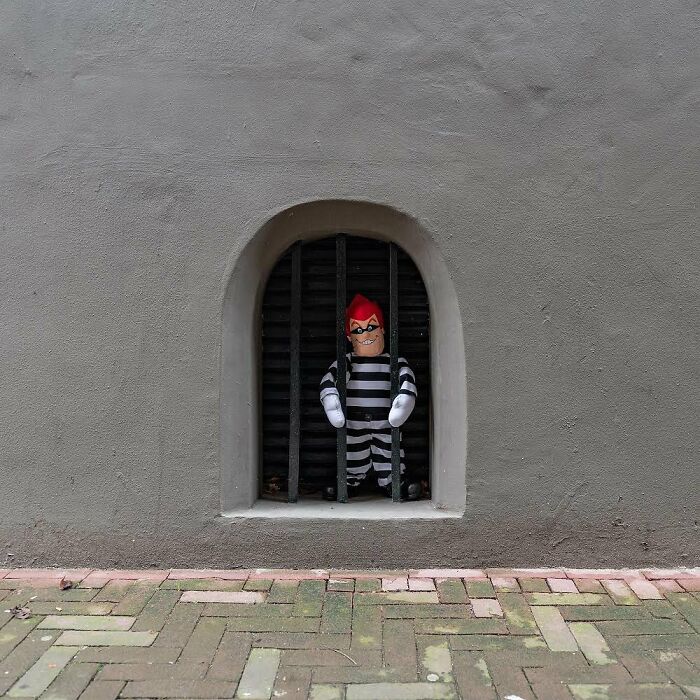 With that flaming red hair and domino mask, we'd like to think it's Syndrome from The Incredibles. That man certainly deserves to be locked up where he can't harm anyone ever again. On a different note, we're worried how easily this criminal can slip through the bars.
Who's Scared of the Big Bag Wolf?!
Three Little Pigs is a fable told and retold by many. Everyone and their mother knows it and loves to recount it at least at one point in their lives. Fables teach children morals and send important messages. It's cool to incorporate that into the city's seams.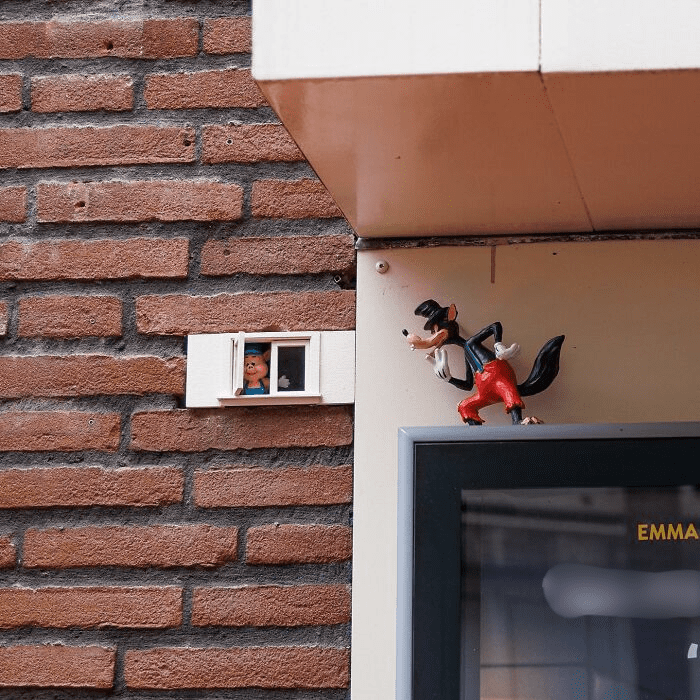 We bet Frankey is a big Disney fan since he used the versions of the little piggy and the Wolf from one of the classic Disney shorts. All of these little figurines make one wonder: is there a secret world these street art pieces live in?
Devil Jack in the Box
Frankey's weekly surprises continue to make his fans' days so much brighter. This time, he managed to sneak a little devil on top of a box of indeterminate purpose. Do you think he sneaks around at night with a ladder to install these works?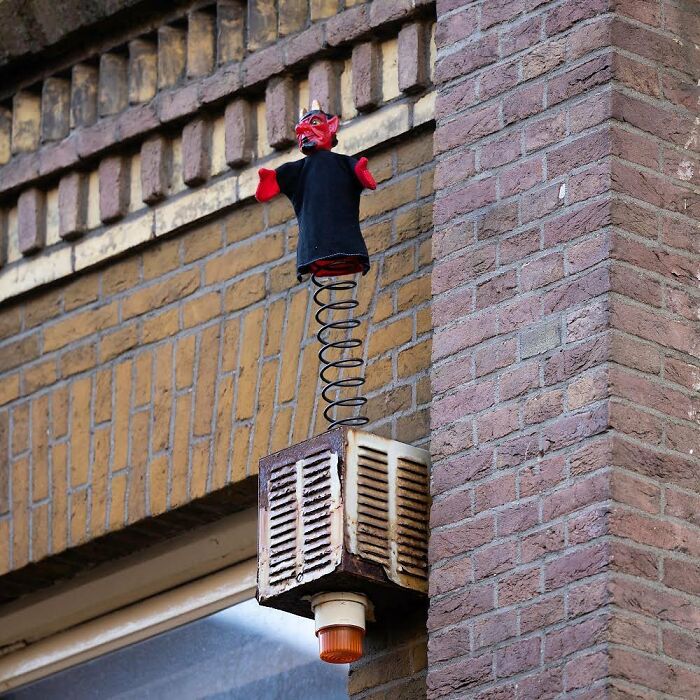 Somehow, the aesthetic of the devil Jack in the Box matches the aesthetic of that iron box. Whatever that box is, yeah, they are made for each other. We would pay some serious money to see how it moves in the wind. It would be funny as heck!
Captain Amsterdam!
There is another incredible and iconic traffic signal moment in the Netherlands that we couldn't help but include in our list. If there's one character that represents morality and justice, it's Captain America. Or, should we say, Captain Amsterdam? (Sorry, not sorry.)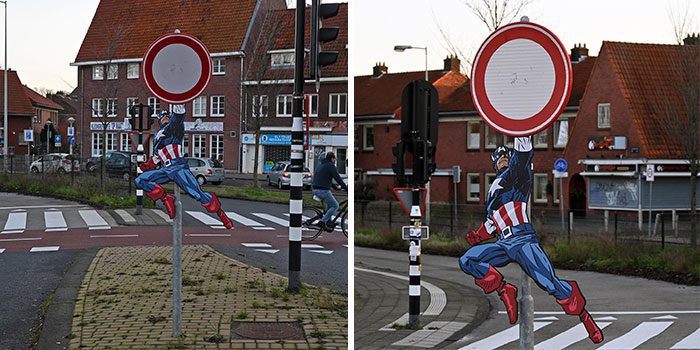 It is such a smart idea to use those boring, everyday things and make them special. This little thing will put a smile on the grumpiest face that forgot to take its coffee on a gloomy Monday morning. Captain America, do your thang!
Wall-E
If you don't recognize this little fella, it's the titular character of the 2008 Pixar film WALL–E. Unsurprisingly, it was a worldwide success and stole the hearts of movie buffs and regular folk alike. Though the message was depressing, the film was heartwarming.
Just like his animated counterpart, this little Wall-E is filled with wonder. Just look at those wide eyes staring up into the blue sky. We wonder if there is Eve somewhere around, hidden in the nooks and crannies of the Netherlands.
Team Rocket!
Unfortunately, this has nothing to do with Pokemon, but we couldn't help but make the comparison. Although nothing is better than Pokemon, this street art moment might just be the next best thing. You won't regret it. Check it out:
This is not the first time we have seen something like this, but it's still so well done! Rocket Street, with a rocket breaking its wall—it's just perfect! It makes the streets look alive, like they have their own secret society.