40+ Lackluster Garages Transformed Into Relaxing Sanctuaries
By Ishita P September 6, 2021
---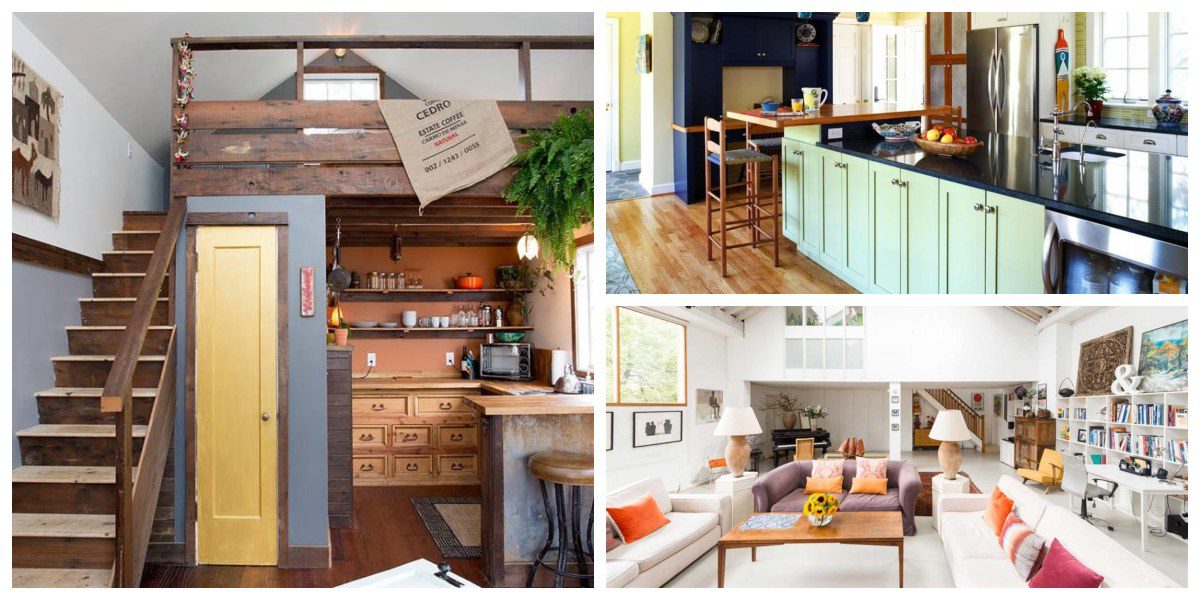 Do you feel that the living space in your home is not enough? Or do you have the feeling that it is time to give your home a classy and sassy makeover because it's been a long time? But maybe you're worried about the expense of giving your living room a whole new makeover. Well, if you have a garage in your home, no need to worry! Yes, you read that right; your garage can be the ultimate solution. If you have no plans to buy a car or park your car in the driveway, pack your equipment and turn your garage into an aesthetic living place. But what style would you create? Hopefully, this list of garage transformation inspirations might help you. So have a look!
Turn your carriage house in a pretty studio
Your carriage house can turn into an elegant studio in no time. You can take some inspiration from this lovely studio. An old and unattractive carriage house has been beautifully transformed into this artistic space. The reclaimed redwood siding obtained from the original structure smartly complements the rest of the house.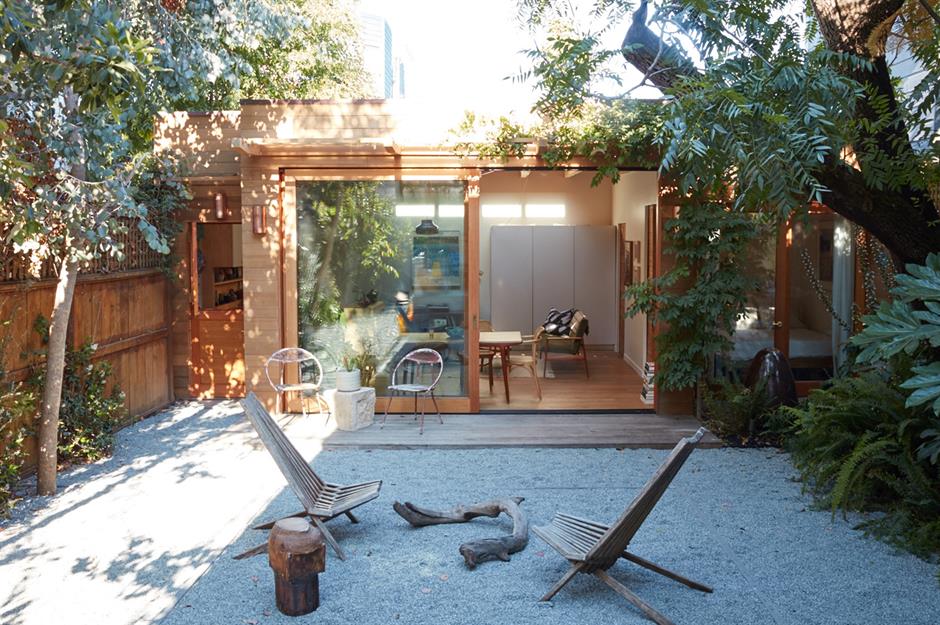 Moreover, the combination of sliding glass doors and the touch of wood perfectly creates a summer house look. The addition of a glass skylight beautifully brings the vast, mysterious sky to your home, rendering a perfect combination of light and style.
A curb appeal can be your ultimate savior
Are you in love with a monochromic appeal but not finding the right place to apply it in your home decor? Well, your garage is here to serve you. This style inspiration shows how easy it is to turn your garage into a classy space with little effort.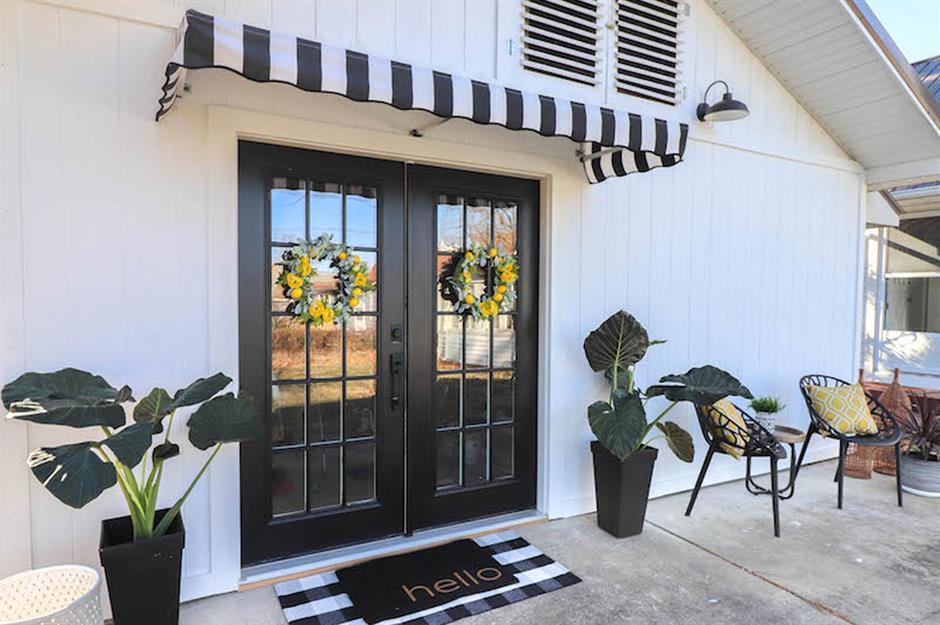 You will barely identify whether it is a real home or a double garage. The conversion is stellar in every aspect. The designers have thoughtfully replaced the old garage doors with a black patio door, allowing more light. Also, the crisp white siding adds to the overall look. However, the superstar here is the black and white striped awning that renders a fantastic curb appeal.
A funky youthful space
Have your kids grown up but aren't moving out yet? Which corner of your home will you give them for their personal space? Let us give you an idea. Make use of your garage space to create a lovely and youthful living space.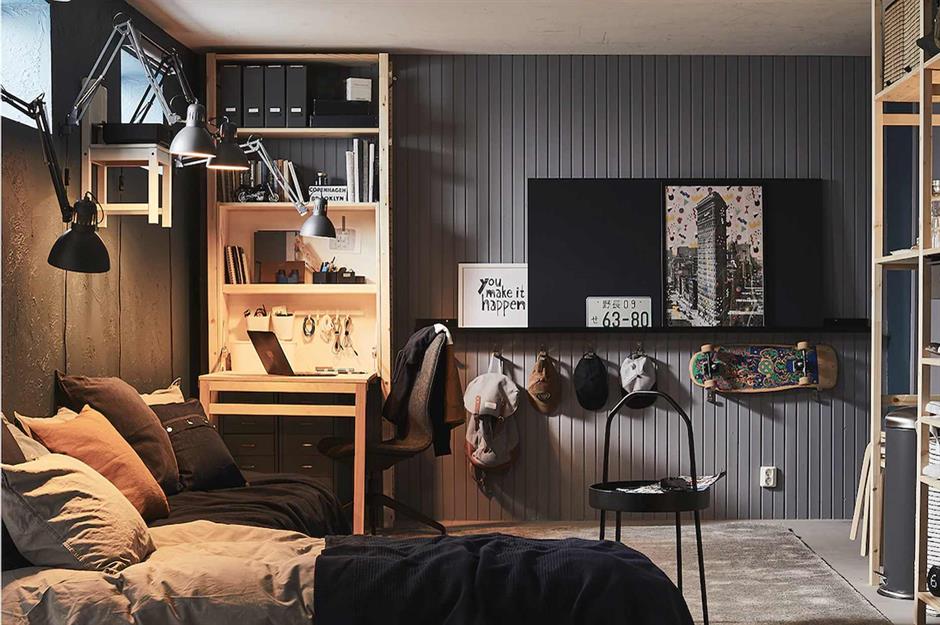 Turning your garage into an extra bedroom is a unique and economical idea. The combination of clerestory windows and a greyish hue can give the space an added touch of youthfulness, making it perfect for your teenagers becoming young adults.
Need a home office? Transform your garage!
We now know that even our homes can be turned into an office. Working while lying on your bed or relaxing on the sofa can be fun, but it might also affect your productivity. But don't worry; you can create that office-like feel and ambiance right at your home if you have an empty garage space.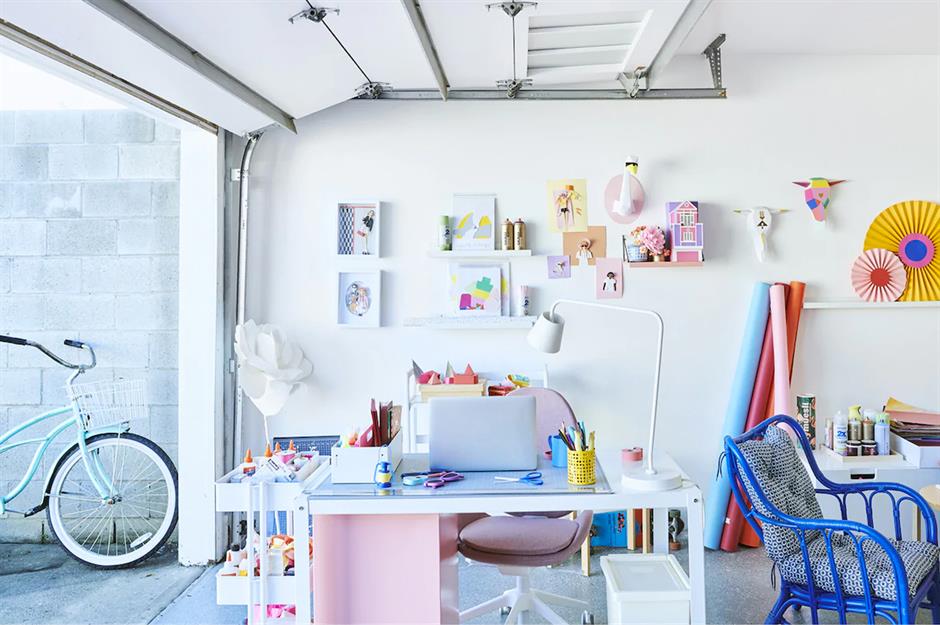 Turn your garage into a unique-looking office space. You can get some style ideas from this design. See how vividly the bright bursts of color accentuate the white walls. Along with colors, the addition of some comfy funky furniture pieces can also make the place look more flamboyant.
A terrace close to nature
It is not always necessary that you only have to turn your garage into a room. Think beyond, and turn it into a terrace that can become your favorite hang-out place. This garage transformation design is the best way to convince you to do so.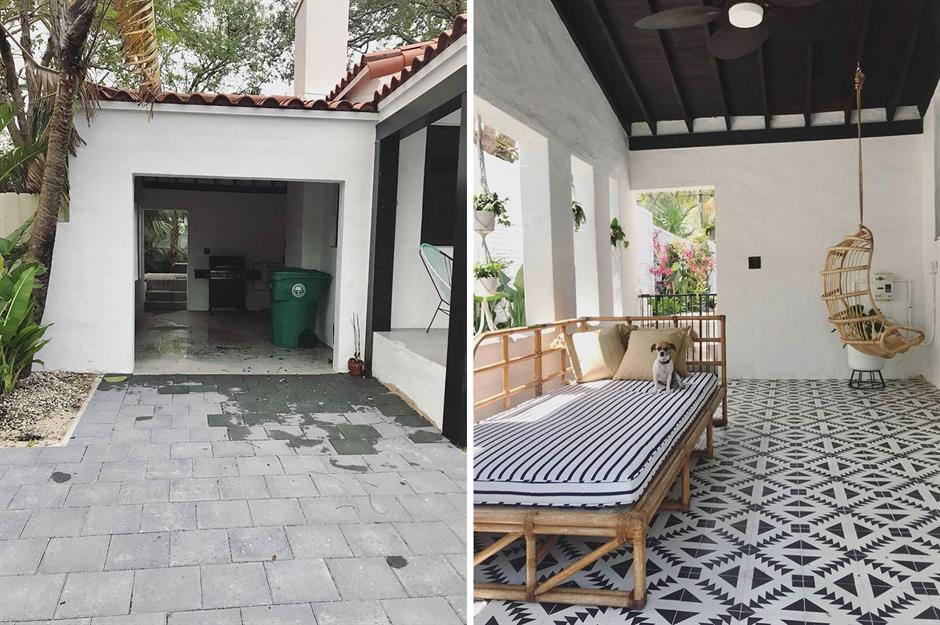 The painted wooden rafters add a minimalistic, elegant charm to the space. And the best part of this design is the balcony-like boundary created by removing the blocked walls of the garage. It is now making space for nature to brighten up the home.
3-in-1 setup in a garage!
Do you know how versatile a garage space can be? You can turn your isolated garage into a stunning area with a little creativity. You can smartly create an extended living room, along with a playroom, where you can spend most of your time in a day.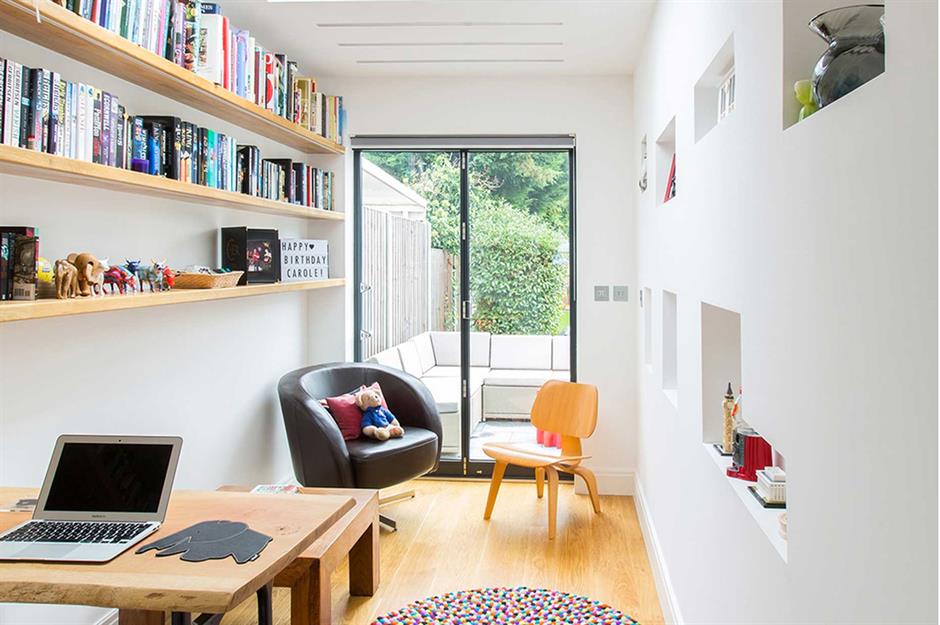 With the addition of a narrow extension at the back of the garage, this transformation boasts an excellent 3-in-1 room setup. The primary garage space is converted into a cozy utility space, along with a small shower room. The designer also used the extra square footage in the back of the garage to make a playroom.
Missing a garden room? The garage has your back
Have you ever thought about what you can do with your old and dusty garage located beside your garden? Well, do not let it ruin the entire look of your house. Instead, create a whole new garden room out of it. How?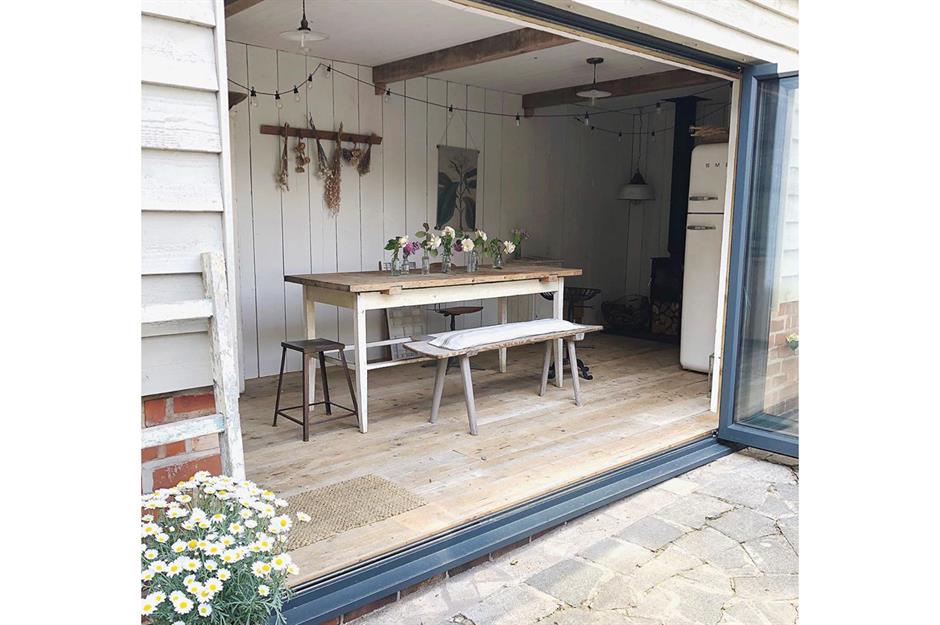 This garden room with utility space is the best example. The perfectly sanded and painted boards inside render a classy yet rustic look. This space can be effectively utilized by adding a mini-kitchen setup with some dining adjustments. If you want to spend some time with nature, this room is a marvelous creation.
A cinematic experience
What about having your own cinema room? It will not only save your money from visiting the theater but also make your home the favorite hang-out spot for your friends every weekend. All you need to do is sacrifice your garage for an attractive cinema room.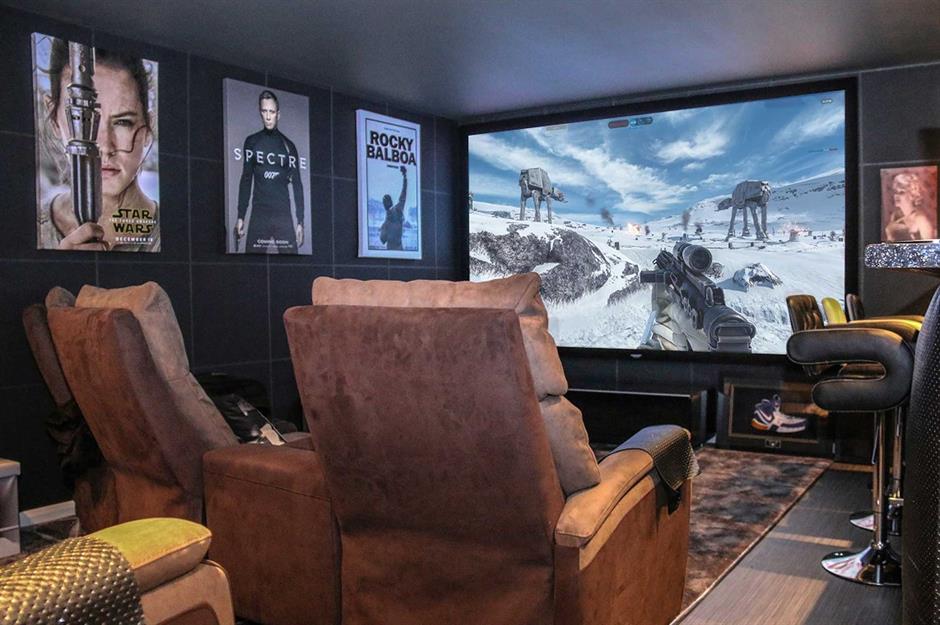 This ambient setup of the room with rows of reclining chairs and an attached bar renders this ex-garage a fantastic place to relax. With a projector in the front and a good quality sound system, you can now enjoy a cozy theater experience at home.
A spacious mudroom to maximize your space
Where to set up your mudroom is always a topic of discussion. You might want it to be at the entrance of your living room, while your mom might want a completely separate room for it. But if your home has an unused garage, you can easily use it as a handy and spacious mudroom.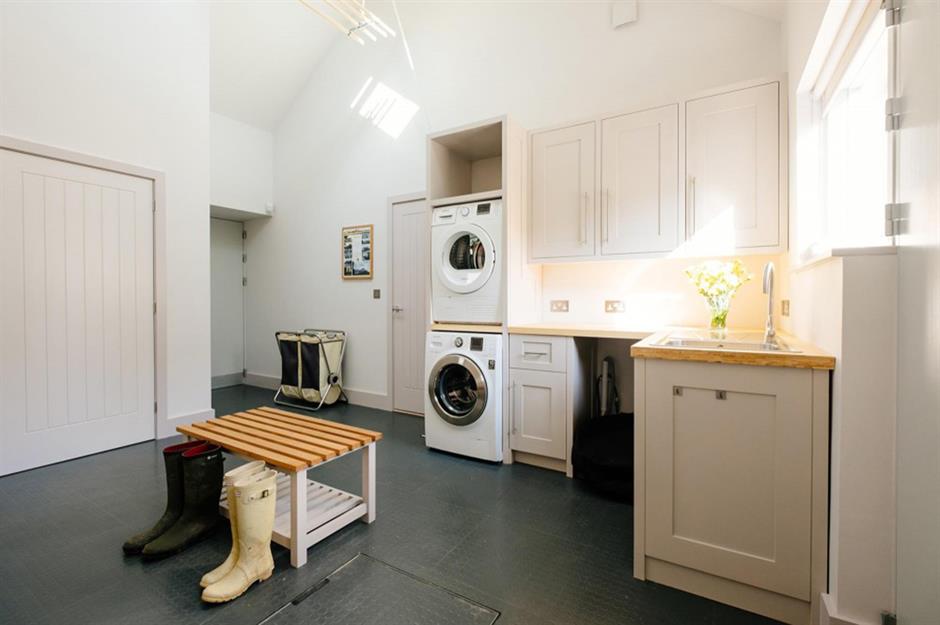 Using your garage as a mudroom will reduce the headache of cleaning up the dirt and microbes brought into your home. So, to create the mudroom, include a minimal setup of laundry with ample space to remove muddy shoes and clothes.
Get a lot of space for your design studio
Do you want to create a spacious design studio right in your home? This design idea performed on a double garage can serve as the best inspiration. The addition of stud walls to your garage can let you create the exact space shown in the image below.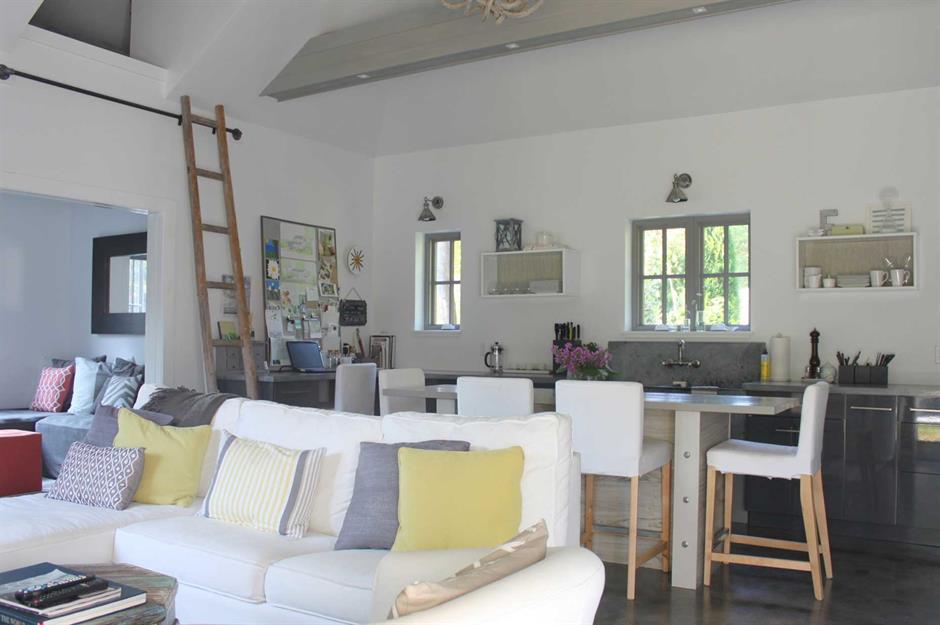 This room houses everything packed in one place. From an open workspace, bedroom, living space to a small kitchen and storage area, everything makes this artist's studio a complete space to live. Remember, the more windows, the more natural light!
Some space for hanging out
If you have teenagers at home, it is the right time to create a separate hang-out room for them. Getting creative style inspiration from this design can inspire you with some excellent ideas for transforming your garage into the ultimate chill spot for your teens.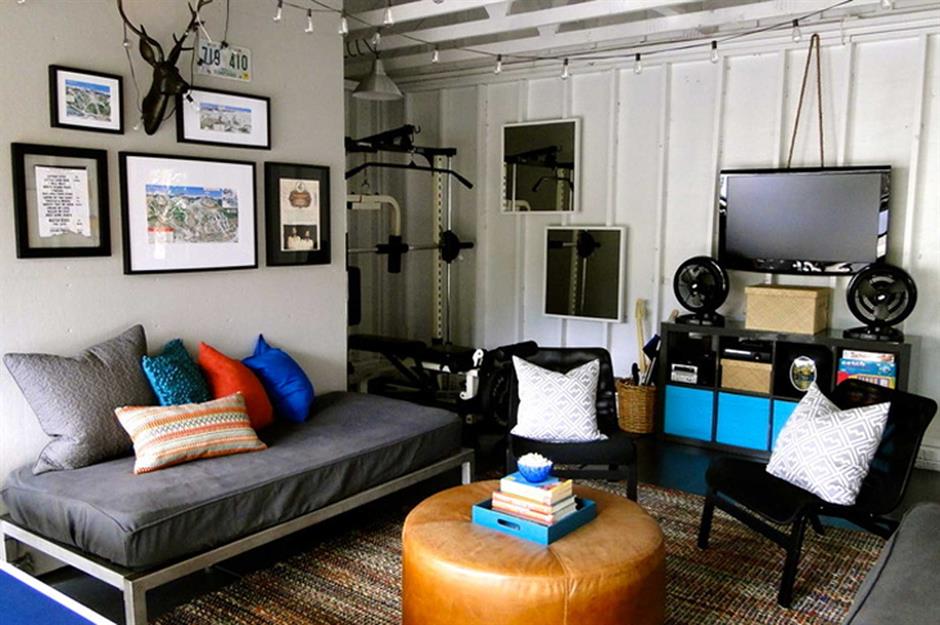 This den fashioned from a garage, with neutral grey-white color and repurposed furniture, is an incredible combination that creates the perfect hang-out zone. The addition of an old bed as the sofa makes this space a great one for sleepovers.
Create a cozy apartment
Adding layers and levels while converting your garage can create a perfect illusion of a spacious living area. So, if you are looking for a studio apartment inspiration design that gives the illusion of more space, this picture can start the wheels turning.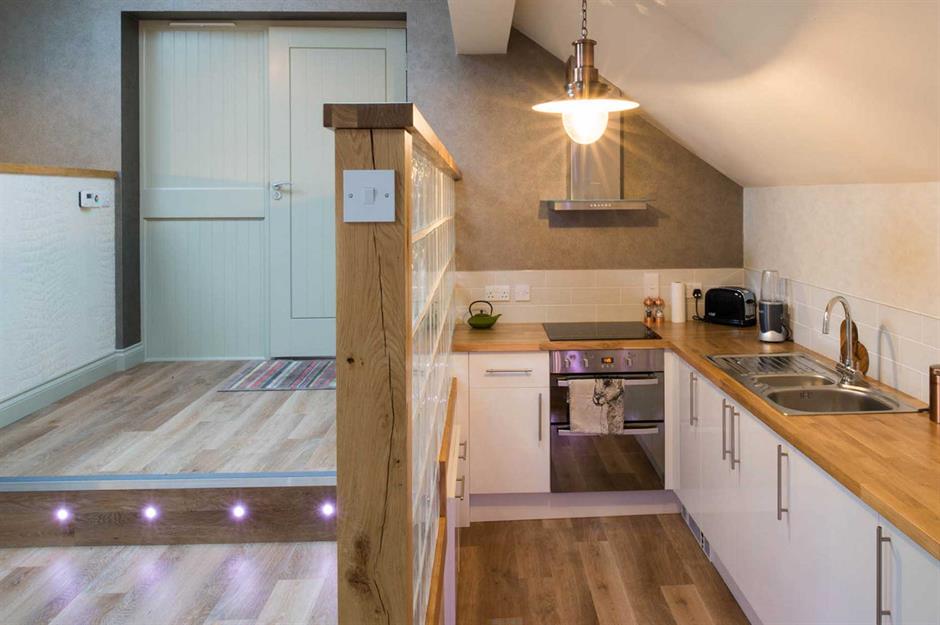 This luxurious annex with a high-level entrance is embellished with LED-lined steps. Moreover, the sleek and sunken galley kitchen makes the best use of the rest of the space. The glass brick wall in the middle creates a fine partition while giving the entire room a unique look and top-notch upgrade.
Want an extended bedroom? The garage is your solution!
An extended bedroom can always be helpful, especially when guests turn up. For that, there is no need to construct a whole new room. Instead, you can use your old garage to turn it into a quick bedroom without even completely remodeling the garage.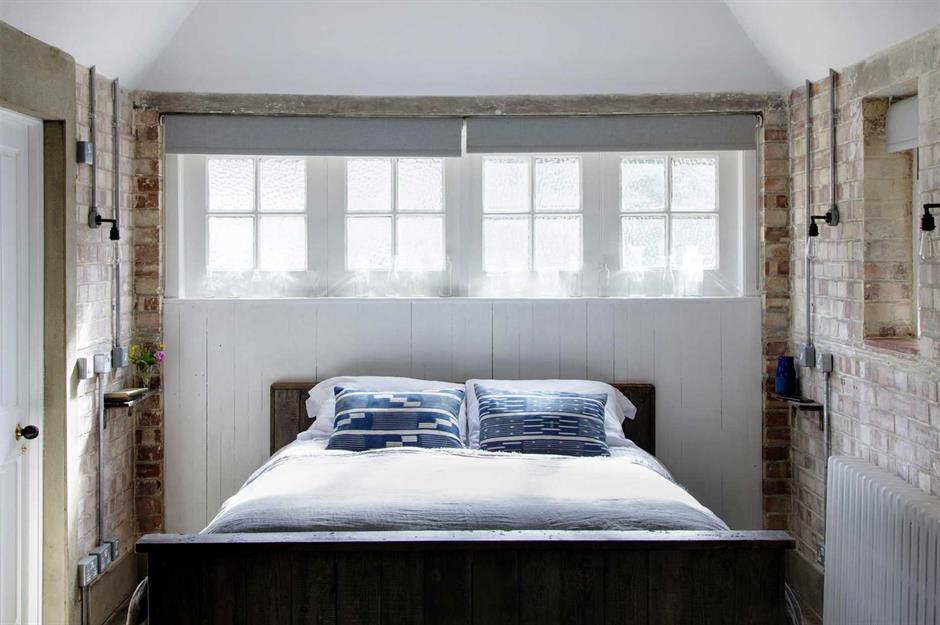 This designer has brilliantly transformed the room while keeping the raw appeal of the garage intact to create an industrial-style bedroom. The exposed brick walls and original garage door, along with some old industrial fixtures, create a great retro look. And the addition of shiplap adds to the overall charm.
A vibrant family room to escalate your decor
A vibrantly designed family room can bring everyone close together when you want to have some merry-making sessions. But do you lack enough space in your home? There is nothing to worry about. You can now easily create an additional living space by giving your garage room a makeover.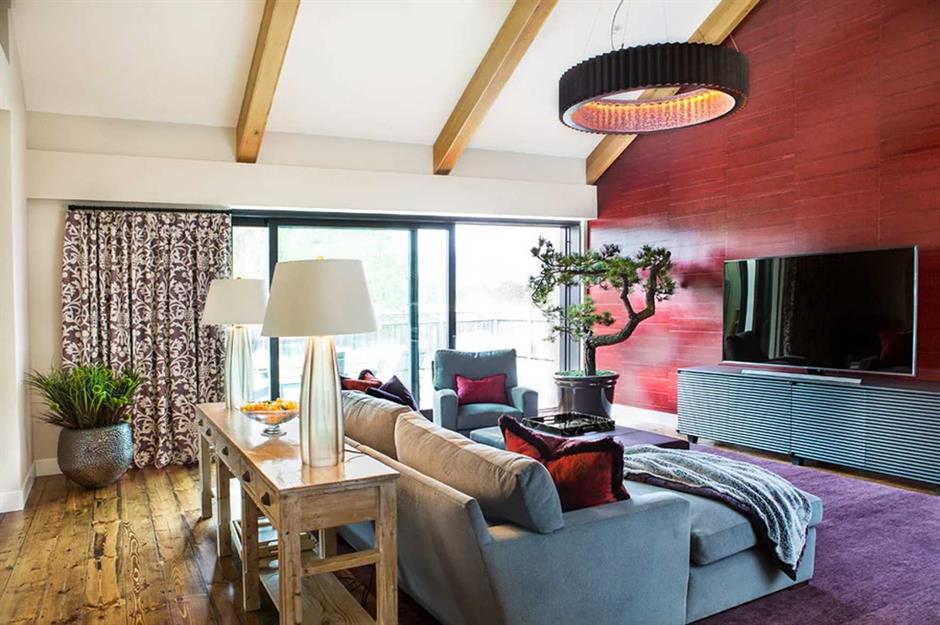 In this picture, you can see how beautifully the bright red wooden wall complements the vibrant color setup in the room. In addition, the large patterned curtains with comfy sofas and lush greenery elevate this space's entire look and feel.
A living space with the touch of retro
The ideas for turning your garage space into an extended living space are innumerable. From creating a posh modern look to a playful setup, you can do anything. But if you are thinking of a retro look with an industrial touch, you need to keep reading to get some style inspo.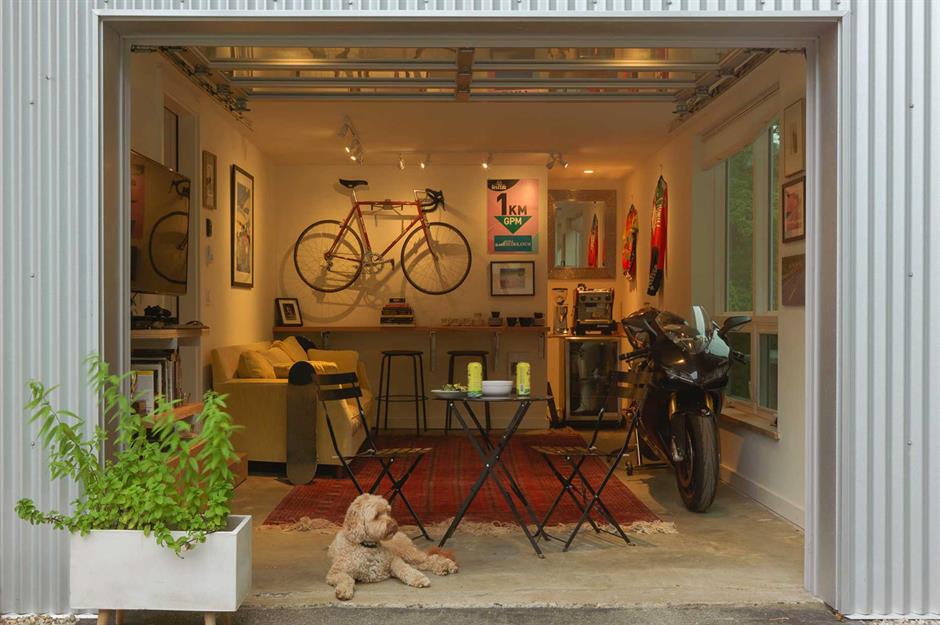 This garage transformation with iron walls outside can look very commercial. On the contrary, the inside space with ambient lighting, quirky bicycle decor, and a minimalist assortment of furniture pieces create a unique look. Add a record player, and this is the coolest place to hang out.
A tiny comfy micro-home
Your garage can offer you a plush and modern living space with all the amenities you could want. Thus, looking at the style inspo of this design can serve you with great ideas on creating an inspiring yet cozy living space.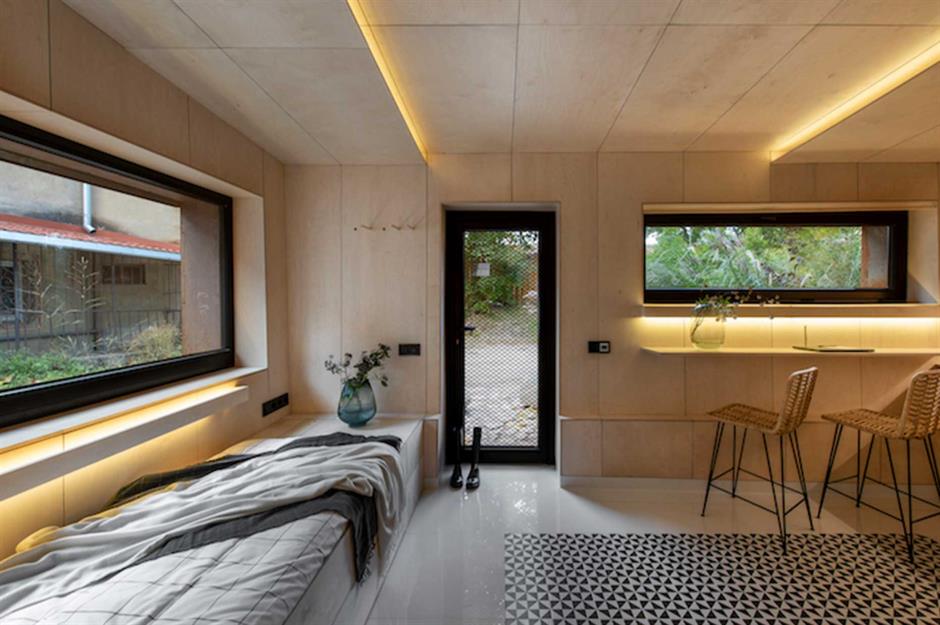 This micro home includes a multipurpose room and a small bathroom that makes it a complete home. The touch of edgy beauty with a metal exterior and warm birch wood inside fills this place with utmost beauty. We recommend putting in large windows too, just as this designer did.
A colorful affair
Adding a hint of color to one corner of your home can render a vibrant look to your space. So, if you want a colorful extended living room, you can make use of your old garage to engage in this creativity.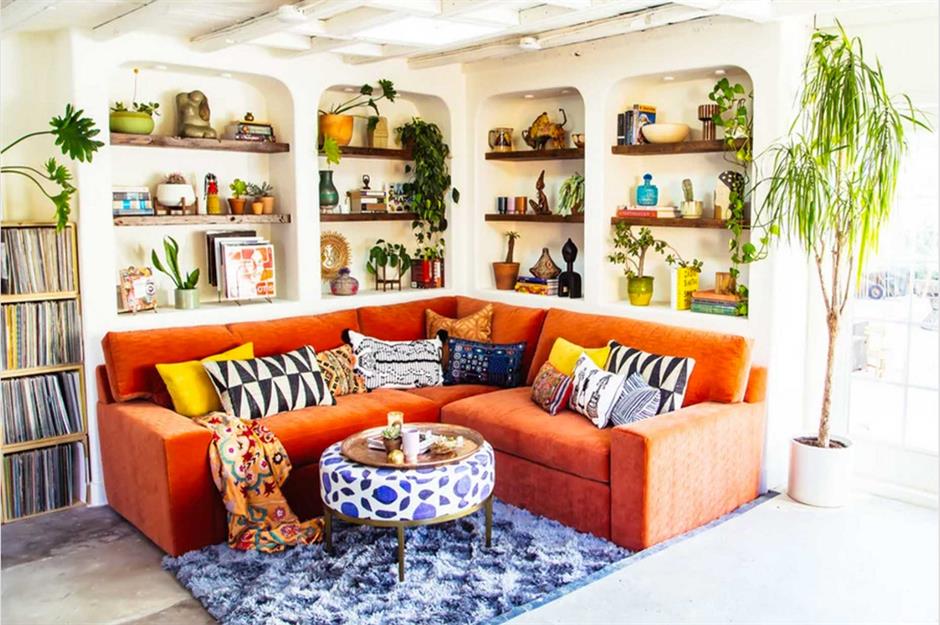 This garage transformation boasts a very jazzy vibe. The colors, solid sofa, and funky cushions, along with pretty showpieces, perfectly accentuates the room's whole look. Adding a touch of natural greenery creates a perfect balance in the entire appearance of the space.
A minimalistic screening room
A chic screening room can be the ultimate savior for those who want a dedicated tasteful theater at their place. So, you can get styling influence from this four-car garage, which is now unrecognizable with its remarkable transformation into a screening room.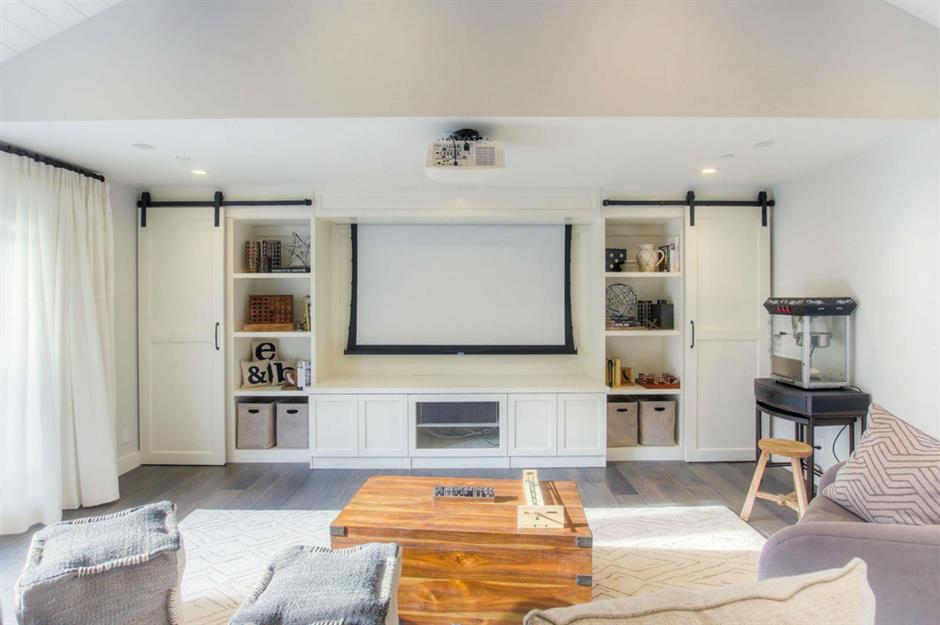 This brilliant decor with a minimal approach accentuates the space. The perfectly adjusted bathroom space, bar, and kitchenette with small bedding make it an all-in-one room: hardwood floors and sliding doors with bright lights perfectly complete the room's look.
An American-themed room
Does your love for America surpass everything? Well, then you can create a dedicated room to flaunt your love for the country, just like this designer created an American-themed games room out of an ex-garage. You can, of course, use this idea with any theme.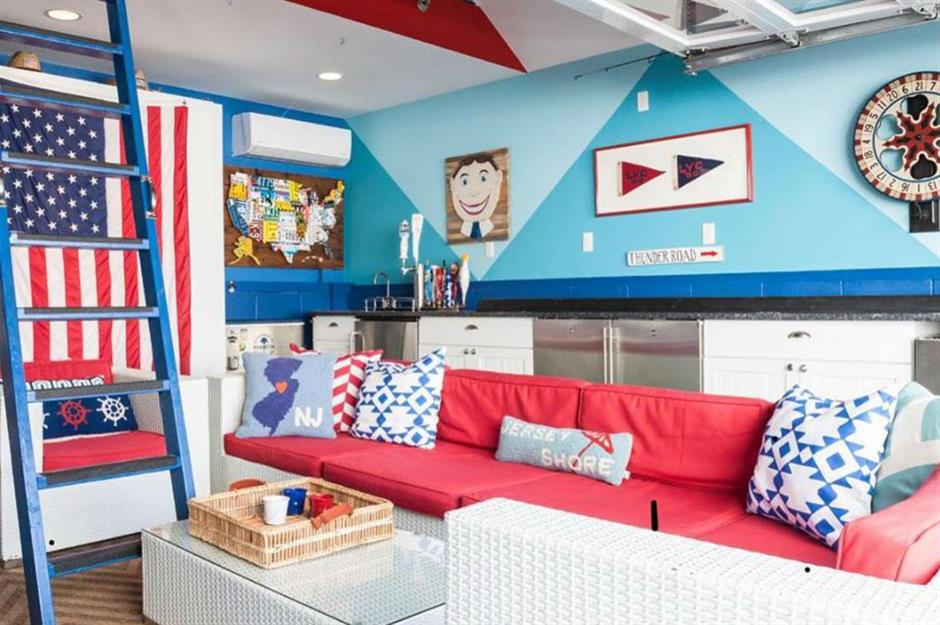 This old garage was converted into a whole new setup with bold color adjustments of red, white, and blue. The matching colors of the sofa and flag-draped wall add complete richness to the look that every American would love to have a glance at.
A luxurious home theater
Looking at this picture, it might be a little hard for you to believe that this lavish home theater room was once a garage. But this cool design setup says everything about how an unused space can be utilized and turned into a haven.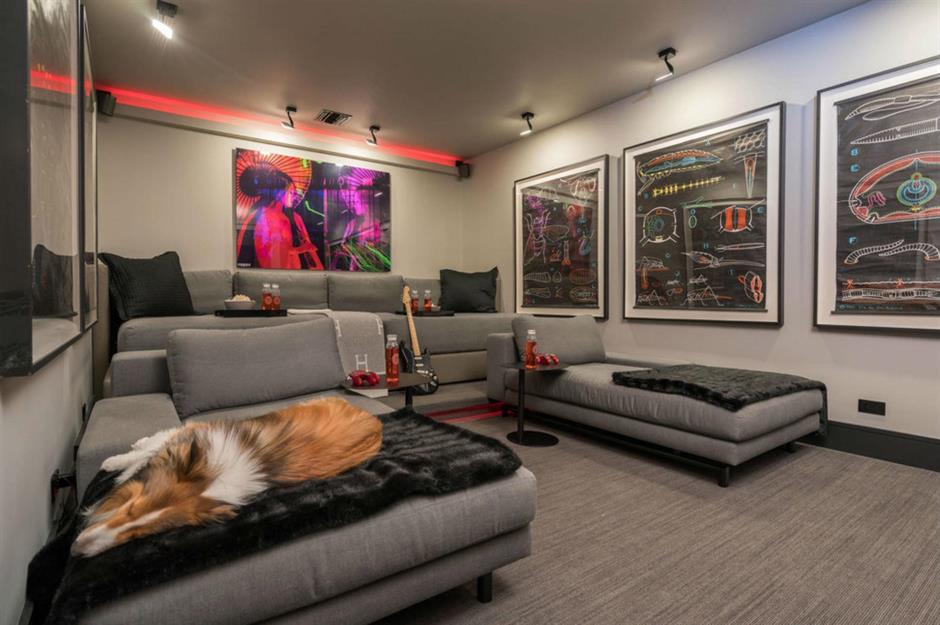 This comfortable room has a nicely assorted screening space and music setup that can be used for an entertaining home theater experience. The calming greys help create a relaxed atmosphere, an ideal place for unwinding. Adding a few pieces of art can make the space uniquely yours.
Turn your garage into a stylish home gym
Why would you go to a gym every day when you can turn your garage into one? This picture gives us this view in every right way. This stylish gym in Los Angeles was once a garage. Sounds shocking, right?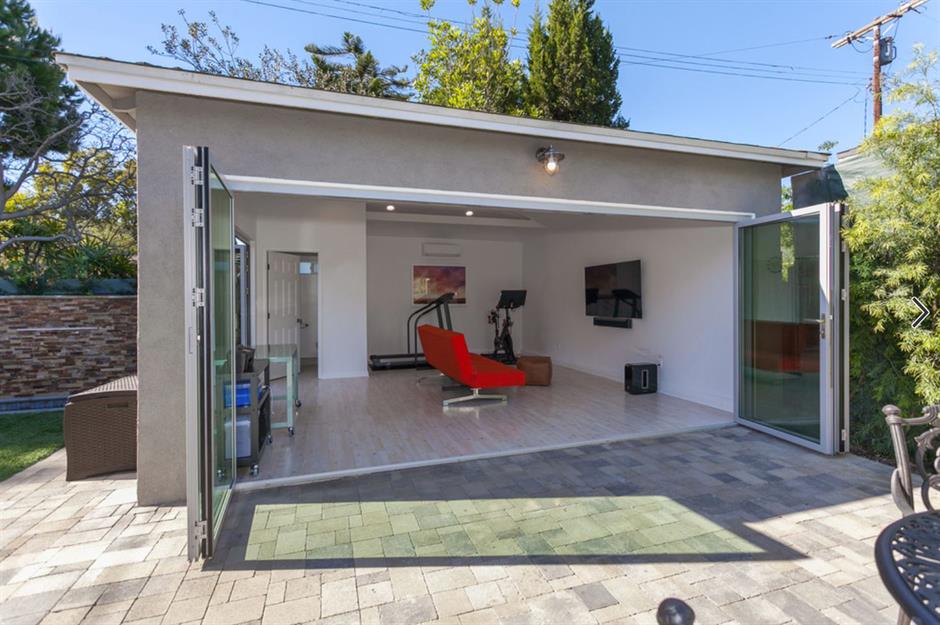 The detached structure of this old garage was turned into a bright and airy gym with folding glass doors. Thus, the front part of the gym could be easily kept open while exercising, letting the cool breeze and light enter the space to rejuvenate you.
A custom kitchen out of an old garage
This garage with a mini clock tower and a gabled roof undoubtedly has an old-fashioned look, but in a way that we love. And the way the homeowner built a new kitchen inside is remarkable. This is a great way to add space to the main house.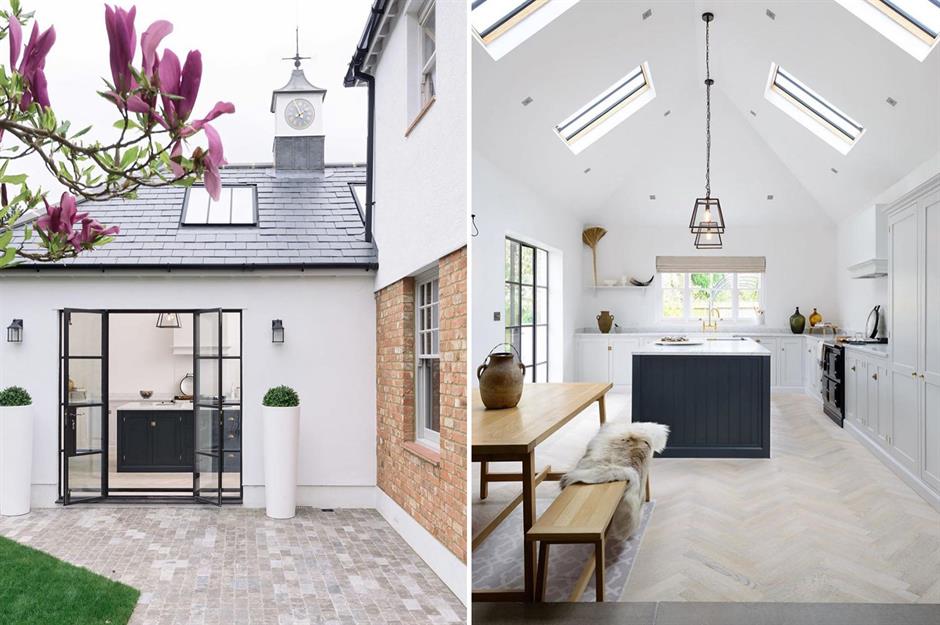 The pure white of the space with a monochromatic touch and black kitchen cabinet in the middle holds the potential to turn heads. And the Crittal French doors add to the overall beauty of the place. This is a sophisticated and soft look, and we adore it.
A mid-century themed hiding spot
Themed rooms are a hit, and mid-century interior designs are always enticing and fun. This picture is clear proof of how you can clear out your old isolated garage space and turn it into a cozy living room with a mid-century touch to it.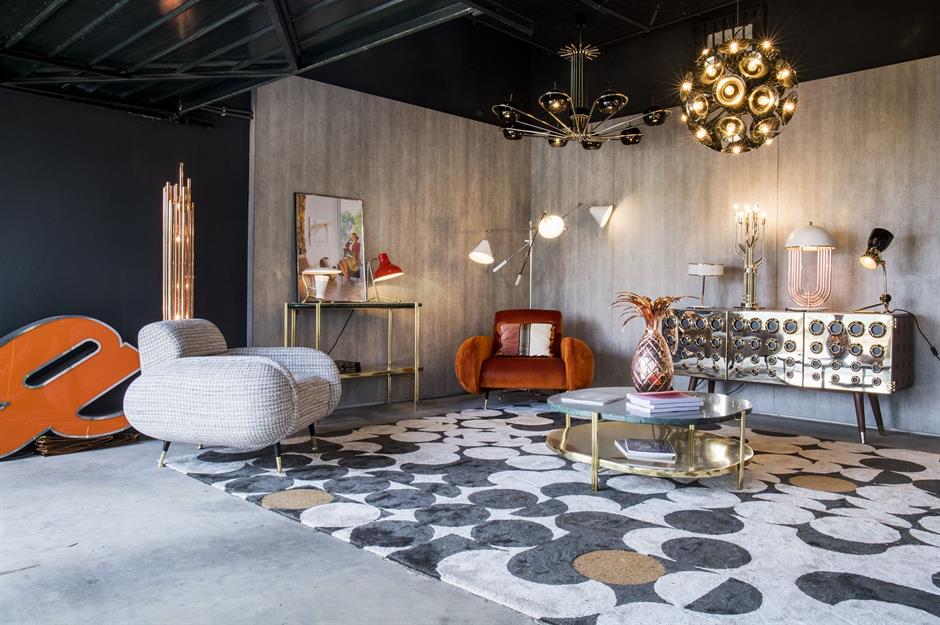 A fresh new coat of paint and wood paneling paired with modern furnishing and dramatic light fixtures add enhanced beauty and coziness to the space. The glamor of such funky decor can make it a perfect hang-out area for anyone.
A welcoming guestroom amidst nature
Nothing can surpass the beauty of a room where nature itself comes to embellish the space with freshness. This fact has been proven again with this amazing garage transformation that looks classy and refreshing in every way and feels like a cabin getaway.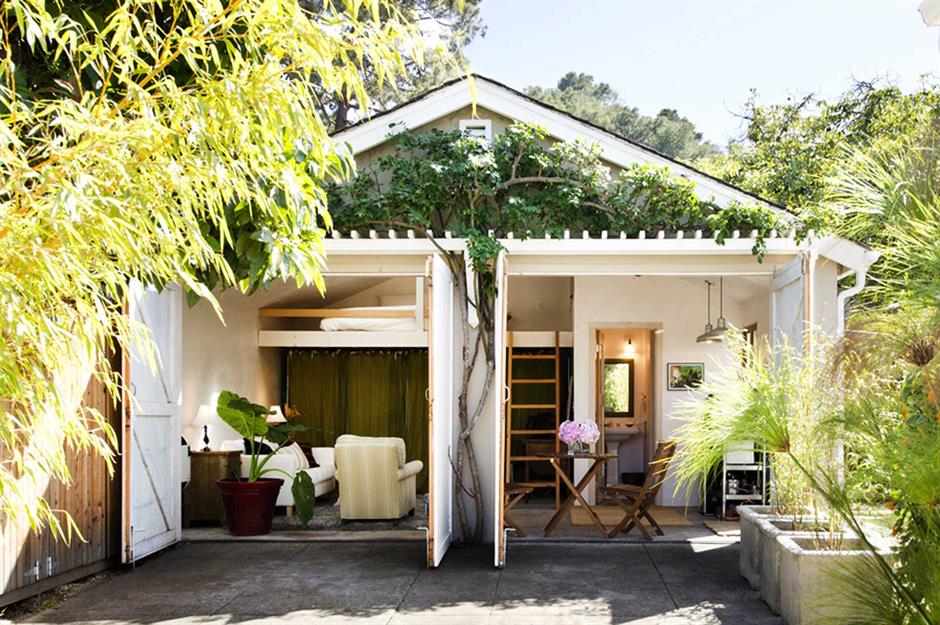 This former garage has been beautifully turned into a chic guesthouse and includes a small living room, a mezzanine bedroom with ladder access, a bathroom, and a kitchenette. The open front of this former garage during the daytime makes it a pathway for light and nature to meet the room's interior, adding unique charm.
An airy living room space
You can easily create an airy living room from an open space garage with smart designing ideas that this designer took advantage of. This old garage has been turned into an incredible two-bedroom space. While the original structure is still in place, who would guess what it once was?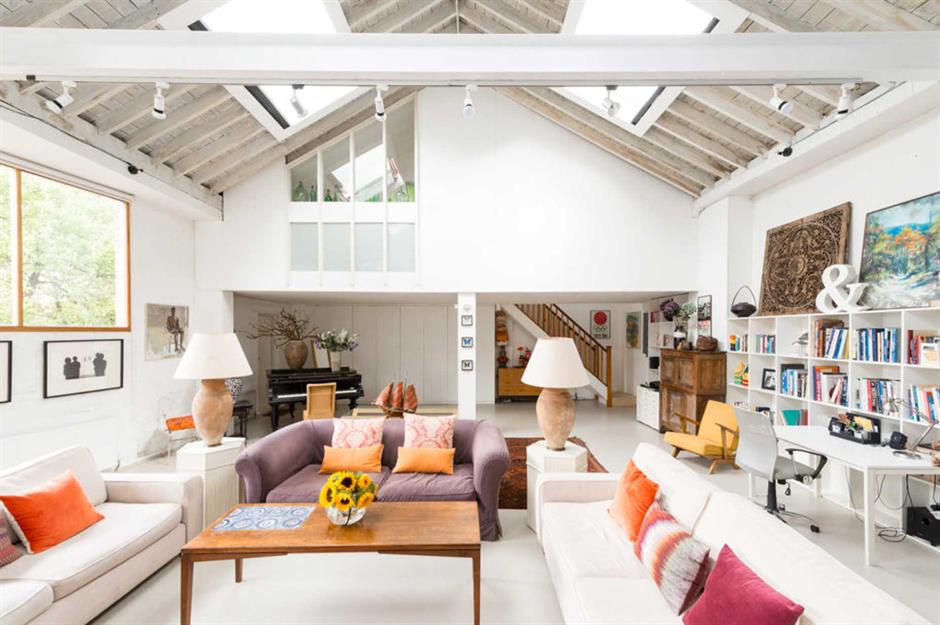 The vast living area and a small staircase to utilize the upper space, along with a perfectly balanced interior, escalate the entire appeal of the room. Moreover, the addition of colorful cushions complements the entire look of this beautiful space incredibly well.
A large modern lounge
The need for a lounge in your home can always be found. Who wouldn't want a room designated for relaxation? Luckily, you can easily create a contemporary lounge space by revamping your garage. You can take inspiration from this designer, who made the small space perfectly functional.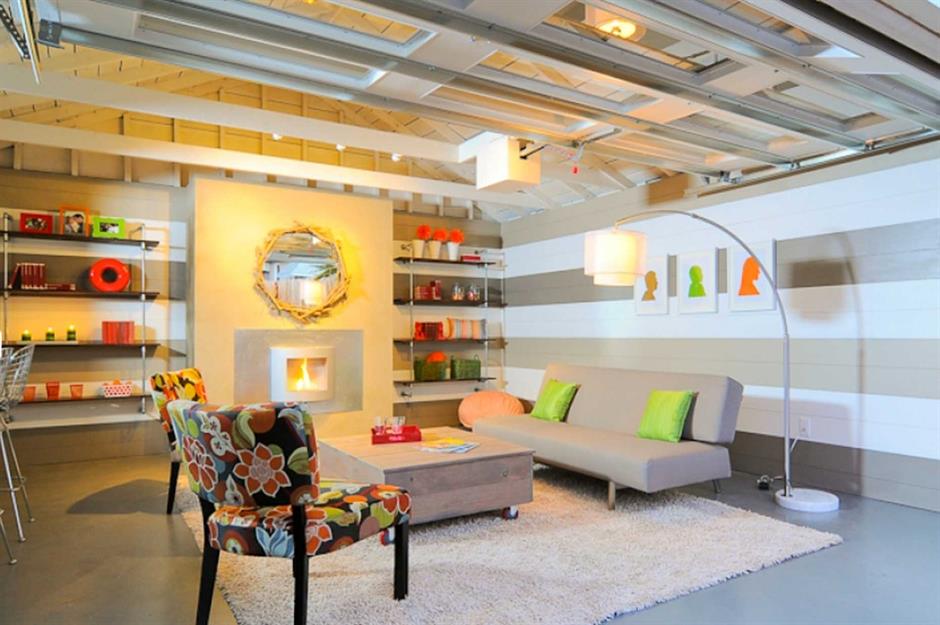 The addition of a faux fireplace with a concrete chimney creates a unique touch of elegance. Keeping the garage door and painting the original slats, along with the horizontal stripes, add a very contemporary look. Switch up the colors to fit your taste and preferences.
A refurbished art studio
An artist's mind will always look for something that can feed their artistic craving in the best way. So, this upcycled art studio is a perfect collection of artistic decor that serves as a unique idea to revive an old garage.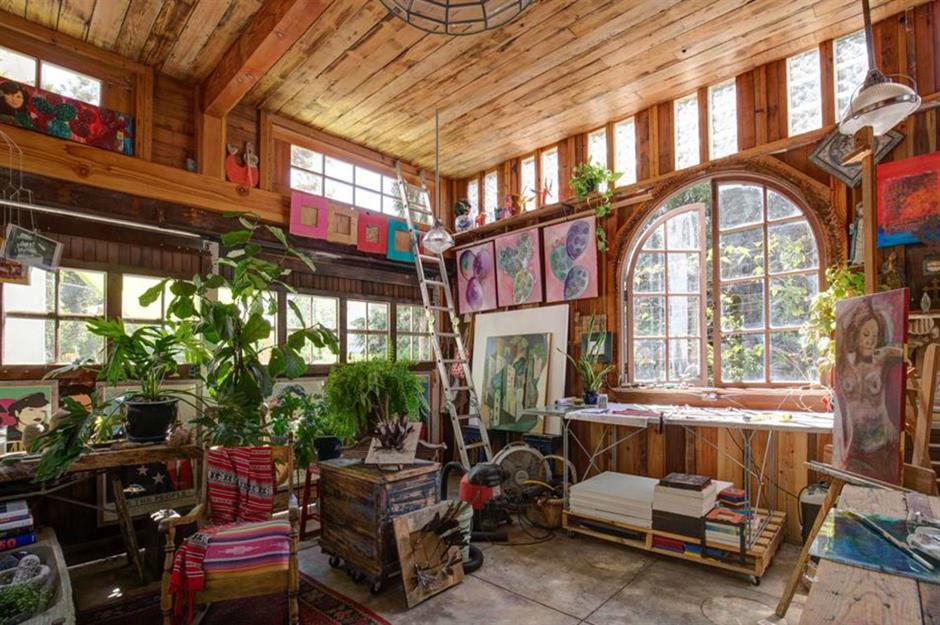 This art studio was sustainably created from an old dusty garage that had two structural beams. The addition of plenty of recycled art assortments and house plants adds extensive beauty to the look of the studio. Peep the granite-patterned flooring too.
Create a game room with lofty charm
A game room renders the perfect luxurious feel to your home when you intend to host guests and make them drool over the look. This cozy game room design can inspire you to turn your unused garage into a place of fun.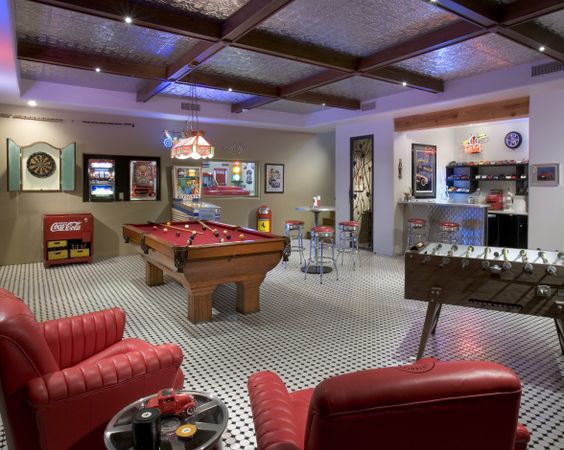 The luxurious greyish tone of this space, with the addition of comfy sofa sets and stools of bold red, creates a perfect classy charm. On top of that, the polka-dot flooring is a bonus touch to aesthetics. Put in whatever games you wish to create your custom lounge.
Make some space for your guests
Your home can never have enough guestrooms. So, if you are thinking of turning your garage into one, you are on the right track. This lovely detached guestroom, with its white and grey hue, creates an elegant getaway for your visitors.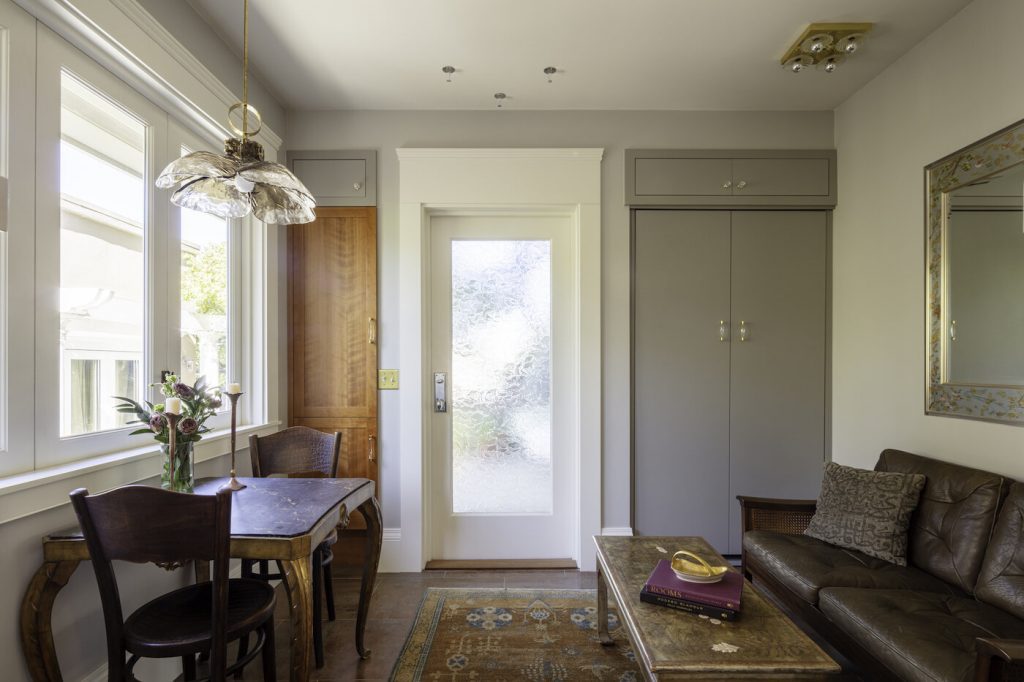 In addition, the pretty glass door with a white frame gives the room the feeling of a home. Also, the minimal furniture assortment of contrasting dark colors, along with the style of each piece, creates an elegant look your guests will certainly admire.
Get your dream laundry room
It is always more convenient to get your laundry done in a spacious room. But it is pretty challenging to create adequate space in your compact home. However, do not worry anymore if you have an unused garage at your disposal.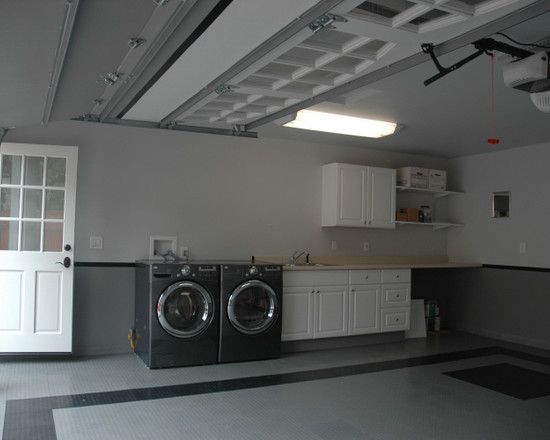 You can turn your old garage into a lovely laundry room just the way this picture shows, with just as much style and elegance. There's no need to clean out the garage and use it as is – you can jazz it up with color.
Turn your garage into a dining room
If you find your dining area to be too small but never considered moving it to your garage, check out the photo below for some inspiration to do just that. This designer made a full kitchen, which is also a wonderful option.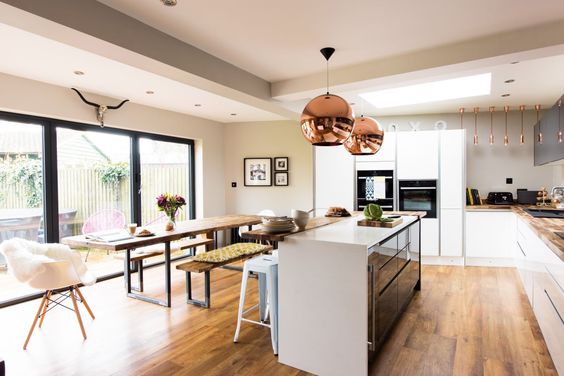 This large garage has been perfectly turned into a kitchen and cozy dining area with a lovely open plan. The sleek and modular kitchen setup paired with wooden flooring looks stunning. And the placement of the dining table beside the sliding door gives this room aesthetic balance.
Having a narrow garage? Turn it into a bright room!
If you are looking for some effective garage transforming ideas to visually change the room's proportion, this picture serves as the best style guide. Painting the walls and placing minimal furniture and bedding in the space make the room look less cluttered and much bigger.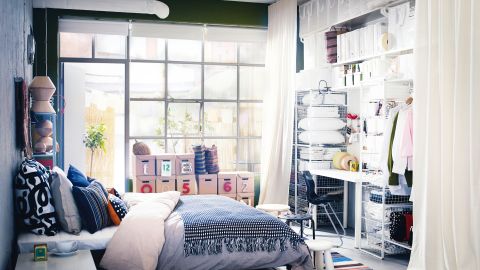 Installing a patterned glass window allows a lot of natural light to enter the room, brightening the area and making it appear larger. Also, with the addition of Belgian-style doors, the entire space becomes nicely proportional, making the space extremely versatile.
Create room-garden connectivity
The idea of turning your garage into a living space can open up a world of possibilities. And this garage conversion design is the best evidence of that. The owner of this garage wanted to convert it into a multiroom area with loads of light and easy access to the garden.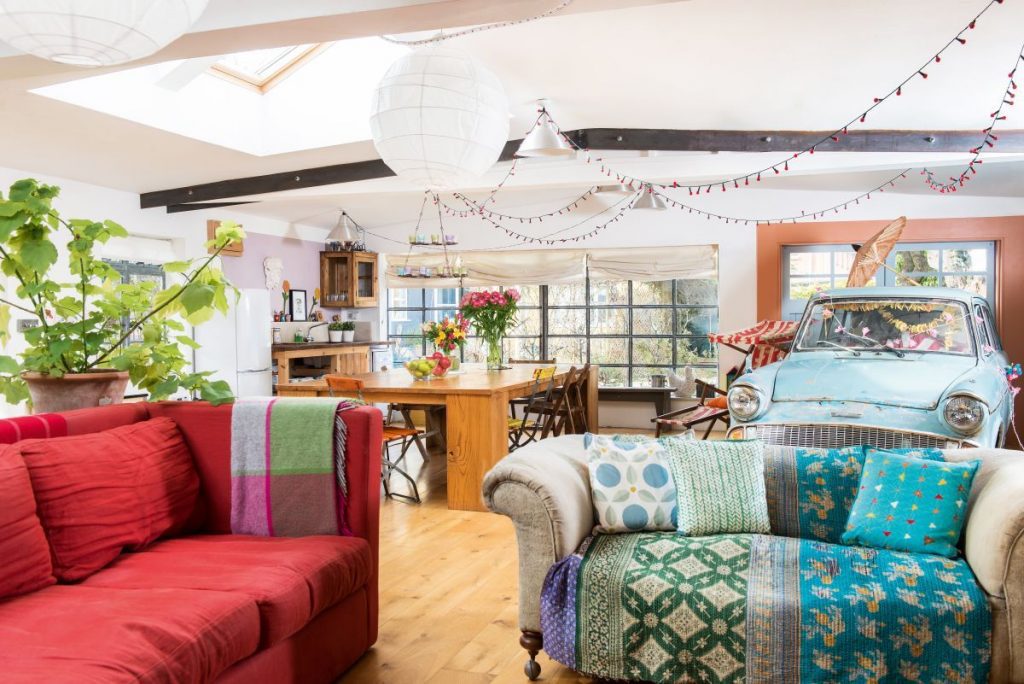 The garage doors were replaced with a Crittall window and a modern garage-style door with windows to let more natural light into the room and to allow easy access to the garden. Moreover, bright furniture and the vintage car make this room have a quirky yet pretty look.
A colorful kid's playroom can perfectly revive your garage
Suppose you don't have a playroom, no worries. You can now create your own playroom if you have a sizeable vacant garage space. All you need to do is add bright and playful decorations to the room, as shown in the image below, and transform it into a kid's playroom.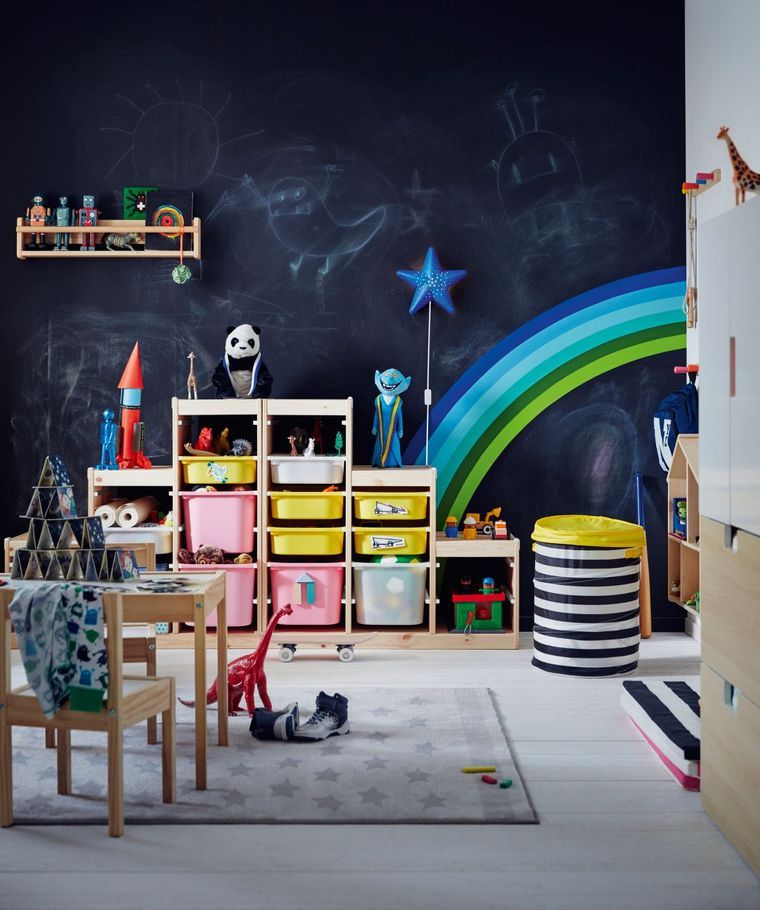 Adding flooring over the concrete, painting the walls, and installing bigger windows are all the major changes you would need to make. A fun idea is to paint the walls with chalk paint so your kids can create large art pieces anytime they want.
Make some space for a lovely annex
An annex in the middle of a green garden can give you some extra space to breathe and relax in your home. So, converting your unused double garage into an annex is undoubtedly a good choice. See the design below for inspiration.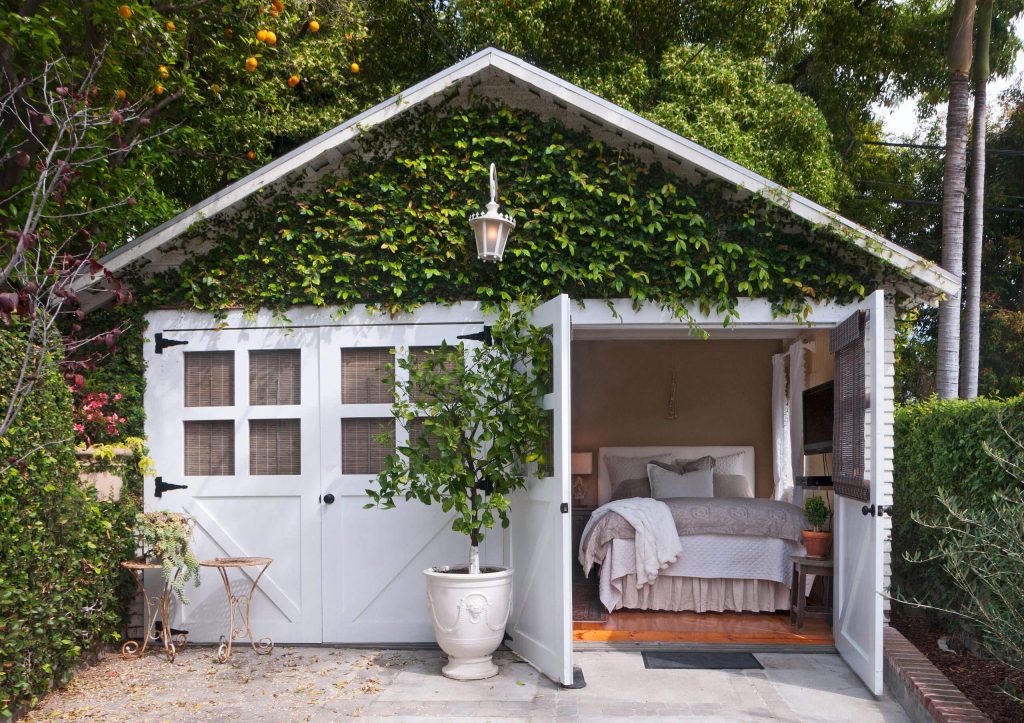 This old garage painted all-white outside and equipped with panel doors looks lovely. The all-green decor at the upper part of the annex deserves a special mention and makes this place a perfect getaway from the mundane and monotonous concrete life.
Turn your garage into an ambient living room
If you are looking for some creative styling inspiration to convert your large garage into a living room, there are many directions you can go. In this design, the indoor ambient lighting in the room makes it look spacious and adds warmth to the space.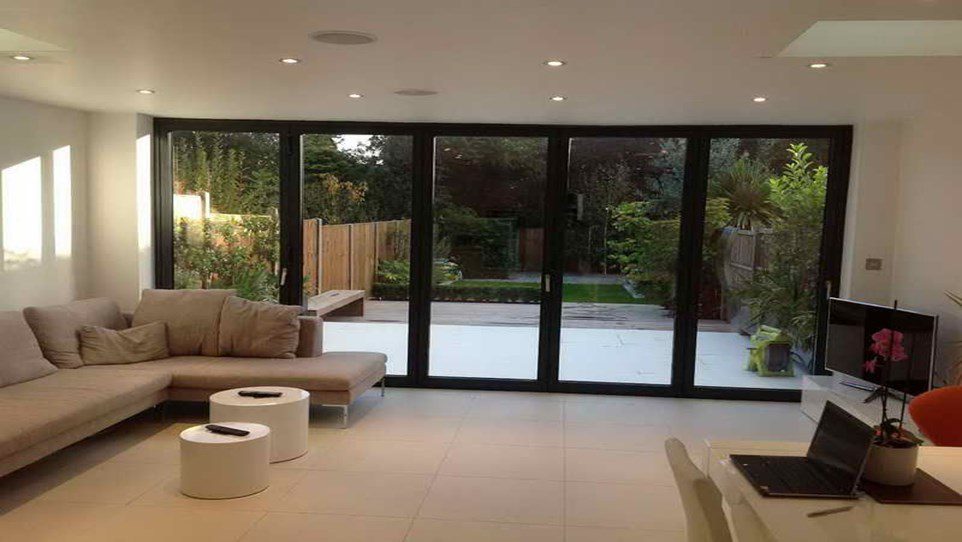 The creamy hue of the wall perfectly complements the lighting, enhancing the charm of the room. Also, the properly placed front patio doors with black borders add an edge. The nicely accentuated furniture, on the other hand, creates the best look using solid tones.
An adorable hang-out space
Creating an adorable space out of your old garage can be a no-brainer if you have a look at this beautiful style. This lovely luminous garage transformation will give you the best ideas you have been looking for so long.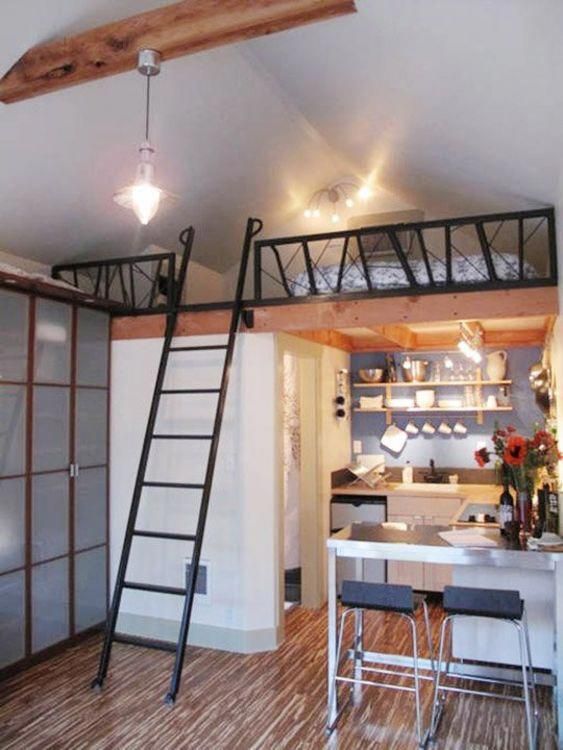 This old garage turned into a studio looks charming with its smooth wooden flooring. Using a ladder to access the small comfy bedding upstairs gives a chic look to the place. Also, the small kitchenette with a sleek dining table and open shelving complete the vibe.
A rustic living space
No matter how old rustic interiors may feel, we still love it more due to its independent charm. Creating this look you see below can be easily achieved, as you can see, even if your garage is on the smaller side. It's all about colors and space optimization.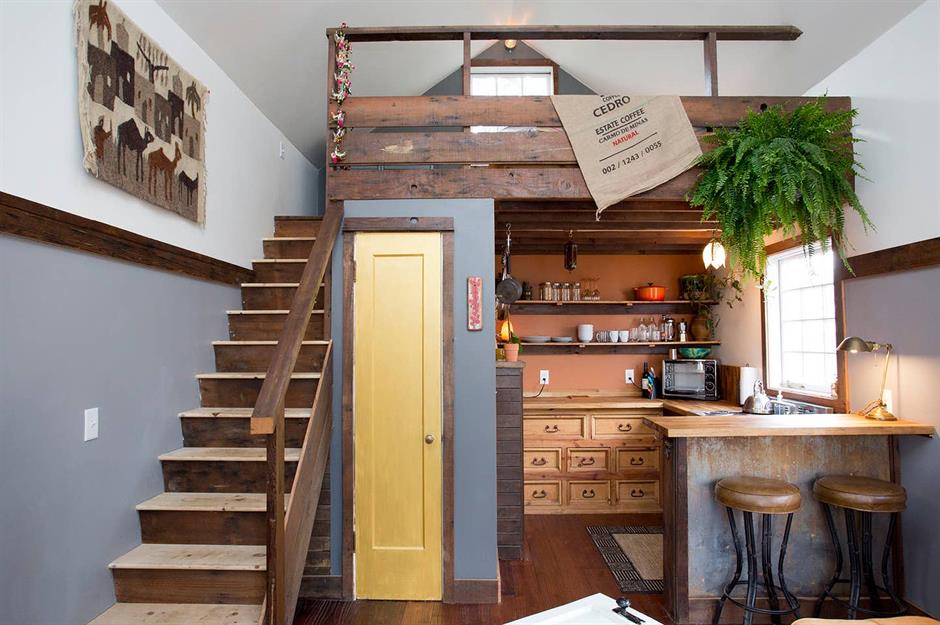 This ex-garage has been turned into a perfect bolthole. The use of recycled materials to create a cozy space upstairs gives this place a unique vibe. The cute and functional kitchenette creates a balance of space and angles that add beauty to the entire setup.
Create your luxurious bathroom
Some of us might feel our bathrooms are lacking in pizazz. Creating a luxurious bathroom can be taken up to a whole new level by using your garage. This stylish bathroom pictured here has the feel of a personal spa.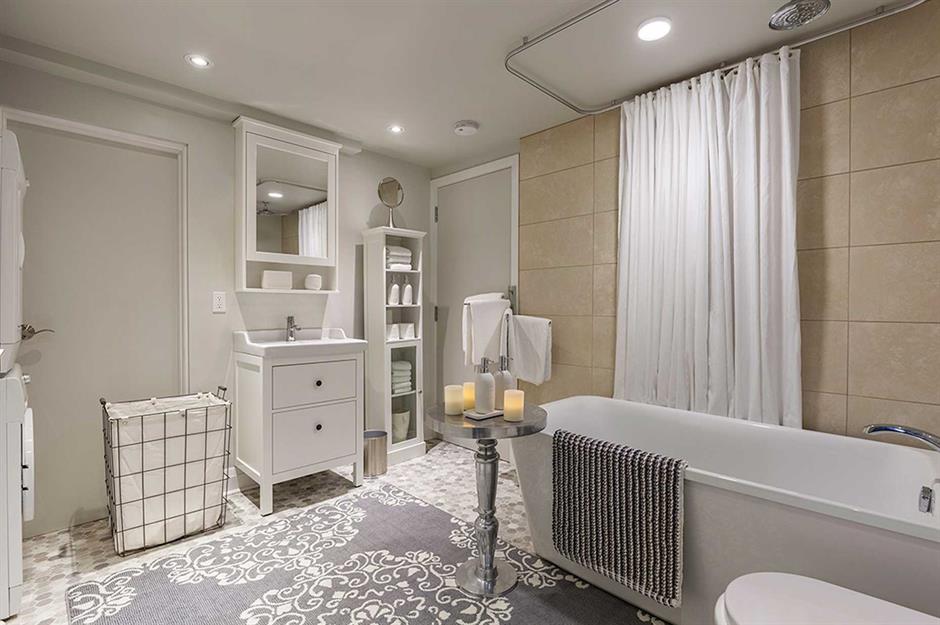 A large bathtub, custom furnishing, and proper decor make this former garage hard to recognize. This designer went with neutral tones and lots of light for a mood-enhancing experience. You can play around with colors and lighting to create your perfect relaxation spot.
A family room with farmhouse flavor
You might not have a plush farmhouse, especially if you live in the suburbs. But you can undoubtedly enjoy its feel by turning your garage into a farmhouse-style family room. This room, with its slight monochrome tone, renders a vintage classy look.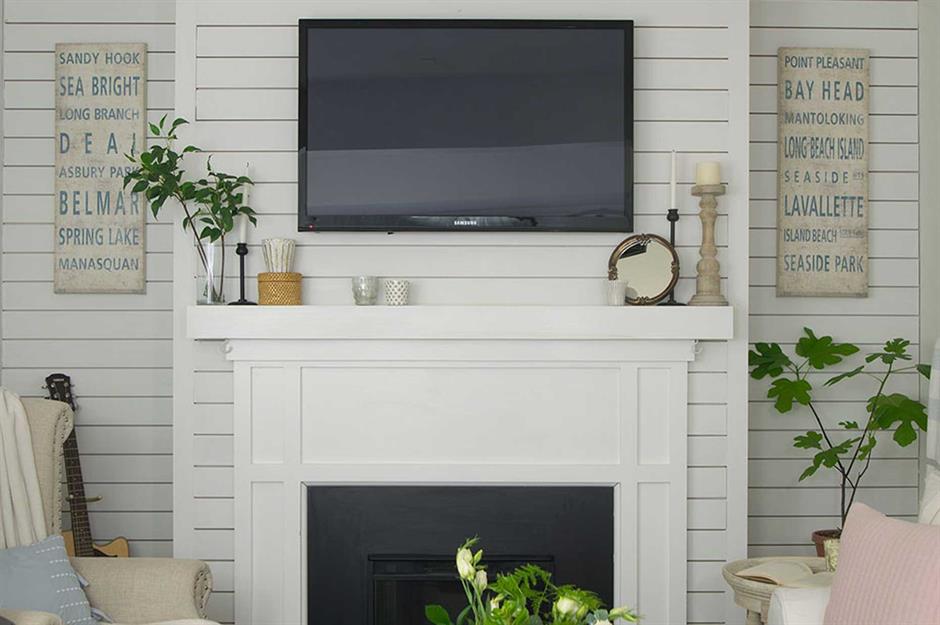 Minimally painted and horizontally striped walls, a subfloor, windows, and vents add to the room's functionality. Also, the simple fireplace built in front of the garage door with a TV mount above makes this place a perfect family room.
A lofty family kitchen
Cooking with your large family is all about giggling and making memories, along with delicious meals. But if your kitchen does not have enough space, you can easily turn your unused old garage into a large kitchen, as shown in the image below.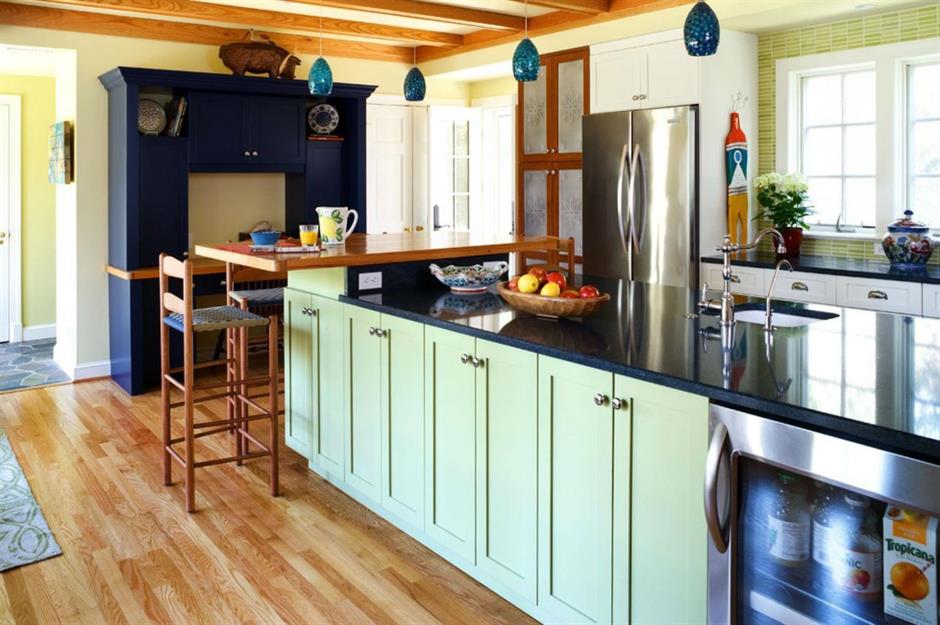 This previously isolated garage has been transformed into a vast open kitchen with easily accessible kitchen cabinets and ample counter space. Also, if you notice the hallway on the left side, you can see a bathroom. This space has really been upgraded.