Get The Goth Look: 40+ DIY Projects For A Spooky Aesthetic
By Navkiran K January 25, 2023
---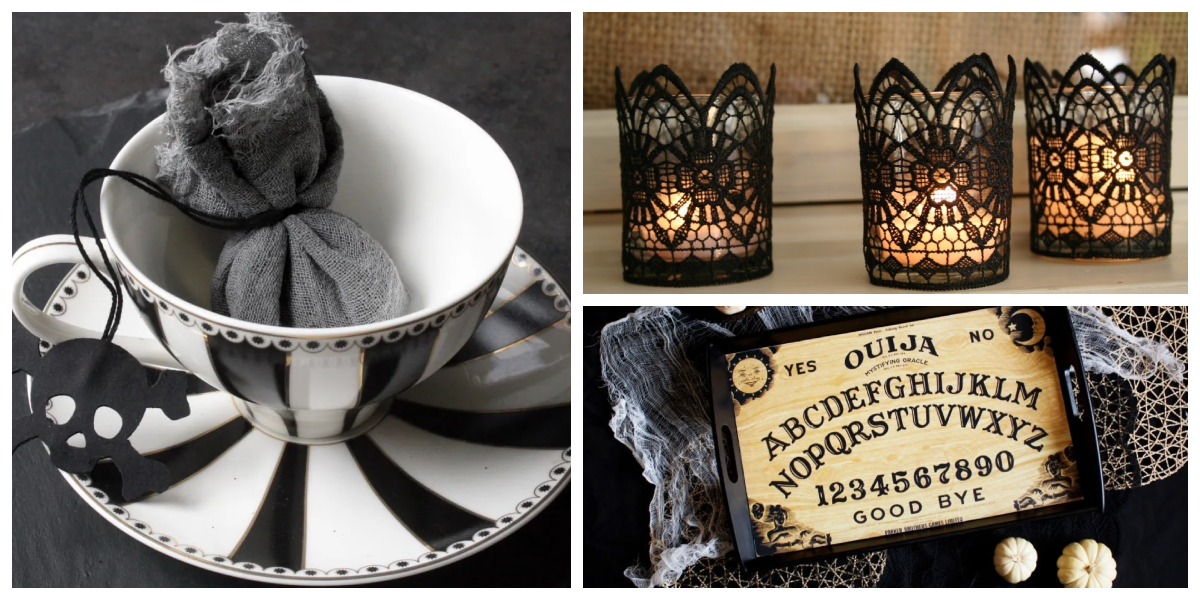 With the popularity of shows like Stranger Things and films like The Conjuring, it is no surprise that more people are interested in gothic decor. DIY gothic decor ideas are easy to find online and can be used to create a unique, dark, and beautiful home. 
Many people choose to go with a gothic theme because it differs from what is typically seen in homes. Instead of beige walls and grey couches, gothic decor pops with personality and makes these homes stand out from the rest.
The gothic decor is also very versatile, so you can easily find ways to incorporate it into any room in your house. If you're looking for some dark and beautiful DIY gothic decor ideas, here are a few places to begin.
1. Antique ghost mirror
To make an antique ghost mirror with paint and a black frame, you will need a black frame, paint (black, white, and gray are best), a brush, and a piece of sandpaper. Take the sandpaper and lightly distress the edges of the frame. This will give it an antique look. Next, paint the frame black.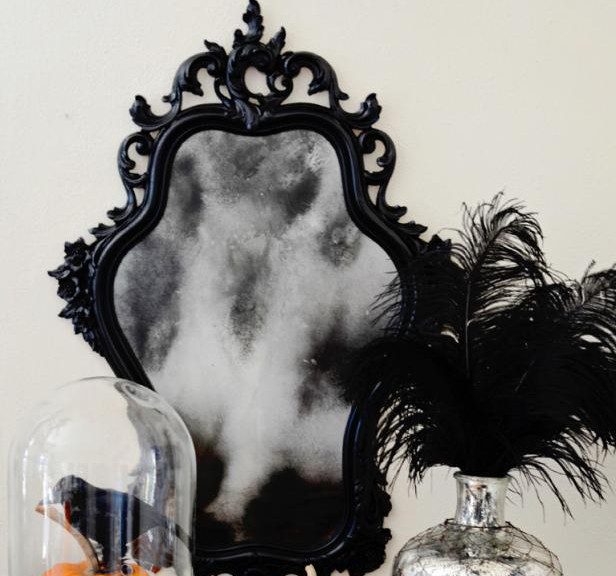 Now, it's time to add the "ghost" effect. To do this, combine black and white paint to make a dove grey color. Paint this color over the entire surface of the mirror, except for the edges. You should create a gradient effect, with the center being the lightest.
2. Black tea set
Making a black tea set is easy and can look super cool. Black paint can be used to create a variety of different looks, from simple and elegant to dark and mysterious. You will need a set of white porcelain tea cups and saucers to get started.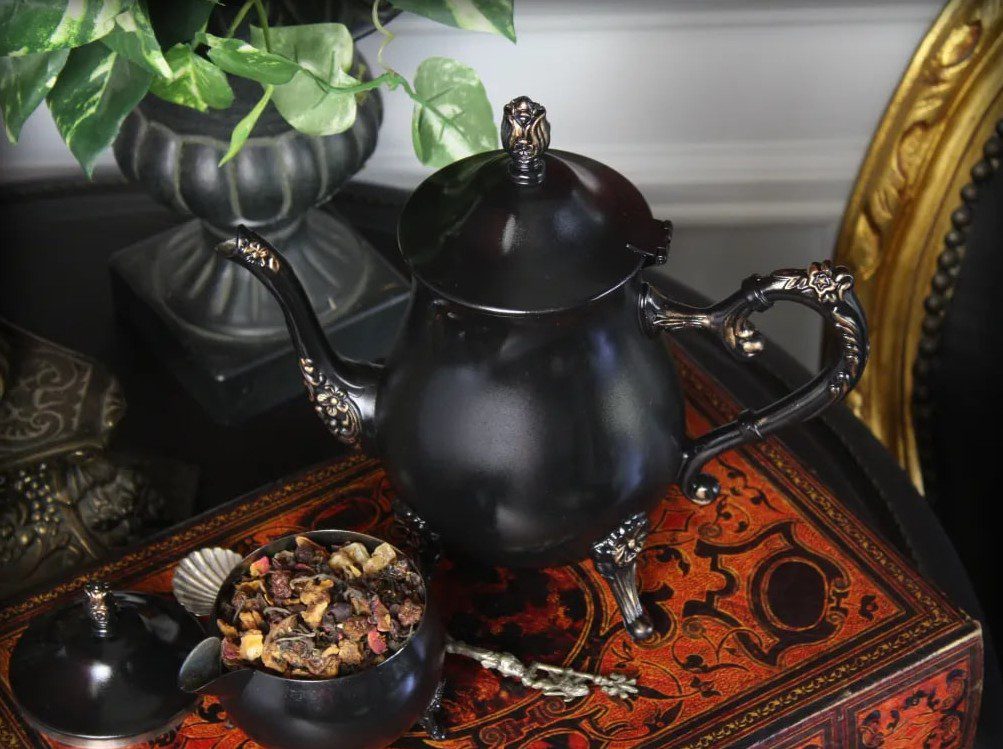 Use black acrylic paint, a paintbrush, and a sealant to paint the tea set. Start by painting the outside of the tea cups and saucers with black acrylic paint. You can use a brush or sponge to apply the paint evenly. Allow the paint to dry completely before sealing with a clear sealant if desired.
3. Dark bakers rack with skulls
To make a dark and gothic baker's rack to add to your home decor, take a look at this DIY project. This dark baker's rack is made from black metal and adorned with skulls, making it the perfect addition to any gothic home.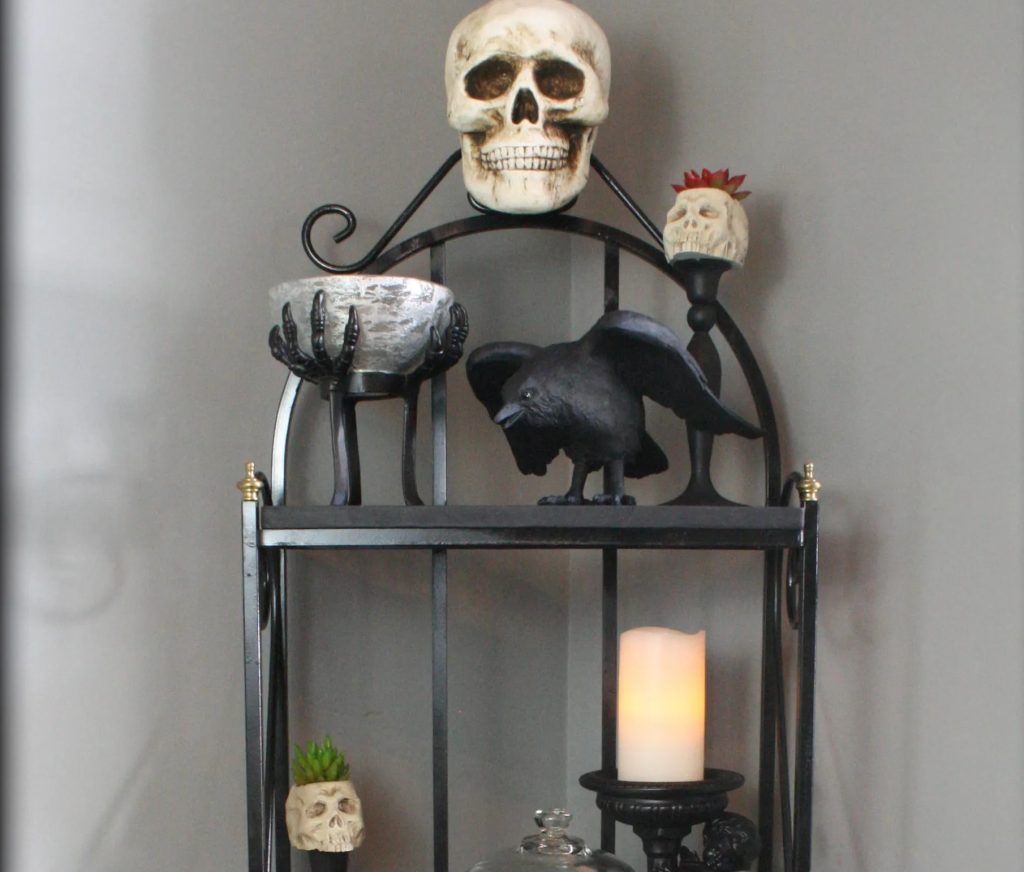 This baker's rack is hassle-free to DIY and doesn't require too many supplies. First, you will need a black metal baker's rack. Next, you will need some skulls. Simply place small skulls on the black candle stands, and you're done!
4. Gothic floor candelabra
This Gothic floor candelabra can be made quite cheaply and easily. A large candle holder is perfect for adding a gothic glam aesthetic to your home. To make your Gothic floor candelabra, you will need black candles, a black candelabra base, and a hot glue gun.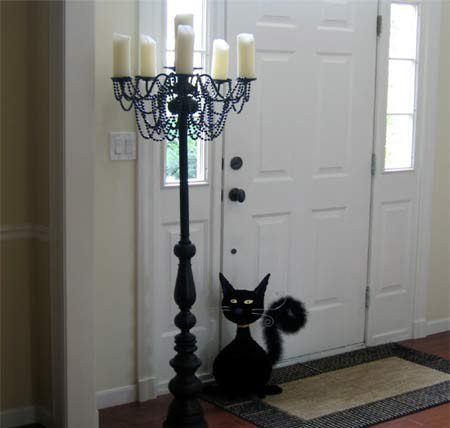 Start by spray painting your pillar candle holder and candelabra base black if desired. Next, use hot glue to attach the pillar candle holder to the center of the candelabra base. Finally, it's time to add the candles. And you're done!
5. Gothic chairs
Make your own medieval Gothic chairs for a functional gothic touch to your home decor. This DIY project is relatively easy to do, and you can find all the materials you need at your local hardware store or at home.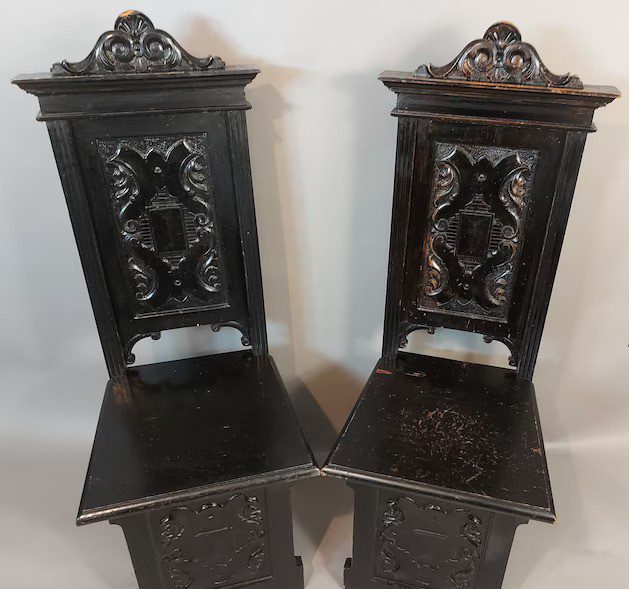 You'll need some wood, a saw, some nails, and some black paint to get started. Cut the wood into chair-sized pieces, then assemble them using the saw and nails. Once your chairs are assembled, give them a few coats of black paint. Let them dry, then enjoy your new gothic furniture!
6. Skull-themed bookcase
Adding some skulls between books to make a Skull-themed bookcase is a great way to add some DIY gothic decor to your home. This simple project can be completed in just a few hours, and it's a great way to show off your love of all things spooky. Grab a few plastic skulls.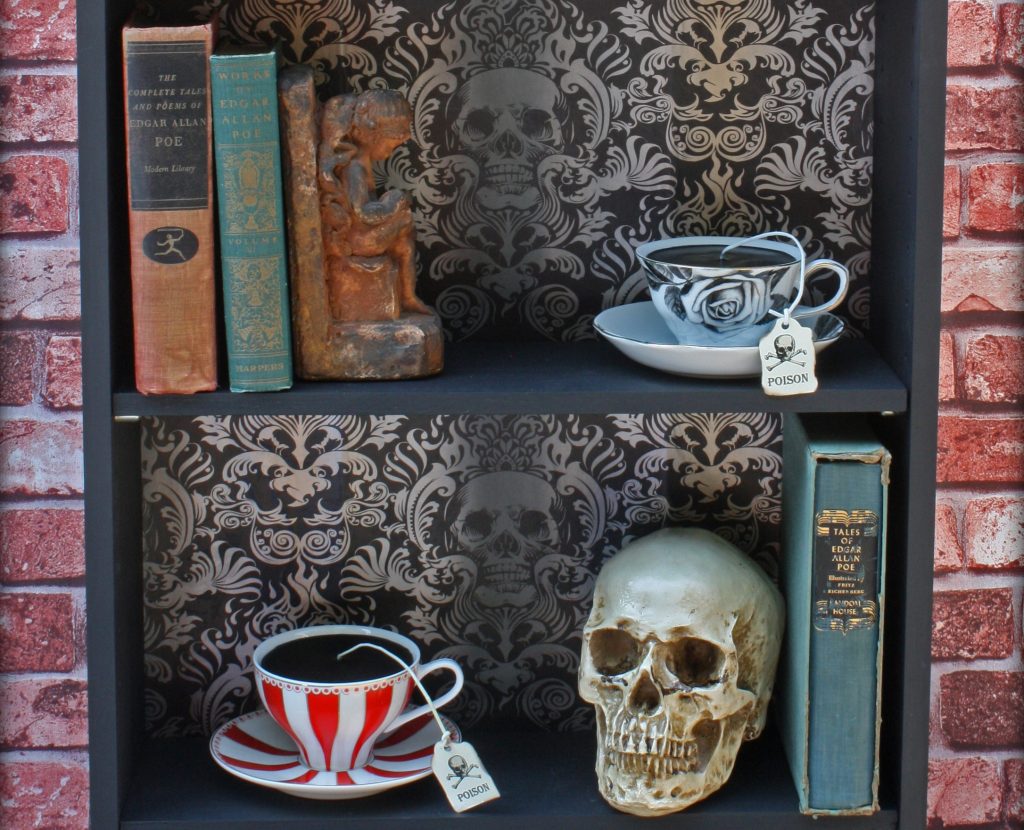 Start by placing the skulls onto the bookcase shelves and spacing them out evenly. You can also paint the skulls. Once the skulls are in place, start adding your books! Arrange them however you like, and enjoy your new Skull-themed bookcase.
7. Concrete skull candle holder
You can make a concrete skull candle holder to add to your gothic decor. You will need a skull-shaped mold, concrete, a mixing container, something to stir the mixture, and a paintbrush. Once you have your supplies, you start getting creative.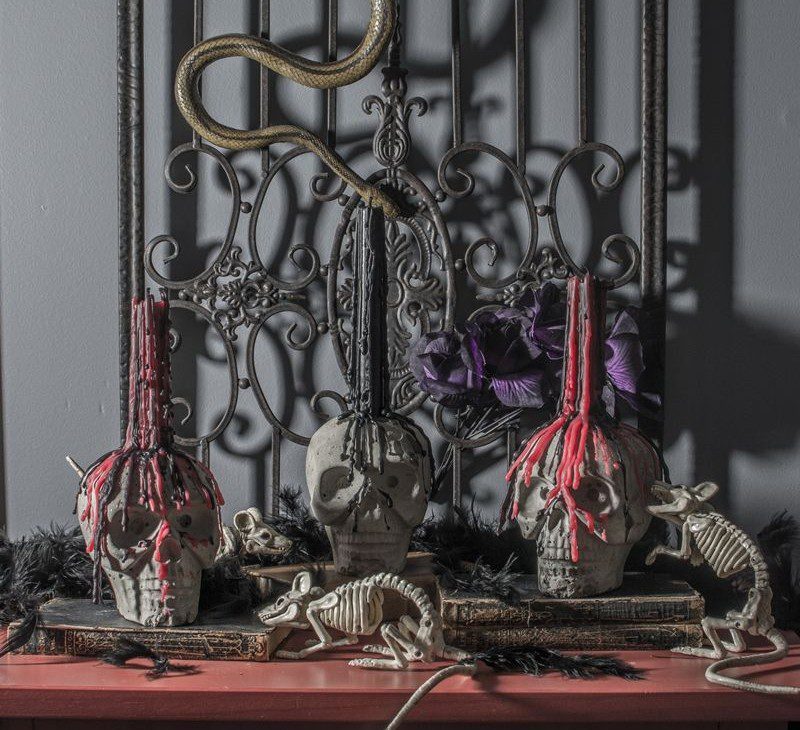 To make the skull candle holder mix the concrete in the bowl according to the package instructions. Pour the concrete into the mold, filling it up to the top of the skull. Smoothen the surface of the concrete. Let the concrete dry for 24 hours and paint. 
8. Gothic green cabinet
To paint a Gothic green cabinet with cobweb and coffin designs, you will use green, black, and white paint, some paintbrushes, and stencils (optional). First, you will want to decide what color green you would like your cabinet to be. We prefer forest green.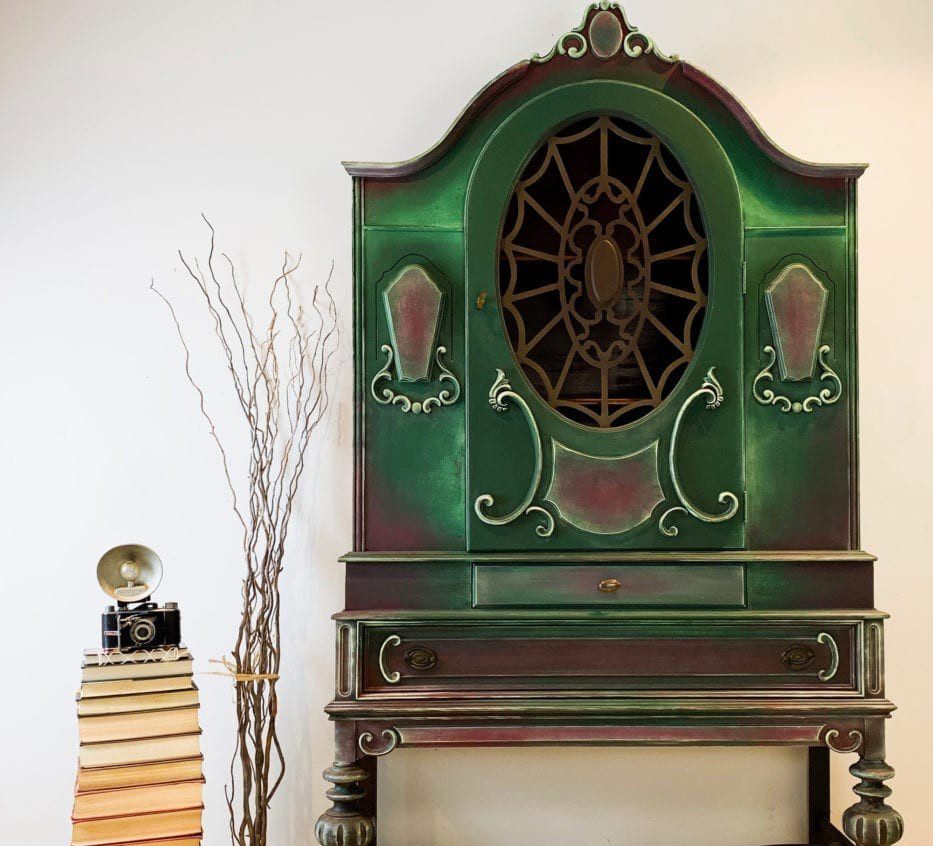 Once you have decided on the color, you will want to decide if you want to add any designs. Use a stencil or freehand the designs on the cabinet. If you're using a stencil, you will want to put the stencil on the cabinet and then use the paints to fill in the design.
9. Gothic upholstered memo board
This black gothic memo board is the perfect way to add a gothic style to your home decor. The memo board is upholstered in black fabric and features a black gothic print. It is perfect for hanging memos, photos, or other decorations.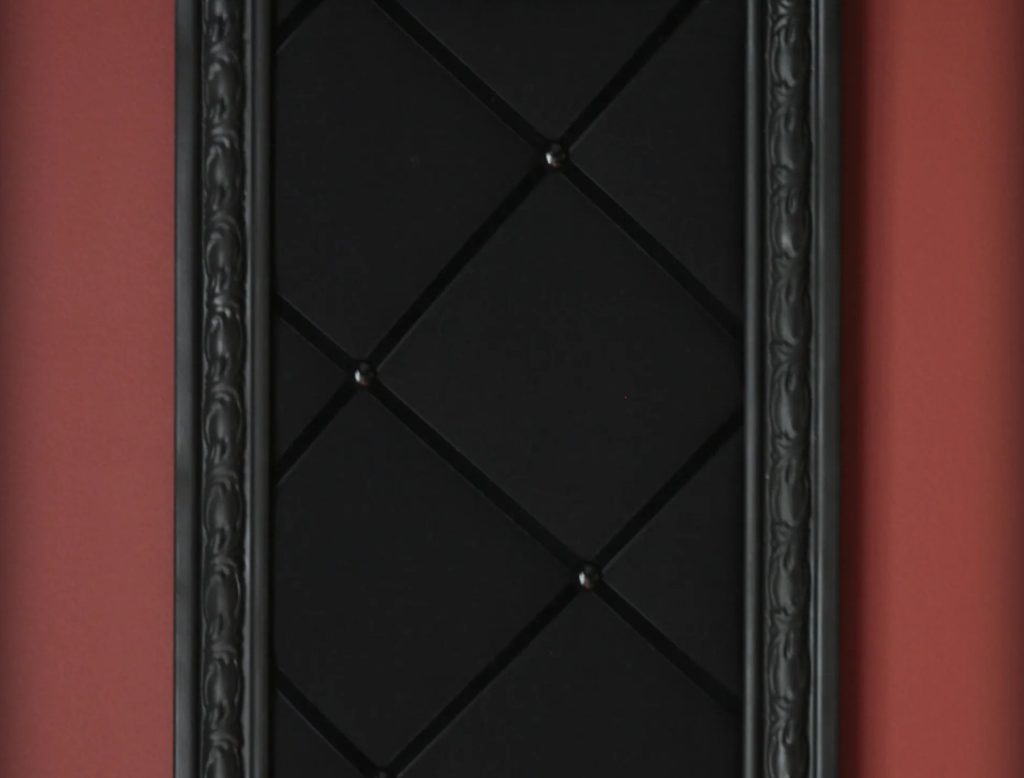 You can make this with wood, foam sheet, black ribbon, fabric, and glue. Add the foam sheet under the black fabric. Make patterns with ribbon so it works like an actual memo board. The memo board also makes an excellent gift for any gothic lover.
10. Spooky soda bottle cloche
This easy DIY project is a crafty way to create that perfect gothic aesthetic. Just grab a soda bottle, some fake skulls and animals, and some black paint. Simply paint the animals black or gray before placing them into the bottles.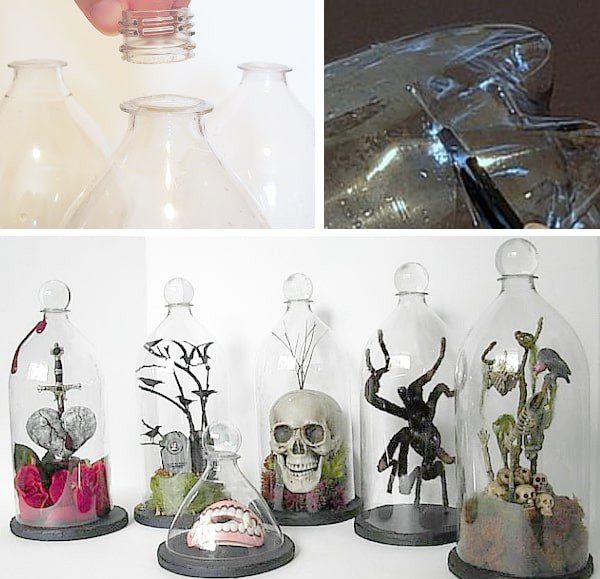 Add these and the skulls to the bottle cutouts and stick them to a base. Add transparent floating bubbles on the top of the bottles to give them a glass bottle appearance. Place the bottle on a table or shelf, and voila – instant gothic decor!
11. Vintage mirror grouping
A vintage mirror can make a great addition to any gothic decor. These vintage gothic mirrors are super elegant but also add a dash of personality. For a gothic-chic pop, consider using vintage mirrors to add to your gothic decor.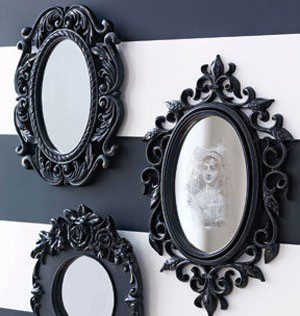 Vintage mirrors look great when used as part of a gallery wall. Hang them in an entryway with some old pictures. A vintage mirror hung in an entryway will give guests a glimpse of your style as soon as they walk in.
12. Turn a coffin into a shelf
For a more daring addition to your living room decor, why not turn a coffin into a shelf? It's a unique way to display items and may make a statement in any room. First, find an old coffin that you can use.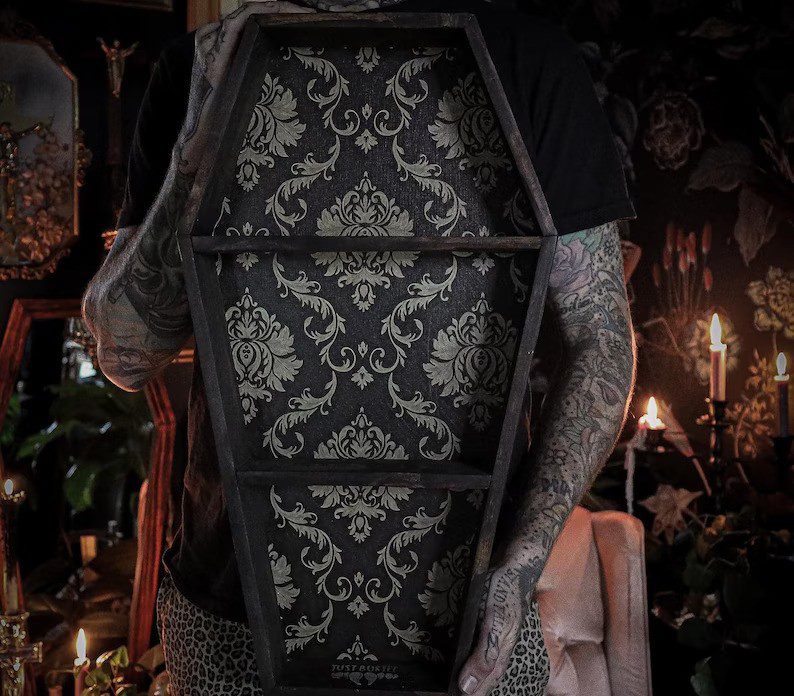 You can scour the 'net to find some. Once you have your coffin, clean it out and sand down any rough edges. Then, paint or stain it to the color of your choice. Next, attach some shelves to the inside of the coffin.
13. Victorian black teacup candle
To make a Victorian black teacup candle, get a black wax tea cup and candlewick. Place the teacup on a heat-resistant surface. Place the candlewick in the center of the teacup. Pour the black wax flakes into the teacup around the candlewick.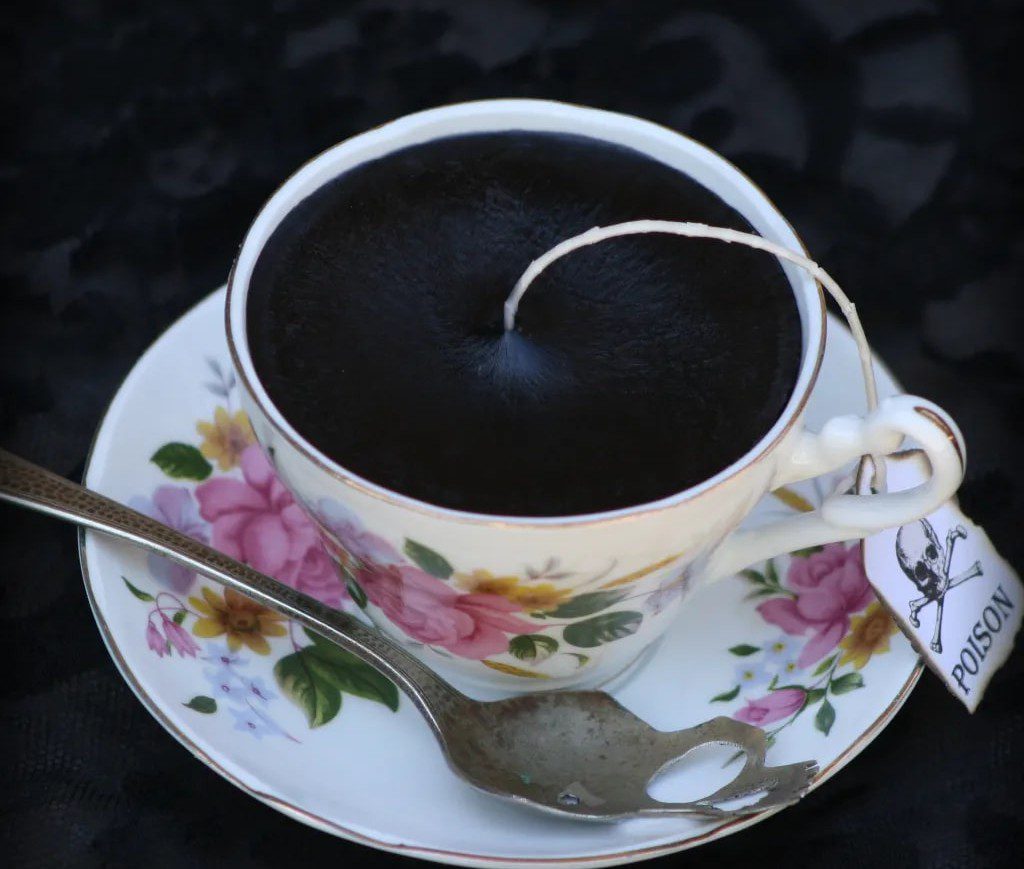 Use a lighter/match to light the candlewick. Allow the black wax to melt and pool around the wick. Extinguish the flame and let the wax cool, and set before trimming the wick to your desired length. You can also add a long wick attached to a tea bag. 
14. Ouija board serving tray 
If you want to add a gothic flair to your home décor, try turning a wooden tray into an Ouija board serving tray. This board is hassle-free to make and looks fantastic. Plus, you can upcycle that old piece of forgotten wood.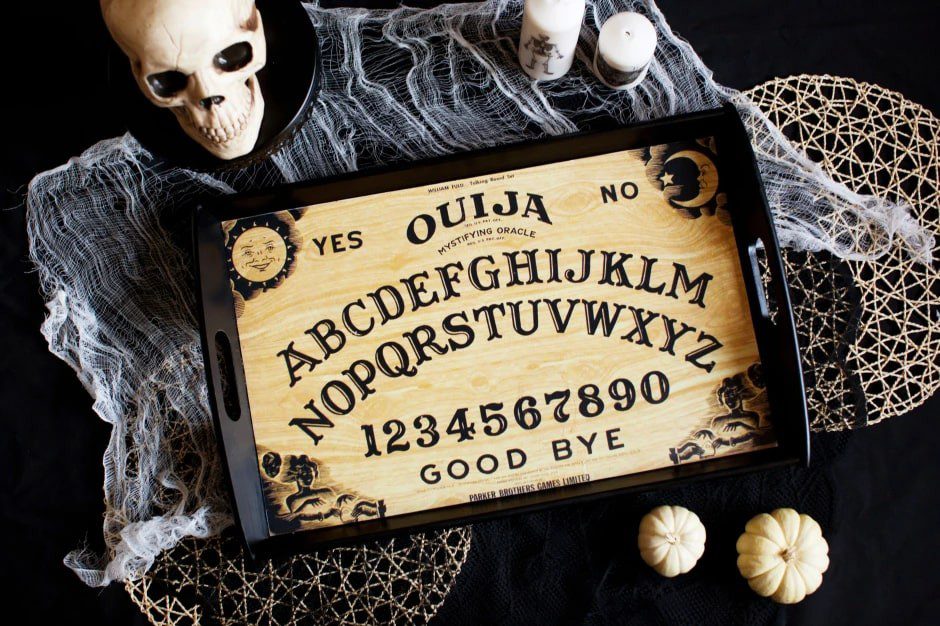 To make your Ouija board serving tray, you will need an old wooden tray, a printout of an Ouija board, scissors, Mod Podge, or another decoupage glue. First, cut out your Ouija board printout and then brush a layer of Mod Podge onto the back of the paper.  
15. Vintage apothecary spice bottles
To make these vintage apothecary spice bottles, you'll require vintage labels, scissors, tape, glue, and vintage apothecary bottles. Cut out the vintage labels with scissors. If the labels are too big, you can trim them down to size. Tape the labels onto the bottles.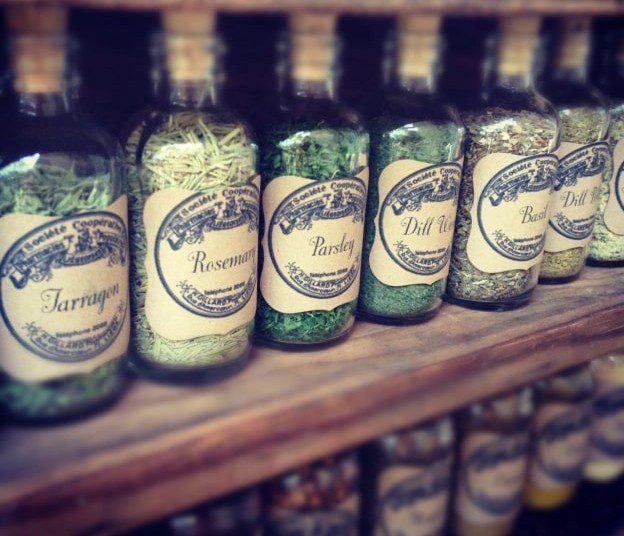 Ensure that the label is centered and that there are no bubbles. Apply glue to the edges of the label and wrap it around the bottle. Once the glue is dry, paint over the label with black paint to make it look gothic. Your vintage apothecary spice bottles are ready to use as gothic decor!
16. Bleeding candles
You will need cheap red candle wax and some long black candles to make bleeding candles. The idea is to drip candle wax to make it look ritualistic. Melt the red candle wax in a double boiler or a glass bowl set over a pan of simmering water.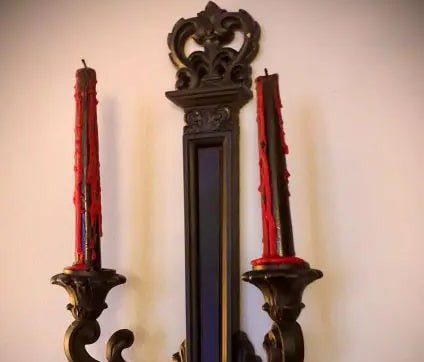 Place the black candles on parchment paper or a silicone mat. Drizzle the red wax over the black candles using a spoon or a pastry bag fitted with a small tip. Allow the wax to harden before lighting the candles. Put these candles on an old candle stand.
17. Faux mercury glass jars
Mercury-stained glasses have a gothic appeal that you may want on your shelves. To make these faux mercury glass jars, you will need hammered metal spray paint, glass jars, painter's tape, and newspaper. First, clean your jars and let them dry completely.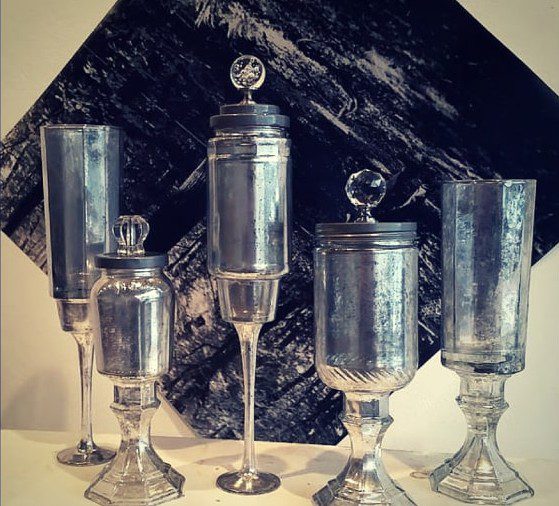 Then, use painter's tape to cover the surface that you don't want to be painted. Next, lay down some newspaper to protect your work surface. Now you're ready to start painting! Hold the can of hammered metal spray paint about 6 inches away from the jar, and spray in a light, even coat. 
18. Clay bats
To make bats out of air-drying clay, you will need 1 pound of air-drying clay, a bat template, a rolling pin, and a sharp knife. Roll out the air-drying clay with a rolling pin until it is about 1/4 inch thick.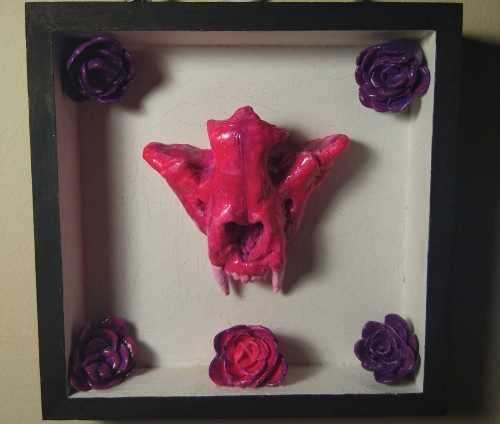 Place the bat template on top of the clay and cut out the shape with a sharp knife. Smoothen the rough edges with your fingers. Let the bats dry overnight, and they are ready to use as gothic decor! You may put these in a boxed frame and hang them. 
19. Coffin bench
With some black fabric and upholstering, you can quickly transform a coffin into a stylish and unique bench that is perfect for a gothic-themed home. Remove the lid from the coffin. Then, use black fabric to line the inside of the coffin. You can either glue or staple the fabric in place.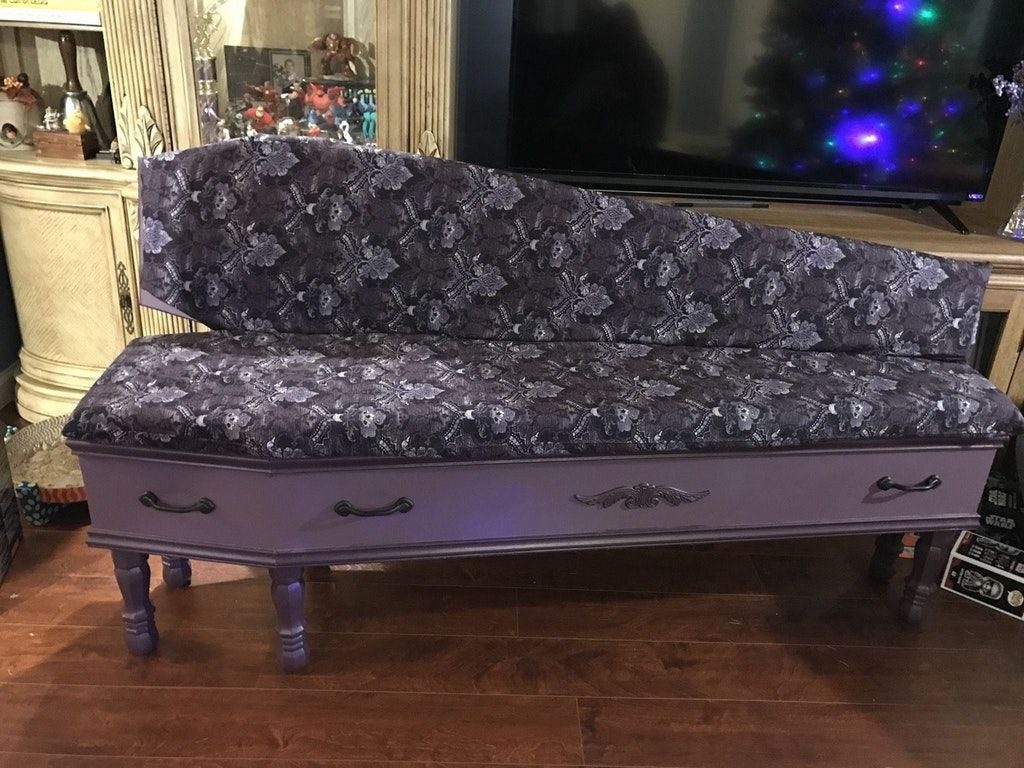 Next, upholster the coffin with black foam or batting. This will help to make the bench more comfortable to sit on. Once you have upholstered the coffin, add the lid, too, for back support with some upholstering. You have now turned a coffin into a bench.
20. Bed frame using black fence posts
Whether you're looking to add a gothic flair to your bedroom or create a statement piece, using black fence posts to upgrade your bed frame is a great way to do it. Here's how. First, remove the existing bed frame and headboard.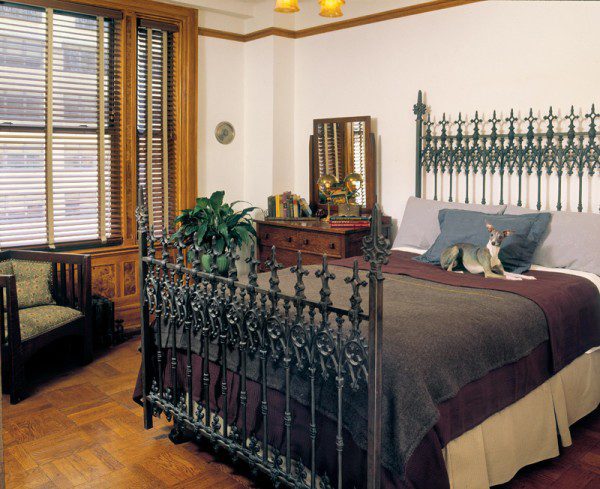 If your bed frame is metal, you may want to sand it down to create a rougher surface for the paint to adhere to. Next, measure and cut your black fence posts to size. Once the posts are cut, use a drill to create pilot holes in the center of each post.
21. Apothecary skincare bottles and jars
Apothecary skincare bottles and jars with vintage labels to make gothic decor are the perfect way to add a touch of gothic elegance to your home. These beautiful bottles and jars can be used to store your favorite skincare products, or they can be used as decoration.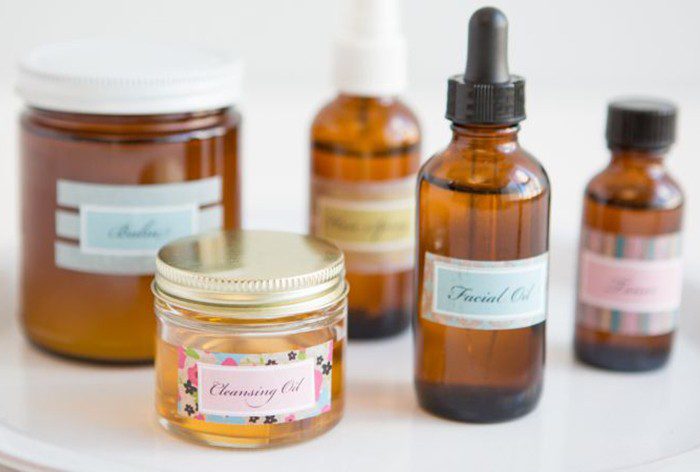 The vintage labels on the bottles and jars add a touch of class and sophistication to any room. Just take some glass jars or repurpose old ones by adding vintage labels. Print vintage labels on stick-on paper for easy application over the glass.
22. Paint plates with anatomical hearts
One exciting way to add a gothic vibe is by painting plates with anatomical hearts. This is a relatively simple DIY, and it will add a moody feel to your dinner parties. You may use any size or style of plate, but smaller, plain plates work best for this project.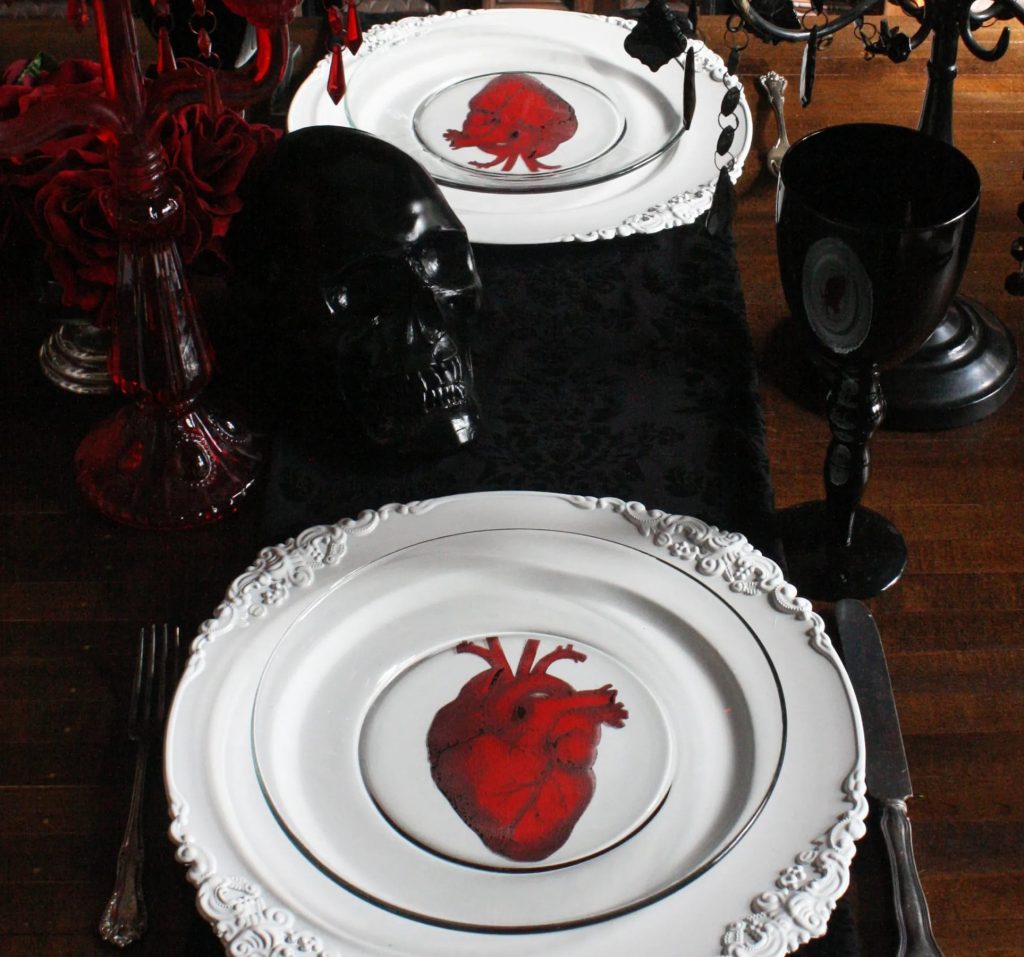 You'll also need some black/red paint, a paintbrush, and a template of an anatomical heart. Find templates online or in some craft stores. Begin by painting the design in red and black on the plate. Then, use a sealant to preserve your beautiful artwork.
23. Black lampshade
The gothic decor is all about mystery. A black lampshade is a perfect way to set the tone for this decor. When choosing a black lampshade, select one made of a thick material that will not allow light to escape.
This will help create an even more dramatic effect in your gothic bedroom. Add black tassels and lace around the lampshade to make it appear more dramatic. Pair the lamp with more gothic decor, such as black candles and bats, on the nightstand.
24. Corset-style throw pillows
To make corset-style throw pillows, add white corset details to a black pillow cover. You can use a variety of different materials to create the corset details, such as lace, ribbon, or even fabric paint. Once you have added the details, allow the pillow to dry completely before using it (if you have used paint or glue).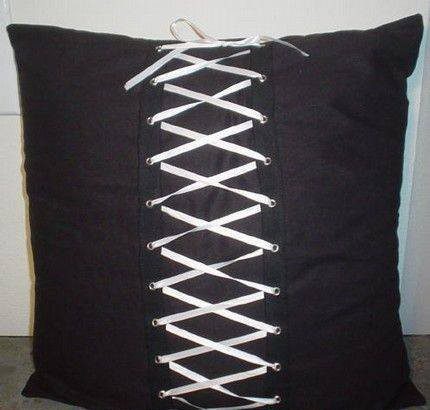 Corset-style throw pillows are a great way to add a touch of gothic glamour to your home decor. They are perfect for accenting a sofa or bed and also make great gifts for friends and family who love all things gothic.
25. Apothecary cabinet from dining cupboards
Paint your old dining room cabinets black to give them a makeover to your dining room. With some motivation, you can turn them into DIY apothecary cabinets that are perfect for holding all your gothic decor. First, remove all the doors and hardware from your cabinets.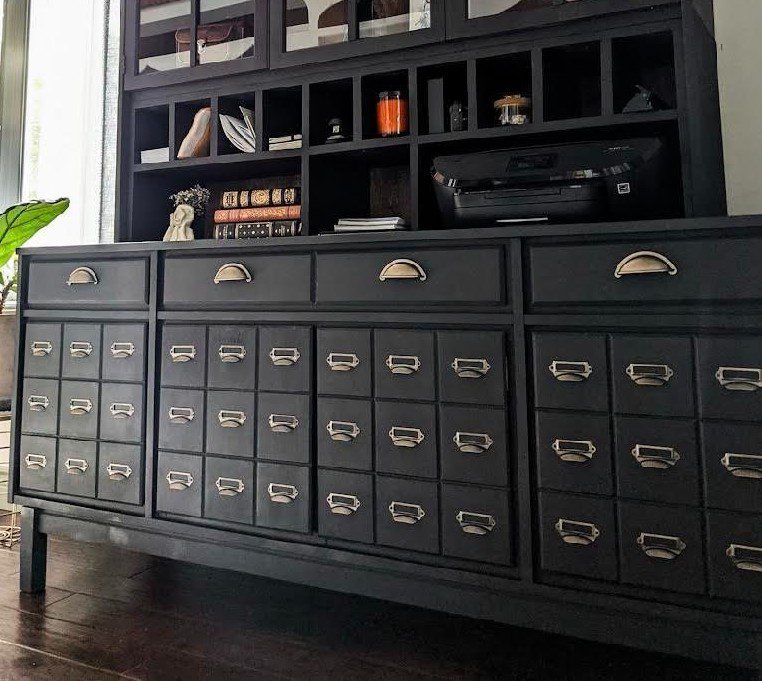 Give them good cleaning and sanding. Once they're prepped, it's time to start painting. Use black paint that will give you excellent, even coverage. Then, you can start adding your gothic decor. Fill the cabinets with all your favorite dark and spooky items like candles, skulls, and spider webs.
26. Baroque wall curtains
For a gothic look that is a little bit more feminine but still stylish, consider black lace curtains for your walls. Lace curtains are a classic choice for gothic decor, and they can be easily DIYed to fit your unique style.
You'll need to purchase some black lace fabric and curtain rods. You can find these items at your local craft store or online. Once you have your materials, simply hang the fabric on the rods and enjoy your new gothic wall decor!
27. Black and white bustle valance
To create a black and white bustle valance for a goth decor, use a yard of black and white fabric and stitch with a sewing machine. First, cut both pieces of fabric into strips that are 2 inches wide. Then, sew the strips together along the long edges, and alternate the black and white fabric.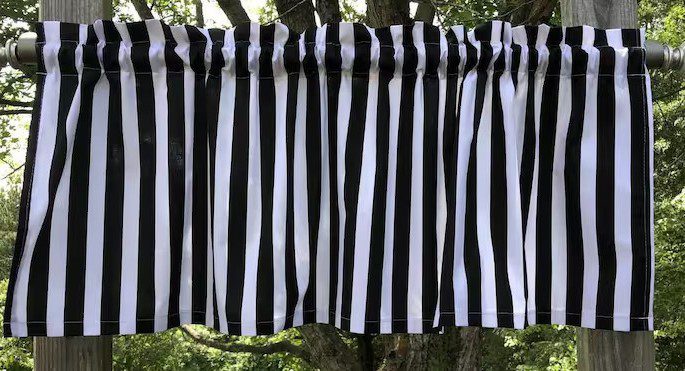 Next, fold the fabric in half lengthwise, wrong sides together, and press. Then, fold each long side in to meet at the center fold, and press again. Finally, sew the side seams together and then gather the fabric at the top to create the valance. Then it's ready to be hung up!
28. Ornate mirror upgrade
Is there anything more gothic than a pewter-painted mirror? To give your mirror a gothic makeover, start by painting it with a layer of pewter-colored paint. Then, use a black paint pen or a thin brush to add gothic-inspired details.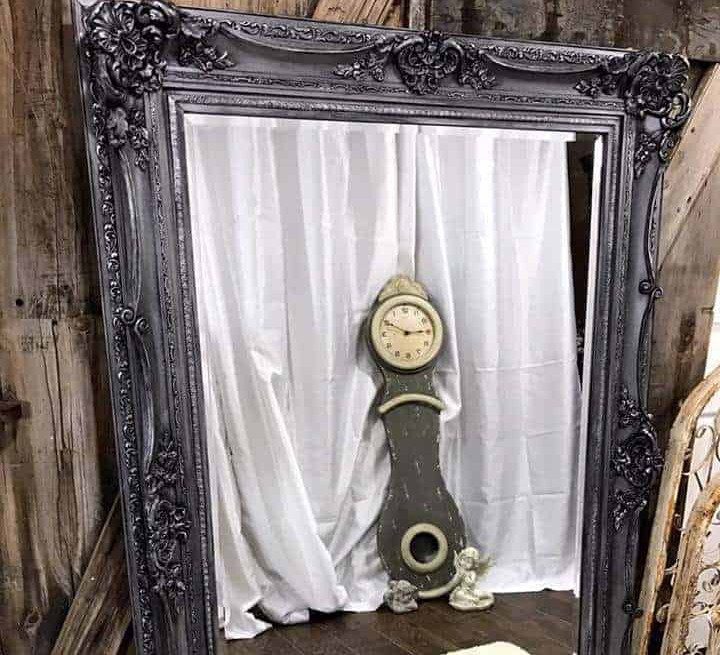 You can draw spider webs or skulls. Once you're happy with your design, seal the paint with a clear sealer to protect it from scratches and wear. Hang your new mirror on a wall or in a doorway to add a touch of gothic glam to your decor.
29. Black lace lampshade
An easy option to add a touch of gothic style to your home decor is to switch out your old lampshade for a black lacy one. This DIY project is quick and inexpensive, making it fantastic for those wishing to add a bit of gothic flair to their home without breaking the bank.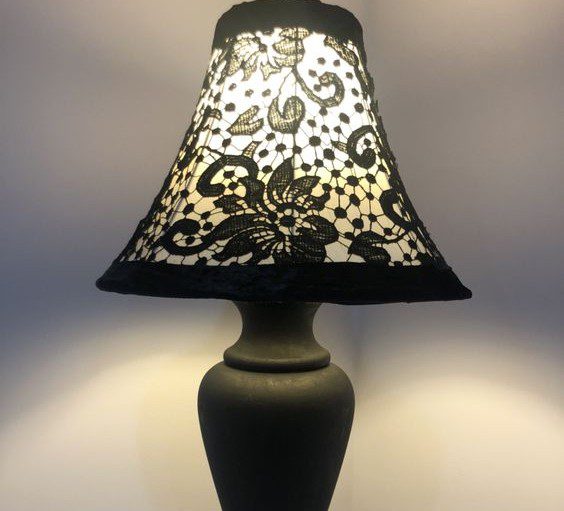 To begin, simply purchase a black lace fabric lampshade. Remove the existing lampshade from your lamp. Cut a piece of black lace fabric to fit around the lampshade frame. Glue or sew the fabric to the frame, making sure that the fabric is pulled taut so there are no wrinkles or folds.
30. Lace votive candles
Use some black lace to cover old votive candles. First, cut the black lace into pieces that will fit around your glass candle votives. Make sure to leave enough excess at the top and bottom so that you can securely glue or tape it.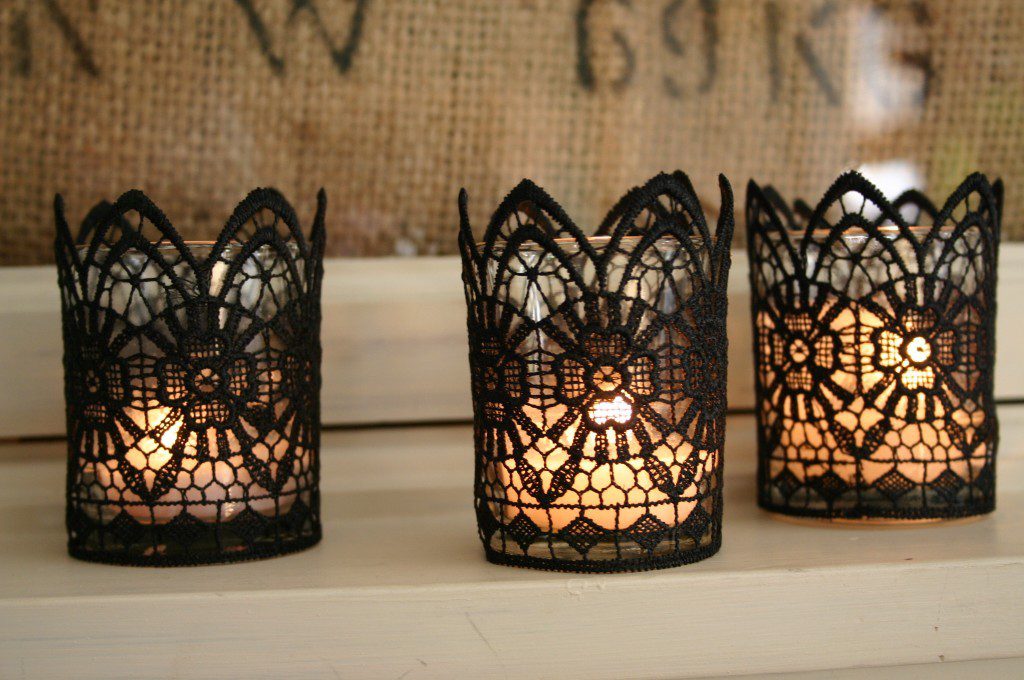 Next, apply your adhesive to the candle votive, and then wrap the black lace around it. You can wrap it as tightly or loosely as you like, depending on the look you're going for. Finally, trim any excess lace from the top and bottom, and light your candles! Your gothic DIY decor is now complete.
31. Upgrade old furniture finds
Painting old furniture in black can give any room an instant gothic makeover. To get started, all you require is a can of black paint and some old furniture that you don't mind painting over. Visit a thrift store if you have no old furniture.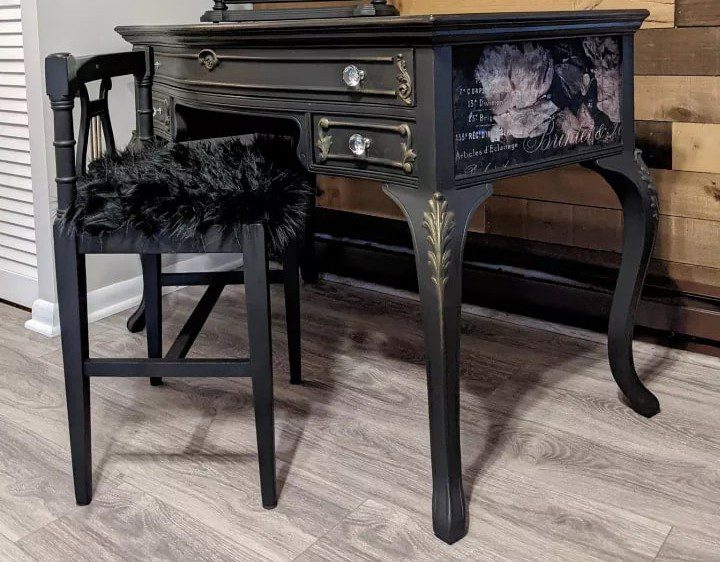 Firstly, to help the paint adhere to the furniture, roughen up the surface by sanding it. Next, apply a primer to the furniture if desired. You can choose to skip this, but it will help the paint color look more even and true-to-color. When the primer is dry, go over the furniture with black paint. 
32. Coffin coffee table
Make a coffin coffee table with skulls for a unique piece of furniture. This gothic-inspired piece of furniture would be perfect for a spooky Halloween party or just to add a bit of edge to your home decor. You'll need a coffin, some skulls, and a glass top.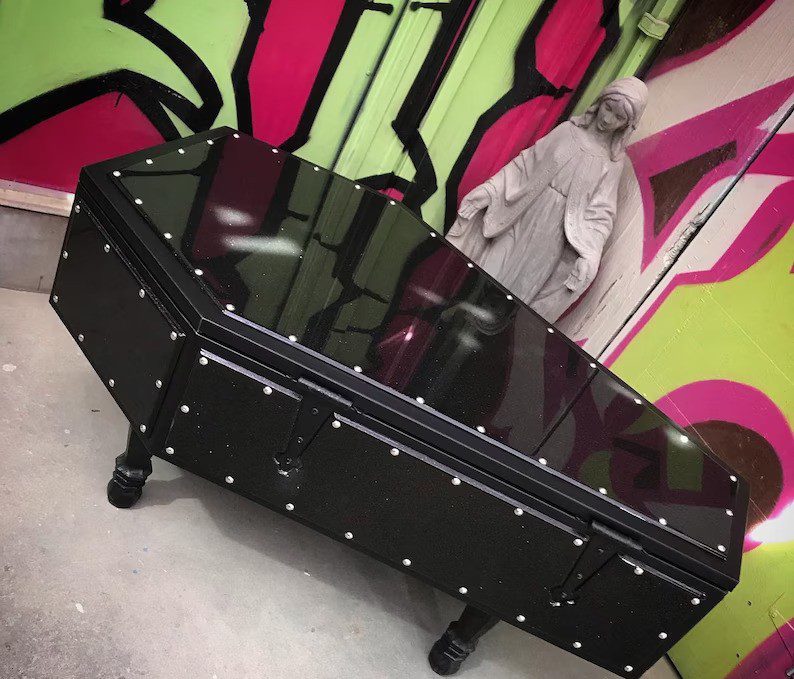 Simply place the skulls inside the coffin and then cover them with glass. You may want to secure the glass with some adhesive to ensure it doesn't slip off. This project is not for the faint of heart, but if you're up for the challenge, it'll be sure to impress your guests!
33. Gothic bedside lamp
To make a Gothic bedside lamp with moths in a glass jar, you will need a glass jar with a lid, a light bulb, a piece of black cloth, one small paintbrush, one bottle of black paint, and a handful of fake moths. Begin by painting the outside of the glass jar with black paint.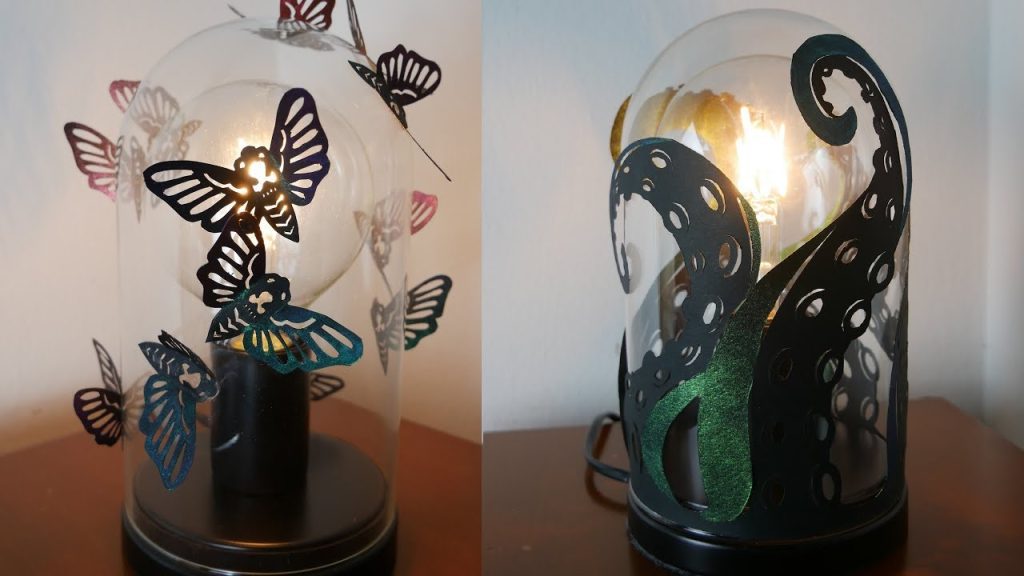 Cut a small square out of the black cloth to cover the hole in the jar's lid. Screw the light bulb into the jar lid. Be sure that the metal part of the light bulb touches the metal on the lid, as this will create a connection for the light.
34. Gold and black serving tray
Turning an old tray into gold and black treasure is simple and requires only a few supplies. Plus, you get to test out your DIY skills. You will need some black paint, gold spray paint, and a plain wooden tray.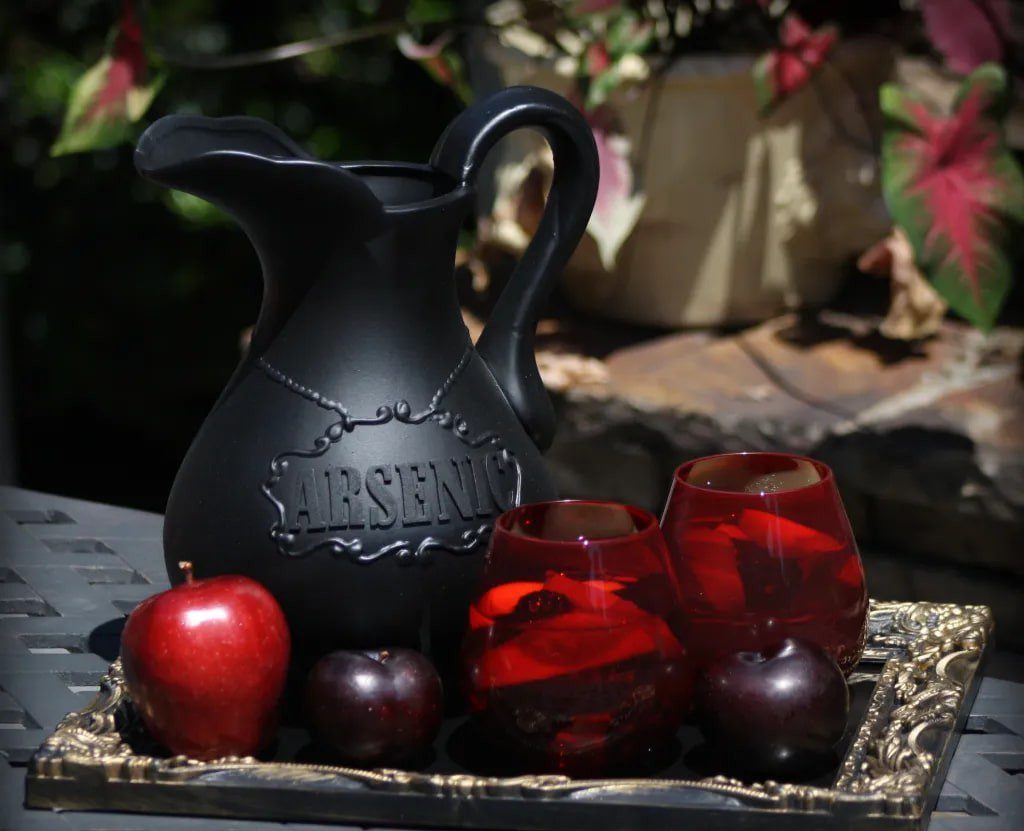 Once you have everything, simply paint the tray black and let it dry. Use the gold spray paint to add a touch of glamour. Finish things by adding gothic-themed decorations to the tray, like skeleton keys or candles. Your new gold and black serving tray will add a touch of gothic drama.
35. Black chandelier
A black chandelier is perfect for giving a touch of gothic elegance to your home decor. And with a little DIY effort, you can easily create one yourself! To start, you'll need a chandelier frame and some black spray paint. Simply spray paint the frame black, and then add any embellishments or decorations you desire.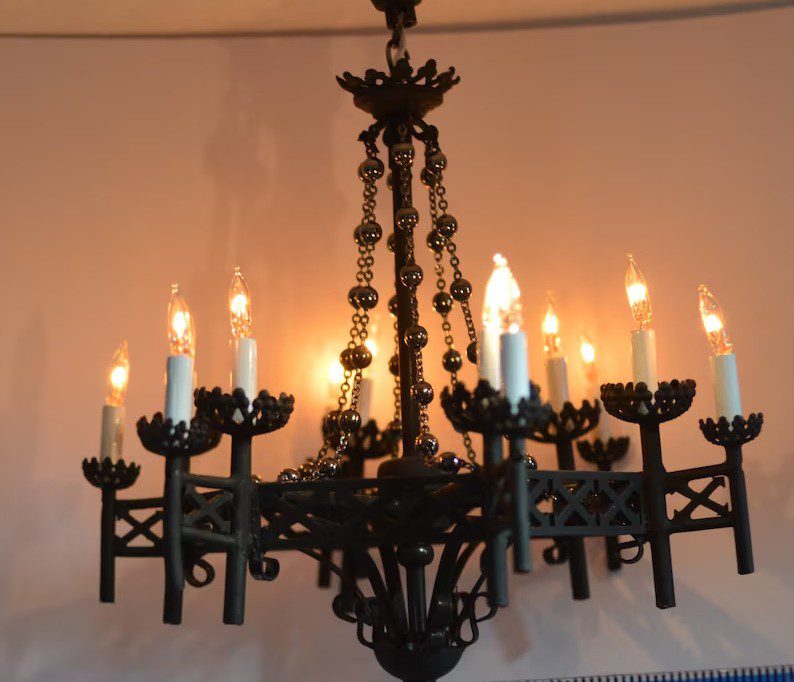 Consider adding some black crystals or beads to your chandelier for a genuinely gothic look. You can also add black candles for a more dramatic effect. It won't take too much hassle to create a stunning black chandelier that will add a touch of gothic glamour to your home.
36. Skeleton planter
Make your skeleton planter with some basic supplies. You'll need a black pot and a fake black skeleton. You can usually find both of these items at your local craft store. Once you have your materials, put the skeleton inside the pot and cover it with any plant.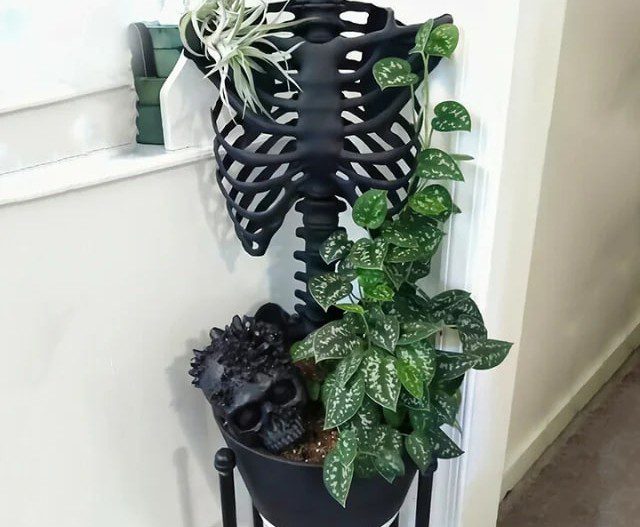 You can also split the skeleton and add it to the plantar soil. And that's it! Your skeleton planter is now complete and ready to give your home a spooky and unique touch. Use a black stand to put the plantar above the ground surface. 
37. Butterfly picture frame
Something vibrant and full of life can also be turned into gothic with some black paint. When adding DIY gothic decor, paint a picture frame black and then add some black butterflies. It's a simple yet effective way to add a bit of dark flair to your home.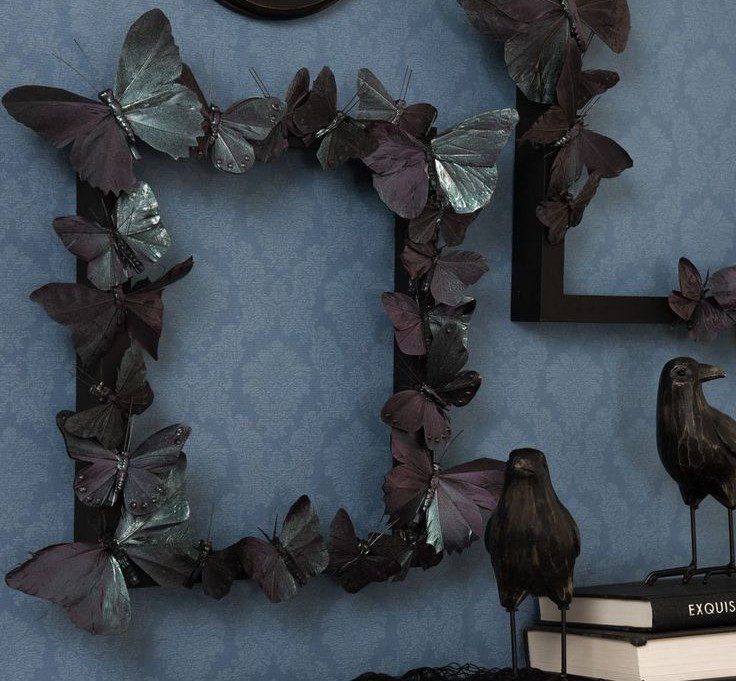 Plus, it's a great way to upcycle an old picture frame that you might have lying around. Make a few of these frames and hang them in a group on the wall. You can create a similar goth frame with some flowers painted black and pasted on the picture frame. 
38. DIY black TV stand
Painting your old TV stand black will add gothic magic to any room. This DIY project is simple and relatively inexpensive, and it can transform the look of your space. To start, you'll need to sand down your TV stand and apply a primer.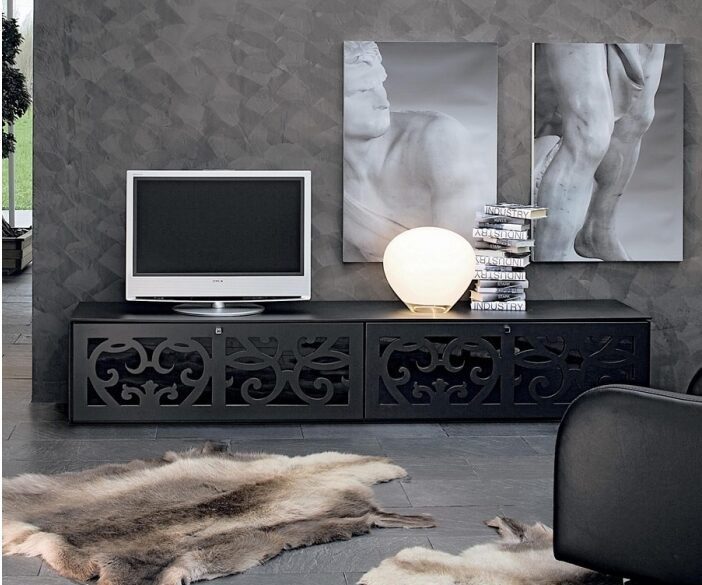 Then, you can start painting. You can use semi-gloss or high-gloss paint for a more dramatic look. Once the paint is dry, you can add gothic touches to your TV stand to make it stand out. Try adding some gothic-themed decals.
39. Magnetic skeleton board
One of the best ways to add a touch of goth to your home is with a magnetic skeleton board. You can easily make one of these boards with some skeleton prints and a few magnets. Find some skeleton prints that you like.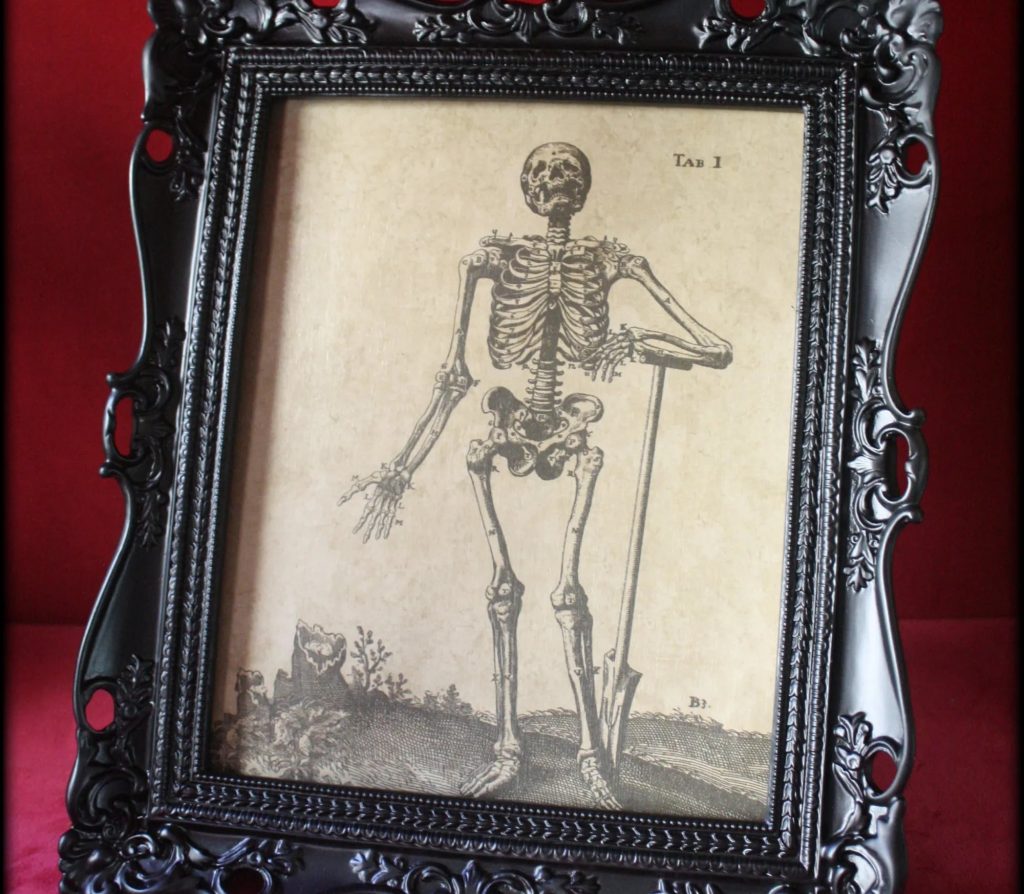 Once you have your prints, grab a frame that you can use to mount them. You can either use a plain frame or a frame with some gothic detailing. Next, cut your prints to fit the frame. Once they are cut, apply a few magnets to the back of each print.
40. Revamp the old dining chair
If you wish to add a gothic flair to your home decor, why not turn a coffin into a shelf? It's a unique way to display items and make a statement in any room. First, find an old coffin that you can use.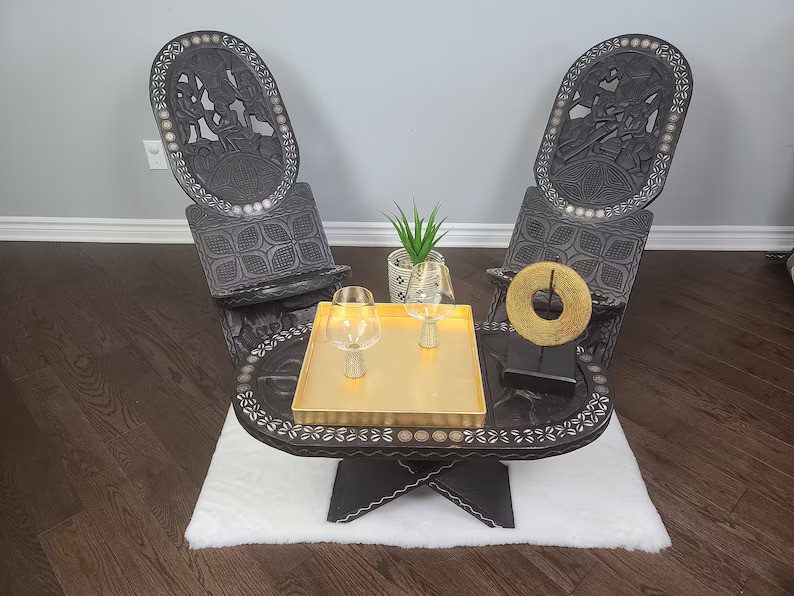 Once you have your coffin, clean it out and sand down any rough edges. Paint or stain it with your desired color. Attach some shelves to the inside of the coffin. These can be made from wood, metal, or even glass.
41. Apothecary bottles and jars
Making your apothecary bottles and jars can be a fun and creative way to add some Goth flair to your home. Decorate your bottles with labels such as eyeballs, mice tails, spiders, and ants. This will give them a creepy and eerie look that is perfect for a goth home.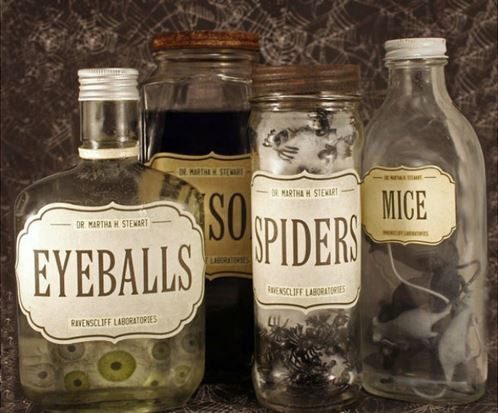 Fill your bottles with dark-colored liquids like black coffee or tea. This will add to the overall look of your apothecary. Use different-shaped bottles and jars to create interest and variety. Tall, thin bottles can be used for liquids, while shorter, squat ones can be used for dry ingredients.
42. Gothic tea bags
Do you love all things gothic? Well, now you can enjoy a gothic-themed tea party with friends – complete with gothic tea bags! To make your gothic tea bags, you will need some black burlap and black twine. Cut the burlap into small squares.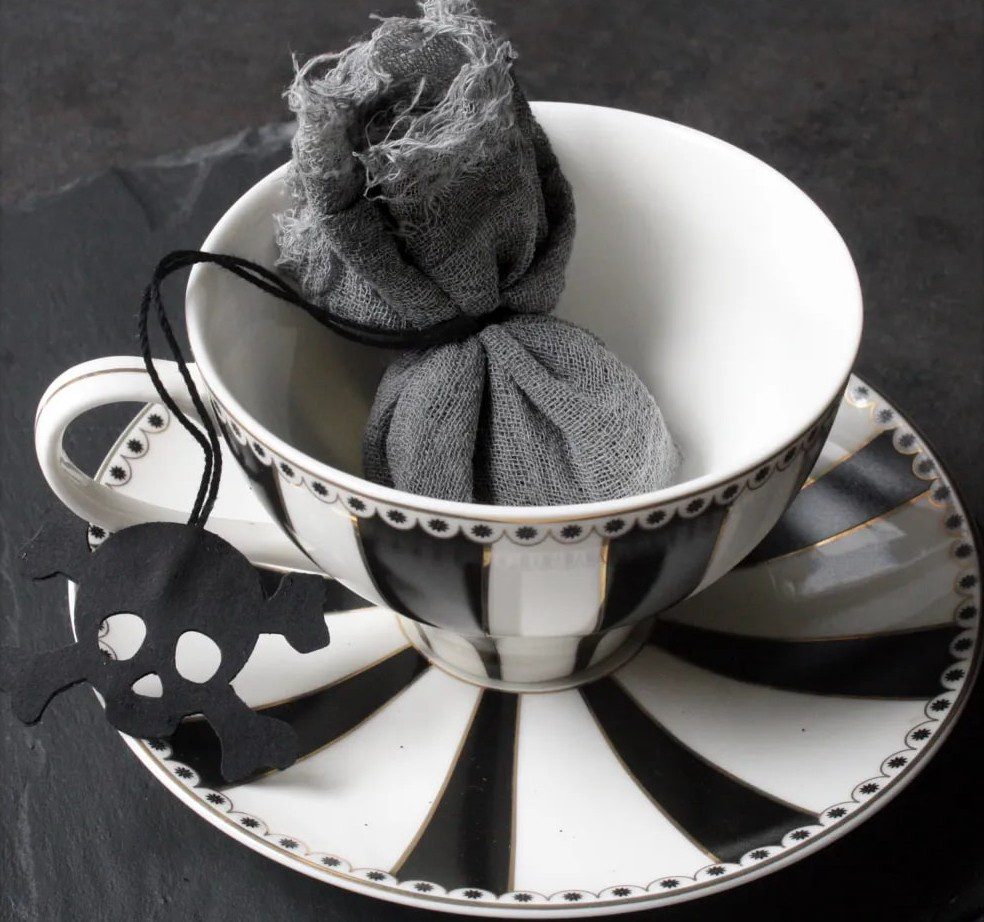 Put a teaspoon of tea leaves into the center of each square. Gather up the edges of the burlap, and tie them together with the twine. Your gothic tea bags are now ready to use! Simply steep in hot water for a few minutes, and enjoy your dark and delicious tea.
43. Dark romantic chalkboard quotes
If you're looking for a dark and romantic way to decorate your home, look no further than these chalkboard quotes. These DIY gothic decor ideas are perfect for anyone who wants to add a touch of darkness to their home. Pair the frame with dry flowers.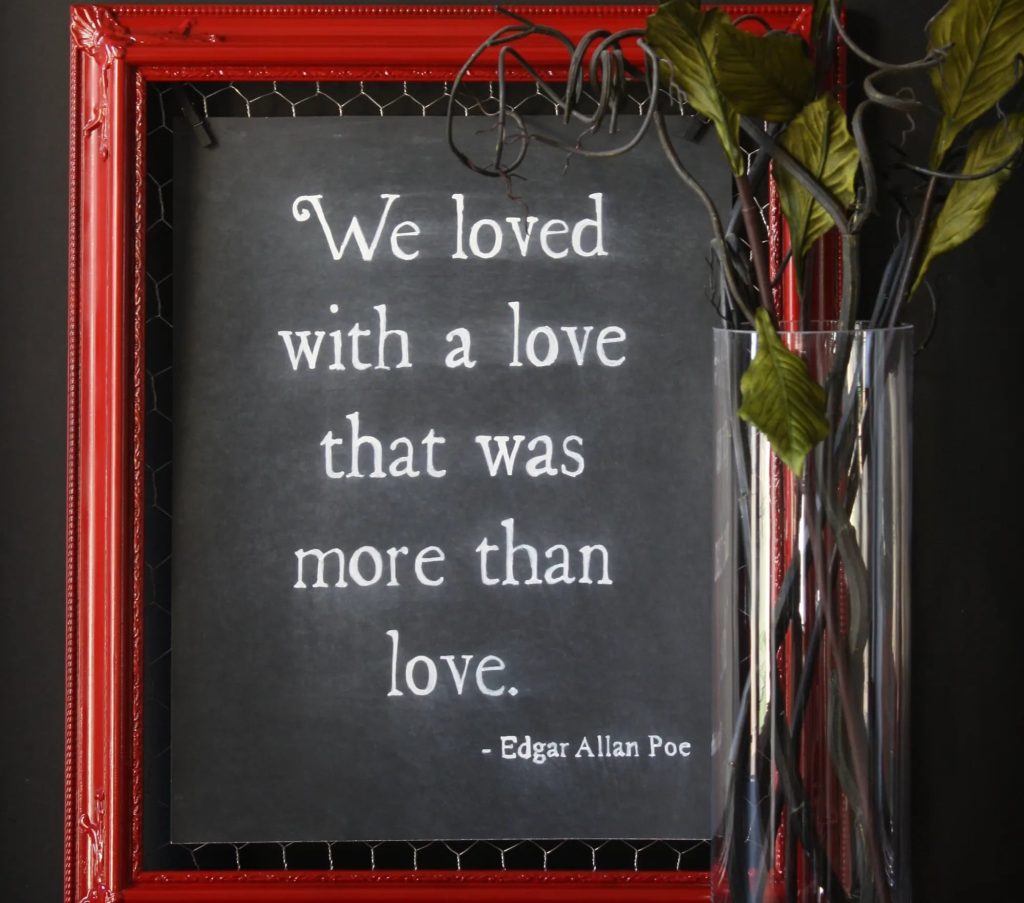 Whether you're looking for something to hang on your wall or just wish to add a bit of gothic flair to your décor, these chalkboard quotes are sure to please. Pick a dark quote and use chalk paint to write it on the board.
44. Goth hurricane glasses
One of the best things about hurricane glasses is that they can be easily customized to fit any style. If you're looking for a way to add a little gothic flair to your home decor, why not try making your own decorative gothic hurricane glasses?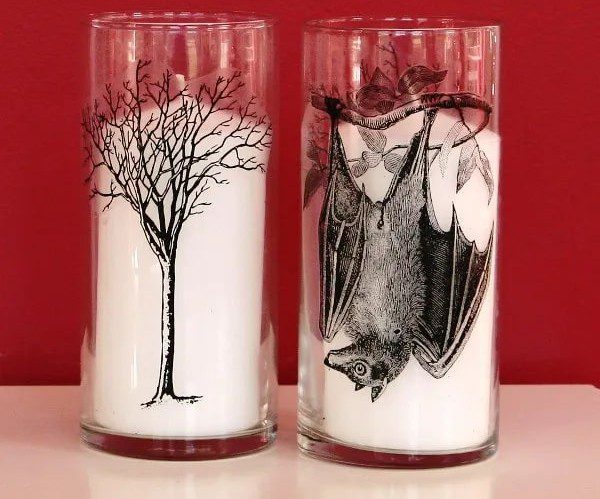 To start, you'll need some hurricane glasses and some gothic-themed prints. Once you have your supplies, simply glue or tape the prints onto the outside of the glasses. Then, put a pillar candle inside each glass. It's as easy as that.
45. Printed Halloween candles
Consider DIY-ing some gothic print pillar candles to add a bit of gothic flair to your home décor! This project requires only a few supplies you may already have. Get some white pillar candles (real or battery-operated), gothic print scrapbook paper, Mod Podge or other decoupage glue, and a foam brush.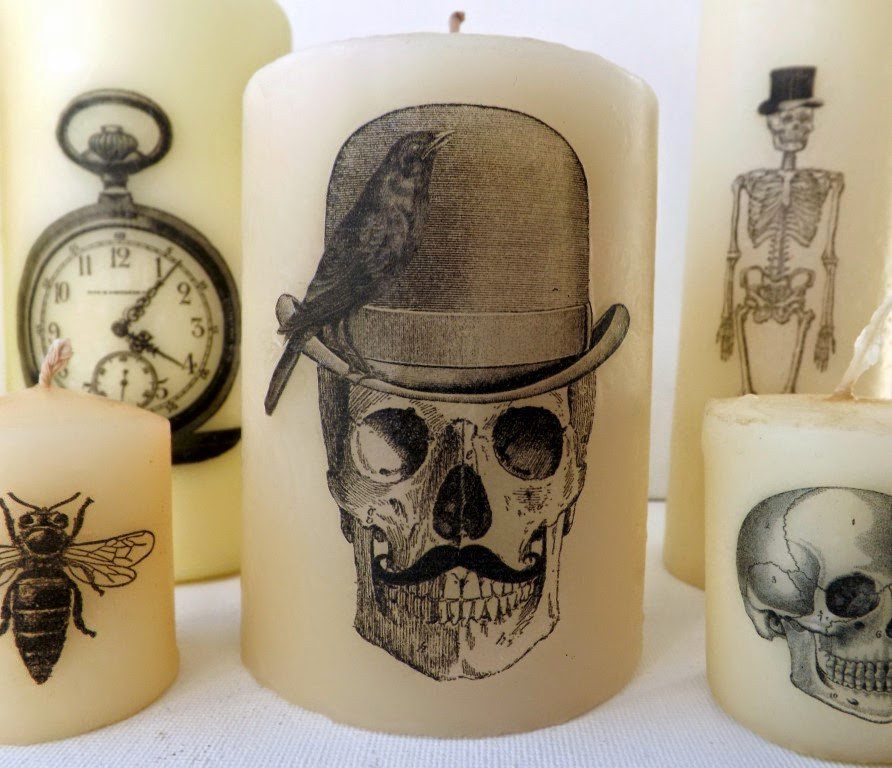 Begin by cutting your gothic print paper into slightly wider strips than your pillar candles. Apply a uniform layer of Mod Podge to the top half of your first candle with the foam brush. Adhere the strip of paper to the glue, wrapping it around the candle until the entire top half is covered.