DIY Headboard Ideas That Will Make Anyone Excited To Snuggle Up
By Harpreet K November 18, 2021
---
Are you looking to take your bedroom vibes up a notch? A creative DIY headboard is a perfect place to start. You can use dividers, wallpaper, or old doors, and that's just the beginning! All you'll need is some washi tape and pool noodles for our favorite design. Don't be intimidated by what seems like an overwhelming project. The perfect bedroom is not only about the décor. It's about making sure the atmosphere is relaxed and comfortable. A stylish headboard produced from an inexpensive DIY project could make your space come alive in no time! If you're renting, decorating a dorm room, or simply looking to beautify your space on a budget but want something more exciting, then we have good news for you. We've found an easy way of getting both style AND savings with these handmade and upcycled headboard projects!
Decorative Screen
The best way to create a unique yet stylish display behind the bed is by using one of these decorative screens. They're easy, affordable, and can be found at any well-known home store or antique market in your region!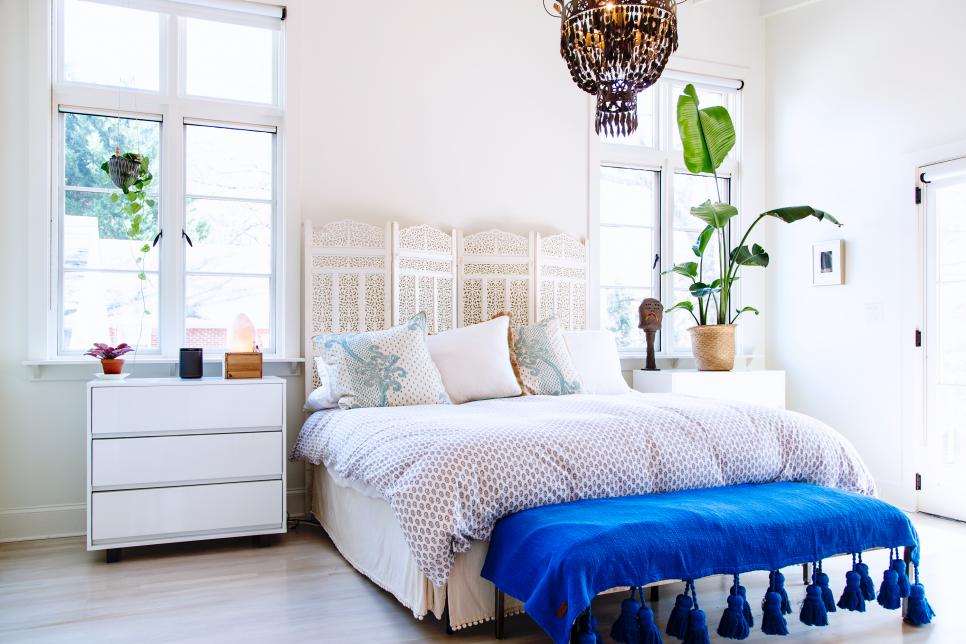 Whether you buy one from an antique market, custom-made, or find it at department stores like Homegoods, they're all designed with function in mind as well as style! With this DIY headboard, you can give your room a boho element.
Tropical Breezy Bedroom
This bedroom has a trendy, tropical feel with the addition of three large leaf print panels that frame the bed. The focal point creates an eye-catching effect and adds color while still being lighthearted enough for young kids' rooms too!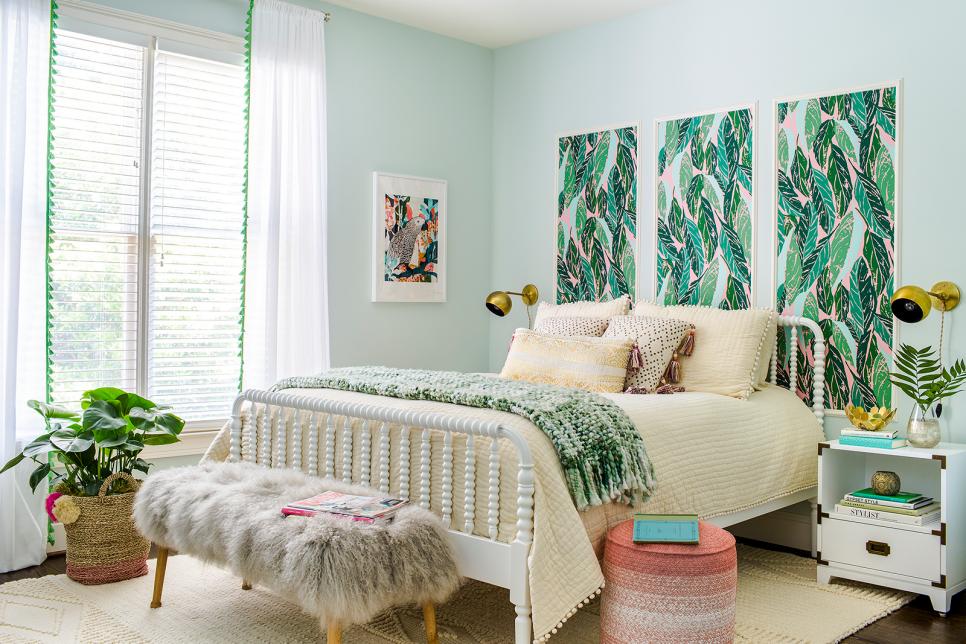 Incorporate this look into your home by framing some fabric or wallpaper pieces in corresponding shapes on either side of your bed. You'll create two-dimensional artwork without even knowing it. The tropical vibes of the room will keep you fresh all day.
Contrasting Planks Idea
This guest bedroom gives us an industrial-chic aesthetic with whitewashed planks of wood placed against a handsome black wall for visual interest. The contrast in heights creates curiosity and depth, which draws one's eye up to the white frames.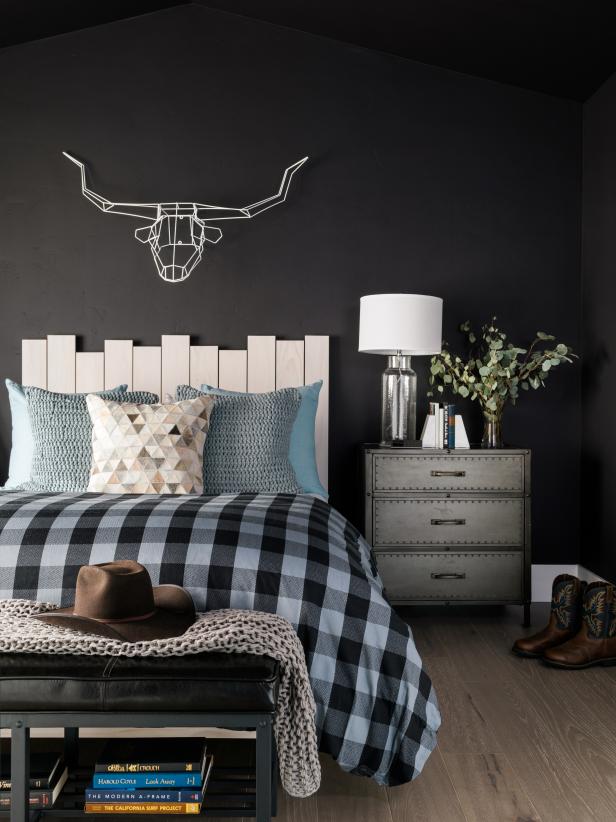 This also looks like a piano-type design on either side that frames this cozy space as if it were detailed by hand rather than through power tools! You can tell that this rustic-industrial guest bedroom is the perfect place to curl up after a long day.
Stick the Planks
You can create real shiplap without the hassle of a saw or screwing boards to your wall. These distressed white peel and stick planks offer an authentic look that is perfect for any room if you are searching for a unique touch.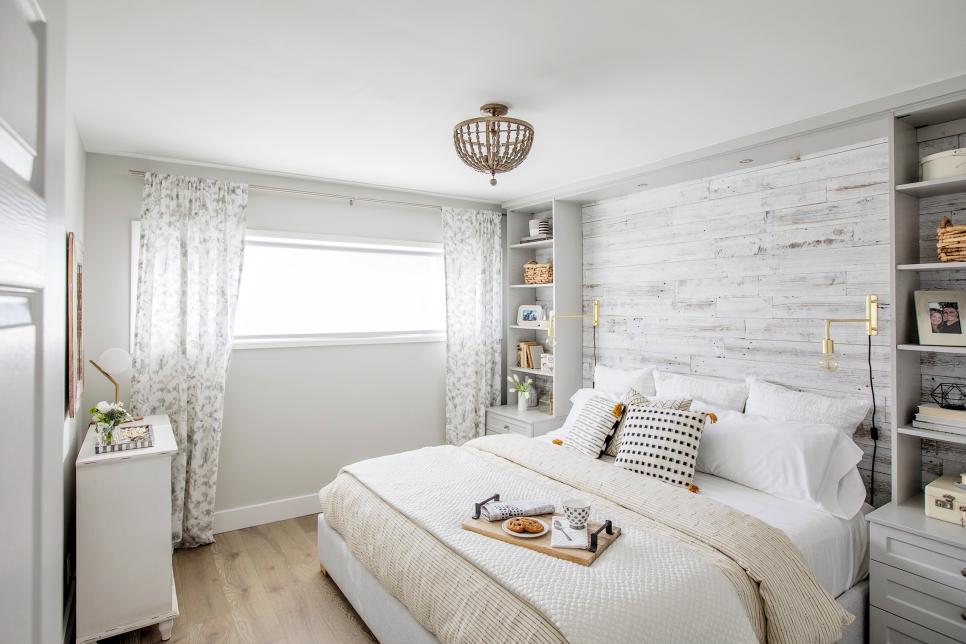 They come with pre-cut planks, so all there's left to do is to measure them from where they'll eventually go on top of their intended surface area. Then, cut it just right! Then, stick these layers like magic by applying pressure.
Refurbish the Room Divider
This rustic wooden headboard was once a room divider. Now, its weathered wood complements the striking black wall behind it and adds texture to this cozy bedroom while also serving as an interesting alternative decoration piece for your house!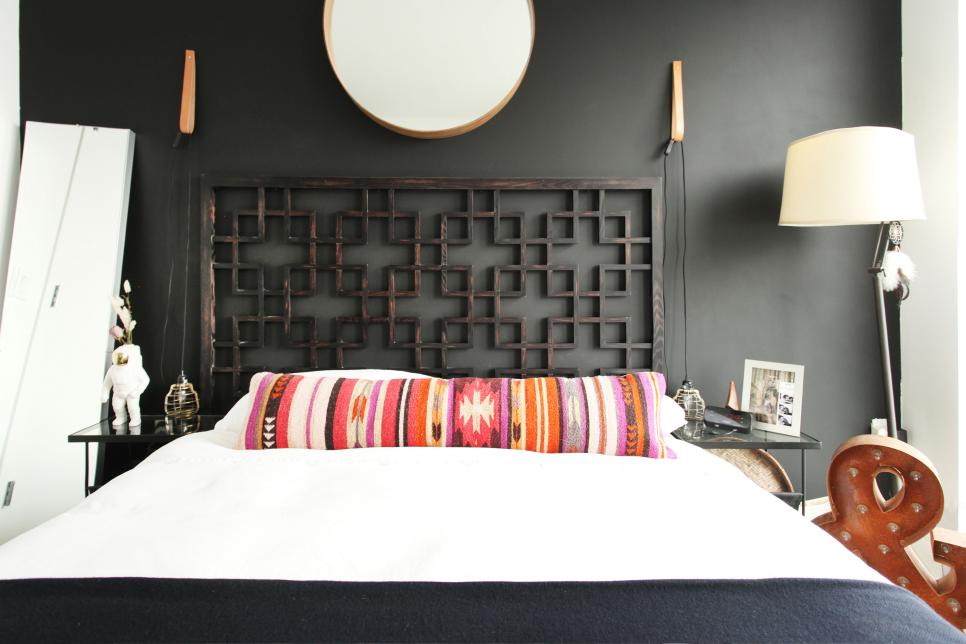 Imagine waking up in your cozy bedroom. You glide across the floor past an old wooden headboard once used as a room divider and now resting on top of black walls. The rustic wood complements its new surroundings beautifully without being too overwhelming.
Graphic Wall Design
This headboard is the ideal addition to your bedroom. The playful colors and graphic lines will make it an ideal spot for your bed, but this modern piece also works well in other spaces, including your kid's playroom or the living room!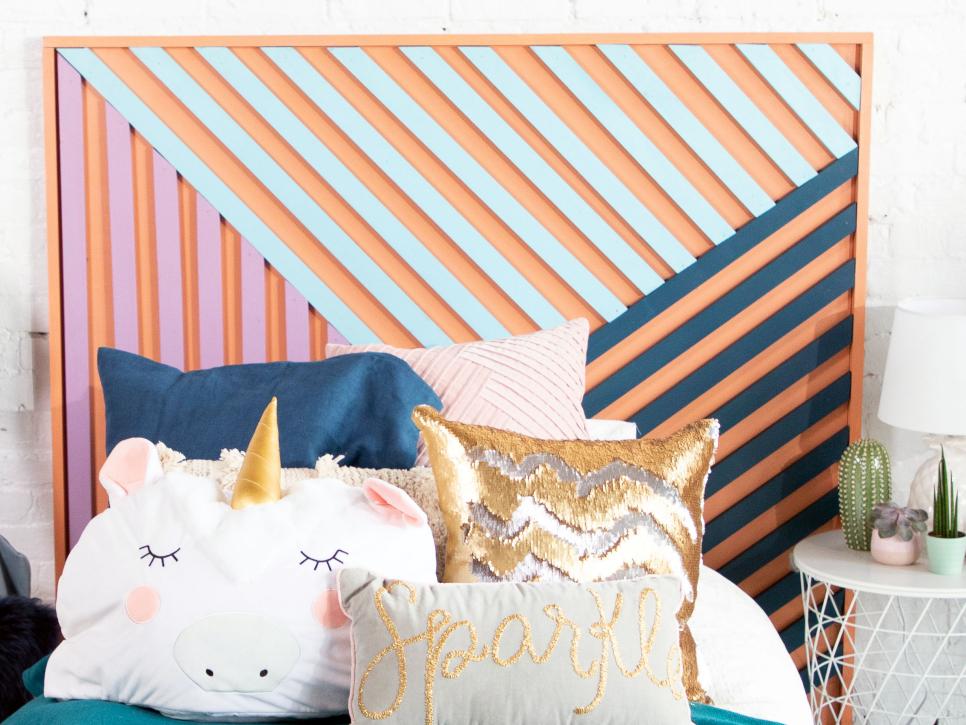 You can complete this project over the weekend or less than that with just a few supplies from around the house and some creative thinking. You can add as many colors and designs as you wish for the wall to look sophisticated for your liking.
In Between Nature
Step into the forest with this natural headboard. Just wrap artificial shrub panels around an old or inexpensive bed frame, and use a staple gun to secure it in place until you're ready to get a good night's rest in this new greenery-filled bedroom!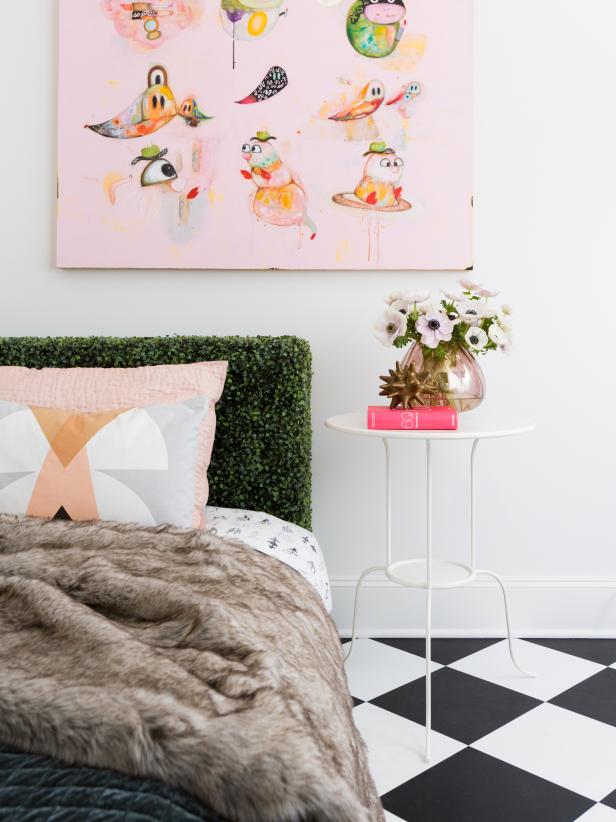 You can add some furry throws to complete the look. It'll feel like being surrounded by lush vines any time of the day. This space will promote relaxation and creativity. Moreover, add fake plants in the room if you can't care for live ones.
Renter Centric Rainbow
The trending rainbows decor is an ultra-chic and budget-friendly hack. The secret to creating the padded twin headboard: pipe insulation! This whimsical design looks so good it would even impress renters who want their space as chic as possible.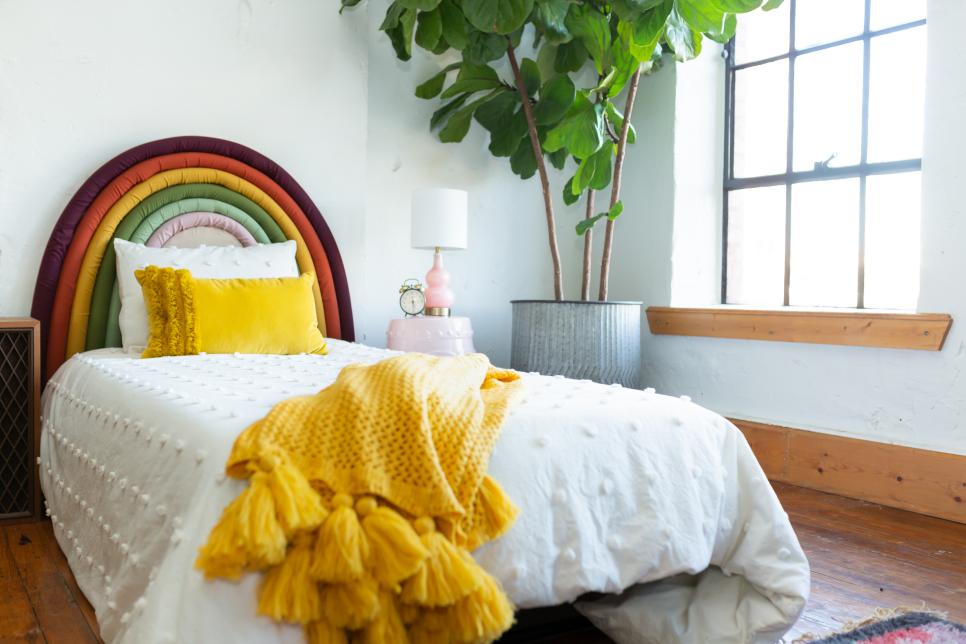 You can do this without breaking any bank accounts or compromising on comfort when the renters go out of town for work purposes. Pipe insulation will give any space the perfect pop of color while adding your unique DIY touch.
Cane Creativity for the Walls
Wood headboards are all the rage these days, but if you're looking for something that's lightweight and stylish, then try our selection of canes! You'll be able to whip one up in no time with an easy-to-make DIY design.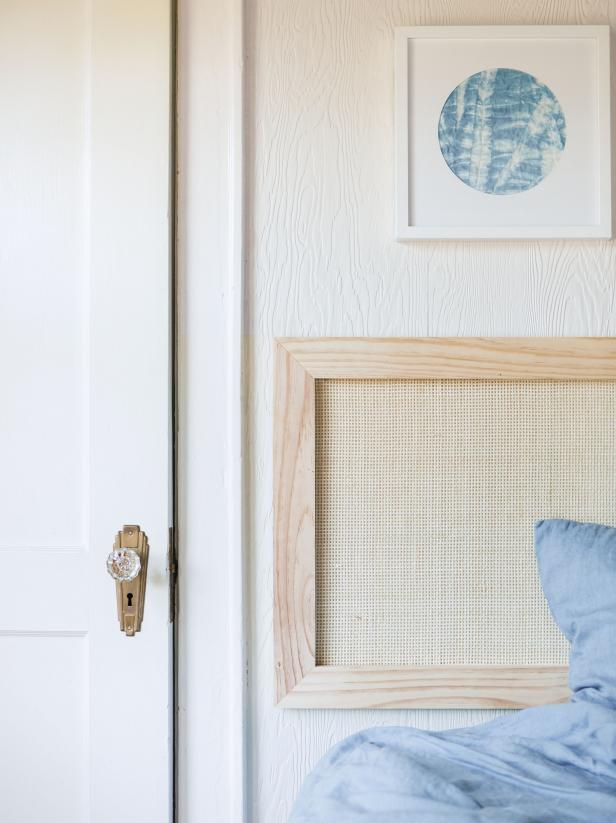 The addition of this lightweight cane and wood headboard will make you feel like you can sleep like royalty. It's easy to whip up in an afternoon, so get the design wheels turning! We recommend using brackets or screws for mounting.
Wallpaper for the Win
The fun and vibrant colors in this room make it a welcoming space for guests. Moreover, the patterns on the walls provide an exciting contrast to all those who come to visit. It consists of two twin beds with headboards made out of wood trimming.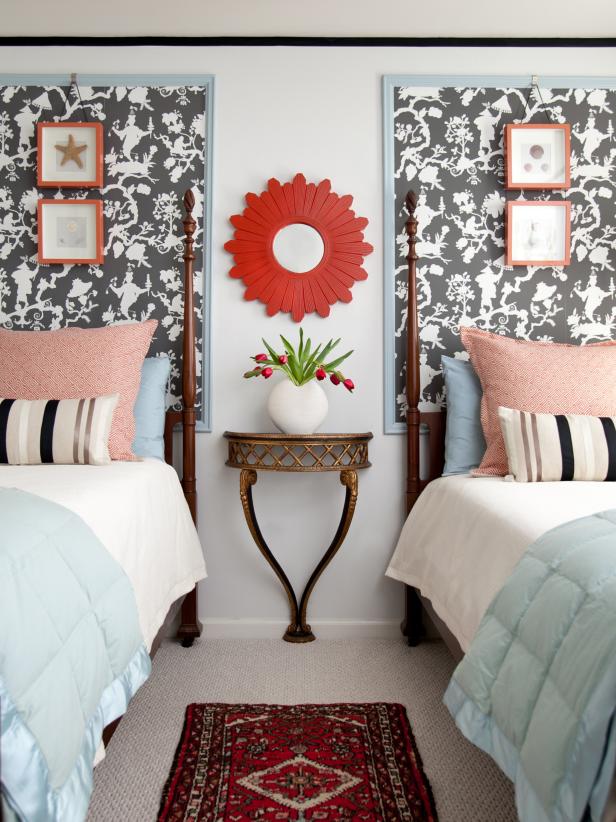 Notice that the colorful walls are broken up with an eye-catching gray and white plasterboard for the headboards on each twin bed. In between them lies a starburst mirror that brings in some much-needed pop of color with the wallpaper!
No Commitment DIY
The washi tape is a great way to bring some color and interest into your bedroom. Not only do these sheets look fantastic, but they'll also make for an easy DIY project that you can switch up every few months.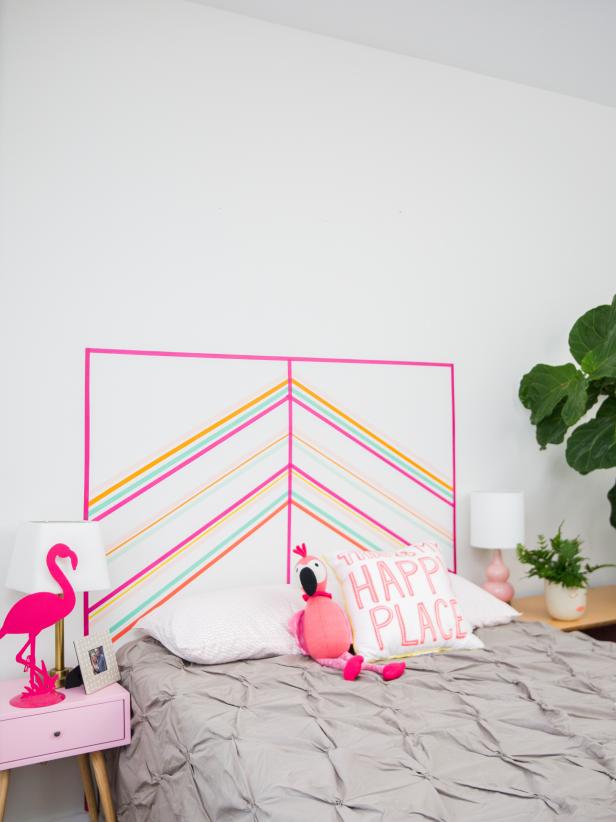 This will prevent you from having anything that's boring looking on the wall! The brightly colored washi tape on the wall draws your eyes directly into its interesting pattern that provides endless opportunities for creativity in any room!
Teenager Heaven
This sweet and sophisticated teen bedroom is the perfect place to call home. A lavender forest accent wall brings in an air of magic, while gold accents add elegance throughout! The mosquito net canopy creates a whimsical setting for those who want it.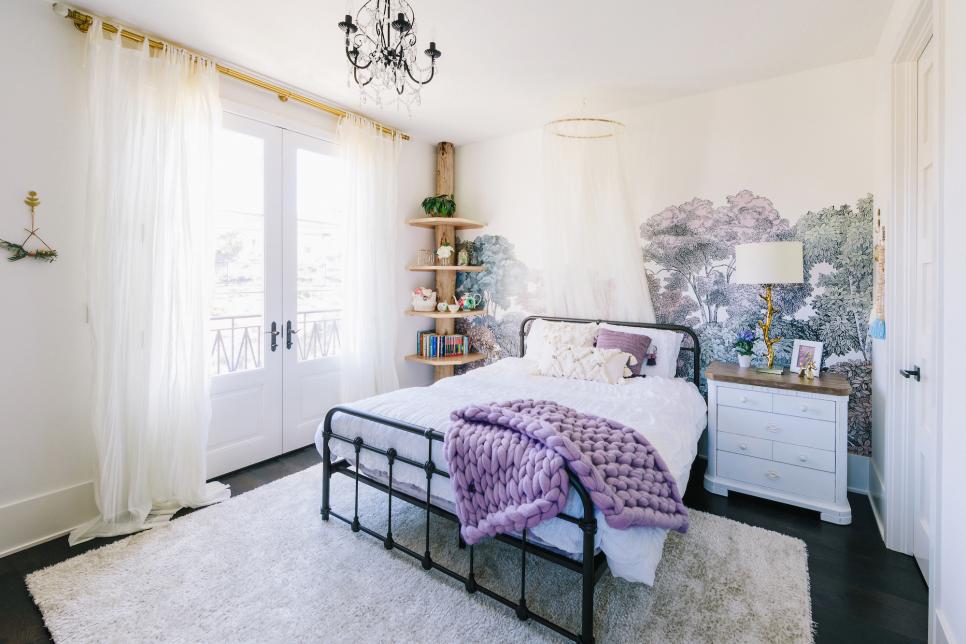 Also, it is not too much as it does not distract anyone from this calm space. There will be something so luxurious about waking up every morning feeling rested in this serene space. To maintain the setup, a light dusting every now and then will help.
DIY Wallpaper Headboard
Wallpaper is the perfect way to make any room go from drab and boring into fab and comforting. You can use removable versions of this trendy pattern for your walls as well! Wallpaper is a great way to bring some personality and style into your home.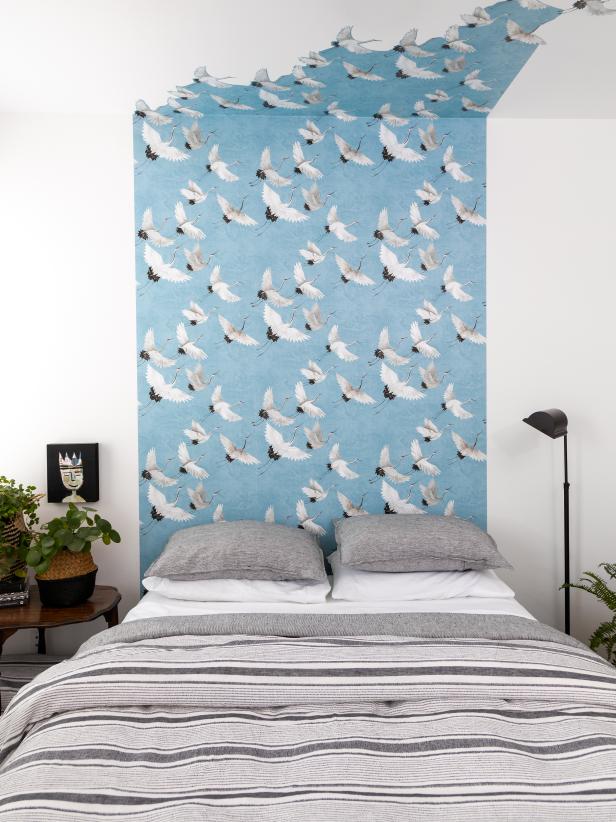 Make sure the wallpaper is strong enough since it needs an accent wall made up of something more than just patterned cotton cloth or paper-backed vinyl primed with paint. There's no such thing as too much personality when you live in a boring rented space!
Pool Noodle Headboard
Pool noodles add a playful touch to any bedroom space! Pool noodles in the bedroom? You may be questioning our judgment. But trust us if you can handle staples. Pool noodle headboards are usually seen as goofy to those who have never tried it themselves.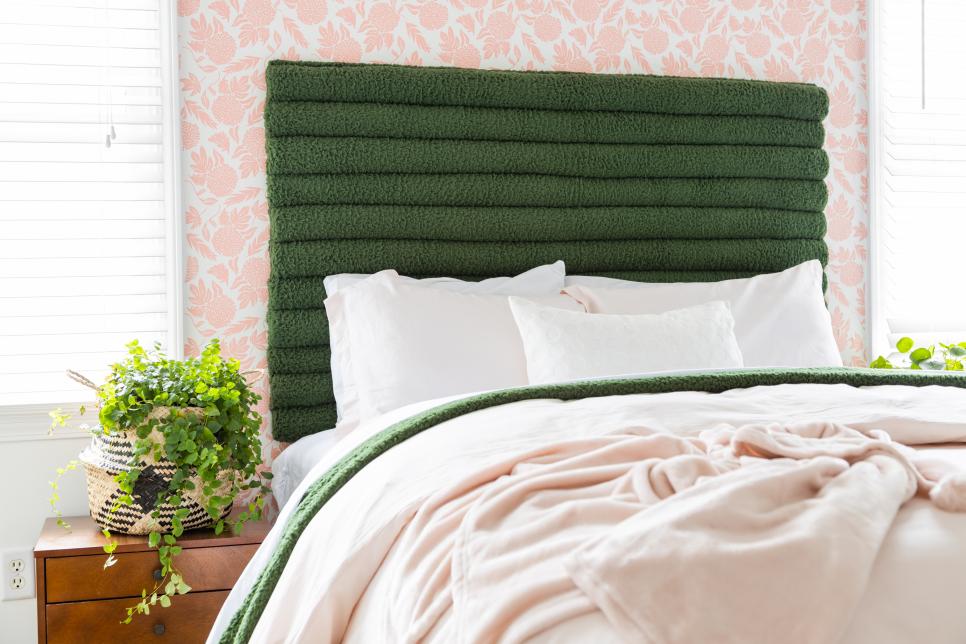 But, this DIY project has some major perks, including being easy enough on your wallet. It still provides plenty of curb appeal at minimal cost, which makes them perfect, not only for home decor pieces but they also remain renter-friendly.
Light Up the Room
If you're trying to find ways to decorate and add fun to your child's bedroom, consider making an illuminated headboard. The kids will love creating shapes and putting lights on the plywood surface that they helped create with their imagination!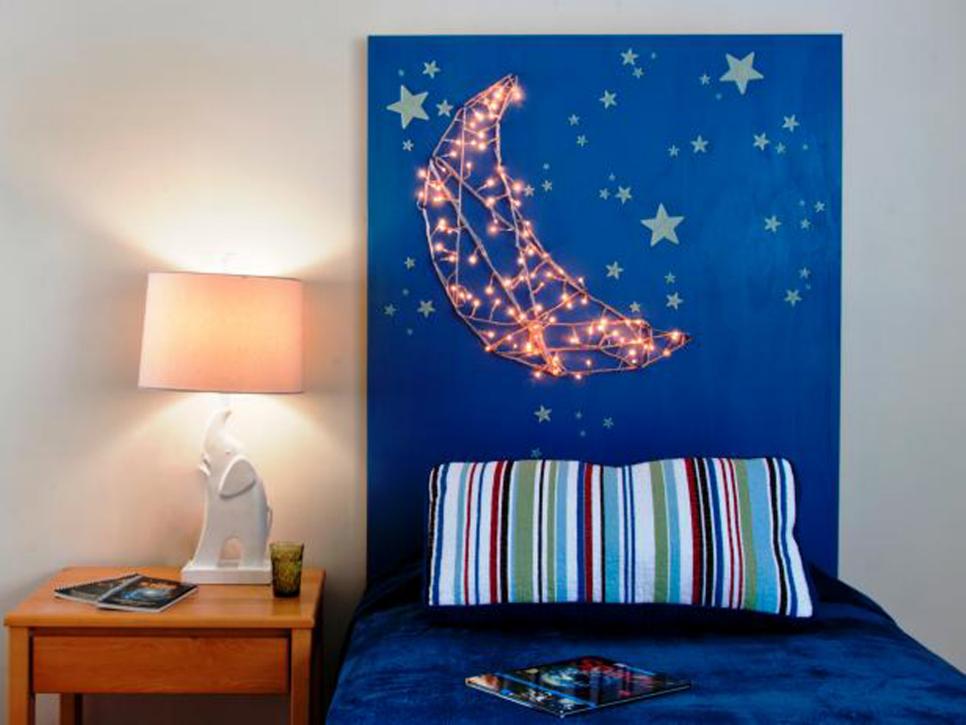 A space-themed headboard is a perfect way to spruce up any child's room. With this easy project, you can wrap the lights around their foam boards before adding stars for an extra galaxy touch! This is a budget-friendly makeover.
DIY Boho Chic
If you love the look of shabby boho-chic, try this bold and creative headboard made from two doors propped against a wall. Add a touch of homespun elegance to your bedroom with this eye-catching headboard made from two vintage doors.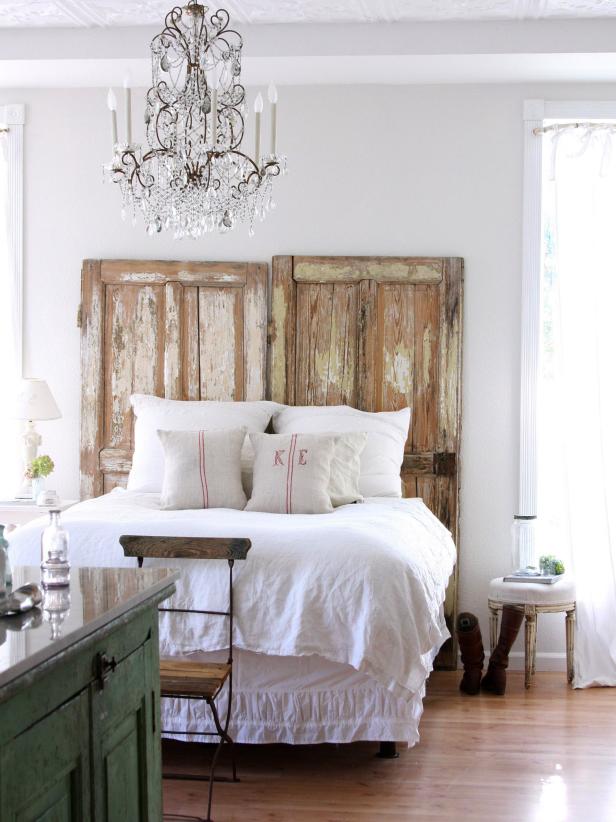 The doors are propped up against the wall giving an up-cycled elegance. Pair it for an authentic shabby chic look, using soft colors and feminine accents in order to create beauty but also to evoke warm and comforting memories as well!
Colorful Wall
Do you love colors? If so, this bedroom is for you. There are a variety of happy and vibrant hues in here that'll make your head spin with joy! A green paneled wall creates a modern feel, while preppy blue bedding brings coolness to the whole space.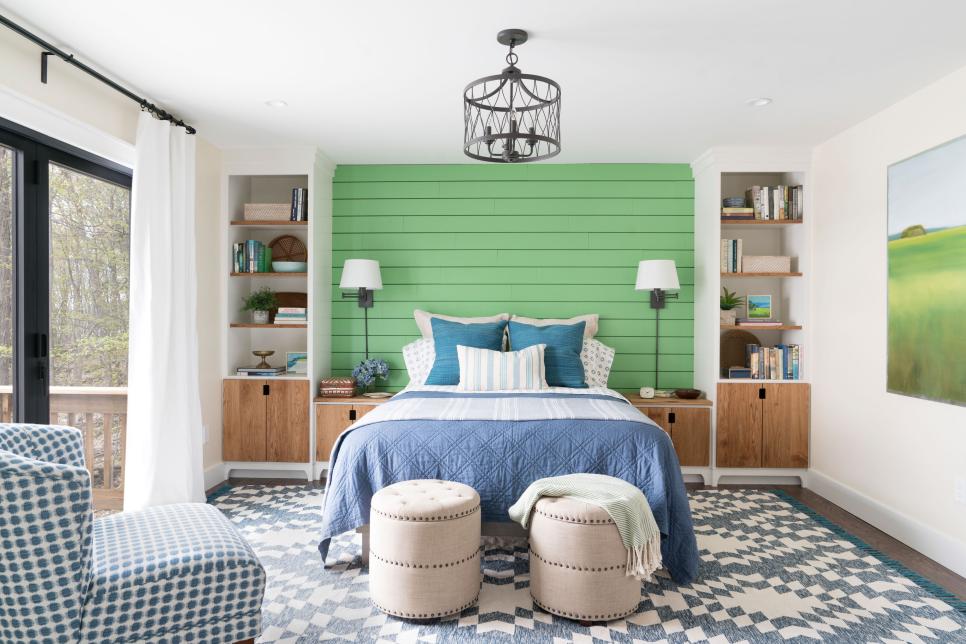 You can mimic the bedroom shown here to add happy colors with an apple green paneled wall as the modern headboard and gorgeous blue bedding. The soft pastel hues make this cozy space cool enough for any warm day.
Bright HeadLights
A headboard is something that you don't want to skip when it comes time for your bedroom. This DIY project allows you the opportunity to use old baskets, which can be found in any thrift store or vintage boutique.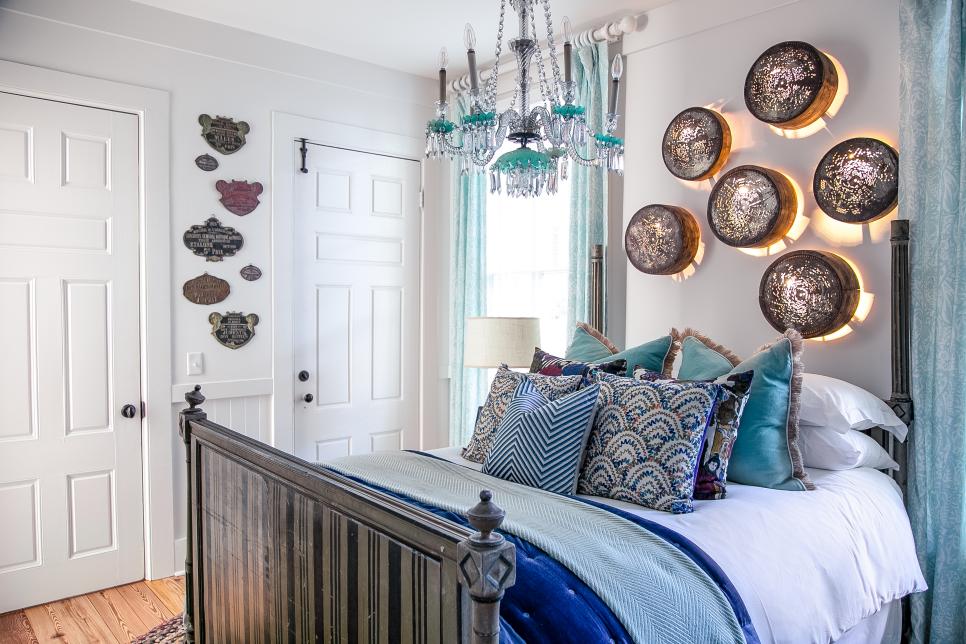 You can use these to make one-of-a-kind lamps that are both stylish and functional! It's perfect for any young woman who wants a stylish look without compromising on the comfort levels of the space. These lights will add an interesting element to the room.
Lovely Edge Wood
The unique headboard of this modern, eclectic guest bedroom is a live-edge slab. The piece offers warmth while earning major style points for its wood look and feel that will give guests plenty to talk about when they leave!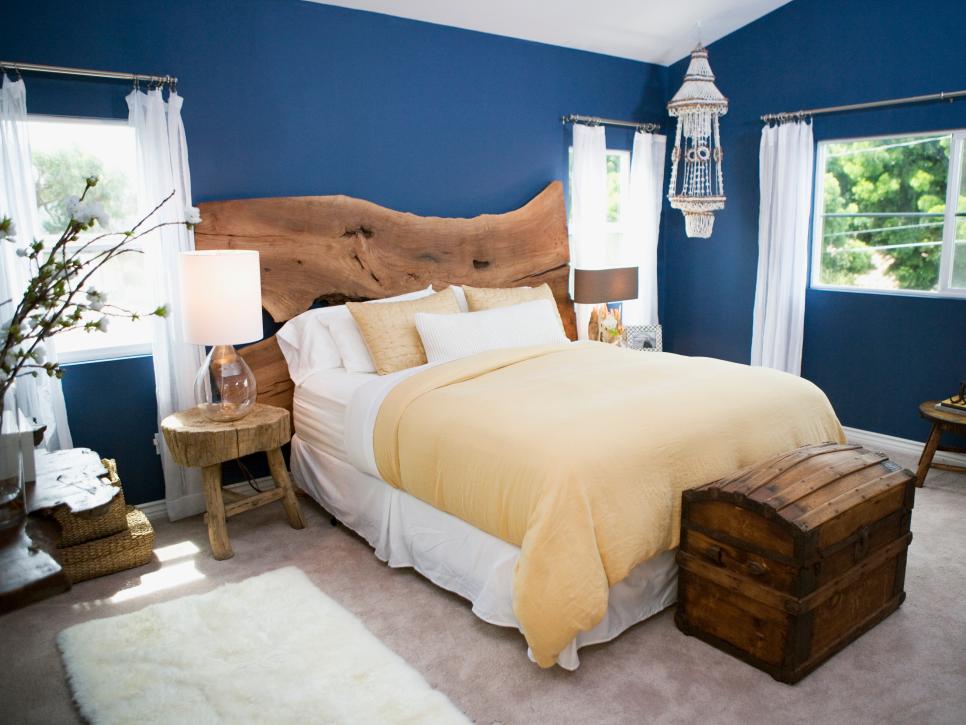 With just one look, you can tell this guest bedroom is all about the headboard. The live-edge slab of wood serves as a sleek and stylish addition to any room in your house while offering just enough warmth for guests who visit!
Custom Headboard
The master bedroom's cedarwood ceiling beams are replicated in this next headboard, which is fashioned from the same wood. This will add cohesiveness to the bedroom without looking overwhelming. Keep the other pieces in the room neutral to balance the colors.
Aby brass-finished metal wall lamp perched on each side will work for sophisticated illumination of your sleeping quarters when you wake up or right before bedtime! The perfect accessory doesn't have to be showy. It can also happen naturally as part of your home décor!
Fun Tapestry on Trend
Do you know that free spirit of yours? Well, channel it with this amazing DIY headboard! All you need to do is hang an oversized boho tapestry above your bed, and you'll be set for all those dreamy and wild adventures in style.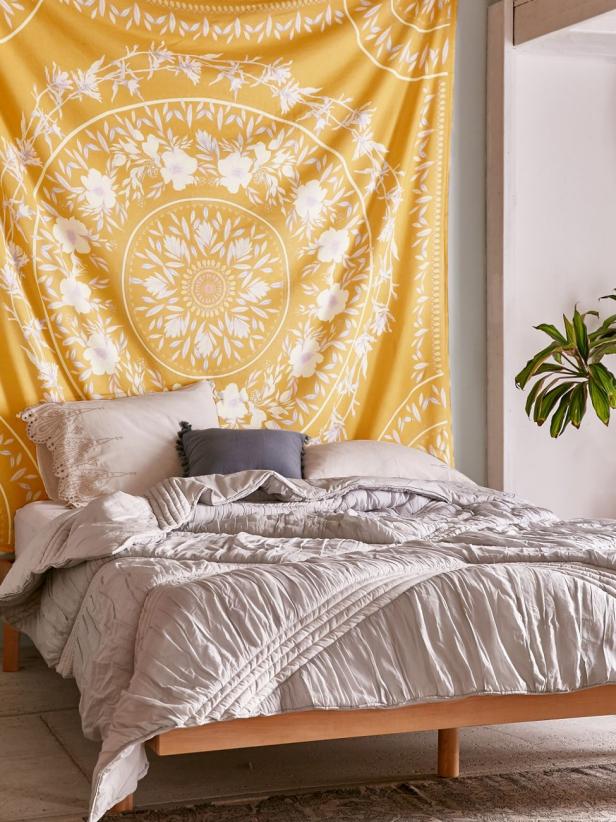 Choose any type of tapestry to adorn your bedroom with a boho vibe. Place nails or removable stick-on strips on top of each other in order to hang this accessory above your bedsteads, then simply spread it out to create that unique look!
Dollar Store Makeover
You'll be sleeping in style with this modern and fun headboard. It only takes a few minutes to put together, so you can have an instant cozy look for your room without spending too much money! This makeover will make your bedroom come to life.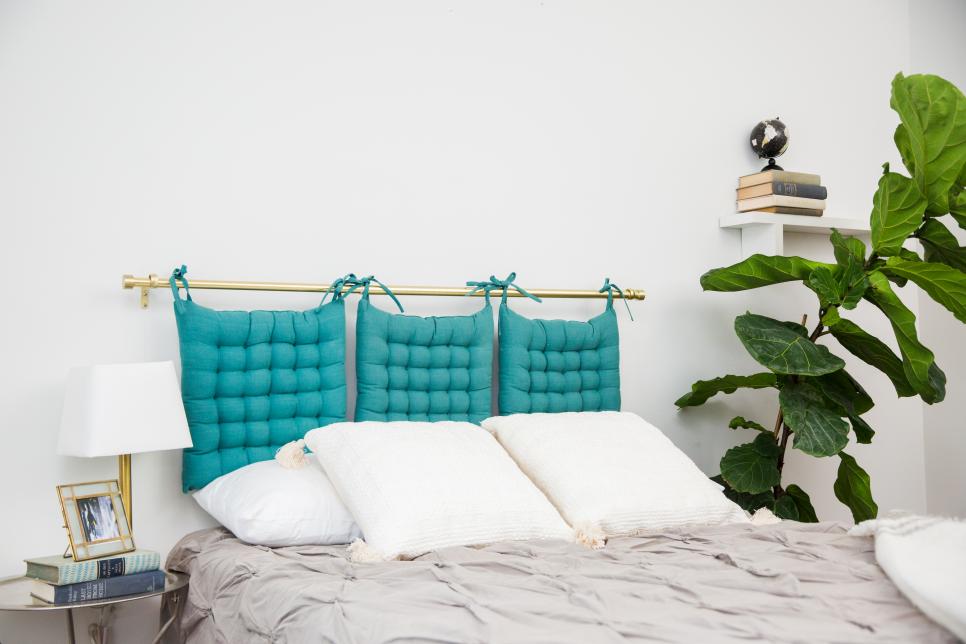 You can make this playful headboard quickly with just a few spare minutes and some low-cost supplies. All you need is an old curtain rod and hanging pillows for style or comfort depending on how much time you have. And voila!
Twin Headboard Idea
A DIY feel brings an earthy touch of personality into the space, making it perfect for any young person who wants their own taste! The twin beds in this room form a statement with headboards that create an eclectic and unexpected design.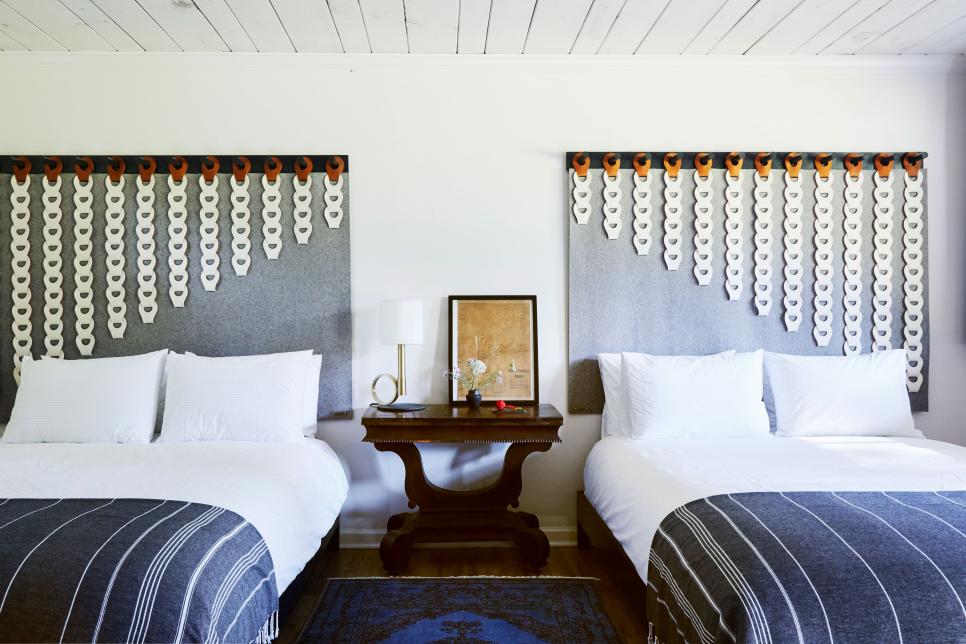 The matching twin beds in this cool-blue room are a design statement with headboards that form an original pattern. Made from interconnecting links hanging off of pegs on top disconnected, the result is modern and rustic all at once!
Canvas Over the Wall
Upcycling is the key to a happy home. Take your headboard from predictable and boring by updating it with some new fabric! A large picture frame with or without pictures is a perfect canvas to create an elegant bedroom look.
Finding a headboard with your favorite fabric, upcycling it by using any leftover material from other projects, and filling in spaces around pictures inside of frames already hanging on walls are two simple ways that you can take decorating into new territory.
Rustic Neutral Wood
You'll be able to spruce up any room with this beautiful headboard. It's almost too pretty for your home! Recreate this gorgeous barn wood-style headboard using peel and stick planks or attach real barn wood to the backer board using screws.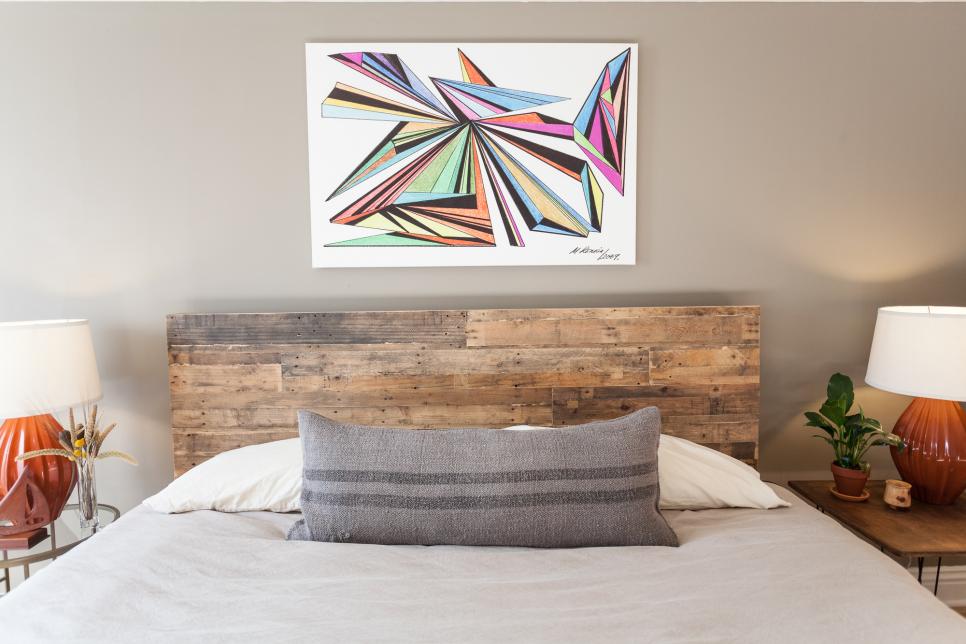 You can add some natural charm and style by painting barn wood-like color on the accent spaces. Don't forget that creativity can come from anywhere. Even DIY projects like these are great ways to make an impact without spending too much money.
Memory Wall
The Ribbons in this teen bedroom criss-cross and attach to the walls giving space for posters or photographs. The best part? It can change with time! This easy project makes a gorgeous headboard wall that grows as your child's interests do, too.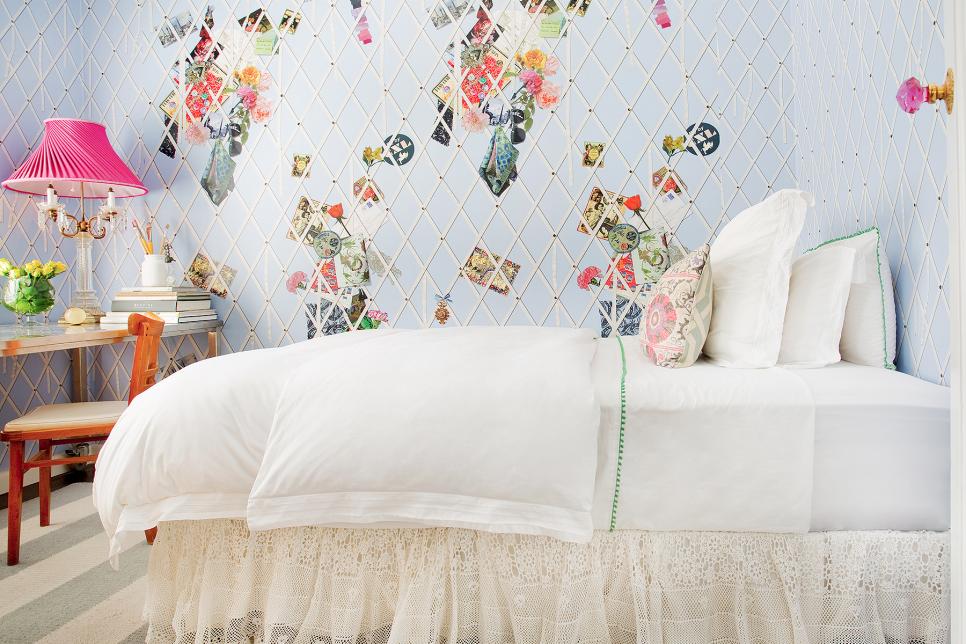 They just have to remove what they don't need anymore! This teen bedroom is a gorgeous place to display all your favorite memories. From postcards and photographs to mementos, this headboard will give a personal feel to the room.
Barn wood Headboard Hack
You know that feeling you get when something just feels right? It is what your house needs and looks effortlessly beautiful in every room. Well, now there's a solution for those who want to create barn-like aesthetics without the cost.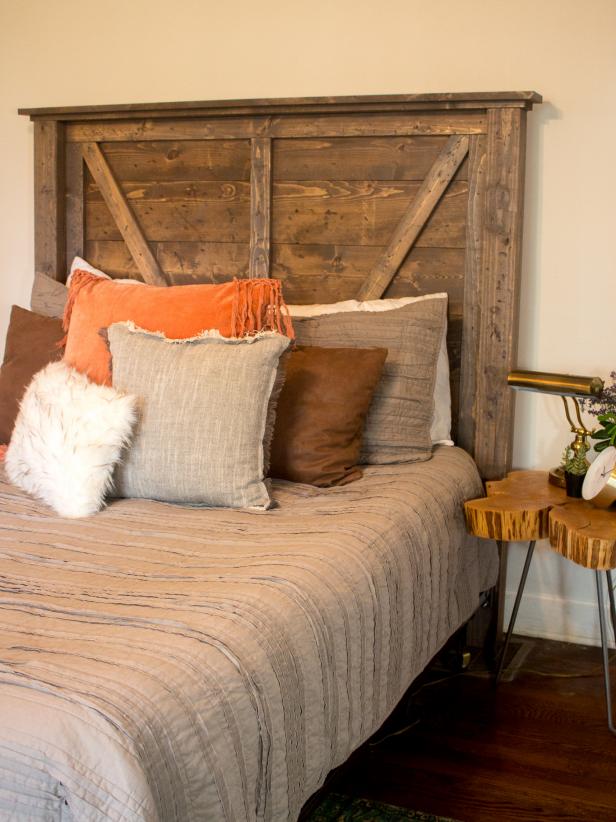 This faux barn wood headboard will fit seamlessly with any style, from modern chic all the way down to rustic chic. You can bring a bit of country living into your home without actually having any rustic pieces for an industrial feel.
Vintage Headboard
When you're feeling like your bedroom needs an injection of vintage charm, look no further than repurposing thrift finds into uniquely stunning decor pieces. This mantel was given new life and now serves as an eye-catching headboard in this bohemian boudoir shoot!
As a result, the bedroom is a cozy bohemian retreat with its cluttered yet intricately designed furnishings. One of the best elements about this space are those eye-catching headboards that serve as artsy statements from wall to ceiling, showing off the vintage charm.
Dreamy Playhouse for Kids
Did you know that children's bedrooms are the most commonplace for nightmares? This adorable bed will help your little ones get their good night's sleep in an environment designed just for them! It is like a house in a house.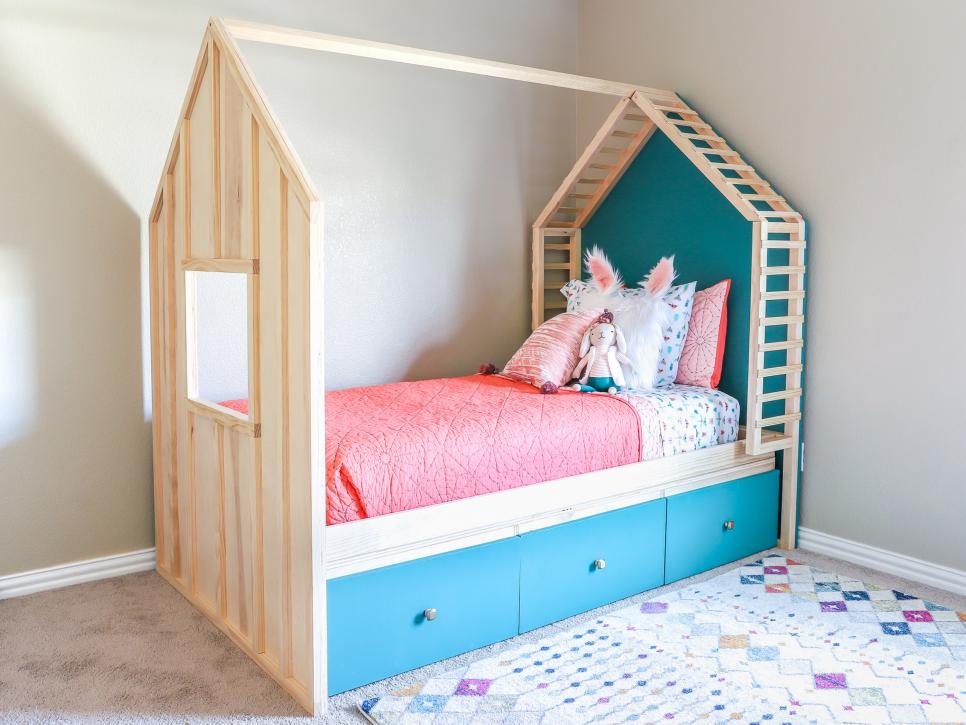 Made with playful house shapes, three drawers of storage space, and softer lighting than traditional lights – this DIY furniture piece is perfect. Your little one will feel like they're sleeping in their own little home with this adorable bed.
Wooden Wall
The salvaged wood accent wall in this bedroom creates a warm and inviting focal point, eliminating the need for traditional headboards. You can easily recreate these looks at home with peel-and-stick planks or reclaimed barn wood cut to size.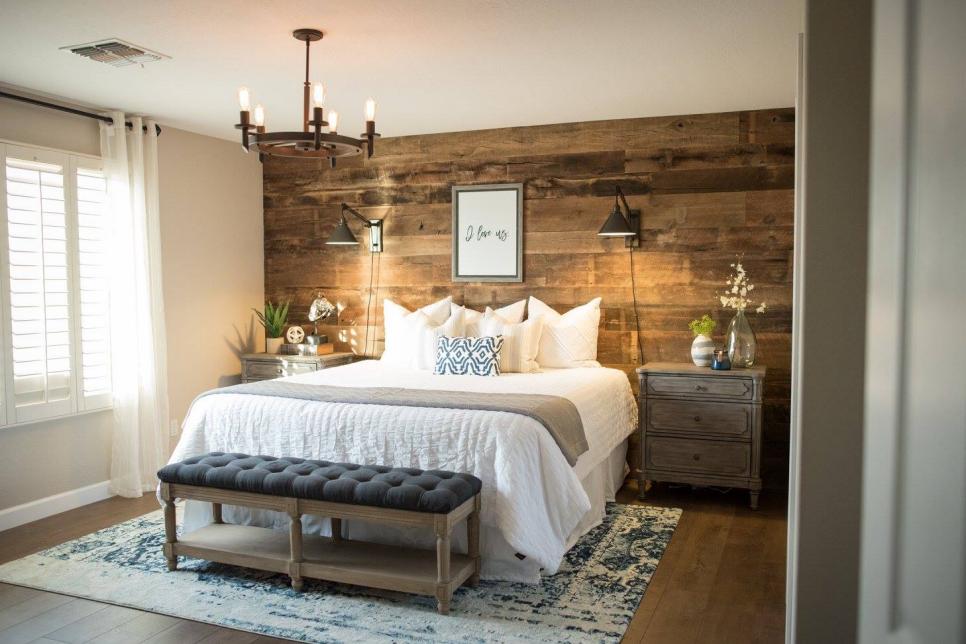 With this style, you can make sure it fits your personal style! The natural beauty of native hardwood trees makes designing around them easy enough when using surfaces like paneling boards screwed into place. Pair this with dark neutrals.
Coastal Design
This project is all about getting creative, so grab some vintage wood for the base of each piece before starting off on their own path towards creativity. You can make your bedroom coastal with this cleverly designed and unique headboard!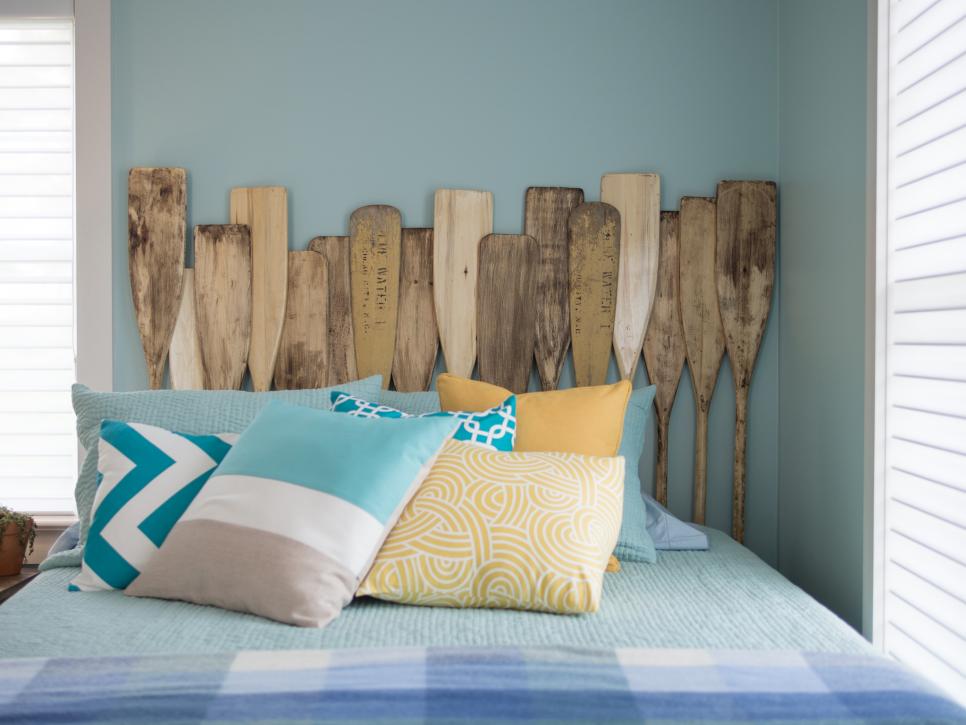 Use old paddles and stands to create an eye-catching design that will have everyone in awe. Vintage paddles, paired with the perfect colors of blue paint and whitewashed wood, create an outdoor-inspired headboard that would be hard to resist in any coastal bedroom.
Old Cottage Shutters
For all you thrift store flip enthusiasts, this project is for you. You can easily create this inexpensive-yet-impressive headboard using unfinished shutters, paint, and sandpaper. All you need to buy are a few basic tools from your local hardware store!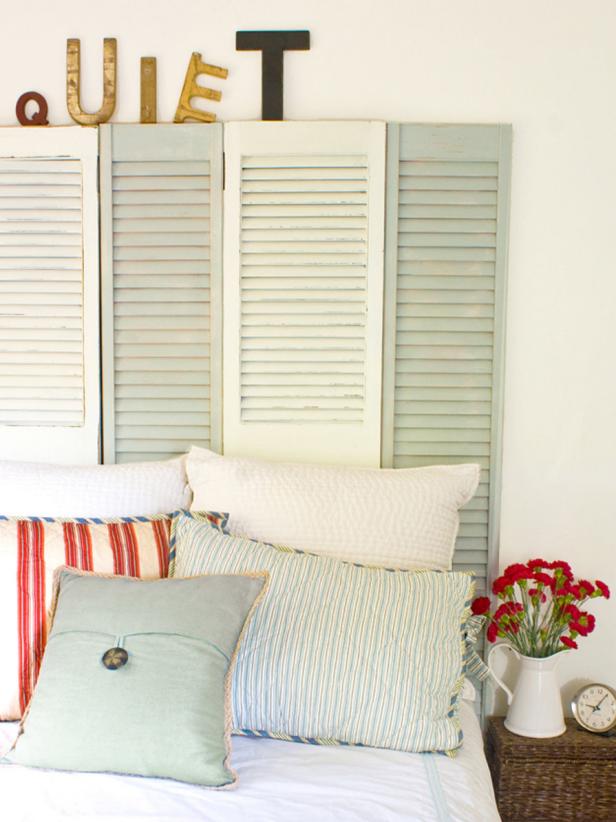 After you finish this project, not only will your new headboard be an attractive addition to any room in the house, but it also provides shelter from even more dust. You can easily be finished with this DIY project in a day or two.
Geometric Design
If you're looking for a fresh and innovative way to spruce up your bedroom, consider these painted walnut slates from Designers Susan Jamieson at Bridget Beri Designs. She created this amazing geometric patterned bed using various colors of paint.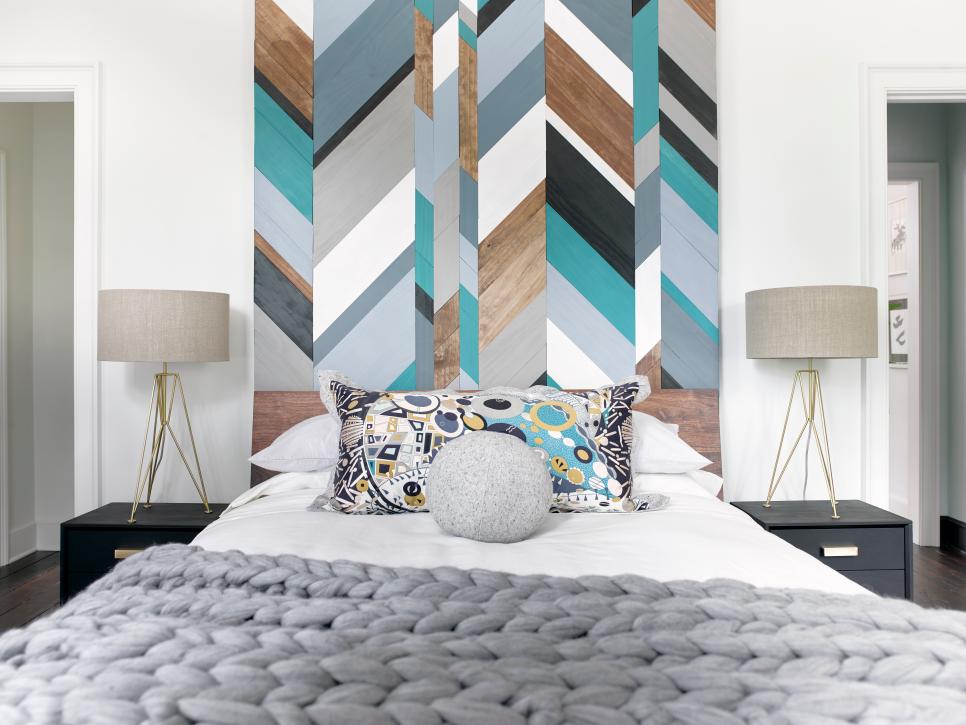 These paints give the area an otherworldly appeal — think futuristic meets rustic! She used a geometric pattern to paint the slats of her bed in walnut. This is an example of using custom color and design for your bedroom aesthetic.
Love On Display
For a soft and romantic bedroom, hang a large piece of textile above the bed. This simple design will add classic beauty to your space while also serving as a headboard or nightstand in all of its old-world glory!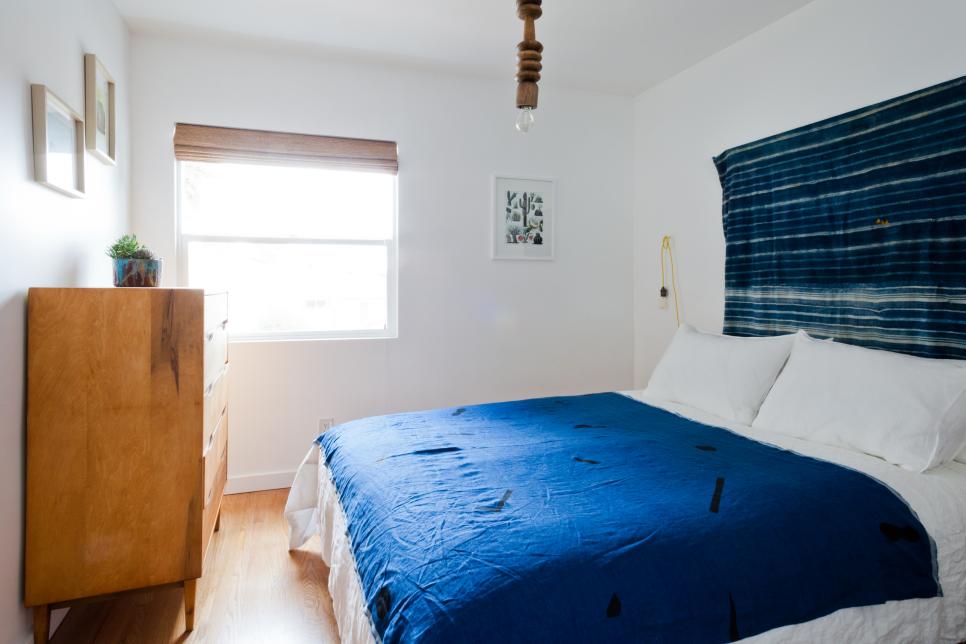 Hanging vibrant textiles above the bed is a great way to show off your favorite items. Here, an African indigo textile becomes something special when used as a headboard in this cool room filled with earthy tones and natural light!
Creative Artwork
Who says you can't personalize your bedroom? For an elegant and creative way to add some flair, wall art is an excellent alternative for those who want something more exciting and decorative than just plain white paint on their walls.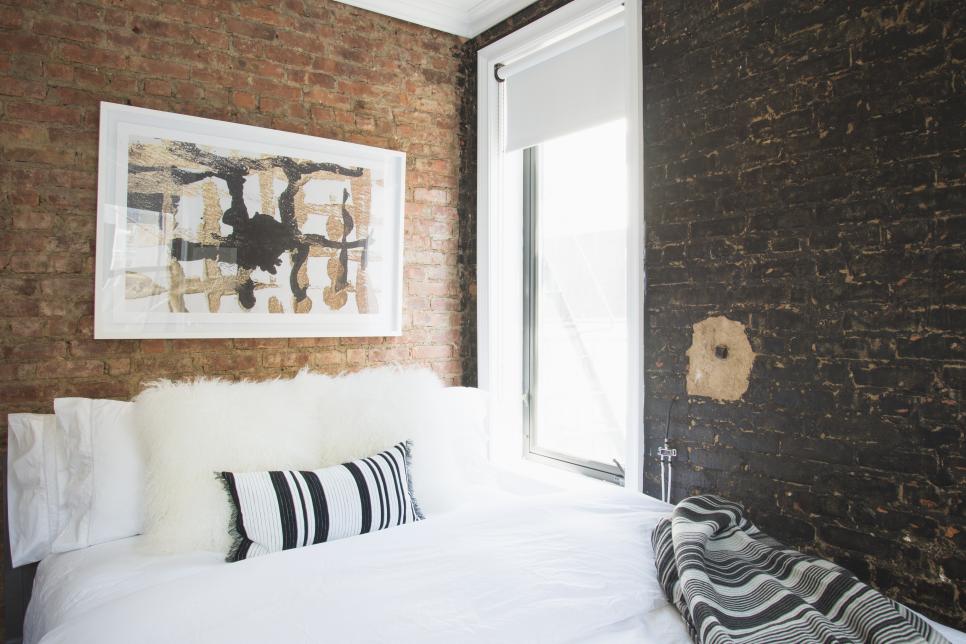 Wall art is an excellent way to personalize your bedroom and add some flair. Choose any frame that compliments your taste or create an original piece just for this occasion! You could also frame an old family picture in order to get that signature look.
Bold and Rustic Bedroom
Ever feel like you don't have the money or time to build your dream headboard? Designer Ana White has the perfect solution! With just a few tools, basic woodworking skills, and some creativity, this DIY project can be done in no time at all.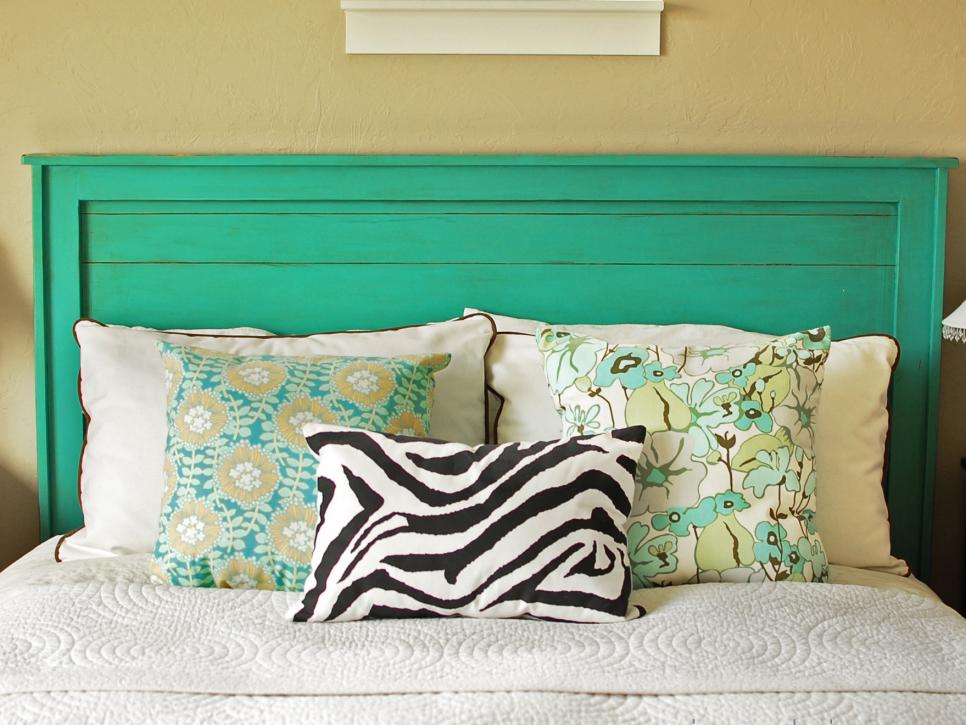 A wooden bed frame is not only chic but also offers a luxurious feel for any bedroom. To solve budget issues, the designer Ana white shared a straightforward way of making customized designs that anyone can make using old pieces of wood.
Space-Saver Board
The benefits of a one-of-a-kind DIY project that takes up little space and can double as an interesting headboard? It sounds like your perfect addition to any bedroom! One of the best things about a bed is that it's not just for sleeping.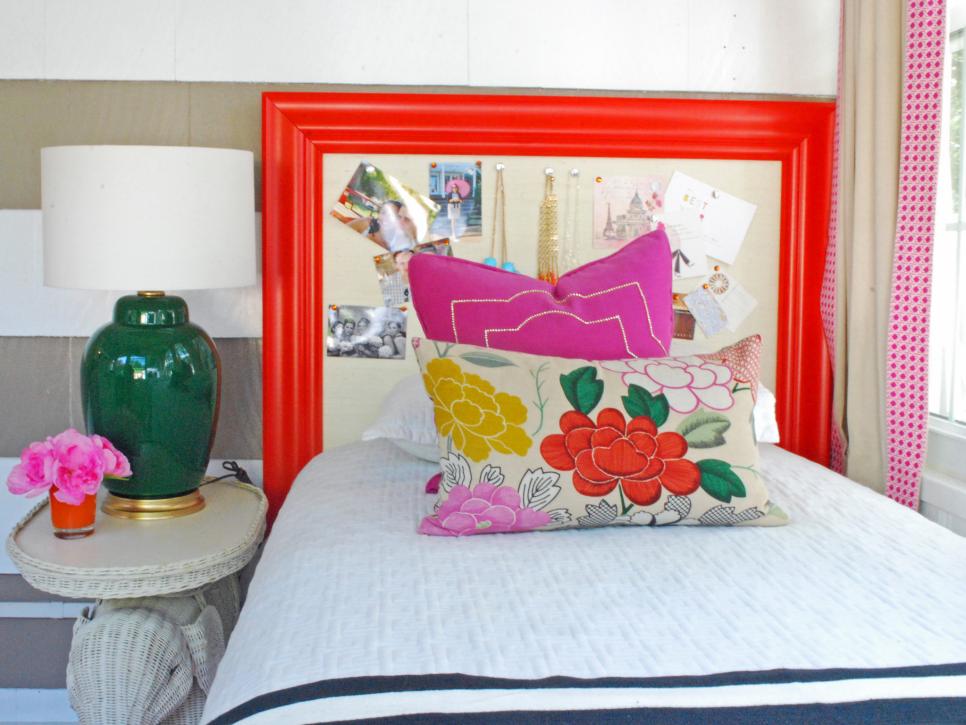 With this DIY project, you can use your headboard as both an attractive bulletin board and colorful wall decoration! You can turn any space behind our headboards into two usable bulletin boards. Use the space to display pictures, notes, and drawings.
Antique Maps on the wall
The bedroom is a space with big ceilings composed of livable spaces. Create a focal point for this design with a mural or picture of an 18th-century map of the coast of Maine or any coastal region sourced through the Library of Congress.
This will add some depth to the exposed brick wall. Your eyes will instantly be drawn to it. Besides, it gives breathing room around these pieces so visitors can come without feeling overwhelmed by the size of the mural.
Cute T-Shirt Headboard
When your child outgrows their favorite T-shirts, don't just get rid of them! Use old shirts or blankets to create a collage on top of their headboard. There's something so satisfying about using old T-shirts to create a colorful collage above your child's bed.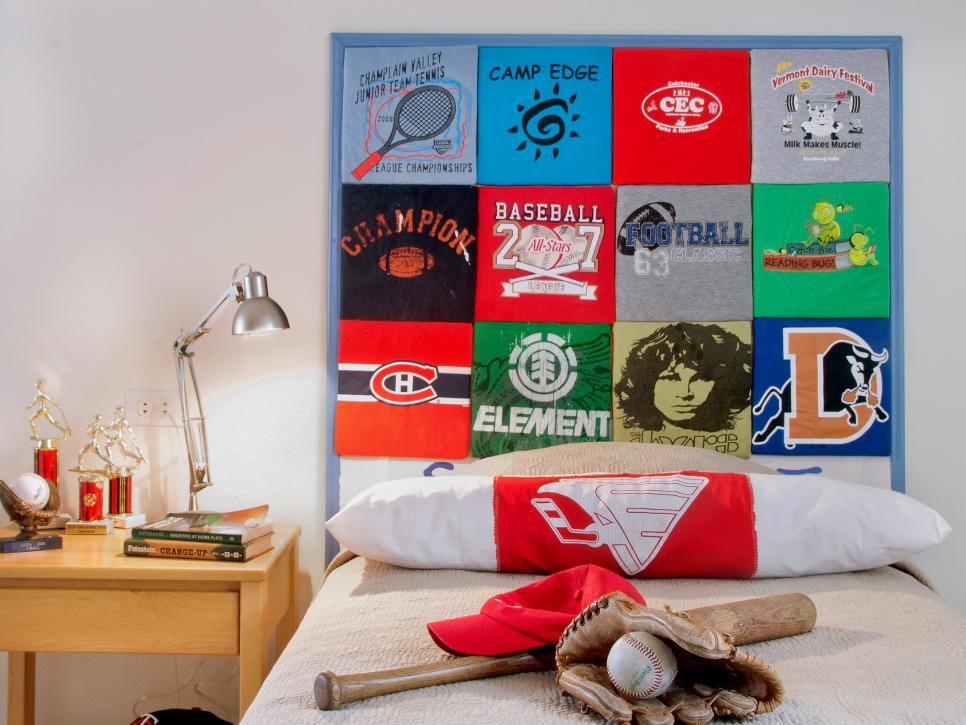 Give them the freedom of choice by allowing each item in this artwork to have its own space, rather than simply tucking everything into one corner or hiding it underneath furniture! This will make them feel like they are still part of the design in their bedroom.
Design on a Budget
Make your bedroom perfect with this natural hemp headboard. It's not just about what you see. It is also how the texture of your materials makes an impact. Made of wood and rope, the twine will make you feel like you're camping out in style!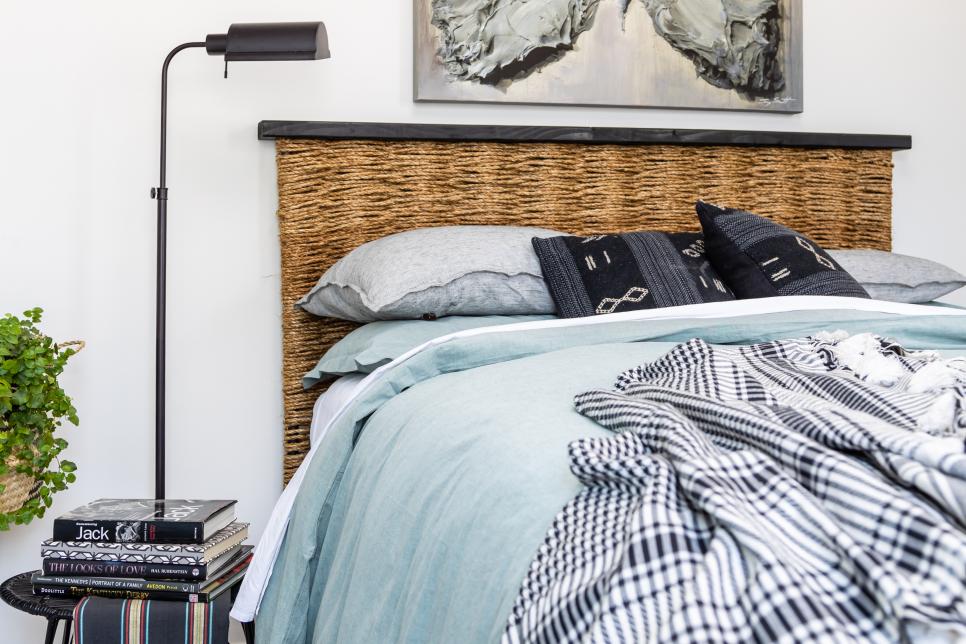 This headboard is made out of old wooden dowels, 2x4s, and jute rope. Pair it up with soft-hued linens for an organic look that'll make your bedroom feel cozy all night long. This headboard is perfect for any DIY enthusiast who's on a budget.
Tall Handsome Headboard
Your bedroom is one of the most important rooms in your home. It's also where you should feel comfortable and at ease, so why not dial-up that drama? Create your very own statement piece with this handsome, floor-to-ceiling headboard.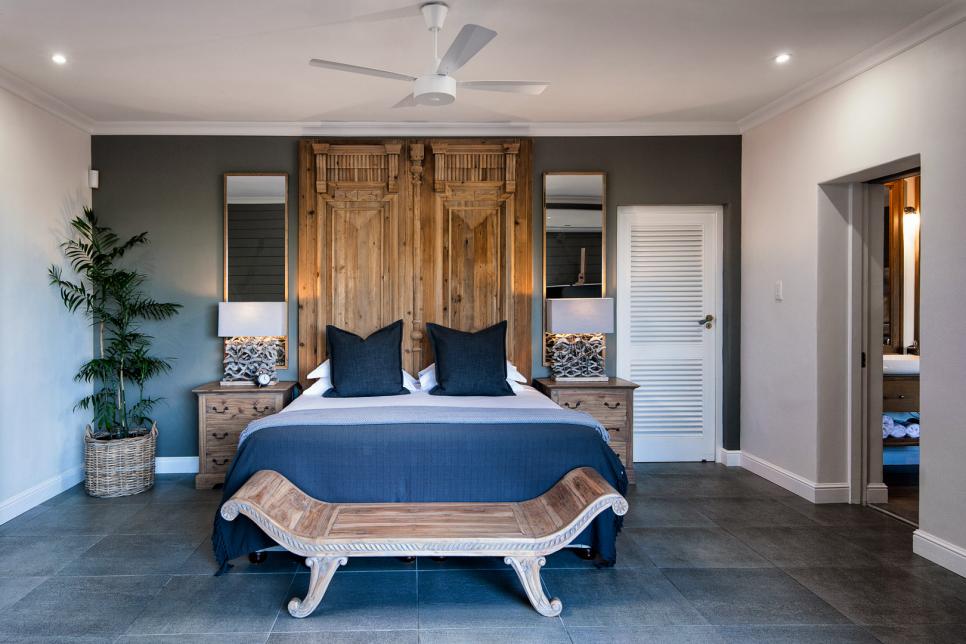 This German oak wood is sure to impress anyone who enters the room. They will also be impressed by what you were able to do in such a small space! Get the perfect balance of beauty and function with this magnificent headboard.
Upholstered Headboard
A chic headboard for your bedroom is just a few easy steps away. All you need are some upholstery tacks, batting, and foam! This project comes together quickly in no time to give you that high-end finish without paying an arm and a leg.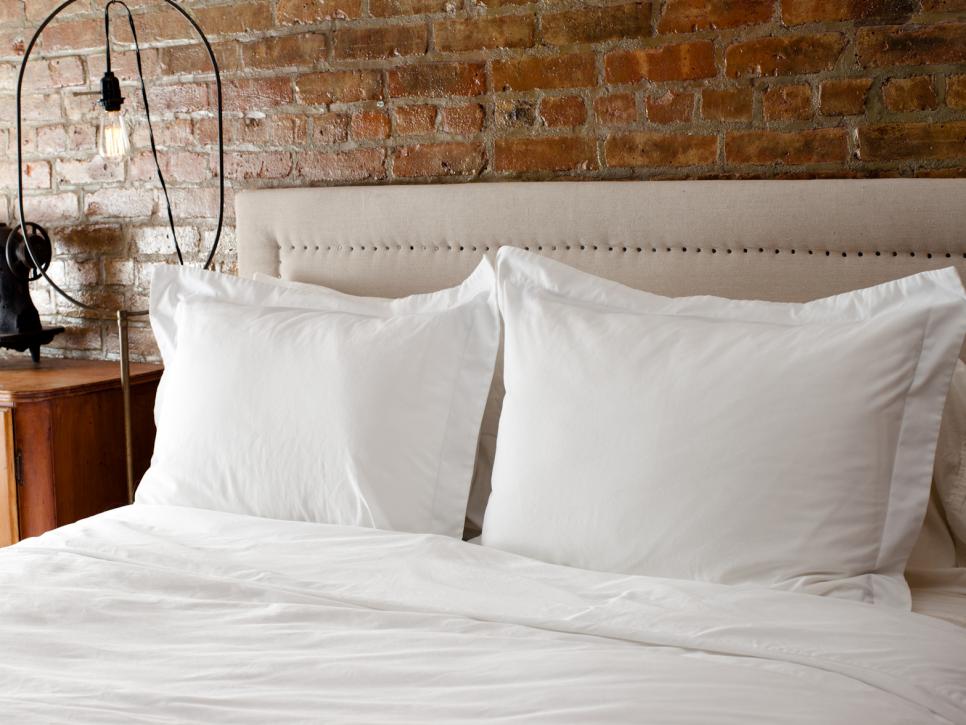 If you want to look like a pro but don't have the budget for the purchase, then this DIY project is for you. You can create anything from chic headboards that match any bedroom style, all while crafting them out of what most people would think is junk.
Chevron and Chic Makeover
What's more rustic than a cabin? Create your own headboard with this chevron-inspired design from Lowe's. The DIY project consists of thin, 1″ x 3″ strips made out of wood, which you can assemble in any configuration that suits the aesthetic.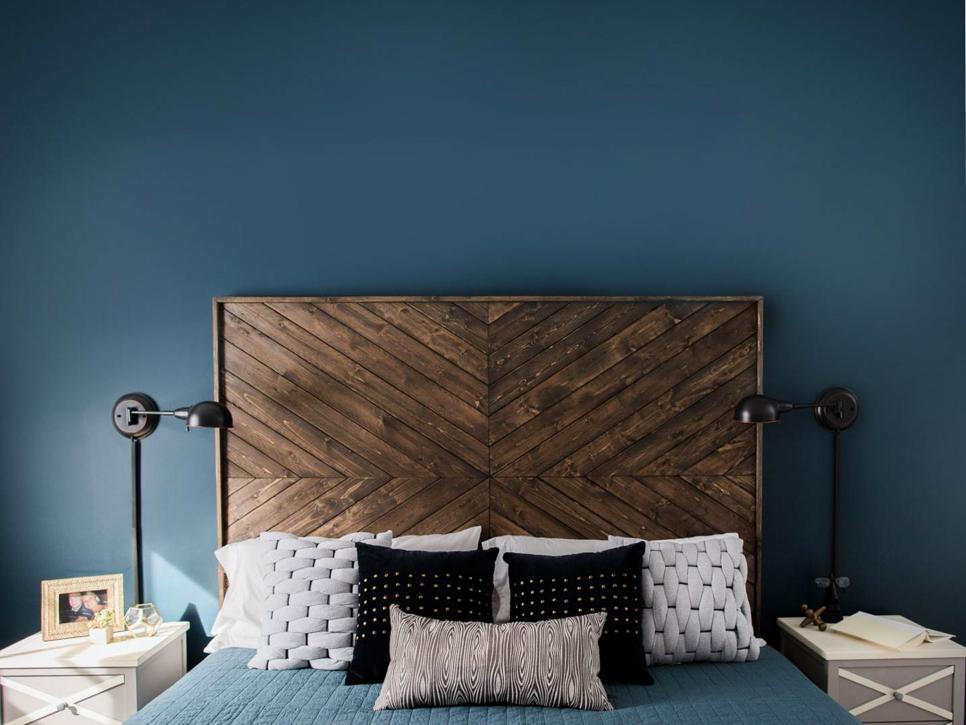 It would make an attractive focal point when placed alongside bedding items like pillows! You will love this rustic headboard that makes for a chevron pattern by assembling them in a sawing motion. This is a long-lasting DIY for your sleep space!