40+ Home Office Ideas That Help Inspire Productivity
By Kimiko I August 23, 2021
---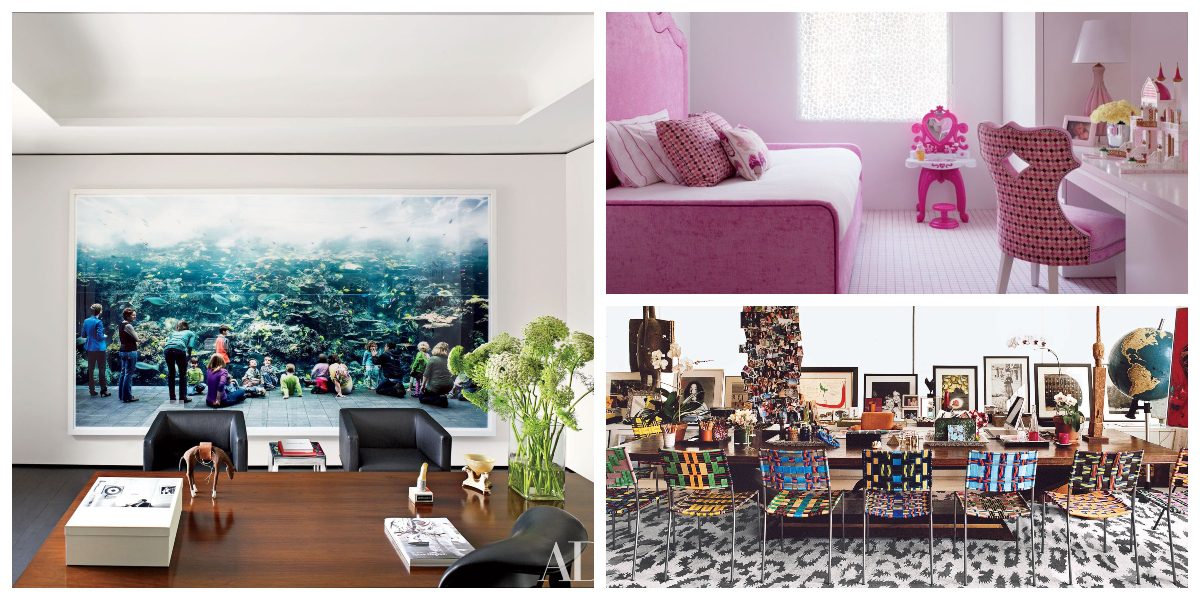 Working from home has many benefits. People are getting more sleep now that they no longer have to worry about their morning commute. Parents don't have to worry about the need for daycare for their kids. Doing some cleaning in your free time or cooking from home saves loads of time and money. But the thing is, with so much time at home, there can be many distractions. You can easily begin worrying about the dishes that need to be done, annoyed by the loud barking of the neighbor's dogs, or wishing you could take a dip in the pool and relax since it's right there. Or maybe, it is tempting to turn on Netflix to finish watching that episode of your favorite television show. If you don't work in customer service, who is going to know, right? With all of these distractions, maintaining focus can be a difficult task. Here are just a few tips to make life easier and productive while working from home.
Grownup Baby Blue
Baby blue is usually the color of a nursery when someone is expecting a boy. It may also be a nice soft-toned, pastel color of choice that is easy on the eyes and creates the ambiance needed to add a little pop color to a boring setting.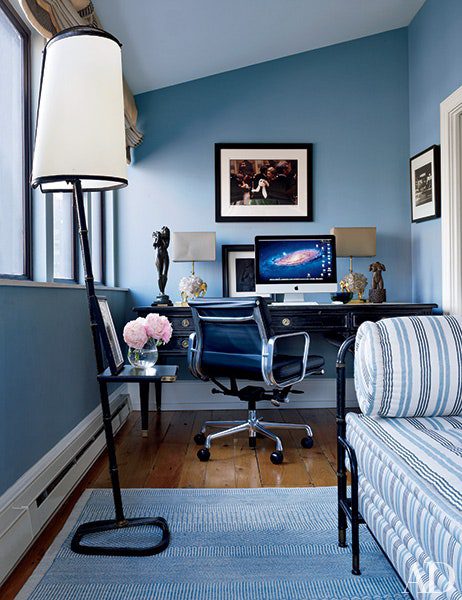 If you want to sustain that cool and calm vibe, blue is your color. Just add a little paint, maybe some accent pillows, and a rug, and you have yourself a blue retreat. It looks like everyone in the world is tired of that typical beige and eggshell colors.
SA Vintage Vision
Not everything has to be modern. Sometimes a little vintage appeal is just the thing that is needed. In Manhattan, a designer completely turned around an old apartment and added an office space with an old vintage desk.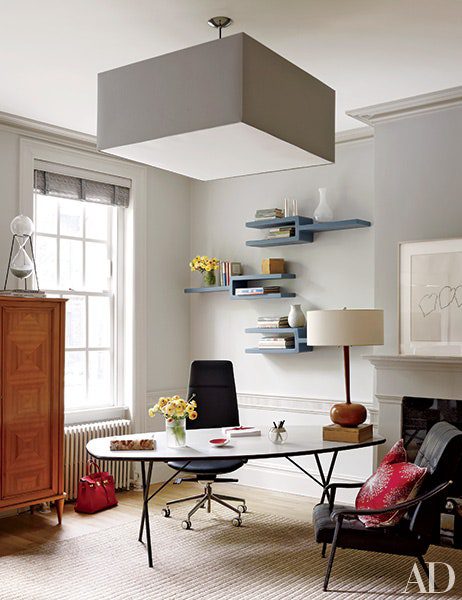 You could even add some retro lamps and a modern-century wooden dresser to use as a filing cabinet. Considering that the building was built in the 1840s, this isn't a bad way to expand on what is already there.
Bold and Colorful
This may be taking a risk, but using many vibrant colors can make all the difference in the world. Let's think about some of the most advanced civilizations to exist and the colorfulness of their cultures. We have the Egyptians, with their earth tones, and the indigenous Americans, whose vibrant colors and abstracts are staples in their clothing and decor designs.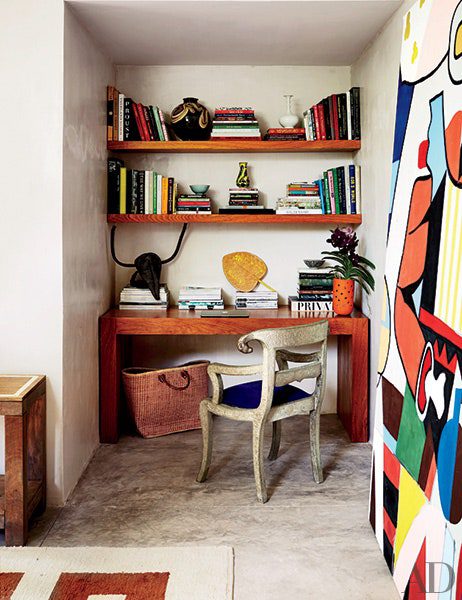 And, who can forget about India? Indians are known for being mathematically and scientifically gifted. They are known for their colorful fashion, and even their food is bright and colorful. It may suggest that bright colors spark creative thinking more so than provide a distraction.
Marrakech Home Office
A good combination of functionality and practicality may be just what the doctor ordered. An office space does not always have to be large or take up a lot of space. Sometimes, it can be a quaint, small area dedicated to the necessary work that takes time away from our leisure activities.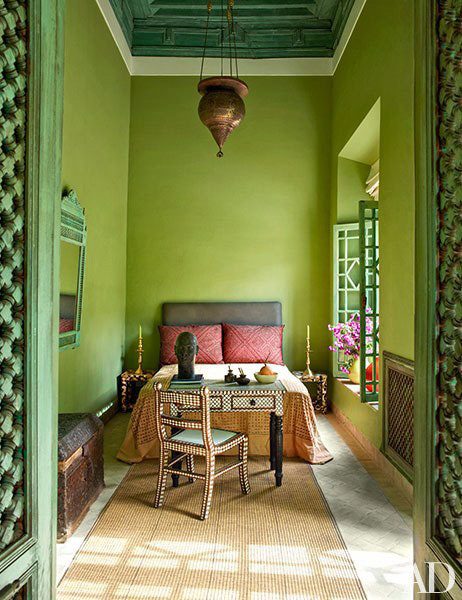 The benefits of a small space include less clutter and less space for unneeded items. Less is more. You can design the space with a blend of Mediterranean colors and soft tones, a mix of greens, browns, and a red pop, and mirrored designs. This natural feel and look can be a very calming place to work in.
Coastal Work Space
Malibu is the place Los Angeles locals go to relax. Imagine having the type of room and office space that feels like you are on vacation by the beach. With the new-age way of decorating homes and offices spaces, and with the benefit of Amazon, you can make this a dream office come true.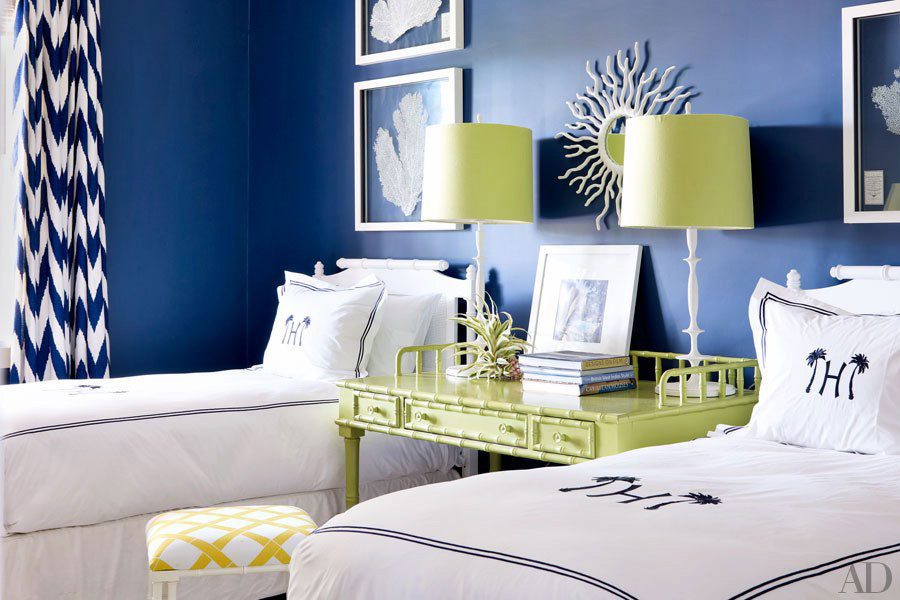 It is easy to purchase everything needed online to give your office that relaxing, hotel-by-the-beach feel. Just get some seashell decor, add a little water-blue paint, a sun yellow desk, and a chair, and you will feel like you are at the beach in no time.
Boston Bedroom With Work Space
Boston, right next to New York, is known for its key historical moments that played such a role in America's History. It modernizes the room by taking a little bit of that colonial vibe, mixing it with white paint, white comforters sets, and a white headboard.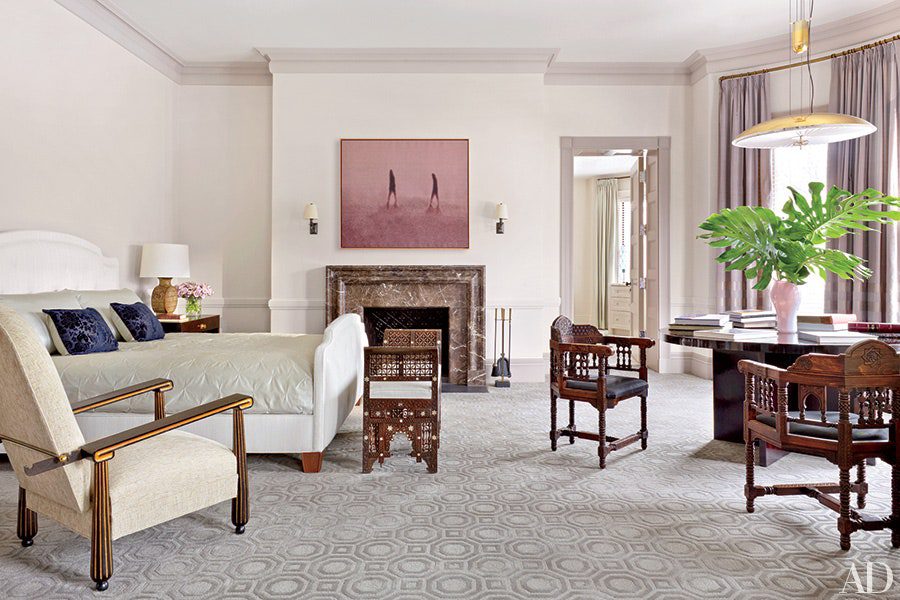 Then take some classic brown chairs, like the ones seen in the movies, and a rounded desk that looks like Arthur's table, and you create a perfect mix of the old and new world. It's a great trip down history lane and great motivation considering how Boston's events played a key role in America's history.
Bridgehampton Work Space
Once again, we are mixing the browns and whites, only this time, we give the room a more Viking kind of feel. When it comes to home offices in the bedroom, it is usually hard to make it mix. But, with a nice Canopy bed and a rustic desk, you have a perfect start.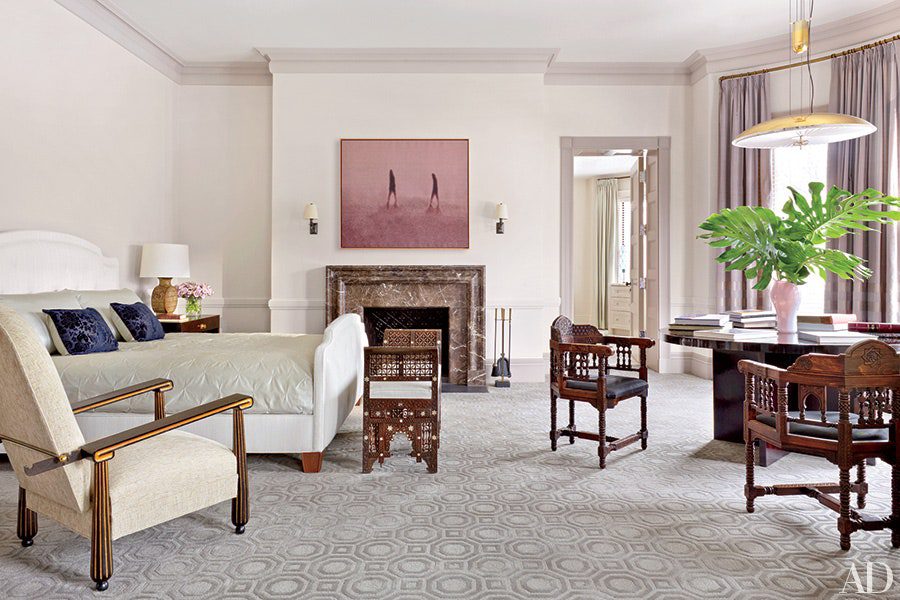 All that is left is the decor that can be purchased at any of your favorite stores. With the right combination of brown rugs and accent pillows on a white comforter set, the white and brown decor and furniture will match nicely for a smooth, eye-catching image and comfortable feel.
Los Angeles Home Office
LA is the place for the bohemian theme, but there is a way to do it so that it is more appealing and doesn't look like a bunch of colors thrown together. In LA, one decorator combined old rustic furniture with a traditional bed with a curved headboard and a frame lined in tan suits to match the dressers nicely.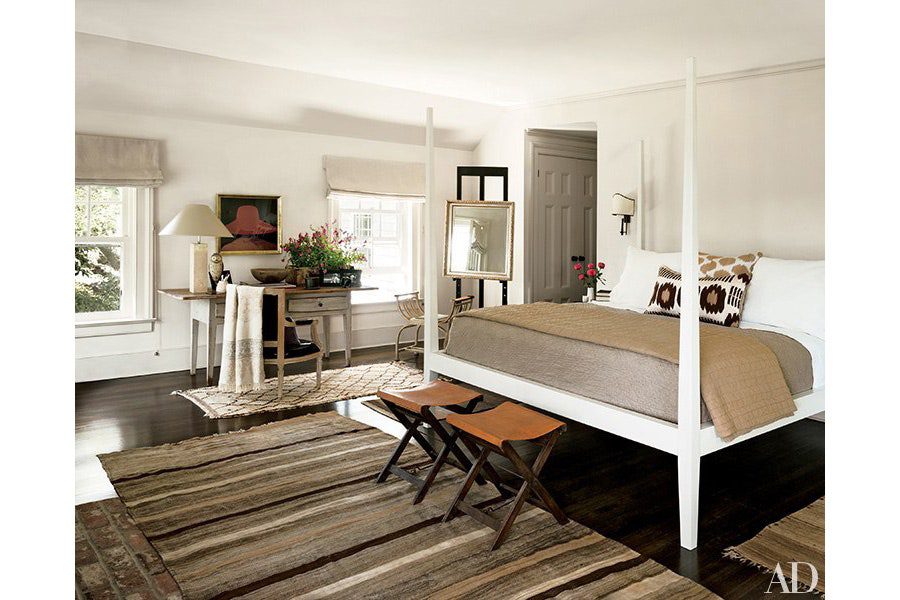 A wooden desk and a nice wooden chair with curved legs like the vanity dresser in Beauty and the Beast. She also placed 2 barstools at the foot of the bed, making the tan, beige, and brown effects come together nicely. A dark blue throw and a blue and white abstract body pillow were added to accent the room.
Houston Home Office
Texas is known for its country vibe as one of the US's proudest and most patriotic states. Country fashion and decor include a lot of red, brown, and cream colors. The decor of this room reflects the country vibe of Texas.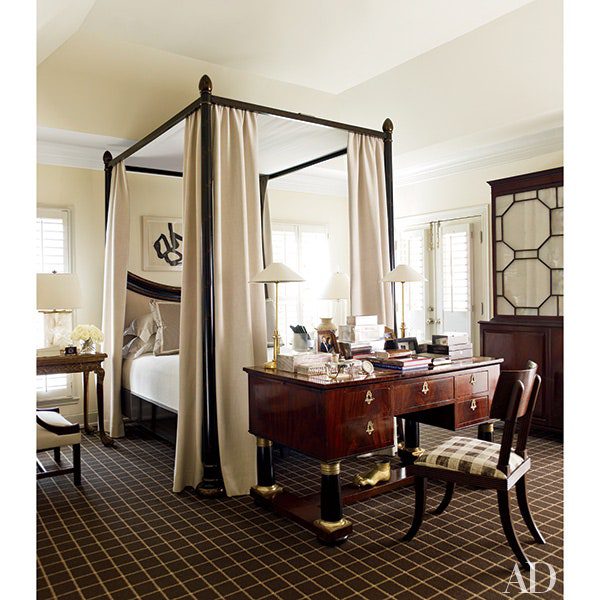 It has a brown and yellow carpet, dark brown furniture mixed with yellow and cream accents in the canopy bed, along with a nice redwood chair to match with a plaid cream and brown fabric seat to go with a redwood desk plated with gold accents.
Masterful Minimalism
Sometimes, less is more, and this very simplistic room reflects this. A very straightforward dark brown platform bed with a ventilated dresser as the footboard is the centerpiece of this room. It is accompanied by a dark brown espresso desk and matching espresso framed chairs.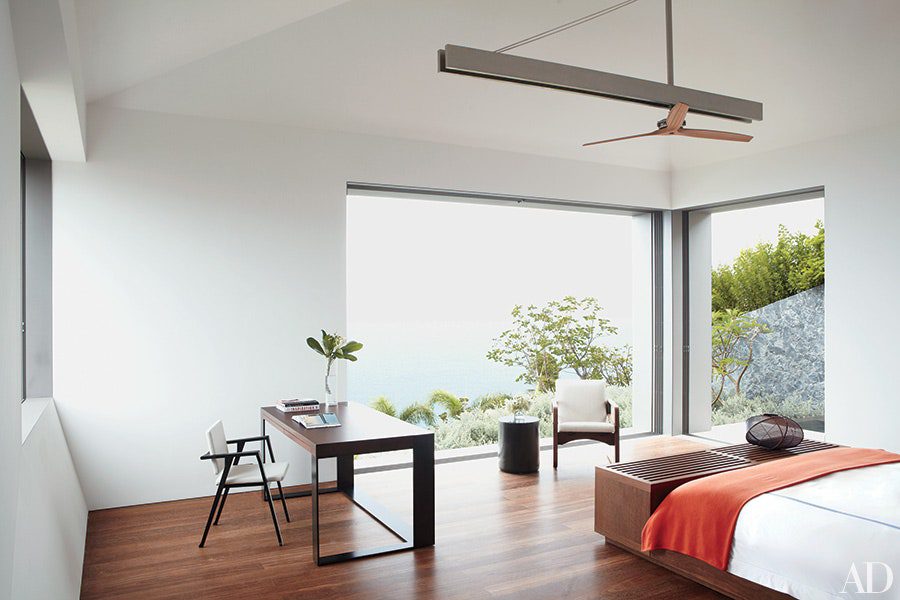 This room is filled with white fabric chairs and a white comforter set accented with a simple orange throw cover at the foot of the bed and an accent plant. This simple design and decor leave absolutely no room for distractions.
Lake Placid Bedroom With A Work Space
We are not talking about the movie Lake Placid where the star is a large crocodile swimming in the waters of Maine. This bedroom and office space are located in Lake Placid, New York, giving us all of the New York heiress vibes. This room is primarily the baby powder blue we discussed at the beginning of the article with baby blue walls, patterned carpet, accent chair, and bed frame.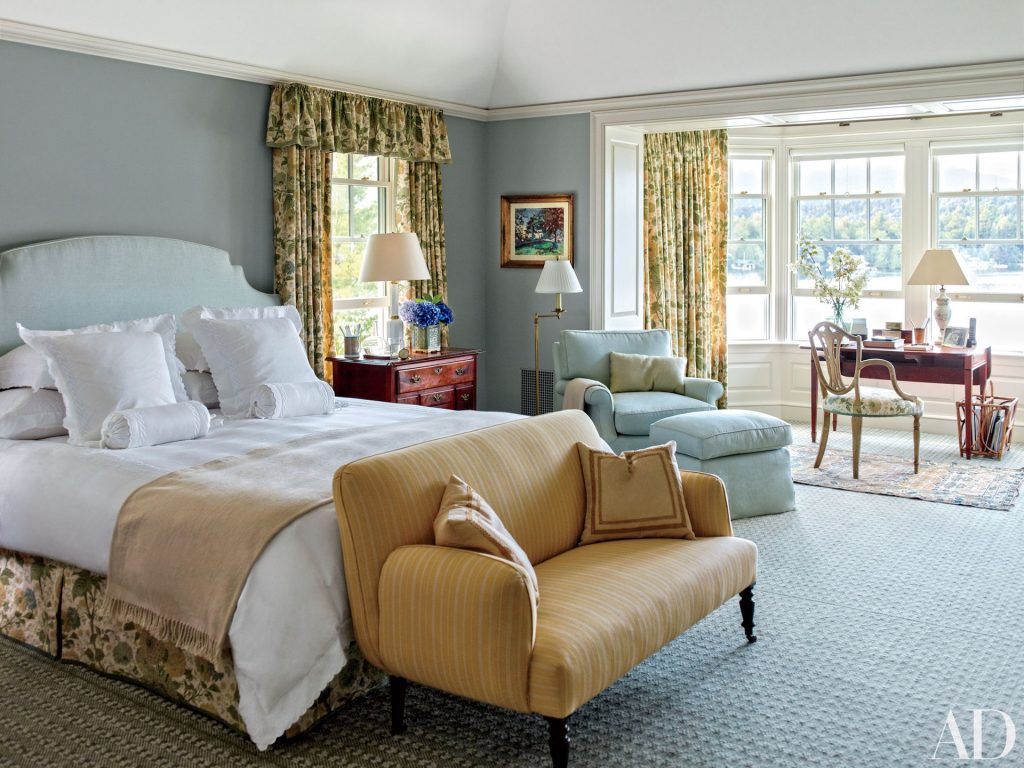 It features pops of floral decor with a matching bed skirt, curtains, and cushion on a gold-colored office chair with a yellow background color. Those items coupled with a large yellow-striped chair at the footboard of the bed compliment this very nice yet old-fashioned appearance. And nothing says ol' fashioned like a nice distressed redwood desk set and those beige lamps grandma refuses to get rid of.
Pink Perfection
Anxiety is becoming more of a problem among our youth, so how do we make it easier for our young ones to cope with the large workload? The answer is the child's favorite color. This princess-perfect room is decked out in every variation of pink a child could imagine. It has a very creative daybed with an impressively large headboard.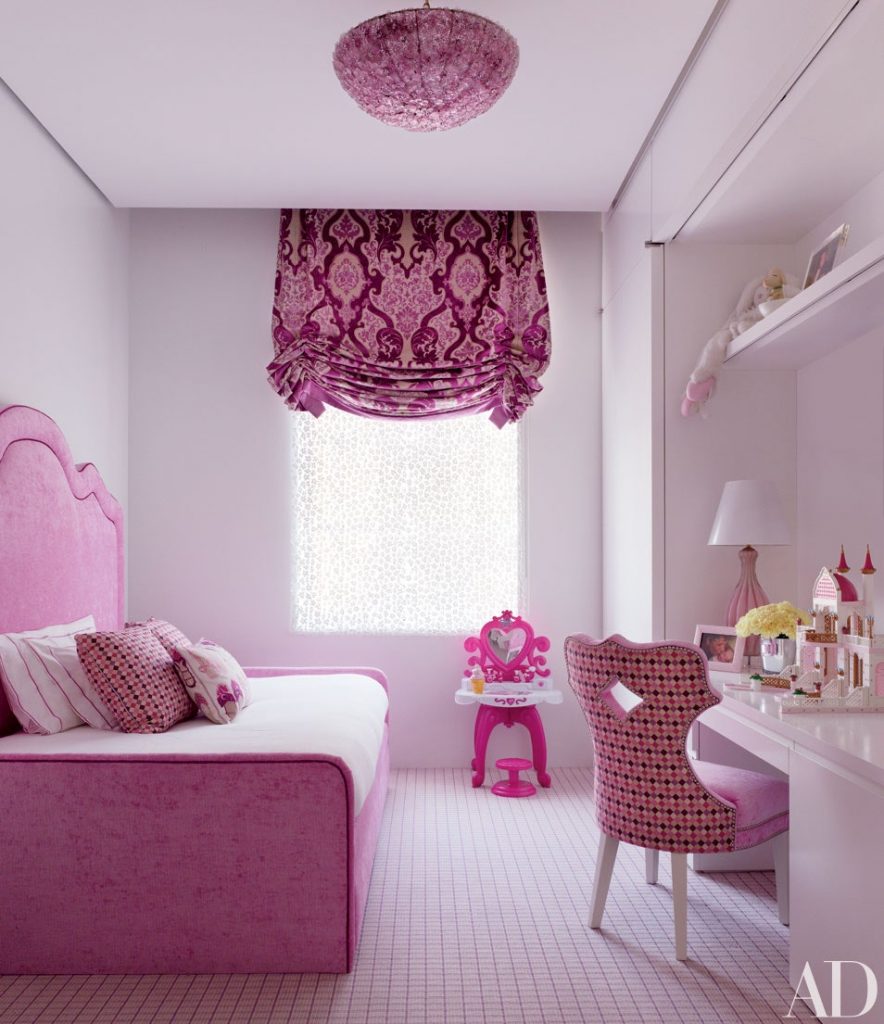 It includes a nice pink plaid office chair with a large back whose design is consistent with some modern dining chairs we see these days. To top it off, the room is painted baby pink. It's a beautiful and soft color so the furniture in the room can really stand out. The treasure of this room is the built-in white desk. Although this feature may seem to limit those who enjoy moving their furniture around, it does save a lot of space.
Everything You Need in One Room
If your home is open, you can put your bedroom, living room, dining room, and office space all in one room. It may seem hard to allow all the colors to come together, but this incredibly beige room plays it safe. It has a nice beige fabric headboard, a matching beige bed skirt topped off with beige and baby blue pillows, and a white sheet set.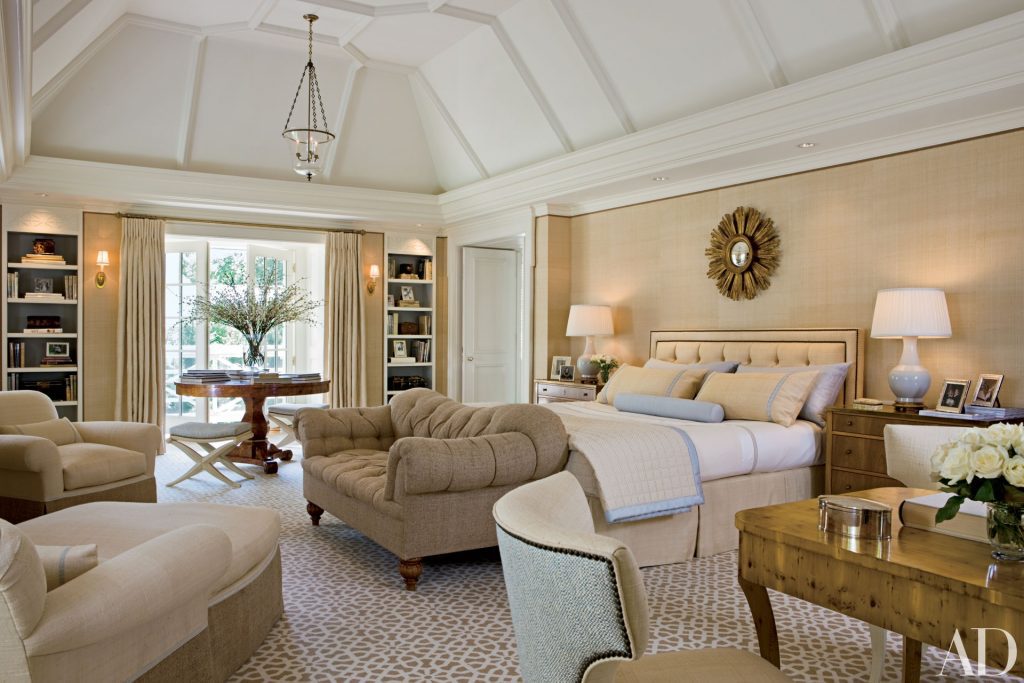 The furniture is beige, from the accent chair used as an office chair to the lounge chairs pointing to the bed. The only real accented furniture in this room is a nice light brown sofa with a combination of beige, brown, and even cream-colored accents here and there. This is definitely a workspace no one would have to leave except to go to the bathroom or the kitchen.
Standout Desk
When you need to save space, small is better. This beautiful Manhattan bedroom includes a gorgeous, beige-colored bed frame with a matching bed skirt and a nice office chair. This room is filled with white lamps and white flowers, along with some built-in white-painted bookshelves, so it seems a little bit boring at first glance.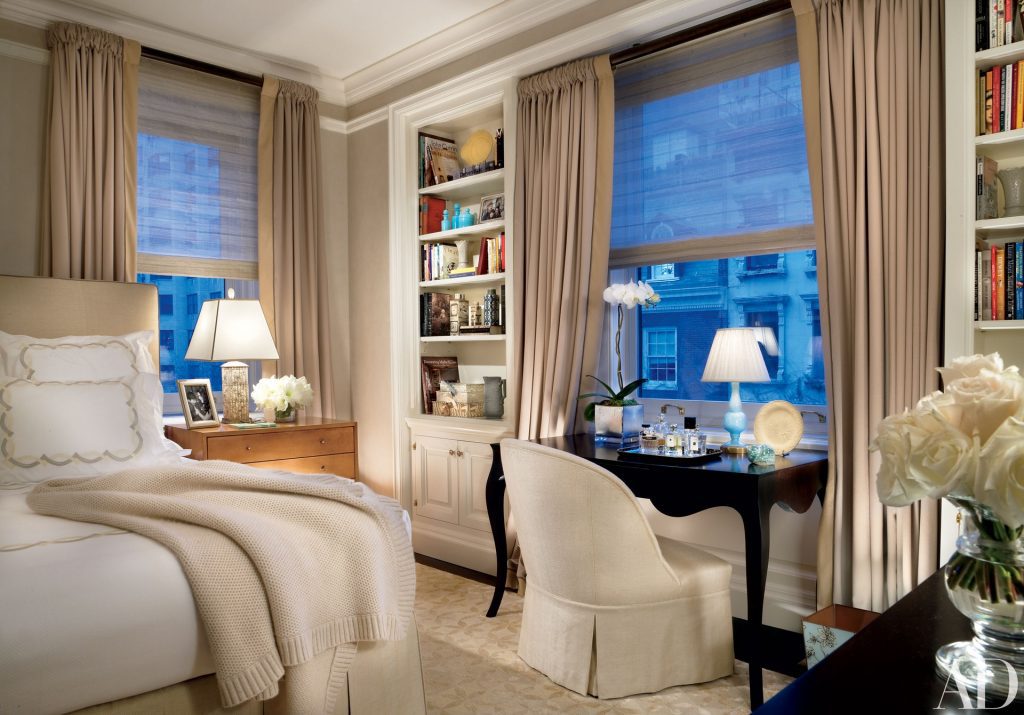 However, anyone walking in the room couldn't help but notice the black office desk with the matching black dresser. These seem to be the only items of matching color in the room, which is genius because it focuses the worker's attention on what's on the desk rather than the other items in the room that could never provide a distraction because they blend beautifully.
Connecticut Home Office
Connecticut is known for being a minimal country environment filled with a lot of nature. The way this home office was designed gives us that very country Grandma type of feel. This room is decked out in every single variation of yellow, orange, and white anyone could imagine. Accented with floral sheets, pillowcases, and wall hangings on top of a huge, yellow floral area rug.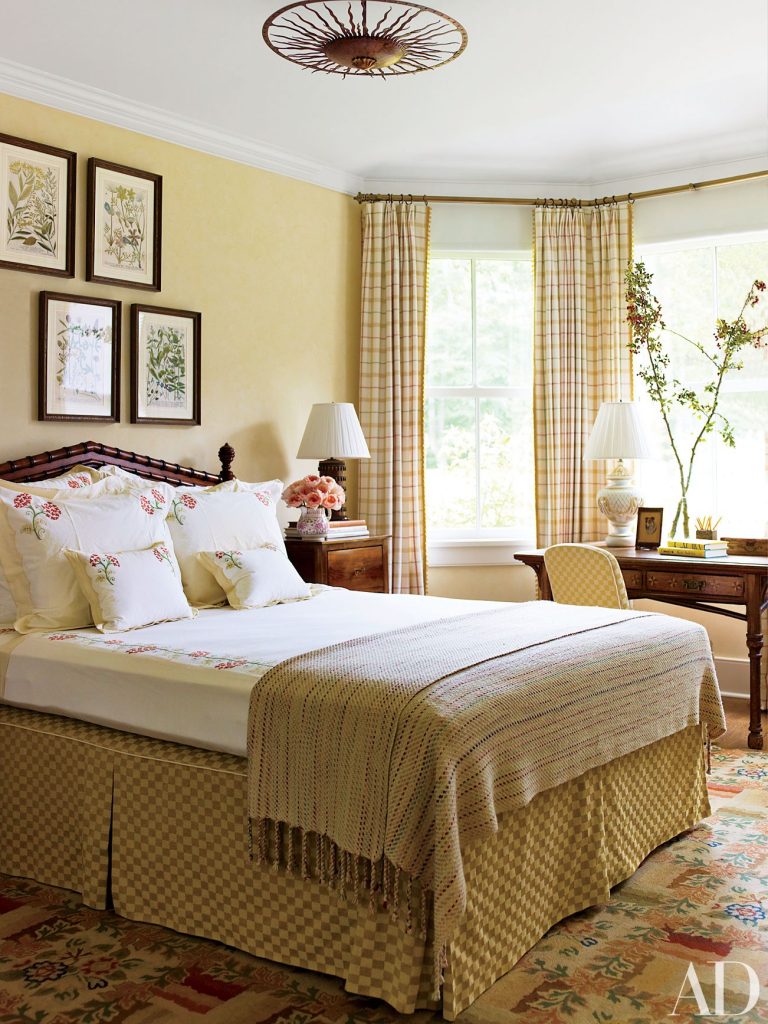 Aside from the yellow decor, the furniture from the bed frame to the nightstand to the office desk is distressed wood. The fading parts complement what is already a very yellow decor, joined by a gorgeous yellow and white checkered office chair. This consistency of colors may not necessarily be less distracting to the untrained eye, but it must work for someone who is used to it.
Beverly Hills Study
Beverly Hills is known for being flashy and new. But how does someone acquire such wealth without necessarily being very educated? The short answer is they don't. A Beverly Hills study is jam-packed with books stacked along with a built-in bookcase which is definitely a good idea because it is more sturdy than any bookcase that can be purchased in-store or online.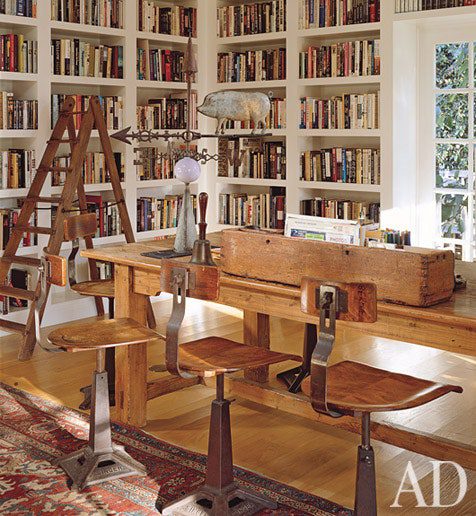 Along with a nice long wooden dining hall table high, they added matching bar stools to its side, matching the wood floors. When you take the bookshelf, the table, and chairs, and you put them right next to a huge burgundy area rug, this is definitely giving us some Harry Potter Gryffindor common room vibes. This is a pleasant and elegant way to work in a fantasy land.
Ralph Lauren's Personal Office
While stores were going out of business during the recession, Ralph Lauren opened up his own three-story megastore in New York City. Although Ralph Lauren is known for his designs that give the customers a very sharp look when wearing his fashions, it's undeniable that what he surrounds himself within his home office is inspiring, to say the least.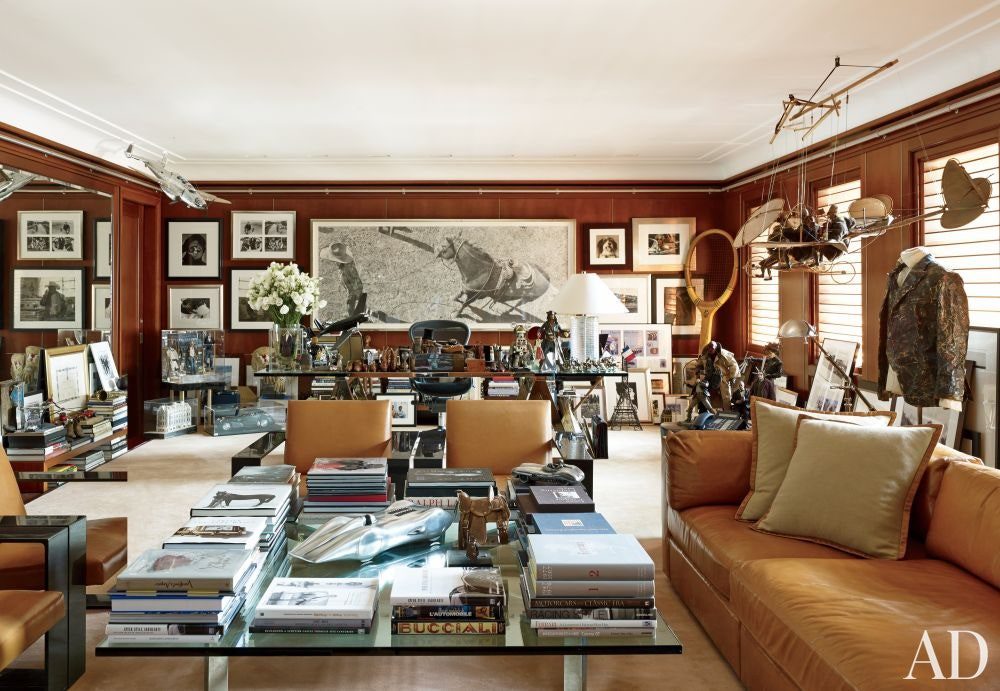 Aside from the very large, modern, and glass coffee table in the middle of the room, it is surrounded by many brown leather chairs with wall hangings of antique black and white pictures of old western images. Undoubtedly, people dressed sharper in those days than they do now, so it makes a lot of sense why Ralph Lauren would use that era as his inspiration for his designs.
Monochromatic Central Park Home Office
Monochromatic doesn't always have to mean that there are hints of chrome everywhere. For example, when women wear monochrome makeup, it is usually topped off with a nice glittery highlighter that matches the rest of the face. The rest of the face is usually a nice natural palette that enhances a woman's natural beauty rather than bold and vibrant colors.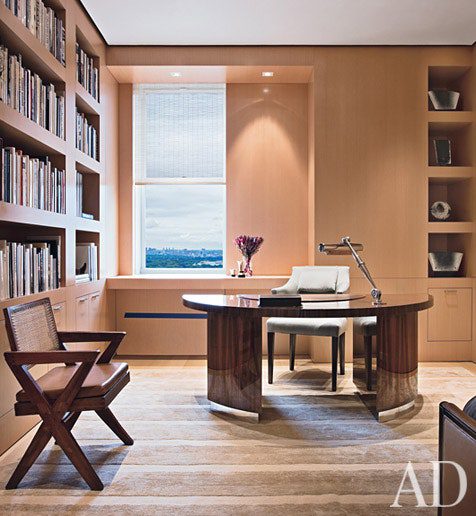 This beautiful, elegant, and simple office is painted a pinkish beige color with built-in bookshelves and accented with dark brown furniture from the office chairs to the accent chairs to the office desk. The only modern look about this room is the glass desk tabletop and the chrome strips at the bottom of the desk legs. These soft tones and simple designs are sure to keep a person's focus on the paperwork at the desk with absolutely no distractions of what's going on around them.
Abounding Books
If anyone has ever gotten that feeling to read when stepping into a library or even an awesome bookstore like Barnes and Nobles, then the interior designers did their job well. It makes sense that a person would design their office space with nothing but books and knowledge.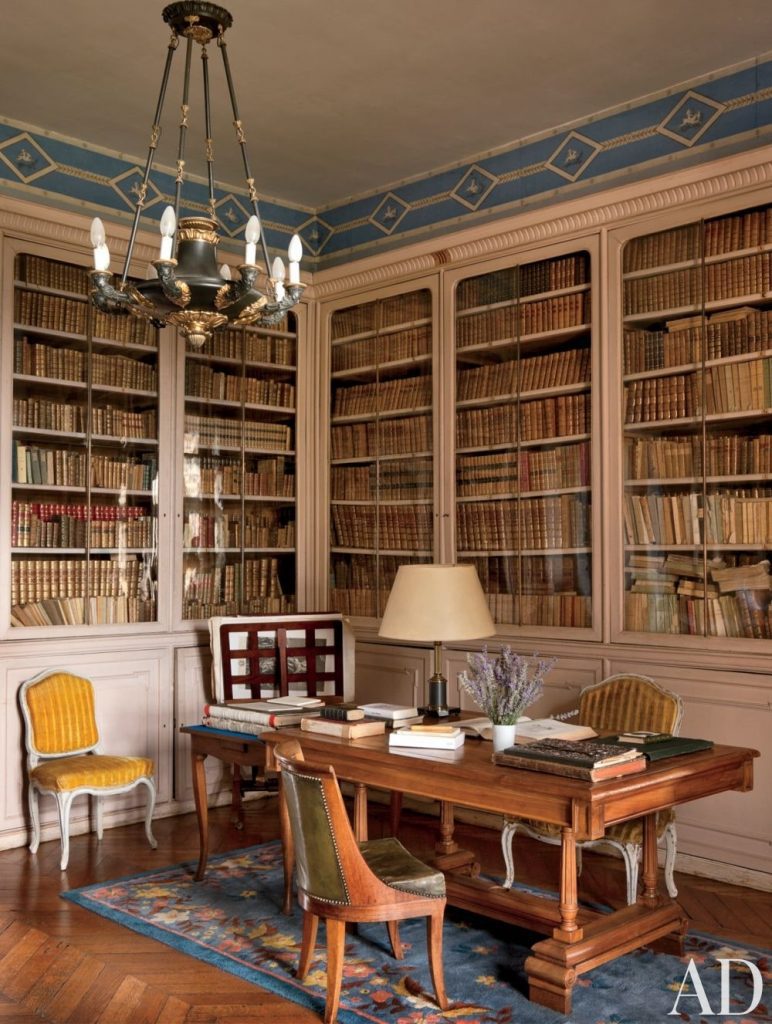 This straightforward design includes off-white, built-in bookshelves with a nice soft blue border at the top of the wall that matches a medium-size area rug right underneath the very long wooden desk and matching office chairs. And in true Library fashion, there is a cream-colored lamp and shade in the middle of the desk.
Serene San Francisco Study
San Francisco is a modern city with a very traditional style, and this office room reflects how that really nice blend comes together. This traditional home has brown walls to imitate the color of wood, along with some imitation wood carvings. It has a nice black desk in the middle of the room that pops on top of a very nice square-patterned taupe area rug.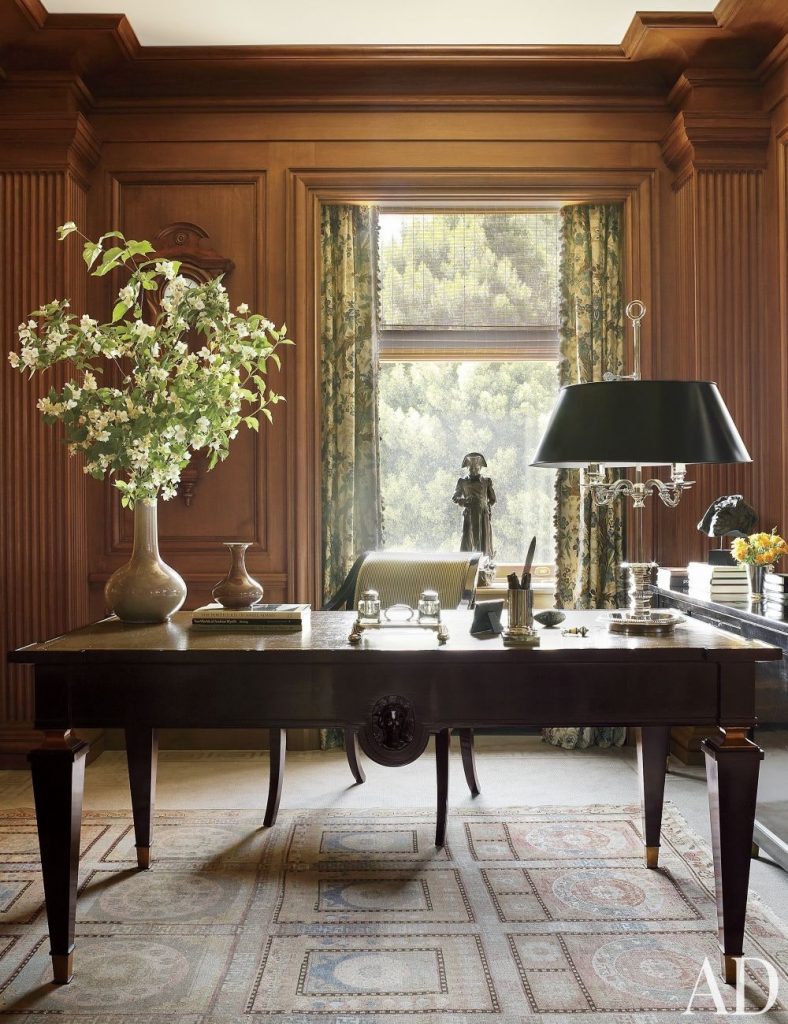 It is accented with green floral curtains and a matching bouquet of green and white artificial flowers sitting in a taupe-colored vase to give it some color and some hint of nature. This simple design is sure to keep a person's focus on the task at hand, not to mention the black shade lamp sitting on the desk.
Vintage Vibes
Just because something goes out of style doesn't mean we have to stop liking it. The sixties was a very productive era, as well as the 70s. And the theme was brown. Every single different variation of brown you could think of was the color of choice. This designer managed to pull off a 60 steam by purchasing a very large Greek pattern brown area rug trimmed with a black border.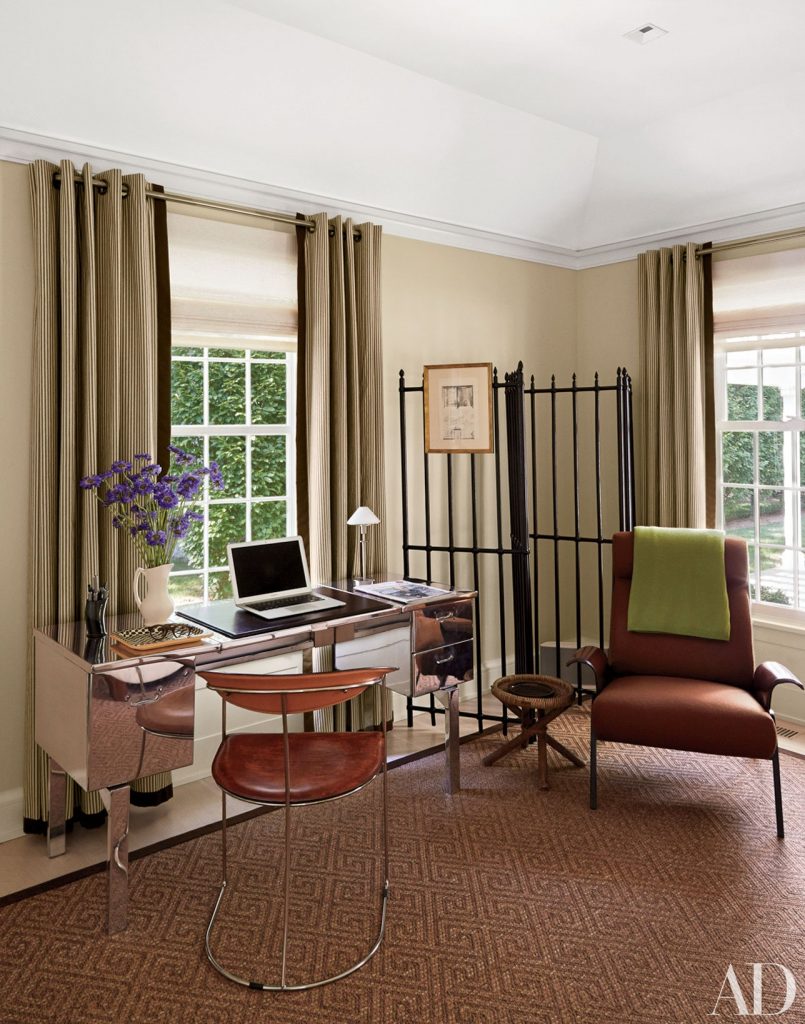 The room features a mahogany leather bar stool office chair and accent chair. It seems a little hard to get a desk to match this decor, so the designer went with a chrome mirror desk that bounces the reflections of the decor in the room. Along with some nice neutral-colored striped curtains and a spray-painted black gate along the wall, this office space definitely gives us some vintage vibes.
Home Office With a Gallery Wall
This office space looks a lot like what we see in shows and movies. A very eggshell-colored wall with framed images where the main image is inside a white square or rectangular border. The desk is a nice dark wood with a matching fabric accent chair in the room.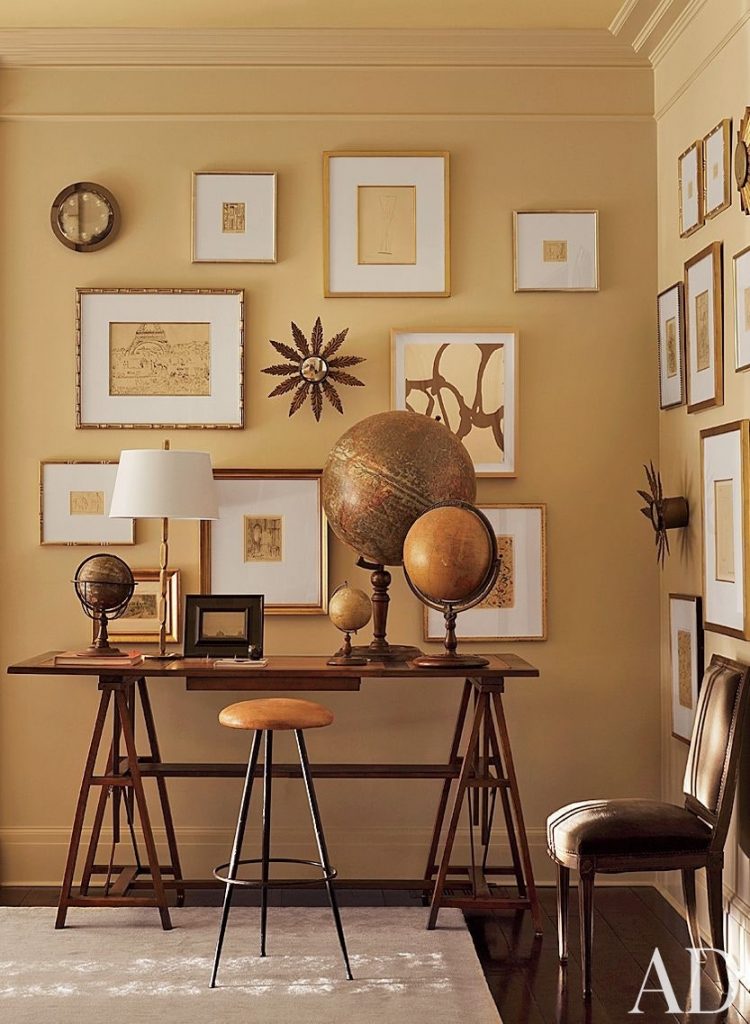 The bar stool is used as an office chair that actually matches one of those globes sitting on top of the desk. This room gives us some Lara Croft Tomb Raider Mansion office vibes. However, it would be a little difficult to put in long hours of work sitting on a barstool.
Julianna Margulies's Home Office
Julianna Margulies has been known for her roles in ER, The Mists of Avalon, and The Good Wife, where she stars as an attorney married to another attorney. And her home office is very much like an attorney's office. She has more of a dark wood-toned themed room, almost black, with very modern desk chairs.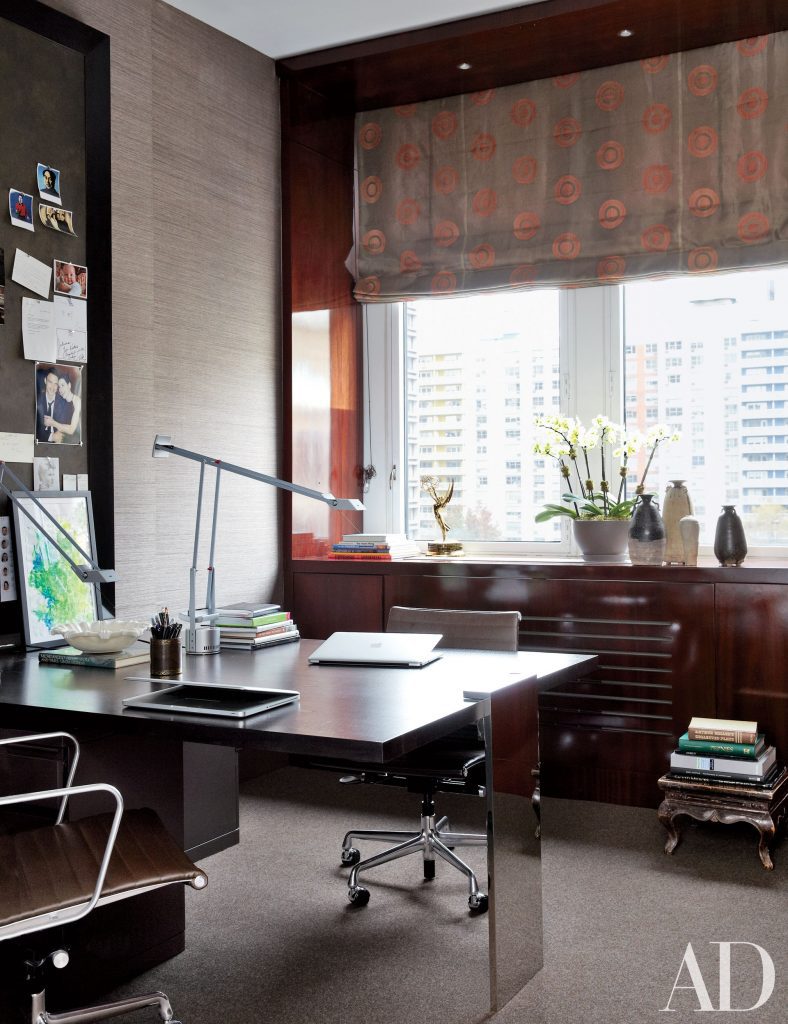 One side for the attorney and the other side for the client. On top of the desk features a nice square modern, retro desk lamp. This LED lamp is not like the normal shade lamps you will find in your grandmother's house. This desk lamp is more of a futuristic design we probably see in most sci-fi shows like Star Trek. However, contemporary designs tend to be on the expensive side.
San Miguel Home Office
Mexico is a highly desired vacation spot. Some of the Spanish Villas built in the states cost a lot more money than traditional tract homes, and rightfully so. Spanish designs are exquisite and brightly colored with their beautiful use of mahogany. This incredibly simple Spanish-style office is painted white except for what looks like a grey marble wall on the same wall that sits an oval-shaped window.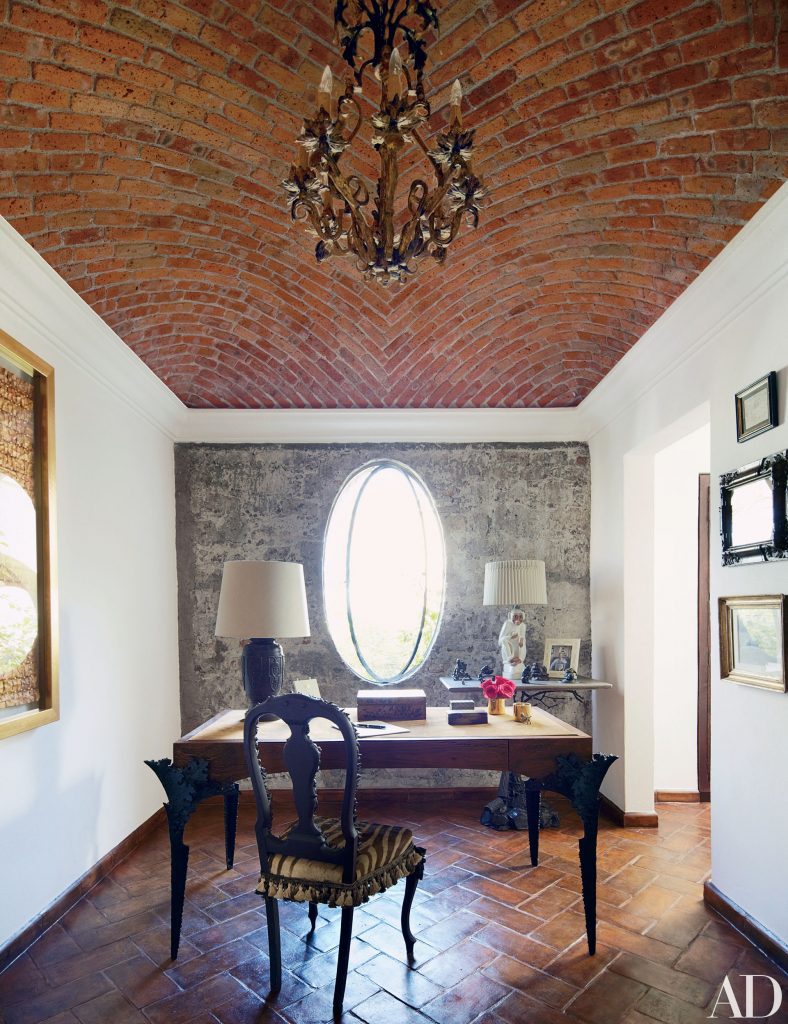 These walls are trimmed with a mahogany wood trim that matches the floor. On top, there is glass sitting on black accented legs with a matching black framed office chair and lamp. This blend of colors would normally not match, but the colors are so light and work well with natural lighting. It may be because mahogany acts as a pop of color when surrounded by white, black, and gray. And for the best feature of the room is a red brick ceiling with a beautiful vintage brown Chandelier.
Office With a View
Having a view is so important because a person can really lose their mind sitting behind a beige cubicle all day. It seems like these days, in a typical office environment, only the VP's and presidents get a nice office with a view. But the middle-class workers find themselves posting pictures around their desks to get an image of something other than the color beige.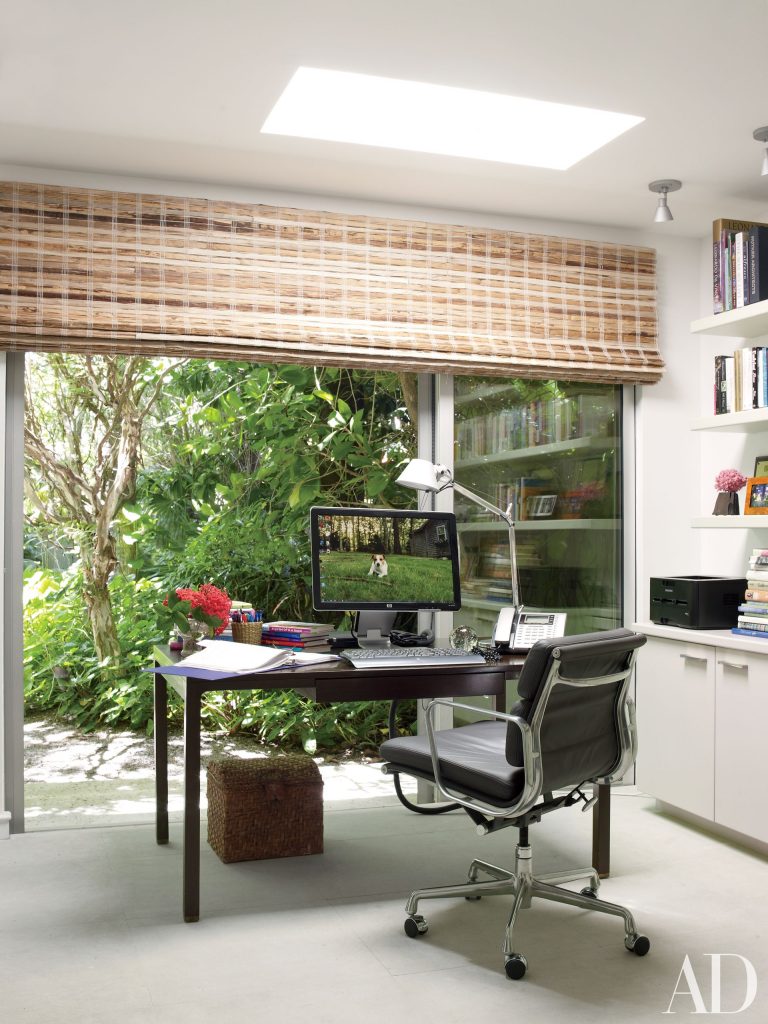 This incredibly open concept is the cure for all of that. This is a nice simple office with a simple black desk and simple black and chrome office chair in the direction of the beautiful landscape just outside of the patio door. This is the perfect combination of working indoors and outdoors simultaneously, and we are here for it. If only everyone had this type of scenery, this could work everywhere.
Crisp White Wainscott Home Office
We all know about the Oval Office, but this office is more circular. It's a straightforward concept with white walls and yellow curtains framing the top of the windows. This lovely and simple wood desk also matches the wooden floor made out of trees used for Christmas.
The circular room is built in a pattern shape. In between each window are 3 identically shaped square picture frames that are symmetrical on the wall. If you are into ancient and vintage-style offices, this is the design for you.
Modern West Indies Home Office
The small office space looks like the camper from Jurassic Park 2. This is a small square, tiny home version of an office that looks like you can fit inside of a camper. It is well made, however. This dark brown office is accented with white trim around the windows of a white built-in desk and bookshelf, along with a white vertical ceiling. The best thing about this dream is what seems to be a white-painted chandelier coming from the top of that ceiling.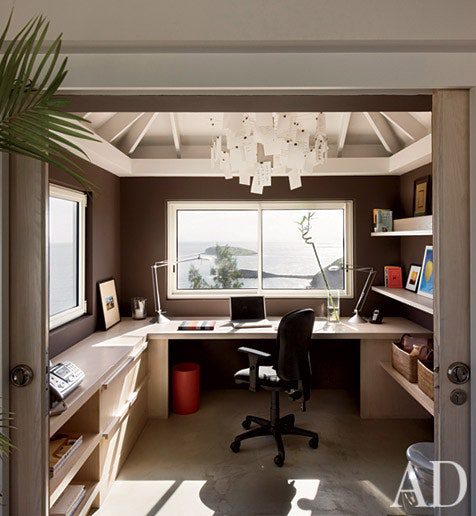 The only thing not white or brown in this room is the black office chair that looks like something that probably cost $50 at Walmart. This office is clearly on the second story because the windows point to a relaxing seascape just under some mountains and trees. It's a very simple concept that lets in the natural light, is very pleasing to the eye, and seems budget-friendly.
Nantucket Pine Study
When it is as busy and cold as Nantucket, who knew it was actually a really great retreat for people who want to visit the coast and still have some quiet time? This office located in Massachusetts definitely has a very colonial feel with traditional style bookcases and a fireplace inside, along with some old colonial candle lanterns hanging from the wall.
It also has a very nice wooden desk, red leather chair, and redwood accent to chair, sitting on top of a nice Gray diamond pattern rug with red accents to bring it all together. The bookshelf is actually covered in decor one would find in a sailor's home like a wooden carved well and little trinkets that a person may find on some of their endeavors at sea.
Dark But Bright Home Office
This entire room is basically painted a dark espresso brown. From the built-in cabinets to the office desk sitting in the middle of the room, the only thing in this room that is not dark brown is the accent chair, a light brown leather chair sitting on top of a dark wood frame.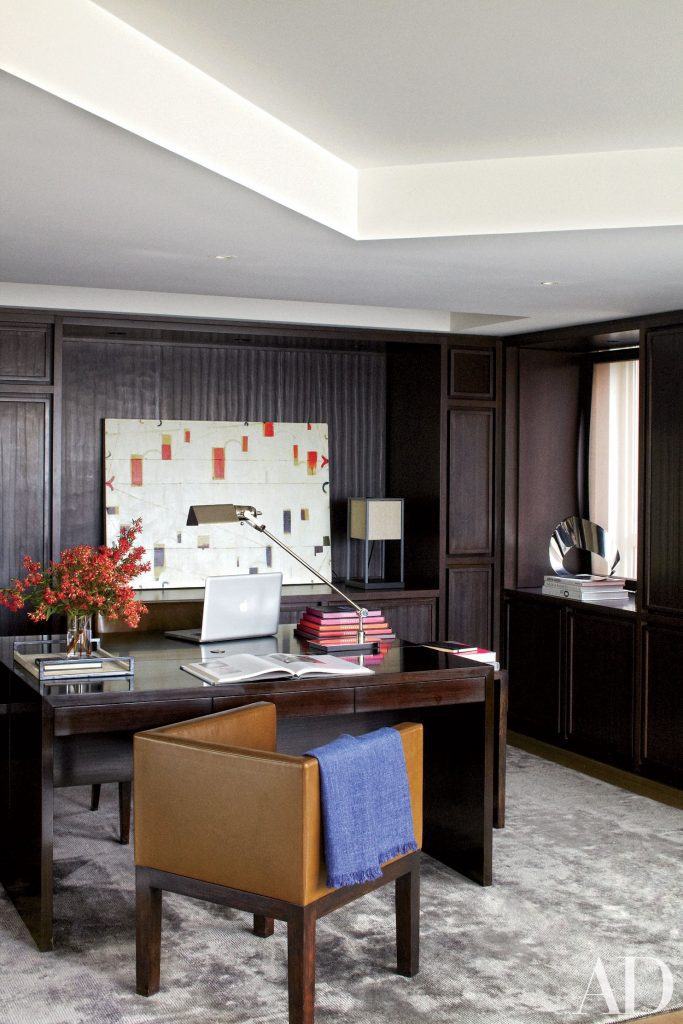 One can find little Mirador Chrome accents. The dark color is so overpowering. It is hard to see or pay attention to anything else. These light Chrome items don't really do much for the decor of the room. The only thing right about this room is the grey area rug, which takes over the natural flooring.
Neutral Work Space
Although this office may not necessarily be beige, it is an effortless yellow-brown color. While it is neat and organized, this office has built-in cabinets and bookshelves that are all the same color, along with a desk built into the cabinets that match.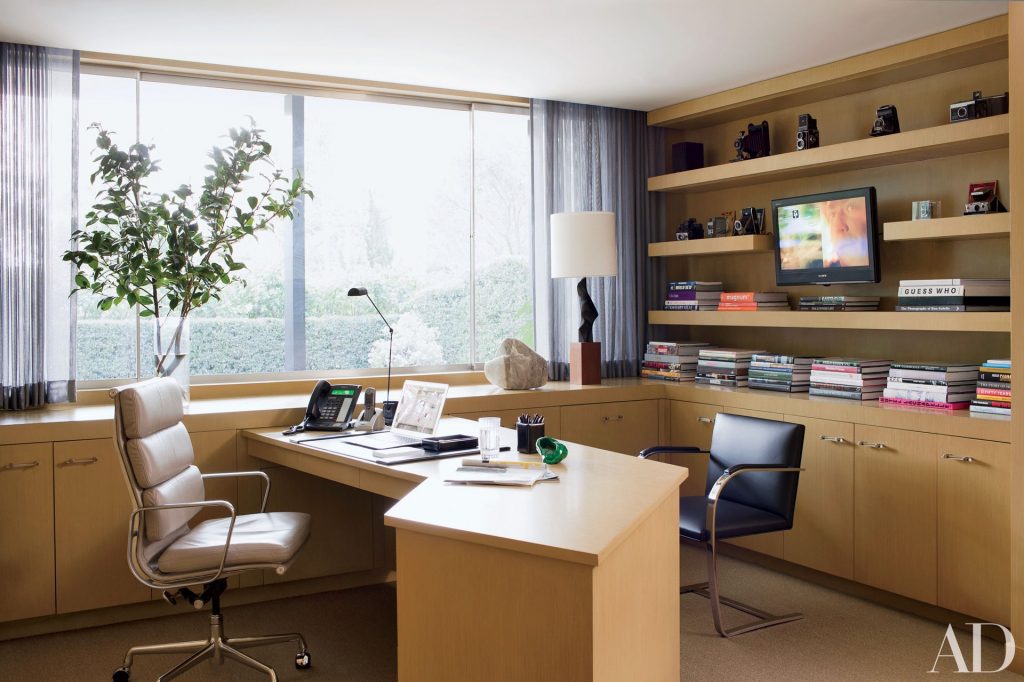 The office chair is an effortless tan leather office chair with chrome accents, and the guest chair is a small black leather chair with chrome accents. The only thing that really stands out about this room is an artificial plant of nothing more than green leaves. This is definitely the office of old-school because the newer generation needs a little more color than this.
Gentleman's Library
As if it's not enough to have a man cave, this man wanted his office to be more manly than it was designer-friendly, which tends to be very feminine. He built up this office to include some very out-of-taste brown leather couches with a brown framed chair and matching screen drop for curtains.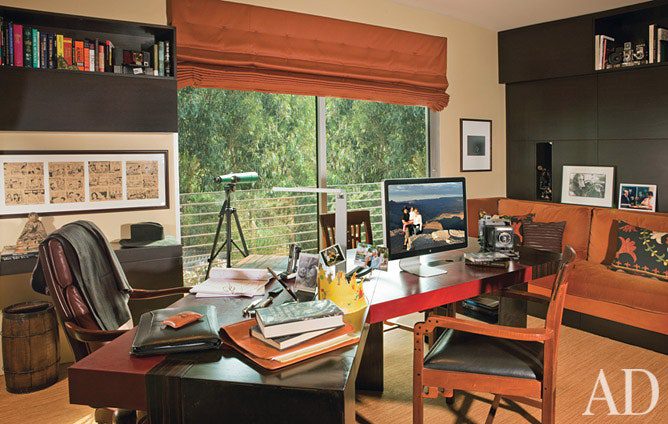 He has a very basic red leather office chair to match his Redwood desk, which has a black leather runner going across it. The only accented furniture in this room is a wooden barrel sitting underneath the black desk against the wall right underneath a really nice rectangular framed map. If it works for him, it works for us.
Manhattan Home Office With a Stunning View
Manhattan has always been a trendsetter for the rest of the world, and this office proves it. This beautiful, color-coordinated office features black wood flooring with an accented white suede circular rug right in the middle. On top of this rug is a blue and white striped accent chair that matches a sofa and office space.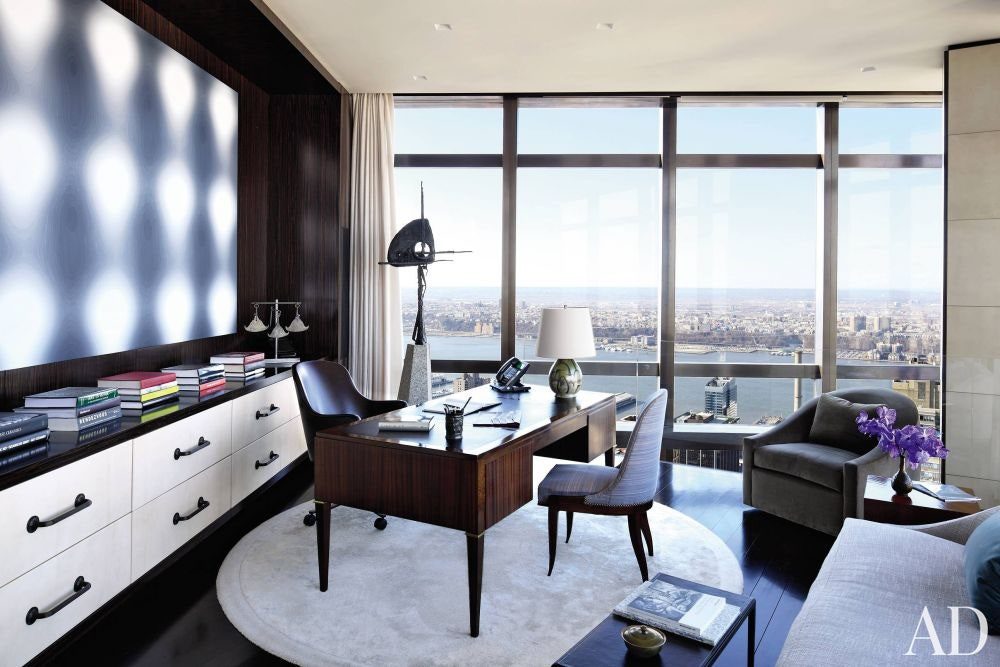 The only thing in this room that is not a variation of blue or white is the gray accent chair over by the beautiful large window, which shows a view of the island. The white sunshade curtains are pulled back to let in the natural lighting and held back by a very nice artistic cross sitting inside a gray pedestal. This combination of blue, gray, black, and white is elegant.
Contemporary Home Office
This contemporary home office looks like it could belong to Beetlejuice himself. However, it is put together so that one shouldn't have a hard time staying productive. It has a black desk with chrome-accented pull handles. There are accented orange and brown lamps sitting on top of beige pyramid stands that stand out.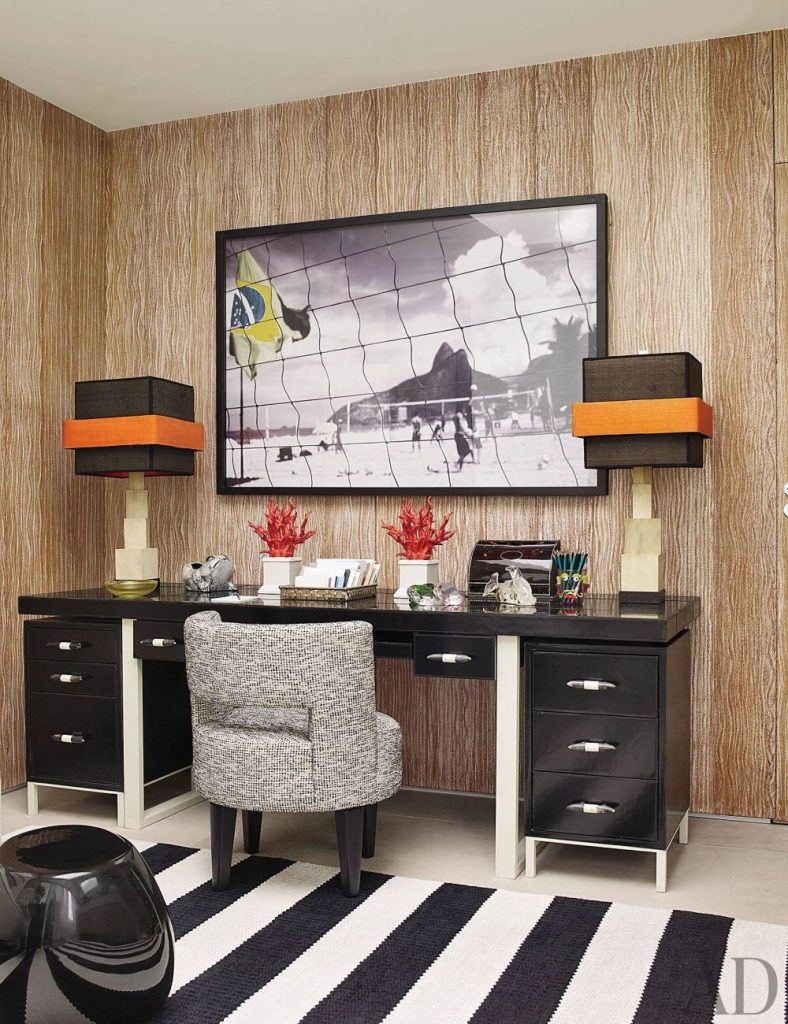 The desk chair is upholstered with gray and white plaid fabric standing next to a black and white striped rug that looks like the large sandworm from the Michael Keaton hit film. Then, to top it off, it has a black vase that acts as a small centerpiece in the room.
Aspen Office With Statement Art Piece
This office space features a circular area rug with a black and white striped abstract. There are many different ways to use wall art to create a better visual attraction or other scenery in a bland, boring office or cubicle. Some people use digital moving picture frames, and others use giant wall canvases.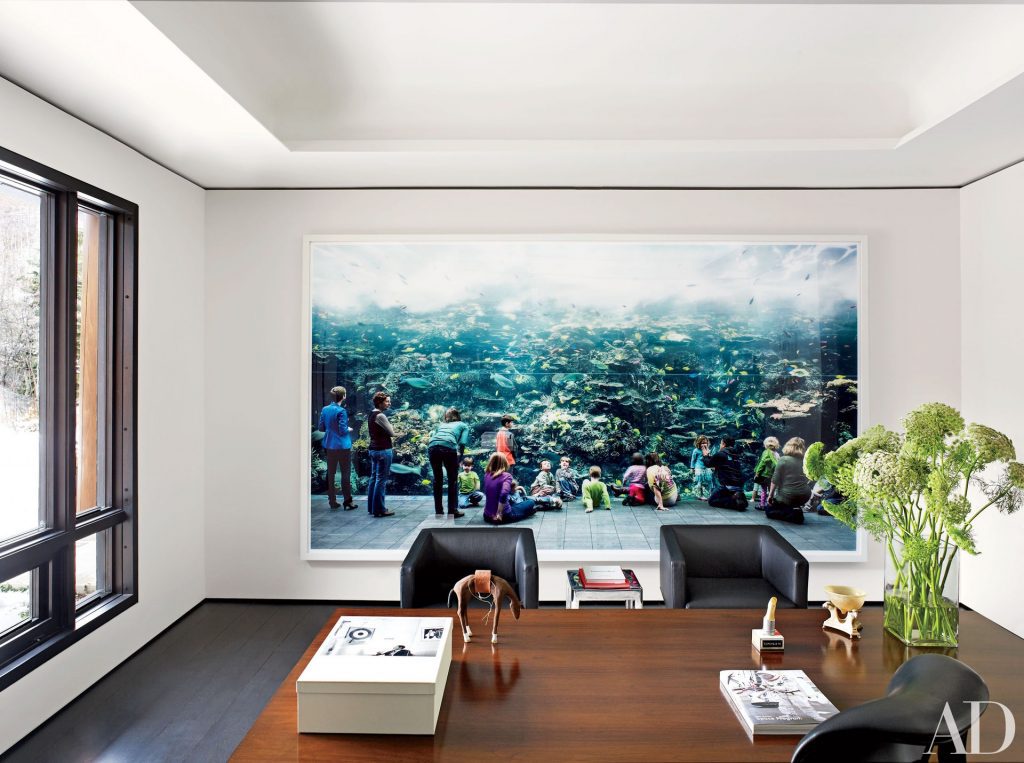 In this Aspen Colorado office, this designer decided to put a large wall canvas of children looking into a big glass at all of the colorful sea animals at the aquarium. This is the office's only real statement with a bland desk and regular brown chairs placed next to a large window accented in black trim. It is simple and functional.
Hollywood Home Office
Hollywood has always had a history of being the home of the stars, and we are not just talking about the stars on the Hollywood Walk of Fame. We also mean the actors who enjoy purchasing their multimillion-dollar mansions filled with all the latest and greatest styles, designs, art pieces, and technology. There is something timeless about the Retro, vintage 1960s classic interior design in a Hollywood home.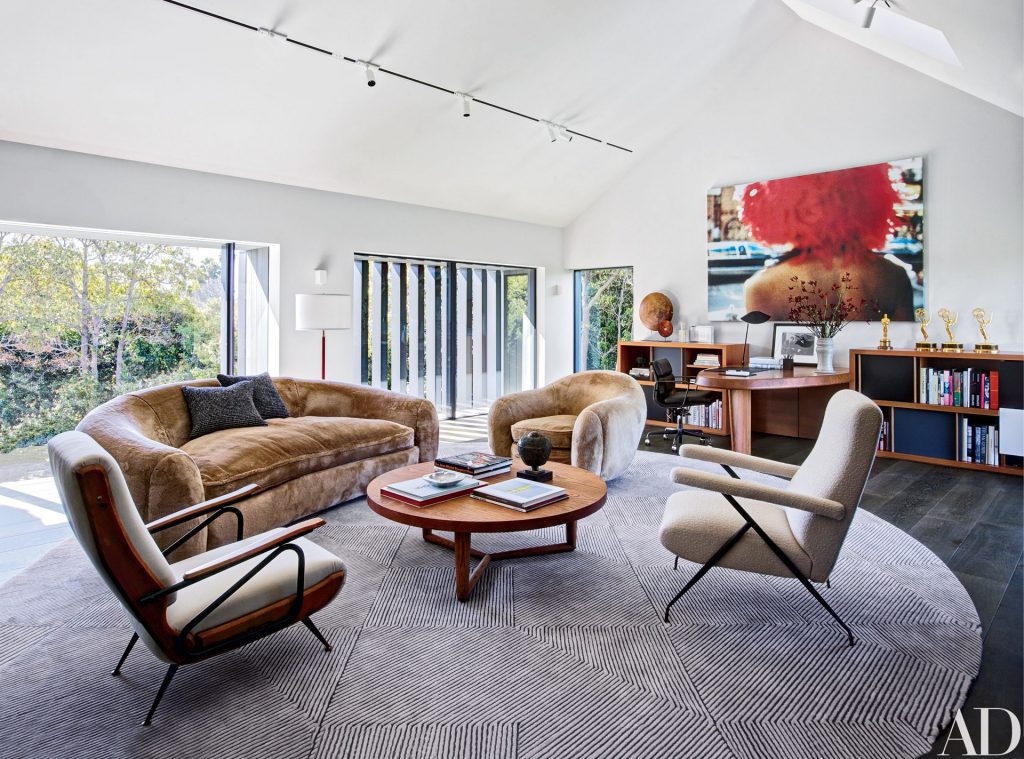 This home office space features a circular area rug with a grey and white striped, psychedelic, geometric pattern in the middle, strategically placed underneath one brown suede sofa and two tan leather accent chairs. There's a very simple brown wooden waist-high bookshelf against the wall, and the home features an open concept with a large patio door that leads directly to the backyard.
Diane von Furstenberg's Office
Diane Von Furstenberg Is a Belgian fashion designer known for the vibrant color in her fabrics and especially her wrap dresses. So it doesn't come as a surprise that her office space would be just as colorful as her fashions.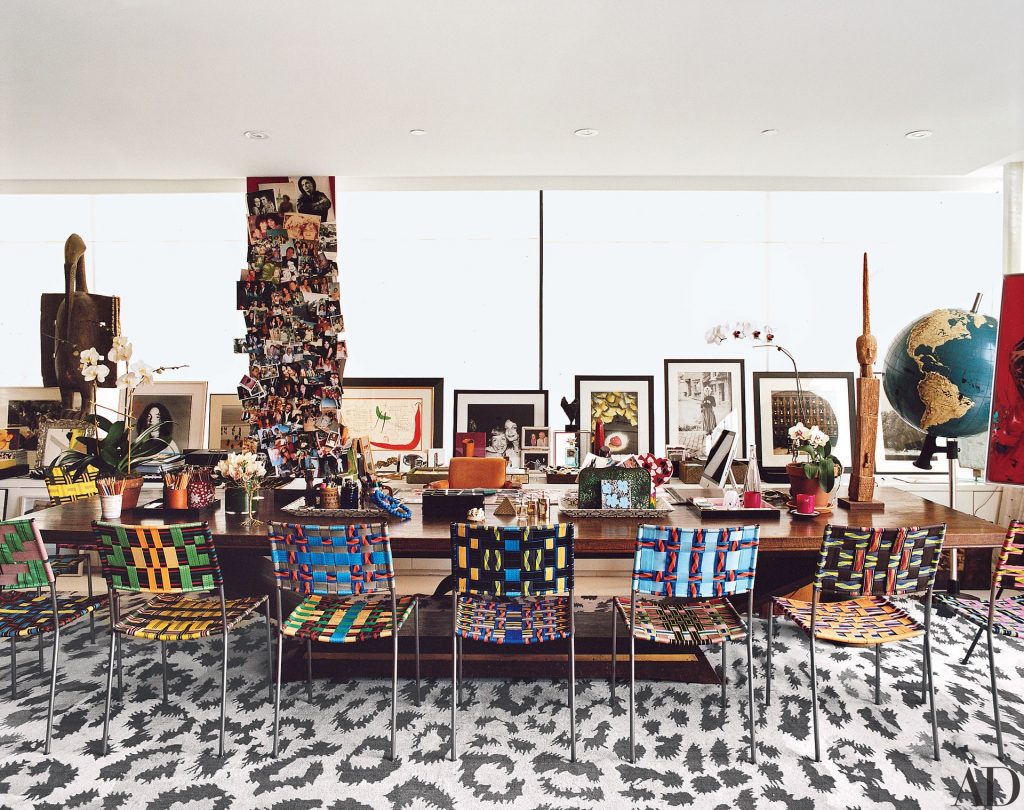 This busy place features a white and gray cheetah print carpet laying underneath 6 bohemian-style chairs. Each chair features its own pattern and individual color combination. And no designer's office would be complete with an absolutely incredible amount of photos to serve as inspiration for their designs.
Dark Walls and a Bold Rug
Black can either be a shake or functional to keep the room cooler in the summertime. For this office space, it is actually both. The walls are painted a nice matte black with gold plated mirror hangings to accent the wall above a floating corner desk.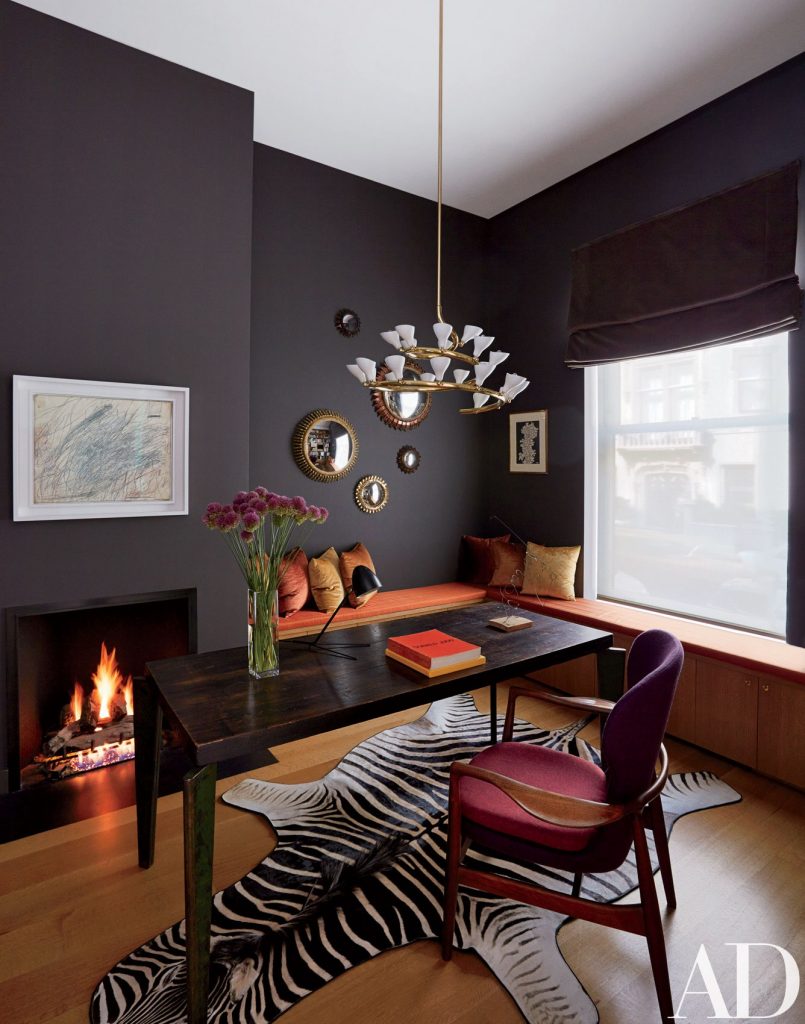 The unique desk is lined with an orange leather seat Pad cover and decorated with nice orange and yellow Bohemian style accent pillows. The office desk is a nice distressed dark wood, and the office chair has a nice burgundy fabric seating area with a gold-colored frame. And to top it all off, a nice zebra skin rug.
Study With a Statement Wall
This office space showcases a traditional and old-fashioned style that is a remnant of the old Renaissance age. A very nice burgundy suede traditional sofa sits is accompanied by a large grandfather yellow accent chair and antique decorations.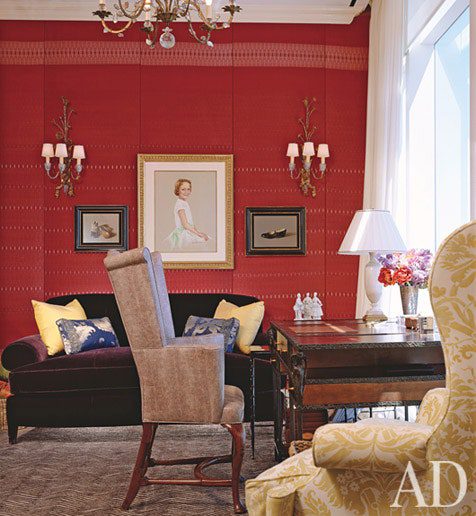 The office desk is a nice antique, and the office chair is a straightforward fabric-covered piece. But the best part about this old-fashioned room is the very modern, bright red accent wall. Strangely enough, the traditional furniture mixed with the modern wall comes together very nicely.
Bel Air Office Where More Is More
This office is definitely something that everyone from Bel Air, California, can appreciate. Let's start with a black and white striped rug designed in a spiral pattern that is enough to make someone dizzy. It looks just like a scene out of Alice in Wonderland.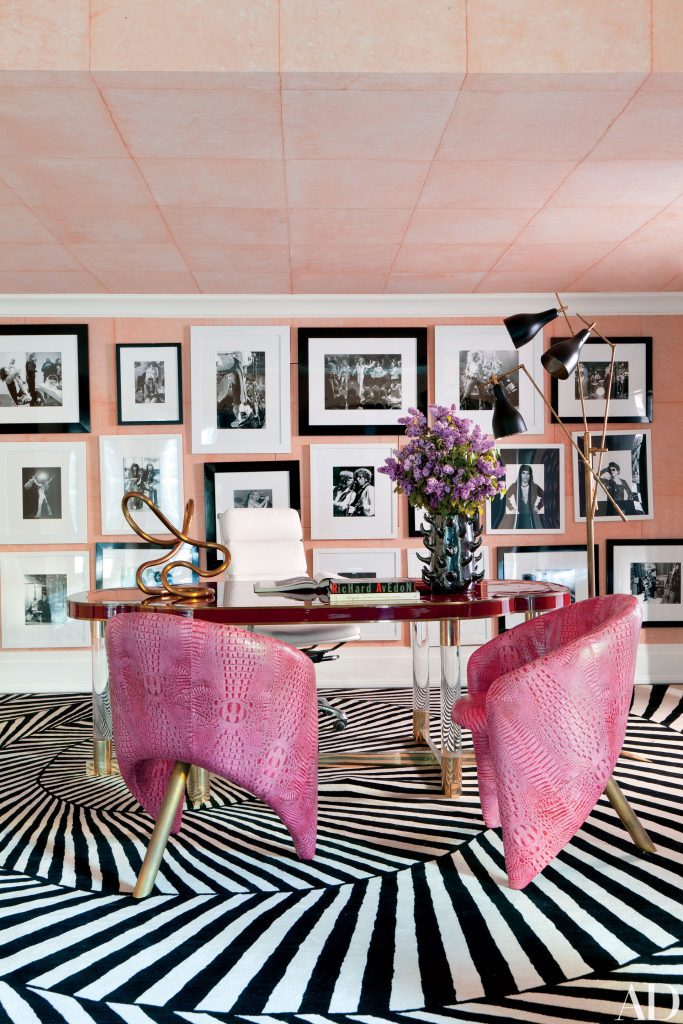 After looking at this large centerpiece, all of the other aspects of the room almost seem invisible from the beige wall that's covered with black and white photos hanging that compliment the redwood desk standing on glass legs. But some other things pop in this room, like the 2 bright pink snakeskin office chairs. That is a nice girly touch.
Wallpapered Whimsy
Wallpaper has definitely gone out of style, but it's not a bad thing when someone utilizes accent it to compliment the rest of the home's decor. This person decided to add a little pizzazz with wallpaper in what would seem a very bland room.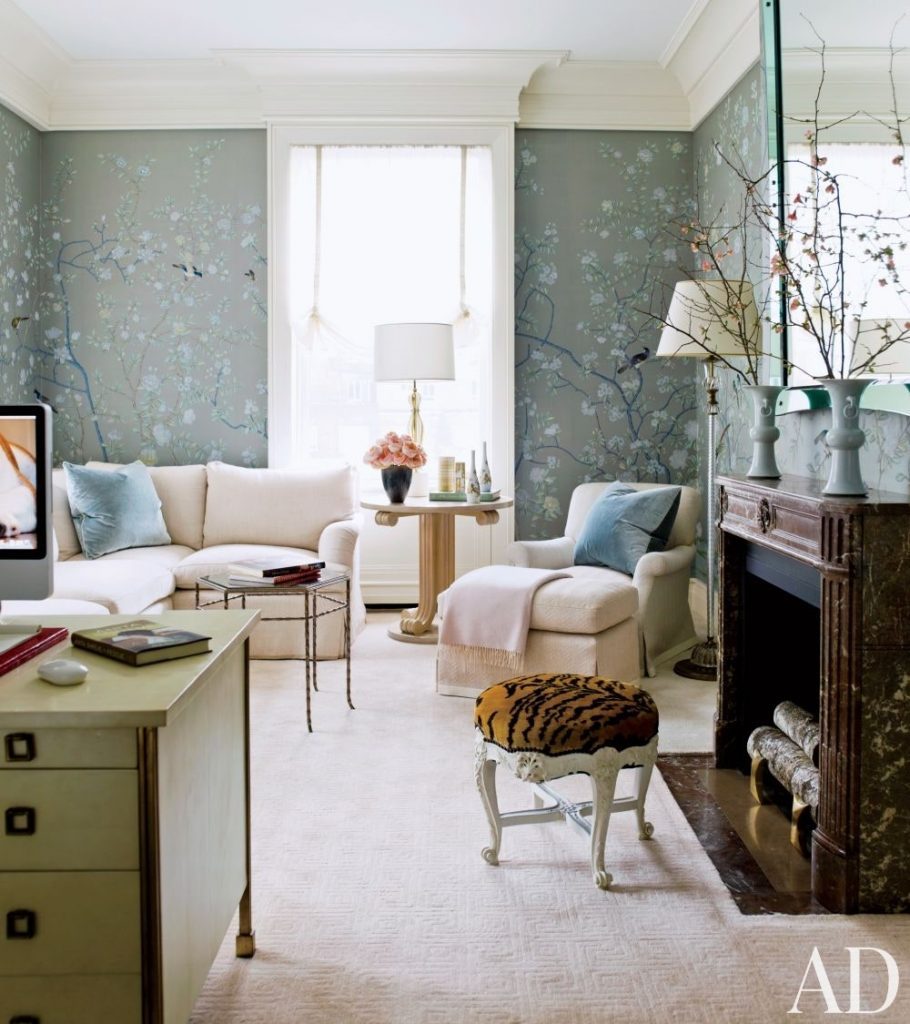 They added a soft grey wallpaper with a white blossom tree design. It may seem a little old-fashioned, but it's actually exactly what this room needs. It has beige carpet, beige accent chairs, a beige desk, and a redwood fireplace with two light blue accent pillows on the chairs.
Lush, Green Office Nook
Someone found the best way to utilize and maximize all of the square footage in their home by turning an unused closet into a functional office space. The door to get into this space is bright emerald green, and when it opens, it takes you into a world where the entire closet is an off-white color.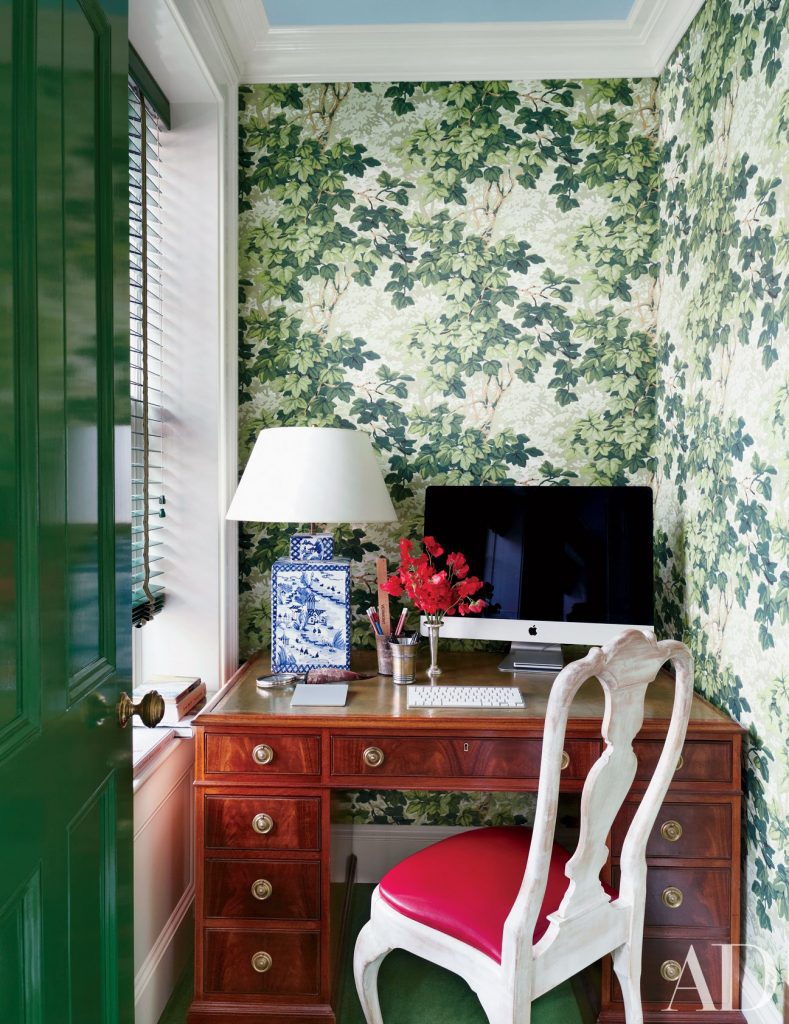 There is green leaf-printed wallpaper on 2 sides of the walls and a beautiful bright redwood desk to bring it all together. This small area definitely has a beautiful, quiet forest ambience. The white-painted framed chair with the red leather cushion is an excellent cherry on top of this nature-like room.