How To Create A Sunburst Sunflower Wreath
By Goodness M April 17, 2022
---
Crafting a sunflower fall that is paired with a sunburst shape brightens up your home. We shall show you how to make a sunflower wreath.
Materials Needed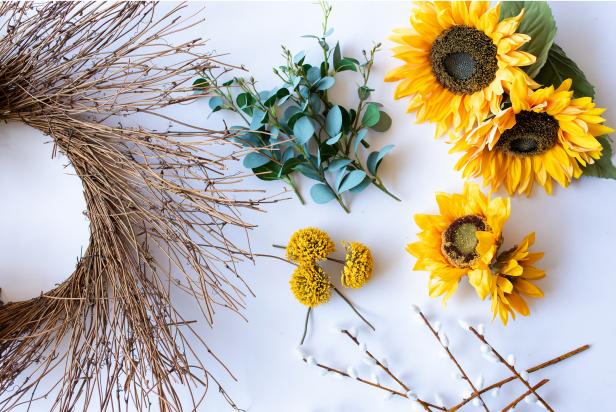 sunburst-style grapevine wreath
large and medium faux sunflowers
hot glue gun and glue sticks
Prep Faux Stems and Blooms
Greenery and pussy willow branches must be cut using wire snips. However, ensure that the sections they are cut into have a similar length to the wreath's grapevine branches. Furthermore, the faux sunflowers and allium must be cut into shorter lengths to achieve a 3 inches stem.
Prep Faux Stems and Blooms
The wreath and cut faux blooms, together with greenery stems, must be placed on a protected work surface. Therefore, proceed to warm the hot glue gun by plugging it into a power supply.
Add Faux Pussywillow
Apply hot glue to the ends of the faux pussy willow and push them into the grapevine wreath securely. Furthermore, about 10 to 12 faux pussy willow stems must be spaced evenly while working around the wreath.
Introduce Faux Eucalyptus
Each faux greenery's branch end must be applied with a little hot glue. Also, push them into the wreath form in a secure way. Moreover, areas between the pussy willow can be filled in using the faux eucalyptus stems.
Incorporate Faux Blooms
The hot glue must be applied to the faux sunflowers and allium blooms. However, to create a solid hold, you must push the short stems into the grapevine wreath form. Also, alternate medium and large sunflower heads. Bending the stem onto a right angle can better position the sunflower blooms to face out.
Displaying Wreaths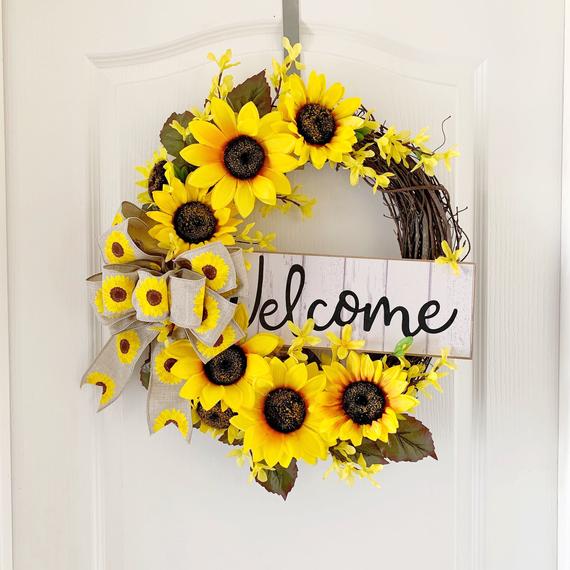 Wrap the top of the wreath with ribbon and the ends of the ribbon can be tacked to the door at the top with a flat thumbtack. However, you can also hang your wreath using a metal wreath hanger and decorate it with a ribbon. In addition, final touches can be made to the wreath while it is hanging by filling in any empty spots with faux greenery, pussy willow, or blooms.