Spruced-Up Shelves: 30+ Creative Ways To Utilize Ordinary Kallax Shelves
By Navkiran K September 22, 2021
---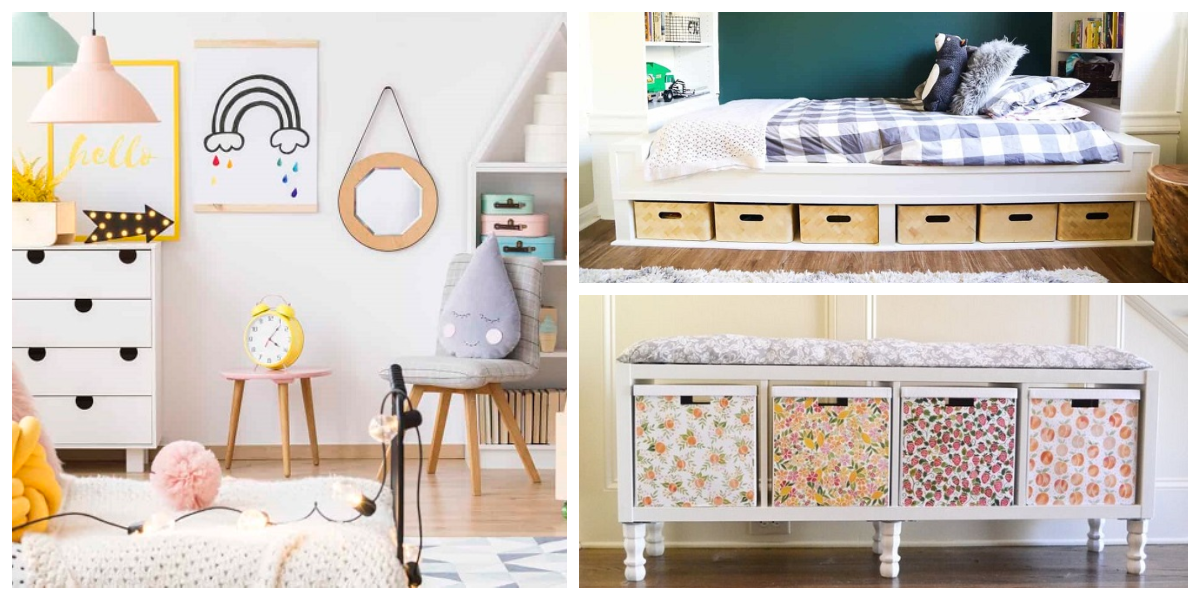 Ikea's Kallax Shelves are a great way to add storage space to any room of the house. But a standard setup is just so boring. Luckily, there are so many hacks out there to make your Kallax shelves something genuinely unique. This post will show you 35 easy DIY ideas that can be done with the Ikea Kallax shelves to optimize their space and give them some personality. So, take your boring shelves and turn them into something new today. These Ikea Kallax hacks will make your home decorating experience more fun and exciting if you have a few hours to spare. Not only do they save money in the long run, but they also provide an opportunity for creativity with some of their amazing uses.
1. Chic Storage Unit
This beauty can be recreated for those who want to get serious about their home decor, and it doesn't even look like something you would find at Ikea. You can also put a mirror on top to make it look more stylish.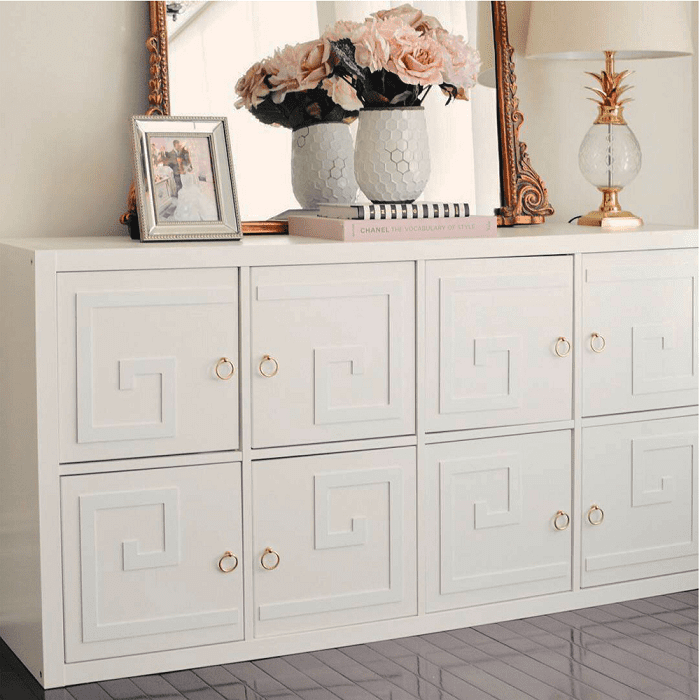 The doors give the illusion that this sideboard has all sorts of expensive-looking frills and important things inside while still providing privacy from the outside. But don't forget about Greek key-inspired overlays either; they're totally chic too, and aren't hard to add.
2. Functional Window Seat Bench
If you want to turn your Kallax shelf into a super-cute and comfortable window seat for an extra couch, all it requires is a foam mattress pad, baskets, throw pillows, or other items like soft cushions to fill the seats.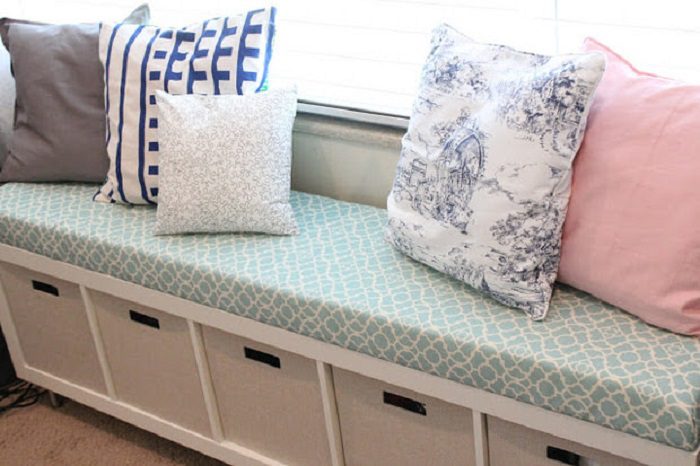 And you have an inviting place in no time at all. This is an ultimate win-win situation. Turning unused space into something valuable and beautiful with minimal effort. This is all at low cost too. Plus, there isn't any sewing required.
3. Retro Vinyl Storage Kallax Hack
Do you have a vinyl record collection that needs to be stored and shown off? If so, then the Kallax shelf is a great option. This unique product allows for easy storage and display of your family's favorite records in style.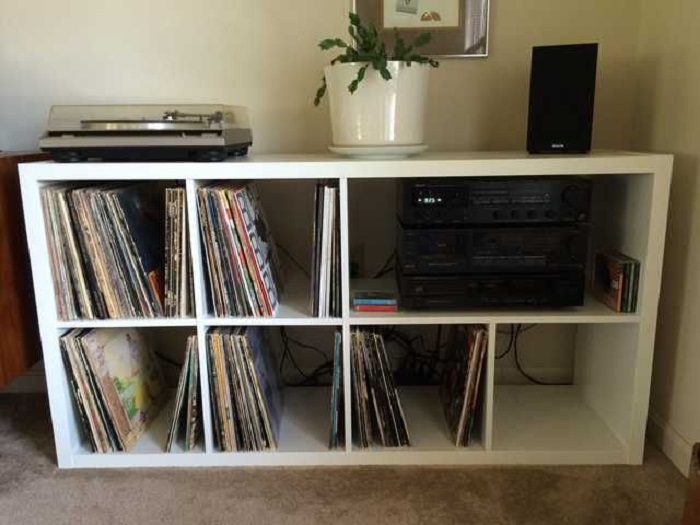 In fact, they hold more than those crates you've probably been stacking in the corner. Who knew this retro-chic furniture piece was so practical for storing all your records? This will surely now be at the top of any music lover's furniture list.
4. Personalized Storage Boxes
Customized storage boxes are a great way to bring personality and style to any space. We like how the wood contrasts with black or white furniture for an interesting look that works well in many situations. You can't run out of ideas!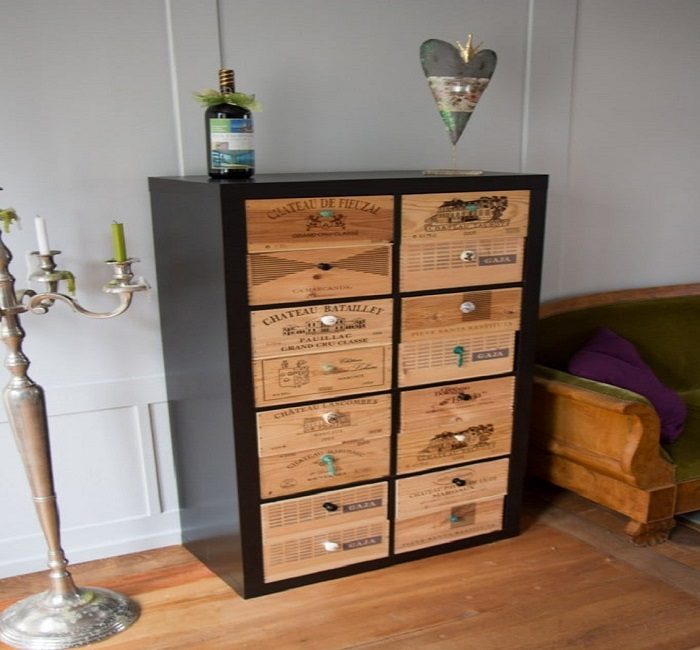 Here, they have used wine boxes as drawers. However, shiplap would be perfect for those looking for something more modern or industrial-inspired because it gives off such warm vibes and hints of rustic past. You can also use painted cardboard or wicker.
5. Ikea Kallax Bench As Sitting Bench
This bench from Ikea's Kallax system would be a great way to keep things organized. It has great freestanding storage, making them super easy to install. They would give you extra room inside those cubbies and you can organize them as you wish.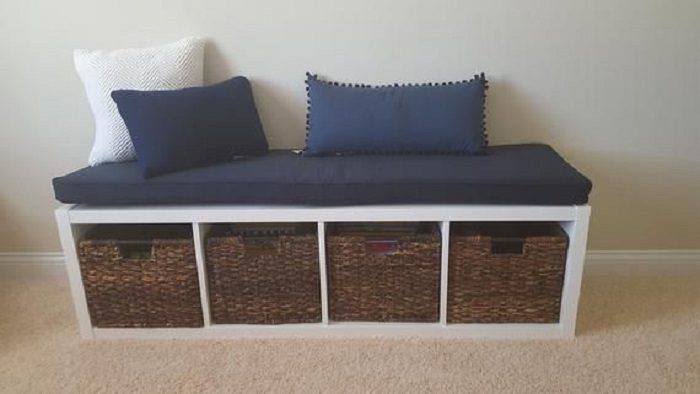 With this seating bench, you could use it in a variety of different spaces. It has great potential as extra seating in the kitchen or for toy storage in the kids' room. In addition, it also makes a fantastic window seat.
6. Nursery Hack/Playroom Sitting Bench
Keeping your home nice and tidy is every parent's goal. It's no surprise that every parent also wants their kids' rooms neat. It doesn't have to be tough if you're willing to try some new ideas like this clever Kallax shelf transformation.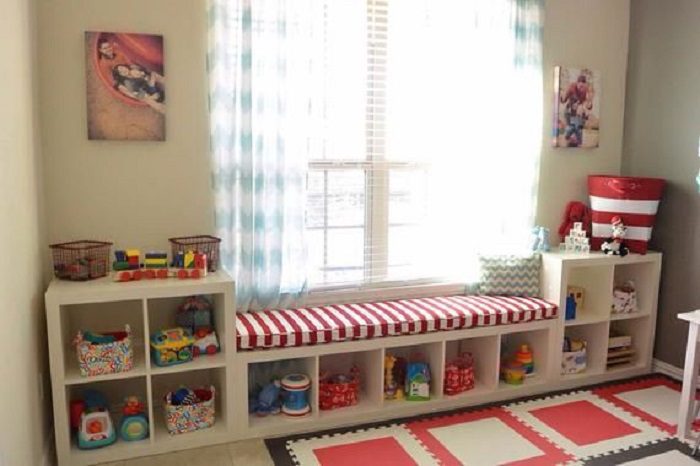 It might look like an everyday item, but if we turn it on its side and then place bench cushions, there's plenty of space for storage as well. Also, when other kids come over, they'll love how comfortable this space is.
7. Stunning Stack Storage With Gold Pulls
These units are the perfect solution to making a high-ceiling space feel more intimate. The deep blue paint provides an elegant contrast with white ceilings, and their contemporary design brings in a fun element of variety that's sure not to go unnoticed.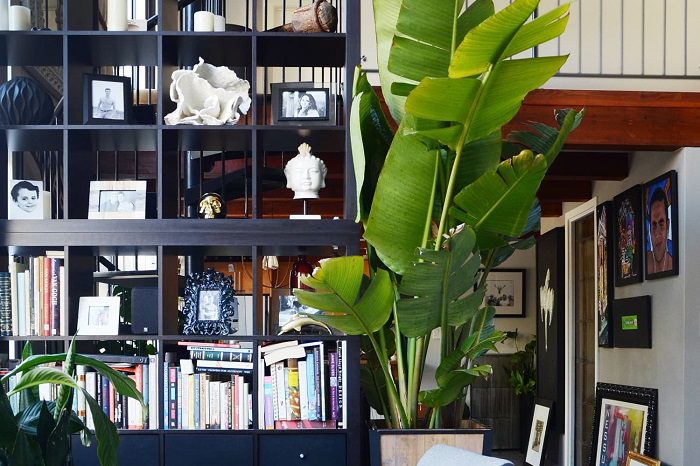 You could add half-round molding for texture on plywood doors while it painting it dark gray, green, blue, or even black. Plus, attaching gold pulls gives a perfect touch with this coastal vibe decor. This would make it a beautiful visual piece.
8. Farmhouse Rustic Unit With Doors
The farmhouse look is a popular theme for homes right now, and it's easy to create in your home too. Kallax hacks are a great way of adding some extra storage space while still having that rustic, industrial vibe going on.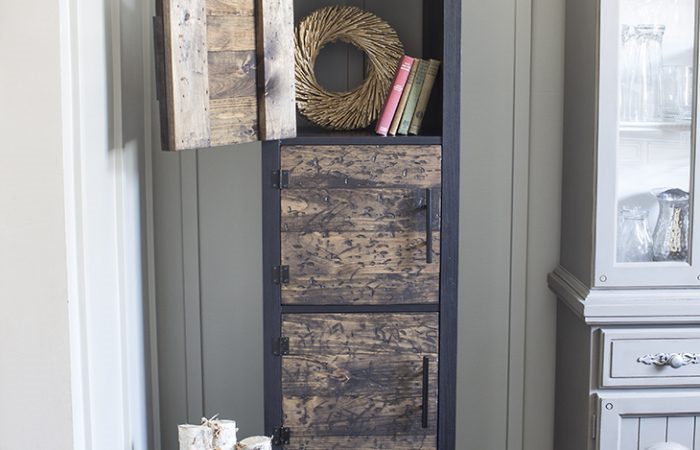 This gorgeous Ikea storage unit will add more space for all of your needs. The stained planks on these pieces are so beautiful; you really don't need anything else but stain or another type of finish, as long as it's not glossy.
9. Craft Room Storage Hack
If you're a crafter, this one's for you. With this hack, there will be no more paper clutter. Just paint supplies in beautiful baskets that have been cleverly hidden away behind your newest crafts items like ribbon and other artwork essentials.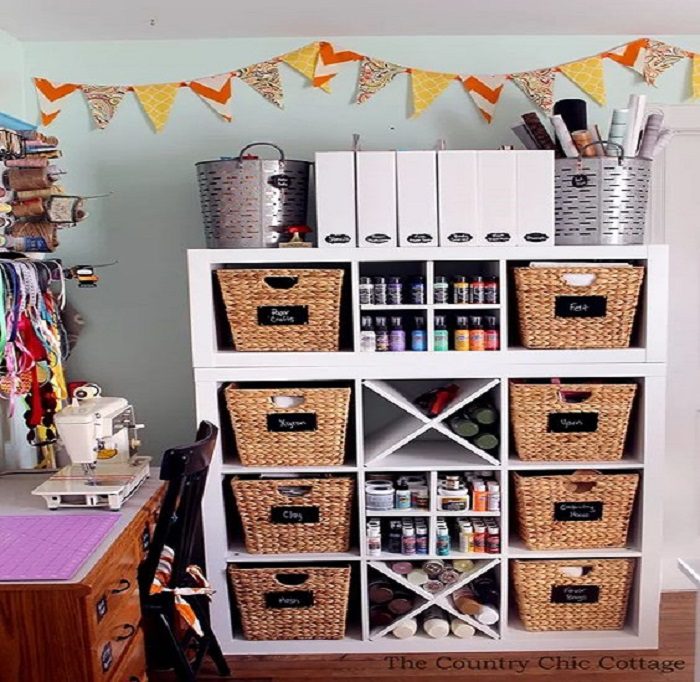 It also has wine rack inserts installed so that any bottles of glue, giant containers of glitter, or bundles of yarn can be stored away easily in their respective spots. Not only does this hack look elegant, but it also functions well.
10. DIY Bedroom Nightstand
This sleek, simple, and elegant design is so easy to make. All you need are two Kallax frames from Ikea for the perfect nightstand. It's no wonder that most people wouldn't think to use their Ikea shelf for this purpose.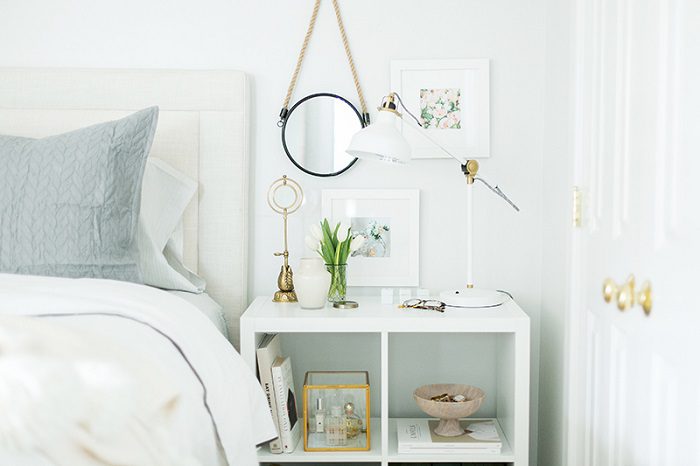 But you'd be surprised at the space-saving possibilities with this clever idea for your bedroom. The design aesthetic will work well in almost any home decor since these shelves are super easy to customize. But look at all the extra storage space!
11. Cute Animal Hutch For Small Animals
This hack is the most unique on this list. When we think of a rabbit, the first thing that comes to mind is fluffy bunnies hopping around in their habitat. But what if you want something more than a metal cage?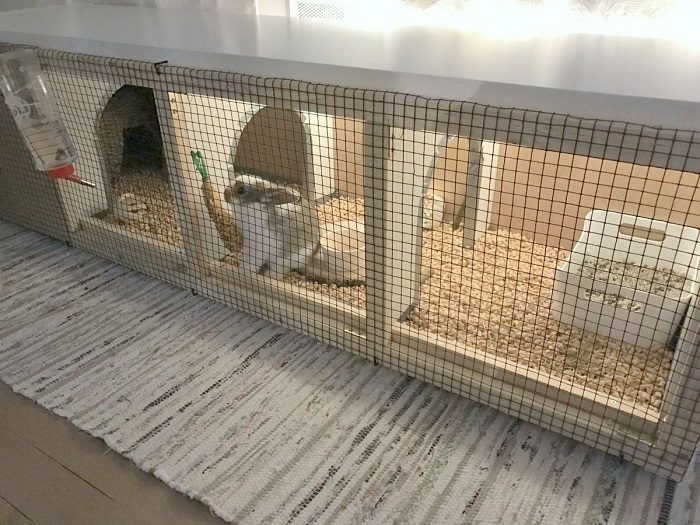 With Kallax shelves, you could create a posh place for your small animal friend. Using separate compartments for small animals to explore can be great, giving them their own space. Plus, it brings a new dimension to your home decor.
12. Ikea Long Console Unit For Living Room
This long console Kallax hack is the best way to bring a warm touch into your home. The greyish-blue color combines so well with brown basket inserts and adding that wooden top really puts this storage space over the edge.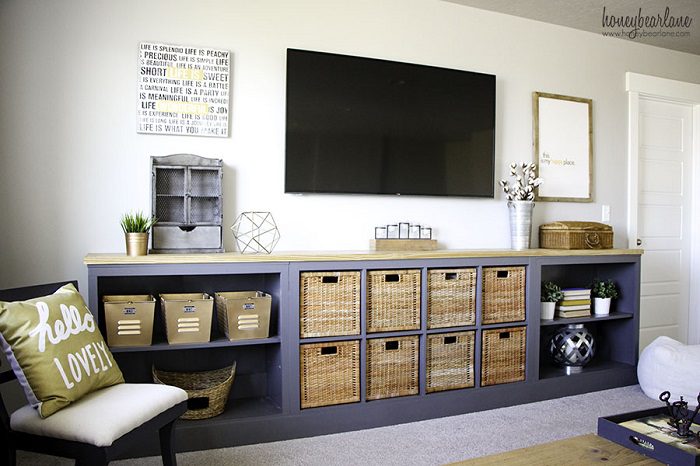 Additionally, you could change up your space with different styles of baskets or tins galore. However, do not forget about seasonal decor either. From fun Halloween decor to displaying your collection of nutcrackers at Christmastime, having these shelves in your living room can inspire you year-round.
13. Kallax Media Storage
Not only do Kallax shelves carry vinyl records perfectly, but they're also great for displaying and storing any other types of media that you have. Combine units together to create an aesthetically pleasing and entertaining living space with this hack.
To make sure that you don't damage any floors – which would likely happen if these were just thrown on top of each other without consideration – we recommend adding some quality wheels, too, so the whole setup rolls very easily.
14. Get The Industrial Style Look With This Hack
Who would have imagined you could modify Ikea Kallax furniture into something this fabulous? This hack proves that any standard-looking Ikea cabinet or side table can be made into an industrial-style decor with just some creativity and an eye for detail.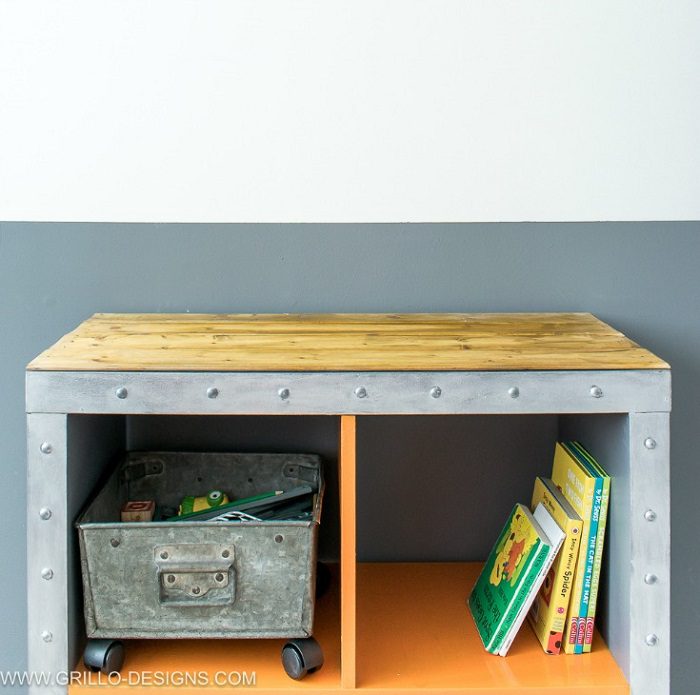 This clever Ikea hack is a total game-changer for any bedroom. Just paint a whole shelf unit with grey chalkboard paint and paint the inside in bright orange. After that, give it some sleek bling with wood trimming around the sides.
15. Construct A Kitchen Island From Kallax
This hack is amazing. We couldn't help but incorporate it in our list of Kallax hacks too. The Ikea Kallax is such an underutilized kitchen fixture. It can provide that elegant and expensive look for your home without costing you a fortune.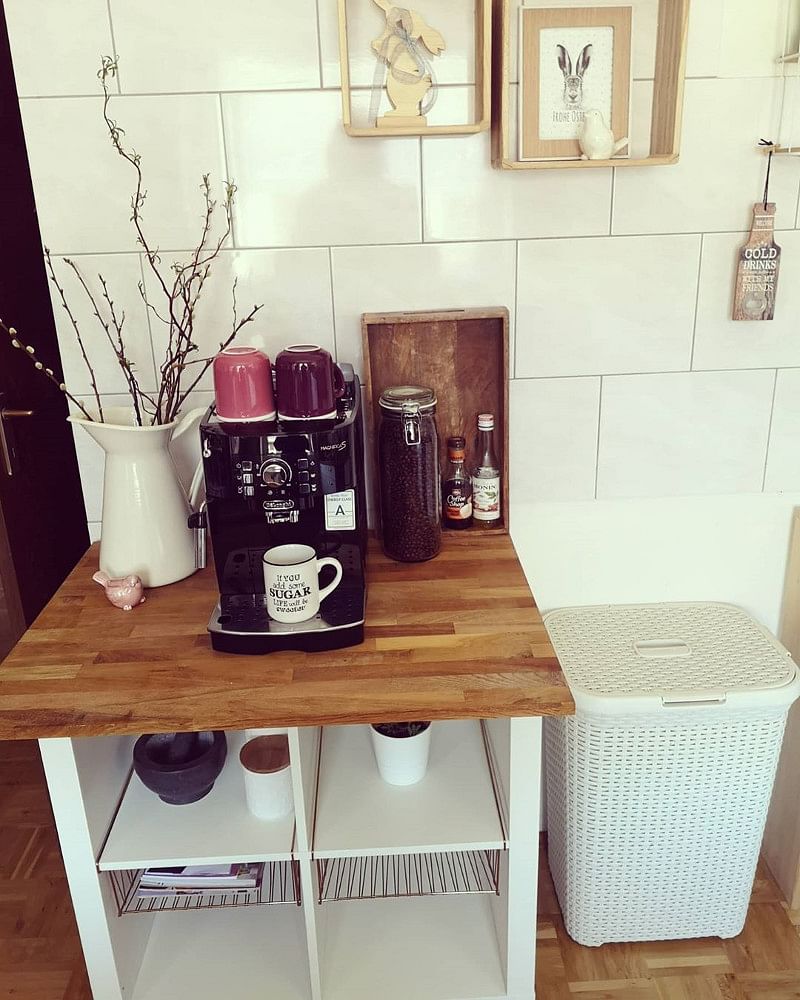 The splendid part about this hack is that it can be used in any space. With a beautiful woodwork surface top and shelf inserts, you won't need an entire countertop for your needs. This could save you a lot of space.
16. Elegant Dresser Hack
The Kallax dresser is a popular, functional piece of furniture that can be used in any bedroom. It features several deep drawers and doors for storage. But adding some extra elements will allow it to become even more than what you need.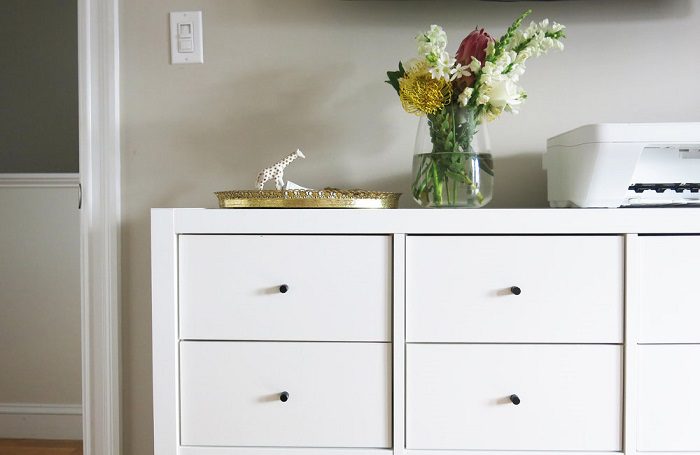 Attaching drawer inserts and doors will give the Kallax a sleek, functional look that can hold all your bulky clothes. This simple hack transforms an otherwise dull dresser into something eye-catching in any bedroom. Consider using this in your dining room as well.
17. Create A Stylish Bench
This Kallax Ikea hack is a more colorful, elegant addition to your home than the simple one we listed earlier. The floral-patterned insert boxes and seat padding in this setup give special attention, highlighted with bright colors. These inserts will give any room more character.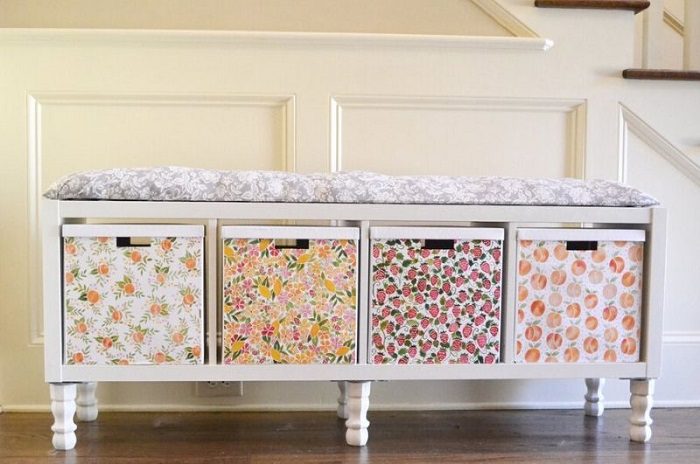 Finish off your entryway with exquisitely detailed legs for a truly stunning outcome that's guaranteed not only functional but also stylish. The design can be customized with the inserts boxes or seat padding of your choice to create different looks.
18. Ikea Cubbies Into an Apothecary Cabinet
Displaying your vintage items is a lot of fun, but it can be not easy when you have too many bottles, vases, and other glassware or pottery. If this sounds like an issue that you may have, then check out this Kallax shelf hack.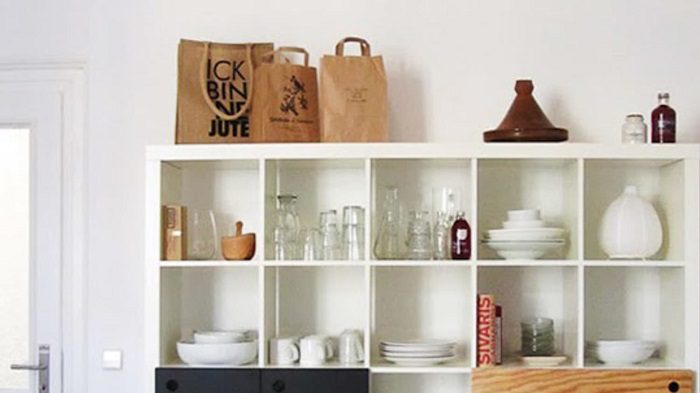 The Kallax cubby is an excellent way to show off all the different things you have without having them scattered around or taking up space on display surfaces that might not be the right height or width for all of your collectibles.
19. A Cute Dollhouse Hack
We just had to share this one; it was too cute and nifty. We think you will love the Ikea Kallax hack for a cheap dollhouse that can be later converted back into storage shelves when your kids outgrow it.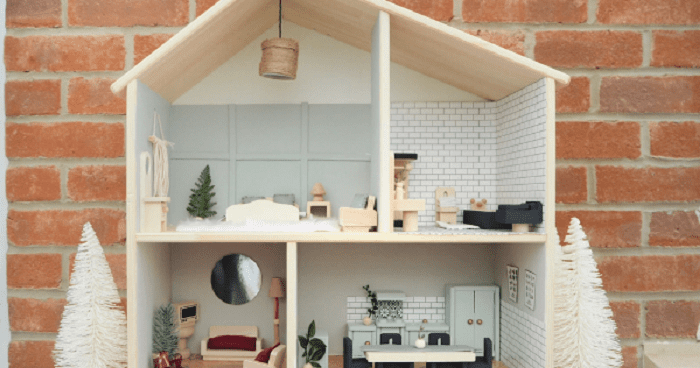 Not only do these shelves set the stage for a perfect dollhouse, but you get to save some money and customize them when you make your own. This is both sturdy and inexpensive. After all, what kid wouldn't want their own homemade dollhouse?
20. Get Your Craft Table On The Go
This moveable craft table is perfect for any crafting space. With three 2×2 Kallax units and a gorgeous bright blue paint job, you can create a storage space that is attractive enough to be the center of attention in your home or office.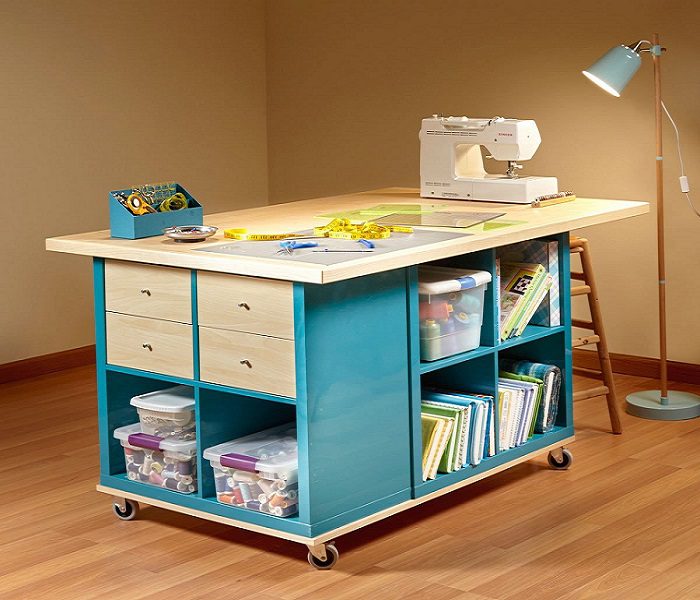 Not only does it contain storage areas where you can store your materials like thread, material, thimbles, or books. But even more importantly, the top layer of each box slides away to reveal hidden compartments that are the perfect organizers.
21. Changing Table Hack With Lots Of Storage
For parents who are looking to save money on their baby registry, this hack will be the best gift you could hope for. No one wants to have a messy changing table. A Kallax Ikea hack is a great solution.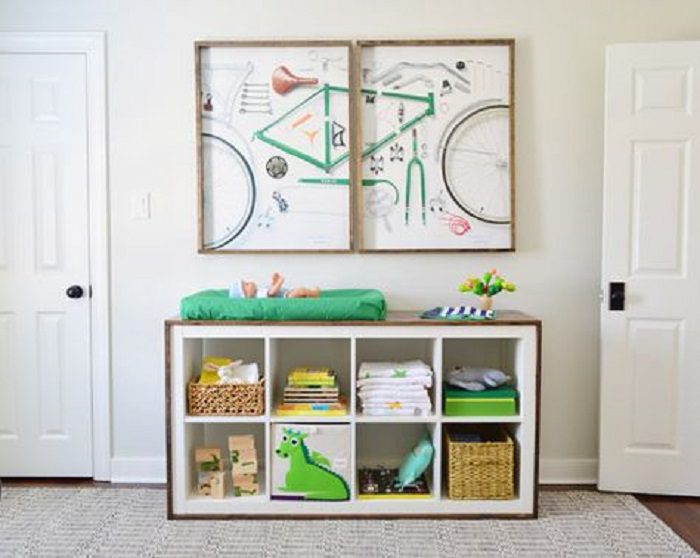 You can pack in some extra storage so that everything from diapers, wipes & other essentials are within arm's reach when needed. What's great about these is, as your child grows, you can still use your Kallax shelves for their stuff.
22. Ikea Kallax Locker Shelf Hack
Locking up your things is not as complicated when you have the proper storage solution. A large Ikea Kallax shelf can be transformed into a place for storing your essentials in any room, and we think this storage solution is ingenious.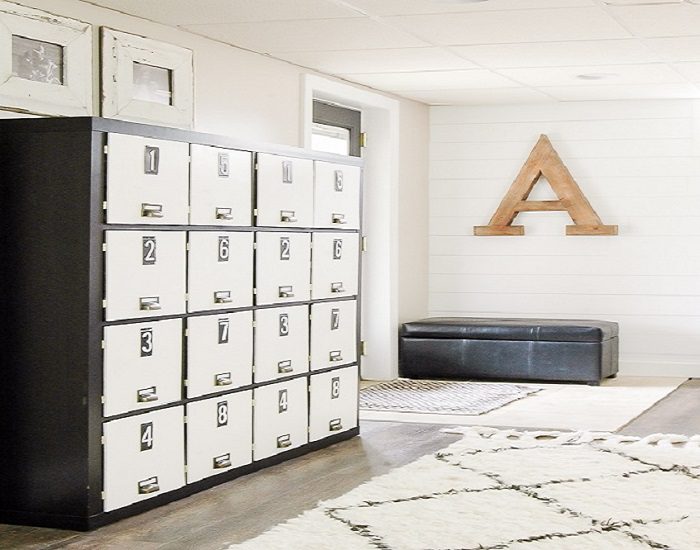 Whatever you do, don't forget to put your hats and coats in here. You'll be surprised how much storage space these rustic-style lockers offer. They'd also look great at an entryway or utility room for storing school bags, shoes, and more.
23. A Bed Frame With Storage
For those of us with a lack of space in our homes, it's not uncommon to find ourselves having trouble deciding what goes where. The solution? Storage under the bed! Get a bed frame that can be customized for your needs.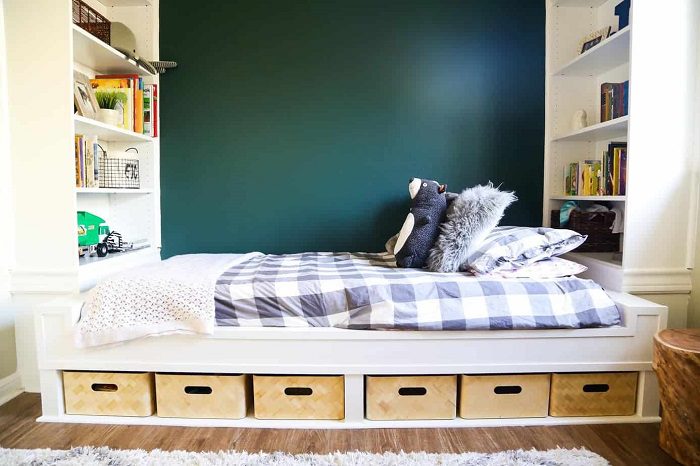 The Kallax shelf can be your bed frame and storage unit all in one. The picture shows wooden boxes underneath, but we bet you it would look great with any design. You can keep whatever you would like in there, including out-of-season clothes.
24. Best Coffee Table Hack
The coffee table is one of the most used furnishings in your home. But what if you could make it more functional? We have an excellent hack: get Kallax shelves with baskets underneath to keep all those books, magazines, and vases stored.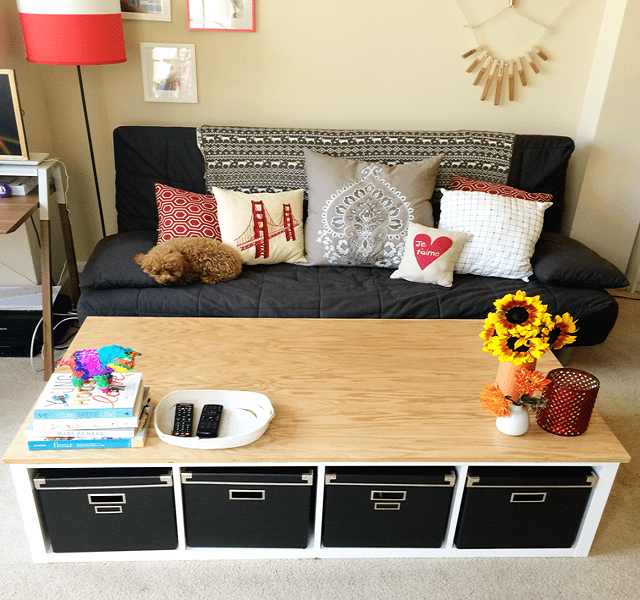 This modern coffee table is the perfect blend of functionality and fashion. Not only does it provide ample storage in your family room, but with its sleek design, you would never tire from looking at all that is on display.
25. Nursery Wardrobe Shelf
This is a storage solution for a nursery that will hold everything your baby needs, from their favorite toys to books to clothes. This Kallax shelf provides the perfect amount of space and organization to make it efficient and functional.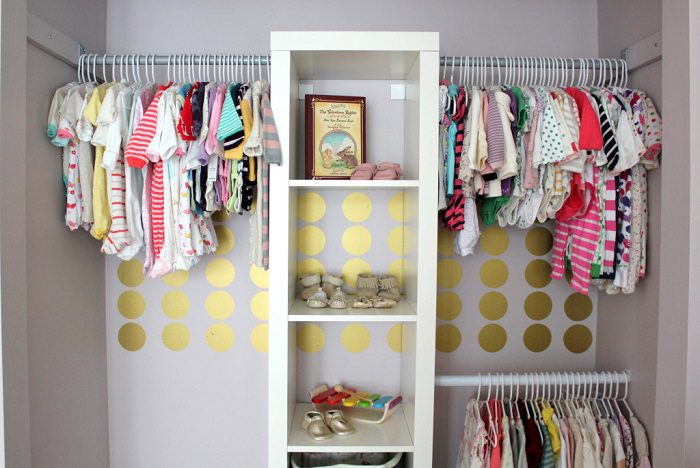 This clever hack uses a boxy shelf to stow away all of your baby's things in style. The Kallax design provides ample storage for both clothes and toys, making it perfect for little children who are constantly playing with them.
26. Ikea Kallax Kitchen Storage Idea
This kitchen remodel is an excellent example of taking something basic and making it look elegant with just simple hacks. It will give you the look of some expensive custom cabinetry with the help of just a few storage boxes.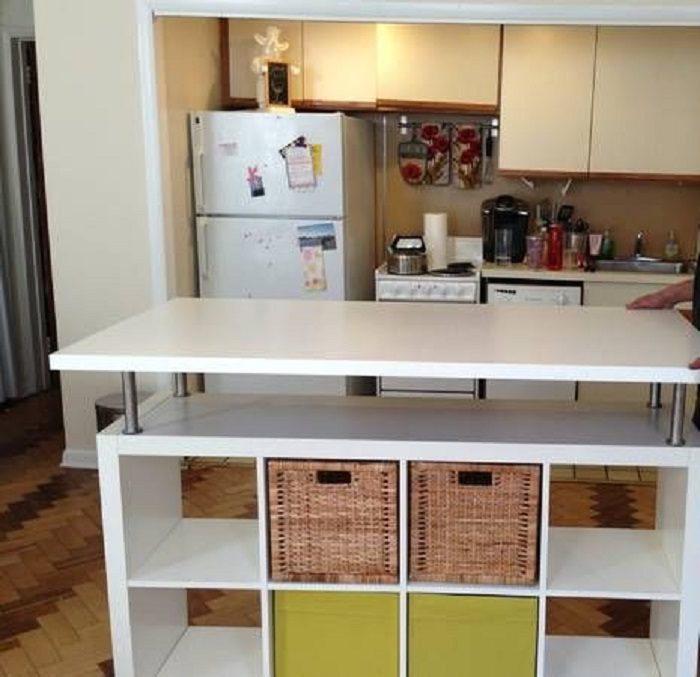 This is definitely one of our favorite kitchen hacks, and the best part about it is that you can put all the storage spaces for your groceries or fancy dishes in one place. Plus, who doesn't want an expensive custom-looking kitchen?
27. Entryway Counter
Are you looking for more interesting Ikea Kallax hacks? Add some extra storage with this clever design. Create your own original look on the surface of an empty cube. You can fill it up and make sure everything stays organized.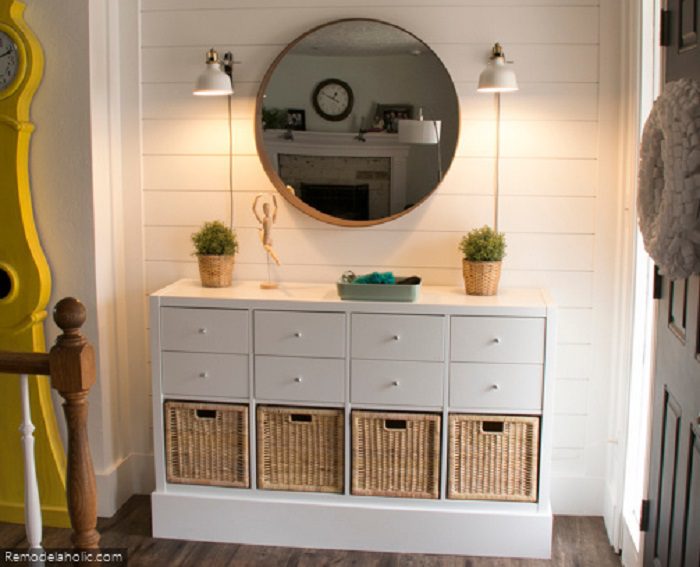 In addition, use cute little boxes that are closed at both ends, just like a treasure chest. This simple chic hack will turn any entryway into something beautiful with all sorts of clever space-saving features that are anything but boring.
28. Storage Idea For Kids Bedroom
The kids in your home are going to love this hack. By taking out the dividing board, you can store all of their favorite toys and books on a Kallax storage unit. This will maximize space so that they can find what they need quickly.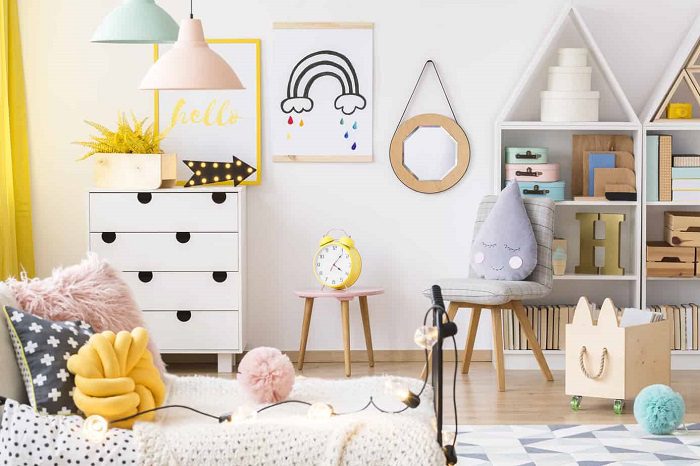 This storage hack allows easy access for kids and provides a place for bigger toys, like large stuffed animals or puzzle boards. The customized design makes for a great way to keep your items organized while making it perfect for little hands.
29. Craft Storage Idea
This hack shows you another way to store all of your crafting supplies. This storage hack is perfect for any crafter. You won't have any disorganized problems anymore with this large and spacious unit that has many fabulous ideas inside it too.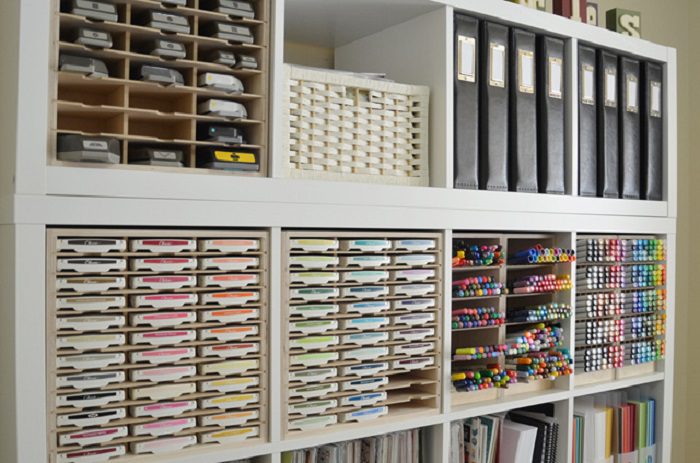 We are smitten by the organization and storage ideas in a space with Kallax. There is no more paper clutter; everything has its place now, thanks to these dividers that keep pens from falling off or getting lost behind other supplies.
30. Alcohol/Bar Station Hack
Store all your party drink essentials in one place with the help of this handy bar station. A fun way to organize the party essentials you need on hand. A counter with plenty of space, this convenient storage solution doesn't take up much room.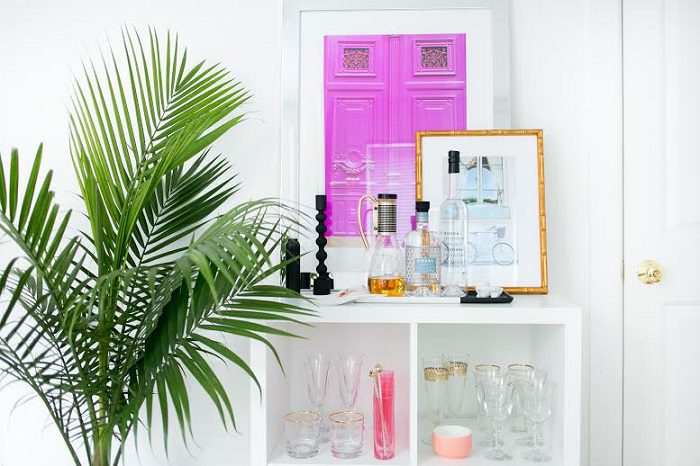 If you're looking to serve your guests a drink in style, this bar cart is perfect. Not only does it have plenty of storage and space for serving drinks, but it also comes at an affordable price point that won't deplete your liquor budget.
31. Shelving Unit To Television Stand
The Kallax is a versatile piece of furniture that can be used in many different ways. You could turn it into a comprehensive storage solution by using cubbies for games and other TV accessories or style the shelves with your favorite treasures.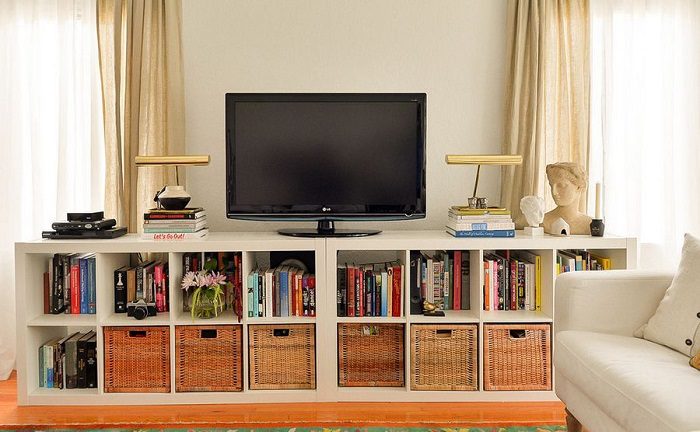 The shelf is placed horizontally instead of vertically, which gives this gorgeous TV stand some wonderful character. You can take it a step further by encasing it with stained panels, which will add an expensive-looking designer touch. Use Lekman boxes to hide wires for a clean look.
32. Workstation Storage
This fantastic workspace storage hack would give any office or work area an elegant facelift while adding some much-needed organization. Just think how pretty patterned wallpaper would look if you decided to keep the desk and shelves solid colors!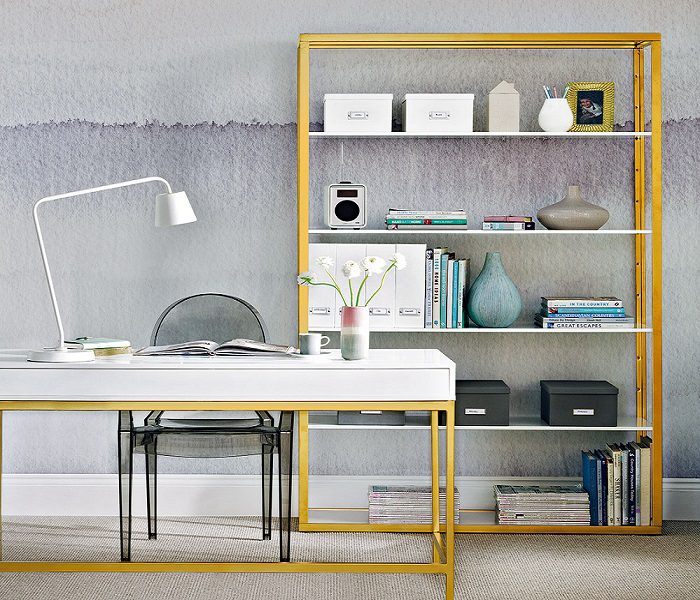 It is the ultimate addition to any home. The different organizational inserts are great for keeping everything orderly while giving them some personal flair at the same time. You'll never be at a loss for storage again when you have this shelving unit.
33. Bathroom Vanity Hack For Small Space
You're looking for a vanity that will match your home's style and budget? Well, we have a solution. This bathroom storage cabinet is the perfect choice as it comes complete with functional drawers, open shelves, and an affordable price tag.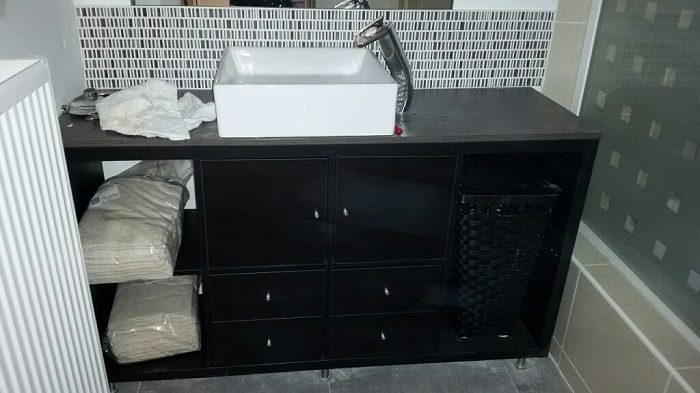 With this clever storage hack your bathroom vanity and turn it into this stylish bath cupboard. Now all of your toiletries are right at hand without taking up much space, plus there are open shelves so you can display what matters most.
34. A Mid Century Modern Kallax
Mid-century modern legs are perfect for a home with a simple yet classic design. The Kallax is the kind of furniture you can find in any catalog or local store, and it's made to look just like an old piece from decades ago.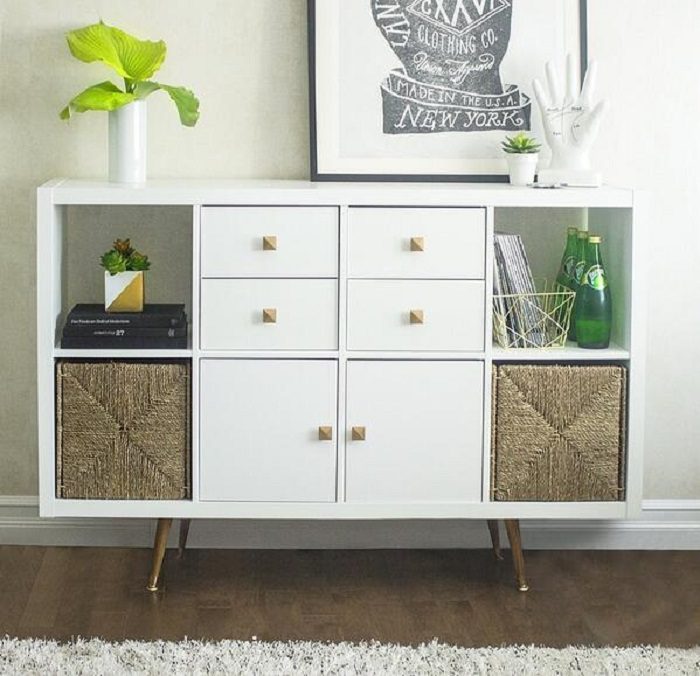 This hack is sure to adorn any space in your home. Add some books, collectibles, or other decorations, and you can use this table as a bedside table when it's not being used. It would look great near an entrance too.
35. Craft Workstation Storage Hack
We can't get over this craft room work table. It's the perfect height and has plenty of storage space. There's no need to fret about ruining a surface because you'll be able to replace it when needed. If you use larger craft materials like cloth, this is for you!
With the hack of this ingenious design, you can take care of your craft supplies without sacrificing space or creating an area that's cluttered with messy materials. This will keep you organized and tidy with its great surface while working on projects.