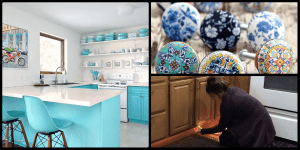 35 Kitchen Renovation Ideas To Transform The Cooking Experience
By Ziyee N
---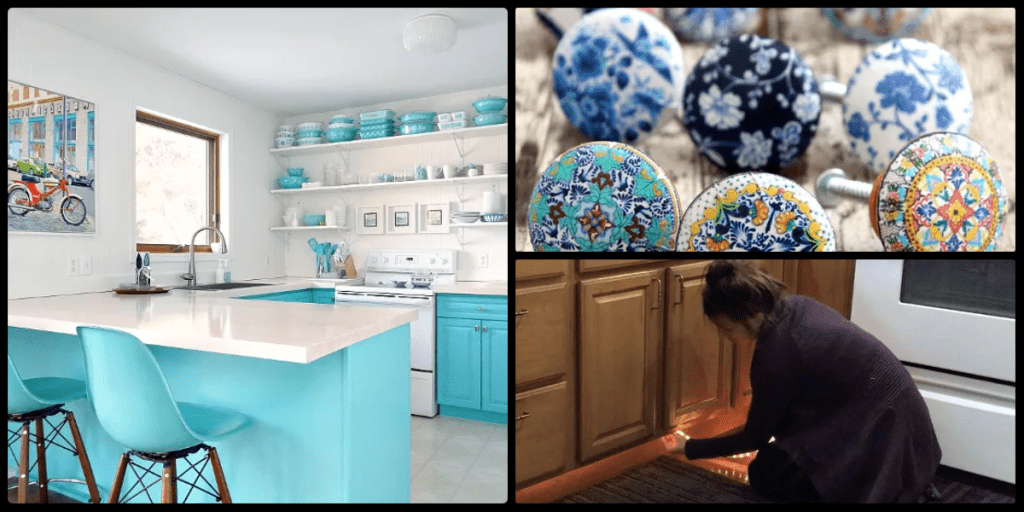 The cooking process can be hectic and terrifying for many homeowners, especially for homeowners who work with a small kitchen. That's why many homeowners refer to the kitchen as "the battlefield" at home. Well, some minor tweaks here and there in the kitchen can actually make the place less intimidating for both new homeowners and first-time cooks alike. If you are someone who wants to transform your kitchen into a space in which you can cook tasty food without any stress, you've come to the right place, because in this article, we have 35 kitchen tips and tricks to make your experience in the kitchen more pleasant than it ever was before. Read on, and be sure to give some of these ideas a go to create a less stressful atmosphere for cooking!
Kitchen Walls
First and foremost, we absolutely have to get rid of the boring old wallpapers in your home! Looking at the same plain old wallpapers everyday while cooking is just so dull, and it sucks all the fun out of cooking.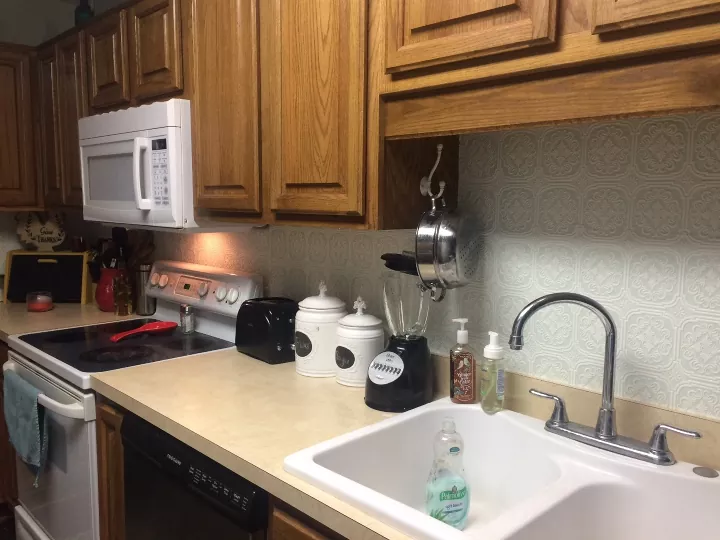 Simply add textured wallpapers for added enjoyment! First, clean the walls and sand the surface down briefly. Then, wait for the surface to dry before attaching textured wallpapers, which you can easily buy from department stores, to the kitchen walls.
Wallpapers!
Wallpapers are truly a great way of adding style to kitchens. There are numerous types of wallpaper designs available, and they are also affordable. Instead of having professionals coming to install them for you, you can simply install them yourself!
To install wallpapers, you'll need to cut the wallpapers you've bought into strips. Then, use a roller to apply wallpaper paste to your kitchen walls. After that, start at the top of the wall and paste on your first wallpaper strip. Repeat this step until you've covered the entire wall.
Subway Tiles
Some homeowners will get bored of the pattern and design of the textured wallpaper overtime, however. So, as an alternative, use subway tiles. Subway tiles are thin, rectangular tiles that exude timeless style and sophistication and can add an air of professionalism to your kitchen decor.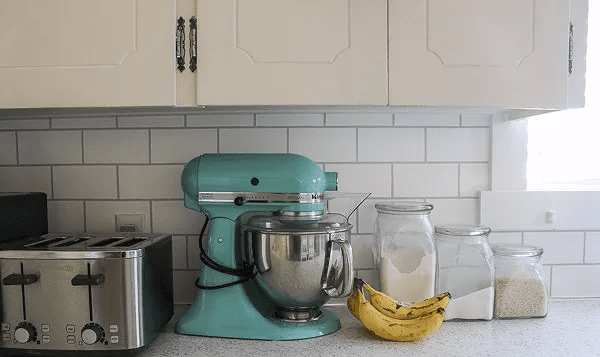 Homeowners do not need to knock down the entire wall and rebuild with these types of tiles, but they can choose to either buy textured wallpapers in this design or paint the design onto contact paper and attach it to the kitchen walls.
Faux Tile Backsplash
If the subway tiles mentioned above aren't to your liking, there are always many other tile options for you to choose from. Faux tile backsplashes, for example, are always more fun than your average tiles. Sometimes the illusion of something is even better than the thing itself!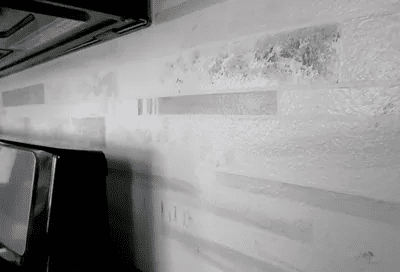 To create faux tile backsplash, homeowners need to first tape on painter's tape in parallel and level lines. Then, randomly place vertical lines to define the tile length. To create the tiles, use a high gloss finish, and for a stone tiles effect, use a gray-beige color.
Mason Jar Wall Art
Of course, textured wallpaper and subway tiles aren't the only ways to decorate. Homeowners can add wall art to spice things up, too! There are many types of wall art on the market, so homeowners can really go crazy with this.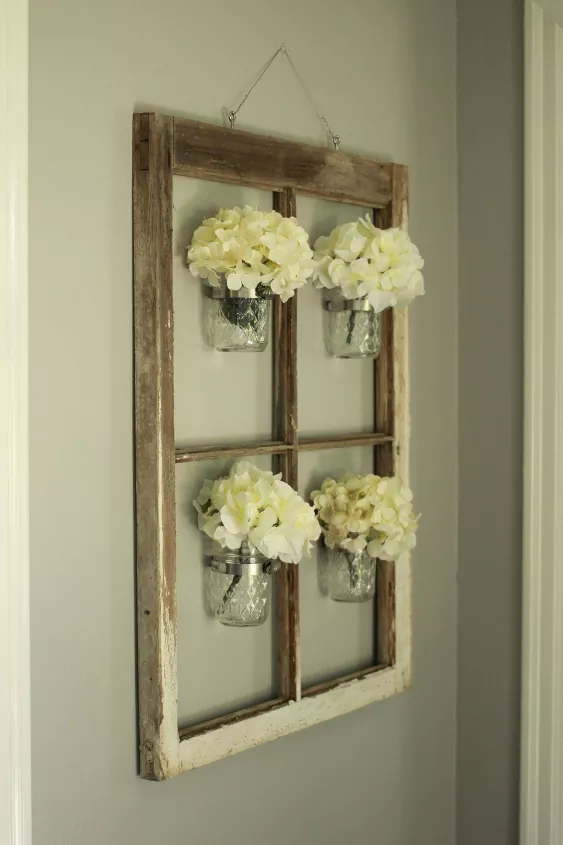 For this example, we hung a rustic windowpane on the wall of our kitchen. Then, we measured the length and width of each small window to find the middle, where we hung our empty mason jars. For added ambience, we placed fairy lights inside each mason jar.
Funky Coasters
For the wall art idea above, we'll only be needing the jars, so we'd definitely have lots of mason jar lids sitting idle in our kitchen drawers. Well, one way to put those to good use is to turn them into funky coasters.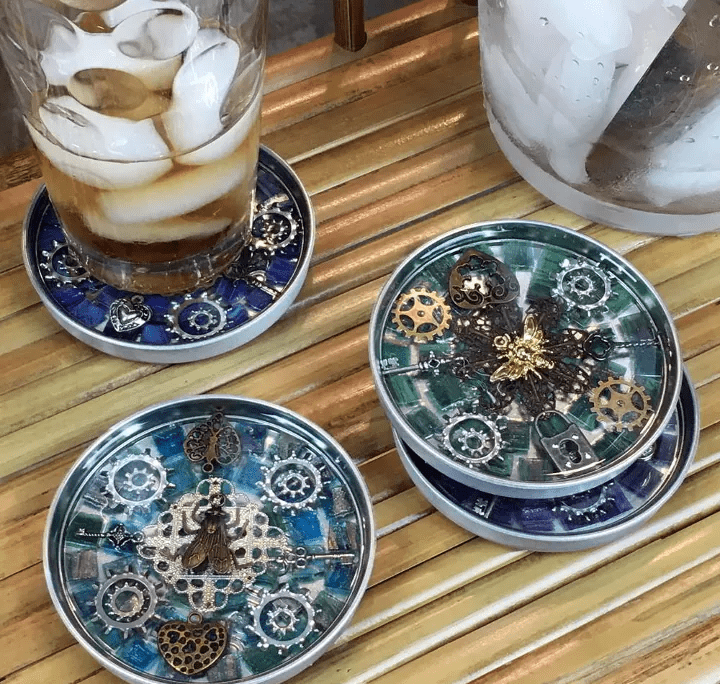 Start off with spray painting the lids entirely in sliver. Next, tightly glue glass tiles, little metal gears, and/or other similar things onto the lids to make the mosaic design. To finish off, seal with pour-on finish and let the lids air dry.
Rustic Wall Art
Instead of the mason jar wall art, homeowners can put their artistic skills to the test by creating this rustic wall art sign. Firstly, cut a large wooden board into your desired length. Then, surf the web for a design that you like.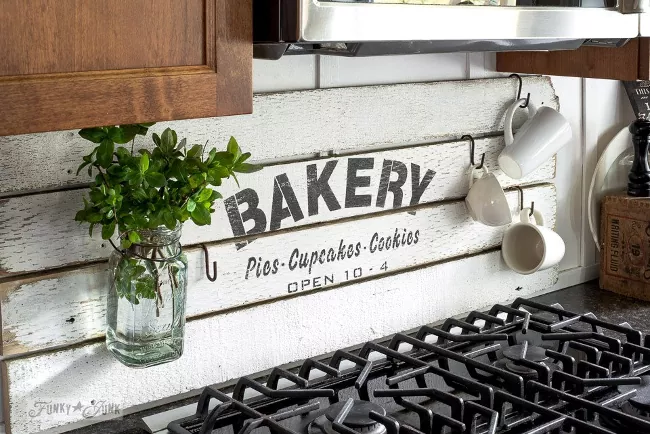 Once you've found the design, stencil it onto the middle of the wooden board. After that, you can seal the design in with a top coat or leave it as it is. Finally, hang the completed wooden board on your kitchen wall. Looking good!
Artwork
Although the easiest way to decorate a wall is with beautiful artwork, that can unfortunately be rather expensive, so this method may not be too friendly to homeowners who are on a budget. In that case, economically conscious decorators can always create their own artworks.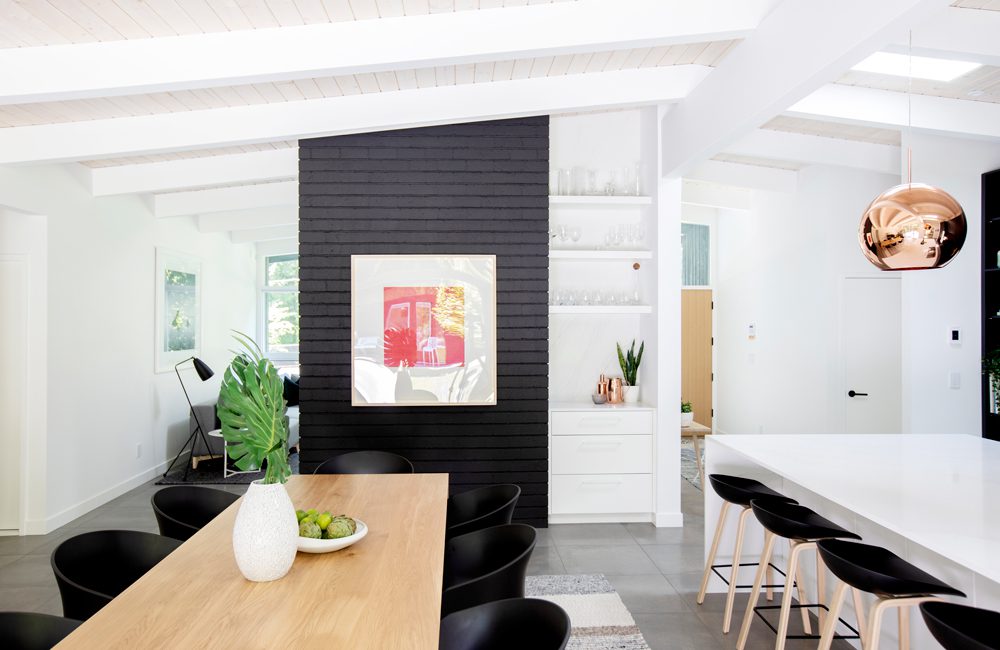 Online, search for art to use as inspiration. Then, on a blank canvas, sketch out anything that catches your eye. After sketching, fill it with color. Once the drawing is complete, place it in a nice frame and hang it on your kitchen wall.
Repaint Countertops
After multiple uses, countertop paint will start to chip off and slowly fade. When this happens, the countertops begin to look weathered and unsightly. In order to prepare beautiful and tasty food, we're going to want a beautiful environment to match.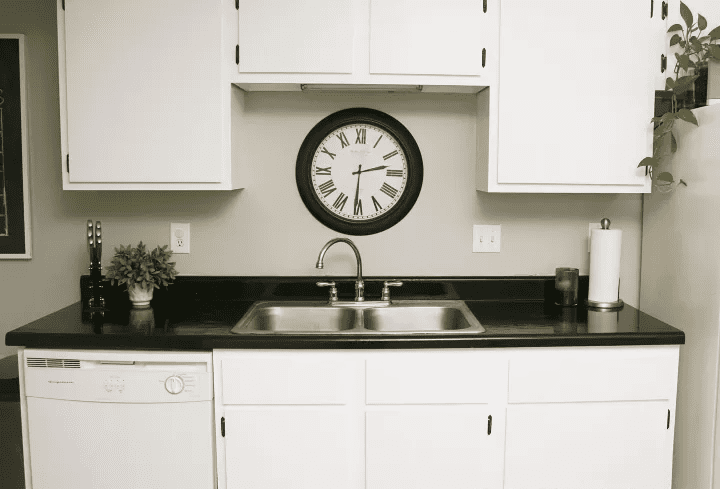 We recommend homeowners repaint the entire countertop, making sure to laminate it this time. When repainting, keep in mind that all areas that do not need to be painted must be taped down. After painting, cover with three layers of topcoats.
Contact Papers
Repainting the countertops may be a tad troublesome for some homeowners, so as an alternative, opt to use contact paper instead of paint when giving your kitchen countertops a makeover. Contact papers are much easier and quicker to work with!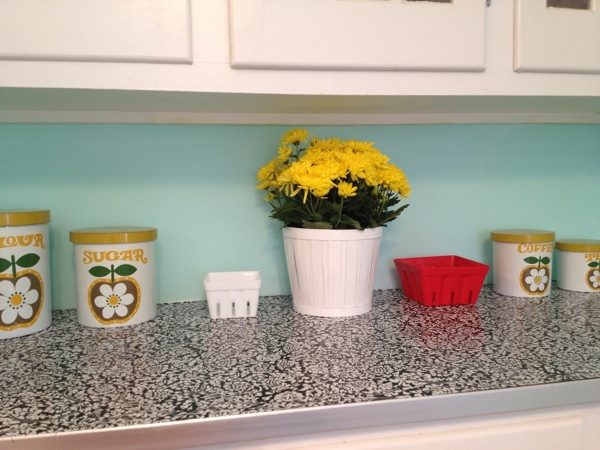 Firstly, wipe down the countertops and let everything dry. Then, measure the countertops and trim the contact paper down to size. Next, stick the contact paper onto the countertops and seal it with Mod Podge. Be sure to get rid of any wrinkles or bubbles before sealing.
Painting Cabinets
In addition to countertops, homeowners can also give their kitchen cabinets a makeover. The simplest way of transforming kitchen cabinets is to release your inner artist and paint to your heart's desire! When done tastefully, the hand-painted look can lend a unique charm.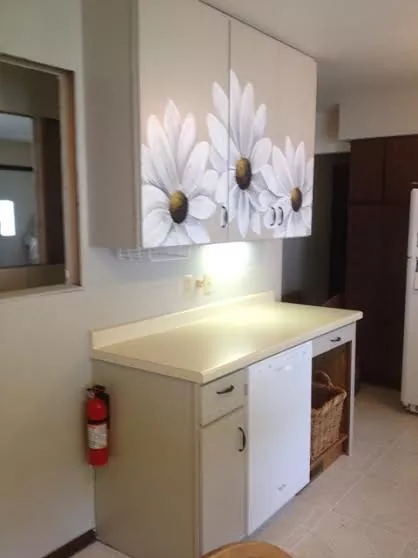 Of course, homeowners can paint their kitchen cabinets in one single color, but if they want to challenge themselves with more complicated designs, they can do so by first stenciling or taping out a sketch and painting it in afterwards.
Fabric Wrapped Cabinet
Unfortunately, paint on cabinets will also slowly chip away overtime. One solution for this is to repaint the entire cabinet, but this is a tedious process that many homeowners dislike. Instead, a good alternative could be wrapping the cabinet in fabric.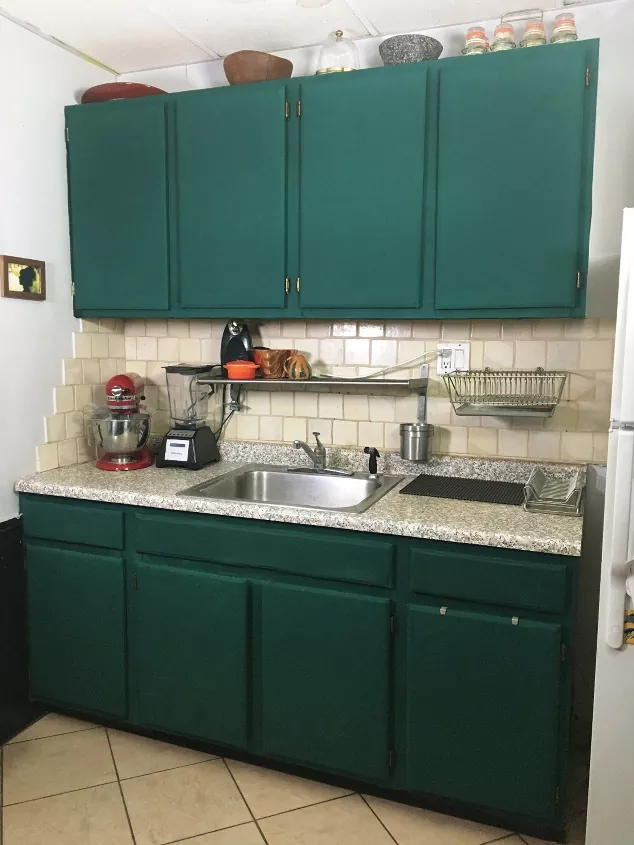 Start by removing the cabinet doors and their hinges. Then, measure the fabric and cut accordingly. Next, wrap the cabinet with the fabric that has just been cut out. Finally, reattach the cabinet door to the cabinet. Repeat this for all cabinet doors, et voila!
Staining Cabinets
Although wrapping cabinet doors in fabric is simpler than painting them, it can still be quite tedious because homeowners need to disassemble each of the cabinet doors first before wrapping them. Alternatively, then, homeowners can choose to stain the cabinets.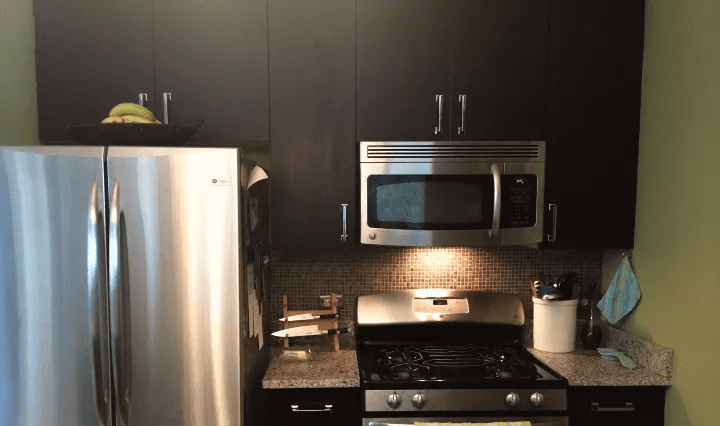 So, for an easier alternative, go over the cabinet doors with gel stains. This is similar to painting, but without the mess that painting makes. Homeowners can simply "paint" the gel stains on the cabinet doors without even removing them.
Under Cabinet Lighting
Moving on from painting, homeowners could add lighting underneath the cabinets and countertops to draw attention away from the chipped or faded paint. This is a fairly easy DIY project that involves only two supplies: Rope lights and command rope lighting hooks.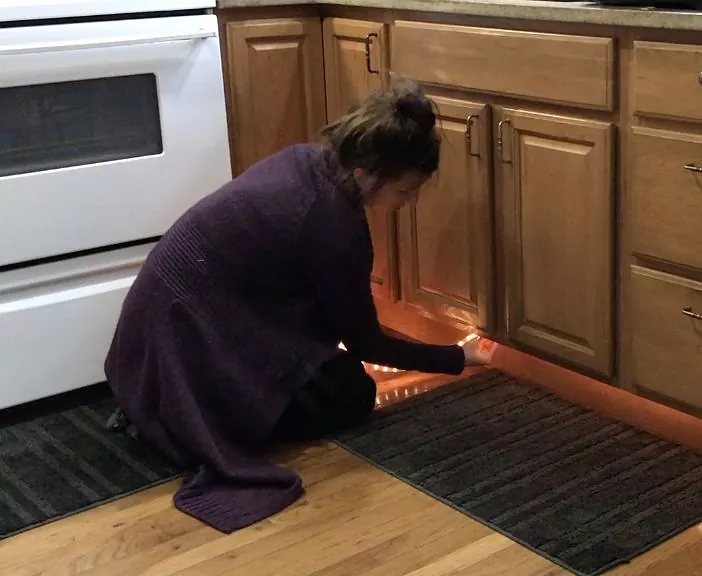 Firstly, work out where you want the lights to go, then attach the command rope lighting hooks along the "route" through where the rope lights will pass. Next, attach the rope lights and use some invisible tape to secure it all in place.
Kitchen Floors
Apart from kitchen walls and cabinets, homeowners can give their kitchens an immediate makeover by redoing their kitchen floors. However, this can be rather costly and labor-intensive, so for a budget-friendly option, try redoing the kitchen floors with contact paper.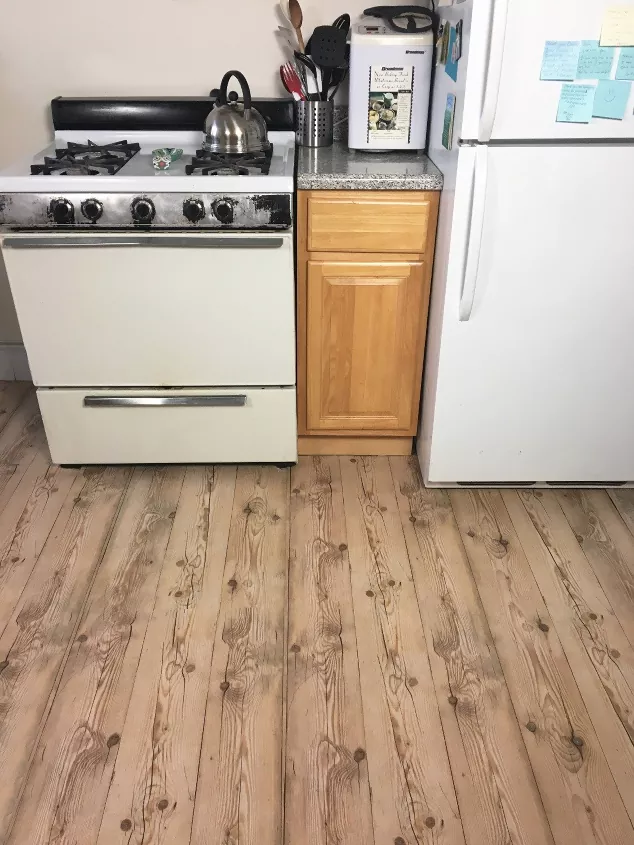 To do this, choose your desired contact paper design first. Then, purchase as many rolls as you need to cover your entire kitchen floor. After that, clean the floors thoroughly. Finally, stick down the contact paper on the clean kitchen floors. It's that simple!
Kitchen Floor Design
Homeowners who choose to redo their kitchen floors with simple contact papers can add colorful rugs or floor mats for a pop of color so that nothing looks too ordinary or bland. In general, rugs and mats can be a great method to add some intrigue to your interior.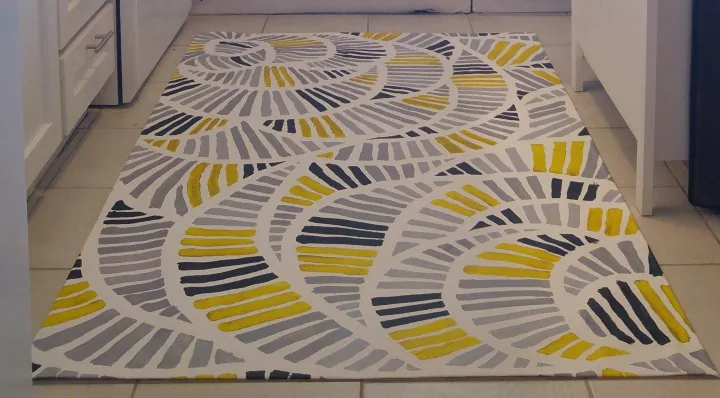 Unfortunately, rugs and floor mats can be rather expensive, but don't worry; you can substitute them with this simple DIY idea. On a blank canvas, recreate the design of the rug that caught your eye and place it in your kitchen when you're done.
Repurposed Place-mats and Utensils
If you have unused place-mats or kitchen utensils, you can repurpose them and turn them into beautiful kitchen decorations! This is our favorite kitchen idea because it is both environmentally and financially friendly. The planet and your wallet will thank you.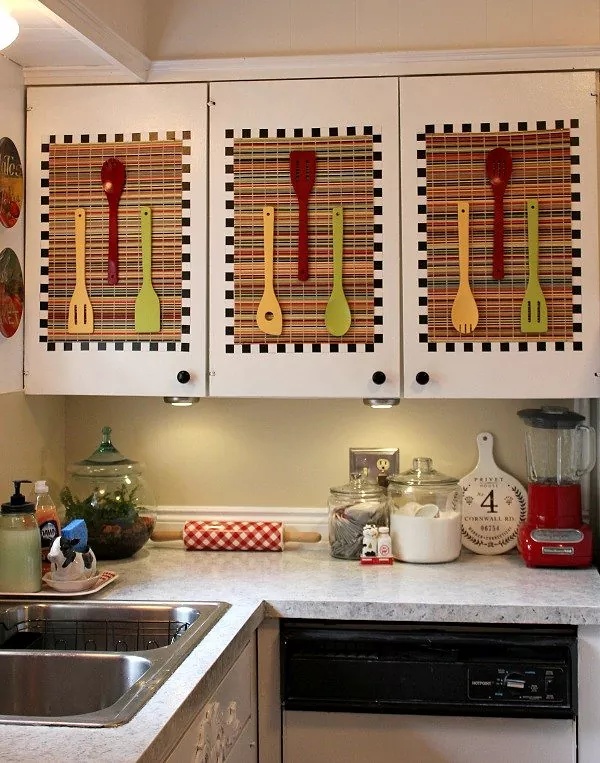 Placements can be used to cover up the cabinet windows and kitchen utensils like spatulas can be used as decorations for the cabinet doors. If you don't like the color of your spatulas, simply paint them in another color to fit your preference.
Paint Cooking Appliance
Speaking of painting spatulas, homeowners often do not get to buy kitchen tools in their favorite colors, so one thing you could do instead is to paint any of your cooking cooking appliances on your own to suit your preference.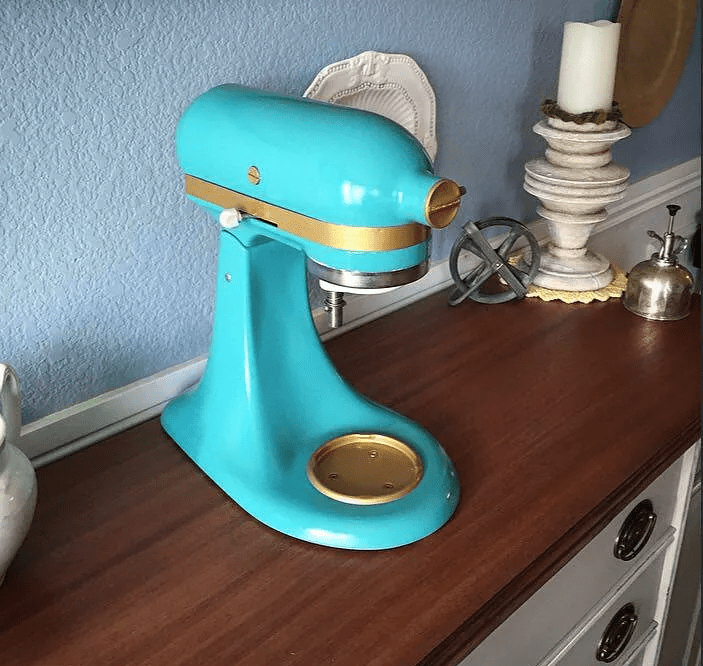 To do this, tape down the parts of the appliance you do not want to paint and clean the non-taped areas. Then, wait for everything to dry before spray painting in the desired color or colors. Finally, finish with a top coat for longevity.
Paint Kitchen Appliance
Homeowners can paint not only their cooking appliances, but also their kitchen appliances. Dishwashers, refrigerators, microwaves, and many more can all be made to suit your taste in color. However, due to the size of these kitchen appliances, this can be a rather big project.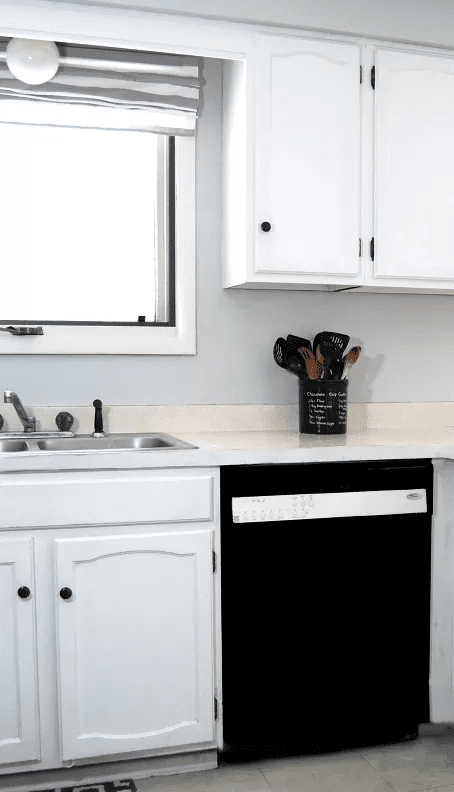 To begin, use plastics or painter's tape to cover the surrounding areas that you don't want to paint . Once you've done that, you can begin to spray paint your desired appliance in any color that you prefer. After that, let the paint dry before tearing off the plastic and tape.
Paint Kitchen Furniture
Of course, homeowners can also paint their kitchen furniture! The color that your furniture originally comes in may have gone out of style over the years, but you can easily bring your kitchen furniture back into the current age by painting it.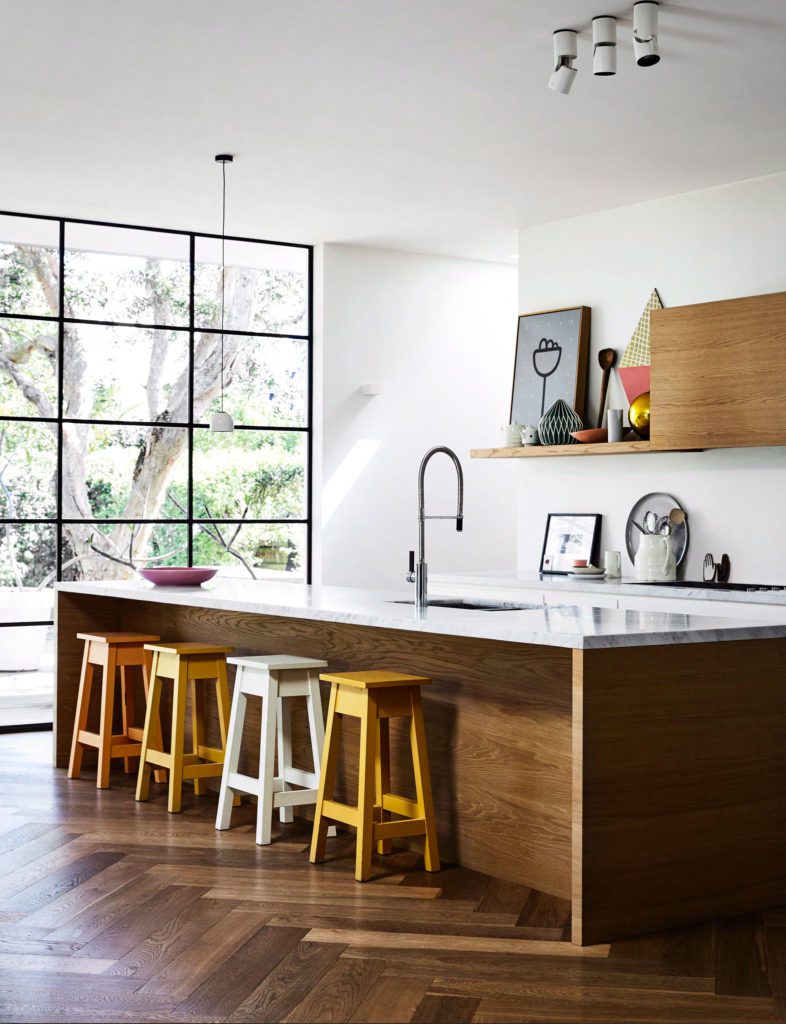 Black, white, and yellow are especially in style these days, so bring your furniture outdoors and start spray painting them in these colors! To avoid making a mess, lay a large piece of plastic on the ground and work on your furniture inside the plastic area.
Doorknobs
Apart from furniture, you can also change the colors of the of the doorknobs in your kitchen if you don't like them. In that case, homeowners have two options: They can either spray paint the doorknobs or wrap them in wrapping paper.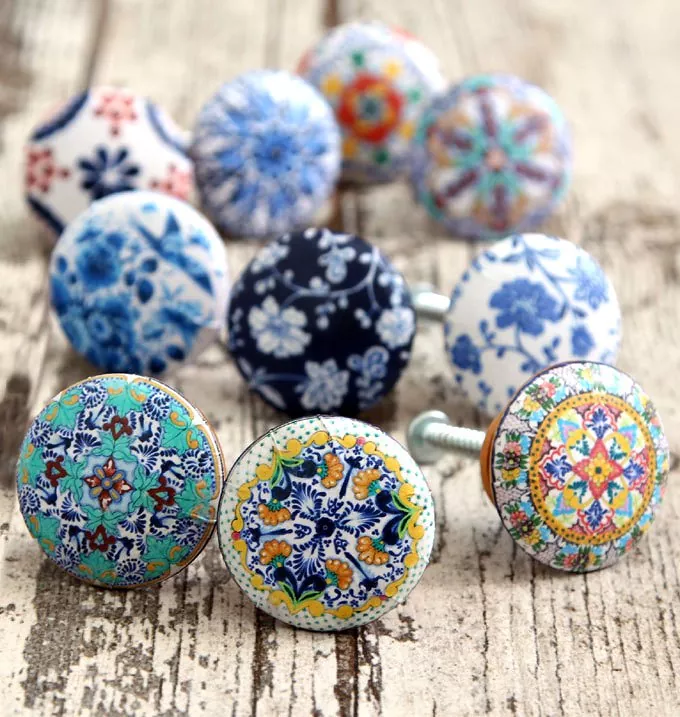 Either way, start by removing the knobs from the doors or drawers. Then, depending on how you want to change the color, spray paint it or wrap the knobs with colorful wrapping paper. Lastly, finish with a top coat and reattach the knobs.
Knobs
Homeowners can also customize their own knobs if they can't seem to find any wrapping paper or paint they like. However, this does challenge homeowners' art skills and patience. For this project, you'll need cabochons and knobs.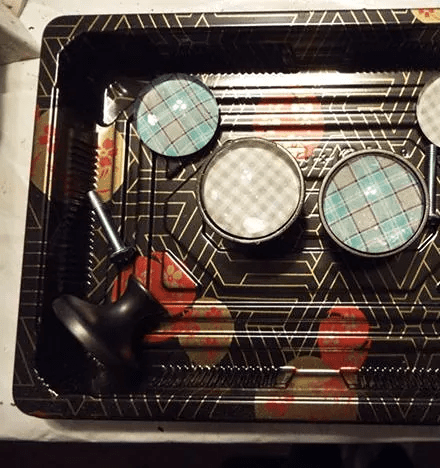 To start, look online for patterns or designs you like and print them out. Then, trace the shape of the cabochons around the printed design. Next, apply some Mod Podge on the design and stick on the cabochons. Finally, attach the cabochons to the knobs and you're done! 
Separation of Kitchen
If you're not a pro organizer, your dish shelf may be pretty messy, and you most likely would not want to look at the mess unless you are retrieving the dishes. One cool trick for this is to cover up the cabinet windows. Out of sight, out of mind.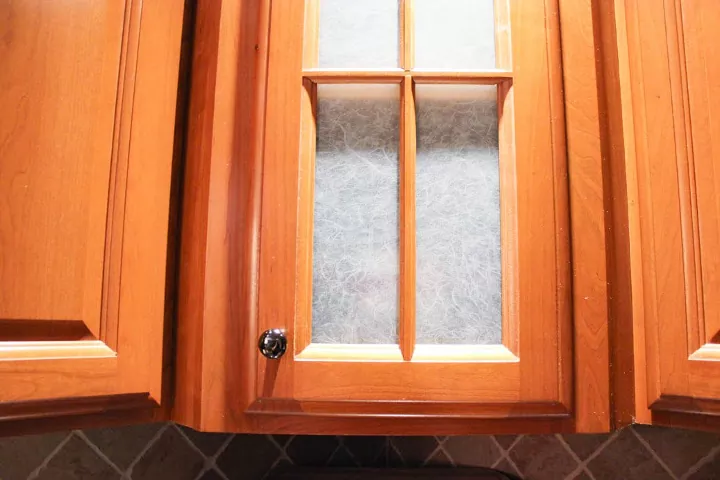 First, take the glass pane out of the cabinet. Then, clean the surface of the window and the surrounding areas. Next, attach some window film to the glass plane before fitting it back into the cabinet. Voila! You have a covered-up dish shelf!
Mail Station
Unorganized mail is a homeowner's worst nightmare. Not only does unorganized mail make the environment seem disorganized, but it's also extremely frustrating when you can't find the important mail because it's scattered haphazardly across the room. Never fear, for we have a fix!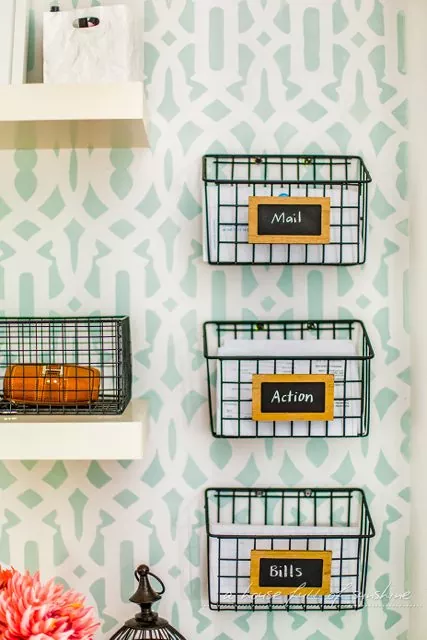 Wire cleaning caddies are great for storing and orgImage courtesy of Amy/hometalk.comanizing your mail! To give two examples, homeowners could either have one caddie for important mail and another one for regular mail or one caddie for the mail of each family member in the house.
DIY Shelf
While we're on the topic of storing and organizing, homeowners looking to give their kitchen a total makeover should definitely consider adding in a shelf. Shelves can be used to store many items in the kitchen, but if you throw on decorations, it can also function as a centerpiece or conversation starter.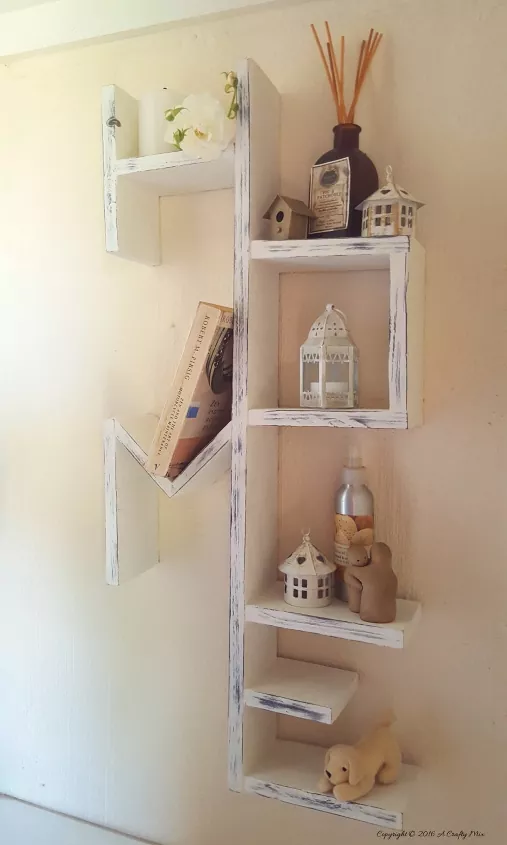 To build a shelf, first cut up some wooden pallets. Then, use wood glue and staples to put the shelf together to form an "E." Work your way upwards to form the letters "M", "O", and "H". Let everything set, then paint it and hang it up.
Open Shelving
For homeowners with a relatively small kitchen, one effective way of making your kitchen look perceptively larger is to use open shelving. This gives the impression of a larger kitchen because there aren't any bulky cabinets or shelves taking up space.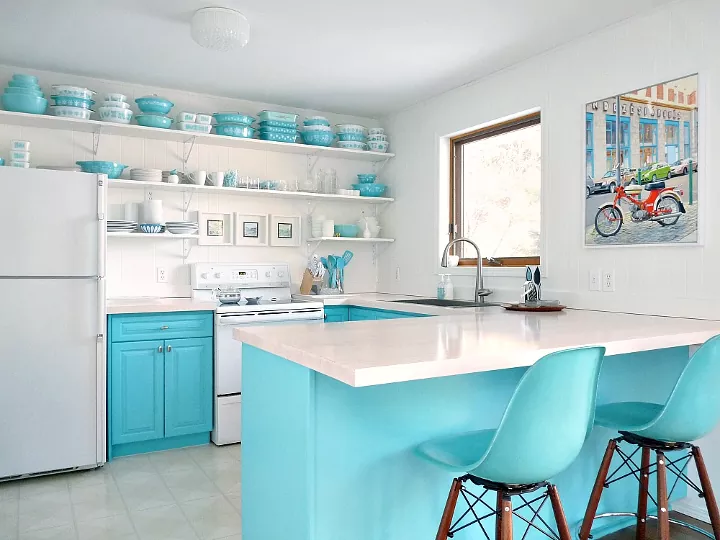 Fill the shelves with color-coordinated kitchen appliances so that the entire shelving area looks more aesthetically pleasing. Additionally, the shelves can serve as a wall decoration for your kitchen. Now that's how you kill two birds with one stone!
Doubling Counter Space
Speaking of small kitchens, we're sure that homeowners with a small kitchen run into problems with limited spacing. Doubling the space is the first improvement to come to mind, but how can homeowners actually double their kitchen space? Is it even possible?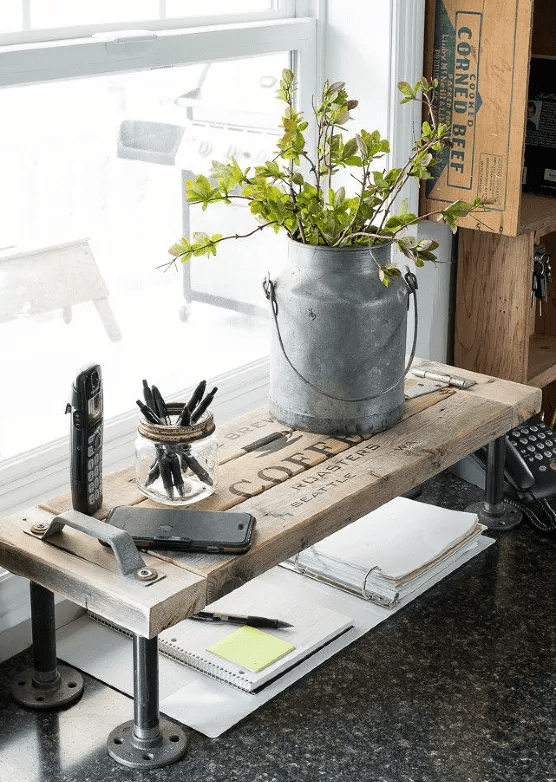 The answer is: Sort of. One effective method is to build a double-decker shelf. Place this on your countertops and you have the luxury of storing twice as many things without taking up twice as much space as you otherwise would have!
Portable Kitchen Island
If you have a small kitchen, it isn't possible to have a huge kitchen island in the middle of your kitchen, but going without a kitchen island at all also isn't ideal. Opt for a portable kitchen island to get the best of both worlds!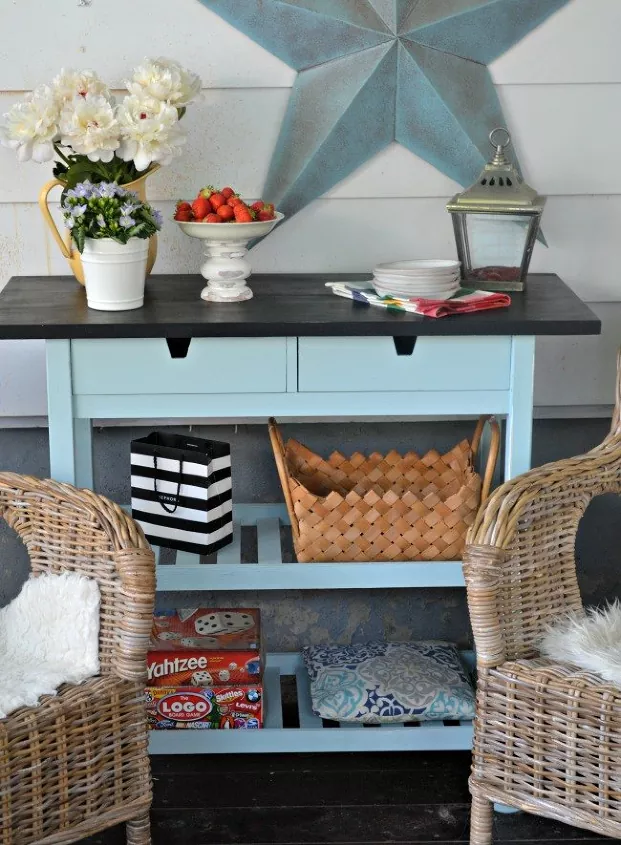 You can make portable kitchen island out of a kitchen cart from Ikea. Customize it by painting it in any color you like. After that, use it as you would with an ordinary kitchen island and store it when you don't need it.
Tiered Tray
Homeowners can further increase kitchen storage space with this sophisticated tiered tray. To create this, you'll need some wooden frames. Remove the glass from each of the frames and paint each frame separately. Feel free to use one color or multiple; it's up to you.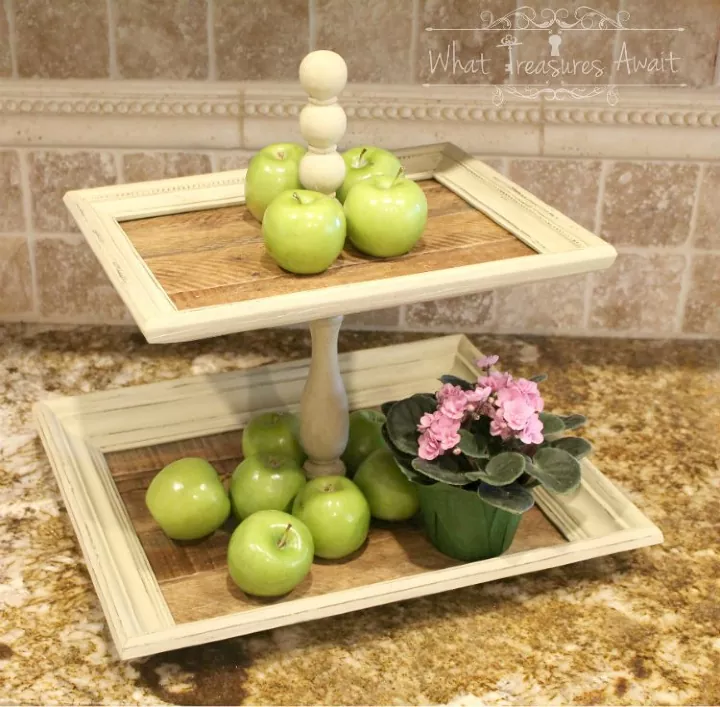 Next, you'll need some wooden pallets. Once you've got yourself some, measure the size of the frame and cut the pallets down to size. After that, fit the pallets into the frames. Finally, use wooden candlesticks to assemble the tray.  
De-clutter!
If you're dealing with a small kitchen, the most logical thing to do is to de-clutter. Your kitchen looks cramped because it is filled with unnecessary stuff, so getting rid of what isn't essential can make room for the necessities.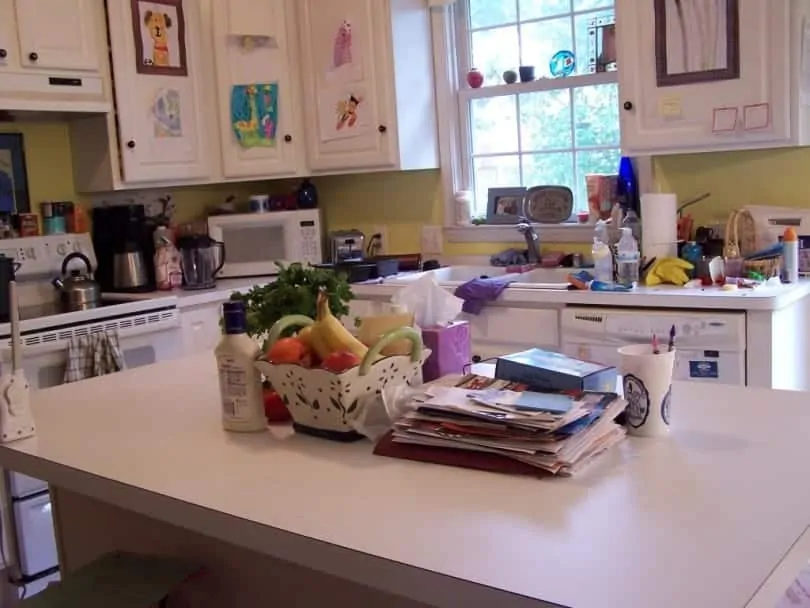 Keep only the things that you need for cooking and cleaning and get rid of everything else. Be sure to put these kitchen necessities in proper storage places and make sure to leave ample space for storing utensils and appliances.
Fridge Shelves
Since you're already working on kitchen shelves, why not give your fridge shelves a makeover too? They're pretty boring and look exactly the same as any other fridge, so why not customize them and make them look different and unique?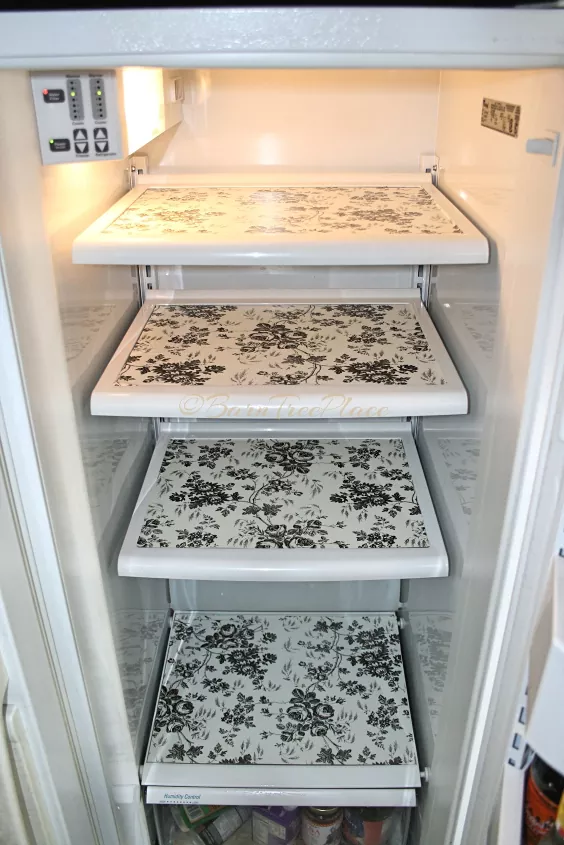 For this DIY project, first clean out your fridge. Then, go down to the nearest department store and purchase a roll of contact paper. Next, measure out the refrigerator shelves on the contact paper. Finally, stick the contact paper on the fridge shelves.
Fridge Makeover
Since you're giving the insides of your refrigerator a new look, it's only sensible to give the outsides of your refrigerator a makeover, too. Refrigerator doors are rather easy to decorate because they are basically a blank canvas. It's like they were made to be decorated.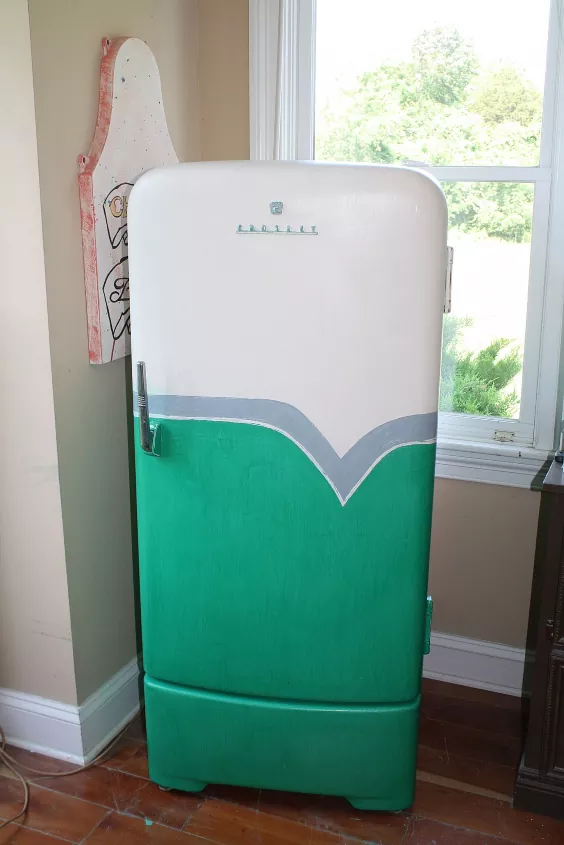 So, release your inner artist and go crazy with your refrigerator's new look. Be sure to tape off any parts of the fridge that you don't want to paint before you start on your refrigerator door and leave it to air dry before using it.
Display Shelving
Storage isn't shelves' only purpose; they can also be used to hold various decorative objects. Display shelving can effectively draw the attention of guests towards the odds and ends they contain and away from the dirty dishes in the sink.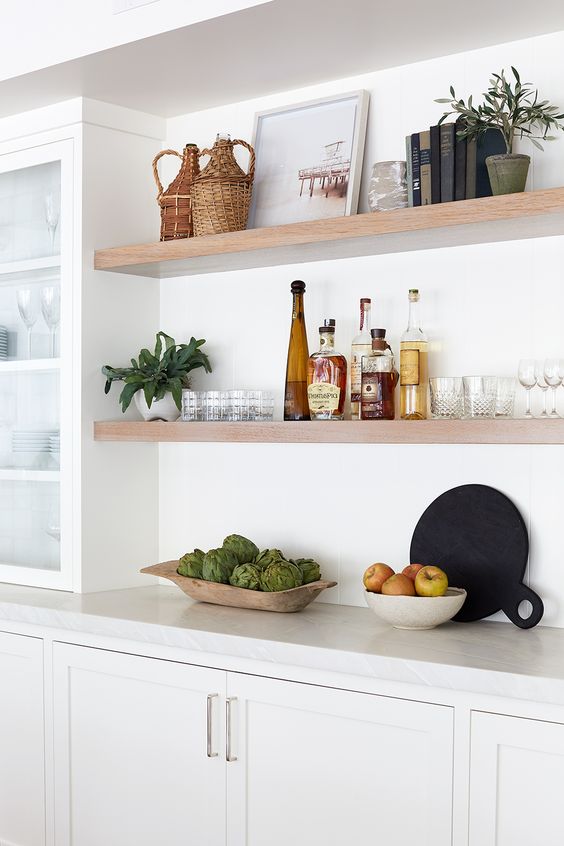 To put together a sleek and aesthetically pleasing display shelf, pull together items with similar designs or complementary color tones and arrange them nicely on top of the shelf. Homeowners can also add flowers to bring pops of colors into the mix.
Plan Lighting
Lighting makes a big difference; the right lighting can make any room look spacious and luxurious, but the wrong lighting makes the room look dull and dead. So, when it comes to lighting, homeowners need to select and plan carefully.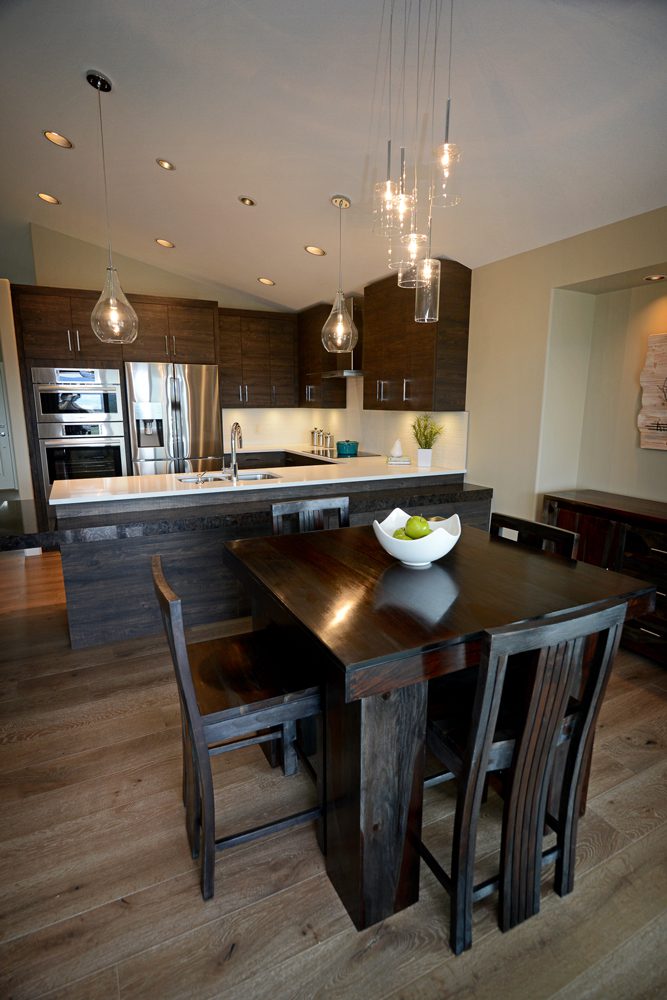 For darker areas like sinks, prep areas, and walkways, it is absolutely crucial that homeowners choose bright lighting so that they can illuminate shadowy corners. Homeowners can also add pendant lighting to bring focus to a particular area in their kitchens.
Visualizing
Last but not least, it is of the utmost importance that homeowners visualize the layout before they start remodeling or decorating anything. Visualizing helps to give you an idea about how the kitchen would look once all the renovation work is done.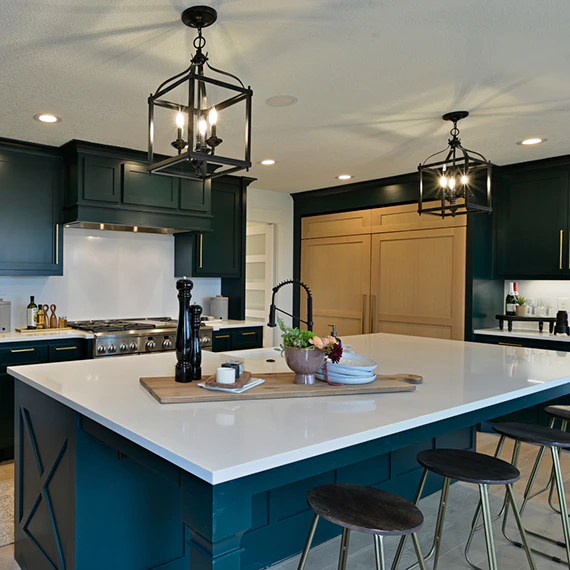 Also, with ideas of how you want your kitchen to look, it'll be more likely that everything works together, which means you won't have to change anything for the room to fit together. This way, you'd be less likely to waste money on things that look good on their own but not in context.