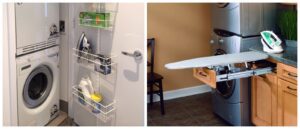 Throw In The Towel: 40 Innovative Ideas To Organize A Messy Laundry Room
By Harpreet K
---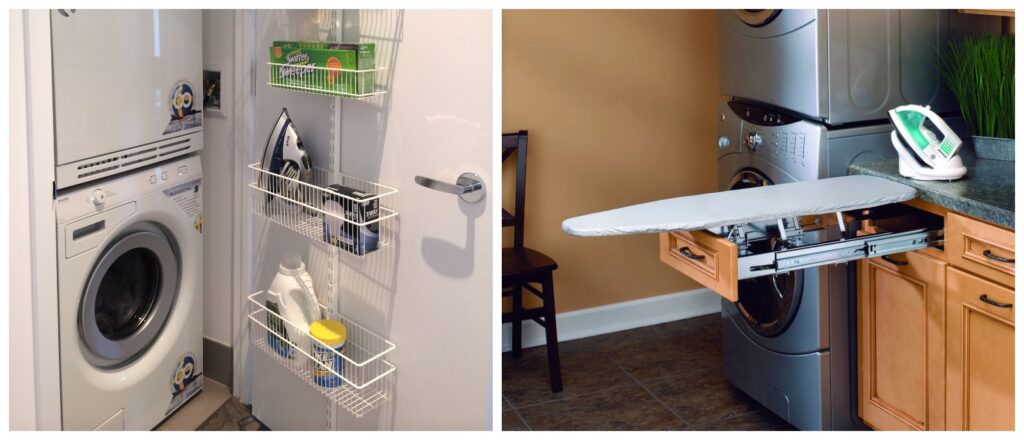 Are you exhausted from looking at your messy laundry room? If you're like most people, your laundry room is in disarray. It's cluttered, the shelves are full of boxes and detergent bottles, and there's nowhere to put your clothes when they're clean. This room doesn't get the attention it deserves, but you can convert this household hub into the most effectively used square footage with a few upgrades. Don't worry, we've compiled 40 ingenious ways to organize and clean up your laundry room, so it's neat and orderly in no time. We have you covered with these clever ideas, from laundry bins to folding systems to much more. Not only will you be happier there because you'll have more space for folding clothes and less clutter to look at, but you will feel more productive as well.
Install Utility Hooks on the Wall
Who hasn't dropped wet, clean laundry on the ground? It's such a pain when you need to dry specific things, so we suggest you go with a few wall hooks. They'll be right where you need them to hang your coats, bags, or jackets that you just washed easily.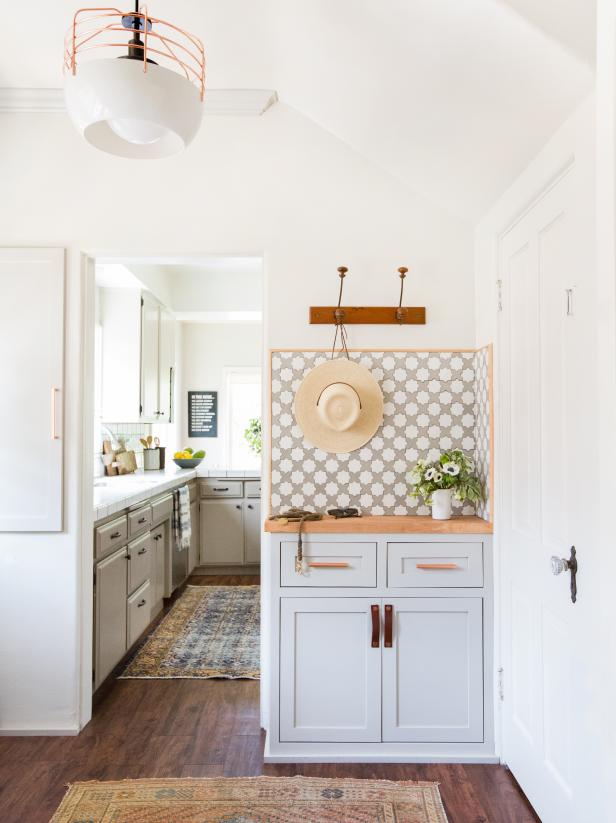 Keep your clothes and other items in check with handy wall hooks. They're perfect for putting on the wall or on the back of the door. They help keep things out of plain sight so they won't get lost, among other items.
Hang a Metal Basket to Hold Essentials
Do you need a place to store things but don't have the space for them anymore? Stop looking. This one of the kind compartment will take care of your laundry needs with ease. Plus, it also looks great in the laundry room.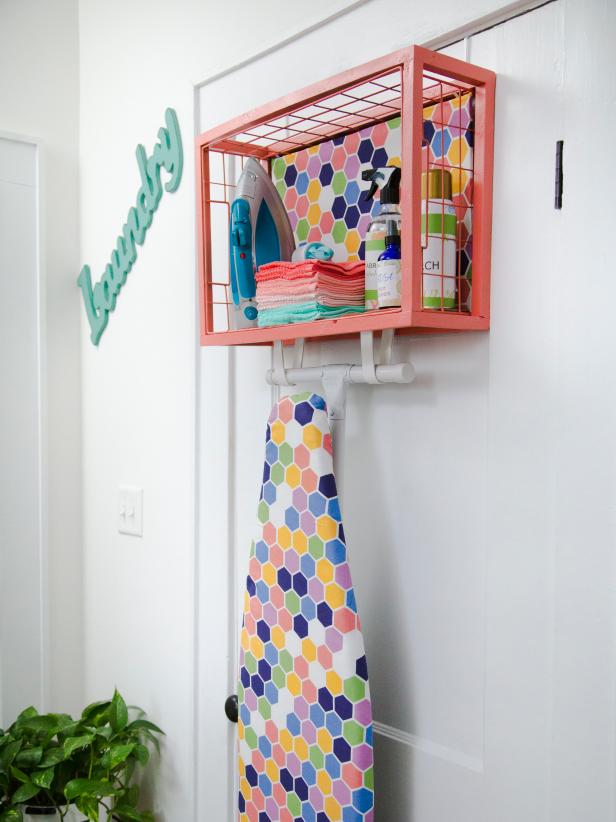 These metal baskets are excellent when space is limited, while their securing straps will keep an ironing board protected on top. Besides, you can add some color, patterned paint, or wallpaper. Whatever suits you best to make it more attractive for your taste.
Make Room for the Dogs
For pet owners who like to have their furry friends happy and close by, try this hack. Put all of the animals' items in one area without a door for easy access by putting it under an empty cabinet or shelf like what you see here.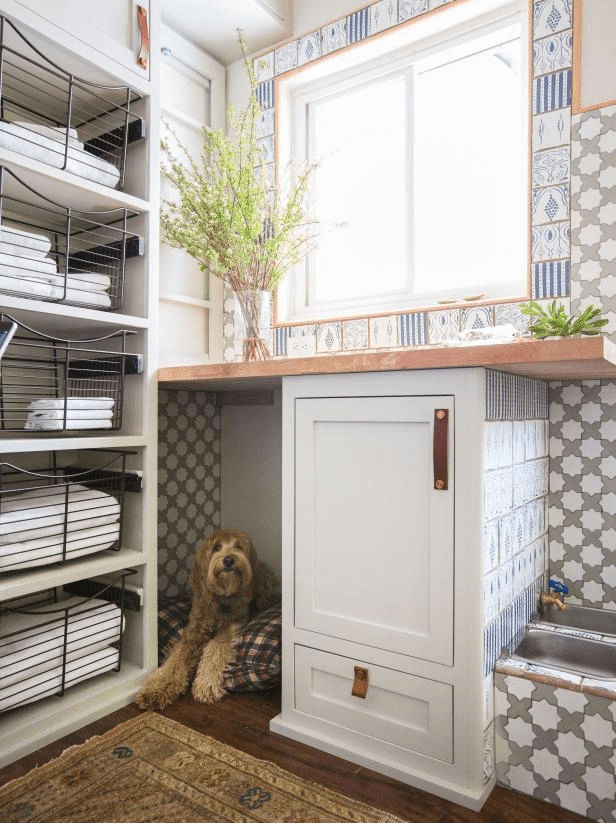 This is an excellent spot for your dog to relax while you're folding or washing the clothes. The bottom of this table has extra space where food or water bowls can go, too, making it easy enough that your furry friends will never go thirsty or hungry.
Attach a Folding Table in Laundry Room
Why would you want to turn your couch or bed into a folding station when there's already space in your laundry room? If that sounds like something magical, then try out this novel idea. Add in an extra folding table on the wall instead.
A folding table is a perfect solution for a laundry room that's just too cramped. This small counter can be attached against your wall and folds up when you don't need it so that it won't take any floor or corner space.
Choose Cabinets Over Open Shelving
The laundry room is an important part of your home, and this one has all the essentials you need. It's got a ton of cabinet space for everything, so it stays organized without being open or cluttered upfront like an exposed shelf.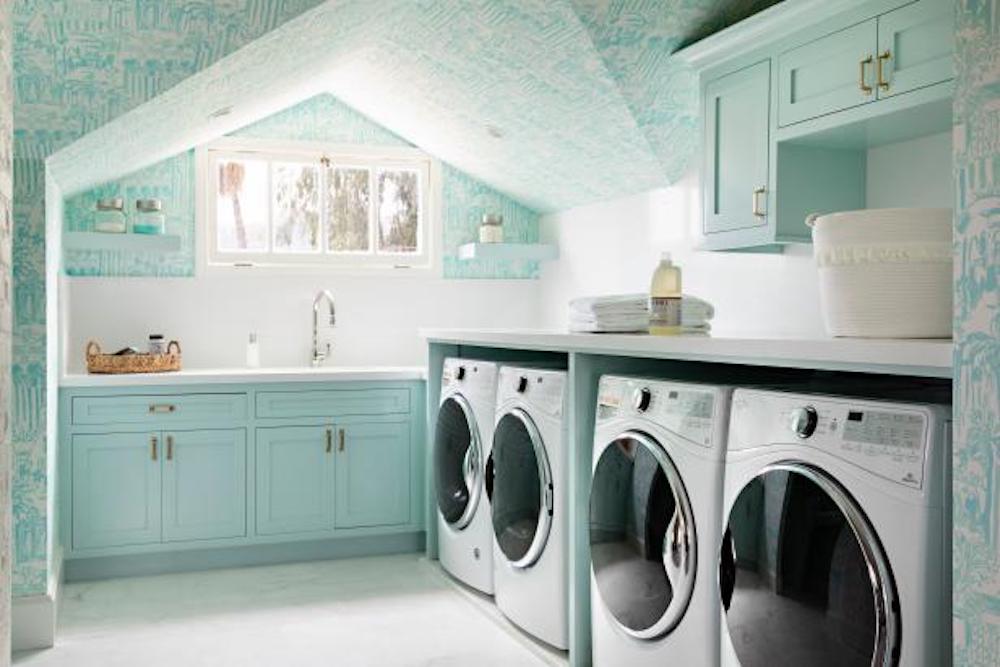 With so much storage available, you'll never have to worry about being short on space again. The closed cabinets are perfect for storing everything from detergent to dryer sheets. So, you will never be looking for something when it's time to clean.
Install a Storage Rack on the Back of the Door
Don't let a small space limit your creativity and imagination. Attach a storage rack and mount it behind the laundry room door. This will help you store more things in an area that does not have much space for storage.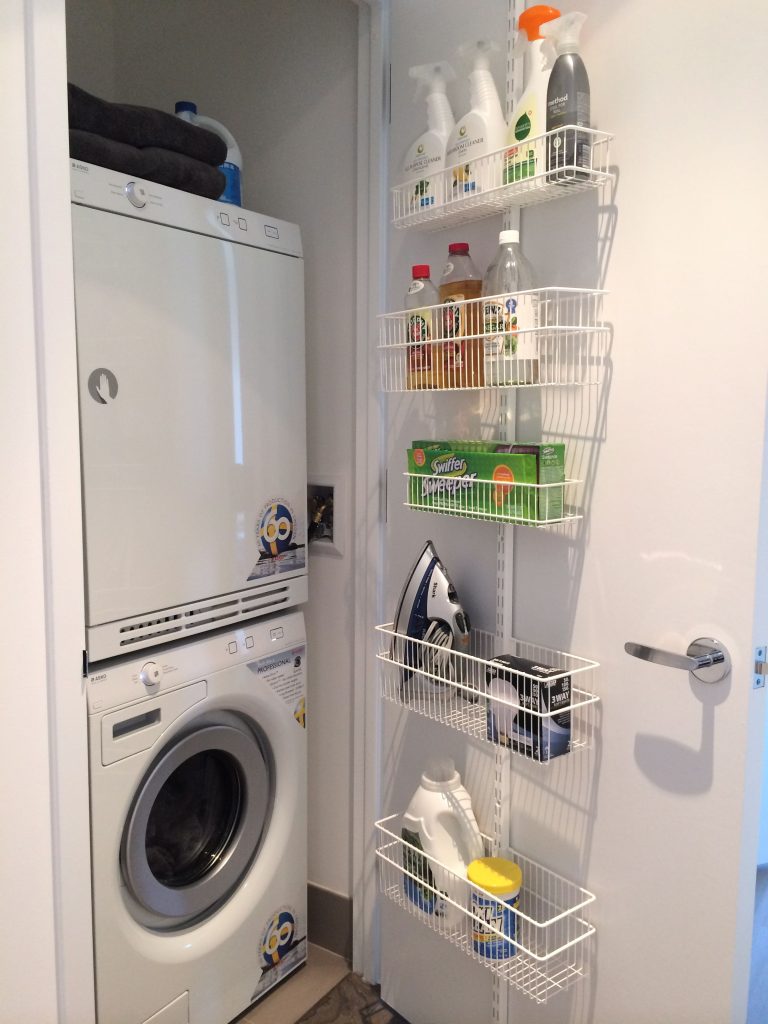 These sturdy door frames are readily available at various home improvement stores. You can attach other hanging fixtures inside them so they can help store other house items like paper towels, bedding, cleaning supplies, or whatever you need easy access to.
Use Decorative Baskets as Storage
You don't have to live for a drab, uninviting space when you can quickly transform it into something that is both practical and stylish. For instance, in this picture, with the laundry room being too small, they used decorative baskets for storage.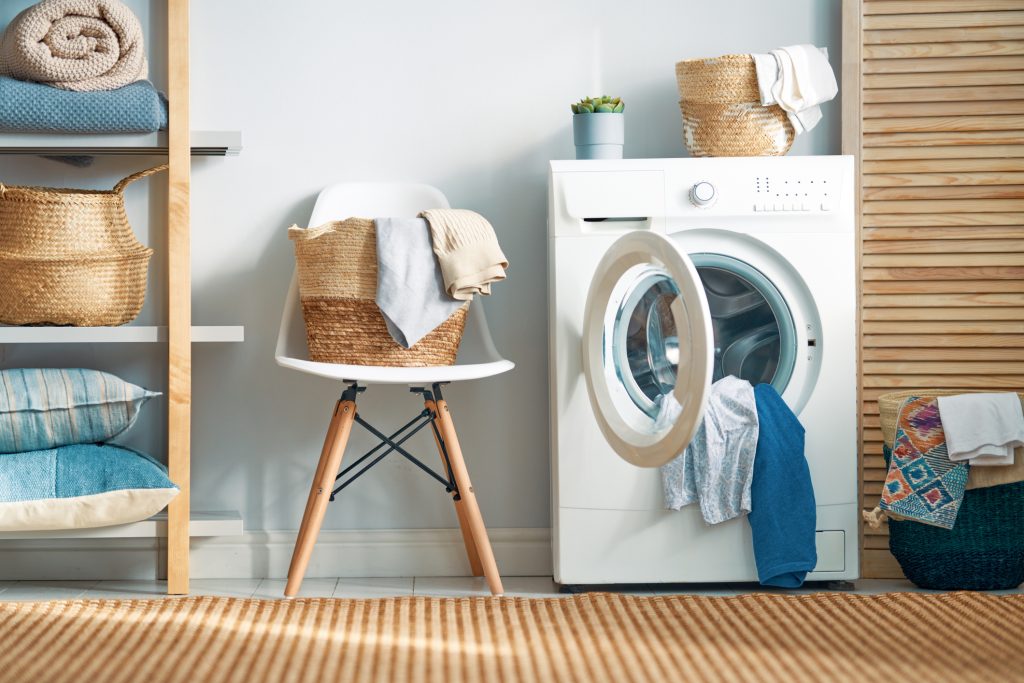 Storage baskets are an excellent method for keeping all your cleaning items organized. They can hold blankets, paper towels, detergents, and more. Stash them under cabinets, so they're out of sight but easy enough to reach when you need them most.
Pet Food Stations
Here's a clever idea for pet owners. What better place to store food and water than inside your drawers? A good spot is right in the laundry room cabinet next to the door, which can easily get overlooked. Just remove some lower shelves or cabinets.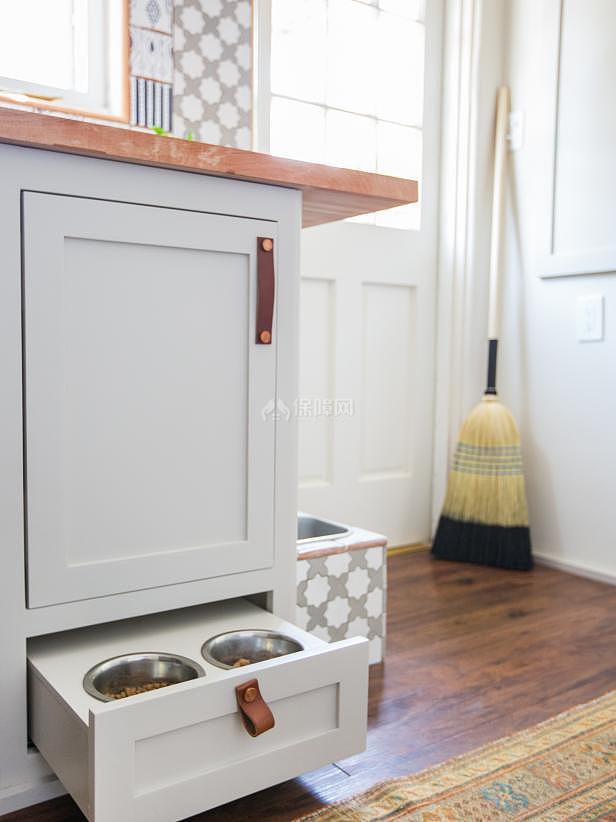 Next, cut out holes for the bowls within the drawer; this will make eating and drinking more comfortable. These types of built-in drawers are easy on space while keeping your floors less cluttered as dogs won't make a mess everywhere.
Hidden Laundry Cupboard
No laundry room? No problem! With a bit of innovation and some ingenuity, you can fake it in any space that you make available. This homeowner wanted to create more storage for his belongings but didn't have enough money on hand to remodel it.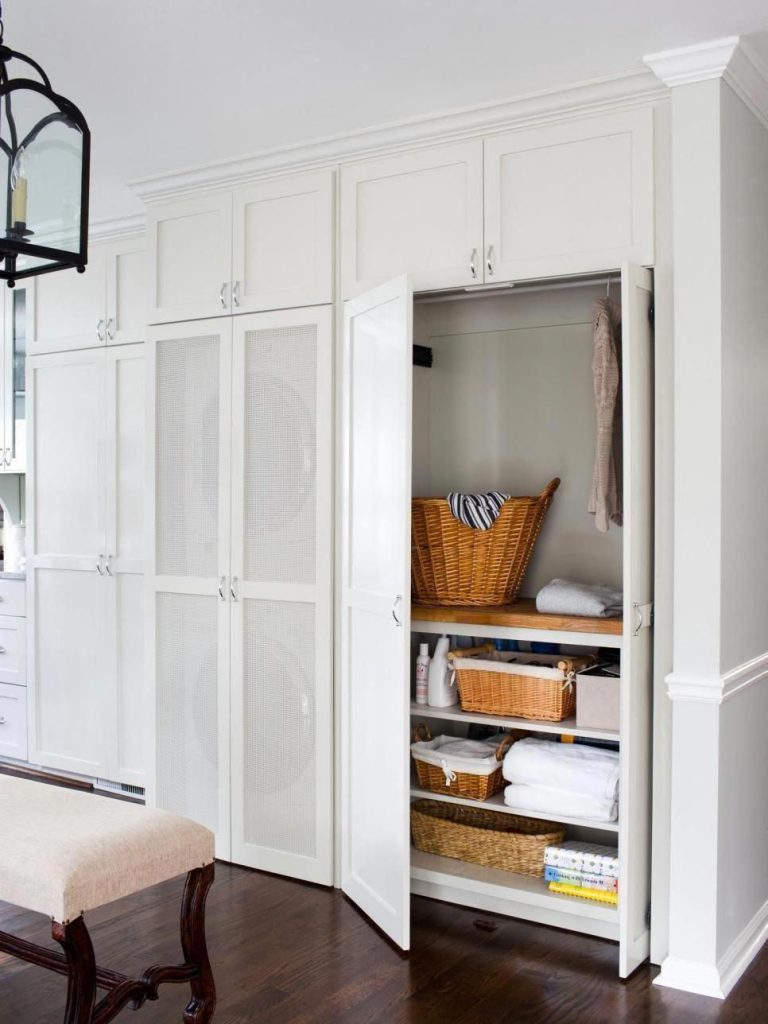 So, he teamed up with his local cabinetmaker, who designed a custom wall of cabinets in the kitchen. The doors are made from metal mesh, which lets hot air circulate but makes them look like they belong in the kitchen only.
Stackable Washers and Dryers
Don't worry if you have a big household and feel as though you're constantly buried under heaps of laundry. You can save space with stackable washers and dryers. These energy-efficient appliances take up less room while still providing optimal performance.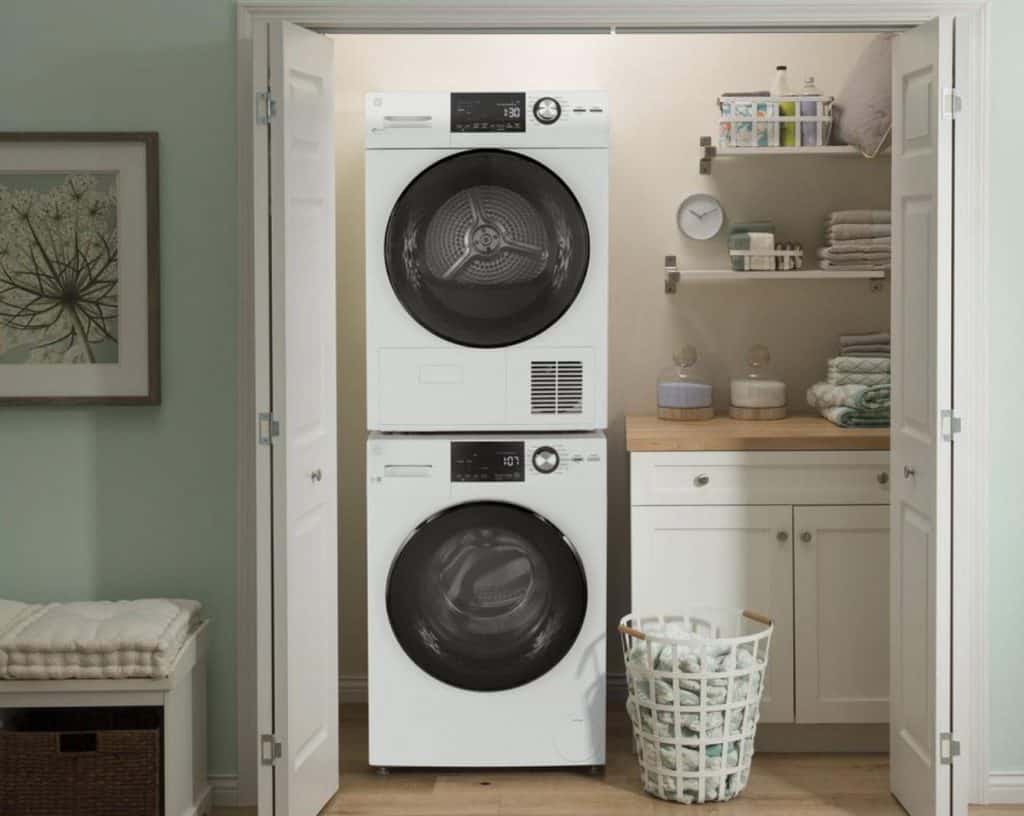 The idea of a multi-generational household seems like it would be an exhausting process. But with the assistance that comes from having two washers and dryers instead of one large set, there's really no need for you to feel overwhelmed.
Go for Stylish Baskets
When you need to do your laundry, nothing beats having a place for everything. This room's overhead shelving makes it easy and convenient, with ample storage baskets that can hold all those little things right where they should be.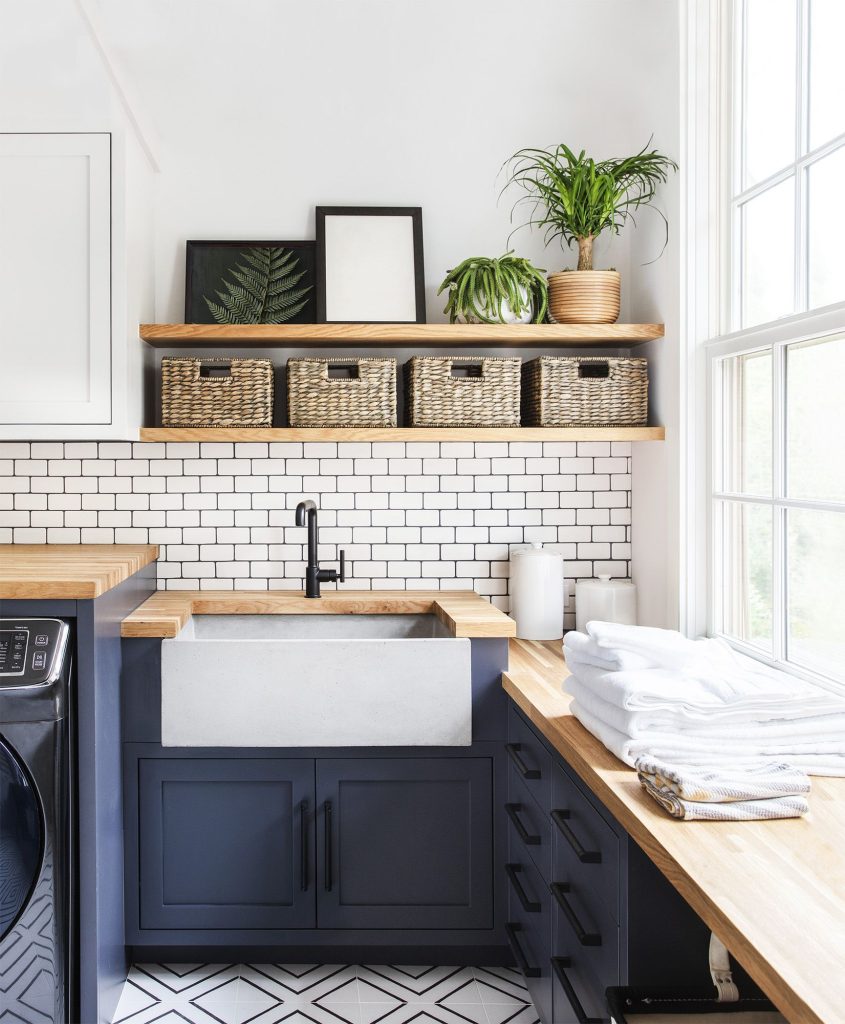 The possibilities for baskets are endless, so find some that meet your needs and style. Keeping your laundry room organized will be a breeze with the proper storage solutions in place. And who knows? You might even start enjoying doing it, too.
See-Through Storage
Wire baskets are the perfect storage solution for a home. Wire cubbies can hold more, and they're less prone to breakage than plastic bins, making them ideal if you have children around or need an eye-catching way for sorting your laundry.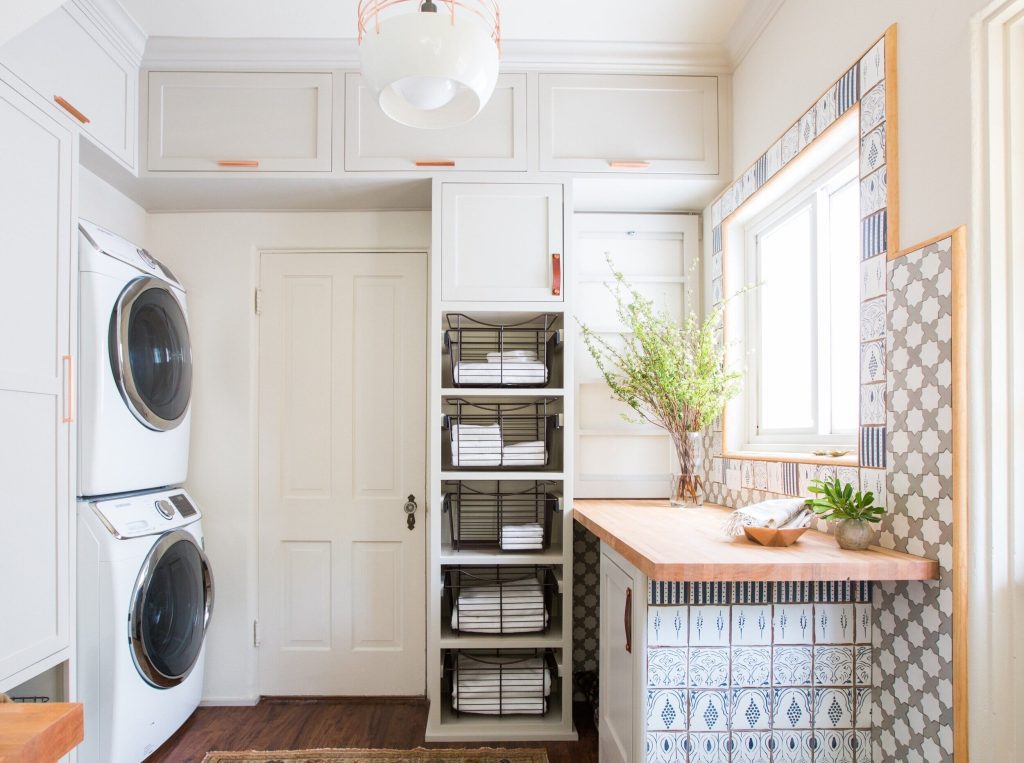 Besides, wire baskets are ideal for getting your kids involved in household chores, like sorting laundry by category and placing their items accordingly. Also, these shelving units picture above are great to organize your laundry room and keep things from getting messy.
Mount a Drying Rack to the Wall
If you want to avoid having a line of clothes going across the room, install wall-mounted drying racks. These slim units pop out when needed and fold against walls, so they don't take up any valuable floor space in your home.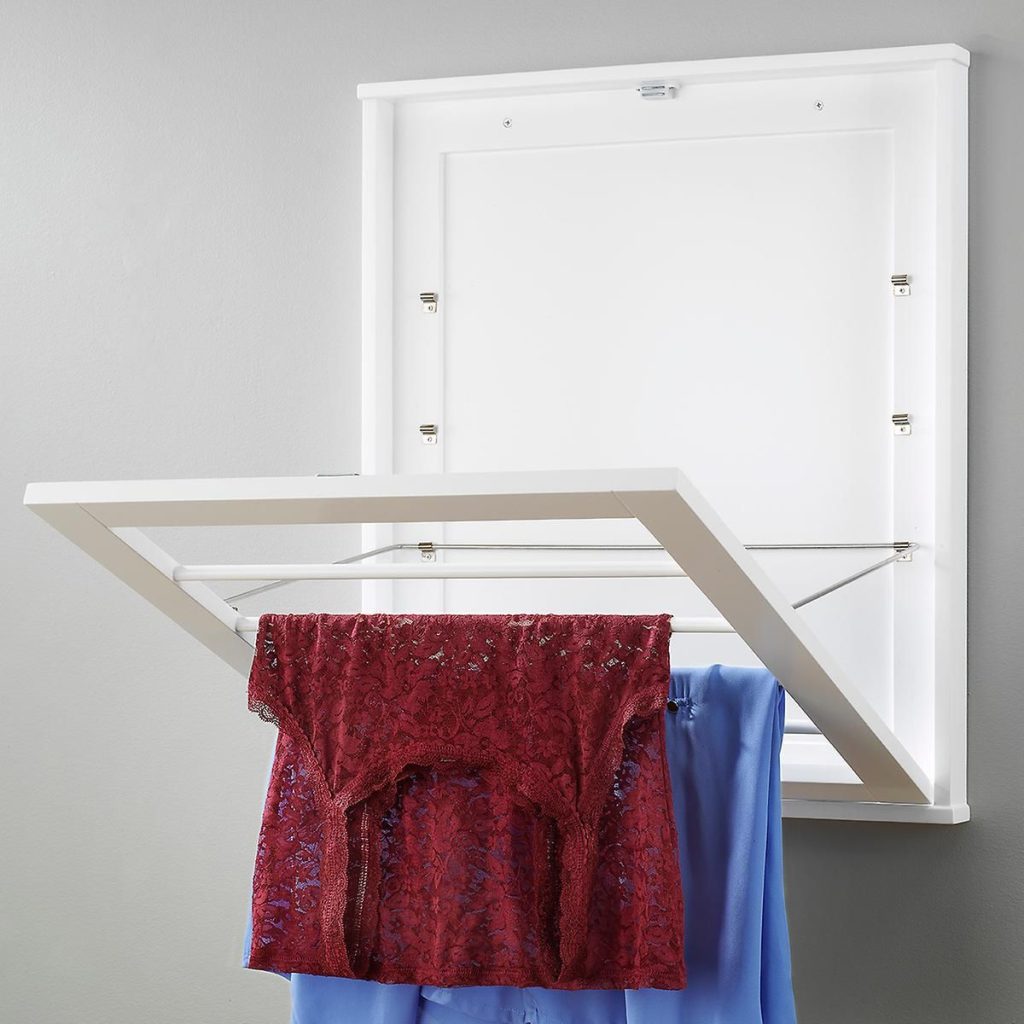 The best part? These racks can be fixed in any corner or on the wall with their flexible design that will fit just about anywhere. This is also the perfect solution for items that require air drying, such as silk pieces or delicate clothing.
Add Peg Holders
If you don't have sufficient wall space in your laundry room, buy a peg holder. They are suitable for hanging things like ironing boards and brooms. You can get them in all sorts of sizes and shapes, so pick a few that fits your space.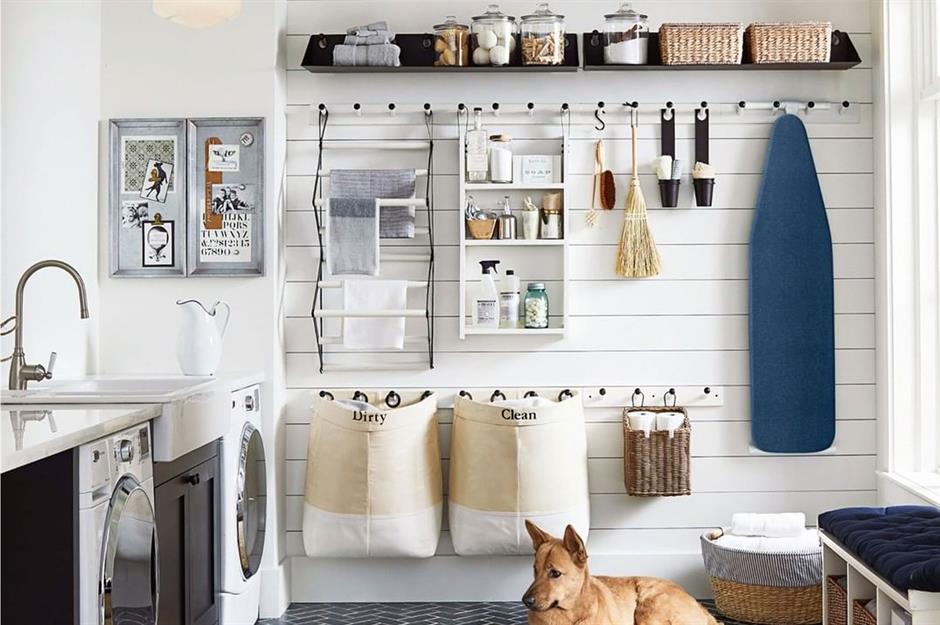 It's also an incredible way to decorate the room and add some personality. Plus, it can help you stay organized and keep your cleaning supplies handy. So, if you are searching for a way to improve your laundry area, consider this method.
Buy Multipurpose Hampers
If you're looking for a method to make your laundry room more organized, this handy sorter is perfect. It has enough space for all your organization needs with an ironing board on top and wheels; you can move it to any part of the house you need.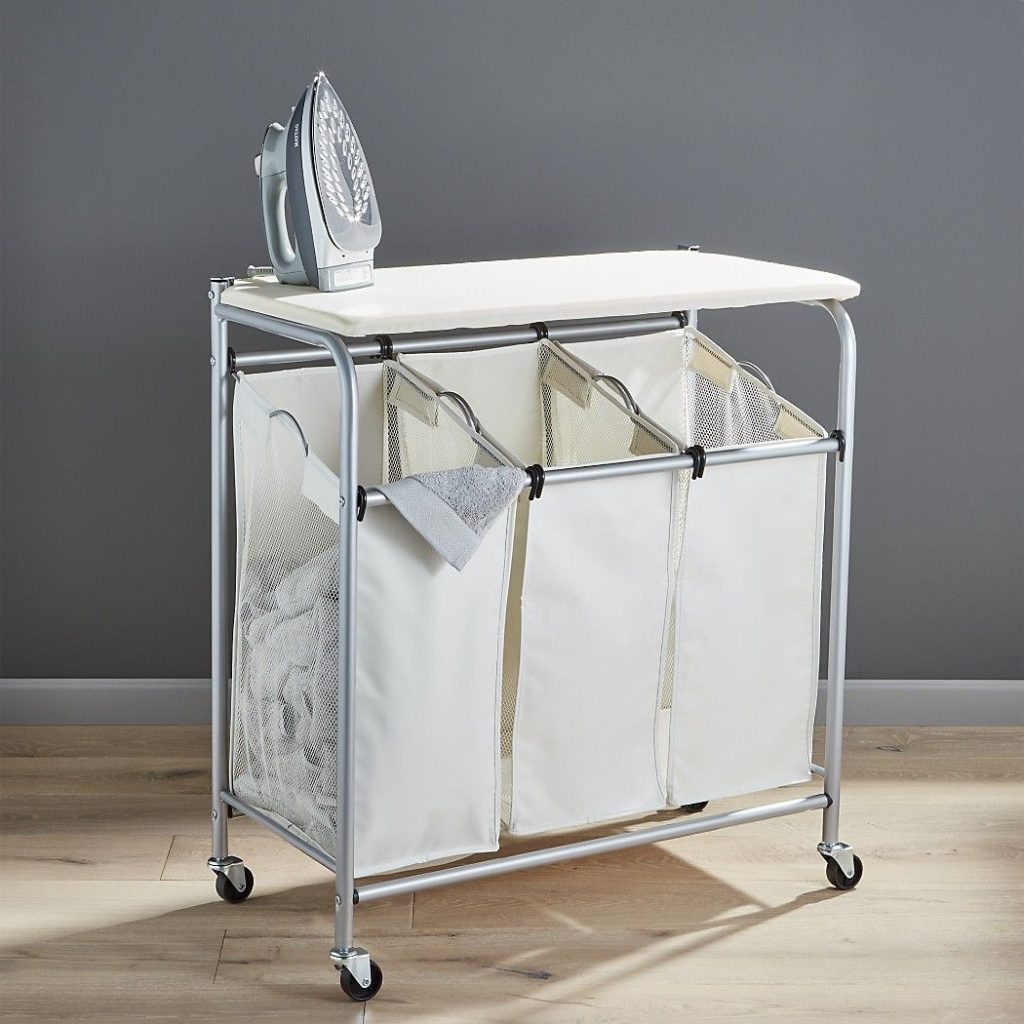 You can move this handy item around easily. It provides space for more than one purpose, which will save space while also making things easier during cleaning time. This would work well in small apartments or studios, where square space can feel cluttered.
Hangers Within the Arm Reach
Instead of rushing around your house looking for a spare hanger, have one spot in the laundry room where they're stored so you can quickly grab whatever size or type you need without running back and forth between cabinets.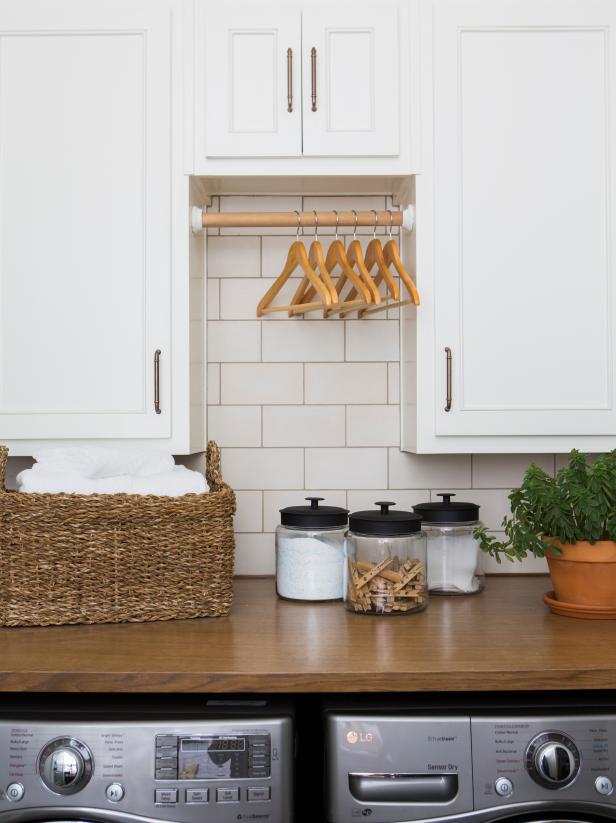 These homeowners created this little space between the two cabinets to hold bars that were meant to hang on either side, which makes hanging up wet items much faster. It's easy-peasy because now, you can find the hanger you need in no time.
Compact Mobile Hamper
If you want to create a dreamy, luxurious laundry room with the perfect swaggy hampers that are easy on your back and make lugging heavy towels less daunting, then get yourself one of these mobile beauties; they're perfect for small spaces.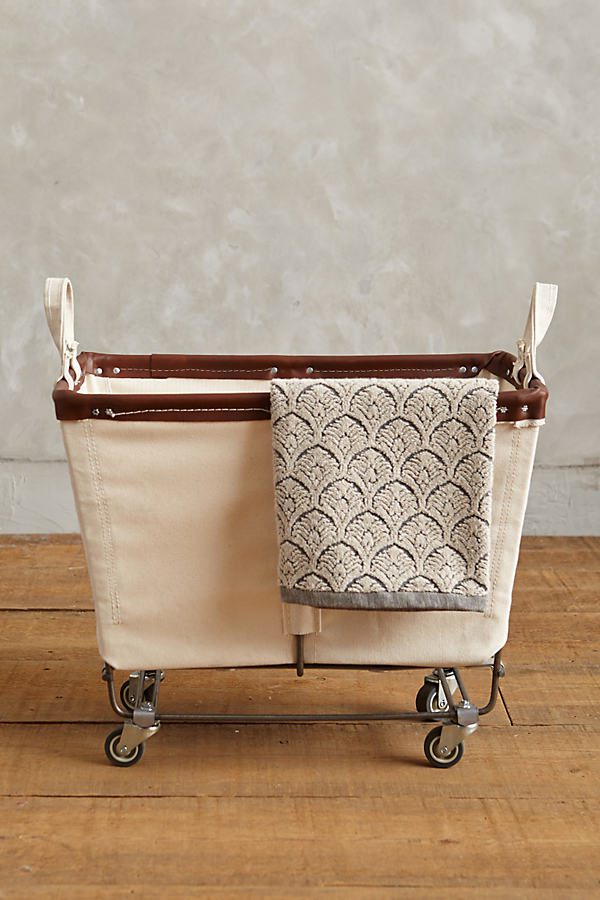 This is the ideal solution for those who don't like lugging around heavy towels. Just pick up one of these elegant canvas hampers from any store near you and be done with these annoying tasks, so your space doesn't become overrun by piles of clothes.
Invest In a Magnetic Storage
Are your washer and dryer are taking up storage space in your bathroom? Well, here's the perfect solution. This handy device has pockets, hooks, and bars that are great for storing all sorts of cleaning supplies, including dryer sheets and spot cleaning solution.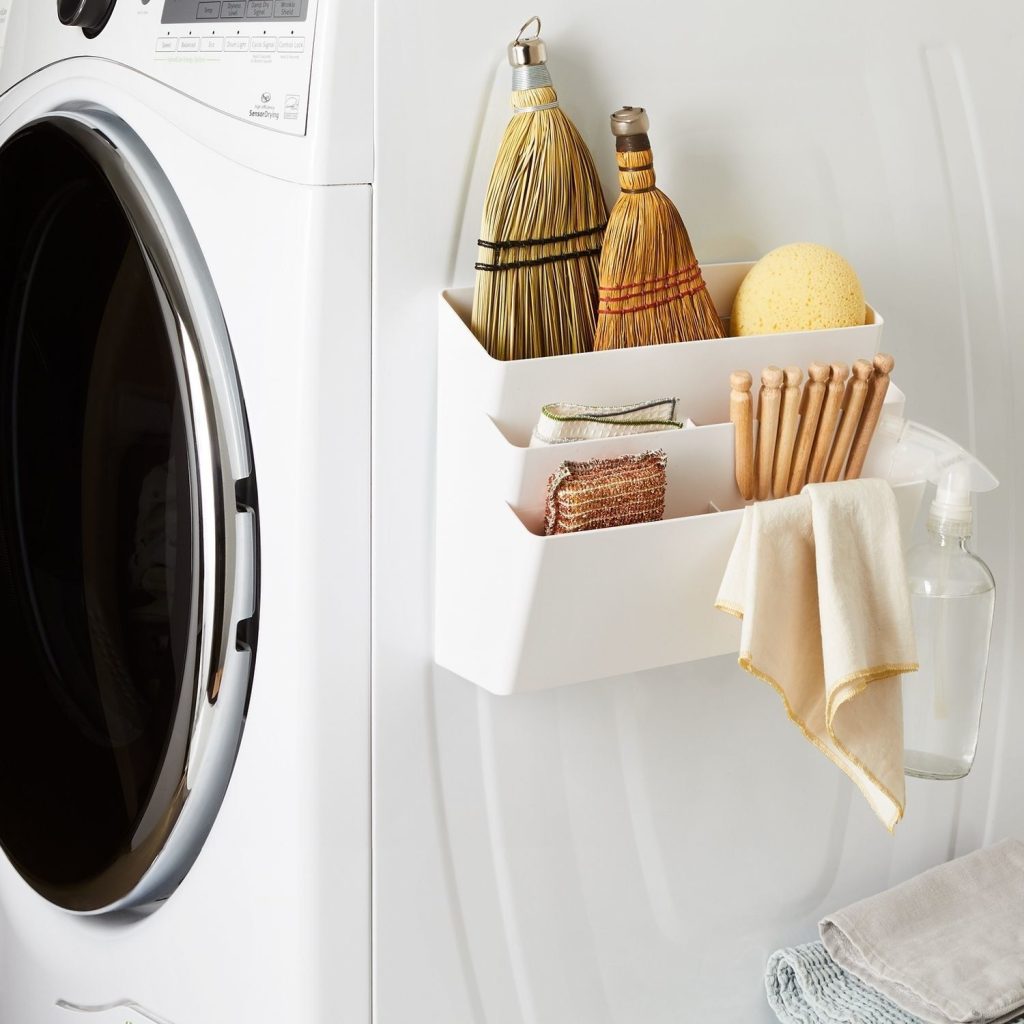 You can even use it as an empty drying rack when you need more than one surface nearby. You can put things like tennis shoes or hats there. There are open spaces, so you don't need to worry about your items getting cluttered again.
Use a Super Slim Rolling Laundry Cart
Let your dryer and washer do the heavy lifting with a custom-made skinny rolling cart. This utility will take up less space than baskets or shelves while still holding all of those cleaning supplies you need on hand for quick access.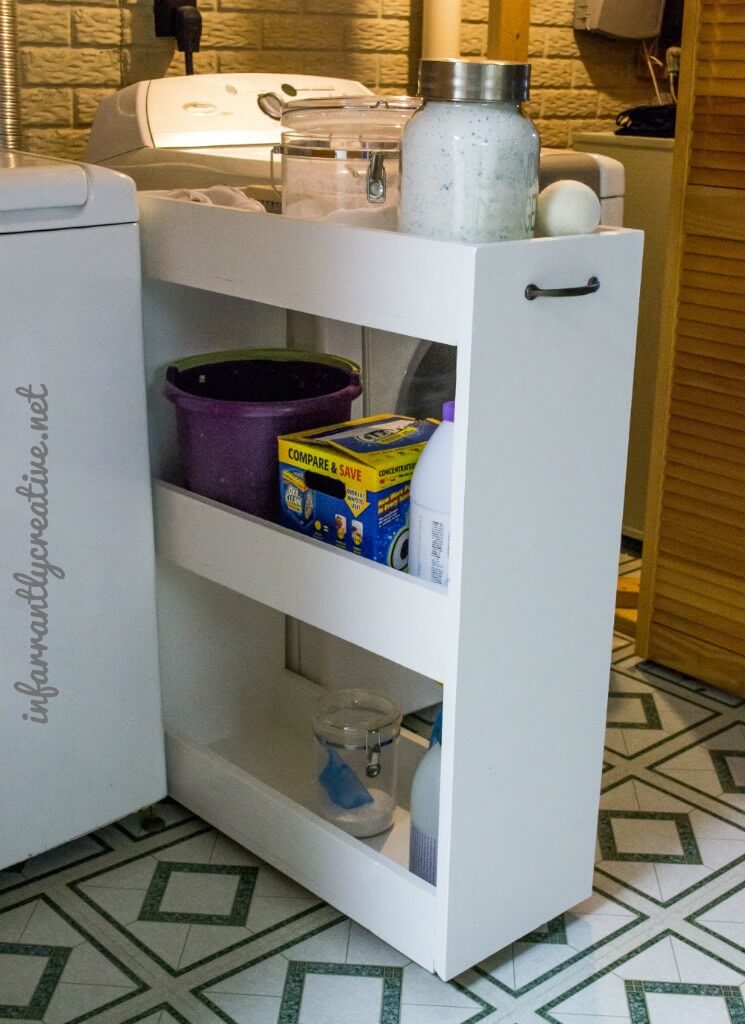 This tower is thin and can fit in small spaces. It is perfect for storing your detergent, fabric softener, and more. This is also a perfect solution in a shared area like an unfinished basement with a washer and dryer.
Drop a Line
Looking for an easy way to hang your laundry? Try using a retractable clothesline. This type of line takes up very little space on the wall but provides nearly eight feet of hanging space for shirts, pants, and more.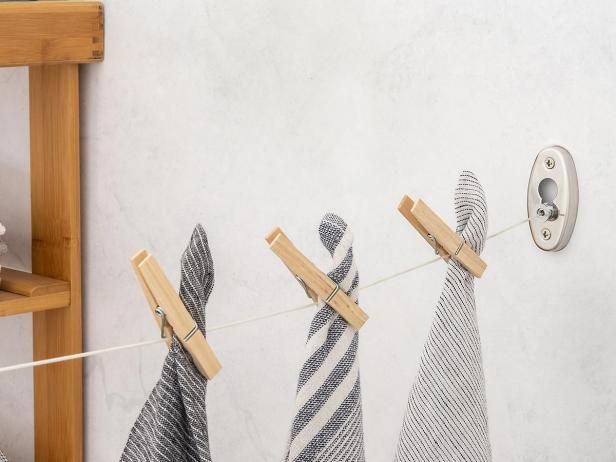 So, next time you find yourself with a few items that can't go in the dryer, give the clothesline a try. You might be surprised that these simple things can work. And they come in many sizes, so there is one out there that's perfect for you.
Make a Dedicated Hanging Space
Hanging items from a bar have many benefits, such as preventing scuffs on the molding and saving someone time by not moving wet clothes off their shower curtain rod. This might be a great hack for you if you have extra space and don't know what to do with it.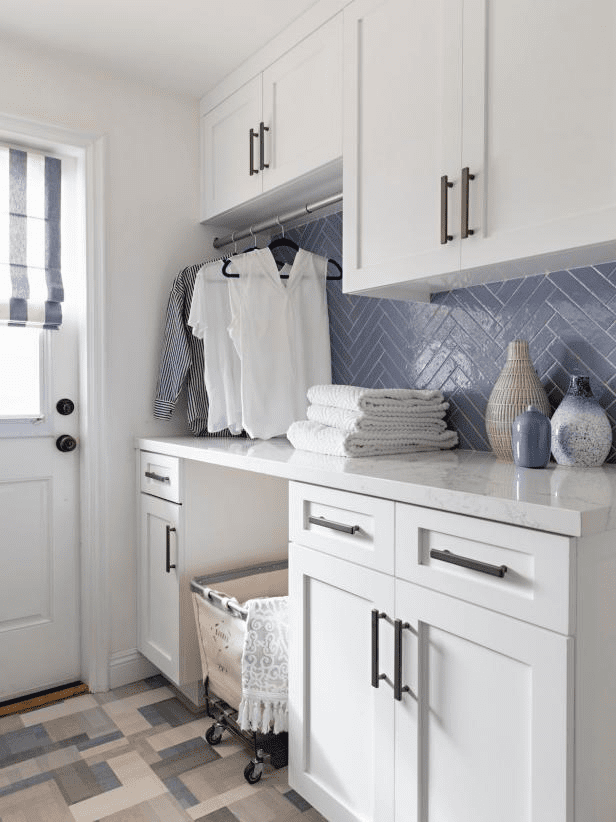 Make a dedicated hanging rack between cabinets or even against walls so that these can be used without taking up valuable countertop space. You'll get the perks of having all your clothes, such as just whites, in one place, so they're easy to grab when you need.
Attach a Pull-Out Ironing Board
The hacks that get you through your day-to-day life never stop serving you to the best of their ability. The next time you're about to catch a finger in the hinge, take note. Because this storage idea will save you from an uncomfortable experience.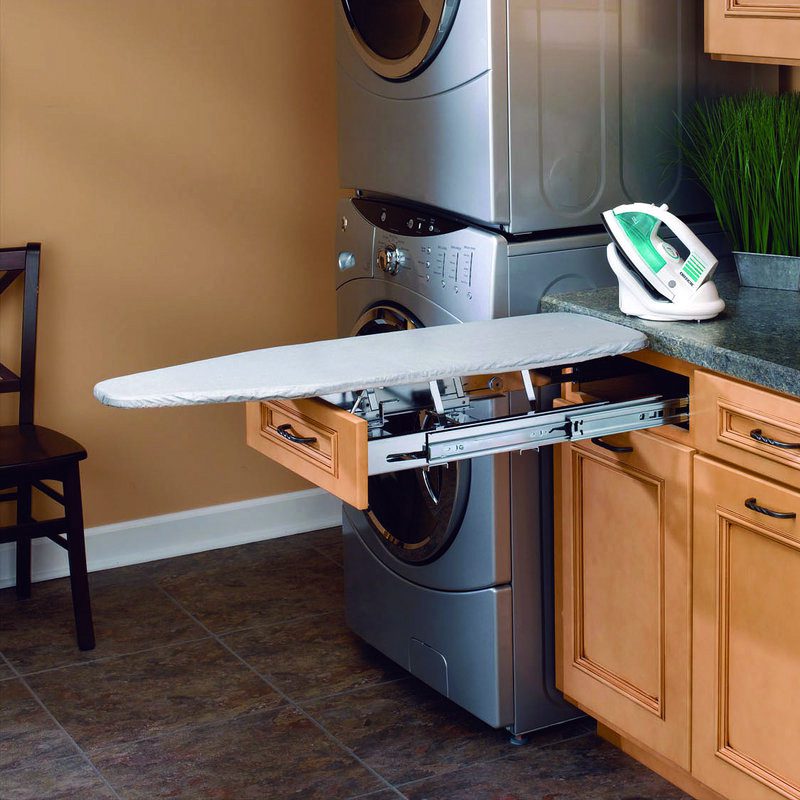 Instead of setting up and taking down an ironing board every time your clothes need to be pressed, this homeowner installed roll-out drawers. It's perfect because it keeps the board close at hand without cluttering up the room with extra laundry essentials.
Mix in Antiques or Vintage Storage Ideas
While we love organizational products, the personality that vintage or antique storage solutions can bring to your space will surprise you, even if you're not big on organization. This colonial home stays true to its character even in its laundry room.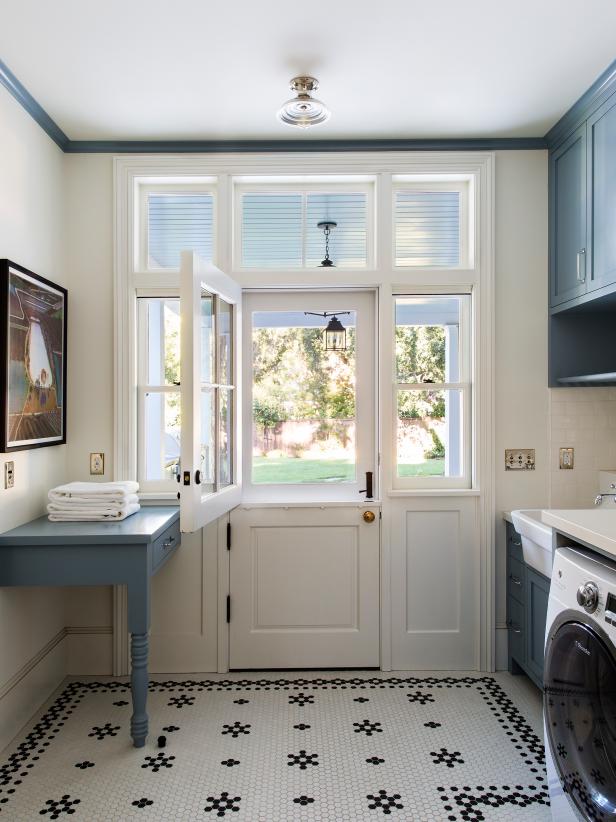 The folding table is an appealing design and practical due to the necessary ventilation. It features a turned leg evocative of early 20th-century colonial homes, giving it that old-world appeal that will be perfect for this space in your home.
Wall-Mounted Basket
The only way to fit all your dirty laundry into storage in a small apartment by stacking them up high. But, what if there was an easier solution? Mounting one of these hampers will give you extra space without taking away convenience.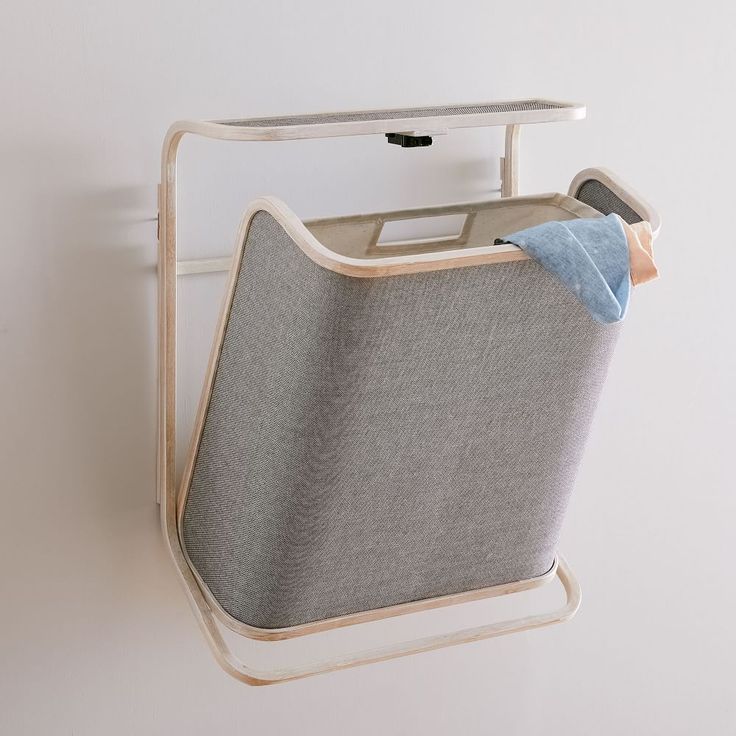 But the larger your household is, the more specific you can be with your hampers. You can use this wall-mount basket for this purpose, and it's also perfect if one kitchen towel needs a high heat antibacterial wash while the other doesn't.
Make Space For More Natural Light in the Laundry Room
If you want to make your laundry room feel less utilitarian, take design cues from this one. The sizable antique sink in this room is a perfect match for its farmhouse-style windows and chevron textured wall tiles that give it an inviting vibe.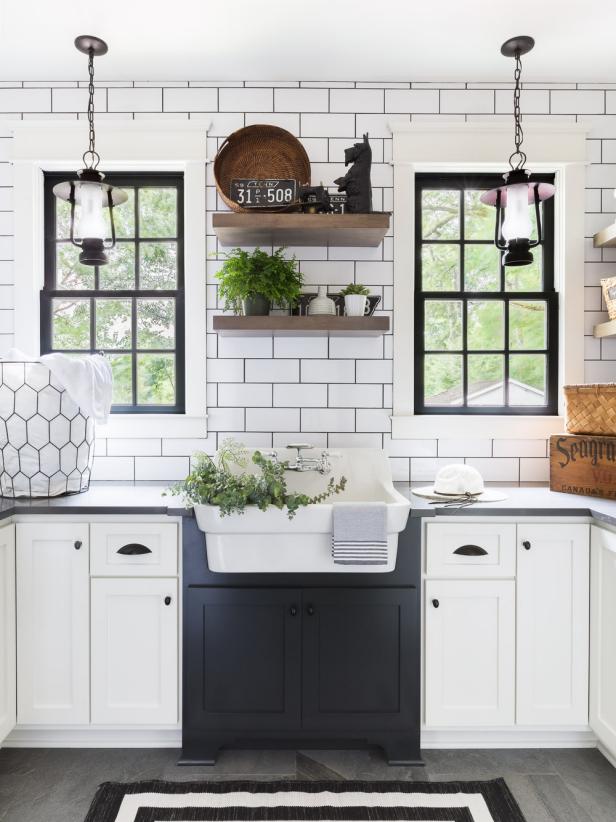 Though your laundry room may seem like an unimpressive space, you can make it feel happier and more welcoming by adding in natural light. It will make you want to spend time there even when the chores aren't calling your name.
Mount a Tiny Lint Bin
Lint is not only a fire menace, but it can also ruin your clothes. So, it's essential to keep an eye out for lint buildup while you're washing. Make sure to wipe the filter tray after each load to avoid this dangerous problem.
You can place this little reminder near or on top of any dryer vents if you have space available. We also love how creative its retro font looks. This can help remind us all about safety during laundry day.
Invest In the Retro Laundry Containers
Unsightly, plastic boxes were so last year. For a more stylish and environmentally-friendly option, try the sophisticated storage tin. This vintage design is perfect for storing detergent or gel pods in style, with its matching scoop included on the side.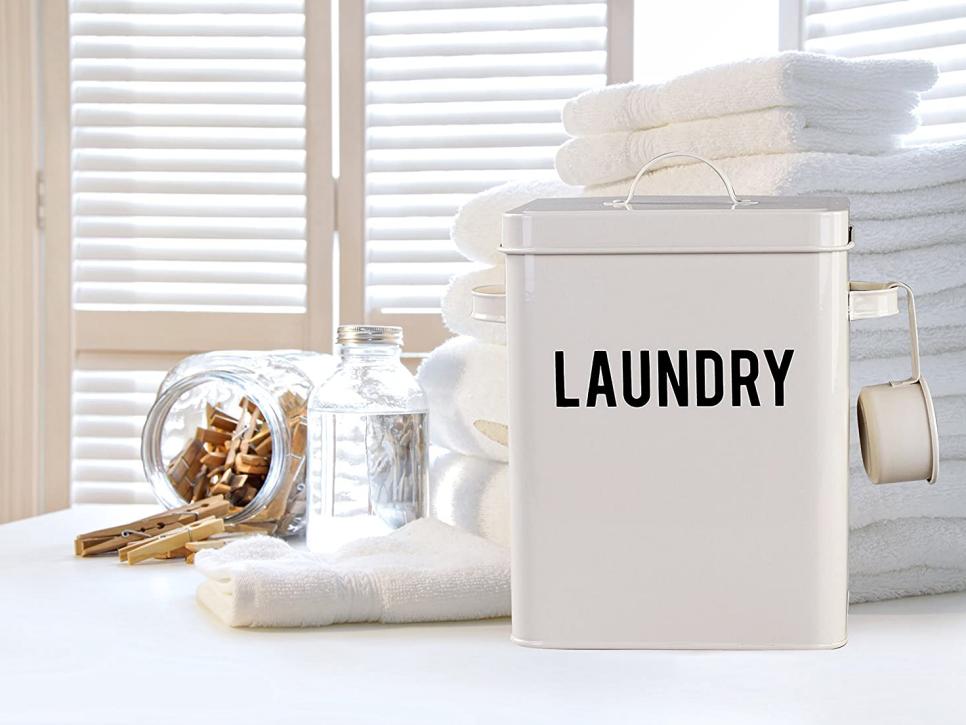 They're perfect for holding heavier items like laundry detergent, fabric softener, and dryer sheets. You could also use them to store cleaning supplies or other odds and ends. Not only do they look wonderful, but they also come in a variety of sizes.
Compact Folding Bar
This is the perfect multifunctional piece. This handy little bar can be used as a hamper or to hold your towels. It's wide enough that you could even stack some more items on top, like laundry baskets, without making it too cluttered.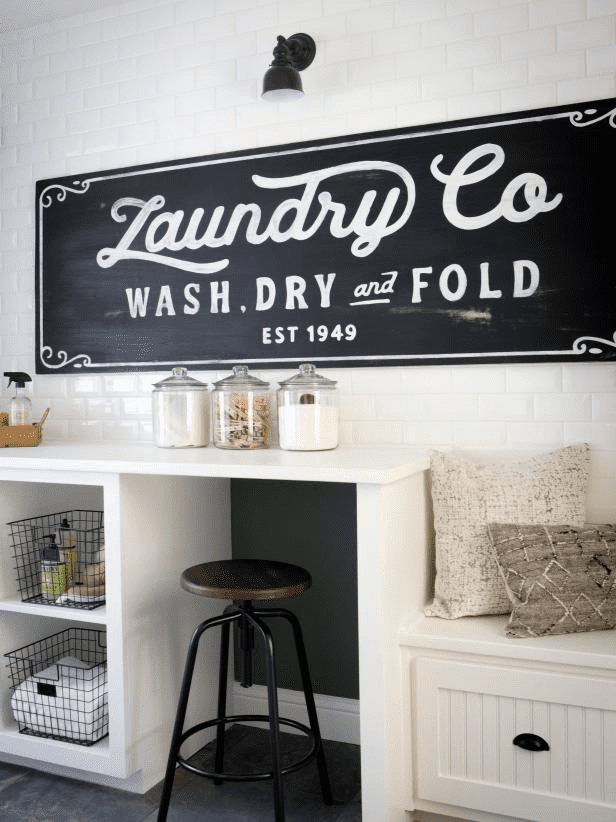 Not only does it look exceptional, but it's also the perfect width for a laptop if you're working from home and multi-tasking. The best part? It folds down, so it doesn't take up valuable space when you're not using it.
An Area for Everything
In need of storage for your laundry? Look no further than this small-space cabinet. The adjustable rack and folding platform will keep all the things you love in one place without taking up too much floor or tabletop space.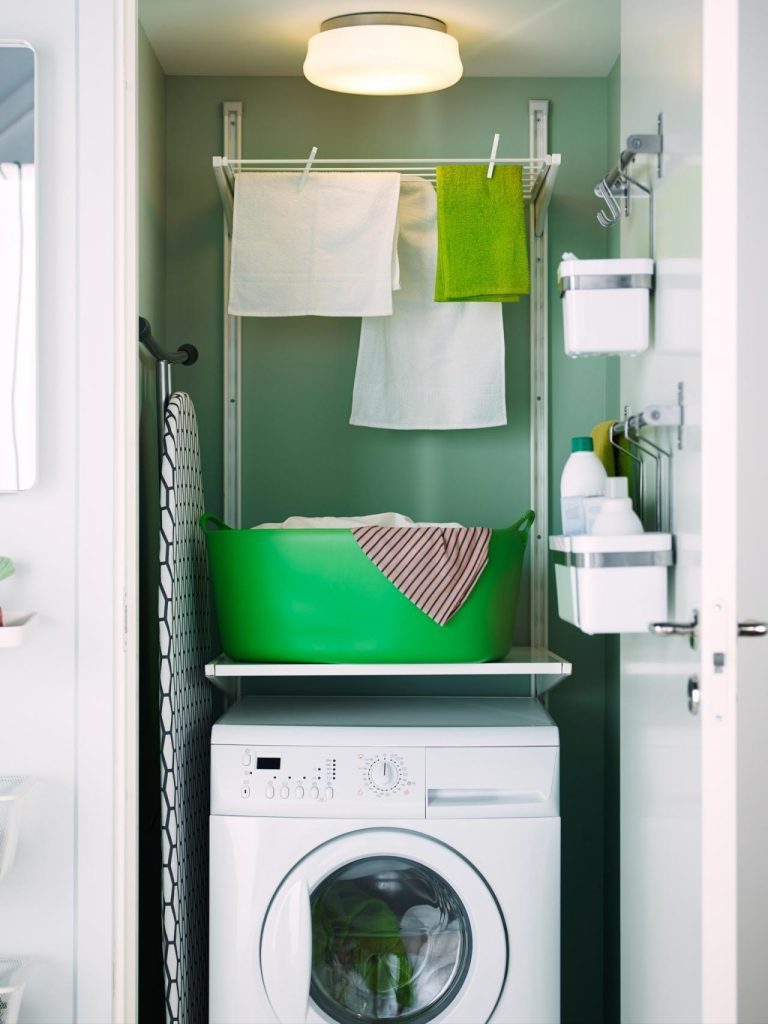 Plus, the baskets mounted on the wall will allow you to keep all items like socks and accessories secure while also making sure they can be found easily when needed. So there's no need for maddening clutter on top of cabinets.
Upgrade to a Sliding Door
Consider a sliding barn door if you want to update your laundry room. These are great to add some style and character to your laundry room. You can obtain a modern, industrial look with these types of doors that are functional too.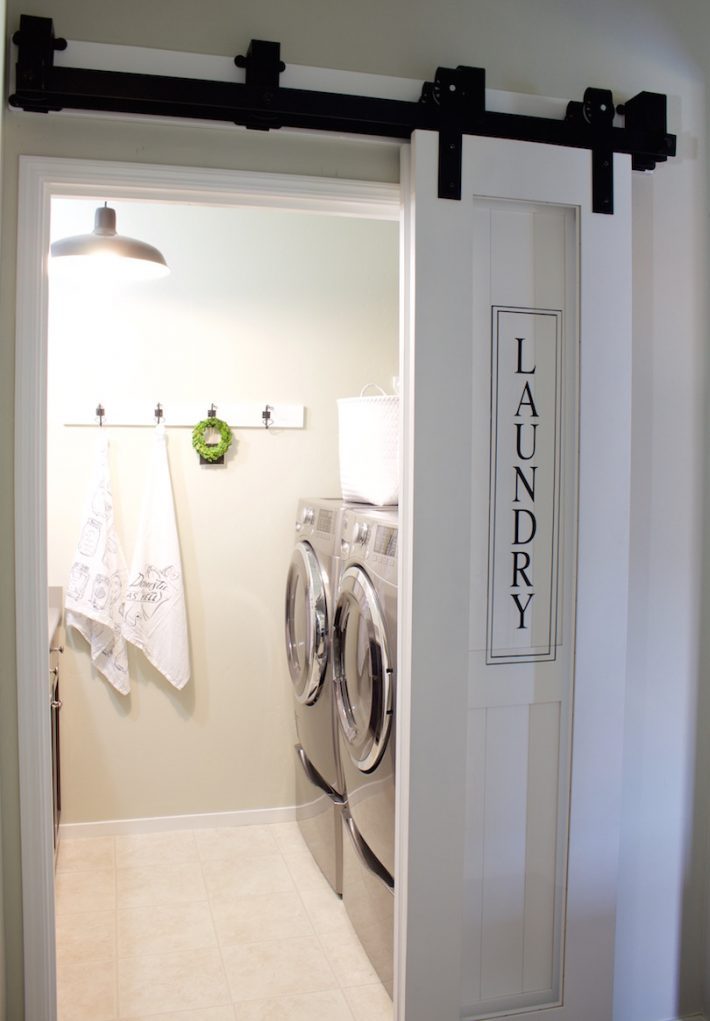 Sliding doors are the perfect solution for small spaces. They allow air circulation when appliances such as dishwashers and washing machines are running. But, you can even close them slightly if you guests are visiting and the washing machine and dryer are too loud.
Create a Space for Steam Station
There's no better way than steam when you need to get rid of wrinkles quickly. Installing a valet hook in the laundry room is one of those easy upgrades that make life easier. Plus, these are more convenient for steaming blazers or dresses.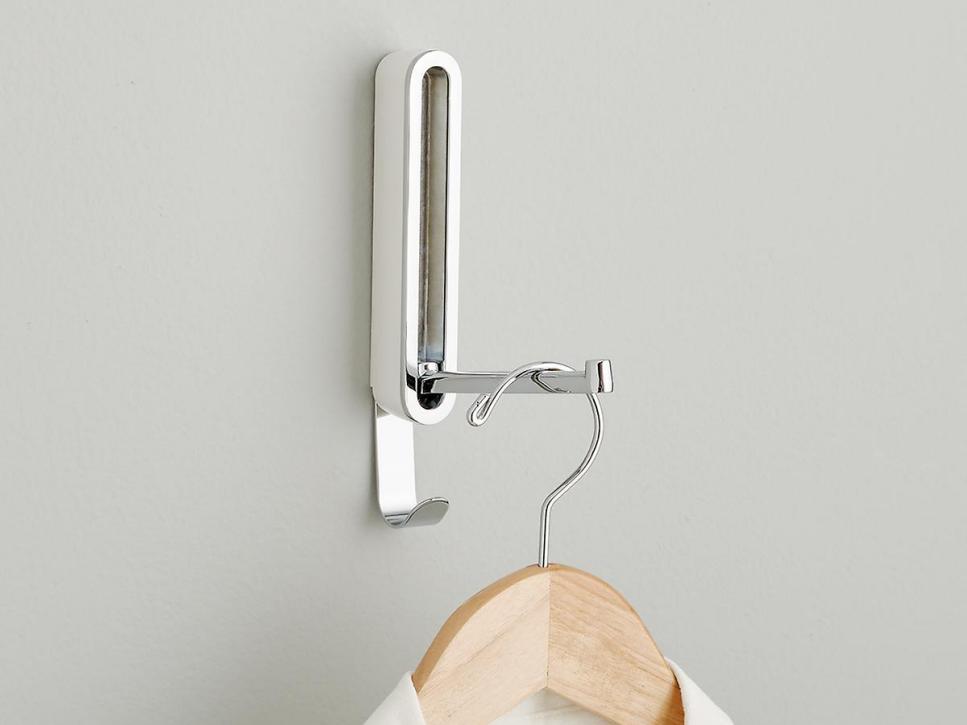 Simply pop out one side so that hooks inside can hold up garments without them getting wet. This neat little device will help you quickly and easily remove wrinkles while also making it easy to hang up your delicate clothing items.
Over-the-Door Storage
You can get creative with your storage solutions in the laundry room with a little creativity and inexpensive items. The over-the-door rail is perfect for holding brooms and ironing boards, so they're out of sight when you're not using them.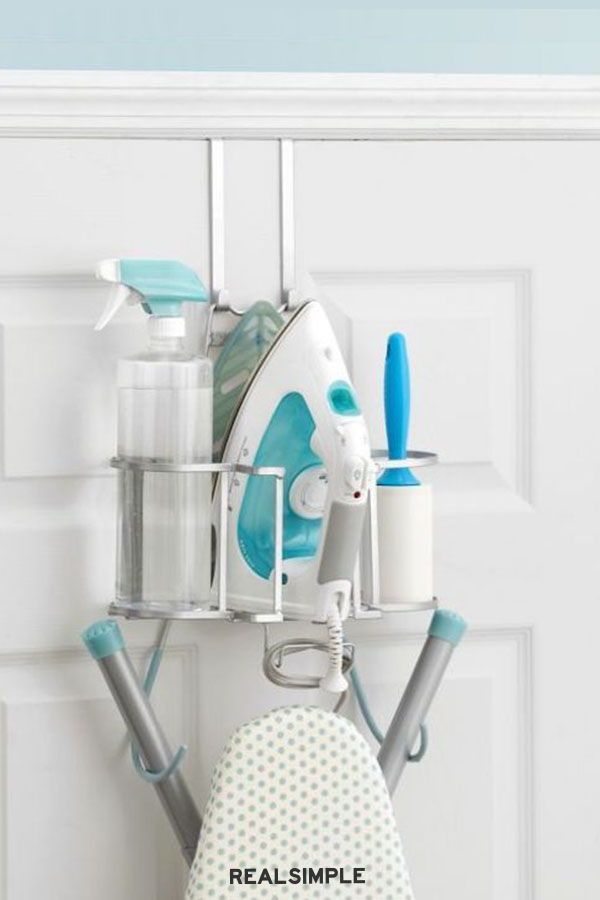 If you want to keep your laundry space tidy but also have a utility closet in this space, this hack is the best option for you. It will keep vertical things off of the ground. The rack even holds heavy items like an iron or detergent bottle.
Separate Delicates
Many people store their delicates in the regular wash and forget about them until they get all wet. If this has happened to you, purchase a hamper with wheels that can be rolled up when not used as not to damage any fabric.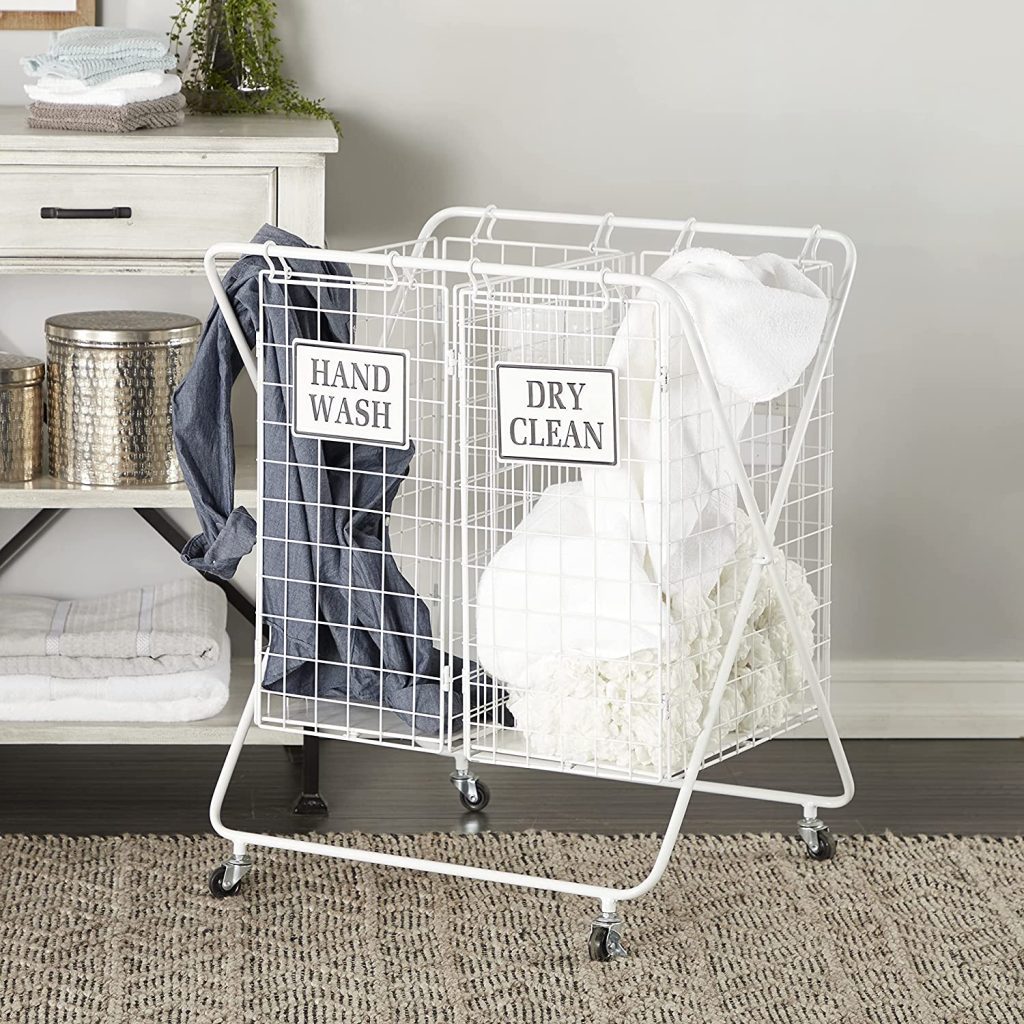 The intelligent design of this station means you don't have to worry about your silk fabrics getting mixed with others. When it's not used, it pops out like magic but then slides back into place, so they're never out on display.
Clever Coat Hooks
There are many different ways to keep an ironing board from rolling away. One of the simplest is with two coat hooks, which you can use on either side of the wall so it can hang close by in case you need to iron your clothes.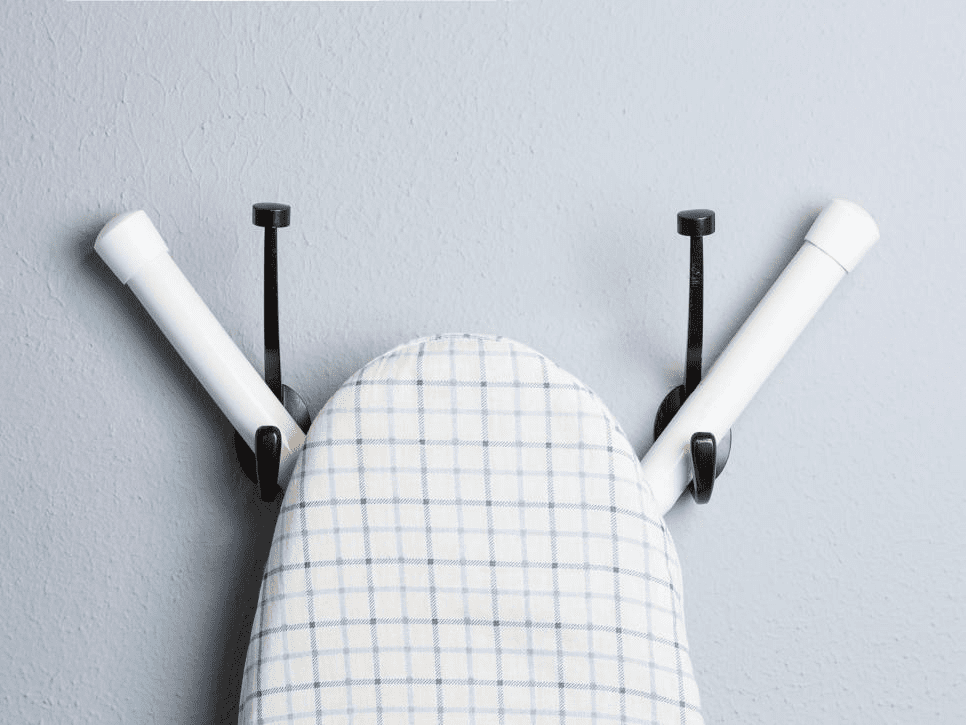 This hack keeps a large ironing board up off the ground and flat against your wall. It's perfect for those who don't want to use an over-the-door rack but still need somewhere secure where they can have easy access when needed.
Adorable Vignettes
If you're short on space but want to be able to keep your shelves tidy and organized, then floating shelves are the perfect solution. Just make sure that they can hold the weight before adding extra heavy-duty items like detergent bottles or an iron.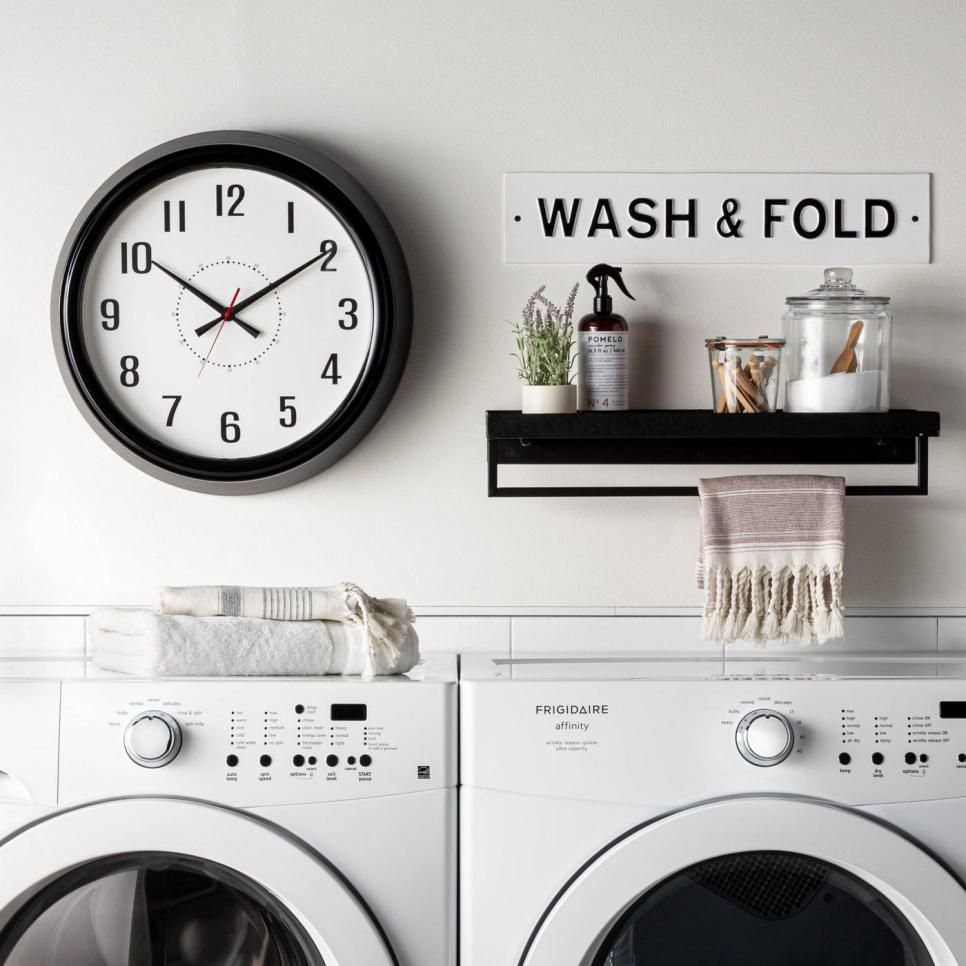 A little vignette might not seem like much, but it's the perfect way to make floating shelves feel less random and more intentional in your laundry room. This vintage style will look fantastic and aesthetically pleasing when doing the laundry.
Twist Lost Socks Into Found Art
Look at all of your lonely socks. They're just sitting around not being used. We think it's time for some new art on your wall, and what better way than using lost pieces to show off with the help of this funny and functional sign.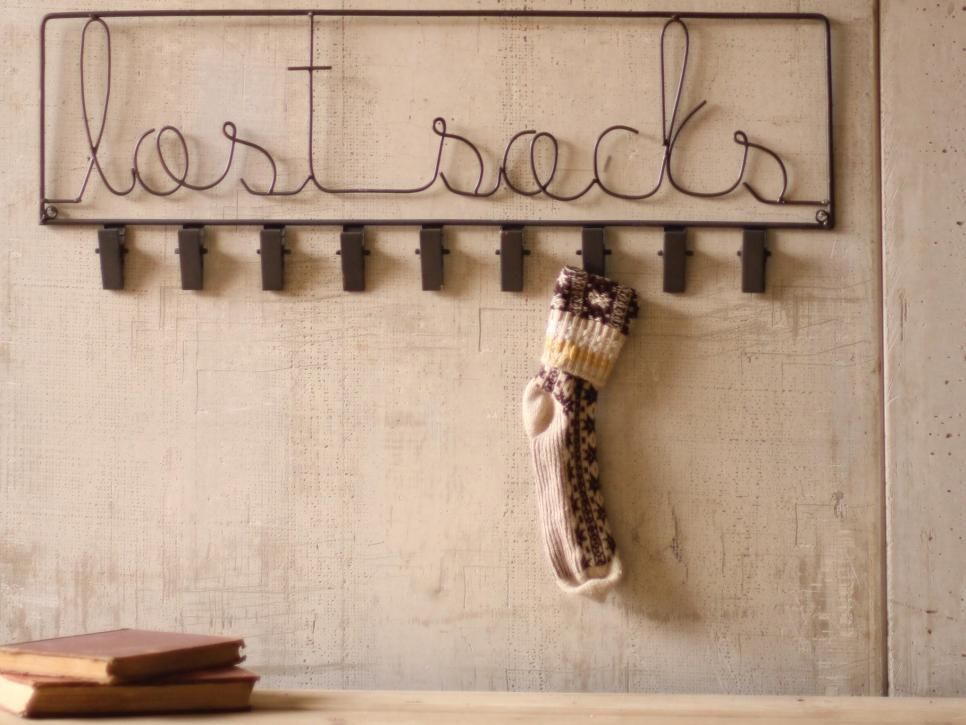 This sign can help you find the perfect match by putting singles in order, so when someone sees one sock, they know where its partner is located—no more trying different colors or patterns together haphazardly when you have this in your laundry room.
Give Your Appliances a Lift
The best way to maximize your laundry room storage space is by using a pedestal dresser under the washer and dryer. These drawers are explicitly designed for washers and dryers, which means they'll fit perfectly with little effort on your part.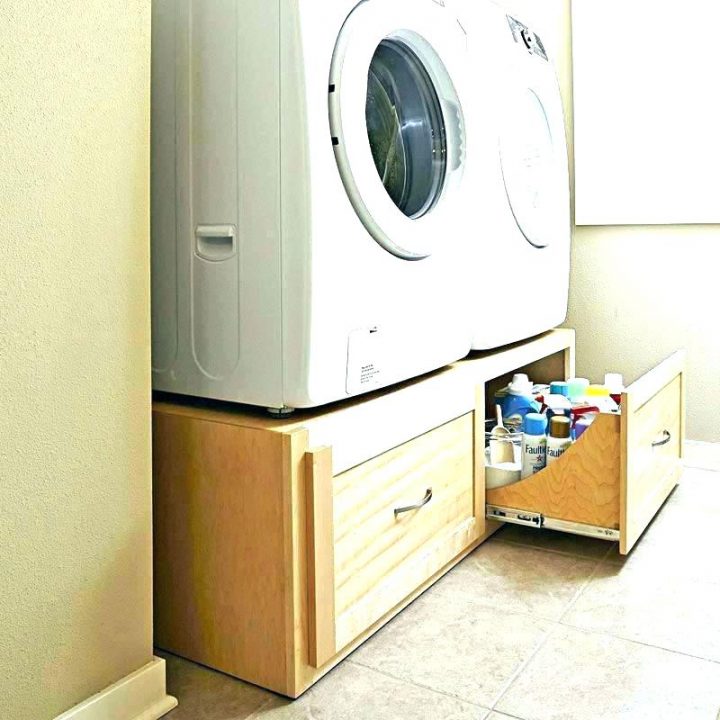 Many manufacturers present versions that perfectly fit their models, so you'll have no problem finding one that fits. Plus, the addition of extra height will make loading easier too. This can be especially helpful when it's time to upgrade your appliances.
Stackable Storage
As an apartment dweller knows, stacking storage is always a good idea. This rolling unit is the perfect solution for putting up or moving laundry in a shared residential building. The cart comes with an integrated handle and baskets.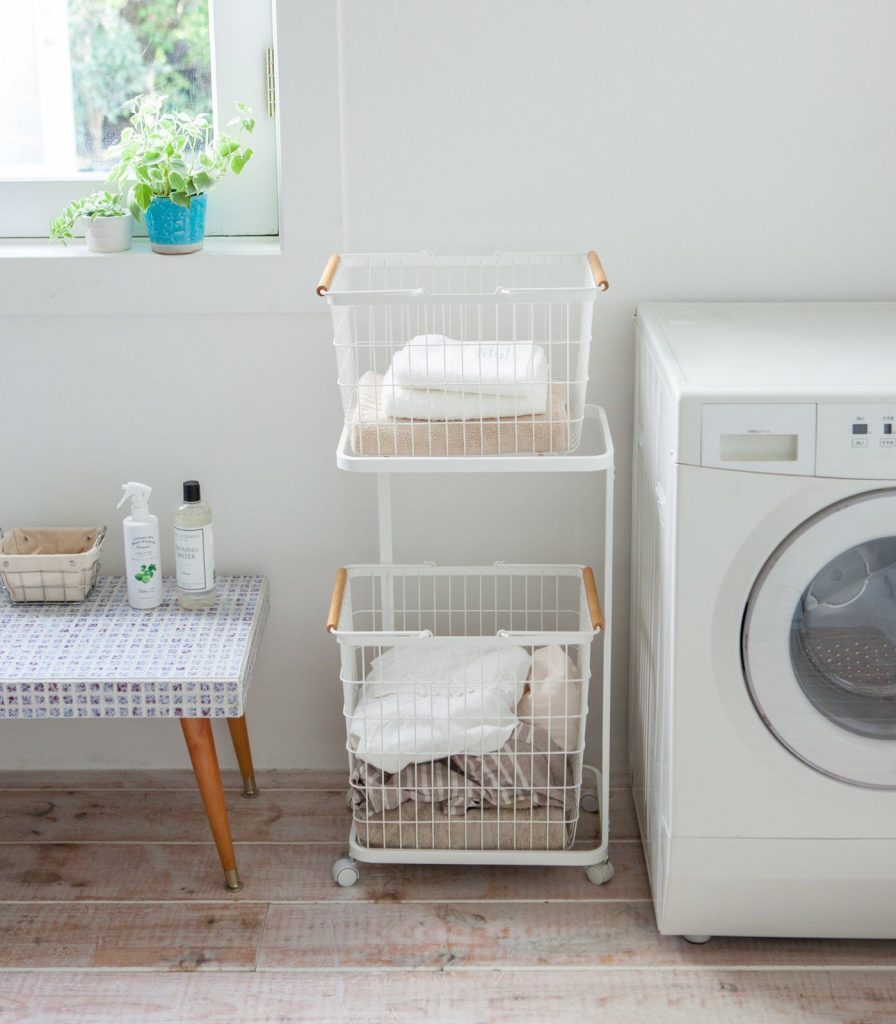 It can be used for both storage and transportation. It has a low weight capacity, so it doesn't take up too much room in your space. The top basket is removable, which means you can take things out when you need them.
Conceal Your Dirty Laundry
You can have a room that's not only efficient but makes the process streamlined and easy-to-use for you. There are plenty of ways how to do this, like using sorting bins or creating an area where everything goes into one place.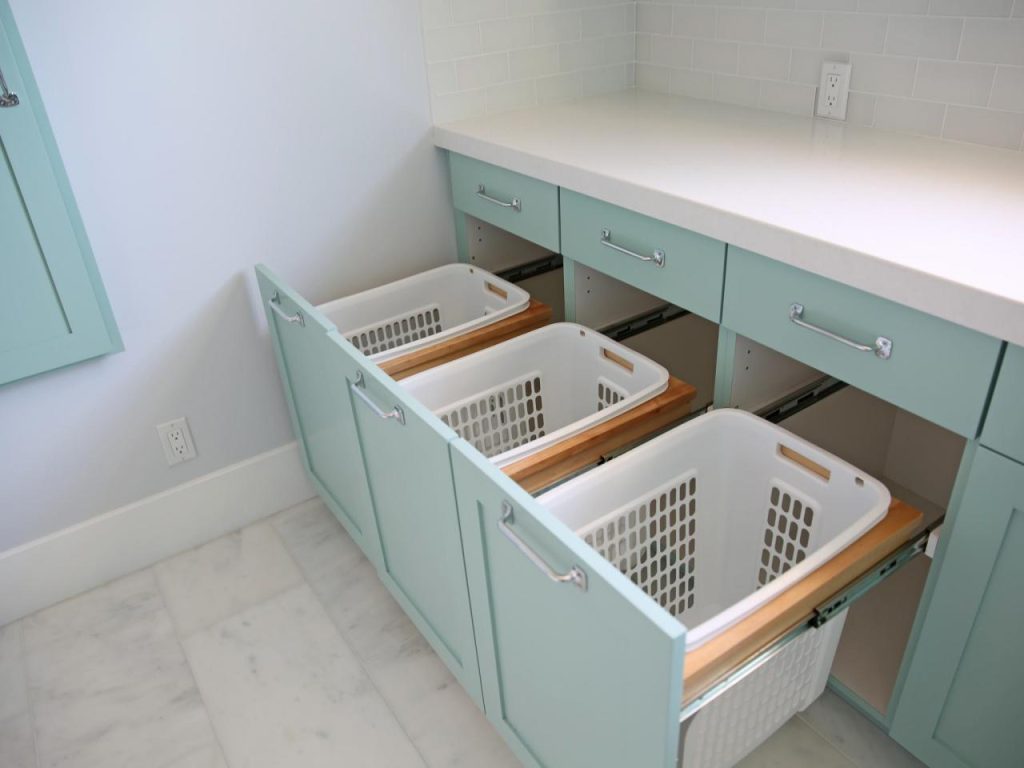 Instead of cluttering up space in one place, create separate areas for everything from lights and darks (to keep things organized) as well as towels. So they're easy enough to access without taking over any room or getting mixed together.
Hoard Supplies in Style
If you don't want to clash with your color palette, try transferring the dryer sheets into a more in-line container. Consider getting an old metal box for adding some personality and style. The pattern will add a perfect touch.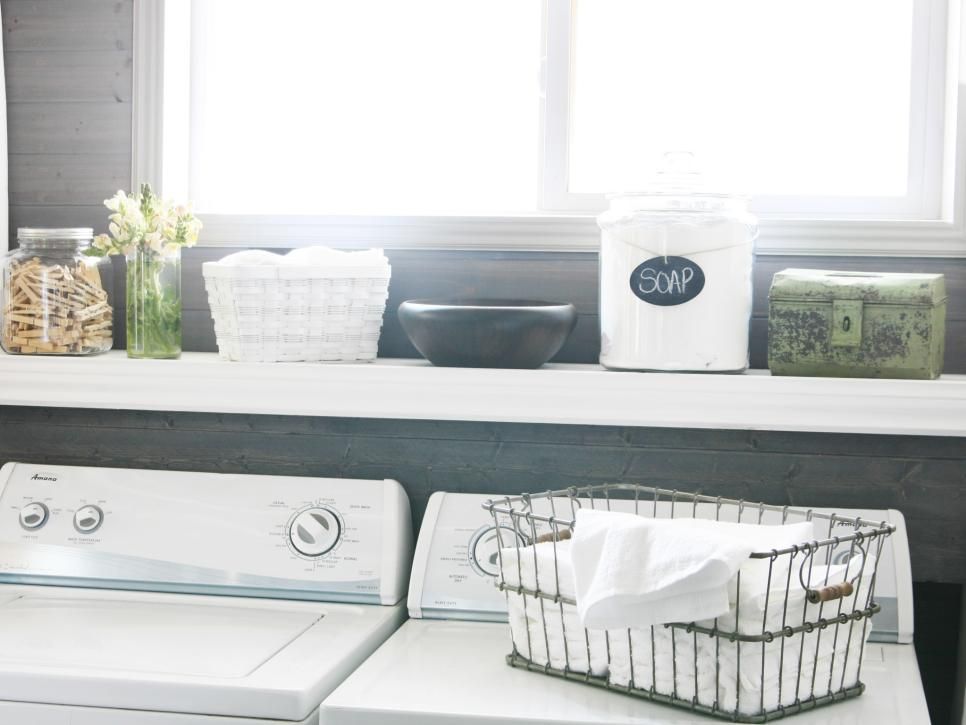 A beautiful old metal box will give off just enough vintage vibe to match any decor while holding all those precious little packets inside. This will not only add delicacy to your laundry room but also keep clutter at bay.