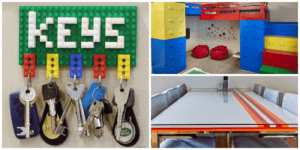 Brick By Brick: 35+ Creative Ways To LEGO-fy Any Living Space
By Bruna L
---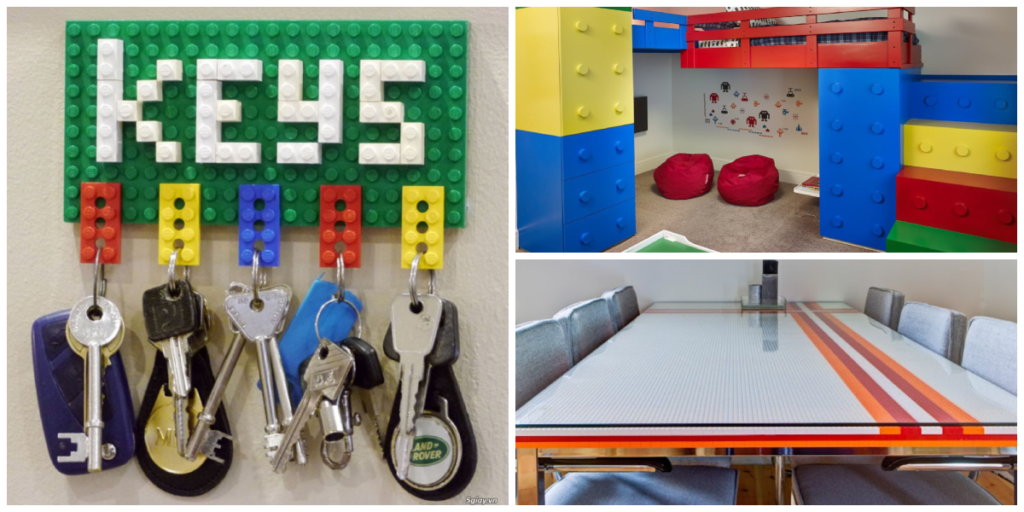 For a long time, people considered LEGO bricks to be nothing but toys for kids. Thankfully, we've moved past this! Nowadays, everyone can play with LEGOs, and we even have sets aimed at a more mature audience. More recently, though, we've seen an explosion of LEGO-inspired furniture and décor. It makes sense, of course. With their multitude of colors and endless possibilities, it was only a matter of time before we got where we are now.
If you also want to build your own LEGO decoration, you've come to the right place! It doesn't matter if you're a LEGO enthusiast or just someone looking for some fun home décor ideas; the projects below are sure to get your creative juices flowing! From wall art to tabletops, here are 40 ways to decorate your house using LEGO. Watch where you step and enjoy!
LEGO couch
Do you know how food sometimes looks gross or unappealing, but it actually tastes amazing? Well, the same goes for furniture. The couch below is the perfect example of this. It looks stiff and uninviting, but looks can be deceiving!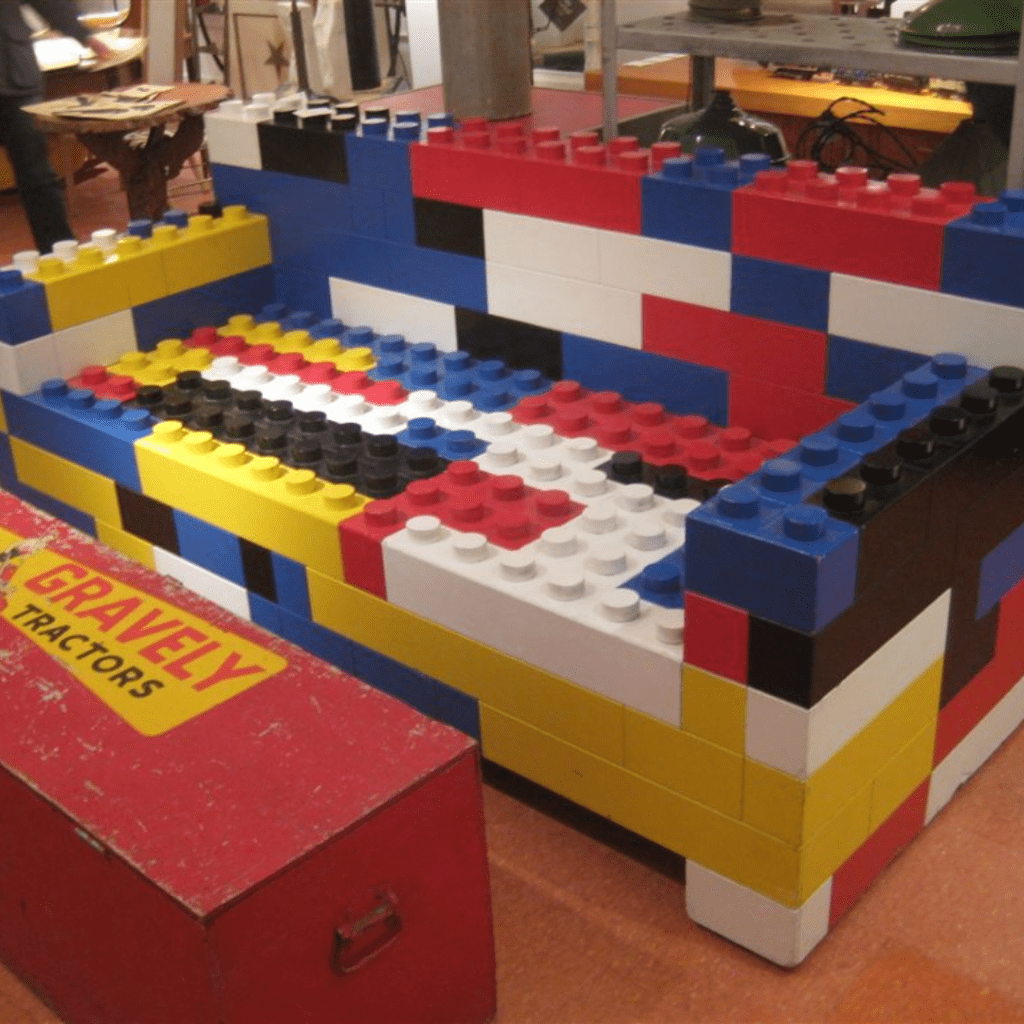 Surprisingly enough, the oversized LEGO bricks actually provide some comfort when you're sitting on this couch. We'll admit that it still is relatively uncomfortable when compared to a well-worn leather couch. But hey, at least it looks super cool, right?
Modern bed
When you have a cool design idea, it's easy to get distracted trying to improve it infinitely. You may think it's too simple and need something else, some different flavor, but there is beauty to be found in the simplest things if you think about it!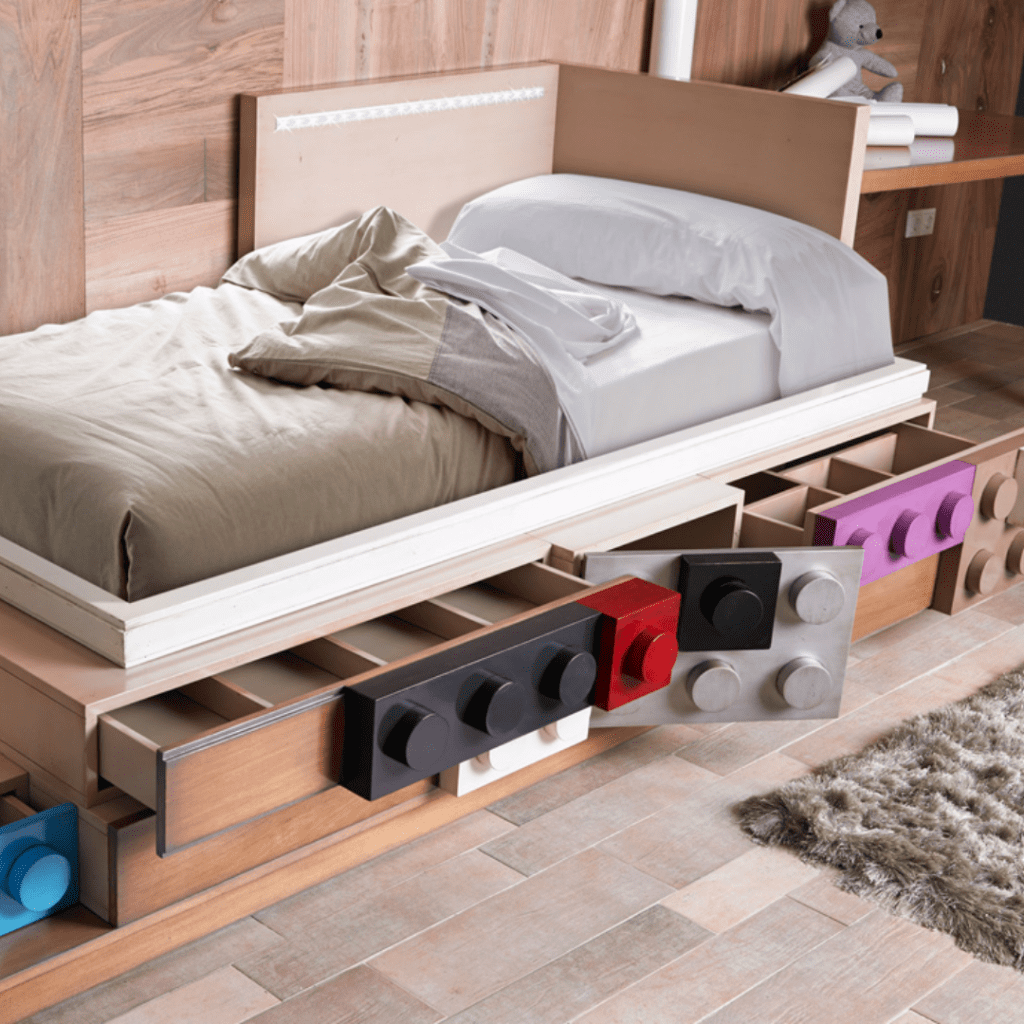 The LEGO-inspired bed above, for example. Its design is very modern but nothing out of the ordinary. What brings its inner beauty out is the addition of the oversized LEGO bricks on the drawer handles! That's the different flavor right there, but still keeping it simple!
Playroom nook
Every kid is different, yet they're all still the same, in a way. It's funny how that goes, right? But it's true, and if your kid is on the more energetic side of things, a proper playroom may be needed to keep your household calmer.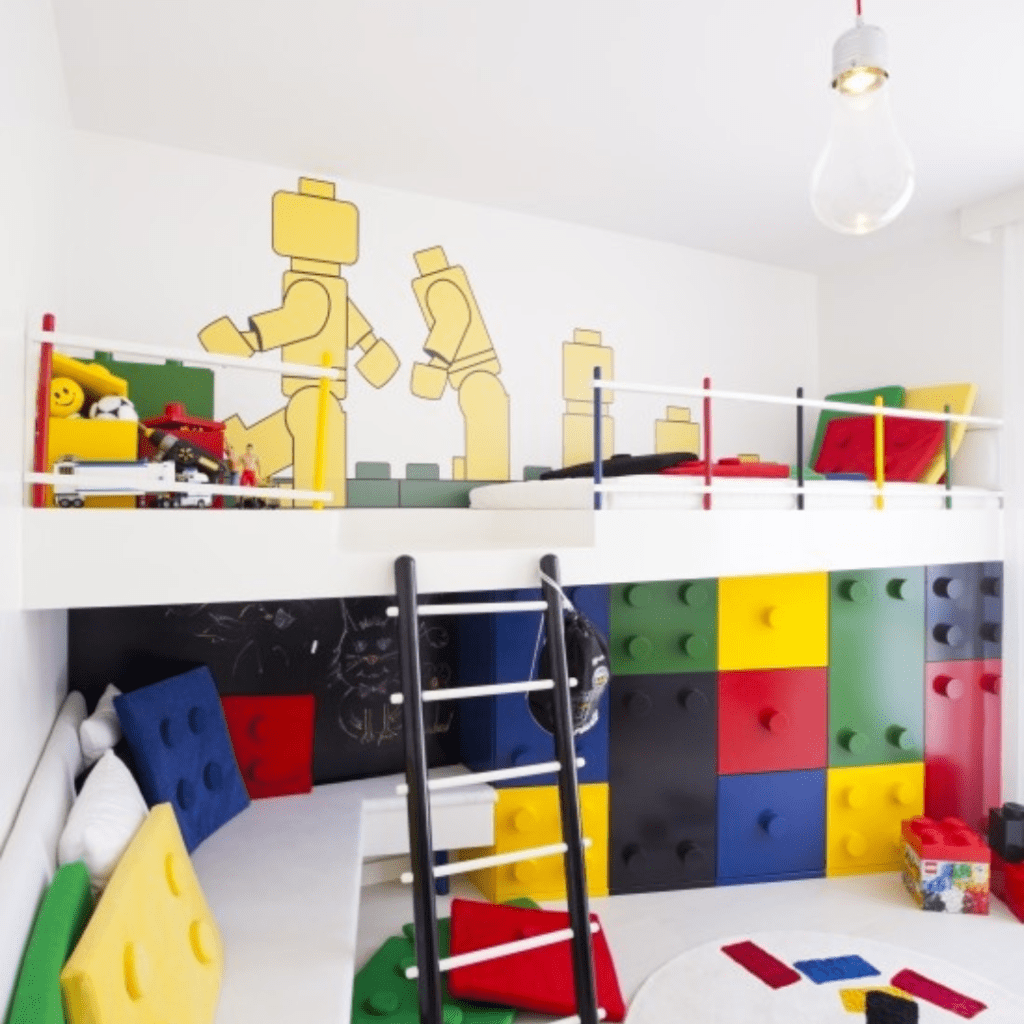 That's why this LEGO play space would be a dream come true not only for your kid, but for you as well! It is definitely the perfect place for your child to explore and expand their imagination and creativity, don't you think?
Colorful coffee table
If you're in the middle of renovating your living room and want a piece of furniture to really catch your guests' eyes, look no further than the coffee table below. What makes it so unique that it made it onto our list? A quick look will answer your question!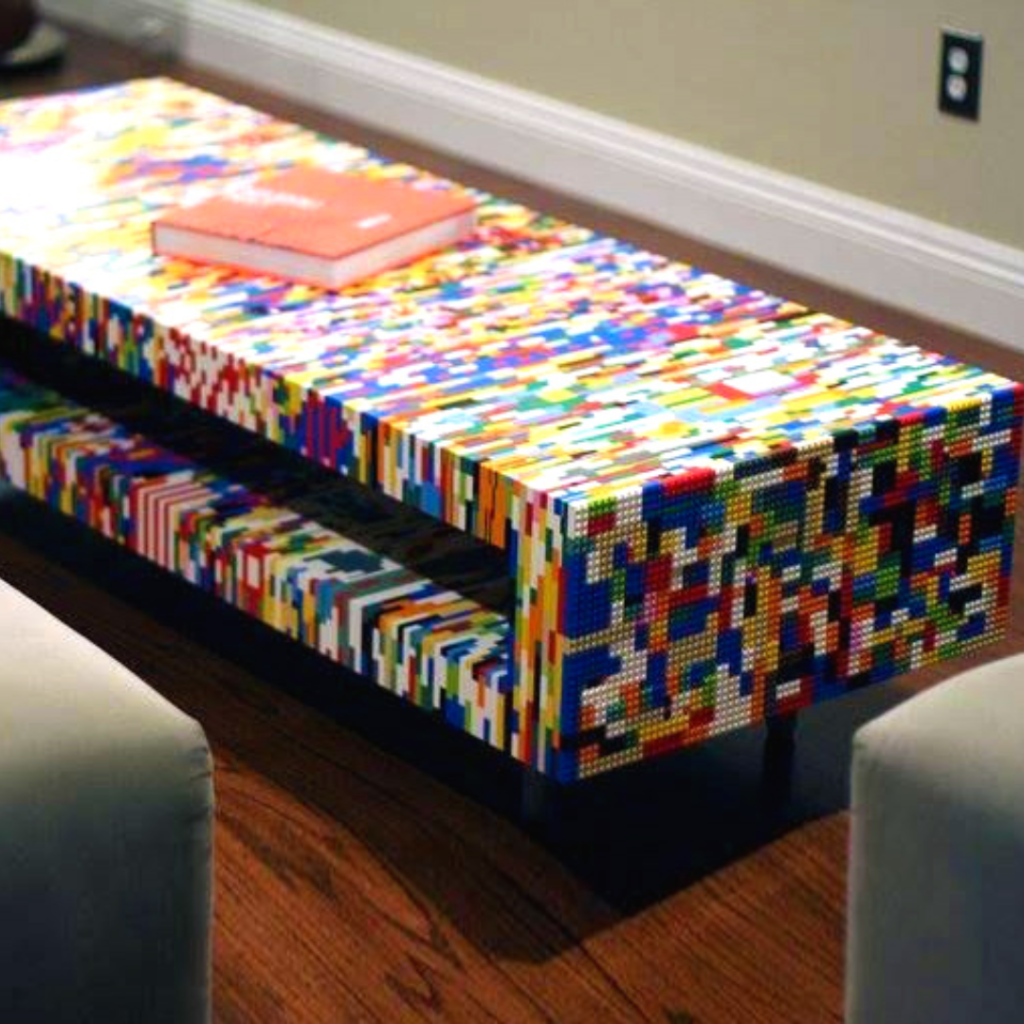 It's made out of LEGO bricks! While the design itself is nothing new, the addition of the bricks sure sets it apart from the other tables out there. And stability isn't a concern. There is a solid wood base under all those LEGOs.
Fruit bowl
Even if you aren't a parent, you know how rowdy kids can be. Kids are always full of energy, after all! While you can't get them to stop bouncing around, you can put that energy to good use. Perhaps building some small home goods would be a good outlet for them.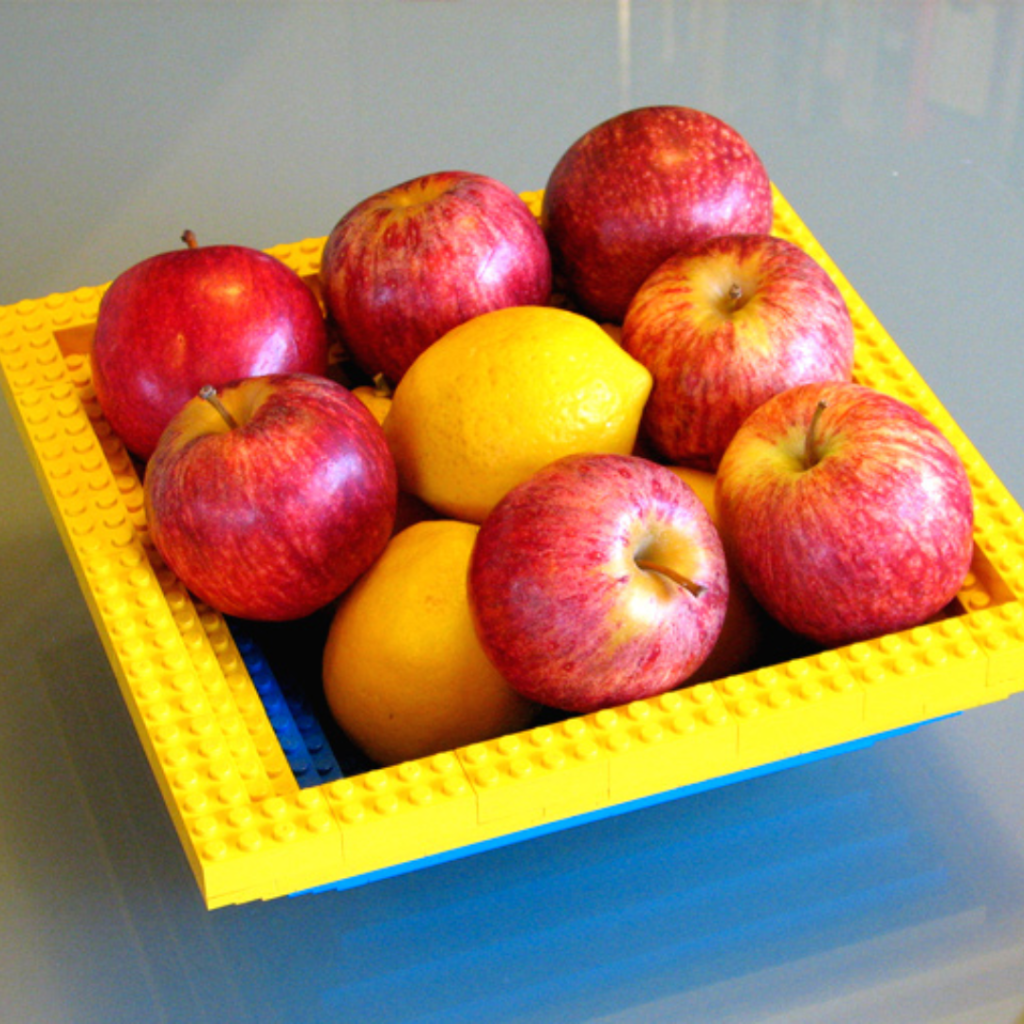 No, we're not talking about wooden furniture that requires dangerous power tools; we're talking about LEGO ones! Something simple, like this fruit bowl here, is a perfect example. It's small enough that it can be done in a single afternoon and won't cost much.
DIY clock
If you're a handy person, then you know there is nothing more fulfilling than building something with your own hands. It doesn't matter what it is. It can be a table, a chair, or a candle; as long as you're the one making it, you're happy!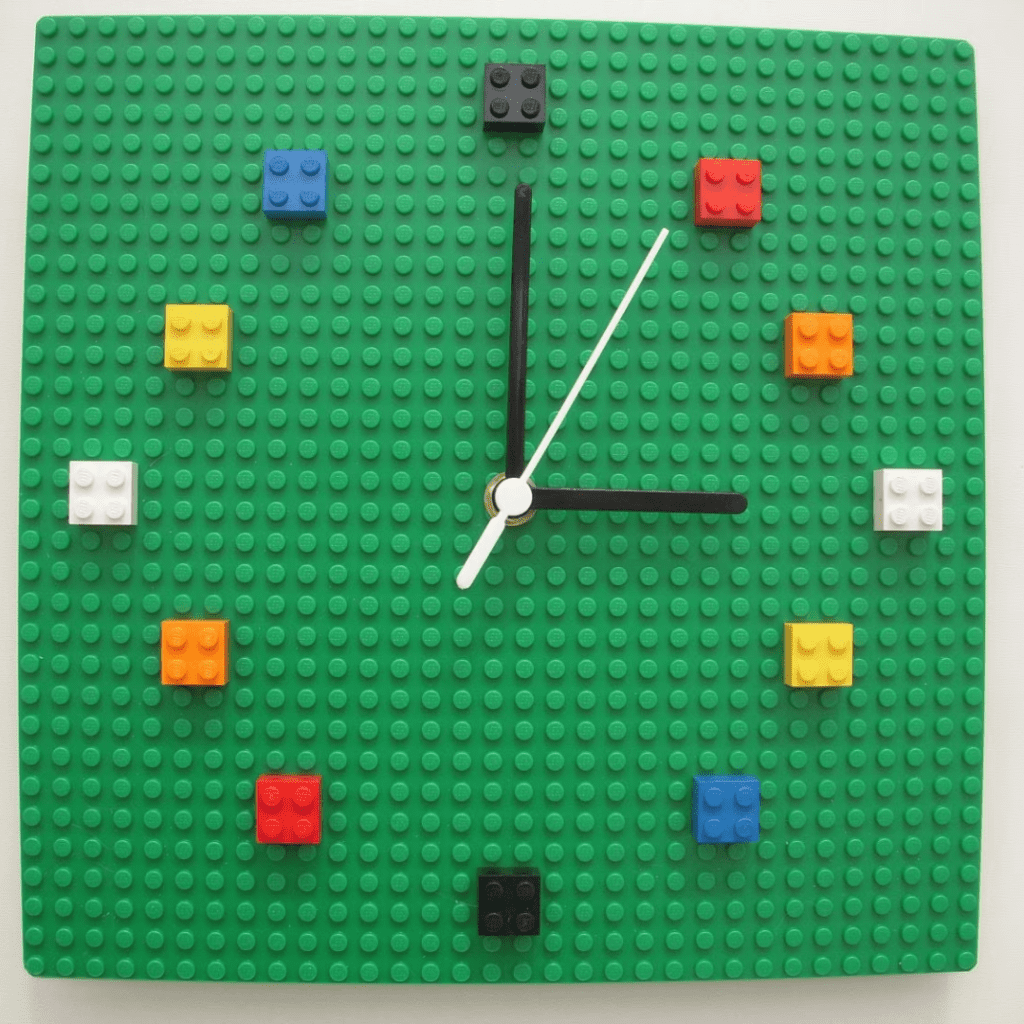 Now, if you also happen to like LEGO, this is the perfect project for you—a LEGO clock! You only need a few LEGO pieces and a clock kit. Then, just put the pieces together, and voila! You have something truly unique for your house!
Plant vase
Plants are a great addition to any house decoration. They're an amazing way to add a pop of color and a touch of nature to any room. Best of all, with so much variety out there, you can easily find a plant that fits any décor.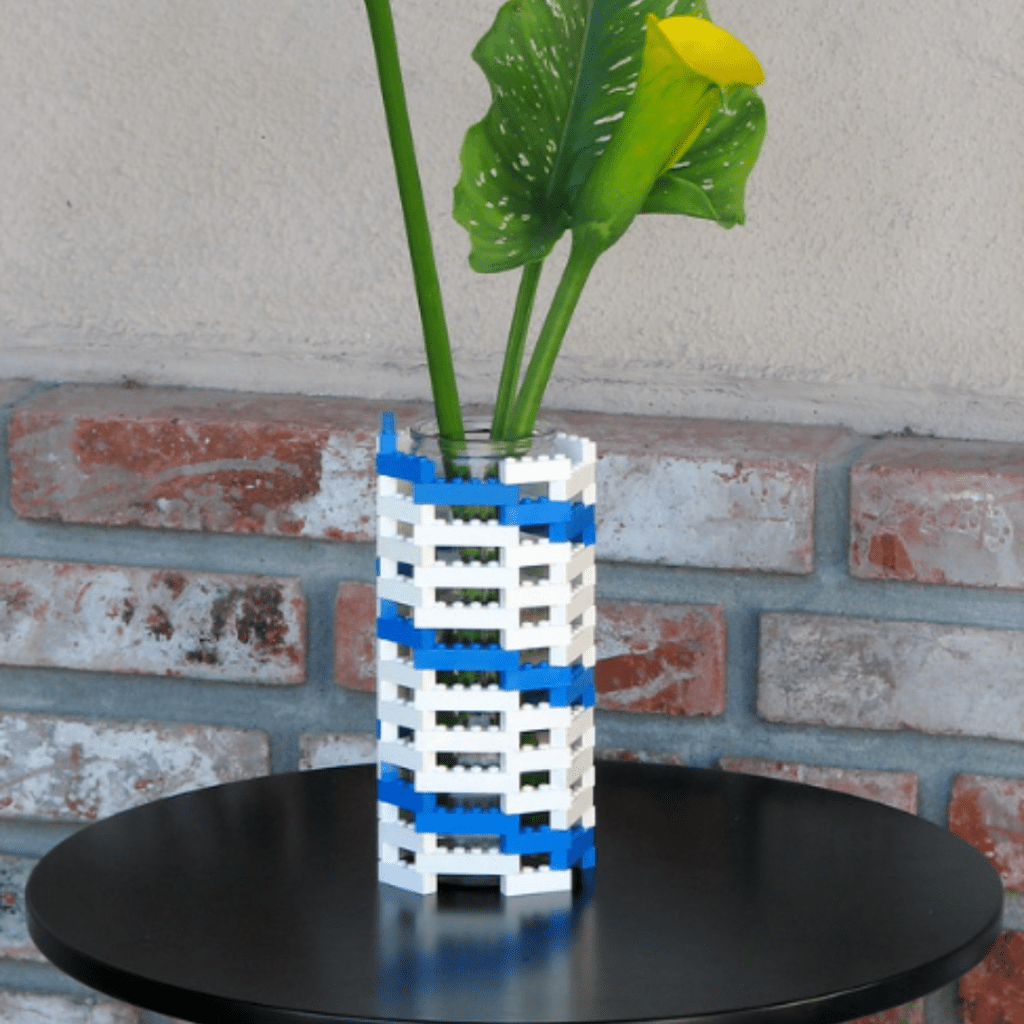 But plants themselves aren't enough; their vases are also important! With some LEGOs, you can make a cool vase. You just need an old plastic container to use as a base, and then you can build anything you want around it using LEGOs!
Colorful accent wall
LEGO blocks aren't considered just toys anymore; they've become much more than that! People have taken to using LEGOs as inspiration for home décor. Sometimes, even the pieces themselves are used to create furniture and decoration items for around the house!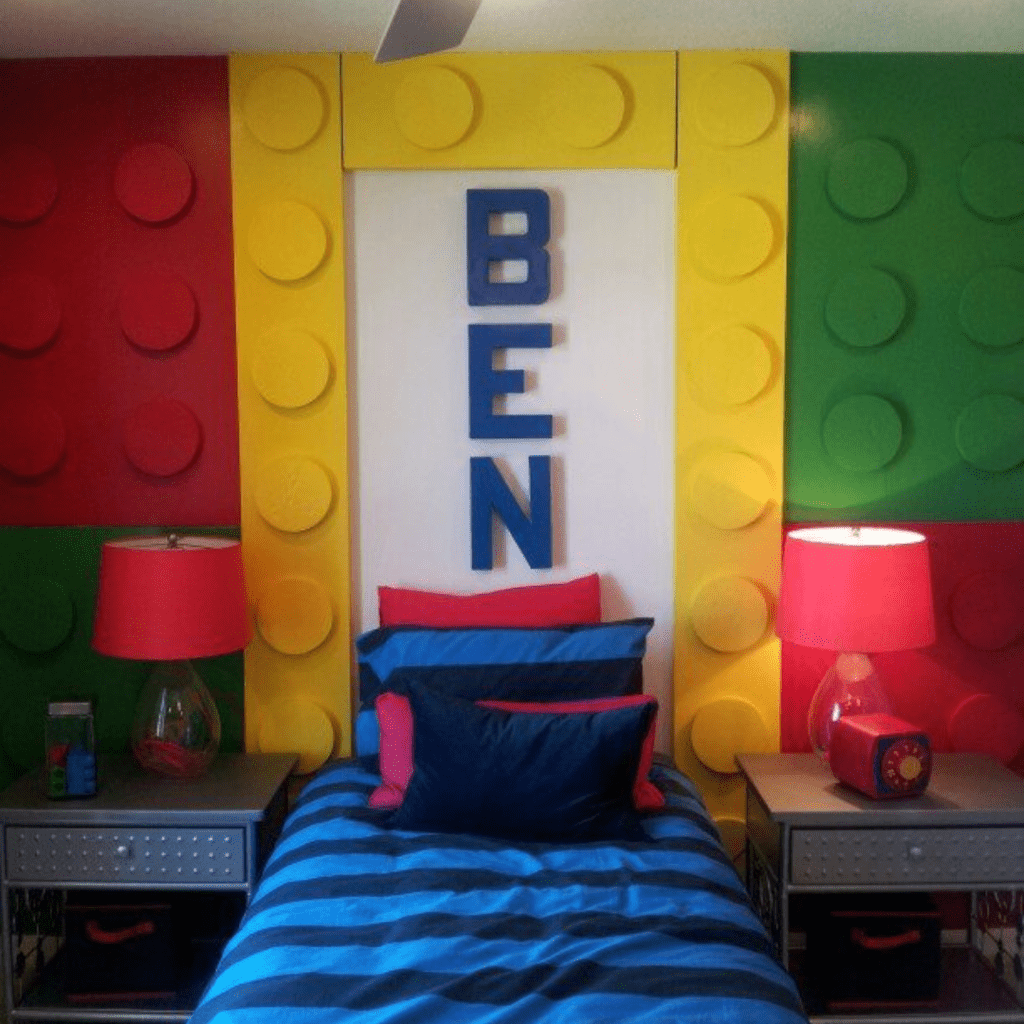 You don't have to go all in if you want to use LEGO as inspiration for your house, though. A wall accent or something similar is enough to get the message across, especially when it comes to children's bedrooms, such as the one above.
Fun planter box
If you have a green thumb and are looking for a fun and unique way to showcase your plants, look no further! This planter box would be a great addition to your house. Yes, that's right, it's a LEGO-inspired planter box.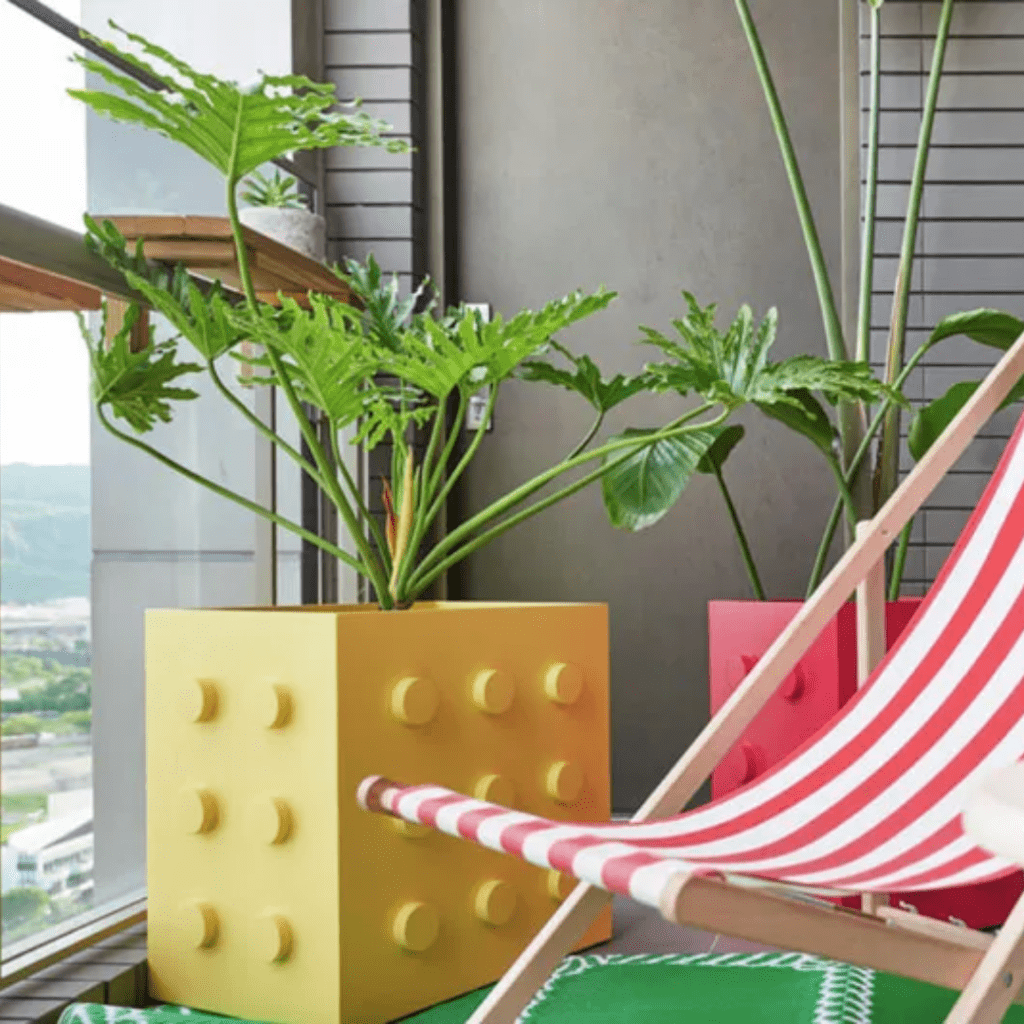 And if you're into DIY and have woodworking tools available, you'll be able to build it yourself in no time. It's pretty easy, honestly—it's just a wooden box with the famous LEGO studs around it. Cheap, easy, and fun; what's there not to like?
Candy dish
Halloween is one of the most famous days of the year. While it is mostly celebrated in the United States, many other countries have adopted this holiday, and now we can find Halloween-themed parties pretty much all over the world!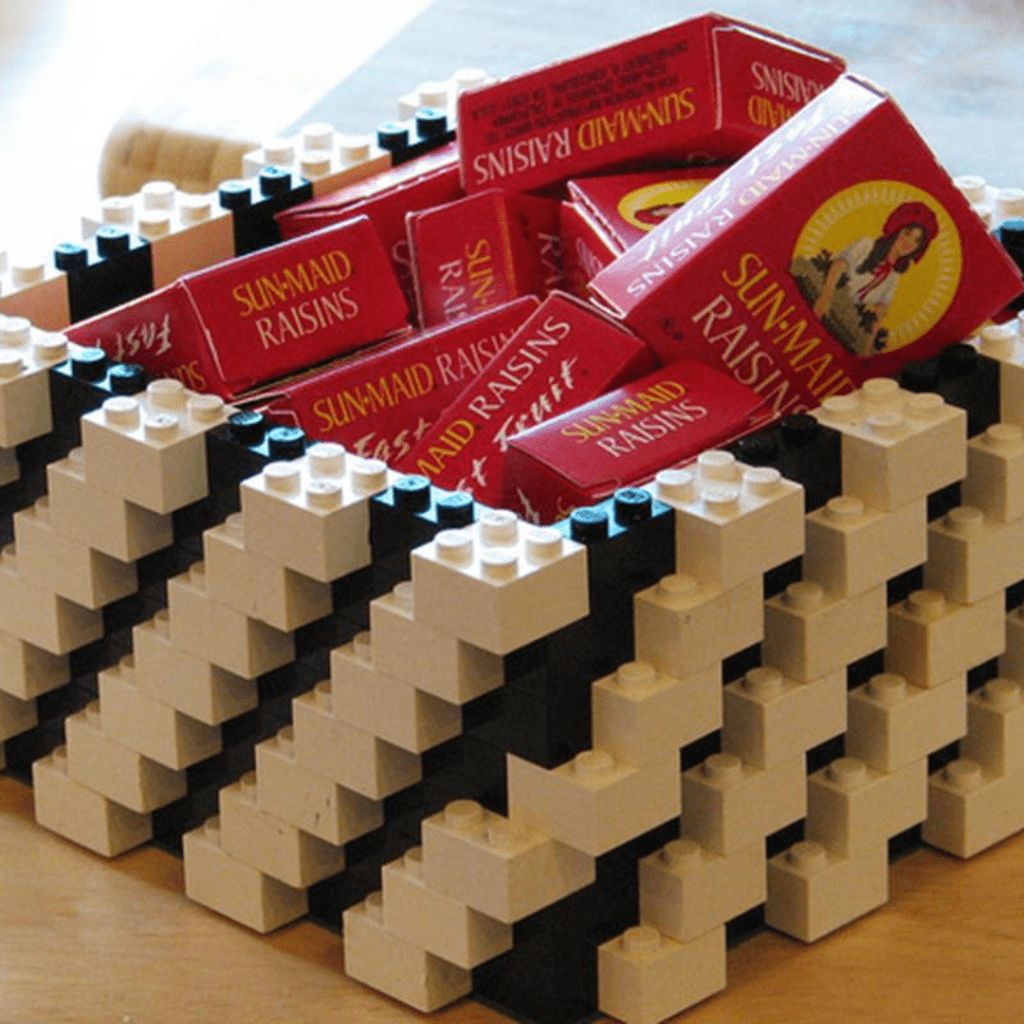 If you're hosting this year's party and plan on dressing up as a character from The Lego Movie, we have the perfect decoration idea for you. It's a candy dish made out of LEGO blocks! What a cool yet functional way to spice up your decorations!
Charming wall décor
You've probably seen a dozen different ways to decorate a child's bedroom using LEGO bricks, but most of the time, the pieces are way too… busy—aka too big and colorful. That's cool for some, but some find it a bit overwhelming. That's where the idea below comes into play!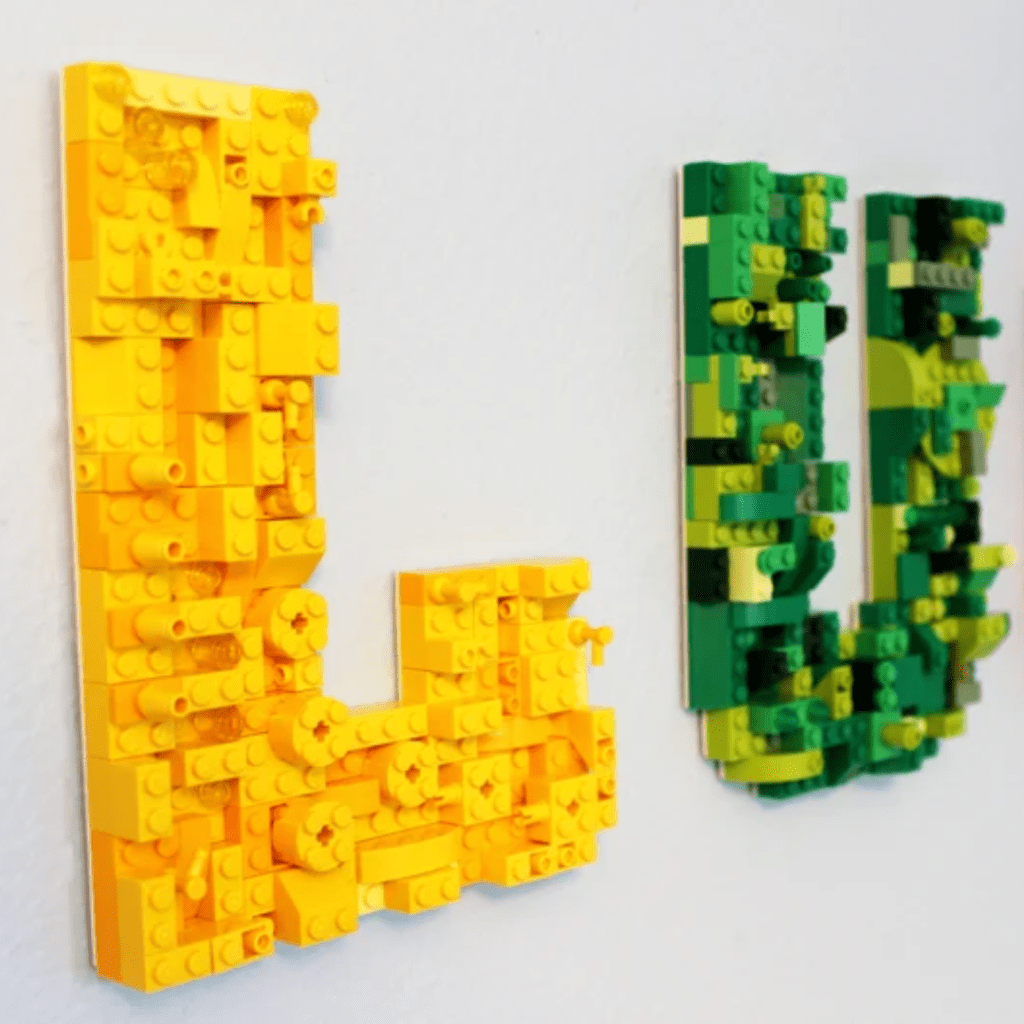 Instead of building whole walls out of LEGO, you can simply take the pieces and make something more charming and delicate, like the letters above! In the end, it's just as customizable and creative as the other decorations but not as loud.
Staircase wall
If you have a cool playroom for your kids waiting to be decorated, or even if you just want to spruce up your office space, you can't go wrong with LEGOs. This person here sure didn't hold back and went all-in on their project!
Believe it or not, but this incredible staircase wall is made completely out of tiny LEGO bricks! It took a whole lot of careful designing to create this fun pattern and even more time to put it all together, but the final result is definitely worth it!
LEGO-inspired bedroom
Children, adults, teens… everyone loves LEGOs. But, admittedly, they're often more targeted toward kids. That's why it is so common to find children's bedrooms decorated with LEGO and LEGO-inspired pieces. We've seen a lot so far, but this one takes the cake.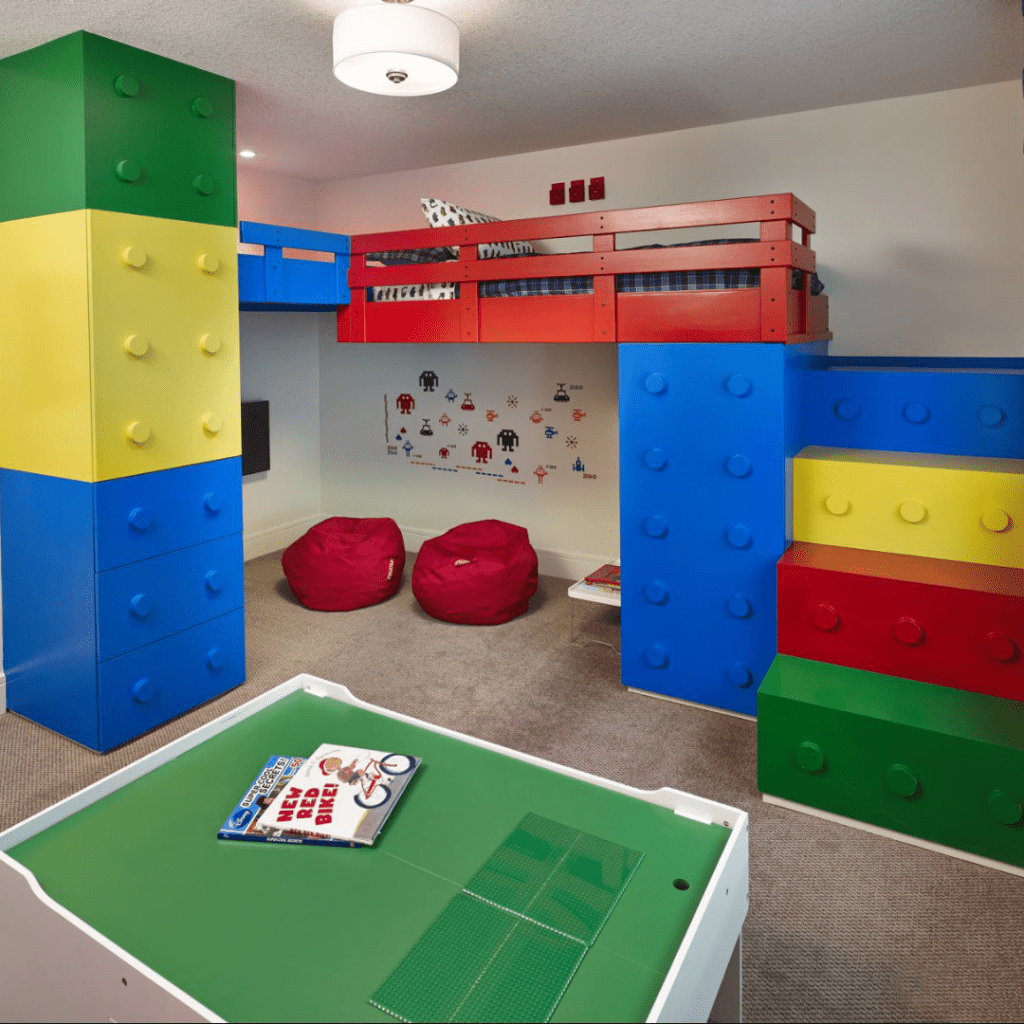 While this bedroom's furniture wasn't made out of actual LEGO pieces, its design was definitely inspired by them. The stairs to the loft bed, the loft bed itself, and even the dresser was customized to look like giant LEGO bricks! It's every kid's dream!
Neutral colors
There comes a point in a kid's life when it becomes almost impossible to figure out the ideal way to decorate your room. You've grown past your baby days but are still too young for a mature teenage bedroom. What to do?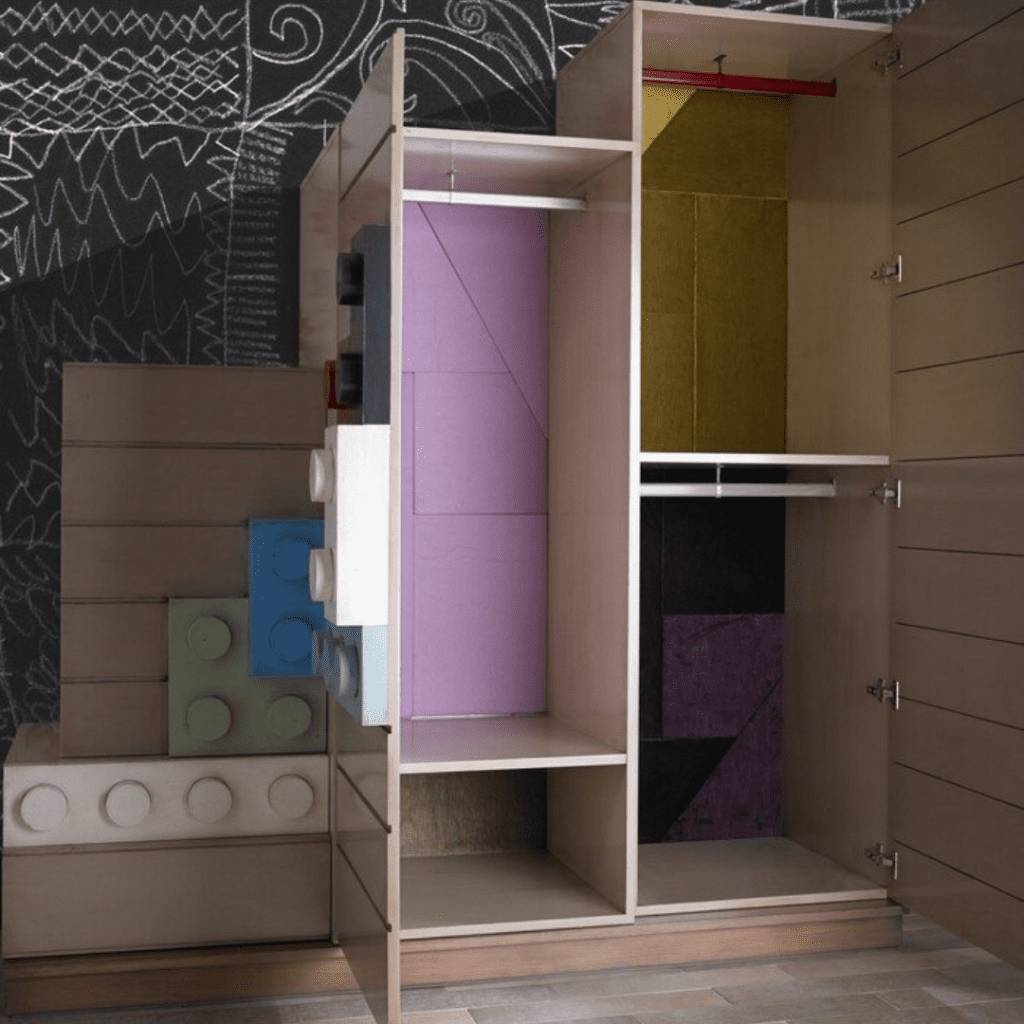 Well, it turns out you don't have to do much! While LEGOs are usually colorful, it is possible to find LEGO-inspired furniture with a more neutral color scheme. They're perfect for a kid's room if they're in that transitional phase.
Dining table
There are many ways to improve your house décor. You can move furniture around, change your curtains, and place different decoration items around the room. But we bet nothing will start conversations faster with your guests than the small dining table below.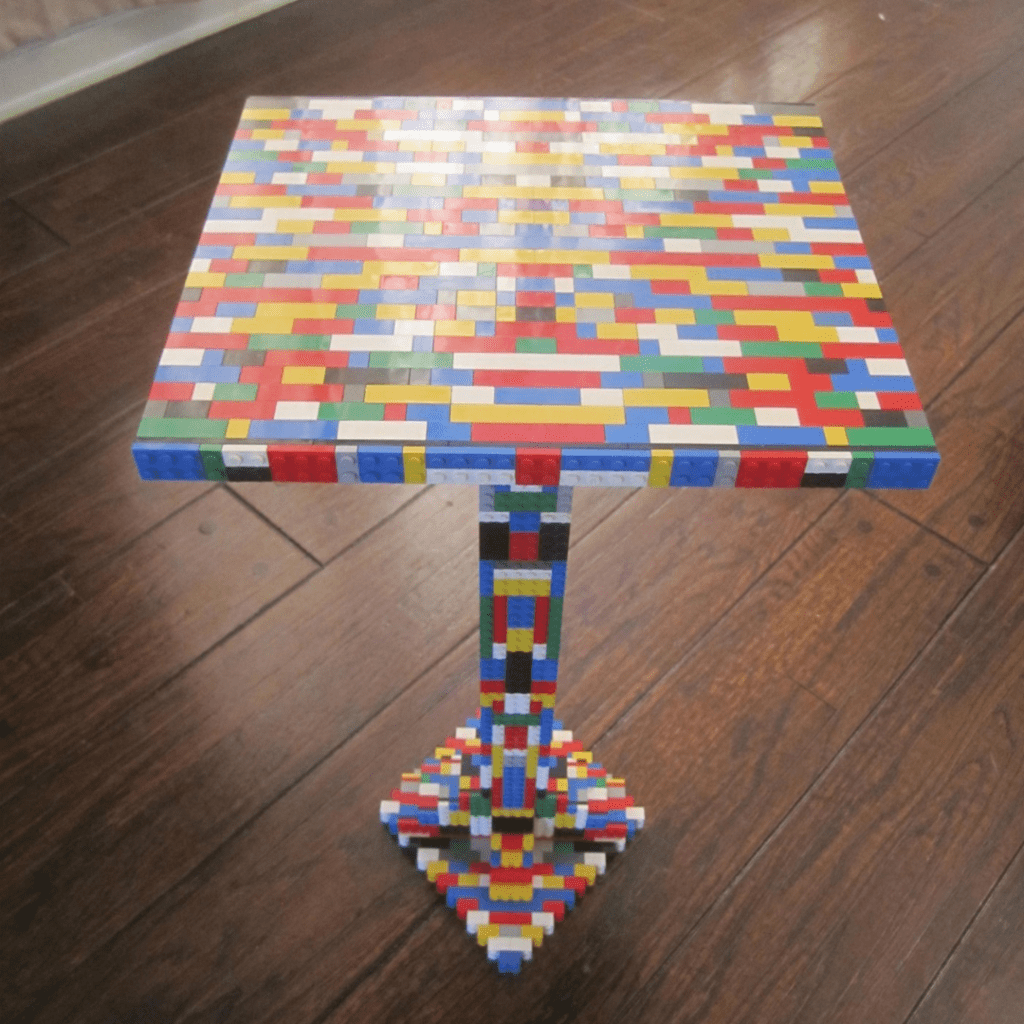 That's because this cute little table is made out of nothing but LEGO blocks and glue! While unconventional, it is just as sturdy as any other table and can hold the weight of food and drinks with no trouble whatsoever!
Toybox
If you have little ones around, you know the importance of having a well-stocked toy chest in your home. Not only do they keep your child busy, but they're also a great way to expand your kid's imagination and creativity!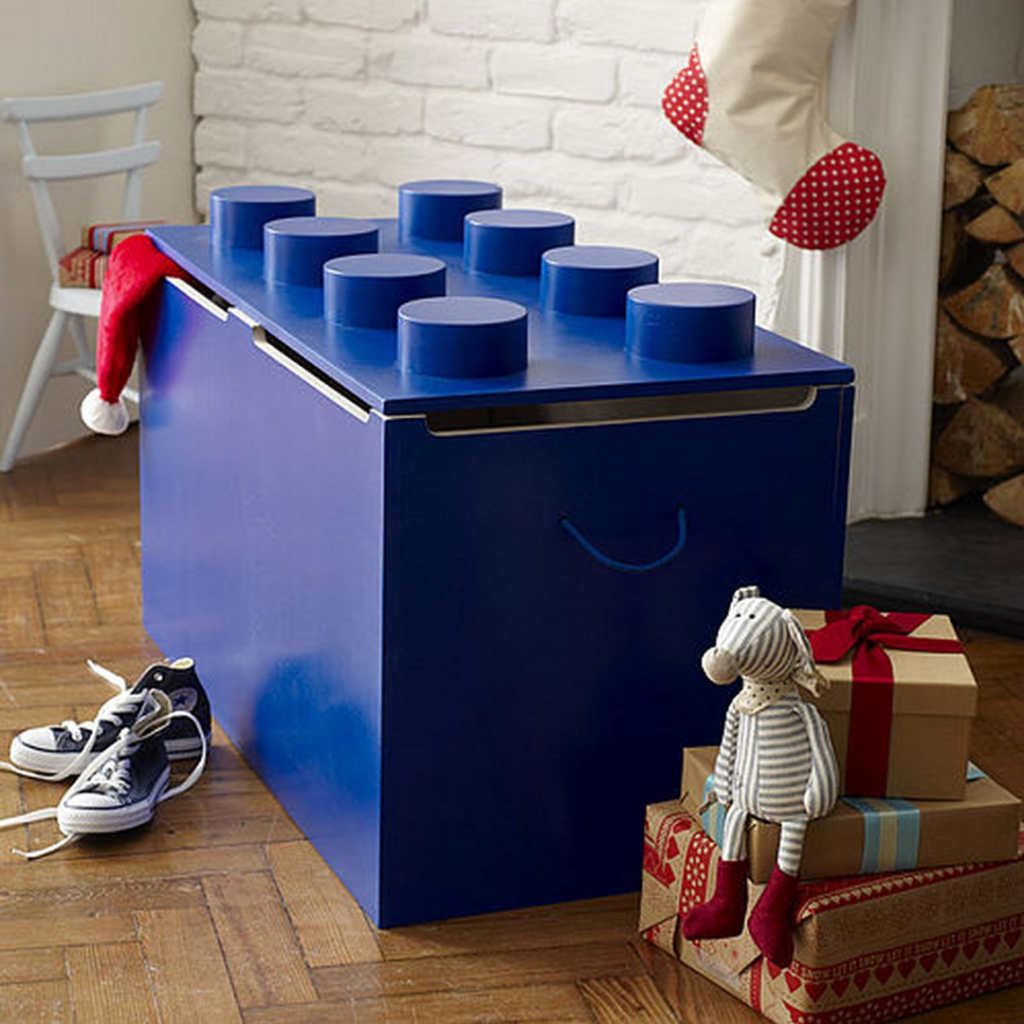 You also know how important it is to have a box for all of those toys if you don't want too much mess around the house. Why get a boring old toy box when you can get something thematic? For example, there's no better place to store LEGOs than in a LEGO box!
LEGO wall
If you love LEGOs and don't know what else to do around the house to show your passion to anyone who sets foot inside, don't worry—we have the perfect idea for you! Your partner might not love it while it's "under construction," but the finished piece is a true work of art!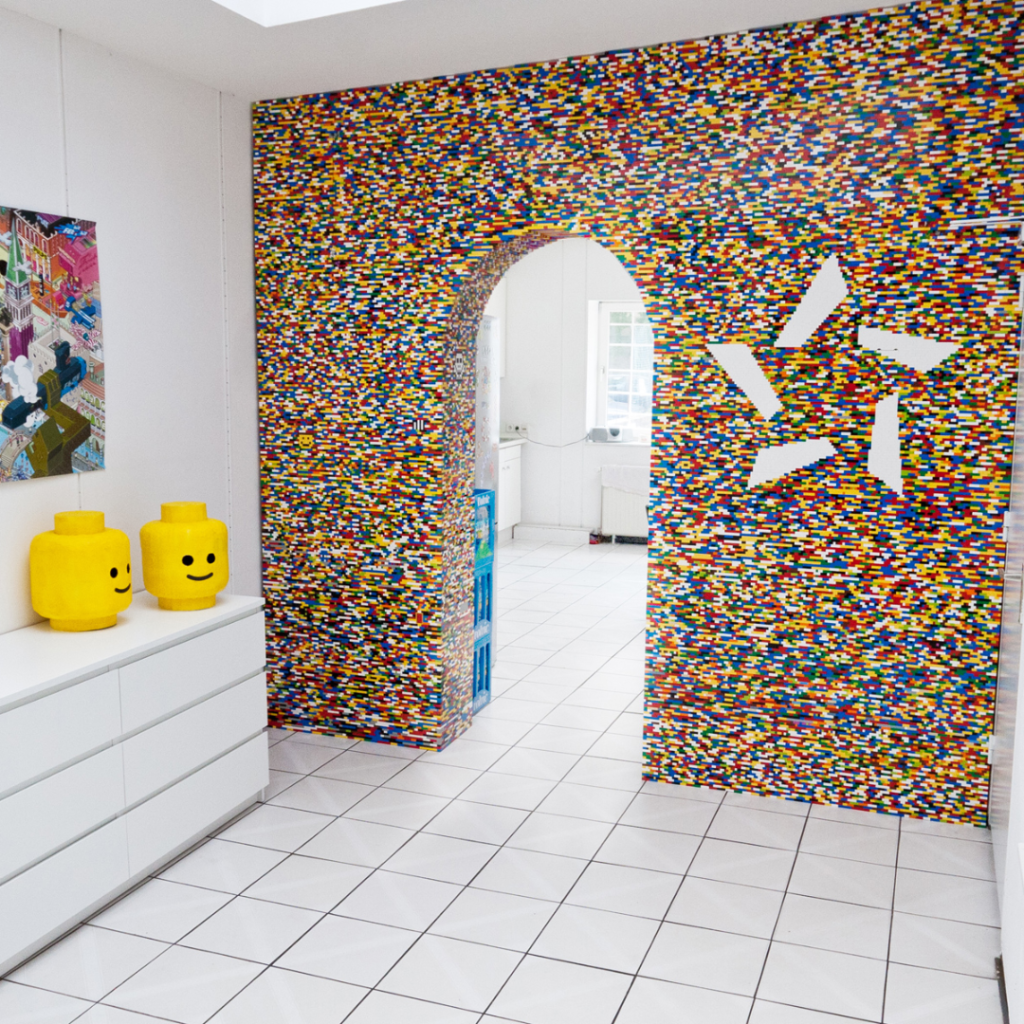 It's a full-blown, ceiling-to-floor LEGO wall! We know what you may be thinking: there is no way this is structurally sound, right? Surprisingly enough, it is! Don't go knocking down your walls yet, though. You better get an engineer first before starting this project!
LEGO key holder
Some people are super forgetful. Things like wallets, cell phones, and keys get lost all the time. Phones can be tracked, of course, and while we can't really help you locate your wallet, we have a solution for your keys!
This key holder is not only cute but also super useful, especially if you have many roommates or family members living in the house. It's easy to make, too, and you don't even need that many LEGO pieces to do it!
Napkin holder
Themed bars have made a resurgence, especially in the last few years. Bars inspired by British pubs, certain cultural events, and even video games and nerd culture, in general, are taking over the world. And we're all here for it!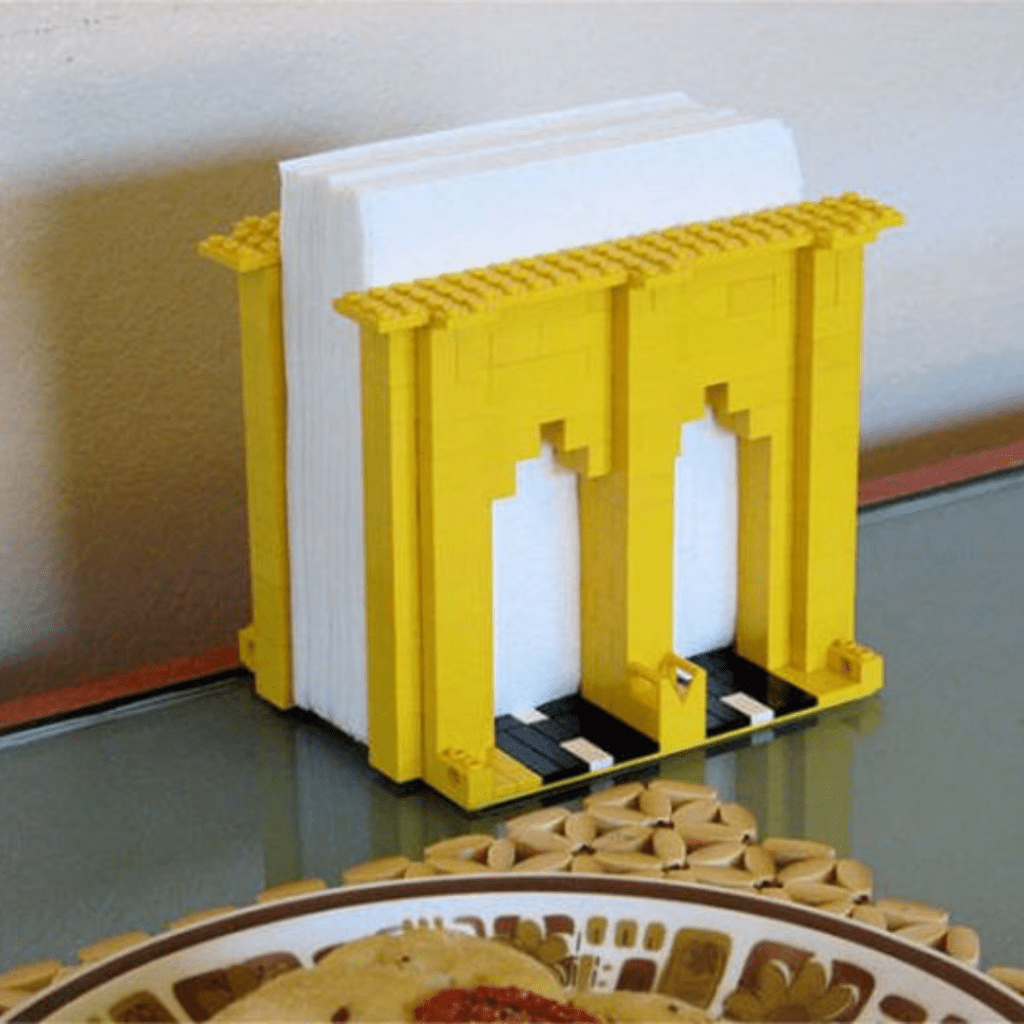 If you're hosting game night and want to style your house like that, why not get inspired by LEGO blocks? Something as small and simple as a napkin holder can become a work of art and add a playful vibe to your home.
Kooky shelf
You don't need thousands of blocks to build cool LEGO projects to decorate your house with. It's not necessary for you to build the whole furniture piece out of LEGO. You just need to make it look like you did!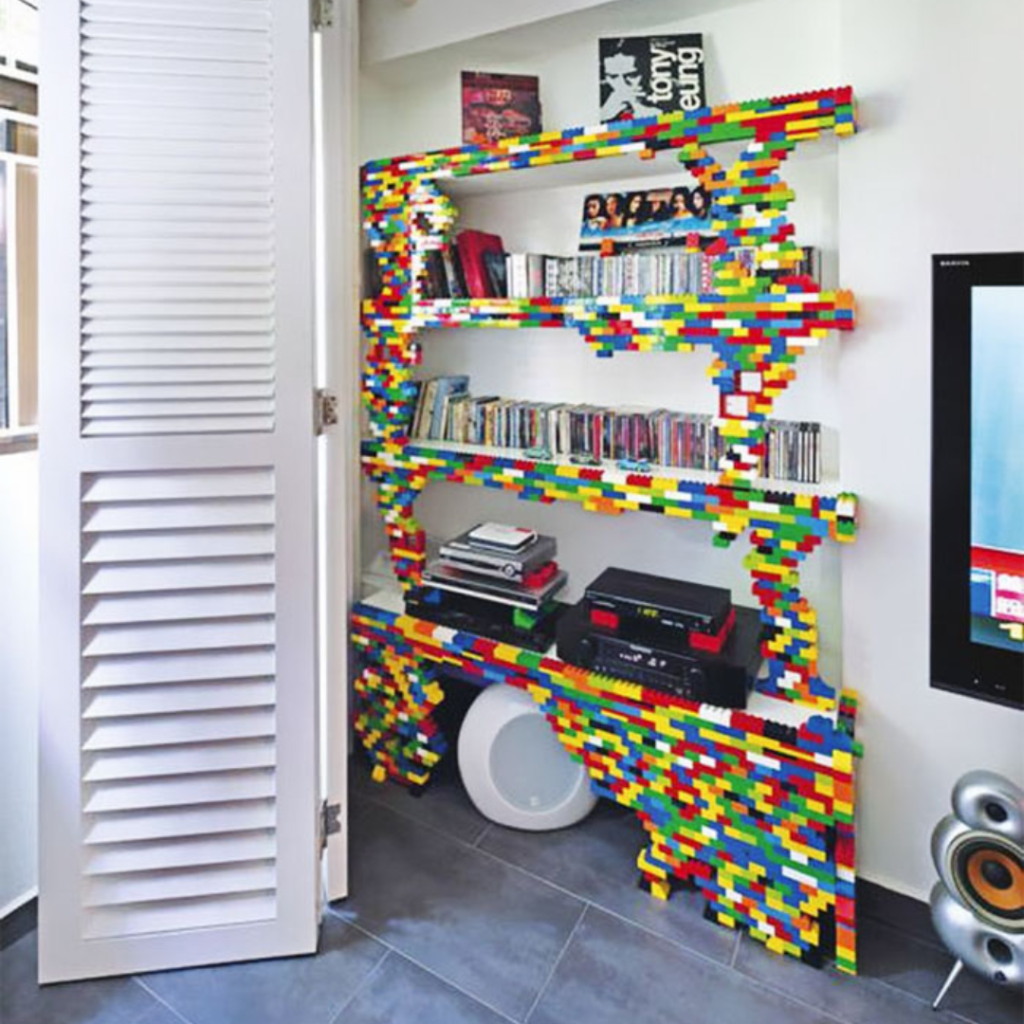 Take the shelf above, for example. It looks like a kooky shelf made entirely out of LEGO bricks, right? But that's not the case at all! That is an ordinary shelf you'd find in any home; the only difference is the LEGO frame attached to its front.
LEGO headboard
Finding the perfect headboard for your child's bed can be a super daunting task. What if it doesn't fit the room décor or the kid's taste? Those things can be expensive; what if you want to change it in the future?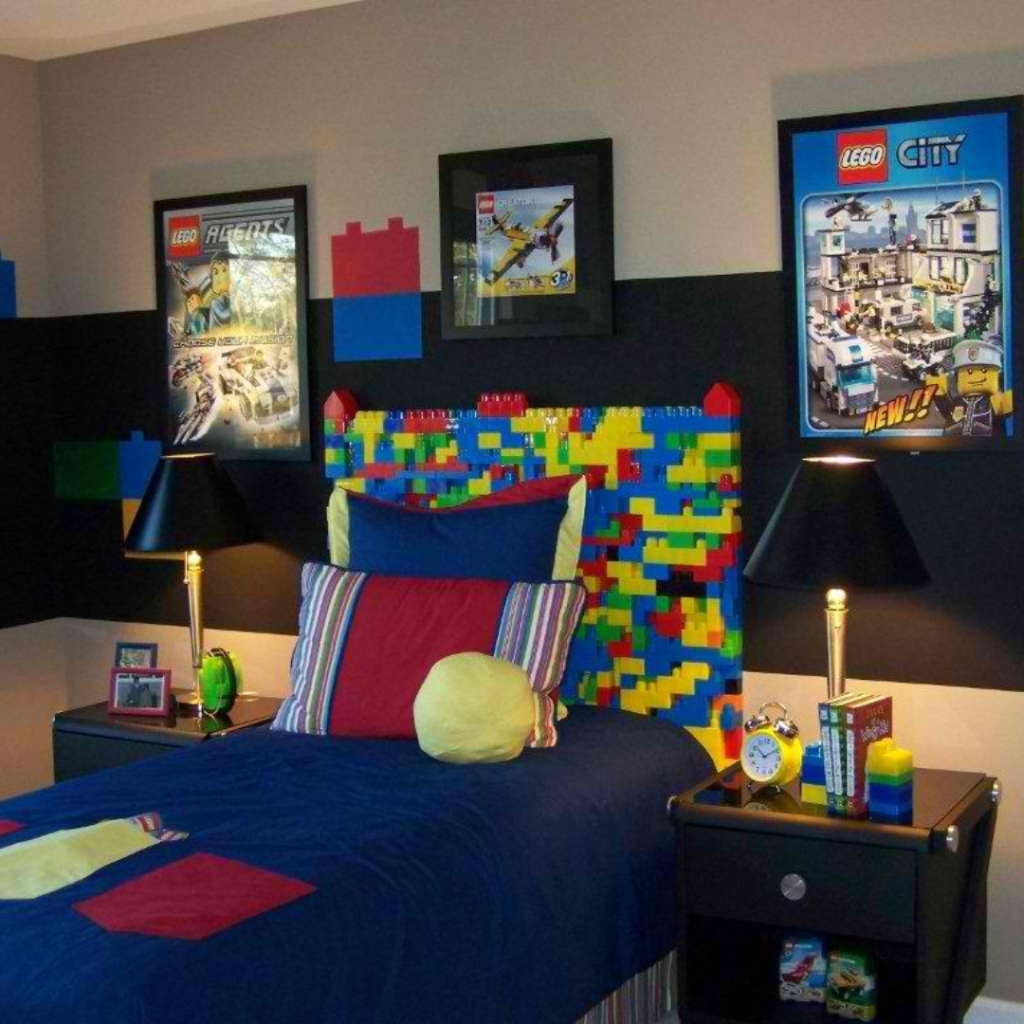 Why not just make one out of LEGO bricks instead? Better yet, make it a family project and build it with your kids! This kind of headboard is lightweight and can be changed as often as they want. Your child sure will love their bedroom!
LEGO wallpaper
When it comes to LEGO decoration, we can't help but immediately think of shelves full of LEGO sets and furniture made out of LEGO blocks—which can get pretty expensive. There are other ways to incorporate LEGO into your house décor!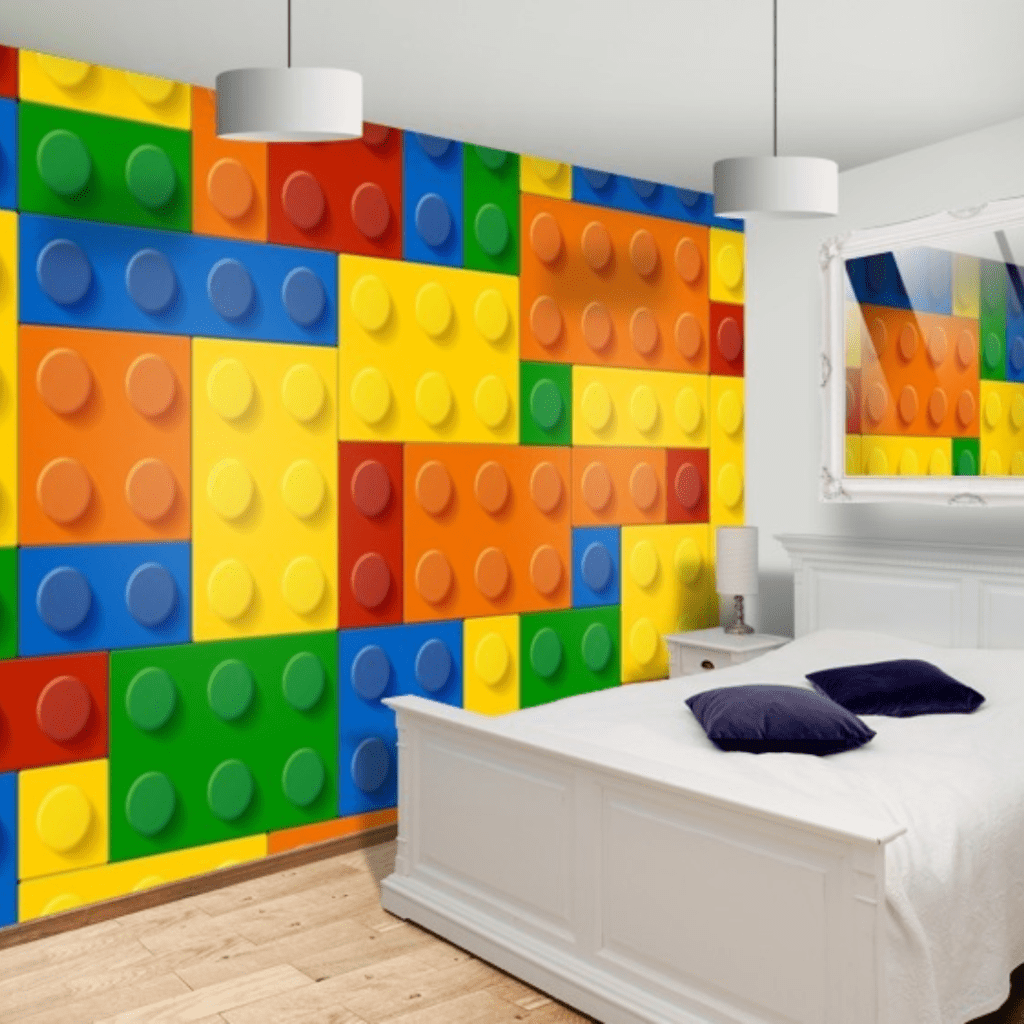 That's right; we're talking about LEGO wallpaper! The greatest thing about it is that its design can be as simple or as elaborate as you want, and the final product will still be cheaper than most LEGO decoration items out there!
Storage cabinets
Kids' shows when we were growing up were the craziest and most amazing things on earth! They were fun, colorful, and whimsical. We lost track of how many times we wished we could live in those animated worlds hiding behind our screens.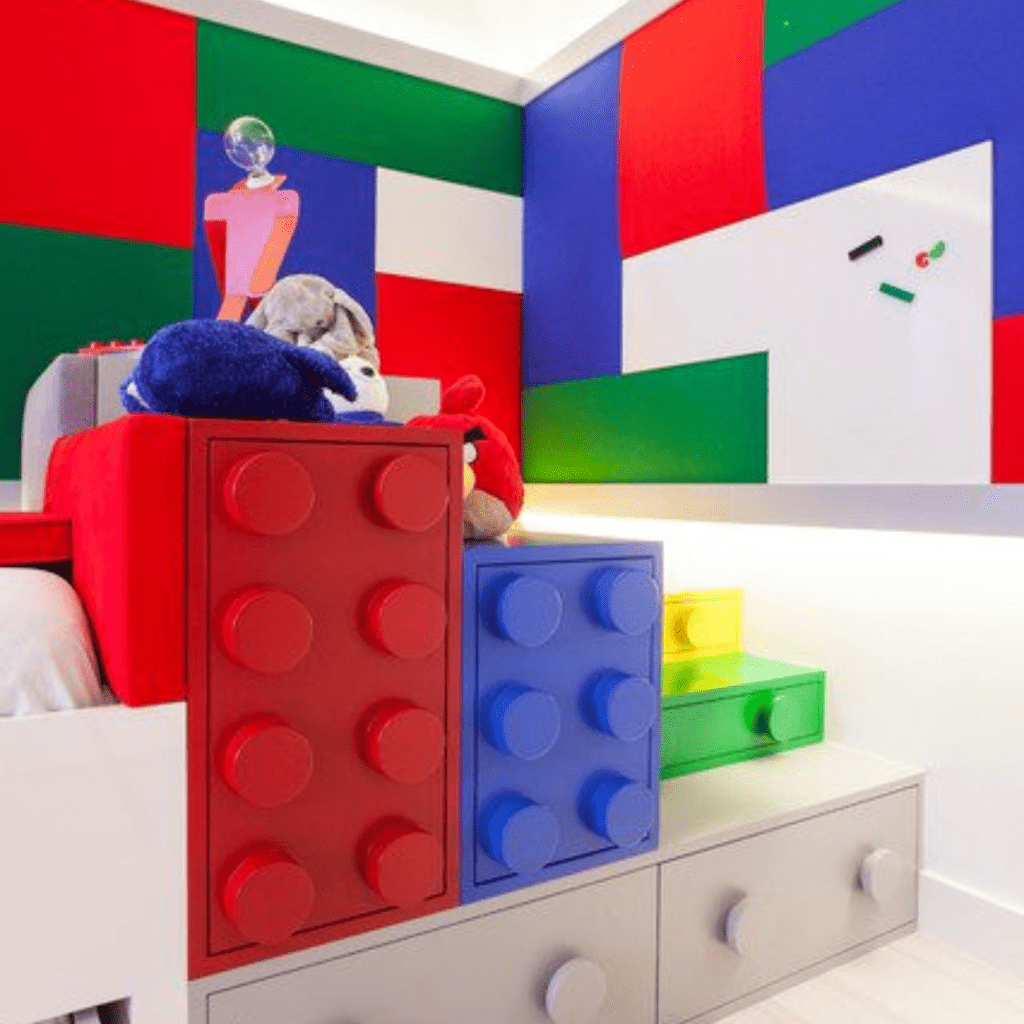 The sets always caught our eyes, and while we couldn't quite live in those places back then, we sure can create something similar inside our houses now. Like the storage cabinets above! They look like they're straight from a kids' show from the early 2000s, don't they?
Beautiful and functional
We don't know if you have noticed it, but your kitchen can get cluttered pretty easily. A couple more jars for your spice collection here, some new utensils there, and suddenly you hardly have any counter space anymore! But that's where LEGOs can come in handy.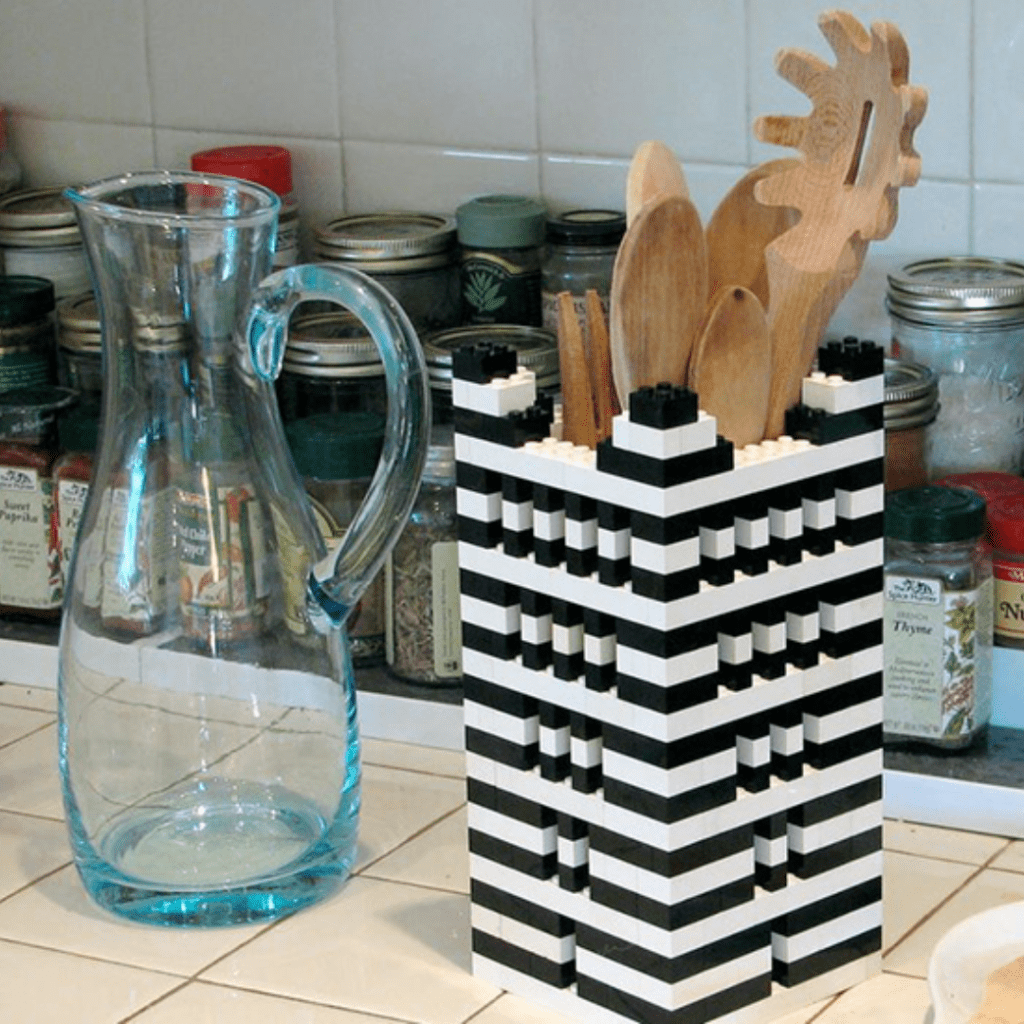 To solve this problem, you need some storage solutions, like a handy utensil holder. That's a great opportunity to up your décor game in your kitchen. If this sounds intriguing to you, you can use this cool LEGO utensil holder as inspiration.
LEGO kitchen island
Now, we understand that some of the ideas shared here target a very niche audience, but this one definitely takes the cake! It's a whole kitchen island made out of LEGO bricks. Like, what?? Now that's what we call crazy, folks!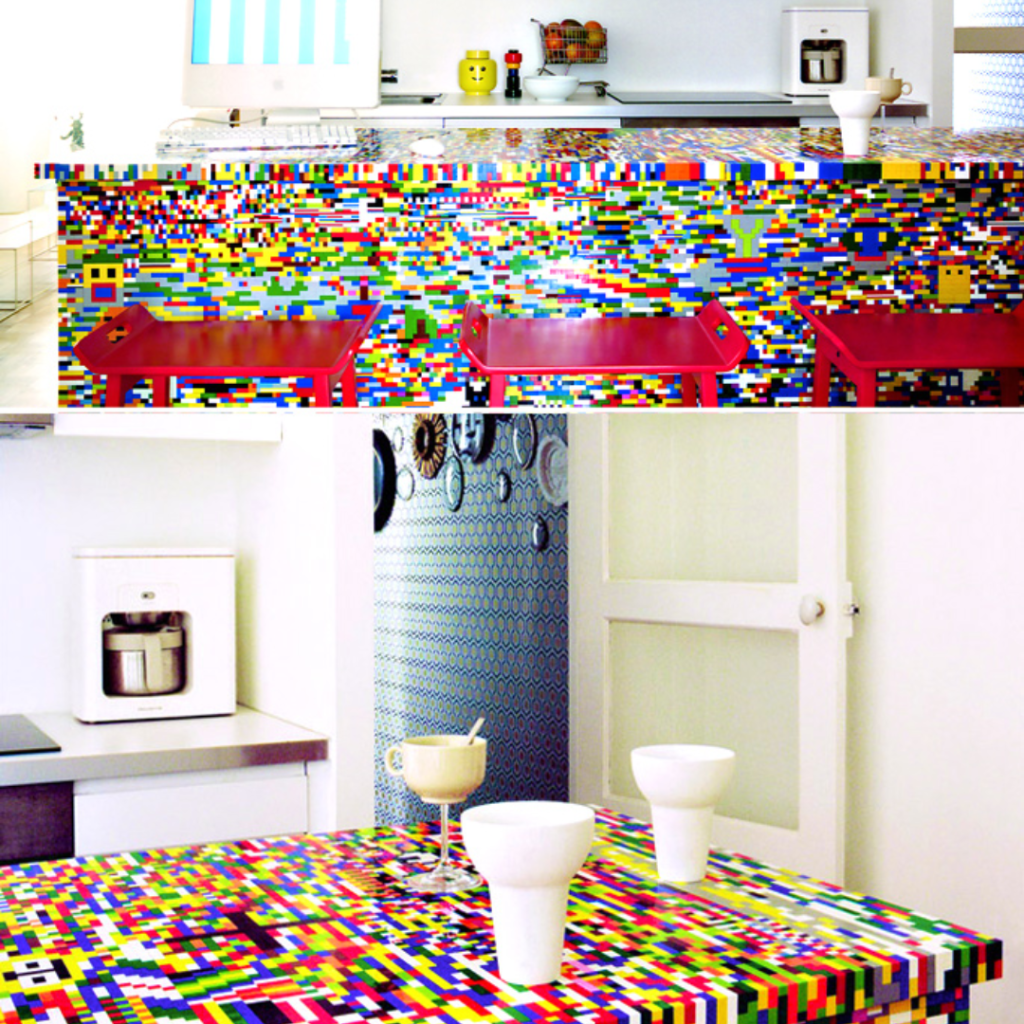 If you want something similar in your house, but don't have a budget, don't worry. This doesn't have to be an expensive project. Just take a regular kitchen island and cover it with LEGO bricks instead. Or, if you want to save money even further, just use LEGO contact paper.
LEGO lamp
It doesn't take much to create a cozy environment for your kid when it comes to their bedroom, especially if you know what they like and just simply listen to what they want. The lamp below is a great example of what we're talking about.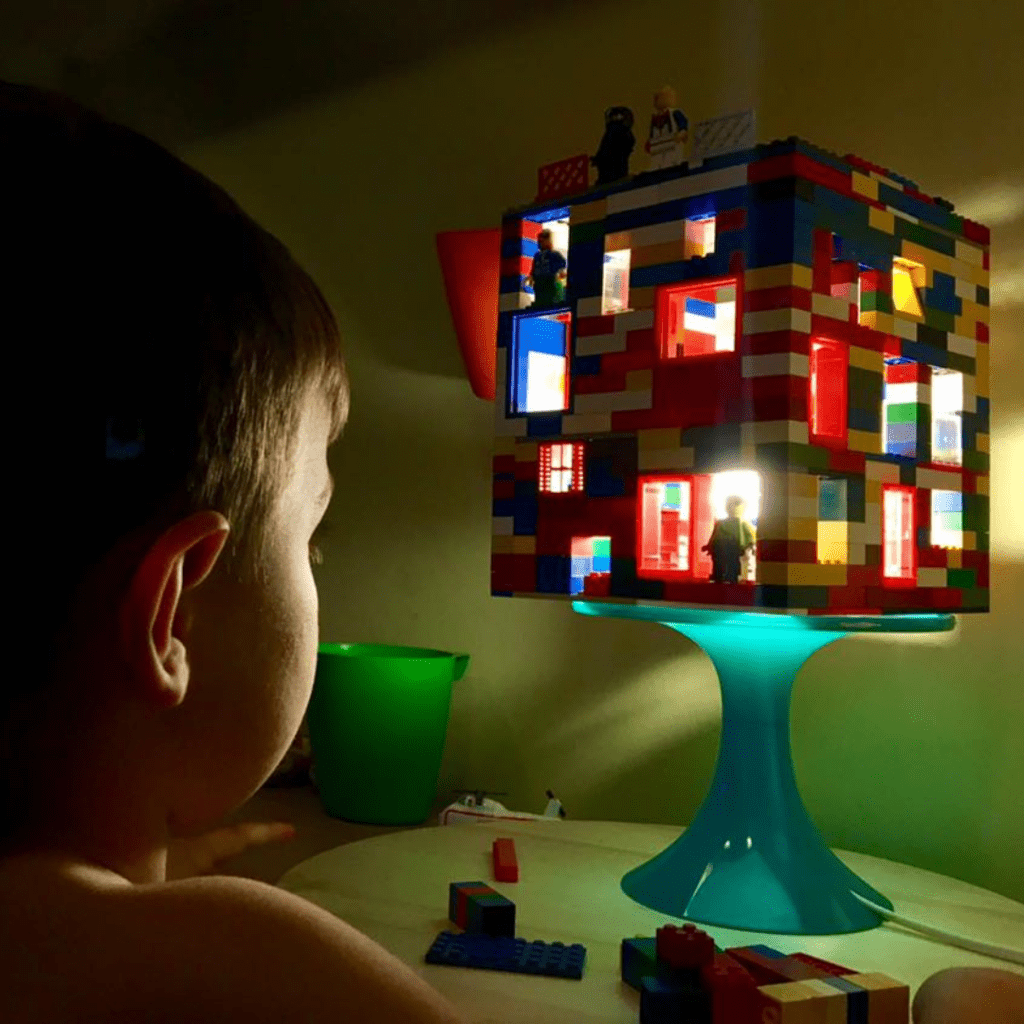 Not only does it look amazing, it also is bright enough to be a pretty effective night light. The best part about this lamp, though, is that it can be a great project to do with the kids. You handle the cables, and they build the LEGO lampshade!
Coffee table
We've seen a lot of LEGO decorations that simply utilize those little plastic bricks as accents, while others are 100% pure bricks. Well, why not do both and use LEGO pieces as both functional and decorative additions to your furniture?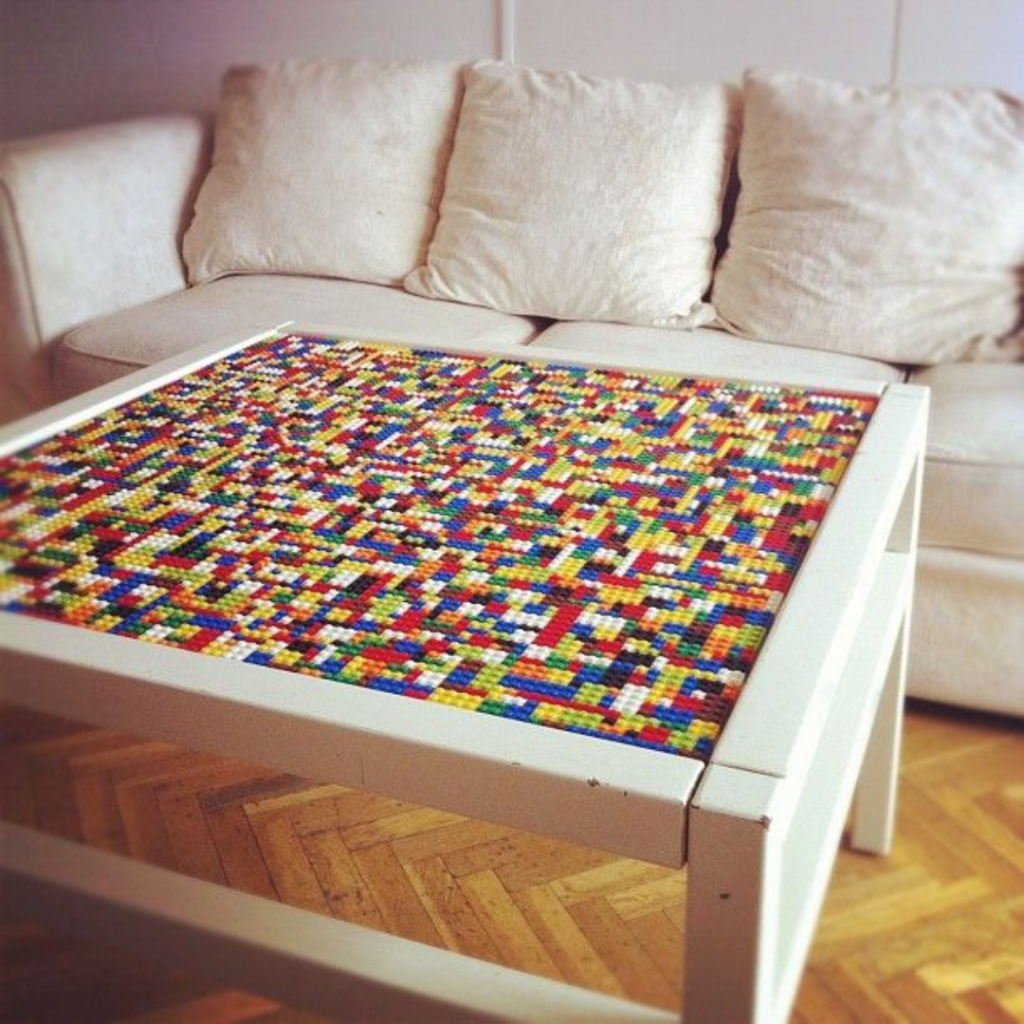 The coffee table above is a perfect example of that. The coffee table's base is plain wood, but the top is all LEGOs. Better yet, it's not so intricately built that you can't change up the brick pattern if you get bored of your furniture often.
Modern bookcase
We all know that, for the most part, LEGOs are designed for kids. Deep down, though, we all love playing with those blocks, no matter how old we are! Apparently, it was with that in mind that the bookcase below was created.
It's a pretty modern bookcase, similar to what we can find in any big box store. What makes it different is the clear inspiration straight out of a box of LEGO. This design choice makes it perfect for both a minimalist child's bedroom or an adult's office!
Cozy and safe bed
As we grow older and meet new people, we find more and more folks who never had the opportunity to have the bedroom of their dreams when they were younger. If you're in the same boat, know that you can finally remedy this situation!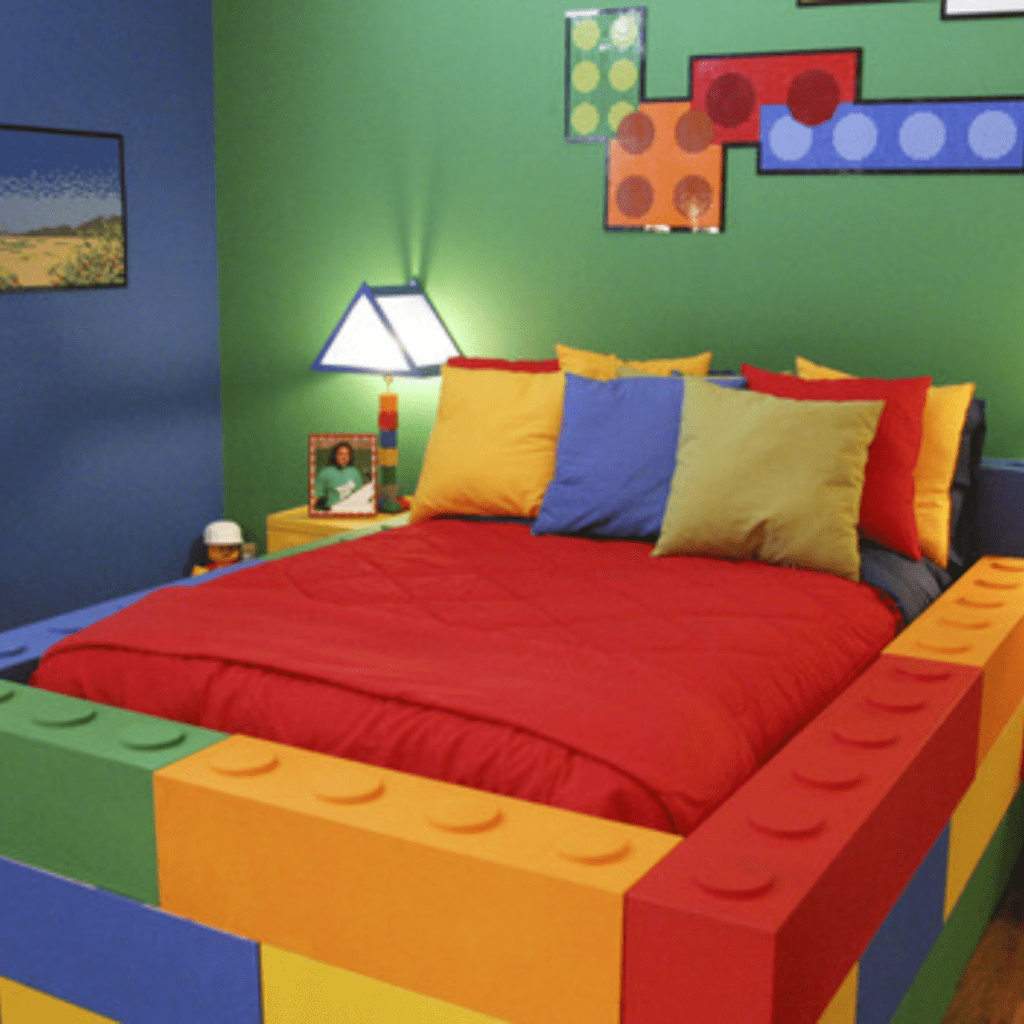 The vibrant and playful bed above may not fit your bedroom ideas anymore, but we're sure your children will love it! Not only does it look super cozy, but the LEGO-inspired frame also makes it safer than most beds out there.
Tasteful table
Many adults love throwing dinner parties for their closest family and friends. With so many responsibilities and so little time, these parties are the best way to get together with your loved ones, have a couple of drinks and eat something nice without going over budget!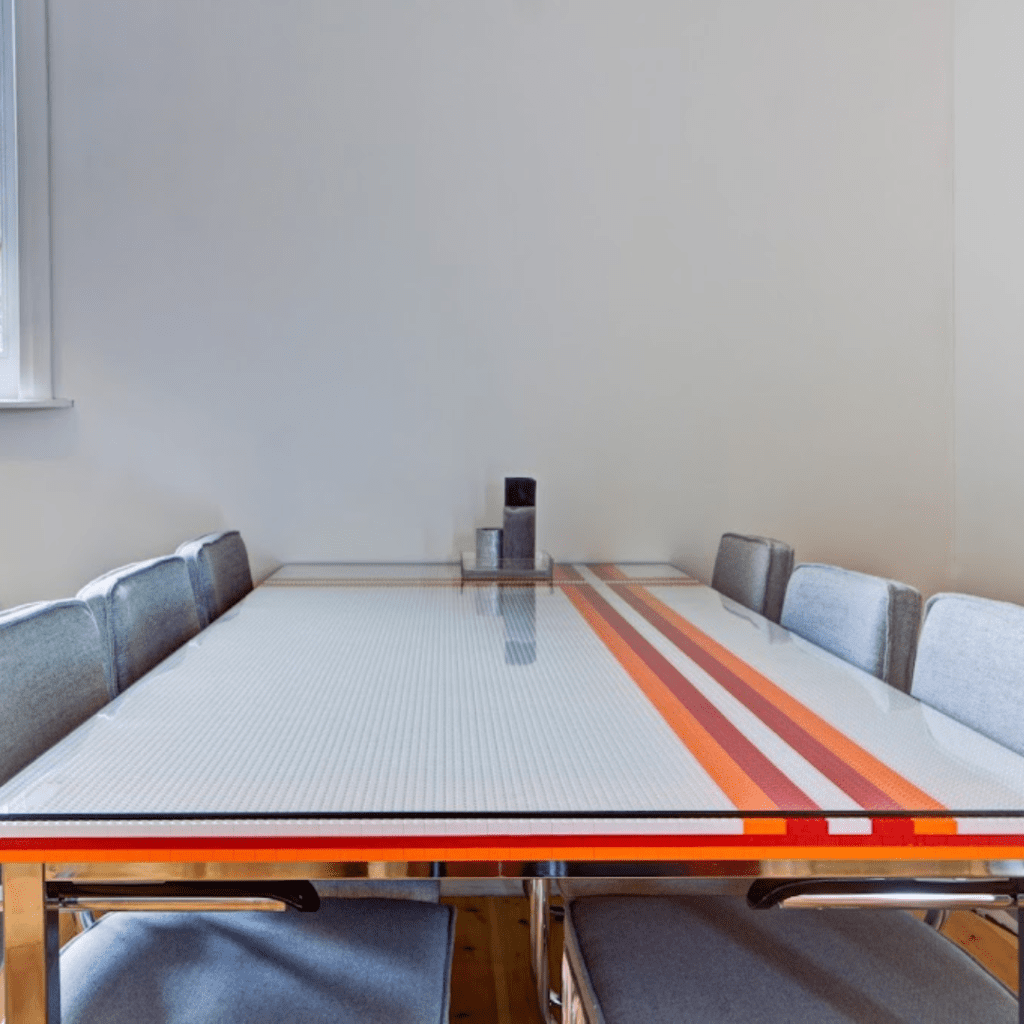 These parties can always get better, though, especially if you get yourself a cool table like the one above. The tasteful LEGO accent is protected by a glass sheet, which makes this table perfect not only as decoration, but for everyday use!
DIY Storage
There are a million ways to incorporate LEGO blocks into decorating any room in your house. You don't even have to spend too much buying actual LEGO pieces. If you love DIY projects, you can make your cool décor yourself!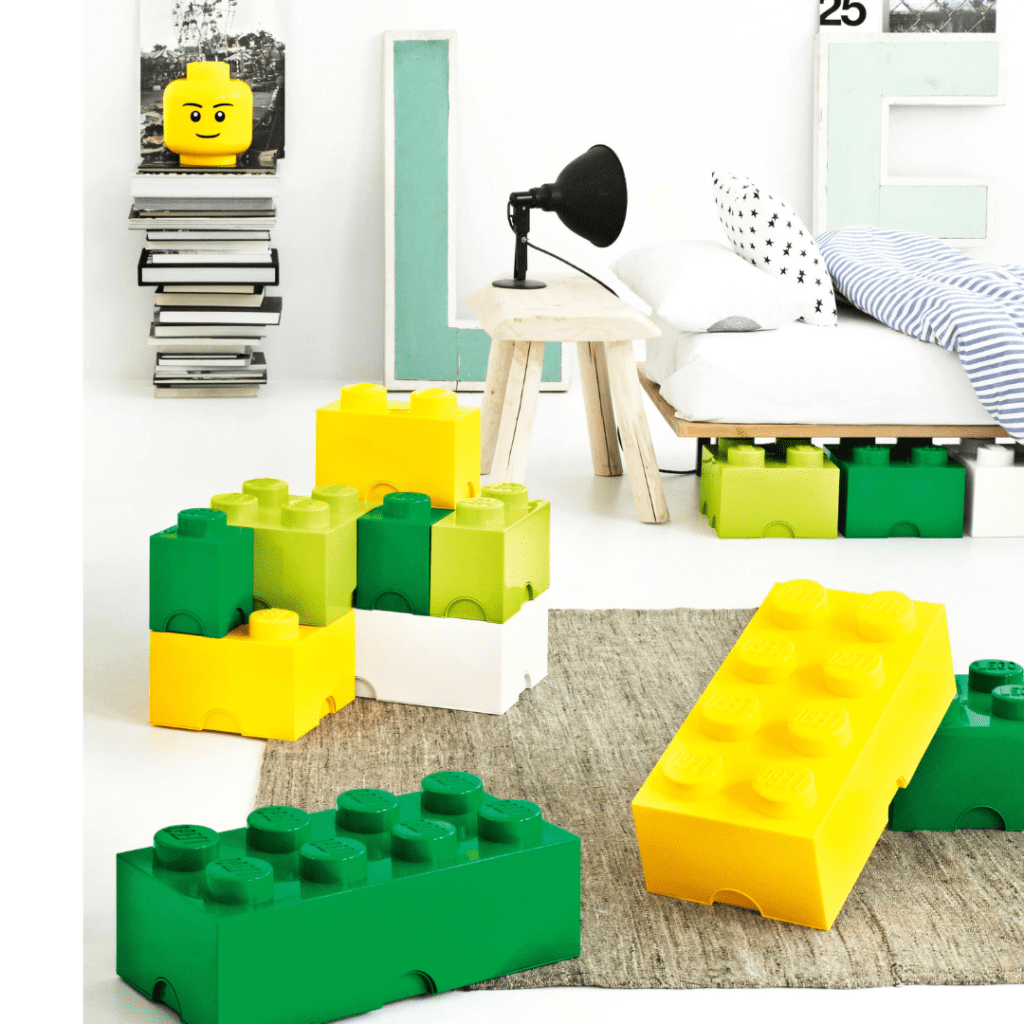 These cute storage boxes for under your bed, for example. These ones, in particular, may be made out of plastic, but you can easily replicate their design using nothing but cardboard, some paint, and some glue! How cool is that?
Glass and LEGO
Glass tables are somewhat of a controversial piece of furniture, if you think about it. If you have kids or pets around, you probably find them dangerous and don't like them at all. Some other people, though, simply love how they look!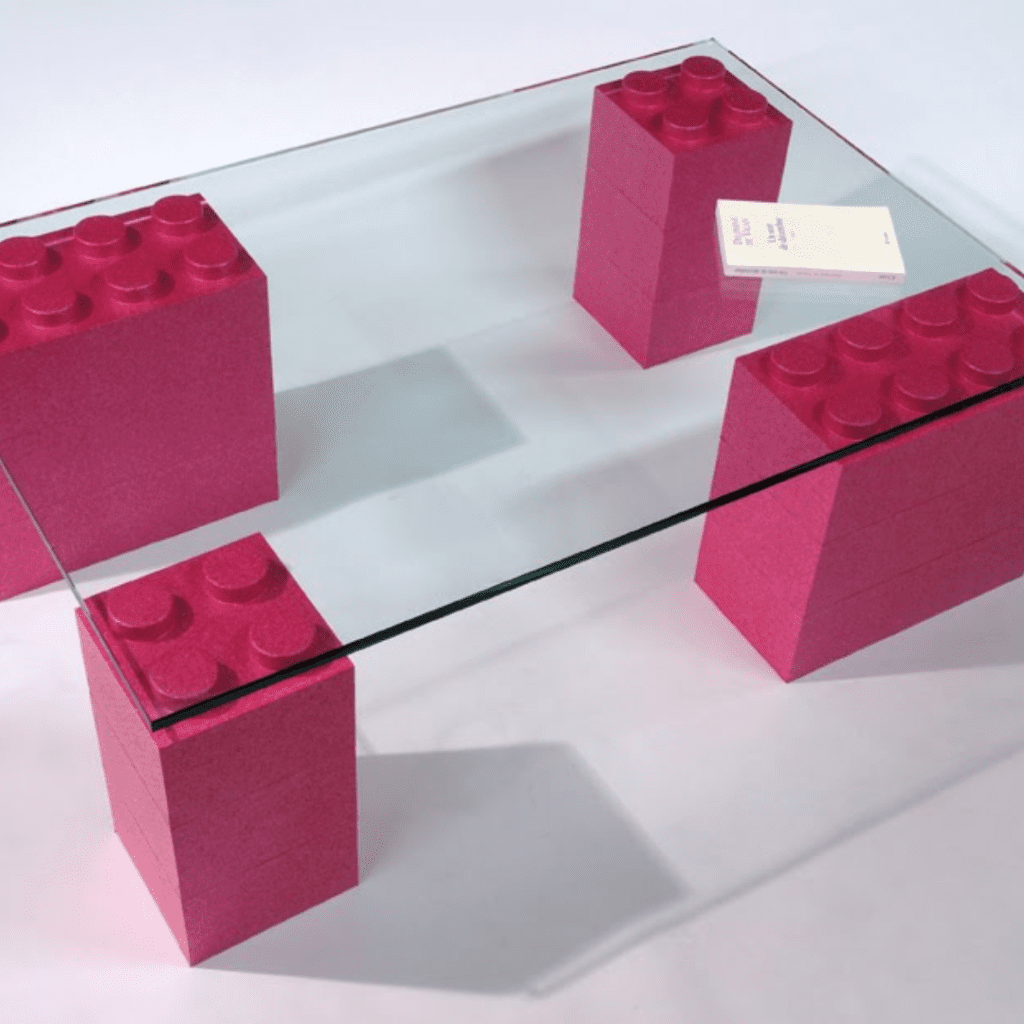 If you are one of the people who love them and want to incorporate a LEGO-inspired décor into your house, look no further than the table above! Its glass top allows for the LEGO legs to shine through, making your living room more fun and colorful than ever!
Utensil holder
Every LEGO lover out there, no matter their age, wants to show their passion for these crazy little blocks in any way they can. Unfortunately, LEGO is expensive, and if you want to use them as furniture or larger décor, it'll get pricey quickly!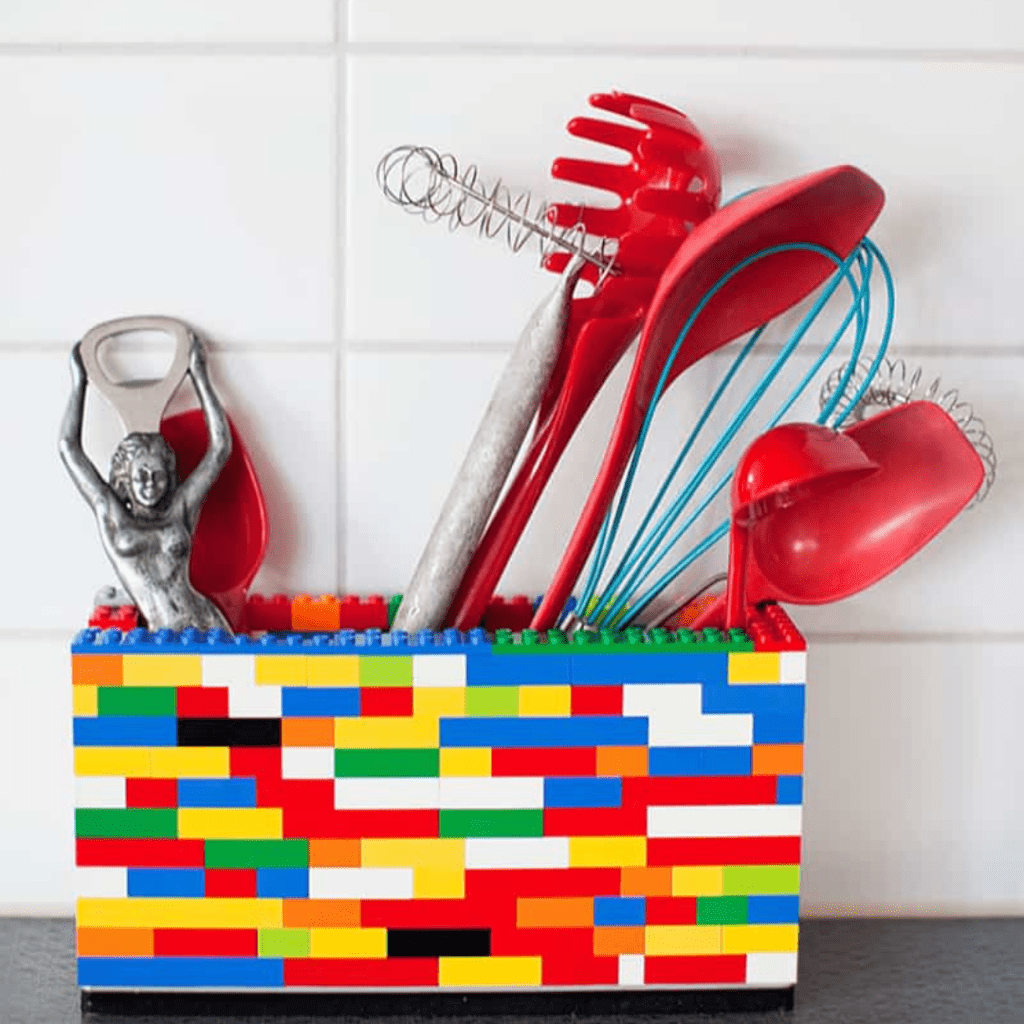 Instead, build items out of LEGOs that are both small and practical, but also have a prominent place in your home. The kitchen is a perfect spot since you go there probably a few times every day. And with smaller works, you can even get an incomplete, second-hand LEGO set.
Cute desk organizer
Unfortunately, having a job you love is the exception, not the rule. If your job is boring, but you don't want to go completely crazy yet, you need to find a way to cope with your uninteresting day-to-day life. That's where LEGOs come in and your boredom goes out!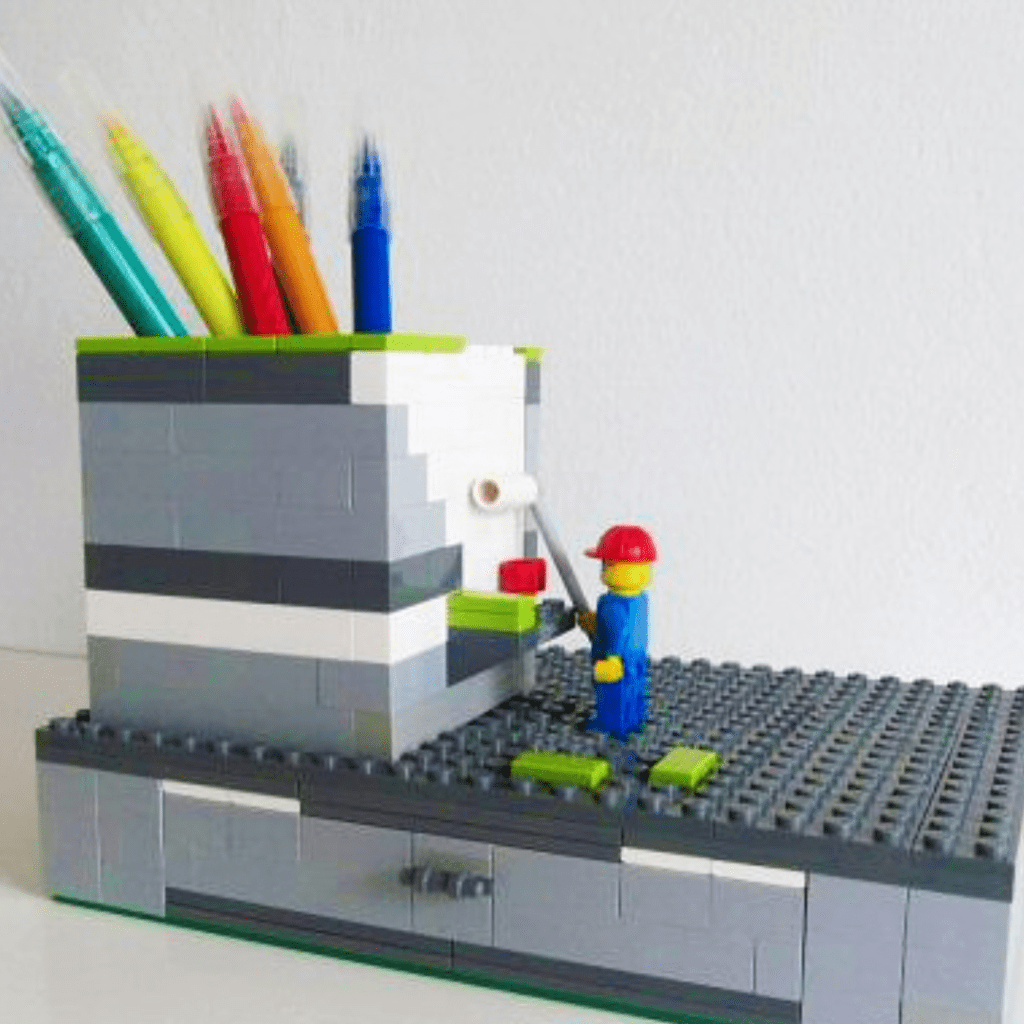 For those working a desk job, cute little organizers like the one above can be a fun addition to your desk. Keep a drawer full of LEGO blocks, and you'll be able to change the scenery around every day, too! Gotta keep it fresh somehow, right?
Cable organizers
If you think about it, cables are the bane of our modern existence. It seems that no matter how much our technology evolves, there will always be a bunch of cables to get in our way! Cable organizers help, but they're not very visually appealing.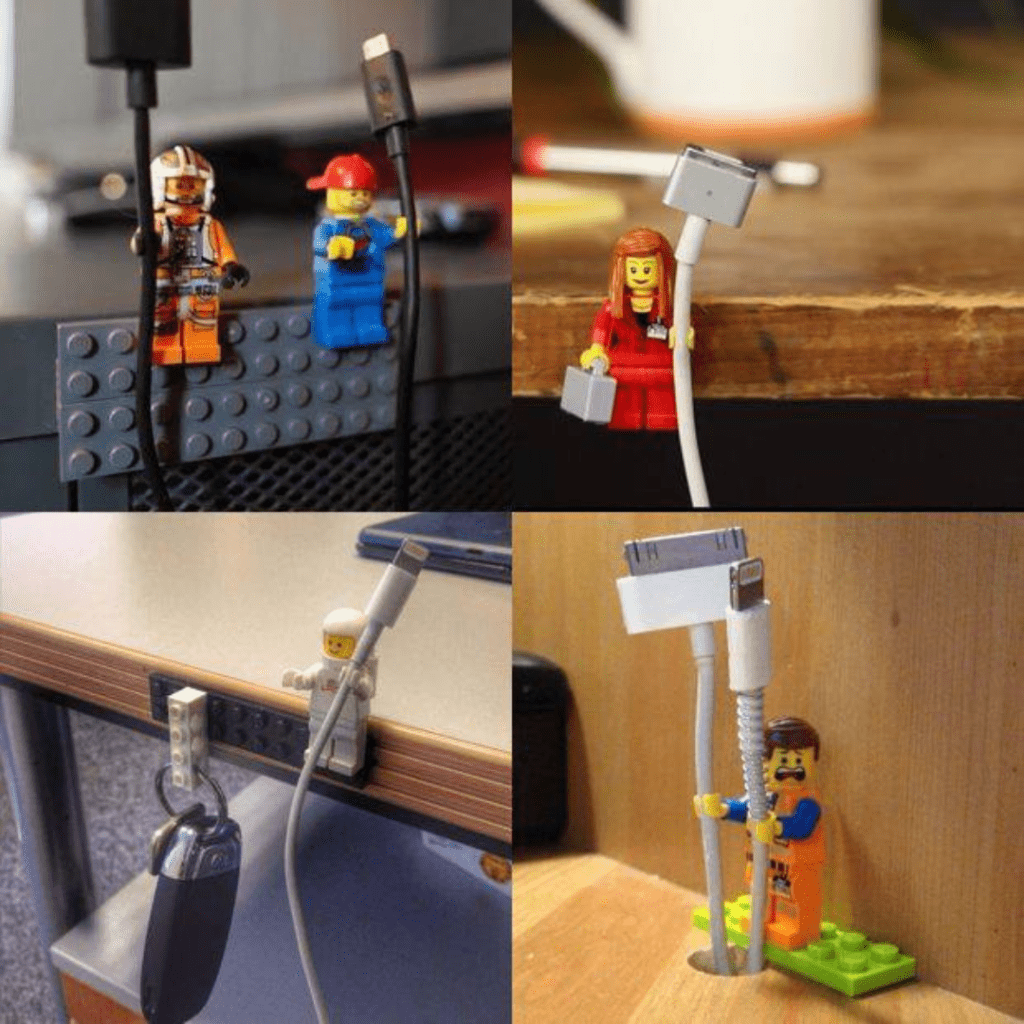 It seems like we spoke too soon. These super cute cable holders made out of LEGOs are amazing! If you think about it, it was meant to be—the hands of the little figures are the perfect shape and size to hold phone and computer cords.
Fashion display
While there have always been building blocks, LEGO was a revolutionary toy. There was nothing like it before, and there is nothing like it now. The brand is ever-expanding and pretty much everyone knows a LEGO brick when they see one.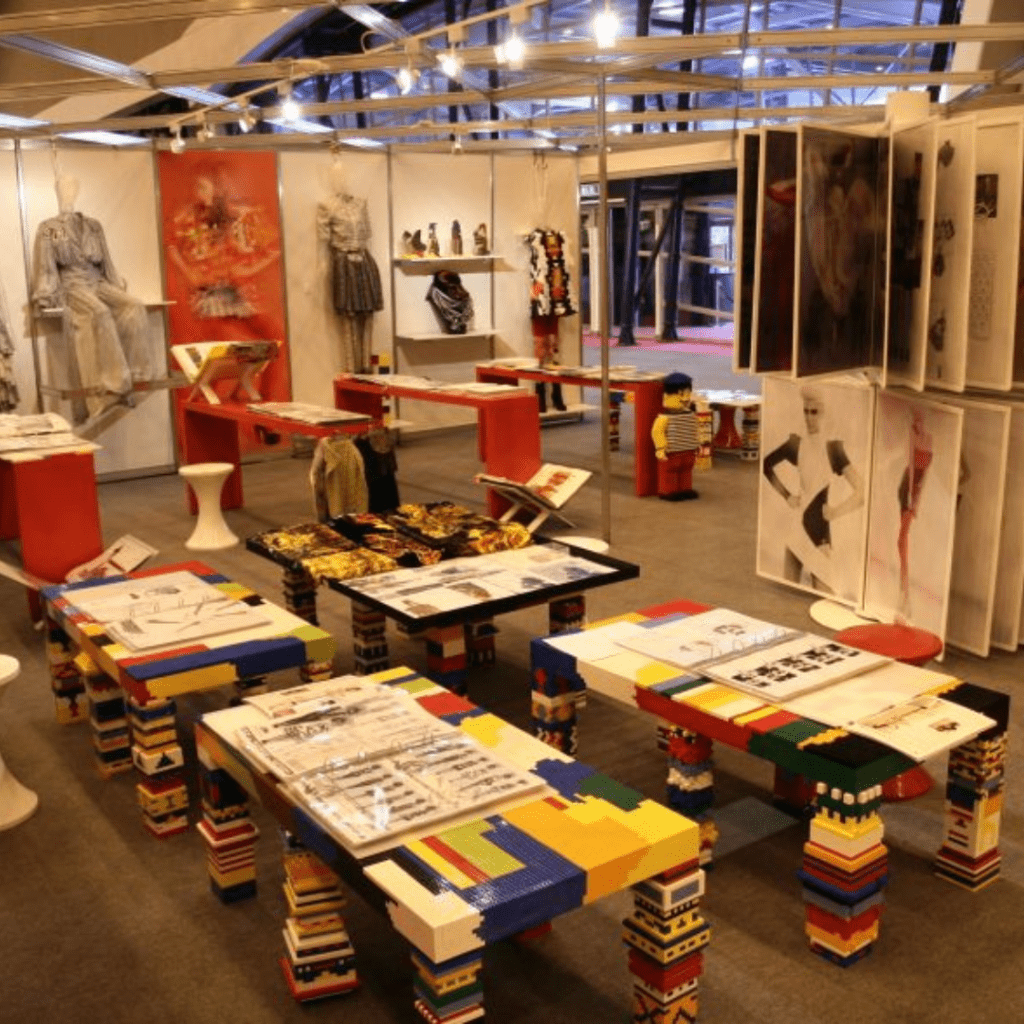 Funnily enough, kids' playrooms and adults' living room shelves aren't the only places where LEGO is popular. According to the picture above, even clothes stores are using furniture made out of LEGOs to display the pieces of their most recent collection!
Teenage tasteful bedroom
LEGO is mostly associated with either small kids developing their motor skills or adult aficionados who simply love building the most complicated sets they can find. There is another demographic that also loves LEGO, though, and they are often overlooked by everyone!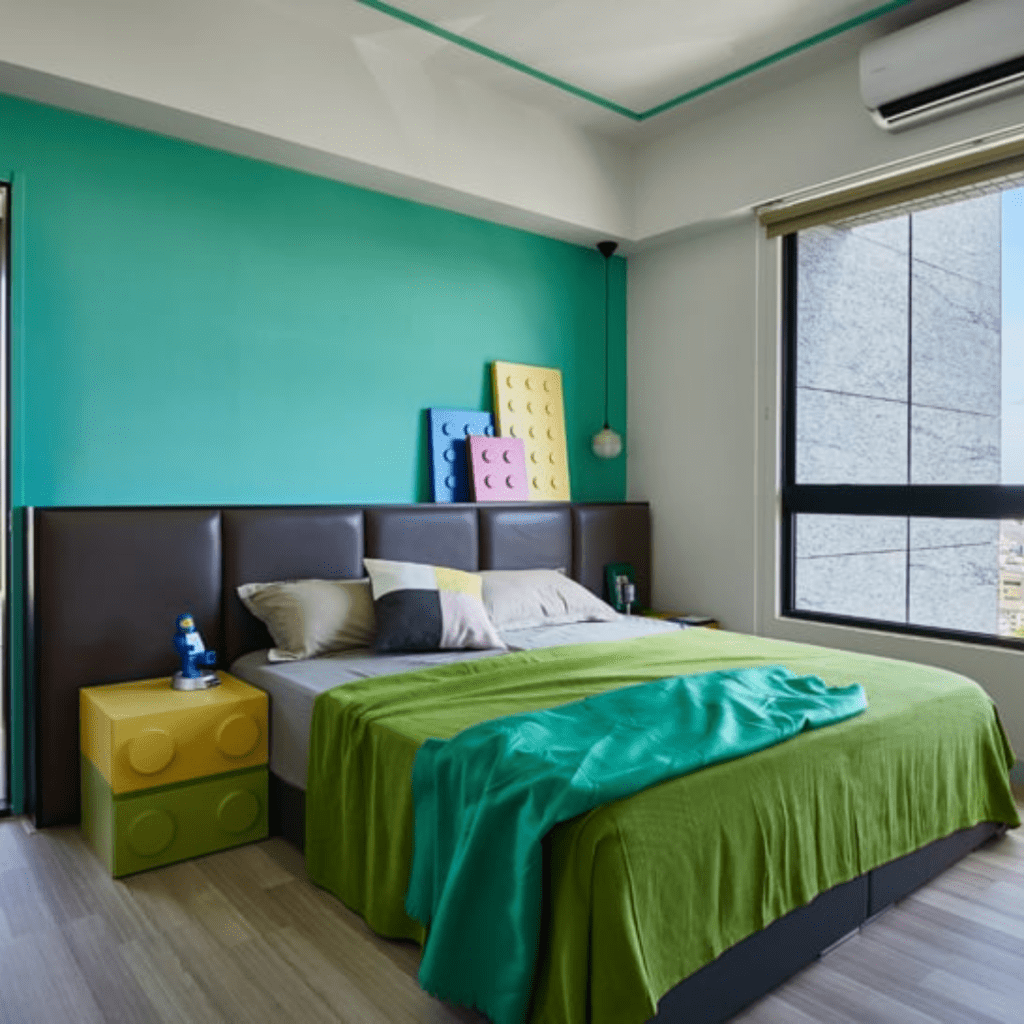 We're talking about teens, of course! It's common to find teens who dislike LEGO products and say they are childish and lame, but some of them out there actually love those colorful little blocks! Like the owner of the tasteful bedroom above, for example.
Shared room of dreams
It's hard to decide what theme to use in your kids' bedrooms, especially when you have a small house or apartment and they need to share a bedroom. Some tastes are wildly different from others, but there is something all kids can agree with—LEGO is cool!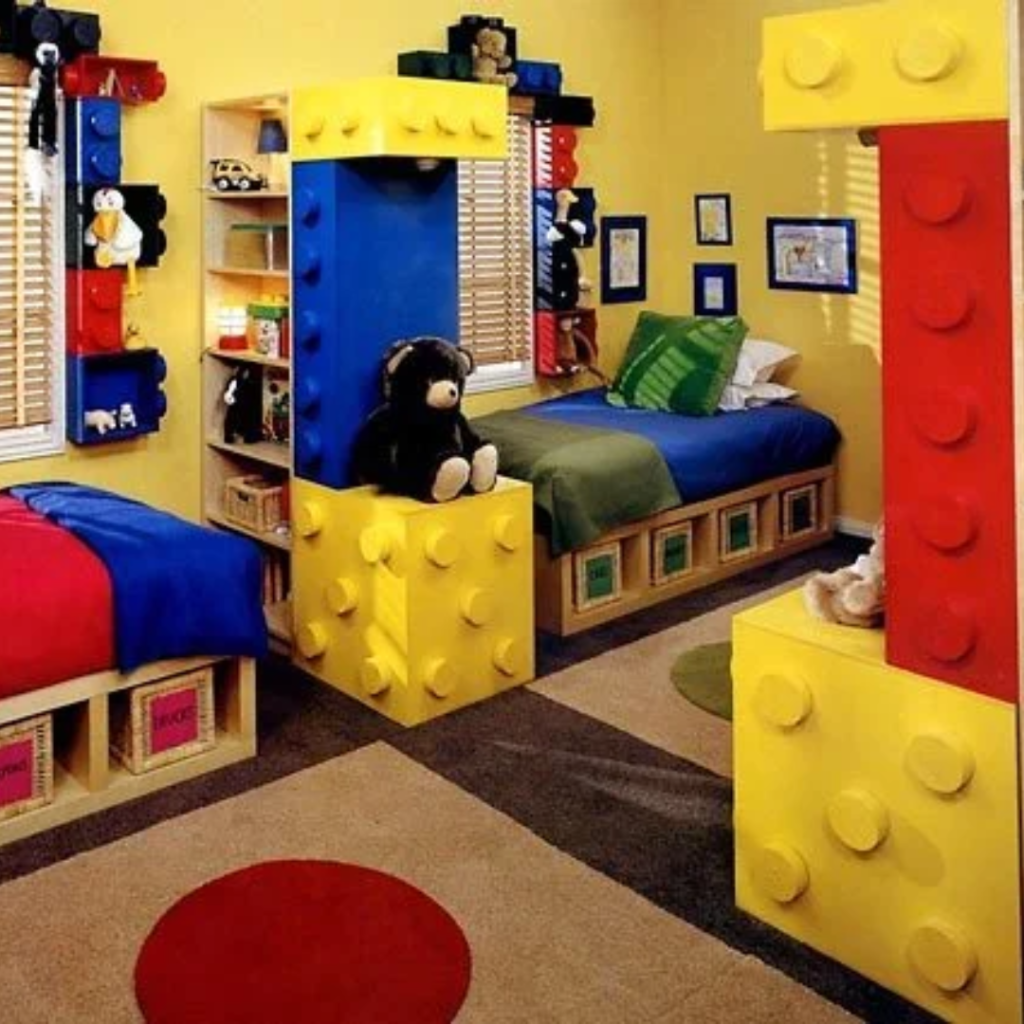 So, next time you're looking for decoration ideas, make sure to check the room above! It's fully customized to look like a room made out entirely of LEGO bricks, and it can easily support four small kids, each with their own bed!
When IKEA meets LEGO
It sounds silly to say, but no home is complete without a table. Whether you only have room for one where you eat, or your home is spacious enough to accommodate several coffee tables, they're an essential in every household.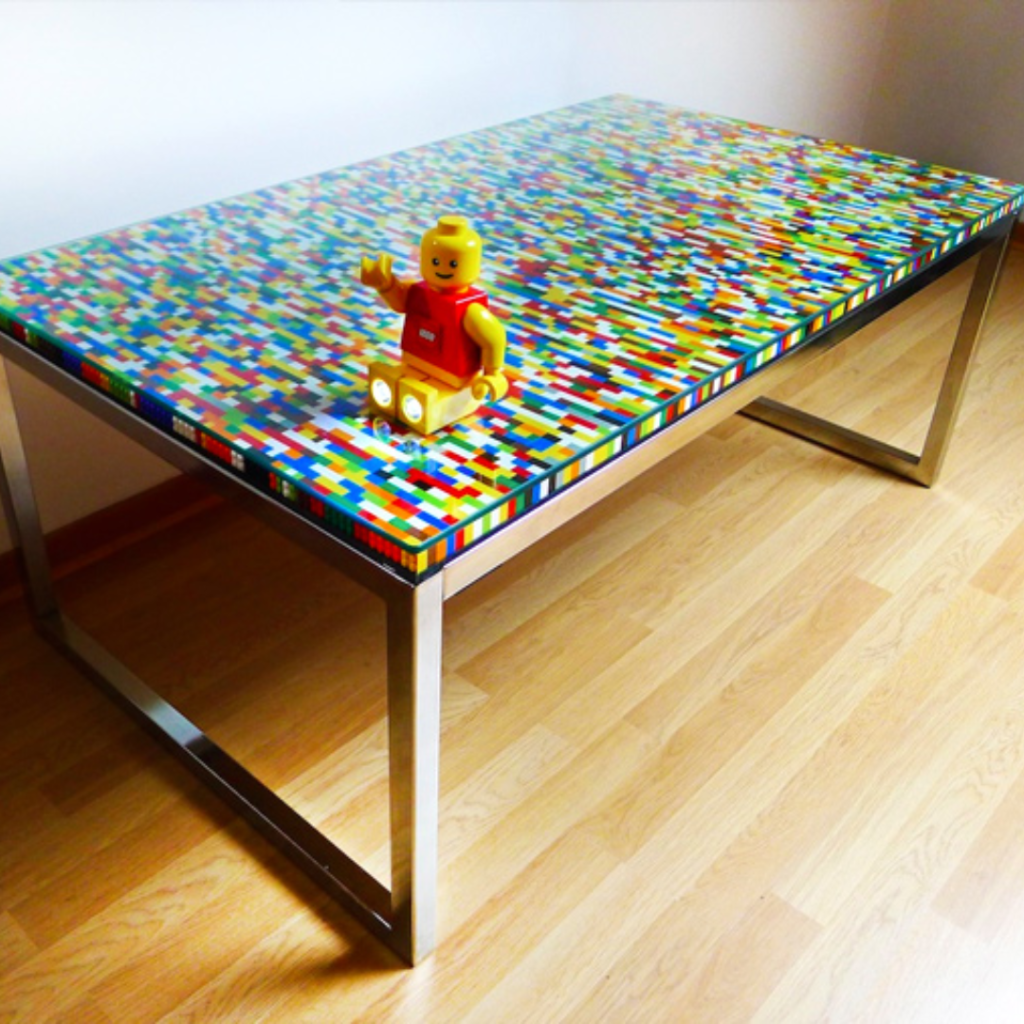 Table designs and styles have changed over the years, so it can be frustrating if you're looking for something unique. You can't really reinvent the wheel. If you combine LEGO blocks and your average IKEA table, though, you'll end up with something truly special.
Custom laptop stand
If you work with a laptop, you know how uncomfortable it is to use it for long periods of time, especially if your desk is not adjusted for your height to begin with. That's where laptop stands come in handy.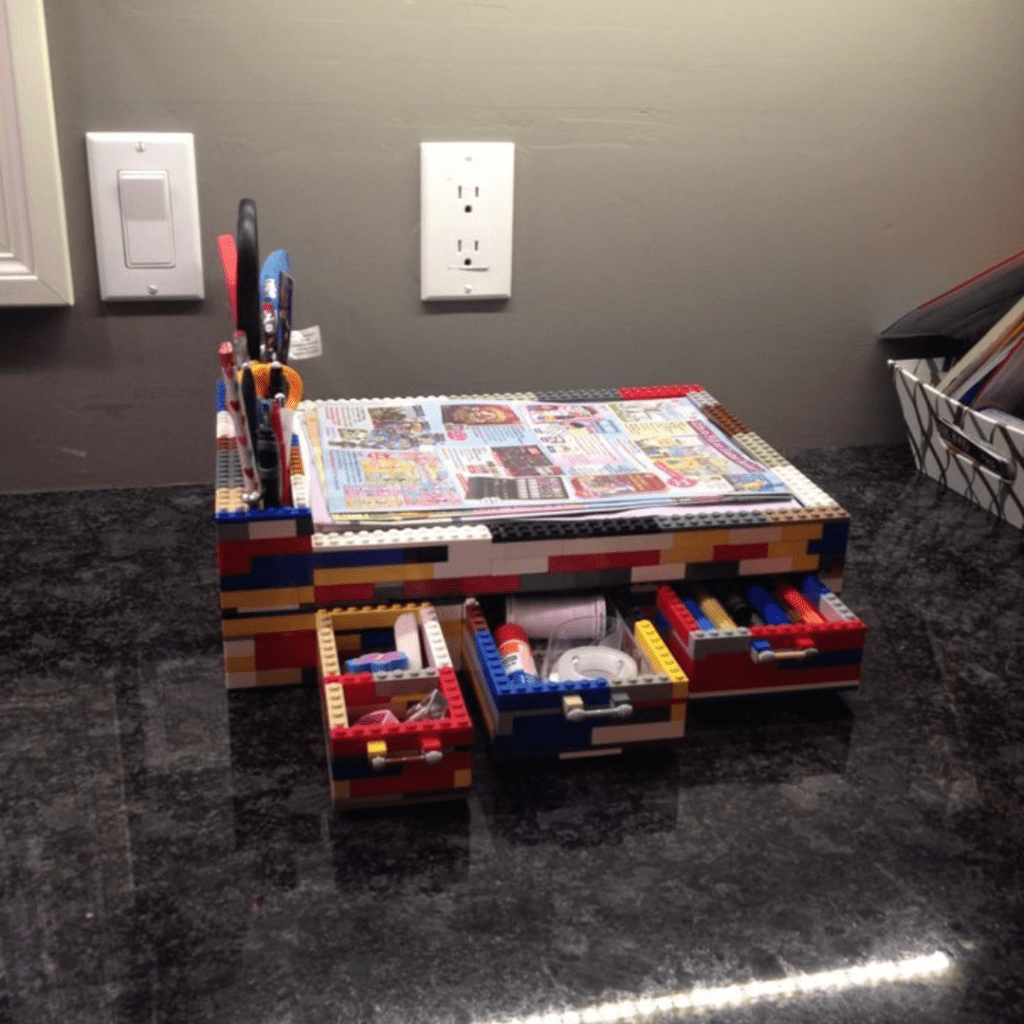 It's important to buy one that fits your needs, but how cool would it be if you could simply build one even if you're not handy enough? Well, turns out you can! Just use LEGO blocks instead of wood, are you're good to go!