Tags And Bags: DIY Ideas For Stylish Luggage Tags
By Harpreet K January 13, 2023
---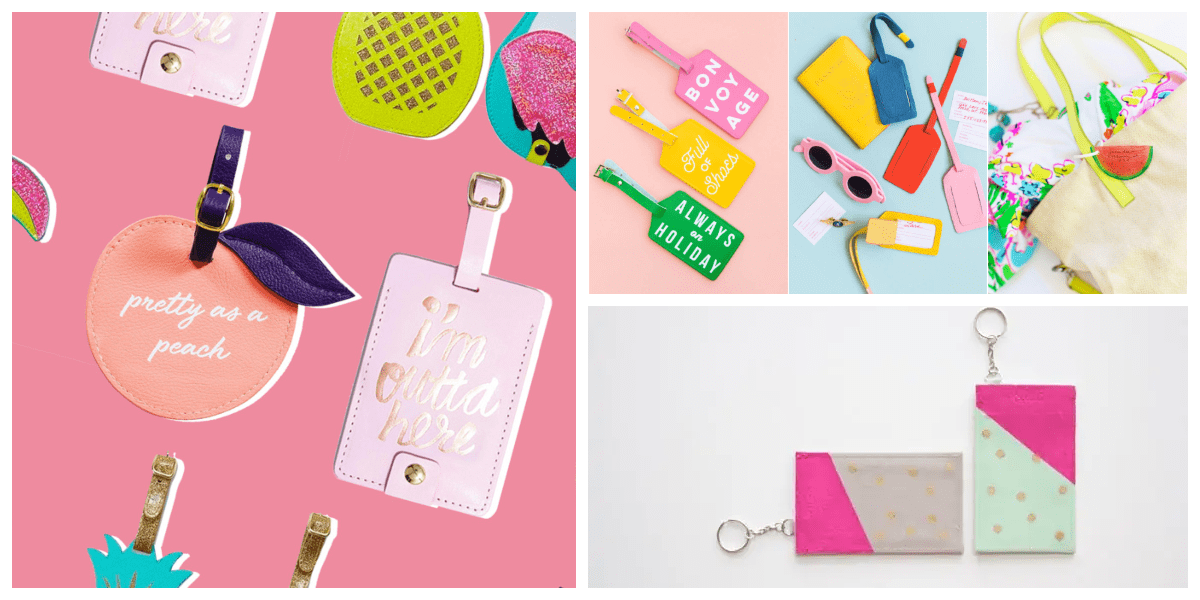 For many, traveling is an exciting and rewarding experience. But when it comes to packing for your trip, there's always the tedious task of figuring out which suitcase is yours. In addition, knowing that your luggage has been safely identified and tracked is essential. A personalized luggage tag might just save you some travel stress and money.
DIY Luggage tags are an easy way to ensure that your bags are easily identifiable among the dozens of other bags in an airport carousel or train station. In this article, we'll explore some fun and creative ways to make your luggage tag at home using everyday materials. Read ahead to learn more about how to create your DIY luggage tags with limited sources.
1. Paint leather for a luggage tag
You can create your luggage tag at home with just a few supplies! You'll need to find some leather and paint. Painting leather is relatively hassle-free and you'll be done in just a few steps. First, choose the color or design you want for your luggage tag.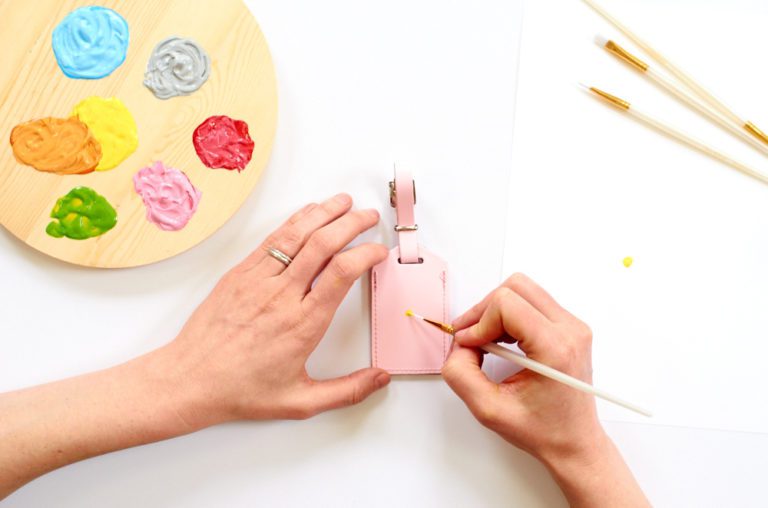 Then, you need to use a sponge or a brush to apply the paint evenly over the surface of the leather. Once the paint is completely dry, you can attach your new luggage tag to your bag. With a bit of creative thinking, you can create a fun accessory for your next trip!
2. Typo luggage tags
Luggage tags are an essential part of traveling, but they can also be quite dull and mundane. Why not sprinkle some pizzazz on your luggage with a stylish DIY typo tag? You can DIY your typo luggage tags for bags.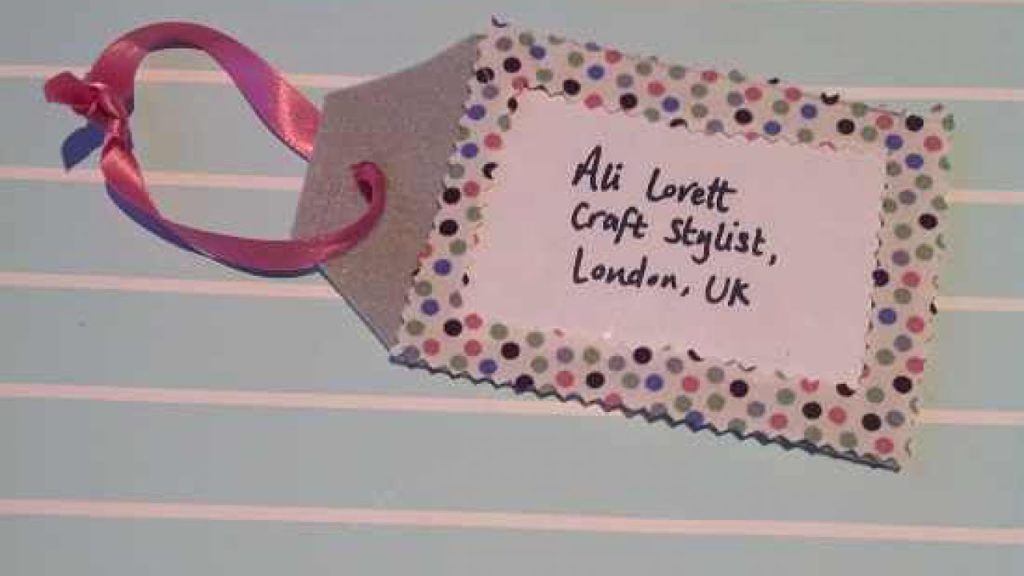 You'll need to get your hands on a computer printer, some cardboard, and a few other materials. Once you have everything ready, type out your information on the tag. Then, decorate the tag however you like; add some color, doodle a design, or whatever else you can think of.
3. Use home foil for luggage tags
DIY luggage tags are a great way to add a splash of personality to your bag and are also efficient. With just a few supplies and some creativity, you can easily make your luggage tags at home for your convenience.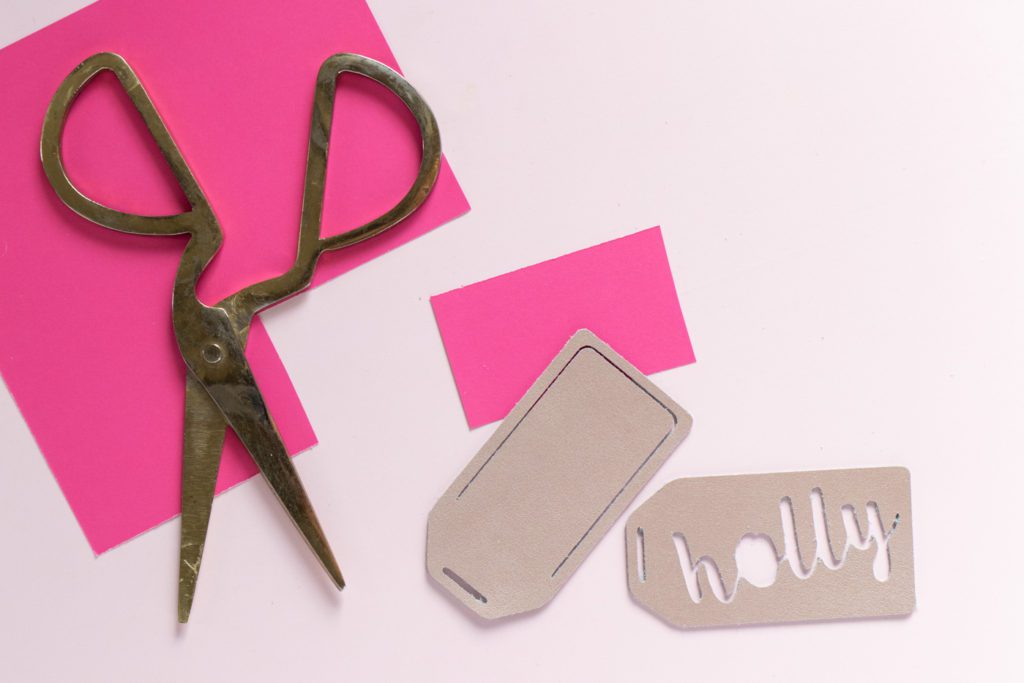 Once you have everything you need, you can start designing your tags. Brainstorm some ideas for what kind of tag you would like. Then, take your foil and draw your designs on it. Cut it out carefully and paste it on any luggage tag. 
4. Watercolor your luggage tags
To start, you have to gather some watercolor paints, a brush, and blank luggage tags. Begin by painting a base layer of color on each tag. You can go with a single color or channel your inner Picasso and go wild with color.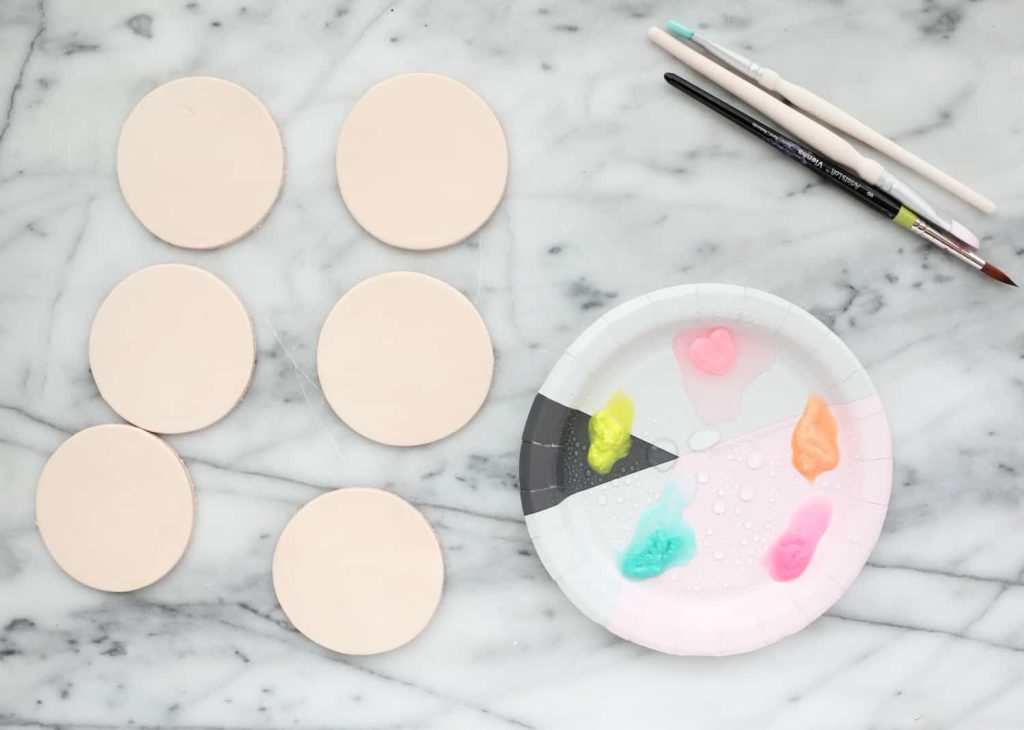 Once the base layer is dry, add any additional details or patterns you like. If you need help with what to paint, look for inspiration on Pinterest. After you're satisfied with your artwork, let the tags dry thoroughly before attaching them to your luggage.
5. Fabric luggage tags
Fabric luggage tags are not only easy to make, but you can also customize them however you like. Just grab some fabric, a bit of ribbon, and some basic sewing supplies. To get started, cut out a rectangle of fabric that is large enough to fit your information card.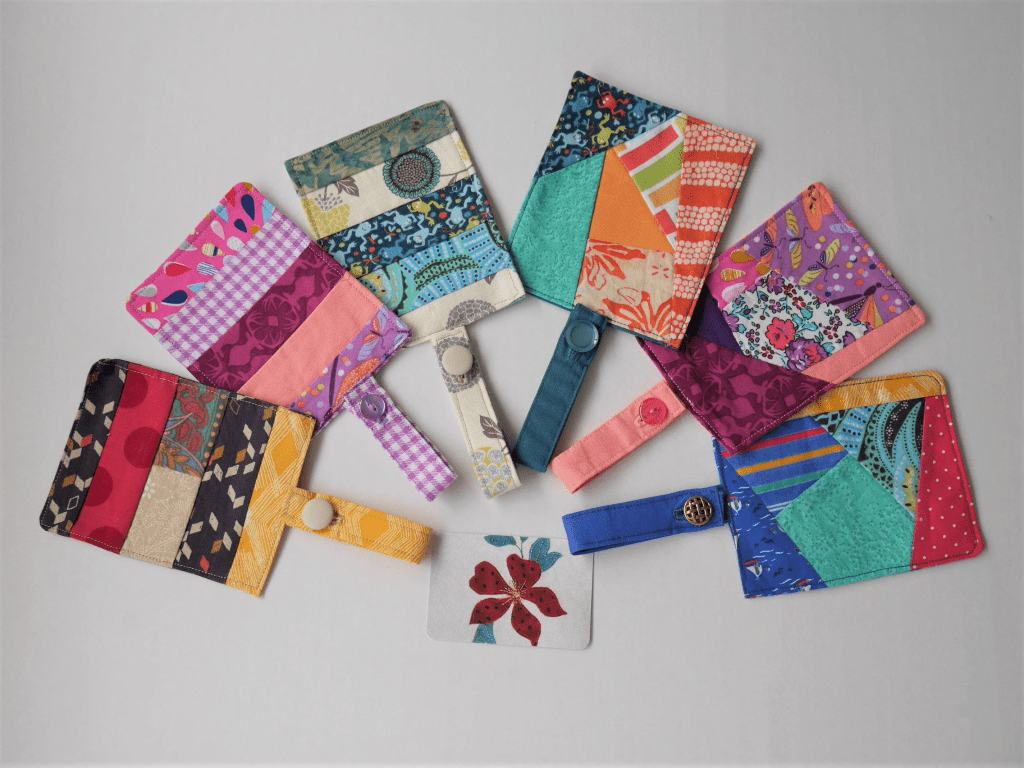 After this, you need to sew the edges of the fabric together, leaving a small opening at the top. Next, thread a small ribbon through the opening and tie it off. With a few simple steps and stitches, you will have your fabric luggage tag.
6. Paper cut-outs luggage tags
Paper cut-outs are a great way to personalize your luggage tags. You can use colored paper, patterned paper, or scrapbook paper to create one-of-a-kind designs. Start by tracing a tag template onto your paper of choice and cut out the shape.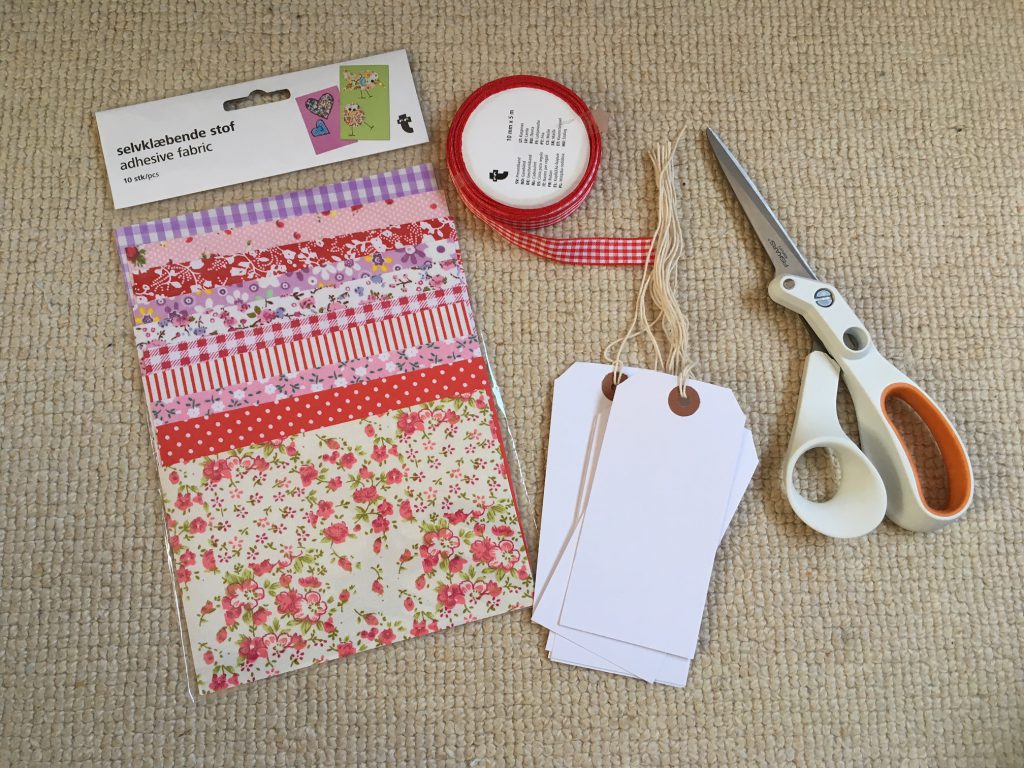 Then, use an X-acto knife or scissors to cut out any designs or letters you want to add. And once you're happy with your design, glue or tape the tag onto your luggage. This will help you identify your luggage quickly and make it look cool.
7. Printed luggage tags
Another fun DIY idea is to print your luggage tags yourself. You'll need to get hold of a printer and some paper or cardstock. Then you can get as creative as you want, whether it's using photos, graphics, or even your own artwork.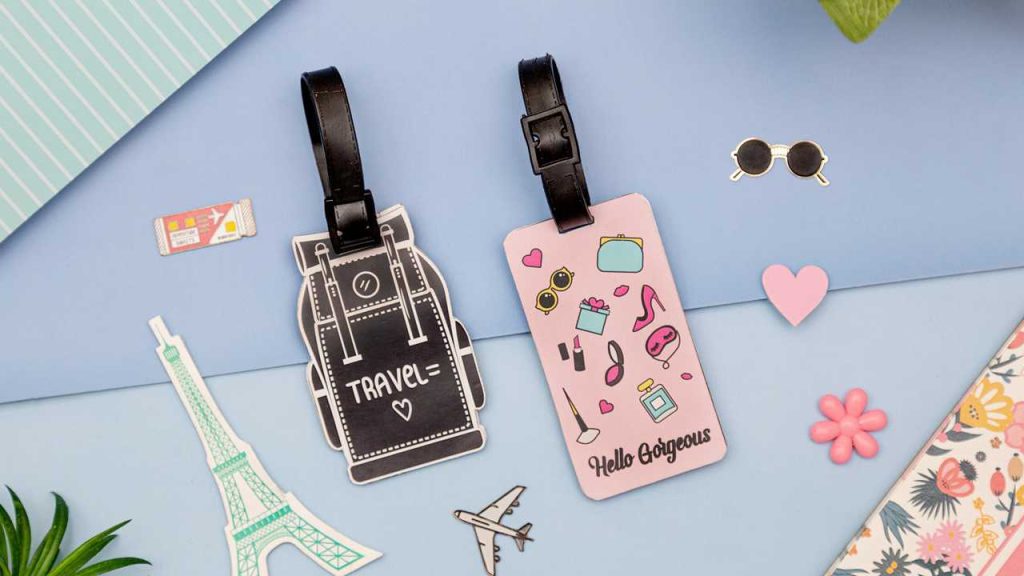 You can use any design or pattern you like, add your name and contact information, and even include a photo of yourself. Printed luggage tags make it easy to identify your bags within the sea of luggage at the airport. So, next time you wish to DIY a luggage tag, go for a printed one. 
8. Wooden luggage tags
With DIY luggage tags, you can have unique tags for all your bags that reflect your style. The rustic wooden tag is the most attractive among so many other luggage tags. To make these, cut your wood into small rectangles that are big enough to fit your name and contact information.
Drill a hole in each tag, and then paint or decorate them however you like. Once they're finished, loop a strap through the hole and attach them to your bags. That's all. You will now have your rustic wooden luggage tag.
9. Embossed wooden tags for luggage
First, you'll need some thin wood veneer. You can find wood veneer at most craft stores or online. Cut it into small rectangles that will fit onto your luggage. Then, using a wood-burning tool, carefully burn your desired design into the wood.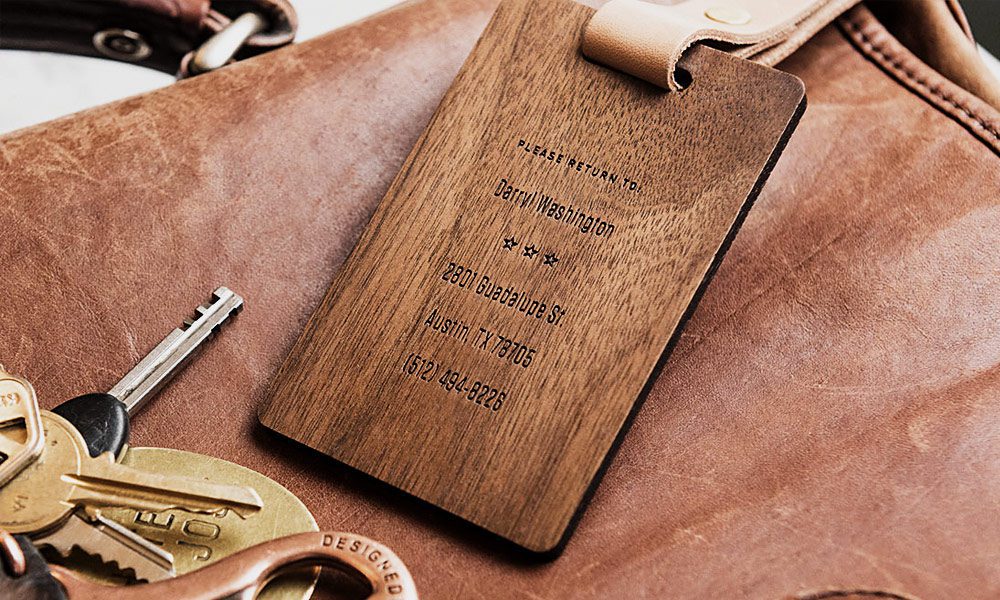 Once your design is complete, seal the veneer with varnish or a clear coat of polyurethane. Doing this will protect it from weather and wear while you're traveling. Then, attach the tag to your luggage with strong adhesive or string.
10. Stamped leather luggage tags
Stamped leather luggage tags look fabulous no matter what color of leather you use. These are known to be authentic luggage tags. The tag is relatively easy to make, and you can choose which design you want to stamp onto the leather.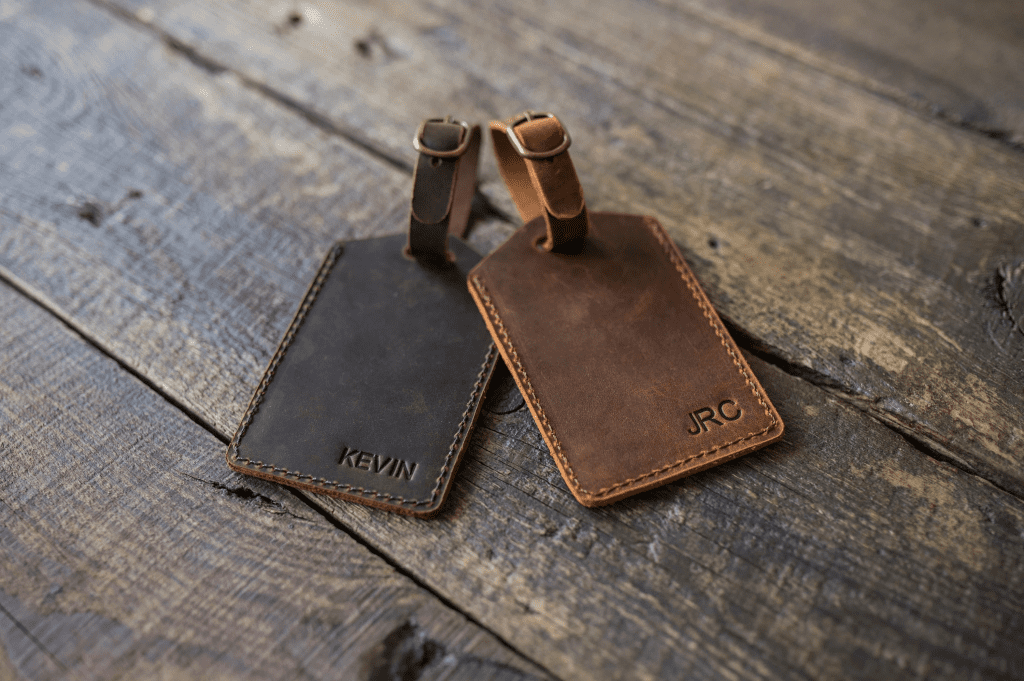 All you need is some leather, a stamp, and ink. First, cut your leather into tag shapes. Then, using your stamp, create designs on the tags. Finally, apply ink to the tags to give them color, and you are good to go.
11. Luggage tags using fabric scraps
If you have a pile of fabric scraps that you don't want to use anymore, you can put them to good use with this easy DIY luggage tag project. With these snazzy tags, there's no need to rush to the store and waste your money on expensive luggage tags.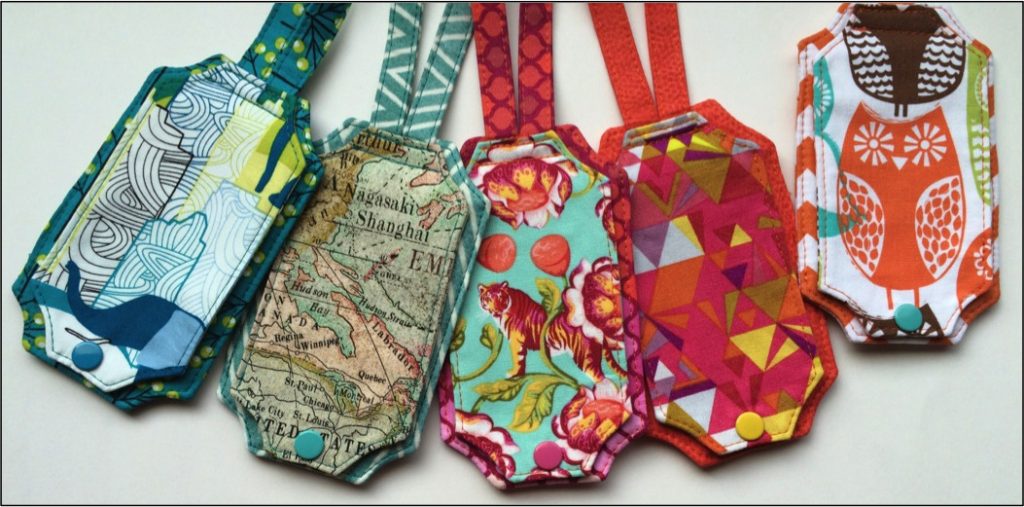 You can start by cutting your fabric scraps into small squares. Then, write your name and contact information on each square using a permanent marker. Once you've done that, attach the square to your luggage tag with a bit of adhesive.
12. DIY mickey mouse luggage tags
For many people, Mickey Mouse is the face of Disney. He has been delighting children for almost a century, and his image is instantly recognizable around the world. So, it's no surprise that Mickey Mouse luggage tags would be a popular item.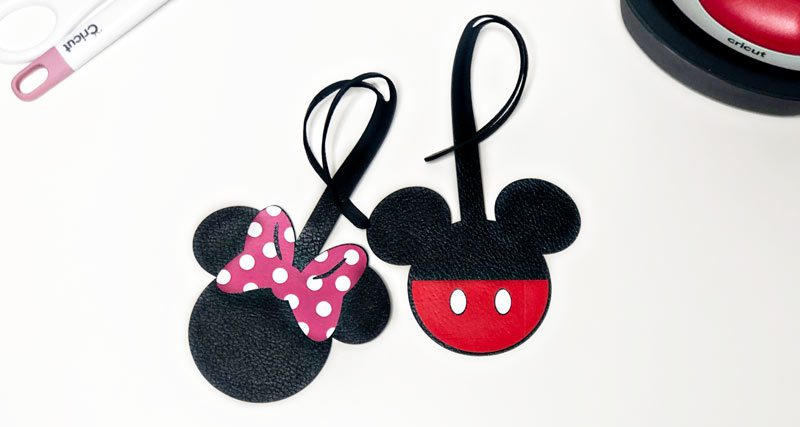 There are all sorts of different Mickey Mouse luggage tags available, from simple designs to more elaborate ones. And if you've been bitten by the DIY bug, you can make your own Mickey Mouse luggage tag. This will only cost you a little bit of ingenuity and not much money.
13. Bon voyage tags for luggage
As you gear up for your next vacation, remember to DIY some cute and personal luggage tags! Not only will they make your bags stand out from the rest, but you'll also feel more excited about your trip when you see them peeking out from under the handle.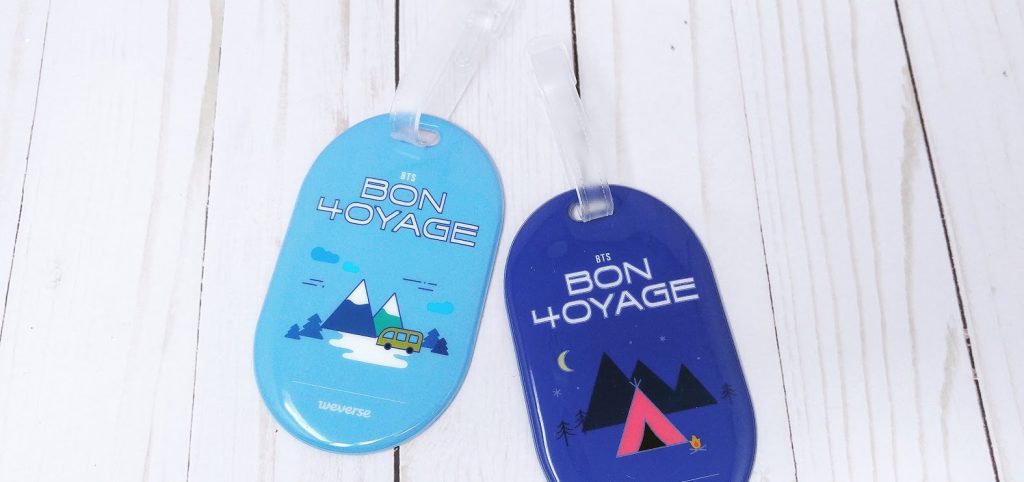 So, when you have to DIY your luggage tag next time, go for a Bon Voyage tag. This term is used to express good wishes to a person about to embark on a journey. There couldn't be a better option than getting this printed on your luggage tag.
14. Cute customized luggage tags
You can always have a few luggage tags – especially when they are super cute. You can customize your DIY luggage tag with some fun and easy tutorial. Moreover, DIYing your luggage tags is a great way to save money – no need to buy expensive tags when you can make your own.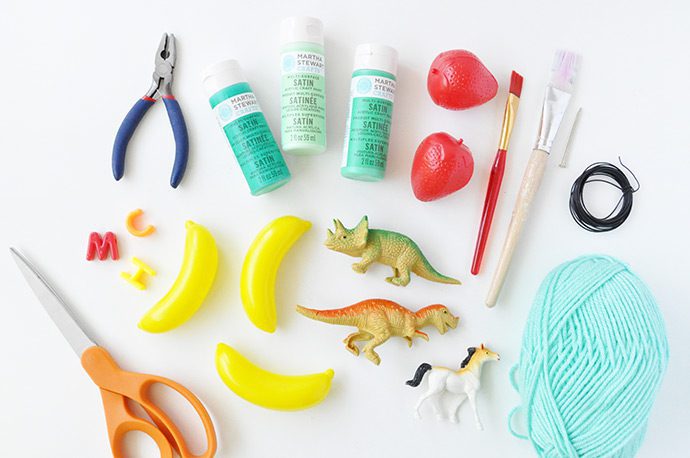 You don't even have to worry about writing your name or anything else as a mark on these customized luggage tags. Because these customized tags are enough to make you identify your luggage from far away, collect those tiny things you would like to use for your tags.
15. Luggage tags with a message
To make your luggage tags, start downloading and printing a good template. Cut out the tag shape, then use a hole punch to create a hole for the strap. Decorate the tag however you like – you can use markers, crayons, stickers, etc.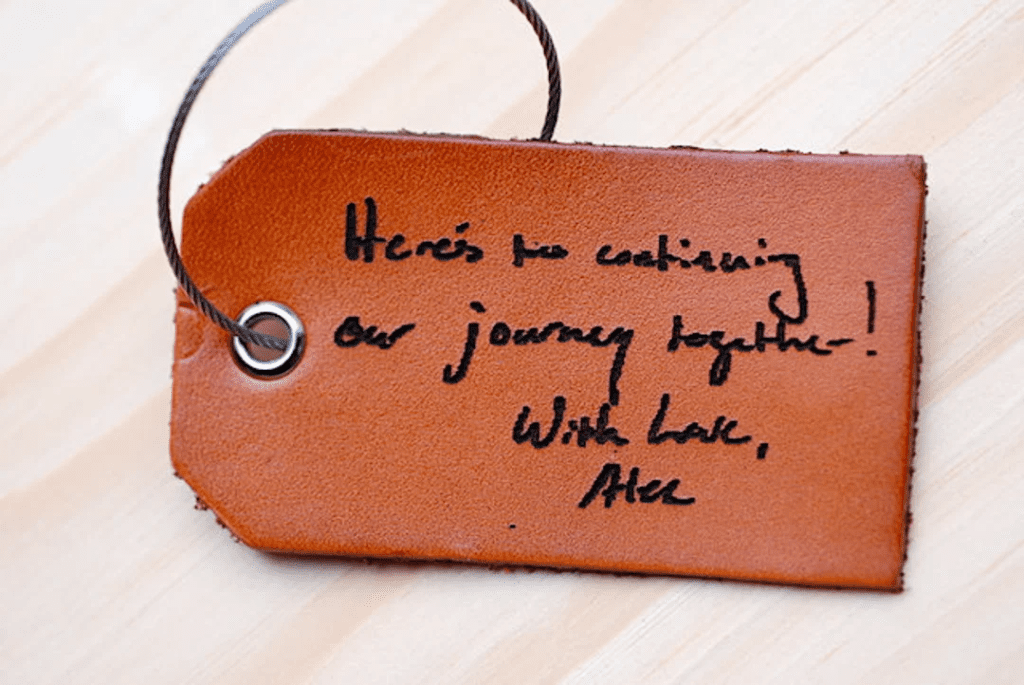 If you want your tag to be extra fabulous, you can even add embellishments like buttons or sequins. Once your tag is decorated, add your details on the back. On the other side of the tag, you can write down a message or a quote of your choice. 
16. DIY faux leather tags
Crafting something from scratch can bring great satisfaction, and that's precisely why you should try your hand at this DIY project. Each tag can be customized with your personal message, color, or preferred design when made from durable faux leather.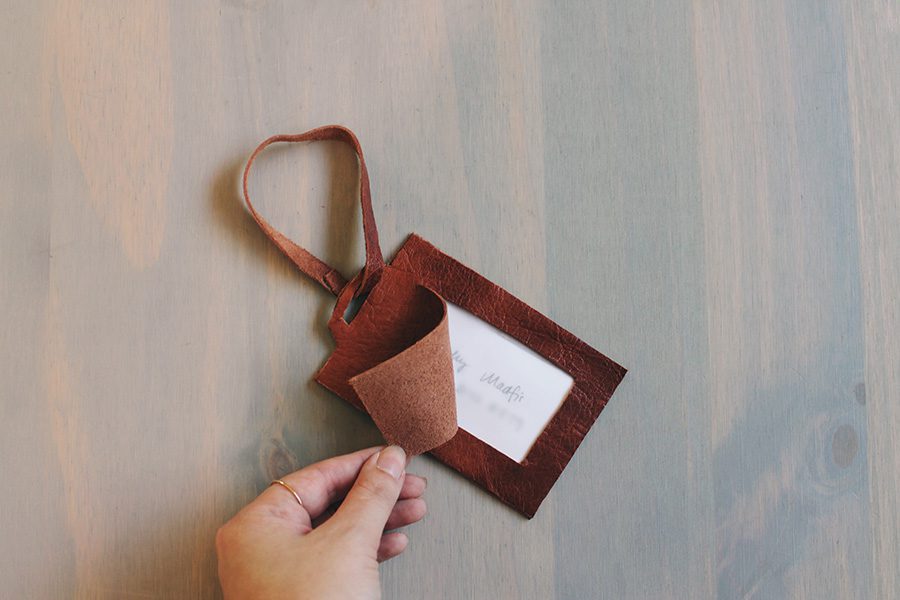 Here's what you need to do to DIY your faux leather luggage tag. Start by tracing the outline of your tag onto the faux leather. Then, use scissors or a sharp knife to cut out the shape. Next, punch two holes near the top of the tag to attach it to your luggage.
17. Make a brushstroke luggage tag
First, you will need a blank luggage tag. You can find these online or at most craft stores. Next, you'll need some paint in the color of your choice. Make sure to use acrylic paint, so the paint does not fade over or chip over time.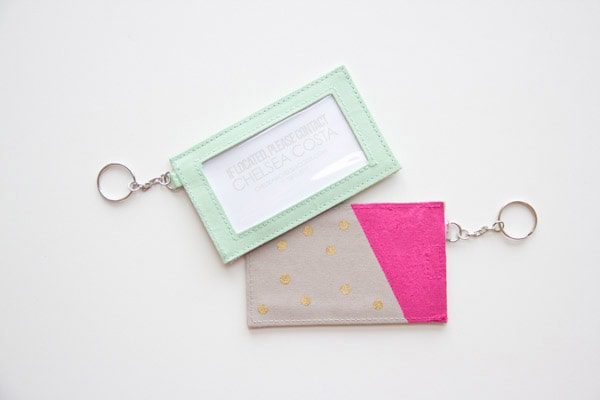 Finally, you'll need a fine-tip paintbrush. Begin by painting a simple brushstroke design on your luggage tag. You can be as creative or simple as you like – it's up to you! Once you're happy with your design, let the paint dry completely, and it's done.
18. Use old jeans for luggage tags
You can upcycle your old jeans into cute and practical DIY luggage tags! You'll need fabric paint, a sharpie, and some old jeans you don't wear anymore. Use the fabric paint to create a design on the back pocket of the jeans.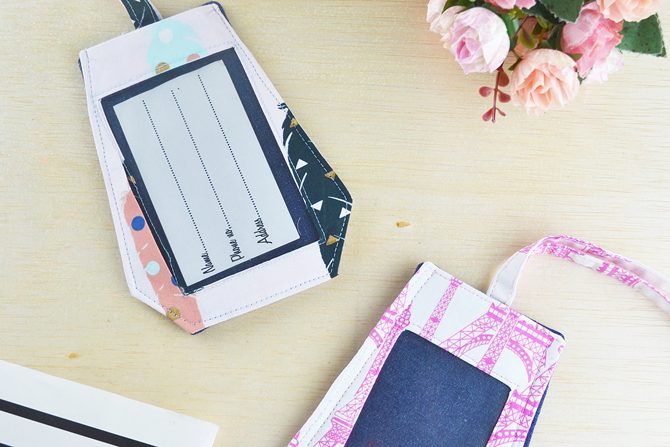 Once your design is dry, use the sharpie to write your initials, name, and address on the front pocket. Now you have stylish and unique luggage tags that will help your bags stand out from the rest. Isn't it one of the most astonishing tags for your luggage?
19. Quickie luggage tag
Whether you're jetting off for a weekend getaway or a week-long vacation, you'll need a luggage tag to ensure your bag doesn't get lost en route. But there's no need to splurge on luggage tags when you can easily make them at home.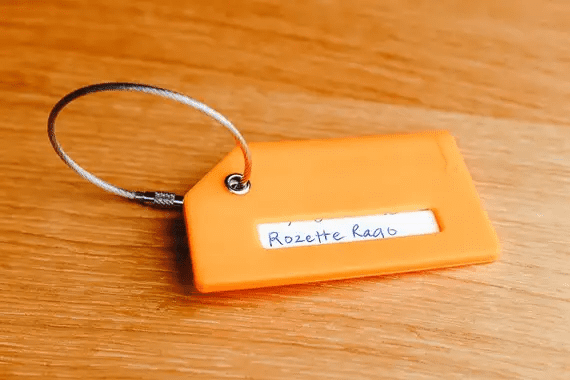 Here is how you can make a quick tag. Begin by cutting a rectangle out of cardboard that is large enough to accommodate all of your contact information. Next, use a pen or marker to add all your details to the tag. And then you're done.
20. Go for a schmancy luggage tag
Now, a schmancy tag is for someone fond of extra fancy things. Forget about those boring, pre-made luggage tags. If you want something unique and stylish, you need to make your own. They will be much cuter than the store-bought ones.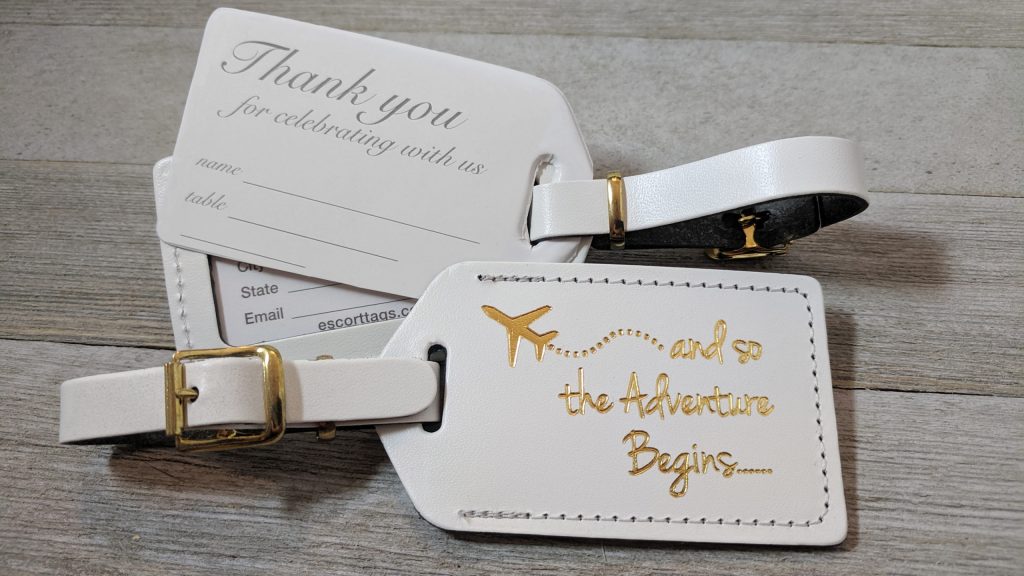 Start with making a primary luggage tag as per your preferences. Then cut out a tag shape from the cardstock, decorate it however you like, and attach it to your bag. You can get as creative with the design as you want and add a lot of glitters to make it fancy.
21. Monogram luggage tag
There's nothing quite like the feeling of setting off on a new adventure; part of that is ensuring you're prepared for everything. One way to do that is by having your luggage adequately labeled with your name and contact information.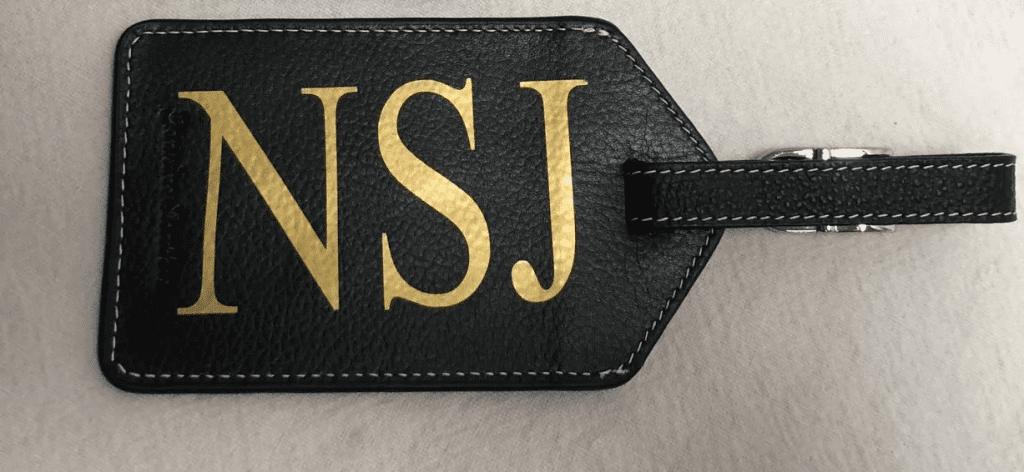 It is simple to make monogrammed luggage tags. You can find many tutorial videos and blog posts online about making these unique tags. Once you have them, tie them onto your luggage handles or zipper pulls and make them look attractive and unique. 
22. Disney tags for your luggage
If you are a Disney fan, you'll want to deck out your luggage with fun and festive Disney luggage tags. For that, you can find all sorts of DIY Disney tags online or make your own with some simple supplies.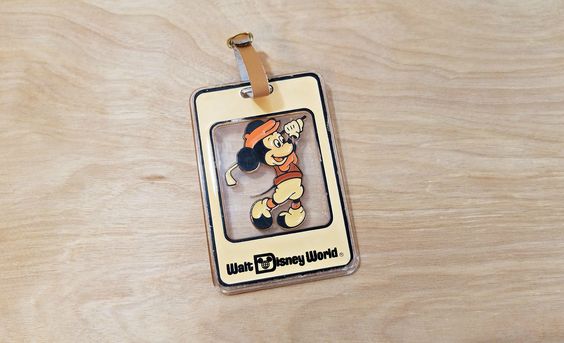 You can use Mickey Mouse ears, Minnie Mouse bows, Cinderella's pumpkin carriage, or any other Disney-themed image. Once you've chosen your design, print it on the cardstock. Then, cut out the shape of the tag and punch a hole at the top and you are all set. 
23. Luggage tags made of fabric cuts
These unique tags are made from fabric cuts, making them a one-of-a-kind addition to your travel gear. Whether you choose to monogram your initials or go for a fun pattern, fabric cut-outs of luggage tags add personality to your belongings.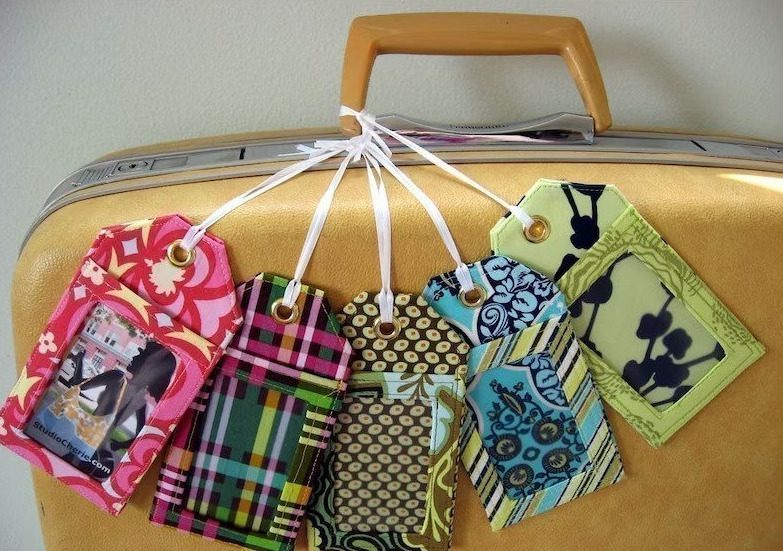 Moreover, they're durable and can withstand the rigors of travel. So next time you're packing for a trip, include some fabric cut-out luggage tags to help you keep track of your bags. This will also help you reuse the old fabric that is lying around. 
24. No-sew luggage tag
A no-sew fabric luggage tag is the perfect solution if you want an easy and quick way to add creativity to your luggage. These tags can be made from any fabric you like, and they are incredibly simple to make.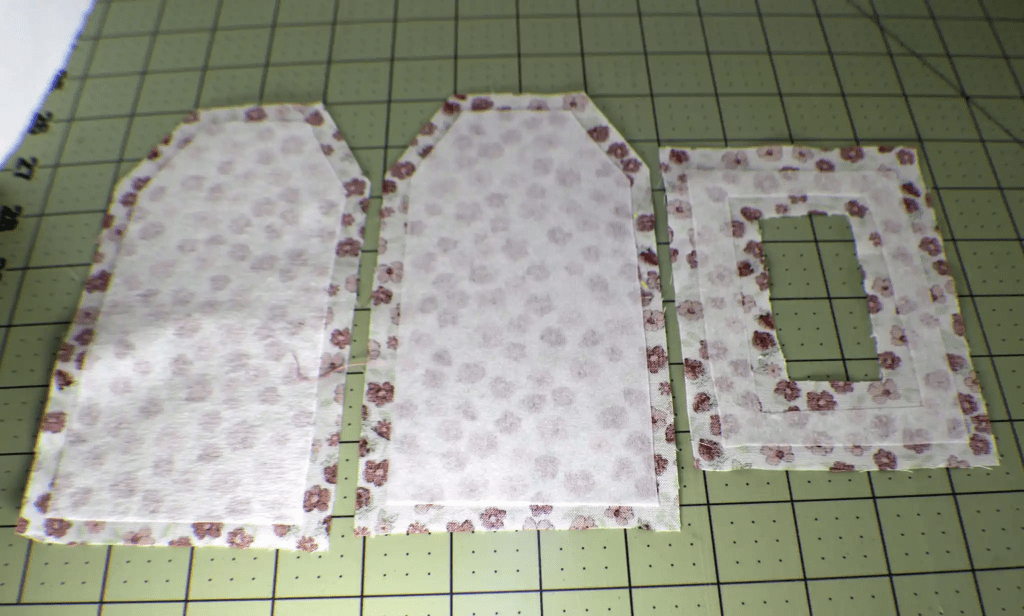 First, you need to choose a fabric that will go well with your luggage. Then cut it out as per the size of your tag. Once done, paste it using glue or double-sided tape. Also, you can write a slogan or draw something to make it look more attractive.
25. Sweet tooth luggage tags
If you are excited to use your new sweet tooth luggage tags, here's what you need to know! These tags are great for quickly identifying your luggage, and they're also super cute. Each tag features a different design, so you can pick one to match your aesthetic.
They're made of durable materials that withstand all kinds of wear and tear. The tags come with a handy strap so that you can easily attach them to your bag. Whether you're headed on a short trip or an extended vacation, these tags will help you identify your luggage.
26. Colorful & funky luggage tags
These colorful and funky luggage tags are the best for someone who is always looking for cool and unique things. However, it would be best if you shortlisted the ideas of how you want your bag tags to look. Once you do that, it will be easy and convenient to start DIYing your tags.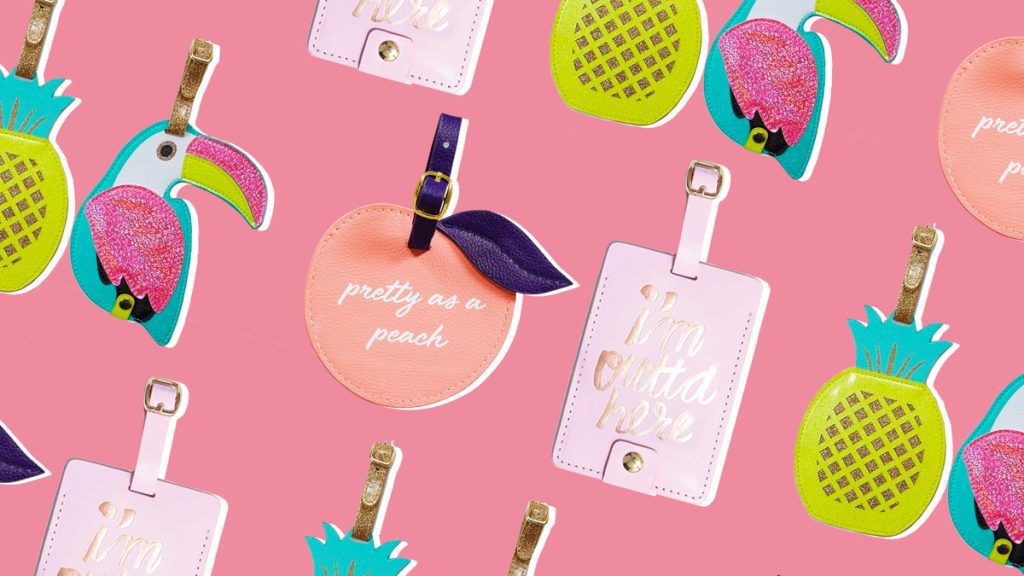 After you have decided and made a tag for your luggage, it is time to decorate it. Use whatever materials you like, and add some color and a funky look to your tags. You could go for a glittery look or use stickers or stamps to create patterns.
27. Shrinkable plastic luggage tags
These shrinkable plastic luggage tags are perfect for labeling your luggage, boxes, or other items that need to be identified. Because these tags are made of durable plastic, they shrink to half their original size when exposed to heat, making them easy to store and carry.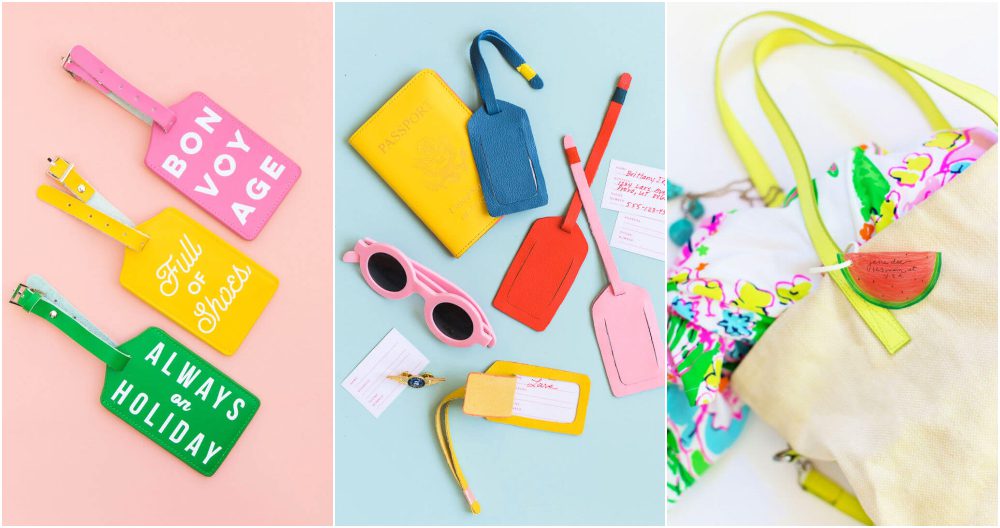 Once done, expose luggage tags to heat using a hair dryer or any other source. The tag will shrink to half its original size in just a few seconds. These tags are a must-have for anyone who travels frequently or needs to label their belongings.
28. Polka dot pattern luggage tags
You can't deny the fact that the polka dot pattern is one of the best patterns of all time. There's something about polka dots that makes them fun and exciting even though they are playful and attractive, yet still classic and timeless.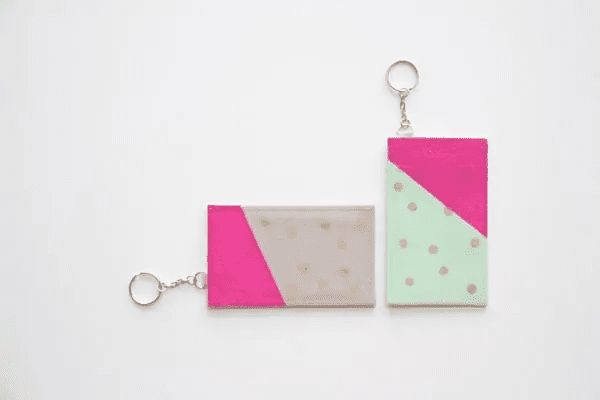 The bright colors are sure to stand out on the carousel, making it easier to spot your bag. But they're not just about looks – the durable construction will stand up to the rigors of travel, ensuring that your information stays safe and secure.
29. Personalized luggage tags
If you want something unique and personalized as a gift option for someone special, you can give them a personalized luggage tag. This could be a fantastic gift for someone who loves to travel or even for those who appreciate a beautiful accessory.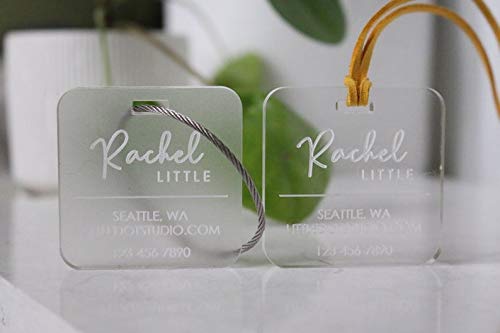 There are tons of different ways you can make personalized luggage tags. You can use photos, quotes, or even simple patterns or designs. No matter what route you choose, make sure each tag is unique and reflects the recipient's interests and style.
30. Make luggage tags using duct tape
Duct tape is one of those magical materials that can be used for just about anything. Need to fix a leaky pipe? Duct tape it. Want to make a quick and easy backpack? Duct tape it. And now, you can even use duct tape to create bag tags.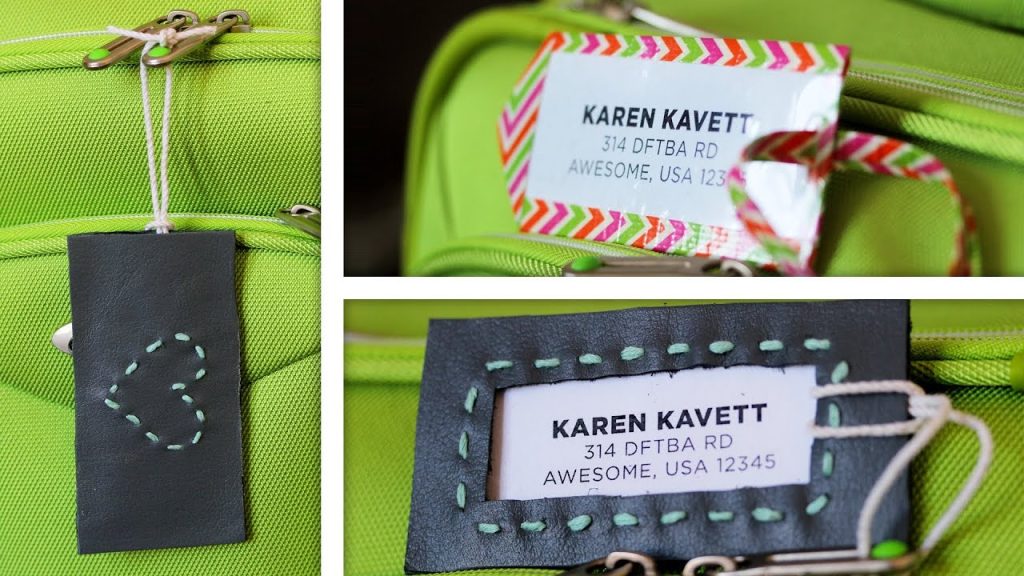 First, you need some duct tape, scissors, and a bit of creativity. To start, cut a strip of duct tape about 3 inches wide and 12 inches long and fold the strip in half lengthwise. Next, use scissors to cut out a tag shape from the duct tape strip and decorate it.
31. Your favorite junk food tags
Consuming junk food on a regular basis can adversely affect your health. However, putting a junk food tag over your luggage has no drawbacks or side effects. For these tags, you can feature a variety of junk food items, including candy, chips, and other fast food.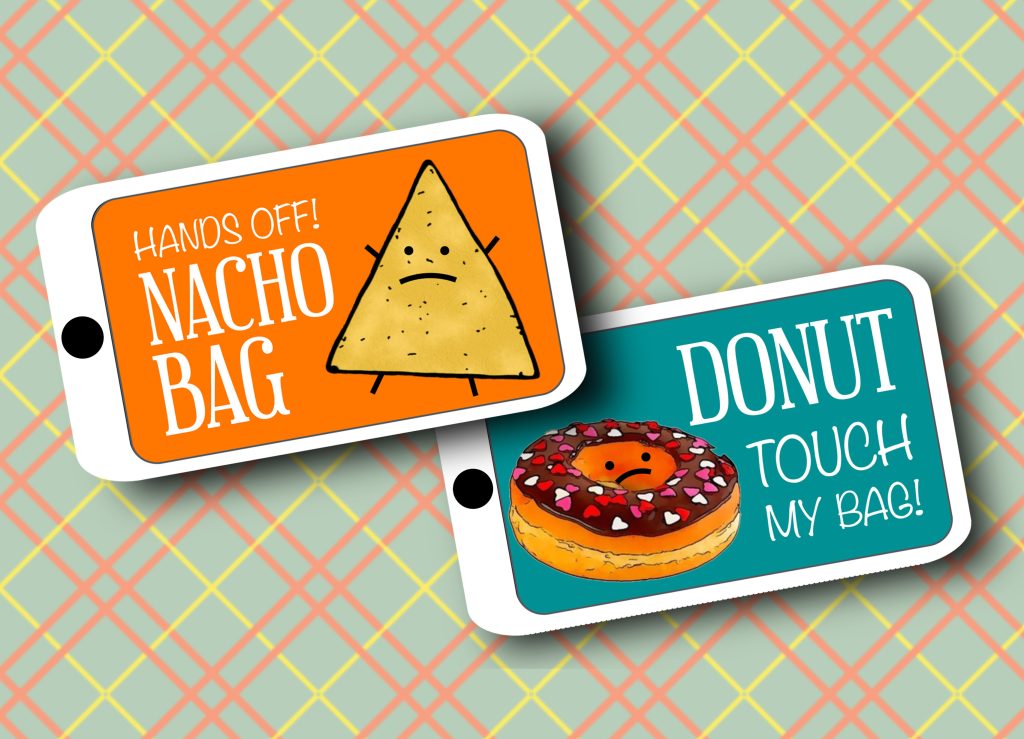 These printable tags are great for kids or adults who love junk food. Also, they're sure to get a few laughs when people see them. To make this, print out the tags and attach them to any unhealthy snack pictures you might be tempted to eat while traveling.
32. Basic leather luggage tags
First, you'll need essential leather working tools like a knife, cutting board, and awl. Also, you will need some thin leather or faux leather and some strong thread. When you have your materials, you can start by cutting the leather into small rectangles.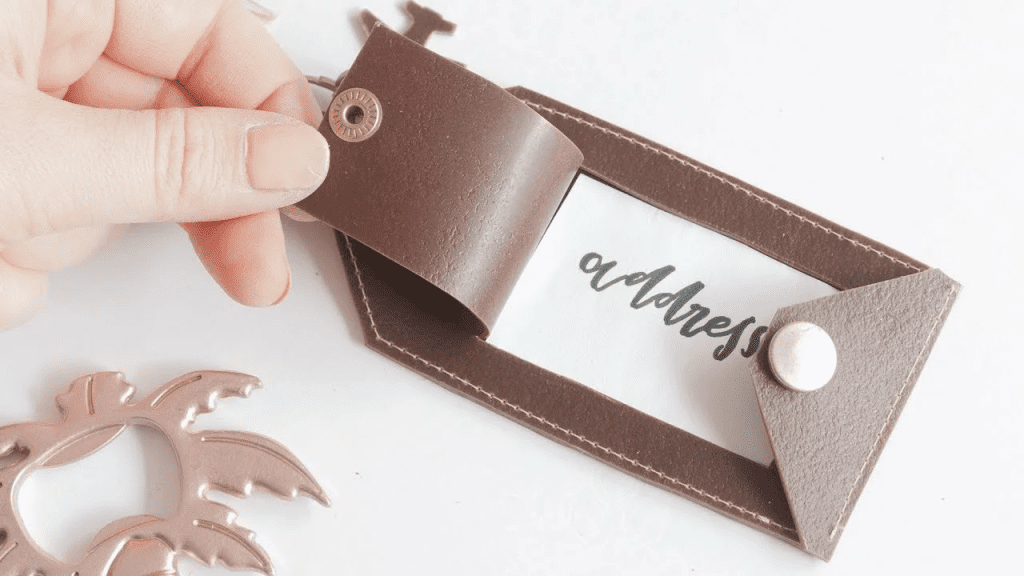 Next, use the awl to punch holes around the edge of each rectangle. Be sure to space the holes evenly so that your stitches will be even. After punching the holes, it's time to start stitching. Once you're done sewing, you can add any finishing touches you like.
33. Applique luggage tags
Whether you're looking for something whimsical or chic, an applique luggage tag is perfect for you. And because they're so easy to personalize, applique luggage tags also make great gifts for your fellow travelers, or you can make them for yourself.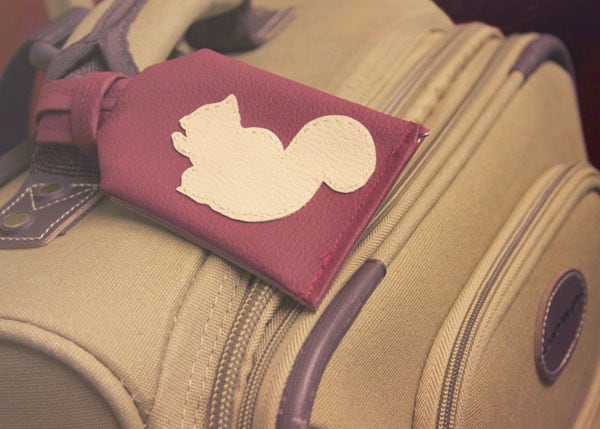 So next time you're packing for a trip, remember to pick up a few of these fun and stylish tags. When we say pick up, it doesn't mean from a store; you can DIY your tag and keep them in your collection. They'll help you spot your bag quickly at baggage claim.
34. Stripes luggage tags
Have you ever gone on a trip and gotten your luggage lost or stolen? It's truly a nightmare. The fantastic news is that there's a way to try to avoid it. You can DIY striped luggage tags to identify your luggage from far away.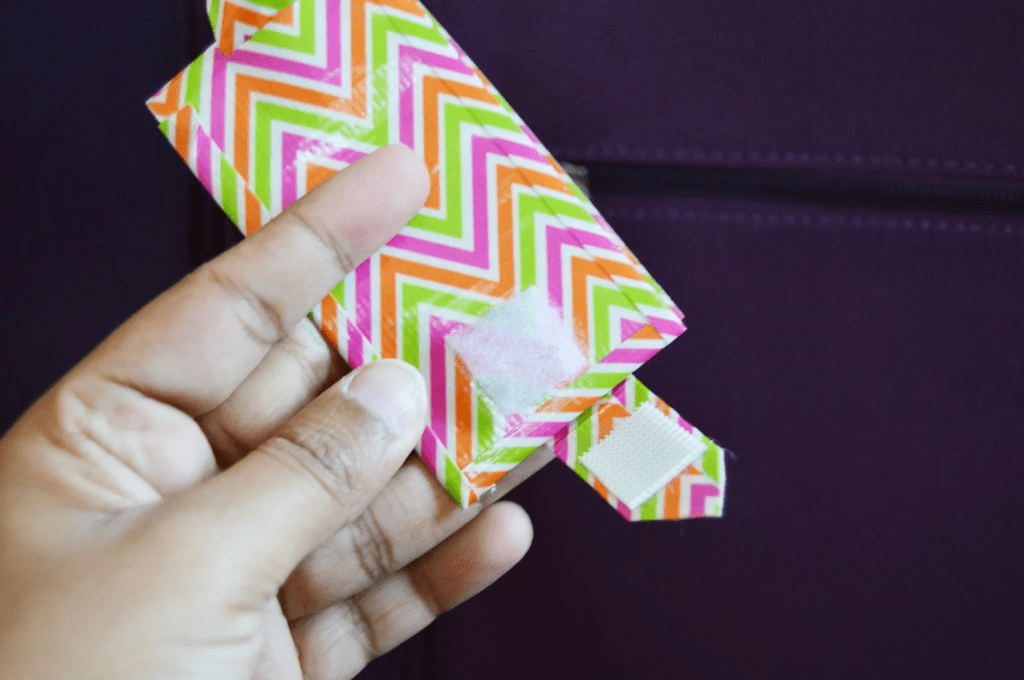 These nifty little tags are designed to be easily attached and removed from your luggage, so you can quickly switch tags when you need to. Plus, you can have a stash of different aesthetics to suit your mood on any given day.
35. Go for floral print luggage tags
The floral print is one of the most decent and eye catchy among many other options. So, you can pick a floral print for your tag and start working on it. With vibrant colors and beautiful designs, these tags will turn heads wherever you go.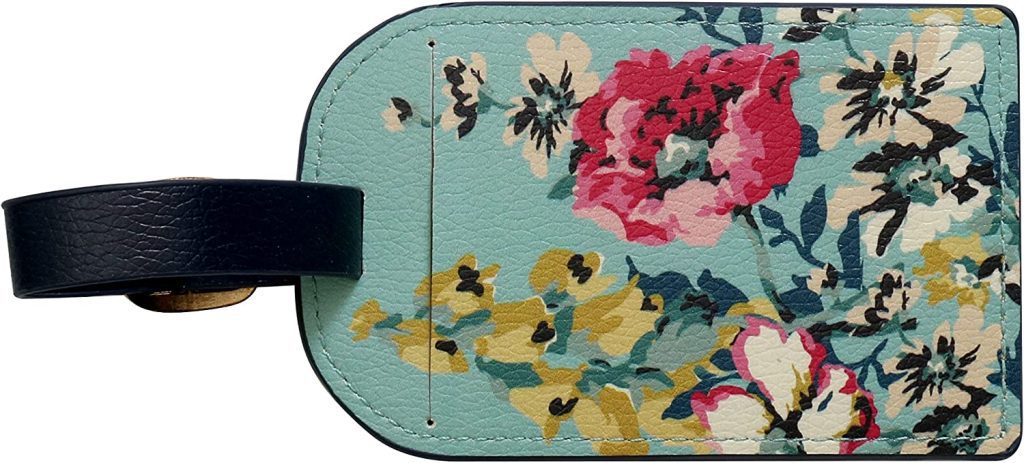 You can make vibrant tags for your luggage or go with a subtle floral print. It doesn't matter which of these two you choose; these will undoubtedly be incredible. To make them look more attractive, you may also add some glitters.
36. Luggage tags with travel signs
There isn't a better way to show your love for travel than by customizing your luggage tags with iconic travel signs. You can purchase pre-made tags that feature popular destinations or create your own from scratch. However, DIYing tags will save you money.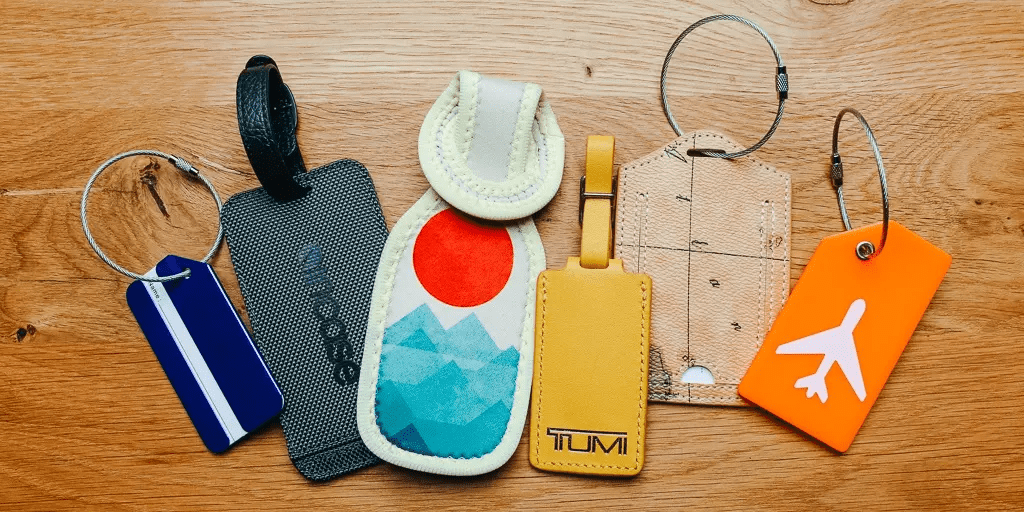 To start, select the design you want and choose from various colors and fonts to create the look you wish. These travel signs will look beyond perfect on your luggage tags. And there couldn't be anything more relatable for tags than these signs.
37. Use keychain as your luggage tags
You know the best and the most convenient thing you can choose for your luggage tag is a keychain. These keychains are readily available at everyone's home. Also, a key chain can double as an effective luggage tag, provided you take a few precautions.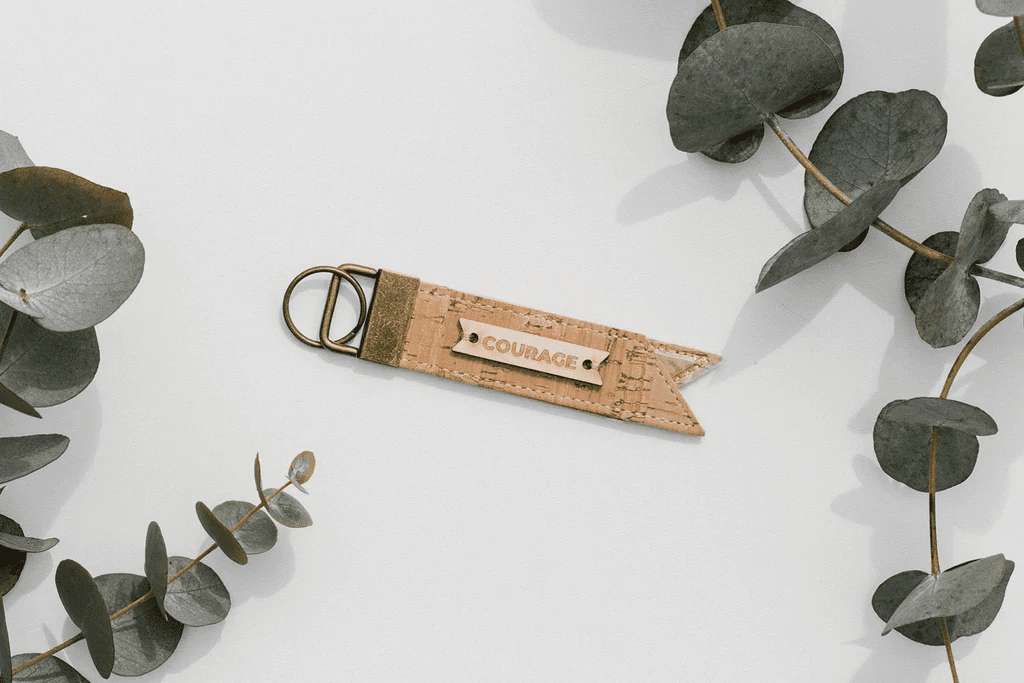 First, make sure the key chain is large enough to be easily visible on your luggage. Second, attach it to your luggage in a spot where other items won't obscure it. Third, add your details on the key in case you lose your bag.
38. Pom pom tags
Pom poms are the cutest. This playful accessory is sure to make your bag stand out from the rest, and it's easy to DIY. Choose your favorite color of pom poms and attach it to the luggage tag with some glue or adhesive.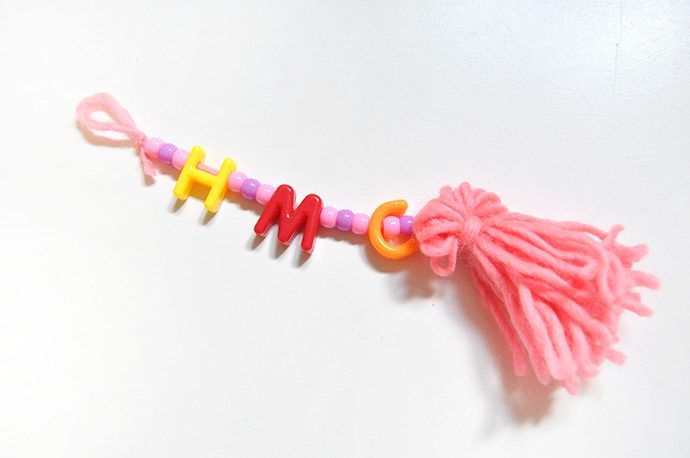 You can get creative and add a few embellishments, like beads or sequins. Your bag will make a style statement with this colorful and whimsical touch. However, if you need help with how to make pom poms, watch a video on YouTube.
39. Luggage tag with a bow
For this, you will need basic supplies like scissors, tape, and paper to make a bow luggage tag. You'll also need a ribbon or string to make the bow. When you've found all your materials, you can begin creating your tag.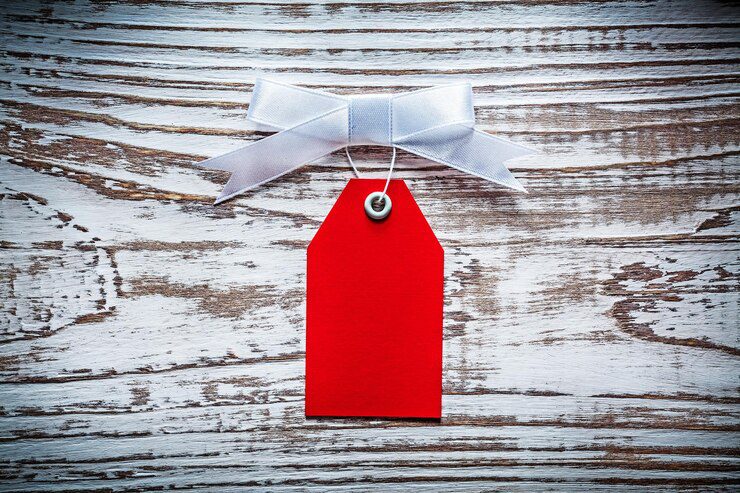 Cut a piece of paper to the desired size for your tag. On one side of the paper, write your name and contact information. Then, using tape or glue, attach the ribbon or string to the other side of the paper.
40. Doggo luggage tag
If you are a dog lover, you'll love this new luggage tag idea with your dog's picture. This is a great way to keep a picture of your furry friend and make sure your luggage stays safe while you travel.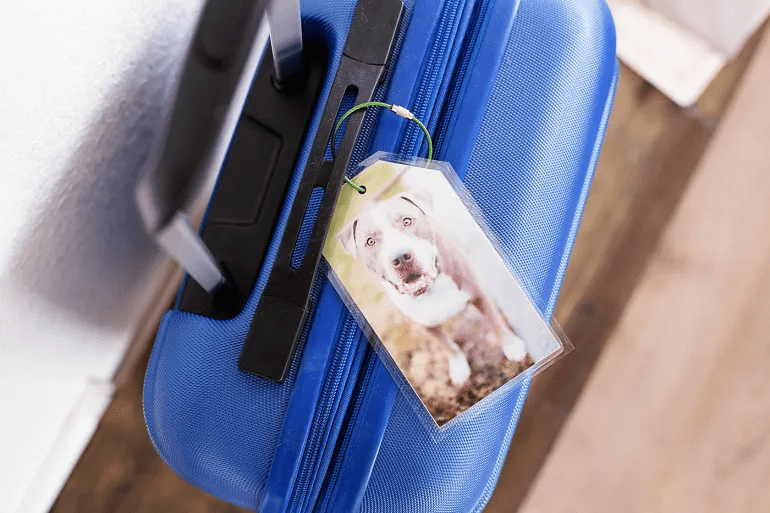 A luggage tag with their photo is not only a sweet and thoughtful gift but also practical and will help spot your bag quickly on the carousel. So, go and click a picture of your furry friend and paste it on your luggage tag, or get your tag printed with the picture.