Unconventional Art: 40+ Unusual Masterpieces That Challenge The Norm
By Joyce S April 9, 2023
---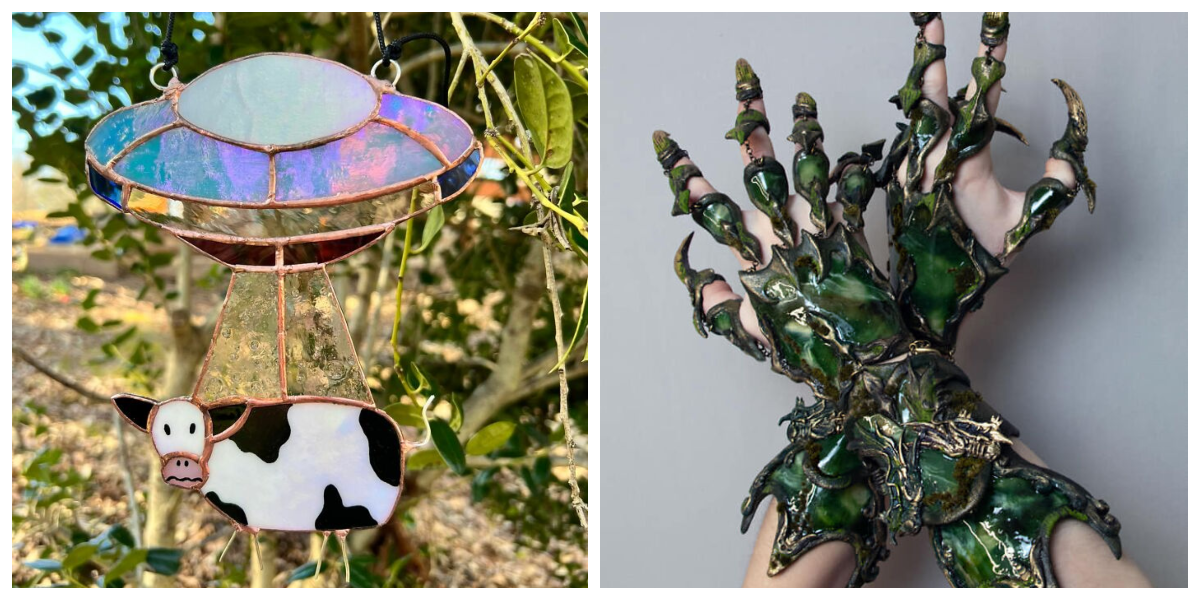 Art is an essential element of human life. The fascinating thing about art is that there's a perfect piece of art out there for everyone. What you see as dull and simple, someone sees as minimalist and serene. Some may argue that Pop Art is too over the top, while others see it as thought-provoking.
For example, having artwork like a giant llama made out of yarn or a painting of your favorite celebrity made out of hundreds of tiny paperclips to hang in your place may be strange, but it also adds a touch of uniqueness and creativity to any home. The thing is, to really appreciate art, you have to get rid of certain preconceived notions and just follow your heart.
So, take a look at some of these unique art pieces. Some of them are wacky but in the best way!
This Isn't a Clay Sculpture
Art is meaningful because it expresses the deepest and most different views of the world. It's also meaningful when it gives materials a new purpose that will benefit the eyes of the beholder and also the environment. This incredible sculpture is an example of those two things.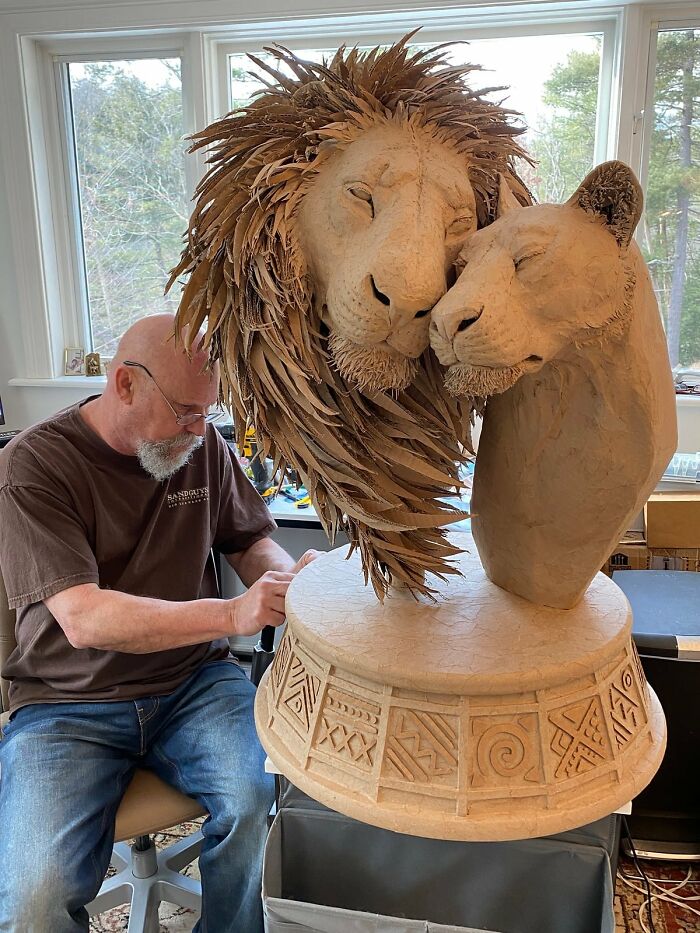 It looks like it's made of clay, one of the most common sculpture mediums, but it isn't. This fierce sculpture of lions was built by combining wood, recycled cardboard boxes, paper bags, and glue. Just look at how detailed and delicate it is! What a beautiful way to put these materials back into the world.
An Artist's Home
It may seem unreal, but this is a real house with real people living in it. All the bright colors and many shapes are a bit overwhelming for some people, but not for this artist, who argues that the explosion of colors nurtures his creativity.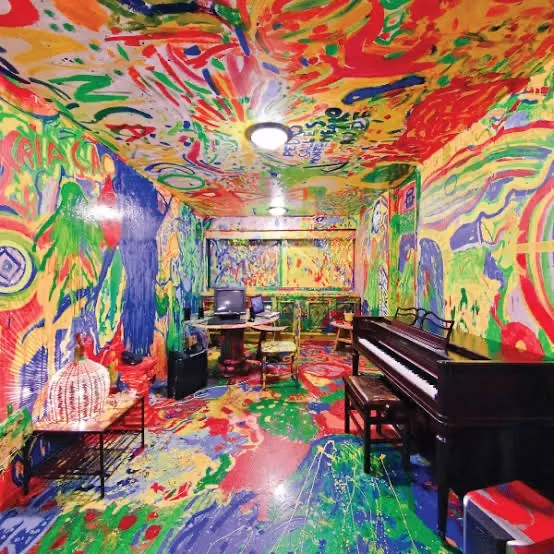 This house belongs to a Brazilian singer who has always been really private about his life but decided to open his house to a famous magazine. The abstract paintings from the ceiling to the floor are mixed with encouraging words like "dance" or "create" to remind this artist never to limit his creativity.
Glass Art Moodboard
This commissioned artwork is a feast for the eyes. The delicate signature of the stained glasses combined with natural elements makes this piece one of our favorites. The honeycomb glass pattern has real honeycombs pressed onto it, but that's not all.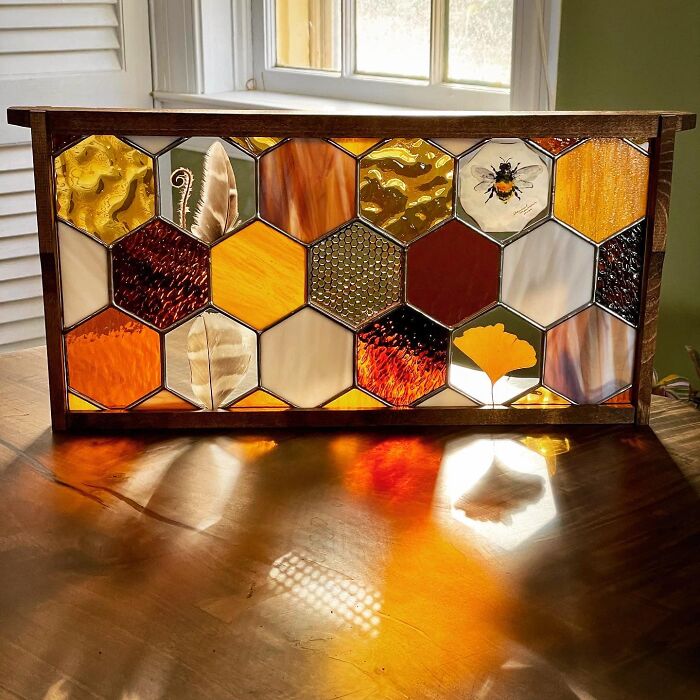 Feathers and leaves also joined the honey-themed art piece. The glass art also comes with a little bit of wood to add some texture and enhance the natural vibes. This is a unique artistic expression that should be on display. Imagine this beauty in your living room.
Cutlery & Hardware
We don't know what to make of this combination. Forks, spoons, and knives mingled with hardware don't bring that stylish touch to the table. This may be one of those cases of themed houses that end up adding specific features to every single appliance.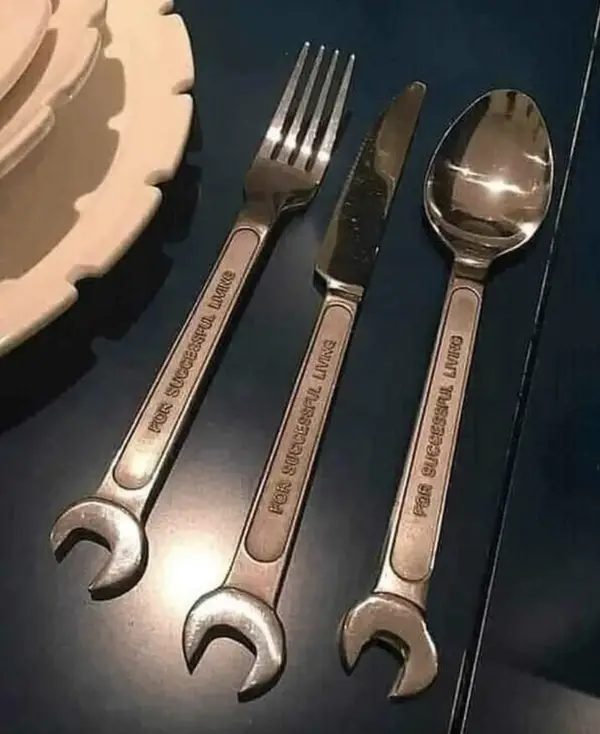 As we often see and hear from people all over the world, art is subjective, and there will always be someone who will appreciate an artist's work. This cutlery is a great example of that. If you didn't like it, don't judge too much because someone probably loved it.
Wooden Bowl
This intricate artwork deserves a standing ovation. This is a bowl made of applewood that had been repaired from serious damage. The wood was rotten, and the repair wasn't fast or easily done, but it was worth the artist's while.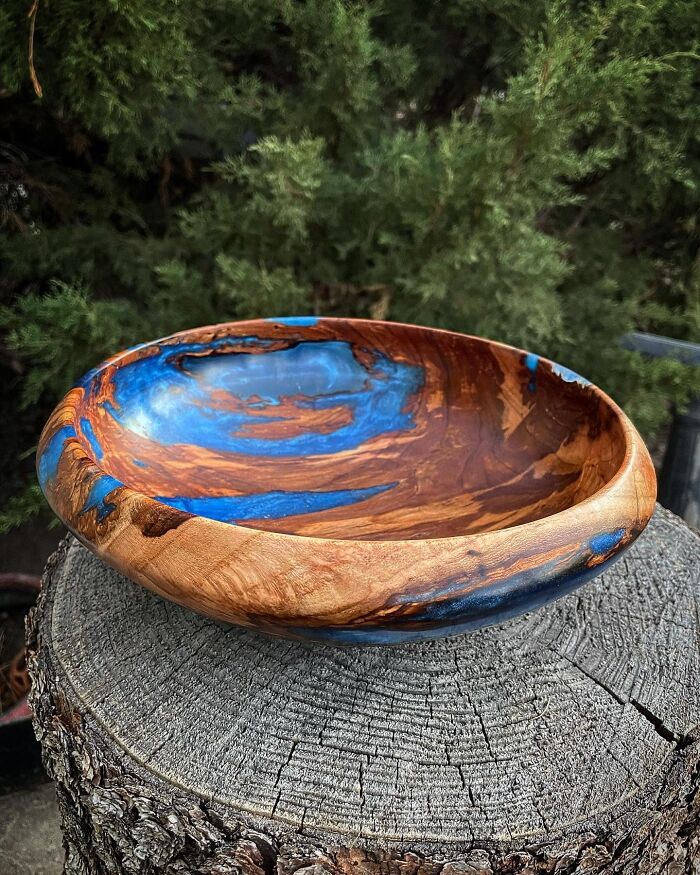 The blue hues just add a special touch and elegance to it. This is an absolutely unique piece, and we don't know about you, but we would feel a bit tense to put any food in it and have it all dirty after. No, this is definitely just a showpiece.
Embroidered Sunset
Don't make the mistake of assuming that this intricate art form is a new trend. Embroidery dates back thousands of years when humans discovered that stitching animal skin was an excellent way to keep themselves warm. Later on, they thought it'd be a great idea to decorate those pieces.
So, the handicraft of embroidery became an aesthetic as well. Today, there are countless fibers and colors you can choose from to embellish your art. This beautiful landscape is the perfect example of how to innovate using an ancient artistic inheritance.
Shoe Armchair
This armchair screams "eccentric," no doubt about that. Whoever came up with the idea of reusing parts of shoes definitely is definitely a creative thinker. It seems like this art could be a statement rather than just a decorative item.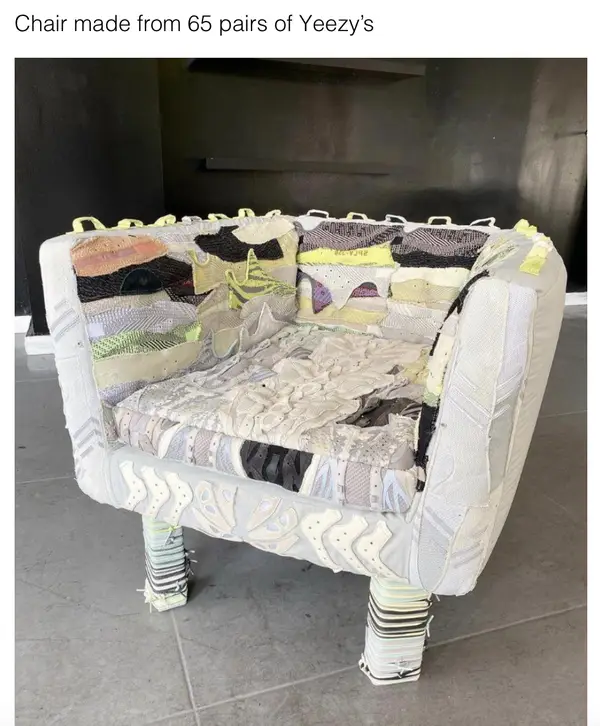 This cutting-edge furniture piece is covered in parts of Yeezy's, the result of a collaboration between Adidas and Kanye West. Fans of the rapper are constantly raving about the shoes. It looks like someone went a bit too far and came up with this iconic furniture piece.
Halloween Tableware
This is one of the coolest exhibitions we have ever seen. It's like The Addams Family meets a dental hygienist. It's great. The details in every piece are just amazing. The hands and the mouth miming our movements add a tiny house-of-horrors vibe.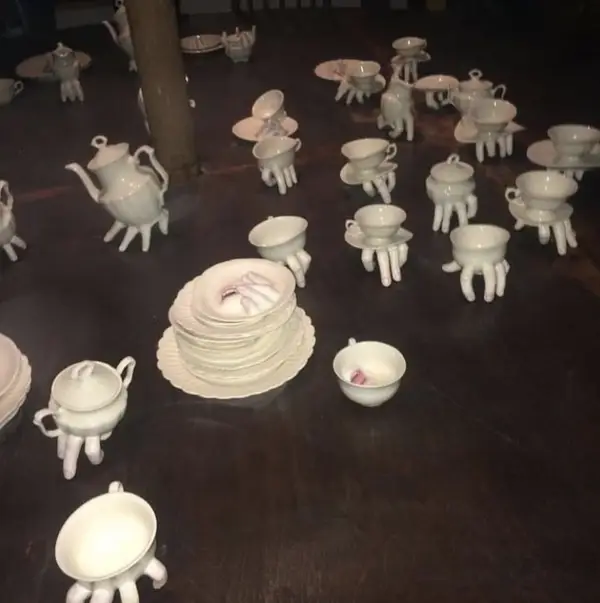 If you're into all things bizarre and terrifying, this exhibit is a must. Sadly, we don't know where this impressive tableware is available, but keep this in mind next time you're getting ready for a Halloween party. Ideas like these will make your party a one-of-a-kind event.
Are Those Pants?
Fashion, in general, is one of the most revolutionary forms of art there is, and it's going to keep dropping jaws around the world for a long time. The mixture of styles, textures, shapes, references, and fabrics marks iconic trends that, more often than not, defy the status quo.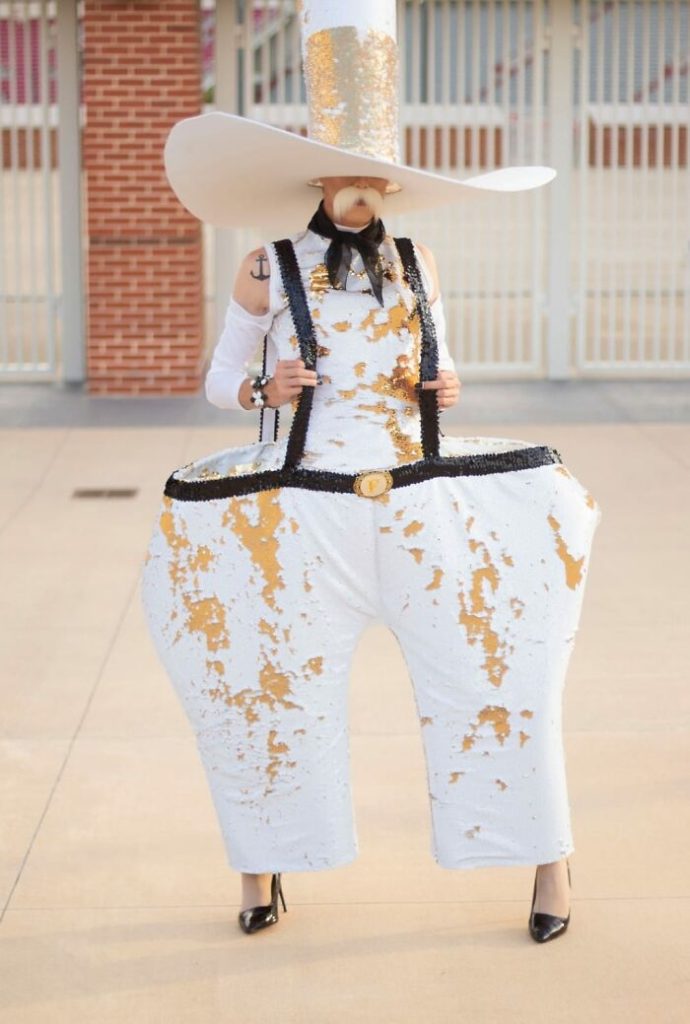 The gold and white bring a touch of opulence and extravagance. The large scales and shapes give us that feel of North American Western culture with the hat and braces for pants. Add stilettos and a mustache for some interest. Fascinating!
Funny Glass Artwork
Learning a new craft requires practice and discipline but remember not to take yourself too seriously while learning. New hobbies should, first and foremost, be enjoyable. This next item does just that. The combination of glass art and a touch of a sense of humor make this art stand out.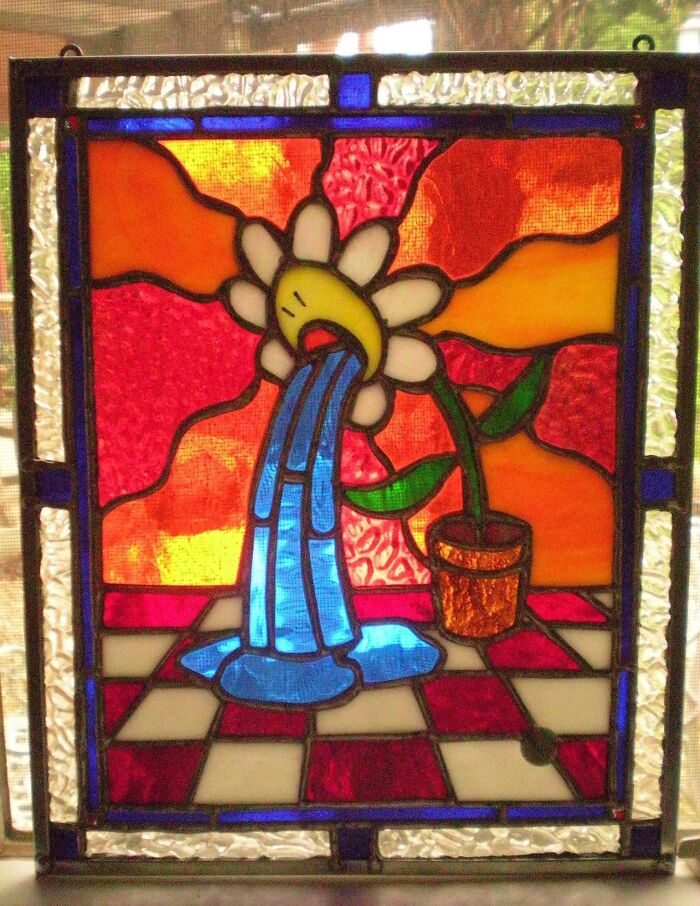 The story behind this stained glass artwork is also interesting. An internet user stated that this art was a gift to their nephew. It was made from a drawing from when the nephew was a kid. It is a tender way to tell your loved ones you're thankful for them.
Happy Rainbow Raccoons
What would be the story behind this artwork? The cute little raccoons look like they're eating the rainbow or celebrating it. Either way, embroidery art strikes again to remind us that this craft has no limits. We just love it!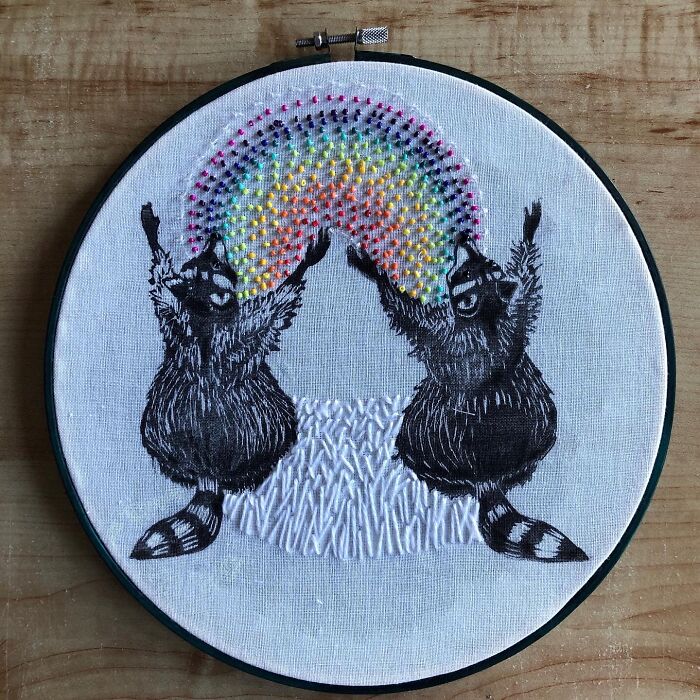 Embroidery can go from a satisfying hobby to a profitable job if you put time into it. There's no need to follow common sense on this one. Look for references of themes and patterns you like and start from that. These happy raccoons are proof that anything goes when it comes to art.
Van Gogh's Sunflowers
We have always linked the idea of knitting to our grandmas or elderly people in general but let us break it to you: there's no such thing as the appropriate age to have fun knitting. It's all about practicing the basics first.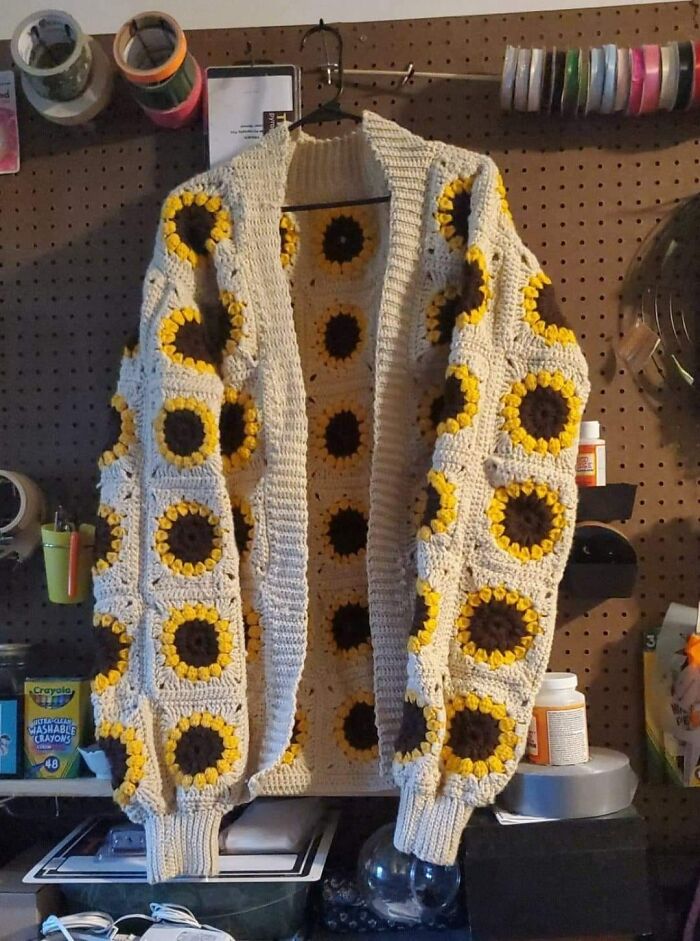 The internet is jammed with tutorials and examples of cute little sweaters people make. This sunflower cardigan is such a wonderful piece. It did remind us of Van Gogh's work. Another cool thing about it is that this is likely the only piece in the world. Give knitting a try.
Welcome To Jurassic Park
These are some cool shoes. The reference is probably something you would've never imagined to be found on someone's shoes, and that's why it looks so great. The element of surprise when presenting an artwork is an essential ingredient for every artist.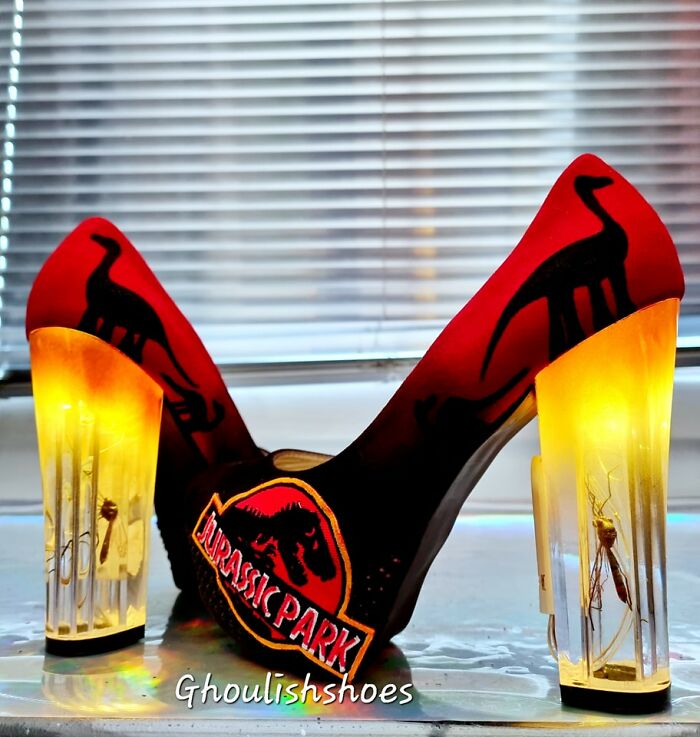 These are not the kind of shoes you wear to most workplaces unless your job is related to the geek industry. It's the perfect pair of high heels to rock on San Diego Comic-Con Week. They must cost a small fortune, so our advice is to take good care of them.
A Self-Portrait
Self-portraits can unlock elements in our psyche that have been knocking on our mind's doors for a long time. It's a great way to get to know oneself better and to express your view of the world and the place you occupy in it.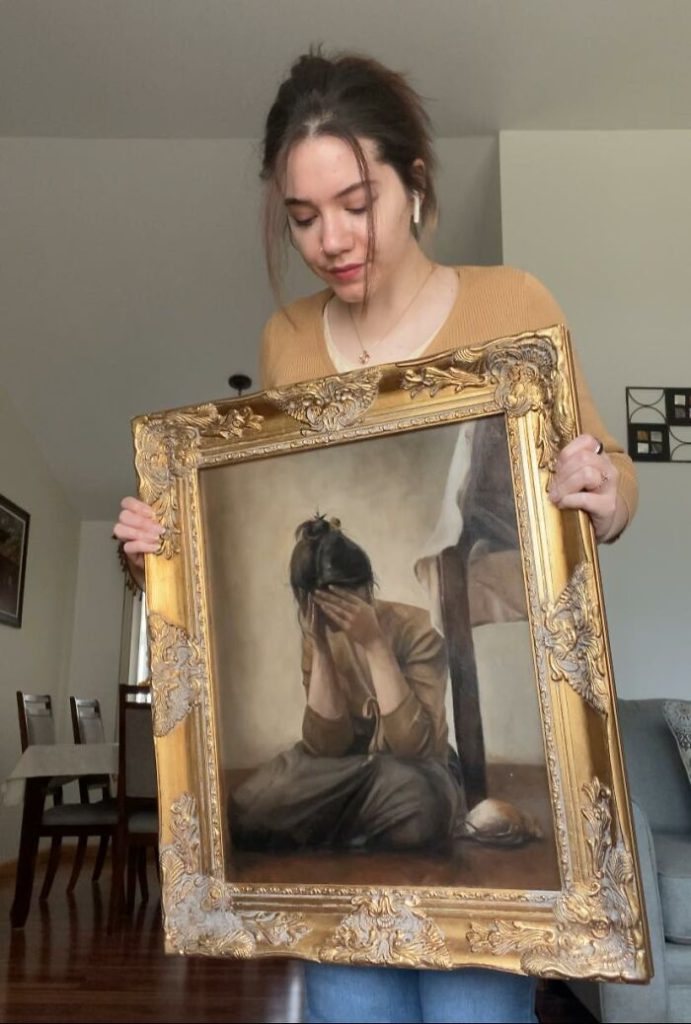 This oil painting sends a strong message about feelings; it surely takes courage for any artist to expose themselves in such a vulnerable moment. Famous artists like Picasso, Frida Kahlo, and Van Gogh have also displayed their style and perception of themselves in self-portraits.
A Deadpool Lamp
Deadpool fans, assemble! This art took some time to finish; we are sure of it. From sketching to assembling the pieces, imagine how long it took for the artist (or artists) to finish it. It's an awesome piece to display on your shelves of collectibles.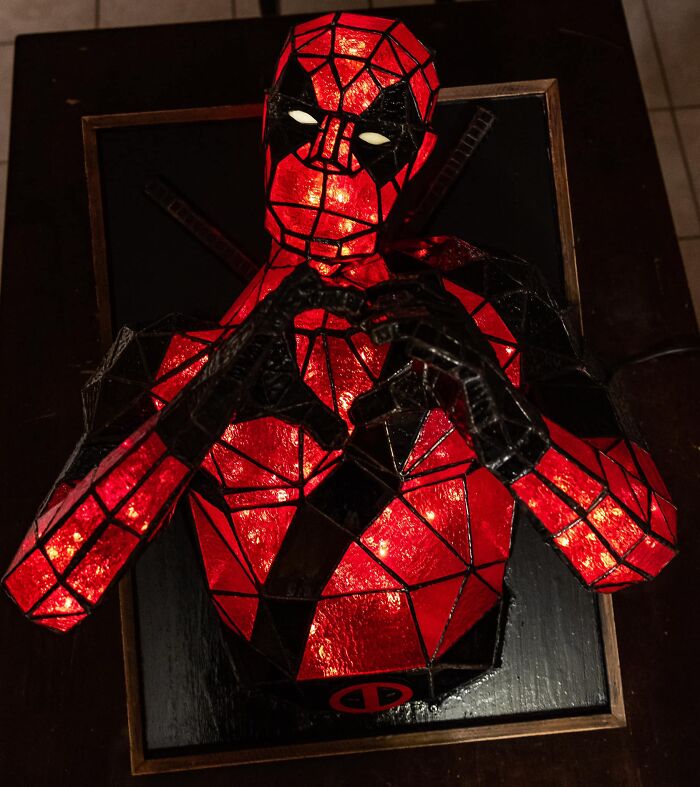 The intricate details, design, and the use of a delicate material, such as glass, mixed with a pinch of fun and the tons of sarcastic humor possessed by this character make this lamp a unique piece of irony. Given Deadpool's personality, we bet he'd love to have this lamp.
Cute Aliens Abducting a Cow
Look at this thing. It takes a genius to develop ideas like this and even a more ingenious person to put everything together. A flying saucer taking away a little cow is exactly what you need to see today to brighten up your day.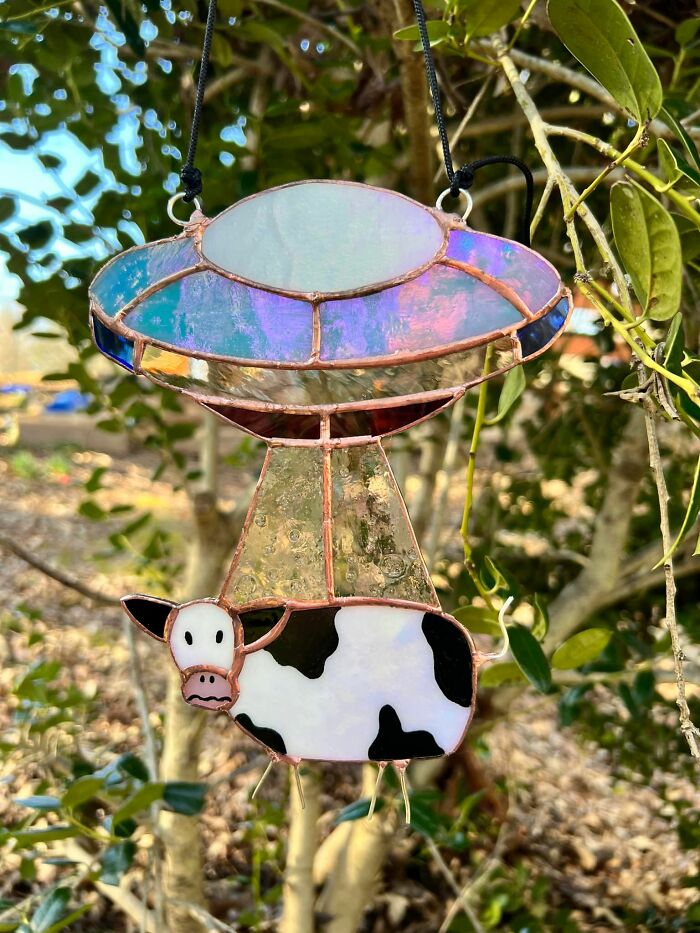 The level of sense of humor and talent put into this glass artwork is a great reminder for all of us that art doesn't have a formula or boundaries. Stained glass art can go from church decoration to a flying saucer carrying away a cow without losing its charm in the process.
Cake Artistry
It's been a long time since sweets and cakes were only about the taste. This food industry realized that the looks of food can sell much more than just the taste. As celebrations are created as we breathe, so do the many options for cakes to sweeten things up.
Bento cakes are a huge trend worldwide. Its minimalist looks attract fans for all kinds of celebrations. Now, look at this cake. The colors and the texture of it are unique, no doubt about that. It'll certainly make any celebration worth remembering.
Not Your Usual Money Bag
Artists are able to draw inspiration from anything. It is impressive to possess such an ability. An artist shared with the internet this unconventional plant-themed bag. It seems to be made of black, green, and red leather with an exaggerated zipper.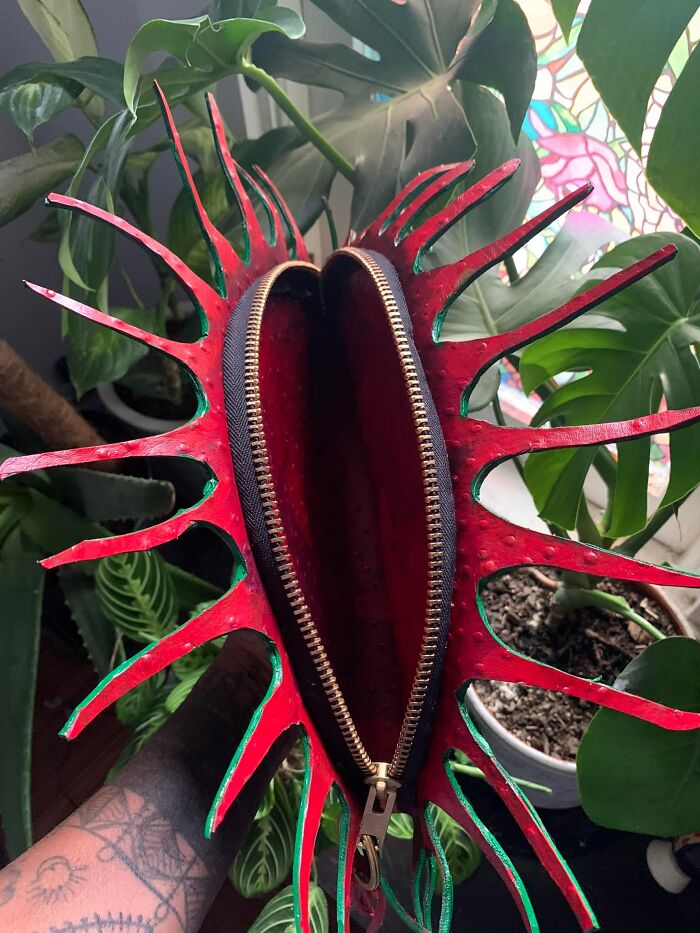 The major inspiration behind this piece was probably carnivorous plants, and we may have a theory for the plant of choice. It'd be a fun and ironic theme for a money bag, considering that it would remind us not to spend too much money or else the lovely plant would bite our fingers!
Don't Take This Umbrella On a Rainy Day
Not every art piece is supposed to have a function. We believe that's not what art is all about. Art represents an instinctive outlet for people's subconscious and for the feelings people have but can't name. This umbrella gives us a glance at an artist's creative range.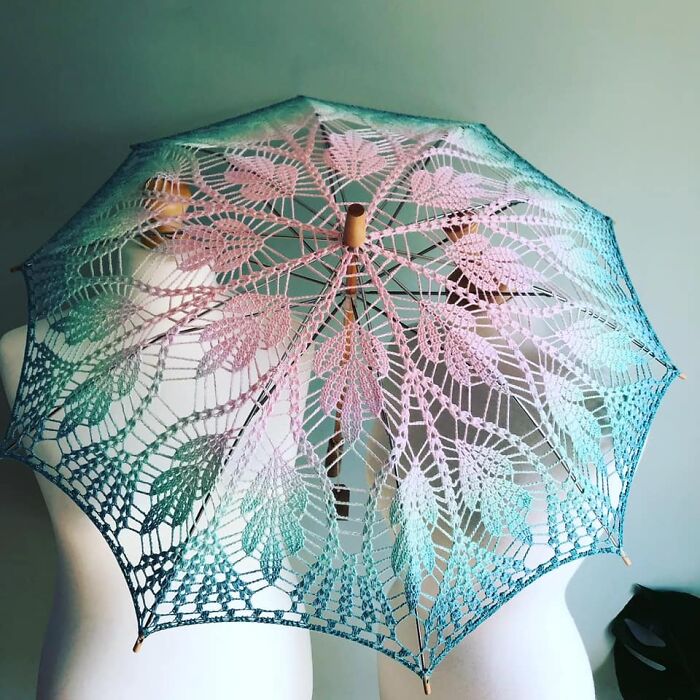 Obviously, it's not a functional piece, but it serves the purpose of making the audience think of ordinary objects from extraordinary perspectives. Reimagining the use of particular objects is a great way to stretch our imagination and creativity. You should give it a try.
Fiber Artists
At first sight, knitting and crochet may look like (sashiko and hoop embroidery, too), but make no mistake, each of these artistic expressions has its singularities, and that's what makes them so culturally precious. Fibers give limitless possibilities to express one's talents.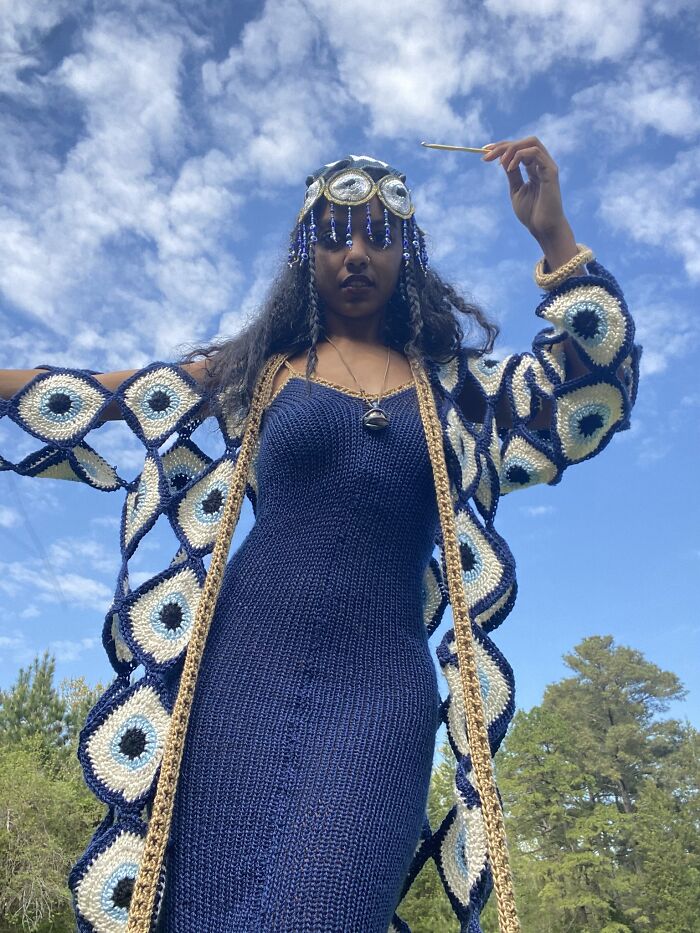 Fiber artists from all corners of the Earth hold onto decades, sometimes centuries, of culture and inheritance. This is one of the many elements that make this art so unique and important. The ability to make whole outfits with fibers and needles is such an extraordinary craft. We're blown away by this picture.
An Autumn Skull
There are paintings, sculptures, pottery, tapestry, and even clothing pieces that defy all odds and last for centuries helping to tell stories of civilizations that ceased to exist a long time ago. We need this art to understand where we came from.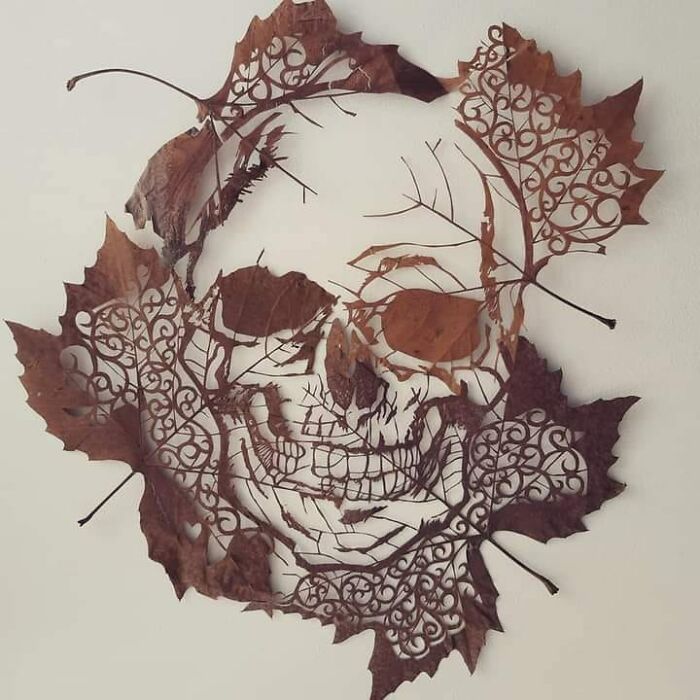 However, not every artwork is or should be everlasting. Admiring art and beauty is also about understanding how fleeting they can be, and sometimes, that's where the beauty lies. This amazingly detailed skull was made with real leaves, and every detail you see was cut by hand.
Incredible Bird Earcuff
If you think earrings are the only possible ornament to wear on your ears, think again. This astonishing piece is called an ear cuff, and it is an appealing, flexible ornament for any fashion lover. This one shows a mysterious blue crow.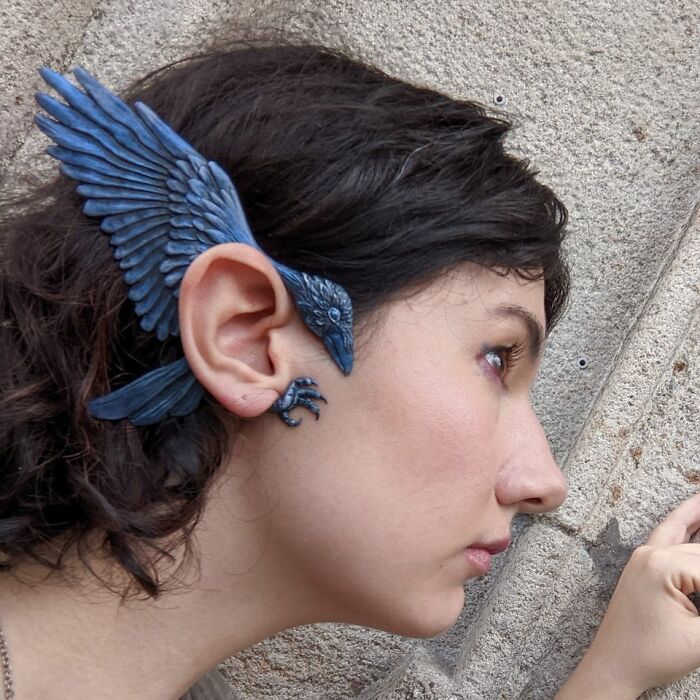 The resources to make this beauty are not that mysterious, but it takes a great deal of patience, practice, and talent to make this ear cuff from scratch. It's made of a metal armature and a kind of flexible clay, so it's malleable and comfortable to wear.
This Is A Painting
This is not a real heart-shaped balloon, trust us. Let's begin by saying that such talent is not just something you're born with. It takes endless sessions of practice. Drawing and painting are not activities impossible to learn, but they require time.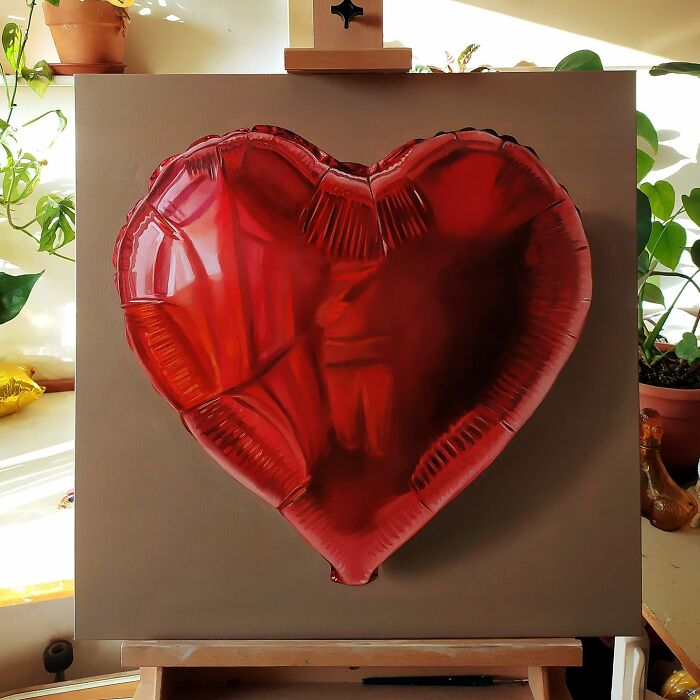 This oil painting definitely took hours to be completed. Not only to achieve the balloon-like aesthetics but also to make it look like it is reflecting the artist's image at the center of it. This artwork is made of multiple layers of perspective, so it should be praised.
Monstera Lover
What a cool rug to match with a well-lit and modern place. This would look fabulous in a home or a cafe. Such a precious piece of tapestry handmade and inspired by a tremendously adored plant such as the Monstera. It is wonderful indeed.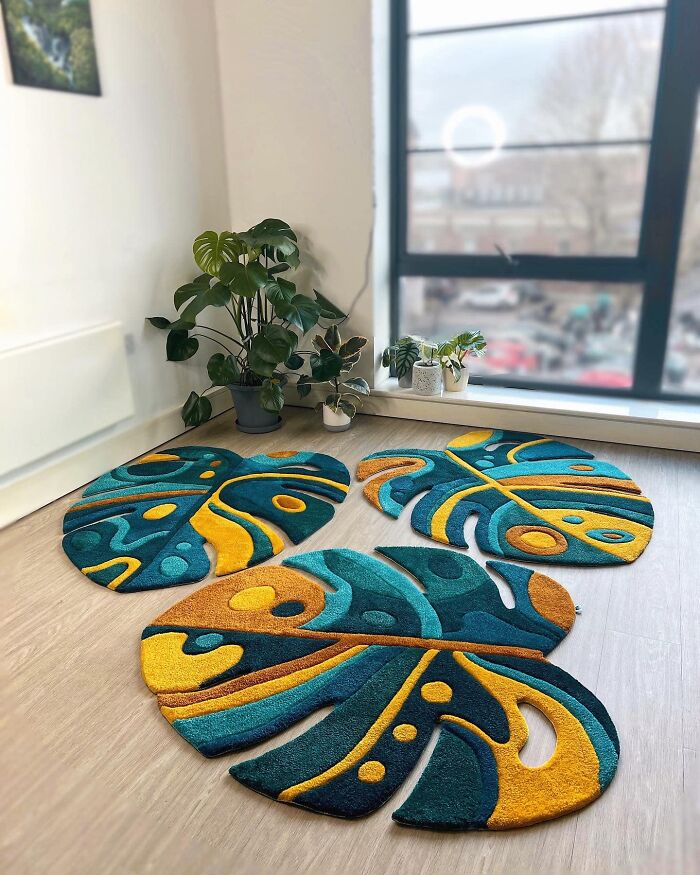 This rug joined our list of peculiar artworks because of its shape, color choices, and patterns that go beyond the natural characteristics of the plant. It's modern and groovy and adds great energy to any home, especially those that look minimalist.
Dragon Claws
This pair of jade claws are the most spectacular and original artwork on this list; we are sure of it. Take some time to look at it and the glaring details of each claw. The artist explains that the medium used to sculpt this piece was mainly thermoplastic.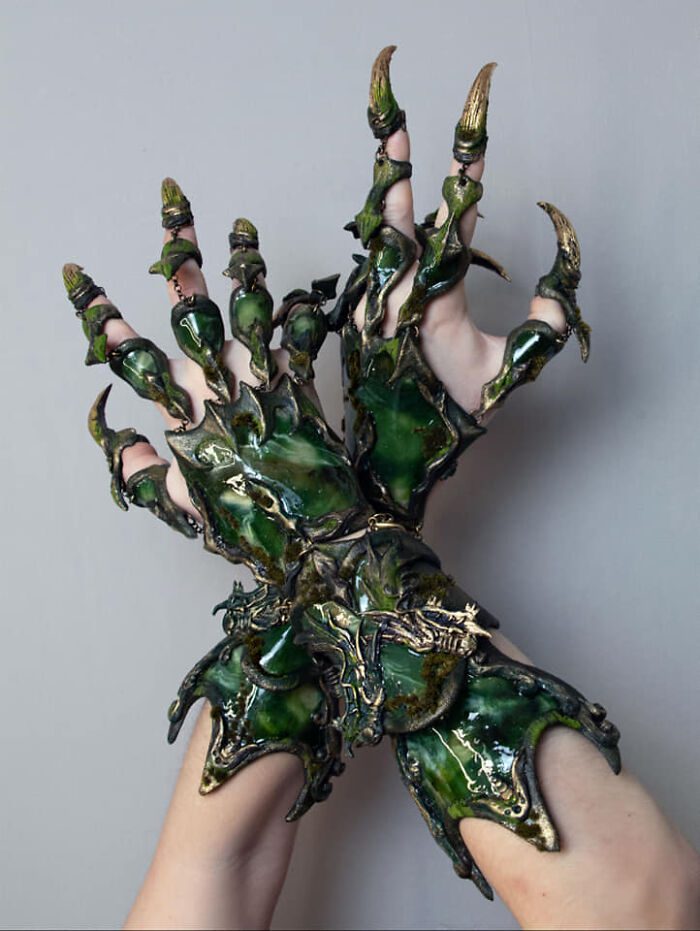 The pair of dragon claws are part of a larger jade costume that is nothing but exquisite. The makeup artist and designer handmade this costume inspired by ancient Chinese culture, and it goes from a huge dragon crown to a dashing corset. The whole thing feels like a fairy getting ready for battle.
Cartoon Sneakers
What a way to combine two passions: Vans sneakers and Cartoons. The well-known sneakers company started as a skateboard company and soon became a street-wear brand that has also infiltrated the high fashion universe. Today, their most iconic and recognizable products are sneakers.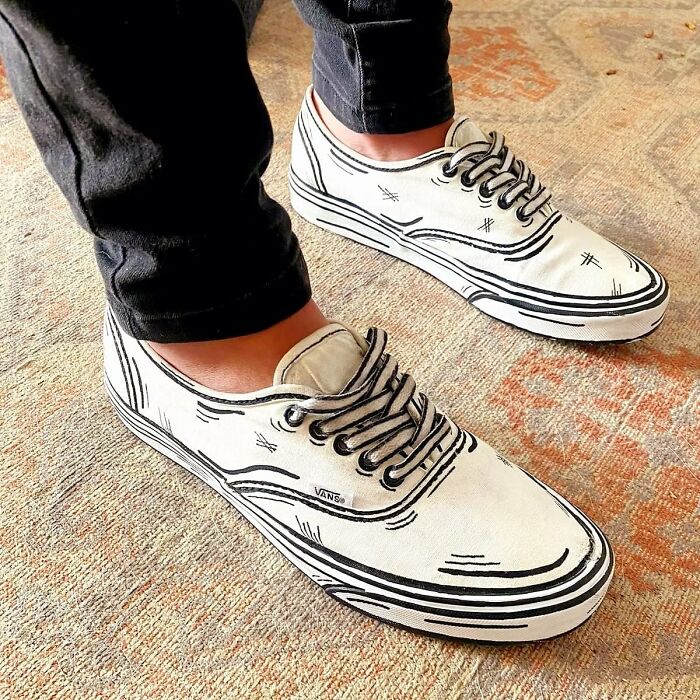 And this pair of sneakers is nothing but awesome. At first, it looks like a generic pair of white sneakers, but keep looking and see how fun it is. These super cool cartoon shoes are part of a larger costume cartoon series from the brand that has several famous cartoon references.
A Butterfly Goes Trick or Treating
Kids love to go trick or treating, and choosing a costume is a highlight of the Halloween holiday. However, it can be challenging to pick a costume, considering that there are so many great options. This is probably what happened to this kid.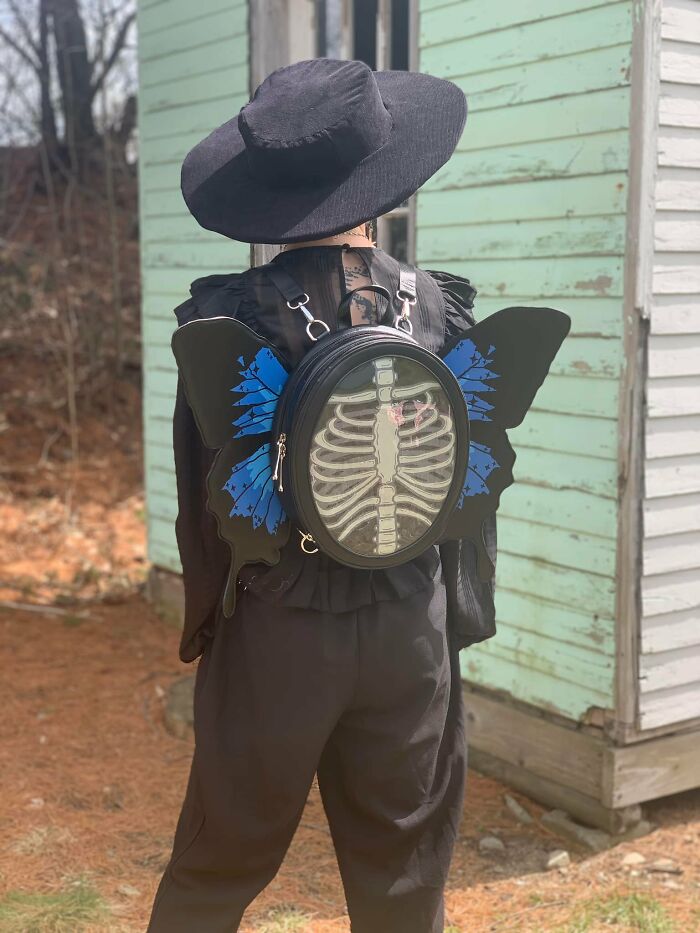 Black is mandatory in almost every Halloween costume, but you don't have to go full dark side mode on this sweet holiday. This Halloween fan seems to have had some conflict of interest when picking a costume, so why not combine the cuteness of butterfly wings with the melancholic vibes of skeletons and black?
Exquisite Bunny
This bunny is much more than meets the eye. It may look like a flamboyant camp artifact only the rich and famous would possess, but it goes far beyond that. Every detail that sews this artwork is made from broken jewelry.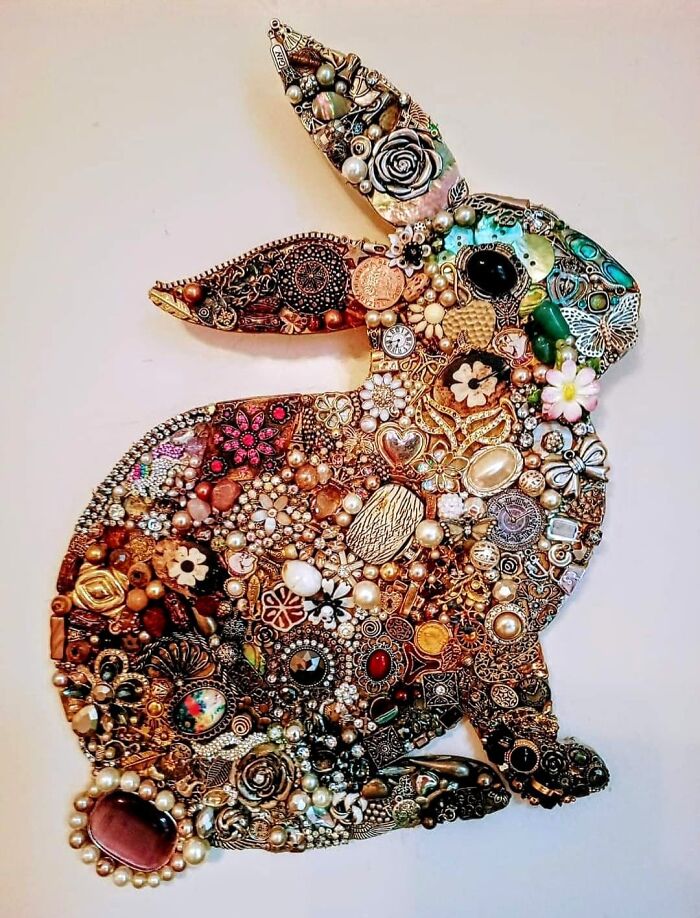 What a nice way to repurpose broken things and make them whole and beautiful again. The tenderness of the bunny and the refinement of stones and jewelry parts, in general, give this artist an authenticity like no other. It feels great to look at it.
Sailor Moon Fabulous High-Heels
Pop culture fans go to infinity and beyond to prove their love for characters and artists. This flood of love and admiration opens space for creation. Fans' creativity blossoms when they feel inspired by their idols, and what a cute way of honoring this loved character called Sailor Moon.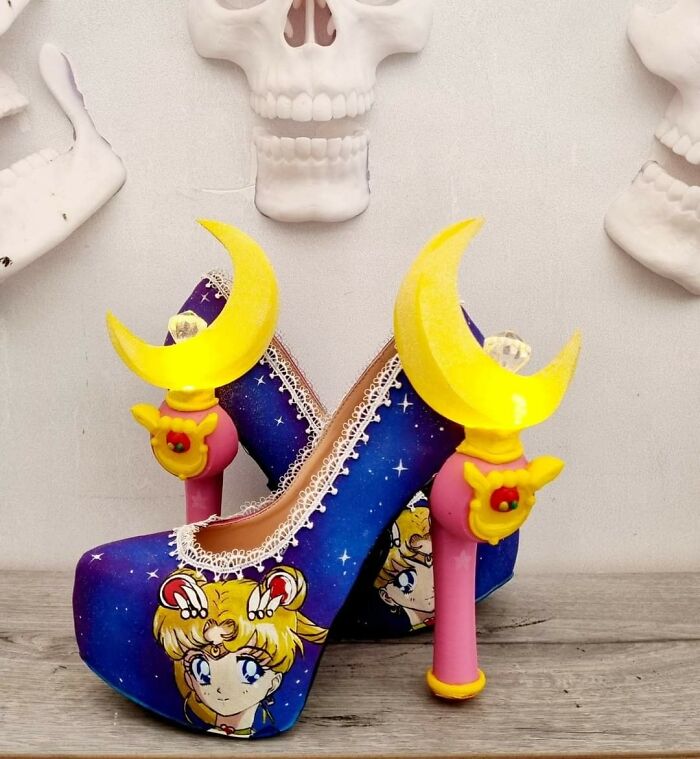 Brands of all sorts have made costume pieces inspired by the iconic manga female character created, written, and illustrated by Naoko Takeuchi in the 1990s. From street-wear sneakers from Vans to high fashion boots and platforms from Jimmy Choo, Sailor Moon is surely an "It Girl."
A Sunrise To Remember
This is the kind of painting that makes you get lost in its beauty. The simplicity of this landscape proves that original artwork from an authentic artist doesn't have to be always a complex piece. This spectacular sunrise painting reminds us to reconnect with the simple things.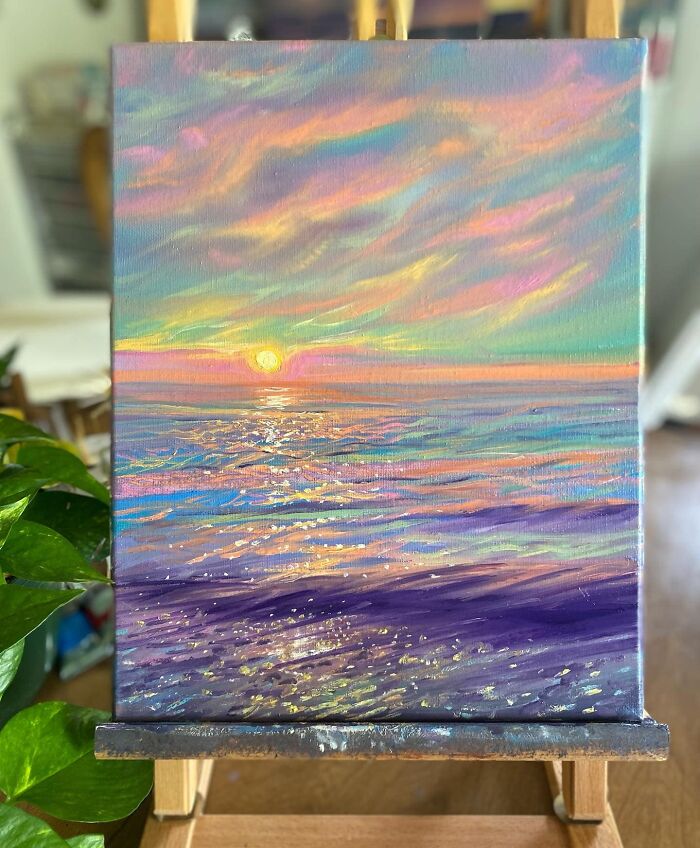 The painting techniques and color schemes are so precise and yet flow so naturally. This painting has the power to make us feel the breeze of the wind and the rising sun's warmth and almost hear the sound of the waves.
Crystals To Bring Peace
Let's brighten up our homes a little bit. This particular piece is called a suncatcher, and it is one of the artist's greatest creations. The jewelry designer Talia is responsible for bringing this exquisite suncatcher to life. Such incredibly beautiful work.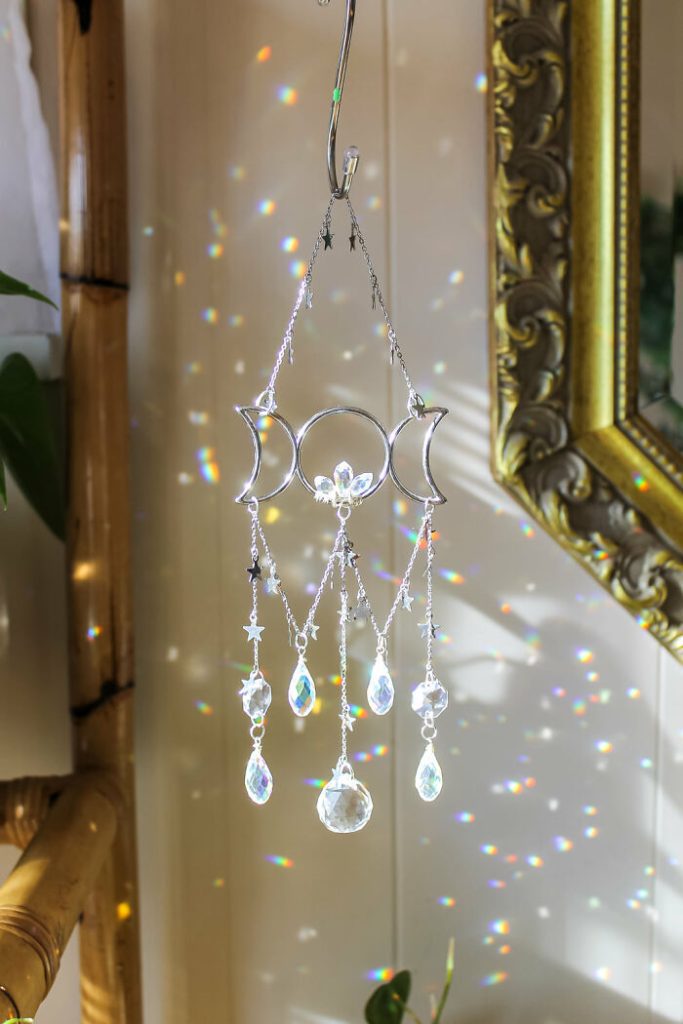 This piece is called Triple Moon Goddess Catcher, and it's a big hit in the designer's web store. It's definitely a plus having this shiny adornment at home. It bounces light like nothing else and brings a soft and refined touch to the room.
Super Realistic Drawing
Look at the depth and precision of this drawing. This 100x70cm drawing was made with charcoal pencils and illustrated the artist's favorite animal: zebras. This is the kind of drawing we must spend a long time appreciating every precious detail.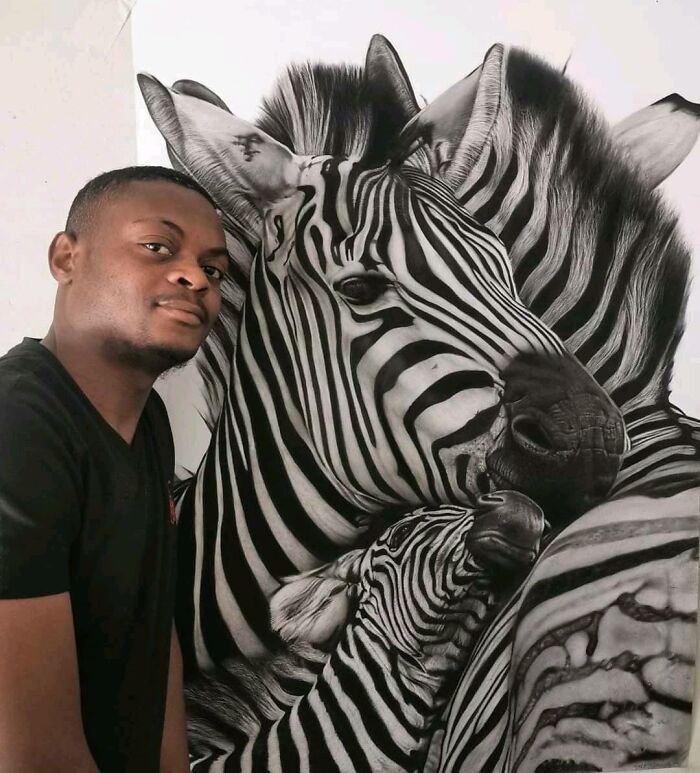 The realistic appeal makes us wonder how long it might have taken this artist to reach such a level of perfection. We would absolutely want to see more artwork from this artist. Imagine the range of animals and other references he must draw.
A Fairy Corset
We have already seen dragon claws from a jade costume, and now something similar, but with its own glamour and identity. The references attached to this piece are obvious: nature. The blue roses and the branches bring some mixed feelings.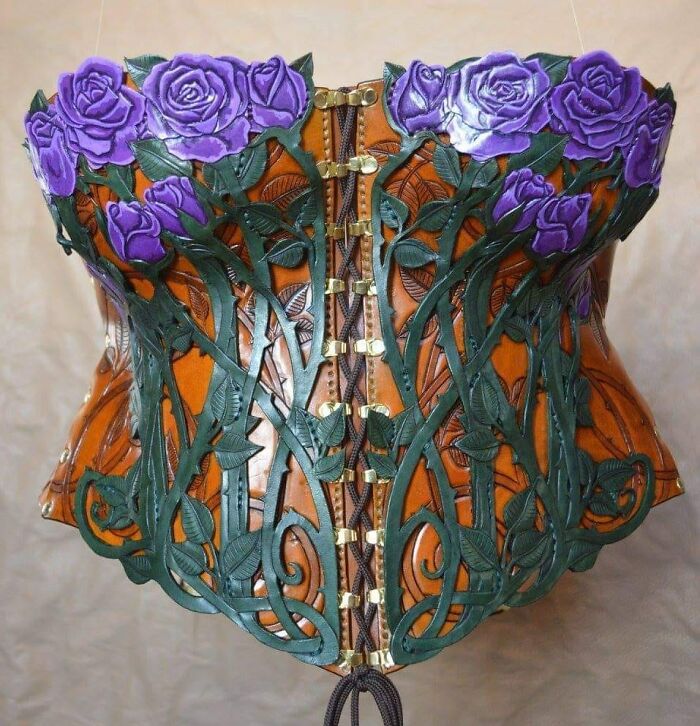 The softness and delicate features of the blue rose petals blend perfectly with the mysterious and dangerous nature of its thorns and the uncertainty and confusing aspects of the branches. Flowers will never go out of fashion. The fun thing about it is the infinite possibilities to reinvent the use of this timeless element.
Embroidered Sneakers
When we think we've seen everything there's to see in terms of shoewear, here comes this pair of Nike-inspired sneakers that blow our minds again. This is such an original way to reimagine our everyday shoes, and it opens up our minds to other possibilities.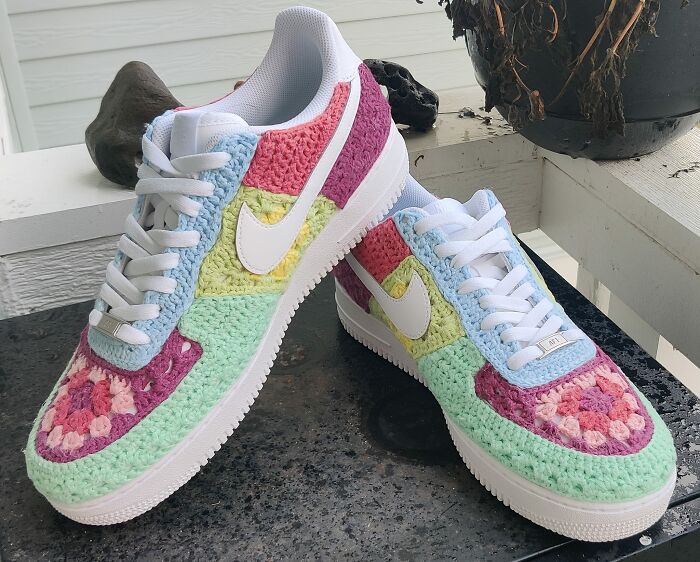 Different combinations of materials and clothing pieces that are, maybe, a bit banged up can bring these items back to life in a sleek way. Sneakers like these should be cleaned carefully, given the delicate nature of the crochet patterns.
An Ode to Chilean Pioneers
This enormous 3-meter-long sculpture is called Monumento al Mate, and it's located in Coyhaique, Patagonia, Chile. It pays tribute to the traditional herbal drink called "mate," which is highly consumed in South American countries like Argentina, Chile, Brazil, and Paraguay.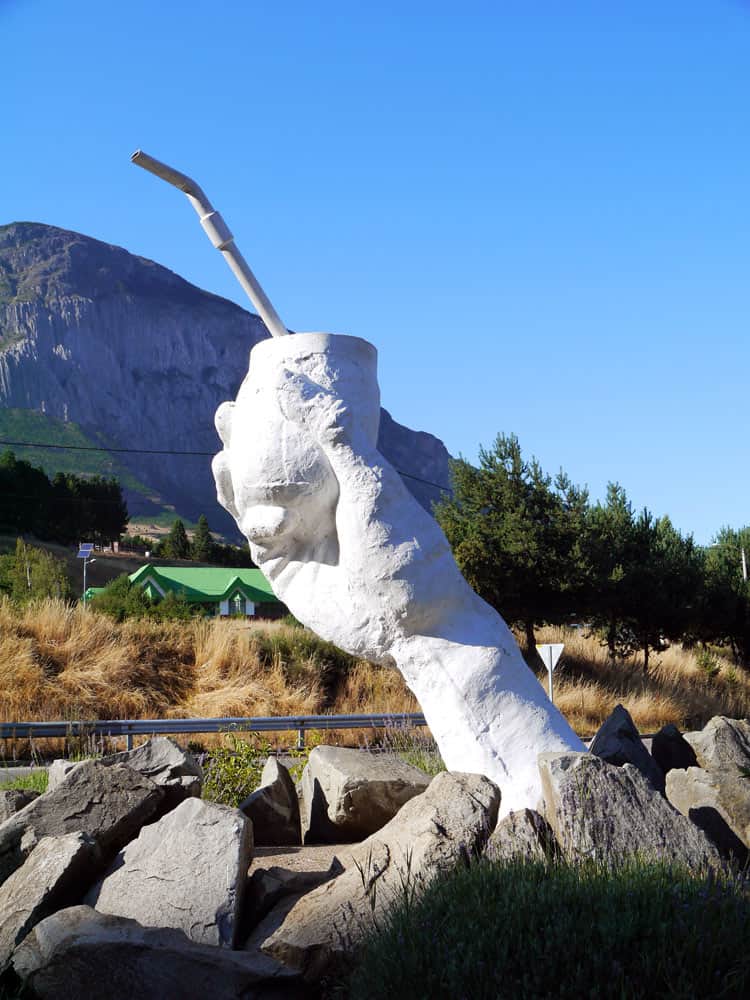 The tribute is to honor the pioneers that inhabited the southern region of Chile, an inhospitable territory, and grew roots there. It's an unusual kind of sculpture, but it's definitely worth visiting when in Chile. It's an inventive and thoughtful way to pay tribute to the first people of Southern Chile.
Saving Old Furniture
Customizing old things is such profitable work that several TV shows are dedicated to this activity. When we think of customizing furniture, we should also think of all the perks that come with it, like renovating a boring object and making money.
From a creative renovation comes the possibility of making some good money out of it and giving a new home to a vintage piece of furniture. Buying customized or renovated furniture is also a neat way to save some money instead of going for brand-new options.
Let's Talk About Encanto
Making art inspired by the latest pop culture trends is so cool. Take a look at these earrings that drew inspiration from the Disney animation Encanto. The animation that honors Colombian heritage won the Oscar for best animation in 2022 after dazzling kids and adults around the globe.
Creator Mykaela Havva made this fabulous sun-shaped earring based on the character Pepa Madrigal who has similar pieces. The bright yellow mirrors the lively energy the Colombian culture has, and it's a pretty piece of jewelry to wear on sunny days.
Northern Lights As You've Never Seen Before
Northern lights are impressive on their own, but this cute little artwork brought a super special feel to them. The details are not only beautiful but also very precise. The level of difficulty was probably gigantic considering the peculiar canvas.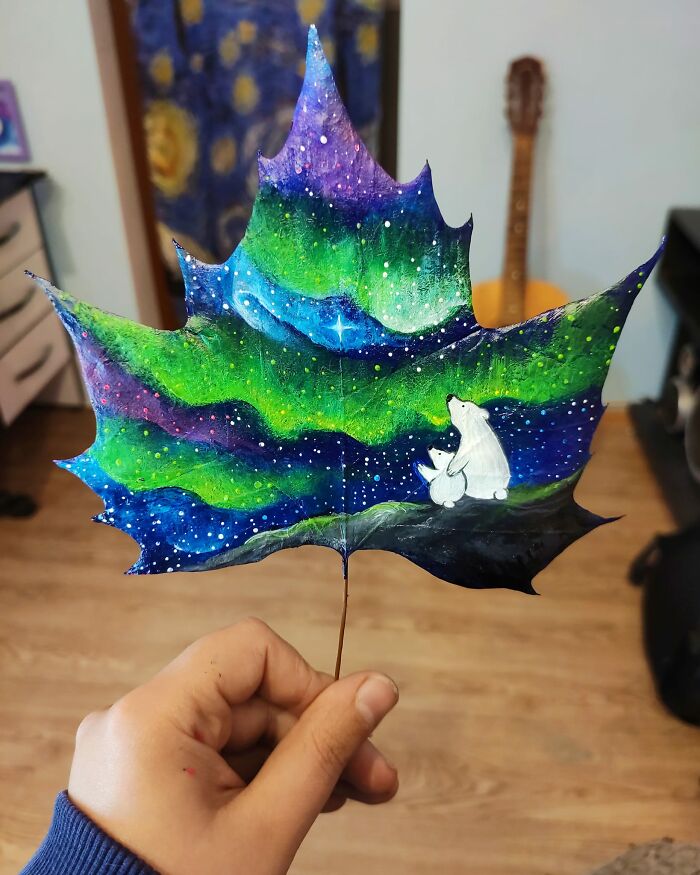 A maple leaf was used as the canvas for this painting that shows mama and baby polar bears admiring this magical gift planet Earth gives us. There's no way of predicting how long this artwork will last, but regardless of its life span, it's an artwork worth making.
Candle Fingers
Here is another imaginative piece of art that's perfectly suitable for the Halloween season. Candles bring mystic and scary vibes to any Halloween party, but this one raises the bar of weird and fun candle shapes. Horror movie fans, you'll love this.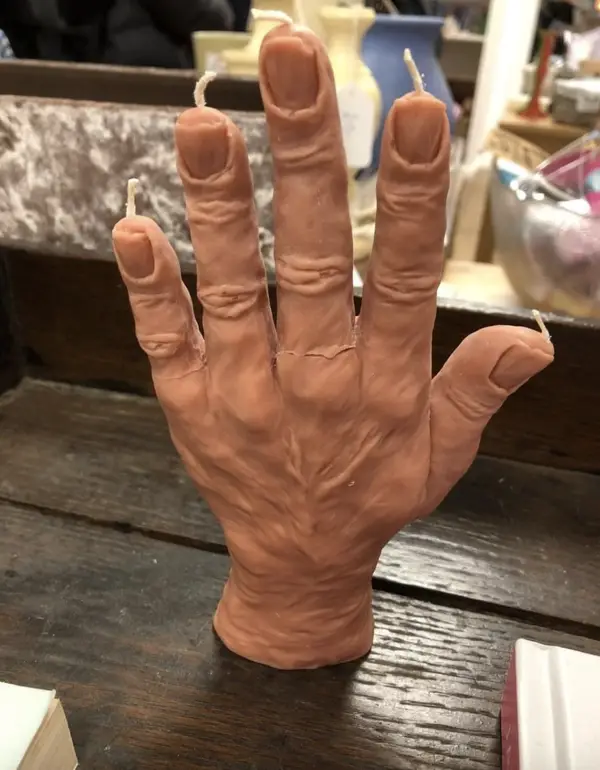 If you thought of "Thing," the witty and resourceful hand from The Addams Family, you're not alone on this because so did we. The color and details are so realistic, but we think it might burn really fast with the five fingers on fire.
A Barbie Car
We would love to know the model of this car. The vintage design combined with the soft pink and sparkly rocks made our eyes pop. It's an absolutely fantastic vehicle regardless of the model, but we spotted a red flag here.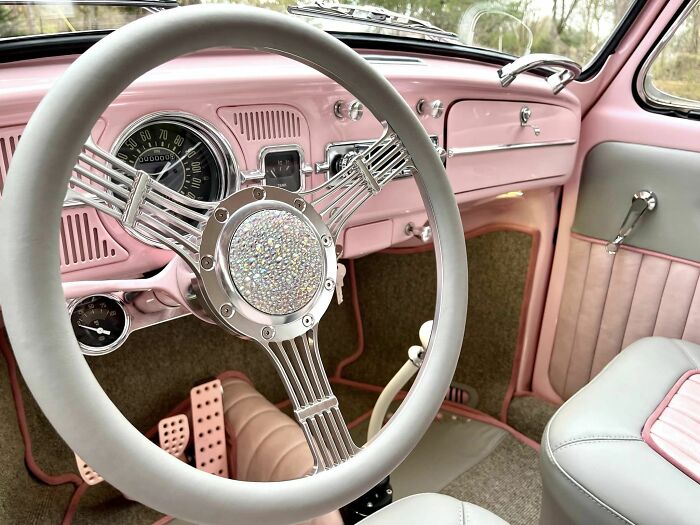 We would think twice before driving this baby around town. Seriously. Vintage cars already attract people's attention quite a lot; now imagine a vintage pink Barbie-like car studded with these sparkly diamond-like stones. It may be a bit too over the top and even dangerous.
The Magnificent Jirror
If you are tired of your home looking the same for so long, worry no more because this art piece has come to save your home. However, this artwork comes with a warning: it's not meant for the minimalist. Sorry, guys.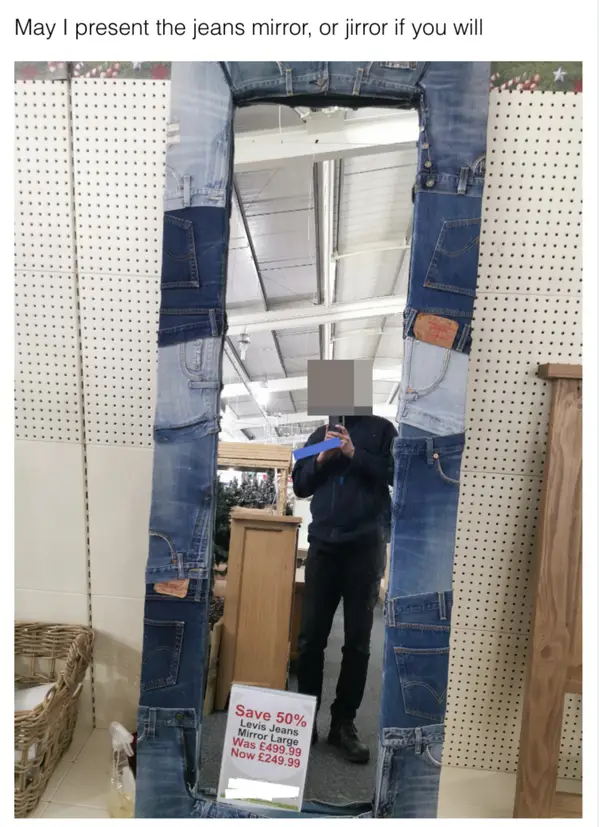 It reminds us of Britney Spears and Justin Timberlake's matching outfits for the 2001 American Music Awards when the couple rocked denim-on-denim attire. So, if you're the kind of person who loves over-the-top decor, this Jirror was made for you.
Earls of Lemongrab
At first, we thought these were ten kids in Adventure Time costumes, but then we jumped as we realized they were just stuffed Lemongrabs. We don't know why, but they look spooky to us, maybe because the Earl of Lemongrab is not exactly a very nice guy in the show.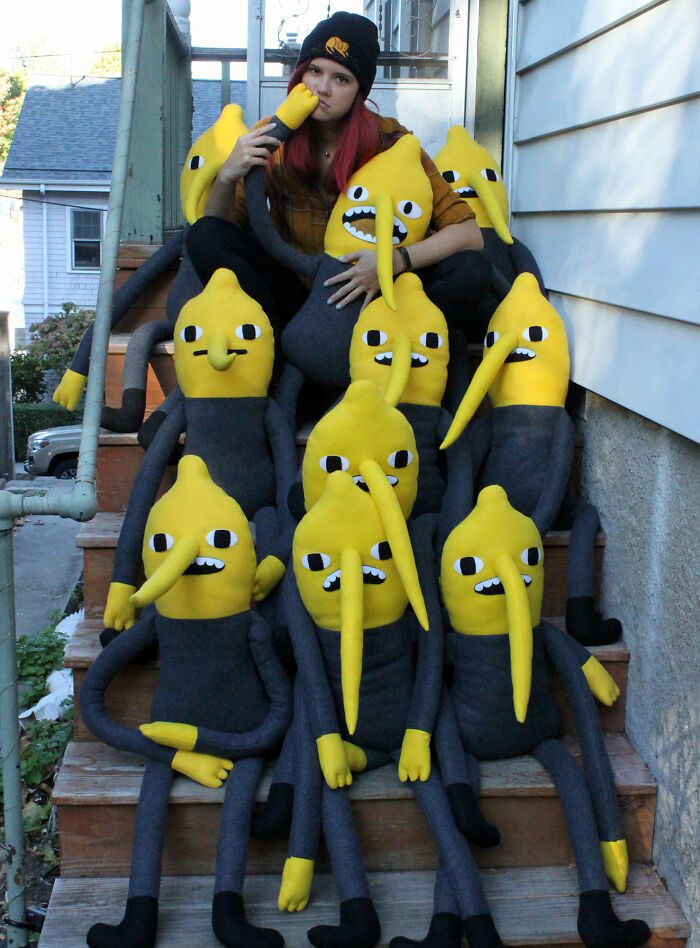 The heir to the Candy Kingdom throne is far from being a friendly guy. His paranoia and stubbornness make him a relatable character for the AT fans but a nightmare for the characters of the show. Maybe that's why they look so scary to us.
A Tricky Carpet
Look at this picture. Now, look closely. Do you see it? This is a furry carpet, not a herringbone floorboard. Pretty Cool, right? The playfulness of this simple carpet is the key ingredient for its success, and we loved it.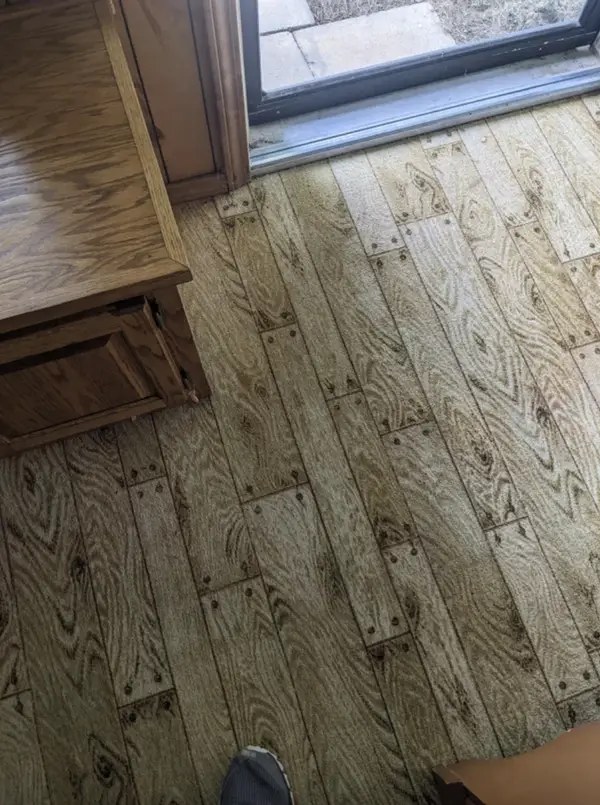 This is a great alternative for homes with many wooden appliances or decorations. On the other hand, it would also be a nice way to contrast with different interior designs. A great place to have this rug would be in a play area for children or a game room.
Salvador Dalí Would Be Proud
What seems to be a reference to the movie Grease may not look like a challenging painting to create, but it brings some surrealist feels as we look at it. The small canvas and serene, almost monochromatic color scheme gives a minimalist vibe to this artwork.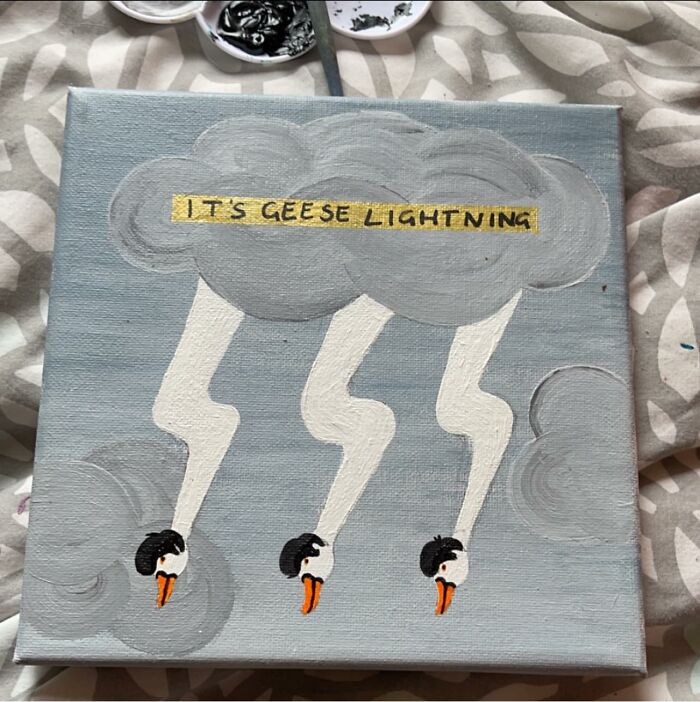 We don't know the exact meaning behind this quirky painting, but it brings a discreet laugh when we see it. The fact that the geese are rocking a '70s hairstyle is a fun touch, and the painter responsible for it is probably very proud of the result.
A Mythological Creature
We aren't sure if the artist behind this piece knew this but it turns out that there is a mythological creature with these exact same features: the head of a dog and the body of a human. Many cultures have tales based on this creature called Cynocephaly.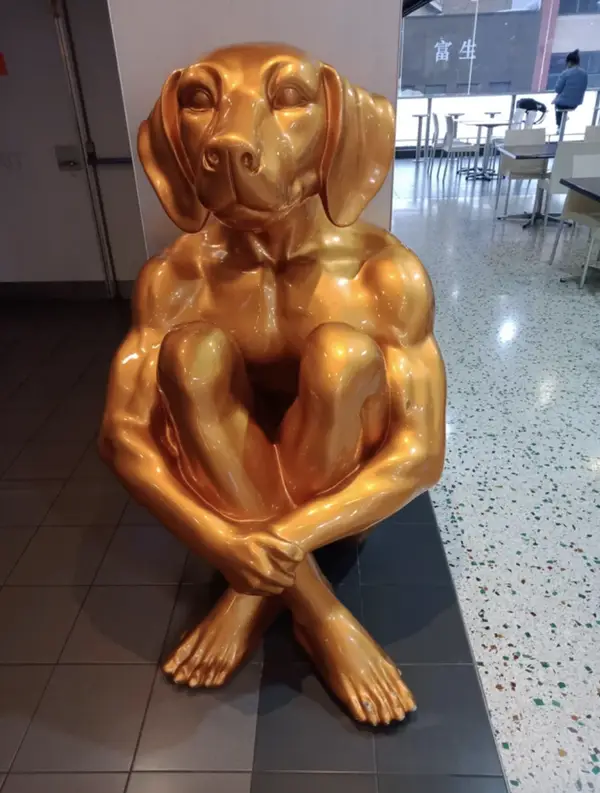 Ancient Egypt had Anubis in a similar shape, India in the 5th century had the myth of the Indici, and many other cultures told stories of a dog-headed man. We can't say for sure the real meaning behind this artwork, but it does serve its purpose of making us wonder.