35+ Amusing And Aesthetic Mailboxes That Push The Envelope In Creativity
By Joyce S May 14, 2023
---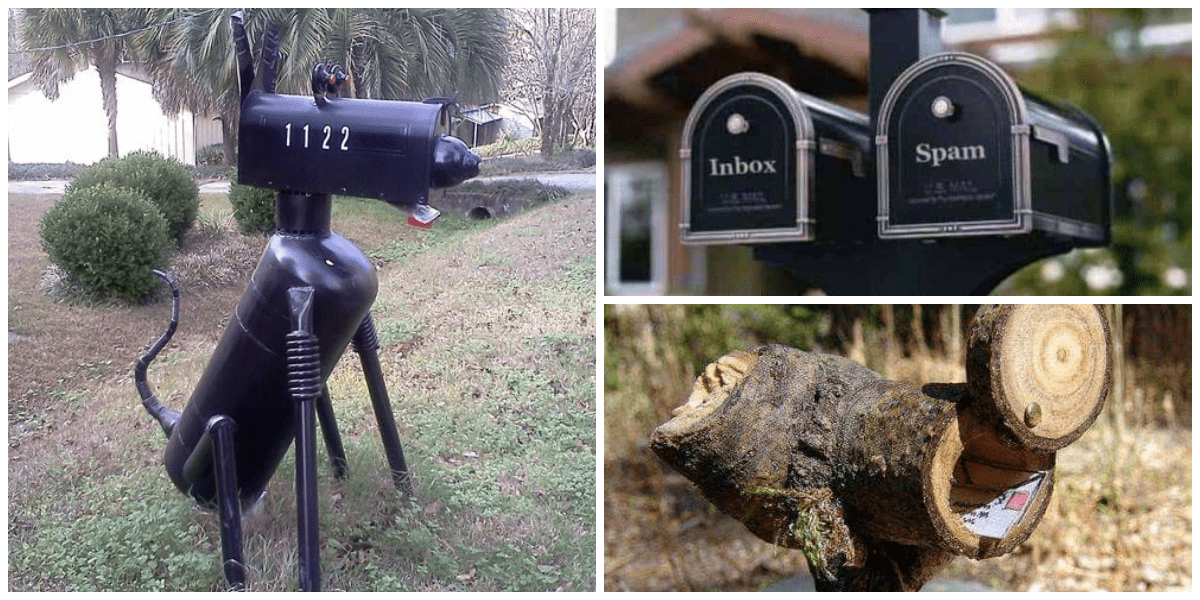 Despite what you may think, being a mailman isn't dull; you see a lot with the job. For example, you've probably heard stories of excessively friendly dogs who want to show off their new toy. And let's not forget that they will brave all sorts of weather to deliver your mail. Even the mailboxes aren't as monotonous as you'd expect.
Sure, most mailboxes are standard, simple cuboids that hold onto those envelopes for a few hours. But there are plenty of homeowners out there who use their mailboxes to show off their quirky and creative sides. And lucky mailmen get to see them all.
With that in mind, you really have to give it to those who, no pun intended, see beyond the dull dimensions and push the envelope.
Idyllic Trellis Mailbox
This romantic mailbox is a great addition to any home. But if you have one of those homes with a garden out front filled with flowers of all colors and plants of all types and sizes, this mailbox is definitely for you.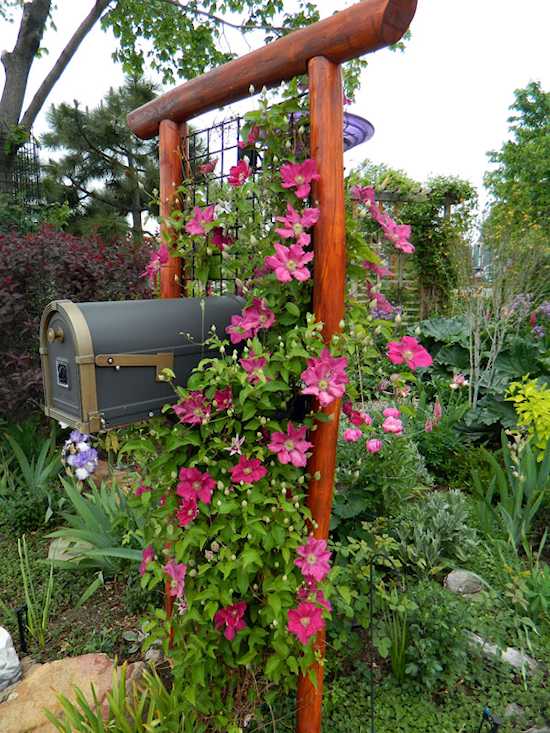 A flowered trellis mailbox looks beautiful with a front gated arbor, for example. This mailbox setup also benefits your neighborhood since it enhances the sophisticated vibe of the area. Take a look outside your home and consider this pretty trellis mailbox.
Harley-Davidson Mailbox
Anything can serve a purpose. This baffling Haley-Davidson artwork is unquestionably a terrific option for items that, say, have been irreparably damaged in an accident and serves to pay tribute to a hobby, your old motorcycle club memories when you used to be bad to the bone and run wild on highways.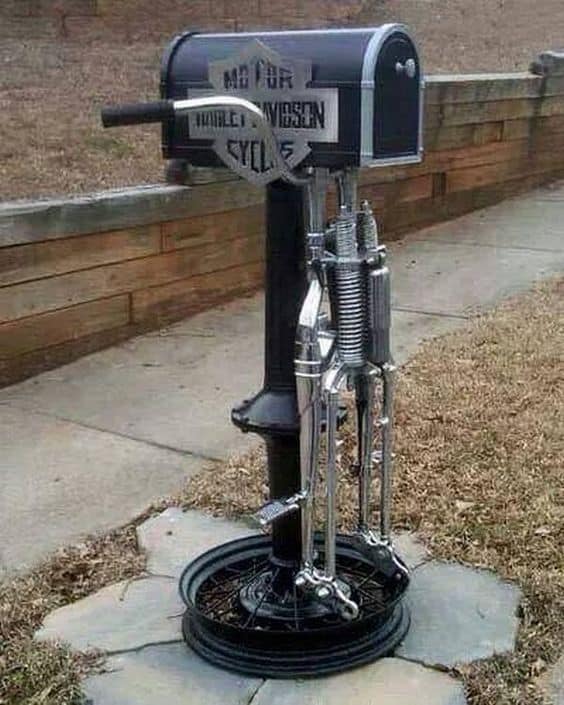 Undoubtedly, it is a piece of art. This mailbox is really well-designed, couldn't be more themed, and is just extreme and unique enough to get attention from all onlookers, regardless of whether they are bike enthusiasts or not. Remember to keep it well-maintained.
A Periscope Mailbox
What a fun idea! You don't have to be a super submarine fan to consider upgrading your mailbox like this. A periscope box can be just that: a mailbox. It doesn't need to actually function as anything other than a mail holder—prisms and mirrors aren't required here.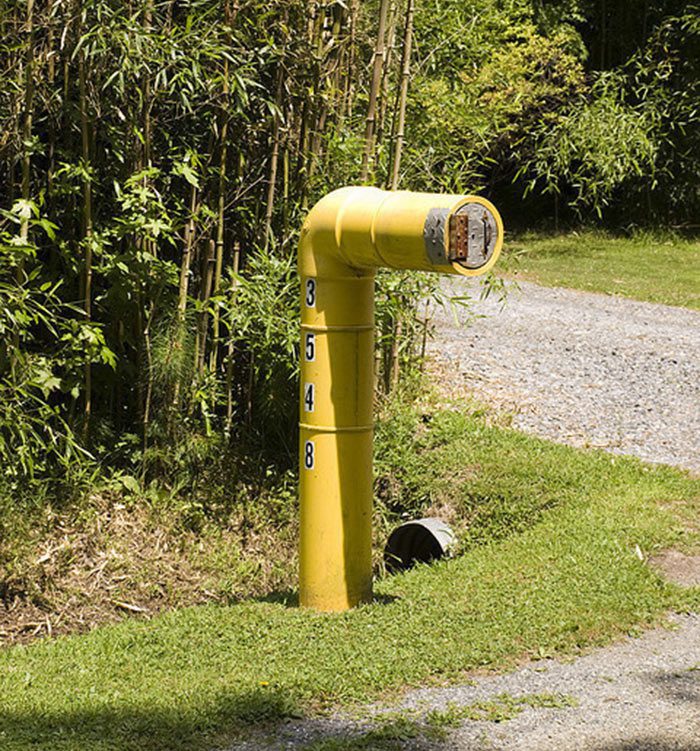 Another interesting thing about this mailbox is that you can make it at home. The internet is packed with do-it-yourself tutorials for this incredible mailbox. If you have teenagers at home, make it a weekend project for them. It'll be so much fun.
Wooden Sculpture Mailbox
This item is one of our favorites. This mailbox was made by a true artist, no doubt about that. This super cool mailbox needs no explanation if you are a sculptor yourself, but if you aren't yet an artist, it doesn't mean you can't pursue something like this.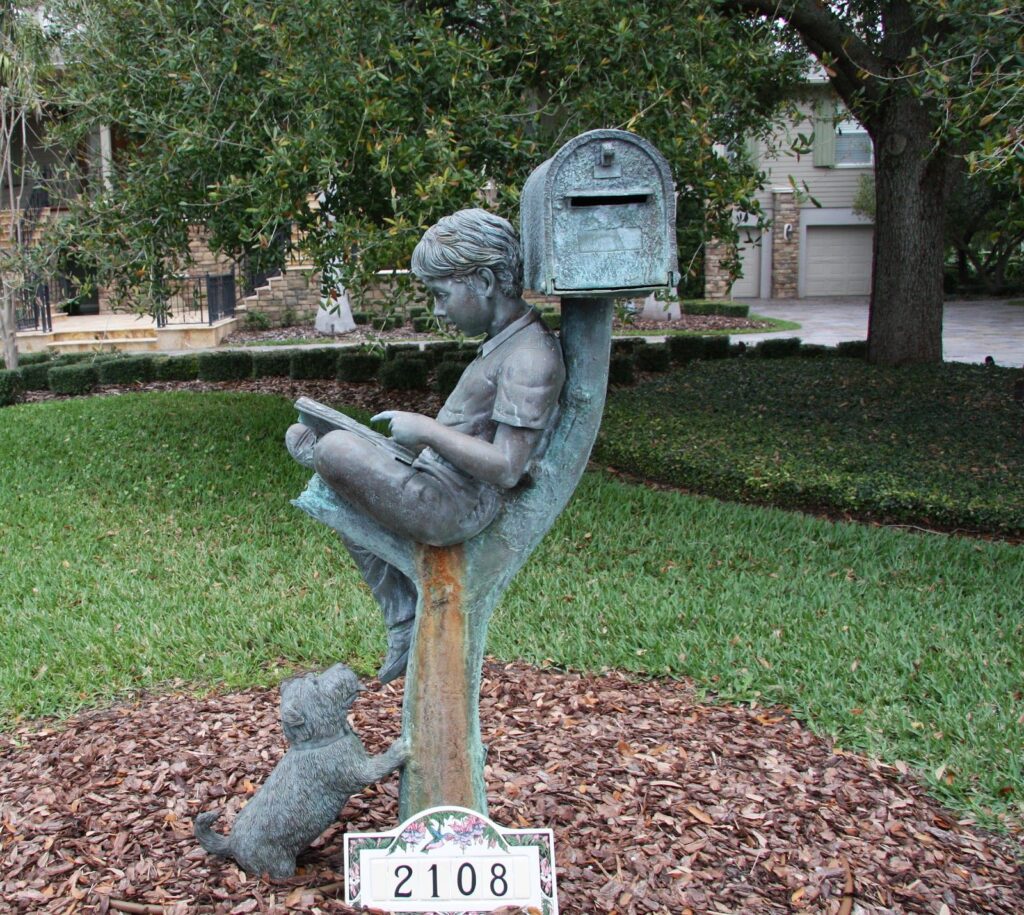 Look for local artists in your town. You may be surprised by what you'll find. Some of the best local artists and artisans hide behind the big department stores because we know the market competition isn't fair, but they are worth looking for.
Aviation Fans
Cool DIY mailboxes are a fun way to surprise kids, but they're also a good way to show that, with a little time and creativity, anything is possible. By making this mailbox into a do-it-yourself project, you're opening up a whole new world for them.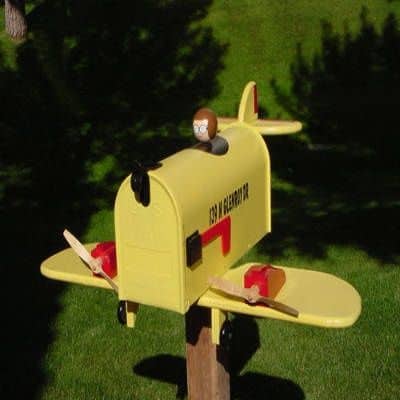 Naturally, the more imaginative you are, the more appealing your house will be. We love to bring everyday things to the eyes of kids and make the little ones part of our routine. Your kids will have a blast helping you get the mail when this mailbox is there to greet them.
Multi-Purpose Mailbox
Time to become your neighborhood's biggest influencer with a little help from your mailbox. An old cement planter and a house-shaped bookshelf with a glass front may be transformed into a free community library when anchored to a mailbox post.
With this idea, you'll surely become a trendsetter and spark the community spirit in everyone around you—including the mail guy. Think of the benefits that this tiny box may bring to the people around you and how many positive effects would have on your kids.
Turn Your Favorite Animal Into A Mailbox
Make your mailbox a reflection of your outgoing personality by customizing it. This can mean anything from adding some color to putting the cuboid on some other structure. Adorable sea creatures as a simple yet clever way to give your mailbox some character.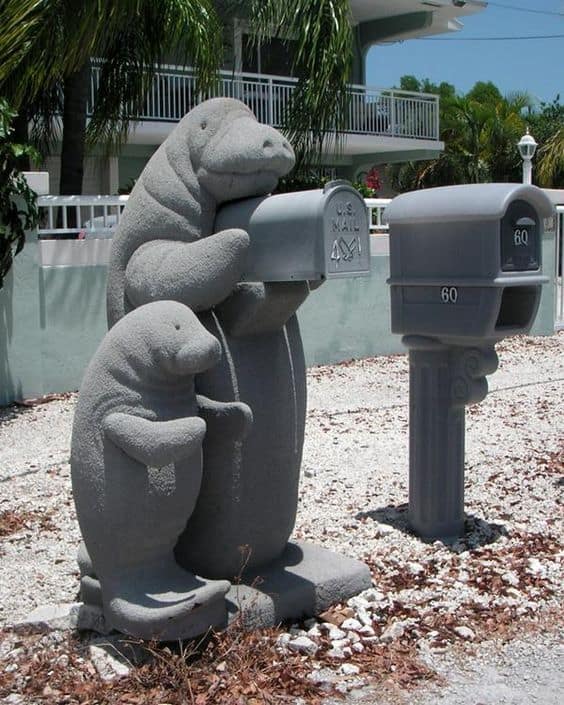 Remember to install a mailbox with a matching color. This'll make the design flow better. This design is extra fun around the holidays. You'll have a blast dressing it up as Santa Klaus or a mummy to fit the season.
Cool Retro Mailboxes
Designers are always on the lookout for fresh ideas using time-tested artifacts. Through this, plenty of popular designs have achieved iconic status. We wouldn't normally think of this forward-thinking design to be incorporated into mailboxes, but these ones are undoubtably cool.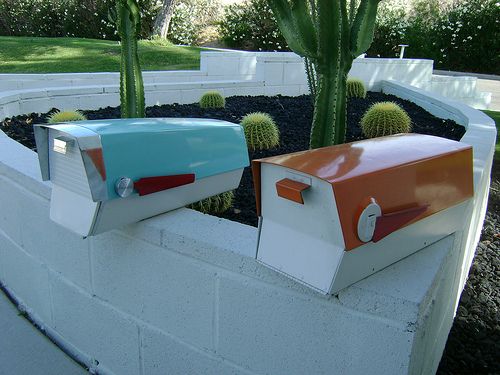 These two shiny mailboxes seem to have traveled all the way from a 1970s home, and they look in pristine condition. Surprisingly, they're not vintage pieces; they were made in this century! They feel more like mini retro garages rather than modern mailboxes.
A Fantastic Mailbox
It's just impossible to look at this mailbox art and ignore the fact that it might have come all the way from Middle Earth to gift a lucky garden with its beauty. This mailbox makes the home feel like it's been blessed by Elves.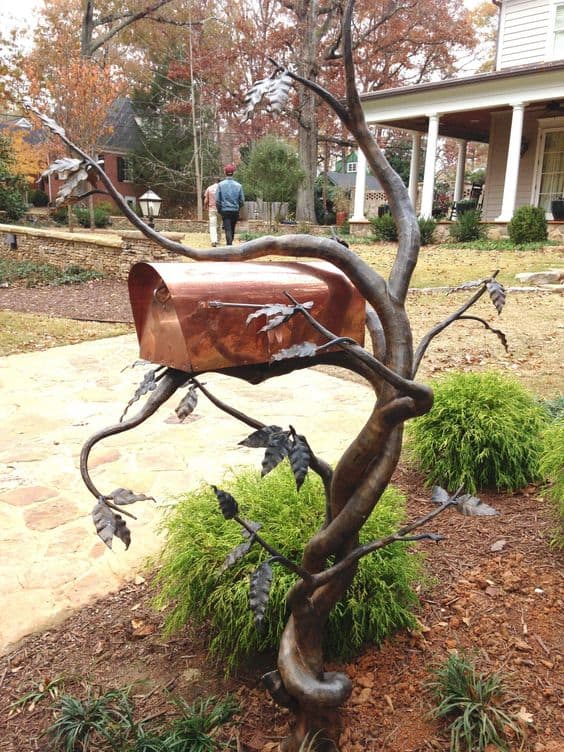 Metal is a great medium, and skilled artists that know how to work with it always come up with amazing ideas. If metalworking isn't your thing, get creative and find other materials you're comfortable working with. Or, hire a local artist for this project.
Over-The-Top Mailbox
Pay close attention to the details on this mailbox. Just… wow! This metal mailbox belongs to an art gallery, no doubt. Every aspect of this mailbox reminds us of Pop Art and Camp aesthetics, like the metal, and the huge size of the entire sculpture.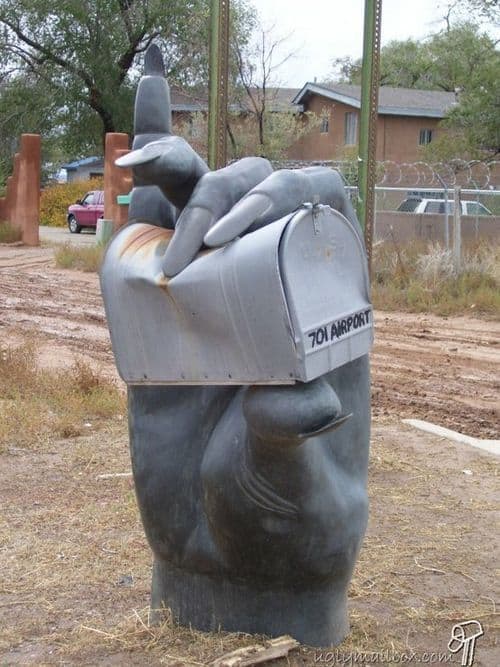 We give a shout-out to the long fingernails and to the sassy way the hand holds the mailbox. We're not sure if the rusty top of the box is intentional or a gift from time and weather conditions, but it looks great regardless. 
Mailing in Winter Time
Take advantage of the weather and give your mailbox a temporary makeover. Everyone loves building snowmen, so why not incorporate the wintertime activity into your home? Without a doubt, your kids and/or friends will love helping with this DIY project.
When delivering mail, the postal carrier will surely giggle as he or she sees this adorable mailbox. This is a terrific way to make someone's day, so we strongly advise you give it a go next time snow starts to pile up.
Pet Mailbox
If you're a metalworker who wants to market their workshop through a tiny installation, you can do it with your mailbox. In this case, the piece is still clearly recognized, and the work will not be forgotten any time soon.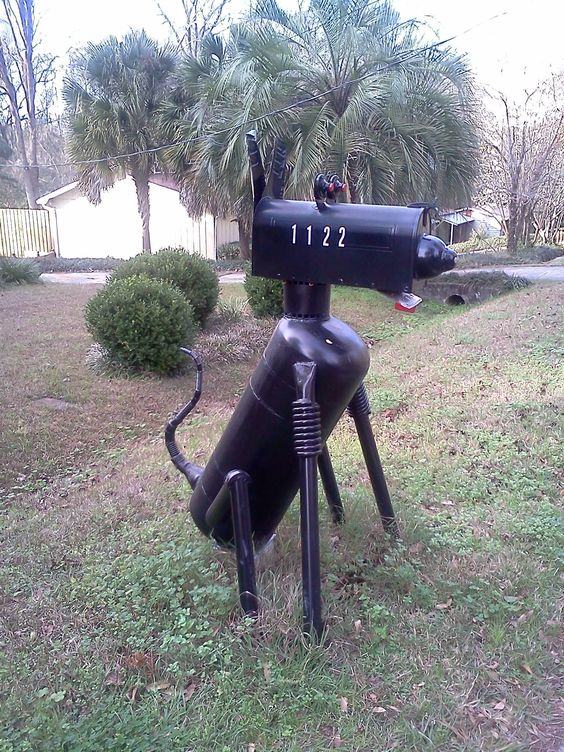 This doggy mailbox is friendly to every mailman. He won't jump, bark, or bite—unless you close the flap too quickly. A work like this takes time, attention to detail, and a ton of creativity. We hope this person got hired to make more mailboxes in their hometown.
A Classic Metal Mailbox
If you want a unique mailbox but don't have a lot of space on your lawn, don't worry. You can install a vintage box like this on the front of your home. This simple yet understated mailbox is like a breath of fresh air.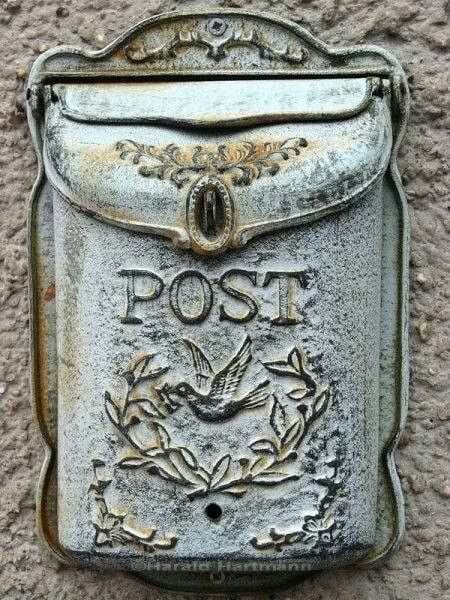 Beauty and charm withstood the test of time with this metal box. With the right maintenance to keep it from rusting, this mailbox will certainly bring a classic feel to your home's design. Now, pick up your keys and bag and go to the nearest vintage store.
Beach House Mailbox
Whether you have a beach house, run a hotel by the sea, or own a successful restaurant, this simple idea will spruce up your place a lot. It's a great landmark for any business by the beach, and it becomes a fun source of reference when looking for your place.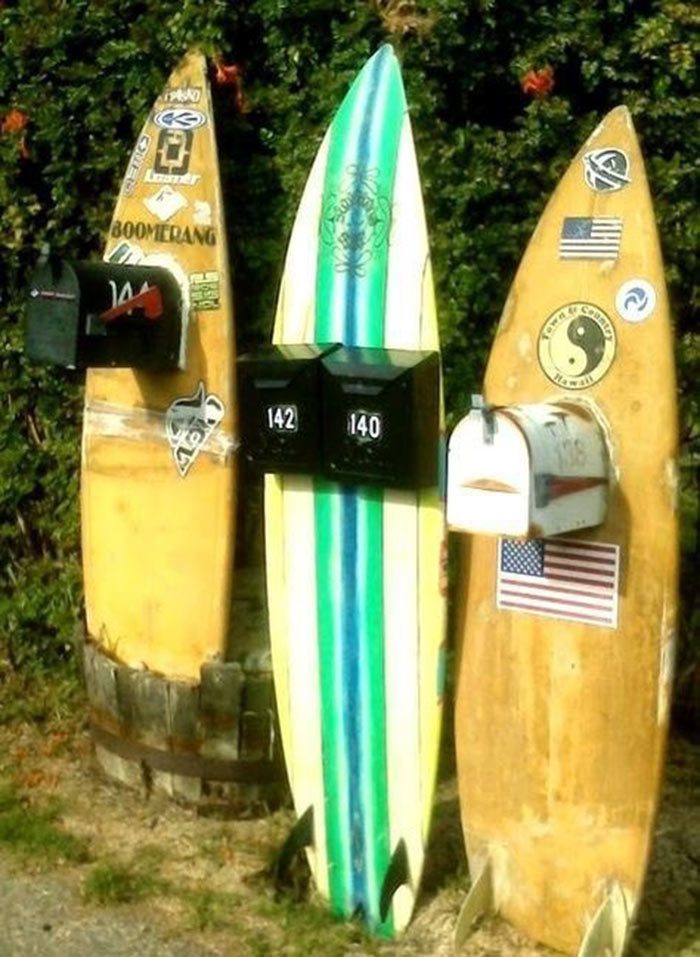 We have to say; this item is just fantastic. It's a great way to repurpose those old surfboards. And, if you like the idea but live in a different climate, you can do it using skis or a snowboard. This is a wonderful way to exhibit vintage sports equipment.
Caution: Fun Mailbox Ahead
Someone had their mailbox transformed into a, well, transformer. The homeowner is either an electrician or was just struggling to deal with the municipal pole sticking out of their front lawn. Regardless, we bet this person has a great sense of humor—the creativity it took to make this speaks for itself.
Plus, we bet the mailman had some fun the first time they spotted this masterpiece. Even though "US Mail" is written on it, we still have our doubts. If you don't look too closely or too long, you can mistake it for a regular transformer.
Straight From The Farm
Technology has reached every aspect of our lives, from how we communicate to how we navigate the world. Even farming has gotten some tech upgrades. Although carts, wagons, and plows don't look the same as they once did, the vintage appeal will always be in style.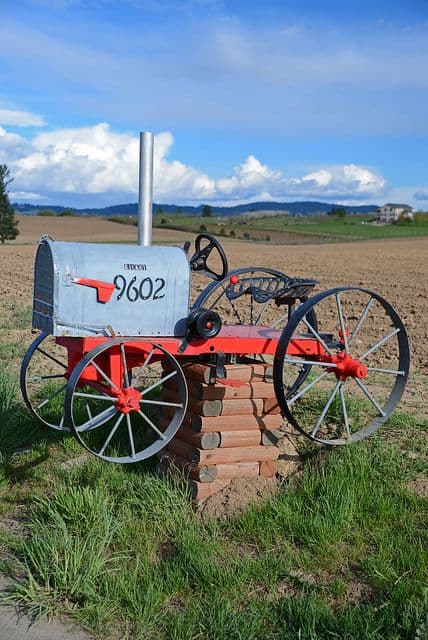 This farmer decided to put their old cart to rest in a peculiar way turning it into a neat mailbox. Now, it still serves a purpose, and we bet it makes the mailman smile a little every time he or she stops by.
Biker Mailbox
One of the secrets to life is to find pleasure in the little things. This can be anything from buying a funny-looking fruit at the store to customizing some part of your home. A mailbox is the perfect place to show off what you're into without being too flashy.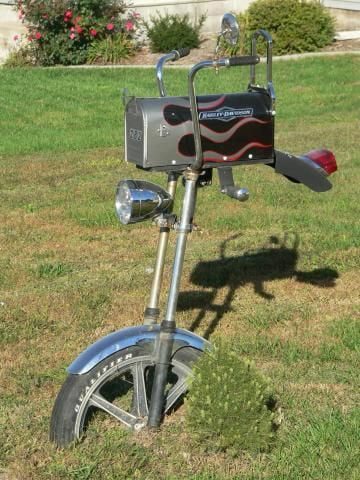 Sure, this person could have used a full motorcycle for this piece. But the simple partial bike is more appealing and practical. If you're a biker, this is a great way to use parts of an old bike that you don't want to get rid of just yet.
A Mailbox Tree
Something tells us that this isn't a functioning mailbox. The OP stumbled upon this rusty mailbox embedded in a tree. At the risk of sounding super cheesy, we can't help but wonder what this mailbox's story is. Who used to live there? Was it a farm or a house?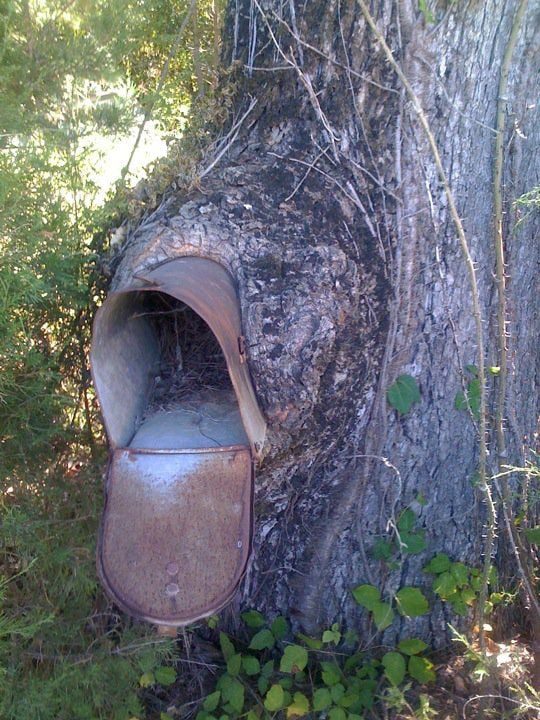 The whole scene alone is intriguing, but zooming in, we see a pile of dry grass. Do you think a bird made a nest there? This picture is the perfect example of nature reclaiming the land and restoring harmony to the Earth.
And Elvis Has Left The Building
If you like the King of Rock& Roll, Elvis Presley, you'll love this mailbox. Someone spotted it in front of a pawnshop and had to snap a picture. It looks like it's been through a lot, and it would make a great mailbox for the Heartbreak Hotel.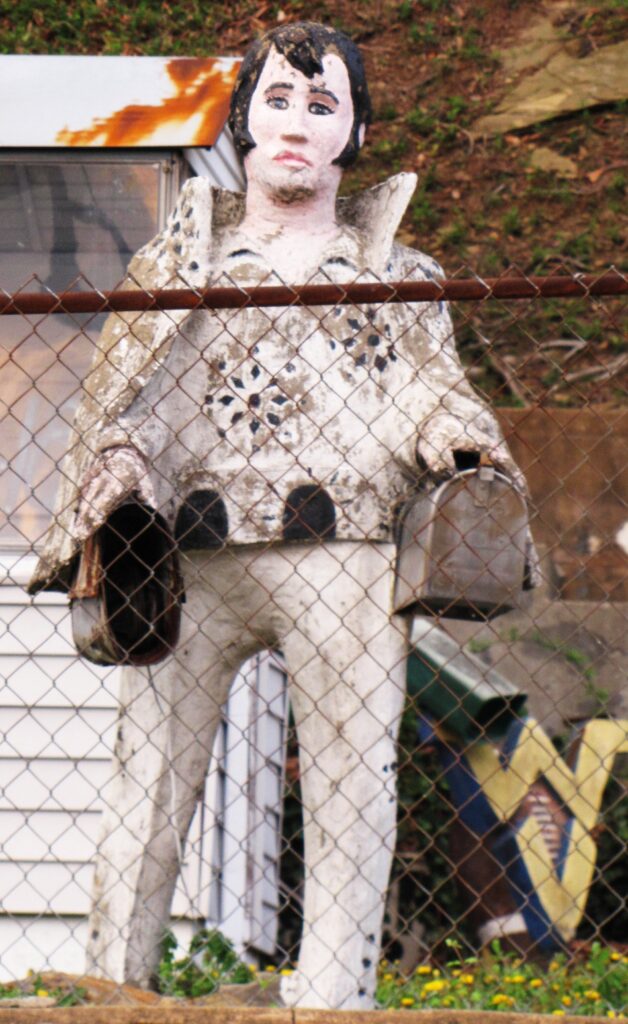 But now, let's get real. We don't mean to be rude, but this Elvis isn't the most appealing design we've seen so far. It seems like he's seen better days. But we bet a die-hard Elvis fan would do a great job sprucing it up.
What A Great Sense Of Humor
"Snail mail" has slowly phased out, but it seems like one thing will never go away: junk mail. It seems like there are more adverts and magazines than actual useful mail. This person channeled their frustration and made a unique mailbox…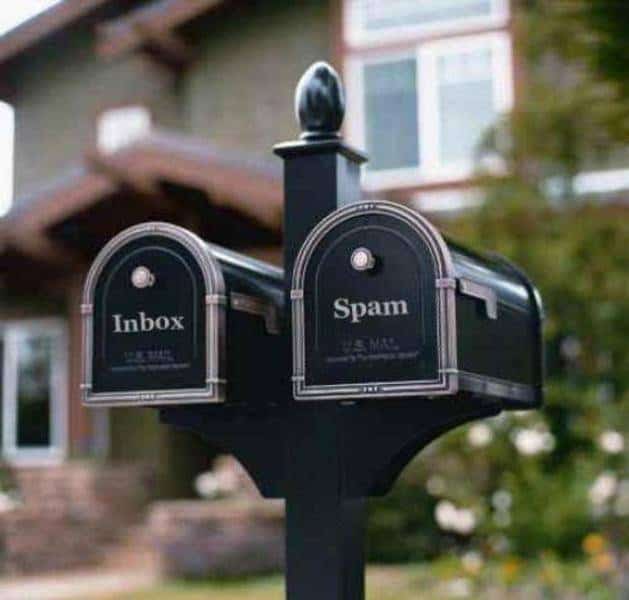 We doubt the mailman will take the time to sort out bills and holiday cards from actual junk mail, but it sure sends a message. The homeowner could even sort the mail themself and let the spam mail overflow. Now that's a look!
The Beauty Of Tiki Sculptures
Hawaiian culture is diverse and rich, and it has been like that since way before the European invasion. For this reason, many different types of artistic expression flourish in Hawaii. One example is the 'Tiki' sculpture in Hawaii. Tiki depicts the first man to walk the planet.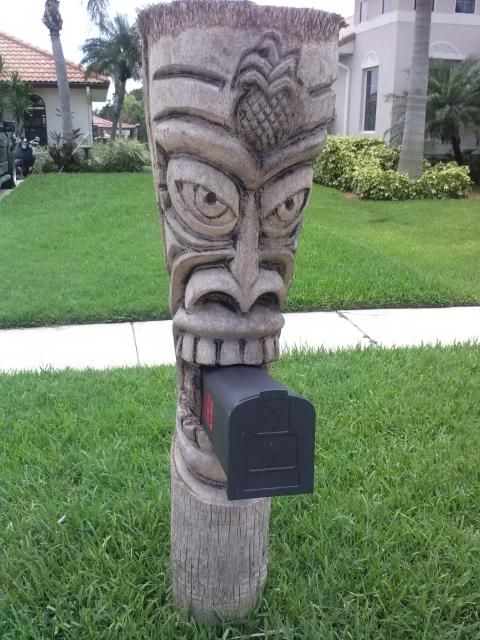 Tiki can also be used to describe humanoid sculptures made of stone or wood. Tiki art is a fun way to spread a message, draw attention to a hobby store or an artist's studio, or just play around with some basic design principles.
Old Gas Pump
What would you think if you saw this old gas pump sitting on the side of a road with no gas station in sight? This mailbox looks quite neat, but we can't help but wonder if people ever stop by to fill it up because they think it's a gas station.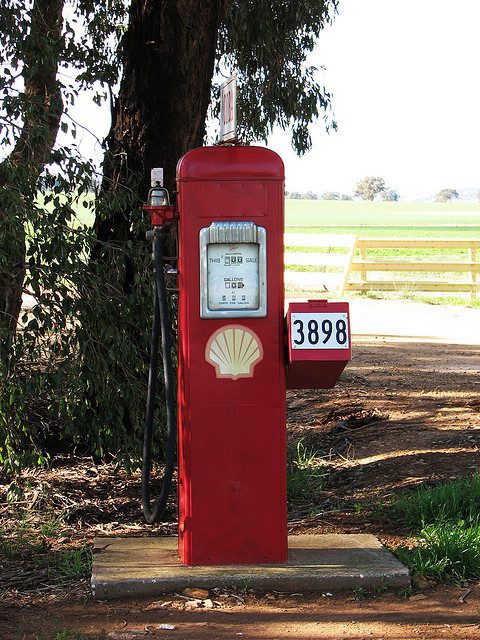 We don't know about you, but it doesn't seem like a great idea in the long run. However, to be creative, you have to take chances like that. Despite its advanced age, the pump is in surprisingly good shape. This mailbox's owner must be thrilled to get his delivery.
Care Bear
Here is something unique that you don't typically see everywhere. This mailbox is kind of hilarious and adorable. It must have been super fun to put this mailbox together. It is a perfect match for a cottage in the woods or a small hotel on a mountain.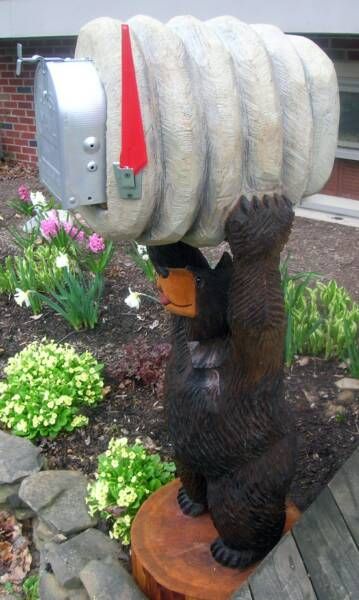 That tiny bear brings a feeling of playfulness and warmth, and it's pretty well-carved. Do you believe that the person who sculpted this mailbox did it for a kid? That seems like a pretty reasonable explanation and is also extremely adorable.
Car-Themed Mailbox
There is plenty to explore about this wacky mailbox that is unquestionably one of a kind. At least, we hope so. We assume that someone visited a car workshop or a vintage store to make this rad letterbox with old colorful car plates.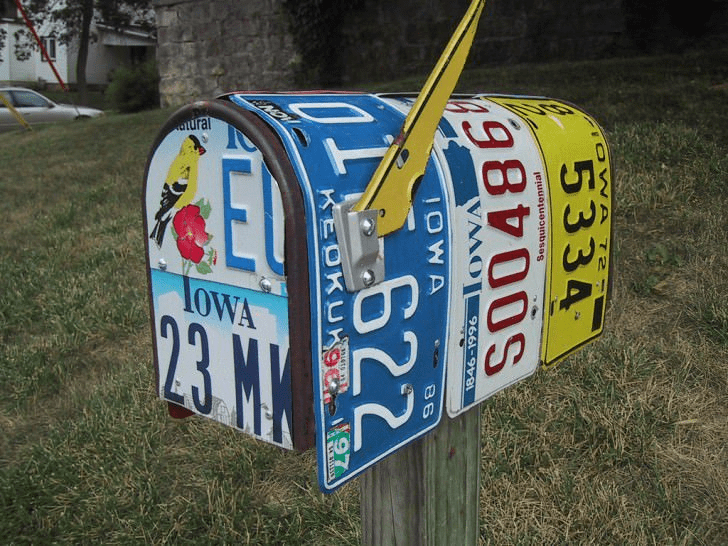 Simply grab some vintage license plates, ideally from multiple states, and decorate your traditional mailbox. This mailbox is perfect for an auto shop or if you're a major car enthusiast. It's unique but not over the top. We loved it.
Elegant and Modern
A modern and edgy house design is always a feast for the eyes. It feels great to spend hours scrolling photos of dazzling homes on Pinterest. This residence mixes two elements we simply adore: refined architecture for the house and an industrial vibe in the details.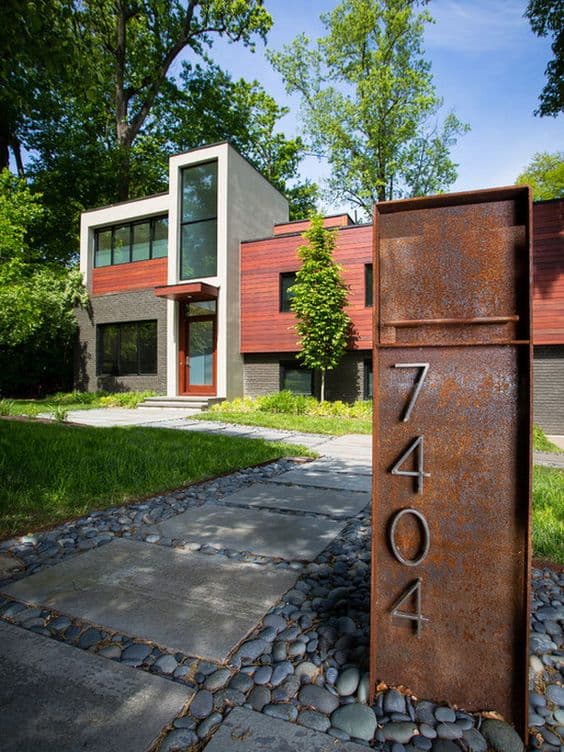 Here, a minimal and contemporary industrial design is used to elegantly spot a private mailbox and house number. The stoned flooring combined with the rusted metal mail post are at odds with each other in a simple yet eye-catching way.
A Treehouse Mailbox
Sculpture fans and artists will dig this mailbox design. We certainly love it. This charming tree sculpture, although small, looks strong, like one of those ancient trees from The Lord Of The Rings. It holds the mailbox with dignity and poise.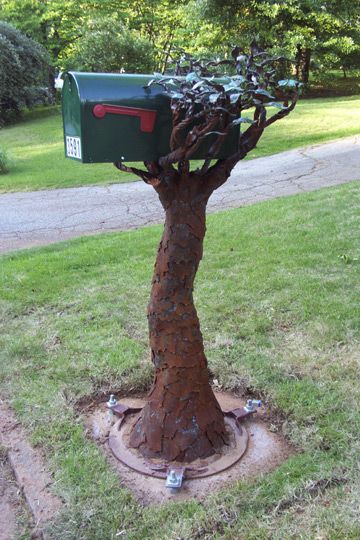 It's hard to tell what pieces they used to make this frame, but that just adds to the mystery and appeal. It's not an easy sculpture to make, but you can either look up on the internet for similar models or find a talented sculptor to bring something as cool as this mailbox to life.
This Is Halloween
Halloween is that time of the year when we allow ourselves to have a great time being goofy and spooky. It's one of the coolest and easiest holidays to enjoy with family and friends. Dressing up in costumes, going trick-or-treating, and making Halloween-themed food and drinks… Halloween is the greatest holiday ever.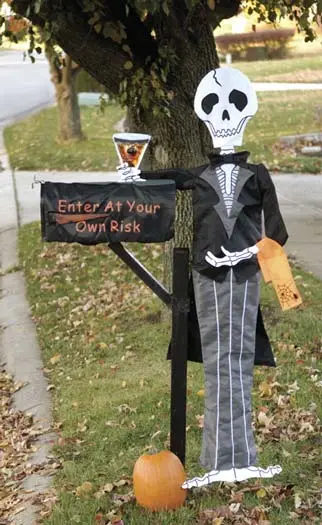 What also makes this spooky holiday fun is the possibility of being creative without spending lots of money or time. This mailbox isn't difficult to make or time-consuming. Some colored paper, scissors, glue, and creativity will do to have this mailbox done.
Frog Box
A tourist shared this picture of a fancy frog outside a social club in the U.S.—something tells us this was spotted in Florida. We can't decide if this mailbox is too weird or super cool. We have to admit, though, that it's different.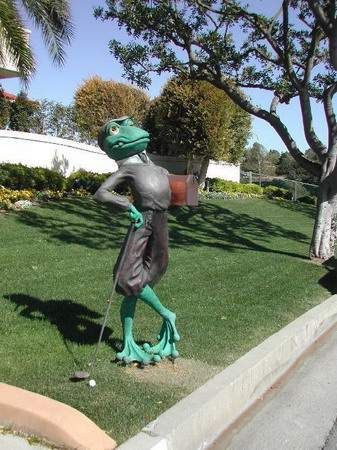 The frog's clothes and posture show that whoever or whatever place owns this mailbox certainly likes golf and has a dignified air whenever they hit the green. The 1920s vibes that the hat, sweater, and pants bring attest to that. 
Mini Barn Mailbox
What could be cuter than a mailbox in the shape of a small barn? It looks like a hard craft to make, especially given the level of detail. However, if you know someone who's handy and can make models out of soft wood, it shouldn't be that hard.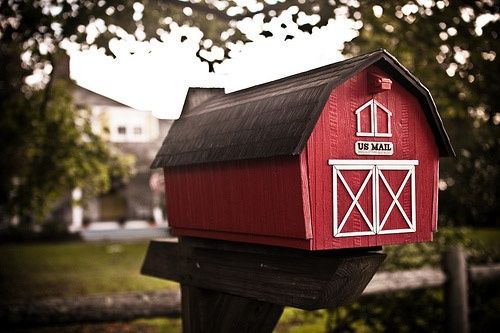 You could paint and decorate yours to look like the outside of your real barn, or you could go in a completely different way and use fun colors and motifs. For letterboxes like this, there are always other options to consider.
Cute Cow Mailbox
This next item shows a mailbox with a whimsical cow silhouette sculpted into it. While the design might not immediately evoke thoughts of a mailbox, this can be easily solved by using contrasting colors and signs to indicate the mailbox spot.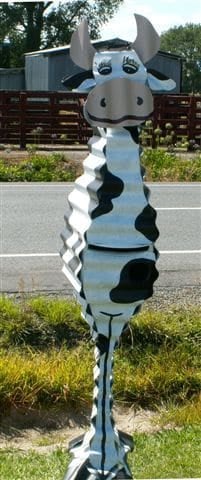 We've seen animal-themed mailboxes of all shapes and sizes, from pigs and horses to cats and dogs and even fish dressed up as Marilyn Monroe. If you enjoy both art and animals, then you should try your hand at this simple project. You may choose from a wide variety of clever and entertaining animal-themed mailboxes.
This One Goes To The Ranch
This mailbox's bold stallion design speaks for itself, making it perfect for a ranch or other countryside kind of property. It's not easy to pull off, but it's elegant and can easily be done as a personal project that honors your old family property.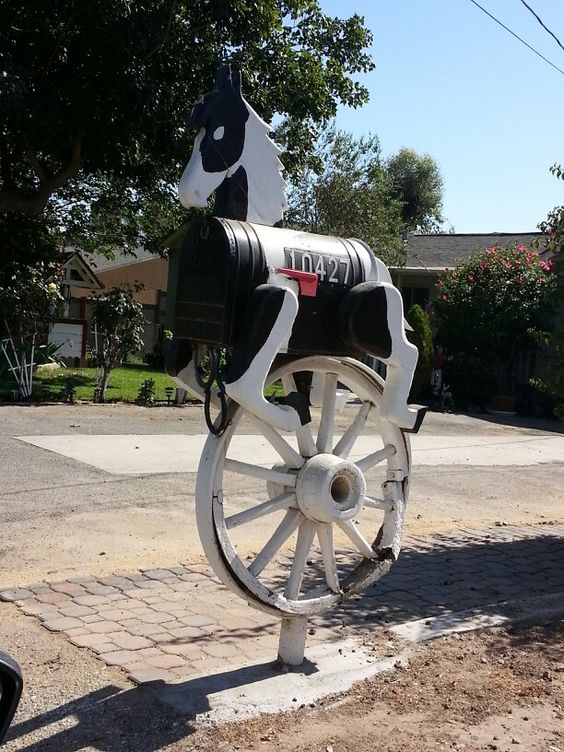 The black and white horse is instantly identifiable, and commands attention, and the wheel under the mailbox is the highlight. We can't say we blame horse lovers for appreciating this mailbox because we must confess that we want a horse mailbox at our countryside residence or ranch too.
Keep On Swimming
The Ocean Reef Club in Key Largo, Florida, is considered to be home to some of the most outlandish mailboxes in the world, as stated by Travel Dreams. When it comes to their creative mailboxes, the locals have shown how inventive they can be, as seen by this snorkeler, which is just one example.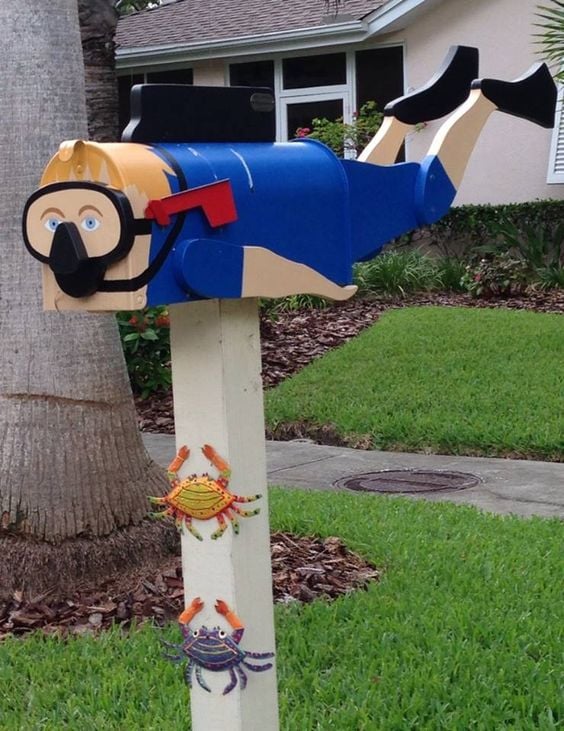 It's really cool when mailboxes are designed to match the aesthetic of the building where they're located. It's not a huge trend, but it is a kind gesture on the part of the proprietors of the business. Next time you go to Florida, take a good look around to spot some funny mailboxes.
Beware The Dinosaur
Something as basic and upbeat as a cheerful mailbox may bring smiles to the faces of your neighbors and passersby, and it has the potential to entertain the kids in your home and neighborhood as well. This mailbox is just one example of that.
The idea of making a paper dinosaur delivery box shows us that you don't need to buy expensive tools to make a fun mailbox. It's a great vacation activity for the kids on a lazy weekend day or when they have friends come over.
A Trailer Box
There is an array of playful mailbox options available to you. It goes without saying that you should keep a mailbox that expresses your personality. This is one approach to make your home noticeable among its neighbors. Mini trailer mailboxes are rare, so the details of this one stand out.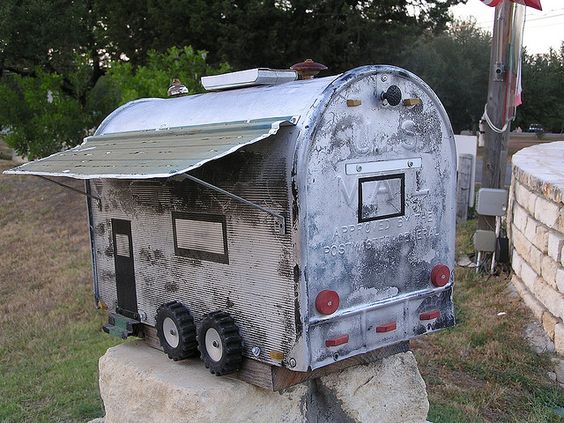 We think they hit it right on the head. A great skillset went into making this mailbox. Whoever thought of this must be a genius. It's possible that this person owns or perhaps lives in a trailer. If so, it makes perfect sense.
Microwave Oven
On a little country road, a local took the time to come up with a rad and sustainable idea and installed microwaves in place of mailboxes. We think this is a fantastic alternative to recycling broken equipment, and we adore the concept.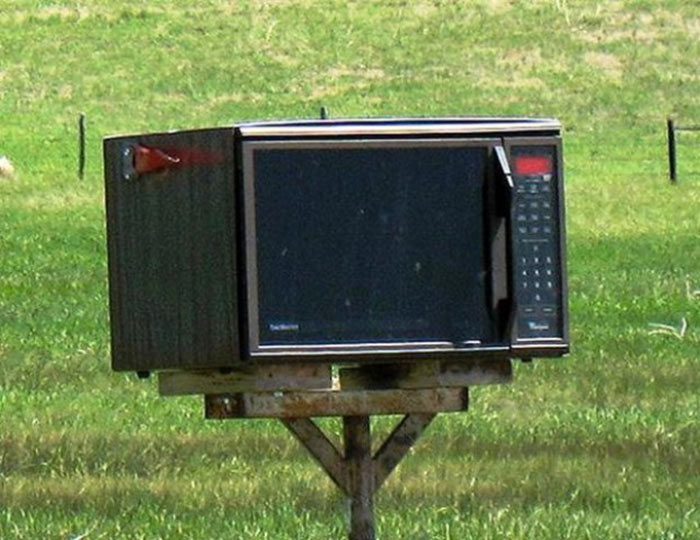 Perhaps this resident actually receives a lot of mail and packages, so a standard mailbox wouldn't be big enough to hold them all. Just consider how much mail a microwave can hold. We think this is ideal because you can even fit little parcels in there.
Clever Wood Work
If scrap wood is treated with care, it has the potential to be really attractive and distinctive, while also displaying a good deal of personality. We highlight the good taste and original decor with this piece based on natural motifs.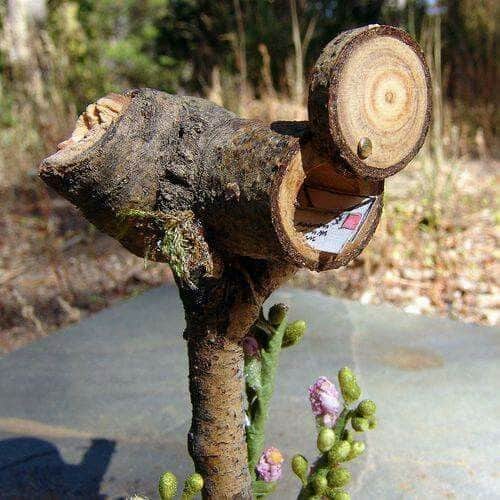 Your mailbox will have a basic yet spectacular visual style when it is surrounded by natural elements. Whether it's a cabin in the woods or a house in the suburbs, this mailbox is a must-have. Just make sure to include the standard red flag to let your mailman know where to put your mail.
Old Boat Engine
Before throwing away your old broken boat or selling it for parts, take a look at this mailbox idea that might save both a piece of your beloved boat and keep your mail safe and sound. This incredibly simple design will blow your mind.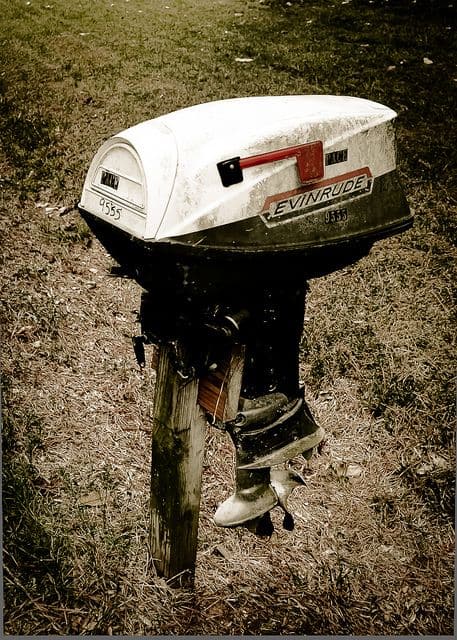 This mailbox option incorporates an old boat engine that optimizes mail deliveries and solves your mailing problems at your lake house. The engine casing works perfectly as a mailbox. It's useful and eco-friendly and it may maintain the pleasant old memories of the boat you liked so much as a youngster. This concept is amazing.
Fashionable Mailbox
Let's talk about fashion, baby. What a posh mailbox design we have here. Everything about this mailbox is impressive. She is prepared to welcome the delivery person in style, from the vivid and shiny blue to the magnificent life-size figure. This mailbox is really stylish and elegant.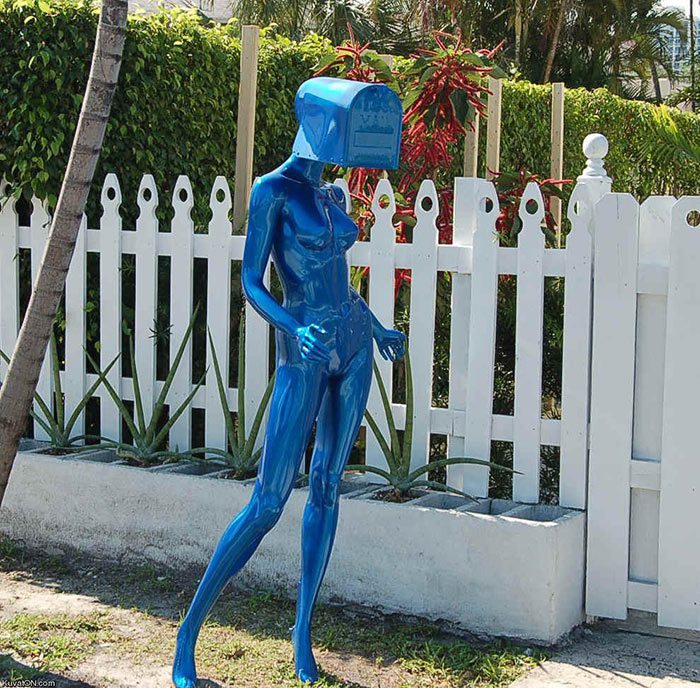 This mailbox is intriguing, which means whoever envisioned it is talented. Seriously, if not an experienced artist, who else would consider a mannequin as a functional letterbox? Much like seeing a car crash on the highway, we can't help but stare at it. This mailbox is extremely fascinating.
The Modern Type
We know that nowadays, sending letters is a rare thing, but there are those who still value the lost art of letter writing and magazine subscriptions. To fit that feeling, you need a proper mailbox—having a dashing mailbox really adds to the vibe.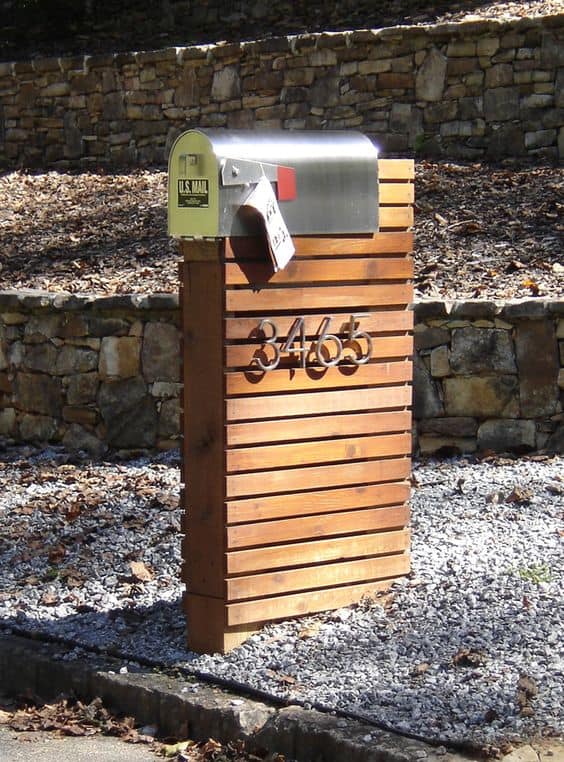 This landmark may seem basic and kind of small, but it's also aesthetically appealing. Not only that, but you can put your house number on it, reducing additional signage on your lawn. This mailbox can be easily installed on a stone or wood structure.
Vintage Mailbox Post
When you line the bottom of your mailbox with flower pots, it'll give a touch of elegance to your vintage mail post. It adds a splash of nostalgia and personality to the post. The homeowner spray-painted the mailbox's base and post a striking black.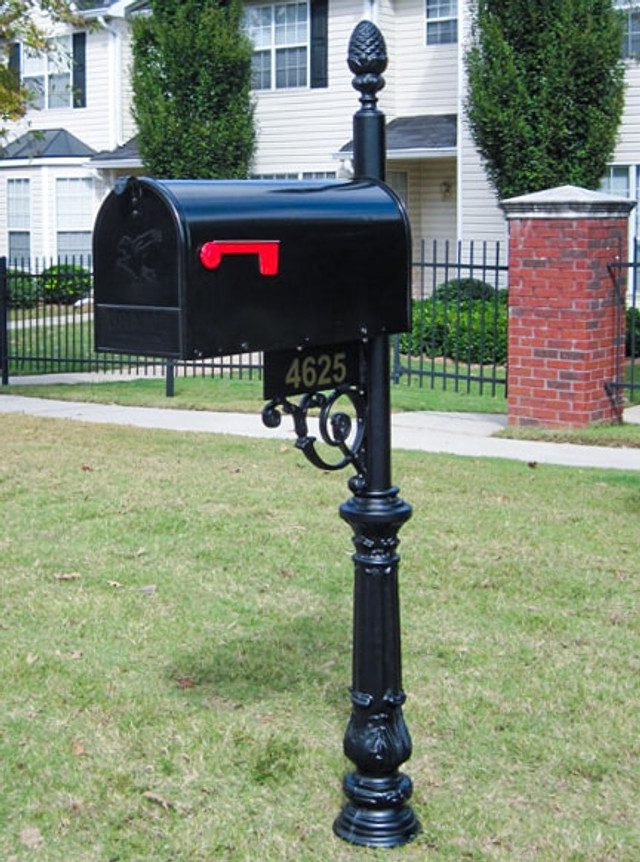 This way, you'll preserve the apparatus's original retro look. Hanging an address plaque is a fantastic alternative to sticking number decals directly on your mailbox. The numerals should be placed on both sides for maximum readability and to avoid confusion.
Tech House
It's impressive that the idea of an old computer being repurposed into a mailbox actually worked. Even though it doesn't look like it's been taken care of, this is a great and original idea. Since it's an old item, it's only natural that it's not in perfect shape.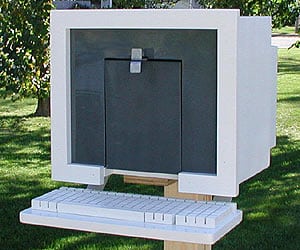 Someone who is crazy about technology will think this is really cool; we're sure of it. It can be done with MDF, a real computer, or an old monitor. All you have to do is find the right mailbox post, and the rest is history. 
The Dark Side Of The Mailbox
Yes, we saved the best for last. The Force is strong with this one, don't you think? People's creativity reaches new bars in so many ways that's jaw-dropping. If you're a fan of Star Wars, you might want to try your hand at recreating one of the many Star Wars-themed mailboxes.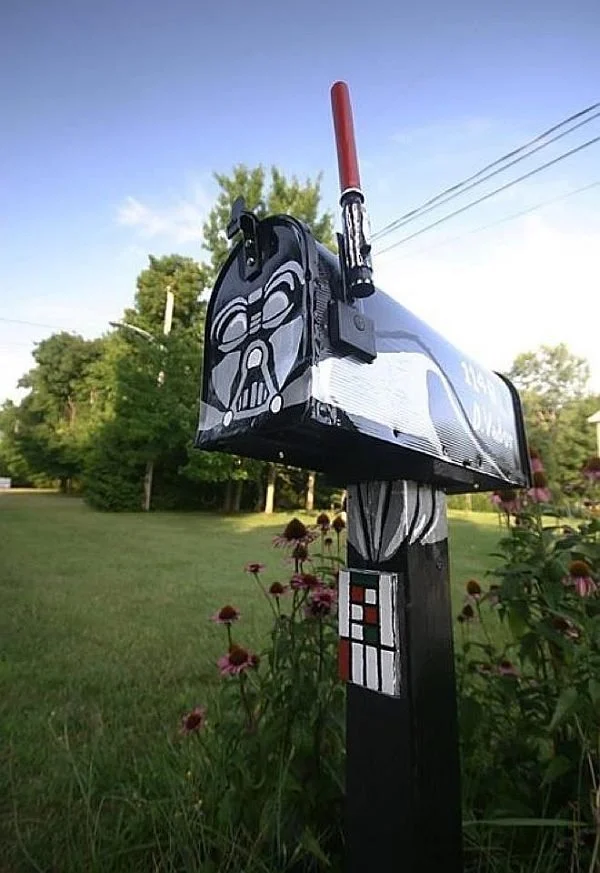 It's not the first time we've seen a Star Wars-themed mailbox; the Death Star, R2-D2, and the Millennium Falcon have been posted online. This Darth Vader mailbox is a simple and visual expression of your love for the Dark Side, as well as your interest in a variety of hobbies, shows, and characters.