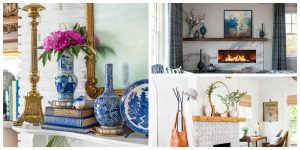 Put Style Front And Center: 40 Mantel Decoration Ideas For Every Time Of Year
By Ziyee N
---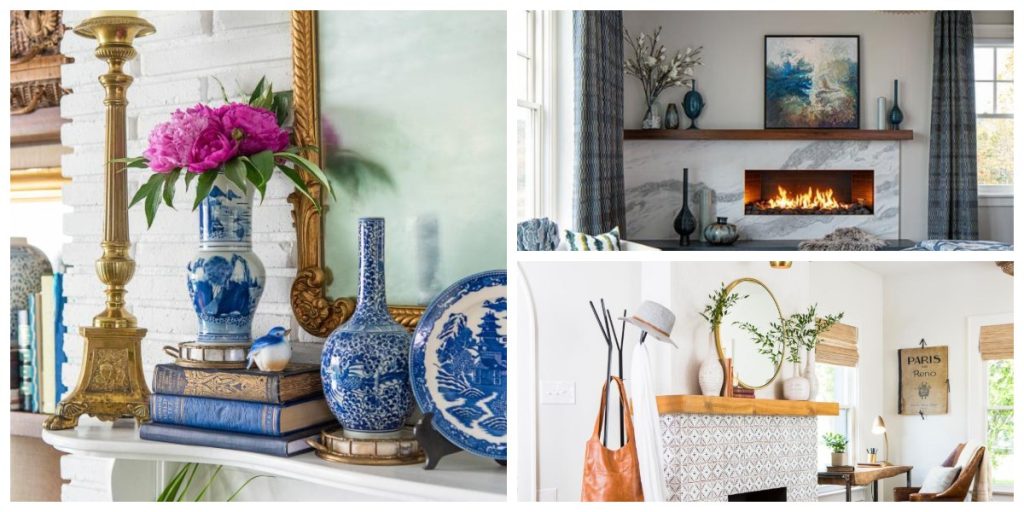 A fireplace is a rather popular choice for homeowners looking to add a relaxing ambiance and heating to their homes. Whether it is a high-end natural gas fireplace or a traditional wood-burning and brick-lined one, there's bound to be a mantel built on top of or around it. You can also, of course, hang a mantel without having a fireplace, and it will serve the same purpose: displaying your style. Some of us like to switch it up – we add spooky elements for Halloween and Christmas decorations in December. But some love redecorating more often than twice a year. What if you just want to alter the vibe a bit but lack inspiration? Luckily for you, we'll be sharing 40 mantel decoration ideas that are suitable all year round.
1. Focal Point
The easiest and most common mantel decoration would have to be a TV. Hanging it above the mantel is probably the best solution for living rooms that function as the family's main hangout. You can't go wrong with this idea.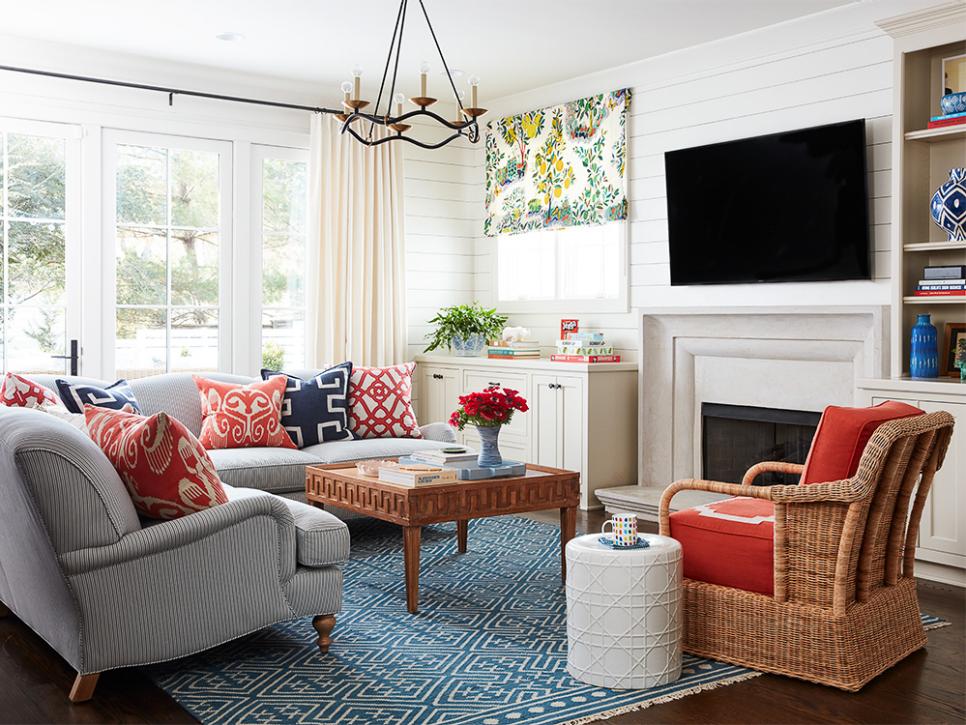 One common design tip is to determine your focal point. In this case, the TV on the mantel would be the center point (regardless of whether it is literally in the middle of the wall or not – fireplaces are not always built that way). You would then arrange the furniture and decor around the TV.
2. Large Mirror
Mirrors are another popular choice for mantel decorations. This is because mirrors can "enlarge" a room; mirrors bounce light around the room and makes it look as though it has more space than it really does. They also brighten up a space nicely.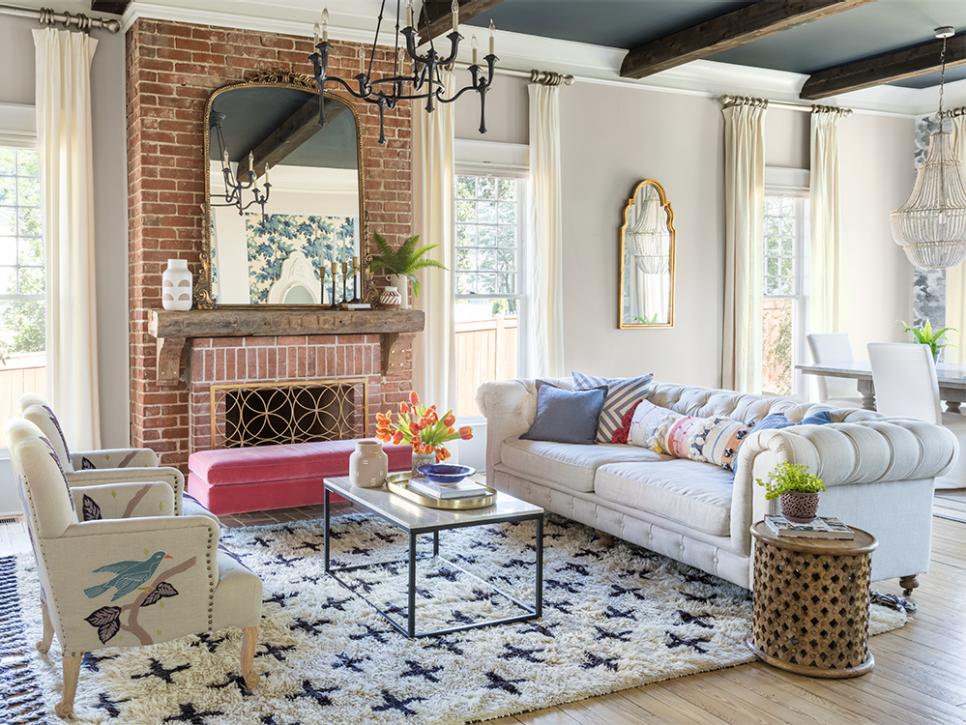 Furthermore, large mirrors fill the space above the mantel rather easily. Hence, there's really no need for additional decorations, which is a major advantage for those who like minimalism and want to save time and effort in thinking about other decorations.
3. Large Piece of Art
Another option for our minimalists out there is a single piece of art. It fills the space above the mantel efficiently. This is ideal if you don't love the mirror idea or your mantel is too high to make a mirror a practical option.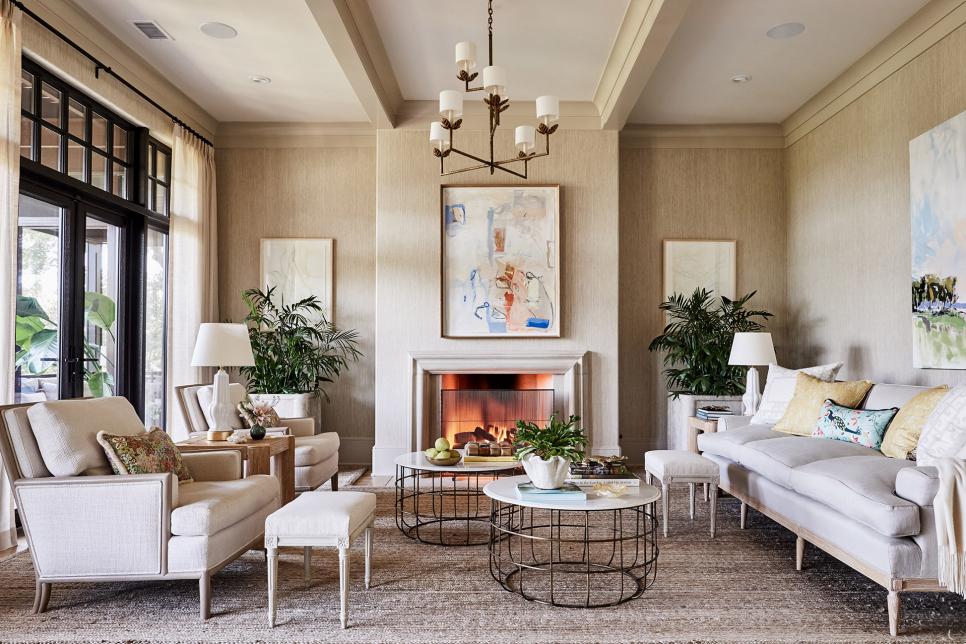 Minimalistic homes often have walls that are painted in neutral colors; the neutral backdrop helps artwork stand out. So, in a sea of calming shades, all eyes will be naturally drawn towards the pop of color, which is the art piece.
4. A few Pieces of Art
For those who have adopted the "more is more" concept, hanging a single item above the mantel will not satisfy. Well, try to switch from decorating with a single artwork to decorating with several complementary pieces of varying sizes.
What makes this such a great option is its versatility. You can switch them out regularly. To decorate mantels with several pieces, you would need to use the layering technique; let one painting be the star and add more around it.
5. Keep It Classic
Keeping it classic may be the easiest option to go with. Simple styling involves decorating with basic components while playing around with interior design elements like patterns, colors, lines, and textures. There are endless choices, but the formula makes it easy.
This particular mantel has two flower-filled vases as well as an oil painting standing on top of it. Fun fact: the art piece, which was a gift from the designer to the homeowner, is actually the painting of the home itself.
6. Country Style
As mentioned before, the main objective of homeowners building a fireplace and a mantel is to add cozy vibes and warmth to their homes. The farmhouse style is the most popular choice for cozying up your humble abode and making it a relaxing haven.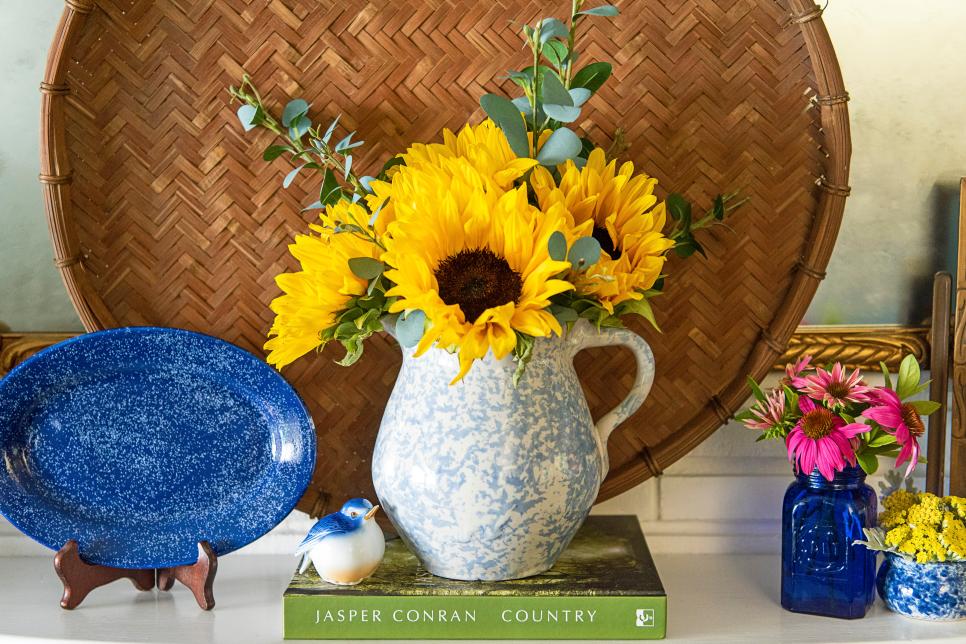 To achieve a farmhouse-styled mantel, throw together some pieces of thrifted finds, vintage decorations, and some backyard blooms, just like the mantel designer in the picture above has; they chose a country stylebook, weathered winnowing basket, and several shades of blue.
7. Minimalistic Style
Minimalistic home designs are in style, so if you designed your home with this in mind, you might also want to arrange your mantel to fit the theme. In this Craftsman bungalow, the fireplace is painted with a bright white coat of paint.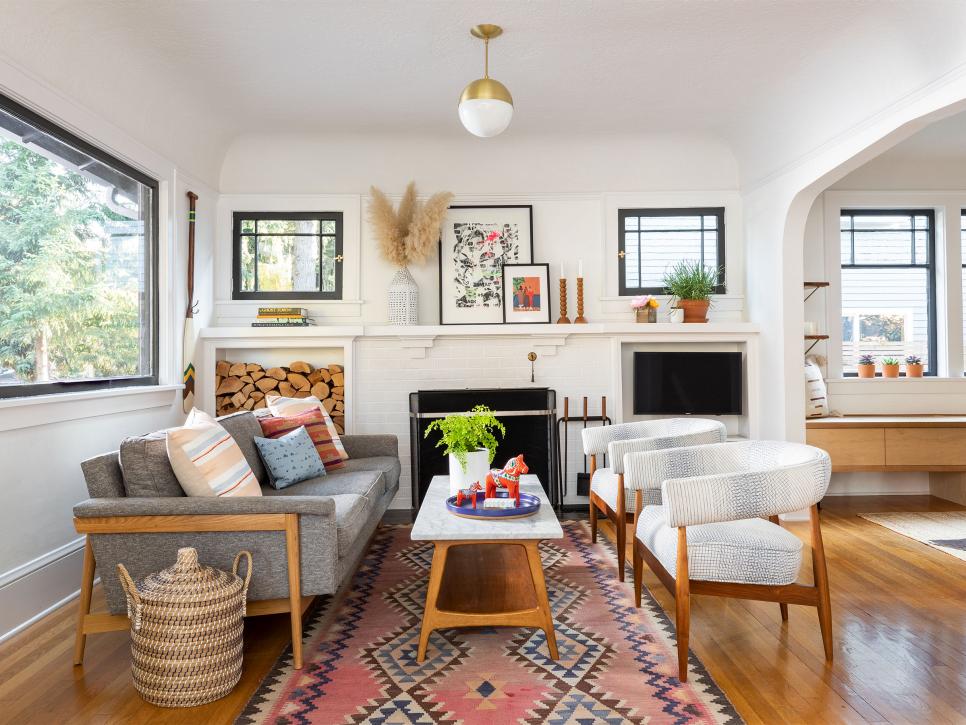 The white paint gives off a charming and classic vibe; to match, the mantel is decorated with simple decorations like hand-carved wooden candlesticks, vases filled with dried pampas blooms, and a pair of simple graphic framed prints. The effect is both charming and elegant.
8. Quirky Collectibles
Of course, flowers aren't the only things to dress up your mantel with. Homeowners can decorate with quirky collectibles instead. Fun and funky knickknacks show off your personality and even a personal story in a way that even the most beautiful flower can't.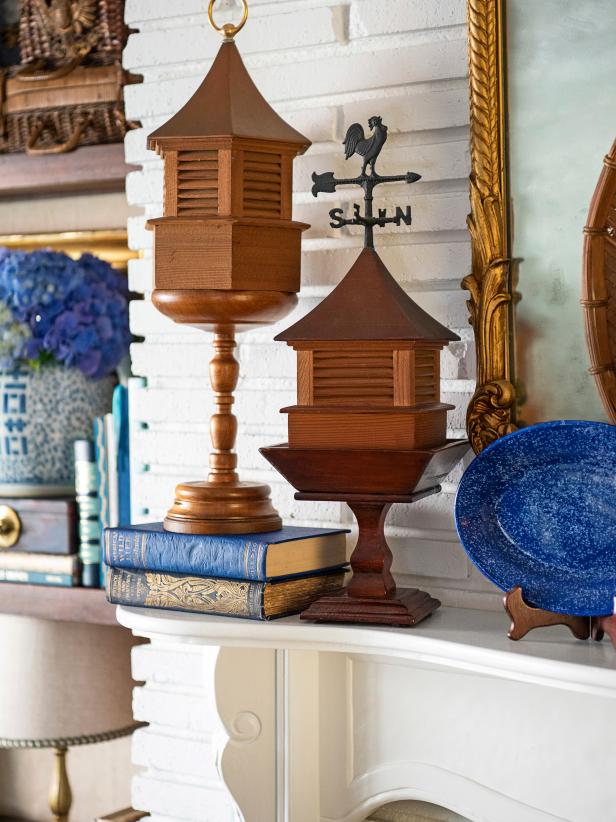 Whether they are finds from travels, sentimental items left behind by loved ones that you've lost, or quirky things you've collected, these items tell a story. Throw out all the design rules and simply arrange your mantel with items you love.
9. Coastal Style
Speaking of trendy home designs, coastal style is one of the many home designs that never go out of style; it is the style that includes natural seaside elements such as surf, sand, and sky in decorating your home.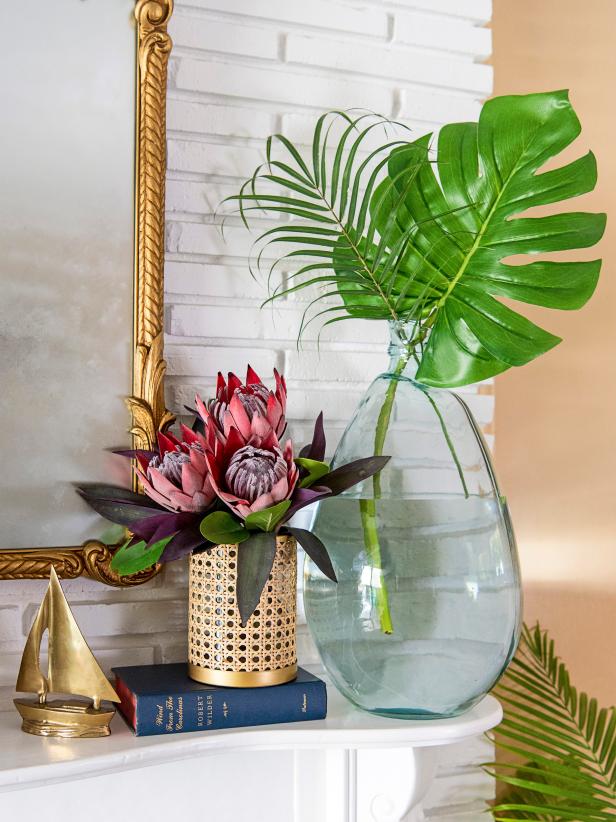 This style emphasizes the use of lighter tones of blue, green, beige, and white. Some common decorations of the kind are natural fibers like rattan, vases filled with faux or fresh tropical blooms or palm fronds, coastal collectibles such as tiny brass boats, and of course, all sorts of seashells.
10. Light and Bright
Other than incorporating only two colors in decorating mantels, homeowners can still keep the "less is more" style. You can opt for "light and bright" decoration pieces. The key is to incorporate elements that are simple but pleasing to the eye.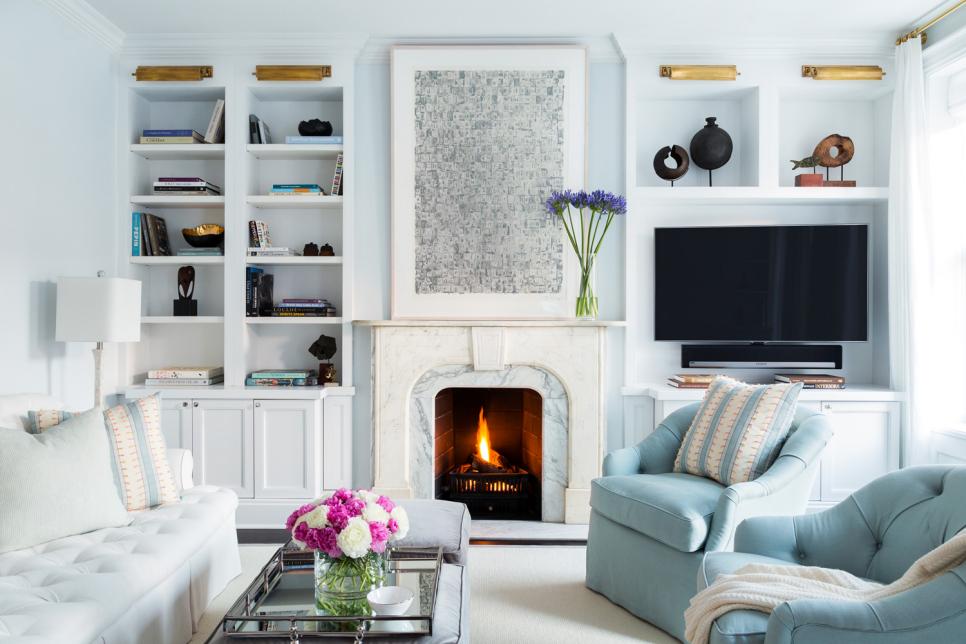 A white matte framed print along with a tall, clear glass filled with beautiful agapanthus are the only decorations that were used in styling this "less is more" marble mantel. It makes quite the statement on its own, don't you think?
11. Tropical Cachepots
Cachepot is a French term for ornamental flowerpot holders. Tropical cachepots are the perfect addition to a coastal- or boho-style home as it gives off a laid-back beachy vibe. Store-bought cachepots can be quite expensive, but you can easily DIY them.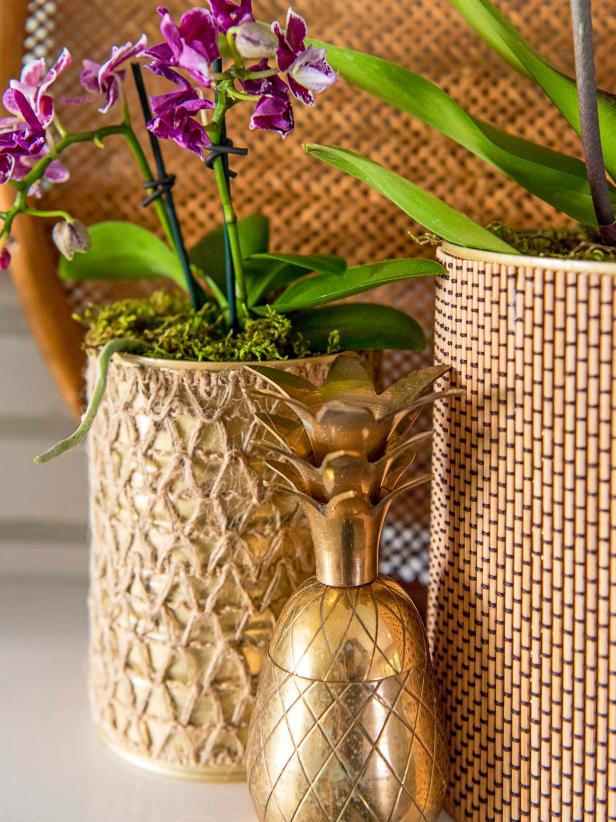 One way to make cachepots is to upcycle castoff cans. Transform them into a beautiful cachepot with some paint or bamboo slants, or even woven jute and display them with other tropical-inspired touches for a beachy mantel that will add great energy to the room.
12. Antique Wood Mantel
Wood is the most cost-effective option to build a mantel because there are various types of timber to choose from to suit any budget. In addition to that, wood can be made to fit any household's looks and overall vibe.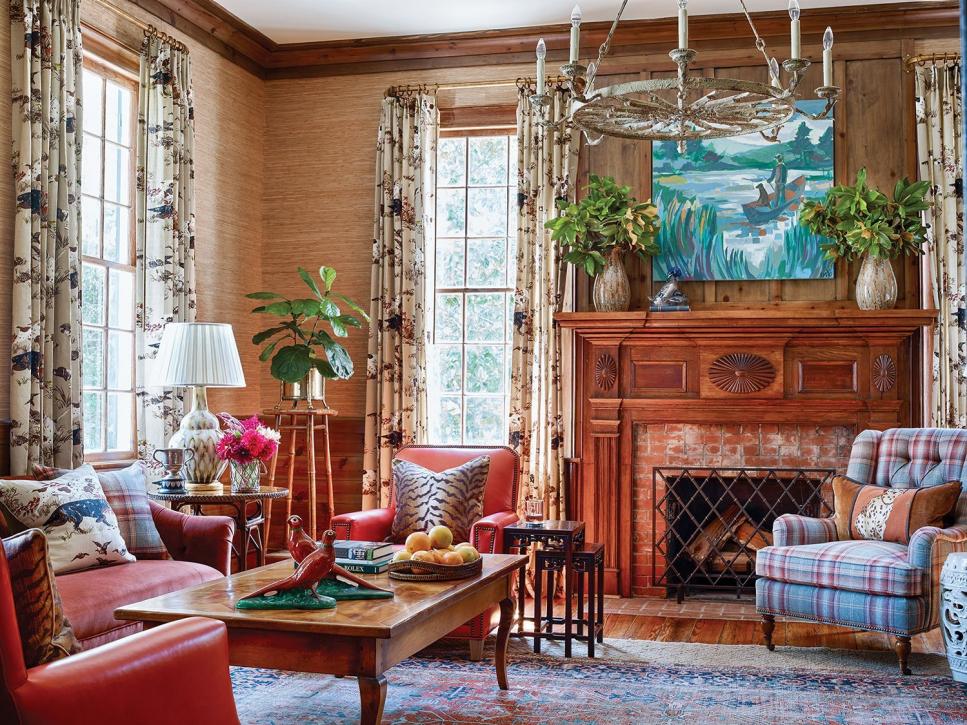 However, it is important to keep in mind that decorations should be kept simple. For example, home designer James Farmer kept this mantel minimal by accessorizing the center painting with a pair of large vases filled with beautiful backyard magnolia cutting.
13. Luxurious Style
On the complete opposite end of the cost-effective spectrum, it is common for interior designers to incorporate marble elements to lavish a home. Famous cozy-meets-luxe interior designer Sarah Richardson designed this stunning, luxurious-looking mantel with marble slabs, and it is to die for.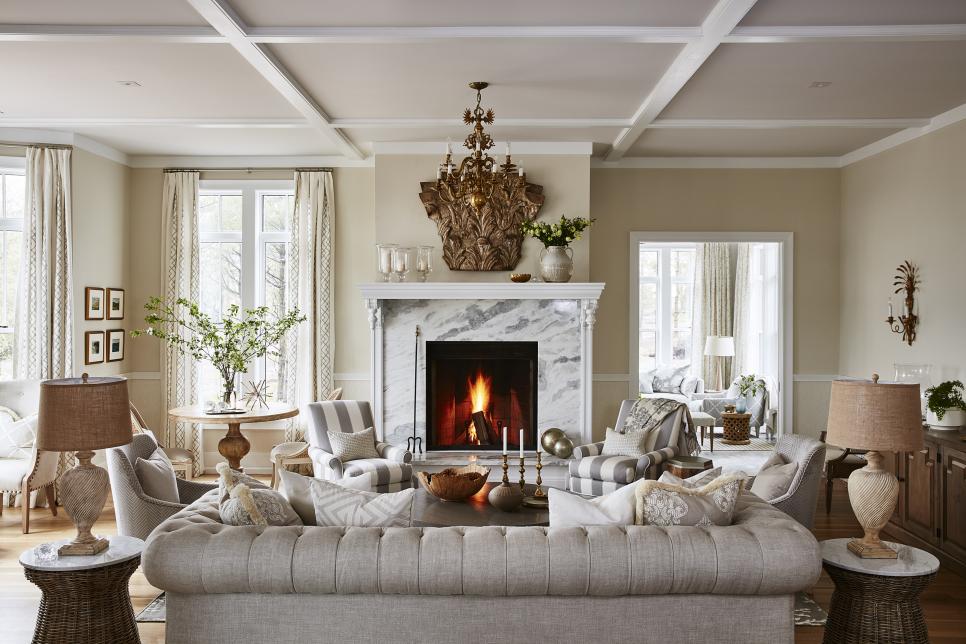 In addition to painting the mantel glossy white, Sarah hung an ancient, carved Corinthian capital above the mantel, which instantly elevated the level of luxury the mantel originally had. Other than that, candles and a flower-filled stoneware vase were added to the mantel.
14. Based on Home Location
Deciding on a style to decorate your mantel with can be rather difficult because there are just so many beautiful styles to draw inspiration from; homeowners who can't seem to decide on a particular style could be inspired by their location.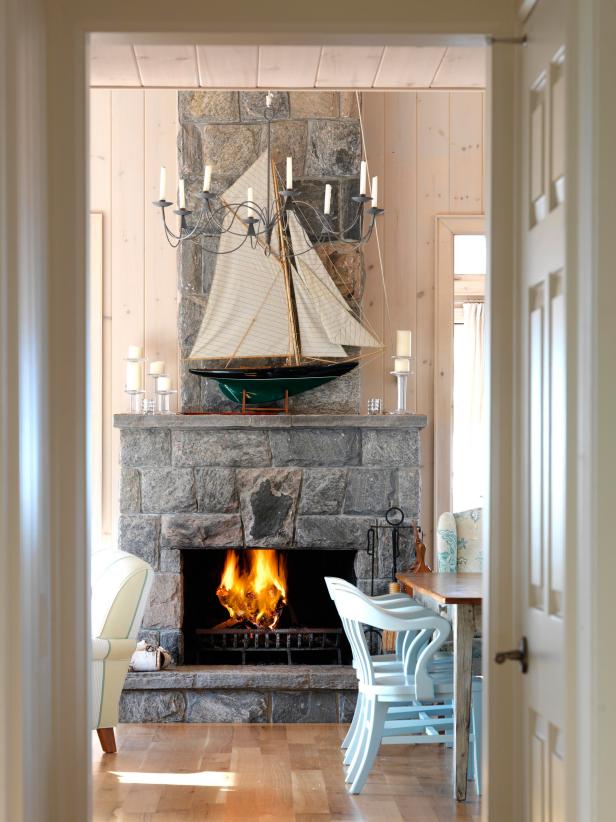 For example, designer Sarah Richardson took inspiration from her lakefront home's watery locale to design a "sea-based" mantel; she arranged for a massive model sailing ship to sit in the middle of the mantel and decorated with sea elements around it.
15. Based on Location 2
Basing mantel designs off of their environment is an efficient way for homeowners to decide on a theme for their mantels. Simply take a look around and incorporate the colors and elements that you see when designing your home, taking special care to make the mantel a statement piece.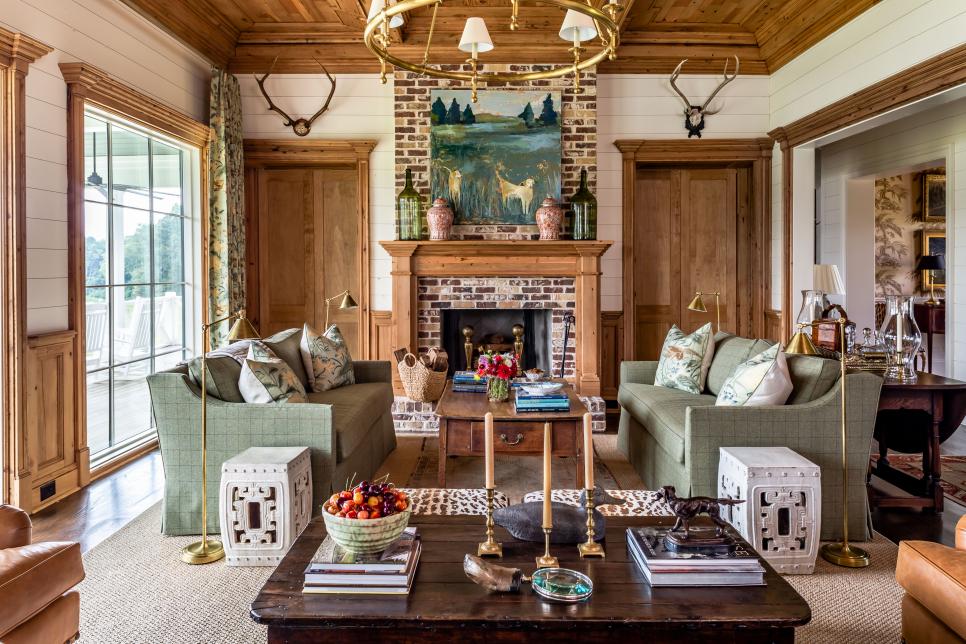 Another great example of decorating according to home location is this country-styled mantel by designer James Farmer. He showcases the homeowners' love for the countryside surrounding by decorating the mantel with countryside elements like a hunting scene painting, wooden panels, and forest green colors.
16. Add Backyard Blooms
Furthermore, bring life into your living room by incorporating garden flowers into your mantel as decorations. Besides brightening a lifeless room, bright blooms plucked from your backyard can also add cheerful vibes and make the space more inviting.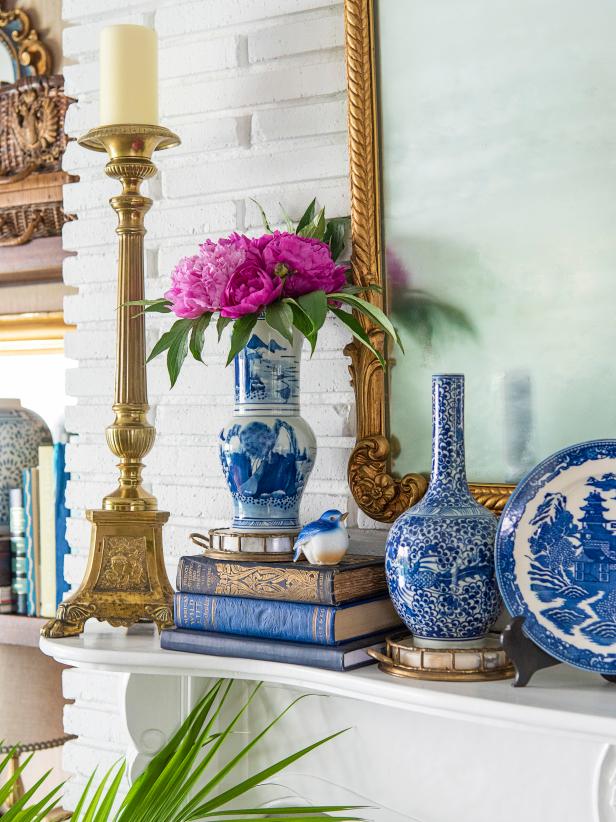 Fill vases with fluffy, frilly flowers like spring peonies or other flowers that are currently in bloom. Real plants may not last long, so trade real flowers with fake ones as an alternative if you want something for the long haul.
17. Blooming Plants
But, if you want real flowers without having to devote much time and money to replace them, opt for flowers that require minimal to no maintenance. One example of flowers of this type is orchids, Phalaenopsis orchids, to be exact.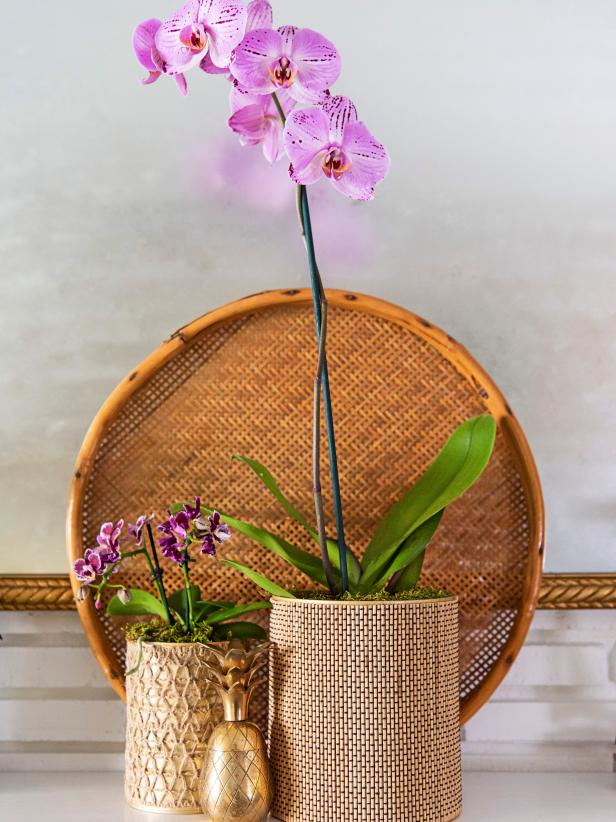 Orchids have a bad reputation, but given the right conditions, a Phalaenopsis orchid can remain in bloom for up to 4 months and rebloom again year after year. Given that, it would be the perfect mantel decoration to liven up a room.
18. Contemporary Style
Often confused with minimalistic style is contemporary style, which is a type of decorating defined by simplicity, subtle sophistication, deliberate use of texture, and clean lines. This home design often showcases space instead of things. It is meant to open the room.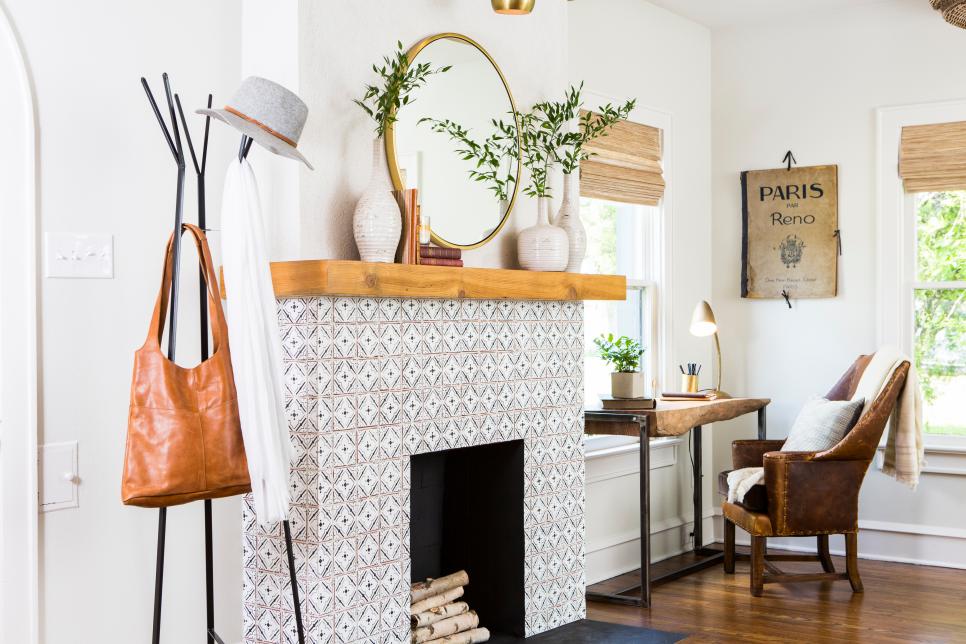 The creator of this beautiful contemporary mantel covered it with graphic, glazed terra-cotta tiles and used it as a shelf to display a collection of stoneware vases filled with fresh-but branches. They also added a round mirror and some weathered books to complete the look.
19. Cue the Candles
Candles are probably the most popular choice for mantel decorations. Not only do they look nice, but the lightly scented ones release pleasant aromas that can help regulate mood and stimulate our limbic system which controls our emotions and memory.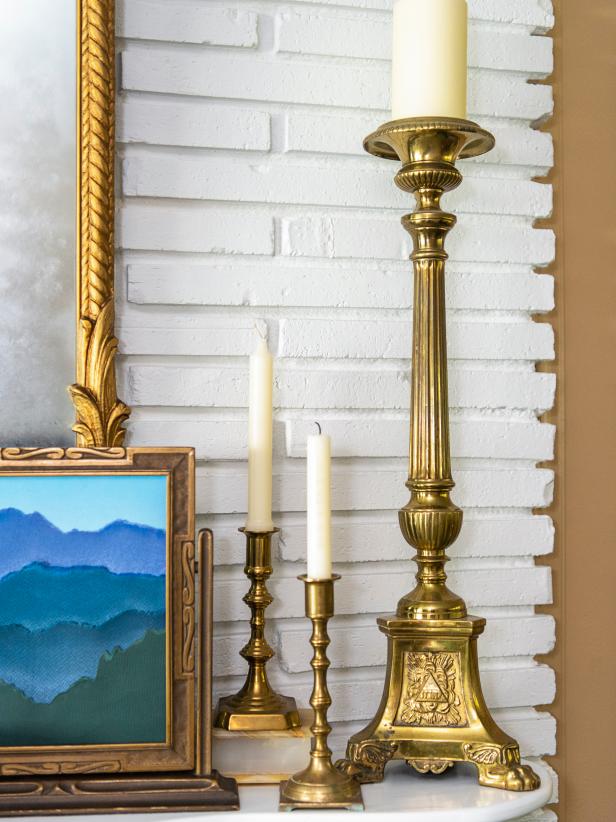 Aside from lighting up the mantel, brass candlesticks, in particular, add a classic and sophisticated feel to the mantel. They can be thrifted or easily found in estate sales, garage sales, as well as online. You can DIY them by spray painting inexpensive candlesticks.
20. Candle Lanterns
A small tip for decorating mantels with candles is choosing candles of different shapes and sizes; mismatching jars gives the illusion of an effortlessly decorated mantel that is absolutely stunning. If you prefer to use identical vases or candlesticks, you will need to find a way to balance them.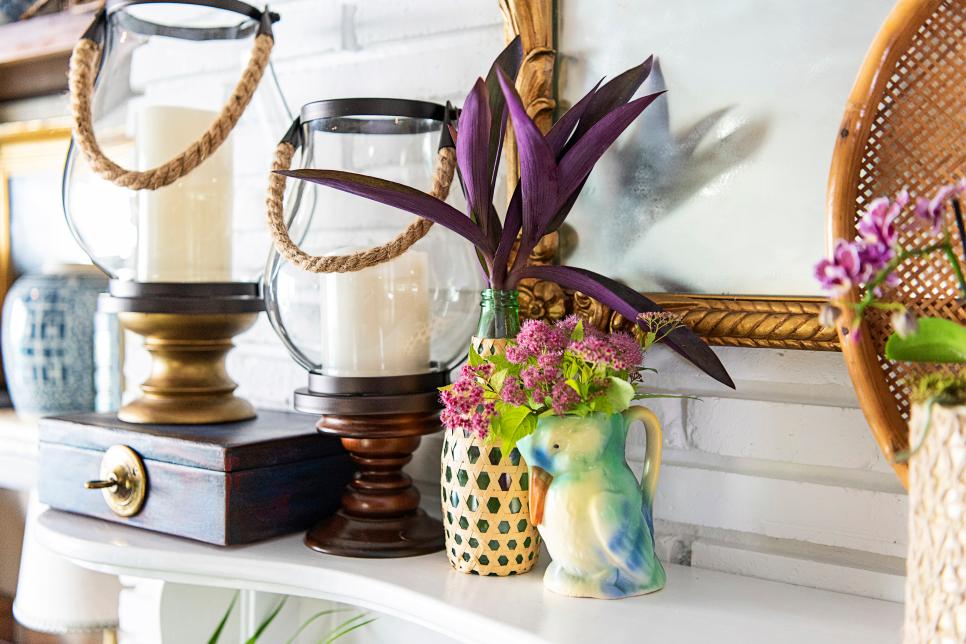 Apart from mixing candlesticks of various shapes and sizes, throw in some lanterns in the mix as well. Of course, we encourage adding other mixed and matched elements to make your mantel more interesting. You can see this designer chose a mirror and flowers in addition to candles.
21. Letter Boards
Furthermore, homeowners can add letter boards to their mantels; letter boards are the perfect year-round mantel decoration. The quotes on the boards can be switched out from time to time to accommodate the different seasons of the year. This one says, "it's fall, y'all."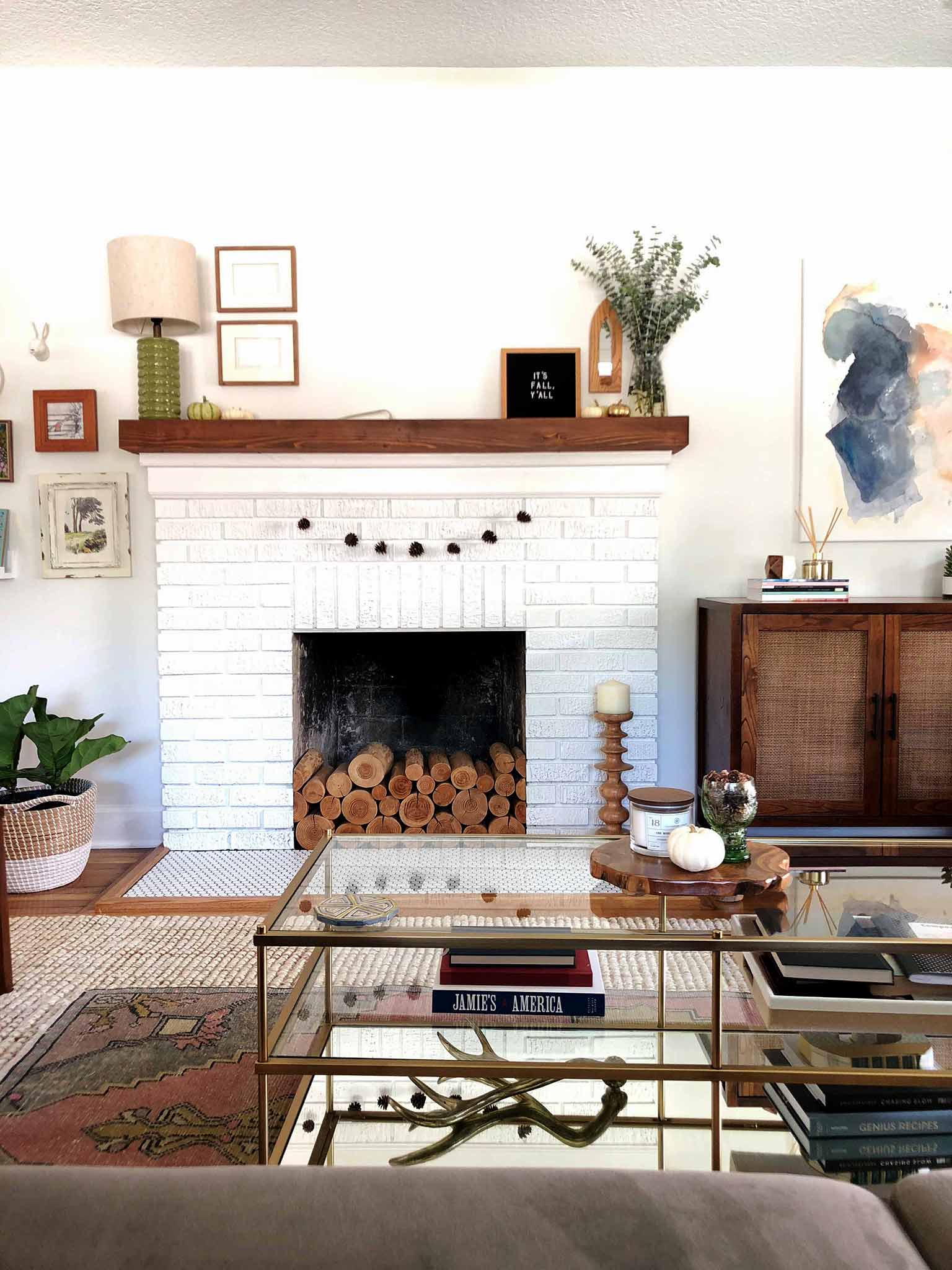 To prevent it from looking too dull, layer the board in front of art pieces and other decorations. Instead of letter boards, homeowners can substitute them with blackboards; artsy homeowners can show off their artistic skills with their drawings on the blackboard.
22. Make Mantel Functional
However, if you can't find the perfect decorations for your mantel, you could make it more functional by turning it into a shelf where you can store daily essentials or random items around the home. Of course, it is important to avoid overcrowding.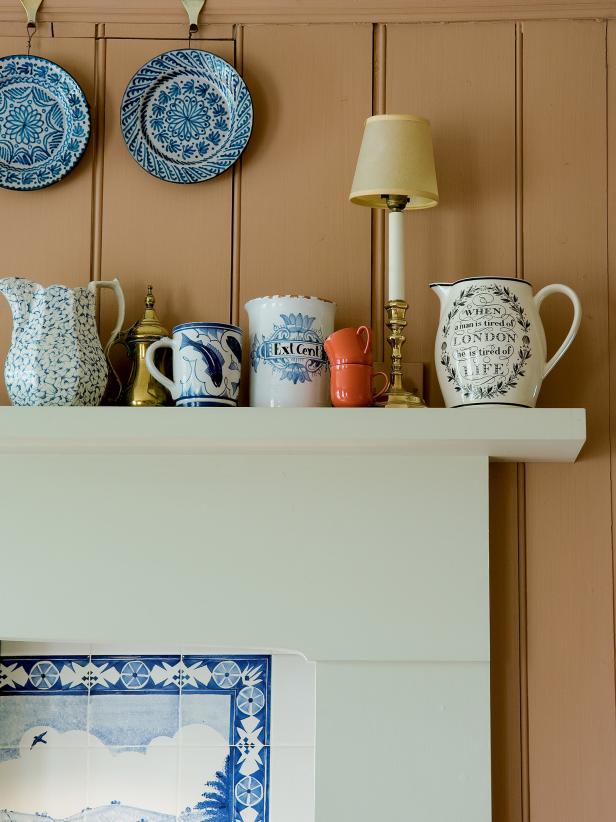 Check out this example where its creator stored their daily essentials on the mantel. It now serves as a storage area, and the items stored double as pretty decorations. What a smart way of decorating the mantel and save space in the kitchen.
23. Similar Styles
One general tip for decorating the mantel is to match it with the furniture in the room. This will prevent the mantel as well as the shelves from looking too complicated as complicated may sometimes translate to messy or unattractive.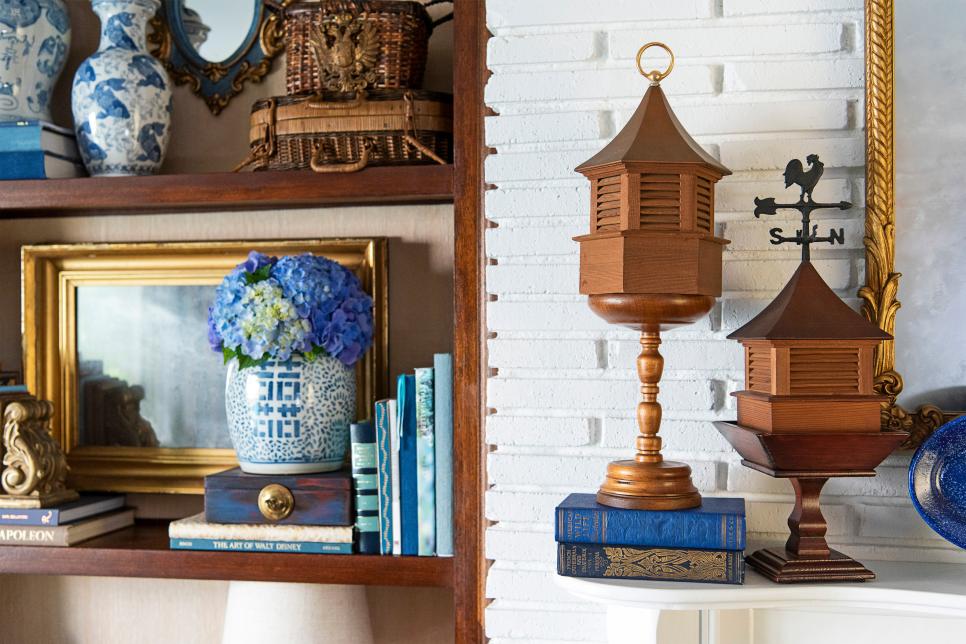 To ensure that the mantel and its adjacent built-ins look similar, incorporate similar collectibles, design styles, color palettes, textures, or overall vibes. In the picture above, the designer used the colors brown and blue as a base and worked around that.
24. Consider Room as a Whole
Another tip for decorating mantels is considering the room as a whole while you're decorating. If not, the mantel may seem out of place compared to the rest of the room. We don't want any part of a room to look disconnected from the rest.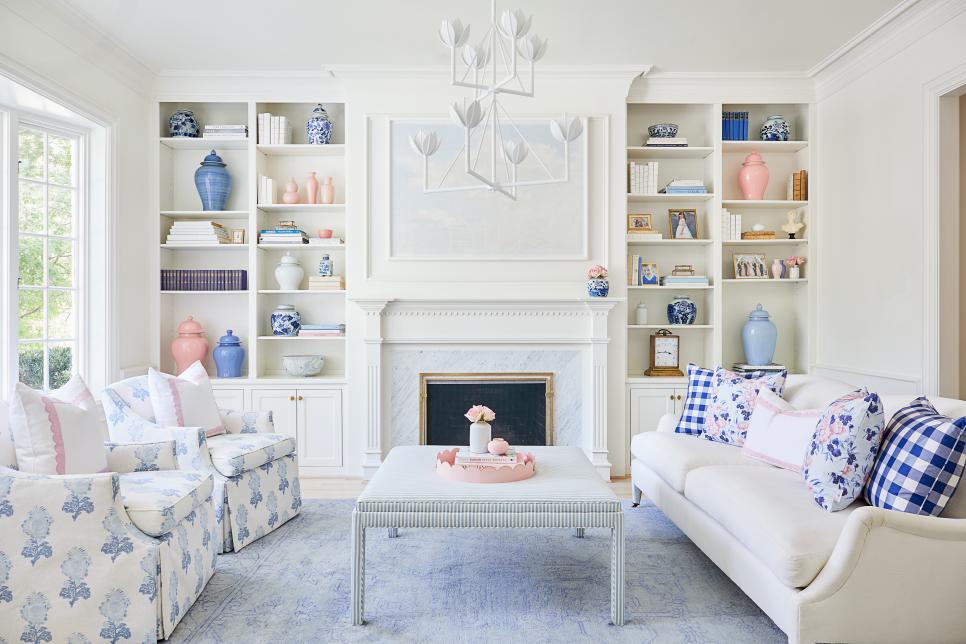 This pretty white living room is decorated with light pink and blue accents throughout the room, which helps bring it together. Everything here looks connected and consistent, makings the space downright pleasant to look at. The attention to detail created a wonderful effect.
25. Consider Fireplace as a Whole
Apart from considering the room as a whole, it is also important to consider the fireplace as a whole; whether it is the overmantel, firebox, or hearth, the entire fireplace should be considered in the design process. Some styles will be out of the question, depending on your fireplace.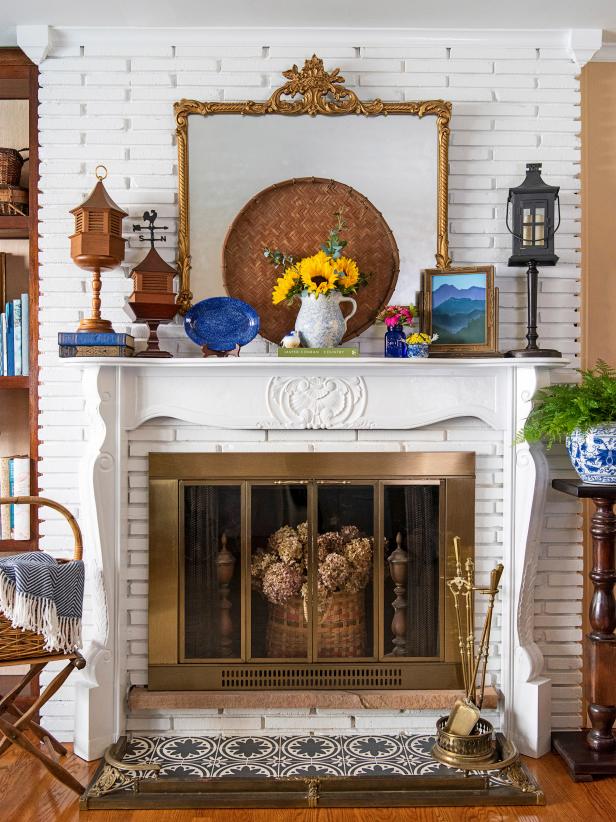 Since this particular fireplace is dark, an antique gilt mirror was used to brighten up the overmantel; a basket filled with dried hydrangeas was used to add pops of color to the fireplace. The hearth, on the other hand, was decorated with Moroccan tiles.
26. Create Cohesion
Cohesion in interior designing means that all elements used work together in achieving a common goal; it helps tie everything together and keep it "connected." Interior designers often adapt the concept of "less is more" and use colors to create cohesion.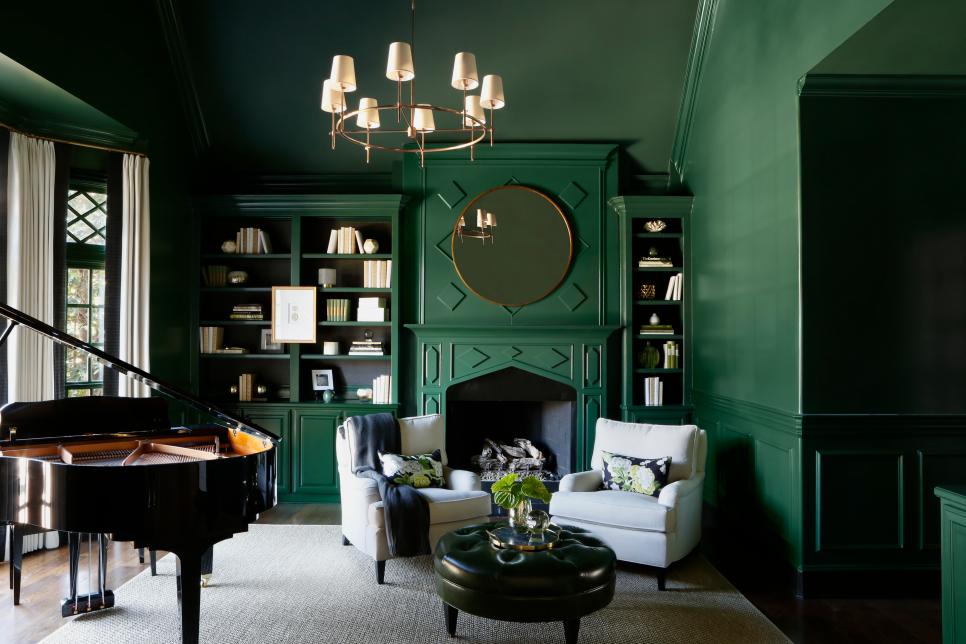 In this particular mantel display, designer Connie Vernich worked with rich emerald green to unite the walls, ceiling, built-ins, and mantel into creating a cohesive whole. The dark background makes the bright white decorations and furniture stand out, and the result is simply beautiful.
27. Symmetrical Styling
Styling symmetrically is a common interior design trick. It means exactly what it sounds like: arranging items to resemble mirror images or appear to be perfectly balanced. To do this, put things of similar size across from each other or around an axis. See the example below.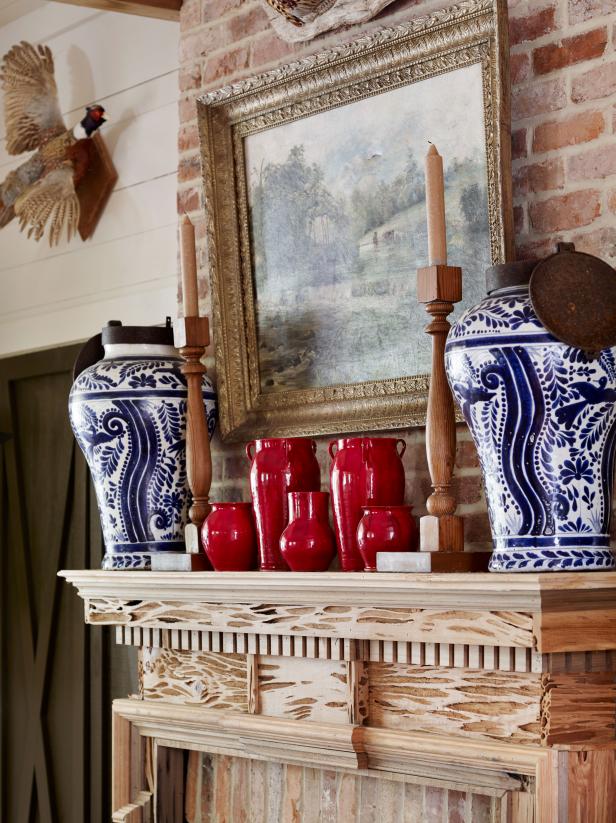 For example, take a look at this symmetrically styled mantel; the creator arranged for low, red vases in the middle of the mantel while placing the same candlesticks as well as temple jars on each side of the vases. The calming painting makes a great backdrop.
28. Style Asymmetrically
Of course, instead of choosing symmetry, homeowners can opt to style asymmetrically instead. You can do this by arranging knickknacks in odd numbers or of various shapes and sizes. But remember to incorporate coordinating elements to tie it all together.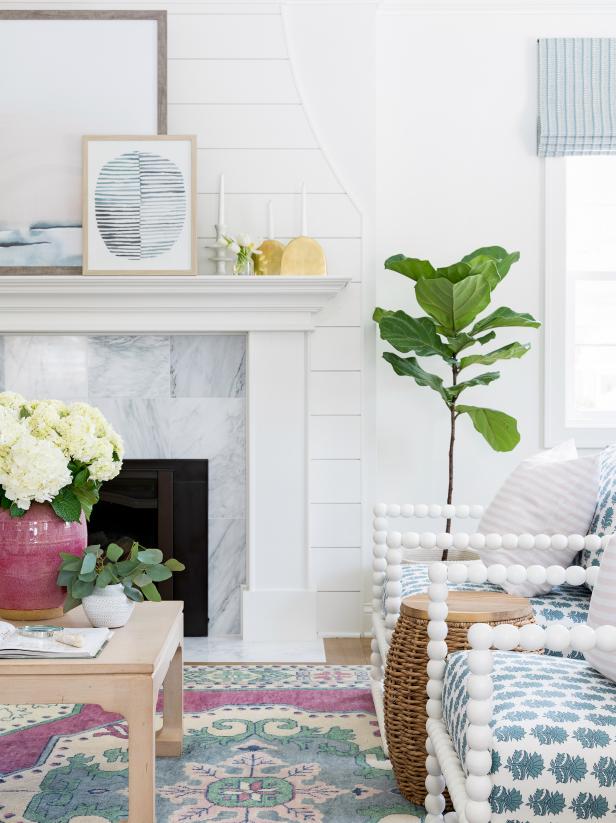 In this particular mantel arrangement, its creator used an asymmetrically designed wooden panel to surround the fireplace as well as the mantel. Additionally, an abstract watercolor is flanked with groupings of candles and vases filled with tulips. The effect is anything but messy!
29. Less is More
The concept of "less is more" in the interior design world is rapidly gaining popularity. Other than creating cohesion, this concept can be used to design homes for homeowners who prefer a sophisticated and classy look in their space. It's simple to achieve.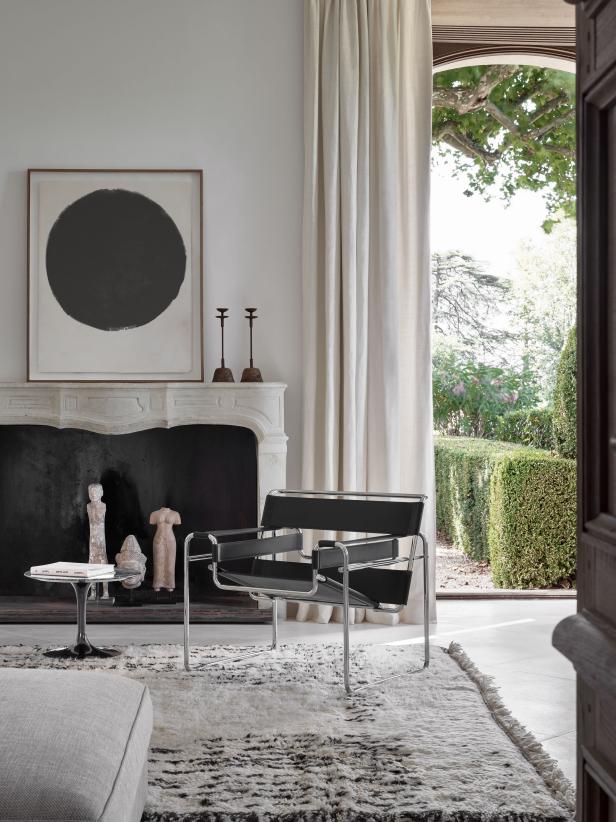 This classic black and white themed home is proof that minimal designs aren't cold and sterile but rather elegant. This color palette could make the room look quite dull, but the sculptural, hand-crafted accessories on the black mantel add interesting elements.
30. Modern Style
Another popular choice is the modern style. The arrangement and design of this mantel incorporate a large slab of Calacatta marble and a walnut shelf to go on top of it, making it the focal point of the entire room.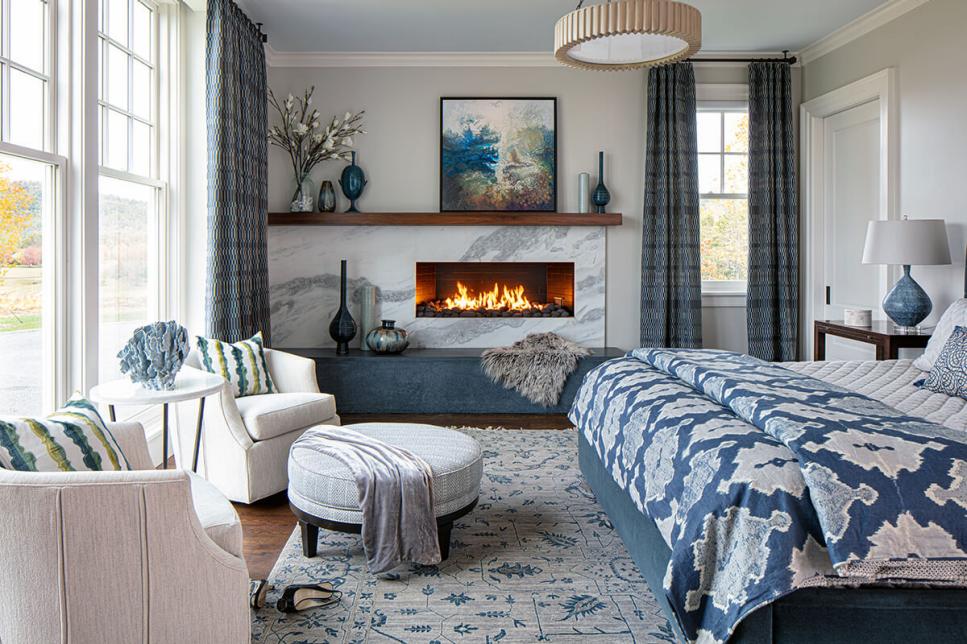 Note that the mantel decorations here are minimal, which is the main point of modern styling; try to build around symmetrical elements, variations in shapes and sizes of items, and remember to avoid overcrowding as it'll make the room look messy.
31. Go Dark
Why not try the complete opposite of light and bright and go dark? Dark colors evoke power, luxury, and elegance all while defining professionalism, neutrality, and simplicity. Homes styled with dark color palettes feel sophisticated, classic, and serious.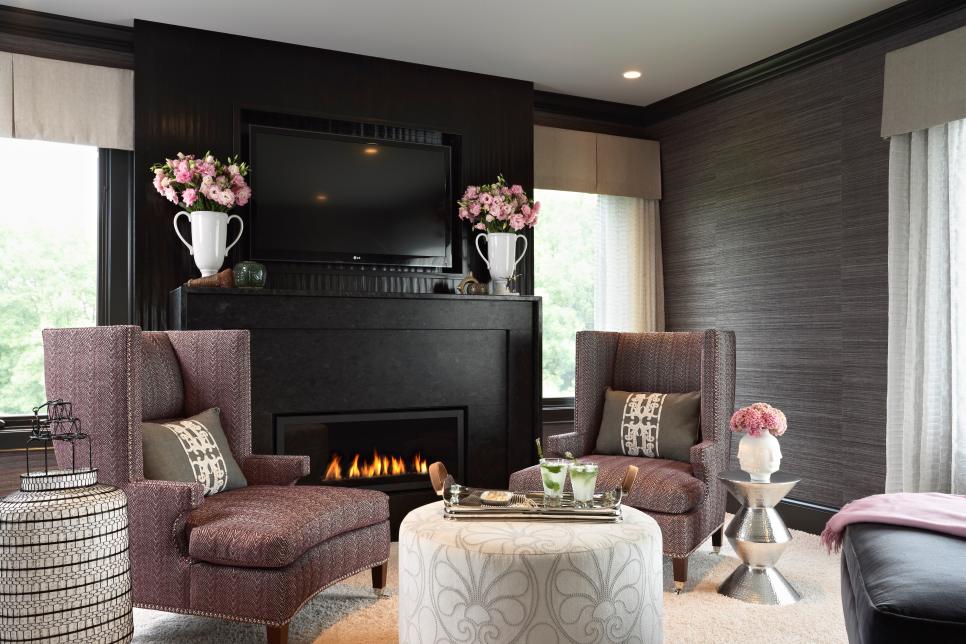 This glamorous black mantel very cleverly camouflages the television that is hung above it. This is great for homeowners who want to mount TVs above mantels but do not want them to become the center of attention in the room.
32. More is More
Maybe you aren't the "less is more" type. Designer James Farmer, who is the king of "more is more," adopted the concept of maximalism in creating this complicated yet stunning mantel display; this style of designing focuses on personalization rather than perfection.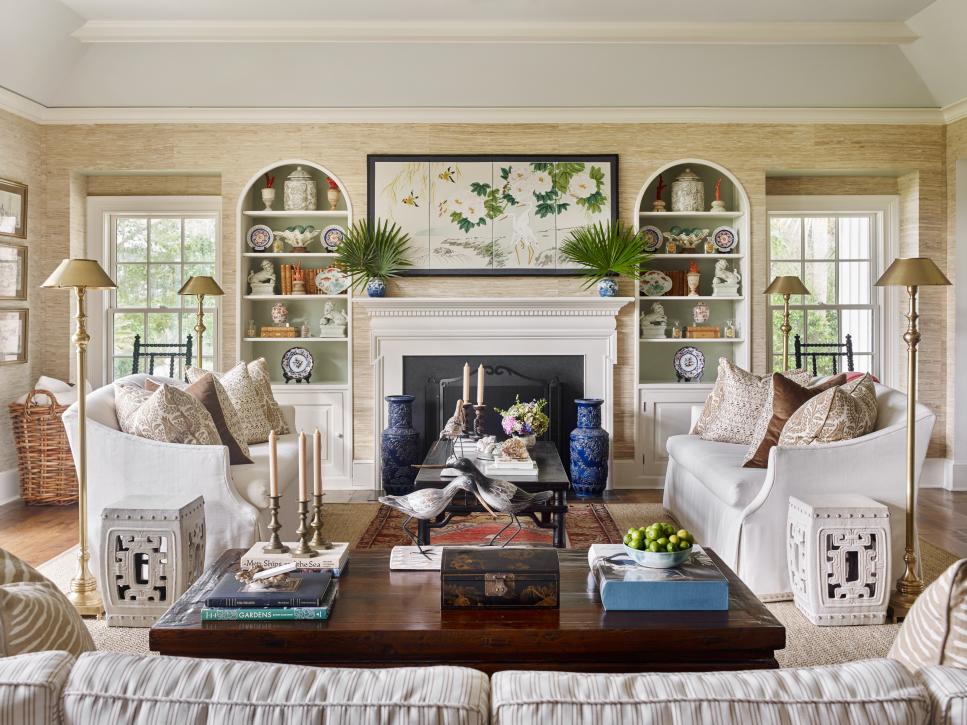 He filled the curved niches on the sides of the mantel with symmetrical groupings of Asian antiques. This arrangement prevents the built-ins from looking too messy. He then placed a matching pair of chinoiserie vases that are filled with fan palm clippings on top of the mantel.
33. Seasonal Decorations: Spring
Obviously, mantels can be decorated according to the different seasons. Although this means that homeowners have to switch out the mantel decorations every 3 months which requires some work, the results are definitely worth it. It can be an amazing creative outlet.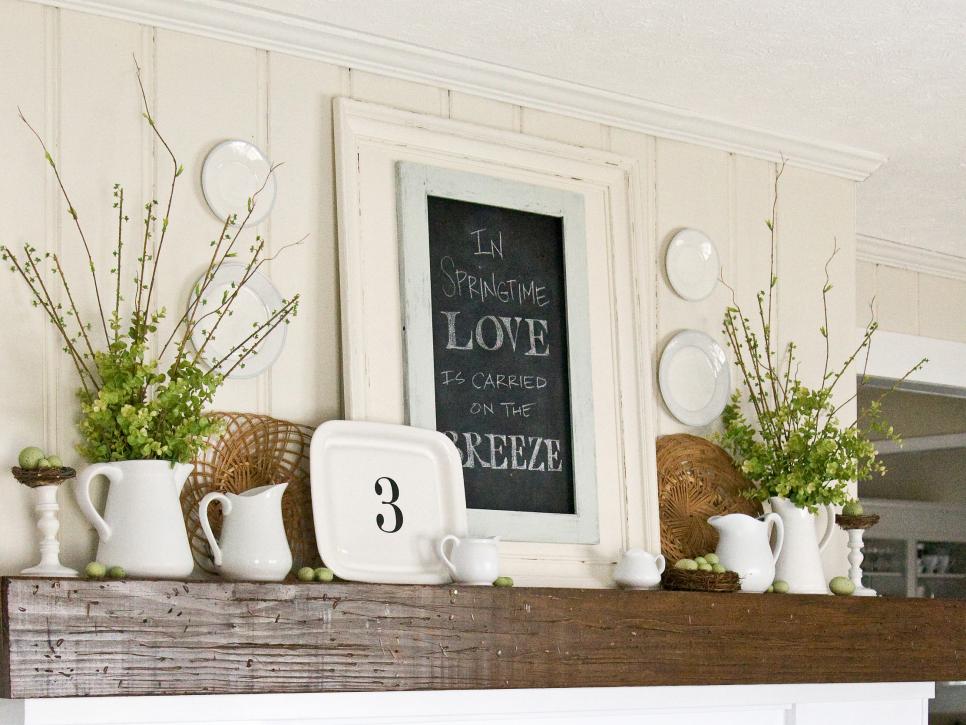 For the spring season, blogger Layla Palmer filled some jugs with backyard branches that are bursting into life to celebrate the season that s marked by grass and flowers blooming. Other than that, she also used other natural elements like mini twig nests and dyed eggs.
34. Pile on Spring Blooms
Spring is the season of new beginnings; fresh buds bloom, animals awaken, and everything else seems to come back to life. In another celebration of this colorful season, homeowners can bring life into their homes with a mantel arrangement comprised of several types of flowers and plants.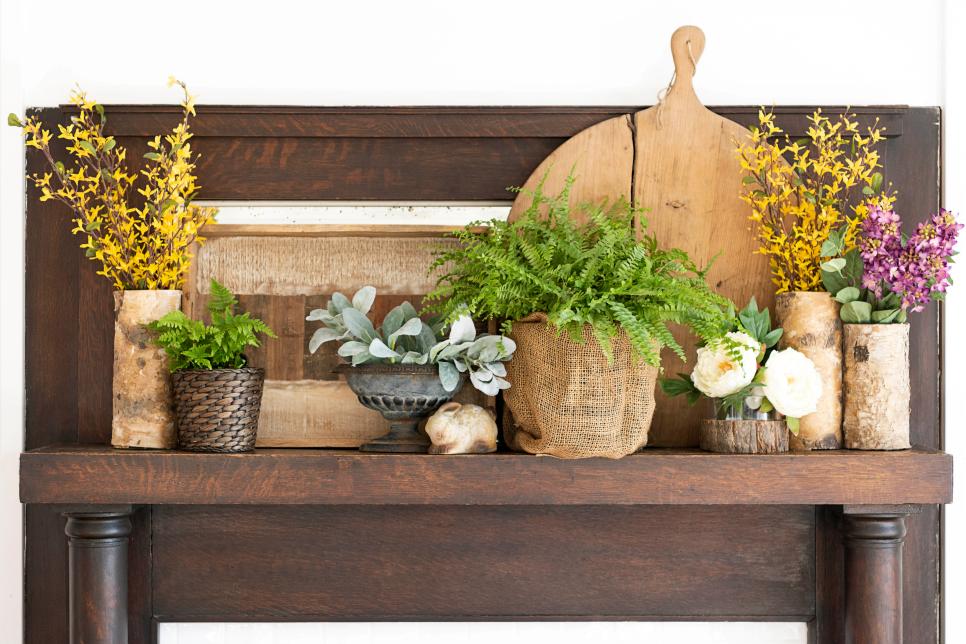 Head outdoors and gather a bunch of forsythia, lilacs, peonies, or any other blooms of the season to be placed on your mantel. To make them last longer, cut them early in the day when they're least stressed and their stems are still full of moisture.
35. Seasonal Decorations: Summer
Decorating seasonally can be relatively easy; the trick is to know the elements and colors of each season and incorporate them into your decorations. For example, some summer elements are bright and vibrant colors, bold patterns, metallics, and almost always shades of green.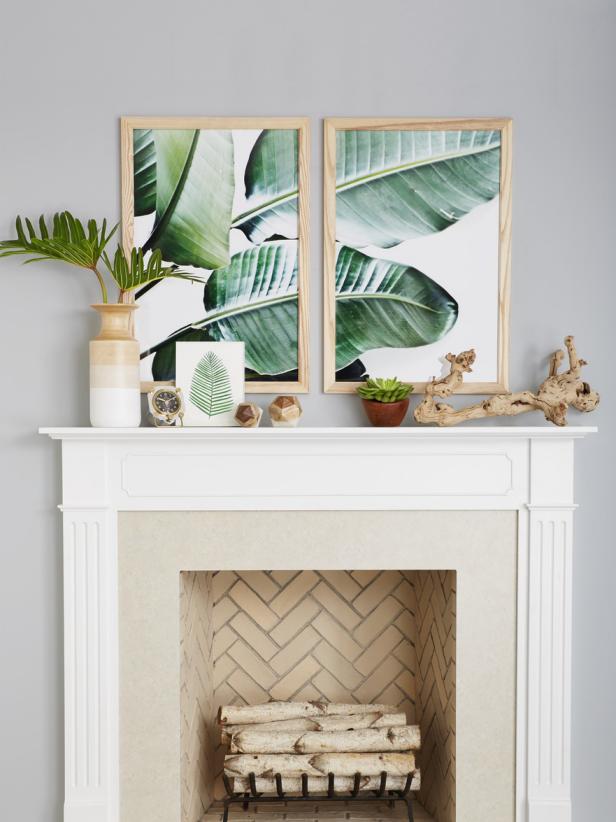 This summer-y mantel consists of a two-panel art piece of banana tree leaves, more tropical leaves in vases, a smaller greenery print layered in front of the two-panel art piece, and a piece of driftwood. It gives off luscious rainforest vibes.
36. Honor Summer Holidays
Instead of decorating with summer elements, opt to honor summer holidays and decorate with elements of those holidays in particular. For example, summer holidays in the US include Memorial Day and the Fourth of July. You can use the colors of the flag for your mantel.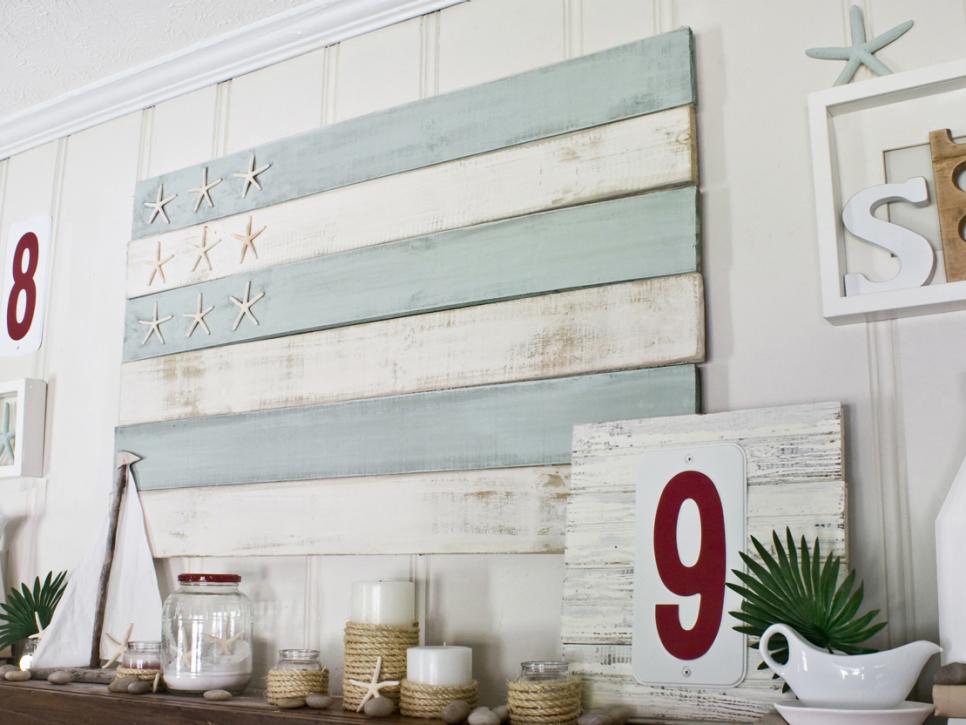 Both of these holidays are patriotic holidays, so naturally, one way to nod to them would be weaving elements in red, white, and blue. You don't have to match the exact shades of Old Glory, but you can go the pastel route instead.
37. Seasonal Decorations: Autumn
Autumn elements, on the other hand, involve lots of pumpkins, fall leaves, pinecones, as well as earthy, nature-inspired colors such as orange, red, and yellow. Therefore, to decorate your mantel for fall, try to choose warm colors and decorations with comfortable vibes.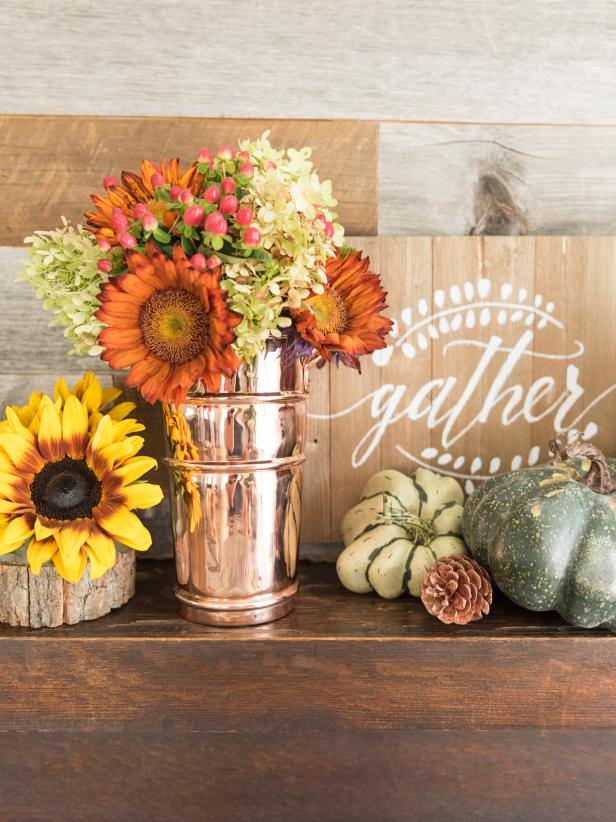 This particular mantel was decorated for autumn with a mix of fresh and faux pumpkins, pinecones, and copper vases filled with sunflowers and other autumn greenery. On top of that, the creator also added a wooden plank with a nice graphic to the mix.
38. Halloween Decorations
Among the four seasons, autumn may be the easiest to decorate for because it is the season of Halloween; there is a wide variety of spooky decorations available in stores or as DIY projects, which homeowners can use to decorate their mantels with.
The keyword to decorating for Halloween is scary, so be sure to pool together the scariest range of decorations for your mantel. However, too many items would make the mantel look messy, so try to stick to three main colors when setting up your display.
39. Seasonal Decorations: Winter
Finally, homeowners could decorate their mantels for winter; winter elements include cozy textiles, warm wood elements, stylish candles, metallic and mirrored surfaces, and eye-catching fireplaces. Yes, we said eye-catching fireplaces. Homeowners can get as dramatic with their mantel decorations as they wish.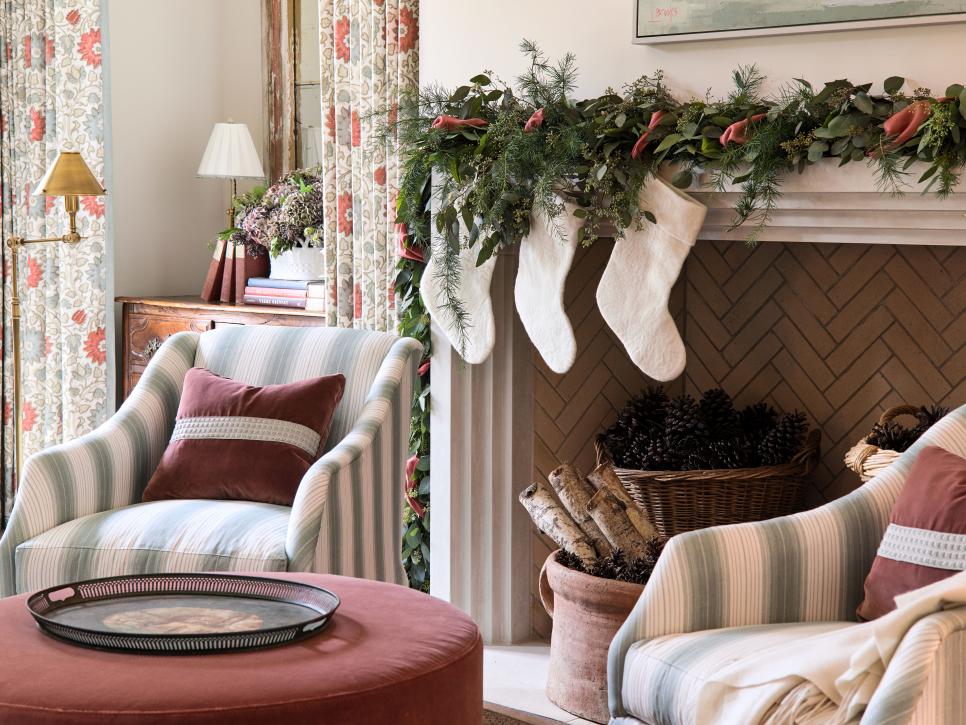 In this winter-based mantel, designer Lauren DeLoach used snowy faux-fur stockings and an organic cypress and eucalyptus garland with rosy velvet ribbons to dress the mantel up; the decorations look cozy altogether while adding touches of the holiday season to the mantel.
40. Christmas Decorations
We definitely can't forget about dressing up the mantel for Christmas; some common Yuletide mantel decorations are candles, knitted stockings, garlands, and other ornaments. If you have furry kids running around in your home, these decorations may, unfortunately, become hazards.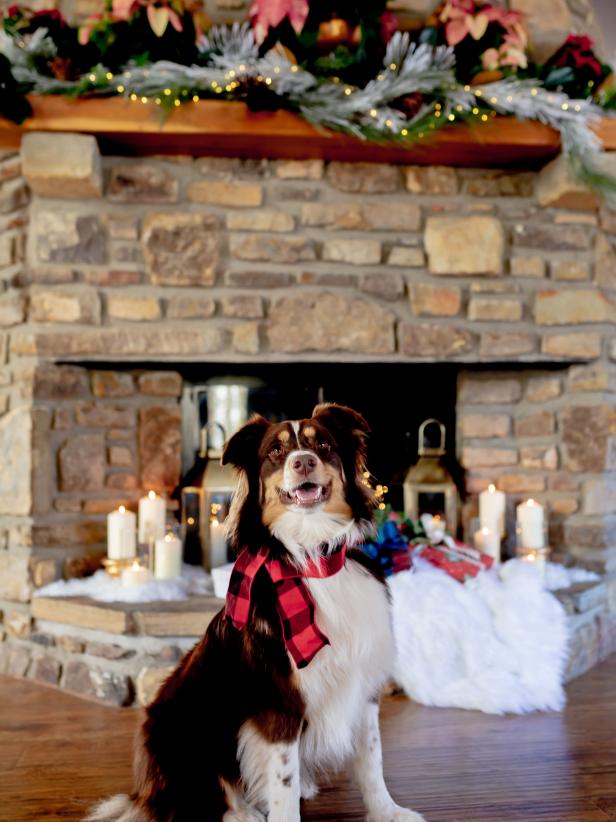 Your pets who run around the home may knock lit candles over or chew on your dangling greenery. Therefore, to prevent accidents from happening, homeowners should always keep fur babies' safety in mind while decorating any part of their homes.