Creative Ways To Reuse An Old Mattress: A Home Décor DIY Guide
By Navkiran K August 1, 2022
---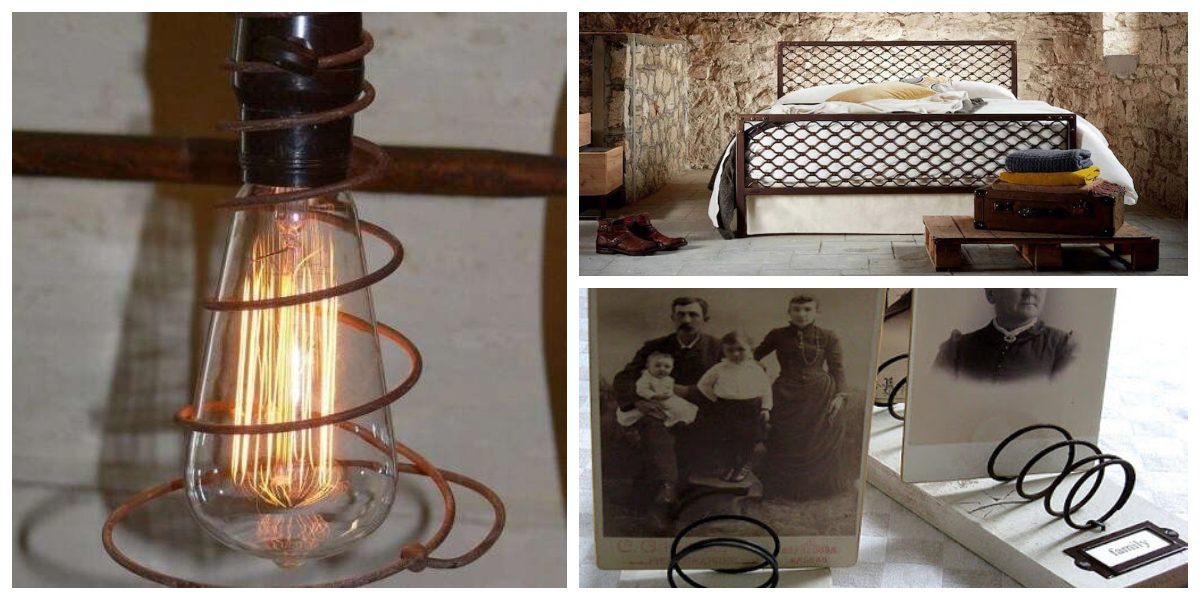 They say one man's trash is another man's treasure. This couldn't be more true than when recycling an old mattress into home decor. With a little creativity, an old mattress can be transformed into something both interesting and functional. For instance, you may make a statement piece by turning your old mattress into a piece of furniture. You may also use it to make wall decorations and functional storage items.
With just one old mattress and a bit of DIY, there are dozens of possibilities! These DIYs are simple and may not take too much time, even if you're a beginner at crafting. Here is some inspiration on how to recycle old mattresses into useful stuff so you can get your money's worth. Let's get started.
1. Unique wind chime
You can make a unique wind chime out of old mattress springs, charms, old spoons, and forks. This project will need some metal tines, keys, charms, and three springs. Feel free to use more springs and decorations if you want a larger wind chime.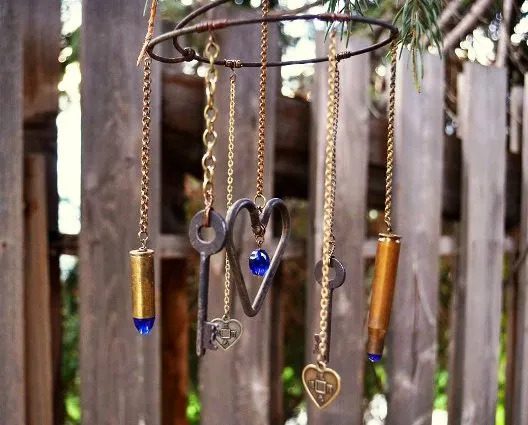 You'll need some wire for hanging the chime and some pliers for bending the wire. To assemble it, start by threading the wire through the holes or the springs. Then add metal spoons, followed by charms in an alternating order.
2. Chandelier
It's easy to make a mattress chandelier! Just remove the inside and replace it with sparkling crystals or beads. You'll have a beautiful, unique light fixture that everyone will admire. Plus, you'll be upcycling an old mattress, so you can feel good about yourself, too.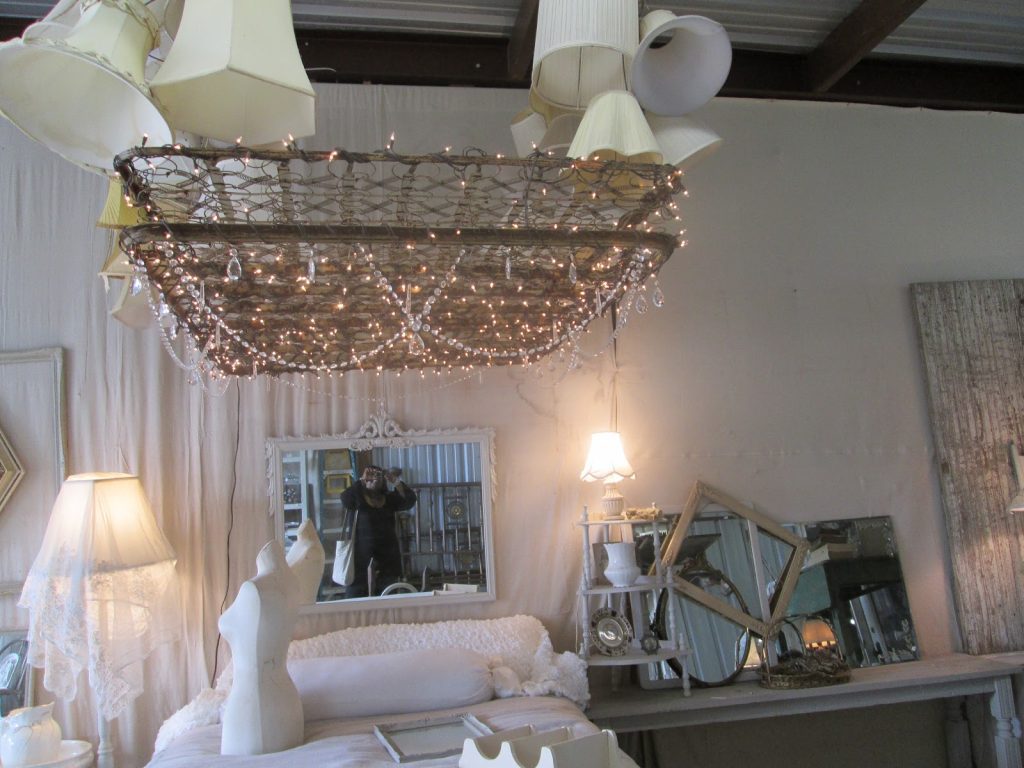 You may add more embellishments as per your style. There are no limits to decorating this chandelier. After you are done decorating, carefully hang it on the ceiling and admire the beauty. The crystals will reflect light across the whole room.
3. Unique mail holder
Transform old mattress springs into a unique mail holder for a rustic décor look. This is a great upcycling project that will add character to your home. Plus, it's a functional piece that will keep your mail organized. You can prevent important documents from getting lost in the shuffle.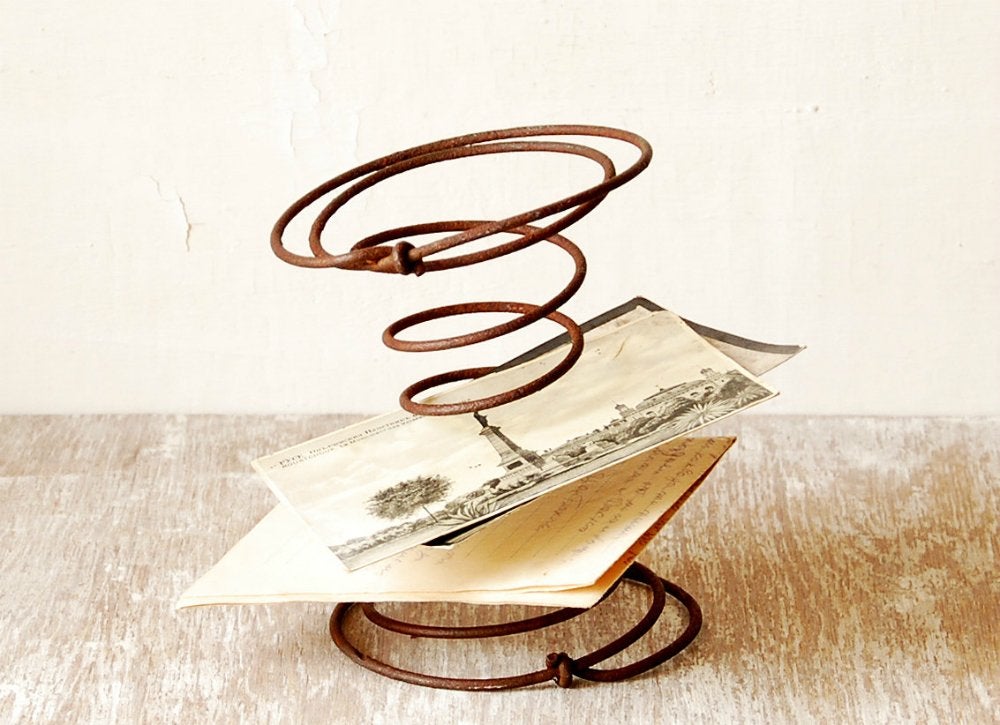 To do this project, you'll need wire cutters, pliers, and paint. You can find old mattress springs at a thrift store. Once you have your springs, clean them off and remove any rust. Alter the springs to the desired length and place them on the table to insert the letters.
4. A holder for wine bottles
There are many ways to store wine, but this one is probably the most unique! You can use mattress springs to hold your wine bottles. It's an inexpensive yet easy way to keep your wine bottles from rolling around or possibly falling off the shelf.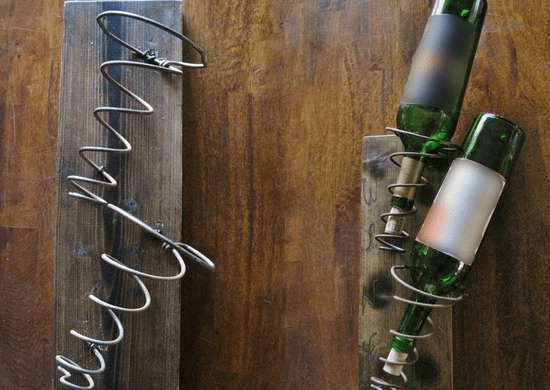 Attach the springs to a piece of wood at a slanted angle. Storing your wine in this way will keep it safe from bugs and rodents by keeping it off the ground. And the springs will help absorb any shock from vibrations, keeping the bottles safe.
5. Spring wreath
Is there anything cuter than a rustic wreath made out of old mattress springs? To make one, start by gathering some old mattress springs. Once you have your springs, start bending them into a circular shape. This is where the little holes in the springs will come in handy.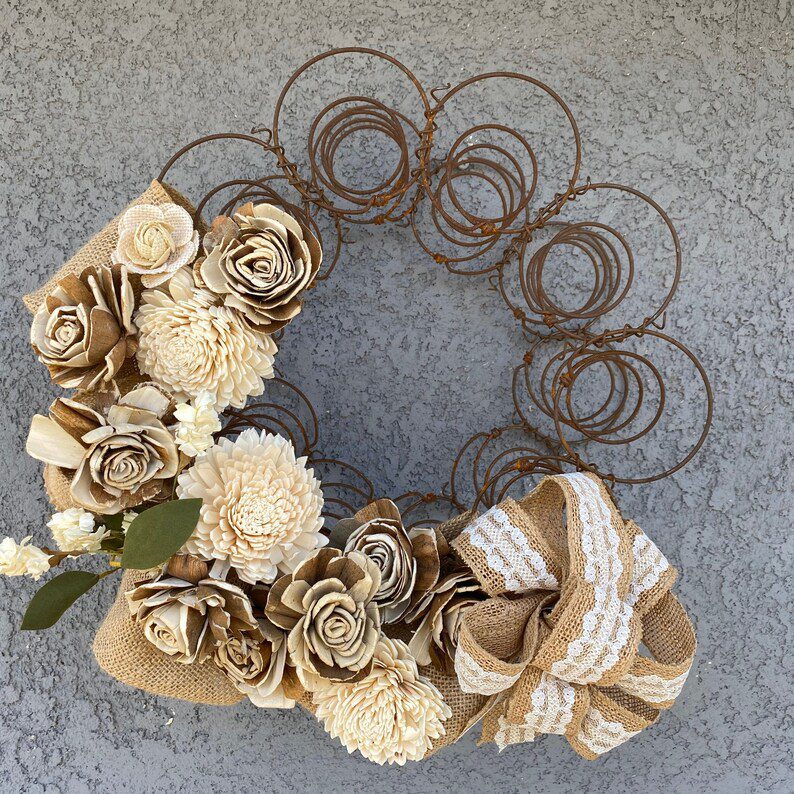 Start attaching them with some wire or string. Now it's time to add some embellishments. You can use anything from ribbons to false flowers to give your wreath some personality. Then, just add a few finishing touches, like burlap, and you're all set to decorate your doors.
6. Wall décor
There are many creative ways to decorate your home, and using old mattress springs as a frame for hanging photos is one of them. This unique upcycling idea is sure to add some personality to your space and is a great way to display cherished memories.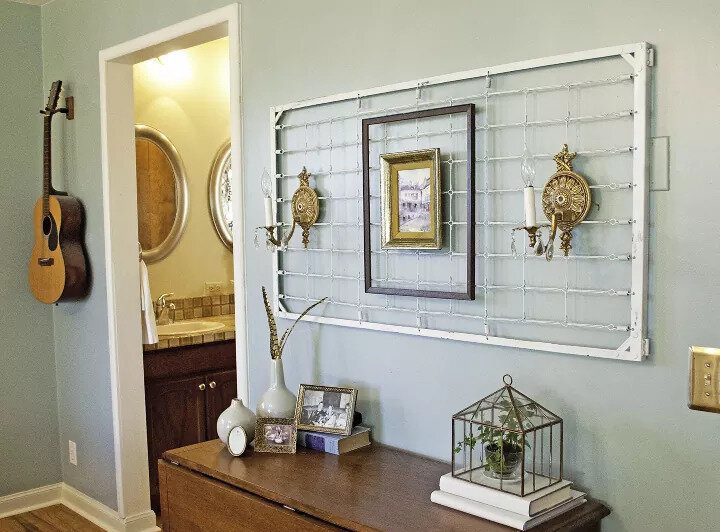 To get started, gather up some old mattress springs. You can get these at thrift stores, yard sales, or maybe you have some lying around your home from an old mattress you no longer use. Once you have your springs, start arranging them into the shape of a frame and hang photos.
7. Garden divider
You can use an old mattress spring and plant creepers around it as a garden divider. Moreover, you could also spray paint it a fun color to add some personality to your garden. First, clean the old mattress spring thoroughly and remove any metal staples or nails.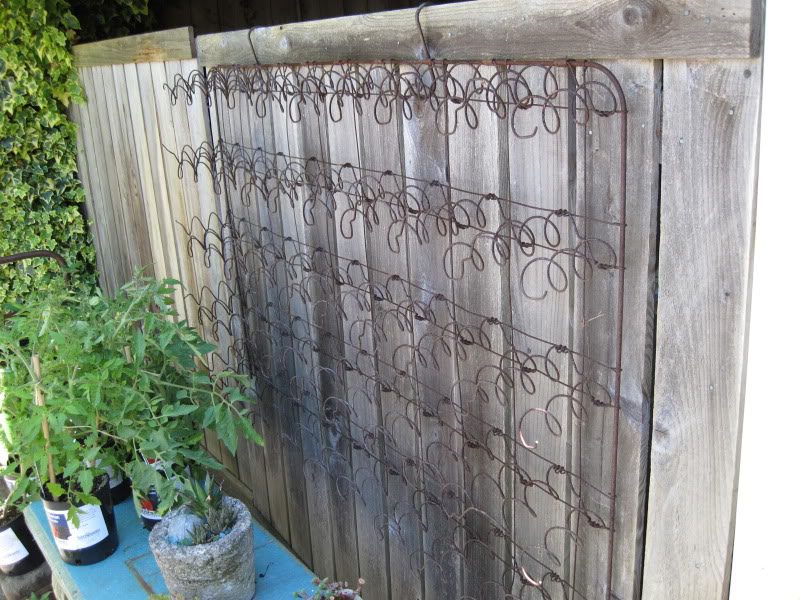 Alternatively, you may use it to create a privacy screen or windbreak. Planting creepers around the spring will provide shade and cool your garden down if you live in a hot climate. In colder climates, the spring will provide shelter for your plants from the wind.
8. Wall plant holder
Hanging planters are a great option to add some greenery to your home, and using old mattress springs for the frame is a clever way to recycle them! Simply gather some springs and arrange them on the wall in any pattern you like. Then use wire or string to suspend your planters from the springs.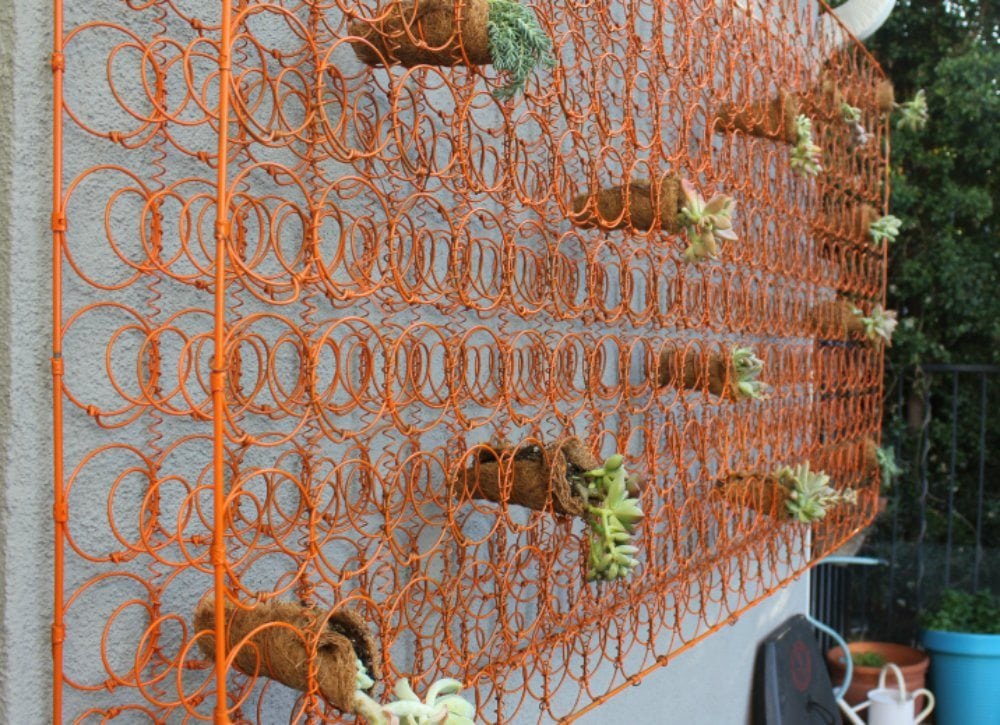 You may use any plant you like, but creepers and vines work especially well with this method. Ensure that the pots you use are appropriately sized for the springs, so they don't become unbalanced and fall off. This makes for a unique and eye-catching display that will brighten up any wall.
9. DIY organizing rack
Make a DIY organizing rack using an old mattress spring and metal baskets. Start by measuring the wall area where you want to put the rack. Cut the mattress spring so that it fits snugly into that space. Take the metal baskets and attach them to the mattress spring using zip ties or duct tape.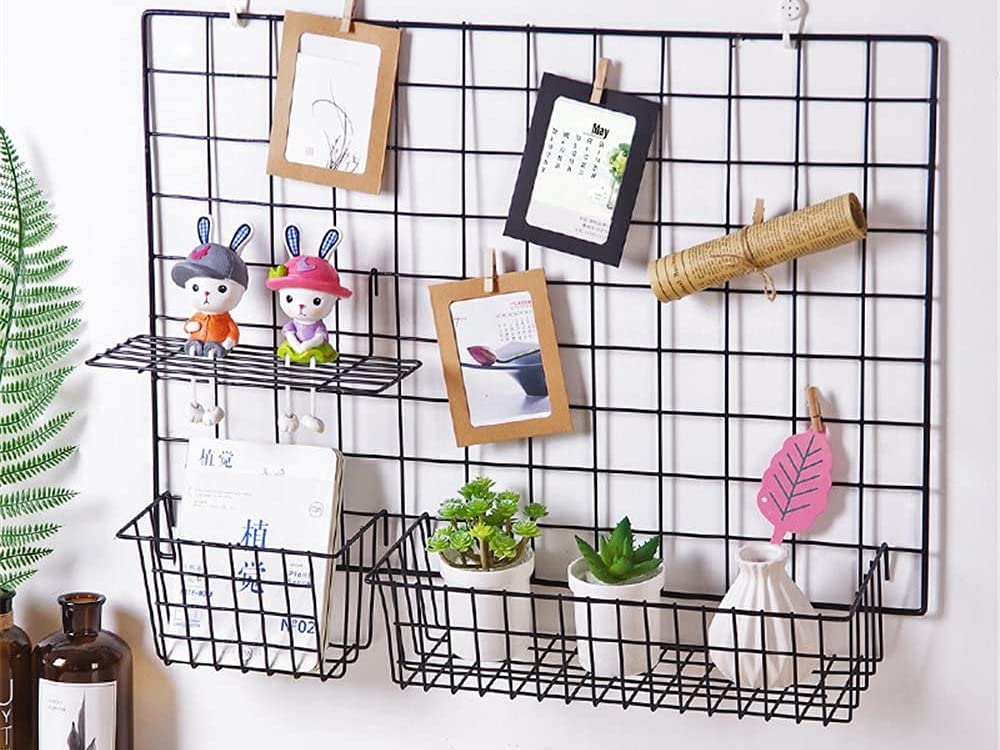 Ensure that the baskets are evenly spaced to hold plenty of items. Use labels or markers to mark each basket so you know what goes where. With just those simple steps, you have a cute, functional organizer that costs almost nothing.
10. Trendy flower vase
Looking for a fun and unique way to display your flowers? Look no further than an old mattress spring. Simply place a flower bud vase in an old mattress spring. Add some water and your favorite flowers, and you're good to go. Place the spring in an upright position.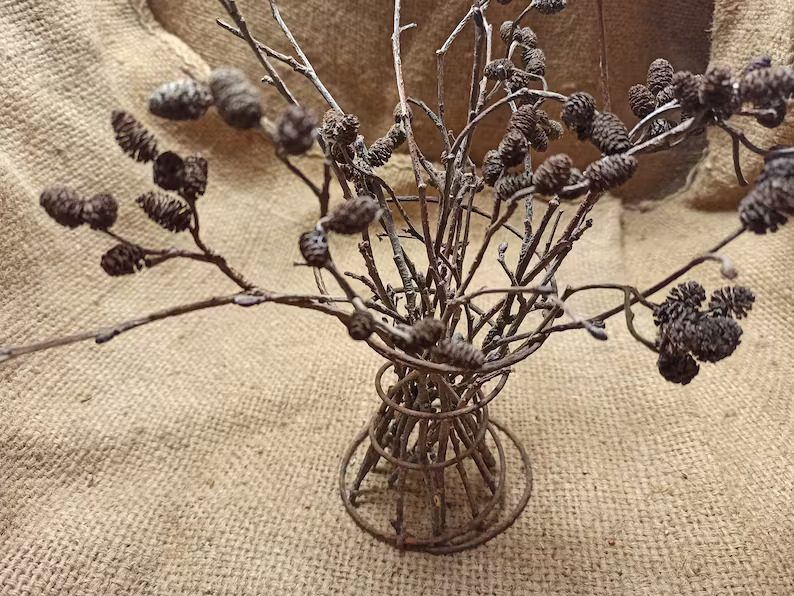 This will provide the vase with ample space to go inside. You may do this with a couple of springs and add different colors of dried flowers without even using a vase. Not only is this a great way to show off your flowers, but it's also a fun way to recycle old materials.
11. Garden bird feeders
Not only will you be helping the local bird population, but you'll also be helping the environment by recycling an old bedspring. First, snap off one of the springs. If your bed is particularly old or frail, you may need to use a tool to get it off.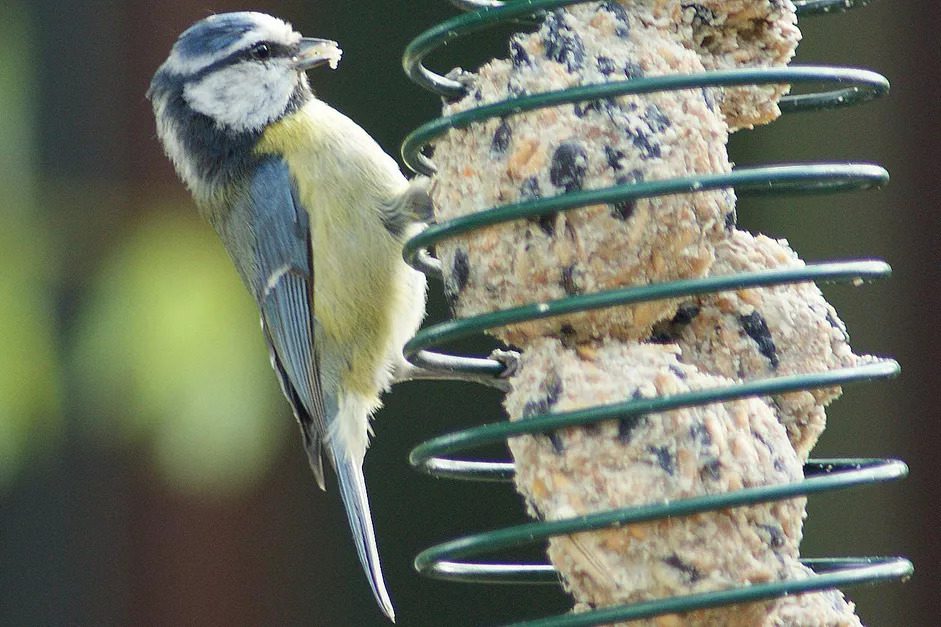 Next, fill the spring with seed balls. You can either buy these from a pet store or make your own by melting down some fat and adding birdseed to it. Once the spring is complete, hang it up in a tree or place it on a window sill where birds can easily access it.
12. Hanging candle votive holder
What a creative idea! We love the rustic look of candle votive holders made from old mattress springs. They would be perfect for a romantic dinner party or for any event where you want to create a cozy, intimate atmosphere.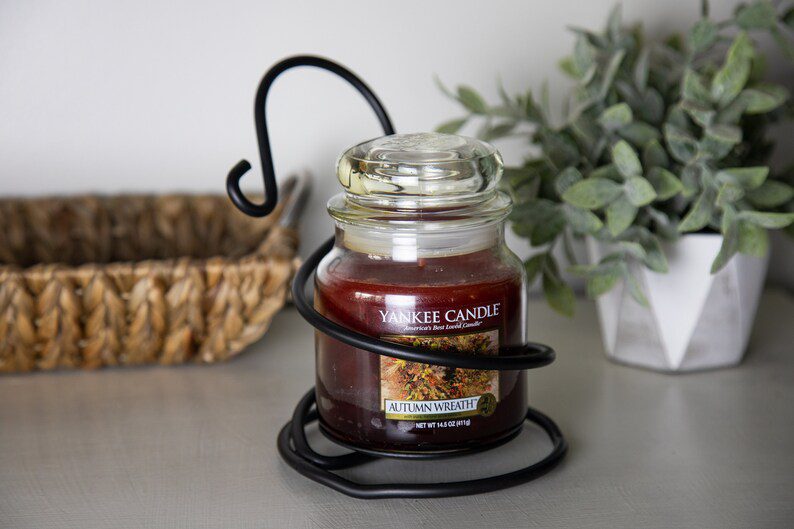 You'll save money and add a charming touch of whimsy to your décor. Bend the mattress springs into a loop shape and use the hook or nail to hang them from. Ensure that the loops are weighted down with something heavy. Finally, pop in a votive candle and enjoy your beautiful new hanging candle holder.
13. Organize your brushes
If you're looking for a way to store your crafting supplies, why not try repurposing an old mattress spring? Simply cut out a section of the spring and fill it with your brushes. It will give your belongings a unique home.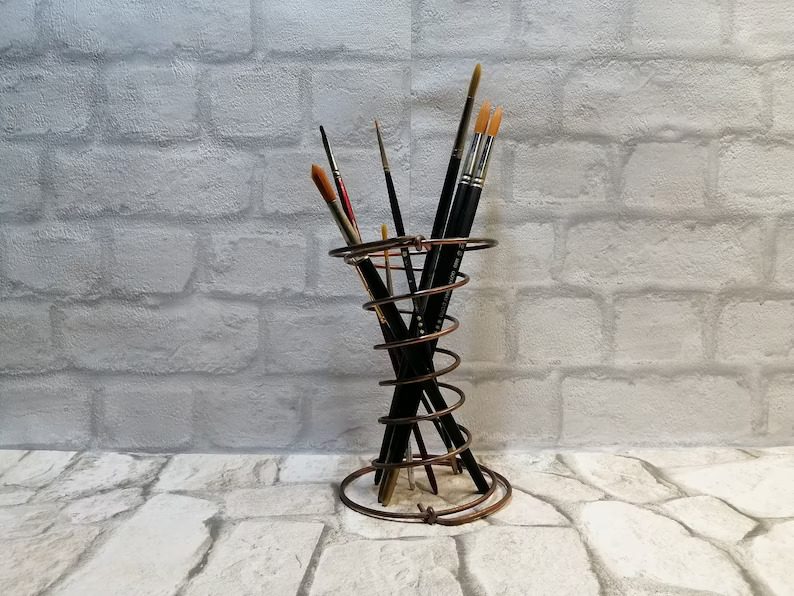 It will also add a bit of quirky charm to your art supplies, giving your workspace a creative vibe. What better place to show off your DIY skills than your crafts corner? This is a great DIY if you're tired of these items taking up valuable counter space.
14. Curtain tieback
You'd be thrilled to know that mattress springs can be repurposed into curtain tiebacks to close your curtains! Instead of using cloth ties or clipping the curtains back, add a vintage charm to them. It'll give your home that cozy DIY, rustic feel.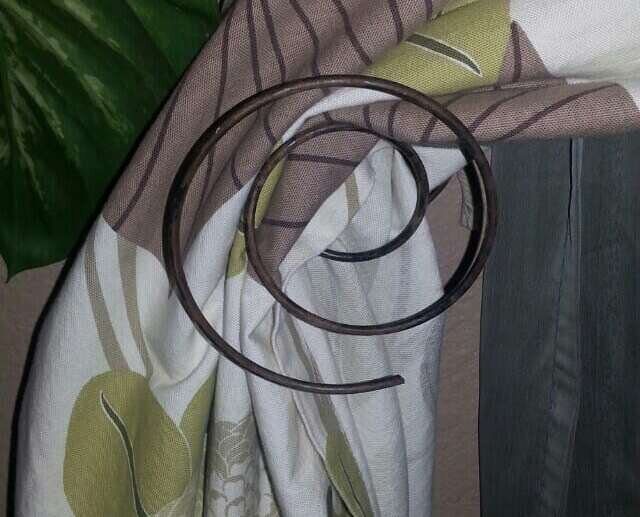 They're really easy and cheap to make using the springs. Cut the desired length for all the curtains on the window. Just weave the fabric between the coils. The material will stay tight in place. Remove them carefully when you wish to draw the curtains.
15. A delicate display
If you wish to add a bit of rustic charm to your home, then using old mattress springs to create a delicate display is a great option. Not only are they easy to come by, but they also offer limitless possibilities in terms of design.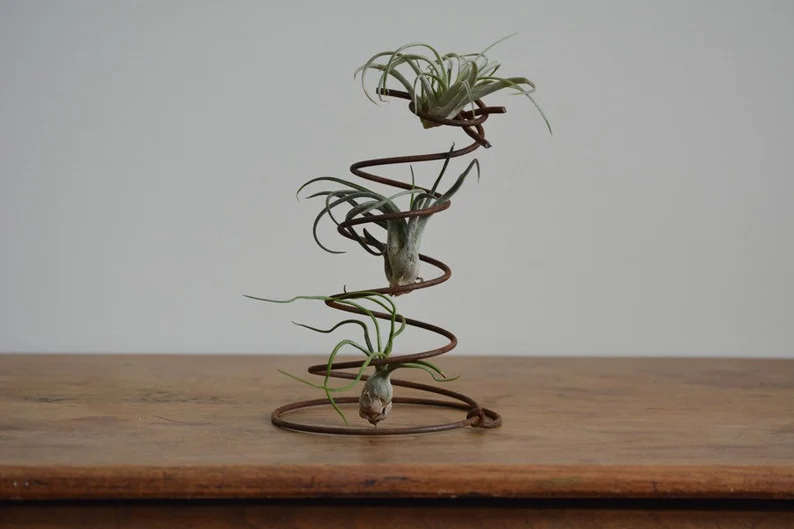 Separate the spring and add your desired embellishments — feathers, branches, beads, whatever strikes your fancy! Once you're happy with the overall look, glue everything in place and admire your handiwork. You'll have a one-of-a-kind piece perfect for showing off your unique style in only minutes!
16. Jewelry organizer
Creative jewelry organization ideas aren't hard to come by, but this one might be the most unique! Rather than finding new ways to display your jewelry, why not breathe new life into an old mattress spring and use it as a holder?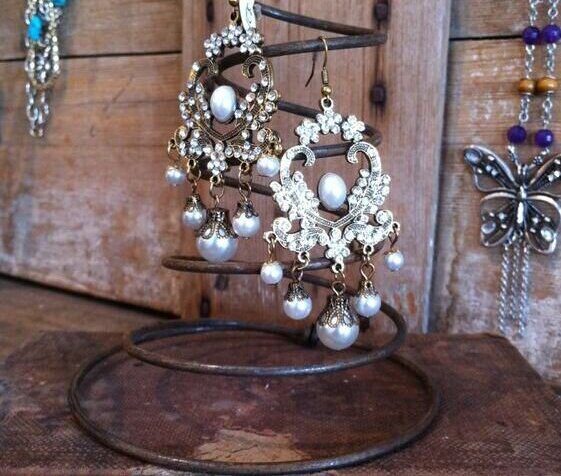 Attach the spring to a wall or door using Command strips or wire hangers and drape your necklaces over it. You can even add beads or other embellishments to make it stand out. Or, stand it on your vanity for easy access to your jewelry.
17. Ceiling bed light
You may be excited to find that you can use an old mattress spring frame to make a ceiling bed light. Measure the width and length of your mattress spring frame. Cut two pieces of wood of matching size. These will be used as the sides of your light fixture.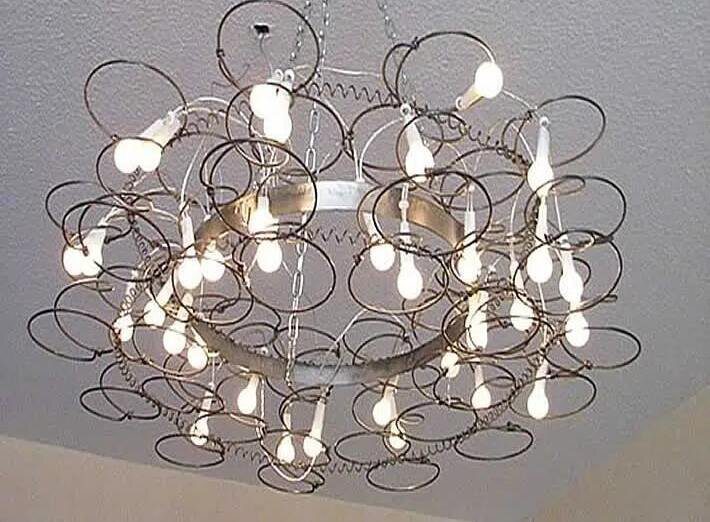 Drill a few holes in each piece of wood. These holes should be evenly spaced and big enough to accommodate electrical wiring and spring frame. Now, take your chosen light fixtures and place them around the frame. Hang the frame from the ceiling. For a softer look, you may use fairy lights.
18. Festive decor
This may seem like an uncanny idea, but it's a wonderful one for decoration. An old mattress spring can make for some pretty great festive decor. First, take your mattress springs and clean them well. You may paint it or add embellishments to make it look festive.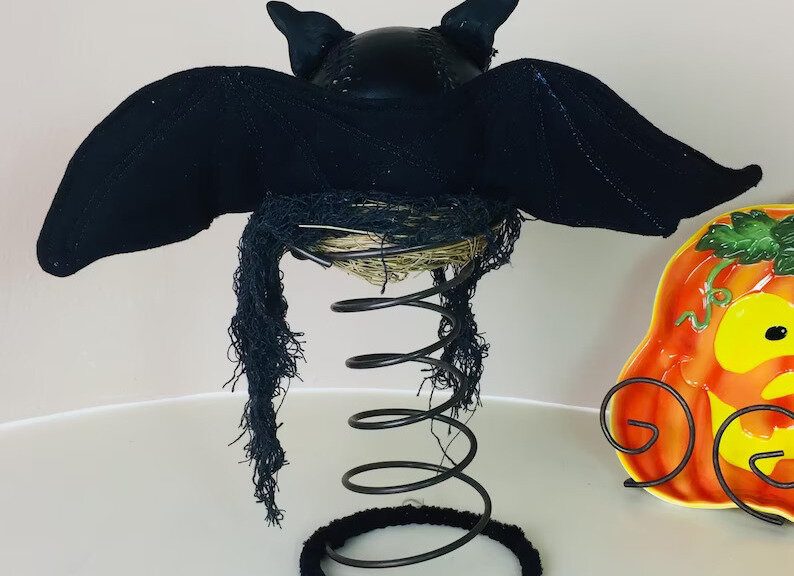 You can also take printouts or draw a snowman or a reindeer and stick it in the spring. The more, the merrier! Once your spring is covered in the right amount of festive appeal, you may add other decorations, like garlands, ribbons, ornaments, etc., to the wire tree.
19. Pinboard for your wall
Use old mattress springs to make a pinboard for the wall. Just cut the springs to the desired length, and use a hammer and nails to secure them to the wall. You can use the springs as is or spray paint them a fun color first. Once they're dry, install them on the wall.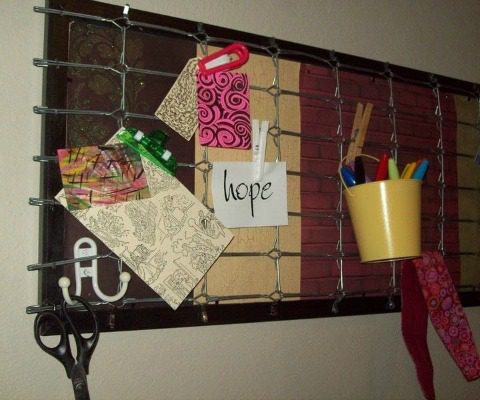 If you have any extra springs, you can use them to make a fun mobile for your nursery or child's room. Ensure you attach them securely so they don't fall down over time. And that's it! Now you have a stylish and functional pinboard for all your memos and notices.
20. Simple garden edging
Innovative minds everywhere are always coming up with interesting uses for old mattresses. Instead of throwing out something that's worn out, as people usually do, you can give it a second life. And there are plenty of ways to repurpose an old mattress.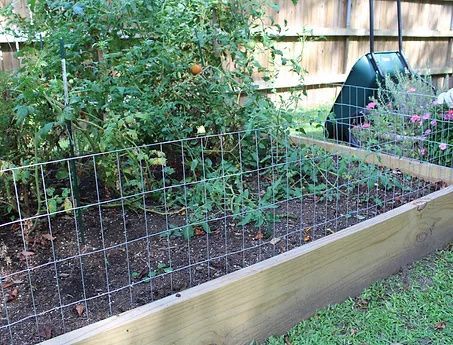 If you have an old mattress spring in your attic or basement storage, it's time to take it out. You can use it for simple garden edging instead of spending money on an expensive custom-made one. The edging will prevent the plants from getting broken during high winds.
21. Vintage flower vase
Make a vintage-inspired vase out of mattress springs as a fun and unique DIY project. It's easy to do, and you can dress it up with pretty lace to give it a chic look. You may make a few to arrange them as a centerpiece.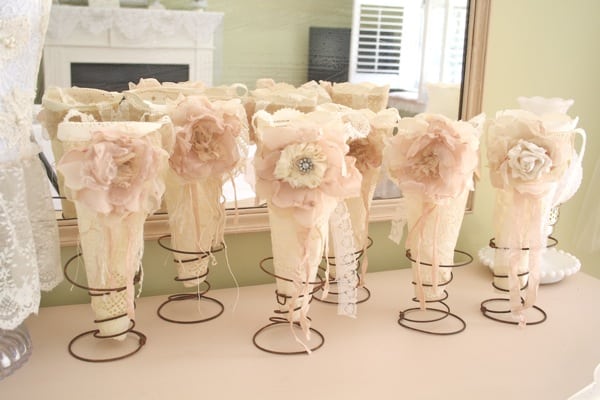 You can wrap them in lace, ribbon, twine, or anything else you like. Check that there are no sharp edges from the metal that can get caught on the fabric. Then, once your springs are all decorated, simply arrange them in a vase shape and add fresh flowers.
22. Party cupcake holder
You could definitely use old mattress springs as party cupcake holders, but you may want to rinse them off first to eliminate any dust or dirt. They would make a unique and festive addition to your next party, and your guests would love the quirky decoration!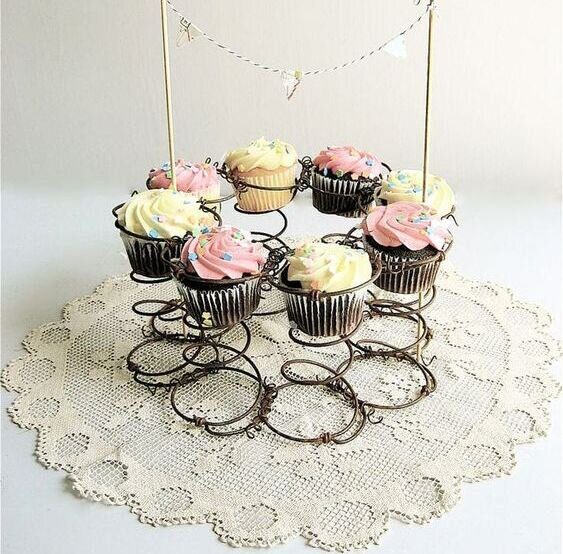 They're sturdy and should be able to hold up to the weight of cupcakes without collapsing. Plus, they'll give your party a fun and festive vibe. So go ahead and raid your old mattress for some springs — you'll be glad you did.
23. Dinner tealight holder
Old mattress springs make great candle holders! If you're looking for a rustic look, simply place a few tea lights inside some old springs and set them on your dinner table. The flickering flames will create a warm and inviting atmosphere, perfect for entertaining guests.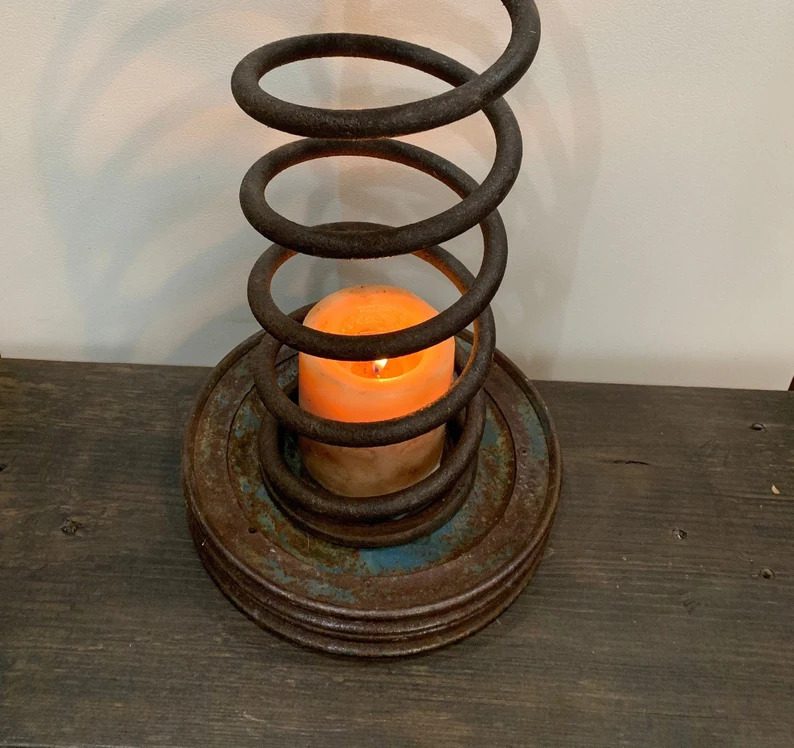 You may arrange these as a centerpiece at the table and decorate them with some pine cones for some additional rustic elements. Use springs of different sizes for more dimensions. Next time you're looking for a unique candle holder, think outside the box and give an old mattress spring a try.
24. Spring nest
This is a great idea for those who want to add country charm to their home décor. You can use old mattress springs to create nests that look like they're made out of twigs and fake grass. Depending on the shape, material, and size of the springs, you could make all sorts of different nests.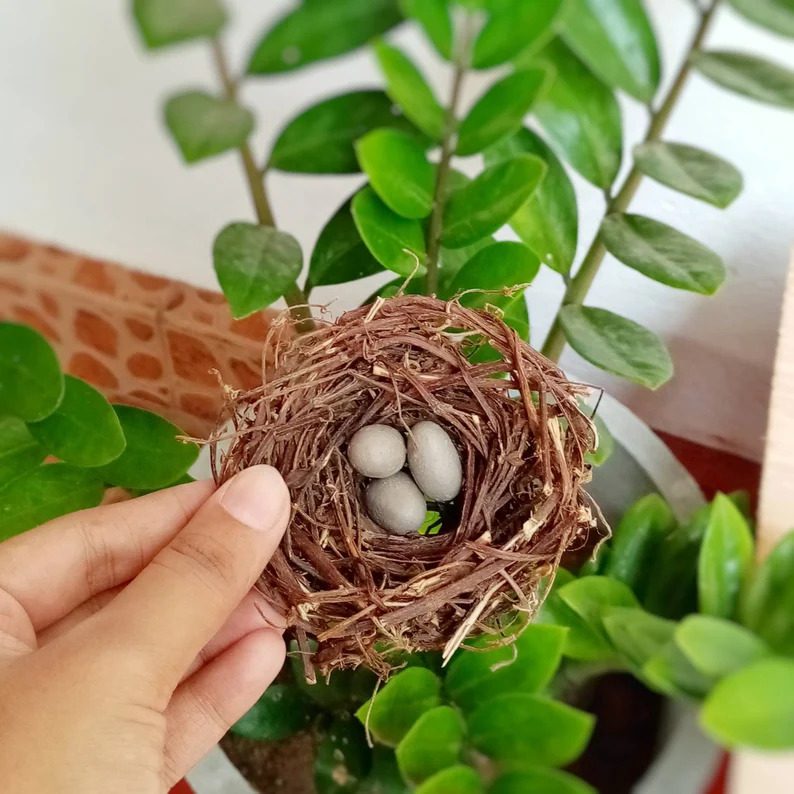 Besides, you may even add eggs for a more realistic effect. This is a great option to recycle old furniture and give your home a fresh look at the same time. This would be a worthwhile project for kids and adults, and it will generate some conversation when people see your unique creations.
25. Spring pin cushion
A pin cushion is a must-have for any seamstress or crafter. To make a pin cushion, simply stuff the filling into a fabric cover (you can use an old pillowcase or piece of scrap fabric) and then insert the spring into the center. Ensure that the lower part of the spring is visible.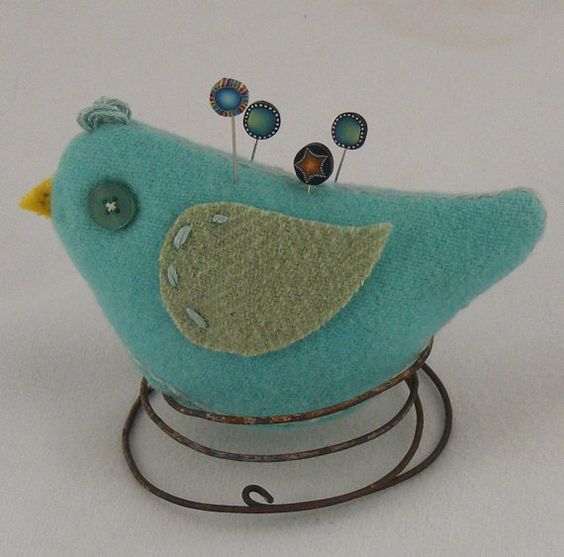 Once you have your basic pin cushion, you can get creative and decorate it however you like. You may use the shape of a bird, fruit, or cupcake to make an adorable pin cushion. Now, you will have no worries about losing your pins while crafting and sewing.
26. Christmas tree decoration
This is a great way to give your Christmas tree some extra flair. If you have an old mattress spring, the first thing you'll need to do is cut it into several pieces that will fit around the branches of your tree. You may use wire or string to tie them in place.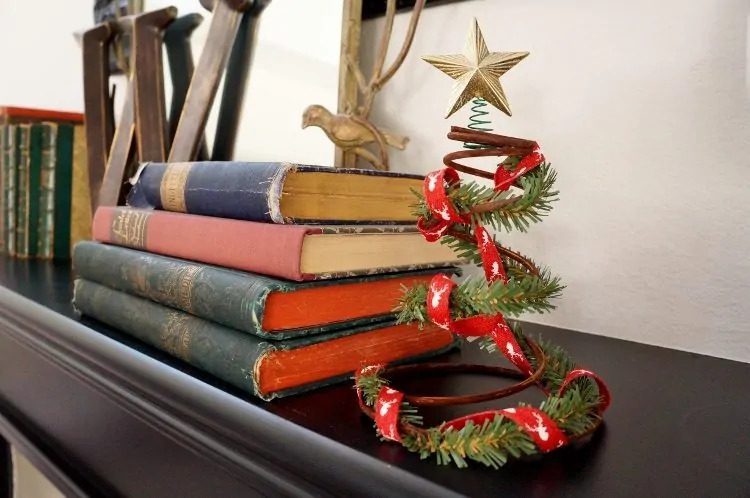 You may also wrap the mattress spring in festive fabric or ribbon and then use hot glue to attach your favorite ornaments. Moreover, use lights to create a glowing effect. Once your springs are securely in place, you can start decorating — string lights, ornaments, tinsel, whatever you like.
27. Embellished decor
This is amongst the most creative ways to use those old mattress springs. You may use the springs to make garden ornaments. By mounting springs on a piece of wood or placing them in concrete, you can turn those old springs into unique pieces of garden art.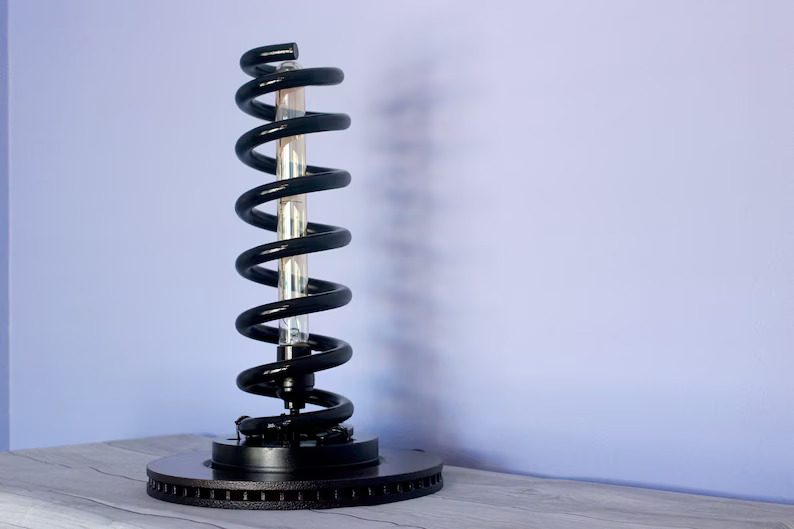 You may also make embellished decorations out of them to place in the soil between different plants. These will also act as dividers between them and let some air flow. You may also embellish these with small tin flowers and bulbs and hang them from trees for a rustic appearance.
28. Upgraded lightbulb
Add some personality to your lightbulbs and make them more festive for the holidays at the same time. It's sure to add a touch of whimsy and fun to your home. All you need are an old mattress spring, some wire cutters, and some lightbulbs.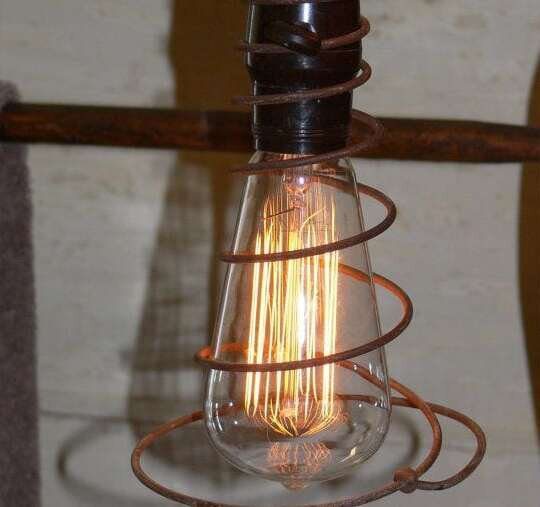 First, use the wire cutters to cut the mattress spring into small pieces that will fit around the lightbulb. Next, twist each piece of spring around the lightbulb until it's tightly secured. And that's it! You've just created a unique and festive lightbulb decoration.
29. Wine bottle rack
You can upgrade an old mattress spring frame to make a wine bottle rack! It's a great way to recycle and reuse something that might otherwise end up in a landfill. It's really easy to do — all you need are a few simple supplies — and it'll add an interesting focal point to your home.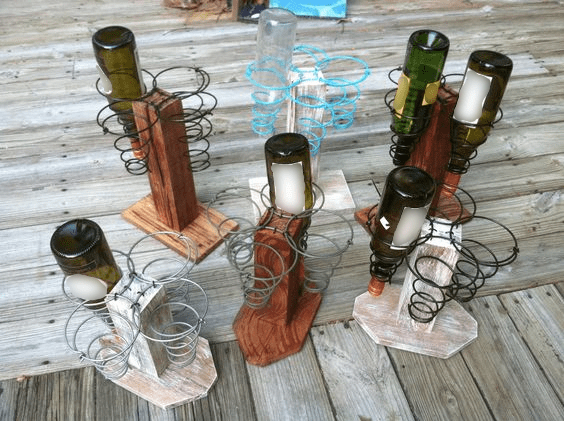 Start by removing the inner springs from the frame. Do this by unscrewing the bolts that attach to the wood or metal frame. Once the springs are removed, sand down the rough edges of the wood or metal to prevent bottles from getting scratched. Place the frame against the wall and stock the bottles.
30. Garden furniture
If you're feeling crafty, why not repurpose the old mattress frame into garden furniture? With a little elbow grease, you can turn that rickety old frame into a chic piece of furniture. To start, remove the fabric and any stuffing from the mattress. You should be left with just the metal springs and metal framework.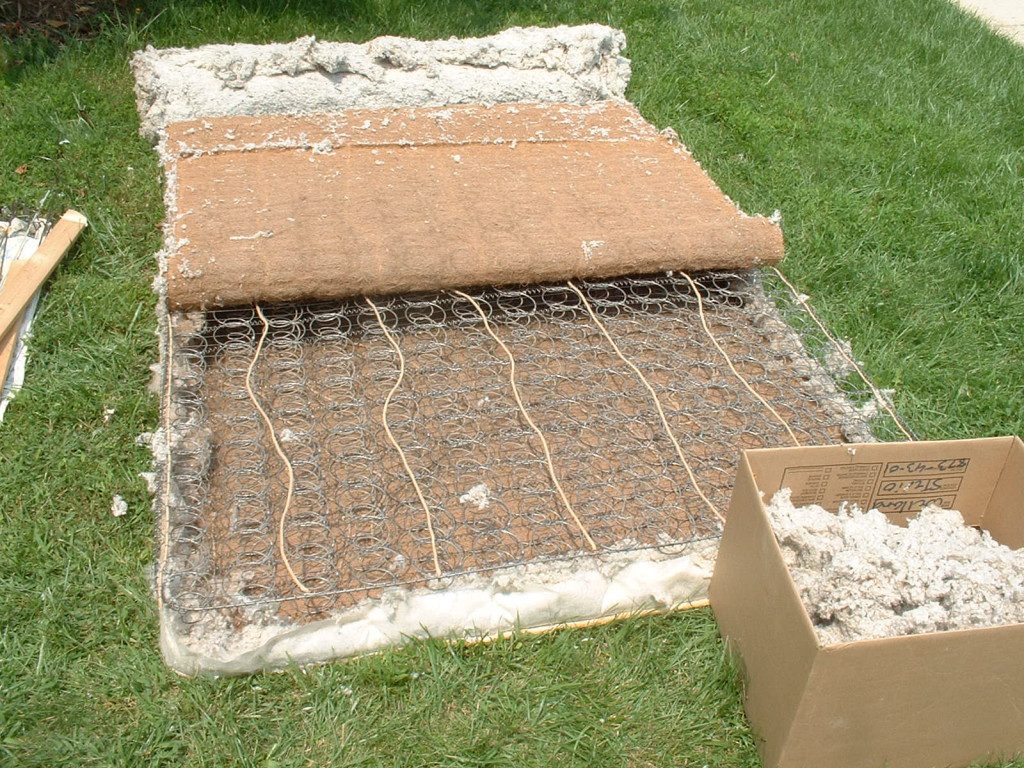 Sand down the entire frame to get rid of any rust or grime. Give it a coat of paint in a color of your choice. Now it's time to use the frame to make a garden table or a gazebo.
31. Wooden spring photo stand
When it comes to displaying photos, there are all sorts of creative options available. But if you're looking for something a little different, why not try using old mattress springs? This will give your decor a rustic appeal without spending any money.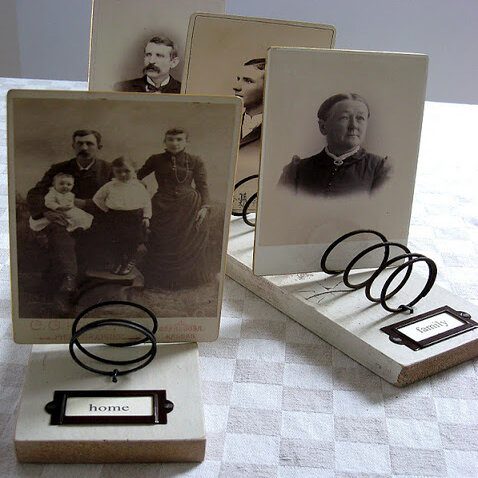 To do this, simply attach the springs to a piece of wood. Then thread your photos — as many as you want — through the coils and stand them upright. It's a fun way to display pictures, and it's sure to be a delightful conversation piece. sure to get people talking.
32. Industrial light display
With a little bit of creativity and some old materials lying around, you can easily create a unique and festive industrial light display for your next party or special event! For this project, you'll use an old mattress spring frame and large bulbs that can be easily screwed into the frame.
Try using different colors or patterns of light to create an interesting display. You can also use old Christmas lights to decorate your new, DIY light fixture. Or, you can thread light gels through the springs for some extra color.
33. Mounted metallic headboard
Make a mounted metallic headboard with a discarded spring mattress. It would be a really easy project to add character and style to your bedroom. You may already have one sitting in storage or find it at thrift stores or garage sales.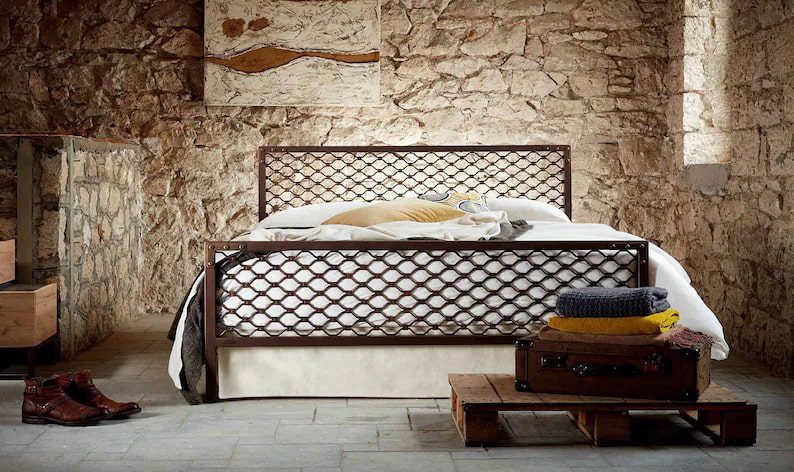 Once you have the frame, you'll need to sand down any rough edges or rust spots. Then, you'll need to paint it with metallic spray paint. Be sure to choose high-quality paint that will withstand wear and tear. Cover the frame with upholstery fabric for a more finished look.
34. Glass vase display
Old mattress springs are the perfect way to display your glass vases. Using wire cutters, cut the springs to the desired size, then use hot glue or epoxy to adhere them to the sides of a glass vase. You could even spray paint them a fun color before adding flowers.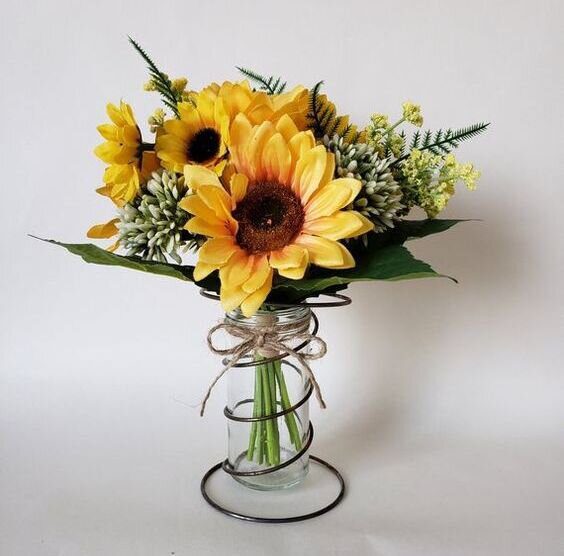 Using glass vases will display the flowers and let the light pass through effortlessly. Now you'll have an instant conversation starter for guests at the party. For a temporary party arrangement, simply place the vases inside the springs, and voilà — you have a unique and eye-catching display.
35. Hanging squirrel feeder
If you're on the search for an innovative way to feed the squirrels in your backyard, why not try using old mattress springs as a hanging squirrel feeder? Poke a hole in a corn cob and thread it onto the spring. The squirrels will love nibbling on it.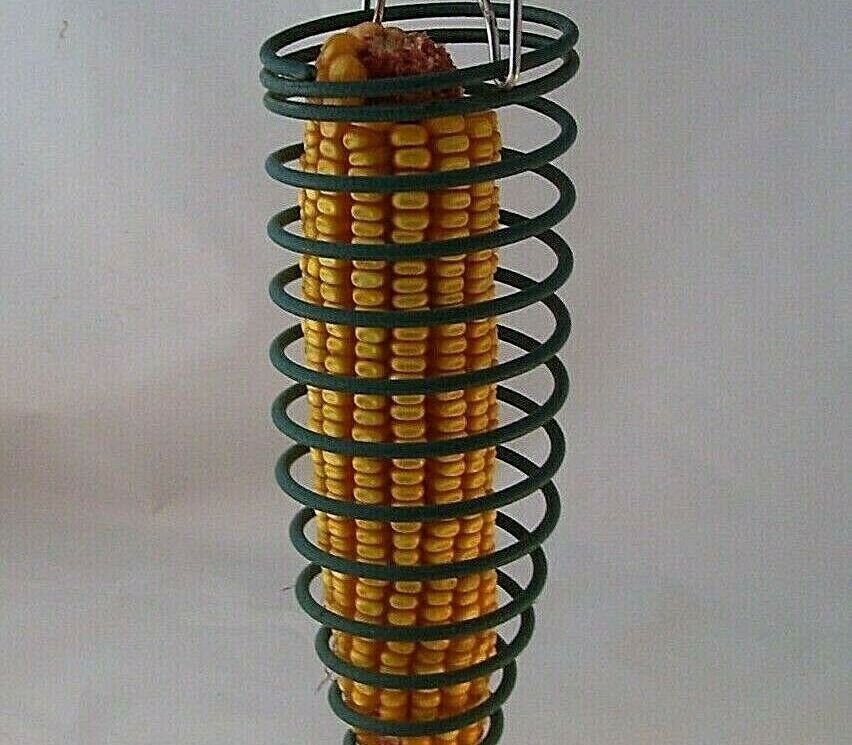 Another way is to suspend the corn cob inside the spring. You'll provide a squirrel feeder that is both convenient and durable. You may hang a few in your garden from metal wires or from tree branches. Replace the cobs once the squirrels have finished them.
36. Nifty snack holder
You read that right! By wrapping them around a sturdy cardboard tube, you can create a DIY snack holder that's perfect for your next party. Not only will it be functional for the kitchen, but it'll also be fun and festive.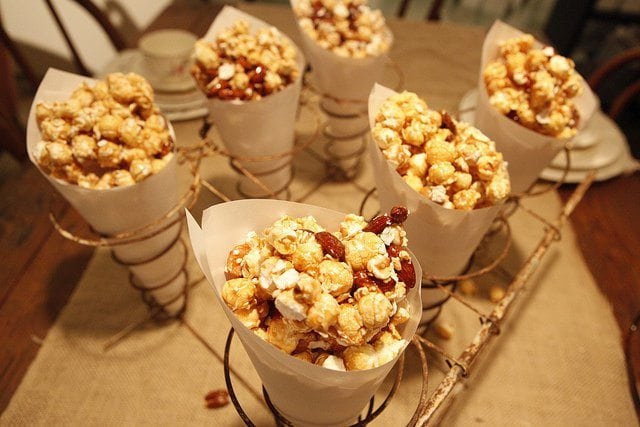 You may also use small paper cones and fill them with the snack of your choice. Place them inside a spring mattress tray. Now you can have quick and easy access to tasty snacks whenever you want them. It's a fun way to present them to your guests.
37. Use the insulation
You could use the innerspring mattress cushioning material for packing. Many people don't realize that this material makes excellent insulation, keeping your items well-protected against temperature extremes. And, most importantly, it's effective padding and will prevent your items from breaking.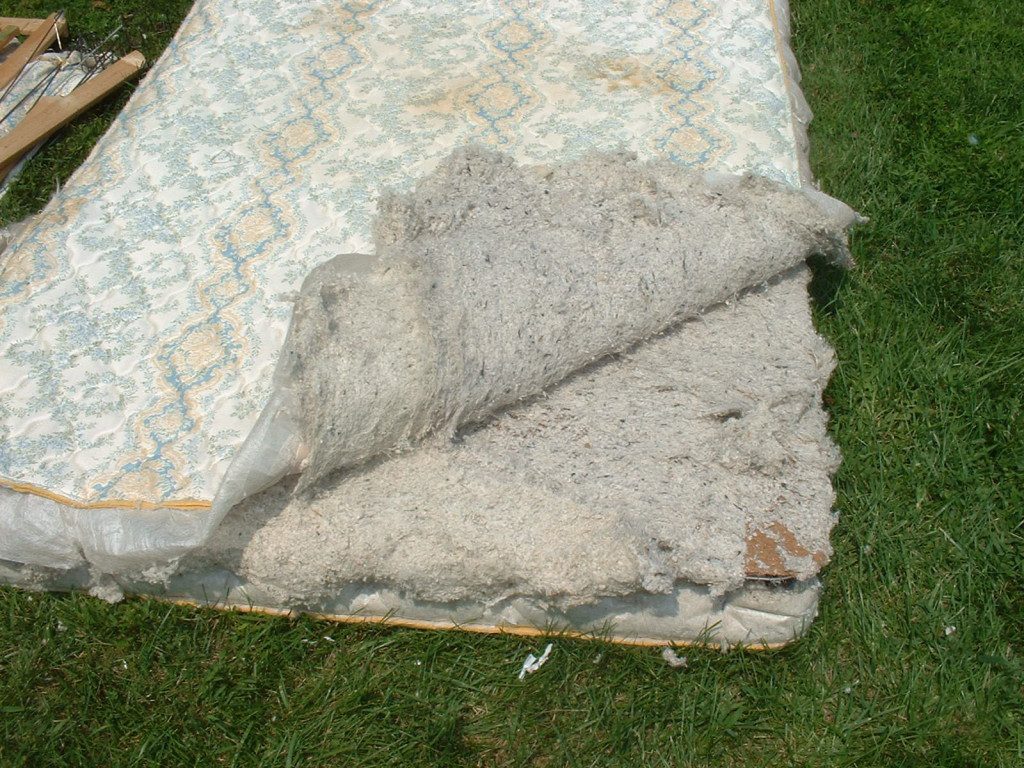 It's affordable and easy to find. You won't need to spend on packaging material for cushioning. Be extremely careful not to compress it too much while packing, or it will lose its insulating properties. For glassware, consider putting them in a sealed bag first to avoid the mess.
38. Memory board of special moments
Here is a fun and creative way to make a memory board. One of the great things about memory boards is that you can make them from whatever material you want. Try upcycling an old mattress or crib frame. All you need is some paint, fabric, ribbon, and a hot glue gun.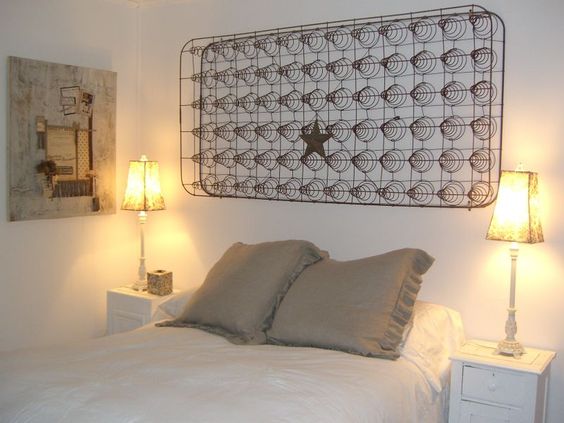 You can add photos, keepsakes, quotes, drawings, etc. Simply add some hooks, then start hanging up your keepsakes. Photos, postcards, and special mementos can all be displayed to create a visually stunning display that will help you relive cherished memories.
39. Work desk organizer
There's nothing like a little bit of creative thinking to get the most out of your home office space. An old mattress frame can make for a great wall organizer. Ensure the frame is clean and free of dust or dirt; you don't want your office to look like a horror movie scene.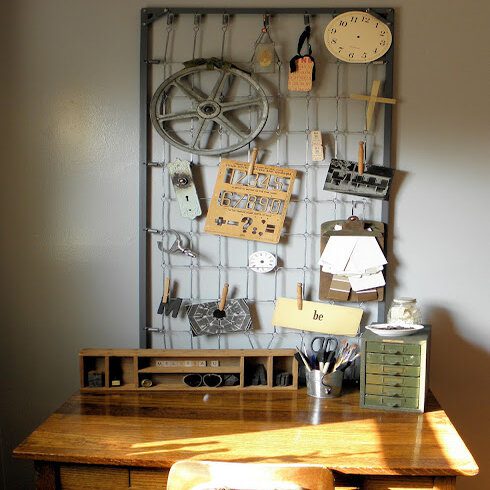 Secondly, if the frame is stained or damaged in any way, you should repair and paint it first. Then, simply attach some hooks or brackets, and you've got yourself a great place to hang scarves, jackets, hats, bags, and more.
40. Small planter holder
Spruce up your space. Disassemble an old mattress to remove the coils; use wire cutters to snip them into smaller pieces. Then, bend the pieces into shape and use pliers to create space for the planters. You may also coil the springs up and use them as planter holders for your desk or window sill.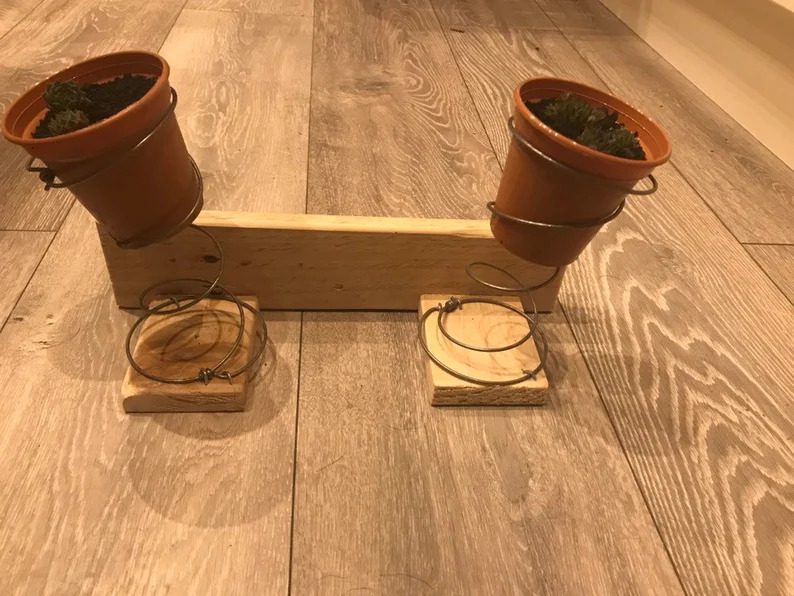 They make a great place to grow herbs or flowers, and they'll add a touch of personality to your home. Moreover, it's a handy way to keep your plants off the ground and away from pets or children. Your plants will thrive in their new spot.
41. Convenient kitchen rack
Here's a DIY project that'll give your kitchen a quirky yet practical update. With an old mattress spring frame and creativity, you can turn it into an upside-down hanging kitchen rack. First, remove the spring frame. You may do this by removing the screws that hold them in place.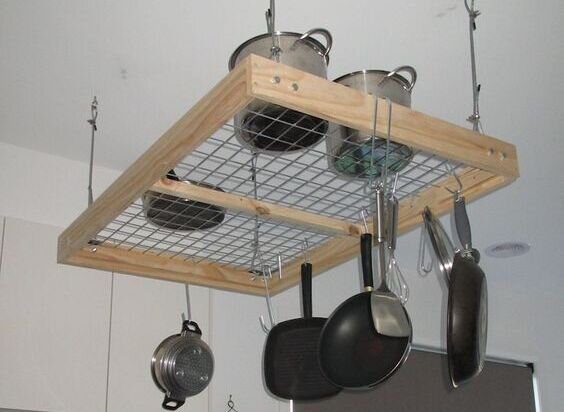 Next, use sturdy wire to create loops at either end to attach the frame to your ceiling hooks. You can use this rack in whatever way fits your needs. For example, you could thread pots and pans through the springs or use S-hooks to hang utensils and other cooking tools.
42. Picture display
By using the old mattress spring, you can create a unique picture hanging system that is both decorative and functional. Plus, it's an excellent way to save some money on picture frames! You can use old mattress springs to hang family pictures using clothespins in a few different ways.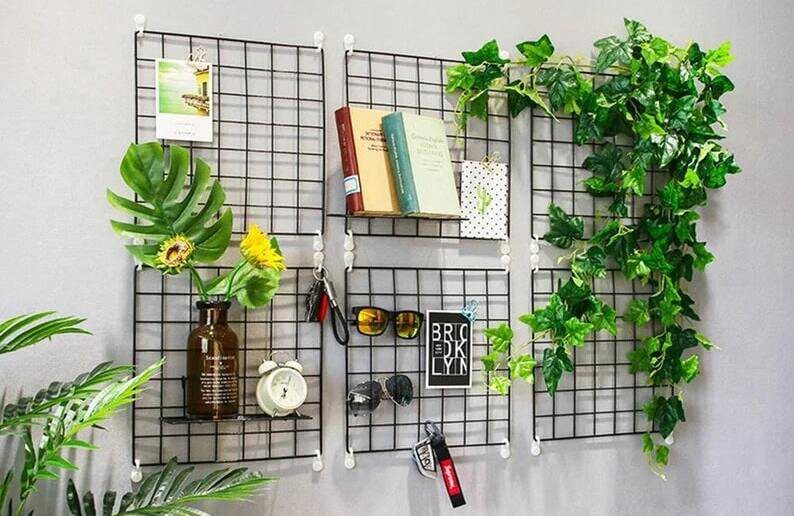 One way would be to attach the spring to the wall using nails or screws. Clip the clothespins onto the spring and hang your pictures from them. Or, you can make a frame out of the springs. You can do this by connecting them together at the corners with wire or string.
43. Customize a wine bottle
This is an easy way to dress up any wine bottle for a special occasion! All you need are some old mattress springs, scissors, and a hot glue gun. Simply cut the springs to the desired length, then use the hot glue gun to attach them to the wine bottle.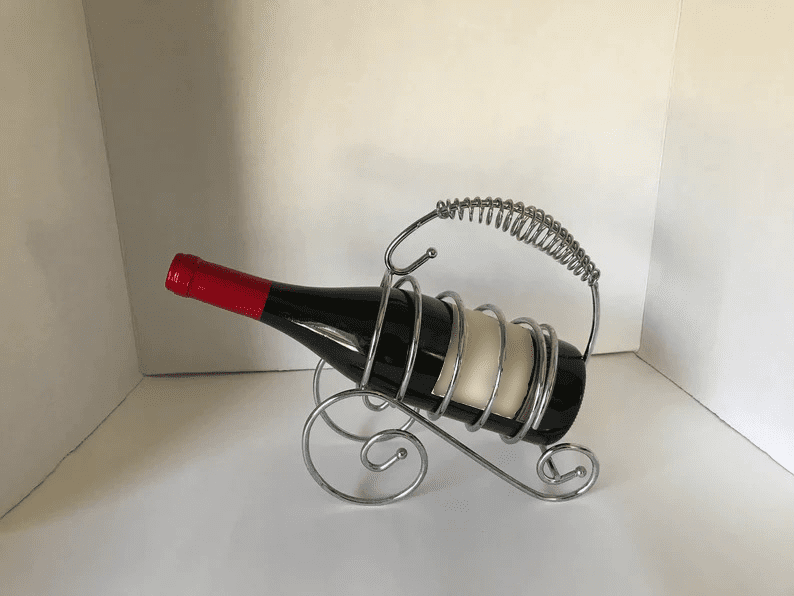 You may twist and turn them however you like to create a unique look. Add a ribbon or flower for extra decoration. Apart from this, use some wire or twine to secure the bottle in place. Voilà! You've now got a one-of-a-kind decorated wine bottle that is sure to impress your friends and family.
44. DIY dog bed
There are a lot of reasons to love DIY dog beds. For starters, they're usually much cheaper than store-bought dog beds, and they can be custom-made to fit your dog's specific size and shape. With some old mattress filling and a sewing machine, you can easily make this at home.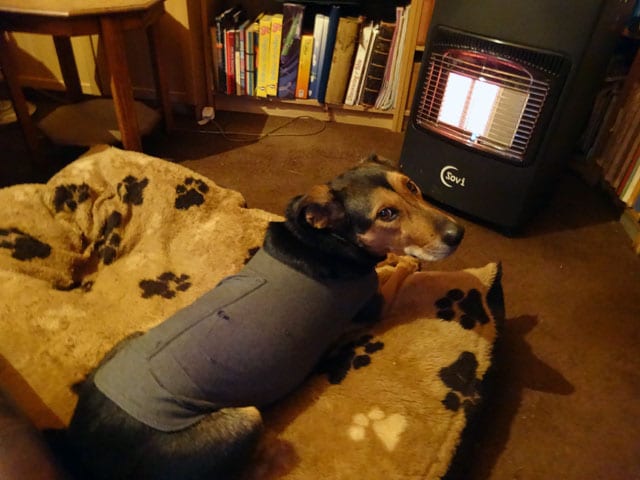 You may also use some strong glue if you're not so handy with a needle and thread. The best part about DIY dog beds is using whatever materials your old spring mattress has. Use the material to turn it into a cozy new bed for your furry friend.
45. Turn it into a sofa
Turning an old spring mattress into a sofa is quite easy. All you should need are a few tools and some creativity. After removing the springs from the mattress, cut the mattress down to size so that it will fit comfortably in your home as a sofa.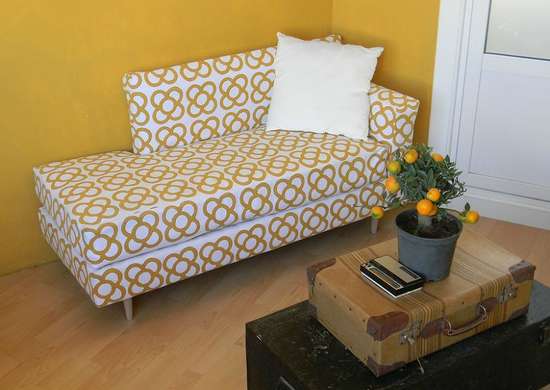 Then, add some padding or stuffing to the mattress to make it more comfortable. Finally, use fabric to upholster the mattress and create a fashionable and comfortable piece of furniture for your home. This is a cheaper and more fun alternative than buying a new sofa!