Clean Space, Clean Mind: 40 Ideas To Help Declutter And Organize Any Home
By Harpreet K October 21, 2021
---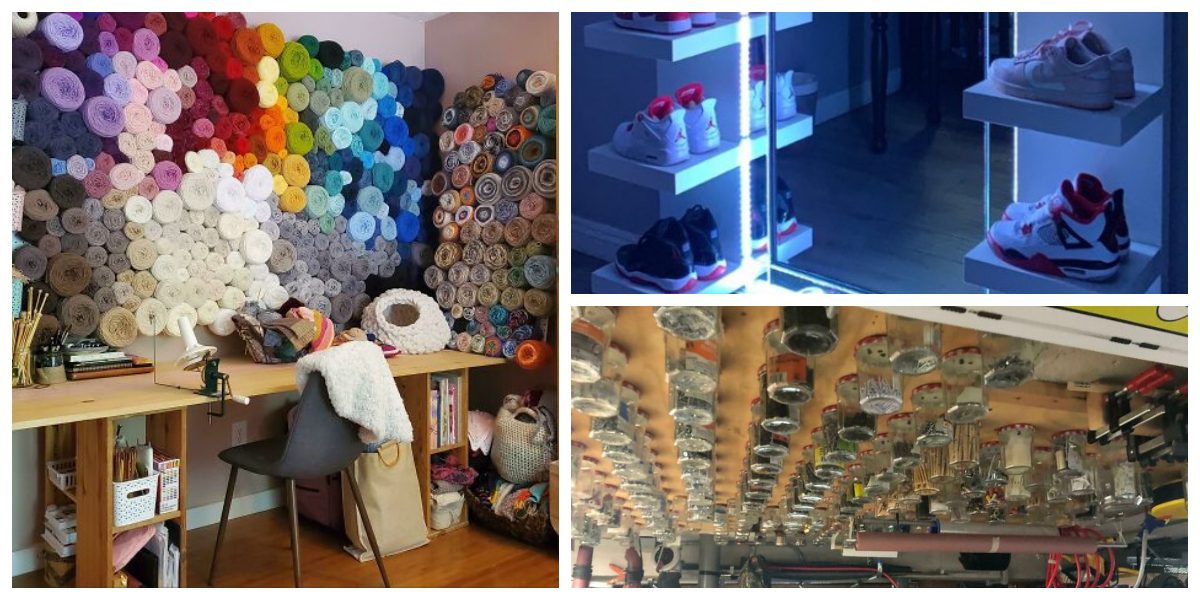 Staying organized in life is very important as it is a reflection of your personal nature. Organization has a direct link with one's creativity that every individual holds, but many of them believe that it is something of the past. Creativity is the best quality one has as it is embedded in us and can be used anytime you need to think outside the box. That being said, it is unnecessary to spend hundreds on cabinets, wardrobes, closets, and other unneeded items for storage when you can neatly organize things in the cupboards available in your home already. So, why not use it for them to the best of their ability? You just need to take out your inner genius and create something useful from junk. Below are 40 ideas to help you make use of your current means of storage so you can save that extra pocket change.
Build your own bin rack
You can build your very own bin rack with the help of floating bins that you already have at home or the store for low prices. Other tools you will need are cheap lumber, not-so-expensive plywoods, a power drill, nails, and spray paint to jazz up your rack.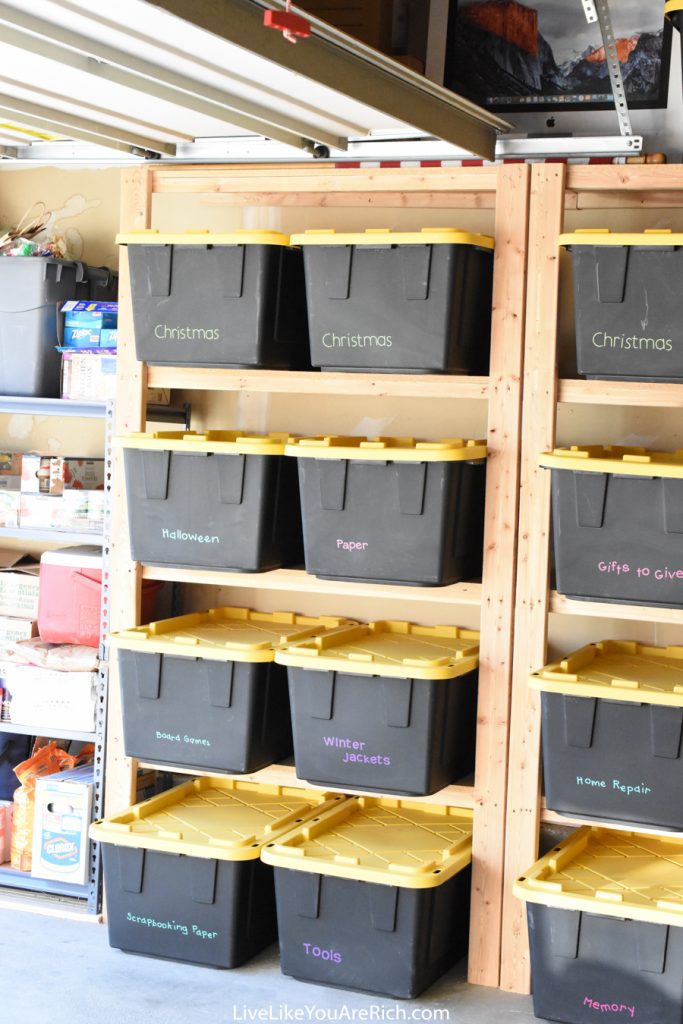 This rack is easily adjustable as it doesn't take much space and can hold a hefty amount of storage. You can stick labels on the bins by categorizing them by the things you are storing to make them that much easier to find when you need them.
Clean environment, no depression
One of the best ways to pick yourself up when you're feeling down is to clean. Set a task for each day, schedule your routine accordingly, and stick to your plan. Keeping your surroundings tidy brings positivity to your life and helps you feel empowered. After all, cleanliness leads to a healthy life.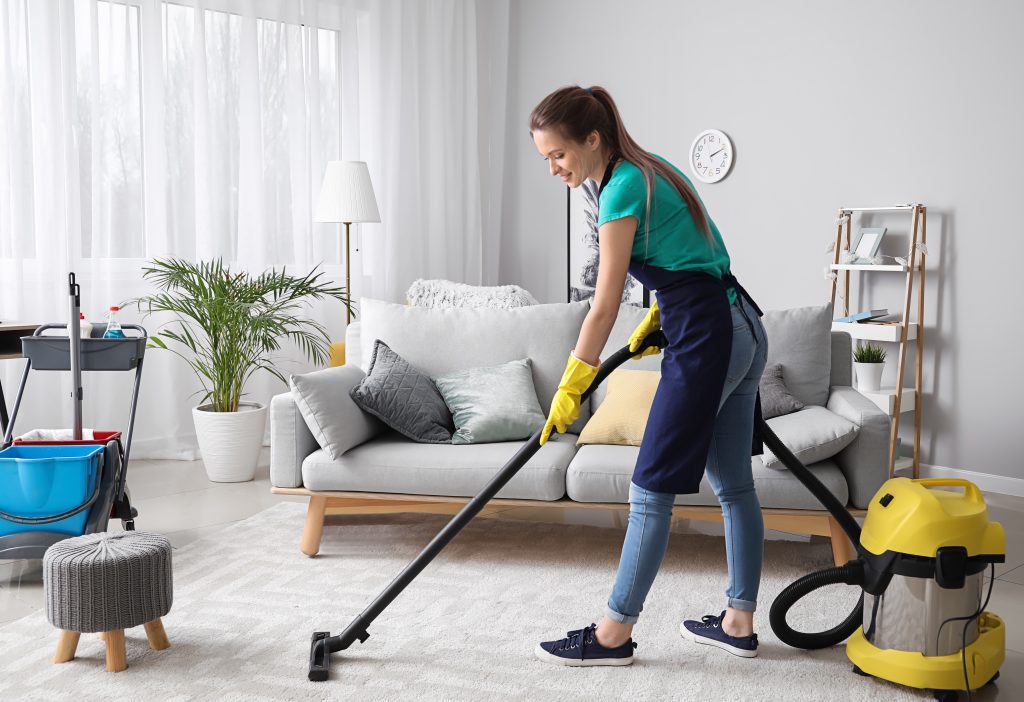 We all know that there is always something in your home that needs cleaning. This can be washing the dishes, reorganizing things, cleaning your favorite corner of the house, or maybe cooking good food for your family and yourself.
Kids cars wall rack
To all the parents out there, you don't have to spend money a large amount of money to organize all of your kids' toys because this next hack allows you to build a nifty rack that will help you cut down on costs.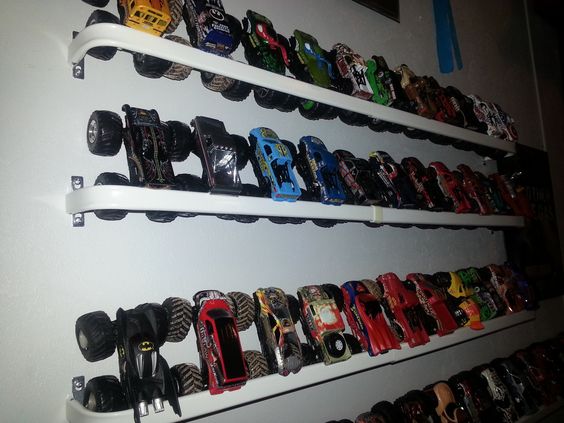 The only parts you need to make a DIY rack for your kid's bedroom are curtains rods. Attach them with a power drill and nails. Use this nifty method to display all their monster trucks. They can organize them on the rack any way they want to.
Make your loved one happy by cleaning their favorite corner
Buying extra furniture for the house is not always a sufficient way to bring a smile to your loved ones' faces. Instead, cleaning their room, tidying their favorite corner, and organizing their stuff in a more presentable way is a more thoughtful way to make them feel happy.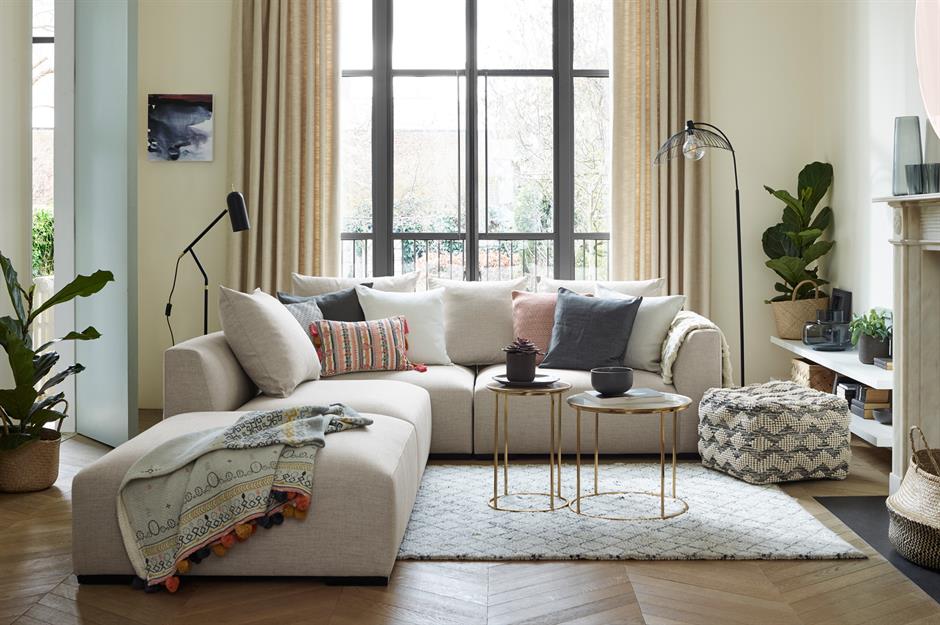 By doing this, you'll be surprised how amazing it makes them feel when they come home and see that you've taken the time to dust all those hard-to-reach places. You can even spritz a bit of their favorite scent for some added effort.
Use this hack to organize apps
When you want to find a specific application on your phone, you might spend unnecessary time searching for it. But, this hack will surely help you with this problem. So instead of searching for an application, create folders and with specific categories.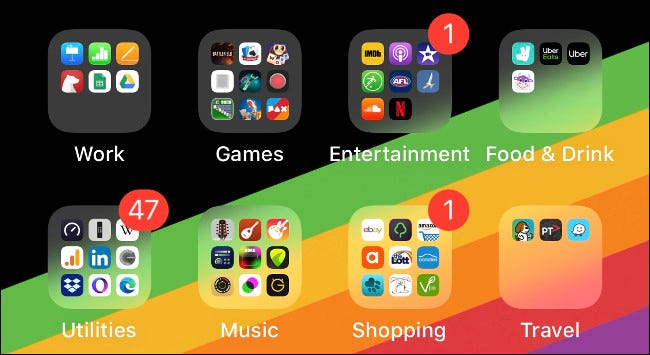 Organize your applications into different groups like including shopping, social, work, and others that you tend to use frequently. You can also make them look colorful and creative by editing the titles and adding color to the background for more personalization.
Idea for a tea bar at home
Choose a corner in the kitchen and place open shelves there. There should be adequate space between the shelves so you can put any sized dishes there of your choice. After, organize shelves with different teas or coffee, glasses, cutlery, and even a coffee machine if you have room.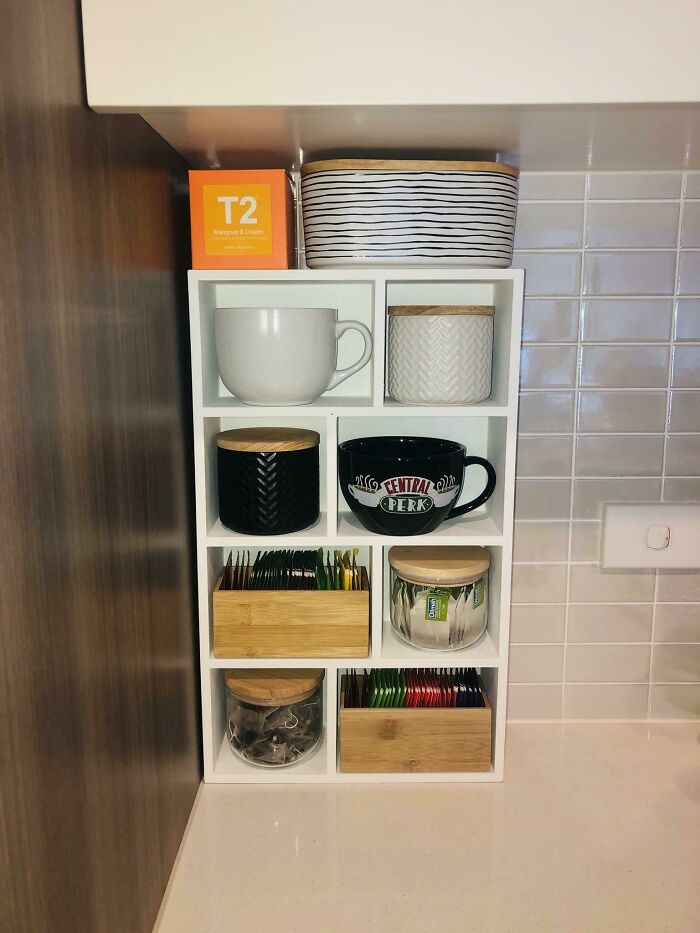 You can even use containers and label them with stickers according to the things you want to organize in them. To make it look more lively, decorate it with colorful flowers, coasters, and colorful cups. However, this is not necessary.
Assemble the First Aid Kit
A well-stocked and properly organized first-aid kit can help you respond effectively to common injuries and emergencies. You can make use of transparent boxes or containers and label them with types of medicines.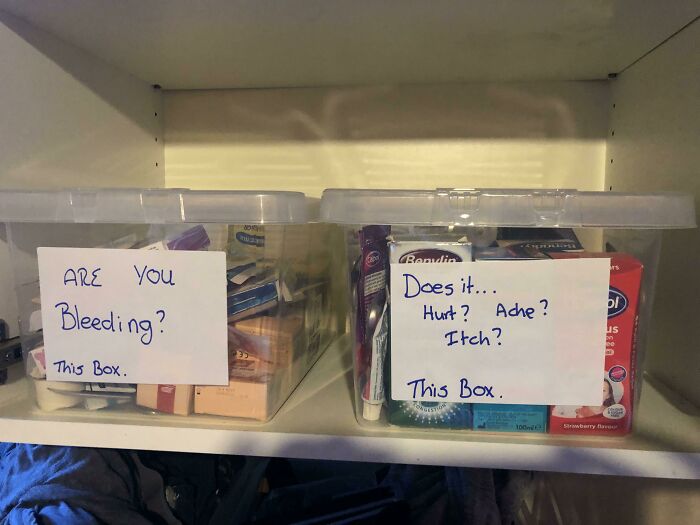 Firstly, place the first aid kit in a place where it is easy to find but out of reach from younger children who might think it is a box for toys. You can also put a slip with emergency contact numbers and labels that explicitly say what each box contains.
Custom organized pantry
Make sure to dedicate each shelf in your pantry to a specific product. For instance, the top shelf can be devoted to all of your big pots and pans, another shelf might be baking products, and the next could be dry goods like pasta. See where we are going here?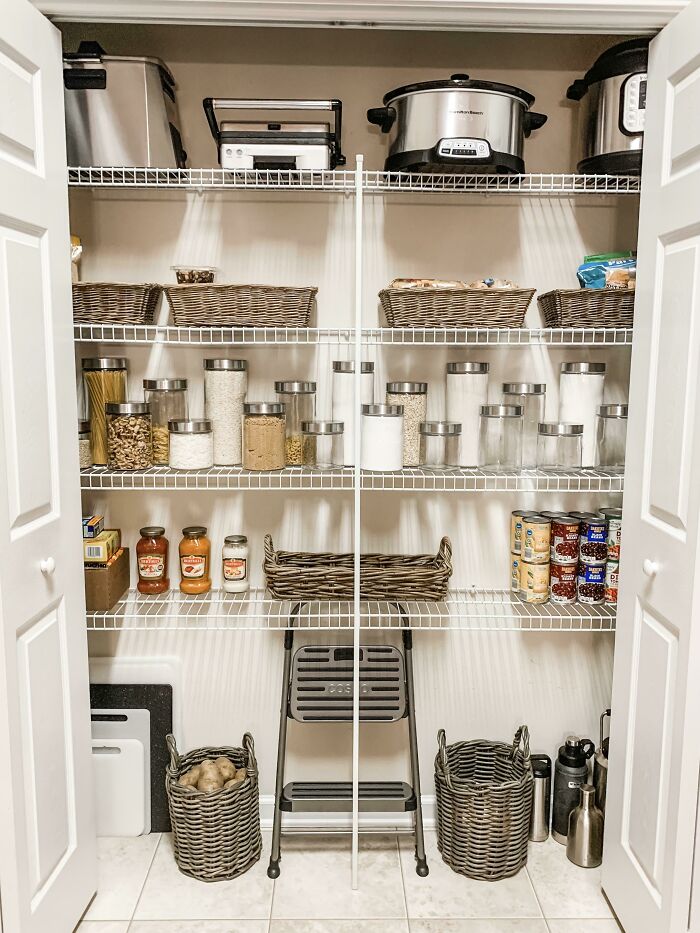 Make sure to stick to these categories, so it never becomes cluttered. Use baskets to help keep everything in order and place big baskets on the floor to hold items like potatoes or miscellaneous goods that don't fit into a category.
Power tool storage rack
If you have an old file cabinet unit in your home that is collecting dust, this is the perfect opportunity to put it to good use. If you don't have shelving along with it, a piece of sturdy plywood attached to the wall above the file cabinet will work wonders.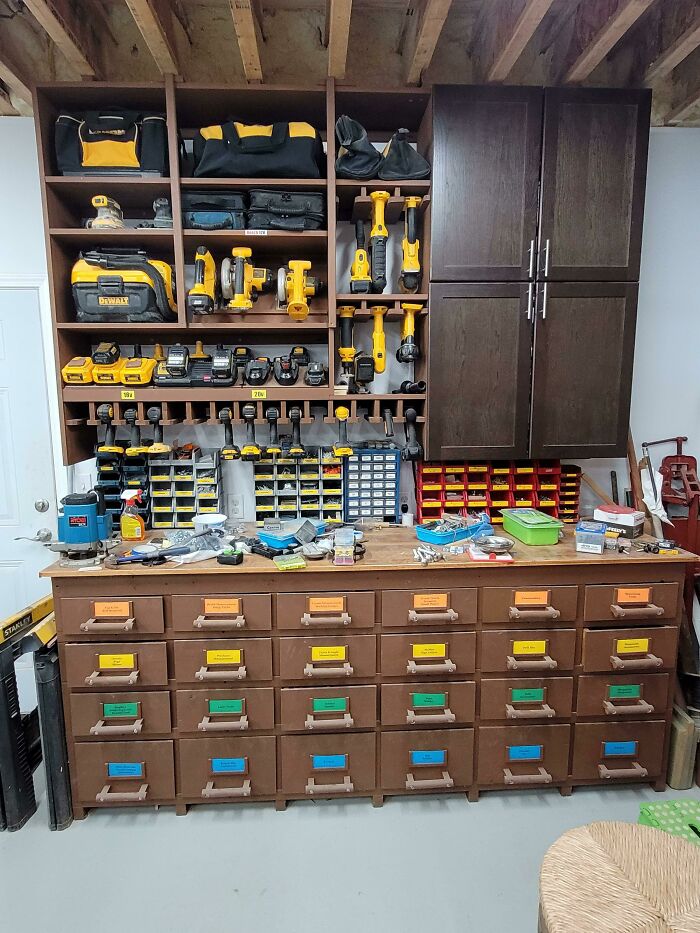 Create a tag for each drawer that specifies the type of nut, bolt, or nail that's inside. Drill sturdy nails into the plywood for hanging different tools like a hammer or power drill. This will ensure that all of your tools are properly organized.
Organize your stationery drawer
First, it is crucial to select the markers, pens, and stationary tools you want to keep and throw away. Then, place different sized storage boxes in a drawer, and dedicate each one to a specific stationary item like pens, highlighters, erasers, staples, and much more.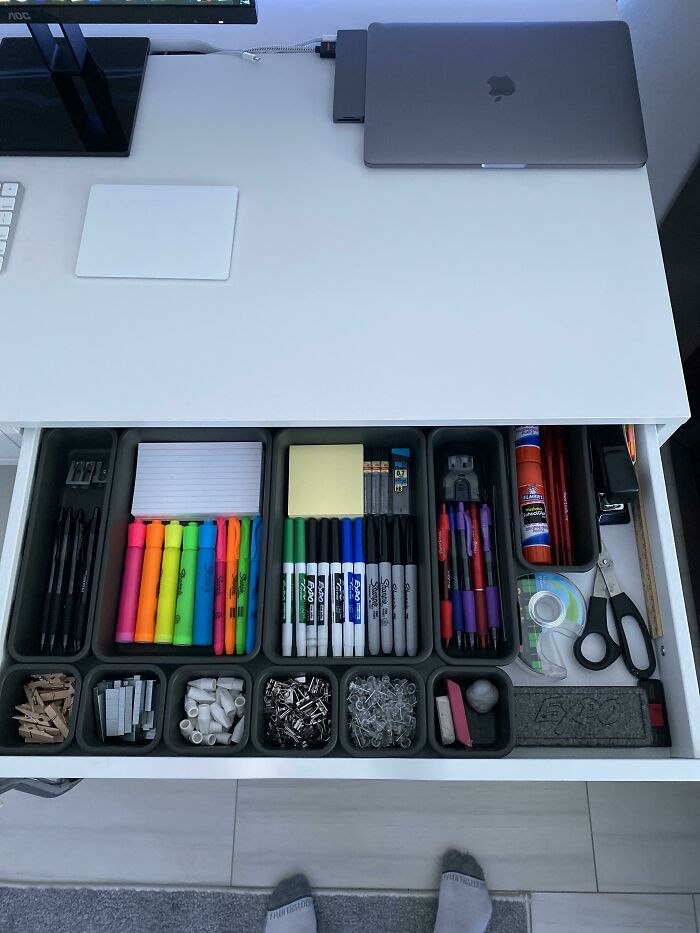 This way, you won't have another junk drawer filled with random things. It will make you feel much more organized. After you do this, you will find yourself always opening the drawer just to look at your masterpiece, even if you don't need anything.
Hack to get rid of baby clothing clutter
A wall organizer is undoubtedly one of the best hacks to declutter your baby clothing if you don't have sufficient storage space. It is cheap and does not take much space. Make sure the organizer has at least 6-10 pockets on it.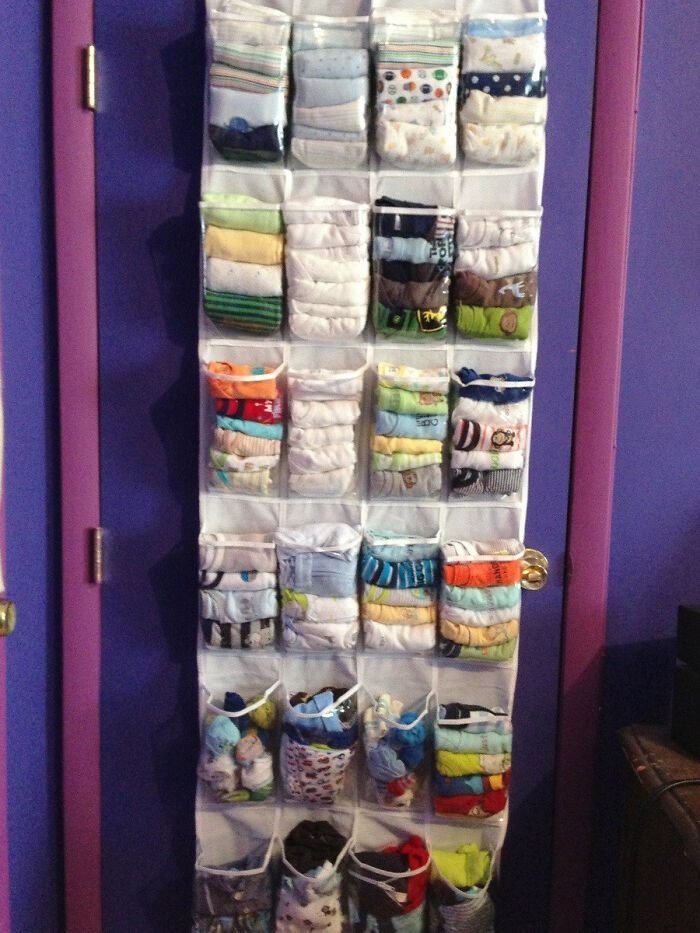 You can hang the wall organizer anywhere that's convenient, like on the wall or door of your baby's room or the laundry room. Make use of each pocket by putting the baby's clothes in it. You can label each bag with the types of clothing like t-shirts, underwear, sweaters, and more.
Convert door shoe holder into linens closet
If you're running out of space for linens, you can make use of a nifty shoe holder. Instead of footwear, you can organize your linens in the holders and use each pocket for different types of linens or bathroom products.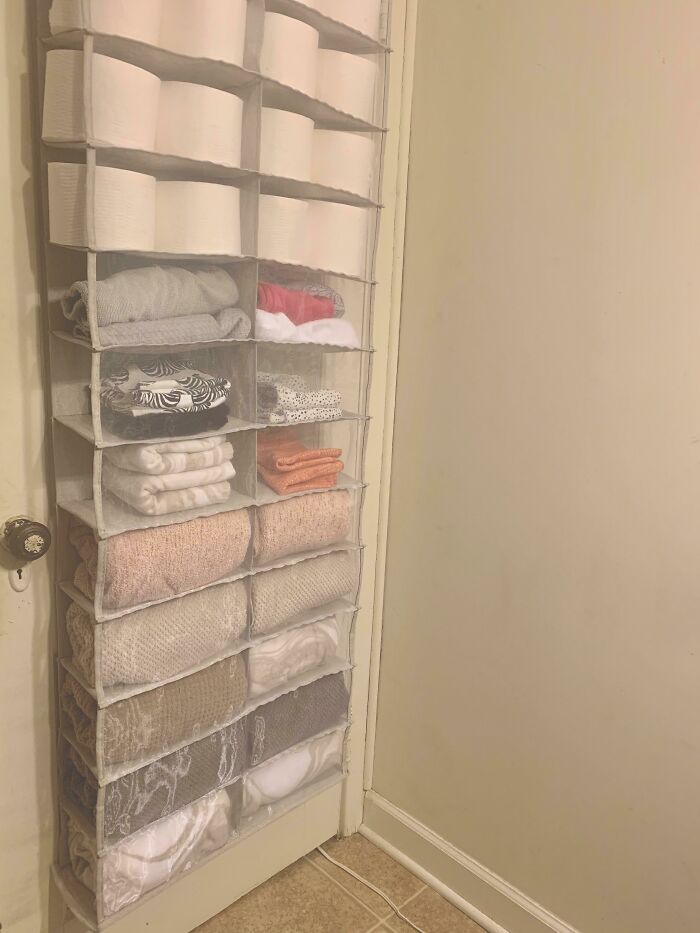 Make sure to put the most frequently used items at the front and center for easy access. Use the bottom and top pockets for things that are used less regularly, like large duvet covers or fancy towels. To make it even more uncomplicated, you can slap on some labels.
Arrange your saree collection
Trouser hangers are the best tools to utilize to arrange sarees since they help save space. Feel free to categorize them the that is most comfortable for you. While hanging them, make sure to cover the tassels with paper, so they don't get damaged.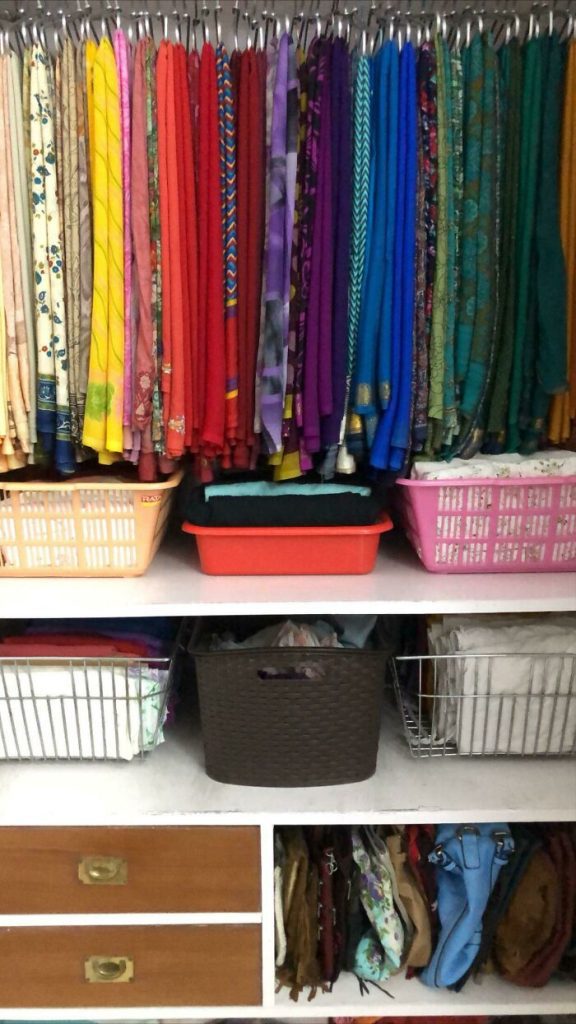 This person decided to organize their mother's closet by color. And as you can see, it looks incredible! You can also utilize the bottom of your closet with small baskets to organize other necessary items for tying and securing a saree.
Classify candies into different types
It happens too often that customers can't find the candy they want at a low price. It may be in the aisle, and their eye skips over it, missing the opportunity altogether. This worker came up with a genius idea.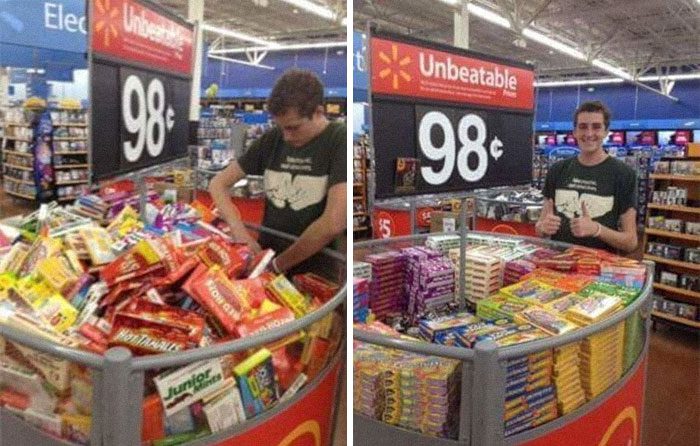 He decided to throw all of that discounted candy into one bin to make it easier for the customer trying to find their favorite candy on sale. Unfortunately, all of his efforts went to waste since customers don't care about keeping it neat, but he doesn't look too disappointed.
Modify your craft station cabinet
The craft cabinet is the best tool for a craftsperson to organize their workstation. It is readily available at the store in different colors and designs at a reasonable price. This cabinet helps store everything required for sewing, drawing, scrapbook, art sessions, gift wrapping, and more.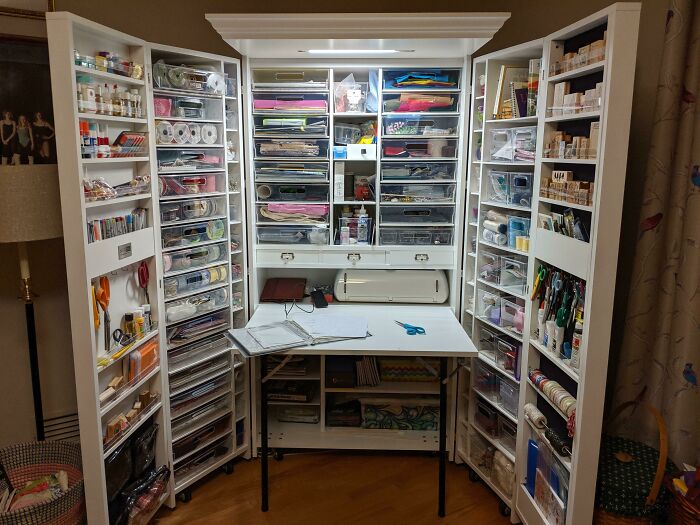 This cabinet consists of compartments of different sizes and shapes, including pockets, drawers, and shelves. One can arrange each compartment with the necessary items for crafts and label them accordingly for easy access to things when they need them.
Keep your pantry well ordered
We know we mentioned organizing a pantry before, but there are just so many ways to organize one that we must enlighten you on another idea. This family utilized simple shelves to create a DIY pantry that is simply beautiful.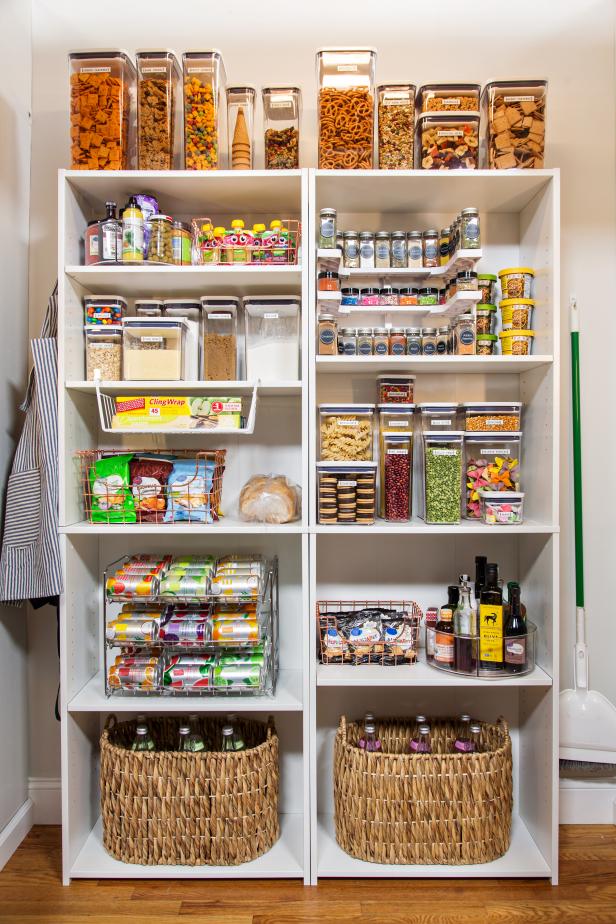 You can also use containers with lids to store food like pasta, macrons, biscuits on top. You can give the labels to every container. You can also stick a spice rack on one shelf to keep them all in one place.
Clever cable organization hack
To untangle a stack of cords is easier and cheaper than you might think just by using zip ties or painter's tape. First, turn off all the switches and take out the wires from the device at hand. Make sure to jot down which wire belongs where.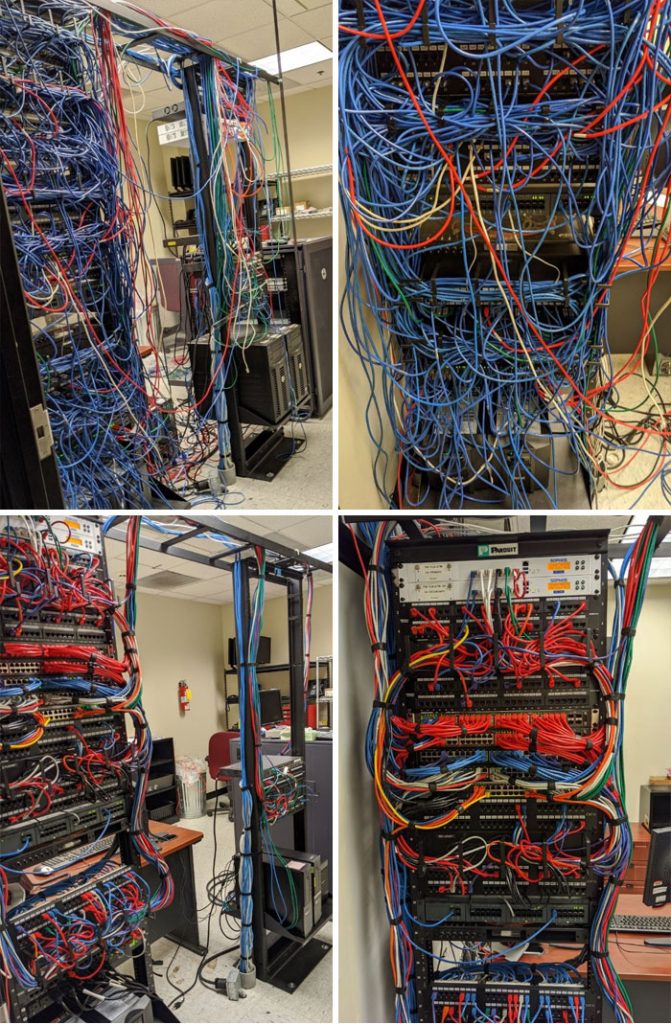 With the help of coax and cable staples, place the cable wires where they are supposed to fit in and tie them all together with zip ties. To make it more convenient to know which wire belongs to which switch, you can use sharpies with colors.
Cable management trick
We also have a hack for the cables that are not used very often. The best hack to arrange a cluster of wires is by organizing them into boxes. These boxes are readily available at stores and are reasonably priced. Arrange the cords in the boxes, classifying them according to where they belong.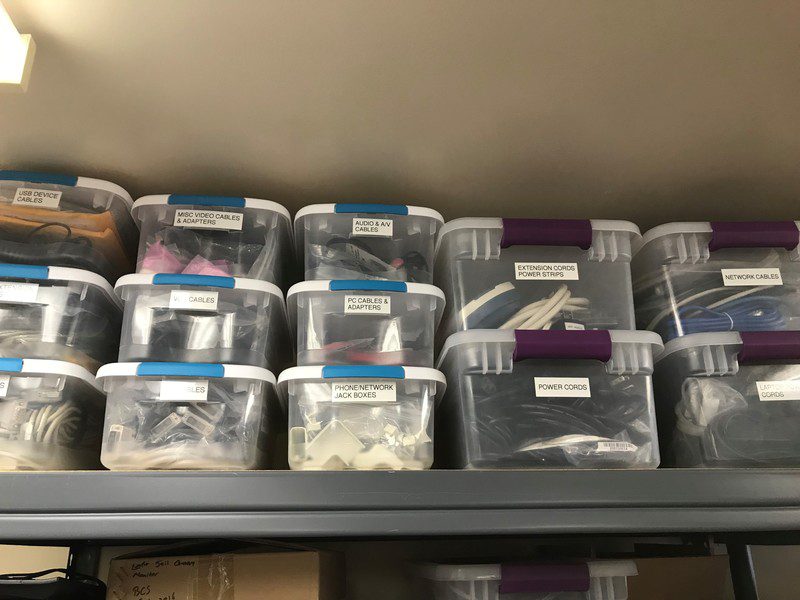 You can use plastic see-through boxes or jars for this storage idea. Label each box with the type of wires you have organized, like AUX cables, charging cables, USB, etc., to maintain which cord belongs to what device and so on.
Hack to declutter your kitchen
To start organizing your kitchen, empty all your cabinets and discard things that you no longer use. Group the cooking and baking items in one place, utensils in one drawer, and cutlery in another. Make use of jars for cereals, spices, sauces, and other essentials.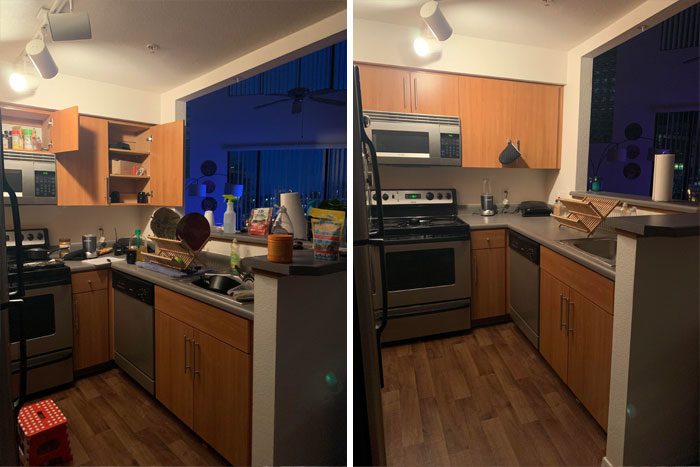 Always make sure that the sink has no dirty utensils and is clean. This will help tremendously. Make use of napkins and paper towel holders. Always keep the refrigerator clean by disposing of expired items and wiping the shelves with an antibacterial wipe.
Hack to organize period storage
Look for an empty box at home and use it as a storage box for all your feminine products. This will make being on your period much simpler. For example, sanitary pads, tampons, wipes, and lotions can all be stored in the same place.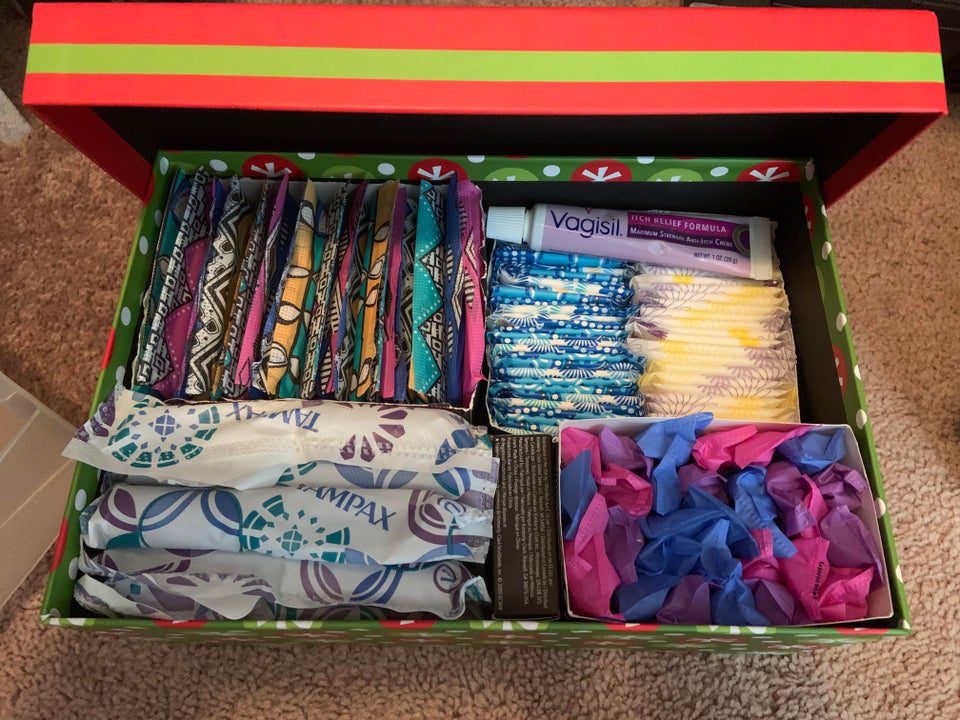 Arrange the sanitary products in a box, categorizing them the way that makes sense to you. To make it more convenient, use a transparent box without a lid so that it is easy for you to select the one you want.
Genius vanity storage hack
This hack will surely help you organize the chaos of your vanity. First, it is essential to dispose of all the expired makeup and is no longer in use. Then take the transparent boxes and organize your makeup in every box.
Make sure you categorize the makeup into types like face makeup, eye makeup, lip care, etc. Label each box accordingly for easy access. A vanity table is a necessary item if you have many beauty and makeup products lying around.
Tool organization
Those who know how to work with tools may find it challenging to organize the tools they have lying around with respect to usage, size, and color. It can be pretty hard to find a specific tool in the right place when you need it.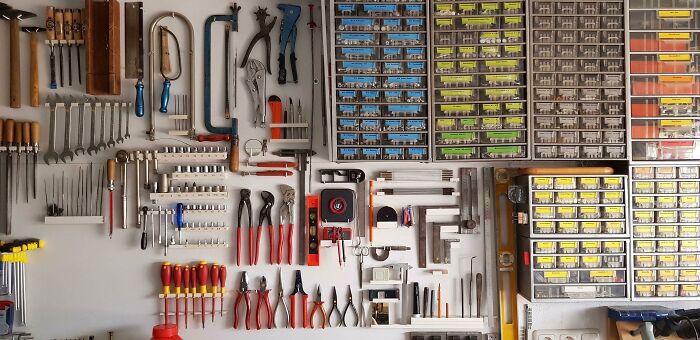 Wall storage works for tools as it keeps every item visible, so it's easy to find what you need. You may add heavy-duty magnetic strips on the wall and store tools in descending order. Besides, color coordinates the boxes for nuts and bolts.
Yarn craft room storage
If you have an ever-growing collection of yarn wool for your art projects, finding a way to keep them organized and detangled with each other can be a monumental task. What if a pegboard on the wall is the answer to all your problems?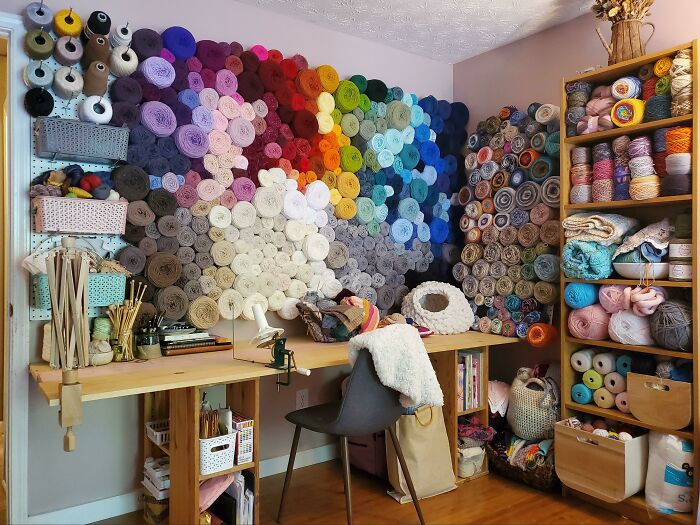 Use large metal pegs to keep each roll of yarn in place. It will be easier to reach for the one you need if they are hanging on individual storage hooks. You can create wall art, too, by arranging the different color yarns in a jazzy pattern.
Gaming and music room
Dedicate a whole room to gaming and music by organizing your guitars on the wall. Create shelf space in front of them to organize your audio accessories. You may add some memorabilia, games, and cute sculptures for some dimension.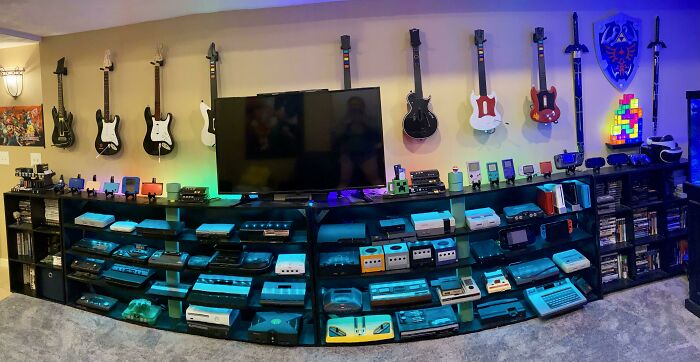 Lastly, place your flatscreen in the middle of the shelves so that the TV is symmetrical and not placed at an awkward angle. You may add some lighting behind the shelves to make the space even more warming and inviting.
Gym in garage
You may be used to unorganized garages that usually look dark, messy, and uninviting. However, it does not have to be that way for long. Use large plastic containers to store any clutter on one side of the wall.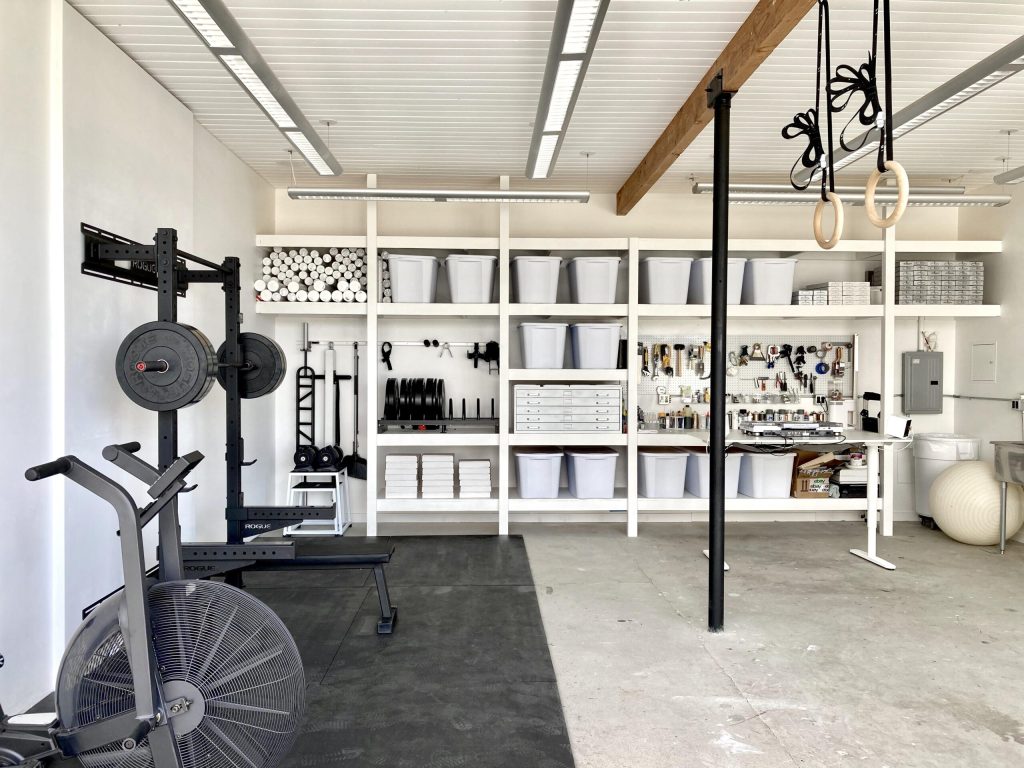 You may use one color for a monochromatic look or coordinate the color with the walls. Now, set aside some space to keep your gym equipment. Add weights, bars, and gym mats on the floor to create a comfortable place to work out.
Baking supplies corner
Baking is a lot of fun in itself, and with an organized baking nook in a corner of your kitchen, you will feel even more motivated to bake fancy cakes and pastries. Add white shelves to the wall above your electrical appliances.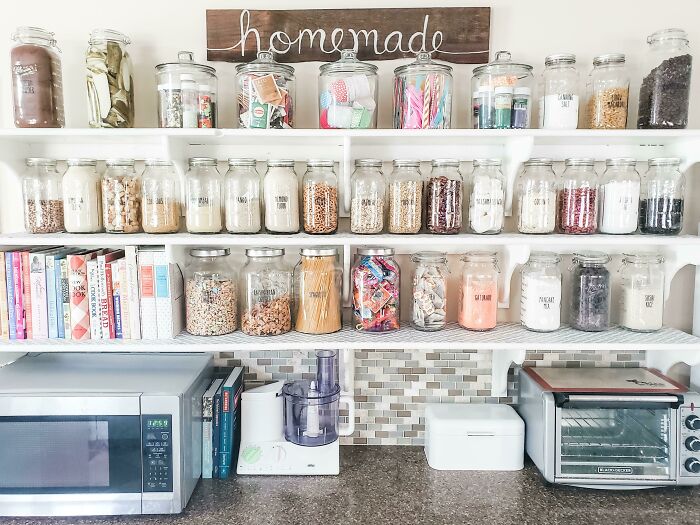 Use glass jars to store different flours, sugars, and decorating supplies. Store bulk items in large pots along with labels to identify everything to make your life easier. Save some space on the shelves to add some cookbooks to make this more aesthetically pleasing.
Game room setup
If you have a lot of games and your gaming room is super chaotic with no place, then this next tip is you for you. You can easily turn your walls into storage spaces with some wood installation and extra shelving.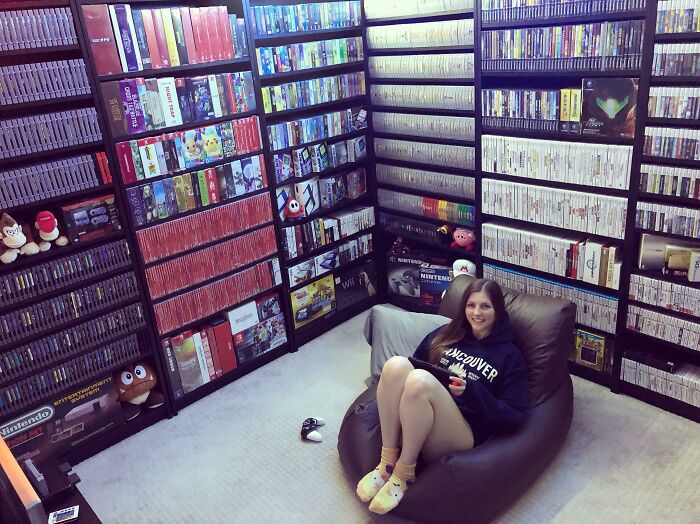 Create shelves on all the walls to accommodate your games and arrange them in order, just like books in a library. You will indeed have more fun playing and finding the right one without wasting any time looking for the one you want.
Less chaotic craft room
Artistic people need a clean and quiet space to draw, sketch and paint. Besides, there are so many art supplies, including colors, brushes, canvas, drawing boards, and more that go into creating. All these need a place of their own in the art room.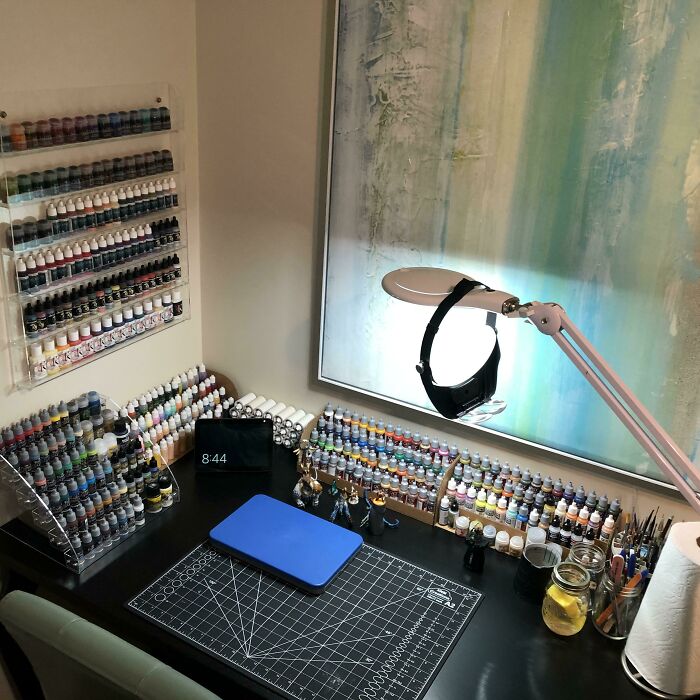 An intelligent way of storing these items is to use acrylic file organizers for the sheets and canvas on the wall. Store your paint and brushes in boxes with partitions to prevent them from becoming damaged in the box.
Storage baskets
You can use storage baskets to organize anything and make the space look tidy. Even with compartments, the cupboards can look unorganized. Therefore, adding jute baskets or metallic ones will help you store clothes neatly and also make them look pleasing to the eye.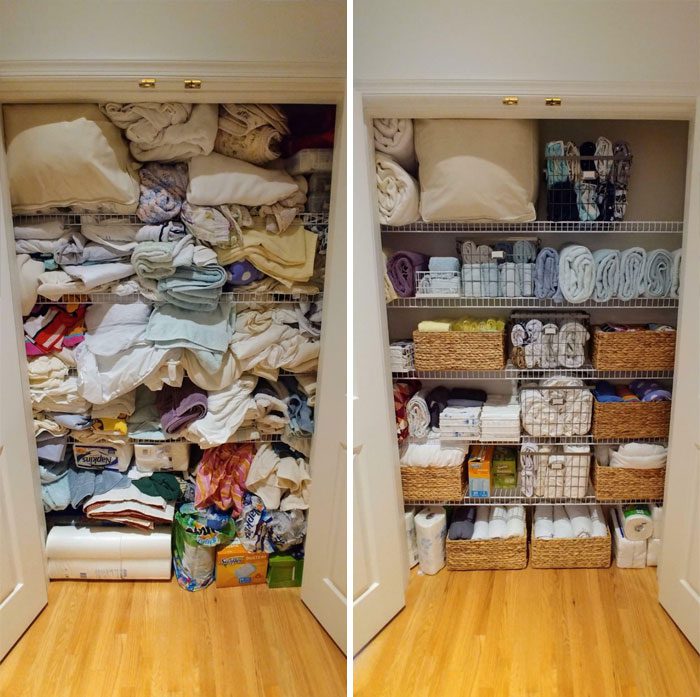 If you are a messy person, you will thank us for this hack because your life will feel way less cluttered. You may keep the most used items in the middle baskets and the ones you use the least on the top or bottom.
Organize your art supplies
Just like the hack above, this is another incredible way of storing art supplies such as paints, color bottles, brushes, and scales that will help you feel more artistic. Clean spaces make for a clean mind, and they make it easier to create art.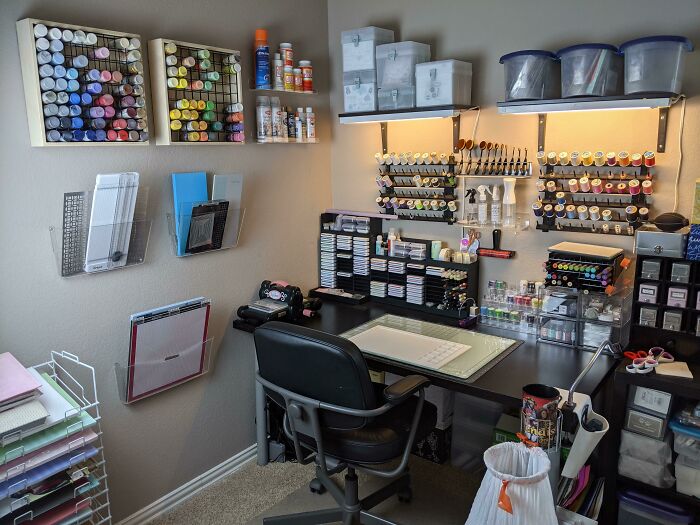 Use acrylic organizers to keep your paint bottles in one place so that you can clearly distinguish the different colors. Besides, organize them on the basis of type and medium, which will make them easier to locate when you are painting.
Color coordinate classic books
If you have a collection of Penguin books with fancy colorful book covers, you can organize them in a color-coordinated manner. You may use the ROYGBIV color pattern to arrange the books on the shelf to make them pleasing to the eye.
This not only looks bright and pleasing to the eye, but it adds a new theme to the decor of your home. You may add some bookends to keep your books straight. Using one stack of books may also work as a bookend, as you see on the bottom shelf of the photo.
Functional pantry
New homeowners may find it overwhelming to store everything in the pantry. There is a simple way to make it functional, and that is by using clear containers, lid stands, and some glass jars. For more oversized items, you can use baskets with labels on them.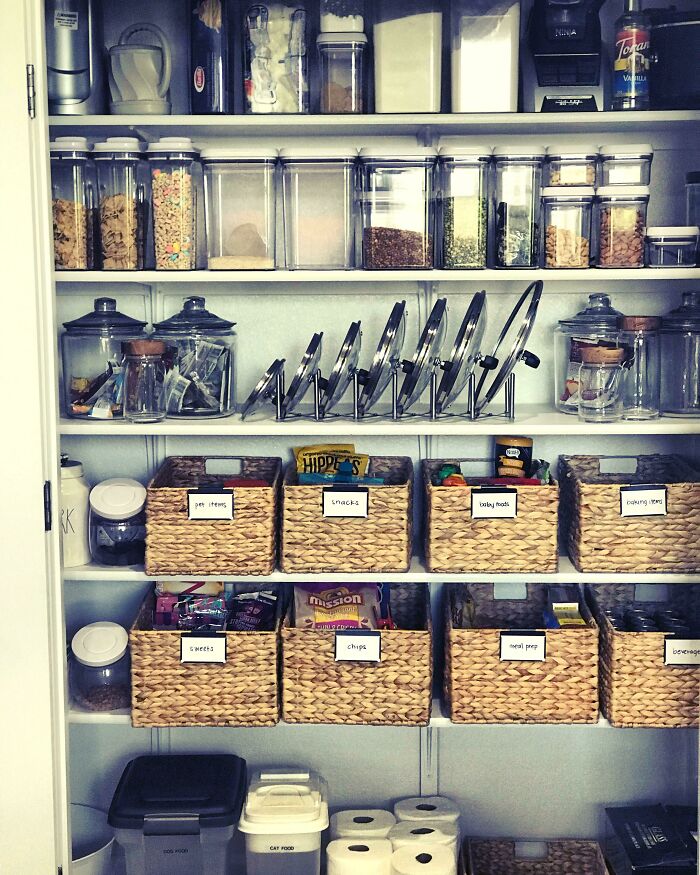 Besides, divide the storage space categorically. Keep appliances on the top and food items in the middle. You may also add cookie jars with fancy lids. Leave the last shelf for cleaning supplies such as kitchen towels, cleaning chemicals, dish soap, and sponges.
Labelled pantry
We just can't get enough of pantry organization techniques. The pantry is usually full of items, and it may be hard to identify specific items if you use them on occasion. Labeling everything is the key to cutting down stress when picking up ingredients for your next meal.
Get similar-looking glass jars or BPA-free plastic containers to store all of your dry goods. Stick labels on the jars along with the expiration date if you feel really inspired. Moreover, add baskets and additional shelves to store smaller containers on top of each other.
Work organizer
You may have a fear of missing deadlines if you work on a lot of projects at one time. It is always a good idea to organize your work desk and have all your project information in front of you so you can easily say organized with what you have planned next.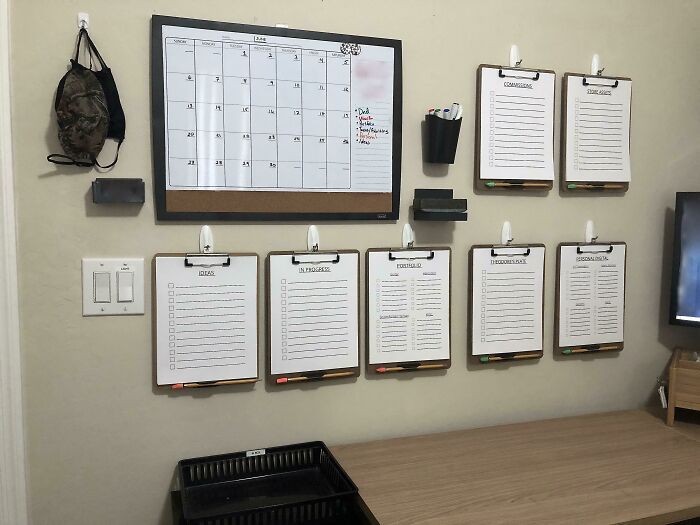 First, stick some hooks on the wall. Add whiteboards, clipboards, and note pads on the hooks to write important details about the project at hand, such as deadlines and requirements. That'll help you keep track of each project and not go into panic mode.
Roof storage in garage
Some people are very nifty to come up with such storage ideas that work effortlessly. You must have a lot of screws and parts in your garage workshop that need to be organized if this inspires you. This genius roof storage hack is unlike anything we've ever seen.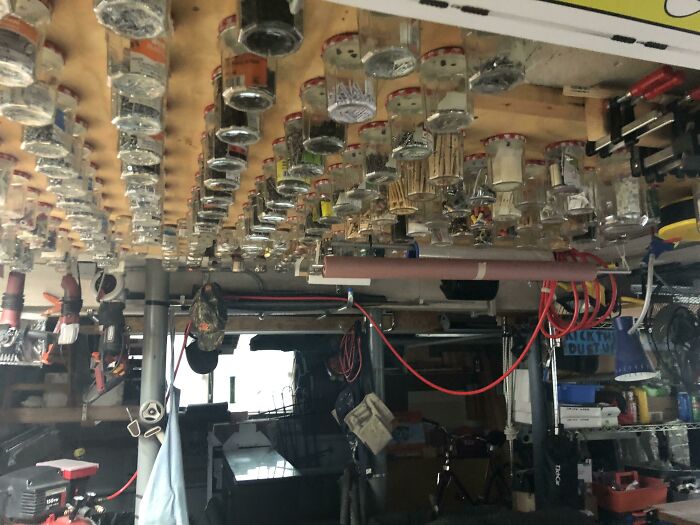 Maximize every square inch of the garage by securing glass jars on the roof. Use wooden boards to act as a base for the jars. Just screw in the jar lids to the ceiling and store small parts in them that you use most often.
DIY shoe shelves
Those who collect limited edition shoes and sneakers like to display them in the house to show off their prized possessions. You can DIY a display shelf using IKEA racks around a mirror. Place LED strip lights around each shelf vertically.
The mirror will reflect the shelves from the flashy lighting. Choosing to display shoes here will also free up a lot of space from your closet so you can buy some more clothes and shoes if this is one of your hobbies.
Dreamy pantry
Walking into a well-organized pantry may make you feel like you are in a supermarket. If you have the space in your home, turn it into a lit pantry with large storage containers, baskets, and acrylic bins to take it to the next level.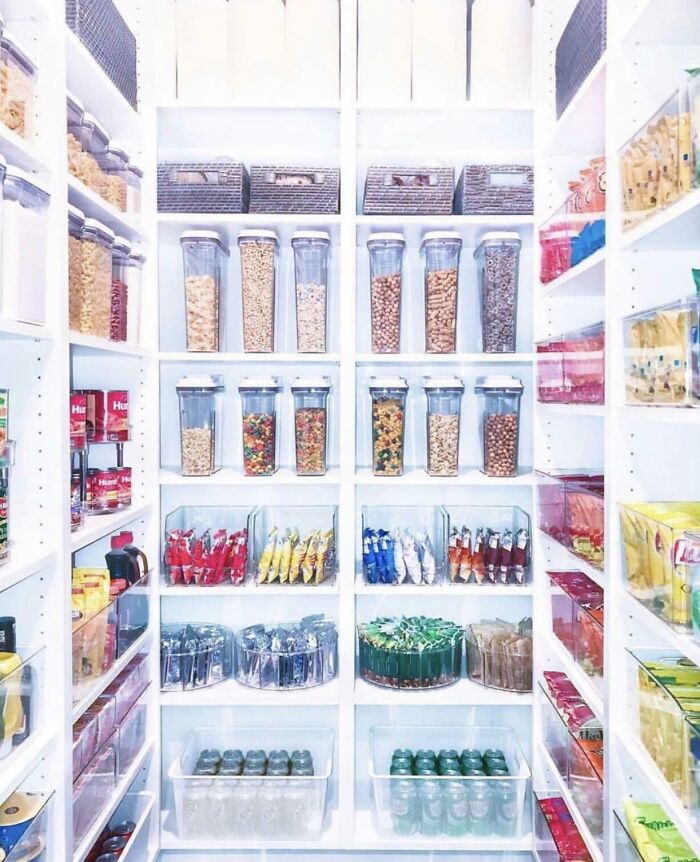 Transparent acrylic containers against the white background also give an illusion of more space while making it easier to identify everything. You may use large bins to keep soda cans and circular trays to store your favorite snacks.
Upgrade kitchen
Designing your own home decor and adding all the little details that make you happy is always satisfying. This includes the kitchen, which is where most of the family gathers anyway. It needs to be the least dull space in your home.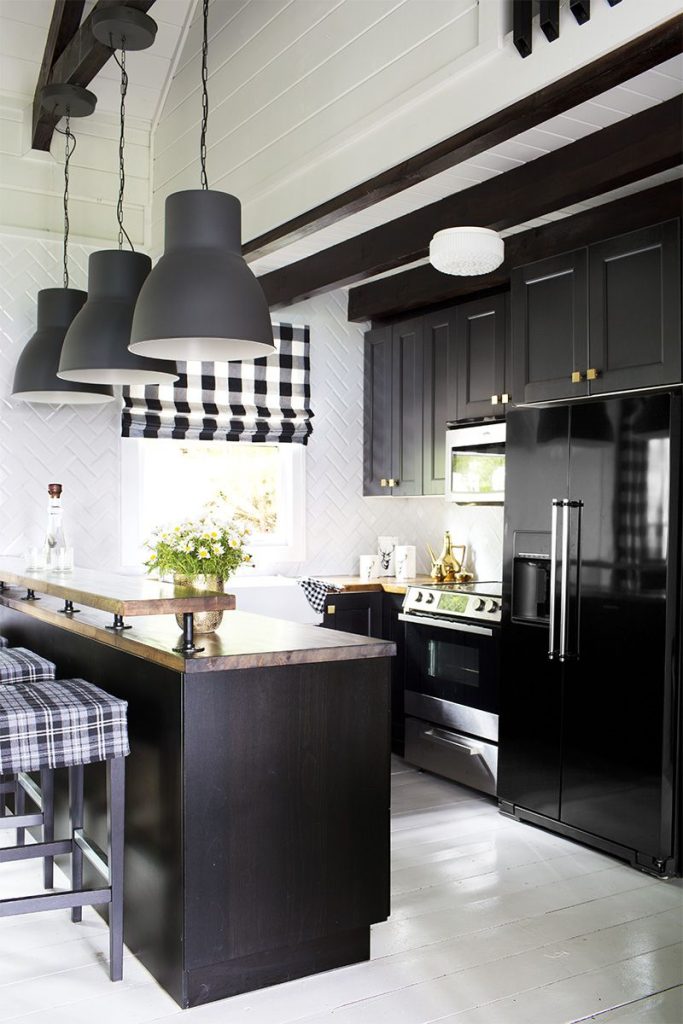 Play with lighting and colors to create a warm and inviting kitchen. Use the counter space wisely by adding storage options under the shelves. Also, store appliances on wall shelves to save space. This will give you more counter space.
3-D printed spice rack
Use technology to make custom storage racks if you have less space in your kitchen cabinets. Get the same sized container to store all the spices. With a 3-D printer, create containers to hold the jars without wasting any space.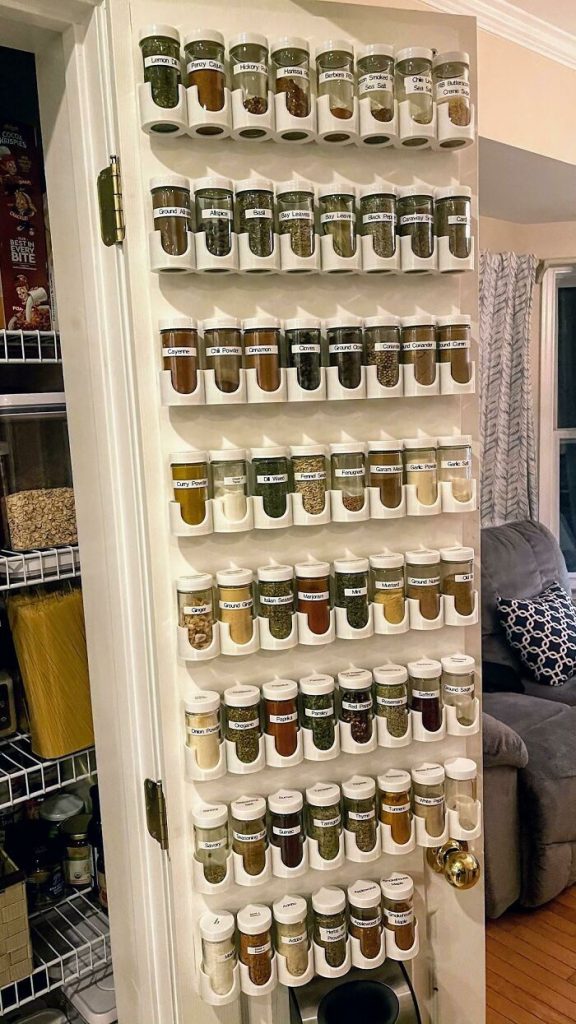 Stick these racks to the inside of the cabinets. Before placing the jars in their spot, do not forget to add labels. You may also organize these in alphabetical order to ensure they are easy to locate when you're cooking in a hurry.
Nifty car storage
Car owners are often struggling to do with the limited storage space provided. Even with the right amount of space, things may not stay organized as the car moves around, and things tend to topple over. Here is a hack to keep the items in place.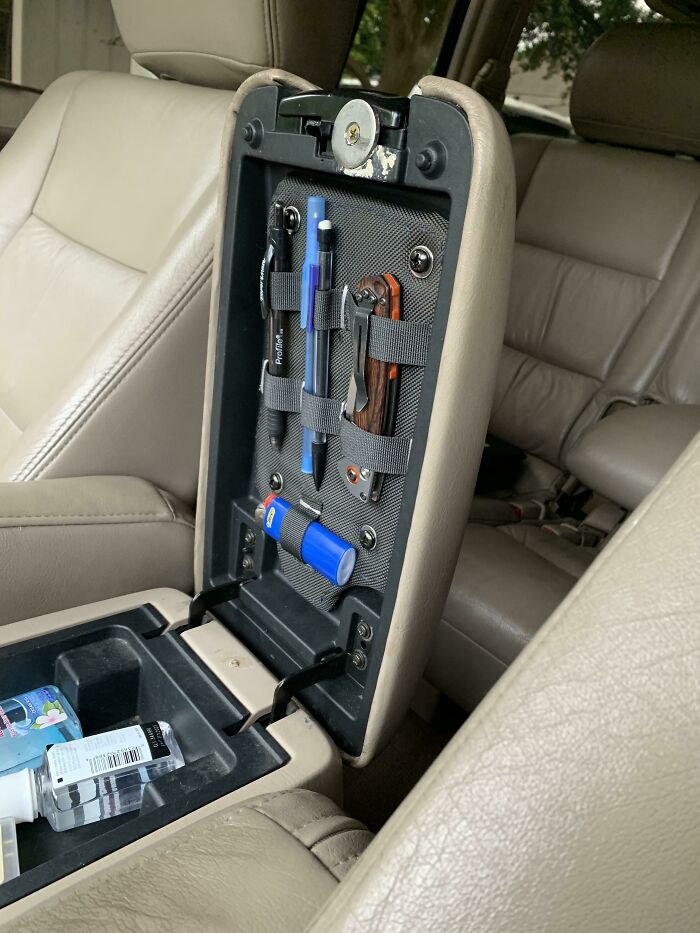 Use velcro straps or small elastic strips to add to the car storage units, like inside the middle console. Place items such as pens, mints, small tools, and a lighter in each strip. This will keep these items in place and will be convenient to grab on the go.