Fire Pits, Beautiful Views, And Hot Tubs: 35 Beautiful Deck Designs To Dream About
By Navkiran K March 28, 2022
---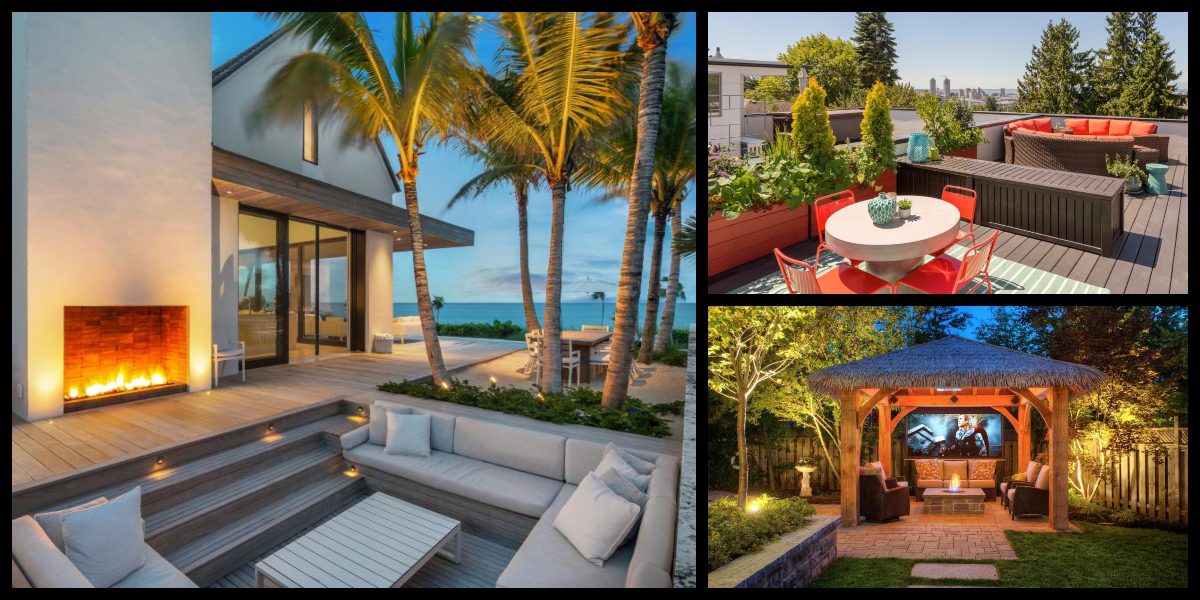 If you're like most homeowners, you probably think of your deck as an extension of your living space. You may also dread the idea of home improvement as it's too much work. But at the same time, you dream of a unique deck space for your friends and family to gather. That's why it's important when designing your deck or just fantasizing about it, for now, to choose a layout that reflects your style and suits your needs. You may need some planning to execute your creativity for the perfect deck area. Starting a deck project may seem time-consuming, but the result is worth it. If you're dreaming of your new deck and are overwhelmed by all of the options available to you, we're here to help. This blog post will display 35 of the most gorgeous deck design ideas you have ever seen that would make your backyard look fantastic and comfortable. So whether you're a DIY pro or just starting out, read on for some inspiration!
1. Monochromatic rooftop deck
The view from this modern rooftop is as elegant and classy in its simplicity. This design showcases an outdoor sectional that wraps around the panoramic windows, with neon green pillows adding some color to what would otherwise be an all monochromatic space with grey furniture.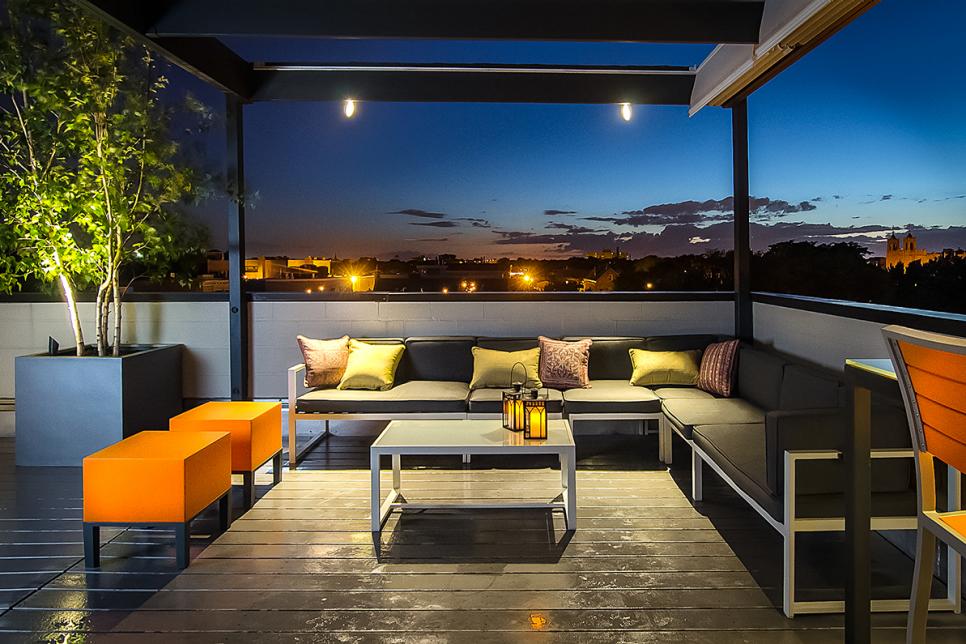 This rooftop deck design offers a sleek and stylish outdoor sectional perfect for enjoying your favorite drink looking at the sky. You can alter the color palette as per your liking. You may choose neon pink and bright yellow colors to break the monotone shades.
2. Use your surroundings
The best way to create a unique and straightforward deck is to incorporate what you have in your surroundings. You may have a mountain or a calm beach in the vicinity. A simple design and scenic location create the perfect setting for an enjoyable day at sea.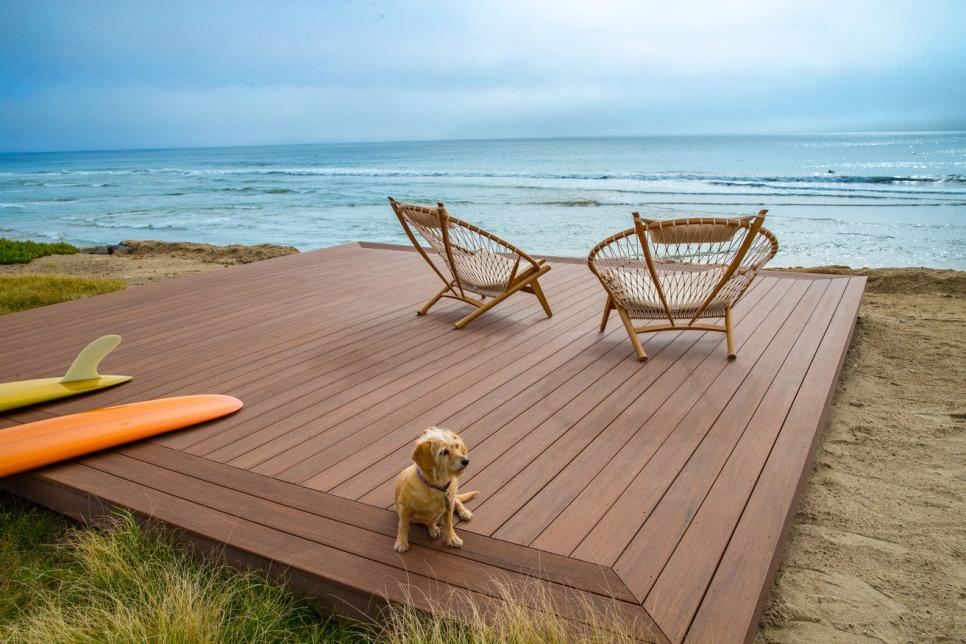 It is up to you how you wish to use these natural elements to your advantage. Each terrain will offer something different, and you can be creative and put it to use, such as this platform over the beach. Add some natural wood or wicker furniture to enjoy the view.
3. Warm and welcoming
The poolside setting of this home's deck is both inviting and contemporary. The sleek deck surrounds a warm bath with a covered pavilion. It will provide solace from the sun's rays while you enjoy views over lush green landscapes or participate in refreshing activities like swimming.
The mood lighting in the covered area is a great space to spend your evening here alone or with the company. You may also add a lounge chair similar to these for sunbathing or diving into a good book during the daytime.
4. Door to paradise
When designing your deck, it's essential to consider how you will use the space. Do you want a place for entertaining guests or just some peace and quiet? You might also choose not to have an outdoor living area at all.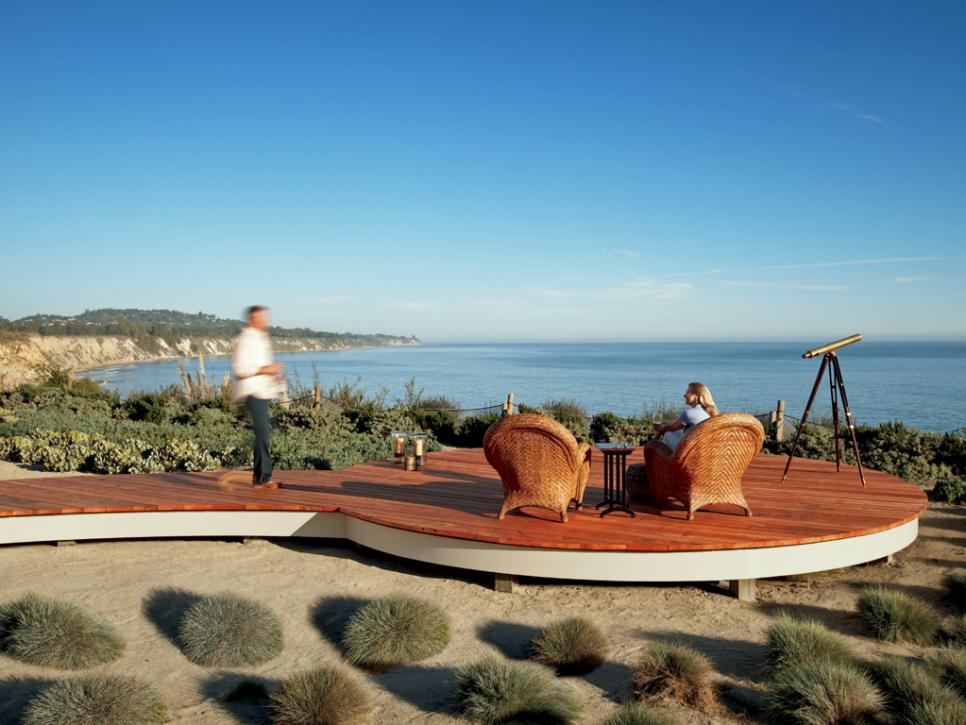 Instead, this open-air retreat could serve as more of an entryway into your home from a spectacular viewpoint. You can turn your deck into a serene sacred space only for you. Moreover, you can design it in a way that is accessible from a private area.
5. Large cheerful deck
A fun and colorful addition to any home, this deck stretches the whole back length of your house. It's got a large dining area at one end that is perfect for hosting guests or simply enjoying yourself with family members while eating dinner on those warm nights.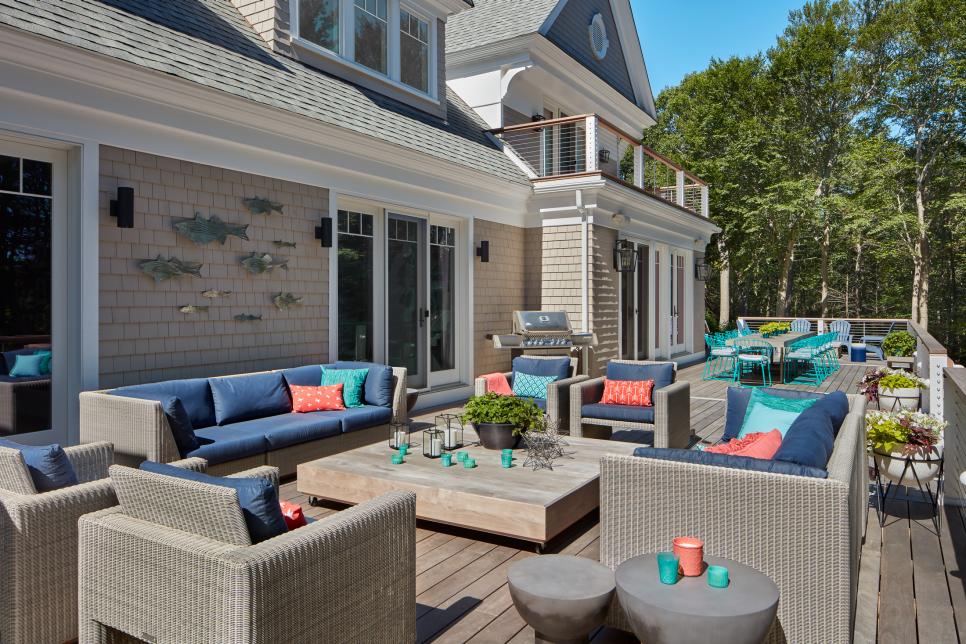 The other side features an easy-to-configure sitting arrangement so everyone can find their spot between these exciting places – even if they are shy and would prefer to read than talk easter egg hunting stories. This area truly explores the back of the home.
6. Chic small deck retreat
What's not to love about a small deck? These intimate areas are the perfect spot for you and your significant other, friends, or family members. Create an oasis in any yard similar to this cozy retreat that features lush greenery from pots filled with colorful annuals.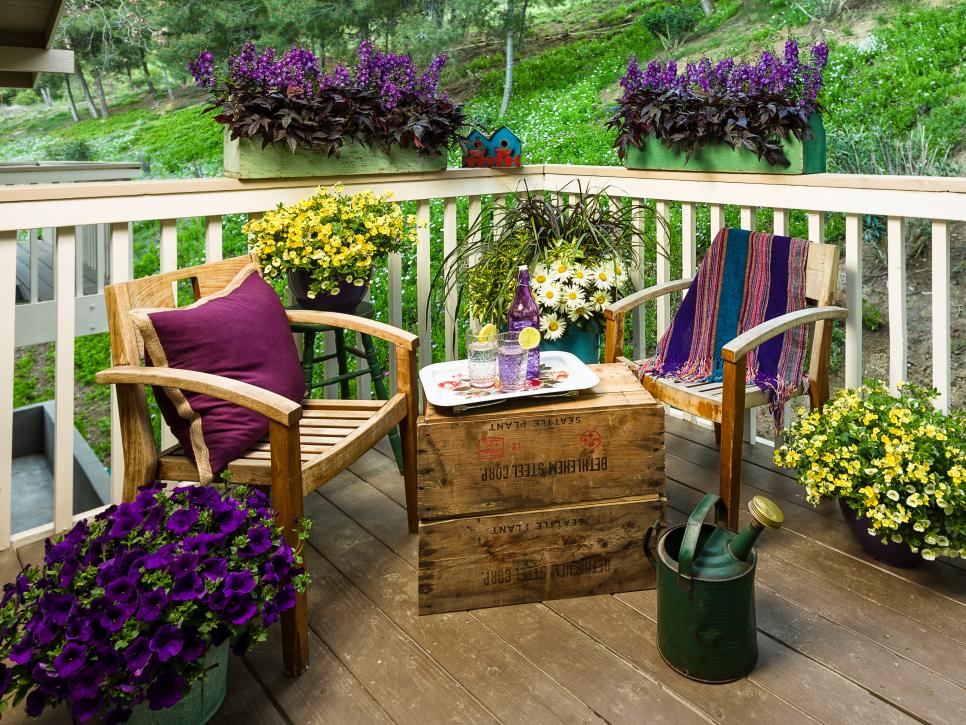 You don't have to spend too much to have plenty of seating room on the deck. Use small wooden chairs and a crate coffee table to match the cozy vibes of the spot. You may pick a dominant color or style such as chic, retro, or modern.
7. Color-coordinated carpets and curtains
The home's outdoor space is an extension of the living area with this small deck that offers a modern Americana style. Notice how the reds and whites are used for the curtains and the carpet while the furniture is in a sober grey color.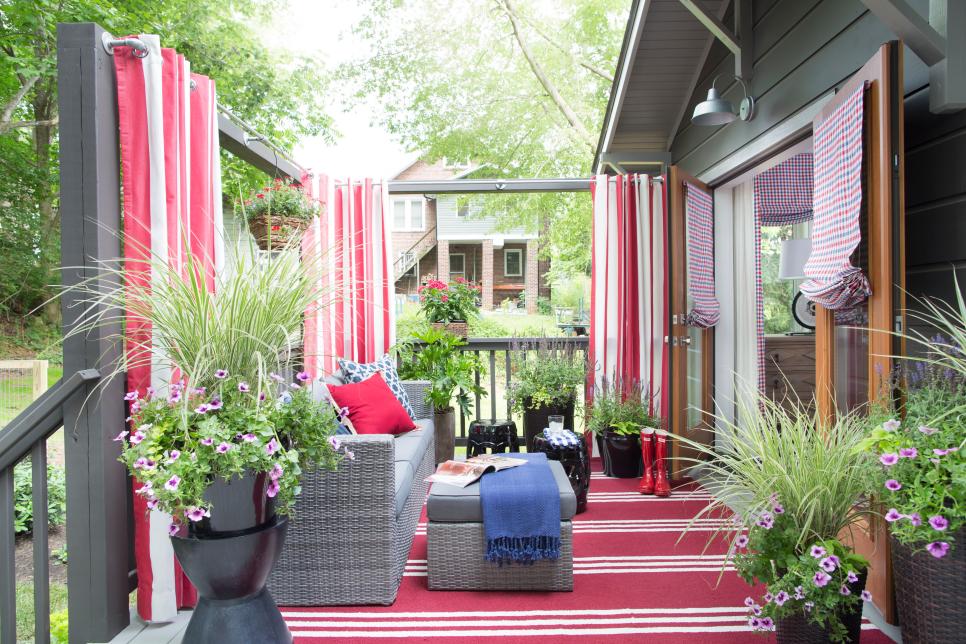 Find your escape in this cozy little getaway that's perfect for entertaining guests or taking refuge from the world. The curtains are a great way to keep things private while still enjoying outdoor views when you need some time away from indoors!
8. Importance of a fun railing
When designing your deck, be sure not to jump on aesthetics by sacrificing safety features such as railings. Contemporary designs come in many different styles and will allow you to view without obstruction from other parts of the house or ground-level obstacles like water tables.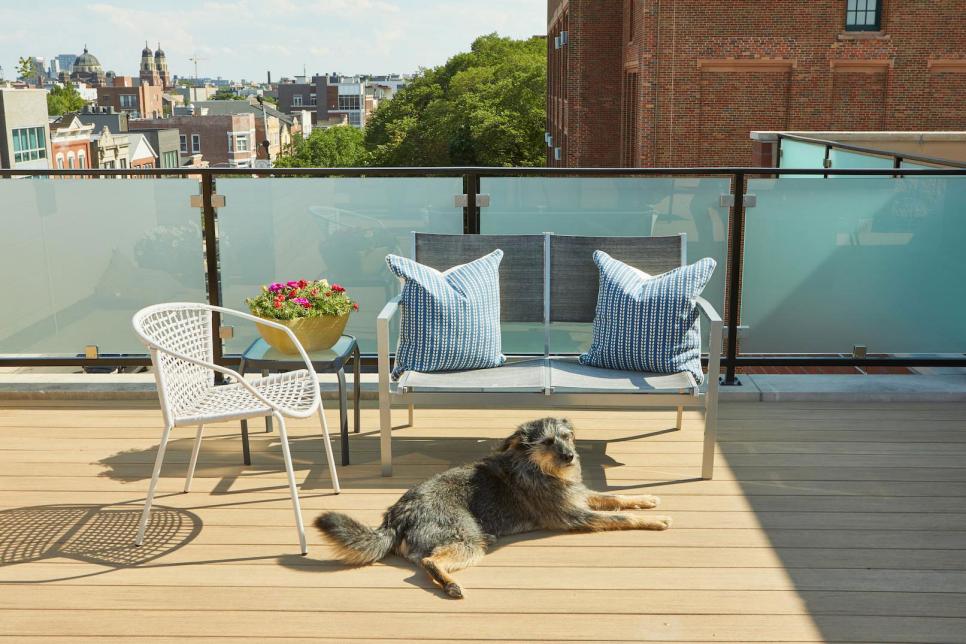 You may choose from many types of enclosures available with glass or see-through slats so you can still enjoy scenic landscapes while staying safe on the edge or shorelines. Think of both aesthetics and function of safety when picking any of these railings.
9. Open space for relaxation
The duality of this deck is truly revealed by day and night. Whether you're hosting an outdoor party or just want to relax in front of a fireplace, the space offers something for everyone! This design shows how you don't have to compromise between space and design.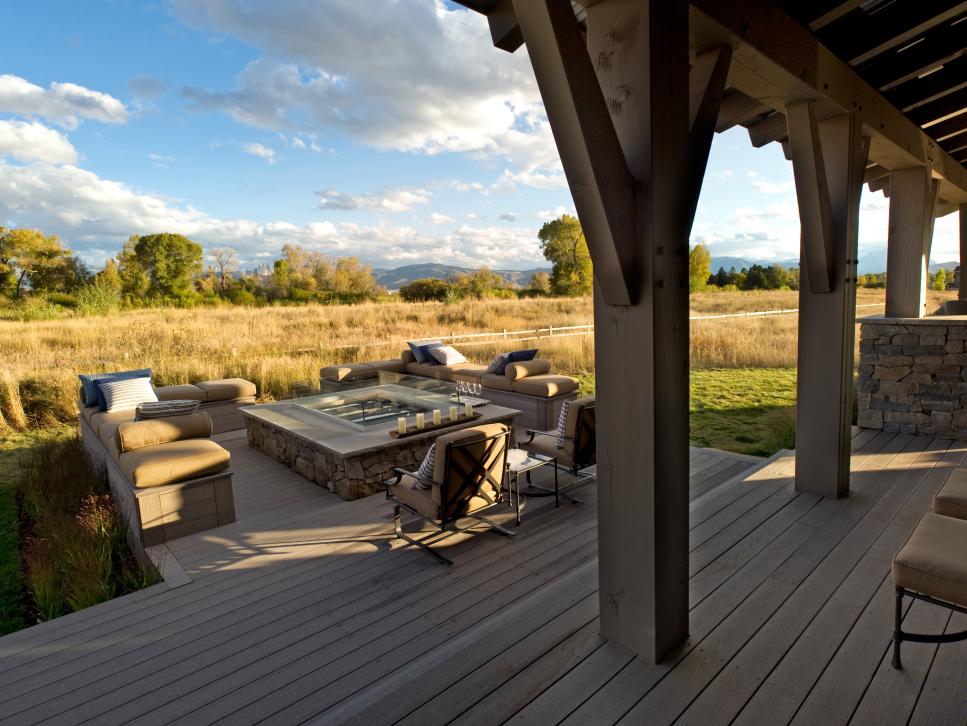 Wide-open by day, this deck is ideal for entertaining. At night though, you'll find yourself looking longingly at the fire pit area and thinking how nice it would be to cozy up with your family there on those chilly evenings.
10. Fairy light lush vibes
Botanical bliss is felt when one first sets eyes on this large outdoor deck, which has been painted a dark charcoal color that subtly separates it from the home's exterior. The pergola beams are wrapped in climbing vines and decorated with hanging plants for an additional botanical touch.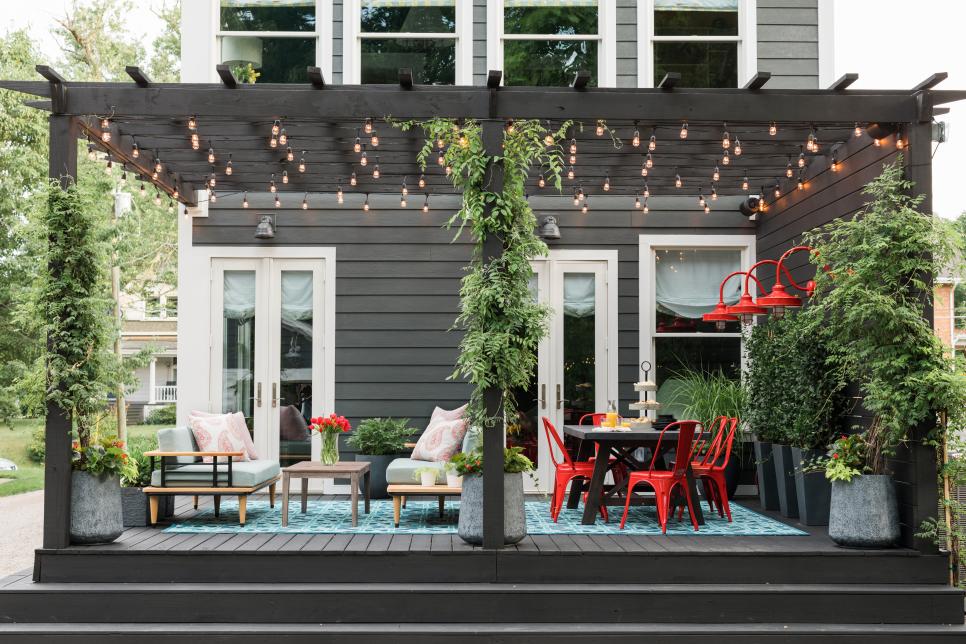 The plantation gives way to an area filled with flowers and other botanical life, making it feel like you're walking through paradise! This area then transitions from the living space into yard territory. Lastly, the fairy lights make this place look even more dreamy in the evening.
11. Flexible built-in design
Built-in seating can be a huge benefit to the design and functionality of your deck. Built-ins allow for increased versatility as you can move around less furniture when entertaining guests. But some consequences come with having such a permanent built-in setup.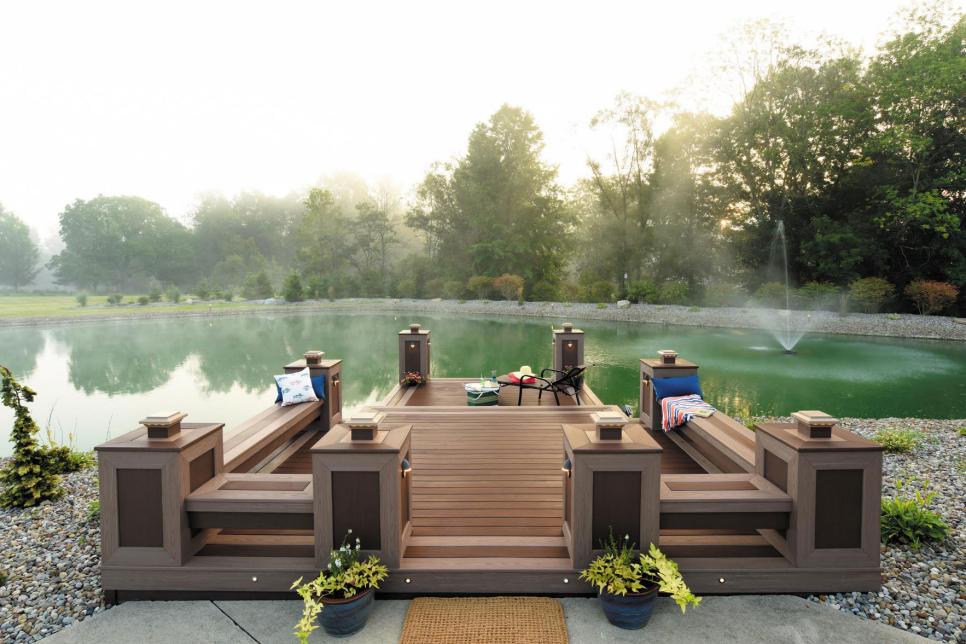 These will stay as it is and you will have limited options in modifying the design or even adding new elements. Therefore, start small with the built-ins and see what you may need. Have a clear path to move around without losing functionality.
12. Keep it spacious
With this inviting, comfortable deck, you'll want to pull up your own chair and settle in for the evening. It's built around an existing tree with a swinging hammock chair attached to the tree – perfect if you're looking for comfort and privacy.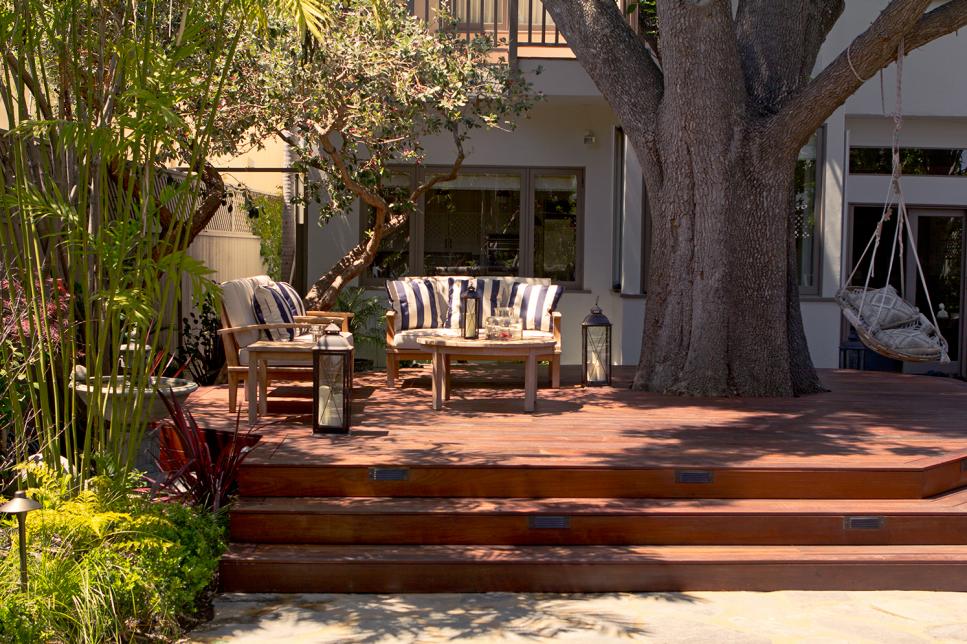 You can't beat the relaxing atmosphere this deck will create in your backyard. The natural elements and shade in the sun will make it hard not to enjoy yourself. Add some durable wooden furniture for extra seating options for your family and visitors.
13. Cozy cabana in blue
Something is calming about the blue color in the summer heat. This undersized cabana is the perfect size for a small house. The beige-toned curtains are ideal for privacy and let the light pass through. Besides, they blend well with the lush greenery in the back.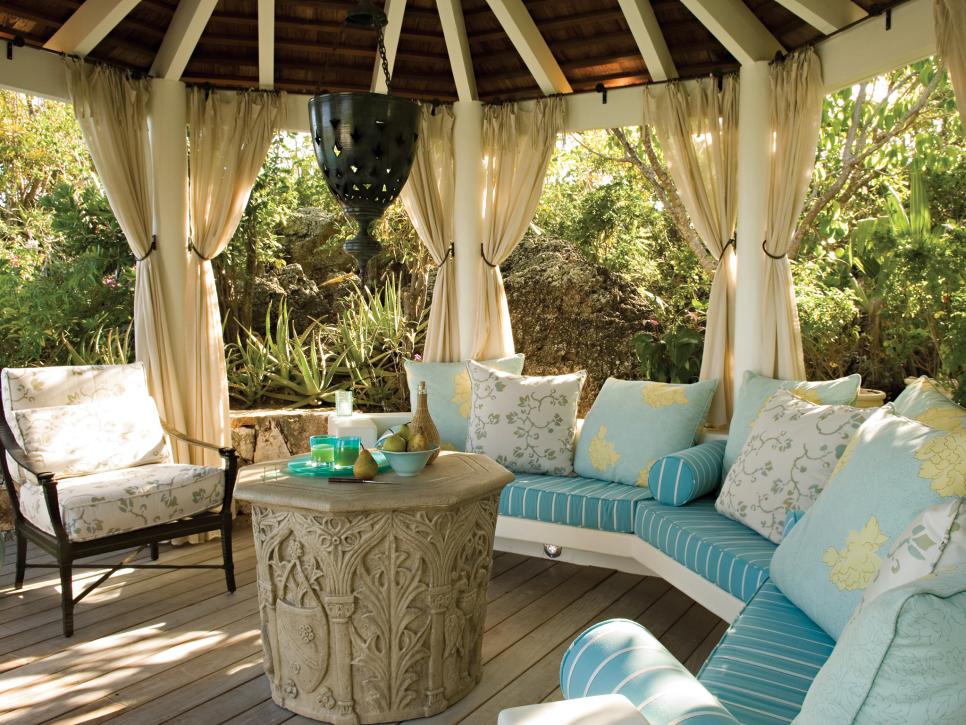 You can use this cabana to watch sunsets, read or host a few guests for cocktails and fun games. Add elements such as industrial lighting and a unique carved coffee table to this space for a perfect finishing touch. Apart from this, you may add cushions in different shades.
14. Urban dream space
A dreamy urban deck is a perfect place to escape from your hectic life. This lushly landscaped deck features drought-resistant perennials and shrubs that will make it feel like you're living in a dream. You'll find the perfect spot to enjoy your morning coffee or read a good book.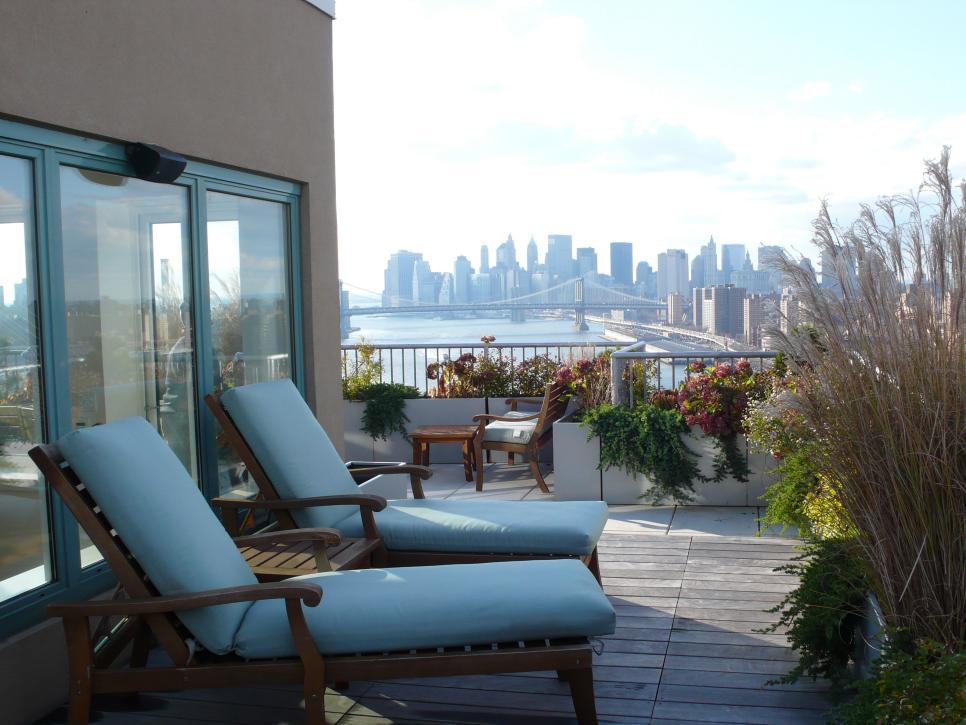 It's also great for entertaining friends because of its stunning views. Everyone can bask in the urban deck while looking at the diverse city view. You can have a piece of calming paradise at home without taking a vacation from the hectic city life.
15. Covered cottage-style deck
Is there anything more satisfying than taking in the fresh air while sitting on your own private deck? This cottage-style covered porch offers just that. The cozy seating area complements this 19th century home's cozy indoors, making it perfect for entertaining guests or spending time with family.
The earthy tones, stone wall, and natural finish furniture offer a considerable charm to the space. Moreover, ample seats in different places are great for those who like doing various activities. With the covered deck area, you can find relief from the scorching sun in the summers.
16. Sleek neutral lounge
You may take some notes from this sleek deck that looks minimal yet exciting. This cozy outdoor space is filled with warm neutrals that work together to create an elegant and stylish setting. The redwood decking is paired nicely against the cream-colored furniture.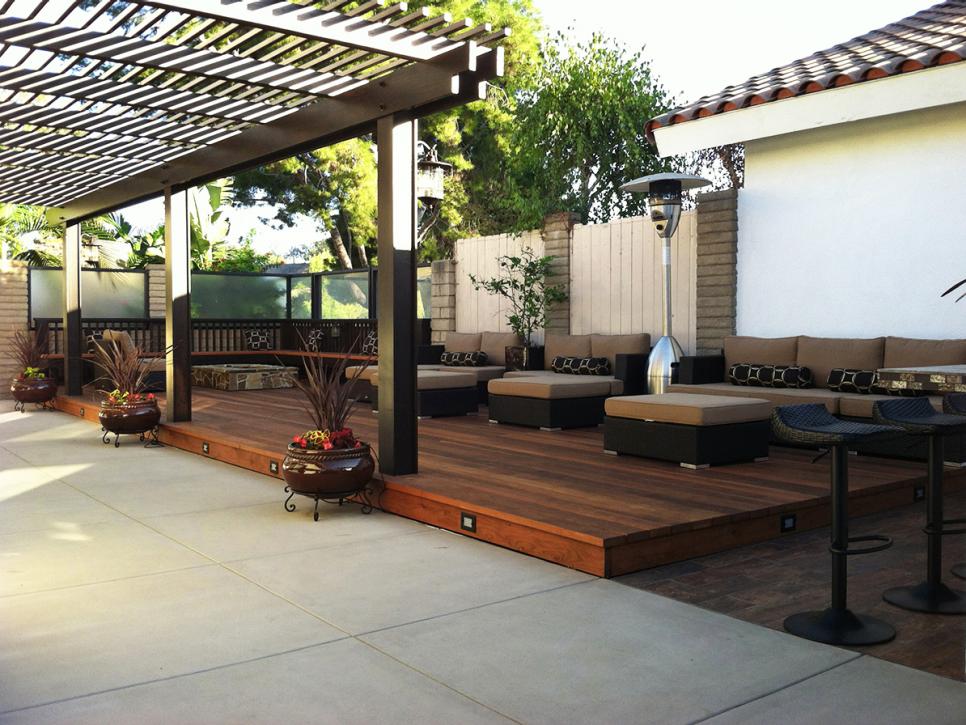 Besides, the stone elements like the fire pit and wall segments add much personality to the space. The modern contemporary furniture gives this place an elegant touch while still keeping it simple enough for any day use! Plus, the lights in the deck are convenient for evening use.
17. Private cabana retreat
This private cabana is the perfect outdoor retreat for you to enjoy some time away from it all. The slat wall will provide just enough privacy when needed, and there are two comfortable lounge chairs in case someone needs more space.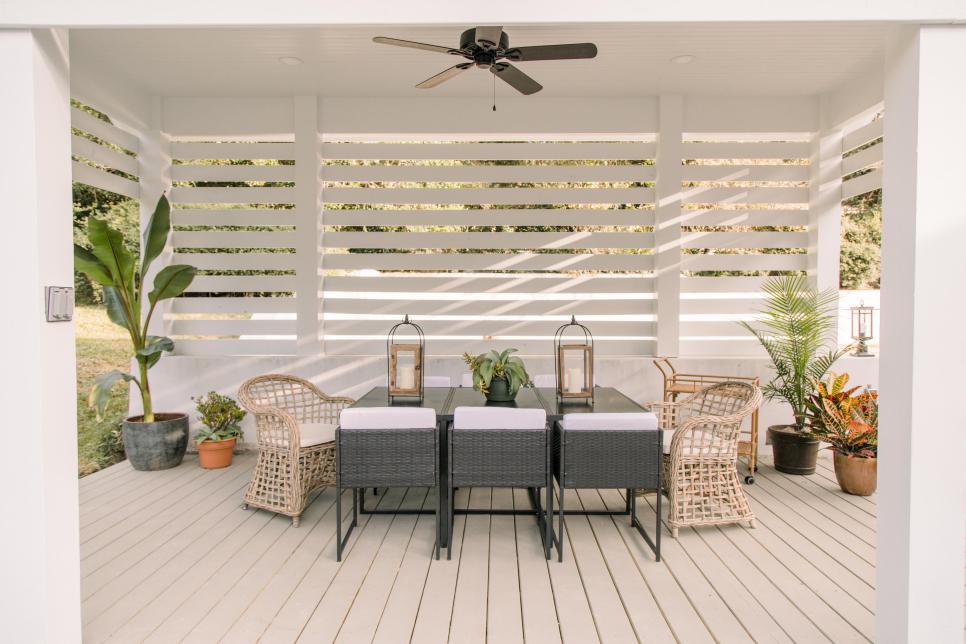 Moreover, the lantern lights add a cozy feel to the grey furniture. You can experiment similarly with the lights and the furniture colors as per your style. Additionally, place large plants at both corners for some greenery. This will go well with all the wooden elements.
18. Deck and gazebo for large families
Imagine the breathtaking view of your backyard when you have ample open space for your family. The massive deck and gazebo give the outdoor area an unmatched feel in terms of beauty accessibility as it has no stairs for added comfort.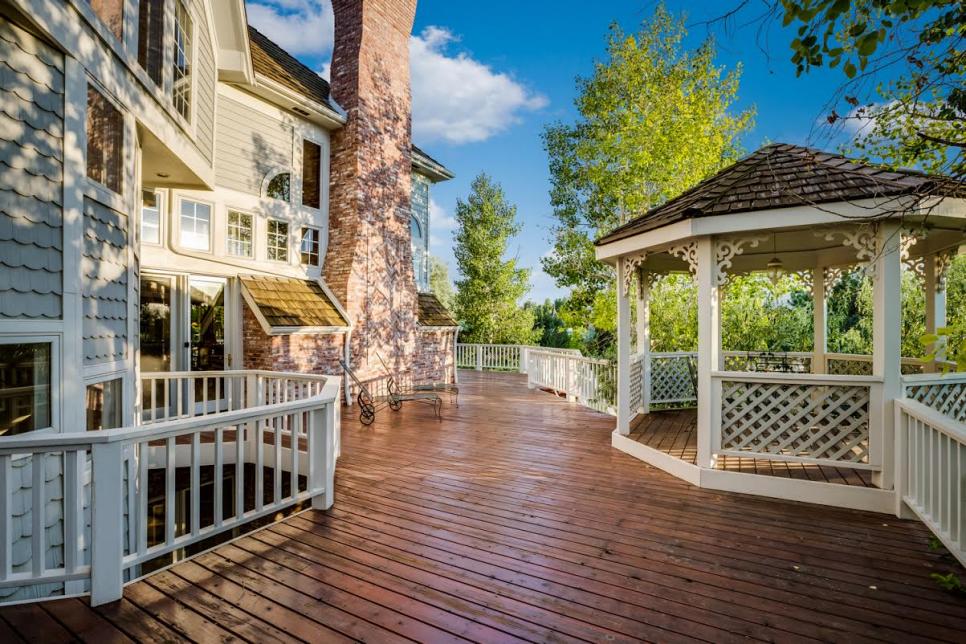 Notice how the wide winding path continues around, providing you with more space for entertaining your loved ones. The outdoor space is truly like an extension from inside, with railings for safety along all edges and quietly covered shelters in between the open areas.
19. Enormous family deck
A custom deck is an unheard-of bonus for families looking to double their living space. This deck has cedar pergola and daybeds that invite relaxing lounging and napping in the daytime, so you'll have plenty of spots where everyone can relax together.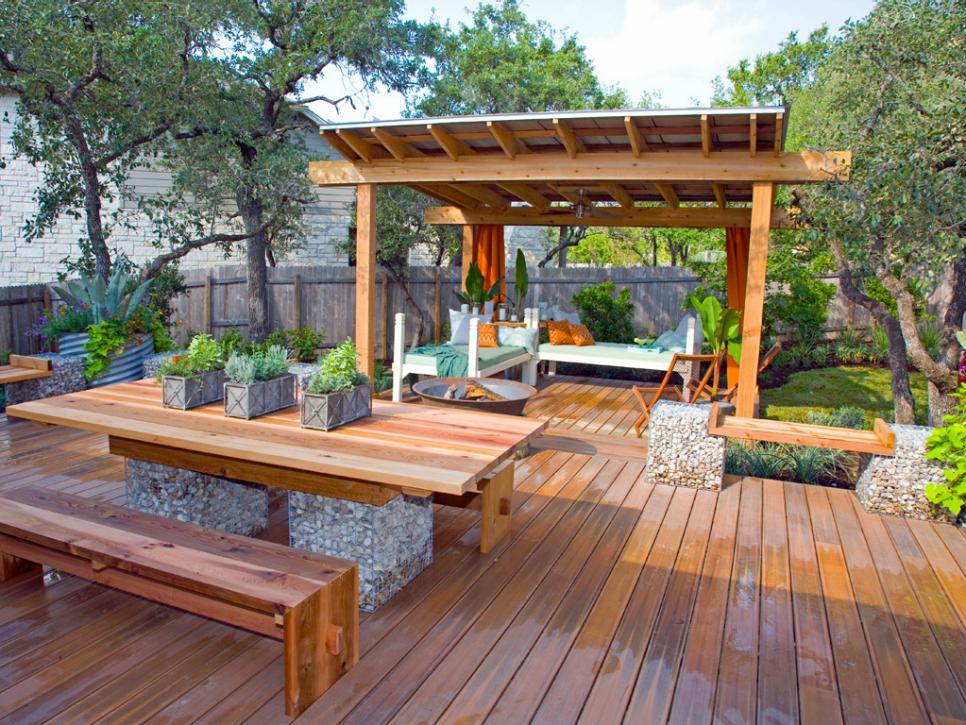 There is also so much open space for the kids to play and run around. The deck has used some creative furniture with wood and large concrete pieces to ensure the area looks different from the inside. These new elements offer a fantastic escape.
20. Traditional and elegant
The back deck of this lovely house is the perfect place to relax after work or enjoy a leisurely meal with friends. Two ornate chairs made from wrought iron frames are surrounded by potted flowers, providing you with some extra seating.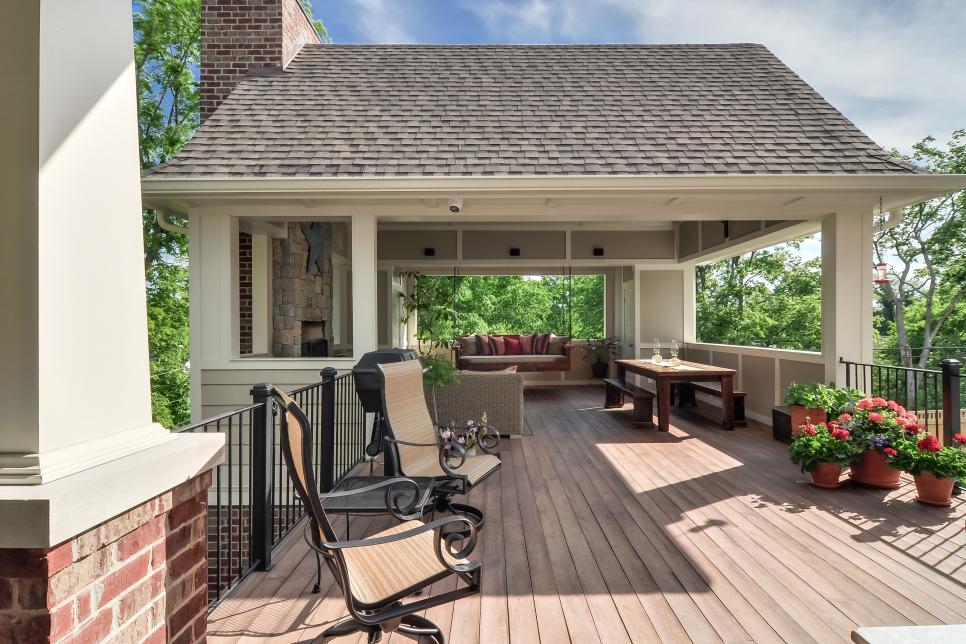 The elegance of this place and the surroundings will be sure not to disappoint you. You may also add a swing, table, and a few more lounge chairs for a delightful touch. The bench-style dining table will be the ideal spot to host outdoor feasts.
21. Personalize outdoor decor
Deck design is more than just some wood platform in the backyard. You may want to add a personal touch to the space to ensure it still feels like a part of your home. Add some color, lush plants, and bright furniture to sit with your family.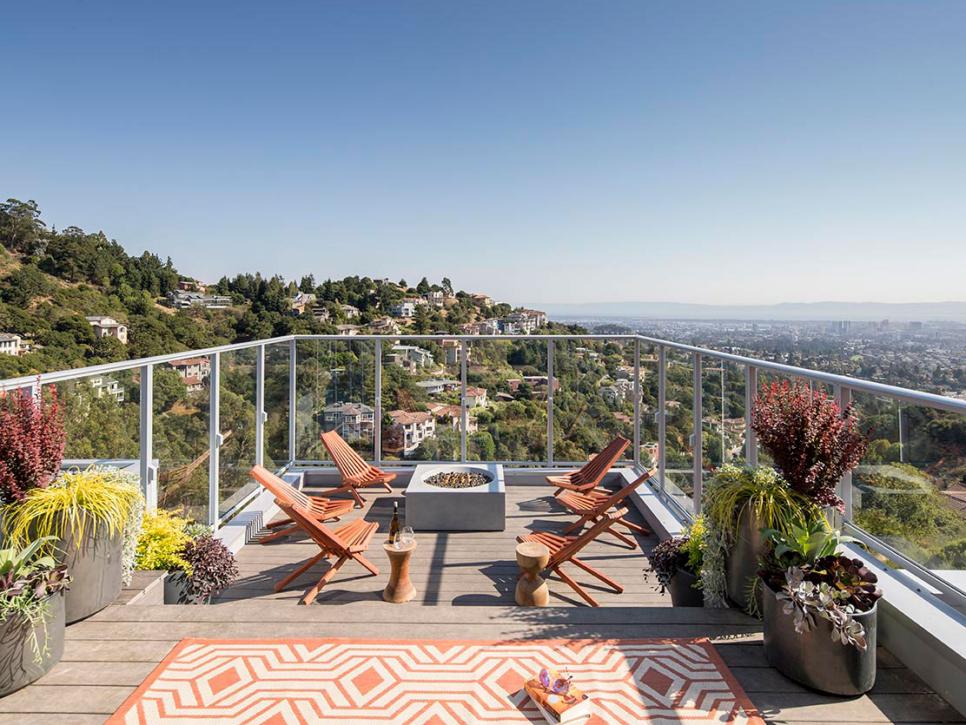 With the nice outdoor view, all these elements will add something unique and personal. You may pick one dominant color for the decor and then use contrasting colors to balance it out. You'll surely love spending your evenings here.
22. Green and grey oasis
The space is given an outdoor oasis feel. Add some color and life by planting flowers, plants, or trees to create that perfect atmosphere you have envisioned all year long. Moreover, the landscape embraces the curves, which gives it a relaxing ambiance that's perfect for hot summer days.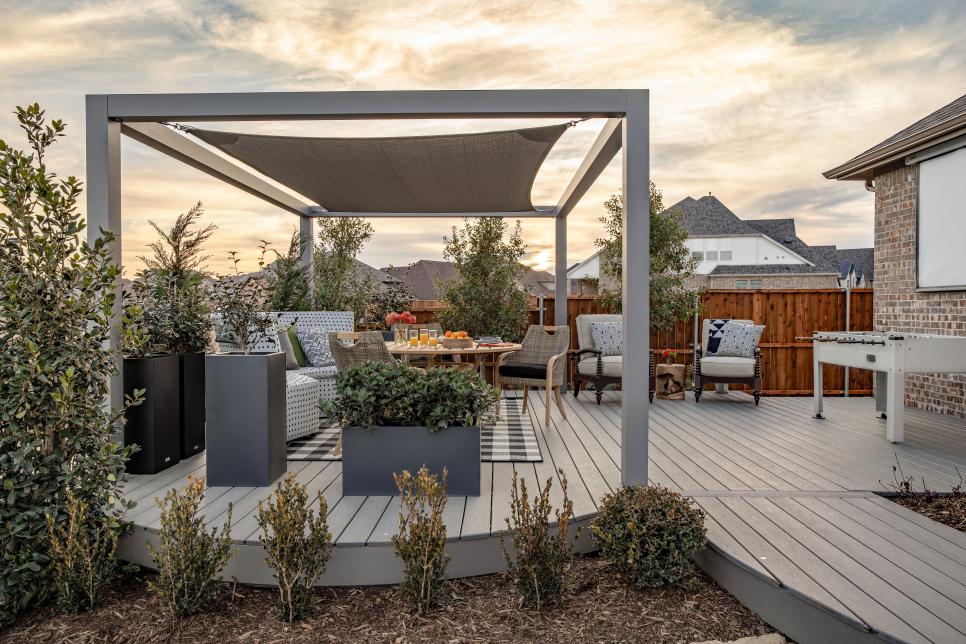 See how the curved grey deck complements the brick wall of the house. Using such calming tones ensures that the space does not get overwhelming with design elements. Apart from this, you may choose to keep the area open or cover it partially.
23. It's all in the pattern
The decking pattern can be one of the most important decisions when designing your backyard. A panoramic view deserves a special place to enjoy it all, but with wraparound decks come some challenges that need addressing early on in the design process.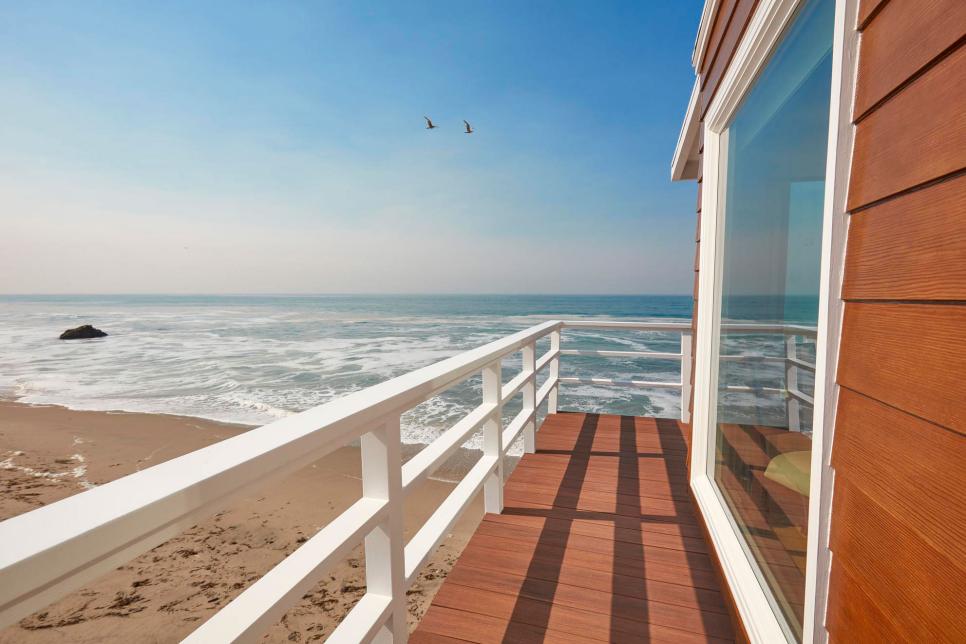 You will have to consider elements like determining what kind of shape would best fit into the available space. Consider which unifying patterns might work well alongside other features already present at your home, such as windows and doors, before making any final selections for the deck.
24. Cozy and sunken deck
The deck of this house wraps around the side, with plenty of space in between for outdoor living. A fireplace and steps lead down to a sunken lounge that feels like an extension of your beachside nook – complete with ocean views through all four sides.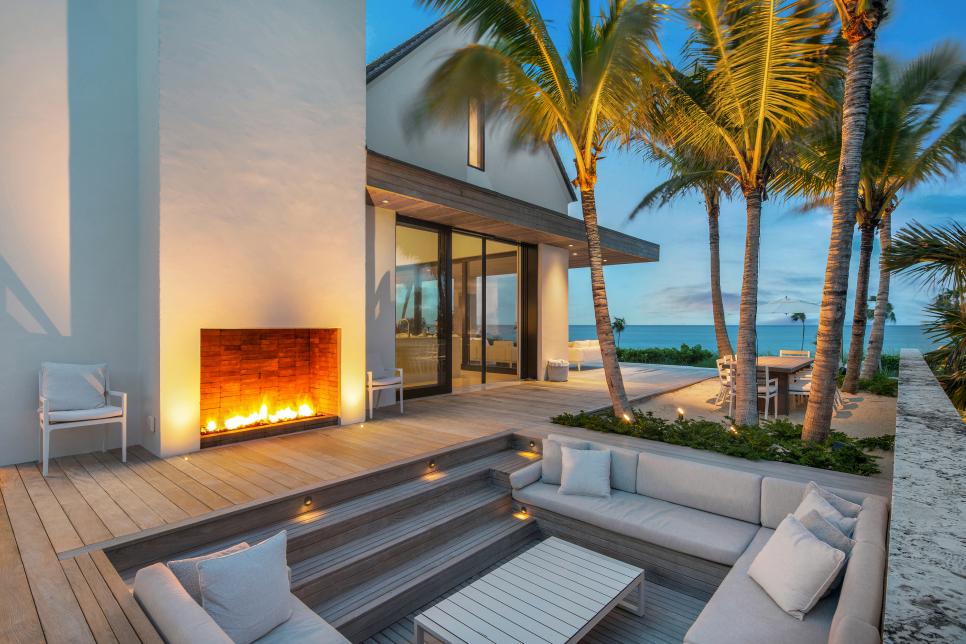 You may take inspiration from this design to spend time in nature. The outdoor spaces like this feel like an effortless continuation of the beach. You can enjoy these tranquil ocean views that are simply unparalleled in the morning and the evening under the stars.
25. Magic of swinging bed
An outdoor living space with a pergola and swinging daybed is the perfect spot to relax. The kitchen area leads around, giving way for an elegant dining table that seats eight people — enough space when entertaining guests or simply enjoying dinner with your immediate family!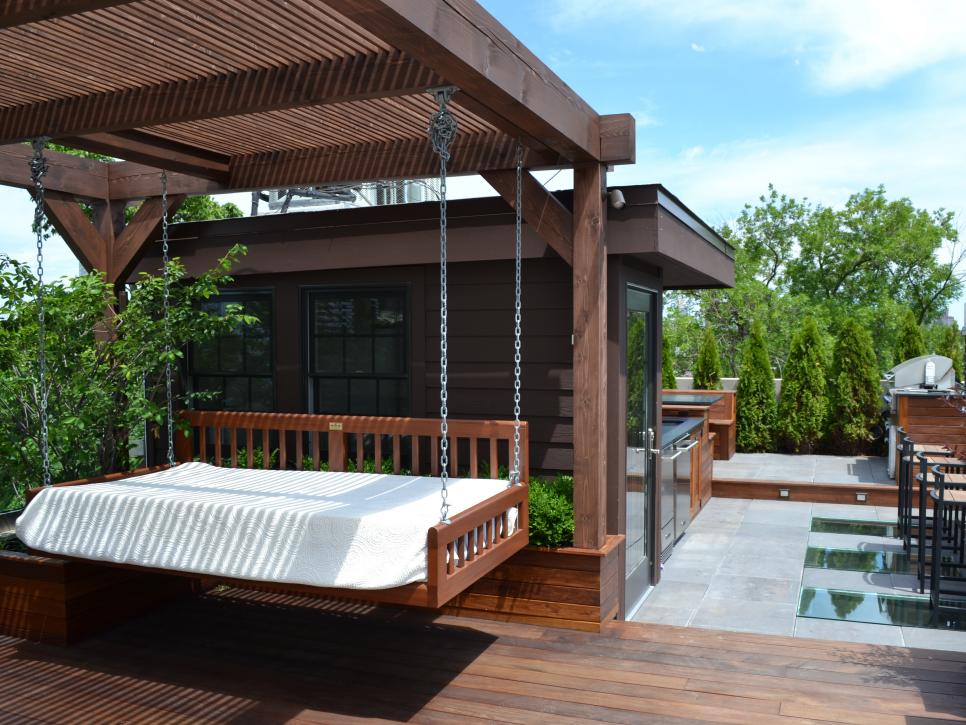 You may also spend the evening here with your tea and relax on the swinging bed. Naps on this bed will hit differently, and you may not even wish to be indoors anymore. You may also incorporate more elements such as lanterns to go with the vibe.
26. Pay attention to the colors
When you're looking for a modern and minimalistic space, a dark deck is an excellent choice. This sleek surface doesn't draw attention away from cityscapes or other features in the surroundings because it offers its unique view instead.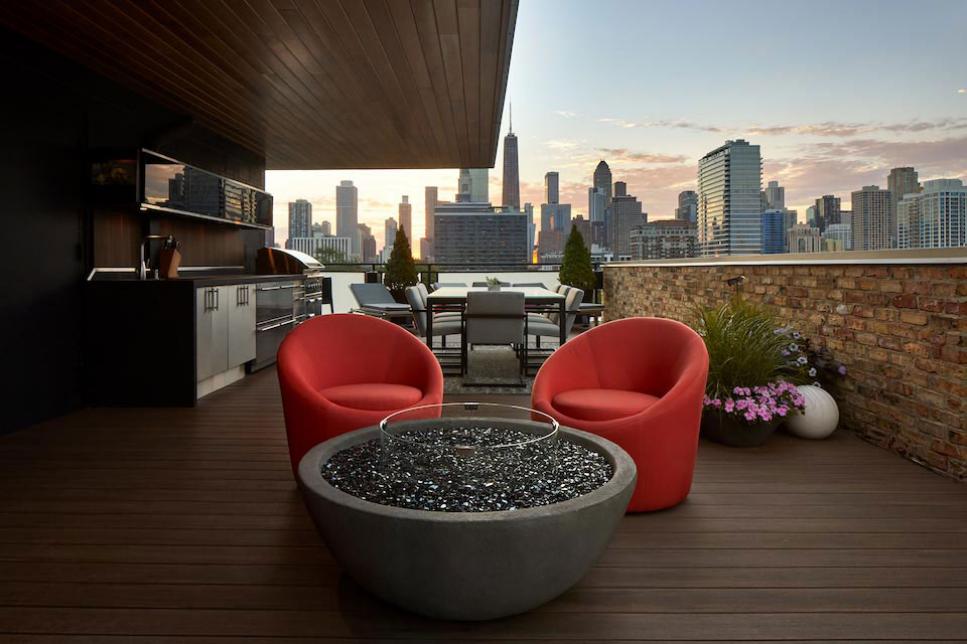 Selecting just the right shade can make all the difference when designing any area – be they residential homes, commercial businesses such as restaurants & cafes, hotels, etc. A dark background like this one allows for an urban view in front of bright colors, making them stand out even more.
27. Level up with your deck
The more levels you have, the better! If your outdoor space needs to be highlighted and given extra attention, go ahead with more than one tier. Depending on what kind of event it will host, you may also want different areas dedicated for public or private use.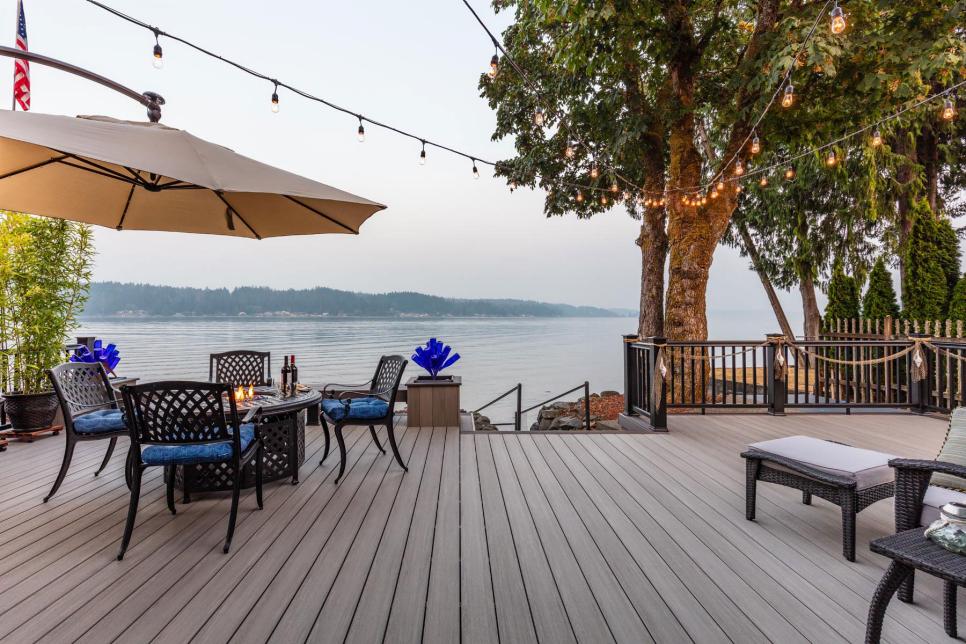 Have fun while entertaining guests in the front area and keep barbequing on another level. Moreover, you may also entertain your special guests in the private space or just get a breather when the party is getting too loud in the front.
28. Bright and bold deck
This rooftop outdoor lounge space's orange-hued seating and vibrant surroundings set the perfect tone for a fun summer day. Besides, the browns also complement the orange against the serene blue sky. The plants in orange containers are subtle yet noticeable.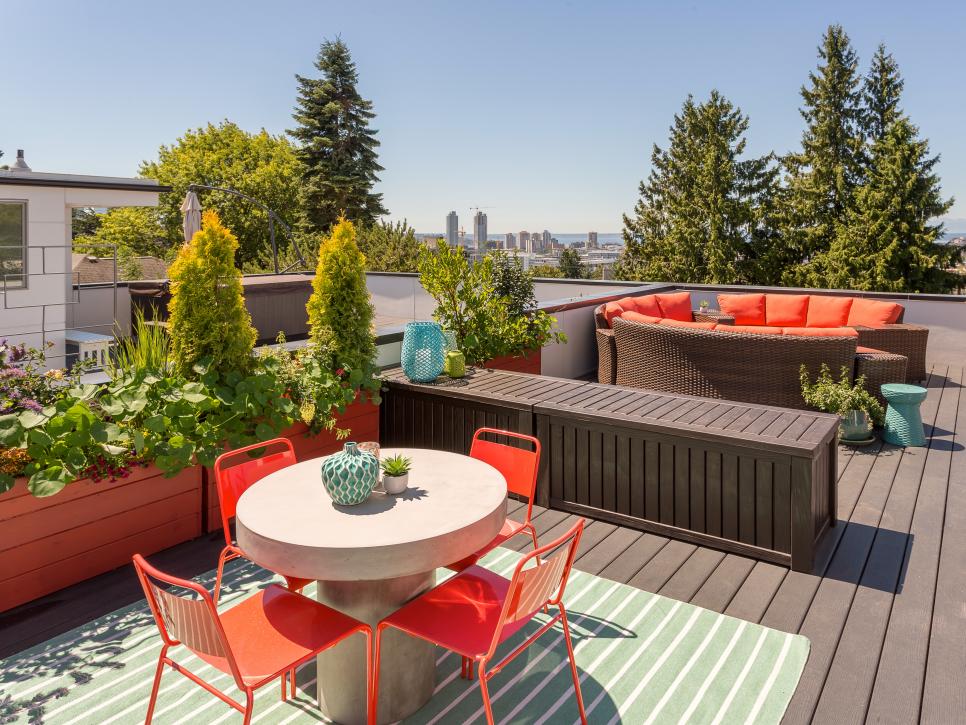 You may take inspiration from this and pick a single color to use in most accents. It will set the right vibes for the whole space. Oranges and browns are inviting warm colors. You'll have fun conversing with guests here for dinner.
29. Enjoy the deck and cabana
Here is a simple yet elegant idea to use an elevated deck and a cabana to decorate the home's outdoor space. You can have fun in the pool and join your friends back in this convenient seating area that is super comfortable.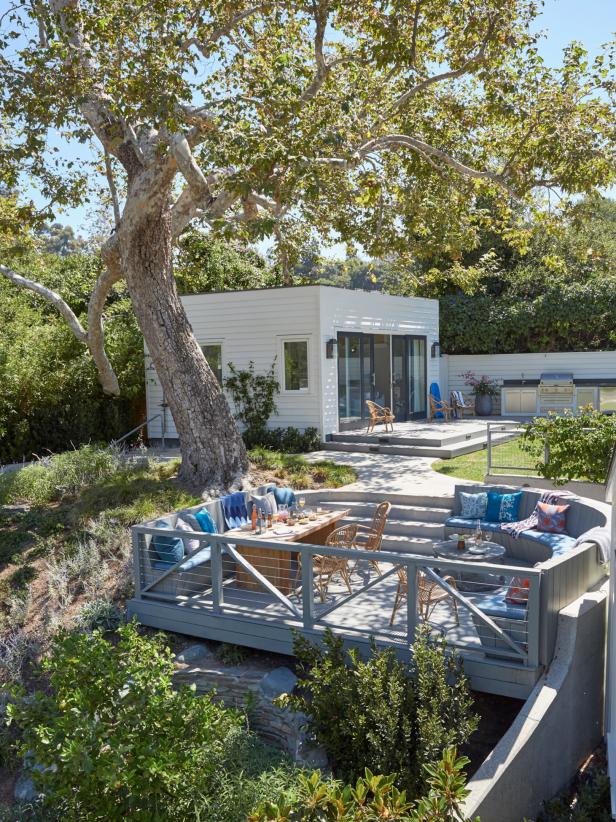 Moreover, this elevated deck is the perfect place to enjoy a BBQ or sunbathe poolside. The kitchen and cabana are not only practical, but they add character with their industrial aesthetic, which matches well in this blue-and-gray color scheme that is used for the furniture.
30. Simple curves for compact spaces
With curved deck and dining room designs, it's easier than ever to design an outdoor space that fits into any home with a different shape. Choose from innovative building materials to take up less ground while still having a beautiful area for entertaining guests or just relaxing on sunny days.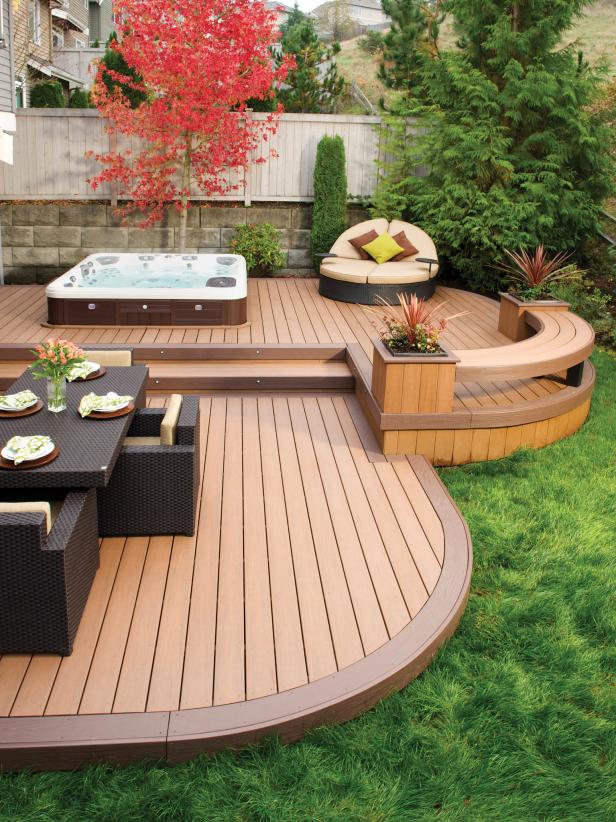 This design is ideal for compact spaces where you wish to add small curved decks and still have lush green grass on the side. Pair the light color deck with dark furniture and leave one corner to add a relaxing jacuzzi. You may also add a built-in space for plants to provide more greenery.
31. Lush backyard dining
The lush dining room, with its Mediterranean-inspired plantings and an infinity pool to match, is flush against the backyard. The aesthetically seamless visual line creates a beautiful canvas for your outdoor living space. You can enjoy dinners here or sit by the fireplace in winter.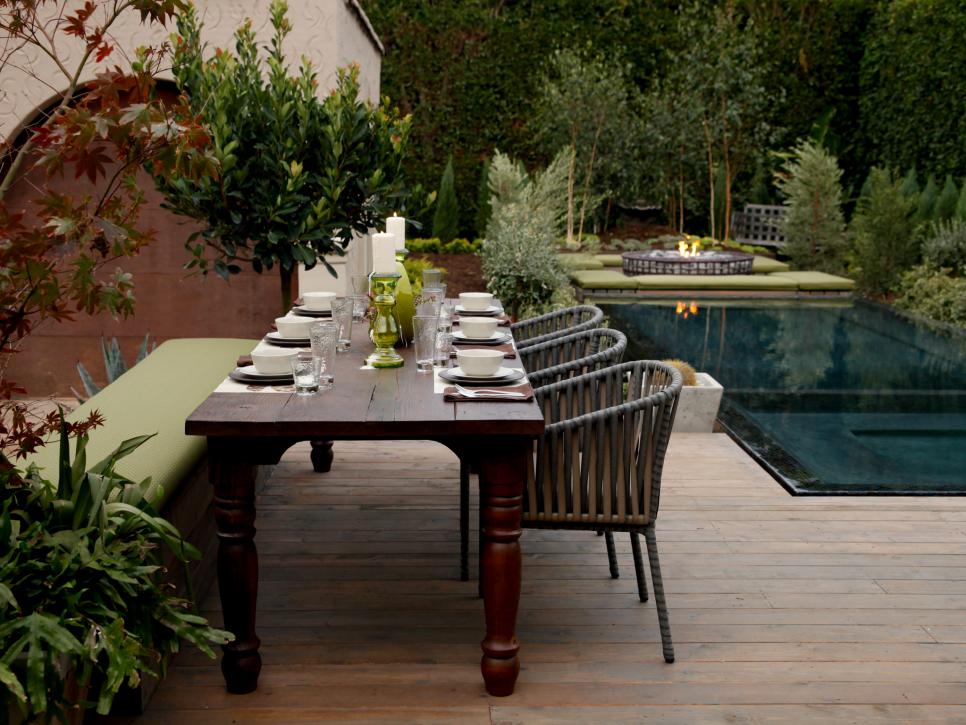 Consider a dining table with dark natural wood with chairs on one side and a comfortable bench on the other for additional flexibility. The pool is perfect for intimate parties in the summer and the spring season—also, plant trees and shrubs for lush greenery.
32. Team up with nature
You can enjoy the view from your new outdoor deck space without sacrificing any of that steep natural terrain with this unique multi-level deck. It provides plenty of room for relaxing and entertaining while staying true to its woodsy roots.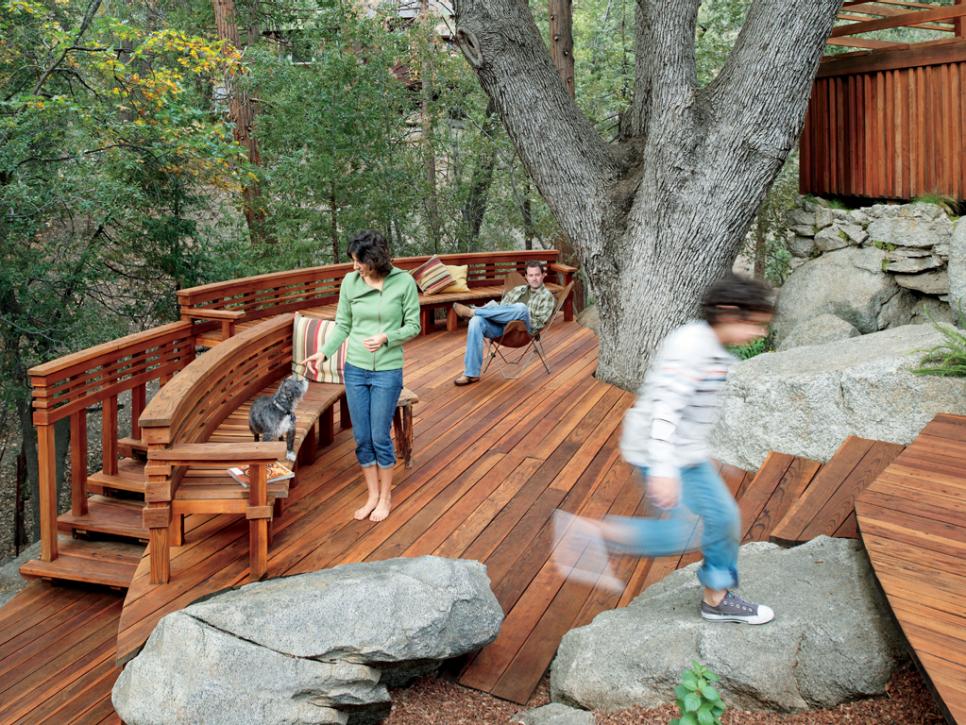 You may incorporate large trees into the construction without chopping them. Construct wooden benches along the fence for a more natural look. Besides, add more natural elements such as large rocks as steps. This will add a rugged look to the area.
33. Separate decks
Having a separate deck area will be better than just having one large deck. This outdoor space is the perfect place to relax on warm days. The wooden deck and beach-inspired features like pebbles make it feel like you're taking a vacation in paradise.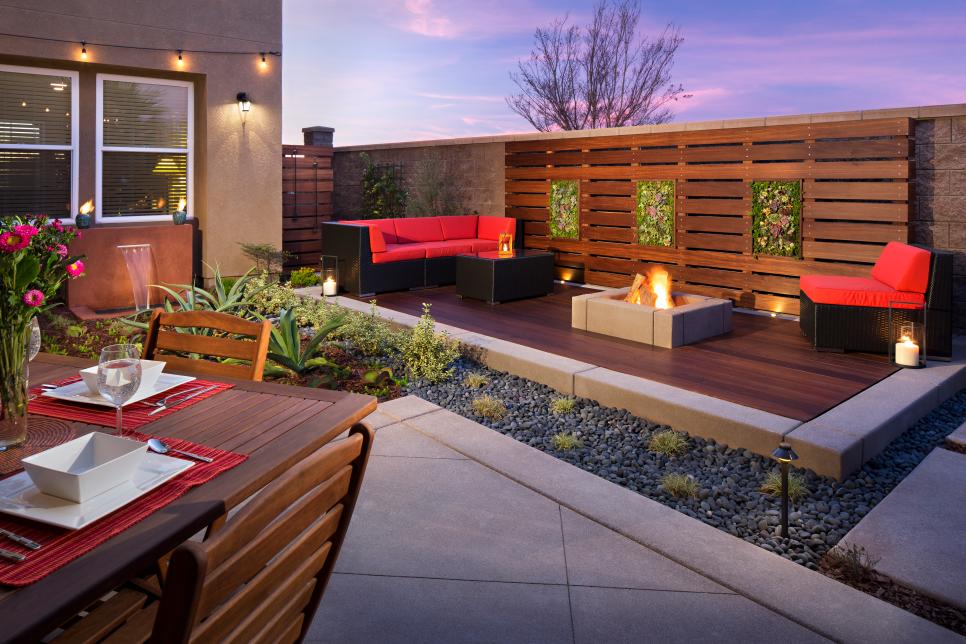 This deck made of Mangaris wood adds a beautiful dimension to the space along with the concrete fire pit. These features make this area fit for winter nights as well as spring and summer nights to have fun entertaining family and friends.
34. Relaxing and romantic backyard
Imagine sitting in the shade with your favorite person, enjoying a leisurely picnic in your backyard. The sun is hot, but you don't care because it's just so relaxing there! All of this is due to a fantastic backyard that has multiple structures.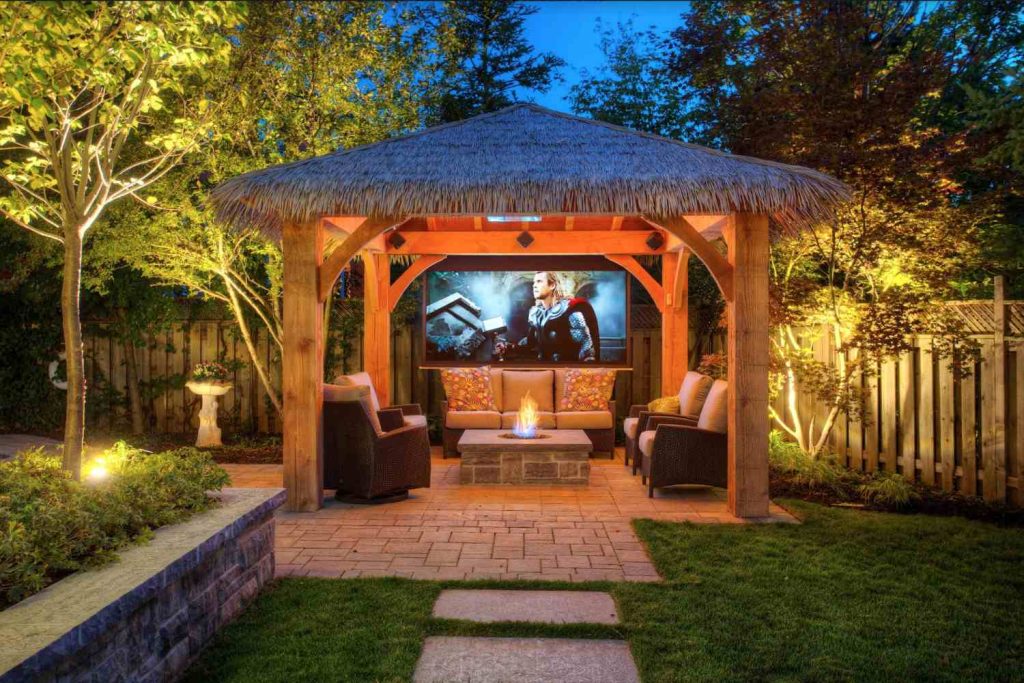 This includes several seating areas—for shady gathering spots on even hottest days. You may use the covered areas on rainy days and enjoy the view. Besides, there are recreational areas for active family members and kids to use the open space to its maximum potential.
35. Modern terrace deck
A contemporary terrace is a delightful space that will impress any guest you bring here. A small wood pergola and lovely potted plants are just some of the features to look out for when entertaining guests or relaxing on your own time.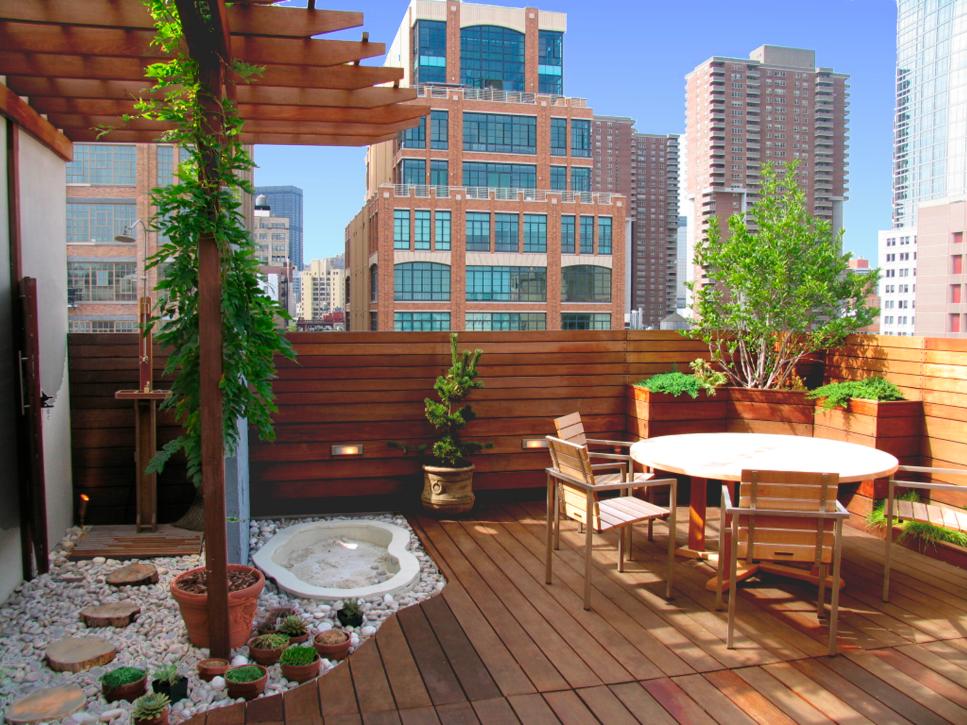 The cool, contemporary design makes this an appealing spot no matter what activity takes place- such as it's working away at one's computer while another person does something else while sitting in the sun. Plus, it's a perfect spot to watch the sunset.