Backyard Beautification: 40+ DIY Upcycle Ideas To Elevate Any Outdoor Space
By Navkiran K February 13, 2022
---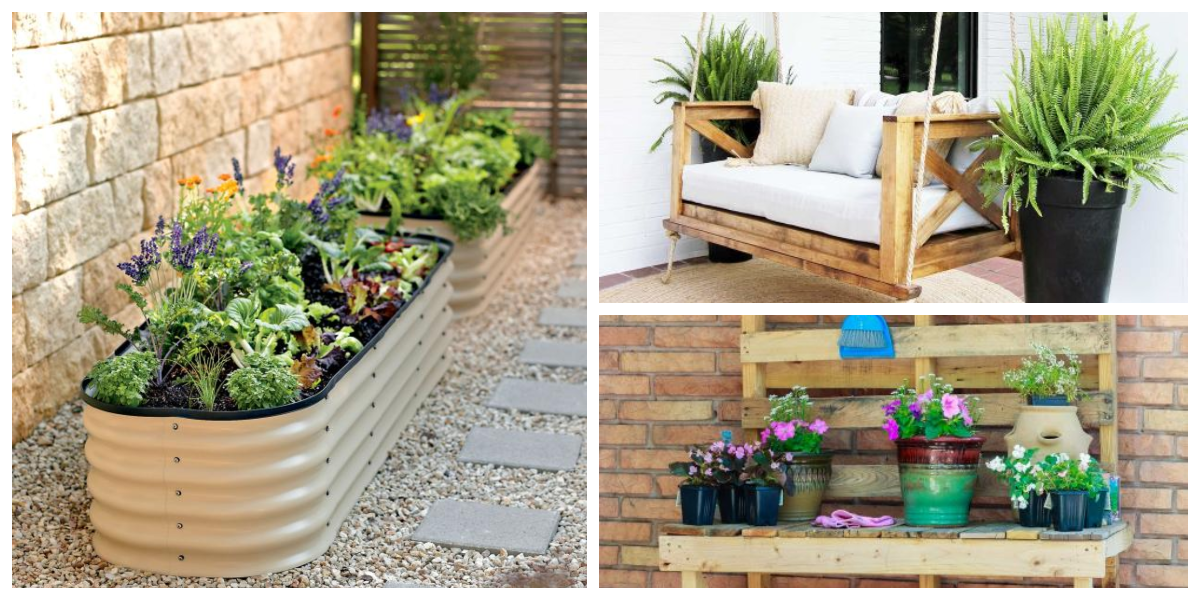 Want to give your porch a personal touch and fun vibe with little to no money? Or, want to feel pretty like a Disney character while tiny birdies and bees come seeking the beautiful aesthetics of your home. Give your surroundings a touch of individuality, and make it unlike any other house in the neighborhood with these DIY upcycling ideas. These little fun, creative concepts will definitely help you with all of it. All that vibe you crave for is just loitering around your garden. They just need your creativity and crafty skills to turn that trash into treasure. Try these innovative upcycling approaches switch your boring patios into art with old furniture, cans, containers, and even tree stumps. Let us know if you try any of these. We'd love to see what you came up with.
Backyard Leaves
Aren't creative enough? Not to worry! You can be a sculpting master without taking lessons with the help of some leaves. Turn over the aura of your yard with this unique project, which involves casting quick-drying concrete into an organic shape.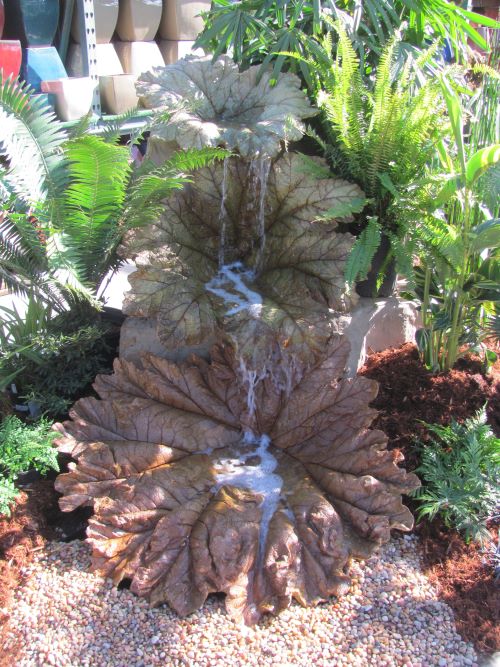 It will seem perfectly at home in your backyard. What do we need? Just a textured leaf, big box, sand, spray bottle, garbage bag, a bucket, quick-dry cement, stir stick, cooking spray, and plastic gloves to save your hand from all the mess.
DIY Car Wash
Summer heat is knocking at the door, but laziness is keeping you inside? Why not have some fun at home. Make your own fun and turn some PVC pipes, a water hose, and some pool noodles into an ultimate outdoorsy waterpark for kids!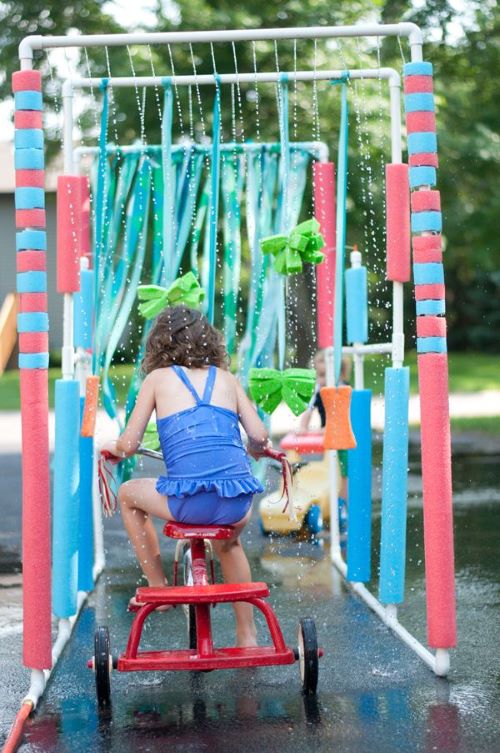 Those DIY pool noodles can give your kids a realistic feeling of a car wash. Quickly transform your backyard into a summertime outdoor park for the little kids, because why do you go to a waterpark to have fun, right?
Anti-Slug Decor
Pests are the last thing you want in your garden, feeding away at the hard-earned money and time you put into your garden. While your garden is healthy for pests and slugs, these pests and slugs are definitely not healthy for your garden!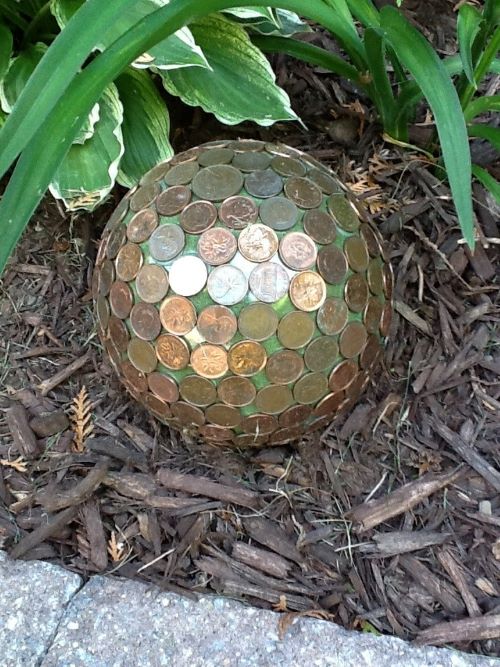 Slugs are a danger to a healthy garden. Whether you want a flower-filled landscape or edible greens, dissuade them with our easy-to-make penny ball, which takes advantage of the copper's magical natural properties to keep these voracious eating little disasters at bay and your garden safe.
Bird Tea Party
Did you break, or simply crack, a pretty teacup? Or is it just stained forever and not fit for serving? Don't throw it out, because you can make it beautiful, with a whole new purpose! Pandemic took all your cool tea parties fun. We'll solve it with some outdoor-safe glue.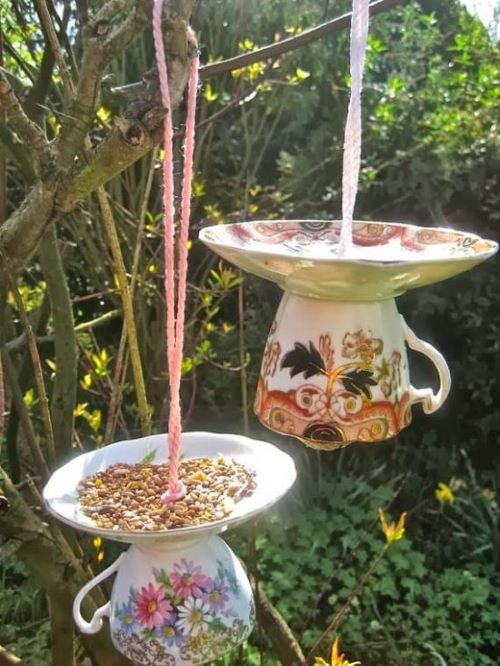 Before filling the new purposeful teacup with bird seeds, allow the glue to dry up so that the teacup and the saucer are attached. Hang them and wait for birds and squirrels to love you like they loved Snow White.
Wooden Pallet Bar
Free wood pallets can be repurposed into a space-saving bar that folds snugly shut when not in use to keep beverages and glasses safe from the elements. You may now toast happy hour from any location, including small outdoor areas.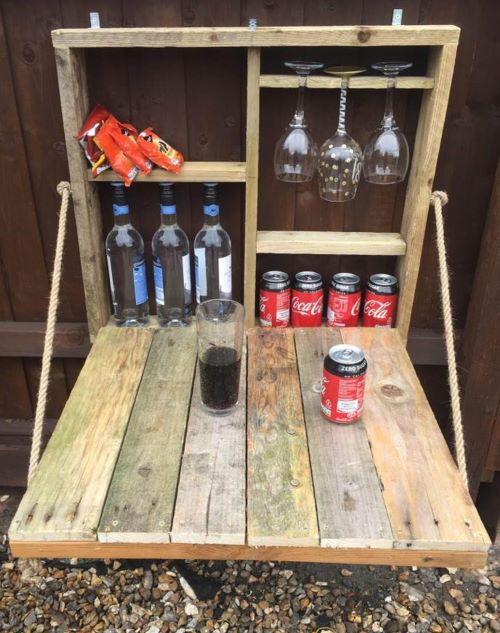 Prep those wooden pallets by cleaning up any unwanted nuts or splintered edges. Build each part and piece it together for a cozy outdoor bar. You'll need to construct: the bar front's base, slats for the front of the bar, the stemware rack, the back, and shelves. Piece them all together and toast to a job well done.
Bath For Bees
Little bees would appreciate it if we provided them a place to stop and drink clean water with a shallow plate attached to a peony spike and coated with pebbles or beach glass so they can securely drink without wetting their wings.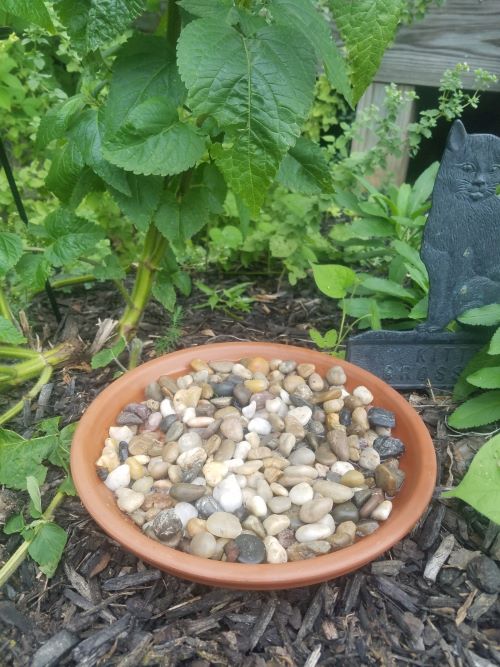 Yes, like most of us, bees enjoy bathing as well — rather, to be more precise, they love buzzing by for a drink. Pollinating or saving the world is exhausting work for bees. Inviting them around will add lushness to your garden as well.
Repurposed Dresser
The mirror of your old dresser is shattered, just like your heart? But look at you! You turned out beautiful like never before, and if the front porch is well protected from your ex, you can safely bring the dresser out and turn it into a colorful potting bench.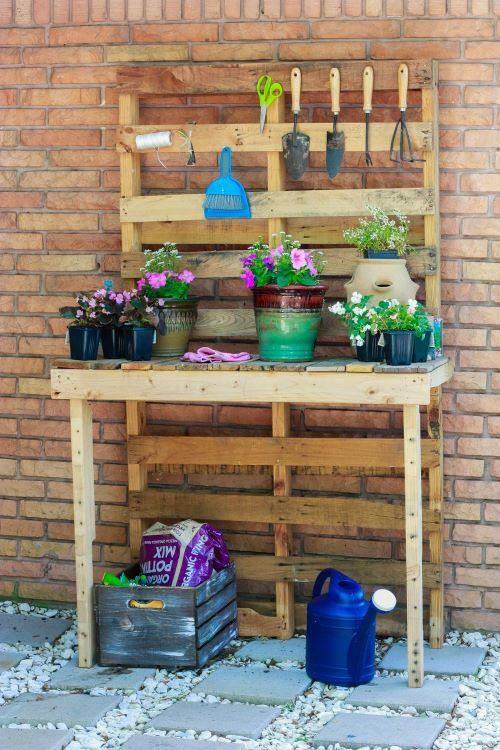 What about the shattered mirror? You can turn it around and make it into storage for gardening equipment. With some fresh paint, color the dullness away from the dresser and make it all new. Your friends will never know that the storage was once used for clothes.
Tree Stump Planter
While trees are wonderful in any yard, sometimes they get sick and need to be chopped down. But don't let that lonely tree stump get you down. It is still capable of holding life, but this time with potted flowers instead of branches!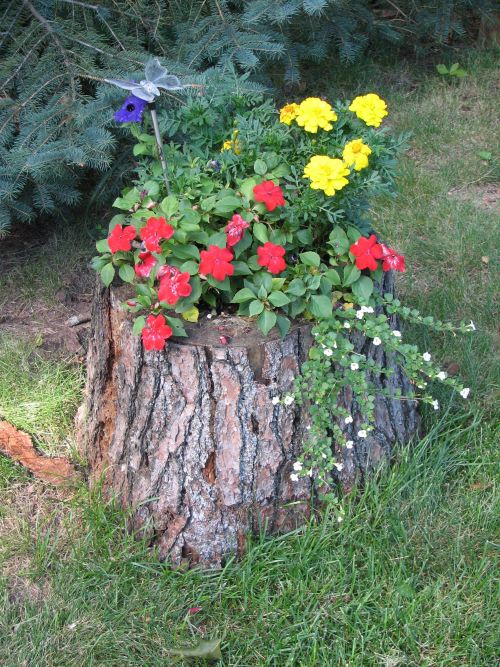 With some hairpin legs, transform it in the style of the 1950s. This recycling is actually beneficial to you, your home, and, most importantly, our planet. Give the broken tree stump a new life and feel like you are a Disney character making flowers bloom.
Planter Fire Pit
Repurpose your planter into a fire pit because your planter needs a transformation, too. Transform a jumbo porcelain planter into a tabletop fire pit in about 15 minutes to add atmosphere to your outdoor gathering — a great way to light up the night.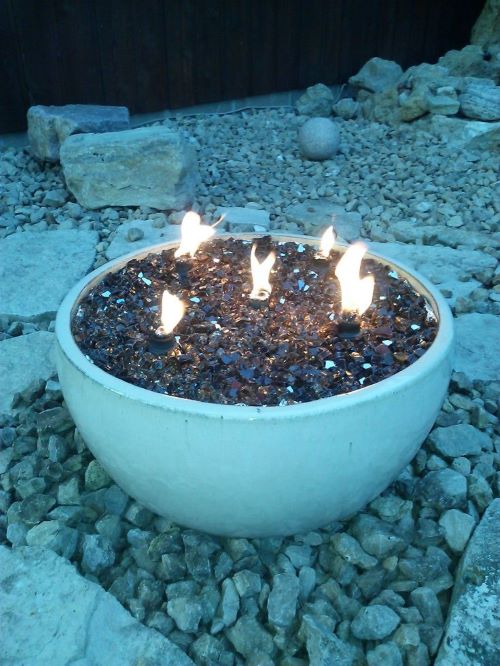 For this setup, we'll be needing a porcelain planter that matches the party's vibe. Fill it up with hot lava rocks and have some gel fuel cans on hand. Keep the cans closed until it's time to kick off your party.
When Life Gives You Lemonade, Assemble A Lemonade Stand
Lemons are cute, and your lemonade stand should be cute, too. Am I right, or am I right? Come on! Get some nuts and bolts, wood pieces, and board to assemble this bad boy. Yes, it's that simple! That's all you need…aside from the lemonade, of course.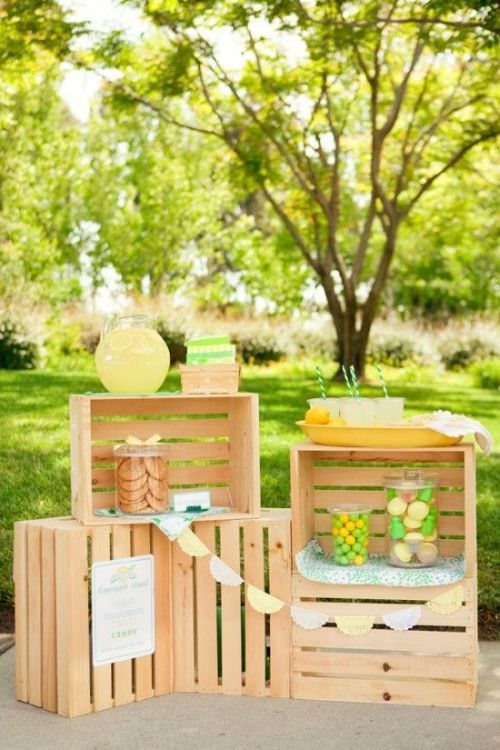 In this busy life, have a break and help your kids set up a lemonade stand. With this DIY setup, they're sure to get a lot of customers. It's a great activity for everyone and is sure to brighten your day as yellow as those lemons.
Painted Patio
Have you been hiding that concrete patio with a temporary fix like a not-so-durable rug? Try giving it a few hours of your time alongside a high-quality stencil brush, a can of concrete stain, a paint roller, and a plastic stencil.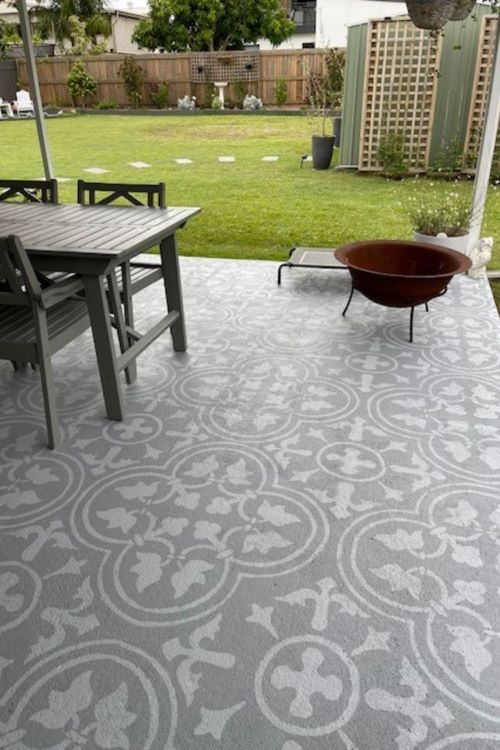 Transform your patio, porch, or sidewalk just like you transformed the rest of your yard. The picture above is a good inspiration, but don't be afraid to customize it. Now, go spill your creative ideas on that patio of yours so that those nosey neighbors would have something nice to talk about.
Firewood Carrier
It's not just broken teacups that can find a new life in your garden. Blankets and rugs can be remade into a handy hauler. If you've got a wooden fireplace, you can use your not so usable, almost discarded rug for transporting the wood. Transform your wavey flat rug into a sturdy rig.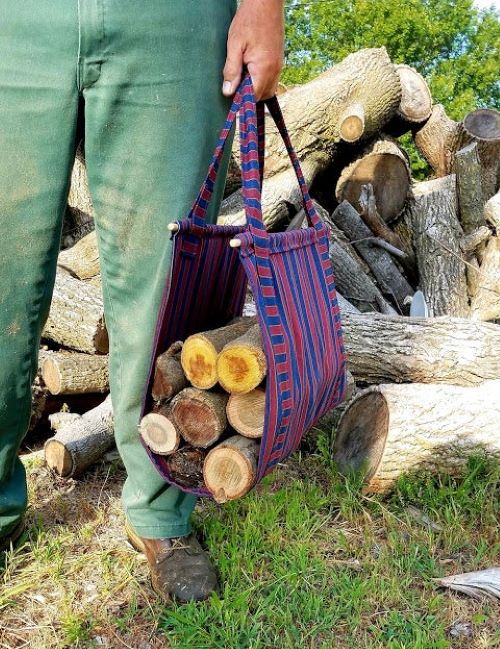 Hem the edges of your rug cut and out handle dowels to slide into the pockets. Tada! You just made a rug tote bag for your firewood. That's how you are all set to transfer those big logs splinter-free and with style.
Chill With The Trashed Grill
It's always a shame when the grill breaks and you need to upgrade. After so many cookouts, it's hard to simply get rid of the old appliance. Well, if you want to add some new features to your yard, did you ever think about adding a bar on your beautiful patio to cherish the iced drinks in the summertime?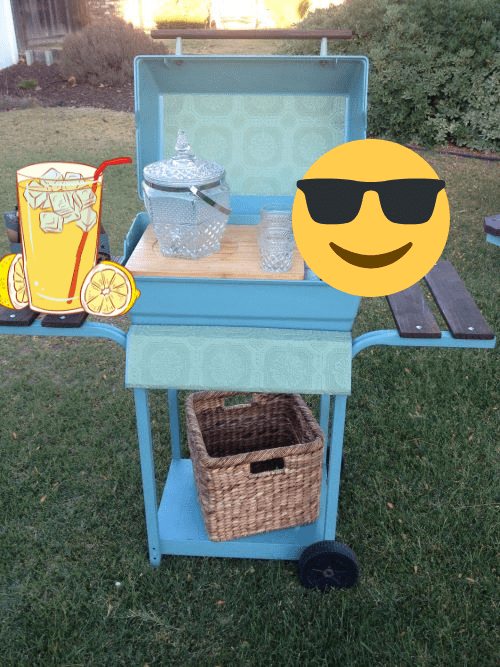 Now you can, with the help of that old grill gathering dust in the storeroom. Start by cleaning it and make sure there is no charcoal left, preferably by using a grease-fighting soap. Then spray paint the grill and stands. Voila! Self-made bar at your service.
Gardening Gear Organizer
Finding the right tool at the right time is crucial if you are short on patience because if you fail to find it, you might end up not doing the work at all. Just kidding. We know you'll get it done! But anyways, an organizer is a basic need.
Mosaic Walkway
If you looking to totally jazz up the look of your yard, then looks no further. If you are beside yourself on where to begin, we suggest giving mosaics a chance. There are so many directions you can take this next boho-esque DIY project.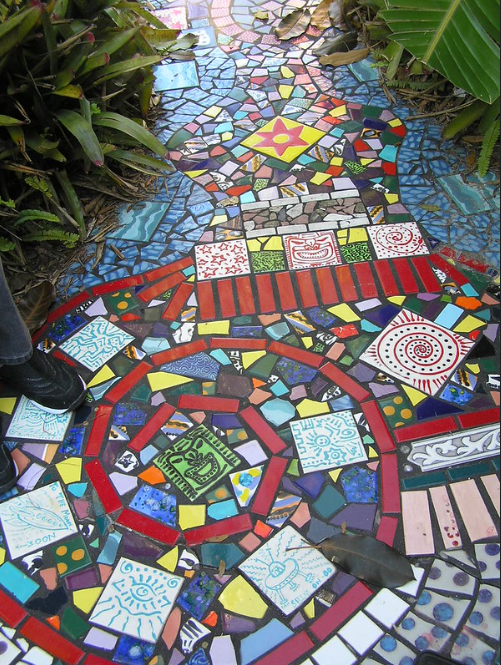 We fell in love with this the second we laid eyes on it, and we simply think the idea is brilliant. This person used bright colors and tied it all together with a red spiral pattern. What's beautiful about mosaic art is you can literally do whatever you want!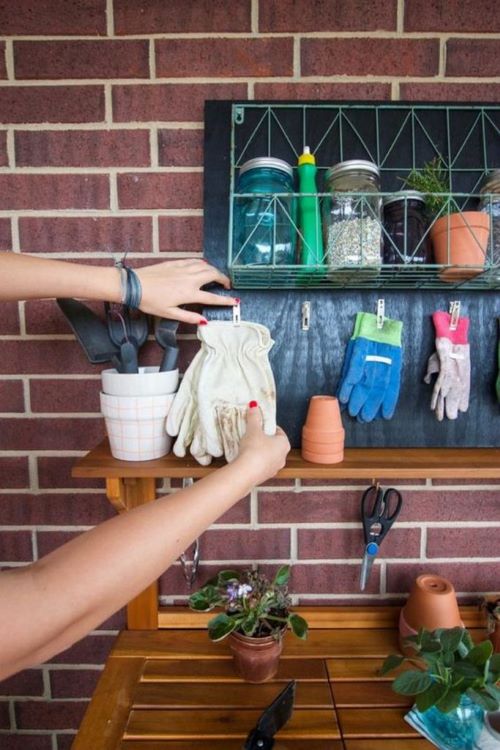 Make gardening easy with this gear organizer. All you need is a piece of wood, clothespins, and some wire. Set these up as shown in the picture, and simply hang your gear on them for the next trip to the garden.
Rekindled Childhood
Childhood was undoubtedly the best time, and here we are with a tip to take you back to those happy memories. You all must have done a lot of art and craft as a kid. Let's do that once again, but this time kick it up a notch.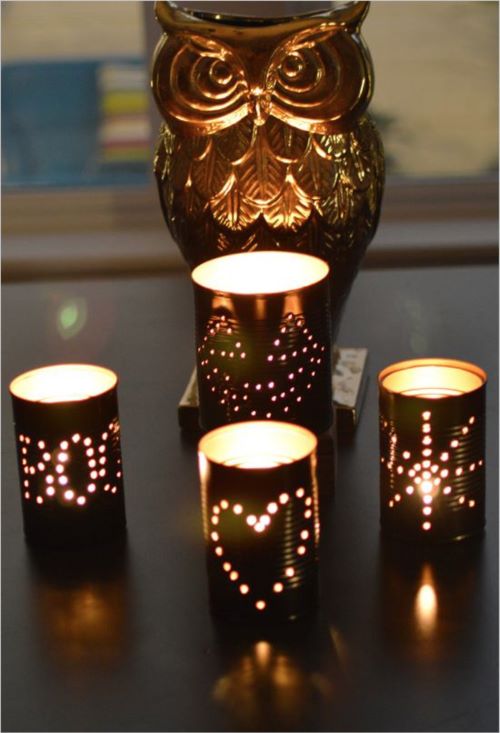 Turn those useless tins into gorgeous lanterns with these simple steps: make patterned holes on the tins using graph paper, paint the tins with bright colors, put a candle inside, and see them brighten up your room and your day.
Waterproof Beach Blanket
Beaches are the top vacation spot for many. Want to have a peaceful time on the sand or fun in the water? Beaches have it all. However, it gets annoying when your dirty towel keeps you from drying off after a swim when you want to just lay back and relax.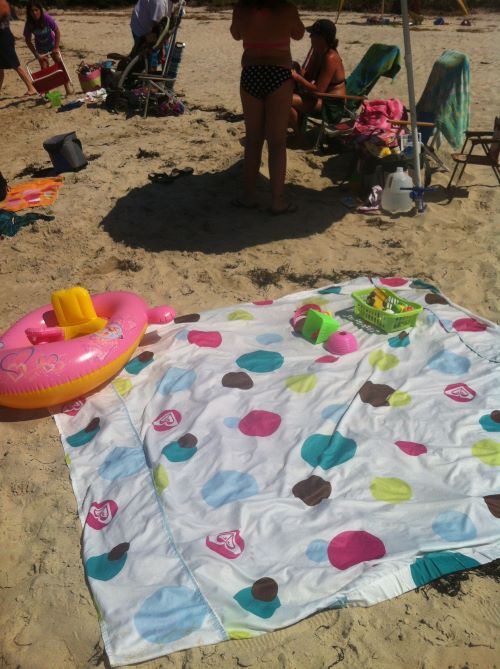 Worry no more because we've got you. No need to buy a fancy, expensive beach mat to keep your stuff sand-free; just use an old shower curtain as something to lie on. Now you don't need to worry about sand getting in your bowl of watermelon.
Baby Crib Bikerack
Kids can grow up really fast, even if you don't want them to. Unfortunately, that means a lot of turnover with clothes and toys. But, if you are someone who dislikes throwing things out, we have a suggestion on how to make use of baby gear. At least there will be one thing good about them growing up.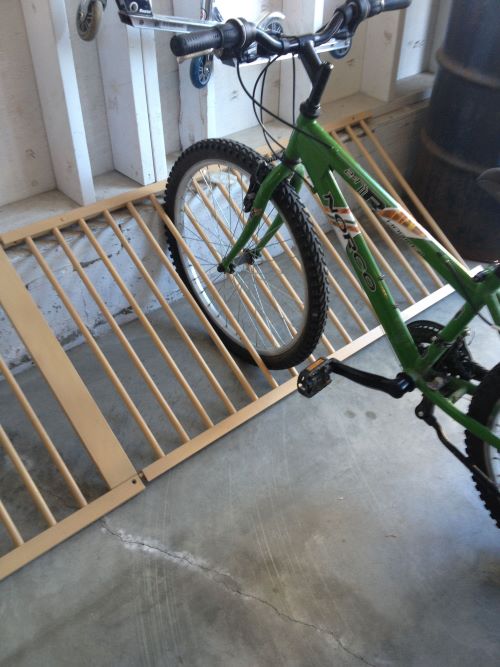 See that crib? Now that your kids are all grown-up and have bikes, you can convert them into a bike rack. You will have to craft a stand with some wood and bolts using a drill. The crib will do the rest.
Door Swing
If there was ever a poll for the one "must-have" on your porch, it would unarguably be "a swing." Unfortunately, when you go shopping, you'll notice that they can get on the expensive side. Aw, don't be sad; we are there for you.
This one might require some carpentry skills. Take a spare door for the support, make the seat and the arm sets with wood, make sure to be accurate with the measurements. Attach them together and secure the swing with a rope and eye bolts.
Homemade Citronella Candles
If you're anything like us, then you are probably sick and tired of those mosquitoes crashing your garden party. Like, come on, the house belongs to us, not you. Plus, they can really mess up your sleep. And sometimes mosquito nets don't keep them all at bay. Fortunately, there's another line of defense…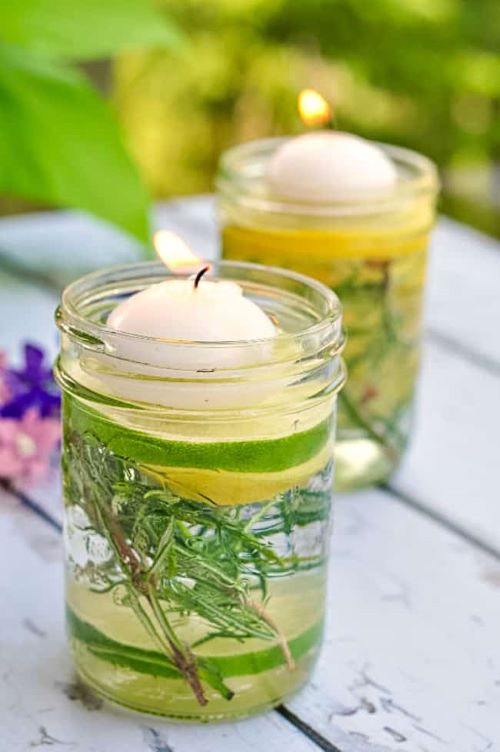 You will only need basic household things like some lemon, rosemary, water, essential oil, and a canning jar. Add all these into the jar and finish it off with a floating candle. It's a handy trick if you run out of store-bought citronella candles, or just want to add a personal touch to your mosquito repellents.
Easy DIY Planter
A wood pallet has many uses, and you must already have become aware of that by now. (Remember the DIY bar?) Let us carry on with the endless ways you can upcycle those pallets. This time it is a DIY planter.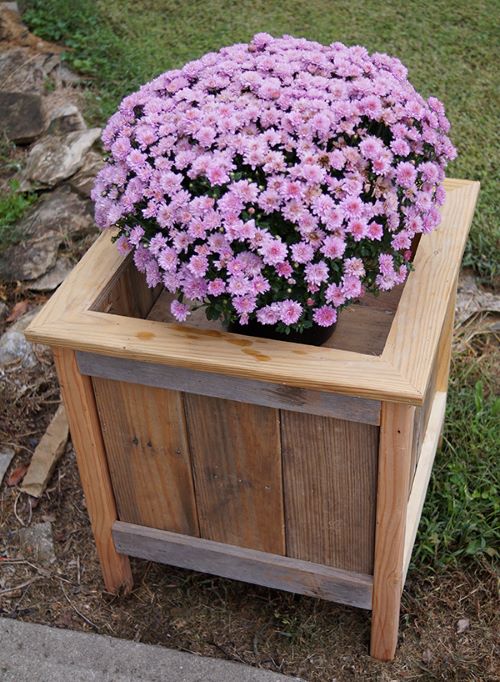 Here's how to do it: Arrange some wood pallets, which are easily accessible and free. Don't forget to use a measuring tape to prevent any mishaps! Now, set up the box using screws, a drill, and a saw. Paint it, preferably with bright colors. Just that, and it's done.
A brilliant idea
If just so happen to have some extra coffee mugs lying around, then you might want to stick around for this next DIY. We are bringing back the mosaics again. However, this project is so special because we've never seen anything like it.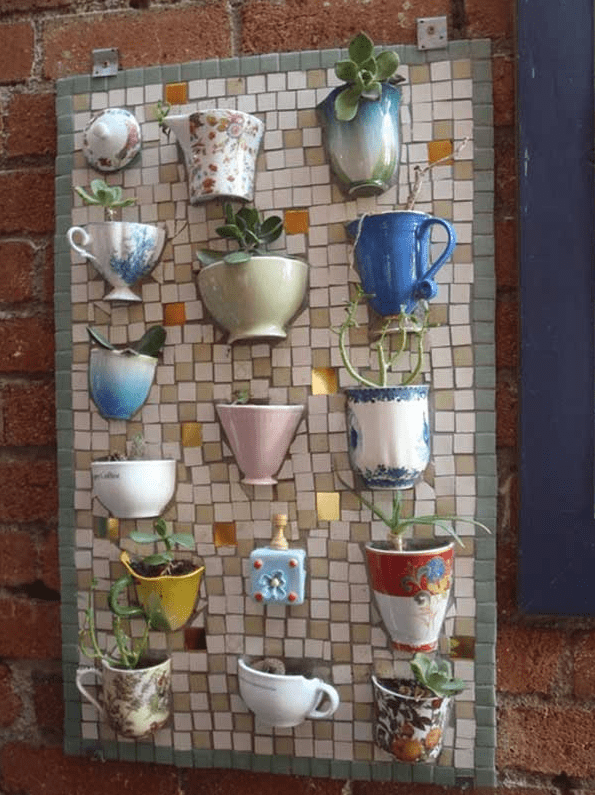 This person took all of the mugs lying around the house collecting dust and decided to construct a mosaic mug wall. When you talk about it, it sounds strange. But seeing that someone executed a project like this makes us want to head to the crafting store right now!
Key Hiding Spot
We understand it is pretty easy to misplace tiny things like a phone charger or keys. But while losing a phone charger is still fine, losing a key most definitely is not. Aside from ruining your day, it keeps you out of your house, where you might have the number of a handy locksmith posted on the fridge.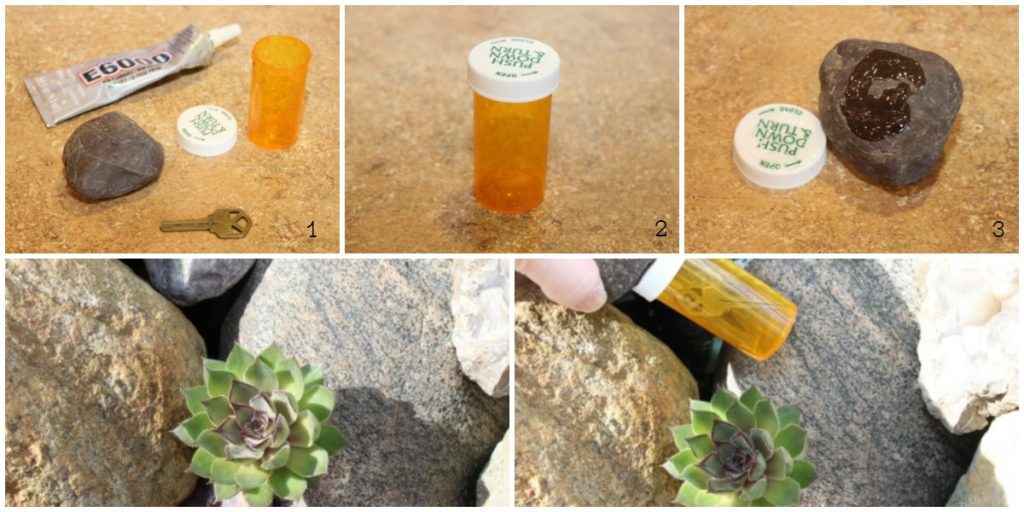 Instead of worrying about getting locked out, try this DIY trick instead. Try making this key hider, for which you would just require a pill bottle and a good quality glue. Stick a rock to the lid, drop the key in the bottle, and finally, hide it well. Just remember which rock you used…
Wheelbarrow Cooler
What do we do with an extra wheelbarrow? The answer is quite unexpected, but take our word for it. It is also fun, and best of all, free. Our bet is that each one of you likes free stuff. Did we guess right?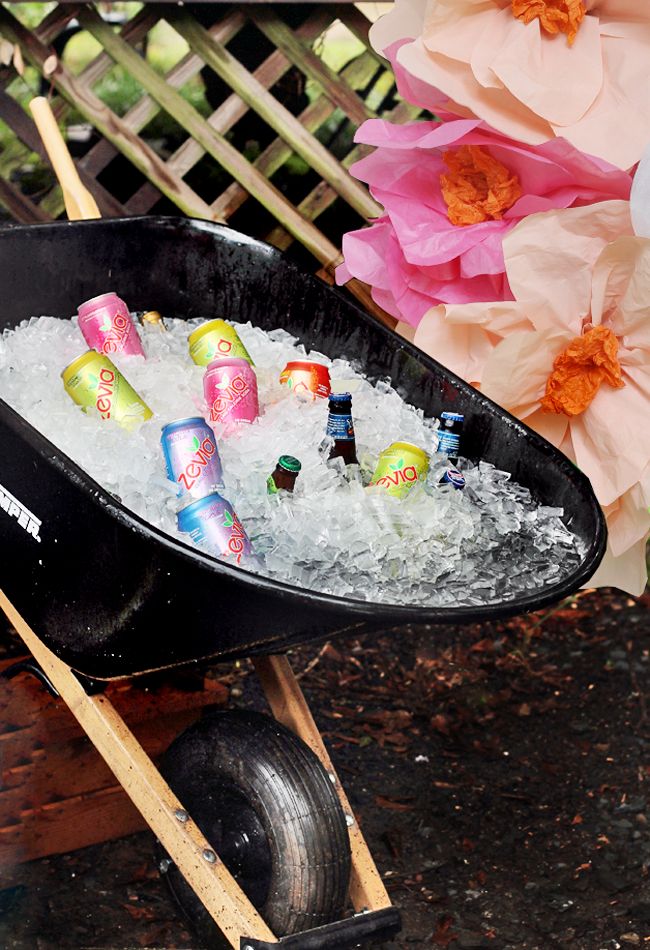 Here is how you can convert the spare wheelbarrow into a drink station: simply clean it, and fill it with ice (that is a must). For bonus creativity points, you can tie a bottle opener to the handles with thread. Now, all that is left to do is chill.
Sandbox Garden
If you're a parent with grown kids, odds are that you have at least a dozen items laying around that belonged to them when they were little. Now that they have grown up, you can put those into use. Just like the crib, you can keep outgrown furnishings and give it new life.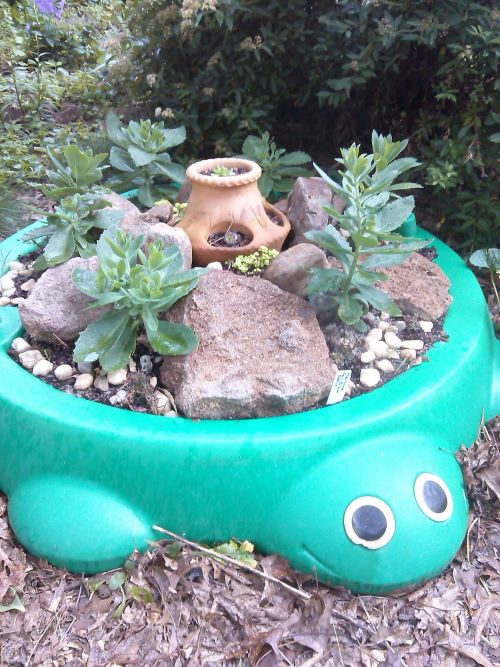 This time it is your child's cute sandbox. Handily, turn it into a garden by making a few holes on its bottom to let the water pass through. You are now ready to plant in the most adorable garden ever.
Bucket Planters
You cannot think of a yard without thinking about flowers. And what do flowers need? A vase, of course. What if we say that you can make those at your home? It will be guaranteed prettier than the one you get in shops.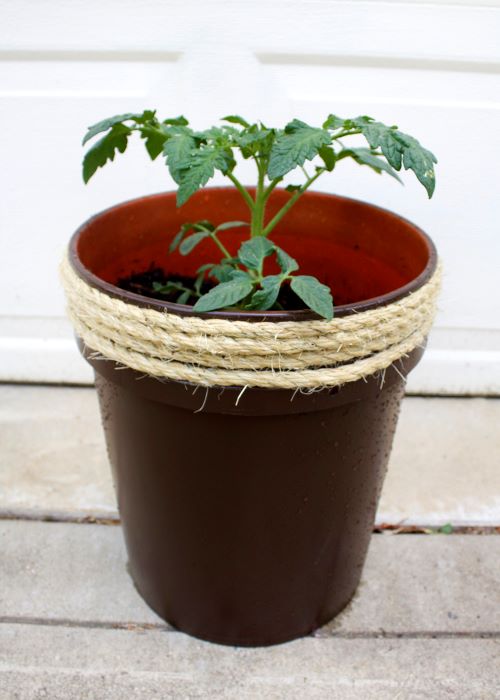 Let's get started then. Take a plastic bucket, remove the handles, and make holes in the bottom to let the water drain. Take your favorite fabric and stick it on the bucket. To make it fancier, roll a rope around the top part for some extra flair.
A Sparkly Garden
Just imagine how angelic your patio will appear if you decorate it with bright lamps. Wait until we get to the best part: it's free! You will not have to spend a penny on it. Just get your hands on a few glass jars.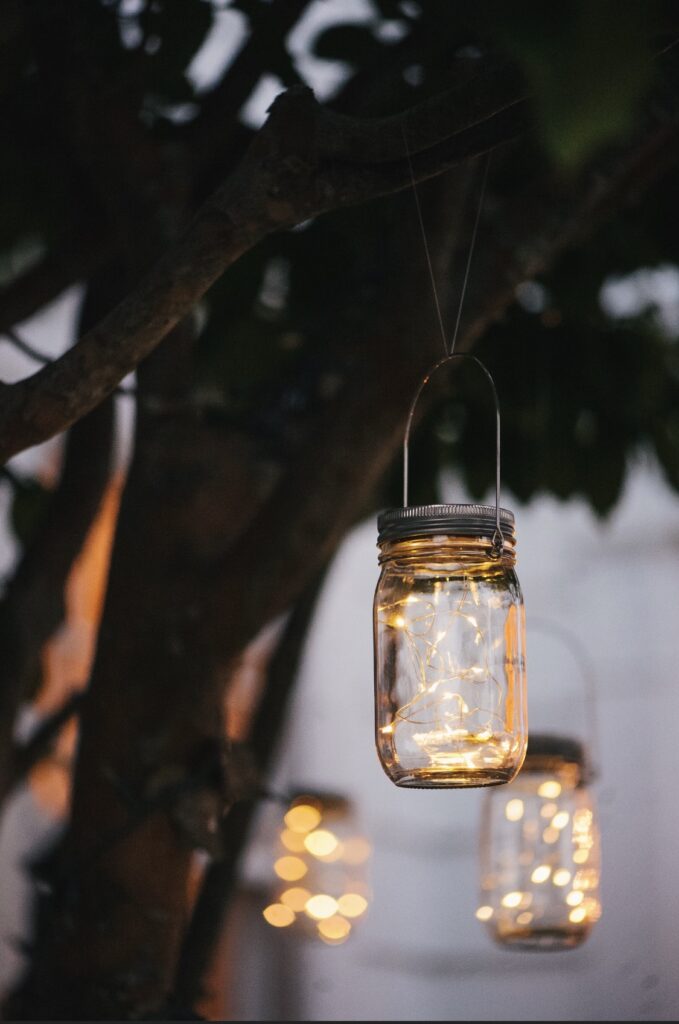 All you need to do is place a glass candle holder inside the jar and fill it with some colorful stones. Carefully put a small LED bulb in the center of the candle holder. Hang it up on your porch and be ready to be mesmerized.
Painted Doors
Which upcycle flair is the easiest? Yes, paint! Not to worry about too much or little, paint color is by far the most effortless and inexpensive modification you can make to your rooms. Your house should be able to ooze out the vibe you possess.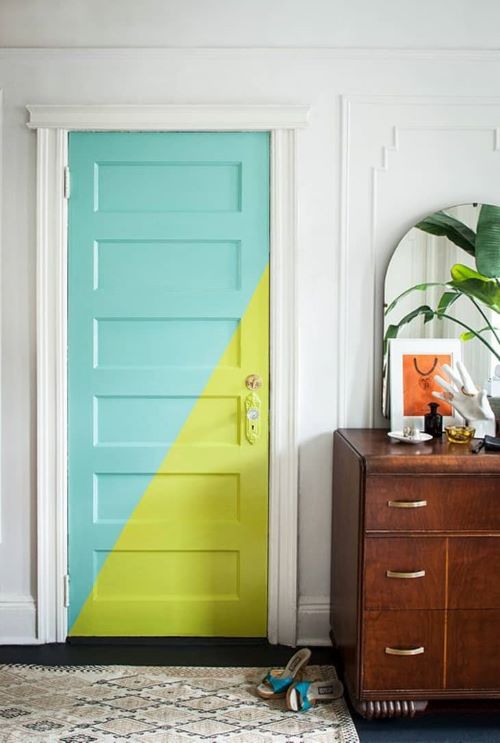 Let those creative birdies in your soul decide on an unusual front door color. And no need to keep it a single color. Mix and match leftover paints and create magic to make your home's curbside allure stand out from the throng (and to get your neighbors talking!).
Dog Tent
Let's make an adorable foldable pup-up tent (get it?) out of a twin sheet, shall we? Yes, twin sheet! Don't let your furry baby's skin burn in the sun. You may like getting a little tan, but your pup might not feel the same way.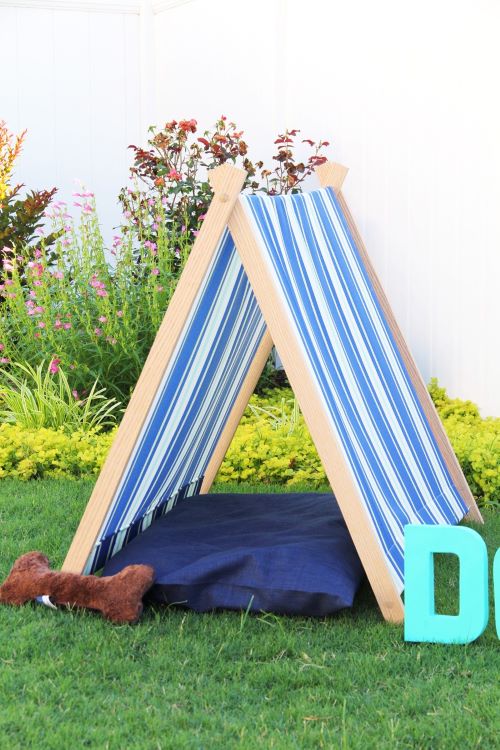 Your fur babies are much more likely to overheat on a hot sunny day. With this entirely portable pup-sized tent, your pets will get a patch of shade no matter the time of day. They can stay cool and avoid a nasty sunburn.
Tub Planter
Is your washtub too damaged to use but too cute to throw away? We've got your back. We suggest repurposing and making planters out of them. That galvanized washtub can be used as a planter. On the other hand, you may use this method by attaching casters by making holes in the bottom.
This combination of tubs and casters are all separate from each other, so you can set it up however you want. And these newly renovated containers are all portable, so you can mix them up and move them around for a fresh look each season.
Upside-Down Planter
Big fan of Stranger Things? Don't worry, this DIY tip isn't scary, but it did make us think of Stranger Things since the inverted bucket looks like it belongs in the Upside Down. Using a hardware store plastic bucket, make a robust vertical garden out of two or more pots in exact sizes.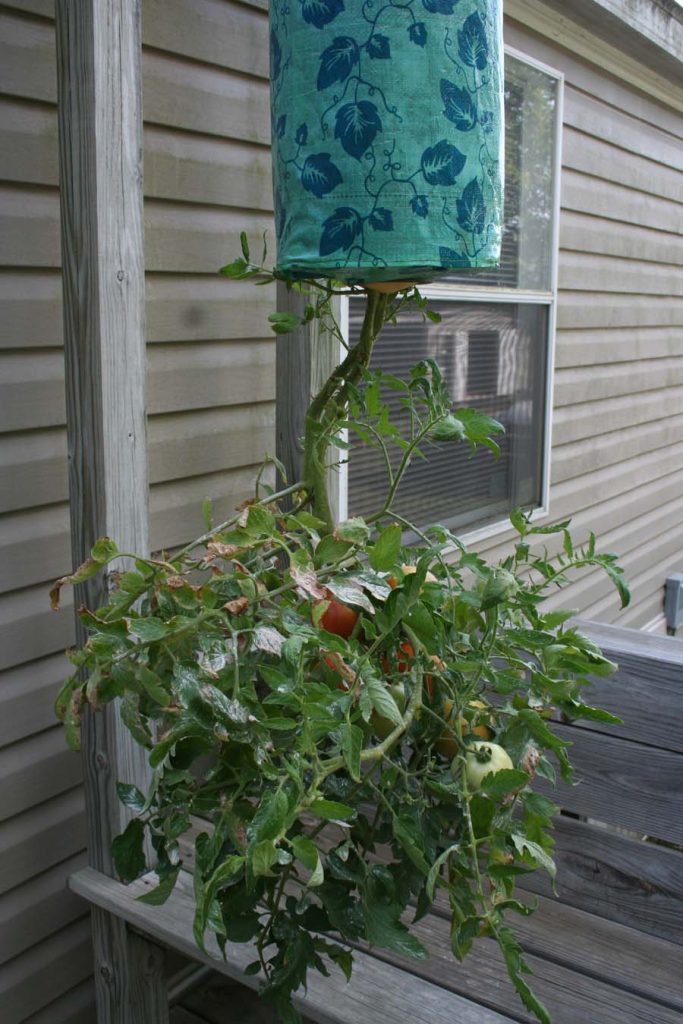 Fill it with food, drink, and shelter to attract different types of pollinators; this approach can also be applied to any garden container to increase the growing area. Tiered planters can be your first step to saving mother nature and what better place to start than your own backyard.
Wooden Pallet Shelf
We're back with another DIY trick for repurposing an old wooden pallet. If you already have a bar or planters, you can try making it into a vertical tool rack to organize your gardening supplies. A free shipping pallet with a new purpose. Isn't it cool?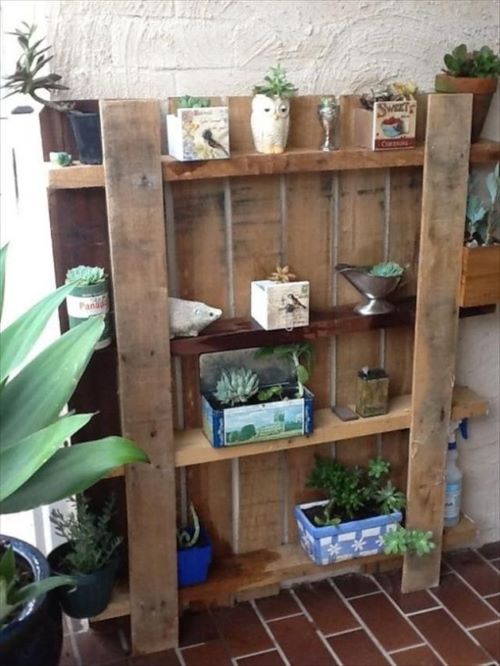 Find a nice spot on a garden wall, and fix it with some hooks so that it doesn't fall off. While you're setting up your new tool shelves, don't trash any broken tools you might find. As we've learned from other tips on this list, broken doesn't mean garbage.
Mosaic Planters
Here we are again with our trusty mosaics. We have come to the conclusion that any mosaic project will take any yard from a five to a ten. This next mosaic project is less intimidating than what you've seen so far, and will literally look good no matter what aesthetic you're going for.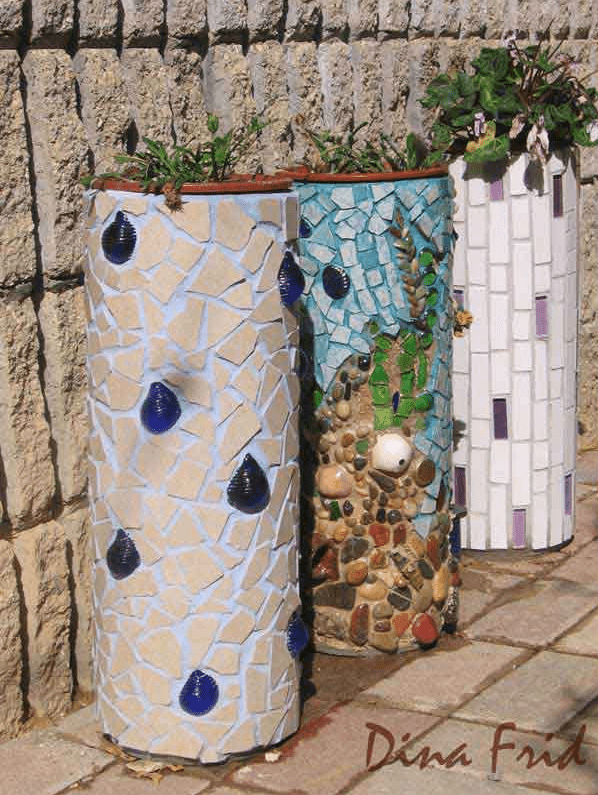 This person took regular planters and plastered an intricate mosaic pattern on each of them. As we said before, you can be the most creative out there with mosaics, and it will almost always end up looking good. Give it a try!
Laundry Hamper Planter
Ya, I know that basket of yours is old. But old doesn't mean worthless. Give your old laundry basket a chance and use it in new ways. With a bit of creativity, you can give it new life and purpose.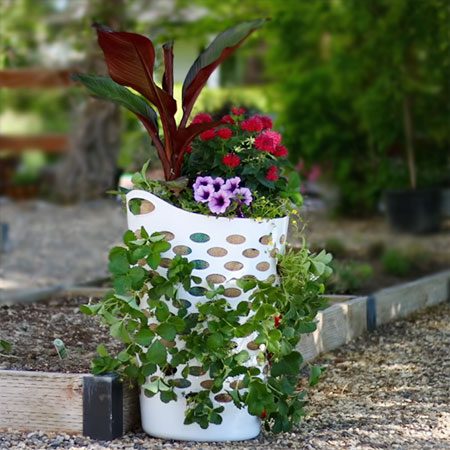 In fact, laundry baskets make for the perfect strawberry planter! All you need is a burlap sack, scissors, seeds, and of course, an old laundry basket. You can even use the top space to plant some herbs or decorative flowers.
Pergola
Repurpose a pair of antique firm wooden doors into a pergola to add an ageless appeal to your patio. You are now merely one step farther towards giving your patio a unique aesthetic charm, which matches your upcycling vibe. After all, why throw something out that can still be used?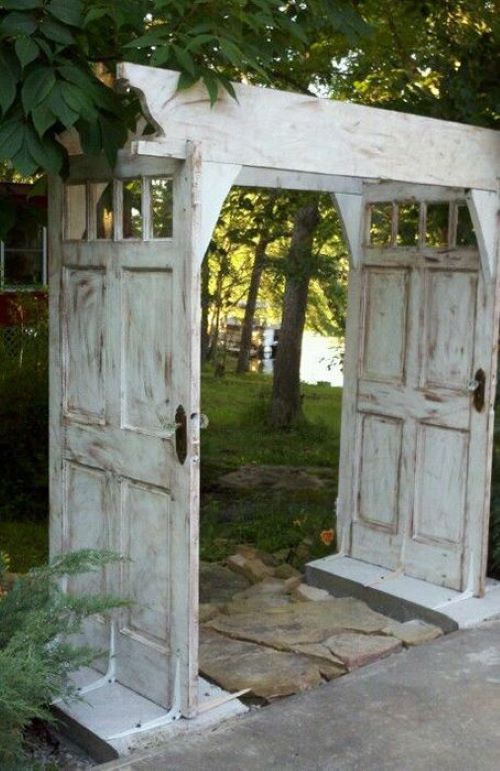 How you decorate it is entirely up to you. Allow climbing rose, wisteria, or jasmine vines to grow, softening the building's look, or just arrange them where you want to form a scenic view. If you give this one a try, send us pictures. We'd love to see your upcycled pergola.
House Number Planter
While there are dozens of designs for house numbers, why stick with a boring store-bought one when you can give your house a personal flair. You can decorate your front yard and number your house all at the same time by numbering your planters.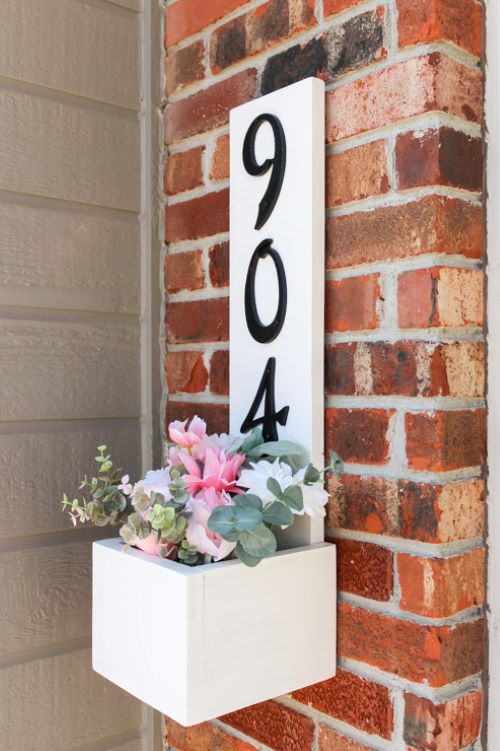 For this DIY yard hack, all you need are some buckets, paint, and of course, plants! If you want a more professional look, you can get some numbers from the store to add to the planter. It may be from the shop, but the planter gives it a personal touch.
Tablecloth Hack
Outdoor furniture is unfortunately subject to a lot of change in its appearance. Instead of an expensive specialized tablecloth, use a low-cost fitted sheet to add some color to a sun-bleached table. Or, if you're just looking for a way to add a personal touch to a plain white folding table, this trick works just as well.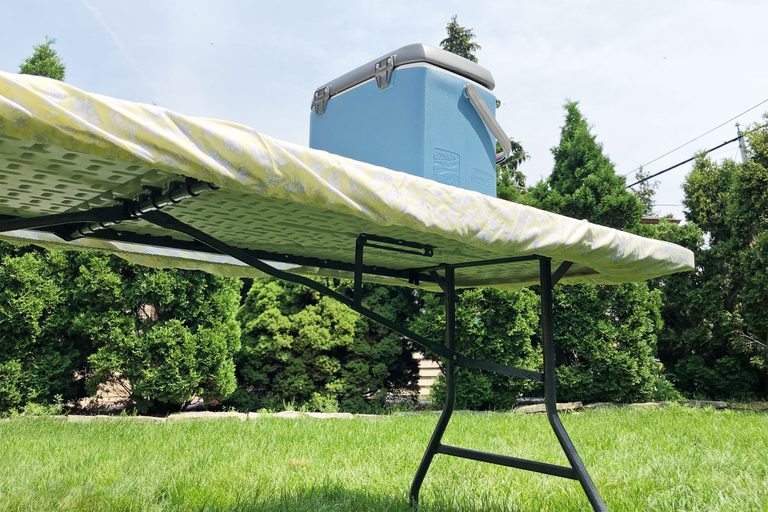 When the outdoor party is finished, simply toss it in the washing machine to clean off any food or grass stains. The fitted corners of the sheet keep it from moving or flying around in the breeze, making it less of a hassle to keep everything on the table.
Porch Swing
You must have heard that it really does not matter how old you are; always stay a kid by heart. The reason is they are the most innocent creatures on mother earth. Well, that isn't a lie at all. Being young and free of life's inhibitions makes things more enjoyable, indeed.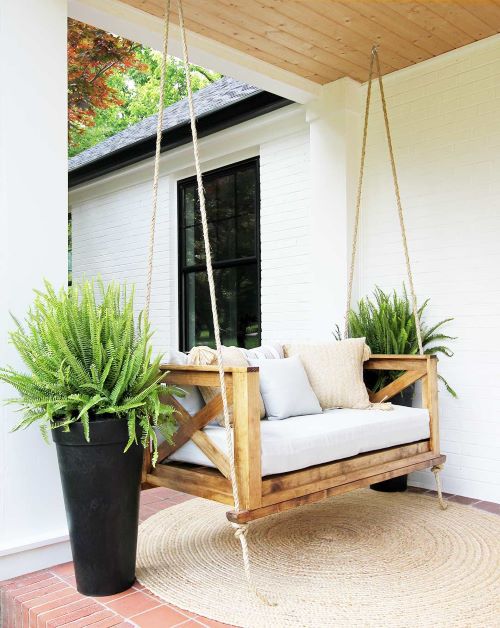 Cherish that inner child by making a wooden swing for your porch. Yes, we already talked about swings, but they're a classic for a cozy porch. This one uses our favorite: wooden pallets! Cut the wooden planks into the required size with a saw, make holes in the edges and attach the ropes tightly. Hang the swing securely.
Game Table
A game table out of your fire pit? Now that's how you know you are still a child at heart. Turn a disused fire pit into an outside garden coffee table. That's ideal for your desired vibe as well as entertaining visitors, neighbors, or family.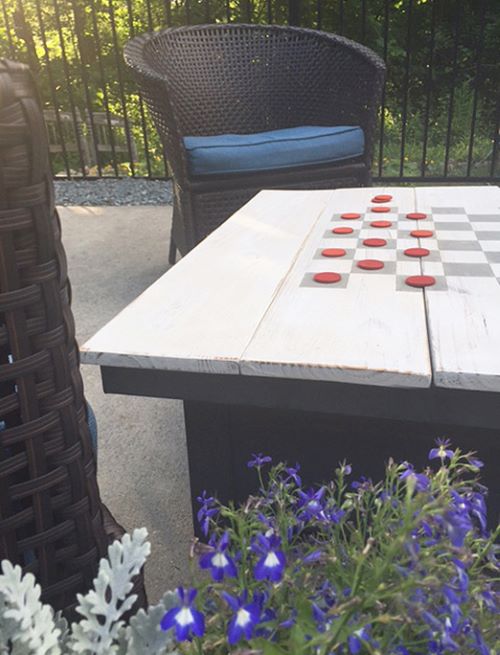 It's always playtime with this bright gameboard top. Start with cutting and measuring the wood, trim out the top, then add a base color to it, paint the board and the game pieces, prep, and add the rope handles. Which will you choose: chess, checkers, or backgammon?
Birdbath
Trendy things don't just need to be for you to enjoy. Make a chic spa birdbath for our avian friends; use a pair of old pots and a trash can lid or a large saucer for this decorative garden feature. And, of course, paint it in bright colors that both you and the birds will love.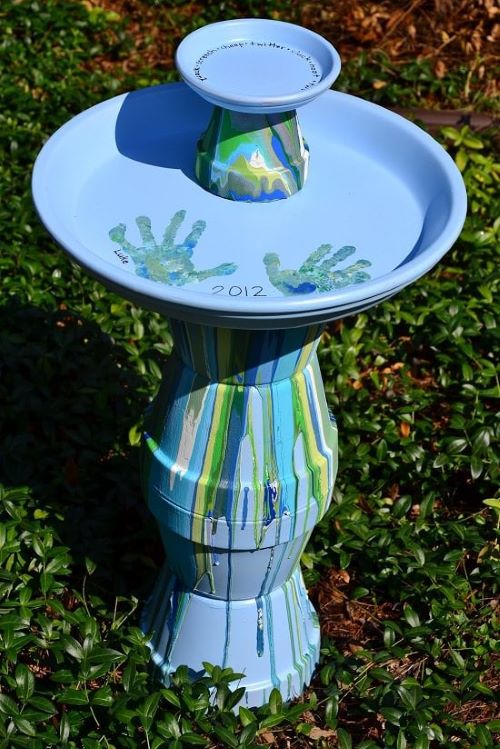 Place your new bath for the birds anywhere you want, near a tree, shrub, fence, or other location where birds can easily find cover. A shaded area will keep the water cool, reducing the evaporation rate and avoiding algae formation.
Tire Planters
Have a spare tire at home? No, don't throw that away just yet. Instead, turn it into something usable and creative, like a fancy planter. Build it yourself using a tire, plant saucer, spray paint, glue, and wood plant caddy.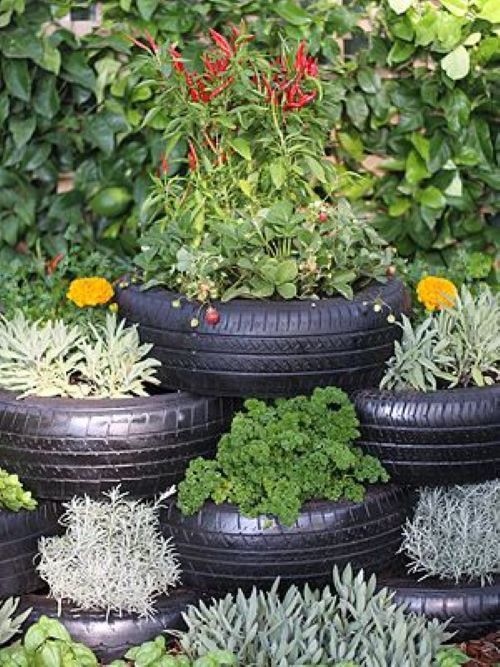 The first step would be cleaning and painting the tire. Attach the saucer to the bottom of the tire with glue. Now, drill holes in the saucer to let the water pass, and attach it to the caddy. Your handmade planter is ready within minutes.
Patio Bowling
There is not a thing about bowling that's not to like. It is undoubtedly one of the most fun games. But at the same time, it is not possible to go outside every time you want to go bowling.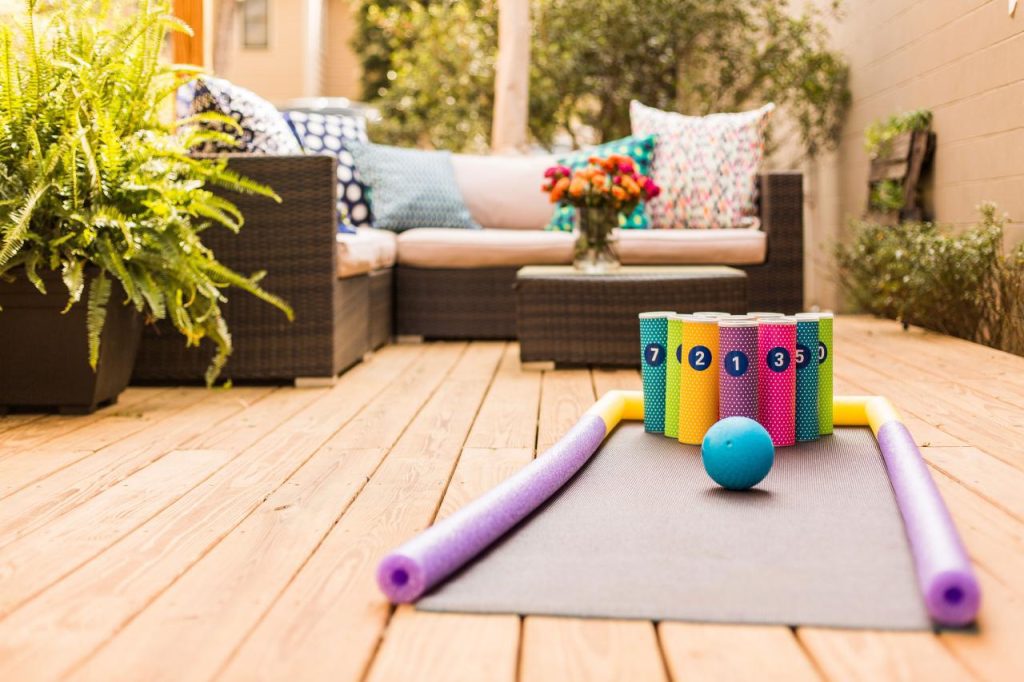 What if we say you can make a bowling alley at your home. Take a yoga mat, pool noodles, cans, and obviously a ball. Lay the mat and secure the sides with noodles, mark numbers on the cans, and have a fun playtime that kids and parents can enjoy.
Reimagined Plastic Flamingo
Want to add a creative twist to your beautiful front porch or back patio. Topiaries are always eye-catching but take an artist's touch to shape and maintain. But with a little DIY magic, you can have a topiary that requires zero maintenance.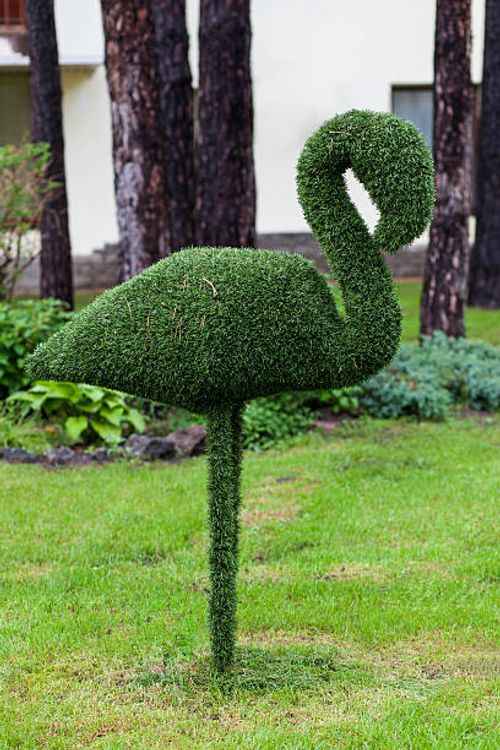 The pink lawn flamingo is a classic and is the first thing that comes to mind whenever someone mentions yard decor. All you need is a plastic lawn flamingo and some astroturf to turn this classic yard ornament into a personalized decoration to spruce up your yard.
Pinecones Bird Treats
Pinecones are a delicacy that birds love. If you want to keep those feathered friends hanging around your garden, why not craft a beautiful garland of pinecones. Both your aesthetic and zen-like feelings will score 100%. In addition, mother nature will also thank you.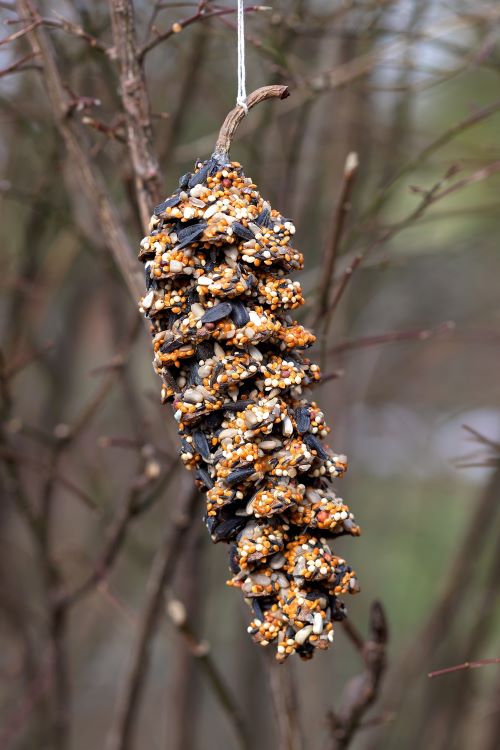 It's easy to make a feast for our little birds out of pinecones, a little wire, and pantry supplies. Hang them near a window to get a better peek at the diners who are passing by. This is a fun craft for the whole family as you can make it with the young artisans in your family.
Backyard Games With Tarp
Yes, we are asking you to use an old, dusty, and crusty tarp and make it the star of the show! Trust us, while you are expecting visitors and need ideas, have no time to spend, search or buy a fun outdoor game.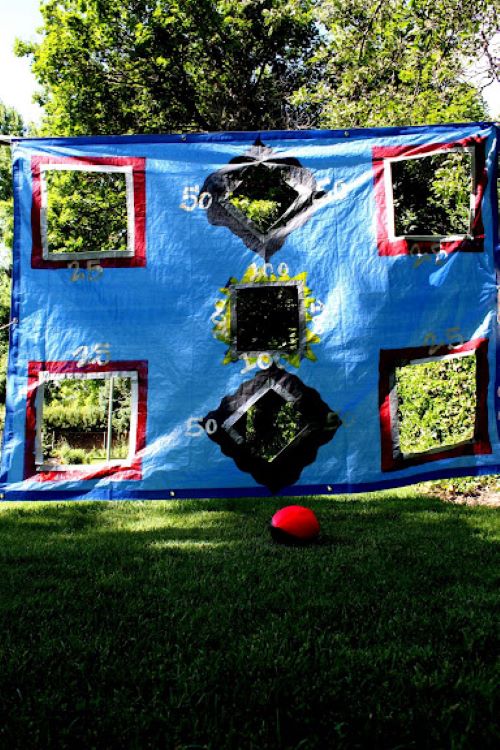 Backyard activities are a guaranteed method to break the ice between first-time guests. Badminton, croquet, bocce, or horseshoes are all safe choices or make a simple yet fun game out of a spare tarp that folds flat for simple storage in between parties.
Paper Lanterns
Do you have a tendency to make everything as pretty and beautiful as you? We have some ideas that will turn lovely thoughts into reality. Low lights channel your aura towards romanticism and calmness. Here's how you do it without breaking your pocket's heart.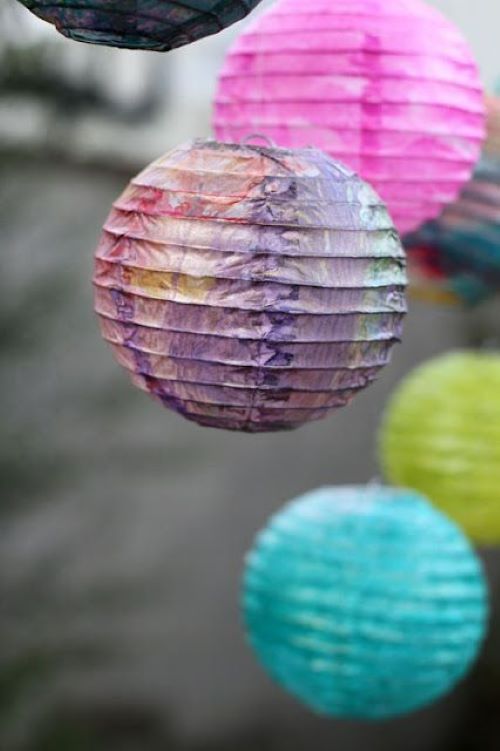 Add some colorful yet inexpensive flair with paper lanterns. Add a personal touch to store-bought lanterns with some simple acrylic paint. It's a simple DIY that you can do while multitasking, crafting while binge-watching your favorite sitcom. Just use some fishing wire or twine to hang it up, and you have beautiful outdoor decor!
DIY Water Feature
What?! Somebody said you are old enough to stack up legos? Well, you can still stack up some colorful blocks to soothe your inner child, but try it with rocks for a miniature fountain instead. It's a relaxing way to spend time both crafting and enjoying once it's complete.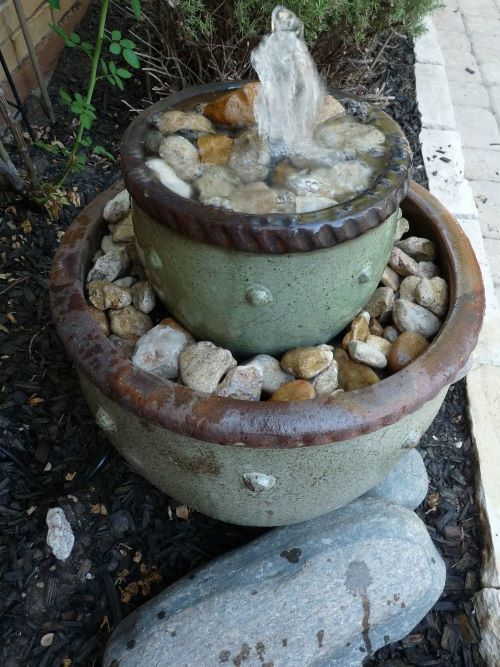 A tabletop fountain is the perfect relaxing decor to add to your yard. Turn a couple of mini varnished pots into a tabletop fountain to increase the relaxation factor on your patio. This is how you add a calming water feature without breaking the bank.
Doormats
There's nothing better than a sweet or fun doormat to greet you before you enter the house. It's a simple way to add a welcoming vibe to your home, especially for first-time guests. And it doesn't need to be a boring plain design. Spruce it up with a customizable DIY doormat.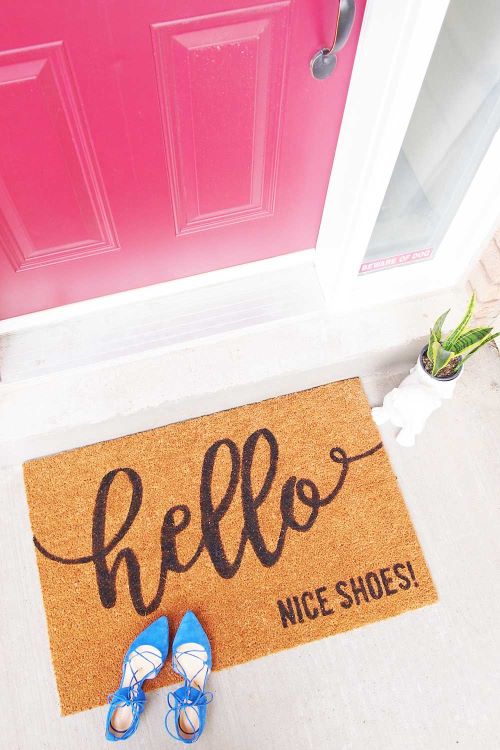 Make your doormat interesting with a personal touch. You'll need to get a blank sisal or coir doormat, paint, cardstock, and scissors if you want to be more precise with the patterns. You and go use something cute, or punny, or maybe your favorite movie quote. The choice is yours.
DIY Gabion Stand For Plants
Adding bespoke touches to your garden using natural materials is always a good idea. This will give your garden an enchanted feel. A gabion plant stand is just one way to achieve this look. To make one, all you need are some rocks, bolt cutters, a tomato cage, a paver, and stainless steel wire.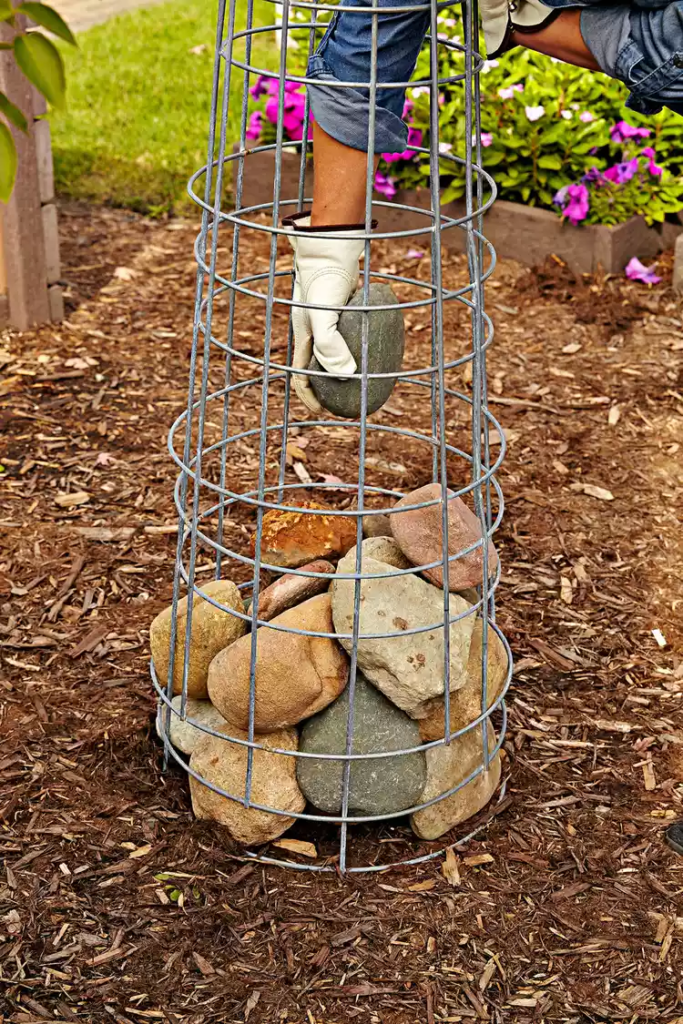 Simply shape the tomato cage into a cone shape, secure it together with the stainless steel wire, and then cut and trim the cage at your desired length. You can then fill the cage with rocks then top it with the paver and a plant of your choosing. Job done!