Living In Color: 40+ Ombre Home Decor Ideas That Infuse Spaces With Vibrant Hues
By Joyce S June 8, 2023
---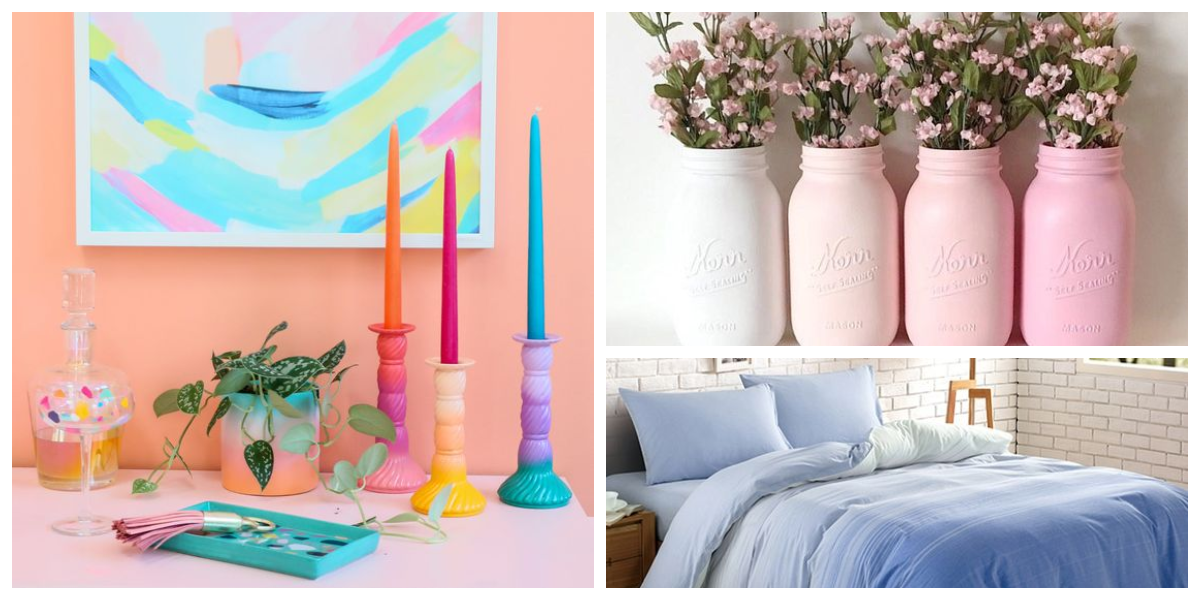 Imagine a stunning gradient of hues, seamlessly blending from a soft, delicate shade to a rich, deep tone. This is the magic of ombre – a technique that infuses a space with a sense of depth and dimension. By artfully blending one color into another, we can create a captivating visual journey that draws the eye and sparks the imagination.
Decorating your home on a budget can be a fun and exciting challenge! With a bit of creativity and resourcefulness, you can transform your space into a stylish and inviting oasis. The ombre technique can go beyond walls to elevate the aesthetic of other elements in your home, such as shelves or old dressers.
Ombre has the power to complement a wide range of styles, and its cyclical nature is a testament to its timeless beauty and captivating ability to transform a space into a work of art. Wanna see what we mean? Read on and witness the magic!
Ethereal Green
Imagine stepping into a dreamy entryway that exudes a sense of serenity and calm. This stunning ombre green wall sets the tone, creating a soothing atmosphere that instantly puts you at ease. It's a decor style that's an excellent fit for homeowners that value delicate designs.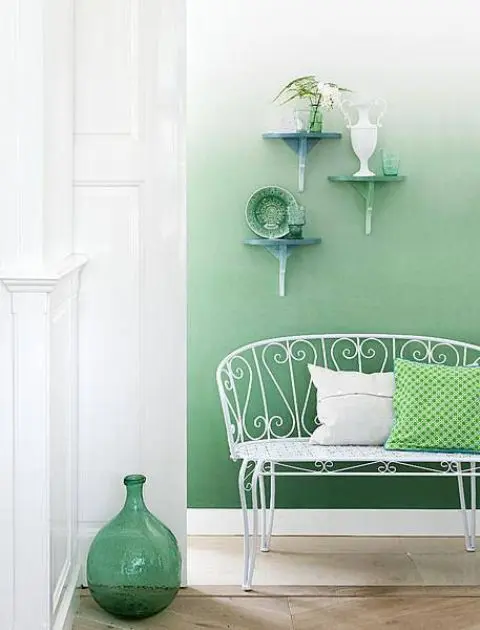 A sleek white metal bench beckons you to take a seat and relax while plush green pillows add a pop of color and comfort at the same time. Delicate shelves adorned with beautiful vases and decor complete the look, making this space a true work of art.
DIY ombre wall
Crafting the perfect ombre effect through color selection requires a keen eye for detail, particularly when transitioning from one hue to another. When selecting the ideal color scheme, you can seek inspiration from the color wheel and the endless array of references on Pinterest.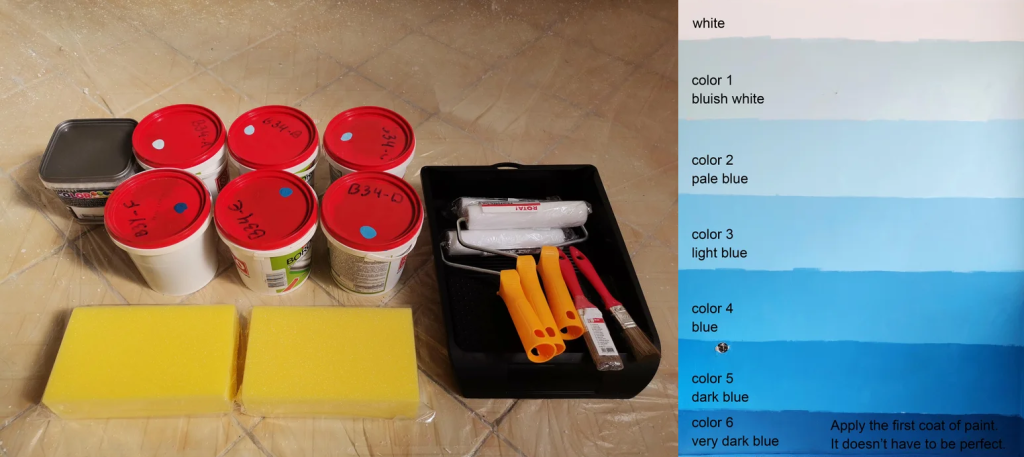 To create a harmonious color scheme, it's essential to select a light and dark shade of your chosen color. This will allow for a cohesive and visually appealing design. Also, when selecting hues, remember that the greater the contrast between them, the more striking the outcome will be.
Wintery Bliss
You can and should craft a warm and inviting space perfect for snuggling up during the winter months. Just picture the stunning effect an ombre accent wall will have in your space. It's a brilliant way to elevate the overall aesthetic and make your design elements pop.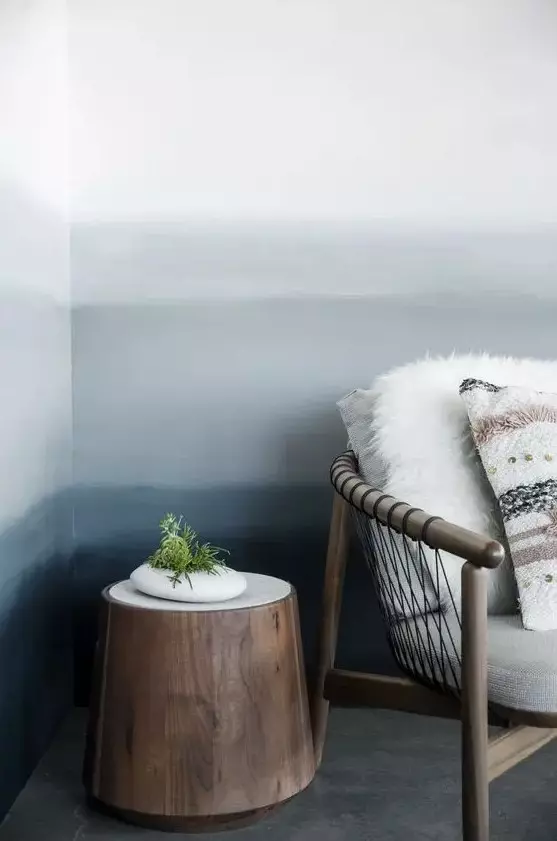 Deep and rich hues exude sophistication and elegance, and this cozy minimalist corner exemplifies that. Consider incorporating tasteful gray accents that add a touch of contrast and depth to the overall aesthetic. Together, these elements will create a truly captivating space.
Pink Shiplap Wall
Imagine a cozy little corner that radiates elegance and charm. A dazzling ombre pink shiplap wall is the perfect backdrop for a plush chair embellished with a striking pillow. A sleek side table and a stylish floor lamp complete this breathtakingly beautiful space.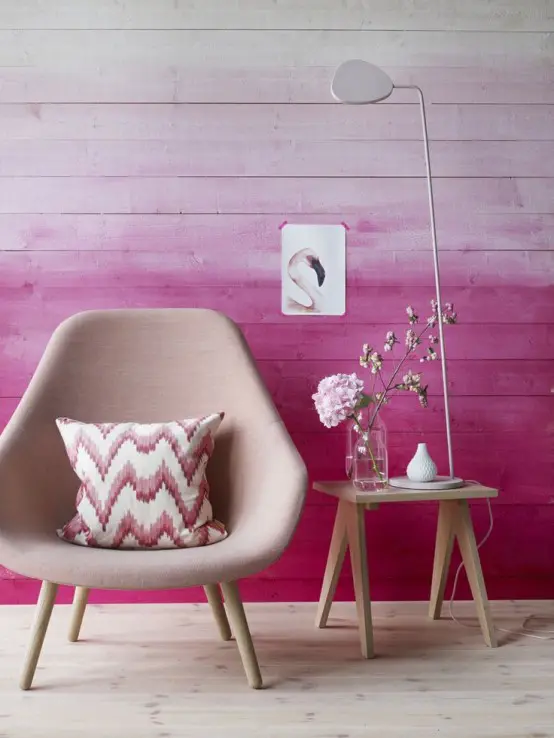 A space truly comes to life with the addition of carefully curated decor elements like this lovely cushion and watercolor flamingo painting. If you want pillows and throws that match your decor, you can explore the joy of creating your own with simple and stylish tutorials.
Revamping A Dresser
Revamp your room's decor with a stunning ombre effect using a stylish dresser as your canvas. You can also effortlessly harmonize your color scheme from one room to the next. Consider the delightful impact of painting each drawer with its own unique hue.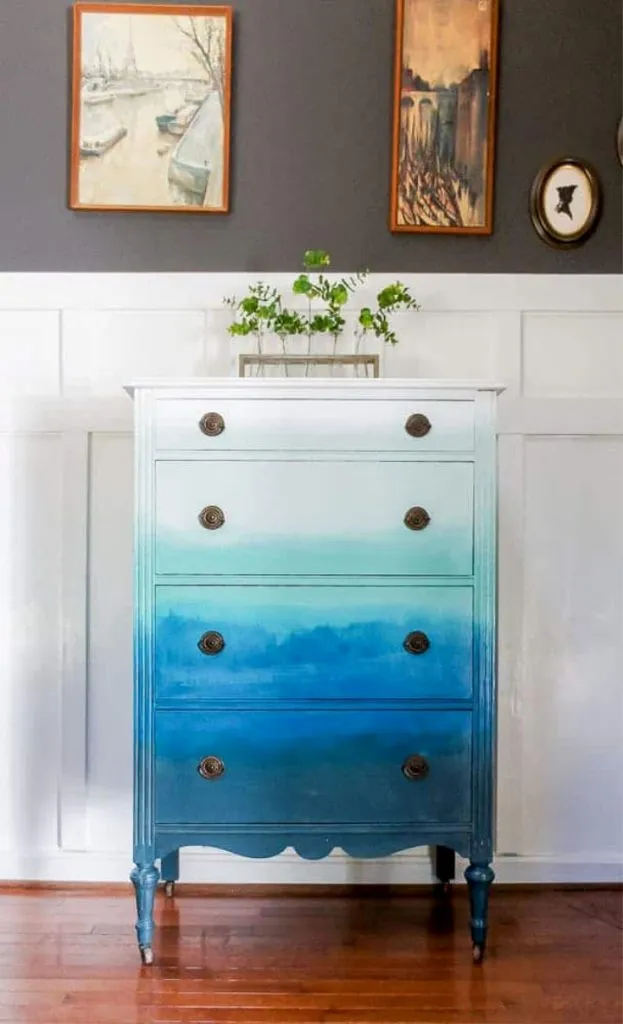 It's a simple yet effective way to brighten your space with an overload of vibrant colors and personality. Not to mention, you'll be giving your old furniture a brand-new lease on life. The journey of transforming your furniture will be an absolute delight, and the end result will leave you in awe.
Cute Vanity
It's natural to assume that if you want an ombre design for your home, you'll have to shell out a substantial fortune. Well, if you're thinking about creating the designs yourself, that won't be the case. You can introduce some of the ombre flairs into your house without messing with your finances.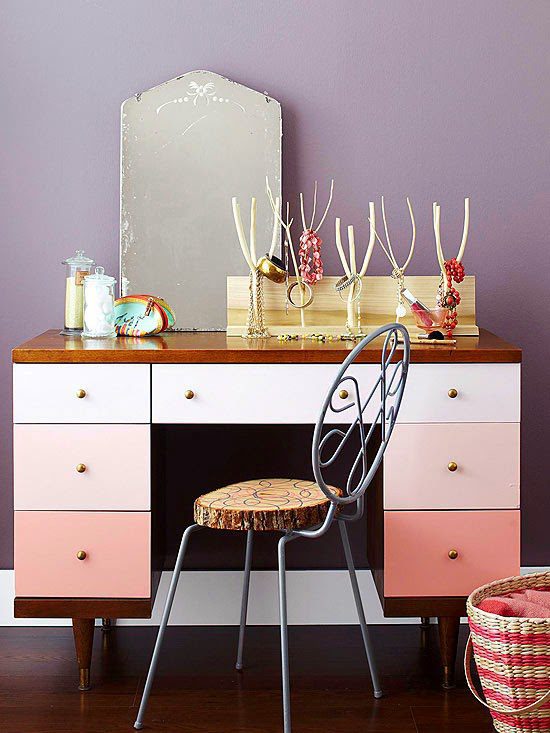 It's even better when you realize that you don't have to toss out that relic of vanity since the shaded look of the ombre craze has made its way into the realm of furniture. It's ideal to take a look around your home, especially your bedroom if you want a matching theme.
The Highlight Of The Room
This ombré built-in decor is like a burst of energy, infusing the wall with a vibrant and lively spirit. Orange tones always bring a touch of cheerfulness, and when done in an ombré style, the bliss is maximized. This built-in shelving area is the perfect spot to display your ceramic collection.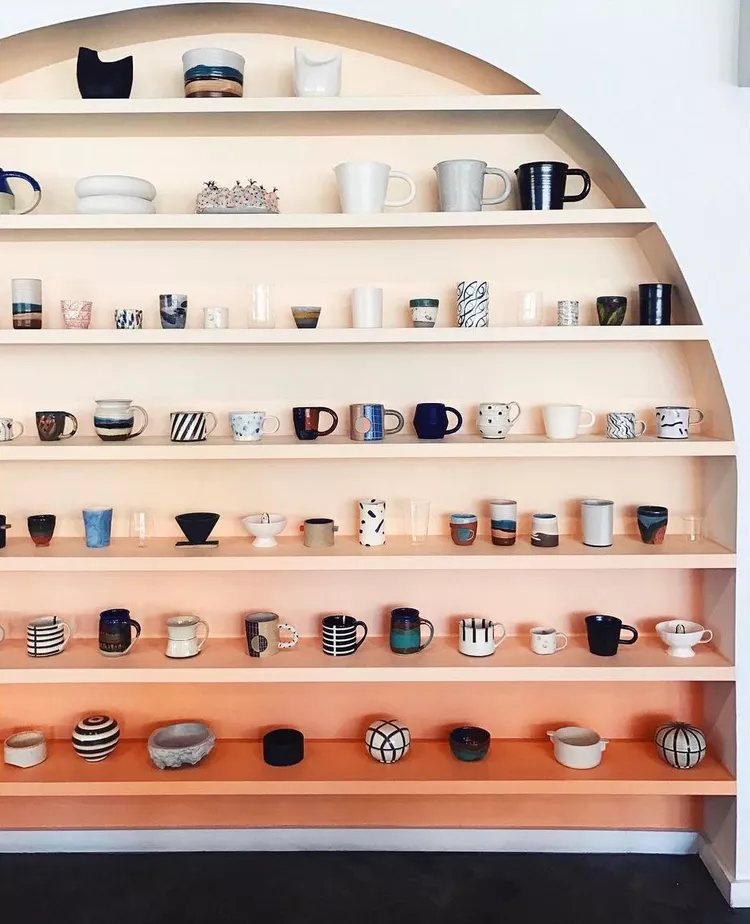 It's a dynamic setup since each shelf has its own segment of the ombre rainbow, starting with pastel pink and progressing through a variety of orange tones. This way, you can separate the ceramic pieces according to style and let the gradient effect on the wall highlight the magical room.
A Subtle Touch Of Pink
Imagine a stunning ombré painting that gracefully transitions from a soft, delicate pastel pink to a dreamy, ethereal hue. This piece adds a touch of elegance and sophistication to any room and creates a serene and calming atmosphere. Admittedly, this is an unusual application to ombré. But it looks incredibly cute!
A subtle ombre effect on a wall creates intrigue without overwhelming the space with bold hues or stark contrasts. This charming display elevates the allure of pastel hues, featuring a delicate green gradient wall, dainty pitchers brimming with blush-tinted water, and a fanciful masterpiece.
Ombré and Gold
Behold a fantastic dark ombre wall that has captured our attention and will definitely capture yours. Picture yourself stepping into a room where the walls are adorned with a magnificent gradient of deep purples that effortlessly fade into lighter hues.
The effect is reminiscent of the way dark clouds gradually give way to a bright, sunny sky. And just like the sun's rays peeking through the clouds, the delicate golden accents add a touch of warmth and radiance to the room. The space now has a unique moody ambiance.
Peachy Pegboard Bookcase
For comic lovers who want to showcase their treasures in style, this ombre stand is the perfect choice. Its sleek design makes it a must-have for any modern home. With just a few simple tools and supplies, you can easily take on this project and create something that's both functional and aesthetically pleasing.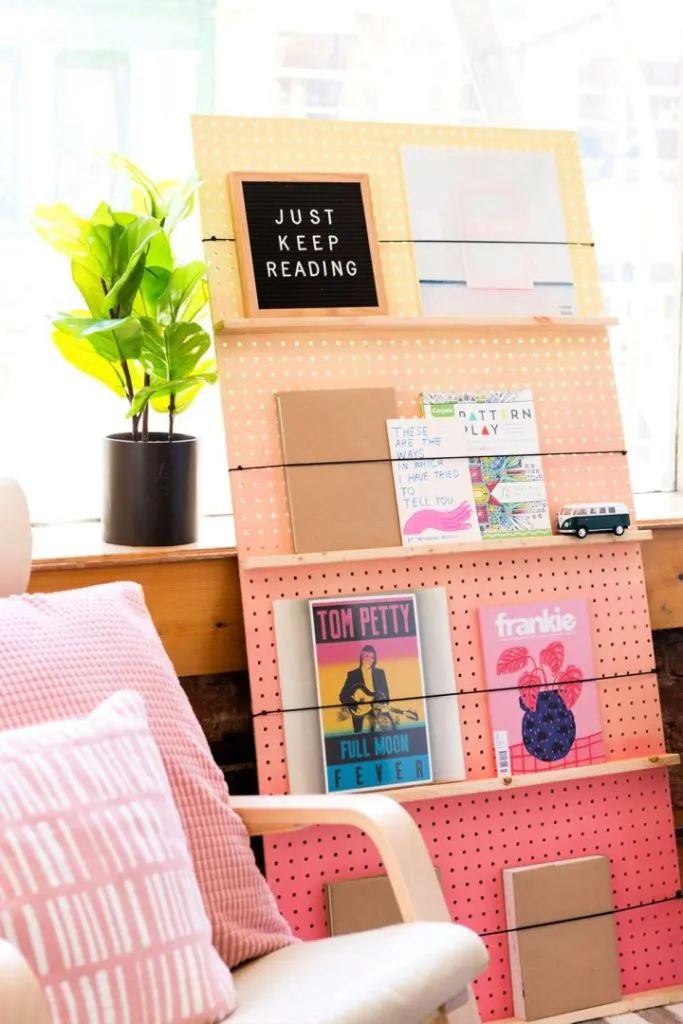 You'll need some materials and tools to create the fabulous display. These include a pegboard, wood strips, and two complementary paint colors to achieve this look. To apply the paint, use a trusty paint roller, and to secure everything in place, you'll need a drill, screws, and an elastic cord.
Giving Your Letterbox A New Look
A letter holder installed on either side of your front entrance will help you keep track of mail even while you're not there. This charming DIY ombre letter holder is a stylish and eye-catching addition to any space. The ombre effect adds a touch of creativity and flair to this essential item.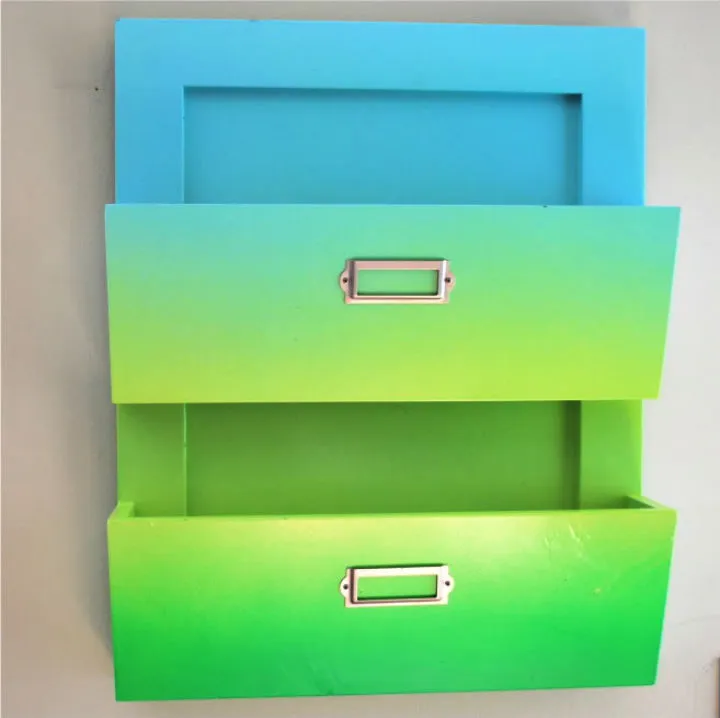 You may tweak the pattern with whatever color you choose and observe how well the inexpensive, trendy holder works. This is an incredible way to upgrade a simple letter holder into a playful and budget-friendly statement piece with a playful touch!
A Calming Sea Vibe
This dresser can easily be the focal point of any room, thanks to its simple yet captivating decoration style. And it's clear to see why that is. Check out this lovely set of drawers, covered with a paint job that stirs up the tranquil nature of a sandy ocean.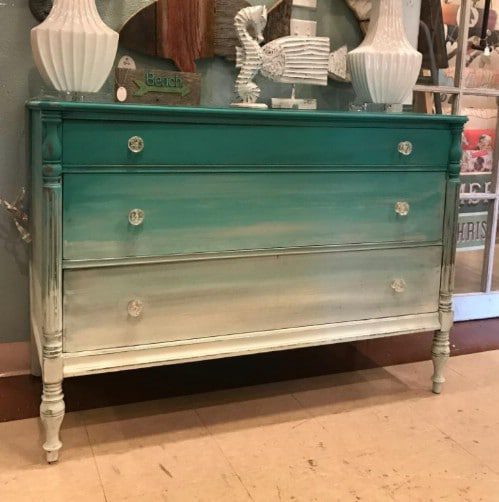 The beauty of the ombre design lies in the way it evokes the essence of nature through color combinations. The deliberate brushstrokes on the walls effortlessly mimic the movement of ocean waves, adding to the overall coastal atmosphere. Now we want to go to the beach!
A Bold Design
Ombre paint techniques are a popular choice for wall treatments. Imagine the possibilities of applying these techniques to other furniture pieces in your home! A kitchen cabinet or sideboard could be upgraded into an amazing focal piece, adding a touch of glamour to your dining room.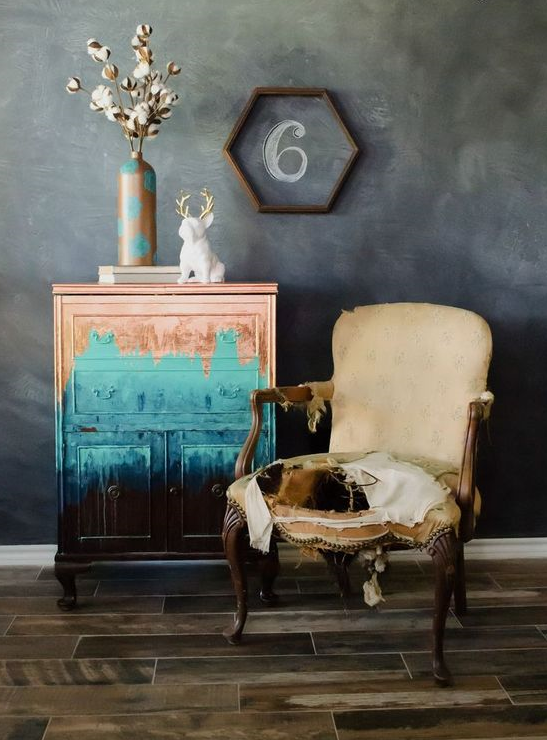 When it comes to selecting the perfect color for your drawers, why not consider the serene and refreshing tones of teal or aqua? These shades will flood your space with a sense of calm and tranquility. If this photo is anything to go by, you can transform even the worst of things using ombre effects.
A More Sophisticated Style
There are alternatives for those who prefer a more sophisticated touch to home design. For example, this distressed gradient on an antique cabinet takes two aesthetic directions and merges them into one lovely whole. This dresser is mostly painted in dark blue.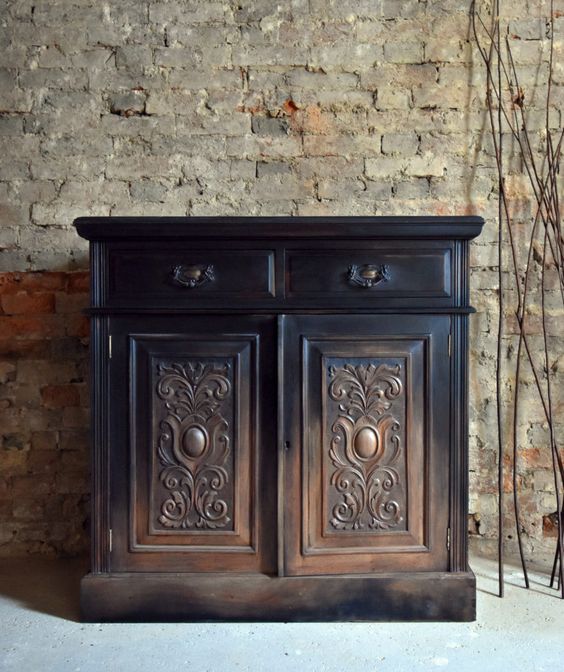 But the very top is a darker shade of blue with a tan "gradient" that is more of a suggestion than a true one. It's almost as if the dresser is lit from one end by some sort of enigmatic radiance, thanks to the stark contrast in hues.
Ombré Looks Great On Clothes, Too
Ombré and dip-dye occupy a lovely transitional space between solids and patterns. Colors of varying tones can coexist in an ombré or gradient fade. Dip-dying allows you to gradually fade out of a solid color creating a softer color transition.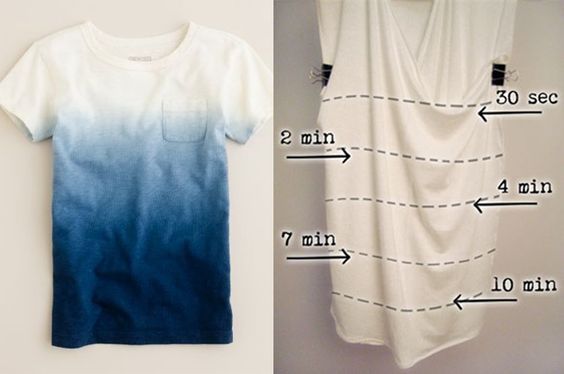 Dip-dyeing hair is a common practice, and you may be aware of it from seeing it on celebrities. But did you know you could also dip-dye your clothes? You may choose one color scheme or create a rainbow effect by mixing vibrant shades.
Horizontal Pattern on Curtains
Who says you need blue and white curtains to get an amazing ombre effect? Dip-dying is a fantastic and adaptable trick that can help you obtain your desired aesthetic without any restrictions on color selection. Achieving the ideal shade requires a delicate balance of timing and precision in the dyeing process.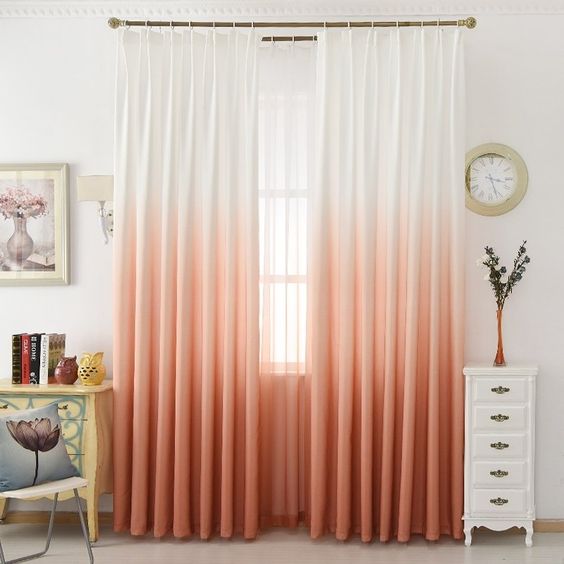 The more time you allow for the immersion, the more intense the hue will become. Think of it as a breathtaking metamorphosis of your ordinary curtains into incredible and colorful curtains. Simply immerse the fabric into a tub of dye, and allow the rich hue to permeate and imbue the fibers with tint.
Vertical Designs Are Also Fabulous
The same technique can be used to obtain a vertical ombré effect. It is really up to you to choose between the horizontal approach or the vertical design. Either way, your living area or bedroom window will look unique and lovely.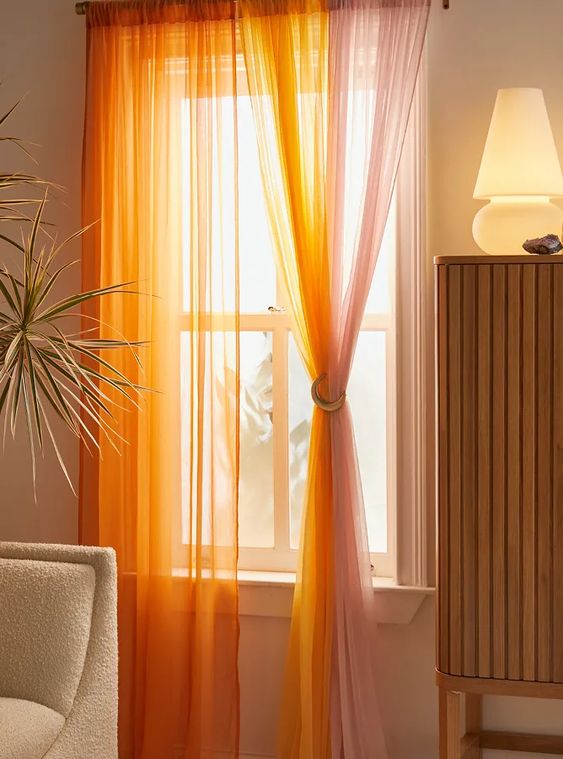 When it comes to curtains, we've noticed that ombre colors arranged horizontally can add a touch of artistic flair to any room. On average, the darkest hues are found at either the top or bottom of the curtain but vertical shading also creates a charming visual impact. This aesthetic is truly one-of-a-kind and often overlooked.
Macrame Wall Hanging
Small changes can add superb energy to a living space. This elegant piece combines classic macramé techniques with a dip-dye effect to produce a breathtaking ombré effect that is just divine. The pastel pink and brown shades are just the beginning of the endless possibilities that await you.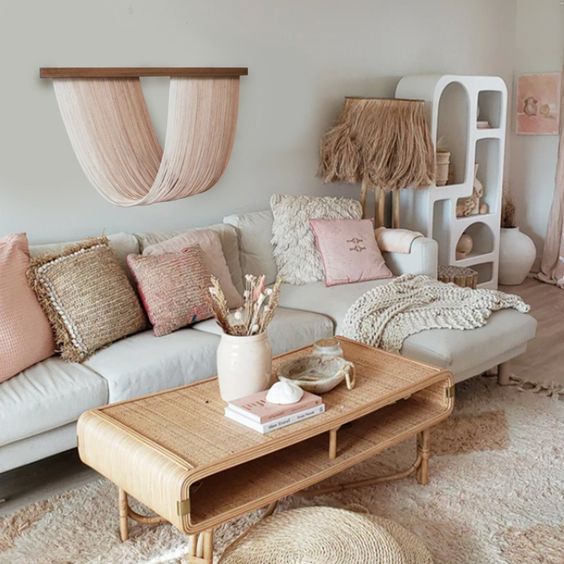 With a touch of creativity, you can liven up your living space into a haven of comfort and style by choosing colors that will perfectly complement your existing décor. These techniques are not only accessible to all skill levels, but they also add a touch of bohemian charm to any room.
Ombré Baskets
This ombre basket is a testament to the transformative power of creativity. Starting as a simple plastic container, it has been renewed into a work of art that adds both beauty and functionality to a simple object. The container was finished with rope detailing, which was then elevated with an adorable ombre gradient finish.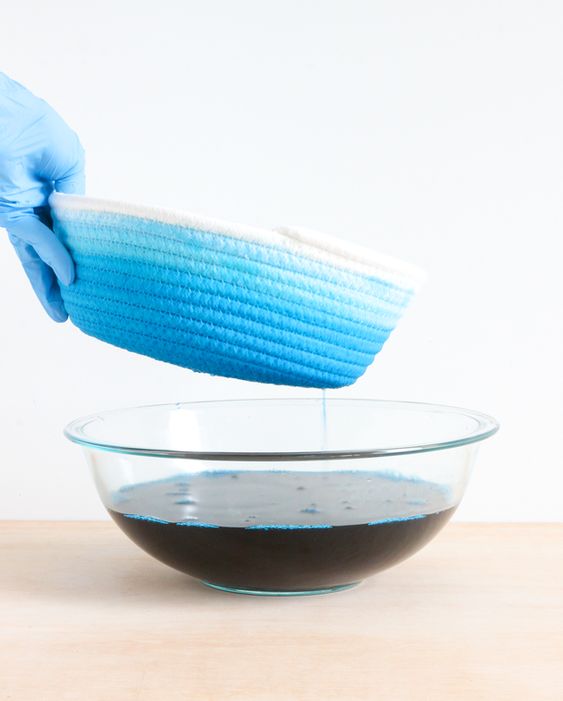 And there's another plus to this idea. The ombre coloring of old baskets makes them perfect for storing toys. With this, you can easily elevate your home's style with a do-it-yourself project without spending much money. Put the children's playthings in the baskets and show them off!
On Weddings
Planning a wedding is always a nerve-wracking experience for brides, grooms, and everyone else involved. Everything must be perfectly planned to make this turning point a moment to remember. The wardrobe, of course, plays a huge role in making the bride and her bridesmaids feel like they're in a dream.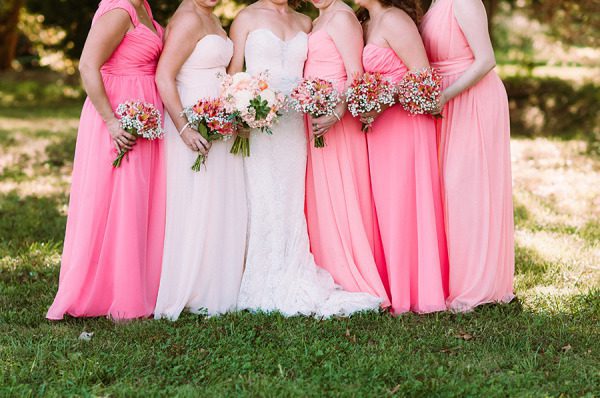 Designing an ombré-themed wedding is all about opting for a single hue and letting it take center stage. Just picture a breathtakingly romantic wedding ceremony, where the air is filled with love and elegance, a dream-like moment where the shades of a single color are expertly woven throughout the space, creating a magical atmosphere.
Wedding Cakes
The ombré style makes a beautiful transition of colors from light to dark, creating an exquisite gradient effect that is sure to make a statement. It's a versatile technique that allows you to indulge in this latest trend and elevate decor, fashion, and even your wedding dessert game.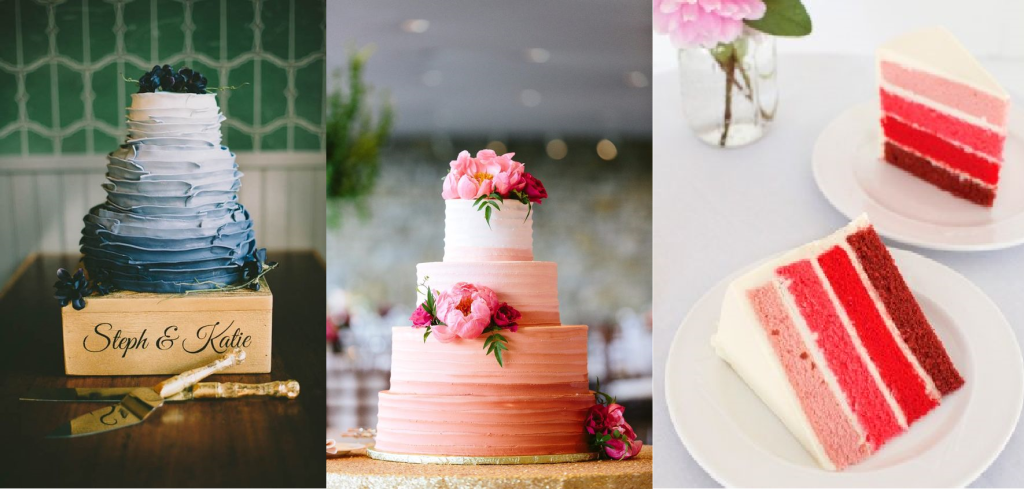 Whether you fancy the ruffled ombré buttercream icing or opt to incorporate it into the layers of your cake, there are countless ways to incorporate this chic trend into your special day. See? It effortlessly elevates any color, shade, or hue to new heights of beauty and sophistication.
Flower Bouquet
Just like the dynamic world of interior design, wedding flower trends are constantly evolving. From bold color palettes to unique floral arrangements, there are endless possibilities to make your special day truly unforgettable. When it comes to selecting blooms for a wedding, there are certain classics that never go out of style.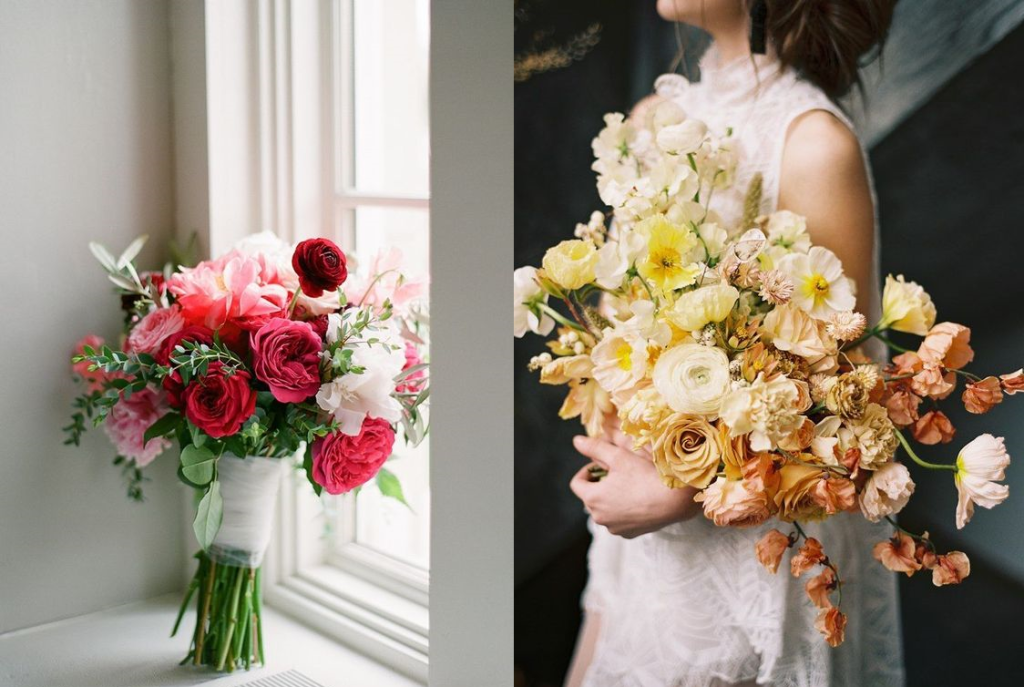 Red roses, with passionate connotations, and peonies that bring good luck and marital bliss are perennial favorites among brides and florists. Ombre in wedding decorations honors the delicate and loving aspects of the ceremony. We're sure there's an ombré color scheme out there that's perfect for your big day.
Easy DIY Ombré Project
Everyone should have the chance to showcase their beloved books and cherished memorabilia in a vibrant custom shelving unit that truly captures their essence. By combining a few carefully selected decor pieces and a tasteful splash of color, you can elevate a plain bookcase into a dandy centerpiece.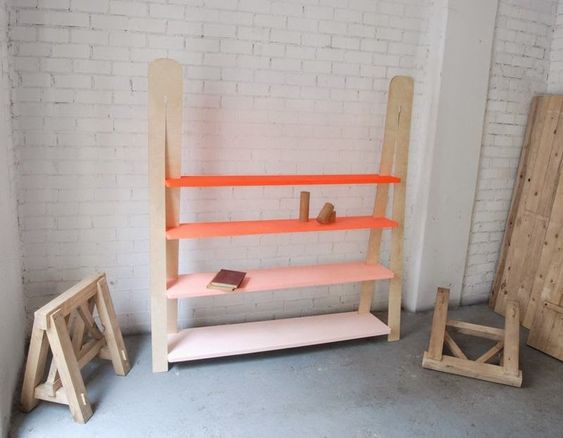 When organizing your shelving space, consider turning the upper levels of the bookcase into a decor station by displaying your artwork and decorative items there. Surf the web until you find a DIY bookshelf blueprint that's just right for you and your lovely reading nook.
Sophistication With A Built-In Bookcase
Adding shelves to an empty wall is a simple approach to improve your home's aesthetics and make the most of the available vertical space. And if you're feeling bold, give a built-in bookcase a chance to bring the wow factor to your home.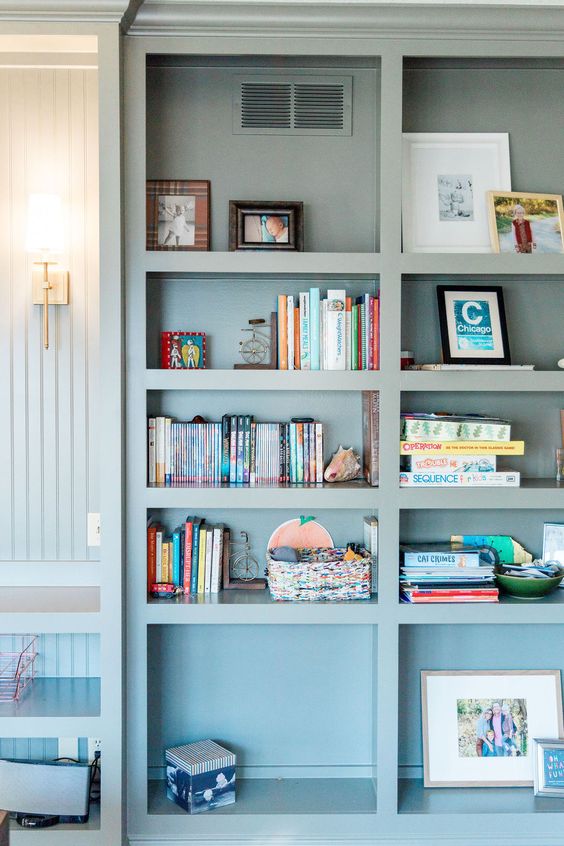 You can install built-in bookshelves that go from the floor to the ceiling and provide ample space for storing and displaying everything from art to souvenirs from your travels. Using an ombré color palette will make it stand out from the rest of your unique home decor.
Geometric Designs
Hexagonal tiles are a fantastic choice for kitchen flooring as they offer both durability and water resistance while also adding a touch of chicness to the space. The installation of honeycomb tiles in your kitchen is a brilliant way to highlight character and style.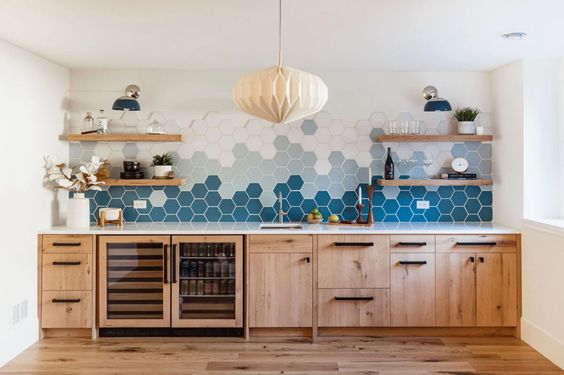 But we just love the idea of incorporating trendy ombré hexagon tiles on the backsplash. It's an excellent way to add a touch of modern flair to your space. Whether petite or grand or dim or bright, these tiles will take your home decor to new heights.
Rugs and Runners
Introducing ombré rugs to your home is an excellent way to add a pop of color to your space while avoiding the monotony of a plain, solid rug. Evidently, the charming idea of color fading, originally used to describe the gradual fading of hair color, has conquered its way into the realm of interior design.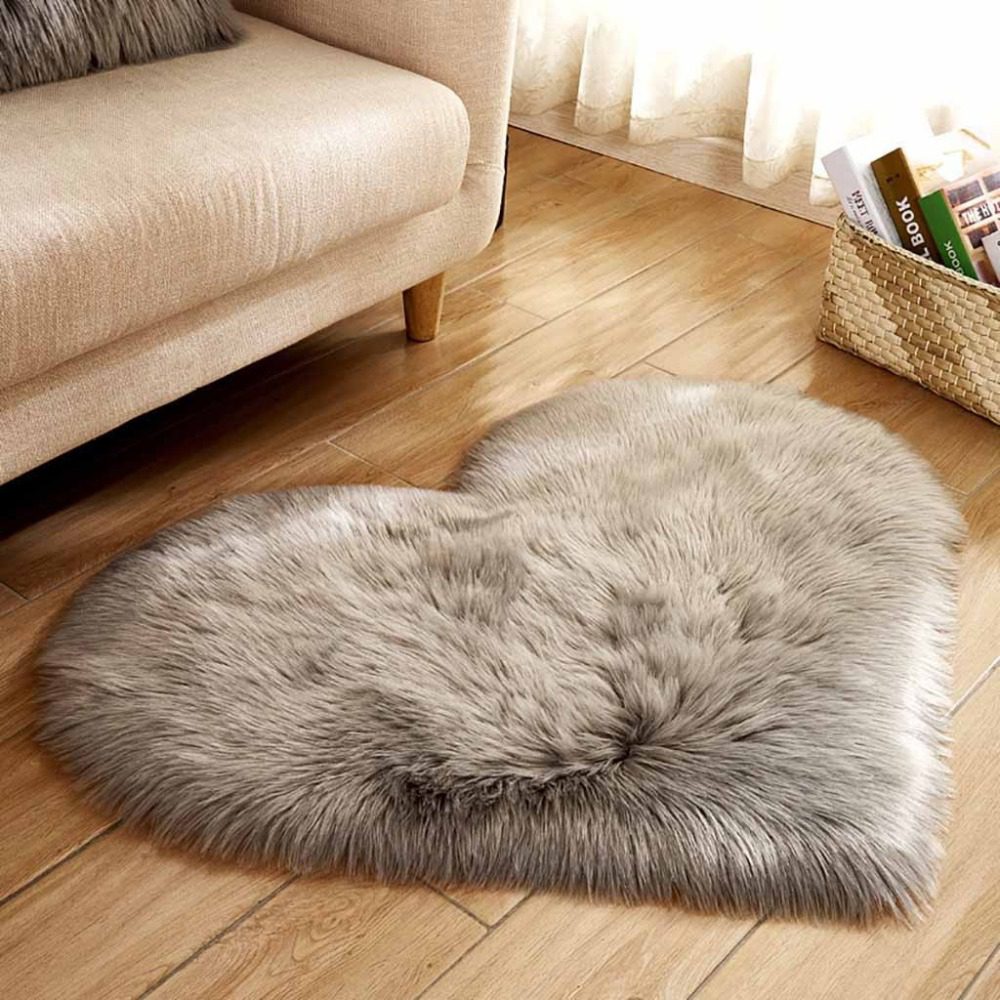 It's amazing how a single color gracefully transitions into a softer, more delicate version of itself, with the possibility of fading back into the original hue. This is the kind of design that truly elevates a room. The rug's diverse range of hues offers endless possibilities for blending it into your interior design palette.
Brighten Up A Simple Bathroom
When it comes to transforming a space, paint is the magical elixir that can turn an eyesore into a work of art. With a wave of its wand, this enchanting space has transformed from a dull and lifeless bathroom into a vibrant, contemporary oasis with nothing more than two colors: blue and yellow.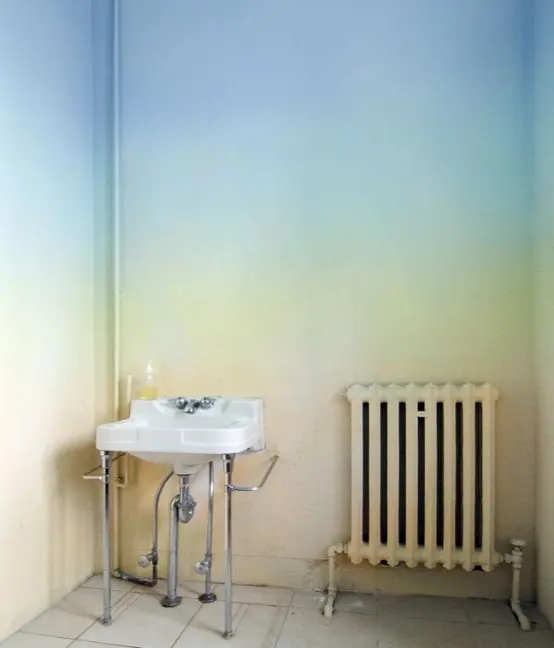 The colors make a beautiful gradient starting with blue on the top and moving all the way down to a cute pastel yellow. Check out how the two colors blend in the middle giving the spotlight to a gentle tone of green. This decor style has stolen our hearts.
Glamorous Radiator
A radiator is often a practical object painted in a neutral hue and concealed from view by a screen or cover. But what if you accentuate it as part of the design rather than concealing it? Since most radiators are white or neutral, a multicolored one is unquestionably an unconventional choice.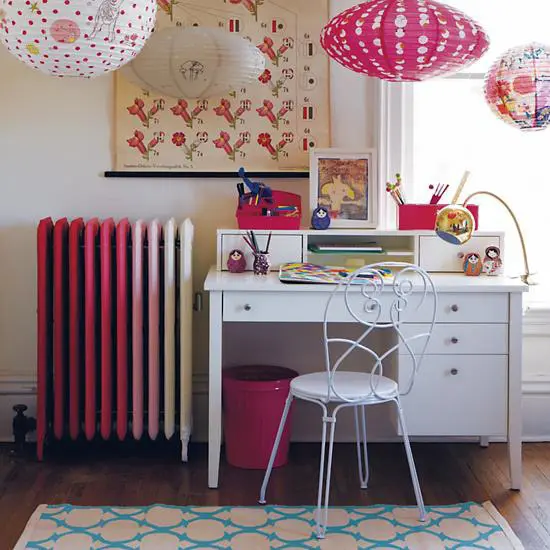 A vibrant radiator is an absolute requirement if your home is already brightly colored. To give it a catching three-dimensional appearance, paint it the same color as the wall. Alternatively, choose an accent color that you've already used in the room.
Teal Staircases
Staircases serve as the backbone of your abode. Foyers are not just transitional spaces that connect different rooms and narratives in a home, but they also constitute the initial impression that greets your visitors at the doorstep. They should be both inviting and practical, integrating form and function.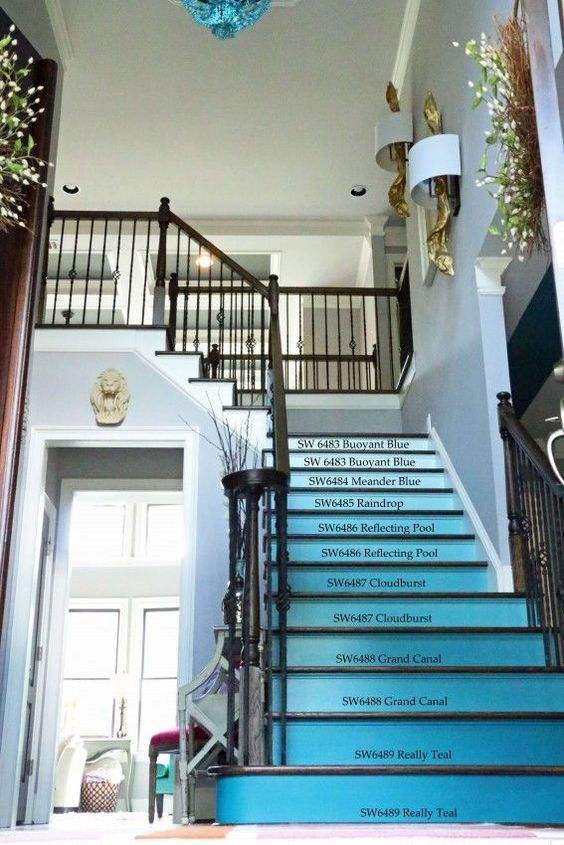 This technique provides your space with a subtle yet grabbing burst of color of vibrant hues in a chic and modern way. You can also elevate the aesthetic appeal of your home by considering colorful runners instead of painting the entire staircase.
Lampshades
Time to get that lampshade and give it a new face with a quick DIY project. To get started, grab some rubber gloves and fill up your sink or a big container with about 3 gallons of really hot water, then pour half of the bottle of dye into the dye bath.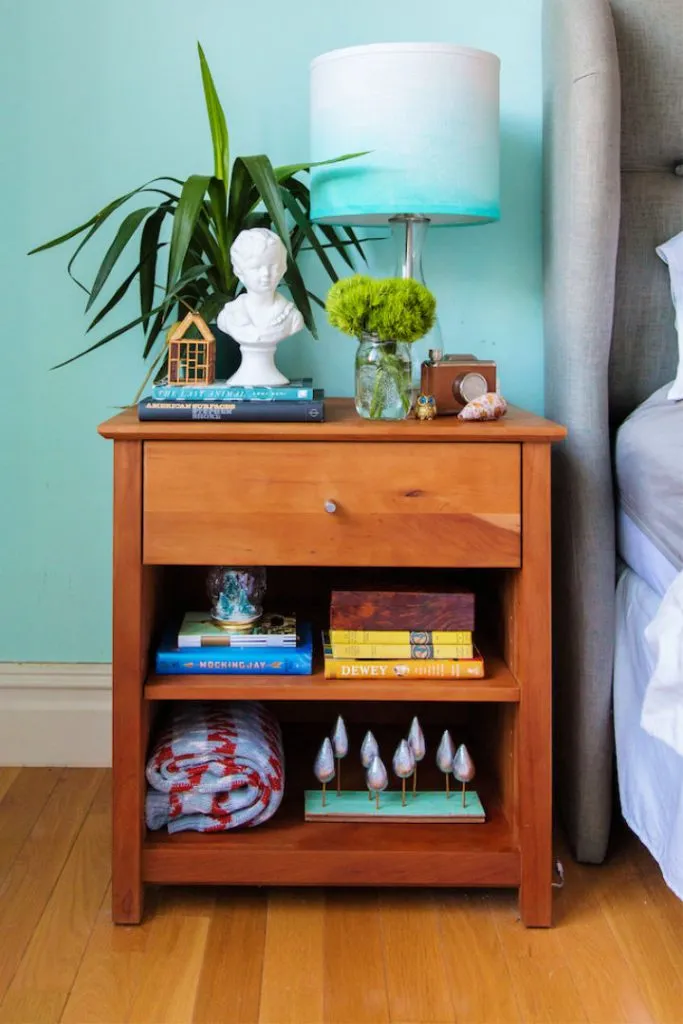 Stir well, and when satisfied with the color, remove the lampshade from the dye bath. Something important to note is that if you get your shade wet, it might look a bit darker than it actually is. But don't worry; once it dries, the stylish original color will come to life.
Lovely Blue Bedding
Just like curtains, tablecloths, and napkins, your bedspread, blankets, and comforter can – and should – have an ombré glow up. As you know by now, you can either buy them like that or dive deep into a DIY project to achieve such a beautiful bedding set.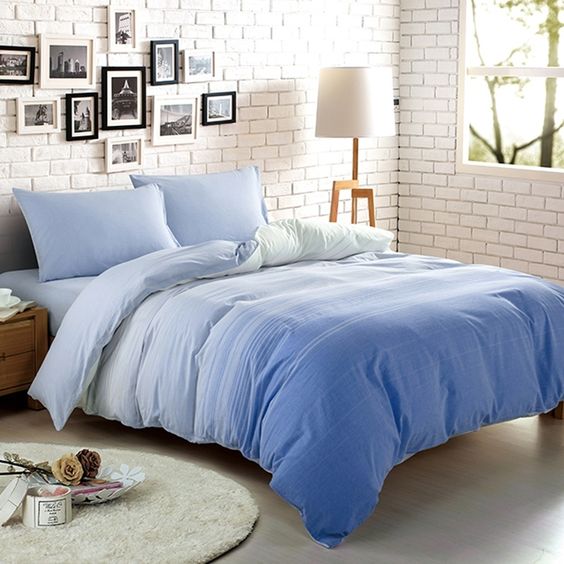 Upgrade your regular comforter into an eye-catching work of art without breaking the bank! With just a few creative touches, your plain white bedding can be made into a beautiful modern masterpiece that perfectly reflects your special style and personality. This bedding style looks incredible in guest rooms.
Playful Pillows Add Comfort To Style
We've delved into a number of furniture decor concepts, such as chairs, tables, and cabinets. These pieces are particularly customization-friendly, as their wooden or plywood composition allows for easy painting. A simple spritz of spray paint can quickly transform them into stunning works of art.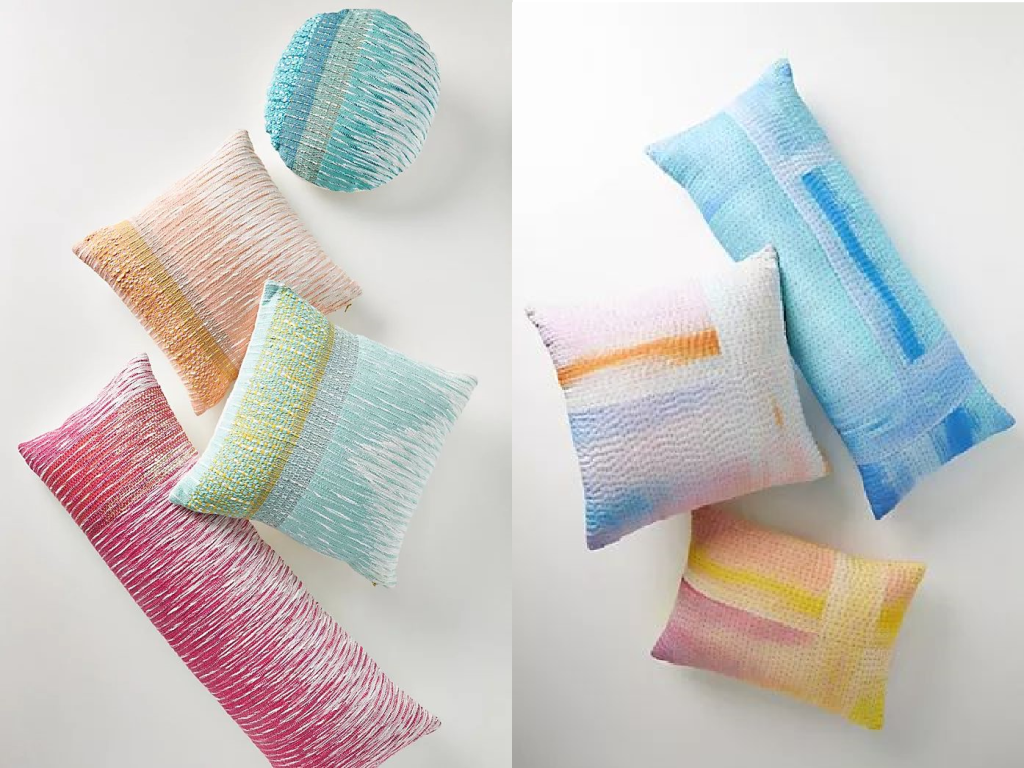 If you're feeling bold, you can learn how to paint textiles. The gradient effect on these pillows is absolutely stunning! Imagine the beauty and style this piece would bring to your living space by complementing a delicate blush pillow and a cozy textured knit throw.
Plant Vases
Decorative planters are a wonderful addition to the interior design of any plant parent's home. But imagine if you didn't have to leave your house to make fashionable planters. Upgrading your plant vases into colorful ombre gems is a breeze with quick DIY work!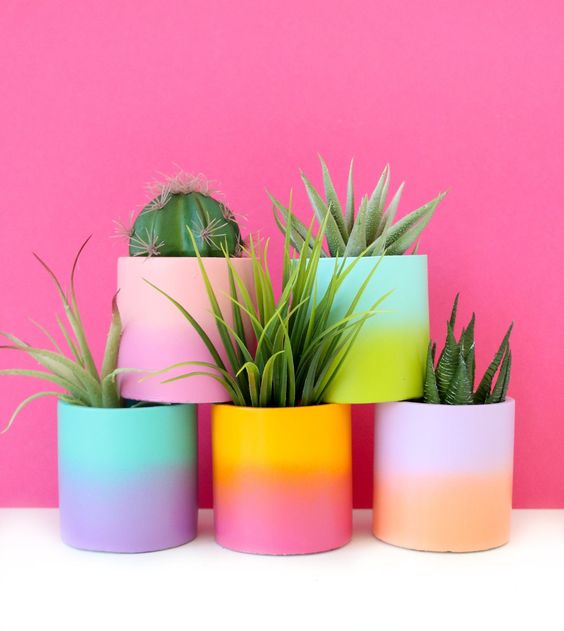 This approach is perfect for beginners because it yields professional results without requiring a significant investment of time or money. These are a must-have for any cozy room. You'll need a stylish planter and two colors of spray paint that reflect your taste to create an incredible and customized look.
The Cutest Shed Ever
Imagine transforming your wood shed into a stunning work of art with just a touch of creativity. A beautiful ombré paint job could be just the thing to revitalize your space and bring it back to life. When it comes to sheds, we must not only focus on aesthetics but also on functionality.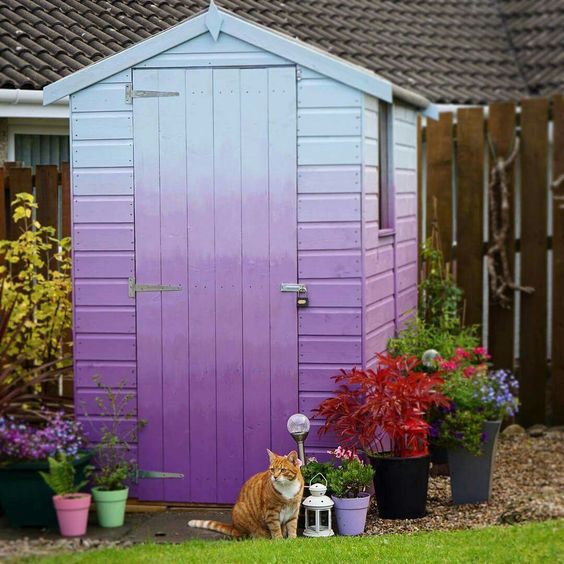 Choosing weather-resistant paint for your shed is crucial to ensure its durability, considering that ordinary wall paint may not hold up to the unpredictability of nature. Explore options that will ensure your walls remain beautiful and resilient, no matter what the forecast predicts.
Glassware
An easy-to-follow tutorial can show you how to create beautiful ombre glasses at home. This is a terrific way to brighten up your glassware without thinking too much, and it's easy enough to make at home. It works amazingly to boost the style of your dinner table.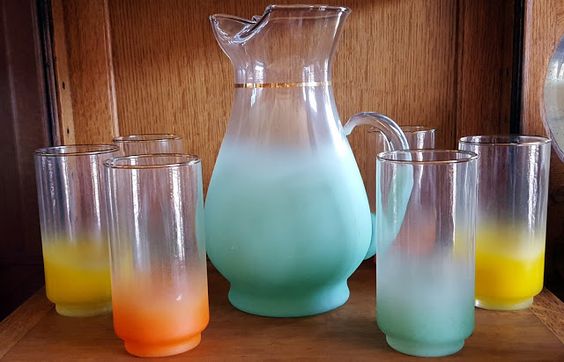 For a chic and modern touch to your glassware collection, gather some plain glasses, non-toxic spray paint, painter's tape, and yesterday's newspaper. With a few simple steps, you can transform your ordinary glassware into a stunning work of art that will impress your guests.
Wind Chime
A breezy coastal-inspired space adorned with a beautiful array of green and blue beach glass is just what you need to elevate your ocean-inspired decor. The hues can vary from deep, rich tones to delicate, almost ethereal shades, including the occasional white.
To get this exquisite piece, you'd need an array of sea glass in various captivating colors, which could take an extensive amount of time to gather, or you can order some online. The breathtaking effect of a sea-themed ombre chime will create a fantastic outdoor spot in your home.
Name Sign In Ombré Yarn
Introducing a charming gift idea for your loved ones – the simple yarn-wrapped gradient name sign. It's a delightful way to express your love and thoughtfulness through a creative and unique design. With a personalized touch, the letter and color scheme can be tailored to reflect the unique style and personality of the recipient.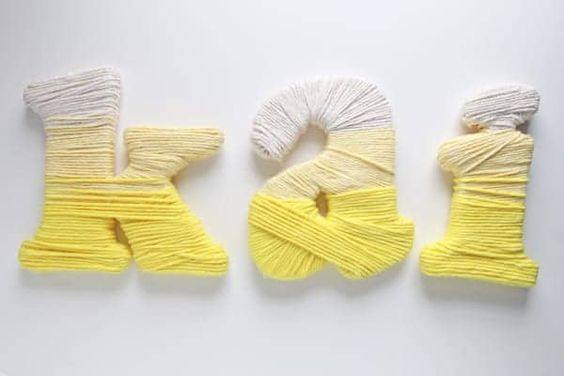 This simple yet effective technique also allows you to weave your personal style into a party or interior design color scheme. The design elements add an adorable flair to any space, especially to events intended for the little ones. Look for easy tutorials online and have fun!
Baby's Room
One of the most delightful aspects of this style is the opportunity for customization. It offers endless possibilities for combining shapes and forms to create a one-of-a-kind decor piece that reflects your personal style, whether you prefer the whimsical charisma of animals, the delicate beauty of florals, or the adventurous spirit of nautical themes.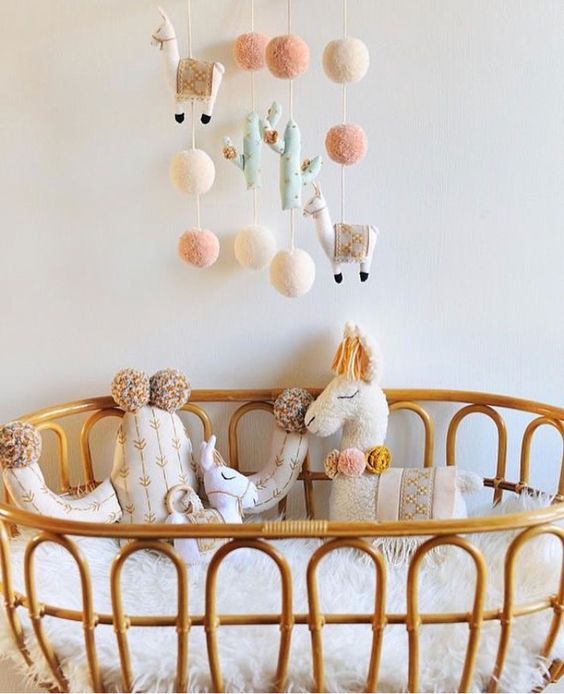 You have the power to curate a lovely display by designing a nursery. It's an exciting opportunity to explore a world of endless possibilities, where you can play with a variety of hues and textures to create a special and captivating ambiance. Your little one will have the most magical space to flourish in!
Flower Garlands
Transforming your bedroom into a cozy retreat is a breeze with sweet flower garland concepts. You can spruce it up into a serene sanctuary with a few ideas. From the rustic charm of wooden sticks to the soft and cozy allure of crocheted blossoms, there's no shortage of options to elevate your space.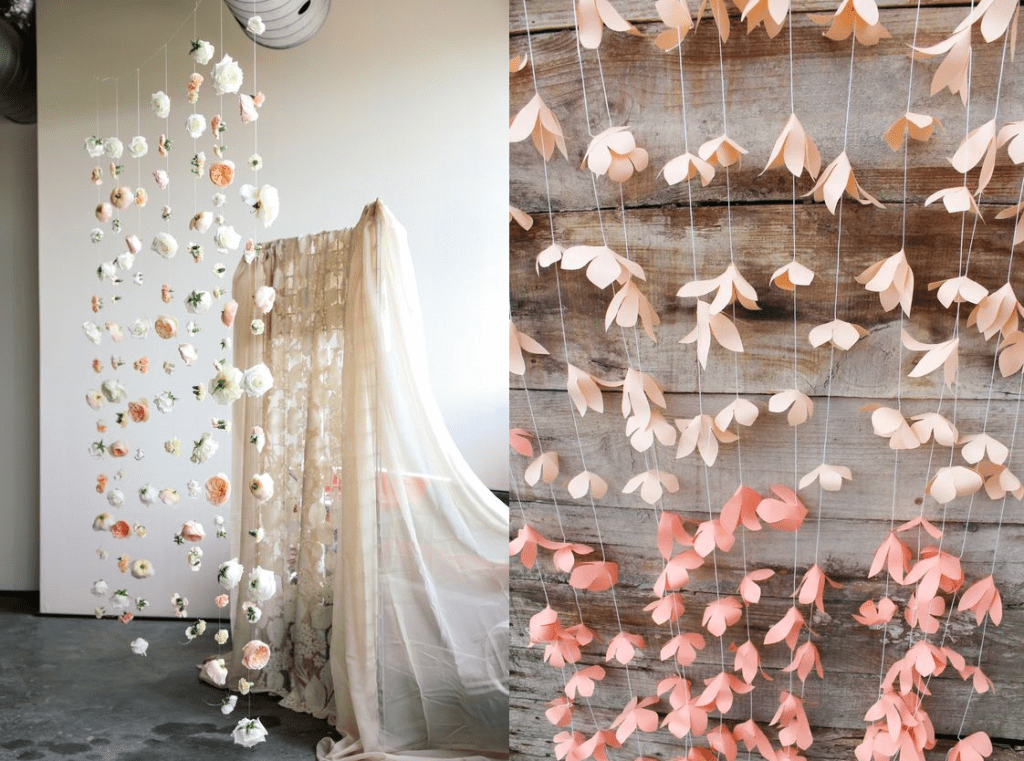 Your room will feel like a dreamy and peaceful oasis for you or your daughter and for whoever appreciates the allure of a cute and charming decor piece. With a few clever design tricks and a bit of weekend DIY time, you can intuitively achieve your desired aesthetic.
Mason Jars
To continue our discussion on mixed fashions, why not paint a few mason jars in ombre colors and arrange them in a row? It creates an endearingly homey, rustic look. You can easily improve the look of your house without spending a fortune by recycling old mason jars this way.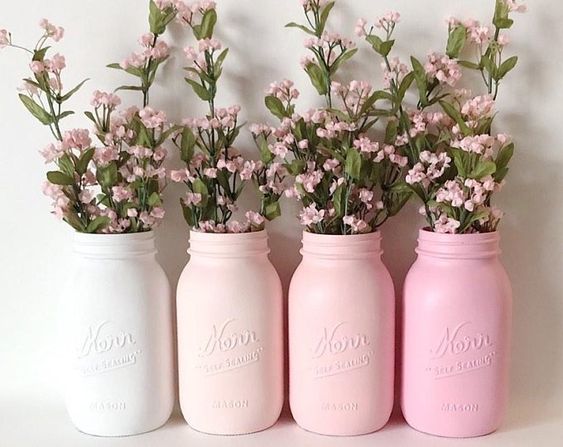 Tutorials on decorating ombre mason jars with string, yarn, or paint in gradient hues are easy to find on the internet and much easier to put into practice at home. You'll only need empty jars, mod podge if you're using string, yarn in a variety of colors or paints, a brush, and scissors.
Candle Holders
It's time to spice up those boring taper candles with some homemade ombre taper holders that won't break the bank. This is a fun way to decorate your walls and tables with vibrant hues. These cute-looking holders are fabulous, and we guarantee they won't mess up the budget.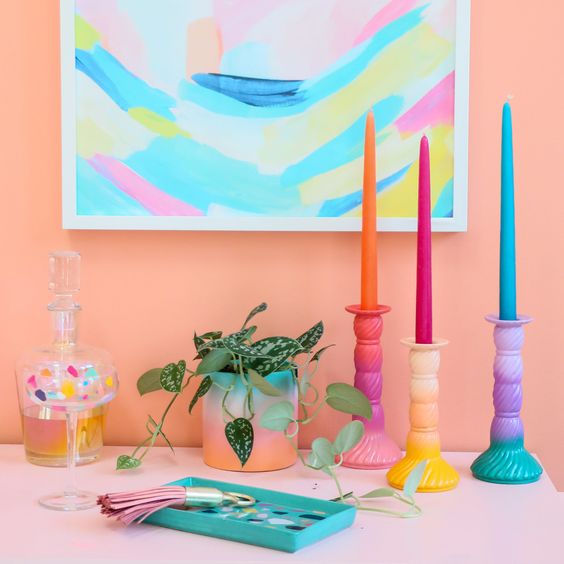 The reason we know that is that they're made out of clay and easily decorated to get the ombre effect. After making them, you'll appreciate how chic and contemporary they are. As always, you also have the option of getting ready-made ones.
Barbie Art
When you think of the iconic Barbie dolls, you're immediately drawn to vivid and daring hues of pink, fuchsia, purple, and turquoise, as well as striking patterns and lustrous finishes. However, it's possible that you have never thought of a decor piece like this one. Someone had this incredible idea that you can follow, too!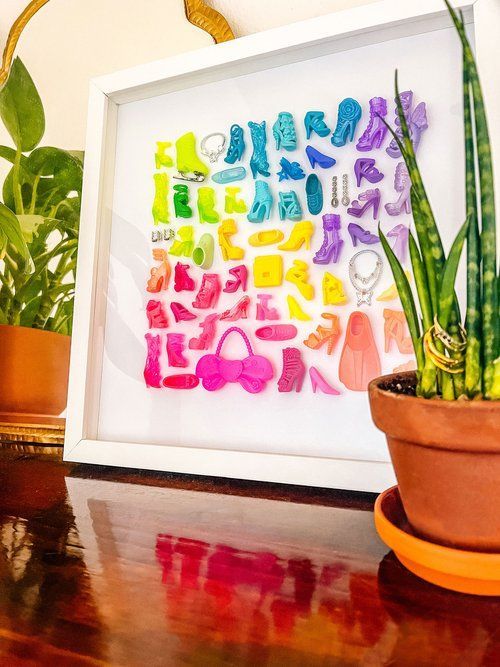 Put together this art piece featuring Barbie trinkets encased in a simple and stylish frame. The colors of the artwork seamlessly blend together in a gorgeous gradient scheme, creating a truly eye-catching display that will elevate any room in your home.
Library Ombré Organization
Arranging your books in a way that brings you joy and satisfaction is the ultimate goal. Whether you prefer to organize them alphabetically, by genre, or by height, you can create a space that embodies your personal aesthetic. In the art of interior design, nothing quite elevates the mood like a well-crafted ombré bookshelf.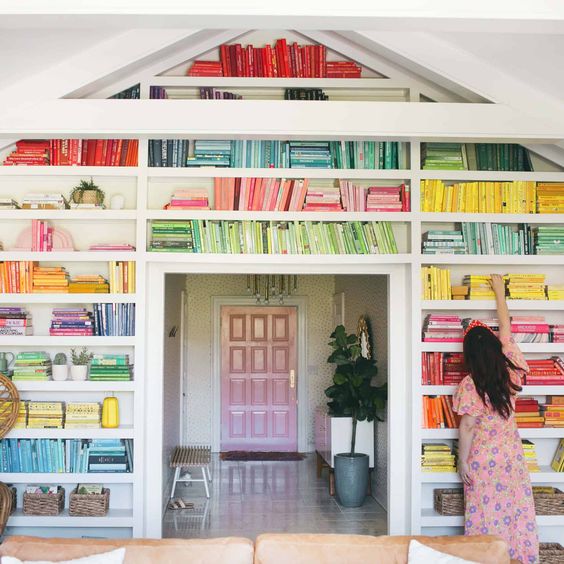 For a chic ombre look, arrange your books in a gradient of hues, starting with the deepest shades at the top and transitioning to lighter tones towards the bottom. For those who prefer a more subtle approach, consider color-blocking your shelves to complement the existing color scheme.
Reclaimed Wood Art
Embracing the art of recycling can bring an infinite number of benefits to your space. Not only is it an excellent opportunity to save the planet, but it's also a chance to inject some excitement into your life. Imagine the rustic allure of reclaimed wood adorning your space in charming and unexpected ways.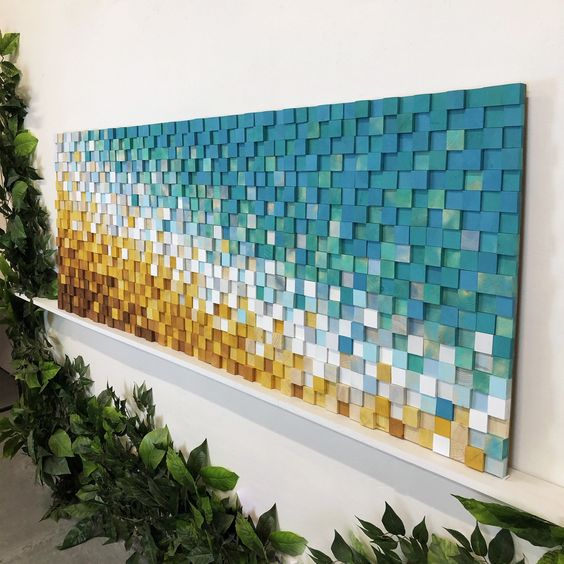 Whether as a dazzling abstract wall art or as a striking accent wall, the possibilities are endless. Let's start by gathering a collection of slender boards that can be easily cut into small squares. Then, glue them on a plywood board, and have fun making beautiful color transitions.
The Face Of Your Home
To achieve an outstanding upgrade in your living space, it's crucial to have a carefully planned approach in place. This is especially true when it comes to incorporating creative and distinctive architectural designs into your home improvement project. Take precise measurements of the wall.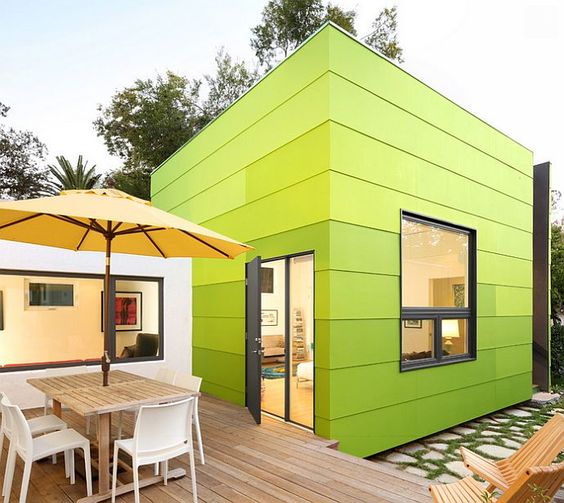 Then, mark it with subtle pencil lines, dividing it into symmetrical sections. It's important to maintain simplicity and a gradual transition of colors. Your aim is to create a soft and radiant exterior through a gradual fading approach, which is the essence of the beloved ombré trend.