45 Gardening Ideas To Help Anyone Create The Backyard Landscape Of Their Dreams
By Harpreet K June 27, 2022
---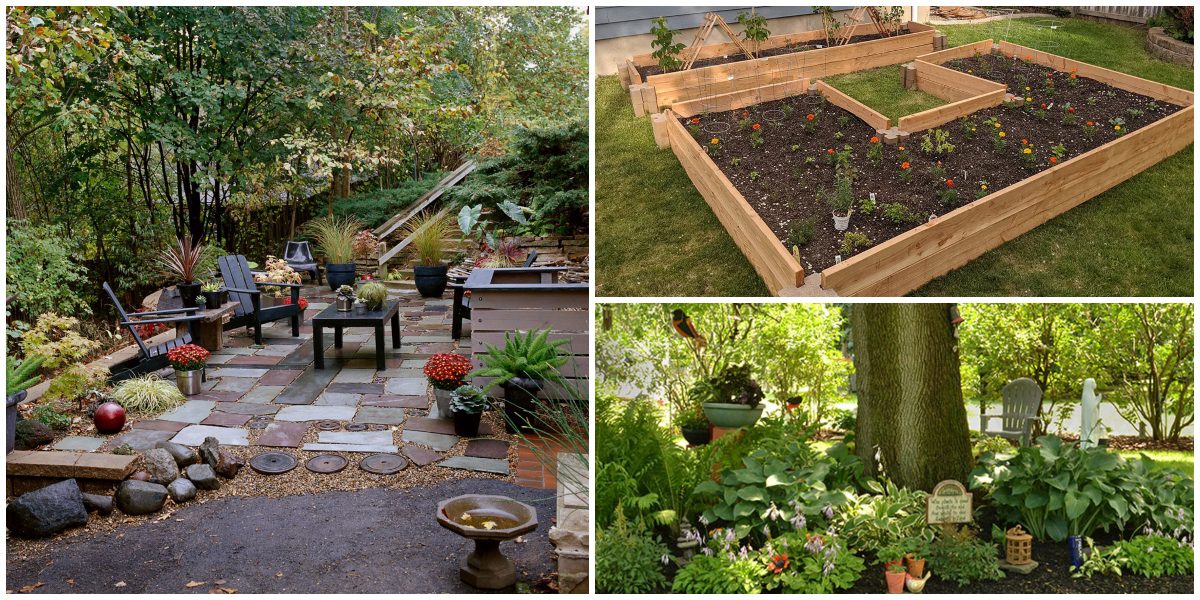 Maybe you just moved into a new home, and the yard is in need of some serious TLC, or maybe you've had the same outdoor set-up for years, and you're looking for a fresh start.
You might think that creating a fancy outdoor space requires a lot of time and money, but that's not always the case. With a few clever landscaping ideas, you can create an outdoor oasis that is perfect for relaxing or entertaining guests.
Whether you're looking to add some personality with vibrant colors or create a more tranquil, boho-style space with some fragrant flowers, these 45 landscaping ideas will help you hone your ideas and get started. Prepare yourself to transform your yard into something special for you and your family!
Playful pool shapes
Even if you have a small or medium-sized backyard, you can still have a swimming pool. Constructing a pool of small size will be an easier option since it will be less of a hassle to maintain. You may choose a shape such as a kidney bean or oval.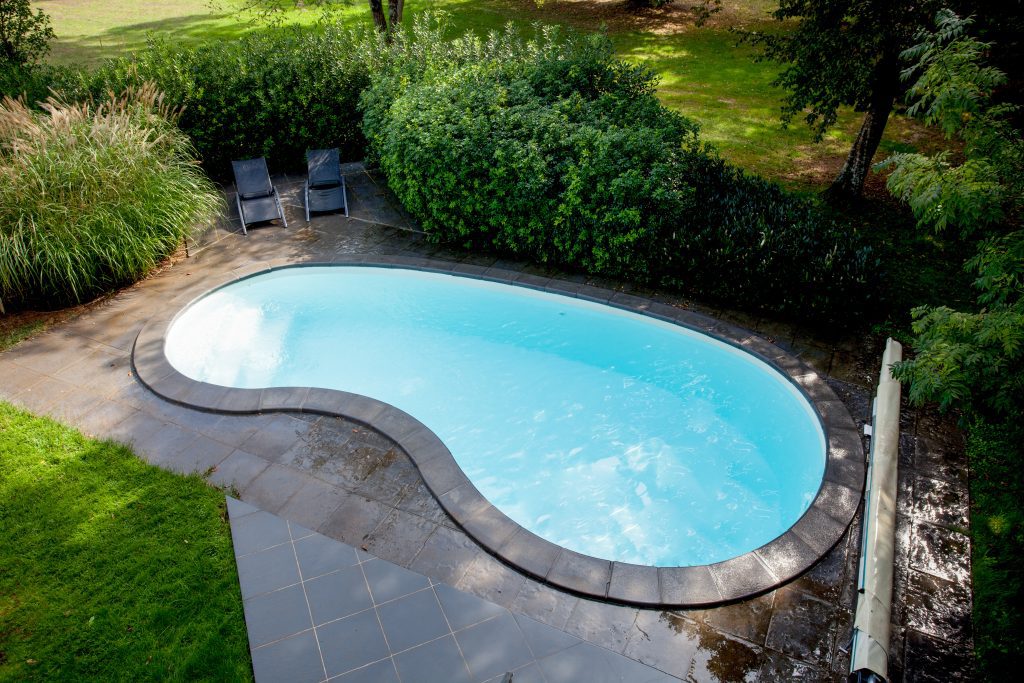 Mixing these shapes to accommodate the limited space will in the end maximize the space. Add final touches such as a hammock or lounge chairs to relax by the summer pool. All these relaxing elements in your backyard will be a cooling haven in the summer.
Floral window boxes
Window boxes are an awesome way to add color and personality to a home whether you are using them for decoration or landscaping. If you don't have a backyard, consider using window boxes to create a small garden area.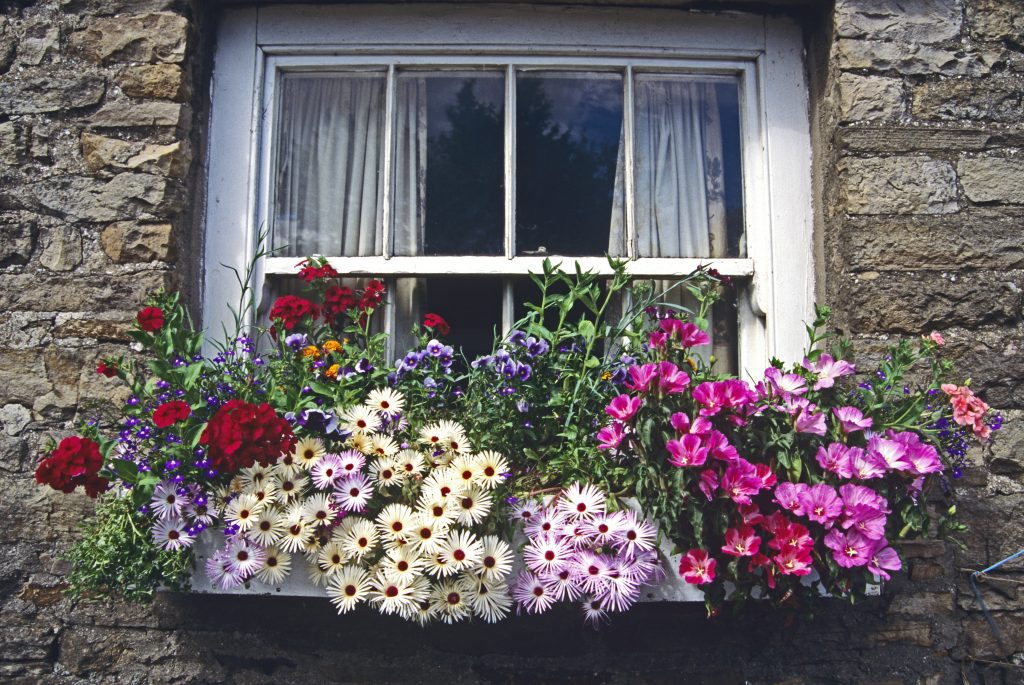 When choosing plants for your window box garden, keep in mind the size of the box and the amount of sunlight it receives. You'll also want to choose plants that will thrive in your climate. For beginner gardeners, it's best to start with easy-to-grow plants like flowers or herbs.
Lush urban design
You don't need to compromise on having a green space even if you live in an urban area. A small outdoor patio space may also work for you with the right ideas. You need a wall of greenery or some large vines and plants covering a major area of the wall.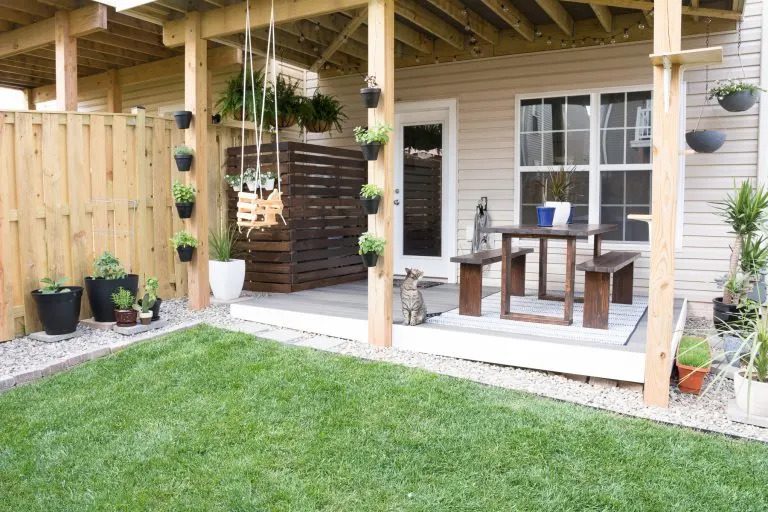 This will be the background for your green urban oasis. Add a wooden or concrete table structure with some chairs to create a cozy nook. Moreover, place some lanterns and fairy lights at the perimeters for some soft, mood lighting.
Choose native plants
The best way to create a low-maintenance landscape is to choose plants that are well-suited to your particular climate. Native plants are always a good choice since they are accustomed to the local conditions and won't require much pampering.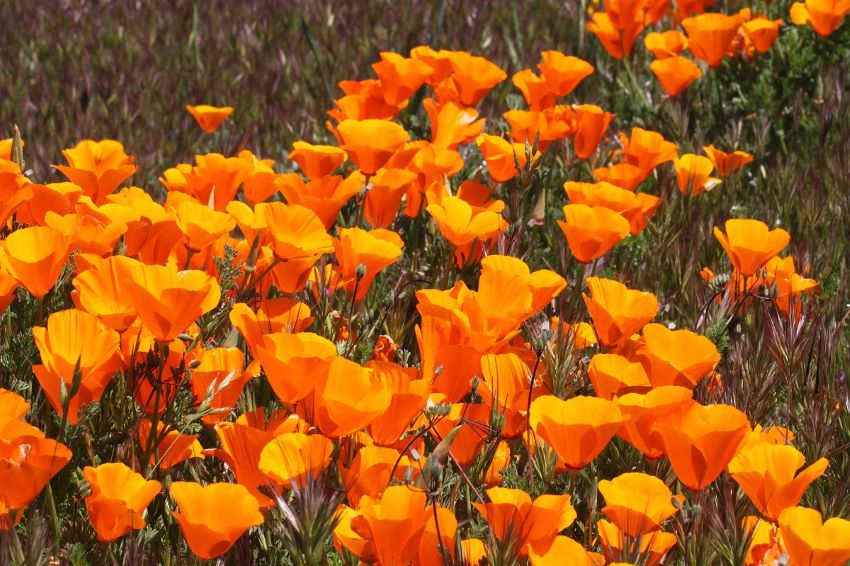 Next, think about the current conditions in your yard and how it corresponds to the natural habitat of the flowers your interested in. If you have a lot of sunlight, you might choose sun-loving plants that are used to growing in dry soil.
Create a faux plant wall
A faux plant wall is great way to add some greenery to your backyard landscaping without worrying about maintenance. Many people are hesitant to use plants in their backyard because they don't want to have to deal with watering and keeping them healthy.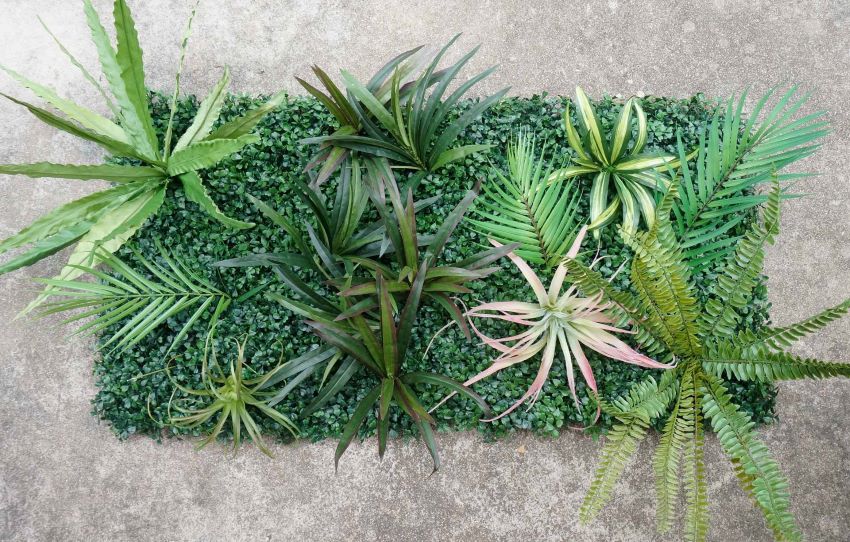 You don't have to worry about any of that with a faux plant wall. You may DIY this by removing a mirror from its frame and sticking or nailing faux plants on the frame. Leave the frame to air dry for a few hours, and then hang it in the backyard.
Enjoy a driveway garden
You can achieve your landscape dreams in your driveway if you don't have a front yard! Just make sure it's still driveable – after all, you don't want to block the area that is meant for easy access to your car. We suggest planting small succulents in the area.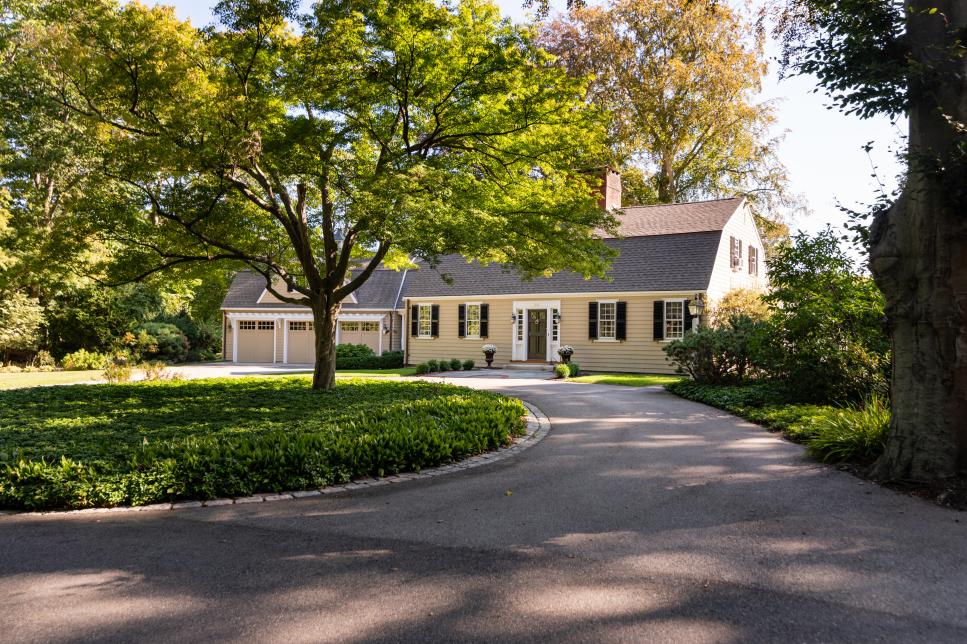 You could also try including a flower garden, laying down some new paving stones, or planting some trees or shrubs. Be creative and have fun with it – it's your driveway, after all. Depending on your style and aesthetic, you can pick a specific theme.
Lush green garden
Your dream of having a lush green backyard garden is achievable no matter how hard you think it is to maintain it. There are many different ways to go about creating a backyard garden, so it's important to choose the method that best suits your lifestyle.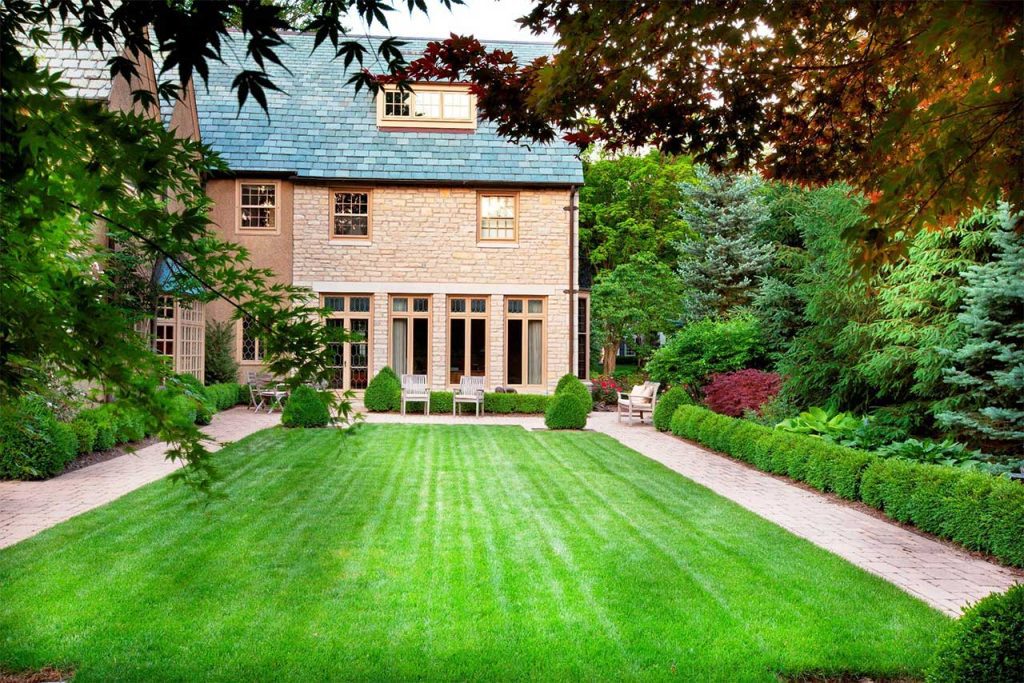 If you don't have any time to spend on gardening, then consider installing a synthetic turf lawn instead of real grass. It will require way less management. The greenery will allow you to take a break from the hustle and bustle of everyday life.
Focal Point
Make the most of your landscaping by adding tiles and a seating area to your backyard. By placing the tiles in the middle of the green space, you'll create an interesting focal point that your friends and neighbors will envy.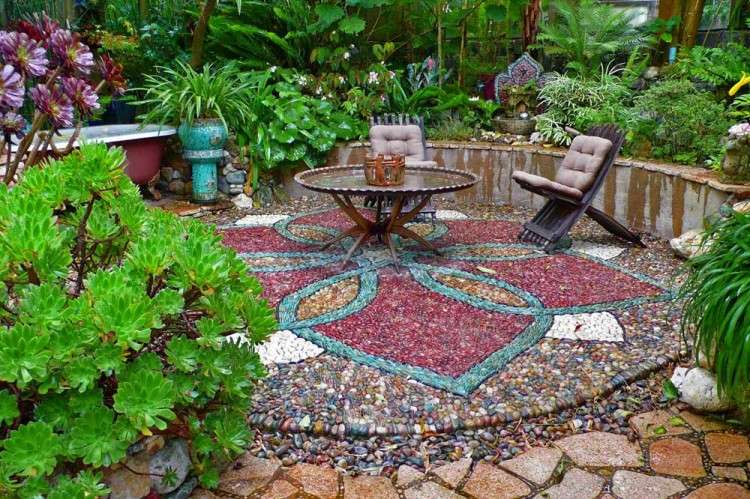 These tiles will add a pop of color and freshness to the space. Moreover, there will be a nice contrast as everything won't be covered in grass. It'll be a great spot to relax after a long day or enjoy a weekend barbecue with your friends and family.
Perfect hammock placement
Hanging a hammock in your backyard will add to the relaxing vibes you already have. Make sure there are two trees or mounted posts that are the appropriate distance apart. Second, you'll want to find a spot that's level and free of roots and rocks.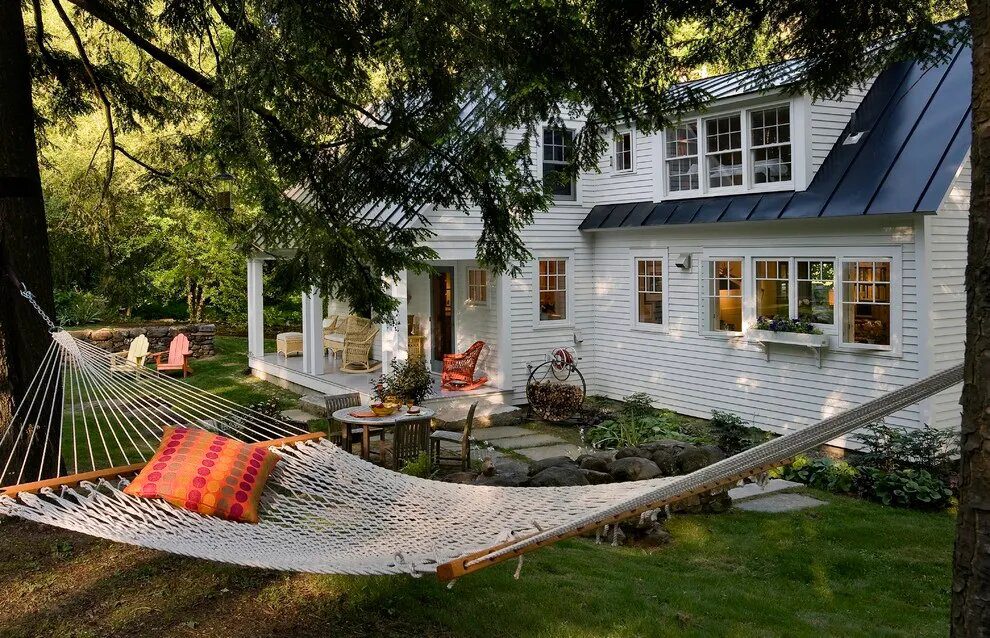 Choose a location that's shady if you plan on lounging in your hammock during the day. When it comes to landscaping around your hammock, it's personal preference. Some people like to keep things simple with grass and some flowers. You may use a diffuser for some spa vibes.
Water outlet additions
If you plan on sprucing up your backyard, you may consider adding a water outlet. This is a great way to add some practicality to your landscaping plans and make it more enjoyable. Consider what you'll be using the water for.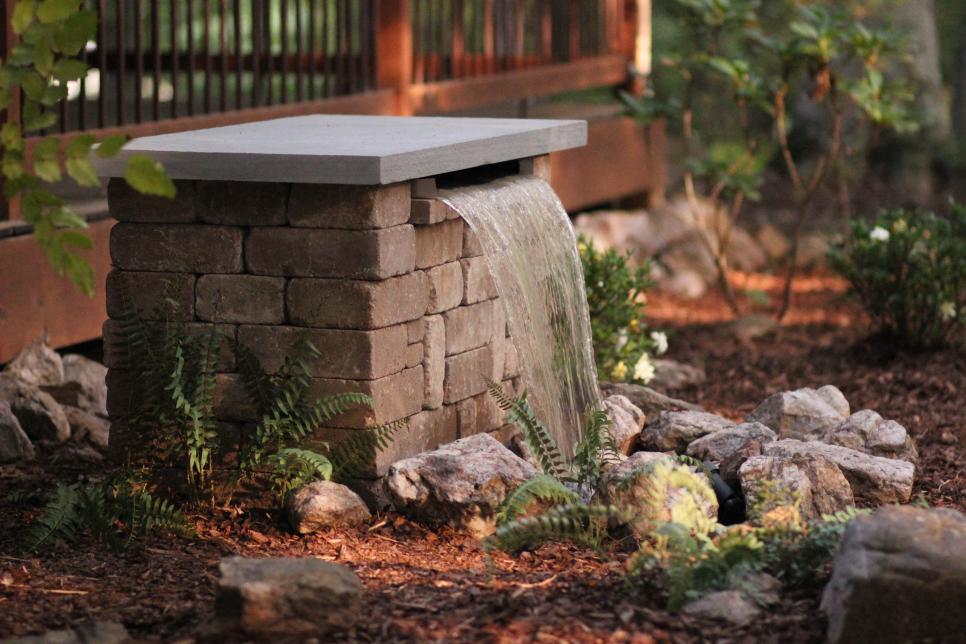 If you just need it for sprinkling plants or filling up a kiddie pool, then a hose attachment will suffice. However, if you're looking to do some serious gardening or wash your car, you'll need something more powerful, like an outdoor spigot.
Invest in a pagoda
A pagoda is a great addition to any backyard, and there are many reasons to choose one over traditional landscaping. For starters, a pagoda can add an element of style and elegance to your yard that landscaping alone cannot provide.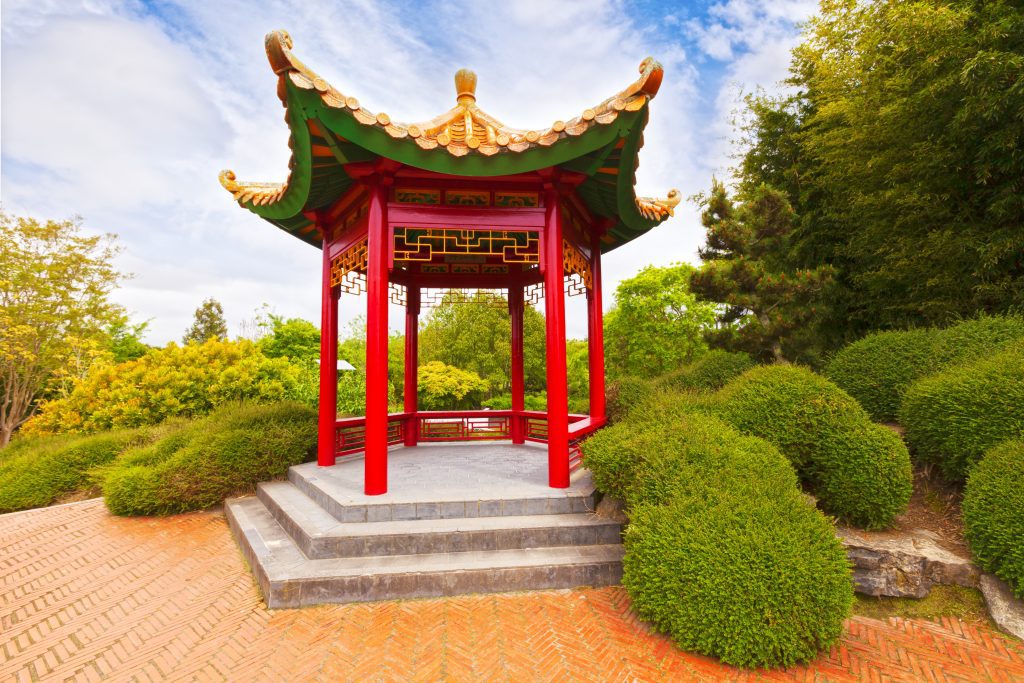 Another benefit of using a pagoda in your backyard is they require very little maintenance. Landscaping features like bushes and trees need to be trimmed regularly, but a pagoda will always look great with very little effort on your part. It also adds selling value to your home.
Try an integrated design
The plants and concrete work together with an integrated landscaping design to create a cohesive look. The plants help soften the hard lines of the concrete, and the concrete planters help protect the plants from harsh weather conditions. With an integrated design, you won't have to worry about maintenance.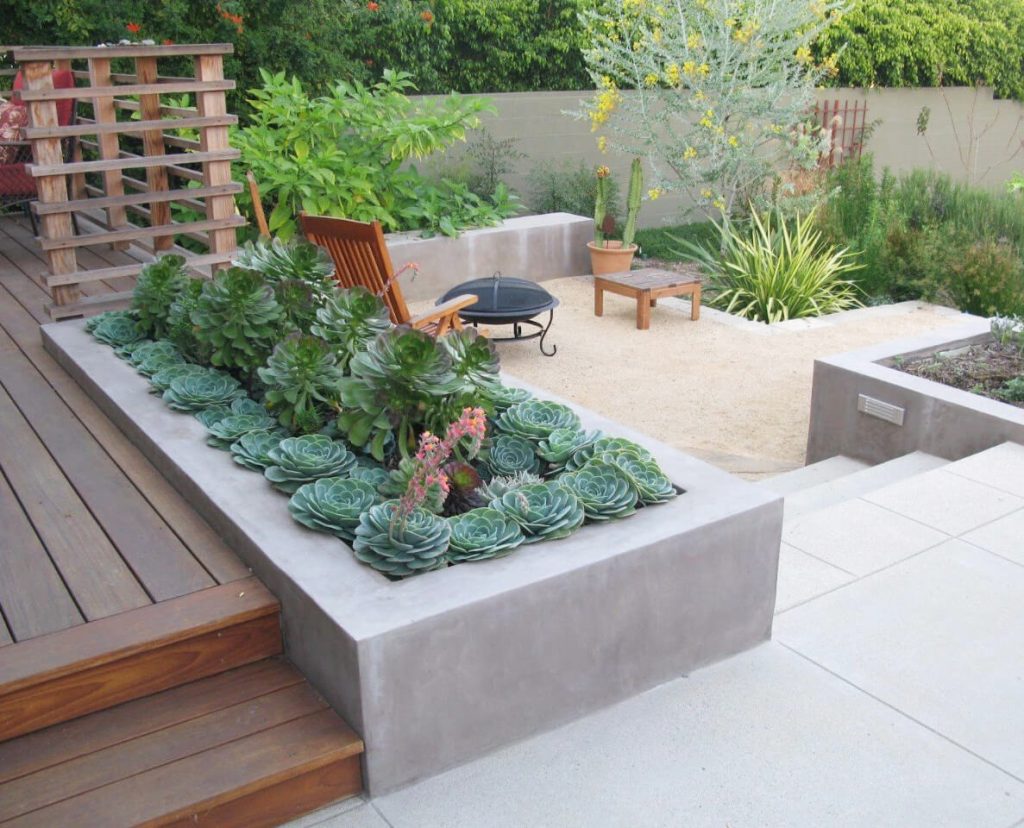 You may add a jacuzzi, a reading nook, and some lounge chairs. The idea of an integrated landscaping design is to create a comfortable space for everyone to use and enjoy. Each element is functional and will help you get some fresh air while relaxing outdoors.
Ficus hedge in a strategic placement
Using plants and hedges to add privacy in the backyard is an old trick. Besides, you do not need a wall structure to support hedges as they form one unit on their own. Ficus hedges are evergreen, so they will keep your backyard looking luscious all year round.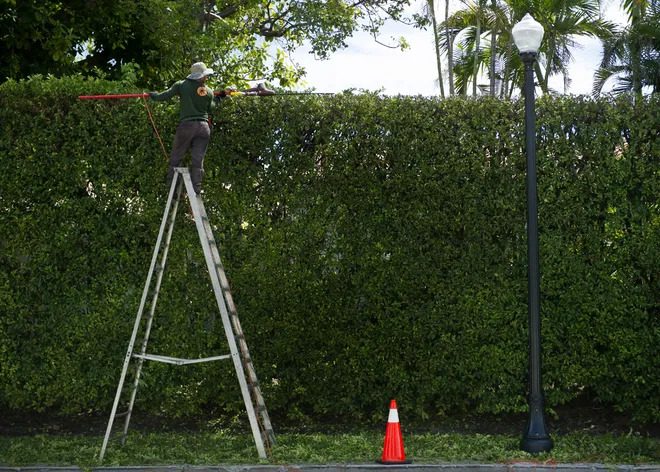 And because they grow quickly, you won't have to wait long for them to reach their full potential. When it comes to maintenance, all you need to do is trim them back once or twice a year to keep them looking neat and tidy.
Fragrant flower walls
When it comes to adding privacy to your landscaping design, few things can beat a good old-fashioned fence. When searching for something a little more decorative, why not try using fragrant flower walls instead? They will provide some much-needed privacy and add a touch of beauty to your garden.
Just be sure to choose flowers that are both fragrant and non-toxic, such as jasmine, honeysuckle, or lavender. And if you're stressed about being able to see through the wall of flowers, don't worry – most flowering vines grow quite densely and will obscure any view from the other side.
Large cacti
If you're on a hunt for an easy way to landscape your backyard, consider adding barrel cacti and oversize agave plants. Both of these plants are drought-tolerant and can survive in hot, dry climates. They also require little maintenance, making them the perfect plants for busy homeowners.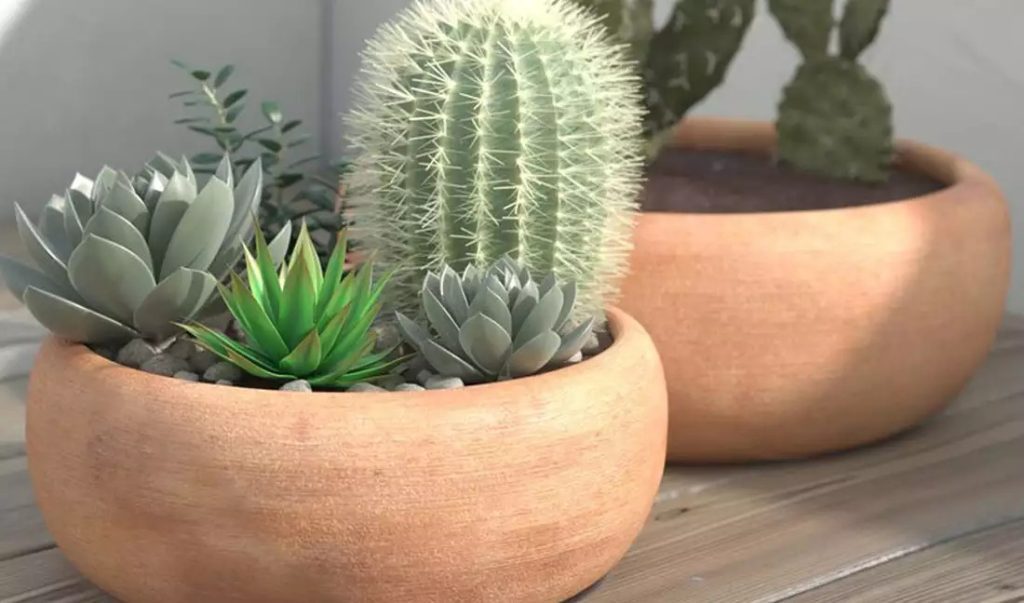 Barrel cacti are low-growing plants that typically grow three to five feet tall. They have round, barrel-shaped stems and produce brightly colored flowers in the springtime. Agave plants are much taller than barrel cacti, often reaching six to eight feet.
Sweet citric orchard
Adding citric plants to your backyard landscaping is a fun way to enjoy their delicious flavors while benefiting from their impressive beauty. Both orange and lemon trees are lovely additions to any backyard and will provide hours of enjoyment as you relax outdoors.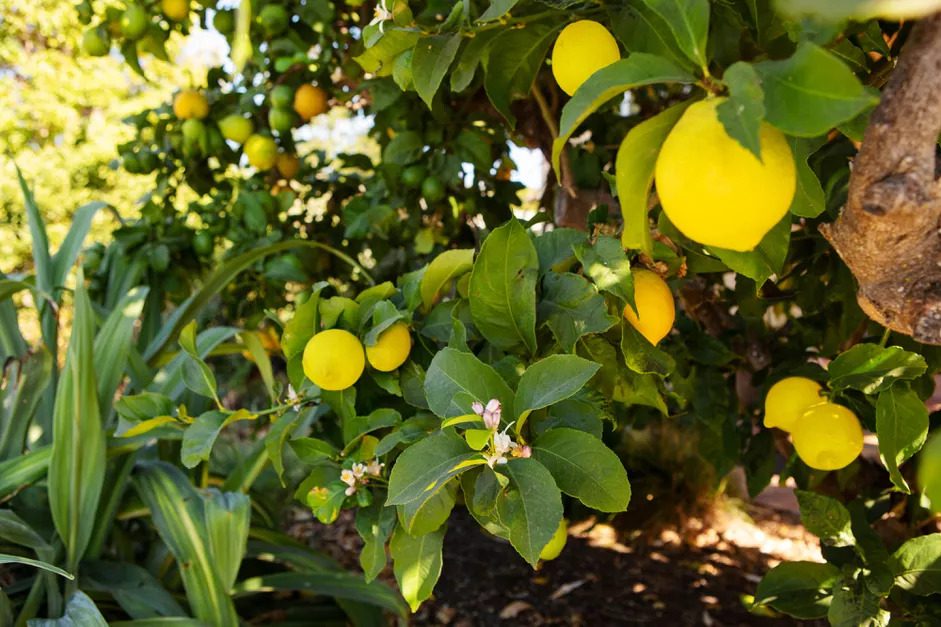 Orange and lemon trees are also relatively low-maintenance, so you won't have to spend a lot of time caring for them. Simply water them regularly, fertilize them twice a year, prune them occasionally, and they'll remain healthy and beautiful for years to come.
Add a ramp and a treehouse
Skate ramps and treehouses are two great ways to add excitement and fun to any landscaping design for kids. A skate ramp can provide hours of entertainment for older children, while a treehouse is a perfect spot for younger children to explore and play.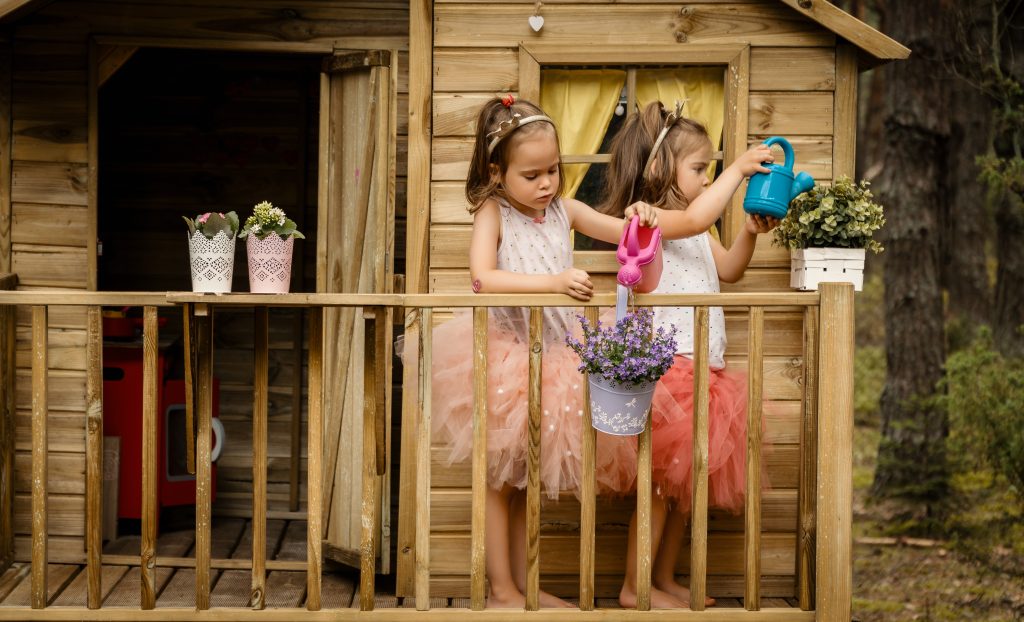 Both features can be easily integrated into almost any landscape design, and they're sure to keep the little ones entertained for hours on end. Not only will they have a huge blast playing on them, but they'll also be able to get some fresh air while enjoying the outdoors.
Plant bed vegetation
Keeping all the vegetation in neat and organized beds will ensure the narrow space does not look cluttered in any way. Using small bricks or concrete, you may use large plants, shrubs, and tall trees in the bed while separating it from the pavement.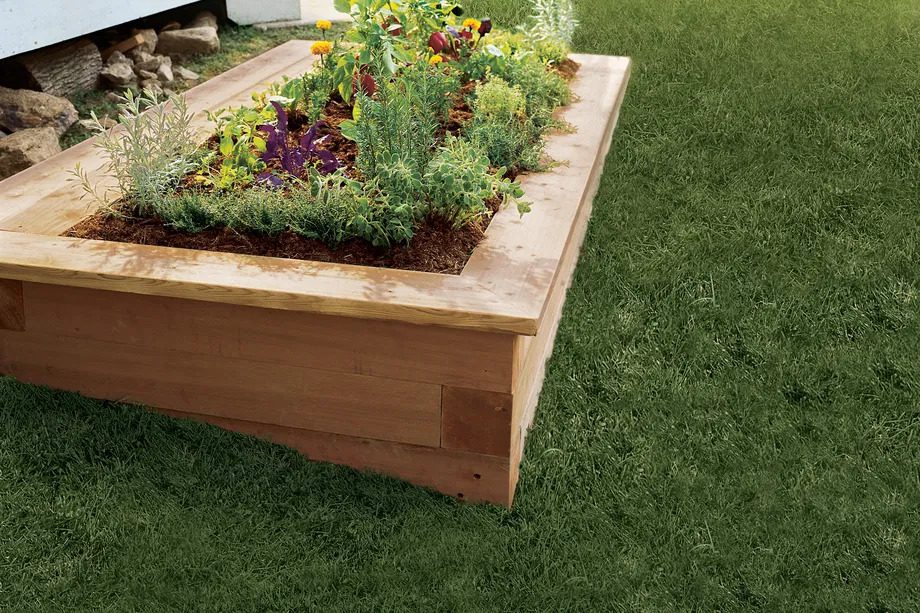 A plant bed is ideal if you want to put the design element of your home on display. Put it in a place where trees or vegetation doesn't hide it. Both the vertical and horizontal plant beds will add to any garden design.
Fun game room
Who wouldn't love a pool table in their backyard? They're entertaining and can be a beautiful addition to your landscaping design. If you're looking for something unique, consider an outdoor grade pool table that the whole family can enjoy.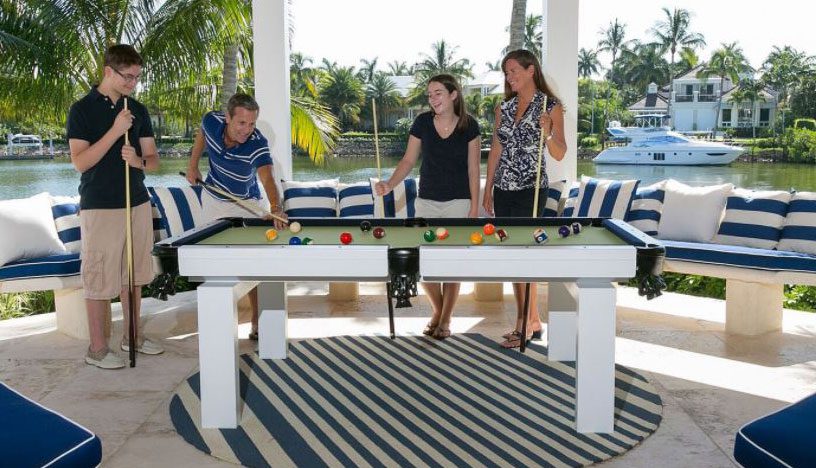 These tables are built to withstand the elements, so you can enjoy a game of pool rain or shine. Plus, you may buy them in a variety of colors and styles to suit any taste. So why not add on game night to your next backyard barbecue.
Fig ivy vines
Fig ivy is known for its rapid growth rate, so you can expect this plant to take off within just a few short months. This beautiful vine will add some much-needed greenery to your outdoor space, but it will also aid in privacy.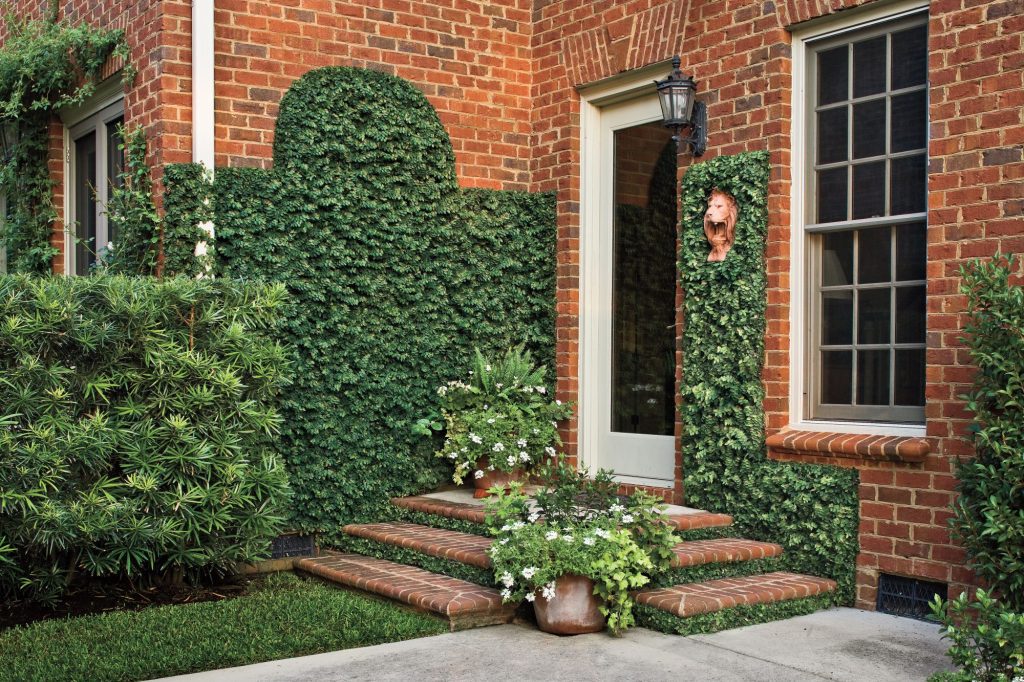 When spread over an entrance, it'll work like a canopy. However, you will need to make sure that you provide the plant with plenty of sunlight and water in order for it to flourish. Additionally, fig ivy does best when planted in soil that is rich in organic matter.
Lanterns on trees
Garden and backyard lighting is versatile enough for you to get in tocuch with your creative side since there are so many directions you can take them. You may use fairy lights or large industrial bulbs. Another great option is to add some lanterns to the tree branches.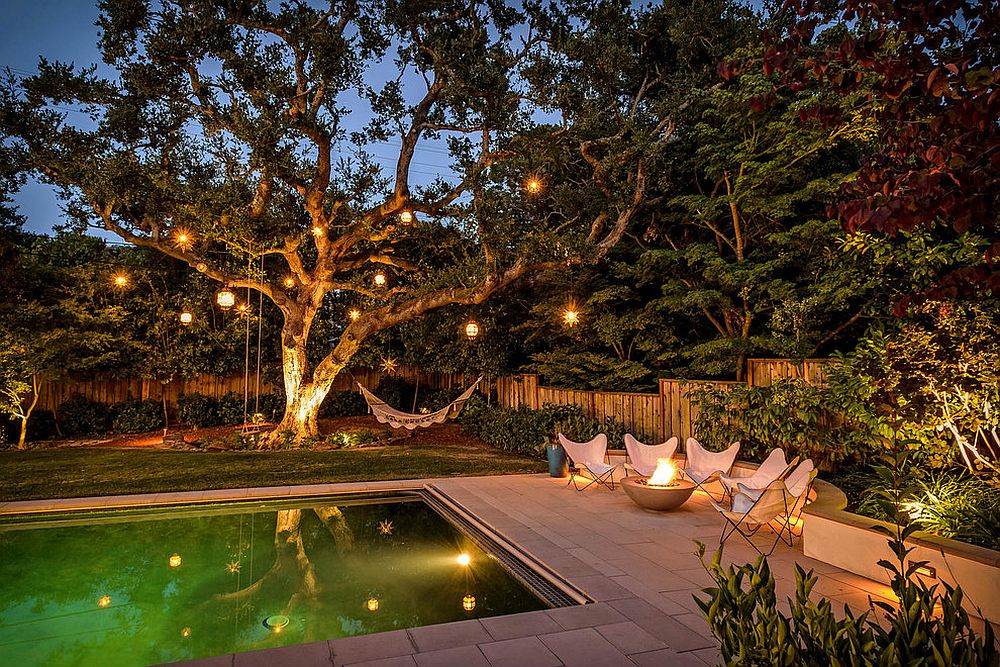 There are many lantern shapes and sizes to choose from. You may pick just one type or play around with the design element for a more eclectic look. The end result will be nothing less than magical when you adorn the trees with these lights.
The overgrown garden
Having an overgrown garden in your backyard is a great way to show off your green thumb and create a natural oasis in your hown home. By letting nature take its own course, you can create a beautiful and relaxing space perfect for spending lazy weekends lounging in the sun or entertaining friends.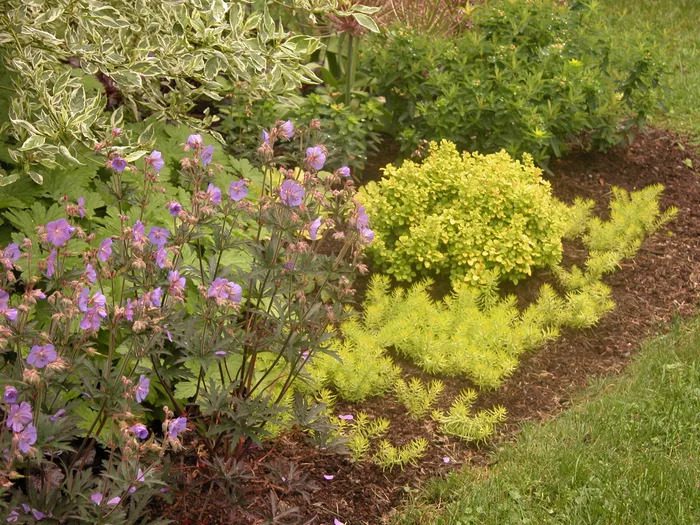 To get started, simply clear a small area of your yard and start planting! We suggest perennials that will come back year after year, like hostas, lilies, daylilies, and coneflowers. If you have some extra time on the weekends, you may also start a compost pile to provide nutrients for your plants.
Backyard glamping
Creating a backyard glamping experience is easy with a natural landscaping design. Clear all the wild plants to have space for your glamping essentials, and add a deck (optional). Start by adding a few tall trees for shade, then include some flowering plants and shrubs for color.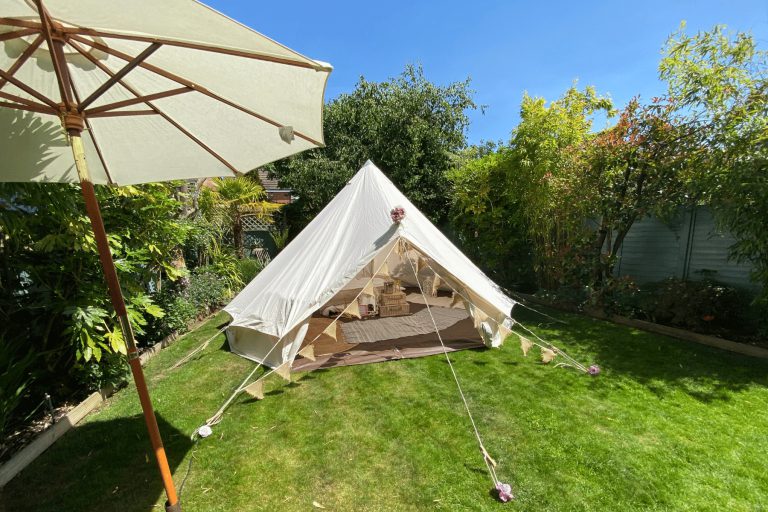 Get a comfortable yurt and decorate it. For the finishing touch, install a few comfortable outdoor furniture pieces and enjoy nature's beauty from the comfort of your own home. Do not forget to include a wood-burning stove and a barbecue for an authentic glamping experience.
Dreamy rose garden
If you're looking for an easy-care option for your backyard landscaping, consider planting a rose garden. While roses require more care than other plants, they're well worth the effort. Roses come in a wide range of colors, so you can easily find ones that complement your home's existing color scheme.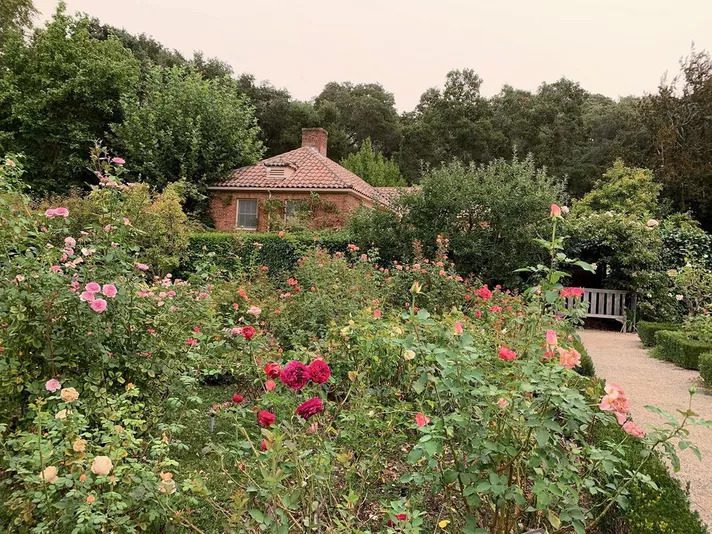 They come in a variety of shapes and sizes, so you can choose the ones that best fit your space. And while they do require some attention, with regular deadheading and pruning, they'll continue to bloom all season long. And, there's nothing quite like the smell of freshly cut roses.
Dining area in the garden
There's something so wonderfully charming about having a little dining area right in the middle of your garden. It's the perfect spot to enjoy a meal with family or friends while surrounded by the beauty of nature. Consider a few key things If you're considering adding a garden dining area.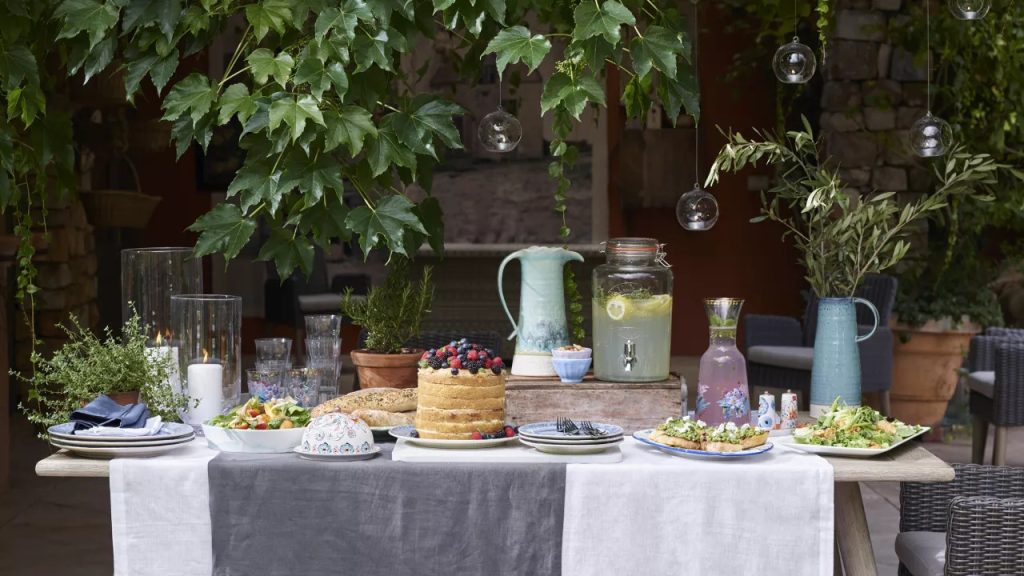 A small table and chairs can take up a lot of room, so be sure to measure before you buy anything. Second, think about what kind of furniture you want. If you're going for a casual look, wicker or metal chairs and tables might be perfect.
A functional outdoor shower
In the summertime, an outdoor shower may work like magic and leave you feeling refreshed. Look for a private spot in your backyard for the shower. You'll also need to make sure you have access to water and electricity, and that the area is adequately drained.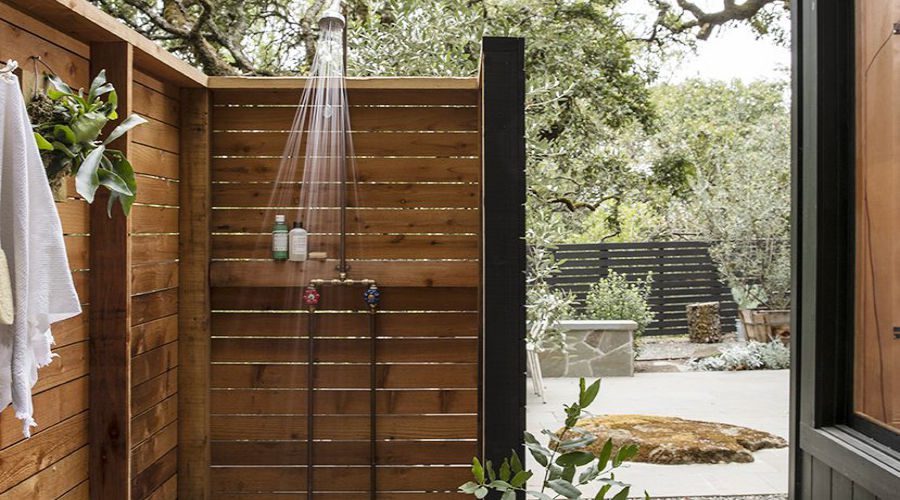 Once you've chosen a spot, install a sturdy platform or deck to build your shower. If you don't want to build your platform, many pre-fabricated options are available at home improvement stores. Next, hook up the water and electricity and install the shower head and drainage system.
Magic of dramatic trees
It's not magic; it's art! A well-designed backyard can be stunning, with dramatic trees and vines framing the home and adding a touch of elegance. By using plants that have different heights, colors, and textures, you can create a unique and unforgettable landscape that will be the envy of your neighborhood.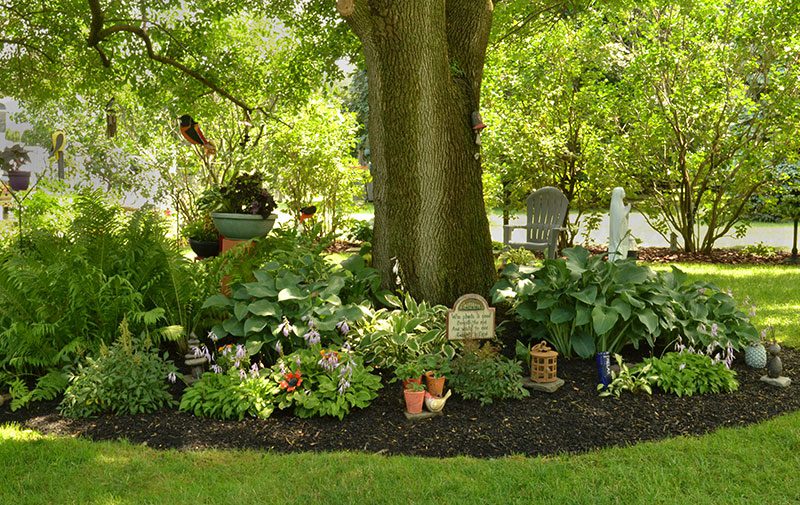 It doesn't matter if you have a medium-sized garden; these trees will make it appear magnificent. In addition, these plants can provide shade and privacy, making your backyard feel like a true oasis. They'll add drama and style and make your home look epic.
Voluptuous wisteria vines
Wisteria vines are a lovely addition to any backyard landscaping. They can grow up to 30 feet tall and spread like a canopy. The flowers are purple or white and come in clusters that smell sweet. Wisteria vines require plenty of sunlight and well-drained soil.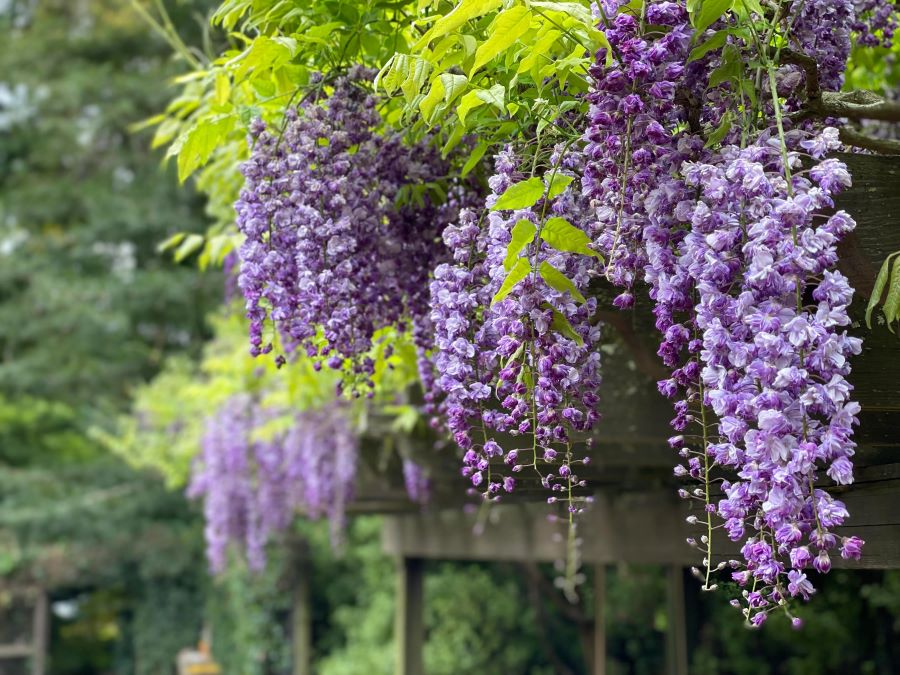 They can be trained to grow on a trellis or arbor, or allowed to ramble across the ground. Be sure to provide plenty of support for the heavy vines, especially if they're growing near power lines or your house.
Multiple levels of greenery
You can either use terraced landscaping or raised steps for creating multiple levels. If you go with terraced landscaping, you'll need to dig deep down into the soil and create several level areas, then fill each area with different plants and flowers.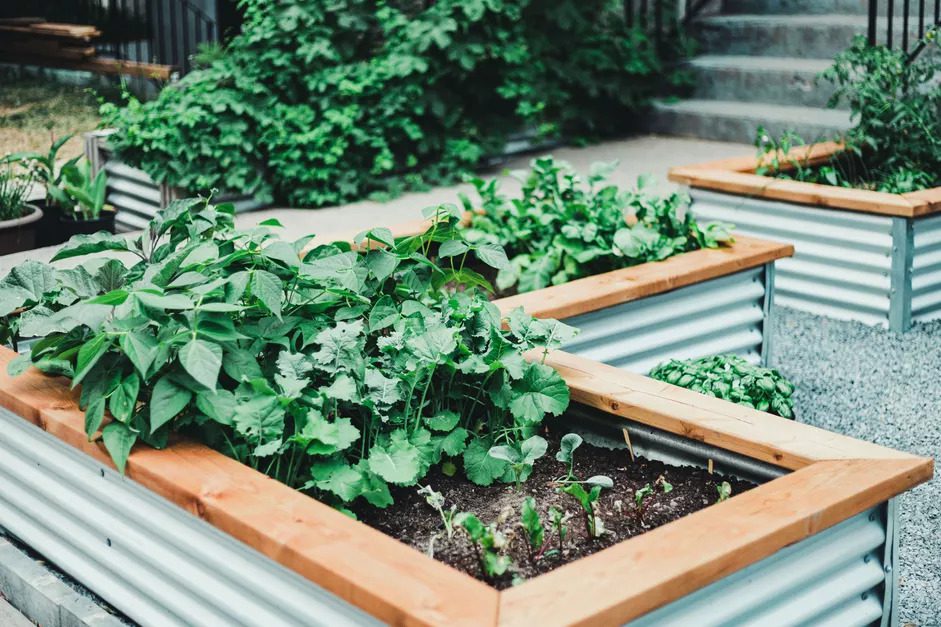 Make sure to use a variety of colors and textures to create a beautiful and eye-catching display. Another way is to place several wooden or plastic boxes in your backyard and fill them with soil. You can then plant whatever flowers or vegetables you desire in the boxes.
Topiaries in different shapes
Playful topiaries will be a hit in your garden if you have kids or get a lot of visitors. Some kids and adults may fondly remember seeing these in parks. You may choose from a variety of shapes such as swans, dogs, elephants, or jokers.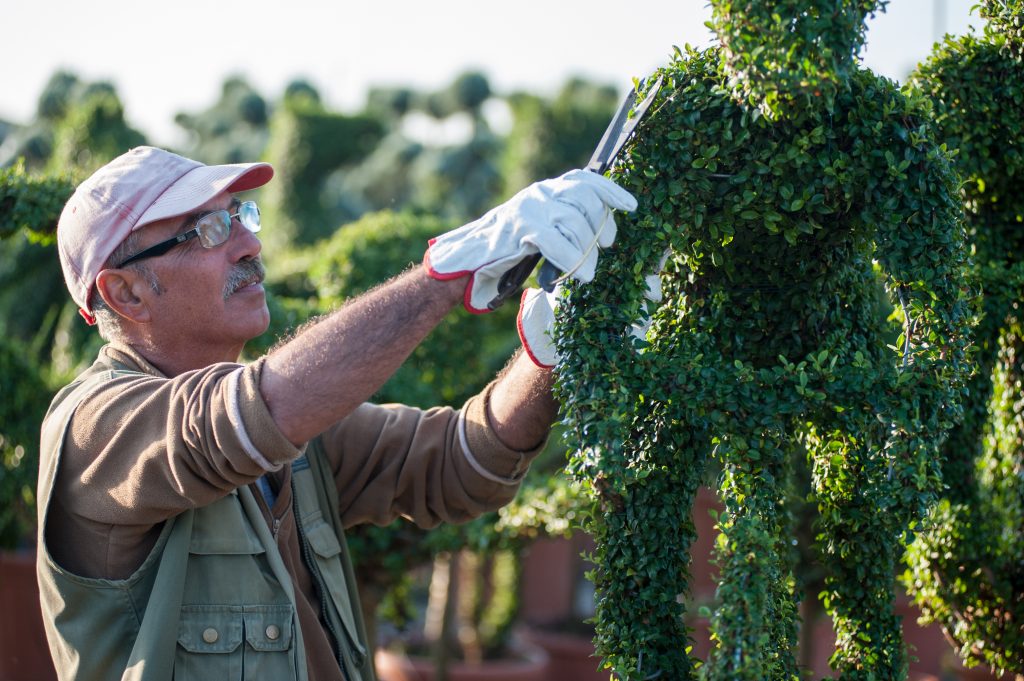 Such an exciting backyard may make your home famous around the neighborhood. Hire a professional to execute these fancy cuttings, or you may learn it yourself. This will work as an additional productive hobby for you if you already like doing yard work.
Uplift with modern fountain vibes
Adding a modern fountain to your backyard will add some flair and interest. Plus, it's a great way to relax after a long day. You'll want to place your fountain in an easily visible spot in your yard so everyone can enjoy it.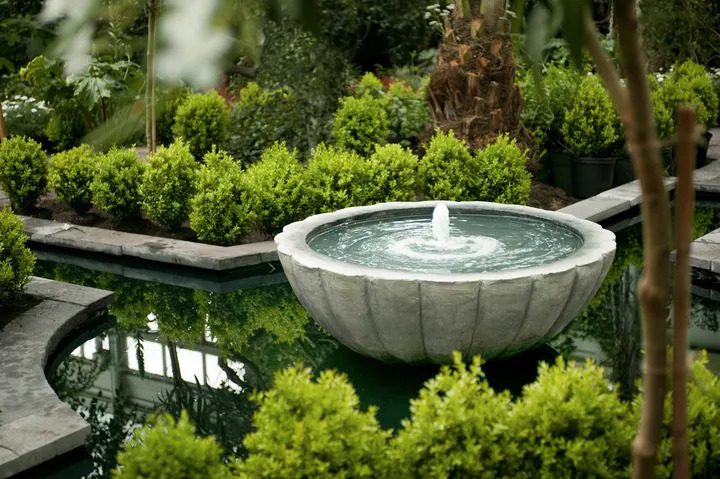 Ideally, it should also be close to an electrical outlet so you can easily plug it in. Make sure to choose a size proportional to the rest of your yard. A large fountain may look out of place in a small area, while a small one may get lost in a large area.
Multiple hedges
You may be contemplating why you should use multiple-size hedges when it comes to landscaping. The answer is simple: because it looks amazing. A mix of small, medium, and large hedges can create a stunning visual effect that will make your backyard stand out.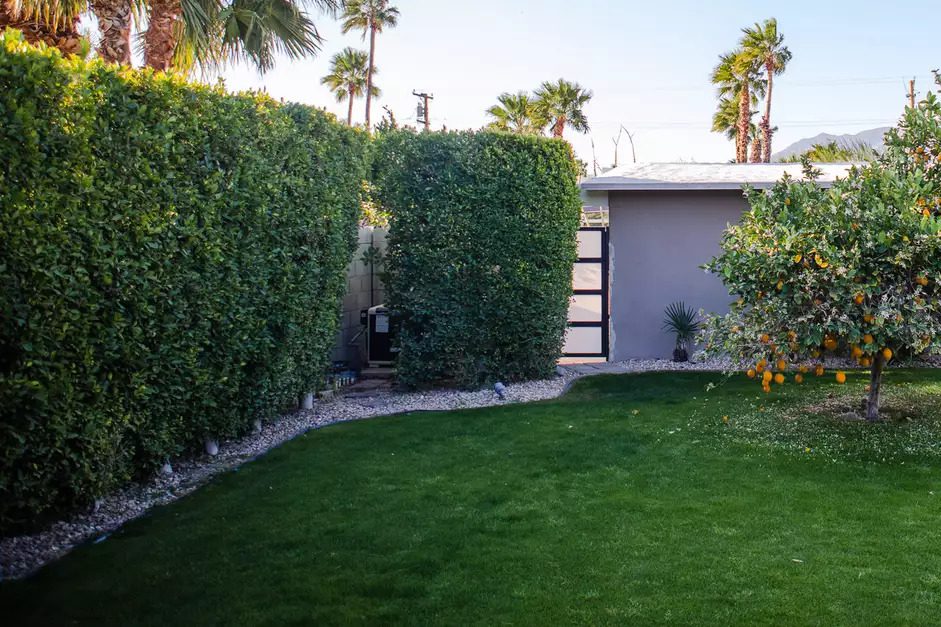 Plus, using a variety of hedges allows you more options when shaping and trimming them. You can create all sorts of interesting shapes and patterns that will let your personality shine in your outdoor space. Moreover, these will seperate different areas in your backyard.
Cozy and warm porch
If you have a covered porch, you can turn it into a cozy nook with some earthy colors. Wicker furniture is a great option for the porch as it's made of durable material that will last for awhile outdoors. You may add farmhouse cushions to make it cozier.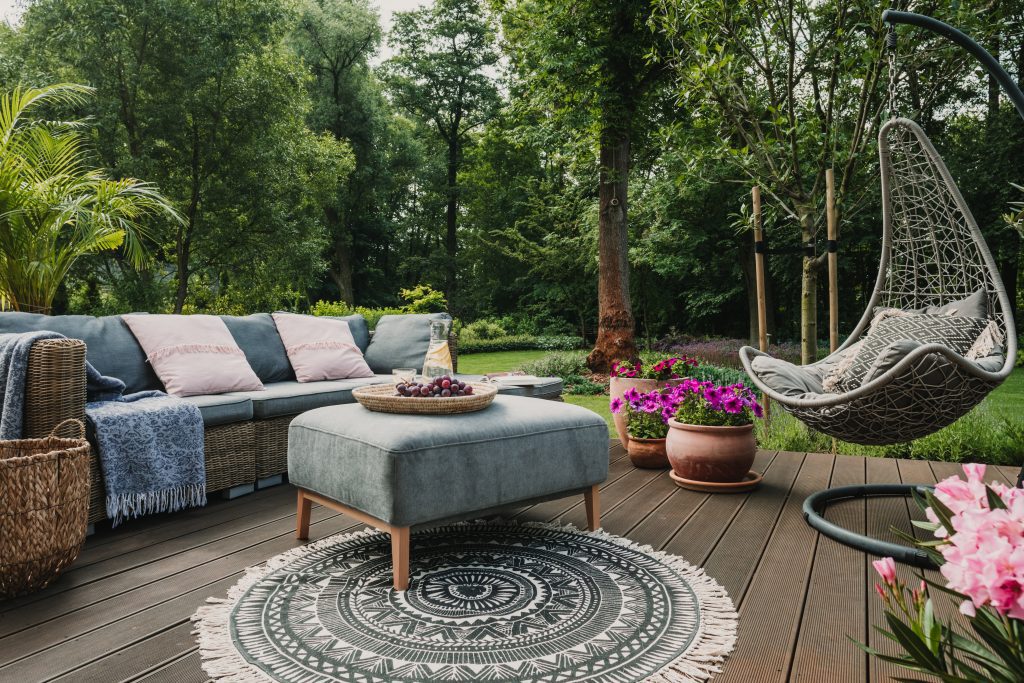 It'll look amazing while providing a nice, warm atmosphere that will make you feel right at home. Wicker is easy to care for – a quick wipe and a light dusting every now is all you need to keep it looking beautiful. Also, we suggest adding evergreen plants around the furniture.
Beautiful hydrangeas
DIY your backyard with hydrangeas for a beautiful view. Plant them in clusters and choose different colors to create a bold and vibrant design. Red, pink, and blue look especially striking together. This will give your garden a fuller, more lush look.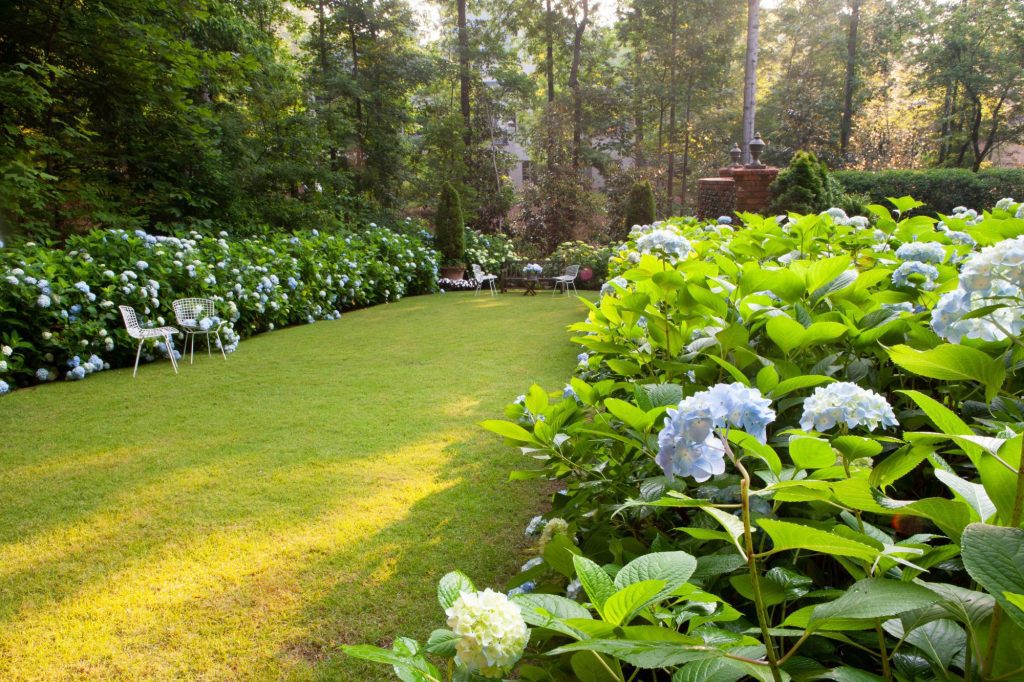 Incorporate other plants into your design so that your garden looks interesting. This will add depth and charm to your landscape. You may consider adding some hostas or ferns underneath your hydrangeas. All these plants are easy to maintain.
Almost natural pond
Did you know you can create a pond from scratch if your backyard doesn't have one naturally? You may have to hire a professional landscaper for this job. An expert will assess the area and use specific materials to fashion the pond.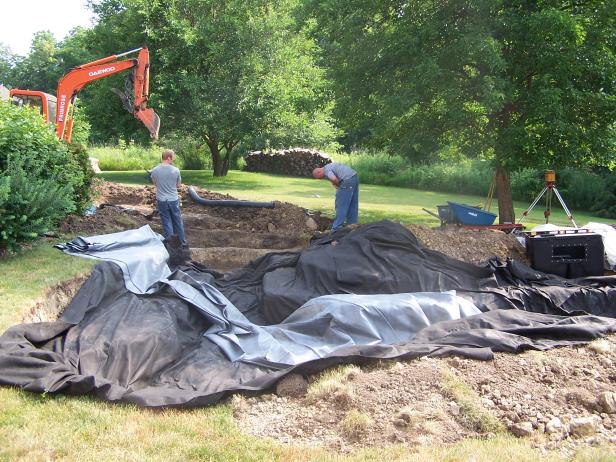 They may use a mountain ledge for the pond and work around it to give it a natural look. Add plants, natural stones, and large boulders for the finishing touches. This addition may be a bit time-consuming; however, it will be worth it in the end.
Don't ignore the climbers
Adding climber vines to your backyard is perhaps the best way to add some extra greenery and color. Not only are they charming, but they also provide a lot of benefits, such as shading your home in the summer and reducing noise levels.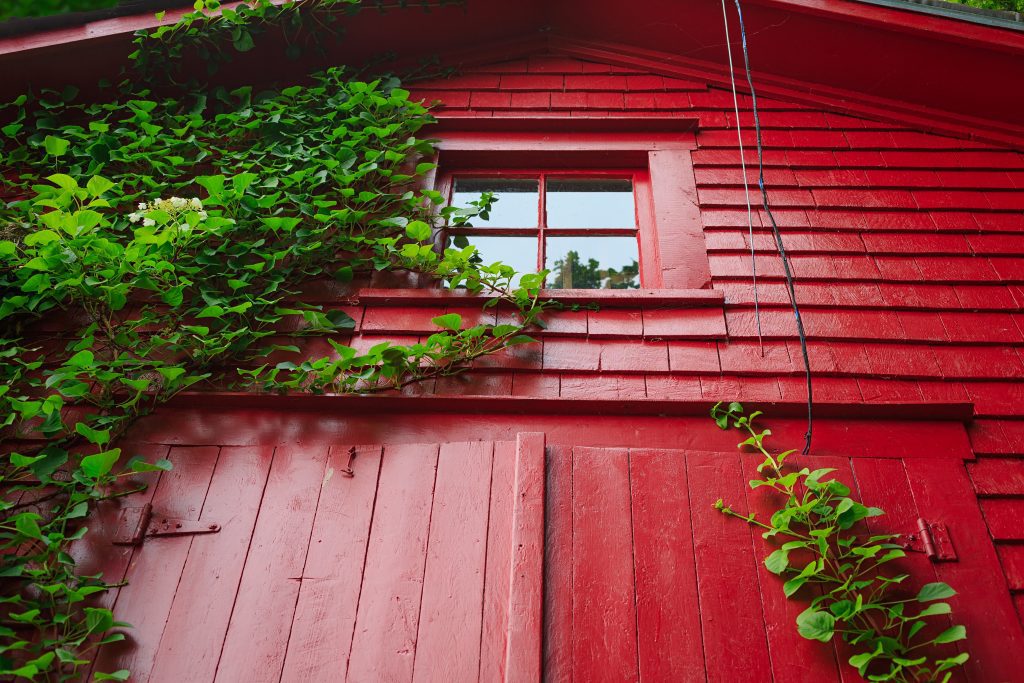 There are many different climber vines to choose from, so be sure to do your research before deciding which one is right for you. Some popular types include wisteria, ivy, and clematis. All of these vines can thrive in a variety of climates and soil types.
All-weather courtyard
Although it might seem like a daunting task, you can create an all-weather courtyard in your backyard landscaping. By using plants that thrive in both sun and shade and by adding features like a covered patio or pond, you'll be able to enjoy your courtyard no matter the weather.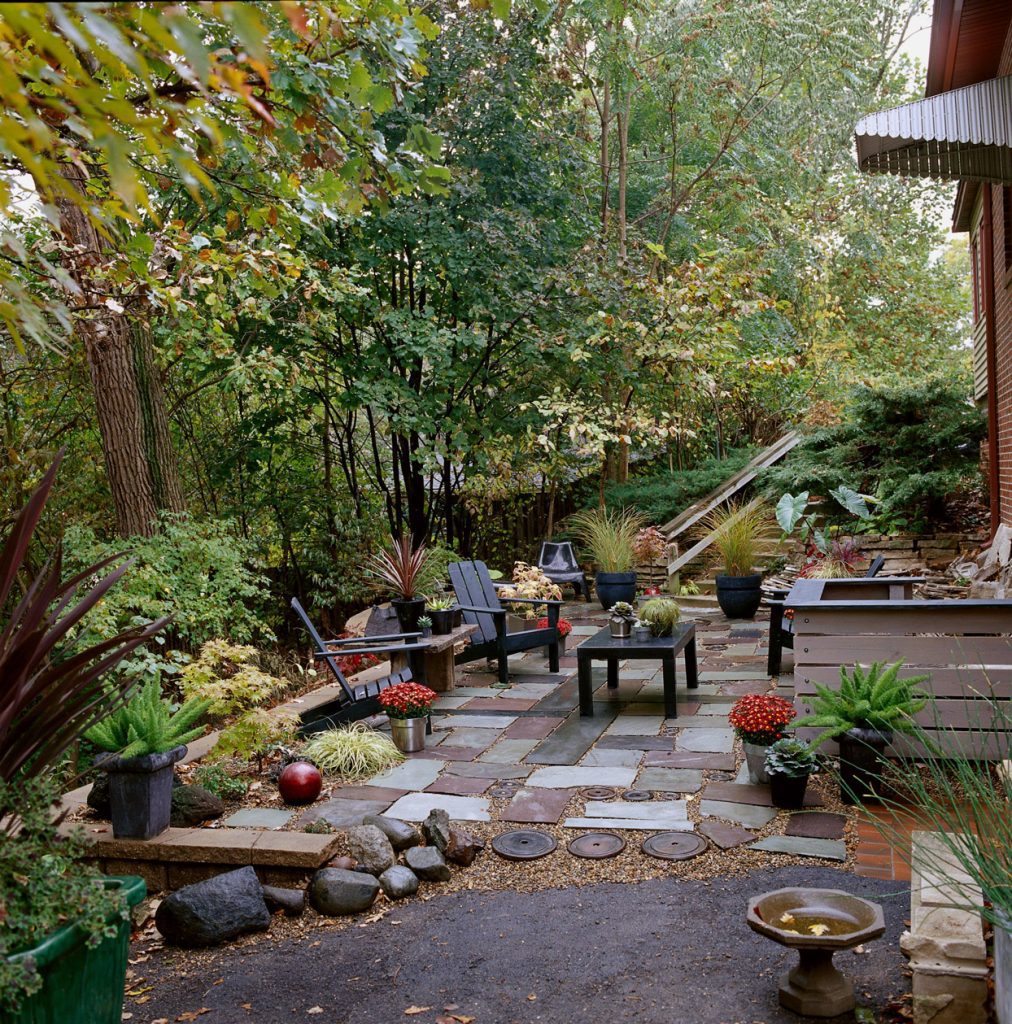 If you're unsure where to start, consider consulting with a professional landscaper. They'll be able to help you choose the right plants and design features for your specific climate and needs. And who knows – with a little bit of hard work, you might end up with the perfect backyard oasis.
Planned stepping stones
Walkways do not entirely need to be made of concrete. You may design them with natural elements of lush grass and natural stones. These stepping stones can provide a practical solution for walking across your lawn without damaging the grass.
They come in all sorts of sizes and shapes, so consider what will work best for your space. Larger stones can be used as focal points, while smaller ones can be incorporated into more intricate designs. You might also want to choose a smooth stone surface if you have small children.
Pop of color with planters
A pop of color can brighten up any byard – and adding colorful planters is an easy way to do that! There are so many fun and vibrant colors to choose from when it comes to planters, so you can play around with different combinations until you find the perfect look.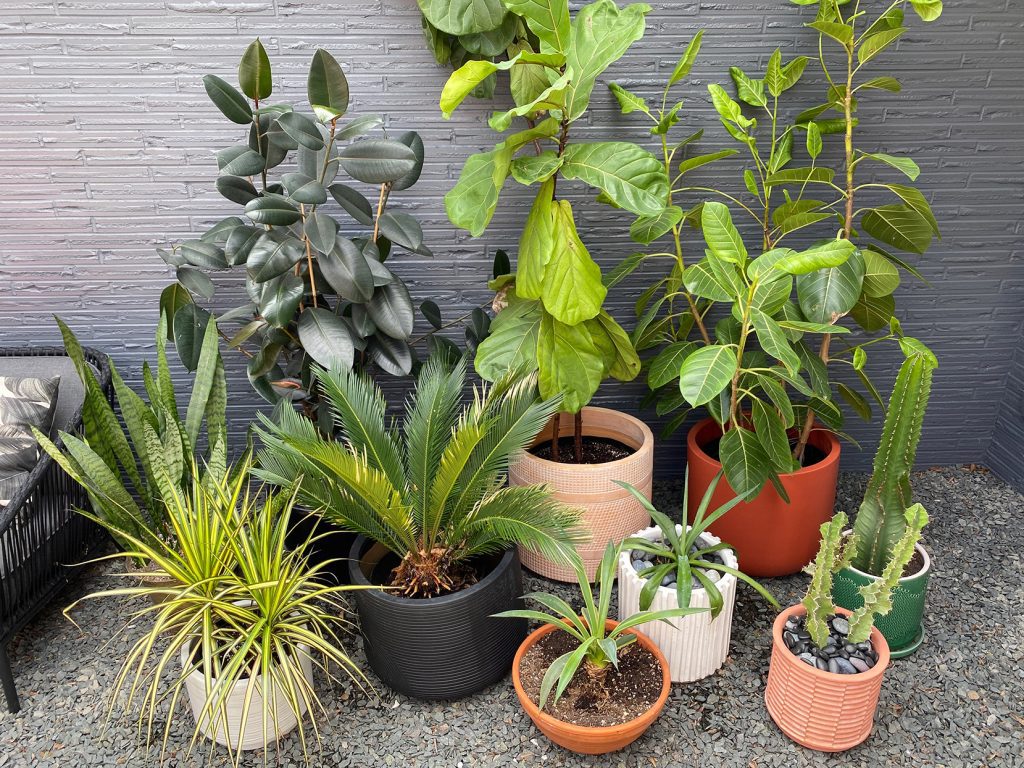 You may also go for a monochromatic look by choosing the same shade. Using color in contrast to your home is a great way to add life and energy to your outdoor space. For instance, pink and blue provide a fresh color option to the space. You may also pick yellow in contrast to purple.
Backyard fire pit
Including a fire pit in your landscape plans is a great way to add some extra functionality and style. A fire pit can be used for cooking, warmth, or as a focal point in your yard. Make sure you choose one that will fit in the space.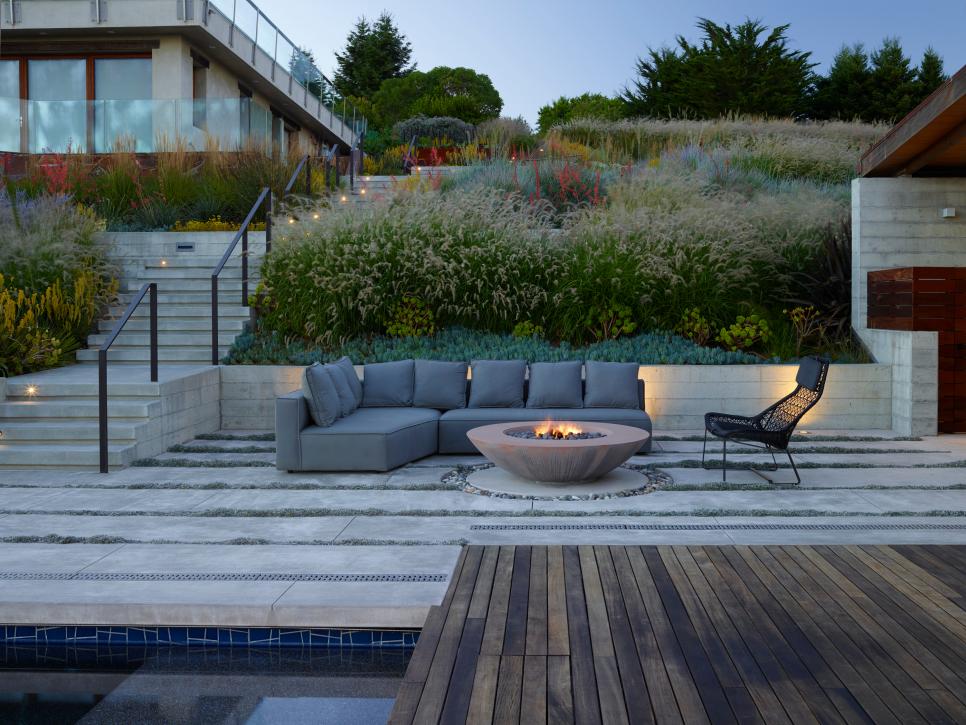 You also need to decide what type of fuel you want to use – gas or wood? Gas pits are easier to use and are less messy, but wood-burning pits provide more of an authentic camping experience. Moreover, it'll keep you warm during winter evenings.
Lay down some gravel
There are several reasons why you may wish to consider using concrete gravel floors for your backyard landscape. Concrete gravel floors are extremely durable and can withstand even the harshest weather conditions. They're low maintenance and easy to clean.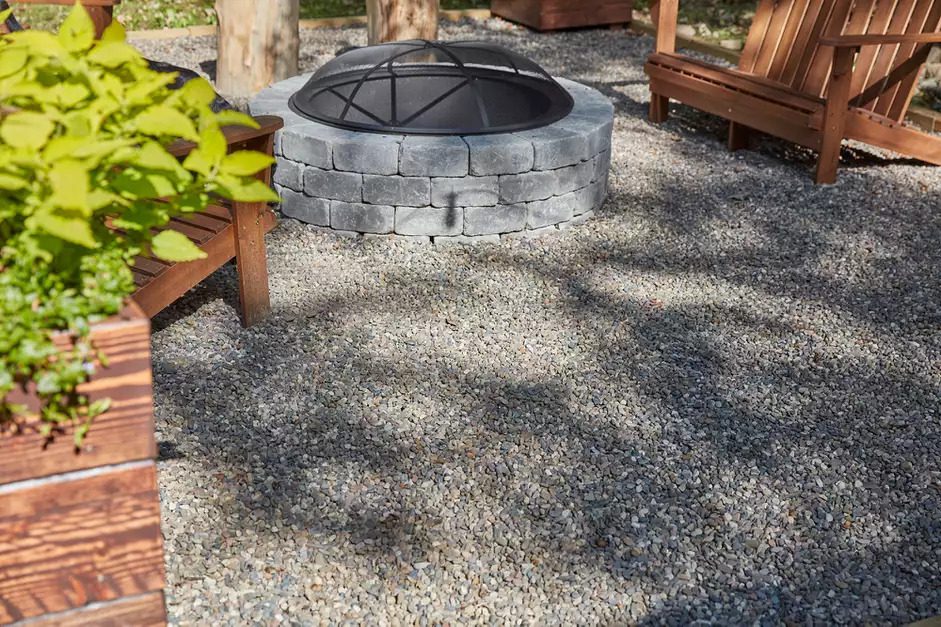 Concrete floors and planters add a touch of elegance and sophistication to any backyard space. Another great thing is that they're affordable and easy to install. Your patio furniture, outdoor decorations, and other backyard accessories will look lovely on these floors.
Organic produce for days
Everyone has a dream to live surrounded by nature in the wilderness. However, not everyone is lucky to live in the countryside and witness nature's organic marvels. If you have ample land, you may be able to replicate it with the help of raised garden beds.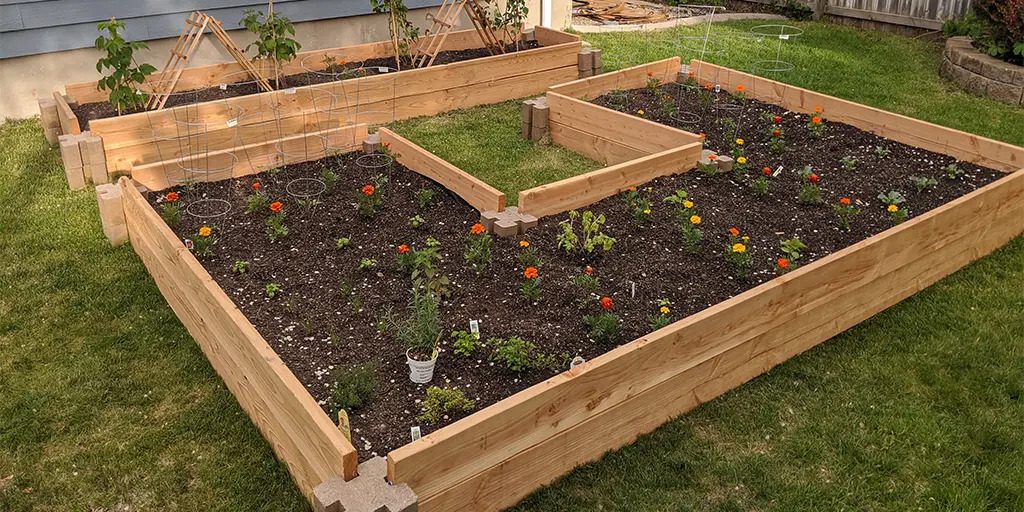 Use wood to create these raised beds, then add soil to them. Plant vegetables, flowers, and herbs to cover the soil. Use similar plants in one garden bed so that it's easier to care for them. Plants that have different growing conditions will not grow well together.
Zen space
For your garden to be your zen space, play around with things that bring you peace. If it's bright flowers, then plant vibrant ones in the backyard. You may add a birdbath in your backyard so you can watch birds from a distance.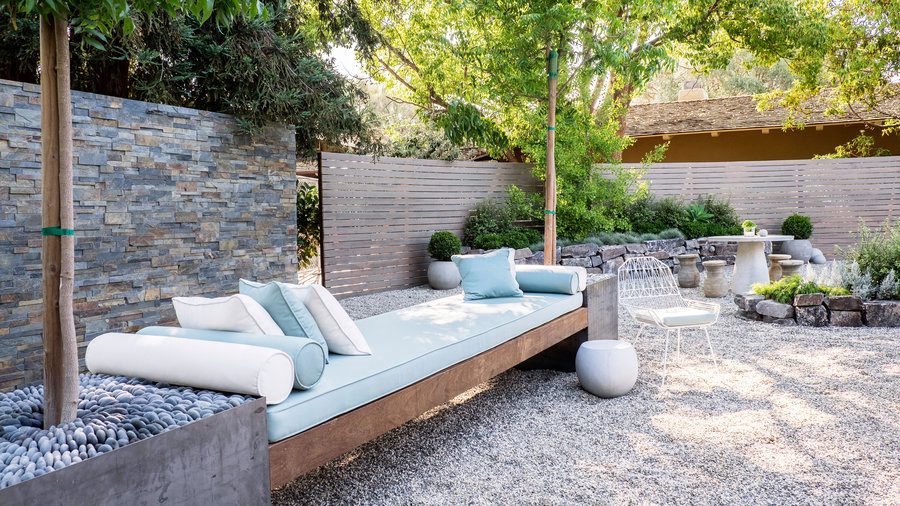 Choose some small fountains that have calming trickling sounds to add more zen vibes to the garden. Lastly, use comfortable lounge chairs so you can grab a book and relax in your peaceful space away from the world. You may also install a swing under the shade of a tree.
Purple lavender field
There's something so special about a field of lavender. The soft purple hues are undeniably beautiful, and the scent is intoxicating. If you're lucky enough to have a large backyard, you may consider a lavender field of your own. Lavender prefers full sun and well-drained soil.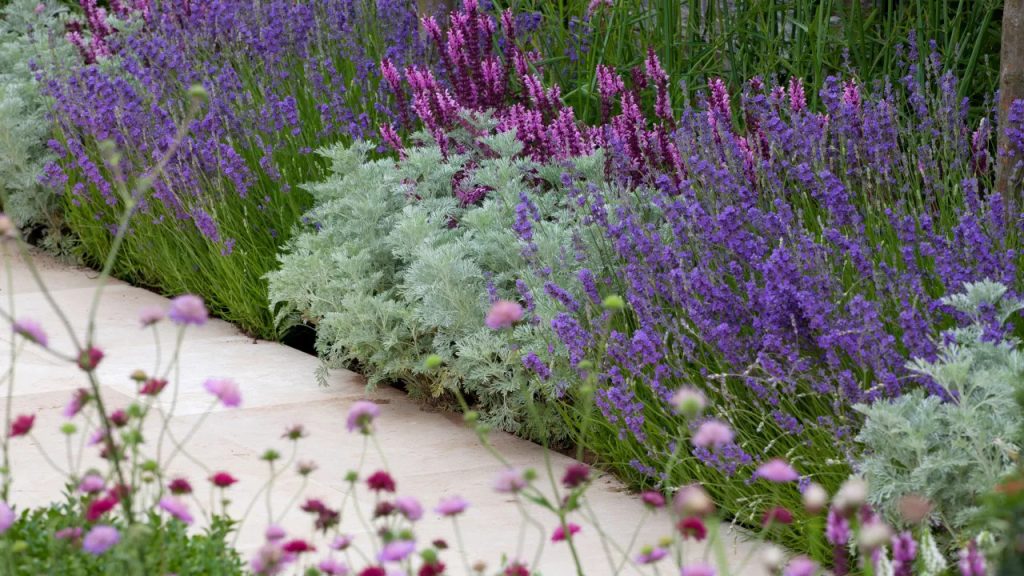 If your backyard doesn't get a lot of sunlight, you may want to consider planting your lavender in pots instead so they can get the sunlight they need. You'll also need to ensure that the soil in your backyard is well-drained and moist. Next, it is important to water your lavender regularly.
Plant some pears
Pear trees are symbols of abundance, comfort, and longevity. They will add a formal grace to your backyard. You may not wish to add different types of trees; therefore, sticking to just one fruit will be more cohesive for landscaping. Moreover, these are far easier to grow than other fruits.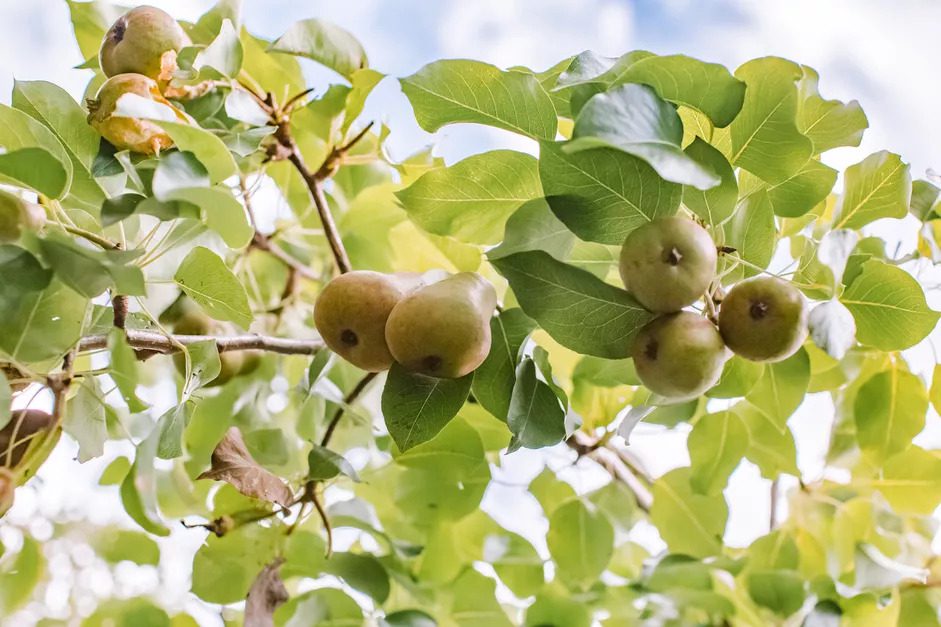 Make sure you plant your pear trees in the wintertime or early spring so you can enjoy their fruits later. The soil must be acidic and well-drained for these to thrive. Plant them in a row to create a natural wall that will provide some shade in the summer.