40 Pool Landscaping Designs That Have Us Counting Down The Days Until Summer
By Anthony K April 16, 2022
---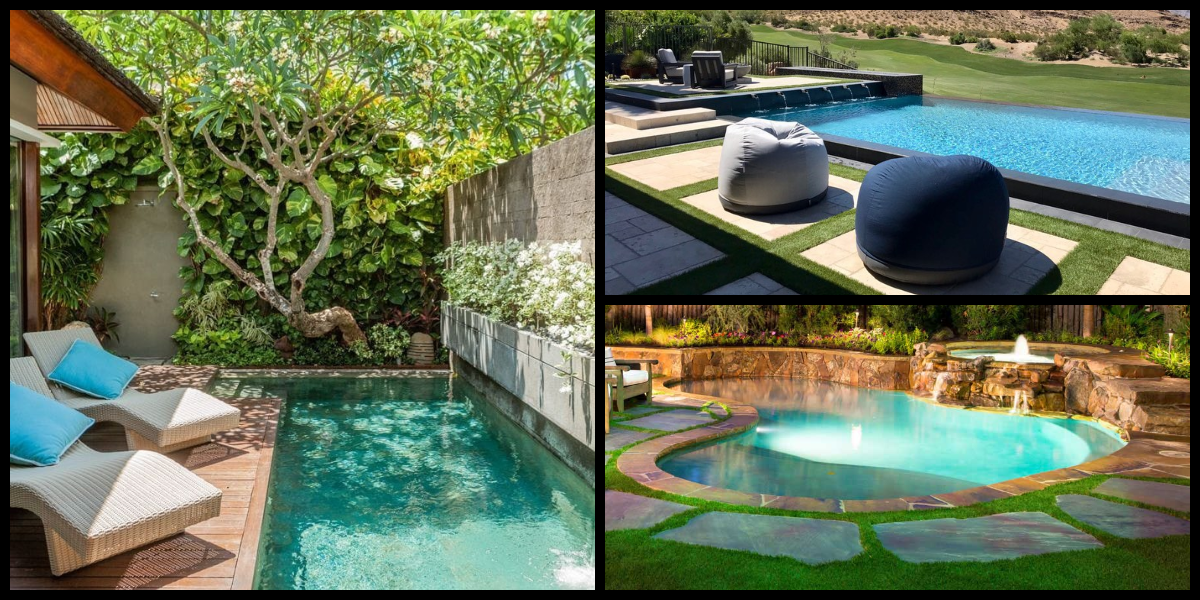 Landscaping, the act of altering the earth for aesthetic and functional purposes, has been done by humans for centuries. We might think of the royal gardens of renaissance Europe, but the tradition goes back even further. Back then, landscaping involved the installation of plants and changes to the existing topography. Today, landscaping refers to the creation, upkeep, and design of gardens that enhance the aesthetics of a home while also providing helpful space for outside activities. Whether it's your family home, vacation home, or a house you are leasing, if you have a pool, it's even better if you surround it with lush plants to transform it into a luxury haven. Let's dive in and look at some of the most fabulous landscaping ideas that will leave your pool and deck looking like a luxurious oasis.
1. Tropical oasis feel
No matter where you live, you can't go wrong with a lush tropical landscape around your pool. If you live in the Mediterranean or other tropical regions, this might be done with more ease, but with the right landscaping, you can get the right design.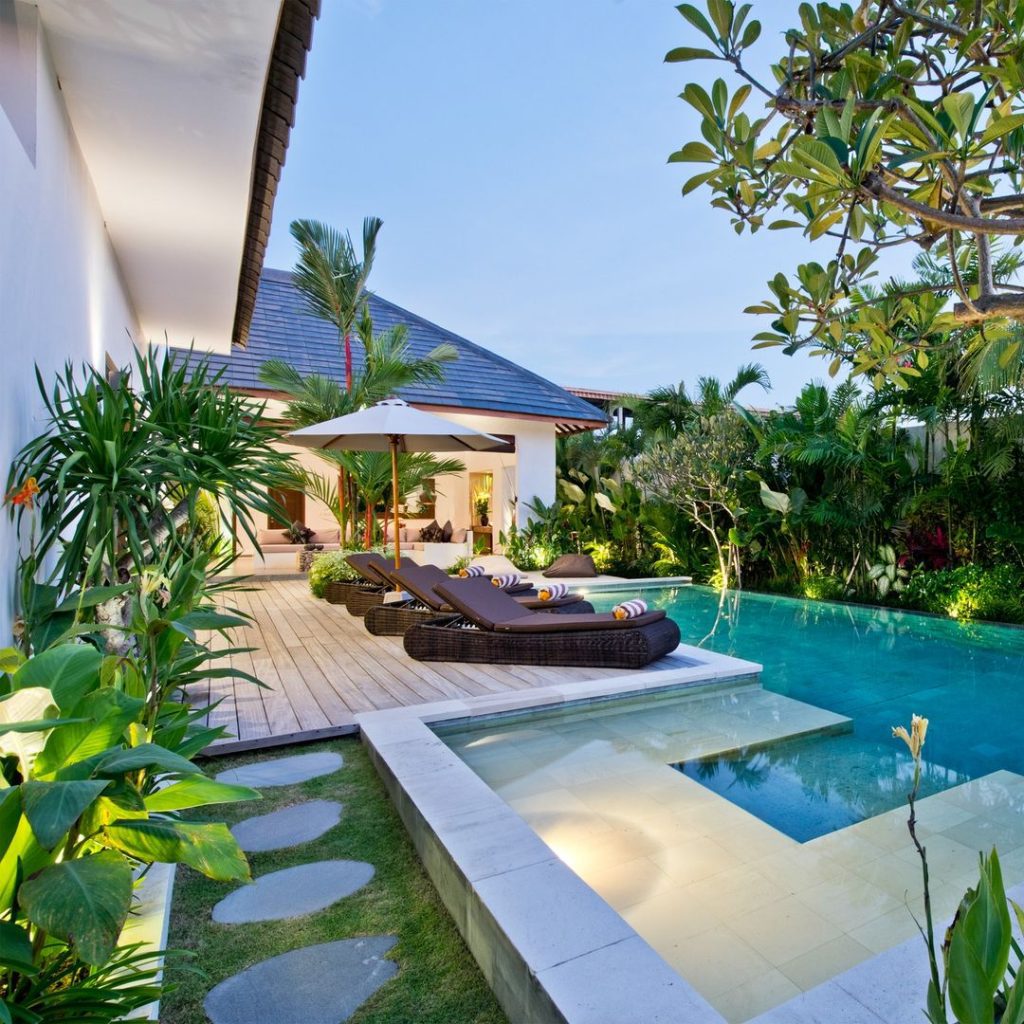 However, be careful when choosing which tropical plants and trees are in your compound. When fully grown, some plants tend to shed leaves frequently, which can make cleaning your pool a difficult, frequent task. Consider placing the plants far from your pool, to avoid watery detritus.
2. Succulents galore
In this era, it is commonplace to find succulent plants in most homes, both inside and outside. Succulents are relatively easy to identify, as they have thick fleshy tissues suitable for water storage. Aloe vera, known for its chunky leaves, is one such plant.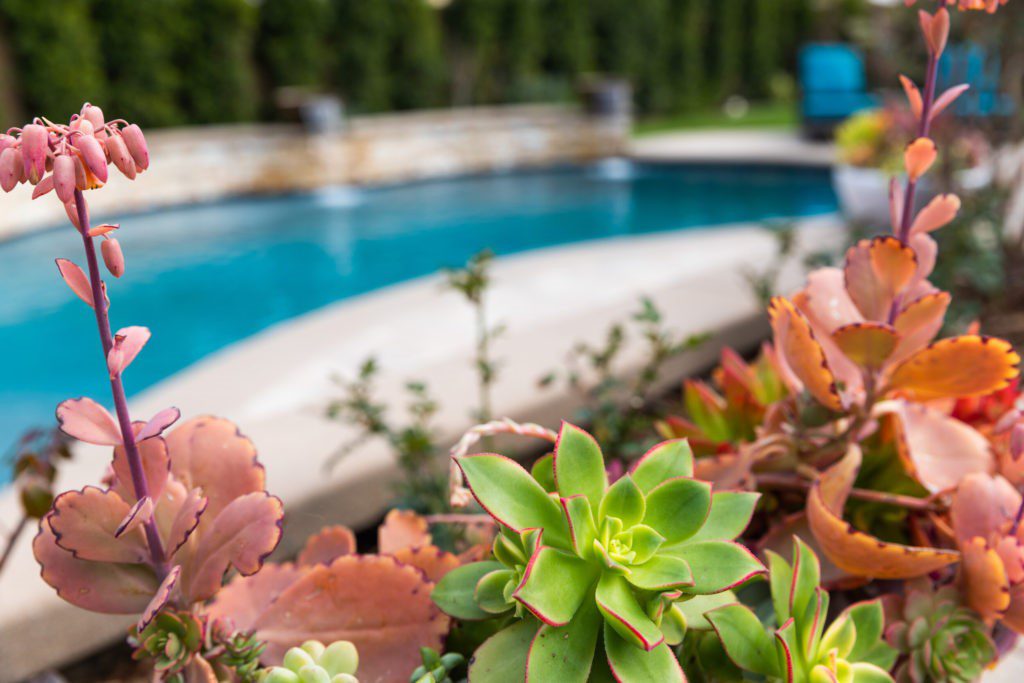 Succulents are popular household plants as they don't require frequent watering. Endemic to deserts, they are well-suited to arid environments, so they can withstand drought or vacation where you might not be around to water them. Keep in mind that some have prickly spikes!
3. Go crazy with hedges
Hedge landscaping around your pool may be a terrific alternative if you want a classic and straightforward pool design. Hedges help create clean, straight lines while also giving the pool an expensive look; many people associate it with Hamptons or Hollywood pools.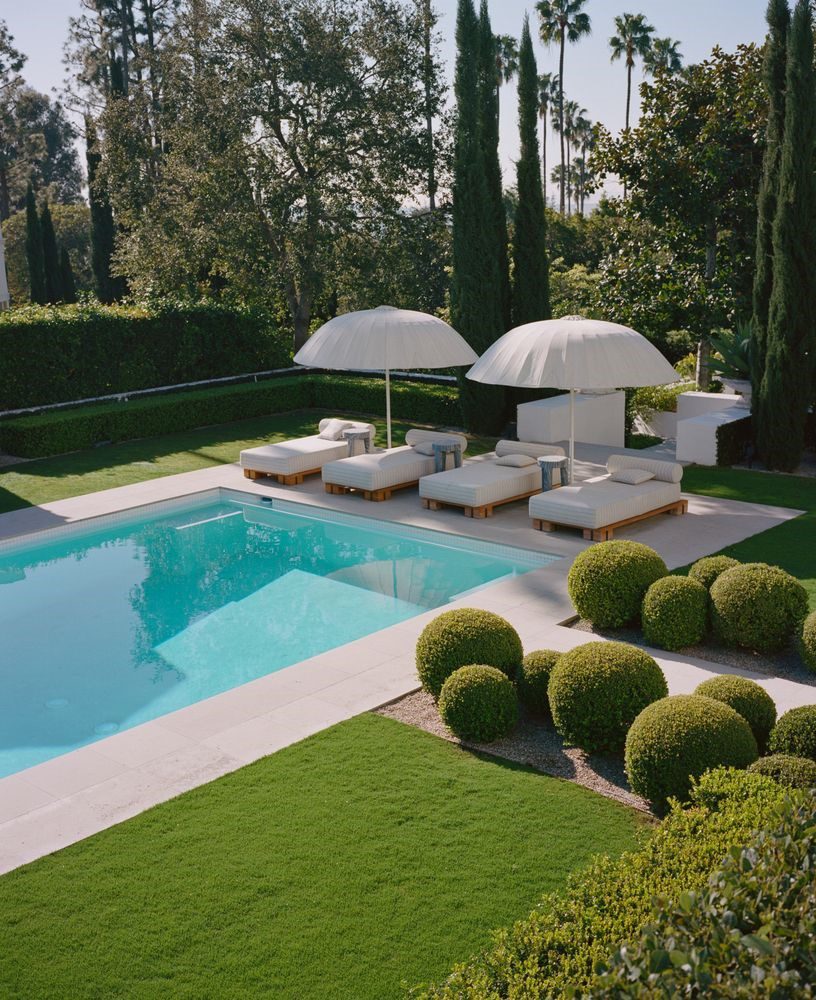 Hedges provide privacy while also helping to provide a sound barrier between your pool and your home. As a bonus, they can be utilized around your pool equipment to hide your pool pump and other items you don't want people to see. Make sure those hedges are trimmed regularly and give them eye-catching shapes.
4. Well-mowed lawn
Let's be honest, not everyone loves a flashy yard; the more the plants you have, the more gardening and weeding there will be. Some people prefer to keep it simple. Having a well-maintained and occasionally mowed lawn can never go wrong. It gives the poolside a feel of chill and calm.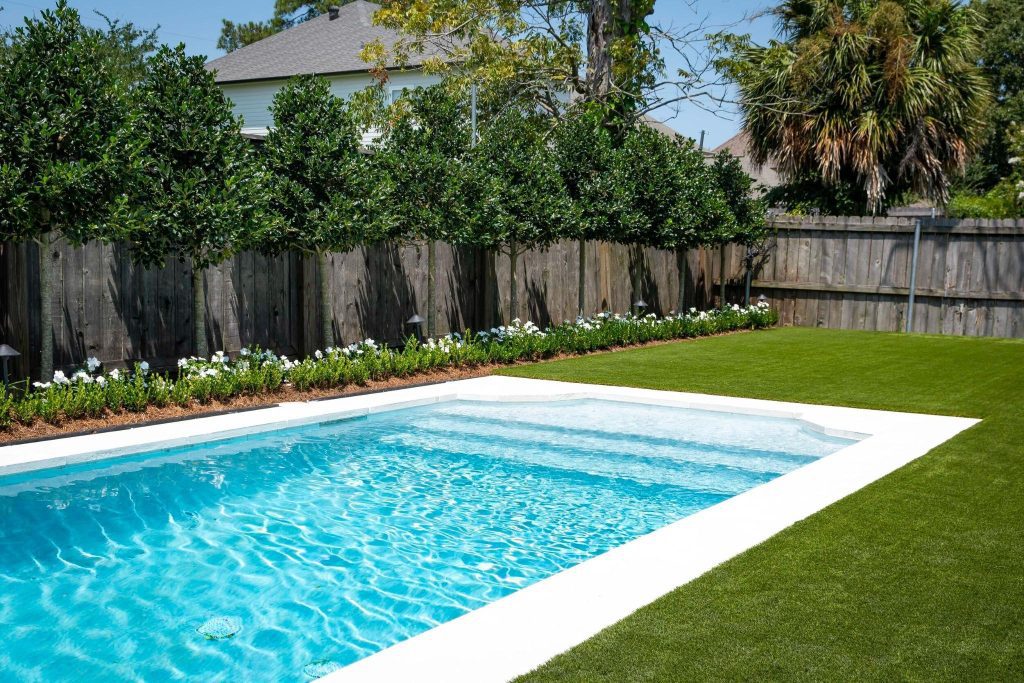 You need to keep your grass watered to keep that aesthetic green color that adds a natural feel to your home and yard. Once in a while, you can pull your grill and have some barbeque with your friends as they enjoy a cool swim.
5. Go all-in with planters
Worried about not being a gardener? Worry no more! All season long, use a few potted containers to create lush, low-maintenance landscaping for your outdoor space around your pool. A mix of foliage, plants, and flowers adds instant brightness to any space.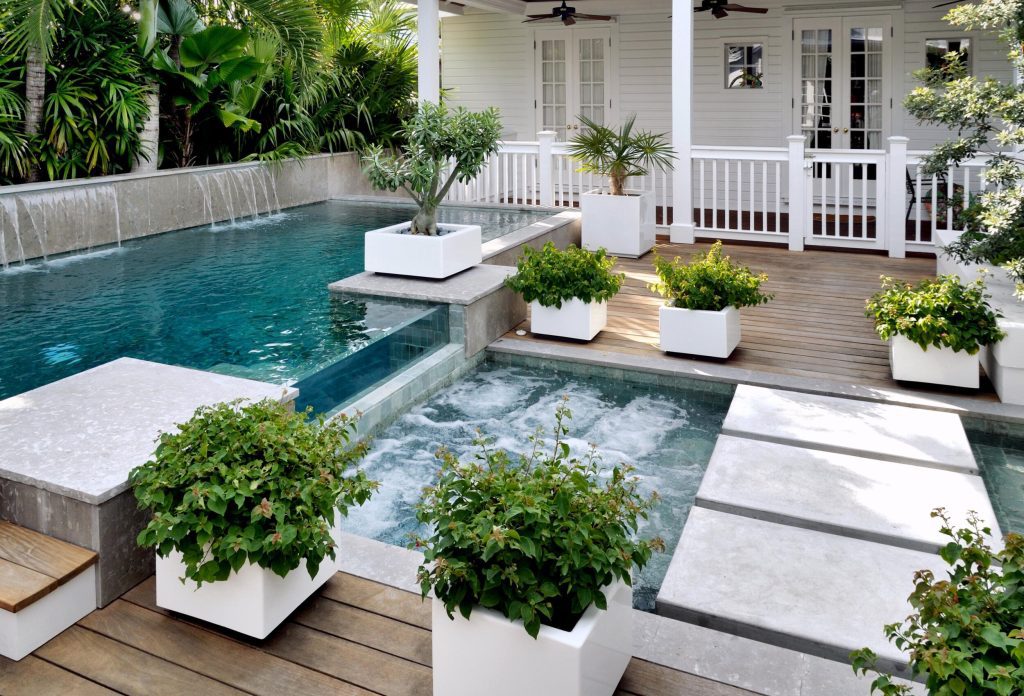 The beauty of planters is that you can move them around depending on the occasion, the season, and the weather. You can move and mix them up as much as you want to create a different experience each time you feel like you need some little change around.
6. Consider Hardscaping
Hardscaping is, in a way, the opposite of landscaping. Hardscaping makes use of the non-living materials in the environment, such as wood and stone, as opposed to horticulture. The benefit of using hardscaping is that the materials are hard-wearing and will weather any environmental conditions.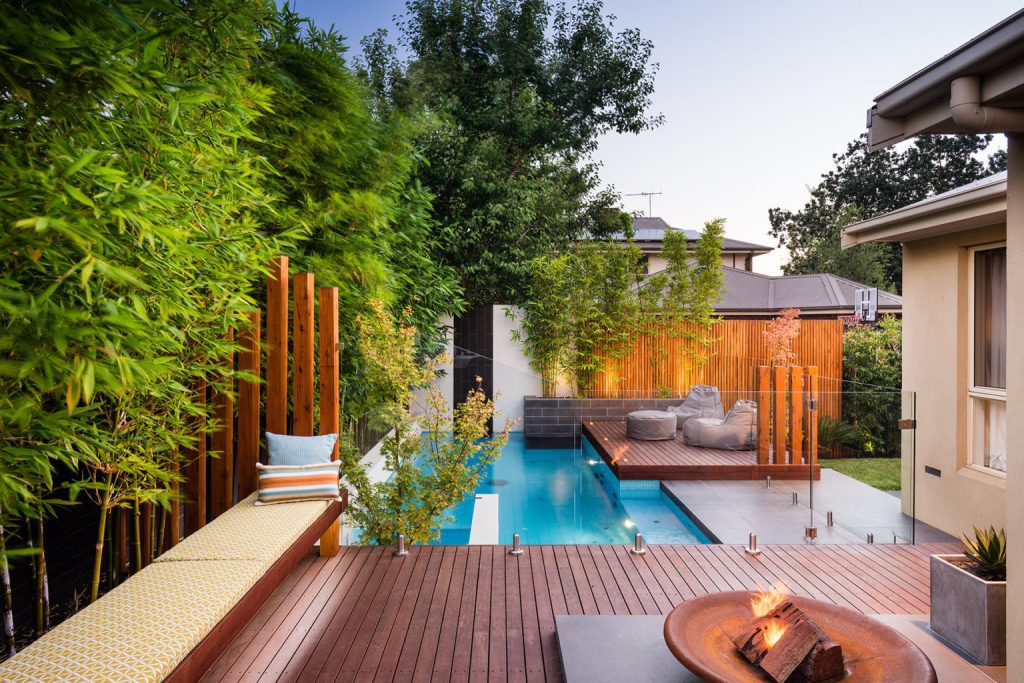 The combination of landscape and hardscape can give you an authentic, absolutely unique experience in your home. Using non-organic features to decorate your pool will make your pool and deck look classy, and a place you can enjoy all year round.
7. Play with creeping plants
We all have an idea of what creeping plants are, right? Also known as procumbent plants, these snaking vines are small and low to the ground. You have to be very specific on how you plant and maintain them, as they can grow very fast, be very bushy, and become a nuisance with creeping plants.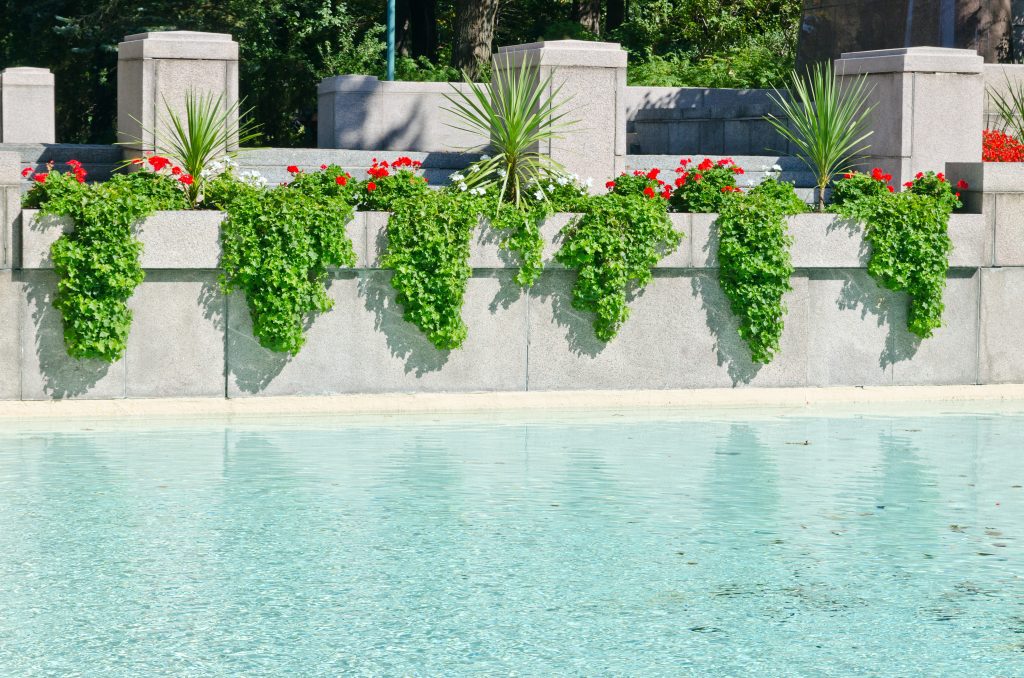 The plants give a serene natural feel to your pool, and it would be a good attraction for your friends who love and enjoy nature. There is an array of different colors, textures, and kinds of creeping plants to choose from.
8. Alluring waterfalls
It is really astounding how we have evolved as human beings. Who could have thought that you could bring the jungle to your own home? Before, we had to go on an adventure to experience waterfalls; but now you can have your own waterfall in the comfort of your home.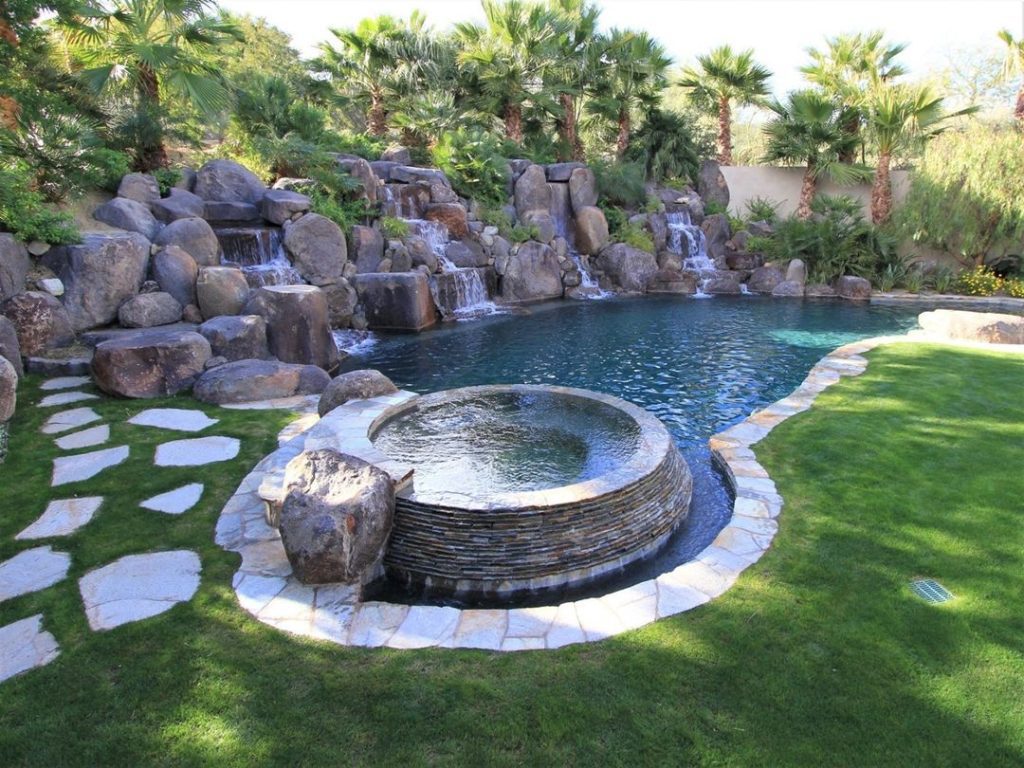 Integrating a waterfall into your pool can give it an eccentric look. This will awe your guests, friends, and even people who want to lease your property. Ensure you throw in some botanical touch to give it a 'swimming in the wild' feel as you take a swim.
9. A centric-garden pool
We are familiar with kitchen, front, and back yard gardens. Have you ever laid your eyes on a small, well-put garden in the middle of a pool? These gardens are Instagram picture-worthy if put together well and with a unique design.
They give the pool a different feel from the usual regular pools we are used to. But make sure to choose your plants carefully. Allergies from plant pollen can be a real mood killer during a fun summer swim. The good news is there are so many beautiful arrays to choose from.
10. The Caribbean aspect
The Caribbean Islands are famous for abounding crystal blue oceans, immaculate beaches, and spectacular flora and fauna. The region's local flowers frequently convey deeper meanings and messages, with rich hues to mirror the vibrant culture and art. With some Caribbean designs, you can give your pool that iconic yet eccentric look.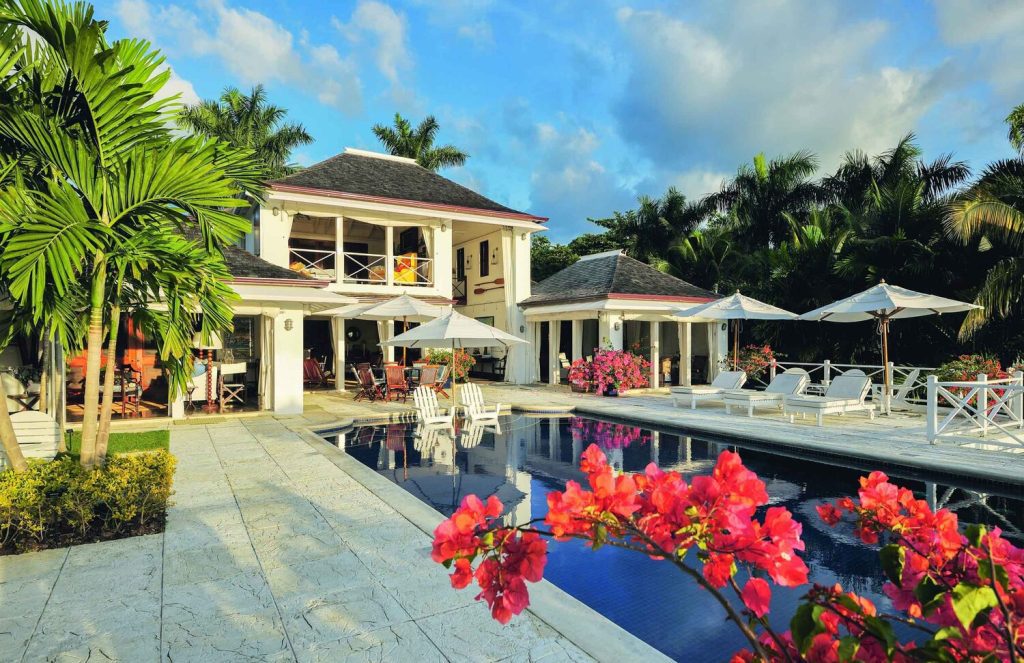 With so many unique flower species found in the Caribbean that have achieved worldwide acclaim, there are various options to pick from. You can't go wrong with anything from the vibrant cattleya orchid to the well-known dahlia. Keep in mind that orchids require special maintenance.
11. Fountains
Have you considered incorporating water fountains into your backyard pool? They may never achieve the height or visual intricacy of the large jet in front of the Bellagio. Still, there are an array of elegant, high-quality, adjustable fountains that could work perfectly with your pool. Fountains give a fun and aesthetically pleasing feel.
Fountains are more accessible these day. You can purchase one online, adding in the feature long after you've completed your project; you don't have to build it attached to your pool walls anymore. All you need to worry about is the best that suits your backyard pool.
12. Water caves and grottos
When one mentions a cave or a grotto, your mind probably wanders to a natural aesthetic. As you crawl over boulders and under stalactites to explore the unknown, there's an unnerving sensation in the air. Each cavern holds its own set of intriguing relics.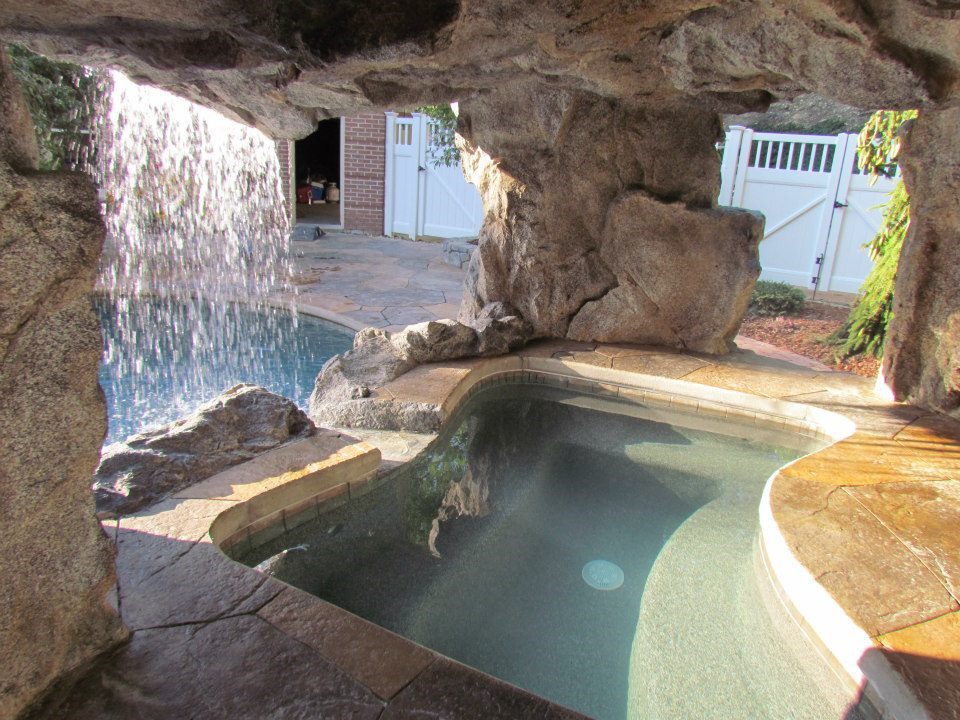 Ever thought of building a pool with grottos and caves? Your pool will be transformed into a quiet island retreat and hidden relaxing private spots. It's a no-brainer for everyone who loves to swim; they would kill to have a chill in a grotto.
13. Becoming one with your home
Sometimes you might find it challenging to bring the gist of nature into your backyard pool. Finding a way to merge the pool landscape and the garden surrounding it with the rest of your home is a crucial element of the design process.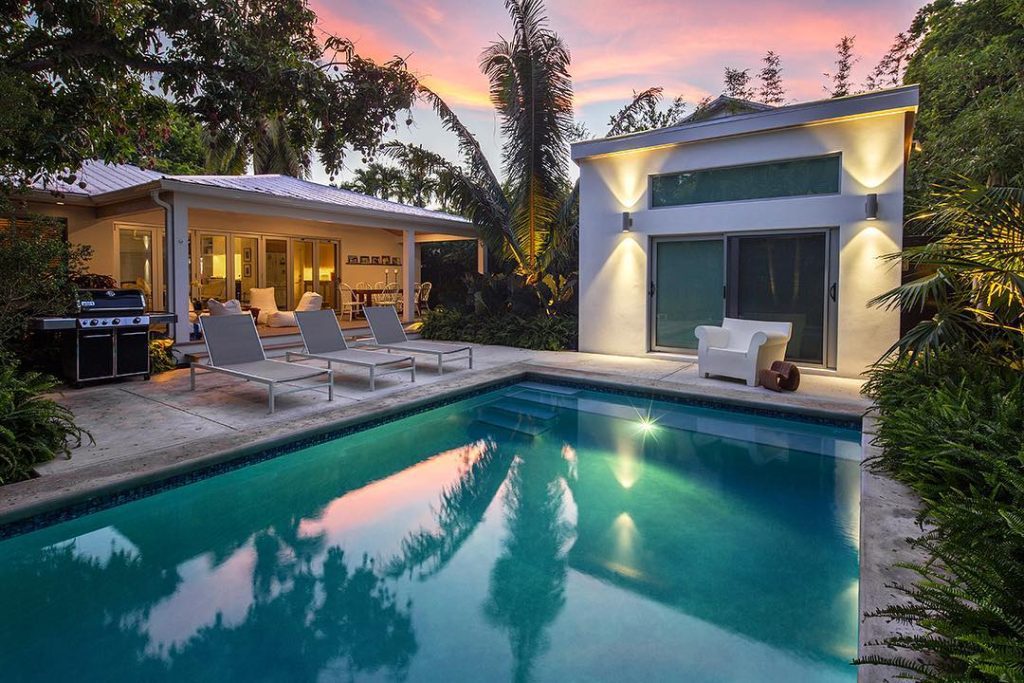 While most modern homes appear great when paired with a tropical poolscape, contemporary and minimalist dwellings in an urban location may feel a little out of place. To obtain the best of both worlds, blend contemporary ergonomics with a sleek design and precise straight lines with tropical vegetation, motifs, and décor.
14. Insect repelling herbs
Bugs can be a buzzkill to a good swim. You don't want your family, friends, and guests to have difficulty being bothered by insects. Many people choose not to use chemicals or spend money on insect repellant, but they still require protection from many insects attracted to wet areas, especially mosquitoes.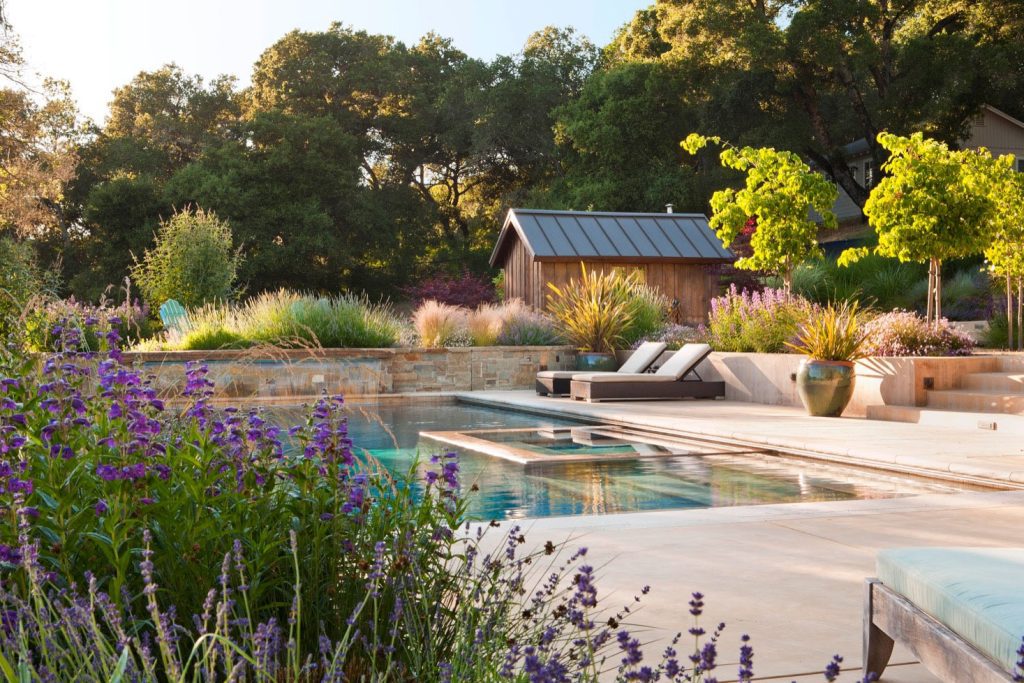 Planting natural insect-repellent plants around your pool will not only look astounding, but it will allow for pest-free fun. If you like mint, be careful with your planting as they can quickly get out of control. Try using planters for bug-repellent plants.
15. Use ornamental grasses
Near pools, ornamental grasses can be low-maintenance and visually appealing. Sedges, rushes, and bamboo are examples of decorative grasses instead of the usual lawn grasses you may be familiar with. These botanical grasses add a natural feel to your home.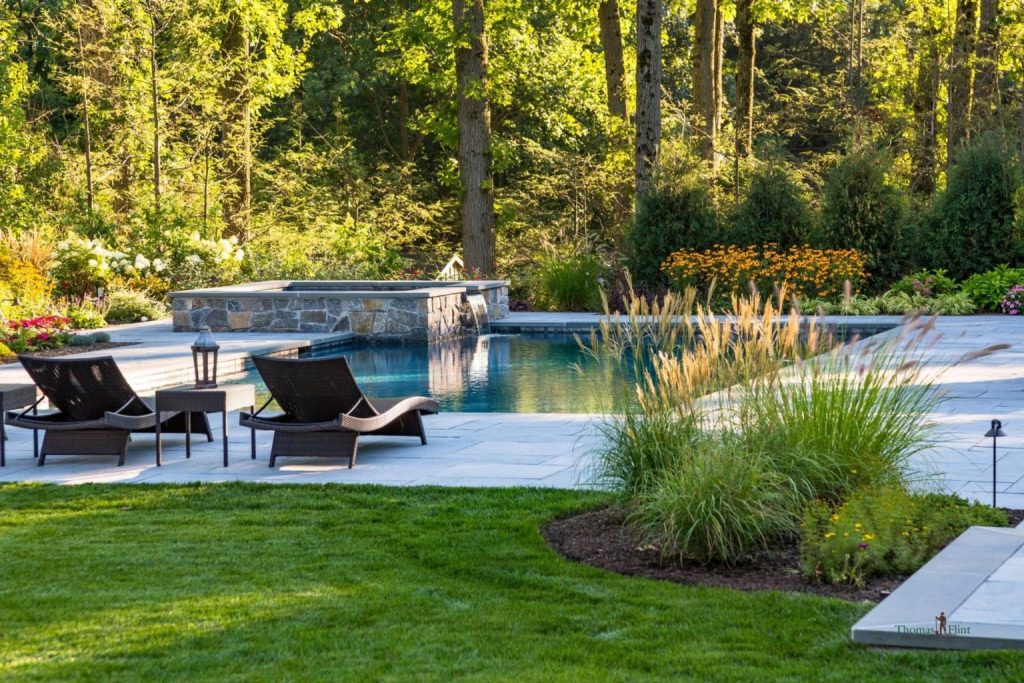 To minimize debris, use the bull's-eye strategy to design your pool, keeping the grasses away from the first ring surrounding your pool. What good is a beautifully designed pool area if all plants end up in the water? You definitely should avoid that!
16. A mocktail of everything
It's not a bad idea to keep your pool landscaping simple. However, if you want a genuine lush haven in the back of your yard, consider combining pool landscaping ideas to help you take it to the next level. Dream bigger than a concrete walkway around the pool for genuinely stunning pool landscaping.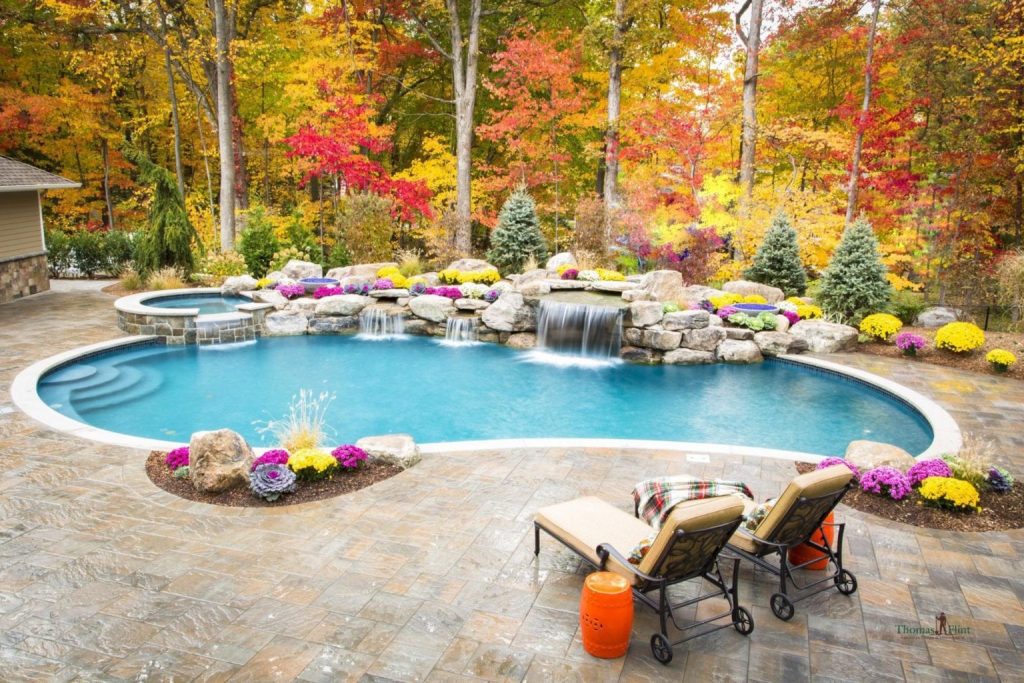 Instead, envision fragrant flowers, updated pavers, welcoming seating places, and excellent lighting to let you enjoy this close-to-home getaway far into the night. Then you can enjoy hangouts and barbeques as you go for an evening swim with your family and friends.
17. Rocky pool
A combination of some elevated boulders and rocks around the edge of your pool can significantly improve the landscaping. Gravel can be used directly in the pool's design for a unique effect during construction. Even if you're adding landscaping to an existing pool, you can use natural or artificial rocks with built-in speakers to implement this concept.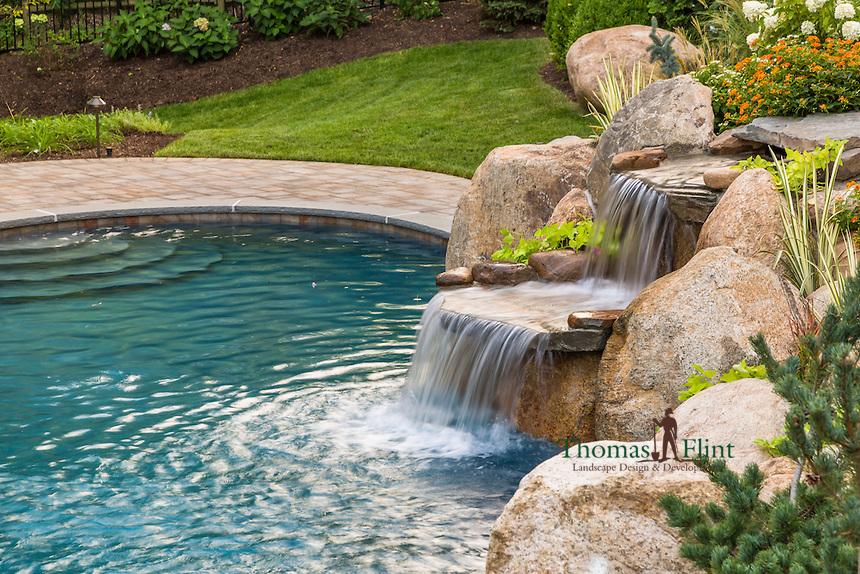 The rocky concept gives the pool an astounding look, and having a little water trickle from the rocks forming a waterfall makes it picture perfect. The simple yet classy design will have people flocking to your home for a relaxing experience.
18. Utilize xeriscaping
Do you travel a lot? Are you worried about who will water your plants when you are away? Xeriscaping may be just what you need when you are thinking of designs to landscape around your home, especially in the area next to your pool.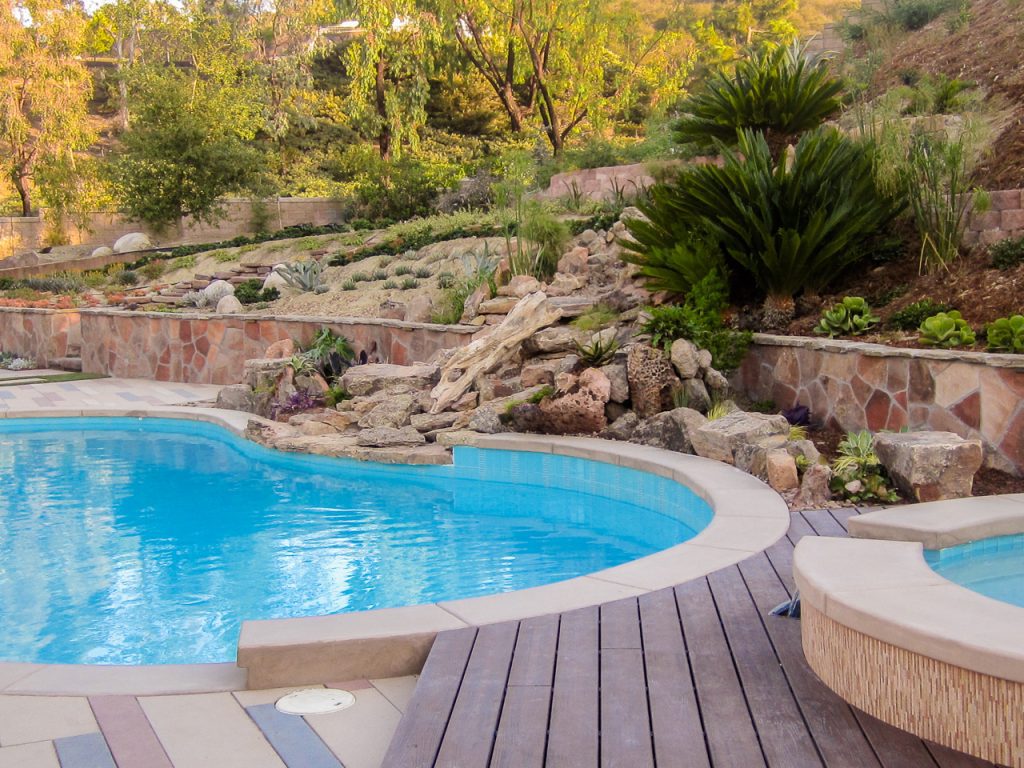 The practice of xeriscaping is the design of landscapes to reduce or eliminate the demand for watering. This means that xeriscaped landscapes only require as much water as the natural climate provides. Now you can travel with peace of mind without being concerned about your plants drying up.
19. Let Mother Nature do the job
We could all agree that every aspect of living things in this world is phenomenal and beautiful. Including you reading this, c'mon now, stop blushing, but keep smiling! If you are too lazy to keep the landscaping spirit going, worry not because mother nature's got you covered.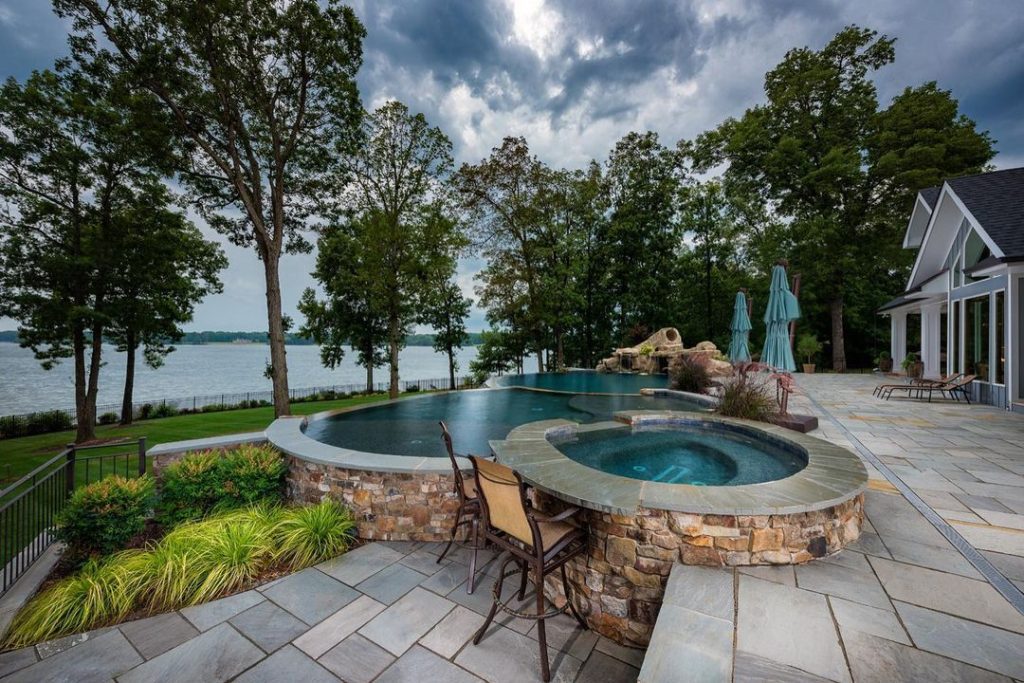 The only job you have is to find a magnificent location with breathtaking views. Now all you need is to set up the pool of your dreams. Think of places like the beach, mountains tops, woods, and jungle, maybe? You sure won't have a hard time looking for one that resonates with you.
20. Zero-entry pool
Swimming pools come in different shapes and sizes. For a full backyard swimming sactuary, consider a zero-entry pool. The luxury that comes with these kinds of pools is just out of this world. What differentiates these pools from the regular shaped pools is that they give a natural aesthetic look of an actual oasis.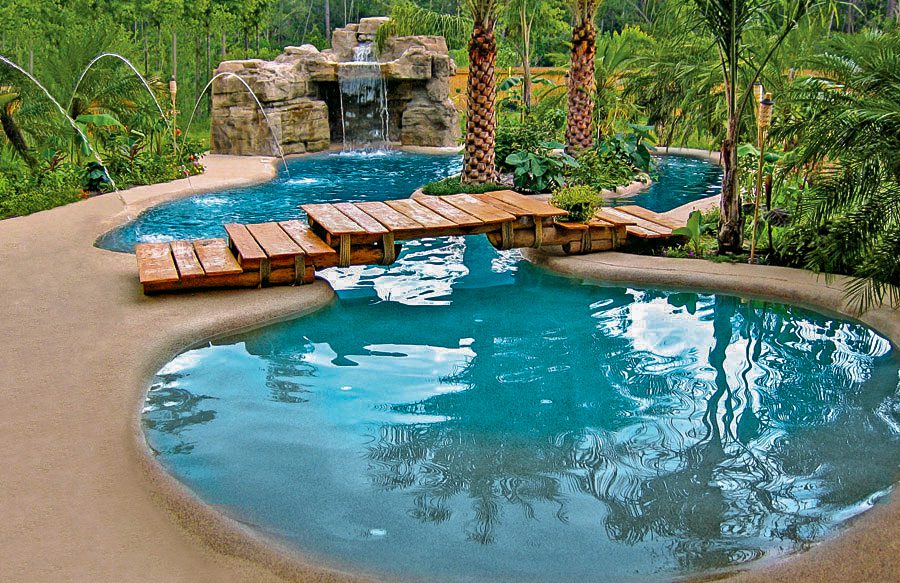 If you like investing in extraordinary vacations this is just the perfect spot for you. Setting up this complex design can be a bit more expensive, but with a design like this one, you can save money on summer vacations with a simple trip to your yard.
21. A feel of the jungle
Do not underestimate the power of introducing fleshy plants around your pool. This trick helps to raise excitement that will leave you feeling like you are on a tropical vacation while in the comforts of your own backyard. The best plant varieties are subject to your climatic conditions.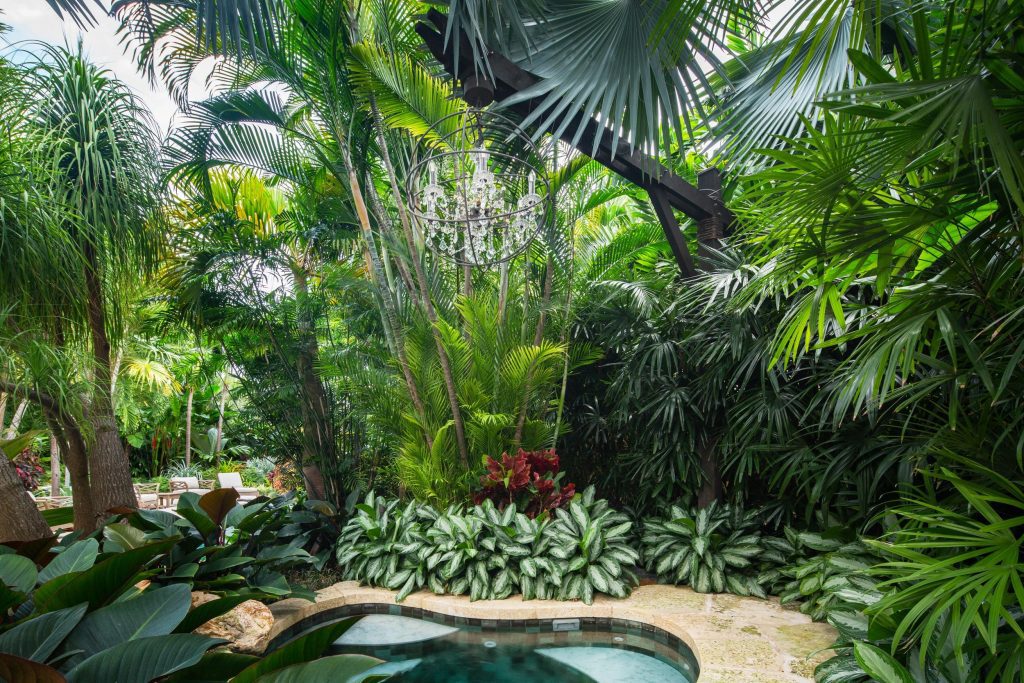 However, pool owners who dwell in arid areas that require tougher plants can have the same aesthetic benefits with hostas, ferns, and hibiscus. In addition, some palms are known to withstand sub-zero temperatures. Jungle ambiance will help generate a feeling of life in your pool and some aspects of nature.
22. Mediterranean charm
Give your pool a tropical vibe that feels like a Mediterranean vacation with lush lanscaping aroudn your pool. It may be tempting to go all-out with the plants, but choose carefully, as they might not all be suitable for poolside planting.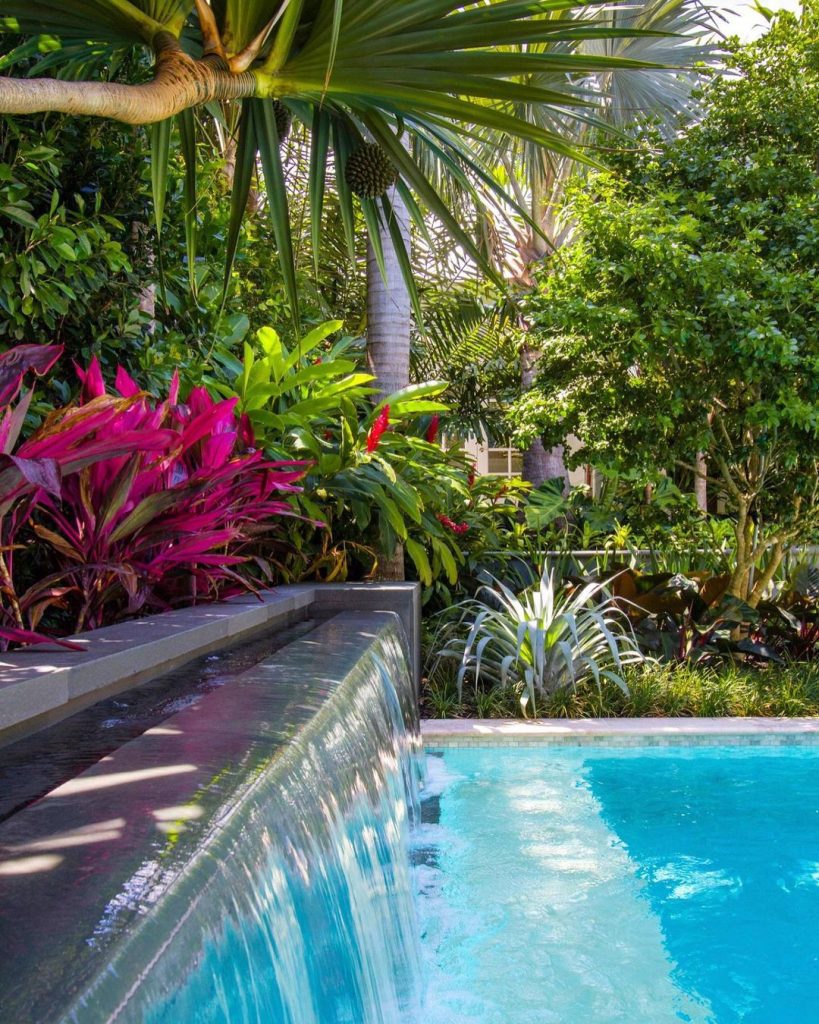 Some tropical plants shed leaves that can muck up your pool. Mix and match the lush plants with deciduous bushes bordering your pool; this will keep your yard feeling tropical yet clean. Also, try planters with colorful flowers to distribute the tropical vibe.
23. Paths with a chic pattern
Imagine sinking your toes into some lush grass cover while introducing a visual enhancement around your pool. While it may sound complex, it is a simple practice that involves adding some turf in between concrete pavers surrounding your pool. This unique pattern will have your pool looking as natural as possible.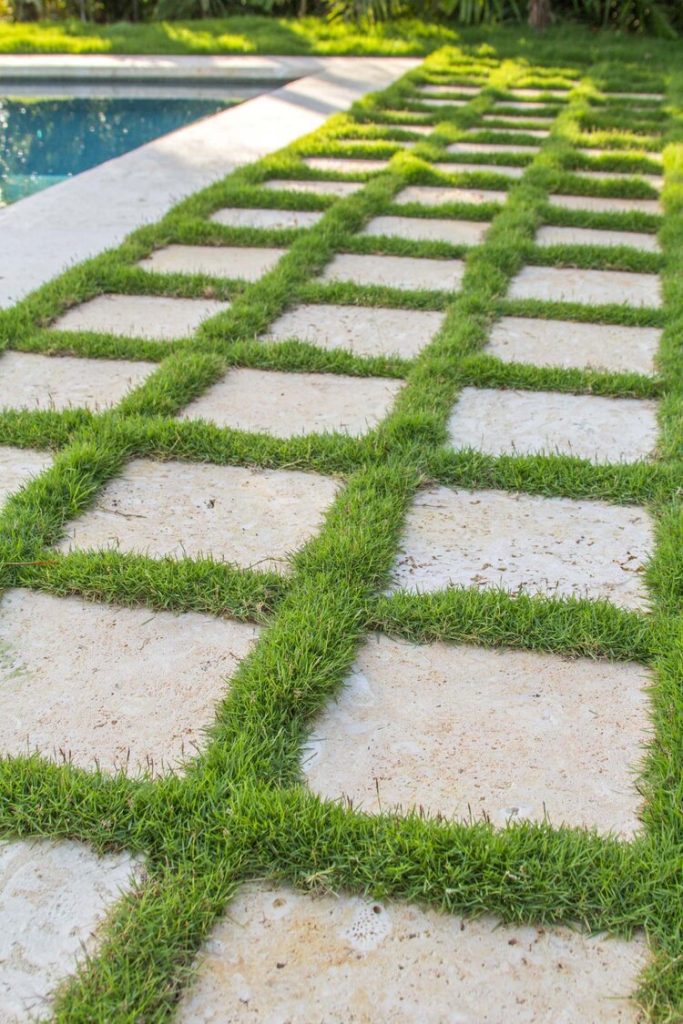 With this look, your pool achieves the best of both worlds. It inspires a touch of modern and classic sensation, creating a serene ambiance to your pool. As you can already imagine, this idea can come in handy if you consider a makeover or undertaking pool decking. This addition brings comfort, whether in or outside the pool.
24. Paradise lagoon
A paradise lagoon is equivalent to introducing some water fountains in your backyard pool. While they may be insufficient in comparison to their eye-catching natural counterparts, this move will add some level of sophistication to your space. Feel free to add some trees to make your lagoon appear even more real.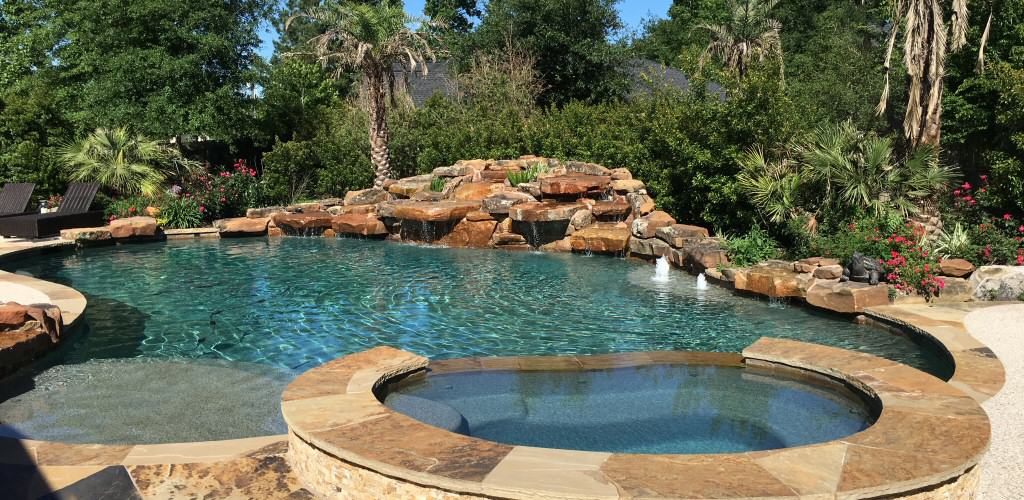 By introducing a lagoon to your pool, you can be sure to capture many eyes. In addition to creating more space, a lagoon helps your pool to appear cleaner and well-kept. You can use concrete to separate your lagoon from the main pool by rendering it a temporary barrier between the waters.
25. Firepit glam
Suppose the pool is your favorite go-to place for social gatherings outside the house. Try adding some authenticity by introducing a fire pit. In addition to keeping you warm in the cold seasons, this fireplace is a superb location to chat with friends and family amidst drinks and hearty laughs.
You will need the services of a professional to install it perfectly. By adding a fireplace to your pool space, you can be sure to create lasting memories and unforgettable entertainment experiences. Surround your fireplace with chairs and prepare to host fire parties that can withstand the test of time.
26. Spicy ever clean on evergreen
Chilling by the pool can be a satisfactory experience. Now, how about adding some aesthetic blooms to your pool landscape design. Since every region has its own distinct climate, you will need to research before introducing shrubs or new flowers to your pool space. A green pool adds a touch of nature and makes your pool appear pure.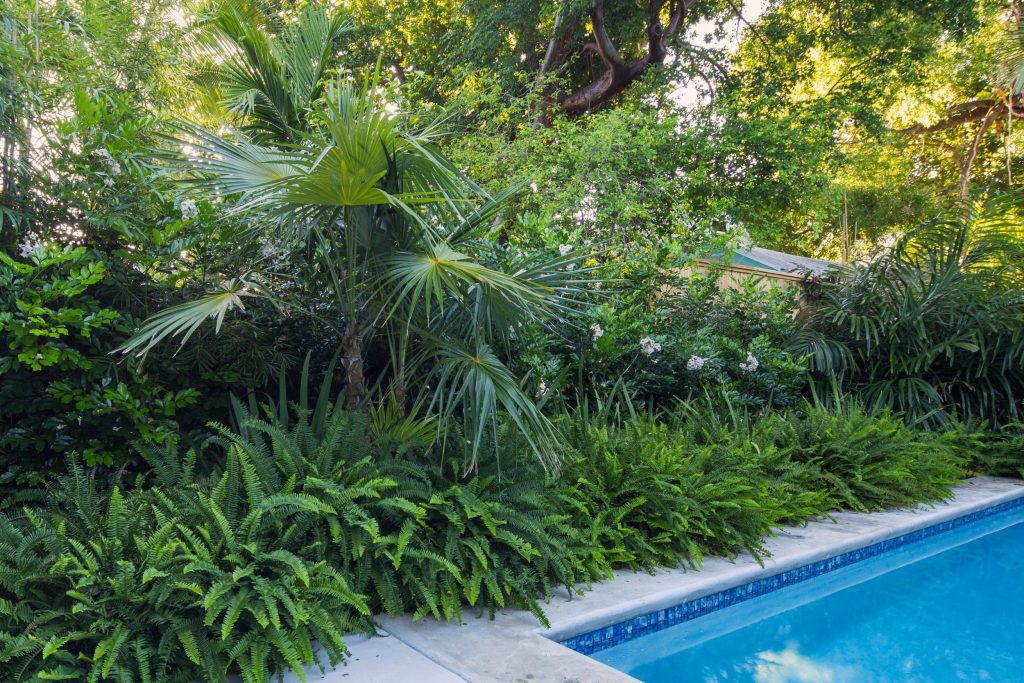 Your pool will benefit tremendously if you incorporate some green vegetation around. If you wonder which plants can thrive in your area, you can consult specialists or other pool owners around you. The internet can also offer reliable information about where you can find your choice of plants.
27. Plants that tolerate sun fun
When it comes to planting, you must consider plants that do well no matter the weather. Go for specific plant types that do well in the sun, including cactus. In addition to introducing some vibrance, you will not have difficulty watering your plants or cleaning your pool since xerophytes hardly shed leaves.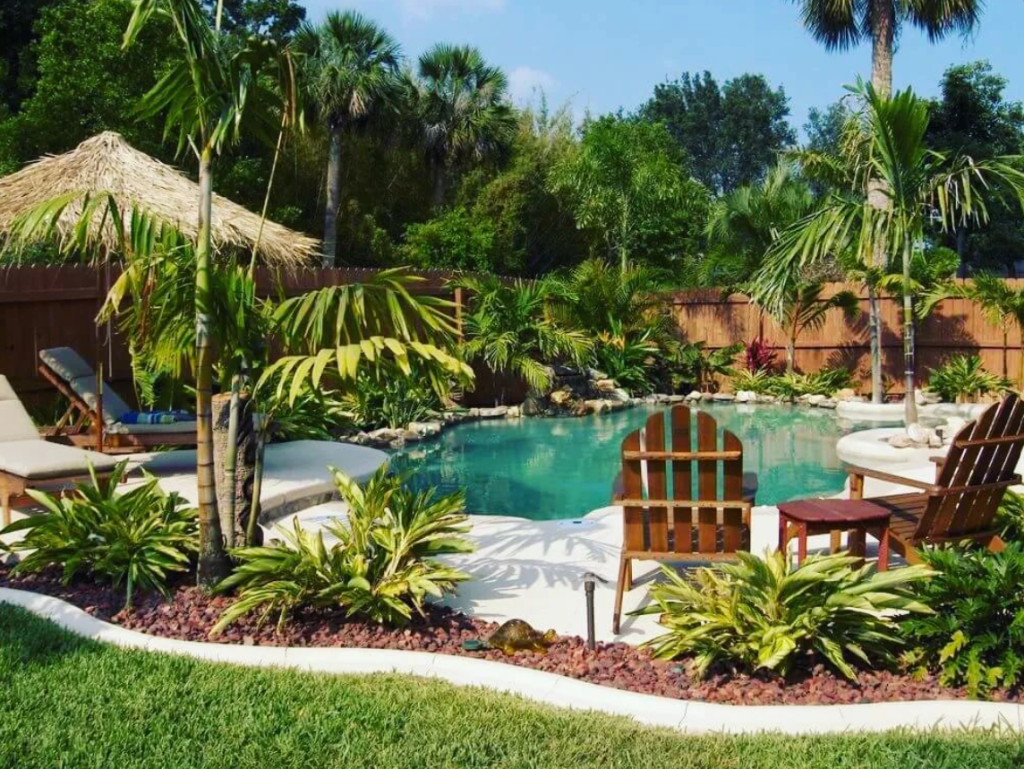 With such plants, you get to appreciate the serenity your pool provides. Feel free to try any tough plants. Nonetheless, conduct some groundwork to ascertain whether the plants are compatible with your pool. After all, it would be pretty hectic to plant and wait only to realize your variety harms your pool.
28. Built for royalty
When it comes to decorating your pool, your options are limitless. Feel free to moderate or go all the way. Pools have always been associated with top-tier citizens. This is expected, considering building and maintaining a pool is expensive. You can enhance your pool to look royal and posh by employing expert help.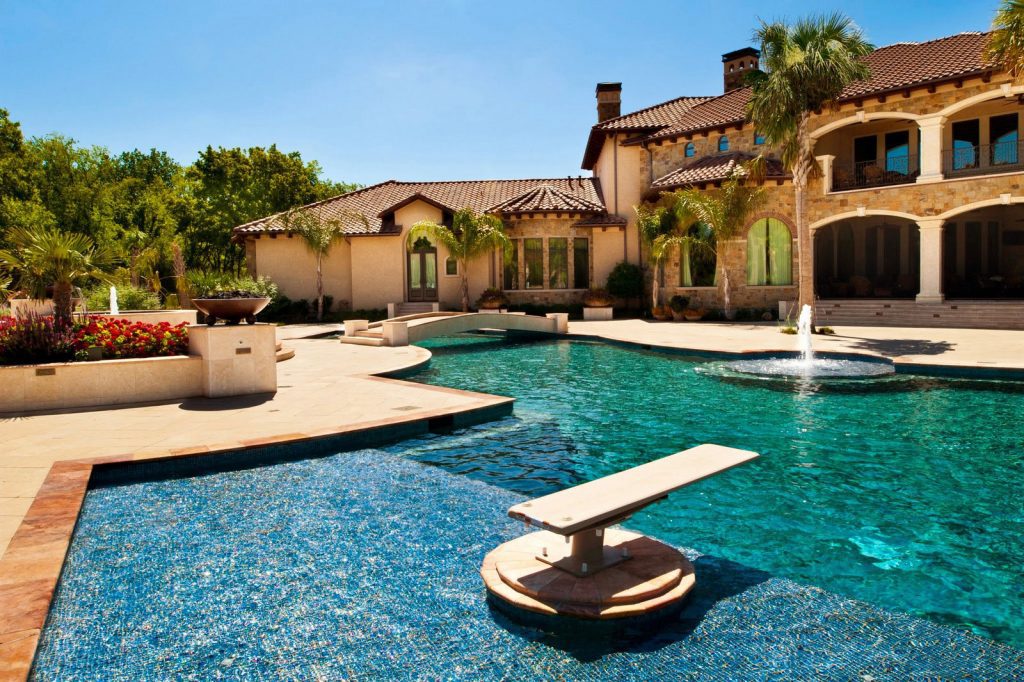 You can add accessories and components that describe how flashy you are. Relaxing in a well-decorated pool guarantees a feeling like no other. Indeed, there is nothing as kingly and nourishing as having a good time on your poolside. All worries seem to fade away as you live for the moment.
29. Fairytale theme
As kids, we were often swept away by fairytales. Why not bring that touch of childhoot to your pool with a fairytale theme? Giving your pool an antique feel is the easiest way to achieve this sensation. You are at liberty to customize the remaining aspects of your pool however you deem fit.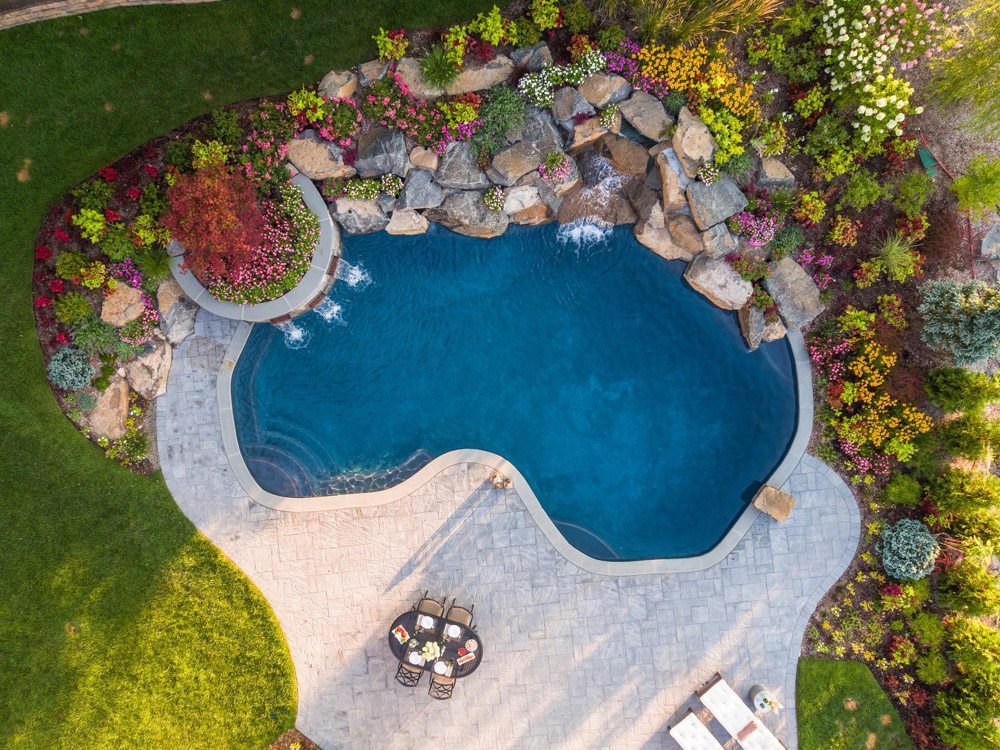 A fairytale theme enables satisfaction and gets you all emotional and cozy. You can add some antique chairs and tables to create a classic feeling. Your pool will thereby appear as a safe space that is enchanting and remarkable, and memorable.
30. Integrated slides
Provided you adhere to set guidelines, you can successfully add slides to your pool. The first determinant you will need to consider is the appropriate location for the slide. While still settling on a site, ensure ample space for people to walk around. Most slides take a bare minimum of 7″ x 15″.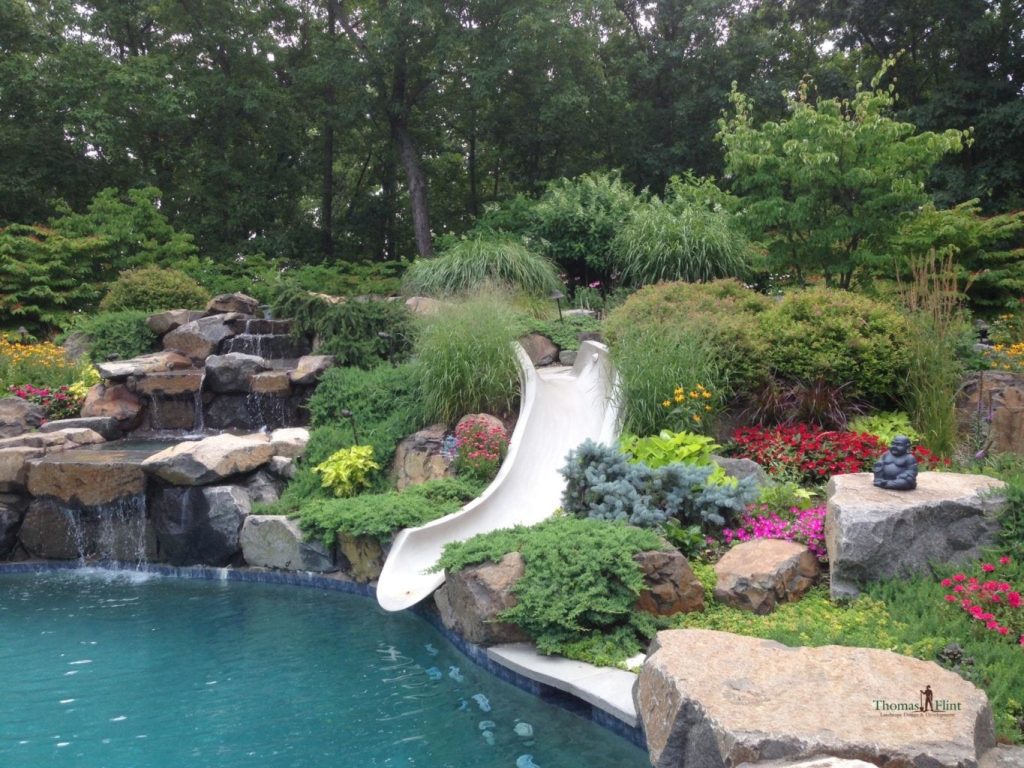 Another important consideration involves strategically locating the slide in such a way that it does not cause a hindrance. There is nothing worse than your slide becoming a physical obstacle since it can cause injuries. An ideal place is opposite your pool's main gathering place.
31. LED lighting
Innovative pool lighting ideas are most relevant when it comes to pool landscaping. You can add a great accessory to your pool with a superb lighting design. Lighting can be delightful, especially at night. Your pool will appear shiny, but it will also seem glamorous and cleaner.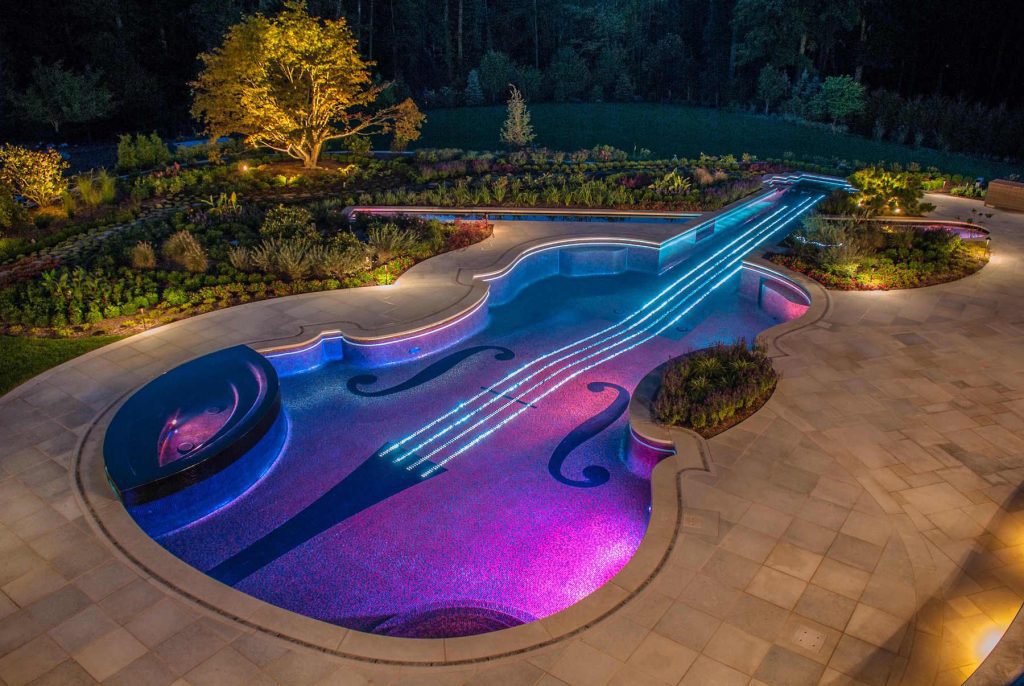 Underwater lights need to be waterproof and colorful. Your pool background can look impressive and inviting while at the same time creating a relaxing feel that is both prestigious and attractive. Moreover, you can also attempt solar garden lighting ideas. You can achieve this by using bulbs hidden amongst evergreens or in containers.
32. Organize a sitting area around the pool
A pool is not complete without sitting spaces. You will need to check out creative chair designs to introduce your area. Ensure you place them appropriately in a safe spot to avoid unnecessary accidents. Sitting around the pool creates a sense of fulfillment and invokes serenity.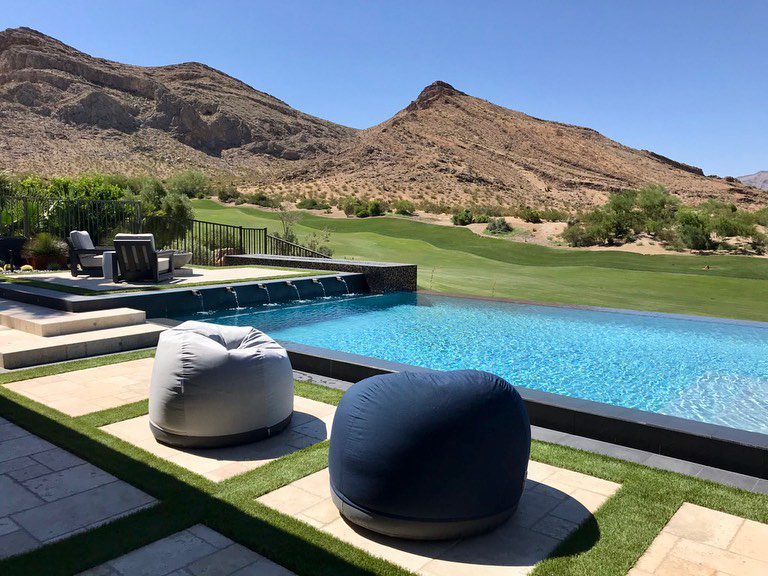 Feel free to take things up a notch around your pool with chaise lounges and sofas made from compatible materials. You should pick waterproof furniture and consider quick-dry and water-resistant materials to withstand water splashing from the pool and rain.
33. Pool deck landscaping
Versatility and cheaper options to expand your living room outdoors are the perks of having a poolside deck. Furthermore, decking helps create a crucial point for a low-maintenance yard that is cheaper and user-friendly. A solid, water-resistant deck complements most backyard pool settings from a broad perspective.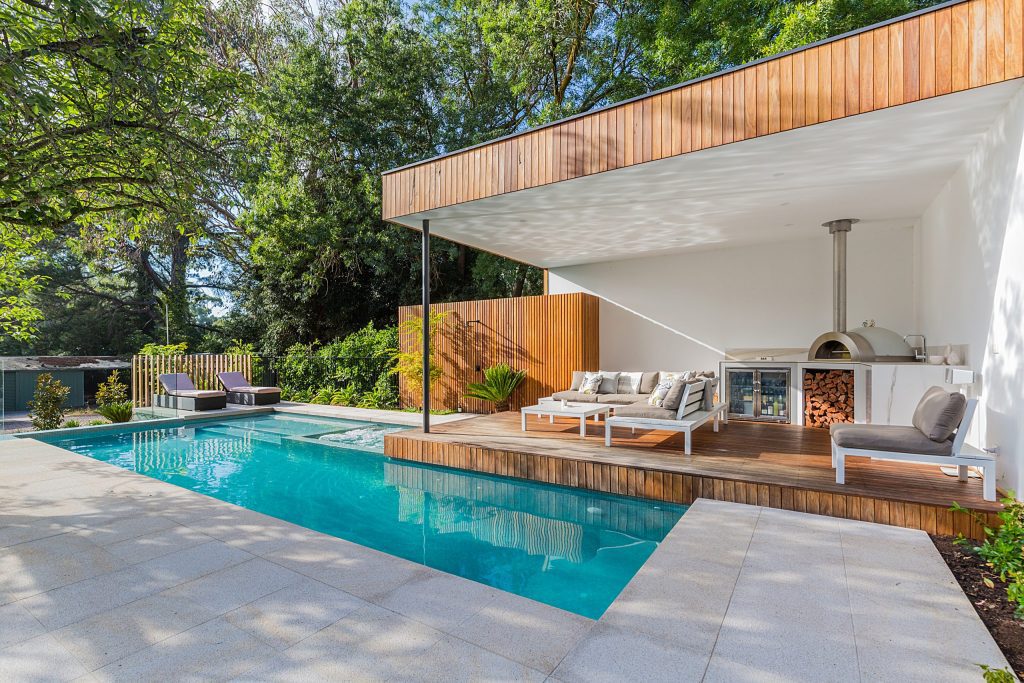 On top of being good-looking, decks come with several other advantages, including being lighter in weight compared to stone, quick and seamless installation, and elegance. In addition, it is possible to customize timber to sizes that fit perfectly around weird corners.
34. Diversity is the way to go
Large patio pavers are increasingly famous in most parts of the world, and for good reason. If you are contemplating giving your garden a classy feel without resorting to expensive redesign, you might benefit from applying oversized patio pavers when landscaping your pool.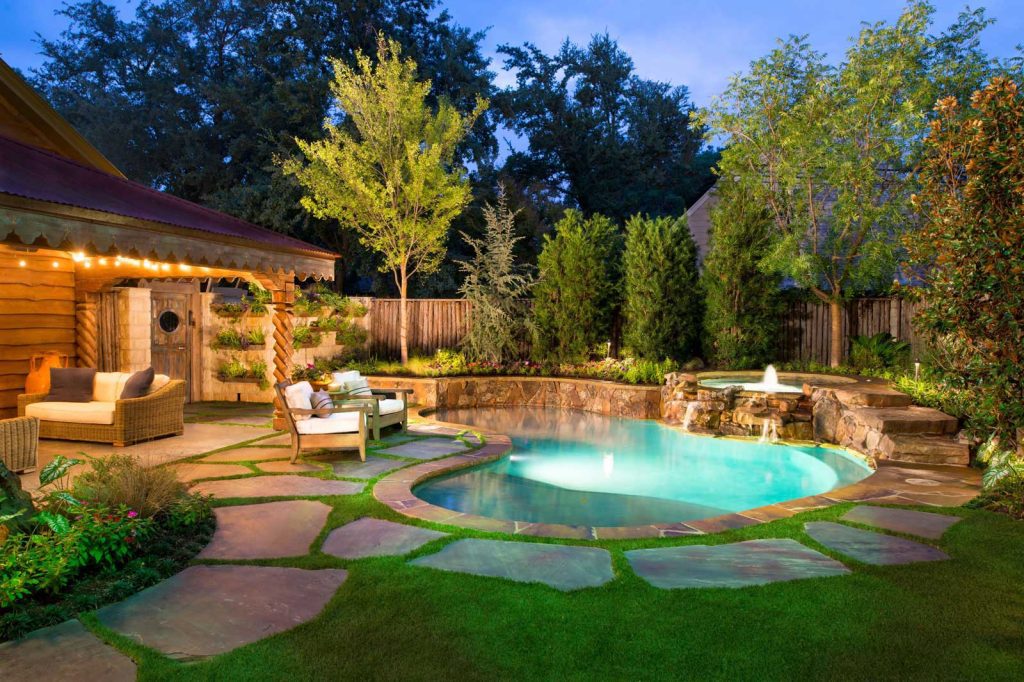 With bold and conspicuous paving slabs, you can mix indoor-outdoor effects since they deliver the luxury look of indoor tiles outdoors. This mixed strategy evokes a touch of class. Don't be afraid to keep things uneven, choosing paving slabs not cut in straight squares or rectangles.
35. Non-slip surface
Although a pebble-dashed floor may not be completely slip-free, it is a more effective slip option than pavers, stone slabs, and decking. Consider adopting a professional drainage system for an indoor pool if you seek to avoid any horrible cuts on your feet.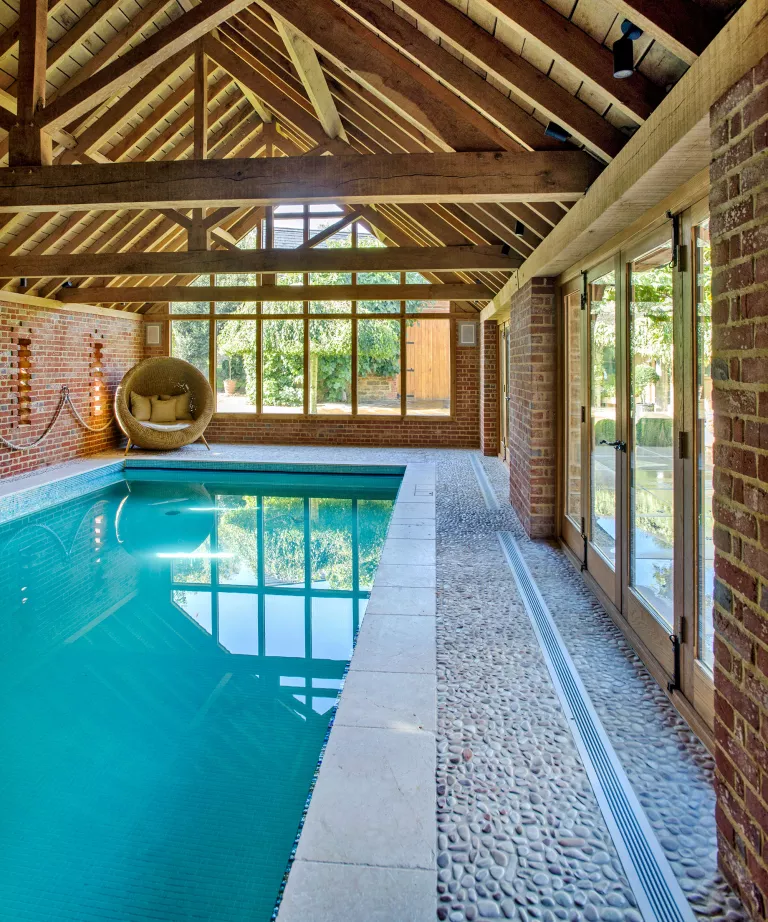 Appropriate drainage ensures that the water in your in-ground pool stays clean and safeguards your surrounding yard, patio, deck, and other parts from possible water pollution, debris, and erosion, thereby keeping your space safe and secure. When designing your pool, keep future maintenance in mind so you can spend more time enjoying the serenity.
36. Flower beds and borders for rectangular pools
Whether or not you like high garden ideas or your preference involves planting straight into the ground, flower beds act as unmatched dividers for a garden path surrounding a backyard pool. The same can be achieved by introducing tall, aesthetic plants.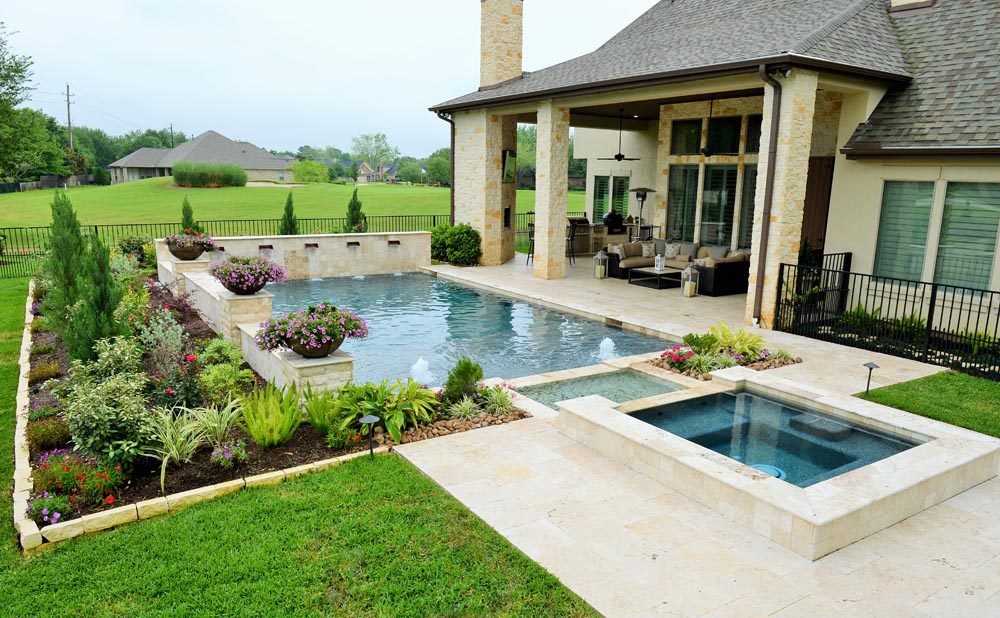 With this smart garden idea, you receive a superb way to define a walkway's boundary and clear cut your pool area from the rest of your garden. As a bonus, it continues to offer color and structure for the remaining seasons, even when your pool is idle.
37. Rocks, trees, and tall grasses
If your imagination is beyond a traditional pool area, you should consider a more natural setting for your outdoor swim sessions. Modern natural pools appear in the border garden, be it in a formal set of lawns with surrounding flowers or made to seem like a natural garden pond.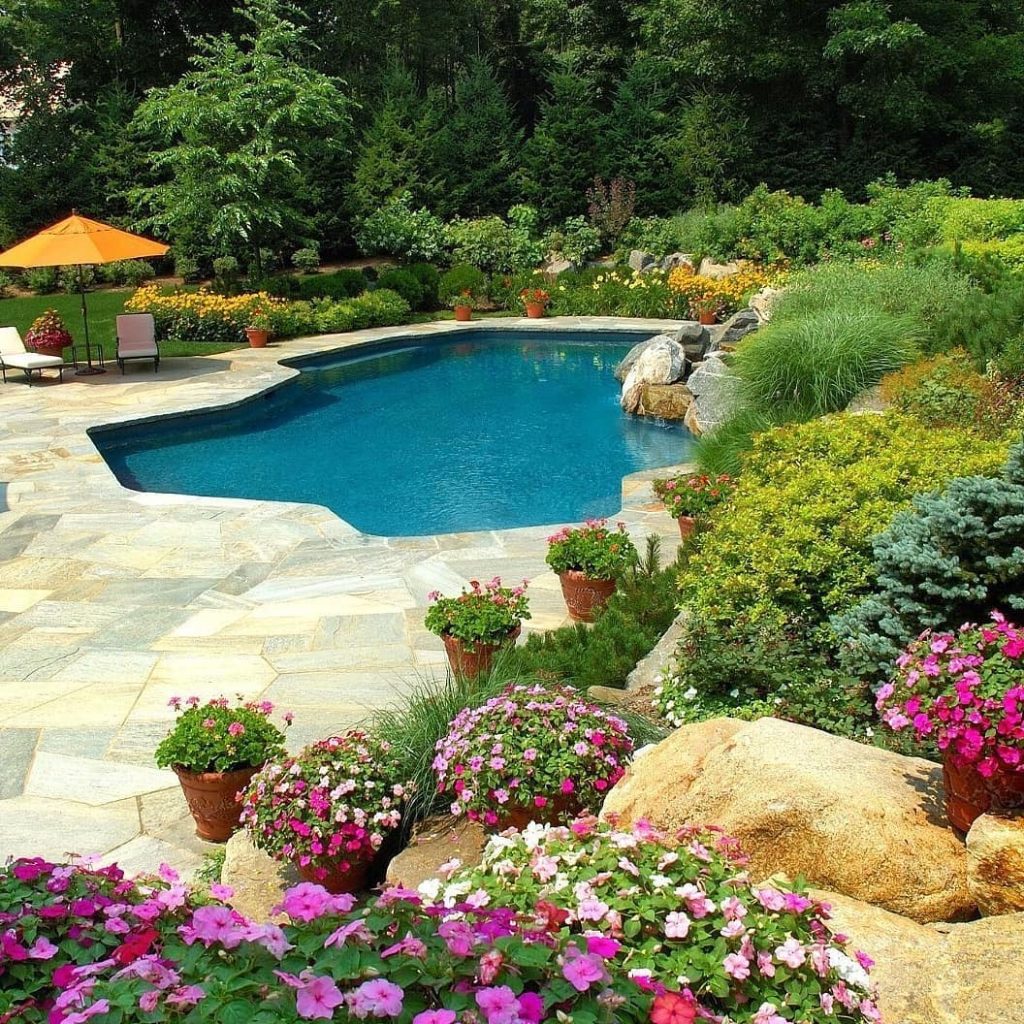 To introduce a rugged look, you can gain some inspiration from innovative rock garden ideas and collect adequate misshapen rocks, limestone, and pebbles. The major highlight of a rock garden is the silent, zen-like feel they introduce to your backyard.
38. Privacy landscaping ideas
Pools are meant to be private areas where one can swim, relax and feel entertained, away from prying eyes. Sadly, for most pool owners, this is hardly the case. Spending time outside the house can be comparable to living in the open due to a lack of secrecy.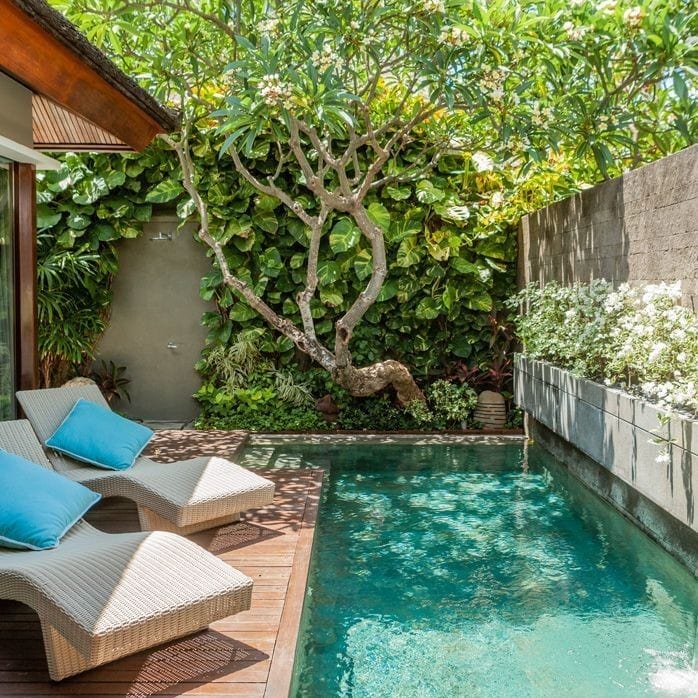 Boundaries can be an excellent place to start if you want to create shady coverage and shield yourself simultaneously. The most suitable alternative is establishing a hedge with fast-growing species, including deciduous hedge or trellis. You can also try vines twisting along concrete walls to add some green to the bland gray.
39. Landscape all round with grass
Your lawn acts as a significant source of air conditioning for your garden and releasing oxygen and capturing dust at the same time. Consequently, your family remains healthy, making it an ideal option for your pool area. For maximum benefits, maintain your lawn as healthy as possible.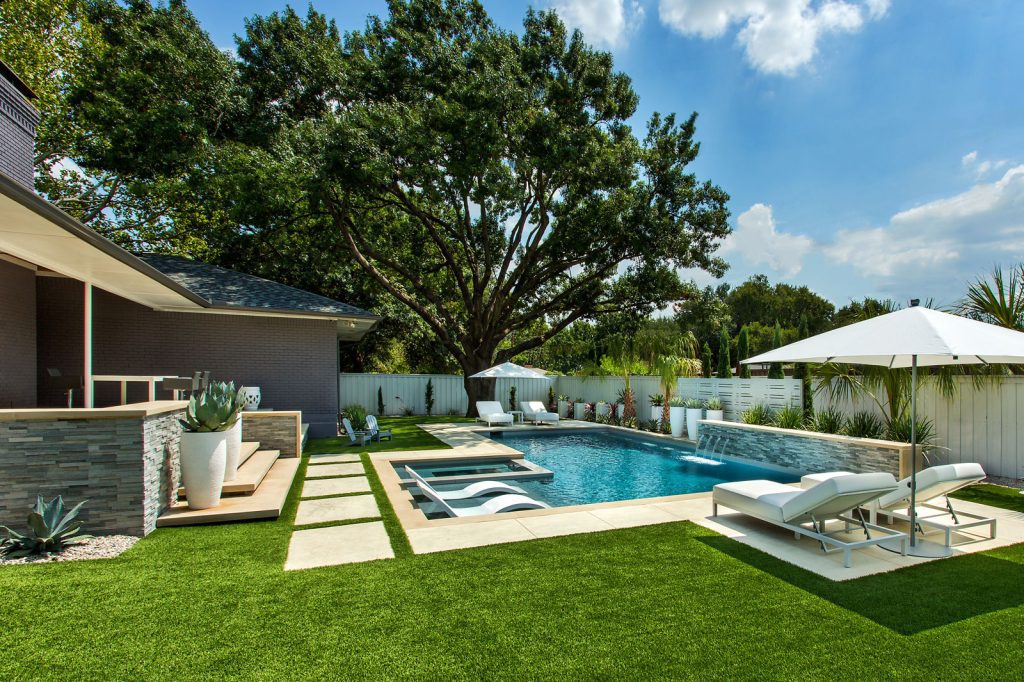 Keep in mind that your lawn needs plenty of water to facilitate the profound growth of roots into the ground. As such, you will need to water deep; maintain watering heavily frequently. The lawn guarantees a symbiotic relationship by reciprocating all the work you put into it.
40. Light it up
Soft lighting can spice things up if you are one for quiet evenings or small poolside parties. Do not fret if you cannot acquire LED lights. Candles, lanterns, string lights, and other alternatives are a charming and less-expensive way to illuminate your outdoor oasis.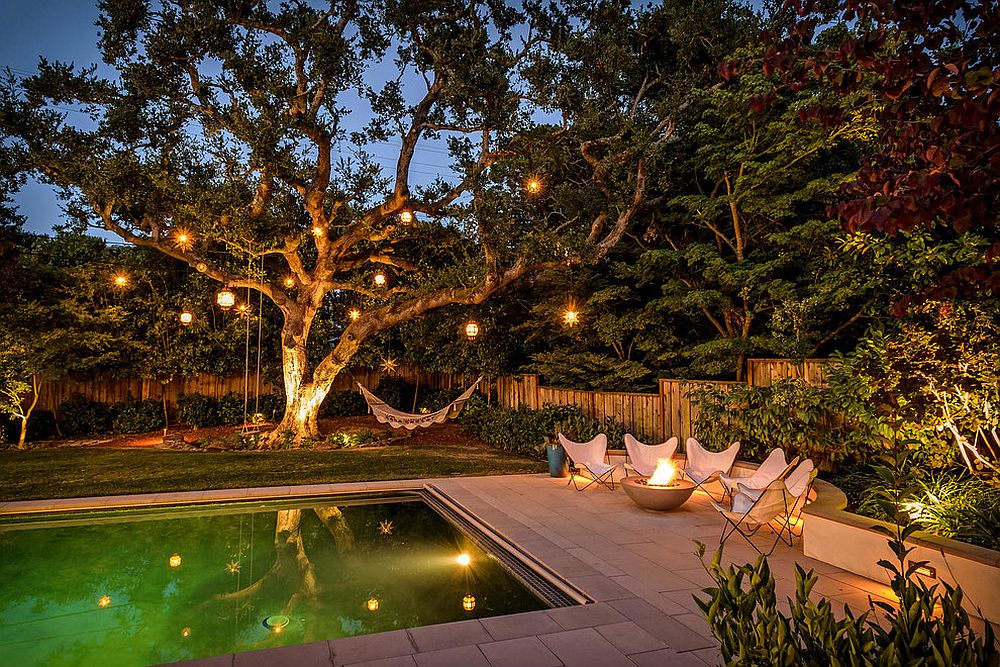 When using these lighting alternatives, you should remember that safety is critical. Avoid string lights directly over the pool, and remember to put all flames before calling it a night and ensure all affairs are in order. Furthermore, such innovative characteristics can be ideal for a dinner date with your favorite person.