35 Ways To Pump Up The Pumpkin Decorations This Fall
By Navkiran K August 24, 2022
---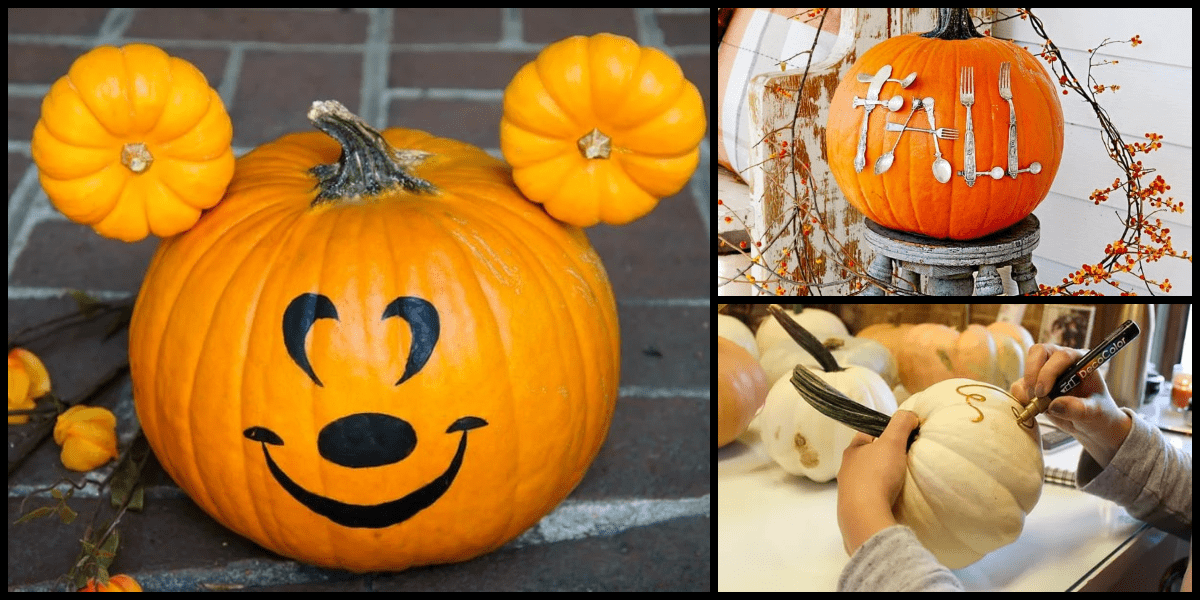 Pumpkins are practically synonymous with autumn. Pumpkin carving is a staple of fall decorations, so why not get creative with it? Try planning out a detailed design or carve a funny face into your pumpkin. If carving isn't your thing, or you want to get your kids involved, then there are plenty of other ways to decorate a pumpkin.
You may paint it, bedazzle it, or even turn it into a work of art using markers and glitter. Or, you can just wrap the pumpkins with some ribbons or string lights for an effortless decoration. Below are some amazing ideas to get you excited about decorating your pumpkins this year. These DIYs are fairly straightforward and you'll have projects you'll be proud to decorate your porch with.
1. Splatter paint pumpkin
Try gold splatter paint to decorate the pumpkins! This DIY project is simple and easy to do, and it will add a touch of glamour to your pumpkin display. First, protect your workplace by laying down some old newspapers and junk mail.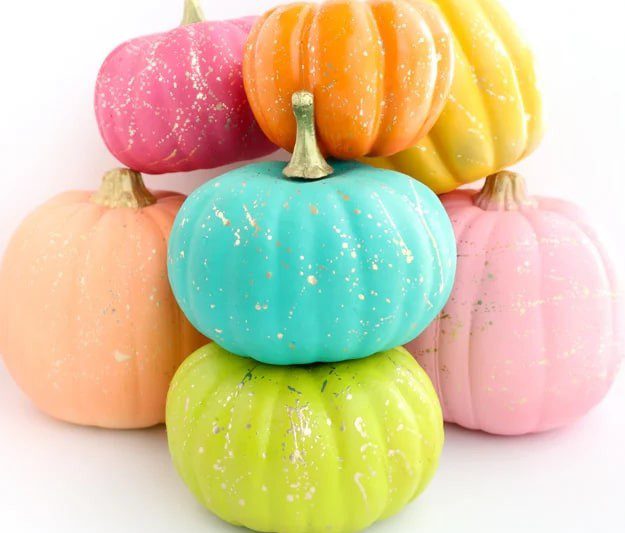 Then, pour some acrylic paint into a water cup. Dip your paintbrush into the paint, then flick the brush against the side of the cup to create splatters. Don't forget to color the stem of the pumpkin too! Make sure it's completely dry before you set your decorations elsewhere.
2. Gourd candle holders
It's easy to make pumpkin candle holders for your fall table décor. Cut off the top half, then prepare it like you would a regular jack-o'-lantern — clear out the pulp. Insert candles into the pumpkin using a method of your choice.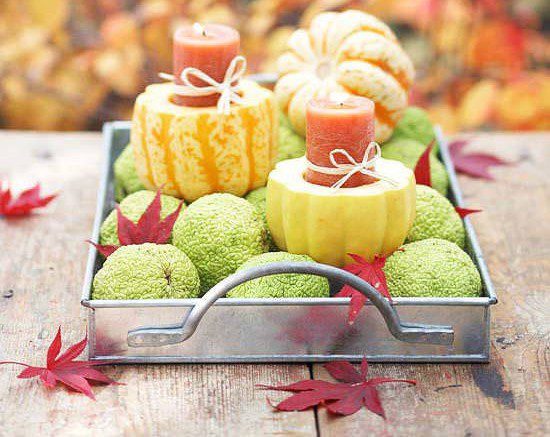 You may either place the candle directly in the pumpkin, or you can put it in a glass votive holder and set the pumpkin on top. If you use a votive holder, make sure that it is tall enough so that gusts of wind will not blow the flame out.
3. Burlap for rustic vibes 
Adding burlap beneath your pumpkin arrangement is a great way to create rustic vibes in your home décor. It's also inexpensive to add texture and interest to your display. Choose a neutral color. This will allow the pumpkins to take center stage while still complementing them.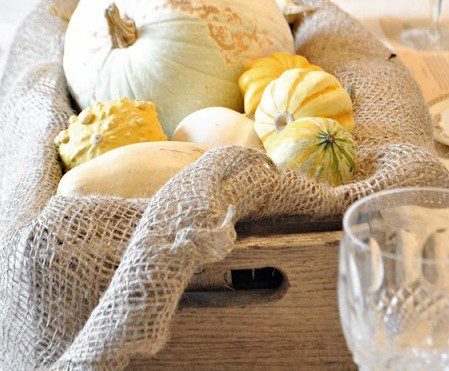 Cut the burlap into strips or squares of different sizes. It will make it look more interesting and you can use it to make it easier to move your display. Use small pins or glue dots to attach the burlap to the bottom of the pumpkin arrangement.
4. Fall sign over the pantry 
Fall is the season for pumpkin spice, cozy sweaters, and spending time with family and friends. We can't think of a more pleasurable way to celebrate the change in season than by literally welcoming it into our homes with this cute and festive pumpkin decoration.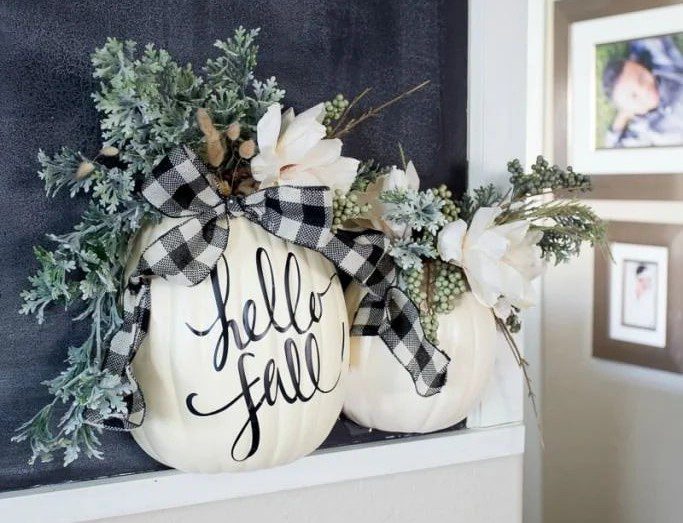 It's perfect for hanging over the pantry door, so everyone can enjoy its warmth and positivity. Not to mention, it's a great way to show off your seasonal decorating prowess! To make your own "Welcome Fall" sign, all you need is a small pumpkin, some markers, or paint.
5. Monogram them
This is an awesome way to personalize your fall décor! Start by picking out some pumpkins and your favorite colors. You'll need some paint, stencils, and a brush. Paint the top of each pumpkin with a layer of white paint. Let dry it completely. Cut out a monogram letter from cardboard.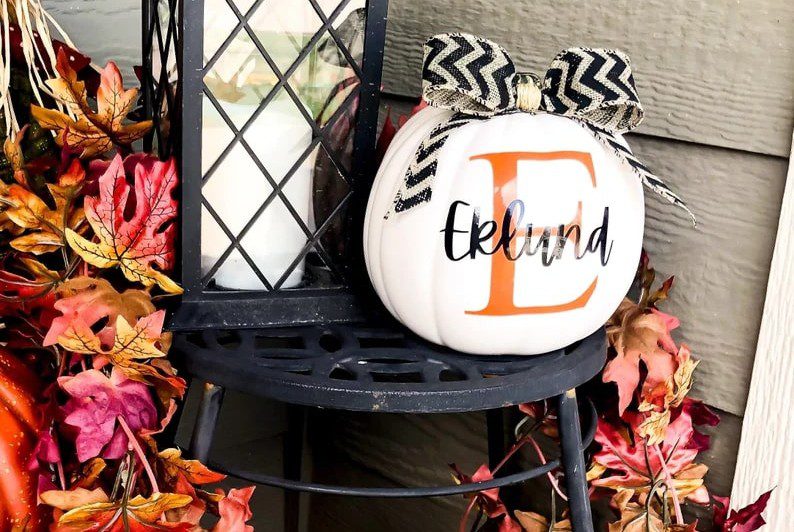 Make sure it's big enough to fit comfortably on your pumpkin. Tape the stencil so it doesn't shift while you paint the details. Use a contrasting color to paint over the letter stencil. Let dry completely. Place each monogrammed pumpkin near your front door for an inviting look.
6. Farmhouse-style pumpkins
You could try adding paint check stripes to your pumpkins for a farmhouse-style look. It's a great way to include extra detail and personality in your pumpkins. Plus, it's a really simple project that anyone can do, even if you don't have any experience with crafting or painting.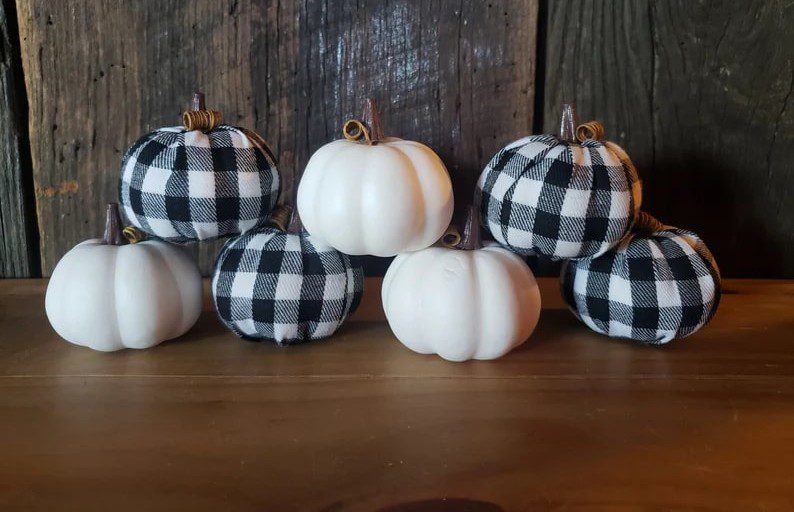 All you need is white paint, a few paint markers, and your pumpkins. Use the paint markers to draw evenly spaced stripes on your pumpkins in either black or white. And that's it! You now have some adorable farmhouse-style pumpkins to display in your home this Halloween season.
7. Rhinestoned pumpkins
For a glamorous and glitzy pumpkin decoration, why not try rhinestones and sequins? Who said your fall décor can't also have some sparkle and shine? Choose a pumpkin that has a smooth surface with no blemishes. This will make the application of the rhinestones smoother.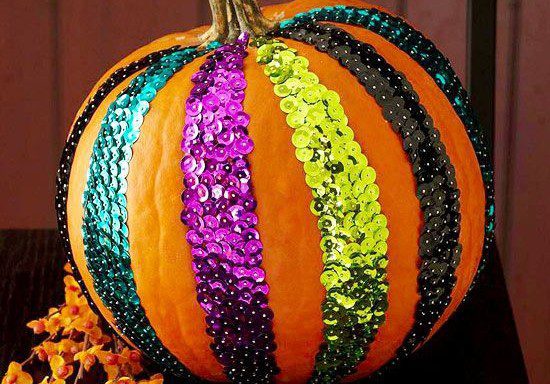 Clean the surface of the pumpkin with a wet cloth to remove any dirt or dust, then use a new cloth to dry it. Apply a smooth and thin layer of Mod Podge or any other decoupage adhesive to the pumpkin's surface. Add rhinestones and let the pumpkin dry.
8. Pushpins all over the pumpkin
When decorating for fall, you can't go wrong with pumpkins. But why stop at just placing them around your home when you can get creative with how you display them? A simple way to add some style is by decorating with pushpins.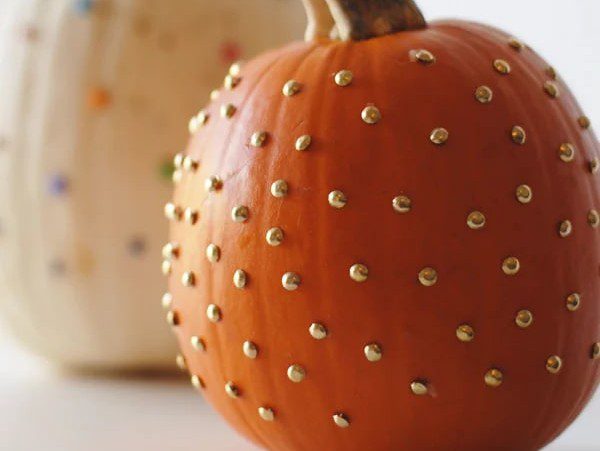 Who says you can't have chic fall décor with stationery supplies? It may be unconventional, but you can't argue with the results. Pushpins come in all sorts of colors and sizes, so you can get creative with your pumpkin decor. Plus, they're easy to remove if you change your mind about your design.
9. DIY pumpkin vase
If you're looking for a one-of-a-kind vase for your fall flowers, look no further than your backyard. With a little creativity, you can turn an ordinary pumpkin into a beautiful and festive vase. Here's what you'll need — a pumpkin, a sharp knife, lowers or leaves of your choice, and some water.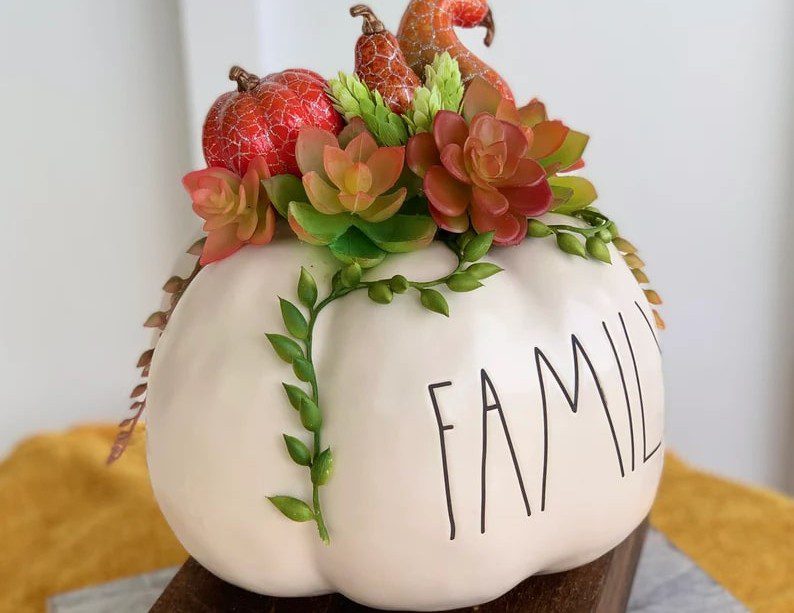 Use the knife to cut off the top of the pumpkin while still being careful to make a wide enough opening that will accommodate your chosen floral arrangement. Then, hollow out the pumpkin. Rinse out the inside of the pumpkin with some water, then fill it with fresh flowers or leaves.
10. Magical black pumpkins
Why not add a bit of spookiness to your pumpkin carving this year with some black paint? You can use glow-in-the-dark paint to give the webs and skulls an extra creepy touch. First, select your pumpkins. If you want a uniform look, choose pumpkins that are similar in size and shape.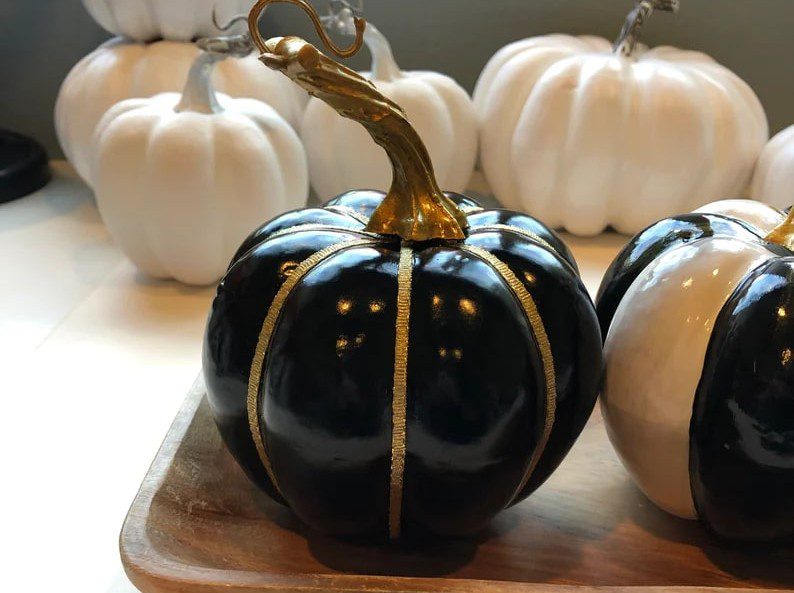 Once you have your perfect pumpkins, clean them off and dry them thoroughly. Next, sketch out your design with light-colored chalk before you start painting. This will help ensure that your pumpkin scene is symmetrical and well-planned. Use regular black paint for the pumpkins and glow-in-dark paint for the webs and skeletons.
11. Succulent pumpkin centerpiece
A succulent pumpkin centerpiece is great for adding some fall flair to your decor. Select a medium or large-sized pumpkin that is free of blemishes. Cut the top of the pumpkin, creating a symmetrical lid. Scoop out the insides of the pumpkin; be careful not to damage the flesh.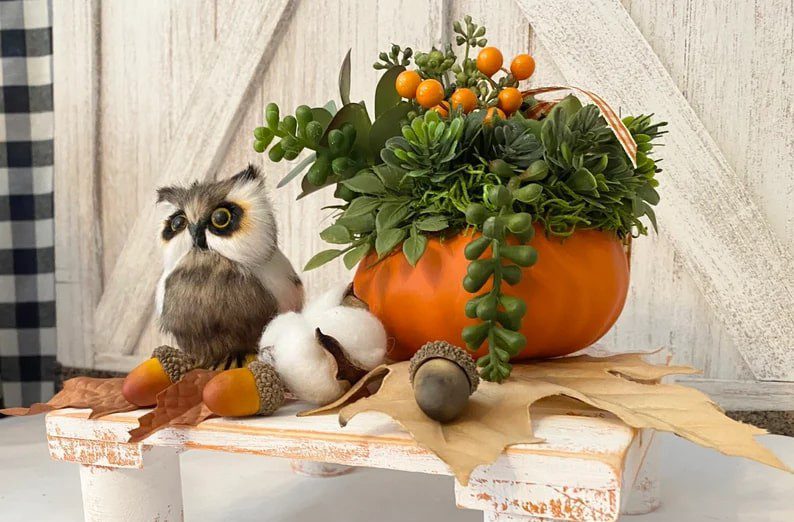 A spoon or an ice cream scoop works well for this task. Fill the hollowed-out pumpkin with a layer of gravel, rocks, or marbles. This will help to keep your succulents in place. Arrange your succulents over the pumpkin and place them over the dinner table.
12. Pumpkin and fall leaf garland
Making your own fall décor is a fun and easy way to add some extra seasonal flair to your home. This project uses small pumpkins and dried leaves to create a simple garland that may be used to decorate doorways, mantles, or anywhere you want to add a touch of autumnal charm.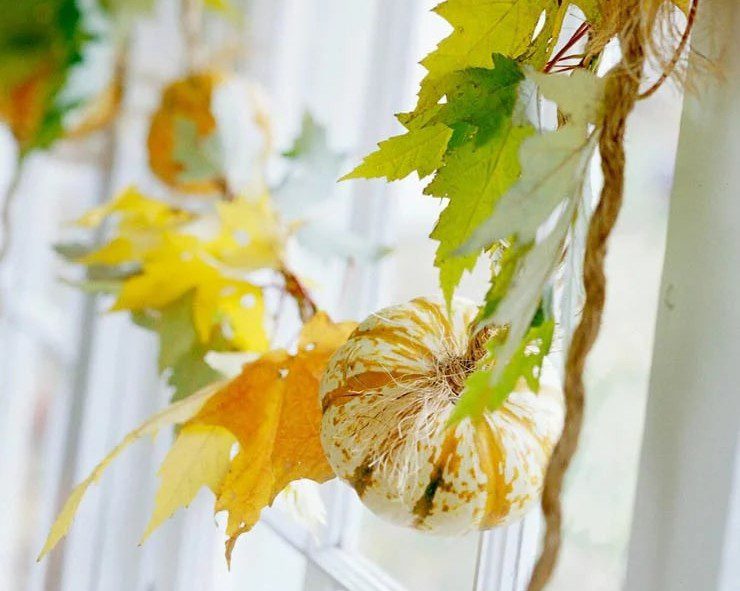 To make the garland, start by cutting the top off of each pumpkin so that they are all flat on the top. Use a sharp knife to make out a small hole in the center of each pumpkin. Next, thread a length of twine through each hole, and tie it securely in place.
13. Stick on some vintage flatware
This is such a fun and unique fall decoration idea! Simply sticking on some vintage flatware can add some personality to your pumpkin decoration. Also, it's a great way to upcycle those old kitchen utensils that you no longer use.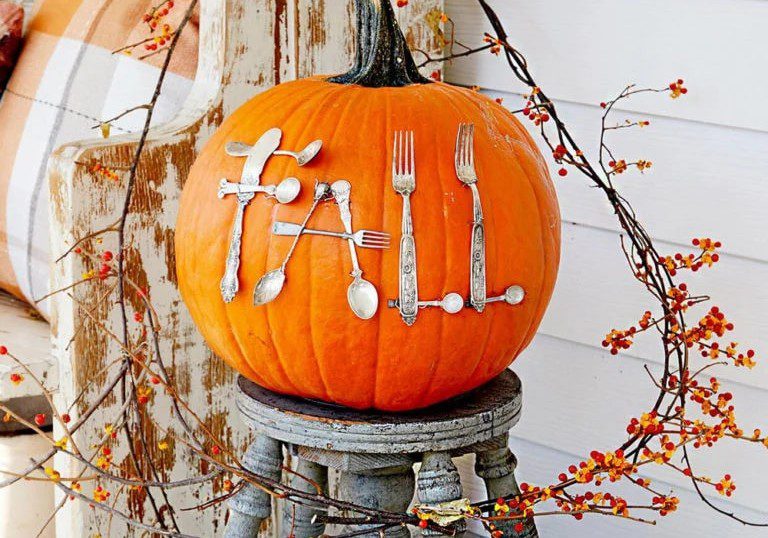 Gather your supplies. You will need a pumpkin, some vintage flatware (forks, spoons, knives), and some hot glue. Clean off your pumpkin so that it's ready for decorating. Once your pumpkin is clean, start planning your design by arranging the flatware on the surface. This is where you can get creative.
14. Little pumpkins in a jar
For a festive and charming autumn decoration, try filling a glass cookie jar with miniature pumpkins in shades of orange and white. You can find these small pumpkins at most supermarkets or garden stores during the fall season. Also, get some dry leaves from the garden.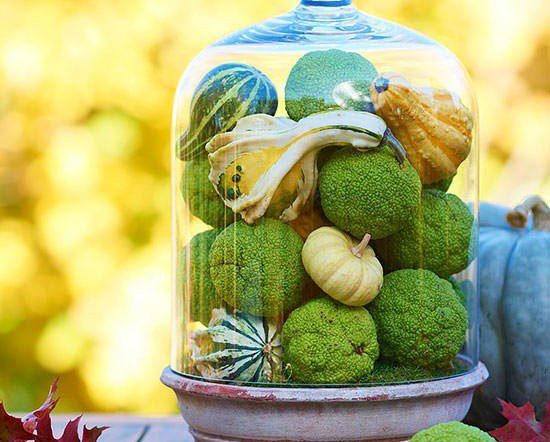 Try scattering the pumpkins in different patterns inside the jar to create an eye-catching display. You may add some dried berries or other autumnal flowers for added color and texture. This simple DIY project will surely add a touch of autumnal charm to any room in your home!
15. Pumpkin as a planter
Spruce up your outdoor space this autumn using pumpkins as planters. It's a fun and festive way to show off your fall foliage, and it's sure to get your guests talking. Choose medium-sized pumpkins with smooth, even surfaces. Arrange them on your porch or patio in a group of three or more.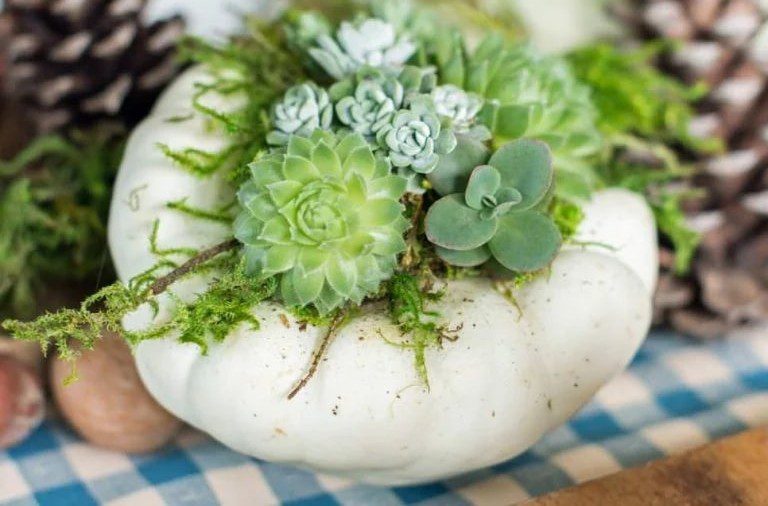 Using a sharp knife, carve a hole in the top of each pumpkin large enough to fit a plant pot. You may need to remove some pulp and seeds from inside the pumpkin to make room. Insert small plants with soil into the pumpkin.
16. White pumpkins and gourds combo
Designing a beautiful and welcoming autumnal centerpiece doesn't have to be difficult — white pumpkins and gourds are the perfect combos for creating a stunning display that will make your friends and family feel right at home. Start by picking out a few different sizes and shapes of white pumpkins.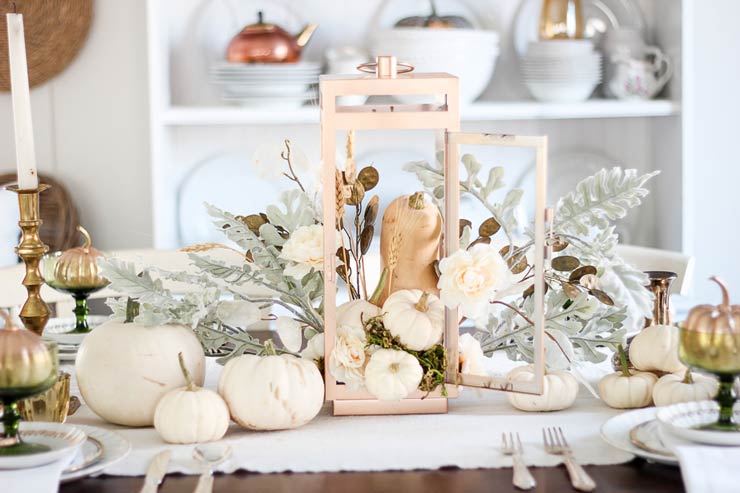 Once you've got your pumpkins, it's time to add in the gourds. Choose a mix of small and large gourds in complementary colors, such as green, orange, and yellow. Arrange your pumpkins and gourds on the table with a base of fresh greenery, like eucalyptus or ferns.
17. No carve Disney pumpkin
If you're a fan of Disney but not of pumpkin carving, then this one's for you. Paint can be an exciting and easy way to decorate pumpkins, especially if you're not into carving. You may create all sorts of fun designs on your pumpkins, such as classic Mickey, Minnie Mouse faces, and jack-o'-lanterns.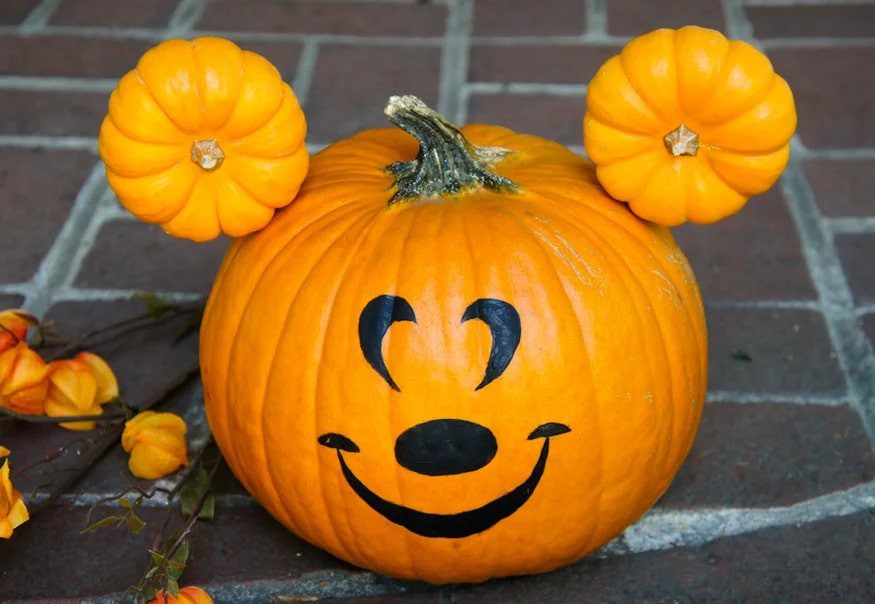 Plus, painting is a great activity to do with kids of all ages. Choose the right type of pumpkin. Remove the flesh from the insides and rinse it. Paint the designs. Once your pumpkins are dry, add some finishing touches with felt material. Cut out bows and mouse ears from the felt and glue them.
18. Go bold with patterns
Fall is the ideal moment to get creative with your pumpkin decorating! Painting black and bold white patterns on your pumpkin can give it a stylish, sophisticated look that will be perfect for any Halloween party or Fall event. Choose a black and white pattern that you love. There are endless possible patterns.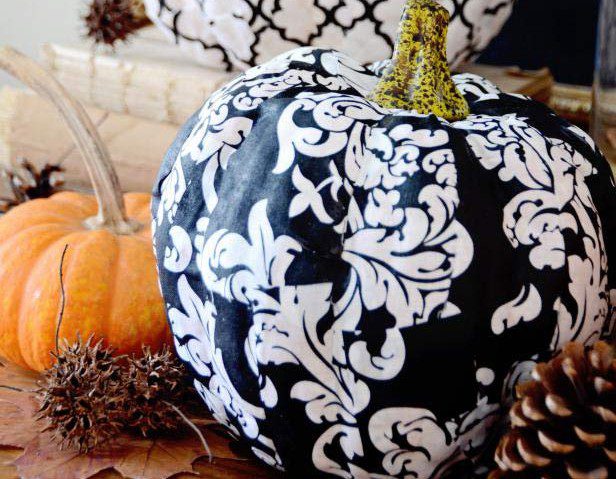 So, take a while to browse you're online or check magazines for inspiration. Choose only one or two that suit your style. Decide how you want to apply the paint. You can use stencils, freehand painting, or even printed decals.
19. Fancy glitter pumpkins
Consider using glitter and Mod Podge on your pumpkins if you want to add some extra sparkle to your fall decoration repertoire. It's fun and relatively easy to add extra personality to your porch or mantel. Start by cleaning your pumpkin off with soap and water.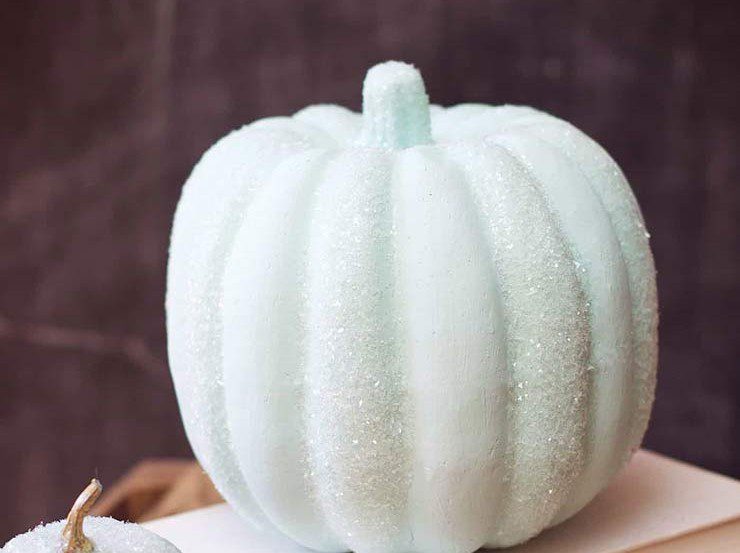 This will help the glue adhere better. Next, decide on the pattern or design you want to use for your glitter pumpkin. You may go for a more traditional Mod Podge and glitter look or get creative with stripes or polka dots. Once you've got your design mapped out, begin gluing down sections of glitter.
20. Charming fairy lights
As the tree leaves start to change color and the air grows crisp, many of us start to think about all things related to fall — including decorating our homes for the season. And who says pumpkins have to be exclusively for Halloween? With little creative thinking, turn them into beautiful fall decorations that'll charm your guests.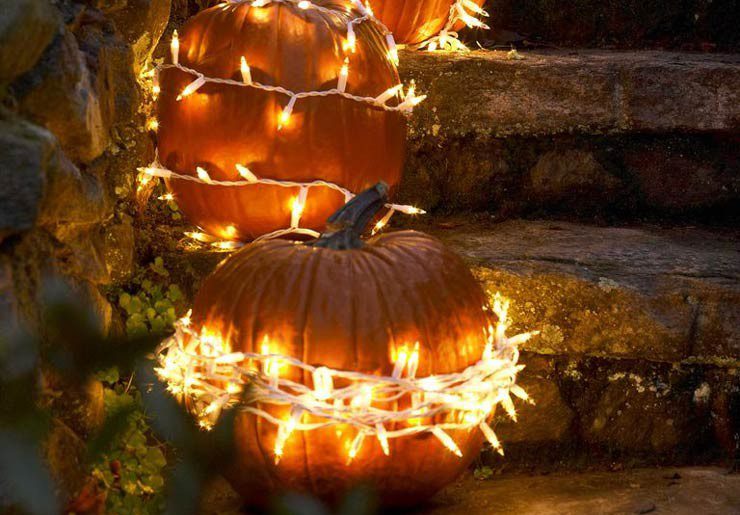 Simply wrap some fairy lights around your pumpkins and create an instant fall ambiance! LED lights are ideal since they don't generate heat. You can also add some ribbon or paint the pumpkins to give them a special touch. So get creative and watch them light up the night all season long.
21. Trick or treat pumpkins
Get your pumpkins ready for Halloween with some festive words! To get started, you'll need three pumpkins of different sizes. For the largest pumpkin, use a black paint pen to write the word "Trick" on it in big letters. Next, use the paint pen to write the word "Or" on the medium-sized pumpkin.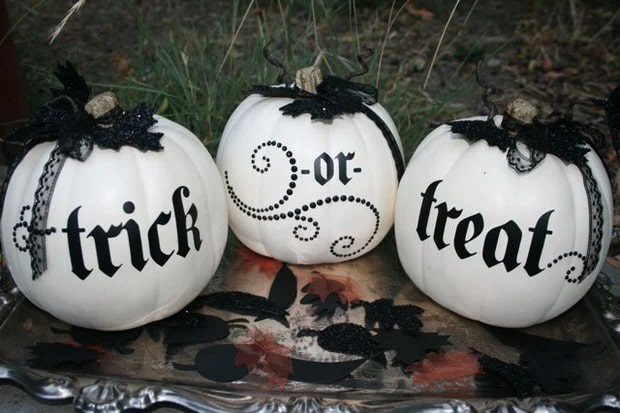 Finally, write the word "Treat" on the third pumpkin. You can either mount your pumpkins on a board or set them out individually around your home for spooky autumn décor. Or, arrange these with some dry leaves, lanterns, and black ribbons for a classic look.
22. Fireplace pumpkin stash
Adding pumpkins to your fireplace is a great way to enter the fall spirit! Not only do they look great, but they also smell amazing. They'll last longer than traditional decorations such as flowers or leaves. First, clean out your fireplace.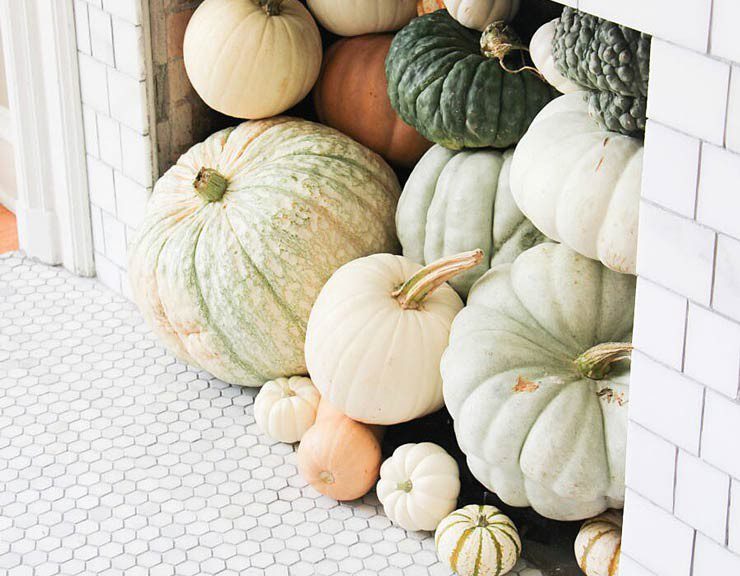 Pleasingly arrange the pumpkins. You can even add some leaves. This is a great way to create fall vibes in your home! By filling your fireplace with pumpkins, you'll bring in the colors and smells of autumn. Plus, using all those pumpkins you picked up from the farmer's market is always fantastic!
23. Easy stenciled pumpkin design 
There's no denying that Sharpies are the king of pens when it comes to making stencil designs on pumpkins. They're bold, pigmented, and lay down a nice clean line — perfect for getting those crisp lines on your pumpkin stencils. But you can level-up your pumpkins even further…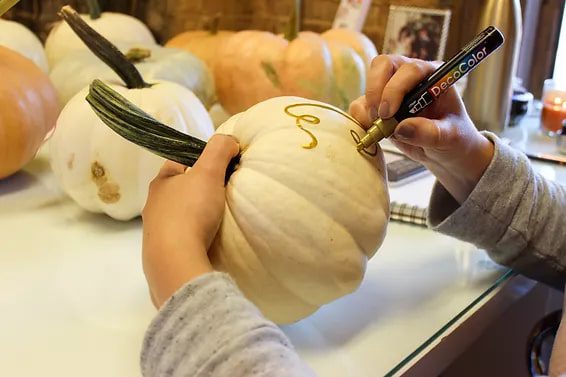 Use different colors of Sharpies for added interest. You may go with a classic black and white look or get more colorful with a rainbow of hues. Mixing up the colors adds depth and dimension to your design. Once you're done tracing, fill in your design with more color. Again, be careful and neat. 
24. Hydrangeas and pumpkins
Consider adding a hydrangea and pumpkin arrangement to your décor. This simple yet festive decoration is perfect for anyone who wants to bring a touch of autumn. It's such an easy way to create a warm atmosphere without going overboard. Plus, it's a great opportunity to get creative with arrangements.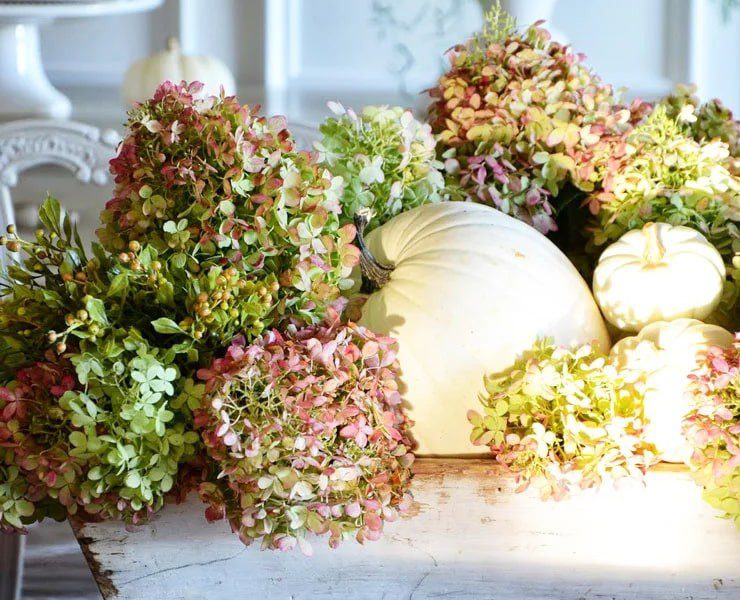 For a rustic look, try arranging hydrangeas in a wooden box with some small pumpkins scattered throughout. You can also add some burlap or other fall-themed fabric for extra coziness. If you want something more refined, arrange your hydrangeas in a glass vase with a small glass tray.
25. Peachy pumpkins
White and peach-colored pumpkins are the perfect fall décor! They look great together, and they're both super versatile. You can use them as centerpieces, mantel decorations, or even as part of a larger fall display. Plus, they're really easy to put together. Just stack them on top of each other, and you're done!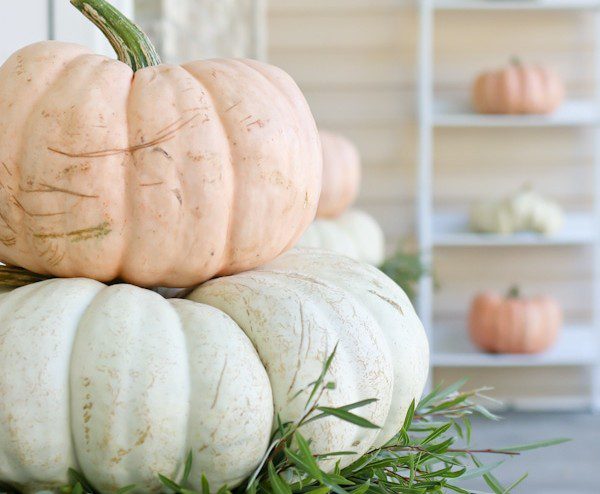 If you don't have peach or pastel orange pumpkins, you may paint them with these colors before making the arrangement. This pop of color will add interest to your décor and is sure to impress your guests. Plus, it's a great way to use up any extra pumpkins you may have lying around!
26. Pumpkin tower
This DIY decoration is made by stacking mini pumpkins on each other to create a tall, impressive display. The best part is that it's rather easy to make. When you're ready to get started, begin by gathering up some small pumpkins (real or artificial), along with some sturdy sticks or dowels.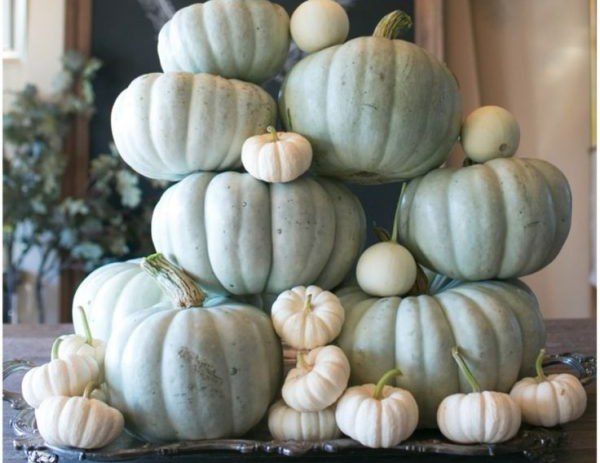 To assemble your pumpkin tower, start by inserting a stick or dowel into the base of each pumpkin. Then, stack the pumpkins on each other, using the sticks to keep them in place. Once you've reached your desired height, secure the structure with some strings.
27. Soft lighting fall setting
You can use pumpkins, candles, and leaves for a soft and cozy fall lighting setup. Add small pumpkins in different colors. Decorate with leaves by placing them in bowls or vases around the room. Not only will this offer natural beauty to your setting, but it will also help to create a festive autumn feel.
Use large candles in clear glass holders to create an elegant look. You may place these candles anywhere you like — on a mantle, on a table, or even on the windowsill. The candle alongside pumpkins will offer soft lighting and a relaxing mood in the evening.
28. Combine natural and metallics
Looking for an eccentric way to spice up your fall décor this year? Why not try combining natural and metallic pumpkins? This trend is fresh and can add just the right amount of seasonal flair to your home. To start, hollow out your pumpkin.
Then, wash the pumpkin exterior and dry it off. Once it's dry, apply a coat of metallic paint to the entire surface. You can use any color you like, but we think copper or gold would look especially beautiful against a green backdrop. Violà! You've created an eye-catching autumn centerpiece to add some festive flair.
29. Pumpkins under orange leaves
This is a lovely autumnal display to celebrate the season. The orange leaves represent fall's changing colors, while the pumpkins add a festive touch and bring in the flavor of Thanksgiving. This arrangement would be especially nice on a Thanksgiving table, where it would surely add a touch of autumnal charm.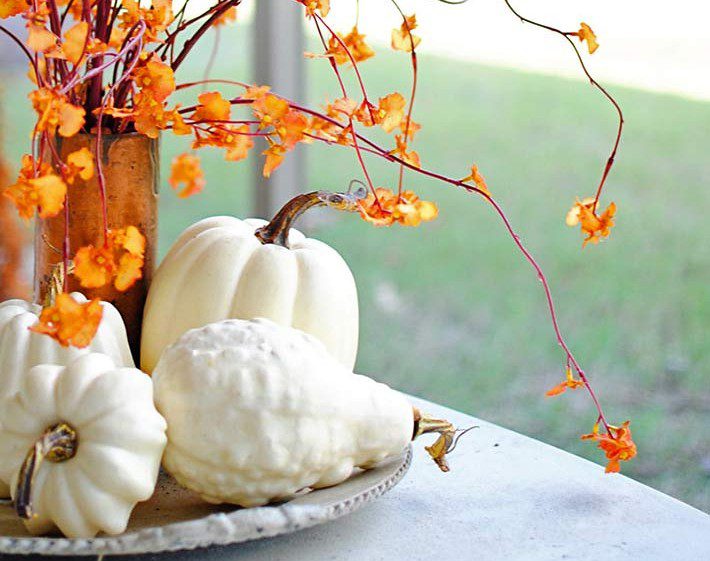 You can arrange the pumpkins in a circular pattern around the edge of the table. Grab some stems with orange leaves to keep in a vase around this arrangement. Alternatively, you could use other gourds or fruits to create a similar look — whatever best suits your taste and style.
30. Use as a centerpiece
Pumpkins are a key part of fall decorations — and they don't have to be just for Halloween! Using carved pumpkins as centerpieces instantly adds autumnal charm to your home. Here's how to get started: pick out some medium-sized pumpkins and carve them into simple, elegant designs.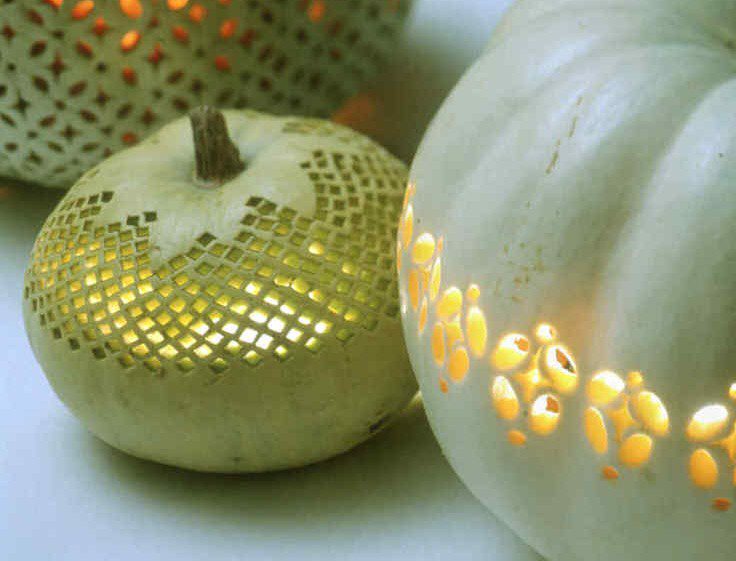 You can go for traditional jack-o'-lantern faces or get creative with other spooky (or not-so-spooky) designs. Once you've carved your pumpkins, put some tealights inside them and arrange them on your table or mantlepiece. If you want to impress your guests, try making edible pumpkin centerpieces!
31. Space-inspired art
We're all huge pumpkin spice fans over here, so this amazing space-inspired pumpkin display using NASA stencils is a must-try. This super creative pumpkin carving idea is the perfect way to show your love of all things pumpkin spice and outer space. The best thing this decoration offers is that it's simple to create.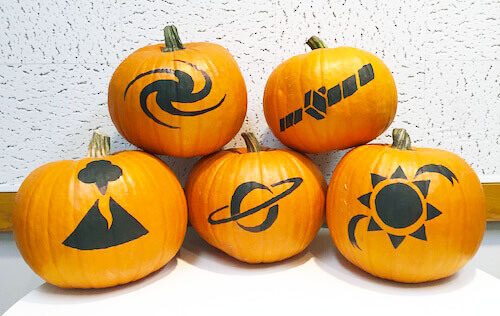 You'll need some pumpkins, black markers, some NASA stencils (which can be easily found online), and a little creativity. And if you're looking for a fun project to do with your family or friends, space-themed pumpkin carving might just be an exciting fall activity idea.
32. Soft brushstrokes on pumpkins
If you're looking for a creative and unique way to decorate your pumpkins this fall, why not try something new and give them stylish brushstrokes? This DIY project is a great way to use any leftover paint from previous projects.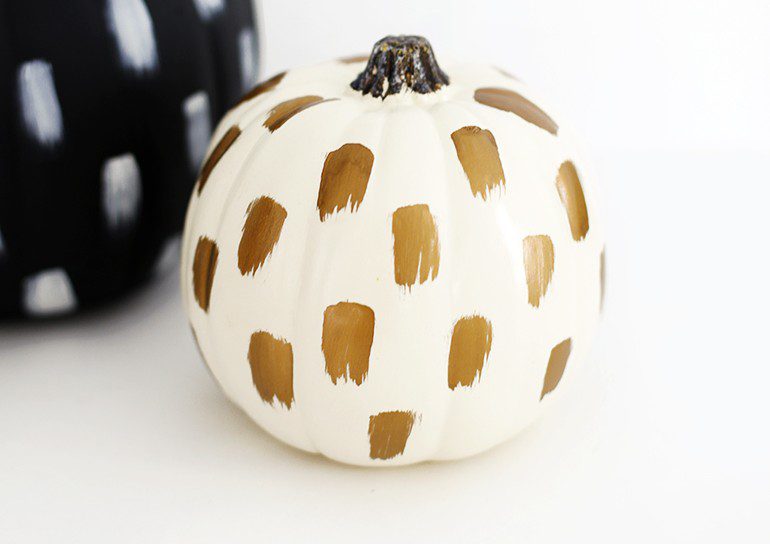 To get started, you need some pumpkins (real or artificial), some paint in your desired color(s), and a few brushes. Once you have your supplies gathered, simply start painting away! You may go for a sleek and modern look with simple geometry or lines or go wild with swirls and flowers.
33. Fresh mini pumpkin arrangement
All you need are some mini pumpkins, eucalyptus leaves, and a bit of floral wire. To make this fresh fall arrangement. To start, cut the stems of the mini pumpkins, so they're about an inch long. Then, using the wire, create a small loop at the end of each stem.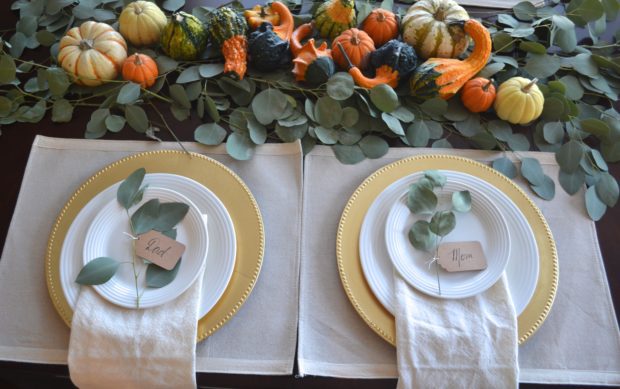 Next, take the eucalyptus leaves and place them around the base of the mini pumpkins. Make sure to tuck some leaves in between each pumpkin to cover them nicely. Finally, hang your arrangement from a hook or nail and enjoy your handiwork! You may also use this as a table centerpiece.
34. Carve out Disney characters
Looking to include a little bit of Disney magic in your fall decor? These easy pumpkin carving ideas will get you started! You should begin by drawing a basic Stitch silhouette on your pumpkin, then use a sharp knife to cut it out.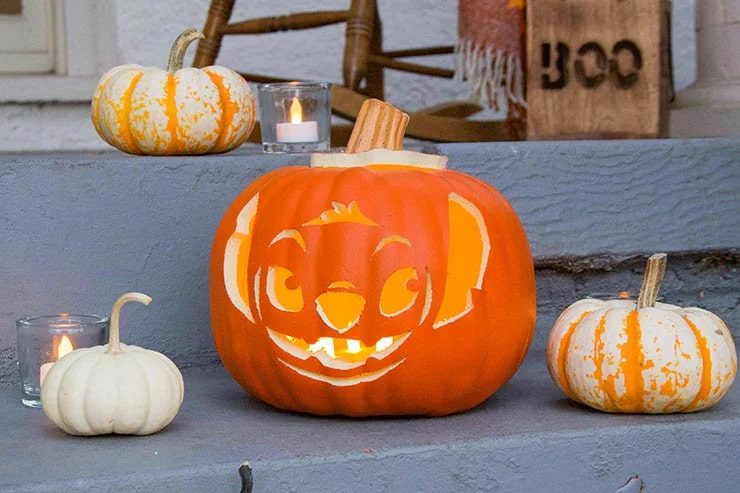 Hollow out the inside of the pumpkin, then carve out the details of Stitch's head and ears. Finally, add some black paint or eyeliner to finish him off. Another idea is to carve out simple ghost shapes onto your pumpkin. You may also try Tinker Bell with her pixie dust.
35. Elegant pumpkin decorations
Pearls and flowers are beautiful and elegant decorations that can add a touch of class to any fall décor. Using them on pumpkins is a great way to create stylish pumpkins that will stand out from the rest. Pick a pumpkin that is the right size for the decorations you want to use.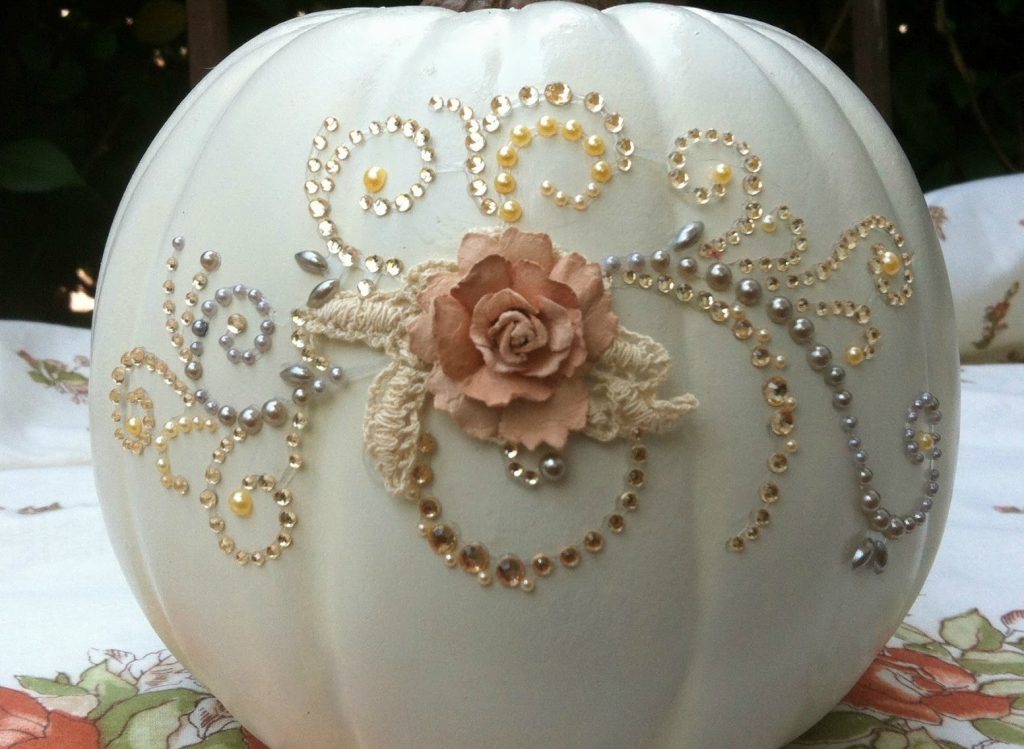 If you want to use large pearl beads, ensure your pumpkin is big enough to accommodate them. Before you start adding any decorations, be sure to clean your pumpkin thoroughly. This will help ensure that the pearls and flowers stick better and last longer.