45 Minimalist Space Saving Ideas To Elevate A Tiny Home
By Apoorva P September 20, 2021
---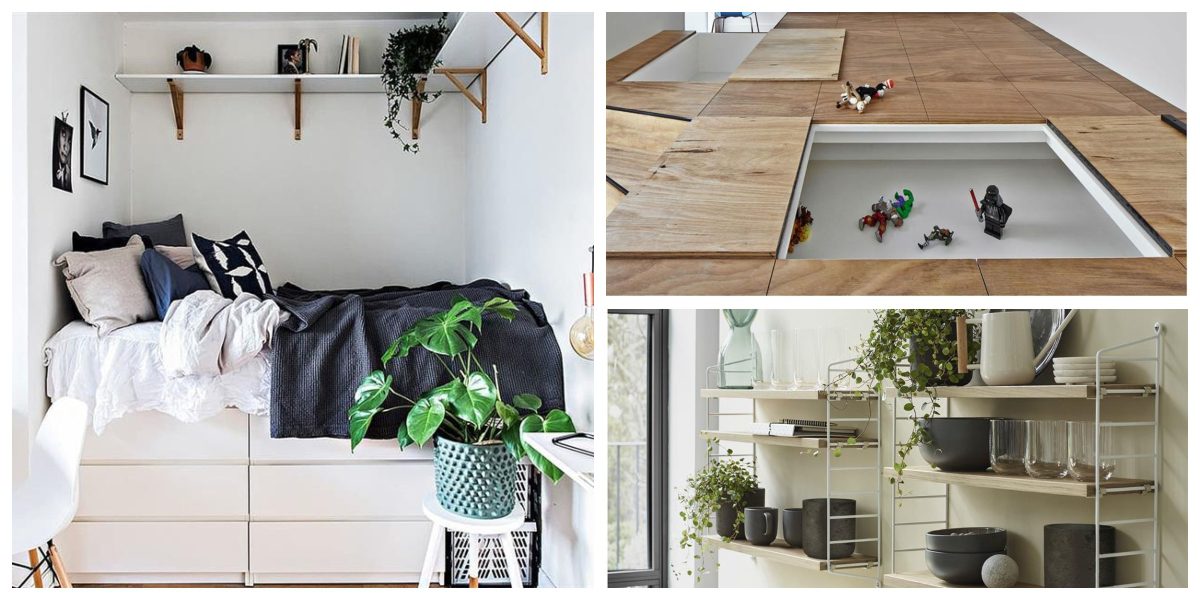 Decluttering and keeping only the essentials is a significant part of the minimalism movement trending right now. People are leaving their large spaces and houses to transition to tiny living that makes them appreciate life more. It is a healing experience to cleanse your space: materially and spiritually, to find the true essence of living. It is only adding more value to the life that we are already living. We have fewer things to buy, less things to maintain, less cleaning, and fewer worries. We also can accumulate more savings and flounder in more peace, joy, more perspective on life. We would say it is a win-win situation. Therefore, we have compiled a list of 45 ideas you can incorporate to jump on the tiny living bandwagon!
Multipurpose Table
Tables are one of the many objects that occupy a fixed space in your house. The more tables you have, the more precious space will be engaged by them, and less space will be available for you. The goal is to work with less.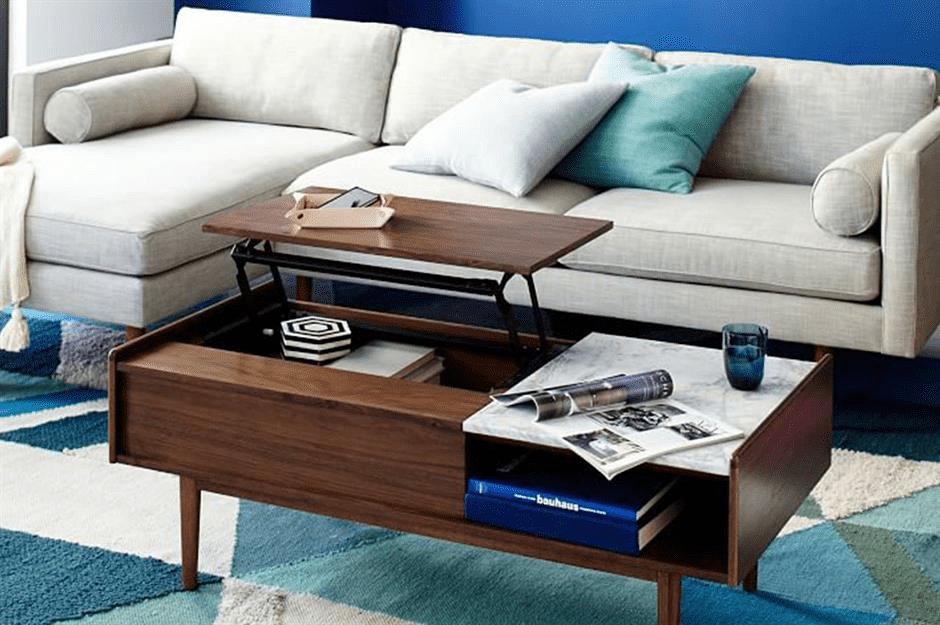 Here is a table that can function as many things at one time. This is your office table/coffee table/storage shelves. Instead of having three different pieces of furniture for other purposes, you can have one object that still functions for various purposes.
Convertible Beds
People living in tiny apartments or dorms have used this for a long time now. With the living spaces getting smaller, it is smart to opt for a sofa that can transform into a pull-out bed. It is not uncomfortable like your traditional murphy bed.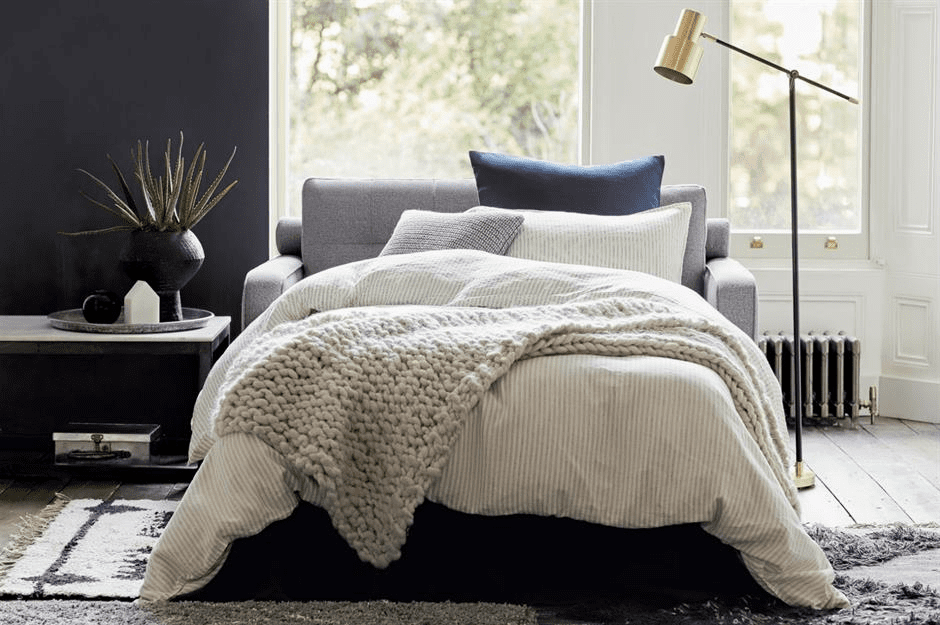 Depending on your floor plan and area, you can go for small to medium-sized convertible beds that typically operate as sofas but can also be pulled out to appropriate size beds when you need an extra sleeping space.
Sectional Couch
These are so in trend right now that every living room has at least one of the modular seating sofas. They are super convenient because you can easily split them up, thus requiring much less space than an original couch.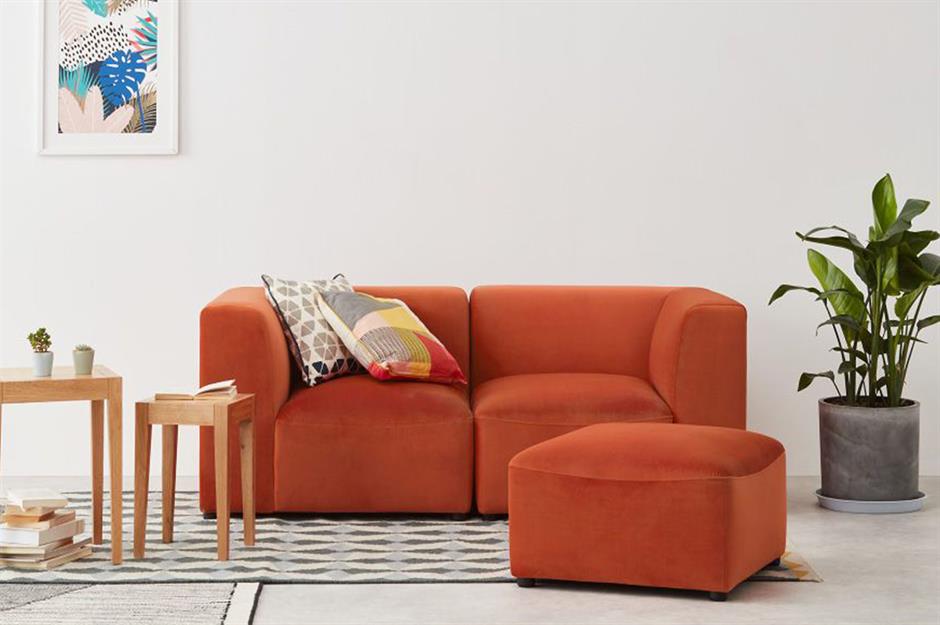 You can also use these sectional sofas to create separate sections in a single room, giving the illusion of having more space without actually needing it. You can have a separate seating section along with a dining area if you place them correctly.
Storage Beds
Another efficient way to utilize space in your room is to have storage under your beds. A bed is usually the single most significant piece of furniture in your bedroom. If your room is a small one, having cabinets and bedside furniture could make it very cramped.
Instead, make use of the vast amount of space below your beds to store your belongings. You can keep your things in a basket and store those baskets under your bed. There are beds specifically created to contain your stuff with platforms that have storage sections.
Corner Desks
While many of us have been working from home for some time now, we may not have proper workstations in our homes. It might be challenging to create a new area in your house dedicated to working. That's when you need to get creative.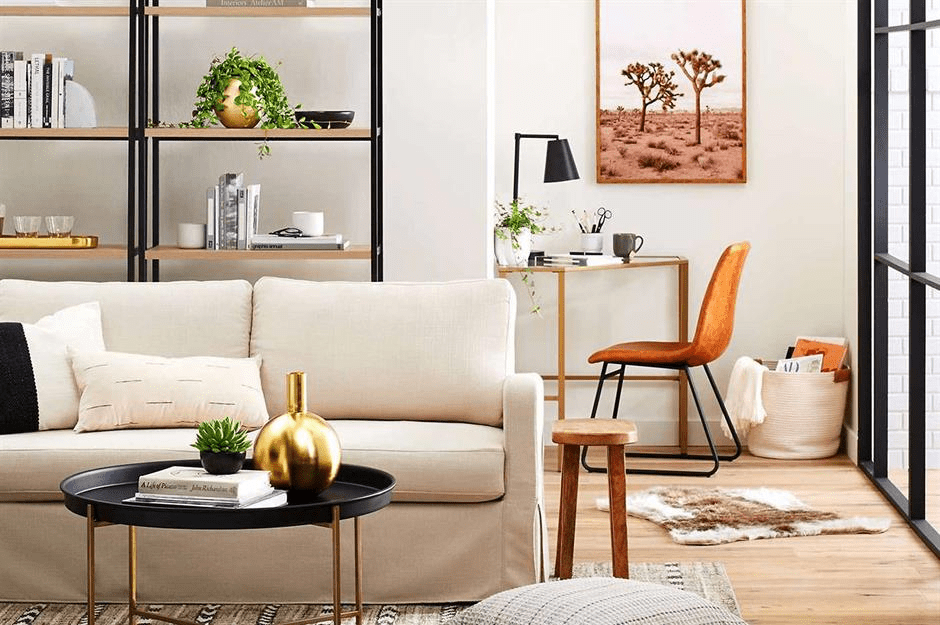 It is essential to consider every nook and corner of your home has potential. You can use corner desks in your living room or even your bedroom to get the most out of a small workspace. Add some plants to bring life to the dull corner.
Ceiling Storage
One section of the room that always gets ignored in terms of storage is the ceiling. Have you ever considered using your ceiling to store some of the things that do not seem to have any designated space? Well, now is your chance!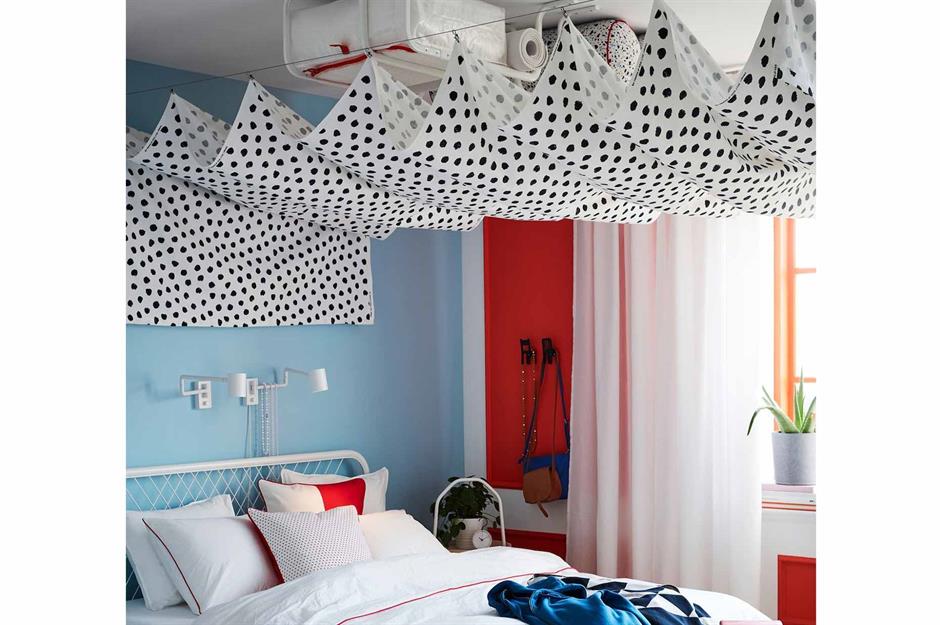 This is particularly handy for bedrooms with compact spaces. You can store your things on shelves on the ceiling and conceal them with a retractable curtain. If you wish to use any of the items stored above, all you need is pull the cloth and grab things from the shelves.
Wall Hangers
Young couples with a newborn baby have a hard time managing things, let alone storing items. It becomes complicated if there is not much space to put things the baby needs like clothes, towels, sweaters, and much more.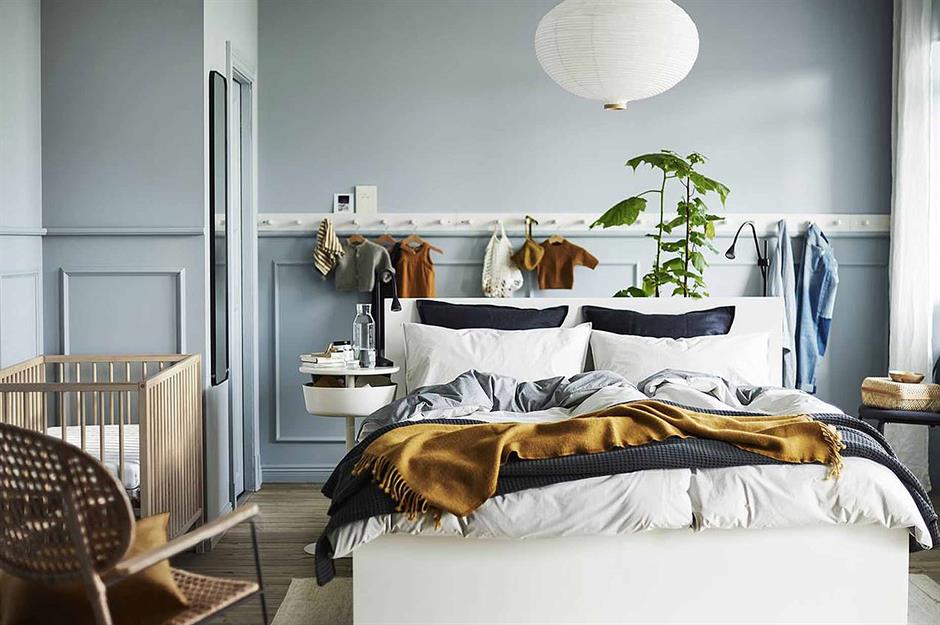 If your bedroom doubles as a nursery for your baby, then you can consider putting wall hooks to hang the stuff you regularly need, like coats and hats. It's easier when you know the things you need are within your reach.
Dish Racks
There is always one issue that is present in all the small apartments that come with small kitchens. The kitchen is the one place where having more space is always a struggle. Even if we have large storage and cabinets, we still make a lot of clutter in the kitchen.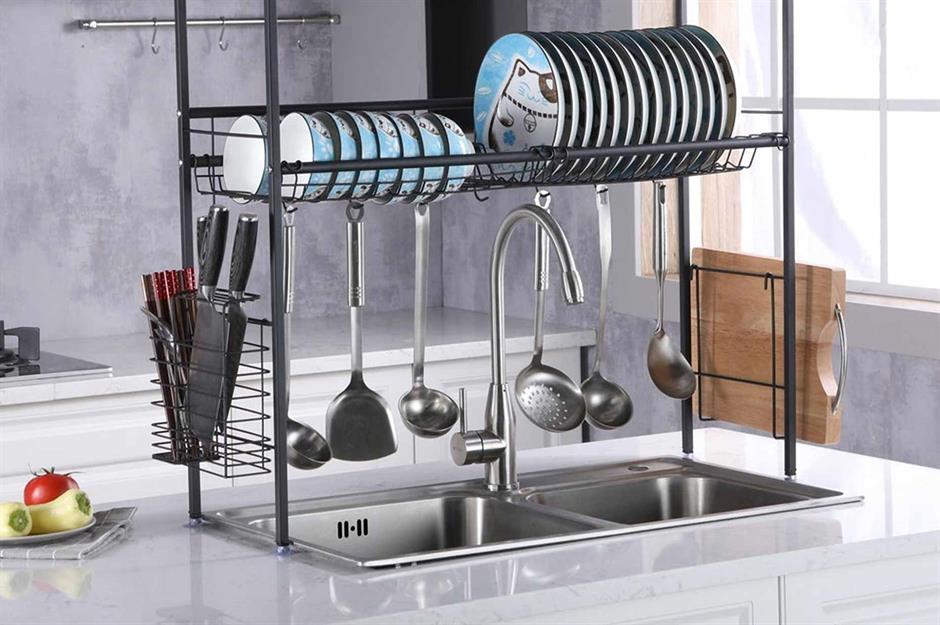 One effective way to organize the kitchen would be to invest in dish racks or drying racks. You can have them in any size you require and place them on your counter, on top of the sink, so the dishes are placed there directly after washing them.
Partitions
When you have a limited amount of space, you have to think out of the box to create more space. A simple way to make your room appear bigger is to have large windows or mirrors to give a sense of flow.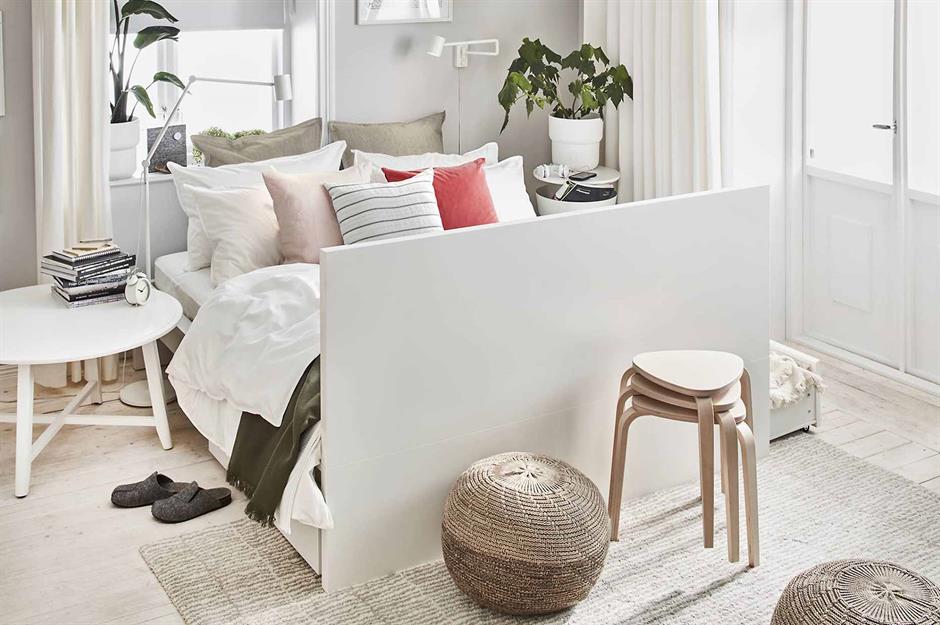 But that might not be possible for everyone. One sure-shot way of creating more space in your existing space is to divide it with small built-in walls. They are unique in creating different sections or areas in your room if you want a bit of privacy.
Makeshift Dining Table
When you have an apartment or house on the smaller side of the scale, convertible furniture is your savior to have access to all your things without necessarily having the space for them. One great example of such furniture is a makeshift dining table.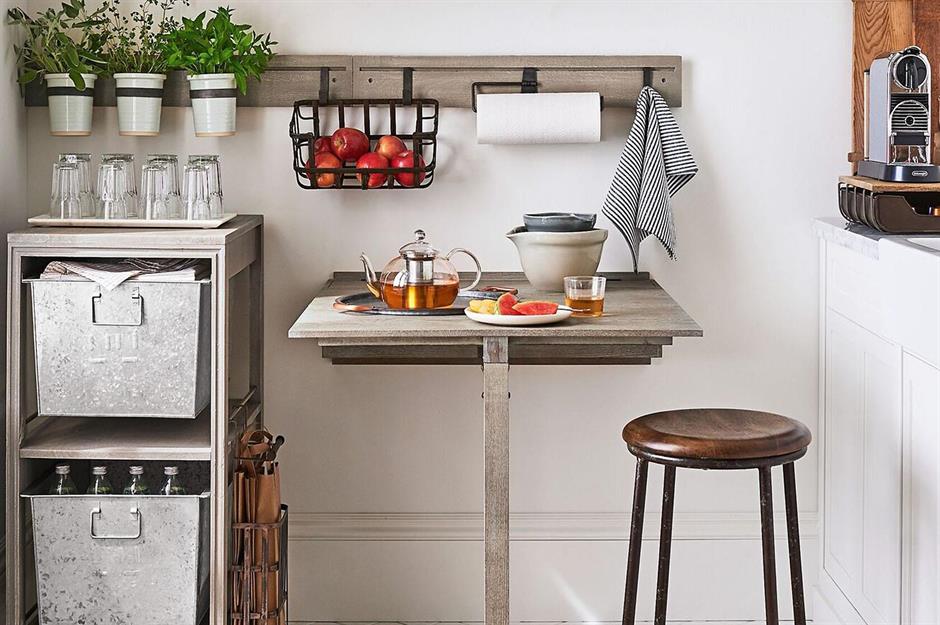 The tabletop of this dining table is attached to the wall, and you can pull it out from the wall to put your table in place. It also has one leg for support on the other side of the wall so that it stays intact while you're using it. After you're done, you can simply push it back against the wall.
Window Balcony
This tip can make it brighter and fresher if you have high ceilings or a room in your attic. We usually have dark attics with limited ventilation, giving rise to mold, cobwebs, and dust. But you can solve that problem quickly with this trick.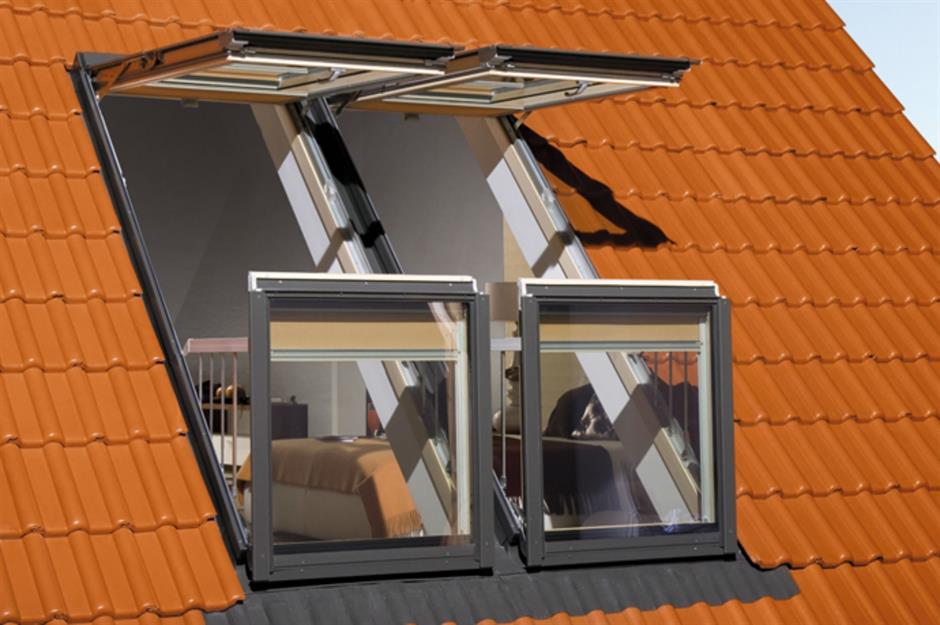 When you install large roof windows, you automatically allow natural light to come in. The unique part about these windows is that you can open them to make balconies on your roof, giving you extra space and a spectacular view of the outside.
Wall Shelves
A lot of us prefer buying houses rather than designing and constructing them. That leaves us with adjusting to the available design and being able to adapt. There could be awkward spaces in the design, making some of your rooms seem unworkable.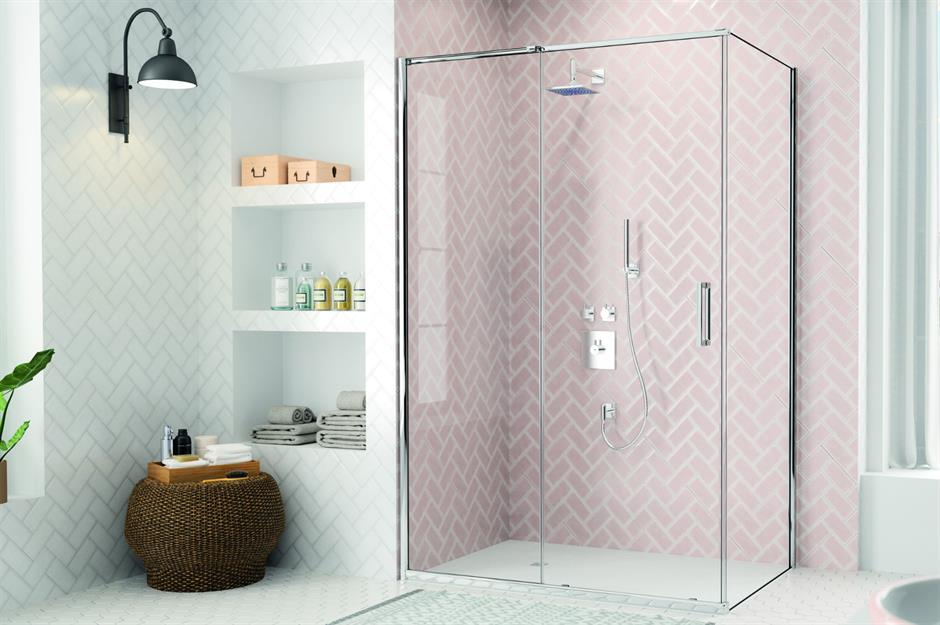 You can tackle these spaces by using them creatively to suit your requirements. Every nook or cranny can have custom-fitted shelves into the alcoves or under the eaves. You can also use flat pack units that can be easily assembled and slot them in.
Kitchen Island Seating
Kitchen islands are a few of the inventions that offer a lot of benefits. Not only do they provide storage, but they also provide a lot of countertop space that is always needed in the kitchen. You can place bar stools around the island to eat your meals.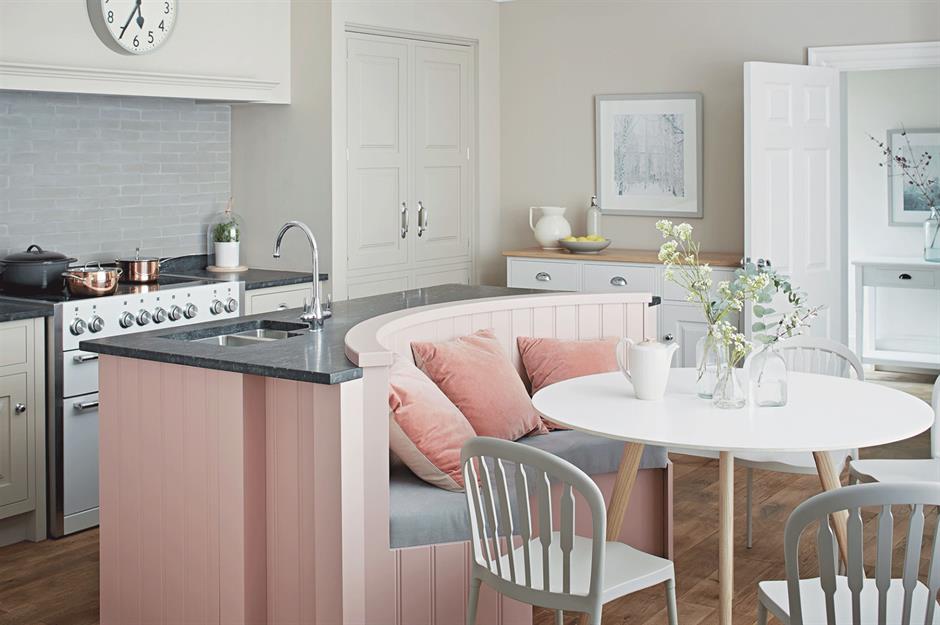 Another excellent way to use that island would be to have your dining area adjacent to it. You can have a seating booth built around the side of cabinets and have your dining table next to it. It is such an ingenious way to save space and get everything you need from the counter itself.
Wall Mounted Extendable Rack
Those of us who live in apartments do not have the luxury of backyards. As we all know, backyards can be a lot of fun if you incorporate a pool, gazebo, and grill. However, you also need space to make sure you can enjoy these luxuries comfortably.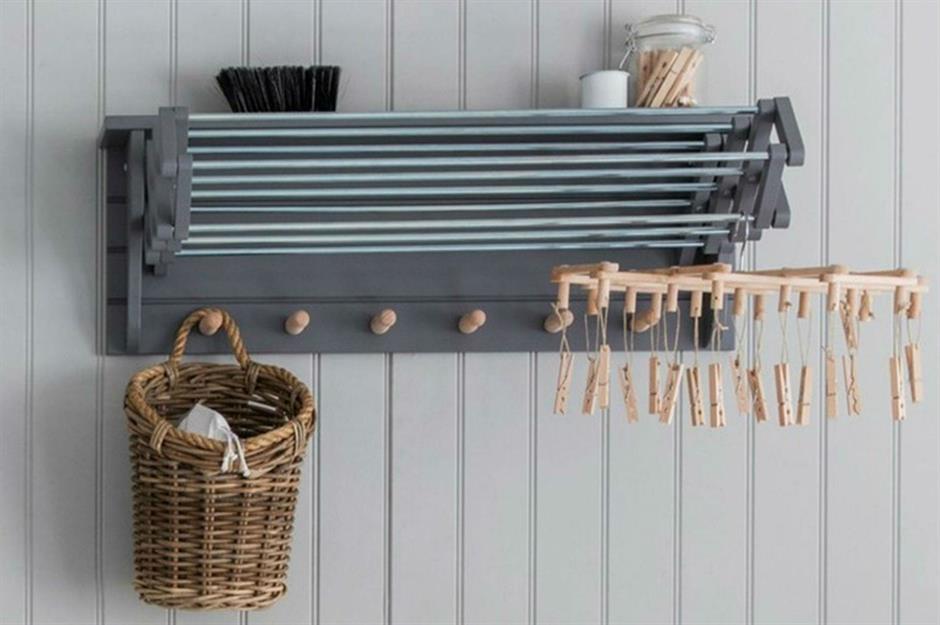 You can put your very own wall-mounted dryers in place if you do not have enough space to dry your clothes out after using the pool. Or, you can have these hangers installed in your laundry room wall and pull them out whenever you need them.
Ottoman Storage
Ottomans are the hot trends in the tiny living movement. You can use them for any purpose, and they require very little space. Depending on your needs, they can be used as footrests, stools, benches, or even coffee tables.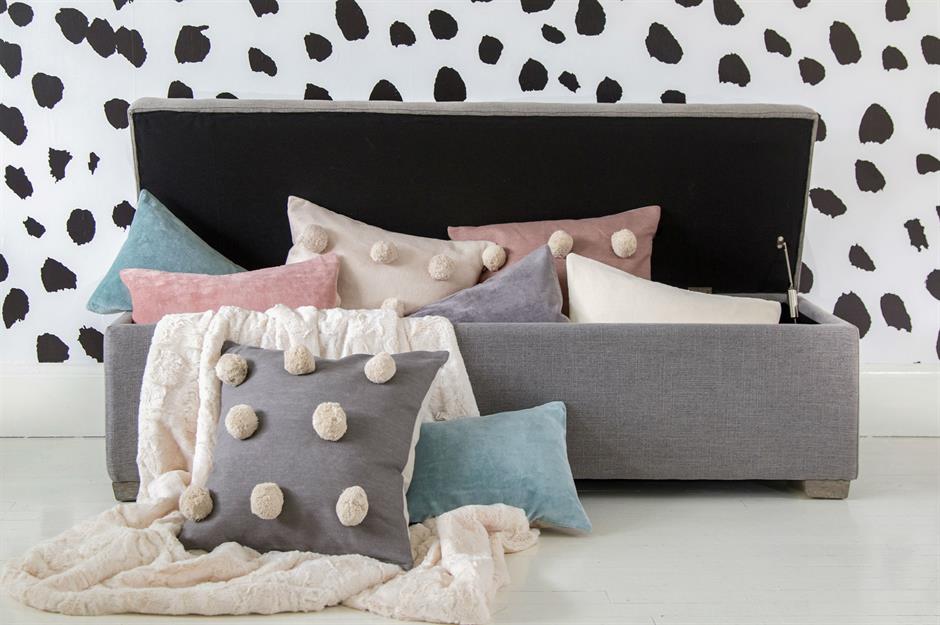 A great way to optimize them is to have storage options inside them. You can then use the extra storage to store your kid's toys, cushions, rugs, beddings, etc. These are must-have pieces of furniture you need in your home.
Floating Wall Boxes
If you feel cupboard space is something you cannot afford to have in your small house, then there are other ways you can install extra storage. Cupboards do provide us with that space to keep our things, but they also occupy a fair amount of space on their own.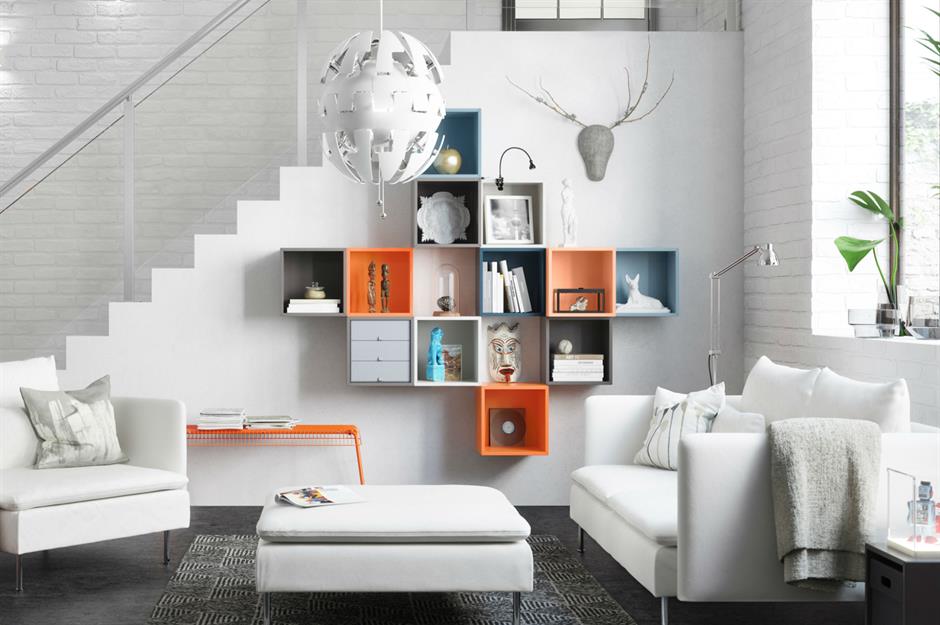 You can easily have the same amount of storage space, if not more, with floating wall blocks. You can let your creative instincts take over you and arrange these blocks in any arrangement you want. Decorate them with cool objects, and your showcase will be ready to display.
Vertical Plantation
Having some greens in your space is essential to make a design look good and stand out at the same time. Gone are the days when gardens were outside your homes. Now, you can have any space decorated with plants inside your home.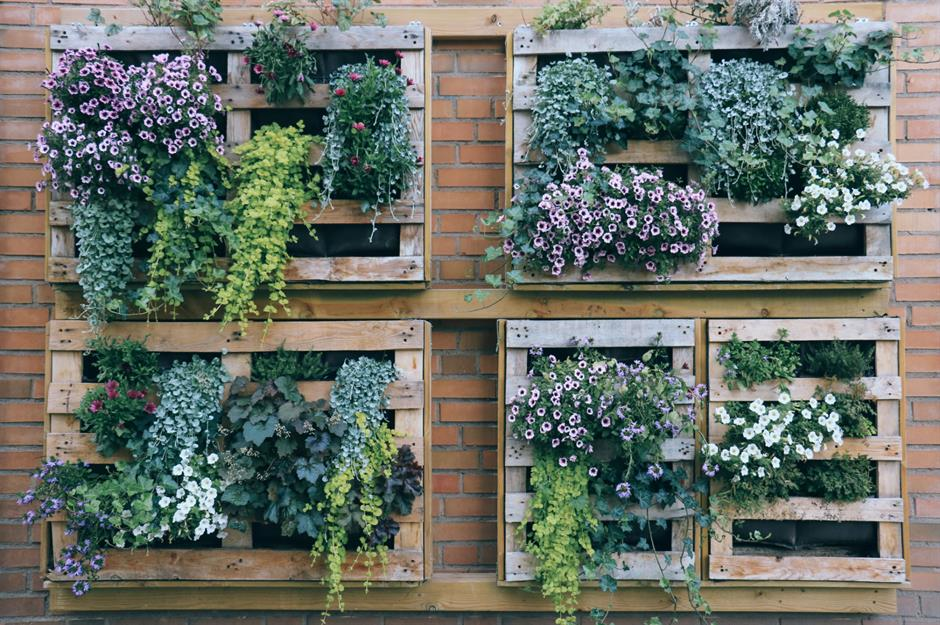 Vertical plant gardens are the key to beautify your space without having much to do. You can simply fix crates or planters on the wall and place herbs, vines, or plants of your choice inside them. These instantly amplify the look of the space and bring much-needed life to it.
Movable Storage
The problem with fixed storage is that you cannot make any changes to them. And, even if you do not require that amount of storage, you are stuck with it because it is fixed and you cannot reconfigure it.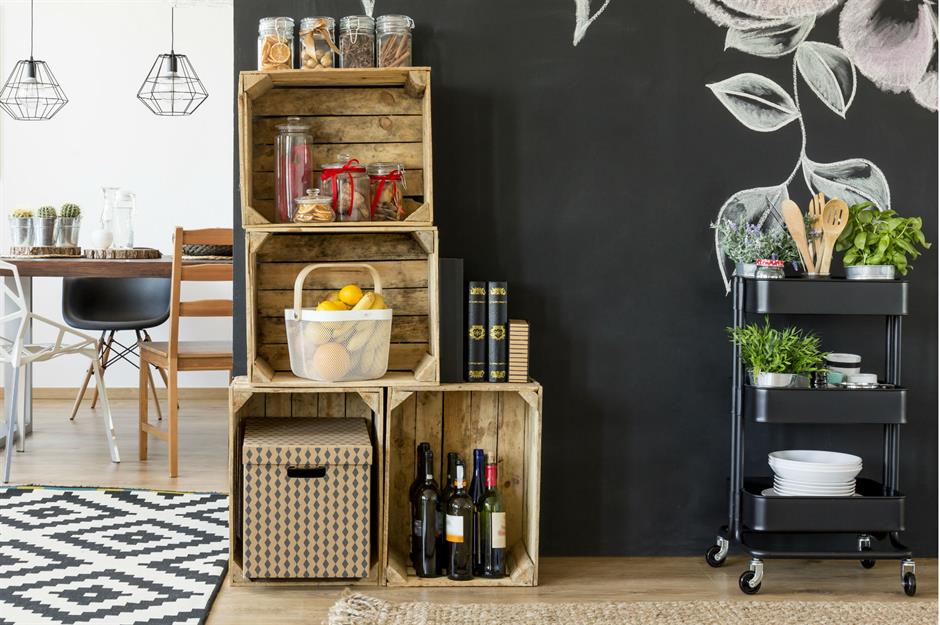 That is why it is crucial to have portable storage to move around to any part of the house and use according to the space. Examples of movable storage would be empty crates that you can stack on each other and some moving trolleys, which are pretty handy.
Floating Wall Cabinets
Bathrooms in our homes are spaces that are usually very small. They are also the areas that need to have cabinets to store our toiletries and other stuff like medicine and cosmetics. Instead of having floor-to-wall cabinets that can make your bathroom stuffy, you can opt for floating wall cabinets.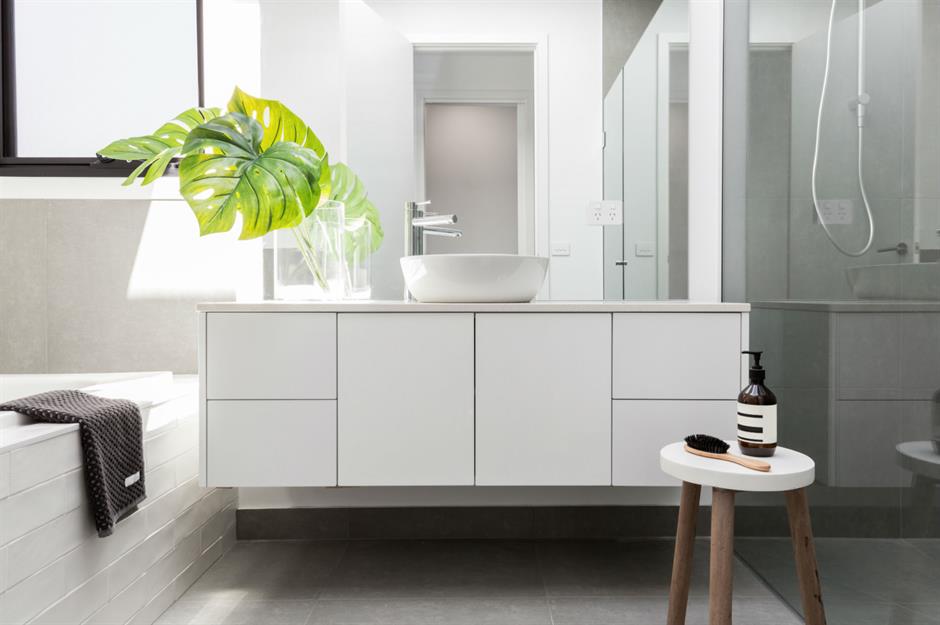 They are incredibly efficient space savers and provide lots of storage for your bathroom if you want to make it feel more open. You would have a lot of floor space, making your bathroom appear big and less cramped compared to a floor-to-wall cabinet or dresser.
Wall Unit For Home Office
Since many of us are working from home, we require a space dedicated to keeping our work stuff organized. That being said, we do not need a separate room or whole section for the workspace. With limited spacing, it is vital to come up with ideas we can work with.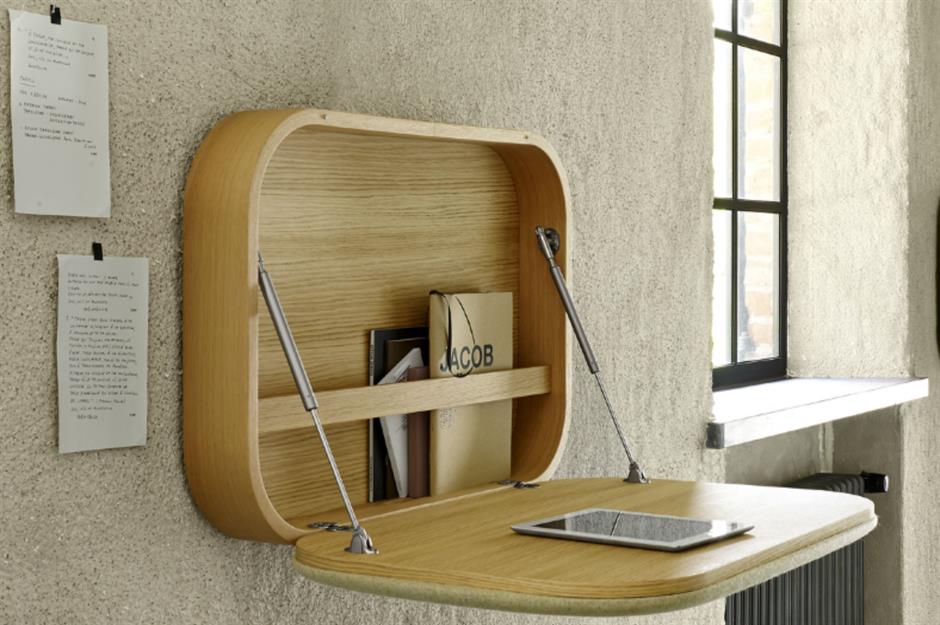 Wall units like these are super convenient in this regard. You can have a pull-down workstation that is big enough to store some papers, pens, and notebooks and can be pulled out to make a desk for a laptop or tablet.
Hanging Utensils
If you have a limited or next to no shelf or cabinet space in your kitchen, then storing all the utensils and dishes, and containers would create a massive problem. It would mean only chaos and clutter in your kitchen.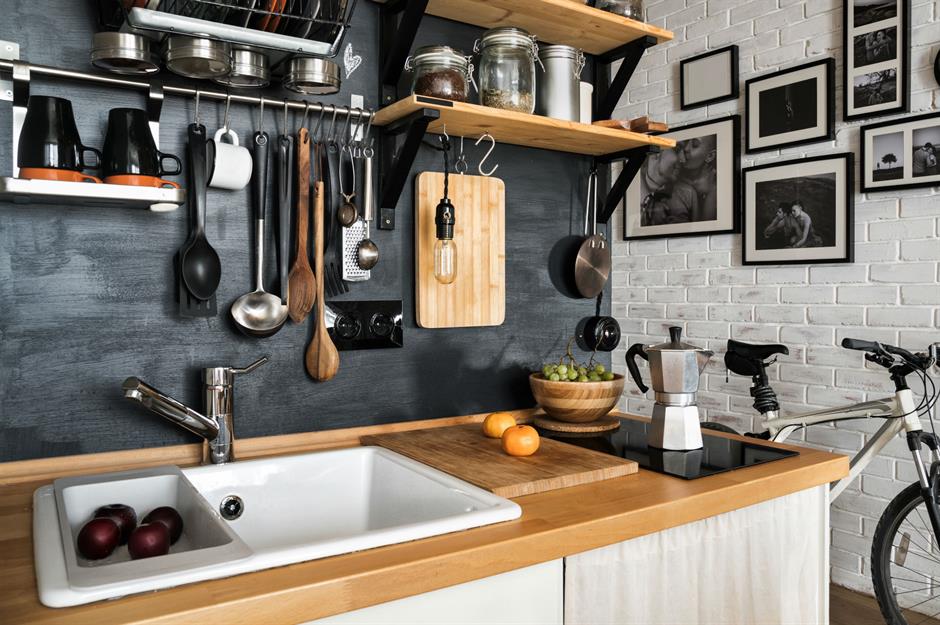 With the limited options to work with, you can have all your utensils, containers, and cutting boards hanging from a fixed rod and have some narrow shelves to store jars and mugs. Using walls to their optimal advantage always works when you have tiny spaces.
Floor Storage
Most of the houses that do not have floors made of concrete have a broad scope of storage under them. You can always take out your carpet and check the flooring to know for sure what you have been blessed with.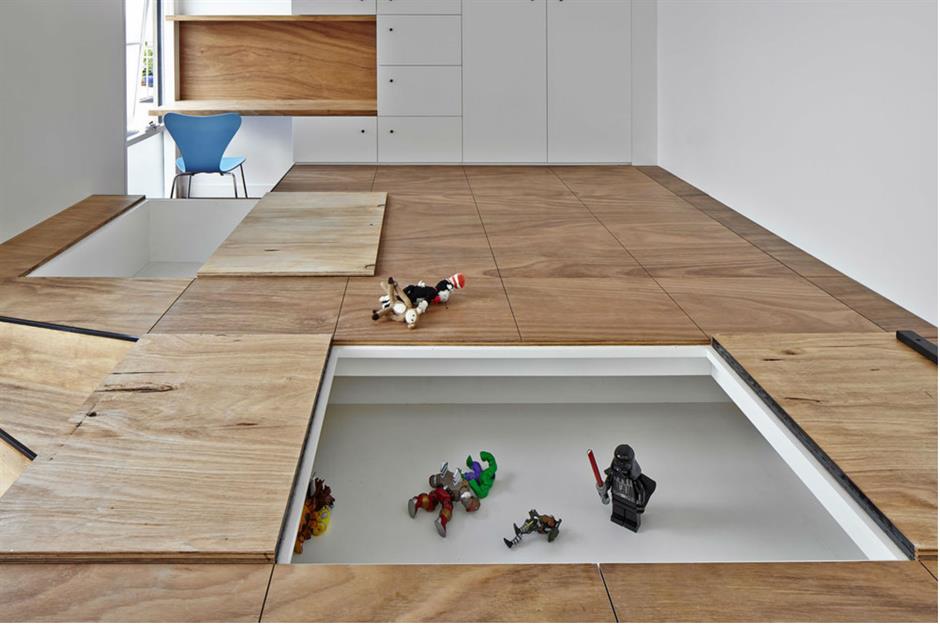 You can hire a carpenter to take a look at your floors and create solid storage structures for you. You can install wooden lids to cover up those storage spaces and have complete wooden flooring in your homes. It's a win-win situation.
Tiled Mirror Walls
If you want to double the size of your room instantly, you should definitely invest in some mirrors. Small apartments or houses are often struggling with limited spaces, and mirrors are an excellent idea to work with if you want to create an illusion of a bigger space.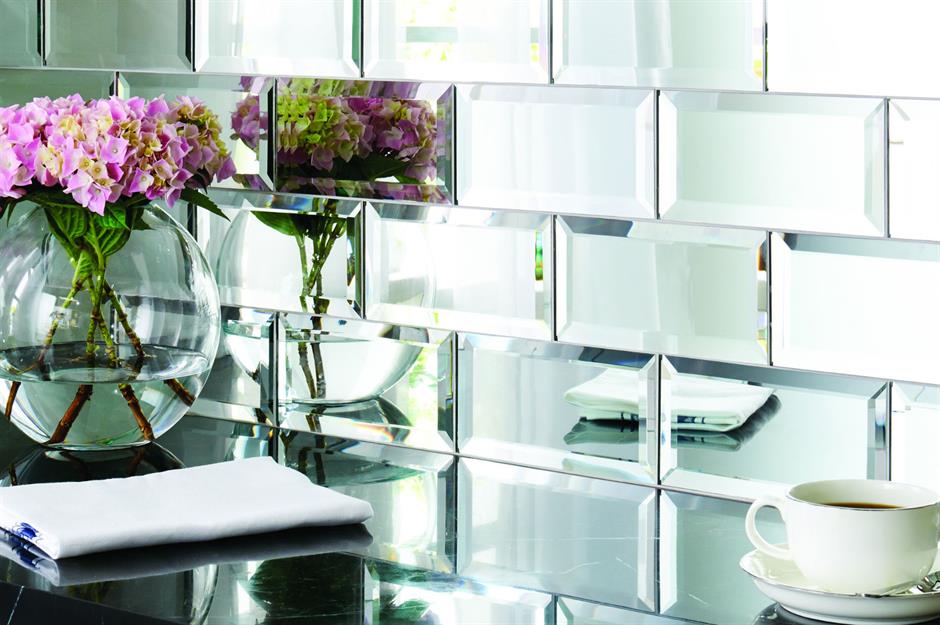 Having a wall with mirrors from floor to ceiling would make your room or any space bigger than it originally is. It will also reflect the light making it look brighter and pleasant. If you organize the room properly, it could lift the whole vibe of your home.
Ottoman Beds
Beds that have storage space inside of them are a perfect addition to your tiny home. You do not have to worry about keeping your things in the closet if you don't have one because this has ample space for you to store pretty much everything.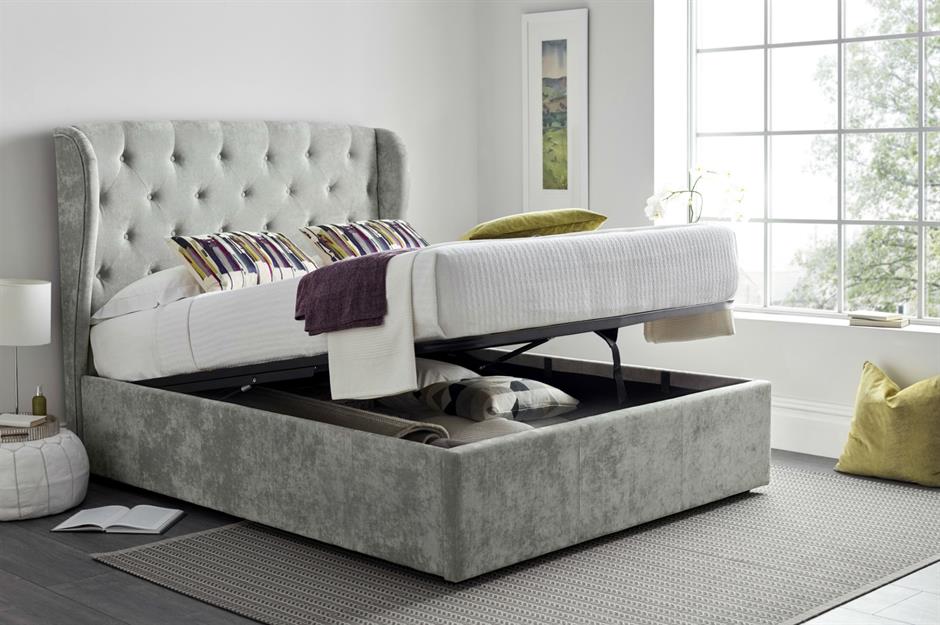 These ottoman beds are not heavy to lift and use the whole area of the bed as your storage. You can keep your clothes, sheets, cushions, curtains and everything inside them. It is just like having a closet, except you can sleep on it.
Oversized Chopping Board
Countertop space in any kitchen is critical. The more you have of it, the more optimization you have to organize your kitchen space. Even if you have a large island in the kitchen, some of the space is always allotted to the sink.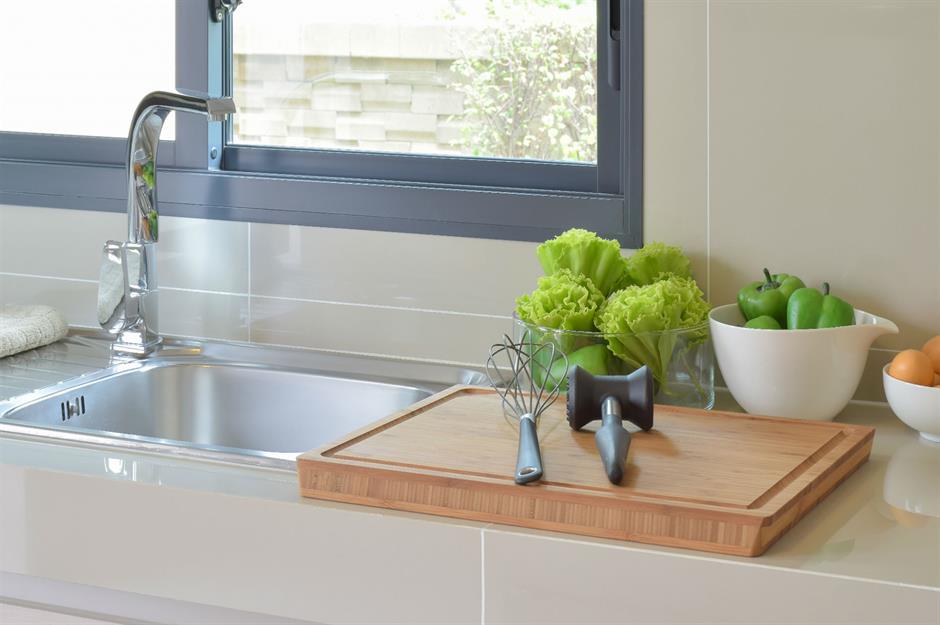 Here is how you can make use of the space of the sink: buy an oversized cutting board to cover up your entire sink area and get the additional countertop space you need by simply covering the sink with something useful. When required, you can use the sink or place the board over the sink when you don't need it.
Curtains
We all have used curtains in the traditional way. The beautiful drapes over the window give a nice finish to the room. Curtains are one of the few very low-cost additions in the room that instantly change the look and lighting.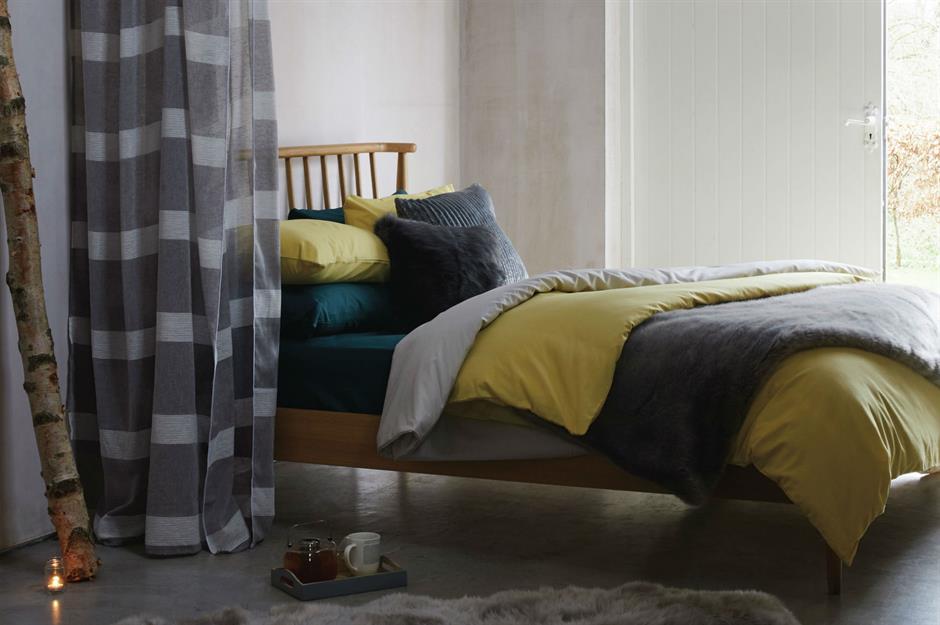 But these curtains have more than one use to add to the decor of your house. You can use the drapes to create different sections in a single room. You can even use them next to your bed to create a private sleeping area.
Storage Under Staircase
One of the highly neglected spaces in the house is definitely under the staircase. If you are not using it as a bedroom for your long-lost nephew (Harry Potter Fans – that's for you), then you should put on your thinking caps and make that space useful.
One way of doing that is to have a chest of drawers under your stairs. You can custom make it to fit the exact dimensions providing much-needed storage space to keep things that you use occasionally need like extra pillows or blankets in case you have guests over.
Compact Bathtub
Small bathrooms have to always let go of having a tub. When you think of bathtubs, you think of big lavish bathrooms with a fantastic view. But if your bathroom is small, then the tub is the first thing you usually have to say goodbye to.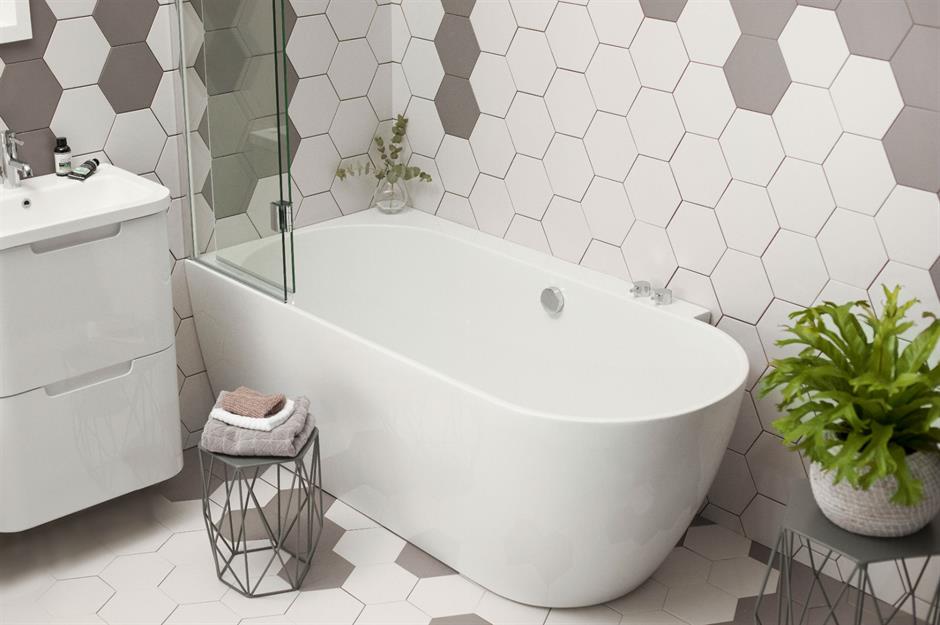 However, you can still have a bathtub in your bathroom if you combine it with a shower as well. You can have a snug tub that perfectly fits your bathroom and have a rainfall showerhead right above it. It's an opportunity to get the best of both worlds.
Vertical Shelves
The kitchen is probably the only area in your house that needs all kinds of organizational tools to store things. You have specific storage for edibles, different cabinets for dishes, containers, pans, and things that need refrigerated. The list goes on.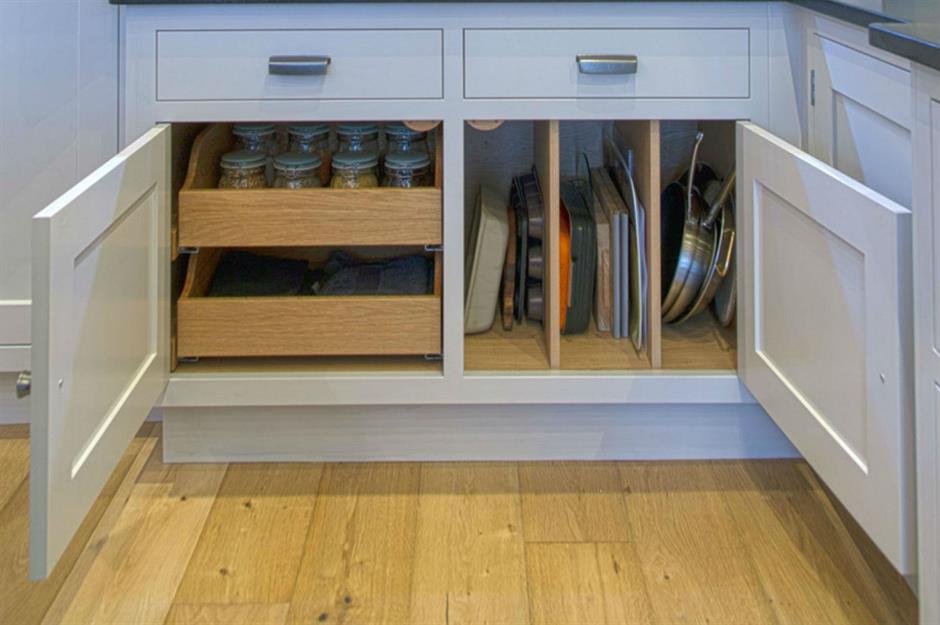 Pans and other baking tools can be the hardest to organize. You may store them in the cabinets or hang them, and they still seem messy and unorganized. Instead of keeping them in the horizontal shelves, you can implement vertical shelving to be appropriately categorized and visible when you open the storage.
Corner Seating
In a small space, it is essential to make use of every little corner available. This gives us a lot of room to just be, instead of having everything crammed up in a room with no place to move. That only makes your tiny room even smaller.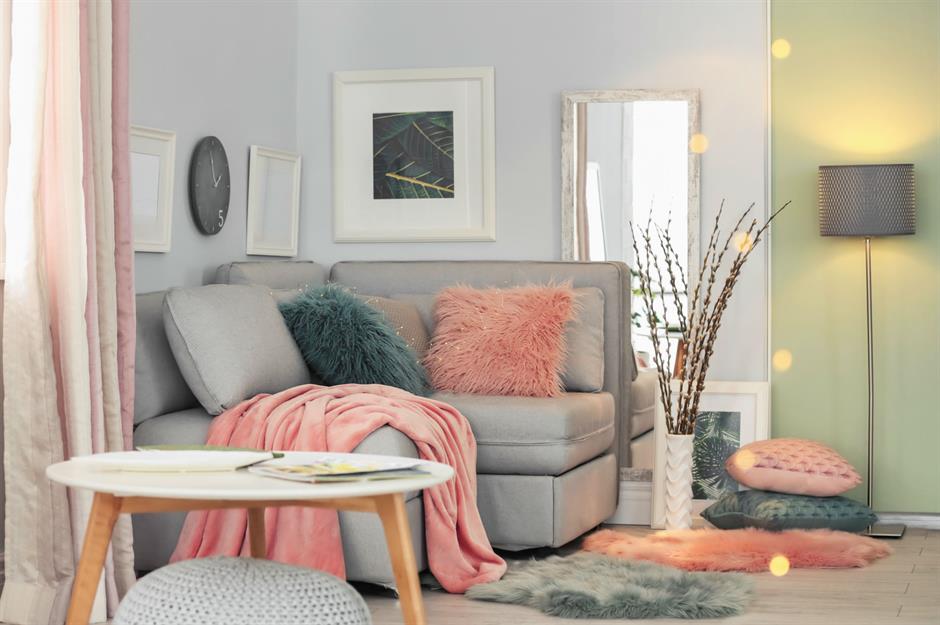 If you want to get a couch for your small living room, opt for a corner seating sofa instead of a traditional straight sofa. This way, you can efficiently use the corner of your space and make your living room appear bigger than it actually is.
Multipurpose Ottoman
Living in a small apartment has its own challenges. You have to worry about a lot of things other than the small space available. Therefore, when you purchase furniture for your small home, make sure you pick the right ones.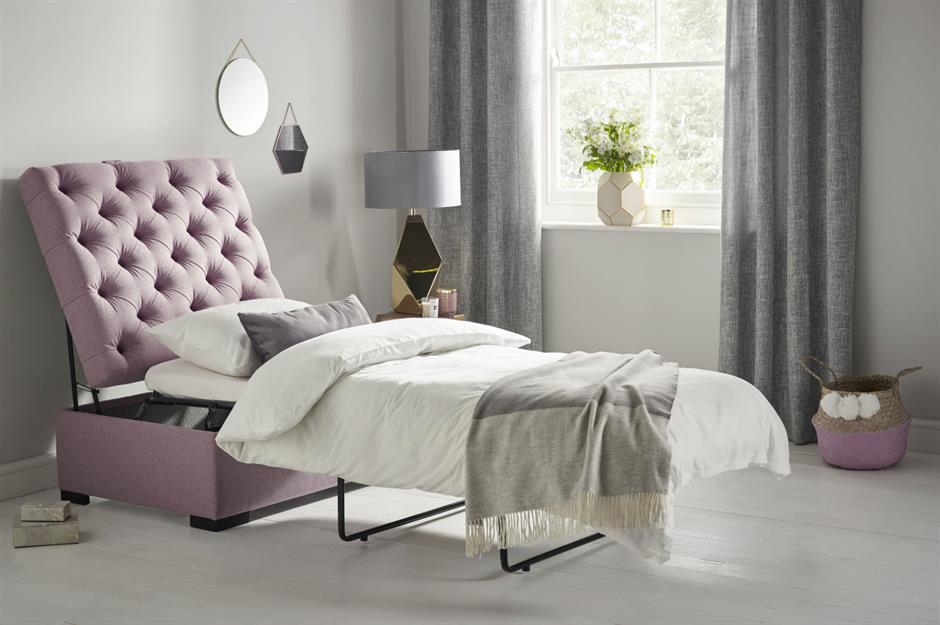 This includes things that can be used as different kinds of furniture, and not just one like an oversized, multipurpose ottoman. You can pull out this ottoman to make a single bed perfect for a single person living in a small apartment.
Bathroom Cum Laundry Room
We always thought having a room just to do laundry was a bit excessive. Now that people are specifically opting to live in tiny spaces, we don't feel like keeping this a secret. Why have separate rooms when you can combine them in one?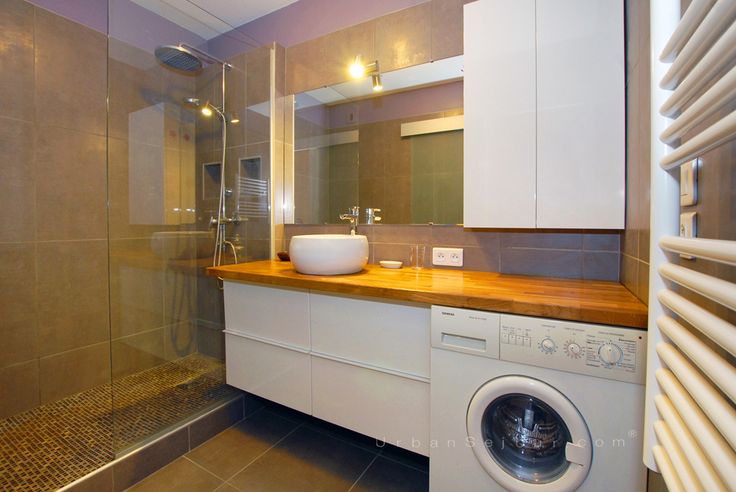 We think it makes perfect sense to have your washing machine and dryer in your bathroom. That is where you remove clothes and clean yourself anyway. So, that should be the place where you clean your clothes as well.
Potted Plants
Decorating your tiny space can be a huge pain. You might want to beautify the area, but adding more things would only make it look cluttered. Decorative pieces, art, or anything along those lines could cramp a small room easily.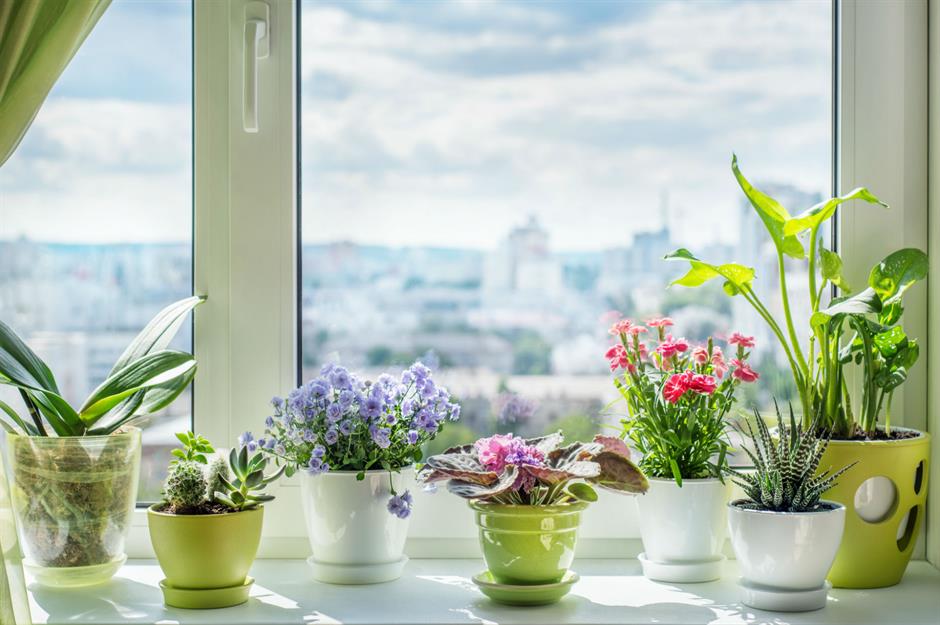 The key is to add life rather than things—what better way than to include plants inside your home. We're not talking about big plants, though. They can be overbearing. Tiny succulents, herbs, and different flowers can add more to your space than anything else.
Unusual Pairing
To create a unique and contrasting effect, you can pair different pieces of furniture together and place them in the same area. This is one of minimalism's very quirky and practical qualities, where functionality is not compromised due to less space.
You can place your bookshelf as a headboard to your bed. It makes a very satisfying visual and could be a conversation point when you have people over. You can place your most used items around the shelves, and things that are not so regularly used can be placed behind the pillows and bed frame.
Small Sinks
With limited space in your kitchen and countertops, it is a logical decision to have a small sink for your kitchen. When you have a tiny space, the important thing is to keep it tidy so that it appears significant without clutter or mess.
Having a small sink would encourage you to wash things upfront instead of having a dirty sink for a long time. You can clean your items as soon as you use them and place them in their designated spots, not having to worry about doing the dishes and cleaning later.
Cabin Bed
Students living in single rooms can benefit from this idea. If you have just one room to work with, then trying to adjust your sleeping arrangements is very advisable. It gives you extra space even if you think there isn't any available.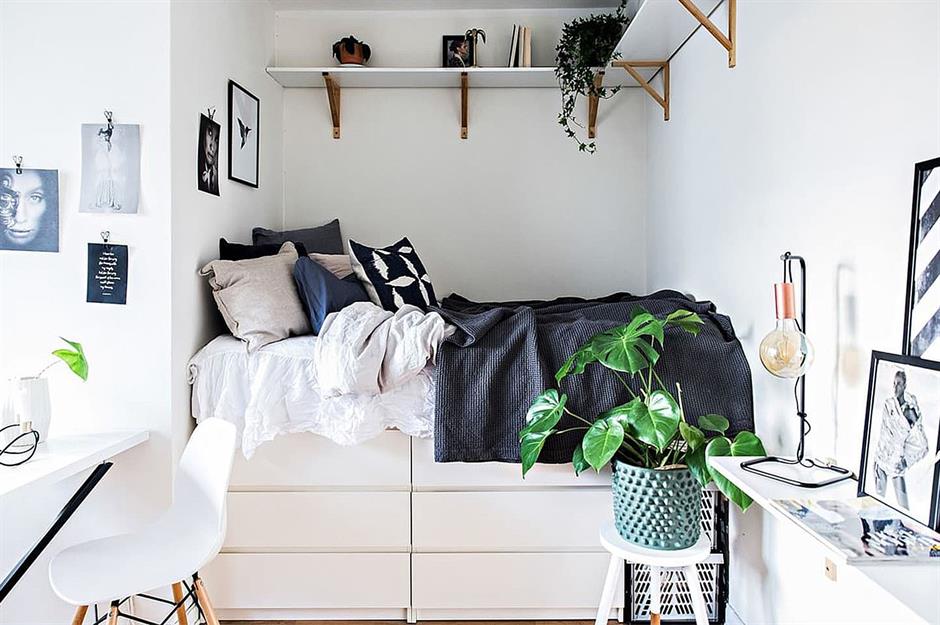 You can elevate your bed over the storage cabins. Putting your mattress on top of the cabins gives you much-needed storage under your bed, and you can also add some shelves at the top to keep things within arms' reach.
Windows To The Rescue
Having rooms or a kitchen in the basement or attic can be very confining. You might feel trapped living there. And if it's a kitchen, it's no fun cooking there with all the smoke and smell penetrating the room all the time, making it difficult for you to breathe.
Adding a window to such cramped spaces can do wonders. It opens up a lot of space and brings in much-needed light and ventilation. You can also add roof lighting and lamps to create an illusion of more space.
Compact Staircase
The best thing about tiny homes is that you can add a bit of elevation if you have an upstairs section in your home. Loft conversions and mezzanine floors can add some more space to your tiny apartment if you know how to use them.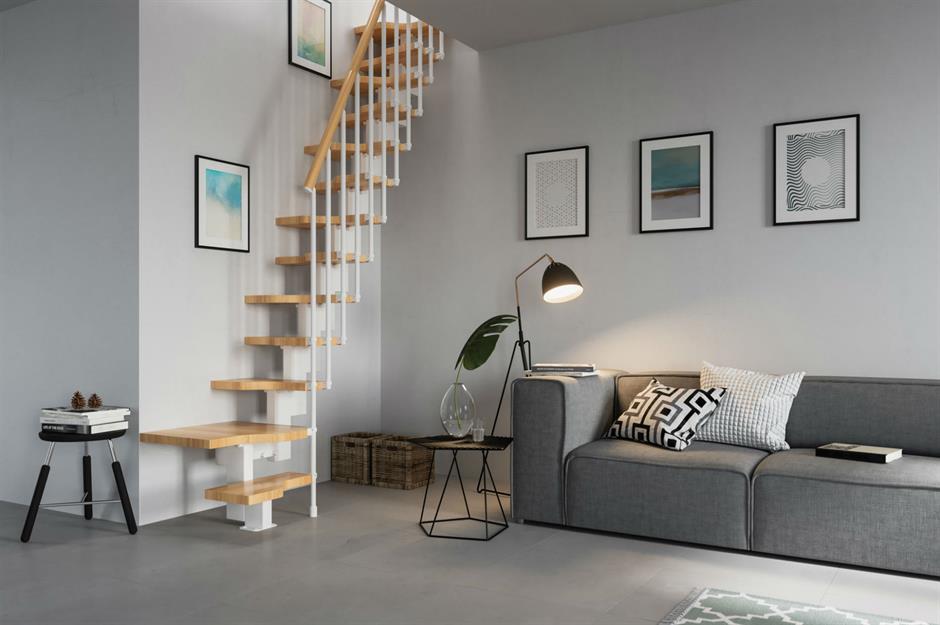 You can use compact staircases and ladders to reach the upper floor instead of having a giant staircase that takes more space. With tight staircases, you can save more space and be safe while using them instead of opting for a ladder.
Narrow Wall Shelves
Heavy cabinets and dressers make your room even smaller than it already is. Having all the furniture jam-packed together is not an ideal and inviting space. You can get rid of all the block furniture that takes up more space than it needs to.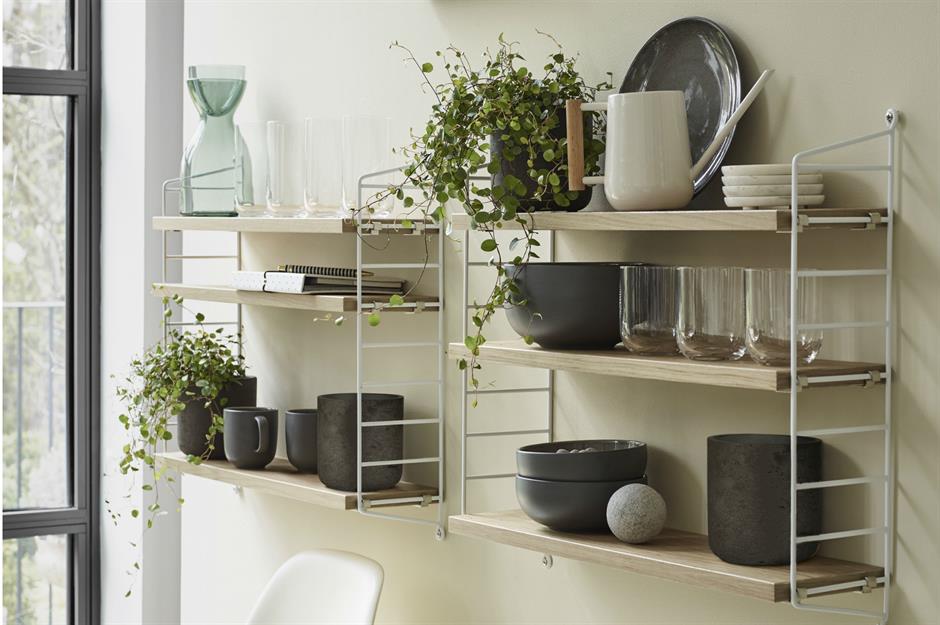 Instead, you can use narrow wall shelves to keep your things organized. Having narrow wall shelves won't take up your floor space, and you can just add more shelves to store more items if you need. But having less is the key here.
Library Wall
Walls have just as much potential as floors when you live in a limited space. People have never used walls to their full potential, and those who have can never go back. There is just so much space that can be utilized, and when living in tiny homes, space is of the essence.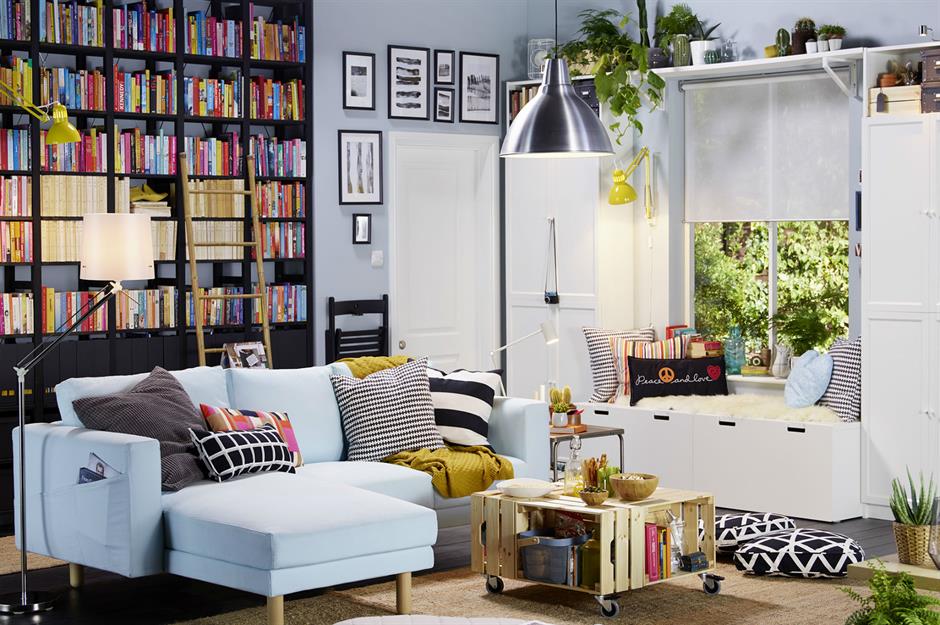 You can use an entire wall to store all your books if you have a lot of them. Floor-to-ceiling shelves give you ample storage space to keep anything. You can support books, showpieces, photo frames, and decor pieces without using anything more.
Drawers Within Drawers
It is like having a secret room or passage that magically transports you to a different place. When you get creative with the small area, you have been given, that is where the real magic begins. You can do things people would never think of, as there are no rules.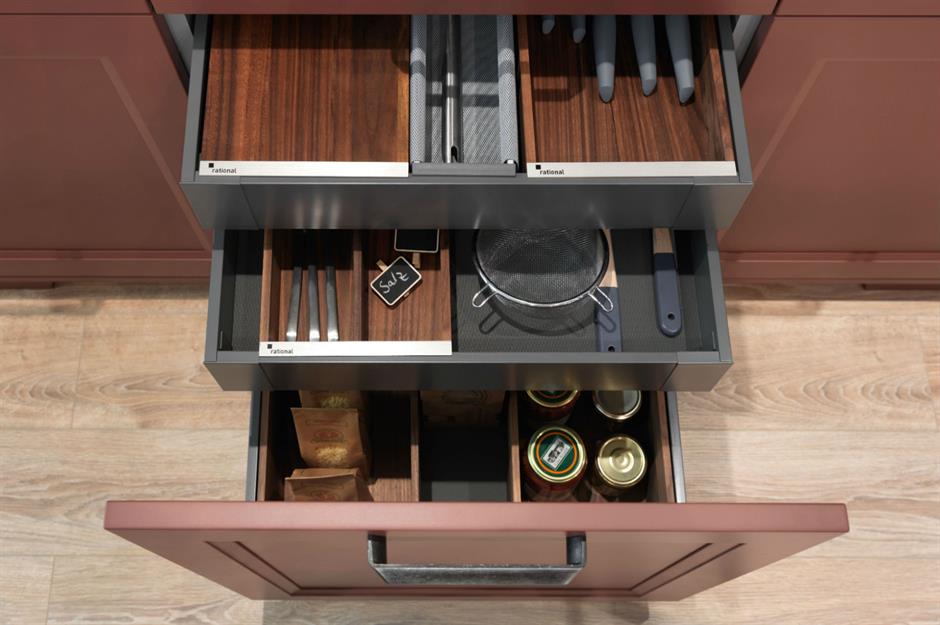 This can mean having drawers inside drawers. Who would have thought of coming up with this idea if they were not already short of space? It instantly increases the storage capacity of the drawer and allows you to add more things inside.
Compact Dishwasher
If you thought having a tiny kitchen would mean having to sacrifice a dishwasher, then think again. There is no need to do that because if you choose a slim dishwasher that can fit inside your counter. It's just another win-win situation.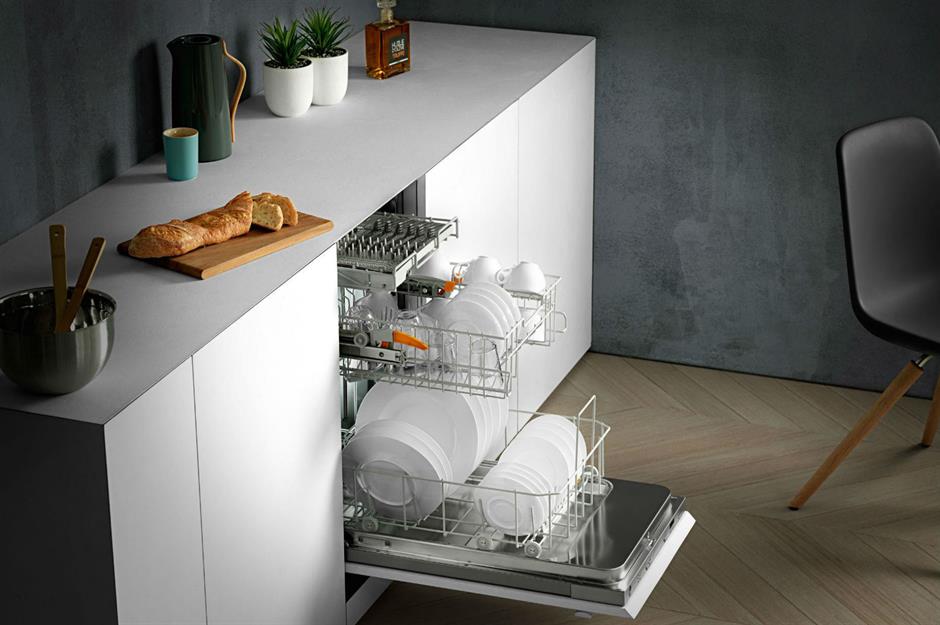 It also gives you more counter space as you do not need a sink in that counter where you already have a dishwasher. More counter space, fewer utensils to clean, and less mess are precisely what you need in a kitchen.
Seamless Tones
Having a mixture of various tones and schemes in your small space will not make it look vibrant. It will appear more fragmented and stacked rather than easy and flowy. The critical point is to select one or two tones and stick to them.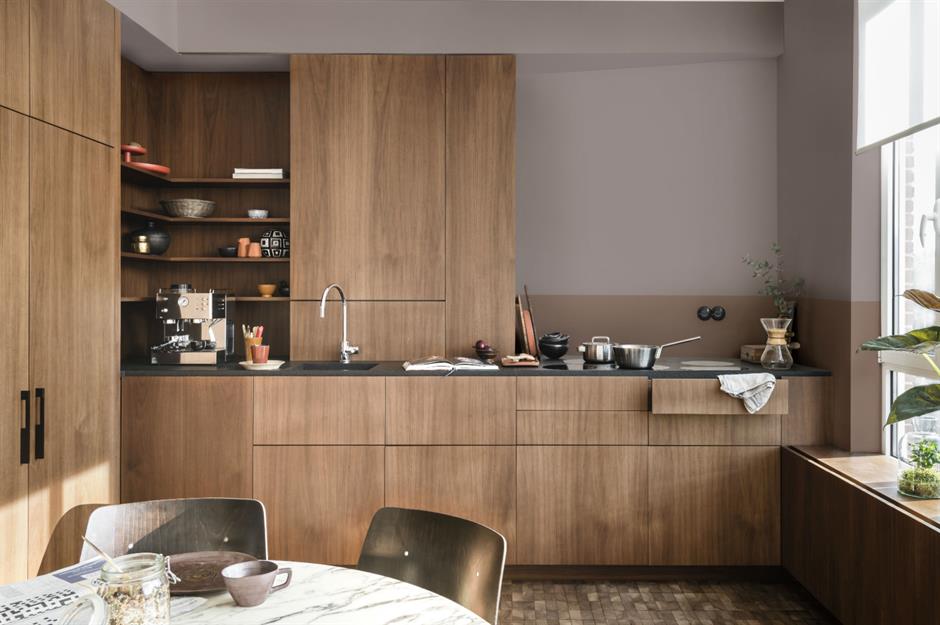 You can either select a dark tone or a lighter tone for your things, but having a streamlined look is very important to define the space. You can mix up to 2 tones, but no more than that. Create a sense of cohesion and openness when you choose colors so that they mix well with each other.
Corner Shelves
When you effectively use corner space that is otherwise wasted in the design, you pull the room together to make it look bigger. Installing your shelves in unconventional spaces opens up more areas for you to play and experiment with.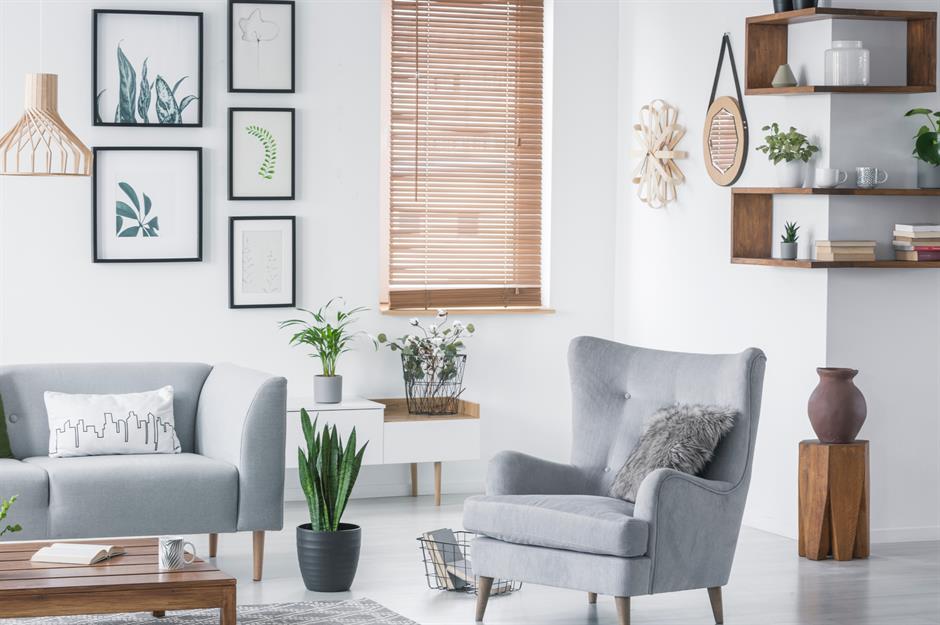 You can add floating shelves that move from one area into another effortlessly, giving a flow to the room. You can display tiny plants or have a memorabilia section on these shelves that let you move around quickly in the room.
Display Pantry
Instead of stacking up things in your pantry, you can display them on your counters. You can even use narrow shelves on the walls to display your pantry items without having to store all your dry stock goods inside the cabinet.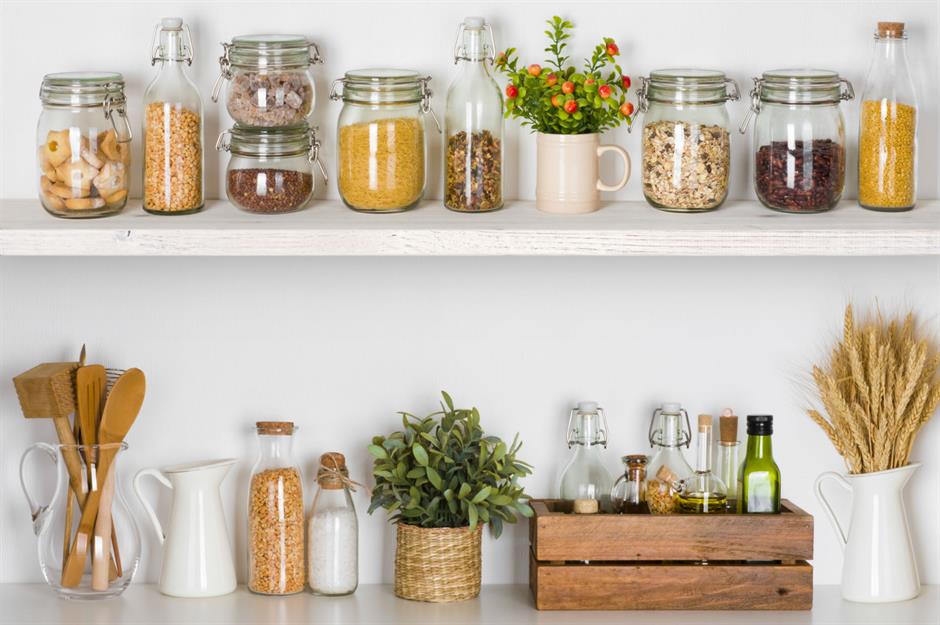 It is very stylish and practical. You can see your things right in front of you and use them when you need while cooking. One thing to keep in mind is their expiration dates. As soon as you see anyone hitting the mark, you can easily dispose of them.