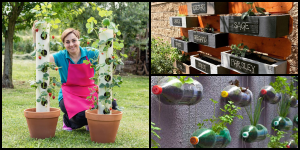 40+ Ideas For Vertical Gardens — Because Horizontal Gardens Are Just So Boring
By Jo A
---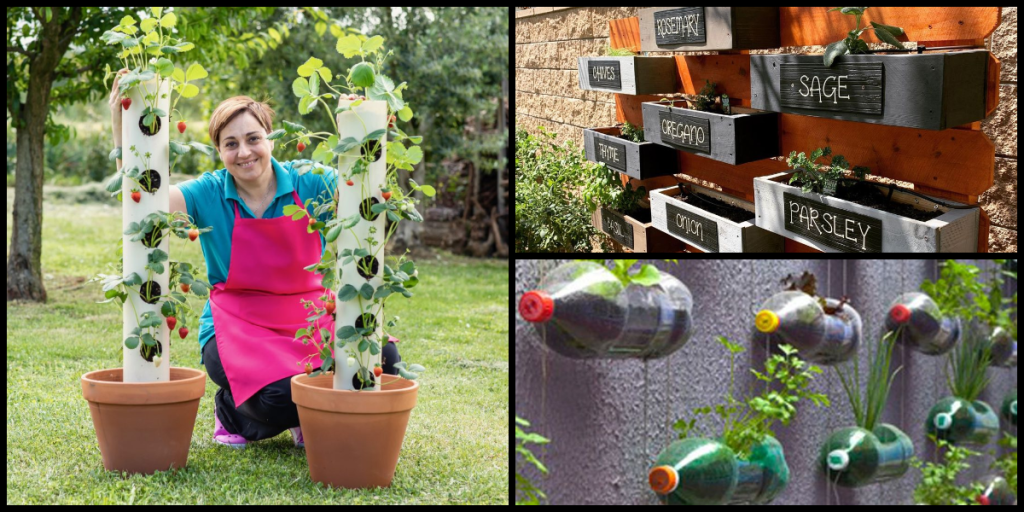 Hey you — yeah, you, with the eyes. Let's talk gardening; horticulture, if you will. When we say "garden," what do you think of? Probably some flowers, a couple shrubs, exotic plants, trees, maybe even a cactus. But if you're like most people, you likely imagined them arranged horizontally — that's so uninteresting. Boring. Banal. Lacking pizzazz. All this time, us gardeners have been ignoring one very important dimension: height.
That's right; we're talking vertical gardens. Beautiful. Practical. Unique. Sophisticated. Despite what you might think, they are suitable for both outdoor and indoor spaces. There are several plant options to choose from, like perennials, annuals, and shrubs. You can even customize the the planting structure: Tuteurs, garden pots, trellises, you name it. Interested? Good, then read on to discover other fantastic ideas on how to make the most of your vertical growing space.
DIY Tuteur
Do you have abandoned bamboo sticks in your yard? Put them to use with this simple garden DIY. Trellis-like structures provide an extra outdoor vertical growing space. If you want to make a free-standing structure, you can make a tuteur.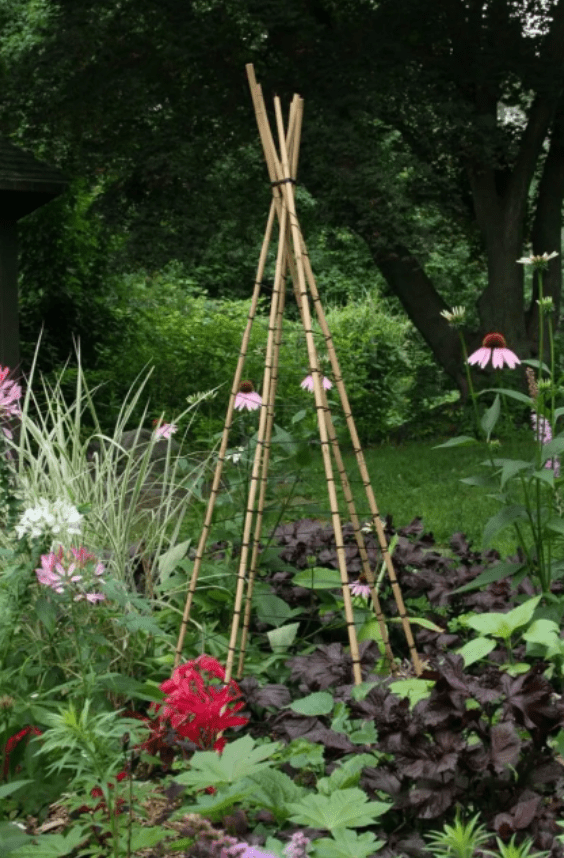 Train some annual vines like black-eyed Susan, sweet peas, hyacinth bean vine, morning glories, etc. The bamboo sticks help the vines climb vertically instead of winding their way on the ground when they grow. Who knew that vertical gardening could be so easy?
Succulent Garden Hack
Cactus potting and landscape fabric mix are the two secret ingredients you'll need in this simple garden DIY. You can't go wrong when you use this vertical garden; it will look amazing in any room. Try it on your kitchen wall, dining room wall, or bedroom.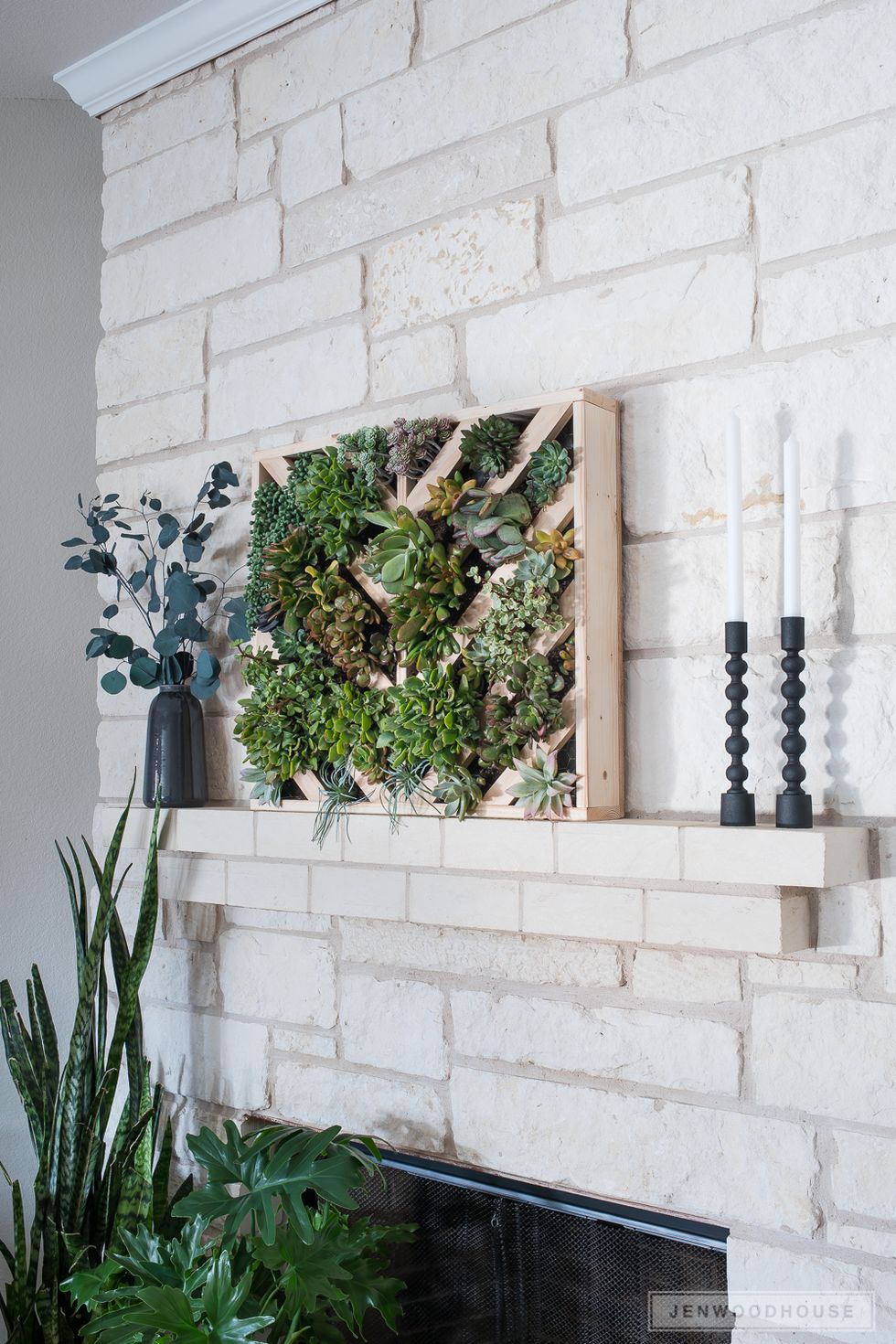 Make it whatever size you want. The best part about using succulents is that they don't need as frequent watering, so it's not a hassle to keep them looking green and lively. Don't permanently fix it to the wall; it'll make watering it more difficult.
Time to Plant
It's time to show off your green thumb! Plant a perennial vine and allow it to grow up a wall or garden structure. Depending on which plant your choose, it can take several years to flower. But the wait is surely worth it.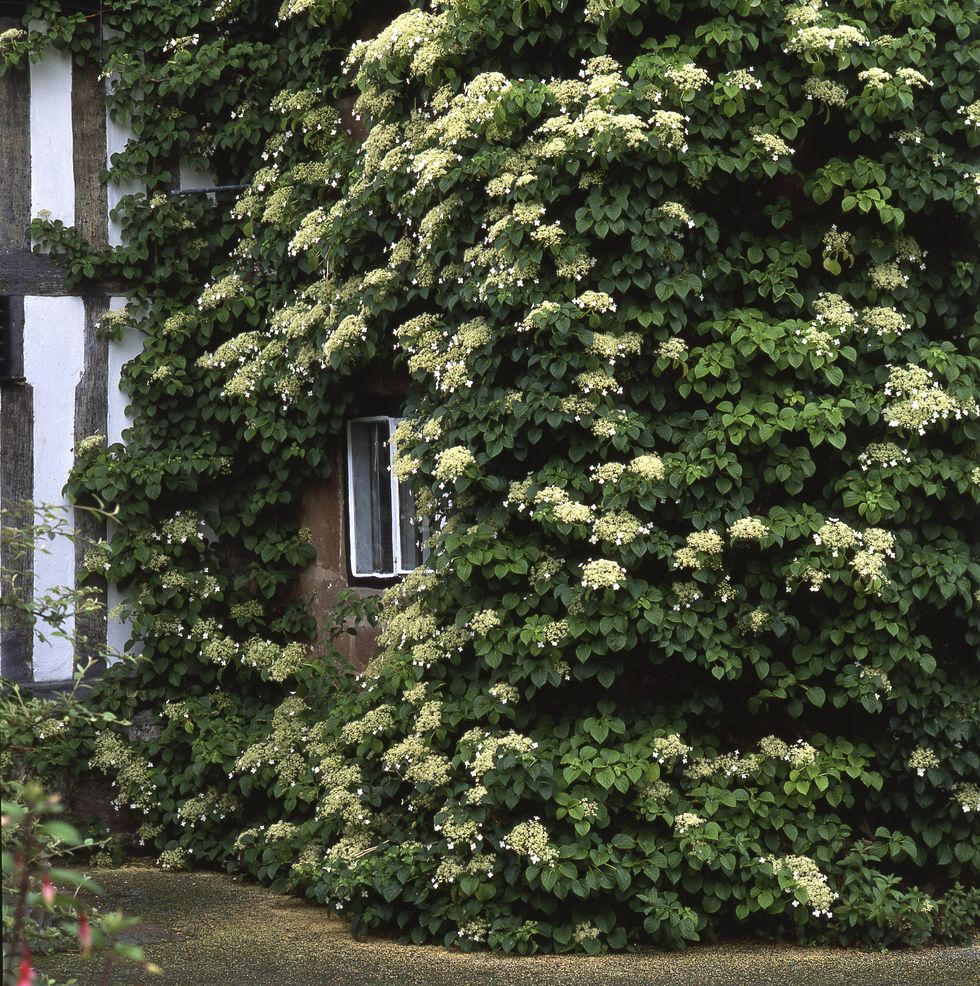 A climbing hydrangea, like the one in the picture, can take years to fill out. If you want more immediate results, try an ivy or similar plant that grows more quickly. Either way, it's sure to add some flair to your yard.
Lotion Bottle Planters
Get thrifty with plastic containers by using them as the base of your hanging planters. An empty lotion container will work just fine for this DIY project. You can also use inexpensive plastic pots if you can't find the right container size.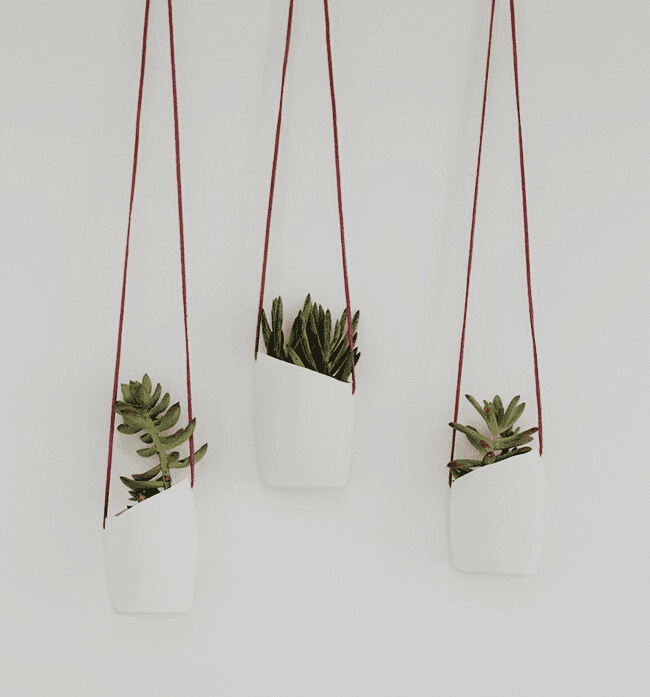 To begin, cut the plastic container diagonally. Next, use a hole puncher to poke holes on each side. Finally, attach a rope through it. For side-by-side flowers, like the one in the picture, just repeat the process. You can hang them inside or outside.
Copper Pipe
Are you looking for a hanging planter that will show off your creativity streak? Use some copper piping and colorful yarn or rope to create a custom vertical plant hanger that reflects your personality. For some extra flair, add some wall decorations nearby.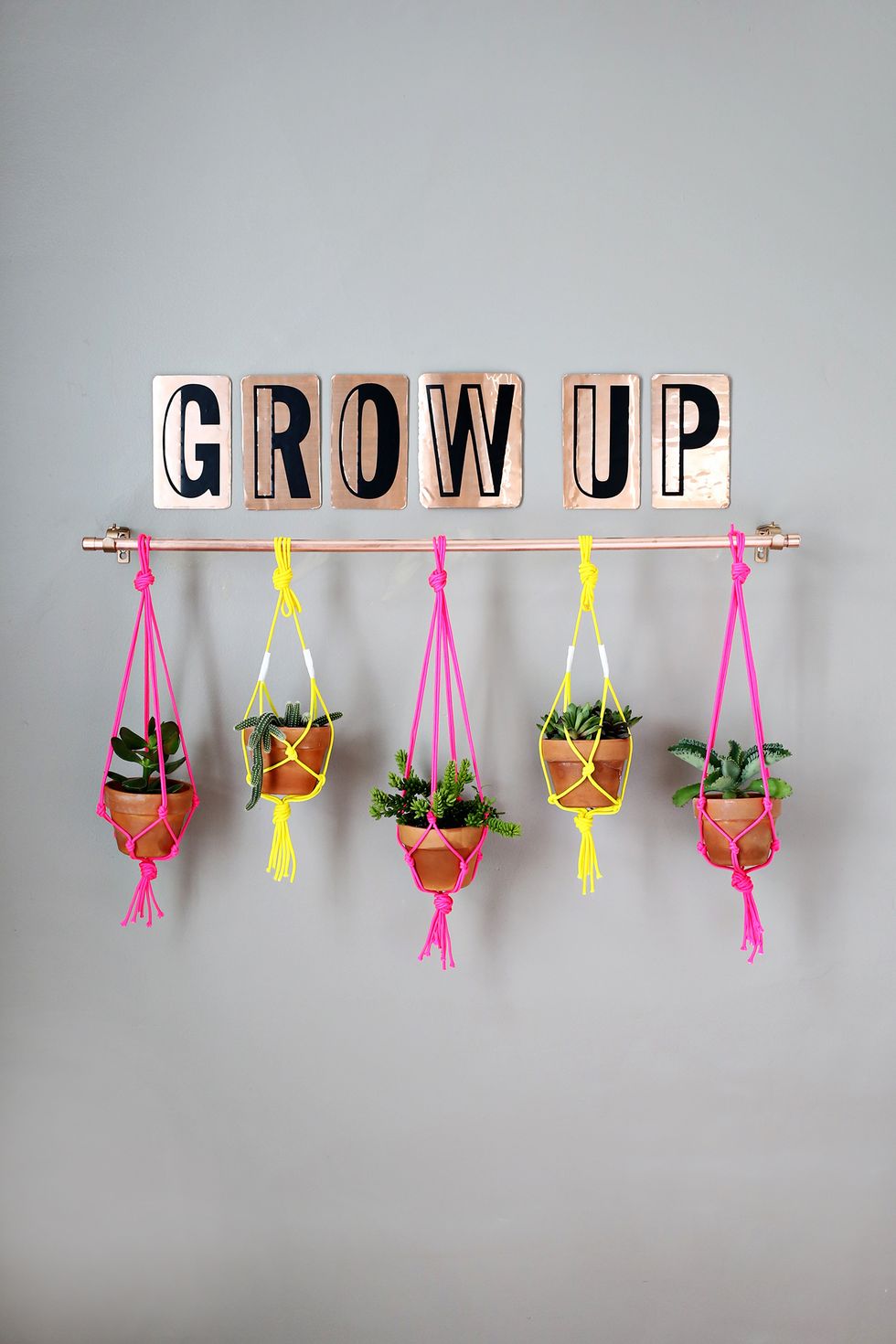 Make sure the pots are sitting securely in their rope sacks. After all of the effort setting it up, you don't want to have a mess of dirt and broken pottery five minutes later. We love the phrase this person used, but you can get creative and write whatever you want.
Fence Gardening with Tin Cans
If you have a fence, take advantage of the space and turn it into an easy plant hanger. To make this, get some tin cans, spray paint, a hole puncher, screws, soil, and flowers. This will work best with a wooden fence…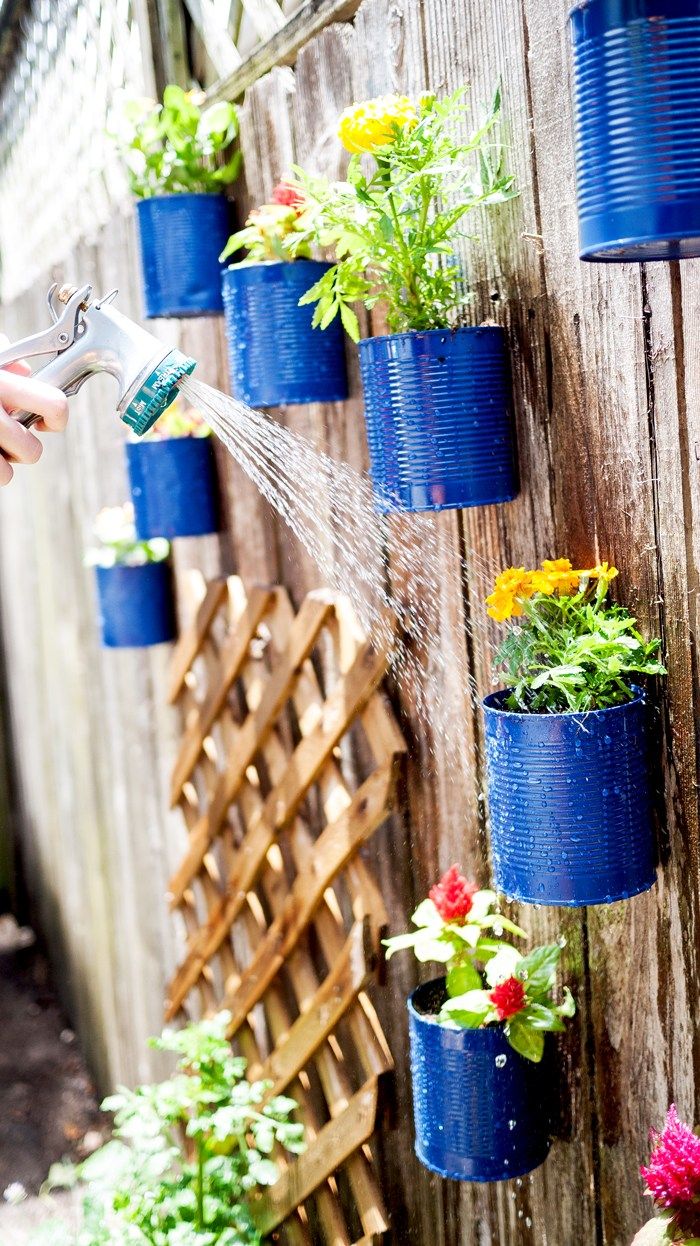 Punch holes in the bottom and a few on one side. Then, spray the tins, or just peel off the labels if you want a more natural look. Finally, attach the cans to the fence. Fill the cans halfway with soil and add some flowers to them.
Contemporary Kitchen Garden
There are few things more satisfying than being able to chop off some fresh leaves without the stress of going to the supermarket. Yes, you can have a mini garden in your kitchen. If you love to cook, this hack is for you.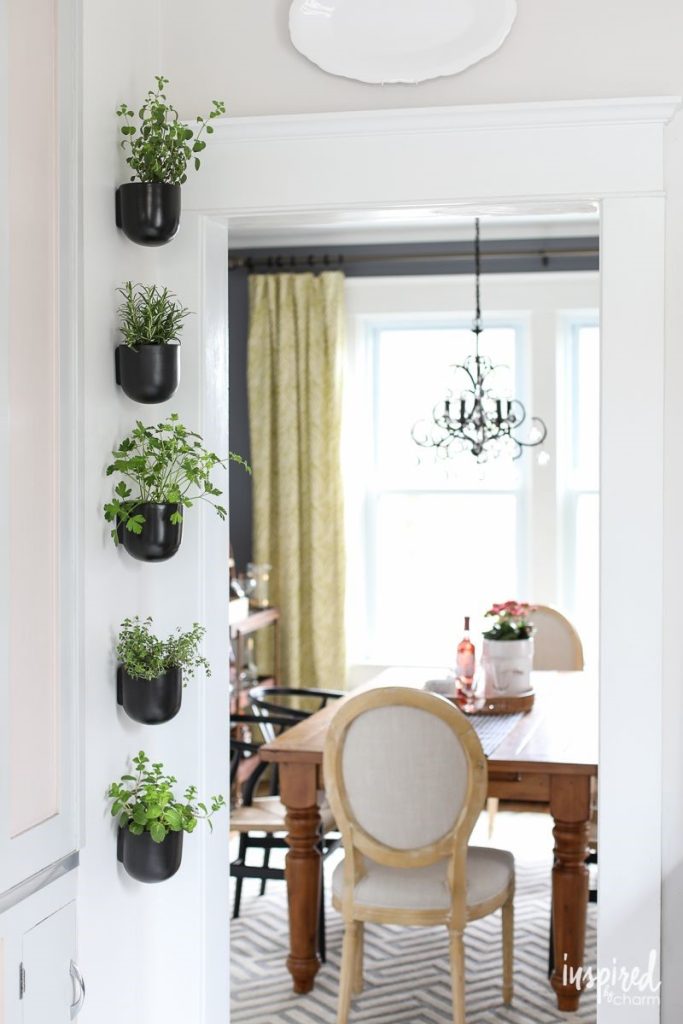 The major thing you need is a ceramic wall planter — or, multiple if you want a wider variety of herbs. They can go anywhere you want, whether it's in your kitchen or a nearby hallway. Just make sure that they're easily accessible.
Wooden Pallet
Wooden pallets are a staple when it comes to DIY projects. You can get them for cheap, or free, and there's no end to what you can create. A genius way to recycle old pallets is by using them as a wall for potted plants.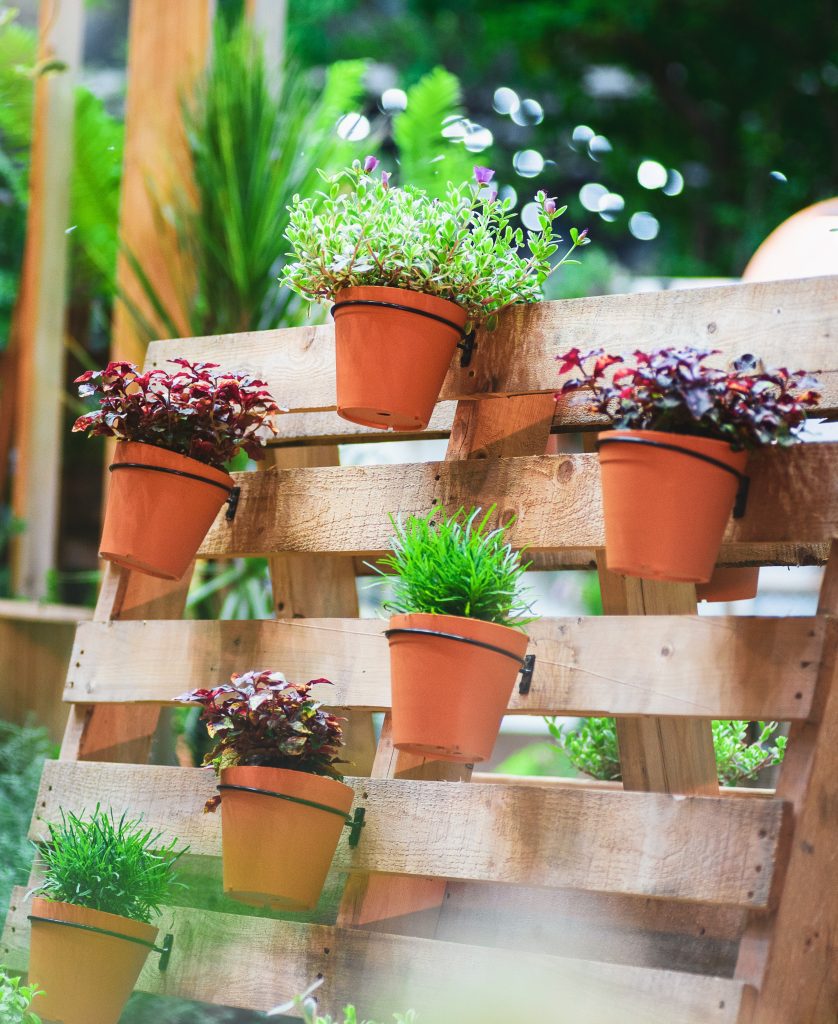 For this, you'll need some brackets to hold the pots. Leaning a pallet against the wall will save you space while still providing plenty of potting areas for your plants. Make sure that the pallet is stable and the pots are properly fixed to it.
Easy Vertical Garden
With a needle and thread, you can make this DIY vertical hanging planter. Just get some landscape fabric, rope, and a bar for hanging it up. This DIY planter is customizable, so you can make it fit the size and shape of whatever space you want it in.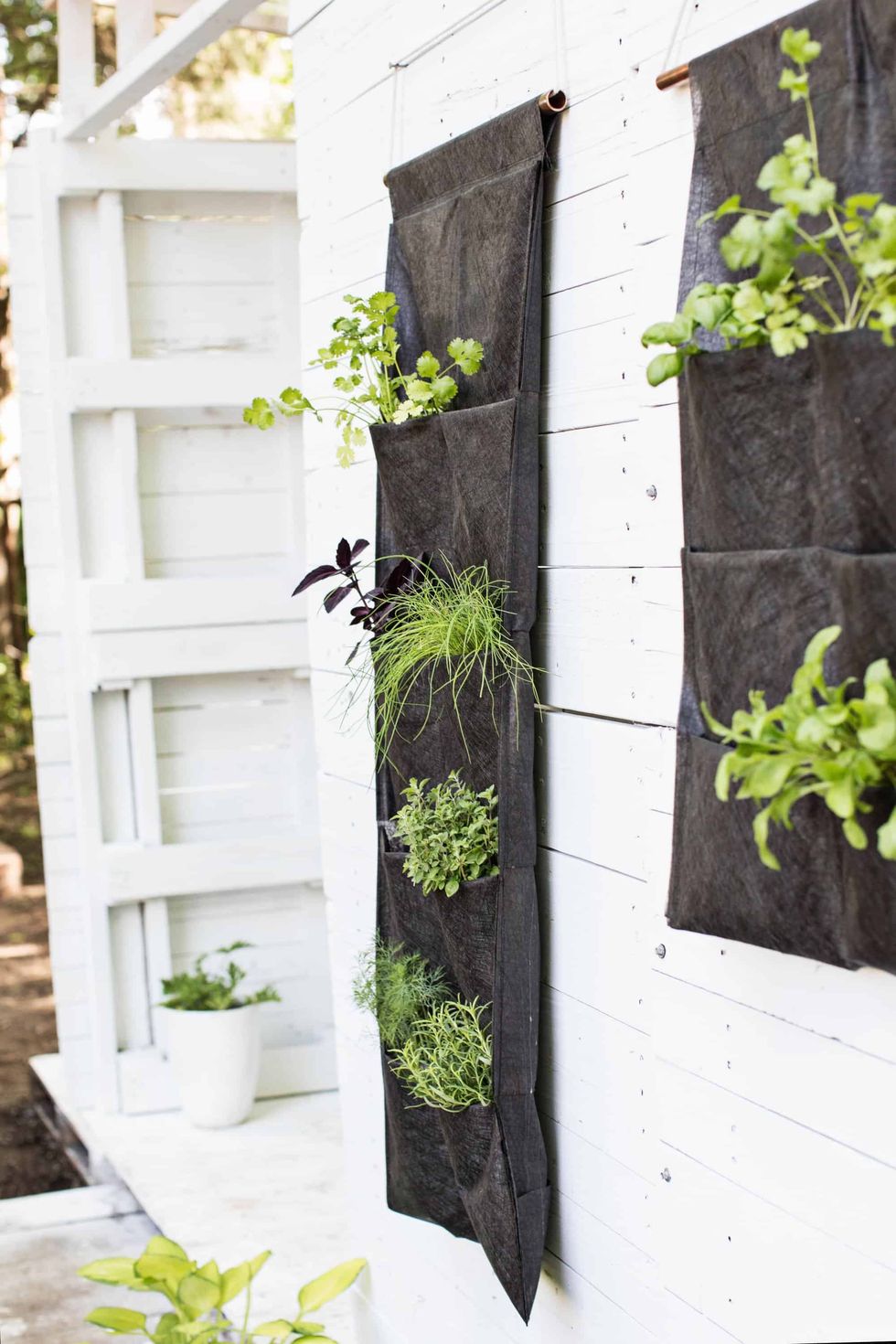 Cut some squares with the landscape fabric and create pockets to place your plants in. Have a loop at the top to thread the pipe in and hang it wherever you want. You can use a coco liner to wrap the root of each plant so it retains water.
Sturdy Hanging Planter
If you're not sure of the kind of planter to use, this plywood hanging planter is always a safe bet. It's simple enough to fit in anywhere, and it instantly adds a homey feel to any room. It works both indoors and outdoors.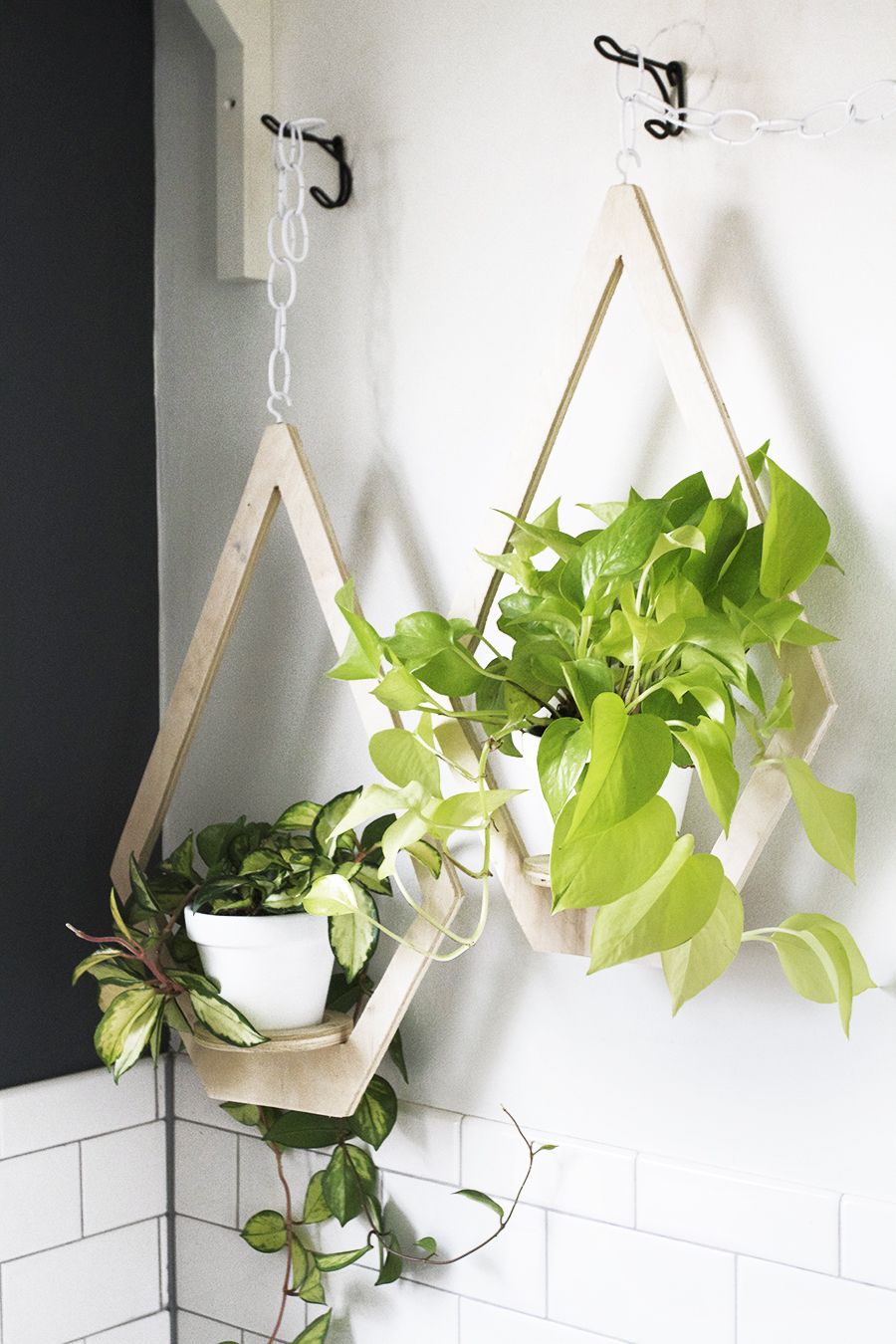 Plywood is sturdy enough to hold the weight of heavy greens, so don't worry about it dumping soil everywhere. If you want it for outdoor use, consider adding a waterproof sealant to keep it looking good in every weather condition.
Trellis for Privacy
If your neighbor's patio is too close to yours, take advantage of your green thumb for some privacy. Use lattice sheeting to create a frame blocking the two spaces. The frame will serve as a mini wall for growing up your vines.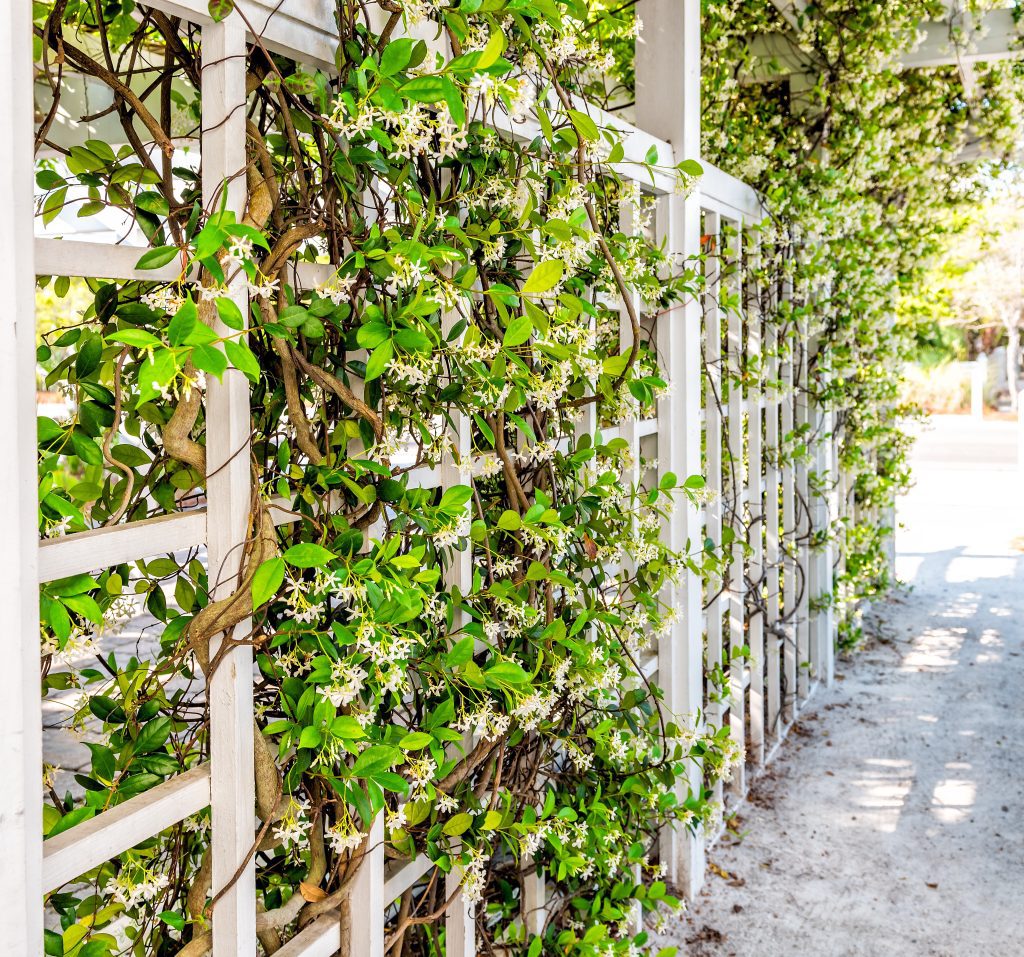 The vines help to provide additional screening and soften garden's look as well. But in case you are not okay with crafting a frame, you can use a pre-made trellis. Either works just fine, and they hold the vines well.
Brass Hanging Planter
If you don't want bushy leaves and prefer a small succulent, try this brass ring hanging planter. It's simple yet chic, and by hanging it on the wall, you can save space on your table. To make you, you need gold hoops, pinewood, cotton cords, eye hooks, and scissors.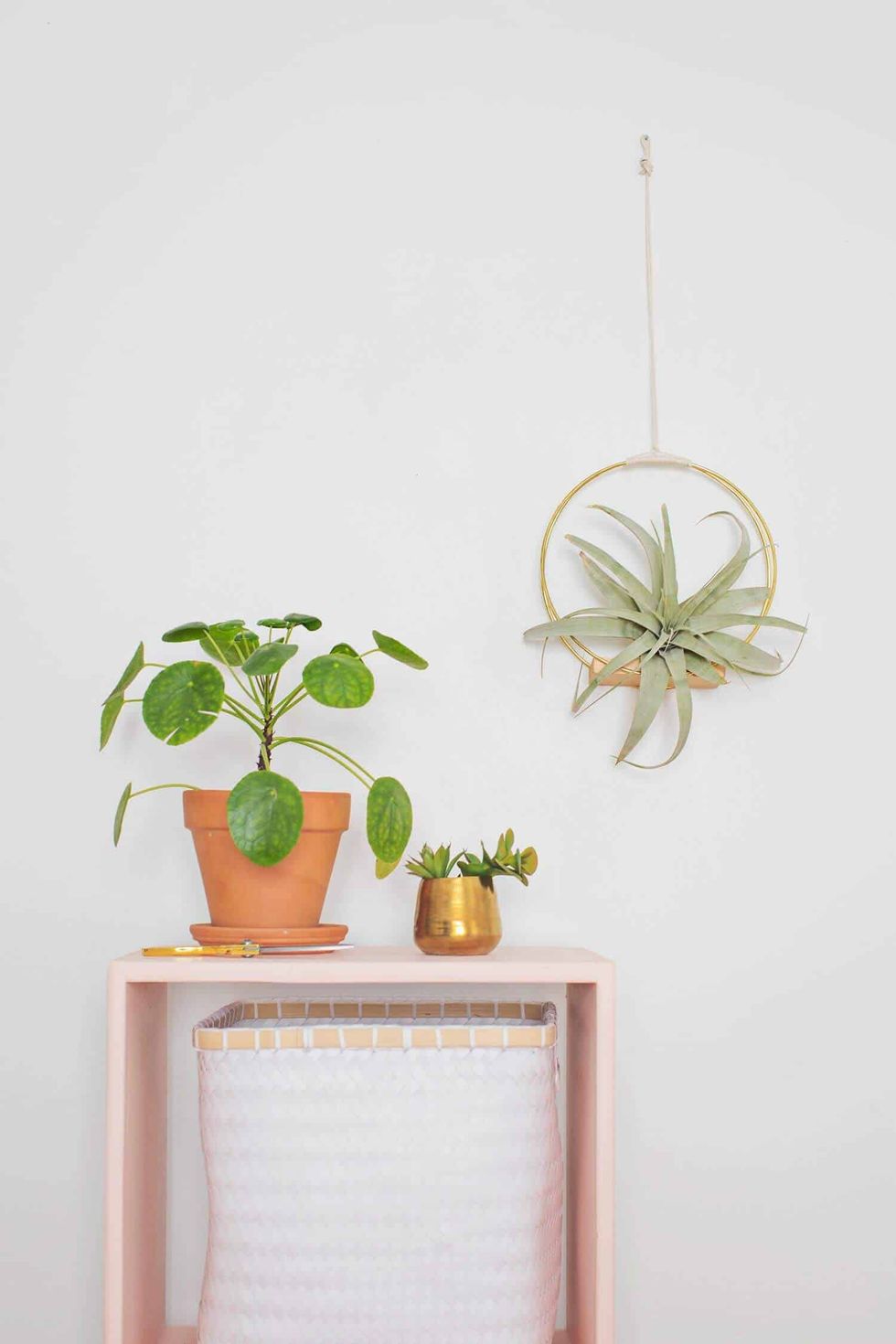 Create a small planter box at the base of the rings, then screw it all together. Wrap the cord around the top of the rings and secure it to the wall. This delicate DIY project is ideal for hanging on the wall near reading areas, kitchens, and other rooms.
Vertical Garden Chain
A way to spruce up your apartment balcony is by recreating this clay pot vertical garden. Just get some pots, rope, and secure hooks to safely attach it all to the balcony, or wherever you want to hang your plants.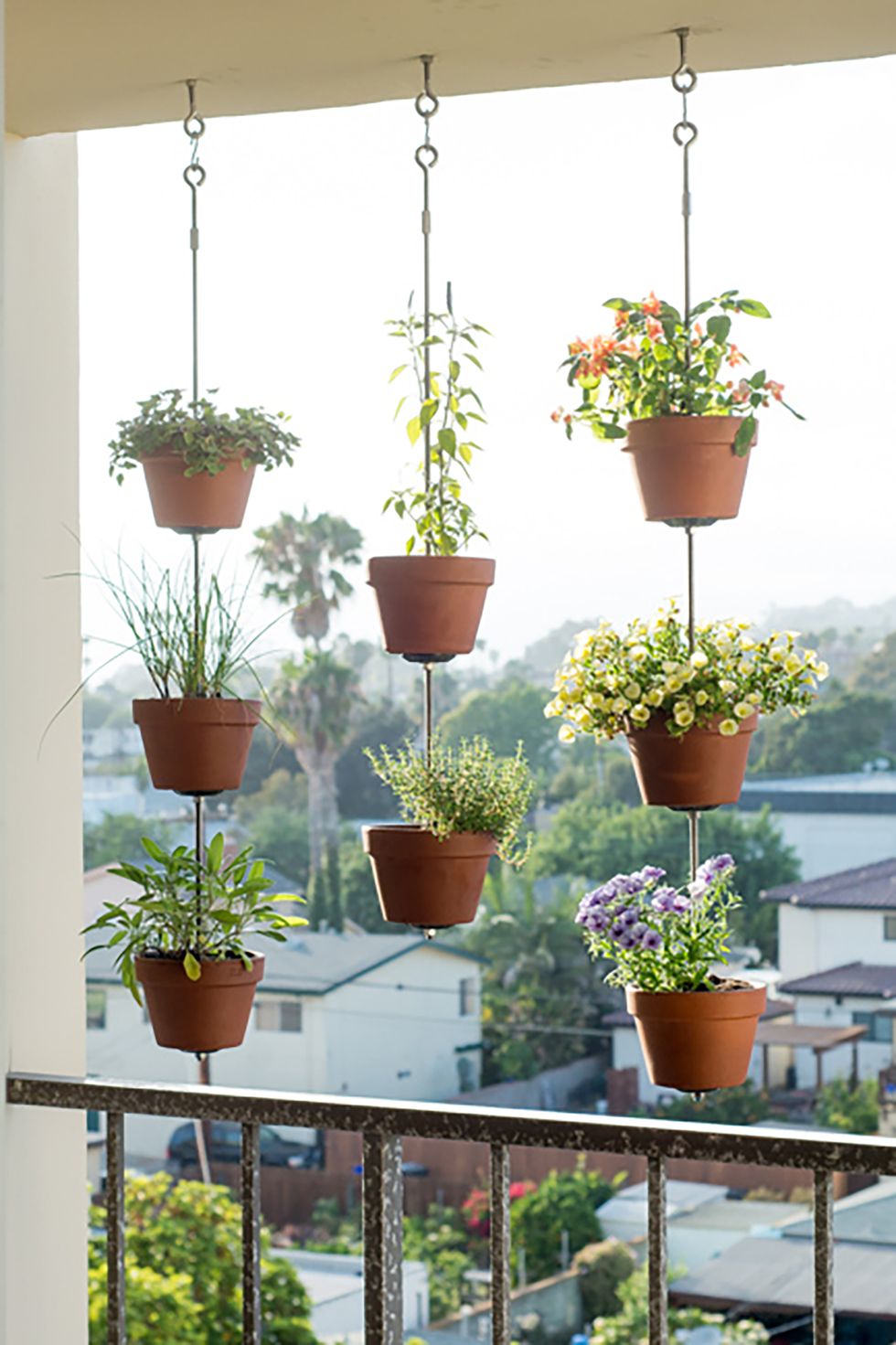 It doesn't take up too much space, so this DIY is perfect for smaller living areas where efficiency is key. Whether you want it indoors or outside, hang the pots somewhere you won't bump into them. That's a surefire way to make a dirty mess or break the pots.
Wood and Leather Trellis
Trellises aren't just for creating some privacy in your garden; you can have some in your home to maximize space with a vertical garden. With wood and leather, you can build your own rustic trellis to add some greenery to your home.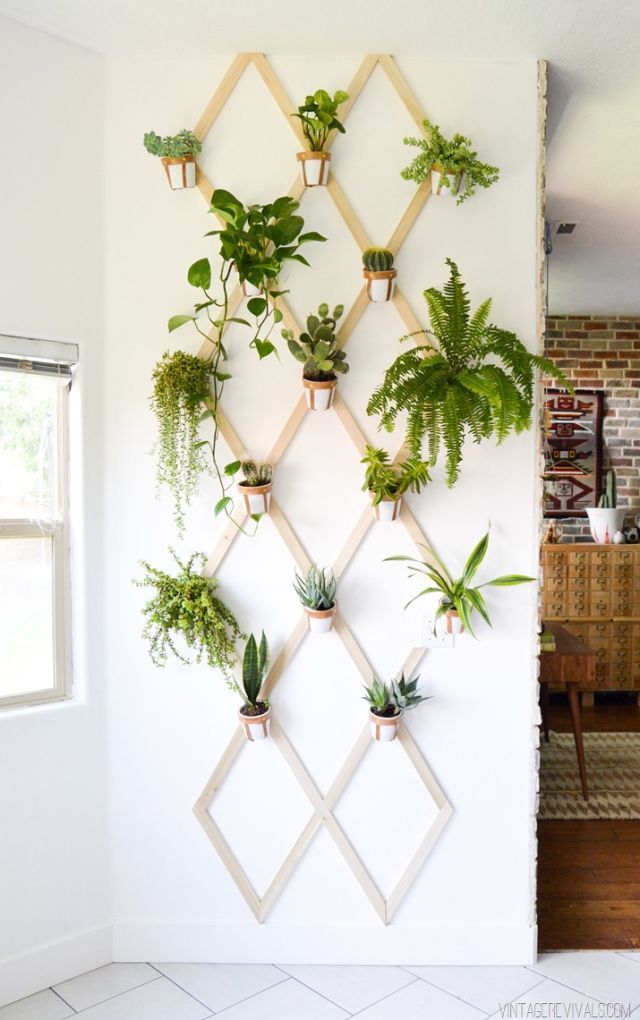 Instead of brackets, this kite-shaped trellis utilizes leather straps to hold the pots. You can use any sturdy material to create a pouch for your plants. If you use this indoors, make sure the plants won't drain out onto your floor.
Vertical Flower Pots
If you're in the mood for something a bit funkier, you can try this stacked pot planter. You'll need some pots and a long piece of rebar to hold it all in place. It seems complicated, but with a bit of patience, you can have a stylish yet stable vertical garden.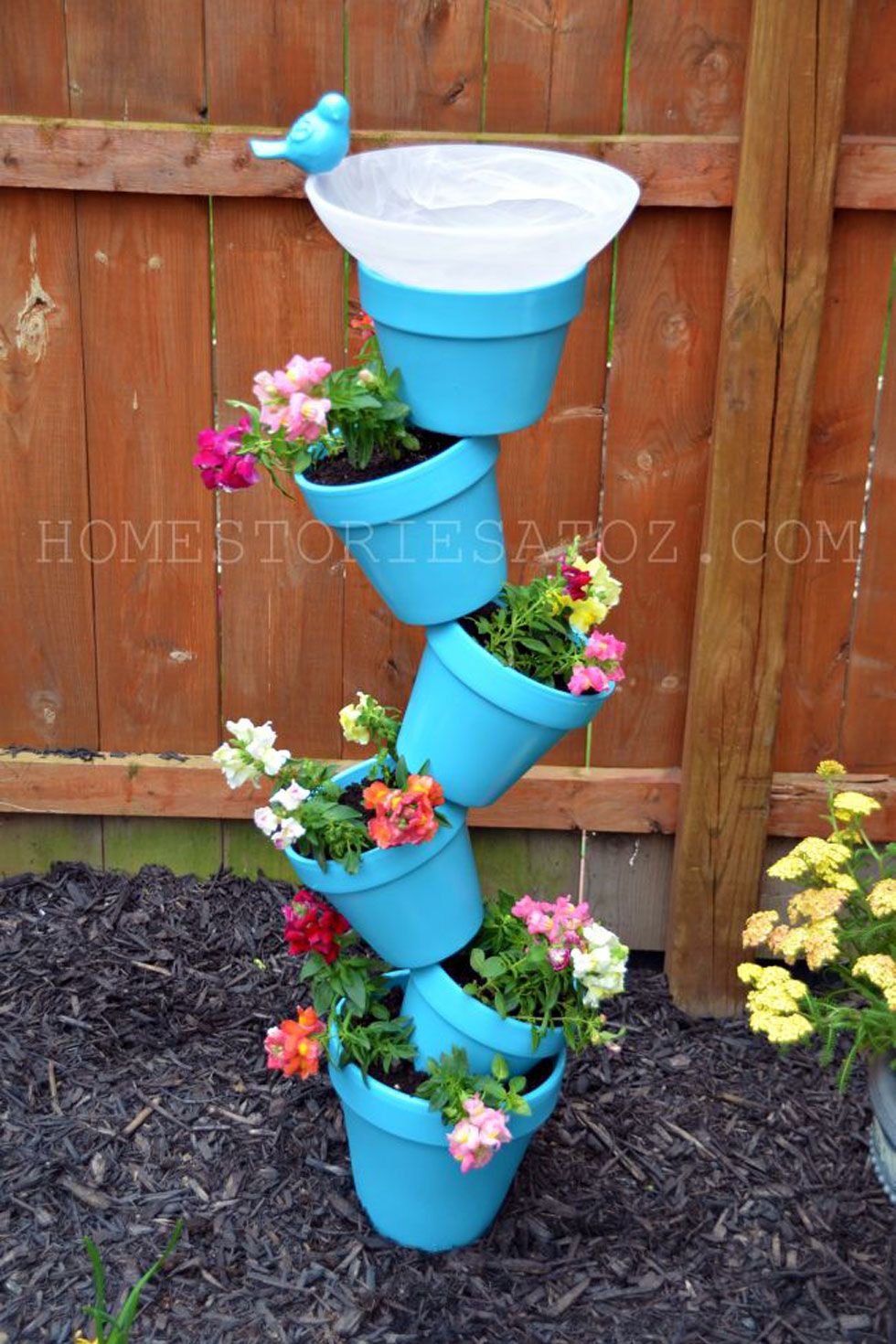 Don't stack it too high so that it doesn't topple over. Give it some more life by adding a birdbath at the top. This planter is creative and unique, and will surely get your friends talking about your green thumb and DIY skills.
Pockets
You can make hanging pockets with other materials than generic landscape fabric. This person used Wallygrow, but there are plenty of options to recreate this wall pouch garden. You can make them as big or small as you want, depending on how much space you have.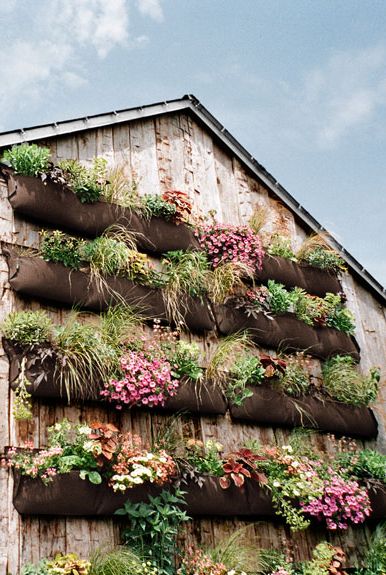 When setting up your vertical garden, make sure you pick the right side of the house or fence. Some plants can't get enough sun, while others like it a bit shadier. It would be a shame to set everything up only to discover the wall doesn't get the right amount of sun or shade.
Indoor DIY garden
An easy way to build your own vertical garden in the kitchen is by using curtain rings and wooden rods. This is perfect if you have a window in front of your sink. It'll allow the plants to get enough sunlight and keep things in easy reach.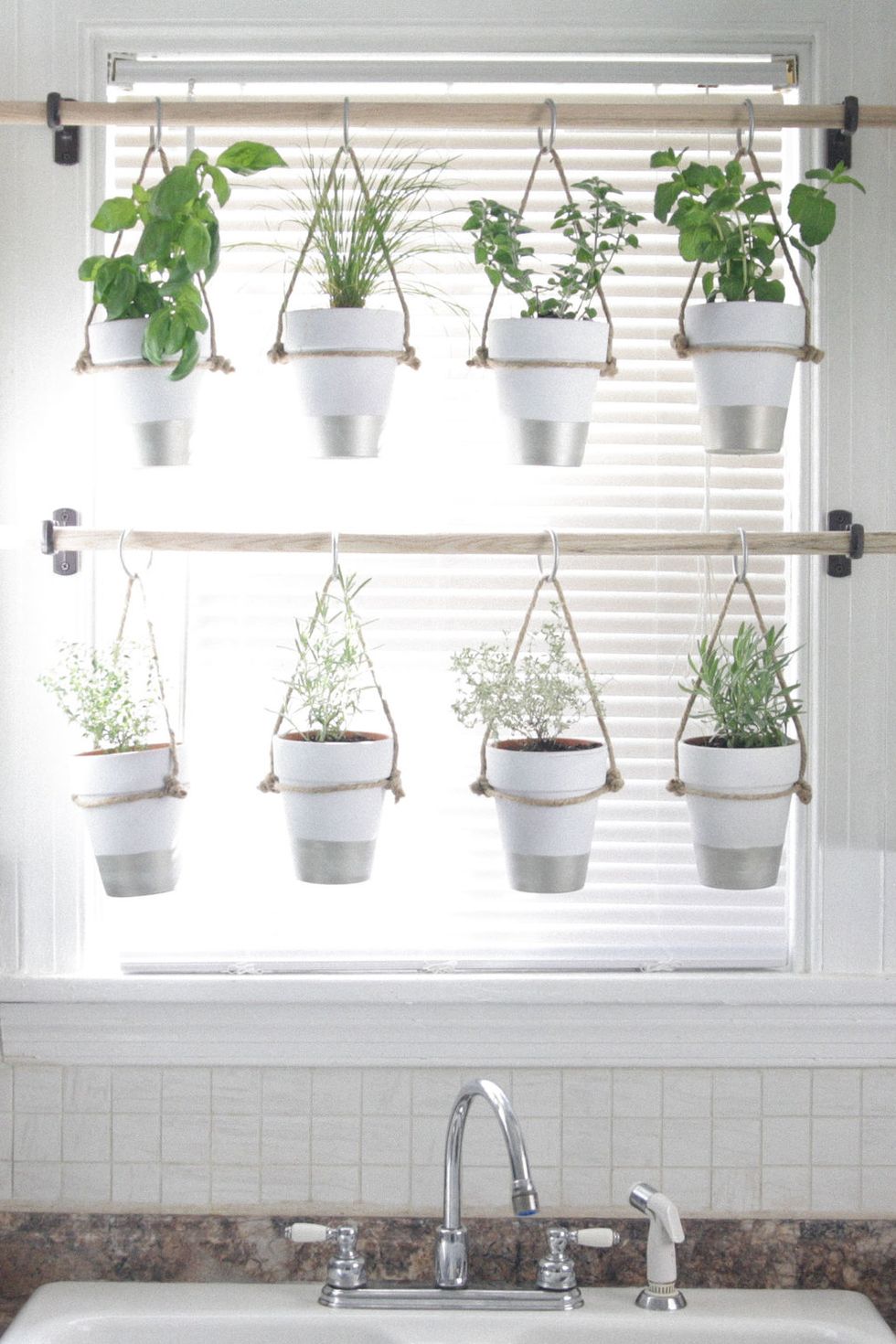 By mounting the rods across a window over the kitchen sink, you don't need to worry about making a mess with your kitchen plants. They'll drain right into the sink! And watering them is easy with the faucet so close.
Chicken Wire Masterpiece
With so many options, it can be difficult to choose the kind of vertical garden structure that suits your needs best. If you have an empty frame, this is the perfect hack for you. It's suitable for every home and easy to make.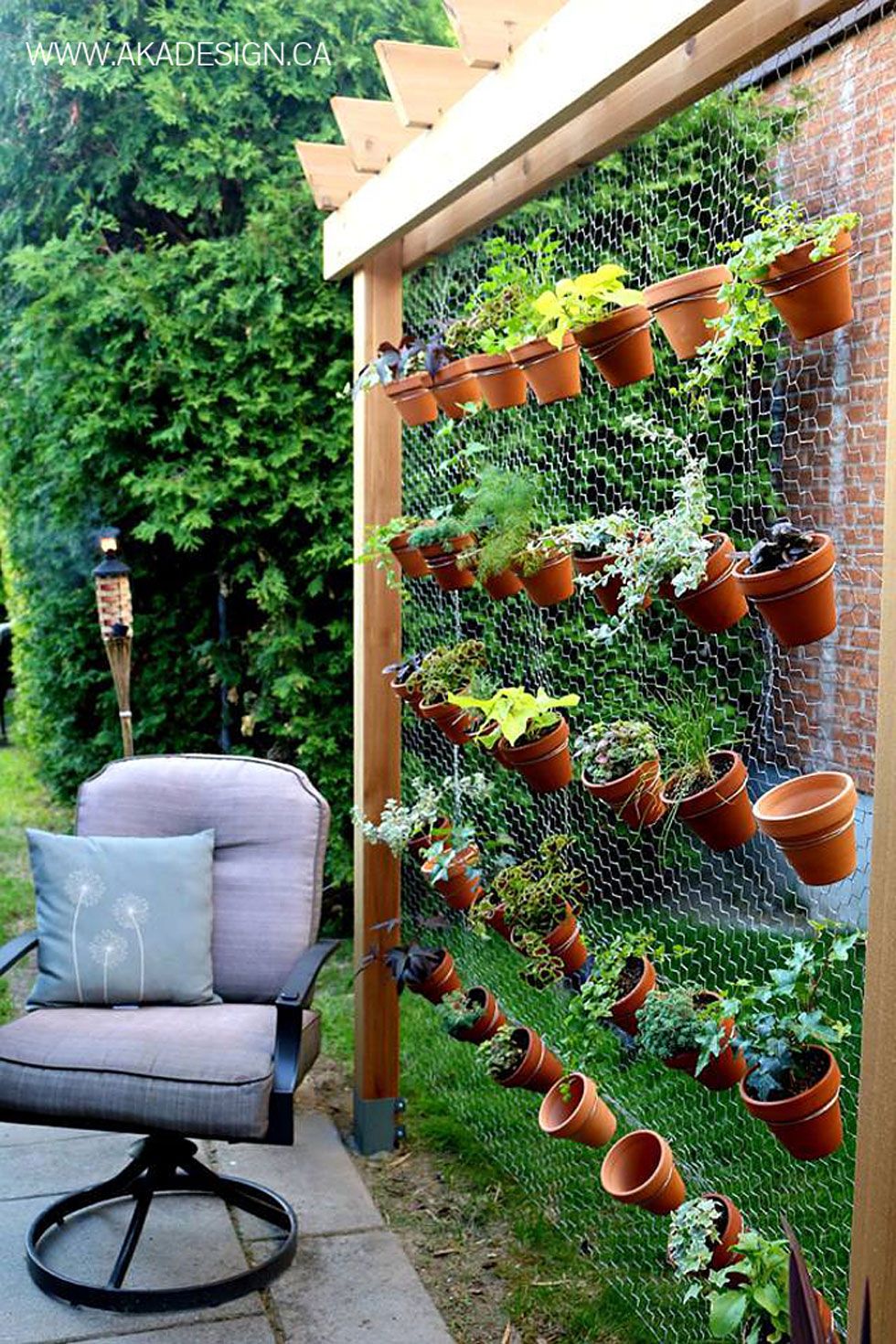 The entire garden structure was built by attaching chicken wire to a wooden frame. It can accommodate dozens of small pots while also leaving enough room for healthy growth. On a cool evening after work, feel free to relax in this beautiful garden.
Unique Wall Planters
Cooking becomes extra easy when you can easily cut some fresh herbs from your window. To make your own wall planters, purchase a lightweight pot and paint it. Next, drill a hole by the side and measure to the hook.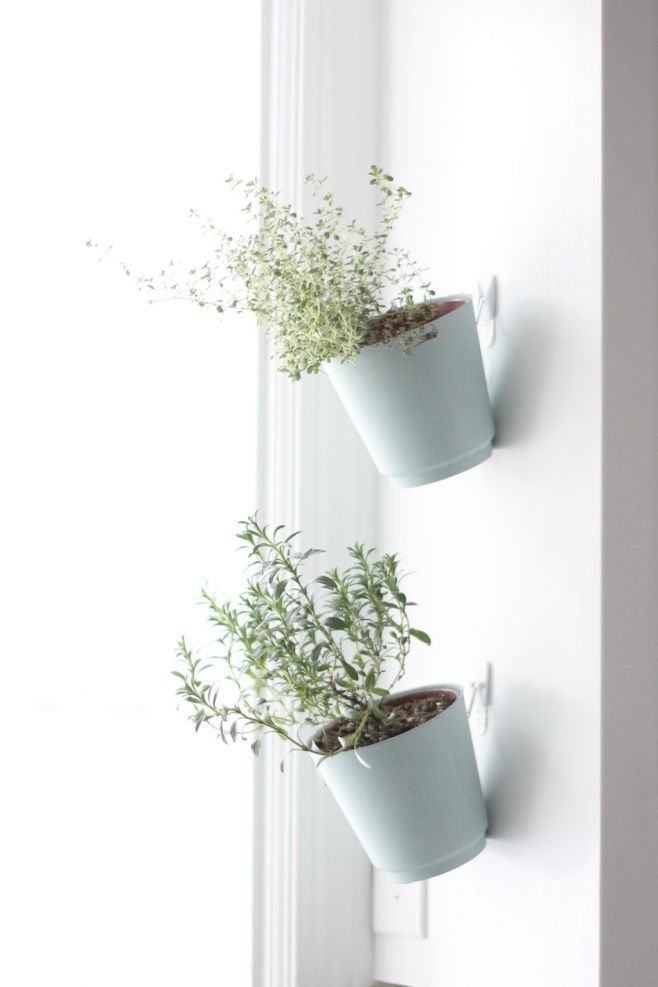 Fasten the hook according to the package's instructions. When you're done, hang the pot and put the herbs in it. Depending on where you hang it, when it comes time to water your plants, you might want to take it off the hook and let it drain in the sink.
Grid design
If chicken wire isn't your style, you can choose a different shape for your wire plant hanger. For example, the square frame below is a bit more classy for indoor plant decor. Add gridlines to give it a modern look and feel.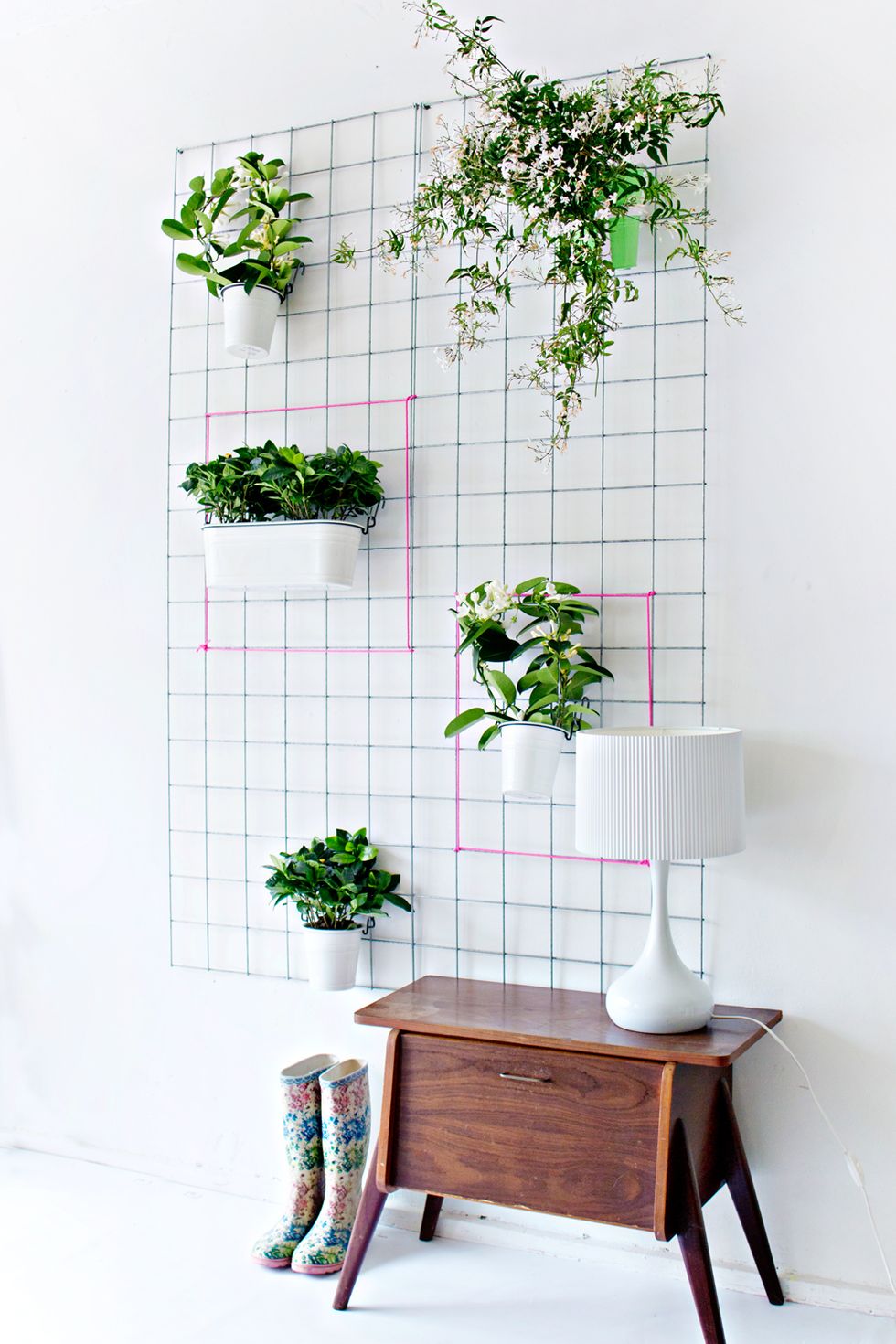 Use S-hooks to pin down the pots to the wall and stuff your pots with soil and your choice of plant. Check the angle of the pots so that the plants don't tip out or lean too far back, where they won't show their green leaves as well.
Recycled Dresser
Upgrading your furniture can be a hassle, especially if you're someone that dislikes throwing things away. If you want to upcycle an old dresser, you can turn it into a planter like the one below! It'll make your home green, both with plants and recycling.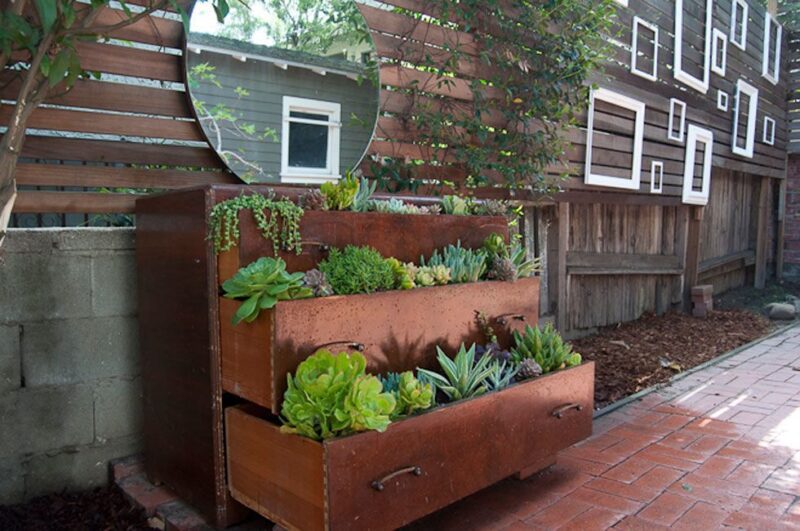 Don't open the drawers all the way; with them progressively more drawn out, you can create a step-like effect that allows your plants to freely grow. If your dresser has a built-in mirror, keep it in for some extra spice.
Wooden Crates
Growing your own food has a lot of advantages. Apart from it being cost-saving, you will always have fresh and healthy foods at your disposal. Having only a little free space should stop you from growing your own veggies, as you see here with this vertical planter.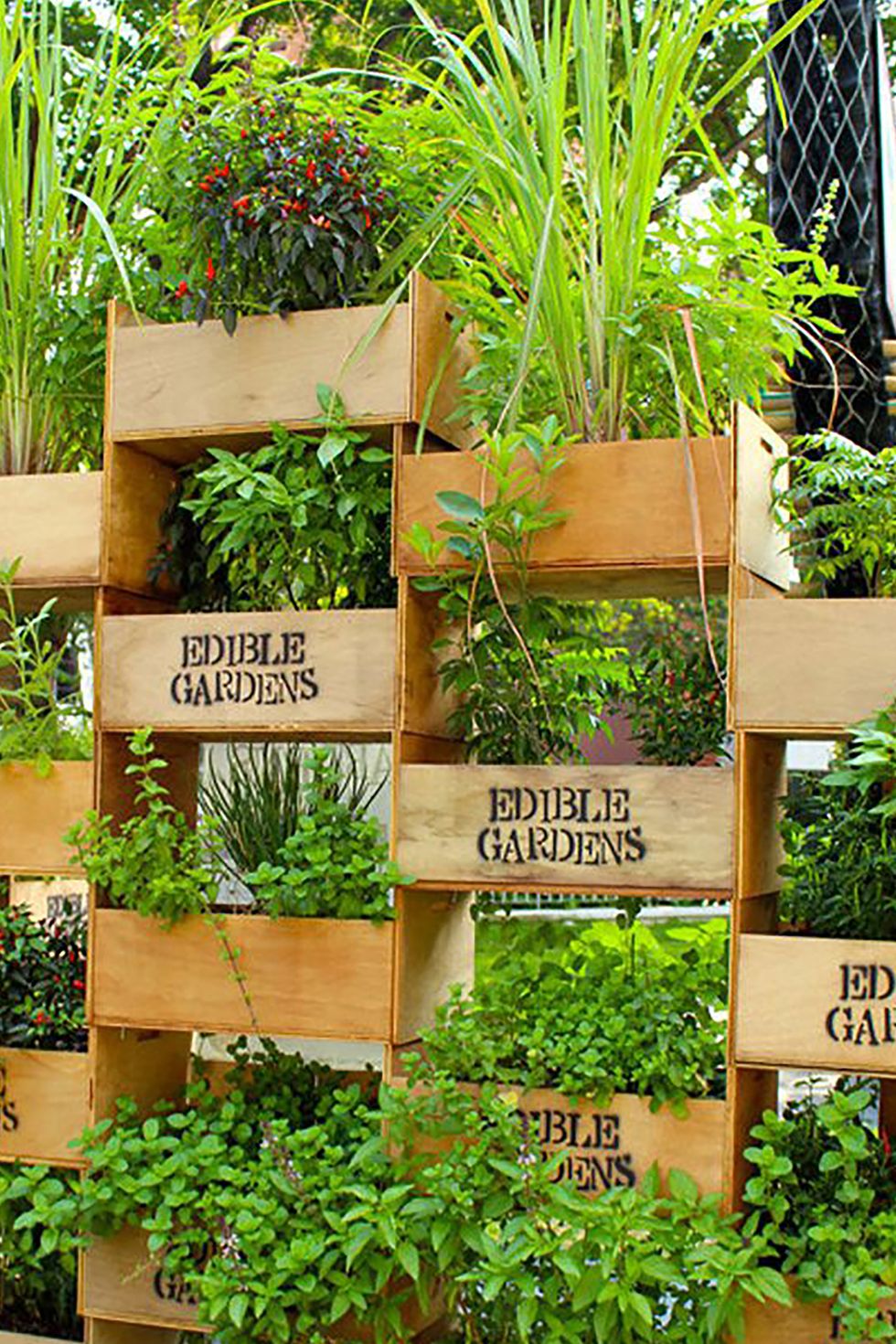 Wooden crates are perfect for building a vertical planter. You can piece as many together as you want, and make it as long or tall as you need. Just make sure that everything is firmly attached, to avoid toppling greens.
Vertical Hanging Planter Hack
With a 5 dollar hanging planter, you can create an incredible vertical garden. You'll also need materials like a sturdy rope, flash finish paint, and wash tape to get the job done in no time. And don't forget some soil and seeds.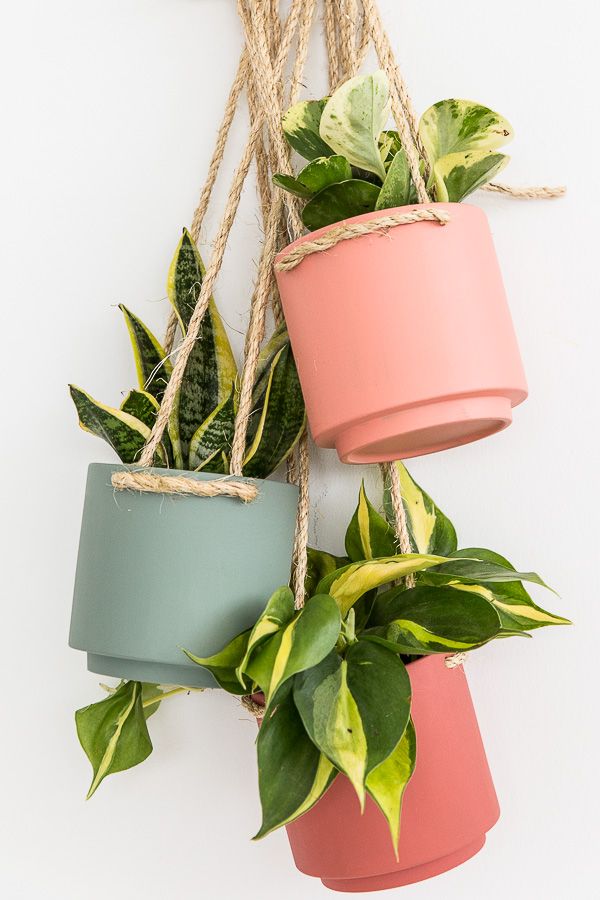 Fix the rope through the holes on the hanging planter. If you want to hang several on the same hook, ensure there's enough space between each rope for easy hanging. Hang them one after the other and insert the flowers to enjoy the beautiful view.
Aesthetic Planter
Basically, this vertical garden orientation allows you to grow a whole bunch of herbs, flowers, and veggies just on the side of your home. It's preferable to use cedarwood when setting up this vertical garden because its natural decay-resistant property.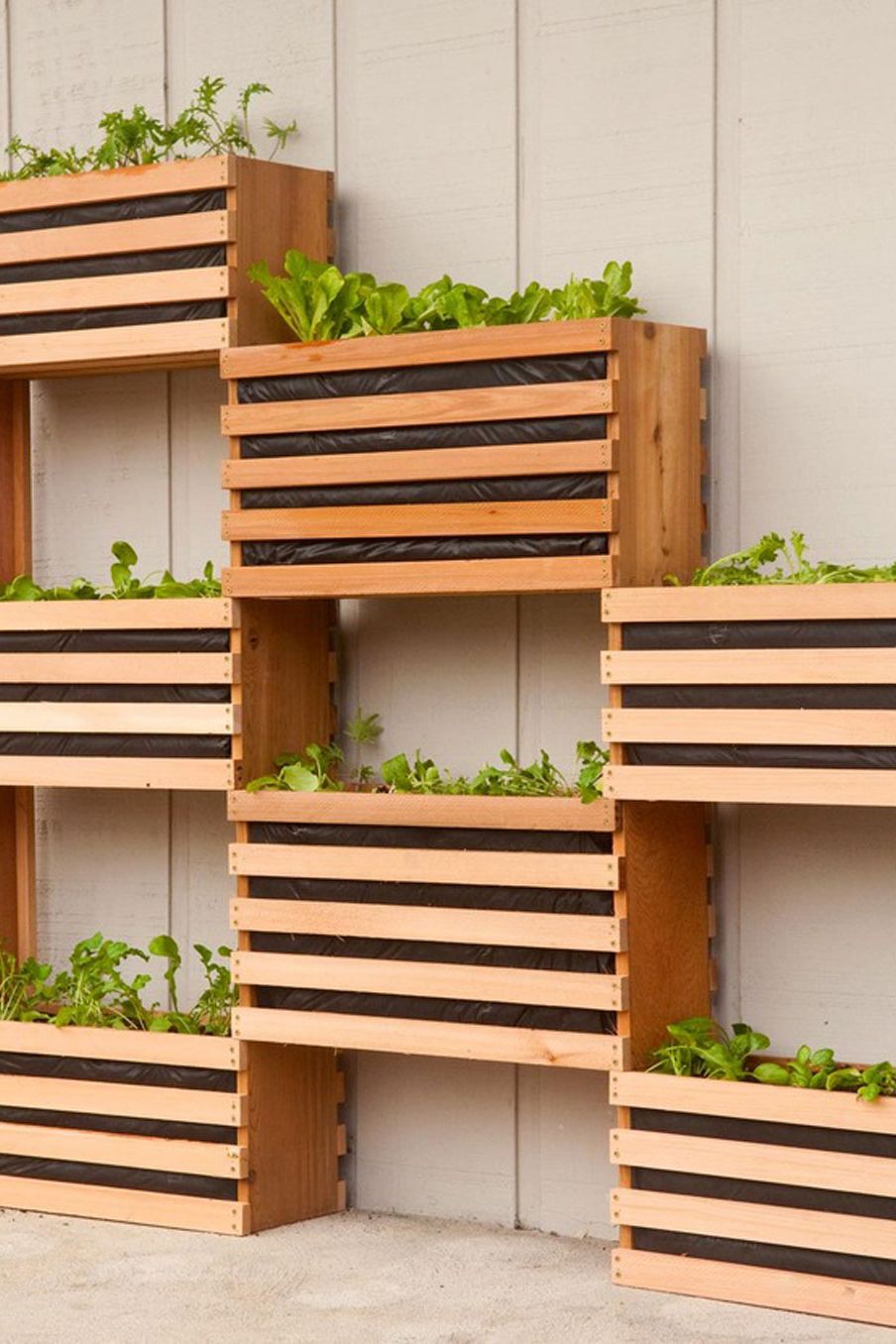 Pressure-treated lumber contains chemicals that can leach into the soil where your edibles are growing. So get busy with cedarwood. Take the necessary measurements and get a clean, aesthetically pleasing vertical garden. You can customize the boxes the way you want.
Soda bottles
We're back with more upcycling. Recycling plastic bottles isn't as efficient as manufacturers lead us to believe. Instead, turn your empty soda bottles into vertical planters. Each bottle is lightweight, so you don't need to worry about the mass of the planter when creating this garden.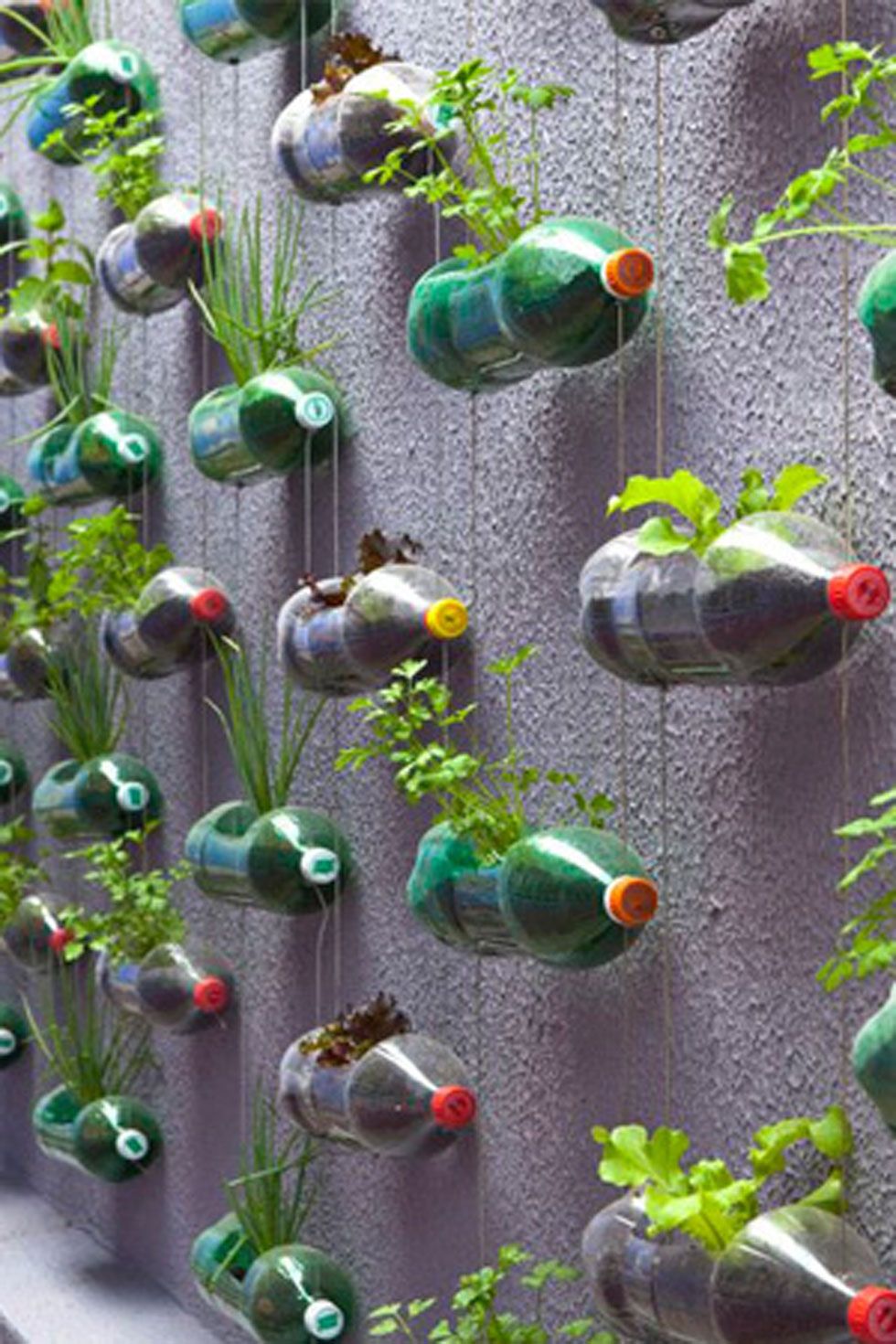 Set everything on its side, for wider planters. Poke holes on the underside of the bottle for your plants to drain. Attach as many together as you'd like for a full garden. You can even mix and match bottle types for some extra color.
Shoe Organizer
If you like the wall pouches but don't think you can sew them all together, you can use a shoe hanger as a pre-made planter pouch. Shoe organizers are perfect because they have segmented pockets that are big enough for plants.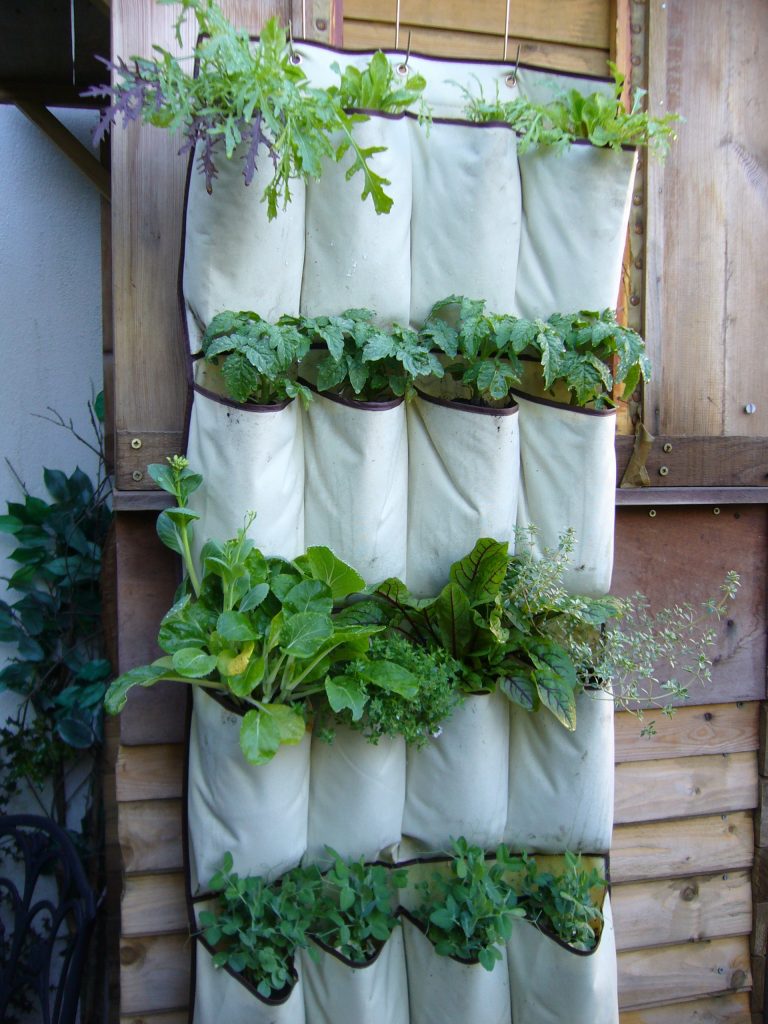 Before you turn it into a planter, pour water into the pockets to check the drainage. If it doesn't drain properly, make a few holes in it then add some soil before the plant. Lastly, keep a trough below the shoe organizer to collect all the water as it drains.
DIY Lattice Garden
If you like minimalist gardens, this might be the DIY garden for you. Lattice has a way of bringing a striking but simple difference to your garden. Put them in the right place in your home, and they appear as the center of attention.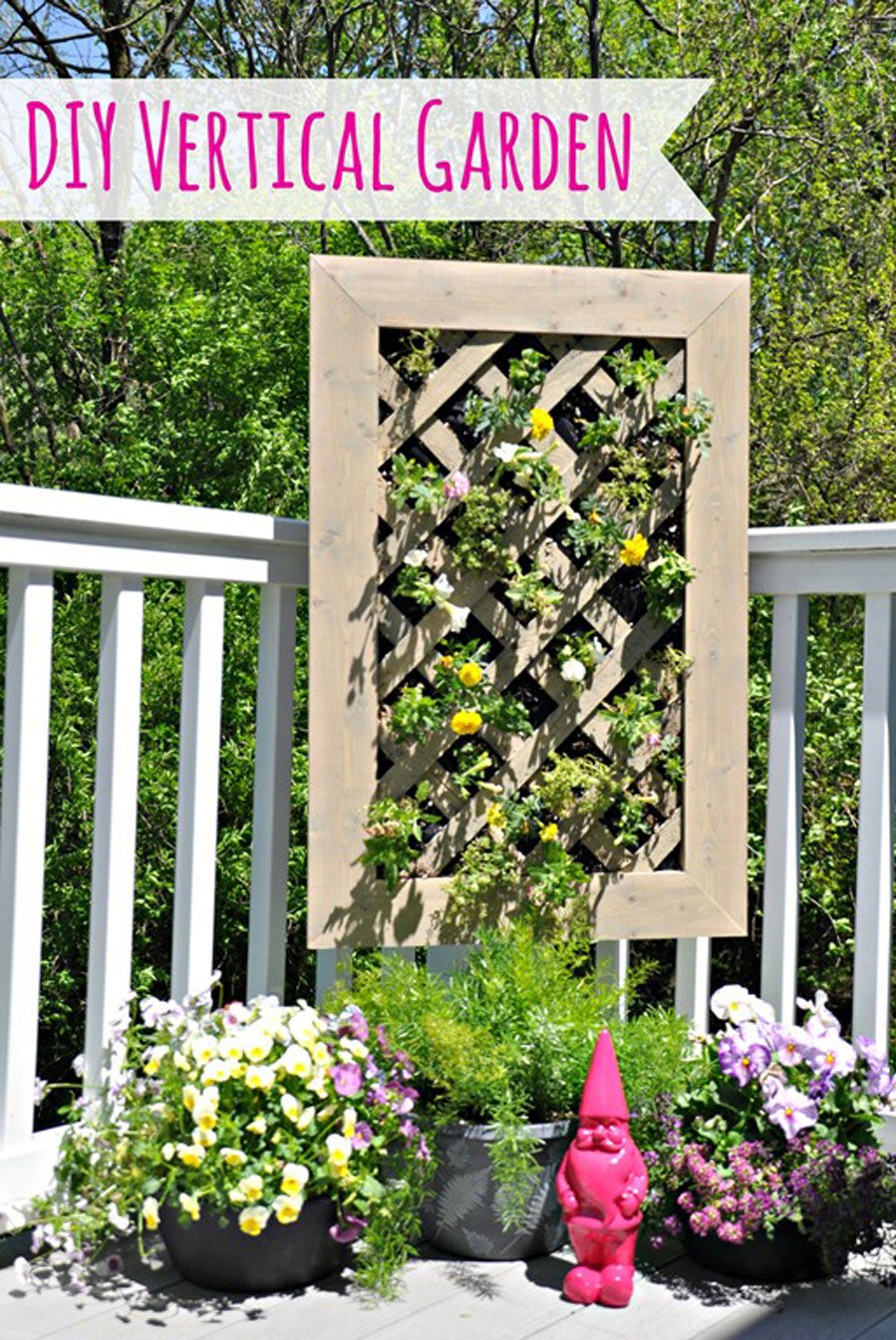 Beneath your lattice vertical garden, you can also add some other flowers. If you space it right, the drainage from the vertical garden will drip into the other pots. That way you don't waste any water. What a wonderful way to water your garden.
Strawberry Tower
When you're tight on gardening space, don't grow out, grow up. Use a vertical planter to make the most of any space. If you want to grow something edible, try making a strawberry planter. All you need is some inexpensive plastic piping and a clay pot.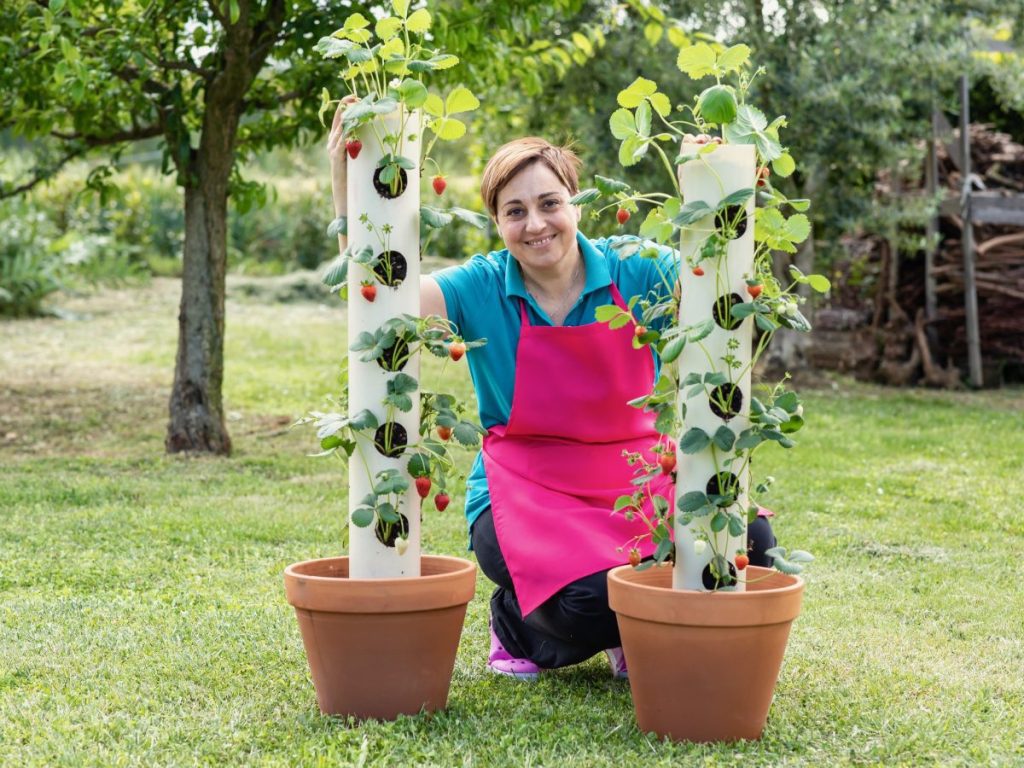 It can get rather heavy when you fill it all up with soil, so you should find where you're going to set it up before putting everything together. Find a good place in your garden; we recommend a nice sunny spot to make those strawberries grow!
Basic Wall Planter
An easy way to get your creative juices flowing is to try making a wall planter like this. The good news is that you don't necessarily have to be a professional craftsman to carry this out. Even an amateur (in fact anyone) can recreate this.
With some screws or nails, and wood glue, you can make it yourself with scrap wood. If you use ceramic pots, attach them with metal brackets to keep everything in one piece. You can paint the wood or leave it plain if you want a more rustic look.
Wall-leaning Garden
With some cedarwood and screws, you can make your own simple vertical garden. Make your own or use an existing frame for this DIY. Either way, it's simple enough to piece together that even beginners can make one. Check it out: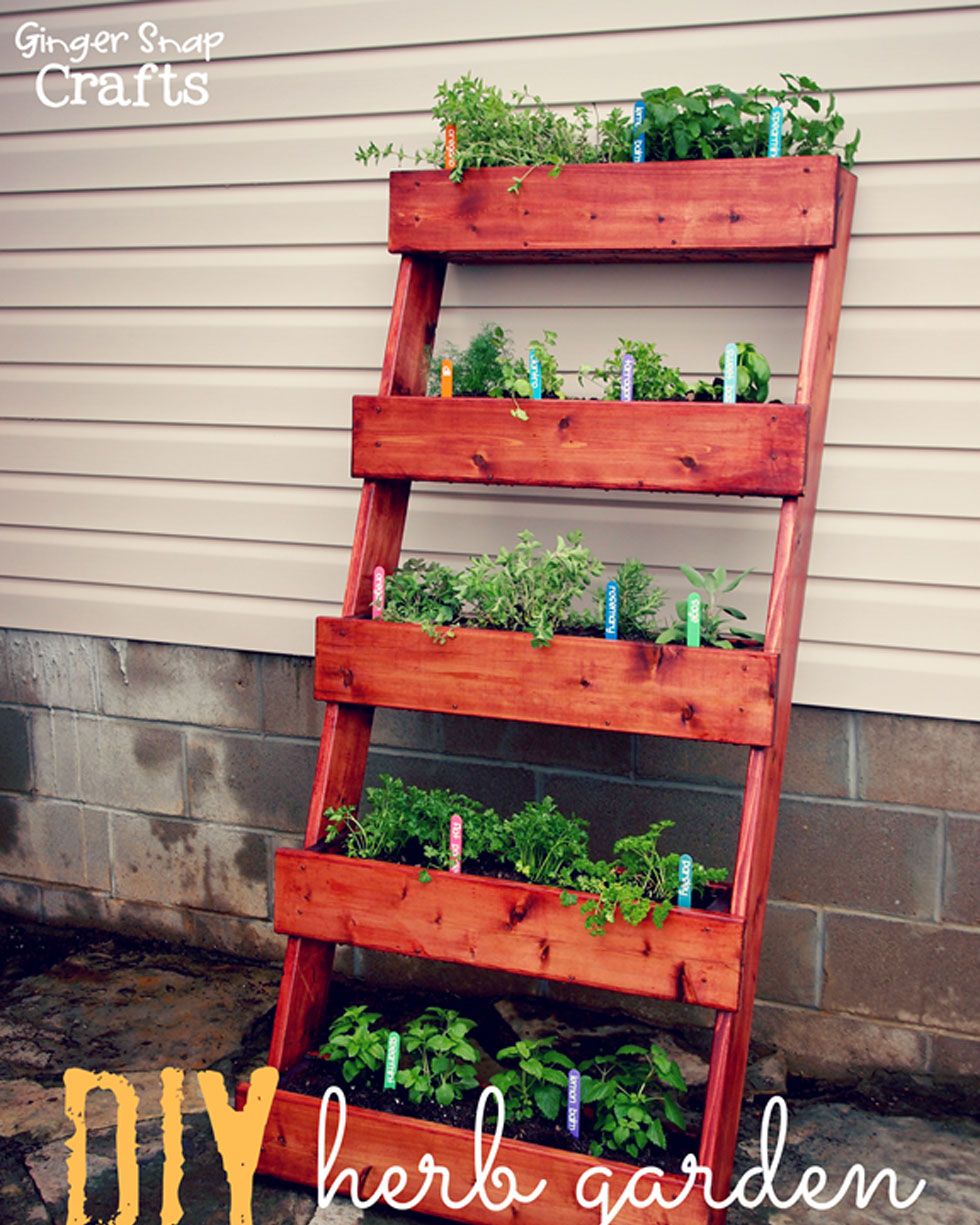 Consider adding a sealant to the wood to prevent mold growth. You can use this setup to grow your own herbs, or just add some colorful flowers for a decoration piece. Just make sure that it's well-placed against the wall and won't slide off.
Gardening Pots
Hanging pots are basically the simplest form of vertical gardening as you only need several pots or containers. Poke holes in the pots to provide drainage; then, fill them with soil and get planting. It's also important that the pots face the sun.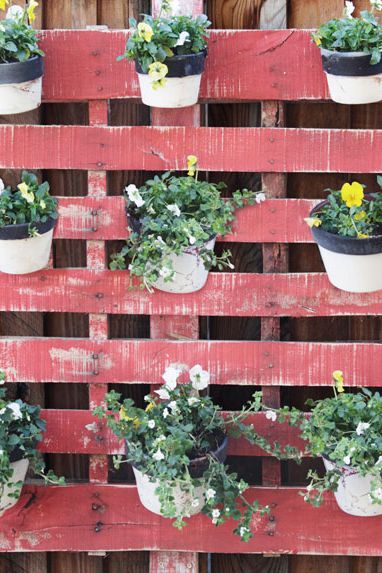 You may want to add pallets or fencing for added support, and that's fine. Providing your planters with adequate support is very essential so they don't get blown away in bad weather conditions. You don't want to lose all your hard work to a strong gust of wind.
Special Hanging Buckets
In truth, this hanging planter looks astonishing in an understated way. Beautiful pieces like this don't require lots of materials to make them. All you need are tin buckets, hooks, a cabinet door, and a sawtooth hanger. Simple enough, right?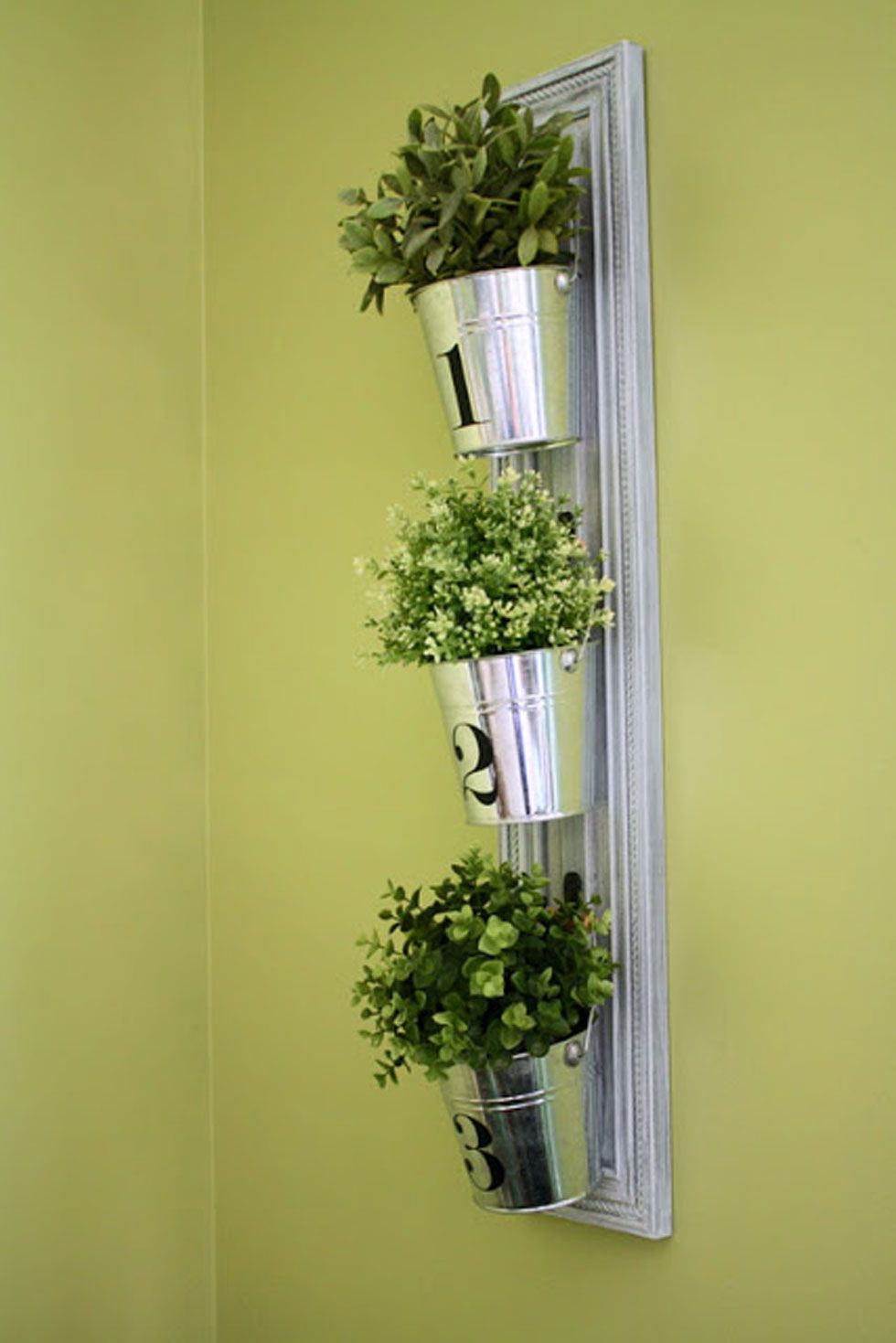 Nail the cabinet door to the wall. Fix the hooks and attach the buckets to them, then add some gorgeous flowers. Once you have all your supplies ready, piecing it all together should only take a few minutes. Decorate the buckets for an extra personal touch.
Gutter Garden
Here's another take on vertical gardening. Old gutters are very useful for growing plants. If you're planning to upgrade your gutters, save the old ones! Given that gutters are designed to redirect water, and therefore are waterproof, they're perfect for plants.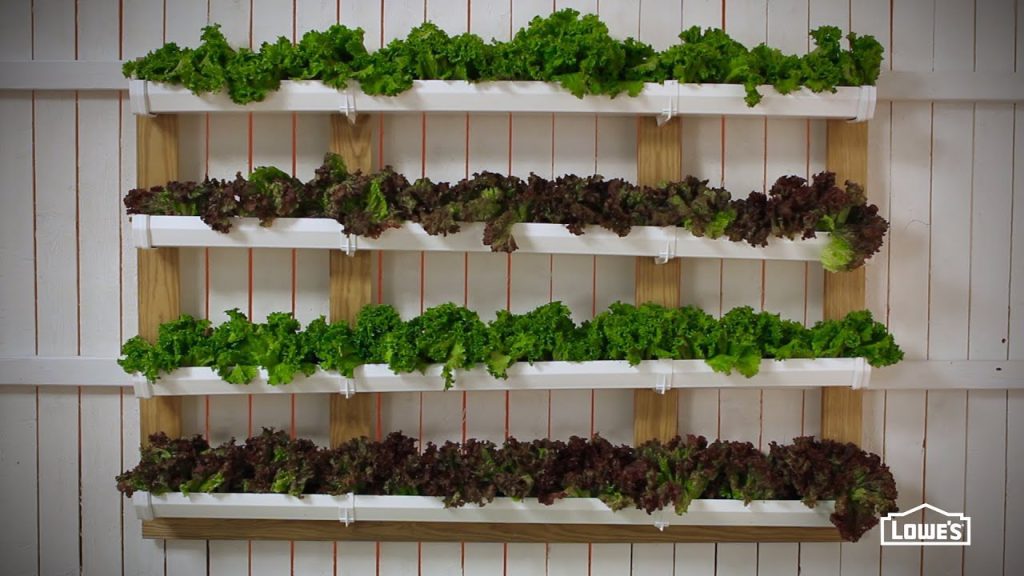 Attach the unused gutters to your wall or fence and start growing plants in them. Most importantly, drill some holes beneath them to allow water to drain off. It's a great way to add a creative touch to your vertical garden.
Veggies Garden
Don't give up on your dream of owning a vegetable garden just because you're short on space. Vertical gardening is the perfect solution. Growing your own food is affordable and it's more or less the best way to eat healthily.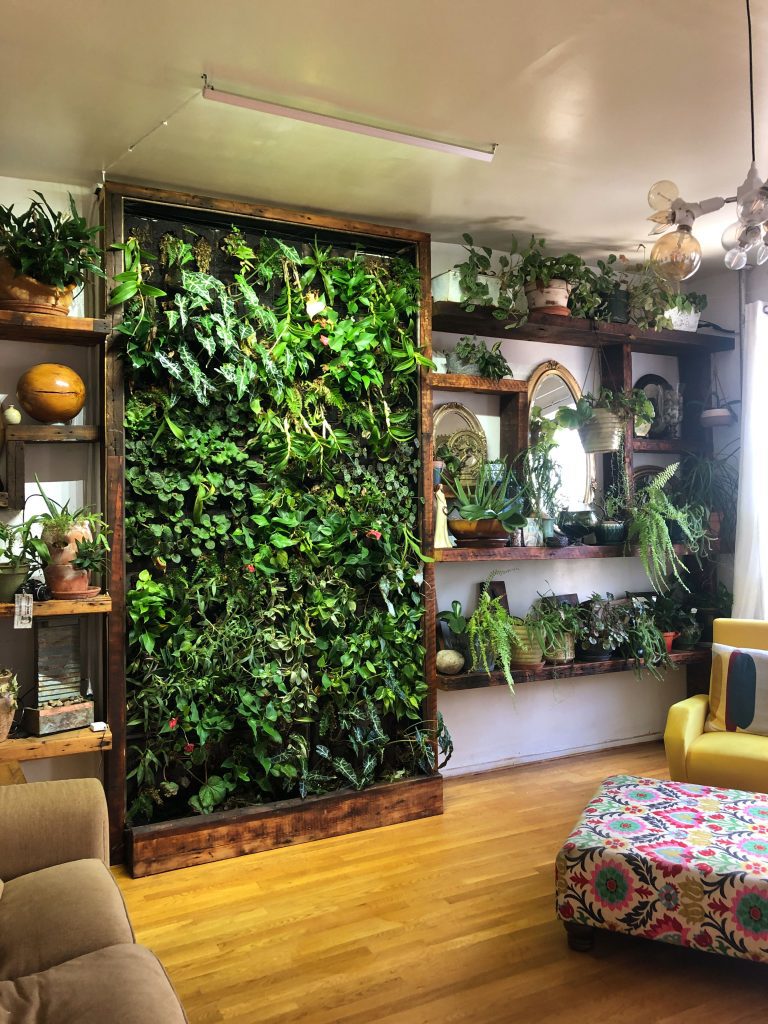 So also it's a good means to beautify your home. Transform a bare wall in your home into a flower garden. Two things are certain when you do this: you will love it, and your visitors will marvel at the gorgeous garden.
Succulent Garden
If you want to spruce up a blank wall, you can't go wrong with succulents or shallow-rooted plants like herbs or lettuce. For a fuller look, pair the wall frame with larger plants on nearby tables or pots on the floor.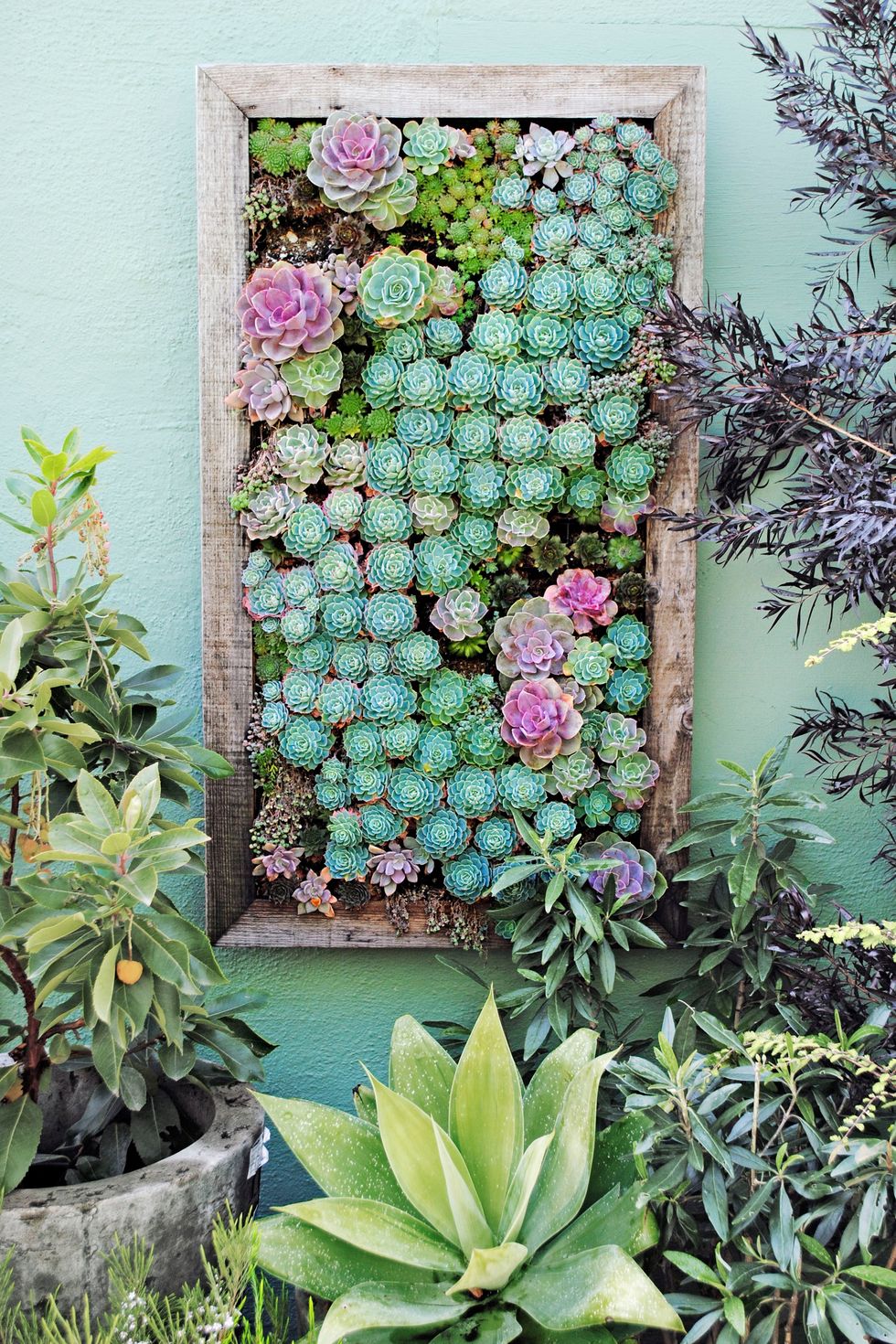 Gardening can provide you with nutritious fruits and veggies, but inedible plants have their benefits, too. Having plants in your home supports your connection to nature and provides relaxation spots to read or decompress. You can make it practical with some herbs mixed in with the succulents.
Plant Boxes
What is more attractive than shelves occupied with plant boxes containing beautiful flowers and veggies? Not much, really. To be honest, exotic blooms are good, but maintaining them is extremely vital. Fill up the shelves with a wide range of plants.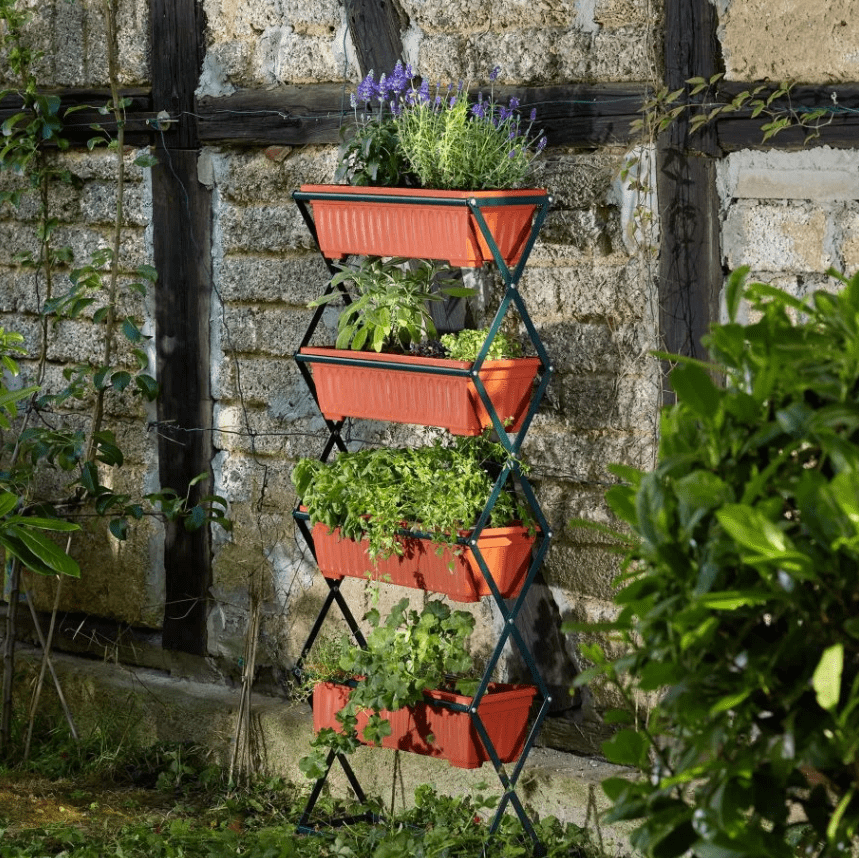 You can put some seasoning like basil or coriander in the first layer. Veggies such as radishes, lettuce, chives, and so on, can also be present in another layer. In large plant boxes, grow some cucumbers, carrots, leeks, pepper, etc.
Pegboard Garden
It turns out that pegboards are not only spaces for tools or office supplies, but are good materials for a vertical garden. So you can easily recreate this vertical planter in your own home. Combine utensil holders and small pegboard shelves to make this pleasant garden.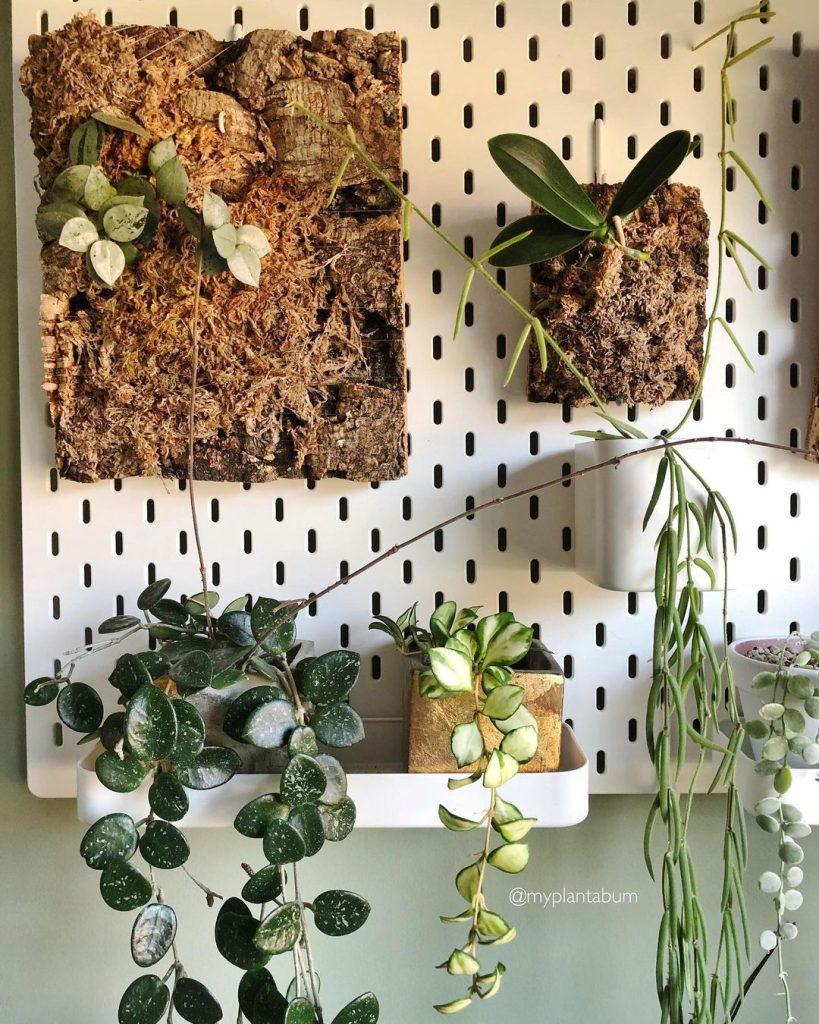 Give your plants a variety of places to hang, thereby creating a well-arranged garden. Also, allow spaces between the plants to enable proper growth. You can keep this inside if you want easy, frequent access to fresh herbs. Or, place it outside for a splash of color to your house.
Grow Lights
You may need grow lights if you want to practice indoor vertical gardening. If you are new to indoor gardening, this is a great place to start, especially if you don't have a space in your home that gets sufficient sunlight.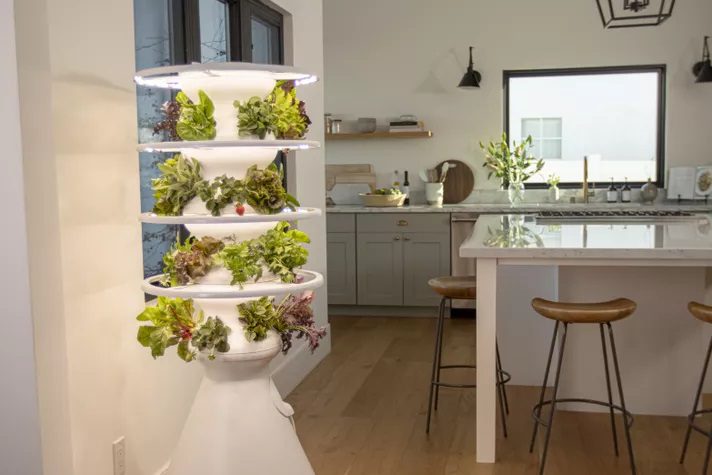 The whole structure looks like a giant dessert stand. Indoor grow stands are perfect for those that want some green in their kitchen. What's more, it adds a bright and bold allure to the kitchen giving it a new lease on life.
Outdoor Gardening
Let's assume you're not comfortable using grow lights, you can always take your garden outside. To build your gardening confidence and encourage your green thumb, the majority of your plants should be leafy greens and herbs that grow fast and require no pollination.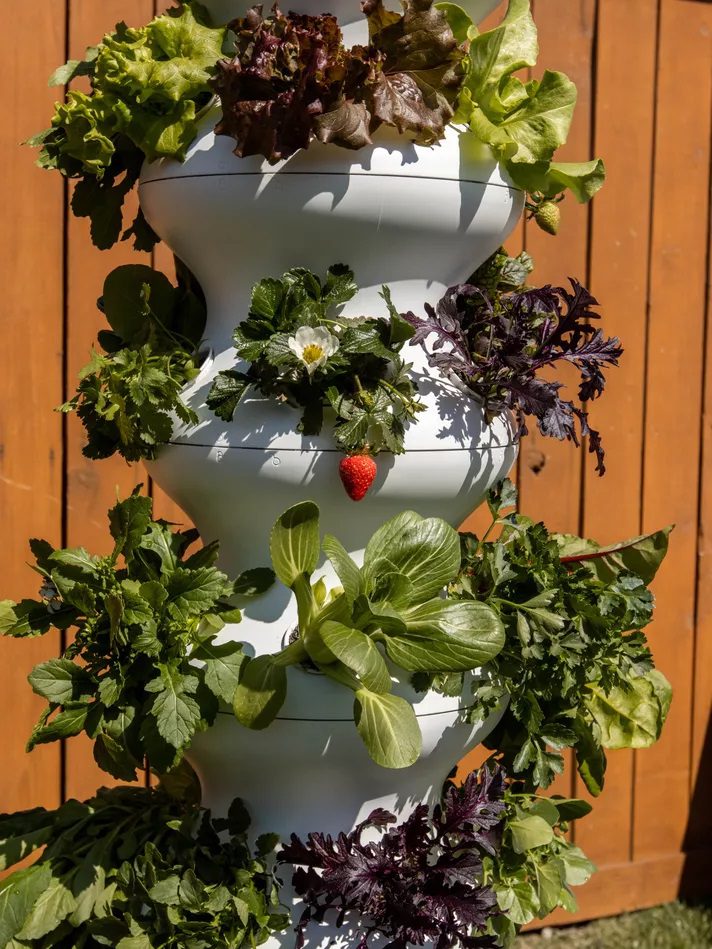 The major reason for setting up a garden is to use its content. In other words, try your best to keep your vertical garden close so it always comes in handy. Your garden will flourish quickly when you maintain it properly.
Repurposed Cabinets
Repurpose an old filing cabinet to create your own vertical garden. Just like the old dresser, you're doing two things in one: upcycling and planting. There's no better way to go green than to combine upcycling and gardening. Check it out: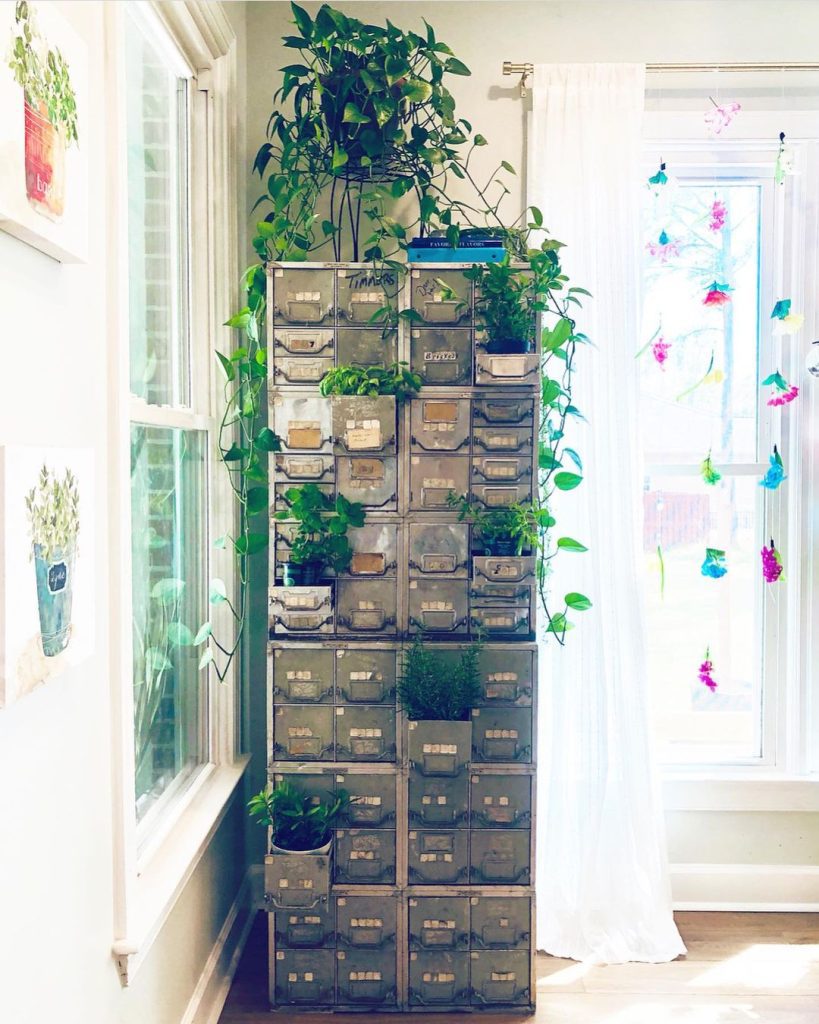 You don't need to use every drawer; leave some empty. That way, you can have some space if you get new clippings or seeds you want to plant. You can leave the filing cabinet as is, or add some color to it for a new breath of life.
Sturdy-structured Garden
If you are worried about your outdoor plants during harsh weather conditions, then go for the iron plant stand. The stand has a solid foundation that will help keep things safe and in place, even though it's a vertical garden.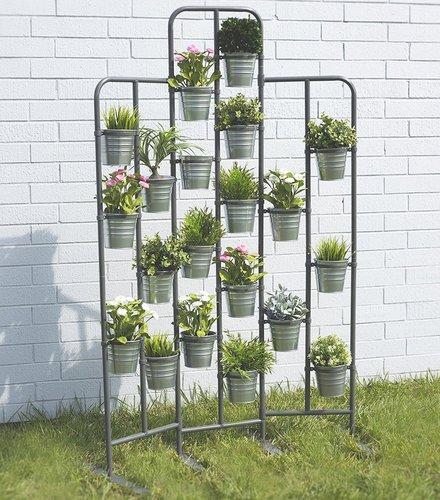 Shopping for plant stands shouldn't be limited to herb garden searches alone. Any kind of planter like this one will do, so long as it's strong enough to support itself. Add a mix of decorative flowers and practical plants such as herbs for a fuller garden.
Ladder Garden
This list wouldn't be complete without a ladder garden. Just get some planters and a strong ladder and you're good to go. You can use a free-standing or A-frame ladder; it doesn't matter. If it's old or just doesn't look good, add a splash of paint to bring it to life.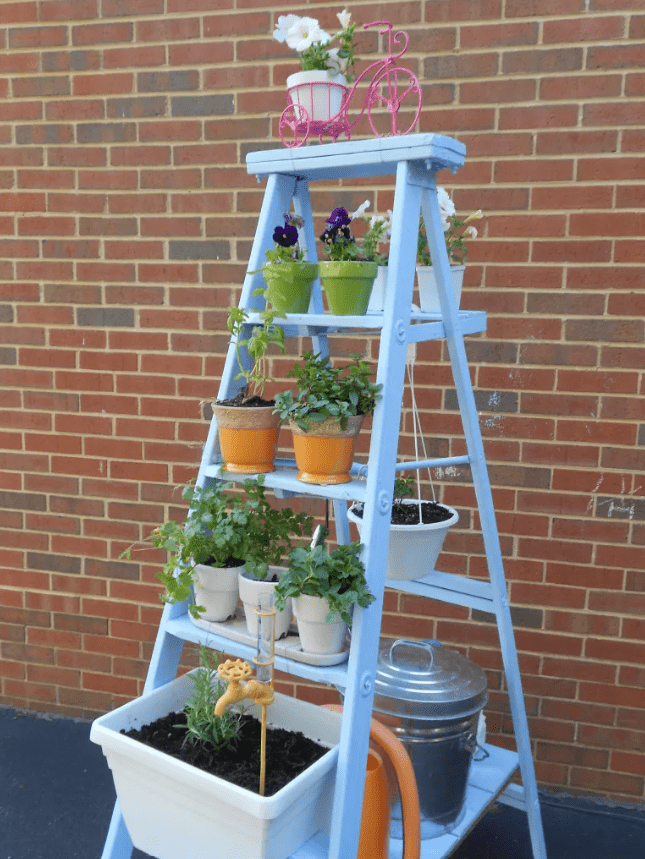 If you want to move it around your garden, take off all of the plants first. If you try to lift the whole thing, you might break the whole apparatus. You can also try adding some ivy to the frame for some more greenery.
Plant-friendly Pockets
Hang pocketed panels on your patio wall to house your favorite veggies and herbs and save yourself some much-needed space. Gardening is an ongoing innovative curve, which means new ideas to plant will keep coming. If you don't feel confident in your gardening skills, you can make use of technologies that encourage plant growth.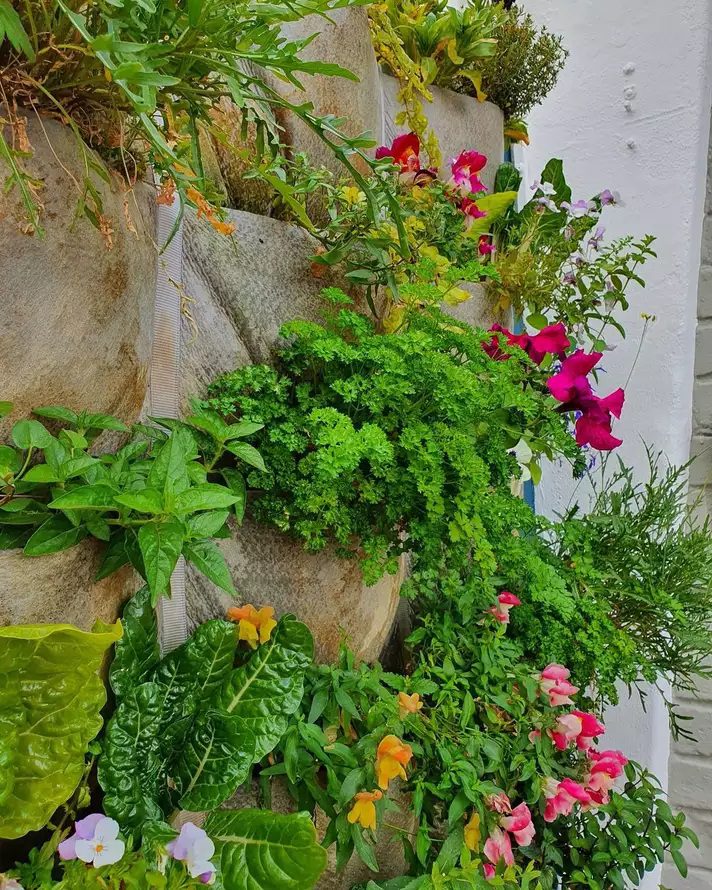 Along the line, some plants may die but you have to remember the golden rule of gardening "never give up." In truth, nothing is more empowering and rewarding than growing your own food. Keep the vertical garden somewhere you'll see frequently, for an extra boost of motivation.
Labeled Planters
There's a possibility you might forget the exact box you planted a specific plant in. To avoid this, label each planter box with the herb it contains. That way, even when you send your kids to help cut some herbs, they wouldn't get confused.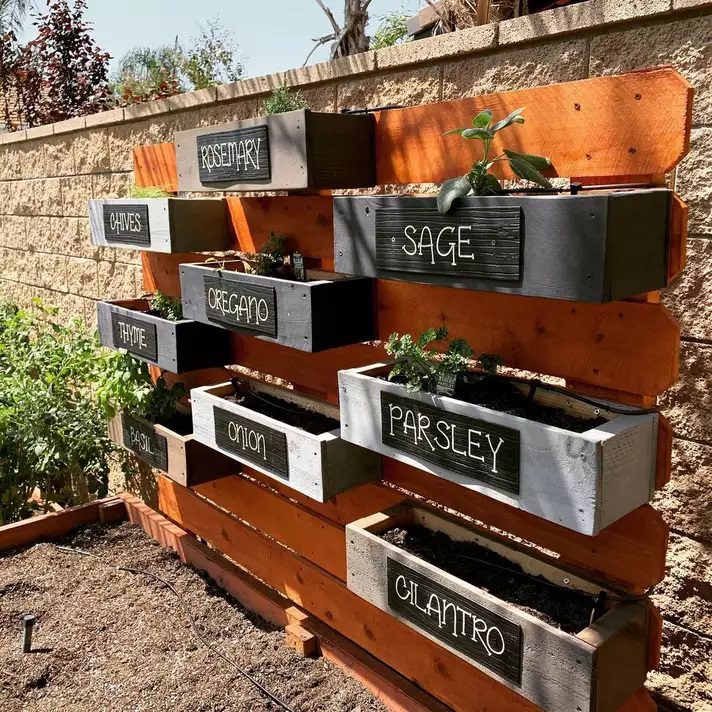 A stone perimeter fence is a good spot to recreate this vertical garden. In addition, if you prefer a wooden fence but have none, you can use some wooden panels to create one and you're now a certified vertical gardener.