40+ 1980s Interiors That Perfectly Encapsulate The Decade
By Jhoana C November 16, 2022
---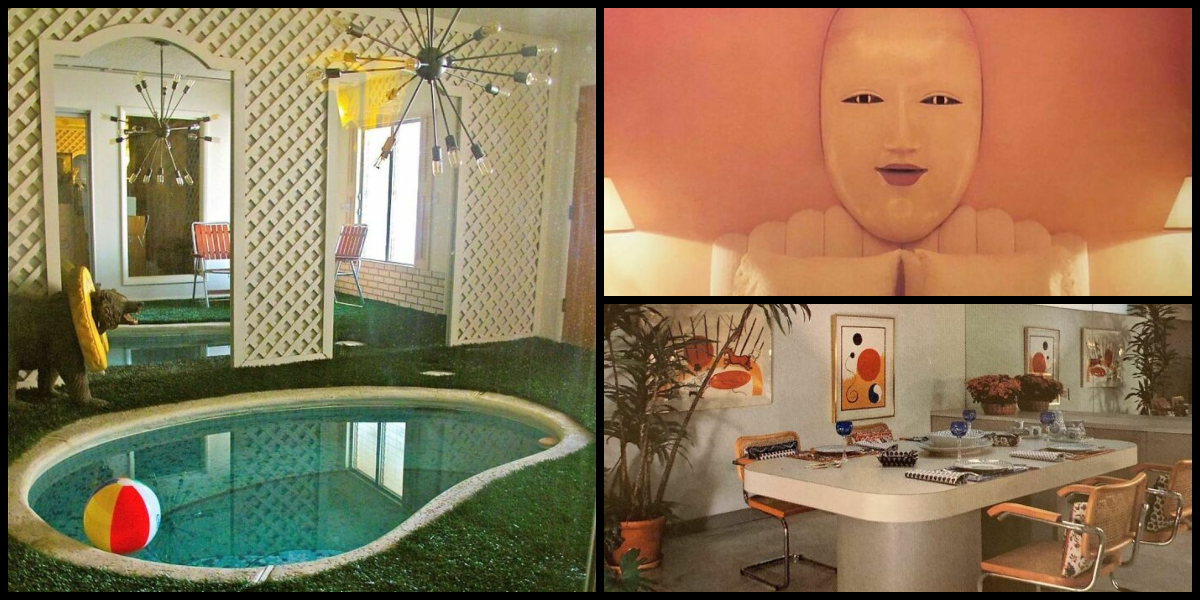 Ah, the '80s; some people refer to it as the greatest decade. It was a time of great pop culture, and some of the best movies and toys were released during that decade. Some of these continue to live on today — think of Care Bears, Strawberry Shortcake, Teenage Mutant Ninja Turtles, Rubik's cube, Koosh ball, Beetlejuice, and The NeverEnding Story.
The '80s was also a great decade for interior design, and you've got to admit, homes back then had vivid personalities and characters. Warm tones and greens were very popular. If you miss the '80s and are looking for design inspiration that will bring you back in time, you're in the right place. Here are 45 pictures that perfectly define '80s interiors.
#1 A dining room with an alligator head
This could be a crocodile head for all we know — alligators and crocodiles look alike, so we may be mistaken. However, this is the prime feature of this dining room that caught our attention. If you had the square footage and the space, would you also hang an animal head in your dining room?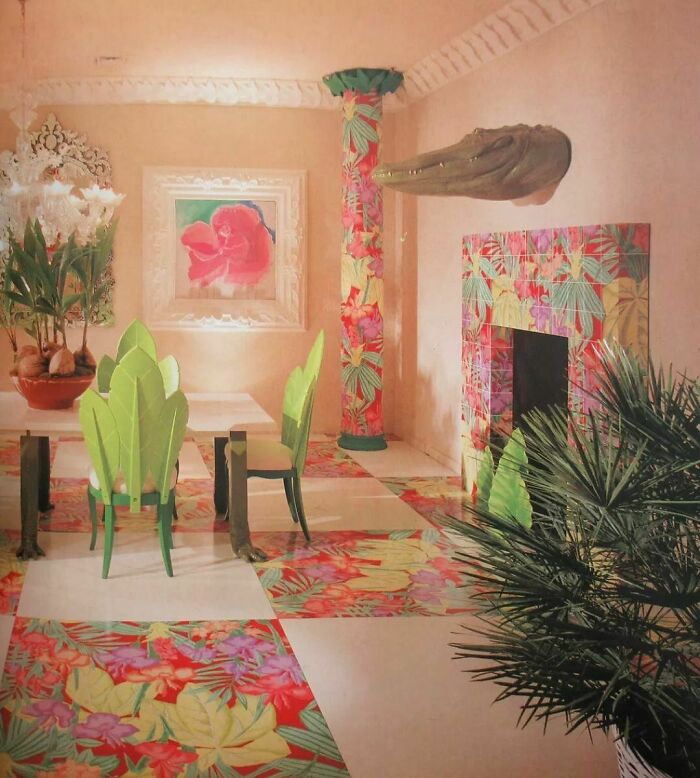 Everything about this dining room screams the '80s and retro — from the green chairs with the leaf design to the pink and floral patterns on the column and tiles on the floor and the fireplace. Would you fancy having a meal here? Heck yeah!
#2 We love the natural light in this room
Daylight and exposure to it have been linked to marked improvements in mood and well-being. In addition, natural light does wonders for a home. It can make a room lighter, brighter, and even make it look much bigger than it actually is.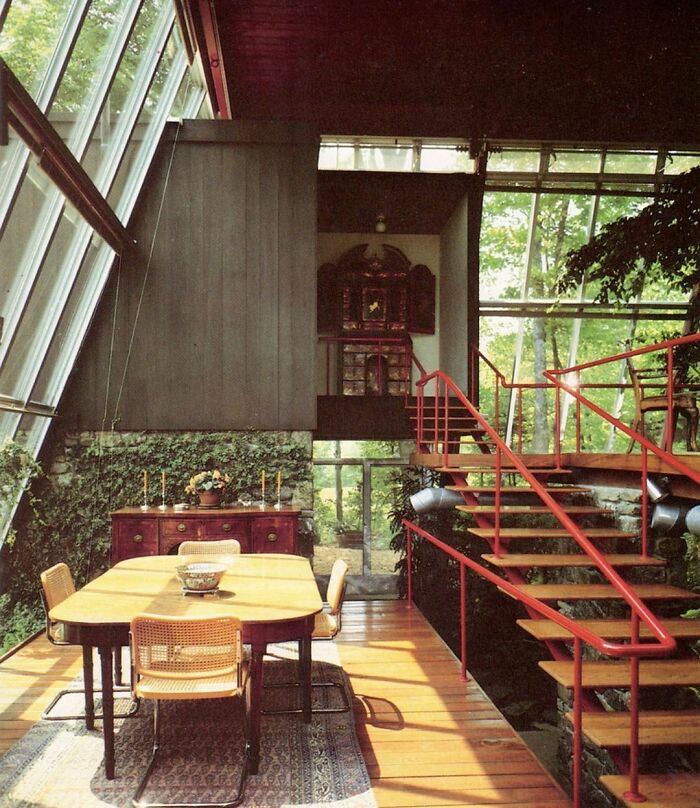 Those are just some of the reasons why architects and interior designers strive to ensure that rooms have as much natural light as possible. And this '80s room is a perfect example of that. We love that it has plenty of light and surrounding greenery.
#3 A bookworm's paradise
There's one word to describe this room: heaven. How would you like to wake up surrounded by books? We certainly would love to. Decorating your room doesn't mean spending an arm and a leg; sometimes you just have to be creative and innovative.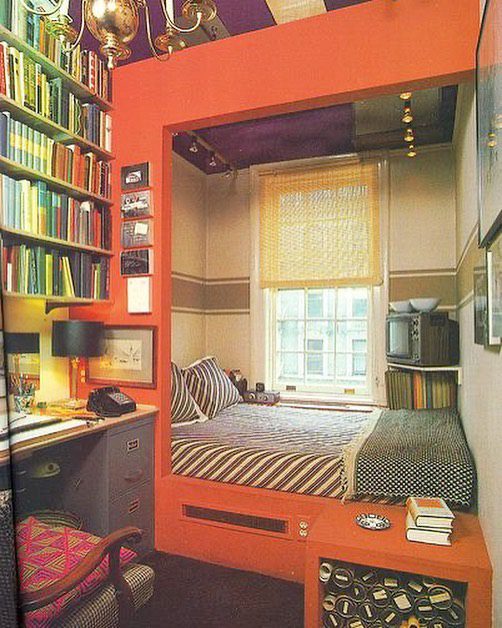 A small room doesn't have to mean suffering from lack of space, either. As long as you make good use of what you have, you'll find that there's plenty of room to work with. And yes, mirrors make an area seem bigger, too, so you might want to keep that in mind.
#4 As '80s as it gets
This living room is as '80s as it gets. "Shabby chic" is how most people would describe '80s interior design. The style originated in 1980s England, and it combines the use of worn and vintage furniture with interesting paint and brush effects.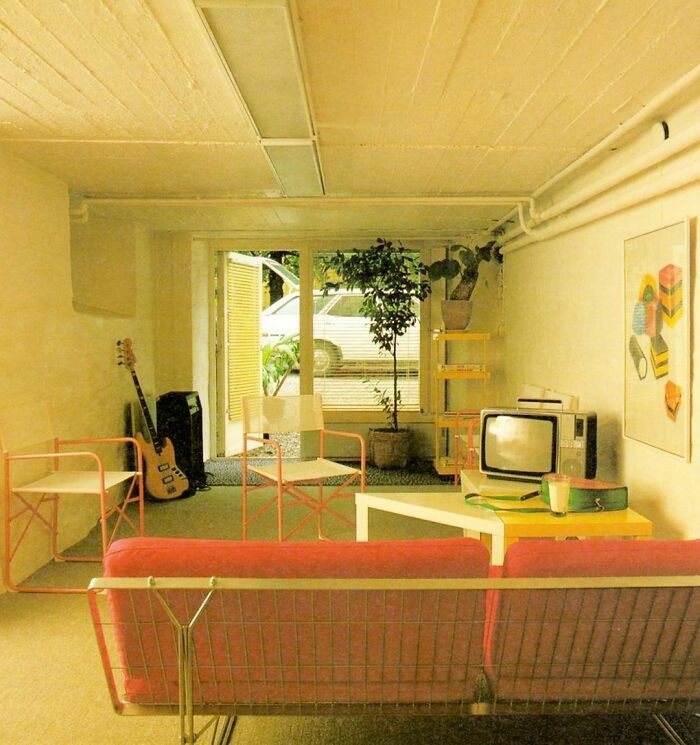 Furniture is often in neutral colors, and they have rustic effects that give them a vintage vibe. Although this living room lacks decorations on the walls and has a few knick-knacks to give it more life, at its core, it's so 1980s.
#5 Lovely breakfast nook
This is a lovely area in the home where we'd love to have a healthy breakfast or read our favorite books. It's airy, flooded with light, and just plain cozy and pretty. We especially love the little fireplace in the corner.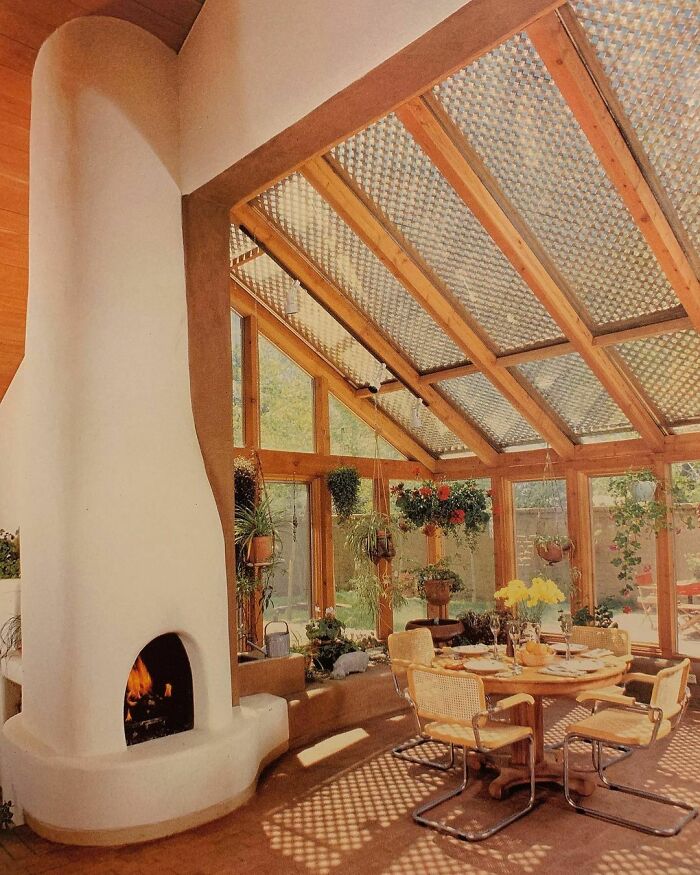 The wicker chairs and various hanging plants complete the whole '80s look. In fact, this was featured in the Los Angeles Times California Homebook in 1982, and for sure, a lot of people wanted to copy this look in their very own homes.
#6 This would bring pleasant dreams
Now, this is a place where people can easily drift off to sleep. Surely their night would be filled with dreams of vacations, pay raises, time with loved ones, etc. However, we could also imagine stubbing our toe in the middle of the night.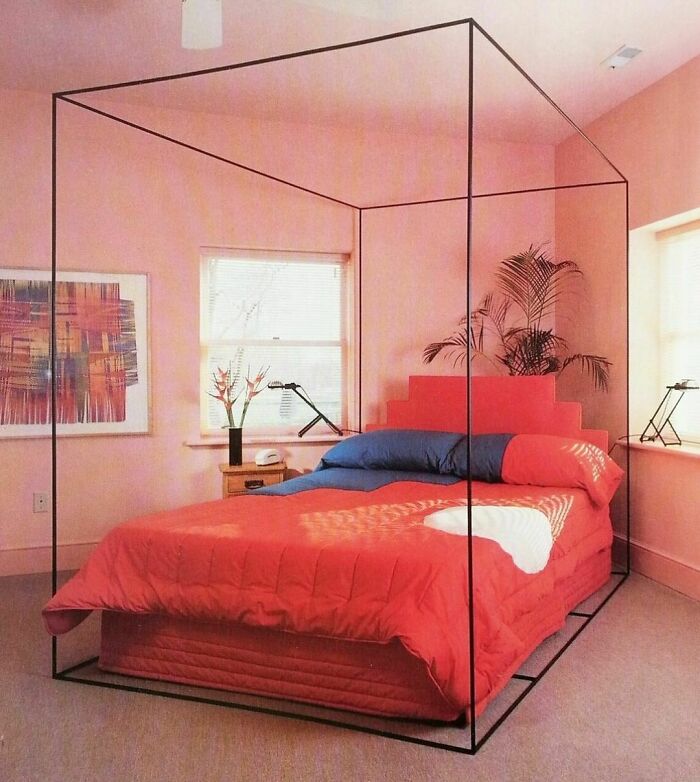 We're not sure if the frame is the result of a line drawing that someone forgot to erase, or if it's some kind of support for the bed, but we can all agree that it's not a pleasant thing to catch your pinky toe on.
#7 Look at that typewriter!
This was a picture taken in 1984, and everything in this photo screams '80s. Look at that ancient word processor or a "typewriter" as most people call it. We wonder if a lot of people nowadays still have one hidden away in their attic.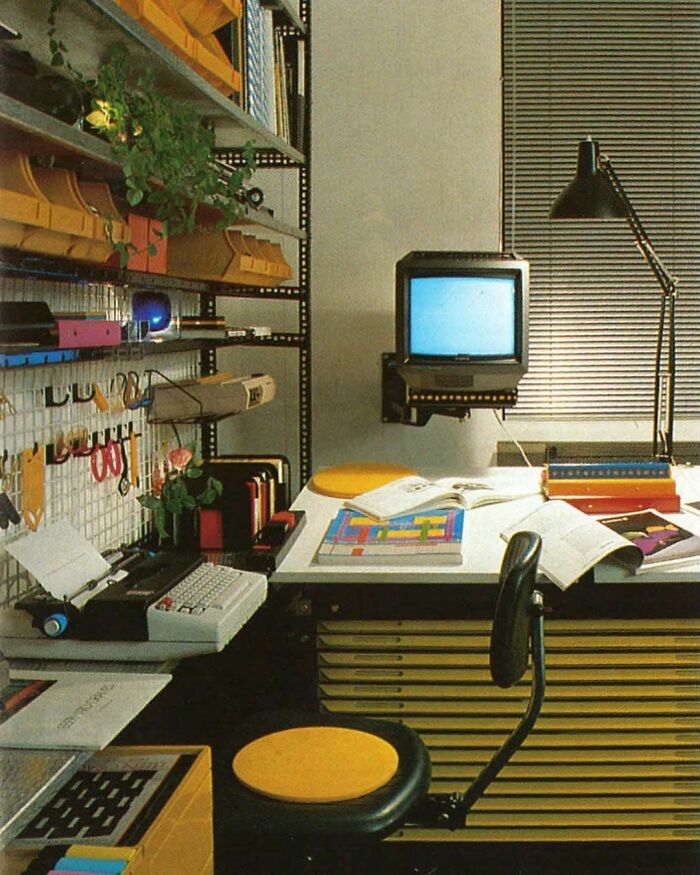 This picture is full of classic technology and classic design that were staples in homes during the '80s. This wouldn't be described as fashionable today, but back then this was the bomb and people would spend a lot of money to make their houses look like this.
#8 A beautiful dining area
Lovely meals are sure to be had in this space. At first glance, we thought it was a meeting room. In fact, it was once small and boxy, but a couple named Joseph and Bea Solomon transformed it by adding skylights and raising the ceilings.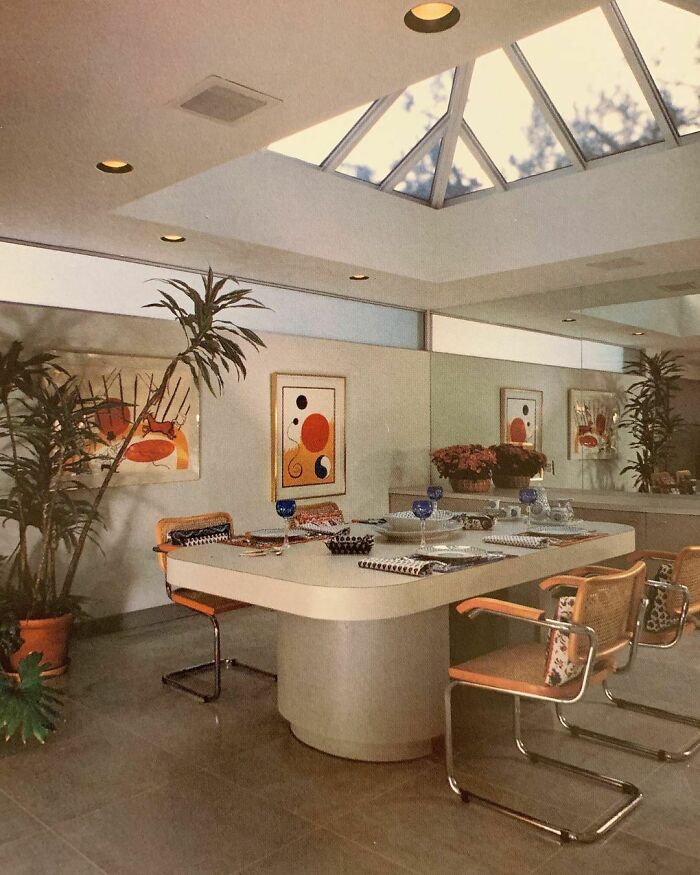 We'd never say no if we were invited to dinner in this house, especially if the homeowner was also a skilled cook. We don't usually see dining areas like this anymore, so kudos to those who keep their '80s home décor pristine.
#9 The green kitchen
This photo was published in The Los Angeles Times: California Home Book in 1982. While "boring" is the last thing you would call this kitchen, it's a bit over the top for us. The abundance of patterns is a little too much.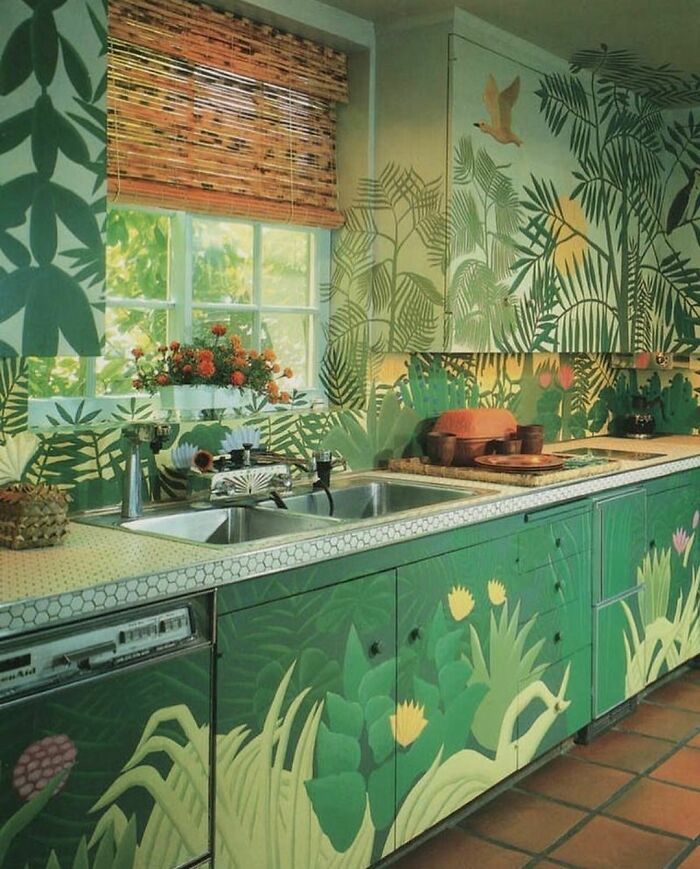 We welcome decorations; they make spaces livelier, but they can be easily overdone. And this, folks, is, without a doubt, overdone. We're getting chameleon and jungle vibes over here, and we hate to even think about what their living room looks like.
#10 A bedroom with a burst of colors
Something about the wallpaper reminds us of those playful paper towels you see at parties. Nevertheless, the wallpaper gives the room a pop of color. Sometimes white walls can be bland and even clinical, and a burst of colors can make all the difference.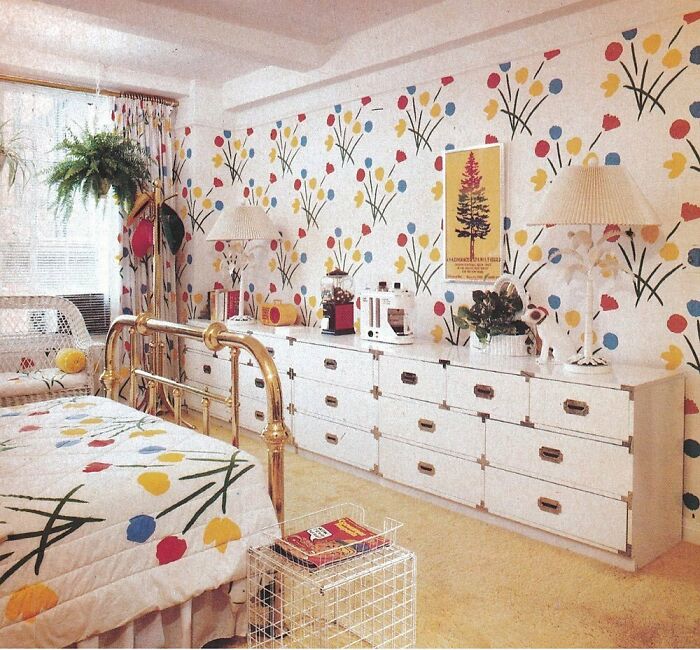 A lot of people on the Internet claimed that they had the same wallpaper in their room when they were children, so it must have been quite popular. Though, we wonder how many of them also had a matching comforter.
#11 Such a tiny pool you have there
We have a few concerns with this '80s room. Aside from the size of the pool, the chandelier right on top of it makes us feel a bit uneasy. We could imagine it falling on our heads while we're soaking in the pool, and that'd certainly kill the relaxed vibe.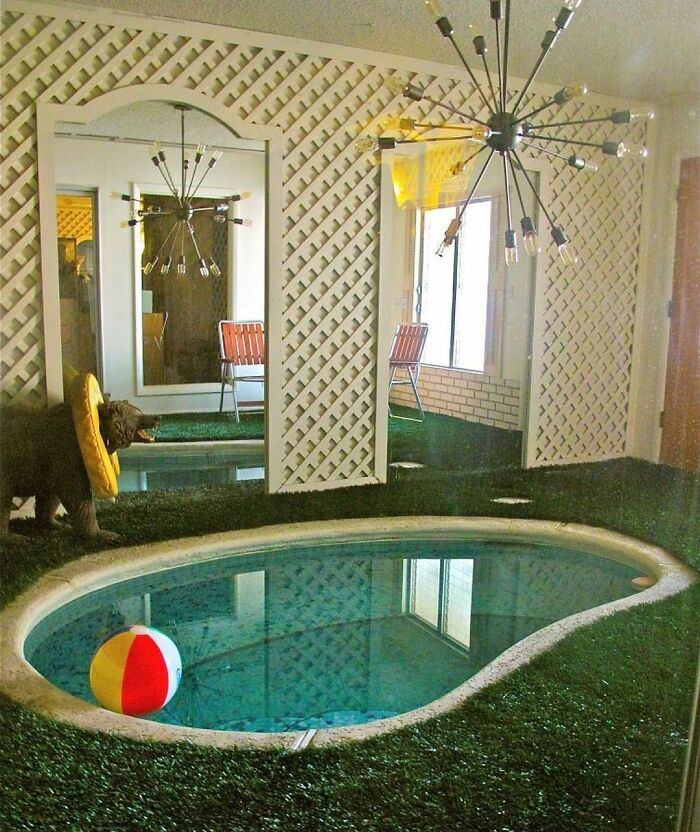 We don't want to be electrocuted or get concussed while enjoying a dip in the pool after a long day at work. We love the design of this room, but they didn't consider safety when building it. Plus, they should get rid of the taxidermist bear, too.
#12 This is our forever home
This is what our forever dream home looks like. A space in the loft, skylights, a big and comfortable bed, rain, and a good book. If we lived here, we would find every reason possible to stay home and cancel appointments — no offense to our friends and family.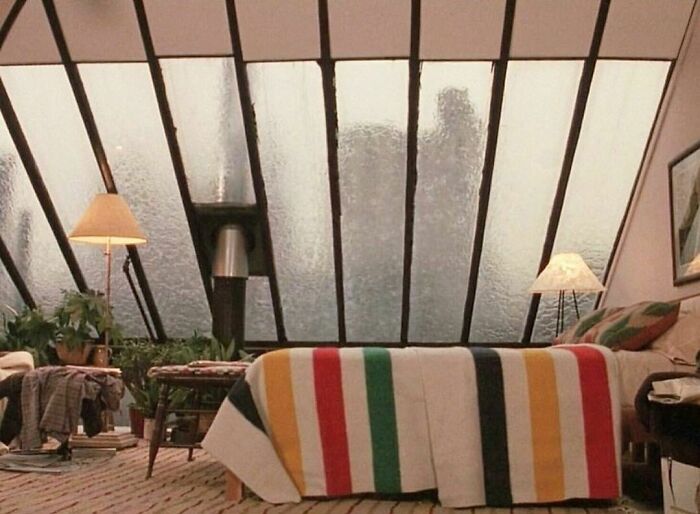 How would you like to call this your bedroom? If your answer is yes, you're not the only one. Judging by what people on the Internet had to say about it, this is the bedroom of their dreams. And we can't argue with that.
#13 What movies would you like to watch tonight?
Ah, those days when people had to go out to rent movies just to watch them. No downloads or streaming services. It was a little inconvenient, yes, but it gave you a reason to go out and meet people, even accidentally. We even know some people who met the loves of their life in video stores.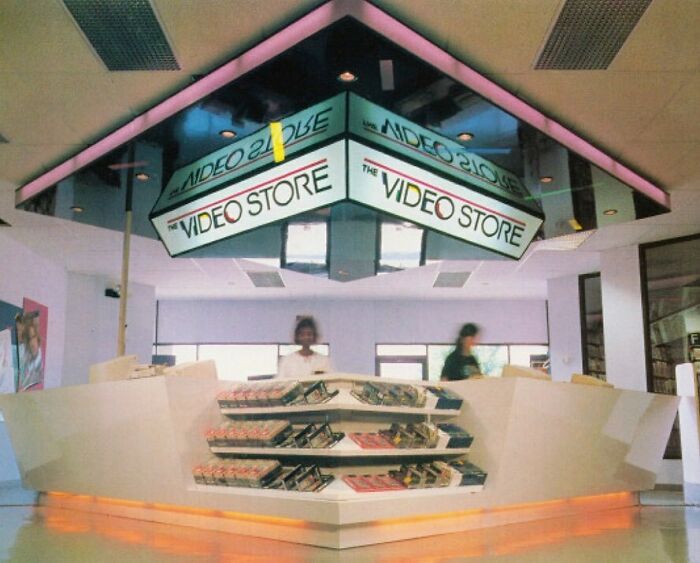 If you've forgotten what video stores looked like, here is something that will bring you back to the good old days. Going to the video store with friends and family was always a good time. We wish kids today could experience it, too.
#14 The pink bathroom
We're not sure exactly what was so stunning about this room that it was published in The International Collection of Interior Design by Grosvenor Press in 1984, but all we can see is pink. There's a pink sink, pink toilet, and even a pink bathtub, if you look a little closer.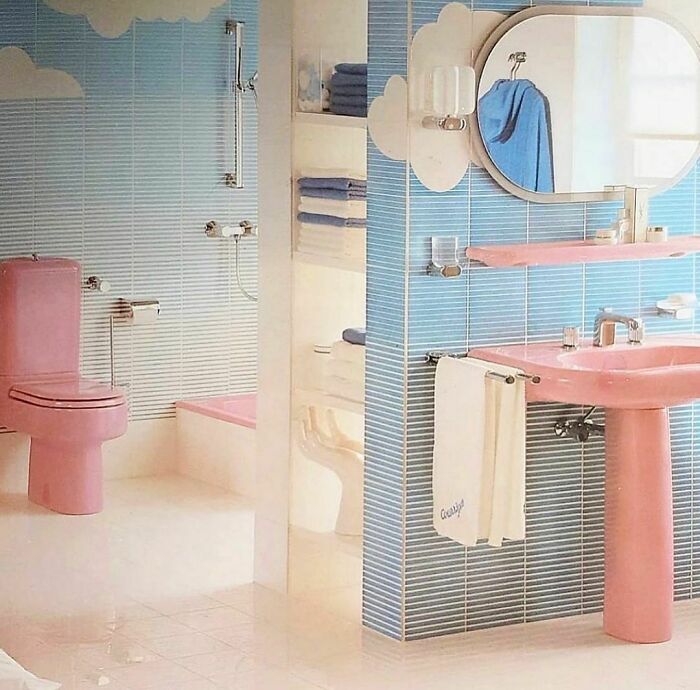 However, we feel that it's worth mentioning one oddity that caught our eyes — the plastic hand in the closet. It's not part of the '80s decoration, but it's…there. We can almost imagine this as part of the set for Aqua's "Barbie Girl."
#15 Home spa, anyone?
Were home spas a thing during the '80s? Because that can be the only explanation for why this picture was published in Beyond The Bath: A Dreamer's Guide. This is something we need right now, and this is going to be a welcome addition to our home.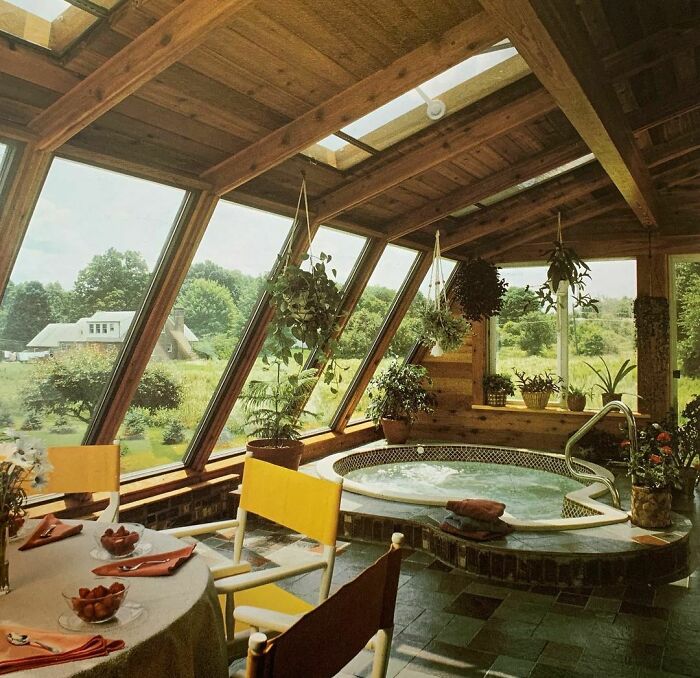 A home with a spa right behind where we enjoy lovely meals? Yes, please! It is a bit strange for most of us to see a bathtub and dinner table in a single room, but whatever works for them, right?
#16 Wow, this is such a throwback!
Do you wonder what the Las Vegas Airport looked like back in the '80s? Wonder no more because we have a photo for you. It looks so retro now but it was at the forefront of modernity during the '80s.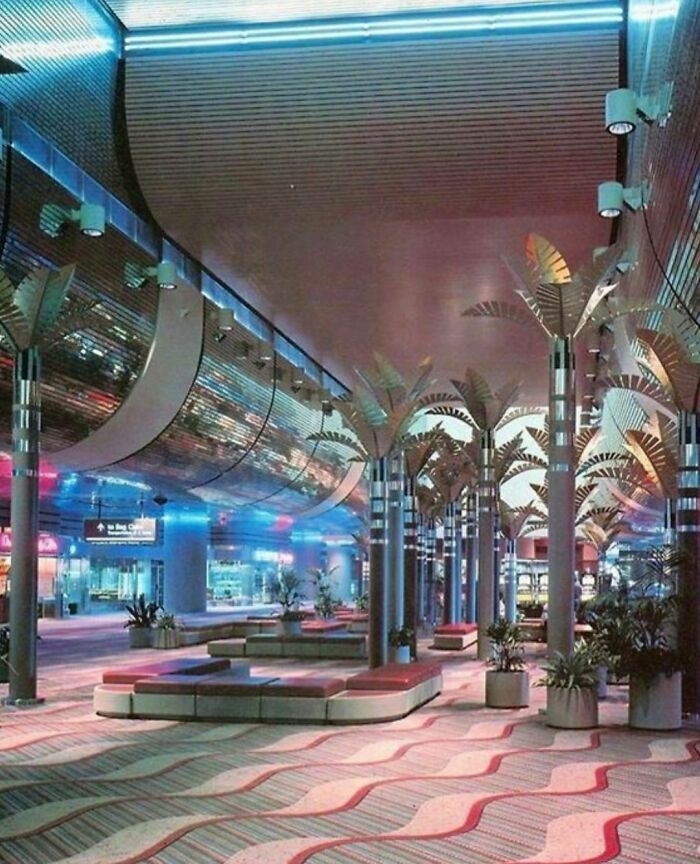 The airport even retains part of its '80s decor today. While they've made some updates, some parts of the old ceiling are still visible. Either way, it looked fine in the 1980s, and hopefully, it could look even better now.
#17 The '80s woman
Was there ever a more '80s woman than Blanche Devereaux? In this still shot from the show The Golden Girls. Devereaux, played by Rue McClanahan, is busy doing her nails in her bedroom, which is the epitome of an '80s bedroom.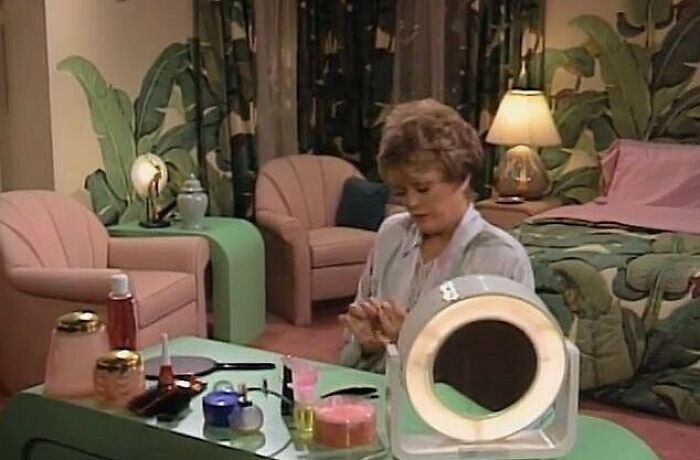 Apparently, the wallpaper used is called "The Martinique," a design created by Albert Stockdale. If you want to make your bedroom look as if it belongs in the '80s then you're in luck because the wallpaper is still available today.
#18 They loved plants so much
People in the '80s must've loved plants very much because that's the only possible explanation for an office to have such tall and leafy potted plants in its interiors. It almost seems like you're in the jungle. We love plants, too, but we like keeping them to a minimum.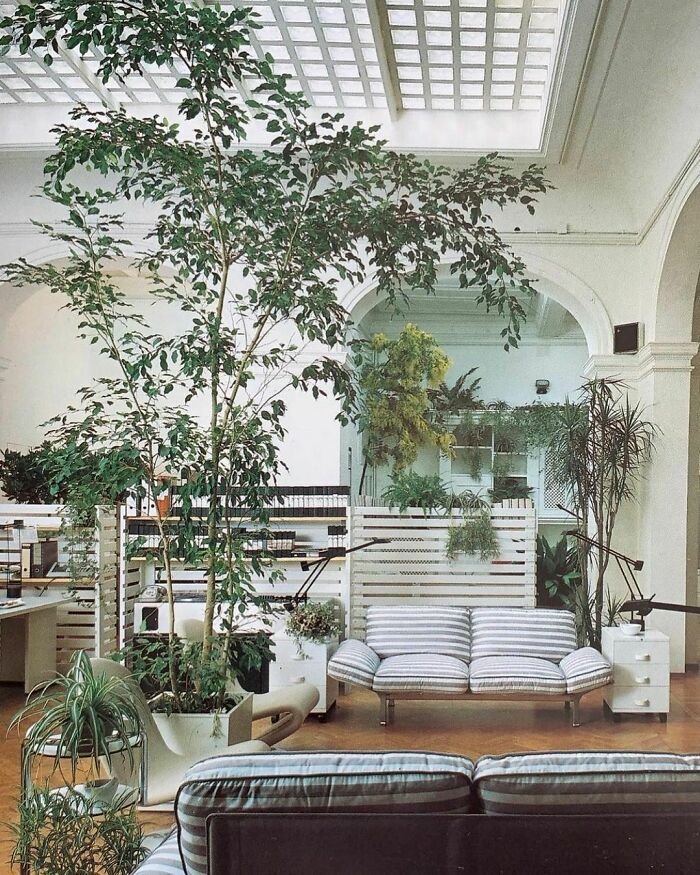 But plants are supposed to elevate your mood, so we won't even argue with whoever thought of bringing so much greenery to the office. For all we know, the plants reduced staff's stress levels and gave them more reasons to smile.
#19 #goals
People on the 'net shared that they saw an ad for this champagne-shaped whirlpool bath in the '80s and all they could think back then was that they were excited to grow up so they could also take a bubble bath in this space.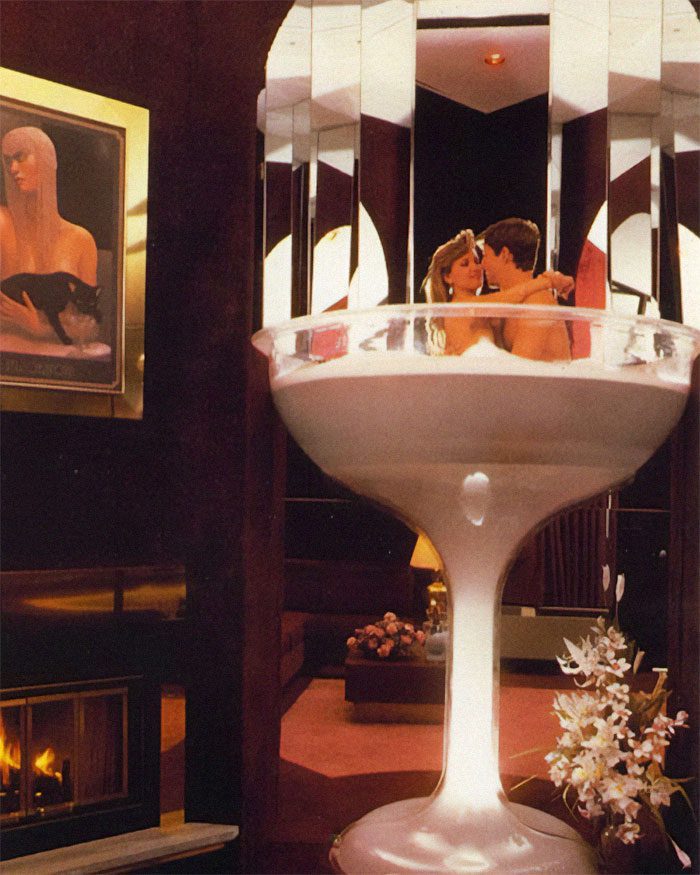 Apparently, this unusual bath was one of the most prominent features of Cove Haven Resort in the Poconos. Some people even convinced their parents to take them there for a glimpse at luxury. Seems like a rite of passage for them back then.
#20 Don't drink when climbing the stairs
The only group of people who would ever think of installing such a set of stairs in their kitchen is those who don't ever drink. Imagine being tipsy and trying to climb up the stairs to go up to your room.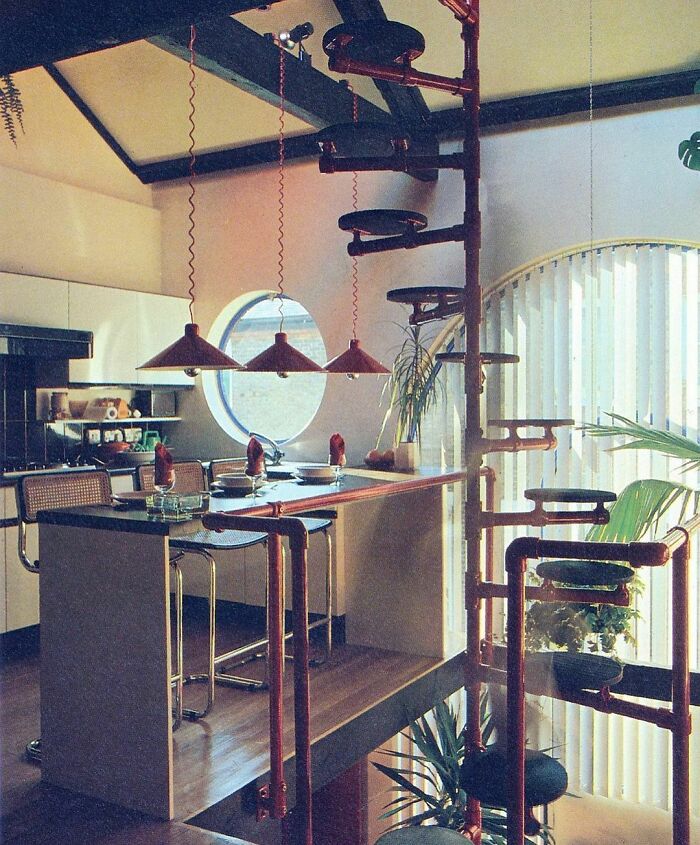 Some people can't even imagine themselves going up to their room on such precarious steps while sober. We'd like to imagine that these are not stairs but stands for homes with an abundance of plants — assuming there are no cats to knock the pots over the edge.
#21 A mall in 1981
This is what a mall looked like in 1981 and, again, we'd like to ask what was the obsession with plants back then. It seemed like people were trying to bring the outdoors inside by adding as many greens as they possibly could.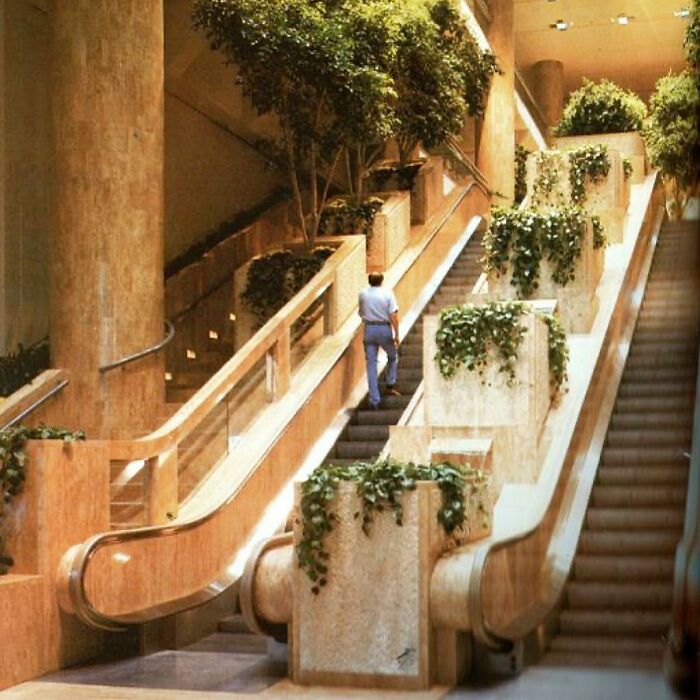 This mall still exists today. If you are curious and would like to see it for yourself, visit the Windy City and go to the Water Tower Place. Apparently, it's the best place to go Christmas shopping, but it's a lovely place to visit in the summer, too.
#22 Love this!
This living room reminds us of The Wonder Years, Who's the Boss, and Miami Vice — basically, all of those classic '80s shows. A constant feature you've already noticed is the presence of plants, but thankfully, whoever designed this space did not overdo it.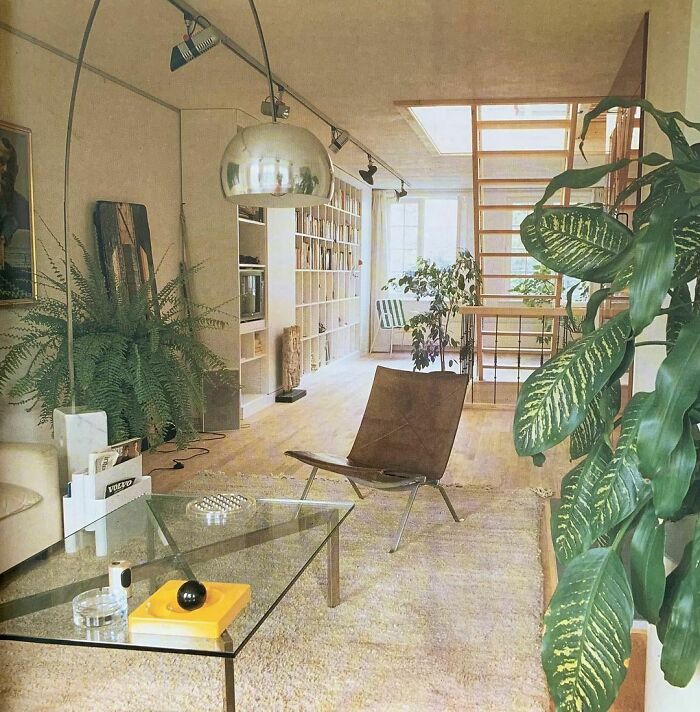 We especially love this chair. It looks comfy as heck and would be the perfect place to curl up with a good book. The room has plenty of light, room, and space. We couldn't ask for anything better than this. This warms our 1980s hearts.
#23 The 1980s bath
This is another look at the 1980s bathroom and we are envious that they had so much room then. Go to any modern apartment today, and you will notice the space constraints. Spacious digs are costly, and most of us can't afford that luxury.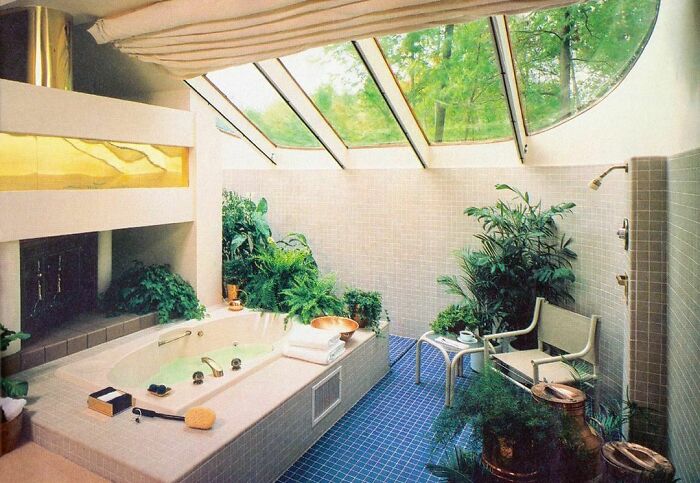 Back then they even had room for a table, a chair, and a few plants. These days you can consider yourself lucky if you have enough space to stand and spin around in your bathroom. The '80s had plenty of good things to offer.
#24 Indoor swimming pools
Again this is another case of people finding inspiration outdoors and replicating it in the interior of their homes. Indoor swimming pools have their advantages; you can swim whatever the season, and you don't need to worry about unwelcome guests in the water.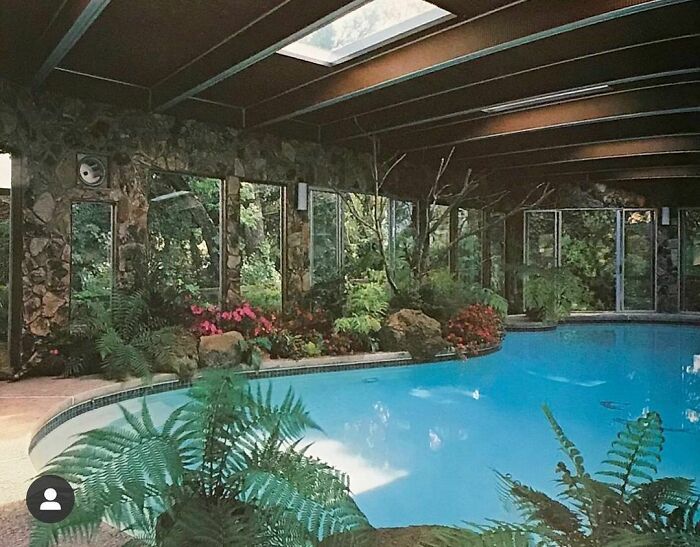 This picture was taken in 1981, and you'll see they kept on theme with the '80s, and the outdoors, and used a lot of plants and rocks to decorate the pool. People are divided when it comes to plants; some love them, while others think there's too much. You can't please everyone.
#25 Want to go dancing?
The moment we saw this photo, one song started playing in our heads — the Bee Gees' "Staying Alive." Sure, the song was released in 1977 and not the '80s, but who cares? It has the exact vibe! Another thing we couldn't stop thinking of is the movie Saturday Night Fever.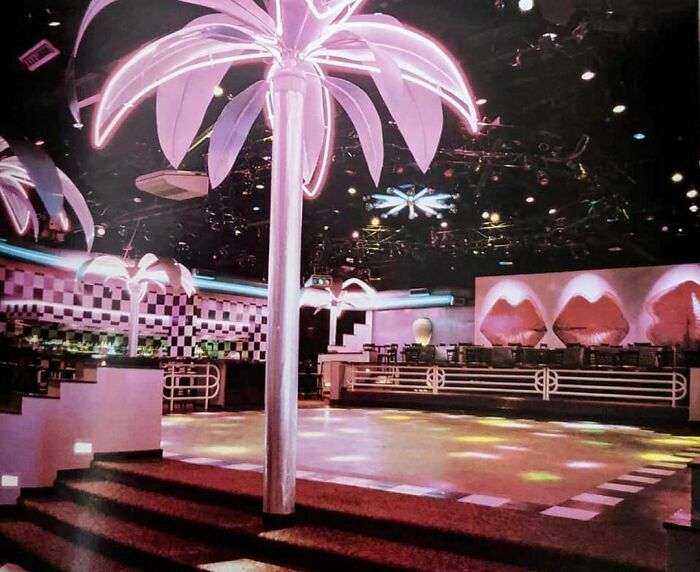 It makes us want to go to the dance floor and sway with our big hair, platform shoes, leg warmers, fingerless gloves, fanny packs, and large funky earrings in neon shades. You get the picture. The '80s was a fun decade.
#26 A bath shaped like a fried egg
We made sure to include this because it's one of the most unusual '80s designs we have seen. It's certainly worthy of a mention among the other wacky '80s bathrooms. How would you like to strip down at the end of the day and soak in this fried egg-shaped bath?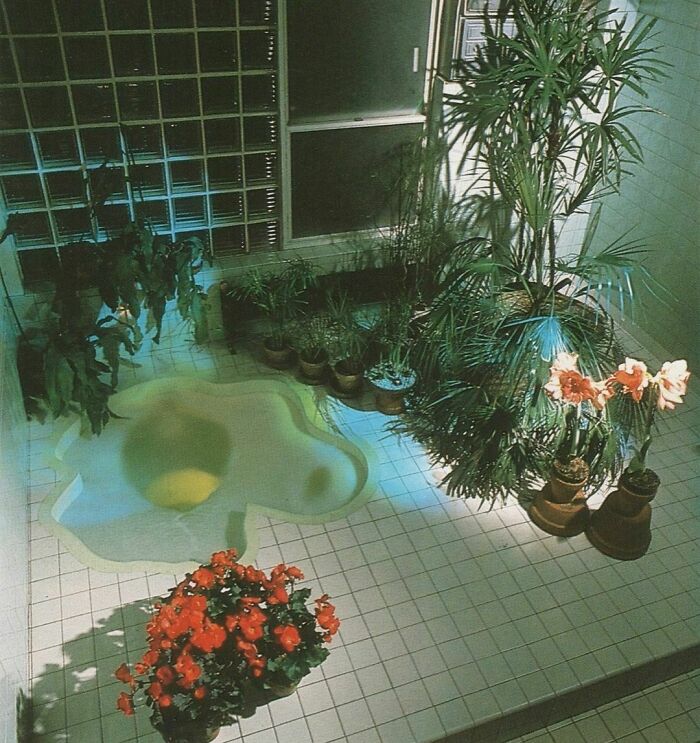 We're quite curious as to how the experience would be. Would it be pleasant? Weird? We don't see a lot of these funky designs, so it's possible that this didn't take off as much as people in the '80s expected.
#27 We're scratching our heads with this one
Our hips physically hurt from looking at that sharp corner. Why in the world would you want that jutting out where people can hurt themselves? If that corner has to be in that place, you might as well make it rounded, right?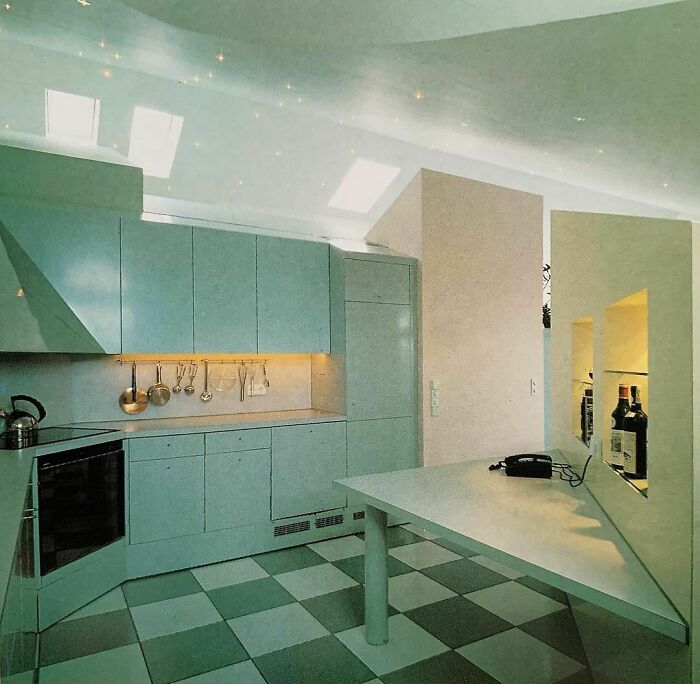 We're not sure if this kind of design was also a fad during the '80s, but we strongly disagree with it. This was supposedly a work of an Italian designer named Danilo Silvestrin. We'd like to know where he went to school because we're staying far away from said school.
#28 Who wants this slide in their home?
Raise your hands if you want this slide in your home! We know a lot of children and even adults would be happy to have this personal indoor waterpark; imagine all the fun times the entire family will have sliding into the pool on a hot summer day!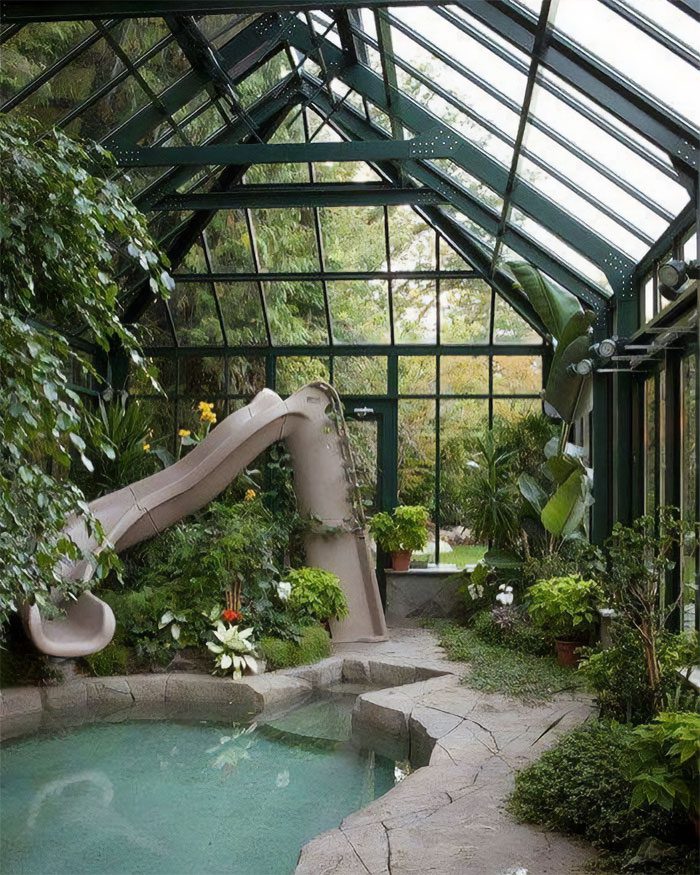 Aside from the slide, this room has plenty of sunlight and plants. We just hope that the pool is deep enough, otherwise, there'll be some serious injuries coming off of that slide. What's your verdict on this? Ours is yes, yes, and more yeses!
#29 A sunroom to die for
Now, this is another feature we would like to have in our home. It doesn't have to look exactly like this, but a sunroom would be good. It will warm our hearts and our bodies as we soak up the sun. Imagine just how better mornings and breakfasts would be if you had a space like this!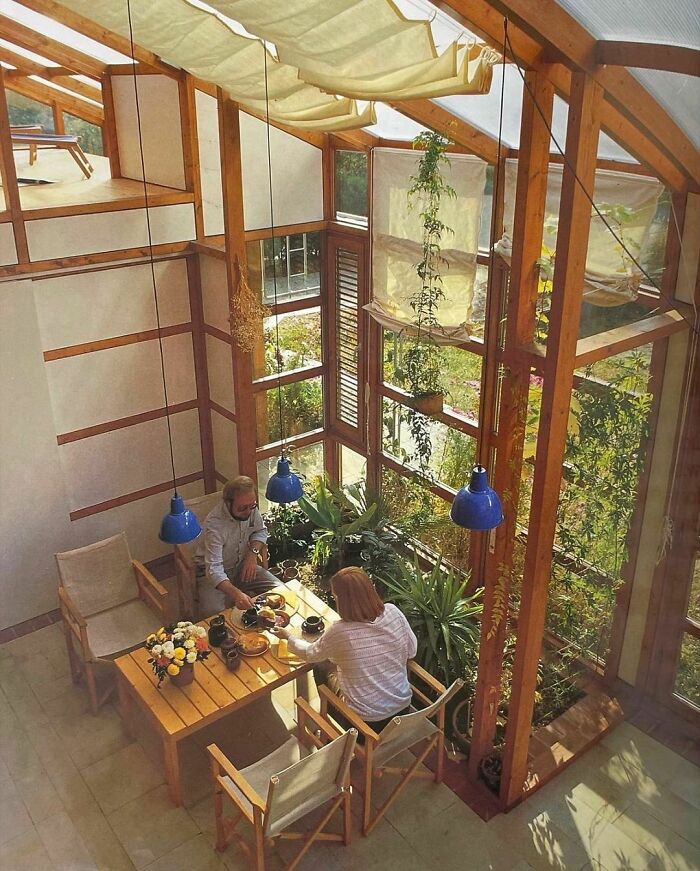 There would only be good vibes, even if we felt grumpy about waking up early. We would happily be cooking eggs and toast while humming our favorite tune. Husbands, take note, this is what you need to get your wives.
#30 A conservatory that's dog-approved
We only have nice things to say about this lovely observatory. Who would argue with a dog, after all? Look at that fellow being all content and happily dozing off in this '80s space that's full of sunshine and warmth.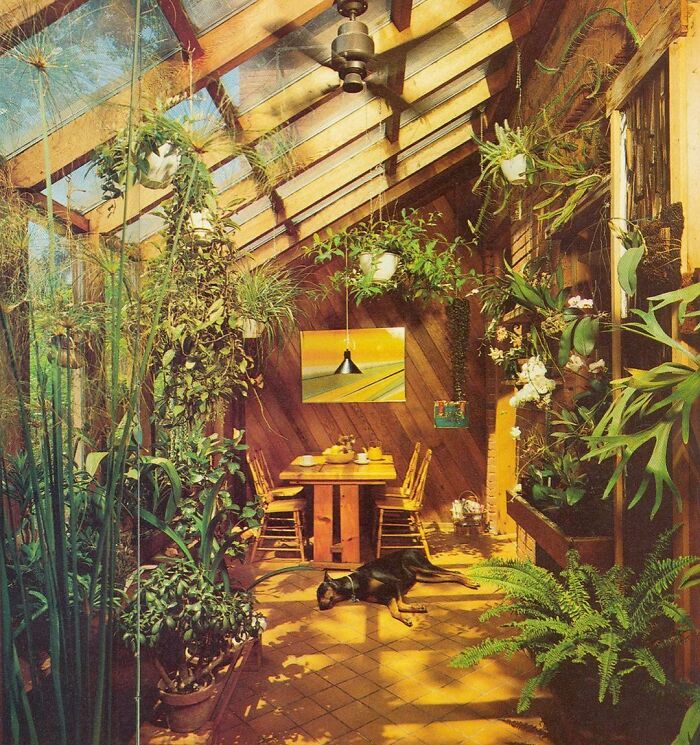 Plants elevate your mood and if you are to stay in this conservatory, you'll probably be at your happiest because there are plenty of greens. This would make a good place to write that next great novel that'll surely make it on the bestseller's list.
#31 Feel like taking a bath in the jungle
This was the top fashion back in the '80s. See the excessive use of plants? That's signature '80s for you. However, people today would like to point out that there are plenty of things wrong with this picture. Guess what their number one concern is?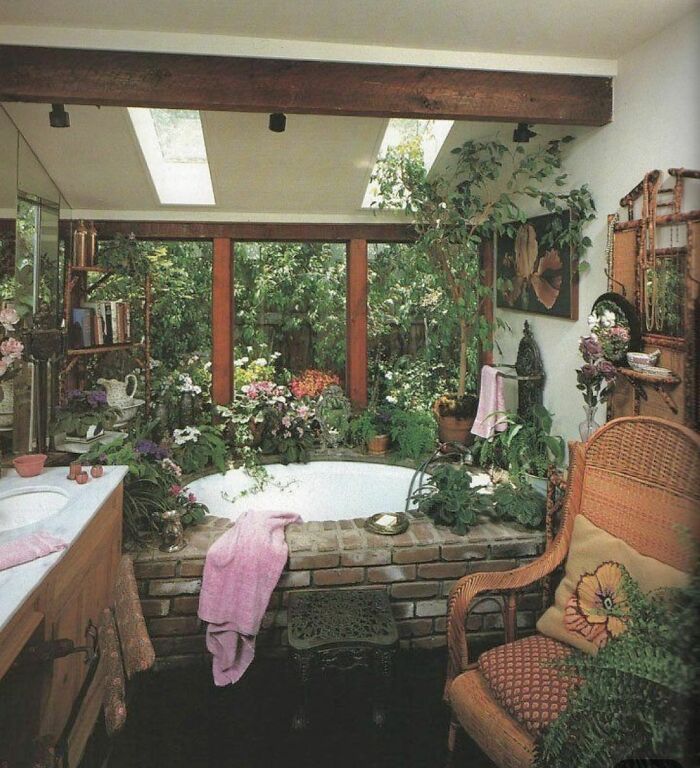 Cleaning! Yup, this bathroom is a cleaning nightmare and heaven knows how much mold is in there. We don't even want to imagine all the elbow grease and man-hours needed just to get this place spic and span, but that's the '80s for you!
#32 Someone is always watching
If you ever felt like someone is watching you always, you were probably sleeping in this bedroom. We love '80s décor, but this huge hairless face just on top of the headboard is scaring us. Sleep might not even reach us tonight.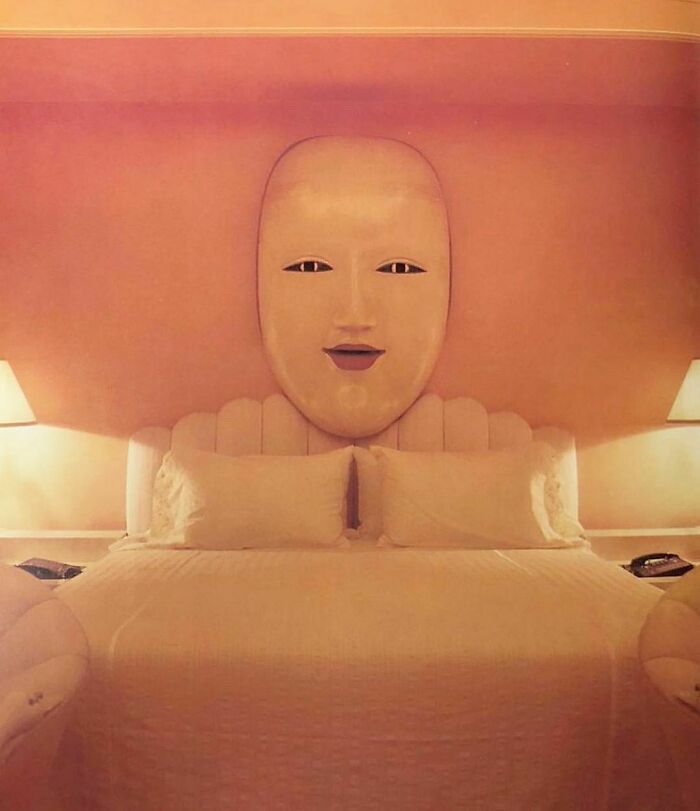 Some décor is just too creepy to want to replicate in your home, regardless of how cutting-edge it might be. If there is one thing from the '80s that we'd rather leave behind, this would be it. Bye, huge face; we won't miss you in our dreams.
#33 Just what we need
This photo was published in 1986 in The International Book of Lofts and in our opinion, this has got to be one of the best — if not the best — entries on this list. If this is what the '80s had to offer, tell us where to sign up so we can time travel!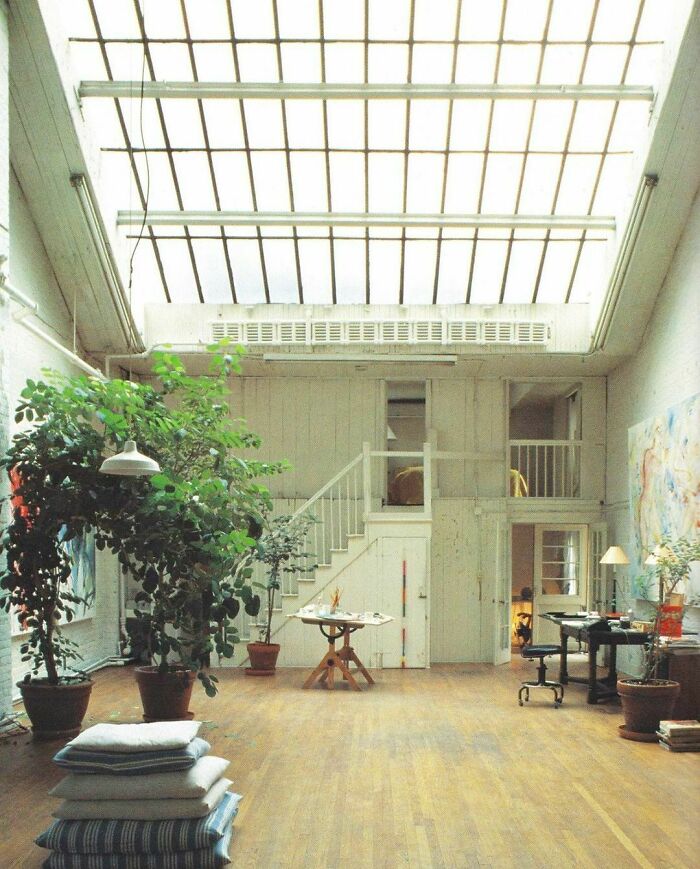 A lot of people mentioned that it reminded them of different old movies, but we have one thing to say — this is utterly fabulous. We would love to wake up to this every morning; it's the perfect way to start a day. And it'd be a delightful way to end one, too.
#34 Trippy shop
This psychedelic shop was designed by Keith Allen Haring, an American artist whose work emerged in New York during the 1980s. He achieved fame during the same decade and participated in both solo and group exhibitions. He has a very distinct style that no one could mistake.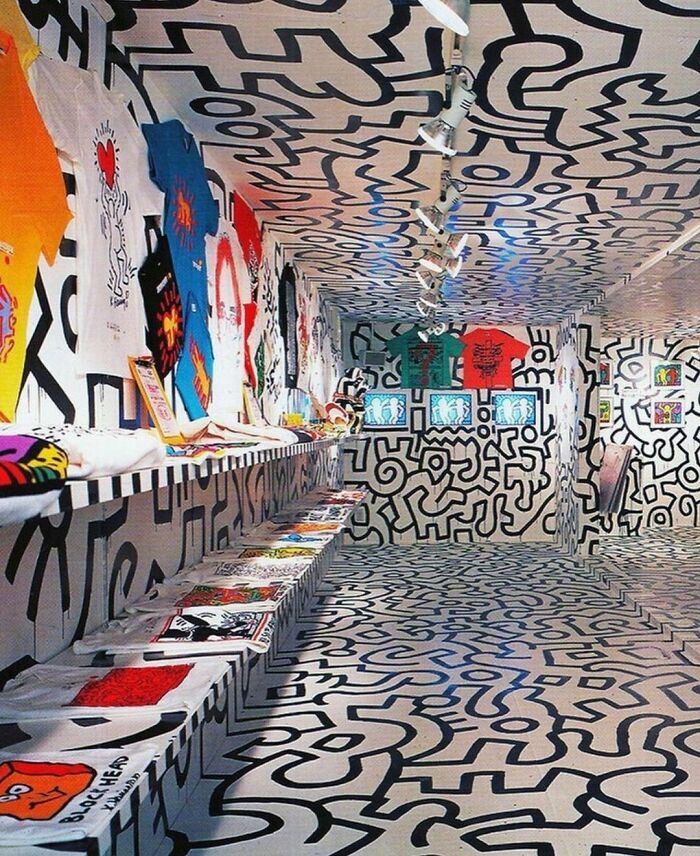 This pop shop in Soho sold toys, t-shirts, posters, magnets, and buttons bearing his art. He considered it an extension of his work and he painted the entire interior in an abstract black-on-white mural. Well, this is quite a unique retail environment if you ask us.
#35 Floating on Cloud 9
So this is what it feels like being on Cloud 9. If this makes our sleep better, we'd gladly head to the nearest store to buy the set of bed linens and wall/ceiling drapes. This photo was published in 1980 in Apartment Life Magazine.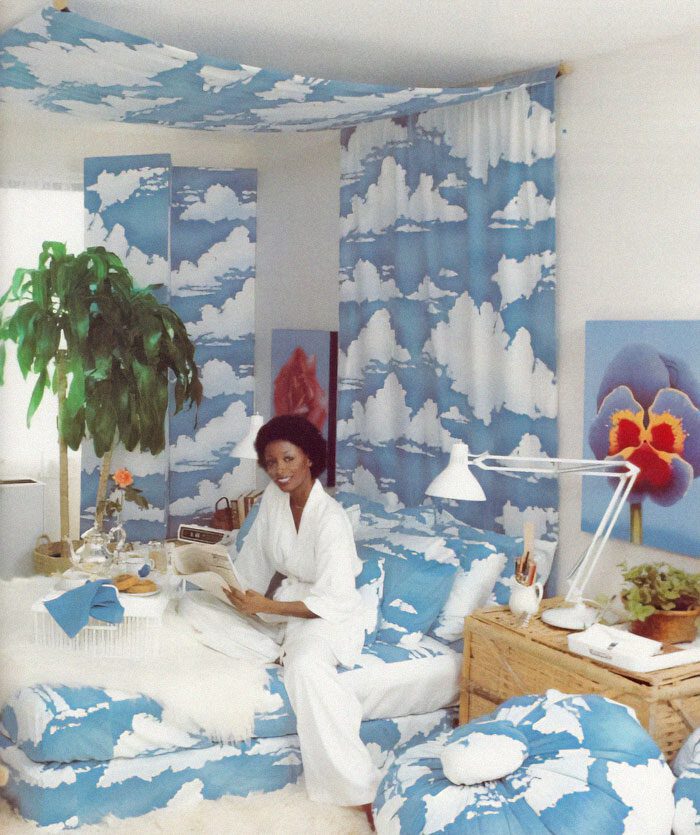 We've noticed one thing with people in the '80s — when they say there's a theme, people really commit to it and go all out. They hold nothing back. This décor seems a little juvenile, though; not something we'd pick up as an adult.
#36 The pink bathroom part two
Where to begin with this one? All the pink in this bathroom is making us nauseous. This Pepto Bismol décor would make for a fun weekend getaway, but we don't want to stare at this every single day. This is not forever décor.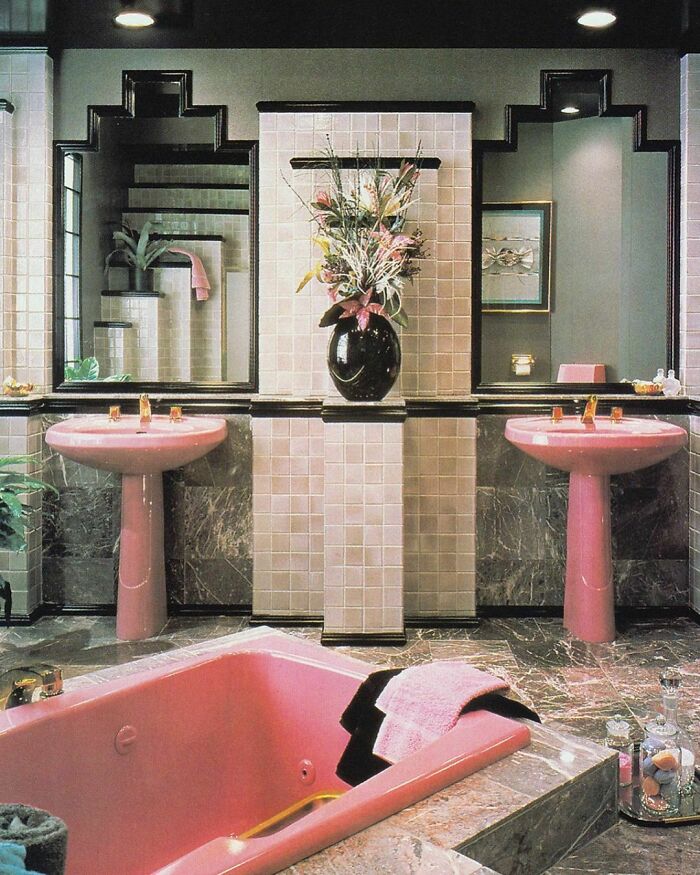 Although this bathroom is the ultimate 80s, today, it's no longer considered fashionable, and dare we say, appropriate. Others would even point out that it's atrocious, but that's design and fashion for you. They evolve and change with the times.
#37 Does this make you green with envy?
Does this bathroom transform you into the green-eyed monster? Does it make you want to redesign your bathroom and replace all the tiles you have with something green? If you were living in the '80s, you would probably say yes.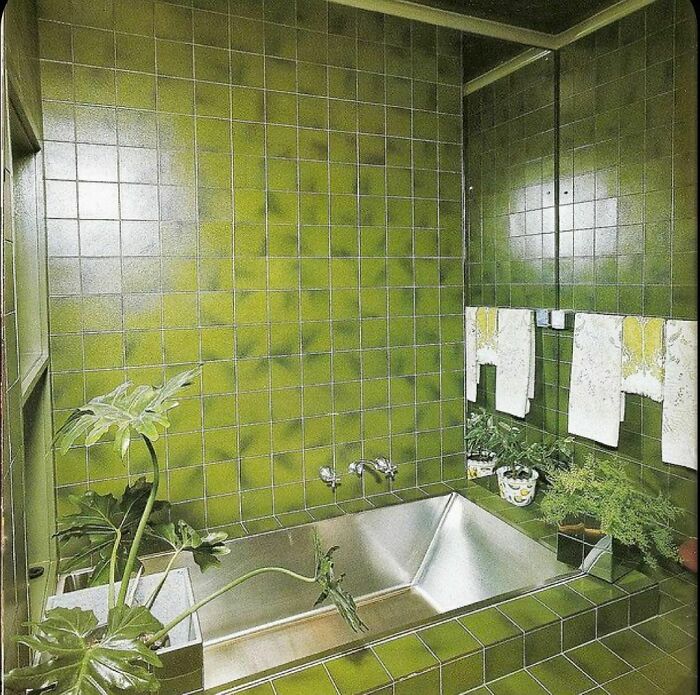 However, if you live in this decade, you'd likely give it a pass. The green doesn't even end with the tiles; it has an abundance of green plants, too. Talk about overkill! We hate to be mean, but holy guacamole, could get this any greener?
#38 A bedroom we can sleep in
This is a bedroom we can see ourselves sleeping in, and we're not going to deny that what attracted us the most was the skylight. We love skylights, and we always have a place for them in our eyes. Aside from the design, what are the other tell-tale signs that this belongs in the '80s?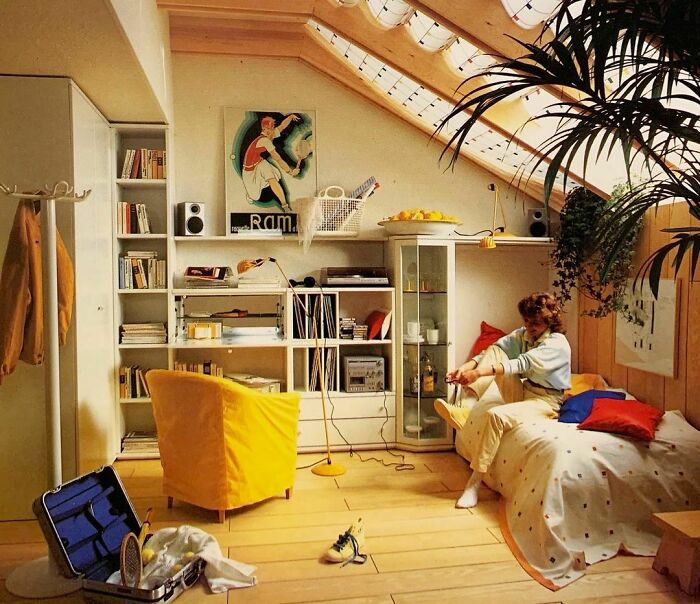 Well, first, there's the woman's hair, which is definitely '80s. People back then were all about big hair and, of course, high-waist pants. Thank heavens she's not wearing those oversized shoulder pads and hand warmers. We can only handle so much '80s fashion in one picture.
#39 Bathing annex
This bathing annex is supposed to be a place for relaxation and peace. Can you see yourself getting both when you soak in the tub or mini pool? We don't because we can't stop wondering if there are any creatures hiding behind those bushy plants.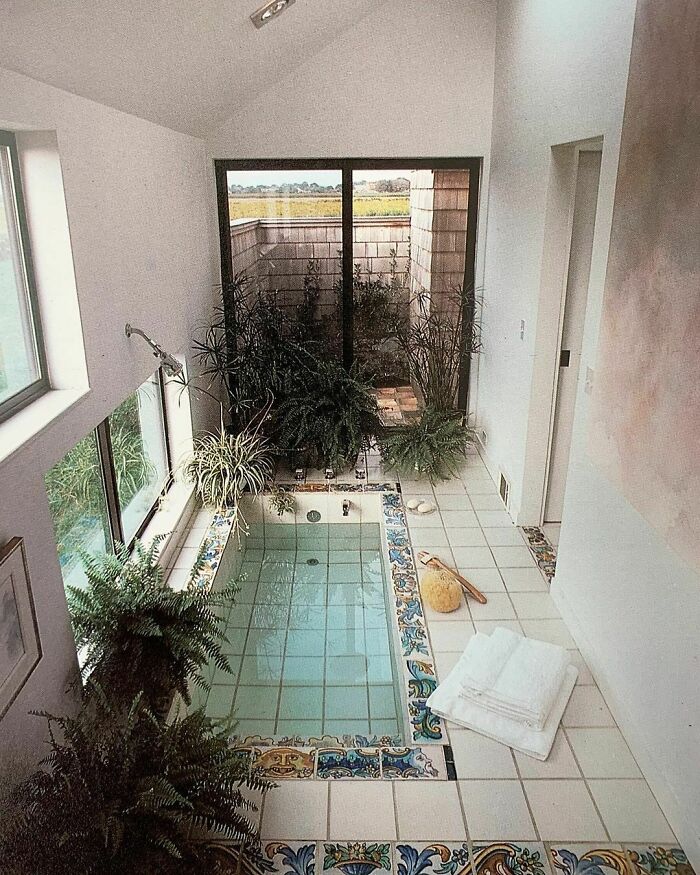 Doesn't the bath look very stiff and uncomfortable? How are you going to lie back, relax, and forget about that long and hard day at the office? But the way they'd describe this style, you'd believe that it is the best bath ever.
#40 No, we're not done with all the plants yet
If you think we're done with plants, you're mistaken because we still have a lot for you. We have to shake our heads at this one. How in the world did it end up being published in The International Book of Lofts?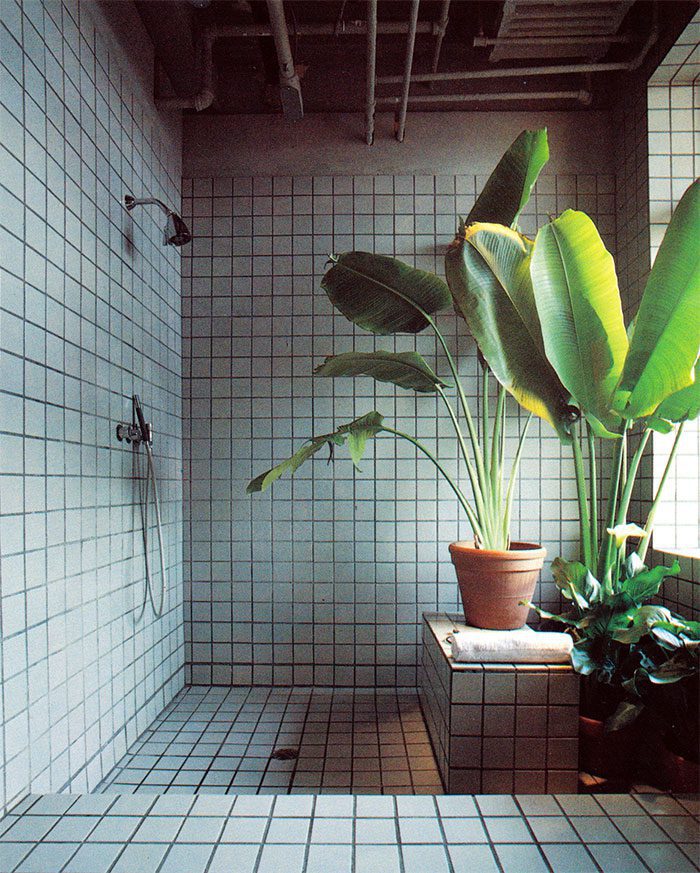 It's not that they set the bar so low during the '80s; this was just considered cutting-edge and in good taste back then. A few decades from now, people will probably be looking at our photos and shake their heads, too.
#41 Again with the pink interiors
This will be the last pink entry on this list, thankfully, because we're not huge fans of the color. Laminate cabinetry was all the rage back in the '80s, and you can't get more 80s than this kitchen. It's supposedly in the European style, but we're not sure about that.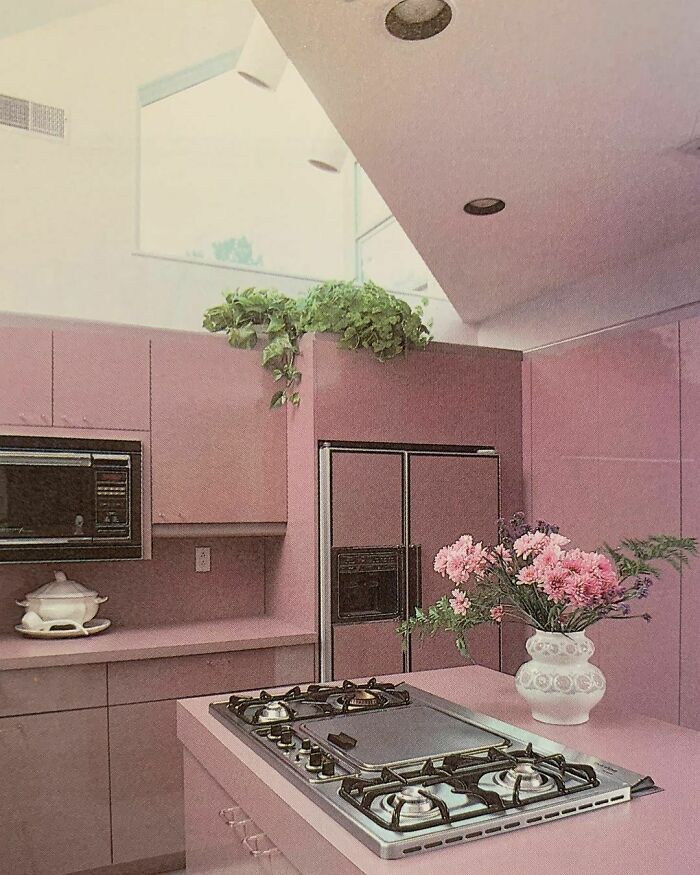 Some people mentioned that this is exactly what a Mary Kay dealer's kitchen would look like. Hmm, what could have given it away? Is it the laminate or the pink color? Either way, we're just glad this is no longer considered fashionable.
#42 Comfortable enough for you?
Green must have been the most in-demand color during the '80s — aside from pink — because we've seen a plethora of green bathrooms and interiors on this list. Again, this is like taking a bath in the bathroom where snakes and other critters make surprise appearances.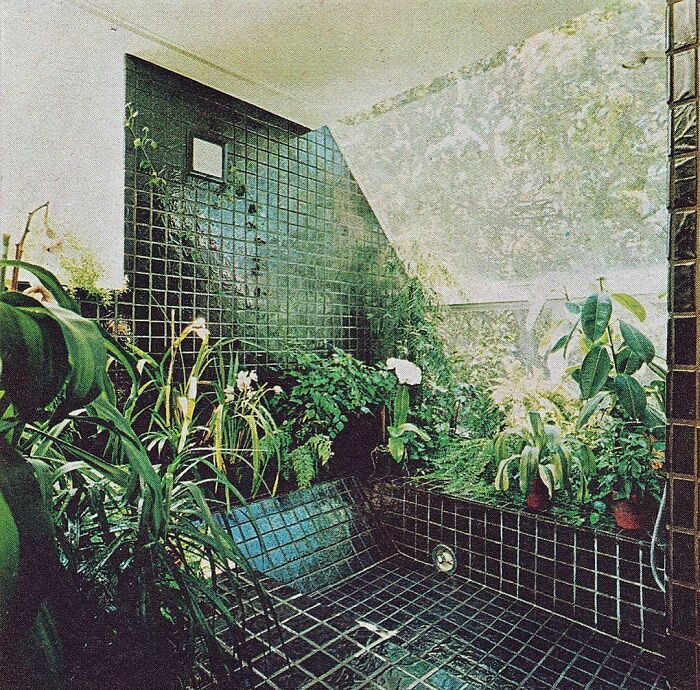 This bathroom looks super uncomfortable, and the design is just hideous. We can't even tell where the plants end and where the tiles begin. The only thing we like about this is the skylight; imagine soaking in the tub there while it rains.
#43 Another '80s living room
We have to admit that the first thing that caught our attention was the plant near the window. It looks like it's doing aerobics or some other '80s exercise! Perhaps it was deliberately designed that way as a conversation starter.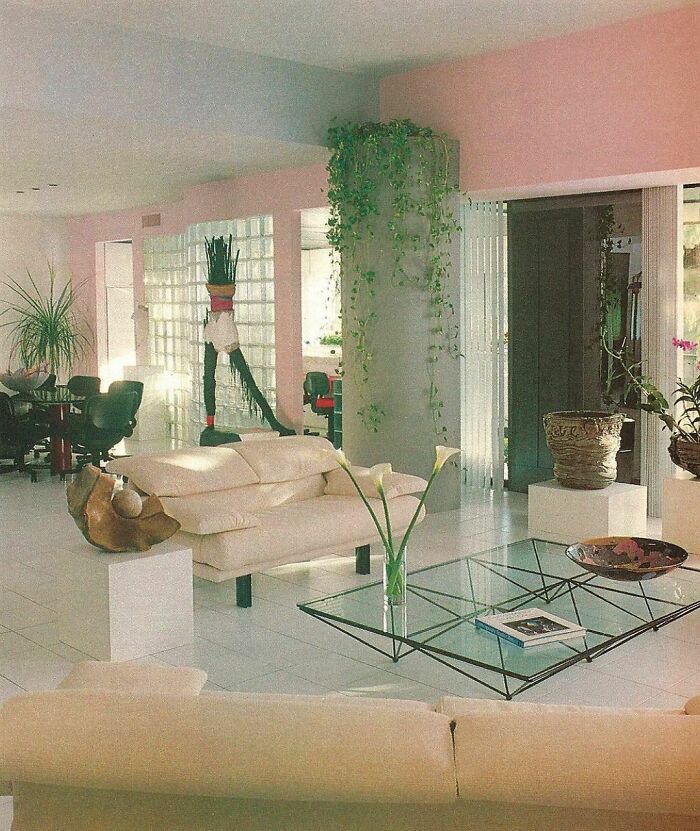 Again we love the fact that back then, people had more space to play with. Nowadays, you'd have to pay a hefty sum to have spacious living room apartments, especially in big cities. That couch looks comfy, by the way.