What Does Designer Matthew Gunselman Suggest For Hiding Unattractive Sliding Glass Doors?
By Yeshwanth K August 30, 2021
---
Most people, especially people who rent, often know how plain an apartment feels when they don't have the privilege of making changes or renovating their accommodation. Sometimes, people will even lose their security deposits if they have any plans on doing so. However, designers have made it easy for such people to invent some design tricks that come in handy.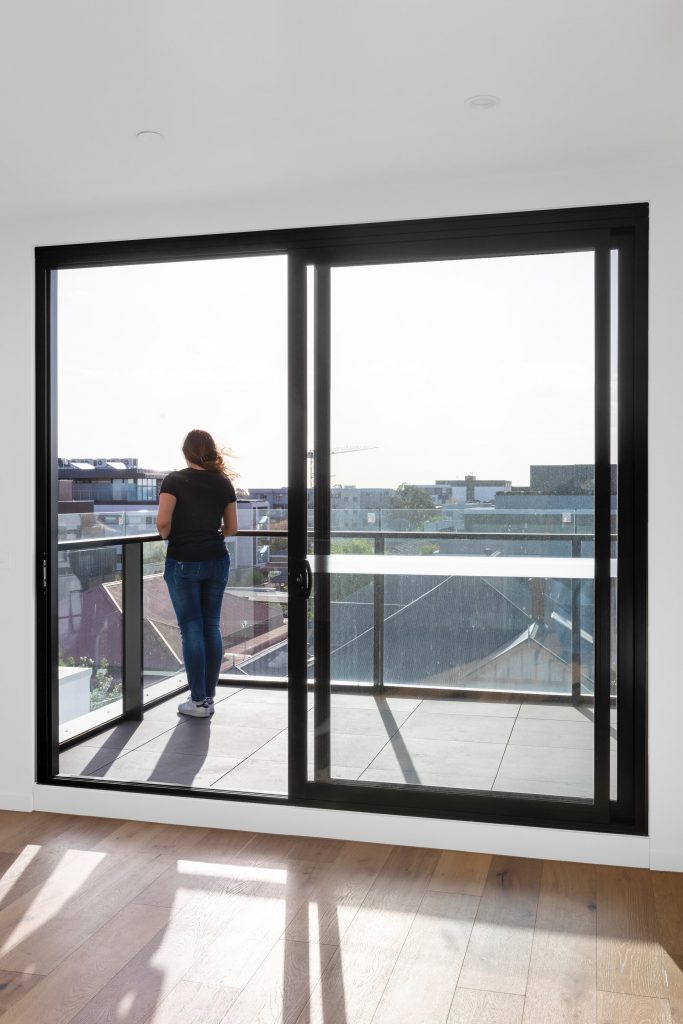 Upcoming designer Mathew Gunselman, the owner of MG Interiors in Seattle, has developed an excellent plan on an important issue. It is a common issue that people must often face problems related to ugly glass doors. It was those very unattractive glass doors of Gunselman's apartment in Seattle, which made him creative.
This DIY transformation has been an inspiration from Nate and Jeremiah of HGTV. So, what exactly is this unique transformation that everyone is crazy about? Let us have a step-by-step look.
Requirements:
First of all, the things you require to get the job done are as follows:
3.175mm thick plywood sheet
1.27cm wide aluminum flat stock
1.27cm wide double-sided mounting tape
Metallic nickel spray paint
Black wood stain
8.89cm to 10.16cm black peel and stick wallpaper
Electrical tape (black)
Customization:
To begin, measure your windows. These measurements should be divided so that you will have the radius of your arches, which is also advantageous for the spacing of window panes.
Draw these arch measurements with the help of a compass/string. Carefully cut these measurements on plywood into arch pieces with the help of a utility knife.
Stain those wood pieces and let them dry. Always make sure that you have an idea about how the window should look from the outside. If it isn't possible to finish both sides, you can paint the reverse side to match the exterior side of your door.
After that, the aluminum should be cut into window frame pieces. Even though Gunzelman made use of the long vertical centerpiece, you can opt for horizontal pieces. The measurements should be taken carefully, and the aluminum flat stock should be cut using bolt cutters or a chop saw. A hack saw can also be utilized, yet it may take more time.
Paint the metal and let it dry for a few moments. You can select between metallic nickel or a black one. You can even spray-paint the door handle for an extensively customized look.
Now cover the door with the help of electrical tape and peel-and-stick wallpaper. Gunzelman recommends using a small tape to take care of places where the door frame meets glass and wallpaper for bigger areas.

During the process of applying the wallpaper, it is better to start from one side and continue towards the other side so that air bubbles can be avoided. In case of bubbles form, use a needle to put a hole and make it flat.
Cover the window frame as well as the door frame and then remove the excess wallpaper with the help of a knife. Remove the door handle, as not doing so would lead to sophisticated cutting.
Paste the double-sided mounting tape on the back of metal pieces and the back edges of the arches. Connect the big vertical metal piece to the center part of each window after the horizontal pieces. As usual, be cautious while measuring for even spacing.
Attach the arches to the top part of the window frame and cover any additional gaps using the electrical tape.
In the end, customize your space with curtains of your choice. And in this way, the transformation is complete.
Bottom Line:
This DIY process transforms the whole scenario and makes it look cool, and additionally, it is even easy to remove it. While moving out of the house, peel the wallpapers and trim the pieces.
In general, rented accommodation is not open for major upgrades. With the help of this DIY process, you can bring life to your dull sliding glass doors without worrying about breaking the rules related to the rental agreement.